Everton vs Arsenal
by

70 Comments [Jump to last]
| 17/03/2016
Match Preview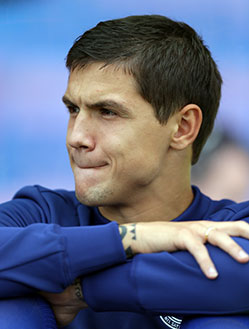 Muhamed Besic is the likely replacement for Gareth Barry in a line-up that probably won't feature many changes from the win over Chelsea
With teetering Arsenal the visitors to Goodison Park this weekend, Everton head into the final phase of 2016-17, the final 10-game stretch that Roberto Martinez's rhetoric has historically highlighted as the period when his teams reach their peak. Not for the first time this term, though, the question on Evertonian lips is can the Blues translate an impressive victory in the FA Cup into a consistent run of victories in the Premier League?
The win over Manchester City at Goodison in the first leg of the Capital One Cup semi-finals was followed by two decent results away from home (a goalless draw back at the Etihad and the 3-3 at Stamford Bridge) but any momentum from those games was checked by a 2-1 home defeat by Swansea City.
Amends were made at Bournemouth in the FA Cup Fifth Round for another farcical 3-3 draw back in November which also helped ease the frustration of the loss to West Brom the week before, but while Martinez's men won at Aston Villa when they resumed Premier League duties, they then threw away a 2-0 lead to West Ham, losing in the worst way possible to a last minute winner.
With the possible exception of when they faced Leicester City, faced with the assignment of facing one of the strongest teams in the top flight at home, Everton have found a level of determination, discipline and organisation that has been elusive against the so-called lesser sides where they have remained too cavalier and open when they should instead have been protecting a lead.
Despite Arsenal's recent faltering form, the hope is that the visit of Arsene Wenger's side this weekend will elicit the same kind of performance from the Blues as the one that eventually prevailed against Chelsea last Saturday. 
Certainly, the Gunners will be as vulnerable psychologically than at any other stage of the campaign. Just one victory (the cup replay at Championship side Hull City) in all competitions since they beat leaders Leicester in the League on Valentine's Day has seen the one-time title favourites exit the FA Cup, the Champions League and slip 11 points off the top of the table, albeit with a game in hand.
That has ratcheted up the pressure on Wenger whose failings this term have coincided with the 20th anniversary of his assumption of the Arsenal hot-seat, leading many to wonder if it was time the North London giants seek fresh blood and new ideas. 
Already without the likes of Petr Cech (hamstring), Santi Cazorla (Achilles), Alex Oxlade-Chamberlain and Aaron Ramsey (thigh), Wenger won't relish having to make the trip to Merseyside for the lunchtime kick-off so soon after travelling back to Barcelona, and that will hopefully play into the hands of Martinez who has an almost fully-fit squad from which to choose.
Gareth Barry and Kevin Mirallas will be suspended following their respective red cards but there are ready-made replacements in the form of Muhamed Besic and Tom Cleverley, the latter having played in midfield in the Belgian's absence in the cup win last weekend.
Gerard Deulofeu, a potential alternative to Mirallas, will be champing at the bit to play having not started a game since the end of January but the strength of the opponents will almost certainly see the manager opt for as few changes as possible. That, combined with Bryan Oviedo being a a slight doubt because of his recent chest infection, should see Leighton Baines and Ramiro Funes Mori continue in defence and Aaron Lennon retain the wide-right berth in which he has been so effective for the past six weeks.
Traditionally a fixture to be dreaded under his predecessor, Everton have done well when hosting Arsenal under Roberto Martinez. The rampant 3-0 victory over them in his first season ever so briefly opened up the possibility of pipping the Gunners to fourth place 2013-14 and it was a result that they were on course to repeat at the beginning of last season but they let slip a 2-0 lead late in the game and had to be content with a draw.
Even at the Emirates, the Blues under Martinez have been well-matched with Wenger's passing and possession-biased side so the conditions could be right for them to pile on the misery in North London if they can keep it tight at the back, exploit the uncertainty in Arsenal's back line and, most importantly, get the ball to Romelu Lukaku in dangerous areas.
Kick-off: 12:45pm
Referee: Mark Clattenburg
Predicted line-up: Robles, Coleman, Jagielka, Funes Mori, Baines, McCarthy, Besic, Cleverley, Lennon, Barkley, Lukaku
Full coverage: ToffeeWeb match page
---
Reader Comments (70)
Note: the following content is not moderated or vetted by the site owners at the time of submission. Comments are the responsibility of the poster. Disclaimer
Jon Cox
1
Posted 17/03/2016 at 22:44:12
Everton play it cool, you will end up with three points.
Arsene and Arsenal are in a "Stonehurst" situation according to the media.
Just enjoy your football and everything will be cool.
Kieran Kinsella
2
Posted 17/03/2016 at 22:59:14
If I could pick four Arsenal players to be unavailable, it would be Cech, Ramsey, Cazorla and Chamberlain so I am very confident we will win 2 or 3 mil with that quartet on the sidelines.

I like Ozil and Sanchez but they're the type who do best along side superstars and aren't as effective alongside mediocre players so they don't worry me greatly.

Lukaku is worlds above Giroud, while ex Spur Lennon and Geri have both been known to terrorize these mentally fragile Gunners.
Dan Davies
4
Posted 17/03/2016 at 23:58:52
When Besic eventually takes over from Barry I would love him to add goals to his game and be like a Tim Cahill type player for us. I think we need that dog/fight about us whilst we play the fancy football.
Terence Leong
5
Posted 18/03/2016 at 00:33:34
Besic reminds me of Paul Bracewell, who was also quite skillful, before he was seriously injured. Hopefully he doesn't have the same injury record as Bracewell.
I would also like to see Deulofeu get some game time, as I think we will need his creativity in this last stage.
Though, at this moment, chances are that Cleverley will take the left flank, while Besic replaces Barry in the middle.
Unless, Martinez sees that he can rest McCarthy, and then have a middle axis of Cleverley and Besic. That will give Deulofeu a chance to come onto the flanks.
Ernie Baywood
6
Posted 18/03/2016 at 02:03:04
I just wonder what the plan is with Deulofeu. I don't think it's as simple as Lennon's form keeping him out - you'd still expect to be seeing more by way of cameos from him.
It seems more likely that the Martinez approach to rotation is to leave players in form in the team and then give them an extended break. Cut down the number of games played.
So we should expect to start seeing Del in the run in?
Chris Jones [Burton]
7
Posted 18/03/2016 at 02:18:40
Terence #5: Bracewell's injury problem stemmed entirely from getting his ankle done at Newcastle one frosty Saturday afternoon - if my recollection of listening to the game on the radio is to be relied on (it was a New Year's Day IIRC). He wasn't injury prone, per se, he just picked-up that one nasty ankle injury which then plagued him.
And he wasn't "quite skillful", he was bloody skillful. I recall one cross-field volleyed pass (circa 50 yards) out to Trevor Steven on the right wing who then steamed-in to blast it past Sunderland's keeper in a 4-1 win at Goodison, the Saturday before our midweek ECWC Semi Final away at Bayern (away/first leg).
Harold Matthews
8
Posted 18/03/2016 at 02:51:19
Depends what type of player we need in the Barry position. I've watched Besic in the role for Bosnia but it stifles his talents. Gibson reads the game well and has done the job for us on more than one occasion and Stones has all the necessary attributes.
Actually, it's a pity Stones cannot be trusted at centre back because Funes Mori was a DM when he joined River Plate and can sense danger pretty quickly. He can also spread forward passes with both feet.
Anyway, whatever the line-up, we're strong enough to beat Wenger's boys but Giroud always gives us trouble and Ozil, Sanchez, Walcott and Welbeck will require us to show speed, power and full concentration.
Abhishek Saha
9
Posted 18/03/2016 at 02:52:57
Besic's performances this season has been tremendous, but sadly punctuated by injuries, most notably coming off in the home game against Swansea. If I were to look at performances divided by game time in this season, his average would be among the front runners, alongside the likes Rom and Lennon.
But what I admire the most in him, is that he seems to have added the complete skill set of a creative midfielder to his exisiting game of a tackling midfielder, almost out of the blue this season. Something like 80% of what Barkley is capable of combined with 90% of what Barry is capable of, all in one player.
COYB!
Abhishek Saha
10
Posted 18/03/2016 at 03:06:42
The top 2 wide men in the squad, Lennon and Deulofeu are natural right wingers. Wish even one of them's first preference would be playing on the left.
Cleverley, Osman and even Mirallas are not natural wingers IMO, although they have been deployed in that area by Bobby. In the present squad, the only natural left wingers are Pienaar and Oviedo.
Peter Barry
11
Posted 18/03/2016 at 03:12:35
Why is it that whenever I contemplate a 'must win' Everton game that old song just runs through my mind 'Why do you build me up buttercup then you let me down' because it happens so often and especially so under Roberto.
Darryl Ritchie
12
Posted 18/03/2016 at 05:37:55
Peter, this isn't a "must win" game. We haven't played a a league game that actually meant anything, for months. It would be nice to play spoiler to Arsenal's ambitions, but realistically, a loss is not a disaster, and a win may see us jump up to 10th... whoopee!
The two games at Wembley are the only "must win" games left for us.
All that said, I want the squad to win this, and every other game, this season. The higher we finish, the more TV money we collect. In the league, that's all we have to play for.
Paul Andrews
13
Posted 18/03/2016 at 06:19:43
Morning Harold,
I didn't know that Funes Mori played defensive midfield at River Plate. Maybe if Stones develops into a good defender, he would be an option in that position for when Barry calls it a day. I like him at centre-half, a good partnership being formed there between him and Jags.
Onto the Arsenal game. We should play our starting 11 for the semi-final as much as possible over the games coming up before the semi-final. I think the team you have predicted above will be the semi-final side,apart from Barry for Besic.
James Hughes
14
Posted 18/03/2016 at 06:55:22
The final 10-game stretch when his teams reach their peak.
Just like Wigan did when they got relegated... One hell of a peak they haven't recovered from yet!!!
Ciaran Duff
15
Posted 18/03/2016 at 07:35:02
Reckon the Gooners and Goners!
Apart from injuries, they will desperately need points and the crowd should be up for it, both of which will play into our hands.
Jim Bennings
16
Posted 18/03/2016 at 07:52:02
Another game which is impossible to predict what Everton side will turn up tomorrow.
As great as the Chelsea match was last week it's back to the league which has left us all flattering to deceive all too often.
There's no getting away from our horrendous home form and tomorrow against a team where I can count on one hand the amount times I can recall beating them at Goodison in the last 25 years.
Arsenal really are the ultimate bogey team for us.
Joe Clitherow
17
Posted 18/03/2016 at 07:59:23
Peak. Bollocks. There should be no peak, there should be consistency and unbeaten runs, back to back wins throughout the season from any successful or aspirational side. Sums up why we will do nothing with this manager beyond the odd cup run. When no-one knows which Everton will turn up tomorrow it tells its own story.
I'm still waiting for the phenomenal second half of the season. Or was it last third? Or ten games now?
Colin Glassar
18
Posted 18/03/2016 at 08:00:04
I can't see Arsenal continuing their losing streak... and, combined with our pathetic home form, this has draw written all over it. 1-1.
Jim Bennings
19
Posted 18/03/2016 at 08:09:45
Dan Davies,
I think Besic could eventually become our own Roy Keane type player.
I don't see anything of Tim Cahill in him I'm afraid, I'm not saying he won't add three or four goals a season to his game, he could do, but Cahill was completely dynamic in both penalty box and at his best he was so athletic, seldom few players could have scored that outrageous scissor kick at Chelsea that Tim got.
Cahill regularly got 9 goals a season and once hit 12, I don't see Besic being that type of player.
Besic gets about the pitch well and is the best tackler to add bite to our team but expecting him to change his game that dramatically is probably too much.
One thing what I find noticeable these days about Everton compared to the Cahill day's is that you rarely see any of our midfielders even challenge for headers, let alone scoring from them.
It's a part of our game which we seem to have really erased over the last few years.
Sam Hoare
20
Posted 18/03/2016 at 08:17:39
A draw would be no use to either team so will probably be the end result. Pretty disappointing that this squad has nothing to play for in the league by mid March.
Andrew Ellams
21
Posted 18/03/2016 at 08:59:48
If we go at Arsenal in the same way we did Chelsea last week, they will struggle. They don't like it up 'em and all that.
Paul Mackie
22
Posted 18/03/2016 at 09:01:12
Great time to be playing Arsenal. Hopefully we can end their title hopes with a tidy win.
Will be great to see Besic get some game time. He'll be well up for it and although Barry has been excellent, his red card could be a blessing in the form of some much needed rest.
As for this game not meaning anything, I disagree. We need to put a strong run of results together. It'll boost confidence ahead of the semi-final and will show some of our 'stars' that it's worth still being here next season.
Jim Bennings
23
Posted 18/03/2016 at 09:02:53
Agree with Sam.
A draw is a nothing result, we have won just 1 of the last 9 home league games, we need to win and so do Arsenal so I don't expect a tight cautious game.

Kevin Johnson
24
Posted 18/03/2016 at 09:08:59
I love Mo, he's like a modern day Paul Bracewell, added with the tenacity of Peter Reid...
We need to play him more. He will be an important player for us.
Phil Walling
25
Posted 18/03/2016 at 09:50:12
Nothing much in the betting on this one. Everton show at 19/11 and Arsenal 17/10. The draw is at 13/5 and looks a decent bet to me.
Phil Walling
26
Posted 18/03/2016 at 09:55:32
Jim, you don't often keep possession with headers so they are probably barred other than for FM – either end!
Steve Barnes
27
Posted 18/03/2016 at 10:26:43
Great, we've got that idiot Clattenburg. No doubt there will be a highly dubious pen awarded to Arsenal and/or we have at least one player sent off for something and nothing.
Andrew Ellams
29
Posted 18/03/2016 at 10:55:58
Does Clattenburg ever referee any games that don't involve the Sky favourites?
Dan Davies
30
Posted 18/03/2016 at 11:51:53
Jim (#19),
I'm not expecting him to be as good as Cahill was, it's more a case of he reminds me of the passion and fight that Tim had. We need that to show in players on the pitch.
If he can chip in with a few goals too, that would be great. Can you imagine him slamming one in at the Gwladys Street end? I'd love to see that...
Gerry Quinn
31
Posted 18/03/2016 at 12:00:56
The Toffees' performance against Chelsea was highly encouraging, with Romelu Lukaku scoring a brace to book Martinez's side's place at Wembley.
While most the crowd at Goodison Park went home delighted, it seems that Moshiri wasn't fully convinced by Everton's performance.
"He wasn't happy with the 2-0 win" Martinez joked. "He wanted a 4 or 5-0 win, and you can already see that he standards are going to be very high!"
Good to see that our Farhad has exactly the same aims as us ToffeeWebbers then!
Peter Cummings
32
Posted 18/03/2016 at 12:06:37
I wouldn't write Arsenal off too much, they put in a decent shift against Barca and missed couple of 'sitters'. Their stand-in 'keeper also did a good job, so unless they have a complete hangover from their Champions League and FA Cup exits, they will still be a handful if we continue the type of poor defending that's cost us so many points at home so far.
I would love to see both Besic and Deulofeu on the pitch and maybe give Niasse a go to see what he's made of at some time into the game. On paper, it looks good for a point or, perish the thought, another disaster... just hope I'm wrong.
Shane Corcoran
34
Posted 18/03/2016 at 12:41:48
I think it's time for Arsenal to go on their usual run of results when it's too late and I think they'll win 2-4.
Tom Bowers
35
Posted 18/03/2016 at 12:46:35
The trick is to keep it tight early like the Chelski game and they have a chance to win.
Arsenal keep possession well but their usual passing game in the opponents half has fizzled in recent months but they still have very dangerous players who can burn you.
Everton can afford to be relaxed and patient whereas the Gooners have a lot of pressure on them to maintain their Champions League aspirations.
Eugene Ruane
36
Posted 18/03/2016 at 12:51:46
Jim (19) – 'I think Besic could eventually become our own Roy Keane type player. I don't see anything of Tim Cahill in him I'm afraid'
You might be right, but personally, if given the choice (right now) of an in-his-prime Cahill or (an i-h-p) Keane, I'd take Keane all day long.
I don't know if Besic is the (an) answer but, he certainly appears to be the closest we have right now to 'that type.'
The type with that inbuilt natural-leader gene, the type who can influence those around them to more effort, through force of personality, bloody-mindedness and (if needed) fear.
Finding such a player now seems almost impossible and in the same way as Arsenal never replaced Viera, Man Utd haven't come close to replacing Keane.
In fact I can't think of one player now who fits the role of natural captain material, decent player with a big mouth who doesn't allow concentration to slip.
Maybe Noble at West Ham Utd comes close and I always thought Nolan had 'the right stuff' (so to speak).
With where we are right now, I'd make Besic captain tomorrow and tell him 'let's see how you go – you're the boss on the park'.
Or..something like that... type stuff.
Phil Smith
37
Posted 18/03/2016 at 12:55:31
Bit lucky there, really, Chris Jones (7). Not sure if either of those "goals" were offside. Defo. not the second! Great to see the old '85 team in action again though. Thanks.
Chris Jones [Burton]
39
Posted 18/03/2016 at 14:05:39
Yes Phil, I thought the linesman was on our side too! Nevertheless with Howard's philosophy of "we'll score more than you...." er, wrong manager.
Terence Leong
40
Posted 18/03/2016 at 14:07:49
Chris Jones #7, we are definitely on the same page here. My use of the word "quite" is certainly in the sense of "very" : )
And I agree that Bracewell had a horrific ankle injury that put him out for much of one to two seasons. What I meant was when he started getting fit again, he became injury prone, and never could string together too many games without incurring another injury.
Besides those raking passes, one other bit that stood out to me was how he was one on one with a keeper, and took it around him ever so coolly: https://www.youtube.com/watch?v=hlIgRVJukjM (against Norwich, 1984-85 season).
Dan Davies
41
Posted 18/03/2016 at 14:31:19
Eugene (#36), yes, given enough game time and some authority from the manager, he could be an inspirational figure – not just for the fans but the players too, I would like to see him get angry and start "barking" orders and motivate the boys to higher standards especially in defence. Obviously I rate him quite highly!
Joe Duffin
42
Posted 18/03/2016 at 14:39:34
2-0 half time lead, beaten 4-3 is the sort of thing I expect.
What I would like is a 6-0, but what probably could happen is a 0-0 (Nah... just kidding: 3-4.)
Denis Richardson
44
Posted 18/03/2016 at 14:47:41
Should be a good game as the Arse are not going to settle for draw. They're not out of the title race yet and with West Ham in 5th only 3 points behind, they're going to be getting worried about missing out on the CL next year if they don't win.
Given we have no pressure anymore on us in the league and the Chelsea result has pacified the massese somewhat, I think this game is now made for us to get a result. No pressure plus playing a side that won't sit back.
It's Everton though so we could just as easily win 2-0 or lose 3-0! League is over for us as it is so just hoping for a decent performance and result with no major injuries.
Heart says 2-1 to us, head says 2-2. Bet says we won't keep a clean sheet.
Harold Matthews
45
Posted 18/03/2016 at 14:51:07
Paul (#13).
Funes Mori was a defensive midfielder when he joined River Plate academy where he was converted into a left-back / centre-back.
Christy Ring
46
Posted 18/03/2016 at 15:52:01
Chris (#7),
It was a horrible tackle by Billy Whitehurst, an unskilled cowardly hatchet man, in the same mould as Kevin Nolan (remember his sneaky horrible tackle on Anichebe) if I'm not mistaken.
Bracewell was one of my favourite players, along with Reid and Sheedy. He had it all, skill and speed, and was only reaching his prime, and was in line for an England call-up at the time, but was never the same player again.
Jay Wood
47
Posted 18/03/2016 at 15:52:54
I personally don't understand these calls to play John Stones (and now Ramiro Funes Mori...) in ANY midfield role.
They are centre backs, able to cover at full back as necessary, with different skill sets. Stones is a ball playing, Funes Mori is a no-nonsense defender.
Stones has had a temporary dip in form for the first time in his young career. There is no need at all to try and squeeze him into the team and in a position he has never played. He WILL have a mega career in his prime position at centre-back.
I'm incredulous if, as suggested in this thread, the England manager was/is considering John in some midfield role when he has so many other options that play that role as their bread-and-butter position.
Similarly, Funes Mori is an even poorer call to play as a defensive midfielder. Like Stones, he has never played a 1st class game as a midfielder.
No thank you, from me...
Alan Bodell
48
Posted 18/03/2016 at 15:57:29
I don't want to put the dampeners on tomorrow but Arsenal surround the ref at every decision and for once I'd like us to get just as arrogant.
But it's Clattenberg, isn't it.... so I'm just worried that we won't get the rub.
Andrew Ellams
49
Posted 18/03/2016 at 15:58:10
The reason Hodgson might be considering John Stones for the defensive midfield position is quite simply because England don't have one.
Jay Wood
50
Posted 18/03/2016 at 16:03:41
Not watched much of Spurs and Eric Dier this season then, Andrew?
Andrew Ellams
53
Posted 18/03/2016 at 16:11:36
And if he gets an injury?
Paul Andrews
54
Posted 18/03/2016 at 16:12:16
Christy, the only thing Bracewell lacked was pace. A brilliant footballer all the same.

The midfield four perfectly complimented each other. One of the best midfields I have seen in over 50 years of watching football.
Jay Wood
55
Posted 18/03/2016 at 16:17:36
Seen much of this Drinkwater lad Andrew...? Plays for unfashionable Leicester ...
Just got called up to the England squad (with Dier), funnily enough ...
Julian Wait
56
Posted 18/03/2016 at 16:20:54
Stones should not be taken as a defensive midfielder for England. Not really convinced he should go as a centre-back either. Jags is keeping him out of the Everton team on merit / form and not reputation.
Andrew Ellams
57
Posted 18/03/2016 at 16:28:58
You're taking this a bit to heart, Jay. Sit down before you have a stroke.
Denis Richardson
58
Posted 18/03/2016 at 16:32:28
Stones as a defensive midfielder in the England team? That's got to be a joke surely, the guy cannot even get into the Everton team at his strongest position!
On current form Stones should be nowhere near the England team. However, as Man City are rumoured to be interested, I'm sure he'll be on the plane come June.
Christy Ring
59
Posted 18/03/2016 at 16:36:49
Stones is young, and still learning, I believe he is more skilful than Dier, but he hasn't played DM, so it would be a huge gamble.
Jay Wood
60
Posted 18/03/2016 at 16:40:08
Andrew @ 57.
Eh-what?
Feeling a bit foolish and resentful that I have (in a very understated way) pointed out your post @ 49 was - what? - misinformed..?
Kieran Kinsella
61
Posted 18/03/2016 at 17:03:00
Problem with English football is we don't know how to train up continental-style defenders. Stones is great on the ball so RM focuses on that and gives him carte blanche to dribble around like a selfish 12-year-old. Instead, we should work on developing his tackling and decision making so he's a genuinely rounded player.
Similar issue with Rodwell who's evolved into a jack of all trades, master of none cause Moyes didn't trust him as a centre-back or develop his defensive positioning and instead stuck him as a square peg in a round hole. Mancini followed suit and now Big Sam is scratching his head with him.
Nigel Munford
62
Posted 18/03/2016 at 17:25:36
Andrew @ 49, he does and his his names Gareth Barry.
Nick Page
63
Posted 18/03/2016 at 19:38:17
Christy (#46)... er, not sure Billy Whitehurst was "cowardly". Fucking lunatic is probably closer to the mark. Just ask Waggy.
Darren Hind
64
Posted 18/03/2016 at 20:06:14
I shake my head in disbelief when I read people slagging off the best young defender we have ever had.
John Stones was called up for England when he was a baby. Goodison was roaring its approval as he completely blanked out some of the most lethal strikers in the League, often doing it with piss taking ease.
The daft twat in charge fucks him about with his daft twat instructions....and, all of a sudden, he can't defend???
Maybe the world's top clubs want him for his wing wizardry... Maybe we turned down the biggest offer in the club's history, because Chelsea saw him as a striker?
"Cant defend"? I sometimes wonder what these "experts" are watching.
Never mind the quality... How far can he hoof it?
Dave Abrahams
65
Posted 18/03/2016 at 20:36:38
Back to tomorrow's game, if we carry on as against Chelsea, with a bit more attacking, we should get our fifth home win of the season. Lyndon, if Baines plays, he is in on merit, not because Oviedo is unfit, surely?.
Tony Abrahams
66
Posted 18/03/2016 at 20:38:52
Agree Darren. I also shake my head when I hear people say he should play Defensive Midfield. I'm not saying he couldn't, but I just think he would be just another player, if he ever did find himself in that position. Whereas given time, he's got the potential to become a world class center back.
Eugene, it's a good point, especially considering we have so few leaders, but you don't have to wear the armband to act like a captain. I only ever really considered Ratcliffe our captain, when he went to pick up the cup, because during the game Peter Reid, always looked like Everton's leader to me.
Darren Hind
67
Posted 18/03/2016 at 20:45:39
We had a few in that team, didn't we, Tony?
Colin Williams
68
Posted 18/03/2016 at 20:46:48
Darren @ 64, great comments mate , 100% behind your assessment of Stonsey.
If and when we lose this majestic player to another club in the Premier League, it will be a sad day in our history.... This lad is one of a kind!
Michael Williams
69
Posted 18/03/2016 at 20:57:59
FWIW I'm with keeping Stones at centre-back. Stones has so much talent, especially his ability to quickly transition the team from defense to offense by carrying the ball up the middle. He'll learn as he matures.
As for the game, I'm a bit worried. Arsenal looked good against Barça even though they lost. Fast, one-touch attacking just like Arsenal can do better than any team in the league when they are on their game. I hate to say it but I'd take a draw right now. Hope I'm wrong.
Tony Abrahams
70
Posted 18/03/2016 at 21:09:48
Definitely Darren, the spine of that team, were all leaders. Loved Reid, though, and thought over a two year period, he must of averaged at least an 8 out of 10, every game.
Remember one derby match at Anfield, and Southall was rushing to kick the ball. Reid was screaming and waving his hands at Big Nev, to keep hold of the ball. He saw Reid and stopped. Reid, pointed to the fullbacks, to tuck in, told everyone else where to go, and then gave his keeper a thumbs up, to kick the ball.
I loved Peter Reid, and actually thought I learned so much about football by just watching him. For a man that couldn't run, he was so fucking clever. What a privilege it was to watch that great team.
Frank Sheppard
73
Posted 19/03/2016 at 07:05:51
The battle of the under achievers... we bottle the last 20 minutes, they bottle the last couple of months of the season. It was probably the Kendall era that we last had the team/squad better than Arsenal's. if only we could hold out and turn performances into results like Howie's teams did. COYB.
Jim Potter
74
Posted 19/03/2016 at 08:18:40
Everton to win 2-0. Arsenal's season is dead and buried – Wenger is perceived as yesterday's man by the majority of their fans... and we still have players fighting to get in the cup side.
And we owe them big style for years of poor showings.
COYB!
Richard Lyons
75
Posted 19/03/2016 at 09:42:46
Great to have Besic available and (almost) certain to start; I have high hopes for him.
And big Rom versus Mertesacker... that's a lip smacking prospect!
Karl Jones
76
Posted 19/03/2016 at 09:55:43
Surely we will avoid defeat! I can't remember an Everton side losing 8 in a League season in my lifetime. 6 in 2003-04 was bad enough when we finished 17th. Confidence is so fragile under this manager that you never know...
John Malone
77
Posted 19/03/2016 at 10:05:31
Stones need's to realise it should be a 'surprise' when a centre back steps forward and makes a forward pass or run and to not become predictable with playing from the back – otherwise, teams will play on it, as shown this season!
Jon Cox
78
Posted 19/03/2016 at 10:10:41
We won't get relegated now so we've not much to lose.
I'd love to see Deulofeu out on the left wing. It would be a good experiment with regard to the up coming semi-final. Two supply lines from either flank would make very interesting viewing. Barkley just behind Rom and this attack would scare the Arse to Death.
It would of course need Deulofeu to track back to help Baines. A great game in prospect. 2 - 1 to the Blues with Besic on the score sheet.
John Malone
79
Posted 19/03/2016 at 10:11:36
Guranteed Wenger will sit in and counter against to neutralise the space behind Mertersacker and frustrate the home crowd. I'm glad Besic will be in the team for his last-ditch tackling and energy. I just hope he can keep his cool!
Add Your Comments
In order to post a comment, you need to be logged in as a registered user of the site.
Or Sign up as a ToffeeWeb Member — it's free, takes just a few minutes and will allow you to post your comments on articles and Talking Points submissions across the site.
© ToffeeWeb