Lukaku balancing ambition with loyalty
by

54 Comments [Jump to last]
| 19/03/2016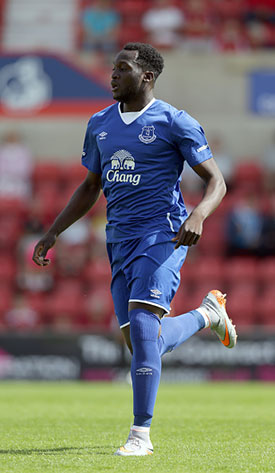 Romelu Lukaku's double strike against Chelsea in the FA Cup last weekend has vaulted back him into the national spotlight and once again raised the issue of his future at a time when Everton's league form has delayed his chances  of realising his Champions League dreams at Goodison Park.
The Belgian says that his immediate priority is on helping Everton finish the season as strongly as possible in the Premier League, securing a second trip to Wembley in May and then, hopefully, firing the Blues to Cup glory.
He has made no secret of his desire for Champions League football in the past and he hints at that particular itch that he wants to scratch when he points out that he has been playing top-level football for almost seven years without featuring in Europe's elite competition.
With Everton's prospects of getting him there on hold again until next season, Lukaku's future will be he subject of much speculation in the media this summer and hand-wringing among Evertonians who fear that this season's under-achievement will see the best striker they've had in a generation leave for pastures new.
The striker insists that he isn't thinking about that at the moment and will leave the negotiating to his agent, Milo Raiola, but he also admits that he won't force through a move and leave on ugly terms with the club who gave him the chance to resurrect his career when Jose Mourinho didn't have faith in his ability to make an impact at Chelsea.
 "I am 23 this summer," Lukaku says in the press. "I have been playing since I was 16 and never had a taste of the Champions League. It is going to be seven years. You think about it. If it is going to happen, it is going to happen.
"Champions League football is really the next step, but I am not really thinking about it, because there are 10 games to go and we have something great to achieve in the FA Cup.
"In the league, if we give the maximum in the next ten games, we will see from there.
"We can turn it around and I will do everything to take my team forward to glory."
"If something happens [in the summer] it will be for the good of the club. I don't want to leave in a fight, if it happens.
"I won't say this or that. It is going to be good for me personally and for the club. They were the ones who believed in me at the time nobody believed in me, and gave me a platform to perform.
"I have tried to repay them by doing good performances, but I have an agent who deals with the interest. I do not want to be bothered with it. I just want to play my football.
"Well, then you have to talk. But the talk will be between me and the manager. We have an open relationship. I will be honest enough with him to say what I think."
Lukaku is fairly frank when it comes to assessing Everton's form over the past two years which he clearly views as falling short of the talent that Roberto Martinez has at his disposal.
He betrays some disappointment that the Blues haven't been able to fulfill the rich potential of the club's best squad since the 1980s. He also admits that the Chelsea result was a big one in the context of the current campaign.
"With all the qualities that we have, we should at least have been in the top four this year because of how the league is," the 22-year-old continues.
"We should have been in the top four. It was meant to be. I am always looking for more. The club thinks that way as well.
"I look around the dressing room and wonder how the hell are we in this position? The simple games we need to win – we draw or we lose. The difficult games we need to win – we win. Where's the logic in that?
"[Last Saturday's] win has changed a lot of things here," he insists. "If we had lost to Chelsea as well as West Ham the week before I think you would have had the fans down here at the training ground.
"It took me until the Wednesday to forget about the West Ham game. It was days and days of thinking: 'How? How? How?' Even with 10 men, if you are 2-0 up at home you should always win the game."
"As a player you always want the best and you see how we have performed sometimes and yet you go home scratching your head thinking: 'How did that happen?'
"It has been two years of under-performing. As bad as it sounds, it is the truth. Look at the players we have.
"We need to start winning games because we cannot continue like we are now. Everyone gives stick to the manager but it is the players who do the job on the pitch."
---
Reader Comments (54)
Note: the following content is not moderated or vetted by the site owners at the time of submission. Comments are the responsibility of the poster. Disclaimer
Colin Glassar
1
Posted 18/03/2016 at 23:16:03
Very worrying interview with Lukaku in today's/tomorrow's Daily Telegraph. He doesn't sound like a happy bunny and reading between the lines...... Can't blame him to be honest.
Joe Foster
2
Posted 18/03/2016 at 23:41:53
Nope you can not blame him. He sounds as fed up as the fans.
Dan Davies
3
Posted 18/03/2016 at 23:51:31
Just read it myself Colin he's basically shouting out to the club's in the Champions League "come and get me" in his own words "it has been two years of underperforming".
Says it all. Can't blame the boy if he thinks we're holding him back. He's speaking the truth. Very worrying
James Morgan
5
Posted 19/03/2016 at 01:34:15
This guy has the potential to be one of the deadliest strikers in Europe, at 22 his figures stand up to the best. I hope to god he stays with us and believes he can fulfil his ambitions but if not, then good luck to him because he wouldn't look out of place at Bayern Munich, Juventus, PSG and maybe even Real Madrid.
Anish Dosani
6
Posted 19/03/2016 at 02:11:25
"As a player you always want the best and you see how we have performed sometimes and yet you go home scratching your head thinking: 'How did that happen?'
"It has been two years of under-performing. As bad as it sounds, it is the truth. Look at the players we have.'"
That's a pretty bad indictment on Martinez. Geri and Barry have come out and said something similar recently too. Dressing room turning against him?
Michael Penley
7
Posted 19/03/2016 at 03:58:20
Roberto's got to sit down with him and explain things are going to change with new ownership, give us until January 2017 – if we're not up there in the Champions League positions, you can go. Then do your damnedest to bring in whoever we can to get us up there. If he doesn't see that results matter, he will now.
Christine Foster
8
Posted 19/03/2016 at 04:06:35
The truth is until this season he has not been good enough for Champions League football. At 23, he now is showing more maturity and ability and over the next 4 years he has the potential to be one of the really best strikers in Europe.
Everton will profit commercially from his departure if we do not make Europe, I suspect the lure of some of the elite Spanish or Italian clubs and lifestyle will be too much to resist as his star is shining brightly this season. If we win the cup he may stay, if not... sadly reality bites.
Ernie Baywood
9
Posted 19/03/2016 at 04:16:41
There's no doubt he's improved this year, but he could always perform given the right service.
He'd be first choice for Man Utd and Arsenal. And Chelsea and Man City wouldn't have minded having him. That makes him good enough for the Champions League in my book.
Phil Sammon
10
Posted 19/03/2016 at 04:27:05
He's a very straight-talking fella at only 22 years of age. You have to wonder what he'd make of some of the clap-trap Martinez comes out with.
I hope we can keep him... but if I were him I'd probably think of doing a runner while Martinez is in charge.
I hope Moshiri pulls some of these lads aside in the next few weeks and tells them his plans over the next few years. We are a club looking upward... not a Martinez vanity project.
Dave Clark
11
Posted 19/03/2016 at 04:51:39
I can't believe some people on here have criticized Rom's first touch, I'm only interested in his last touch & I've waited since the days of Lineker to see a striker like him.
It's the only thing I agree with RM on (I loathe the man), he said he would pay £100m for Rom and yes, so would I. Talk of a £50m price tag is a joke. The new TV money will push prices up so let's talk £80m plus please! He's worth every penny. Just pity RM wasn't good enough to get us into the Champions League, then he would've stayed.
Whatever you do, Rom, I wish you all the best, that clown of a manger just couldn't defend the leads that you gave us.
Darryl Ritchie
12
Posted 19/03/2016 at 05:39:19
Sounds to me like he has told his manager to start shopping him around. Just a matter of when, who and how much, I think.
Plato Stavrinos
13
Posted 19/03/2016 at 05:58:17
Offer him £150k/wk and I'm sure he will stay.
Dave Clark
14
Posted 19/03/2016 at 06:24:31
Plato (#13), I'd love it if you were right but Man City & PSG will give him that in a heartbeat, maybe more, plus Champions League football.
I fear we lost a great opportunity this season which will haunt us for years to come.
Mark Andersson
15
Posted 19/03/2016 at 06:33:27
Plato I don't think it's about the money. He can get more and play in a Champions League side.
Martinez is at fault and, as Darren says in another post, the twat has ruined John Stones.
As fans, we should hound Martinez out of our club, not sit by hoping things will get better.
Paul Smith
16
Posted 19/03/2016 at 06:58:22
His performances this season augment his position of being able to choose his next club.
We can't match his ambition because of our shit showing.
Plato - no money will guarantee he stays.
Neil Pickering
17
Posted 19/03/2016 at 07:00:29
This season Rom has looked like the player he was telling us he was last season – only last season I thought he looked lazy, cumbersome, and disinterested. This season he looks like a lad who has been told by his agent he needs to impress to get his 'big move'.
If he wants Champions League then I think he owes us till at least January of next season given the new owner and the money we may have to spend in the Summer. Unfortunately though, given Bill's gushing "What a manager" quote after the Chelsea game, it will be under the stewardship of our inept manager, which almost certainly means we will under-achieve next season as well.
Ian Hollingworth
18
Posted 19/03/2016 at 07:08:58
It's simple with our new investor and extra TV money – Everton need to show real ambition. Appoint a top manager with a winning pedigree and a few key but quality additions to the squad.
Anything but will be more of the same with the same results and then the inevitable will happen.
Sam Hoare
19
Posted 19/03/2016 at 07:14:54
Martinez's legacy at this club may well be described as underperforming in such a way as to lose the best young group we have had in decades. This season in particular we might have done something spectacular to lay the foundations of a new era.
Or maybe we'll win the cup and they'll stick around for like longer.
Brian Foley
20
Posted 19/03/2016 at 07:21:22
If you want to take, penalties you must score penalties, as it helps to win points.... which helps to get us higher up the table and helps to fulfill the dream of playing in the Champions League.
SIMPLE!
Ste Wallace
21
Posted 19/03/2016 at 07:38:04
Get Mourinho... Stones happy, Lukaku happy, job done.
Kase Chow
22
Posted 19/03/2016 at 07:49:56
If we win the cup then he may give us one more season. If we don't, he won't.
He's a cracking finisher and can't afford to waste his time with a mid table club when he could get £150k a week whilst challenging for honours.
John Malone
23
Posted 19/03/2016 at 07:54:13
I agree with the above comments, offer him a 'Brucey' bonus off the new investment, tell him to give us another year to see who we can bring in and improve things. Have a good crack at getting in the top four and, if it doesn't happen, let him go abroad to play in the Champions League!
Les Martin
24
Posted 19/03/2016 at 08:25:51
I don't have any problems with Rom wanting to leave for Champions League football. Careers can be short, and it's always going to be a balancing act of keeping players minds settled.
That said, he does have a contract but we know players move on, and I think out of respect for the club he will only move out of the Premier League, with PSG being the main suitors. I don't think throwing big money at players to keep them works, as they get paid so much in becomes meaningless.
When you retire, you need to sit back, reflect and look at your memories and trophies. If we can't provide, then some other club will have to. Good luck, Rom.
Ted Neeson
25
Posted 19/03/2016 at 08:40:53
It would be more impressive if Lukaku had not missed a penalty when we were 2-0 up but he has also played his part in the team snatching defeat from the jaws of victory. The team needs a strong leader on the pitch and he does not sound like he is up for the job.
Trevor Peers
26
Posted 19/03/2016 at 08:46:47
Just shows you how the players are thinking when they repeatedly come out with these negative statements about under performing.
With 1 home win from 8 in the league since November it's hardly a surprise. Most of the losses from winning positions. It must be soul destroying.
Jim Bailey
27
Posted 19/03/2016 at 08:56:58
If I was Lukaku, I'd be off at the end of the season. Martinez has systematically destroyed this squad with his ineptitude. What finished him for me was when he said he wasn't interested in keeping clean sheets.
The sooner he's gone, the better.
Jim Bennings
28
Posted 19/03/2016 at 09:00:35
I've said it before and I'll say it for the umpteenth time. If Lukaku goes it won't matter how much we get for him, he's going to be near impossible to replace. It's going to be hard to find a striker with his pace, power, and most importantly his goal return which to quote a Bobby best, really is phenomenal.
It's a huge risk signing lad's straight from overseas league's unless you are getting a Robert Lewandowski or Thomas Muller, someone of that ilk.
I'm not convinced Niasse will be much more than a fitter younger version of Kone, I know he's hardly played but you can usually tell a player from his instant control and movement.
But we already knew, these days £13 million only gets you 8-10 goal a season striker's.
The very best cost the most. Are we prepared to pay for the very very best?? If not, then I'd question the ambition levels.
Paul Tran
29
Posted 19/03/2016 at 09:02:38
Trevor, the poor players are the ones who go out on the pitch and win, lose or draw the game. They're the ones that miss headers, leave forwards unmarked and miss chances.
Martinez has rightly been criticised the last two seasons, but these 'negative statements' are exactly what I would expect from underachieving players. For me, it's a sign that they realise they've missed an opportunity. At least they've got another one next month!
Barry Morrison
30
Posted 19/03/2016 at 09:19:41
Some people saying he needs to give us one more season to see if we can get Champions League – but I think he's already done that for this season and we've failed miserably.
Maybe, hopefully, the promise linked to the new investment can persuade him to stick around for another season, but Martinez's comments recently smack of an agreement already made that he can go in the summer if we didn't make the Champions League this season.
Don Alexander
31
Posted 19/03/2016 at 09:40:45
Even Mr Moshiri will know that money can't buy you love and if Rom's in love with Champions League football, mega-wages and winning teams, so be it.
All season I've cited Martinez as a buffoon, at best. I can only imagine the feelings of the players at Finch Farm every day, where it's obvious nowt's ever done differently despite the bleedin' obvious in terms of repetitive failure (and re the cups this season, we've only beaten one so-called top team, who are having their own worst season in living memory by the way).
I just hope Mr Moshiri has realised that money can buy you competence though, as a minimum, and that there's precious little of that as far as Martinez is concerned.
Phil Sammon
32
Posted 19/03/2016 at 09:46:12
If Moshiri removed Martinez and really went for it with a top new manger... anyone think Rom would give us another year?
I do.
If it's a Martinez or Lukaku choice... there can only be one winner can't there?
Colin Glassar
34
Posted 19/03/2016 at 09:53:37
A massive shot across the clubs bows by Rom. Like some have already said, Mr Moshiri needs to sit down with some of our players and show them his plans for the future. It's no use Martinez talking to them as they see him every day, it has to be the money man.
Brian Williams
35
Posted 19/03/2016 at 09:55:04
A very honest and forthright, and what's more intelligent, "interview" from our main man. He's saying exactly what he feels he has to say under the circumstances.
I believe he'd love to have the success he craves with Everton. I also believe he doubts whether he will. Up to the new "owner" to convince him otherwise.
Craig Mills
36
Posted 19/03/2016 at 09:57:04
Jim@ 28, if we sell Rom, we will be able to pay for the best players, but the problem is we will not attract the best players because of our league positions. The fact is the best players join the best clubs – top players don't join teams who cannot reach the top half of their league.
Craig Mills
37
Posted 19/03/2016 at 10:00:48
Also worth a mention – that's now Jagielka, Deulofeu, Barry, Coleman and Lukaku who have all recently said we are under performing – yet the manager is adamant we are heading in the right direction.
Semi-final or no semi-final, the tide has turned against Martinez.
Phil Walling
39
Posted 19/03/2016 at 10:17:01
I suspect the '£150k a week' being spoken of would not, on its own, be all it would take for Rom to stay. The lad has a lust for glory – and why not? For all the talk of 'the most talented side' in eons, he's miles away from finding it at Everton.
I have a sneaky feeling that PSG see him as their replacement for Ibrahimovich and would think £80M would clinch the deal. Good business by OPM whose 'only' problem will be the impossibility of replacing him.
Of course, if Martinez could revolutionise his defensive record, he wouldn't need to replace ALL Rom's goals!
Dave Abrahams
41
Posted 19/03/2016 at 11:08:39
Jim (28) more reports coming out of Finch Farm concerning Niasse are getting worse, hope he is not as bad as being talked about.
Ian Burns
43
Posted 19/03/2016 at 11:14:58
Money won't talk - he wants CL; his agent wants the move and this article is the most veiled damning of RM's ability as a top manager you can possibly get.
Colin Glassar
44
Posted 19/03/2016 at 11:15:46
Dave, I doubt Niasse is as bad as some are making out. In fact, several top teams were after him so I wouldn't be surprised if he turns out to be an absolute bargain.
Paul Ellam
45
Posted 19/03/2016 at 11:18:05
As other posters have written, I believe Lukaku wouldn't look out of place at clubs like PSG, Bayern or Juventus – I believe he's that good. In fact, I believe he's the best striker we've had at our club since the days of Sharp and Lineker (and maybe Cottee!)
You can't fault the lad for his ambition; he has total belief in himself and that should be applauded. What is obvious now, is that Everton need to match that ambition and show him we want to go where he wants to go – the top.
So, Mr Moshiri needs to get the top young players together (Lukaku, Stones, Barkley, McCarthy) and tell them what and how big his plans are and pay them accordingly to keep them with us. Then he needs to bring in like-minded players who will push this club forward. He has the money so let's use it!
If that can be achieved with our current manager, then great; if not, then that is the position that will need looking at next.
My choice for manager would be the same as it was when Moyes left – Vitor Pereira.
Shane Corcoran
46
Posted 19/03/2016 at 11:30:03
Refreshingly honest and I would hold no grudge were he to leave.
Raymond Fox
49
Posted 19/03/2016 at 12:07:07
I agree with Paul 29, it's too easy to blame the manager for the poor things in our season, but how do you apportion blame between him and the players?
If you look back at the goals we have conceded, most have simply been poor defending, who in our defence would you call a very good defender?
Baines and Coleman? No. Jags... on the ground? Yes. In the air... No. Our wonderboy Stones? Ditto. Funes Mori probably the best of a moderate lot on crosses; the midfielders are again poor when the ball's in the air.
Kieran Kinsella
50
Posted 19/03/2016 at 12:09:03
Carl Tyler and Craig Short said similar things when they left. Enjoy League One, Romelu.
Peter Roberts
51
Posted 19/03/2016 at 12:10:39
Phil
If PSG want him to replace Ibrahimovic why don't we swap the two? Ibra has itching to try the Premier League and we could offer him European football and a big wage (if we win the FA Cup).
If the above happens, I'll be first in the queue to get a replica shirt with Zlatan's name on. And then put the numbers on the lottery. :-)
John Parker
54
Posted 19/03/2016 at 15:06:24
If you don't want to stay then piss off – you only turn up now and again anyway.
Ian Riley
55
Posted 19/03/2016 at 16:28:55
Why would Lukaku stay? More money, Champions League, and better weather in Europe. After today's performance by all the team, including Lukaku, will next season be any different? As a team we have no momentum in winning or our performances. Leicester built on their momentum at the end of last season to be top of the Premier League at present.
Lukaku in a Champions League team will excel. Champions League teams have the hunger, fight, and bollock those players who are not putting in a shift. Who do we have to do that?
That's what we lack, leaders. I am sick to effing hell with fans and players saying we should be a top-six side. The Premier League table dosen't lie. We have lost the hunger since Moyes has gone. He demanded fight and a work ethic, it makes top teams.
Lukaku will leave and who can blame him. His dreams will not be achieved under Martinez.
Colin Glassar
56
Posted 19/03/2016 at 18:29:09
John, are you serious? He makes run after run and gets zero service. Either play to his strength or sell him but to watch a player of his calibre being starved of service is a crying shame. Good luck to you, Rom.
John Austin
57
Posted 19/03/2016 at 18:40:01
End of debate, I think. There is no way Rom will stay after the shambles today.
Peter Roberts
58
Posted 19/03/2016 at 20:51:55
I thought Rom was really unlucky today in the sense that he fitted perfectly inside Gabriel's pocket... the team performance was shocking. Let's not start excusing individuals who are supposedly too good to be associated with that.
I'd have the lot of them in for training tomorrow after that today.

Ian Riley
59
Posted 20/03/2016 at 01:36:50
Agree Peter. The cost of going and to be presented with a can't be arsed mentality. Still what does it matter to them. Still get paid, Sunday off and "oh well mid table holiday mode" attitude!! If this guy is going to continue in charge. Give the players a rocket up their arses and start understanding what the fans expect. At least put in a shift!!
Rick Tarleton
60
Posted 20/03/2016 at 19:43:01
Sell him and Stones, keep Barkley and Coleman and we can start to finance the stadium.

Anthony Dwyer
61
Posted 20/03/2016 at 23:49:33
How can we expect Rom to turn down big ambitious clubs, while we go backwards under Martinez's influence?
He is a world class centre-forward and they are at a premium.
To keep Rom without Champions League football we would have to show some crazy ambition in the transfer window and fuck Martinez off.
Michael Polley
62
Posted 21/03/2016 at 11:07:33
Moshiri needs to speak to Rom and explain his future plans for the club. Hopefully he can convince him to stay for at least one season.Get your money out Moshiri and improve the team around this guy. Oh and get rid of the inept manager. It's going to he a busy summer for you Mr New Owner
Phil Walling
63
Posted 21/03/2016 at 11:17:28
Just what are his future plans then, Michael? More dross?
I don't think Moshiri is here to run the football – Kenwright will still do that!
Add Your Comments
In order to post a comment, you need to be logged in as a registered user of the site.
Or Sign up as a ToffeeWeb Member — it's free, takes just a few minutes and will allow you to post your comments on articles and Talking Points submissions across the site.
© ToffeeWeb