Report
Lukaku imperious in Goodison goalfest
By Michael Kenrick
04/02/2017

196 Comments [Jump to last]
Share: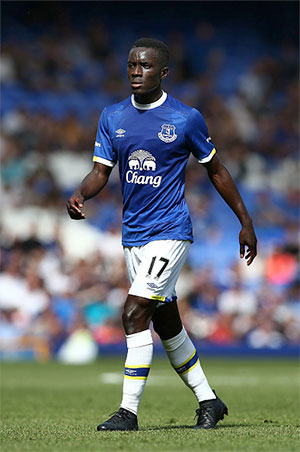 Idrissa Gueye is available again after returning from international duty but does not start
EVERTON 6 - 3 BOURNEMOUTH
Everton came up with lots of goals back in Premier League action this weekend looking to put pressure back on the top six with a crazy victory over Bournemouth that makes Romelu Lukaku the leading scorer in the Premier League with 16 goals this season.

Ronald Koeman changed the team that failed to win at Stoke, with Ademola Lookman getting his first start for Everton, with McCarthy and Barry partnering Morgan Schneiderlin in midfield, while Holgate, Davies, and Mirallas were on the bench, where Idrissa Gueye had to also bide his time to get back in the side after his African sojourn.

Dan Gosling, once of these parts, started for the visitors today.

After what must be the earliest free-kick, inside 2 seconds of the start (for what?), we had a lovely early goal, 31 seconds for Lukaku to curl in a beauty off a nice feed from McCarthy as the Blues drove forward with purpose through the middle.

The Blues tried to play more good football with a few bright early balls played forward, showing some intent to build on the great start with some much improved one-touch passing.

A wonderful drag-twist, turn and shot from Lookman reinforced the crowd's intense excitement whenever the 19-year-old got near the ball — the lad is a sheer delight with the ball at his feet. While in the middle of the park, a strong tackle by Schneiderlin showed the value of Ronald Koeman's other January acquisition.

But the Blues laboured increasingly as The Cherries came into it more and more, snuffing out Blues attacks before they really got going. It was deceptive because the home side seemed to have lots of space in midfield.

Lukaku created the second goal driving in hard from the right with a great layback to McCarthy whose sidefoot hit a defender, came straight back to him, and seemed to bounce off his leg to bobble past Boruc into the Bournemouth net.

There was a bit of a scare when Robles fumble the ball off a corner but it led to a breakaway with Lukaku feeding Williams to his right rather than Lookman to his left: wrong choice.

It was three off a crazy backpass from Francis, straight to Lukaku whose deft touch went straight into the net. Lukaku had a chance to make it four with a ball over the top but Boruc was out smartly.

Lookman seemed to show more understanding with Lukaku, looking to play positive ground balls for the big man to run onto, as the Blues relaxed a little on the back of their handsome three-goal lead.

A quick free-kick played out intelligently by Barkley to Coleman saw the Irishman lash a fierce shot at Boruc. At the other end, Willims gave up a free kick that Wilshere saw deflected wide. Robles had to save the shot from Cook off the corner.

After the break, Eddie Howe brought on two ex-Liverpool players in Smith and Ibe to replace his captain Francis, and Dan Gosling. Wilshere came dangerously close to scoring as they pressed the home side from the restart. Arter was next with a potshot, always going over.

Schneiderlin was booked for a sliding tackle that was deemed dangerous. Another foul gave Wilshere the chance to curl in a good delivery that needed defending away.

Barkley drove forward and fired in a good shot that was deflected just inches wide for Everton's first corner of the game.

Lookman's outrageous ball skills were a delight as the young man seemed to be really enjoying himself; a goal for him would be nice. But the goal went te other way with Wilshere releasing King over the top and a simple touch for King to take a little bit of the sine off proceedings.

Everton surged down the other end and McCarthy seemed to have an age to score but failed and Lookman could bot squeeze the parried ball in from a narrow angle. Davies replaced McCarthy, then Lukaku then got clear but failed to drive in on goal.

Everton had sat back a little and they needed to get back the tempo and not miss the chance to drive home an impressive victory. But The Cherries were getting too much of the ball. Davies tried to release Lukaku but he was thwarted.

The Blues were too keen to switch to the long ball which was not working and King almost scored a second with another good ball before Fraser fired in a good cross and it was a second goal for the visitors off King under pressure from Coleman. Mirallas replaced Lookman.

Pugh almost made it 3-3, driving in from the left and flashing his shot just wide as Everton verged on complete collapse. Everton could not get out and Arter's shot needed a touch behind from Robles, Arter then lashing one in that Robles saw all the way and saved brilliantly.

In a real ding-dong atmosphere, both Robles and Davies saw yellow as the frustration and imminent danger became palpable. Mirallas got forward and tried a curler but it was straight at Boruc. The final change was Holgate for Barry as Everton looked to secure 3 points that seemed a given at half-time.

But a good move started and finished by Lukaku saw a fourth Everton goal, a beautiful final touch for his hattrick off a great cross. And Lukaku had four when he drove through and lashed a perfect right-foot shot past Bruc.

Afobe drove in and made oth three after looking distinctly offside then over the byeline, to take the gloss off a little in the final minute as Bournemouth showed no sign of giving up.

Barkley got free but the pass wasn't right for Lukaku and the chance was gone, with Cherries pressing again. But Funes Mori picked out Barkley who skipped around Boruc to make it SIX in added time.

A free kick, almost a penalty for Bournemouth at the end, fired in on Robles. A tremendous result in the end, a crazy game.

Everton: Robles [Y:73'], Coleman, Williams, Funes Mori, Baines, Schneiderlin [Y:50'], McCarthy (61' Davies [Y:76']), Barry (80' Holgate), Lookman (73' Mirallas), Barkley, Lukaku.
Subs not Used: Stekelenburg, Jagielka, Valencia, Gueye.

AFC Bournemouth: Boruc, Francis (46' B Smith), S Cook, Surman, Mings, Arter [Y:14'], Gosling (46' Ibe), Fraser, Wilshere, Pugh (84' Afobe), King.
Subs not Used: Stanislas, Allsop, Mousset, Cargill.

Referee: Mike Jones

Attendance:39,026
---
Reader Comments (196)
Note: the following content is not moderated or vetted by the site owners at the time of submission. Comments are the responsibility of the poster. Disclaimer
Mike Allen
1
Posted 04/02/2017 at 14:37:09
Very disappointed Holgate and Davies are benched; is that because he wants to give a start to Lookman and is frightened of playing too many youngsters? I'd rather have a strong team than a strong bench. Holgate and Davies are the future – not Barry and McCarthy.
Ian Herbert
2
Posted 04/02/2017 at 14:39:31
Looks a good, strong team. I think Lookman has earned his chance as Mirallas hasn't been at the races lately. Holgate has been a little unlucky but he will be back soon. It will be interesting to see how the new-look midfield performs...
Dean Adams
3
Posted 04/02/2017 at 14:46:58
Not happy about Davies being dropped, he has been a real driving force recently. Guess Koeman is the manager so hope he gets it right and we win 3-0!!
Andy Meighan
4
Posted 04/02/2017 at 14:55:42
Strange old game. Gueye has been our player of the season yet, since he's been gone, our results have picked up. Please tell me how that works?
Iain Jones
5
Posted 04/02/2017 at 15:05:48
Boom!!!!
Iain Jones
7
Posted 04/02/2017 at 15:21:36
Lookman looking good!
Dean Cooper
8
Posted 04/02/2017 at 15:39:31
How do you pick a central midfield lineup now?!
Barry – Outstanding so far
McCarthy – Very good as well
Schneiderlin – Class
Davies– Maybe our best player over the last four games
Gueye – Definitely our best player over the 20 before that...
John Pierce
9
Posted 04/02/2017 at 15:53:39
We have been decent, but gifted two goals and were passed off the park for 20 mins. Really, we were.
Funes Mori has been dreadful, jumped under several balls, headed at least one straight up in the penalty area, gave 2 corners away when he could have just kicked them out.
My slice of humble pie on the line-up is tasting pretty crappy, but a lot of loose play against a poor Bournemouth.
Daniel Lim
10
Posted 04/02/2017 at 15:54:22
Dean,
Then I guess Koeman has done the right thing today. He could introduce Gana in 2nd half to let him get used to the Premier League again after one month playing for and training with his national team.
Phil Sammon
11
Posted 04/02/2017 at 16:03:21
John Pierce 9
There you go, 3-0 up at H/T and still can't see anything but problems. Incredible.
Jack Plant
12
Posted 04/02/2017 at 16:22:11
I'm quite pleased he's rested Davies, nice morale boost for McCarthy but more importantly I feel clubs tend to leave young players in until they have one bad game, then drop them, hitting their confidence. Taking him out of the team while he's still on a high should leave him hungry to get back in.
Mark Morrissey
14
Posted 04/02/2017 at 16:42:46
Niasse scores. Happy Days for Evertonians
Dean Cooper
15
Posted 04/02/2017 at 16:44:20
Any Lukaku bashers tonight?
Phil Sammon
16
Posted 04/02/2017 at 16:50:53
This ref has been fucking hopeless. He's not let a tackle go all game.
Grant Rorrison
17
Posted 04/02/2017 at 16:58:23
Need to get rid of Williams. Absolute liability.
Jay Wood
18
Posted 04/02/2017 at 16:59:02
THAT. WAS. NUTS.!!!
Mark Morrissey
19
Posted 04/02/2017 at 17:00:51
Harry Maguire, Michael Keane, or both need to be bought in the Summer.
Chris Leyland
21
Posted 04/02/2017 at 17:02:26
Just phoned a redshite mate and played 1 in 10 by UB40 down the phone.
Terry Underwood
22
Posted 04/02/2017 at 17:02:43
Niasse – Everton legend?
Jay Woods
23
Posted 04/02/2017 at 17:05:39
Dean Cooper: Lukaku wasn't his usual lazy self, so no complaints. Happy?
Chris Gould
24
Posted 04/02/2017 at 17:06:46
Wow... just wow! That was great fun.
Loads for us to be positive about, and a fair bit for a few on here to moan about.
Everyone should be happy tonight!!
Jim Scales
25
Posted 04/02/2017 at 17:07:45
Fantastic result, especially considering WBA won and the RS lost. My word, they keep us on our toes though!
I've never felt more like singing the blues.
Craig Fletcher
26
Posted 04/02/2017 at 17:08:01
Crazy game! Full credit to Bournemouth, they just never give up.
Not sure what to make of the game aside from we were as panicky as I've seen us in a while after Bournemouth got their first goal. Didn't close down enough, and too keen to just lump it forward in the hope of finding Lukaku.
Lukaku was brilliant though, he was back to full-on beast mode today. Well done Blues.
George Cumiskey
27
Posted 04/02/2017 at 17:11:07
Absolutely terrible defending second half, Lukaku dragged us out of the shit.
We are desperate for a commanding CB and LB. Funes Mores and Baines are woeful at defending. How he brought young Holgate on instead of Gana for Barry was unbelievable!
Mick Davies
28
Posted 04/02/2017 at 17:13:53
Great hat trick - Everton, Everton Chile and Liverpool went to Hull and back
Chris Leyland
29
Posted 04/02/2017 at 17:14:44
George - it was 3-2 when Holgate came on. Tactical master-stroke
Ian Linn
30
Posted 04/02/2017 at 17:15:48
George (#27), we scored 6 at home and won convincingly and you're moaning, what did you want today, 10-0 with Lukaku scoring all of them?
Stephen Brown
31
Posted 04/02/2017 at 17:17:08
We are only 6 points from 4th at the moment! Still a lot to play for this season after all!
George Cumiskey
32
Posted 04/02/2017 at 17:22:20
No, Chris, I don't agree. I think we needed a player on at that time with a lot more experience.
Apart from that, I thought Robles was outstanding again and Ross had his best game yet, really getting stuck in and I've been his fiercest critic. So I hold up my hand and say well done, Ross – keep it up, mate.
Chris Gould
33
Posted 04/02/2017 at 17:23:26
George, we won 6-3 in a very entertaining game. It was exciting, enthralling, impassioned, unpredictable
We got 3 points, no injury concerns, the Red Shite lost – it's a bloody great day!!
Do you really feel the need to focus on what didn't go right?
Craig Fletcher
34
Posted 04/02/2017 at 17:26:47
George (#32) actually very good point re Barkley. It feels like he made more tackles today than he has all season. Got around the pitch very well and deserved his goal at the end.
Not sure what to think of his celebrating before he actually scored though......
Michael Kenrick
35
Posted 04/02/2017 at 17:28:54
This is what I've got for the assists:
McCarthy
Lukaku
(Francis)
Coleman
Barkley
Funes Mori
The first was perhaps the best, superb placement by the Big Man. The fourth, that finish by Lukaku off the pinged-in cross I think that's the one I enjoyed the most.
Paul Thompson
36
Posted 04/02/2017 at 17:29:38
Rom 'imperious' is right. When we were struggling in the second half, he took the game to them almost on his own at times. Barkley also very good, Lookman in glimpses and Davies good when he came on.
Koeman, however, will not be pleased at the defensive fragility and rightly so. A lot of people on the live forum thought bringing on Holgate was odd, but actually it changed our shape and narrowed the space for them. (Their third should never have stood – ball clearly out.)
John Graham
37
Posted 04/02/2017 at 17:29:58
Great result but got a bit nervous at 3-2. Strong bench, a few changes but the guys who came in performed well. Still a bit of a way to go but think we could beat anyone if playing at the top of our game.

Happy Saturday night with a few drinks to celebrate. Maybe have one for Niasse too (knew he could do it).
COYB
George Cumiskey
38
Posted 04/02/2017 at 17:31:33
No, Chris, no focus on it... but you have got to keep a beadie eye on it, lol!
Phil Walling
39
Posted 04/02/2017 at 17:32:35
Chris, you just have to accept that some people are so cynical!
Mick Davies
40
Posted 04/02/2017 at 17:33:40
Should never have taken McCarthy off – it should have been Barry, who was struggling after half-an-hour.
George Cumiskey
41
Posted 04/02/2017 at 17:35:25
Craig (#34), yes, how embarrassing would he have felt if he would have missed. Haha!
Lee Courtliff
42
Posted 04/02/2017 at 17:36:06
I thought my 2 quid on us to win 5-1 was ambitious!
Brilliant, crazy day at the Old Lady.
George Cumiskey
43
Posted 04/02/2017 at 17:36:39
Mick (#40) – spot on, mate.
George Cumiskey
44
Posted 04/02/2017 at 17:39:24
The big problem we have now is they will all be after ROM again!
Tim Kells
45
Posted 04/02/2017 at 17:41:20
Great day to be a blue. Let's hope Leicester play like Champions tomorrow and do us a favour.
Jay Harris
46
Posted 04/02/2017 at 17:44:55
Brilliant result summed up by the performances.
Williams and Mori get 4 out of 10.
Barkley and Lukaku get 9 out of 10.
Thought McCarthy had his best game in a blue shirt.
Still not convinced by Schneiderlin and Tom Davies must start every game.
Chris Gould
47
Posted 04/02/2017 at 17:45:38
George, even though your first post only focused on what went wrong... you're buzzing after that match, aren't you? Admit it, that was bloody good fun.

George Cumiskey
48
Posted 04/02/2017 at 17:50:09
Chris (#42) fantastic, mate... the cans are going down like nectar!
Paul Conway
49
Posted 04/02/2017 at 17:50:13
A few weeks ago on these pages people were criticising Koeman and even calling for him to be sacked. I think today's game has shown these doubters that under Koeman, Lukaku, McCarthy, Robles, Barkley have all become much improved different players.

We are on fire, we have our weekends back, 2 points behind Utd, COYB!
Richard Reeves
50
Posted 04/02/2017 at 17:52:07
What an afternoon. At least you know you're alive after that.

Robles proved again how important he is to the team and the fifth Everton goal celebration showed how close/together the team are. Great stuff.

Talking about celebrations, it's good to also see Niasse looking at home and happy when celebrating with his team after his goal.
John Raftery
51
Posted 04/02/2017 at 17:52:58
That Lukaku, all he does is score tap-ins!
Chris Gould
52
Posted 04/02/2017 at 17:53:48
The match is Sky Sports game of the day. The full 90 minutes on at 2030.
Jeff Armstrong
53
Posted 04/02/2017 at 17:54:54
I thought Schneiderlin was excellent in the first half but faded in the second half (match fitness?) Williams is starting to worry me though, Jags will be chomping at the bit and it might be time to rotate the defense again, Baines is waning before our eyes, but we have no one to challenge him now.

Barkley was great throughout and I absolutely loved his celebration before his goal,shades of Bally for me, don't know how we can keep Lukaku in the summer, leading scorer in this league is some feat, unless we qualify for champions league this season,I think he'll be going.

Maybe a Usmanov takeover, new stadium, big new 𧵎,000 a week contract might tempt him though.
Peter Cummings
54
Posted 04/02/2017 at 17:57:55
We had the game won at HT then allowed Bournemouth to take charge for over 20 mins after the break, causing panic stations every time they attacked, and could easily have levelled before we woke up, after they actually gifted us two of the first half goals .
After Stoke, I criticised Lukaku for going AWOL but today he was awesome or we could have had to settle for a point as the Cherries made a game of it.
Hard to be a bit negative after this result but once again we showed that a couple of problems need to be addressed; another great performance by Joel.
Mike Green
55
Posted 04/02/2017 at 18:01:33
Lukaku now Premier League topscorer...
James Byrne
56
Posted 04/02/2017 at 18:02:04
Just back from the game and what a match that was.
I've been a huge critic of both Barkley and Lukaku in the past but today they were excellent. You won't see four goals of that quality scored by one player anywhere in world football.
All round good performance but Koeman still has his work cut out; it looked like the McCarthy substitution put us on the back foot leading to their goals.
Anyway a great win on the day the shite get beat with those goals coming from an ex blue.
Trevor Lynes
57
Posted 04/02/2017 at 18:02:29
We are still short of a really commanding centre back who wins headers. Lamine Kone from Sunderland or Maguire would make a huge difference. We still need a second top striker to support Lukaku. He is carrying us up front as not enough goals are coming from our other frontmen.I would love to see a proper playmaker providing accurate passes to Lookman and Lukaku. When Bolasie gets back and is fully fit we will be extra strong. Moshiri MUST hang on to Rom for next season when hopefully we have strengthened the squad for the next campaign.Great result today and hats off to Bournemouth for giving us quite a few shocks in the 2nd half. Thank God for Lukaku who bailed us out!!!!
David Donnellan
58
Posted 04/02/2017 at 18:05:09
I wouldn't look too hard into the 3 goals that they scored. All of them were shit goals & the third should have been chalked off.
I just think that it was so easy today that the team switched off for periods of the game & lost concentration. I mean we have been quite stingy in defence recently.
In reality Everton played some great stuff & I felt the boys could go up & down the gears at will. I never felt we would draw today let alone lose.
Keep the momentum going, come on you blue boys!!
Andy Meighan
59
Posted 04/02/2017 at 18:06:13
Isn't that 10? Yes that's ten goals in our last 2 home games. Fucking awful to watch us aren't we?
Colin Hughes
60
Posted 04/02/2017 at 18:17:26
I have never seen an away side commit 10 men into our half for as much as they did, I honestly thought they were going to win it when it went 3-2.
Bournemouth committed footballing suicide there but we had enough quality in the end to kill them off.
I am expecting a much sterner defensive test off our next two opponents, Middlesbrough and Sunderland.
Joe Foster
61
Posted 04/02/2017 at 18:19:22
3 points is 3 points. That is all we or anyone can ask for.
Dave Ganley
62
Posted 04/02/2017 at 18:23:23
What a bizarre game. I think the players thought the game was won at half time and sat back. Fair play to them they finally dug in and it was comfortable in the end. Been a while since we had such a crazy scoreline.
The defence need to work on a few things but the whole team didn't do itself any favours in the 2nd half by just sitting too deep. Anyway onwards and upwards. Good win in the end and special mention to Joel Lukaku and Barkley, they all had great games. Barkley especially. I have been a big critic of his due to unrealised potential but whatever Koeman has said to him and or coached him, it's definitely working. His all round game is coming on leaps and bounds. Long may it continue.
RS losing, again, has just topped the day off nicely.
James Lauwervine
63
Posted 04/02/2017 at 18:23:36
Excellent one, Chris (#21), hahahahaha! I might have to do the same.
Steavey Buckley
64
Posted 04/02/2017 at 18:29:29
Lukaku has proved once and for all, without him, Everton would not be in a good place.
Mike Powell
65
Posted 04/02/2017 at 18:31:41
Chris (21), I have done the same. Barkley was again outstanding. Well played, Rom.

Don't want to really moan after a game like that but the defending was shocking. Let's just enjoy our weekend. COYB!
Jim Bennings
66
Posted 04/02/2017 at 18:32:14
7 points off 2nd place as it currently stands!!
Koeman's revolution may have taken a few months longer than expected, maybe unfairly expected given the state this club was in when he took over in June, but we are now seeing a team with bite, hunger aggression led by an absolute beast of a striker, who In my opinion if you give him regular service he is the best striker in the Premier League.
It was a thrilling game, not happy with conceding sloppy goals but in fairness lately we have defended well and Bournemouth are a good attacking side so their goals today contributed to a fantastic game.
Lukaku was and has been immense for 18 months now with that odd blip towards the end of the Martinez reign but the team as a whole went through a tough time then.
Onwards and upwards with another win at Boro next week, and I'd settle for a nice scrappy 1-0 win.
Paul Tran
67
Posted 04/02/2017 at 18:32:45
We just have to accept that at times, the other team will have a spell. I take my hat off to them for their approach second half.
I wouldn't have picked that team, but I thought we were superb in the first half and our quality shone through towards the end of the game.
Williams needs to concentrate more. If we have a slack day defensively, I can take it if we score six and focus on what we need to do.
I loved the way Barkley got stuck in and McCarthy charged around the park and went forwards!
Lukaku was immense. His finishing was top drawer today.
Tony Hill
68
Posted 04/02/2017 at 18:39:57
Lukaku's finishing was obviously marvellous but Barkley was superb. His touch, strength and awareness are just spot on at the moment and it was so good to see him celebrating his goal before he'd put it in the net. Someone or something has given Ross his confidence back. His tackling was so hard, clean and accurate as well.
Schneiderlin tired which caused us to saga bit as did McCarthy going off – he's still an important player and I fear I saw him feeling his hamstring; I hope not.
Fine game, great fun. This is looking promising. Oh, and a word for Robles who again made two significant saves.
Dermot Byrne
69
Posted 04/02/2017 at 18:40:39
That's the kind of game that keeps me watching football. Every game we play, even that, you can spot a weakness or error. But I will never understand why anyone would focus on that so soon after the final whistle. Just beyond my psyche. Thankfully most of us are made up and enjoyed that so much.
Chris Gould
70
Posted 04/02/2017 at 18:40:58
The league table is looking much better tonight. We have pulled ourselves right into contention.
Little bit annoying that WBA are clinging onto our coat tails.
Brent Stephens
71
Posted 04/02/2017 at 18:41:46
Great entertainment. Great result. Great performance, Lukaku and not just for the 4 goals (Premier League top scorer! Keep on scuffing).
Great performance by Ross.

Tom Magill
72
Posted 04/02/2017 at 18:42:27
It's all coming together now, get in!

My weekends are drastically improved, well done boys. If that was during the Martinez reign of terror you knew it was going to finish EFC 3-4 AFCB.
Brent Stephens
73
Posted 04/02/2017 at 18:43:10
"But I will never understand why anyone would focus on that so soon after the final whistle."
Amen to that, Dermot. Isn't it great not to be a miserable fecker!
Brent Stephens
74
Posted 04/02/2017 at 18:43:59
And never seen Ross tackle and compete for headers as much as today. The Koeman effect.
Michael Lynch
75
Posted 04/02/2017 at 18:47:45
Robles made some top saves and he seems to be commanding the box better these days. Would people be happy to see him as our No 1 next season, or do we still need to buy?
Mark Frere
76
Posted 04/02/2017 at 18:47:59
Pleased with the result and attacking display... but I thought Williams and Funes Mori were dreadful. I don't think either of them are bad players but both are bang average. A new centre-back or 2 should be a priority in the summer methinks!
Lookman looks a real talent. So glad we kept hold of McCarthy because he adds great energy in midfield and is a good option to have. We are looking really strong in midfield now with plenty of players to choose from. Barkley is in the best form of his life and might just become the creative Number 10 we all crave if he keeps improving.
What a day for our big Belgian. There's no doubt (in my mind) that we have one of the best strikers in the league. He's not perfect but his goal-scoring record speaks for itself and he is an handful for any defence to deal with... Especially when he's in the mood like today.
Eugene Ruane
77
Posted 04/02/2017 at 18:48:07
Win lose or draw, I always go for a few (gentle) pints on a Saturday evening with the same lads.
But us winning today and scoring 6 and them losing to Hull with Niasse scoring, just means those pints will tastes that bit sweeter.
(Obviously that doesn't apply to anyone bevvying in Wetherspoons – even if you beat Barcelona 10-0, your ale would still taste like stale flat piss)
As for the game, well I'm sure the tactics, substitutions and every kick will be analysed here, so I will simply say that the reason I buy a season-ticket is in the hope of seeing us stuff Man City 4-0 and occasionally to see a cocky local lad raise his hands in triumph BEFORE slotting the ball into the net.
Up the Toffees!
Dave Abrahams
78
Posted 04/02/2017 at 18:51:31
There wasn't many calls for McCarthy to play in the pre-match review of the game, he was outstanding pressing all the time, pity he was taken off, there was only one MotM but James was outstanding.
Lukaku was in his unplayable mood today, especially when we were in danger of throwing away the game, Barkley slowly getting some form together, Robles with a couple of good saves to keep us ahead when the defence were letting Bournemouth walk through them.
It looked easy in the end, I guarantee there wasn't one happy Evertonian in the ground when they scored their second goal, but all' swell that ends well.
Lukaku deserved all the praise going his way today as well as the match ball, but my favourite Everton player tonight is Niasse giving it to Liverpool.
Niasse, he scores when he wants to, good job he can't play against us.
Tony Hill
79
Posted 04/02/2017 at 18:58:38
Encouraging to think that our best player this season was sitting on the bench.
Tony Hill
80
Posted 04/02/2017 at 19:10:35
And fantastic on such a great day to see Colin Harvey around the ground and being interviewed. Humble as always in his greatness. God, I love that man.
Ian Bennett
81
Posted 04/02/2017 at 19:15:55
Credit to Ross, the man was outstanding today. A real good bit form, he's maturing well with Lukaku and showing the youngsters how its done.
6 points off Champions League and clicking through the gears. We're on the run in now.
Jim Knightley
82
Posted 04/02/2017 at 19:16:09
This talk about Gueye being our best player this season... I understand it, but I also think it is borne of a peculiar, and irrational, disregard of our central striker which is voiced so often, and continuously, on these forums.
My best player this season is the 23-year-old standing alone at the top of the scorers chart in the Premier League, without a penalty to his name. Cue some bullshit about him being lucky, not involved in play, having a terrible first touch...
Today was scary at times, but wonderful too. We are on a great run of form, and have some truly great defensive midfielders in the centre of the park. We need to add some creativity in the summer, and look at the defence. But this encouraging and we must must do our best to keep Lukaku. We will not be able to replace his goals.
David Price
83
Posted 04/02/2017 at 19:21:17
Credit to Koeman with his substitutions. Davies shook up the midfield and Williams much better with Holgate. We kept calm, passed and passed then stormed it. Great singing coming out of the Gwladys Street at full time. Crazy 20 minutes when the ref was shite too.
Third goal was well over the bye-line, but to get 6 today, magnificent.
Koeman will assess as usual and advise his chargers accordingly.
Paul Mackie
84
Posted 04/02/2017 at 19:22:26
Lukaku proved today (and not for the first time) that he's one of the best strikers around. People have spouted some inane shite on here about his conversion rate, but he's absolutely banging them in at the moment.
I think the difference is that he's actually getting the kind of service that he needs to thrive this season. He's not and never will be a 'back to the goal' type of striker. Play the ball to him when he running at the opposition and you'll get goals.
Phil Walling
85
Posted 04/02/2017 at 19:23:59
Just got a blurb on Sky Cyprus that the entire Everton game is on tonight from 7:30. We usually get Saturday games an hour ahead of them starting at home so check UK listings asap.
Ian Riley
86
Posted 04/02/2017 at 19:26:15
New five-year contract for Lukaku, please!
Happy days!!!
Roman Sidey
87
Posted 04/02/2017 at 19:26:38
Chose to go in to work for the morning instead of staying home and watching the match. Typical!
I never thought McCarthy would be much use as a Number 10 but he certainly looked alright in the highlights. I was actually pissing myself when he scored that goal. Build up was superb, but the actual goal itself has to be one of the worst goals a team can concede. Up there with Yakubu scoring against Spurs off his back.
Absolute cracking day!
Tony Hill
88
Posted 04/02/2017 at 19:27:19
Actually, Paul (#84), his hold up play was very good today also. I think Koeman is right to say he's one of the best finishers in the world now.
Kim Vivian
89
Posted 04/02/2017 at 19:29:18
I asked on the forum. If we keep this up, will Rom still be wanting away in the summer?
Rather than just stepping into a Champions League team, imagine the pride and kudos of being a big part of perhaps getting Everton there.
But I don't suppose for a moment that would sway him. Just hope he stays.
Eddie Dunn
90
Posted 04/02/2017 at 19:29:28
That was totally nuts. Lukaku amazing, and as Eugene said, the sight of Ross arms out in premature celebration, was fucking brilliant.
We did go pear shaped at the back for a while, but on a day when the Reds lost, Niasse scored, Englan pipped France, and theJocks surprised Ireland, I am too sported-out to care!!!!
Come on you Blues!!
Denis Richardson
91
Posted 04/02/2017 at 19:35:48
What a result and what a run.
Don't want to get carried away but we're 'only' 7 points off 3rd and have some winnable fixtures coming up.
At least one, if not more, of the teams above us will slip up – if we can maintain the current run .
'Borough away then we welcome the Ginger one. Nothing is easy but would be disappointed with less than 4 points, made up with 6!
Dan Davies
92
Posted 04/02/2017 at 19:39:03
Barkley putting tackles in with bite, McCarthy passing forward. Love it.
If Rom keeps banging em in is he deserving of his own song?
Sam Hoare
93
Posted 04/02/2017 at 19:42:14
How was Lookman?
Brent Stephens
94
Posted 04/02/2017 at 19:43:16
Eddie ya bastard! I'm watching a recording of the England / France game "as if live", while reading these posts. And you come on and tell me England won. Ya miserable git!
Ed Wallis
95
Posted 04/02/2017 at 19:51:35
Just got back from a fabulous match. Some great stuff played by the team today, particularly Ross Barkley & Morgan Schneiderlin. Lookman in glimpses looked fantastic but lightweight when we were under pressure, but his skills was fantastic.
My only issue is Barry should never start!!! As a fella said by me, "Barry, take the parachute off yer back..." He should come on to close out matches now when opposition are knackered. Not Having Davies or Gueye from the start is crazy!!
Koeman was a bit slow to change things but going back to a 3 was a great move to change the game back to us.
Lukaku was great.
Really great match and we all laughed at the end when we heard Niasse scored at the end.
COYBs

Jay Wood
96
Posted 04/02/2017 at 19:52:10
January and now February have been good months in the league for the Blues.
After the depressing cup exit to Leicester, a few spouted 'season over.' The league table is showing that was way too premature.
We are on a nice roll. Top of the form table over the last 6 league games, in which time we have gained 2 points on United, 4 points on both the Arse and City and a whopping EIGHT on our loveable neighbours.
Replicate that to season's end in the remaining 14 games and we have a genuine chance of reeling a few in and – who knows? – landing a Champions League spot.
Given the run we are on, the cup defeat to Leicester continues to grate. If we had got past them, we could have had a real shout at the trophy.
Still, to take a positive from it, I think it was a watershed moment for the very obviously angry Koeman after that cup exit. From that, he made many a decisive decision on numerous players in the January transfer window. The club, the squad and the team are healthier for it.
And just one comment to add about today's game:
Who would have thought it plausible to describe Barkley's tackling as 'crunching?' Because at least twice today, it certainly was.
Looking good...
Chris Leyland
97
Posted 04/02/2017 at 19:55:05
2nd on MotD – wonders will never cease.
Dave Abrahams
98
Posted 04/02/2017 at 19:55:28
Brent (#94), I think the winning try Eddie was talking about was disallowed.
Ste Traverse
99
Posted 04/02/2017 at 19:57:37
I recall not so long ago we had a beaut on here who described Lukaku as a 'bellend' and some other whopper said he should 'just get out the club', doubt they are saying that now.
Get the service to him and he will score. He should be cherished, we are unlikely to attract better if he left.
We are on a roll right now and the next two fixtures don't exactly look scary. The top six is within reach.
Great entertainment at Goodison today, we did look shaky at the back in the second half but they nothing to lose at threw everything at us, and the showboating by Ross at the end had us in the Street End in stitches.
Now we just need Man Utd to drop points tomorrow.
Paul Conway
100
Posted 04/02/2017 at 19:58:12
Kim Vivian @89
Re your comment on Lukaku, I am sure the vast majority wants him to stay.
Before the start of the season there was a £75 million pricetag slapped on him to ward suitors off Most of us guffawed, myself included,
This time around you can make that £100 million and stand firm, how many of us would agree?

Brent Stephens
101
Posted 04/02/2017 at 20:03:24
Dave, your a beaut, aren't you.
Christy Ring
102
Posted 04/02/2017 at 20:17:21
Delighted with the result, but I got very worried when it went 3-2. I couldn't understand why Koeman brought off McCarthy, who was back to his best, and left Barry on.
By the way, all the ' Mac'-bashers who wanted him sold, glad Koeman saw the real James.
Andrew Clare
103
Posted 04/02/2017 at 20:22:59
Cracking win and a great day all around as Hull did us a favour – watch them go they have found a terrific new coach.
Very nervous moments at 3-2. Bournemouth did very well to fight back but we smashed them in the end.
Koeman is the man. Look at the difference and he has only been here a few months.
Once the defence is sorted out we are going to be a formidable outfit.
John Pierce
104
Posted 04/02/2017 at 20:25:23
Got slaughtered for my half time analysis, and fair do – maybe it was too much, but the second half was exactly what had be coming in the last 10-15 mins of the first half; I can't ignore that.
Did Everton take the foot off the pedal? Sure. But Bournemouth kept the ball and did expose the back four, none of whom had particularly good games. Balance is the key and that restoration came in part with Holgate's introduction. I still feel with the personnel available, back three has to stay.
Happy to hold my hands up on McCarthy he played very well today, nice to see. Always happy to see improvements in players and that was a decent and controlled performance, bagged a goal which his play deserved.
Several gifts in that lot from Bournemouth, since Ake went back they become a veritable colander. But Rom's touch, kill and dink on the back pass was very enjoyable, as was his clapping when Ross rounded Boruc.
Who thought Ross could be a snide?
Julian Wait
105
Posted 04/02/2017 at 20:25:49
Lukaku could always score, but the best thing about him this season – better than the 16 goals even – is that he can actually control the ball now, hold it up, and then maybe turn and run, or maybe pass and run.
But when he is playing with the team as a component, and not some long-ball afterthought or escape hatch, we always look like scoring on the break/after pressing. He's becoming the complete striker and for that reason alone we need Europe next season so we can try and keep him.
Simon Smith
106
Posted 04/02/2017 at 20:33:59
Just about to see the highlights on Sky... First in line. Things must be looking up!
Don Alexander
107
Posted 04/02/2017 at 20:34:13
Big Ron deserves respect for what he's about with the squad. As Seamus said this week, "manning up" is the least to be expected of professional footballers, along with working hard. So glad that Lukaku had a beano and even he at the end said much the same thing as Seamus, namely watching the match this week to identify and eradicate problems.
Leicester last season showed what can be achieved by taking no notice at all of reputations. 14 games to go and who knows where we'll end up if any of Man City, Man Utd, Arsenal, Spurs or our lovely neighbours slip away from the two points a game they've all more averaged this season. 28 points more from us should be enough to send panic through the lot of them.
Just believe lads, believe!
Chris Williams
109
Posted 04/02/2017 at 20:38:08
Yes, it was great to see Ross putting in several crunching tackles, and they were crunching. You could hear them from the stands .
People have been putting good work in on Ross. He looks fitter and leaner, he contribute constantly now, not just the odd cameo, and a lot of simple passes within the occasional flash of talent. And now hopefully goals too .
Lovely.
Schneiderlin looks a player too, lots of time to play, passes long and short, tackles and interceptions, strength and some pace.
Lookman has great pace and lots of tricks as well as determination. He brings you to your feet. He will score goals for us although it may be a bit early to start with him. He may have more opportunity in the last 20 minutes when thins open up.
Some credit to Koeman here too. He set the team up well to start and it worked. In the second half the team dropped back collectively and a bloody great void in midfield was surrendered to Bournemouth to walk through, with 40 yards between Lukaku and the nearest player, hence long balls ad nauseam.
He changed back to a back 3 , with more players now in midfield, we took back control and scored more in pretty short order.
The problematical pairing of Williams and Funes Mori in a 4 does not inspire confidence though.
Chris Williams
110
Posted 04/02/2017 at 20:40:37
PS: Rom is some player when the bit's between his teeth!
Darren Hind
111
Posted 04/02/2017 at 20:45:44
It was Fred Kano's Circus out there today. Certainly not one for the purists, but it was hugely enjoyable. The Gifts we gratefully accepted. The storming comeback from Bournemouth which had most of us watching through our fingers (who saw that coming ?).
The 10/10 power show from Lukaku. The transformation of Goodison from being a collective nervous wreck to house full of party animals – once we had gotten ourselves over the line.
People complain on here about... err people complaining. But this is all we want, a game to get the pulse racing. It doesn't have to happen every week, just often enough to keep us guessing.
If you could guarantee half a dozen games like this next season, they could double the prices of season tickets and still be sold out by the end of the week.
Missed Lukaku's first, I was shaking hands with the big fella, just seen it now, nice, very nice.
Thomas Lennon
113
Posted 04/02/2017 at 20:57:23
Holgate came on to settle down the right at the back. Williams was not coping well and it showed.
Lookman looks a very good player but not one who will put his foot in, needs to be a bit more assertive to go with his confidence.
Robles got us those points as much as Lukaku did.
Davies came on and didn't get too involved but for me he already has a presence that we haven't had in several years. Good win, more lessons learned hopefully.
One of the bright spots in the first half in the Upper Bullens was the bloke yelling "Hull have scored!" over the otherwise complete silence in the stand.

Seamus McCrudden
114
Posted 04/02/2017 at 20:57:31
McCarthy had a very good game. Just watching the match again now. Bodes well.
Don Alexander
115
Posted 04/02/2017 at 21:02:00
Doesn't sound very big to me, Darren, if you've only just seen it.
Seamus McCrudden
116
Posted 04/02/2017 at 21:04:17
Jeez, Darren... are you coming over all positive for a wee change? Great stuff!!!
Graham Mockford
117
Posted 04/02/2017 at 21:05:39
Can someone tell Peter Roberts our '15-goal-a-season striker' has just got to 16.
Peter Mills
118
Posted 04/02/2017 at 21:07:42
What a perfect result for TW, plenty to celebrate and quite a bit to moan about!
Tony Abrahams
119
Posted 04/02/2017 at 21:09:21
Dave, I was fuckin made-up when Bournemouth, scored their second goal to be honest. I had a feeling their would be loads of goals so had a tenner on Everton winning 5-2.
Absolutely Gutted when the linesman couldn't see that their third goal was well out of play, but Barkley's goal helped changed the score-line even if it didn't soften the blow of not winning a bag of sand!
I've also done a double with Lukaku to score 1st and Darren Hind's tip in the 2:45 at Wetherby, and still don't know how that horse got on yet.
A day of hitting the bar, maybe, Or a nice few quid to pick up tomorrow? I still don't think we are even playing like a proper team just yet, and can't wait for the day when we do, because we have got some very good players, just now, and I'm sure we are all going to enjoy watching the kid Lookman, who really looks like he can play?
Brent Stephens
121
Posted 04/02/2017 at 21:15:52
Thomas (#113),
"One of the bright spots in the first half in the Upper Bullens was the bloke yelling "Hull have scored" over the otherwise complete silence in the stand."
Yes, I was there as well. Cracking moment.
Graham Mockford
122
Posted 04/02/2017 at 21:19:56
Colin Malone
123
Posted 04/02/2017 at 21:20:04
He scores when he wants,
He scores when he wants.
Oumar Niasse,
He scores when he wants.
Andy Crooks
124
Posted 04/02/2017 at 21:24:44
That was just great. Being an Evertonian has many dark moments but a day like today makes the sunshine.
Liverpool's defeat should not matter. But, by fuck, it is the icing on the cake! Niasse's goal is icing on the icing. Good times are coming.
Tony Abrahams
125
Posted 04/02/2017 at 21:31:54
I had a feeling it never won, Graham, because I haven't heard off me brother, but at least Liverpool fell as well and I suppose I was asking a bit much for the Dutchman to win after all the stick that Darren, has already gave him this season!
It's one of the reasons I don't gamble very often, so close yet so far, is just too full of heartache, but after not doing either Swansea, or Wolves, to beat Liverpool, I just can't believe I never backed fucking Hull!
Gary Willock
126
Posted 04/02/2017 at 21:34:39
Crowd today deserves massive praise today. Was easy to just 'get down' that it was 3-2 and looking likely to be 3-3 anytime soon.
But, we shouted ourselves hoarse and willed our team on. Then we shouted out 'when Everton win, and Liverpool lose...'; 'on the banks of the Royal blue...', 'if, you know your history...' to show them we were proud.
Whatever you think of Koeman and Everton at the moment, something special is happening. I can feel it in my vocals! COYB
Paul Birmingham
127
Posted 04/02/2017 at 21:38:22
Typical Everton, but it shows that there's still a long way to go, a lot to learn, but great to see the goals going in, and for me Joel saved it and Rom won it. Good signs and the bad ways of the 2 previous seasons all shown to provide some game.
Hopefully no injuries for Boro and let's hope we can be tight in defence and as clinical next week. Not getting carried away but it's been a good week.
David Price
128
Posted 04/02/2017 at 21:48:14
Spot on Gary, at 3-2 the crowd were immense and the team responded fantastically well.
John Harrop
129
Posted 04/02/2017 at 21:53:17
This game reminded me a little of the 5-3 match against Blackpool, almost exactly six years ago. There was a four-goal man on that day, Louis Saha, but on that occasion the opposition actually took the lead during the second half. The similarity lies in the number of players pushed forward that Blackpool were want to do, and that Bournemouth were forced to do. This gung-ho attitude, although something that we all enjoy, was ruthlessly exploited by Everton on both occasions.
What does surprise me is the excessive criticism of Williams and Funes Mori today. Neither player was on top of their game, but the drop in intensity in midfield and the number of Bournemouth players committed to attack put both under a lot of pressure. Both players receive a five from the Echo experts, while Mason Holgate, who was on the field for around ten minutes, gets a seven. I'm a great fan of Holgate and all of our fine younger players, but come on, this makes no sense. Koeman will iron out the defensive issues, I'm sure.
Let's forget the defensive lapses today, as we did against Blackpool, and celebrate a fine Everton win!

Terry Underwood
130
Posted 04/02/2017 at 21:57:06
Stop trying to dissect this game, you will go mad,.
It was just one of those glorious days. Enjoy the win and revel in the entertainment.
The question has been raised, "How do we keep Lukaku?" Easy, don't sell him, I assume he is still under contract?
Robert Workman
131
Posted 04/02/2017 at 22:00:45
So glass half-empty or half-full?<-> The way I see it is there are some Evertonians who would have been quite content if we had shut up shop and won 3-0, with a boring second half.
There are others who were stimulated by the excitement and nervousness when Robles had to make 2 great saves at 3-2. Then were euphoric when we came back to effectively win the game at 4-2.
The rest was just crazy. Leaving the ground exhilarated must have been a fabulous experience.
Even the Bournemouth supporters knew that their team had given it a go.
Reminded me of Blackpool (5-3) a few years ago.
Seamus McCrudden
132
Posted 04/02/2017 at 22:03:36
The 4th goal to make it 4-2. How many passes in the build up? Must be 20 to 30.
Matthew Williams
133
Posted 04/02/2017 at 22:06:26
If we could pass the ball around like the Bournemouth players, we'd be chasing down Chelski instead of the Mancs.
Great win, very good in parts, but Davies must start instead of Barry & 4-4-2 no longer suits our style of play.
Sticking to 3-5-2 at Boro will get us the 3 points, I believe.
Onwards Blues...
Gary Willock
135
Posted 04/02/2017 at 22:09:58
Cheers David, I have seen it a few times now this year. It's a reciprocal agreement, and great to see. Long may it continue. 👍👏
Martin Mason
136
Posted 04/02/2017 at 22:10:36
Congratulations to all today for a great game.
Rom gave the complete striker's performance and my guess is that a lot of big clubs are looking at buying him. My worry is that they are doing the same with Ross who has been magnificent in recent games. We must move heaven and earth to keep both because they are irreplaceable.
They say that a great team needs a great spine and we have it now from Rom to Robles but with a question mark at the centre of the defence but we maybe have it in Holgate.
The commentator on the stream I had said that Holgate came on so Coleman could push up further and he then set up the next goal so a good move.
Great days to be a Blue, methinks.
Dick Fearon
137
Posted 04/02/2017 at 22:17:45
40 points in the bag
Graham Hammond
138
Posted 04/02/2017 at 22:24:23
Great day to be a blue!
Loving Niasse and Robles at the moment, if Joel can keep this up absolutely no need for a new keeper, priorities have to be at CB for me. Two good calls from Mark Morrissey earlier. John Pierce has been bang on with comments/criticism about our Centre Backs. We need more aerial strength and pace in that area, Williams has neither.
Credit to McCarthy, I have been one of his biggest critics over the last couple of years, completely justified in my opinion, but now James is finally finally looking like a Premier League player, keep it up lad!
Tony Hill
139
Posted 04/02/2017 at 22:28:59
Yes Seamus #132, it was an even better goal than I'd thought. Brilliant build up.
Ray Jacques
140
Posted 04/02/2017 at 22:34:02
Schneiderlin .class. Just what we need.
I like funes Mori.
We may have a top keeper at last.
Ross slimmed down and mobile.
Niasse ha ha ha
Jack daniels is my mate
Good day and good night!
Dave Abrahams
141
Posted 04/02/2017 at 22:38:32
Brent 101, I wasn't being a beaut, honest, just a little white lie to keep your interest up. England did win in the end didn't they.
Geoff Williams
142
Posted 04/02/2017 at 22:44:00
Quite simply Williams is the weakness
Seamus McCrudden
143
Posted 04/02/2017 at 22:44:19
Koeman definitely should have taken barry off instead of mccarthy today. He went off at 3 1 and was involved in everything prior to this. Lookman faded too but did well 1st half. At least we have a bench now and to think our own little pocket rocket gana wasnt even on the pitch. Pleasant selection headaches ahead for Ronald.
Bob Parrington
144
Posted 04/02/2017 at 22:47:23
Strange days indeed! Goal fest at Goodison, Sunderland (away) smash Crystal Palace and, the icing on the cake – Niasse scores his first Premier League goal against, who else but, the RS.
Can it get any better than this?
David Barks
145
Posted 04/02/2017 at 22:58:31
We have to aim for a Champions League place. The squad is coming into form, we have a top class striker and Barkley has found his confidence.
We are honestly not that far off with all but Chelsea packed together in the standings. If we can qualify for that competition we could bringing in the players to strengthen the side around Lukaku. We must make that or aim.
John Raftery
146
Posted 04/02/2017 at 23:44:48
Quick, first time passing always makes it easier for strikers to turn defenders and create space for themselves, especially when the striker is as good as Lukaku. He is the best we have had in the last thirty years by a distance.
Before today we had only scored three goals in the first thirty minutes of league games this season. So we doubled our tally with the three in the first half hour today. Starting games on the front foot is always important but even more so when we come up against teams in the top six.
Ross Barkley was also excellent today. His tackling was fearsome and he was another who benefits when the team as a whole is playing at a fast tempo. He fully deserved his goal. His celebration before scoring reminded me of Steve Ovett waving to the crowd before reaching the finishing line of an 800 metres race.
Kunal Desai
147
Posted 04/02/2017 at 23:47:50
Just back from the game. That was madness. No idea why we took our foot off the gas in that second half and let Bournemouth back in.
Should have stopped the cross for their second and from where I sat I thought the Bournemouth player used an arm in the process of putting the ball in for third?
Let's keep the momentum going.
Brent Stephens
148
Posted 04/02/2017 at 23:56:06
Dave (#141) – I meant "beaut" in a positive sense. I understood your post! Good man.
Brent Stephens
149
Posted 05/02/2017 at 00:00:54
Did I hear it right that Rom has scored 20 in all competitions in the last two seasons (this one only part way through) and the last to do that for us was Sharpe?
Tony Hill
150
Posted 05/02/2017 at 00:08:43
I cannot think of a better pure finisher for us than Lukaku since Roy Vernon. Vastly different players, of course. I exclude Lineker, largely because I can't stand him and because I have never thought of him as a proper Everton player – just a money tourist for one year.
He's also, Brent, the first to score more than 15 goals for us, I think, for 4 consecutive season since Joe Royle between 1967 and 1971.
Interestingly, he's also our fastest recorded sprinter this season.
Liam Reilly
151
Posted 05/02/2017 at 00:22:26
Sell that lazy bastard Lukaku and get Charlie Austin in!
Seriously, I watched that game on 'Game of the Day'; just as I did at Bournemouth last season and I thought at 3-2 is this really going to happen again.
Robles, Barkley, McCarthy, Lookman and Rom - Awsome today. And Davies was pretty good too.
Daniel Lim
152
Posted 05/02/2017 at 00:32:46
Yeah Liam, and Barks should be reprimanded for showing such arrogance and disrespect to the opposition.
Joking aside, I couldn't help but laughed when I just watched the 20-min highlight on official site when Barks celebrated before his goal scoring kick. I was, however, wondering what if he missed the goal. We have seen weirder things.
James Marshall
153
Posted 05/02/2017 at 00:48:55
I know people love to analyse games, and that's what this thread is for, but personally I would like to think people still feel the joy of the game - seeing Ross hold his arms up in celebration before he even scored was joyous.
As Ian Wright said on MOTD, that's the kind of thing we all did as little kids playing the game, and there's one of our own doing it for real. Glorious stuff.
Lukaku unplayable, scoring 4 brilliant goals, Ross playing brilliantly, the team like a well oiled machine at times – yes we conceded 3 (should have only been 2 given that their 3rd shouldn't have stood) but who cares? We scored 6 beauties!
As an aside, and I know this is a bold claim, but Lookman reminds me at times of Eden Hazard – he has the same touch, balance and control, and the kid has a shot in both feet, plus a few tricks up his sleeve.
I have a feeling that things are falling into place now that Koeman and his team are getting their ducks in a row. 6 points off 4th place tonight, and Niasse scores against the shite!
Marvellous stuff all round! Up the blues!
Jonathan Miller
154
Posted 05/02/2017 at 00:55:31
Am I the only one who would like to see Harry Arter in a blue shirt? The guy was probing with his passes, never lost the ball, and gives 100% every time I see him play.
If we could keep the ball a little more, I really believe next season could be something special. Like everyone else, I'm enjoying being a blue ATM and today was just compounded by Niasse.
No-one is going to look forward to coming to Goodison Park again this season and that's the way I like it. I'm almost looking forward to visiting Old Trafford and White Hart Lane.
James Marshall
155
Posted 05/02/2017 at 00:57:17
Someone above asked about the 4th goal, and how many passes it was - it was 21.
See here http://www.bbc.co.uk/sport/football/38779235
Will Mabon
156
Posted 05/02/2017 at 01:23:42
That first goal by Lukaku - the fast one-two, the control, speed of movement, fast adjustment of feet, accurate shot dispatched with minimal backlift; all from a very large guy, performed with an almost training game nonchalance.
World class finishing, as good as you'll see from anyone past or present.
Joe O'Brien
157
Posted 05/02/2017 at 01:55:58
Yeah James (#155) counted them back... and the play before that had when we nearly scored had over 20 as well.
Crazy match. Rom is a beast when he's in the mood. Ross was great today also. Need to get him tied down to a long contract.
Catching up with the top 6 slowly and we're not even being mentioned. That's the way I like it..all of a sudden we're among them. The RS are bang average and we'll finish above them. Not even worried about them. Europa League at worst for me... hopefully better.
Col Walker
159
Posted 05/02/2017 at 10:24:49
Geoff (#142) er... quite. We scored six with 10 men yesterday, Williams was utterly useless. Sod the £12 mill, write it off, he needs replacing asap,he's had too many bad games for me.
Jonathan (#154), no you're not. I love watching him (Arter)!
Will (#156), precisely, wish the rest of his (Rom's) game was better though. Mind you, if it was, we would almost certainly lose him. His bad points are outweighed by his outstanding hunger and ability to score so I'm not complaining too much!
Based on his better days, if Man Utd or Man City etc offered £100M for Rom, you couldnt really say they were mad, especially after Pogba. But Christ, he frustrates me at times!
Roman Lizuch
160
Posted 05/02/2017 at 10:45:00
Really nice win. "Little hesitation" in the defence, but it is still a good result. I also liked the Barkley "early" celebration. A bit cocky but entertaining and that is why they are playing... to entertain people. :)
Dave Williams
161
Posted 05/02/2017 at 11:06:11
What does " beaut" mean in a derogatory sense? Ste Traverse called me one last year and I thought he was being nice!??
James Marshall
162
Posted 05/02/2017 at 11:21:31
'Beaut' is sarcasm. As in "You're a beaut," – a real good bloke.
Tony Ateman
163
Posted 05/02/2017 at 11:23:57
James 153 Bold claim? Try this: Lookman reminds me of the Golden Vision!
Brent Stephens
164
Posted 05/02/2017 at 11:42:16
James (#153), "I know people love to analyse games, and that's what this thread is for, but personally I would like to think people still feel the joy of the game."
Yes, sometimes the joy just transcends any analysis.
Brent Stephens
165
Posted 05/02/2017 at 11:44:05
James has it. I used the term in a complimentary sense. Tony is a beaut. A good egg. A spiffing fellow. The dog's bollocks.
Kevin Tully
166
Posted 05/02/2017 at 12:08:11
What a game, what a hangover.
Lads, what a player that Lookman could turn out to be. Tried to beat one too many on occasions, but I know why Koeman chose to put him in so early.
We could be on the verge of something very special with these youngsters. Don't want to get too excited, but the pieces could be falling into place for a new Everton dynasty here.
New stadium, homegrown youngsters ripping the place up and the Premier League's top goalscorer. Add a manager who doesn't suffer anyone offering less than 100% and it could be the start of something special.
I can't wait for the next game, never thought I'd be saying that after going out of the Cup.
John Daley
167
Posted 05/02/2017 at 12:08:52
Believe me, if a Scouser calls you "a beaut" they aren't being complimentary. If you were to take it in such a manner and come over mildly chuffed about it, then you would only be confirming the charge levied against you.
Colin Glassar
168
Posted 05/02/2017 at 12:22:11
A "beaut" can be both derogatory and complimentary.
For example;
That goal was a beaut = brill goal.
You're a beaut aren't ya? = you're a bit of a nob aren't you?
Mike Berry
169
Posted 05/02/2017 at 12:24:04
Lukaku brilliant today, Ross enjoying his new role under Ronald and playing in some great passes.
As for Lookman, well Steve Walsh was purring on Evertontv about what he had seen in training, stating his finishing with both feet is as good as Rom's, we could have something really special here.
I think the faithful have to sing "Da Do Ron Ron" by the Crystals every time we score as he may have found the right formula.
Colin Malone
170
Posted 05/02/2017 at 12:27:58
Ross Barkley has found a great mentor in Ronald Koeman. Ross was Class and is Class. Thank you, Mr Koeman.
Sue Brown
171
Posted 05/02/2017 at 12:33:08
Agree with all the comments above, great day to be a blue. And great to see Ross enjoying his football again, that celebration just the icing on the cake.
Interesting listening to Roberto on GoS earlier, still singing the praises of Ross, and saying when he's happy he has confidence and will put in a great performance, that pre-goal celebration epitomizing his character.
I thought McCarthy put in a good shift, and not taking anything away from that, but to me he didn't look 100% yet. Maybe I'm wrong but at times he looked to be running almost on tip toes and playing cautiously.
John Daley
172
Posted 05/02/2017 at 12:56:47
I agree, Sue.
In fact, the most pleasing aspect of the game for me was Barkley once again looking like he's enjoying his football rather than suffering through it with the weight of the world on his shoulders. The playground-style goal celebration showed that his confidence is back after once looking like it might have been crushed out of him for good.
Even those who claimed he was "brainless", "a Championship player at best", or would be turning out for "the likes of West Brom within two years", must surely be able to see he's been putting in some hard graft on the training ground in an attempt to get the weaker aspects of his game up to speed.
He's now doing the much talked about 'dirty work' many said he despised, shunned or was simply instructed to not even bother his arse about and supporters in the ground are responding positively rather than forever pointing the finger at him. He may have had an off day on the ball against Stoke, but he was still busy and willing to battle. That hasn't always been the case.
He was aided greatly yesterday by the players around him (Lukaku, Lookman and McCarthy in particular) constantly being on the move and giving him the option of releasing the ball early, rather than having to hold it, look up, see nothing but static ahead, hold it a while longer, look again, nothing on so pass back or lose it. If the team can carry on in that vein, then the 'dithering' Ross is often accused of should hopefully recede into nothing but distant memory.
Tony Hill
173
Posted 05/02/2017 at 13:17:16
Lookman's performance was better when I re-watched the full game last night than I remembered it live. He has a calmness about him that is striking. He composed himself alone before the game started and I think we have a serious mentality here to be allied to his talent.
Soren Moyer
174
Posted 05/02/2017 at 14:13:04
Get the deffence sorted! And please Ron, why can't you see that Barry is past it?
Now, gooooo Leicester!!
Brent Stephens
175
Posted 05/02/2017 at 14:51:25
John (#167) – my use of "beaut" is a hangover from my 4 years living in Oz. Solely complimentary on my part. Tony is a stout fellow(!).
Paul Tran
176
Posted 05/02/2017 at 14:53:30
Completely agree John D. I'm more than happy to eat my words as Ross is getting stuck in and producing the goods.
Paul Conway
177
Posted 05/02/2017 at 15:00:32
Apart from the main protagonists, I was/am expecting big things from Davies and Lookman whenever they get on the ball... That's the type of players they are becoming... Potential realised by just adding sweat!
Gavin Johnson
178
Posted 05/02/2017 at 15:01:49
Just logged into TW and the thread is discussing what 'beaut' means, brilliant! Only on TW lol.
The word does mean different things depending on the situation, but in the context of being called a 'beaut' by someone living in the northwest, it is almost certainly an insult and definitely not a compliment.
Don Alexander
179
Posted 05/02/2017 at 15:06:49
Good shout, Mike Berry at #169, but "Our Blue Ron Ron Ron" would be better.
Colin Glassar
180
Posted 05/02/2017 at 15:28:36
I hope the board are already tapping up our new signings in the summer to help us make a real, sustained challenge on the top 4. Hart, Keane, Sigurdsson and Aguero would be a good start.
Ron Sear
181
Posted 05/02/2017 at 15:40:24
Come on now, You all write on ToffeeWeb, somebody has to be grumpy.
Let's start with a counter-factual: if Lukaku had been injured and we were four goals short, what would our performance against the Cherries look like then?
I'm pretty sure that Koeman has a sneaking worry about some of the play in the second half.
Dave Williams
182
Posted 05/02/2017 at 16:29:09
Great feedback, chaps, re meaning of 'beaut'. Is it too late to feel hurt twelve months after Ste called me one?
Tony Hill
183
Posted 05/02/2017 at 16:30:56
I think we should continue to monitor Eddie Howe as a future Everton manager. I know there are those who point to his Burnley episode but I am full of admiration for the way his team played yesterday (and how they play generally), deprived of their main striker and depleted in defence. I thought their attitude was superb; if they'd nicked an equaliser, God knows what would have happened. He also conducts himself with grace and calmness.
When Ronald departs for Barcelona after winning us our first couple of Premier League titles, I think Mr Howe should be in the frame given his Evertonian roots and his talent. By that stage, I am sure he will have learned how to organise a defence.
Tony Hill
184
Posted 05/02/2017 at 16:44:21
ps: I liked their fans as well, kept their support going with good humour and volume and, apart from the inevitable "Is this a library?" stuff, were the least annoying set of away fans this season. Them and West Ham supporters – best this season, in my opinion.
Colin Glassar
185
Posted 05/02/2017 at 16:52:30
He's definitely one to keep an eye on, Tony. He's a very proactive manager who likes to mix things up and he's done a miracle job with tiny little Bournemouth.
Mark Fraser
186
Posted 05/02/2017 at 17:22:03
Ross was great. Still a few loose passes but he's getting there and he's finally realised that you're allowed to head the ball.

Nigel Munford
187
Posted 05/02/2017 at 17:50:34
Brent, spot on, I've work d and lived in Oz and it's the only meaning I know for 'beaut', generally very good, in context re yesterday "Rom, you beaut".
Nigel Munford
188
Posted 05/02/2017 at 17:52:32
To support this.
http://www.urbandictionary.com/define.php?term=beaut
Nigel Munford
189
Posted 05/02/2017 at 17:54:13
My brother, who lives in Hervey Bay, Queensland, uses it all the time to exclaim his joy at hooking a large fish.
Nigel Munford
190
Posted 05/02/2017 at 17:58:07
So, Dave, I'd suggest Ste made a typo. But in case he didn't I'd go with the Oz translation, so you needn't feel hurt.
Bill Gienapp
191
Posted 05/02/2017 at 19:40:43
Lookman does indeed look a special talent. Loved the cheeky back-heel flip to Barry, even though I imagined Koeman reacting the way Lou Brown does when Willie Mays Hayes makes the basket catch in Major League – "Nice catch, Hayes. Don't ever fucking do it again!"
Tony (184) – I often like to read the message boards for other clubs, just to see what their fans are saying. The majority are a moaning, miserable lot, just like us (I kid!), but the Bournemouth fans are always so polite and optimistic. Even after they threw away that 3-0 lead to draw Arsenal, the general attitude was still "It's still a point against the Gunners, lads!" I imagine once they've been up for a couple more seasons, the good cheer will be beaten out of them.
John Daley
192
Posted 05/02/2017 at 20:26:19
Dave Williams
193
Posted 05/02/2017 at 21:41:53
Thanks, John and Nigel.
I don't think he was aiming for the complimentary version!!
Les Green
194
Posted 06/02/2017 at 09:02:38
A great win in an entertaining match – so many positives . Lookman, Lukaku, McCarthy (definitely a "Koeman" player with his energetic pressing), Robles, Ross etc. And Niasse made me laugh in his interview when he acknowledged what he did for Everton by scoring against the RS.
Matthew Williams
195
Posted 06/02/2017 at 14:19:52
Just seen the Barkley back-heel for the fifth time... sublime.
More of the same please, Ross, next week at Boro.
Eugene Ruane
196
Posted 06/02/2017 at 14:58:12
Dave (#199) – could I add that if anyone on TW calls you a Texan, it won't be because they think you're from Texas.
Brent Stephens
197
Posted 06/02/2017 at 19:39:00
Eugene, you're a man of many talents. But predicting Dave's post at #199?!!
Andy Crooks
198
Posted 06/02/2017 at 19:52:05
Eugene (#196), I know that saying I don't get that makes me sound like my granddaughter when I tell here a "knock, knock" joke, but, I don't get that.
Eugene Ruane
199
Posted 06/02/2017 at 21:34:21
Brent # 232 -
'Eugene, you're a man of many talents. But predicting Dave's post at #199?!!
There are two possibilities 1) I am the Kreskin of TW 2) My peepers are going west due to use of Poundland readers.
Guess we'll just have to wait for # 199 to see.
Andy # 311 - Nothing to get really, just that 'Texan' was used (in Liverpool) in much the same way as beaut.
Brent Stephens
200
Posted 06/02/2017 at 21:42:28
Eugene – so YOU were 199! Very clever!
Jeff Armstrong
201
Posted 06/02/2017 at 21:48:42
Beaut – yes;
Ted – yes;
Teddy boy – (see Ted);
Quilt – yes;
Texan??? –Never heard of that one!
Eugene Ruane
202
Posted 06/02/2017 at 21:55:20
Brent learnt everything from this guy:
Andy Crooks
203
Posted 06/02/2017 at 22:14:34
Eugene, where to God do you get these links from?
I showed the Mane returning from Afcon one to about a hundred people. Seriously, it is like fucking witchcraft to me.
Eugene Ruane
204
Posted 07/02/2017 at 08:30:47
---
Add Your Comments
In order to post a comment, you need to be logged in as a registered user of the site.
Or Sign up as a ToffeeWeb Member — it's free, takes just a few minutes and will allow you to post your comments on articles and Talking Points submissions across the site.
© ToffeeWeb