Report
Derby misery continues at Anfield
By Michael Kenrick
01/04/2017

373 Comments [Jump to last]
Share: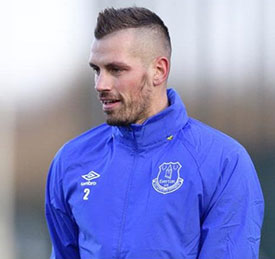 Morgan Schneiderlin misses this game and the next at Old Trafford
Liverpool 3 - 1 Everton
Decimated by injuries, Koeman turns to youngsters Pennington, Holgate, Calvert-Lewin and Davies for the Anfield derby, where Everton entered the game having not won foe the longest period in their history.
A lively start saw the Everton youngsters pushing forward from the start and showing every sign of the intent and desire needed to take the game to Liverpool. Calvert-Lewin and then Davies and Barkley tired to press their way into the Liverpool area.
Can was caught by Barkley after lunging in for a 50-50 ball but no yellow card, only a talking to both captains from referee. But in their first attack, Mane scored with ease for Liverpool past a poorly positioned Robles with three defenders unable to block him.
Coutinho was next to dance into the Everton area, this time Williams was across to stop him, but the three-man back-line was already teetering, the gameplan in ruins, and Everton no longer winning tackles, no longer pressing forward and in danger of being overrun. Two terrible passes direct to red shirts from Baines didn't help. A good pass to Lukaku's feet just bounced back off him to a Liverpool defender.
A much better attack finally saw blue shirts in the Liverpool area but Holgate's cross was just too high for Lukaku. Everton could not hold possession and the Reds attack but thankfully their passing was poor too.
Barkley turned well and drove forward but his ball to Lukaku was telegraphed and Liverpool attacked with pace, Robles saving well but high as Coutinho sailed past Pennington the ball looping up toward the net where Jagielka was smart enough to get back and head it off the line.
Baines won Everton's first corner and took it, Jagielka heading wide at the near post. Barkley then drove forward but was cut down by Can in a decent position for Baines to drive into the big red wall. Davies dived in on Mane late, taking out Barkley as well, earning a yellow card. But Davies then was fouled by Lucas.
Baines took Everton's second corner and it was Matthew Pennington who tuned it in off Gueye after it had been flicked on at the near post. 1-1, Game on.
But Coutinho found space, danced past Blue shirts and curled the ball past Robles again, hopelessly beaten and Everton blocking absent. Pennington and Holgate were struggling. A Liverpool corner ended with a push by a red shirt.
Everton looked to break forward but Barkley showed too much of it to Lovren and stood on Lovren's foot as he tried to recover the ball: yellow card (never a red despite rabid calls from the 'pundits'). Lucas bundled into Holgate in front of the technical area, as the Blues continued to labour when they did get forward, with very little service to Lukaku, Calvert-Lewin seeing precious little of the ball.
Coutinho threatened again but Gueye dispossessed him brilliantly before the whistle went for half-time, with Everton struggling to play their forward game.
Lukaku went wide and had to cross, but nothing came of it after the game restarted with no changes from Ronald Koeman. Calvert-Lewin was tripped, Barkley played in a very good ball that Williams got his foot to but no force. Easy for Mignolet.
At the other end, Can's shot ricocheted off Coutinho with the goal gaping, while at the other end, Barkley won a corner but it was headed away. Barkley slipped and was trodden on. Holgate could not cross Barkley's free-kick.
Calvert-Lewin had a chance to run forward with a loose ball that he was easily relieved of. That was after Baines and Mane had tangled, Mane requiring treatment.Walking to the sideline, he then collapsed dramatically on the touchline and rolledd back onto the pitch.
Barkley conjoured a shot that deflected up and bounced up into Mignolet's hands.Barkley then made a brilliant run across the dee but Holgate was blocked immediately. At the other end, Origi lashed a shot wide across goal.
In the next attack, Coutinho created the opportunity aand Origi was given all the space in the world, Williams massively at fault, and made no mistake.
A poor touch by Williams left him no option but to dive in with Can also stretching but the Everton player picked up the third yellow card of the game, Can's knee giving him trouble. While Barry and Valencia replaced Pennington and Davies.
Can came in with his studs showing on Gueye: Yellow card. Everton put together a good attack but somehow they failed to score. [69']
Everton attacked again but it broke down and there was a lot of space behind them.
Holgate's early cross won a free-kick as Milner handled the ball behind. Baines drove it in but it was headed away.
Calvert-Lewin was no match for Matic down the Everton left. Everton looked to break but Lovren made an easy tackle to keep the ball away from Lukaku. Can wriggled away from Baines and Arnold stabbed the ball toward the top corner but Robles pulled off a brilliant save to push it away.
Liverpool attacked with more intent and Robles had to be alert, with Mirallas replacing Calvert-Lewin for the last 10 minutes. Barkley was dispossessed by Origi in his own area, resulting in a corner that was defended away. But they kept pushing the dispirited Blues back, Arnold taking a potshot that Robles patted down.
An increasingly rare Everton attack was halted when Lukaku was accused of pushing. Everton had nothing to offer as the game had been lost since well before Origi's goal. Mirallas lashed over after making a good run from midfield. Lukaku played in a poor cross that was well past Barkley at the far post.
The pain was finally brought to an end. Eighteen games at Anfield in the 21st Century without an Everton win. Pitiful.
Liverpool: Mignolet, Clyne, Matip, Lovren, Milner, Can [Y:67'], Lucas, Wijnaldum, Mane (56' Origi), Firmino (91' Klavan), Coutinho (76' Alexander-Arnold).Subs: Karius, Grujic, Moreno, Woodburn.
Everton: Robles, Jagielka, Williams [Y:63'], Holgate, Pennington (66' Barry), Davies [Y:26'] (66' Valencia), Gana, Baines, Barkley [Y:38'], Lukaku, Calvert-Lewin
Subs:Stekelenburg, Kenny, Lookman, Kone, Mirallas.
Referee: Anthony Taylor
---
Reader Comments (373)
Note: the following content is not moderated or vetted by the site owners at the time of submission. Comments are the responsibility of the poster. Disclaimer
Mike Powell
1
Posted 01/04/2017 at 13:04:41
Get Pennington off the pitch. He may've scored but he as been awful.
Christy Ring
2
Posted 01/04/2017 at 13:09:50
Our midfield are giving them way too much room, and our defence is not able to cope, 3 at the back is not working.
David Morgan
3
Posted 01/04/2017 at 13:19:36
As long as Pennington is on the pitch we have lost. Barkley playing shockingly poor... c'mon Koeman, change it.
Ernie Baywood
4
Posted 01/04/2017 at 13:20:43
We talk about 2 up top like it means attacking. I'll just repeat what I said against Spurs. No width means no attacking intent. Pick whoever you want – makes no fucking difference.
Chris Williams
5
Posted 01/04/2017 at 13:22:29
Half-time and it's just not working. Midfield is being overrun and exposing the back three. Needs changing at half-time but our choice is limited.
Ronald will need to earn his wages now...
Thomas James
6
Posted 01/04/2017 at 13:23:21
Pennington is either having a shocker or isn't Premier League quality at all. Harsh to say this since he's young, but he contributed to both their goals.
Paul Conway
7
Posted 01/04/2017 at 13:24:00
Our only class player on the pitch is Gana. The pairing of a pair of dinosaurs like Jags and Williams is fucking lamentable.

Jim Hardin
8
Posted 01/04/2017 at 13:29:04
Only down one with blooding the youngsters. Criminal defending by Davies and Ghana, both leaving their feet instead of running with the player to limit his time for decisions. FFS, Coutinho almost always stops the ball to cut inside to shoot. Was our manager too busy writing statements about O'Neill to actually study game film and advise Pennington of this? He only had two weeks so time was limited.
Quick stat for Barkley's passing; to Everton 25%, to Liverpool 75%. He cannot possibly have a worse second half. Holgate as cover for Pennington not working. Holgate is lost out on the right. He isn't anywhere in the picture most of the time. Could we see a back four with Pennington off and Super Kev or Lookman on?
Ed Fitzgerald
9
Posted 01/04/2017 at 13:31:14
We are still in it, we need to get some genuine width on the pitch.
Ciarán McGlone
10
Posted 01/04/2017 at 13:37:24
5 man back line (because that's what it is) hasn't worked. Pennington isn't good enough and Williams is an awful player.
Needed to change it at half-time... we didn't.
Andy Meighan
11
Posted 01/04/2017 at 13:44:18
Keep this side as it is and this shape we could be in for a pasting here.
The goal aside, it was a massive gamble playing Pennington and Koeman wants fucking for that. Ditto Calvert-Lewin – both not up to it, I'm afraid and too big a game for them.
FFS – haven't we suffered enough there???
Max Murphy
12
Posted 01/04/2017 at 13:49:36
Absolute shite.
Steve Carroll
13
Posted 01/04/2017 at 13:50:17
Clueless, hopeless, useless not good enough tactically and not a good choice of personal.
Paul Conway
14
Posted 01/04/2017 at 13:52:48
Red cat. Blue Pigeons!!
Colin Hughes
15
Posted 01/04/2017 at 14:05:11
Origi can't hit a barn door most weeks and only ever scores against us. So much for our better defence this season, we have been tonked at most hard grounds, even City away was a 1-1 hiding.
Craig Walker
16
Posted 01/04/2017 at 14:06:17
Lukaku hasn't turned up again. Ross not good enough again. Pennington like a fish up a tree. Wolves can beat them. We're like rabbits in headlights. My lad is 6 and has still never seen us beat them. Awful!
Brian Wilkinson
17
Posted 01/04/2017 at 14:12:20
Don't even go there with Lukaku Craig, the pack of Wolves will be out with their burning torches, how dare you even suggest Rom not turning up again against a top 4 side, be prepared for a backlash from other posters, not me.
Kenny Smith
18
Posted 01/04/2017 at 14:13:55
If anyone still thinks Barkley is the future for Everton, then they're on fuckin' drugs. He is last and should be sold as soon as the final whistle is blown on this season.
His job is to create chances for us – not the opposition!
Craig Walker
19
Posted 01/04/2017 at 14:16:13
These are the games that matter to me, though, Brian, and the semi final. I've said for 3 years we need two commanding centre-halves, a top-class keeper, creativity and a forward who turns up at the big games, especially away from home.
Take a look at Duncan in his first spell in worse Everton teams for how to play in derbies.
John Parker
20
Posted 01/04/2017 at 14:16:14
Rom hasn't turned up... end of.
Mike Powell
21
Posted 01/04/2017 at 14:16:43
Pathetic. I now know that we will never beat them again at Anfield. We should just give them the three points every year, so I don't have to watch any more of this dross.
Kevin Rowlands
22
Posted 01/04/2017 at 14:18:46
Absolutely dire performance, but special mention for two of them, Barkley was fucking awful his worst game ever for us and Lukaku, does he ever show up in a big game?
Ernie Baywood
23
Posted 01/04/2017 at 14:20:38
We used to cross the ball to him though, Craig. This has been A-Grade cowardice. All lined up through the centre, same as the Spurs game, and hope we don't get twatted.
Peter Fearon
24
Posted 01/04/2017 at 14:22:54
It is obvious that Lukaku already knows where he is off to in the Summer. He is hiding under the bed making sure he doesn't get injured before the end of the season. We'll see more of that before the end of May.

Brian Wilkinson
26
Posted 01/04/2017 at 14:24:51
I am with you all the way Craig, trust me, I could not agree more. He doesn't do it when it matters in the big games.
Pat Whitmore
27
Posted 01/04/2017 at 14:26:19
Pathetic and the worst thing is we made them look good! Too many players just didn't turn up when needed.
Ciarán McGlone
28
Posted 01/04/2017 at 14:27:02
That was embarrassing. Some horrible tackles from our lot as well... I wonder will the mob who viciously rounded on Taylor be out in force after that.
Craig Walker
29
Posted 01/04/2017 at 14:27:16
Ernie, I agree he got no service and I felt a bit sorry for him but the ball bounced off him at 0-0 and I knew it'd be one of his bollard-mode games. Whenever we think we have a chance against them, we bottle it.
We don't even win the argument that they're a bunch of cheats because Barkley was a lucky boy today. I still think Koeman is good for us and the future is bright. Gutted though.
Phil Sammon
30
Posted 01/04/2017 at 14:27:52
Absolutely pathetic. Can you imagine the last 10 mins of a derby that we were leading 3-1? We didn't even go down with a fight.
Hard to single out any particular individual... but Holgate was awful. Honestly looked like he'd never played football before.
Really hard to watch that one. Why do I even give a shit if the team in blue win? None of them even care.
Brent Stephens
31
Posted 01/04/2017 at 14:27:56
Williams, Ross and Rom probably the worst on the pitch for me. Can't say we had a decent performance from one player. A poor team performance all over, even allowing for having youngsters in there.
Ian Hollingworth
32
Posted 01/04/2017 at 14:27:59
Absolute shambles a real disgrace.
Thanks Rom see you really showed us your class there, mate.
Dan Egerton
35
Posted 01/04/2017 at 14:30:10
As I've said a few times before, Lukaku isn't a top 4 team player. He destroys poor opposition – hat-tricks against Sunderland and Bournemouth – but has only scored 3 times against top 4 teams this year.
We all thought three centre-backs was a good idea, as did I, so can't blame Koeman for going that way. I wonder if starting with a back 4 with Barry in front of them, would have fared better.
Face it, we have a long injury list... surprising we didn't lose by more.
David Barks
36
Posted 01/04/2017 at 14:30:16
Yeah, that was Lukaku who couldn't complete a pass in midfield, who kept getting skinned in defense, who couldn't beat the first man with a cross.
Definitely wasn't Gana and Barkley and Davies and Calvert-Lewin and Pennington and Baines and Holgate and Williams.
Definitely all down to Lukaku...
Andy Meighan
37
Posted 01/04/2017 at 14:30:55
The manager handed that game to them on a plate, nicely wrapped with that line-up. Once again showing himself up for what he is: tactically inept.
The inclusion of Pennington and Calvert-Lewin was laughable. The red twats must've been pissing down their legs when they seen that line-up. Another capitulation at a ground of a team above us.
And I expect more of the same at Old Trafford. I'm done with you Everton, you knock me fucking sick.
Jack Cross
38
Posted 01/04/2017 at 14:31:22
So we haven't turned up again, what's new there?
It's not so much being defeated, it's how lacklustre our performances are against an average team.
When the best you can do is bring on Valencia and Barry... well, that sums it all up.
Christy Ring
39
Posted 01/04/2017 at 14:31:26
No drive, no effort. Lukaku, Williams abysmal. Gueye poor and missed a few tackles. Seamus a huge loss.
Peter Morris
40
Posted 01/04/2017 at 14:31:35
Liverpool's first goal came from Tom Davies giving the ball away in midfield. The third from Holgate giving the ball away on the flank. Our ball retention was woeful. Misplaced or under hit passes all over the place.
We really missed a player of Schneiderlin's ability out there today. He rarely wastes a pass, but there was so much of that going on from that shower out there I could hardly believe what I was watching. Let down as usual. Another season wasted.
Phil Sammon
41
Posted 01/04/2017 at 14:31:53
Anyone having a go at Barkley must be on something. He was the only one who even verged on being decent today. Bad tackle, mind you.
Karl Jones
42
Posted 01/04/2017 at 14:32:25
Terrible. Wheres the fight? Look at Rangers v Celtic, Spurs v Arsenal. All show fight till the end. Everton play like a scared little mouse every season.
Just sign a treaty and give them the points without playing the game, it will be easier on the Evertonians.
Terry Underwood
43
Posted 01/04/2017 at 14:32:36
At least I got a chuckle:
Turned up at the pub, even split blue and red except one guy stood out, about twenty, red scarf, red hat and enough metal badges to choke a donkey. Looked like he had spent all his pocket money on metal scrap. Even the older reds were laughing.
Willing to stake good money he had never been to a live game. Twat. Wonder if his name is Olaf?
Craig Walker
44
Posted 01/04/2017 at 14:34:03
Lukaku wasn't good but got no service. Barkley was woeful. Williams was like Stones last year. Pennington kept jockeying till they were in our box. No good performances.
Thing is with Rom though, he's the one saying he's too good for us and wants Champions League football. Afraid you have to back up your claims or keep your mouth shut.
Paul Thompson
45
Posted 01/04/2017 at 14:34:32
When I saw the line-up, I thought it looked light in midfield and unfortunately that's how it turned out.
As others have noted, Barkley and Calvert-Lewin playing too high up the pitch, too much room for them to run through at a wobbly defence.
What puzzled me was how slow Koeman was to change it. Earlier in the season, he has been very good at responding within games. This time, too late for too long.
He'll have learned a lot from this game. So have we and none of it is good.
Ian McDowell
46
Posted 01/04/2017 at 14:34:53
Well, that was pathetic. Right down the spine of the team.
Robles – positioning for the goals?
Center backs – Jagielka and Williams both shocking; I won't single out Pennington.
Midfield – Barkley completely woeful
Lukaku – did nothing although service was garbage.
Watching the game, the most noticeable difference between the teams was the passing and speed. Liverpool's passes where all to feet or into space ahead of the man. Ours were all leaving our players stretching for the ball or on the verge of going out of play.
George Cumiskey
47
Posted 01/04/2017 at 14:35:29
Completely outclassed by an average Liverpool team.. Shambles of a system. Poor team selection, poor substitutions.
Holgate and Pennington should've been off at half time. I think Baines is finished as a top Premier League player... if only for Jags, it could of been ten.
Koeman has got a lot of hard questions to answer, he came across as clueless as Martinez! And the sad thing is none of the young players seem good enough apart from Davies.
Peter Roberts
48
Posted 01/04/2017 at 14:35:40
I can handle players having an 'off-day' – that was very much the case for Pennington, Williams, Barkley, and a fair few others. Too many had an off-day for us to have a chance of getting anything. Starting with the manager – just poor.
Then there is the ineffective due to "not being arsed enough to try"... stand up, Romelu Lukaku – you won this award all by yourself. A derby at Anfield against a poor defence and he could not be bothered. But I will get all sorts of nonsense with words like "service" cropping up.
Embarrassing. Get out of our club.
Ste Traverse
49
Posted 01/04/2017 at 14:36:32
I couldn't believe the rash predictions about us winning the game over on the live forum, in particular after seeing the line-up, I felt it was wrong then. The game showed the manager got it hugely wrong.
Calvert-Lewin was a passenger and should have been hooked at half-time; Pennington looked overawed and all over the place at times, but given he's a kid with hardly any experience, I'll go easy on him. Perhaps Lennon could have played right-wing back with Holgate one of the 3 centre-backs? And Robles certainly could have done better with their 3rd goal.
Barkley was utter garbage and shouldn't have even been on the pitch and Williams is getting poorer and poorer by the week. Rom offered nothing.
We freeze, year-in & year-out over there, and they've hardly been vintage Reds teams over the last 18 years.
Ciarán McGlone
50
Posted 01/04/2017 at 14:36:56
Phil,
Barkley was abysmal. Gave the ball to them more than us... much worse than Holgate who you seem to have singled out.
Ian McDowell
51
Posted 01/04/2017 at 14:37:34
Peter Reid summed it up perfectly. Forget about tactics – you've got to come to places like this and stand up.
Ernie Baywood
52
Posted 01/04/2017 at 14:37:37
Craig, the ball will always bounce off him. We know this and still insist on playing this way in the big games.
Brian, here's what I wrote about Lukaku in response to your plan...
"if our plan is to revert to sitting everyone deep and narrow while hitting long balls straight over Barry's head towards a forward, then yes I wouldn't bother with Rom. His lack of defending from the front makes him more liability than help in that 'system'.

I'm sure we all hope that's not the plan though."
That's exactly what we did. No width, no-one breaking forward.
Paul Conway
53
Posted 01/04/2017 at 14:38:05
'Decimated by injuries' – We simply can't live with any team in the top six.
We have Gana, Lukaku, Coleman (injured). And the rest are also-rans.

Gordon Crawford
54
Posted 01/04/2017 at 14:38:06
Lukaku doesn't care about putting in a shift. Another derby and he doesn't turn up. He just doesn't care. Must go.
Ross is talented, but hasn't the guile to be able to use it. Got to stay? I'm not sure.
Williams is just crap, period, and he smiles too much during games. Must go.
Baines is finished too. Can't cross the ball, can't beat a man. Must go.
Jagielka played well today. I would give him another season as back up.
The young lads didn't play well at all. But it was always a mountain to climb with so many other players not shinning. They will get better.
Gana I felt was on his own. He wasn't good. The the others I just can't be bothered rating. We need lots of new players.
The manager has improved us some. If next season we are having the same problems, then he needs to go. Bored already.
Ian Riley
55
Posted 01/04/2017 at 14:40:03
7th place is our limit. Much work to do.
Chris Williams
56
Posted 01/04/2017 at 14:40:08
Rotten team performance. No redeeming features. Poor in defence, midfield and attack non-existent.
Liverpool didn't need to play well to win and that's the worst thing to say.
The youngsters were passengers in the main, but you can't single them out when the experienced players were so fucking rank.
Shown up again by a team in the top 4 or 5. Just not good enough.
Way too easy for them.
Ernie Baywood
58
Posted 01/04/2017 at 14:40:58
Anyone just see Ronald's interview? Wow. We called the last guy deluded...
Kevin Rowlands
59
Posted 01/04/2017 at 14:41:34
Phil, I'm a big fan of Barkley's but I have to disagree mate, he was piss poor today.
Anyway, one thing's for sure: I think we'll see a very different Everton side playing at Anfield next season, thank fuck.
Michael Lynch
60
Posted 01/04/2017 at 14:42:02
The gulf between the top 6 and the rest has never looked wider, in my opinion. Spurs gave us a bit of a masterclass in passing, pressing, positioning and movement at White Hart Lane, but the RedShite didn't even have to do that to beat us, they just had to turn up.
If we finish 7th, that's about as good as we can hope for with our current team. Next season? Depends who we sign, and who we can retain, doesn't it?
Craig Walker
61
Posted 01/04/2017 at 14:42:24
In that first goal, Mane against me as an amateur, 42 years old and a winger, I don't think he'd get round me like he did with Williams. I'd let him move it and go for the ball when he draws his leg back.
Second goal, Coutinho is gonna switch it onto his right foot and curl it. Have our players not watched the RS?
Ian McDowell
62
Posted 01/04/2017 at 14:43:38
Michael, your correct. The top 6 are streets ahead. The difference in passing today was huge.
Mark Morrissey
63
Posted 01/04/2017 at 14:44:04
Craig @ 16 sums up half the team when he describes Pennington being like a fish up a tree. Holgate was appalling. Barkley played like a nervous wreck. He had psyched himself out of today's game. It's all in his head.
Pennington, Williams and Jagielka were woeful. Lukaku did not have a good team behind him today and that's why he looked inept. Everton throughout looked nervous, always second best and very, very disappointing.
They were undone when Seamus got injured. Jagielka said his injury would raise Everton's game. No it didn't. They seriously need a psychiatrist to work with them before this fixture. It is all in their heads, a full mental blockage.
I said yesterday, I just want us to change this hoodoo. Idrissa Gana Gueye was the only decent player today for Everton and I suspect he might be putting himself in the shop window for the summer.
Phil Malone Jnr
64
Posted 01/04/2017 at 14:44:35
Reading these posts... How has no one mentioned Calvert-Lewin!!!!!!!!!!!!!!! The lad is appalling! He offers nothing going forward, he would struggle to hit 10 starting every week in the Championship.
What position is he? Is he a wide player, a striker with no pace or skill. Lukaku moaning about the players we brought in, wasn't his best day, but spot on mate.
Colin Hughes
65
Posted 01/04/2017 at 14:44:44
Forget Moshiri, forget Koeman, forget Bramley-Moore Dock... Everton FC are going backwards. The likes of Spurs, RedShite and Man City are clubs on the rise with top managers, players and prospects.
Ernie Baywood
66
Posted 01/04/2017 at 14:44:53
How long do we say that for, Kevin? This was mentality over player ability.
We had an attacking player who could stretch them and we parked him on the bench in favour of a young defender making his first start of the season.
That's not lack of players. That's shitting your pants.
John Pierce
67
Posted 01/04/2017 at 14:45:39
Gana, well played lad.
Baines can keep his head high.
The rest can fucking walk back to Goodison in their kit.
Paul Burns
68
Posted 01/04/2017 at 14:45:45
Cowards again. Everton leave us without a leg to stand on in this city with their inability to understand what these games mean to the fans. It always looks like they just turn up totally unprepared.
How many more times do we have to have these pathetic post-mortems? Forever by the looks of things because the club are too stupid to employ the right manager, coaching staff and players to do anything about it.
I fucking hate them and there will soon come a time when I don't want them to represent me anymore. I don't want to be associated with perennial losers.
Still, The Sun is barred out of Goodison, so we can all relax.
Sean Patton
69
Posted 01/04/2017 at 14:46:05
Pat (#27),
T'was ever thus...
The only small crumb of comfort is that this game was after the international break and not before... Imagine having no match for a fortnight after enduring that spineless showing.
At least we will have something else to discuss on Tuesday evening from this bunch of bottlers.
Barry Pearce
71
Posted 01/04/2017 at 14:47:01
Whatever way you look at it, tactics formation. We just weren't good enough, because the players weren't good enough.
Gary Willock
72
Posted 01/04/2017 at 14:47:04
Rom was awful today... must have his move already agreed, because if that's putting yourself in the shop window, there is nothing down for him.
Ross at least tried, although I think he was that desperate to do something that everything he did just didn't work. Crowd was on top of him there too, so I think he needs to be given some slack.
Williams and Jagielka are not a pair (and are often a liability). Holgate is not a wingback and Pennington should not have started in a 3!
On the brighter side, it's experience for the youngsters and hopefully we can now use what's left of the season to keep doing that! Kenny, Walsh, Williams, Dowell all need to be given a go too.
Michael Lynch
73
Posted 01/04/2017 at 14:47:36
Koeman says: "Tackles are part of football I saw some tackles from Lucas.
"It's all about football but we don't make a show from the bench like Liverpool. It's football – a hard and fair game.
"I don't like coaches from the bench the whole time shouting to referees and linesmen, making a big show about tackles. They were crazy. They didn't need the physio on the pitch. It's a man's sport."
Now, while I agree that Klopp is a Grade A fucking helmet, some of our fouls were red carders.

Alan Bodell
75
Posted 01/04/2017 at 14:48:11
Total shambles from so many today, I cannot blame Pennington and Holgate but Williams and in particular Barkley were woeful.
For me, I'm afraid the time is up for Ross as he is no longer 'potentially' world class but his future is the Championship and not with the so-called project we embarked on with the new owner and management.
David Connor
76
Posted 01/04/2017 at 14:48:19
Garbage yet again in the biggest game of the season. No desire, no class. No fucking chance.
Massive summer coming up. Big changes needed. I won't be surprised if we don't finish 6th. And after today, I don't give a flying fuck. We were fuckin' garbage.
Ronald Koeman says hes proud of the team. What planet is he on? Give me something of what he's had please. It may take away some of the pain.
Gutted yet again.
Craig Walker
77
Posted 01/04/2017 at 14:48:44
Well said, Michael Lynch.
Ernie Baywood
78
Posted 01/04/2017 at 14:49:03
It will be interesting Gary. With nothing to play for I'll bet that he doesn't blood the youngsters. I'll guess Mirallas will get a start.
Andrew Clare
79
Posted 01/04/2017 at 14:49:15
Michael,
That's about it really. We haven't won at Anfield for 18 years because they have been a far better team than us in all that time. Even when they have had bad teams they have been better than us.
Any team that aspires to top four status will not have players of the ilk of Barry, Jagielka or Williams in their first-team squad. We have 20 years of neglect to catch up on.
Brian Williams
80
Posted 01/04/2017 at 14:49:34
Poor to a man today... and if you let the likes of Coutinho, Mane, and even Origi run freely from halfway inside our half to the edge of the box, then you're going to get punished, and we did.
Redknap said during the game that Lukaku looked disinterested and at times he did but when a big target man type of centre-forward gets little service, then he's a spectator, just as Lukaku was for most of the game, not having one effort on goal.
I know it won't happen, as Koeman likes a big centre-forward, but I'd love us to move away from a big man up front and have two fast, really mobile players who actually go looking for the ball and can often create things for themselves. Coutinho and Firmino, although the latter didn't shine much today, gave them so many more options.
They played to their strengths today; we didn't. The magnitude of the occasion got to Ross Barkley and Tom Davies; unfortunately, it didn't have a positive effect on them.
Mark Morrissey
81
Posted 01/04/2017 at 14:49:42
Koeman starts with "I'm proud and three at the back worked well."
What on earth is he on about??? Deluded liar. Speak the truth, ffs.
Phil Sammon
82
Posted 01/04/2017 at 14:50:03
It almost runs deeper than any player on the pitch. It doesn't matter who plays, we just fall to pieces.
Dermot O'Brien
83
Posted 01/04/2017 at 14:51:11
No intensity, no passion, no clue, no excuses. The relegation threatened Everton of the 90s were poor but at least they had guts.
I'm sick of this namby-pamby shite against the "big" teams. Made Liverpool look like Madrid.
Andy Meighan
84
Posted 01/04/2017 at 14:51:45
Kevin (#60) why will we see a different Everton team at Anfield next season? Everton as a club are petrified of Liverpool as 18, soon to be 19 years of misery will tell you. Our players wet themselves as soon as they clap eyes on the place.
This is not a new thing, it's gone on for donkeys years. This might hurt some of you but the way I feel at this time, I couldn't care less. Liverpool as a club are light-years ahead of us. They've embarrassed us again.
I said last week, I doubt if I'll see another win there as long as I live. And at nearly 58 with possibly another 20 years all being well, I'm sticking to that Bogey team, our local rivals. How sad is that?
Craig Walker
85
Posted 01/04/2017 at 14:52:24
It doesn't matter whether they have Suarez or Igor Biscan, they've beaten us in the tunnel. We never fucking learn though?
I'm gonna make a pledge that I won't call the RS "a shit team" until we're consistently beating them and above them.
Anthony Millington
86
Posted 01/04/2017 at 14:52:40
We had no chance with that starting line-up. Admittedly it was a difficult decision who to play given the injuries. But Koeman said we should not be scared of Liverpool and then played 5 at the back including two very inexperienced defenders... and left our attacking wingers Mirallas and Lookman on the bench.
Liverpool were bound to go 1-0 up and then the game plan to scrape a draw was in ruins. It was too much of an ask to play both Pennington and Holgate.
I hoped we'd learned lessons setting up too defensively in away games like Chelsea and Tottenham. I'd even question whether you can afford to carry luxury players like Barkley in this.
David Morgan
87
Posted 01/04/2017 at 14:56:09
@Alan, you should blame Pennington and Holgate because they were awful. I think Holgate can be a decent centre-back but isn't a right back. Whereas Pennington simply does not look to be Premier League standard.
Yes others were bad; Barkley, Williams and Robles...but people blaming Lukaku? it is a bit ridiculous. He wasn't good I agree but he isn't the problem; the tactic from the manager, the slow subs and slow tactic change and more importantly the 4 or 5 players in the team today that aren't good enough... those are the problems.
On the positive side, we have Bolasie, Schneiderlin and Coleman to come back. Add to that two quality centre backs over the summer, Rooney and super fast striker to replace the inevitable Lukaku departure, and we will be able to give the likes of Spurs and Liverpool a real game.
Paul Smith
88
Posted 01/04/2017 at 14:56:12
Fuckin Fuming!
John Pierce
89
Posted 01/04/2017 at 14:56:13
Williams and Barkley should be straight in the Liverpool dressing room to apologise.
Both those tackles were red. Barkley twice now in a Derby has failed to control himself.
We played with no composure under little pressure from Liverpool. Koeman talking about the above and Klopp rather than his teams performance. Says it all.
Dave Bowen
90
Posted 01/04/2017 at 14:57:01
Well, Lukaku must have knocked £10 mil off his price with that performance. Pennington likewise, a shocker, but in fairness wouldn't have been anywhere near the team if Seamus & RFM hadn't got injured.
Why play Calvert-Lewin? Looked like the league 1 striker he is. Had to be Super Kev or Valencia. Even Kone could have held the ball up better & relieved the defence.
Barkley's form has really improved since the Goodison derby but his brain seems to go into meltdown in these matches & he was lucky to stay on the pitch. At least he tried in the 2nd half which is more than can be said for a certain Champions League-seeking centre-forward.
Paul Burns
91
Posted 01/04/2017 at 14:57:34
A large number of our supporters need to remove their heads from their backsides and understand how bad Everton are and for how long it's been that way.
The standards throughout the club are rotten and a whole generation of supporters are being taken for granted by those on the gravy train.
We need hard-headed professionals who won't settle for second-best at every level of the club and sling the dreamers, chancers and incompetents presently there becoming millionaires while we, the fans, take the flak.
Brian Wilkinson
92
Posted 01/04/2017 at 14:58:09
Poor performace from the entire team today, no-one stood up, yet again, rabbits in headlights.
Dave Older
93
Posted 01/04/2017 at 14:58:36
Koeman just said he was proud of that performance and that the defence played well... I know it's April Fool's Day, Ronald, but don't take the piss.
How can he be satisfied with that performance? I cannot believe he just said what he has just said... Is he serious?? Can anyone name one player who showed up today?? For me... nobody.
So frustrating that we crumbled at Anfield again. Fed up with the same old, same old. We have a big summer ahead.

Colin Hughes
94
Posted 01/04/2017 at 14:59:05
The RedShite have now won 3 derbies in 12 months; we have won 3 in 15 years.
Laughable, non league Tranmere would have held a better record against them.
Paul Smith
95
Posted 01/04/2017 at 14:59:20
Managers drive me mad. Why change the whole system when we only needed to fill the right back role?
We had midfield cover so we needed someone to cover the Coleman loss. Surely we could have used Coleman or Pennington there rather than re-arrange the whole defence and team system. Pennington was all over the place every time someone ran at him and it caused us big problems. Was it really necessary to throw him in like this?
Players naturally pass on responsibility when more people come in to do the same job.
Darren Hind
96
Posted 01/04/2017 at 14:59:32
Where do you start?
Lukaku, Barkley, Calvert-Lewin – lightweight, toothless and disinterested.
Gana, Davies – Naive in the extreme. (You can't defend if you're sitting on your arse.)
Jagielka – smiley and happy, doesn't hurt him and he has to go.
Baines – not fantastic, but didn't disgrace himself.
Pennington – exposed.
Holgate – not sure what was his role?
Robles – I don't have the words...
Williams – Lamentable, not strong enough for the first, turns his back on the second, and waddled round like a disorientated duck for the third.
Koeman – Iwas going to be understanding of his predicament until I just heard his say he was proud of the performance – gormless in the extreme.
We deserve better than this shit.
Ernie Baywood
97
Posted 01/04/2017 at 15:00:31
Plenty of us on here said that this game and selection would tell us a lot about Ronald's mentality.
So what's the verdict?
In my opinion, he's just another coward. Scared of a hiding in a big game, prepared to talk crap post match to deflect from his obvious errors. He could have written that speech a few days ago.
Barry Rathbone
98
Posted 01/04/2017 at 15:00:35
It's very simple, they have better players and have done for years plus in contrast to us they tend to have at least a couple of players who can actually play.
Occasionally when the delusion is off the scale and the fantasy of "but not this time" floats by they add insult to injury by showing they have more guts as well.
Trouble is it's not even upsetting anymore you can see it coming a mile off.
Peter Barry
99
Posted 01/04/2017 at 15:01:03
We played utter crap against a RedShite side itself suffering from many injuries. Perhaps now our Cloud Cuckoo Land dwellers will put their feet back on the ground. 7th would be flattering and a great achievement for this bunch of players.
Peter Laing
100
Posted 01/04/2017 at 15:01:37
The season is over for me. I wouldn't be arsed if we don't make the Europa League – pointless 2nd rate competition that seriously disrupts your schedule during the season.
Massive clear out needed; Koeman needs a raft of new signings, starting with the keeper, two centre-backs, midfield playmaker, and a new forward.
Peter Barry
101
Posted 01/04/2017 at 15:02:49
Lukaku 'World class' – you're 'avin a larf.
Brian Harrison
102
Posted 01/04/2017 at 15:05:59
Players have changed, managers have changed... but the results are always the same. The difference in class was there for all to see, and, let's face it, Lucas and Can in centre midfield – hardly an inventive pair.
As he has proved on numerous occasions against better quality defenders, Lukaku doesn't show up. Yes, sometimes you can complain about the service to him but he has to do more than he did today.
I did think that, over the last couple of months, Barkley had started to improve... but he was just a boy against men today; as Souness said, his decision-making is poor.
So... 18 years and no win at Anfield... yes, they have had some good teams but I agree with Carragher – there is a mental block with our club whenever we go there. A draw is greeted as though we have won a trophy.
Koeman, if you didn't know it before, you know now how far we need to improve to ever think about challenging for a top 4 spot.
Andy Meighan
103
Posted 01/04/2017 at 15:06:02
Paul (#91),
Best post I've read on here for years. Well said.
Jim Potter
104
Posted 01/04/2017 at 15:06:02
The inferiority complex just carries on and the baton is invisibly passed onto the next generation. I just don't get it.
Okay, today we were unlucky with injuries and really missed Schneiderlin and Coleman, but we never looked either mentally tough enough or determined enough to compete with an average Liverpool team.
Was Lukaku playing? Sometimes he's fantastic, other times like today he's anonymous – and my blood boils. Sadly today is one of my "sell the lazy twat" days.
I'd question the starting lineup, but tip my hat to Ronald for his optimism at least.
We need two central defenders. Williams not up to it. Jags sadly past it now. Funes Mori is an accident waiting to happen (did he foul himself midweek)?
Ross was lucky to be on the pitch after some of his tackles – and when he fortunately stayed on he made the wrong choices and also tried to do too much. Some nice stuff as well though.
Gueye played well. Davies was full of drive and heart. Did anyone else emerge with any real credit?
A really important summer coming up. Huge decisions to be made.
Whoever comes in has to possess a winning mentality and dogged determination, as we seem to be plagued by a perpetual losers when it comes to playing this hideous bogey team of ours.
George Cumiskey
105
Posted 01/04/2017 at 15:07:23
The Koeman interview was cringworthy embarrassing in the Martinez mould. Peter Reid was lost for words!
Tony Twist
106
Posted 01/04/2017 at 15:08:17
Same old, same old – but was expected to be honest. I don't think we would have won with a full strength team but I would have hoped for a closer match.
We have been for years dreadful at keeping the ball in the important areas of the pitch. God knows what they do in training. We are like the Everton teams of the seventies, we have too many old players and nothing will change until we have a team of competent youngsters like we had in 1984-85.
A team of regular youngsters – not ones brought in to cope when others are injured. We shouldn't have players of Jags and Williams age in the team, Baines is not getting any younger and Coleman is no spring chicken. Let's hope we can't afford Rooney.
It's about time this team go back to basics and be able to hold the ball when required, pass to a team member and move into space.
Excuses at the ready for work on Monday! I am thankful having a manager who I think will eventually make a team full of warriors and who will become winners.
Raymond Fox
107
Posted 01/04/2017 at 15:09:06
Same as it's been for years. Not enough class players; until we have, we are tilting at windmills when we play the usual top 6 clubs. Against the rest of the Premier League likewise, we have an edge in quality over them, at the moment.
Somehow, we need to attract players who are at the next level, until we do we are playing uphill. Having said that, our injury list was not a help in this game.
Ernie Baywood
109
Posted 01/04/2017 at 15:13:39
Struggling to think how Schneiderlin and Coleman would make a difference. He dropped the attacking wide players. Just as he did at Spurs. Put Coleman and Schneiderlin in that team and we still just hang on without throwing a punch.
George Cumiskey
110
Posted 01/04/2017 at 15:15:23
Paul Burns @91 – spot on, mate. Take a bow.
Joe Clitherow
111
Posted 01/04/2017 at 15:16:16
I doubt Coleman would have been roasted like the inexperienced Pennington.
Jay Woods
112
Posted 01/04/2017 at 15:16:57
Liverpool are what the Germans call our "Angstgegner": literally, our "fear opponents" (although dictionaries will tell you it means nemesis).
Germany had a problem like this with Italy since 1962. You know when it ended? In last summer's Euros, when they finally beat them. It took nine attempts.
And yes, there is undoubtedly a psychological element to this. It's in fan and player alike; this sense that things will not go our way, the referee will be against us, the bounce of the ball will be against us, they will somehow always score against us no matter how well we plan to defend...
But in truth, we have been behind them in terms of playing staff for decades, and that's at the root of it all. Until we can match them financially – and consistently, year after year – the biannual humiliation will continue.
Paul Tran
113
Posted 01/04/2017 at 15:17:09
I hope Koeman's comments were to protect the youngsters and he flies at the team in private.
Very easy and true to say that goals 2 & 3 were down to mistakes. More true to say that they were much quicker in body and brain than us. That's what better players do.
We'd better buy some in the summer, instead of pretending that Barkley and the youngsters are going to suddenly come good.
Today showed that, if we're going to progress, we need two centre-backs, a proper attacking midfielder – like Coutinho who scores, runs at the opposition towards the goal – and at least one decent striker.
Until then, 7th is as good as we'll do.
Peter Cummings
114
Posted 01/04/2017 at 15:17:15
Really lost for words. I predicted that, if we let Mane and Coutinho do their thing, we would be in trouble. I also said Williams would be a liability.
I just wonder if anyone wants a player who goes AWOL in vital games? If we can get umpteen million for him, off you go, Rom... An utter all-round shambles.
Chris Leyland
115
Posted 01/04/2017 at 15:17:21
Darren – I can't disagree with anything you've said there. It was a complete embarrassment.
Ernie Baywood
116
Posted 01/04/2017 at 15:18:22
Individual errors aren't even half of the problem in these games.
Sean Patton
117
Posted 01/04/2017 at 15:19:48
Andrew,
That's not true we have been better than them on at least three occasions because Everton have finished higher in the League which is always the barometer of who is the best team.
What I cant understand is the youth team win derbies all the time I recall a 4-0 and 5-0 in recent years yet the young players on the pitch today who played in those victories where poor. It can't be a mental issue with the young lads surely.
Kunal Desai
118
Posted 01/04/2017 at 15:20:00
Why can't we just give them the points before the season kicks off.
I would rip this team up and start again. Let Lukaku and Barkley go.
We need to spend huge on world class players, players who are winners, mentally strong and are not phased by the arena they play in. Unless we spend around a quarter of a billion on quality we will not make tip four next season either.
Patrick Murphy
120
Posted 01/04/2017 at 15:23:25
Well, my latest plan to help the Blues to win or at least put in a decent performance at the other place has failed yet again. This time I avoided everything and watched a movie – put the score up on Ceefax and guess what it was just like most of the other occasions in the last 30-odd years, they scored more than us and we left with nothing.
Reading the Echo's player ratings left me cold, 3s and 4s scattered about the place with a couple of 6s for Barry and Mirallas. WTF this derby encounter is for the supporters the single most important game for Everton FC and not only can the manager, team and fate invent new ways of losing but we never ever turn up. I feel really sorry for those Everton supporters who go over there year on year feeling that things might change but it never does, does it?
How can 14 professionals and an experienced manager believe that they have done their best for the fans when they walk off with another derby defeat under their belts?
How can the manager believe that they played well when, according to the Echo, individuals scored 3s and 4s. I know the Echo might be over-egging the pudding and I can't pass judgement because I haven't seen a second of the game and don't intend to – but surely we can do better than this can't we?
If it was any other sport there would be a stewards inquiry into the way Everton perform across the park. Since Bill Kenwright took over Everton in 1999, the Blues have not recorded a single win at the other place and precious few on our own midden. I'm not blaming Bill for one minute but only mention him to highlight how long this has been the case.
A young child who started Nursery in 2000 and who is now on the verge of becoming a fully fledged adult has not seen one Everton victory at the other place in that time, and you could probably count the number of decent performances on the number of digits in a victory salute.
It's another season gone and we'll get over it, as we always have done, but what is it that needs to change to alter the club's fortunes when it comes to taking on our biggest rivals? Answers on a postcard to the Manager and players of Everton FC...
Eric Paul
121
Posted 01/04/2017 at 15:25:08
Jim @105
Gana had a stinker – along with Robles.
Ian Hollingworth
122
Posted 01/04/2017 at 15:25:47
Yes, we are miles away and need some real quality proven winners but what evidence do we have that this will happen?
Get ready for more of the same as this board are only concentrating on the new stadium.
Only way it will change is if someone like Usmanov invests but I won't hold my breath.
George Cumiskey
123
Posted 01/04/2017 at 15:26:04
Complete clear-out needed from top to bottom, starting with Blue Bill.
Get people in with fight and a winning mentality.
Ian Bennett
124
Posted 01/04/2017 at 15:27:40
Absolute basics. Show your man on to his weaker foot and pass to a blue shirt. I didn't see either.
Today and Spurs was a good barometer test of what you need to get into top 4 and succeed. You can go through the entire team and no-one comes out with any credit. Keeper, defence, midfield and forward line were all poor.
The rebuild job is just massive.
Dan Egerton
125
Posted 01/04/2017 at 15:27:49
David Barks (#36) "Definitely all down to Lukaku."
No-one is saying that but you, strawman.
Karl Parsons
126
Posted 01/04/2017 at 15:28:35
Same shit. Different year.
James Doran
127
Posted 01/04/2017 at 15:28:57
Tony @ 107,
With his natural fitness, Coleman has another 3-4 years at the top in him. I would have understood if you'd have said we need to buy another top class, Premier League-proven right-back in the summer, because Coleman isn't likely to be back before the new season starts.
Bobby Thomas
128
Posted 01/04/2017 at 15:28:58
We are actually achieving a level of excellence.
To be consistently this bad at Anfield, to be so relentlessly weak, supine and feeble, is utterly remarkable.
We go there time & again. Barely have a shot. Concede 3 minimum.
Liverpool didn't even have to be good.
On the game itself, I watched trouble down our right side for 45 minutes & was glad to get in at 2 - 1. Couldn't believe he didn't change it. The pity was that they aren't even that good, certainly weren't inspired today & if he had been proactive & changed the shape & hooked Pennington & Calvert-Lewin we could have got something. But, as with Spurs away, he only changed it when the game had gone.
However as 11 kittens turn up time & again that was delusional anyway. Thank fuck I live down south at the moment. Driving back now and glad to do so.
To the Blues who go to Anfield time & again & watch what can only be described as pathetic & embarrassing performances, you have my respect.
Dan Egerton
129
Posted 01/04/2017 at 15:31:41
"We freeze year in year out over there and they've hardly been vintage reds teams over the last 18 years."
Erm... Liverpool won the Champions League 14 years ago.
Dave Ganley
130
Posted 01/04/2017 at 15:36:14
Don't know where to start with this. Koeman played a team most accepted was a decent one but the players yet again failed to deliver on the big stage.
If Lukaku wants to go then fuck off with good riddance. Take Barkley with you. Redknapp was spot on with his assessment of both. Lukaku doesn't do enough to cause problems like Costa would do and Barkley just doesn't influence in big games like Coutinho. So what if they look world beaters against the likes of Bournemouth, West Bromwich and Hull etc. If you can't do it on the big stage then it's all pointless.
The only game against a big team Lukaku has influenced was Chelsea in the cup bit when it has really mattered like United in the semi-final he goes missing. Same again today. Barkley similar. Nothing, no creativity and nearly managed to get himself sent off.
Not just picking on those two. Defence was awful. Just let Coutinho run at the team. Again Redknapp spot on, they let Coutinho play himself into form. To add to the insult they took him off with 20 minutes to go. Game over. Pathetic.
We should have a banner at Goodison stating "1999 ... Embarrassing". Let the players know exactly what we think. I thought I was over getting upset at these defeats but obviously not. Pathetic, gutless, no passion, no style, no heart .could go on.
This is entirely down to the players. Just not good enough. They had no Lallana no Henderson and two Brazilians who must have been tired from playing and travelling and Mane off injured but they still cruised. Didn't have to get out of 3rd gear. Yeah we had injuries too but we should have at least given them a game. Men against boys really.
A lot of work needed by Koeman in the summer. Most are just not good enough to compete against the top 6 and they have proved that against the spuds and that shambles today. They are not winners and have loser attitudes.
I am so pissed off right now. Fucking arseholes they are. Fuck off to your mansions and blame anything and everything but themselves. No team unity and no professional pride. And we are left to carry the can for their fucking shite efforts. Another bleak week.
Jim Bennings
132
Posted 01/04/2017 at 15:38:19
No surprises.
Our record at Anfield is shit.
Our record in Merseyside derbies is shit.
Our record away to these top sides is shit and has been shit for years.
Our away form this season in general is shit.
So why are any of us shocked by this mundane cack that we have witnessed?.
Same shit, different year.
Dan Egerton
133
Posted 01/04/2017 at 15:38:35
Dave Ganley (#130),
I agree with everything you wrote bar the insults at the end, but understandable given our recent record against them lot.
Joe Clitherow
134
Posted 01/04/2017 at 15:39:09
I think we see a "Shoot!" type comic strip at Everton, a bit like "Billy's Boots" or some such.
First we have Rom, who is humble, respectful and a lethal striker. Then, every year around about when the clocks go forward, Rom is abducted and his evil twin, Romelu, replaces him. Romelu is a gobshite, always mouthing off about how ambitious he is and how he should be playing for a big team in the Champion's League, but he is shit at footy and basically can't hit a cow's arse with a banjo when he is standing next to it.
I can't think of any other explanation for the clear and consistent differences and the clocks went forward last week.
Andrew Wayne
135
Posted 01/04/2017 at 15:40:56
Not good enough – two centre-backs who are too old and we played two young lads who needed better support.
Once again, beaten by the better team, no matter how much it pains to say it. In a pub full of RedNoses who haven't been to a football ground since Tranmere stopped doing firework displays – doesn't help...
Dave Ganley
136
Posted 01/04/2017 at 15:42:10
Just so annoyed, Dan (#133), I'm afraid I just let the words run away with me.
Stan Schofield
137
Posted 01/04/2017 at 15:43:59
There's apparently a lot more work to do to develop a winning mentality, the mental toughness that sets out to win each game regardless of the opponents.
Liverpool are just another opponent, but apparently the players don't see it that way, and neither do a lot of the supporters. Until we do see it that way, we'll probably continue to have this mental problem.
I get fed up hearing about Liverpool from our own supporters. There is an endless repetition of 'we haven't beaten them for ages'. That's a fact, but instead of pondering on it, the focus should be on what is needed to win the next game, be it Liverpool or any other team. If our players ponder the way a lot of our supporters do, then it's no surprise we collapse in these games. There is too much pondering, and not enough winning mentality.
I hope Koeman is developing a winning mentality in the squad, no doubt a slow process. There are 8 games left, with 24 points up for grabs, and a potential 74 points to finish. Anyone who says, after today, that our season is over, has a defeatist mentality, not a winning mentality. Get over the disappointment, and focus on the next game.
Ray Jacques
138
Posted 01/04/2017 at 15:44:17
I'm 53 years old and don't watch or even listen to the derby anymore. I walk the dog, mow the lawn – just do anything to avoid it as you just know we will roll over or fall apart time after time.
I do this so that after the game I put the radio on for the sudden hope that perhaps we won. Anyway same old story and it's the only time Everton consistently fulfill my expectation.
Cannot comment on the performance but the result and comments of others says it all.
John Williams
139
Posted 01/04/2017 at 15:44:19
I only had to get to the poster 23 and couldn't read anymore posts. Barkley worst game ever and Lukaku? I would guess you've just watched Sky Sports listening to those clowns supposedly experts clouding your judgement.
For me, losing Seamus and Morgan required us to set up differently than we would have thus the back five. We don't have wing backs at the club now but I can understand Koeman trying it. That limitation alone lost us this game additionally two over-the-hill center halves.
Ross crowded out all the time and Rom not even given a sniff of a chance and you, Kevin Rowlands, slag off Ross and Rom... Clown.

Kevin Tully
140
Posted 01/04/2017 at 15:45:42
I stupidly thought that, when they lost players like Gerrard & Carragher that our record against them would start to improve. It's gotten even worse!
Tell me, do we have a single player who absolutely cannot stand to lose a game? Every one of those players in a blue shirt will probably just shrug their shoulders and move on.
I'm getting tired of this shit. Where is the pride? Why do we go to Anfield and suddenly find ourselves unable to string three passes together?
Liverpool have been beaten by the likes of Southampton and Swansea at home this season, they're not even that good.
We are a million miles away from being a good side. Another 5 class players will be required to move us up a level. We have got to stop kidding ourselves that we are any better than a mid-table side.
I include anywhere up to 6th place as mid-table... 6th or 9th is no different to me. I know some people will say "how can 6th be mid-table?" But trust me when I say that whoever finishes in those top 4 places make us look like a mid-table side in comparison.
Glenn Williams
141
Posted 01/04/2017 at 15:48:45
Well, I need to just get on with my life so I'm gonna get this off my chest.
We are no longer rivals; instead, we've become their whipping boys and have been for quite some time. Moyes started it and I don't think Koeman will be here long enough to break it.
Maybe my 4-year-old granddaughter might get to see a Blues victory in her old age. At 59, I'm making my peace now with this cold reality.
Charles McCann
142
Posted 01/04/2017 at 15:49:03
Koeman made an absolute mess of this. Would it not have made more sense to have played Holgate in the centre of defence and if he really wanted to play Pennington then out on the right wing back role may not have been as costly.
But why switch to having a system of three centre-backs anyway when we're not used to playing this way. And then bringing on Barry when we needed to go all out for goals. This decision of Koeman made no impact on the game at all.
Mirallas should have started instead of coming on when the game was more or less over. The service for Lukaku was terrible too. I've no doubt we have some great players but it didn't look like it today and for that reason the blame for me lies with our manager.
Jack Convery
143
Posted 01/04/2017 at 15:51:44
Unless Koeman can get in between the ears of the EFC players, we have no chance against them. Beaten before we start every time.
Mental toughness, hard graft, 100% concentration, coolness under pressure and most of all controlled aggression are what you need at their place. Too many nice players and not enough men.
Koeman, over to you.
Paul Tran
144
Posted 01/04/2017 at 15:54:06
Stan, better players think faster, react faster, anticipate faster, run at the opposition, create space and chances. We need more of those players if we're going to progress. They have better technique and the mentality to rely on it.
We have too many half decent players who at the highest level, aren't as good as they/we think.
Mark Wilson
145
Posted 01/04/2017 at 15:56:11
Another shamefully bad display, gutless, lacking even basics and another example of why many remain unconvinced by Koeman, despite the recent half decent run. To be fair I find the criticism of his selection quite funny as most screamed for Barry not to be included (me also) and we saw how unprotected the back three were.
Most questioned Calvert-Lewin and wanted Mirallas, I think that was a mistake from the off. But I looked at the team and thought ok, if we have the right attitude and keep our composure then, maybe .so find it hard to have a go at Koeman until half time when we desperately needed to change things with Barry on for Pennington, Holgate at right-back, Mirallas on for Davies and Lookman or Valencia on for Calvert-Lewiin, with 4-5-1 the formation. Really, really thought that he would at least go some way towards that change. But nothing.
Koeman's post-match presses was another throwback to the denial days of Martinez. Embarrassing.
But most of the players honestly should be ashamed of themselves. Liverpool were sharper yes, faster, yes. But actually not that brilliant, we just made them look world beaters. Williams just showed that we now badly need two new centre-backs not one. Keane & Maguire, guts, positional sense and able to turn. Gueye was disappointing, and as for Ross, he was so nervous it wrecked his game and similarly Davies. Ross got better in the second half but then he was incredibly lucky not to have been red carded earlier.
Oh and there's the Rom debate, as ever. He was disappointing for me in a terrible team performance. For some reason there's this desperate desire amongst some to ignore his goals and assists and focus on his "lethargic appearance" or "poor trapping of the ball" etc etc.
He has weaknesses yes and I think his head went down way too early today. But really, screaming for his sale, you have to be joking, he's our best goal scorer for generations and with a decent team around him, who knows what he could achieve. But we've shamed ourselves again today with yet another desperately bad showing against the team we most want to beat. It's just embarrassing.
Frank Crewe
146
Posted 01/04/2017 at 15:56:11
The difference today? They had Coutinho. We had Barkley.
I agree with Bobby. We should have made changes at halftime. I was amazed when Pennington stayed on. He's nowhere near good enough. Barkley was having a shocker. Still sulking because Southgate didn't pick him no doubt. Although on this showing I'm not surprised. He should have seen red for that tackle on Can. Personally if the right offer came in I wouldn't be averse to letting him go. He is simply too inconsistent. We really missed Shneiderlin in the middle of the park.
Three at the back wasn't working so we should have gone 4-4-2 a lot sooner than we did. Koeman should have been far more proactive than he was. By the time he made changes it was too late.

John G Davies
147
Posted 01/04/2017 at 15:58:57
Big mistake from Koeman to play 3 at the back and two central midfielders. Every team that has got anything from their ground this season has played a narrow back four and packed the space in front of the bank four.
We were overrun in central midfield and I'm afraid to say Koeman didn't react.
Dave Lynch
148
Posted 01/04/2017 at 15:59:13
Why the fuck didn't Koeman realise they where going to double up on Lukaku?
They snuffed out our only goal threat which left us with... err... no goal threat.
The back 4 where next to you useless and Barkley should hang his head in shame at some of the challenges he was throwing in.
Mike Green
149
Posted 01/04/2017 at 16:00:46
I've got to the point now where I watch the derbies to see how we'll lose, not if we'll lose.
I posted on the Live Forum that we could win it just to give myself a bit of entertainment, seeing as the team weren't going to do it for me.
Other than that moment on the keyboard, and Pennington's goal, I'm not sure my pulse went over 60.
What a pointless way to spend 90 minutes.
Kieran Kinsella
151
Posted 01/04/2017 at 16:04:04
Can we lay off Pennington. I remember Heitinga for all his faults playing alongside young Duffy and talking him through games to good effect.
We didn't see any kind of leadership or quality on the ball from Jags or Williams today. Plus the RS were heavily targeting Holgate outside of Pennington who himself is a young kid playing out of position. Gana got in his way then left him exposed for the first goal.
Barkley was doing his best Neil Taylor impression and little else. Then Davies and Calvert-Lewin seemed over-awed by it all while neither Robles or Lukaku even participated.
I don't know if Pennington will ever make it at this level, but he was thrown in the deep end today and unsurprisingly drowned.
Jim Bennings
152
Posted 01/04/2017 at 16:04:10
Sadly Jamie Carragher hit the nail firmly on the head pre-match.
"I was bursting and fuming couldn't wait to get into them, and their players were all nice, like "Hiya, Carra" – how can you even speak to me when we are seconds from kick-off? Our players were more nasty and aggressive and we wanted to win it more than Everton's."
Says it all..
I could take losing a derby that we actually played our socks off in with heart and passion but these spineless shows year in year out are a true insult to loyal supporters.
When is the last time we saw an Everton team leave everything on that pitch after a gruelling derby??
Nope, another half-baked half-arsed piss-weak surrendering.
James Marshall
153
Posted 01/04/2017 at 16:04:48
Personally I don't like to single out players when the team didn't work properly – my own view was the same as Gary Neville's throughout the whole game, and that was the view that Calvert-Lewin and Barkley were too far up the pitch which left Gana and Davies with an impossible task against the RedShite midfield.
In turn that left our makeshift defence sorely exposed, which meant they had so much time on the ball, and so many options against our defence which was left retreating over & over again.
I'd call that a tactical mistake, and not one that should highlight any one players deficiencies. When you look at some of the tackles our players made, and the one last week that happened to Coleman, there's really no difference. On that note, when people talk about a lack of effort, I wouldn't level that at our players today either – Barkley, Davies and Williams all made shocking red-card tackles that could easily have broken players legs, which shows effort and commitment as well as a certain amount of recklessness which a week ago everyone said was a dreadful thing to witness on a football field.
As mentioned above, Coutinho is a good player when given space, and that's exactly what we gave him today – his form hasn't been great of late, but as mentioned in commentary, we played him into form.
Tactics was our downfall today.
Kieran Kinsella
154
Posted 01/04/2017 at 16:07:01
Jim
Says it all... Baines was smiling like a Cheshire Cat talking to RS fans when taking a thrown-in after we conceded the second.
Andy Meighan
155
Posted 01/04/2017 at 16:07:27
Stan (#137). So it's the supporters fault now, is it?
I've heard some classics in my time but that takes the biscuit. Unbelievable!!!
Colin Hughes
157
Posted 01/04/2017 at 16:13:48
Lowly Crystal Palace currently showing us how to perform in a local derby against their more illustrious neighbours, Chelsea. Whether they win it or not, they are giving their all to get a result. Take note, Everton!
Stan Schofield
158
Posted 01/04/2017 at 16:15:27
Paul @144: Yes, some further signings are needed, but those signings alone aren't guaranteed to give us a winning mentality. Developing the latter is now, with the players we have.
Liverpool themselves have collapsed in a many games, shown to be fragile, contributing to calls for Klopp's head. The mantra that they have better players won't wash, they're comparable at best, and I would argue not as good player for player.
When we win well, we're suddenly great, Barkley particularly, but when we lose badly, we're suddenly shite, with Barkley a waste of time. Well, reality doesn't work like that. We work with what we have, focusing on each game as it comes, instead of wringing our hands over being beaten by Liverpool.
I'm not interested in Liverpool, I'm interested in Everton. And I'm especially interested in Koeman making the squad more robust in terms of mental attitude.
Martin Nicholls
159
Posted 01/04/2017 at 16:31:06
Just back from match so have only had time to scan the comments above, however the underling theme is of vitriol poured onto our Club, manager and players. As a match going fan, I am as disappointed as anyone else but I am only glad that most of the posters on here seemingly aren't match goers as the bile pouring down onto the pitch if they were would only make matters worse.
Koeman has made two "marquee" signings in Bolasie and Schneiderlin, both of whom were unavailable. Couple that with the unavailability of Seamus, Funes Mori, McCarthy, Besic etc and the squad available to him was arguably weaker than that which finished last season. There were mitigating factors governing today's selection and performance. Cut our manager a bit of slack lads and try supporting our team.
Jim Bennings
160
Posted 01/04/2017 at 16:31:30
Keep talking about depleted sides etc but Coleman and Schneiderlin played in the non event at Spurs.
Liverpool were missing their captain Jordan Henderson and Lallana.
Koeman didn't have to field such an inexperienced line-up, he could have started the far more experienced goal threat Kevin Mirallas ahead of Calvert-Lewin, he could have started Valencia who has looked useful and busy (more mobile than Calvert-Lewin in my opinion).
Koeman set himself up today for stick, bringing Barry on for Davies at 3-1 down, why not make two changes at HT?
I'm also concerned of this policy Koeman has now away from home of completely excluding any wingers, I think it really really stagnates us, the lack of a Deulofeu for example even on the bench.
We rarely ever create in away games.
For me he's improved the home record but we look a very very poor side away from home and we have done virtually all season, lacked cohesion and organization.
Kevin Rowlands
161
Posted 01/04/2017 at 16:40:27
Andy, I was talking about personnel, hopefully a Keane - Maguire centre-back partnership, on another note how fucking annoying is that Emre Can?
The way he was rolling around after that Williams tackle I thought the twat had been shot, he then strolls on the pitch like nothing happened a minute later, dirty bastard as well.
Eddie Dunn
162
Posted 01/04/2017 at 16:41:56
What is plain to see is that we are the 7th best team in the League. The Spurs game and now this show that, we are some distance off the top six.
Our squad is paper thin and the quality that Liverpool had at their disposal (Coutinho, Firminio and Mane) compared to our own (Barkley) showed the gulf in quality.
Barkley wanted to take a touch instead of offloading early, time and again he lacked the intuition to put the first time pass in. He got caught on the ball too often, and we could have conceded a goal from one of his foolish moves late on.
Koeman got it wrong on selection but I don't blame him for not starting with Barry in front of a back four.
If he had opted for that and we had been routed, then many would have moaned at the obvious lack of pace.
Unfortunately Koeman failed to change it tactically despite us being exposed regularly. Once again he seemed to miss a trick leaving it too late.
Mirallas looked lively in his cameo, and one wonders whether he could have produced more than Calvert-Lewin.
The only guys who can hold their heads up are Baines, and Gana , and Jags. Holgate is not adequate at right back, and Williams has become a liability. he is not the assured, commanding figure I have seen at Swansea.
Once Barry came on we seemed to click and our possession improved, but another defensive lapse put paid to any hopes of a late rally.< As for Rom – there was little link-up with Calvert-Lewin, indeed his best touches were late in the game where he went out on to the right wing and cut in a couple of times.
As for Barkley – he tried hard, but it made him play worse. He has to learn that he can't do it all on his own.
William Cartwright
163
Posted 01/04/2017 at 16:47:09
Stan @ 137...
I had to read 136 comments before reading one that really made sense. Ross who is my favorite player at the club... What was he doing? Imagine or blood pressure if he was a Liverpool player tacking like that....
Until we stop playing the occasion and start playing the game we will always struggle in the derbies.
I really had a sneaky feeling we would get something out of this but no, let down again. If that is what motivation drawn from the awfulness of Seamus's injury then what a load of drivel from our captain.
Put it behind us and move forward, we can't possibly move any further backwards can we?
Andy Walker
164
Posted 01/04/2017 at 16:48:26
Davies and Calvert-Lewin at least tried. The rest were frankly shite. A special mention to Holgate and Williams who were particularly shite, but Holgate's still new to the EPL, so I should remember that.
An extra special mention for Barkley. I don't think in over 40 years of watching the blues I have ever seen a more frustrating, infuriating, annoying, exasperating, player. Time and time again he gets himself into a good position but then he'll either miscontrol the ball, or instead of playing a quick, incisive, often OBVIOUS pass, he'll stop, turn, turn again, turn back, wait for the opportunity to pass, then loose the ball. He plays like he's the best player in the school on the playground, or an adult playing with the kids saying try and get the ball off me. Thing is Ross, your playing with similarly talented players and they will take the ball off you and do it all the time.
As for Koeman's after match comments, I was staggered. He's criticised his team this season many times after they have won and played a lot better than today. The only explanations I can come up with are, he's trying to protect all the youngsters who were in the team today, or he's lost the plot. I hope it's the former, but his criticism of Klopp and also ramblings about McCarthy, make me concerned. Klopp came out the bigger man after the post matches.
Joseph Terrence
165
Posted 01/04/2017 at 16:49:28
Won't blame Koeman for taking the chance with the starting eleven but it was shocking that Pennington was not subbed off at half. He was all over the place and was afraid of touching the ball. The third goal was on Williams but it appeared that he anticipated the Liverpool player to dribble past Pennington and thus broke right leaving the centre of the pitch wide open for Origi.
Barkley was disappointing today. Either labored on the ball long enough for it to be taken away or ran into a group of red shirts.
Ciaran O'Brien
166
Posted 01/04/2017 at 16:50:28
Again the main problem is a lack of any guile in the team. We totally rely on our full backs to create which is madness.
The fact we haven't replaced Arteta after 5 or 6 years is a joke and the reason for it is one name: Ross Barkley. Ever since he burst onto the scene he has been bigged up as the next great Everton legend and he flatters to deceive in most games. Stevie Me and Fat Frank were dominating games at his age while he doesn't dominate at all. Until we get a proper creative midfielder or two we will continue to bend over in these games.
Our passing and ball retention is utter garbage and with hardly any pace in the side means we are totally clueless in these games.
I don't get why we brought in Lookman for £10 million when we could have got a quality creative midfielder instead.
In the summer we need a major clear out with Robles, Williams, Funes Mori, McCarthy, Kone, Valencia and maybe even Barkley and Lukaku and replace them with no nonsense, hard working quality players.
Tony Abrahams
167
Posted 01/04/2017 at 16:52:24
Very poor tactics for me, but we are just not good enough, and never really played as a team.
Paul Smith
168
Posted 01/04/2017 at 16:52:38
Here we go again... let's blame Barkley. Holgate should score from great Barkley work and apart from that he didn't produce much but who in the team apart from Barkley was likely to make anything happen?
Mark Frere
169
Posted 01/04/2017 at 16:54:48
A shocking performance! Koeman got the tactics horribly wrong. It was clear we were getting over-run in midfield and needed a extra man in midfield. Ronald should've changed our formation to 4-3-3 and took a defender off for G Barry. Instead, he dithered and allowed Redshite to dominate like they did from the start.
All our lads had a stinker today, especially our back 3! 2 new centre-backs needed in the summer methinks!
Jim Bennings
170
Posted 01/04/2017 at 16:56:10
Ciaran,
I don't think anyone (at least realistic logical thinking people) ever thought Barkley was in the same league as Frank Lampard or Steven Gerrard...
They were leaders of men at a young age, vocal, could pass, shoot, head a ball, score goals...
Barkley.... Looks half decent against dross opposition but has never had a great game against a top side so far, doesn't get anywhere near enough goals, can't tackle, his shooting wayward, passing average and doesn't appear to posses a football brain..
Soren Moyer
171
Posted 01/04/2017 at 17:00:48
Sean Patton @69. It will be a matter of copy and paste on Tuesday night, mate!
Paul Conway
172
Posted 01/04/2017 at 17:01:08
Taking the inexperience of youth apart, can we really go forward with the likes of Jags, Robles and Williams?
We need to clear out on our last clear out!
Colin Hughes
173
Posted 01/04/2017 at 17:01:35
Chelsea 1-2 Palace, going against all form and league position and a ground we haven't won at since 1994. What is it with Everton and visiting the top grounds?
I bet we make Man Utd look outstanding on Tuesday and they will make a mockery of their goalscoring problems at Old Trafford. ps: Not that I'm bothered now, like.
Ciaran O'Brien
174
Posted 01/04/2017 at 17:03:46
Jim, but the fact is we all thought he'd become like them and the board including. We would be a much better team if an Arteta-like player was in the midfield with Ross.
Graham Mockford
175
Posted 01/04/2017 at 17:04:10
Koeman has to take the lions share of the blame for that performance both in terms of selection and tactics.
It seems a strange fixture to suddenly go for untried and tested players and boy did that inexperience show. Holgate probably was the best of the three and we probably didn't have another choice at right back. But seriously Calvert-Lewin over Mirallas?
But the shape of the side defied belief. Three centre halves and Calvert-Lewin and Barkley advanced left Gana and Davies completely over run. Having seen the first 45 minutes it beggars belief we didn't change things.
That's 3 big away games where we have been out thought by the opposition.
Of course most of the players regardless of the system were poor. Only Baines could hold his head up. Our two impact players had mares. To be fair to Barkley despite having a stinker he never went hiding and kept showing for the ball. The same couldn't be said for Rom.
Dermot Byrne
176
Posted 01/04/2017 at 17:06:31
Let's stop lying to ourselves. Me and most of you are very interested in Liverpool. Why? Well if you need that answering you know sod all about the club, history, the meeting RS fans on Monday etc etc
So why the inferiority complex? Again not hard. They have won more, are supported by more people in the media, have more fans worldwide and, if they get an early goal, can create a formidable and more coordinated atmosphere at Anfield. They also have, and have had for a while, a team that can raise their game for the big games.
All that effects our players it seems. As they themselves are glued to their mainstream and social media, what do they see?
So let's not live in la la land. All that is what we need to overturn. I hate it. Absolutely hate it. But there it is and I see no great change on the horizon. But I do see hope against the rest of the Premier League.
Ste Traverse
177
Posted 01/04/2017 at 17:09:15
The whole mind-set at the club from players,manager and yes fans, has to change when it comes to them.
I've not forgot last season when we played the second leg of the League Cup semi final at Man City knowing we'd be facing Liverpool in the final and was utterly dismayed when I came on here after the game gutted we'd lost and reading loads of posts off cowards saying they were somehow 'pleased' we'd lost because they couldn't face playing, and potentially losing, a final against them.
No point having a go at managers and players for being cowardly against them when we've plenty of fans the same way.
And I'm utterly sick of hearing about new fucking stadiums. I don't give a fuck about new fucking stadiums. I want to see a winning team and finally some silverware. Everything else is secondary importance.
Stan Schofield
178
Posted 01/04/2017 at 17:09:33
Looking at our form so far for 2017, we're averaging just over 2 points per game, whilst Liverpool are averaging just under 1.5 points per game. Today's result hasn't changed the averages much. We're still doing better than Liverpool, but if all you saw were the posts above you'd think we were shite and they were great.
Let's just get some perspective. Regardless of the opposition, there's clearly a problem with the away tactics, which was clear before today's game, and today's game doesn't change this, it just confirms it. That is disappointing. There is no real reason why we cannot perform better away, so long as we go out to win (like at home), and set up the tactics accirdingly.
So, instead of saying we're shite and the universe is about to implode, let's just accept that there is a systematic problem with tactics away from home, in that we're not setting out with the attitude to win? That is a problem that is surely solvable, whether we're playing Liverpool or anybody else.
Laura Round
179
Posted 01/04/2017 at 17:12:30
Glad the teams either side of us had to settle for a point each. Season over for me I'm afraid. Hopefully strengthen in summer. Let Hulk have his move. Champions Leagus??? Good luck mate.
I've been impressed with Ross in 2017. Today wasn't great. Probably the occasion. Have too see the rest of the games out then Ron has a big call to make on our Diamond. Cash in or try and tie him down...
Tony Abrahams
180
Posted 01/04/2017 at 17:16:41
I don't think the West Ham fans really rated Lampard, Jim, and it was only when he went to Mouriniho at Chelsea that his career really kicked off.
Barkley tried and mostly failed today but we don't have that much movement up front, which does enable teams to go and crowd him out.
It's painful to lose but, yet again, it's the manner of the defeat which hurts the most. We can say that Liverpool weren't even that good but where exactly does that leave us? I can't wait to get to Bradley-Moore Dock though, so we can finally learn how to swim and maybe also throw a few of those bastards into the Mersey!
David Young
181
Posted 01/04/2017 at 17:17:19
Lukaku has only scored 3 of his goals against top 4 teams, 1 v Spurs and 2 v Man City this season, City defence nowt to shout about. He won't score against Chelsea last game of season.
So... Man Utd next Tuesday and Arsenal left; will he put himself about in those games? I can't see it. Would love to be proved wrong though. He has already left EFC in my opinion.
I hope Steve Walsh unearths some gems this summer. 1 goalkeeper,
2 centre-backs. 1 playmaker and a couple of strikers... £150 millionish, £75M for Rom so only £75M to splash out on what would be a top 4 berth.
Here's hoping.

Ian Bennett
182
Posted 01/04/2017 at 17:17:43
Graham, We are all asked for Barry to be dropped. We got that, and it was a game for the young guns to seize their chance. Sadly they didn't, and the older lads didn't make any impression either.
Pennington is the most experienced of the options (I had him, Walsh and Kenny as starters) and sadly he failed. Two bad mistakes from him, and one from Williams gifted the points to a bang average RedShite. Fair play to Liverpool, they picked out the weakest link and isolated him. We never have that nous of playing against the liability or running at the fella on a yellow.
Hope we bounce back against Man Utd, if we do it needs to be a hell of a lot better than here, Chelsea and Spurs... No Moyes but still another away horror show.
Clive Rogers
183
Posted 01/04/2017 at 17:28:02
Williams is a complete waste of £12M. So slow and can't even control a simple pass across the back now.
Dave Ganley
184
Posted 01/04/2017 at 17:30:44
Martin (#161), a lot on here are match going blurs including myself. You can make all the excuses you want for today but yet again, that just wasn't good enough. They had injuries but did they buckle? Absolutely not.
Our record at the so-called big clubs is shocking and was magnified today yet again. The so called big players like Barkley and Lukaku clearly aren't good enough against better teams, they prove that time and again when it matters. You can take exception about the language maybe but don't try and tell us that was acceptable just because you happened to be lucky enough to have a ticket for the match.
That was awful. Out thought out played and showed absolutely no heart for the battle... again!! They deserve all the criticism they get.
I for one am sick and tired of the embarrassing displays they keep putting on against the top 6. That's Chelse , Spurs and RS now. Shameful. Any player donning the blue shirt should at least put 100% effort in and run their socks off to close down and not freeze... but they don't. That just isn't acceptable on any level.
Jay Harris
185
Posted 01/04/2017 at 17:32:51
Now that I've calmed down a little bit, I will try to be rational.
With the money they have spent over the last few years they were able to put seasoned internationals on the pitch as opposed to us putting the kids out.
If we're being honest not many of us would have disagreed with that starting line-up. However a few conclusions can be drawn from the game.
Williams is not the answer and Jags is only s fill in so we need 2 quality centre-backs in the Summer.
Robles is doing as well as any keeper in the prem and deserves a run.
Holgate's awareness seems to have deteriorated badly and Bainsey although I wouldn't fault him today emphasizes the need for 2 quality fullbacks.
When Barkley and Lukaku are tightly marked, they haven't got a clue how to make space for others.
I am very happy with Gueye and adavies even though the setup left them a bit exposed today so for me we need a Hazard. Coutinho, Silvia type playmaker/goal scorer.
Nothing £100m won't sort out and we should get at least that for Barkley and Lukaku
Bill Gall
186
Posted 01/04/2017 at 17:34:19
Stan (#180), I think that the biggest problem we have was not solved in preseason , and was a problem during Martinez's last few months. That was, (a) keeper and (b) central defender. We will not get any higher in the league without strengthening the spine of the team.
We already have the striker who unfortunately wants to leave, but is no use having a scorer if you have deficiencies at the back.
Mike Powell
187
Posted 01/04/2017 at 17:34:33
Sorry, Stan, we may have more points than them in 2017 but we were absolutely shite today – they were and are miles better than us.
Brian Harrison
188
Posted 01/04/2017 at 17:34:55
I would hope that the comments Koeman made after the game was to try and give some of the young players a bit of solace. Because most of them may be needed a lot between now and the end of the season.
I thought playing Holgate and Pennington together was a risk and one that Courtinho exploited to the full. I think it also highlighted that there better players are far better than our best. Lukaku and Barkley have always struggled away against the top sides. I am sure any clubs thinking of buying either of these may look again.
Barkley sadly flatters to deceive and if we are to challenge the top 4 places then we will have to replace him.
Lukaku is an excellent finisher but again he doesn't do a lot else and sometimes when you go away from home then he has to do more. I said when Koeman joined why his first signing wasn't Mane who he had at Southampton. The guy is always a threat from start to finish.
Ajay Gopal
189
Posted 01/04/2017 at 17:42:13
Okay, I am left as frustrated as any other Blue, but having had a couple of hours to think through, here are my thoughts:
I admit that I thought Koeman's selection was bold before the match started (and many others on the Live Forum felt the same way). But now, in hindsight, it was poor team selection. Having two youngsters – Pennington and Holgate – on the same side ultimately proved disastrous. All of Liverpool's goals came from that side. Both of them had really, really dreadful games.
Calvert-Lewin was also awful – he did very little the whole game.
Koeman should have gone with Lyndon Lloyd's team:– Robles, Holgate, Williams, Jagielka, Baines, Davies, Gueye, Barry, Barkley, Mirallas, Lukaku.
The team played a very good 20-25 minutes of football after the break, creating multiple opportunities. Holgate missed a free header off a good Baines (I think) cross, then he made a very poor attempt to find Lukaku in front of an open goal off a great Barkley drive into the box. If one of those had gone in, it might have been a different game.
Lovren had a very good game against Lukaku (a last-ditch perfectly timed sliding tackle to deny Lukaku a one-on-one situation with Mignolet just one example).
Gueye gets away with no criticism by most posters here, but his badly timed missed tackle on Coutinho directly led to their second goal.
Barkley and Lukaku get heavily criticised here, but I did not see a lack of effort. They both did not have their best games but they were certainly trying, and it was heartening to see Lukaku's genuine pleasure at Pennington's goal.
Everton were not outplayed today (possession was quite evenly matched, Everton in fact had more corners) – we made some poor mistakes in defence, and the manager's team selection and tactics were all wrong initially.
Klopp out-thought Koeman, simple as that. In the battle of the managers, Klopp was the easy winner.
As many have pointed out earlier, there is some massive work to be done in the summer:
Sell Lukaku to the highest bidder (£70 million minimum)
Get in Rooney to fill in for at least some of Lukaku's goals
Get Antonio from West Ham
Get Sigurdsson
Get Sissoko instead of McCarthy
Sell Funes Mori and Williams and get Keane (from Burnley) and McGuire (Hull)
Get Pickford from Sunderland
Get Nyom (Left Back)
Get 1 right back
8 players in – 6 players out (Williams, McCarthy, Niasse, Cleverly, McGeady, Kone), maybe Robles also).
Maybe Rooney coming back is the catalyst that Everton need to win at Liverpool!
Paul Smith
190
Posted 01/04/2017 at 17:47:13
Can't believe posters want Rooney back. God help us.
Jay Harris
191
Posted 01/04/2017 at 17:53:15
Agree with you there, Paul. We have enough of a granddad's army at the moment.
Stan Schofield
192
Posted 01/04/2017 at 17:53:28
Mike@187: I agree we were shite compared to what we can do, but disagree that we ARE shite, including compared to Liverpool. There's little difference between us and them, and in fact I believe we have better players.
The tactics didn't work today (yet again, away from home), and Holgate and Pennington were thrown in at the deep end, it being a derby. Holgate has hardly had a game recently.
It was just one of those days, but it just happened (again) to be against Liverpool.
For me, a measure of how 'not shite' we generally are, was my mate, a red, telling me he thought we'd win today, and I've not heard him say that for a long time.
And for those criticising Barkley and Lukaku, they are well respected outside of Evertonia, and Lukaku in particular is feared. Today changes none of that.
Rob Halligan
193
Posted 01/04/2017 at 17:54:53
For the life of me, I cannot understand why Pennington lasted as long as he did?
Not the lads fault, he didn't pick himself. When I saw the line up I thought it was a 3-5-2 formation. I said Holgate is never a wing half back, but as it turned out, he was playing full back, in a 5-3-2 formation.
So we had three midfielders who were totally over run. Tom Davies tried and run his heart out. Barkley was totally anonymous, and Gueye was in and out the game.
I said during the week Lennon should start in front of Holgate, in a 3-5-2 formation, as he would provide adequate cover for Holgate. Lennon didn't even make the bench, so Mirallas should have started.
After about 20 -30 minutes I thought koeman would pull Pennington off, and revert to a flat back four, so why he persevered with Pennington, I don't know?
Tom Davies, for me, was probably our MotM, but got hooked, probably for fear of being sent off, or just totally knackered.
The most annoying thing is, they are not a great side. This mental block is even getting to the fans fans now, as we are now going there expecting nothing.
Finally, a mention on the referee, who I thought was a disgrace. Lucas does nothing but persistently foul, and gets away with it. Same as Can.Any minor 50/50 challenges he was giving in their favour.
Finally, finally, the red Shite fans. I was near to the segregated area, and trust me, you will never see or hear a more obnoxious bunch of shithouse fans as them.
Paul Tran
194
Posted 01/04/2017 at 17:56:01
Stan, I actually agree with you to an extent. My view is that better players have better technique that results in better consistency leading to more belief and confidence.
One of the best ways to improve the mentality of this squad is to phase out the older players, who have rarely displayed the right mentality when it matters, phase in the youngsters and bring in some experienced players with the right skill and mentality. Koeman is rightly phasing them in and out, but the only experienced head he's brought in is Williams and I'll put my hands up and admit he's been nowhere near what I thought he'd be.
I'm hoping that the younger players feel the pain and learn from defeats like this and come back stronger. It's too late for the likes of Baines, Jagielka, Mirallas. I think it's the quality players that have the right mentality these days and we need some this summer if we want to progress beyond seventh.
Kim Vivian
195
Posted 01/04/2017 at 17:56:26
Local derbies? Local debris in our case is closer.
George McKane
196
Posted 01/04/2017 at 17:57:06
Disappointed like everyone... more than that – fed up with the constancy of our poor play against Liverpool and others. Really time for big decisive thinking and decision making.
Our play and players are, generally speaking, too cumbersome, too slow in their thinking – Liverpool's third goal was a mistake by Everton then 1, 2, 3 passes in a second and goal – we do not have players who can think that quick... maybe we do, but they don't do it.
We are dreadfully slow thinkers and if we do not get it to Lukaku or he has his quite regular "I'm not in the mood for this game" (very much so today). Then let's do something. Let's change it.
Time to get rid of a few old heads who are not up to it: Jagielka and Williams and Barry, possible Baines – some who are not good enough, Kone, Valencia.... and some who may have to be sacrificed to make the change.
I believe we should sell Lukaku in the summer; get the best for him and build our play around a new different type of striker – a line leader, a maker of space for others, and someone is mobile... who wants to play for us. It's been done in the past by us and others. If Lukaku is not in the mood, we are nothing. I run a theatre group and if we were reliant on one person, I would have to change it.
I sort of felt the season was over when Leicester beat us in the FA Cup but of course I still have my Season Ticket and have paid for next season's, so I am not panicking but it has to be THIS Summer.
Be big, Koeman... be brave... be quick.
Rick Tarleton
197
Posted 01/04/2017 at 18:01:36
Today, Barkley was poor, but he looked as though he cared. Lukaku was poor and he didn't give a damn.
Lukaku just cost himself the move he wants, because by the stats he's the laziest player in the Premier League (OPTA 503 out of 503) and his inability to take such a game by the scruff of the neck and make something of it, reveals him as a good finisher, but not a great striker.
Incidentally, he wasn't solely to blame, poor selection, especially on the right side of defence and the left of attack did not help.
Williams and Jagielka were very good defenders three season ago, for a team with alleged European aspirations, they are well past their sell-by date.
Oh dear we've lost again at Anfield thank God I'm old enough to remember Colin Harvey orchestrating a 4-0 win there in the mid sixties.
George McKane
199
Posted 01/04/2017 at 18:03:47
Rick – I was at that 4-0 game; injuries that day but passion and belief and no fear.
George Cumiskey
200
Posted 01/04/2017 at 18:09:41
One post said Koeman has to take the lion's share of the blame, in my opinion he has to take the tiger's, cheetah's, panther's and hyena's share as well. He got the selection, tactics, system and substitutions terribly wrong, and one wonders does he learn from his mistakes, especially after the Chelsea and Tottenham games!
One thing that Everton won't have to worry about is him getting the Barcelona or Arsenal jobs.
Jim Burns
201
Posted 01/04/2017 at 18:10:40
Having trudged away from that place each season since 1999, with feelings ranging from relief to abject misery, I'd decided today not to bother posting.
Sod it – I'll stick my four penneth
Lots been said , but two images remain seared in my mind from today –
Ross Barkley's utter lack of workrate and closing down off the ball – aside from the red card tackle – if he can't be up for this one, then move on – period. He's hit his ceiling.
The other is the complete lack of decent service to Lukaku – virtually nothing down the channels, and most balls launched at him at height from a distance with at least two red shirts on him. Complete justification – in his mind at least- to move on.
1999 – I'm now past caring.
Tony Dove
202
Posted 01/04/2017 at 18:12:21
From stubbornly refusing to use any young players, Koeman has now gone to the other extreme. Four kids in a derby game – you must be joking.
The back three is a disaster with our paucity of decent defenders but if you had to go that way then Lennon should have played. It will take a long time for Holgate to recover his confidence. If we had kept the usual back four set up you only had to bring in Kenny or indeed Holgate who would have been more comfortable in that role.
Davies had a reasonable game but Jags is the only one who can really hold his head up. Ross was too revved up, shades of Gascoigne in the cup final. Gueye has been a big disappointment in the second half of the season and Baines appears to have lost his mojo. Daren't think about Tuesday.
Barry Rathbone
203
Posted 01/04/2017 at 18:13:59
It's no coincidence Barkley and Lukaku are usually ineffective against the better sides the glaring flaws in their basic ball control and passing is shocking tbh.
Against lesser opposition more often than not you get away with it but step up in quality against sides "up for it" and they're exposed.
Actually you can say that about most wearing blue these last two decades but these two are reputedly our best players!!
Terrifying isn't it?
Ian Hollingworth
204
Posted 01/04/2017 at 18:17:50
Progression requires buying better players than you already have We did it with Schneiderlin and need to do it for some key positions.
Until we do this, expect more of the same as the harsh fact is we have too many players who are not good enough for the next level.
We have to be bold in the transfer market. Unfortunately, the summer will be like all others where we scramble about after a big sale of one of our players.
Gordon Crawford
205
Posted 01/04/2017 at 18:19:43
The main problem is the lethargy that runs through our club and has done for years.
Some time ago, we knew what it was like to be favourites in derbies, but not anymore; it's like lambs to the slaughter. Fear grips our football club and it won't go without a fight. But the question is, do we have the board, manager and players that are ready for the fight?
I myself have stopped even caring about derbies now. I sadly don't want that to be the case, but the disappointment is almost deep seeded in me. When you think this club can't let you down anymore, bam – you could smashed in the balls, really hard.
There is a famous quote and it goes like this: "It's not the size of the dog in the fight, it's the size of the fight in the dog." – Mark Twain.
Patrick Murphy
206
Posted 01/04/2017 at 18:20:58
Everton FC has a long road to travel if it is to regain its former position at the top table. Our record against the current top six over a long period of time is in truth shocking and it's the main reason we can't break the imagined or indeed real glass ceiling.
If we do happen to have a good campaign against those six teams, we often manage to shoot ourselves in the foot – think Palace, Sunderland et al in previous seasons.
Below is a table showing how we have fared against each of the big six in the last 38 league games home and away, and it makes horrible reading.
PL W D L GF GA PTS
38 06 07 25 37 74 25 Man U
38 04 14 20 30 68 26 Liverpool
38 06 08 24 34 75 26 Arsenal
38 07 13 18 38 61 34 Chelsea
38 07 14 16 41 65 35 Spurs
38 17 08 13 45 46 59 Man C
Manchester City are the only team of that group that we have a reasonable record against and that includes the early period of the Premier League when Man City were a basket case.
Is this really the best that Everton can do? Well yes! Until the club decide that money (or lack of it) is the real reason behind most of those results. The stadium is welcome but I do hope that Kenwright and company don't use it as a smokescreen to fob the supporters off. It's okay being commited to having a world class stadium but that comes at a cost and the cost maybe that the club will have to continue to sell it's more talented players and rely on the academy to produce Premier League quality but not top six quality.
Of course that table above might not show Everton in any worse light than any other side outside of the top six, but seriously if Everton FC are to become challengers, and that's all most of us are concerned with, that table shows how much hard work, effort, nouse and money it will take to become true challengers.
As usual, we as supporters will have to hope that the club does find the means and methods to try and improve that record against those clubs, but it's going to take one almighty effort and of course the FFP rules don't really help our cause, because even if the club did have the cash to splurge on star players, it's likely we couldn't buy the necessary quality in the numbers that we require.
None of the above excuses some of the performances that Everton teams have put in against those sides down the years and I do hope that Koeman realises that, although we are a realistic fan base, we still enjoy the odd dream.
Nobody wants Everton to go into any game beaten before a ball is kicked, feeling that it is a fait accompli that Everton can't or won't win. Sadly, the truth of the results show there is good reason to believe that is the case. Even battle-hardened supporters have lost some faith in the club to escape the strait-jacket of failure against those teams; until we can improve markedly in all fixtures against all teams, we are destined to have days like today as often as we have in the past 20 years or so.
It's a good job we're all born to be Blue because it's hard to make a case that any of us hand on heart would choose to do so.
Anyway, Old Trafford next and another opportunity to begin a new chapter.

Rick Tarleton
207
Posted 01/04/2017 at 18:21:01
Yes, George, but then we had Harvey, Young, Vernon, Gabrial, Labone, Parker, Harris and Morrissey. Even Smith, Yeats and Byrne couldn't intimidate us. Now we have 6'-4" of Lukaku and there's a difference.
Gordon Crawford makes a valid point, I don't believe attitude and fight can make up for a lack of class (it does occasionally – Yeovil beating Arsenal in the cup proves it does--occasionally) but we have to go into the game believing we are there to win it. Carragher wrote this week (I don't read "The Fascist Rag" he works for but on line) that Everton players and supporters expect to lose, they expect(with good reason, remember Clattenburg) that the referee will give Liverpool a dubious decision.
Today we were lucky that Taylor, an abysmal apology for a referee, did not send off Williams or Barkley. Today we huffed and puffed had a lot of meaningless possession, a la Martinez, and generally looked as though we would never trouble Liverpool.
By the way, Jim Burns, it's very hard for Barkley , Gueye etc to give passes to a centre forward who won't make runs (503rd of all the 503 players in the Premier League). He only runs when he's played into a run in on the keeper. Why for instance today, didn't he try the other channel when he was constantly bottled up by moving right?
Tony Draper
208
Posted 01/04/2017 at 18:23:14
We simply were not good enough.
Dress it up anyway that we wish. I seriously doubt that we could have got points from any side today than the terminally generous Mackems.
Barkley and Davies and Gana played like they cared. Davies got a serious lesson in the "dark arts" from them lot, frequently overbalanced just as he was releasing the ball.
Proud of Big Rom for repeatedly barking at the ref and standing up for his teammates.
The bloody coverage was an absolute pukefest, but there is nothing new there. Encouraging ex-reds (who can't recall WTF they are meant to be extolling) by giving them continual prompts?
Forget who we had available and why. We were simply just not good enough today.
Paul Conway
209
Posted 01/04/2017 at 18:23:32
Kim Vivian @ 195.
Love the Scouse Humour! You have to laugh, or, surely you will cry! Here's more;
Chelsea; Courtois/Bergovic.
Spurs; Lloris/Lopez.
Liverpool; MIgnolet/Bogdan.
Man City; Bravo/Caballero.
Man Utd; De Gea/Romero.
Arsenal; Czech/Opina.
Everton; Scouse Humour.
Ray Roche
210
Posted 01/04/2017 at 18:25:09
Patrick Murphy (#206),
"City are the only team of that group that we have a reasonable record against and that includes the early period of the Premier League when Man City were a basket case."
Just an observation, and I'm not taking you to task here, but I think you'll find that we were as big a basket case in the early Premier League years as any club that avoided relegation. So, for those years, I would expect our record against the top table to be as crap as it is.
Paul Tran
211
Posted 01/04/2017 at 18:25:59
I counted six occasions when Lukaku made a run and pointed for the pass and either didn't get one or the pass was misplaced. I gave up counting after that. Of course he could put himself about more, but I bet he was looking at Coutinho and wished he was playing with someone like that.
I thought Gana played okay; he was constantly trying to fill the gaps vacated by the rest of the midfield and struggled. Bet he was looking at Coutinho too.
Centre-halves who can turn, run and think quickly, a centre-mid who can pick a pass, create chances and score and at least one quality mobile striker. That's what we need and I'd love someone to point out the players we currently have who can do that consistently.
Alan McGuffog
212
Posted 01/04/2017 at 18:31:17
Can't wait for the DVD to come out. "How we kept the mighty reds down to only three at Anfield."
Seldom have I seen a more inept performance... well, since the last derby, of course. We have defenders who cannot even play hoofball!
Bill Gall
213
Posted 01/04/2017 at 18:32:15
Jay, what would you think if Everton managed to sign Zlatan Ibrahimovich?
Remember, he is 4 years older than Rooney.
John G Davies
214
Posted 01/04/2017 at 18:33:55
Paul Tran, I agree. The whole set-up is based on getting Lukaku in.
In my opinion, we need a more fluid system. I would sell Rom and look to bring a mobile centre-forward and a top class No 10 in with the money.

Ian Hollingworth
215
Posted 01/04/2017 at 18:35:47
"But I bet he was looking at Coutinho and wished he was playing with someone like that."
Maybe true but anyone on the pitch could say that. Robles wishes he was playing behind their defence, etc.
What we need are players who are prepared to bust a gut and do something about it rather than wishing they were somewhere else.
Jay Woods
216
Posted 01/04/2017 at 18:35:57
I think until we are in a position to compete financially we should just forfeit this fixture every season, rather than go through the charade of contesting the match, only to watch the same outcome. Year after year after year.
Patrick Murphy
217
Posted 01/04/2017 at 18:38:03
Ray (#210) I acknowledge what you are saying; but the last 38 Premier League games against all of those sides apart from Man City have come since circa 1999, City being the exception because some of the fixtures against them include the early years, due to their absence from the top flight.
I sort of understand what you mean, in that you would expect our results to be crap against those sides, but my argument was to try and show that the cumulative effect of those results seriously hinders Everton's chances of regaining a foot-hold at the top table and the amount of work the club needs to do if it truly wants to meet its stated ambitions.
It hasn't been a blip in form against those clubs, it's been a cycle of decline, and it will continue until such time as the club, whether via its directors, manager, players and supporters addresses the issue and attempts to rectify it. I live in great hope but not great expectation.

Steve Barr
218
Posted 01/04/2017 at 18:38:54
Rick, not to mention Messrs Micky Pejic, Lyons and Bernard.
Not the same class as the players you named but none of them would have rolled over the way we did today.
Where has it all gone wrong?!
John Daley
219
Posted 01/04/2017 at 18:44:18
Those who are having a go at the likes of Holgate ("looked like he'd never played football before"), Calvert-Lewin ("appalling", "would struggle to score ten in the Championship") and Pennington ("awful, not Premier League quality"), should instead be aiming their ire at the the manager who got not one single call correct today and the more senior members of the side who once again went into their shell on the big occasion.
Firstly, opting to go into a derby with 4 out of his 11 having only a handful of Premier League starts between them was naive management on Koeman's part. Fair enough, his hands were tied to some extent with Holgate and Davies but dropping Pennington into the mix, stone cold, always had the potential to see him sink rather than swim given the occasion, whilst Calvert-Lewin's thankless task of chasing and challenging for high balls and scraps was never likely to let him shine.
In a team without a single leader worthy of the name, who exactly was supposed to instruct, cajole and calm the callow youth Koeman chose to deploy in each third of the pitch?
After the second goal went in, Pennington was visibly shaken and disappointed with himself, but neither of our 'veteran' centre-halves (who have seemingly taken an on-pitch vow of silence) considered it worthwhile for a senior pro to have a word in his ear, to try and compose the kid and re-focus his mind? Each probably too busy giving themselves mental pep talks in a forlorn attempt to manouvre their own heads out of their fucking arses.
Whose actions were these young players supposed to look to and take inspiration from during the game? 
Not the two aforementioned arl arse's, clearly.
Not Lukaku, who could only motivate himself into ambling about half-heartedly, in-between bouts of being bullied, and carrying about all the beastly threat of that big friendly soft bastard from Bigfoot & The Henderson's. 
Not Barkley, who had one of those hare-brained games where you half expect him to stop dead, sit on the ball, whip out a banjo and start strumming the frenetic duelling theme from fucking Deliverance, before suddenly remembering he's not on a bridge, he's on a football pitch and that wasn't Ned Beatty squealing like a pig but an opposition player he's just needlessly left his boot in on. 
Not Baines, who looked wary of straying out of his own half. 
Not Robles, who for some strange reason had seemingly convinced himself tetra-amelia syndrome could suddenly set in, had started with the top half of his body, stealing his arms and steadily moving it's way down toward his legs, just as he'd begun to let himself believe his kicking couldn't possibly get any fucking worse.
Then the manager further extends his youngster's struggles by refusing to take even one of them out the firing-line, or change anything at all at half-time, even though it was obvious his chosen set-up was failing from around the 10 minute mark? Come on. Utterly pointless waiting until after the third goal went in and the game was already lost. 
As for his after-match interview? Surely a verbal spade sizeable enough to dig a 6ft grave for the gormless 'Honest Ron always gives it to us straight' shouts, before patting the soil down and bashing it's re-animated zombie skull in when it rears it's head again. 
'A performance to be proud of'. 'We defended well'. 'We reduced the RS to long-balls'. 'Three at the back worked a treat today'.
Colin Hughes
220
Posted 01/04/2017 at 18:46:32
Patrick (#206), makes for interesting reading, your table. 4 wins in the last 38 league games against the RedsShite, imagine that as a whole Premier League season? Good job we don't play them every week or our long stay in the top flight would long be over.
Eric Paul
221
Posted 01/04/2017 at 18:49:10
Barry @98,
Spot on. I've just read your comment and realised it doesn't hurt anymore – it's as if we already know the result before kick off
Kim Vivian
222
Posted 01/04/2017 at 18:51:21
Patrick – an interesting set of stats but isn't it a bit meaningless unless you did the same exercise for all of those clubs as well. Based on your numbers, I make it 205 points from 228 games, so just under a point a game – say 9 points from 10 games.
Man Utd would be way out in front on a ppg stat, I would guess Arsenal next and Spurs/Man City not necessarily any better than us.
I'm not asking you to do it! (unless you've got some software that would make it quick and easy) but the point I make is that I'm not entirely sure what one can objectively conclude from your stats without a comparison of some sort but an interesting read anyway.
Rick Tarleton
223
Posted 01/04/2017 at 18:58:41
John Daley makes a very interesting case. Worth reading carefully and assessing his points objectively. Koeman made the calls.

Kunal Desai
224
Posted 01/04/2017 at 19:00:36
Not sure much is going to change on that shopping list of yours, Ajay. Sigurdsson yes and possibly Pickford. The others are not going to elevate you into the top four.
We'll need a few world class players, players that are winners both mentally and physically. I seriously feel if Everton have an ambition of winning trophies they will have to now go for big name.
I'd like to see Benzema, Lacazette, Rodriguez. Go out an get the best. Buying players like Williams, Bolasie, Stekelenburg and Lookman are not the answer.
David Tennant
225
Posted 01/04/2017 at 19:03:29
This game highlights multiple factors we are deficient in. But mentality is arguably the biggest. We need to change this with new blood.
This highlights why we should buy Rooney and one of the reasons we bought Schneiderlin. Rooney wouldn't be phased by Anfield one iota. Le'ts go in for big-game players. We need a change in culture!
Rick Tarleton
226
Posted 01/04/2017 at 19:06:54
Rooney's record at Anfield for Man Utd is not great... One goal in ten matches!
John Pierce
227
Posted 01/04/2017 at 19:09:57
A very poor show today with a much changed group of players for who a derby is a relatively new experience. Yet a performance borne almost as if it's indoctrinated on day one as an Everton player.
Having ignored younger players until form and injury forced Koeman's hand in late November, I can't sit here and murder him for picking the younger players. Barry, Kone, & Mirallas to a less extent have had a fair crack of the whip.
He ultimately accommodated Liverpool too much, a feature of his tenure away from home, his record is quite awful, regardless of 'our' record against the better sides.
Tactical flexibility is good, he has it but, today he gave away the midfield to Lucas and Can, hardly the best.
We looked desperate and scared of them, three easier goals they will ever score. Two cowardly tackles and yet barely any significant discourse on these pages despite the incident with Seamus last week? How odd?
The lack of leadership is stunningly obvious. The pivotal moment, our equalizer left them agog. Just 5-10 mins of steady possession, not one player or Koeman seized the moment.
I watched the Man Utd game, and despite the showing today they are well banged up play at pedestrian pace. It might well be too much for our rudderless lot.
Kim Vivian
228
Posted 01/04/2017 at 19:10:07
Oh fuckin' hell. I'm cheered up again with a few good laffs at J Daley #219 with whom I concur 100% on this one – especially about Joel who seems to be keeping out of most people's line of fire (although I did have to google T-A S).
So back to enjoying your post's mate – just agree to differ over Funes Mori, eh? I wonder what might have been the difference had he been on the pitch.
I suppose Pennington wouldn't have been there to poach one but he does seem something of a threat at corners (when we manage to hoist them beyond their first man).
Oliver Molloy
229
Posted 01/04/2017 at 19:21:52
I wonder what spin is to come from the club to cheer us all up after yet another derby defeat? Maybe they will wait till Tuesday!
Paul Conway
230
Posted 01/04/2017 at 19:26:04
Paul Burns @ 91, Fucking spot on! Sorry for the use of the ' F ' word to emphasise ' spot on '.
I needed a large swig of Milk of Magnesia, when I saw Klippety thumping his chest, and an even larger one when I heard Koeman's after-match comments!

Kieran Kinsella
231
Posted 01/04/2017 at 19:26:08
Oliver Molloy
Jim White will no doubt have the scoop that Moshiri will deal with the flood danger at the new stadium by building a wall. A big wall. And Liverpool FC are going to pay for it.
John Audsley
232
Posted 01/04/2017 at 19:27:31
Williams is the Mike Milligan of 2016 transfers. A bloke who looked really good, had a mouth on him and could organise a team. Then he arrives at Everton and falls to pieces.
When he joined us I thought and said that at last we had a mouthy, organised bastard of a centre back.
How fucking wrong was I?
Williams, Jagielka and Baines let the two young lads down today and then the Ancient Skipper has the fucking cheek to say "Erm, it was a chance missed today, like."
Fucking cowards.
John Codling
233
Posted 01/04/2017 at 19:28:41
Absolute fucking shite, again gone there with a mind set of already defeated. Ross needs fucking royally for that performance, but he is not the only one. Once again, Everton make us look like twats.

Jim Burns
234
Posted 01/04/2017 at 19:31:53
Disagree, Rick at 207 – Paul has it right @211. Rom was continually hit with long high balls whilst under pressure – even those he won and knocked down weren't picked up or anticipated.
He's never going to be the most mobile of strikers, but put it down a channel and he'll tank his way through, and has proved it constantly. He was given a couple of balls when out wide and managed to create problems coming onto his left foot – but that was it. Barkley's few attempts were telegraphed and cut out easily.
A Liverpool fan at the game came onto Radio Merseyside afterwards and to be fair gave a reasonable view from that side – that Koeman hadn't done Lukaku any favours by how he'd set the team up, and was short of decent service. They couldn't believe their luck.
Shades of the Spurs game.
Andy Meighan
235
Posted 01/04/2017 at 19:37:46
Absolutely gutted about that performance today. Well I was til I read John Daley's post.
John sir. You never fail to cheer me up Absolutely superb. If you can't laugh at that, there's something wrong with you.
John Audsley
236
Posted 01/04/2017 at 19:38:09
Ste Traverse and John Daley nail it, as always.
Long-time TWebbrs like myself who have seen and commented on much misery since 2000ish.
We really missed Morgan Schneiderlin today. He is a gobby bastard who would have spoken to the young lads and called out the ancient defenders today.
Ian Riley
237
Posted 01/04/2017 at 19:38:12
It would be easier to blame the young players but senior players failed to step up today. Baines, Jagielka, and Lukaku were left wanting today.
If anything positive came from today's game. It was that we need at least five to six signings in the summer. Experience and quality are required for the younger players to develop. A goalkeeper is a cert after Robles performance was laughable, beyond angry.
Today has shown we are not ready for top four as a squad. Why? The quality in depth is not​ there. Players need to believe they can win at places like Anfield; ours don't and the fans know it.
The manager's tactics today puzzled me. Three at the back. Pennington was exposed massively with gaps widening as players came across to support him. A back four with Barry holding would have allowed the midfielders to push forward giving support to Lukaku.
Lukaku needs to show his presence more against top four sides. No service, I must admit, but make yourself known​. The forward three failed to hold the ball in the first half to create more chances.
Overall it was a bad day from the players and management team. Yes, we are a team developing. However, a repeat of this next season, Mr Koeman, and posts may be very different on here.
Rick Tarleton
238
Posted 01/04/2017 at 19:44:31
I agree, Jim Burns, that Koeman's set-up did Lukaku few favours. But he insists on his style even when it manifestly is not working. He's a good finisher, no doubt, but he basically scores one type of goal, when he can get a ball over the top which he runs onto. He doesn't lead a line and must be for mid-fielders a nightmare because he will not make runs.
Barkley was poor today, Gueye was stretched, Davies struggled and Liverpool had Coutinho, Mane and Firmino, who is the antithesis of Lukaku, a mediocre finisher, but boy does he work for the team, chasing, closing down and making runs at every opportunity.
Liverpool's equivalent of Lukaku, Sturridge doesn't get a game because Klopp knows that a worker up-front inspires the others. Especially when one considers the hard week Firmino has had.
Mike Oates
239
Posted 01/04/2017 at 19:47:34
I've admired the way Koeman up to today has said it the way it is, particularly in his post-match interview, normally 90-100% correct. But his summation today smacked off a man in panic mode, who suddenly realises that his plan to get us to a Top 4 place will need at least another 6-7 quality players rather than the 2-3 most seem to think was all that was needed.
Robles, Williams, Jagielka, Holgate, Pennington, Calvert-Lewin, McCarthy, Stekelenburg aren't good enough; Lukaku is leaving; Barkley can't be relied upon; leaving him with Coleman, Baines, Davies, Gana, Schneiderlin, Lookman maybe.
The step from 7th to 4th is huge and I'm unsure how we'll ever catch them up. Spurs have bought wisely over last 3 years with excellent quality signings and now have a strength in depth we can't match – our kids aren't as good as we think.
Craig Walker
240
Posted 01/04/2017 at 19:47:47
What bugs me though is this, the likes of Barkley will have a good game against someone like Sunderland or Stoke and us fans will start mentioning "top 4". Then we'll get a performance like today and we're all down but we never learn do we?
My dad taught me one thing "It's Everton son. They'll always let you down". Even in the glorious 80s, we lost 3 cup finals to them. There seems an inverse correlation between how good we think we are and how well we do in derbies.
Even Howard Kendall Mk III had the Cadamarteri derby. We need to start asking this question: which of our players would get into the RS or Spurs teams? If they don't pass that test, get shut. We need to start acting like a proper club with aspirations.
Andy Crooks
241
Posted 01/04/2017 at 19:53:40
John Daley, you have put up some top stuff but this is the best yet. Koeman's performance today was utterly abysmal. As bad as Martinez at Southampton, as bad as anything I have ever witnessed watching football.
From his team selection, to his ineptitude throughout, followed by his comments afterwards, this was shameful, inept and, most appallingly, damaging to our young players. I continue to support him but he was fucking shite beyond belief today.
Rick Tarleton
242
Posted 01/04/2017 at 19:55:51
Craig Walker, you could have put Lukaku's name where you put Barkley's and it would have been equally true. Lukaku, however, or his dad, or his agent believes he should be at Barca or Real Madrid.
Colin Malone
243
Posted 01/04/2017 at 19:58:09
Let's hope Jonjoe Kenny will hopefully get a chance now that we know Holgate is not a right back. Our right hand side was disastrous.
The overrated lump Lukaku says, his mind is made up and the club is allowing him to keep it to himself??
The man's a myth, who cannot perform against top sides. It's time he was dropped and give the fringe players a game or two each. Why are we playing him, when he is not the future of Everton Football Club? What have we got to lose?
Jags was my Man of the Match.
Oliver Molloy
244
Posted 01/04/2017 at 20:10:19
Kieran,
My money will be on Wayne Rooney "coming home" to resurface again.
I wonder, if Rooney was in our side today, would the result have been different, probably not !
In all seriousness, if Everton have plans for Champions League football, it's going to take a lot of £s to do so, in my opinion.
Paul Burns
245
Posted 01/04/2017 at 20:13:33
Koeman's comments encapsulate the pathetic losing mentality of Everton FC. No other club or manager in world football would be proud of that diabolical shambles.
The club are cowardly and, being so, there is little chance of the hard, correct decisions being made to change things. Too much patience with non achievers, too much loyalty to players well past it and lessons are never learned – we go over the same things season after season.
Bill Kenwright has been a curse to Everton, the biggest loser in the club's 140-year history. It's no coincidence that we're in the situation we are since he's been at the club – a smug refusal to realise that anything's wrong or it could be down to him is killing us.
Ray Smith
246
Posted 01/04/2017 at 20:15:35
Today was a day to forget.
Hanging on to 7th is the best we can hope for. Lose on Tuesday and West Brom win! 7th place will be in jeopardy. Let's be positive despite the recent injuries.
If Rom is leaving, today's performance won't go down well with his suitors! He's good against teams outside the top 6, but I'm not sure he's as good as he thinks he is.
I would like him to stay, and there's another twist in this saga yet to come!!!
Brian Wilkinson
247
Posted 01/04/2017 at 20:19:10
Dave@148 spot on, I said that on another thread, Ernie will back me up on this, I suggested trying two different attackers and using Lukaku as a back up impact sub, what I feared happened, they snuffed Lukaku out of the game.
It's not all down to Lukaku, no one covered themselves in glory today.
Strangely enough for all the amount of abuse I took with having a view, not one of those posters have come on and said fair enough Brian we gave you so much amount of stick on the Funes Mori injury forum, Ernie Itake my hat off to you and thank you for coming on here along with Darren@95
This is a fans forum and not everyone will have same views, but I can say hand on heart, I have never used abusive language, singled a posters out giving abuse apart from naming a posters name out with agreement or thanks,nor have Ibeen disrespectful in someone else's view.
I will finish by saying I am angry, annoyed and gutted at today's performance which needs addressing before the Utd game.
Paul Smith
249
Posted 01/04/2017 at 20:37:37
As stated by those much more astute than myself: Koeman got it badly wrong.
Against Spurs' strength and physical presence he went too conservative, played not to lose and Barry was the weak link. We wanted change so he gave it to us today. Most poster's seemed please except for a young girl on Twitter who was fuming as to why Kev & Lookman weren't starting – she called it right.
I want to buy into the project but after Spurs & today, I'm not sure Ron has what it takes. Against the tough teams, he gets it so wrong it's mind boggling.
What is happening with Lookman? Calvert-Lewin?? Come on, he was struggling from the off, Mirallas scored during the week and although he's rarely a 90 minute player, was the right choice. Unless Koeman can start getting his team selection and tactics right, we're going nowhere fast.

Jim Burns
250
Posted 01/04/2017 at 20:42:39
Fair comment, Rick – I wouldn't argue too much with that. I just think we could have played to, whatever strengths he does have a lot better.
I got to thinking today about players like Andy Johnson - arguably not ' in the same league' as Rom – but Christ did he run and show from the front! (at least before whinging Wenger verbally crippled him).
For the first time I'm finally having serious doubts about Barkley – I felt let down by him more than anyone today , and wouldn't hang much around the youngsters necks. Couldn't understand young Davies being taken off either.
It could all feel different on Tuesday – who knows?
Mark McLoughlin
251
Posted 01/04/2017 at 20:48:36
After today's performance, Lukaku should donate his wages to Alder Hey...
He's worth how much??
Christy Ring
252
Posted 01/04/2017 at 20:53:00
Toothless performance, no aggression or drive.
Our formation didn't help, with Lukaku isolated, and no width. Gary Neville could see after 10 minutes that Barkley and Calvert-Lewin were too far forward, which suited Coutinho, and cost us.
I know Ross could have seen red, but he never hid and was our only outlet going forward, and doesn't deserve all the flak on here.
Lenny Kingman
253
Posted 01/04/2017 at 20:54:32
Heysel started the rot.
Gerry Ring
254
Posted 01/04/2017 at 21:02:27
I know this may sound ridiculous but I think we should bring McGeady back. He has to be better than what we had out today. He's burning it up with Preston & his confidence is back.
Also, today proved how badly we need McCarthy in the starting line-up. Coutinho wouldn't have been dancing around like a ballerina if Macca was on the pitch.
Koeman needs to get his priorities right. We need Barkley too!!!
Dave Abrahams
255
Posted 01/04/2017 at 21:03:20
The Everton manager and the team never gave us an argument to use, we just have to put our hands up and admit we got beat deservedly, never put up any sort of fight. We had two or three players who had a go and put some sort of fight up, the majority didn't and Koeman couldn't even get his substitutions right or used them too late.
Very disheartening and a lot of work is needed to get us into the position of being a team that others will fear playing against, especially when we play away.
Paul Birmingham
256
Posted 01/04/2017 at 21:09:30
What a disgrace that was today! No complaints about the result – they showed effort and guile and guts and we huffed and huffed and didn't have a poxy clue.
You'd think they know by now about space management and marking; we just stand off and give them free shots all afternoon.
Joel didn't move for any of the shots that they scored from but he limited some damage.
I may have to see the shrink, as I really thought that we'd put a shift in today and sadly we have been let down massively again.
Jags done okay but Williams looks more and more like a Championship player at best. The rest had off days Ghana tried but in the end they played to their strengths, pressed and pushed the ball with pace and we didn't have a clue.
The summer needs a squad overhaul as it showed today that the squad has no strength in depth, and Koeman;s cards were bad, but the system we played invited them on.
Now for Tuesday. Can we improve for this game, will we try some shots outside the box?
It has ruined another weekend, but even RS work colleagues are getting bored with the predictability of the derby these days.
It's Biblical now, and whilst the season is far from over, it's shown again how lacking the squad is in cover and lacking professional respect for the club, the supporters and themselves.
The team must get a real leader as captain and tough love, and seemingly cruel heartless decisions must be made in the summer and the overhaul of the squad must happen.
Reality check... Massive window in the summer, let's hope the funds are there.
Keith Monaghan
257
Posted 01/04/2017 at 21:10:31
Injuries have hit us badly, but it's not the full story.
We defended badly for all 3 of their goals – as many have said, Williams is a painfully slow & lumbering liability, & for all his efforts today Jags is yesterday's man.
Zero creativity in midfield resulting in utter frustration for Lukaku. Barkley is way over-rated, will never be a decent Premier League player – he is lazy, slow, has no football brain, his positioning and decision-making is awful and he over-complicates the game.
People need to stop believing how the Echo boost him up every game – he's miles behind Coutinho, Silva, Mata, Alli, & loads of others. Today showed why he's lucky to be in the England squad, never mind in the team – we'll never be a top team with him in it.
And bringing back the traitor Rooney will not help our cause – we need athletic, hungry & mentally tough players – as was obvious when he joined. Koeman has a big job on to get us into the top 4.
Colin Gee
258
Posted 01/04/2017 at 21:13:14
When I got up for work this morning, I thought today was the day we would finally beat the RS after such a long miserable run. Once they scored I knew it was game over, I can't remember the last time we came from behind to win a derby at Goodison never mind Anfield!
That seems to be the problem, there's no Joe Royle, no Peter Reid no Pat van den Hauwe or Davey Watson to give our players a bollocking. Every team has a bogey team, why does ours have to be those tossers?
Didn't go as I was at work, kept hearing bits on the Radio, sounded like the 'usual' Everton derby performance.
That table above takes grim reading, especially if you take out Man City. Moyes never won at the Sky 4, Martinez only beat Moyes's Man Utd, looks like Ron is heading the same way...
If my maths are correct then in 54 games against the Sky 4 we have 1 win. What's the betting that it is 55 after Tuesday night. If you are a betting man then get your money on a Ibrahimovich first goal. You just know it, first game back after a 3-game ban.
I said a few weeks back that these three away games in a row against Spurs, the Liverpool and Man Utd would define out season, looks like we have reverted to type!
Paul Graney
259
Posted 01/04/2017 at 21:14:52
Predictions for the day and, being Everton, it all came true. On seeing the team line-up, I knew we would be in for a heavy defeat. My prediction: 4-1 or 5-1. We got off lightly with that one.
Keep it tight for the first 20 but I knew we would concede and then I did not predict we'd score; I knew they would score within 5 minutes of that.
Into the second half and after having a good 15 minutes, looking like we could nick one, Origi comes on. As I said to my brother, he would score within 5 minutes; he duly obliged.
As mentioned in previous posts, we let Coutinho play himself back into form and why oh why when we play them, when we get the ball, we have 3 men round us? Yet, when the likes of Countinho, Firminho and Mane get the ball, they've got all the time in the world to run with the ball or pick out a pass to others with no pressure on them.
Very disappointing today... poor team selection and 3 poor goals to give away against, in my opinion, a very average side.
Peter Laing
260
Posted 01/04/2017 at 21:31:44
From today's game, we have learnt once again some horrible lessons.
Robles is substandard, Baines and Jags are nice guys and have been good servants / pros for Everton but are on borrowed time and Ashley Williams has been a bad signing.
Barkley and Lukaku also once again fail to deliver when it matters and we have a throng of inexperienced young players who may or may not step up to the plate but are clearly not ready for a game of this magnitude.
Koeman has talked about a 3-year project and next season will be interesting.
Stan Schofield
261
Posted 01/04/2017 at 21:45:30
Our home form is top-4, whilst our away form is mid-table. We have consistently got tactics wrong, predictably, away from home. The fact that it is so predictable points to a systematic failure by Koeman.
This is surely a problem that can be solved, by Koeman choosing tactics that aim to win, and by being adaptable when things are not going to plan. If he can get it right at home, why does he get it so wrong away from home?
Colin Malone
262
Posted 01/04/2017 at 21:50:04
Drop Lukaku.
Tom Dodds
263
Posted 01/04/2017 at 21:57:42
Paul Burns (#245), Take a bow.
That charlatan penniless excuse for a Premier League "Chairman" has created a legacy of Victorian 'make do and mend' that will probably follow us like bad DNA genes into the new stadium.
Present reality is that the richest clubs got 'there' first and – like top mafia, royalty, banks etc – ain't going to be sharin' it with newcomers any time soon.
Oh and good look working for 'Barclays', Mr Lukaku.
Ray Robinson
264
Posted 01/04/2017 at 21:59:37
Today proves that, after 30 games, the league position doesn't lie. We performed poorly and certain players proved that they are not top 6 material – not least of all Barkley who, despite his undoubted skills, just doesn't have the footballing brain to know when to release the ball. Our best defender remains Jagielka which speaks volumes about Williams who is only a "get rid first time", box defender.
Despite all this, I'm not too despondent. I'm confident that Koeman can see the issues and that he will improve the team incrementally. We cannot become a member of the elite overnight. It may take several iterations to get there - but I think we will. 𧴜m for Lukaku and Barkley will provide some of the necessary funds to strengthen. I think next season will be interesting!
As an aside, when people attempt to emphasise our poor away performances against top sides, why do they always conveniently omit Man City against who m our record is very good?
Chris Leyland
265
Posted 01/04/2017 at 22:05:24
Don't get me wrong, we were very poor today and the manager got things very wrong but, Andy Crooks, "Koeman's performance today was utterly abysmal. As bad as Martinez at Southampton, as bad as anything I have ever witnessed watching football."
Did you not witness last year's Anfield derby or the one in 2014, both of which ended 4-0? How about the one in 2012 when Stevie La scored a hat-trick? Failing these, how about 1982 at Goodison when the score was 0-5 and we were managed by the late, great Howard Kendall?
Or what about Arsenal 7 Everton 0 in 2005 or Everton 1 Arsenal 6 in 2009? Everton 0 Tranmere 3 in 2001?
Mark Hughes
266
Posted 01/04/2017 at 22:09:10
4-4-2 and we win.
Andy Crooks
267
Posted 01/04/2017 at 22:19:46
Chris, we have better players today. We have higher expectations.
I support Koeman. I admire him. However, I cannot defend today. You comment on what you see and what I saw today was abysmal.
Dave Ganley
268
Posted 01/04/2017 at 22:21:57
Chris you've just made me chuckle with your post.
"Hey look, we have been so much worse than this awful performance today."
Very true, sad but so true. Just epitomises how bad we have been really. Nothing like clutching at straws...
Chris Leyland
269
Posted 01/04/2017 at 22:25:36
Andy, I'm not disagreeing with you; today was abysmal and Koeman must take the blame for a lot of it, but it was not "as bad as anything I have ever witnessed watching football".
The 4-0 last season was probably the worst for me from the ones I've listed.
Chris Leyland
270
Posted 01/04/2017 at 22:27:31
Dave G - we have indeed been bad and I am clutching at straws by pointing out that we have been worse but, believe me, it is little or no comfort for me.
Ray Roche
272
Posted 01/04/2017 at 22:33:36
Patrick Murphy (#217)
I agree entirely with your post, however, I think that, despite today's performance, which is not the worst performance in the last five years by a long chalk, we should see an improvement against these clubs in the near future.
I believe in Koeman and think that he'll turn things around. He's not been here a year yet and a basket case like we'd become will take more time to turn around than some of the knee-jerk beauts on here would allow.
Thanks for the time taken to produce the stats.
Trevor Peers
273
Posted 01/04/2017 at 22:38:04
What a horrible week! Coleman's injury then Funes Mori, the endless damaging speculation about Lukaku, culminating in another disastrous derby performance, and no doubt more to follow at Old Trafford. Defensively, injuries have taken their toll, that's a fact – not an excuse.
The only crumb of comfort today is we kept the score down from the previous 4-0 humiliations. We started brightly enough, but we lack real quality in the creative department, cruelly highlighted against the teams in the top six. That needs to be addressed in the summer, otherwise the knives will be out for Koeman next season; hopefully he is clever enough to sort it out.
Sigurdsson would be an excellent buy, but is he interested in coming to Everton? We badly need a top draw goalkeeper as well.
Chris Leyland
274
Posted 01/04/2017 at 22:42:34
Ray, I agree. We are making progress; our home form is really good and a massive step up on what happened last year.
Koeman is by no means perfect: our away form has not been good this season but he has been here for 9 months and he has sorted out our home form, got rid of the first crop of players who aren't good enough and, given another year, will get rid of some more.
He might also have to sell Lukaku and Barkley if anyone pays the asking price for the former and if the latter won't sign a new deal but, if he is given significant funds, then I expect us to give the top 6 a closer run for their money next year.
We also simply have to beat the shite next season too as this would lift a major monkey off our backs.
Jay Harris
276
Posted 01/04/2017 at 22:54:00
I don't know why people are going on about the goalkeeper.
Robles could do nothing about the three goals and produced some excellent saves.
Williams is the biggest disappointment. I expected so much more from him; the young lads proved they are not ready for consideration for first team duty.
Gareth Barry is also no longer Premier League material... and why oh why do Ross and Roim go missing in the big games???
Ian Linn
277
Posted 01/04/2017 at 22:59:36
Jay, Seems to me Robles stands too far off his line.
Bill Gall
278
Posted 01/04/2017 at 23:06:16
Watched the game over again (I'm a glutton for punishment). As others have stated, the major fault was too many inexperienced players in from the start. Overall, Everton were not as poor as when I watched the original game, as I suppose there was too much emotion at that time.
Liverpool played right from the start on our weakness, down their left-hand side. and made sure that our strength, Lukaku, was covered with at least two players, with another player close by.
Calvert-Lewin was non-existent and I don't no why it took 80 mins to bring Mirallas on in his place.
I understand that we have been asking why we did not use some of the younger players but I hope people realize why we should not use so many at once. We are supposed to be in a rebuilding stage this season where mistakes are going to be expected; I hope that these mistakes are not repeated, as there are definite signs of improvement so far.
Jay Wood
279
Posted 01/04/2017 at 23:21:47
There is no escaping it. Our record in the Premier League era against the current top sides is abysmal, as Patrick's 'league table' brutally exposes.
Against the pinkies, it is even worse. Our dreadful record extends well beyond the birth of the Premier League, as far back as the early 1970s. It is too depressing to look up and confirm it, but it was around this time that the balance of wins in our favour in the Mersey derby started to swing Liverpool's way. Year on year since then, it has grown ever wider.
Why? Why for nigh on 40 fucking years has Everton been unable to register better results against them?
Compare our teams and records over the same period to the Manchester derby. Until very recently, Man City were very much the poor neighbours, living in the shadow of the all-conquering Man Utd. Some seasons they weren't even in the same division as their more illustrious neighbours.
But, even with all the disadvantages akin to Everton's own situation, City still regularly beat United, both home and away. Arguably, Everton had better teams and players than City in years gone by, but whereas they could periodically give United a bloody nose, Everton is too often a meek kitten when confronted by the pinkies.
How is this so? The personnel and the management have not remained the same for the last 40 years. The revolving door of players and managers coming and going should ensure there is not an inherited mindset of defeatism when playing the best sides in the league, but particularly so against our most reviled neighbours. But somehow, there is.
Is there a deeper club culture, mindset and systemic failing that does, in fact, ensure there is an inherited mindset of defeatism and too casual acceptance of defeat that is passed down to successive generations of players and managers?
Is it due to the limited transfer funds which have prevented the club from landing (and keeping) Grade A footballers with a nigh psychotic hatred of losing?
Is it that we have for too long recruited 'good eggs' rather than the 'mean bastards' that when it comes to moments like local bragging rights in a derby match, or crunch cup games, we melt and crumble like a '99' ice cream?
1999 – 18 frigging years without a win at Mordor. 7 years without a win against them anywhere. That is a shameful stat and makes a compete mockery of our ambitions to crack the top 4 consistently to claim a Champions League place.
Jay Griffiths
280
Posted 01/04/2017 at 23:22:48
I haven't seen any replays or highlights as yet. It's hard to quantify a game when lost within the emotion and desperate desire to win. Due to this, I do stand to be corrected justifiably.
There was some good positive vibes and opinions in the crowd today before the kick-off. I also feel that a lot of us felt that we were "in the game" for most of the match. That was the only positive from recent past performances against that lot.
As stated, Ron got it wrong and I can forgive him for trying something outside the box. I thought if we couldn't work out what he was up to then I'm sure that yellow toothed, attention seeking, agitating prick of a manager they have will be lost on it too. Alas, no luck there.
I do find it hard to accept the lateness in reacting to patently obvious failings in the system. Our right side was targeted in similar fashion to Stoke away first half.
Mirallas should of been on the pitch from the off. This was a general consensus from most people around us too.
Losing Schneiderlin was a massive blow to us. Davies had to adapt his game as soon as he got his yellow and therefore couldn't produce his terrier-like hounding. Emre Can would've made sure he got a red with one more brush or touch.
Rom, had a tough day. Almost all of his service was way outside the 18-yard box and almost all of it was what I would call "fight balls". Surrounded or outnumbered before the ball is brought to control. This said, I don't mind if we get top money for him and manage to replace him with two good strikers.
Ross was overburdened with his own expectation in this game. He needs to be part of the mechanism that brings them down rather than the one-man wrecking ball he seems to be dreaming the night before. It should be about the right ball – not always the great ball. Sometimes, the great ball is the right ball, but Ross seems to wait a little too long before he processes in his mind his next move. No lack of desire from him but he does need to move the ball on quicker, I feel.
I also feel they played through their midfield whilst we played over ours on a regular basis, especially when Robles, Jags and Williams had the ball.
Should Williams have headed his chance when one-on-one with Mignolet? Seemed like a real chance at the time.
On another note, we need a true captain. One who will be straight over to the ref whenever the opposition are busy contaminating him with non-stop mither.
What a predicament I find myself in now. We're off to Old Trafford Tuesday knowing full well that a good result will do nothing for our league position and boost that lot's drive for Champions League. I resent the thought of assisting them in any way. Hopefully they'll do themselves in.
Lastly, I do feel we're progressing and, within two seasons, we'll have this monkey off our back. A good centre-back and a Sigurdsson type along with the injured lads can change the whole dynamic of our team. We desperately need a proper Number 10.

Colin Hughes
281
Posted 01/04/2017 at 23:33:55
Our record against the RedShite is nothing new, in fact in the 55 seasons since they got promoted we have only managed to score 3 goals there on one occasion.
As for the post about remembering the last time we beat them from behind it was 1992 at Goodison and 1923 at Anfield. Just tells you we have to score first if we are ever to beat them again.
Ernie Baywood
282
Posted 01/04/2017 at 23:39:02
I wouldn't have thought that "Why do Ross and Rom go missing in the big games?" would be such a mystery.
We go from playing an expansive game against the lower-level clubs, where they get the ball in space and have options left and right. Then we go into big games and drop any semblance of width.
Ever played in a game where you keep getting made to look a cunt due to having no options and not wanting to just punt the ball away as soon as you get it? That's what happens to Ross in every big away game. He and Rom are hopelessly outnumbered with no-one opening up spaces.
Then, the next time we play a shit team, they'll have someone like Mirallas haring around the outside of them and the game will look easy again.
Even Valencia made us look better! If all we had to resolve was player quality, then I'd be comfortable. That can't really change overnight but hopefully a sound plan will get us there.
But I can't see how better players will make a big difference. Will Koeman suddenly grow some balls in these games? He had options. Ultimately he changed formation to pick Pennington over a Belgian international attacker. His hand wasn't forced due lack of quality – he chose that.
Colin Hughes
283
Posted 01/04/2017 at 23:41:38
Jay Wood (#279) actually as recent as 1985 we were still leading with 45 wins to 44 in league victories, they levelled it up in 85-86 and we went back in front with the famous Ratcliffe derby at Anfield. (Stats taken from match programme from that season.)
It has largely been from the late 80s to early nineties that we lost a lot on the bounce, then since the turn of this century they have pulled well away with an incredible amount of wins at both grounds. We have won 3 league derbies home and away since 99.
Bobby Thomas
284
Posted 01/04/2017 at 23:44:23
Lenny #253
Yeah because Heysel made Colin Harvey blow millions on shite players.
Ciaran O'Brien
285
Posted 01/04/2017 at 00:08:42
I don't know why so many rate Robles. He is shite. He has a couple of good games but he gives me no confidence in getting regular clean sheets. We bought him from Atletico after he won the FA Cup as the cup keeper and second choice to Al Habsi in the league for Wigan. He was only better than Timmy because Howard was finished as a top level keeper.
He is a poor shot stopper and stood there and watched the three goals go in. Stekelenburg is no better but he right back, proper midfield playmaker who can score, two wingers on both sides are needed and a top striker who can lead the line are all needed to turn us into winners and not bottlers.
Neil Cremin
286
Posted 02/04/2017 at 00:22:40
Two comments on today.
Pat Nevin was amazed that we played with 3 centre halves like we did at Chelsea and we all know how that worked out. Same today. Stupidity is doing the same thing that didn't work, over and over, hoping for a different outcome.
As I said in other threads, the McCarthy issue was a smokescreen to hide how inept we are against the top six. It is our mindset going into these games –we are afraid and tip our caps to such teams with a plan to curtail them rather than impose our game.
Ernie Baywood
287
Posted 02/04/2017 at 00:24:56
I was actually thinking before the game, Ciaran, that we've reached a tipping point. The defensive unit largely stayed set since the Moyes days... the odd change (Howard, Williams, Funes Mori) but we've been blessed with stability in the back 4 or 5.
Now with Coleman out long term, Baines nearly done, Jags done... it's compete overhaul time.
Realistically it's hard to see any of the mainstays further forward staying except Barkley. Mirallas surely goes this summer – why would he stay?
There's a huge change coming and we don't really have any choice in the matter. Change can bring some tough times. Will we ever see a settled back 4 again?
Ciaran O'Brien
288
Posted 02/04/2017 at 00:35:36
I don't know Ernie, I hope we do because a solid defense wins you games and titles.
It's a shame with Seamus. He should be captain but now when he comes back he might never be the same player.
We sign too many shit defenders, limited defensive midfielders and striker-cum-wingers who don't score goals.
Anto Byrne
289
Posted 01/04/2017 at 00:45:53
Definite improvement on the 4-0 loss last time around.
Stop complaining and let's have a look at giving more game time to the kids.
Mark Wilson
290
Posted 02/04/2017 at 00:48:11
Ernie, that's a decent shout about reaching a tipping point. We do not have a top quality centre-back at the club and we need two very good ones to compete.
Williams is a horrible waste of ٧m. He's arrived and immediately been exposed in our system because, unless he's protected against runners turning him on the 18-yard line, Morgans job, or Gueye's, then he's a liability. He really is one of the biggest let downs I've seen at the club because there was a lot expected of him.
Jags will be gone in the summer, Funes Mori too I suspect. Holgate is a centre back and not likely to be a No 1 pick for a while, if ever. If Coleman recovers then he will play his part after November but clearly we now have to spend money on a good attacking right-back. But the issue is that we also need to replace Baines at some point soon. He may last another season. But two quality centre backs and a right back and a bloody goalkeeper worthy of the name... that's pretty much 㿷m right there. Which isn't great as we also need to find a genuinely top class striker and a playmaker.
Spookily I'm starting to see why if someone wants to splash 㿲m on Rom and even more spookily 㿊m on Ross then replacing them and addressing the shopping list above is a minimum of 𧵎m. Can anyone see this happening in the summer? Equally I can't see the quality we need wanting to come to us frankly even if we pay well over the odds in salary terms. Depressing.
As for Man Utd I'm not bothered about helping the shite. Well I don't expect us to! But we have to help ourselves and hold on to 7th and hope Leicester don't win Champions League. It's not great having to qualify from late bloody July or very early August & I'm honestly not sure if we can build the squad capable of coping with the extra games, but surely it would represent a bit of progress, two 11th place finishes to 7th and Europe? What a shite week it's been.
Jay Wood
291
Posted 01/04/2017 at 00:54:10
As for today's selection, there have been plenty of posters all season and on the eve of the game saying Barry should not be a starter. Similarly, plenty have constantly been calling to give youth a chance. A good few during the week called on Koeman to be bold, play 2 up top and pack the side with local lads.
Now the injuries since the Hull game forced Koeman's hand to a degree. No-one can accuse him of being conservative in his selection today. It was bold. Unfortunately, it was a tad too bold and it didn't come off.
Pennington, Holgate and Calvert-Lewin down the right proved an inexperienced and vulnerable alignment. Pennington, together with his fleeting appearances last season, does not look ready for this level (and I wonder if he ever will be).
Holgate had some very bad moments today, but he also had some very good ones. There is a cockiness and confidence I like about this lad, over and above the skills I believe he has.
Calvert-Lewin was totally ineffective, but evidently – given how quickly Koeman promoted him to a starting position on his return from injury – the manager sees something in him.
As it was, I'm not going to get on the youngsters' case too much. There were more senior players whose performances left more to be desired than 4 rookies playing in their first derby together.
Make no mistake, Liverpool were the better team and on the day their better players played better than ours. That said, we started well. Then Mane picks up the ball just in our half, both Davies and Gueye go to ground too early in feeble attempts to stop his run, Williams hesitates with a 'should I go to close, or should I stand off' shuffle and Mane takes a good early shot that leaves Robles with no chance.
I was delighted for Pennington when he scored, but Everton as a collective didn't observe the old cliche after scoring: 'keep it tight for the next 10 minutes'.
Again, Pennington is being singled out by many, but for me, once again, Gueye has to do better in closing down and simply blocking Coutinho's advance towards our goal. Again, he first gave Coutinho too much space to run into, then went to ground too early. Again, I exonerate Robles from any blame for the goal.
The problem for me was – as others mention – Barkley and Calvert-Lewin were too advanced, leaving far too many spaces in behind them and too much acreage for Gueye and Davies to cover alone.
Like many, I was disappointed Koeman didn't make changes to the strategy, formation and players at the interval. I felt he could have gone with a flat back four, withdrawn Pennington, played Holgate at right back and reinforced midfield with the wise old head of Barry.
There was probably a case to replace Calvert-Lewin with either Mirallas and Valencia at the same time and have more width across the pitch.
As it was, we were actually starting to get a toe hold in the game for the first time with Barkley (when he could stay on his feet) starting to have some influence and impact around their area.
That was blown out of the water on the hour mark when Holgate played a lose ball inside, once again Gueye let Coutinho in too easily and Origi embarrassed Williams who let him run in behind him to leave him in acres of space in the centre of our penalty area. Originally, I thought Robles's weight was leaning to the left which left him with no chance with another quickly taken shot. On replay, he perhaps could have done more.
So overall, I thought Robles, Holgate, Jags and Baines were not as forlorn as some suggest. Gueye was not as good as some claim (although I have some sympathy for both him and Davies being given a nigh-on impossible task given the way the team was set up).
Ross flickered, but was largely snuffed out. It was a game too far, too early, for both Pennington and Calvert-Lewin. Lukaku didn't get a touch in their penalty area all game. Mirallas looked threatening when he came on.
And the wait for a derby day win goes on. That's what really hurts. And yet, come the fixtures next season, we will all be looking out for this fixture and believing 'now is our time.'
If only a few of our players believed the same.
Ciaran O'Brien
292
Posted 02/04/2017 at 00:55:40
Williams and Funes Mori have been a fucking waste of money. Why are we never in for an Italian? They are born defenders. Plus I don't understand why we have to sign players of other mediocre Premier League teams. Why not Spain? Italy? Germany? France? South America.
Don Alexander
293
Posted 02/04/2017 at 01:17:56
The problem as far as I can see is the total absence of visible heart within the squad. Not just this season, but for many, many seasons previous, all the way back to the 20th century. Against the top teams we capitulate, always, Man City excepted for some weird reason (not that we regularly beat them mind you).
Kenwright's been there throughout this period, the original Chuckle Brother. What harm can it do to be rid of him asap? Finch Farm, the board-room, the manager (whoever he is) might then be galvanised into achieving, or otherwise getting the bullet.
Loyalty to failures is anathema to what the fans want and demand. It also hurts revenue for the owners/share-holders. Moshiri must see what's happened to Arsenal whilst Wenger & Kronke have persisted, so why can't he see that dead-hands are precisely that; dead?
It didn't need today to make me realise that Lukaku and Barkley are not the guys to turn to when the mission involves going over the top, and they're our "best" players, Gana aside, by the way.
In football terms, going over the top is a regular requirement for successful teams. Beneath those two are a whole slew of players, the youngsters aside, who've never excited us or any other club. Big problem.
When he came, Moshiri reportedly made 𧴜 mill available for signings. He's way short of that expenditure to date. Given his Council-backed loan arrangement re Bramley-Moore (and thanks indeed for that) he now needs to now concentrate on money for signings, next season and the season after that. By doing so, crowds may exceed the present-day Goodison.
If he doesn't, the new stadium may just quickly end up as the cesspit on a cesspit, financially, socially and football-wise.
Kieran Kinsella
294
Posted 02/04/2017 at 01:29:33
Ciaran
We've had Italian defenders.
Materazzi couldn't control himself eventually had an onfield emotional breakdown.
Pistone, average when fit but only good for 10 games prior to renewing each contract before calling in sick.
Also to your point about signing from overseas instead of the Premier League. I give you, Nyarko, Bakayoko, Krøldrup, Niasse, Bilyaletdinov, Rehn, Atteveld, Jacobsen, Preki, Radzinski, Funes Mori, Madar, etc.
Kieran Kinsella
295
Posted 02/04/2017 at 01:31:46
Ciaran
Also you start by saying Fumes Mori is shit and end by asking why we don't sign more South Americans. I think you answered your own question... although you could throw in Leandro and Rodrigo too.
Ciaran O'Brien
296
Posted 02/04/2017 at 01:38:43
Yeah but Kieran, Pienaar, Arteta, Mirallas, Fellaini, Yobo were all successes for us.
I'm just saying most Premier League players are over priced and get shown up playing for bigger teams. Fucking 㿅 million for Bolasie. Sigurdsson was shit at the Spuds. Look at Williams, ٧ or 12 million, whatever it is, is shite.
The best players in the league were brought in from outside, Ibrahimovic, Hazard, Silva, Sanchez, Aguero, Alderweireld etc
Ciaran O'Brien
297
Posted 02/04/2017 at 01:40:59
Use our own academy for English, Scottish, Welsh players.
Kieran Kinsella
298
Posted 02/04/2017 at 01:49:39
I wouldn't say Mirallas was a success. He's been in and out of the team and inconsistent under three different managers. Pienaar had skill but he didn't score enough or get enough assists. Not to mention injuries.
I get the economic argument but Spurs blew the Bale money on foreign players. They mostly flopped. Likewise Newcastle last year were criticized for signing so many players with no Premier League experience. They were relegated.
So my point is that there are no easy fix it's. You get lucky with a Coleman or Cahill playing at a lower level in the British Isles. You get unlucky with a Bilyaletdinov or a Nyarko coming in highly rated from overseas. We have to look far and wide at home, within the academy and overseas.
Ciaran O'Brien
299
Posted 02/04/2017 at 01:55:04
I suppose so but I'm just saying most players from these islands are overrated and cost too much.
Kieran Kinsella
300
Posted 02/04/2017 at 02:05:32
Ciaran, I agree there.
James Watts
301
Posted 02/04/2017 at 03:02:31
Was just thinking of the positives...
The major one: we won't have Lukaku mouthing off this week about what an awesome striker he is and he should be playing the Champions League. He'll be right where he should be – hiding after the embarrassing 'effort' he just put in.
Steve Gaskell
302
Posted 02/04/2017 at 03:30:45
As I watched another Everton team go through the motions at Anfield, my mind wandered to what could have been. Looking at the Liverpool midfield line-up of Can, Lucas, Wijnaldum, this was a very average midfield and should have been over-run. Fact is, Everton players did not want it enough.
I then looked at Mane and Coutinho score decent goals; they are both match winners. What they don't do is run all over the pitch; they do their work in the last third.
I would've liked to have seen Gerard Deulofeu and Kevin Mirallas playing today. Are Barkley and Calvert-Lewin better than these two in the wide attacking positions? I say no by a long way.
I don't accept the argument they don't get back enough. Does Messi tack back? No. Both players should have been given 10 to 15 games to see what they could do over a period of time, to both score and assist in goals.
The game is about match winners – just ask Lukaku about the chances Deulofeu and Mirallas gave Lukaku. The best form of defence is attack. Busy summer ahead... we need to buy a goalkeeper and two central defenders who are young fast and strong. COYB.
Peter Fearon
303
Posted 02/04/2017 at 03:32:23
I am asking for the urgent help of all Evertonians in locating a fellow Evertonian who vanished without trace on the way to Anfield on Saturday.
He is 6ft-3in, about 14 stone, aged 23. He is of Congolese descent and speaks French, Dutch, English and Swahili fluently. Anyone who has seen him please contact Finch Farm before Tuesday.
Andrew Keatley
304
Posted 02/04/2017 at 04:05:06
Koeman obviously thinks we can go toe-to-toe with the top teams away from home. We can't. We should have dropped off, defended as a unit on the edge of our box, and tried to counter-attack.
Heavy defeats and poor performances at Chelsea, Spurs and now Liverpool. Be interesting to see how we set up against a misfiring Man Utd on Tuesday night.
As for getting in new players, it's going to be hard. No major marquee players will want to come, whether we have the money or not.
We'll need Walsh and the scouting team to unearth a few gems, and not pay over the odds for decent Premier League players who are probably only going to fall short in the bigger games, like our current lot.
Phil Walling
305
Posted 02/04/2017 at 04:32:16
If Koeman is the future of Everton, gawd help us!
A mercenary of the first order, he is as glib as his pathetic predecessor and today got it wrong from team selection to tactics to substitutions and after-match comment.
Seventh is holy ground for his ilk and, as Moshiri will discover, spend, spend, spend will be his only 'solution'.
Will Mabon
306
Posted 02/04/2017 at 05:10:46
We don't quite have the players to be consistent top four. We
do
have the players to potentially be top six.
We don't have a manager with a brave attacking outlook.
We don't yet have a strong enough team spirit and belief.
The manager-player relationship is a vital part of engendering and maintaining team spirit (consider Mourinho v Conte with the same players... and Ranieri).
Any team is more likely to lose to a team higher in the table.
At Anfield, we had fewer proven players available, raising the likelihood that we would lose.
We are fortunate to have certain high quality players that better teams than us would like to purchase. Those better teams are unlikely to be grossly mistaken in their interpretation of what our better players could bring to their better teams.
High quality players cannot always reach and maintain their maximum potential in a lower standard team. This doesn't mean they are suddenly shite.
The solution to this is not selling the high quality players and buying the unproven ones then available to us, in the forlorn hope that we will magically become better.
All this and other aspects mean we are probably about the seventh best team in the league, meriting a finish probably, of seventh.
The loss to the RS was not fun... but was it such a shock?
Douglas McClenaghan
307
Posted 02/04/2017 at 06:01:13
I'm prepared to give Barkley a pass as he is one player who looks like he might create something when he gets the ball, but Rom was poor. I am now thinking that it might be better if he goes.
Lovren's play acting was a blight on already horrible match. What a scumbag.
Paul Ward
308
Posted 02/04/2017 at 06:05:05
Paul Burke (#245),
I think your overview of Everton FC over the past 20 years is absolutely correct.
Jay Woods
309
Posted 02/04/2017 at 07:40:27
Reflecting further on this biannual bitch-slapping event, there can be no doubt we have a chronic psychological condition when facing our malevolent offspring club.
The endemic dread, the on-field paralysis-inducing mind-freeze, the cowed cadences of our fans... We're in something akin to what engineers call a negative feedback loop. Our fear feeds defeat which feeds yet more fear.
What I can't quite grasp is how Manchester City, even prior to their new wealth, were generally immune to this phenomenon when playing Man Utd. Maybe their fans don't mix with United's socially or in family settings? I don't know.
What I do know is that we need a cultural revolution at EFC to lift us above this inferiority complex that infuses fan and player alike come derby day. In the meantime, maybe we could outdo Liverpool at something off-field first. Like this new stadium.
Ultimately, it has to be a club priority to ensure that this fixture cannot go on being so unbalanced in its outcome.
Kieran Fitzgerald
310
Posted 02/04/2017 at 07:45:53
If we were going to play youth yesterday, why not start Lookman? His pace and trickery would have been ideal as an outlet.
Darryl Ritchie
311
Posted 02/04/2017 at 07:55:08
We are precisely where we should be in the table; a solid seventh. We are lacking depth at every position.
The injuries to four potential starters has shone a glaring spotlight on the thinness of the squad. Aside from Davies, the academy players aren't quite ready for the big stage. I have no doubt they will be, but not yet.
Add to that, the remaining starters, the "stars" of the team who, for the most part, couldn't find a way to motivate themselves to put in an adequate performance, and the outcome was never in doubt. Whatever locker room pep talk Koeman gave, didn't work.
We will finish seventhish. Koeman has banished the bad memories of the the previous two years and taken us back up to where Moyes left us. Whether or not he can take us any higher is the six million dollar question, isn't it?
There had better be some significant changes over the summer. Changes in the squad – we need new talent, better talent, more talent. There needs to be significant money spent, or the best we can ever hope to be is "best of the rest".
Tony McNulty
312
Posted 02/04/2017 at 08:32:19
Daryll. A pretty accurate summary.
Paul Setter
313
Posted 02/04/2017 at 10:09:54
Personally, I think it's time that Barkley goes. I've watched him closely this season as I thought his criticism was unfair but I really don't think he is all that. I lost count the number of balls he gave away yesterday.
I don't see him progressing from the level he is at. If I look at our strongest 11 for me he is one of the weak points with all of our centre-backs and that clown between the sticks. Thanks for your efforts, Ross, but time to go!
Rob Dolby
314
Posted 02/04/2017 at 10:11:42
Koeman got it wrong. Barry should have started in a 5 man midfield and kept the injury disruption to a minimum with Holdgate at right-back. Mirallas should have started instead of Calvert-Lewin.
Gana and Davies were chasing shadows most of the afternoon as they play a 6-man midfield. Both players had opportunities to 'take one for the team' immediately before the first 2 goals but let the man run off them, exposing the backline.
The 3rd was a killer as I thought we were edging back into the game at that point. Robles needs to be dropped – he didn't even put a hand out for a shot that hit the centre of the goal.
I am more disappointed in the fact that we changed a system to something that gave their best players license to run at us. Koeman has done it a couple of times this season which are worrying signs for the future.
Man Utd on Tuesday night is going to be an interesting selection.
Paul Burns
315
Posted 02/04/2017 at 10:34:03
People have said forget yesterday and move on. Well, we've been forgetting yesterday's for years without moving on! The same pathetic mistakes are made over and over and no-one ever holds their hands up and says enough... why the fuck does this keep happening?
Any Everton fans from outside the city have no idea how this affects those who have to put up with the gloating and smug comments from neighbours, workmates, schoolmates, friends and the scarfed-up wankers on holiday for weekend. It's soul-destroying and we don't have a fucking leg to stand on in response but to hide for a few days.
Everton FC need massive changes from the top down to rid ourselves of the unprofessional way the club operates. Kenwright spends more time appeasing the Hillsborough mafia than doing the best for Everton – including, it seems, rolling over in derbies.
Messing around with team selections or tactics or hoping to finish 7th (Jesus wept!) won't make the slightest difference unless we grasp the nettle and banish the poisoned practices that have made Everton FC a friendly laughing stock, there for the taking by clubs that live in the 21st century.
Kenwright has squandered and destroyed 120 years of proud history and achievement in order to make his bullshit tenure appear somehow better than it is while laughing all the way to the bank along with his mercenary losers.
Peter "Agent" Johnson was castigated for far less and achieved far more in a shorter timescale than the fraud of the century and his showbiz sidekicks.
Stan Schofield
316
Posted 02/04/2017 at 10:52:19
Paul, I think you're right to a large extent, but at the same time we need to forget about Liverpool. Admittedly easier said than done, but we've got to treat them as just another opponent. I think that is a key to success, getting a winning mentality, a professional and methodical approach, that sets out to win each game as it comes.
I know what you mean about having to put up with shite from Reds, but in the long run our success (through a winning mentality) will remove this problem. I lived in Robson Street, near both grounds, during my transition from child to adult, and sometimes would not go out on a Saturday night if we lost a derby. But I got over that, thinking, sod this, it's a game, not life and death (despite the comment from Shankly).
I think (certainly hope) this is a true new era for us, but it will take time to get to the top. For me, the jury is out on Koeman. He's a good manager when it comes to our home form, but looks a poor manager when it comes to our away form. A top side, must, of course, be good both home and away.
Andy Meighan
317
Posted 02/04/2017 at 10:53:52
Paul (#315) – brilliantly put. Can't wait for work in the morning. I'll have to dig my balaclava out!!!
Anto Byrne
318
Posted 02/04/2017 at 11:17:33
Holgate and Pennington have not had sufficient games to be judged. Davies is 18 and still learning. Calvert-Lewin has pace and good control just lacks games. Stones was very raw when he came in and we got 47½mil for him.
Unless you play these kids, they are not going to learn and more importantly get the experience they need. We would have been a lot better with Schneiderlin, Coleman and Funes Mori... even maybe Mirallas would have come into contention.
Let's takes the positives: we have young players who now know what they need to do to improve. Perhaps Kenny can come in and we can play a more solid 4-5-1 in the last 8 games, ensuring 7th place and the Europa League.
I'm not sure the squad is ready for the Champions League. However, the Europa League is a gateway to the Champions League, so let's not dismiss it. Maybe Leicester will confound everyone and win the Champions League on penalties in the final. Would that mean we miss out?
So... 8 games left, 24 points to play for... maybe we can get 68 points if we get the rub of the green. I expect the RedShite will lose their way in 3 games at least. Keep the faith... C'mon, you Blues.
Brian Harrison
319
Posted 02/04/2017 at 11:59:20
Whether we can challenge for a top 4 spot over the next few years will largely depend on what we are prepared to spend on players. Man City owners came in and knew that they had to out spend everybody else to get into the top 4, and then keep spending to stay there. I know some will say "What about Leicester?" Well, that will happen once in a hundred years.
The reason Man City's owners had to spend big in both transfers and wages, was it was the only way to attract the better players they needed to get into the top 4 and eventually win the league. They had no European history and their recent history wasn't great. So, a bit like we are now, outside of the UK hardly anybody knows us.
Unlike our neighbours who, because of their success in Europe, are known worldwide. And that history is still a draw for top players despite them never having won the Premier League title.
Now if we want to compete from 6th to 10th then we will be fine to keep our net spend a little higher than it has been. But to break into the top 4, serious money will have to be invested to achieve it, in my opinion. As the old but true adage says, good players make good teams... and to get the good players, you need to spend big.
John G Davies
320
Posted 02/04/2017 at 12:37:05
Paul Burns (#315),
Brilliant post. Sums up our club and the way Kenwright has run us perfectly.
I would not alter one word of your post.
Roger Helm
321
Posted 02/04/2017 at 13:17:07
I wouldn't pay too much attention to what Koeman says in interviews. I imagine what he says to the players behind closed doors is very different. At least I hope so.
Other than goals scored, and sprints, the stats say that Barkley is the leading Premier League midfielder in terms of assists and chances created, so why people want him gone I don't know. The reason Rom doesn't score much against the top four is that the ball rarely gets out of our half.
We have enough midfield creativity and goalscoring potential (until Rom leaves) to do well – we just need a new defence. None of the five apart from Coleman and perhaps Holgate are good enough.
A big rebuild in the summer using the Rom money, plus a lot more, is needed. I have faith that Koeman and Walsh know what they are about. Next season will be better.
Kevin Dyer
322
Posted 02/04/2017 at 13:19:37
Blimey, we lose a game and it's suicide watch on here! Offload Lukaku and Barkley, give Koeman one more season, players lack fight etc, etc. I'm glad TW posters aren't running the club, it'd be a fucking shambles.
Firstly, our abysmal record vs Liverpool goes back a long time, through several managers and with different players. And don't tell me it's the "culture" at the club, whatever the fuck that means. That's as daft as imagining the media somehow has it in for us. I find that paranoia embarrassing to be associated with.
Truth is Liverpool have had better squads than us for decades, our managers are aware of this and set-up accordingly. Anfield is never an easy place to visit, particularly for city rivals. Granted, we should be doing a lot better. But they are patently not an "average" team, even viewed via bluetinted glasses. With the exception of Lukaku, all their attacking players are better than ours, Barkley being comparable.
Koeman gets his tactics and often formation wrong in away games. Against the better teams, this is exposed. This MUST be corrected next season. We also need a consistent tactical approach and stop adjusting to try (and fail) to counter the perceived strengths of the opposition.
The table doesn't lie. We are exactly where we should be. That we are 7th represents a reversal of the previous 2 season's decline and is not a cause for outrage and panic. It is progress. But it needs building on. Selling our best players because they've underperformed in the derby and a few other games is total idiocy and would get us laughed at by fans of other teams.
What we need to do is offload players that are not good enough to add anything in a push for top 4 and those reaching the end. Retain those that are of sufficient calibre and add starting-quality in the summer. Competition for places in the first 11, including for Lukaku.
An attacking midfielder, one who will add goals and assists; atm we have only Ross. Sigurdsson is an obvious target.
Major investment in an ageing defense - 2 starting CBs with Williams as cover.
A genuine challenge for Baines and Robles. Remaining games should be an opportunity to test the Under-23s and see who can be expected to step up next season.

Ian Hollingworth
323
Posted 02/04/2017 at 13:48:05
Paul (#315) – spot on regarding Kenwright. He is blatantly hanging around for the stadium to be his legacy. Mark my words there will be a stand named after him. That is all he wants.
Meanwhile, we have not won a derby at Anfield sine 1999 and a trophy since 1995. That's the difference between the self proclaimed greatest Evertonian and the rest of us, we are desperate for on field success and he is desperate for personal recognition.
Why is he still around? We will not move on whilst he remains but sadly for us he will.
Kevin Tully
324
Posted 02/04/2017 at 13:59:53
Paul Burns (#315) – Post of the week, mate. Any culture around this club, or others, is passed down from the very top.
Seeing some Blues celebrate and promote a 6th place finish as some sort of warped success (plenty on here, BTW) were complicit in the biggest con job in football.
Charles McCann
325
Posted 02/04/2017 at 14:06:32
Great post, Kevin Dyer 322. Well said.
Colin Gee
326
Posted 02/04/2017 at 14:18:04
Colin (#281 and #283),
Thanks for those horror stats. They really do make grim reading.
All three are shocking, but 1923 since we've come from behind to win a derby game at Anfield being the worst one of the lot.
James Hughes
327
Posted 02/04/2017 at 14:18:51
Paul (#315), it would be hard to disagree with that post, but I am sure some will try. Just well said IMO and the Chairman calls himself a fan but has treated this club like his own toy box for too long.
We have seen good players sold and not replaced adequately and poor commercial decisions off the pitch as well. If he ran his West End shows the way he appears to run this club, he would have died of starvation.
Davie Turner
328
Posted 02/04/2017 at 14:31:57
Koeman's first season has shown what we need to do and where we need to improve. Barring a collapse, we should finish 'best of the rest' which is scant consolation but probably about right after two seasons of bottom half.
Our target next season has to be in the terms of getting among Liverpool, Arsenal and Manchester United, which won't be easy, even with a new chairman each of those clubs has spending power far beyond our own. But that has to be the next stage or what is the point of turning up?
I didn't get too excited in Martinez's first season and I won't get too excited with Koeman this season. It's been a solid steadying job but if now is not the time to push on when will that time come?
There will be challenges: Lukaku may leave; none of Funes Mori, Jagielka or Williams have been convincing at centre half, Joel and Stek aren't top class keepers. But there are positives too: our young lads have done well; Ross has improved; and in Morgan and Gana we have a solid base in midfield to build on.
Transfers will be key: I am still not convinced Bolasie wasn't a bit of a panic buy at the price we paid; Williams hasn't been the expected rock at the back; and if we had bought Sissoko, I think that would have been another waste.
Either way, next season is a big one: we need to improve in the cups and push on... the big question, though, is will it be another false dawn?
Andy Meighan
329
Posted 02/04/2017 at 15:00:56
John (#236),
Schneiderlin played against Spurs a few weeks back – I didn't see too much of his gob then. He was as piss-poor as the rest of them.
Stop using the injuries as an excuse. The fact is, we once again got overran because of the fucking idiot manager and his naive tactics.
And I'm expecting more of the same on Tuesday night. As someone earlier said, get your money on Ibrahimovic first goal – it's a nap.
Mike Gwyer
330
Posted 02/04/2017 at 15:18:42
Kevin Dyer (#322),
"Blimey we lose a game and it's suicide watch on here!"
You think so... fucking really? Yeah, I get it, playing Liverpool at Anfield is just another game. Fuck the fact that living with rellies who are as red as red can be and who are still gobbing off as too how totally fucking shit Everton play football.
Well I'm guessing that is totally irrelevant to some, but you know what, Kevin, I hate this fixture and I wish to fuck it was just another game.
Can I just tell you that the game at Anfield, against them, is not just any game and we, as Blues, will have to suffer shit upon shit trying to live it down.
Martin Nicholls
331
Posted 02/04/2017 at 15:22:58
Jay Griffiths (#280) – yours is the best post on here bar none.
I too was at the game and agree pretty much everything you say – in particular, the feeling that, for long periods, we were still in the game and that Williams should have taken that chance with his head (although, that said, I haven't seen and won't be seeing any replays).
I too will be at Old Trafford on Tuesday and, whilst not wishing to do the shite any favours, will be desperate for the three points.
Darren Hind
332
Posted 02/04/2017 at 15:23:40
"Koeman's first season has shown us what we need to do."
Ain't that the truth...
Brian Wilkinson
333
Posted 02/04/2017 at 15:34:11
We need some pride back for the Man Utd game. The derby's gone now; learn from the mistakes and stand up and be counted, every single player on Saturday owes us that.
Put some pride back into this great football club, give everything you have for the supporters at Old Trafford and back at home.
We were all very disappointed but my heart goes out to those few fans inside Anfield who had to sit and witness it.
You owe those fans a performance at Old Trafford, now go out there and do it!
Jay Griffiths
334
Posted 02/04/2017 at 15:35:42
Appreciate the empathy, Martin (#331). If you're in the vicinity of Row 11, Seat 25 and 26, see you Tuesday. If not, have a good one, mate.
Dave Abrahams
335
Posted 02/04/2017 at 16:11:25
Martin (#331), best of luck to you and all the fans who will be there on Tuesday. You are the real supporters of Everton, everyone of you are worth a hundred people like Kenwright, a phoney who is in it for what he can get out of it, and he has made plenty with lots more to come. I can't tell how much I despise people like him.
Brian Wilkinson
336
Posted 02/04/2017 at 16:32:33
Martin @331, the team owe you and fellows fans at Old Trafford a performance.
Here's hoping for a win at Old Trafford for you and the fans that cannot make the game.
Kieran Kinsella
337
Posted 02/04/2017 at 16:32:33
Hate to bring this up during a wake but, looking at the fixtures remaining, there's a good chance Arsenal will struggle to hit 60 points. They've got bankers v Moyes, Bilic and Borough but I can see them losing to Spurs, Palace, Leicester and Man City. We could finish above them.
No I wouldn't buy into the Kenwright mentality that 6th is akin to winning a trophy but I am just pointing it out.
Kieran Kinsella
338
Posted 02/04/2017 at 16:36:44
Arsenal also travel to Stoke and play Man Utd. If we win our home games other than Chelsea and get our customary win at West Ham, we could be above them going into the last day... Wenger - Lukaku farewell.
David Barks
339
Posted 02/04/2017 at 16:58:47
Watching this Arsenal vs Man City match, City get five men into the box every attack. Contrast that with us, where we maybe get 2-3 in the box, max. For that second goal, they had Silva, Aguero, De Bruyne, Sane and Fernandinho all inside the box, the defenders have no choice but to spread out to account for multiple options.
When we attack, three defenders all swarm Lukaku. Or, if Barkley is driving into the box, two defenders take him while the others all just look for Lukaku. Nobody else is in the box and Barkley has nowhere to go with the ball.
Yesterday, we had Barkley and Calvert-Lewin staying forward to try to force Liverpool to not flood men forward in attack. Problem is that, when we went forward, they were still outnumbered 5-3 and support couldn't get up field quick enough.
Baines camps out on the wing instead of trying to drive into the box. Coleman is much better at this, and Baines used to do this, but he seems to have lost it from his game.
We continue to be incredibly easy for the top clubs to defend because we do not try to attack. We keep men back, and we are always outnumbered two to one when in attack.
When we gained possession yesterday, it never looked like the player with the ball was focused on attacking. Instead, it looked like he was worried about losing the ball.
It was still as if we were defending when in possession, just like against Spurs. We didn't get the ball and turn to attack. We got the ball and worried about how we were going to attack. It's a losing mentality.
Brian Wilkinson
340
Posted 02/04/2017 at 16:59:05
Martin @331, another that no-one has mentioned was when Holgate blasted it, took a deflection, with the goalie on the floor, he stuck a hand up and Lady Luck ensured it hit his hand.
Need to ask as well, Martin, with the action being towards your end, the impression I got was for the first two goals: our defenders backed off instead of one of them going to close the player down until it was too late.
I also thought Gana half-heartedly chased the player.
Michael Lynch
341
Posted 02/04/2017 at 16:59:34
Kieran, it's been a weird season – we sneak a 1-0 win at Old Trafford on Tuesday, which is not unthinkable, and we go 5th assuming Man City hold on to their lead this afternoon.
Kieran Kinsella
342
Posted 02/04/2017 at 17:18:17
It's possible, Michael.
Dave Kelly
343
Posted 02/04/2017 at 17:28:18
Kevin Dyer (#322), great post!
Just like to add that we need to rid ourselves of that fear mentality when we play them. It's weird seeing Everton do things differently every single time Liverpool are our opponents. The stats show they only had one more shot than us yesterday but of course they put theirs away.
Possesion was almost equal and those stats also showed that we made far fewer fouls than them (proving Liverpool only make clean fouls, presumably) which, when we clear our ultra critical heads, proves that it wasn't a match in which we were totally outclassed, but a game in which defensive frailty and clinical finishing were the major factors.
As for the Barkley foul, okay, it was borderline bad but far worse challenges were made on the fields of Buckley Hill in my Sunday League days. We didn't bleat like babies but for some reason the Ross tackle has become ten times worse than Neil Taylor's on Seamus... because it's Liverpool.
Incidentally, a lovely video of Liverpool fans joyously celebrating Coleman's broken leg is going around. They're untouchable though, aren't they?
https://www.joe.ie/sport/video-liverpool-fans-sing-sickening-chant-mocking-seamus-colemans-injury-583694
We love them really.
Colin Metcalfe
344
Posted 02/04/2017 at 17:35:22
Dave @339 spot-on, mate. Pep Guardiola has set his team out an attacking 4-3-3 to take the game to Arsenal. I wish we had the bottle and the personnel to play such an aggressive system at away games!
John G Davies
345
Posted 02/04/2017 at 18:02:34
Dave (#343),
There is a photo they are sending around with the letters of LOL spelt with photoshops of Seamus's broken leg.
They are fucking horrible bastards. I think it's time to back off the pandering to them over the indisputably tragic events of Hillsborough.
We show them the utmost respect and they rub our faces in the shit at every opportunity.
I thought long and hard before posting this but it needs saying.
John Audsley
346
Posted 02/04/2017 at 18:08:28
Andy M,
The management have to take a hell of a lot of responsibility for today but I don't think I'm alone in blaming a large number of the players who simply had no bottle and would all rather be at home than take on the Shite.
Schneiderlin would have made a difference today, he wasn't good against Spurs but I rate him and think he can make a real difference to our on-field mentality.
I'm not alone in that thinking.
Dermot Byrne
347
Posted 02/04/2017 at 18:34:10
That's the end of Liverpool for another season. Time to look forward and leave it where it belongs... in the past. A beautiful sunny afternoon helped. Now bring on Manchester United.
Tony Woods
348
Posted 02/04/2017 at 18:45:33
I am still puzzled as to why such an experienced manager left the youngsters on the pitch for so long. It was obvious there was no chance they could change the game. Must have dented their confidence.
Martin Nicholls
349
Posted 02/04/2017 at 18:57:40
Jay (#334) - block E232, row 24 seats 3,4 &5 – be good to catch up during game.
Dave (#335), Brian (#336) – thanks lads but I'm just one of thousands. Brian – yeah, my take on all incidents was same as yours – Gana's "effort" was similar to at WHL when he let Kane run away from him – Joel stood and watched that one as he did the Origi goal yesterday.
To be fair, I did think the Mignolet save from Holgate's defected shot was brilliant – may be wrong as I've not seen (nor do I intend watching!) the game again.

Andy Meighan
350
Posted 02/04/2017 at 19:55:39
John. Believe me, mate, I'm not trying to get into an argument and I really rate Schneiderlin myself but I truly believe he wouldn't have affected the game yesterday.
I could be wrong but the way Koeman set us up played right into their hands. He hasn't learned his lesson from the Chelsea and Spurs games where we were totally outclassed. The maddening thing is, they didn't have to play that well.
Anyway, John, now the dust has settled. Enjoy the rest of your weekend.
Christy Ring
351
Posted 02/04/2017 at 20:53:28
Just saw a video on social media, of Liverpool supporters in a pub before the game, singing a song about Seamus Coleman breaking his leg. Sick sad bastards. It tells you everything about their fans.
Frank Thomas
352
Posted 02/04/2017 at 21:28:51
I have to admit I did not want Koeman but now I think he is very good. He still has a lot to learn and that is one reason why he is not interested in other jobs.
In two transfer windows, he has had a net spend of almost zero. Remember Cleverley and Deulofeu have effectively been sold but we have not received monies for them He has a team that has earned far more home points than Martinez and has a premiership high of 16 different players scoring this season.
I sit in lower Bullens and I have seen Davies, and Calvert-Lewin slowly develop into better players. I am sure Pennington will too but they all need game time in the premiership and experience to see when you will be blocked off the ball by poorer players.
This derby game was a nightmare for us because of sudden injuries: losing Schneiderlin was a big a blow as Llana loss to the reds but then to lose Coleman one of our major crossers of the ball was a massive blow coupled with the loss of a work horse defensive midfielder such as McCarthy and Funes Mori.
So who to play. Barry is good against a lot of teams but he is slowing down and everyone I have spoken with attributes the Spurs loss to playing Barry. So if not Barry who?
In this Derby game we still had a chance to produce a draw. Holgate missed a sitter from a header and a great free kick from Barkley to Williams was ruined by Williams poor control when he had a simple pass to Rome and and an open goal.
Finally what was Lukaku thinking of when he told one of our arch rivals from across the park and the football world how he will get past players and how defenders cause him problems. Every manager in the division will keep that recording to show their defenders.
We know next season Jags and possibly Williams and even Funes Mori may be sold and I think Pennington may be part of our future team.
Koeman has also shown a lot of class when he has told the team off in public for playing badly even after we have won.
The tide is turning; next season, two victories for us and maybe even by high scores... my tickets are booked.
Andy Meighan
353
Posted 02/04/2017 at 21:33:18
Yes Christy. I was told about that earlier today. What a class act they are Short memory syndrome springs to mind. Fucking vile race of pricks.
Stan Schofield
354
Posted 02/04/2017 at 21:54:47
John @345: Yes, there's a disproportionate number of gobshites amongst them. Many of them are just ordinary supporters, but there are too many arseholes.
On this Hillsborough stuff, I have two point relating to them wanting us to support them in banning the Sun:
(1). They shouldn't have been reading that shite in the first place, they didn't need Hillsborough to know it was shite.
(2). I'd support them in a ban of the Sun provided it encompassed a wider ban of the parent organisation, namely the Murdoch empire including Sky. They tend to shut up when you say that. It seems that a ban, supposedly a matter of moral principle, is subject to the convenience of power and money associated with Sky. The entire organisation, or nothing. They suddenly go quiet.
John G Davies
355
Posted 02/04/2017 at 21:58:36
Agree 100% Stan.
Souness, Carragher, Redknapp etc. They all take the Murdock shilling.
Brian Williams
356
Posted 02/04/2017 at 22:19:31
Stan (#354).
Not just gobshites mate but complete idiots with no understanding, or comprehension, of irony.
For instance, having a "Steaua Bucharest" banner at derby games to piss off Evertonians as Steaua won the European Cup in the year we would have played in it had we not been banned, while not thinking for a minute about the circumstances of why the ban was imposed. Fucking unbelievable!
Dan Davies
357
Posted 02/04/2017 at 22:22:36
Kevin @ 322, needed to be said. Fair play to you.
Mike Hughes
358
Posted 02/04/2017 at 22:58:21
I haven't seen yesterday's match. I only listened on Radio 5Live. I haven't read all the comments either.
I would have thought the best chance of getting a decent result given our depleted side would have been to do a Burnley. Park the bus, piss them off, and hit them on the break.
Who cares about how it looks after 17-18 years of disappointment and surrender?
Stan Schofield
359
Posted 02/04/2017 at 23:10:40
Brian, the odd thing is, they seem to thrive on their version of Schadenfreude, that act of sad bastards who get pleasure out of the displeasure of others. Truly, if only we could just forget about Liverpool and all their bullshit, and just focus on one game at a time, regardless of who the opponents are.
An irony here is that Liverpool themselves are actually mediocre relative to the really top sides, and have been for a couple of decades, but they don't seem to realise it.
At least we know we have a rebuilding job on our hands. They seem to be masters of self-deception, and the fact that their players get called up in the mediocrity of the England set up seems to reinforce that for them.
Brian Williams
360
Posted 02/04/2017 at 23:31:31
Yet they never seem to realize it's 27 years since they won the league!
Eugene Ruane
361
Posted 03/04/2017 at 01:35:55
John # 345 -
'I think it's time to back off the pandering to them over the indisputably tragic events of Hillsborough. We show them the utmost respect and they rub our faces in the shit at every opportunity.'
Ffs why not go the whole Violet Elizabeth Bott and inform the world "I'll thcweam and thcweam 'till I'm thick!"
If I've got this right, your opinion is they (and your self-righteous tone suggests only they) have a nob-head element and because of that, our Hillsborough 'pandering' should change/stop.
Could you be more specific about us 'backing off' this pandering?
Should we boo through minutes of silence on anniversaries for those who died?
Should we now welcome the (Scouser-hating) Sun?
Should we adopt a policy of two wrongs DO make a right and sing insulting/cruel/hateful songs about Hillsborough?
The 'logic' of 'they're behaving like classless pricks so we should too' is beyond dumb.
Those who danced about and sang songs about Coleman's injuries are, without a doubt, as thick as a Rhino's foreskin.
But in my opinion, no thicker than those gleefully proclaiming "der baybeez not yorrz.." or "Mer-der-errrrrrz..." etc
Take a tip from Kevin Dyer at # 322.
We lost another derby, it's hard to take, but get a fucking grip.
Will Mabon
362
Posted 03/04/2017 at 05:46:47
All correct, Eugene.
The kind of bad behaviour getting to people is by a minority of clowns, mostly when they're drunk in groups... and they don't actually mean it in the deepest sense.
Instead of getting all angry and watching/linking to videos and so on, I suggest everyone just completely ignore it. We've enough to consider on the pitch right now.
Darren Hind
364
Posted 03/04/2017 at 06:40:36
I agree with Stan.
There does appear to be a disproportionate amount of gobshites amongst them, but what happened at Hillsborough that day affected the entire city and there are deep wounds which can't be healed. Leave it out of the barbed "banter" which exists between the two clubs.
Remember; Many Evertonians lost loved ones at Hillsborough too...
My abiding memory of the day will be the sight of Evertonians fighting over public phones around Birmingham, desperate to be told their family and friends were okay.
Mark Tanton
365
Posted 03/04/2017 at 07:38:04
Eugene, I am not defending John here, but I think I understand what he's saying and felt it on Saturday too when they were doing their whole Ronnie Moran thing.
There seems to be a cynical opportunity at Anfield every time we play them, to stoke up the emotion and to give them some kind of football moral high ground. Think of the semi-final at Wembley when they wanted the fixture moving and/or wanted to play their vomit inducing anthem beforehand. They never miss a trick and we, pathetically, never fail to crumble in their 'we run the football in this city' festival of flags and mutual back slapping.
It's more our problem than theirs.
Dermot Byrne
366
Posted 03/04/2017 at 08:25:57
Eugene: your post seems hard to argue with on first view. And I think John puts a tricky point badly.
But, I would imagine that even if not actually spoken in planning, there have been, over the years, elements who can link tragedy with improving atmosphere. They are miles away from the fans who lost loved ones.
Where I get a bit stuck is whether this is fair enough or not. I am not convinced it is always as a pure as it is presented.
Governments have done this for this decades and the media lap it up. For them, is it all remembrance or does it also have a secondary aim of stirring up the public to advance a political aim/justification? Is it blitz spirit in its best sense or should we remember that Mrs T and her chums knew and exploited the power of remembrance so well and walked back into Downing Street on the back of it. They were also miles away from those who lost loved ones.
Like most things involving humans, the truth is probably a mix of emotion and ambition and lies in private thoughts that live alone in the darkness at 2:00 in the morning.
But I do agree, this is a much bigger issue than losing a derby and ultimately impossible and self-defeating to question. So, whilst I understand where you concern comes from, John, I'd stop wasting your time.
Brent Stephens
367
Posted 03/04/2017 at 08:30:08
Stan (#359):
"An irony here is that Liverpool themselves are actually mediocre relative to the really top sides, and have been for a couple of decades."
We should be proud to be able to chant "We're not quite as shite as you..."!
Stan Schofield
368
Posted 03/04/2017 at 08:35:11
Brent, no, of course not. But they have no basis for the apparent gobshiteossity, or whatever the relevant term is.
Brian Williams
369
Posted 03/04/2017 at 09:43:14
Everything everybody has said with regard to Hillsborough is true, an absolute tragedy.
I was at Villa Park that day and the brother of one of the mates I was with (a red) was at Hillsborough and it was sickening until we knew his brother was alright. Even after we found out that he was okay, there was the realization that there were lots of others who weren't. Awful, horrible thing to happen.
No Evertonian with any decency would consider booing through a minutes silence on the anniversaries and I'm sure John @345 wouldn't for a minute condone that.
There are some though, it has to be said, that feel there is a huge disparity in the dealing with, and remembrance of the deaths at Hillsborough and the deaths at Heysel. I remember an Evertonian "discussing" the subject with a Kopite and was amazed to hear "that was different" as an argument. That's the sort of attitude that does nobody any favours.
Brent Stephens
370
Posted 03/04/2017 at 10:45:26
Stan "they have no basis for the apparent gobshiteossity, or whatever the relevant term is".
Can't disagree with that. And I'll go with that word.
John Audsley
371
Posted 03/04/2017 at 12:58:43
Andy @350,
No problem, mate, I'm not trying to have a row either.
I agree the set up was all wrong and it was a mess from beginning to end.
Tough weekend, let's move on to Tuesday night.
Eugene Ruane
372
Posted 03/04/2017 at 14:07:18
Mark # 365 -
"There seems to be a cynical opportunity at Anfield every time we play them, to stoke up the emotion and to give them some kind of football moral high ground."
The absolute key (and revealing) word here is 'seems.'
And what it seems is fuck all to do with reality, but simply what goes on inside the incredibly frustrated heads of some.
You say you 'felt it on Saturday too when they were doing their whole Ronnie Moran thing.'
Thing?
What..you mean the type of thing we've done many times when club servants/legends have died?
Don't get me wrong, I don't expect anyone who can suggest this kind of lunacy to respond 'Yeah you're right, I'm so incredibly biased and unhinged that when they do the same as us, I see their version as something deliberate and planned and evil' but the evidence says that is 100% the case with many.
Fact: Ronnie Moran didn't pass away when he did to give them an advantage in the derby.
My dislike of them and their club is intense and any pain they suffer due to lack of success on the pitch puts (and always has) a genuine spring in my step.
But they'll never be responsible for me losing all reason.
Mark Tanton
373
Posted 03/04/2017 at 14:38:59
Eugene, I think what I meant was that they are far better at turning their place into a cauldron of emotion, and cynically making advantage wherever they can. We turn into trembling wrecks every season and it is as embarrassing as it is predictable.
Perhaps you need to calm down a bit yourself, and stop taking such offence at your fellow blues, old bean.
John G Davies
374
Posted 03/04/2017 at 15:07:36
Eugene (#372),
"But they'll never be responsible for me losing ALL reason."
You lost all reason in your earlier post to me. You and the famous rally driver of yesteryear, Warwick Hunt, have a lot in common, looking at that post.
Brian (#369),
Of course, I wouldn't condone anyone booing a minutes silence... Welcome the Sun. Sing songs, insulting, cruel hateful songs about Hillsborough. That was an idiotic suggestion from Eugene, that's in his mind – certainly not mine.
Mark (#365),
"Pandering" was the wrong choice of word. I don't agree with things like when they asked could they hang the justice banners on the railings at the Park End, we rightly agreed to do that as we all backed that. They put the justice banners up but put one next to it with 5 European Cups on it. We allowed that.
We all pay our respects to the 96 and have done for 28 years now. We don't need a competition every year to see who can come up with the most sentimental new twist (Blue Bill wins it every year).
Pay our respects with a minutes silence when the game falls around April. Don't turn it into an occasion when we are there to make the numbers up.
Brian Murray
376
Posted 03/04/2017 at 15:37:04
Brian Williams (#369) fact: Hillsborough was a tragedy that could easily of been avoided with better planning and policing. Heysel was the result of hooligans and we even now are paying the price for it. We have never recovered, that was our big chance to take the world by storm, that's why the animosity is there as well as Emlyn Hughes's snide remarks.
Dermot Byrne
377
Posted 03/04/2017 at 15:40:42
See #366, Eugene. You may be oversimplifying, mate.
Tony Abrahams
378
Posted 03/04/2017 at 16:00:25
The best thing we could do is just fuck Liverpool because it would make us all feel better.
Hillsborough was possibly the lowest point in our city's existence, but after seeing that stupid twat James Bond at Anfield wearing a pair of shades, then I just hope they've got decent intelligence!
Eugene Ruane
379
Posted 03/04/2017 at 16:02:47
Mark # 373 -
'Fellow blues'
?
- SFX: Family Fortunes wrong answer noise! -
Sorry but that 'fellow blues' bollocks is something I've never fallen for.
Over the years, those I've heard at games screaming racist or homophobic abuse weren't my fellow blues.
Neither were those who wanted to knock fuck out of someone wearing a different scarf.
Same goes for the unhinged, the better blues and...the venters.
Tip: Say what you mean first time (old fucking bean) as 'I think what I meant first time..' sounds like back-pedalling of the highest order.
Just to be crystal clear (as you appear unable to see it) there's a world of difference between the jist of your first post, 'they're a shower of twats because they showed their respect to Ronnie Moran' to your second, 'we're a shower of shit-houses.'
Mark Tanton
380
Posted 03/04/2017 at 18:57:24
Thanks for the tip Eugene. I think you're probably the angriest person on here. It's clear you see yourself as above the rest of us riffraff.
Steve Cotton
381
Posted 03/04/2017 at 22:37:28
Eugene is the reason I log on, so get off his back.
With regards to the game, don't forget Spurs put three past us recently too and they are a much better team on their day that the RS so let's move one.
I'd just like to point out that whenever LFC suffer a tragedy, we support them 100%; when Coleman gets a double leg fracture they fill Twitter and Facebook with jokes, comments, pics taking the piss. We are different class to those twats and never forget it...
Steve Cotton
382
Posted 03/04/2017 at 22:48:16
The way forward is to put together a team to win the next 6 derbies and let them know despair for a few years... Over to you, Ron...
Dermot Byrne
383
Posted 03/04/2017 at 22:53:12
We are different class to those twats and never forget it...
Very funny. Lol
Steve Cotton
384
Posted 03/04/2017 at 23:02:33
Glad you got the irony, Dermott – sharper than most...
Ed Fitzgerald
385
Posted 03/04/2017 at 23:07:41
Steve, I think Eugene is more than adept at defending himself don't you? He does appear to relish an argument with fellow Evertonians and normally puts people in their place with a combination of good humour and acerbic wit.
The overwhelming majority of Evertonians have behaved impeccably over what happened at Hillsborough, it was a slight on our city and the citizens within it. Not only that but many Evertonians have been active in supporting the campaign for justice.
As Eugene rightly states, we too have had our emotional farewells to famous former players and coaches. To suggest there was some kind of advantage being milked is ludicrous.
When we lose to the RS, people do get upset and irrational, supporting a football club (any) is kind of irrational isn't it.
Don Alexander
386
Posted 03/04/2017 at 23:20:57
Observing a minute's silence is no cause for self-congratulation, it's a bog-standard minimum of what's required from anyone with an ounce of self-respect, never mind the subject of the commemoration. Those who break it aren't worthy of comment no matter what. A fucking good slap yes, but no recognition or comment.
Chris Leyland
387
Posted 03/04/2017 at 23:23:17
Look, the reason we lost has fuck all to do with any 'advantage' they may have garnered from paying their (fully justified) respects to Ronnie Moran.
The reason we usually lose to them is because, no matter how shit they have been, they always raise their game against us in the full belief that they must win... whereas we, no matter what our form going into the game, lower ours and seem to tremble at the thought of playing against them.
Ciarán McGlone
388
Posted 03/04/2017 at 23:24:36
I see Koeman's slight of hand, and 'let's all focus of themums' three cup trick has worked an absolute treat..
Anybody who thinks Liverpool fans are any different as a group in their general character than Everton fans is an utter fool.
They have absolute morons, and so do we. This whole 'holier than thou' obsession is an irrational and mindless shortcut past thinking.
Focus on the football, and grow up.
Steve Cotton
389
Posted 03/04/2017 at 23:25:10
Yes, Ed, he can defend himself better than most... he does make me laugh though...
And yes we are all a little fractious after that performance.
But as I always say, 'one cannot step twice in the same river'.
Ernie Baywood
390
Posted 04/04/2017 at 11:05:59
Just rejoining this thread... are people comparing Hillsborough with a guy breaking his leg?
It's not tit for tat.
If people want to sing about Seamus, who gives a fuck? It's not nice but every possible grouping of people has a proportion of people who aren't nice.
---
Add Your Comments
In order to post a comment, you need to be logged in as a registered user of the site.
Or Sign up as a ToffeeWeb Member — it's free, takes just a few minutes and will allow you to post your comments on articles and Talking Points submissions across the site.
© ToffeeWeb