Moshiri heads Blues' tour of docks site

70 Comments [Jump to last]
Friday 14 October 2016
A delegation from Everton made the first of two stadium-related site visits today as they toured Bramley-Moore Dock with Liverpool Mayor Joe Anderson and architect Dan Meis.
Major shareholder Farhad Moshiri and Chairman Bill Kenwright were in attendance along with the club's Chief Executive Robert Elstone and Deputy CEO Denise Barrett-Baxendale to assess the suitability of the site for a new purpose-built ground in Liverpool's north docks area.
Another brownfield location at Stonebridge Cross off the East Lancs Rd in Croxteth is also under consideration as Everton's hierarchy once again explore the option of leaving Goodison Park.
Owned by Peel Group, who have plans to redevelop large swathes of the city's derelict waterfront north of the city centre, Bramley-Moore Dock offers the club a second chance to build what could be an iconic stadium on the banks of the Mersey, 12 years after their Kings Dock scheme collapsed.
As the option most favoured by supporters and Mayor Anderson, there is keen interest from Evertonians in today's visit and what logistics would be involved in preparing the dock site for construction. Unlike the Trafalgar Dock site next door, Bramley-Moore Dock would almost certainly have to be filled in to create the footprint necessary.
Meis and his US-based architectural firm are said to be drawing up potential designs for the stadium, with the assumption being that the location would heavily influence the character and structural considerations.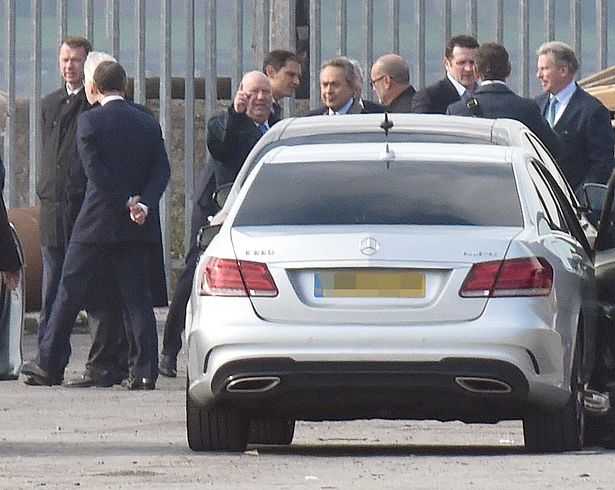 The Everton delegation pictured at Bramley-Moore Dock
Image © Liverpool Echo/Trinity Mirror
The Liverpool Echo are carrying more exclusive photographs of the delegation's visit.
---
Reader Comments (70)
Note: the following content is not moderated or vetted by the site owners at the time of submission. Comments are the responsibility of the poster. Disclaimer
Jay Wood
1
Posted 14/10/2016 at 16:59:42
Can it... could it... FINALLY... really happen...?
Mark Riding
2
Posted 14/10/2016 at 17:02:01
The docks or nothing please, Mr Moshiri, and can you please not be pictured hugging The Mayor... and can you also stop sending texts to Jim White at Sky Sports?
Otherwise, you're sound.
Peter Laing
3
Posted 14/10/2016 at 17:03:17
I'm humming that old classic from Andy Williams, Sinatra, Elvis or whoever else sang it: "Dream, the impossible dream"!
Colin Metcalfe
5
Posted 14/10/2016 at 18:02:21
According to Google Maps, the dock site is 2.3 miles from Goodison and as for Croxteth it's not even in the city boundaries!
It's got to be the docks, it will certainly regenerate that part of the waterfront and the Titanic Hotel will be quids in every other weekend.
Please please let this happen, the possibilities are endless:- summer concerts / ferry to and from the game (how cool is that) yet another tourist attraction on our famous waterfront / hotels / bars etc.
However, we are talking about Everton... Let's wait and see.
Mick Davies
6
Posted 14/10/2016 at 18:03:46
Well there's definitely smoke... wasn't sure if it was all rumour but seeing our owner there gives me hope.
Colin Malone
7
Posted 14/10/2016 at 18:05:56
No bowl stadium. Let's go rectangular.

The bowl type construction stadium loses the twelfth man. A bigger AAMI Park stadium, Melbourne.
Mark Morrissey
8
Posted 14/10/2016 at 18:13:54
The RS can keep their carbuncle of a stadium. I see some are already voicing their "disbelief" as to why Everton would want 60,000 seats. They are not in Europe, blah blah blah.
Keep Anfield and its' bizarre appearance. We are about to turn the sky above Liverpool blue and it will be the only stadium in Merseyside worth looking at and worth playing in. NSNO
Ian Cowhig
9
Posted 14/10/2016 at 18:36:45
I have looked at that dock area layout, and thought that the Trafalgar part made more sense. So I was surprised at the mayor's 'Moore' link.
I don't know what sort of work is involved in filling in a dock to create a foundation for a stadium. Maybe it is easier than having to dig down and create it that way. It would be interesting to get thoughts of people who are in the construction business.
Lev Vellene
10
Posted 14/10/2016 at 18:57:51
Mark (#8). Here in Norway, we are only around 5M in population. Any team that win the league, or regularly competes, will be eating heavily into any new recruitment for the main LFC fan base... :P
So even their regular charter-flights from Norway won't keep them ahead if EFC gets rolling in the coming years! I'd go for a 75k-seater stadium!
Jay Harris
12
Posted 14/10/2016 at 19:07:51
Anybody feel they look more like a funeral party?
Stu Smith
13
Posted 14/10/2016 at 19:27:56
As someone from Hull who doesn't know Liverpool that well... would the docks be easy to get to? Goodison is a bit of a ball-ache, both in and out of the city.
David Hallwood
14
Posted 14/10/2016 at 19:29:25
I can see traffic being a nightmare on matchday plus access to the motorways isn't as good as Croxteth.
While I would love the Bramley-Moore option, Stonebridge looks a bit more realistic.
Dan Davies
15
Posted 14/10/2016 at 19:40:41
The ball is rolling... nice to see Farhad having a nose about! Encouraging stuff this. It just can't come quick enough though!
Clive Lewis
16
Posted 14/10/2016 at 20:04:08
Just a mentions on the design of the new stadium, Bernabeu.
Jimmy Hogg
17
Posted 14/10/2016 at 20:11:40
Not sure about the docks. Traffic will be a complete nightmare. For 10 months of the year the site is freezing cold, soaking wet with a force 10 gale. Night games will be impossible to get to and on non-matchdays, the area will be desolate. I think Croxteth may be the better option.
Julian Wait
18
Posted 14/10/2016 at 20:18:55
My brother was staying at the Titanic Hotel for a conference this week, and "just happened" to wander over to Bramley-Moore today, when the visiting party was there. He was standing next to the Echo photographer when these pictures were taken, from 500 yds away. Apparently they weren't too happy at the press being there...
He had a chat with the photographer: Not much information on the stadium was shared, except Riquelme is apparently at Finch Farm, and the Arteta money is thought to be in a waterproof bag at the bottom of the Bramley-Moore dock, which may have been the real purpose of the visit.
Steve Hogan
19
Posted 14/10/2016 at 20:47:40
I think it was a daft idea turning the visit into a 'media circus'. If it doesn't come off, those pictures appearing in the press can be filed alongside the 'new' Kings Dock stadium... this is what you could have had.
Julian Wait
20
Posted 14/10/2016 at 20:53:57
Steve – if you read my comment, I don't think they wanted the press there, based on what my brother witnessed, but it leaked on Thursday and the press was there as a result. Of course if Major Joe Anderson is there, it's public record anyway, isn't it?
There's nothing on the official Everton website. So respect to the "Moshiri administration" for not making a big event out of it.
Ken Williams
21
Posted 14/10/2016 at 21:02:42
Time to get excited when they start laying the foundations...
Steve Hogan
22
Posted 14/10/2016 at 21:15:13
Julian,
I have to disagree, respectively, with you. I can't believe this event was 'accidentally' leaked to the media, nationally or locally. It just reeks of a Kenwright-inspired PR opportunity.
If all the interested parties, local politicians, the Everton board of directors, and the USA-based architect, had simply decided to jump on a coach and spend an hour 'on site', who would have been the wiser?
I'm just fearful that (and I hope I'm wrong) if this project fails to come to fruition, we'll be left with egg on our faces once again.
The hopes and aspirations of our fantastic fanbase deserve better. I simply don't trust Kenwright to bring home the bacon, in view of his previous track record. Hopefully Moshiri and his handpicked team will overide the old brigade of Elstone, Woods et al.
Either way, a public announcement needs to be made in the very near future to placate the fears and reinforce the hopes of an expectant fanbase.
Joseph Mullarkey
23
Posted 14/10/2016 at 22:31:19
Cue some sort of online protest by 'some local people' (RS) about traffic congestion or parking or some other shite to try and put a spanner in.
There is no way that they could just be happy for us without jealousy getting the better of them again, they have done it before and will surely do it again.
We are fast becoming a threat to their self-appointed 'Number 1 club on Merseyside' status on the field, This will make them feel their grip loosen even further off it.
Joseph Mullarkey
24
Posted 14/10/2016 at 22:48:18
And here is the first on the Echo's site;
John Burns
This madness. The World Heritage Site should be left alone. A stadium here must be resisted at all costs.

Jealous gobshites.
Brent Stephens
25
Posted 14/10/2016 at 23:09:39
"Not sure about the docks. Traffic will be a complete nightmare. For 10 months of the year the site is freezing cold, soaking wet with a force 10 gale. Night games will be impossible to get to and on non-matchdays the area will be desolate. Think Croxteth may be the better option."
Traffic can be eased. Weather at the docks equals weather at Croxteth. Why should night games be any more difficult to get to than in the day? Non-matchdays being desolate in the area is not an issue.

Ray Roche
26
Posted 14/10/2016 at 23:16:56
Brent (son) you took the words out of my mouth, anyone would think Bramley Moore was in a different hemisphere to Goodison. It's barely 2 miles from GP and about 7 minutes by car but people might have to get used to using their legs again.
Whatever the transport problems, with a development the size of this, including the whole Peel plans, transport solutions will already be in the mix.
Nicholas Ryan
27
Posted 14/10/2016 at 23:18:01
On one of the Echo photos, Moshiri and the Mayor are embracing, and I could just imagine Moshiri saying:
"So, what about this wise-guy Klopp?"
And Joe replying: "Don't worry, Godfather, he will sleep with the fishes..."!
Patrick Murphy
28
Posted 14/10/2016 at 23:22:56
Brent (#25),
To add to your list, a stadium close to the docks will – due to it's close proximity to the City Centre – attract investment and all sorts of businesses, whereas Croxteth might just turn into a Stadium with very little around and about it.
Steve (#22), Nobody at the club has publicly uttered a word to the press, perhaps Andy Hunter just has good contacts either at the club, the Council chambers or some other source close to the action. It's not the usual method of Bill or his cohorts and the Liverpool Echo must be out of favour because even they only obtained the photographs from some distance away from the assembled people.
It was probably just a fact-finding mission with the important decision makers wanting to take a proper look at the site(s) and we just don't know as yet what the proposals or pitfalls are with either site. It certainly didn't look like a mere PR exercise or did I miss some gushing statement from our dear leader?
Bobby Thomas
29
Posted 14/10/2016 at 23:59:17
Jimmy (#17),
"On non-matchdays the area will be desolate"
The docklands are up for redevelopment.
Jimmy Hogg
30
Posted 15/10/2016 at 00:27:06
The great thing about Goodison Park is that it's in the middle of a community. The dock may be only a couple of miles away, but it seems a few people haven't been down there on a cold wet windy day.
The cost of filling in the dock will be astronomical and having to buy the site tells me it won't happen. It will take more than a billionaire to finance it. Croxteth is more realistic.
Don't build your hopes about the dock and you won't be pissed off when it falls through.
Garry Corgan
31
Posted 15/10/2016 at 01:21:40
In my view, if the powers that be wanted this to remain private, it would have done.
So all of the top brass have visited a fantastic site with a view to building us a dream stadium – all but reviving the Kings Dock opportunity we thought had slipped through our fingers. Amazing.
This is Everton though, and Kenwright and Elstone are still there. Why do I have a nagging feeling we'll end up in Croxteth (or worse) with a statement that "we tried for the docks but they were unsuitable"?
Peter Laing
32
Posted 15/10/2016 at 01:51:21
Lovely, Ian Ayre splitting hairs this week about the affordability of renovating Anfield Road and lack of enabling corporate facilities to deliver the project.
Bill, Farhad and Joe – can we please create an iconic and breathtaking stadium that, once and for all, puts our illegitimate cousins in the shade where they truly belong.
Kristian Boyce
33
Posted 15/10/2016 at 04:19:01
Is it ring-fenced yet?
Ed Fitzgerald
34
Posted 15/10/2016 at 05:29:00
A move to Croxteth will be an act of commercial madness on behalf of the club. A move to the docks area as a key part of the larger project to develop the Liverpool Waters and effectively extend the City Centre – makes perfect sense.
A simple test is to ask a Kopite who lives in the City what they they think of the proposal – they don't like it at all because they can see the potential revenue and status such a development would give Everton.
With the greatest of respect to those moaning about traffic links who may live outside the City, you chose to support Everton, a club that originated from an inner-city area of Liverpool. I am afraid the move is too important for motorway access to be the overriding factor in siting of a new stadium. When there is something iconic to visit, it doesn't deter people from visiting such locations. What we need desperately is an iconic stadium in the heart of the city to help revive our fortunes for the longer term.
William Cartwright
35
Posted 15/10/2016 at 06:04:50
I posted previously how the role of 'magnet tenant' (or owner) in a development process such as this will always work in Everton's favour. Also the consistent message of the threads for an iconic stadium reflects the developer / designer / end user and investor logic. Water frontages increase the high-end architectural potential of the project. Also, as the aspiration quality emerges, it becomes a self-fulfilling process and the market spin just grows and grows.
The jealous counter-views of a redshite biased council however could elongate and damage the process. I will, as a dyed-in-the-wool conspiracy theorist, be interested to see how that develops.
The planning infrastructure costs will have an impact on time and cost, but are usually spread throughout all the beneficiaries of the process, including the council with civic responsibilities and aspirations of their own.
The engineering aspects of the project will be a major challenge in themselves. Building close to water could create problems of uplift pressure where the weight of a buildings superstructure is used to counter the tendency of water pressure to push upwards. Stadiums, with their relatively light weight construction to volume ratio could be a major issue. Do any ToffeeWebbers know of the ground conditions and potential issues in this?
Bottom line is the combination of marketing, long term image value, and the money to be made out of the development process in the area would suggest to me the docks will be the final choice...
Gary Russell
36
Posted 15/10/2016 at 06:46:57
Indeed Ed, the Pier Head is a 1.6-mile walk to Bramley-Moore Dock with Lime Street Station and Sandhills Station 2 vmiles and 1 mile away. How many match goers come in a car to Goodison and park a couple of miles way and walk in etc?
Andrew Leverton
37
Posted 15/10/2016 at 07:08:56
Atmosphere. Location. Uniqueness and large capacity are the main ingredients and all are attainable.

Please don't compromise. Achieve these things and I vote for a statue of Moshiri alongside our other Everton heroes.
John Keating
38
Posted 15/10/2016 at 07:55:09
I really do not understand these continual remarks about road links.
I'm from Everton and we must have the worst road links going. Anyone from the town walks to Goodison or jumps a taxi. Anyone from out of town parks wherever and walks the rest of the way. Are we now wanting some magical ground that has parking for thousands of cars and we can do babies etc a la American Football?
Location is everything if we are planning a new stadium. Anywhere in the town is imperative. Road access is a load of bollocks!
Brent Stephens
39
Posted 15/10/2016 at 08:11:04
There's also the soccer bus from Sandhills Station, which would still operate. Some walk from Bank Hall Station to Goodison Park. A docks site would be even nearer to Sandhills I think. Most of us would just float to the new stadium on cloud nine.
Jimmy Salt
40
Posted 15/10/2016 at 08:47:11
I had loads of points to make regarding comments like, "it's cold down there". (Like it's in Norway or something). And "It would be a ghost town on non-matchdays".
My god, are people so short-sighted they don't see that this area is at some point in the near future going to explode into THE biggest regeneration we have seen since L1?
And then I read Brent's comment (#39): "Most of us would just float to the new stadium on cloud nine" ... and smiled.

John Chambers
41
Posted 15/10/2016 at 08:52:28
I've seen a couple of comments re the practicality of filling the dock in etc.
This is quite practical as United Utilities have just completed the building of a new waste water treatment at the neighbouring Wellington Dock and that required the dock to be filled in. The project to fill the dock and build the plant and make it operational took about 3.5 years and cost circa 𧶀m.
A decision around the new year would seem to set a date of us moving in for the start of the 2020 season.
David Greenwood
42
Posted 15/10/2016 at 09:03:25
Hopefully the Docks site will be announced in the very near future. As much as we all love Goodison, it's time to move on.
This site works on so many levels and they far out weigh any negative reasons for moving there. Make it happen, Mr Moshiri.
Eddie Dunn
43
Posted 15/10/2016 at 09:17:51
The traffic worries are the same everywhere – look at Wembley! It didn't stop the FA redeveloping the ground.
As for the Docks, it makes sense as most people could get public transport and I'm sure some bus stops will be planned as part of the package.
Derek Rye
44
Posted 15/10/2016 at 09:25:50
I hope Moshiri also takes into account the 300,000+ potential and actual fan base which lives on the Wirral for whom the docks site is both accessible and constantly in their face. Going to Croxteth will feel like going to an away match.
Joe O'Brien
45
Posted 15/10/2016 at 09:26:48
Does anyone know if they visited also Croxteth yesterday?
Fair enough that the docklands will be the more expensive option but Moshiri will be looking long-term and I think will be definitely going for a waterfront stadium. When especially (I know it's only rumours) he's supposedly got other investors lined up. It's a no-brainer with me.
I really think there should be a announcement in the very near future to put us at ease.
Dermot Byrne
46
Posted 15/10/2016 at 09:30:54
With policy of trying to stop cars going into the city centre, I imagine they may look a lot at importance of public transport.
I also think that the whole Peel development will have transport needs so together us and Peel are probably able to solve these.
Andrew Haizelden
47
Posted 15/10/2016 at 09:56:14
I have not seen any mention here of Northern Utilities filling Wellington Dock and building a new water treatment plant at the bottom of Boundary Street. A job made more awkward because the dock was connected to the main dock system throughout. The technology is available, the expertise is there, all that is needed is the initiative. COYB.

Simon Smith
48
Posted 15/10/2016 at 10:07:42
If we build a new stadium at the docks, I might talk the wife into selling up and buying an apartment close by, she always wanted to live next to the water... no excuse then!
"I have a cunning plan" (in a Baldrick voice!!)
Jim Potter
49
Posted 15/10/2016 at 10:20:55
"Build it .... and they will come". Field of Dreams.
Kevin Tully
50
Posted 15/10/2016 at 10:50:04
The infrastructure issues are already being addressed with regards to access in the area :
Link
I believe the plans for the new stadium will be confirmed at the next AGM.
Anyone who advocates building a new stadium in Croxteth hasn't really considered the valuation of the club once this project is complete. Not only will our new ground become an iconic part of one the most famous waterfronts in the world, the exposure and publicity this will generate could put us back on a par with the likes of Arsenal and Spurs (their new Stadium will make Anfield look a Championship ground.)
There is still a massive amount of work to do before we can get too excited, but this is the first time in a generation we have someone at the helm who can deliver, rather than a dreamer who was in hock with people who had no interest in the club.
Once the diggers move in, we can all start putting those red tourists of "big new stand Utd" back in their place as the second club in this city. I for one cannot fucking wait to rub their noses in it at every opportunity!

Mike Keating
51
Posted 15/10/2016 at 11:07:01
Jim,
Build it at Croxteth and the reverse might happen!
Colin Malone
52
Posted 15/10/2016 at 11:46:44
These days, it's not just a ground you need, especially where the potential site is, it would have to be more than a stadium. Is there room for surrounding hospitality? Hotels, pubs or maybe everything Everton – academy, training ground? A football village? Let's hope so.

Tony Ateman
53
Posted 15/10/2016 at 11:47:26
Stu 13. "As someone from Hull who doesn't know Liverpool that well... would the docks be easy to get to? Goodison is a bit of a ball-ache, both in and out of the city."
I also live on the East Coast and have been thinking about this issue. Whether it's Croxteth or Docks, it's different to the way you do it now.
If it's the docks, then use a Merseyrail station of your choice and make your way to Sandhills station. If it's Croxteth, just adjacent to the motorway, I think it would provide it's own motorway queueing and parking problems. Whatever, we can just change our routine. We'll manage!
Dave Abrahams
54
Posted 15/10/2016 at 12:12:54
I've told myself that this is going to happen and on the Docks. Just hurry up; I'm getting on and, as Brent says, "float there on cloud nine" before I get carried off to the clouds.
Dan Davies
55
Posted 15/10/2016 at 12:32:03
Don't care about PR bullshit or not concerning the Docks Stadium, just get it built ASAP. You could have Kenwright stood outside Bramley Moore dancing about shaking his marraccas for all I care just get it done!
Terence Beresford
56
Posted 15/10/2016 at 13:30:21
Praying this happens on the dock. I want to see Phil Thompson's face when Jeff Sterling announces:
Everton Football Club to build iconic waterfront stadium In Liverpool.
It will make the wait so worthwhile.
Charles Barrow
57
Posted 15/10/2016 at 13:49:42
Surely it has got to be the docks! What an opportunity – it becomes a symbol of the city in the most iconic position, on the river front.
What is important is that it is part of a massive re-development of that part of the docks. I was down there a few weeks ago and at the moment it looks desolate and very unloved. But if the whole area from the Malmaison to the stadium is developed – with a walkway on the river front from the Liver buildings to our new stadium with shops, cafes, hotels etc on the way it would be amazing, attracting loads of positive publicity. If it's stuck there on its own then it would be a wasted opportunity for the city and the club.
Colin Glassar
58
Posted 15/10/2016 at 14:42:41
Docks, Docks, Docks!!! I was down there last week and was on the ferry and I could see (in my minds eye) the stadium rising majestically on the sea front.
Anyone who's worried about walking to the ground may as well stay away. Wimps.
Damian Wilde
60
Posted 15/10/2016 at 19:31:44
Be wonderful if it happened!! COYB.
Ron Sear
61
Posted 15/10/2016 at 20:01:46
I don't know why people are too concerned about building over a dock. The Three Graces were built over the the partially infilled Georges Dock and the Liver Building was constructed in three years from foundation stone to topping out and that was using old traditional building techniques.
You can still see inside some of the old dock including the rise and fall of the tide virtually under the Liver Building if you go on the Mersey Tunnel Tour. All it takes is money and the determination to build it. You can bet that Peel Holdings will want to cash in on improving the area.
Joseph Mullarkey
63
Posted 16/10/2016 at 18:03:50
Terence (#58),
Don't you mean Jim White?
Sean McCarthy
64
Posted 16/10/2016 at 20:02:50
With Kenwright, Elstone and Fat Joe at the helm what could possibly go wrong??!!
And for those speaking about Moshiri like he's the new messiah just bear in mind that he's yet to put his hand in his pocket in the 10 months since he arrived at the club. Despite all the talk of 𧴜m transfer budgets we never spent a bean until we sold Stones. I won't hold my breath on the stadium issue let alone its location.
Colin #5 – since when has Croxteth not been within the city boundaries?? Has it moved???
Harry Wallace
65
Posted 16/10/2016 at 20:42:42
Please make this happen. Docks stadium would take us to the top.
Steve Woods
66
Posted 16/10/2016 at 21:08:45
@ 64 Sean
"With Kenwright, Elstone and Fat Joe at the helm what could possibly go wrong??!!"
I continue to have night and day mares with Kenwright and Elsone being involved with anything to do with the club's future. I must admit that I thought Moshiri would have been savvy enough to have ousted both at the earliest opportunity. Perhaps he's giving them enough of the proverbial rope.
Michael Kenrick
67
Posted 17/10/2016 at 01:09:57
Sean (#64), I'm intrigued by your inside knowledge of the Club's funding mechanisms... especially your conviction about Moshiri: "
he's yet to put his hand in his pocket in the 10 months since he arrived at the club.
"
Not for transfers, perhaps... but you must realise there's a good reason for the sell-to-buy which seems to bear repeating:
In order to sign players we must show adequate income (not including TV revenue) under the FFP rules and as we know we don't get much actual income outside TV money.

Player sale revenue is classed as income so we had 㿛½M to show FFP and therefore could go out and buy players and increase the wage bill (which is what FFP actually controls, it's got nothing to do with buying players). – Andy Boyer
And what about these known outgoings:
Compensation to Southampton for Ronald Koeman – ٣M;
Compensation to Leicester City for Steve Walsh – ٠M;
Buying out Roberto Martinez's contract – 㾶M
New salaries for the Koeman Brothers and Walsh ~ ٥M/year
Fees for engaging top architects to plan the new stadium... ??
And they're just the ones we know about...
㿊M... 㿔M... 㿞M...
Are you quite sure Moshiri and his money have done nothing to enable some or all of these rather cost-intensive transactions? Not to mention the ever-increasing salary costs of players being given new contracts.
I don't know the full FFP rules, and some of these sums may have to go through the club's books. But I would expect that the only way we could afford to fund a number of the very substantial changes over the last 10 months is through contributions from Farhad Moshiri. That he's not been bragging about them does not mean he isn't the very substantial financial power behind them.

Matt Traynor
68
Posted 17/10/2016 at 03:51:18
Michael #67 it's been a while since I needed to look it all up, and it has changed a lot since, but there's a school of thought that FFP has been watered down substantially.
Originally (and I stand to be corrected) FFP was a scheme contrived by UEFA to limit the opportunities for clubs with rich benefactors to stitch up their domestic campaigns and qualify for Europe. Most clubs earn more in the CL compared to their domestic leagues, even though the CL money pot is partially dictated by how much money the country of the club pays for TV rights (one reason why English clubs frequently top the money tree without winning the tournament).
Some clubs were trying to get around this by using "allowable costs" in their accounts to do with development. Man City tried (and failed) to price their academy and associated infrastructure development around the stadium at a billion pounds. The RS tried (and succeeded) in booking over 𧴜m in the failed Stanley Park Stadium as costs.
If I understand this correctly, the version of FFP that applies to Football League clubs isn't UEFA-mandated (after all the penalties of exclusion from UEFA competition would hardly apply). The rationale for this was that there was a genuine fear that clubs were being mismanaged and needed the regulations in place. The trickle down effect of the Prem Money Tree sees lower clubs getting sizeable transfer fees, and also paying big bungs for and to players / agents.
Colin Metcalfe
69
Posted 17/10/2016 at 06:04:09
Sean (#64), yeah sorry about that, my mistake. I was thinking it was under Knowsley!
Tony Abrahams
70
Posted 17/10/2016 at 09:25:44
Moshiri, spent £10 Million, to get rid of Martinez, about 8 weeks after Kenwright, was proclaiming what a manager.
This tells me we would have still been stuck with Roberto, sinking like a stone, instead of talking about landfilling the water, to create a brand new stadium!
Peter Lee
71
Posted 17/10/2016 at 18:40:27
A few points.
Peel has had planning permission of one sort or another for almost 10 years for this north docks area (Birkenhead too by the way) and nothing has happened. If a stadium were to be built it could trigger development and for that reason the club would be in a good position to drive a hard bargain.
Whatever is done there will need to be extensive excavations and all of that will need to be left on site. That fills the dock, at least partly.
Kevin Tully, the road changes upgrade an existing four-lane single carriageway to a four-lane dual carriageway. All the junctions were rebuilt years ago and this is unlikely to ease traffic flows much. The plans for the dock road are to narrow it to one lane in either direction for significant parts of its length. The overall result will be to reduce capacity on those two roads taken together.
I travelled for 18 years out of the dock exit north. In the years since the Arena was built, it was often the case that traffic queued back down the tunnel branch and in the main tunnel towards Birkenhead when there was a sell-out concert at the 11,000 capacity venue. That's why a night game would be a nightmare, more so than an afternoon game but not much more so I'd guess.
Everton and district is not the easiest to navigate to get out of town. Problem is, if you are going east, you will have to go into the area and then out. The queues on Everton Valley and Walton Lane will be marvels to behold.
I currently take a train into town from Kirkdale after the game and get a Southport train from Central or Moorfields. I may not get a seat but I can get on. This is not the case at Bankhall and sometimes not so at Sandhills. I have always been astonished that Merseyrail don't make all services post-game six carriages.
I also cannot understand why it's often the case that one of the tunnels is often closed after evening games. Plan the maintenance around the demand, I'd say.
Friends on the Wirral are really looking forward to the new challenges that will be presented on matchdays/nights when the loop line closes after Christmas. I shall be renting out spare rooms for those who would like to get to bed before midnight, just 2 minutes from a reliable train service.

Paul Kossoff
72
Posted 17/10/2016 at 20:48:27
Moshiri, "How much for Bramley-Moore Dock?"
"Well let's see, Peel Holdings want 㿊 million at least, but we can have Croxteth for nowt. Croxteth it is then, I'm sure Bill can convince the fans it's the best choice."
Please, lads and lasses, if they try to stick us with Croxteth, tell them in no uncertain terms to fucking shove it, we'll stay where we are.
Phil Martin
73
Posted 17/10/2016 at 21:20:41
Iconic Waterfront stadium arouses me, I don't care.
Croxteth oval, is the flaccid choice.
Paul Kossoff
74
Posted 18/10/2016 at 02:06:17
I've got a suggestion if we can't get the docks site, Stanley Park!!!
I'm sure that Liverpool council can't possibly refuse us seeing as they practically begged the red scum to build a stadium there.
And now that the Royal Liver Building will be given to the Red Shite for them to turn it into a LFC museum "near the docks," then let's just ask you know just to see, even if we don't want it, headlines in the Echo:
'Everton want to build a stadium in Stanley Park'
Go on, Bill, ask them... I fucking dare you.
---
Add Your Comments
In order to post a comment, you need to be logged in as a registered user of the site.
Or Sign up as a ToffeeWeb Member — it's free, takes just a few minutes and will allow you to post your comments on articles and Talking Points submissions across the site.