Hull City vs Everton

70 Comments [Jump to last]
Thursday 29 December 2016
Premier League Preview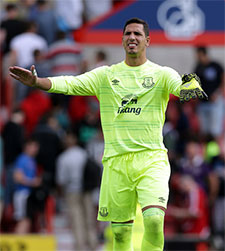 Joel Robles is set to continue in goal as Maarten Stekelenburg recovers from a dead leg
The wider world can't get rid of 2016 fast enough and the sentiment is mostly true for Evertonians as well who are still waiting for a new dawn to fully break on the pitch following the descent into chaos of Roberto Martinez's tenure earlier in the year.
The assumption of the Goodison Park hot seat by Ronald Koeman promised big things for the Toffees but, six months in, the scale of the project ahead of the Dutchman has been exposed by a three-month stretch of poor form that threatened to plunge the club back into the bottom half of the table.
There have been signs that Koeman is getting to grips with the task and his squad, however, and with two wins in the last three matches, Everton are once again looking up the table with designs on catching any of the top six who might hit a bad patch of their own in the second half of the season.
The Blues will see out the calendar year with a trip to Hull to face the Premier League's bottom club. Mike Phelan's Tigers began their first season back in the top flight in decent fashion, registering back-to-back wins in the Premier League but, despite progressing to the last four the League Cup, they've only won once more in the league since.
That has left them with just 12 points from 18 games, four points from safety coming into this Friday night encounter on Humberside, and one of the favourites for the drop back to the Championship.
For Everton, that represents opportunity as they go in search of successive victories for the first time since September. A number of sites listed at gamblingwebsites.org.uk have attractive free bet offers for new sign-ups if you fancy betting on the Blues' chances. Hull made life difficult for Manchester City on Boxing Day but eventually collapsed in the last 20 minutes in the face of Pep Guardiola's superior firepower; if Koeman's men can put on a repeat of the Leicester display, then they stand a good chance of taking the points.
With both Maarten Stekelenburg and James McCarthy still ruled out through injury, the line-up could conceivably be the same, although Hull's preference for one up front might preclude the three-man central defence that was effective at the King Power Stadium. His relative youth would make Mason Holgate the unfortunate but likely casualty in the event that Koeman reverts to a back four.
In midfield, meanwhile, Tom Davies and Ross Barkley both made strong cases for inclusion from the start with strong cameos at Leicester and, with Barry unable to play two games in a week, the manager could opt for one of them in his stead and bring the veteran back against Southampton on Monday. If Barry plays — Hull have a robust midfield of their own but it's not one blessed with an abundance of pace — Koeman could just as easily keep Davies or Barkley in a super-sub role, ready to make an impact off the bench.
With all of the teams above them accumulating results from games against weaker teams, Everton have little room for error if they are to keep on the coattails of the top six. That makes this an important fixture, in terms of points, momentum and morale.
A win at Hull with three successive home games to follow — not to mention any boosts provided by early forays into the transfer market — could set Koeman's men up nicely for a strong start to 2017.
Kick-off: 8pm, Friday 30th December, 2017
Referee: Jon Moss
Last Time: Hull City 2 - 0 Everton
Predicted Line-up: Robles, Coleman, Williams, Funes Mori, Baines, Gueye, Davies, Lennon, Barkley, Mirallas, Lukaku
Full details: ToffeeWeb match page
---
Reader Comments (70)
Note: the following content is not moderated or vetted by the site owners at the time of submission. Comments are the responsibility of the poster. Disclaimer
Gordon White
1
Posted 29/12/2016 at 19:09:16
Fingers crossed for a win. Have to show Hull some respect though. Their result against Man City didn't reflect how well they had played until the penalty decision.
For a confident Everton team, this shouldn't be a problem. Never sure which Everton team will turn out though. 3-1 to Everton if we're on form.
COYB!!
Mark McParlan
2
Posted 29/12/2016 at 19:20:46
Surely we have to stick with the same formation that beat Leicester; three centre-backs with Baines & Coleman pushing forward as wing-backs. I would be inclined to try playing Barry again, and maybe bring Davies on later. We need two players in the centre of midfield.
Tony Graham
3
Posted 29/12/2016 at 19:23:34
Really do hope we turn up. If we do and compete I don't see why we can't win this.

3 more points would be handy. Go on lads, make it a happy new year.
John Charles
4
Posted 29/12/2016 at 19:29:42
Got my thermals ready for this one – it is always bloody cold up there. I can't see anything but a Blue win.
I hope to God that we play better than in the Leicester game and that the team warm us up.
Same team as Monday where I thought Williams had his best game for us.
Gerry Morrison
5
Posted 29/12/2016 at 19:58:07
It was this game two years ago that finally finished any hope I had in Martinez. Everything about the day was terrible: getting up early on New Year's Day, walking in the rain to the chara, arriving in Hull in the rain with three hours to go and nothing but two terrible ale houses and one chippy with a thousand people already in the queue.
We all got free woolly scarves going in, (School of Science!) and I remember thinking; what's the catch? The catch was we had to watch the match. At the final whistle, it seemed like half the Evertonians stayed to hurl abuse at the team.
I remember the days when the cushions came raining down from the main stand at Goodison Park, but this was something else. Some of the abuse was vicious and seeing mothers and fathers put down their children so they could give the team two fingers with both hands was a sight I hope never to see again.
This season, I am watching it on the telly. COYB.

Lev Vellene
6
Posted 29/12/2016 at 20:06:18
Our main concern with Joel Robles was the same as with Howard, he totally sucked at crosses into the box. I don't think football players live totally inside a bubble, and so fail (en masse) to read critical reviews, so I hope that means Joel grabbed his uncertainties by the b... scruff, and hoisted himself into a position of being seriously a competitor to someone different to Howard!
I must admit I'd never thought I'd see him as active (and good!) out in the box as he was in that match!
Andy Crooks
7
Posted 29/12/2016 at 20:14:55
I expect this to be tough as Hull, in my view, are not the worst team in the Premier League. They have a good coach and this is a cup final for them.
If we play without fear we are better than them and will win. Attitude and endeavour should be a given in every game.
Colin Gee
8
Posted 29/12/2016 at 20:16:56
Gerry (#5),
I had tried to wipe that game from my memory, we played like we'd been on the ale all night from memory, Didn't we play a back three with Gareth Barry in it whilst Sylvain Distin got splinters in his arse sat on the bench?
And made Hull look like Barcelona. Also din't we get beat by a certain Ronald Koeman's Southampton just before Xmas as well? They gave us Blue Santa hats as free gifts from memory too. Martinez made no subs at all, probably because he couldn't take all 11 off.
Tony Hill
9
Posted 29/12/2016 at 20:21:43
I also expect us to win and to do so comfortably. We must not be fearful of playing the bottom club in the league and this is another little test of Koeman getting the side's mentality right. 3-0 victory, thank you.
Gerry Morrison
10
Posted 29/12/2016 at 20:25:32
Colin. Yes, and to add insult to injury Jelavic scored against us.
Eric Paul
11
Posted 29/12/2016 at 20:36:09
Tony @9,
Weren't Swansea bottom when we played them at home?
Peter Cummings
12
Posted 29/12/2016 at 20:42:32
I don't think Hull are as bad as their Premier League position suggests so I don't believe they will lie down... In fact, they realise that they will need to battle hard to stay in the Premier League, where the money is, and give us a very hard time physically. We need to show a lot more in attack over the 90 minutes – something that has been sadly lacking for most of the season so far – and finish 2016 on a high.
Brian Hennessy
13
Posted 29/12/2016 at 20:44:00
Anyone who thinks this will be easy should take a look at Hull for most of the match against Man City. I will take your hand off for a scrappy 0-1 to Everton.
That will keep us ticking over until we sign the 4 Galàcticos in January – along with the confirmed start date for our shiny new 4-sided 60,000-seater super-stadium on the docks...
Michael McCarthy
14
Posted 29/12/2016 at 20:58:09
To add to previous post- Holgate keeps his place.
Tony Hill
15
Posted 29/12/2016 at 21:13:58
You're right, Eric and the players, or enough of them, weren't trying for the manager then. That's the single biggest difference over the last 3 games and it's why I approach this fixture and 2017 with a good deal of hope.
Denis Richardson
17
Posted 29/12/2016 at 22:02:57
Wouldn't write Hull off too easily. This will be a tough game in what will likely be freezing and tough conditions. Hull are not as bad as people make out.
Also having only played on Monday, our lack of squad depth will make it hard on the team as there's not really that much the manager can do to freshen things up without bringing shite into the team.
Normally I would go with the same team that won but feel a fresh pair of legs in midfield wouldn't hurt. Possibly start with Barkley in the middle? I'd keep a back three and allow Coleman and Baines to move up the pitch. Hull are desperate for any kind of result so it's important for us not to concede.
I doubt it's going to be fun to watch but again the result is the most important thing. Especially before we go into January without Gana.
Steve Bingham
18
Posted 29/12/2016 at 22:43:58
I am going to have a daft tenner on a Lukaku hat-trick in this one.
Tom Bowers
20
Posted 29/12/2016 at 23:13:28
It all depends which Everton shows up and can they withstand the opening 20 minutes or so when they are usually all at sea no matter who they play.
However getting 6 points against the Gunners and Foxes with a late deprivation of the spoils against the RedShite in between may mean they are slowly turning the corner.
We'll have to show Hull who's boss from the off as they can play some decent stuff despite their league position and are a desperate bunch. Keeping Snodgrass quiet will help.
Raymond Fox
21
Posted 29/12/2016 at 23:18:22
I will echo the sentiments of a few already in the thread, that it wont be a walkover. In the little time I have seen them they have seemed unlucky to lose.
Admittedly I'm a pessimist by inclination, the bettings saying we are expected to win – Evens Everton. 10/3 Hull. 5/2 the draw.
Andy McNabb
22
Posted 29/12/2016 at 23:28:27
Raymond Fox – your natural pessimism marks you out as a true Evertonian.
Let me sprinkle a little Christmas and New Year optimism in there and say, I hope this time round we can keep all of our defenders on the pitch. Alcaraz was sent off in 2015.
Alcaraz – remember him?! Almost had to Google that one
Paul Hewitt
23
Posted 29/12/2016 at 23:53:16
This won't be an easy game, but I still think we will win 6-0.
John Hammond
24
Posted 30/12/2016 at 00:03:54
I'd like to see the same line-up but with Davies in for Barry. I think it'll be a tough game and can see us going a goal down but coming out 2-1 winners. COYB!
Steve Barr
25
Posted 30/12/2016 at 00:45:21
Comments sum up how far Everton has fallen. A tough game v Hull City! The Basie and Skinner England song comes to mind at this point: "20 years of hurt". Hope we don't take as long as England before we win something again.
Happy New Year.
Ed Fitzgerald
26
Posted 30/12/2016 at 00:49:17
We are playing the league's bottom club yet given our desperate performances (Arsenal being the exception), I can still see us coming a cropper.
Surely it's time to drop Gareth Barry and give young Davies a start particularly if Gueye is going to be missing soon due to the African Cup of Nations.
Dennis Stevens
27
Posted 30/12/2016 at 01:04:28
Don't recall Count Basie releasing an England song, Steve!
Michael Farrelly
28
Posted 30/12/2016 at 01:07:48
Great point, Ed (#26) we really should be onboarding Davies as a starter given the gaping hole that the absence of Gueye will leave in our midfield. He has to start building up for a 90-minute display. He certainly looks good enough... as does Holgate for that matter.
Steve Barr
29
Posted 30/12/2016 at 01:11:39
Dennis, these iPhones and their auto correction! Plus I'm in a bar in Washington DC but everyone must know of Count Bloody Basie and Frank Skinner!
Paul Ferry
31
Posted 30/12/2016 at 03:58:11
Ed Fitzgerald (#26): 'given our desperate performances (Arsenal being the exception) I can still see us coming a cropper'.
Ed, did you by any chance watch the second half v Leicester?
How good were the Davies and Barkley subs in that apparently 'desperate performance'? Let's hope that they both start tomorrow, Ed, and we can give a performance there like we did in the second half at Leicester.
0-2
Ed Fitzgerald
36
Posted 30/12/2016 at 06:59:42
Paul
Thank you for your patronising tone? Yes I was there and yes we were better than in a dire first half. Are you saying you think we played well in the second half? We played okay for the last 15 minutes, no more than that. Did you think we played well for 45 minutes in that second half?
As I got up to leave, two old timers (well even older than me and I'm 54) looked at each other and made the comment, "That was shite football really, wasn't it?" and it was. You appear to be overjoyed by this victory and clearly perplexed by my analysis that the football we have played is in general fucking awful to watch. My question to you then is were you there?
Geoff Evans
37
Posted 30/12/2016 at 09:09:28
Agree with Ed, yes I was there, mostly piss poor at Leicester. No more than a draw tonight, 1-1.

Rob Halligan
38
Posted 30/12/2016 at 09:41:49
So, we are playing the bottom club, with a goal difference of minus 25 after 18 games. They have scored 14 goals in those 18 games. They are 14 points behind us, yet some are saying they are playing well, while we are shite.
They are bottom for a reason ...They are shite. They can't score goals and they can't defend. While I agree we are not exactly setting the world alight with some of our football, we should, and will have too much for Hull tonight. 3-1 to the blues!!
The negativity and pessimism from some on this site is unreal.
Ed Fitzgerald
39
Posted 30/12/2016 at 10:02:31
Rob,
You are mistaking people caring about how we play, with pessimism – there is a difference. I don't expect to win every game or play like Barcelona; I do however expect us to attack at home (silly idealist that I am). I also expect us to play the ball to feet on occasion rather than launch the ball into the ionosphere at every given opportunity.
Rob Halligan
40
Posted 30/12/2016 at 10:18:55
Ed... people saying we will lose, or at most draw, tonight, is not caring about how we play. To me that is just being negative and pessimistic.
I agree with what you say about the standard of football we play. It should be better. Like you, I don't expect to win every game, but I expect to win tonight.
Kim Vivian
41
Posted 30/12/2016 at 10:29:11
I think their good showing against Man City will actually work against them psychologically this evening, while we are gradually getting it together.
We must, and will, take 3 from this. 3-1 Everton is my bet – possibly conceding first though!
Martin Nicholls
42
Posted 30/12/2016 at 10:31:49
Rob (#38) – perfect summary.
Eric Myles
43
Posted 30/12/2016 at 10:34:56
I'm not a gambling man, Steve (#18), but I have made Rom my Fantasy Team captain.
Roy Steel
44
Posted 30/12/2016 at 11:21:57
Hull are fighting for Premier League survival, so we need to bring our A game and compete for 90 minutes. Remember our motto – NSNO; let's see if we can put the Tigers to the sword.
John McGimpsey
45
Posted 30/12/2016 at 11:36:51
No games are easy in the Premier League but, if we feed Rom the way he should be, then the big man will come through. Barkley could be key to that...
Matthew Williams
47
Posted 30/12/2016 at 13:09:36
Same again please, lads... 2-0 Blues.
Dean Adams
48
Posted 30/12/2016 at 13:10:00
As we have always struggled to dispatch teams in the bottom three, I feel that a cautionary approach would be the way forward tonight. Just cannot see us destroying them, but 0-2 would be nice.
Len Hawkins
49
Posted 30/12/2016 at 13:41:54
I looked in the Mirror this morning and have to reflect on the following, according to them the starting line up is Joel, Coleman, Jagielka, Williams, Baines, Gueye, Barry, Lennon, Barkley, Mirallas, Lukaku. And the clown in the middle is Jon Moss so it points to a much changed team and an incompetent official.
Tony Hill
50
Posted 30/12/2016 at 13:59:18
Moss is the worst referee in the Premier League by a mile. Let's hope any incompetence is in our favour.
Tom Bowers
51
Posted 30/12/2016 at 14:17:16
This will be a tough game if Everton start slowly and are disjointed like they have been in so many games. Forget that Hull are bottom as they can still play a bit and against an unpredictable Everton with a crap referee, anything can happen.
Actually this referee is almost as bad as Mike Dean. A 0-0 score wouldn't surprise me at all.
Richard Lyons
52
Posted 30/12/2016 at 14:35:09
Nil-satis-nisi-at-least-2-0-to-us.
Tony Twist
53
Posted 30/12/2016 at 14:48:59
I am hoping we roll into town, control the game, snatch two well worked goals and have a happy new year. Fingers crossed! Make it happen blues.
Brian Harrison
54
Posted 30/12/2016 at 15:14:00
A team at the bottom of the league and struggling for points and Everton roll into town. I don't know how many times people who havent scored for 10 years pop up and score against us, or teams on a really bad run manage to beat us.
Just for once can we go there be positive from the start and actually boss a game for large parts. Instead of being tentative and allowing the opposition to settle on the ball. I cant remember the last time we won back to back away games, but its not something we do very often. Also with John Moss being the ref I have no faith in him so most likely Hull will get a soft penalty and one of ours sent off or both.
Jay Wood
56
Posted 30/12/2016 at 15:19:03
Align myself with Rob @ 38, whilst also acknowledging it will be a challenging game because ... well, because EVERY game in the PL is competitive. There are never any 'gimmes' in this league.
They are bottom of the table for a reason, as Rob highlights: the league's lowest scorers with just 14 in 18 matches, 39 conceded (only Swansea with 41 have let in more) and comfortably the worst goal difference in the league, -25.
Add to that they are bottom of both 'form' tables over the past 6 and 10 games and have lost their last 3 games.
Since impressively winning their opening 2 games of the season (home to champions Leicester and away to Swansea), they have won just ONE of their 16 PL games since then (home to Southampton).
A team (and supporters) with any ambition should look at this fixture and consider anything less than 3 points a failure.
Cue a Hull victory tonight then ... it's the Everton way.
Eddie Dunn
57
Posted 30/12/2016 at 15:48:28
Jon Moss is a very poor ref,but we don't want to blame an official for not beating these. We need to build on the last result and close the gap on the top six.
Hull were unlucky against West Ham, but they are bottom for a reason and we need to put the proverbial foot on their collective throat and keep it there until they are dead. Time for a cuppa!
Roman Sidey
58
Posted 30/12/2016 at 16:22:11
I'm in agreement with those approaching this with cautious optimism. Everton SHOULD beat bottom placed Hull. Everton SHOULD win comfortably. One thing I don't pay any attention to in this world is "shoulds". It isn't a sign of how far Everton have fallen that this match isn't a gimme, but a sign of how competitive the Premier League is these days. Hull may be bottom and they may be getting atrocious results, but Everton have a habit of dropping points at this time of year to players they SHOULDN'T be dropping points to.
Blue tinted glasses back on: Everton to win 4-0.
Phil Walling
59
Posted 30/12/2016 at 16:29:40
Had just taken £22 to £20 about an Everton win tonight before hearing Koeman on Sky doing a Moyes in saying how good Hull are and how hard it will be tonight.
Just like all of them, he gets his excuses in before he crashes the car !
Patrick Murphy
61
Posted 30/12/2016 at 16:47:59
Phil (59) You should know better than to back Everton to win matches.
These are the teams that Everton have collected 3 points from since August 2012
figures in brackets show the number of wins Everton have recorded at their hosts during that period.
AstonVilla(3)
Burnley
Palace
Fulham
Hull
Leicester
Man Utd
Newcastle (3)
QPR
Saints
Stoke
Sunderland (2)
Swansea(2)
West Brom (3)
West Ham (3).
In total 25 victories on the road from 87 trips. It's little wonder that us fans aren't overly confident when Everton travel away from home, it's something the team has to improve upon if we want to be considered contenders for the European spots.

Chris Williams
62
Posted 30/12/2016 at 16:57:40
Don't concede the first goal please
Chris Williams
63
Posted 30/12/2016 at 17:00:10
Patrick
That is a sobering piece of information you have posted there. What a poor performance .
Very sobering. I think I'll take another drink

Laura Round
64
Posted 30/12/2016 at 17:02:10
3-1 for me 😀
Dermot Byrne
65
Posted 30/12/2016 at 17:11:15
We will win 4-0 🏆
Eugene Kearney
66
Posted 30/12/2016 at 17:23:58
The last line of this article just perfectly sums up Evertonian hope at the moment ...
Please, please, a win now to boost our confidence and show that we are on the mend and that the future really will be bright !!!!
0 - 2
COYB.
Eddie Dunn
67
Posted 30/12/2016 at 17:38:51
0-1 to us tonight.
Si Turner
68
Posted 30/12/2016 at 17:46:43
Lets keep positive aye, Hull are bottom for a reason and our last 3 performances have been much better so I expect a comfortable 0-2 win with Rom getting a brace.
Mark Morrissey
69
Posted 30/12/2016 at 17:51:44
0-3, Lukaku, Ross, Baines .might even be 4, I hope Robles is in goal and Cleverley is in Liverpool having a night in front of his TV
Ian McDowell
70
Posted 30/12/2016 at 17:53:58
This is the sort of game that we will always get inconsistent results in. We currently struggle to create enough goal scoring opportunities. The top 6 sides look far superior this season to the rest of the league. We have shown that on one off occasions we are certainly a match for Utd, Arsenal and City etc. The problem we have is that we have dropped too many points against Bournemouth, Palace, Burnley and Swansea.
Soren Moyer
71
Posted 30/12/2016 at 18:11:41
Patrick #6 , didn't we win 3-0 at Saints last season?
Soren Moyer
72
Posted 30/12/2016 at 18:17:41
And 3-0 at Stoke!
Denis Richardson
73
Posted 30/12/2016 at 18:21:03
Brian (#54), last time we won back-to-back away league games?
September.
(Admittedly it doesn't happen that often.)
Jay Wood
74
Posted 30/12/2016 at 18:38:44
Ian @ 70
"We currently struggle to create enough goal scoring opportunities."
We certainly could do with more creativity in the final third of the pitch, but I don't think your statement is entirely accurate (a bit like our shooting).
As this article on the Beeb mentions,
"Plenty of shots on target, but not many goals. Everton have the third-best shooting accuracy – 48.9% – but their shot-conversion rate of 13.5% is only the 13th best."
Oh! And the big lazy lump up front...? A close 3rd place behind Defoe and Ibrahimovic for scoring the largest percentage of goals for his team. Imagine if the useless twat converted more of his chances, eh?
(I'll leave fellow TWers to discern which paragraph is heavily laced with irony.)
David Booth
75
Posted 30/12/2016 at 18:42:17
This is a much tougher game than people think.
Hull were desperately unlucky against West Ham and could have both taken the lead and run away with the game had they had an ounce of luck.
And they gave Man City a game too until a 72nd minute penalty put them behind.
We will have to be right on it to get anything and we all know what a perfect opponent Everton are when a team is down on its luck...
This is NOT in any way a foregone conclusion for those who believe it ought to be.
James Hughes
76
Posted 30/12/2016 at 19:05:00
By the looks of the team he's gone 4-2-3-1... words fail me.
That has not been working for us – AARRGGHH!!!!
Trevor Peers
77
Posted 30/12/2016 at 19:09:27
Should've played Davies and Holgate, we always struggle with Barkley in the middle.
Stand by for a very slow start....
James Morgan
78
Posted 30/12/2016 at 19:11:44
Dermot (#65), do we get a trophy if we do?
Dermot Byrne
79
Posted 30/12/2016 at 19:18:30
It's the Humber Challenge Cup – 50p to winners!
Will Mabon
80
Posted 30/12/2016 at 19:49:55
I'm not gonna twist myself up over the team and formation tonight... can't figure it anyways, most of the time. Nice quiet corner to watch the game on the laptop tonight.
Please do come on blue boys, if you would.
---
Add Your Comments
In order to post a comment, you need to be logged in as a registered user of the site.
Or Sign up as a ToffeeWeb Member — it's free, takes just a few minutes and will allow you to post your comments on articles and Talking Points submissions across the site.