Everton vs Watford

51 Comments [Jump to last]
Friday 12 May 2017
Match Preview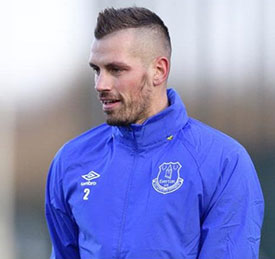 Morgan Schneiderlin is fit again after missing the Swansea defeat through injury
Everton's penultimate game of the 2016-17 season sees them face Watford this evening in what will be the last game of the campaign at Goodison Park.
The Blues are already guaranteed a seventh-place finish thanks to the points gap they had established over West Bromwich Albion below them and Arsenal's return to form following their wobble around their Champions League humiliation at the hands of Bayern Munich last month.
It means that there is no pressure on Ronald Koeman's men other than the need to end the home fixtures on a high after the heavy 3-0 reverse at the hands of Chelsea a fortnight ago and there will be changes to the team sheet given some additions to the absentee list this week.
As the manager explained in his pre-match press conference yesterday, Maarten Stekelenburg has picked up a groin problem and none of the young Blues selected by England for the U20 World Cup will be involved but Morgan Schneiderlin is fit again and will likely start.
"It's a long list of players who are not available for tomorrow. Stekelenburg is not fit — he has a groin problem. Seamus and Funes we know, McCarthy we know, Lennon we know, Bolasie we know, and I took the decision about the young boys to leave them to [play for] the Under 20s.
"Of course, the game tomorrow is important because we'd like to finish strong and show the fans what we can bring to them and to get the 13th win of 19 at home and that's really strong.
"But young players need experience and that was the decision taken because they will play world champions and that's really good for the development of young players like Kenny, Dominic Calvert-Lewin and Mola Lookman."
Most eyes will inevitably be on whether Ross Barkley is picked, not only because he was dropped from the starting XI at Swansea last weekend but also because of Koeman's phlegmatic inference yesterday that the midfielder must make a decision over his future in short order or be sold to make way for planned new signings in that part of the side.
It's possible that the 23 year-old will be named among the substitutes again unless Koeman decides to give him an opportunity to shine in front of his own fans again before making a decision in his future.
Failing that, Enner Valencia could be handed one last chance to shine at Goodison and earn a permanent deal in a two-striker formation with Romelu Lukaku who has been prolific at home this year but hasn't scored in any of his last three games.
With little riding on the game except pride, you may want to check out the latest betting promotions, especially as Everton sit at 4/9 for the win. Check out the free bet offers at sites like BetHut for the best return on your money this late in the season.
There is also the chance to atone for a poor display against the Hornets in December, of course. The home faithful will be expectant of a good performance, and a victory to see them into the summer where hopes will be high for some significant activity to back up the ambition espoused by the leadership in recent months.
Kick-off: 7.45pm, Friday 12 May, 2017
Referee: Kevin Friend
Last Time: Everton 2-2 Watford
Predicted Line-up: Robles, Holgate, Jagielka, Williams, Baines, Gueye, Schneiderlin, Davies, Mirallas, Valencia, Lukaku
---
Reader Comments (51)
Note: the following content is not moderated or vetted by the site owners at the time of submission. Comments are the responsibility of the poster. Disclaimer
Darryl Ritchie
1
Posted 12/05/2017 at 07:35:51
Time for the team to put on a show. It would be really nice to actually enjoy an Everton football game, for a change. The entertainment level has been on a bit of a downer lately. If we play like we can, it shouldn't be much of a contest; 4-1 Everton.
On the flip side, while there's not much riding on the game for us, a Watford win will see them jump up the table five positions. The Toffees had better get their heads straight about this, because Watford have their 40 points, and they will be fearless. Despite being inferior at nearly every position, they are well coached and can nick it, if we aren't careful.
I'm off to bed. The game starts noon local time, so I won't know the score until I get back from lunch.
COYB
Jim Bennings
2
Posted 12/05/2017 at 07:58:18
It will be really disappointing if we don't win tonight because you might as well then say we haven't won any of the final five games. (We ain't going to be winning at Arsenal, let's face it.)
If we can't beat Watford, then I'm sorry but we really do have problems and I'll be disgusted if we see another "flip-flops on the beach" performance because I really didn't believe Koeman would tolerate it after the West Ham showing, yet we've had two more since.
It will not be accepted again tonight!
Gareth Clark
3
Posted 12/05/2017 at 08:00:27
I'm not sure which of the youngsters are away on international duty – the likes of Dowell & Kenny, with Walsh injured. & Calvert-Lewin & Lookman away too.
I'd like to see a few of the other youngsters on the bench.
4-3-1-2
Robles
Holgate Jagielka Williams Baines
Idrissa Schneiderlin Davies
Mirallas
Lukaku Valencia
Hewelt, Pennington, Robinson, Besic, Baningime, Barkley, Sambou

Out of the youngsters, I think Robinson, Baningime & Sambou are two of the brightest prospects – in terms of them being physically strong enough to cope with the step up.
Especially impressed with Robinson lately, I'd love to see him start, but unlikely.
I'd also prefer to play a youngster over Jags but, as it may be his last game at Goodison, I'd let him play this one.

Martin Nicholls
4
Posted 12/05/2017 at 08:19:16
Chin up, Jim – it mightn't happen!
Chris Gould
5
Posted 12/05/2017 at 08:35:27
Could this really be the final time we see Barkley playing for us at Goodison?
It will be hard to watch him come back next season wearing lilly whites. I never thought it would happen, but it's looking likely.
I hope he starts tonight and plays a blinder. If he's still undecided then the fans may play a big part in helping him make a decision tonight.
How badly do you want him to stay? I suggest fans make their voices heard tonight. Unless you want rid. Which looks likely anyway.
Personally, I hope Koeman buys a few creative players and keeps Barkley.
Tony Hill
6
Posted 12/05/2017 at 08:36:38
We'll win tonight. Last time we played them at Goodison, Barkley scored a wonderful goal from a Kone lay-off. Funny how things change.
Rob Young
7
Posted 12/05/2017 at 08:59:24
Chris, I would be astounded if Spurs would be interested in Barkley at all. Nowhere near as good as Alli and Eriksen.
I can't see any of the top-6 go for him. And any move to another Premier League team will be a step backwards and a route to a Jack Rodwell career.
If we can get Sigurdsson from Swansea, or even Rooney for Barkley's position, we'll improve dramatically.
Sad to say, but the lad needs to improve and I am very afraid he can not and will not do it.
Dave Ganley
8
Posted 12/05/2017 at 09:15:59
I'm still annoyed the club changed this fixture to tonight to accommodate the Chavs as I can't now go. However, we should have enough to beat a Watford team in the same position as us with nothing to play for.
To be honest, the recent performances have probably been more informative to Koeman long-term than if we'd scraped wins. It just shows who's got desire and who hasn't.
2-0 win to us ...
Kim Vivian
9
Posted 12/05/2017 at 09:17:46
Hard one to all this (but I have got about 8 out of 10 wrong on my predictor the last couple of weeks). We could put on a grand finale or equally might just play like it's a friendly.
Watford, as people point out, have something at least at stake and likely as not will come at us. No way they will jump 5 places after the weekend but equally could end up languishing around 16th even 17th. I think they are better than that and will want to prove a point as well as the extra cash rewards for moving up the table by the end of term.
Might be an interesting opportunity to take a good critical look close up at Troy Deeney. I am not sure he isn't on someone's radar somewhere when/if Rom heads off. Sod's law says he will bag a couple tonight – but I am going 2-2 tonight – rather pessimistically.
Dave Abrahams
10
Posted 12/05/2017 at 09:27:46
Chris (#5),
I understand your thinking re the fans and giving Ross plenty of support: I think if he has decided to go; no amount of support will make any difference to the situation.
Chris Williams
11
Posted 12/05/2017 at 09:37:07
Going tonight with my son and I don't have a clue how the team will play, or will they even turn up. Of course, I guess there will be a lap of honour at the end.
Watford is an alehouse team filled with grocks so not a night for silky soccer! Will we pick some youngsters or maybe have a few on the bench, or will Kone be there?
Couldn't care less if Barkley plays tonight or ever again for us and have become bored by the ongoing debate about a player with nearly 180 games, approaching his 24th birthday, with 5 seasons experience behind him.
Somehow it's Koeman's fault that he isn't as good as Alli or others who have overtaken him. I have never seen such a debate about the merit or otherwise of one player in 63 years of watching Everton.
I just hope for a good win tonight and maybe see a couple of the younger players get a showing at some point.
Steve Bell
12
Posted 12/05/2017 at 09:54:56
Lyndon, Ican't see Schneiderlin in the line up as Big Ron's confirmed his groin is still crocked. Barry and Gana?
Or will we play with just one defensive midfielder (at home to Watford FFS!) and throw off the shackles a bit, in a nothing game?
Clive Rogers
13
Posted 12/05/2017 at 10:35:38
Steve, it's Stekelenburg who has the groin problem.
George McKane
14
Posted 12/05/2017 at 10:42:38
Cosmic Blues to all Evertonians.
I am working at Yellow House today and then going straight on to TDH. I'm hoping for a good end to our Home Season. I will be in TDH (The Barlow Arms) around 5:30ish – everyone welcome. Keep the "posso" waves going.
Chris Williams
15
Posted 12/05/2017 at 10:48:34
A good morning to you George and my spirits are rising already.
Looking forward to my final fix of the season and a wander round my old Walton stamping ground with my son. City Road, the old Colly picture house.
My Back Pages and Tangled Up In Blue.
Derek Thomas
16
Posted 12/05/2017 at 10:49:28
0-0 or 5-0? Reports have it that Watford have the 40-point flip-flops on too, so 0-0.
Steve Bell
17
Posted 12/05/2017 at 10:51:21
Clive (#13), Whoops, my bad.
Alan J Thompson
18
Posted 12/05/2017 at 11:07:36
Almost seems that Schneiderlin picks his games.
Chris Gould
20
Posted 12/05/2017 at 11:27:15
Dave, I think you're probably right. I'm guessing that he's made up his mind to leave and will announce it once the season is over. It will be really interesting to see how he reacts at the final whistle.
Rob, I think there will be plenty of managers who have seen enough brilliance from Ross to feel he is worth a gamble. At 23, Pochettino will believe that he is going to get better. He may believe that he is the man to get the best out of Ross, and that he has the right players in his team to make it happen.
Who knows how Ross will play without the weight of his hometown club on his shoulders. He carries the entire creative burden and is the first to be shot down when he and the team play poorly. Without that weight of expectation, and with other creative players in the team, he may very well become the player we all hoped he would.
I read an article on a Spurs fans site from someone who claims to have reliable sources within the club. He says that the whole saga is pure panto and that Koeman and Barkley both want the deal to happen. I have no idea if this guy is reliable, but I believe Barkley is off, and I don't believe he'll go to a club outside of the top 6.
Roger Helm
21
Posted 12/05/2017 at 11:36:28
I am disappointed that I can't go to the last home game as I live and work 100 miles away. Another tradition bites the dust, and more money wasted, as I am a season-ticket holder – no laughing matter for a Yorkshireman.
Can someone explain why we had to change from the Saturday?
David Ellis
22
Posted 12/05/2017 at 11:38:08
I would be surprised if Barkley went to Spurs... he would languish there.
The fact is, we are at his level – and next season may move a step beyond him unless he produces more consistently.
Tamhas Woods
23
Posted 12/05/2017 at 11:47:16
At the ripe old age of 28 I managed to pass my driving test yesterday. COYB, let me celebrate a new era in my life with a damn good thrashingg of Watford!
FAO Lukaku & Barkley: Sign or fuck off. Simple. I want players who will die for the shirt, this club is far bigger than either of you, and it's not like Spurs are really missing Bale right now...
Kevin Turner
24
Posted 12/05/2017 at 11:48:55
Ross's form has been patchy to say the least and the question is: Has this been due to the uncertainty in his mind about his future? Potential buyers will know his qualities and be in possession of his stats so will base their decision on whether to buy or pass on that criteria and not his form of late.
Koeman doesn't fancy him IMHO. I think he'd rather Ross left and this'd free up extra cash to go with the Lukaku money for a major rebuild and recruitment of the extra personnel required for the Europa League campaign. It'll be interesting to see this pan out over the next 10 days or so.
Jim Bennings
25
Posted 12/05/2017 at 12:00:26
Roger,
It's tonight because the TV companies want to show what is the now non-event that is Chelsea v Watford on Monday night.
A game no neutral fan gives a shit about.
Terry Underwood
26
Posted 12/05/2017 at 12:47:09
Ross Barkley can no longer be considered "Young Ross". He is an experienced Premier League player who, sadly, has not fulfilled his potential, and maybe never will.
It may be that a move will spark something in the lad and he will kick on. Obviously, I would love that to happen in an Everton shirt, but if it is not to be, then we just move on, just as we always have.
Sam Hoare
28
Posted 12/05/2017 at 13:26:17
I wouldn't be at all surprised if Ross went to Spurs.
The fact is that a playmaker relies on the right runs in order to find the right passes. We have a mostly stationary striker, a ton of defensive midfielders and no other settled quality attacking players. Coleman's exit has left Ross even more bereft of runners to pick out.
At Spurs, he would be playing with a vibrant attacking unit that is in perpetual motion. Even if he's not as good (yet) as Eriksen and Alli, he is surely on a par with Son and Sissoko, and they will have to rotate a lot more next season if they want to progress in Europe.
At 23 he has plenty of time and room to improve. I'd say whilst not reaching either extremes he's more Rooney than Rodwell. He has to get fitter and work harder but Pochettino must be sure he's capable of that if he's going to make an offer. Which he may not. But surely Ross' management must be aware of options.
I can't see that he'd risk forcing an exit from us if the best he had lined up was a starting berth at Newcastle or West Ham.
Tom Bowers
29
Posted 12/05/2017 at 13:29:58
It would be nice to sign off the home season with a bang after the poor showing in the last three games but somehow I doubt it.
Neither team has anything to gain and the usual set-ups by both teams will ensure another bore-fest unless of course Everton score a couple early to force Watford to come out and play a bit.
Personally, I would play more youngsters and drop Lukaku, Barkley, Williams and Baines.
David Pearl
30
Posted 12/05/2017 at 13:31:52
5-0 to the blues tonight as it's Lukaku's last chance to secure the golden boot before he puts his golden crocs on for the summer holidays with Pogba.
i wonder if his agent really did get 㿕 million from that deal. Football Agent should now be one of the school options kids can take. What d'ya wanna be when you grow up?
Steve Barr
31
Posted 12/05/2017 at 13:37:19
As others posted on earlier threads, the club should allow free admission tonight given the team appears to have already checked out for the season!
For those attending tonight, I really hope we turn on a great home display.
As always, I'll be in a local pub in DC, watching, ever hopeful.
Mark Murphy
32
Posted 12/05/2017 at 13:44:55
Hoping for a good win tonight and a positive reaction from the crowd to Ross, whatever he decides to do later. Let's make him want to stay or at least miss us!
Peter Gorman
33
Posted 12/05/2017 at 13:47:05
I'd like to see some of the youngsters who are not heading to the U20 World Cup – Harry Charsley, Joe Williams and Antonee Robinson to name but three....
Trevor Lynes
34
Posted 12/05/2017 at 13:49:35
There is no way Barkley would get in the Spurs first eleven. Their midfielders score goals and produce twice the chances for Kane than we do for Lukaku.
Barkley will not meet the standards required for Champions League status. He is supposed to be an attacking midfielder and that means scoring goals and getting into the box FFS. Compare his stats with Alli, Eriksen and Son.
Peter Cummings
35
Posted 12/05/2017 at 13:55:51
Another season of 'Ifs, Buts and Maybes' comes to an end with hopefully a big win against so called 'inferior' opposition to atone for the garbage suffered in recent games.
In my case, and my two sons, it's back to MLS football until our tricky Blues hit Europe in July, at least our now 'local' team Toronto FC are providing pretty good fare and sitting on top of their league unbeaten in their last five and playing good stuff.
Also hoping to see some movement on the transfer front before July; our fans richly deserve to see the club make some class signings asap, COYB.
Brent Stephens
36
Posted 12/05/2017 at 14:01:58
Roger (#21) – "more money wasted, as I am a season-ticket holder – no laughing matter for a Yorkshireman". Does anything at all make a Yorkshireman laugh?!
Steve (#31) – "the club should allow free admission tonight given the team appears to have already checked out for the season!" As a season-ticket holder, do I get a refund? Or vouchers for Chang beer?
David Pearl
37
Posted 12/05/2017 at 14:03:05
Peter, Toronto play in red!! That's the reason I didn't go when I lived over there.
Kieran Kinsella
38
Posted 12/05/2017 at 14:06:20
Peter Cummings,
I live in the US too. For a while, I tried to get behind my local team, Sporting KC. Sadly the depth of my loyalty was exposed when I found myself rooting for Tim Cahill when New York came to town.
The other spots might shed some light on who Koeman rates from the U23s, assuming Besic isn't yet fully fit. Tonight's game has a mildly interesting sub plot of the subs bench. By my count we only have Kone, Valencia, Pennington & Barry available.
Martin Nicholls
40
Posted 12/05/2017 at 14:11:08
Peter (#33) – having been to the game on Monday, I'd certainly agree about Williams.
I have also been impressed with Robinson (certainly in an attacking sense) in previous U23 games I've seen... but I think he's currently injured.
Martin Nicholls
41
Posted 12/05/2017 at 14:13:19
Kieran (#38) – Besic looked fully fit to me, the other night.
Ian Herbert
42
Posted 12/05/2017 at 14:20:20
Rooney in place of Barkley will dramatically improve that position!?! A pint of what you are drinking please, Rob!
Anyone who really believes the past-it Rooney will improve us in any way is obviously a believer in La-La Land!!!!
Martin Nicholls
43
Posted 12/05/2017 at 14:35:31
A win tonight gives us our highest home points total since 1989-90 – compare that to last season when we created the worst home record in our history and the conclusion must be that Koeman is doing something right.
Sort out the abysmal away form now, Ron, and we're going places!
Steavey Buckley
44
Posted 12/05/2017 at 15:02:47
Everton's season is ending on a damp squib, by failing to make any impression on the top 6 places recently. Mainly because players brought in recently could not live with expectations of them doing well.
When the season has finally ended, Koeman has to look at the first team squad seriously and decide who will be good enough to take Everton to a top 4 place. Or end up with another damp squib next season.
John G Davies
45
Posted 12/05/2017 at 15:44:04
Enjoy the game tonight fellow Blues. I think there may well be a few goals in it for us tonight. We may even achieve our highest ever total in 25 years of Premier League football.
When I'm sitting having a drink in a foreign bar before the games next season, the last thing on my mind will be our away form from this season. Those of us lucky enough to get to the European games will be in similar mood.
Joe Digney
46
Posted 12/05/2017 at 15:48:28
Hello Blues, can anyone recommend any reliable online streams?
COYB!
David Pearl
47
Posted 12/05/2017 at 15:54:07
Ian (#42). I must be one of those in La-La Land. I think Rooney would be an improvement on Barkley. He can control the game better, keep possession better and brings others into the game. He is maybe not the player he was but is far from past it.
Barry Pearce
48
Posted 12/05/2017 at 15:55:33
I'd also like to Joe Williams or Antonee Robinson given game time.
Not sure if Robinson is injured.
Jay Harris
49
Posted 12/05/2017 at 16:02:42
Let's hope tonight's game isn't just about Ross Barkley and SuperKev can give us a couple of goals as a reward for his new contract.
I would love to see Benny Baningime (don't you just love that name) given a run out and similarly it would be nice to see Besic back on the first-team roster.
Darren Hind
50
Posted 12/05/2017 at 16:23:55
Barkley would think all his Chrimbos had come at once if he played for the Spurs side. Imagine a player of his technical ability receiving the ball and seeing attacking options all over the place? As it stands now, all he can see when he looks up is Lukaku waving his arms around because Koeman's keeps leaving him isolated.
We have a fantastic opportunity to smash an abject Watford team and send the fans home happy from the final game... but will we? I guess it depends on whether or not Lukaku is in bully mode.
What I do know (and so does everyone else reading this thread) is that Koeman will still have two defensive midfield players protecting his already over-manned defence against really poor opposition.
This is Koeman's Everton.
Spencer Glaze
51
Posted 12/05/2017 at 17:02:37
Let's get a win tonight, boys! I'll be taking an extended lunch break to watch so let's make it worthwhile! I want goals from Davies and Valencia!!
Liam Reilly
52
Posted 12/05/2017 at 17:28:57
I can't see Barkley not starting this one, because Koeman could then be accused of forcing him out.
Play him and hold him to the decision before the Arsenal game.
Kieran Kinsella
53
Posted 12/05/2017 at 18:18:53
Barry,
Yeah, I noticed Robinson missed the mini-derby. I assume Garbutt and Browning are injured.
Jay,
Might be too soon for Baningime. From Unsworth's remarks, it seems like next season will be his coming-of-age with the U23s.
Kieran Kinsella
54
Posted 12/05/2017 at 18:21:07
Liam,
I agree on Barkley. It would be hard for Koeman to pass his exclusion off as anything but political. I can't see us making a tactical change to counter a lousy team when we are at home.
---
Add Your Comments
In order to post a comment, you need to be logged in as a registered user of the site.
Or Sign up as a ToffeeWeb Member — it's free, takes just a few minutes and will allow you to post your comments on articles and Talking Points submissions across the site.