Koeman stands firm on Barkley's future

207 Comments [Jump to last]
Thursday 11 May 2017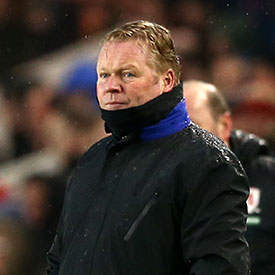 "It's up to the player but we won't wait until August," Koeman said.
Ronald Koeman has reiterated his stance that Ross Barkley needs to sign a new contract with Everton or be sold this summer.
The Dutchman has been unequivocal on the topic of the 23-year-old's future in recent weeks and he stuck by his insistence that he needs a decision either way before the end of the season so that he and Steve Walsh can get on with building the team in the close season.
Barkley will be entering the final year of his existing contract this summer but his manager is not willing to wait around for him to decide whether to stay with the Blues and he has ruled out the possibility of him seeing out his contract, at which point the club would only be able to command a nominal development fee due to the fact that he would still be 24 next June.
Koeman was asked by Sky Sports' Vinny O'Connor to say where the negotiations are on Barkley's contract situation at his pre-match press conference ahead of the visit of Watford tomorrow.
"There's still one more week, hey?" the Dutchman smirked. "Still time for him to decide because the boy is already working a long time to sign and for Ross to stay for a longer period.
"It's up to the player but we won't wait until August. We need an answer before next week. If we go for a holiday, we need to know [if he is going to] sign a new contract or we will sell the player."
Asked if he had any inkling over whether Barkley would agree to new terms with Everton, Koeman said: "I don't know. If you need so much time then you have doubts.
"[That doesn't concern me]. I like to work with players who want to stay and we are already trying to get players in for next season in the front positions."
---
Reader Comments (207)
Note: the following content is not moderated or vetted by the site owners at the time of submission. Comments are the responsibility of the poster. Disclaimer
Gareth Clark
1
Posted 12/05/2017 at 06:32:24
First of all – I think Barkley will stay.
Secondly – I think Barkley has had a good season on a whole. Maybe a few too little goals & assists, but still not bad.
I think he will start a smaller percentage of games next season, but still play more games in total than he has this season.
Lastly, I'd hate him to go. Especially because I'd hate to see him at another club & even more, I'd hate to see him warming the bench at another club.
Sigurdsson should come in, whether Barkley stays or goes.
Klaasens in as a central midfielder, along with Tielemans.
Dermot Byrne
2
Posted 12/05/2017 at 06:36:42
Absolutely right by Ronald Koeman. Don't jump into the crowd kissing the badge and then piss us around.
And if I hear anyone going "But he has to think of his own future" I will search you out!
He will be financially quids in staying and as for playing time and success, well bloody work for both.
I am so sick of a league full of petulant little wankers, blue or not. It's like giving you kid ٠m and then hearing him/her say that Sam Abramovich's daddy gave him/her ١m and he/she doesn't have to go to school anymore.
This business just laughs in all our faces and watches us fans scrabble around exchanging opinions they wouldn't piss on.
Fucking livid... 😠
Adam Luszniak
3
Posted 12/05/2017 at 06:40:54
I just can't work out where I stand on this.
On the one hand, Ross has improved since Christmas and has been a reliably good player for us. On the other, he still seems like he is playing in himself, and we are not seeing the Barkley that we saw in Martinez's first season who was full of flair and confidence.
Would he displace Coutinho or Eriksen from their respective teams? I doubt it. So if he leaves us, where will he go?
Stan Schofield
4
Posted 12/05/2017 at 06:44:16
I understand that Barkley has the power, within his contract, to decide not to sign but see out the remainder of his contract, and then choose to leave Everton when his contract ends. Please tell me if my understanding is incorrect.
If my understanding as above is correct, Koeman does not have the power to dictate that Barkley be sold. Barkley can be sold before the end of the contract if, and only if, both Everton and Barkley agree to it.
On this basis, Koeman appears to be speaking foolishly, in a way that is inconsistent with the constraints of Barkley's contract.
John G Davies
5
Posted 12/05/2017 at 06:44:59
Breaking news.
Manager looking to rebuild his team for next season gives player deadline to sign contract, thus enabling him to know where the team needs reinforcing.
Scoundrel that Koeman
Dermot Byrne
6
Posted 12/05/2017 at 06:50:52
You make my point, Stan.
Phil Sammon
7
Posted 12/05/2017 at 06:53:15
He's a good player and I hope he signs... but, if he doesn't, then I'm with Ronald Koeman.
We don't have much option really, do we? I'm sure the terms offered are fair. My only surprise is that he hasn't put pen to paper quicker.
Phil Sammon
8
Posted 12/05/2017 at 06:56:11
Stan,
The point is, if Barkley won't sign the contract, then surely it's because he does want to leave Everton.
Paul Setter
9
Posted 12/05/2017 at 07:01:24
Blue or not, his performances regularly frustrate me. Passing is atrocious most of the time and his running into dead ends is annoying when there are sometimes better options.
For an attacking No 10, he is poor compared to his superiors in the same position in at least the clubs above us and a few below us. I wanted him gone last summer and he will be top of my outgoings list come June/July this year.
Sam Hoare
10
Posted 12/05/2017 at 07:06:11
If he did decide to see out his contract to get a bosman the we would be due a development fee right? Set by tribunal since we developed him. Not if he goes abroad though...
Adam Scott
11
Posted 12/05/2017 at 07:09:31
No Sam. I think it applies to players under the age of 23. May be wrong though.
Adam Scott
12
Posted 12/05/2017 at 07:27:13
For my money, I hope he stays. I think he has developed this year and obviously, as a local lad, I think he has a particular place in the club. But....
1) I don't think he is irreplaceable by any means. Chances created is meaningless. He doesn't score enough goals, and I think his set piece delivery is hit and miss. This may improve with better players around him, granted.
2) He never seems to perform to his max in big games. He isn't alone in this, but it is a fact.
On this move I think he has to be careful. He isn't going to go to a Champions League club and play, week-in & week-out.
Tottenham – Won't pay him the wages anyway. Have Alli and Erikson. As someone pointed out on here, Dembele is a top player and doesn't play week-in & week-out.
Man Utd – Don't really see a route to first team with him at all.
Man City – Would have him due to English quota. Again, don't see him playing where he wants to.
Liverpool – N/A
Arsenal – This is where I could see him going. Club in transition though, who, within a few years, will lose their manager. Not really sure where they are heading.
Wish the lad would just be clear. In many jobs you don't have the luxury of waiting months to decide whether you want to stay or go. Same is true for him. For all the criticism of Rom, at least you normally know where you stand...
Paul Smith
13
Posted 12/05/2017 at 07:32:39
Barkley will have a blinder tonight, making one for Rom and netting a brace himself.
Then we really will be torn.
John Audsley
14
Posted 12/05/2017 at 07:38:54
Let's see how he plays tonight and what he's like at the final whistle.
If it's a genuine goodbye to Goodison then people will work that out.
I hope he stays but not convinced he sees himself part of the Koeman's plans over the next 2 years.
Trevor Peers
15
Posted 12/05/2017 at 07:50:15
By not signing a good new contract that has been offered, Ross is showing his true colours. He's not the naive, loyal local lad who loves the club; that has been repeatedly portrayed on TW threads.
He reminds me more of Tony Hibbert, who described the Goodison faithful as 'punters'. His treatment of the fans and the club is becoming a disgrace.
Colin Glassar
16
Posted 12/05/2017 at 07:50:48
I'm not going to go into the ins and outs of this one but what I would like to know is, why is Koeman making this so public? Why can't he sort this out behind closed doors? And why hasn't Lukaku received the same treatment?
John G Davies
17
Posted 12/05/2017 at 07:54:24
Morning, Colin,
Lukaku has two years left; Barkley has one.
Jim Bennings
18
Posted 12/05/2017 at 08:12:07
My heart tells me that it would be great if Barkley was here next season, scored 10/12 goals, dominated big games and looked captain material.
My head tells me, if he was still here, then this time in 12 months, we are having the same discussions about a player that doesn't score enough, runs down blind alleys, can't see a pass, displays poor decision making, and doesn't turn up in big games... so sell him anyway.
Joe Clitherow
19
Posted 12/05/2017 at 08:19:06
He's been tapped up. Not the sharpest knife in the drawer and not the most consistent player either. I like Ross as a player but I don't think he is ever going to be the world beater many of us hoped for, mostly because I think he has a lack of application and focus.
Being tapped up would be more than enough distraction to affect him on the field in my opinion. Just his agents mentioning this would be enough in my opinion.
I can't see where he would go and have any hope of improving a team above us. I could possibly see him bench warming at Spurs though given what they spent on Sissoko to do the same – good luck with that Ross.
If he doesn't decide, then I agree with Koeman; get top dollar, move on with a replacement and forget about him.
Stan Schofield
20
Posted 12/05/2017 at 08:20:10
Phil @8: If Barkley does want to leave Everton, he gets to choose which way it is: Either leave when his contract expires, or leave before then by agreement between him and Everton.
Either way, Koeman does not get to dictate that Barkley will be sold. As such, Koeman appears to be talking tough without having the contractual basis to do so. Which makes the management look stupid.

Chris Gould
21
Posted 12/05/2017 at 08:26:14
Stan (#4)
Of course Ross could dig his heels in and refuse to sign or leave, but what would that achieve?
Koeman has already shown his ruthless streak. If Barkley doesn't sign, then there will be no place for him in the squad. Koeman and the board won't allow him to go for free.
It will be a case of, sign for another club or spend next season in the U23s.
Andrew Ellams
22
Posted 12/05/2017 at 08:30:33
If Barkley was sold, his fee should pay for Klaasen from Ajax and Sandro from Malaga. A risk, but we will never get anywhere near the teams above if we don't take a few of those.
Martin Nicholls
23
Posted 12/05/2017 at 08:35:46
Colin (#16) – "Why hasn't Lukaku received the same treatment"?
Simple answer is that the situation is not the same.
By contrast to Ross, Rom has two years left on his contract, he has given EFC his response (albeit one many of us didn't want to hear) to the contract offer and has been told by Moshiri/EFC that he will be expected to honour his side of the contract for as long as it suits us.
Should the situation change, then this time next year your question might have some validity.
Liam Reilly
24
Posted 12/05/2017 at 08:37:34
I agree, Chris, if he tries to run down his contract, Koeman is ruthless enough to remove his squad number, because he'll still command a fee in January when Barkley gets fed up training with the youth team.
I suspect he's not been guaranteed a starting place next season with Koeman's rebuilding plans and needs to decide if he's got the appetite to battle for the shirt.
Martin Nicholls
25
Posted 12/05/2017 at 08:38:37
Not sure whether he has any inside knowledge, or whether he is just giving a personal opinion, like the rest of us, but I did hear that Ronnie Goodlass was claiming that Ross is waiting to see if Rooney is re-signed.
Christine Foster
27
Posted 12/05/2017 at 08:42:24
I bet you Ross doesn't get a game tonight... Koeman will not give the player a chance to shine or say thanks if he is leaving.
My guess is that it will be the clearest indication if he is leaving or not.
In the team? He will stay...
On the bench (or dropped)... then he has told Koeman where to go.

Lev Vellene
28
Posted 12/05/2017 at 08:43:36
Koeman is trying to build a team, so I guess what he (also) means is that if Barkley doesn't sign, they will plan to buy for the new team. In which case Barkley will likely be a squad player for his remaining year, but not get picked for most of the games if the new guy(s) are available.
The money rules for wages and such may suffer from that, but if he can't be forced to go, we'll have to live with that.
Mike Allen
29
Posted 12/05/2017 at 08:47:40
Couple of years down the line, he will be part of "What ever happened to.... erm...?"
Dave Abrahams
30
Posted 12/05/2017 at 09:16:37
Christine (#27), if the situation tonight is as you say, which I doubt very much, then Koeman would be better to play Ross. Going on his last three games, he is more likely to have another poor game... and what would that tell us?
Ross has had a few good games since Christmas; I wouldn't say he has improved. What he has proved to me at least is his inconsistent, even in most games he has been a mixture of good and bad.
I don't know if Koeman has handled the situation properly because none of us know the full facts, but what I do know is it wouldn't bother me if Ross goes or stays. I would like Everton to get a fee for him, but I could also understand if Ross decides to see his contract out and maybe get a better financial deal for himself.
Stan Schofield
31
Posted 12/05/2017 at 09:24:02
For me, the main point here is that, given the contractual situation, Koeman is not only discussing matters publicly in an apparently unnecessary way, but is doing so in a way that looks inconsistent with that contractual situation.
I have to say that Koeman is making himself look idiotic, as he's done before. He's trying to look tough, but failing miserably. As mentioned on another thread, he looks like the black knight.
John Davies
32
Posted 12/05/2017 at 09:25:32
Dermott @#2. Absolutely spot on. And as for young Mr Barkley, it's simple – sign the deal or leave. We are Everton FC and will be just fine with or without him.
Paul A Smith
33
Posted 12/05/2017 at 09:43:52
Paul Smith, I was only saying earlier he needs a performance like that. Our fickle fans will change their minds then.
I am hoping he stays and we bring some quality in around him. That's me being ambitious. If the club want to be ambitious they can tell anyone they are not for sale and we do things to win from now on.pNot to please an individual player or an agent, we do things to win as a club and build the best possible 11 we can.
Anyone who says get rid and get Davy Klaasen in would be banned from Goodison if I was Moshiri.
1 – because you don't really know much about Klaasen;
2 – because we should't be selling to buy anyone;
3 – we are supposed to be building a squad not re-building like the last 25 years.
I like Sigurdsson a lot but let's stop pretending we know everything about every player we are linked with.
Stan Schofield
34
Posted 12/05/2017 at 09:45:02
John, no, it's not simply a case of sign the deal or leave. It's a case of sign the deal, or try to negotiate a better deal, or leave EFC at the end of the contract, or leave EFC before the end of the contract with the agreement of both parties. Anything else is just rhetoric, empty tough talking.
EFC is bigger than any player, but no club is big enough to over-ride contractual obligations. Strikes me that Koeman would be well advised to carry out discussions, especially involving contracts, in-house rather than in public.
Paul A Smith
35
Posted 12/05/2017 at 09:46:33
I forgot who wrote The Black Knight from The Holy Grail in the comments now but what a shout.
That's more thoughtful and creative than anything I have seen from Koeman since he came here.
Danny Broderick
36
Posted 12/05/2017 at 10:10:27
Stan,
You'd make a hopeless poker player!
Seriously, negotiations are a game. We are now calling Ross's bluff. Time to put up or shut up for him.
Of course he could leave in 12 months on a free, which we wouldn't like. But guess what? Ross wouldn't like that option either, in my opinion. He would be made to rot for 12 months if he did that. If he got a bad injury in training, he might never get to sign that big contract.
The best outcome for all concerned is for this to be resolved – one way or another – this summer. So we need to know Ross's intentions now.
Gio Mero
37
Posted 12/05/2017 at 10:26:50
Maybe he doesn't want to stay cause he can't stand Koeman and he's desperately trying to find a way out? (Not as desperate as in losing money in the process, obviously, hence him biding his time.)
This is particularly possible if he thinks his relationship with Koeman might be impacting negatively on his career.
Even if Koeman stays only two more years it's an eternity in footballing terms. That's a conversation I would have with him if I was his lucky agent.
I left a couple of jobs I liked because of my bosses so I'm thinking maybe...
Jim Harrison
38
Posted 12/05/2017 at 10:27:15
If he doesn't sign, or agree to a transfer, he will be marginalised. No wage increase, reduced playing time. Yes he can choose not to be "sold", but it would really call into question his motive.
Koeman wants him to sign before he gets the chance to see what offers are available. He doesn't want a new contract to be a back up option.
If no one from top 4 comes calling, he won't be afforded the choice of signing on improved terms, does he then choose another club based on wages on offer? In which case, his ambition could be questioned.
So, he doesn't sign. Koeman goes out and buys a player for his position that he believes in. Ross chooses to see out his contract, but sits lower in the pecking order.
For me, this isn't about how good he is, or whether Koeman wants him; it's a simple choice. We are trying to build something. The progress this season has been decent. Do you want to be part of it or do you want to go somewhere else?
Rom is a different kettle of fish, a true outstanding player who would be very difficult to replace. He has two years left so the club can't be forced unless some other team is willing to stump up the cash, and there are probably a few who would be tempted .
Who is actually interested in Barkley? If he knows someone is... easy – just say "I am not signing."

Pat Whitmore
39
Posted 12/05/2017 at 11:06:28
Maybe people are looking at it the wrong way and Koeman's comments are aimed at us the fans. Maybe he wants a reaction from us that shows Ross just how much we want him to stay.
If you have 90 minutes of fans calling out for Ross, then it would be hard for him to walk away. If nobody seems bothered tonight, then we make his mind up for him.
Brian Furey
40
Posted 12/05/2017 at 11:19:54
Did anyone see the programme Inside a Volcano about the Iceland football team, qualifying for Euros 2016? It was on here in Ireland last night. Very interesting how strong their team spirit is.
Sigurdsson looked a class player even when he was a young kid and I'd be delighted if we signed him this summer. He has a lot more strings to his bow than Ross has, especially scoring goals and assists.
David Ellis
41
Posted 12/05/2017 at 11:33:35
Stan (#34) etc,
I think you are technically correct – for example, we wanted to sell Niasse last summer but didn't get an offer to his liking. It's possible that the same will happen with Barkley should we invite offers for him. But highly unlikely.
He may not get an offer from a Champions League club but he will get offers from Premier League clubs that can offer him first team football. So in practice we can "decide" to sell him (but you are correct).
I think his worry is that if he signs a new contract he may lose his place in the team after we buy more players over the summer. From Everton's perspective, that would be the best outcome... but from Ross's perspective, it would be a blow to his career. I can see why there is an impasse.
Tony Hogan
42
Posted 12/05/2017 at 11:42:37
Personally, I can't stand this manager, worse than Roberto, his man-management and arrogance is beyond belief.
Why are his comments always in the public eye or on Sky? It just makes the club look like amateurs.
Additionally, his team selections and tactics are baffling, do they not have wide players or wingers in Holland?
At least Ross is or was a genuine blue – not like Ronald Koeman, who is just using the club to enhance his career and his bank account.
Chris Gould
43
Posted 12/05/2017 at 11:46:58
Stan, the press ask Koeman what is happening with Barkley's contract situation? Koeman replies matter of factly. How is that idiotic?
Barkley has been given a deadline. If he doesn't sign the contract then he will be sold. Yes, he could dig his heels in and refuse to leave, but why would he do that?
Koeman has made it very clear that he is the boss. If he has given Ross an ultimatum then there is no 3rd option. It is sign or leave.
If Ross tried to run down his contract, then he would find himself training with the kids. He won't risk that as it will stall his career and screw up any chances of playing for England. Plus, the boy wants to play.
He's off to Spurs.
Ian Burns
44
Posted 12/05/2017 at 12:19:33
I for one will be sad to see Ross go – he maybe inconsistent but when he is on his game he is terrific. (I know everybody will think it doesn't happen often enough but this is my personal take on the player and I would love to see him playing alongside Davies in the coming seasons.)
However, the only explanation I can see with regards to this stand-off is that his agent has something up his sleeve but there is little they can do until the season is over. I also believe Koeman has made it almost impossible for him to remain, given his unnecessary and outspoken comments.
Mark Murphy
46
Posted 12/05/2017 at 12:51:01
We've lost a diamond called Ross Barkley,
Scouser he'll soon be moving on,
Just like John Stones and Nicky Barmby,
Wayne Rooney and fuck off Steve McMahon.
So if your feeling sad,
This song will drive you mad.
There's no such thing as "Once and always Blue..."
Anto Byrne
47
Posted 12/05/2017 at 13:07:49
If I had a choice between a 23-year-old Tim Cahill and Ross Barkley, it would be Tim purely for his goals and his total commitment to the cause. He wasn't that quick and wasn't as technically gifted as Barkley but he made up for it in sheer determination.
Koeman is a godsend to Ross after Moyes and Martinez. Moyes farmed him out while Martinez took away his discipline.
The summer should see a good 5 or 6 players coming in. There is talk of Rooney but unless he loses 20 pounds and really gets his fitness up, it is a real poser.
A keeper is a priority. Someone to fill the right back spot. Central defender to partner Holgate? Davies, Lookman, Calvert-Lewin. Walsh Williams Kenny look like the future. Any more likely lads coming through. Pennington? Besic to return or be sold?
One thing is for sure its going to be an interesting summer.
John Graham
48
Posted 12/05/2017 at 13:24:56
As stated before, he is not good enough or consistent enough to get into any of the teams above us as a regular, so if he does go to one of them it will be as a bit player and for money. If he doesn't sign but does see out his contract he will also be replaced here.
So if he's just looking for a few more pounds in his pocket we would be well shut of him.I could think of plenty of players in the Premier League and abroad who we could get who would be better for the team.
All this about "being a blue" and "playing for the fans" is utter crap always has been and always will be as money is the only thing the player and his agent thinks about
Danny Halsall
49
Posted 12/05/2017 at 13:25:40
Personally, I prefer Koeman's 'no nonsense' approach. To be honest, he hasn't actually divulged anything sensitive in public, he has just stated that Barkley has a year left in the summer and if he doesn't sign he will be sold. Simple as that.
After all the dross that has been served up by the likes of Martinez and Kenwright etc, is it not refreshing to have a man in charge who will tell us, the fans, what the situation is?
Jim Bennings
50
Posted 12/05/2017 at 13:31:10
It's pretty mad really.
Would we be getting so wound up if we were talking about any other past Everton midfielder who had contributed just three goals in open play since November 2015?
If that was Thomas Gravesen, Scott Gemmill or the like, we would be scoffing at this goals return for a so-called creative attacking midfielder ,so really we are all just living on the hype Barkley was receiving four years ago – hype that's proved fruitless and misguided.
Barkley is a decent midfielder nothing more and as for looking fantastic in certain games and dominating them?
Well I don't remember many this season nor too many last... or the season before, for that matter.
Christine Foster
51
Posted 12/05/2017 at 13:33:18
Danny (#49),
Has he really told us the situation? Do we have a response from Barkley?
John Pierce
52
Posted 12/05/2017 at 14:15:15
The whole thing, drama, or whatever you believe, this 'standoff' is just embarrassing. Both parties are culpable, Everton/Koeman for pushing his weight around so publicly and to be fair Ross or his agent for taking so long to clarify the situation.
The delay makes me feel Ross is waiting for something to happen. No proof just the gut. Perhaps an offer is in the pipeline from another club? Otherwise, why not say either way?
My point is a wider one; under Moshiri I had thought the days of this amateur hour style farce played out in public had gone.
If we want to be a big club in the main you play these scenarios out behind closed doors and keep tight lipped.
This is ultimately a worry; if we are to have the stellar summer we need in the markets then this is an abysmal start and it simply trying to extend an existing player's contract!
Lastly, it's another peek into the world of Koeman the manager. Whilst brutal can work in a training field, its a fading and outdated coaching concept left over from an age when the manager had the final say on everything and the players knew it.
How do Everton play and whats missing? We play with power seeking to bludgeon the opposition without a rapier finish... Koeman, that.
Stan Schofield
53
Posted 12/05/2017 at 14:34:45
Danny @36: Real life is a bit more complicated that playing games, poker or otherwise. One of those complications is not knowing someone well enough to know whether they'd make a good poker player or negotiator.
Jim Hardin
54
Posted 12/05/2017 at 14:41:14
Yet another article wasted on a player who should never see the pitch for any club with true ambition. If he signs, loan him out and sell later just like Chelsea does.
If he doesn't sign, he is under contract so we keep a squad player. Koeman could always decide to take away his number and locker.
His goals tally won't be hard to replace. His turnovers won't be missed either if he goes.
Stan Schofield
55
Posted 12/05/2017 at 15:50:51
Chris @43: If Ross is serious about playing for England, then it seems to me that the last thing he should do is sign any more contracts with Everton!
Seems to be that playing for Everton is the kiss of death when it comes to having any England ambitions. Even Harvey and Kendall couldn't get picked.
Joe Edwards
56
Posted 12/05/2017 at 16:02:26
Stan,
Koeman is ruthless enough to demote Ross to the Under-23s if he decided to see out his contract;this would effectively kill off his career as he would disappear from the Premier League,and the England set up.
I can't see Barkley staying and, to be honest, he's not the player to take us to the next level anymore – he is like Mirallas, a good squad player but nothing more.
So... staying or going? I welcome a new look midfield soon...
Mike Gaynes
57
Posted 12/05/2017 at 16:34:19
Ian (#44), re "...his agent has something up his sleeve..."
To my knowledge, Barkley doesn't have one agent... he's represented by a Los Angles agency called Wasserman that also represents (or represented) Gerrard, Tim Howard and Timmy Cahill. And nobody wears long sleeves in LA this time of year.
Mike Gaynes
58
Posted 12/05/2017 at 16:40:32
Lyndon, just watched the clip and I don't think he was "smirking"... a slight smile, perhaps, but the chuckle you hear isn't coming from Koeman, it's coming from the reporter asking the question.
Chris Gould
59
Posted 12/05/2017 at 16:44:01
Stan, I agree.
I actually feel it would be better for the lad to move on. I am a fan, and he's my youngest son's favourite player, but I think the pressure is too much for him.
If he does leave, I will follow his career closely and hope he fulfills his potential. It would be bitter-sweet, but he's one of us.
Jay Harris
60
Posted 12/05/2017 at 16:44:18
Apologies for posting this again on yet another Barkley link.
I love the way we're all blaming Koeman for Barkley's poor contribution when the truth of the matter is Ross has been inconsistent and dithery since he first came onto the scene.
He has never scored goals consistently, rarely won a header from midfield, doesn't close down or tackle and just jogs around the pitch making the occasional "Hollywood" pass.
There is no doubt he is technically gifted but cant seem to apply it on the pitch at the highest level.
Koeman is ruthless and bluntly honest and I for one am happy to have him as manager.
John Malone
61
Posted 12/05/2017 at 16:45:04
The best thing about this whole situation is that Koeman is taking the control back which Martinez gave away, blowing smoke up young pros' arses who had proved nothing, giving them massive unwarranted egos and making them believe they are better than what they are!
If you're not doing it on the pitch you don't play!
If don't want to sign then go!
The club is in charge – not modern-day jumped-up players an their agents!
Dave Abrahams
62
Posted 12/05/2017 at 16:50:33
Stan (#55), but Leon Osman did!!!
Dermot Byrne
63
Posted 12/05/2017 at 16:58:19
John Malone, exactly. Maybe we should all chip in just in case he needs some extra cash. He is, after all, such a true blue.
I hope his career nose dives in spectacular fashion and he comes crawling back after rehab to coach the Under-2s. I was livid first thing and getting more so.
Brian Williams
64
Posted 12/05/2017 at 17:36:22
Ross has been offered a new contract. Koeman has intimated that there's no more negotiation, and the offer that's on the table is it.
Therefore you'd have to think Ross is quite happy to leave because if he signs at the last minute it just makes him look like a bit of a tit and it will also have pissed off Koeman by then and who wants to piss of their manager for the next x number of years?
There's no logical reason for not signing within the seven days if he wanted to stay, is there?
So, from that, it seems reasonable to assume he won't sign.
Dermot Byrne
65
Posted 12/05/2017 at 18:03:30
Fair logic, Brian W... unless he is holding out for a new cot and dummy?
Mike Gaynes
66
Posted 12/05/2017 at 18:10:14
Wow, well over 300 comments combined on the two Barkley threads in less than 36 hours.
Guess everybody has an opinion on our #8, eh?
Kieran Kinsella
67
Posted 12/05/2017 at 18:24:17
Seems like we've fallen into three equally sized camps:

1) He's crap – get rid of him.
2) He's brilliant – keep him.
3) He may be great... but c'est la vie if he goes.
Mark Morrissey
68
Posted 12/05/2017 at 20:25:11
Sell him, he's too predictable. Too frustrating to watch. He's a player that many on here would say "Keep him, on his day he's great".
I don't want any players at Everton who are "great on their day". I want persistent performers, real triers.
Let him go, he's not going to change. He's another Mirallas; too predictable. Why he's staying, I have no idea.
There are 3 players at Everton that I would not want to see leave. Gueye, Schneiderlin and young Tom Davies. That's your lot.
Stan Schofield
69
Posted 12/05/2017 at 21:32:07
Mark, not Seamus as well?!
Stan Schofield
70
Posted 12/05/2017 at 21:41:36
Kieran, the main issue here is not how good or bad Barkley is or whether he should stay (both the subject of plenty of other threads), but Koeman's publicly overt, and apparently unskilled, handling of it all.
Perhaps the issue of how good or bad Koeman is and whether he should stay will itself become the subject of plenty of threads. Watch that particular space.
Mark Morrissey
71
Posted 12/05/2017 at 21:46:14
My apologies, Stan; Seamus too and Yannick whilst I'm at it because he's a trier too. I'm disappointed with the season but for sure, Seamus too. I even think Leighton has had his best days.
Stan Schofield
72
Posted 13/05/2017 at 00:17:15
Dave @62: I forgot about him! I've probably never got over Kendall never getting a game.
Kieran Kinsella
73
Posted 13/05/2017 at 00:34:25
Leon Osman played alongside Barkley until recently. He said a few weeks ago "Ross hasn't improved since he was 18."
Peter Reid said today that we should sell Ross and that based on his performances in big games he was "less than average."
Kevin Ratcliffe and Michael Ball have both said he's not good enough to start as a regular for the six teams above us. Ratcliffe also applauded Koeman's ultimatum.
A few years ago, Pienaar also made comment on Ross not developing.
All the above know a thing or two about football and Everton. I'm not saying it means they're always right... But it's interesting.
Don Alexander
74
Posted 13/05/2017 at 01:03:51
Keiran, they're right. If we persist with Barkley with a view to qualifying for the Champions League, we should bin Nil Satis Nisi Optimum in favour of Ad Somnia.
Anthony Dwyer
75
Posted 13/05/2017 at 02:11:03
I have banged on time and time again that Ross should be given credit and also given time, but I'm starting to become sick and tired of waiting for him to step up to the plate.
I have always thought that many fans were too quick to give Ross a hard time and believed it was in bad taste, judging him on abilities of others like Frank Lampard and Gerrard, but it's becoming increasingly obvious that he's simply not improving with us.
I have a feeling that Ross will still become a much better player than he's been this season, but to improve, he may need to move as he's clearly not doing it at us.
He isn't exactly our worst player, in fact he's much better than all our attacking midfield options, but his value is around 㿊m and at that price we can get better. People have mentioned Sigurdsson and rightly so, but there are others. Mahrez at Leicester hasn't exactly been bang at it this season but he's quality and 㿊m would probably secure his signature.
Truth be known, there lots of players world wide we could get for 㿊m !!
We won tonight and Ross scored but I'm sick of seeing us struggle in 7th with players who don't really want to be at us, Rom, Ross, and McCarthy (I know he didn't play but he never seems to play !)are prime examples of players who seem to have other ideas in mind.
The three players mention above could bring in around 𧴰m, that type of money can bring in quality to the club who would be hungry after moving clubs. Plus we have the Niasse, Cleverley, Deulofeu, and McGeedy money to boost the 𧴰m to upwards of 𧵎m.
There's loads of possibilities with 𧵎m but even off the top of my head we could buy Siguardsson 㿊m, Marhez 㿊m, Giroud 㾻m, Hart 㾻m, Keane 㿅m, Tielemans 㿀m,and Klaassen 㿀m and only spent 𧵓m. Clearly that would be better than what we already have now.
The above would add 2 title winners, 5 proven Premier League players, and a lot more creativity than we currently have (I'm not saying all the above is everyone's preferred choices but it would add a lot and at the prices it allows us to get in like minded players).
Let's move out the players who don't want to sign and bring in new blood to freshen it up. Davies, Gana and Schneiderlin have already shown the type of hunger the right type of player can bring to the club.
Back to Ross – he's a Boyhood Blue being offered around 㿅m basic for 5 years... if that's not good enough for him, then fuck him off.
Jim Harrison
76
Posted 13/05/2017 at 02:42:41
Anthony, good point. £150 million, plus whatever​ Moshiri is willing to put in. We could assemble a very good squad for that.
Anton Walsh
77
Posted 13/05/2017 at 06:43:40
This with Ross is more to do with his life outside football. A fresh start. Gerrard at the Darkside had the same issues at one time when he nearly went to Chelsea.
Besides, I believe Koeman has weighed up better and less overrated players and would be happy to cash in.
Philip Yensen
78
Posted 13/05/2017 at 08:04:49
Barkley's very first negotiation on his contract, barring the obvious, money, should have been signed. At the time we lost Rooney, we had no money and Manchester United were in full flow – perfect reasons to leave us. That was ambition and Rooney knew United wanted him.
Barkley... who wants him? We are going forward with sights set high; obviously, he doesn't want to be part of this. Sell him before he starts to rot the rest of the squad.
I'd give that so called "Number 10" role to Tom Davies. He has more skill and a set of bollocks, never pulls out of a challenge. I wouldn't give Barkley another day; get rid.
Alan J Thompson
79
Posted 13/05/2017 at 10:55:50
This should have been handled better and is perhaps a reflection of the Board. If, in this case as it has been reported, it comes down to a choice between the manager and the player, I'll take the player.
Tony Hogan
80
Posted 13/05/2017 at 12:08:12
Alan @ 79, I couldn't agree more.
Pete Edwards
81
Posted 13/05/2017 at 12:23:24
Stan, it's very simple. Koeman is answering questions that are directed at him. He's answering honestly and isn't airing any details in public quite simply stating he needs to sign or we will sell. The club needs to know who and what positions to target in the transfer window ASAP.
I struggle to see how this is making Koeman look silly or whatever you called him!
Stan Schofield
82
Posted 13/05/2017 at 14:01:39
Pete, there's always more than one way to deal with questions from the media. Koeman does not need to say that Barkley will be sold unless he signs. In fact, Koeman is incorrect in saying it, because Barkley being sold is only one of a number of possibilities arising from him not signing at the present time.
Koeman makes it look like an ultimatum to Barkley, which it cannot be, since if Barkley doesn't sign then Barkley has a say in whether he's sold or not. What Koeman has said is not consistent with these contractual facts, and in this sense Koeman looks very stupid. At least to me he does.
He doesn't seem to be the sharpest tool in the box, and needs advice on dealing with the media. I'll be happy to provide it for 1% of his salary.
Dermot Byrne
83
Posted 13/05/2017 at 14:23:46
Nonsense, Stan. Koeman is making him look unattractive to others and not a loyal player. This will make him a player others don't want and tell him, and his agent, who is boss when he stays. And that means sign and fight for your place... and THINK!
Stan Schofield
84
Posted 13/05/2017 at 14:42:01
Dermot, you're interpreting facts there. What you say may or may not be true. All I'm doing is looking at the facts from a contractual perspective with the information we have available, and then the only opinion I'm giving based on that is that Koeman looks stupid to me.
I wouldn't even bother expressing that opinion if Koeman hadn't displayed crass public relations on other occasions, with remarks about Niasse (cringeworthy), his remarks that Lukaku would need to leave Everton to fulfil his potential (great image for our so-called 'project'), and constant public assessments of Barkley.
I've supported Koeman from the start, but have learned that he could perform a lot better when he opens his mouth in public.
Dermot Byrne
85
Posted 13/05/2017 at 15:04:26
Ah shit, Stan. We all just pay these fuckers and know sod all! No great argument from me as I know as little as you, the rest of TW and, like many, just cannot quite let it all go!
Dan Egerton
89
Posted 13/05/2017 at 15:26:07
Youri Tielemans looks to be going to FC Monaco.
Paul Tran
90
Posted 13/05/2017 at 15:42:34
Stan's dead right here. Koeman is neither the sharpest, nor the most articulate tool in the box. This has all the hallmarks of someone acting the big man, when contractual arrangements are against him.
The sharper man would keep quiet and put the pressure on the player in private. I suspect that hasn't worked and Koeman's blinked first and started mouthing off.
Regardless, I'm hoping we buy better midfielders in the summer. If Barkley chooses to stay, I can only see him improving by learning from better players.
Too many people are describing the Ross they want to see, rather than the one we actually see. I'm tired of the excuses and the increasing list if managers who 'don't get him'.
Ross Edwards
91
Posted 13/05/2017 at 15:53:28
Koeman is willing to go public, offering Ross ultimatums, because I reckon he doesn't rate him that highly and thinks he's easily replaceable.
He's keeping quiet about Rom on the other hand because he knows that it'll be almost impossible without Champions League football to attract an improvement.
Paul Holmes
92
Posted 13/05/2017 at 15:54:10
Ronald Koeman is a sharp and very intelligent man! He is playing a blinder with the Ross Barkley contract. Koeman is getting it out there via the mainstream media that, on 22 May, all clubs can bid to buy Ross Barkley, and judging by his performances for Everton this season, he may still be here by default!
He has got ability but would he walk in to any of the top six teams? No.
If Spurs can waste £30 million on Sissoko, they may buy Barkley as a bench warmer.
Dan Egerton
93
Posted 13/05/2017 at 16:08:51
EFC have been waiting over a year for Barkley to make up his mind: sign or be sold. It's come down to an ultimatum situation due to Barkley mucking us about.
To rebuild a club you need certainty, who is going, who wants to stay. Koeman's reading of the situation is spot on. He's saying it public like to force Barkley and his scummy agent to put up or shut up. I agree with this ultimatum.
Dan Egerton
94
Posted 13/05/2017 at 16:10:40
Paul Tran, I suspect EFC has done the smart thing for over year and put pressure privately on Barkley to sign. That failed. Time for drastic action.
I'd rather sell him now for £20-30 million than see him twaddle about our midfield, stinking up the joint, and let him walk on a Bosman 13 months from now.
Bill Gall
95
Posted 13/05/2017 at 16:20:01
The players that some supporters say they would like to see at Everton next season are missing what may happen – and that is some of these players may not want to leave their present clubs.
It looks that Swansea will stay up so we may not get Sigurdsson as he seems to prefer Swansea. Other players mentioned will also attract bids from other clubs so it will depend who wants them the most.
The only thing we have to offer at the moment is games in Europe, the promise of a new stadium in 3-4 years and a finishing position of the best outside the top six. It will be interesting in the transfer window as the management team instead of talking, will have to put their words into positive action to show the supporters what their ambitions on the field are.
As far as Koeman's comments about Barkley and his future, how often have we as supporters complained about the lack of information coming from the management team about the players and the club? To me, he is just giving a truthful answer to a question he was asked. He is the only one who is aware of who he wants at the club and who he doesn't; so why not let the supporters be aware if a player wants to play for Everton next season or he wants to move on?
Barkley has had months to decide what he wants to do, so why leave it until the last week of the season? You can't build up the team in the transfer season with a "Will he or a will he not sign" player.
Colin Glassar
96
Posted 13/05/2017 at 18:27:43
Reidy has now chipped in with his tuppence worth. It doesn't make for nice reading.
Dermot Byrne
97
Posted 13/05/2017 at 19:02:58
I so agree with Peter Reid. In a nutshell.

John G Davies
98
Posted 13/05/2017 at 19:20:33
Not the sharpest tool in the box.
Ratcliffe, Reid, Ball numerous ex international footballers are all in the same box.

Stan Schofield
99
Posted 13/05/2017 at 19:25:41
It's all so bloody soap opera and public chit chat. Why can't business be done discreetly, in-house, instead of this shambles we're now seeing from Everton? No wonder shite like The Sun sells so many copies, people are hungry for gossip and rumour.
Every man and his dog will be chipping in giving opinions on Barkley, whilst he himself appears to have said little or nothing publicly. I originally thought that Koeman would be like Catterick, discreet and professional, but I'm clearly mistaken.
Pete Edwards
101
Posted 13/05/2017 at 20:04:21
Stan, Koeman has been in the media spotlight for most of his adult life, I'll take how he handles it everyday over how you think he should!
Sign or be sold – that's the message Barkley will be sold if he doesn't sign; his contract won't say anything to the contary so I'm not sure why you raise contractual facts in to it!

Stan Schofield
102
Posted 13/05/2017 at 20:16:01
Pete, and here's me thinking that a contract is a mutual agreement reached by both parties in private, to be signed by each party if and only if each party agrees. And here's me thinking that Barkley will be sold if and only if Barkley agrees to it. My mistake.
Tony McNulty
103
Posted 13/05/2017 at 20:16:10
Sounds like Reidy has had enough.
There as been so much smoke around Lukaku and Barkley over the last few weeks that there has to be a huge fire behind these rumours.
It appears they have both had offers. If they are going to leave then the sooner the better.
We need to spend the money on decent replacements asap. Let's avoid around jerking around at five minutes to midnight on transfer day.
Brian Williams
104
Posted 13/05/2017 at 20:17:33
I agree with Stan to a certain extent. In private he says to Ross, "You have until next week to sign because we're obviously not going to let you run down your contract, so you'll be transfer listed."
In public, he says "A contract offer is on the table for Ross Barkley, when we have further news, we'll let you know."
No lies told; no embarrassment caused.
Trevor Peers
105
Posted 13/05/2017 at 20:18:37
Barkley has said nothing in public, but obviously has an enormous amount to say in private. He must think he's good enough to play at the very top, let him prove it. He's holding the club to ransom.
No wonder Koeman has lost his patience, Ross has been made a perfectly good offer but refuses to sign, for whatever reason, it's totally irrelevant to most of the fans.
When a legend like Peter Reid comes out and says Ross is average, you have to respect that, and 𧴜k a week for a squad player is a bit ridiculous. Hopefully this saga is brought to a swift end as soon as the season ends, and we recruit real quality.
Stan Schofield
106
Posted 13/05/2017 at 20:36:08
Trevor, you can respect who you wish, but as a paying supporter I'll make my own mind up as to Barkley's quality. If Peter Reid paid my season ticket money, I might (only might) give his opinion a higher weighting. But he doesn't, I pay it all by myself. But that's a separate matter from the issue of Koeman spurting out in public stuff that should be kept private.
Trevor Peers
107
Posted 13/05/2017 at 20:49:12
Stan, football is in the public domain, and therefore always open to intense scrutiny.
You can't turn the clock back; this is the world of social media, like it or not – transfers and transfer speculation will be raked over from every angle. We can never go back to deals behind closed doors.
Dave Abrahams
108
Posted 13/05/2017 at 20:55:49
Colin (#96) – what has Peter Reid said about Barkley and his stance with Everton?
Stan Schofield
109
Posted 13/05/2017 at 20:58:10
Trevor, most of Everton's day-to-day business dealings are surely not open to public scrutiny, social media or other. Contracts need not be discussed publicly, save when they are agreed and signed, and the club announces them officially.
What is happening here is outside of normal contract discussions, including in football. What Koeman said was technically incorrect, for the reasons I've pointed to, and should not have been said as they were said. It's simply a case of proper professional communication, not a subject of media (broadcast or social) shite mongering.
Andy Crooks
110
Posted 13/05/2017 at 21:00:38
Jim Hardin (#54), I like the the alternative views you throw in; however, I think that post is unfair, and very dismissive of one of our better players.
Colin Glassar
111
Posted 13/05/2017 at 21:02:25
Dave, he said Ross is average at best. Disappears in the big games and that Everton should cash in and get rid. Didn't pull any punches did Reidy.
Kieran Kinsella
112
Posted 13/05/2017 at 21:06:38
Osman says Barkley hasn't progressed since he was 18. Ratcliffe says he won't get a bigger gig than Everton and maybe wants assurances about a starting spot before agreeing to stay.
Dave Lynch
113
Posted 13/05/2017 at 21:07:38
Seriously.
It wouldn't surprise me one bit to see him in a RedShite shirt next season.
He's that fucking thick! I never thought I would see Steve McMahon in one all those years ago and it happened... then there is the Barmby situation.
Stan Schofield
114
Posted 13/05/2017 at 21:13:21
Dave, on the basis of being fucking thick, maybe our Ron will be managing the Red Shite soon.
Trevor Peers
115
Posted 13/05/2017 at 21:13:37
Transfers, Stan not day-to-day business, and I doubt if anyone cares if Koeman says something technically incorrect.
Stan Schofield
116
Posted 13/05/2017 at 21:15:13
Trevor, that of course depends on what it was he said. In this case, it does matter.
Andrew Clare
117
Posted 13/05/2017 at 21:18:16
If there is another club involved surely we would have heard something by now. I can't believe no-one knows what is happening with Barkley.
Philip Yensen
118
Posted 14/05/2017 at 08:02:34
A little bit of stick for Koeman, I see. It's a hard fact if a player is not ready to sign a new contract, with only 12 months left, the manager has the right to think of the club and the money gained or lost.
Unfortunately, Ross believes his hype; one word – "Jeffers". Get off Koeman's back, it's refreshing to hear a manager being honest.
So, Mr Barkley... sign or, in modern parlance, sir "Do one!"
Dan Egerton
119
Posted 14/05/2017 at 08:09:32
This is an Everton player.
http://www.belfastlive.co.uk/news/belfast-news/watch-west-belfast-boys-delight-13029966
Republic of Ireland and Everton right-back Seamus Coleman was instrumental in making Daire's dream come true when he donated £5,000 to the cause after reading about Daire's story on Belfast Live.
On Friday, Daire travelled to Finch Farm, Everton's training ground to meet Seamus and his other footballing heroes before he led the players onto the pitch at Goodison Park on Friday night for their game against Watford.
After the kind donation from Coleman last year, Daire's mum Colette told Belfast Live she broke down in tears when she got the news.
She said: "I'm honestly lost for words, we are just a normal family from Belfast and to have someone so famous to donate and help Daire, it's just unbelievable.
"I just started crying when I heard the news.
"I just can't describe it, I'm so emotional because you get caught up in that hospital bubble and you do think there's nothing else, but this has shown us that there are decent people and somebody as big as Seamus Coleman to do that for us, it's incredible, we're just a wee family from Belfast."
Dermot Byrne
120
Posted 14/05/2017 at 08:39:06
Dan... after all the Ross and Lukaku agent/contract crap, this is such a tonic and more important than most of the soap opera we call Premier League football.
Steve Woods
121
Posted 14/05/2017 at 08:45:09
Well done, Seamus – you are everything an Everton player should be, you make us feel so proud of you and the club. Your generosity in all senses of the word have made for a day this young lad and his family will remember for ever.
Pete Edwards
122
Posted 14/05/2017 at 08:51:15
Mistake noted, Stan.
Christine Foster
123
Posted 14/05/2017 at 09:05:52
Sorry, with Stan on this one. After years, years! Of hearing Elstone and Co state publically that ALL discussions regarding the clubs business are subject to rigourous commercial sensitivity, we know have the player's manager stating commercial realities by issuing ultimatums on the details of a player's contract.
The hypocrisy underlying this is staggering, it's amateur night and Koeman has to be acting with the blessing of the board.
Commercial reality is that, for no other reason than money, Barkley is being threatened to extend into a new contract that still has over a year to run. What's the point of a term contract?
We have no idea of the stumbling block, be it money, manager or playing staff... but Barkley is entitled to have those concerns addressed or answered in commercial confidence and not be the subject of the mud-slinging media with which some posters align.
I don't care if the lad is world class or crap – that's opinion, but the club and manager are dragging his name through the mud by allowing this to continue. He is being made the subject of ridicule and derision and must feel his loyalties are misplaced.
Phil Walling
124
Posted 14/05/2017 at 09:35:58
Christine, It's actually the manager who has made himself 'the subject of ridicule' – so amateur in his PR that you'd think he was new to the job rather than a hardened pro!
Stan Schofield
125
Posted 14/05/2017 at 10:09:29
For the first time in my 56 years of being an Evertonian, I feel embarrassed by the shameful public airing of what should be a commercially sensitive (to use Christine's term) and confidential matter.
If this is what the new era of Everton entails, Everton being actively embroiled in the dirty business of media manipulation that invites speculation by the mob, then I've no intention of contributing my money any further to the cause of Everton.
Chris Williams
126
Posted 14/05/2017 at 10:20:42
Sadly, the world is a hard crass ever more insensitive place and the concept of doing the right thing in the right way has been long since jettisoned.
This is not just in life in general but most particularly in the world of Sky era Premier League and rabid tabloid coverage where pretty much anything goes.
I find it sad that this is the case and I'm not cynical enough (yet) to just accept it, but I don't think, with the greatest respect, that this is a reason not to go to watch Everton any more, Stan, if that is what you are meaning.
Martin Nicholls
127
Posted 14/05/2017 at 10:35:18
Stan (#125) – don't let the bastards grind you down!
Kevin Tully
128
Posted 14/05/2017 at 10:39:51
I think a lot of people are making a lot of assumptions. To listen to some, you would think Ross was being locked in a room with Koeman and a couple of heavies waterboarding him until he signs on the dotted line.
A. Barkley may want to leave no matter what and has an offer on the table. If so, why hasn't his agent told the club?
B. His agent is just holding out for a better deal, and has told Barkley not to sign until he reaches the magic number.
I can't really think of another scenario, so in both cases, I don't see how this is 'bullying' – however way you want to spin it? It's out in the public domain there is a contract offer. Poor, multi-millionaire agents and player, eh?
People lose their shit over anything & everything these days. This doesn't come close to twanging my heart-strings, sorry. Stan above wants to pack it all in – dear me.
Eddie Dunn
129
Posted 14/05/2017 at 10:40:50
Trevor Peers:
"Barkley has said nothing in public, but obviously has an enormous amount to say in private. He must think he's good enough to play at the very top; let him prove it. He's holding the club to ransom.
No wonder Koeman has lost his patience, Ross has been made a perfectly good offer but refuses to sign, for whatever reason, it's totally irrelevant to most of the fans."
1.How do you know how much Barkley has said in private?
2. Do you know the offer is perfectly good?
Whatever one thinks of the abilities of Barkley, he has kept his gob shut in public. We have no idea of what is in the new offer.
There could be stumbling blocks over the pay, over add-ons, or over the amount to trigger transfers to another club. We simply have no idea.
If his advisers tell him not to sign because he is worth as much as Schneiderlin, or the club has a buy-out clause set at 㿨 million, then is he supposed to listen to them, or to some disgruntled fans on ToffeeWeb?
I personally have little time for agents, and detest the staggering amounts of money being "earned" by these people, but in this world it is the norm. However, unlike Lukaku, Barkley hasn't spent the last two years talking about Champions League or unlike Ronald, hasn't spouted on about how famous he is, being spotted in Seville, and how Barca is obviously always going to be linked with him.
Also, Ross doesn't talk about 'the project' – he is an Evertonian.
Straight-talking Ronald will be off on his next project as soon as the Champions League Big Boy comes calling, mark my words... and I am one of those who has been backing him all season.
Stan Schofield
130
Posted 14/05/2017 at 10:44:08
Chris & Martin, I'm honestly not letting the bastards grind me down, I'm old enough not to let that happen, but thanks for the sentiment.
At the end of the day, we as individuals can control what we do. For example, I've never bought The Sun – I didn't need Hillsborough or Levenson to know how much shite is produced by snake-oil salesmen in the guise of journalists.
In the same vein, I can spot management bullshit when I see it, and how folks can be so easily manipulated. Manipulated by so-called 'pundits', even ones who once wore royal blue jerseys. Manipulated to the point of calling Everton players disloyal, or gobshites.
I can't not feel support for Everton – it's in my blood, whether I like it or not. But I can choose not to contribute my time and money; I've got better things to do.
Gareth Clark
131
Posted 14/05/2017 at 10:44:57
Got to love Koeman's honesty!
Chris Williams
132
Posted 14/05/2017 at 10:47:08
Fair enough, Stan.
We all have our sticking points, and if this is yours then stick to your principles and ideals.
Mike Doyle
133
Posted 14/05/2017 at 11:00:47
Going slightly off target, there was no "From my seat" report from the Watford game...
Is Ken Buckley not signing a contract extension? Or has he been given an ultimatum by the TW editors???
Stan Schofield
134
Posted 14/05/2017 at 11:17:18
Kevin @128: "Wants to pack it all in" is a bit strong.
It's not possible to 'choose' not to maintain interest in Everton, but it is possible to choose to refocus time and money. That's all it is.
The media stuff is going just a bit too far for my tastes, and it's more a case of "can't be arsed" making an effort. I'll probably morph into a part-time Evertonian.
Revel in the good bits when they happen, and ignore the bad bits, especially the media shite. I'd already started by turning the sound off on MotD so I don't have to listen to drivel.
James Hughes
135
Posted 14/05/2017 at 11:22:52
Mike, now that is a worrying development and needs to be resolved quickly.
Lyndon, get your people to talk to his people, asap.
Tony McNulty
136
Posted 14/05/2017 at 11:28:29
I hear Raiola would never have let Ken agree his deal in the first place.
Chris Williams
137
Posted 14/05/2017 at 11:33:45
I have it on good authority that Ken is in fact Ross Barkley and is now focusing totally on a new seat at White Hart Lane.
Stan Schofield
138
Posted 14/05/2017 at 11:35:17
ToffeeWeb is a mere stepping stone for Ken, before his dream ticket on Barcaweb.
Brian Harrison
139
Posted 14/05/2017 at 11:35:25
Stan, like you, I have been going to Goodison for well over 50 years, and there have been many occasions when I have not agreed with what the club has done.
Two that readily spring to mind is the selling of Bobby Collins who, the season after we sold him, was voted PFA Player of the Year. But probably even worse was the selling of Alan Ball to Arsenal. Both done by the man you thought Koeman would be like – Harry Catterick.
Also, you mention managers not talking to the press and again you cite Catterick as the paragon of virtue on this subject. Well, I guess you might not've read the story by the Echo sports reporter, I think it was Chris Yates. He got a call from Catterick asking him to go to Bellfield right away as he had a transfer coup for him.
This was unheard of so Yates goes to Bellfield were Catterick says the coup is not about Everton but about Liverpool. Catterick told the reporter Liverpool had signed Howard Kendall from Preston, which was untrue: he had already signed for Everton... but Catterick wanted to get one over on Shankly. So they all use the press from time to time to pedal their own stories.

Jim Harrison
140
Posted 14/05/2017 at 11:40:31
Stan, I think you might be blowing this way out of proportion, exactly as the media coverage intends.
Everybody knows Ross has been offered a contract. Everybody knows he hasn't signed it. Koeman states the obvious. As opposed to being an article in the gossip column, it's in the news section.
I very much doubt anyone not associated with Everton could care less.
Stan Schofield
141
Posted 14/05/2017 at 11:47:51
Brian, yes, you're right, and I didn't intend to mean that Catterick was a paragon. Certainly not after Ball was sold, the worst moment ever.
It would be naieve to think that managers aren't political with egos, Catterick perhaps no exception. But I don't recall him dealing with confidential matters via public discussion leading to mudslinging against players. I'd rather all the political and business machinations be kept in-house, without giving us supporters repeated bum steers on matters we know little about.
Stan Schofield
142
Posted 14/05/2017 at 11:53:26
Jim, I had thought of that. But I don't think I am. I'm quite surprised by some of the stuff Koeman has come out with, starting with his comments about Niasse.
Maybe Koeman is being very clever, but if so it escapes me how. A lot of his utterances seem clearly unnecessary and unproductive. It's a bit of a media circus that looks naff.
Brian Harrison
143
Posted 14/05/2017 at 12:03:35
Stan, I absolutely agree; I wish it could all be kept in-house like it used to be, but alas with the advent of agents this seems less and less likely. Now I know that neither Barkley or his agent have said anything in public, but I can't believe that there haven't been discussions over the last few weeks between Everton and Barkley's agent. But any club must know the intentions of players now they are allowed to run down contracts and walk away a free agent.
Koeman has to plan with or without Barkley for next season and financially the club will look to get money for him than walk away for nothing in 12 months. To be fair to Koeman, all he has been asked by journalists in his last 10/12 press conferences is what is happening to Lukaku and Barkley. And to be fair, he said that it's very much up to the player himself, but he said that Lukaku is slightly different because he still has 2 years left where Ross, in 6 months time, can speak to clubs and that can't be ideal.
Also, if he doesn't sign and we don't get the money we want, what terrible predicament that will be. Although I think, if that happened, Barkley would be under more pressure than the manager. Also, should he be in the squad if he runs down his contract? So, in the interests of all, a decision must be made quickly.
My final word on this is: Stan, you love Everton, so don't stop going the game. As I said earlier, there are many things I haven't agreed with the club. But our love for our club is the most important; players, managers and owners come and go but fans are here till death.
Kevin Tully
144
Posted 14/05/2017 at 12:06:30
Stan, I could point out an extremely long list of shenanigans that could be expected to make anyone lose interest in Everton, or football itself. I just don't see this is anything out of the 'norm' of the industry, especially when it boils down to finances.
How do people know Lukaku's agent hasn't been up front for the past 6 months and has agreed a deal for a move which both parties are satisfied, therefore there is no mention of a contract offer?
And how do people know Barkley's agent isn't a total prick who has reneged on a deal to make Barkley one of the highest paid players at the club and is demanding even more?
So before everyone jumps down the throat of the manager and club, I suggest they wait until they have all the facts.
Eddie Dunn
145
Posted 14/05/2017 at 12:30:50
Kevin. Precisely! Until we are privvy to what's been on the table, then it is all conjecture on our part.

Gordon Crawford
146
Posted 14/05/2017 at 12:34:51
"I think he will go," Merson said on Sky Sports. "I don't think he thinks the manager has as much faith in him as he probably hoped.
"If the manager loved him that much he would be all over him, saying 'please sign this and that'. I just don't think he gets given that confidence and belief off the manager." – Paul Merson.
I totally agree with this statement. In my opinion, Ross is torn between wanting to stay, because he is an Evertonian, and wanting to go, because of Ronald's treatment of him.
Colin Glassar
147
Posted 14/05/2017 at 12:37:31
Ditto Gordon
Chris Williams
148
Posted 14/05/2017 at 13:07:58
Merson is a know-nothing tosser who finds it hard to string 2 words together. He has been known to be wrong before I believe.
Who cares about his opinions?
Dave Abrahams
149
Posted 14/05/2017 at 13:19:46
It seems that Ross and his agent do not want to sign the new contract which has been on offer for a few weeks. Maybe they intend to run the contract down and walk away at the end of next season, much better off financially; fair enough, they are entitled to do that.
Everton have a player valued at upwards of 㿀M; they are trying to protect that value and stop Ross from doing a Stevie McManaman and walking out without Everton getting anything; they are also entitled to do that.
Let's see what happens.
Stan, I understand your frustration at these transfer transactions, it's only a spur-of-the-moment thing you are feeling. There are loads of things that Everton have done that have upset me, the worst being when Gary Speed was shat upon by the club and sold. Gary was big enough to say nothing about the affair even when he was booed every time he came back to Goodison as a player; I'll never forget that.
Geoff Williams
150
Posted 14/05/2017 at 13:49:52
No one on this site knows what has gone on in Barkley's contract negotiations but there seems to be quite a few barrack room lawyers here putting all the blame on Barkley.
Barkley is a good player but probably won't be the great player we had all hoped for. If he wants to be a better player, then he probably needs to move on to a club where his talents will be appreciated.
Stan Schofield
151
Posted 14/05/2017 at 14:11:30
Kevin @144: I agree with you 100% that full facts are needed. This is really my point as well, and why it is so inappropriate for folks to say that Barkley is disloyal. It could have been avoided with a bit of skill in diplomacy, which is in my opinion the real essence of negotiation.
Jim Harrison
152
Posted 14/05/2017 at 14:46:19
Geoff (#150), your first statement sums it up for me. No-one knows anything beyond what Koeman has said to the press, which equates to player offered contract, player yet to sign. No details of the offer, no details as to why the contract has not been signed, or if there have been further discussions or even disagreements.
Stan, this is why I think it's all a bit over the top, because for me it's all much ado about nothing. If Ross signs, it's all been a fuss for no reason. If he doesn't, then Koeman is proved right in so much that, if Ross didn't intend to sign, why not just say?
I don't think it's about loyalty, from either side. But also I don't think we can say that the negotiations have been poorly conducted as we don't know what has happened behind closed doors. All we know is that a contract has been offered and as of yet it has not been accepted. Until the real story emerges, we should all refrain from accusing either party of poor conduct beyond what we know about.
John Daley
153
Posted 14/05/2017 at 15:03:47
"...before everyone jumps down the throat of the manager and club, I suggest they wait until they have all the facts"
Should the same stipulation about 'knowing all the facts' prior to responding not then apply to a self-confessed 'out of the loop' manager who has repeatedly maintained he actively distances himself from contract negotiations between player and club, has said he has no knowledge whatsoever of what stage talks are at between the two parties, of the terms of any proposed deal (other than guessing that it's 'probably decent') or the player's actual intentions, other than him relaying, in a supposedly private conversation, an ambition to play in the Champions League some day? 
After all, this is the guy who a few short months ago was pontificating that the most important thing in football is to "respect your contract" and, as long as you do that, then fingers cannot be pointed, yet now he's coming over all convenience store Vito Corleone when faced with the very prospect of a player (maybe) doing just that. The mark of a complete pro suddenly mutated into a cardinal sin in a couple of months?
"Michael, to honour your contract is the most important thing in football, but if you get too close to honouring it in full then I'm afraid the fucking gloves have to come off. Tell Luca Brazi to follow Barkley home and ring his doorbell before running away and... err... maybe yell 'fanny'... really loud... if he can find a bush close enough to take cover behind".
Something about that stance doesn't sit right with me, especially if you rewind 12 months to see what lyrics the guy currently giving it "Don't leave me hanging on like a yo-yo" was laying down back then, when the speculation was building over his own future and his readiness to sign a new deal:
"I don't see the need to take a decision at the moment. My contract runs on for another year anyway."
It's not just the needless, heavy-handed attempts at applying public pressure on one particular player, but also the sheer hypocrisy of Koeman's stance that sticks in the craw.
John G Davies
154
Posted 14/05/2017 at 15:09:09
Should the same stipulation about 'knowing all the facts' prior to responding not then apply to a self-confessed 'out of the loop' manager who has repeatedly maintained he actively distances himself from contract negotiations between player and club, has said he has no knowledge whatsoever of what stage talks are at between the two parties, of the terms of any proposed deal (other than guessing that it's 'probably decent') or the players.
Not doubting you, John. Where did you see them statements?
Jim Harrison
155
Posted 14/05/2017 at 15:20:56
John, I think you missed "Player or agent" from the opening statement.
Kevin Tully
156
Posted 14/05/2017 at 15:26:54
John D – when there are 㾶s of millions at stake in any walk of life, I'm sure you realise any morality soon takes a back seat. If anyone is looking for a principled stance in football, I suggest they look to another sport.
Players know they can be sold at any moment; managers know they can be sacked. That leads to each party looking after their own interests before anything else – I've no problem with that, short career for many of these lads.
Is Koeman a hypocrite? Absolutely. But Barkley & his representatives may also be acting the twat.

Stan Schofield
157
Posted 14/05/2017 at 15:31:04
Brian @143: You're right.
Oliver Molloy
158
Posted 14/05/2017 at 15:42:47
Gordon Crawford.
What treatment from Koeman are you referring to?

Colin Glassar
159
Posted 14/05/2017 at 15:42:57
Glad that Sam Byrom chose West Ham over us. He really is very average.
Stan Schofield
160
Posted 14/05/2017 at 15:54:57
Kevin, given that, as you say, we really need all the facts before reaching conclusions or giving opinions, if folks just remained silent on the issue there'd be no problem as far as I'm concerned.
But folks haven't done that, instead mudslinging against Barkley has ensued. That's what's wrong with this, the inevitable mudslinging, which surely any experienced professional (which Koeman is supposed to be) knows is likely to happen when the wrong messages rather than the full facts are being relayed.
Now, you've just admitted, following John's argument based on facts, that Koeman is a hypocrite. But then you go on to say that Barkley and his representatives may be acting the twat. Not they are acting the twat, based on the facts, but that they may be. Trouble is, we know that they may or may not be acting the twat, that's just logic, the two logical possibilities. But there's no evidence that they are acting the twat, is there?
We should either not form any opinions, or restrict our opinions to the known facts. What we shouldn't do is form opinions on what might be the facts. So, as far as I can see, your statement that Barkley and his representatives may also be acting the twat cannot possibly add anything to a debate where opinions are formed from known facts.
Paul Tran
161
Posted 14/05/2017 at 15:57:42
Might be better if people stop taking the moral high ground talking about hypocrites and mercenaries.
As Koeman says, "Dat ish voetbal".
Players and managers join us for a step up in wages/opportunity. If they do well, they get the chance of another step up. While they're here, they do their best to get the best deal.
We need to position ourselves as the club that's going places where you can get a game right now. If these players work out, we'll progress, hopefully quickly enough before they get their next move.
Koeman appears an ambitious, aggressive, inarticulate man who is impatient to do business as soon as possible. Good. That's what we need.
Kevin Tully
162
Posted 14/05/2017 at 16:03:13
Stan – I often cringe when I hear people say "Why should we feel sorry for millionaire footballers." Especially when it comes to issues such as mental health.
But in the case of agents, players & managers and contract negotiations, it is applicable. I just don't get all this hand wringing on this issue. I'm sure they'll all be able to sleep very soundly tonight, no matter what the outcome is.
Paul T – exactly.
John Daley
163
Posted 14/05/2017 at 16:08:51
"
But Barkley & his representatives may also be acting the twat"
Yet, they may not be (as you say, we don't know the facts).
If they are, then they're at least doing so in private. So, at worst it's twattery concealed beneath a publicly professional veneer. Which is preferable to, and less damaging than, repeatedly acting the twat in public. 
Surely, the prudent thing to do in such a situation, especially when high sums are at stake, would be to continue to work at it behind the scenes and keep your cards close to your chest in public, rather than vainly posturing and puffing it out at every opportunity. 
Beyond not signing a new deal, that six weeks ago we were being told (by the manager) wouldn't even be on the table until this summer, what indicator is there of twattishness on the players part? 
My point was a simple one, Kev. You said people should wait for the full facts to emerge before commenting on the situation.  Yet, a manager who has openly and repeatedly admitted to not being armed with such facts when it comes to contract talks between the club and player (and who, again by his own admission, actually wants it that way), is firing off potentially needless and premature ultimatums about what will happen if said player doesn't sign a contract he supposedly knows jack shit about. 
Koeman is the one who should be following your advice Kev, because a simple "no comment" or "we'll find out soon" would have easily sufficed until the summer. Instead his sloppy stirring of the shit pot has only served to escalate the situation and paint (perhaps unfairly) an Everton player, who has never uttered a word out of turn during his time at the club, as a probable 'contract rebel' in the eyes of many, instead of just one in the midst of normal negotiations.

Stan Schofield
164
Posted 14/05/2017 at 16:11:05
Kevin, again, I'm 100% with you there. I'm sure Barkley won't lose any sleep. And it's no skin off my nose if he gets unjustly called disloyal.
But at the same time, it looks shite when fellow blues start calling Barkley disloyal when really there's no apparent basis for it. It's not the end of the world to be sure, but sometimes this kind of nonsense can make you not be arsed. It looks wrong, and it's very tedious.
Surely there's enough scope for opinion based just on what we see on the pitch, without all the other shite.
Dermot Byrne
165
Posted 14/05/2017 at 16:18:34
With you, Kevin Tully.
Paul Holmes
166
Posted 14/05/2017 at 16:34:31
Just watched Courtinho score and get man of the match against West Ham.
Barkley is not in the same class as him as a playmaker; if we want to compete with these teams in the future, we need to sell Ross Barkley.
Darryl Ritchie
167
Posted 14/05/2017 at 16:38:57
It's about money. It's always about the money.
Barkley is following his agent's lead. Koeman is the spokesman for the club's position. At this point, it's a contest to see who blinks first. The colour of the shirt is irrelevant.
Brian Williams
168
Posted 14/05/2017 at 16:42:29
John (#163).
All good points you make.
One thing though. There's no "midst of normal negotiations."
It's been stated several times, including by Koeman, that the club have offered what they believe is a good deal and that's the only deal on the table. Small point I know but it IS a case of this deal or "no deal."
I'm not gonna speculate on the ins and outs of that but it's what's been said.

Mike Gwyer
169
Posted 14/05/2017 at 16:44:04
Well said, Kevin Tully.
We, as in Everton Football Club, pamper to these players left, right and fucking centre. We pay them millions and in return we are hopeful that they (a) turn up, (b) play with some passion and finally, (c) play to a level that we believe they are capable of.
No-one on here knows the facts, regarding Ross, but we are also not blind to how Ross plays on the pitch; additionally, we are also very much aware of local rumour and who is trying to fuck who off.
Koeman knows far more than all of us TW posters put together so, for me, he either wants the boy out of Everton or he wants him to sign his contract.
Now, from what I'm hearing and what I'm seeing, Koeman wants the boy gone. He probably thinks there are better options for the number 10 shirt and he feels that the sale of Ross will pay for the incoming transfer fee.
At the end of day, it is all about winning and silverware; and we've won fuck-all squared since 1995. We have been unlucky and we've had players pick up serious injuries, but then again we have also played some total shite football and been extremely lucky taking points from many a game.
Ross has played a big part over the past five years and we are still no closer to winning silverware, if Koeman wants to change things then that is how it will be.
John Daley
170
Posted 14/05/2017 at 16:53:52
John @154: "Not doubting you John. Where did you see them statements?"
Apologies. Missed your post. 
They're all things Koeman himself has said within recent months:
On Barkley:
March 9:
"Talks are planned. I don't think talks have started yet"
March 16:
"I don't know if the contract is close but he is making progress [as a player] and that is good for him"
April 13:
"I'm not involved in the negotiations but I know that the board is talking to his agent. I don't know what stage negotiations are at."
"We will offer him what is good, what is normal for the player"

His approach to 'management' in general:
"I have always kept well away from negotiations and money. I don't think I should be there to discuss that. Of course, the club informs me about the salaries of the players and they also ask me if a player should get a new contract or not, but that is it. Football coaches should be doing their work on the training ground. Here in England they call a football coach in charge of a club a manager, but I want to work with the players only every day."
That last one was from earlier this season, a couple of months after he became Everton boss.
Oliver Molloy
171
Posted 14/05/2017 at 17:02:53
Barkley wants £100 grand minimum per week, the club are offering him £70 per week + £10 grand per goal, £20 grand per win bonus.
Brian Williams
172
Posted 14/05/2017 at 17:04:37
Is that right, Oliver?
Dave Lynch
173
Posted 14/05/2017 at 17:08:32
Daryl @167 has got it spot on for me.
John, so he doesn't want to get involved in contract wrangles!
Can't see anything wrong with that myself; let him manage, highlight the players he feels he needs and let the board do the filthy lucre side of things.
I personally couldn't give a "Rat's Arse" if he leaves; another player will come along and fill the void.
It's the way of the footballing world, aka Rooney... and as far back as Alan Ball, the only player that really had me upset when he left the club.
Actually I was beside myself with grief for a good while as I was only 9 years old.
John Daley
174
Posted 14/05/2017 at 17:12:35
"Small point I know but it IS a case of this deal or "no deal.""
Except you're actually missing the main bone of contention, which is the insertion of "by this (arbitrary) date" and the subsequent threat/promise to sell.
Instead, it's now a case of "this deal, by this date, or we'll make you disappear ('Jusss like that!')"
John Daley
175
Posted 14/05/2017 at 17:14:44
"John, so he doesn't want to get involved in contract wrangles!"
Not doing a very good job of staying out of it so far then, is he?
Brian Williams
176
Posted 14/05/2017 at 17:32:36
John (#174),
No, not missing the main bone of contention, which I believe is Koeman discussing it in public?
There should be no bone of contention over "this deal by this date" bearing in mind the time left on the present contract.
In fact "this deal by this date" makes for perfect common sense (bearing in mind the time left on the present contract). The club need to know so they can plan accordingly for moves.in the transfer window.
Though I fully agree with the dissatisfaction with Koeman making it public.
Brian Murray
177
Posted 14/05/2017 at 17:35:14
Re Ross's alleged replacement, Rooney once again today a yard behind Spurs proper athletes. If we even look in his direction then Koeman and Walsh should just do one and we will take our chances on Rhino or the next Pochettino somewhere.
C'mon, Ron, prove you are a top-four boss and stop hiding behind your playing capabilities. I'm half-hoping we have another embarrassing summer. it will be worth it to let Moshiri see Kenwright for what he is... because he obviously hasn't sussed his ineptitude yet.
I don't really mean that, of course; I want us up there as serious challengers... but it will never ever happen while Bill and his sidekick are still making the big calls.
Michael Kenrick
178
Posted 14/05/2017 at 17:54:48
I have to admit I'm a bit puzzled by your highly principled stance on this, Stan. You have persistently questioned Koeman's professionalism, so I thought I'd look back at some of his utterances on this thorny subject.
Perhaps the most significant is when it first surfaced, in the context of ,months and months of speculation in the tabloids about Barkley's future -- where had all that come from? Under pressure from those pesky journos, it really started back in December, when the club's position was: "We'll have talks on Barkley's contract in the New Year"
Professional, and true to their the word, there was nothing but glowing support for Barkley over the next three months... until the fateful press conference on 16 March, before the Hull game:
The manager was speaking at his press conference at USM Finch Farm today ahead of the weekend visit of Hull and was asked about Barkley's situation in the context of Romelu Lukaku's own unsigned contract.

He flatly rejected the insinuation that asking the player to commit to the club was tantamount to an ultimatum; rather, he views it as purely business.

"I think every situation is different" Koeman said. "Ross is a boy from Everton and what we need to show to him is the best reasons to stay.

"His situation is different because next season Ross is running out the last year of his contract and it's normal in the football business that you make decisions at the end of the season.

"He needs to signs a new contract. If not, you need to sell the player" Koeman concluded before stating that he did not know where the midfielder was in terms of discussions over a new deal.

Barkley would still be 24 if he left Everton as a free agent in the summer of 2018 so the club would be due a development fee set by arbitration but the compensation would pale in comparison to the transfer fee they could fetch for him this year.

"It's not an ultimatum," Koeman continued matter-of-factly. "It's normal, it's business. The player needs to understand this.

"I spoke to Ross about a new contract and, okay, it's up to the board to get that contract over the line and if not then, as a player, you see a new future for yourself. I think that's normal; it's not strange talking.

"At Southampton we had [Nathaniel] Clyne who did not sign a new contract and we sold the player. That's business. Yes, or no, it's a decision by the player and the player needs to understand that if he doesn't sign a new contract (if he has one year left), you need to make a decision for the club so the club knows what will happen next year.

"And that's normal business. That's not like an ultimatum. 'Ultimatum' is strong. I don't like that word, it's not like that."
Too my mind, the manager is being (and has always been) 100% professional in his position, stance, demeanour and logic on this matter. What I haven't tracked back to figure out is whether Barkley's reticence was already public knowledge at this point. But one story from a few days earlier in The Telegraph did have Koeman talking a little more openly than it seems you liked:
"We will do everything to keep Ross and (to get him) to sign a new contract. Talks are planned but I don't think they have started yet," said Koeman.

"I spoke to Ross about the future and like everybody he likes to win titles and play Champions League football, but he has still one more year contract, and we, at Everton, like to keep the best players and he has shown this season he is improving in different positions for the team. He is doing well.

"I spoke to the board about his situation, we like to bring and show the confidence that we have in the player to sign a new contract.

"What we can do is to show the best for him as a platform to grow and to improve as a player and the final decision is always by the player. I don't have any comments from his side that he likes to move or that will not sign a new contract, he hasn't mentioned that to me.

"He knows I want to bring him on, we show that every day. Everyone can see the team is improving and we are in a good way to be a strong side and that we can close the gap more now between the big clubs, like Tottenham did. That is exactly like what we would like to do."

Koeman was asked if Everton is the best place for Barkley to develop.

"That is true, but that can be our opinion and the player, his agent and family can have a different opinion about this. I don't know."
Yes, we can read a lot between the lines but really, nothing has changed in the last two months, has it? Now, did Koeman reveal too much in these early discourses? Especially considering the pressure of interest and speculation from the journos?
Sorry, I can't see it. Yes, you can moan as we all seem to about "the good old days" but this is 2017, and Harry Catterick is long gone.
Although I guess I would have one question: Why did he suggest that Barkley may not sign a new contract, even before talks had begun, apparently?
Michael Kenrick
179
Posted 14/05/2017 at 18:03:41
Of course, just as I click to submit that, I find a story from a month earlier that we [TW] did not carry:
By Giuseppe Labellarte, Reporter
Filed: Monday, February 13, 2017 at 13:00 UK
Last Updated: Monday, February 13, 2017 at 13:42 UK

Everton midfielder Ross Barkley has opted to delay putting pen to paper on a new contract as he considers his future at Goodison Park, according to reports.

The 23-year-old, who has played 26 games so far this campaign under new boss Ronald Koeman, will have only one year left on his current deal at the end of the season.

According to the Daily Star, Barkley is unhappy with being publicly criticised by Koeman in the press and is unsure whether he wants to continue playing under the Dutchman.

The England international is reported to be weighing up his options at the end of the season and interest from rival Premier League clubs is likely to increase in the highly-rated player.
Whatever your opinion of the paparazzi, that (to my jaundiced eye) probably came from the player's camp and not from the club... but who knows? The key fact here is that this whole business was well out in the public domain before any pronouncements from Koeman expressing his (sorry, Ron) "ultimatum".
Sorry, Stan – nothing but complete professionalism from the manager, in my book.
Peter Gorman
180
Posted 14/05/2017 at 18:08:01
Good digging about Michael. There are more than a few footballing reasons to dislike Koeman as a manager but seems pretty open and shut that he doesn't deserve the criticism for Barkley's contract.
What would be most helpful right now is Ross signing the ruddy thing.
Will Mabon
181
Posted 14/05/2017 at 18:16:33
Koeman quoted by John, 170:
"I don't know if the contract is close but he is making progress [as a player] and that is good for him".
Yet another example. Never once has Koeman comfortably acknowledged what Barkley is or has done. Same qualified "Praise" every time. He talks like Barkley's in the U18s. He has from the start. This is what we have heard - fact.
This and his repeated contract threat is deliberate sly engineering of an "Out" for Barkley, not innocent, "Refreshing" Dutch bluntness. It won't have gone unnoticed by other professional players.
I wouldn't want to play for someone with that twattish attitude that's prepared to parade it in public. So Barkley's disloyal for not signing, some have said and implied?
Not exactly the best way to attract quality players to the club, I'd say.
Tony Abrahams
182
Posted 14/05/2017 at 18:16:54
Thanks for that Michael, it explains a lot mate.
Will Mabon
183
Posted 14/05/2017 at 18:31:08
Michael, thanks for posting those...
But is public criticism part of complete professionalism? Or recommending Everton as the place for Barkley to develop, but the place for Lukaku to leave?
Oliver Molloy
184
Posted 14/05/2017 at 18:52:33
Brian,
Yes it will be down to money at the end of the day.
I thinks it's common knowledge that Barkley didn't like what the manager said about him and his performances to the press etc.
Koeman only said what lots of other football pundits (professional and amateur alike) have been saying for the last couple of seasons, all of which was true – he needed to do more and improve his all-round game.
The previous manager did the arm-round-the-shoulder to death in my opinion – the best player to come out of England since Gazza, future captain of England, and all that bollocks, and some believed it!
Ross is another player who believes he is worth whatever figure his agent plucks from the air. Because he is a homegrown lad, there are those who view Ross Barkley and his performances with rose-tinted glasse, in my opinion.
Koeman is correct; this is business. It's a two-way street, but with a slight difference; Everton FC are looking out for us (the supporters) and Ross Barkley and his people are looking out for him.
Ross, of course, can dig his heels in and sign nothing and wait; it wouldn't surprise me at all if this was the case.
Tony Hill
185
Posted 14/05/2017 at 18:56:13
But the problem is that none of this fits together and is a typical Everton soup. Who is in charge of contracts /transfers?
Koeman (when it suits him: Barkley, but not Lukaku whom he was sloppily waving off in the direction of a bigger club earlier this season); Walsh (from whom we have heard fuck all apart from some waffle at our Sky open day or whatever it was a few months ago); Kenwright (who seems to remain in charge but apparently had to ask Moshiri very recently whether we could afford to buy targets, as though this was something which was a lovely surprise – see his awards dinner speech); Elstone (see Kenwright) ?
Which of them is it, or which combination? Perhaps Professor Barrett-Baxendale has a view, why on earth should she not? And let's not forget the Russian.
Perhaps it's a finely tuned operation behind the scenes and the chaos is for public consumption only, but I don't see what's completely professional about it.
Denis Richardson
186
Posted 14/05/2017 at 19:19:04
The first of the "Will he? Won't he" dramas of the summer. Ross and Rom should be sold and we should reinvest the proceeds into new players who want to stay and play at Everton, for a reasonable wage.
End of the day it all comes down to money. Players can go on and on in the press about wanting Champions League football and trophies but these come a distant second to the first priority, which is money.
100% guaranteed the players' agent couldn't give a toss whether his client is playing Champions League football or not, as long as he's already maxed out his earnings. Only reason he would care is that Champions League football would possibly allow him to negotiate higher image rights for his client.
Ross supposedly wants 𧴜k/week, club is offering 㿲k + bonuses. Lukaku (and his agent) want a wage that we probably can't afford and if we could for him, would totally screw up the rest of our wage structure.
Easy decision for me: sell Lukaku, we can't afford his wage demands. If Koeman wanted Ross badly enough, the club would offer him the 𧴜k/week I think. However, I'm not sure Koeman actually wants Ross that badly – he'd probably prefer to buy someone else instead. A proper No 10.
Personally I'd understand Ross wanting to leave. Only live once and if we're offering 㿲k/week and another club is offering 𧴜k+, then I'd also move.
All I hope is that both these dramas are sorted out sooner than later and don't drag on till August and distract the important transactions that Walsh and Koeman need to make in a couple of months time. Don't want a repeat of the Lescott saga from a few years back which ended with the panic buy of Bilyaletdinov and us pissing about 㾻m in transfer and wages down the drain (a big amount for us 6-7 years ago).
Stan Schofield
187
Posted 14/05/2017 at 19:38:47
Michael@178&179: I wouldn't say I was being highly principled, merely expressing what seems to me proper professional practice. The fact that sectors of the football community don't work in a professional way seems to me irrelevant. We're talking here a matter of contractual discussions between an employer and an employee.
Koeman has said that unless Barkley signs the contract in front of him, he will be sold. So far as I can see, he is incorrect in saying this, for the reasons I gave earlier, that being sold is only one of a number of scenarios consistent with Barkley not signing the new contract and having a year left on the existing contract. Barkley has a say in it, so it cannot be an ultimatum to him,mal though it comes across as an ultimatum from Koeman. Koeman could have said something different, consistent with contractual conditions. The fact that he did not is a concern, and in my opinion unprofessional. Why? Firstly because it does not appear to reflect the contractual situation, and secondly because it can lead folks to conclude (some comments on TW) that Barkley is being disloyal to Everton. Again, I have mentioned all this earlier.
Now, if this were an isolated incident, I probably wouldn't be writing this post to you. But it's a further example of Koeman apparently being less than professional. His comments about Niasse were the start, followed by his comments about Lukaku needing to leave Everton, plus his constant public 'assessments' of Barkley.
Now you might not find such comments unprofessional, but I do.

John Daley
188
Posted 14/05/2017 at 20:16:05
Michael @179,

The key fact here is that this whole business was well out in the public domain before any pronouncements from Koeman expressing his (sorry, Ron) "ultimatum".
------------------
Sorry MK, I'm struggling to see what a speculative story in the Daily Star is meant to prove or how it in anyway vindicates Koeman's handling of the situation.
What was out in the open? The length of time left on Barkley's contract? That's been known since he signed his last one. That he hasn't yet signed a new one? Same as the above. Barkley 'stalling' on signing a new deal back in February, a month before Koeman publicly stated he hadn't yet been offered one? Surely, that rather significant fact alone suggests a soupcon of bullshit sprinkled throughout the story you found?
Originally, talk was of Barkley being offered a new contract back in the summer of 2016. For whatever reason (managerial upheaval, a leisurely summer paddling in a blow-up pool, strict adherence to the slow moving, generally half-arsed Everton way of existence) the contract never materialised.
Fast-forward to December and it's common knowledge in the game that Barkley has 18 months left on his deal, yet there's no sign of a new one surfacing. No jobbing journo is going to need more than just that one simple red flag alone to start speculating as to possible reasons and far-flung eventualities.
Factor in public criticism of the player, new deals being readily handed out in the interim to such players as Darron Gibson, Gareth Barry, Mason Holgate, followed by Koeman then further compounding the situation by stating a new deal for Barkley was "not a priority" and could wait until the new year, and it's the tabloid equivalent of Chief Brody chumming off the back of the Orca. Predators were bound to get the scent of blood and come in for a bite.
You could go right back to the first season under Martinez and find plenty of press speculation about Barkley being primed for a future move to Man City, Spurs, whoever and looking to leave Everton. It was and is all just guess work. The fact a story has seen print doesn't mean there was anything at play beyond an empty page to fill or that Mulder wasn't a paranoid meff. ("The truth was already out there, Koeman just stripped it bare and held up it's keks.")
What we do know for a fact is Koeman said in December that a new deal was not a priority. That he followed this up a couple of months later with a claim that talks were planned for the summer, but had not yet started, before suddenly turning round and saying this shit needs to get sorted 'soon as', sign or we'll sell.
Why not just stick to the original script of 'it will all be sorted in the summer'? Why the sudden need to crank the pressure up a notch, in public?
Something changed? A serious suitor suddenly emerged? Maybe a stark realisation that Ross wouldn't simply have his crayola kissing any old contract as soon as it was plonked in front of him?
People will seek to fill in the gaps as they see fit, but if the first piece of your padding is the back page of the Daily Star then it's always going to be difficult to stop the grotty smell of a tramp's gouch getting in every nook and cranny of your narrative.
The press spin many a 'plucked out their arse' story that could serve to unsettle a particular player in a squad, yet most know to take it all with a pinch of salt. The manager should be dampening such potentially distracting speculation (especially while the season is still under way), not squirting lashings of lighter fluid all over it, looking around for a match and then theatrically threatening to strike the fucker.
Two months ago the situation was said to be a fairly simple one of Barkley being offered a fresh contract in the summer. He might sign, he might not. Now it has been escalated to Ross actively refusing to commit to a new contract and being given a couple of weeks to do so or get his coat.
That change in emphasis and urgency hasn't been planted by the press or any party other than the man currently in charge of Everton.
Don Alexander
189
Posted 14/05/2017 at 20:44:26
Talk of what amounts to unprofessional or not mystifies me.
I suggest that RonKo has had enough of waiting for a 23-year-old with 150 games under his belt and playing as the fulcrum of our attack to become professional enough to develop excellent consistency in such outlandish things as crossing the ball without hitting the first defender, getting a free-kick on target, playing an incisive pass instantly or even trying to win the fucking ball back when it's been lost in the oppo's half.
Occasional success in scoring against a naff keeper who fortunately had just put all his weight onto his wrong foot just doesn't cut it either, and especially so when a contract's on offer that should mean he'll never have to do some actual work of the sort most of us are used to.
Koeman will surely have said the major signings have to come in early July, and therefore he'll want to know well before that whether our occasionally good "No 10" needs to be replaced to go with the professional, consistently very good at least "No 10" I pray he and Walsh are seeking. That's being professional for the club and if it hurts the precious feelings of local-lad-can't-really-hack-it, so what?
Michael Kenrick
190
Posted 14/05/2017 at 20:53:13
My recollection is that the "not a priority" comment was coupled with "in the new year" not "in the summer". So a crucial distinction there...
It comes out in the New Year (February) that Barkley is not inclined to sign a new contract, and a month later, still in the New Year, Koeman first talks of the ultimatum, exposing his understanding of Barkley's reluctance to sign a new contract.
The February story may be pure guesswork... but it fits with all that follows... No smoke without fire, Occam's Razor etc.
Two months ago the situation was said to be a fairly simple one of Barkley being offered a fresh contract in the summer. He might sign, he might not. Now it has been escalated to Ross actively refusing to commit to a new contract and being given a couple of weeks to do so or get his coat.
That is a poorly constructed mis-characterization as nothing has actually changed. Barkley likely started it all by expressing his unhappiness with Koeman, and letting someone know he was not inclined to sign any new contract (probably before one had even been put on the table). Koeman has been completely consistent in his (and, I believe, the club's) position: the New Year came, a contract was offered; Barkley has still not signed after ~2-3 months.
Nothing has changed from the beginning of this saga. Except for the misunderstanding and escalation of certain fans who seem to have it in for our "unprofessional" manager. Sorry, I don't buy it.
Seriously what do you expect the club to do? Don (#189) has it spot-on.
Michael Kenrick
191
Posted 14/05/2017 at 20:58:51
John, if you think it was going to be "in the summer", no wonder you're so screwed up about this:
16 Decmeber 2016: Barkley contract talks planned for later this season:
Koeman said. "That's not the priority now. In the new year we will have talks about his situation and his future but the priority now is playing and winning and see what happens in January.
Peter Gorman
192
Posted 14/05/2017 at 21:07:21
With all these facts floating about I am only really sure of two things;
a) Barkley has been offered a contract;
b) He hasn't signed it.
With that in mind, I'm not overly bothered if we sell the lad. He once had me thinking he had the football world at his feet but it turns out he also has shit for brains and a very small heart or stomach depending on your preference. Whether or not Koeman hurt his feelings is unknown and whether or not he is an Evertonian is irrelevant.
Martin Nicholls
193
Posted 14/05/2017 at 21:22:54
A few posters have stated with some certainty that EFC have offered 㿲k pw but Ross wants 𧴜k. Can any of you quote the reliable source where you obtained this information?
No, I thought not – you made it up.
Oliver Molloy
194
Posted 14/05/2017 at 22:29:08
Martin,
I can only speak for myself and can say I didn't make anything up. I just passed on what I was told recently while having a chat with a couple of well connected football people, who have connections at Everton and other clubs.
I'd bet they aren't far away.
Brian Williams
195
Posted 14/05/2017 at 22:54:09
If they know, they know and should therefore be right on the money, as it were.
If they're "not far away" then they're doing exactly what the rest of us are doing, taking a guess!
Oliver Molloy
196
Posted 14/05/2017 at 23:42:03
Brian,
They would indeed be in the know, so I'll say it the way you suggest.
I bet they are right on the money – happy now!

John Daley
197
Posted 15/05/2017 at 00:28:29
"John, if you think it was going to be "in the summer", no wonder you're so screwed up about this"
Michael,
I know what Koeman said in December about looking at Barkley's situation in "the New Year" as it wasn't a priority at that point. However, I could have sworn there was another interview, a couple of months later, in which he mentioned they would discuss a new deal "in the summer", but can't for the life of me find it, so it seems I must simply be getting mixed up and erroneously extrapolating from the interview on March 9th in which Koeman was still saying talks were "planned" but had "not started yet". I can't sift back any further trying to find something expressly stating 'summer' as i've got sore balls (honestly, I was hospitalized and everything).
Regardless (and moving hastily on), I've still got to take issue with your complete Stretch Armstrong of a calendar.
"The New Year came, a contract was offered"
It wasn't though, was it?
New Year suggests January to my mind. Not the third month after Chrimbo. Nobody would seriously suggest "the New Year" and 'mid-March' are the same thing. If the boiler in Castle Kenrick conked out on Boxing Day and the plumber said he'd be round 'in the New Year' but didn't bother rocking up to your... moat... until March, you'd be going ballistic and would have binned off waiting (and freezing your abominable arse off) months before. "The New Year"? 'Next year' more like.
Christ, Koeman saying talks were planned but had still not gotten under way, a little over two months before the season was due to finish, has got to be what planted the 'summer' seed in my mind. (Well, it's as close to the end of the season as it is to the start of the January transfer window anyway).
There certainly seemed no great urgency for the situation to be resolved on the gaffers part then, a whole nine weeks ago.
Yet, one week later (March 16), he'd gone from saying talks haven't even begun, straight to suggesting Barkley needs to sign or face being sold in the summer.
"There you go. Took us over three months to prepare that. I know we said [does that annoying air quote finger thingy] 'the New Year' but...what? You want to read it first? Well..err..ok. Fine. No rush Ross, no rush. Take your time. Big decision and all that. By the way, you've got until that joss stick burns out".

John Daley
198
Posted 15/05/2017 at 00:39:38
Oh yeah, as that dishevelled little dosser/dodgy marble eyed detective Columbo used to mumble when pretending not to have cottoned onto the killers true identity five minutes after the opening credits had finished: "just one more thing".
How can you claim a statement that Koeman has publicly (and needlessly, in my opinion) turned up the heat by maintaining a decision must be made by a certain date otherwise the player will be sold (when two months ago he was saying talks had not even begun) is a "poorly constructed mischaracterization" of what has occurred in reality, but then immediately follow up (such a scandalous slight) with the assertion that "Barkley likely started it all by expressing his unhappiness with Koeman and letting someone know he was not inclined to sign any new contract (probably before one had even been put on the table)"?
There's not one iota of evidence to suggest that is actually the case and the entire statement is pure speculation on your part, from start to finish (which you're free to partake in of course, but let's not suggest there's any reasoned factual basis for it). It's tantamount to popping yourself down in front of the fire, in your favourite armchair, before sloshing a large slug of Pappy Van Winkle around a glass and conjuring up a totally superfluous back story to a simple Christmas card that just reads "Seasons Greetings, from Dave".
"Barkley likely started it all"? Seriously? I bet he gave Ronalds best toothbrush a run out round the rim of the bog as well.
Jim Harrison
199
Posted 15/05/2017 at 03:27:26
I have just been back and had a read of the "public criticism"; to be honest, I can't see much in it. Manager asked about player performance, gives honest and accurate (by my thinking) response. Player not happy at being criticised. Funny that!
https://www.theguardian.com/football/2016/sep/15/ross-barkley-must-raise-game-everton-ronald-koeman
After this, he is asked in every press conference about Ross, eventually expressing his frustration about being continually asked.
I wonder, does anyone genuinely believe that the comments made were unfair or inaccurate?
Since then, his performances in general have improved, the manager has given him credit on several occasions, but not the Bobby-style gushing. But who else has the manager been showering praise on? Rom has been the subject of criticism and approval, depending on how he performs.
I think what we are seeing is a number of supporters who don't like the manager or his style and are using this story to beat him with, blowing it out of all proportion. I don't particularly like his personality but can separate that from disliking his conduct which personally I can't see anything wrong with.
If the argument was more based on the timing of the contract offer, I could see a point. Why wait so late? (Although I suspect the manager wanted to get a better idea of how good the player actually is...)
Alan J Thompson
200
Posted 15/05/2017 at 04:26:15
Just what is Koeman's problem if Barkley doesn't sign?
I'd have imagined that he would have been looking for improved replacements for most players. So he signs a player to replace Barkley in the knowledge that he has both for at least one season or until the January transfer window or for the foreseeable future, can't he work with that?
So Everton miss out on the transfer fee if the contract is allowed to run down which may be the case if the player and/or his agent so decide. Are we so disadvantaged by FFP rules that we need to sell to buy?
If it is the case that it is down to the money on offer or how bonuses are triggered, then it reeks of a repeat of the Pienaar fiasco. Not a perfect scenario but then, this is Everton and how it's been run for the last 20-30 years.
Jim Harrison
201
Posted 15/05/2017 at 05:13:22
Alan, why would you write off £20 million-plus so easily?
FFP means we can't go out and splash too big.
Stan Schofield
202
Posted 15/05/2017 at 09:08:19
Jim @199: You might (or might not) be correct in saying that some supporters don't like Koeman and are focusing on this sort to beat him with a stick. But for me, I'm certainly not.
I've supported Koeman from the start, and still do, and think he's done a good job in a number of respects, as many of my past posts say. (I'll leave you to do the barrister bit of checking those posts if you wish, because I can't be arsed looking back and pointing ones out.)
John G Davies
203
Posted 15/05/2017 at 10:35:06
Koeman "We will offer him what is good, what is normal for the player"
Koeman's good and normal is obviously not the same as Barkley's good and normal. Bye bye Ross.
Anyone who thinks Barkley will see the final year of his contract out are kidding themselves. He signs or he goes. Guaranteed.
Alan J Thompson
204
Posted 15/05/2017 at 14:25:38
Jim (#201); Without knowing exactly what the problem is it is difficult to say that I'm writing off easily, £20M of the club's money. However, the Manager has said he prefers just to work with the players and not get overly involved with transfers and contracts and I'm pointing out that that is one of his options.
Are you saying that we cannot afford or allowed under FFP (I'm not sure myself) to spend big unless we sell? If so perhaps the club could come clean on the matter, which is highly unlikely and understandable, and stop putting the blame on the player.
Neither though will do anything to encourage players to join Everton. Whatever, a second creative player would be most welcome.
Brian Williams
205
Posted 15/05/2017 at 14:46:37
Alan,
Ross's value could be as high s 㿊m if you believe the media, and in this day and age his worth won't be far off that, in my opinion. So Koeman's problem, if Barkley doesn't sign, is the possible loss of circa 㿊m to the club, of which Koeman is a major employee.
It's standard practice not to let a player with any decent value run down his contract to below a year. It's nowt to do with FFP in this instance, I don't think, it's more to do with common sense and good business sense.
Waiting until January has its pitfalls as there's not usually too many big transfers done during that window and if Barkley didn't go then the club would have kissed circa 㿊m goodbye! So putting him on the market during this summer's window is a no-brainer, should he not sign his new contract.
With regard to FFP, clubs can spend ٣m more than they earn over an assessment period, usually three years on a rolling basis, if you know what I mean.
Alan J Thompson
206
Posted 15/05/2017 at 15:09:52
Brian (#205); The figure of £20M was in response to Jim's figure and I doubt either of us would argue with your valuation.
As for being good business to sell a player who disagrees with a contract offer, I can understand your argument but wouldn't that depend on the reason he doesn't agree with the terms on offer?
For example, it has been stated in threads that he has been offered £100k but it may be £70k basic per week with bonuses of £10k per win and £20k per goal. Correct or not, do you think Schneiderlin, who I don't rate as good as Barkley, is on similar terms or such bonuses are in the offer to Lukaku?
We just don't know what the problem with the contract is.
Oliver Molloy
207
Posted 15/05/2017 at 16:59:09
Schneiderlin was on £100 grand a week at Man Utd and if I remember correctly, I think he took a pay cut to join us because he wanted to play football, and of course he is a different player to Ross.
Brian Williams
208
Posted 15/05/2017 at 17:54:30
Alan (#206).
It's good business to sell a player with only one year left on his contract, as opposed to letting the contract run down (if the player refuses to extend). That's the only point I was making.
I try not to get involved in the why's and wherefores, and the "he's on this much" and "there's bonuses involved" because, at the end of the day, none of us know who's on what or what's been offered, and to be honest none of us probably ever will.
I take all the figures bandied about with a huge pinch of salt coz it's all guesswork and conjecture or it comes from a "reliable source who's in the know", which amounts to much the same.
The bottom line is, "is the player going to extend, bearing in mind he has only a year left on his contract?" If the answer's no, for whatever reason(s) and those reasons can't be resolved, then sell.
Tony Draper
209
Posted 15/05/2017 at 22:17:09
Garth Crooks in his (often borderline deranged) BBC Team of the Week commented that Koeman better be holding all the aces when he offers Barkley a "sign or be sold" ultimatum .
Then Crooks says that Barkely has an out in the shape of (Crooks's old club) Spurs.
Well, Garth, Evertonians like me utterly love the prospect of Ross becoming an Everton legend. We genuinely do.
What you are overlooking is that us Evertonians see Barkley stop not just applying himself but wandering around like his attention is anywhere but in the same football ground as him and his teammates.
Here, Garth, is a serious lump of fact for you to chew on: Ross Barkley presently lives amongst his loving family here on Merseyside... Do you seriously believe that his application (which REALLY is his major shortcoming) will improve beyond all recognition alone in the South East??? Away from his family???
Tom Davies – Mum gives him a lift to work. That arrangement seems to be paying dividends.
Alan J Thompson
210
Posted 16/05/2017 at 05:10:16
Brian (#208);
We probably agree but are coming at it from different directions. I love the where-fores and why-have-yous, the known and unknown unknowns. I've followed Everton all my life (so far) and for me it goes further than just what happens on the pitch.
I still long for the early morning knock on the door, taxi at the ready, asking if I'm available for a managerial position.
Note; must brasso that knocker and get the doorbell fixed.
Jim Harrison
211
Posted 16/05/2017 at 05:32:39
Alan, the value I picked was token, a minimum expectation of what we would get. If he doesn't sign the contract it's pretty much a given he wants out, whether it be this summer or the next. In which case, at some point the club will need to replace him. Without a transfer fee we would have to outlay without an income.
Not a direct case of FFP bring the issue, but a contributing factor. Moshiri can't go all Arabian prince and buy willy nilly – he needs to work within financial restrictions. So it makes business sense to sell now rather than keep and getting playing benefit.
Thats not even thinking about potential issues with having a dissatisfied player in the squad. I have currently no reason to question Ross's professionalism, but from my experience it's not helpful having a team member who knows they are counting down the days!
Alan J Thompson
212
Posted 16/05/2017 at 06:02:45
Jim (#211); I did take the £20M as a token and wouldn't have changed the point if you had said £50M.
As for the FFP, I notice that the figure for the new shirt sponsorship is the same as the BBC website gives as Everton's transfer kitty which seems rather similar to the outlay that was covered by USM's sponsoring Finch Farm.
As for dissatisfied players, what price do you put on Lukaku? No, no, seriously.
Darren Hind
213
Posted 16/05/2017 at 19:59:34
This is going to get a whole lot more embarrassing for Koeman. As his deadline nears (five days), he continues to contradict himself.
Barkley simply maintains a dignified silence and gets on with the game.
---
Add Your Comments
In order to post a comment, you need to be logged in as a registered user of the site.
Or Sign up as a ToffeeWeb Member — it's free, takes just a few minutes and will allow you to post your comments on articles and Talking Points submissions across the site.