No movement on Barkley contract

272 Comments [Jump to last]
Thursday 11 May 2017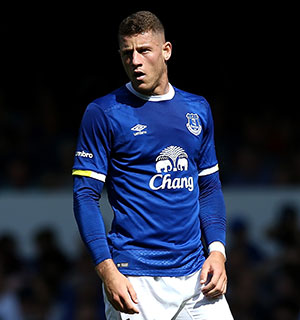 Everton appear no closer to resolving Ross Barkley's future, with reports in the media suggesting that the situation could drag on longer than Ronald Koeman would like.
The Dutchman has indicated his feeling that Goodison Park is the best place for Barkley, amid speculation that Tottenham Hotspur could be interested in signing him, but he also needs to press on with his team-building efforts in concert with director of football, Steve Walsh.
Koeman was matter-of-fact at a recent press conference about his need to sell the player in the summer if he hadn't signed a new contract with the club by the end of the season – by which time he will have just 12 months left on his current terms.
Talks between the Toffees and Barkley's representatives have been ongoing but the suggestions in the press are that the 23-year-old is still assessing whether or not to renew his contract.
Just 12 days of the current campaign remain and it's unlikely that Barkley's situation will have been resolved by then, meaning that the uncertainty could continue while the club prepares the management team's summer transfer targets.
---
Reader Comments (272)
Note: the following content is not moderated or vetted by the site owners at the time of submission. Comments are the responsibility of the poster. Disclaimer
Ralph Basnett
1
Posted 11/05/2017 at 07:25:22
Yeah, bye-bye Ross, join the queue of ex-Everton players who left for better things (more money) and flopped.
Sam Hoare
2
Posted 11/05/2017 at 07:28:28
It saddens me to say that I feel I could quite comfortably handle Ross leaving for a good transfer fee.
He simply hasn't kicked on over the last few years and, though I would prefer him to stay, part of me would be interested to see how we played with a better decision maker in that playmaker role.
On the other hand, there have been plenty of times when I have thought that Ross has been hampered by the mediocre movement in front of him. Perhaps some superior attacking players around him would get the best out of him. Either here or elsewhere...
James Watts
3
Posted 11/05/2017 at 07:35:48
This is a strange one for me on why he hasn't signed.
He is simply not good enough to move to a team higher than us in the Premier League (Barkley going to Spurs is made up agent/paper talk for me).
He may get a move abroad to a decent team but would it be a step up from us? Unlikely.
But there is something obviously going on we are not party too as I would have thought he'd snap our hands off on a nice new fat contract. Especially with the dross he's served up for most of the last two years or so.
If he was anything other than an Evertonian who came through the ranks, I'd imagine most of us wouldn't give a toss if he left or stayed. Like Mirallas.
Danny Broderick
4
Posted 11/05/2017 at 07:42:53
I can see Barkley moving to West Ham, or someone like that. It's a shame he hasn't kicked on like we all hoped, but the reality is that, when he is not on his game, he is like a passenger. And top 6 teams can't have passengers.
Mark Rankin
5
Posted 11/05/2017 at 07:56:28
He's done a lot of good things this season, particularly when Tom Davies broke through but you have to be ruthless to get to the top and the number 10 is such a vital position.
Ross is still not at the standard of Alli, De Bruyne, Coutinho, Sanchez, Hazard and we need to bring in competition.
Martin Nicholls
6
Posted 11/05/2017 at 08:05:30
James (#3) – "most of us wouldn't give a toss if he goes or stays. Like Mirallas".
Try that one on the 146 posters on the "Mirallas new contract" thread who clearly do give a toss!
James Watts
7
Posted 11/05/2017 at 08:10:00
Martin (#6),
I've read most of those comments (and indeed contributed) and I still think most of us wouldn't care if Mirallas left. The underlying theme I took from that thread was that it was good to keep hold of him because (a) we wouldn't lose him for nothing; and (b) he'll be a decent squad player.
I put Barkley in that bracket right now.
Chris Watts
8
Posted 11/05/2017 at 08:19:38
Watched a bit of Isco playing for Real last night and he's a million miles away from Ross. I'm starting to think we get huge amounts for Ross and Rom and add that to a pot to rebuild the team.
James Stewart
9
Posted 11/05/2017 at 08:21:24
I for one am completely bored to death by the Barkley and Lukaku contract saga's. Both are replaceable, very easily in Ross's case.
I like the lad and fear he will have a Rodwell-like career trajectory if he leaves, but if he wants to, then so be it. We need our business done early, in and out.
Steven Jones
10
Posted 11/05/2017 at 08:21:26
Eddie Dunn
11
Posted 11/05/2017 at 08:22:14
A couple of years ago, talk of Ross leaving would have worried me; he is no more than a decent Premier League performer, and like Mirallas, I would rather he stayed as part of an improved squad. We will need more bodies next season and more competition for places.
As for the contract, who knows what goes on with the player's agents and our board? I can only imagine that Barkley is also waiting for news, as his advisers seek the best deal for him.

Martin Nicholls
12
Posted 11/05/2017 at 08:22:30
James (#7) – I definitely agree with you about Mirallas and sadly am on the same page about Barkley.
Incidentally, I have a feeling that he (Ross) will not sign a contract and will run down his current deal unless he is made an offer from elsewhere (unlikely in my view) that he simply can't refuse.
Chris Gould
14
Posted 11/05/2017 at 08:26:04
As an Everton fan, I hope Barkley takes into consideration how this uncertainty can affect the summer rebuilding plans of the club he loves. We need to know what his intentions are before the window opens, so the club can plan accordingly.
It's an intriguing situation, without any indication as to what is holding him back from signing. Hopefully we'll know soon enough.
Franny Porter
15
Posted 11/05/2017 at 08:26:24
James, spot on mate.
Jon Withey
16
Posted 11/05/2017 at 08:33:17
Just his agent doing his job – nothing to see here.
Difficult situation if nobody comes in for him and he doesn't sign!
Terry Underwood
17
Posted 11/05/2017 at 08:35:54
Ross... talk to Jeffers, Gosling, Rodwell, Stones. The grass ain't always greener.
Still... sitting on the bench for more money suits some, I suppose!
Eddie Dunn
18
Posted 11/05/2017 at 08:36:55
Stephen Jones.
On the Premier League official site for stats:
Barkley has 4 goals and 8 assists.
Mirallas has 4 goals and 6 assists.
Dele Alli has 17 goals and 5 assists.
Erikson has 8 goals and 12 assists.
De Bruyne has 5 goals and 15 assists.
Sanchez has 20 goals and 9 assists.
Hazard has 15 goals and 5 assists.
These are the real chances that were turned into goals- a more reliable statistic than so called "chances created". More importantly ,look at the goals totals, and you see the important contribution.
Don Alexander
19
Posted 11/05/2017 at 08:38:00
From what I've seen and heard from him, I get the feeling that Ross is not all there as a decisive young man. I suspect he's led by others, and especially his agent, far more than others.
I suspect that by prevaricating he'll therefore stymie the one thing he'd need to be able to potentially improve as a player at Everton, namely the early signing of better players around/instead and in front of him.
Greed (ie, agent) and gullibility (Ross) will not sit well with Koeman, who I believe will prevail against any on the board (or behind it) who still are as soft-headed as Ross by wanting to keep him at all costs.
The lad's had years and despite Daily Star stats (!) fails to improve. Indeed he regresses. Very sad.
Jim Bennings
20
Posted 11/05/2017 at 08:38:11
I simply hate these long running summer transfer sagas: John Stones went two summers long; Joleon Lescott dragged on.
If Barkley isn't staying just get him shipped out but as mentioned above I'm not exactly convinced there's going to be a long list of clubs chasing an attacking midfielder with three goals from open play in 18 months, that can't head a ball, rarely see's a pass quickly, rarely shoots anymore and basically just doesn't warrant the hype he's received this past year or so.
If he goes, I guarantee he will just go along the Scott Sinclair road of floundering around someone's bench if he joins a top five club (which I really can't see), then he'll end up at a Newcastle or West Ham in two or three years.
Don't let this drag on, we don't need a saga.
We need to be targeting six or seven first-team players and putting our efforts in to that.
Mike Berry
21
Posted 11/05/2017 at 08:44:51
If Ross has to really "assess" his new contract, then he does not want to stay, as you would assume being an Everton boy he would jump at the new contract.
There are plenty of great players out there so personally, if he goes, he goes. We are Everton and on the up; he would be a fool not to be part of our evolution.
Guy Hastings
22
Posted 11/05/2017 at 08:50:42
'No movement' – sorry, thought it was a match report.
James Morgan
23
Posted 11/05/2017 at 09:03:56
I'm torn on this. I want him to stay because he's a local lad and when he turns it on he's great. The problem is, he doesn't turn it on enough. If we get say 㿊m and then buy Sigurdsson, have we upgraded?
Brian Williams
24
Posted 11/05/2017 at 09:08:27
None of us really know what's going on here and it's frustrating for sure.
Part of me wonders whether Ross wants to get away from the "area" for obvious reasons. He seems very much like a homebird though and I honestly couldn't see him thriving abroad.
There's been mixed messages in the recent past. First it was "we'll look at his contract at the end of the season"; then there was "the contract is there if he doesn't sign he'll be sold."
All very unsettling for us supporters!
Phil Walling
25
Posted 11/05/2017 at 09:10:26
I very much suspect that Barkley won't move on from Everton – simply because he won't find a club in the top six willing to sign him. Just not good enough to attract a meaningful fee but he'll do for us, I'm sure.
Henrik Lyngsie
26
Posted 11/05/2017 at 09:15:13
This reminds me of the early Michael Laudrup years. He was a huge teenage talent and came to the Great Juve team. He played with Platini and everybody expected him to take over from Platini. Platini scored goals, dictated games and was a big leader.
It appeared that Laudrup was as talented as Platini. But he was not a leader and he did not dictate games. For a while all of football in Denmark were frustrated.
Laudrup then went to Barcelona and got huge success in a different setup. He was not a leader and he did not single-handly dictate and run games. He got a free role on the left and on his day he showed all his talents.
He just did not have the same as the big leaders in the late 80s like Maradona and Platini who were leaders and dictated games.
Maybe, just maybe, there is a parallel with Barkley. Somehow he is set up and expected to dictate the game, in a Gerrard type of way. But Barkley probably does not have one single leadership gene in his DNA. Maybe we should bring in someone else for the position. And maybe let Barkley be given another role. Maybe as a left midfielder who can drift inside. Maybe it would be healthy for Barkley to be relieved of some responsibilities.
I frankly don't see him to be attractive for any team above us. And why should he join West Ham or Newcastle? No; downgrade his role and put a few better players around him.
Stan Schofield
27
Posted 11/05/2017 at 09:20:58
It's only a saga if you let it be a saga. He plays for us at the moment. One day he won't. It's that simple. A lot of folks are, again, getting their knickers in a twist over things they know little or nothing about.
Peter Barry
28
Posted 11/05/2017 at 09:24:22
Barkley is dithering as much over his contract as he dithers about on the field.... Sell him and be done with it.
Craig Walker
29
Posted 11/05/2017 at 09:27:35
Not good enough. Cash in now and get someone who wants to be here and turns up in the big games.
Ray Smith
30
Posted 11/05/2017 at 09:43:44
Terry (#17),
My thoughts entirely. Perhaps Jeffers should have a word in his ear.
Stan (#27),
Agree, there are things we are not privy too, and that is unlikely to change.
I would be interested to see what happens if Rom's agent has his licence suspended over the Pogba transfer.
However, Stan I'm contradicting myself with another saga.
The club is bigger than anybody, end of.
Liam Reilly
31
Posted 11/05/2017 at 09:55:52
Barkley suffers in a side where he is the only real creative force. I'd like to see the team move away from 2 defensive midfielders and add another creative player beside Barkley.
That said, if he doesn't sign before the season ends then he needs to be sold so we don't have this saga running through the summer along with Lukaku.
John Gall
32
Posted 11/05/2017 at 09:59:32
Terry (#17) above:
Barkley could also talk to McMahon, Beardsley, Lescott, Gravesen, Rooney, Lineker and others. It's nonsense to think that Everton always signifies the peak of a player's career. Part of that 'we are chosen' crap that gets peddled these days.
My view is that they are all replaceable. Clever coaches can get amazing results with good players well coached – look at Simeone at Atletico Madrid or Rainieri last season. This is what Everton should aim for, not pandering to the ego of pseudo-gallacticos or the greed of agents.
Impose a two week limit on negotiations. If no deal, then sell. He's absurdly overrated and over-hyped anyway, as most of them are these days.
Ron Sear
33
Posted 11/05/2017 at 10:08:40
I thought Barkley was supposed to be an Everton fan at one time?
Just make up your mind, kid and stop pratting about.
Martin Nicholls
34
Posted 11/05/2017 at 10:15:12
Many of those saying we should "cash in" are ignoring the fact that Ross holds the cards here. It is he and only he who will decide whether to sign any contract on offer, and he who will say yes or no to any offers put to him by other clubs.
As I said earlier, he can opt to run down the final year of his contract and move (after signing a pre-contract agreement as early as January if he so wishes) for nothing in a years time – he wouldn't be the first to go down this route.
Kenny Smith
35
Posted 11/05/2017 at 10:16:59
I can't see this being a long-running transfer saga at all. Someone will make an offer and we ll take it.
He's not integral to the first 11 anymore – if he ever was? If we're serious about our ambitions then there's no room for sentiment and he should move on. That's what would be best for everyone concerned.
He may turn out to be the player we hope he would be but I doubt it.
Lee Preston
36
Posted 11/05/2017 at 10:19:13
I would like the lad to stay, but if he wants to leave, then he should leave.
We need to put a deadline on this and if the contract isn't signed by said date, it is withdrawn and the player will be sold. That way, it isn't a distraction all summer, taking us away from potential targets because of a 'Will he, won't he?' saga.
Ian Burns
37
Posted 11/05/2017 at 10:40:04
The strange case of Mr Barkley. He is clearly taking advice from his agent and been told to sit tight. It can only be for said agent to see if he can get an attractive offer which will line not only Ross's pockets but also the agent's.
Deep down, Ross will want to stay I'm sure - but agents hold sway in these situations and who knows what he is going to come up with.
At that point, it will be decision time for Ross but I for one think he will opt to stay. I hope so as I think he will flourish in a more adventurous style of play, which is my hope that Koeman will deliver for next season, especially away from home. Well, I can dream like the rest of us, can't I?
Brian Harrison
38
Posted 11/05/2017 at 11:17:03
A no-brainer for me – sell him asap, he has not moved on from the 18-year-old with lots of promise, if another manager feels he can get more out of him good luck. His goal tally is woeful for a player in his position, and every move slows or stops when it arrives at his feet.
For me, he is lucky to have played so many games, and lately he has stunk the place out. So he has had long enough to sign the contract; yes, he can stay and run down his contract... but, if he wants to do that, then send him out on loan, as you don't want him anywhere near the dressing room or training ground.
Christine Foster
40
Posted 11/05/2017 at 11:31:23
A great homegrown talent, who can inspire and frustrate in a way that many Everton players of the past could as well. On his day he can rate as a 9 out of 10 player, on other days it's a 6, such is his inconsistency.
So, If you want a consistent 7 out of 10 player to suit our 7 out of 10 team then look elsewhere. The 8 or 9 out of 10 players are few and far between and more than we can afford.
Barkley, when on form, lifts the team and raises expectations. Its his inconsistency which is his lot, take it or leave it, that's the player he is.
Koeman has managed him well, but runs a risk of alienating him to the club. His often public comments berating his performance and fuelling of conjecture cannot have made Barkley feel welcome even if they are home truths... something about washing in public.
This and other clubs, want and expect instant off-the-peg talent. Some players will never reach potential but while they aspire to do so they can excite and give hope (as well as frustrate) with their efforts.
Personally, I hope he stays for the good of the club, I think we have more chance of getting the best out of him than anyone else. For the record, I would have said that about some of those stated players who left when agents turned their heads..
Roger Helm
41
Posted 11/05/2017 at 11:34:14
He is turning into a young man with a great future behind him. I would prefer to cash in while we can, as his stay here is getting a bit stale and a change would be good for both him and Everton.
Jim Bennings
42
Posted 11/05/2017 at 12:08:23
Christine,
How many 9/10 days would you say Barkley has had over the last few years really hand on heart?
He's slightly improved but only against poor opposition at home in games where really he can't fail to live up to his reputation, but even in those he's not had what I'd call a 9/10 game when he's looked like demolishing the opposition with shots on goal and been a roving maniac in the middle of the park.
For me, when Barkley is inconsistent, he's pretty poor and totally anonymous; when he's having a better spell, he's still nothing more than a 6 or 7/10 at best.
Andy Codling
43
Posted 11/05/2017 at 12:09:33
Roger, I agree, I feel it would do him good to move on.
Although if we indeed do sign a player like Sigurdsson, then I don't see Ross getting in our first eleven – never mind Spurs'.
Tony J Williams
44
Posted 11/05/2017 at 12:13:39
Not overly arsed, to be fair!!
Brian Furey
45
Posted 11/05/2017 at 12:14:58
I get the feeling he wants to leave as he feels he's constantly under pressure to perform well. Everything he does is magnified and scrutinised and maybe he feels a bit like Jack Wilshere and just wants a change of scene and not do what Gerrard did and stay with his home club for his whole career.
Maybe he's just holding out for more money and he knows if we sign new players this summer that they will probably be on more wages than he's being offered.
Personally, I'd like him to stay just cos we need different options for the years ahead but I'd play Sigurdsson before him.
Minik Hansen
46
Posted 11/05/2017 at 12:28:09
I think he is waiting to see what happens with Lukaku.
George Cumiskey
47
Posted 11/05/2017 at 12:43:37
I can't believe they are offering a fat new contract! He's obviously gone as far as he can with us. Let's hope someone comes in with a nice big fat check.
John G Davies
48
Posted 11/05/2017 at 12:47:09
No contract offer before close season.
New signings come in before pre-season training, including a Number 10. Pre-season "Here's your offer – take it or leave it."
The club are playing this situation perfectly.
Anthony Hawkins
49
Posted 11/05/2017 at 13:04:22
I wonder if there's a wider issue at play within the Everton structure? It's odd how so many relatively young players who appear to perform well for Everton yet when they leave, never seem to achieve the same level.
I'm probably not articulating myself very well but you'd hope that players would be sold and go onto greater things. Maybe I'm missing something?
Paul Holmes
50
Posted 11/05/2017 at 13:09:19
Barkley is lucky to get into Everton's starting eleven! He is not good enough to play in any top six Premier League team.
Maybe Spurs will buy him, but after another couple of months, they will realise they have another Sissoko (plays well one game in ten)!
Jonathan Tasker
51
Posted 11/05/2017 at 13:23:45
The new Jack Rodwell.
Dale Rose
52
Posted 11/05/2017 at 13:25:57
We have the top scorer in the Premier League. He is leaving without a doubt. The chances are we will receive good money for him. He has made no secret of his desire to achieve his own ambitions in the Champions League.
If Ross goes, that will increase the funds even more. The time for protracted negotiations are over: sign or go.
We were late into the market last year and it has cost us dear. All our rebuilding should be done well before the deadline day. I have total faith in Koeman and his team to deliver some spectacular and worthy signings, and put this club where it should be. If any player doesn't want to be here, then go.
There is no doubt with the youngsters and the youth set up, we will have some great players coming through, which will set the foundations for this club for many years to come.
Sean Patton
53
Posted 11/05/2017 at 13:34:59
I'll say one thing for Lukaku – at least we know where we stand with him he has been offered a contract and has informed the club he won't sign it.
Barkley just says nothing and leaves the deal on the table – does he think he can slip away without anybody noticing?
He is playing a risky game as there is no guarantee a Champions League club will come in for him and, as every day goes by, he alienates more fans and a manager who just might call his bluff.
Terence Tyler
54
Posted 11/05/2017 at 13:39:55
Koeman on Barkley today: "We need an answer before the end of next week or we will sell the player."
Chris Gould
55
Posted 11/05/2017 at 13:47:18
That is a big statement from Koeman:
"We need an answer on whether he'll accept the contract, or we'll sign a player."
It sounds to me as if he has someone in mind and wants to put the wheels in motion to bring him to the club.

Tony J Williams
56
Posted 11/05/2017 at 13:51:28
"He feels he's constantly under pressure to perform well."
Ahhhhh.... fucking diddums, hey?
That should be the very least expected of a professional sportsman.
Sam Hoare
57
Posted 11/05/2017 at 13:52:17
Henrik @26 – an interesting parallel. I definitely agree that Ross is not the type to dictate games and suffers from the burden of creative responsibility.
If we bought a better playmaker, then I do think Ross could excel in a free role where he might simply be tasked with beating his man and getting a shot or pass in quickly; he's best when playing off instinct.
He's a different kettle of fish to Jack Rodwell who was an athlete rather than a talent. Ross is capable of great things but not the master of his own destiny, sadly. He won't control games but could flourish if in the right setup. I think he could do very well indeed at Spurs alongside Alli and more crucially Eriksen who is a proper playmaker.
Kieran Kinsella
58
Posted 11/05/2017 at 13:59:55
Anthony Hawkins,
I think what can happen is that other players help make you look good. So if you're a bit part, like Gosling, you get a perfect cross from Andy van der Meyde, you have the easy part but get the headlines.
Before the Beckham group Fergie had a lot of "good" youngsters like Robins, Martin etc but when they became the main man at other clubs their shortcomings were exposed.
Expectation levels rise too. 16-year-old homegrown Rodwell gets cheered for doing things people take for granted from £10 million Rodwell.
Jim Bennings
59
Posted 11/05/2017 at 14:06:24
No messing around from Koeman with that statement.
Love it!
Tony J Williams
60
Posted 11/05/2017 at 14:08:29
Amen, Jim!
Phil Smith
61
Posted 11/05/2017 at 14:08:44
I still have high hopes for Ross; if he leaves, it would be a shame. This season, he's been 100 times better in his defensive duties, something that big Ron has demanded of him.
Tony J Williams
62
Posted 11/05/2017 at 14:15:56
Pity that it has detracted from his main role as scorer and provider, Phil.
John G Davies
63
Posted 11/05/2017 at 14:16:32
http://www.liverpoolecho.co.uk/sport/football/transfer-news/ross-barkley-everton-doubts-must-13020440
That is the way to deal with players stalling on signing when entering the final year of a contract.
Only one boss here.
Rob Dolby
64
Posted 11/05/2017 at 14:32:54
Ross has definitely improved under Koeman – the problem is that he is almost the single creative force in the team. I do like him but think that he is a bigger version of Leon Osman. Lovely footballer but very lightweight and gets knocked off the ball too easily; Osman probably retained possession better.
If he wants to move on then so be it, the club and fans will move on. Mirallas and Deulofeu can play in the same role and can create and frustrate in equal measure. If he was the real deal, I would be upset.

Rob Baker
65
Posted 11/05/2017 at 14:34:59
Link
Love Koeman's stance – and rightly so. Commit or sling your hook Ross!
Peter Cummings
66
Posted 11/05/2017 at 14:41:18
Ron (#33),
It's a known fact that Ross Barkley is an Everton fanatic both as a kid and a player; sadly – like another 'died-in-the-wool Evertonian' who left for fame and fortune – I believe he is being manipulated by his agents and has little or no say in his future because of his age as the parasites talk of 'greener pastures', and, of course, big bucks.
Unfortunately, while that other Blue fanatic went on to fame and fortune, there is no way Ross can command that kind of world recognition plus the massive financial rewards that other Blue now enjoys, unless there is a complete U-turn in form and ability. Like many ToffeeWebbers, I hope he re-signs with the club he obviously loves and regains the promise he has shown with us.

.

Michael Lynch
67
Posted 11/05/2017 at 15:02:37
Sounds like he's on his way out.
But what happens if we don't get any decent offers for him, which is a distinct possibility? Do we let him run his contract down? Will he be able to keep a working relationship with Koeman?
Assuming Koeman is not lying about his attacking targets, will the manager just use him as a squad player in the Europa League games?
John Keating
68
Posted 11/05/2017 at 15:04:06
I've seen better players than Barkley come and go.
No matter who it is or how good they are, or think they are, if they do not want to play for us, then get rid.
Steavey Buckley
69
Posted 11/05/2017 at 15:05:50
Ross Barkley has been told by Ronald Koeman that he has one week to decide his future.
Ray Jacques
70
Posted 11/05/2017 at 15:10:10
Perfect statement from Ronald.
Sign the deal by next week or get lost; we will sell you and buy a replacement.
I believe Koeman doesn't want Barkley to stay and this is a statement that is going to force his hand and means, whatever the outcome, Ronald will come out looking good.
Eugene Ruane
71
Posted 11/05/2017 at 15:14:01
A loan spell with Hull maybe?
Brian Williams
72
Posted 11/05/2017 at 15:18:41
If any player allows himself to be manipulated by his own agent, then he must be thick as shit.
As young as some of these players are, surely it's not beyond them to tell the agent "Hey you work for me, this is what I want."
Henrik Lyngsie
73
Posted 11/05/2017 at 15:18:45
Thanks, Sam (#57);
Regarding Spurs I just don't see a match. Firstly he would not get paid more than today due to their wage structure. And secondly I agree that he could benefit from Eriksen and Delê Alli. But would they benefit from him.
Spurs is a really hardworking team and somehow Barkley has been made to believe that he does not need to defend. I just don't see him fitting into Spurs high energy game. Unless maybe that is the change he needs in order to improve his game.
John G Davies
74
Posted 11/05/2017 at 15:24:03
Henrik,
Dembele is twice the player Ross is. He isn't in the starting eleven most weeks. Ross would not get in the Spurs side.

Andy Crooks
75
Posted 11/05/2017 at 15:28:20
I cannot see a better future for Ross away from Everton. We are moving on and I would like Ross to be right at the heart of it.
Joe O'Brien
76
Posted 11/05/2017 at 15:29:56
I actually think he will go. I don't want him to. I can see Spurs going for him. It would drive me nuts to see him flourish there.
As for his development, he didn't have the best coaches up to Koeman. Negative Moyes and then that other fella who gave him no role at all, probably told to go out there with no instructions at all.
With a better a manager here now and with a lot better players coming in (supposedly) to play around him, I think he could really take off.
I for one hope he stays... but I've got a feeling he won't.
Thomas Lennon
77
Posted 11/05/2017 at 15:31:00
Ron is in a hurry, no time for sentiment, fair enough. That is how winning teams are built. Let's keep our charitable work for off the pitch.
Agents? Intelligent pushy businessmen who exploit vulnerable young people with talent. Sickening how they take money out of the game for no return.

Charlie Lloyd
78
Posted 11/05/2017 at 15:33:36
Don't mess with Koeman or the club, eh!
I don't know what the hold up in signing has been that's caused the impasse but it's clear now. Sign what's been offered or you're being shipped out.
Tom Bowers
79
Posted 11/05/2017 at 15:39:21
It is fair to say and most people are agreeing that Ross is a conundrum. He hasn't hit the heights as expected and no one can really pinpoint why.The lad is oozing talent but wrong decision making at the vital time is a continual problem.
I can see what Koeman was trying to do and that was having him as good support from behind for Rom. like Dele Alli behind Kane but it hasn't panned out. Ross seems to be playing under a cloud at times and may aspire to doing better elsewhere and like Rom. may want Champions league.
Okay, let's get shut of both if that is the case as they will not be fully focused when contract negotiations get dragged out. Everton would be best to get whatever new players in early so that they can start next season on the front foot with a settled squad after the pre-season games.
Eddie Dunn
80
Posted 11/05/2017 at 15:40:19
We must also remember that Koeman (who may have made his mind up on Barkley) is keen not to upset the fanbase, and is letting us all believe that it is all down to Ross and his agent.
Since when has a few extra weeks of the summer got to dictate whether a contract is signed or not? Is Koeman stipulating that if he doesn't sign this week, he will be sold?
If so, it is ridiculous, as who knows what technicalities there are that need sorting out? One minute Koeman claims to have little input on things like this, and the next he is giving ultimatums.
To me, it seems like Ross is being forced out. Perhaps his team are stalling because the offer isn't good enough. I won't judge Barkley until I know the details.

Joseph Terrence
81
Posted 11/05/2017 at 15:49:56
Anyone who believes Ross would get into the Spurs midfield is mad.
Jim Bennings
82
Posted 11/05/2017 at 15:52:29
It's completely ridiculous to suggest Barkley is under too much pressure, hence why he isn't performing. If that is the case, then we should sell him.
We need players who are willing to step up and take on the mantel of being an Everton hero, and Barkley should be relishing this position; it's hardly like we expect to win the league every season, is it?
Look at Gerrard when he was at Liverpool. He embraced being the captain and leader of men at that club from a younger age than Barkley, the pressure didn't affect him.
If that could be the case and it's about pressure, then I'm sorry but Barkley really isn't the man to take Everton on to the next level.

James Hughes
83
Posted 11/05/2017 at 15:53:52
In general, we seem to be all over the place at the moment when we play. Koeman is not quite getting the team to play and especially at home the results have flattered the performance. Is that down to Ross or Ronald?
Either way, if he stays... then start playing, please. And if he goes... I wish him well. Maybe he would thrive abroad?
John Keating
84
Posted 11/05/2017 at 15:59:30
The only chance Barkley has of getting Champions League football next season is if his agent has a word with Brenda at Celtic
Paul Holmes
85
Posted 11/05/2017 at 15:59:38
Sell Barkley and buy Sigurdsson – you need an intelligent player in that position and Ross's decision-making is awful! If not the Swansea playmaker, then one from abroad.
Arteta is proof that they are out there as the Premier League is overhyped in teams and quality players. Everton need to buy qiuality instead of players like McGeady, Cleverley, Gibson etc. Schneiderlin is quality, so more players like him!
Football is a team game – not individuals... so Ross will be no loss once we get a quality playmaker who can score goals. (Ross has a terrible goals return anyway.)
Ian McDowell
86
Posted 11/05/2017 at 16:07:20
Good call by Ronald Koeman. Get it signed or be sold with a line now firmly drawn in the sand for a decision.
Mike Gaynes
87
Posted 11/05/2017 at 16:08:39
BBC also reporting Koeman's ultimatum. I like it... among other things, it says Koeman isn't going to wait a day until he starts making moves to improve the club.
I think Ross is already gone. And as much as I like him, I'm not heartbroken.
Jay Harris
88
Posted 11/05/2017 at 16:08:55
Eddie Dunn sums it up perfectly.
Sentimentally we would all love Ross to stay but he has far too may deficiencies for a club with ambition.
His concentration, tackling, heading ability are all poor and his goalscoring is equalled by Mirallas who has hardly played a game. That is a passenger – not a contributor.
Whatever it is with Ross, he is not signing that contract and therefore needs to go.

John Daley
89
Posted 11/05/2017 at 16:20:11
"
Koeman on Barkley today: "We need an answer before the end of next week or we will sell the player."
---------------
Utter grandstanding horse urine of the most vulgar vinegary vintage.
No matter how many times he might try to detonate the hand grenade of 'hard guy in charge here', the only thing Koeman retains any control over when it comes to Barkley's contract status is how big a cock he makes himself look by running off at the mouth unnecessarily.
Go on then, Ron. Ross hasn't signed by the deadline you set. Sell him as you threatened/promised. What? What do you mean nobody told you the player himself actually gets a fucking say? More than that? The final say?
That's outrageous, man. Surely someone should have filled you in about that shit?
I mean, you're a busy bloke, banging off interviews about your dream gig of Baron Greenbacking it around Barca and masterminding how to mount a defence against some raggedy arsed Swans that have been repeatedly mullered all over the shop. How are you supposed to find the time to keep up on pesky stuff like the progress of that bill for the abolition of the slave trade that fell flat on it's arse at the first attempt back in 1790? Only so many sodding hours in the day for Sweet Sweetback's Badasssssss sake.
Those lapping up Koemans abrasive stance on this do realise the lad supposedly lacking a brain is the one left holding all the cards, right?
Christy Ring
90
Posted 11/05/2017 at 16:20:28
I hope Ross signs the contract offer; he's not guaranteed success or first team football if he goes elsewhere.
Regarding some of the comments, that Koeman doesn't rate him, if so, why would the club offer him a new contract, with 12 months left, Koeman is 100% correct with his ultimatum.
Kristian Boyce
91
Posted 11/05/2017 at 16:21:30
Eddie (#80), I agree with you on Koeman trying not to upset the fans with the situation. Most of us look at Ross with blue-tinted glasses, and because he's 'one of us', any decision on him is a difficult one.
As bizarre as it might sound, if Lukaku goes, it might be best if Barkley goes too. Koeman might be thinking that replacing Lukaku might be easier if the new striker has a support person that plays to their strength. Barkley still has no real defined role, and doesn't really match a true No 10 / playmaker role. It would have been interesting to see how many more goals Lukaku may have scored if we had a top quality playmaker this season.
When I look at Barkley's development over the years, when I look how he plays now, it's become similar to Mirallas. He does the same 'head-down' run towards the goal and then tries for an extravagant shot from outside the box. When the three of them play together, we have the most selfish forward line in the league.
Mike Dixon
92
Posted 11/05/2017 at 16:25:04
Intelligent by Koeman. World Cup next year.
Decide now, Ross. Go on our terms, sign or sit on bench.
I like it.

Gavin Johnson
93
Posted 11/05/2017 at 16:30:56
I rate Ross as a player and hope that he stays.
That said, Koeman isn't going to stand any more dithering and I think the one-week ultimatum is the best thing for the club. We don't want this running into the summer. The club are in the ascendancy and if Barkley has doubts about being part of this journey, playing for his boyhood club there's something wrong.
It crossed my mind whether he might be worried about losing his place to Sigurdsson or Rooney, with one or both players looking as though they might be coming in.
I think a player should thrive on competition and that's been the trouble with Lukaku and lesser extent Barkley. They've been the main men even if they've being playing shite. At an established top 4 club they would have sat time out on the bench. Barkley has from time to time but it's usually tactical and he's not had another No 10 come on to replace him.
If he does end up staying he might have to get used to spending periods on the bench. At this moment in time Siggurdson is a better player. For the criticism of Rooney slowing play down at Man Utd, he's still one of the best passers around and trumps Ross both in this and decision making.
At this moment, it seems that Spurs are the only club higher up the league who are going to make a serious play to sign him. How many games would he get there? It makes you wonder.
John G Davies
94
Posted 11/05/2017 at 16:33:41
John (#89),
Very naive post there.
Alan J Thompson
95
Posted 11/05/2017 at 16:33:52
We seem to have a manager who says he doesn't want to get involved in transfers, perhaps he means the nitty gritty, or comment on other club's players but seems to have no qualms about publicly telling, IMO, one of our better players he has until the end of the week to sign or be put up for sale.
This player has not said he wants to move on and the problem could just be that he considers his pay should at least be the equal of Schneiderlin or that on offer to a player who has been saying for a couple of years he wants to move from Everton and about whom the manager has had little to say.
These things should be kept confidential until settled one way or the other or at least handled consistently.
Tom Hadley
96
Posted 11/05/2017 at 16:34:46
I'm quite happy with Koeman's stance on this; we absolutely do not need a drawn-out situation with Barkley messing up our entire summer transfer business like we've had with others historically. Especially if we may have one on our hands with Lukaku.
In my view, there is no possibility of us getting an upgrade on Lukaku; no player more deadly than him will come to a non-Champions League club. However, we can get an upgrade on Barkley and therefore, if he won't commit at this time, he needs to be moved on early if the right offer comes in.
It would be a shame; I'd rather he stayed... but I see no reason why Barkley can't make a decision now if he still enjoys playing for Everton. If he doesn't, it's time to go.
Will Mabon
97
Posted 11/05/2017 at 16:35:02
"One minute Koeman claims to have little input on things like this, and the next he is giving ultimatums."
Yes, when it suits, it is the way Koeman operates.
Koeman doesn't like gifted players. His much vaunted hard, "Tough love" approach is reserved for talented players. Deulofeu and Barkley have copped it. Who else?
Lukaku is gifted as a finisher but has been too vital to us for Koeman's public grumbling treatment. For this one, he employed a different approach of suggesting Lukaku would have to leave to fulfil his potential. What a genius.
"Maybe Spurs will buy him, but after another couple of months, they will realise they have another Sissoko (plays well one game in ten)!"
And who wanted to buy that donkey?
Kevin Tully
98
Posted 11/05/2017 at 16:37:31
New owner plus plenty of improved contracts for other players, all mixed in with greedy agents, leads to only one thing... see who blinks first.
I wouldn't get too worked up about it; the agent will probably want the club to match whatever Lukaku has been offered, and the club will want to put a line in the sand regarding silly wages, so here we are.
I doubt very much Ross is involved in negotiations at all. Don't forget, these agents are on a percentage of any rise they might negotiate, plus a fixed percentage of the player's whole income.
Barry Williams
99
Posted 11/05/2017 at 16:40:18
I don't pretend to know what he has been offered or what goes on or has been said behind the scenes. However, he is 23 years of age and has shown that he can be excellent on his day, but how often is that? Would I like him to stay? Definitely. Would I be peeved if he was to leave? No.
As he is from the area and an Evertonian, I would like him to succeed more than other players. I think coming from the area has been a double-edged sword, some give him more slack than other players, some less slack. I can understand if he wants to move from the area and become more anonymous when going out, I completely get that.
However, we don't know his true motivation for wanting to leave whether it be money, ambition or just wanting away. Maybe, he doesn't get on with the new coaching staff, who knows. I don't think that is so important.
What is important is how Everton come out of the deal. If we get a sizable fee for him and free up the wages earmarked for his new contract, used wisely he can be replaced, and some.
Talented, no doubt. But he has been managed by Moyes, Martinez, Koeman and a couple of England managers, we can discuss their individual merits, but none of them have been able to tap into his magic and get him playing like the player that we think he could be.
And there in-lies on of the fundamental problems I think. He didn't put himself up as some sort of 'Legend to Be'. That responsibility partly lies with us and partly with previous managers and the press too. A victim of expectation, definitely.
Keith Monaghan
100
Posted 11/05/2017 at 16:42:29
People can quote stats all day long – the ones that I note are what my eyes tell from my seat at Goodison Park:-
1. Ross is way over-rated by much of the media & TV pundits.
2. He's not a team player, but is lazy & hides.
3. He may cover more ground now but (defensively) marks space & never effectively closes opponents down.
4. His movement & thought-process is way too slow, giving opponents ages to reorganise & double-up on our forwards.
5. Dwells far too long on the ball to no good effect.
6. Dead-ball kicks are hopeless.
7. Is mentally weak. (Would fit in at Arsenal?!)
He has not improved at all since Martinez's first season and is not good enough for a side with top 4 & trophy-winning ambitions. As for getting in Spurs' team – yes, if they've not got Alli, Erikson & Co; else, no chance!
We need much better in such a key position – sell him – afraid anyone who thinks we'll get a big (㿊M+) fee for him is living in cloud cuckoo land.
Ronald is dealing with this in the best way possible for EFC – as he is also with Rom.
I also support the club extending Kev's contract.

Geoff Williams
101
Posted 11/05/2017 at 16:42:51
Koeman cannot sell Barkley if Barkley doesn't want to go. Koeman's threat is ill-advised. Barkley could dig his heels in and let his contract run out next year and Everton would get next to nothing.
Dave Wilson
102
Posted 11/05/2017 at 16:45:20
I think John Daley has a better grasp of the situation than the club...
Ray Roche
103
Posted 11/05/2017 at 16:47:45
Keith Monaghan (#100),
If Spurs were happy to pay 㿊m for Sissoko, they should be required to pay at least that much for Barkley.
Sissoko is crap. At least Barkley has had a number of very good games this season. Well, he's been MotM by Times journalists an a couple of occasions!
Spurs are a shit club; money matters more than anything to them and they should expect no cut-price transfers from us.
John Pierce
104
Posted 11/05/2017 at 16:51:07
Koeman talking absolute nonsense as per usual.
Aggressive, blunt and direct might work impressing a load of your mates in car facing down an old doddering bird in Fiat 500 in some faux road rage.
But basically he's shouting into an empty room, as he's repeatedly said he has little or no impact on the contracts. Blahhhh!
As for Barkley himself he's not the superstar many think he could because there have been several games that needed sorting this year and not once has he stepped up.
It's taken the emergence of a scruff bag, anthill mob, all-action bundle of Tom Davies to relieve Ross of his midfield berth.
So much has Koeman not taken to the lad he has shoved him to a right sided "free role" to absolve Ross of defensive duties, simply because he's a liability there and has a fraction of the desire his 18-year-old team mate has.
Why offer him a contract? Lets acknowledge there is talent there so its a case of protecting an asset with only one year left, at 23/24years oold, a business sensible move.
Barkley used to get me excited; driving past players and shooting from distance have either been coached from his game or the lad has no confidence in his locker...
If he stays, a squad place and Europa league games might give him a platform to rebuild. But, until the lad has a full game to his repertoire, then the periphery is were the Wavertree Wonder will stay.
Anthony Jones
105
Posted 11/05/2017 at 16:59:44
Err, maybe Ross is holding out to find out whether he will be on the bench for us next season.
If we do buy a top Number 10, he would be better off leaving.
Gavin Johnson
106
Posted 11/05/2017 at 17:04:02
Geoff #101. What you say is true, but how likely is that?
We'll be bringing in new faces and Ross could end up spending the best part out of a season out the game if he decides to play that game.
If we get no fee, it's possible he'll have very little to do on the field next season and rightly so. Not to mention, the rumoured reason that he wants anonymity away from Liverpool as being the reason for not putting pen to paper. Well, I'd hazard a guess that, if he refuses to move to another club for a fee, he'll be getting more negative attention in and around the city.
I want him to stay but I think he'll be sold this summer and a club will happily pay 㿏m in today's transfer monopoly money.

James Hughes
107
Posted 11/05/2017 at 17:05:13
John, help me out here:
No matter how many times he might try to detonate the hand grenade of 'hard guy in charge here.'
I have no idea what the fuck that means.
Gavin Johnson
108
Posted 11/05/2017 at 17:09:52
Anthony (#105),
That's the point I made @93. It could be that he's worried about his starting place with some of the players we're being linked to.
If I was Ross, I'd be looking at Spurs' and Arsenal's attacking midfield options and wondering how many games I'd be getting there.
Clive Mitchell
109
Posted 11/05/2017 at 17:13:58
I think most of the people on here have been fans for more than long enough to know when the club's making a mistake. I hope that's true of me.
In that context, I can't see the good in Mirallas signing a long-term contract. And I can't see what would be good about Ross Barkley – the most talented player at our club by a distance – leaving.
John Daley
110
Posted 11/05/2017 at 17:21:58
Ok James (@107), although hardly complicated, I will further explain.
Koeman keeps making ultimatums about Barkley needing to 'sign or be sold' and people seem to lap it up:
"the 1 week ultimatum is the best thing for the club"

"..if he won't commit at this time he needs to be moved on early if the right offer comes in"
These are the sort of comments I don't understand. Why? Because Koeman's comments/ultimatum amount to little more than pointless public posturing.
The club cannot sell Ross Barkley against his will. They can't wield the option of doing do so, as though it carries any sort of threat whatsoever, because it is complete bollocks.
"Right then Ross, we've sold you to the 'San Pedro Sore Pricks' for £16m and five buckets full of bellend balm. Can you just sign on the dotted line to say you agree to the move, wages, length of contract etc and so we've got proof you actually waived all legal rights and weren't just having a laugh when you said 'Do what yoz want. Yer can wang me off a cliff wrapped in a load of bin bags bound together with cellotape for all I fucking care, kid'. Got the pen right here for you Ross..."
Barkley can refuse to sign a contract. Everton can say he's for sale and go on to accept an offer. If Ross isn't wanting any of it he can say no and simply sit tight for the remainder of his contract.
If he does go, then it would be because he wants to and the move in question is one that offers what he is looking for in terms of monetary reward and career progression.
Absolutely fuck all to do with Koeman stood there tapping his watch like the bullying nightwarden at the hospital John Merrick was having a blast at (TAP.TAP. TAP "Bed time soon, Wheelie Bin Head. Sorry, I mean 'Ross'. Hur Hurr Hur".
Barkley is the only one in charge of this situation, not the club and certainly not Koeman.
Keith Monaghan
111
Posted 11/05/2017 at 17:23:40
Ray @ 103.
Apologies if it wasn't clear, but I don't believe Spurs really want Ross 'cos I don't think he's anywhere near as good as Alli or Eriksen – I suspect the press etc linking him with Spurs is pure speculation and/or agent mischief (for the agent's own potential financial gain).
As others above have said, apart from anything else, he doesn't work hard enough to suit Spurs' manager.
Gavin Johnson
112
Posted 11/05/2017 at 17:27:13
Clive,
If Barkley doesn't want to sign a new contract, isn't it better to get the situation resolved early doors instead of reading the transfer speculation all summer with it distracting the club away from our own transfer plans?
I don't know Koeman's plans but I'm sure Ross's decision will have a big say on which players we try and bring in. We'll be playing Europa qualifying games in July. We need to bring in players early.
Kristian Boyce
113
Posted 11/05/2017 at 17:33:19
As a player, one of our current coaches was sold against his will back in the '90s and had absolutely no clue about the deal until he had to sign a contract.
If the club want him gone, he'll be gone. Plus the 'loyalty bonus' he'll get will soon soothe any distress he might have about leaving.
John Pierce
114
Posted 11/05/2017 at 17:33:40
Several comments that Ross might be unsure about his starting place next season, so even the lad doesn't believe in himself. Hence he's holding off on a decision.
If he did show it on the pitch, then there'd be no argument, and Everton would soon offer him something to stay for.
Ray Smith
115
Posted 11/05/2017 at 17:38:16
I can't see Daniel Levy forking out anything like 㿏m.
The last time he had us over was when be bought Pinnear back for more than we sold him.
I think Koeman, despite the negative comments, is calling his bluff and he will sign.
James Hughes
116
Posted 11/05/2017 at 17:41:46
John, mate, the contract issues are not complicated for me.
The are two things EFC can do:
1. make him train on his own for the next year and he will struggle to get a good contract this time next year from anyone.
2. get a good offer and make it worth it while to move on
3. Ross acts like a pro and either signs or fucks off with his final year paid off.
No I was asking about the hand-grenade comment but then you lost me further with sellotape and wheelie bins. Anyway, will catch up soon
Mike Gaynes
117
Posted 11/05/2017 at 17:44:52
John #110, you've made your point, but it seems moot to me. Yes, legally, a player can refuse to be sold, but does that ever really happen?
Perhaps you can recall an instance when a player has been told by a club, "We have an agreement to sell you to _____ and here's a check for your share of the transfer fee, and they'll be calling to renegotiate your contract"...
...and the player says, "Screw it, I'm not going, I'd rather stay here and play for a manager who doesn't want me for less money."
I remember one... Sterling. But that's it.
No, Ross is not "the only one in charge of the situation"... because if the club doesn't want him, practically speaking he will be moving on. He does have considerable control, but he is by no means in total command here.
Michael Kenrick
118
Posted 11/05/2017 at 17:55:20
Spot on, Mr Gaynes (#117).
Yes, we don't know the details of why Ross (or his agent?) won't sign. But the thing John Daley's bizarre argument ignores is that players want to play at the highest level they can, while they can. And it's in the agent's grubby fiscal interest to get the best deal for Ross, either from Everton or from another club Everton agree to sell him to.
John, you're vivid imagination has taken possession this time and sent you scurrying off into a most uncharacteristic rabbit hole. Come back, lad!
Ian Linn
119
Posted 11/05/2017 at 17:56:13
I really don't care whether he goes or stays. He has had an even split of shit games, okay games and good games. He's a decent player but never realised his potential – and under three different managers.
Now I am writing this, I think we should cash in and put him in the Jeffers/Rodwell file.
John Daley
120
Posted 11/05/2017 at 17:56:38
"..the contract issues is not complicated for me. No, I was asking about the hand-grenade comment..."
Fuck me. That's why you got the answer you did!

Detonating the hand grenade of 'hard guy in charge here' = Koeman making public ultimatums about Barkley being sold if he doesn't sign by [insert date here].
Charles Barrow
121
Posted 11/05/2017 at 17:58:55
I think the reality is Koeman doesn't rate him very highly and so wants him to go – he doesn't have a history of praising him when he has played well. Compare that to his view of Lukaku – who he thinks deserves to leave Everton for a higher calling! I think Koeman has been too public with his constant threats that Ross will be sold.
I personally want Ross to stay but I agree that he has been far too inconsistent this season (and last). It may end in tears all round if he leaves under a cloud and picks up his career elsewhere. It would be a shame as he has so much potential.
Ross Edwards
122
Posted 11/05/2017 at 18:03:53
Sign or you're out. I like that. No nonsense, no dithering around.
The fact that Koeman's given Ross that ultimatum and not Rom tells me that he thinks he's easily replaceable, which he is; the likes of Sigurdsson or Klaassen from Ajax who we were linked with the other day would be decent replacements.
Rom, on the other hand, is irreplaceable and Koeman knows that. He knows that, without Champions League football, there's no consistent 20+ goal a season striker out there that's realistically gettable.
John G Davies
123
Posted 11/05/2017 at 18:06:37
Mike Gaynes (#117),
Michael (#118),
Precisely.
Frank Key
124
Posted 11/05/2017 at 18:09:21
Ross will be off to Newcastle.
Ray Roche
125
Posted 11/05/2017 at 18:09:47
Keith Monaghan (#111),
Keith, I agree, I can't see Ross displacing Alli, Eriksen or any other Spurs player. He's not that good. As you say, it may well be mischief on the part of his agent. Anyone know who his agent is?
Stan Schofield
126
Posted 11/05/2017 at 18:11:57
Regardless of our opinions on whether he should stay or go, if Koeman has said that Ross will be sold if he doesn't sign a contract, then strictly speaking Koeman is incorrect.
Koeman has the power to say Ross will not be picked to play if he doesn't sign a contract. He could also say that Ross will be sold provided Ross agrees to the sale. But both of these would of course be daft and pointless.
Koeman doesn't have the authority to dictate that Ross will be sold if he doesn't sign a contract. He might think he has that authority, but he doesn't. If he did think that, it would be a common mistake of senior managers who think they have powers that they don't in fact have.
It seems, once again, that Koeman should follow the old adage of think nine times, and speak on the tenth. As opposed to verbal shooting from the hip.
Eddie Dunn
127
Posted 11/05/2017 at 18:12:20
I find it shocking that so many people on here are having a go at Barkley. He hasn't followed Lukaku's example of talking about his future elsewhere, and as far as we know, hasn't asked to leave.
I won't be devastated if he goes, but nor would I feel that way about any of our players. However, as I said earlier, Koeman seems to be trying to manipulate this situation.
Koeman is trying to make it look like Barkley is dragging his feet. Has he not got another year left on his contract? On the other hand Koeman says of Lukaku, that he has "two years left on his contract".
From a coach's view I would think that Koeman can plan for next season knowing he can keep Ross for another year at least. In that time, another contract could be signed if all were happy.
Reading between the lines, Koeman has a transfer target in his sights, but Barkley knows about it and will jump ship if the deal is made. He doesn't want to be second choice. I bet Koeman knows this already, and is preparing the ground for Ross's departure.I don't see this as being a big tough manager laying down the law. I see it as bullying, and manipulative.
It is just over a week since many on here were showing concern for Aaron Lennon, and were posting that players are human beings, etc, etc. Now we have a shed load of oafs saying "Good on yer, Ron, show him the door!"
Regardless of Barkley being the new messiah, he is our player, has a year left on his contract, he hasn't disrespected the fans or the club. I hope he stays. He may not be the best, but he is one of our best.
Paul A Smith
128
Posted 11/05/2017 at 18:21:22
An ultimatum from Koeman, who talks about Barca and is gone in 2 years himself.
The club could sort the Lukaku and Barkley situation out in one minute by simply putting it out publicly we won't sell no matter what.
Even the loons who host TalkSport think Barkley should publicly ask Koeman to commit for 5 years.
Martin Nicholls
129
Posted 11/05/2017 at 18:24:12
John Daley (#120) – give up on trying to convince fellow ToffeeWebbers that Ross has some say on whether or not he signs for another club of Everton's choosing – I did!
Ray Smith
130
Posted 11/05/2017 at 18:24:30
Stan (#126),
A first in that I regularly agree with you.
And although hypothetical, I think Koeman has been given the nod from on high to issue the ultimatum, albeit another saga!!!
John Daley
131
Posted 11/05/2017 at 18:29:18
The Two Mike's,
The decision to sign for another club is the players alone. Once Everton accept a bid for Barkley then that is their part played out to the full. They can accept bids continually if that is their want, but until Barkley also accepts then it's getting them absolutely nowhere.
I don't see how it's "moot" at all. He'll have a mere 12 months to run on his contract, not 3 or 4 years. He'll be able to sign a pre-contract agreement with a club abroad in six months, if he so wishes. It's not out of the question or off the fucking wall he could choose to sit tight at Everton for one more year (safe in the knowledge that he is not Oumar Niasse and could not be shat on quite so easily and frozen out with such ready public support).
"..the thing John Daley's bizarre argument ignores is that players want to play at the highest level they can, while they can."
Does it? Go on then. Everton accept an offer from Crystal Palace. Sign with them for four years or stay where you are for another season and see who fancies you on a free next summer? By your logic, there is only one option and it involves pressing palms with Sam Allardyce and pissing about in mid to lower table for four years. No player or agent out there would ever dream of rolling the dice and banking on a much bigger reward in a years time when there's no transfer fee involved?
Eddie Dunn
132
Posted 11/05/2017 at 18:31:18
At Koeman's Watford Press briefing, he was asked about a transfer target at Seville and smiled and said, "I was there, I have a famous face – I cannot help that".
He has also mentioned his links to the future Barca job, but assured us of his commitment to "the project". He seems to bask in his "fame".
I know a couple of Southampton fans who were scathing about the way he stalled on HIS contract last year, and joined us. Think about this Barkley situation when Ron jumps ship from us to join his next project.
Michael Kenrick
133
Posted 11/05/2017 at 18:37:57
Martin,
Of course he has a say in whether or not he signs for another club, but his agent has a big say in which that other club will be, and will do his damnedest find him one that he will sign for.
The idea that he would spite himself and his own career by turning down opportunities to leave Everton after the ultimatum passes is inconceivable.
Jim Wilson
134
Posted 11/05/2017 at 18:44:28
I want Barkley to stay; he is our future. And I want Lukaku and Koeman out.
Lukaku isn't liked by the players, that's obvious and Koeman is taking us nowhere with his constant team and formation changes.
Unsworth for me.
Martin Nicholls
135
Posted 11/05/2017 at 18:46:38
Michael – of course you make a good point and may well be right; however, John has an equally good point (his final paragraph at 131 is a good one) and I remain with him on this.
Martin Nicholls
136
Posted 11/05/2017 at 18:48:53
Jim (#134) – didn't Rom win "Players Player of the Year" earlier this week? Doesn't sound to me like someone who isn't liked by the players.
Eddie Dunn
137
Posted 11/05/2017 at 18:51:40
Meanwhile, Lukaku looked very happy and relaxed at the awards night. Could he be getting everything he wants?
I have a source (who shall remain nameless) who says that Rom is off to Arsenal as long as they get top 4.
Andrew Keatley
138
Posted 11/05/2017 at 18:57:02
Time to move the lad on. Flatters to deceive. We had such ridiculously high hopes for him, but he does not warrant preferential treatment just because he is a local boy. It has been 5 years of treading water, and he just doesn't seem to be showing any real signs of learning from his mistakes.
Barkley is infuriating to watch, so I imagine he must be infuriating to coach and play alongside. I don't think Koeman fancies him at all – in fact I reckon he's hoping to sell him on. Leon Osman said it all; Barkley hasn't gotten any better in 5 years worth of first-team football.

Mike Berry
139
Posted 11/05/2017 at 18:57:06
Love Ronald's forthright attitude. Why should he and the club be left dangling by Ross?
Obviously the contract will be an improvement on his previous one so, if he is unsure on signing it, then he should be given this ultimatum. The Manager needs to know his situation then he can plan for replacements and not left in limbo.
In these days of player power, Ronald is actually "Managing" and being pro-active and dictating the terms and taking control and I love it, that is what a lot of posters aren't grasping.
I am sure, if Ross moves on, he will soon be forgotten when Mr Moshiri gets out his cheque book.
Mike Gaynes
140
Posted 11/05/2017 at 18:58:44
John (#131), I never said Barkley had "only one option"... or that your scenario isn't possible. But it would be pretty much unprecedented.
I ask again if you can cite an example of a modern Premier League player refusing a transfer.
Here in the US, it does happen... some athletes have "no-trade" or trade approval clauses built into their contracts, and a player in LA can say, fuck no, I don't wanna move to Buffalo. (Perfectly understandable IMO.)
But while Premier League players have the legal right, I don't recall it ever happening... except for that little RS waterbug I mentioned earlier.
Nick Armitage
141
Posted 11/05/2017 at 19:05:13
Steven Jones (#10) – "Let's deal in facts" – Well here are some facts for you:
His brain can't process thoughts fast enough to play in the Premier League and his legs don't move quickly enough to compensate.
Take the money and make him someone else's problem.
John Pierce
142
Posted 11/05/2017 at 19:08:17
Lyndon, Michael – time to change the byline on the article .👀 but ask Ross first –
he's in charge. 😆
Mike Gaynes
143
Posted 11/05/2017 at 19:13:36
Jim (#134)... I can't wait to read your "obvious" evidence that the other players don't like Lukaku.
Named Players' Player of the Year. Bolasie outspoken in his affection and friendship. Calvert-Lewin citing him as a "perfect mentor."
But he's unpopular because... you say so?
And a bit more bollocks... replace the experienced manager who steered us to considerable improvement in his first year... with one whose entire senior management career consists of one week at Preston. I love Rhino too, but give it a rest.
John Daley
144
Posted 11/05/2017 at 19:20:03
"I ask again if you can cite an example of a modern Premier League player refusing a transfer"
Sorry Mike, I'm waiting to get let out of hospital at the moment so haven't got time to think too much about it.
Heitinga turning down a move to West Ham after they had agreed a deal with Everton is the the only one I can think of off the top of my head.
Ciarán McGlone
145
Posted 11/05/2017 at 19:22:58
This seems like another 'Niasse' moment from Koeman... I don't see the point of this unnecessary public bunfight.
John Daley is spot on. Koeman fancies himself as a bit of a playground bully, it's contradictory nonsense from him I'm afraid.
So much for "I don't get involved in contracts"... Ross is being managed out, and it's obvious Koeman wants him gone.
Chris James
147
Posted 11/05/2017 at 19:34:30
To be honest, I quite like the decisiveness of Koeman as compared with dithering of predecessors. The players know where they stand and they know who's boss -– which worked pretty well for Ferguson.
I like Barkley and he definitely has had his moments and done a job, but he hasn't progressed as we'd hoped; given a choice now between him or Siggy, I know where I'd put my money.
Chris James
148
Posted 11/05/2017 at 19:35:47
Also, can we please say a hearty 'fuck you' to football agents everywhere?
Kristian Boyce
149
Posted 11/05/2017 at 19:53:15
Mike G, my missus is from Buffalo, and I lived there for for 3 years. I wish I had a no trade clause to go there.
Kieran Kinsella
150
Posted 11/05/2017 at 19:53:40
Chris James,
I agree. Koeman was a far more accomplished player than Ross is or ever will be so it probably irks him to beg the guy to stay.
Christine Foster
151
Posted 11/05/2017 at 19:54:10
Eddie Dunn (#127)... spot on. There are two sides to every negotiation and we have heard one. The other side is into public shaming and manipulating. All Koeman has to do is say "No comment" or "Discussions are still progressing."
No... he has chosen to go public with his comments and I personally don't like what Koeman is doing. There hasn't been one utterance or negative comment from Barkley, not one. His loyalty is now being questioned because he hasn't signed. That's deplorable.
We do not know what has transpired in discussions... not a word. So the manipulating by Koeman is tantamount to pure bullying. Maybe Ross should respond to get his side of the story out, like Lukaku, but then the rest of the boo boys would relish that, so he cannot win.
I remember the comments of some Southampton supporters when we got Koeman, being a bully and arrogant so and so... forcing people out... concerned with his own image rather than the team.
Something smells in all of this; Barkley's head may have been turned... but why? He loves the club, but perhaps not the manager – as it's clear Koeman has little time for any player he doesn't like.
Mike Gaynes
152
Posted 11/05/2017 at 19:59:13
John (#144)... bummer, hope you're feeling better. On my hospital days, playing on TW is my favorite pastime.
My recollection re Heitinga is that Everton had kissed him off and given him carte blanche to go wherever he wanted. I believe he turned down West Ham not to stay at Everton but because he preferred Fulham.
Your memory is better than mine, but I still can't recall anyone other than Sterling turning down both a new contract and a transfer.
Anyway, hang in there.
Darren Hind
153
Posted 11/05/2017 at 19:59:23
Koeman's buffoonery is once again laid bare. He is playing poker with his cards facing the wrong way. Which club will pay top dollar knowing the manager is adamant the guy is going to be forced out of the door if he doesn't sign a contract?
Does the guy understand the concept of a threat? – "If you don't give me a bag of sand for my battered old Mondeo, I will let it go for 150 quid... so help me I will."
Koeman has acted moronically throughout this saga. While all and sundry have been offered new deals, Koeman has deliberately stalled on Barkley. Time and time again, he told us the club would sit down with Barkley "in the summer". Now he is trying to bully him into signing before the fucking ink is dry.
I'm a fan of Ross; he does have flaws in his game and he is inconsistent, but he has more skill in his jock strap than any of the players Koeman has brought in... or been knocked back by.
If TW's very own George Washington wants Barkley, why has he gone out of his way to create this situation? And if he doesn't want him, How come he can find neither the balls nor the honesty to tell him so?
John G Davies
154
Posted 11/05/2017 at 20:00:41
If Koeman doesn't see him as part of his team for next season, he's gone. I'm not interested in how he goes about it.
Two questions: How much do you reckon Ross is looking for? And, given his performances, is he worth it?
Mike Gaynes
155
Posted 11/05/2017 at 20:03:06
Kristian (#149), glad you came through that ordeal.
Jim Wilson
156
Posted 11/05/2017 at 20:06:07
Hey Mike,
Getting bollocked by Williams on the pitch was unprecedented, and Baines has had a go too. Ozzy constantly lets us know how he feels about Lukaku: Not celebrating other players goals; Grabbing the ball to balloon free kicks over the bar; and missing penalties when we have a free-kick and penalty specialist; Constantly complaining to other players about their pass when he can't control a simple ball.
Moyes won Manager of the Month after Manager of the Month... these type of awards count for nothing, mean nothing. I want a manager who can win at Anfield and not lose it before we start.
Stay in cloud-cuckooland if you want to. We are going nowhere with Koeman.
John Raftery
157
Posted 11/05/2017 at 20:09:44
I doubt any of the top clubs will be beating the door down to sign him on 1st July. I suspect though one or two will monitor the situation and try to get him on the cheap in the last week of August. That would be typical of Daniel Levy.
Danny Broderick
158
Posted 11/05/2017 at 20:10:17
Koeman has to address the contract situation, as it is known that Ross has just one year left. As the manager, you have to draw the line somewhere. I don't think he is trying to force Ross out, and I don't think it's particularly unreasonable to give Ross a deadline to sign a new deal.
Our pre-season will be starting in 2 months! We need to know Ross's intentions asap. In 2 weeks time, Ross will be jetting off on holiday for a few weeks and may not be back until mid-June. If we don't draw a line now, it will affect our summer transfer policy.
In any case, all will become clear in the next week. If Ross is put on the transfer list and we accept a bid, or several bids, it would be unprecedented in the modern era for Ross not to go. He'd probably be tripling his money, plus there may be a ٟ million signing on fee. >His agent would also stand to get a big pay day, so no doubt he would be in his ear as well.

If we accept a bid, he'll go.
Gavin Johnson
159
Posted 11/05/2017 at 20:10:41
At the end of the day, Ross can do what he wants, but is he really going to spend the last 12 months on the fringes of the squad?! Seems highly unlikely.
I've seen Sterling's name mentioned a few times on this thread. Ross is a very good player but he's not important to Everton as Sterling was to the RedShite. The RedShite couldn't drop Sterling, he was so intrinsic to their success at that time.
We can buy a player like Sigurdsson and get an immediate upgrade on Ross.
Jack Cross
160
Posted 11/05/2017 at 20:25:51
Mike Gaynes (#117).
Winston Bogarde. Chelsea 2000-2004.
He wouldn't move. Played out his contract.
The club couldn't do a thing about it.
Paul A Smith
161
Posted 11/05/2017 at 20:28:38
Watched some videos of Davy Klaasen the other night and all I could think was he looks decent and Ross Barkley would probably be one of the best players in the Dutch league.
Mike Gaynes
162
Posted 11/05/2017 at 20:30:03
Jim (#156), I was the captain of my over-35 team for nine straight seasons. My star player was a pain in the ass on the pitch... prima donna, hogging the ball, diving, getting into confrontations. I was on his ass constantly and he drove all of us crazy 80 minutes a week (old guys play 40-minute halves). Anybody watching would have thought we hated him.
Off the pitch, he was my closest friend on the team and generally the most popular guy to hang out with... great mate, a friend you could count on anytime for any reason.
Rom may look to be an arrogant jerk during the game, but you have absolutely zero idea what he is like in training or off the pitch... or whether he is popular with the other players.
Regarding Koeman, if you want him out, that's valid, although I disagree. If you want him replaced with a youth coach, sorry, all I can do is laugh.
Paul A Smith
163
Posted 11/05/2017 at 20:30:33
Ciaran McGlone, I fully agree, mate.
Matthew Williams
164
Posted 11/05/2017 at 20:34:56
Sounds like Koeman is trying to move the lad on... Pity; Ross said himself in an article last season than he would prefer to play upfront, as he believed that was his best position on the park.
So give him his chance to shine... oh ,just make sure he has a strike partner with him & maybe a couple of wingers too. He might just surprise us yet!
Tony Hill
165
Posted 11/05/2017 at 20:35:39
Who is his agent? Does that person represent any of our other players?
I think he will now go. Very sad but, on a fine balance, for the best all round.
Eugene Ruane
166
Posted 11/05/2017 at 20:38:19
I remember writing (on TW) in the summer that I believed Koeman's opinions on what Niasse should do next (ie, fuck right off), were, given the nature of the player's four and a half year contract, dumb.
Whether Koeman fancies himself as a bully or it's simply 'that Dutch thing' I've heard about (ie: supposedly 'culturally' predisposed to being honest/rude/having no mental-filter or... whatever) I don't believe it is helpful or productive, basically for the reasons John suggests.
It makes me smile to think that maybe the only use for Elstone and his 'all-round-the-houses-wank-speak' would be in this area – ie: taking Koeman's 'straight talking' and turning into easier to swallow waffle-speak.
Would certainly have been preferable (and smarter) to have heard..
Elstone: "With our current squad, it is felt the balance of the side right now needs adjustment and unfortunately, though the manager sees Oumar is a terrific talent, he believes right now he would almost certainly get more game time with a permanent move or loan to another side. Everton of course would put no pressure on the player and would only want what is best for him and his family. Oumar is an experienced professional who understands the professional game and no doubt understands the arrival of a new manager at a club will invariably mean change and the implementation of new ideas and/or personnel."
Instead of...
Koeman: "No locker here for you, if you want to play football, find another club, you hopeless twat."
(I exaggerate slightly to make the point.)
John G Davies
167
Posted 11/05/2017 at 20:42:37
Paul (#161),
Klaasen? = Steven Naismith
Karl Jones
168
Posted 11/05/2017 at 20:43:34
Frustrating player. Unfortunately, you get the West Ham (away) performance far more often than the Bournemouth one.
I just think Koeman doesn't really see him as the attacking midfielder he needs because of his inconsistency and these days he is so slow in possession, twisting and turning instead of seeing the early pass when needed.
The players being linked: Klaasen, Rooney & Tillaesen would all be ahead of him in selection terms, this is maybe making him realise it's time to move on, but I can't see him being a regular in a top-six side.
Mike Gaynes
169
Posted 11/05/2017 at 20:55:40
Tony (#165),
I don't think Ross has a single agent (like Riaola for Rom)... he's represented by a group called Wasserman Media. They're based in LA and rep some big-name US athletes. Among footballers their clients include (or have included) Gerrard, Tim Howard, Tim Cahill, Carragher, Wilshere and Shea Given, although I don't know how many of those are still on board.
I believe Ross's previous agent was David Moyes's son Quinny.
Jim Wilson
170
Posted 11/05/2017 at 21:00:09
Mike – did your star player want to leave your team as soon as he joined you? Was he constantly feeding the media with "wanting to leave" threads? Was he basically saying the players around him were shit because we need to invest in top players?
Koeman has picked on Barkley constantly while Lukaku has got away with murder, and my fear is, we'll be left with the lazy, bad-attitude one while the promising local lad who has had his confidence destroyed by another stupid manager, who knows nothing about Everton, has left.
Tony Abrahams
171
Posted 11/05/2017 at 21:06:55
So if Barkley, hasn't agreed to sign a contract by next week, he will be put on the transfer list? I'm sure, like Darren has said, this will take millions off his transfer fee, so it does seem stupid making this public, especially considering the transfer window doesn't open for nearly three weeks!
Garry Corgan
172
Posted 11/05/2017 at 21:07:42
I admire Koeman's stance on this one.
Barkley's contract has been running down since the day he signed it, and now there's just one year remaining (and six months before he can sign a pre-contract agreement with another team).
I'm sure Everton have offered a competitive contract and that Mr Barkley won't be short of a few quid. Now's the time to tell him to stop piss-arsing about and either sign it or leave.
I like that we have the arrogance to almost say "We don't need you" to a decent player stuttering over a new deal. It's a big turnaround from the soft-soaping of the past.
Kenny Smith
173
Posted 11/05/2017 at 21:10:52
Clive (#109) – We've all seen this club make mistakes over the years. One of the reasons we're out of the top six so-called big boys is total miss-management in the mid-90s and beyond.
Don't compare the club's past mistakes to letting Ross Barkley leave! He's isn't up to what we expect of him now, never mind when we push on. Pure sentiment, Clive. If we'd bought him, he'd've been bombed out years ago. Mirallas offers more than Barkley.
You and others might disagree but Neil Warrnock sent him back from Leeds cos he wasn't good enough to get in a League One team. I'm not saying he was right and Ross was only a kid but I can see where he was coming from.
If we're going to get back where we should be, then we need better players than Ross Barkley. He needs to be sold now while his stock is high and undamaged because everyone bar Evertonians think he's got everything.

Ian Riley
174
Posted 11/05/2017 at 21:14:42
All the best. 㿊million, thank you.
Are other clubs paying much more in salary?
Will he be a first team regular?
You don't want to play for Everton Football Club. Fine; last home game tomorrow. Monday week, empty your locker. That goes for anyone else wanting out!!!
Koeman has improved Barkley this season – Barkley's most consistent season. Koeman wants more from players. He knows world class players. If Koeman wants to take the club to the next level, everyone needs to be on board.
You can't have players in the final year of a contract. Yes, if Martinez had been in charge, Barkley may have been offered an improved contract.
If Barkley goes, good luck to him. We move on!!
Mike Gaynes
175
Posted 11/05/2017 at 21:15:31
Jack (#160), that's a good one! 㾶m for nothing. Classic story.
Don't think it fits, though. Bogarde never turned down a transfer. Nobody was ever in for him (for obvious reasons). He just refused to walk away from his contract.
Mike Gaynes
176
Posted 11/05/2017 at 21:23:50
Jim (#170), if there's a "local lad who has had his confidence destroyed" by Koeman, it would be Ronald's PR guy or his interview coach or his charm school teacher.
It certainly isn't Barkley. He has played much, much better since January than he did last fall. What made the difference was the ass-kickings from Koeman. Ross's confidence got better, not worse.
Darren Hind
177
Posted 11/05/2017 at 21:32:02
Mike
If it's precedents you are looking for, try the manager who, for a year, has repeatedly told anyone who would listen that a certain player would not be offered a contract until the summer... then told the player to sign, or fuck off before the summer even got here?
Anthony Millington
178
Posted 11/05/2017 at 21:34:30
Ross Barkley is one of the most overrated players in the Premier League, in my opinion. He's had his flaws from when he first started playing for us and is not a complete player.
As Osman recently said, he still makes the wrong decisions more often than not, barely puts a tackle in, and goes missing against the best teams. I can't really see him getting into any starting line-up of the top 6.
When Dele Alli came onto the scene for England, you could see how much more of a complete player he was, with energy, goals and work rate. Barkley is miles behind that level.
Admittedly he's one of our better players and we'd need to bring in a quality replacement to improve but we shouldn't be held to ransom by him. If he doesn't want to stay and we can get 㿊 million, we should get rid. Will he ever fulfil his potential? I'm not convinced...
Philip Bunting
179
Posted 11/05/2017 at 21:35:17
Time to let go. I bet he finds the grass is not quite as green in pastures new.
If you cannot make a simple decision to stay with Everton, then please just leave. It cannot be good for the squad and at least we can move on and look forward rather than stagnate.
If you have any doubt about signing for Everton, you're not truly an Evertonian. Bye.
Brian Williams
180
Posted 11/05/2017 at 21:47:48
Koeman has been tasked by Moshiri to have Everton in a certain position by the time his own contract is done. We don't know what that position is but I'd guess top four.
If that's the case then Koeman is going to be even more ruthless than expected. He knows that time's passing and he ain't got it to waste.
He's already a season into a three season deal. I suspect his ruthlessness won't be worrying Mr Moshiri, in fact he probably welcomes it.
Don't let Moshiri's pleasant demeanour and friendly smile fool you, he wants a huge upturn in this club and he wants it fast. If there're casualties on the way I suspect, to Moshiri, that's part of the cost of doing business!
Alan Smith
181
Posted 11/05/2017 at 21:51:35
The lad obviously wants to stay. He's waiting for either/both a decent contract and a decent signing or two. Things we all want. He obviously has a better offer on the table but is hoping Everton match his ambition.
As for all these nonsense comments about his worth to the side. I go to every home game and no-one is on the ball the more trying to create. He always wants the ball and takes responsibility.
This Sigurdsson stuff. Wow. You go on about Barkley being inconsistent but laud Sigurdsson for MotD highlights. How often does he assist and score from open play?
"Barkley hasn't kicked on" is a comments there. But why does he have to kick on but love in Schneiderlin doesn't? Gana doesn't? Is anyone here seriously going to suggest these two are better than Barkley? I'd like him to get better but if he doesn't he's still better than anyone in our midfield.
He is clearly our second best player. There are people slagging him every time he doesn't score or assist. He is on par with Coutinhio over the last few seasons for goals, assists etc...He doesn't get bullied out of games as much and is playing with unambitious midfielders who don't make runs. But you all seems to love Coutinhio, a red. If hes not as good as Coutinho or Hazard or Sigurdsson or anyone else does that mean he is poor, inconsistent or hasn't kicked on?
The lad would rather play CM anyway. His supposed worst game v LFC away he got tackled to the floor by two men, got up with the ball and roasted 4 players with a run into the box, then set up Holgate for an easy square to Lukaku, which he, Holgate, fucked up.
He had other good moments. He had Lucas up his arse and sometimes two because LFC knew that Gana wasn't going to make a run behind and Davies.
By the way, Davies was awful, gets taken off and Gana was part responsible for two goals. But the game gets chalked up as a "See Barkley hasn't kicked on, he's inconsistent" etc etc
Can't believe you all fall for it. If he had identical performances all season in a red shirt he'd be England captain.
If he had identical games in a Swansea shirt, you'd say "Can we get in there buy him before a top 4 club" based on MotD highlights and few pundit comments. And you would rate him higher than you now rate Sigurdsson.
Starting to think we are the worst fans in the world. This lad should be backed to the hilt. A scouse Everton fan being humiliated by a manager who wants to be somewhere else in two years.
You all slag Lukaku for being honest and saying what every players wants. Yet you don't back Barkley who probably wants to stay... Probably won't if hes reads this thread.
A fan base that loved a Manc Phil Neville and doesn't love Barkley? Step back and digest that please. Think of all the images of Barkley's best moments and Neville's best moments. Then ask yourself if the reality of what you see on the pitch matches the ridiculousness of the critical comments on Barkley, and Lukaku. The sheep like falsehood bandwagons that we created.
Lukaku has a bad touch? hahahaha.
Harry Wallace
182
Posted 11/05/2017 at 21:55:30
New Everton = anyone who doesn't want to wear jersey can go. We'll replace you.
Anthony Millington
184
Posted 11/05/2017 at 21:57:42
Ross Barkley is one of the most overrated players in the Premier League, in my opinion. He's had his flaws from when he first started playing for us and is not a complete player.
As Osman recently said he still makes the wrong decisions more often than not, barely puts a tackle in and goes missing against the best teams.
I can't really see him getting into any starting line up of the top 6. When Dele Ali came onto the scene for England you could see how much more of a complete player he was with energy goals and work rate. Barkley is miles behind that level.
Admittedly he's one of our better players and we'd need to bring in a quality replacement to improve but we shouldn't be held to ransom by him. If he doesn't want to stay and we can get £30 million we should get rid. Will he ever fulfil his potential? I'm not convinced...
Damian Wilde
185
Posted 11/05/2017 at 21:58:31
Hopefully he'll be sold. Not good enough.
Jimmy Daly
186
Posted 11/05/2017 at 22:02:58
Okay, so he decides to go?
Which Premier League team midfield will he get into?
Arsenal: Ramsey, Xhaka, Ozil, Coqulin, Oxlade-Chamberlin, Cazola, Sanchez, Elneny ??
Spurs: Lamella, Waynoma, Dier, Dembele, Ali, Erickson, Wilks, Sissoko
Man City: Silva, DeBruyne, Delph, Fernandinho, Fernando, Navas, Sane, Toure, Gundoga
Man Utd: Pogba, Mata, Rooney, Linguard, Carrick, Herrera, Mkhitaryin, Fellaini
Liverpool: Can, Henderson, Lallana, Coutinho, Firmino, Wijnaldam, Mane
Sure, he could play for West Ham, West Brom, Newcastle, Leicester, Fulham etc. But, in all honesty, if he wants to get a game each week, he needs to stay where he is at. The only other team where he may see some playing time would be at the Dark Side.
Stan Schofield
187
Posted 11/05/2017 at 22:08:37
Brian, there's a difference between genuine ruthlessness and a show of apparent ruthlessness. The former doesn't require public discussion, whereas with the latter the public discussion is often just a veneer.
Koeman keeps making unnecessary public utterances. He reminds me of the black knight in Monte Python and the Holy Grail, all threat and no action.
Brian Williams
188
Posted 11/05/2017 at 22:11:42
"I move for no man."
Len Hawkins
189
Posted 11/05/2017 at 22:12:49
Will Mabon (#97)
"Koeman doesn't like gifted players."
Christ... he must have been pissed off to the back teeth playing for Barcelona and Holland in his younger days.
Jim Wilson
190
Posted 11/05/2017 at 22:15:55
If that's true, Mike, pity he didn't do that with Lukaku.
But it isn't!
Eugene Ruane
191
Posted 11/05/2017 at 22:24:15
Ian (#174) -
"Don't want to play for Everton football club. Fine, last home game tomorrow. Monday week,empty your locker. That goes for anyone e!se wanting out!!!"
HHAHAHA, fuck me, full moon?
That told 'em eh?
Or.. rather it would have if being a bit shouty on TW made a players contract void
Ffs, don't you get it?
I mean do you really not get it?
You (or anyone else) can apply all the wishful thinking in the world and act like a 1970s PE teacher and put a million exclamation marks at the end of your sentences, but it doesn't change the reality, which re player contracts, has been explained perfectly well on this thread.
Stan Schofield
192
Posted 11/05/2017 at 22:31:26
Koeman: Come back here, Sir Barkley of Wavertree, you yellow bastard, I'll bite your legs off, and you're being sold now!
Barkley: What the fuck's he on about?
Ray Smith
193
Posted 11/05/2017 at 22:44:21
Moshiri didn't get where he is today by being soft.
Koeman is a good manager with a lot of potential to take us forward into the top 4. If you don't want to be part of that process, don't sign and move on.
Somehow I feel Ross is being badly advised and should sign. However, if he doesn't sign, we will go forward without him.
Rick Tarleton
194
Posted 11/05/2017 at 22:51:57
Barkley is the creative player in the Everton set-up. Gueye, Barry, Schneiderlin, Besic, and Davies are not attacking midfielders. If you were a creative player at Everton, you'd possibly need assistance and front players who made lots of high energy runs and ran the channels to open up space in which the attacking midfielders could operate.
Barkley may simply be fed up with the lack of opportunity that this Everton set-up allows him to play a more forceful attacking game. If he had a striker like Costa or Kane to play with he may be the attacking force that his talents suggest he could be.
Everton are difficult to beat at their best, they are not a strong attacking force and that is because of the way we are set up and the way we play. We are at our best on the counter, rather than when running the show.
Tom Bowers
195
Posted 11/05/2017 at 23:08:15
So why is Barkley getting an ultimatum and not Lukaku? Personally I would let them both go at this stage.
We need strength at the back before next season as Jags, Baines and Williams are past their prime and liabilities as is Barry.
Some others need to be shown the door and for the life of me I don't understand why Koeman is anxious to get rid of Barkley and not Mirallas!
James Watts
196
Posted 11/05/2017 at 23:12:57
Tom (#195),
"So why is Barkley getting an ultimatum and not Lukaku."
Well that's easy. Barkley has 12 months left and will then leave for nothing. Lukaku has 24 months left and could still be sold for a decent amount next summer.
Barkley is also more easily replaceable than Lukaku. There are more players who can play that Number 10 than there are out-and-out goalscorers.
I personally thing this is a great move from Ron as it shows he wants his transfers in early and needs to know whether Barkley is an option or not.
Don Alexander
197
Posted 11/05/2017 at 23:15:54
To those who contend that Barkley has the whip-hand re next season, I'd just point out that he, Barkley, is guaranteed to have his agent and his Mum telling him he's England's finest and I suspect the lad weirdly believes it too, so I just can't see him doing a Winston Bogarde.
He'll want to play, in a Champions League team, and for England. His own reality seems to be that he's already good enough. The real reality that even most of those who want to keep him recognise is that his performances are worsening, and he's lucky to play for us in 7th position.
After five fucking years and 150 matches, does anyone think that this summer he will get start to get real as a proper pro footballer? I don't, and, Bobby Bullshit aside, nor does any proper pro manager who's ever used him.
Apart from criticism by the likes of Ozzie, the fact that in his 22 caps (and that speaks volumes about England by the way) he's only once played 90 minutes against a team worthy of the name, Holland, says it all. Against the top teams, he's a doddle to contain – and that's not the mark of a very good player.
Kristian Boyce
198
Posted 11/05/2017 at 23:16:44
Tom (#195), while Lukaku has publicly stated he's not signing a contract, he has 2 years left. Barkley has just the one. We still can get money for Lukaku next year, while we would get nothing for Barkley.
At least with Lukaku, we know he won't sign the contract offer. We know nothing on what's going through Barkley's thought process. With Koeman making the statement, I'm guessing that he has informed the club on any inclination he might have.
At the end of the day, Koeman is putting pressure on him to protect any monetary value he has and what they can recoup if he won't sign. It's better putting the pressure now than waiting to the new season, in which his value will drop even more.
Colin Gee
199
Posted 11/05/2017 at 23:22:05
I have only skimmed through the thread so sorry if this has already been mentioned.
I don't want Ross to go but if Ross does go where does he go? If he wants to 'better' himself. There are six teams ahead of us in the League Table.
Chelsea? He won't get in the team ahead of the likes of Hazard, Fabregas and Willian.
Spurs? Same again, he's got Dele Alli, Erriksen, Son in the way,
Man City? Won't get in ahead of De Bruyne and Sane,
Man Utd? Rooney (ahem) Pogba, that Armenian lad who's name I can't spell all ahead of him. If he thinks that Koeman is being hard on him imagine what Jose would do to the lad!
Arsenal? Not with Sanchez, Ozil, Walcott and Oxlade-Chamberlain ahead of him.
That leaves that lot across the park .
Surely he wouldn't even be thinking of that!
After that it's downhill all the way, with the likes of Southampton, West Ham, Stoke and maybe Newcastle .
Ross needs to jib his agents off and go and borrow a pen off Mirallas and Seamus!
Andy Crooks
200
Posted 11/05/2017 at 23:35:11
We do not have enough good players to "get rid" of one of our best. In the right line-up, Ross will be brilliant. Why not in our team?
Also, I am sick of hearing what players earn or are offered per fucking week. It is no more our business than what any poster on here earns per week. If you think they earn too much, fair enough, but go watch another sport.
Sorry, that rant isn't really part of this thread.
Gordon Crawford
201
Posted 11/05/2017 at 23:36:02
I really question Koeman's intelligence in this one. If he wants to sell Ross, then just wait until the window and let the bids come in. Saying that he will be sold, well, that's just crazy and lowers the potential value of the player.
I truly believe that, if Ronald was honest, then he would say that he doesn't want Ross around. I also believe this explains why Ross hasn't signed the contract, he doesn't feel the love. He's been treated badly shortly after Koeman arrived at the club.
I want him to stay. And he is a far better player than Klaassen and some of the others mentioned in the media. But, if he goes, I wish him all the best.
Douglas McClenaghan
202
Posted 11/05/2017 at 23:42:41
Everton have put a lot of eggs in the Lukaku - Barkley basket and it's not really paid off. Time for a change.
Stan Schofield
203
Posted 11/05/2017 at 23:46:17
Gordon, exactly. Koeman has repeatedly spoken about Barkley, continually assessing him in public, right from the outset. It all strikes me as falling short of being professional. He makes the whole thing like a soap opera.
Ian Riley
204
Posted 11/05/2017 at 00:23:43
Firstly,we are not "getting rid" of Barkley. What is the club to do? Contract on the table, not signed. One year left on his contract. Koeman was asked the question: "Has Ross signed the contract?" Koeman: "No".
We need money for new players. Ross is to be sold or we get nothing next summer. It really is as simple as that. It's not personal – just good business sense.
Let's say our goodbyes tomorrow to Lukaku and Barkley and be done with this soap opera.
James Flynn
205
Posted 12/05/2017 at 00:37:52
Koeman has zero say, none, in how the Club spends its money.
This is the second time he's come out in public stating that Ross has to sign or take a hike. He wouldn't make these statements without the approval of the Club.
I have no problem believing Ron would be happy to get rid of Ross. 5th season for him playing in the league, 4 of them a starter. He really hasn't improved.
Bill Watson
206
Posted 12/05/2017 at 01:05:21
Barclay is potentially a very good player. The problem is he is now 23 and has four full seasons behind him. Will he still be potentially a very good player after four more seasons, at the age of 27? Can we afford to wait?
Koeman is correct: if he wants to stay, then sign a new contract. If not, then he'll have to try to realise that potential elsewhere.
I'd like him to stay but as a club, and as fans, we need to know his intentions.
Gordon Crawford
207
Posted 12/05/2017 at 01:05:43
Totally agree, Stan.
Nigel Johnson
208
Posted 12/05/2017 at 01:12:38
Okay here we go. Barkley has not developed because of one reason and one reason only. Koeman has been the only Manager to be willing to tell him some home truths.
In the past he has been told by we know who that he is the best thing since sliced bread. In fact if he would have been handled differently at least for the past 2 seasons he would have developed better.
All you have to do is look at Lukaku he might end up this season top goal scorer and why because Koeman has not let him have a free ride. He has clearly told him where he needs to develop and Lukaku has listened and improved in areas, of course he can do better and you can see the improvement.
All this jumping into the crowd business is just a front. I am with Koeman on this – if he wanted to stay he would have signed by now. He is just waiting to see who if anyone comes in for him. And Koeman's attitude is you will stay or go on his terms and not if no one wants you you'll stay.
Barkley, you are good... but sorry, not that good.
Mark Andersson
209
Posted 12/05/2017 at 01:22:46
Maybe it's as simple as Ross's agent thinks he deserves more money, but Koeman doesn't or more likely the board don't.
Bill: "How much do you think Ross is worth considering he's a true blue, Ron?"
Ron: "Hmmm.... not that much; he is over-rated by the English press and some punters. Offer him the same contract he is on and a bag of Wotsits."
Bill: "Are you sure, Ron???"
Ron: "Okay... two bags of Wotits. Get your money man to buy me Siggy from Swansea sell Ross and pocket the change; we wont miss Ross.
"Remember your paying me £6 million a year because I'm the best in the business. Off you go now, Bill..."
Kieran Kinsella
210
Posted 12/05/2017 at 01:27:01
£6 million a year and a big name gives you a lot of leeway. I can't see Bill or anyone else reigning Koeman in. He may not have the final say but he will have his say publicly.
Derek Thomas
211
Posted 12/05/2017 at 01:31:13
The only reason I can see for him not signing is he's been tapped up. Nobody can be so stupid (that said, this is a footballer we're talking about here), the terms can't be that harsh, any sticking points that entrenched.
The correct response should be... 㿨k a 'kin week – anybody got a pen?
Q) Do agents make more money from a transfer than a new contract... hmm, I wonder?
The Scene is USM Finch Farm, the day before the dead-rubber game vs Watford.
Koeman plonks contract on table, "Sign this and you might get on the bench, don't sign and you're in the stands and down the road."
[Points to Joe Williams] "Make sure your boots are polished, Son, get ready to show soft arse here [jerks thumb over shoulder] how it should be done."
Short Version; Tapped Up.
Alan Smith
212
Posted 12/05/2017 at 01:32:50
What's all this "Barkley hasn't really improved" nonsense about? By not improving, he's still our best player after Lukaku!
We won't get 㿊M? Wake up! Man Utd paid that for a left-back. We got £47½M for Stones; we paid near 㿊M for Bolasie. We may loose millions by giving him a deserved massive contract last summer.
I remember us bumping McCarthy up after a terrible season. But you all loved him and knock Barkley. Have a word with yourself.
I'm so disappointed at how many illogical fans we have. Thank God for John Daley, is all I can say.
As for the Spurs comments of Eriksen this, Son that... who's to say he wont play central midfield instead of one of those big stiffs, Wanyama or Dier?
Kieran Kinsella
213
Posted 12/05/2017 at 01:33:22
Gordon & Stan,
I don't disagree but this is the Sky culture. I don't remember press conferences in the old days. Now that mandates these guys to appear on TV before and after every game. They hound them with the same predictable questions:
Are you leaving Arsenal?
Are you getting sacked, Moyes?
Do you rate Rooney, Jose?
What's your name again, latest Hull City boss?
Inevitably people start mouthing off. Conte is one of the controlled few but give him time and some bad results and that could change.
Clive Mitchell
214
Posted 12/05/2017 at 01:36:26
Kenny (#173) – thanks for your opinion.
Mine is not sentiment. It's the product of watching Everton at Goodison Park – a side that has several players that aren't good enough for a top 6 team – and watching him continually create opportunities because the lad has more ability than anyone else in our squad.
Koeman may turn out to be an idiot. Ross Barkley won't turn out to be an average player.
Dan Davies
215
Posted 12/05/2017 at 01:56:17
I could be very wrong but my take on this is basically, if Barkley goes, past Ronald's timescale it's "Let's hear your offers" time.
Business is business. I like Ross as a player but I don't think Ronald has much time for for him and more than likely thinks he can be replaced.
Over to you, Ross.
David Pearl
216
Posted 12/05/2017 at 02:50:08
After we finished 5th a few seasons ago we all hoped to build a team around Ross, Rom and Deulofeu. Not worked out as some players think they are too big for us... or are better than they actually are.
Clive, have you also noticed he is the reason most of our attacks break down? I counted 5 lost balls in a row v Burnley. It might of been more than that but I covered my eyes for a couple minutes.
Ross is more replaceable than Rom. I think Koeman wants to know so they can do our business early. Like we always do!
Will Mabon
217
Posted 12/05/2017 at 02:51:56
Considering Koeman has supposedly improved Barkley and upped several areas of his game, he's very loathe to acknowledge his own work.
Of the several times (that I've seen) a questioner has highlighted a good performance by Barkley, giving Koeman a chance to expand and praise Barkley, it's always "Yes, Ross is improving". He struggled with a bowed head to mumble "It's an important player for Everton."
He absolutely will not praise Barkley. Some of the clips of his reaction at Barkely's mistakes show petulance and nastiness unbecoming of a so-called top manager.
He has never wanted Barkley IMO and tagged him as his whipping boy early on.
I've stuck by Koeman but no longer. He wants Barkley out – but where is his ballsy straight talking now? As brutal as you like with Niasse, won't go near the same tactic with a player he knows is a firm favourite with so many fans. Coward. Wants Barkley gone without his prints on it. Of course some will cite this as "Not damaging his sell-on price" or similar.
Tells him to sign or leave without any encouragement whatsoever, just threats. Not likely to encourage Barkley to sign, is it? Yet some on here are questioning Barkley's loyalty!
Would you sign for a manager that handled the situation this way? I think it may already be too late. For Ross to sign now is to be publicly cowed by Koeman.
I'm not going to blindly defend Barkley in a playing sense. He's still so much about potential, and it's getting late. He's showed brilliance in the past but perhaps needs something Koeman can't or won't give. I tend to think that, for a man who's most recent work is addressing the perilous threat of Swansea's diamond, the answer is "Can't".
David Hamilton
218
Posted 12/05/2017 at 03:26:36
Nick @141,
You say "His brain can't process thoughts fast enough to play in the Premier League and his legs don't move quickly enough to compensate."
I've come to a similar conclusion. In fact, I would say that Ross has been, and still is, at his best when playing on instinct; when he doesn't have time to think.
His problem of late has been his unfortunate propensity for giving himself time to think instead of playing the first-time ball. He plays as if trying not to make mistakes. I had imagined him as a sort of modern day Gazza, with those brilliant mazy runs, but now he's thinking himself out of it.
And why does he need to touch the ball 4 or 5 times when turning through 180 degrees?
Phil Sammon
219
Posted 12/05/2017 at 03:38:21
Why does he start him every game, Will?
Jay Harris
220
Posted 12/05/2017 at 03:39:38
Alan,
I don't know how many games youve watched this season but Barkley is certainly "not our best payer after Lukaku".
Messrs Gueye, Schneiderlin and Davies are all better than Ross in every game.
That is the supporters frustration with him.
He is so technically gifted but cannot apply it to his game.
He can't tackle, win a header, or score goals consistently, and therein lies the problem. Koeman saw it straight away and most supporters are now beginning to realise Ross does not fit into a top 4 Premier League side.

Ernie Baywood
221
Posted 12/05/2017 at 03:41:04
Contact wrangles happen all the time. Is this even news if Koeman doesn't make it so? I don't disagree at all with what he says, I just know why he felt he had to say it.
My view is that Ross will make his call and Everton will make theirs. It would be a shame to see another boyhood Evertonian leave but that's football.
Brian Murray
222
Posted 12/05/2017 at 03:55:44
Re Ross, I'd love him to stay and prove he's top notch. The fact he's from here, even more so... but there can't be any emotion to the decision. It's a Yes or No, so we can sign these alleged five new players.
Me, like probably a lot of blues, I'm waiting to see how serious we are in the summer before blowing a monkey or two on my kids' season tickets.
Moshiri is taking one hell of a gamble trusting a buffoon and his sidekick with the family silver... ah well, that's Everton – all change... but none really.
Mike Gaynes
223
Posted 12/05/2017 at 04:26:30
You beat me to it, Jay. Barkley is no better than our 6th best player.
In addition to Rom, Gana, Schneiderlin and Davies, I would add Coleman to the list of players who are better than Ross.
Will Mabon
224
Posted 12/05/2017 at 04:28:17
Not every game Phil, most games. We're not exactly overrun with options in Barkley's area of play. Might explain his number of starts despite the public mind games played by Koeman.
Ernie Baywood
225
Posted 12/05/2017 at 05:25:20
Mike, I think those you mentioned have outperformed him, but I'd also suggest we could find adequate replacements for Gana, Tom, Schneiderlin and probably Coleman (well we don't have a choice with the last one).
It's not easy finding attacking players who can create chances. I'm not totally convinced that it's easier to replace Ross than to improve him.
Mike Dolan
226
Posted 12/05/2017 at 05:46:54
I really thought that Barkley would blossom this season. He can look so good at times but he just is not a smart player. He is not a great player – just one that occasionally has great games. He will always be inconsistent its just his nature.
A player in his position needs to score at least 12 goals a season; 4 is not going to do it. Lets face it if we bring in Sigurdsson, Ross will never get a game. I hate to say it but I think he will be amazing with a change of scenery and then just drift back into complacency.
Always too good not to play but never good enough for a really good team. We just can't make excuses for him forever.
Mike Gaynes
227
Posted 12/05/2017 at 06:00:44
Ernie, I'd say Ross is eminently replaceable. He's just not that creative.
Check the numbers... 34 games this season, 8 assists, 9 big chances created. Never mind comparing that to elites like Sigurdsson and Erikson... those numbers put him on a par with plebians like Zaha, Oxlade-Chamberlain and Matt Phillips.
He doesn't even match up with Bolasie, whom most would consider inferior to Ross. Bolasie compiled 4 assists and 8 chances created in only 14 games. From the wing, not in the middle like Ross. While also working his ass off on defense. Which Ross does not do.
As for improving Ross, three different managers have tried. He's had nearly 180 appearances. If he was gonna be a star, we would have seen it by now.
David Chait
228
Posted 12/05/2017 at 06:03:35
It would be a shame to see him go, especially now when we are building something at Everton.
Unlike Lukaku, I believe he is replaceable immediately. He was my call for Player of the Season I really believed Koeman would coax a real player out of him. He had an excellent run couple months back but last 2 games imitated a footballer.
He is never going to be the in the hole player. I thought he should do box to box but seeing the energy Davies brings to that I'm not sure Barkley is that either.
I have only once I remember got on Barkley's back but wouldn't lose sleep if he goes. I think he might be very very silly to go though.
Jim Harrison
229
Posted 12/05/2017 at 06:37:27
I can't see why there is do much debate over this. Koeman has said what's going on. There is a contract on offer, Ross hasn't signed it, for whatever reason. If he doesn't, we will cash in as it makes no business sense to let him devalue further.
He obviously believes there are other players out the who could do the job, and isn't to fussed as he wants players who want to be at Everton. If Ross isn't convinced he wants to stay, then he can go and try his luck somewhere else. Simples.
Why won't he sign? He wants more money? Don't know how much he has been offered but I can't imagine he would be short of cash!!
He wants assurance over his role in the team? He is not yet consistent to make such demands.
He wants Champions League football? Good luck to you lad, Everton can't offer that this season, but not sure who you go to in England to get game time, all 6 teams above have better players in your position.
Is Koeman wrong? Does he not rate the player? The club have offered him a contract, they obviously rate him. Unless Ross's agent is telling the club to up the offer, what else can be done?
I personally like the player but believe he needs competition for his place. It's all a bit too easy for him. His past two games were stinkers but, by dropping him, Koeman has to change the set up and, with the current squad and injuries, he is the only player who fills that position. Get dropped; team lacks creativity; get brought back in.
Alexander Murphy
230
Posted 12/05/2017 at 06:41:07
Even just scanning through the replies above, there is a sense of frustration with Ross.
On the one hand, he is technically gifted and can play with real style, the kind that Evertonians really love to see. On the other hand, he just doesn't bother.
Koeman has now set Barkley a deadline to make a decision. How very appropriate. A decision. That sums up the conundrum that is Ross Barley.
What does emerge from this is that Koeman does want Barkley, but on Koeman's terms. It is also clear that Koeman is very determined to get his squad sorted for the season ahead.
The emergence of Tom Davies now means that Ross's status as local lad has been surpassed.
Sadly, Ross has seriously failed to seize his golden opportunity by the scruff of the neck. And I suspect that he never, ever will. I would so love to be entirely wrong and for Ross to go on to put the fear of god into opposition for a decade and more to come, becoming a hallowed Royal Blue Legend.
Yet, in my heart, much though I hate to admit it, I can't see him achieving that.
Thomas Lennon
231
Posted 12/05/2017 at 07:01:03
In the Chelsea game they were pushing up denying us space, finding each other and moving forward. We were struggling to do similar. Davies was running back to pick up the ball from the keeper, carrying it to the halfway line, head up, then looking for Ross the creator, finding him and now out whole team was pushing up, matching Chelsea.
Sadly Ross fails to find the man moving up on left, turns back infield and quickly gives it back to the clearly exasperated 18-year-old. He didn't want responsibility. And that is his problem. Not talent, not confidence. We need better in that position against the better teams.
Laurie Hartley
232
Posted 12/05/2017 at 07:03:43
Elephant in room – If you had a 6'-2" player with good ball control, that could shoot with either foot, that could receive the ball with his back to goal and turn a defender, in what position would you play him? I'm thinking No 9.
I think he's been played out of position.
Going by the Watford press conference I also think Koeman wants rid of him. I wouldn't be surprised to see him with Benitez next season.
Paul A Smith
233
Posted 12/05/2017 at 07:13:49
Alan, Glad you mentioned Dier because I thought the same thing. A centre-half playing midfield like a yard dog but he plays for the darling Spurs so he gets special reviews from our media. He is an absolute dog of a player and I bet, given half the chance, Pochettino would have all of our midfielders before him.
A lot of our fans don't take into consideration how tough it is for players in the modern era. Everyone is up against international defenders now not like when Giggs, Scholes and Gerrard broke through.
Hazard's best season has 16 goals and our pundits had him down as on par with Messi and Ronaldo. The lack of perspective in some comments is unreal.
Paul A Smith
234
Posted 12/05/2017 at 07:34:51
Will Mabon,
I think you have said all there is to say mate. Barkley's biggest decision will be working out if he can work another 2 years with the arrogance of Koeman after so much love from Martinez.
You're right, Will, and I take it another step an say Koeman is a prick who is on great money to single out our only Evertonian player how many times? Koeman wants to look at his own performance. Plenty of managers have achieved more with all the players they have inherited.
This is the man that bought Stekelenberg and Ashley Williams to the club.. and brought Pennington from out of the cellar for a derby.
But Ronald knows best, doesn't he... makes me cringe, that.
Eddie Dunn
235
Posted 12/05/2017 at 08:19:22
I know Barkley has been frustrating at times but, over the last few weeks we must remember he has had the nightclub incident and the Sun article to deal with.
Despite his dip in the last few games (along with Lukaku, and others) one the whole he has improved in many aspects of his game.
He is fitter, he covers more ground, and has also been asked to play in a deeper role at times.
Because we are all expecting him to do something amazing we all complain if he plays the sort of ball that Barry or Davies would play. Every player he comes up against is aware of his ability, his runs across the box (like Mirallas), and they all a ready to thwart his efforts.
Our more defensive style of play (particularly away) has not suited his game, and Lukaku's running is often to the wrong areas leaving Barkley trying to thread a needle in the dark. The fact is that Barkley is capable of fabulous passing, beautiful weighted passes that he sees before others and he has the technique to open up defences. Our system does not suit him.
Koeman doesn't like him, and Ross must know it. Now Koeman is trying to push him out without upsetting the fanbase. What we need is competition for Ross, not another guy who can't be dropped because there is no-one else to do the job.
Keep Barkley, get Sigurdsson as well.
Christine Foster
236
Posted 12/05/2017 at 08:35:09
Some of the comments made by Koeman brought to mind an article posted here almost a year ago called
Koeman: More a sinner to the Saints?
In particular...
For quite a while now – Saints have not been entirely happy with Koeman. Many of the agreements he had previously made when he first signed, he had not been honouring. The style of football, formation, and most importantly – the much vaunted "pathway" to the First Team from our famed Academy – which under Ronald has been said inside the Club to have become "blocked". His attitude toward our young players, never bothering to involve himself with the Academy or even watch their games [he sees himself very much as a "First Team Manager only" whereas we want our manager to take a keen interest in helping develop our burgeoning talent], often discouraging them, blankly stating that most of them are simply not good enough, and at one point launching into a very nasty tirade of abuse to young Matty Targett, that is said to have stunned those who were there in its cutting spitefulness and completely unnecessary severity. The "esteemed" Ronald Koeman callously tore a sensitive young lad to shreds in front of all his mates, and has since been widely regarded as a complete cunt.
Ronald Koeman, despite his very well presented and controlled public image in the media, is not particularly well liked by many at the Club, to make a sweeping understatement. His aloofness and arrogance on the training ground, his unapproachability, and tendency to snap at players and speak to them in a disrespectful tone has not gone down well. Mane, JWP, Harry Reed, and Tadic in particular have an immense dislike of Ronald Koeman, and others only tolerate his tactless approach as they're regularly in the Team, were enjoying an element of success under him, and don't want to rock the boat. But you get the general idea.
Straight talking? Honest? Likeable? Really?
Sounds to me he has more arrogance with a vindictive edge... much akin to our previous manager.
Chris Gould
237
Posted 12/05/2017 at 08:47:01
Christine, firstly, that's all hearsay. Secondly, the Saints fans would take him back in an instant.
Puel has played a few of their academy kids and it's widely accepted by their fans that they aren't good enough. Can't criticise Koeman for refusing to play kids that he didn't feel would improve the team, especially when they finished 6th!
Regardless of what he does or doesn't achieve here, he did a brilliant job there.
Rick Tarleton
238
Posted 12/05/2017 at 09:17:04
Like Christine Foster, I am ambivalent about Koeman and feel that he is arrogant and has picked on Barkley unjustly on many occasions. He is tactless in the extreme and does not handle with the sensitivity necessary the young men under his control.
The jury for me is still out on Koeman.
Erik Dols
239
Posted 12/05/2017 at 09:18:47
Christine Foster "Straight talking? Honest? Likeable?"
Likeable? Has anyone ever called Koeman likeable? That's one of the funniest things I heard about him. The man is an arrogant prick and can be a cunt. In the Netherlands and in Spain, this is well known.
I am surprised that anyone thinks they can find him out. Koeman is ruthless and will always make enemies wherever he goes. The man himself can't be bothered about that. He is not hired to be likeable but to improve the overall state of the first team.
What is beyond me is that you actually compare this to Roberto Martinez. If anything, I would say they are opposites.
Christine Foster
240
Posted 12/05/2017 at 09:43:24
Erik, my only comparison to Martinez was the fact that, when he took exception to a player, that was it, and could be vindictive. Saha, Distin etc...
Jim Harrison
241
Posted 12/05/2017 at 10:05:36
Thomas Lennon, I saw that, and I thought for a spell Davies avoided passing to Barkley.
Gordon Crawford
242
Posted 12/05/2017 at 10:15:50
Ronald has always been far from likeable; anyone who remembers him as a player will know this. And personally I'm not convinced he's changed much.
I think he has bullied Ross and hung him out to dry on many occasions. And I'm not a lone in thinking this, many top player have thought his public treatment of Ross is just wrong. The reality is that he doesn't want Ross at the club, but he won't say it directly, as he doesn't want to look like the bad guy.
Though If I was in Ross's shoes, then I would just sign the contract and hope that Ronald doesn't hang around for too long.
Christine Foster
243
Posted 12/05/2017 at 10:25:27
Gordon, its apparent that many posters do like Koeman and his management style; however, it's not as well received with his players. But, like Erik said, he is not paid to be nice... just get a job done.
I am torn between keeping Barkley or advising him to go... I think the later sadly.
Thomas Lennon
244
Posted 12/05/2017 at 10:34:57
Jim Harrison – I thought Barkley was hiding for a while. To be fair he was 'targeted' to some extent but again that isn't what we need. If we had had someone who could find a man while being crowded that the Chelsea match would have been much closer.
I think Barkley has got it in him and we should keep him as he may well flourish in his mid- to late-20s when he gets past this inferiority thing, as he matures personally – for now, however we need better and Koeman hasn't got the time to wait. Top 4 teams have much less time to waste.
nb: To be very unfair, how many players now protect their passing (and other) stats like we saw Barkley do? Especially if they are looking to a wage increase or a move? Careers are increasingly built on 'stats' it seems... just a thought.

Tony Abrahams
245
Posted 12/05/2017 at 10:34:59
Jim & Thomas,
I can't really remember this happening that much in the Chelsea game but I would love to know who Koeman would have blamed for Pedro's fine goal?
To score a goal like that, you usually need time, and with Gueye following Hazard, then Davies needed some help to shut up the gaps in the middle of the park – something he just never got from Ross Barkley that day.
Jim Harrison
246
Posted 12/05/2017 at 10:35:20
Does anyone think Ferguson was a nice guy? Or Jose?
The guy knows what it takes to get to the top.
I can't see how people make this about whether he likes Barkley or not. If he doesn't want him he signs a replacement, he doesn't give him the option of a nice new better contract.
But wait! Barkley has been offered improved terms!
So he calls him out in public? Has his play improved? Perhaps this is how he feels it best to get a response. Koeman has said himself that Ross asked why he had been singled out.
Jim Harrison
247
Posted 12/05/2017 at 10:40:14
Tony, yes, great goal. Simple, it's execution was great .
I remember one passage of play, good build up, Davies passes to Ross, Ross plays a stinking pass under no pressure and cedes possession and gave Chelsea an opportunity.
Can't remember if it resulted directly to goal, will have to re-watch. But, after that, it seemed to me that Davies was reluctant to pass to him. My opinion. Maybe, if you have a watch, you will see what I mean, maybe not
Thomas Lennon
248
Posted 12/05/2017 at 10:47:42
Ronald has said himself that he likes to keep his distance from the players – just like one of our title winning managers of old. Koeman's brother does the 'arm around the shoulder' work. That is why they work together.
Eddie Dunn
249
Posted 12/05/2017 at 11:45:34
On a slightly different theme, I have seen several of the club's official videos of players trying to emulate famous goals or a recent one of a few of them trying to score from a variety of passes etc. There was no sign of Barkley in any of them. The usual participants are Mirallas, Davies Valencia (in the last one – and he was shocking!) Lookman and Lukaku. Yet Ross is the one attacking type that is missing!
On Koeman, he is guilty of having little patience with the likes of Niasse, and now Barkley. He also dropped Joel Robles after one mistake, and Jags got the chop too.
Yet his man Stekelenburg has been dreadful, and his signing Williams has also had some shockers but has not been punished like Jags, for example.
One rule for his boys and another for the rest?
Gordon Crawford
250
Posted 12/05/2017 at 11:53:40
I don't think Ross's new contract has anything to do with Ronald. I believe it's the board who are making this decision. After all, didn't Ronald say that he takes no part in contracts?
It wouldn't surprise me if Bill wanted him to stay and so offered him a new contract. So, through gritted teeth, Ronald has accepted it and told Ross to sign the contract or be sold. This is just my opinion, rightly or wrongly.
Thomas Lennon
251
Posted 12/05/2017 at 12:26:13
Koeman works with Walsh on what they need, who they can get and hands over a list to the money men. They don't decide wages & contracts but it is highly unlikely the club will keep a player Ron doesn't want, nor is it likely that the club will sell someone without Koeman's okay.
Tony J Williams
252
Posted 12/05/2017 at 12:52:19
#181 – Just fucking Wow!!
Paul A Smith
253
Posted 12/05/2017 at 15:19:42
Tony Williams, I cannot believe the arrogance of that "Wow!" comment.
A lad gives his opinion and backs it up with reasons and your genius reaction couldn't make any insight or enlighten anybody.
Snobbery of the highest order. How many people would react face to face with that comment?
It's really sad we knock each other down but have no input to give.
Enjoy the game tonight, blues.
James Hughes
254
Posted 12/05/2017 at 16:09:10
Erik (#239). I really hope your post is correct as we could do with a right twat in charge. We might actually win something and sign decent players.
Is the Man Utd boss a nice guy? He plays to camera, but is ruthless and that guy has won plenty. Why would we Evertonians want less?
Mike Gaynes
255
Posted 12/05/2017 at 16:22:01
Laurie (#232), I've been saying that for years. Being a #9 would have emphasized the best parts of Barkley's game – quickness, strength, reactions – and de-emphasized the weakest part, which is decision-making. None of his managers have ever given him an extended run at forward, and I wish they had.
Christine (#236), I don't recall anyone here presenting Koeman as "likeable"... I probably wouldn't want him as my boss. But much of that article has turned out to be bunkum... Koeman has definitely given our youngsters every opportunity and encouragement, and three are now regular starters.
Eddie (#249), Joel wasn't dropped for one mistake. He was dropped after FOUR mistakes in four games (he got away with the one at Old Trafford, but cost goals against Liverpool, Leicester and Burnley). Jagielka was deservedly dropped after repeated blunders (and he has come back stronger than ever). It's a manager's job to sit people down when they don't play well.
And regarding your comment at #235, "...Barkley is capable of fabulous passing, beautiful weighted passes" – yes, he definitely is capable. He just doesn't use that talent often enough.
Jay Harris
256
Posted 12/05/2017 at 16:41:56
I love the way we're all blaming Koeman for Barkley's poor contribution when the truth of the matter is Ross has been inconsistent and dithery since he first came onto the scene.
He has never scored goals consistently, rarely won a header from midfield, doesn't close down or tackle and just jogs around the pitch making the occasional "Hollywood" pass.
There is no doubt he is technically gifted but cant seem to apply it on the pitch at the highest level.
Koeman is ruthless and bluntly honest and I for one am happy to have him as manager.
Mike Dolan
257
Posted 12/05/2017 at 16:44:58
Harry Catterick was not exactly Mr Warmth but he was one of our most successful managers in history.
I think its obvious that straight talking Ron understands the management principle of carrot and stick. Tough love is used to great effect sometimes and I think Rondo's handling of Barkley has always been professional and above board; however, you can lead a horse to water but you can't make it drink.
By now the player that Barkley is going to be is exactly who he is. He is the finished product. As a 10 he just does not score enough goals as a deep midfielder in spite of an improved work rate he lacks positional sense and tenacity.
Maybe Barkley the Messiah will arrive next season but, in the meantime, we need a professional No 10 for the important business of now. He has been asked to either piss or hand over the pot and yet he dithers and dithers. It's time for Ross to grow up.
John Pierce
258
Posted 12/05/2017 at 16:48:24
Jim (#246), no doubt both Ferguson and Jose were not the nicest of bosses, but they're a throw back to an outdated approach.
Koeman displays much of the same discipline orientated, headmaster mentality. This was okay in an era when the manager had the final say on everything. Ferguson was famous for this, Mourinho is an outlier in today's set of managers that win trophies.
Koeman's approach is crass, strong-arming a player with an ultimatum, where do you go when you don't get the result you want? You look foolish.
Do your business behind closed doors, bat away repeated requests for comment and you look professional and probably gain the trust of a player that everything you talk about remains private, as it should.
If we lean towards the view Koeman doesn't rate Barkley, and he's given him plenty to hang him self with, then okay. You can manage the player out of the club without the circus it's become, you protect the lad and remain in charge.
Instead, Koeman looks a bully for creating negative publicity to the world on how bad we are at handling transfers.
Koeman that.
Dermot Byrne
259
Posted 12/05/2017 at 17:03:49
John Pierce,
You may have a point and, if so, the future of the game is bleak. I hold on to the club by fingertips now. If players really do completely take charge, it would be awful and like an episode of Hollyoaks. At 56, I've got better things to do. Petulant tossers.
John Pierce
260
Posted 12/05/2017 at 17:06:10
Jay (#256), is this a scenario we're both parties are red faced? Koeman most pointedly for handling the whole sherbang in public pretending he's Arnold Schwarzenegger attracting unwanted and negative coverage of the club.
Ross has been as he always will be, mediocre. Even relieved of his midfield duties because an 18-year-old shows more desire to play that position than him? He shows little outward desire to improve the side of his game that really he has the physical gifts for, that boils down to desire, again.
Both Ross, on the field and Koeman, public relations have let down the club. The two, it seems to me, can be mutually exclusive?
Amit Vithlani
261
Posted 12/05/2017 at 17:29:02
Two facts:
1. Koeman's public utterances have been inconsistent. Sadly, no two ways about this.
2. Barkley can agree a pre-contract to leave the club in January 2018. The leverage is with Barkley and his agent. We stand to lose a key player for, at best, a price below his market value and, at worst, for nothing.
Now comes the opinion part: if we lose Barkley on a free, that will be a stain on the Walsh - Koeman axis. Even if they don't handle the actual negotiations, they did not push hard enough, as the two key individuals responsible for first-team affairs.
Jay Harris
262
Posted 12/05/2017 at 18:21:42
John,
I understand what you are saying but Koeman is constantly hounded by the press for updates on situations and Ross has had months to review the contract offer with his agent so all Koeman is pointing out is that Ross has a week to make his mind up and then the planning for next season starts, so he is totally correct to demand an answer.
I agree these things are best done privately but, with modern media and communications, very little is able to be done privately and it was already out there that Ross wasn't signing his new contract.
I look at it this way that players, and particularly their money grabbing agents, are way overpaid and have too much power so its good to see someone take a stand against them.
I happen to like Ross and wish it would work for him but he obviously hasn't got it upstairs and hasn't kicked on to be the young diamond we all wanted him to be.
Christine Foster
263
Posted 12/05/2017 at 18:36:56
Have to say it, but Barkley is not the only player who has not come up to expectations... so
why
is he being made an example of in such a public manner?
As said, Koeman chose to answer and condemn Barkley on a number of occasions, in fact, more so than any other player in the squad, on repeated occasions. He clearly wants him out; what other explanation is there when you are told that, even if you sign, he will be looking for another player for your position??? I mean, what the fuck? No wonder Ross is pissed off...
Negotiations are the Board's responsibility and Koeman should not answer or threaten – he is over-stepping the mark.
Do you not think for one moment that all of this is not affecting Barkley or his performance? Why is he being singled out? Why isn't Kenwright telling Koeman to shut up and let them handle it?
Don't get me wrong, Koeman may well think the thoughts he has about Barkley but he has no right to utter them. It's a threat, pure and simple, from a bully who is damaging a player and reducing a possible asset if sold.
Where is the Board on this? If I were Barkley, I would come out to the press and give the other side because we all think this is about money... I don't think it is.
James Flynn
264
Posted 12/05/2017 at 19:49:10
Christine, I mentioned above and am repeating. The only reason Koeman is saying this, for the second time mind, is that the Club has made its offer and is ready to let Ross go.
Over the season, Koeman has called Ross out several times regarding expectations and living up to his abilities. Always playing on the pitch related.
Only twice has he thrown down the, "Sign or go" gauntlet. That's the Club speaking thru Koeman.
Everton Football Club is prepared to move on without Ross Barkley. Ronald Koeman is just the mouthpiece.
Gordon Crawford
265
Posted 12/05/2017 at 22:44:26
Brilliant post, Christine. Many a player has badly underperformed this season and yet they haven't been subjected to such bad treatment. Why would he sign when he is being made the scapegoat? He doesn't fancy Ross and that's that.
But the Board have made an offer to Ross and Ronald has to like it or lump it. Though, with Ross not signing on the dotted line, it's giving Koeman more ammunition.
I hope he signs, but I don't feel he will. Sad day when one of our own feels unwanted and possibly has to leave.
Peter Roberts
266
Posted 12/05/2017 at 22:56:56
Something stinks about this Barkley contract.
First off... I'm not fussed on Koeman. His behaviour has been inconsistent to say the least. One minute, it was too early to discuss contracts with Barkley... then, 4 months later, he's delivering an ultimatum.
Secondly... we have a player in Rom who has had a club record contract that he has toyed around with, made numerous comments to the press as to his ambitions, and he gets what? Nothing.
Koeman himself stupidly talked about Lukaku needing to play for Barca.
He needs to look at himself.
Trevor Peers
267
Posted 12/05/2017 at 22:58:45
Get over yourself, Gordon, I've never heard so much emotional garbage. Either Barkley signs a new contract or he effs off; him and his agent are playing the mind games, no-one else.
If he was a real True Blue, he would've taken the 𧴜k a week like a shot. Any criticism directed at Ross has been fully deserved; he's had a pretty awful season. He's a squad player and there are far better midfielder's out there, and we all know it.
Chris Gould
268
Posted 12/05/2017 at 23:04:40
Christine, nobody on here knows what's been going on behind closed doors. How do you know that it isn't about the money?
What if his agent is telling Ross to wait and see which clubs come in for him in the summer? What if he's trying to force our hand into offering more money?
If the Board and Koeman know that his agent and Barkley are stalling, then perhaps they realise that he's keeping his options open and not committed to the club. Perhaps Koeman only wants players that are 100% committed to the cause, and is forcing Ross's hand because he refuses to have our club messed about. Perhaps he doesn't want a player who is waiting to see what offers he gets from elsewhere?
We don't know what's been going on behind the scenes. We have no idea why Ross hasn't signed. Maybe, if we had all the facts, we'd understand Koeman's actions... and maybe not. We simply don't have enough information to determine if Koeman or the club, Ross or his agent, or anyone at all is in the wrong.
If Ross goes and we sign better players, then all will be forgotten very quickly. I'm hoping Ross stays and we sign better players, but I think he's probably off.
Gordon Crawford
269
Posted 12/05/2017 at 23:08:05
First of all, Trevor, I'm not emotional, and I don't get emotional over any footballer.
Secondly, I'm entitled to my opinion. You know as much as I do, which is nothing at all.
Ross has been singled out, and that's my opinion.
Colin Glassar
270
Posted 12/05/2017 at 23:19:08
Ronald says he wants Ross to sign his contract and stay but it seems to me that he's decided Ross has no future at the club.
He's been having a go (justifiably in many cases) at the lad all season and in a very public manner. After tonight's game he was asked his opinion of Ross's goal and performance – "I liked his goal". And when asked why he was substituted he replied, "We needed to control the midfield".
He, Koeman, never criticises any other Everton player in such an open way. I've never heard him have a go at Lukaku or Baines or Barry etc but Ross seems to be fair game. This is why I think there's more to Barkley's hesitance to sign a new contract.
Gordon Crawford
271
Posted 12/05/2017 at 23:33:27
Totally agree, Colin. I don't believe Ross is the type of lad who would mess Everton about. Something isn't right and I do not believe it's in Ross's camp.
Peter Laing
272
Posted 12/05/2017 at 23:53:58
Koeman is undoubtedly a cold fish and there could be merit in people taking umbrage to the assertive way in which he has gone public on the Barkley contract. However, facts are facts and to suggest otherwise is just mere conjecture.
Fact – there is a contract on the table with Barkley's name on it; Ross has a choice – he either signs or Koeman is well within his rights as the Manager of the Football Club to execute the next step of putting him on the transfer list.
I'm more interested in Tom Davies and I personally feel that is where Koeman's priority is. The kid has played virtually every minute since he broke into the side and the level of trust shown by Koeman speaks volumes.
Will Mabon
273
Posted 12/05/2017 at 23:57:46
Colin (#270) – yep, there he goes again – exactly as I posted earlier in the thread, along with others.
Reluctant, minimal and loaded "Praise" every time. It irks him to have to say it, and it's been so since the start.
I listened to the game in the car, just back from a long trip, but didn't hear Koeman. Can you remember the source of that interview?
Don Alexander
274
Posted 13/05/2017 at 00:22:02
I think Ross is a good player at best. I can't understand why some fans evidently accept his non-contribution whenever he's not in possession of the ball.
As a team-mate or manager, the only way I'd accept that is if he was scintillating almost every time he had it but Ross is way short of that. He can be good but Champions League qualification demands way better than good from his position.
Koeman is a hard-nosed bloke. Winners are... like it or not.
Mark Murphy
275
Posted 13/05/2017 at 09:29:26
Late to this thread so catching up:
#181 Wow indeed – well said, Alan Smith!
And Early doors John Daly (Ruleteros John??)
Bang on, John, I love reading your posts!
I've been searching for comments on Ross' demeanour during the end of season lap – anything of note??
Alan J Thompson
276
Posted 13/05/2017 at 10:47:21
Don (#274); Do you apply that to Lukaku as well?
Add Your Comments
In order to post a comment, you need to be logged in as a registered user of the site.
Or Sign up as a ToffeeWeb Member — it's free, takes just a few minutes and will allow you to post your comments on articles and Talking Points submissions across the site.