Everton vs Sunderland

100 Comments [Jump to last]
Wednesday 20 September 2017
Match Preview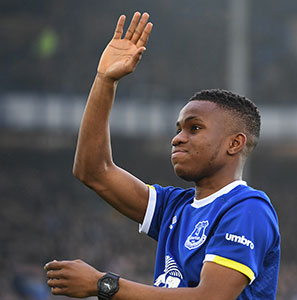 Ademola Lookman has struggled to make an impact so far this season
Everton are expected to field a changed side as they take on Sunderland in the Third Round of the League Cup under its latest incarnation, the Carabao Cup at Goodison Park tonight.
For Ronald Koeman, it's the first of four home games in a sequence that is expected to provide easier opposition than his beleaguered side has faced in the last few games. Although the opposition in those matches was daunting, and the ultimate score lines all too predictable, the performances were in the main abysmal.
The loss at Old Trafford has turned many of the fans against Ronald Koeman and his luckless management of Everton thus far into his three-year contract.
The early rounds of the League Cup are widely recognized as opportunities for squad rotation and Ronald Koeman is fully expected to give opportunities to some of the fringe players who may provide some temporary salvation from the mind-numbing monotony served up so far this season by his senior charges.
This approach contrasts, of course, with the fans' desire to see every competition 'taken seriously' by the manager, who has thus far failed to blend together anything close to a first-choice starting XI — assuming such an arcane concept holds any water in these days of bloated squad rosters required in order to play two games each week.
Stekelenburg appears likely to return in goal, unless Robles is given some needed game time... although Pickford may want to play against the side he left after they were relegated.
There is scope for Koeman to finally rest both Wayne Rooney and Gylfi Sigurdsson, with Muhamed Besic and Davvy Klaassen fresh after being an unplayed sub sat the weekend. Kenny, Lookman and Niasse were not used in Monday's Premier League 2 victory for the Under-23s at Derby, rousing speculation that they could feature tonight in Koeman's changed line-up.
And the greatest expectation will be for Jonjoe Kenny to finally get a full debut at right back, even if Koeman has tried to play down the player's readiness for serious consideration as part of his first-team squad.
It goes without saying that a win is absolutely required, both to change the dark and dismal mood pervading everything Everton at the moment... but, more importantly, progressing through to the Fourth Round is essential to maintain some hope of a trophy for long-suffering Evertonians this season.
Sunderland have had a tough start in the Championship, and their contingent of displaced Blues may feel tonight's game is an opportunity for some point to be made. Brendan Galloway has had a particularly tough adjustment, getting the blame for a goal conceded to Barnsley, and being dropped for the last two games.
However, Sunderland's on-loan Everton players — Tyias Browning and Brendan Galloway — are unable to face their parent club in this game.
But any Evertonian expecting to be complacent going into this game need only check on the last time we were at this stage of the competition, and fully expected to beat Norwich City at home.
Kick-off: 7:45pm, Wednesday 20 September 2017
Referee: Oliver Langford
Last Time: Everton 0-2 Norwich City
Predicted Line-up: Stekelenburg, Kenny, Holgate, Keane, Baines, Gueye, Davies, Klaassen, Vlasic, Lookman, Niasse.
---
Reader Comments (100)
Note: the following content is not moderated or vetted by the site owners at the time of submission. Comments are the responsibility of the poster. Disclaimer
Bill Gienapp
1
Posted 20/09/2017 at 03:42:28
I'd love to see what that predicted lineup could do.
Brian Murray
2
Posted 20/09/2017 at 04:00:44
Why are Besic, Jagielka, Williams, Robles and Baines still hovering around the first team? Usual "make do and mend" mentality, loser club, loser mentality. No change there then.
The four lads that won the U20 World Cup plus Antonee Robinson especially is twice the full back of Baines and Coleman put together.
Paul Kelly
3
Posted 20/09/2017 at 04:19:39
Don't think that line up is a million miles from who will start. Good shout, MK.
Ajay Gopal
4
Posted 20/09/2017 at 04:42:58
Although this is a must win game, I don't think Koeman should play all his 'star' players. I would change Michael's line-up a little bit:
GK: Robles - far better keeper than Stekelenburg, and gets about his job without fuss
LB: Kenny – no question
CB: Holgate and Keane – might be our future CB partnership
RB: Martina! This may raise some eye-brows, but I think Baines needs to be rested. Martina was played in this position earlier this season, and acquitted himself reasonably well.
Midfield: Basic protecting the back 4, Davies, Klaassen and Sigurdsson playing slightly advanced
Front 2: Lookman and Calvert-Lewin
4-4-2:
Robles
Kenny Holgate Keane Martina
Davies Besic Klaassen Sigurdsson
Lookman Calvert-Lewin
Subs: Stekelenburg, Jagielka, Baines, Gueye, Vlasic, Sandro, Niasse
Manager: Unsworth (he, he...)
Terry White
5
Posted 20/09/2017 at 04:58:29
Ajay (#4), Kenny is a right back (RB) and Martina could replace Baines at Left Back (LB).
Robin Cannon
6
Posted 20/09/2017 at 05:02:31
"The The loss of the traffic has said many of her toenails against Ronald Kuhman and this luckless management of Everton so far in his three-year contract loss of the traffic has said many of her toenails against Ronald Kuhman and this luckless management of Everton so far in his three-year contract."
What now? Paragraph written entirely by predictive text?
Worth saving for posterity, though. :)
For the game...I'd just like to see some purpose and some kind of gameplan.
David Hayes
7
Posted 20/09/2017 at 05:06:31
MK, The cods cack, served up by the Koeman so far would easily curl my toenails in the traffic ,as espoused in your third para, Spot on with the line up.
Michael Kenrick
8
Posted 20/09/2017 at 06:12:41
Haha... serves me right for trying to write/dictate it on my iPhone!
Zahir Jaffer
9
Posted 20/09/2017 at 06:43:17
I would pay to watch Ajay's lineup.
Sam Hoare
10
Posted 20/09/2017 at 06:44:32
Given our current lack of confidence and form, I fully expect this to be a struggle and first goal could well be crucial given our lack of firepower.
I quite like the predicted line up though I'd probably start Calvert-Lewin for Niasse and agree that Baines could use a rest (gonna be a long season for him as our only Left back!) so why not see how Martina does on the other side.
Hopefully Lookman has a good game as I've been a bit disappointed with his appearances so far after lighting up the U20 World Cup this Summer and hoped he would really push on this year. Even though he scored a peach for the U23s last week he wasn't in the game enough and needs to be more consistent on the ball.
Hope we make it through as this cup probably represents our best chance of a trophy especially if more of the top 6 follow the RS example from last night!
Tony Everan
11
Posted 20/09/2017 at 07:04:46
I love Besic's attitude but he is just not good enough for Everton FC. Maybe in this cup he will get a game, if their are injuries, but I am surprised he is still with us and not been encouraged to move on.
Niasse is not good enough either, but he has got an eye for goal, maybe his one redeeming trait.
That said, if they both start, we should still be winning against Sunderland.No excuses.
Kim Vivian
12
Posted 20/09/2017 at 07:49:28
Does anyone know if this match is on tv anywhere? Youtube maybe?
Kunal Desai
13
Posted 20/09/2017 at 07:56:28
I, like Sam, expect us to struggle. One goal in it either way. Start with Lookman, Vlasic, Kenny and Calvert-Lewin.
Mike Berry
14
Posted 20/09/2017 at 08:27:42
Release "The Lost Niasse Monster"!!
Declan Campbell
15
Posted 20/09/2017 at 08:33:05
Brian Murray, twice the full back of Baines and Coleman put together, well that means even at his age, he should be playing for Real Madrid. Some farcical comments made here.
Danny Halsall
17
Posted 20/09/2017 at 08:38:20
I too think we will struggle, but we really need a win to boost confidence. I would go with:
Pickford
Kenny Keane Jagielka Martina
Gueye Davies
Mirallas Sigurdsson Lookman
Calvert-Lewin
Subs: Stekelenburg, Baines, Holgate, Besic, Klaassen, Sandro, Niasse.
I would leave Rooney out until the weekend and Schneiderlin who I think has been poor. Williams shouldn't feature again.
Jon Withey
18
Posted 20/09/2017 at 09:04:16
I have my doubts about Besic – concerned a midfield of him and Klaassen would be overrun.
Steven Astley
19
Posted 20/09/2017 at 09:09:52
Danny (#17) – your comment regarding Williams is pathetic. Besides the slight mistake against Man Utd for their 2nd goal (which still should have been dealt with afterwards) he has by far been our best Defender so far in terms of performance and effort.
If anything, I think it is Keane that needs to be left out.
Eric Myles
20
Posted 20/09/2017 at 09:11:20
What channels will the match be shown on?
David Hallwood
21
Posted 20/09/2017 at 09:40:24
Why not Garbutt at left-back? he's back in the fold and played for the U23s at the weekend. Apart from that no problems with the selection, – but FFS not 2 holders!
Tony Marsh
22
Posted 20/09/2017 at 09:51:43
It's very difficult this one. Those of us who want Ron gone must hope we don't win this game tonight as a lose would surely spell the end of the Koeman era. On the other hand, another loss plunges the fan base into further despair.
Those of us who are serious about changing the manager cannot want Koeman to win another game, can we? The sooner Ron is gone, the sooner we can start the process of stabilizing the club.
I don't know what to think any more. Am I wrong for wanting Ron to mess up again? It's not as if we are ever going to win the jinxed League Cup, is it?
If Koeman gets two wins on the spin this week, he is here until next season and we are fucked. Koeman has lost the players and the fans so there's no point him being here. Hard work being a Blue.
Brian Harrison
23
Posted 20/09/2017 at 09:59:39
I would like to see Kenny get a game and play Lookman, Sandro and Calvert-Lewin as our front 3. Certainly would give us pace and energy up top; also I think it will give the crowd a lift.
When things are not going well as they aren't at present a win of any sort will give us a lift. Confidence is low and we need a boost going into our next 4 games.
I think if he plays some of the younger players then the atmosphere inside the ground will be better. I see Sky are saying that Lookman and Kenny and Calvert-Lewin will play.
Maybe us match going fans need to be as positive as we can tonight, and help lift the gloom that is around our club at present.
Rob Dunleavy
24
Posted 20/09/2017 at 09:59:45
I'm actually looking forward to tonight as we may see some more youth and an actual striker playing for a change. Koeman needs to step up tonight and play others to give them a chance, as others so far have not performed.
I really hope Kenny, Garbutt, Holgate (at CB), Lookman, Vlasic and Niasse play tonight. I like the look of the predicted line-up, lets see some pace and width, and a striker who we've never given a chance. He's not a world beater lets face it, but we've the amount of No 10s, Mr Koeman decides to play every week, he will at least get chances surely?!?!
Need to give Baines a rest along with Sigurdsson and Schneiderlin who quite frankly have both looked awful this season.
Davies played great on Sunday and him and Rooney combined well – Davies is young; play him every week. He doesn't a rest just yet, he needs game time to get better; he could be a real star player for us for years if managed in the right way. I would play him in front of Sigurdsson, Schneiderlin and Klaassen every day of the week.
COYB – let's see some goals tonight
Franny Porter
25
Posted 20/09/2017 at 10:08:41
For me:
Robles
Kenny
Keane
Holgate
Robinson
Gueye
Besic
Klaassen
Vlasic
Lookman
Niasse
Wont happen like.
Roberto Smith
26
Posted 20/09/2017 at 10:09:56
"The lost Niasse Monster" Mike Berry (#14) let's hope you have coined a phrase, love the sentiment. Hoping that Niasse proves all the naysayers wrong, bangs in a few goals and The Old Lady reverberates to chants of "Niasse Monster"!
Amit Vithlani
28
Posted 20/09/2017 at 10:26:05
I would be pleased to see Lennon get a start on the right. Not sure who we play on the left, but some genuine width from an experienced, pacey, hard working pro might open Koeman's eyes to changing his normal, useless formation.
And for god's sake, ditch two defensive midfielders.
We are at home to Sunderland.
Derek Knox
29
Posted 20/09/2017 at 10:41:59
I sincerely hope we get a win tonight, and a fairly convincing performance will help boost confidence, across the spectrum.
There have been a few scalps already, let's hope and pray, we are not one of them, also hope Koeman treats this seriously, and I have to confess, I am rapidly losing faith and patience with him.
Tony Everan
30
Posted 20/09/2017 at 10:43:42
My team, with Lookman & Niasse as subs:
Pickford
Kenny Keane Holgate Baines
Mirallas Gana Klaassen Lennon
Davies
Calvert-Lewin
David McMullen
31
Posted 20/09/2017 at 10:51:59
Expected to field changes... lol. Every game we field changes!
Let's have a run in this James Vaughan is around for Sunderland brings back memories of Naismith last season. Hmm.
Darren Hind
32
Posted 20/09/2017 at 10:55:26
Sunderland have been in free-fall. It would come as no surprise whatsoever if they were to suffer back-to-back relegations. Shame, they have great fans.
A win is a given surely? But we need a decent performance to build confidence for upcoming games against Premier League opposition.
Dennis Stevens
33
Posted 20/09/2017 at 10:56:18
I think the question mark over Koeman is whether he can generate a decent performance from whoever he selects, as none of them have impressed so far this season. There's something seriously amiss, imo.
Mark Murphy
35
Posted 20/09/2017 at 11:08:41
Franny that's a bold line up and I'd like to see it too bu,t if we lost with that line-up, Koeman would be slaughtered for playing a "weakened" side – just like Klopp is being slaughtered today!
But I agree – Lookman, Kenny, Calvert-Lewin and Davies should all be in.
David Hallwood
36
Posted 20/09/2017 at 11:31:40
Computer went down before I finished. My team:
Pickford
Kenny Holgate Keane Garbutt
Davies Gana
Lookman Klaassen (Or Sigurdsson but FFS not the two of them in the same team) Vlasic
Calvert-Lewin
I'm just about to check last night's Euro lottery and I've got more chance of winning the £122M than seeing this team play tonight.
But if he doesn't rest Baines, I'll be joining the Koeman Out brigade.
David Hallwood
37
Posted 20/09/2017 at 11:37:35
ps: I got one number... 😞
Derek Knox
38
Posted 20/09/2017 at 11:44:25
David @37,consider yourself lucky, I very rarely get even one. :-)
Kim Vivian
39
Posted 20/09/2017 at 11:45:26
This is a great opportunity to get our confidence back on track.
However, I am worried that whoever we see starting tonight, because of the current malaise, lack of confidence and the expectations from the fans, it is going to be a tentative, nervous first half-hour or so. The longer it goes on the more painful it is likely to become so an early goal is crucial as I see it, and then relax into the game and build on that. Hopefully grab 2,3 or 4.
Sunderland, though, will be likely sitting back, chasing everything tenaciously and looking for the counter – ready to pounce on any sloppy mistakes by our defence/midfield in the hope of offering their own hard bitten fans something to cheer about in their equally bad season.
This should be a walk in the park for us but I am fearful with our nerves we will make hard work of the job, and whilst I do not see us losing we could be looking at a fairly dour 1-0 (scored by Niasse inevitably just so he can be subsequently ignored again) to be followed up by more of the same reflections and comments on here as we are getting used to. Hope to Christ we don't go to extra-time and pens.
Hoping to find a stream or something tonight but usual battle cry to the fans – be that extra man, and as always – COYB.
Charles Brewer
40
Posted 20/09/2017 at 12:02:56
I look forward to Kenny providing a couple of crosses for Calvert-Lewin and Lookman to score and a couple from Niasse to give 4-0 result with Tom Davies running the entire match from an advanced midfield position.
This will prove to Koeman than none of them will fit in with his plans and he has been correct not to play them since they will only unbalance the team which has turned out for the season so far.
Tony Abrahams
42
Posted 20/09/2017 at 12:09:30
Michael's team would have five players coming in from the cold, which seems to be the story most weeks now.
Maybe with more younger players in the team tonight, then Koeman can finally get his men, to fight, fight, fight, with all their might, just to give us fans a little bit of pride back?
We all have our own favourite players, and some of us also have a favourite formation, but fuck "horses for courses" because football should always be about yourself, and it's a long time since I have watched an Everton team, that hasn't been worried about the opposition. Just go and have a proper go please!
Shane Corcoran
43
Posted 20/09/2017 at 12:20:22
Brian (#2), Robinson must be one hell of a full-back. Better than Coleman and Baines put together? The future is bright.
Also, if Williams and Jagielka weren't floating around the first team, who would you play centre-back? Is there another young gem that is greater than the sum of these two veterans' parts?
John Keating
44
Posted 20/09/2017 at 12:22:15
4-4-2:
Pickford
Kenny, Jagielka, Keane, Martina
Mirallas, Guye, Sigurdsson, Lookman
Calvert-Lewin, Sandro
Hugh Jenkins
45
Posted 20/09/2017 at 12:44:00
Bill (#1). Me too!
Dave Older
46
Posted 20/09/2017 at 13:03:53
Niasse hat-trick tonight, mark my words. Give him a chance Ronnie!!!!!!
James Morgan
47
Posted 20/09/2017 at 13:06:10
Ajay, your team has zero width which has been the problem we've had thus far!
Franny, Antonee Robinson is out on loan until January, Bolton I believe. I'd like to see a few changes but not wholesale. I don't see why Pickford can't play, he's our number one so let's play him every game:
Pickford
Kenny Holgate Keane Martina
Klaassen Gueye Davies
Lookman Calvert-Lewin Sandro
Pace, energy and a blend of experience and youth.
John Pickles
48
Posted 20/09/2017 at 13:06:12
It would be a win-win line up for Koeman.
If they do well, he gets people off his back. If they don't, he says that he was right that they weren't ready for the first team.
Charles Brewer
49
Posted 20/09/2017 at 13:10:31
John, you have a point about the "win-win"; on the other hand, if they lose heavily, it will surely demonstrate that they are indeed ready for the first team.
Dean Cooper
50
Posted 20/09/2017 at 13:11:06
Robinson is on loan at Bolton, so that's not going to happen.
I want Ramirez to start up front tonight, ahead of Niasse. I think there might be a player in there once he acclimatises to English football, and scoring a goal tonight would be the confidence kick-starter he needs!
Agree Baines and Rooney need to be rested and Kenny played at right-back.
Sam Hoare
51
Posted 20/09/2017 at 13:25:34
James @47 I was about to do my team but you've got down exactly what I was planning to write! Great minds?
That team, as you say, has pace and energy as well as the potential for goals all over. My only concern is that it is quite a small team, particularly in midfield, but hopefully if we keep the ball well enough it shouldn't be a concern. Like that has ever happened...
Fingers crossed that we get an early goal and that the pace of our young attackers comes to the fore when Sunderland are forced to come out of their shell. Somehow I feel it could be another torturous game with McGeady looking like Messi!
Neil Wood
52
Posted 20/09/2017 at 13:25:45
Pickford
Kenny Holgate Keane Martina
Ghana
Vlasic Klaassen Lookman
Sandro Niasse
Eddie Dunn
53
Posted 20/09/2017 at 13:32:28
I would play Sigurdsson again – he needs games under his belt. He is about five weeks behind most of the others and we won't see the best of him until he is up to speed.
I would also like to see Niasse start. Imagine of he bagged a couple!
James Marshall
54
Posted 20/09/2017 at 13:34:18
Lots of you seem to have Kenny and Martina as your fullbacks, but aren't they both right backs?
I'll have a tenner on McGeady and James Vaughan both having blinders tonight. Something tells me this isn't going to be an easy game by any stretch of the imagination.
I also don't think we'll see much of Niasse, or Lookman because Koeman is being such a stubborn bastard... I wish he'd play with some width and pace – and a bloody striker! /p>
That's all we can ask for.
James Morgan
55
Posted 20/09/2017 at 13:47:45
Sam,
I'm trying to think when we last gave a full back a torrid time with a pacy winger! We are at home as well so we shouldn't need two defensive players in front of the back four.
Just Gueye will do and let Klaassen and Davies get forward and support the front line. And like most of us, I'm desperate to see Kenny given a go against half-decent opposition instead of youth football.
Lewis Abbott
56
Posted 20/09/2017 at 13:52:46
My team would be a 4-3-3:
Pickford
Kenny, Keane, Jagielka, Martina,
Davies/Klaassen, Gana, Sigurdsson,
Sandro, Rooney, Lookman.
Subs:- Stekelenburg, Holgate, Schneiderlin, Davies/Klaassen, Vlasic, Calvert-Lewin, Niasse.
For me, Pickford and Keane need to play. The defense has been woeful recently but these two are the future and need to be involved in the team playing its way out of this. Jags gets the nod over William's in a four man defence for me because remarkably he is still our fastest centre-back. Kenny, as stated on here for about a year, deserves more game time and this cup might be the only chance to rest Baines.
In midfield, we need to ditch our two defensive midfielders and for me move Sigurdsson and Davies or Klaassen in there to improve our ability on the ball. Gana gets the nod because he is more mobile than Schneiderlin and will need to press and cover more with a man less in there.
On the front line, we need to start occupying more space further forward. I've gone for Sandro on the right as he badly needs to play himself into some form and tonight should be a good chance. Rooney down the middle as unfortunately he looks by far our most dangerous player and with two pace men around could drift around as he likes to get involved. I'd have him off at a fairly early stage though for Niasse so he can rest and Niasse can stake a claim. I've gone for Lookman on the left to add our only bit of genuine pace and hopefully provide a constant outball on the break.
I don't think Koeman has earnt the right to rotate too much but unfortunately for him he is a bit dammed if he does and dammed if he doesn't. Play the regulars and loose and everyone will've wanted the kids. Play the kids and loose and everyone will be craving the pros. But I'm not sympathising with him.
Danny Broderick
57
Posted 20/09/2017 at 14:02:06
Feed Niasse and he will score!!
Brian Murray
58
Posted 20/09/2017 at 14:02:50
Post (#43) Shane Cocorran. Please recap Sligo's £60k man away at Spurs first 10 mins he went on one of his marauding plodding runs, was well sussed; ball went out of play and then they took us apart.
These Moyes losers – Mirallas, Jagielka and Coleman – should be long gone; young pacy fullbacks is the modern game but there again we are a museum club as Moshiri stated.
As long as Buffoon Bill can regale all day about Eddie Cavanagh and aim for 7th, all is well in the world of Evertonians under 50 because they don't know any different. Sad club.
Paul Williams
59
Posted 20/09/2017 at 14:02:59
I fully expect him to rest Baines then ask around or maybe draw staws for a left-back.
James Marshall
60
Posted 20/09/2017 at 14:05:54
Is this on? Kenny is a right back and so is Martina!
Also, Martina's name is an anagram of Martian. Just thought I'd add that.
James Macdonald
61
Posted 20/09/2017 at 14:16:22
Play Lennon in front of Kenny for the protection the harder working Lennon will provide. Rest Keane, Baines, Rooney, Davies, Gueye and Sigurdsson.
Bring on Niasse and Lookman for second half.
Pickford
Kenny
Williams
Jagielka
Martina
Besic
Schneiderlin
Klaassen
Lennon
Calvert-Lewin
Mirallas
Subs: Stekelenburg, Niasse, Lookman, Gueye, Sandro and Holgate.

Paul Kelly
62
Posted 20/09/2017 at 14:17:36
Paul @ #59, reckon he'll do a dip instead... you know: dip dip dip my little ship.
John Hammond
63
Posted 20/09/2017 at 14:19:55
I think if we play Niasse he'll be up for more than any player on earth. I still think he hasn't been given a proper chance.
It would be nice for Sandro to get a goal too. Get him up and running. There's a good player in there. Have his preseason goal against Sevilla burnt into my retinas.
John Keating
64
Posted 20/09/2017 at 14:31:43
Some say Niasse is shite and shouldn't be in the team.
Well if that's true then he'll fit in seamlessly with the rest of the dross that's wearing our shirts this season.
The only thing I would say is whether he's good enough or not, deserves a chance or not, his behaviour since coming here has been exemplary.
Kevin Tully
65
Posted 20/09/2017 at 14:32:40
You've got to laugh. The player Koeman publicly humiliated, and informed the world that he wasn't good enough to play in his team, might actually end up saving the manager from the dreaded Goodison taxi!
What a mess. If he does play, I'll be cheering on Niasse the new Straqualursi.
Steve Croston
66
Posted 20/09/2017 at 14:36:20
First time poster here, living in Poland now but a lifelong blue... have been reading TW for a good few years now but only just decided to join up, so hello to all!
I am just wondering what kind of reaction we will get from the team tonight. I know we all expect a gung-ho, attack-attack-attack set-up this evening, but I personally think that, given the last few performances, we will be nervous and cagey...I hope the crowd don't get on the back of any youngsters (if they even get a chance, that is). I'd love to see Vlasic and Lookman out wide backed up by Kenny and Garbutt... not much chance of that though!
The optimist in me says a 3-0 win but the realist says we will concede first and fight back for a scrappy extra-time win.
COYB!!!
James Marshall
67
Posted 20/09/2017 at 14:43:03
Given that Sigurdsson has been wheeled out, and put up on the OS as the mouthpiece for recent failings, blabbing on about putting it right in the cup, I'd be surprised if he doesn't play tonight.
He also needs games more than anyone else (apart from Niasse!)
Derek Knox
68
Posted 20/09/2017 at 14:45:02
I can't believe so many on here include Martina, in any speculated team, he is useless in defence, not to mention dangerous.
He is not too bad at crossing a ball into the box, but that's it, you can only employ him in this role with three centre backs, and against Sunderland I can't see Koeman doing that.
There again his team selection should never surprise really, as he has addressed most of the games to date shockingly.
Lenny Kingman
69
Posted 20/09/2017 at 14:52:20
Niasse is obviously second rate so tonight would be a perfect setting, and opportunity, for him to show he isn't a complete waste of the big money spent on him by the previous goon in the mismanagement seat.
Mike Green
70
Posted 20/09/2017 at 14:55:41
I would love Niasse to got from sitting with the fans on Sunday to scoring for the first team on Wednesday - if he does he's written his own script, which is no mean feat in itself. Come on!!!!
Steavey Buckley
71
Posted 20/09/2017 at 14:58:40
Everton fans have teams thrust on them to watch and support by a manager most of the fans don't want anymore.
Tony Everan
72
Posted 20/09/2017 at 14:59:37
Hello and welcome to Steve #66
Brian Murray
73
Posted 20/09/2017 at 15:01:09
If Ron is not the answer and the way forward, then any Everton victories will prolong his stay because we all know the board only act 12 months after they should do. Or, in Moyes's case, 5 years too late.
Brent Stephens
74
Posted 20/09/2017 at 15:02:07
Steve #66 - welcome to TW. And that's the best post you've ever made on here!

John Pierce
75
Posted 20/09/2017 at 15:02:23
If we continue to pick Williams/Jags he, Koeman is just shooting himself in the foot.
Whilst both have played okay, it because we are set up to defend. Williams in particular loves sitting deep and defending, and defending.
The point being our starting position as a team is consistently too deep. As the example at OT shows after 3mins we are already on our 6yard line.
Give Jags/Williams anything else to do then we are toast. Both are awful in possession.
So if tonight has any redeeming features it is to bed in Holgate at CB with Keane and leave them the fuck alone. Start them together and give the team the confidence to squeeze play up.
Sure there will be mistakes but if he'd played Holgate in tge last 10 games of last season then maybe we wouldn't have to riad test the lad in real games.
4-3-3;
Pick, Jjk, Holgate, Keane, Baines
Davies, Gana, Sigurdsson
Mirallas, Rooney, Lookman
Shane Corcoran
76
Posted 20/09/2017 at 15:03:52
Brian, why did you feel the need to mention where Coleman came from and how much he cost?
I recall the performance in question and yes, Coleman was well in truly in Rose (?)'s pocket.
So young and fast. That's all that's required. A bit like when Seamus signed and he couldn't defend. Does ability to tackle, defensive positioning come into it?
The language you use is very dramatic and eye-catching. I assume that's what you were going for. Well done.
Eddie Dunn
77
Posted 20/09/2017 at 15:08:29
Koeman is in a funny position tonight.
He must be tempted to play (what he thinks is) his best 11, to get us back on track and give us a boost in confidence.
However, on the other hand, if the strongest slection continues to under- perform then he will be under even more pressure.
If he plays a very different side and things go wrong, he can blame it on rusty players or inexperience.
If things go well (Niasse gets a brace, and Kenny gets a couple of assists, Lookman Motm) then his reticence to start them previously will look foolhardy .
Should be an interesting night.
Anthony Hawkins
78
Posted 20/09/2017 at 15:13:42
Anyone else notice the front page graphic for this on mobile is Chelsea and the 'past time' score is for vs Norwich?
The front page image has now updated.
Brian Wilkinson
79
Posted 20/09/2017 at 15:15:36
Ok may as well throw my starting 11 hat into the ring, toughest choice does he play Pickford against his former club or start with Stek, anyway here's my team.
Pickford
Kenny Jags. Keane. Baines
Siggerson Gana. Davies. Lookman
Calvert Lewin Niasse
Would have put Luke Garbutt at left back but played for the u23s Monday so have omitted.
Brian Wilkinson
81
Posted 20/09/2017 at 15:28:59
If we are playing Calvert-Lewin and Niasse then Sigurdsson has to play and supply the crosses, run Sunderland ragged with that starting 11 then bring Rooney on who will be chomping at the bit and be up to their speed when they tire, then he has the option of Sandro and Klaassen or any of the other subs if needed.
Jerome Shields
82
Posted 20/09/2017 at 15:33:59
Our senior players or first team have not been doing too well lately. So much so that fringe and second team players may be in fact better than them.If they are not we will have trouble with Sunderland.
Add too that our not-so-masterful tactician Koeman, who thinks we are a club only capable of 7th place and doubts creep in.
I hope we lose and Koeman is gone before the end of the week.
Lee Jackson
84
Posted 20/09/2017 at 15:36:20
So I started to do my team pick but I gave up as it dawned on me that we have a similar problem (note similar not same) to all the top sides like Barca, Real, Bayern, City etc... They struggle to find space for players into 11 positions because they are all very very good and deserving of a starting role - its a management dilemma.
We are similar - we struggle to fill the 11 positions because they are all very bad and equally shite. I just could decide who was 'crapper' and should be left out.
So as I said, I gave up and decided my team/subs is this: The U23 squad.
Alan J Thompson
86
Posted 20/09/2017 at 15:46:57
Niasse won't get a game, it's not in our vindictive manger's make-up. He couldn't even get a ticket from him for the last game.
Dave Lynch
87
Posted 20/09/2017 at 15:47:02
Personally I would play Niasse with Sandro upfront.
Mobility and the desire to get into the box should pay dividends. Sandro is very mobile and quick, Niasse is a striker who apparently thrives in the box, no that we have seen much of him.
Surely he must have improved under DU?
Whatever side he plays though and I've given up trying to second guess his team selection, we should have more than enough to beat tonight's opponents.
John Pierce
88
Posted 20/09/2017 at 15:51:21
If Koeman wants to save his ass, he must win all 4 home games. If he has any sense, pick the same XI & shape for all 4 games.
Phil Smith
89
Posted 20/09/2017 at 16:06:39
I like the look of John Keating's line-up and I'd be happy with that. I'd go with:
4-1-2-3
Stek
Kenny, Holgate, Keane, Martina
Gueye,
DCL , Siggy, Lookman
Sandro, Niasse
Clive Mitchell
91
Posted 20/09/2017 at 16:33:35
No idea what team Koeman will pick tonight. I got his Sunday 11 right apart from I had Mirallas and he picked Davies. He can't afford to get beat tonight. In Koeman's mind that must mean he can't afford to play the kids. But he needs the seniors he'll rely on fresh for Saturday. Wayne won't have that and it's his ball. That suggests to me:
Pickford
Kenny Keane Williams Martina
Lookman Davies Besic Mirallas
Rooney Sandro

Andrew Bentley
92
Posted 20/09/2017 at 16:39:08
Why on earth do we need to rest Pickford? He should be in the side tonight and we should also pick our strongest possible team to get a morale boosting win under our belts. It will help confidence no end.
Yes bring in a couple of the younger kids to play, Lookman, Kenny etc. but we should take this one as serious as possible. Although, this could be the game to rest Wayne however, which could allow Calvert Lewin up top with Siggy in behind in the actual no. 10 role that he was bought for. Then play 2 pacey wide man to get up and support Calvert Lewin: Lookman, Sandro, or Vlasic.
And Besic should be nowhere near the starting 11 tonight. As much as I used to like him for his commitment and effort, he just isn't good enough anymore.
Roll on a comfortable 3-0 victory to get the confidence flowing again!

Gareth Clark
93
Posted 20/09/2017 at 16:42:03
I'd love to see Holgate at centre-back – but I don't think he will play in a back 4 at centre-back.
What I think we'll see:
Stekelenburg
Holgate Jagielka (c) Keane
Kenny Davies Klaassen Martina
Lookman Sandro
Calvert-Lewin
Pickford, Williams, Baines, Besic, Lennon, Mirallas, Niasse
What I'd like to see:
Pickford
Kenny Holgate Keane Baines(c)
Davies Klaassen
Sigurdsson
Lookman Niasse Sandro
Stekelenburg, Keane, Baines, Besic, Vlasic, Mirallas, Calvert-Lewin
Peter Lee
94
Posted 20/09/2017 at 16:52:22
Re resting Pickford.
He should be at Finch Farm tonight with two coaches having the ball rolled to his right foot at different paces and angles and one of the coaches shouting "Left half-way, right half-way, etc,"
Until he is at least almost as strong of his right as he is of his left (which is phenomenal) he doesn't get into my team.
John Pierce
95
Posted 20/09/2017 at 17:00:07
Peter, you are not wrong. To be fair the lad wants to play out with his distribution, that's brave. Schneiderlin could at least grow a pair and learn from him.
But a tweak to his game, and taking less risks with his right foot is a smart move.
Anthony Hughes
96
Posted 20/09/2017 at 17:05:11
Any formation tonight will do me as long as it consists of one defensive midfielder only and a couple of attacking wide players. Sunderland are shite let's not make them look good.
Clive Rogers
97
Posted 20/09/2017 at 17:09:45
Can't understand why no-one is picking Sandro. I thought he did well when he came on at Man Utd. Besides he won't get used to English football sat on the bench. Same for Klaassen really. They have got to play.
Brian Wilkinson
98
Posted 20/09/2017 at 17:11:11
Alan @86 – you might be right there; I cannot see him starting Niasse. If it's tight he probably will not bring the guy on; if we are coasting, he will probably give another player a run-out from the bench.
Personally I would give the guy a chance; he could thrive from Sigurdsson's crosses and set pieces. Give our guys something to aim for in the box instead of having to play the perfect pass to the likes of Sandro and Calvert-Lewin.
John Pierce
99
Posted 20/09/2017 at 17:42:36
Clive, I think we can see a player in there. I'd say is acclamation has been the hardest.
Introduced from the bench when teams are tired I think gives him his best chance. He really has struggled with the pace and physicality of English football.
If Koeman had perhaps tried it this way with both him and maybe Klaassen then we might be seeing more from them both?
I get the sink or swim mentality but things have gone so tits up that you risk destroying the players confidence completely.
Rob Dolby
100
Posted 20/09/2017 at 17:44:09
Got to pick the strongest team and try to get some momentum. Koeman would be a fool to play a weakened team under this much pressure.
Pickford
Kenny Jagielka Keane Baines
Lookman Davies, Schneiderlin, Gueye
Sigurdsson
Rooney
Lee Jackson
101
Posted 20/09/2017 at 18:02:29
Rob (#100) two DM against Sunderland at home? Really? Are we that scared of James Vaughan?
Colin Glassar
102
Posted 20/09/2017 at 18:04:08
I would play the following:
Stekelenburg
Kenny
Holgate
Williams (as punishment)
Martina
Lookman
Klaassen
Besic
Mirallas
Sandro
Niasse
Subs: Pickford, Baines, Jagielka, Schneiderlin, Sigurdsson, Calvert-Lewin, Rooney
Rob Dolby
103
Posted 20/09/2017 at 18:10:08
Yes, mate, strongest team. In our current predicament we have to be hard to beat and work hard then try to play. 5 man midfield with Sigurdsson playing behind Rooney. If he plays too many of our Number 10s in the same team, there will not be enough work rate.
Ciarán McGlone
104
Posted 20/09/2017 at 18:22:52
Can't believe this game isn't be broadcast anywhere on the planet.. perhaps I should be thankful ice had the option of watching it taken out of my control.
I don't think it's a easy game, in the circumstances.
Lee Jackson
105
Posted 20/09/2017 at 18:24:52
Well I'll definitely agree on playing Sigurdsson as No10 (rather than as a left winger). But I'd still rather see Mirallas, Lennon or Vlasic instead of one of the DM's for the extra pace and width that the previous 9(?) games show we have been missing.
Lennon makes more sense – he works harder than Mirallas, is naturally right sided (v Lookman on left) and he can cover Kenny at the back – both can attack and both can defend so they could actually cover each other well.
Arild Andersen
106
Posted 20/09/2017 at 18:28:37
I'll CM a bit, too:
Pickford
Kenny, Keane, Jagielka, Baines
Gana
Vlasic Davies Sigurdsson Mirallas
Calvert-Lewin
Please show some fight.

Simon Bates
107
Posted 20/09/2017 at 18:39:01
Why is everyone seemingly wanting to go 4-3-3 with 1 striker?
We are at home to Sunderland, I don't care if it's a 3-5-2, a 4-4-2, a 4-3-1-2, whatever, he's got the players to play any attacking formations he wants.
He has to pick Holgate and Keane together as centre backs regardless of whether it's in a 3 or 2, we will never stop defending our 18-yard box with Jags and Williams in the same team, they haven't got the pace to defend 10 yards forward.
Tonight, I'd love to see 3-5-2, Pickford, Holgate, Keane, Jagielka, Kenny and Lookman as right and left wing backs respectively, but pushing forward on either side of Gana and Tom Davies, then you can have 1 of 3 (Klaassen, Rooney or Sigurdsson) in the hole behind either Sandro and Calvert-Lewin/Niasse, Niasse or Calvert-Lewin to hold it up with Sandro buzzing round.
Lookman as left wing back at first seems laughable, but wing backs are basically wingers now, and both Lookman and Mirallas have interchanged wings plenty during a match.
Simon Bradley
109
Posted 20/09/2017 at 18:48:41
Lineup:
Stekelenburg
Kenny, Williams, Keane, Holgate
Besic, Davies, Klaassen, Vlasic
Calvert-Lewin, Sandro
Add Your Comments
In order to post a comment, you need to be logged in as a registered user of the site.
Or Sign up as a ToffeeWeb Member — it's free, takes just a few minutes and will allow you to post your comments on articles and Talking Points submissions across the site.