Moshiri makes rare Finch Farm visit
Friday 13 October 2017

28 Comments [Jump to last]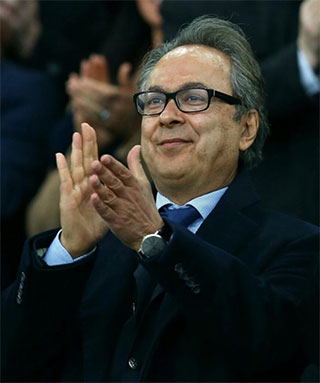 Everton's major shareholder Farhad Moshiri reportedly dropped in at USM Finch Farm this week.
MailOnline report that the Iranian-born businessman was joined by Bill Kenwright at the club's training facility primarily to discuss plans for the new stadium at Bramley-Moore Dock but he also spoke with manager Ronald Koeman.
That has been seen by some as further backing for the Dutchman, who is under pressure following a sequence of poor results that means Everton come into this weekend's fixtures in 16th place in the Premier League.
Quotes or other material sourced from Daily Mail
---
Reader Comments (28)
Note: the following content is not moderated or vetted by the site owners at the time of submission. Comments are the responsibility of the poster. Disclaimer
Colin Glassar
1
Posted 14/10/2017 at 08:56:57
Did they all have a nice cuppa and sing together, "Michael rode the boat ashore, hallelujah" whilst holding hands?
Dermot O'Brien
2
Posted 14/10/2017 at 09:06:28
Mail exclusive: Property owner visits his property.
Len Hawkins
3
Posted 14/10/2017 at 09:13:54
If they all shared an icebath, then that prolongs the problem, as now there'll be a wait until their gonads drop again and they take appropriate action.
Steve Brown
4
Posted 14/10/2017 at 09:14:56
The thing that I find worrying about Moshiri, other than his bizarre relationship with Jim White, is that he evidently still believes Kenwright has a clue about how to build this club back to greatness. Misty-eyed medioctrity is all that he knows about.
Colin Glassar
5
Posted 14/10/2017 at 09:25:56
Kenwright certainly seems to have a hold over him, Steve. I think Chairman Bill might have made a Faustian pact.
Clive Rogers
6
Posted 14/10/2017 at 09:36:18
Surely it must have been written into the deal that Kenwright stayed on as Chairman when his shares were sold? Can't wait wait to see the back of him personally as he seems to be a jinx in addition to being useless. A negative influence.
Eddie Dunn
7
Posted 14/10/2017 at 10:28:50
A morale-boosting visit. "Players, take note – we are behind our manager."
Let's see how the players respond on Sunday. If Koeman picks two defensive midfielders and a back three, we will find goals very hard to come by.
I think this is what he will do but, after Sigurdsson performed well for Iceland in his natural central role, the manager will confirm his idiocy if he plays the lad out on the left again.
I would play Calvert-Lewin up top with Rooney handed a free role off him. If we are served up more gruel, the natives will be restless.
John Belshaw
8
Posted 14/10/2017 at 10:36:09
Clueless, er, figurehead, Kenwright accompanies false prophet, Moshiri, to Finch Farm in case the latter gets lost!
Moshiri is probably more familiar with the route to Talksport Towers than a training ground! Kenwright without doubt running his eye over the player assets he can sell in the next transfer window – more often than not, well below their market value. What a useless pair of twats they are!
And as for PE teacher – sorry I mean, Director of Football, Steve Walsh – don't get me started!
Alan J Thompson
9
Posted 14/10/2017 at 10:39:40
I was rather hoping that getting behind the Manager would come in the form of an effective use of a protective toe cap.
Jack Convery
10
Posted 14/10/2017 at 11:18:19
You have to be fully behind a manager when you stab him in the back.
This visit can't have been good news for Koeman or Kenwright.
Something like: "What the fuck are you two doing? And where's Walsh – I want a fucking word with him too."
If it didn't go like that, we are in trouble.
Dave Williams
11
Posted 14/10/2017 at 11:24:49
In most businesses, it would be expected that if the owner paid a visit to crucial club premises and met the manager then the long-serving chairman who is still a significant shareholder would also attend.
I can't see what the fuss is about – he gets criticised for not delivering a new stadium... then gets criticised for having a meeting about a new stadium.
Who'd want to own a football club!?!
Colin Glassar
12
Posted 14/10/2017 at 11:25:20
Eddie, he's already said Sigurdsson played on the left at Swansea so he's not going to change that. The lemming continues his walk to the abyss.
Tony Marsh
13
Posted 14/10/2017 at 11:28:15
Did anyone read yesterday the Deadly David Moyes might decline the Scotland job as he has his sights set on a return to Everton!!!
Has Kenwright been having a love-in and told his bezzie mate, Moyes, to be on stand-by when the Dutch version gets torpedoed???
Colin Glassar
14
Posted 14/10/2017 at 11:33:34
I wouldn't put it past Kenwright, Tony. After being humiliated by the sacking of his Roberto I think he's been trying to undermine Koeman since Day One.
I can't see Koeman listening to endless Boys Pen stories like ginger and Roberto would have. Ronald is a cold fish who's probably got no mates.
John Raftery
15
Posted 14/10/2017 at 11:55:51
Hopefully the visit shows that Moshiri is still interested in the 'project'. From Koeman's perspective, it may have demonstrated that, while he continues to have the Board's support, that support is conditional on an immediate and sustained improvement in results – starting tomorrow at the Amex.
Oliver Brunel
16
Posted 14/10/2017 at 12:48:48
I could see Kenwright approaching Moyes. Kenwright's project is and always has been to remain in the Premier League only and he probably thinks Moyes could steady the ship. But as Reid has noted there are no fighters in this Everton team which means Moyes would be pointless.
The fundamental problem is none of the hierarchy know anything about football. We are in a deep crisis of which I do not know the answer but it certainly isn't selling your 3 best players in Stones, Lukaku and Barkley. We have been selling our best players and humiliating ourselves to the Manc twats for far too long.
Only a scouser would really get this. I like Unsworth but I have one big reservation; he wouldn't attract top players – we need a box to box central midfield player which we haven't had for 20+ years; a Roy Keane, Scholes who can spray the ball around with a range of passing and doesn't let anyone take the ball off him. It isn't Schneiderlin – he has zero pace.
To play with intensity you need two quick wing backs. It isn't Baines and Martina. You need a quick striker with strength and good movement. It isn't Calvert-Lewin – he is inexperienced and one-dimensional. We have no up-and-coming talents that I have seen. I would give Jose Baxter a run of games in the first team with Niasse up front.
Mark Tanton
17
Posted 14/10/2017 at 12:51:54
If I was Koeman, I wouldn't see it as a positive thing. The main man sniffing around and turning up like that
Eric Paul
18
Posted 14/10/2017 at 14:31:57
Oliver,
I think Tom Davies could be the box-to-box player you are talking about.
Gordon White
19
Posted 14/10/2017 at 17:22:16
Well, we haven't got long to wait to see the line up for the next game.
Hopefully, some transfers in January may boost our chances for the remainder of the season. But even this will just be steadying the ship until next summer.
I remember Alex Ferguson being one game away from the sack. And the optimist in me hopes Koeman does the same. I have my doubts. But I still hope.
Will Mabon
20
Posted 14/10/2017 at 18:09:06
Gordon, transfers in January will include Barkley out, and possibly some sniffing around one or two of our better young players by the bigger sharks, should Koeman remain. In fact that may even happen whether he goes or not.
We could only improve in spite of Koeman not because of him.
Brian Wilkinson
21
Posted 14/10/2017 at 18:58:19
Even Columbo would struggle to work out Ronnie's plan, I think working out the 3-2-1 quiz clues are a damn site easier to work out than Ronnie's game plan. The guy has me stumped and scratching my head.
Gordon White
22
Posted 14/10/2017 at 19:30:50
Fair comment Will.

Mark Morrissey
23
Posted 14/10/2017 at 20:02:59
I can only hope he was trying to pick up the vibe, What is the relationship like between the players and their Dutch uncle ? I can only hope he picked up a negative vibe and the end is nigh
Dick Fearon
24
Posted 14/10/2017 at 22:03:46
It may seem a terrifying idea but 'Deadly' could be our best hope of avoiding relegation.

Neil Copeland
25
Posted 14/10/2017 at 23:28:41
Does anyone really believe that ginge will return? I just can't see it happening, I don't even think he would be considered.
Liam Reilly
26
Posted 15/10/2017 at 10:34:17
If Moyes comes back, I honestly think I'm done.
He was very disrespectful to the club the in his final year and during his short stay at Manchester United and I can't support someone like that.
Rudi Coote
27
Posted 15/10/2017 at 12:05:58
Any new signings in January won't make a blind bit of difference if Koeman is still in charge. It'll be the same "non-plan" games which no-one can fathom.
Tom Davies? Headless chicken.
Jamie Evans
28
Posted 15/10/2017 at 13:12:42
David Moyes. Ha ha ha ha.
Add Your Comments
In order to post a comment, you need to be logged in as a registered user of the site.
Or Sign up as a ToffeeWeb Member — it's free, takes just a few minutes and will allow you to post your comments on articles and Talking Points submissions across the site.