Everton vs Swansea City

192 Comments [Jump to last]
Sunday 17 December 2017
Match Preview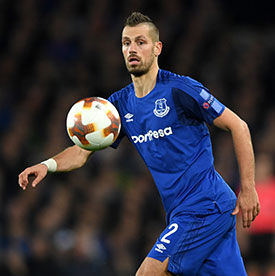 Morgan Schneiderlin has looked more like the player he was at the start of the year over the last match and a half but will he start?
Everton return to Goodison Park following a brace of away games that yielded four points from six to play two home fixtures that present an opportunity to keep closing the gap on the top seven.
Three wins and a draw in the League since that dismal 4-1 reverse at Southampton have vaulted the Blues away from relegation danger and into the top half where they sit level on points with Watford and nine points off fourth place.
Now, with the team looking upwards rather than over their collective shoulder and first bottom club Swansea City then a fallible Chelsea team coming to Goodison Park before Christmas, manager Sam Allardcye is eyeing further improvement.
"The credit goes to the players who've achieved so much in a short period of time," he said in his pre-match press conference. "10 points from 12 is a miraculous recovery from them.
"It's put the club in a very stable position that allows me to perhaps think a little bigger than when I first came in, to think more about sustaining our position in the top half, to think about improving the players because their confidence is greater, and taking each game as it comes and trying to get as many results as we can.
"The club's had a difficult spell and hopefully we can continue to get through this difficult spell. [The recent run of results] has given us some breathing space but not stopped us from being as ambitious as we possibly can."
In view of Everton's improved position in the table and the feeling that the club is getting close to being back on track in terms of its European aspirations, the focus will increasingly be on how the team plays under Allardyce given that he has implemented a very back-to-basics approach since taking charge.
That has firmed up what was one of the softest defences in the Premier League but has come at the expense of genuine entertainment going forward, particularly away from home in the Merseyside derby and at Newcastle in midweek.
It may be too early for radical change in that respect but there was a noticeable attempt to keep the ball against the Magpies in the Blues' 1-0 win which was aided by what was arguably Morgan Schneiderlin's best performance of the season.
The Frenchman has been curiously and frustratingly poor this season and lost his place in the side amid a dreadful run of results for Everton and suggestions that he lacked focus and discipline. Since coming on at half time against Liverpool last Sunday, the £20m acquisition from Manchester United has looked more like the composed central midfielder he was when he first arrived almost a year ago.
That will likely see him keep his place alongside Idrissa Gueye for the time being, despite many supporters' misgivings about playing two holding midfielders, particularly at home.
Assuming he plays, Schneiderlin's selection would likely be at the expense of Tom Davies while Wayne Rooney continues in his more withdrawn role playing off the improving Gylfi Sigurdsson and behind Dominic Calvert-Lewin. The young striker has earned his stripes leading the line and will probably be preferred to Oumar Niasse again should Allardyce only opt for one striker.
Swansea, of course, come to Goodison on a poor run of form that has seen them sink to the bottom of the table. Just one away win all season so far and one victory since mid-October has brought the Welsh club's top-flight future into sharp focus and highlighted just how important Sigurdsson and Fernando Llorente were in keeping them up last season.
Despite that, there are no easy games in the Premier League, a fact that Allardyce knows all too well and he has been cautioning his players against assuming the points are theirs for the taking.
"I'm not expecting any complacency," he said. "That's been my big word to the players — that [Swansea] this will not be an easy task [so] don't slip up in against a side that everybody expects you to beat.
"You'll only get the opportunity to beat them if you play 100% to your level which is what we've had to do over last the four games we've played."
Kick-off: 8pm, Monday, 18 December, 2017
Referee: Jonathan Moss
Last Time: Everton 1 - 1 Swansea City
Predicted Line-up: Pickford, Kenny, Holgate, Williams, Martina, Gueye, Schneiderlin, Rooney, Lennon, Sigurdsson, Calvert-Lewin
---
Reader Comments (192)
Note: the following content is not moderated or vetted by the site owners at the time of submission. Comments are the responsibility of the poster. Disclaimer
Sam Hoare
1
Posted 17/12/2017 at 07:22:10
Same starting XI from us? Probably makes sense.
But, on the other hand, this is the first of 5 games in about 15 days. At some point there will have to be some rotation and perhaps this is as good a game as any?
There could be arguments to start Niasse, who has kept us afloat at times. Or Lookman or Vlasic, both of whom have had good moments. I'm thinking of another option though. Call it morbid curiosity but I'd like to see how Klaassen and Sandro do in a more confident and settled team. They are two players who were excellent last season for their old clubs and personally I'd like to see some more of them before we potentially ship them out in January.
So even though it would be an improbable (and possibly unpopular) lineup I'd quite like to see:
Pickford
Kenny Holgate Williams Martina
Klaassen Schneiderlin Rooney
Sandro Calvert-Lewin Sigurdsson
Darryl Ritchie
2
Posted 17/12/2017 at 07:41:29
Allardyce has tightened up the our defence. Against a poor Swansea side, it would be nice to see if he can do likewise for the offence. It would be nice to see us take it to the other side a full 90 minutes, for a change.
I believe we will get all 3 points. Is it asking too much to see it done with a bit of style?
Raymond Fox
3
Posted 17/12/2017 at 08:21:23
We have not played great flowing football for a long time now, whoever has been in charge. It's the results that are important to me, especially at this time.
On paper we should beat Swansea and I think we will, how we do it I don't care! Games are not played on paper though, I thought Leicester at 10/11 was a great bet to beat Palace on Saturday and they lose 0-3! Certainties get beat on a regular basis so I'm not counting my chickens just yet.
Team wise I'd go with the same players. Lennon is a much under rated cog in the team and he'd be a starter for me in most games.
Christopher Timmins
4
Posted 17/12/2017 at 08:27:01
This could be a hard watch as we are not the best team in the world at breaking down teams who park the bus! Would take a 1-0 now and move on.
Paul Kelly
5
Posted 17/12/2017 at 08:39:43
At home, playing bottom of the league, on Sky... banker!
Gareth Clark
6
Posted 17/12/2017 at 09:11:53
I see there being a bit of a rotation – not much though. Same back 4.
Idrissa is one yellow away from a suspension – so I expect him to be rested for the Chelsea game. I would personally choose Klaassen to start, but I expect Davies to do so. I'd give Calvert-Lewin a rest too & I'd give Vlasic a well deserved start, ahead of Lennon for this one.
Pickford
Kenny Holgate Williams Martina
Klaassen Schneiderlin Rooney
Vlasic Sigurdsson
Niasse
Subs: Robles, Jagielka, Keane, Baningime, Davies, Lookman, Sandro.
I'd take Rooney & Sigurdsson off after 60-70 mins, and I'd like to see Baningime or Davies, Lookman and Sandro to get some game time – situation dependent.
This is assuming Sandro is fit. If not, then maybe Bolasie for the last 20-odd minutes would be great for him personally & the team as a whole.
Tony Everan
7
Posted 17/12/2017 at 09:22:24
Lyndon has the team there 100%.
We are not out of the woods so I don't see any experimentation happening. Stick to the successful formula.
However, I think this starting line-up can improve further. I would like to see us playing with more 'zip', passing the ball forward faster, getting some quality crosses in to Calvert-Lewin. I would enjoy seeing him get 1 or 2 on Monday, and not having to play with his back to goal so much.
With Lookman, Vlasic, and Niasse, we have plenty of impact from the bench if we need it .
James Marshall
8
Posted 17/12/2017 at 09:34:24
We're 11 points off 4th place.
I reckon we'll finish 8th this season, although possibly 7th if we sign a striker in January and Burnley fall away.
Aside from that, it'll be interesting to see how we play against Swansea, given that we've played away games recently – will we play it on the deck a bit more and try to keep the ball better at home? I certainly hope so, but if we win 1-0 every week that'll do!
James Marshall
9
Posted 17/12/2017 at 09:41:47
Oh and yeah, this has to surely be the game where we see some rotation – I don't bother picking lineups but if a home game against the team bottom of the division isn't a time to rotate, then there never will be.
I'd go for them with pace on the wings, and play on the front foot instead of sitting back and countering like our recent games.
Derek Knox
10
Posted 17/12/2017 at 09:53:39
Potential banana skin; after all, some of the results yesterday threw up a few surprises – who'd have thought Crystal Palace would outplay Leicester at the King Power.
Complacency should be the watch-word, don't think Sam would let them be, not entirely happy with Schneiderlin or Martina in the side, but we'll see if that is the actual line-up.
Swansea will be fighting for their Premier League existence, even at this early stage, so should be treated with respect accordingly.
It will be an emotional game for Sigurdsson, having spent a few seasons with them, and being their talisman, leading goalscorer and dead-ball specialist.
COYB
Neil Wood
11
Posted 17/12/2017 at 10:01:13
I'd start Sandro tomorrow. The lad's excellent and needs game to show what he's capable of or at the very least a good half-hour appearance to settle in. Ten minutes here and there will do him no favours.
Little bit off thread but apparently Klippety has told Daniel Sturridge he can leave if he wants to pursue game time to be considered for England.
He's a quality player and I would personally have him here in a heartbeat. If you could keep him injury free, then he would be a fantastic addition.
Martin Nicholls
12
Posted 17/12/2017 at 10:16:25
Looking forward to the Chelsea game as Lyndon does, I think we'll get a result in that (as well as a win tomorrow) but I wouldn't describe them as "fallible". They've won 7 in 10 with the only defeat being against resurgent West Ham – draws against Atletico and Liverpool are not necessarily poor results!
Darren Hind
13
Posted 17/12/2017 at 10:16:46
It never ceases to amaze me how people can say they don't care how we play as long as we win – that simply defeats the whole point of professional football.
I get that the end can sometimes justify the means, I can accept a team playing an odd cagey game when in pursuit of glory or trying to avoid disaster... but negative percentage, hoofball, zombie football can never ever be justified when used for the pursuit of 7th place
Football is an unrehearsed live entertainment! Because it is unrehearsed, entertainment cannot always be guaranteed... but the attempt to entertain should be a given. People pay a huge percentage of their hard earned to see people do things they can't themselves.
We have now gone beyond accepting mediocrity on here, Many are condoning it. We have even got people actively calling for praise of it.
I don't care who the manager is. I will never accept/condone one who shirks his responsibility to football lovers by playing the percentages. I certainly wont be praising him. Not today. Not ever.
Allardyce has a clear choice to make; I seriously hope he isn't listening to those who don't care how we get our results.

James Marshall
14
Posted 17/12/2017 at 10:22:12
Darren – if you watch Allardyce's interview after the Newcastle game, he said that our goal was quality football. He make the case that even though we were quite clearly playing very defensive, safety first, and hard to watch football, that we did entertain our supporters by scoring a goal that had a 'flick round the corner' and a 'one-two', as he put it. And then the keeper fluffed it before Rooney poked it home.
I get your point, but in today's game you'll find that managers, pundits, boards don't really give a shit about style – it's all about being in the Premier League where the money rains down, and although your sentiment is correct, at the end of the day it's business, and business is all about results.
Kunal Desai
15
Posted 17/12/2017 at 10:25:35
Maybe a chance to change things around here a bit, give Keane and Niasse a start.
Anyone else heard a six-month loan deal from January is done for Kevin Gamerio of Seville?
James Marshall
16
Posted 17/12/2017 at 10:31:05
Kunal, there are a few mentions of it online yes. I see some reports claiming we could offer Sandro to Atletico as part of any deal.
Seems like a decent deal to me, although I know very little about Gameiro, he can't be any worse than Sandro.
James Marshall
17
Posted 17/12/2017 at 10:33:19
Other reports claim Gameiro has already agreed personal terms with Valencia.
Pat Kelly
18
Posted 17/12/2017 at 10:36:11
Darren (#13),
Totally agree. Football is about entertainment and the joy of seeing your team play as best they can. Especially at home. I'd like to see more of Vlasic. He's an exciting player. Sandro too when there's more chance of him getting some service.
John G Davies
19
Posted 17/12/2017 at 10:42:26
I agree with Lyndon's team.
We need to consolidate the good start under Sam by continuing to keep it tight defensively, relax on the ball and open up if we get ourselves in front. We all want to see fast attractive football, hopefully that will come.
We are only a few weeks away from the worse series of games defensive set up wise I can remember at Everton.

Paul Kennedy
20
Posted 17/12/2017 at 10:46:47
I cannot believe we are looking to change a winning team around. We have been solid at the back pinching it by a goal. We need to continue in this vain until safety guaranteed; then we can start building for next season.
The rest of this season should be about who we have got that are good enough with commitment and ability to be at the club. We cannot afford to relax – we need the intensity Man City display.
Tony Everan
21
Posted 17/12/2017 at 10:46:50
Talking of the Chelsea game in any shape or form is getting ahead of ourselves.
If anyone thinks that Swansea will roll over and be brushed aside – think again! We have had some good results but have not been playing all that well. As someone said there have been surprise results – any lack of focus on Swansea will see us slip.
Talk Chelsea after this battle.
Martin Nicholls
22
Posted 17/12/2017 at 10:49:39
I think it's stating the obvious that football is about entertainment and I doubt there is one contributor on here who doesn't want to see us playing great and winning football. It is however easy to forget how poor we were and how low confidence was up to and including the Southampton game – we were in freefall.
I would guess that the players are now more confident but that such confidence is a little fragile – we're not completely out of the woods yet and maybe shouldn't be trying to run before we can walk.
I'm for maintaining a relatively pragmatic approach over the coming few weeks and if all goes well (and we improve squad options in January) slowly moving to a more expansive and entertaining style.
Martin Nicholls
23
Posted 17/12/2017 at 10:50:48
Tony (#21) – I was responding to Lyndon's comment!
Colin Malone
24
Posted 17/12/2017 at 11:01:29
Vlasic has got to be in the team all day long for me.
Don Alexander
25
Posted 17/12/2017 at 11:05:28
Darren (#13) I share your aspirations regarding "professional" football, but as the years have gone by I'm reduced to seeing a business rather than a game unfolding on the pitch, and that saddens me.
To quickly get to the levels we aspire to we'd need the sort of hideously expensive players the great footballing sides routinely sign by the bucket-load and that ain't gonna happen under Moshiri alone as far as I can see. I cling on to the hope that Allardyce can somehow as a managerial swansong astound us and the whole of the football world by conjuring expansive winning football within his strangely limiting 18-month contract.
As ever, I suspect the board/owner may have inadvertently shot us in the foot in terms of showcasing us to talented players elsewhere by this peculiarly short contract. Maybe there's an unwritten arrangement where he'll be offered an extension based on performance but in the meantime players may be entitled to ponder who they'd be playing under by the end of next season?
That said, the Allardyce-of-old on a 3- or 4-year deal would have given me the willies too!
Tomorrow I'll be happy with a win, however it's achieved. To make any progress at all towards expansive football I think we really need a few signings, and a few more outgoings, in January – notwithstanding the recovery from injury of Seamus, Yannick and Ramiro.
Tony Abrahams
26
Posted 17/12/2017 at 11:28:03
Martin @22 says it all, for me. Liverpool fans fuming, saying I don't know how you could put up with that every week, just made my smile bigger, but only if it's for the short-term, or against the teams that you might have to frustrate first, if you are to stand any chance of getting a result.
Swansea, could be anything, but they remind me of Everton, before Allardyce came. I'm surprised that Clement is still in a job, because great coaches don't necessarily make good managers, and it looks to me that is what Swansea have been lacking.
They seem to lack management, and are way too passive for a team at the bottom, let's hope that doesn't change tomorrow.
Brian Williams
27
Posted 17/12/2017 at 11:54:30
Is it Allardyce's fault we're not playing stylish expansive football? Does anyone seriously expect us to be playing stylish expansive football only a few games after staring very closely at the bottom three? It's fine saying, now, that we were never going to go down but I didn't hear many saying that when we were second from bottom.
If you take a look at some of the results we've recently achieved and then look at the results of some of the teams we've achieved those results against it puts things in perspective IMO.
We battered West Ham (with a bit of luck I know) but look at their recent results. We beat Newcastle away when Arsenal didn't exactly breeze past em at the Emirates yesterday.
We didn't play expansive stylish football in the earlier parts of the season and were getting trounced, we're still not doing that but we're getting results. That's called progress, and it's naive in the extreme to think we'll go from The Dog and Duck second eleven to Man City in the space of four games.
Hopefully we will play like all of us want to play but it's not going to happen within a few weeks. There has to be an acceptance, not of mediocrity, but of reality.
We should all continue to dream but realize that for the time being that that's what we're doing. I for one am prepared to show patience because my memory's not that short that I can't remember the feeling of dread I was enduring just a few weekends ago.
I'm going to tomorrow's game hoping for a good win played with stylish attacking football. Again, I'd like to stress I do not accept mediocrity and never will but sometimes that's what I'll get and, without turning my back on Everton completely or getting the manager's job, there's not too much I can do but hope for a return to much better days.
Jon Withey
28
Posted 17/12/2017 at 12:18:01
Points became more important the minute we didn't look like we'd ever get another!
Anyway, Koeman's football was dire and Martinez too leaky so Sam doesn't exactly have a tough act to follow.
The manager can't lecture complacency if he plays Klaassen tomorrow – unless he has seen some improvement in training then the guy is still a passenger in the Premier League.
Vlasic has the potential to do more damage though so I'd like to see him get more minutes.
If we need to rest somebody it might be Calvert-Lewin! Poor kid has been putting a shift in for a while – let Niasse tire them out then put him on.
I'd be delighted with an unremarkable 1-0 and a confident squad ready for Chelsea.
Brian Harrison
29
Posted 17/12/2017 at 12:20:59
Brian (#27),
Seeing as you mentioned style and Man City, what an absolute treat to watch them. You can't fail to be impressed with the quality of football they play and huge congratulations to Guardiola.
Yes, people will say well anyone could have managed Barcelona, and lets be honest he could have took the easy option and stayed. But he didn't he went to Bayern and then onto Man City, and proved his brand of football works in any country. Also can't be a coincidence that the most consecutive wins in Germany and Spain and England are all teams managed by Guardiola.
He never parks the bus as some other top managers, and always improves all of his players, which is the true test of a manager. I wish we had the money to attract him but maybe might be worth in a year or two of working under Pep's tutelage that we bring Arteta back in some role.
Ernie Baywood
30
Posted 17/12/2017 at 12:29:22
This won't be the easy game some are expecting. Despite sitting bottom, Swansea tend to give a decent account of themselves – their problem is scoring rather than any kind of defensive frailty.
A very different test from the last couple of games. We'll have to force the play while keeping defensively organised – exactly the problem we have had for most of the season.
Big call for Sam whether he's prepared to possibly expose this defence in search of goals or just stick to the same plan and hope we have enough quality to pinch one or two.
Chris Barnes
31
Posted 17/12/2017 at 12:33:23
Sorry, going a bit off topic but how was Lanzini's penalty for West Ham not a dive. Just watched it again on Goals on Sunday and it was a much worse dive the Niasse's. Surely this deserves a similar ban. The dive is more clear and there's less contact. Kamara and Shepard see it as a definite pen!!!!!
Ernie Baywood
32
Posted 17/12/2017 at 12:41:52
Brian (#27), You're right, it's absolutely not Sam's fault that we're not playing expansive football. He's dealing with what he inherited – an unbalanced squad in a confidence crisis.
But it still won't be his fault in 6 months. Or 12 months. You don't hire Allardyce because you have an expectation of entertaining or playing anything approaching decent football. You might get it, but it's certainly not what you're trying to do.
So, if we're still playing dull stuff in 12 months, it will be Moshiri's fault.
Brian Williams
33
Posted 17/12/2017 at 12:44:35
My namesake at #29.
Brian, I said to my son after watching Man City (again) last night, "I'll never normally give too much credit, or actually clap and react to a goal from anyone other than Everton but the football City play is a joy to watch."
Kevin De Bruyne received a ball in the centre circle with his back to City's left side of the pitch and he turned and sent a ball out to their left winger without even looking. The ball landed a yard in front of the winger who didn't even have to break stride. Brilliant, brilliant football.
Having said that, when they come to Goodison.... Fuck 'em!

Brent Stephens
34
Posted 17/12/2017 at 12:46:23
Re the debate about entertaining football versus football to win. I don't see it as a binary choice – the context of each game is important.
So under Koeman this season, did anybody want entertaining football? I can't remember anybody complaining about a lack of entertainment when we were losing games and drifting towards the relegation zone. Surely, in that context, winning was the be-all and end-all (else we could have still been facing a debate about entertainment versus points but in the Championship).
Sam has come in and points have taken precedence over entertainment. Rightly so in my view. And the satisfaction and praise has come not for any entertainment but for the points. Don't misrepresent what the satisfaction is about.
As we march up the table, so we can look for more entertainment. But credit where credit is due in terms of the number of games now going our way.
Paul Tran
35
Posted 17/12/2017 at 12:49:46
You make yourselves hard to beat.
You win ugly.
You win playing good football.
You're an absolute joy to watch.
In that order.
Jon Withey
36
Posted 17/12/2017 at 12:54:23
Speaking of Sam – I just read his transfer buys in January in the red Echo... Pretty bad really – suppose that is why we have Walsh though.
Paul Kelly
37
Posted 17/12/2017 at 12:54:30
Chris Barnes, you echo my thoughts exactly, let's see what the shit houses at the FA do and I reckon it will be be sweet FA.
As soon as I seen the incident that was the first thing that entered my mind. Why hasn't there been a media outrage like there was for Niasse? And they wonder why we're paranoid!
Andy Meighan
38
Posted 17/12/2017 at 13:18:54
Niasse will be the only player banned for diving this season.
Witch hunt – mark my words!
Brent Stephens
39
Posted 17/12/2017 at 13:22:32
Paul (#35) – a more concise statement than my attempt. Thank you.
Dave Abrahams
40
Posted 17/12/2017 at 13:28:34
One time Swansea had a very poor record against the Blues, but in the last five league games they have won two and drew three so maybe we are due for a win tomorrow night. If we do win, strangely, we will have a better home record this season than Liverpool, and that is with us playing absolute rubbish for most of those games.
I would hope we establish a few more points on board before we start clamouring for a more open and attacking game, that will come the more confident the team get.
Darren Hind, I and loads of other Everton fans understand what you are saying and we want the same as you, but unlike you we think the threat of relegation not so long ago was very very real. In fact, Darren, it hasn't gone away completely.
John McFarlane
41
Posted 17/12/2017 at 13:30:21
Hi Brian (#27), I believe your view on the situation Everton find themselves in, is a realistic appraisal and that at the moment points are more important than poise.
One or two seem to think that people with a similar outlook to yours and mine, are considering the present situation acceptable. As far as I'm concerned, nothing could be further from the truth; there is no doubt that although we have improved our position in the last 3 or 4 games' but points are still of paramount importance.
I posted on a thread recently that having played (in my youth) and watched football long enough, I believe that I understand the philosophy of the supporter, and that is, 'He wants his team to play entertaining football and to win, but if his team can't provide him with the entertainment, he will settle for the win'.
I have yet to meet the supporter who would sacrifice three points to watch some exhibition-style performance.
John Raftery
42
Posted 17/12/2017 at 13:31:41
Now is not the time to rotate. It would smack of complacency on the manager's part to start selecting players such as Sandro and Klaassen who so far this season might as well have mediocrity enscribed on the back of their shirts. There are few home bankers for any midtable teams, as Watford and Leicester discovered yesterday.
While I would not change the team tomorrow night, I am far from convinced that Schneiderlin is about to prove his worth. I hope I am wrong because we desperately need players costing £25m to come good but at Newcastle we saw him concede possession just outside the box and make one wild challenge which missed ball and man completely.
His lack of pace usually means he arrives too late to make risk free tackles. Otherwise his game was generally the usual mix of sideways and backwards passing which is acceptable away from home when the team is protecting a narrow lead but not what will be required tomorrow night.
John Keating
43
Posted 17/12/2017 at 13:32:20
I think we have to go with the same defence.
Where I might change things is giving Gueye a break for the Chelsea game and play one defensive midfielder; hate to say it but Schneiderlin, maybe he is seeing a bit of form after Newcastle.
If we do go with one defensive midfielder I'd play Vlasic or Lookman to allow Sigurdsson to come into a more central position with Rooney. I think Sigurdsson is more comfortable inside rather than out wide.
Regarding results over performances, right now it's results. As we have mentioned before West Ham under Moyes and Palace under Woy were always going to tighten up and get points on the board.
Martin (#22) and Brian (#27) agree completely.
We seem to be blaming Allardyce for the shit position he found us in and expect him to transform our playing style after a few games. This is going to be more a marathon than a sprint to get where we want to be.
Martinez played an open forget defending game and people wanted him out as they could see what was happening. Koeman had us getting beat by everyone and again people could see where it was leading. All of a sudden, Allardyce comes in and people want instant change. Strange. Last time I can remember consistent attacking-minded footy was under Kendall.
Brian Williams
44
Posted 17/12/2017 at 13:47:26
John (#41).
Perfectly put, mate.
Raymond Fox
45
Posted 17/12/2017 at 13:51:15
In the debate about winning but also with style, that's the ultimate scenario, isn't it? You need players who have the ability to win you games while at the same time playing open flowing football.
I would suggest that those players are rather thin on the ground and now cost large amounts of money. It's the reason why the top 6 clubs are usually the top 6, they can attract and afford that quality of player.
If your squad is playing teams who are of better quality, a good manager will attempt to win any way he can.
In the match tomorrow, I agree we should be more on the front foot, and push for a win; after all, it should be seen as a banker for us.

Jamie Crowley
46
Posted 17/12/2017 at 14:06:59
Taking four of my five sons to the local "bar" to watch the game. Therefore, it's a must win!
Eight points off 4th if we win. It's nice, even if ill-advised, to be looking up again.
Steven Jones
47
Posted 17/12/2017 at 14:09:33
Entertainment – yes please. Stylish, intelligent, passing, fast intricate, skilful moves and fast breaking a la Man City 2017-18.
Entertainment also comes with drama and winning against odds – some love a good safe 1-0, some like to Martinez things up and win or lose 4-3 or 3-4. Different strokes and folks as they say - Most of us are more Duncan McKenzie than Gordon Lee :-0)
At the moment we are still stabilizing, This is not Sam Allardyce's team/squad, he will need two or three transfer windows for that. However, this is his coaching team, man management, his selections and his tactical decisions etc – it is a judgement call to keep it stable and for players to learn their positions, teamwork and build combinations. Going all change even for Swansea at home will put a spanner in the works for the evolution of the team cohesion and confidence.
It is a judgement call when to change things up and build from a solid base to more keep ball flowing football. I think we will see progress towards this – but more 5% than 30% on Monday evening.
Sam in his pre-match interview has said that he will only change a winning team for suspensions, injuries or fatigue – so expect similar with any creative changes coming with the subs. Lyndon's line-up is most likely then.
Let's wait and see... however, one word of caution is that Bony is progressing back to his old self and with Tammy Abraham they can go two up top at anytime on Monday and we would be under pressure. Williams has improved but his lack of mobility and the potential of breaking fast football from Swansea may open up weaknesses being covered by all of the team keeping shape in other games.
David Hallwood
49
Posted 17/12/2017 at 14:34:50
I usually agree with Lyndon, but please Sam do not play Gueye & Schneiderlin in the same team – It doesn't work. Playing the two of them adds nothing to the attack and doesn't protect the back 4.
Okay, everyone's delighted that we've kept 3 clean sheets out of 4 (no-one more than me), but I've got a recording of the Newcastle game and if anyone wants to watch it with me (I'll supply the beverages) and concentrate on Schneiderlin. And you'll see him bottling out of tackles a la the Burnley & Arsenal goals, players running pass him and him failing to get goalside, and a Barcode running 30 yards and unleashing a shot that hit the post with not a defensive midfielder within 20 yards of him.
The two of them together doesn't work! I'd play 4-3-3, same back 4, midfield of Gana, Rooney & Sigurdsson, upfront Lennon, Calvert-Lewin & Lookman/Vlasic.
Steven Jones
50
Posted 17/12/2017 at 14:41:54
Good point, Dave. Maybe Davies or Klaassen comes back in and at home we become more progressive – that's the 5-10% progression.
Jay Wood
51
Posted 17/12/2017 at 14:42:56
Never understood the argument that, when a new manager comes in, it's not yet 'his team.' If it isn't his, then whose is it?
Any manager immediately has to work with the squad he inherits, whenever that may be in the year. Over time, new players arrive; existing players leave. That's the case whoever the manager is.
Sam Allardyce inherited an unholy mess. In less than a single handful of games – 4 – that he has been directly responsible for since his appointment, Sam has made a pretty decent fist of things, especially when compared on what went on this season before he arrived.
That'll do for me. For now...
Dave Abrahams
52
Posted 17/12/2017 at 14:49:37
Darren (#48), fair enough over the Southampton game. Yes the team was disrupted by injury, but it had been leaking goals all season. You could say we had 10 men versus Arsenal but the score could have been a lot more even with 11 men – we just folded once we went two behind as we have done on a few occasions this season in the Premier League and in Europe.
I know you wanted David Unsworth to be given longer and no-one knows how he would have coped had he been given more time, but Allardyce has come in and there has been a definite improvement in defending, even if we have played poor teams. Let's see if he can improve the whole game of the team,
You will agree he's had very little time up to now and I wouldn't be betting – even if you don't like Sam – you will give the thumbs up to Sammy.
George Cumiskey
53
Posted 17/12/2017 at 15:11:01
Darren Hind – spot on, mate. Why can't we play attacking football and still win?
All the people saying we've still got to be careful, it's Swansea, for god's sake. If he can't pick an attacking team and still beat these, we're in for a long drab season.
Darren Hind
54
Posted 17/12/2017 at 15:14:14
Indeed, Dave.
We were conceding goals and we had been for some time, but we also scored 10 in Rhino's last four Premier League games and despite the horrendous circumstances we gained 7 points from 5 games. That is nowhere near relegation form.
That's all academic now. Unsworth didn't get the gig so we talk about here and now.
All I'm saying is, I don't believe we are in a relegation battle so I won't accept it as a reason for not trying to play the beautiful game.
Btw Dave, I have no problem whatsoever with Sammy Lee being here. I have had the good fortune of meeting him and seeing his enthusiasm and reading of the game from close range. He'll certainly do for me.
John G Davies
57
Posted 17/12/2017 at 15:29:12
Let's put all this relegation talk to bed.
Sam has got this.
Brian Williams
59
Posted 17/12/2017 at 15:44:12
I think some are missing the point in why we can't play attacking football, and it's only Swansea etc etc...
The reason is that we're in the very early stages of recovery from playing some of the worst football I've seen from an Everton team in a long time. We're just recovering from being absolutely shite!
That's why we can't be "Man City Lite" yet, even against Swansea I'm afraid. The proof, if you needed it, was the performances prior to the last four/five games.
I've sat in that top balcony filled with despair and close to tears on too many occasions this season. Why would those same players "suddenly" turn into world beaters? They wouldn't / won't.
It takes time, and it'll take some new players IMO. The recovery's fragile, believe me, and anyone who thinks we're actually able to turn up and turn over Swansea while doing a Monday night impersonation of Barca is way off the mark, IMHO.
Darren Hind
60
Posted 17/12/2017 at 15:45:12
Eddie,
The records will forever show that Rhino took us out of the drop zone five points clear and out of harm's way. Nobody can take that from him. But that's not the point.
Hopefully Sam will build on that and we won't go south again; I just hope he does it playing better stuff than we have seen so far this season.
Why do people always go from one extreme to the other? Why does it have to be a Monday night version of Barca?? Who comes even close to suggesting something like that? We can't reach Barca standards so anyone expecting an attempt to entertain is missing the point?
The way we play matters to an awful lot of people.
Brian Williams
61
Posted 17/12/2017 at 16:04:12
Darren, "at this present time" anyone expecting an attempt to entertain is, in my opinion, missing the point, yes. We're "at this present time" unable to do that because we're simply not confident or consistent enough to do it. That's my opinion.
Entertaining, open, expressive, football comes with confidence. It will come (I hope) but I don't expect it just yet.
The way we play matters to me too but the reason we don't play the way I / you / we want to is that "at this present time" we can't. Otherwise, we would... wouldn't we?
John G Davies
62
Posted 17/12/2017 at 16:13:55
Of course we would, Brian.
Unsy set the team up to play "the Everton Way" (his words) and got twatted from pillar to post.
Kevin Tully
63
Posted 17/12/2017 at 16:17:43
Darren's correct. This isn't the Everton of old, we've shelled out a fortune on players who are some the highest paid in world football. It seems, however, some are still very accepting of watching dross.
My eyes are still recovering from last week, and some of the shite Koeman's teams served up was horrific. It doesn't have to be Barca-esque, just value for money. The alehouse tripe we witnessed last weekend against Liverpool should never be acceptable, not when we consider the money we've thrown away.
To listen to some, misplaced passes, hoofs to nowhere, not showing for the ball are all acceptable from players earning millions. Behave!!!
Paul Kelly
64
Posted 17/12/2017 at 16:25:25
Crowley, I know your over the pond, are all your boys Blues? Plus tie a knot in the thing, lad!
Paul Kelly
65
Posted 17/12/2017 at 16:32:53
Darren Hind, "If you really don't care about seeing entertaining football, why not save yourself 500 quid and go and watch the lads play in the park."
But the lads in the park can find a team mate with a pass, pissed of their heads at 10am in the morning!
Brent Stephens
66
Posted 17/12/2017 at 16:39:03
Brian #61 "The way we play matters to me too but the reason we don't play the way I / you / we want to is that "at this present time" we can't. Otherwise, we would... wouldn't we?"
Makes sense.
John # 62 "Unsy set the team up to play "the Everton Way" (his words) and got twatted from pillar to post".
And that's why #61 makes sense.
Darren Hind
67
Posted 17/12/2017 at 16:45:01
Brian
Palace and West Ham are in a far worse state than us and are both currently playing a far more entertaining brand of football than we are. Neither side cost anywhere near as much as ours.
You need courage to play football. The will to do it and courage. Let's give Sam his chance to get his coat off and we'll see how his team play in the New Year.


Paul Kelly
68
Posted 17/12/2017 at 16:55:14
Just to put my two cents worth in on the current debate, I "accept" the way we are playing at the moment because we are getting results; results are what's needed at the moment.
Am I happy with our style of play? Am I fuck! Will I suffer it? Yes, at the moment... but for how long before I show my discontent? Soon. But if we won the league playing as we are, so be it, but that ain't happening.
Let's face facts: if we hadn't got the results we have, we'd all be up in arms and I should imagine many will be when we suffer our first defeat under Sam Allardyce.
Yes, I'm fickle.
Jack Convery
69
Posted 17/12/2017 at 16:56:05
Is that West Ham guy being done for conning the ref yesterday? Heard nothing so far.
Sam will play same team that won at Newcastle, except for Gueye, who will be replaced by Davies. For me, I would pick Besic instead to see if he's up to it.
Geoff Lambert
72
Posted 17/12/2017 at 17:07:05
I don't think Besic has ever been up for playing football, maybe for running about like a headless chicken and diving in to tackles he should not be attempting.
Davies and Klaassen ahead of Besic for me.
I am not expecting a 5-goal demolition of the Swans tomorrow but would like to see a bit more attacking entertaining football please.
I would settle for a 1-0 and up to 9th at the moment.
Dan Davies
73
Posted 17/12/2017 at 17:15:18
Okay, I'm having a bite Mr. Hind.
The records will also show the gratitude the club had for the amazing job Rhino did by replacing him with Sam Allardyce.
Not forgetting a certain Mr Royle left the club not long after Rhino went back to the Under-23 level.
You also contradict yourself in saying that you thought Everton weren't in a relegation battle, only to then praise Rhino for steering us clear of relegation!?
You call people out for speaking out against Unsy but you do the exact opposite yourself in speaking for him!
Chris Gould
74
Posted 17/12/2017 at 17:17:11
Darren,
I was more than happy to see Unsworth get a run of games but we were abysmal and getting worse until the West Ham game. I certainly don't think it was a coincidence that everyone raised their game in the knowledge that their new manager was sitting in the crowd.
Calvert-Lewin confirmed this was the case in an interview in the Echo: "I was just looking in the West Ham game, where he was watching, to put in a performance, to get myself in his starting eleven."
It's fair to suggest that all of the players were looking to impress their new manager. Defensively, they were still shaky against West Ham and the improvement in that area since that game is obvious to everyone.
I like Unsworth and will give him credit where it's due, but I don't think he was responsible for our improvement.
But it really is time to move on and get behind Sam.
Michael Lynch
75
Posted 17/12/2017 at 17:34:00
We were dreadful under Koeman; we were dreadful under Rhino. We're dreadful under Sam but we're winning games and not conceding goals.
The rest is conjecture.
Jamie Crowley
76
Posted 17/12/2017 at 17:50:59
Paul Kelly (affectionately also known as last name "Kelly") -
Yes all my sons are Blues of the American adopted variety.
Insofar as tying a knot in it, I do two things well in life – drink and procreate.
Making the world a bluer place, Paul.
Tom Bowers
78
Posted 17/12/2017 at 17:53:47
Let's be honest it would be unfair to lay any criticism of Unsy during his short stint and equally silly to laud praises of Sam during his short stint so far.
Picking up priceless points recently has been more a load of luck more than any improvement in the team's performances and the generalship of Wayne Rooney.
Defensively they can still be a shambles at times but they have been getting away with it.
After today they have 3 tough games on paper and they need an impressive display today to perhaps get them in the right frame of mind for these games.
Brian Williams
79
Posted 17/12/2017 at 18:10:37
I'm just hoping for a four-nil win that manages to get some arses off seats.
We'd all be happy with that!
Michael Kenrick
80
Posted 17/12/2017 at 18:20:22
For fuck's sake, Darren, give a rest will you.
We have heard the same shit from you about the West Ham game, the Unsworth factor and the Allardyce factor, till we're Blue in the face and apoplectic over your nonsense.
No-one's gonna change their minds (especially you), no matter what 'evidence' is put in front of them. Stop conflating fact with biased opinion, and please move on to something else!

Brian Williams
81
Posted 17/12/2017 at 18:23:10
Jamie#76.
Drink more, procreate less. It's cheaper!!
David Barks
82
Posted 17/12/2017 at 18:24:59
Darren,
When Unsworth took over we were in 18th, with 8 points, equal on points with Swansea in 15th. His last match before Allardyce was being announced as manager, when he was in the Director's box, was a 4-1 loss to Southampton. That left Everton 16th in the table with 12 points, 2 points clear of West Ham in 18th.
Yes the players would absolutely have a reaction knowing that the next manager is watching them. Yes there is a clear difference in that scenario opposed to how they would perform for the previous manager that they know is going to be sacked. And that is different from how they would perform for a caretaker manager that has never been a senior manager and will not be getting the position on a permanent basis.
So before Allardyce was being named, Usnworth got us 4 points. We were 2 points clear of the drop as opposed to being even with two other clubs in the drop zone when he took over.
James Marshall
83
Posted 17/12/2017 at 18:27:30
The team was rubbish under Koeman, and equally as rubbish under Unsworth. Apart from the West Ham game, when Allardyce was already involved in my view (that Unsworth/Allardyce thumbs up looked loaded to me).
Allardyce is no magician, he just simplifies the game and talks/listens to his players - he's famously a very very good man-manager, something Koeman is not (at all) and that's made a huge difference in a short space of time.
1. Stop conceding goals.
2. Improve results.
3. Adapt the playing style to suit the opposition.
4. Buy a striker.
5. Play more attractive football.
I would say that's about the size of it for Sam Allardyce, and so far he's on track.
David Barks
85
Posted 17/12/2017 at 18:40:42
I sincerely hope we do not see Gana paired with Schneiderlin this match. It's negative, defensive and puts us at an immediate disadvantage. Gana is not an attacking threat, he doesn't have a shot on him and doesn't pick a pass.

I still want to see Klaassen given a chance in that role that Gana occupies when partnered with Schneiderlin. Klaassen is a willing worker. I would also prefer to not have Lennon continuing to start. He's just far too limited. Vlasic or Lookman, give them a consistent run in that role and let's see how it works.
Michael Lynch
86
Posted 17/12/2017 at 18:46:10
Darren, you keep talking about the record book and how you can't argue with it but - as far as I'm aware and I am prepared to be corrected - the record book shows that Sam stands at 4 games, 3 wins, 1 draw, no defeats. Rhino's record up to the point that Sam was announced as our manager was 7 games, 1 win, 1 draw, 5 defeats.
Rhino is a great man. But he didn't steady the ship after Koeman. We lost five games out of seven under him before we appointed a replacement. Can we move on now?
Tom Bowers
87
Posted 17/12/2017 at 18:48:56
I would like to see some changes made to the starting eleven and my changes will obviously agree with some and disagree with others.
It is far from a solid eleven as yet so without too much chopping and changing keep them simple.
Keane back in for Williams and Baines in for Martina.
Vlasic in for Lennon and a ''fit'' Macca in for Gana.
Lenon has experience and hasn't done badly but isn't the answer and Vlasic offers more going forward.
John Keating
88
Posted 17/12/2017 at 19:00:53
Tom. I thought Baines was still quite away from playing? Macca has played a half of an U23 game so doubt we could risk starting him? Maybe if we're well up put him on for the last 10-15 minutes.
As regards Lennon, when played he has done a solid job not just in attack but more importantly defensively. Pity we don't have another Lennon type player to cover on the other side.
I would think once we are free of the bottom scramble we can play Vlasic and Lookman operating in a mostly attacking role.
David Barks
90
Posted 17/12/2017 at 19:10:50
One of the only times I'll agree with Roy Keane is when it comes to midfielders and having to cover defensively. He has said that yes, try to win the ball back in midfield. But the defenders are meant to defend and this reliance on midfielders having to track back and always help is ridiculous. The defenders need to be able to do their job.
A keeper, four defenders and a holding midfielder should be sufficient to handle most attacks. If the other side slowly builds up an attack then obviously the other midfielders will be back to help. But primarily, I want my midfielders to be attacking threats. I want the opposition to be more worried about my attack. I thought the same thing when so many would be calling for Baines to be moved to a winger. He was a good attacking fullback, but would have been poor as a midfielder.
Raymond Fox
92
Posted 17/12/2017 at 19:18:10
I have read all the posts in this thread and I haven't seen anything that would make me alter my post #45.
As regards Allardyce, you can only take them as you find them, Darren, and him and his crew haven't put a foot wrong. They all have great experience and, on what I have seen so far, they will do for me.
Man City at the moment are playing wonderful winning football; great, that's what Pep wants to see, that's what we all like to see.
The problem for any manager of ours is that he will have a squad that invariably will be inferior in ability to six or, if he's extremely lucky, four of the opposing teams in the League! That's subjective of course but I think fair.
Any good manager, if he's also lucky to have the players to do so, will change the way we play according to the opposition we are facing; at least he should do. Sam and his oppos have only been here two minutes and so it's much too soon to judge how he's going to shape the club.
All I can say is that we appear to be in safe hands in the on-field management side of things; I've less confidence in the owners/boardroom side of the club.
Jay Harris
94
Posted 17/12/2017 at 19:57:59
I think a strong midfield will be key to winning the Swansea game.
Although I don't believe in changing a winning side, I would give Rooney a rest and bring Vlasic in and move Sigurdsson inside.
I would bring Niasse and Bolasie on second half and give Calvert-Lewin and Lennon a break.
We cannot underestimate a Swamsea side that has got results out of us when we were a better side than this; we need full focus and determination.
As others have said, we can look for better football when we have some more points in the bag and confidence is no longer fragile.
Don Alexander
95
Posted 17/12/2017 at 20:01:13
Michael (#80), you surprise me :) . Darren obviously knows all the right words but not necessarily in the right order, that's all!
Jay Wood
96
Posted 17/12/2017 at 20:09:53
You know, it
really
is possible for the same person to hold simultaneously the following views without being contradictory:
* a genuine desire to see David Unsworth succeed in his stint as caretaker manager
* an acknowledgement that the fixture list and its intensity was not favourable to Unsworth
* a realization that under Unsworth our core deficiency this season - leaking goals - was NOT being addressed
* wanting a definitive, clear decision by the club custodians on the appointment of the manager before things spiralled even further out of control
* a gratitude for what David Unsworth did on his watch and the dignified way in which he carried himself
* not being enamoured of Sam Allardyce's appointment, but...
* a willingness to see how things pan out under his stewardship, rather than immediately snipe and condemn every perceived failing, real or imagined
* relieved by the evidently improved structure and defensive solidity of the team since Sam and his team arrived
* appalled by the paucity of our football in the Derby match, but equally delighted that as awful as our football was, it was enough to snatch a point at Mordor
* impressed by what Sam is saying and how he is saying it
* delighted Sam has NOT jettisoned our young guns as many predicted he would, but rather, talks them up in glowing terms
* an acceptance of indisputably moderate to poor football in the 4 games on his watch thus far, as improved results and simply stopping 2-3-4-5 goals being conceded every game HAD to be the first priority
* a desire to see progressively better football as Sam and his team have time to better implement their style and system with both individuals and the collective
The absolutism and lazy collective labelling of fellow posters on TW by some (or rather, by one particular poster) for not accepting without question their opinion is really getting extremely tiresome.
Jay Harris
97
Posted 17/12/2017 at 20:22:41
Amen to that Jay = The voice of reason.
Tony Abrahams
98
Posted 17/12/2017 at 20:25:23
It's possibly why Keane, was a much better player, than he ever was a manager David@90?
I agree with you about Baines, but without that defensive cover in front of him, and that offensive player outside of him, he hasn't been as effective for a few years now.
Footballers need help, and if that means getting back to help your team-mates, then I'm not sure how that can be a problem, in the same way a fullback gets forward to help in attack, then it should be doing everything you can to help "the team".
Brent Stephens
99
Posted 17/12/2017 at 20:28:59
Jay #96 - such a balanced post. Reasonable in its content and tone. I think we can move on.
Tony Everan
100
Posted 17/12/2017 at 20:30:55
On the subject of Lanzini's dive, it was miles worse than Niasse's supposed one.
There has been about 10 dives since that have been much more clear cut and just seem to get brushed under the carpet. Man Utd's Lukaku got away Scott free with blatant violent conduct.
Niasse must be spitting feathers, the inconsistency is there for all to see.
Michael Kenrick
101
Posted 17/12/2017 at 20:31:17
Jay (#),

Your bullet points are absolutely spot on. Nice job in summarizing what is probably a quiet majority view of the recent turmoils and things as they now stand as Sam Allardyce continues to bring stability where there was very little in evidence before.

Well done!
Ray Robinson
102
Posted 17/12/2017 at 20:34:39
Jay (#94), what makes you think Bolasie is anywhere near ready to play half of a full-blooded Premier League game at this early stage in his recovery? I suspect it will be a few more weeks yet before he features. Besides, I don't see how you can call for two half-time substitutions already when you have no idea how the game will pan out.
I've also noticed a trend among several posters to believe that many of our problems will disappear when the likes of Coleman, Bolasie, Funes Mori, McCarthy and Barkley come back from injury. Whilst I hope that they are right, of course, it will be a bonus if two of those players regain their former fitness, speed and form – it's by no means a given and we cannot rely on their returns as a solution.
Ray Robinson
103
Posted 17/12/2017 at 20:38:29
Tony #100, I totally agree – Lanzini's dive is a carbon copy situation of a penalty resulting from an "attempt to deceive" the referee. Anything other than a two-match ban will be sheer hypocrisy / victimisation by the FA.
Ian Bennett
105
Posted 17/12/2017 at 20:42:10
Weekly improvement from the young buck Kenny at right back. Thank god Koeman didn't pitch him in the chaos of the start of the season.
A crap campaign, but if we have 8 or 9 good players emerging that can build something it might sweeten the bitter taste of transition.
Pickford
Kenny
Martina
Williams
Holgate
Gueye
Davies
Rooney
Lookman
Calvert-Lewin
Sigurdsson
John Keating
106
Posted 17/12/2017 at 20:52:16
Michael 75 and 86. Spot on.
Unfortunately some cannot move on. Looking at the league table today I doubt very much we will finish much better than where we are today, somewhere 8th-10th.
I seem to remember some saying that if we don't get into a European spot then Allardyce has failed. As far as I'm concerned if we finish mid table after the horror show we've had since pre season I would consider it a success.
A flukey 1-0 win in time added on tomorrow will do me. I can wait for all this fancy open entertaining football some want right now.
Keith Monaghan
107
Posted 17/12/2017 at 21:01:59
Ray @ #102
Good to see some common sense on here – virtually everything you said is true IMO; I would add I just don't get why some people expect anything from Macca when the evidence is he hasn't been consistently match fit for a long time - we may as well forget him. Also, in spite of Barkley's talent, it's been a long, long time since he performed consistently well, and he clearly doesn't want to play for EFC.
I hope Seamus & Bolasie will perform well after their return, but it's likely to take quite a while – in Bolasie's case, I think a lot of us would say he was inconsistent and flattered to deceive in his short spell in the team; in Coleman's case, I genuinely believe he'll find it difficult to displace Kenny.
It would appear that Funes Mori's return is some time off, possibly even into next season?
Steve Ferns
108
Posted 17/12/2017 at 21:06:54
John, we are level with Watford for 9th, we are 4 points behind Leicester, and 10 points behind Burnley. We have a game-in-hand on all of them. That game-in-hand is against Swansea, If we fail to overhaul at least 3 of these in 21 games, then I would call that a failure. We've spent more than all of them combined. We will spend more than all of them combined, again, in January, and the very least we should demand is 8th.
It's funny how some held Martinez and Koeman to the motto, but Allardyce seems to have a free pass to finish exactly where Martinez did, and everyone wanted to string him up. Well, I'm having none of it. We will finish 8th or better. We will finish above what is a very average Burnley team, who will start losing a ton of games soon, and Leicester are the only side I have any doubt that we can finish above.
Allardyce is here, and we are fully behind the team, but he ain't getting a free pass, and we will demand the usual standards.
Keith, Funes Mori will not be in training before March, he will be lucky to make it back for pre-season, and even then there will be worries about whether he made a full recovery. Just to be clear, after the first operation he broke down in training, and this was July. He had another knee operation, and he was ruled out for NINE more months. That is the end of February, and then it will take him a month to get back to fitness, and then the season is over.
Ray Robinson
109
Posted 17/12/2017 at 21:16:39
Steve, as far as I'm concerned, Allardyce does deserve some sort of free pass as he started so many points behind the others. Martinez in his last season and Koeman this season started level with all the other teams. You can't just airbrush away the first dozen games.
That said, to borrow another contributor's phrase, I am not a happy clapper. I would expect eighth or ninth this year but considerably better next season. I'll judge Allardyce properly next season.
Dave Abrahams
110
Posted 17/12/2017 at 21:17:15
Ian (#105), when the players came back after the mid-season break, one of the coaches was telling Jonjoe he had to go out on loan to a good Championship team. It would help his career, he was told by a, I presume, well-meaning coach. Plenty of fans, even then, would have given the coach some advice as well.
Michael Lynch
111
Posted 17/12/2017 at 21:24:18
8th is attainable for sure, if we can carry on with our current form (in terms of winning and not conceding) against the weaker teams. Personally, I'm not sure Burnley will slump that badly, and they'll finish 7th. A points tally in the higher 40s should be enough to secure 8th spot, the top six will be miles ahead, and the bottom three a fair distance behind.
Steve, I don't think anyone is giving Sam a free pass. He's inherited a terrible situation, our worst in many years, so he deserves a bit of credit if he can keep us out of the shit, but after that the expectations will be high again. I'm sure the grumbling will start soon enough, don't worry...
John G Davies
112
Posted 17/12/2017 at 21:31:49
Hear, hear Jay.
Minik Hansen
113
Posted 17/12/2017 at 21:38:18
Anyone else come to think of Moyes's last few years, where we usually started the season badly and end up from 5th to 8th (depending on which season it was)? We'd get good runs from November or December and climb back up. This has just been odd I think 'cause we've used so much on recruiting, thank God though it's starting somewhat to gel. It's soon Everton once again.
If we still got spending power in January, we'll come back for good at the subtop, I'm just wondering if Sam will be at the helm for long, it'll be interesting to see what style he really prefers in his team, when solid from the back to the very top.
Tony Abrahams
114
Posted 17/12/2017 at 21:41:15
What's more important, where we come in the league, or how much progress we see in the team's performance?
I agree with Darren, when he talks about managers (Unsy excepted of course!) and I think we should just let them get on with doing their job, and hope they do it well.
Too quick to criticise, or too quick to praise, usually amount to the same thing, so fuck the free passes, and let's judge the manager after he's been here for a bit, and just let him get on with his job in the mean time.
John Keating
115
Posted 17/12/2017 at 21:41:57
Steve if you read my post I do actually say somewhere around 8th-10th.
At present to finish 8th we'd have to overtake either Leicester or Burnley – supposing we get a result tomorrow of course to go above Watford !
Obviously 7th is doable but last time people said a team would implode after the year, if I remember, was Leicester, and we all remember that didn't happen.
Nobody said Allardyce should be given a free pass but considering he has not started on a level playing field I would have thought just a little leeway would be allowed him.
I have mentioned this before, I like many would have preferred us to have another guy here but due to the start of the season Allardyce seemed an obvious choice. Now he is here we have to show him some respect and support.
From the days of Carey until Allardyce, I cannot remember any supporters issuing any new manager with a "minimum requirement" in order to define what is or isn't an acceptable season.
Clive Mitchell
116
Posted 17/12/2017 at 22:07:39
Jay, 96 – majestic, agree with every word. And now, just to show how far short I fall of your command of reasoned, balanced, incisive analysis, can I just say that I do not want to see Schneiderlin start at Goodison tomorrow under any circumstances, as he has not deserved to sit in the stands, let alone take a place in the first 11.
Raymond Fox
117
Posted 17/12/2017 at 22:21:53
Can we just clarify how much we have spent
'improving'
the team.
We have bought approx £135m worth of players and sold approx £100m worth of players, so on paper we should be a £35m better team. As some of our expensive buys have been less than impressive, that supposition is far from a given.
Also as has been already stated many moons ago, if Niasse and Barkley had departed for pastures new, we would have spent bugger all to improve the team.
Big spending Everton...? Don't make me laugh!

Raymond Fox
118
Posted 17/12/2017 at 22:45:02
As regards where we will finish this season, do we really want to finish 7th?
We have played in the Europa League twice in the last 4 years and for my money all it does is cock-up – for want of a better word – our Premier League campaign. We have not had the squad to cope with doing well in both competitions.
Of course, I understand that many will disagree, but that's the way I see it. It's the top 4 where we need to finish to break this 'nearly team' label; we would then presumably have a chance of attracting the very best players.
Jerome Shields
119
Posted 17/12/2017 at 23:02:39
I think it's about gaining points. To keep the momentum going, we need three points from this fixture.There are still weaknesses in the team,so no change is the formula and hopefully a bit of an improvement in the weak areas.
Everton in the past have not been consistent under the past three managers. With Allardyce, we need after a successful result, to achieve the same in the next game.
This can only be achieved by sticking to the same formula, reduce the impact of the weak areas, gradually sorting them out. This is the basis to take us to the next level, where the ability of Allardyce to have the required vision will become apparent or not. Allardyce claims he never had this chance before... now he has the opportunity .Good Luck.
Tom Bowers
120
Posted 17/12/2017 at 23:41:52
Time will tell if Sam fits the bill at Goodison. The managers are just human and can only perform with what resources they have at their disposal. Players have weaknesses, referees have weaknesses and so do managers.
Just now and again a few come along and perform miracles with very little. Ranieri at Leicester is a prime example. Having money to spend is not much good unless a squad can be formed into a decent working machine.
In a perfect world, sometimes a team can be successful as well as being attractive to watch such as City are at the moment but for the time being we Everton fans just want our team to stay in the top half of the table until all the squad is fit again and Sam can make some exceptional additions.
Phil Walling
121
Posted 17/12/2017 at 23:42:13
I'm with Raymond on this one. Seventh can condemn a club to a disasterous first half-season in the Premier League as it has done with Everton this time.
Barry Williams
122
Posted 17/12/2017 at 23:45:46
Tony Everan - 100
Not to mention all the dives before it!
Michael Williams
123
Posted 17/12/2017 at 00:08:15
Dave (#110) – referring to your dislike (my word) of a coach telling Kenny he needed to go on loan to a good Championship team after the break.
I am confident that the coach is thinking ahead that Coleman will be back and Jonjoe needs to play every week. One could argue he should stay to provide insurance in case Coleman re-injures which I'm sure the coaching staff will look at.
Carl Allan
124
Posted 18/12/2017 at 00:16:27
We need a big win tomorrow, this minus 8 goal difference is unacceptable for a club that has spent as much as we have. Outside of the top six, it is a piss-poor league and we have got to be making it pay at home to the bottom side. No hanging on or bringing on Jags to hold on to what we have – let's commit bodies in the box and go for goals.
Dan Davies
125
Posted 18/12/2017 at 00:26:20
Jags and Baines need to be swept out. Thanks for your time lads. Everton need to move on ...take a bow.
Don Alexander
126
Posted 18/12/2017 at 01:15:14
I fully agree with Ray and Phil @ #118/121 respectively, the Europa League is a curse for any club with aspirations to get into the Champions League proper via league position, albeit it's a bit of a god-send to failing "big"clubs whose finances should've made Champions League qualification a given, insofar as it "again keeps them in Europe". Those clubs save face and have squads and money big enough to sustain the peanut returns achievable on even a successful campaign in the Europa League. The less wealthy clubs, the majority, have their squads stretched to the limit and beyond, get paid next to nothing no matter what they achieve, and almost always scupper their league season at home in the effort to achieve near worthless gain in the Europa League unless you win the bugger as one amongst 223 participants when it starts.
The Europa League is a UEFA money-grabbing farce and I don't want to denigrate any Evertonian who travels to watch Europa League matches but the harsh fact is, as far as I'm concerned, that trips to the likes of Rezumberok and Krasnador serve only to show how desperate we've become as a result of boardroom incompetence and inertia down recent decades.
Every Evertonian surely needs to hope that Allardyce reveals talent he's hitherto been unable to display as a manager by getting us into the top four (although how he's supposed to do that within 18 months is Fantasy Island to me) but that of course requires significant support from the boardroom/owner too.
And that's where I fear the worst.... Please prove me wrong, Mr Moshiri, preferably starting in January.
Paul Birmingham
127
Posted 18/12/2017 at 01:31:48
All have the best interests of EFC but, as long as we win tomorrow, then we can build for the next game. The club at least is getting its pride back and well done to the new management team.
A long road ahead, but we were concrete in the box a month ago.
All The Very Best to All Evertonians of The Seasons Greetings & A Great 2018.
David Israel
128
Posted 18/12/2017 at 01:52:30
I think Gana definitely should be rested, mainly because of his yellow card situation. Schneiderlin it would have to be, with Davies alongside.
I did read some of the comments here saying it would be a good time to give Klaassen another chance, but I don't think we are already in such a safe place as to tweak with the team too much. With that in mind, I'd leave the defence as it is. I would rest Calvert-Lewin, though, but would keep Lennon.
Jamie Crowley
129
Posted 18/12/2017 at 02:09:27
Jay @96 hit a home run for me.
Spot on. He's basically nailed a 2-month, 11-step process I would guess the majority of Blues have gone through exactly.
And as so far as the Europa League is concerned, I love the competition. And as long as it offers the golden goose egg of Champions League qualification to the victor, I say go for it.
Now the third place teams from the Champions League dropping into Europa League is completely asinine and cheapens the competition, but that's a topic for another day.
Finish as high as we can.
Derek Thomas
130
Posted 18/12/2017 at 03:33:49
If we go in over-confident its a pre-Christmas banana skin waiting to happen... that said, I don't want to see 2 DMs, especially if one is Schneiderlin, he was barely visible/average at Newcastle...and some said that was his best game for ages.
Bearing in mind we will hopefully be bringing in 3(?) players, unless we're struggling for bodies, I wouldn't even have him, Klaassens, Sandro and Mirallas anywhere near the bench to night and anywhere near the club after the window.
Gary Russell
131
Posted 18/12/2017 at 04:14:26
I find it quite amazing Sandro and Klaassen have already been dismissed by some supporters when they have hardly been given a chance. A bit of perspective maybe. When they did play, it was under Ronald when we were anything but a proper, functioning, brimming with confidence, giving it all for the manager kind of team.
Tony Everan
132
Posted 18/12/2017 at 07:01:31
With regards to the ignominious Europa League in future seasons, we have already stumbled on a successful formula!
Send Unsy and 6 U23s – they had no bother coping with Limassol. First team remained unaffected and remained focussed on the Premier League.
I reckon Dave and the lads could be more fully committed to the early stages of that competition. As a result could have a good chance of getting us to the knockout stages and give the lads invaluable experience too.
Dennis Heaton
133
Posted 18/12/2017 at 08:24:57
I, like lots on here, did not like the thought of big Sam coming but having said that he seems to have done a good job. He has always been at clubs with limited budgets to do what he has done so far. Let him sort the dead wood out of the team give him some real money and then judge him he may shock us all.
As far as Sandro is concerned I would give him more games later when the teams confidence is higher and the league place is more stable. I wish all the best to everyone and hope you all get what you want for Christmas (a win against Chelsea would be nice).
Stan Schofield
135
Posted 18/12/2017 at 09:00:04
Jay @96: Good post, says what most of us probably think.
Geoff Lambert
136
Posted 18/12/2017 at 09:22:16
Like others have said, The Europa League will give us valuable experience of playing midweek European football and with the added option of a trophy and a champions league slot. (I wish)
If we have aspirations of qualifying and playing in the champions league how do you think we will fare going straight in to that with no European experience?
That is why you need a squad of quality players capable enough to play two matches a week. Over to you, Mr Moshiri.
James Marshall
138
Posted 18/12/2017 at 09:46:08
Jay@96
Bang on mate, that's pretty much exactly been my thoughts of late. Nicely put, thanks for that.
I'll stick my neck out and say this: I quite like Sam Allardyce. I quite enjoy his pragmatic approach to the game. I quite like Sammy Lee as well, so shoot me. I also quite like Craig Shakespeare.
These 3 men don't make the game too complicated, which is something that previous managers (Martinez & Koeman) appear to have done – football is a simple game etc, as someone quite famous once said, and it's true.
Footballers are not the brightest buttons in the box, and they respond well to simple, straightforward instructions and roles in teams. Big Sam (I prefer 'Big' to 'Fat') knows this, he knows players, he knows football, he knows tactics, he knows how to man-manage, and he knows how to stop teams from losing – this is the priority, whether people like it or not.
We were in free-fall a few weeks ago, now look at us.
I'll take 1-0 every week over not having a damn clue what team we're going to see, or what the hell the tactics will be (if any!). An Allardyce team is, and will be well drilled, well organised, hard to beat and bloody minded in every way – it may not be pretty at the moment, but give it time and I for one think you'll see a change in the style we play against certain teams.
Remember Bobby and Ron sending teams out to play the same way week in week out? Remember how bad the results of doing that were? Yeah, me too.
Neil Wood
139
Posted 18/12/2017 at 09:51:06
How some on here can dismiss Sandro and Klaassen is beyond me. They were as bad during the first ten games as some of the others (Keane, Williams, Davies, Sigurdsson etc) but they are easy targets as their arrivals were supposed to herald a new dawn.
Both of them are exceptionally talented players and require game time to properly adapt. It is unfair to ostracise them based on their game time thus far.
Klaassen was compared to Toni Kroos and Xavi by Johann Cruyff and I'm guessing he knows his stuff more than most on here. That talent doesn't just disappear... He has played 190 minutes in the premier league... that's right 190.
Let's compare his start to one of say Jonjoe Kenny. He started the first couple of games he played terribly in my opinion but he seems to be flourishing now. Yes he's a young man and just entering first team football I get that. But we stuck with him and allowed him to adapt and progress (some of it was needs must owing to Seamus injury); some are now saying Seamus will struggle to regain his place.
Sandro has played 231 minutes. The boy scored for fun last year and is a product of the Barcelona youth system. He played for their first team. Now you don't get those opportunities by being shit and void of talent. He's an exceptional talent and one we should not give up on after seeing 231 minutes of performance in a new country, a new league, new team mates, new climate, new systems, new everything!!!
Put yourselves in their position and ask if you could just turn up and bit-part your way into a side... especially one so terribly managed and terribly ran.
I would start both in games like tonight's. Sandro to start up top and Klaassen next to Gana with a freedom to seek.
Pickford
Kenny Holgate Williams Martina
Gana
Rooney
Lookman Klaassen Vlasic
Sandro
Simon Jones
140
Posted 18/12/2017 at 09:52:16
Jay #96 spot-on
The modern game is a funny thing; we all hark back to various golden eras when we played beautiful football but, on the other hand, no-one wants to drop out of the top flight and we accept that "winning ugly" is often part of what is required to maintain top flight status. Witness Bournemouth being praised to the hilt for being open and getting hit for four, while we scratch a draw and get dogs' abuse from our RS neighbours.
I also hope for a footballing masterclass tonight, The School of Science and all that, but another win, no matter how we achieve it??? Yup, I'll take that too.
James Marshall
141
Posted 18/12/2017 at 09:53:45
Sam Allardyce
"We look like we're defensively sound now and now it's about expanding on that.
"We have to be more expansive – not lose that defensive solidarity – but be more creative and more accomplished because in the games down the line, we'll have to break down teams or we'll have to play the big boys and try and get results."
That says it all really.
James Marshall
142
Posted 18/12/2017 at 10:02:43
If we win tonight we'll only be 6 points behind Spurs. That's some turnaround given their start and ours.
Also a few other stats: Bournemouth have lost 6 on the bounce and Eddie Howe was touted as a good fit for us. They're 1 point off the bottom 3.
Newcastle have taken 1 point from a possible 27, and Rafa was also touted as a good choice for us.
Swansea got that guy Renato Sanches from Bayern and everyone was up in arms at them getting such a quality player while we chased Sigurdsson – he's being linked with a move back to Bayern and has been useless for Swansea. The funny thing is that Bayern have said they don't even want him back early!
I guess what I'm driving at here, is that we all express very strong opinions (3 of them above) but over time it does seem to be borne out that we were often wrong, and the professionals made the right calls. Discussion on here is brilliant, though tempering things down a little bit at times might do all of us a favour.
Yeah we have opinions, yeah we have the right to discuss them, but they are quite literally, only opinions...
Neil Wood
143
Posted 18/12/2017 at 10:07:43
James 141 – exactly. It will be a progressive team which will start to play more attractive football week by week. Start at the most important aspect... conceding. And progress to scoring more. Simple really!
We all bought in to this "new dawn" and I will hold my hands up I did also. However, when you now sit back and look at it, it's very obvious. We bought good players (Sigurdsson, Rooney, Sandro etc). But what we don't have is genuine world class players. Look at all the top six.
Man City – loads to name
Man Utd – Lukaku, De Gea, Pogba, Matic.
Arsenal – Ozil, Sanchez
Chelsea – Hazard, Willian
Liverpool – Mane, Coutinho, Salah
Spurs – Kane, Eriksen
That's exactly where the problem lies. We need 4 World Class players to play alongside some of our very good players. This is when we have a chance to break into the top echelons again.
Danny Baily
144
Posted 18/12/2017 at 10:16:45
Neil 143, I'd say it is the lack of balance in the squad that's the cause of our troubles and not the lack of a few top class players. No cover at left back and no target man at the top of the list.
Geoff Evans
145
Posted 18/12/2017 at 10:41:30
Anybody can identify a problem, Neil. Man City, Man United, Arsenal, Chelsea, Spurs and them have one thing in common.
Can you see what it is yet?

Amit Vithlani
146
Posted 18/12/2017 at 10:49:19
James @ 142
"I guess what I'm driving at here, is that we all express very strong opinions (3 of them above) but over time it does seem to be borne out that we were often wrong, and the professionals made the right calls."
Which professionals are those – Walsh and Koeman?
If so, you think they made the "right calls" overall based purely on buying Sigurdsson for £46M and not buying Renato Sanches?
Its rather a small sample, I'd say.
Here are some more calls by said professionals:
● Not buying a striker
● Not buying a left back
● Not registering Luke Garbutt for the Premier League.
● Not registering Niasse for the Europa League.
● Not one player with pace bought in the summer.
● Buying Sigurdsson when we already had Klaassen and Rooney
● Buying Vlasic when we already had Klaassen, Rooney and Sigurdsson.
I'm afraid a monkey and a dartboard with random transfer targets would have had more success than these professionals.
Assuming it was these two you were referring to.
Oliver Brunel
147
Posted 18/12/2017 at 11:42:15
I'm pleased with the results. Don't get me wrong I never wanted Sam but I have to admit the results are good, very good. But I'm not sure how we go to the next level and can we continue to watch this type of football indefinitely? I would say its shocking football to watch but granted, the results are very good.
Paul Tran
148
Posted 18/12/2017 at 11:48:51
Tonight's about winning.
I remember in the 1980s Kendall often talking about earning the right to play; getting the basics right and then out-footballing the opposition.
I hope that will come. In the meantime, let's get points on the board and build confidence.
Brian Harrison
149
Posted 18/12/2017 at 11:54:30
I think tonight it will be a bit of role reversal with Swansea sitting back with men behind the ball and looking to hit us on the break. I think Paul Clement will be well aware that he suffers defeat tonight and he will probably lose his job.

So, if Swansea do set up as I expect, it will be interesting to see how we go about breaking them down. A win will again lift the pressure off both manager and players going into the holiday games.
Oliver Brunel
150
Posted 18/12/2017 at 11:56:42
Neil (#143) I agree with that but I would add the proviso that we are not in the market for 'world class players'. Our market is Sigurdsson, Rooney et al. They are not world class players. Rooney was of course, but Klaassen, Sandro are lightweights.
World class players (Hazard, de Bruyne etc) turn up in any league and can play. To progress we need a few of these although does the club really have the ambition for it... or is Allardyce a sign that mid-table drudgery and the TV money is the only game in town?
Rudi Coote
151
Posted 18/12/2017 at 12:02:00
I believe Sam will come good. Don't write him off because of his history of playing lousy, survival tactics. It's a different ball game now. His chance to really make his mark as a top manager.
Have patience...
Kevin Tully
152
Posted 18/12/2017 at 12:08:59
Neil Wood (#143) – The point you make is a good one, and it's something I've been saying for some time now.
Everton don't do players with 'magic' in their boots. Somehow, we have gone 30 years surviving with workmanlike, or sometimes good players. "Kanchelskis" (for one season) you will hear some fans shout. How long ago was that FFS? Or even Cahill, who was good, but couldn't go past two or three players and stick it in the top corner.
I can't think of any other club who could sign so many average players as us. You only have to look at the teams you mention, and marvel at some of their signings. Even when Spurs were awful, they always had one or two superstars in their teams.
When you assess the Premier League years, it's as if we've had an actor off Corrie in charge of transfers for the past 20 years, but that would be madness for a club our size, wouldn't it?
Even with a couple of hundred million to spend, we've raided clubs who were threatened with relegation – that should tell it's own story.
John G Davies
153
Posted 18/12/2017 at 12:17:12
Simon (#140),
"He's a good manager that Eddie Howe. Tries to play in the right way..."
Twatted 4-0.
Lets get the basics right first.
Dave Abrahams
154
Posted 18/12/2017 at 12:17:56
Michael (123), yes I understand your point. The fact, though, was that Seamus was unlikely to befit before Christmas leaving the right full back position was open to any player who proved himself good enough. Michael, plenty of fans who have seen Jonjoe in the last few years thought he had a very good chance of claiming that spot.
The coach should have been giving Jonjoe confidence in his ability to do so instead of putting doubts into his head, that he wasn't ready, made up that Kenny had enough confidence to fight for the position he is in now.
James Hughes
155
Posted 18/12/2017 at 12:33:07
Amit (#146) thank you for that line, it has made me laugh and it is an image I can't get rid off:
I'm afraid a monkey and a dartboard with random transfer targets would have had more success than these professionals.
I just have a mental image of Bill Kenwright looking at the monkey, saying "Are you sure you want another Number 10?"
"Ook, ook!"
"Alright. Walsh – get his agent on the phone!"

Paul Tran
156
Posted 18/12/2017 at 12:54:33
Oliver #150, the sign for me is that we buy slightly better players, get a manager that gets the best of them, then progress, then repeat. Part of that process is uncovering lesser-known players, which will involve a few hits and misses.
That's what Spurs keep doing and they haven't won anything yet, so I'm prepared to be patient as long as we make genuine progress. Bloody hard, though!
Nigel Munford
157
Posted 18/12/2017 at 13:04:27
Neil (#139),
Sam has said he wouldn't want to change a winning team, unless forced to by injury or fatigue. So I can't see your pick being the starting line-up tonight, but that's not saying some will not be on the bench.
Brian Harrison
159
Posted 18/12/2017 at 13:28:48
Regarding the signing of players, we paid £45 million for Sigurdsson, the other lot paid £35 million for Salah, not to mention £8 million for Courtinho.
So you can get very good players if your scouts are doing their job – take note, Steve Walsh.
Tony Swain
160
Posted 18/12/2017 at 13:38:51
Two tickets available for this game. Upper Gwladys. Accept price of one. Booked it when it was a Saturday game as I was up in North Wales visiting family, then they changed the day to Monday. Had to return to Cornwall yesterday. Text Tony on 07342 131225. They were ordered online and can be picked up at goodison ticket office.
David Midgley
161
Posted 18/12/2017 at 13:46:47
These are just some random thoughts on a lovely sunny day on Merseyside.
I'm looking forward to Everton putting in a solid performance and hopefully securing a win. The last two months have seen turbulent times. There have been so many posts on different threads and on this one posted by Evertonians who are obviously so passionate about the club and their love of it. I am sure there are many, many more readers who feel the same about the club but just don't post.
I've read so many good constructive comments and also "If you can't see that you must be stupid" ones. We all have broad shoulders otherwise we wouldn't support Everton.
If anyone is annoyed by any comments I apologise in advance .I don't want to get into a keyboard fight with you. The SS Everton has recently been caught in a violent storm. We were on the wrong course and it looked as though we were heading towards the rocks. Capt Martinez didn't know what to do about it and Capt Koeman didn't know what to do about it. Our new Captain, Captain Bligh, helped by a couple of bosuns has given the lazy ungrateful crew thirty lashes. (It should have been fifty) and seems to have got them all pulling on the ropes together, not always in time I might add .Otherwise they'll walk the plank. It's like the walk of shame but more expensive.
Our ship is still in turbulent waters. Capt Bligh (Charles Laughton) seems to have the rudder pointed in the right direction and we will probably miss the rocks, but the sea is still rough and the storm clouds are still about. However, I've just sen the weather forecast for the next month and the glass could be set Fair.
Darren (#13), It is not 'unrehearsed'!!! It's because we haven't been rehearsing that we've been rubbish. See Brian (#33).
Our players have been doing the Kevin de Bruyne thing for years and they've had all sorts of abuse. The difference is he knew that someone would be running into that position ours was just speculation. Man City practice the runs, the drills, the one-twos,the corners and the defending. See the link from another poster of Pep Guardiaola coaching Sterling.... Our idea of a 'coach' is something to take you to see Blackpool lights.
Paul (#35) – Yes.
Kevin (#35), As an Evertonian, I have not and do not accept what has been served up for the last 18 months and neither will anyone else. You obviously feel the same.
I'm certain Lee, Shaky and Capt Bligh will not tolerate poor passing and control and not giving 100%. I expect them to improve our overall quality.
Chris (#74) – Yes.
Gary (#131) – Yes. We had to persevere with Jonjoe Kenny. That seems to be turning out okay. I wonder how Sandro would have done with more game time? You never know how people will shape up till they're under fire.
I'm looking forward to 2018 and a resurgent Everton. I will continue to read and enjoy all the posts from my fellow Blues. I will look forward to the posts on the best fan site in the world.
As Carly Simon sings: "I wasn't looking but somehow I found you."
We are all chosen. Good fortune to our club for the future and to us, and if possible a little less vitriol and a little more concord.

Ray Robinson
162
Posted 18/12/2017 at 13:52:36
James (#155). The problem was that the monkey shot a treble ten.
Dave Abrahams
163
Posted 18/12/2017 at 14:04:08
David (16), I know Sam is not Tony Curtis but Charles Laughton. Come on, give him a break!!!
Raymond Fox
164
Posted 18/12/2017 at 14:04:20
After tonight's game we have a difficult run of matches in which our results could easily go pear shaped. For that reason alone we need to beat Swansea, I definitely wouldn't be resting any player. On paper it's easily our most winnable game till 20 January.
What's the saying 'a bird in the hand is worth two in the bush'? No, a win is a must tonight.
Brian Williams
166
Posted 18/12/2017 at 14:29:41
I wonder if, like in WWI, as "wonderfully" portrayed by Paul McCartney's Christmas release "Pipes of Peace" everyone on ToffeeWeb will, on an unrehearsed signal, leave their fully loaded keyboards and shake hands, share drinks, and generally show Christmas spirit?
Before returning to normal and ripping the shit out of each other??? :-))
John G Davies
167
Posted 18/12/2017 at 14:39:51
Pies of Peace?
That would need a hookah pipe Brian.
Full to the brim 😁
David Midgley
169
Posted 18/12/2017 at 14:45:07
Brian (#166).
About as much chance as Everton playing good football and moving up the table.
Remember the Latin: "Deus nobis haec otis faecit" – If you keep picking, it will never get better.
James Hughes
170
Posted 18/12/2017 at 15:02:11
Brian, Merry Xmas. Mine's a pint of lager.
Craig Walker
171
Posted 18/12/2017 at 15:05:39
I love TW and check-in every single day. The articles, information and wit and wisdom of fellow Evertonians who express their views far better than I ever could make it the best Everton-themed website out there.
Sometimes the views are a bit too negative maybe but living outside the city, it's a great way to keep up with fellow Blues' viewpoints. It is getting tiresome though to read spats between the same contributors to a lot of topics. Half of the time, I can't even follow what it is they're arguing about.
A post about tonight's Swansea game includes references to previous contributions about posting limits. Come on lads! Can we not just accept that Everton is a broad church and we all have different beliefs and views on signings, management, style of play etc. but essentially we are all on this website for the same reason, wanting the same thing: a successful Everton team of which we can all be proud?
Let's hope for 3 points tonight, some decent performances till the end of the year and an effective January window.
COYB.
Brian Williams
172
Posted 18/12/2017 at 15:29:22
Is it pies or pipes, I said pipes you say pies I checked and you said pies on another thread and youve been saying pies to me since I said pipes and I'm not havin' it and check the record for pipes v pies and whatever you say well you can fuck off coz I said pipes and well, well just fuck off right...........................................;-)
Oh and check the stats too...............fucking pipes!!
Whispers-Parody by the way, honest.
John Keating
173
Posted 18/12/2017 at 15:44:40
Geoff (#136), if you look at our squad almost everyone at some level has experience of either European football or played European teams.
This nonsense about us having to get European in the Europa League is what I said, nonsense.
When we qualified under Martinez I voiced my concerns preference not to get in. Although I wasn't happy with us being in it I still went to the games.
I crossed my fingers during Koeman's first season we wouldn't get in the Europa League and was slagged a fair bit after voicing my opposition. We got in and I have not gone to any away games.
To me it is just a waste of time, preseason preparation and gives us nothing with the players and squad we have and had.
I mention in a previous post that I think we will finish 8th this season and hope that keeps us well clear on the Europa League.
A couple of seasons ago Leicester entered the Champions League without having any previous European experience and they didn't do too bad did they ??
John G Davies
174
Posted 18/12/2017 at 15:47:50
Don't fuckin give me all that Brian.
You can stick all that up your steak and kidney pipe 😁
Brian Williams
175
Posted 18/12/2017 at 15:53:06
;-))))
Ray Robinson
176
Posted 18/12/2017 at 15:56:46
Didn't Stuart Maconie mention something about ToffeeWeb in his book about the North called "Pies and Prejudice"?
Geoff Lambert
177
Posted 18/12/2017 at 15:59:24
John (#173), I don't think many Man Utd fans would agree with you! Really fucked up their season didn't it?
Leicester, Champions the season before, weren't they? Sacked their manager and finished in the bottom half of the league.
I wonder which team had the most European experience there.
Gerry Quinn
178
Posted 18/12/2017 at 16:04:21
Today is the Anniversary of probably one of the most genuine bits of sportsmanship we ever witnessed...take the applause, Paula, Sir...
https://www.thesportsman.com/articles/west-ham-hero-paolo-di-canio-recalls-his-memorable-act-of-sportsmanship-against-everton
George McKane
179
Posted 18/12/2017 at 16:07:51
A very busy day in Yellow House for me - - meetings and this afternoon getting things ready for Yellow House Christmas Party tomorrow - - so quick comments - - I am going straight to the game from YH - - but in spite of the new "TW Comments" Curfew I will of course write my last Saturday of the year Epistle for The Chelsea Game - - so off to TDH soon and then to Goodison and hopefully 3 points.
Can't even have a pint -- in my car - - had to take one of our gang to hospital appointment - - no time to go home and back.
Take Care Blue Boys Everywhere - - Cosmic Blue Grooves All The Way.
Brian Williams
180
Posted 18/12/2017 at 16:11:02
Gerry (#178),
I was at that game and remember it well, though it wasn't the simple tap-in that time and myth has altered it to. Great gesture all the same!
ps: He'll do a refs push on yer if you call him Paula again!!
Gerry Quinn
181
Posted 18/12/2017 at 16:11:31
Oops – I meant Paolo!
Mike Dolan
182
Posted 18/12/2017 at 17:09:48
I expect to see much the same side as has played recently with perhaps Gana being rested to avoid suspension against Chelsea. I wouldn't be surprised to see either Vlasic or Lookman replacing him.
The back four that is achieving this current turnaround is basically a new back four and while it was forced on us by injuries it has highlighted the main problem that has plagued Everton for some time now which is our failure to replace aging players who have lost their edge and mobility, like Jags & Baines. Kenny and Holgate have been a revelation when playing in their natural positions.
I was not happy about Big Sam being appointed manager but he's impressed so far. He is a unique in being a plain talking 'Rostbif' who you can tell a bit of a rogue but he somehow inspires trust. A wily old card shark who does his best with the hand that's given him.
3-0 Everton.
Steven Jones
183
Posted 18/12/2017 at 17:33:41
It does depend what type of pies . ;-0)
Gerry Quinn
184
Posted 18/12/2017 at 17:43:37
West Ham midfielder Manuel Lanzini has been charged by the Football Association for deceiving a match official in his side's 3-0 win at Stoke on Saturday.
The Argentine won a penalty in the 18th minute at the Bet365 Stadium having gone to ground following a challenge from Stoke defender Erik Pieters.
The incident was reviewed by a three-person panel on Monday, with all three agreeing unanimously that Lanzini successfully deceived match officials.
West Ham and Lanzini have until 6pm on Tuesday to decide whether to accept a two-match ban or to contest the charge and David Moyes has said the club are considering an appeal.
If Lanzini contests the charge, the matter will be resolved by the Independent Regulatory Commission. Sky Sports News understands the Independent Regulatory Commission would review and decide before West Ham's Carabao Cup quarter-final match against Arsenal at the Emirates on Tuesday.
Lanzini becomes just the second Premier League player to be charged this season for deception. Everton forward Oumar Niasse was banned for two matches after successfully deceiving match officials to win a penalty in his side's 2-2 draw with Crystal Palace in November.

Dave Abrahams
185
Posted 18/12/2017 at 17:47:25
George, don't forget your bet!!!!!!
Brian (180) yes a great gesture like you say but there was at least three Everton players guarding the goal when Paulo generously stopped the game.
John Keating
186
Posted 18/12/2017 at 18:01:03
Geoff (#177),
Man Utd deliberately targeted the Europa League to the detriment of their league position that season. Plus they didn't start off their campaign as early as we did. Finally, there is no comparison to the size and quality of their squad to ours.
Not sure I know what you're on about regarding Leicester City? They went straight in to the Champions League, did brilliantly, and again suffered league wise. Can't remember them being in the Europa League prior to that campaign.
So apart from Man Utd I take it the list of successful Europa League and league campaigns by English clubs is endless?
More often than not the Europa League has proven to be a poison chalice for the majority of English Clubs.
Anyway I'm off now to see us play in the only competition of any realistic use to us. Enjoy the rest of the Europa League campaign when it comes.
Jackie Barry
187
Posted 18/12/2017 at 18:06:00
Just no Schneiderlin please.
Jackie Barry
188
Posted 18/12/2017 at 18:07:13
And no, we don't want Obi one...
Phil Walling
189
Posted 18/12/2017 at 18:15:17
Dave Abrahams, was it with you that I had the bet about how many appearances 'our kids' would make this season? I'm delighted I lost although have to say the removal of Koeman made that a certainty !
Peter Roberts
190
Posted 18/12/2017 at 18:16:38
Gerry (#184),
Just seen this on BBC. Hopefully this now puts to bed any paranoia of an anti-Everton bias.
Brent Stephens
191
Posted 18/12/2017 at 18:18:10
Peter (#190). Agree. Though the other paranoia will now kick in – it has to do with favourites and Sky.
Frank Wade
192
Posted 18/12/2017 at 18:25:32
Jay @96. You've been reading my mind. I had better watch out. Agree with all that, particularly that Sam Allardyce has not jettisoned the young guns and has been richly rewarded by the displays of Kenny and Holgate in his correct position.
Amit @146. You can add Steve's point @108 to your list of 'things our professionals do', the inclusion of Funes Mori in the Registered squad of 25, when he was injured until March at the earliest.
Hoping for a win tonight, but it has a good weekend for the underdogs such as Palace at Leicester, Huddersfield at Watford and in the rugby Munster at Leicester. Could there be one more upset.
Swansea bottom of the table, so we'd better watch out. Everton have a long history of giving the underdog a leg up. At the moment despite the good results recently, we haven't been playing any inspiring joined up footy.
I might add Celtic losing 4-0 to Hearts.
Will Mabon
193
Posted 18/12/2017 at 18:30:31
I don't know about putting anything to bed –the action of Lanzini was outright cheating with a laughably theatrical dive from zero contact, nothing like the Niasse incident whatsoever.
No need for paranoia, I think we were simply the victim of over eagerness to use a new "Toy", resulting in a terrible decision. Everything that clearly took place in the Niasse incident blatantly contradicts the FA's own rules.
Hopefully future actions are limited to such as this Lanzini case, where actual diving took place.
Gerry Quinn
194
Posted 18/12/2017 at 18:33:05
Peter/Brent – it will be very interesting to see how long before one of the so-called "big" clubs has one of their players "done" in this manner – don't hold yer feckin' breath!
Will Mabon
195
Posted 18/12/2017 at 18:37:21
You know, Gerry, I actually think this will curtail some of the blatant stuff, even for the "Darlings". Over-interpretation of the non-deliberate falls might prove to be the problem.
Raymond Fox
196
Posted 18/12/2017 at 18:40:16
What about the De Bruyne penalty? When I saw that penalty, I thought he went down very easily also.
A wonderful player a proper consistent star.,. what's he worth? I've not seen the incident since, but that was my impression on MotD.
The score tonight?Not a clue – but I have to fancy us to win.
Brent Stephens
197
Posted 18/12/2017 at 18:47:33
Gerry, thanks. I've just breathed out!
Phil Walling
198
Posted 18/12/2017 at 18:48:51
Don't you think the FA have a responsibility to lay on courses to teach players how to 'fall' legally?
Jay Wood
199
Posted 18/12/2017 at 18:51:00
Phil Walling @ 189.
That bet. That was with me, Phil.
Even with Koeman on board, I was still on course to win it.
Given how you (and your missus!) kept looking to add conditions AFTER the bet was placed, I thought you would try and renege on it as Koeman was no longer with us.
Good on yer if you are going to cough up. £50 going to EitC we agreed. And as I promised, I will match your 'bullseye' with £50 to the same cause.
Merry Crimbo!
Rob Birks
200
Posted 18/12/2017 at 19:01:31
Just seen the line-up. No place for Niasse, not even as a sub

Frank Wade
201
Posted 18/12/2017 at 19:02:17
Schneiderlin starts with Gana in the middle. Rest unchanged.
Phil Walling
202
Posted 18/12/2017 at 19:02:19
Thanks, Jay, and sorry I'd lost note of the identity of my fellow wagerer! My missus owes me fifty quid so her cheque in the name of Thompson will be on its way to EitC tomorrow.
Odds tonight = Everton 4/5, Draw 13/5, Swansea 23/5.
Had me a tenner on the Blues as usual!
Thanks for being such a good sport!
Lev Vellene
203
Posted 18/12/2017 at 19:03:17
Sam might want to have a look at Sandro as a sub, then. Before January comes around...
Lee Jackson
204
Posted 18/12/2017 at 19:04:34
Sure would have liked to have seen Vlasic or Lookman start this one. Oh well, COYB!
Barry McNally
205
Posted 18/12/2017 at 19:08:35
Hopefully Sandro has been impressing in training.
Jay Wood
206
Posted 18/12/2017 at 19:13:44
Growing evidence of what is Sam's preferred starting XI.
I thought he may have 'protected' Gana, one yellow card short of an automatic ban, ahead of the Chelsea game with the busy Christmas & New Year fixture list ahead, but he seems to be trusting the player not to do anything daft.
Gana was, after all, for many MotM against the Barcodes.
Although bottom of the table, the Swans have the 8th best defensive record overall in the league and the 3rd best defensive away record, conceding just 8 on their travels.
I expect nothing less than a win, but a goal fest might prove more challenging.
Peter Gorman
207
Posted 18/12/2017 at 19:40:21
Gerry! That was 17 years ago!! My God.
James Marshall
208
Posted 19/12/2017 at 10:31:46
Amit@146
No, I was referring to Eddie Howe, Rafa Benitez and Renato Sanches.
The two managers are struggling, and Sanches has been woeful.
That's all.
Your post (and mine) are both cherry-picking to suit our agenda – it's what makes debate happen! :)
Dave Abrahams
209
Posted 20/12/2017 at 20:56:18
Phil (189), no, wasn't with me, as Jay points out... but ten out of ten for your honesty and sportsmanship.
Add Your Comments
In order to post a comment, you need to be logged in as a registered user of the site.
Or Sign up as a ToffeeWeb Member — it's free, takes just a few minutes and will allow you to post your comments on articles and Talking Points submissions across the site.