Everton vs Chelsea

112 Comments [Jump to last]
Friday 22 December 2017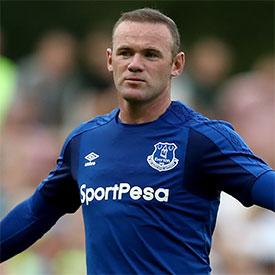 Wayne Rooney is already into double figures for the season
A measure of Everton's revival under Sam Allardyce arrives this weekend as Chelsea come to Goodison Park for the final game before Christmas.
The festive season kicks off with the Blues hosting the third-placed Londoners looking to make up more ground on the top seven having won three of four Premier League games under the new manager.
Combined with David Unsworth's swan song as interim boss, a 4-0 drubbing of West Ham in late November, it's a sequence of results that has vaulted Everton from the 18th place they occupied when Ronald Koeman was sacked to ninth. A win over Chelsea this weekend and a draw or defeat for Leicester against Manchester United would move Allardyce's men into eighth.
They will have to get past the reigning champions first, however, something they haven't managed in the League since Steven Naismith scored that memorable hat-trick in a 3-1 win in September 2015. Since 2015-16, when Everton under Roberto Martinez also came within seconds of winning at Stamford Bridge and then saw Chelsea off in the FA Cup quarter finals, all four subsequent meetings in all competitions.
Antonio Conte's side have lost just twice since the two sides last met in the Carabao Cup in West London but both defeats were away from home and offer hope for Everton as Allardyce seeks to pinpoint the opposition's weaknesses. They were comprehensively beaten by Roma in the Champions League in October and, perhaps more encouragingly, lost 1-0 to West Ham two weekends ago, David Moyes's first win in charge of the Hammers.
Also working in the Toffees' favour is the fact that Conte's top scorer Alvaro Morata will serve a one-match suspension this weekend for picking up a soft booking for his goal celebration against Bournemouth in the League Cup last night, his fifth yellow of the season.
Michy Batshuayi is expected to take his place while the only other absentee for the visitors is likely to be David Luiz who has a knee injury.
For Everton, Yannick Bolasie could be named in the matchday squad for the first time in over a year. The Congolese winger returned to full training last month, has played just over a full game's worth for the Under-23s and was, more than likely, involved in the 11-vs-11 practice match that Allardyce said he was going to stage at Finch Farm this week to further assess those fringe players who have not been able to get into the team recently.
Among them are strikers Sandro Ramirez and Oumar Niasse. The former only got a couple of minutes at the end of the win over Swansea last Monday but the latter was omitted from the squad entirely and was seen leaving Goodison before the match. With Dominic Calvert-Lewin and Wayne Rooney in good form, those two players will surely be vying for one spot on the bench alongside the likes of Ademola Lookman and Nikola Vlasic.
That's because given the difficulty of the assignment, it's a good bet that Allardyce will retain something close to an unchanged line-up from the one that started the last two matches. Deploying two holding midfielders, particularly at home, has become unpopular among Blues supporters of late but the manager could go with that formation again, at least for the first hour or so, even though Everton looked better going forward against Swansea once the energy and direct-ness of Tom Davies had been introduced.
Evertonians have long known that despite the collapse in form under Koeman, there is a lot more talent and potential in the squad than results under the Dutchman suggested. Performances under Allardyce haven't been stellar so far either but the result will again be paramount against Chelsea. Notch another win and it's another big step towards completely changing the outlook for the remainder of the season.
Kick-off: 12:30pm, Saturday, 23rd December, 2017
Referee: Robert Madley
Last Time: Everton 0 - 3 Chelsea
Predicted Line-up: Pickford, Kenny, Holgate, Williams, Martina, Schneiderlin, Gueye, Lennon, Sigurdsson, Rooney, Calvert-Lewin
---
Reader Comments (112)
Note: the following content is not moderated or vetted by the site owners at the time of submission. Comments are the responsibility of the poster. Disclaimer
Minik Hansen
1
Posted 22/12/2017 at 00:39:46
If it wasn't for West Ham and suspended Morata, I'd hope for a good fight at least. Now and under Allardyce, it's an opportunity we can't miss to finally get another result from a team above us.
Kris Boner
2
Posted 22/12/2017 at 00:58:04
Want a win, but would probably take a point and a clean sheet. Maintain our form against teams lower than us and prevent teams above us from winning is a formula for fixing the damage done this season.
Geoff Lambert
3
Posted 22/12/2017 at 01:27:52
Three of Chelsea's defeats this season have been to Burnley, Palace and West Ham, Let's hope they take us for granted as well.
No Morata is also a bonus; I wonder what odds I can get on Rooney to score a penalty?
Keep a tight defence and frustrate them and I think we can nick this one 1-0.
The old Lady will be rocking if we can score an early goal.
COYB...
Peter Laverty
4
Posted 22/12/2017 at 01:40:11
Not to sound too much like a pessimist, but the importance of winning games in games you should win, allows you the buffer of losing out to quality opposition and not feeling the pinch so much. We have that platform /cushion now, having put a good run together.
As long as the commitment and effort is still there, you wouldn't begrudge a defeat to an oil rich money team. That said, I would, in Kevin Keeganesque fashion, Love it, if we beat them.
Derek Knox
5
Posted 22/12/2017 at 02:01:12
If there is a good time to play Chelsea, this could possibly be it.
They are without Morata, who has been their main threat this season; having said that; they do have dangerous players in other positions, if you give them space.
I would love three points, but realistically think one or none, will probably be the outcome. Like I said before, we cannot afford to give them space, with Hazard and co. they will destroy us.
I know it was a Cup match; but watched the highlights of the Bournemouth encounter; and the latter were unlucky in the end not to get something; even by way of a penalty shoot-out.
So there is hope!
Jay Wood
[BRZ]
6
Posted 22/12/2017 at 02:24:53
Bizarre as it may seem, but in this roller coaster season compared to last season, after 18 league games our home record is better this season.
We have actually won 2 more home games – 6 vs 4 – and garnered more home points – 18 vs 16 – this season compared to the same stage last season.
Tellingly, however, at home we have not dropped a single point against any team currently below us.
The other side of the coin is we haven't picked up a single point at home against any team currently above us.
Make of that what you will.
Steve Ferns
7
Posted 22/12/2017 at 02:48:18
We need to play much better than we have been. More like the second half against Swansea.
Chelsea are off form. They haven't looked at their best. We could give them a game. Let's hope our fragile confidence is enough. A win here could really be a springboard for more. A defeat and it could slip back a bit.
I'm sure we will keep it tight and try to win it late on. The first goal will be crucial.
Laurie Hartley
8
Posted 22/12/2017 at 03:48:48
Big performances needed from Rooney, Sigurdsson, and Lennon for this one. I think they will be up for it.
Frank Payne
9
Posted 22/12/2017 at 03:52:58
One point would still be an excellent result this weekend. My main worry with Chelsea is that is that – going into stoppage time – they will get 6 to 8 minutes to tie or win the match.
Jay Harris
10
Posted 22/12/2017 at 04:57:00
As long as they play Batshuayi and not Hazard as a false 9 I think we'll be okay.
Would love to have some feedback from the 11 v 11 the other day.
The only thing I heard was Big Sam was impressed by McCarthy.
John Boon
11
Posted 22/12/2017 at 05:13:31
Re: Post 7. Chelsea's record would not indicate that they are not in form. Perhaps not as dominant but they are still very strong despite losing to some lower teams. However, we still can beat them if we play as we did in the second half of the Swansea game.
Gerry Ring
12
Posted 22/12/2017 at 05:14:02
Any update on the return of McCarthy? We need him.

Christopher Timmins
13
Posted 22/12/2017 at 06:45:47
Great test to ascertain where the team are right now. Hopefully, we can produce a much better performance than last Monday and take the three points.
John Smith
14
Posted 22/12/2017 at 06:50:02
Hoping Macca fit enough to make the bench. I'm hoping for a 2-0 win, but will take a point.
Amit Vithlani
15
Posted 22/12/2017 at 06:51:37
It is no coincidence our squad have fared badly against sides above us this season.
Martina at left back has done okay in the last few games but when faced with a genuine right sided threat he really struggles. Salah gave him a tough time and against Narsingh he let him in on two occasions but Swansea had no one in our area so the attacks petered out.
Chelsea have Hazard, Willian and Pedro interchanging down the flanks and Zappacosta bombing on from right wing back. Also, we just can't seem to cope against their formation.
It is going to be a hard game and one as Lyndon says will be a test of our fragile squad.< This is where Big Sam's organisational skills and a goal from a set-piece would come in very handy.
Kunal Desai
16
Posted 22/12/2017 at 07:18:32
It will be a similar game to Liverpool. Very scrappy. We won't allow Chelsea to play and nullifying their movement off the ball. Maybe a boring 0-0.
Stephen Brown
17
Posted 22/12/2017 at 07:36:46
I know he was dropped but any reason why Niasse left the ground before the kick-off?
Derek Knox
18
Posted 22/12/2017 at 07:44:59
Jay @ 10, Interesting point, we as fans are generally treated like mushrooms, kept in the dark, and fed nothing but scraps of shite.
I did observe however, that after the behind closed doors affair, which was basically a commitment test by Sam, he has publicly said that he would like McCarthy and Sandro to stay and be part of the squad.
This unfortunately leaves question marks precariously hovering over a few, but being astute TW'ers, I don't think it needs too much working out, who we should get rid of.
Unquestionably there is a lot of deadwood, but who is in the market for deadwood these days?
I know it's Pantomime Season, but 'new lamps for old' never happens in the real World of Football!
John G Davies
19
Posted 22/12/2017 at 08:14:58
Stephen,
Please mate, don't ask. We will be told they have taken his locker off him... He's getting changed in his car etc etc.
Ajay Gopal
20
Posted 22/12/2017 at 08:42:09
I also heard that Sam was impressed with Sandro and McCarthy in the closed doors. The prudent thing to do would be to go with the same team, but maybe bring in Davies for Schneiderlin.
Pickford
Kenny Holgate Williams Martina
Lennon Gueye Davies Sigurdsson
Rooney
Calvert-Lewin
Kenny and Lennon double teaming on the left side, Siggy helping out Martina on the right.
Subs: McCarthy, Niasse and Sandro
John Raftery
21
Posted 22/12/2017 at 08:51:27
Given our lack of pace, our best way of competing in this game will be to set up two solid lines of defence as we did at Anfield and use long balls into the channels for Calvert-Lewin to chase. Chelsea are not the team they were last season and without Morata might well be happy with a draw.
With their title gone they are fighting for no more than second place so it will be interesting to see how motivated they are. One thing is certain: they will encounter an Everton team no longer the soft touch we have been in the last four matches against them.
Ray Robinson
22
Posted 22/12/2017 at 09:01:20
Funny one to call this one. I can see it being 1-0 to us or 1-1 but I also dread a proper pasting. Despite the run of clean sheets and stout defensive work, any defence containing Williams (admittedly in better form recently) can implode at any moment against genuine pace. If we get a clean sheet again, I really will believe that Allardyce has sorted the defence out. Let's hope, eh!
Laurie Hartley
23
Posted 22/12/2017 at 09:07:11
I listened to Martina on the official website after the Swansea game. Seems like a well grounded young man to me.
When asked about playing as a left-back, he responded that he is a right-back so "everything is different". You have to change your feet, pass with your left foot, etc.
When you think about it, it is a big ask but Martina has a good left foot and can cross a ball.
He is certainly going to need help against Chelsea – who is going to provide it, I am not sure... but I'm guessing it will be Schneiderlin again.
It also reinforced my belief that naturally left-footed players are gold and sending Galloway out to develop elsewhere was a mistake.
Tony Everan
24
Posted 22/12/2017 at 09:20:51
We will have to play a lot better just to get a point. We will have to be collectively focussed, fired up and committed and we could squeeze a win.
Lady Luck has given us a bit of a massage lately, Morata out is another kiss on the cheek. Let's hope it's a long term relationship.
One thing is for sure and that is the defence will be tested to the extreme. It will be a good stress test for us to assess just how solid we are.
At the other end, it will be taking advantage of set-pieces. Also Rooney and Sigurdsson are potent from around the 18-yard box. A bit of space for either of them may and we may see another Christmas cracker.
David Hallwood
25
Posted 22/12/2017 at 09:42:35
Whatever the team, Sam don't play Schneiderlin and Gana in the same team, it gives us nothing going forward, and if you look at the stats, doesn't protect the back 4.
Sam alluded to this in his post match interview after the Swansea game. I'd like to see us play 4-3-3, that can set up as 4-5-1 when they've got the ball.
Team: usual goalkeeper and back 4; Gana, Rooney, Sigurdsson, Lennon, Calvert-Lewin, Lookman or Vlasic. Which will give us attacking options when we've got the ball.
Brian Harrison
26
Posted 22/12/2017 at 10:02:48
I think Bristol City proved that playing a top 4 team doesn't have to be 10 men behind the ball. They defended when they had to but also got at Man Utd. Time to really see how good our players really are so of course we need to defend properly but lets not totally forget our attacking options as we did against Liverpool.
We need to get Sigurdsson on the ball more in attacking positions, playing wide left he spends more time in front of Martina than in the oppositions half. I would play Rooney in Schneiderlin's position and play Sigurdsson behind the front man. Which would allow us to bring in Lookman or Vlasic to play on the left side.
Brian Foley
27
Posted 22/12/2017 at 10:24:41
JR (21) sorry buddy not picking on you but this 'lack of pace' shite that's bandied about on Talk sport, here and in work. I would like to see the 100-metre times that Calvert-Lewin, Lennon, Lookman, Niasse, Vlasic, Mirallas, Bolasie even Kenny might clock, have I missed anyone?
It's not that we don't have pace – it's that we need to use/utilise it.
Tony Abrahams
28
Posted 22/12/2017 at 10:55:42
It might not be the game to do this Brian@26, but if we want to get at teams, this has got to be the first real change that we will have to make?
Two wide-men, who can genuinely push the other teams full-backs, back, will stop Lewin getting isolated, and when you consider Chelsea, like to push there wing-backs on, this is the position, where we could find some joy, but only if the players out-wide have got pace?
I keep saying it, but Sigurdson, is getting wasted out-wide, especially when the player who is keeping him out of the middle is Schniederlin, who just hasn't contributed anything positive since this season began, but Siggy, is very disciplined, so he will probably stay out-wide.
Mark Daley
29
Posted 22/12/2017 at 11:03:27
Blessed Saint Steven of Naismith, pray for us.
Kevin Tully
30
Posted 22/12/2017 at 11:13:46
I look at our team (even when everyone is fit) and have us down as 7th or 8th when we are playing to our potential. Not really something to get excited about, is it? We are looking at this season from a very low base, so anything approaching 7th will be viewed as 'decent.'
You can't argue with that after the state we found ourselves in, but surely this is the last chance for the likes of Walsh to bring some exciting signings on board? One great player can make all the difference. Sick to the back teeth of watching mediocrity. Sell 3 or 4 of the players who are not part of our plans, and let's make a statement signing – someone like Zaha who can get the crowd off their seat would be a start.
It seems our recruitment plans revolve around young players with 'potential' or 'proven Premier League' stock. Look where that's got us, a mish-mash of players who are at different stages in their development, hence the unbalanced look of the side. Someone who can entertain us please. Or is that too much to ask?
Stan Schofield
31
Posted 22/12/2017 at 11:25:28
Brian@27: Spot on. There is pace, it's a case of organising the team to make most effective use of it.
Kevin@30: The only 'statement transfers' Everton have been involved in for a long time are those where we sell our best players to better sides. No signs of that changing unless the culture at the top changes, which would no doubt need really large cash input, larger than the scale of Moshiri.
Tony Abrahams
32
Posted 22/12/2017 at 11:27:15
I agree with you to a point Kevin, but the imbalance in the squad has not been created by signing too many kids, and I also think we have now got a manager who will always prefer discipline over style, so it could actually get worse from a viewing perspective before it gets better!
Eddie Dunn
33
Posted 22/12/2017 at 11:28:45
Sam will set us up to grind out a point with the chance of nicking it in the later stages with a set piece.
However, it is no coincidence that our improvement has for the most part, been against the weaker teams. Liverpool played the wrong players and Chelsea will miss Morata.
However, with Hazard in such good form and with clever players all over the pitch, we will do very well to draw. I expect a reality check and think they will outclass us. 0-2.
Ian Bennett
34
Posted 22/12/2017 at 11:36:13
It'll be a special day tomorrow in our house at least. My little lad has been picked out of the season ticket list and will be mascot for the game.
Fingers crossed for a good result.
Brent Stephens
35
Posted 22/12/2017 at 11:45:22
Agree with John #21. Two banks of four, close together, moving back and forward in tandem. Don't give them space between the lines. The pace that's important is the pace of the ball played forward, and men in support of Calvert-Lewin – Davies provides the latter.
Paul Kossoff
36
Posted 22/12/2017 at 11:45:47
If we defend against this lot we will get battered! We have to have a go!
Peter Lee
37
Posted 22/12/2017 at 11:54:06
Brian Harrison. Rooney is in the best form he has shown for over two years. He has said he is in what he considers to be his most effective position and you want to move him wide left. Why???
Presumably you reckon Sigurdsson is a better player there? Why?
Tony, we all know that Sigurdsson isn't a wide player but he is a very good, intelligent player who is getting fit and working his tail off. Given the need to have firm defensive base he is our best option wide left at the moment.
Playing as one of a screening middle two is not where he needs to be at all.
We won't be doing it in a rush but playing further forward is surely what we need of him.
Gerry Quinn
38
Posted 22/12/2017 at 12:21:15
Ian (#34) – good on your wee lad, tell him to give us all at ToffeeWeb wave with his free hand as he walks out!
Neville Wellings
39
Posted 22/12/2017 at 12:25:17
Big Sam has pushed us up the table with his New Improved hoofball and a bit of luck yet Chelsea will play the ball out of defence almost every time. We have to improve on Pickford's howitzers up to Dominic – all that does is invariably lose possession as well as set in motion the decline of Dominic's cognitive functions.
The back four could make a start by actually turning their heads towards Pickford when he's ready to release the ball and, Kenny apart, maybe look confident enough to receive it.
Ashley Williams, for all his faults, seems to be the organiser and shows a willingness to throw himself under a bus for the blues (and there are times when I wish he would).
Schneiderlin if he plays perhaps has one last chance to perform if he is to stay at Goodison, the defence has to play at the top of their game, keep it at 0-0 for 80 minutes, and then...

Chris Gould
40
Posted 22/12/2017 at 12:35:00
Glad I'm not having Christmas round your house, Eddie! Nothing like a 'reality check' to bring the mood down.
I think we'll get a much deserved win tomorrow. Looking forward to watching a revitalised Gana facing off against Kante.
Michael Lynch
41
Posted 22/12/2017 at 12:38:11
I'd deffo take a scrappy nil-nil – especially as I won't be watching this one! – but I'm not expecting much more from us than deep defending, a lot of keep-ball, and the big hoof up to Calvert-Lewin as an out-ball. If Chelsea play well they'll batter us, if not then we can sneak it.
To be honest, with the points we've been picking up against the weaker teams, it won't break my heart if we lose this, as long as we don't roll over like we were doing earlier in the season.
Michael Lynch
42
Posted 22/12/2017 at 12:40:18
Ian @34
That's great – hope he has a brilliant time. Tell him to kick Hazard "accidentally" as he comes out of the tunnel.
David Hallwood
43
Posted 22/12/2017 at 12:50:26
Michael (#42) don't say that! Hazard's got previous in that department. But hope your lad has a great day Ian, and tell him mascots are there to bring us luck.
Jason Wilkinson
44
Posted 22/12/2017 at 12:50:45
Liverpool are a better attacking team than Chelsea. Other than a foul followed by a sublime curling effort we kept them out. A similar effort with a bit more going forward and I think we can nick this one.
Got to play a midfield 3 of Gana, Rooney and Davies. A front 3 of Lennon, Calvert-Lewin and Sigurdsson.
McCarthy, Sandro and Baningime on late as subs.
Peter Lee
45
Posted 22/12/2017 at 13:09:21
Don't get the grudging pleasure exhibited regarding our recent performances, described above and elsewhere as "hoofball" improved or otherwise.
Vs LFC: ball worked out of defence, fantastic cross field ball from Rooney, penalty.
Vs NUFC: 20-plus passes, including two sublime flicks, cross, header, fumble, goal. Same set up a little later but header saved.
Vs Swansea: multiple passes, pressing oppo back, Rooney flick to Lennon, penalty. Their attack breaks down, three passes along the floor at pace to Gylfi out left, cuts in, worldy. 20-plus passes pen oppo back, brilliant cross field ball from Gueye, great control from Kenny, second touch to Lennon, reverse pass inside, collected, past the defender, chop, penalty.
Do these people really watch the match?
Now waiting for the equivalent of "Yes, but what did the Romans ever do for us" posts.
Merry Christmas though.
Ray Roche
46
Posted 22/12/2017 at 13:14:33
David (#43),
David, I imagine you were referring to the Swansea episode were Hazard was supposed to have kicked the ball-boy. The "child", as he was referred to, was Charlie Morgan, nearly 18 and drove an Audi TT. It then emerged Morgan was no mere ball-boy but the son of the millionaire Swansea director Martin Morgan. The obnoxious little shit deserved to be charged with... well, "Being An Obnoxious Little Shit" for a start.
Neville Wellings
47
Posted 22/12/2017 at 13:28:27
Peter@45 Agree totally with LFC goal, telling that it was worked out by Kenny. Against NUFC needs a lot of coats to put a gloss on that game and Swansea aren't Chelsea but we are edging our way albeit slowly to playing that little bit better.
As for the Romans: season ticket holder in the same seat since 63-64 season and a few hundred away games under the belt including all over Europe.

John Keating
48
Posted 22/12/2017 at 13:36:35
I doubt very much we will see any difference in starting 11 or tactics than the last few games.
I just hope we have enough about us to come out with a draw, if anything less then I expect the "School of Science, where have our morals gone, I told you so" brigade will be out in full force.
Gareth Clark
49
Posted 22/12/2017 at 13:38:14
Pickford
Kenny Holgate Williams Martina
Idrissa Schneiderlin
Lennon Rooney Sigurdsson
Calvert-Lewin
Subs: Robles, Jagielka, Keane, Davies, Vlasic, Sandro, Niasse
Peter Lee
50
Posted 22/12/2017 at 13:50:14
Neville, same vintage, probably. Didn't get a season ticket until '66. Pissed off because I didn't win the raffle for a cup final ticket that year.
Remember cutting the corners off the programme's back page and sticking them on the Cup Final sheet we got in the first one of the season? And we didn't have Pritt sticks, just some shitty watery glue that came in a bottle with a rubber top/spreader that you had to stab with a pair of scissors to make it work.
Not attempting to putting a gloss on current matters, just refuting the moaners whose "hoofball" mantra is boring. Don't think we've created a single chance from a "hoof" since Sam arrived. (I await correction.)
Dave Abrahams
51
Posted 22/12/2017 at 13:54:40
Peter (37) and (45), I'm made up with the results since Allardyce took over but would love to see the Everton performances that you have seen in that time.
Neville (47) over 50 years in the same seat, well done, mate. Not being funny but you should get it free from now on.
Tom Bowers
52
Posted 22/12/2017 at 13:56:24
Tough game at any time but tougher today. Anything can happen in football and we hope the right Everton show up.
There has been some improvement without being convincing but an acid test today and next week. It will be the same eleven starting probably until injured players are fit and available again but would like to see Vlasic get some time instead of Lookman.
Roger Helm
53
Posted 22/12/2017 at 13:57:11
We need to play further up the pitch, with a lot of pressing, as defending against their clever passing and movement will be difficult for 90 minutes – I can't see us keeping a clean sheet. Two or three times recently, Sam has got us playing better by changing our focus to be more attacking. I just hope Schneiderlin doesn't start – he contributes nothing offensively, and doesn't intercept and tackle like Gana.
We have enough attacking quality to score provided we have bodies in the right areas – 2-1 to us.
Neville Wellings
54
Posted 22/12/2017 at 14:04:15
Dave @51 £299's not too bad.
Dave Abrahams
55
Posted 22/12/2017 at 14:12:11
Neville (54), yes £299, I'm made up with that price, but 53 years in the same seat, I wonder how many fans have done that at any club.
Sam Hoare
56
Posted 22/12/2017 at 14:15:53
Would love to see us come out and beat them playing good football but not sure we are there yet. At the same time, I don't want to see us as unambitious as we were at Anfield.
Hopefully Allardyce can find that sweet spot where we are still defensively sound but able to create effectively and consistently. To do so, Calvert-Lewin will need more people supporting him and Sigurdsson and Lennon will have to pick times to trust the defense and stay up the pitch.
I will be content with a draw that accompanies a good performance.
Brent Stephens
57
Posted 22/12/2017 at 14:18:13
Neville #39 "Ashley Williams... shows a willingness to throw himself under a bus for the blues (and there are times when I wish he would)".
Classic.
Brian Harrison
58
Posted 22/12/2017 at 14:23:15
Peter Lee 37
I suggest you re read what I said I made no mention of playing Rooney wide left. I suggested we drop Schneiderlin and play Rooney in his position move Sigurdsson to play behind the striker and bring in Lookman or Vlasic to play wide left.
Peter Lee
59
Posted 22/12/2017 at 14:32:24
Just watched the press conference. A paean of common sense from Sam.
Comes across as genuine, talks sensibly about the game and the club, admits that e.g. we were playing too many balls backwards and sideways first half last week, gave a simple analysis of what was wrong earlier in the season, gave straight answers about what Schneiderlin needs to do to be at his best, said Bolasie will be on the bench and that, situation allowing he will look to get him on.
When quizzed about Chelsea, described how they rotate into and across the front and said we needed to be as good at coping with that as we were against LFC but that we also needed to get forward. Talked of improvement and confidence encouraging players to take more risks.
Asked about player's community activities, he took the opportunity to describe as a disgrace a country that needs food banks.
Worth a watch; love or hate him you have to respect him.
Peter Lee
60
Posted 22/12/2017 at 14:38:40
Dave Abrahams, do you read and understand what I write? At no point am I lauding the performances, merely pointing out that the bits that got us the points didn't come from "hoofball".
I would argue that we are playing more effective football and some of it is good to watch. The effective defensive stuff has put us in position to get results via some of the more attractive stuff.
Many posters on here can't see that.
Totally happy yet, no, but then neither is the manager. When he is, I suspect most of us will be.
Peter Lee
61
Posted 22/12/2017 at 14:42:56
Brian, I read what you said, swap Rooney for Gyfi. Gylfi has been playing wide left. Where do you think he has been playing?
Peter Cummings
62
Posted 22/12/2017 at 14:47:45
The biggest problem will be to try and stop Hazard causing havoc among our inexperienced defenders, especially around the penalty area. As good a player as he is, he has a habit of going down at the slightest touch... so a penalty if Davies hits him is a real possibility.
Dennis Stevens
63
Posted 22/12/2017 at 14:49:00
Gylfi Schneiderlin? I think you're getting in a muddle, Peter!
Michael Kenrick
64
Posted 22/12/2017 at 14:52:56
Good point well made, Peter @ #45, about how well constructed the goals and penalty opportunities have been under Big Sam in recent games...
But doesn't that firmly underline in bold exactly what the "anti-hoofball" brigade are saying? Play the ball quickly out of defence, retain possession with accurate passing, create a real chance at their end... and score!!!
As opposed to: hoof it up and over the midfield, have Dom scamper after it, win the first ball, fight like a demon, but eventually lose the ball because he has no support – as they're all "keeping their shape" ready to repel the next onslaught???
Jay Wood
[BRZ]
65
Posted 22/12/2017 at 15:14:54
I tell you what, as Peter @ 59 mentions, Sam's latest presser was as good as anything I've seen or heard from an Everton manager in many a long year.
Full of simple, clear, but still eloquent, common sense views on not just football, but on broader social issues that also came up.
His views on how he adjusted his own style of play and demands on his team mates as he slipped down the leagues as he aged – basically, to not ask of them what they weren't capable of – and how he applies the same simple philosophy as a manager now to the players under his charge was particularly insightful.
He answers every question honestly and with great clarity and no little humour.
I am genuinely hard-pressed to name anything where Sam got it seriously wrong since he arrived.
There really is a presence, an aura almost, about the big fellah...
David Pearl
66
Posted 22/12/2017 at 15:15:03
Ian (#34), have a great day tomorrow it will be even better for your son with a win of course!
We have had a good patch of fixtures but this is much harder test of our back 4. Schneiderlin has been dire this season, and not that much better last. Maybe he will play to mop up and read the game with Gana man marking Hazard?
I do prefer us in a 4-3-3. Not that any of us have a choice. Rooney and Sigurdsson are both much better in the middle. Davies is also much better off the bench. I'd like to see Lookman given a start also as he can beat a man and cross from deep, which we don't do enough off. Rooney to score and 1-0 is 61/1... that's where my tenner is going.
Peter Warren
67
Posted 22/12/2017 at 15:29:20
Ian, what a great day your lad will have. Hopefully a great day for all Evertonians.
Chris Watts
68
Posted 22/12/2017 at 15:31:01
Just seen the summary of the press conference in the Echo. I really like that Sam seems to see things we've talked about here, ie, Morgan not playing as well as he did last season and not being brave enough to play the ball forward.
He also said Kone played well at Sunderland but doesn't know what's happened to him since. He seems very proud to be in this role and that means a lot after Koeman.
Against the concerns of the doubters he is giving the kids a chance and I suspect he will bring in some real quality over the next 2 windows.
Dave Abrahams
69
Posted 22/12/2017 at 15:31:07
Peter (60), yes, I understood you perfectly and a lot of the goals have come from good play, ironically, the goal of the season (anywhere up to now) came from a hoofball which Calvert-Lewin chased and forced Joe Hart to hoof it back and then Rooney took over.
I am not complaining about the way Allardyce has the team playing at the moment; needs must... and he can keep playing that way until we are relatively safe and after the January window, given the players and shape to play differently.
What I am saying is you are picking pieces of our games that provide good play; the reality is we are being patient because we know that is the safe way to play and our situation will let us stay patient while watching plenty of boring dross negative football. You are happy at watching the game you see and so am I for now.
Tom Bowers
71
Posted 22/12/2017 at 16:12:06
It seems for the most part the good teams have players up the field who are speedy and tireless who can keep pressure on defenders who generally like to control possession in their own half until spaces open up further down the field.
Sitting back en-masse just invites trouble which inevitably leads to defeat for teams who do not tackle well. This has been Everton's problem for some time but recently have done better with Lennon, Calvert-Lewin and even Rooney chasing better but the tackling is still not as decisive as it should be.
I am a fan of Macca and believe he could make a difference in that department if ever he gets fit again.
David Barks
72
Posted 22/12/2017 at 16:12:17
Chris,
To be fair, Koeman repeatedly spoke about certain players struggling and not being brave enough to play the ball forward and resorting to safe backward and sideways passing. It hasn't seemed to stop Sam from playing Gana and Schneiderlin together in recent matches, despite those long standing struggles, in home games against relegation contenders.
We were at home against Swansea with both players in the starting 11, and we only stopped being dreadful after Schneiderlin was finally subbed off in the second half. And in the match before that, against Newcastle, same thing. So I find it a bit interesting that the pairing of those two had seemingly been stopped, but Allardyce has reinstated them against two of the worst teams in the league.
Chris Watts
73
Posted 22/12/2017 at 16:58:20
Maybe he'll play someone else against Chelsea. I agree with others who say to drop Morgan, play Rooney in the middle and Vlasic or Lookman.
John G Davies
74
Posted 22/12/2017 at 17:09:22
Schneiderlin will start tomorrow.
Tony Everan
75
Posted 22/12/2017 at 17:21:07
It will be the same team again.
Sam will by trying to get more out of that starting line-up. Sounds like he has been talking to Gana and especially Schneiderlin about improving. I'm hoping Sam can coax them to be more confident and offensively minded at the right times. I will be watching to see if Schneiderlin can react.
Davis, Vlasic, Lookman will be used late. Although Sam may decide to keep it at a stalemate if we are drawing at 70 mins, and view it as a good point.

Oliver Brunel
76
Posted 22/12/2017 at 17:26:41
"In the land of the right-sided player, the left-sided player is King..."
Why did we loan out our left-sided players like Garbutt and Browning? Beggars belief since good lefties are difficult to find these days!
Les Martin
77
Posted 22/12/2017 at 17:28:19
A top press conference and you can see that, if his team talks are as good, and I am sure they are, then that's the reason that we are steadily improving.
By the end of January, we could be totally transformed and meeting the fans' original expectations.
Stewart Oakes
78
Posted 22/12/2017 at 17:56:04
Oliver (#76), Garbutt's not out on loan.
Koeman didn't name him in the 25-man Premier League squad, I think he will be available from the 1st January.
Steavey Buckley
79
Posted 22/12/2017 at 18:12:31
If Everton sit as deeply as Rooney, Gueye and Schneiderlin did in the first half against Swansea, the game against Chelsea maybe over by half time.
That's why it maybe best to play Davies instead of Schneiderlin. He will get forward enough to create space for Calvert-Lewin as the lone striker. Sam Allardyce in his press conference, has said that Bolasie could be a substitute but McCarthy is not ready. Good news, Ross Barkley has played again behind closed doors.
Jay Harris
80
Posted 22/12/2017 at 18:17:32
David, I get the feeling Schneiderlin talks a good game and is popular within the squad.
He is certainly not in the team on personal performance although Tom Davies hasn't been at the races this season either.
Eric Paul
81
Posted 22/12/2017 at 18:23:30
Peter Lee,
I totally agree, there are some passages of play that are as good as we have seen for a long time which have led to goals or penalties. Certainly not all hoofball.
Tony Everan
82
Posted 22/12/2017 at 18:24:31
Regards Barkley, I am delighted for him he is back training. He must see there is a space for him here, swap Schneiderlin for Barkley and the team would be transformed. A bit of composure and forward thrust for a change.
Now sign on the dotted line, Ross, and give all us blues a bonus Christmas present.
Phil Walling
83
Posted 22/12/2017 at 19:11:03
I wonder how the climate will change as soon as Sam suffers a defeat or two, as he surely must?
I reckon we shall finish with c 55 points – comfortably top-half but below our natural 7th. That will not be enough to convince Evertonians Sam is the man.
John Wilson
84
Posted 22/12/2017 at 20:06:09
Sam gave enough time answering the children's hospital and food bank questions. I think that shows a lot about his personal character.
John G Davies
85
Posted 22/12/2017 at 20:41:30
Sam talking about where Hazard may play tomorrow.
"He will maybe play in the position that somebody made up recently.
No I'm not even going to say it"
Voice from the back "False No 9, Sam?"
Sam laughing, "Shut up!"
Doesn't talk much bollocks, our Sam.
Kim Vivian
86
Posted 22/12/2017 at 21:04:45
Hahahahahaha - the shite imploding again!
Dave Abrahams
87
Posted 22/12/2017 at 21:50:51
But finally not enough, Kim, will Sam be brave in the cup game and have a go at the Reds' poor defence and keeper? At least attack more than in the league game a couple of weeks ago. Could be worth a go...
Christy Ring
88
Posted 22/12/2017 at 21:51:29
What I like about Sam, he won't rush players back, as he said today, Macca is in training, but not ready yet.
Kim Vivian
89
Posted 22/12/2017 at 21:56:11
Damn....
And I don't think he will play Mignolet unfortunately. He's lost it completely.I think Sam will have a good go at them first time out, though.
Oh, the joy if I could blag a ticket for that. I haven't made it to a derby game since the 70s, unbelievably.
Peter Cummings
90
Posted 22/12/2017 at 22:15:12
Just like to wish all Evertonians the very best for Crimbo and New Year, Hope we all taste success and good luck as we move into 2018, From me and and mine,To you and yours.
Merry Christmas to you all From Canada.
Jamie Crowley
91
Posted 22/12/2017 at 22:16:42
Most of the games Chelsea has not gotten a result in have been against teams that are defensively solid and hard to break down.
Conventional wisdom with Palace and West Ham might say that isn't true, but under Woy and Moyes respectively surely that's the new norm there?...
I see no change in tactics or playing style. Frustrate the crap out of them, don't concede, and look to win it later on with the introduction of Davies and possibly Bolasie.
Again, just win. Don't care how you do it Sam or how it looks. If you actually get three points from this game I'll start putting "pretty football" on the back-burner for good.
Bore the fuck out of me to a top four finish!
And Merry Christmas to all.
Tony Abrahams
92
Posted 22/12/2017 at 22:35:07
Peter @45, the way you describe the goals against Swansea, I'm not sure you watch the game properly, mate!
Tom Bowers
94
Posted 22/12/2017 at 22:53:05
Good to hear that Bolasie is in the squad and obviously may only be used as a sub, if necessary and hopefully that won't be necessary.
Everton have a big problem in that they always start the game way behind their opponents and have to play catch-up. Better not do that tomorrow.
On the RS front, it appears that Klopp's speed up front is far too often negated by his weak defence. The man does not seem to know how too fix this.
I sure do hope Everton can hit them early and often in the cup before the forwards get going.
Andy Williams
96
Posted 22/12/2017 at 23:27:11
John (#70) on a more positive note, Allardyce has decried the need for foodbanks saying it is a disgrace that people are put into that position. Rooney has also donated £750,000 to children's charities. I know there are some on here that hate our image as a 'caring' club but I love it.
Paul Birmingham
97
Posted 22/12/2017 at 23:46:29
Sam & Sammy, are no mugs and will have a game plan. Tomorrow, I hope and pray we get a result and play well and win and the Goodison inferno blows away the morale of Chelsea.
Hazards role may change and it could be he may play a different role which could potentially be more direct but more lethal...
For me, we get into them from the start and compete for every ball and don't stop. The crowd will play their pivotal role and I believe we can reverse last seasons poop show..
No way will We stand off and show too much respect. Rooney, Calvert-Lewin, Kenny and Pickford are leaders on the pitch and this game is massive and a great chance to build steam for a very demanding period in the Premier League.
We've had Chelsea and they for sure have beaten us, many times, but I hope tomorrow they are beaten and the Goodison Park crowd will be the vital in achieving this. Stop Hazard... easier said than done stop them going wide and playing inside and off. I think we can do it, but the likes of Schneiderlin and Gana must not let up.
A win and another head of steam for the pending West Brom, Man Utd and our friends across the Park..
All The Very Best to All Evertonians and a Happy & Healthy 2018!
Kiern Moran
98
Posted 22/12/2017 at 23:46:57
I've just skipped to the bottom, I scan read earlier comments. I would probably start Davies and Lookman – throw a couple of crumbs to upset the pigeon. Close up shop after going two up. All seems very simple on paper.
Clive Mitchell
99
Posted 23/12/2017 at 01:17:42
Can't see the point of playing Schneiderlin against this lot. But then, I wouldn't be able to see the point of playing him against Forest Green Rovers either.
James Flynn
100
Posted 23/12/2017 at 01:25:28
Pair Gylfi with Gana.
That's a duo will work.
Push Wayne forward.
Now we have to highly skilled footballers in key positions on the pitch.
Barry Williams
101
Posted 23/12/2017 at 01:46:44
Andy Williams – #96
Well the world would be a better place if more did the same, so good on them. I want Everton to be the top dogs, like we all do (I think), but not at the expense of our identity. 3 local boys in the derby, all Everton, it keeps me on board!
Why showing generosity in the city you play in is a weakness is beyond me! Surely other clubs must do it?
Peter Lee
102
Posted 23/12/2017 at 08:03:43
Tony Abraham, watch the video on YouTube and then tell me where my description was wrong.
Kim Vivian
103
Posted 23/12/2017 at 08:14:41
James – Siggy is not a holding midfielder and would be wasted there. I'd just like to see Morgan pull his head out of his arse and start playing well again as we know he can, and that debate can be put to bed.
Rooney in his deeper creative role has been working well so keep with that so we get the best from his wise old brain and can worry less about his legs.
George McKane
104
Posted 23/12/2017 at 08:45:09
Friends:
The last Home Game of 2017. Quite an amazing year in many ways at EFC. A Year of Change and Transition. Early morning start for The Chelsea game - - crazy KO time. The Mist over The Mersey has actually lowered early this morning and is now rising - - strange phenomenon - - maybe telling us something - -but just now around 8.00am The City is Invisible.
I feel quite positive about today - - will be in full flow early start at The Dark House - - my wife Gosia will drive me via The Tunnel of Love too TDH for around 11.00 am - - I am taking 3 pair of slippers with me - - I have a running gag with a some who, when it's an early start or evening game, get in a bit before me - - and also because I tend to clear the tables - - I mention "slippers and dressing gowns".
I am hoping that we are at a new beginning - - on the cusp of something - - I know we have all said it many times but there is something solid and strong and "feet on the ground" coming from Mr. Allardyche - - with the hint that there is still a "dream" in there somewhere:
Or more to the point: "To accomplish great things, we must not only act, but also dream; not only plan, but also believe."
"We all have dreams. But in order to make dreams come into reality, it takes an awful lot of determination, dedication, self-discipline, and effort."
"Keep away from people who try to belittle your ambitions. Small people always do that, but the really great make you feel that you, too, can become great."
Just getting myself into the mood for the whole day at TDH and Goodison - - listening to a bit of Steve Earl and will think about it as I pass Great Mersey Street :
"I was walkin' down the street
In the town where I was born
I was movin' to a beat
That I'd never felt before
So I opened up my eyes
And I took a look around
I saw it written 'cross the sky
The revolution starts now
Yeah, the revolution starts now"
I feel - - that's the right word here - - feel - - that things can really move on - - football for me is never about logic - - I know that you can apply logic to a game plan but I mean as a supporter - - you are either with your team - - totally - - and believe beyond hope or logic that you will get the last minute goal - - win the Cup - - win the next game - - whoever it is - - I always feel like this or I wouldn't go to the game or be an Evertonian - - I am a dreamer - - (I hope) I'm not the only one:
Bit of Van to lift my spirits:
"I forgot that love existed troubled in my mind
Heartache after heartache, worried all the time
I forgot that love existed
And then I saw the (Blue - -sic) light
Everyone around me seems to make everything alright
If my heart could do my thinking
And my head begin to feel
I'd look upon the world anew"
I am really looking forward to today - - will take my harmonica and my little yellow china bird that whistles - - and my notebook and pen - - make a few drawings and maybe a bit of poetry.
I will walk along Wessie Road - - passing The Baths (remember running there on Saturday mornings with your cossie on under your kekes to try and be "first in") and beyond Smith Street where I lived - - and "St.Ollies" where I went to church and school and look up Lambeth Road towards Daisy Street - - these are the Streets I walked and kicked a ball pretending to be The Golden Vison or AlanBall - - to Goodison in the days of Jonny Carey and still do today - - and I walk like Mayakovsky ( A Great Evertonian):
"No gray hairs streak my soul,
I shake the world with the might of my voice,
and walk - handsome,
twentytwoyearold."
My childhood memories are always mixed in with Everton games - - Births Deaths And Marriages - - linked to games missed or won and lost - - I always think of THE Burnley Game at Christmas - - I was passed overhead to sit around the pitch at Gwladys Street End - - and as I still walk the same way to The Game after nearly 60 years it is obvious that there is a trigger that sets my mind and heart racing on Saturday match days. Habits build up after time and although I am a great believer in moving onwards I do like traditions - - more rituals than traditions - - so music and poetry this morning - - and looking around at the postcards and prints on my walls to get me in the mood - - "Bonjour Monsieur Gaughin" - - Diaghilev, Morris, Van Gogh, Klimt, Raphael, Leonardo and Michelangelo - - notes and poetry stuck on my walls - - a cacophony of colour and words - - and flowers - - and music - - it is as if "sound and perfume swirl in the morning air" - - at my door is a large poster of Le Chat Noir - - so my mind wonders off and I put on some Erik Satie - - I went to his house in Honfleur - -amazing.
It will be great to see the gang today at TDH and somehow wonderful surprises happen at these Christmas Games - - some times a few of the old gang who have stopped going or who may have left Liverpool or England come to these games while visiting family - - I love it.
Well I am hoping for a good win today - - Allardyche is still new to this job and "the true method of knowledge is experiment" - - have faith Blues for "faith is a passionate intuition" - -time to move forward together - - "fear not the future weep not for the past".
It's just gone 8.30 - - early start today - - must go - - shower and shave and off to TDH - - feet up for a moment - - eyes closed - - a bit of George Harrison:
"It's all too much, it's all too much
When I look into your eyes, your love is there for me
And the more I go inside, the more there is to see
It's all too much for me to take
The love that's shining all around you
Everywhere, it's what you make
For us to take, it's all too much
Floating down the stream of time, of life to life with me
Makes no difference where you are or where you'd like to be
It's all too much for me to take
The love that's shining all around here
All the world's a birthday cake
So take a piece but not too much
Set me on a silver sun, for I know that I'm free
Show me that I'm everywhere, and get me home for tea
It's all to much for me to see
A love that's shining all around here
The more I am, the less I know
And what I do is all too much"
A Bright Candle to Light our Christmas Season.
Cosmic groves are streaming out of my head and swirl around my room drifting out of the window and Tinged Blue, float into the Astral to wish All Blues Everywhere a Bluetiful Christmas.
Keep cool but mainly keep cosmic - - George

Steve Brown
105
Posted 23/12/2017 at 08:52:17
Nice piece George, enjoyed reading it.
Neil Wood
106
Posted 23/12/2017 at 09:20:29
I think he may surprise us today with team selection and put Sandro up top
Or is that just wishful thinking on my part!
My line-up:
Pickford
Kenny Holgate Williams Martina
Gana Schneiderlin
Lookman Rooney Sigurdsson
Sandro
Dave Abrahams
107
Posted 23/12/2017 at 09:30:10
Inspiring as usual George, always, always looking on the bright side, I was nearly getting ready to go to TDH and enjoy it, I read the first part of your post wrong, I thought you had been to the Isle of Man and you were bringing three pair of kippers to the pub, love kippers me, but then I read it again and it was three pair of slippers!!!!
Never mind, George,enjoy your day, no need to tell you that really, hope your bet comes up, but the main thing is Everton give us another day to remember, even if it is another boring victory!!!! A million cosmic grooves to you George, all blue ones.
George McKane
108
Posted 23/12/2017 at 09:35:47
Rave On Dave Abrahams
Rave on You Holy Scottie Fool
Rave on DownThrough The Holy Trinity
Rave On through the writing of a Vision
Rave On
Rave On words On Printed Page.
Best wishes to you and yours and all of ours.
Laurie Hartley
109
Posted 23/12/2017 at 09:48:03
Happy to report George that yet again your blue grooves were received here in Korumburra. I was waiting for them actually.
I visited Bramley-Moore Dock via Google Earth this evening George. You will be able to see our new stadium from your window.
Up the Blues.
George McKane
110
Posted 23/12/2017 at 09:54:50
Cheers Laurie
Blue Cosmic Grooves Floating All Around The Astral
My side window in my writing room looks straight onto The New Ground - -I could touch it.
Today it is covered in a Light Blue Mist like something from Excalibur - - The Holy Grail indeed.
"By and by when the morning comes
Jazz and blues and folk, poetry and jazz
Voice and music, music and no music
Silence and then voice
Music and writing, words
Memories, memories way back"
Best wishes to you Laurie and your family - - God Bless Blues Everywhere said Tiny Tim.
Laurie Hartley
111
Posted 23/12/2017 at 10:03:56
Thanks, George – to you and yours too.
John G Davies
112
Posted 23/12/2017 at 10:38:59
Always feel better after reading your pre-match post, George.
All the best to you and to all fellow Blues wherever you may be.
Richard Mason
113
Posted 23/12/2017 at 11:40:38
Yeah, it looks like he is concentrating more on winnable games.
Barry Williams
114
Posted 23/12/2017 at 11:50:10
Jay Wood - [BRZ] - 121
Just reporting what I have read Jay!
Jay Wood
[BRZ]
115
Posted 23/12/2017 at 11:58:39
And I'm just making a wee joke, Barry...
Add Your Comments
In order to post a comment, you need to be logged in as a registered user of the site.
Or Sign up as a ToffeeWeb Member — it's free, takes just a few minutes and will allow you to post your comments on articles and Talking Points submissions across the site.