Walsh reportedly flies to Turkey to secure Tosun deal

162 Comments [Jump to last]
Friday 29 December 2017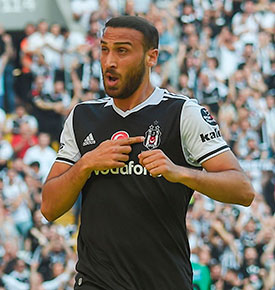 Cenk Tosun's move to Everton reportedly hangs in the balance as rival clubs look to swoop in
Updated
Everton have apparently sent a delegation to meet face-to-face with Besiktas officials in a bid to land Cenk Tosun ahead of competition from Europe.
According to media claims yesterday, the club have agreed terms with the player, with further reports suggesting they were close to agreeing a £25m fee with the Turkish club but it didn't appear as though anything was settled at the time Sam Allardyce sat down with the media earlier today.
It now looks as though director of football Steve Walsh has headed up a party that has flown to Istanbul to ensure that Everton win the race to sign Tosun who looks to be leaving Besiktas in the coming transfer window.
He bade farewell to the crowd during that club's 4-1 win over Osmanlispor in a cup tie last night, with sources in Turkey reporting that his move to Goodison Park was a done deal.
"It's in the wind," Blues boss Sam Allardyce said today of the Tosun transfer. "There's obviously an interest because we're actively looking for a front man but whether we are the ones to complete that deal or not I don't know.
"The interest from other clubs around Europe is our biggest worry if we are to secure that transfer."
Valencia, Red Bull Leipzig and Roma have all been credited with interest in the 26-year-old in recent months while Crystal Palace and Newcastle are believed to have been tracking him from the Premier League.
A Turkish media source suggested later on Twitter, however, that the deal was done and that Tosun would be returning to England with two Everton representatives.
TV presenter Ertem Sener said: "Cenk Tosun is definitely finished [at Besiktas]. He even dumped his house today. Tomorrow he leaves Istanbul with his two Everton administrators. Clear and precise information."
Meanwhile, Allardyce has confirmed his interest in signing Steven N'Zonzi from Sevilla but admits he would have to shift one of the many central midfielders already on Everton's books first.
Allardyce worked with the midfielder during his Blackburn Rovers days and is keen to link up with him again but the Blues are well stocked for central midfielders.
"I would take Steven N'Zonzi tomorrow," he said. "He is one of my better buys in my lifetime.
"Knowing him from that age and knowing him now, yes I would like him but with the amount of midfield players I have at the moment I'd have to move some player out to bring a player like Steven in.
"I would consider every offer and, if it is the right offer, I would recommend to the board that we take it and utilise that money on what we might bring in. I'd have to say that caution is my first priority in this window.
"For me it would be much wiser that the club tries to get through until the end of the season and readdress what we are about to do during the summer. It is much better operating then than it is in this very difficult window."
---
Reader Comments (162)
Note: the following content is not moderated or vetted by the site owners at the time of submission. Comments are the responsibility of the poster. Disclaimer
Brian Williams
1
Posted 29/12/2017 at 16:01:30
Oh dear!
Kris Boner
2
Posted 29/12/2017 at 16:02:48
In before they all arrive:
"Well that's us fucked then."
"Clearly just an agent using us to get a better pay day."
"He's well shit, only no marks like Valencia, Leipzig and Crystal Palace after him."
So on and so forth.
Eugene Kearney
3
Posted 29/12/2017 at 16:15:07
Get in there and get him!!!
Ian Linn
4
Posted 29/12/2017 at 16:31:55
Very surprised Mr Walsh is still working at the club.
Difficult to assign any positive impact he has made during his tenure.
Kevin Prytherch
5
Posted 29/12/2017 at 16:33:50
Ian (#4).
It depends how much say he had in the likes of Lookman, Vlasic, Bowler, Gibson, etc. For all we know he might have played a huge role in setting the team up for the future.
His role in first team buys is questionable though.
Mark Andersson
6
Posted 29/12/2017 at 16:34:20
Sounds to me like Sam is giving us the heads up and we won't be getting anyone in until he has off-loaded some of the shit buys Koeman brought in.
Nothing has changed... still a sell-to-buy small mentality club!!!

Brian Hennessy
7
Posted 29/12/2017 at 16:36:58
It makes sense to let other clubs know we are open to offers for some of our midfielders. I am guessing one of Schneiderlin, McCarthy, Besic and Klaassen would be allowed to go for a reasonable fee and I think Sam feels Nzonzi is better than all of them.
Ian Bennett
8
Posted 29/12/2017 at 16:45:09
Revolving doors...
How many of Besic, Mirallas, Niasse, Barkley, McCarthy, Schneiderlin, Klaassen, and Sandro will be left over the next two windows???
Ian Linn
9
Posted 29/12/2017 at 16:47:35
Kevin, I think he has had more of a role setting up the team for failure, Pickford, great signing, Keane and Siggy OK signings, the rest not up to the mark, as shown by their performances on the pitch. I'm just surprised that for someone doing such a bang average job he's still there.
Tony Marsh
11
Posted 29/12/2017 at 16:49:27
Let some other club have Tosun. He was at Finch Farm with his father a few days ago and hasn't put pen to paper and I'm not one bit bothered.
Tosun is a typical buy for a club around the 7th to 10th place in the Premier League who have no ambition of aiming higher. Not exactly what we were promised by Farhad Moshiri, is it?
If we want to dine at the big boys' table we need the appropriate big boys in our side. These £20 million Joe Average players do nothing for our reputation.
Keane, Klaassen, Sigurdsson all over paid for in the summer.
I fear Cenk Tosun is of the same calibre as the other duds we bought. I would sooner take a cheeky punt on Vardy and get 2 seasons out of him than these Euro duds.
Will Firstbrook
12
Posted 29/12/2017 at 17:01:59
McCarthy and Besic out would seem to be the more likely move at this point though I'm unsure what return either would fetch in their current state. I'm not convinced Schneiderlin would be the one to make way. Perhaps in the summer.
I think the bigger issue is what we are going to do if/when Barkley goes in this window. Davies needs more time to develop and Klaassen doesn't seem to fit that mold. We desperately need a creative attacking mid who can link up play.
Regardless of what happens in the middle of the park, Mirallas had better be moving on in this window!
Drew O'Neall
13
Posted 29/12/2017 at 17:13:48
Ian (#4),
He identified and captured our best outfield player – Gana.
Kevin Dyer
14
Posted 29/12/2017 at 17:18:16
I'd hoped this was just a spurious newspaper rumour but apparently not.
Misgivings: he is scoring but in a much inferior league; 26 but not yet played in a high-level division; likely as good as he's gonna get. For £25M we'd be taking a punt on him being able to handle the Premier League.
Is he actually an upgrade on Calvert-Lewin, Niasse or Sandro? Both Calvert-Lewin and Sandro are much younger. Niasse has proven he can score in this league. Sandro has scored in La Liga. Total waste of money. He has his critics but Sandro has had a run of 6 games so far, 3 starts. He finally scores then is dumped again. Unless we are buying a definite upgrade, save the money. If this guy was any good he would have been brought to a better league than Turkey well before now.
As for Nzonzi: pass. He was rubbish at Stoke and the way things are going at Sevilla he may have character issues. Pulled off at half-time vs Liverpool prior to Sevilla launching their fightback. Says a lot.
David Israel
15
Posted 29/12/2017 at 17:27:58
When the cavalry has to be sent in, one starts having misgivings. Let's wait until Monday or Tuesday. It should all be clearer by then, one way or the other.
Brian Harrison
16
Posted 29/12/2017 at 17:28:10
Hopefully Walsh has just gone out to sign all the papers ahead of the window opening on the 1st January. Obviously listening to the comments of his manager wishing him well in joining Everton the deal is done. The player let the home crowd know he was leaving, so what could possibly go wrong?.
Mind if this deal should fall through then I cant see Walsh being here for the next transfer window. I mean he had Giroud in the bag didn't he?
As for outgoings well I would be amazed if Mirallas or Besic survive the cull, and listening to Allardyce's comments about Sandro and Klaassen sulking at training. I can see these being shipped out if not in Jan then probably in the summer unless there is a massive turnaround in their form.
Tony Everan
17
Posted 29/12/2017 at 17:31:42
Whoever we buy will be a gamble, Cenk is a definite gamble.
Scoring for one of the top sides in the Turkish league does not necessarily translate to the Premier League.
Walsh has decided he will be a success though, and we have to trust someone to make decisions. Let's hope he will do the business for us.
I wouldn't be completely devastated if they messed us about and we walked away.
David Israel
18
Posted 29/12/2017 at 17:38:37
On the subject of Steve Walsh, I think it is clear that he only has 100% responsibility for signings to the Under-23s. Ronald Koeman himself once said that no player could come into the squad withouth his approval, and that he himself could take the initiative of signing a player, which is only natural.
John Pickles
19
Posted 29/12/2017 at 17:40:53
He'll probably come back with a new Number 10 instead.
John G Davies
20
Posted 29/12/2017 at 17:44:13
Brian (#16),
Missed that, mate. What did Sam say about Sandro and Klaassen?
Paul Holmes
21
Posted 29/12/2017 at 17:47:40
If he's been scoring goals in the Champions League and Besiktas are still in the competition, then he is better quality than most of the players we have at the moment.

Very few of our players would get in any champions league teams, just look at our europa league record this year! Sign him up and ask him to bring some of his mates!
John Hammond
22
Posted 29/12/2017 at 17:52:30
Ian (#9): The poor performances on the pitch by some payers can't be blamed on Walsh. You can't expect every signing to work out and you know full well it can take a good 6 months or longer for a foreign player to settle.
John Pickles
23
Posted 29/12/2017 at 17:54:19
So we need to ship out an old player or two, no problem.
Calling Agent Moyes, calling Agent Moyes!
Mike Gaynes
24
Posted 29/12/2017 at 17:55:30
Brian (#16), say what?
I've never seen such comments from Sam. Where did you?
Or are you perhaps mixed up with Unsworth's comments about Schneiderlin and Mirallas?
Andy Bonner
25
Posted 29/12/2017 at 17:57:08
I think he is harshly criticized; he was not responsible for tactics. He would have also been involved with the transfer arrangements of Calvert-Lewin, Lookman, Bolasie, Vlasic, Sigurdsson, Keane, Pickford, maybe Rooney, Onyekuru, and a few more future EFC players.
Eddie Dunn
26
Posted 29/12/2017 at 18:12:41
What's Jo up to?

Brian Williams
27
Posted 29/12/2017 at 18:23:57
Some reports now saying that following Walsh's meeting it appears our bid is lower than first expected.
Not by us Evertonians!!!!
Jay Wood
[BRZ]
28
Posted 29/12/2017 at 18:24:20
Jo, Eddie?
Just won the Brazilian league title with Corinthians and was the league's top scorer also with 18 goals. Hard to believe, but he really was one of the players of the season. Outstanding, in fact.
Also hard to believe is that, with the season barely finished, Corinthians chose to cash in on him and sold him for 11 million euros to Japanese side Nagoya Grampus where he'll by plying his trade in 2018.
Derek Knox
29
Posted 29/12/2017 at 18:32:26
John G Davies at 20, basically he has told them both to stop sulking, and they have no-one to blame but themselves. He cited Jonjoe Kenny as an example of working hard and getting a regular spot in the first team.
David Israel
30
Posted 29/12/2017 at 18:36:47
Jay (#28), I dare say the Brazilian league is even more ludicrous than the Turkish one, irrespective of the quality of the players. They play at a slow pace, leave lots of space for everyone to show off their great skills for the agents to put in a video, and foul each other nonchalantly. Simply put, it's sheer crap.
David Israel
31
Posted 29/12/2017 at 18:38:41
Sorry, Jay, I forgot you live in the land of samba, and so you should know about the Brazilian league better than me. Was my verdict a tad exaggerated?
Andy Crooks
32
Posted 29/12/2017 at 18:49:44
Derek (#29), not doubting you but could you provide a source for what is a pretty indicting post.
Matthew Williams
33
Posted 29/12/2017 at 18:50:05
Just get this done, Blues... jeez! Then get yer arses down to Hillsboro to sign Adam Reach, quality left winger who can also use his right foot... eye for goal too.
Looks like we'll have to wait for Ben Mee unless we offer silly money now!
Phil Walling
34
Posted 29/12/2017 at 18:50:12
Still fishing in murky waters. Nothing Walsh does inspires me to think he is anymore than a boss;s pet.
These two look decidedly average and signings for signings' sake. Just wish Moshiri would realise he's being taken to the cleaners by managers and scouts who prey on his football ignorance!
Jamie Evans
35
Posted 29/12/2017 at 18:57:10
Walsh looks like a proper simpleton in that picture.
Derek Knox
36
Posted 29/12/2017 at 18:59:40
Andy (#32), Sky Sports News interviewed Sam.... presumably after the pre-match presser for the OS.
John G Davies
37
Posted 29/12/2017 at 19:00:21
Dead right, Phil. He has kidded the plums off the billionaire Moshiri
Jamie, Pack it in, mate.
Soren Moyer
38
Posted 29/12/2017 at 19:04:25
Reports saying that Valencia is in the mix too!
Ian Horan
39
Posted 29/12/2017 at 19:13:21
Worrying times, RS send a delegation to Southampton and sign Virgil van Dijk; then guess what – announce it all officially done and dusted. We tell the world we're on our way to Turkey to negotiate... WTF!!!
I thought we had become more professional and savvy. Sadly I can see us missing out. Shaking head disappointingly...
Brian Harrison
40
Posted 29/12/2017 at 19:15:54
John (20), Mike (24)
Allardyce was interviewed by Sky and he was asked about various players. He said that Sandro and Klaassen need to stop sulking around the training ground blaming everybody but themselves. They need to show the coaches and myself what there about.
So obviously Sam is far from happy with their attitude and is publicly letting the fans know as well. Now whether its right to chastize players in public I don't know but we will see very soon if it has the desired effect.
Matthew Williams
41
Posted 29/12/2017 at 19:16:41
If true Soren... then just throw in a fucking sunbed into the deal – we need this lad.
Geoff Lambert
43
Posted 29/12/2017 at 19:21:58
Andy (#32). It was on Sky Sports this afternoon; he said about them being able to look at themselves in the mirror. And that some of the idiots on ToffeeWeb should shut up or he will see them outside by the Winslow after the game.
Soren Moyer
44
Posted 29/12/2017 at 19:23:17
Bloody Steve Walsh should have gone there much earlier, ffs! I am fed up with this Director of Football bullshit.
Phil Walling
45
Posted 29/12/2017 at 19:30:26
Tell the world your unwanted players are wasters. A brand new slant on setting up a market for them!
Paul Birmingham
46
Posted 29/12/2017 at 19:34:34
It's Everton, and how we achieve a done deal, a good deal for the best players, has always been down to alchemy. After the lessons of the last 12 months and not nailing a good striker, let's hope this one is full of Eastern promise.
Then for the two Sams to decide how we supply our new striker (s)? Gonna be an interesting week in terms of deals done and the next visit to our old ground.
Eddie Dunn
47
Posted 29/12/2017 at 19:50:04
Jay Wood (BRZ) – that is amazing! I presumed he had sank into obscurity... blimey!
Colin Glassar
48
Posted 29/12/2017 at 19:55:49
I hope Walsh has more success in Turkey then he did in Italy. That freebie was never explained, was it?
Phil Walling
49
Posted 29/12/2017 at 20:10:29
Colin, I heard Koeman wanted him well out of the way whilst he signed some Dutch agent's 'bargains'.
Brian Williams
50
Posted 29/12/2017 at 20:12:47
If the report is true that Walsh has travelled to Turkey and a lower than expected/desired offer has been lodged, after Allardyce voicing concern over the deal being hijacked by another club, then don't be at all surprised to find we've pissed off Besiktas and the deal becomes dead in the water only for that other club to get Tosun for £2-3m more than our offer!!
Colin Glassar
51
Posted 29/12/2017 at 20:19:02
Phil, I haven't got a clue if this fella is any good or not but Walsh doesn't inspire me with any confidence.
David Israel
52
Posted 29/12/2017 at 20:23:33
The update on the article has a 'Turkish media source' saying it is done and dusted. Now, I know my grannie always told me to be wary of a single Turkish media source, but I'm rather willing to credit this as truthful.
Paul A Smith
53
Posted 29/12/2017 at 20:39:35
Colin (#48), he was looking at Brozovic from Inter apparently, mate. If that is true, it really worries me that he was a part of prioritising those bad buys. A midfielder after signing Klaassen?
Steve Walsh has it easy in my opinion. He seems to have a list of attributes a player must possess (like every scout and they are usually a prerequisite anyway) and then he bids or advises a bid.
I don't get how he gets credit for buying young players the top clubs didn't want to spend £10 million on, and wait 2 or 3 years for their talent to come to form. It's not like he discovers them. The club we buy from does that and I suspect we are halting the development of our own youth while gambling on these young buys?
As for Tosun, we have to do something and it's hardly rocket science to look for any buy-able in-form striker.
Mark Riding
54
Posted 29/12/2017 at 20:44:06
Walsh going over to carry some luggage back for our new striker.
At least he will be earning his money, the massive, massive fraud.
Peter Larkin
55
Posted 29/12/2017 at 20:49:03
Before we get our knickers in a twist, this is all standard stuff really!!! The window is not open yet!!! Who knows could be a worldie could be a huge flop, no point in pointing the fingers at this stage.
And for the record (because I'm sick of people slating our Director of Football), his job is to recommend players to the manager!!! The way it works is like this... manager says "I want a 6ft powerhouse box-to box-midfielder. Director of Football goes through the files, his scouts, scouts the player, the Director of Football scouts him personally. He then says this guy could be good based on these stats bla bla...
Then ' down to the manager to say Ayeee or Naeeee. So he is basically a scout. To think Steve wWalsh just went out and signed 3 Number 10s off his own back is naive at best.
James Flynn
56
Posted 29/12/2017 at 20:56:12
Sam is long-experienced at managing bottom-half clubs. Be reasonable to believe he's been promised funding for players along the way, only to be fucked-off in the end.
This being his last throw of the managerial-dice, not surprised he's jumpy. This is his first (and last) crack at managing at a top Club.
If Walsh is being flown out there, it's with a remit to bring this player back with him.
Let's not forget, Everton is the one Club in for Tosun who genuinely, no-doubt-about-it NEEDS a striker. It was never going to be cut-n-dry.
The lad would be represented by one shit agent if he didn't try to wring every penny out of the club wanting to sign his boy.
Tosun is young enough yet, but how many other big contracts is he going to sign after this one?
Let them hash it out, get him in, and we'll see how good he is.
Jay Woods
[LAT]
57
Posted 29/12/2017 at 21:00:53
I'm really excited about Tosun; if he's as good as we hope, we could sell him to Man Utd for £150M and use the funds to buy another 5 Davy Klaassens.
Peter Fearon
58
Posted 29/12/2017 at 21:01:32
Just to be clear. Despite the fact that most of the papers write N'Zonzi, there is no apostrophe. It is actually Nzonzi. I hope we don't buy him. Do we really need another defensive mind in midfield?
James Stewart
59
Posted 29/12/2017 at 21:11:14
Fingers crossed on Tosun; he looks decent.
I'd take NZzonzi in a heartbeat, class act. Him and Banega destroyed our midfield in pre-season. I'd keep McCarthy as if fit he is top class as a ball winner.
Get rid of Schneiderlin asap.
Colin Glassar
60
Posted 29/12/2017 at 21:16:28
Can the real Jay Woods stand up please? This is very confusing.
Lev Vellene
61
Posted 29/12/2017 at 21:23:48
Colin, I'm usually confused a lot here... But as I remember it, it turned out we have two Jays! One a Wood, and the other a Woods. So some bright spark asked the one currently in Brazil to add BRZ to his name. And the other one helpfully added LAT to his signature.
Sheesh, I'd think you'd have to be a Liverpool fan for not keeping up with this non-shiftiness! ;D
Lev Vellene
62
Posted 29/12/2017 at 21:33:42
Tosun looks good! He's got a ton of self-confidence, and I really hope he can carry that over to the Premier League! Who knows, he might be just another mercenary, but I bet Calvert-Lewin will be hanging on to anything he does, looking to better it!
Don Alexander
63
Posted 29/12/2017 at 21:38:24
"It's in the wind," Blues boss Sam Allardyce said today of the Tosun transfer.
Err, right then Sam. Thanks, but no thanks, cos all I know is that nobody in their right mind would buy what's occasionally in my wind.
And fair comment if he's told Klaassen and Sandro to get their fingers out. Sounds like a harsh version of what Koeman allegedly, but rightly if indeed it ever happened, told Barkley. Professional top-flight millionaire footballers of any age should not be sulking or continuously feeling sorry for themselves to the cost of the club paying their extortionate wages.
Jay Woods
[LAT]
64
Posted 29/12/2017 at 21:39:51
I think Lyndon added the suffixes.
I'm "Woods", based in Latvia and have very conservative views.
The other one is "Wood" and based somewhere else – seemingly Brazil – and seems to be more left-leaning than I could ever be.
Paul A Smith
65
Posted 29/12/2017 at 21:42:06
Would it be rude of us to not throw Niasse into the deal? He is always linked with Turkish sides and it might help us secure a quality loan deal if he can move on?
Mike Gaynes
67
Posted 29/12/2017 at 21:54:19
Brian #40, cheers. Never saw that.
Jay and Eddie, Jo gave an interview to Reuters last summer in which he expressed his regrets at having missed his opportunity at Everton because of a lack of professionalism:
"There was an episode at Everton when I had hurt my ankle and I asked (then manager) David Moyes if I could come back to Brazil to speed up treatment," Jo told Reuters in an interview.

"I came back here and didn't have any treatment, I did other things," he said. "I told him I was fit to face Chelsea. I played from the start in London and I didn't play well at all. I was in pain and I hid it from him and he found out. And he was very angry."

"I had opportunities but I wasn't focussed. I didn't take care of myself off the field. I didn't rest, I didn't train properly. It was immaturity. I thought it was just another club and just another moment in my career but it was a massive opportunity for me...
Apparently being known as a flop in the Prem with us and City, and returning to Brazil with his tail tucked, triggered a rush to adulthood. He also played in the UAE and China before going back home to Corinthians. And now he's odds-on to make Brazil's roster for the WC. Quite a turnaround.

Jay Wood
[BRZ]
68
Posted 29/12/2017 at 22:01:46
David @ 30 & 31.
You are exaggerating a tad, but the fact that Jo returned to Brazil with Corinthians after a couple of seasons away from his home land, first in the Emirates then in China - AND ended the season as the league's top scorer - kinda tells you the the Brazilian league is nowhere near the standard of the very best European leagues.
But ludicrous and crap it is not. I enjoy Serie A, the Brasileirao as it is also known. The games are super competitive, especially the many 'classicos' - derby matches - of which there are many because so many teams are based in the 2 biggest cities, Sao Paulo and Rio.
As you would expect, there is no shortage of skill and even in the intense heat in which many games are played, I wouldn't say they play at a slow pace. Nor do they leave lots of space. Rather, defenders leave plenty of stud marks on anyone attempting to go past them! They are ruthless!
That said, I am always hard pushed to identify a player who I feel could make it with Everton in the PL. The last player I would really liked to have seen Everton take a punt on was 3-4 years ago - appropriately called Everton Ribeiro, who was player of the year for 2 consecutive seasons in 2013-14 when his (and MY Brazilian team - the only Serie A side to wear all blue shirts!) Cruzeiro surprisingly won back to back titles.
United (and Monaco) were said to be sniffing around at the time, but then he ended up playing in the Gulf League for 3 years. Go figure.
Really skillful midfielder who created and scored plenty. Now 28 (so a shot at European football has probably passed him by), he returned to Brazil with Flamengo this year and helped them reach the final of the Copa Sudamericana - the South American equivalent of the Europa League. Indeed, Gremio - another Brazilian side - won the Libertadores, the continent's equivalent of the Champions League, which tells you how strong Brazilian football is compared to other countries in South America.
Gremio of course recently lost the World Club final to Real Madrid. They have one player - Luan - who some commentators in Brazil regard as the best Brazilian player currently playing in Serie A. Not so sure about that, but he does have some ability and scores goals. Just not convinced myself that - at 24 - Luan could make it in Europe.
So intense is European scouting of talent in Brazil that any talent - even quite moderate talent - is mopped up by overseas academies. Indeed, Barcelona has a number of academies in Brazil itself where kids of all ages are schooled in the Barcelona way.
The next 'big thing' out of Brazil (after Gabriel Jesus) is a 17-year-old Vinicius Junior. He is already signed up for Real Madrid for 45 million euros, but likely to stay in Brazil in 2018.
Gabriel Jesus you could see he had 'it'. I just don't see it in Junior.
James Flynn
69
Posted 29/12/2017 at 22:02:47
Regarding Sam's comments about Klaassen and Sandro.
Hoping Sandro is loaned out, so he can his mojo back. He's talented. To be 20-21 years old, doing well, hearing the roars of the crowd, signed by a big Club in England and then... Culture shock, pace-of-play shock, poor manager? All that together, who's surprised he hasn't done well? I'm not.
Could be, like Deulofeu nurtured thru the Barca system, the pace and physicality of English football, is too much for him to handle. Perhaps, unlike Deulofeu, it's not.
Give him another season out on loan to build his confidence back up. We're talking about a 21-year old after all, who's spent his entire footballing life in Catalonia.
I hope we keep him.
Klaassen is a different business.
I watched that final. Mourinho must have watched praying to his God that Ajax won.
A team of kids with Klaassen as the hub around which they rotated, much have been his dream Final scenario.
All he did was have Klaassaen muscled, covered, and pushed for 90 minutes. The attacking life of Ajax was snuffed. Meat and potatoes for Jose.
The Premier League is a talent "Bridge to Far" for Davy. God bless him, but he has to move on to have a career. It's not going to happen in England.
Sandro, though? He's a talent in a strange land. Hope we give a few more months of thought before moving him on.
Lev Vellene
70
Posted 29/12/2017 at 22:08:10
Haha, Jay(s)! Just as well, I think! Evertonians can very easily be paranoid and confused on their own, so removing that one 's' from it all might help us focus our paranoia... ;D
Makes for good, straight squabbles until the next game!
Jay Wood
[BRZ]
71
Posted 29/12/2017 at 22:20:40
Eddie @ 47, Mike @ 67.
Astonishingly, because he seems to have been around for ages, Jo is still only 30.
He has seriously cleaned up his act in recent years. He was a real party animal. Indeed, he was sacked from the Brazilian club Atletico Mineiro for his 'indiscipline' before being shipped out to the Emirates then China.
Other than probably his close family, all of Brazil were astonished when Felipe Scolari regularly selected him ahead of and during the home World Cup in 2014.
Apparently, he has turned to religion and given up his previous 'party animal' life style. That is probably what he was up to when not having the treatment Mike refers to.
I remember the Chelsea game Mike also mentions. It was just before Xmas in his 2nd loan spell with us. For me, it was an out and out simulation that saw him withdrawn to ensure he got Xmas off! He made 2-3 attempts during that game to get subbed out.
My suspicion was confirmed when - yep! - he returned to Brazil for Xmas...AND the New Year... and beyond, way past what Moyes agreed.
Very quickly on his return to Everton, he was sent packing by Moyes back to City.
And sorry to correct you Mike, but nowadays he is nowhere near being selected for the national side again, least of all for the World Cup. The current Brazilian coach Tite is a very serious top class manager.
I expect Brazil to have an excellent World Cup under him in Russia and thereafter Tite is likely to get offers from big European clubs.
Tom Bowers
72
Posted 29/12/2017 at 22:33:21
If Tosun and Nzonzi come in that will be a big part of the need and then they just need a quality left back.

John G Davies
73
Posted 29/12/2017 at 22:35:31
I will separate you both in my mind by adding the prefix Jay Jack boot and Jay Jeremy 😀
Kevin Dyer
74
Posted 29/12/2017 at 22:51:51
I'm amazed that people are excited about Tosun. I'd be shocked if anyone has seen him play, other than some Euro highlights. He's scored goals, in Turkey. Is the Turkish league better than the Championship?
Would anyone be getting excited about us kerplunking £25m on a 26-year-old striker from the Championship? I thought not. If Sandro has found it difficult to adjust to English football, coming from a strong league like Spain, how is Tosun going to find it? Will he get as many as 6 subpar outings before people start calling him "shit" like Sandro? Baffling stuff.
Obviously, if we do sign him then I wish him luck but this is Everton all over. Overpaying on what is basically a punt.
Bjoern Haall
75
Posted 29/12/2017 at 22:54:03
Cenk Tosun – A big yes, good balance, great awareness and scores.
Nzonzi – No, no more central midfielders. He's not better than what we got.
Left-back – Yes, go for Tiernan Kierney. Young, fast and fearless.
Rob Young
76
Posted 29/12/2017 at 22:59:48
Bjoern, who do we have actually have for midfield?
Schneiderlin has been awful; Davies not there yet,; McCarthy never fit; Besic just not happening.
That leaves Geuye for now and Davies for the future. Nzonzi will have no problem getting into that midfield.
Lev Vellene
77
Posted 29/12/2017 at 23:04:56
I'm not sure if I'd like the overblown ego of Nzonzi (as reported...). But if Sam thinks he can get him to work properly as part of a team, then I have no problems with that!
But as Sam said, he's got bigger fish to fry this transfer window! And only if offers for any of our other midfielders are received and accepted, he'd go for Nzonzi this window.
Not really sure what I'm hoping for here. He sounds like a better Schneiderlin, and maybe an overblown ego to divide the players we already have...
Les Martin
78
Posted 29/12/2017 at 23:10:33
I just don't get these "naysayers" about this deal. If we can get a special talent and a goalscorer in for £25m, people will say what a bargain, and if it does not work out then so be it.
Do we really expect to attract a top striker like Neymar for the price of some countries GDP, smarten up and be realistic and have faith!!
Jay Harris
79
Posted 29/12/2017 at 23:18:27
Dzecko, Giroud and Vardy if he could have been attracted were my players to go for but I'm thinking Sam Allardyce is only getting us through to the Summer when the squad will undergo a massive shakeup and the big guns will be available.
Andy Crooks
80
Posted 29/12/2017 at 23:21:55
We have Jay Wood and Jay Woods. They are easy to tell apart. One often talks sense and when he doesn't, the other does. Easy, really.
Neil Wood
81
Posted 29/12/2017 at 23:33:20
Lev @ 61 I'm that bright spark!!
Don Alexander
82
Posted 29/12/2017 at 23:40:50
Les (#78), I suppose I have to include myself as being "a naysayer" but the lad in question is already in his mid-twenties and still in Turkey. I'm pretty confident Besiktas have for years been within the constant scrutiny of every other top club in a top European league and I'm therefore surprised, if he's going to now emerge as a boss striker in the Premier League, which is what we need, that he's not being sought by English clubs other than Crystal Palace and Newcastle, that's all.
As ever though, Everton owners condemn us to having to be eternally optimistic despite the absence of reliable evidence to support it.
Question; is Moshiri naught but another 21st century version of a late 20th century bullshitter, and continuing, such as Kenwright?
And as for Walsh, he knows he's already a millionaire regardless of success in whatever he now does on our behalf and at his age he and those he loves are made for life. Luvverly-jubberly for him.
Eric Paul
83
Posted 29/12/2017 at 00:02:05
Don, how old was Andy Gray when we signed him? Or Suárez when Liverpool signed him.
Here's hoping!!!
Soren Moyer
84
Posted 29/12/2017 at 00:08:37
Most of our midfielders are crap! So I will go along with Nzonzi. With or without apostrophe!
Colin Glassar
85
Posted 29/12/2017 at 00:10:48
Salah (Egypt), Shaquiri (Switzerland), Mikitarian (Armenia) etc just a few players from crap leagues, Kevin D.
James Stewart
86
Posted 30/12/2017 at 00:11:05
@74 I don't see many "Championship" strikers gunning down Monaco in the Champion's League mate.
Jerome Shields
87
Posted 30/12/2017 at 00:12:47
This is a player who needs to be getting the correct ball passed to him in space, which he can run onto, and good crosses into the box. I think that Big Sam's defensive system will leave him isolated.
Kevin Dyer
88
Posted 30/12/2017 at 00:15:00
Don (#82) – exactly what I was suggesting. If he was good, he'd have been on the radar long ago and brought to a strong league at least 3 years ago. Vlasic was being heavily scouted by top clubs when he was 16 and broke into the Hajduk first team, for example.
This fella is more likely to be another Niaisse, but twice as expensive. If we can secure an upgrade (No, Les #78 not Neymar) then go for it, otherwise stick with what we have until the summer and go all out. Calvert-Lewin and Sandro, if given a chance will improve with game time. They both have pedigree.
David Israel
89
Posted 29/12/2017 at 00:17:20
Jay #68, thank you very much for your detailed answer and for correcting my impressions of Brazilian football, of which I seem only to have correctly retained the stud marks bit.
Another aspect of Brazilian football I find odd is the apparent lack of top-class coaches over there. I mean, we see quite a few coming from Argentina, Chile and the like, but not, for some reason, from Brazil. What do you make of this?
Jay Wood
[BRZ]
90
Posted 30/12/2017 at 02:40:17
David @ 89.
Good question about Brazilian coaches, one that deeply concerns the national coach Tite.
He really is an impressive man, with tremendous style, eloquence and no little gravitas. There was a recent piece on the weekly Sunday lunch time sports program in which Tite featured heavily, discussing the standard of Brazil's football coaches.
Brazilian clubs are governed by some very powerful individuals and influential committees who treat their club as little more than a fiefdom. It is not uncommon for a club to change their manager 3-4 times a season, even those riding high in the table.
Tite spoke openly about the absurdity of changing the manager every 3-4 months, whilst also recognizing Brazilian coaches themselves need to study more seriously and be better qualified.
Yes, Brazil runs coaching courses, but they are not even recognized by Conmebol – the South American football federation. They certainly don't meet Uefa standards. Tite wants this to be standardized with global recognition, which in turn will allow Brazilian coaches to take up positions overseas. This will further improve overall standards of Brazilian coaching (and football) as they are exposed to different football cultures.
Encouragingly, there are some new kids on the block who have had impressive seasons with big clubs this season, so there is talent among Brazilian coaches.
Historically, Brazil has also produced some truly great coaches, not least of all the first man to win the World Cup as both a player and then as a manager (of the wonderful 1970 Brazil World Cup winners) Mario Zagallo. He has god-like status in Brazil, not only with the public, but also with his peers, fellow Brazilian coaches, across all generations.
Then there is Carlos Alberto Parreira, Big Fil Scolari (who, even though he won the World Cup, is not hugely popular) and even Dunga.
Watch out and listen to Tite when you get the chance at next year's World Cup. He is a very impressive individual and I'm not talking strictly football here.
Kunal Desai
91
Posted 30/12/2017 at 05:10:30
Can't remember the last time Everton ever beat off good competition for a good player. Kanchelskis?
Nitesh Kanchan
92
Posted 30/12/2017 at 05:50:49
We need to buy both Nzonzi and Tosun. Tosun's link-up play is pretty good from what I have seen so far in Champions League especially with Hutchinson, something which Niasse has failed to do with Calvert-Lewin up front. Tosun is just we need at the moment.
As far as buying from lower leagues or comparing different leagues is concerned, the likes of Ronaldo, Messi and Aguero were also bought from Portuguese and Argentinian leagues. Tosun is somewhat similar to Richarlison, but someone who can finish better.
Also, bring in Nzonzi and ship out Besic and McCarthy or Schneiderlin. Four defensive midfielders are enough in Gana, Davies, Nzonzi and McCarthy or Schneiderlin with no more Europa League games.
Andy Codling
93
Posted 30/12/2017 at 05:58:48
So can anyone clarify are we still a sell to buy club ? I keep reading we are rich!!!!
Ernie Baywood
94
Posted 30/12/2017 at 06:03:43
You would still want to keep the squad size sensible Andy?
Derek Knox
95
Posted 30/12/2017 at 06:23:54
I am still puzzled as to whether this guy is the real deal or not; I have read so many conflicting and contradictory reports; the YouTube videos could make any player look half decent.
Some reports are saying that among his weak points; are poor passing (we don't need another in that department, we have more than enough) and his balance is questionable; by that I presume they mean he falls over a lot (surprise! surprise! we have many in that department too.
Other reports mention the standard of football being the equivalent of Championship or below; many do make the step up admittedly; let's just hope this guy falls into that category.
The one good thing I did pick up on, however; he is apparently a real grafter, and not a "get the ball to my feet and I may score" merchant. I am saying all this, and we may not even get him after all that has gone on.
Mike Gaynes
96
Posted 30/12/2017 at 07:31:03
Jay Wood (#71 and #90),
According to a USA Today article a few weeks ago, Tite does consider Jõ a likely candidate for Brazil's World Cup roster:
https://www.usatoday.com/story/sports/soccer/2017/12/04/jo-leads-brazilian-league-in-scoring-eyes-world-cup-spot/108300458/
And so does Ricardo Rocha: http://www.goal.com/brasilglobaltour/en/news/5457/brasil-global-tour/2017/12/19/41153112/brazil-among-favourites-for-world-cup-riardo-rocha
He wouldn't be a starter in Brazil's current system, but very possibly an impact sub if they're behind and need a scorer in the box.
John Raftery
97
Posted 30/12/2017 at 07:41:26
Like most on this thread, I have no idea how good Cenk will be. It is amusing though to read some criticising the club for chasing a player they see as a gamble while others criticise the club for not having already completed the deal. Let's wait and see before we pass judgement.
Anthony Hawkins
99
Posted 30/12/2017 at 09:39:56
Some people need to get their mindsets to the type of player Everton can attract at this point in time and the amount of work needs to be done with the squad.
The current team is in abysmal shape and needs a major overhaul. The players Big Sam is bringing in this window are arguably short term fixes. Both the team and potential players will know far better in the summer where the team is headed. A team finishing in 6th - 8th Place is going to attract far better players than a club in 8th to 12th place.
Moshiri still has a plan but it's had a major setback and the setup needs to work forward from where it is - not where it wants to be!

Bjoern Haall
100
Posted 30/12/2017 at 10:10:40
Rob (#76),
Maybe you are right. But I feel it's just more of the same. If we are going for a central midfielder I would love us to have a true playmaker that roam around and play brilliant passes.
I don't see Nzonzi doing this. He is a safe passer like the rest. Do we have anyone in the U23 that could develop into something like that? Or might Ross or Dowell be the answer? Or should we spend?
Kevin Dyer
101
Posted 30/12/2017 at 11:08:49
John (#98), I'm just getting my opinion out there in front of the signing. I honestly hope I'm wrong but have major concerns over this deal. If he arrives and bangs them in I'll be delighted to admit to being off base and tip my hat to the scouting team.
Anthony (#99), get your head around this: if he isn't better than what we have (doubtful) can you explain what the purpose is of buying him? Just because we cannot attract top-drawer strikers does not mean we should be spending on 2nd or 3rd rate squad fillers. Better to acquire potential at a young age (Calvert-Lewin, Sandro) and develop them. Some will make it, some won't.
This guy is at his peak, 26 and has not played in a league anyway comparable to ours. Niasse scored plenty in Turkey and Russia and at a similar age. Calvert-Lewin is developing nicely and Sandro needs a consistent run in the team.
David Israel
102
Posted 30/12/2017 at 11:44:42
Andy (#93), let's not forget we are constrained by the Financial Fair Play rules.
As we don't have the commercial revenue of a club like Manchester United, most of our income comes from television rights, and we have to keep a close eye on our spending, also bearing in mind the fact that transfer fees have rocketed.
We closed last year's accounts (ending 30th June) with a £30 m profit, which is a good start.
John G Davies
103
Posted 30/12/2017 at 11:49:10
FFP has failed, it was always going to.
Calculate Man City's spending to income – it shows that plainly.
Jay Wood
[BRZ]
104
Posted 30/12/2017 at 11:52:39
Mike @ 96.
Read again the stories you linked to.
Is Tite directly quoted as being interested in Jo? No.
The first story is Jo himself talking up his chances of making the Brazil World Cup squad. The second is an ex-player speculating on the same, mentioning other players at the same time.
Tite has not selected Jo for Brazil. Period. Even in this 'golden season' he just had with Corinthians. His chances of staking any sort of a claim to make the squad have not improved by his move to Japan for 2018.
Not saying it's terminal. Tite selected and played Paulinho in his starting XI when plying his trade in China before moving to Barcelona, but Tite is very clear in his own mind the type of player he wants. Being emotionally stable and mentally strong is one of them.
David Luis, even when playing very well for Chelsea last season, was not selected for the squad. He has had a couple of token call ups for friendlies, nothing more.
Remember Pato who Chelsea loaned a couple of years ago? He was talked of as the next Kaka and played for both Milan clubs. He ended up back at Corinthians under Tite. See this article, point # 2, what Tite thinks of players like Pato:
Watch the pitiful deciding penalty Pato took in a penalty shoot out that incurred Tite's wrath.
In the year Tite won the title with Corinthians in grand style, Pato was loaned out to another Sao Paulo club. It was astonishing that Chelsea took a punt on him. He is now playing in China.
So no Mike, your earlier claim that Jo is now odds on to make Brazil's World Cup squad is well wide of the mark.
David Israel
105
Posted 30/12/2017 at 11:52:49
Jay (#90), thank you again for a thorough analysis. I've always thought that if the level of Brazilian coaching were at least half of the country's footballers' skills, Brazil would win most World Cups. As it is, they have won only two in the last quarter century...
The 1982 World Cup in Spain comes to mind on this matter of coaching in Brazil. How could such a brilliant team be knocked out in the manner it was, by Italy, even taking account of the fact that Paolo Rossi probably had the game of his life?
David Israel
106
Posted 30/12/2017 at 12:13:23
Kevin (#88), Apparently, Thomas Gravesen and Mikel Arteta were not on the radar, either. The thing is, even the richest clubs can't just sign everything that moves, they have to worry about not having over-extended squads, I dare say.
This is one reason I think the gulf in purchasing power between the top clubs and the rest, important though it is, is somewhat over-played. I know Leicester's title was an aberration, but it still happened.
And with the money now available to every club, although, I agree, that has been somewhat dampened by the rise in transfer fees, pretty much everybody can try and sign very good players. The choice of manager has become even more important than it always was.
David Israel
107
Posted 30/12/2017 at 12:16:26
Kris (#2), they have indeed arrived.
Andy Crooks
108
Posted 30/12/2017 at 13:15:30
I have that feeling of optimism that I had last summer. It is the Everton way. Suddenly, a couple of rumours make everything look better. I envisage the new players fitting in, being bargains, becoming legends.
I did it with Sandro and Klassen. It is one of the pleasures of being an Evertonian. This time next year we will be millionaires. It is always ahead of us but our turn us due.
Tommy Carter
109
Posted 30/12/2017 at 13:53:15
I fear the worst here. Cenk Tosun has scored the same amount or possibly less than Arouna Kone in that league this season.
Arouna Kone
Let that sink in.
Also in recent times Eto'o went over there and scored plenty.
Magaye Gueye has a 1 in 3 record over there
There is more value in the market elsewhere. If we have big ambition, and big money then we must reflect this in our signings. We can't expect to challenge the really top clubs but we can go to the next level, with big money and big wages and convince these players to come. I'm talking the best players in the Spanish, French, German and Italian leagues who aren't playing champions league football.
Pete Clarke
110
Posted 30/12/2017 at 14:09:39
Jay Wood.
Very nice to hear from somebody in Brazil and taking a big interest in the football.
I worked in Sao Paulo and then later stayed in Rio for near on two year a while back. Saw many a game at Morumbi Stadium and one in particular was the campeanato final when Gremio beat Portuguesa 1 nil and a certain 16 year old Ronaldinho was on the bench for Gremio. I always went for Palmeiras but had a soft spot for Timao ( corinthians )
A few years ago under Moyes, we brought a lad in called Rodrigo who was player of the year 3 times for Botofogo but only got on the pitch once I think. A bit of the Gordon Lee / Mckenzie thing there I think but he was a very decent player. I went on to stay in Cabo Frio for some time and met with The legendary Socrates ( he coached Cabofriense ), Romario and Leandro who was part of that great 82 team that should have won the world cup.
I loved watching the footy there and better still I loved watching it on the beach or late at night on the astro turf pitches were every single player has amazing skills. Unfortunately with the shit way our club has been run I have forgotten what good football is like .
Gary Edwards
111
Posted 30/12/2017 at 14:09:49
I don't understand why Walsh traveling to Turkey is newsworthy sure I'm interested to read about a (possible) new striker that Walsh has been sent there to finalise the deal isn't that part of his brief ?
I still remain to be convinced that the club is not being run by the same charlatans and rank amateurs that have been dragging it down for years only difference being the benefactor.
Re: Tosun, I know nothing about him, the Youtube clips . hmm average (Anichebe came to mind) I agree with the sentiments that it's not a signing that screams top 4 ambition.
Re: Brazilians the lad at Shaktar (Bernard ? Taison ?) who constantly ran through Citeh would do for me Bernard is apparently a freebie too.
Ian Horan
112
Posted 30/12/2017 at 14:18:01
Gary @ 111. Anichebe he would fit perfect in a SA team big powerful unit. Where's he playing now . Another Kenwright production the return of another prodigal son.
Gary Edwards
113
Posted 30/12/2017 at 14:30:34
Big Vic on his game is a handful, a bully pity he's only good for 3 to 4 games before his head or his hammie goes.
David Connor
114
Posted 30/12/2017 at 17:55:55
Fuck this joker off today on the strength of his work at the club thus far. We are getting shafted left, right and centre. Paid for traveling all over the world in top notch hotels with first class travel all the way.
What a fucking piss taker this fella is. Take Big Dunc with him as well. Taking the club for a ride big style, the wankers.
Jay Wood
[BRZ]
115
Posted 30/12/2017 at 19:13:50
Peter @ 110.
If you watched a game involving a 16-year-old Ronaldinho that is a helluva lot more than just ' a while back, fellah!'
Happy to stir positive memories for you of your time in Brazil, but dunno how you squared supporting Palmeiras AND having a soft spot for Corinthians. They are HUGE rivals. A bit like saying the same about Everton and the pinkies.
I remember Rodrigo. He came from my wife's team Botafogo. It wasn't that Moyes wouldn't play him. It was more unfortunate than that. He injured himself pre-season - cruciate ligament injury from memory - and returned to Brazil for treatment. As it was a season long loan and he was out all season, we never discovered if he could have hacked it in the PL.
The injury effectively ended his career. He turned out for many a lower division in Brazil, but was never the same again.
You met the legend that is Socrates???!!! Respect!!!
WHAT. A. MAN.
Probably the best footballer in the outstanding 1982 Brazilian side knocked out by eventual winners Italy in the WC in Spain.
A fully qualified doctor. And - most impressive of all - playing for Corinthians he founded and maintained a players' protest movement against the ruling military government. That was very, VERY high risk at the time, because he could have become one of the 'disappeared' for challenging their authority.
That made him a leading light in the Brazilian Democracy movement of the 1980s, something he is remembered for as much as for his football.
I fully understand the sentiment you express Peter, about how you loved watching the footy in Brazil, especially the impromptu games on the beach or indeed any street corner.
I had to laugh, driving through my home city here in Brazil on Christmas Day, when on an extremely busy 4 lane road with lots of traffic, we came upon a group of young adults who had set up a couple of miniature 5-a-side type goals covering a 50 metre stretch, slap bang in the middle of the road way.
Playing about 16 a side, there was no confrontation, no indignation by passing motorists. The cars weaved their way through the action and the players played around the passing cars.
Brazil...LOVE IT!!!
Tommy Carter
116
Posted 30/12/2017 at 20:25:27
113 & 112
Was fortunate to play with Vic as a youth. Originally a Centre MIdfielder who was hailed as the next big thing in that position.
Physical attributes like you wouldn't believe. Could run 100m in 11s. Massively powerful and dynamic. But his engine was poor stamina, he didn't have any stamina.
Added to that, his naturally ability was wanting. His technique was poor and his playmaking ability almost non existent.
Before Everton got shitnof him they tried him up top and his physical attributes got him game time and opportunity. A well placed goal here and there and he was set for contract renewals etc
A truly lucky young man. I don't begrudge him it, because I think he knows it
Pete Clarke
117
Posted 30/12/2017 at 22:56:38
Jay.
Being a foreigner it was hard to choose a team in São Paulo as I was influenced by the Brazilian lads who took us to the games but most of them were Palmeiras fans. The Corinthian fans were mad as hell and really scary in one game when they attacked the barrier we sat behind after Palmeiras went ahead. The noise the made was only second to Flamengo which makes sense as they share the bulk of support in Brazil with Fla.
Dec 96 was the final between Gremio and Portuguesa but Ronaldinho never got on the pitch. Portuguesa were the equivalent of maybe Bournemouth as the club is really small.
I did speak to Rodrigo at Bellefield and he expressed his displeasure at not get a game when he was technically much better than what we had but I suppose the injury put paid to any progress on that front. I would love to have some flair in our team and there's one Brazilian I really like to watch and that's Willian. Very good player and not even a regular starter for Chelsea.
I haven't been back since my now 13 year old boy was babtised in Niteroi 12 years ago but I miss it a lot even given all the madness on the streets.
I was at the game in 2000 when Man U played Vasco at the Maracana and hammered them 3 - 1
Gary Neville had been watching footy down the beach the day before and thought he would try a bit of Brazilian footy when he tried to chest the ball down to Schmeichel ten yards away but it dropped like a lead ballon for Edmund to nip in and score. He then turns to Gary Neville and waves his finger laughing. Comical.
After tonight's game I could do with watching some of those street games in Rio to ease the pain of watching the most dysfunctional football I have ever watched from an Everton team.
Feliz Ano Novo for tonight.
Andy Meighan
118
Posted 30/12/2017 at 23:05:20
David (#105), You're right How could a side as good as that get knocked out by Italy? Well, I'm afraid that's tournament football. Any side can lose on any given day in knock-out football. That's what makes it the game what it is.
But you're right – they were a joy to watch and probably the best side never to have won the World Cup.
Jim Bennings
119
Posted 31/12/2017 at 10:02:23
Another free holiday for Walsh eh?
Derek Knox
120
Posted 31/12/2017 at 10:42:57
Jim @119, that's a bit cynical mate, I have it on good authority, that his wife loves Turkish Delight and Apple Tea.
Not easily come by over here. :-)
Oh by the way, any news on our new potential signing?
Anthony Hawkins
121
Posted 31/12/2017 at 10:51:44
@Kevin #101 - It's highly doubtful anyone we buy can be worse than what we have. I agree though that the club shouldn't be wasting time or money on anyone who doesn't add another level to the team.
Currently the squad is only scoring against very poor teams and that has to change.
What confuses and confounds me is that eachbof the last three managers from Martinez, including Big Sam are trying anything to get a win but they end up playing random players.
Bolasie is not match fit and neither is McCarthy yet both were fielded during the same game. Carrying underperforming players for a whole match is just asking for trouble, especially with other players naturally underperforming.
Chris Neal
122
Posted 31/12/2017 at 12:48:54
Seamus Coleman. From an inferior team and league. Probably one of the best right backs in premier history. Just saying! We can't score so who are we to judge Tosun. Not like we can attract Messi and co.
Matthew Williams
123
Posted 31/12/2017 at 13:17:05
Have we got him yet? ...or is Walsh having a jolly in Turkey!?
Jay Wood
[BRZ]
124
Posted 31/12/2017 at 13:27:59
Peter @ 117.
Like yourself probably on arrival in Brazil and not knowing much about Brazilian club football, I needed a team to support.
My filtering process was simple: who plays in Blue shirts! As you know, many Brazilian teams have some garish shirts with more colours and stripes in them then a stick of Blackpool rock.
The answer to my question was, Cruzeiro of Belo Horizonte in Minas Gerais.Their profile also appealed to me. A club not from big metropolises Rio or Sao Paulo, but an interior state. Produced many a good footballer through its youth ranks down the years, including Tostao of the 1970 WC winning team and 'o fenomeno' himself, Ronaldo. Has a healthy rivalry with their city neighbours, Atletico with Cruzeiro known as the Foxes and the t'other lot as the Cockerels.
They continue to punch above their weight, winning back-to-back Serie A titles 3 years ago and this year winning the Brazilian Cup.
I know what you mean about Brazilian 'torcidas'. They are madly - often violently - intense. You have more courage than me to attend a big 'classico' game!
Dunno if you've ever seen the Brad Pitt film 'World War Z' when zombies overwhelm the global human population. There is a scene when the zombies are attacking the high walled city of Jerusalem and they form human towers, scrambling over themselves to get to the human flesh inside the walls.
I liken Brazlian football fanatics to that scene, trampling over each other to get at opposition fans. Scary. It happened again recently when another of the giant clubs, Flamengo, played the 2nd leg of the Copa Sudamericana final (the continent's equaivalent to the Europa League) in the world famous Maracana stadium in Rio.
There were terrifying scenes of THOUSANDS of fans besieging the stadium on all sides to force entry. It was pure good fortune that a seriously major disaster didn't occur with scores, hundreds of deaths.
I take it you speak Portuguese having chatted to Rodrigo at Bellefield. It must have been really frustrating for the lad.
I remember an excellent piece in one of the newsies that year, a behind the scenes look at how Moyes worked at Everton. Really fascinating stuff. However, there was one insight I didn't like. This was when Rodrigo was back in Brazil getting rehab. The lad went to the trouble to record and send a video to the club, showing the effort he was putting in to get fit. The response from Moyes and his training staff? They laughed at the video as they watched it. Not nice...
With you all the way on Willian. My sort of footballer. Largely ignored by previous national managers, Scolari and Dunga, he was immediately a nailed on pick when the current manager Tite took over. Then last year whilst on international call up one of his parents died and he was allowed compassionate leave. Unfortunately for Willian, Coutinho stepped in and did well and now often starts ahead of Willian.
Have a gud 'un tonight, fellah. Feliz Ano Novo to you and yours too.
Kevin Dyer
125
Posted 31/12/2017 at 14:08:04
Colin (#85) Mikytarian signed from Dortmund I believe, in Germany. Salah was playing in Switzerland when Chelsea signed him iirc and Italy when Liverpool bought him.
The point isn't that he's Turkish, it's that he is playing in the Turkish league and as stated previously, is 26 so can be presumed to be fully developed. No different than us being linked in the summer with that striker playing in Belgium, also a mature player I believe.
Ditto the fella we tried and failed to buy from Portugal who'd flopped at Athletico Madrid.
Kevin Dyer
126
Posted 31/12/2017 at 14:18:03
Nitesh (#92), what are you talking about? Messi was a kid when Barca signed him to their academy. Aguero a teenager when Atletico Madrid signed him. Ditto with Cristiano Ronaldo to Man Utd. I think Richarlison is no more than 20.
Nobody is saying that weaker leagues don't produce brilliant players, just that said players tend to be spotted at a young age; they are not still playing in those leagues at 26, at least halfway through their careers. You unintentionally made my point for me!
John G Davies
127
Posted 31/12/2017 at 14:24:31
Ian Wright was playing non-league football at the age of 23.
Kevin Dyer
128
Posted 31/12/2017 at 15:08:25
Yes, John, I know. And Vardy etc. Sometimes players fall through the youth system cracks, are late developers etc. You could argue Niaisse is similar. I just don't see how this buy is shrewd business, is all.
We're essentially buying him off what? He scores in the Turkish league and in some Champions League games vs Monaco etc. Fine. Why not scout everyone else who's scored against Monaco this season? Or players who man mark Messi out of a game.
Like I said, I hope I'm wrong.
Darren Murphy
129
Posted 31/12/2017 at 16:00:38
Besiktas apparently want £30 million to seal the deal as of an hour ago. Pay it asap and get him in man.
Colin Glassar
130
Posted 31/12/2017 at 16:20:04
Kevin, my point is you can't discard players just because they play in poor leagues. If that's the case then we'd have to limit ourselves to 2-3 leagues, which would certainly weaken our gene pool.
This lad might be rubbish I agree, but everyone has to take a risk with these players at some point.
John G Davies
131
Posted 31/12/2017 at 16:45:30
It's not as if we are a big draw for players from, Spain, Italy, Germany etc.
We are at the back of the queue and may well have to take a chance on players from lesser leagues.
Dave Abrahams
132
Posted 31/12/2017 at 17:04:28
If they want £30M see if they can get it off some other fool club, they are taking the piss and I haven't seen the lad, but you know when some one is at it and trying it on.
Brian Williams
133
Posted 31/12/2017 at 17:07:43
Depends on what, if anything, was previously agreed. If Everton were told £25m would seal the deal and they're now upping the price I too would tell em to go (whatever the Turkish is for fuck) themselves.
Derek Knox
134
Posted 31/12/2017 at 17:11:07
It has been reported, and he has been pictured in a Turkish Restaurant in Muswell Hill; that the signing is almost done.
Which beggars the question; why a Restaurant in Muswell Hill, and not one in Liverpool?
By all accounts, they are trying to hike the price up again, I just hope this guy is worth it!
John G Davies
135
Posted 31/12/2017 at 17:21:11
Derek,
There's only one good one in Liverpool.
The Elif.
It's chocka tonight.
Tom Bowers
136
Posted 31/12/2017 at 17:28:54
What price success?
When RS can pay £75 million for an average central defender then surely Everton can pay £30 million for an average striker.
Let's face it, guys, the transfer market is ridiculous and has been for some years now since big Asian billionaires came on the scene.
Colin Glassar
137
Posted 31/12/2017 at 17:51:16
Derek, was he eating a kebab with chips? I love Turkish food btw.
Ian Horan
138
Posted 31/12/2017 at 18:04:45
30 mill I would go for Welbeck. Even Sturridge. Bentecki or even Carroll at 15 and pay as you play deal. At least they all know about the premier league. Last punt batshuiyi
Colin Glassar
139
Posted 31/12/2017 at 18:06:03
The deal has fallen through, apparently. Tosun was told (by Giroud and his missus) that Everton are not based in London and there's only one (half decent) Turkish restaurant in Liverpool. Who's next on the list?
John G Davies
140
Posted 31/12/2017 at 18:08:37
Ian,
Is that the same Benteke that hasn't scored a home goal this season
Ian Horan
141
Posted 31/12/2017 at 18:14:29
John at 140 he is a decent link up player
Jamie Crowley
142
Posted 31/12/2017 at 18:20:27
If it's "in the wind" does that mean Sam cracked off a fart and the smell engendered an epiphany to sign a Turkish striker?
George Cumiskey
143
Posted 31/12/2017 at 18:21:33
Let's hope Walsh is as successful in Turkey as he was in Italy. Oh wait a minute...!
John G Davies
144
Posted 31/12/2017 at 18:23:26
Goals we need Ian.

Ian Horan
145
Posted 31/12/2017 at 18:25:37
It's an I'll wind that blows, think Walsh maybe advising the government on the BREXIT negotiations
Ian Horan
146
Posted 31/12/2017 at 18:27:20
John I agree we need goals but to get goals we need to get the ball to stick to the target man up in the final third
John G Davies
147
Posted 31/12/2017 at 18:31:35
£30 million is too much for that type of player, Ian.
Mike Dolan
148
Posted 31/12/2017 at 18:32:00
I think some of the comments about Walsh are a bit unfair as nobody really understands the dynamic that existed between Walsh and Koeman when those summer purchases were made. Also I don't remember anyone being over critical back in August and who knows while Klaassen has dropped so far off the radar that he will probably never make it as a blue. Hope though still springs eternal for Ramirez and perhaps the most brutally criticized Coco Martina – well just where would we be if not for his valiant efforts as an out-of-position full back?
We do need a number nine in the worst way and we need one now this Turkish lad will probably not score as many goals as he was in Turkey but he's quick strong and two footed and seems to be able to hold the ball and pass it off and this is something Everton have not had in years. He should make our attack more fluid. Sign him and a two way left back and we are made in the shade.
Derek Knox
149
Posted 31/12/2017 at 18:55:34
Colin @137, it looked like he had just emerged from the toilet, so I presume he'd had a Turkish Delight!
John G Davies, know the Elif in Lark Lane, surely they would have made room for one of their own!
Pete Clarke
150
Posted 01/01/2018 at 02:31:33
We are a joke of a club right now and probably have been for many a year. Even Moyes in his best years did not have the guts to go flat out against a decent opposition especially when it mattered. Big Sam won't even go flat out against a really really poor team in Bournemouth.
I consider Eddie Howe an excellent coach in the way that for him to have kept His team in the Prem whilst still having a go is incredible with the players he has. We have some good players in our squad or at least better than the teams below us and yet we struggle to put two passes together and show an amazing lack of ability to defend simple situations against average teams.
Whether Walsh or whoever can come up with a couple of decent signings is one thing but then getting them to play football outside of a ultra defensive strategy is another thing.
The club has needed a big change for decades and the biggest disappointment in Moshiri coming to the club was Kenwright staying on. It does not give any indication of change as this man alone has been a huge thorn in the progress of Everton Football Club.
Happy New Year to you all.
Dave Abrahams
152
Posted 01/01/2018 at 09:38:19
Walsh must have done some terrific negotiations because according to the comic paper (The Sun) we are getting the Turkish Lad for £7.5 M, I think they mean £27.5M.
Eric Myles
153
Posted 01/01/2018 at 09:49:18
Was it this Turkish club that fcuked us around with signing Yobo??
Ray Roche
154
Posted 01/01/2018 at 09:57:46
Has he gone "TO" Turkey or to sign a Turkey?
James Watts
155
Posted 01/01/2018 at 10:03:01
You give him too much credit Ray. Walsh IS the Turkey.
Tony Abrahams
156
Posted 01/01/2018 at 10:12:13
Jay, and Peter, that was a lovely discussion about Brazil, I was enjoying that!
I remember that 82 World Cup, like it was yesterday, definitely my favourite ever tournament, and remember we were all messin about in school, when this teacher came from nowhere and started shouting at us to get in line, or he would put us all on detention. Nobody took any notice of him, until he started shouting that Brazil, were on the telly at 4 o'clock, and this teacher soon had us all in line!
Don't know much about Tosun, he's scoring in the champions lge, that's good, but although he's gone off the boil a little bit right now, didn't Dembelle, get an hat trick against Barca in last seasons competition?
Ray Roche
157
Posted 01/01/2018 at 11:08:08
James, cruel but accurate...
Ray Roche
158
Posted 01/01/2018 at 11:10:34
Tony, it makes you think when you read that only Brighton are supposedly in for Dembele when half the League are supposed to be looking for a striker. Makes you think that there may be an underlying problem that is not "out there" yet.
Clive Rogers
159
Posted 01/01/2018 at 11:26:35
Pete 150, Kenwright staying on as chairman was the big negative of the Moshiri takeover. He has been much worse than a thorn in the side of progress. He has turned us into a shambles of a small club, a shambles that will take years to correct. He continues to have a negative effect. Look at the Sigurdsson negotiations which he presided over. They took four weeks and EFC were negotiated up from an opening bid of £27M to £45M for an average player. We are struggling to offload Mirallas due to the pay deal Kenwright gave him when he wasn't even in the team under Martinez. If Moshiri is not careful his fortune will disappear with our chairman's bad deals.
Tony Abrahams
161
Posted 01/01/2018 at 11:42:37
He kept the players onside, and they all sing the man's praises in return Clive. Very clever, ask Moyes? he knows how Everton Football Club operates. The most sickening statement, I've honestly ever heard, I've actually got my face scrunched-up, when I think about the cheek of that statement.
Everton before Kenwright, was too big a job for David Moyes, but they were in bed together, and although the transfer pot was never enough, the wages were usually around the mark, were we generally finished in the league, especially when you consider we used to exist to win things, before these two fella's got together?
Ray, maybe you're right, I think there must be something wrong, because this kid looked sensational last year, and the good players who leave Celtic, usually go on to better things
Ray Roche
162
Posted 01/01/2018 at 12:04:47
Tony, I know we were linked with him when he left Fulham but it does seem strange that a player who, until recently, was being lauded as the next Big Thing yet now only Brighton want him.
Regarding your comments re Moyes and Kenwright, it only goes to show what a good job Moyes did when he took over. Many of his players would be a step up considering the dross we have to watch now. Pienaar, Cahill, Arteta, a young Baines and Jags, Coleman...if only we had had a consistent striker, like Yakubu or Jelavic who would do the job for a few seasons instead for a brief period.
George Cumiskey
163
Posted 01/01/2018 at 12:08:03
As I said on another thread I watched Dembele in the old firm derby, and he never got a kick against a poor Rangers side.
For me he's a no no.
Paul Tran
164
Posted 01/01/2018 at 12:23:59
Dembele got injured earlier this season, hasn't been the same since. Talk up here of 'second season syndrome', Celtic being 'sussed out'. I'd say it's more a simple loss of form, which happens with every young player. I think he's got something, a cheeky bid should be in order.
Omer Yilmaz
165
Posted 01/01/2018 at 13:17:22
Guys you should be so happy because you got our best player. You will see Turkish power.

From now on my second team is Everton! 😆😆
Pete Clarke
166
Posted 01/01/2018 at 14:56:02
Back on the subject of being in Brazil. I sent a letter to Everton to see if they could give an old team kit or any kit that I could take to Brazil with me and give to a team or group of players over there but they reckoned they got too many similar requests (tight bastards).
Anyway I went a bought a few shirts myself in town to take with me and hand around over there. While I was there, a mate of mine came over for a few weeks and had managed to get a full team kit from the Dockers Club.
I was in a beautiful small town called Cabo Frio and there was a small shanty town (favela) nearby and we took it there to give to a group of lads who played on the beach every night. The kit was all black (anyone from the Dockers Club remember?) but so were all the lads!
We managed to get a photo of them all with the kit on late one evening and I still have it somewhere but all you can see is a load of eyes and teeth. This is in the days of film by the way so I only realised this once it was developed. Funny as anything but I couldn't even give the photo to the Dockers Club because you couldn't see the kit.
That day I met Socrates I was with a lad who was in the second team that he coached at the time and this lad Introduced me to him. I loved him as a player and knew he was a qualified doctor and so on but there he was sat on the floor with a can of beer in one hand a cigarette in the other talking to his mates. Talk about down to earth or what! RIP legend
Joe Cavanagh
167
Posted 01/01/2018 at 16:26:01
Hi Jay and Peter. Just logged on after a day or two away and saw your posts about Evertonians in Brazil (any other readers, please forgive us hijacking this thread about potential signings).
I've had a long association with Brazil, and have been living in Niteroi for 9 years now. Much as I love watching the Brazilian national team, I just can't get into watching Brazilian domestic football - lots of skill on offer but negated by the cynical and very physical fouls which litter the game. Many Brazilians I know also don't like the domestic game and instead are keen followers of the Premier League and especially the Champions League games.
Where I live, the fans are dominated by followers of Flamengo who, for those unfamiliar with the Brazilian game, are the equivalent of Manchester United with a fanbase well beyond their home territory (largely because of Zico, who played for them, and the fact that they were the best team around the time that football first achieved nationwide TV coverage). And I usually have to explain who Everton are.
One advantage of living in Brazil is that I can typically watch 5 live Premier Leagye games every weekend. However, these days I can't watch Everton live because it's too painful, so I follow the game on the BBC website and maybe watch it later. Living abroad, you realize how the big 4/5/6 have dominated international coverage. God knows how many times I've looked forward to watching, only to discover that the game they've chosen for broadcast is our neighbours.
Let's hope for a better 2018, and an improvement to the point where we become worth watching again !
NSNO. COYB - or "Anda, os Azuis !!"
Pete Clarke
168
Posted 01/01/2018 at 23:26:10
Joe. I also feel a bit guilty too about this thread but typical of Everton to be struggling with the signings of the mentioned players.
My wife's from Niteroi but actually grew up in Itoacoatiara. We had an apartment in Icarai together for a while too so know the place well. My missus was working at Lance, which is a Rio sports journal when I met her and I used to try and read it everyday which helped me to understand Portuguese a little better.
I used to watch the kids play footy on that beach everyday which was in fact more enjoyable than live games and what a view of Rio eh??
Feliz Ano Novo to all blues.
Add Your Comments
In order to post a comment, you need to be logged in as a registered user of the site.
Or Sign up as a ToffeeWeb Member — it's free, takes just a few minutes and will allow you to post your comments on articles and Talking Points submissions across the site.