Tosun happy to finally be settling in England
Saturday, 10 March, 2018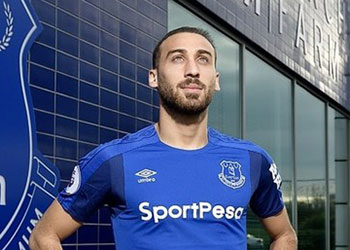 Cenk Tosun was in positive mood in the wake of Everton's 2-0 win over Brighton yesterday as he basked in his second goal since joining from Besiktas.
The Turkish international struck 14 minutes time to double the Blues' lead and effectively put the game beyond the Seagulls a week after opening his account in the 2-1 defeat at Burnley.
Tosun spoke to evertonfc.com after the game to describe the feeling among the camp following the win and how well he feels he is now settling into his new club after a slow start to his Premier League career.
"We played really well today," the striker said. "For 90 minutes we were strong and played better than Brighton. We deserved the win.
"In the first half we played well but didn't score. We missed clear chances but in the second half we were better and scored two goals.
"We always want to win at home and thankfully today we have taken the three points. We have been really good at Goodison but we know we have to be better away. Hopefully that starts at Stoke.
"I scored my first goal for the club last week but I was disappointed to lose the game. This week was better because we won.
"I was worried it was going to hit the crossbar and bounce back out! Thankfully it was wet out there because that has helped the ball go in.
"I feel good physically. I feel like I have settled into England as well and I hope I can keep going like this and keep scoring goals."
---
Reader Comments (22)
Note: the following content is not moderated or vetted by the site owners at the time of submission. Comments are the responsibility of the poster. Disclaimer
Ben Dyke
1
Posted 11/03/2018 at 07:43:44
We're all sorry we have a clown in charge who hasn't played you. You've looked alright to me in the games you've played even when you haven't scored.
Daniel A Johnson
2
Posted 11/03/2018 at 09:23:39
Never really understood the initial criticism of him. Lukaku at times looked isolated and would often go missing with uninspired performances and more often than not he went missing 7/10 times. Tosun's arrived from a new league ands into a new country with new team mates. The team he's been plonked into is a complete shambles but he's always looked up for it and put in a shift.
Now the goals, are coming, he just needed a steady run of games not a strange volley of criticism from the manager that signed him after only being here 5min.
Next season Tosun could well be a beast for us.
Jamie Evans
3
Posted 11/03/2018 at 09:30:48
Congratulations Cenk and welcome (again) to the greatest football club in the world.
Played well yesterday despite needing someone closer to him for long periods. A striker should really only be judged on the goals they score.
Keep up the good work young man.
Karl Meighan
4
Posted 11/03/2018 at 11:16:32
After being left out he's come back in worked hard and bagged a couple of goals, a excellent response from the lad. Good reading of the situation from the management also and lets hope it continues, goals can only help him keep improving.
Minik Hansen
5
Posted 11/03/2018 at 13:09:11
Cenk the tank.
Danny O'Neill
6
Posted 11/03/2018 at 13:49:03
Good player; not just a target man - the lad can play a bit too.
Derek Knox
7
Posted 11/03/2018 at 15:50:02
I can only echo the praises above for Cenk, who could have mentally folded; after a hefty priced move; and then not being played; plus throw in his public slagging off, by Hippo Head.
We have certainly got to start playing positively with Cenk in the team from the start; albeit a bit late, but that elusive Euro place is possible mathematically.
I know a lot of fans think it is more trouble than it is worth; but it may help to attract players in the inevitable shake-up; post Allardyce hopefully!
Colin Glassar
8
Posted 11/03/2018 at 15:55:48
He needs to learn Scouse to really settle down. Maybe Bainsey, Wayne and the other lads could teach him.
Peter Howard
9
Posted 11/03/2018 at 18:35:52
Colin
Don't you mean "learn" him?
Kim Vivian
10
Posted 11/03/2018 at 21:04:26
I've said this before, and I may be way off the mark here, but I believe Oumar may be a big hands on help to these new guys who arrive with all the hype and then get shafted. He has a good attitude and work ethic example to follow,
James Brand
11
Posted 11/03/2018 at 22:17:40
Steady on – it's 2 in 2. Really happy for the lad but let's not get too carried away..!
Comparisons with Lukaku in his early days are slightly wayward. As a central defender the striker has to "occupy" you. Keep you guessing. Out muscle you - outpace you. Lukaku had that in his locker even at a tender age and not prolific in front of goal.
I'm not sure Cenk has brought that presence with him. He's hasn't got blistering pace, isn't hard as nails so central defenders won't mind playing against him. That's possibly the reason he hasn't been getting played.
I hope he comes good but he's got a long way to go before I start thinking it was money well spent. He needs to get fit, add some pace and presence to help the team out when he's not scoring crackers like he did on Saturday. It's the modern way unfortunately...

Andy Williams
12
Posted 11/03/2018 at 22:48:14
James #11. What he has got is very good control, nous, determination and an eye for goal. I am sure (hope) that if there is pace around him that he will flourish
Nicholas Ryan
13
Posted 11/03/2018 at 23:45:28
The purpose of a striker, is to put the ball in the net. Tosun seems ready, willing and able to do so.
Jamie Sweet
14
Posted 11/03/2018 at 23:50:35
I like the look of him overall.
Whether he can develop into our long-term solution to the striker role, only time will tell. But he's got something about him for sure.
There's a reason he was so well loved at Beşiktaş.
Alexander Murphy
15
Posted 12/03/2018 at 01:20:51
I've liked Tosun from the outset.
Just something in his body language I think. OK two-in-two is never going to harm a new player.
Then following his Saturday goal the interplay amongst the players, principally Tosun & Bainsey, gave me far more heart than adding a second goal did alone.
When Tosun got down on his knee and "polished" Bainsey's boot, the look on these two guys' faces was beyond price. Proper mutual respect portrayed as fun. Blokes in "The Royal Blue Jersey" having a right laugh at work relaxed, positive team spirit in evidence there. A real tonic to see.
Massive that our new striker displays professional respect (albeit tongue in cheek) and Bainesy goes along with a great big smile on his face. Bloody Magic.
[ Footnote: Any Turkish Blues able to give us the correct pronunciation phonetically of Cenk Tosun, I'm sincerely hoping that we are all going to need it!]
Sam Hoare
16
Posted 12/03/2018 at 07:18:41
He's seems already to have a real love for the team and his teammates. That pleases me almost as much as the goals.
I'm expecting to see peak Tosun next season hopefully being supplied by Bernard and managed by Fonseca.
Susong Hermawan
17
Posted 12/03/2018 at 09:15:33
Wow! wonderful header and tremendous strike goal, I must say.. a class! just keep on going Cenk..
Simon Bates
18
Posted 12/03/2018 at 11:05:36
I'm not getting carried away just yet, however the No 9 shirt should be his, full stop. His presence, movement and hold up play already puts Lukaku to shame.
Add to that his desire and experience, his ability to work with others and the quality of his goals, both took amazing speed of thought or strikers instinct, and I think we have a serious striker at last.
This guy's only going to get better.
Gaute Lie
19
Posted 12/03/2018 at 21:47:26
A smart player who doesn't rely (just) on speed – I prefer that to speed anytime.
I believe he's better in or around the 16-m distance to keeper than most faster players.

John M Boon
21
Posted 13/03/2018 at 11:08:27
It is never easy to settle into a new city and a completely different environment. He is starting to feel accepted after what must have been a difficult start. Feeling wanted is so important.
I would like to see him play a game along side another patient player, Niasse. He may not have the instinctive skills of Tosun but his speed may provide for a fearsome twosome. Just a thought?
Jerome Shields
22
Posted 13/03/2018 at 13:10:14
Another Evertonfc.com moment. Score two away from home and we will believe you.
Brian Murray
23
Posted 13/03/2018 at 13:59:29
Tosun's pace is deceptive; he's slower than he looks... [Sorry – an old Tommy Docherty joke.]
Can you see him or even one of them up in a last 8 in the Champions League with maybe the exception of Sigurdsson, Pickford and Coleman? That's the new yardstick we are aiming for when Bill and Bob go. Looks like one half of kitbag capers is on way now. New efc new belief new acting like pros.
Add Your Comments
In order to post a comment, you need to be logged in as a registered user of the site.
Or Sign up as a ToffeeWeb Member — it's free, takes just a few minutes and will allow you to post your comments on articles and Talking Points submissions across the site.