Squad assessment is top priority for Silva and Brands
Monday, 4 June, 2018
Marco Silva and Marcel Brands say that certain needs have been identified as far as incoming transfers are concerned but they will be taking stock of Everton's squad and the Finch Farm Academy as a first order of business.
The duo addressed the media for the first time together at the club's training complex in Halewood where they were asked about possible transfer targets, in particular a couple at their respective prior clubs in the form of Watford's Richarlison and PSV Eindhoven's Hirving Lozano.
Both have been the subject of speculation suggesting they might be high on Everton's shopping list but neither Brands nor Silva would be drawn on specific names.
Instead, both men talked of the need to fully assess Everton's current squad, one that Brands openly admits is too big, before they gather with their scouts to decide on what their first moves should be. They implied that rather than a wholesale overhaul of the team, they would be looking at targeted acquisitions to fill key roles.
"The process has already started and in the next few days will come names and names and names," Silva said.
"We know what we want for our team but the first thing we will do for sure is look inside and analyse what we have [here already] because that's really important for us and after that we'll be assertive and find the right targets for us.
"I have big names, [on my list]" he smiled, brushing off a light-hearted attempt by Sky's Vinny O'Connor to bait him with the name of Richarlison during the presser. "The list is not so big because what we have in our hands is important to the respect of our squad and players.
"Of course, we'll do everything we can to improve [the current squad], to put more competition between them here because that's something that I like to see every day — to keep competition between our players [so they know that someone else] can take their position in the starting XI.
"But again we'll analyse everything in our squad and among our young players and then make our decisions."
Brands acknowledged the challenges posed by an abbreviated transfer window and the distraction of the World Cup but backed his new manager up, explaining that he and Silva will assess the crop of players they have inherited and also conduct the search for new personnel together as a partnership.
In light of the recruitment challenges experienced under their predecessors, Ronald Koeman and Steve Walsh, the Dutchman was asked specifically about how he will work with Silva on the issue of buying and selling players.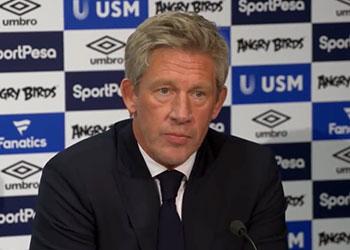 "There is no sense in my trying to get a player for Everton and the coach is not willing [to sign] that player because he is going to choose the starting XI and that's not my job," Brands replied.
"I've worked with a lot of good coaches — with Louis van Gaal, with Ronald Koeman, with Phillip Cocu — and I never had one player that we didn't both agree on.
"As the manager just said, the most important thing is to look at our own squad. You did a lot of homework but then you also know that we have 38 players.
"Of course, we think there are maybe a few positions where we'll look for targets and we'll sit together in the next few days and look at what positions we need with our scouts and [decide] what we think is best for Everton.
"We have a shorter time than normal — the transfer market will close earlier and we have the World Cup — so it will be a very busy time. When I started on Friday, I was calling all day, agents were calling about new players but also about our players.
"So I think the most important thing now is to sit down with Marco and the rest of the staff and produce our own plans and then, step by step, so that everything that has to be done by the beginning of August has been done, but it will be difficult.
"The squad is too big — that is clear. It's difficult for a coach to work with so we have to change that. We also have to fill in a few targets that we think we need."
Rooney's decision to make
The issue of Wayne Rooney's future was inevitably raised during the press conference and both Brands and Silva said they would speak with the veteran but that ultimately it was up to the player to decide whether he wants to make his proposed move to MLS club DC United.
"Yes, there is a possibility that he will leave," Brands said. "He has spoken with Washington, that is not a secret. Of course, we will talk with him and if it's move he wants to make as the next step in his career like a lot of big, big players have to go to MLS then I can only hope that he will return when he's finished there because I think that he is still a legend in this club."
"Before I arrived, [his dealing with Washington] was something that was already … started ," Silva said. "We'll see in the next few days.
"Of course, we will talk with Wayne Rooney because he is a club legend and we need to understand everything. Like Marcel said, the door is always open for him.
"We will talk with him, we will see what's happened to this moment and it's Wayne's decision."
---
Reader Comments (75)
Note: the following content is not moderated or vetted by the site owners at the time of submission. Comments are the responsibility of the poster. Disclaimer
Steve Ferns
1
Posted 04/06/2018 at 17:48:35
I hope that the squad assessment began long ago and that Silva has been watching a lot of tape. Today, they should have been comparing notes really. I would concede that no amount of watching tape proeares you for the reality of seeing a player in the flesh.
Dermot Byrne
2
Posted 04/06/2018 at 18:20:59
Hardly going to tell the world what their plans are.
Brian Ronson
3
Posted 04/06/2018 at 18:21:21
Very polished performance by both of them. Would be foolish to reveal what they intend to do at this point. It is Rooney's decision whether he stays or goes as he has a contract for further year. Only thing I would challenge is Marco calling Rooney a club "legend". To my mind, a "legend" commits the best part of his career to the Club – which Rooney never did.
Jerome Shields
4
Posted 04/06/2018 at 18:21:21
Brands and Silva have been watching Everton for some time. I think any assessment would be as confirmation of weaknesses they have identified. They are being very diplomatic. They don't want Rooney. Probably they are comparing lists of potential players.
I was impressed with the press conference and how they conducted themselves. They seem to know what they are about. So different than three previous Incumbents.
Paul Kossoff
5
Posted 04/06/2018 at 18:27:59
Same old bullshit. Has Billy already told them who they can and can't get rid of? This squad has got away with murder for over three years, and they will do fuck all again if given the chance!
We all know who needs replacing and what the squad needs; they fuck up and I'm afraid that we won't beat the drop again.
Silva needs to be ruthless, he doesn't know any of the players so doesn't owe any loyalty to them. The squad we start the season with will tell us what we will achieve.
Derek Knox
6
Posted 04/06/2018 at 18:28:44
I feel the assessment of the over-bloated squad, will be quite easy, the difficult part will be moving them on, and subsequently reducing the wage bill.
The likes of Bolasie, who we massively overpaid for, will be a major problem, what with his age and limited skill on a regular basis.
Not exactly a player that will have Clubs beating the door down to take him off us, even at a reduced fee.
I don't think it's all doom and gloom, as we do have some decent players and with proper coaching, we may even be surprised by the regime. Or am I just being over-optimistic?
The defence is a must sort out, before any forwards.
Lev Vellene
7
Posted 04/06/2018 at 18:35:00
If Silva hasn't spent the time since January watching Everton games, I'll be surprised, as he never seemed to go for other options as a manager. And if he did watch those games, I should think he'd very familiar with the players we've used since then.
Now it remains for him to see how they all work within the squad in training, and to see who were possibly used in a wrong position to suit their strength, if that was so.
Hmm, and then those overpaid, under-performing bastards probably want a holiday, just to complicate matters... Ack!!! ;D
Paul Birmingham
8
Posted 04/06/2018 at 18:37:43
A sense of reality at Goodison Park and Finch Farm. Garage firewood sale of the summer.
The issue is many players in the Move Out, Move On category, we'll struggle to give away...
These two it seems, have a strategy – more than the last few regimes had.
Jeff Armstrong
9
Posted 04/06/2018 at 18:37:51
Pity Silva didn't join us as soon as we hit 40 points, he could've been assessing the squad over the last 6 or 7 games of the season,instead of the toxic atmosphere and crap football Sam Allardyce created.
Paul Kossoff
10
Posted 04/06/2018 at 18:39:05
Lev,
"Hmm, and then those overpaid, under-performing bastards probably want a holiday, just to complicate matters... Ack!!! "
T'was ever thus! 😥
Ian Burns
11
Posted 04/06/2018 at 18:39:08
As I said on another thread, they looked a little cautious/nervous but, nevertheless, it was a good start. Marco looked the more comfortable but they both said the right things and avoided the wrong answers, other than the Rooney question. Describing him as a legend was in my view OTT. He might be at OT but in my opinion, not here.
There is something about Marco Silva which makes me think he could be just the manager we have been seeking for so long (or is that just a large dose of hope I am suffering from?).
Get out the bucket and spade; pour a few gins then we will be playing Watford first game of the season before we know it. Oh, and England will have won the World Cup.
Tony Everan
12
Posted 04/06/2018 at 18:42:52
The assessment will be largely done. They will know who can go and they will have targets to strategically strengthen.
But that's not the kind of information they are likely to divulge.
It's a 'watch this space' situation.
Lev Vellene
13
Posted 04/06/2018 at 18:44:36
Ian (#11),
As a non-English speaker by birth, I'd excuse Brands for any nervousness. Silva knows how to do it by now, even if it's broken English, but Brands might very well be worried about sounding all wrong if he chooses the wrong words.
Not that he'll learn much proper Queen's English at Merseyside, but you know what I mean! :D
Derek Knox
14
Posted 04/06/2018 at 18:49:02
Tony Everan, I wonder if they have checked on Tynan? :-))
David Williams
15
Posted 04/06/2018 at 18:56:18
Paul Kossoff.
Absolute nail on the head. Let's hope Billy Bollocks keeps his opinions to himself and lets the real football astute men deal with the ins and outs over the coming months. No room for sentiment in business; unless you want your pants pulled down, eh Bill.
Ian Burns
16
Posted 04/06/2018 at 18:59:59
Lev (#13),
Yes that's a good point and probably why he seemed a little hesitant. Can you imagine how he will sound in one year working at Finch Farm or discussing Rooney's future!
Lenny Kingman
17
Posted 04/06/2018 at 19:04:27
Silva has more "of course"s than even Sven Ericsson. The new "phenomenal"!
Mr Bill and Mr Fahad, most amusing.
Could be a good partnership. I hope so.
Paul Kossoff
18
Posted 04/06/2018 at 19:14:32
David (#15), let's hope Uncle Bollocks has gone before season's start; that will be a new start for us. I'm sure if he stays in any capacity, his influence will still affect the club.
Has Usmanov's yacht arrived in the royal blue Mersey yet?
Geoff Lambert
19
Posted 04/06/2018 at 19:29:26
I like the "small list of big players" part.
Tony Everan
20
Posted 04/06/2018 at 20:28:44
Derek (#14),
They think a lot of young Tynan Weah up at Newcastle.
His arl man George and Rafa are saying he's the next Paul Gascoigne.
Mal van Schaick
21
Posted 04/06/2018 at 20:30:38
If the board sack Allardyce on the basis of poor performance, even though he got the results to obtain a decent league position, then the board know that it was a combination of poor player performance and weak management. The board have determined that Silva and Brands will fix the weak management style, so that leaves poor player performance.
The fans know who the poor player performers are, so Silva and Brands should quickly analyse last season's games and get rid of the poor performers. When this is done and replacements are brought in, there will be no excuses for the board or the management, for next season.
Let's hope they get it right this time, or will the blame game begin again?
Here's hoping it turns out better this time around.
Kase Chow
22
Posted 04/06/2018 at 20:38:26
Paul (#5),
Why same old BS?
What on earth could they had said in the 5 mins they've been here that could have led you to that conclusion??
I really feel that some people on here (and on this occasion, you) revel in negativity and misery.
It's a new start, let's give them a chance!!!
Brian Williams
23
Posted 04/06/2018 at 20:40:53
Well, if there's any truth in the leaked opening day fixtures, he couldn't have a more difficult start. Just our fucking luck!
Amit Vithlani
24
Posted 04/06/2018 at 20:41:30
He has big names on his list? I hope Jan Vennegor of Hesselink is not one of them...
Lev Vellene
25
Posted 04/06/2018 at 20:43:52
Mal (#21),
I don't think the Board ever said they sacked Allardyce for poor performance, the points speak against that anyway! It was the near-total rejection of Allardyce's way of playing by the fans that forced their hand, willingly or unwillingly!
Most fans blame the players as a whole almost equally, since they as a team failed to perform well under 3 different managers, but we all hope Silva & Brands will prune the deadwood that they best can recognize when in place.
And if some previously rotten/dead branch might unexpectedly prosper within a new setup, then I'll slowly get behind that decision... :D
Liam Reilly
26
Posted 04/06/2018 at 20:46:15
Don't understand the Rooney 'Legend' comments but, other than that, they seem to be on the same page and have a plan.
Trimming that squad of deadwood, however, will be no mean feat.
Mike Gaynes
27
Posted 04/06/2018 at 21:00:34
Paul Kossof, it's a new day. Try to muster a bit of optimism and let the past be past.
Pat Kelly
28
Posted 04/06/2018 at 21:01:29
So they have to assess the squad. Imagine having to look at recordings of our past season's games. Not for the faint-hearted.
John Roberts
29
Posted 04/06/2018 at 21:08:18
I'm pretty confident Silva knew he had the job in January so already has his ideas in place and who he wants in and out.
Joe McMahon
30
Posted 04/06/2018 at 21:08:57
Liam (#26), with you on that one, it was at Old Trafford where he performed and achieved much, but he has been going downhill for the last 3 years. Man Utd were laughing their socks off when Everton came calling.
The whole 'legend' tag with Everton players has been ongoing for years... really, how many have we had in the past 40 years? I can think of Dave Watson, Big Nev and one or two others from that era. Certainly not Duncan Ferguson.
Brent Stephens
31
Posted 04/06/2018 at 21:09:41
Paul (#5), "Same old bullshit".
What specifically was bullshit? What do you disagree with? What have they done wrong already?
Steve Ferns
32
Posted 04/06/2018 at 21:16:11
I bet Mr Bill, the fans representative on the board, told Marco and Marcel about how much the fans love Rooney and that the fans think he's a legend and if they say that a few times in the presser then they'll be off to a great start.
Kunal Desai
33
Posted 04/06/2018 at 21:17:07
Impressed by John Travolta and Richard Gere combo.
Joe McMahon
34
Posted 04/06/2018 at 21:17:35
Paul (#5) – you are gonna have to be patient, we can only sell the players many of us want to leave if someone else actually wants them. You say "Silva needs to be ruthless" but he can't charge in like a Bull in a china shop. I have hope here (yes, we have been there before) but the whole set-up is looking a bit more professional (at last).
Lev Vellene
35
Posted 04/06/2018 at 21:27:32
Liam #26,
I recognize that view! I've followed EFC since the mid-70s, and I was really chuffed with the then-unknown 15-year-old Wayne Rooney being deliberately brought in as a young teen, and I thoroughly enjoyed his break-through later!
Initially, I almost believed there was substance to the rumors about Moyes telling stuff to the media, but it quickly became clear it was his agent who was muddying the waters to get lots of money from his young, naive asset after his good performance that summer...
He loved the fame and the cash well beyond the point where he could truly have helped Everton as a player! So I won't really miss him if he goes to the US!
He's a Manchester United Legend, and an Everton dream of what could have been only! Not an Everton Legend!
David Williams
36
Posted 04/06/2018 at 21:39:10
Wayne Rooney – Everton legend? Not for me.
Could have been a Blue God but chose to be a Red Devil.
William Gall
37
Posted 04/06/2018 at 21:41:23
Well, they started off being positive on what they want for the club and supporters, and this is understandable. As supporters, we are aware of who we believe is the deadwood in the squad and who should be let go. Mr Silva and Mr Brands laid out their plans that included evaluating the present squad and will work from there.
The problem I see is with such a short window, selling the deadwood for a reasonable price will be difficult and bringing in new players who will have elevated prices will be just as hard.
So, apart from bringing on young players and loan players back, I don't believe we will see more than 2 or 3 new players brought in. Buying and selling players is not easy and I don't believe that the new Manager and Director want to make the same mistakes as previous managers.
Tom Bowers
38
Posted 04/06/2018 at 21:45:44
Rooney may indeed change his mind now that Silva is in charge but he would only have a bit part which he won't want to do at his age.
The squad needs a total overhaul and the quicker Silva makes his assessments the better.
The trouble may be if he waits until after the World Cup – then any players involved may cost a good deal more and be more sought after by the usual suspects at the top.
After the last World Cup, Everton arguably got stung by the Besic deal and Barkley's career stagnated.
Paul Tran
39
Posted 04/06/2018 at 21:49:38
Nothing exciting here, just two professional-looking men telling us the obvious. If nothing else, it showed the deficiencies of their predecessors.
I suspect more will go out than come in and there'll be some surprises.
I'm getting the impression there's been some thought put in to all of this, which makes a pleasant change.
John Malone
40
Posted 04/06/2018 at 21:56:54
Am I getting sucked in by the natural optimism brought by new beginnings or does this new outfit of Brands and Silva feel like the real deal to anyone else??
The word 'professional' is sticking out to me like businessmen at work.
Let the revolution begin!
John Boon
41
Posted 04/06/2018 at 22:03:11
I agree with Kase (#22). Negativity destroys the soul and leads to a difficult time dealing with new beginnings. We did have a horrendous season 2017-18 but, as Evertonians, you will have a far more enjoyable summer with a positive outlook.
Why worry about a season that hasn't even started? Keep believing that next season will be great. I personally already feel better just saying that.
Joe McCormick
42
Posted 04/06/2018 at 22:09:59
I seem to remember Koeman's first picture was on a bar on holiday. At least these two look ready for the moving hand. All we ask is for a team who have a go and appear to give a shit.
Colin Malone
43
Posted 04/06/2018 at 22:53:37
The footballing structure of the club is going to change under Brands with a more continental approach, from the academy upwards.

I cannot see a future at Everton for Unsworth, Ebbrell, Jeffers and Co.
Tom Bowers
44
Posted 04/06/2018 at 22:56:11
One thing we Evertonians must have learnt by now is to be cautiously optimistic. New kids on the block can use the broom to sweep clean and we all know a lot has to be done for this club to become contenders again.
Moyes was given ample time but very little money so Martinez replaced him and was looked upon as a failure before he started although the team played some good stuff for quite a while.
Koeman looked like the man with decent credentials but soon showed many frailties and now we are here with Silva, a man who was preferred before the Wrigleys-chewer came along to be the stop-gap.
Silva should be given some time to whip this crowd into shape (those players he keeps) along with any new guys he has enough cash available to bring in but there has to be some improvement visible over the first month or two of the new season in order to get us all onside.
Iain Love
45
Posted 04/06/2018 at 23:18:09
If I were a player at the World Cup, I would not sign for anyone until after the competition as I might get more offers and more money. So I wouldn't expect us to be signing any of them till afterwards .

As for outgoings, I'm positive Silva & Brands (and us) have a list already and are just waiting for the right offers.

We as fans can only judge Silva & Brands on who they buy and how the team plays. The latter we will have to wait until the season starts.

Last season, I was happy with Pickford and Keane, hopeful on Sandro, excited by Sigurdsson and disappointed with Rooney and Klaassen. All I want this preseason is to be happy with who we buy.

Kieran Kinsella
46
Posted 04/06/2018 at 23:30:33
Koeman made quick decisions on Niasse and Garbutt being sub-par but, two years łater, they are both still here. We lucked out when Moyes took Gibson, Oviedo and McGeady. This time, it might be harder to shift some of our big earners.
Mal van Schaick
47
Posted 04/06/2018 at 23:33:08
@Lev 25. I agree that It was performances of the players, and the management of that type of performance, that turned the fans against Allardyce. The board recognised this and sacked Allardyce because of this.
How many chances do the 'deadwood' get before they're shown the door? We have relatively short time to turn things around before next season, and time is of the essence. The 'deadwood' has be set adrift.
Some have had their chance and blown it. Some others have not been given a fair crack at it, and should be given their chance under new management.

Kieran Kinsella
48
Posted 04/06/2018 at 23:33:59
Colin (#43),
I disagree on Unsie. He has done well with the U23. Plus he seems like a bit of a Yes Man as he seemed to happily follow Martinez, Koeman and Allardyce.
Alasdair Mackay
49
Posted 05/06/2018 at 00:38:30
The squad assessment will depend hugely on what formation he wants to play.
Traditionally, Silva has preferred to start with 4 at the back, but with the option to switch to a 3. That means you need 6 centre backs – immediately this becomes a bigger problem area than we might have thought. Jagielka and Williams are not long for the end of the road at Everton. Keane lacks pace (he could probably play at the centre of a 3) and Funes Mori appears to have 1 foot out of the door. Pennington has had a disappointing season at Leeds, so we can't expect a meteoric rise out of him. There is Lewis Gibson, but he would be looking at sporadic first-team involvement at best for the next couple of seasons.
Realistically, then we need at least 2 centre-backs as well as the more obvious requirements of left-back and centre-forward. We also need a back-up keeper.
Despite all this, I am hearing Carvalho (defensive midfielder), Lozano (winger) and Shaqiri (winger). They are both good players, but the midfield is over-saturated and Lookman couldn't get near the team at winger. I am worried that we have started a rotating door of midfielders and are not focused enough attention on a solid base.
Mawson, Kozra, Shaw. These are the names I want to hear.
Alan J Thompson
50
Posted 05/06/2018 at 05:54:46
Iain (#45); I would think a lot of this work will be done with Agents and, when they have played clubs off against each other, will advise their clients of the most favourable offers presumably to the player rather than the commission.
Alasdair(#49); You don't see a role for Holgate?
David Hallwood
51
Posted 05/06/2018 at 10:44:38
Okay, Rooney isn't an Everton legend, but c'mon people he's an England great-even though you've got to say it through gritted teeth.
Agree with the general consensus that there should be more going out than in. My pick for the exit door would be: Robles (he's going anyway), Martina, Williams, Besic, Schneiderlin, Mirallas, Bolasie, Sandro, possibly Gana.
Incomings would be a left-back, left-sided centre-back, and a box-to-box midfield Dembele-esque would be nice. We don't want to see the influx of players like last season and watch them play like strangers.
Interesting times ahead.
Sam Hoare
52
Posted 05/06/2018 at 13:27:21
Lascelles £30m
Tierney £20m
Torreira £22m
Lozano £30m
That's around £100m on 4 players who would all go straight into first team. All are pacy, energetic individuals with their best years ahead of them but all had great seasons last year and played a lot of games.
Not being a fan of Michael Keane I'd like to see the following lineup tried:
Pickford
Coleman Holgate Lascelles Tierney
Gueye Torreira
Siggurdsson
Walcott Tosun Lozano
Bench: Stekelenburg, Keane, Baines, Davies, Baningime, Lookman, Niasse.
Steve Ferns
53
Posted 05/06/2018 at 13:32:33
I would love that to happen Sam, sadly, I don't think it'll happen. Moshiri has hired a man who can work with what he has. Listen to the what Brands and Silva are saying, they're hinting there will be few players coming in. Allardyce kept saying similar as well. However, They have to sign a left back for me. It would be ridiculous not to.
Martin Berry
54
Posted 05/06/2018 at 13:57:30
I would expect Marco to try and find major talent for three positions initially: A left-footed centre-half, a talented wide man to play opposite Walcott, and a ball winning midfielder who can drive the team forward.
I think he will not replace Baines this season and may well stick with the forwards we already have.
With previously working with Niasse, who he may continue to favour, additionally Tosun is going to be a top top striker and much admired; when he gets the right service, he will bang in a load.
He will also look to bring on and developing Calvert-Lewin, Vlasic, Beningime and Lookman, who I think have great talent.
Sam Hoare
55
Posted 05/06/2018 at 14:45:30
Steve, you may be right though interviews often serve as poor predictors of transfer activity.
It also depends on how you define 'few players'? Last year we brought in 6 first team players in the Summer window not including Onyekuru. Perhaps 4 is not that many for a new manager and a team that underperformed last year.
Of course it will depend on what opportunities arise and what interest and bids come about for our players but I would be surprised if we don't add 3-4 first team players with 5-7 heading out.
Stephen Bird
56
Posted 05/06/2018 at 15:37:30
John (#29),
This is the point that feeds my optimism, surely Silva is already 6 months into the job mentally, he doesn't need the bedding in time to assess and appraise the current staff.
He needs to crack on and develop his already established personnel plans,good luck with it.
Paul Kossoff
57
Posted 05/06/2018 at 15:50:03
Kase, 22 (Jimmy?) "really feel that some people on here (and on this occasion, you) revel in negativity and misery."
There's always one on here that insist that anyone who they don't agree with has no right to free opinion, in this "Kase", YOU!
I've had a fair share of misery in my life without a miserable get like you saying I revel in it, how dare you!
You are awarded ponce of the week!
Brent Stephens
58
Posted 05/06/2018 at 15:55:43
Paul, I don't think Kase was looking to deny your right to give your opinion. He just disagreed with it??
"You are awarded ponce of the week!" Nice of you to forfeit the accolade for one week!
Terry White
59
Posted 05/06/2018 at 16:00:16
Kieran (#48), I don't see that Unsie has had much choice but to be a "yes man" if he wants to keep his job at Everton Football Club. He does appear to have quick on the ball in making himself known to Brands, however.
Paul Kossoff
60
Posted 05/06/2018 at 16:02:36
Brent (#5), he said I revelled in misery, he has no right to say that he doesn't know me and neither do you! I've just passed the ponce of the week award on to you, feel free to give it back to Kase!
Brent Stephens
61
Posted 05/06/2018 at 16:08:35
Thanks, Paul. I feel so humbled!
Brian Harrison
62
Posted 05/06/2018 at 16:11:16
I think there is no doubt that the board or Moshiri or both have decided that our squad is top heavy and needs trimming. Looks like Rooney is off to pastures new, and I am sure he will only be the first of many.
The problem we have is you cant have a massive overall of the playing staff every couple of years and expect to progress. Maybe 3 players in and maybe 5 out.
There is still murmurings of Lookman joining Leipzig. I can well understand why he would be pushing for this move. Our previous manager made it abundantly clear despite the protests from the fans he didn't fancy him, so maybe the lad thinks bollocks to you Everton you didn't want me now I want away. And who wouldn't feel that way given the circumstances. I just hope that Silva can show him he has a big future at Everton and he would never have loaned him out.
Also, the press are reporting that Besiktas are interested in a loan deal for Klassen. My advice would be permanent transfers only, look what's happened with Mirallas sent back home to serve the rest of his 3 years sitting in the stands.
Also remember when Yobo went on loan to Turkey everything agreed after the loan Galatasary would pay Everton x amount. Then, when the loan spell finished, they only wanted to pay half what was originally agreed, there was a settlement but they knew they could hassle as Everton wanted him off the books. So please no loan deals.
Tony Marsh
63
Posted 05/06/2018 at 16:19:16
I don't understand all this clamour for Lookman to come back. If the German club offer top money, take it and move on. Lookman scored on his debut against Man City when City had an off day and made one run of note in the game at Liverpool. That's basically it for Lookman's resume at this club. The rest of the time, Adamola looked lost.
Sell all the deadwood or players who don't want to be at this club. Move on the younger lads who are not top 6 quality. Stop buying slow players or players aged over 25. No more ex-charity cases returning for a pension fund. No Ross Barkley's of this world.
If we Stick to this formula, we won't go far wrong when building or dismantling a squad.
Brian Williams
64
Posted 05/06/2018 at 16:21:46
Haven't heard the word "ponce" used in about thirty years.
What is a ponce these days?
Gareth Clark
65
Posted 05/06/2018 at 16:28:26
Martin (#54),
I don't see the need for the huge issue made of a left-sided centre-back. In this day & age, every centre-back should be more than capable with both feet.
Lascelles would be my first incoming and Mawson would be next– if Funes Mori leaves. Both have played in back 3s across all three positions. Plus I think, if needed, Baines could easily slot into the left centre-back of a back three. He has great defensive ability, vision and wouldn't surprise me if he thrived there – by reducing his attacking responsibilities and the need to get up and down the pitch.
Alan J Thompson
66
Posted 05/06/2018 at 16:30:48
Leipzig wouldn't have a decent left back or central defender, would they?
Gareth Clark
67
Posted 05/06/2018 at 16:38:48
Sam #54 -
I agree with a lot of those incomings.
Lascelles (CB)
Thomas Delaney (CM)
Bertrand (LB)
Would be my first three through the door.
All would go straight into the starting line up - with Bertrand rotating with Baines perfectly, while maintaining stability.
The next two signings would depend on out goings:
If we get rid of the likes of Sandro and possibly Bolasie & Onyekuru (on loan or due to lack of work permit). And then Williams, Funes Mori too.
Lozano (preferable Zaha if we could get him) (Wing)
Mawson
Furthermore - If Schneiderlin goes, we'll have to replace his sitting central defensive mid role.
My starting team would be:
Pickford
Coleman(c) Keane Lascelles Bertrand
Delaney Gueye
Walcott Sigurdsson Lozano
Tosun
Stekelenburg, Mawson, Baines, Davies, Klaassen, Lookman, Calvert-Lewin
With Kenny, Holgate, Jagielka, Schneiderlin, Baningime, Vlasic & Niasse providing strong competition.
(Niasse especially is a great squad asset - such an impact off the bench & when called upon.)
This is a perfect size squad with enough competition, but not too much. Plus any changes to the team will ensure stability & not create instability.
Kieran Kinsella
68
Posted 05/06/2018 at 16:56:56
I hope Shakiri and Arnautovic rumors are rubbish. Both in the Mirallas mold. Arn has three mediocre years at Stoke then scores 11 goals for West Ham and suddenly at 29 he is worth £50 million.
Jack Convery
69
Posted 05/06/2018 at 21:42:50
Top Brands only, please, and Quick Silva – get on with it. (Sorry, It's been a long 10 months!)
By the way, is anyone else not arsed about the World Cup or is it just me!
I like Jordan Ayew – not sure where he would fit in though.
Lookman must stay. If Silva is the coach Moshiri believes him to be, then he will get Lookman playing as we all he hope he can. Salah will become Salah Who?
James Marshall
70
Posted 05/06/2018 at 23:18:39
None of this is news - some online sources are saying "this will come as a shock to Everton fans" in respect of us selling up to 12 players.
The papers are written by fuckwits, for fuckwits. I'll wager there isn't an Evertonian alive today that is surprised in the slightest that our squad needs a sharp cull & overhaul.
Irritatingly terrible reporting as always. They take us, or should I say paint us, as mugs for the most part. We have plenty of players we don't need, just hanging around doing absolutely nothing positive in relation to the first team. I don't mean to be unpleasant towards any of them, since it isn't their fault, but we can happily move on 12 players, maybe buy 4 or 5 new ones and really balance the first team squad out for next season.
Trouble is, selling or moving on 12 players over the summer won't be easy, and neither will buying 4 or 5 of the quality & fit that we need. It seems at least that Brands & Silva (with the backing of Moshiri) have a decent plan in place, or they will have over the coming weeks.
I was very happy to see Brands & Silva do their press conference without Mr Farhad and Mr Bill (sic) anywhere to be seen.
Michael Mcloughlin
71
Posted 05/06/2018 at 23:51:15
I was trying to think of the 12 players we need to offload and get some cash for?
Rooney came to mind. £5 million
Williams £4 million (optimist I know)
Mirallas £2 million
Martina £4 million
Besic. £4 million
Jagielka £1 million
Sandro £5 million
SchneiderLin £15 million
Bolasie £7 million
Niasse (sorry to say that but we need better) £13 miln
Klassen ( Am actually a fan, but there is a lot of dissenters amongst the blues) £15 million
Robles free
So there you have about £75 million back plus wages... Plus I think we get shut of a few trouble makers which unsettled the side.

Michael Kenrick
73
Posted 06/06/2018 at 00:47:16
Lots more straight talking from Marcel Brands in this article from
The Guardian
:
Everton need to offload players before buying, says Marcel Brands
"[F]or a coach, it is not workable to start with 38 players in your squad. We have to look for a squad Marco can work with and I think there always has to be space for young players to come to the first team.
"That has to be, let's say, 25-30 players. Now there are 38 and a lot are not young any more. They are players who have arrived. We have to be honest when we take the decision with these players. Do they have prospects here at Everton? Some of the conversations will not be nice but I think Marco must start with a squad that everyone is eager to play for and has prospects to play."
Not sure how he gets to 38; even if you subtract the likes of Mangala and factor in a number of those who were on loan, I can only count 35 (excluding U23 players) listed on our Squad Page.
Kieran Kinsella
74
Posted 06/06/2018 at 01:07:23
Williams and Rooney have already whined about playing time so they should willingly leave. "Difficult conversations" — I imagine could be folks like Klaasen, Bolasie and Niasse Who want to fight for their place.
On the 38, I imagine he includes Browning. The other two are probably some weird vague amalgam of Connolly, Williams, Grant, Mangala, Henen and Feeney sińce this magic number has been banded around for 12 months with various coming, going, loans. Etc
Jim Harrison
75
Posted 06/06/2018 at 01:35:12
He doesn't say that there is no money available, but that the owner won't be bankrolling it. Sales plus whatever transfer budget is already available?
Makes sense to thin the squad out. Far too many also rand in there, and regrettably some youth players that have not made the step up. At what point does potential become unrealised?
Bill Watson
76
Posted 06/06/2018 at 20:01:38
Jack (#61),
No, it's not just you. I just can't raise any interest, at all.
Perhaps it's a northern thing as the southerners seem quite keen!
Add Your Comments
In order to post a comment, you need to be logged in as a registered user of the site.
Or Sign up as a ToffeeWeb Member — it's free, takes just a few minutes and will allow you to post your comments on articles and Talking Points submissions across the site.