Squad assessment is top priority for Silva and Brands
Marco Silva and Marcel Brands say that certain needs have been identified as far as incoming transfers are concerned but they will be taking stock of Everton's squad and the Finch Farm Academy as a first order of business.
The duo addressed the media for the first time together at the club's training complex in Halewood where they were asked about possible transfer targets, in particular a couple at their respective prior clubs in the form of Watford's Richarlison and PSV Eindhoven's Hirving Lozano.
Both have been the subject of speculation suggesting they might be high on Everton's shopping list but neither Brands nor Silva would be drawn on specific names.
Instead, both men talked of the need to fully assess Everton's current squad, one that Brands openly admits is too big, before they gather with their scouts to decide on what their first moves should be. They implied that rather than a wholesale overhaul of the team, they would be looking at targeted acquisitions to fill key roles.
"The process has already started and in the next few days will come names and names and names," Silva said.
"We know what we want for our team but the first thing we will do for sure is look inside and analyse what we have [here already] because that's really important for us and after that we'll be assertive and find the right targets for us.
"I have big names, [on my list]" he smiled, brushing off a light-hearted attempt by Sky's Vinny O'Connor to bait him with the name of Richarlison during the presser. "The list is not so big because what we have in our hands is important to the respect of our squad and players.
"Of course, we'll do everything we can to improve [the current squad], to put more competition between them here because that's something that I like to see every day — to keep competition between our players [so they know that someone else] can take their position in the starting XI.
"But again we'll analyse everything in our squad and among our young players and then make our decisions."
Brands acknowledged the challenges posed by an abbreviated transfer window and the distraction of the World Cup but backed his new manager up, explaining that he and Silva will assess the crop of players they have inherited and also conduct the search for new personnel together as a partnership.
In light of the recruitment challenges experienced under their predecessors, Ronald Koeman and Steve Walsh, the Dutchman was asked specifically about how he will work with Silva on the issue of buying and selling players.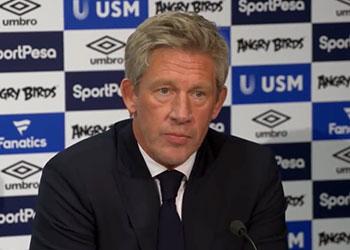 "There is no sense in my trying to get a player for Everton and the coach is not willing [to sign] that player because he is going to choose the starting XI and that's not my job," Brands replied.
"I've worked with a lot of good coaches — with Louis van Gaal, with Ronald Koeman, with Phillip Cocu — and I never had one player that we didn't both agree on.
"As the manager just said, the most important thing is to look at our own squad. You did a lot of homework but then you also know that we have 38 players.
"Of course, we think there are maybe a few positions where we'll look for targets and we'll sit together in the next few days and look at what positions we need with our scouts and [decide] what we think is best for Everton.
"We have a shorter time than normal — the transfer market will close earlier and we have the World Cup — so it will be a very busy time. When I started on Friday, I was calling all day, agents were calling about new players but also about our players.
"So I think the most important thing now is to sit down with Marco and the rest of the staff and produce our own plans and then, step by step, so that everything that has to be done by the beginning of August has been done, but it will be difficult.
"The squad is too big — that is clear. It's difficult for a coach to work with so we have to change that. We also have to fill in a few targets that we think we need."
Rooney's decision to make
The issue of Wayne Rooney's future was inevitably raised during the press conference and both Brands and Silva said they would speak with the veteran but that ultimately it was up to the player to decide whether he wants to make his proposed move to MLS club DC United.
"Yes, there is a possibility that he will leave," Brands said. "He has spoken with Washington, that is not a secret. Of course, we will talk with him and if it's move he wants to make as the next step in his career like a lot of big, big players have to go to MLS then I can only hope that he will return when he's finished there because I think that he is still a legend in this club."
"Before I arrived, [his dealing with Washington] was something that was already … started ," Silva said. "We'll see in the next few days.
"Of course, we will talk with Wayne Rooney because he is a club legend and we need to understand everything. Like Marcel said, the door is always open for him.
"We will talk with him, we will see what's happened to this moment and it's Wayne's decision."
---
---