Opinion
Chelsea v Everton – A tactical analysis
A detailed look back at the Blues' hard-won point at Stamford Bridge last Sunday
Steve Ferns

15/11/2018
0

comments | Jump to last
Share:
There were some tasty debates in the summer, and I was by no means alone on the Silva bandwagon, although it often felt like I was driving it!
A lot of people (not just on ToffeeWeb) put forward some very ignorant arguments against Silva. Very dismissive of the miracle he worked at Estoril, taking on and breaking the establishment with a very provincial (and bankrupt) team and taking them into Europe and consecutive record finishes. He played a very different style at Sporting, and then again at Olympiacos. At Hull he had echoes of Estoril, as he tried to defy the odds and keep them up when everyone had written them off. At Watford the flame flickered brightly and was quickly extinguished amidst our efforts to poach him.
When he was finally appointed, things were not going well. Results, aside from the trouncing of a 6th or 7th Austrian tier side (based on who you believe), were very poor. We had a reasonable start, where performances were promising but results were not, but hard luck stories gave him some breathing space. Then things took a turn for the worse, poor performances against Huddersfield and West Ham, and then the League Cup exit on penalties. Some sharpened the knives and the I-told-you-so's were starting to be whispered. Gone by November some said.
I never lost my belief that Silva was the right man for the job, but I did have some concerns. No, not that he was not up to the job, nor that he was not as good as I thought he was, or that he had forgotten how to defend, my concerns were over his ability to beat one of the big sides by mounting a staunch guard action and trying to pick them off on the break. Sure, you could label this style as keep it tight and pinch one. Marco Silva built Estoril on their ability to counter-attack, and then made a name for himself in his native land by becoming the first manager to beat Porto (domestically) in the Dragon Stadium for five years.
When we played Arsenal and Manchester United I did wonder where this Silva was, and if we would see this side of him this season. Well, he showed up at Chelsea. With hindsight, I would say that Marco Silva believes he had not faced a side this season that he could not beat. Not Arsenal and not Man Utd. Okay, it did not work out, but he thought he could beat them, and with a bit of luck he could have beaten both. Clearly Chelsea were a different kettle of fish, a team we would have to change how we play to beat. This is how he did it.
Everton lined up in a 4-2-3-1 formation as usual. The starting line-up was as we all expected, with Mina replacing Zouma, in an otherwise unchanged side: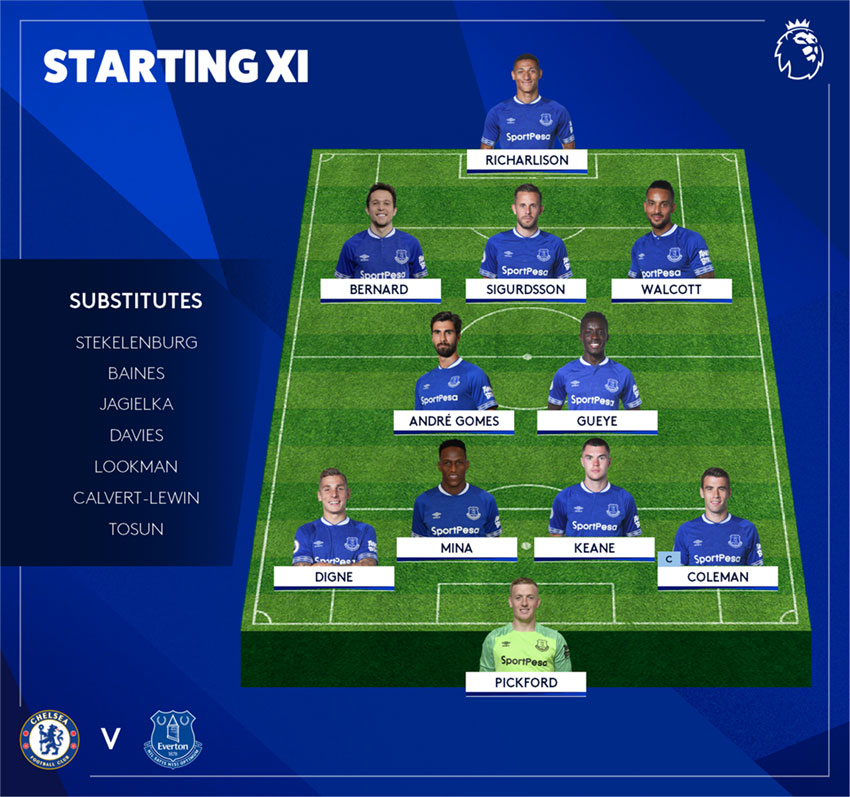 Everton's shape was evident from the start. I've read others saying we played a 4-4-2, particularly in defence. We'll look again at this in more detail. There is no doubt we defended with two banks of four; the only question is whether Sigurdsson was defending alongside Richarlison or dropping into midfield, or even just behind him.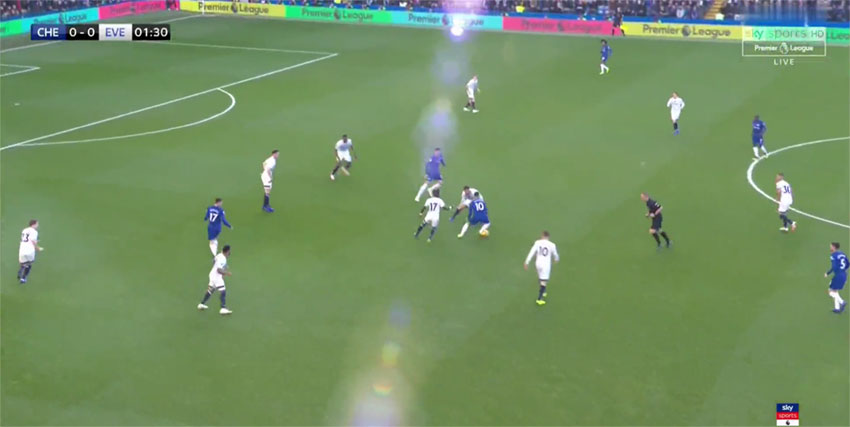 Early shape
Everton came out of the blocks hard and fast. They pressed high up the pitch, but this was something that wore off quickly. They tried to get about Chelsea and had the better of the early exchanges. Looking to move the ball quickly and to get forwards in numbers.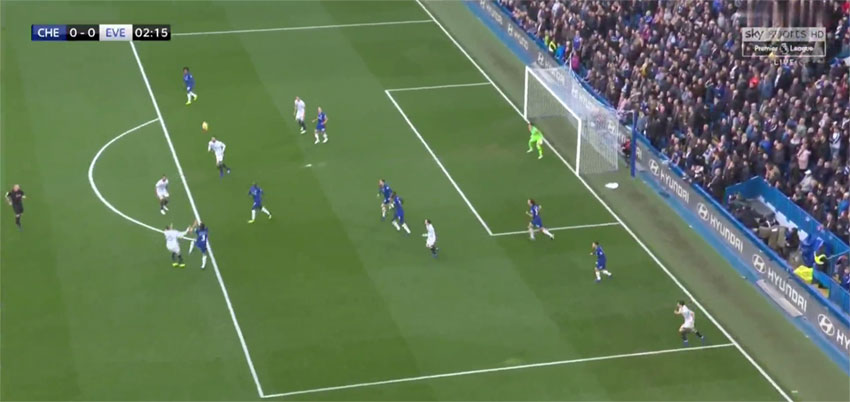 Six in the Chelsea box
Everton's first-half game plan was evident from the early exchanges. To defend narrowly, compact, with the defence not too deep but the midfield on top of them, with the wingers dropping right back level with the defensive midfielders, and to retreat slowly into our own half before pressing in tight compact spaces so Chelsea made a mistake in a congested area of the pitch. In essence, deny Chelsea any space in our half with which to work with the ball, or to have time on the ball. Then, when the ball is won, to get forwards quickly and in numbers. The front four (Bernard, Richarlison, Sigurdsson and Walcott) were joined by Gomes and one of the fullbacks in numerous attacks.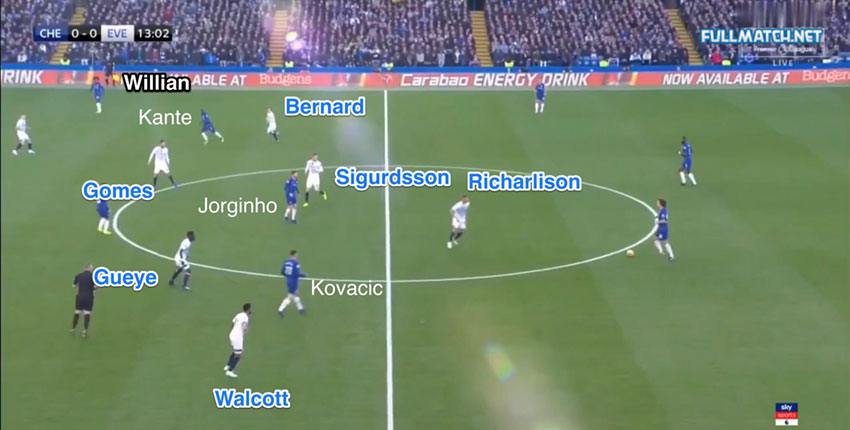 Defending our own half
I love Mauricio Sarri. When it looked like he had been replaced at Napoli but had lost out on the move to Chelsea, I mooted we could make an audacious move for him ourselves, only for Silva to arrive shortly afterwards, and then Sarri to make the move to Chelsea after all.
The first thing Sarri did when he arrived was bring Jorginho with him. Jorginho is an integral player to the way his Chelsea and his Napoli sides play. He is the player who gets the most touches and makes the most passes for Chelsea. We all heard that unbelievable statistic when he passed the ball more than the whole Newcastle side combined. Silva bucked the trend for other managers. They target Hazard, stop Hazard and stop Chelsea. Silva thought to stop Jorginho and therefore, stop Hazard as well. Here we can see his plan in action.
Sigurdsson was tasked with being close to Jorginho (yes, getting your number 10 to man mark the opposition defensive midfielder!). So yes, sure he plays his part in the initial attempt to slow the opposition attack down and to allow those two banks of four to form, then to press around the half-way line to get the opposition to pass sideways and backwards into their own half, but once they do get it forwards, he dropped and picked up Jorginho. But watch Idrissa Gueye, he was quickly there to double team the Brazilian, and sometimes Gomes would get there too.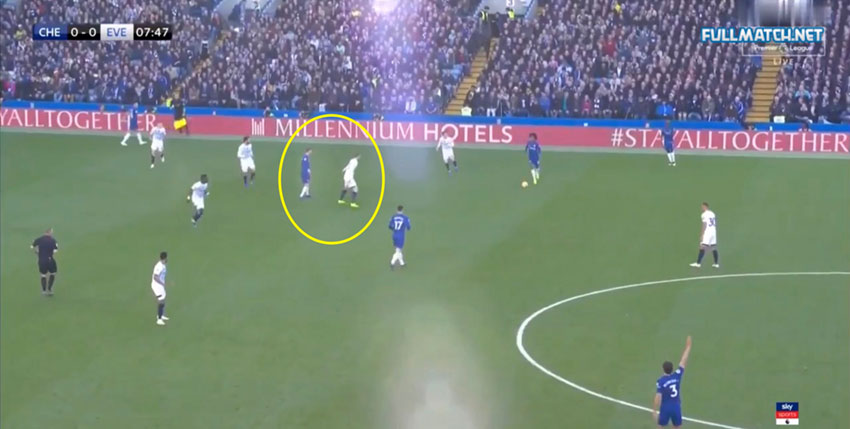 Sigurdsson man marking Jorginho
A pattern of play then developed where Chelsea had lots of the ball, with Luiz often the man in possession and they tried to get the ball forwards. Jorginho closed off. Everton packed into their own half, and all the Chelsea players shut off and Chelsea's passing was more hopeful than accurate meaning that Everton could defend with ease and look to pounce on sloppy play and break at speed.
Now there is a massive difference between what Everton were doing and what a Moyes or even an Allardyce side would do. We've all seen open and attacking Everton. We know this side can play. We know they are fast. We know we have dribblers. We know we have passers. Moyes's and Allardyce's sides could not say the same. So the big and ultimately massive difference here is that we could, and did, break at speed, moving the ball quickly and accurately up the pitch and causing Chelsea problems to the extent that, for all their possession, we were the more threatening side. And that's the difference to our prior defensive football.
Idrissa Gueye was immense in this game. He operated in that area he always did. What an engine this man has. He's really gone up a gear this season. It's like he sees the fruits of his labour, that is that if he wins the ball we actually do something with it, and so is more determined to run harder, faster, to intercept, to tackle and to generally get stuck in, more so than ever before. In this game his brief was threefold, to do the usual (as above) but to get across and help Coleman with Hazard and to get forwards and help Sigurdsson with Jorginho. It seemed like wherever the ball went, he was there snapping at the Chelsea players.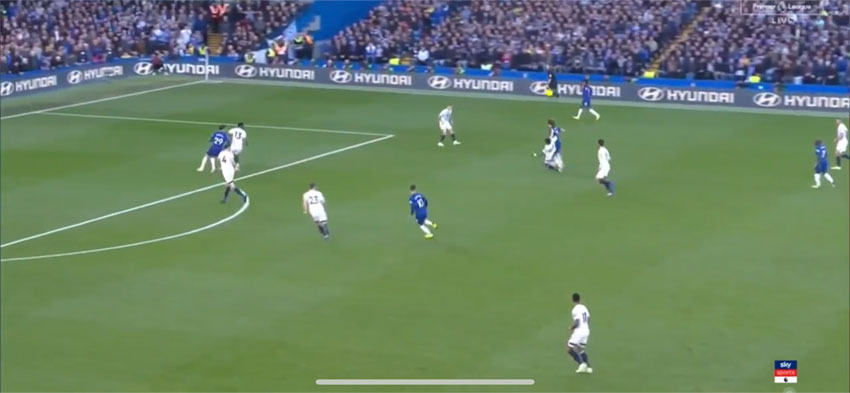 Idrissa Gueye tackle
Everton continued to be dangerous on the counter-attack, and this was evidenced just after the half-hour mark when Jordan Pickford took a goal kick and went wide to Coleman. He then worked it inside to the deep Gomes, who played it back wide to the charging Coleman. Coleman played it into Richarlison's feet and he was cynically fouled by Kante. The ball broke to Gomes and the referee waved the play on as Everton had the advantage. Gomes hit an incisive forward pass to Sigurdsson who rolled Kante, and put Walcott through on goal, only for Walcott to be offside, though the Chelsea keeper would have beaten him to it. Not the greatest chance you'll ever see, and not one that made it to the MotD2 highlight reel, but it was clear evidence of how Silva's Everton spring forwards at speed, with pace and incisive passing.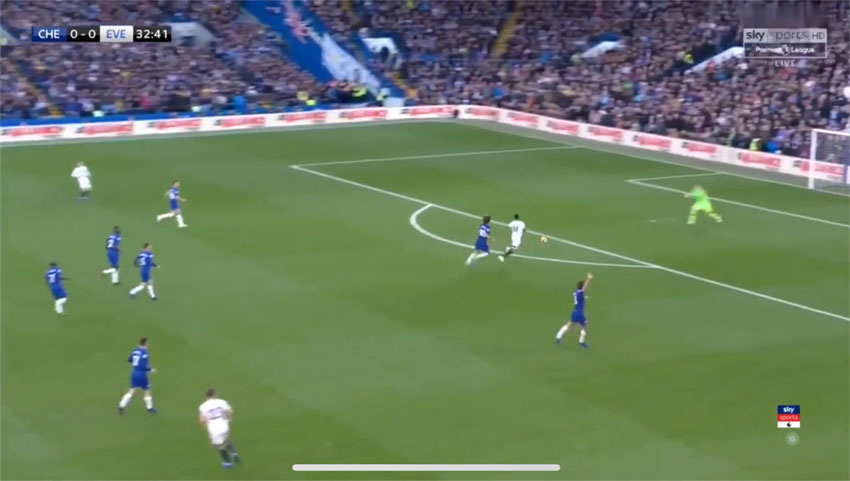 Walcott offside
Chelsea's first real chance of the game came from a free-kick, when Alonso pulled wide into space, received the ball and was able to get his shot off before Coleman could get across to block it, but Pickford was never going to be beaten from that angle, and whilst the save looked good on the cameras, it's bread and butter stuff for most professional keepers. The thing to be more impressed with is that he got some power into his parry and cleared it further than normal – clearly work has been done on a flaw in his game.
Chelsea's next chance game shortly afterwards. They got lucky when Gueye had won the ball and it bounced to Kanté, and with Gueye still on the floor, they moved the ball quickly and Hazard received the ball on the edge of the Everton box, with Mina easily beaten, but he passed to Morata who then started his own theme for the game, by falling to the floor (under pressure from Digne) and trying to get the referee to give him something as he was clearly incapable of putting the ball in the net fairly and squarely.
The first half ended with both teams goalless and that was certainly a fair scoreline and reflected the game. Everton defending well and looking dangerous on the counter-attack. Chelsea dominant in possession but unable to actually do much with the ball as they found Everton too organised in defence, too compact, with too many bodies swarming attackers, and blocking passing lanes.
Chelsea struck immediately in the second half. Clearly a well-rehearsed kick off routine, doubling up on the left flank to win a long pass, whip in a cross where Morata and Willian are waiting, but Pickford is equal to Morata and pushes the shot well wide of the post for a corner.
Everton's best chance of the entire game fell to Walcott. Digne won the ball from Willian. Gomes picked up the loose ball with Kanté, no less, for company, but used his strength to hold him off and turn him, and strode forwards a couple of steps, before knocking it inside to Sigurdsson and continuing his run. Sigurdsson actually takes a heavy touch, and is tackled by Willian but the ball breaks to Richarlison, who lays it off to the charging Sigurdsson, who takes a touch and looks up again (having already looked before he got the ball!) and he sees Walcott is free on the far right hand side, and hits a curling measured pass into Walcott's stride, and sadly, Walcott just stabs at it, mis-controlling it and knocking it away from himself and into the arms of the onrushing keeper.
Chelsea were able to get further up the pitch in the second half, but we should not confuse this with them actually being penetrative. Everton were forced deeper, but kept their shape well and had more than enough bodies behind the ball and Chelsea looked more threatening without actually being so.
Everton did threaten themselves still. An example of this being Sigurdsson's stinging drive that the Chelsea keeper easily tipped over the bar, and despite being hit hard from a long way out, you expect a bit more accuracy from the Icelander, with this shot far too central to really worry the keeper.
Just before the hour mark, Chelsea had a couple of big moments in the space of seconds. First of all, Luiz punted the ball up the pitch, Digne is crazily playing Willian onside and then missed the flight of the ball, allowing it to come to Willian, who is caught by surprise and it bounces off him and towards the corner flag. He scurries after it, and whips it in to where Morata is wrestling with Mina and of course Morata tries to con the ref and win a penalty as he cannot beat someone to the ball fair and square. Mina should have been looking at the ball and was lucky with this one as another ref would have given Chelsea (Sky 6) a penalty.
We did go up the other end with a long ball down the line from Coleman, Sigurdsson had gone wide and crossed it to Richarlison who misses it and Bernard, well, I don't know what he was doing, but he fails to control it when he was almost inside the 6-yard box and only had the keeper to beat! Sure it was a tight angle but he had time and he has the skills to score from there. It was strange to see him of all people lacking composure. The goal he scored against City was much harder.
Things became more end-to-end in the second half as both teams attacked and Chelsea started to exploit the space we were failing to defend as well as we had done in the first half. It was now that Yerry Mina started to up his game. Without dominating by heading the succession of corners away, he was dominant to prevent anyone getting near the ball as they could not beat him to it.
The problem that was developing was that Everton were not compact like they were. They weren't getting all 11 back in their own half as Chelsea entered it. Chelsea were more urgent. And so Gueye was pressing higher up the pitch. Not to attack, but to defend. He had to come out to snuff out the attacks, only for Chelsea to play it around him and attack the space he had vacated. Gomes was further up the pitch as he was retreating from Everton attacks and so defenders were stepping forwards into the area that Hazard likes to attack and so Everton became stretched and Chelsea started to pressurise the Everton goal, forcing one good save from Pickford as he reacted well to a deflection to tip over.
Silva could have taken Sigurdsson off. He was clearly struggling and not getting about the pitch as before and Tom Davies could add bite to the midfield and Gomes could push slightly further forward. Instead, Lookman came on for Bernard in a like for like move on the left flank. Sure, Lookman has a different skill-set, but he did not address the issues in the middle of the pitch.
Silva did not need to do what I said, as Everton did recover their shape, their composure, and Sigurdsson was covering more ground again, Gueye was able to sit deeper and we were compact once more. Presumably, touchline instructions from Silva plugged the gap, without the need to resort to taking off our best player, even if he did have a bad knock.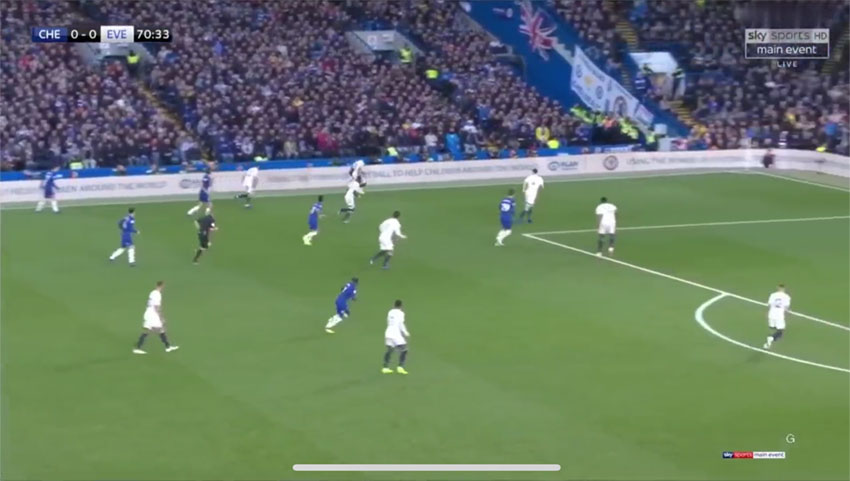 Space denied
Chelsea did get the ball in the net but Morata, clearly having a bad day at the office, was a mile offside. He again remonstrated with the referee, pretending to be hard done by, and I was worrying that he may get a decision to go his way, as is often the case with these moaners.
Hazard's best chance came when Mina played him onside, and a great incisive through pass by Kovacic put Hazard in behind Keane and he was too quick for Mina, but the angle was a tough one and he screwed it wide as he tried to keep it away from Pickford. Richarlison went down injured in the build up to the incident, the front four were unable to turn around and get back quick enough, but the defence and the defensive midfielders were in position. Gueye was sucked out to close Luiz, who slipped in Kovacic, Gueye pressed him, and he slipped the aforementioned through pass in. Had Mina been playing a line with Keane, then this would have been offside. I think we defended this well, except for that. But Mina is rusty, and learning the line comes from experience of knowing your teammates.
For the last 15 minutes, Silva did make the change to plug the gap in the middle. He made a big call to bring on Jagielka for Sigurdsson and to shift to a 5-4-1. Sacrificing the number 10 for an extra centre back. What this did was two things. Firstly, mainly Jagielka himself was able to push ahead of the line of defence (he was the middle and spare man) and snuff out danger and intercept the ball with his superior reading of the game. Secondly, Jagielka has organisational skills that the other two lack, as this comes with experience, and the other two are young and Mina is only making his first start in this league.
Jags is finished as a top level Premier League defender, but in cameos like this, he has a lot to offer. He did very well. In particular he was able to help the younger players navigate the final 15 minutes without much incident. Think about that for a minute. Everton level against one of the best of the sky 6, away from home, and 15 minutes left, and there was no grandstand finish. We were not defending for our lives. I did not have the usual heart palpitations! We saw this game out in the way the manager envisaged when he made the change.
Although we only won a corner for it, it was great to see Lookman's trickery in the 80th minute, and perhaps his impressive cameo will push him even further towards a start against Cardiff. Particularly so if Sigurdsson is injured.
Unusually for me, a quick word about the refereeing
Yerry Mina foul. We've all seen it. I don't think it was a tackle. I certainly know it should not have been a booking.
Jorginho foul. Quite simply, Jorginho was not enjoying the way Sigurdsson was marking him out of the game and this was his chance to get his own back. A cynical foul and no way deserving of only the same penalty of Mina. If Jorginho is a booking, then Mina shouldn't have a card, if Mina gets a card, this should be a red. Jorginho clearly has two feet in the air, and so it could be classed as dangerous play, particularly as the foul itself is the third time he's tried to get the ball off Sigurdsson in this run and each one gets more desperate and more reckless and this should be a factor and the red card could easily have come out.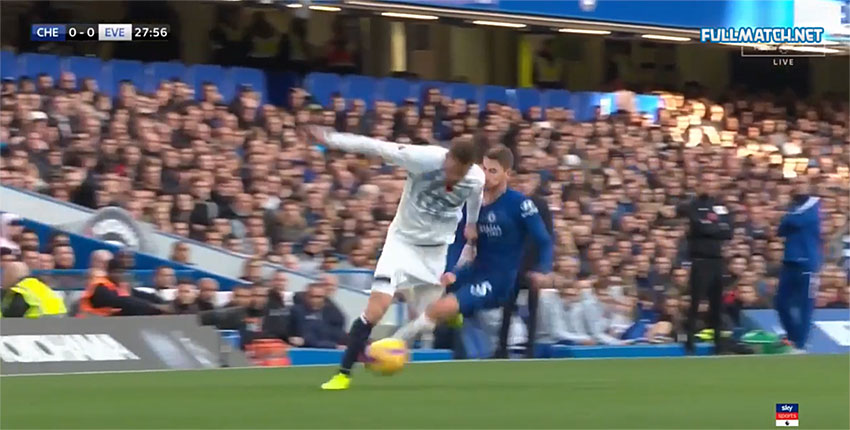 Jorginho foul
Kante foul. Kante was rightly booked for going through the back of Richarlison as Chelsea's frustrations grew and they set about kicking us.
Bernard and Rüdiger. The referee clearly thought the pair were both up to no good and booked them. Rüdiger lying on the grass, holding his mouth, but then peering up for a split second to see what the ref was doing gave the game away. He was looking for something. Bernard has not learnt the lesson Richarlison hopefully has following his own sending off, and Bernard should not be putting himself in those situations.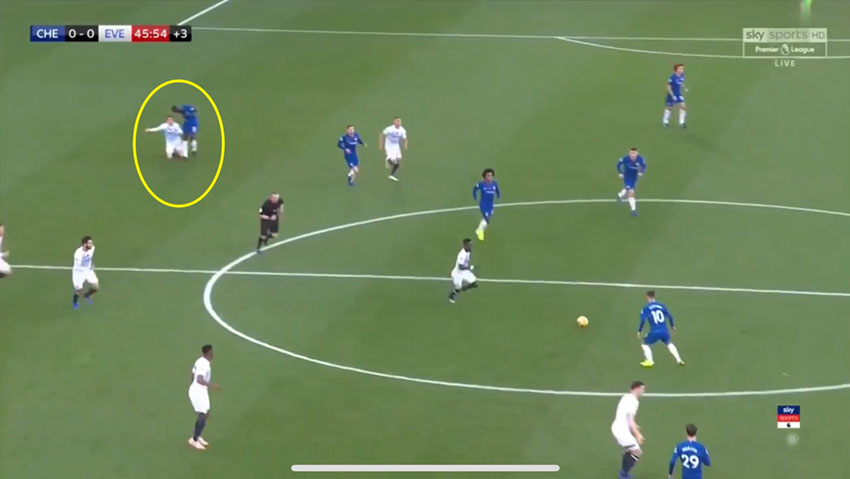 Rüdiger instigation
As Mentioned above. Morata could easily have had a penalty on the hour mark for his incident with Mina. We got away with that one (sure it was the right decision, just about), so it's only fair to say so in the interests of balance.
Zonal Marking
Watching the game back reminded me of the early season zonal marking debate. I think we can all agree that we have got so much better at defending these. Now the statistics haven't quite caught up with this (in the same way we are still only 9th in the table, but are clearly much better than that). Jamie Carragher (in the Sky commentary) showed a lack of knowledge as he continued to make a big thing of this, whereas a man on top of his research could point out the last time we actually conceded from a set piece and how Silva has fixed this problem on the training ground.
Man of the match
I was not really surprised to see Mina win man of the match immediately after the game. But, having had the opportunity to watch it back a few times, I would say he made a few too many errors to justify the award. Pickford did well, but Chelsea's performance was not such that our keeper should be Man of the Match. Sigurdsson played excellently in the first half but faded in the second. I would therefore give the award to Gueye.
That said, watch this clip from the official YouTube site to see Mina's performance isolated and it is very impressive. His passing was particularly worthy of note, he was composed and frequently turned inside of the attacker, when they expected a pass back to Pickford and either hit an incisive ball or carried it forwards himself. It is the latter that could take us to another level in terms of moving the ball even quicker in transition. Mina's passing seems to be the best of the defenders, and that's a surprise to me.
We've been on a decent run now, winning 4 of the last 7, with two defeats and one draw, despite playing away at three of the Sky 6. There were questions to ask about the fragility of the Everton backline and inability to keep a clean sheet. Questions as to whether the manager was perhaps too open. Those questions were answered today. I think we can all be reassured by the manager now. His press conference after the game will reassure you further.
What Silva has done so far is worth our belief and our backing. Silva himself is not saying we're at the level he wants us to be at. He is not happy, yet. He wants more. He wants to give us fans more. We want more. I believe that there is more to come. There is no resting on our laurels here. I said before we appointed him that I want a manager who thinks he can win us the league. I believe Silva believes he can do so. All he needs is time, backing, and a bit of luck. We should overhaul Bournemouth and Watford before the end of this month, and Arsenal and Man Utd are not out of reach. There is interesting times ahead. I believe we can get 5th or 6th this season.

Follow @ferninho
---
---
© ToffeeWeb