Opinion
Chelsea v Everton – A tactical analysis
A detailed look back at the Blues' hard-won point at Stamford Bridge last Sunday
Steve Ferns

15/11/2018
50

comments | Jump to last
Share:
There were some tasty debates in the summer, and I was by no means alone on the Silva bandwagon, although it often felt like I was driving it!
A lot of people (not just on ToffeeWeb) put forward some very ignorant arguments against Silva. Very dismissive of the miracle he worked at Estoril, taking on and breaking the establishment with a very provincial (and bankrupt) team and taking them into Europe and consecutive record finishes. He played a very different style at Sporting, and then again at Olympiacos. At Hull he had echoes of Estoril, as he tried to defy the odds and keep them up when everyone had written them off. At Watford the flame flickered brightly and was quickly extinguished amidst our efforts to poach him.
When he was finally appointed, things were not going well. Results, aside from the trouncing of a 6th or 7th Austrian tier side (based on who you believe), were very poor. We had a reasonable start, where performances were promising but results were not, but hard luck stories gave him some breathing space. Then things took a turn for the worse, poor performances against Huddersfield and West Ham, and then the League Cup exit on penalties. Some sharpened the knives and the I-told-you-so's were starting to be whispered. Gone by November some said.
I never lost my belief that Silva was the right man for the job, but I did have some concerns. No, not that he was not up to the job, nor that he was not as good as I thought he was, or that he had forgotten how to defend, my concerns were over his ability to beat one of the big sides by mounting a staunch guard action and trying to pick them off on the break. Sure, you could label this style as keep it tight and pinch one. Marco Silva built Estoril on their ability to counter-attack, and then made a name for himself in his native land by becoming the first manager to beat Porto (domestically) in the Dragon Stadium for five years.
When we played Arsenal and Manchester United I did wonder where this Silva was, and if we would see this side of him this season. Well, he showed up at Chelsea. With hindsight, I would say that Marco Silva believes he had not faced a side this season that he could not beat. Not Arsenal and not Man Utd. Okay, it did not work out, but he thought he could beat them, and with a bit of luck he could have beaten both. Clearly Chelsea were a different kettle of fish, a team we would have to change how we play to beat. This is how he did it.
Everton lined up in a 4-2-3-1 formation as usual. The starting line-up was as we all expected, with Mina replacing Zouma, in an otherwise unchanged side: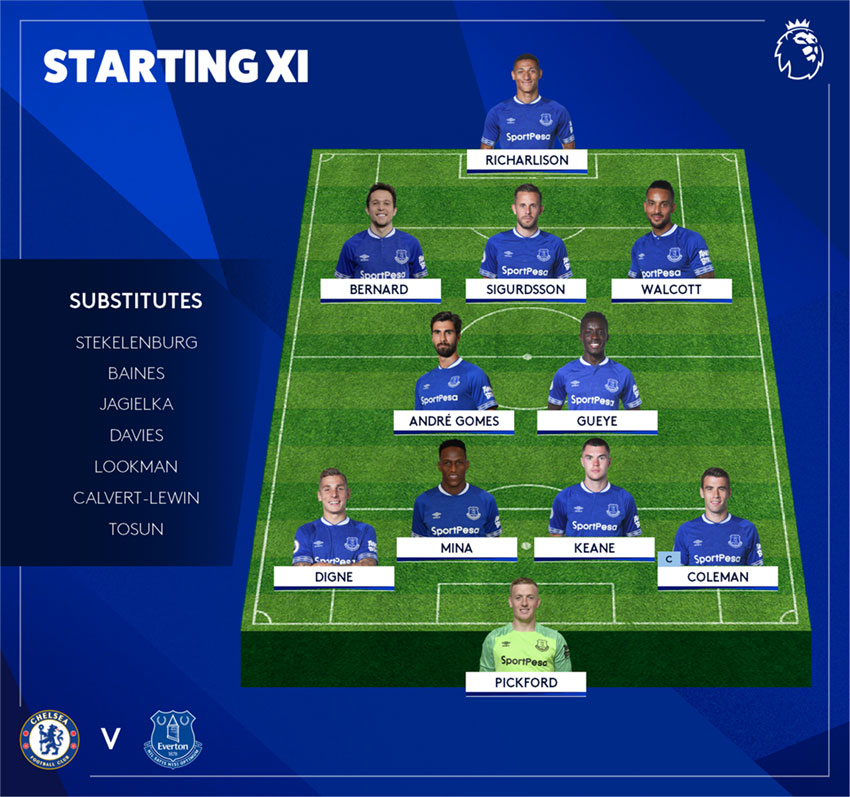 Everton's shape was evident from the start. I've read others saying we played a 4-4-2, particularly in defence. We'll look again at this in more detail. There is no doubt we defended with two banks of four; the only question is whether Sigurdsson was defending alongside Richarlison or dropping into midfield, or even just behind him.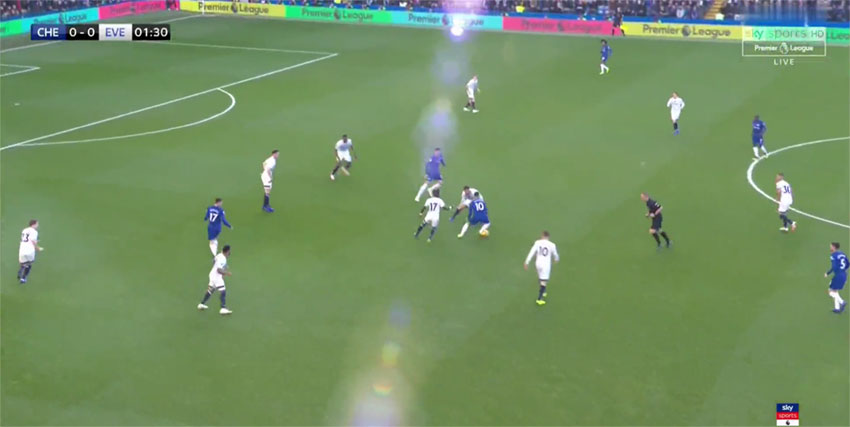 Early shape
Everton came out of the blocks hard and fast. They pressed high up the pitch, but this was something that wore off quickly. They tried to get about Chelsea and had the better of the early exchanges. Looking to move the ball quickly and to get forwards in numbers.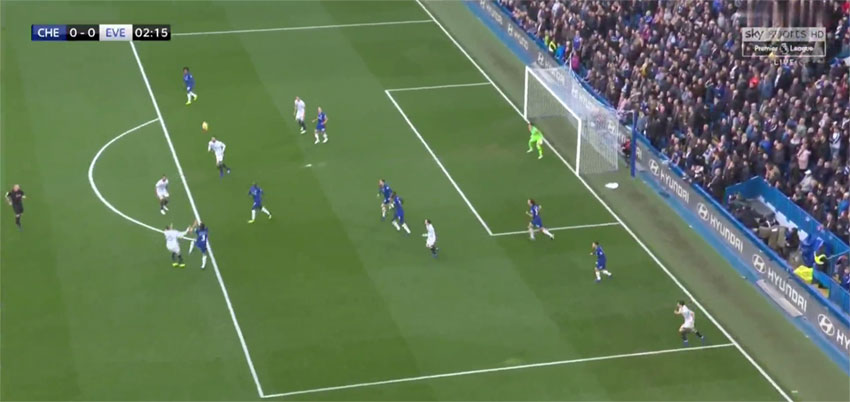 Six in the Chelsea box
Everton's first-half game plan was evident from the early exchanges. To defend narrowly, compact, with the defence not too deep but the midfield on top of them, with the wingers dropping right back level with the defensive midfielders, and to retreat slowly into our own half before pressing in tight compact spaces so Chelsea made a mistake in a congested area of the pitch. In essence, deny Chelsea any space in our half with which to work with the ball, or to have time on the ball. Then, when the ball is won, to get forwards quickly and in numbers. The front four (Bernard, Richarlison, Sigurdsson and Walcott) were joined by Gomes and one of the fullbacks in numerous attacks.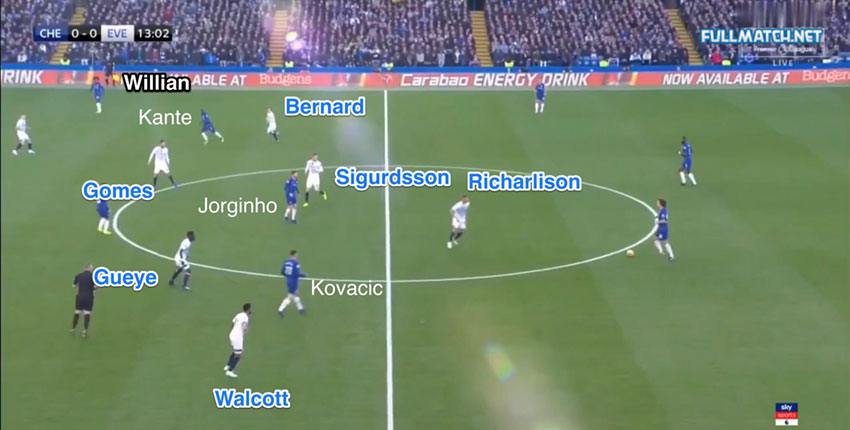 Defending our own half
I love Mauricio Sarri. When it looked like he had been replaced at Napoli but had lost out on the move to Chelsea, I mooted we could make an audacious move for him ourselves, only for Silva to arrive shortly afterwards, and then Sarri to make the move to Chelsea after all.
The first thing Sarri did when he arrived was bring Jorginho with him. Jorginho is an integral player to the way his Chelsea and his Napoli sides play. He is the player who gets the most touches and makes the most passes for Chelsea. We all heard that unbelievable statistic when he passed the ball more than the whole Newcastle side combined. Silva bucked the trend for other managers. They target Hazard, stop Hazard and stop Chelsea. Silva thought to stop Jorginho and therefore, stop Hazard as well. Here we can see his plan in action.
Sigurdsson was tasked with being close to Jorginho (yes, getting your number 10 to man mark the opposition defensive midfielder!). So yes, sure he plays his part in the initial attempt to slow the opposition attack down and to allow those two banks of four to form, then to press around the half-way line to get the opposition to pass sideways and backwards into their own half, but once they do get it forwards, he dropped and picked up Jorginho. But watch Idrissa Gueye, he was quickly there to double team the Brazilian, and sometimes Gomes would get there too.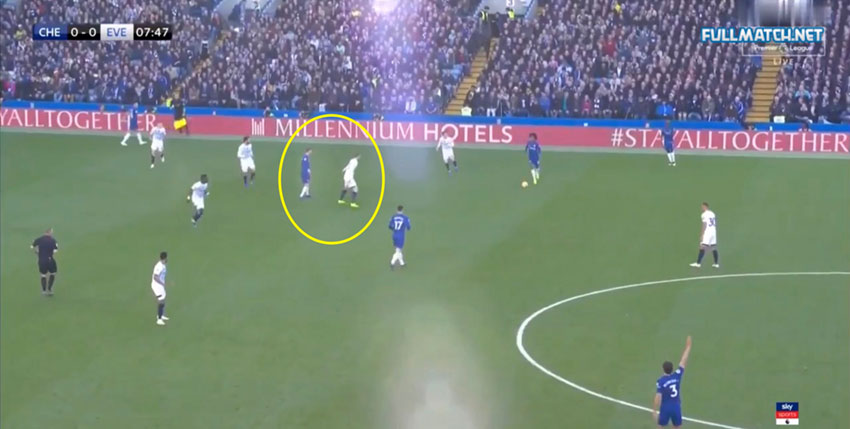 Sigurdsson man marking Jorginho
A pattern of play then developed where Chelsea had lots of the ball, with Luiz often the man in possession and they tried to get the ball forwards. Jorginho closed off. Everton packed into their own half, and all the Chelsea players shut off and Chelsea's passing was more hopeful than accurate meaning that Everton could defend with ease and look to pounce on sloppy play and break at speed.
Now there is a massive difference between what Everton were doing and what a Moyes or even an Allardyce side would do. We've all seen open and attacking Everton. We know this side can play. We know they are fast. We know we have dribblers. We know we have passers. Moyes's and Allardyce's sides could not say the same. So the big and ultimately massive difference here is that we could, and did, break at speed, moving the ball quickly and accurately up the pitch and causing Chelsea problems to the extent that, for all their possession, we were the more threatening side. And that's the difference to our prior defensive football.
Idrissa Gueye was immense in this game. He operated in that area he always did. What an engine this man has. He's really gone up a gear this season. It's like he sees the fruits of his labour, that is that if he wins the ball we actually do something with it, and so is more determined to run harder, faster, to intercept, to tackle and to generally get stuck in, more so than ever before. In this game his brief was threefold, to do the usual (as above) but to get across and help Coleman with Hazard and to get forwards and help Sigurdsson with Jorginho. It seemed like wherever the ball went, he was there snapping at the Chelsea players.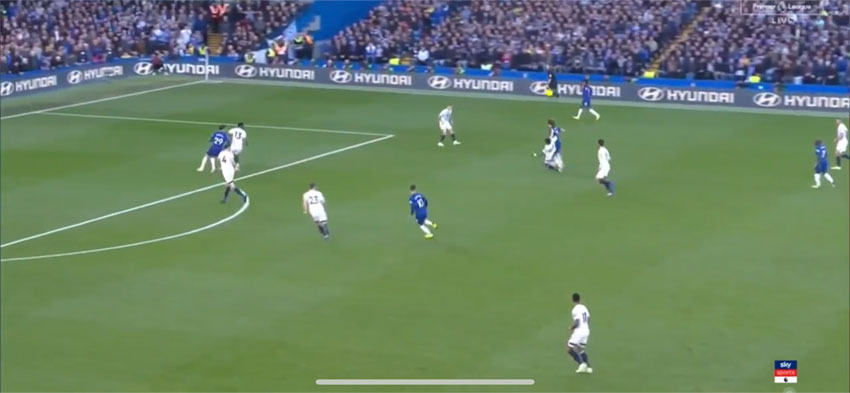 Idrissa Gueye tackle
Everton continued to be dangerous on the counter-attack, and this was evidenced just after the half-hour mark when Jordan Pickford took a goal kick and went wide to Coleman. He then worked it inside to the deep Gomes, who played it back wide to the charging Coleman. Coleman played it into Richarlison's feet and he was cynically fouled by Kante. The ball broke to Gomes and the referee waved the play on as Everton had the advantage. Gomes hit an incisive forward pass to Sigurdsson who rolled Kante, and put Walcott through on goal, only for Walcott to be offside, though the Chelsea keeper would have beaten him to it. Not the greatest chance you'll ever see, and not one that made it to the MotD2 highlight reel, but it was clear evidence of how Silva's Everton spring forwards at speed, with pace and incisive passing.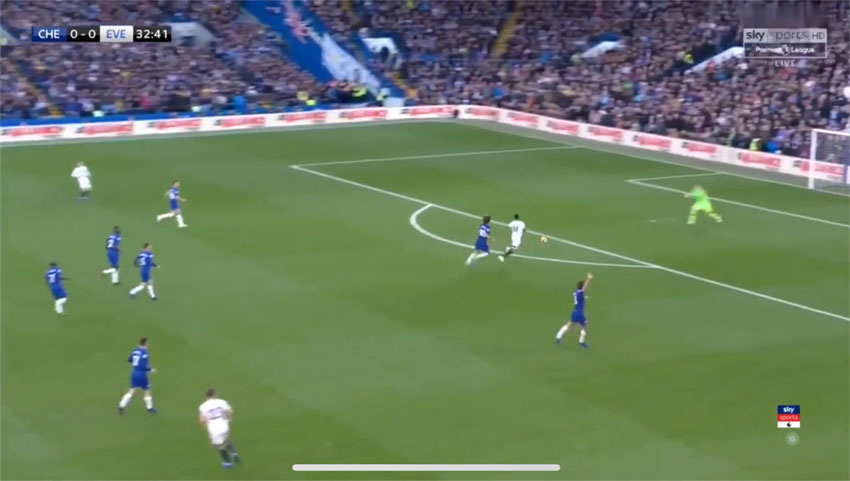 Walcott offside
Chelsea's first real chance of the game came from a free-kick, when Alonso pulled wide into space, received the ball and was able to get his shot off before Coleman could get across to block it, but Pickford was never going to be beaten from that angle, and whilst the save looked good on the cameras, it's bread and butter stuff for most professional keepers. The thing to be more impressed with is that he got some power into his parry and cleared it further than normal – clearly work has been done on a flaw in his game.
Chelsea's next chance game shortly afterwards. They got lucky when Gueye had won the ball and it bounced to Kanté, and with Gueye still on the floor, they moved the ball quickly and Hazard received the ball on the edge of the Everton box, with Mina easily beaten, but he passed to Morata who then started his own theme for the game, by falling to the floor (under pressure from Digne) and trying to get the referee to give him something as he was clearly incapable of putting the ball in the net fairly and squarely.
The first half ended with both teams goalless and that was certainly a fair scoreline and reflected the game. Everton defending well and looking dangerous on the counter-attack. Chelsea dominant in possession but unable to actually do much with the ball as they found Everton too organised in defence, too compact, with too many bodies swarming attackers, and blocking passing lanes.
Chelsea struck immediately in the second half. Clearly a well-rehearsed kick off routine, doubling up on the left flank to win a long pass, whip in a cross where Morata and Willian are waiting, but Pickford is equal to Morata and pushes the shot well wide of the post for a corner.
Everton's best chance of the entire game fell to Walcott. Digne won the ball from Willian. Gomes picked up the loose ball with Kanté, no less, for company, but used his strength to hold him off and turn him, and strode forwards a couple of steps, before knocking it inside to Sigurdsson and continuing his run. Sigurdsson actually takes a heavy touch, and is tackled by Willian but the ball breaks to Richarlison, who lays it off to the charging Sigurdsson, who takes a touch and looks up again (having already looked before he got the ball!) and he sees Walcott is free on the far right hand side, and hits a curling measured pass into Walcott's stride, and sadly, Walcott just stabs at it, mis-controlling it and knocking it away from himself and into the arms of the onrushing keeper.
Chelsea were able to get further up the pitch in the second half, but we should not confuse this with them actually being penetrative. Everton were forced deeper, but kept their shape well and had more than enough bodies behind the ball and Chelsea looked more threatening without actually being so.
Everton did threaten themselves still. An example of this being Sigurdsson's stinging drive that the Chelsea keeper easily tipped over the bar, and despite being hit hard from a long way out, you expect a bit more accuracy from the Icelander, with this shot far too central to really worry the keeper.
Just before the hour mark, Chelsea had a couple of big moments in the space of seconds. First of all, Luiz punted the ball up the pitch, Digne is crazily playing Willian onside and then missed the flight of the ball, allowing it to come to Willian, who is caught by surprise and it bounces off him and towards the corner flag. He scurries after it, and whips it in to where Morata is wrestling with Mina and of course Morata tries to con the ref and win a penalty as he cannot beat someone to the ball fair and square. Mina should have been looking at the ball and was lucky with this one as another ref would have given Chelsea (Sky 6) a penalty.
We did go up the other end with a long ball down the line from Coleman, Sigurdsson had gone wide and crossed it to Richarlison who misses it and Bernard, well, I don't know what he was doing, but he fails to control it when he was almost inside the 6-yard box and only had the keeper to beat! Sure it was a tight angle but he had time and he has the skills to score from there. It was strange to see him of all people lacking composure. The goal he scored against City was much harder.
Things became more end-to-end in the second half as both teams attacked and Chelsea started to exploit the space we were failing to defend as well as we had done in the first half. It was now that Yerry Mina started to up his game. Without dominating by heading the succession of corners away, he was dominant to prevent anyone getting near the ball as they could not beat him to it.
The problem that was developing was that Everton were not compact like they were. They weren't getting all 11 back in their own half as Chelsea entered it. Chelsea were more urgent. And so Gueye was pressing higher up the pitch. Not to attack, but to defend. He had to come out to snuff out the attacks, only for Chelsea to play it around him and attack the space he had vacated. Gomes was further up the pitch as he was retreating from Everton attacks and so defenders were stepping forwards into the area that Hazard likes to attack and so Everton became stretched and Chelsea started to pressurise the Everton goal, forcing one good save from Pickford as he reacted well to a deflection to tip over.
Silva could have taken Sigurdsson off. He was clearly struggling and not getting about the pitch as before and Tom Davies could add bite to the midfield and Gomes could push slightly further forward. Instead, Lookman came on for Bernard in a like for like move on the left flank. Sure, Lookman has a different skill-set, but he did not address the issues in the middle of the pitch.
Silva did not need to do what I said, as Everton did recover their shape, their composure, and Sigurdsson was covering more ground again, Gueye was able to sit deeper and we were compact once more. Presumably, touchline instructions from Silva plugged the gap, without the need to resort to taking off our best player, even if he did have a bad knock.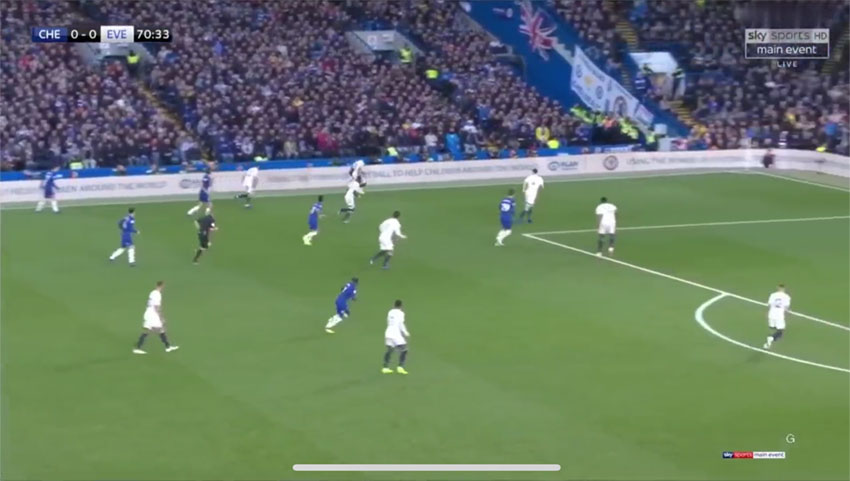 Space denied
Chelsea did get the ball in the net but Morata, clearly having a bad day at the office, was a mile offside. He again remonstrated with the referee, pretending to be hard done by, and I was worrying that he may get a decision to go his way, as is often the case with these moaners.
Hazard's best chance came when Mina played him onside, and a great incisive through pass by Kovacic put Hazard in behind Keane and he was too quick for Mina, but the angle was a tough one and he screwed it wide as he tried to keep it away from Pickford. Richarlison went down injured in the build up to the incident, the front four were unable to turn around and get back quick enough, but the defence and the defensive midfielders were in position. Gueye was sucked out to close Luiz, who slipped in Kovacic, Gueye pressed him, and he slipped the aforementioned through pass in. Had Mina been playing a line with Keane, then this would have been offside. I think we defended this well, except for that. But Mina is rusty, and learning the line comes from experience of knowing your teammates.
For the last 15 minutes, Silva did make the change to plug the gap in the middle. He made a big call to bring on Jagielka for Sigurdsson and to shift to a 5-4-1. Sacrificing the number 10 for an extra centre back. What this did was two things. Firstly, mainly Jagielka himself was able to push ahead of the line of defence (he was the middle and spare man) and snuff out danger and intercept the ball with his superior reading of the game. Secondly, Jagielka has organisational skills that the other two lack, as this comes with experience, and the other two are young and Mina is only making his first start in this league.
Jags is finished as a top level Premier League defender, but in cameos like this, he has a lot to offer. He did very well. In particular he was able to help the younger players navigate the final 15 minutes without much incident. Think about that for a minute. Everton level against one of the best of the sky 6, away from home, and 15 minutes left, and there was no grandstand finish. We were not defending for our lives. I did not have the usual heart palpitations! We saw this game out in the way the manager envisaged when he made the change.
Although we only won a corner for it, it was great to see Lookman's trickery in the 80th minute, and perhaps his impressive cameo will push him even further towards a start against Cardiff. Particularly so if Sigurdsson is injured.
Unusually for me, a quick word about the refereeing
Yerry Mina foul. We've all seen it. I don't think it was a tackle. I certainly know it should not have been a booking.
Jorginho foul. Quite simply, Jorginho was not enjoying the way Sigurdsson was marking him out of the game and this was his chance to get his own back. A cynical foul and no way deserving of only the same penalty of Mina. If Jorginho is a booking, then Mina shouldn't have a card, if Mina gets a card, this should be a red. Jorginho clearly has two feet in the air, and so it could be classed as dangerous play, particularly as the foul itself is the third time he's tried to get the ball off Sigurdsson in this run and each one gets more desperate and more reckless and this should be a factor and the red card could easily have come out.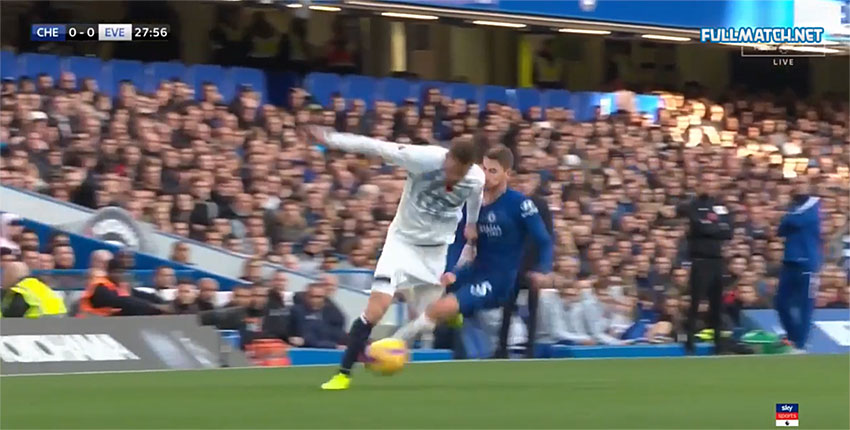 Jorginho foul
Kante foul. Kante was rightly booked for going through the back of Richarlison as Chelsea's frustrations grew and they set about kicking us.
Bernard and Rüdiger. The referee clearly thought the pair were both up to no good and booked them. Rüdiger lying on the grass, holding his mouth, but then peering up for a split second to see what the ref was doing gave the game away. He was looking for something. Bernard has not learnt the lesson Richarlison hopefully has following his own sending off, and Bernard should not be putting himself in those situations.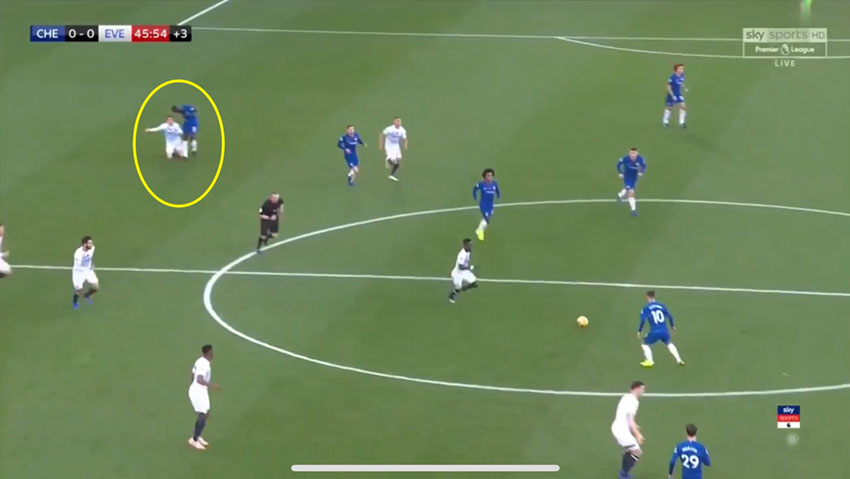 Rüdiger instigation
As Mentioned above. Morata could easily have had a penalty on the hour mark for his incident with Mina. We got away with that one (sure it was the right decision, just about), so it's only fair to say so in the interests of balance.
Zonal Marking
Watching the game back reminded me of the early season zonal marking debate. I think we can all agree that we have got so much better at defending these. Now the statistics haven't quite caught up with this (in the same way we are still only 9th in the table, but are clearly much better than that). Jamie Carragher (in the Sky commentary) showed a lack of knowledge as he continued to make a big thing of this, whereas a man on top of his research could point out the last time we actually conceded from a set piece and how Silva has fixed this problem on the training ground.
Man of the match
I was not really surprised to see Mina win man of the match immediately after the game. But, having had the opportunity to watch it back a few times, I would say he made a few too many errors to justify the award. Pickford did well, but Chelsea's performance was not such that our keeper should be Man of the Match. Sigurdsson played excellently in the first half but faded in the second. I would therefore give the award to Gueye.
That said, watch this clip from the official YouTube site to see Mina's performance isolated and it is very impressive. His passing was particularly worthy of note, he was composed and frequently turned inside of the attacker, when they expected a pass back to Pickford and either hit an incisive ball or carried it forwards himself. It is the latter that could take us to another level in terms of moving the ball even quicker in transition. Mina's passing seems to be the best of the defenders, and that's a surprise to me.
We've been on a decent run now, winning 4 of the last 7, with two defeats and one draw, despite playing away at three of the Sky 6. There were questions to ask about the fragility of the Everton backline and inability to keep a clean sheet. Questions as to whether the manager was perhaps too open. Those questions were answered today. I think we can all be reassured by the manager now. His press conference after the game will reassure you further.
What Silva has done so far is worth our belief and our backing. Silva himself is not saying we're at the level he wants us to be at. He is not happy, yet. He wants more. He wants to give us fans more. We want more. I believe that there is more to come. There is no resting on our laurels here. I said before we appointed him that I want a manager who thinks he can win us the league. I believe Silva believes he can do so. All he needs is time, backing, and a bit of luck. We should overhaul Bournemouth and Watford before the end of this month, and Arsenal and Man Utd are not out of reach. There is interesting times ahead. I believe we can get 5th or 6th this season.

Follow @ferninho
---
Reader Comments (50)
Note: the following content is not moderated or vetted by the site owners at the time of submission. Comments are the responsibility of the poster. Disclaimer
Henrik Lyngsie
1
Posted 17/11/2018 at 10:11:24
Steve, thanks for the analysis.
It has been great to watch our performance in all three away games against the Sky 6 teams. I think we have had a very good shape in all three matches and our high pressing is excellent.
First goal means a lot in these matches and I think we were not lucky against Arsenal and Man Utd. Against Chelsea although they obviously had most possession I too liked the fact that we were not overrun the last 15 minutes. This is far different than just sitting deep and hope for one counter.
To make the next step resultwise we need to score on set pieces. I think we are really poor and I don't know our stats but I think we only scored once on the magical combination against Southampton. But none from headers and we are not even a threat.
I think we need to have much more aggressive running and attacking the ball on set pieces. Maybe they could ask Duncan for advice. If we play like we do, get sorted out on defensive set pieces and actually scores on our own set-pieces, we will get close to 6th.
Liam Reilly
2
Posted 17/11/2018 at 12:11:38
Good analysis, Steve. Enjoyable read.
Trying not to be biased, Jorginho's lunge was a straight Red and it was a Sky 6 decision; but in saying that Bernard is off if the Ref see's that (even though Rudiger makes too much of it) as it was not too dis-similar to Richarlison at Bournemouth. He shouldn't put the ref in a position to have to make that call.
Mina had a great game, but for me that's a penalty as he's not looking at the ball; but Morata should've been booked early for his diving antics which would have made him stay on his feet more later in the game.
Great to see the side taking the game to these opponents. Okay, 1 point from 3 away games doesn't seem great on paper; but it doesn't tell or reflect the true story and wouldn't it be special if he breaks his duck in two weeks time with a three-pointer?
Marcus Choo
4
Posted 17/11/2018 at 12:37:39
Hi Steve, very informative!
It really looks like you have a good grasp of what Silva thinks. That being the case, do you feel the current squad is good enough for your 5th/6th finish prediction or do you think Silva will be looking to add to the squad in January?
Paul Birmingham
6
Posted 17/11/2018 at 13:07:11
Thanks for a very good analysis, Steve.
It's a very positive transformation of the team by M&M, and it's fantastic to see Everton playing with genuine belief and guts and style and manner.
Long may it last.
Steve Ferns
7
Posted 17/11/2018 at 13:46:14
Yes Marcus, if Richarlison can maintain high standards and develop into the role, and Calvert-Lewin continues to chip in with goals (pro rata he's on for double figures), then this squad can do it. We should look for a top quality striker though. And if we do find one to come, then 5th really is doable.
Peter Mills
8
Posted 17/11/2018 at 14:33:29
You've been burning the midnight oil again Steve – well done.
Marco Silva's away record in the Premier League is not great, but he has improved upon it this season with a point per game so far, which is respectable. We are creating a few chances, gaining corners, and winning free kicks 35 m from goal – we need to be more ruthless and capitalise on these situations.
Defensively we are looking safer, and far better than I expected to be honest. I am even liking the occasional move to 3 centre-backs, something which used to strike terror into my heart when David Moyes would bring on an extra centre-half in the last few minutes which usually created chaos, especially when defending corners.
A work in progress, but the picture is developing. Hope to see you in a couple of weeks time, Steve.
Dermot Byrne
9
Posted 17/11/2018 at 15:29:03
Yep... Gueye is certainly playing well, and a bit under the radar.
Michael Kenrick
10
Posted 17/11/2018 at 16:19:02
Excellent stuff. Perhaps the one thing it brings home to me is organization. You really bring home both how important it is for us to be properly organized, having good shape, etc.
Of course, to be able to do that successfully requires the right players who can do it at the highest level against the best teams, and a massive part of this must be the ability to follow instructions and to have faith in the man giving you those instructions, and a firm belief that those instructions will work.
Yes, at bottom, it's a simple game... but the ingredients required to make it the beautiful game for Everton Football Club are far from simple, as the last 30+ years have demonstrated.
Thanks for that, Steve.
Dave Abrahams
11
Posted 17/11/2018 at 17:08:58
Steve, I'm not one for delving into or reading about statics, but your post was well written, explained and very easy to understand. Well done and thanks for taking the considerable trouble and time to bring it to ToffeeWeb.
Dave Abrahams
12
Posted 17/11/2018 at 17:14:06
Sorry, Steve, that should have read 'tactics' not 'statics'... where is the word processor when you need it?
John G Davies
13
Posted 17/11/2018 at 17:18:00
Brilliant analysis as always.
You got the piss taken out of you early in the season, Steve. Suffice to say nearly everything you said would happen has happened.
Jay Wood
[BRZ]
14
Posted 17/11/2018 at 17:18:07
I do like the tactical analysis you offer Steve, even if I don't always fully agree with them.
As you say, there were some tasty debates in the summer on Silva, but there weren't only 'some very ignorant arguments against Silva' as your write, but a lot – a LOT! – of well-balanced counters to (for example) your own blind sycophancy of our manager.
I recall on more than one occasion you bristling with resentment at any sort of challenge to your trumpeting of Silva, whilst you yourself attempted to airbrush out of history provable FACTS that countered (some) exaggerated claims you made.
Plenty – and I mean PLENTY! – whilst having reservations about his appointment, were happy to give Silva time to get into his stride. And plenty of those 'plenties' are delighted at the direction the club is currently going and the style of football being played.
It has been an exceedingly small minority – as in one digit of one hand – claiming on TW Silva would be gone by November.
Even when 'things were not going well' initially at the start (as you yourself write), there were plenty of the 'plenties' countering the more extreme doomsayers, acknowledging that the style and tactics – even with the disappointing results – were markedly improved on last season.
The manager and the team deservedly got criticised for poor performances against Huddersfield, West Ham and Suthampton. The League Cup exit particularly grated on me because that was largely down to the manager playing Russian Roulette with his selection in a competition we should be targeting to win outright.
Having addressed your own opening comments regarding the summer Silva debate, let's now turn to broader tactical analysis.
More than a year ago, you wrote a lengthy tactical analysis of why Schneiderlin was under-performing when you considered he should be a key player for the team. Curiously, you kinda concluded it was all Ashley Wiiliams's fault.
You continued canvassing for Schneiderlin this summer and early season, being totally dismissive of Gana Gueye – describing him as being incapable of playing in a Silva team and expected him to be sold – whilst simultaneously campaigning hard to see William Carvalho arrive from the disintegrating Sporting.
Plenty of TWers took issue with you on your reading of all three players. I have long believed playing Schneiderlin with Gueye hugely diminished the effectiveness of the latter to the detriment of the player and the team.
You expressed bemusement as to where Gomes would fit into the team, because you didn't believe he could play the role filled by Schneiderlin, that he needed to be played further forward, which for you meant he was in direct competition for one place with Sigurdsson.
Given how Gueye is playing this season (sans Schneiderlin) – and for me, Gana is right up there with Keane as our standout players thus far – and given how Gomes has slipped in seamlessly alongside him (and Gomes is still not fully up to speed), can you acknowledge Steve that you called it wrong about all three players? Make that four, if you want to throw in Carvalho also, who – like many I'm sure – I feel was a bullet well dodged, if Silva was ever as keen on him as you promoted.
As for your analysis of the Chelsea game, for me it was further evidence that the work at Finch Farm is beginning to bear fruit. What I like is – home or away, against any opposition – Silva is setting the team up to primarily play our game, rather than compromise and primarily set up to nullify the opposition's game as has been the 'Everton Way' for too long under successive managers.
Martinez achieved this in his first season, but couldn't maintain it. It's still too premature to say whether Silva can continue in this same vein for longer than a single season, but the signs are there that he is a more balanced coach than Martinez, and thus, better able to tweak and adjust things than the single ideology of Roberto.
In all of this, we should not overlook the role of Brands who did sterling work in moving on so much deadwood, whilst recruiting quality in their stead for Silva to work with – not one of which you could consider a 'failure'.
John G Davies
15
Posted 17/11/2018 at 17:36:43
'Sycophancy' is a word used unfairly quite often on ToffeeWeb.
People who use it should check the definition of the word.
Jay Wood
[BRZ]
16
Posted 17/11/2018 at 18:25:48
Not given to sycophancy or an obsequious nature myself John G, as your post @ 13 could be construed.
Mark Taylor
17
Posted 17/11/2018 at 18:26:45
I always enjoy reading these analyses, so thanks Steve for doing them.
I think, though, we might we wiser to be a little less bullish about our manager. He may have improved our play from last season – a low hurdle – but the odds are against him being the messiah.
If he gets 6th or especially 5th, he will certainly have over-achieved this season, but Moyes used to do this regularly on a fraction of the budget and even Martinez managed it once, and we all know what happened to him.
It certainly helps to have some talent as a manager, and Silva appears to have some, but that usually isn't enough to save them. You need plentiful luck, not least with player form and injuries, some momentum and more patience from your board than is likely to be available nowadays. It's a pretty thankless task, made easier by the massive salaries.
As for winning the Premier League, he'll need more than luck, the chances of that happening are, sadly, vanishingly small. He'd need Champions League qualification first, across a few years, so we have the money and status to bid for talent not currently open to us. And much more likely is that, at some point before the above happening, he runs out of luck, goes on a run of bad results, and gets the bullet.
In my view, he'd be better off trying to win us some silverware first; I know the League Cup and even the FA Cup are not what they once were in terms of status, but winning either of them would certainly buy him a lot of goodwill with the fans. Shame he started on the wrong foot on that.
I'd agree with Jay @14 that Brands has made a very good start, maybe actually even better than our manager who had a few horror games early on. Based on what we've seen so far, we appear to have managed to acquire no complete duds, which makes a pleasant change, even if it remains to be seen how they all kick on.
John G Davies
18
Posted 17/11/2018 at 18:36:33
No offence intended, Jay.
I was puzzled to what "advantage" with Silva you thought Steve could gain.

David Pearl
19
Posted 17/11/2018 at 19:28:21
Great amount of time and effort there Steve to fill our void of having no game this weekend.
I've noticed that Walcott and Bernard don't do a lot of switching flanks, they seem well drilled and the whole team are obviously paying attention in class.
I saw it as us set up as 4-2-4, without the ball in the first half, with Sigurdsson and Richarlison next to each other and with Walcott and Bernard in a line which really limited any Chelsea movement. The way the team moved, especially in midfield, was excellent to watch.
We now really need more composure going forward and that will go a long way in our attempts to make the next step. I think we are watching the start of something. Silva has all his signings fit now and he can fine-tune things and prepare for different situations. Excellent from Silva; he's impressing.
Dermot Byrne
20
Posted 17/11/2018 at 19:32:47
I wonder would it be wise to buy any so-called "superstar" in January.
Is this a team gelling?
Maybe a brilliant centre-forward but rest of team seems to becoming just that – a team
Don Alexander
21
Posted 17/11/2018 at 19:33:09
Good article, Steve, thanks. I'm sure you'll have many a sleepless night, though, trying to be right EVERY time about EVERYTHING. Only one chap has a right to that accolade after all.
Keep 'em coming.
John G Davies
22
Posted 17/11/2018 at 19:56:24
Jay @16.
Only by someone with a particular mindset.
Tony Abrahams
23
Posted 17/11/2018 at 21:30:21
Very thorough, Steve, although we did concede from a set piece against Brighton, just before we played Chelsea though!
I really enjoyed your pictures, Steve, especially the ones that show us setting up defensively. I think we are still too open, but these pictures tend to show a different view.
Nine and ten defenders, in some of those pictures, defensive shape, no big gaps, players on both sides of the ball, it takes me back to "Kendall's Everton" and the famous team that always used to hunt in packs.
It's still early days, we looked more organised because we were playing one of the top sides? But it's a very long time since I looked at my team, thinking that there is still loads of improvement to come from this squad, which is both exciting and intriguing for us very long-suffering Blues!
Peter Gorman
24
Posted 17/11/2018 at 21:40:57
I appreciate the time taken on the analysis, Steve, and I freely admit that your enthusiastic endorsement of Silva during the summer got me onside; however, Jay does make a couple of good corrections:
Firstly, the 'gone by November' comment was made in complete isolation by someone clearly venting after a bad result and was, I recall, subsequently retracted.
Secondly, I was not alone in countering your early dismissal of Gueye as not good enough for Silva, and whilst it is nice of you to praise him as he deserves, he has not 'upped his game this season' so much as returned to the level of his first season with us. I think statistically he is better than the much-celebrated Kante at the moment, as I also believe he was that first season.
I appreciate the tone of your analysis was not a 'told you so' but Jay is correct to call you on your support of Schneiderlin over Gueye.
I'm not trying to have a pop because I enjoy these articles but, in the interest of putting forward my own tuppence, I am with Jay on this one.
Andy Crooks
25
Posted 17/11/2018 at 21:42:32
Excellent stuff, Steve. A lot of hard work went into that article and it is much appreciated. I hope you respond to Jay's points because it is top quality debate.
Rick Tarleton
26
Posted 17/11/2018 at 21:43:06
The analysis is excellent, as is your point that the Everton shape is now correct. Gomes is the pivot of this formation.
Two points: I'm not sure about Walcott and Bernard in this formation. I'd prefer Lookman and Richarlison wide and Tucson or possibly Calvert-Lewin in the middle. Lookman has a better footballing nous than Walcott and Bernard is lightweight.
By that, I don't mean he's small (think Bobby Collins, or Alan Ball), but that he does clever cameos, but generally is not totally involved.
Bernard could come on for the final third of a game when teams are tiring.
I'm impressed with Mina and Keane is again looking an England defender, now he has players who can play on the left of the central defence.
Thank you, Steve, for the article.
Wesley Coles
27
Posted 17/11/2018 at 21:54:44
Great article. Thanks for taking the time to do this for us!
If Walcott finds a bit of touch he will be on the end of some goals for us. Clearly Walcott buys into the system and style, and has the energy and cleverness to be a regular. Hopefully he'll step up. Zouma, Keane and Mina... a selection headache from now on!
Tony Abrahams
28
Posted 17/11/2018 at 22:19:49
I don't know why you bother, Steve? I thought Michael asked you for a tactical analysis on the Chelsea game, mate.
I find these things can be quite boring, but I honestly thought that you had done a good job on a subject that is not easy.... and then people start going on about something you have previously said?
This must have taken you hours to do, it's obviously one of your passions, so talk about all the other stuff you wrote on another thread mate, and don't let people spoil what you have written about here, because it's full of detail, even if some of it goes over my head.
Once again, Steve, if a picture can speak a thousand words, then I've learnt quite a lot with some of the ones you have used in this article, and just because I also never agreed with you about Schneiderlin, doesn't take away from the work you have done on this thread.
Peter Gorman
29
Posted 18/11/2018 at 00:50:22
I can only speak for myself, Tony, but I promise both you and Steve I have noble intent.
This analysis by Steve expands well beyond the Chelsea game to touch upon what it means to be 'Silva's Everton', as indeed it should. That being the case, why should we not explore earlier comments and opinions to see how the analysis has changed? All in the interest of knowledgeable debate hopefully.
Mark Andersson
30
Posted 17/11/2018 at 01:29:34
As always, a good read from both Steve and fellow ToffeeWebbers...
Too early to judge Silva but it seems he's doing a good job. Get a win at Anfield with a good performance that would be a sign of improving...
There you go, Steve, let's hear your views about Klopp's men's strengths and weaknesses... and how you think Silva will set up against our biggest rivals?
Steve Brown
31
Posted 18/11/2018 at 04:12:46
Jay @ 14, I thought Steve's posts during the summer were advocacy of Silva rather than being sycophantic. Different things altogether.
Tony Abrahams
32
Posted 18/11/2018 at 09:27:59
That's fair enough, Peter, I didn't think that Jay was just being at it either but, as I said, I can only brush over stuff like this.
Attention to detail is massive but I personally reckon that it has got to be 90% on the individual and 10% to the team... simply because, if something is going to break down, then it's usually because one individual is not doing his job properly.
Maybe I'm old-fashioned but two of Kendall's greatest "team-talks" were both about the fans. Nothing tactical about Stoke in the FA Cup, or Munich on my favourite ever Goodison night!
Hopefully, this is going to happen again because it looks like most Evertonians are really coming round to Marco Silva and his players; once a good Everton team really gets the fans behind them, then anything is possible — with "Real Belief" being the key for me.
Tony Abrahams
33
Posted 18/11/2018 at 09:42:53
Sorry, Mark @30, but it's not hard to identify a Klopp team, IMO. Maybe he's making it up has he goes along? Maybe England is making him change his style? Or maybe English football has caught up with his style?
I think loads of Liverpudlians are hoping they are just cantering along because they don't look as good so far this season.
Klopp's teams are usually about intensity, good players who play the game at real speed, which really engages "the crowd". They give the ball away as much as most teams, but it's high up the pitch, closer to their opponent's goal, and when they win it back, they have got the players to punish you.
A similar set-up to Chelsea, I think. Frustrate them with our discipline, and then hopefully hurt them with our skill and pace, with real belief being the key!!
Jay Wood
[BRZ]
34
Posted 18/11/2018 at 12:54:45
Tony @ 28.
You are 100% correct: Michael asked Steve for a tactical analysis on the Chelsea game. Every single poster responding to the opening post, bar none, opens their own post by complimenting Steve on his analysis. His efforts have been universally acknowledged and praised by all.
However, Steve doesn't only offer a tactical analysis of the Chelsea game, does he? Steve chose in his pre-amble to write 4-5 paragraphs about the summer debate and early-season comments about Silva's appointment. So it was Steve himself who first referenced 'something that was previously said'.
His opening words gave the impression that there was more hostility towards Silva than was the case, saying as he did that in the 'tasty debates... a lot of people put forward some very ignorant arguments against Silva... very dismissive' of some of his work at his previous clubs'.
Steve further added about Silva's start at Everton that 'some sharpened the knives and the I-told-you-so's were starting to be whispered. Gone by November some said.'
In my own reply @ 14 I make no apology for addressing the two issues Steve references in his opening post: the wider debate on Silva's appointment and his tactical analysis of the Chelsea game.
On the first, I legitimately pointed out that Steve - by his own admission - drove the bandwaggon in the campaign to see Silva appointed, whilst many others were not out-and-out hostile or 'ignorant' to use Steve's own turn of phrase about appointing him, but rather, expressed some justifiable reservations.
From memory, there were three recurring concerns about Silva:
1) his defensive record in the Premier League. Both his Hull and Watford teams conceded a LOT of goals.
2) his ability to win away from home. He couldn't buy an away win with Hull.
3) his capacity to perform under duress. He did well to give Hull a sporting chance of avoiding relegation, but they fell away badly at the death. He totally switched off at Watford, having been denied the chance to take up the Everton job.
Steve's promotion of Silva on TW in the summer reached epic, voluminous proportions. Whilst talking up every aspect of Silva, he resented and railed against any and every legitimate doubting or criticism of his Chosen One. An example of that is point one above. Steve complained about people 'only focussing on the negative about Silva's defensive record', effectively denying it was a legitimate concern to express in evaluating our future manager.
Steve, I'm sorry to say, also out and out lied about Silva's achievement. He kept repeating that Silva is the only Sporting manager in recent years to have won them a trophy. When I pointed out to him that Sporting won the Portuguese League Cup in February of this very year, he continued to argue (in his opinion) it was not a 'major trophy' so therefore could be discounted. As I pointed out at that time, he had made a very good case for Silva. Why the need to out-and-out lie about some of his claims in support of his man when it was of no consequence to the debate whatsover?
In summary, none of the three primary concerns expressed eloquently by many in the Silva appointment debate constitutes 'ignorant' opinion as Steve labelled it in the preamble of his opening post in this thread.
As I said @14, plenty of 'plenties' were willing to give Silva time in the job, and plenty of them have acknowledged a marked improvement in the tactics and style in comparison to recent seasons and can 'see' a plan in place.
Tony, I like Steve and the tactical insight he evidently enjoys presenting. Steve himself will confirm during the summer he asked me to translate a series of tactical YouTube videos in Portuguese on Silva's coaching style, which I happily did for him, taking up a few hours of my time. This when we were not in total harmony on Silva's credentials.
Like Steve, I believed there was talent at the club being badly coached and managed. Like Steve, I wanted a hands-on coach at Finch Farm. Like Steve, I wanted an inspirational coach to drive our young 'uns to the next level. Unlike Steve, I had reservations about some aspects of Silva's CV.
I was not alone in defending Silva early season following some iffy performances. Only the Southampton League Cup exit really pissed me off. Silva got that one very badly wrong on many levels.
I continue to be delighted at the progress we are evidently making this season. Also, I am genuinely interested to hear if Steve has changed his take on some of our players as I referenced.
And finally, on a point of TW order: just because someone takes pains to write ANY piece should not, IMO, make it sacrosanct and free from any challenges. TW would become a very sterile site if that were ever the case.
Steve Ferns
35
Posted 18/11/2018 at 14:16:31
Jay, I never lied about Silva being "only Sporting manager in recent years to have won them a trophy". I said Major. I used the word major on purpose. The League Cup is not a major trophy in Portugal.
I do not know how much time you spend in Portugal, but clearly not enough if you think anyone takes it seriously enough. The competition has been binned off and brought back. The new way to gather interest is in a "race to the Algarve". They have a new interesting concept whereby they play the quarters at the weekend, the semis midweek, and the final the following week. It takes place at either the unused Algarve Stadium or most recently up in Braga.
They struggle to fill the ground by 75% for the final. No one wants to go and see it, no cares about it; no-one thinks it's a major trophy. I am recently back from Portugal and discussed this very topic, and was told once again how no one cares about this trophy. The fans vote with their feet season after season.
You misunderstand by pre-amble to my article. It's not an I told you so, it's a thank god for that, or a about frigging time. I was trying, and obviously failed regards yourself, to explain how I was obviously under pressure having said Silva was a good defensive manager and then he turned up and we were shipping goals. You will not get an I told you so off me, we're all supposed to be on the same side here, so why stick it to your fellow fans?
I don't know why you repeatedly want to rehash old ground, it smacks of point scoring of your own. Schneiderlin could be a decent player, but seems to have imploded mentally, and that was before his father died. This won't help, and for me, it's gotten harder not easier in the time that's passed. Especially having to go to Portugal and pack up his apartment and bring everything home.
Silva said repeatedly, before a ball was kicked that he wanted to play 4-3-3. I pointed out he mostly used 4-2-3-1. This surprised me. He himself talked up Schniederlin and his ability to be the anchor in the midfield 3. Gueye cannot be an anchor, he lacks the discipline and the passing ability, whilst it chops his legs off and stops him doing what he is best at.
Gomes is an 8. In a 4-2-3-1 like we use, he needs to be a 6 or a 10. I mainly saw Gomes for Benfica, as a young man. He was a lot more attacking in those days. I have since mainly seen him for Portugal, as a quasi Portuguese fan. I asked my Portuguese friends, do you think he can play as a 6 in the Schniederlin role. I thought with his excellent passing that he could, but with his defensive frailties, I had doubts. My friends, to a man, all laughed at the notion of Gomes playing deep and getting the tackles in.
If you look early season, Silva played a defensive box. That is two centre-backs and immediately in front of them, Schneiderlin and Gueye. They were a good distance apart (Schneiderlin and Gueye). Gomes is actually playing a different position. He has assumed some of the Schneiderlin duties but not all. He drops deep, gets the ball off the defence and drives us forwards, like Schneiderlin was meant to. However, he then moves much further up the pitch.
Gomes and Gueye play a lot closer together, narrower on the pitch. This is because instead of Gueye being in the right half of the pitch, he is all over the pitch. He does more defensive work than Gomes. When he was with Schneiderlin they shared it.
So Jay, Gomes is not playing the Schneiderlin position. But if you want me to say I was wrong that he couldn't play that deep, then sure, why not? But I said a few times how surprised I was with how deep he played and how well he's played the position. A lot of that goes down to Gueye.
Gueye is someone who has been brilliant for us in the last month or more. Silva has adjusted his position and let him loose. Gueye is a seek-and-destroy type midfielder. He is not a defensive midfielder in the truest sense because he cannot sit in front of the back four, very static, and hold position. He's not very big and he's not very strong, even if he is brave and fearless.
If Silva went with a 4-3-3, then Gueye could not anchor the midfield. He could also not play as an 8. He lacks the ball skills. So if we wanted to play a proper 4-3-3, then Gueye has to go.
Silva instead has gone with his good old 4-2-3-1. This is the formation that suits the side; it suits Sigurdsson, it suits Gueye, and it also suits Digne and Coleman. Silva uses the same shape but not the same tactics and the 4-2-3-1 changes from game to game, depending on how deep the midfield is. Against Chelsea, the defensive line was slightly, but not much, deeper. The midfield though, was a lot deeper, sat on top of the defence.
Michael Keane, I said, could be Silva's John Terry. Darren Hinds, hope you come back mate, pilloried me for it. I thought yeah, got a bit carried away with that one. I like to be positive about things and have things sunny side up, which is why you won't see me noting every word you say, Jay, taking it out of context and using it to lambast you. Life's too short, mate. Be positive about things and enjoy them.
And finally, Everton sit 9th, we're below Allardyce's 8th. Silva has done nothing yet. He's got a very long way to go. I'm not, and will not anyway, be claiming any victory. He's doing what I hoped he would do. And Jay forgets that, at the time Silva was appointed, I said I wanted Sarri ahead of him. I'd also have taken a number of other managers, who were all unrealistic. The whole point with my championing of Silva was that we needed a coach. A proper training ground coach. It did not have to be Silva; I'd have been happy with Howe, truth be told, but we needed someone to coach this side in a way we haven't seen for years.
Dan Davies
36
Posted 18/11/2018 at 15:18:43
Very good, Steve. Cheers for taking the time to formulate a really good read. Appreciated.
I must admit to not being impressed with the appointment of Silva at first but he has won me over, we now just need him to pull off a couple of big results to prove he can take us to the Champions League spots eventually.
Upsetting the likes of Liverpool would be a good sign, ahem!
Anyways with regards to Jay he is right in what he says.
I also remember you pushing for Schneiderlin over Gana which, in my book, did a massive disservice to Gana and what he brings to the team.
As for Schneiderlin, it wouldn't bother me in the slightest if he quietly disappeared in the January transfer window.
In Brands and Silva we could be on to something good!
COYB.
Jay Wood
[BRZ]
37
Posted 18/11/2018 at 17:02:02
To answer your post addressed to me, Steve.
First, because you question it, my Portugal credentials. Since 1991, I have definitively lived in Portugal for 17 of the past 27 years. I learned Portuguese there. Conceived a 22-year-old son there (who still lives and studies in Portugal). I have business interests there. I speak daily, by phone, email and social media, in Portuguese, to family, friends and business associates in Portugal. I visit at least once a year. As a Sporting fan, I attended live games at both the old and new Sporting Alvalade stadium – probably more than some Blues posting on TW have attended live games at Goodison Park.
Quite reasonable then that I can claim to 'know' Portugal pretty well.
As to your claim about Sporting under Silva and their trophy winning in recent years, you know full well how that exchange at the time went and how you (unnecessarily) concealed the fact that they won a trophy in February of this very year to inflate the 'value' of Siva. You know full well I agreed with you that, like the English League Cup, it is the least considered of the 3 domestic trophies available to Portuguese clubs and that similarly to the English version, clubs put out weakened teams and that low attendances are commonplace.
However, as I also told you, the cup win in February was celebrated nationwide in every village, town and city where Sporting fans live and for sure, they would be sticking it to their Benfica rivals. I have no doubts at all, should Everton win the League Cup, our fans would be doing the same to our pinkie neighbours.
Next, where I have labelled your pre-amble as an 'I told you so' piece? Not true. YOU used the phrase towards fellow TWers, not me. If your intention was to explain how you were 'obviously under pressure having said Silva was a good defensive manager' as you claim, then your pre-amble completely fails to project that notion. (And why you should feel 'pressurised' for merely expressing an opinion on a fans' forum is itself a very curious sentiment to feel. It really isn't that important.)
To throw your own words back at you, Steve, 'we're all supposed to be on the same side here, so why stick it to your fellow fans?' So why include your pre-amble, calling contrary opinions to your own 'ignorant, dismissive, sharpening their knives, I-told-you-sos'???
As also already pointed out, YOU chose to include the preamble to your tactical analysis of the Chelsea game which, possibly unnecessarily, 'rehashed old ground.'
So, apparently it's legitimate for you to 'stick it to fellow fans', but not legitimate, as I attempted, to offer a more balanced view of the summer and early season debate on Silva to counter your own starker view.
Okay. Got it.
As for the tactical stuff, the Gueye - Gomes axis is very different from the Gueye - Schneiderlin axis of last season. You clearly – even in your last post to me – continue to denigrate Gueye and what he is capable of. Neither Gueye nor Gomes are playing a fixed anchor role. It is more flexible than that and both are showing great discipline in making it work as it is.
Gueye has not 'stepped up his game' as you claim. He is performing again at levels he demonstrated when he first arrived (as others besides myself have pointed out to you), that have been stifled in playing alongside Schniederlin.
If that axis sat a lot deeper against Chelsea, as you claim, it was only when Chelsea were in possession. For the most part, both Gueye and Gomes – and the back four – squeeze up far more than last season.
Finally Steve, please don't lecture me on the need to be 'positive about things and enjoy them'. I am most definitely in the optimistic and positive sphere about all things Everton (and life in general), here on TW or wider society – ALWAYS. You are well wide of the mark on that call.
As always, I am happy to take full responsibility for the consequences of the opinions I express on TW and how they are perceived. I suggest you start doing likewise, Steve, and stop seeing bogeyman where none exist.
Michael Lynch
38
Posted 18/11/2018 at 17:10:31
I'm enjoying this version of Everton under Silva, even if we are a place below where we finished under Sam. In fact, I'd take that if it meant watching the kind of football we've been getting so far.
However, I don't think this can be put down to Silva in isolation. My man of the season so far is split between him and Brands – they've brought in some top quality players, and as Jay says above got rid of a lot of deadwood, and it's the signings as much as any tactical switch that has made the difference. Gomes is a totally different beast to anything we had before, as is Richarlison. Digne is the left back we've been crying out for for a couple of years now, and Mina looks like he might be another top class signing.
Many of us, last season, were prepared to mitigate any criticism of Allardyce and Unsworth by pointing out that it was a particularly poor squad. We were often shouted down by those who said it wasn't the players it was the manager. Perhaps we were all right – shit managers, shit players. Looks like we might have balanced both sides of the equation, though let's not get carried away after a dozen games, with us in mid-table...
Peter Gorman
39
Posted 18/11/2018 at 17:16:57
But, Michael, it is hard not to get carried away when the football is exciting at long last.
Mark Taylor
40
Posted 18/11/2018 at 19:07:34
On the Gueye - Gomes side of things, my own impression is that having Gueye focus on what he does best, try and get the ball back, has given him a more clearly defined role compared to being paired with Schneiderlin, when I think that was a case of a too-much shared role. Just as in cricket with teams packed with batsmen, you sometimes find they switch off a bit because they feel there are plenty of others to rescue the situation if they fall short.
The big thing Gomes is starting to give us, which Schneiderlin could not, is some forward momentum, rather than lots of sidewise crabbing. I think it was actually easier to forward press Gueye & Scheiderlin because there never seem much risk of us going anywhere.
I'd also agree with Steve that Sigurdsson provides an extra defensive cover that wasn't happening when we marooned him on the left wing. He actually defends quite astutely for a forward player.
Tony Abrahams
41
Posted 18/11/2018 at 19:22:23
Funny this, but I honestly don't know how anyone could call themselves 'positive' and continue to discuss Morgan Schneiderlin!
John G Davies
42
Posted 18/11/2018 at 21:23:09
Some very fair points above.
A debate in the finest tradition of ToffeeWeb.
Tony Everan
43
Posted 18/11/2018 at 21:46:38
Great in-depth analysis, Steve, thank you for the effort.
I was on board from the start too with wanting Silva, albeit from a more uninformed viewpoint. As important as he is, the appointment of Marcel Brands is of equal importance. There is without doubt a class off-field set-up now at Everton. The conditions to sow long-term success are in place.
What do you think the defence line-up will be vs Cardiff. Back 4 with Zouma dropped to the bench? I can't see Mina being left out, or Keane for that matter. Zouma has done nothing wrong but, after Chelsea, it is now up to Keane and Mina to stake their claims to be first choices.
I don't want to see a formation change to accommodate 3 centre-backs; the way we are playing now, the team has just the right balance. Solid at the back, Gomes - Gana - Sigurdsson, a great centre midfield complimenting trio, pace and dangerous players when attacking.
Don Alexander
44
Posted 18/11/2018 at 23:49:29
Once again, Steve, well said in a calm. non-boorish, non-accusative, non point-scoring-over-fuck-all way, devoid of "out-and-out-lies" as well.
By the way, I realised Sporting Lisbon won their League Cup this year. It's on the web. That said, as our resident Brazilian anger-management counselor points out, it made diddly-squat of an impression on anyone but their own fans. Everton have to be aiming higher than that.
David Ellis
45
Posted 19/11/2018 at 04:10:52
Good article, Steve. I'm glad that Gomes is fitting into the team behind Sigurdsson. Glad also that Gana is flourishing again. Very encouraged by Silva's performance so far.
If we win on Saturday, I will be looking forward to the derby for the first time in a decade. We can get a result at our old ground, no question about it.
Gerard McKean
46
Posted 19/11/2018 at 08:08:01
A simple question on tactics and set up: Steve makes the point how much pace there is in the team and given Pickford's outstanding ability to spring rapid and accurate counter-attacks, why is Silva, like others before him, reluctant to leave the likes of Walcott and Lookman further upfield?
When defending a corner, for example, this tactic takes advantage of both the pace we have and the attacking nous of our keeper and, for good measure, it occupies opposition minds.
Laurie Hartley
47
Posted 19/11/2018 at 09:18:06
Thanks for the post, Steve.
Tony #43 – the Zouma question has been on my mind also. I think Mina will get the nod over Zouma which, though probably the right call, is in my mind a bit tough on the lad as he has been playing well for us.
Like you, I don't and really can't see Silva going 3 at the back – we seem to have a system which the whole squad understands. I think we will see the same starting line-up for the Cardiff game.
I suppose it is the kind of conundrum Silva wants. Who would have thought we would be discussing such a thing at the end of last season?
Tony Abrahams
48
Posted 19/11/2018 at 12:28:54
For the first time in years, we are all going to be waiting for the team-sheet on Saturday with added interest...
This time last season, most of us were very worried... but not no more – I'm genuinely intrigued and excited to see what Silva goes with on Saturday, even if I'm going to have to wait until the teams run out before I find out.
We never win when I know the team, and although Silva seems like a 'same again' type of manager, I can't wait to find out!!!
Paul Tran
49
Posted 19/11/2018 at 13:06:48
Good piece, Steve. You and 'my' horse Getaway Trump have brightened up my long train journey!
I'd have made Sigurdson my MotM. That work rate with that injury did it for me. And your subtle valedictory tone is fine by me!
Paul Mackay
51
Posted 20/11/2018 at 06:19:46
Good analysis.
Still very early days for me. We've seen some good football, some average football and some very poor performances from Everton this season. So 9th is probably a fair reflection of where we currently stand.
We had a great summer for transfer activity but failed to secure anyone in the key position for me which is a Number 9; that I fear will be the reason why we will finish outside of the top 6 this season.
Gary Russell
52
Posted 20/11/2018 at 16:21:06
Baited breath, no bite... TW is going downhill.
Dave Brierley
53
Posted 30/11/2018 at 18:47:09
Steve Ferns and Jay Wood, I take my hat off to both of you. Where do you get the time to write all this stuff? Excellent debate and it's evident you both have a good understanding of the game we all love.
Thoroughly enjoyed your analysis, Steve. Thanks for a great read. Whatever else people disagree with on here, I think we all can see that EFC are moving in the right direction and there are a lot of very positive signs for the future.
I'm just about to put a double on us winning on Sunday and Tyson Fury to win a little earlier in the day.
Add Your Comments
In order to post a comment, you need to be logged in as a registered user of the site.
Or Sign up as a ToffeeWeb Member — it's free, takes just a few minutes and will allow you to post your comments on articles and Talking Points submissions across the site.
© ToffeeWeb