Opinion
The Skipper
Everton's decision not to award a new contract to Phil Jagielka brings to an end a 12-year career characterised by consistency and exemplary leadership by example, one that was deserving of more success but which will nonetheless be remembered for a long time to come.
Lyndon Lloyd

05/06/2019
0

comments | Jump to last
Share:
Had he done nothing else, Phil Jagielka would forever be revered in Everton folklore for one of the greatest strikes ever to grace a Merseyside derby.
It wasn't just the nature of the defender's goal in September 2014, a crisply-struck 25-yard missile that arced its way beautifully into the top corner of Simon Mignolet's net, that was so remarkable. It was also the timing, stoppage time with the Toffees heading for an all-too-familiar Anfield defeat; the location, in front of the Kop; and the protagonist. Central defenders aren't renowned for their ability to pull a "worldy" out of the top drawer but, like a certain Vincent Kompany for Manchester City, sometimes it's a case of cometh the hour, cometh the man.
"Jags", as he came to be known (despite the fact that his surname is actually pronounced "Yag-yelka") has always had more about him than the ordinary, non-Everton fan might suspect and there was plenty he achieved in his time with the Blues that will have earned him his place in club history. That he was once clocked as the fastest player in the Premier League came as a surprise to most because to the outsider and, perhaps, his fiercest critics of his international performances, Jagielka has probably had something of the mediocre about him.
To Evertonians, however, he came to known as Mr Dependable, a model of consistency and versatility, and, for the past six years, the club's captain. Indeed, through five different managers (six if you include David Unsworth) and all of their varying styles and approaches to the game, Jagielka's barely-wavering levels of performance have been the rock on which the team was founded, that was until this season when his advancing years necessitated a changing of the guard to Michael Keane, a player not unlike the veteran skipper in terms of style and demeanour.
His arrival at Goodison Park as a 24-year-old in July 2007 was not his first association with Everton, of course. Jagielka had been a YTS trainee at Bellefield 10 years previously but had left when the club's Under-15s team was dismantled. That the Blues had to buy him back a decade later was seen as somewhat ironic but he would go on to repay what ultimately proved to be a very modest £4m fee many times over.
There was little about his early performances that suggested Jagielka would be one of the constants at Goodison over the next dozen years alongside Leighton Baines and, slightly later, Seamus Coleman, the last surviving Moyes signings in the Everton squad. Initially deployed by the Scot as a defensive midfielder, Jagielka was capable but not altogether convincing as a long-term incumbent of the role and he had a similar experience at right back.
That he could play in midfield at all was testament to his versatility — he even took the goalkeeping gloves and kept a clean sheet for his previous club, Sheffield United after the Blades' goalkeeper was sent off. It was the third position he had been asked to play that day.
It wasn't long before he dropped back to the central defensive role for which he would become renowned on Merseyside but even then he had a couple of alarming moments early on, not least a home game against Arsenal when he allowed hitherto unknown striker Eduardo to latch onto two long balls delivered over the top that resulted in a pair of goals and a win for the Gunners. Such lapses would become increasingly rare, however, and he soon established himself as a first-choice centre-half alongside Joseph Yobo while Joleon Lescott was moved by Moyes over to left-back.
His unflappable nature was key to another of the more indelible moments of his Everton career — his ice-cool penalty in a shootout at Wembley that decided an FA Cup semi-final in 2009 against Manchester United. He wouldn't get the chance to help Everton to what might have been the pinnacle of his career with the club, though; he ruptured an anterior cruciate ligament almost immediately afterwards and was ruled out of the Final against Chelsea which would end in agony for the Blues despite Louis Saha scoring the opening goal in record-fast time.
Thankfully, Jags would recover fully and in time for the 2010 World Cup but his lack of playing time likely prevented his inclusion in what ended up being a hugely disappointing tournament for the national team. He would be in Brazil four years later, however, in a starting role but together with his club-mate Baines, was unfairly singled out for blame in the end for what was another harrowing experience for England on the world stage.
In the meantime, Jagielka had become a vital element in Everton's transition from the 11-year Moyes era to the uncertainty of Roberto Martinez's tenure whereupon he assumed the captaincy from the departing Phil Neville. The Catalan had been appointed on the back of an FA Cup triumph but also Wigan Athletic's demotion from the Premier League and there was a great deal of concern that the new manager's disconcerting defensive record at his previous club would eventually undermine what had been a core feature of strength under Moyes.
Those fears were ultimately born out — not before an at-times electrifying first season, an initially promising Europa League run the following year and another FA Cup semi-final under Martinez — but while it would appear easy to lay the blame at the feet of a defence made up Baines, Jagielka, Coleman, and future two-time Premier League winner John Stones, the issues that came to define Martinez's reign went much deeper than the defensive personnel and their abilities. In the end, Jagielka would outlast the Catalan and kept his place in Everton's back line for two years after Stones, the player who was being groomed as his potential replacement, was sold to City.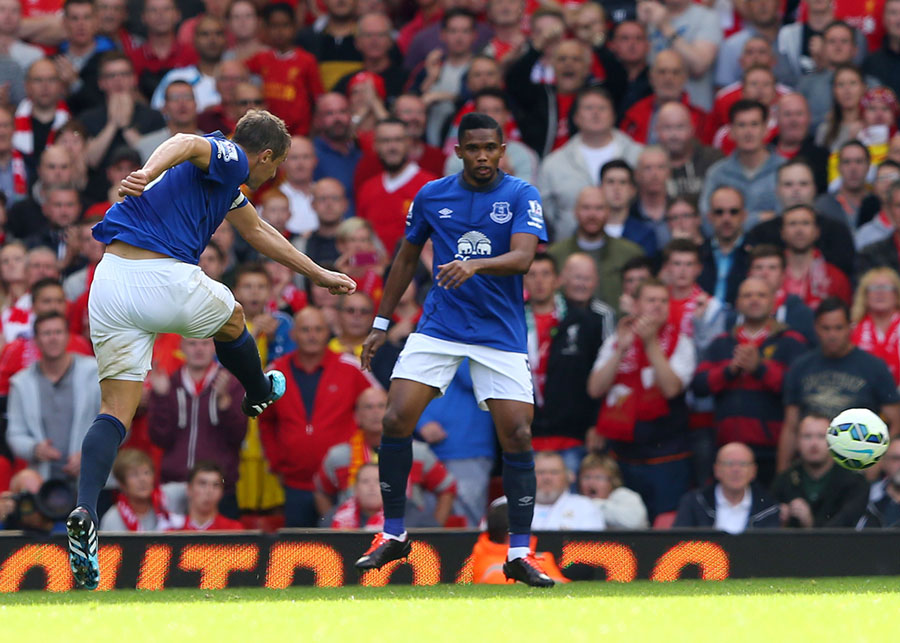 Phil Jagielka scores that sublime stoppage-time equaliser in front of the Kop in 2014
Stones would usurp him in the national side, but not before Jags was handed the honour of becoming the first current Everton player in history to captain England when he led the Three Lions out at Wembley against Lithuania in October 2015. It was a personal high point but it came at the tail end of his international career as he was overlooked by Roy Hodgson for Euro2016, another debacle that the eligible Everton contingent (Stones and Ross Barkley travelled but didn't play) were better off out of.
Evertonians have, historically, had a complicated relationship with the England setup anyway so Jagielka's importance was always more highly valued at Goodison. He had demonstrated that at Wembley in that FA Cup semi-final, again against United, in April 2016 when the skipper was brought back prematurely from a hamstring problem at the end of an injury-disrupted season to lead a patched-up defence in search of what could very well have been cup glory that season had Anthony Martial not destroyed the dream.
He couldn't prevent a gut-wrenching Red Devils winner in stoppage time but, typically, a half-fit Jagielka performed in the manner befitting his reputation at Everton and he would continue to do so when called upon during his final three seasons with the club. He fell out of favour during Ronald Koeman's first season in charge as Ashley Williams and Ramiro Funes Mori were called upon to form a partnership but returned for the second half of 2016-17 and scored three games on the bounce as Everton secured a seventh-placed finish.
He was back at the heart of the defence the following season as Koeman's reign imploded but by the time Marco Silva had taken the reins and was preparing for his first season in charge, Jags was approaching his 36th birthday and it was inevitable that, having already signed Yerry Mina, the Portuguese would seek to bolster his defence further with the acquisition of Kurt Zouma on loan.
Jagielka was in the side when the new season kicked off but was harshly sent off in the opening-day draw at Wolves and by the time he was eligible again, Zouma and Keane had begun to establish an important pairing in the heart of the Blues' back line. He would make just four starts all season but one of his last was emblematic of the kind of player he was. Called into action unexpectedly just before kick-off after Keane was deemed to ill play, the captain scored the only goal and put in another of his resilient, indefatigable performances to earn a rare win over a perennially frustrating opponent.
Like Baines, who could join him in leaving Everton after 12 years, Jagielka will be remembered fondly by Blues fans who, like him no doubt, will feel rueful that his efforts for the club weren't ever rewarded with a trophy. He may have not have been the in-your-face, referee-badgering captain that some felt Everton have needed at times, but he unquestionably led by example with dignity, humility and understated strength.
It's a shame that all careers are eventually brought to an end by the realities of time because it has felt as though Jags might go on forever. A debilitating ACL injury and a couple of serious medial knee ligament tears didn't seem to diminish his powers an iota but sporadic knee cartilage problems reared their head within the past year, giving the first indications that his ability to be a reliable backup was waning.
In that regard, the decision not to award him another year is the right one, even if it leaves the club needing to secure to centre-halves this summer if Zouma can't be prised away from Chelsea. It allows Silva to plan for the future and gives Jagielka a chance to pursue other opportunities elsewhere, perhaps at his old club Sheffield United or, more locally, at somewhere like Wigan. And if, as seems likely, he were to go down the coaching route and earn his badges, he would surely be welcomed back at Finch Farm with open arms.

Follow @EFCLyndon
---
---
© ToffeeWeb