Opinion
The Skipper
Everton's decision not to award a new contract to Phil Jagielka brings to an end a 12-year career characterised by consistency and exemplary leadership by example, one that was deserving of more success but which will nonetheless be remembered for a long time to come.
Lyndon Lloyd

05/06/2019
32

comments | Jump to last
Share:
Had he done nothing else, Phil Jagielka would forever be revered in Everton folklore for one of the greatest strikes ever to grace a Merseyside derby.
It wasn't just the nature of the defender's goal in September 2014, a crisply-struck 25-yard missile that arced its way beautifully into the top corner of Simon Mignolet's net, that was so remarkable. It was also the timing, stoppage time with the Toffees heading for an all-too-familiar Anfield defeat; the location, in front of the Kop; and the protagonist. Central defenders aren't renowned for their ability to pull a "worldy" out of the top drawer but, like a certain Vincent Kompany for Manchester City, sometimes it's a case of cometh the hour, cometh the man.
"Jags", as he came to be known (despite the fact that his surname is actually pronounced "Yag-yelka") has always had more about him than the ordinary, non-Everton fan might suspect and there was plenty he achieved in his time with the Blues that will have earned him his place in club history. That he was once clocked as the fastest player in the Premier League came as a surprise to most because to the outsider and, perhaps, his fiercest critics of his international performances, Jagielka has probably had something of the mediocre about him.
To Evertonians, however, he came to known as Mr Dependable, a model of consistency and versatility, and, for the past six years, the club's captain. Indeed, through five different managers (six if you include David Unsworth) and all of their varying styles and approaches to the game, Jagielka's barely-wavering levels of performance have been the rock on which the team was founded, that was until this season when his advancing years necessitated a changing of the guard to Michael Keane, a player not unlike the veteran skipper in terms of style and demeanour.
His arrival at Goodison Park as a 24-year-old in July 2007 was not his first association with Everton, of course. Jagielka had been a YTS trainee at Bellefield 10 years previously but had left when the club's Under-15s team was dismantled. That the Blues had to buy him back a decade later was seen as somewhat ironic but he would go on to repay what ultimately proved to be a very modest £4m fee many times over.
There was little about his early performances that suggested Jagielka would be one of the constants at Goodison over the next dozen years alongside Leighton Baines and, slightly later, Seamus Coleman, the last surviving Moyes signings in the Everton squad. Initially deployed by the Scot as a defensive midfielder, Jagielka was capable but not altogether convincing as a long-term incumbent of the role and he had a similar experience at right back.
That he could play in midfield at all was testament to his versatility — he even took the goalkeeping gloves and kept a clean sheet for his previous club, Sheffield United after the Blades' goalkeeper was sent off. It was the third position he had been asked to play that day.
It wasn't long before he dropped back to the central defensive role for which he would become renowned on Merseyside but even then he had a couple of alarming moments early on, not least a home game against Arsenal when he allowed hitherto unknown striker Eduardo to latch onto two long balls delivered over the top that resulted in a pair of goals and a win for the Gunners. Such lapses would become increasingly rare, however, and he soon established himself as a first-choice centre-half alongside Joseph Yobo while Joleon Lescott was moved by Moyes over to left-back.
His unflappable nature was key to another of the more indelible moments of his Everton career — his ice-cool penalty in a shootout at Wembley that decided an FA Cup semi-final in 2009 against Manchester United. He wouldn't get the chance to help Everton to what might have been the pinnacle of his career with the club, though; he ruptured an anterior cruciate ligament almost immediately afterwards and was ruled out of the Final against Chelsea which would end in agony for the Blues despite Louis Saha scoring the opening goal in record-fast time.
Thankfully, Jags would recover fully and in time for the 2010 World Cup but his lack of playing time likely prevented his inclusion in what ended up being a hugely disappointing tournament for the national team. He would be in Brazil four years later, however, in a starting role but together with his club-mate Baines, was unfairly singled out for blame in the end for what was another harrowing experience for England on the world stage.
In the meantime, Jagielka had become a vital element in Everton's transition from the 11-year Moyes era to the uncertainty of Roberto Martinez's tenure whereupon he assumed the captaincy from the departing Phil Neville. The Catalan had been appointed on the back of an FA Cup triumph but also Wigan Athletic's demotion from the Premier League and there was a great deal of concern that the new manager's disconcerting defensive record at his previous club would eventually undermine what had been a core feature of strength under Moyes.
Those fears were ultimately born out — not before an at-times electrifying first season, an initially promising Europa League run the following year and another FA Cup semi-final under Martinez — but while it would appear easy to lay the blame at the feet of a defence made up Baines, Jagielka, Coleman, and future two-time Premier League winner John Stones, the issues that came to define Martinez's reign went much deeper than the defensive personnel and their abilities. In the end, Jagielka would outlast the Catalan and kept his place in Everton's back line for two years after Stones, the player who was being groomed as his potential replacement, was sold to City.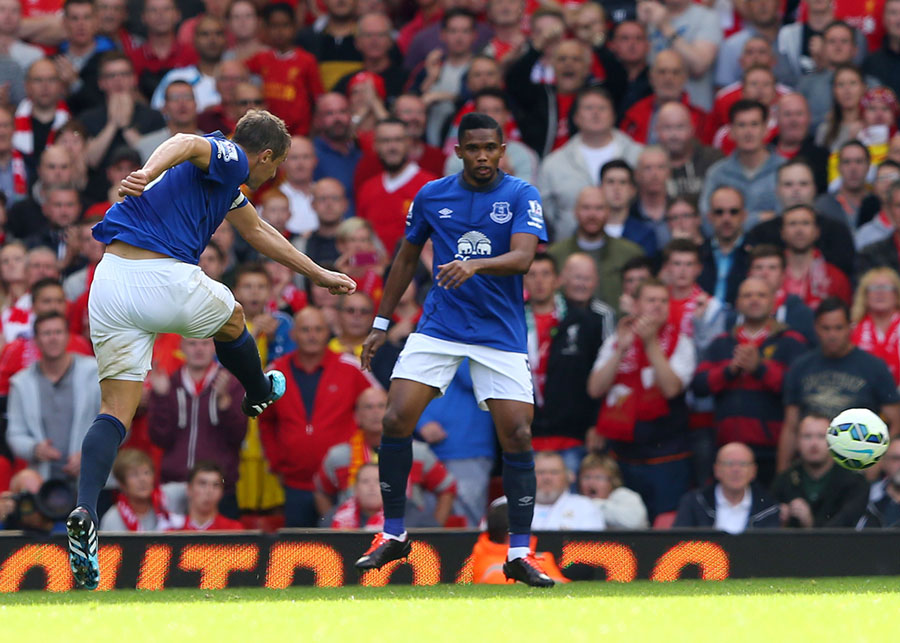 Phil Jagielka scores that sublime stoppage-time equaliser in front of the Kop in 2014
Stones would usurp him in the national side, but not before Jags was handed the honour of becoming the first current Everton player in history to captain England when he led the Three Lions out at Wembley against Lithuania in October 2015. It was a personal high point but it came at the tail end of his international career as he was overlooked by Roy Hodgson for Euro2016, another debacle that the eligible Everton contingent (Stones and Ross Barkley travelled but didn't play) were better off out of.
Evertonians have, historically, had a complicated relationship with the England setup anyway so Jagielka's importance was always more highly valued at Goodison. He had demonstrated that at Wembley in that FA Cup semi-final, again against United, in April 2016 when the skipper was brought back prematurely from a hamstring problem at the end of an injury-disrupted season to lead a patched-up defence in search of what could very well have been cup glory that season had Anthony Martial not destroyed the dream.
He couldn't prevent a gut-wrenching Red Devils winner in stoppage time but, typically, a half-fit Jagielka performed in the manner befitting his reputation at Everton and he would continue to do so when called upon during his final three seasons with the club. He fell out of favour during Ronald Koeman's first season in charge as Ashley Williams and Ramiro Funes Mori were called upon to form a partnership but returned for the second half of 2016-17 and scored three games on the bounce as Everton secured a seventh-placed finish.
He was back at the heart of the defence the following season as Koeman's reign imploded but by the time Marco Silva had taken the reins and was preparing for his first season in charge, Jags was approaching his 36th birthday and it was inevitable that, having already signed Yerry Mina, the Portuguese would seek to bolster his defence further with the acquisition of Kurt Zouma on loan.
Jagielka was in the side when the new season kicked off but was harshly sent off in the opening-day draw at Wolves and by the time he was eligible again, Zouma and Keane had begun to establish an important pairing in the heart of the Blues' back line. He would make just four starts all season but one of his last was emblematic of the kind of player he was. Called into action unexpectedly just before kick-off after Keane was deemed to ill play, the captain scored the only goal and put in another of his resilient, indefatigable performances to earn a rare win over a perennially frustrating opponent.
Like Baines, who could join him in leaving Everton after 12 years, Jagielka will be remembered fondly by Blues fans who, like him no doubt, will feel rueful that his efforts for the club weren't ever rewarded with a trophy. He may have not have been the in-your-face, referee-badgering captain that some felt Everton have needed at times, but he unquestionably led by example with dignity, humility and understated strength.
It's a shame that all careers are eventually brought to an end by the realities of time because it has felt as though Jags might go on forever. A debilitating ACL injury and a couple of serious medial knee ligament tears didn't seem to diminish his powers an iota but sporadic knee cartilage problems reared their head within the past year, giving the first indications that his ability to be a reliable backup was waning.
In that regard, the decision not to award him another year is the right one, even if it leaves the club needing to secure to centre-halves this summer if Zouma can't be prised away from Chelsea. It allows Silva to plan for the future and gives Jagielka a chance to pursue other opportunities elsewhere, perhaps at his old club Sheffield United or, more locally, at somewhere like Wigan. And if, as seems likely, he were to go down the coaching route and earn his badges, he would surely be welcomed back at Finch Farm with open arms.

Follow @Everton1an
---
Reader Comments (32)
Note: the following content is not moderated or vetted by the site owners at the time of submission. Comments are the responsibility of the poster. Disclaimer
Gordon White
1
Posted 05/06/2019 at 07:58:22
Enjoyed reading this thank you. Couldn't agree more.

Liam Reilly
2
Posted 05/06/2019 at 08:49:23
Represented to club very well both in and off the field and has the respect of I suspect, most supporters.
It's the right decision though, as the club needs to move away from this nice 'peoples club' (God I hate that term) mentality.
Seamus now is the natural successor but wouldn't mind a number 2 with some 'bite in him, as the club is seriously lacking in that department.
Ajay Gopal
3
Posted 05/06/2019 at 10:19:51
Lyndon, let me congratulate you on the latest of a series of wonderful articles with "The . " as the theme (Machine/Renaissance/Misfit/Priority) over the past 3-4 months.
All the very best to Jagielka who has been an embodiment of professionalism, dignity, competitiveness and has earned Everton respect over the years. He was the quintessential Moyes signing - relatively cheap, with something to prove, the right work ethic, grounded, team player, a fans favourite, would never rock the boat. One of a dying breed too footballers.
Si Smith
4
Posted 05/06/2019 at 11:35:06
R.E Ajay above 👏👏👏
Proud to have had Phil as our captain, good luck to him in the future.
David Pearl
5
Posted 05/06/2019 at 13:22:48
I'm actually surprised that he had to wait so long before the club confirmed his departure. He obviously wanted to stay. I remember Graeme Sharp saying he'd only ever be a squad player when he first joined. He was written off every year for the last 5 years but never let us down. He did used to start the seasons a bit slow for some reason but always came back to form. Great partnerships, a few great goals. I hope he plays on for another couple of years. It's time for Keane to take over his mantle as far as I'm concerned, and I'd make him vice captain.
James Lauwervine
6
Posted 05/06/2019 at 13:35:13
Another great article Lyndon. As mentioned, it is a great pity that Jags (and selected others) gave so much to the club but never got to lift a trophy. Ajay has already eloquently expressed why.
I wish him the best of luck. I don't think he'll go to Sheff Utd but have no doubt there'll be other clubs interested in him.
Rick Tarleton
7
Posted 05/06/2019 at 13:37:30
Not one of the "yard dog" central defenders, there was even a little of the Corinthian about him. He was a credit to the club and always a man of integrity.
Alex Parr
8
Posted 05/06/2019 at 14:02:40
Always thought Jags was a great guy, if maybe a little past his best lately. But I would definitely wish him well wherever he ends up, and hope to see him again at Goodison one day perhaps as a coach.
James Stewart
9
Posted 05/06/2019 at 15:33:22
Excellent and fitting tribute piece to one of the best Everton signings in my lifetime.
I never quite agreed with the decision to make him Captain but that does not detract from what a fine player and model professional Jagielka is/was. The club should have acted with more clarity and dignity with such a distinguished player. Ditto Baines. The fact that Jagielka announced it first via his social media long after the last game of the season is a real lack of class from the club.
Alan Rooney
10
Posted 05/06/2019 at 15:40:32
I'm pretty sure I heard him say during an interview that his surname was pronounced with a hard 'J', rather than a soft 'Y'.
Kevin Prytherch
11
Posted 05/06/2019 at 15:52:23
James - Jagielka might have asked to announce it now ahead of the official "released players" announcement on Friday. It's not necessarily a lack of class.
Also, who's to know whether the decision has only just been made. They could have still been contemplating an extension at the last game.
Personally, I'm hoping this means there is a centre back lined up, or it's a poor decision to let good cover go.
Paul McCoy
12
Posted 05/06/2019 at 15:54:38
Sad to see him go, but time catches up with us all eventually. The back four of Baines - Distin - Jags - Coleman was as solid as anything I've seen in my time supporting Everton (although I'm only 38...)
Kevin Prytherch
13
Posted 05/06/2019 at 16:20:12
I remember when Lescott signed for City and someone (Kendall I think) was asked whether city had signed the best centre back in England. His response was
"Best centre back in England? He's not even the best centre back at Everton"
Mike Gaynes
14
Posted 05/06/2019 at 16:30:07
Superb article, Lyndon, and some outstanding posts in response.
The Kop goal was the defining instant of his career (I watched it in my living room with fellow Oregon TWer Paul Columb, and jumped over the couch). But he will always be special to me personally for the fact that on the emotional day when I first visited Goodison, he scored the gamewinner against Leicester... a crashing header off a corner. And the following week against Burnley, he scored again and capped the moment with a cartwheel down the end line. Joyous moments.
Alan #10, he specifically addressed this in an interview last January, confirming that the hard "J" used by most people and even his teammates was what he considered his football or stage name, but that "Yag-yelka" is correct: https://www.90min.com/posts/5959696-everton-captain-jagielka-reveals-why-he-s-fine-with-everyone-mispronouncing-his-name
Jay Harris
15
Posted 05/06/2019 at 16:38:18
A fitting article and tribute to a great servant.
What a wonderful example to all young footballers on how to conduct yourself.
The man oozed class on and off the pitch.
Its just a pity he hasnt got a winners medal to go with his England caps and captaincy of Everton.
I hope a testimonial is being planned, maybe a Jags 11 against a Bainesy 11 would be appropriate.
Tom Bowers
16
Posted 05/06/2019 at 16:43:26
One can only say good things about him and it's sad that a great professional as consistent as they come did not win anything throughout his career and some players not yet shaving win trophies and medals. Just the wrong teams at the wrong time.
I'm not surprised by the announcement as we all know age is the main reason. I like to think that even if Zouma is a non-starter that Everton do have someone else in mind to fill the void apart from Holgate.

Tim Taylor
17
Posted 05/06/2019 at 16:48:28
Nice article very well put and as others have said a fitting tribute. Thanks
Peter Mills
18
Posted 05/06/2019 at 17:08:21
A typically eloquent and fitting article Lyndon, thank you.
Jags has been an excellent player for us. And in an era when we have had little to cheer, his penalty against Man Utd (when he took surely the faster ever run up to a spot kick) led to to a few minutes of joyous delirium at Wembley.
Steve Hogan
19
Posted 05/06/2019 at 20:06:28
Sadly, he joins a long list of Everton 'captains' who never quite managed to win a trophy with the club. Outside of Goodison, I don't think he got the recognition his overall ability warranted, over the 11 years he was with us, I struggle to think of too many poor/bad games he had, bearing in mind he played in some pretty poor sides over that period.
He was often criticised for not being 'vocal' enough, but again I think it's a little unfair. I thought the strongest centre back pairing was him and the much maligned Lescott.
Think it was the Anfield derby cup tie some years ago, at a time when Torres was probably the best centre forward in europe, they simply never gave him a kick all game, they both had tremendous pace, such was their dominance.
It saddens me a little when I hear of the 'legend' status given to Snodin and Graham Stuart, who both spent very few years at the club compared to Jags, the only difference is that they finished their career's with a trophy.
A proper unsung hero, best of luck to whatever he decides to do next.
Paul Birmingham
20
Posted 05/06/2019 at 20:55:26
Tremendous servant, and it's seems 5 mins since he joined us and was in midfield. A model professional, Jags will always be welcome at EFC.
Good luck Jags and all the best for the future.
Les Newsham
21
Posted 05/06/2019 at 21:39:11
Thank you Jags.
Is it true he heard by Twitter that he was being let go? I do hope not.
Keith Harrison
22
Posted 05/06/2019 at 22:15:57
Dateline: September 2014. Place: The sports Bar on the Bahia Principe complex, Tenerife - 10.30 am their time. Celtic had just finished against Kilmarnock?, the Ryder Cup was on, and I was surrounded by Celts and Kopites, including a brother and his brother in law. The single Evertonian in a packed place. I took dogs abuse all game which trebled after Gerrard scored a soft goal "Floodgates open now lad" "Still time to get 5" etc etc.

Browning played a ball in, headed out to McGeady, ball in again, headed out to Jagielka.
WHAT THE FUCK WAS THAT???????

An Exocet launched off the outside of Jags right boot almost took the net off.
Total silence - broken only by my hysterical scream of YERRRRRRRRRRRRRRRRRRRRRRS (after I had waited for it to be disallowed for too hard a shot, or no goals outside the box etc)

A few laps of honour followed before I slid across the floor on my knees, arms aloft, to where my brother and mate sat.

I had, of course, forgotten that I was wearing flip flops and shorts. Cue blistered knees and bruised big toe!

Thanks Jags, for one of the most truly uplifting moments in my life. The rest of the holiday was a kopite baiting gas!
I can remember him being played in midfield, then right back and quite honestly being poor, before settling into centre defence at the time when Moyes didn't play Baines either, and had Lescott at left back. When they were finally moved in to the middle of defence, they came into their own.
Good luck in the future skipper, and it would be magnificent of the club if they could organise a pre-season friendly testimonial for you to give you the send off you deserve.
Christopher Timmins
23
Posted 06/06/2019 at 07:58:43
Thanks Jags for all the years of fine service to the club. You will be missed!
Tony Everan
24
Posted 06/06/2019 at 09:14:44
He has been a stalwart for us for years, Mr Dependable. With all the shit that has blown around the club over the last few years Jag's is still a constant. We could always rely on him when in need. He has been a force for good at Everton for a long time, through thick and thin, and he goes with the appreciation of all Evertonians.
Thanks and good luck Phil.
Paul Bernard
25
Posted 06/06/2019 at 15:37:43
Keith @22, I too didn't celebrate the moment it hit the net. I was waiting for something to go wrong. That in effect is what being a blue has done to me when it comes to facing the devils favourite clients.
I sort of sat on my granddads couch with this burst of joy trapped inside.
Mike Gaynes
26
Posted 06/06/2019 at 15:51:26
Great story, Keith!
Matthew Williams
27
Posted 07/06/2019 at 11:56:23
Best of luck wherever you end up Jags.
John Boon
28
Posted 08/06/2019 at 01:25:54
When we first signed Jags we were mainly interested in his versatility and ability to plain in mid or defense. The experts soon realized that he was a defender and a very good one. As a multi long supporter I feel that he was right up there with our very best. More important he didn't need to do any more than play his position to a very high degree of excellence. To me he was a true Evertonian, a first class gentlemsn and a very good player. We need many more like him rather than over paid pansies who only think about pay days.
Derek Taylor
29
Posted 08/06/2019 at 09:00:50
If Mina ends up as his replacement, gawd help us. More money badly spent but Moshiri seems to have plenty of it so what matters ?
Ernie Baywood
30
Posted 10/06/2019 at 00:18:59
Great servant and always comes across as a really good bloke.
I remember not being convinced about him. Seemed to be playing 'above' himself. But then he just kept on doing it until you realised that was the player he was. All action, brave, committed, last ditch stuff was the norm.
For a few seasons it's not exaggerating to say he was absolutely outstanding.
Good luck to him.
Andrew James
31
Posted 23/06/2019 at 00:36:55
Love Jags and always will. Always had the ability to surprise you by doing something out of expectation.
Special player who was loyal. Best centre half since Ratcliffe.
James Marshall
32
Posted 24/06/2019 at 12:44:27
Great player for us, rarely let us down and barely made any mistakes during his 12 years. Quality, long serving footballers are a dying breed and Jags s certainly that.
I was in deepest, darkest Borneo in a shitty bar when he twatted the ball into the RS net from 30 yards for that equaliser, and I'll never forget the stunned silence apart from me and one other blue who's name I forget now. The house-band even stopped playing we made so much noise. Cheers Jags.
Add Your Comments
In order to post a comment, you need to be logged in as a registered user of the site.
Or Sign up as a ToffeeWeb Member — it's free, takes just a few minutes and will allow you to post your comments on articles and Talking Points submissions across the site.
© ToffeeWeb