Everton History
"We Were Treated Like Royalty"
Becky Tallentire

22/03/2019
56

comments | Jump to last
Share:
Real Footballers' Wives – Annette Scott
It was a very happy and carefree time to be growing up. My dad was in the building trade and worked as a slater and mum was very modern because she worked when nobody else's mum did.
Originally, she was part-time in the office at the Prudential then she joined the Provident Clothing Company, which was a huge credit organisation for people who didn't have much money and needed to buy clothes on tick.
She started with a book of virtually nothing and ended up making a fabulous wage. In fact she was earning more than my dad in the end. Eventually she built up such a huge run that dad had to drive her to collect from her customers; they all paid in sixpence a week. She only really worked on Friday and Saturday and on Mondays she had to add it all up, calculate the tax, take off her wage and pay it all in. She was very small and slim, immaculately dressed; a wonderful woman and years ahead of her time.
We moved from one house to another in Falkirk and were the first people I knew to get a car and it was all very exciting. My brother Alex was three years older than me. We had a very happy childhood and in those days you could run free and nobody bothered about locking their doors or anything like that. They were great days and we couldn't have wished for better.
I'm not saying I did well at school but I absolutely loved it. I went to Falkirk Technical School and was crying when I had to leave, which sounds ridiculous because almost everyone I ever spoke to said how much they hated it, but not me. I was going to go back for my fourth year but all my pals were leaving and getting jobs and I though I would be the only one, so I saw a job advertised in for a secretary in an accountants office which I applied for and got.
I knew Alec by sight because he was the year above me at school but I actually met him properly when I was 18 at Doaks Ballroom, the local dancehall. He came over and asked me to dance and that was it really. It was in the days when you could actually speak to the person you were dancing with, so I asked him what he did and he told me he was a footballer. I wasn't really impressed because it didn't mean that much to me. He asked if he could have another dance and he didn't seem to let me go. Later on, when he was leaving, he said goodbye and that he would see me the next week. We didn't go out on a date straight away, it was just a gradual thing over two or three weeks, and when he finally asked me out we went to the pictures.
Alec was incredibly kind, good hearted and generous to everybody. It was just part of his personality. He was always lending people money if they were short of a few bob and that was something that never changed throughout his life. Even when he was in the pub trade, people used to say they would get a 'Scott loan' because he was renowned for being quick to put his hand in his pocket.
He was a big Tony Bennett fan, loved Nat King Cole and the song he always sang was 'Walking my Baby Back Home' - that was his party piece. He wasn't the type who would want to be on the dancefloor all night but if we were ever anywhere, all the ladies at the table got a dance from Alec. He would make sure nobody was left out. He liked to stand and chat with the men too, make no mistake.
He'd provisionally signed for Rangers when he was 16 and was almost immediately called up to the first team. It was unusual for that time because they normally had to work their way up and serve some kind of apprenticeship, but he must have just been in the right place at the right time.
My dad was a football fan and followed Falkirk but I'd never been to any games or anything like that and I didn't know much about it, but I soon learned. Once I started courting, my dad would take me to the Rangers game every week to watch them play. He became a follower of Rangers but deep in his heart he always supported Falkirk.
I started keeping all the newspaper clippings of Alec's career and putting them into scrapbooks. I ended up with loads of them and still have them now. It was wonderful to watch him play and Rangers were the top team at that time, winning every single domestic honour and playing regularly in Europe. Alec was often flying out to Russia, Italy, Sweden and all over the place. He used to bring me fabulous gifts when he went away, beautiful rings and really unusual presents. He had really good taste. I don't know if he was getting guidance from anybody but everything he chose was lovely, even the clothes, and when the kids were born he'd bring lovely presents for them. It was great to see them dressed up in things you would never see here.
He was awfully generous, the kindest person I'd ever met. Rangers were making a fortune because of their success and Alec was getting paid much more than the English players because there was a cap on the wages down there at £20 a week. In Scotland they got a higher basic plus bonuses. His was £22 a week and that was a lot of money in those days, and there were the summer and winter bonuses, which boosted the earnings right up. Crowd bonuses hadn't come in or cash for scoring goals, but it wasn't far away, and it all happened when we moved to Everton. The block was lifted in 1963 and Alec got the benefit of that, too, because he was already well established.
We married locally in St Modan's parish church on 24 June 1959, when I'd just turned 22. Evelyn was my best friend and my bridesmaid, and we're still best friends to this day. Reporters and press photographers were there but so much was happening, I didn't really take much in. It didn't bother me them being there but it did get intrusive at other times. I don't know how they put up with it nowadays, I really don't.
Alec's brother Jim was our best man. He had two brothers and a sister: both boys were footballers too. Jim played for Newcastle and Crystal Palace and Robert went to Bury in the lower league. Their Dad was a very talented player but he wasn't really interested in it enough to make a living from it.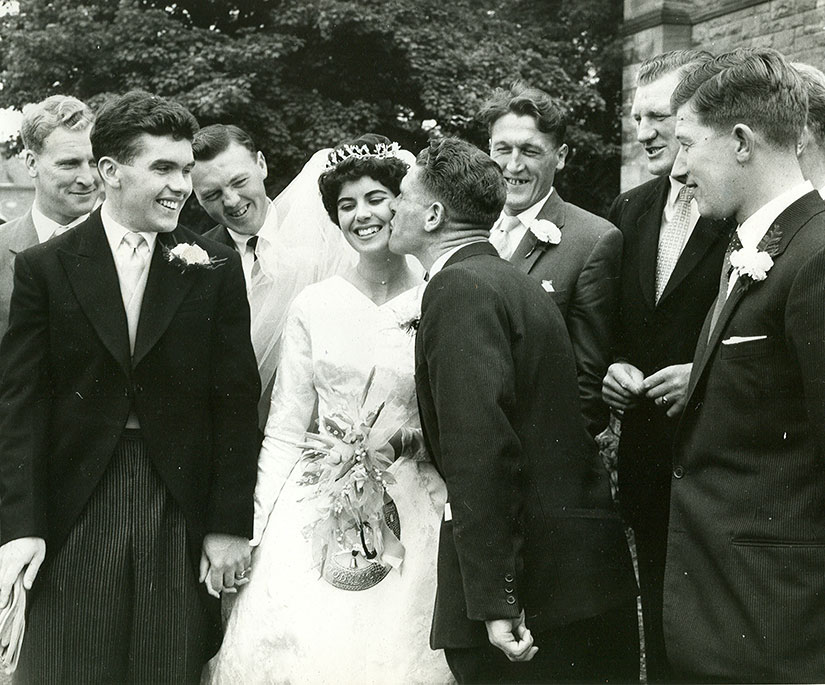 We had a week in Jersey for our honeymoon, we flew down from Glasgow, and it was the first time I'd been on a plane. Of course Alec had travelled extensively with Rangers but I got a real taste for it and after that we were abroad at every opportunity.
He wouldn't dare stay out late the night before a game; he'd always be in by 10 o'clock. I remember a couple of players at Everton getting warnings about drinking, the fans would phone Mr Catterick and tell him that they'd seen them out late or drinking too much. When we were young we never drank alcohol, not ever. We went dancing but we would never dream of going into a pub. It was completely alien to us and never even crossed out minds. The first drink I ever had was at a Rangers do, it was advocaat and it was vile. They asked me what I wanted to drink and when I said I didn't, they looked at me as if I was mad. The way we'd been brought up was that the only time you had drink was in your house was at New Year and once it was gone, it was gone.
If you were doing an apprenticeship in those days, you wouldn't get called up for National Service until it was over. Alec wanted something to fall back on if his football suddenly came to an end and was doing his in engineering. When it was completed, he was eventually called up but fortunately he got stationed at Edinburgh Castle and they released him every weekend, so not only did he keep playing for Rangers, he got to stay at home, too, but he had to catch the train there every morning.
The colonel was awfully good to him because he was into football, so I'm sure that helped.
Alec was a supreme athlete but that was his natural talent; he only trained like everybody else and wasn't obsessive about it. He didn't have much bother with his weight during the close season, and he stayed the same all year round. He was very sport minded though; he loved tennis and played all the time in the summer when we were up in Scotland, but not so much in England because there was nobody for him to play against. He loved golf too; he looked after himself but he wasn't a fanatical trainer at all, it was just his gift.
When I found out I was having twins, I nearly collapsed. I went to the ante-natal class and they looked at me and said I was too big for three months and maybe I'd mixed up my dates, but I was sure I hadn't. They did an x-ray and told me I'd have to go back for the results the next week. I was on tenterhooks wondering what was happening and then they dropped the bombshell. I broke the news to Alec while we were driving down the road and he almost crashed. When I think about it, I should have picked a better moment.
I was awfully worried that they would be born while Alec was away; he was scheduled to go abroad when I was due and of course there was no question that he wouldn't be travelling with the team, so the doctor said he would induce them and the boys were born on February 1st 1962, a few days before Alec went away. The midwife said, 'You've got two boys and one is the double of your husband', but I couldn't see the resemblance to either of us.
I'm very small and slim and I remember my mother-in-law saying that she was so worried they would be wee midgets because I'm so little, but they were both big healthy boys, Alec weighed in a 6lb 14 and David was 6lb14 ½ they didn't need to go into incubators or anything. They're not identical but they were very alike as babies. They were very individual and as the years went on, they started to look different.
It took a bit of getting used to, that's for sure. It was hard work at the beginning because you literally needed two pairs of hands, one was wanting to be fed and the other was crying, and if there was nobody there to help, it was a nightmare. When I look back I wonder how I coped but when you're young you don't ask questions, you just get on with it. The worst thing was the pram. I had one of those beautiful chrome Silver Cross twin prams that weighed more than me. I don't know how I managed to hold on to it sometimes, especially going downhill. I would take them out and after two minutes all the covers would be on the floor where one of them had kicked them off. Never once did I have one of the nice tidy prams, all neatly tucked in.
We never bothered moving because Glasgow was only a 25 minute train journey before you jumped on the tube and it took you straight to Ibrox, so there was no point in moving. Alec could get to work faster than some of the players who actually lived in Glasgow because of the traffic. Everything was convenient for us in Falkirk and I had my parents on hand to help me with the boys. The crunch came when Alec got transferred to Everton in February 1963 and they were 13 months old.
Spurs had been after him, too, but the deciding factors were that his brother Robert lived in Bury so at least we'd have one person we knew relatively nearby, and of course it was far easier to get to Scotland from the north of England so we could go home for the weekend and see my mum and dad.
The transfer was with immediate effect so he had to go ahead of us. He would drive back up to Falkirk after the game but then he would have to go back on Monday morning for training. We lived in rented property so we didn't have to sell up to move, but we'd started up a grocer's shop that mine and Alex's mum worked in, so they took that over and I started going back and forwards from Scotland on the train to look for somewhere to live.
He moved into the Lord Nelson, a hotel right near Lime St station, while we looked for a house and one morning we were in the dining room having breakfast and a couple of tables away were Eric Morecambe and Ernie Wise. It was before they were really famous and you only vaguely knew who they were, but that was our claim to fame.
I'd never been to England before and I didn't have a clue what it would be like. Everton gave us a list of houses in Maghull to take a look at and we could decide which one we wanted. The house we chose was in Kendal Drive, a newly built semi-detached with a curved bay window at the front. I couldn't get over the houses being just plain brick - it looked really peculiar because the only houses I'd ever seen had been pebbledashed. There was a big field at the back of us, which was lovely, but over time they started to build more and more houses there. We left shortly afterwards, but if he'd not been transferred, we would have moved house because we went from being almost in the countryside to the middle of a housing estate within a couple of years.
I went to all the matches at Goodison and my neighbours, Enid and Bill Bailey, would look after the boys for me. It was the highlight of my week and I really loved watching the game. Some of the wives went purely for the social aspect and just wanted to chat, but I genuinely wanted to watch the football. I loved watching the match and I still do
I was alone with the boys for a lot of the time and homesickness hit me really hard. Enid and Bill had a daughter, Jan and she would come and babysit and let us get out from time to time. That made a big difference because before that I couldn't go anywhere and was really tied down.
John Moores owned Everton then; he was very generous and such a lovely man. You would expect him to be aloof but he was just a wonderful warm person and from the school of thought that if you were happy at home you were happy on the pitch. He was charming to everybody and was just one of many. When we moved down there, we had a driver at our disposal from the Littlewoods headquarters and he'd take you to go and get furniture or to go and choose wallpaper. You were allowed so much in a furnishing budget and it was lovely.
Sandy and Jeanette Brown moved down from Scotland in September 1963 and we socialised with them and Derek and Maureen Temple. Occasionally we met Pat and Jimmy Gabriel but we were also friends with two couples who were nothing to do with football, and it was quite refreshing to have a change of scene and conversation.
We liked to go out to eat. The Lydiate Country Club was one of our favourites, which wasn't as posh as it sounds. It was just up the road and you'd get a huge big plateful of food and the fellas loved the big steaks in those days.
Sometimes we would go on to the Prince of Wales on Lord Street in Southport but mostly we'd go to the Sands in Ainsdale. We'd have a meal there; a few drinks and some of the others would normally come too: Pat and Ray Wilson and Alan and Lesley Ball, and there would often end up a big crowd of us. Once I met some people my homesickness subsided a lot and it was much easier.
We'd been on holiday abroad quite often by the time we won the League in 1963 and the club took us to Torremolinos. I always remember that the hotel was in the middle of nowhere. It wasn't the Costa Del Sol as we know it now, that's for sure. We thought it was a desolate place although our hotel was wonderful and everything was laid on for us. It was about a mile from the village and it was all very poor around there. There was one nightclub and I can remember the girls were told that if we went to Malaga we were to cover up and we mustn't wear shorts. It was very prim and proper in those days. The women were chaperoned but we had a lovely time and were treated like royalty.
In the summer of 1964 the club took the players to Australia for five weeks in pre-season. I wasn't very well while Alec was away and I felt so isolated. Of course he would write and I was wrote back, and by the tone of his letters I thought we would be emigrating there, he really loved it. I told him he was looking at it from a different stance. They were getting wined and dined and taken out on yachts and really living the life of Riley; it would have been a different story if you were to actually go there to try and make a living. But he kept going on about what a wonderful place it would be to bring up the children and to be in the sunshine all the time, but nothing ever came of it. He came home with badges and souvenirs from every club and place they visited. It was lovely to have him home again I'd missed him so much.
Some of the local wives thought the way we were treated by Everton was terrible but I always thought I was treated like royalty compared to when we were at Rangers - we were lucky if we got in the door at Ibrox. Everton were far more generous to the wives and the players. The players were better thought of, too, and I always used to remark on the difference because at Rangers it was as if the players didn't matter at all. The board came first and that was it.
I remember when Everton sent us an enormous Christmas hamper with booze and goodies and lovely stuff in there and there was even a present in there for me. It was a dressing-table set; a matching brush, comb and mirror and it was lovely to be remembered. There was an enormous turkey in there, too, but we'd already bought ours so Alec got in the car and took it to a nearby kids home, otherwise it would have gone to waste.
Everton was a much better place to be and although there was the rivalry with Liverpool it was absolutely nothing compared to the bigotry between Rangers and Celtic, which could turn really nasty. The most wonderful thing that will always stick in my memory was when they won the FA Cup in 1966 and were driving back into Liverpool. We were on the outskirts of the city and everywhere you looked there was a sea of blue, white and red. There were as many Liverpool fans out on the streets to welcome the boys home as there were Evertonians. All the Liverpool supporters had decorated their balconies and windows and there were flags flying wherever you looked.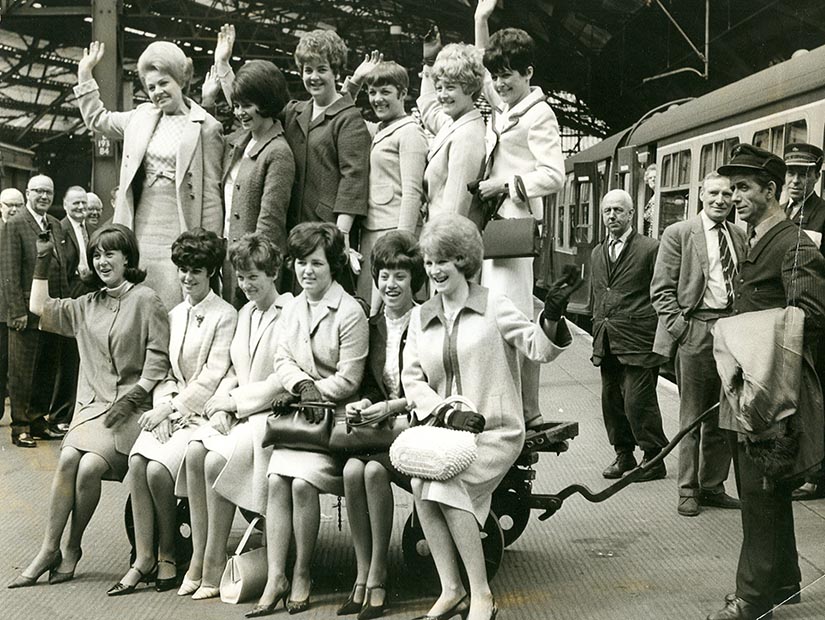 The 1966 wives at Lime Street before the FA Cup final
Ken Dodd was a well known Liverpool supporter and I can still see him now, standing on the pavement on his own, waving like mad; he was so thrilled that the Cup had come to Merseyside regardless of which team. If that was Glasgow and Rangers had won, you wouldn't have seen a bit of green anywhere, not even a blade of grass. I thought it was wonderful and it was great banter between the clubs, which was something I'd never experienced before.
We were so excited about going to Wembley. Jeanette Brown and I went down to London on the train to buy our outfits and came back home again the same day. I wore a cerise coat and dress with navy accessories. There was to be a big dinner in the evening and I had a navy chiffon dress to wear. The wives were all discussing their outfits and I can't remember who it was but one of them described her dress and I realised it was the same as mine. I almost died on the spot, of all the dresses we could have picked. Because I was so small, I'd already had mine altered so she said she would go and buy a new one because I couldn't take mine back.
We got phone call after phone call from people asking for tickets for the final. There was all this talk that the players would get 100 tickets each but the chairman of Sheffield Wednesday was a bit of a churchgoer and he put a block on the number the players from both teams were allowed and they ended up with five. We had a friend who worked in a factory office and everybody knew she could get Wembley tickets from Alec Scott without a problem. I don't remember how much the tickets were but she was gathering in all the cash in advance and she had a biscuit tin full of money. She was just waiting for Alec to hand over the tickets and she would distribute them among her colleagues.
Of course the bombshell fell and you should have seen the carry on as people were desperately trying to get sorted out. Even immediate family couldn't get to the match; it was ridiculous and nothing short of a disgrace. The spivs always managed to get hold of tickets, though. I could never quite work out how, but they always did.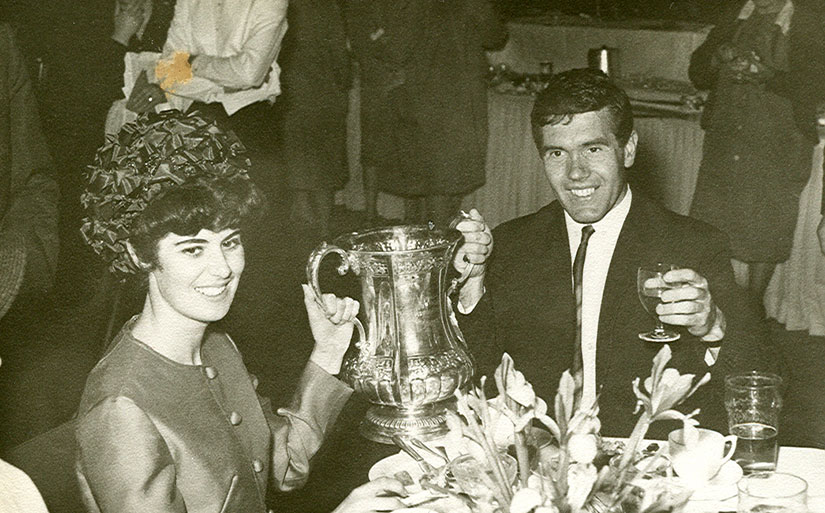 I think coming from behind the win the FA Cup 3-2 was my proudest moment because you were on a low, thinking we'd never come back from two down and to cap it all, it had been billed as an uninteresting final and it turned out to be one of the most exciting ever. It was just wonderful to witness.
The boys all got presented with gold watches and the wives got boxes of Belgian chocolates, which weighed a ton; they were the heaviest I'd ever seen. I came across the menu from the dinner recently. We've got so much stuff from those days, mainly from Rangers because he was there for eight or nine years but some lovely things from Everton, too.
I don't suppose many of the players got to see that entire Cup final again, but we did. A cinema in Falkirk arranged for us to watch it with the Provost, the Scottish equivalent to the Mayor. It was quite strange really, the three of us sat in the empty picture house and watched the game, then they presented Alec with the Pathe newsreel in a huge can. I don't know what we were supposed to do with it and I imagine it's obsolete now, but it's still here.
Alec didn't have any superstitions or rituals and even if he lost he wouldn't be whingeing or depressed. He obviously wasn't very happy if they got beat but he never brought it home with him. I've seen some of the players with their faces tripping them up but he would just say they were beaten by the better team on the day, or they were unlucky, but that was where it ended.
He was very fortunate with his injury record; he never sustained anything too serious. The worst he had was when he was playing abroad for Rangers. He was running at full tilt when somebody fouled him and he was going so fast, he went headfirst into the stone wall around the edge of the pitch. He managed to get his head down but he was completely out for the count and was carried off on a stretcher. He came home with stitches and a huge bandage around his head like a turban. Another time he got a knock on the head and began hallucinating and talking gibberish, but he was all right in the end.
I saw him play for Scotland every time I could, and it was wonderful. There's nothing like the atmosphere of being at the game, but to see him play for his country made me feel so proud. The fans used to call him Chico and to hear them chanting his name around the ground was just amazing.
He often used to re-live games in his sleep; he would sit up and stick his hand out and shout 'goal'. He used to talk in his sleep, too, and I could literally hold conversations with him. He'd start of quite sensibly then it would turn to gibberish. I'd try and remember them for the next morning but I never could. I should have written it down just for the comedy value.
I don't think I made any major sacrifices for his career other than leaving Scotland to go to Everton, but I didn't look on it as a hardship, it was actually quite an adventure and once I got over the homesickness, I really enjoyed it. It was quite daunting, with the boys being so young, but I knew Alec would be there so it wouldn't be too bad.
I loved my time in Liverpool and we really did think of staying but we had the business at home and I had a dress shop that I'd opened up in Falkirk, so it made sense to go back. If we'd started a business down in England we would have had no support network and what if one of us took ill?
We could have happily stayed in Liverpool without a doubt, though. We liked the people, they were friendly and always good to us, and the fans loved Alec who was very well thought of. We left England in September 1967, when he was transferred to Hibs, and he ended up at Falkirk, so he went full circle and retired in 1972
When I was in England the only thing I really missed was a dance. They had a get-together with the FA Cup win but that was it. At Rangers, they had one every year and we were all invited to a dinner and then on to a dance and whenever they won a cup or a trophy, there would be a celebration for the players. At Christmas we would be taken to a show of some kind at the theatre. I remember Everton had us back to Goodison for drinks when we beat Manchester United in the semi-final of the FA Cup and everyone was on a high because that was them through to the final, but they didn't have an annual event and that was the one thing I really missed.
If I had the chance to be a footballer's wife now, I don't think I'd take it. In our day there wasn't so much pressure on the players and they didn't live their lives under such scrutiny. It all seems so different now. They still seem to come from ordinary working-class backgrounds but they're suddenly flung into this artificial world with vast amounts of money that some of them just can't handle and they seem unable to live a normal life.
I'm sure there are hundreds of players and their families who are more normal but I think these enormous amounts of money bring their own problems. The money they earn is beyond comprehension. They'll never have to work again, that's for sure, but the fact is, it's ruined the game.
All the teams you thought would be there forever have gone. Look at Leeds, who would ever have believed this could happen to a club of that stature? It's all wages and transfer fees and this carry on with agents. We'd never even heard of agents. It's quite sad in a way and they're under the microscope all the time, their lives and everything they do and then stories appear in the papers and you don't even know if they're true.
I feel sorry for David Beckham and his wife; the press were just sitting there waiting for something to go wrong. They love it when something goes wrong because it sells their newspapers. It makes me sick.
We didn't spend the money Alec was making because we didn't have a lavish life. We had a car and that was it. I was always of the opinion that he could go out on the pitch and break a leg and that would be the end of his career, and then what would we do? So I saved the money and banked it and that's how we built up enough to get a pub.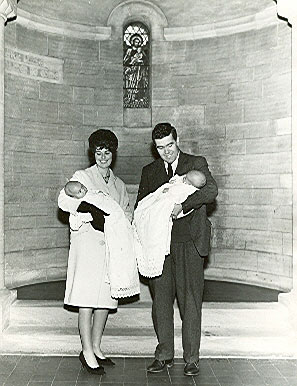 We went into the trade when he finished football with his brother Jim and they built it between them from scratch. The pub was in Falkirk and called The Hurlet, which is an old Scottish word that means a building on a corner on a hill. At first I was doing everything, working behind the bar and in the kitchen, then I had to call a halt to it.
It was all right but I wasn't ecstatic about it. I was hardly there in the evenings as I was at home with the boys but if I was there at night, I was on the other side of the bar. We had some great times and made lots of friends. I retired from pub duties before he did, I always had plenty to keep me busy, we had the dog that always needed walking and I loved to be in the garden.
Alec worked there right up until he'd had enough, we sold the pub and Jim opened a very small bar in Falkirk and Alec would go in and give him a hand for two or three hours, a couple of days a week. It kept his hand in and structured his day. He was a very sociable person, he could meet everybody, catch up, have a natter, hear some new jokes and he still had time for his golf. He loved that and he didn't like sitting around but he wasn't a DIY person or anything like that. I was the one in charge of that side of things.
We didn't really know Alec was ill until he was in hospital and from the time he was diagnosed with cancer to the time he was gone was only two or three weeks. I lost him on September 12, 2001, the day after the planes crashed into World Trade Centre in New York. I was sitting in intensive care at the hospital when I heard that news and it seemed as if the whole world had gone mad. Alec never regained consciousness, so he didn't get to hear about it. It was the most awful time and what magnified it was I'd lost my mum six months before and was only just starting to accept that. It really was devastating; we'd been together our whole lives.
His funeral was awesome; there were hundreds of people there and I couldn't believe the turn-out. I never even saw half the people who came to pay their respects because I'd have been there all week. There was no room at the crematorium, everyone was standing outside and it was impossible to get it. There were so many familiar faces and dozens of Rangers players from the old days. Gordon West, Brian Labone and
Derek Temple all drove up from Merseyside to see him off, too.
My boys still live very close to me in Falkirk, five minutes in each direction. David played a bit of football but he was very injury prone so he went into the pub trade with his dad. Young Alec went off to university but he hated it so he went into the fire service instead. They both got on so well with their dad and would go all over the place with him playing golf. They really enjoyed each others' company.
We had so many plans and we were going to travel much more when he retired but it wasn't to be, and I console myself with the knowledge that he didn't suffer and was never in pain. We lived a charmed life and we were very fortunate but I miss him so much and I miss not hearing his jokes.
Taken from Real Footballers' Wives — the First Ladies of Everton, still available for purchase in book or Kindle form

© Becky Tallentire 2004

Follow @bluestocking63
---
Reader Comments (56)
Note: the following content is not moderated or vetted by the site owners at the time of submission. Comments are the responsibility of the poster. Disclaimer
Jay Harris
1
Posted 23/03/2019 at 03:09:19
I wish some of the modern players and their Hollywood WAGs would read this and realize how lucky and privileged they are.
Rick Tarleton
2
Posted 23/03/2019 at 07:05:25
She writes well and tells of a time when footballers were genuinely part of the community. This has been an excellent series and gives a real insight into the times and the players themselves.
Paul Birmingham
3
Posted 23/03/2019 at 08:31:07
Superb, and a reminder of real times and good humble people.
How times-have changed. A great read.
David Greenwood
4
Posted 23/03/2019 at 09:28:46
Another great article, times were very different.
More please!
Dave Abrahams
5
Posted 23/03/2019 at 09:29:11
Annette and Alex (Chico) were from the same age group as myself and Annette describes life then as I remember it: sane and sensible. Those times will never come back but Annette has got many wonderful memories of her days with Alex and the twins to look back on, and you can't buy memories that never fade.
Annette and Alex were just two ordinary people like the fans who went to the game then and got on with life and enjoyed what they were given, never grasping for more and more, much better times then.
A lovely story Annette, well told.
Peter Mills
6
Posted 23/03/2019 at 09:50:09
Alex was an excellent player, one of my first heroes, who played with a style of hunching his body over the ball then shifting his balance to get past a defender. A very good winger with a goal in him.
It sounds like he was an equally decent man.
Lenny Kingman
7
Posted 23/03/2019 at 09:59:08
Enjoyable read, Becky, thanks for posting.
I remember him as Alex not Alec but I suppose may have been because of The Alex! Now there's an Alex Scott of a different sex on TV every week talking football.
Anyway, Alex, Alec, he will always be Chico to me.
Altogether now da da dadada dadadada Chico.
Steve Hogan
8
Posted 23/03/2019 at 10:12:17
What a wonderfully warm story about two people who genuinely cared for each other. I don't get nostalgic very often, but there was a wonderful innocence about this story which modern day footballers could never hope to re-capture.
As a contrast, I was invited to Old Trafford a couple of years ago for a night match in January, by a good mate whose a Man Utd fan.
After the game had finished, we were walking past the player's entrance and there was a collection of high-end Daimlers, Mercedes, Range-Rovers etc all with their engines running, but nobody in them.
Out of curiosity, I asked a yellow-jacketed steward whose cars they were. He replied without a trace of irony or sarcasm, they were the United player's car's, and they were getting the interior's warm for them, as the player's didn't like to get into their car's in the winter, as they might be too cold for them.
Can't see that ever happening to Sandy Brown at the Park End car park as he got into his Ford Anglia after a night game at Goodison.
Ray Roche
9
Posted 23/03/2019 at 10:52:35
After the 1966 Cup Final, I was lucky enough to travel home on the Sunday on the same train as the team. Chico actually let us hold his Cup Winners medal for a moment. He seemed a thoroughly decent sort of man, chatting to us about the game. Memories that live forever.
Alan J Thompson
10
Posted 23/03/2019 at 12:20:28
Wow, real people.
Jay Wood
[BRZ]
11
Posted 23/03/2019 at 12:41:32
Another cracking read from your series Becky. Thank you.
Okay. They are written with an Everton slant, but they are much more than this. They reflect and record a social history in time.
I just love the 'ordernariness' of these pieces. And I say that in the nicest possible way.
Even though they were married to famous footballers, both the wives and their husbands led simple down-to-earth lives within the community, not in a bubble behind their high-walled mansions.
No pining for the past from me. They just make such a striking contrast to today's world.
John McFarlane Snr
12
Posted 23/03/2019 at 14:32:21
Hi Dave [5] and Peter [6] that article was apparently written in 2004; if Annette is still alive, I wonder what she makes of today's wages and the fortress-like homes that footballers live in?
I'm so glad that I was born in 1938, irrespective of the hardship we endured (World War Two and its aftermath). I know that I've said it before, but back then my world was 'Blue' and 120 yards by 75 yards. The years have told me now that there are more important things in life, but I revert to the 120 x 75 yards format every matchday.
Derek Knox has been in touch with me regarding the possibility of another 'ToffeeWeb' get-together. I've told him that I've been looking for an excuse for such an occasion, and that he can put my name on the list... no doubt he will furnish details at a later date.
Dave Abrahams
13
Posted 23/03/2019 at 14:46:27
John (12), I didn't know that article had been written in 2004, going from the way Annette told her story in such an unassuming way I imagine, like a lot of us older folk, she would just shrug, then roll her her eyes at the way the world is today, if people who died twenty years ago or more came back now, they would definitely think they were on another planet, lots of people walking around today act like they are from another planet.
John I will see you when the next meeting is arranged, provisionally it is after the Man.Unt. game, which is on a Sunday, stay fit and well.
Andy Meighan
14
Posted 23/03/2019 at 14:50:22
Brilliant stuff, Becky. I loved that. Sounds like a really lovely woman. But the only thing I couldn't agree with was when she said she felt sorry for the Beckhams. Nope... sorry but they're fame whores who have pimped their kids out as well. Shocking people.
I nearly had a tear in my eye there when Chico passed away. Even back then, we were the People's Club, going on what Annette said – treated like royalty etc. I just about remember Chico from when I was little, though I'm not sure if I ever saw him live... can't remember.
Anyway, Becky, keep them coming; like I said, I love these stories.
Terry White
15
Posted 23/03/2019 at 15:57:30
This article, and the others in the series that Becky has posted, is an extract from her excellent book, "Real Footballers' Wives" first published in 2004. I have my copy at home and I am sure Becky can let us know whether it is still in print and if it is available for purchase through the usual outlets. I do understand that there may be another book in the works.
Chico was an exciting, old school winger. Fast and direct, could cross the ball on the run and scored regularly also. At the time he moved to us he was fighting for his place in the Rangers team with Wee Willie Henderson, another great winger of a different style, full of tricks.
Dave Abrahams
16
Posted 23/03/2019 at 17:03:14
Terry (15), thanks for that information in the first paragraph.
Yes Willie Henderson a great dribbler as was Jimmy Johnstone across the city with Celtic, I was disappointed when Celtic left him out of the team when they played Liverpool in the Cup Winners semi final at Anfield, I liked Alex Scott, Catterick did one of his famous swoops to literally drag him out of Spurs hands when it looked like they had signed him.
John McFarlane Snr
17
Posted 23/03/2019 at 18:00:19
Hi Dave [16] I find it hard to believe that Alex Scott has been dead for at least 15 years, but at the end of the article it states, taken from "Real wives of football – the first ladies of Everton, still available in book or Kindle form" and it carries what I believe to be a copyright sign.
It appears as (Terry has hinted) that the book may be available in the usual outlets, I'll have to let the family know what I want for my 81st birthday.
Peter Mills
18
Posted 23/03/2019 at 18:05:51
Hi John and Dave. Things are pretty busy on a few fronts at present, but I hope to see you again after the Utd game.
Best wishes.
Dave Abrahams
19
Posted 23/03/2019 at 18:22:01
Peter (18), I hope so Peter, it will be nice to see you again, especially if we win.
John McFarlane Snr
20
Posted 23/03/2019 at 18:37:00
Hi Peter [18],
I hope that you are able to attend the get-together, it will be so good to see people who I regard as friends. I had to check Alex Scott's details it appears that he was born on 22 November 1936 and died on 13 September 2001, the expression "Time flies" springs to mind.
Becky Tallentire
21
Posted 23/03/2019 at 21:35:33
I absolutely love coming here and reading the comments – aww you guys... *sigh*!
The book is out of print, it was never a good seller so they didn't reprint it. I reformatted it as an eBook and then when Kindle began their print-on-demand service, I reformatted it again – that is what's available on Amazon.
Unfortunately. I didn't know how to insert the photos but I added a paragraph at the end of each chapter to update the situation. A lot of people have passed away since it was written, husbands, wives and even children.
Because I'm JR Hartley, I have a box full of each of my books. I used to buy them when I saw them on eBay or Amazon because I felt sorry for them. So if anybody wants to get a copy, just give me a shout, they're £10 plus postage which I think is £3. My email is becky.tallentire@gmail.com
Meanwhile, I'm loving the response I get on here, it warms my heart.
Lyndon has told me he'll publish a note from me with regard to TB3. I have been out on Twitter which appears to have become a cesspool of Brexit, Trump and other assorted eejits. If I don't get a higher standard of questions, I really won't be able to write a book because it will be too embarrassing to publish.
So if you want to get involved, I am happy to take any questions for Joe Royle
If you were to have a One2One with Big Joe - what would you ask him?
X
Steve Hogan
22
Posted 23/03/2019 at 22:56:10
Becky (21)
Re questions for Joe Royle; Is he still best mates with Phil McNulty?
On a serious note, 'Who was the best player, we 'nearly signed' (his biggest regret at not signing).
Peter Gorman
23
Posted 24/03/2019 at 10:22:06
By the time Alex Scott moved to Everton he was already a Scottish international, had been to the World Cup in Sweden and scored in a Cup Winners Cup final.
Yet Annette highlights sitting a few tables away from Morecambe and Wise in the Lord Nelson as "our claim to fame."
Real people from a bygone age. I'll add my thanks to Becky for these little pieces of social history.
Dick Fearon
24
Posted 24/03/2019 at 11:30:50
For a few games, I switched from my usual spot neath the Gwladys Street Stand to a place against the wall on the Goodison Road side. There, I could watch Alec on the wing – IMO he and Jimmy Harris were the fastest footballers I have seen on a football pitch.

Dave Horne
25
Posted 24/03/2019 at 23:14:41
Another great story, Becky,
I remember him having a great game vs Inter Milan in 1963. But I was also young and naive enough not to realise that Inter came for a 0-0 and were happy to see Alex bombing forward the whole 90 minutes.
Happy days on the banks of the Royal Blue Mersey!
Gerry Morrison
26
Posted 25/03/2019 at 16:09:50
Another great read; I love these pieces.
When I was a kid, I used to stand (sit on the bar really) in Goodison road with me dad, one of his brothers and a few of his mates. I remember distinctly that they used to give Alex Scott terrible stick. I always liked him; I thought he was a great player; and I couldn't understand why they went at him every week.
John McFarlane Snr
27
Posted 25/03/2019 at 19:04:29
Hi Gerry [26],
I think that Alex Scott was judged on his performances for Rangers, the defenders in Scotland were [In the main] inferior to those who operated in the First Division, and this in my opinion, led supporters to expect more from Alex.
A mate of mine christened Alex Scott "Lino" because he was (allegedly) 'always on the floor'. As for myself I always liked Alex Scott, and I'm sure that you'll be aware, that there will always be some people in the crowd who (between them) will see no good in players from goalkeeper to what I still refer to as outside left.
Gerry Morrison
28
Posted 25/03/2019 at 19:44:40
Thanks John. As a young kid I couldn't understand why they would barrack one of our own. Needless to say, it is a phenomenon I have come across again a few times since.
Dave Abrahams
29
Posted 26/03/2019 at 12:14:13
On Annette and Alex's wedding photo is that George Young, near the end on the right picking his fingers, Young was a famous Rangers and Scotland centre half and right back who was possibly a team mate of Alex.
Mike Gaynes
30
Posted 26/03/2019 at 15:50:15
Thank you, Becky. I love the stories, and even more I love the responding posts from the "old-timers" like John, Dave, Ray, Terry and of course my mate Peter. Never having experienced any of this history myself, I enjoy immensely the stories from those who did -- like Ray's childlike wonder, a half-century later, at having held Alec's Cup Winner's medal on the train.
So John, you and Derek are plotting another TW get-together? Don't think I won't fly over and come trotting in the door... this time with a fistful of cash. I miss you guys.
PS... Becky, I keep forgetting to tell you that a couple of years ago when the wife and I went back to Rome on a cruise, a friend sent me an online link and said I should "download this guide, it's great". Of course it was yours.
Brian Wilkinson
31
Posted 26/03/2019 at 16:15:44
The book is still available, there are about 6 copies on Amazon as used for £3.29 free postage if anyone is after a copy.

Andy Meighan
32
Posted 26/03/2019 at 17:27:03
Becky if I had a question for Big Joe, it would be: "What did you used to say to the players in the dressing room before a derby?" — because they could never get the better of us while he was boss.
I've been advocating getting him in to do a little pep talk before the derbies cos our record against them this century is atrocious Dogs of War indeed
Stephen Davies
33
Posted 26/03/2019 at 17:51:28
Gerry #26
I was only a nipper when I first went to Goodison Park with my Uncle Fred but the very first chant I ever heard from the Goodison Road was C-H-I-C-O Scott.
Bill Watson
34
Posted 26/03/2019 at 19:59:13
Thanks for another great story, Becky.
Alex was a real speed merchant rather than a tricky winger but very effective. He's really fit in, today, when the game is all about pace.
John McFarlane Snr
35
Posted 26/03/2019 at 20:33:55
Hi Dave [29] I think it is George Young, from photos that I recall of Young, the stature and the light hair suggest it is him. I've done a little research and it appears that they were at Rangers when Alex played his first top class game at 19 years of age in 1956, although he had scored a hat-trick in his first appearance for Rangers in his debut match when he was only 16.
George Youngs' last game for Rangers was in May 1957, and they represented Scotland together on two occasions, versus Northern Ireland on 7 November 1956, and Yugoslavia on 23 November 1956. I'm afraid I wasn't as observant as you, I put that down to age and a lack of Guinness which I hope to rectify in the near future, providing Derek Knox has a positive response to his proposed get-together.
Mike [30] your threatened visit is one to relish especially as you may be clutching a fistful of cash. You would be just as welcome if you were skint.
Terry White
36
Posted 27/03/2019 at 00:59:25
Dave (#29) and John (#35), it is most definitely George Young in Alec's wedding photo. Just by looking at his craggy face you can tell he was a hard and uncompromising defender. I think he was one of the reasons why Alex Parker (a Prince of Right Backs) received so few caps for Scotland.
Ray Roche
37
Posted 27/03/2019 at 07:19:55
Terry,
I believe that, in those days,any Scottish players who traveled south of the border were virtually traitors and didn't get the "first call" for a cap if there was an alternative playing in Scotland. Scotland produced a seemingly endless stream of excellent players who would grace any team, unlike now when even Rangers and Celtic would struggle in the Premier League.
Dave Abrahams
38
Posted 27/03/2019 at 09:20:12
Terry (36) and Ray (37), I think any Scotsman who played in England were denied caps for their country because of this, they were known as Anglo Scots and it did hamper them in being chosen to play for country.
In relation to George Young, I really thought it was him but if you look closely at the photo he has a resemblance, to me, to Sandy Brown who might have played with Alex Scott at Everton and that was the doubt I had over George Young.
Peter Mills
39
Posted 27/03/2019 at 11:20:02
Becky#21, you should ask Big Joe if his "Harry Catterick story" is true?
Allegedly, when Joe was trying to establish himself in the team, Harry called him into his office at Bellefield and gave him up and down the banks, telling him he needed to be more aggressive. Joe is supposed to have listened intently then, when Harry dismissed him, produced a small bag from his pocket and said "Would you like a Jelly Baby, Boss?".
Dave Abrahams
40
Posted 27/03/2019 at 12:48:14
Peter (39), funny tale Peter, you'd wonder if Joe was just a nice young man, or taking the piss, but it was true Joe was never really aggressive enough and I remember seeing Joe play left half for the reserves versus Derby County or Bury ( they both played in the same colour) in an evening game when Joe was about eighteen, maybe to get him more involved in the game with more tackling, Alan Ball used to rant and rave at Joe in training, saying he never took it seriously enough, to Bally, every game was about winning, I imagine even snakes and ladders, Joe was much more easy going.
I think he would have been better listening to Bally, but everyone is not the same.
John McFarlane Snr
41
Posted 27/03/2019 at 13:36:20
Hi Terry [36], Alex Parker's career wasn't hampered by George Young, who although primarily a centre-half, was used at right-back for Scotland to accommodate his Rangers team-mate Willie Woodburn, who was later banned 'sine die' for head butting an opponent. This decision was later rescinded but at the age of 37 Woodburn, who had lost his appetite for the game retired. Young then reverted to his natural position of centre-half, and Alex Parker played a number of games for Scotland at right-back, with George Young at centre-half.
There was a time in the late 50s / early 60s when it seemed that 'Scots' playing south of the border were overlooked. Alex Parker's immediate successor was Eric Caldow, incidentally Alex's last game for Scotland came in June 1958 against Paraguay, when he was officially an Everton player, but he didn't make his debut for the blues until November 1958 due to military service in Cyprus. I too was serving in Cyprus at that time and my first view of Alex was when I came home on leave in December '58. Everton didn't do Alex any favours when they played Alex at right-half for nine games.
Hi Dave [38] I too thought at one time that it looked like Sandy Brown, but I'm now convinced that it is George Young, the wedding of Alex and Annette took place on 24 June 1959 and Sandy Brown didn't join Everton until September 1963; although they may have known each other in Scotland, I'm sticking with George Young.
Terry White
42
Posted 27/03/2019 at 18:12:48
John (#41), as soon as I had posted (#36) I did wonder about my own statement. George Young physically resembled a centre half rather than a full back. Then I remembered Willie Woodburn and did not think he and Young would be a pairing. And, of course, in the "good old days" we had a centre half and wing halves so it became clear that Young must also have played at full back to accommodate them both.
Anyway, for this reason, and for the reasons subsequently posted by Ray and Dave, Alex Parker did not get the international recognition he deserved. After all, he was the Scottish Player of the Year before he joined us. But I was also happy that he was playing for us. It would have been great to have him and Ray Wilson playing together regularly as our full backs and that takes nothing away from Tommy Wright.
I recall Eric Caldow at Rangers, another very good full back.
Ray Roche
43
Posted 27/03/2019 at 22:23:06
When you think of all the great Scottish players that we, and others, have enjoyed watching over the years it's sad that there are so few players from north of the border worthy of a game in the Premier League. Apart from our own greats, Young, Parker,Gabriel, Scott, Sharpe etc, and some very good players for the other lot, and also Jim Baxter, Alex Gilzean, who we nearly signed, Tommy Johnson,Willie Henderson and others isn't it a sad reflection on Scottish football that there are no current players who are fit to lace the boots of those mentioned. Is it because of the influx of cheaper foreign players? I don't know, but I'm glad I saw the Scottish greats that I did see.
Terry White
44
Posted 28/03/2019 at 02:50:27
Ray (#43), you are so correct. And don't forget Bobby Collins and the great Tommy Ring in the list of players who have donned the royal blue jersey.
Peter Mills
45
Posted 28/03/2019 at 07:32:59
Ray#43, Terry#44, I fully agree, and you can add Andy Gray and Richard Gough to that list.
However, you have awoken what I thought were deeply buried memories of Joe Harper, Tiger McLaughlin, John Spencer and Alec Cleland.
Ray Roche
46
Posted 28/03/2019 at 07:42:03
Peter, don't be a wet blanket!
Or maybe you need counselling
Terry White
47
Posted 28/03/2019 at 16:18:43
You are too young to remember Willie Haughey, Peter (#45).
Dave Abrahams
48
Posted 28/03/2019 at 17:10:18
Terry (45), Willie Haughey, one from the fifties, played mostly for the reserves, maybe once or twice for the first team, a canny schemer, inside forward, he had the brain but not the pace, I saw him quite a lot for the reserve team, red headed, I imagine he went back to Scotland and carried on playing up there, he certainly had the skill, I would like to know what happened to him after he left the Blues, possibly John McFarlane might have an answer.
Terry White
49
Posted 28/03/2019 at 17:52:30
Dave (#48), I think that sums him up. One of those Scottish clever inside forwards but not quick or maybe decisive enough for the First Division
Dave Abrahams
50
Posted 28/03/2019 at 18:13:59
Terry (49), yes I'd liken him to Jimmy Harrower who played for Liverpool in late fifties, early sixties.
I tried to find out a bit more about him and there is a Lord Will Haughey, born in the Gorbals in Glasgow, came from humble stock and became a multi millionaire, never forgot his roots, was a good footballer who had trials with the top clubs played for Queens Park, was great friends with Jimmy Johnstone, the Celtic player, looked after him when he was on the floor, and donated hundred of thousands to individuals and worthy causes, he was born in 1956 so he could have been Willie Haughey' s son ——-but he wasn't, his dad was a painter and decorator.
So all that proves Terry is, I just like talking.!!!
Terry White
51
Posted 28/03/2019 at 18:59:43
I recall Jimmy Harrower. The RS were in the 2nd Division then, where they belong. Don't think he made much impact on me so he could certainly be from the same mould as Willie Haughey but with more first team playing time.
I'm sure all who are reading this appreciate the bio on Lord Will.
John McFarlane Snr
52
Posted 28/03/2019 at 19:57:42
Hi Dave [48] I never had the pleasure of seeing Willie Haughey play. I was serving with the army in Cyprus at the time. Willie played 4 times for Everton scoring 1 goal. His goal came on his debut, 19 April 1957 against Manchester City [away] a 4-2 victory [Ken Birch, Jimmy Gauld, Willie Haughey, and Graham Williams].
He then played in the final two games of that season (1956-57), 22 April: Manchester City (H) 1-1 draw [Derek Temple], and 27 April: Bolton Wanderers (A) 1-1 draw [Derek Temple].
Willie Haughey's final game was against Luton Town on 4 April 1958, in a 2-0 home defeat.
I don't like to come across as a 'smart Alec' – it's just that I've got one or two books to help me out.
Dave Abrahams
53
Posted 28/03/2019 at 22:16:19
John (52) I remember that 4-2 game when they beat Man.City, I wasn't at the game, Inwas at Goodison Park watching Everton reserves, haven't got a clue who they were playing, going by the dates you have shown,the away game was on a Good Friday and the return three days later at Goodison was on an Easter Monday.
Thanks for your help John, those books of yours come in very handy,my memory, at times, is not too bad either, I can't remember who Everton reserves were playing on that Good Friday but I remember the mate who I watched the game with, still see him now and again, Tony Sweeney.
John McFarlane Snr
54
Posted 28/03/2019 at 00:05:13
Hi Dave [53] Laura (my young lady) often says, "When are you going to get rid of all that rubbish?" My reply is always, "You never know when it may come in handy."
As I stated, I was 2,000 miles away and Willie Haughey was just a name to me. As a matter of interest do you remember the two Canadians who were on Everton's books in the early 50s? one was Gordon Stewart an inside forward, and the other was a goalkeeper, I think his name was Billy Bithell, or something like that.
Dave Abrahams
55
Posted 29/03/2019 at 08:59:30
John (54), yes John, Gordon Stewart, as you say, a little inside forward, stayed at Everton for two or three seasons before going back to Canada,the goalies name was Bob Blisset, I think, came over for a trial, against Stoke City or Sheffield Unt, ( both played in the same colour shirts) I was at that game, he didn't stay very long, don't think he was offered any terms.
Nice to go back all those years in an instant John, while boring most of ToffeeWeb.
By the way, how is Josh doing, tell him I was asking about him.
John McFarlane Snr
56
Posted 29/03/2019 at 14:00:41
Hi Dave [55] I wasn't too far off with the goalies name, but I guess a miss is as good as a mile. I rather hope that fellow Tofeewebber's find our nostalgia interesting and informative; after all we were only school boys at the time, and we have more to look back on than we have to look forward to.
Josh is doing alright, he's still playing for West Lancs Boys, but unfortunately he didn't make the grade at Finch Farm. He is, however, Sports Captain at his school, that embraces all sports – football, rugby, tennis etc. I'll tell him that you were asking about him.
Add Your Comments
In order to post a comment, you need to be logged in as a registered user of the site.
Or Sign up as a ToffeeWeb Member — it's free, takes just a few minutes and will allow you to post your comments on articles and Talking Points submissions across the site.
© ToffeeWeb