Everton History
Tommy White – A Player of Many Parts
Rob Sawyer (EFC Heritage Society)

10/04/2019
9

comments | Jump to last
Share: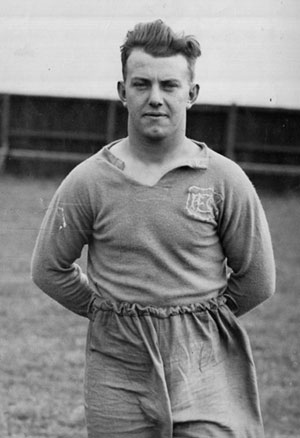 Born in Salford, on 29 July 1908, Tom Angus White was raised at 8 Willow Grove in Southport, the home town of his mother, Emma. His father, Frederick, was a joiner who has been raised in Cockermouth. Tommy played for the Holy Trinity team as a centre-half and, at 13, was selected for Lancashire Boys. In one fixture he came up against Birkenhead Boys' promising centre-forward, a certain W.R. Dean. There is no record of who came out on top in that encounter, sadly. It was with Southport FC that Tommy got his first taste of senior football, debuting on Boxing Day 1925.
Playing for the Sandgrounders, he was scouted by Everton directors Wade, Sharp and Coffey who must have been impressed by his appearances in the FA Cup against Liverpool and Blackburn Rovers. After 25 League and Cup outings for Southport, Tommy duly signed for the Toffees in February 1927, ostensibly as an inside-forward but he had also played on the left wing. He was described as being blessed with 'a capital shot with either foot'. Tommy was certainly a hard-working, dedicated player who used his substantial physique to good effect in whichever position he was deployed. His debut for the Toffees followed in October 1927 in place Bill 'Dixie' Dean. Tommy grabbed a brace in a 7-0 thrashing of West Ham United. The Daily Courier wrote:
'Everton managed quite well without Dean…One reason was because they adopted a new plan of campaign. The game was developed on the flanks, so that not so much depended upon White the ex-Southport player, as distributor and leader, although the young centre is coming along nicely in this class of football, and his goal each half should be a message of confidence for the future.'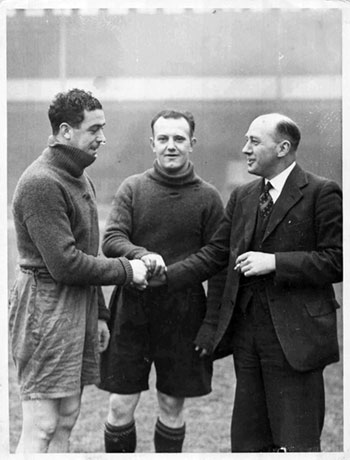 Bill Dean, Tommy White and Theo Kelly, circa 1936
With Dean back from international duty in Belfast, Tommy returned to the reserve team four days later - scoring 4 of 11 goals in an annihilation on Burnley. In the subsequent, 1928/29, season he was selected to play in five different positions across the half-back (midfield) and forward lines - chipping in with a creditable 6 goals in 21 appearances. His adaptability was demonstrated again in the following season but, sadly, it saw Everton relegated from the top flight. After just one season in the Second Division, Tommy established himself as an inside-forward, supporting Dixie Dean. His 18 goals in 23 League appearances helped the Blues to an improbable finish at the top of the League in the club's first season back in the First Division.
A serious knee injury sustained by centre-half, Charlie Gee, in the spring of 1932 saw Tommy deputise for the England international through the following season. It was in this "pivot" role that he won a FA Cup winners medal in 1933. His reward for his excellence in that championship season was a solitary call-up by England for a match played in Rome (a 1-1 draw). Tommy was overwhelmed by the honour and treasured his cap for the rest of his life. The unavailability of Dean – troubled, with increasingl regularity, by leg injuries, necessitated Tommy operating as the fulcrum of the Blues attack. He let nobody down with a one in two strike ratio in the 1934/35 campaign. After a period out of the team he'd enjoy a swansong season at centre-half, after which a cartilage injury - requiring surgery - restricted him to just one more appearance (a heavy defeat to Wolves in February 1937 against). Everton, by now, boasted a fit-again Charlie Gee and young T.G. Jones in the ranks, so it came as little surprise to see Tommy released in the summer of 1937. He ended his Toffee's career on 66 goals in 204 League and Cup appearances.
Former Everton teammate, Warney Cresswell, took Tommy to Northampton Town but injury doomed the short trial to failure. In February 1938, aged 29, Tommy was signed on trial for New Brighton, managed by former Everton director W.J. Sawyer. This would be his final club but he never made it into the first eleven. By the outbreak of war, Tommy was a dockworker - was living at 13 Goodison Avenue – a, now demolished, terraced street to the rear of the Park End Stand. He would live there until just a couple of years before is death. In 1945, Tommy and his wife, Edith, suffered the heartache of the death of their son, Angus, aged just 16.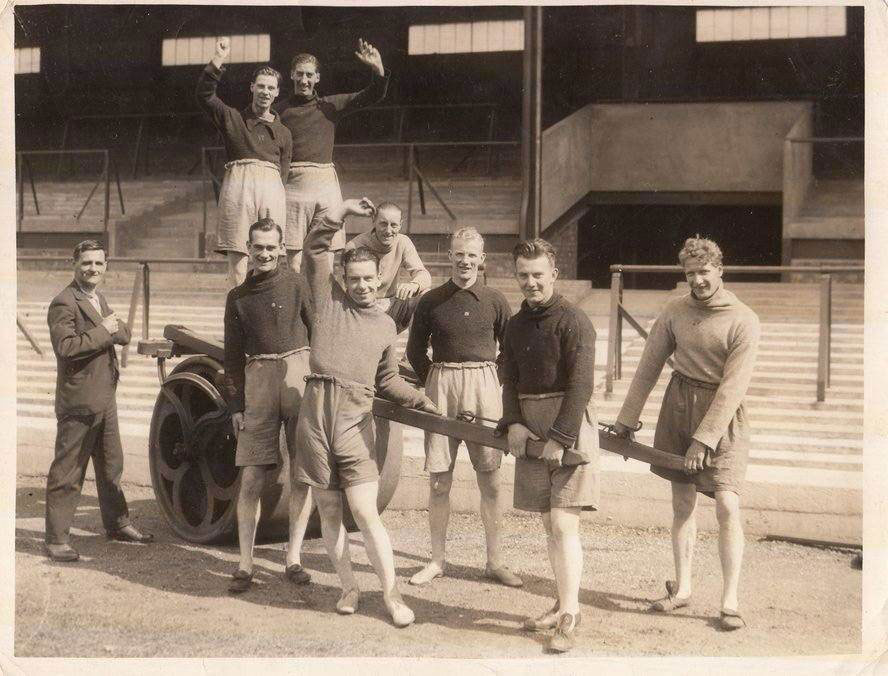 Pre-season fun (1930s)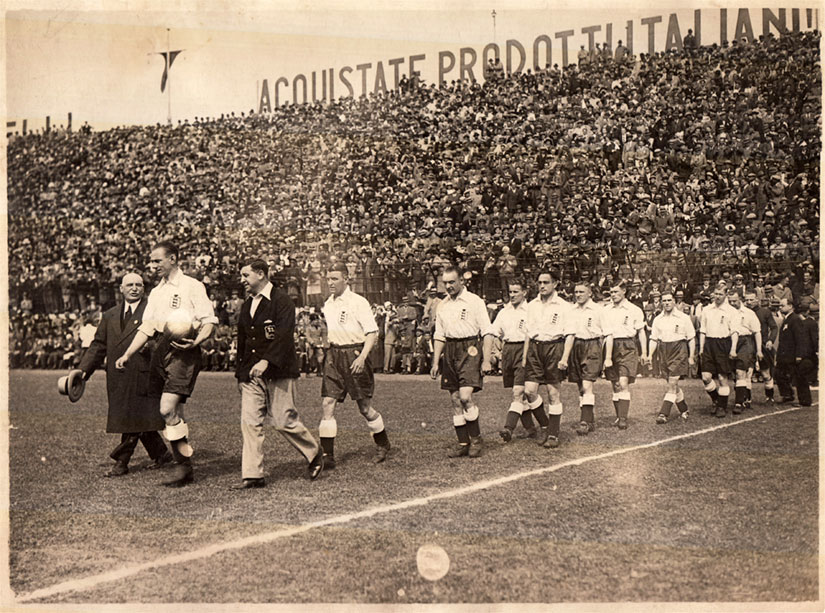 Tommy with the England team coming out for the match v Italy in 1933. Tommy second to last in the line.
Tommy was reunited with his former teammates at the 1966 Cup Final and was photographed at the post-match banquet, sat alongside Billy Dean, Cliff Britton, Jock Thomson, Albert Geldard, Billy Cook, Tommy Johnson, Ted Sagar and Jimmy Stein. A little over a year later, now living on Cowley Road in Walton, Tommy suffered a workplace injury which ended his life at just 59 years of age. On July 12 1967, he was working in a gang loading the MV Liss at Langton Dock. Boarding the ship to receive instructions from the crew, he slipped on a patch of oil on the deck and fell backwards. Although feeling pain in his chest and head, he refused to attend hospital and completed his morning shift. Once home he was confined to bed and was prescribed embrocation to rub on his chest. After two further doctors' visits, Tommy was admitted to Walton Hospital on 5th August but passed away eight days later. The inquest reached a verdict of accidental death, concluding that Tommy had died from cardiac failure brought on by pleurisy resulting from a fractured rib. He rests in peace at Anfield cemetery, in the same plot as Angus and Edith.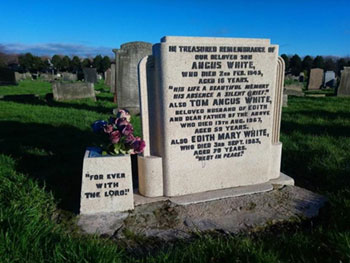 The White family remain avowed Evertonians and Tommy's grandchildren attend Goodison Park on a regular basis.
Acknowledgments
The White Family
Friends of Anfield Cemetery (friendsofanfield.com)
Liverpool Echo
Daily Post and Mercury
Liverpool Evening Express
Daily Courier
bluecorresondent.co.uk (Billy Smith)
evertonresults.com (Steve Johnson)
enfa.co.uk

Follow @robsawyer70
---
Reader Comments (9)
Note: the following content is not moderated or vetted by the site owners at the time of submission. Comments are the responsibility of the poster. Disclaimer
Bill Watson
1
Posted 10/04/2019 at 16:33:22
Thanks Rob.
What would such a versatile player be worth, today?
Many of today's players are grossly overpaid but it's quite revealing that a player who'd played at the top level, winning the League and the FA Cup and representing England (a lot more difficult in those days) had to get a job on the docks when he finished playing.
I wonder if he paid rent to Everton as they owned many of those houses in Goodison Avenue?
John McFarlane Snr
2
Posted 10/04/2019 at 19:17:38
Hi Rob, I was reared on stories of Tommy White, Warney Cresswll, Bill Coggins,and [what I was informed,] an immaculate half back/ centre half line, of Virr Hart and Kelly, plus numerous others, too many to discuss at the moment. Your articles bring back so many happy memories. Best wishes. John.
Paul Birmingham
3
Posted 10/04/2019 at 22:36:34
Thanks Rob for a fine read and what a player but also a tragic story.
Those were the days.
John McFarlane Snr
4
Posted 14/04/2019 at 14:38:40
Hi Rob, I think that your article deserves a better response, so many sing 'If you know your history' and they obviously don't, and don't want to.
Rob Sawyer
5
Posted 14/04/2019 at 20:35:22
Thanks John, and Bill and Paul too, for your comments.
All of us at EFC Heritage Society try to bring the club's past to a wide audience. Thanks for your efforts to do the same. Tommy was a fine player and a wonderful servant to Everton. It is a measure of the man that (sadly) he continued to work his shift at the docks, even after suffering a significant injury.
John - Out of interest, did you see much of Roy Vernon, who I am researching?
Bill - I am pretty sure that Everton owned most of the houses on Goodison Avenue prior to its demolition in the early 1990s. As well as Tommy White, Theo Kelly lived there for a time (then Cyril Lello lived in that house for decades), whilst Tommy Clinton was another that lived there long after his playing days.
John McFarlane Snr
6
Posted 14/04/2019 at 21:06:39
Hi Rob[5] I watched Roy Vernon from his signing for the club until his departure, Regarding Tommy Clinton, I read somewhere that on finishing his career he never stepped inside Goodison again although, as you say, he lived on the doorstep
One side of Goodison Avenue was knocked down to improve access to the Park End stand for the '66 World Cup', the other presumably to make way for the car park. It's hard to believe that where the car park is behind the Bullens Road ticket office used to be the training area, before they moved to Belfield. Best wishes. John.
John Keating
7
Posted 14/04/2019 at 22:42:12
Rob
Roy Vernon, fantastic player. Didn't give a shit and regardless gave 100% every time he played - however he felt !

Rob Sawyer
8
Posted 15/04/2019 at 19:27:19
John (6) and John (7) thanks for your responses about Roy Vernon. If you (or anyone else) can share recollections of Roy please do drop me a line at royvernonproject "at" gmail.com
Len Hawkins
9
Posted 16/04/2019 at 22:34:17
My Dad, born and bred like myself in Southport, played in the same school team as Tommy White and when Tommy played for Everton he occasionally went for a drink with Tommy in Liverpool and met Dixie Dean. In fact whenever we went to Chester when I was a child my Mum and Dad always called in at The Dublin Packet Dixies pub. When I left school and started work I was teamed up with Tommy's nephew Alan White as his apprentice.
Add Your Comments
In order to post a comment, you need to be logged in as a registered user of the site.
Or Sign up as a ToffeeWeb Member — it's free, takes just a few minutes and will allow you to post your comments on articles and Talking Points submissions across the site.
© ToffeeWeb