Report
Sigurdsson and Tosun finally find the net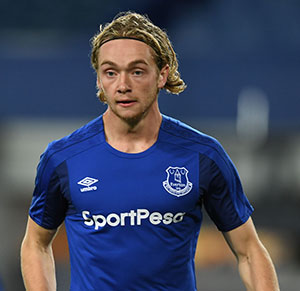 Tom Davies continues in his role as captain of Everton
Everton 3 - 0 Fulham
Everton are back at Goodison Park this weekend for the first of two home games in the space of four days as newly-promoted Fulham travel to Merseyside.
Marco Silva sticks with an unchanged side, captained by 20-year-old Tom Davies. Bernard on the bench, with Lookman and Schneiderlin. The injury list still includes Mina, Coleman, McCarthy, Baningime, Gomes.
A nice sunny day for the Blues at Goodison Park, Calvert-Lewin making his 100th appearance, Everton choosing to attack the Park End, with the visitors kicking things off. Early exchanges were scrappy, with a host of throw-ins as Fulham pushed the Blues back but Richarlison and Sigurdsson broke forward with pace and the slipped ball to Sigurdsson seem to confuse him at the last moment, stretching to connect and pushing the ball wide of the goal.
Fosu-Mensah injured himself bringing down Calvert-Lewin, falling and jarring his arm, requiring a lot of treatment 3 yards in from the sideline, and was eventually substituted by Christie. A ball in from Kenny was too high for Keane to control and Richarlison was called offside.
Richarlison benefitted from a giveaway but played his cross into the legs of the recovering Fulham player and a great chance evaporated. Mitrovice had a wild lashed shot from distance, well over.
Some dominant play from Fulham saw a great layback but Schurle skied a very scary opportunity well over the Gwladys Street bar: second warning across the bows. Richarlison got the ball and ran at Fulham, Anguissa fouling. A good free-kick from Digne, Zouma stinging Bettinelli's hands but deemed (incorrectly) offside.
Richarlison went on a great run, but got blocked wide and had to accept the corner, Sigurdsson delivering it well but defended away. A fantastic ball from Keane was followed by a good shot from Walcott, Calvert-Lewin unable to get on the keeper's rebound.
The game was very competitive at an individual level, no lack of effort from either side with little space conceded, Seri bowling Sigurdsson over with a sneaky forearm smash. Davies next to be double-teamed, illegally. Anguissa cut down Sigurdsson in a decent position, Sigurdsson hitting the wall, as is his wont, but winning a corner.
Digne delivered it well, and volleyed a clearance straight back in but Fulham somehow broke and it needed a foul to stop them. Davies was playing deep and did well to stem the forward flow, but Fulham were nothing if not very determined. Incredibly, no yellow cards despite plenty of contact and robust tackling, Gueye and Richarlison both down injured.
Christie finally saw yellow after pulling back Richarlison again, but the ball in had too much air on it. Everton were doing well enough in midfield but unable to really create. A great cross from Sigurdsson but Calvert-Lewin could only win a corner that came to nothing. Richarlison went down, clutching at his thigh, and needed treatment.
Everton struggled to get the ball off Fulham as they pushed the Blues back, the game lacking fluidity, with Richarlison still limping. Walcott finally got the ball forward but it ran out of play for Calvert-Lewin.
Some brilliant Fulham passing had Everton chasing shadows, Sessegnon in three on one, smacking the crossbar when it might have been easier to score! Shocking defence from the Blues as they continued to be pushed back, unable to get a hold of the ball.
As 5 minutes of injury time was signaled, Walcott was harshly flagged offside despite a defender playing the ball on. But Digne forced a turnover and released Richarlison, who was not himself and again played a poor ball to end the attack. digne tried a clever ball in behind: too clever for Calvert-Lewin, who watched in bounce behind. But he next won a corner deep in added time, this one also defended away and Fulham surged forward, Mitrovic shooting wide
A really hard first half for Everton, thwarted by the aggression, desire and skill from Fulham that they struggled to match at times, and lucky not to be one goal down.
Sigurdsson restarted the game with Everton passing the ball around, Digne crossing brilliantly but not to Calvert-Lewin. From the other side, Kenny won a corner, that Keane got his head to and Richarlison had to improvise but could only put it over the bar. Another corner, Zouma climbing high but still not high enough, his header well over the Fulham bar
Calvert-Lewin ran into the area and was barged aside by Odoi, the linesman flagging for a penalty, perhaps buying the rather extravagant dive, the referee rather unconvinced, but it was still given, Gylfi Sigurdsson smacking the spot-kick against the bar... a shocking moss for the £45M man, reminiscent of his similar World Cup miss, and could be equally costly.
Everton continued to pressure the visitors, Richarlison lashing a shot at Bettinelli. Tosun replaced Calvert-Lewin with 55 minutes gone, a rare proactive change form Silva. Keny did well to keep the ball alive and a snapshot from Sigurdsson on the half-clearance bought instant redemption for Sigurdsson, a beautiful strike curled into the far corner from the Icelander.
Richarlison ran half the length of the field off a smat ball from Sigurdsson but was finally blocked and Sigurdsson could not dig out a shot. The Blues were now surging forward in fine style, Richarlison's touch letting him down but winning a corner, that Fulham eventually surged away with three on one again, stopped by a fantastic diving intervention from Pickford at the feet of Vietto. Priceless value for his new 6-year contract!
Yet another Everton corner, swung in by Sigurdsson, cleared again. A fine move down the right, a great ball from Kenny to Walcott, who picked out a with a plumb ball to Tosun at the far post, a fine header from close range for Cenk Tosun, so happy to finally score this season.
Davies divided in rather too aggressively and was lucky not to see yellow. Kenny tried his shooting but the range-finder needed some adjustment. Digne curled in another set-piece but yet again it was a Fulham head that was first to it.
Fulham worked the ball well, a fantastic ball in was just a foot ahead of Mitrovic, who had otherwise been marshalled well by Keane and Zouma. More good work from Richarlison wins another corner, almost fooling Bettinelli, but Davies fouled in the next phase.
Good defending from Digne stopped Christie and, from a good break, Walcott tested Bettinelli with a decent shot. Another set-pice by Sigurdsson; another headed clearance by Fulham. Digne won a corner, but again, Sigurdsson's ball in was over Zouma and, yes, headed clear yet again.
Richarlison played a great ball forward for Tosun, who was ruled just offside. Bryan tore his hamstring and was withdrawn, as Fulham won their first corner. Gueye released Richarlison for another run, winning another corner, his last contribution, to a massive ovation for the brilliant Brazilian, replaced by a noticeably smaller one in Barnard.
Barnard immediately got free, galloped away down the left, paused, centered perfectly for Sigurdsson to pass the ball through three defenders and into the net for a fine 3rd goal.
A much more effective second half, where Gyfi Sigurdsson could have had a hat-trick, all triggered from a positive early substitution by Silva, replacing the serially useless Calvert-Lewin.
Scorers: Sigurdsson (57'), Tosun (66')
Everton: Pickford, Kenny, Keane, Zouma, Digne, Gueye, Davies, Sigurdsson (90+1' Schneiderlin), Walcott, Calvert-Lewin (56' Tosun), Richarlison (88' Bernard).
Subs not Used: Stekelenburg, Holgate, Baines, Lookman.
Fulham: Bettinelli, Fosu-Mensah (8' Christie [Y:29']), Sessegnon, Odoi [Y:51'], Ream, Bryan [I:86'], Seri (85' Ayite), Anguissa. Schurrle, Vietto (63' Cairney), Mitrovic [Y:].
Subs not Used: Rico, McDonald, Johansen, Le Marchand.
Referee: Roger East

Attendance: 38,788
---
Reader Comments (201)
Note: the following content is not moderated or vetted by the site owners at the time of submission. Comments are the responsibility of the poster. Disclaimer
Dave Lynch
1
Posted 29/09/2018 at 14:11:23
The omission of Bernard is puzzling me.
Michael Kenrick
2
Posted 29/09/2018 at 14:17:21
The continuation with Calvert-Lewin is infuriating me.
I trust he will now score a hat-trick – Go do it, Dom!
Andy Williams
3
Posted 29/09/2018 at 14:19:00
Dave. Perhaps Silva doesn't reckon he can last the full 90 yet. I was hoping to see him start as well.
Brian Wilkinson
4
Posted 29/09/2018 at 14:25:30
Might have something to do with the cup game next Tuesday, probs start him in that game.
Ciarán McGlone
5
Posted 29/09/2018 at 14:29:18
If Bernard cant last the 90 – fine. Take him off when he tires. Sigurdsson retaining his starting place is rewarding utter failure.
Irrespective, I expect a comfortable win here.
Harry Hockley
6
Posted 29/09/2018 at 14:33:23
Calvert-Lewin up top again, which I don't understand, along with Bernard not starting. Oh, well... I believe in the manager and his methods... for now. COYB! 2-0 today.
Derek Taylor
7
Posted 29/09/2018 at 14:38:00
The same team will bring the same result but it's all about 'performance' these days so nothing to fret about as we float in the bottom half.
When will more of the manager's Super-Dud buys be fit enough or good enough to get a start?
Jay Wood
[BRZ]
8
Posted 29/09/2018 at 14:39:57
And there's me thinking that Bernard (who I have high hopes for) really didn't impress very much in the 18 minutes (the most time he has spent on the pitch since arriving) he played against Arsenal last week.
By Bernard's own admission, he has barely trained or played for 5 months and is still off the pace. Ease him in gently.
I for one have no qualms going with the same XI that played well for an hour last week, then got a second wind and finished strongly after losing the two goals.
Neil Wood
9
Posted 29/09/2018 at 14:40:25
Whilst I will always support the manager. I am absolutely baffled by Bernard's omission again.
I predict a 7-0 win today. Got a feeling.
Peter Gorman
10
Posted 29/09/2018 at 14:43:25
Bernard is not match-fit; I agree with Jay that he didn't look ready against Arsenal. Lest we forget, he also has to adjust to the pace of the Premier League.
I'm excited to see him when he is up and running but I think it'll be prudent to introduce him in dribs and drabs for a little longer.
Gordon White
11
Posted 29/09/2018 at 14:45:43
Obviously Bernard is not fit enough for a full debut.
Silva is giving a number of younger players a fair crack of the whip. So good luck to them. Good luck to the team.
Whatever the scoreline, I hope we give a positive display. Signs of some improvement. Hopefully a clean sheet.
COYBs

Andrew Ellams
12
Posted 29/09/2018 at 15:45:32
Bernard had been at the club for 7 weeks. Why isn't he fit enough?
Jay Wood
[BRZ]
13
Posted 29/09/2018 at 15:49:24
Not a lot to get the juices running, was there?
A very bitty game – from both sides – with very little quality.
Ciarán McGlone
14
Posted 29/09/2018 at 15:52:34
Reasonably competent at times but completely unspectacular. Lot of the ball with little end product. Fulham finished the half stronger.
I've been quiet on Calvert-Lewin thus far, as I believe there's a footballer in there. I may have to concede I was wrong.
Davies is not a captain, that is blindingly obvious... Although, I've no idea who is. Please bench Sigurdsson... he's slow, clumsy and frankly a crap number 10.
Not a great watch. We could easily lose this.
Phil Sammon
15
Posted 29/09/2018 at 15:54:11
Fucking dogshit. Calvert-Lewin, Sigurdsson, Walcott have done absolutely nothing. Richarlison has had a bit of the ball but wastes it way too much.
Get Baines on in centre-mid.
Only positive is that Digne looks good.
Peter Cummings
16
Posted 29/09/2018 at 15:54:11
Not looking very good at HT, still very little positivity and no threat at all on goal so far... maybe we can get a penalty or an own-goal in the 2nd half.
George Cumiskey
17
Posted 29/09/2018 at 15:56:47
Fulham the well better team; we have the same crap players, week-in & week-out.
What the hell is Silva playing at???
Gordon White
18
Posted 29/09/2018 at 16:01:51
Some awful fouls by Fulham going unpunished. Elbow on Siggy, studs on Richie. Elbow was a red card.
A bit uninspiring. Lucky to be still 0-0. Surely the second half has got to be better. Hopefully Bernard will come on at some point. We knocked on the door a few times. Need someone to unlock it.
Andy Mead
19
Posted 29/09/2018 at 16:02:23
We are a shambles. The system is not working and we are being played off the park by Fulham. What have Bernard and Lookman got to do to get a game?
Go 4-4-2 with Walcott up front and get one of the above-mentioned on the wing.
Christy Ring
20
Posted 29/09/2018 at 16:04:03
Bring on Bernard for Sigurdsson, abysmal first half.
Susong Hermawan
21
Posted 29/09/2018 at 16:06:34
Sigurdsson still crap, get another player in!
Annika Herbert
22
Posted 29/09/2018 at 16:16:29
Sigurdsson the dead-ball specialist!!!?
Get him off the pitch as soon as possible!!
Ciarán McGlone
23
Posted 29/09/2018 at 16:18:56
I'll get my coat.
Phil Sammon
24
Posted 29/09/2018 at 16:23:11
Wonderful throughball to Kenny initially too. Sigurdsson is certainly not the problem.
That was awesome from Pickford.
Annika Herbert
25
Posted 29/09/2018 at 16:47:36
Sigurdsson certainly isn't the answer either!

Ciarán McGlone
26
Posted 29/09/2018 at 16:57:18
A great start to the second half... after that, a bit flat again. Great opening contribution from Bernard though for the third.
We needed that win... and the clean sheet.
Big positive today was the back line. All very good. Going forward and most importantly in defence. Mina can stay on his holidays.
It would be churlish not to mention Sigurdsson... two great finishes and was far better in the second half. I'm still not a fan... but kudos due.
Jay Wood
[BRZ]
27
Posted 29/09/2018 at 16:57:29
Night and day between the two halves.
Satisfying.
Gordon White
28
Posted 29/09/2018 at 16:58:46
I feel a celebration drink coming on.
Gordon White
29
Posted 29/09/2018 at 16:59:32
What was that you were saying about Siggy?
Kieran Kinsella
30
Posted 29/09/2018 at 17:00:24
Game of two halves, like so many in the Moyes era. Big confidence boost for Sigurdsson, Tosun and the back five. Good work all around. Bring on Hughsie and Southampton.
Carl Bloxam
31
Posted 29/09/2018 at 17:03:42
Yes string up that useless Viking. Despite being great last season... oh wait, yeh, that's one goal but even a broken clock is right twice a day. He's not worth £45 let alone £45 million...
So he just scored his second... Put the game beyond doubt... like I said, that Walcott is rubbish, hasn't lifted a finger for two weeks.

George Cumiskey
32
Posted 29/09/2018 at 17:14:37
Lost the thread after Siggy's first goal, obviously 100% better than the first half.
Kieran Kinsella
33
Posted 29/09/2018 at 17:20:25
Hopefully we won't make too many changes for the cup game. After a win like this, you want to keep the positive momentum going.
Steven Jones
34
Posted 29/09/2018 at 17:22:16
Ciaran 14 ….
Totally disagree – Calvert-Lewin is going to be a great centre-forward and getting all these minutes at this age will do …
Tom was brave and led the way at Arsenal last week and all the Arsenal fans were praising him and our team.
As for your comment on Sigurdsson… Humble Pie???

Andrew Cunningham
35
Posted 29/09/2018 at 17:23:14
Great win. Nice and solid. Hopefully this is the start of something new...

Annika Herbert
36
Posted 29/09/2018 at 17:23:46
I expect a damn sight more than what Sigurdsson has produced so far this season – that's what I was saying. Okay, he didn't come up with the price tag but, at 29 and supposedly in his prime, I would at least expect to see a so-called dead-ball specialist at least get a free kick over the wall now and again!
Pleased he scored the 2 goals but, for me, his overall contribution is, so far, extremely poor. Or do the 2 goals suddenly make him a world-class performer in some people's eyes?
Jon Withey
37
Posted 29/09/2018 at 17:23:47
Sounds like a good result in the end; hopefully the sign of a side finding its feet.
Reading the report, sounds like Digne has settled into the left-back role nicely.
Shame about Calvert-Lewin who seems to struggle as much as Tosun – but glad Tosun got his goal.
Derek Knox
38
Posted 29/09/2018 at 17:40:30
Forgettable first half; changes should have been made earlier... mind you, the ref didn't help with his lack of getting hold of the game, and allowing fouls to go unpunished.
I'm still not sure about Calvert-Lewin or Tom Davies, for that matter; the others were okay. I thought the back four were solid enough, although seldom challenged. Digne being the stand-out defender/attacker down the left.
I really like the look of Bernard, he does make a difference when he comes into the team. Tosun took his goal well but did little else after coming on.
Gana was energetic as usual and I thought he had a good game. I think once Gomes is fit, they could make a good midfield engine unit between them.
Walcott tended to fade in and out, but generally was okay.
Ian Riley
39
Posted 29/09/2018 at 17:40:33
Thank you, Everton!
I can watch Match of the Day tonight.
John Hammond
40
Posted 29/09/2018 at 17:43:14
3 points, clean sheet and a bit of luck going our way. Keep the same team for Southampton but bring Tosun and Bernard in. Best to not make too many changes and keep the momentum going.
Kieran Kinsella
41
Posted 29/09/2018 at 17:43:34
Annika Herbert,
I totally agree with you regarding Sigurdsson in general. However, unless you're of the opinion that, once you decided a player is rubbish then he can never change, then I would say we should give him his fair dues after this game. Poor start, missed a pen, but essentially won us the match.
Andy Crooks
42
Posted 29/09/2018 at 17:50:52
Less of the positivity; we have been told, in marked words, that Silva will be gone by November.
Jerome Shields
43
Posted 29/09/2018 at 17:55:02
Glad of the result, but was beginning get a bit worried after the first half and the penalty miss.
Andy Walker
44
Posted 29/09/2018 at 17:58:38
Kieran, you're right. This seems to be the signature of Siggy though, he is crap for most of the game then can come up with a goal... or two in this case. West Ham was the same, but we obviously lost that one.
I think his goals paper over the cracks when you look at the bigger picture; sure they won us the game today, which is great, but over a whole season if he performs like he did today and doesn't score every game (which he clearly won't) he will be a liability if he doesn't up his general play.
Chris Corn
45
Posted 29/09/2018 at 18:00:57
Andy Crooks, so Everton have allegedly pursued Silva to the point of breaching regulations and have invested circa £80m odd for players and are now goimg to sack him on a random date in November? Can't say I'm convinced by whoever your source is.
Jim Bennings
46
Posted 29/09/2018 at 18:03:50
Can't believe people still moaning about Sigurdsson?!
He's the only central midfielder we have that is capable of seeing a forward pass and actually scoring goals.
Get in, Gylfi lad!!!
Kieran Kinsella
47
Posted 29/09/2018 at 18:07:24
Andy Walker @45,
Yeah, he is a little bit like Le Tissier in that respect.
David Barks
48
Posted 29/09/2018 at 18:08:11
Gilfy is the one who played the perfect ball for Calvert-Lewin to run onto which led to him being brought down for the penalty. He sent in numerous good crosses that were just needing a better header of the ball.
He scored two goals. And he was working hard up the pitch all match, chasing down the Fulham players trying to play it out the back, which resulted in multiple turnovers. It was far more than just coming up with a goal or two.
Alan J Thompson
49
Posted 29/09/2018 at 18:14:05
A game between two very average sides which swung our way after the first goal which forced Fulham to change their game plan.
The highlight from our point of view was Bernard, a real footballer, who knows what is about him and how to put defenders in two minds while bringing his own team mates into the movement. Watch his movement for the last goal, he knows what he wants to do and where it is going before the player who passes to him actually has the ball, he's thinking two moves ahead. If there's a downside it's that I don't know how both he and Richarlieson can both play wide left.
Otherwise, Keane and Davies were our best and Tosun moved well to lose defenders for his goal but I didn't see any evidence of any superior coaching, most of the time it looked like nobody knew where anyone else was never mind what it was that was expected or actually happening. We really must start playing as a team because for a large part of this game it looked like eleven strangers trying to work out what to do next.
At least we now have more points than games played.
Andy Walker
50
Posted 29/09/2018 at 18:15:55
David, he does work hard, I don't disagree at all. He just doesn't seem to grab a game by the scruff of the neck and control the play like a top class No 10 can. That's what I expected when we bought him. Maybe I have too high expectations of him. He's clearly got great ability; I just think he goes missing offensively too often.
He's a real contradiction to me, can't remember a similar player in blue, can you?
Chris Corn
51
Posted 29/09/2018 at 18:19:05
A fair assessment Alan J, albeit I think Davies is poor in possession of the ball. I thought, once we nosed in front, we dominated and never looked like letting them back in it, which is a bonus considering the points we've squandered this season.
John Keating
52
Posted 29/09/2018 at 18:22:40
The win was obviously the most important as we were slowly getting into a rut.
Almost as important was the clean sheet. I honestly thought it would never com, however, it was more to Fulham's poor finishing than our defending.
I have to agree with other posters in that, although it sounds harsh after him scoring 2 goals, Sigi really has to up his game and overall contribution.
Great to see Tosun finally get a goal and hopefully that will settle him now.
Everton, really from Martinez days are a one half team. It would be better for us to get our good half first half and hope we can hang on!
There is still a disconnect between the team and the ground. If the players just showed a bit more passion and commitment, the fans would get more behind the team. People moan about the youngsters but they at least get stuck in and don't shirk.
John Hughes
53
Posted 29/09/2018 at 18:23:14
Hi Kieran (48). In what respect is that then? In that he's got a head, two arms and two legs?!!
David Barks
54
Posted 29/09/2018 at 18:24:38
Not sure, Andy. I think we're expecting an Arteta-like player who sits a bit further back and runs the game. But Gilfy plays further up, more like Cahill as that supporting man for the striker. He's just far better on the ball than a Cahill type.
I think as the season goes on and we have the stability in the team they will all learn more about each other and maybe we'll play more through the middle and Gilfy than the wings, which we have done so far this season.
Ajay Gopal
55
Posted 29/09/2018 at 18:26:16
3-0 is a very flattering scoreline, just as 2-0 didn't reveal the full picture last week. That is the way football and the Premier League is: If Sessegnon scores the goal in the 1st half or if the Fulham player does not get a heavy touch allowing Pickford to make the save, it could have been a very different mood here. Maybe, this is where our season starts.
The positives:
3 points;
A clean sheet (at last!);
Keane and Zouma make a good partnership;
Digne continues to improve;
Siggy shows great strength of character to score 2 goals after missing the penalty;
Bernard could be our Silva;
Tosun scores! (finally);
Kenny and Walcott could be building a decent right-sided partnership;
Davies is growing in confidence in central midfield;
Richarlison – well on the way to being our superstar;
Calvert-Lewin wears out the opponents' defenders like no other player in our team. When he starts scoring, he will be a superstar.
Bring on Leicester next week!
Paul Tran
56
Posted 29/09/2018 at 18:29:18
Andy (#42), tell us more, please.
David Barks
57
Posted 29/09/2018 at 18:29:38
Every game has chances for the opposing team. Chelsea leading 1-0 right now but Salah missed a couple of crystal clear chances. If Chelsea go on to win do they have to say it was lucky?
They hit the bar, we hit the bar. They had 5 shots in the first half to our 6. It was 50/50 possession. The first half was a bit boring and stop start due to the constant fouls and a couple injury stoppages, but Fulham were not the dominant team.
Kieran Kinsella
58
Posted 29/09/2018 at 18:31:13
John Hughes @48,
In the respect that he scores spectacular goals but is criticized by some for his overall game play.
Kieran Kinsella
59
Posted 29/09/2018 at 18:33:37
I think Andy (#42) was being sarcastic...
Tony Abrahams
60
Posted 29/09/2018 at 18:34:51
Great to get the three points but we are way too open as a football team. I thought Sigurdson was poor until he missed the penalty, but he never went into a shell once he'd missed, but worked even harder which brought him his rewards.
Winning breeds confidence hopefully, and although we rode our luck after getting carved open in the first half when their player hit the bar, we were worthy winners by the end.
All see a different game, but I thought Gana Gueye, was absolutely outstanding today. He got dragged out of position, in the move I mentioned above, and he lost a 50/50 just outside our box in the second half; otherwise, I didn't think he put a foot wrong.
Kieran Kinsella
61
Posted 29/09/2018 at 18:44:07
Only negative is that the game was at Goodison Park and not the Kings Dock — thanks to Bill Kenwright. 😉
Paul Birmingham
62
Posted 29/09/2018 at 18:44:25
To play a full 90 mins is becoming elusive and a game of two halves today but a wins a win and good for the confidence.
Good character to not give up after the penalty miss and Syggy has the eye for the pass, and hopefully soon Bernard will start, and perhaps at Walcotts place.
But the full squad being available for selection and only then can we say yes or no, this squad can, can't or won't.
Soton and a tough month of games looming. Patience needed. Curious to see any foundation in the comment by Andy at 42..
The club surely won't be tinkering for a new boss, after on less than 2 months?
I know nothing but I hope this is just pure rumour.
Frank Sheppard
63
Posted 29/09/2018 at 18:50:25
Time to do less of the Siggy bashing. He is a creative player, who can score excellent goals. He has played here under 4 managers already, in a short period of time, and in a squad that that has been trying to create its identity for too long, with lots of coming, and goings. and a lot of poor signings.
Ivan Varghese
64
Posted 29/09/2018 at 18:52:21
Good confident play by Everton. $$$ paid for Pickford is a bargain. Impressed with Calvert-Lewin, great hold up play and spin to the left, but predictable.
Great platform with Zouma and Keane partnership allowing Idressa and Tom Davis to move forward with great linkup play.
Taking shape but not ready for top 6.
Bill Griffiths
65
Posted 29/09/2018 at 18:53:17
Can't see how anyone could think Tom had a good game today. Much as I love him and want him to come good, I thought he was very poor today.
He seems to be pushed or knocked off the ball very easily and is very weak in the tackle. I really do hope he comes good though.
Christy Ring
66
Posted 29/09/2018 at 18:56:41
A big 3pts, and a lot better 2nd half. Great to see Tosun get off the mark, will give him a bit of confidence. Siggy did well after missing the penalty. Davies getting stronger and Keane starting to look like a proper centreback.
Andy Crooks
67
Posted 29/09/2018 at 18:57:03
Kieran,@ 60, thank you. Heavy handed sarcasm, I guess. I would insert an emoji (yes, I know what those yellow things are called now) but I don't know how.
My post was just intended to highlight some of the hyperbole after the West Ham game. It probably deserved to backfire. I think today was good and a massive step forward.
Dave Ganley
68
Posted 29/09/2018 at 18:59:55
Not sure what game people watch to be honest. 3-0 was flattering? Absolutely not. Fulham were never in the game in the 2nd half. Yes, they had a chance in the first but we had other chances we should have scored from. Fair result over 90 minutes.
I also thought Sigurdsson had a decent game as did Gana, probably my MotM.
I sometimes think some on here want us to lose so they can complain like fuck to suit ridiculous theories. Give the lads some credit, they played okay especially in the 2nd half and fully deserved the win.
We are getting better, head and shoulders above the shite served up last season. Give the team a bit of time and they will deliver. Hopefully we can get a decent striker in come January as that is a priority. A good win and decent performance in the end.
Alan J Thompson
69
Posted 29/09/2018 at 19:00:26
Bill (#67); Bullshit! If anything Davies was always there to take a pass and some of them were diabolical "Don't blame me" passes, I gave it to him! If you think he was poor then I'd hate to read what you think of others!
John Charles
70
Posted 29/09/2018 at 19:09:38
Good second half performance. Gueye my MotM. Tom very poor again as was Theo. Very pleased for Siggy and Cenk and maybe Keane can grow into the centre-half we thought we had bought.
Jim Bennings
71
Posted 29/09/2018 at 19:24:54
I think Zouma and Keane deserve a special mention today as well for handling Mitrovic well, the defence looks so much stronger for Holgate not being in it.
You can only play with what you have got, chances are if Calvert-Lewin has the ability of say Daniel Sturridge who has just saved those red swines with an absolute worldie, then we could have been celebrating a win at Arsenal last Sunday.
Trevor Peers
72
Posted 29/09/2018 at 19:38:51
Sigurdsson showed his character after missing that pen, scoring two classy goals, that was after a very poor 1st half which was certainly as bad as the West Ham game. If Fulham would've scored instead of hitting the bar, it might have been a disaster, but thankfully they didn't.
Second half, we scored and never looked back. Bernard was very promising as we attacked with some style, that was very refreshing to see. Keep it up blues.
Chris Corn
73
Posted 29/09/2018 at 19:44:25
Andy Crooks, I apologise as I normally get on to that sort of thing. You are right though. I was in the Lower Gwladys today and it is hilarious how an error at 0-0 is 'fuckin' shite!!' and at 2-0 is 'oooh, unlucky lad'. It's the bipolar nature of the Evertonian. We are all guilty of it.
Tommy Carter
74
Posted 29/09/2018 at 19:44:32
I've seen Southampton and Fulham show up to Goodison this season and been shocked by how abysmal both team were. It leaves me wondering.
Do we look as bad as those teams when we play away from home?
Are they really that bad?
Southampton to drop for me. They were so poor against us I was astonished.
As I assess things, I can only draw the conclusion that the gulf between the top 6 and EFC is insurmountable.
I then assess that the level of quality we have compared to everyone else pretty's stark too. I think only Leicester have anywhere near our quality
So you have a 6 team league. Everton and Leicester stuck in jeopardy. And then the rest of the others fighting it out for themselves.
Clive Rogers
75
Posted 29/09/2018 at 19:48:29
Calvert-Lewin hasn't got a football brain. Hardly touched the ball first half as he was always in the wrong position. He has pace and runs about a lot, but that's about it.
Brian Wilkinson
76
Posted 29/09/2018 at 19:58:40
I bet Fulham cannot wait for Everton to move from Goodison.
Got to love the Siggy comments before kick off, got a nice big piece of humble pie for a few, form an orderly queue please.
Paul Birmingham
77
Posted 29/09/2018 at 19:59:22
Some pearls of hope on our eternal pearl strings of hope, but I'm sensing also that the team needs leadership and tenacity from 1st to 95 min plus...
The momentary switch-offs always cost us against the better sides. Today we were lucky.
Today let's celebrate a clean sheet today and to beat Southampton and Leicester, would by any teams standards, be an excellent week.
Compared to 12 months ago, things are nowhere near as bad. But patience another of our eternal virtues is needed in heaps and big heaps.
Good weekend Evertonians!

Paul Smith
78
Posted 29/09/2018 at 20:04:11
Good result and a well needed 3 points. Tom gives the ball away far too much; Leciester will be a tough game. COYMFB
George Cumiskey
79
Posted 29/09/2018 at 20:10:03
Annika exactly right, 12 months of dross then two goals and, all of a sudden, he's world class.
Jim Bennings
80
Posted 29/09/2018 at 20:10:30
Leicester will obviously present a different challenge if for no other reason than we have huge mental issues with winning away from home. Some decent performances, yes, but we just don't seem to win away games.
Jamie Vardy will pose a different threat again for our central defenders and they'll need to be bang on form because Leicester in general is a tough place to go plus they have started the season reasonably well.
First things first, though, Southampton is a huge game on Tuesday night and a Cup run keeps confidence high. What we don't want after this good win today is to then go and get knocked out by the Saints, that would be hugely disappointing.
Ian Lloyd
81
Posted 29/09/2018 at 20:12:19
Andy (42), I know that's dig at me.
You won't find a bigger blue than me – I travel from Yorkshire to watch Everton weekly and have done for 25 years.
Please let's remember, it's Fulham we have beaten, eh.
Eric Paul
82
Posted 29/09/2018 at 20:15:29
Clive,
All of the mistakes Calvert-Lewin made last week Richarlison made the same mistakes today; that's not to say he had a bad game... but you still had a go at Calvert-Lewin – do you actually watch the match.
Andy Meighan
83
Posted 29/09/2018 at 20:17:31
I'm made up with the result. In the 1st half, we were poor but 2nd half we played very well. Gueye for me was brilliant – won every challenge and distributed the ball brilliantly. Not bad if we win 3-0 and play poorly!
Ian Lloyd
84
Posted 29/09/2018 at 20:18:06
Andy,
Let's just call it a truce – I will support the blues till I die, even if we win sod all.
I don't like the Silva appointment and never will but let's just wait and see 🤘🏻
Dave Abrahams
85
Posted 29/09/2018 at 20:20:07
A poor first half, followed by an improved second-half performance with two excellent goals from Sigurdsson and a well laid-on goal for Tosun by Walcott and Kenny.
Happy with the result, which is the main thing at this stage; the performances will, I think, continue to improve the more the new signings come in and a more a settled team appears on the team sheet.
Michael o/p, you've really got it in for Calvert-Lewin haven't you? The serially useless one, I can see him improving with each game, personally, but to each his own.
Dave Abrahams
86
Posted 29/09/2018 at 20:26:33
Eric (84), I was amazed at the standing ovation Charlie got when he was replaced. You are right, he didn't have a bad game, he didn't have a great one either, one that merited that ovation.
Brian Williams
87
Posted 29/09/2018 at 20:37:19
Maybe Charlie got the standing ovation because people can see the effort he puts in, appreciate that effort and the qualities he has, and realise he's a young lad trying very hard for us.
Maybe that ovation was in support of those things, you know "support" right?
Rick Tarleton
88
Posted 29/09/2018 at 20:42:48
It's brilliant to read of a 3-0 win, a clean sheet, Sigurdsson scoring two and should have had a hat-trick, and Tosun getting a goal.
May it continue.
Eric Paul
89
Posted 29/09/2018 at 20:45:25
Brian,
He is the same age as Calvert-Lewin (I think) who is trying very hard for us. So what's the difference?
Sam Hoare
90
Posted 29/09/2018 at 20:48:18
Good result. Didn't watch it but if we managed such a comfortable win without playing well that bodes even better. Did Fulham have a shot on target?
I've said before I expect ups and downs this season resulting in a 7th-12th finish. Seems we're about on course.
I'm more interested in the foundation of the team being layed. It appears we have found a very good left hand side potentially. And that Michael Keane may prove me wrong when I said he had fundamental flaws. The centre midfielder still seems a weakness to me but if Tom Davies keeps getting minutes that will surely help him develop. Remember how average Henderson used to look?
The team will take time to gel and still we've not seen the best of Bernard or any of Mina or Gomes. I'm looking forward to every Everton game now, more so than I have in a good few years.
Conor Skelly
91
Posted 29/09/2018 at 20:49:40
Great report, Michael. I hate a Witch hunt but I'm glad you've ended the article with what needs to be said. This Calvert-Lewin nonsense needs to be put to bed. Our worst centre-forward since Brett Angel.
Eric Paul
92
Posted 29/09/2018 at 20:54:51
Conor,
Our very own Graeme Sharp would disagree with you.
Clive Rogers
93
Posted 29/09/2018 at 20:57:13
Eric, #84, yes, I was there. There is no comparison between Calvert-Lewin and Richarlison.
Dave Abrahams
94
Posted 29/09/2018 at 20:58:30
Brian (#89)
"Support" ... yes, I know support very well, I've been doing it for a long time but I've never been sarcastic with my support; "honest and open" is the only way to be.
Eric Paul
95
Posted 29/09/2018 at 21:13:24
Clive,
Only time will tell but there is not much between them right now, statistically-wise.

Kim Vivian
97
Posted 29/09/2018 at 21:43:50
Just watching "In Bruges" on Film 4 – How long has Colin Farrell been a football manager?
Andy Crooks
98
Posted 29/09/2018 at 21:49:25
Ian, It was a dig at you and it was uncalled for and unfair. Over the years I have posted some truly hysterical nonsense and I would hate some sanctimonious smart arse to fire it back at me. Sorry.
Eric Paul
99
Posted 29/09/2018 at 21:55:24
Statistically... or statistic-wise... it's been a long day.
David McMullen
100
Posted 29/09/2018 at 21:56:02
I enjoyed the second half; the first half we were out of sorts. Gueye played well and poor in equal measure, very frustrating.
Bernard looks class every time he comes on – no surprise, that move to set up Sigurdsson.
It would be nice to go to Leicester full of confidence (not forgetting the League Cup game on Tuesday first) and get another 3 points.
James Stewart
101
Posted 29/09/2018 at 21:57:16
@85
What improvements would those be? Calvert-Lewin is consistently awful. The worst striker in the entire league, can't finish to save his life. The fact he is still starting games for another Everton manager is a testament to how poor our striking recruitment has been.
Paul Tran
102
Posted 29/09/2018 at 22:02:14
Last week and this week sum up where we are right now. Arsenal took their chances and beat us. We had a good second half today and showed that extra quality good enough to beat a side we should be beating.
Lots of positives today. We need to find a formula that makes the sum better than our parts. In the summer we seemed to agree that would take time, for some that hasn't lasted seven games.
I've got the impression Silva has an eye for a good footballer. That will stand us in good stead while we're building familiarity throughout the team.
We are a work in progress, bit there's enough quality to make today the norm against most of the league.
This season I'm expecting us to beat the bottom twelve and have a puncher's chance against the 'big six'.

Clive Rogers
103
Posted 29/09/2018 at 22:08:49
Eric, there is a massive gap in ability though.
Dean Cooper
104
Posted 29/09/2018 at 22:18:05
Great to see Sigurdsson shut most of the haters up. It's funny how people can view the game differently:
To everyone else, he's served up dross all season and should be benched. To me, I feel every single chance we have at goal from a counter-attack, he's at the centre of the move. We just don't put it away!
I thought Kenny was excellent today. I was an advocate for loaning him out because he made lots of mistakes with the ball. But today he looked like a Premier League player.
And how good is Digne?!
Conor Skelly
105
Posted 29/09/2018 at 22:20:58
Eric Paul,
"Our very own"? Do you work at the club? Greame Sharpe's opinion on anything regarding Everton is of very little interest to me.
I know what I've seen watching every game for the past two seasons. The boy isn't up to it. Someone said it brilliantly earlier on the live forum. "This level is about delivery; not development".
On a positive note, I thought Jonjoe was excellent in the second half and will retain his place if he keeps that level of performance up.
Tom frustrates me. Lovely footballer but found wanting too often and won't be in the side when Gomes is fit if he continues in this vain.
I'm expecting this team to really blossom as the season goes on. If we are still in touching distance with Top 6 in February, things could get interesting.
Digne and Zouma both excellent today. Richie and Bernie have both been stand-out in terms of providing eye-catching quality this season. I expect Mina and Gomes to be of a similar level.
The days of living on a prayer with players like Calvert-Lewin and Davies are thankfully coming to an end.
Kieran Kinsella
106
Posted 29/09/2018 at 22:33:00
Conor
"Ours" is a possessive meaning Sharp is an Evertonian. Do we have to be gainfully employed at the club to use that term now? Sharp was also a striker so may have more insight than the average keyboard warrior. Didn't Calvert-Lewin have a hand in more goals than anyone else last season between scoring and assists?
Jay Wood
[BRZ]
107
Posted 29/09/2018 at 22:47:41
Richarlison is, on the season's showing to date, the one player we have who possesses the 'magic touch', who can potentially produce a telling moment from nothing. That said, I side with Dave Abrahams in this thread.
Today, our #30 was arguably our poorest performer. Yes, he was heavily marked today (literally, in the first half, with a red-card worthy thigh-high challenge which left stud marks), but he contributed very little.
There were a number of times he could have laid off the ball, or got his head up and played in someone. Instead, he gave up cheap possession and did not show great awareness of those around him.
However, because his name is not Jonjoe Kenny, Tom Davies or Dominic Calvert-Lewin – popular whipping boys on here – he gets a 'free pass'.
Similarly, Bernard draws a disproportionate amount of praise for his 5-6 minutes on the pitch, whereas the most influential player in the game is heavily scorned by some.
Yes, a woeful penalty miss by Gylfi, but – my! – how he responded. It was his pass in behind their fullback for Kenny that led to Jonjoe's pull back and Sigurdson's exquisitely placed finish for the first.
And – correct me if I'm wrong – but wasn't it Sigurdson himself, together with Gueye, who helped turn the ball over deep in our half, 70 yards from the Fulham goal, that saw the ball moved upfield to Bernard, with the Icelander bursting a gut to be in the position he was to receive Bernard's lay-off and once again guide home a superbly placed finish.
He was hard pushed for the MotM award by Gueye who, in my eyes, continues to be one of our best performers this season.
It was a thoroughly deserved win. That does not ignore the poverty of the football (from both sides) in the first half. But nor does it presume – as too many are inclined to do – that by default certain players always play well, whilst others always play badly.
Some on here would be well-served to watch each game and each player on their merits, rather than have a jaundiced eye about the team and individuals before a ball is even kicked.
Jim Bennings
108
Posted 29/09/2018 at 22:48:18
Does anyone think Lucas Digne is very similar to the Leighton Baines of 9 years ago?
His left foot is a wand, the amount of quality balls into the box and set plays he put in today, outstanding.
ps: I'd love an ambitious bold move for Marko Arnautovic in January, maybe a fantasy... but still!
Daniel A Johnson
109
Posted 29/09/2018 at 22:49:55
Clavert-Lewin is a striker that doesn't score goals. For that reason alone he's not good enough for EFC.
Goals win and change matches.
Conor Skelly
110
Posted 29/09/2018 at 22:52:26
You watch the stats Kieran. The rest of us will watch the football.
Sharpe is an employee of the club so any opinion he expresses about Everton players has to be taken with a pound of salt.
So I won't be changing my opinion on the player based on what Sharpe says. Does that make me a keyboard warrior?
Brian Williams
111
Posted 29/09/2018 at 22:54:47
Eric #89.
With regard to an ovation, Eric, no difference whatsoever.
I'll stand and applaud each and every player who's given 100% as they come off to be subbed.
Neil Copeland
112
Posted 29/09/2018 at 22:57:08
One thing that really stood out for me today was the awareness that Bernard has. Too often today our wingers ran into cul-de-sacs when there were opportunities to find a team mate in a better position (yes I know they won plenty of corners but the outcome could have been more positive by playing more intelligently). Bernard really showed his class with the run and pull back for Siggy to score the third goal – Richarlison and Walcott can learn a lot from him.
Overall, I thought we were industrious but lacking cohesion in the first half. The second half was much better and, although there is still plenty to do, there was a lot to like including the support which remained largely positive.
I know that stats can be misleading but I noted that only Man City had more shots on goal and target than Everton in the Premier League today.
We are definitely heading in the right direction.
Sukhdev Sohal
113
Posted 29/09/2018 at 23:05:32
Gomes could be great with Gueye. Has the physicality and confidence and won't make Gueye need to go too far up the pitch, like he does when he's paired up with Schneiderlin.
Eric Paul
114
Posted 29/09/2018 at 23:08:47
Conor,
So the only man whose opinion of players that really matters, which is the manager – who is an employee of the club – should be taken with a pound of salt.
And your qualifications are????
Kieran Kinsella
115
Posted 29/09/2018 at 23:11:31
Conor,
I think it is a little pompous to dismiss an Everton legend out of hand whilst posting on here you are assuming everyone is all interested in your view of our... sorry, I mean the Everton Football Club.
If you recall, Sharp was critical of Martinez early while both were working at the club so I am not sure he is a party man as you suggest. Either way, I am well aware that most Evertonians would be more interested in his views than mine or yours.
Jim Bennings
116
Posted 29/09/2018 at 23:18:10
Anyone bullshitting about giving Sigurdsson stick should have just watched the highlights on Match of the Day to really appreciate what a class central midfielder he is.
The problem for Everton has never been Gylfi Sigurdsson but the players behind him lacking mobility or passing accuracy, neither Gana or Davies are really pass masters and Schneiderlin is too casual and again lacks mobility.
You want a goalscoring creative central midfielder — then you have got one in Sigurdsson.
You want a midfielder behind or next to him with an engine on him but also the ability to use the ball and carry it — then that's hopefully going to be Andre Gomes (if he can get fit at some point before his flippin loan expires).
Neil Copeland
117
Posted 29/09/2018 at 23:23:11
Jim 116, well said.
Regarding Gomes, does anyone know when we can expect to see him play?
Ciarán McGlone
118
Posted 29/09/2018 at 23:29:36
Aye... sod watching all our games for the last year... today's MotD is evidentially conclusive proof that Sigurdsson is superb..
Catch a grip, son.
Neil Copeland
119
Posted 29/09/2018 at 23:31:21
Sigurdsson is now our leading goal scorer... not bad for a shit No 10, eh?
Paul Birmingham
120
Posted 29/09/2018 at 23:33:31
Class is class, and character today won the day.
Patience also, but well done Sigurdsson, and Digne and Toscun.
Patience, guts, and spirit... "What's Our Name?"
Jerome Shields
121
Posted 29/09/2018 at 23:51:21
I'm beginning to think that Sigurdsson needs Bernard and Gomes in the side. He is finding it difficult to play with Davies or Schneiderlin in midfield and link up with Calvert-Lewin. They don't gel together or create any passing patterns.
Also, a trio of Gueye, Gomes, and Sigurdsson, with the addition of Bernard would be more suitable for Tosun who needs to be part of passing movements, which he is more familiar with. Gueye is valuable for his work rate and mobility and would work well with the same players as Sigurdsson.
Everton are still mostly attacking down channels and forward passes in the final third are still low in completion rate. Such a selection involving Sigurdsson would improve the number of forward passes in the final third. Davies and Calvert-Lewin were really poor in the first half and Silva's high press tactics were in ruins as a result.
What's more, I think Silva knows he needs these players fit and introduced as soon as possible. If Mina was also fit to play, I really could see light at the end of the tunnel at last.
Tony Abrahams
122
Posted 29/09/2018 at 23:52:43
Tommy @74, if you can't see "The Hammers" then I'm very surprised?
Tony Abrahams
123
Posted 29/09/2018 at 23:57:54
Dave @86, I remember as I child, I used to think how much you had it in for me, but thank god I listened because I understand the game a lot better because of your straightforwardness!
Ernie Baywood
124
Posted 29/09/2018 at 00:00:19
The criticism of Sigurdsson just doesn't stack up. If he was an Ozil type then I could understand him being judged on goals and assists alone. But he isn't – he works his socks off pressing and chasing and contributes in every game.
I can only assume it's the price tag and his emotionless style. If you can shift your focus from those things then you can enjoy the player.
On the game itself, it pretty much summed us up. There's plenty of promise but a long way to go. We'll have bad halves and good halves. We'll leave gaps at the back and will occasionally excite. Plus there's some real quality in that attacking third.
Add a striker, another centre midfielder and sort that defence (two lumbering centre-halves can't be a long-term plan) and we've got something.
We know Calvert-Lewin and Davies are playing because we can't select much better. But they're doing a decent enough job for their age. And the experience they're gaining will be important. If I was taking a punt, I'd say Davies will turn into a regular top-level midfielder and Calvert-Lewin might end up more in the Anichebe category (lower Premier League or upper Championship) but let's give them a chance – in their preferred positions – and find out.
Paul Birmingham
125
Posted 30/09/2018 at 00:09:47
At least we won, this weekend.🤙
Martin Berry
126
Posted 30/09/2018 at 00:15:02
And with Mina and Gomes still set to make their debut... and Bernard to do a full 90 minutes.
Some fans don't know when their well off!

Tony Abrahams
127
Posted 29/09/2018 at 00:16:53
Dave @94, you know me, I'd only tell lies in "the dock" but I never knew you was so honest and open until I'd read your previous post @86!
Might not have always liked your opinion, Davie, but I learned a great thing as a child, and it was that no player, no matter how good he was, was never any better than the team!
Gana Gueye was today though, because unselfish footballers are invaluable and that's exactly what that kid was today!
Onward Everton, but first we have got to get fit, because Silva's football is so demanding, and I'm not sure the present squad can cope? Bevied? Yes, happy? Definitely yes, just to reach an age where I understand the arlarses, makes me realise that you don't start learning until you are a dinosaur yourself!!!
Michael Kenrick
128
Posted 30/09/2018 at 00:17:18
Yes, Jay (#107), it was incredible how stupid and gullible all those fans in the ground were, giving the lad Richarlison such a resounding ovation after that poor showing. I mean, what had they possibly seen to make him even remotely worthy of such adulation?
Meanwhile, the real work was done by Calvert-Lewin, who ran around a lot and gave defenders a really hard time... without actually troubling the net. Funny how his ovation hardly registered on the sound-meters. But then it was the fans actually watching the game, as you so wisely recommend, who made these collective judgements of the relative contributions provided.
Simon Temme
129
Posted 30/09/2018 at 00:26:26
Great performance against Arsenal, no goals = Silva is Shite.
Average performance against Fulham, goals and a clean sheet = Silva is shite.
We are not even out of the blocks. More patience please... He receives tirades of flack for not wanting the free-flowing football of Allardyce or the defensive masterclass of Moyes.
Clive Rogers
130
Posted 30/09/2018 at 00:29:18
Ernie (#124), Calvert-Lewin is 22 in March and has made 51 appearances for 6 goals. He has been poor this season especially the last 3 games. He has not progressed at all, gone backward if anything. He's running out of time.
Bill Gienapp
131
Posted 30/09/2018 at 00:38:01
It seems clear that there are some who simply can't get past Sigurdsson's pricetag... which is frankly pointless to fixate on at this point.
Jay Wood
[BRZ]
132
Posted 30/09/2018 at 00:45:56
Michael @ 128.
I didn't call anyone stupid and gullible - be they match-going or, as is the case for the overwhelming majority - watching remotely from every corner of the globe. That was you, just now.
Nor do I deny anyone - ever! - the right to express their opinion. I will (which I believe you allow and wish to encourage) if I choose contest others opinion, as I did.
I gave reasons why I thought Richarlison was poor. You – and the entire live Goodison audience - are at liberty to agree or disagree.
As to the bone you seem to be gnawing at, there is clear evidence within this very thread that people will and do comment not necessarily on what is happening on any given day, in any given match, but more based on their preconceptions of a player before a ball has been kicked.
You appear to be one of them in your live commentary in the last two games with your sneering comments about Calvert-Lewin.
Entirely your right, Michael. But I won't be changing my opinion on the content of my post @ 107, if that's all right with you...
Kieran Kinsella
133
Posted 30/09/2018 at 01:11:58
Jim Bennings
Yes I agree on Digne
Kieran Kinsella
134
Posted 30/09/2018 at 01:20:44
Jim
You may have a fair point on Sig and the midfield. I felt he was hiding v West Ham and standing where he would not get the ball. Could just be my perception but that was the impression I had. I do not doubt his ability
Ernie Baywood
135
Posted 30/09/2018 at 02:56:46
Clive #130, I'm not going to claim he's some kind of world beater but...
Before the last three games... He'd made 2 late sub appearances and I've start. He scored on his start. In the cup he scored twice.
Tough to judge him based on those showings but the return was pretty good.
In the last three games he's played as a winger and then finally got a run in his true position... away to Arsenal. Not exactly the easiest game to judge him but he did a good job and was a big part of the pressing approach that had us on top for long periods.
Against Fulham he got an hour. Absolutely underwhelming would be my view, even taking into account that he won a penalty. It's probably the first disappointing run he's had this season. ie he was in his favoured position against an average team at home and didn't show enough.
So I think it's fair to criticise his showing against Fulham. But the rest of the comments about him? No chance, he's done alright despite being thrown out wide.
Going on loan would be much better for him - give him a chance to play regularly up front and find out if he's any good. Unfortunately we can't afford that. We need him around the squad.
Laurie Hartley
136
Posted 30/09/2018 at 04:05:55
Brian # 76 - looks like I am at the front of the queue for the humble pie.
I dropped Sigurdsson yesterday so what does he do? Score two goals!
What do I know.
One thing I did get right - I said our luck was going to change and when it did some team was going to get hammered.
Well, our luck turned when they hit the crossbar just before half time. It's all uphill from now on (smiles).
Annika Herbert
137
Posted 30/09/2018 at 05:22:07
Brian @76, no need for anyone to eat humble pie. Sigurdsson was as bad as anyone in that first half. Surely a player some claim to be one of our best should rise above the dross?
Obviously anyone can have an off day but, with his experience, I expect to see him show his qualities more often. Pleased to see he scored, but it doesn't change the fact he hasn't hit the heights for us so far.
I need to see him do a lot more before I fully accept he can be that midfield creator we all crave. Tosun also covers a lot of ground but many don't rate him at all. Yet Sigurdsson runs around a bit and all is well!!!
Ian Lloyd
138
Posted 30/09/2018 at 05:28:02
Nice one, Andy, and ditto.
We both only want what's best for Everton and I guess it's the frustration of not seeing what we want to happen over the last however many years
As previous people have said, no point bickering between ourselves! ❣
Paul Ward
139
Posted 30/09/2018 at 07:39:47
Jay Wood @107,
I find it hard to dispute any of the sentiment you expressed.

I also think many ToffeeWebers will read your well-balanced post and reflect on their rash opinions.
Ciarán McGlone
140
Posted 30/09/2018 at 07:41:38
"There is clear evidence within this very thread that people will and do comment not necessarily on what is happening on any given day, in any given match, but more based on their preconceptions of a player before a ball has been kicked."
I think you might find that these "preconceptions" are entirely based on how the ball has been kicked previously.
Dave Abrahams
141
Posted 30/09/2018 at 09:18:38
Michael (128), you might want to have another look at the game, Charlie was always in the game, did plenty of good things but plenty wrong, his wastefulness at times was very poor.
As Jay says, the crowd are at liberty to cheer and applaud as they wish, no problem with that, just the same as myself.
Paul Birmingham
142
Posted 30/09/2018 at 10:01:22
Jay @107, well said, a very balanced and honest assessment.
Tony Abrahams
143
Posted 30/09/2018 at 10:45:16
Paul@139, I'd definitely agree with that mate.
Richarlson, never had a great game, maybe he never even had a good game, but he's brave, he keeps trying, and he's only a kid himself.
Will Lewin come good? He's playing in the hardest position on the pitch, he never had a good game today, but again he's only a kid.
Kenny was called a headless chicken on ToffeeWeb the other day. Headless chickens don't play through balls like the one he gave for Walcott to cross, for Tosun to 𝐒𝐜o𝐫𝐞.
A young team Everton, and the worst thing you can do to anyone (especially kids) is slag them because you don't think they are good enough. Not trying hard enough? Definitely, ask Schneiderlin, but the game is hard enough, and you don't need to be getting slaughtered off your own, unless you look like you don't want to know, IMO.
Jamie Evans
144
Posted 30/09/2018 at 10:57:41
In other news, did anyone else see Yerry Mina stuck in traffic outside the ground just before kick off ?
Vay, vay funny.
Big flash motor, his missus in the passenger seat looking genuinely terrified and all the while our lovable Gwladys Street ninjas banged on the bonnet, took photos and best of all, serenaded him with a beautiful version of his own song.
Still no news on when he's fit though.
Colin Malone
145
Posted 30/09/2018 at 11:03:29
Idrissa Gueye, superb as he was against Arsenal, is a lone holding midfielder.
Sigurdsson is in a too advanced position for me; he should be deeper, for his creativity.
Chris Locke
146
Posted 30/09/2018 at 11:58:08
Jay #107,
The problem is I'm not sure you really got what Richarlison did for the team yesterday, despite not having his best game.
Many teams have passed around Everton over the last few seasons, denying us the ball and exerting constant pressure. We would win the ball back but immediately lose it through bad passing, control and a lack of movement. This pressure would often lead to conceding a goal or 3.
What Richarlison provided yesterday was a constant out-ball. He challenged for every ball to be sent his way and often controlled it, or at the very least ensured Fulham had to go backwards. This bought the whole team the time needed to get back into formation and push out from the back.
The effort he put in, the kicks he took, and the overall higher level of quality he showed in comparison to what we've seen from recent wearers of an Everton shirt is no doubt what caused Goodison to applaud so loudly as he left the field.
Everton have been waiting for a talisman for quite a while now and I for one think Richarlison could be it.
COYB
Tony Heron
147
Posted 30/09/2018 at 12:03:01
I see we had 19 attempts yesterday — in one match! Wonder how many seasons it would have taken to reach that figure under that master tactician Sam Allardyce?
Tony Marsh
148
Posted 30/09/2018 at 12:26:53
I don't get it. Why do so many on here love knocking Jonjoe Kenny? I think Kenny is a great player Makes the odd mistake but who in the squad is foot perfect?? Leave the lad alone let him mature.
Calvert-Lewin isn't a bad player because he is a kid, as some would say. Calvert-Lewin just isn't very good. If performance is age-related then Richarlson is young also and he is brilliant. Michael Owen was terrorising defences in the Premier League at age 17. Hate to say it but Steven Gerrard was in his late teens when he was running games for Liverpool up against the likes of Patrick Vierra and Roy Keane.
Age has nothing to do with ability. You are either good enough or you are not. If Dom Calvert-Lewin was any good, we would see it by now. Sorry but the lad isn't a natural finisher.
Good win yesterday but Fulham are really poor and will go down. We sucked first half and better teams would've put us to the sword. Plenty of work still to do but some good signs. Where is Gomes? Is he out for the season as reports have said??
Brian Wilkinson
149
Posted 30/09/2018 at 12:31:52
Annika @137, the humble pie bit was for people having a go at a player before a ball has even been kicked based on previous games. Yes, we all want Sigurdsson to be the player we expect him to be, we all know we haven't seen the best of the guy yet.
Let's not forget Martin Keown, a player who stank Goodison out for a couple of seasons; then, from nowhere, he turned out to be one of the top defenders.
If you look since Siggy come, the different managers and style of play, different formations we have played, not just for Siggy, other players as well have been played here, there, and everywhere.
We need to get a settled side and then we should get what we expect from Siggy and for me, I would make him captain, instead of keep changing captains.
He seems to play every week, so hand him the arm band.
Once we have players up to speed and a settled starting 11, players will start showing their true form. Pienaar and Baines were untouchable on the left, they played week-in & week-out, they knew what the other would do. If you are playing with different players, it's a lot harder to anticipate what the other player will do.
We need to get our strongest 11 up and running, playing together week after week, build up a team that knows the other players' lay-offs, runs into space etc.
That is not happening because either we have not got our strongest 11 at full speed yet, or the players are one week playing on the left, next as a centre-forward, then in some cases playing as a second defensive midfielder.
3-0 was a decent result; for me, I would play as many as those starting 11 again, against Southampton, get an understanding within those players, and not make too many changes.
If you get a result, follow it up, get those same players back on the pitch for the cup game.
James Marshall
150
Posted 30/09/2018 at 12:34:06
Bernard has a football brain. An awful lot of our players do not.
It's what we've lacked over the years, intelligent footballers like those you see all over the park at Man City. Arteta was one, so was Osman (sort of), aside from them I can't think of any others we've had in the last 20 years.
Maybe Manny Fernandes to a degree.
I still see too much talk of having 'grafters' in our team as the players our supporters warm to – I wish this would disappear. Everton fans love a good tackle & all that, but the game has moved on. We should as well.
Tommy Carter
151
Posted 30/09/2018 at 12:36:41
@146 Chris
Spot on pal. Anybody at the game will have seen the effort Richarlison put in, he's a real fighter. And his effort is often matched by quality. He didn't get the breaks his efforts deserved but, the harder you work, the luckier you get, as goes the saying.
I'm delighted he's ours.
Conor Skelly
152
Posted 30/09/2018 at 13:02:24
Call me what you like, Kieran. If Sharpe thinks Calvert-Lewin is the answer, then who am I to question that? Is that the crux of your point? Do I and the majority of Evertonians who disagree with this opinion need to keep schtum until the goals start flying in? Only a matter of time, like.
Others are providing statistics to compare Calvert-Lewin favorably with Richarlison. Why the Spin? Why throw misleading stats around when anyone can see they are anything but equals. Why are you lobbying on Calvert-Lewin's behalf? This is professional football, not a kids team where everyone must get a game.
It was clear yesterday that the whole team got a lift when he went off. It must be demoralizing trying to supply a striker with chances he won't score. "Oh but he scored two in The Caraboa Cup a month ago". The sooner the Calvert-Lewin apologists stop dreaming, the better.
Sam Hoare
153
Posted 30/09/2018 at 13:05:32
James @150, what about Pienaar and Baines?
I agree on Bernard. Looking forward to seeing him start. Where will be the interesting question: I'd like to see him in the No 10 slot as I think having someone there who can beat a man and play a pass would really give us some new options.
James Marshall
154
Posted 30/09/2018 at 13:08:00
Sam, good shout on Pienaar & Baines. Too few & far between in the main unfortunately.
Kevin Dyer
155
Posted 30/09/2018 at 13:28:02
Silva wants to work with young players, to coach them into his philosophy, generate improvements. Those thinking Tom is a placeholder don't get that Silva sees something in him. You don't give the armband to someone just plugging a gap. A lot of people rate Davies; Silva (who works with him) is obviously one. Players sometimes don't develop but I feel Davies will. Unlike some youngsters, he doesn't have anything obvious to shout about (pace, skills goals etc) but the game is about more than that. He seems professional and wants to learn. Those qualities are major assets. People deriding him as at best a Championship player will, I think, be feeling a bit foolish in a couple of seasons.
Ditto with Kenny. He's already improved massively under Silva, though only a week or two ago was being referred to by some as Sunday League standard. Our negative regime last season killed his natural attacking game, you could see he was just scrambling around trying to just defend. Totally blunted his development. Now he's getting forward, looking comfortable on the ball AND perversely defending better. Like Tom he has energy to burn and a great attitude.
Calvert-Lewin is further away. He's giving it everything but strikers get judged on goals. If we get competition in for Tosun in January, maybe a loan to the Championship to play up top will aid his development. Holgate has a lot to learn but has great natural ability and the right attitude.
Agree with David Barks on Sigurdsson: a class player criminally wasted by incompetent managers out wide last season. He's not an athlete, but he is a footballer. He's clever, technical and sees the game, whilst also working hard and never lets his head drop. In a team playing badly, he isn't the type to win a game by himself, he lacks the speed and ability to take defenders on. He's is a team player though and will play better with other intelligent footballers, which bodes well because that's the direction we're heading in. Also to those suggesting he does nothing and then scores the occasional goal, you realize it was his through-ball putting Calvert-Lewin in for the penalty?
A misfiring first half, lucky that Sessegnon hit the bar, but we mullered them in the 2nd. They offered zero threat other than the break from our corner. We totally outplayed them and richly deserved the margin of victory. Jokanovic essentially admitted as much. Our defence was excellent. Bernard is a clever player and will be major for us in a month or so. Still Mina and Gomes to come.
To those who think Silva is no great shakes, compare and contrast with last season. Which of our players actually improved? How many regressed? This season, most are showing improvement. All the new additions we've seen so far are looking good. This indicates that our recruitment and coaching are both working. Good times ahead IMO.
David Hallwood
156
Posted 30/09/2018 at 13:29:03
I'm old enough to remember watching a young, raw Sharpe and thinking "What have we bought here?" Or a young Kevin Ratcliffe playing at left-back and thinking the same. So what do I know?
How about Niasse playing right-mid and thinking "He's 3rd division".
Moral of the story, don't be too quick to judge young players or players playing out of position.
One of the problems with social media is instant judgement; shite first half, genius 2nd half. But I fear for Tom Davies and Calvert-Lewin. Baz from ToffeeTV pointed to Tom's passing stats being 80% completion, and the 'not good enough' brigade will focus on the 20%. Will he become a top midfielder? Who knows, but FFS give him a break, and let him learn his trade and support him – not sap him of confidence. Ditto Calvert-Lewin.

Gavin Johnson
157
Posted 30/09/2018 at 13:33:52
Good result for the Blues yesterday. Always a good sign when you comfortably beat a side while playing badly. Actually that's probably being unfair because we played with higher intensity after Sigurdsson missed the penalty and played well in the final 30 mins. That may have been something to do with Tosun replacing Calvert-Lewin and, while I rate Calvert-Lewin, he isn't the answer in a team aspiring for the top 6. He needs to go on loan to a club like Bournemouth who wanted him in the summer.
There was another good display by Michael Keane and just as well with Mina not yet making his debut.
Joe McMahon
158
Posted 30/09/2018 at 13:57:17
James (150) 100% agree. An example being too many rose-tinted specs about Carsley and Gravesen, but when it comes down to what did Everton achieve when they were in the team anyway, and most of the football wasn't pretty on the eye in that era.
I'm positive all the new Silva & Brands signings will be a big improvement on what we have. Last time I was genuinely optimistic was the sigings of Lukaku and Barry.
Paul Tran
159
Posted 30/09/2018 at 14:01:00
A canny move making Davies captain. I'd argue an intelligent kid with captaincy experience that takes responsibility, risks, makes mistakes and still carries on is a better choice than a 'senior' non-achiever. Plus it's a good statement for dropping the average age of the team and encouraging/developing younger players.
Tony Heron
160
Posted 30/09/2018 at 14:08:31
David @156. Fully agree, I remember Howard Kendall in his first game looked awful and we all know how that one worked out!
Tom Bowers
161
Posted 30/09/2018 at 14:15:27
It was a really good result after the last 3 games because anything less might have been a start to a downward trend especially after Richarlison coming back. This lad is the real deal and it was amazing to see the treatment he survived from the Fulham boot boys.
Davies is showing a lot more now and I agree, he has a lot more to learn, especially the timing of his tackles, but that's down to his enthusiasm.
Whilst Fulham are basically a Championship side, they still caused some concern early on but at the back they are a mess. If Walcott and Tosun or Calvert-Lewin can click more consistently with Richarlison, then the offence will do well and Gylfi's brace was a real bonus.
Ray Roche
162
Posted 30/09/2018 at 14:22:36
Tom, I shudder to think of the treatment Richarlison and, if he plays, Bernard will get from the thugs from Southampton on Tuesday. In the first half of the home league game a few weeks back, they were worse than Fulham, they were a team in the same mould as their manager. But without his ability. Hard and uncompromising, they will hoof our talented players all over the park.
Laurie Hartley
163
Posted 30/09/2018 at 14:37:59
It looks to me that Silva will have some selection headaches of the right kind in the coming weeks.
Richarlison will be very sore today after the kicking he took yesterday so maybe he will be rested for Southampton and Bernard given a start.
When I look at it now, and as somebody else has mentioned, I see two players for each full-back spot, four rising to five centre-halves (going on yesterday's performance, both Keane and Zouma will be hard to dislodge).
Davies, Gueye, Sigurdsson, plus Schneiderlin and soon Gomes in midfield. But it is up front that is going to be interesting for two reasons as I see it.
Walcott and Richarlison are automatic starters for me under normal circumstances, but if as I am tipping he will, Tosun finds his finishing touch, then you will have Bernard banging the door down for a start and Calvert-Lewin still in contention
Perhaps Silva will use all five of them, subbing one or two of them every game.
What a difference from last season where it was square pegs in round holes every game.
Paul Kelly
164
Posted 30/09/2018 at 14:38:43
If I missed it, Sorry. But the reason Gylfi gets it so much is because he's a boyhood blue. Simple.
Eddie Dunn
165
Posted 30/09/2018 at 15:03:36
Kevin #155, good points sensibly made.
Mike Gaynes
166
Posted 30/09/2018 at 15:42:17
Kevin #155, regarding Sigurdsson, I would also point out that he helped force the turnover that triggered the final goal. That's right, he was in on the defending side and then ran 70 yards to finish the chance. Class player, through and through.
Derek Knox
167
Posted 30/09/2018 at 15:46:31
Paul @164, don't recall him being on TW :-), but do agree that he gets a lot of undeserved criticism, a lot of it down to him being played out of position, and playing alongside players who are not on his wavelength.
Kieran Kinsella
168
Posted 30/09/2018 at 16:19:06
Brian Wilkinson 149
Did Martin Keown suffer from terrible flatulence? I don't remember how his performances "Stank" out Goodison. He got called up for England and did well enough to get a move to Arsenal when they were the best of the best.
Daniel A Johnson
169
Posted 30/09/2018 at 17:13:59
All the Calvert-Lewin apologists can go jump off a cliff. All this "He's young and learning" is just bollocks also,
Look at his goals per game ratio. He will never be a Premier League striker — NEVER!!!
He just doesn't score goals; when you claim to be a striker and you can't score, then you have a problem. Any striker can hit a rocky patch but statistically you will have a better chance of seeing Elvis in Walmart than you will of seeing Calvert-Lewin score at Goodison Park.
Anthony Hawkins
170
Posted 30/09/2018 at 17:19:39
Kieran – Keown moved from Arsenal to Everton... then back again.
Andy Crooks
171
Posted 30/09/2018 at 17:28:18
Tony Marsh, stop talking sense.
Dave Abrahams
172
Posted 30/09/2018 at 17:41:50
I think you will find that Everton signed Keown from Aston Villa then sold him to Arsenal; he had joined Villa from Arsenal.
Mike Doyle
173
Posted 30/09/2018 at 18:06:14
Great to see the level of composure shown by Bernard for the 3rd. Ran into a great position then waited... and waited a bit longer... for Siggy to appear in a good position to receive the pass. If that was typical, it bodes well.
Derek Knox
174
Posted 30/09/2018 at 18:33:37
Mike @173, I know Fulham weren't top opposition, but Everton as a team made it look difficult, and almost treated them as if they were, in the first half.
I don't know how many of us here on TW were calling for his inclusion (Bernard) before the team sheets were made official, but no, the Manager chose to stick with those that played against the Arsenal.
While I admire in some respects, Marco giving players a chance to prove themselves, games in the Premier League are not the platform to do that.
Let's hope Bernard is one of the first names on next match's team sheet along with Gylfi, Charlie, Gana, Digne, Keane, Pickford, Walcott, Zouma, Kenny, Davies, and someone who can score a goal regularly, not once in a Blue Moon!

Chris Jenkins
175
Posted 30/09/2018 at 18:48:43
Very welcome 3 points but in no way was it a convincing result as illustrated by a totally inept 1st half performance and poor Fulham defending in the 2nd half.
I just cannot see Silva lasting much longer as any half-decent team will rip through this poor defence. A change of manager is desperately needed, the sooner the better.
David Barks
176
Posted 30/09/2018 at 18:53:29
Chris Jenkins,
What a laughable post. "A change of manager is desperately needed"??? 7 games into his first season? Coming off a 3-0 win which, sorry, was a convincing result.

19 shots to their 6.
6 on target to their zero.
12 corners to their 1.
Ian Bennett
177
Posted 30/09/2018 at 19:10:36
You've got to think Brands is targeting a top striker. We aren't going to do anything without a genuine goal threat.
Expect Moshiri to bankroll a big signing next summer.
Neil Copeland
178
Posted 30/09/2018 at 19:42:29
Chris 175, you are joking right? You don't think Marco Silva deserves credit for turning a poor first half performance around into a half-decent second half? You can only beat what is put in front of you and Everton did that convincingly. In fact, had Siggy scored the penalty, it would have been 4-0.
I would agree 100% that there is plenty of room for improvement but we are most definitely moving in the right direction .
Get a grip, mate.
Steavey Buckley
180
Posted 30/09/2018 at 19:47:45
Everton need to persist with Calvert-Lewin because of the 4-3-3 tactical system that depends on a quick ball to the 3 upfront having pace to unsettle the defenders.
Lukaku was ideal for this type of play because he had the pace, but more importantly, he has the ability to score goals. Sad to see him in languishing at Man Utd, where they don't play to his strengths.
Neil Wood
181
Posted 30/09/2018 at 19:51:48
Hell's Teeth, Chris... That has to be one of the most ridiculous posts I have ever seen.
He's had 7 games. During his tenure we have recruited the following:
Bernard – For me, who has studied this lad previously will be a sensation in the Premier League. He has the ability to make defenders look very foolish and is very Silva like in his football. A very shrewd move.
Richarlison – Potential to be world class. He is at present a very very good Premier League player and is 21 years of age.
Mina – I again highly rate this lad, and let's face it... a strong towering defender has been needed for many a season.
Gomes – Whilst clearly untested in this league, potentially he is going to be a fine addition if only temporary. But surely an upgrade on what we have had previously.
He has completely transformed the way we play and whilst we are still far far away from seriously competing with the top 4, we are slowly edging closer and I thing we will give any side a real test with a full side to pick from.
Absolutely ridiculous.
Len Hawkins
182
Posted 30/09/2018 at 20:03:44
Everyone is entitled to their opinion, be it right or wrong... but Jesus H Christ, Mr Jenkins, where the bloody hell did you find that one???
Steve Ferns
183
Posted 30/09/2018 at 20:03:53
Neil, Gomes is only temporary because of the injury. If he comes in and does well then expect him to be signed up in January. Barca have made it clear he is one they want to get rid of.
Of the new signings, he's the one I have seen the most of. He adds passing and vision. He lacks pace (but he's not slow) and work rate.
At his best he goes past people in the middle of the park (similar to how the equally slow Gascoigne did), and can bang it into the net from distance. He's got great feet. Great Touch. Great Technique.
The bad is that he sometimes looks "lazy" in the Schneiderlin mould, strolling round the pitch, anonymous, game going on around him. I don't actually think either of them are lazy, but those who do think Schneidelrin is, will likely think Gomes is. He lacks the defensive side of his game to be box-to-box.
I'm very interested to see exactly where Silva slots him in. It seems to me like he can only take Sigurdsson place. That's unless Sigurdsson and Gomes both play as 8s with a very static 6 (can only be Schniederlin unless you put a strong leash on Gueye).
Neil Copeland
184
Posted 30/09/2018 at 20:08:47
Steve, your take on Gomes is interesting and certainly makes him one to look forward to.
Does anyone know when he is expected to be available?
Steve Ferns
185
Posted 30/09/2018 at 20:21:17
Neil, I always remember watching
this goal
whenever anyone mentions André Gomes.
Neil Copeland
186
Posted 30/09/2018 at 20:24:56
Steve, thanks - wow, we will have some of that!
Derek Knox
187
Posted 30/09/2018 at 20:31:41
Steve Ferns @ 183, I respect a lot of what you say, mate, but do you have to mention that name that begins with 'Schn-' and ends in '-erlin'? I have just had my evening meal and parted with it quicker than I consumed it!
I hope I never see him disgrace the beloved Blue shirt again, with his lethargic, half-hearted displays, and robbing the Club on a weekly basis.
Anthony Dove
188
Posted 30/09/2018 at 20:50:51
Bernard has to be one of the first names on the team sheet. He reminds me a bit of Zola. Whilst he is described as a left-winger, he seems blatantly right-footed to me and should be ideally suited to midfield.
As to who should be dropped, I'll leave that to Silva. I assume he would have had a plan when he bought him. He certainly can't be left on the bench.
Eric Paul
189
Posted 30/09/2018 at 21:33:13
Steve,
Make no mistake: Paul Gascoigne was lightning fast over 3 yards... add that to the fact that the first yard is the head — that is what made him a genius.
Steve Ferns
190
Posted 30/09/2018 at 21:39:11
That's the thing, Eric. Gomes is able to go through a crowd of players with the ball at his feet in the same way.
Make no mistake about it. Gomes is a long way off Gascoigne. It's just how a comparison of how a "slow" player can dribble away from players.
Eric Paul
191
Posted 30/09/2018 at 21:48:49
Steve,
I don't know anything about Gomes so I will trust your judgment.
Andy Williams
192
Posted 30/09/2018 at 22:33:17
Just saw the stats for Tom Davies yesterday. Covered the most ground, second most attempted passes – 89% success rate. Well done lad.
Brian Wilkinson
193
Posted 30/09/2018 at 22:39:24
Keiran @168, when we first signed Keown he was like Bambi on ice, he got slated early doors for his clumsiness and barracked from the terraces.
After a season or so, he was like a different player altogether, his timing of tackles were second to none and even ended up winning an England cap before his move to Arsenal.
But the early days he was poor, thankfully he got time and upped his game to turn out to be the player we all saw as a top class defender.
I am sure some of the other posters on here will have seen the same as me early doors when he first played for Everton.
Tommy Carter
194
Posted 30/09/2018 at 22:55:08
Brian @193
Typical blues probably. Giving Keown down the banks because he wasn't world class straight away.
Well, our loss because he went on to be outstanding for Arsenal and made an England World Cup squad a decade after we let him go.
I go the game. Lukaku was being booed 2 years ago. BOOED by his own fans. Blues. Booing a 25-goal-a season striker. Pathetic. Maybe worse than that but I don't know a strong enough adjective.
Neil Copeland
195
Posted 30/09/2018 at 22:59:25
Brian, yes I remember Keown when he first played for us. Mind you, I also remember Nev as being distinctly average at first also and look how that turned out!
Jamie Crowley
196
Posted 30/09/2018 at 23:11:55
Andy @ 192 -
Very nice to read those stats on our young Tom Davies.
I'm beginning to defend this kid the way I did Martinez! I love his game, his energy, and his willingness to play the ball forward. I thought he had an excellent game v Fulham. I still believe he's going to be a fantastic midfielder for years to come. I just pray we show enough patience when he screws up. Another post alluded to Henderson over at Mordor, and how he's been allowed to grow and develop. I think there's parallels with Tom in that regard.
Another one of the homegrown boys, Jonjoe Kenny, also (in my opinion and as we know it's all about opinions...) had a fantastic game against Fulham. He was involved in two of the goals, one of which he played a brilliant ball down the right.
Finally, a word for Michael Keane. Last season, he turned as fast a barge, looked a headless chicken, and played poorly quite often. I'm not sure what Silva is feeding the kid for breakfast, but whatever is in those Corn Flakes he needs to keep eating! The boy's been very, very good. A proper centre-back who's showed some true skill this season.
That's three young players, often maligned by many here on the site, who are starting to play well. Long, long may that continue.
David Ellis
197
Posted 01/10/2018 at 06:01:59
Erik Paul #99 "Statistically... or statistic-wise... it's been a long day"
I think you'll find that statistically or statistic wise Saturday was 24 hours long.
Eric Paul
198
Posted 01/10/2018 at 08:13:55
David,
I was correcting a previous post, and the reference to the length of the day was to how much I'd had to drink.
It's Eric with a "c"... And I think you'll find a day is 23 hours 56 minutes and 4 seconds long.
Andy Williams
199
Posted 01/10/2018 at 10:44:15
Totally agree with everything you said, Jamie. I find it astonishing that we have to defend these players so much considering the turmoil the club has been in over the past few seasons. How can it not negatively impact on players?
I just wish people would have a little patience and give them all some time under Silva before slaughtering them.
Justin Doone
200
Posted 01/10/2018 at 15:22:50
End result it was a good win and a decent performance. Improved team play and partnerships developing since last season.
Sigurdsson is a very different player but similar to Osman and Naismith in that he works hard, can see a pass, reads the game well, scores a few important goals but hasn't got the pace, strength or ability to make him a standout player. He's a good player and until Bernard and/or Gomes are 100% should retain his place.
Bernard was said to be a flying winger, not in my eyes. I understand he's not fully fit but he hasn't the pace or stamina to be a winger. Good player though, he's just got natural ability to turn, create, play the killer pass etc. He reminds me a bit of Beardsley but in the modern game, I think he'd get bullied centrally until he adapts to the Premier League.
Davies is a good player, a box-to-box midfielder who is improving and is playing well.
Calvert-Lewin is playing well but neither striker has had much support or too many chances but he has to improve finishing.
I don't care about the Kaboo Cup, keep the defence the same and alter the midfield and forward line-up. I want Lookman, Bernard and Dowell to start! Rest Richarlison, Davies and Gana.
John Pierce
201
Posted 01/10/2018 at 16:06:30
I was deeply unimpressed with that first 45, and yet I couldn't see a reason for it. The same XI who had, despite the profligacy last week, played well.
Against a fragile Fulham, with the worst record at Everton ever? I expected us to set the tempo and win comfortably gaining some valuable confidence in the system and each other.
Sloppy, careless, untidy. Pick one or all three we looked listless and fatigued.
Fulham in contrast we're sharp, incisive and quick. If we'd gone in 2-0 down who could complain?
The change was marked. Tempo and precision appeared and the strength on paper materialized.
The penalty was a touch fortunate but I cannot help thinking, Garrett the lino has the missed penalty at Bournemouth on his mind, was quick to give us the benefit on any doubt. For my money, the ball had gone, the push irrelevant.
The penalty miss inspired one man, Sigurdsson, and he made up for it in splendid fashion. I've watched the goal repeatedly, the way he sorts his feet out is truly something worth watching. A shuffle, and a skip the perfect distance to match the speed of the ball, pretty lush that.
A good win with Digne and Gana managing 75-80 mins of quality, the rest, very poor to middling efforts.
The clean sheet came with some lucky caveats, mainly Fulham's inability to take a chance.
I hope Silva stays strong Tuesday night.
Jamie Crowley
202
Posted 01/10/2018 at 16:32:11
Sir John @201 -
My recollection of the first half was us outplaying Fulham the first 20 minutes. I saw very little going south, and thought we played well.
The rest of the half Fulham was on the ball and very dangerous. We, as you point out, did not look good. Too many holes in the back line, and two opportunities that would have seen us down 0-2 had players with a bit more quality been playing for Fulham.
But the idea we were awful in the first half? I didn't see that in the first 20 minutes.
Fulham is a good side. They play "proper" football and can retain possession against anyone in the league when they are on their game. They had, as I expected, control of the game in spurts. The last 25 of the first half was admittedly a "long spurt" (don't touch that one John you know what I mean) and they showed their quality.
We need to learn to defend better when teams get their tails up. But we were not completely abject for the entire first half.
I didn't see that.
This season will be a rollercoaster ride. We will see periods of poor play, as we did in the latter part of the first half. I expect it. Seven games in, a new coach and system, it's bound to happen.
But we will improve. And those spurts will shorten in length over time. That's the hope anyway.
3-0. Well done. Roll on tomorrow.
Finally, speaking of Fulham, take a look at their schedule. It's been hell. They'll climb the table, they're no mugs.
And we handled them in the end. Improvement is needed to be sure, but we did what we had to, and convincingly in the end, as we deserved overall.

Paul Cherrington
203
Posted 02/10/2018 at 09:45:32
I wouldn't be so quick to big-up Sigurdsson after one good half against arguably the weakest team in the league who most teams will beat. If he was this world-class midfield maestro that some want to paint him as now, where was he last season or most of this season?
Oh yes, drifting through games and not really doing anything of note for much of the time. You can't say he was out of position or the tactics didn't suit him – truly great players get past those excuses to put regular excellent performances in.
Just because he has a foreign name and cost a lot of money doesn't mean he should be given an easy ride or all his many poor past performances excused because he was just in a run of poor form. it makes me laugh that the same people who suddenly love him and Richarlison give hard workers who actually turn up for most games like Calvert-Lewin a tough time. But of course if they have one or two bad games, it's a sign they can't cut it, not just being in bad form like the star names.
Also, I wouldn't get carried away at beating a weak Fulham team who will probably be relegated and only came up last season. Surely that is something to be expected playing them at Goodison rather than a cause for wild celebration? Enjoy the victory yes but it's a sign of how low our standards have fallen under Silva that it many fans have reacted like we have just won the Champions League. Let's see where we are come season end and then we'll really be able to tell how good the current manager is – with the way Fulham cut us open and could have had 3 or 4 themselves, I know how I think it will pan out.

Add Your Comments
In order to post a comment, you need to be logged in as a registered user of the site.
Or Sign up as a ToffeeWeb Member — it's free, takes just a few minutes and will allow you to post your comments on articles and Talking Points submissions across the site.
© ToffeeWeb