Report
When the Easter sun comes shining through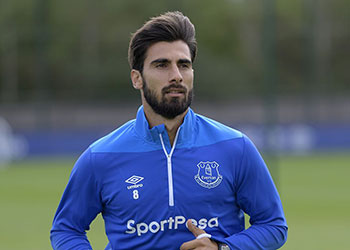 André Gomes begins a three-game ban creating a vacancy in central midfield that was filled by Morgan Schneiderlin with Tom Davies remaining on the bench

Everton produced a superb performance in their penultimate home game of the season, hammering Manchester United in the Goodison sunshine.

Michael Keane returned with Phil Jagielka dropped. Morgan Schneiderlin was the chosen replacement for André Gomes, who started a three-game retrospective ban for his late foul at Fulham, caught on video.

After a slow start, and a burst of speed from Barnard that ended in an overhit cross, an early corner ended harmlessly in De Gea's arms. Calvert-Lewin got a second corner off Jones but it was directed away from goal. A slightly better attack down the right threatened briefly but came to nothing.

A neat piece of skill from Sigurdsson drew a foul from Fred, a little too far out. Richarlison could not reach the looped ball but won a third corner, which finally came back for Richarlison to force a good save from De Gea when he should have scored, driving the rebound wide.

Everton were dominating the early play and it paid off, a great long throw-in from Digne on the left, Calvert-Lewin headed on under pressure and set up a moment of supreme skill from Richarlison to loft it firmly into the roof of the net past a despairing De Gea. Tremendous start from the Blues!

Everton continued to pressure: another corner, this time from the left, it came back to Digne and he won the 7th corner, in a great spell of relentless pressure until Sigurdsson drove the ball out behind Digne. Man Utd played the long ball but Rashford could not convert it.

A poor ankle-tap by Gueye saw an early yellow card. Rashford went for goal from 40 yards, over Pickford's bar. Fred caught Calvert-Lewin with an equally bad foul but, of course, no card shown to the offender from the top-six team.

Man Utd won their first corner but from it, Everton broke well and Sigurdsson fired a superb strike low past De Gea off a square ball from Guey , a wonderful shot, to put Everton 2-0 up. Excellent football from Everton.

The tempo slackened a little, allowing Man Utd to try another long ball, this time directed at Lukaku. But the turnover saw Everton advance with energy again, winning yet another corner and more pressure ensued, the Blues continuing to dominate.

Richarlison forced a turnover from De Gea's weak play out, and he tried to make space for the shot but drove at De Gea. Richarlison was fouled in a good position but Sigurdsson's trajectory was too low. Still, Everton won the ball back and pressed forward again.

Some uncharacteristic scrappy defending from Zouma preceding Richarlison going down for treatment on his ribs, hurt in a tussle with Matic. 2 added minutes became 3 as the whistle blew on a fine first half from the home side.

Fred did not reappear for the visitors. And Richarlison collapsed again, Walcott replacing him this time. Bernard again turned on the afterburners and delivered an enticing cross that evaded three blue shirts. A really competitive, almost scrappy spell ensued, with Everton fighting for every ball.

Calvert-Lewin and then Sigurdsson both shaped to shoot but it was another corner, that De Gea punched out and Digne caught beautifully on the volley at the edge of the penalty area, driving it hard and low past the Manchester United captain and into the back of the Gwladys Street net. 3-0 and comfortably sailing...

Calvert-Lewin was next to threaten, Smalling denying him at the expense of a corner, a fantastic one that almost went straight in but for the alertness of de Gea to clear it off the line with his foot.

Some brilliant work by Sigurdsson down the left played in Walcott through on goal who nonchalantly passed the ball into the net beyond a livid David De Gea... 4-0 and Goodison in rapture.

Rashford tried a dive under pressure from Coleman and McTominay ended up with a yellow card from Paul Tierney. Martial got free and looked to score but drove his shot wide.

There was a beautiful spell of olé football, slick accurate passing from the Blues that had the washed-out Man Utd shirts chasing shadows, the ball coming to Walcott who did not quite connect well enough. At the other end, Matic drove wide before there was a massive welcome for James MacCarthy, who replaced Gueye.

A bit of pressure for the Everton defence to deal with saw Keane head behind. Sigurdsson set Bernard on another run but Calvert-Lewin horribly miscontrolled a simple ball and a golden chance to make it five evaporated.

Coleman did his best to get that fifth, smacking a difficult shot with his left foot straight at De Gea. Digne went down after Pogba unknowingly stood on his instep. Ademola Lookman was coming on, but instead, it was Phil Jagielka who came on, accepting the captain's armband from Seamus Coleman.

After a brilliant cross was defended equally well by Coleman, Pickford chased the ball down and seemed to foul Martial? outside the area. Then, Man Utd had their first shot on goal, in minute 86, Pickford picking off Martial's low drive.

Everton still had to defend as 4 minutes of added time went up, Lindeloff shoving over Walcott needlessly, allowing Everton time to regroup around the Man Utd area but it was defended away by Romelu Lukaku, a peripheral figure for Man Utd — who, it is said, has never been replaced since he left Everton. Based on his lackluster performance for the so-called Red Devils today, and the fact they are talking of selling him, that cry sounds a little hollow

.

The Blues played out the 4 added mins without claiming that 5th goal their excellent performance deserved in the beautiful Goodison sunshine. Happy Easter!!!

Scorers: Richarlison (13'), G Sigurdsson (28'), Digne (56'), Walcott (64')


Everton: Pickford; Coleman, Keane, Zouma, Digne (85' Jagielka); Schneiderlin, Gueye [Y:23'] (76' McCarthy); Richarlison (50' Walcott), Sigurdsson, Bernard; Calvert-Lewin.
Subs not Used: Stekelenburg, Davies, Lookman, Tosun.

Manchester United: De Gea; Lindelöf, Smalling, Jones (46' Young), Dalot; Pogba, Matic, Fred (46' McTominay [Y:62']); Rashford (77' Pereira), Lukaku, Martial.
Subs not Used: Romero, Lingard, Sánchez, Mata

Referee:Paul Tierney

---
Reader Comments (216)
Note: the following content is not moderated or vetted by the site owners at the time of submission. Comments are the responsibility of the poster. Disclaimer
Ian Hams
1
Posted 21/04/2019 at 13:24:57
Sounds like pretty obvious replacements to be fair, and I think we missed Keane's range of passing from the back last week.
Christy Ring
2
Posted 21/04/2019 at 13:25:59
I don't understand Silva's new found love of Schneiderlin; to me, he offers absolutely nothing, and he's one of the biggest earners at the club.
Jay Wood
[BRZ]
3
Posted 21/04/2019 at 13:27:18
Nice pre-match get together and chinwag between Lingard and Keane - former team mates that came through the ranks at United together.
Keane comes over as really lively and bubbly. It was a side of him I hadn't seen before. He got the last word in, too. Shaking hands and politely wishing each other good luck and 'may-the-best-team-win' type of platitudes, Keane closed out the interview by telling Lingard:
"Have yer shinpads on!"
Looks like Silva has gone for the conservative choice for Gomes' replacement today.
Ian Hams
4
Posted 21/04/2019 at 13:28:45
Expect Scheiderlin to sit deep and Idrissa to roam further forward. He has to get one of those shots on target this season, he he!
Jay Wood
[BRZ]
5
Posted 21/04/2019 at 14:27:32
EXCELLENT first half. Totally dominant.
United's midfield of Pogba, Matic and Fred are only seeing the ball in their own half. They have barely encroached our penalty area, never mind have any attempts on goal.
We, by contrast, are playing great joined up football across the park. Both goalscorers look up for it today and scored two excellent goals.
Once again, Everton scoring the second from a rapid counter on the opposition's corner. Great gather and through ball by Gana. The commentators don't do the shot justice, focussing too much on a keeper 'error'. Giffy has that quality, to place the ball where he likes at pace from distance. It came together perfectly in his finish.
Dominic dominant again in his #9 role.
More of the same 2nd half, please Blues. Makes last week's game v Fulham all the more bewildering.
Max Murphy
6
Posted 21/04/2019 at 14:32:13
Please... not another Newcastle!
Peter Cummings
7
Posted 21/04/2019 at 14:33:03
Great half by the Blues and hope they can keep it up for the rest of the game fingers crossed we don't relax like we did v Newcastle, can only listen as not live here in Ontario. Go Blues
Ernie Baywood
8
Posted 21/04/2019 at 14:33:47
Jay #5 "Dominic dominant again in his #9 role."
Dominant might even be an understatement! He's giving their defence a horrible time. I've always liked him but his improvement over the last month or so is huge.
Bernard really starting to look quality. Gylfi has always been quality.
The only real question marks are over Gueye carrying a booking and a warning, and Richarlison's ribs. Personally I'd go with Lookman.
Would like to see McCarthy or Davies given a run but would do it for Schneiderlin to save Gueye playing the lone hand in midfield.
Dermot Byrne
9
Posted 21/04/2019 at 15:28:40
Haaaaa!
Christy Ring
10
Posted 21/04/2019 at 15:29:27
Great result, and a great welcome for Macca, what more could you wish for!! Only hope there's not a reaction against City on Wednesday night.
Jay Wood
[BRZ]
11
Posted 21/04/2019 at 15:32:17
Pissed in.
Jim Harrison
12
Posted 21/04/2019 at 15:36:08
CP in hand. I buckled during the bad spell and said silva could go, he has bought some credit with the wins against Chelsea, arse and Utd
Fran Mitchell
13
Posted 21/04/2019 at 15:37:58
Truly magnificent. Silva deserves another season at the helm for this performance alone. Solid, confident and dangerous. Best performance since that City game, and this has a feeling of 'things to come' is we persevere. A young exciting team, and we must offer Gana Gueye whatever it takes to keep him, anyone notice how Utd took control of possession in the middle (albeit impotently) after Gana went off arguably amongst the best midfielders in the league.
Kieran Kinsella
14
Posted 21/04/2019 at 15:39:22
Such was our dominance I found the last 25 minutes pretty boring because it ceased to be a contest. That doesn't often happen v "Big six." Talking of which I read that we are three points better off versus "big six" than Spurs (although they can't play with themselves so it is a bit of a weird stat)
Steven Bencz
15
Posted 21/04/2019 at 15:40:33
What a game! Well worth waking up in beautiful BC to watch us dismantle MU. So many great performances yet a wonderful team win!

Paul Le Marinel
16
Posted 21/04/2019 at 15:40:47
What a fantastic result! Really proud of the team performance today as we were dominant, class, played with intensity and totally outplayed Man United.
We should be playing like this all the time and maintaining a winning momentum and consistency. Playing like we did today we looked like a complete team playing proper football, attractive football and it is an absolute joy to watch and hopefully that can continue.
Well done to the team and also Marco Silva, they got it spot on today.
Onwards and upwards, come on you blues!
Tom Bowers
17
Posted 21/04/2019 at 15:51:13
So what on earth happened at Craven Cottage ????
Hard to believe this was the same team. Wonderful result.
Mike Gaynes
18
Posted 21/04/2019 at 15:53:56
Now I'm REALLY sorry I'm gonna miss the TW gathering at the Excelsior. What a victory party that will be!
Peter Fearon
19
Posted 21/04/2019 at 15:54:24
Now all we need is a hat trick from Oumar Niasse against the R.S. and a similar performance by Utd on Wednesday against City.
Simon Smith
20
Posted 21/04/2019 at 16:00:39
The nicest thing about today was watching Everton without the fear. We were completely on top from the first minute.
It was disgraceful of sky not to even show our goals at full time and just talk about united!
We deserve all the applause today.
Mike Galley
21
Posted 21/04/2019 at 16:02:28
First of all, what a game and result.
I'm afraid I can't make the gathering at the excelsior. Am genuinely gutted and will make the next one. Family event has came about and I'm afraid Ma Galley Brooks no argument with this sort of thing.
Have a good time, chat and drink fellers. As I say, i'll Get there for the next one.
Aaron Price
22
Posted 21/04/2019 at 16:05:04
Brilliant result. A comfortable win against one of the 'Sky Six' and a fantastic performance from all of our players today.
I feel that ever since Calvert-Lewin has had a run as our main striker, it has allowed Sigurdsson to push up and almost act like a second striker. The assist to Walcott and his long-range effort in the first half highlights his positional freedom. Calvert-Lewin holding up the ball has allowed Sigurdsson to float around in the final third. Starting Calvert-Lewin has allowed Sigurdsson to flourish in recent games and for Calvert-Lewin to carry on developing into a fine striker.
Gueye had a great game too. It is vital that we keep him if we want to challenge for the top six next season. Gueye is verging onto irreplaceable; we would struggle to find a similar player who can perform like he does.
However, Lucas Digne was my man of the match. A cracking goal today and he is linking up very well with Bernard, similar to the chemistry between Baines and Pienaar.
For the rest of the season, I would like to see some rotation. Despite it could be regarded as unwise to disrupt a winning formula, McCarthy and Lookman deserve a couple of opportunities to impress before the season ends. I was surprised to see Walcott come on instead of Lookman for Richarlison.
All in all, a great performance. 7th is still within sight but I believe we will need to win our remaining games in order to finish 7th. COYB.
David Pearl
23
Posted 21/04/2019 at 16:06:35
Schneiderlin came in and did a job no fuss and pleased for Walcott getting a goal... like to see him in the centre more often. If we can sign Zouma and Gomes I'd like only a couple new faces so the younger players can grow. Great effort today but if we can beat utd, arsenal and Chelsea why can't we beat Fulham and Huddersfield etc. Work to do for Silva but l now consider this season some what a success and something to build on for sure. Now let's see what Everton turn up next week.
Peter Cummings
24
Posted 21/04/2019 at 16:09:39
Hard to believe another fantastic display against the so called 'top six', in the PL, today, fully deserved too,
David Pearl
25
Posted 21/04/2019 at 16:13:10
Really disappointed at sky coverage post match all about utd. Should be used to it though.
Terry Farrell
26
Posted 21/04/2019 at 16:29:42
Sky are tossers and don't understand diversity! How many RS can you get around a table it's embarrassing!
Marci is god.
Desmond Prosper
27
Posted 21/04/2019 at 16:32:05
I will savor this complete and utter destruction of Man Utd for a long time – got it recorded on my DVR!
Credit to Marco Silva for continuing to build a solid team from what looked like an utter shambles just a few short weeks ago. Well done to all the players who stepped up and showed up their much more hyped adversaries today!
COYB!!!
Phil Bellis
28
Posted 21/04/2019 at 16:36:35
Contrast with the BBC report... Strangely hinting we played well... Wonders!
Tony Hill
29
Posted 21/04/2019 at 16:40:43
Just a fantastic day. The atmosphere was great when it mattered, the players to a man were excellent.
Enjoy it everyone.
Alan J Thompson
30
Posted 21/04/2019 at 16:43:38
I'd have never expected that but they were worse than we were last week. I don't know if they were fielding a weaker side in view of their midweek "derby" but it didn't work and I don't think I've ever seen it work, play your best side or don't bother, they certainly didn't bother. I was also mystified by Schneiderlin's selection but he put in plenty of effort in the first 15 minutes but was nowhere to be seen second half. not that it mattered.
Richarlison's goal was a great piece of strikers work and was nearly all he did all game while Sigurdsson's goal was vaguely reminiscent of Alex "who'd have thought he would shoot from there" Stepney.
For me, Bernard was our MotM closely followed by Digne (they didn't have one) and when Bernard played that central midfield role that Gomes usually does he completely bamboozled them. If there was 20 yards in front of him he carried the ball in to it and when there wasn't he set someone else away. Why he played out on the left so often in the second half was a complete mystery, he and Gomes in the middle would be something to see.
We've got to be happy with that result but they must be thinking that they've appointed a permanent manager too soon. However, we can't get too carried away but let's enjoy it until tomorrow morning.
Oh, and as an after thought, why was Pogba not booked for running into and flooring Digne which the referee thought accidental while booking Gana for something not dissimilar.
Martin Mason
31
Posted 21/04/2019 at 16:44:02
I believe that all that happened against Fulham is that we played a team freed from the constant stress of relegation at a ground where we normally lose. They were the better team on the day. For me the only thing that mattered was the performance today and it was superb. We're unfortunately at the stage where these Fulham setbacks can still happen but we must look at the big picture not the disappointments. The future looks great and I apologise to Sigurdsson, he was very good today.
Jim Marray
32
Posted 21/04/2019 at 16:46:00
That was the best way to spend an Easter afternoon. Positive performances across the board. Schneiddrlin did his job quietly and well as he has done in the last few games he has played. Bernard is for me a superb buy. He runs all day, chases, attacks, tackles pops up all over the show and his quick decision making result in things like Siggy's peach of a goal.
For me the jury is still out on Silva but if he can turn exceptional performances at home in to regular performances home and away then I will be the first to back him.
Mike Galley
33
Posted 21/04/2019 at 16:46:10
Off subject a little bit but what do we all think of the Goodison siren? I LOVE IT!
Got me dad sat next to me at the Burnley game. He's 76 and doesn't get to the old lady too often now but can't wait to see what he makes of it!!!
Joe McMahon
34
Posted 21/04/2019 at 16:49:42
We have to admit the new arrivals in the Summer were better quality than what we already had. Fingers crosed even another 2 additions in the summer will hopefully improve us again. I have far more faith in Brands than ever with Steve Walsh. This performace today shows we can perform. It's great to be a happy Evertonian!
Oh I nearly forgot - c'mon Cardiff!
Ralph Basnett
35
Posted 21/04/2019 at 16:58:22
And we will still be last on MOTD.
Trevor Peers
36
Posted 21/04/2019 at 16:58:31
Great football, great goals, what a brilliant performance, we just blew them away. This is the stuff of dreams especially against the so called top six. Silva takes the credit, his job is safe for next season and has been for a while now.
With some shrewd summer signings and departures we can look forward to next season with optimism. I like many others have been proved wrong by Silva, and it's a lovely feeling long may it continue COYB.
Paul Jones
37
Posted 21/04/2019 at 16:59:17
Ths team needs to look up at United 1 place and 15 points ahead of them and wonder why they're so far behind such a poor team. Consistency needed next season!
Tony Hill
38
Posted 21/04/2019 at 16:59:26
We ran 8km more than United.
Digne, my God what a buy he was.
David Connor
39
Posted 21/04/2019 at 17:04:02
To a man, superb from first minute to the last. Could have a proper team on our hands with 3 quality signings in the summer. As expected, the Sky tossers won't give us any credit. It was all about how bad Man Utd were... Get used to it, you biased tossers — we are coming to get you...
COYB. Enjoy!
Ernie Baywood
40
Posted 21/04/2019 at 17:04:41
Anyone see the little moment between Jags and Coleman?
Coleman giving him the armband, Jags turning it down, and Coleman insisting the club captain takes it. Those two guys get it.
Brilliant day. We were so much better that 4 almost seemed a let down.
Lucas Digne my man of the match. I know we waited a while for a new left back but this guy is solid in defence, can score, links up well in attack and he's even a long throw in specialist. Wow. He's been worth the wait! Nothing he can't do. That lot across the park claim to have the best left back in the league - he's not even the best left back in the city. Man of the Match and Player of the Season.
DCL's first half was as good as I've seen him. Just so much better than the opposition. The headers, the hold up play, the chest passes. Then the early part of the second was all about his work rate. Well done young man.
Jim Bennings
41
Posted 21/04/2019 at 17:18:32
Manchester United your boys just took one hell of a beating!!
The pride is back at the Old Lady once again, the atmosphere is back!
Marco Silva thankyou for bringing some majestic moments in the last three home games with brave, bold, "ballsy" attacking intent!
Mike Gaynes
42
Posted 21/04/2019 at 17:25:27
Ernie, he is superb. But MOTM for me was Siggy, and POTS is Gana for sure.
Simon Smith
43
Posted 21/04/2019 at 17:27:03
Did anyone else have that feeling when siggy cut inside "this is going in"
I felt we could score on every attack
Peter Neilson
44
Posted 21/04/2019 at 17:33:07
Great afternoon. Atmosphere is back. United fans shut up when the siren sounded, as if "WTF is that?". DCL great job up front. Digne superb. But all the players worked hard, not just quality beat Man United, also the work rate. Very pleased for James McCarthy to get back on the pitch. Now where's my Easter egg.
Joe Corgan
45
Posted 21/04/2019 at 17:34:23
As a thirty-something Evertonian who knew nothing but total Manchester United domination, growing up surrounded by United supporters, today was the day I've waited 25 years for!
Finally, we not only beat United but embarrassed them. Tossed them aside like they've tossed us aside so many times through the years.
The atmosphere at Goodison was electric on a perfect, sunny day and, for once, everything just dropped into place and everything found the back of the net.
Incredible.
Dave Ganley
46
Posted 21/04/2019 at 17:38:23
Really enjoyed the game today, so many candidates for MOM. Bernard, siggy were excellent but my MOM was Digne. As others have said he just has everything and that goal was quite special. We were first to every ball and won most of not all of the 50 50s. Complete opposite of last weekend, just goes to show what can be achieved with the right attitude from the beginning.
Mike Galley #33 yeah I love the siren too, it really builds up the atmosphere before the game starts and today the atmosphere was electric. The noise was incredible and the old lady was back to the bear pit best. Says a lot for our performance that the atmosphere died just after the hour mark as it was game over. A lovely day in the sunshine and just what I needed to cure a crushing hangover. Much optimism for next season if we can get some consistency.
Mike Gaynes
47
Posted 21/04/2019 at 17:41:54
Joe, have you forgotten Oviedo Baby? What a sweet moment that was at OT.
Fran Mitchell
48
Posted 21/04/2019 at 17:43:36
Siggy was every bit a 45 million pound player today. If we could get 2/3 years of this level of performance from him, he'd go down as a relative bargain.
Gueye is just a brilliant midfield general. Vs all of Liverpool, Chelsea, Arsenal and now Utd, he has won the midfield battle. He is brilliant, and we must do all we can to keep him.
Jerome Shields
49
Posted 21/04/2019 at 17:44:28
Glad to see McCarthy get a run out. Definitely think we have the makings of a good competitive team.
Andy Walker
50
Posted 21/04/2019 at 17:57:12
Well done again Marco and the team. There is a clear change in style, work rate and tactics under Silva, that's been apparent for months. But the 3-2 loss at Newcastle was used as a stick to beat the manager, despite the fact that this loss was in my opinion down to a substandard right back, Kenny, letting Rondon run off him to make it 1-2 and panic then took over.
We then beat Chelsea and Arsenal which saw below average number of comments on here, but back to normal levels when we lost to Fulham with a few,, unbelievably, calling for Silva to be sacked again. It's not unusual for a relegated side to start beating teams following the release of pressure, indeed Fulham won again yesterday away from home as I'm sure many of us know.
So back to today. Schneiderlin was excellent (again), anticipating danger and snuffing it out at will. It was his recall against Cardiff that started the upturn in form. The downside is that his performances are a real issue for the ' Schneiderlin is shit' core narrative on here though. Tough, he's decent.
As for comments after the Newcastle defeat, like 'I honestly cannot see us laying a glove on Chelsea, Arsenal, Man Utd or Spurs, we rarely score against the top six let alone beat them, best we will get from those four is one or two goalless draws hanging on grimly.' Just shows the negative crap spouted by too many on here' and what about 'Any hope of winning the harder fixtures remaining this season, just put it to bed now because it ain't happening'. I'll save the poster the embarrassment, but maybe we should just be a little less negative?
Yes, we're all entitled to our opinions but why are so many so negative on here? Is it in some fans DNA.
Tom Bowers
51
Posted 21/04/2019 at 18:09:42
Quite naturally we are all over the moon after this performance but let's not forget the inconsistency we have witnessed all too often this season.
They were a totally different team with a totally different attitude from the garbage served up last week.
I keep saying that Everton, far too often start games without any intensity, allowing poorer teams to become confident and take the game to Everton, who, sitting back are not half as good.
They started like a house on fire today and I just love those throw-ins from Digne.
Here's hoping this great result is the springboard to finishing the season well and being really clued in for next season.
Paul Burns
52
Posted 21/04/2019 at 18:10:09
Because we've won nothing for a quarter of a century, a whole generation, that's why. A couple of decent end of season results and performances don't make up for the shite we've put up with.
We've got a right to raise hell and be negative, it should be worse.
Rob Hooton
53
Posted 21/04/2019 at 18:11:05
My brother is over from Thailand and we drove up from London today with my dad hoping for a good game, the first I have been able to get to this season.
Woo hoo!
Won £130, a signed Sigurdsson photo and Everton pen between us, then saw Bernard on road back who posed for some photos and was full of smiles and laughter.
A perfect day, would like to thank whoever wrote the script! Also hope George put his usual bet on is to win 4-0.
Best game I have been to since I was a kid I'm the 80's, am suffering from a euphoria crash. Hope we can take this form into next season.
COYB!!!!
Tom Bowers
54
Posted 21/04/2019 at 18:14:12
So RS go top again and once again only because they have played one game more than City. Wouldn't it be nice if they had to play Everton again ?
Must be galling for RS fans to think that if they don't get the the title that it may be all down to the points they dropped in the Derby match. COYB !
Darren Hind
55
Posted 21/04/2019 at 18:17:00
What a fucking tackling machine the tackling machine is.
Brilliant. I no longer care about what he can't do. This is a proper Rottweiler.
BEWARE OF THE FUCKING DOG!!!!!!!!!
Peter Mills
56
Posted 21/04/2019 at 18:17:46
What an excellent afternoon. Outstanding performances everywhere, Gueye, Digne, Bernard, but how good is it to see Seamus back at his hard, rampaging best?
I'm made up for Evertonians everywhere, and hope those that have made it to The Excelsior have a great evening - there will be people across the globe with them in spirit.
Joe Corgan
57
Posted 21/04/2019 at 18:20:56
No Mike I haven't. Bit of a difference between battling for a win and giving them a spanking.
Ian Bennett
58
Posted 21/04/2019 at 18:25:15
Fantastic again, which just makes last week and Newcastle even more puzzling to take.
Well done whoever came up with the air raid siren. The place is rocking again, and the fans are up for it from the first second. The old lady was rocking, and we weren't going to lose.
John Reynolds
59
Posted 21/04/2019 at 18:33:42
Happy Easter. Three Top Sixers beaten at Goodison, with style, swagger and commitment. The dark days of December-February a fading memory and signs that Silva's vision is being implemented. Plenty for all of us to be positive about as we look to next season surely?
Rob Hooton
60
Posted 21/04/2019 at 18:36:36
Darren, we three thought the Rottweiler was incredible and possibly my MOTM. We need to keep him as he is a beast.
Bernard really growing into this team and league too, he is a joy to watch and full of spirit.
Paul Tran
61
Posted 21/04/2019 at 18:37:02
Wonderful stuff. An organised defence that concentrated. A midfield that pressed them into errors and used the ball well. A colossal grafting performance from DCL. And goals! Bloody good ones as well!
I don't expect us to smash into the top four, but it's wonderful to see us on the front foot, snapping into tackles creating & scoring four in front of a raucous Goodison!
Dare we be optimistic now?
Neil Copeland
62
Posted 21/04/2019 at 18:44:48
What an absolutely fucking fantastic performance and atmosphere.
I was sitting next to 2 Anderlecht supporters who like to travel around Europe and take in different games. They claim to have been to Barcelona, Real, Juve, Inter and Bayern plus City versus Spurs yesterday and told me that they have never experienced an atmosphere as good as today. They also thought the siren was great.
On the way back to the car a handful of United supporters commented they thought we were brilliant today.
Such a great tonic when we play like that, thanks Blues!
Sam Hoare
63
Posted 21/04/2019 at 18:57:19
The season as a whole has not been great, though I still maintain that a 7th placed finish would render it a pretty successful season for Silva. Though there have been almost as many ups and downs we have now bettered the points total from last season and done it while bedding in a lot of new players and young players. There have been occasional signs (none more so than today) that Silva and Brands are capable of building a proper team, signs that have been absent for the last 2 or 3 years. We're not there yet and consistency is the key. A lot of our good performances recently have come against teams who have really attacked us and I will be curious to see how we fare against Burnley.
I wanted Silva before Allardyce. I wanted him last summer. And though there was a time at the start of this year that I doubted whether he could turn around a struggling ship the moment he got a good chunk of time to coach his players he has done exactly that. The one bug bear that remains is we are still yet to win from behind in any match this season and that will need rectifying if we are to challenge next season but I remain convinced that Silva is a very good coach and that we will see more days like today under him. COYB!
Robert Williams
64
Posted 21/04/2019 at 19:09:02
I sit within two yards of the away supporters, at UB2.
We see all sorts up there - and are used to their gesticulations and snide remarks, 'is this a library' etc. Today was no different - to begin with - they sang their repertoire of Manc singalongs - they pointed, they flicked their fingers and were in buoyant mood.
Then we started winning corner after corner and after two glorious goals the noise stopped - they were gobstruck!
After the third goal we had this idiot stomping up and down shouting at his team, my mate said he was on his 8th final warning from the stewards - 4 up and they started leaving. To be fair that was the sign for them to think about getting behind their battered, and crest-fallen 'heroes'.
What a day we had, the weather was sweltering, the capacity crowd taunted the 'Red Devils' and their supporters. WE WERE AWESOME - I thought the Arsenal match was the best I had seen in many a year at GP but this was something different again. Well done to Marco and ALL the players today. They all excelled. If we play like that on a regular basis next season there are going to be a few people in for a big shock!!
Oh! did I say we fucking trounced them?
Jamie Crowley
66
Posted 21/04/2019 at 19:12:03
What a game! Could you ask for anything better? I don't think so.
We are showing real signs of being a top team.
My God we looked brilliant. We looked entirely capable of being a top 4 side.
Stop the bad days at the office, find some consistency, and we are on to something very special.
Happy Easter!
Anthony Murphy
67
Posted 21/04/2019 at 19:13:19
Wonderful stuff. Silva certainly raising expectations with me for next season. Today wasn't a fluke. We are showing we can go toe to toe with the likes of Arsenal and Man U and not just scrape a win. It's early days but Silva has the lads playing for him now. Hope we can keep hold of Gana and sign Gomes and Zouma permanently.
The best thing about recent results (with the odd exception) has been the improvement in defence. I was concerned Silva was a bit Martinez on the defensive front, but the important thing for me is that the guy is listening and learning.
Ironic that such a convincing win today may help the RS massively as Man U will surely react midweek. Did anyone see Solskjaer's post match presser? I'll give him until Xmas.
Tony Hill
68
Posted 21/04/2019 at 19:23:27
We're just looking like a proper side and playing some lovely stuff, while also toughening up. There will, of course, be many difficulties ahead but we have joyousness and relish about our play which are very uplifting to see.
As others have said, Schneiderlin was at his smooth, subtle, pace-setting best today and if he stays and plays like that it will be a massive bonus.
And we look miles fitter.
Iain Johnston
69
Posted 21/04/2019 at 19:23:59
Thoroughly enjoyed that Blues, well done and thanks for the perfect Easter prezzie!
Tony Everan
70
Posted 21/04/2019 at 19:28:48
Fantastic display by the Blues, brought a tear to my eye. We are playing some wonderful football lately with the odd blip. Too good today for Man Utd, even a top performing Man Utd would have suffered defeat.
Onwards and upwards, play like this with consistency and we are most definitely top six class, build on it and why not top 4. Man Utd, Arsenal and Chelsea are challenging for it,... why not us next season?
Paul Birmingham
71
Posted 21/04/2019 at 19:35:38
Great Easter Sunday, great performance, all played like they cared.
Let's carry this form on now and no more Jekyl & Hyde games.
Today every player fought for every ball From the 1st to 94 minute. The whole team played like a team, long may it last. United didn't get a sniff as we didn't let them play, perhapswhen Gana was subbed we gave them more of the ball, but we'd still stopped them playing.
No to hope that MB can sort deals out for Zouma, and Gomes, plus get in a couple of strikers who can finish.
Optimism is high again, but now for consistency. Let's see what happens, and hopefully City beat United on Wednesday.
All have a good Easter Holiday and the ales tasting better again this day, superb performance and crowd, and the crowd is unique.
Pleased to see McCarthy get a start, and for such a let down overall this season,Walcotts goal can hopefully help him get his self belief and confidence back.
Ron Marr
72
Posted 21/04/2019 at 19:41:35
Awesome performance by the Blues today. Kudos to Marco Silva. Four good goals as well. Watched some of the post game show featuring the "What went wrong with United?" analysis on NBCSN... bwah bwah bwah!!
John Boon
73
Posted 21/04/2019 at 19:42:11
Could not have played better. What we have done against West Ham, Chelsea, Arsenal and now Man Utd shows what we can do. It also makes it baffling when we consider the games against Newcastle, Fulham and a whole host of lesser teams during the season.
Silva and Brands deserve all the credit that they get. With a few additions and consistency who knows what we might do next season. Must say one thing I didn't notice that Pogba was even on the field.
Man of the Match... I don't want to name any individual, because everyone was brilliant, but we had 14 players who were ALL better than any Man Utd player.
Derek Taylor
74
Posted 21/04/2019 at 19:58:19
Whoever came up with the air raid siren idea shows a total lack of respect for those thousands of poor sods for whom that was the last sound they heard!
I'm old enough to remember clinging to me Ma as we cowered in the Anderson shelter as Jerry dropped his load on our city on a nightly basis. I have no intention of paying good money to be reminded of those awful times I had long since cleared from my nightmares.

John Pierce
75
Posted 21/04/2019 at 20:03:23
The ball pace and tempo where there all game, I thought at HT we wouldn't keep it up, we did. Well done Marco, still a way to go in ironing out this schizophrenic side especially when we play teams who defend first. The wins have come under little pressure so I want to see us run the table and win the last three, get seventh and sneak Europe.
Best player, Calvert-Lewin. I went mental when Walcott didn't square it to him for a tap in, would have brought the house down! Ruined a very poor United back four.
Let's see if the complacency we saw at Fulham can be shaken off at Palace?
Phil Greenough
76
Posted 21/04/2019 at 20:05:05
Derek, I'm sorry you have horrific memories of WW2, there are many in our city who have similar experiences from those dark times .
I agree with you, there is no need for anything else, besides Z-Cars. Maybe you should write to the club with your concerns, to see if they will cancel it next season.
On a lighter note, here is Sir Stevo Timothy's take on the day's proceedings... [Warning. The link contains foul language]:
Rob Halligan
77
Posted 21/04/2019 at 20:14:22
After we had played West ham away at the end of last month, I posted the following on the "Everton shrug West ham off at the London stadium" thread .
Rob Halligan
164 Posted 01/04/2019 at 15:12:09 Playing three of the so called big six, Arsenal, man Utd and spurs, in our last six games, could help us to prepare for pre season. Three tough games such as these, will help keep the team focused and maintain recent standards. Better to be playing these three than the likes of any teams around us in the table.
We don't want to be steam rollered by any of these three, not that I think we will, but three good performances, and hopefully results, will give the team confidence going into next season, knowing we can compete with these so called big six teams.
Add Chelsea, and to an extent the RS into the above, and it shows we really can compete with these so called top six teams. To play the RS, Chelsea, Arsenal and Man Utd in four consecutive home games, take ten points out of a possible twelve and not concede a goal in any of them, is just brilliant.
That was an absolute brilliant performance today, along with four brilliant goals. It would be very difficult to pick a MOTM so I will just say The Entire Team along with 37K Everton fans were MOTM.
On that performance by United today, man city should have nothing to fear on Wednesday.
Mark Burton
78
Posted 21/04/2019 at 20:24:02
All I hope that Pickfords last minute blunder in the first Derby doesn't hand the RS the title. We were superb today and my only wish is that we can play like that against RS every game from now on. I am so tired of their arrogant supporters every time they play.
Brian Hennessy
79
Posted 21/04/2019 at 20:35:32
When Marco made his substitutions today, it reminded me of those schoolboy games where the team winning by a mile take off some of their best layers to give the other team a chance.
Problem for United was, even our subs were way better than their first team today..
Soren Moyer
80
Posted 21/04/2019 at 20:44:37
Sky is having a crisis meeting!!!
Anthony Hawkins
81
Posted 21/04/2019 at 20:46:37
I'm really stoked Everton are finding their feet and form again. I'm celebrating the win for sure BUT.... if Everton finish 7th it will be a travesty for our season and a potential blight on the strength of the premier league. We've lost as many games as we've won and can't believe we're anywhere near 7th! I'll take the Europa League especially if it means keeping the current squad together!
Brian Williams
82
Posted 21/04/2019 at 20:52:08
Derek#74..
Then don't go mate.

Steve Ferns
83
Posted 21/04/2019 at 20:59:26
Anthony, this season was about progression. I said before a ball was kicked, what would be progress. I didn't tip this, I expected a season like Koemans first, ahead of the rest, but in a no-Man's land, finishing strongly and then using that momentum to springboard towards the top 4.
We're not going to do that. We're going to be somewhat off that. But we've equalled last seasons total with three games to spare. We've beat three top six sides in a row. We've started keeping clean sheets. Zonal marking is no longer a talking point.
We're not peaking, but we are in the ascendancy. That's what we want from this season, surely; to finish strong, to show what we are capable of, and then to aim to find consistency next season and start the way we are finishing.
Liverpool were 8th under Klopp. I don't recall the exact league positions but they haven't gone 8, 5, 3, 1. It's more like 8, 4, 4, 1. 2nd to 4th - is there any difference? No. Just keep progressing. 5th to 7th is there any difference, yes if Watford win the Cup, otherwise not. We just need to keep progressing. If we get 7th next season, it doesn't matter, as long as we can get closer to 4th. Breaking into that top 4 is all that matters.
The manager is not one who will bask in the glory here. If you think that, try watching him whilst the ball is in play. At 3-0 he wasn't happy. Solskjaer was no where to be seen when his side was failing. Silva is always there. At 3-0, he was waving furiously and trying to pull the defence back into shape. He's a demanding man and he wants more. That's what we've been crying out for.
There's a long, long way to go, and this manager knows that.
Steve Ferns
84
Posted 21/04/2019 at 21:04:02
Derek, #74, I never thought about that. Interesting point.
However, I like the siren. It works. Do you go to the games?
Z-cars comes on and people are talking. The away fans drown it out. It has little impact.
The siren comes on and it downs out the talking. The away fans shut up too. Then z-cars comes in, and it has an impact.
The siren works. It needs to stay.
Simon Smith
85
Posted 21/04/2019 at 21:04:53
Steve I couldn't agree more, the siren is brilliant.
Geoff Cadman
86
Posted 21/04/2019 at 21:08:44
Derek #74 I am sure the club meant no disrespect. It has been copied from Tony Bellew's Ring Entrance. Unfortunately they never get the timing right especially today it was 3 atempts I think
Brian. 82 uncalled for and insensitive.
Clive Mitchell
87
Posted 21/04/2019 at 21:34:38
What a perfect day! Very pleased for Marco Silva, who I really like. We've got our Seamus back. Michael Keane looks as solid as Zouma - Aymeric Laporte anyone? Bernard is a magician. DCL is going to get better and better. Well done Schneiderlin. And I can't decide who our player of the season is between Digne, Sigurdsson and Gueye. I think it's got to be Gueye who was an absolute monster today. But either of the other two would also be worthy winners.
Rob Halligan
88
Posted 21/04/2019 at 21:34:55
The following is an extract taken from the BBC football website on the Solskjaer apologises to United fans story
Former Manchester United midfielder Paul Ince on BBC Radio 5 Live: "The way Manchester United are performing right now, you have to ask if Ole Gunnar Solskjaer is the right man? You cannot be getting embarrassed at Goodison Park like this."
Who the fuck does this piece is shit Paul Ince think he is, or am I reading this wrong? Are we not allowed to hammer these so called top six teams at Goodison?
Brian Williams
89
Posted 21/04/2019 at 21:37:50
Geoff. No not insensitive at all. My dad was on the Russian Arctic convoys. He also fought the Japanese. My mum spent many an hour under her kitchen table when the Germans bombed the Birkenhead docks.
That siren at Goodison has fuck all to do with that. Fuck all whatsoever.
Someone will always be offended at something. Sometimes thats THEIR problem.
This is one of those times.
Brian Williams
90
Posted 21/04/2019 at 21:38:21
Geoff. No not insensitive at all. My dad was on the Russian Arctic convoys. He also fought the Japanese. My mum spent many an hour under her kitchen table when the Germans bombed the Birkenhead docks.
That siren at Goodison has fuck all to do with that. Fuck all whatsoever.
Someone will always be offended at something. Sometimes thats THEIR problem.
This is one of those times.
Tony Hill
91
Posted 21/04/2019 at 22:01:58
Rob @88, we had the same from Neville in his rant on Sky (and indeed from the other commentators on that channel), the implication being that it was against the natural order of things for the mighty United to lose to a side like Everton.
Fuck them all, let's look out for ourselves. It's going quite nicely.
Ray Roche
92
Posted 21/04/2019 at 22:06:09
With regard to the air raid siren, anyone remember when the Fire Station in Huyton village used the same siren to,I think, alert the local firemen to the fact that they were needed.?
This would be in the 1950's. There were no concerns then about people getting upset in case it brought back unhappy memories and this was when the scars were still raw.
Stan Schofield
93
Posted 21/04/2019 at 22:11:49
Regarding the siren, it's very simple. If the majority want it (which seems to be the case judging by the overall response at the match), then it must stay. We have to be sensitive to concerns about it that some folks might have, and at the same time sensitive to the wishes of the majority. The latter sensitivity wins out.
Rob Halligan
94
Posted 21/04/2019 at 22:13:17
Tony # 91. I heard that. Was it something like "Everton ran 4 kilometres more in the first half, EVERTON"
Why the big emphasis when saying Everton? Like is it not allowed?
Ray Roche
95
Posted 21/04/2019 at 22:14:10
Oh, and I think that the sirens brilliant.
William Gall
96
Posted 21/04/2019 at 22:14:12
The only thing that disgusted me today about the tremendous performance that Evertons players put in, was the comments from these so called expert pundits ( cough cough ) than rather congratulate how well Everton played they spent more time in saying it was how poor UTD played-that was the result of this game. I guess UTD players were not the only ones to get Easter eggs on their faces.
Jerome Shields
97
Posted 21/04/2019 at 22:21:02
I have found it was apparent for sometime that Brand and Silva are building a team that can compete at the highest level. Silva had stuck to his guns no matter what.
Silva's style is to quietly work on players self motivation, guiding them to buy into the tactics and style of play of his overall plan for progress. There have been many disappoints along the way, where players have fell short, but there has been a unlying trend that a good team was evolving.
In the future there will be ups and downs, but Everton are beginning to look like a side that could go places.
Brands and Silva will keep the momentum going through the Summer. There are areas to be sorted out both on and off the pitch, but Brands and Silva will have Moshiris ear now and change will happen.
It a long time since I have become so positive about Everton.
Tony Hill
98
Posted 21/04/2019 at 22:30:46
Yes, exactly that, Rob @94. All of it showed up Sky in its true colours; it is nauseating to see such open arrogance, and contempt for the unfavoured clubs.
Anyway, nothing should spoil our mood today. The thrill of that game is still very much with me and with everyone else, I'm sure.
Chris Gould
99
Posted 21/04/2019 at 22:33:55
Brian #90, absolutely agree.
The siren is fantastic and adds to the atmosphere.
Ray, The same WWII air raid sirens are still used today in some areas. They warn residents of floods. I doubt anybody complains that they bring back sad memories. For me, the Goodison siren represents 'a call to arms'. Prepare for battle!
Ray Smith
100
Posted 21/04/2019 at 22:42:27
What a surprise MOTD Cardiff v Liverpool on first.
Not only Sky but BBC don't give us a fair crack of the whip.
Obviously 4-0 doesn't outweigh 2-0!!!
Tony Hill
101
Posted 21/04/2019 at 22:45:11
Chris @99, the siren has made a big psychological difference to the Goodison "feel", no question. It gives us a focal point and is the sort of smart, inspiring innovation that the club has needed. I think it is actually quite important, particularly for the club at this point in its development.
Terry White
102
Posted 21/04/2019 at 22:52:26
The talk about the sirens reminds me of a story my Uncle John used to tell. He was at the cinema during the war, the Victoria near Cherry Lane, when someone came into the darkened theatre and announced "The sirens have gone". to which a voice replied "They'll take anything in Walton".
Jay Wood
[BRZ]
103
Posted 21/04/2019 at 23:14:23
Ray @ 100.
As much as it sickens me to say it, but Cardiff v them was always going to be the lead game on MoTD, whatever the scores in all today's games.
It's the best title race in years and they and City are the story with just 3-4 games to go.
Let's hope we continue recent form and performances into next season which makes us the story and demands higher ranking in the MoTD running order.
Chris Corn
104
Posted 21/04/2019 at 23:17:55
Brian Williams, I'm with you. There is a siren that goes off at 8.45 on a daily basis at QEII Dock in Eastham. It's a warning siren that's tested daily and as alluded to in earlier posts, similar sirens are used in other industries and are not just exclusive to air raids.
Is the song Two Tribes by Frankie Goes to Hollywood insensitive when used in a sporting capacity ? That has sirens all over the start. Ironically that was feted as a symbol of local solidarity if you have watched the recent BT Sport film of the same name.
I'm sure plenty on here have a story about about relatives who were affected by WW2 air raids in Merseyside and elsewhere. I know I have.
Strange the things that can take away the gloss from a great win on this forum.
Neil Copeland
105
Posted 21/04/2019 at 23:30:39
I tend to not take too much notice of the pundits although having said that; Martin Keown always seems pretty fair in his assessments. He was comparing today's midfield performance to Reid and Bracewell in terms of the way we chased down United. Rich praise indeed.
In respect of the sirens, I love them and noticed the hairs on my neck stand up today when they sounded. There is no way that any disrespect whatsoever is intended through their use.
Paul Hewitt
106
Posted 21/04/2019 at 23:43:56
If it needs a bloody siren to get this team playing, then we are in trouble.
Neil Copeland
107
Posted 21/04/2019 at 23:47:27
Paul, West Ham and Cardiff didn't use the siren! I would say the main impact had been to rouse the home support which in turn has lifted the team.
Steve Ferns
108
Posted 21/04/2019 at 23:50:23
I see the Abrahams haven't posted yet, I hope the boys all made it home from the pub ok. It was great to see so many good blues. Thanks to Derek Knox for organising it. George McKane had his camera so look out for the pictures.
Chris Corn
109
Posted 21/04/2019 at 23:58:47
Paul 106, not really. Anything that helps the crowd lift the team is welcome in my eyes. Since its introduction against Liverpool we have won three and drawn one against the top sides without conceding a goal and the atmosphere has played a significant part.
One of the major complaints on here is the atmosphere, and the last four home games have been rocking. It might be a coincidence, but for me the siren has made a massive difference in getting the crowd stirred up.

John Boon
110
Posted 21/04/2019 at 00:02:35
I am old enough to remember the sirens going and think it's in no way disrespectful. The siren was a clear warning in those days and Everton need to play like they did today to show that ANY team coming to Goodison gets a warning that they can expect trouble.
It will only be disrespectful if we play like we did against Fulham. The problem today for Man U was that the siren needed to be even louder and longer Keep the siren going if it works like it did today.
Denny Kerr
111
Posted 21/04/2019 at 00:10:17
There's no question that the so called big six get biased coverage, especially from Sky.
However the one and only way to receive fair coverage is to become one of the top sides again. Hopefully that's what we are on our way to becoming.
I don't even care for this " best of the rest " garbage. I want to see Everton competing to be the best, and then to actually be the best once again.
Martin Berry
112
Posted 22/04/2019 at 00:15:17
Since DCL has played upfront as the striker and Richarlison has moved back to the flanks Everton have improved and created more chances. Allied that to concentrated defending and we are a real team now.
Dave Abrahams
113
Posted 21/04/2019 at 00:26:03
Terry (102) great Scouse humour Terry even during those very dark days.
Steve (108) just got in, minutes a go, a brilliant day with lovely bluenoses,, Andy Crooks proved you don't have to be a Scouser to be a great Evertonian, what areal pleasure it was to be in his company and see the excitement in an Everton supporter anticipating going to Goodison Park, Andy has seen a good few days but he was like a six year old walking around the ground before the game looking at the history of Everton, a club and team we both love, I must have bored the balls off him explaining the different players who had represented the club and what they had achieved for the Blues, but Andy was very patient with me as we walked around the ground looking at all the photo's which show the history of Everton.
We met my sons Tony and Michael along with my grandson Cameron before the game and Andy went in
Gwladys Street with them while I went into the Upper Bullens, after a great performance by The Toffees I met up with them after the game, Imthink it is fair to say if Andy gets to Paradise it will be an anti climax after today's experience.
We had a drink in the Halfway House on Walton Road after the game before getting a cab to the Excelsior and meeting a dozen or more Toffeenoses from ToffeeWeb and the night just rolled by with no end to the stories we all told of our experiences of being a fan of our club, a great day only partly spoiled by that cheating bastard
Salah getting another hooky penalty.
A great day day and night, Andy Crooks lovely being with you, I hope you have a safe journey home tomorrow, you didn't have to do it but thanks very much for the grand bottle of scotch you gave me, I hope you enjoyed the day half as much as I did, once again Andy you proved you don't have to be a Scouser to be a great Evertonian, lovely seeing you again.
Dan Parker
114
Posted 22/04/2019 at 00:26:38
Terrific game, we CAN beat the 'big six', repeatedly and emphatically!
Derek Knox
115
Posted 22/04/2019 at 00:49:47
Just got back from Liverpool, Dave Abrahams and myself were the last ones standing, (in martial terms), it was so good to see many of the faces I already was acquainted with, but also some new ones.
What a day! What a result! I must admit, I expected a decent game but couldn't have possibly envisaged that score. No wonder it was 100/1, and luckily George McKane had followed his usual trait and backed us with that score. His Charity will benefit from that!
I was a bit dubious about the team selection, especially when I saw Schneiderlin as one of the starting eleven, but apart from his usual disappearing act during the game, he didn't in all fairness do much wrong, apart from going missing.
Not taking any gloss away from our performance, but there is something not quite right with Man U, at the moment. It was only a few weeks ago when Mourinho parted company and Ole, the baby faced assassin was given the 'temporary reins'.
Such was his impact in galvanising the expensive squad, that he was handed the 'poison chalice' on a permanent basis. Seemingly it has gone almost downhill since then.
It's amazing to see what both confidence and a couple of good results/performances can produce, last weeks game against Fulham being, hopefully, an exception.
We had a few discussions between us as to the merits of being involved in the Europa League, with diverse opinions, of whether it is a bonus or a hindrance. I personally think it all depends on what happens in the Summer Transfers, and I am not talking only of who we get in, but also who we get off the books.
Should we qualify, come the end of the season, it could determine what actually happens with outgoings/incomings. Not getting too carried away though on the back of a couple of good performances, consistency is the key!
Jay Wood
[BRZ]
116
Posted 22/04/2019 at 00:51:04
Nice to hear about your day and evening with Andy Crooks and other TWers, Dave.
I thought about Andy throughout the game, especially as each goal went in, thinking what a great, great day he was having.
Merited, for a top, top lad.
Clive Mitchell
117
Posted 22/04/2019 at 00:58:34
Gary Neville is something of a paradox: he's the best pundit there is because he's honest; but he's a total tosser because he thinks United have some sort of right to be the best team in England. A history lesson for you Gary lad: you were 19 years old when your team drew level with Everton on 9 titles each. That'd be 105 years into the English professional game. Tosser.
Clive Mitchell
118
Posted 22/04/2019 at 00:58:36
Gary Neville is something of a paradox: he's the best pundit there is because he's honest; but he's a total tosser because he thinks United have some sort of right to be the best team in England. A history lesson for you Gary lad: you were 19 years old when your team drew level with Everton on 9 titles each. That'd be 105 years into the English professional game. Tosser.
Mike Jones
119
Posted 22/04/2019 at 01:07:28
I just hope City beat United in the same way. And win their 3 remaining league games. And Barcelona beat the shite because if not, today was insignificant.
Derek Knox
120
Posted 22/04/2019 at 01:30:18
A special mention must go to Mike Gaynes, who to not only mine, but everyone present's astonishment, in that he from a distance approaching 5,000 miles, he bought a drink for all who attended today's TW Gathering at The Excelsior.
Mike, what a lovely and thoughtful gesture, which was duly appreciated, it was just a pity that you couldn't have been with us, both for the result, and the conviviality of all who attended, kudos to you Mike, take a bow!
Bob Parrington
121
Posted 22/04/2019 at 01:31:23
How can the ex-RS dim wit Souness expect to be taken seriously ever again after his stupid comment ref Richarlison's goal yesterday. "Dangerous play"! What does the idiot want - Richie banned for dangerous play and the game has to be replayed on a tennis court to ensure there is no space for us to rip them part again.
Mark Wilson
122
Posted 22/04/2019 at 01:46:17
Loved watching us thump UTD, humiliate them, outplay them in every dept. Exciting attacking play that flows with genuine intent and no little skill. It was a joy to watch.
Doesn't even get close to making up for that pathetic defeat at Fulham. If, as still seems very likely, the loss at the Cottage ends up costing us 7th and should City best Watford, it will only serve to emphasise the nonsense of these two games. The wider picture is of a poor season where we lost the plot for three months or more. Has time proved we have some decent players to build around ? You'd be hard pressed to say no. There's a glimmer and no mistake, well actually it's more than a glimmer. But truth is as brilliant as thrashing Utd was, getting beat by a terrible, already relegated side highlights the task ahead for Silva.
Standards. Not easy to keep up. But if you can deliver the consistency the confidence grows. It was a sensational win and I've not been that happy at Goodison for a long time.
Odds against Europe now and that's the wider picture as providing City lift the cup we will have deserved the early doors start to the new season but a handful of aweful defeats will have cost us. It's dull this wider picture, I get that, but excuses aside, drive that disastrous mental fragility out of the squad and it could get very interesting !

Mike Gaynes
123
Posted 22/04/2019 at 01:59:09
My pleasure, DK. After failing to keep my promise to buy the first round when I came over last year, I had to make good, right? And I had a good time conspiring with Peter the proprietor to make it happen. He was a blast to talk with, by the way.
So who was there? You going to post a list?
Bill Watson
124
Posted 22/04/2019 at 02:33:09
Great game and really good to meet so many TWs after the game. Thanks to Derek and John for the hard work they put in to facilitate it.
In Brands we seem to have found the real deal. With the possible exception of Mina, all his summer transfers and loans have made significant contributions over the season.
Hopefully, he'll make at least a couple more equally good signings, this summer, and remove as much of the dead wood as possible.
Ray; nice meeting you again and thanks for reminding me that it was, actually, again. lol What a memory you have!
Yes, I remember the air raid siren on top of the Mayfair cinema., in Huyton. It was used right up until Huyton became part of Merseyside in 1974 and the local fire brigade all became full time.
I'm not from Huyton and must admit I was a bit gobsmacked when I first heard it go off.
I'm all for retaining it at Goodison and it wouldn't surprise me, in the slightest, if it was taken up by other clubs, too.
Bill Watson
125
Posted 22/04/2019 at 02:39:19
Derek #120
I didn't know that lol but thanks to Mike for a brilliant gesture, anyway!
Albert Perkins
126
Posted 22/04/2019 at 02:58:22
Funny, but this morning, and it was 5.30AM in Oregon, USA, I felt really confident and texted my nephew in the Bullens that 2-0 was on. When the fourth went in I woke up my wife with my yelling and she was relieved it wasn't an earthquake. Kind of was for me.
Steve Carse
127
Posted 22/04/2019 at 04:45:22
Rob (121), the sad thing is it's the sort of goal that is going to be eradicated once VAR comes on stream reviewing every goal. The reviewers will be wanting to make themselves feel important and become the talking point. In fact I can see there being a general reduction in goals from open play, particularly those scored following aerial challenges, since getting on the end of crosses invariably requires some sort of physical contact. Never mind though, the powers that be will be looking for the new rules on penalty awards for unintentional hand ball to compensate the goals tally.
Alan McGuffog
128
Posted 22/04/2019 at 06:51:12
Every time Souness crossed the white line play was dangerous. Bloody hypocrite
Bill Griffiths
129
Posted 22/04/2019 at 07:56:24
Hi, it was great to meet up again with you guys who were at John's 80th and also the guys I met for the first time last night.
Thanks Derek for organising things.
Also thank you Mike Haynes for the drink. I did intend to come when you were over but unfortunately I wasn'the able to attend. If you cross the pond again I'll be sure to attend to thank you in person, it was a great gesture.
Hope you all enjoyed MOTD
Laurie Hartley
130
Posted 22/04/2019 at 08:26:06
I was totally deflated after the Fulham game and confess I thought we would probably end United's poor run (as we usually do). I certainly didn't expect that - what a fantastic result.
We are different from the rest of them - when we are at it there is no answer to us.
Well done to the players, the manager, and the crowd.
Up the Blues.
Darren Hind
131
Posted 22/04/2019 at 08:35:07
Mike 123
I didn't realise Dr's receptionist earned enough.
Seriously though, That was a very nice gesture.
A touch of class.
Brian Williams
132
Posted 22/04/2019 at 09:00:25
Mike#123.
Cheers Mike, thanks for the drink mate!
What a game, and what a great day all round!
Think the boss of the Excelsior is sending you your 17p change via airmail ;-)
Stan Schofield
133
Posted 22/04/2019 at 09:09:43
Clive@118: The best thing to do is not listen to or read so-called pundits, because they specialise in talking drivel. Watching MOTD is far more pleasurable if you turn the sound off. The downside of that is losing the atmosphere, but it's compensated by not having to listen to nonesense.
Dave Abrahams
134
Posted 22/04/2019 at 09:14:13
I forgot to thank you Mike on my earlier post, so I'm thanking you now, your lovely gesture was well appreciated, I hope you keeping well and enjoying life, very best wishes.
Roger Helm
135
Posted 22/04/2019 at 09:30:18
It was a good illustration of the saying "you have to earn the right to play". As in most areas of life, hard work often leads to success. If you press hard, tackle back, win the aerial battles and the 50/50s, then you are on the front foot and you have gained the opportunity to play good football. If you retreat into your shell, you get far fewer chances.
In addition, you get the crowd onside which gives you another advantage. I don't remember any of the "experts" pointing it out, but the noise levels inside GP were pretty impressive. I have heard visiting players say it can be an intimidating stadium at times.
I
George McKane
136
Posted 22/04/2019 at 09:38:37
Lovely to meet up in The Excelsior yesterday with Fellow TWebbers - - busy day today - - so quick link to photos - - the only way I could think to do it was through The Dark House Blues - - so here is the link - -
Link
- - have a look and post names please and comments.
Looks like the Link isn't working - -go to The dark house Blues on FB and have a look.
Tony Everan
137
Posted 22/04/2019 at 09:55:43
I like the siren too, it creates a sense of drama and danger. It heightens the senses and get the fans on the edge of their seats. I thought the Liverpool players were unnerved by it a few weeks ago, it works.
It is a psychological attack on visiting teams to ram home the fact that they are now in Goodison, and there is no messing about - we mean business.
Matthew Williams
138
Posted 22/04/2019 at 11:36:08
A brilliant team display in the Sunshine yesterday, so what happened down at Fulham, Blues?
When we beat Chelsea, Arsenal and Man Utd away from home in the same season, then and only then will I believe that our club is heading in the right direction.
Btw... just watching the Street End go mental after Walcott's fourth; it was a beautiful sight on MotD.
Lovin' that siren too!!!!
John McFarlane Snr
139
Posted 22/04/2019 at 11:53:05
Hi Bill [124] I thoroughly enjoyed the match and the get together later, but I feel I must point out that I took no part in the organisation of the event, Derek deserves all the credit because of the time and effort he put into the venture.
I sincerely hope that someone else will take up the baton, to give me another night on the tiles. I've really developed a taste for orange juice.
Christy Ring
140
Posted 22/04/2019 at 12:38:14
Agree with the comments regarding the pundits. Souness can only see one colour, RED, and everyone in the studio, looked at him with disbelief, when he said the first goal by Richarlison should have been a free out for dangerous play, show's how bitter he is. David Jones told him, just got word in my ear piece,from referee in the studio, perfectly good goal. He gave him a look, remember a few weeks back,the Liverpool United game, when Souness asked him in mid sentence, 'why are you looking at me like that', with Carragher trying not to laugh, that's the arrogance of the man. As for Ince, Utd got rid of him, because a certain Roy Keane was the main man, he eventually ended up a redshite, enough said. I thought Carragher was spot on about Silva and Everton, credit where it's due.
Steven Jones
141
Posted 21/04/2019 at 13:52:46
Great style of play Silva is developing it took Klopp and Pep a couple or three years to embed their ideas.
Get a good pre-season under their belts and we should be in the mix for the top four next season.
Only concern us Brands cannot pull out the magic as much as last Summer on the signings or could he..??
My vote is a big yes for the siren - gets everyone going, , we often need that at Goodison - to gets the players going as well.
My mum now in her late eighties says it reminds her of the war and she feels good about it. she likes reminiscing and looks upon this times as binding with family and friends. lots of stories it's a big plus for me.
Michael Lynch
142
Posted 22/04/2019 at 13:59:52
I love the siren, but it might start grating if we go back to playing the way we've done for most of the season up until the RS game at Goodison.
I'm loving some of our recent performances but IMO we're some way off challenging for top 4, probably top 6 too. Surely we can't start counting our chickens on the back of two or three decent performances, after the shite our team has served up until recently (and went back to serving up at Fulham)?
Next season should be very interesting. Personally, I'd rather we didn't have the Europa League as an energy-sapping disctraction with the lack of depth in our current squad, but I guess I wouldn't say no to a bit of foreign travel! For me, the jury's still out on Silva - we've been fucking clueless up until a few weeks ago. I'm not going to start worshipping him based on a handful of decent performances.
Tony Hill
143
Posted 22/04/2019 at 14:18:21
Michael @142, more than decent performances. We have comfortably beaten top 4-6 sides, something we've all been yearning for.
But I agree, I think we all agree, we have much yet to do. It's just great to see such excellent signs and we should get into the habit of enjoying it; it will create a virtuous momentum.
A cup should be the next aim and, and I would like to see us develop a reputation for being the old Everton of 63-69, instinctively stylish. I think we're on the way to doing it.
I'll put my neck on the block and say that this side over the next 5 years will become the most exciting and attractive we've ever had. I also think we're going to see considerable success.
Mick Howard
144
Posted 22/04/2019 at 14:27:38
"United were poor at Goodison Park and while they should be beating the likes of Everton, the emotional impact of losing to Barcelona in the Champions League cannot be underestimated." - Garth Crooks complete and utter cockwomble
Tony Abrahams
146
Posted 22/04/2019 at 14:42:26
It was great to watch Everton play like the weather, which was absolutely beautiful yesterday!
If Andy, is the lucky charm, then I'm obviously going to have to give him my season ticket, but I was glad he saw Goodison at its finest, which is always another beautiful sight!
Made-up for George, who had his first pint in ages, and just wish I'd got to speak to Bill Watson and Ray Roche, a bit more, but Derek was right, he picked a proper "Blue Boozer" and this meant I knew loads of people, which meant there was not enough time to talk to everyone.
Good to see everyone again though, and also have to give a big thanks to Mike G, who definitely showed loads of class!
Andy Meighan
147
Posted 22/04/2019 at 15:18:10
On my way home from the game yesterday, this fella said to me "My mate has just rang me and Souness said that was a foul by Richarlison for his goal."
What horrible bastards they are. We were brilliant, nothing more, nothing less. I said to a mate at full time: "This won't be about how well we've played; this will be about how bad they've been!"
No, sorry – we wiped the floor with them.
Oh, and, by the way, that siren is the best thing to happen at Goodison for years.
John McFarlane Snr
148
Posted 22/04/2019 at 15:20:45
Hi Mick [144] we discussed the reaction of what the 'so called pundits' would be on the result of yesterdays game, and to man we agreed that Everton would not get the credit they deserve. As expected they concentrated on United's failings, making no allowance for the superior performance of Everton on the day.
My 70 years of following Everton have taught me that anything can happen in a game of football, how else can we explain the results of this season alone, as follows, Newcastle United 2 Manchester 1. Manchester City 1 Crystal palace 2, and Bournemouth 4 Chelsea 0,
The 'so called', would have us believe that Manchester City and Chelsea beat themselves. I hope you can understand the ramblings of an old man.
Mike Gaynes
149
Posted 22/04/2019 at 15:57:05
Guys, my pleasure, glad you enjoyed it. Dave and Tony in particular, I'm delighted to be able to thank you properly for what you did for me on my last visit. Only wish I'd been there to celebrate a glorious day with ya. There's nobody here to do that with. Even my wife, who wears my Kevin Sheedy shirt around the house sometimes, just smiles indulgently at my excitement and says, "that's nice, honey!"
John Sr. #148, great point. If City don't win the title they will doubtless look back on the Palace game the way we look back on Fulham, Newcastle, the Mordor derby, Wolves, Millwall, Leicester -- ah, never mind.
Brian Williams
150
Posted 22/04/2019 at 16:11:31
Tony#146.
Mike certainly did show class yesterday mate, you're right.
Unlike our ex, sulky, it's all about me, striker.
Seemingly after clearing a corner yesterday, to ironic cheers from the Street end (Lukaku) put his finger to his lips in a shush signal to the Street End, this when they were already 4-0 down.
The Street Ends reply was a chorus of "Fatty, fatty what's the score?"
His reaction to this (told to me by my Twitter using son so can't 100% prove it) was after the match, to scroll back through his "tweets" (Lukaku not my son) and delete his "goodbye" message to the Everton supporters from when he left.
Come on, who was it that bought the big headed fucker those sour grapes?
Mike Gaynes
151
Posted 22/04/2019 at 16:15:31
Thanks, Brian.
Gee, I guess Rom's rumored transfer back to Merseyside is falling through, eh?
Brian Williams
152
Posted 22/04/2019 at 16:17:37
I guess it is mate, lol!
Eddie Dunn
153
Posted 22/04/2019 at 16:23:06
Chris Corn #104, I grew up in Eastham and on a sunady morning there used to be a siren test. The Cold war was at it's peak (the 70's) and I believe it was to warn of nuclear attack. My Mum lived near 'Lairds and spent many an evening in the shelter while my Grandad was out as an Air warden. Their house was hit by an incendary bomb which didn't detonate but wrecked the place.
Many people(now in their 80's will have bad memories of sirens but the majority of match-goers will be unaware.
Many clubs have fire fountains wasting gas, filling the air with toxins(perhaps upsetting some people who may have been in a fire) - I would much rather have a siren.
Derek Knox
154
Posted 22/04/2019 at 18:14:45
One definition of siren is as follows, I have bracketed some extra poignant words to make yesterday's result more palpable :.
Greek Mythology One of a group of (blue shirted footballers) sea nymphs who by their sweet (play) singing lured ( Man. Utd's players )mariners to destruction on the ( pitch at Goodison ) rocks surrounding their ( miserable run of form ) island.
Still on Cloud Nine from yesterday's performance and score-line, the only thing short of it being Utopian, would have been a similar score-line for Cardiff against the team they played.
Have left some comments on the General Forum TW Get-Together thread, and I have thanked The Excelsior for their hospitality in making yesterday's event a success.
Brian Wilkinson
155
Posted 22/04/2019 at 18:23:25
Could not get the game yesterday so sky it was, in regards to the siren It has to stay, absolute genius, whoever came up with it.
Only downside I noticed is sky muted it very low until half way through Zcars.
On another note, had that been Liverpool who scored 4 against utd, would they be talking about how poor utd were, or how great Liverpool were, and played them off the park.
Expect more to come following Liverpool dropped points at Goodison, Chelsea were poor at Goodson, Arsenal were poor at Goodson after match discussions.
Every Everton player, management deserve a big pat on the back for that performance.
All those having a dig at Schnids beforehand, I have mentioned in previous posts this season, whenever he has come in,he has stepped up to the mark this season and upped his game, give the guy some slack.
Finally, I hope every single Evertonian is feeling as I am and buzzing on the results.
It will take time, we will have blips, but long term we are coming up leaps and bounds.
Ray Said
156
Posted 22/04/2019 at 19:00:43
Re Souness;
'If I want to hear an arsehole talk I will listen to my own'- Fargo Tv series
Steve Carse
157
Posted 22/04/2019 at 19:48:09
Here's us always thinking we're an unlucky club. Total nonsense -- don't you understand that in the games against the RS,WHU, Utd, Chelsea and Arsenal we were lucky to meet them when they were all off form.
Steve Carse
158
Posted 22/04/2019 at 19:48:09
Here's us always thinking we're an unlucky club. Total nonsense -- don't you understand that in the games against the RS,WHU, Utd, Chelsea and Arsenal we were lucky to meet them when they were all off form.
Neil Copeland
159
Posted 22/04/2019 at 19:51:27
I really don't take too much notice of the pundits, if they cannot recognise an outstanding performance; well that is their problem.
Very happy to fly below the radar or at least for the time being. If we continue this form into next season they will be forced to take notice sooner or later. A bit like the arrogant Luftwaffe being mugged by the RAF ( no disrespect intended towards any German TWrs).
Rob Halligan
160
Posted 22/04/2019 at 20:30:50
Chelsea must be having an off night, as Burnley have had the audacity to score two goals at Stamford Bridge.
Derek Knox
161
Posted 22/04/2019 at 22:03:25
Rob @ 160, yes watched that game, it was a good game for the neutral, it got a bit bad tempered at the end, like you say how dare lowly Burnley go to the Capital and graft out a draw against one of the media darlings.
Jerome Shields
162
Posted 23/04/2019 at 04:10:38
Rob (#88),
Paul Ince was always an arrogant twat. A friend of mine, a Man Utd supporter, worked in a hotel the team stayed in. He told me that Ince stuck out as being really carried away with who he was and was annoying with it. I watched him closely as a player and attempting management after that. . . He never failed to come true to type. I switched off TV as soon as I saw him on the panel. Apparently, his son is a chip off the old block.
David Cash
163
Posted 23/04/2019 at 05:58:28
Took my son to his first game when we beat United 5-0. We took his son ( they were over from Oz) to his first game on Sunday
My lad had to learn the hard way that it wasn't always like this
Hope my Grandson grows up in an environmemt where it is
Tony Hogan
164
Posted 23/04/2019 at 08:41:27
For all football supporters unhappy about the sky commenters bias, sign this petition to make them change.
https://www.change.org/p/sky-sports-change-the-commentator-line-up-on-sky-for-the-19-20-season-to-unbiased-presenters?recruiter=63322674&utm_source=share_petition&utm_medium=twitter&utm_campaign=share_petition&utm_term=975ce2f977974a539726dfa7600466a2&recruited_by_id=eda96cd5-f78b-4a53-b476-cd44b86801de
Derek Knox
165
Posted 23/04/2019 at 09:12:40
Tony @164, have tried the link but it doesn't seem to connect to a relevant page, I have tried twice the first time it was just general Sky related topics, the second time it said unable to find etc.
I am as enraged as anyone else about the biases shown to the media darlings, but without sounding defeatist, do you think any petition, probably mainly from Evertonians, will actually change the way they think or operate?
I am sure other supporters of other teams, not only in the Prem, but also the Championship and below are equally pissed off, but it is just getting a big enough soap-box, spreading the message and influencing everyone to act similarly, that they would have to take notice then.
Brent Stephens
166
Posted 23/04/2019 at 09:14:11
Brent Stephens
167
Posted 23/04/2019 at 09:17:18
Derek, "I am sure other supporters of other teams, not only in the Prem, but also the Championship and below are equally pissed off, but it is just getting a big enough soap-box, spreading the message and influencing everyone to act similarly, that they would have to take notice then".
Yes. Maybe a starting point would be for our editors to set up a new thread for this on TW, and to contact editors of other fan sites suggesting they do likewise?
Signed.
Derek Knox
168
Posted 23/04/2019 at 09:31:46
Thanks Brent, your link worked straight away, and like Faust I have signed, with a difference, I have not sold my soul to the Devil, but rather to get rid of the Devils. A Cybernet Exorcism if you like. :-)
Ray Roche
169
Posted 23/04/2019 at 10:29:37
Sorry I'm a bit late with this but I'd like to extend my thanks to Derek for organising the TW get together. It was good to put faces to names and I am sorry my stay there was as brief as it was. I would have liked time to chat to Dave and Tony Abrahams, Andy, Derek etc. but time was of the essence. I did, however, enjoy talking to Steve Ferns, what a knowledgeable young man HE is, and Bill Watson, another great Evertonian. Sadly, I didn't get the chance to enjoy Mike Gaynes free drink. (just send me the money, Mike!)
Hopefully, next time I will be able to spend more time with you all.
Anybody out there who could organise a TW golf day. Maybe raise a couple of quid for EITC or something?
Derek Knox
170
Posted 23/04/2019 at 11:09:44
Hi Ray, thanks for your kind words and I would like to reciprocate by saying it was a pleasure to meet you too. It is also a pity that you had to go so early, I have also just found out that you are a golfer by your last request, another passion of mine besides Everton.
Yes I too would be interested in a TW Golf Day, but would be surprised if there were many interested. Having organised Golf Days in the past it can be a 'bit tricky'. many Clubs want 'guaranteed numbers' for tee times, (understandably) and usually a deposit, especially if there is a meal involved, and when people don't turn up it becomes a headache!
Having said that, if you ever fancy a game Ray you can ring me on 07565140075, and we can arrange something. Unfortunately I do not have a car at the moment, and am not attached to any golf club. I was a member at Upton-by-Chester but got fed up of the 'compact course', too many par 3's and zig-zagging between holes, although I couldn't fault the friendly atmosphere of the members or the social side of things.
Anyway I digress, it would be a bonus if any members wanted to have a day out golfing with a TW connection, I haven't played for a few months (don't play in the winter, so will be a bit rusty, but a trip to the Driving range should remedy that, be great to hear back from you Ray or any TW'ers interested.
Colin Malone
171
Posted 23/04/2019 at 11:17:52
We've got to make Idrissa Gueye an offer he cannot refuse.
Brian Harrison
172
Posted 23/04/2019 at 11:46:03
I wonder what the pundits would have said had it been their media darlings beating Man Utd 4-0. Probably would have been a rampant reds crush Man Utd. I really hope that City win by a similar score on Wednesday first to stay top of the league and to see if they spend the next hour after the game finishes talking about how bad Man Utd are.
Seems the the rest of the Sky 6 are falling apart, Arsenal beaten at home and Chelsea being held to a 2-2 draw with Burnley. Seems the Europa league curse is starting to effect Arsenal and Chelsea, they both have 2 ways to get into the Champions league next season but one will miss out I think.
While the Europa league is something the clubs outside the top 6 desire I don't think those outside the recognised top 6 can hope to have a successful league campaign and success in the Europa league. For me thats why I wont be to disapointed to miss out, I want us to be able to have a normal pre season and no distractions going into the start of the league. I would suggest that the Europa league go back to having a straight knockout over 2 legs and cut the amount of teams to the same as the Champions league. Also let these games take place on the same night as Champions league nights. That way you are not having to play catch up by playing on a Sunday in the league.
Ray Roche
173
Posted 23/04/2019 at 11:46:48
Hi Derek,
Yes, a golf day would be great. I am off on holiday next week for 18 days but maybe we can get something sorted when I get back. A couple of lads who sit behind me in the St End are coming to Rhuddlan Golf Club where I play, in the Summer so that might be an option. We'll keep it in mind.
I've played Upton, as you say, a bit hemmed in by houses, as I recall. A bit different to Rhuddlan!
Derek Knox
174
Posted 23/04/2019 at 11:53:31
Hi Ray, thanks for getting back to me, Rhuddlan (I have played a few times with a Golf Society I used to be with) would be fine, I live in Chester so could jump the train. Maybe if someone could pick me up from the nearest Station it would be a goer.
Anyway, enjoy your holiday, and if give me a ring when you get back, I am definitely up for that.
Martin Nicholls
175
Posted 23/04/2019 at 12:02:37
Ray - I'm sure our mutual friend John H would love to organise the TW golf day! He's good at that sort of thing!
I take it he and Graham H are in the frame for Rhuddlan.
I'd join a TW golf day myself but am afraid I'm that bad I'd embarrass myself however, as well as John and Graham, there's at least one more of our match going gang who I'm sure would take part.
Dave Abrahams
176
Posted 23/04/2019 at 12:02:42
Brian (172), go along with your opinion about Everton in the Europa League next season, I,m rooting for ?Watford, Wolves to get the seventh place, also Leicester City, except when they play Manchester City.
The season after next in The Europa League will be fine as it is a reduced competition regarding the number of games required to win it.
David Pearl
177
Posted 23/04/2019 at 12:05:49
Ray, I believe Mike Gaynes only had Canadian tire money on him at the time and the pub wouldn't take it.
Brian, ideally a knockout would suit everyone as the league format is a killer. Doubt it will change. However with quite a number of players on the fringe and younger players chomping at the bit it might actually suit us for once. If we want to attract the better players we need to be in Europe (even though it is a bit of a poisoned chalice).
Interesting to see if we can carry this form onto our next 3 games. Not holding my breath but surely beating 3 of the top 6 in the last few home games can't be a fluke.
Martin Nicholls
178
Posted 23/04/2019 at 12:10:27
Dave#176 - what changes are planned for 2020/1 EL? I've tried to check but it seemed to me that there will be an even greater number of CL failures admitted to it which might suggest even more games?
Mike Allison
179
Posted 23/04/2019 at 12:20:57
Europa League XI, based on our current squad and returning loan players:
Stekelenburg/Virginia
Kenny
Baines/Robinson
Holgate
Mina
McCarthy/Davies
Schneiderlin
Lookman
Dowell
Walcott
Tosun
They're not world beaters, but they're decent and they'll get better playing more first team football in real games that count. Also a chance of game time for Beningime, Feeney, Gibson, Gordon, Hornby and any other promising youngsters.
This leaves the current starting XI free for the weekend games. If we go out of the Europa we've lost very little and gained some experience.
We should want to qualify for it.
James Marshall
180
Posted 23/04/2019 at 12:26:29
We should be looking to play in the Europa League but we should also be looking to take it seriously and use our first team players - if we have ambitions to be a top club, we need to learn to deal with the rigours of European games midweek, and the Premier League AND be competitive in both.
Any talk of using our second string should be put to bed in my view, and we should be using our best team in both competitions. There's no point in going out early, we need to be in Europe, and while there isn't enough room for us at the top table (Champions League) we should 100% be looking to win the Europa League.
Ray Roche
181
Posted 23/04/2019 at 12:36:43
Martin@175,
Yep, John and El Bandido (Graham) are coming over fairly soon. Martin, people who say that they haven't played for years,rusty, terrible etc. Usually walk off with the money!
Derek, picking you up from Prestatyn wouldn't be a problem.👍
David Pearl
182
Posted 23/04/2019 at 13:14:54
James,
Chelsea and Arsenal have both rotated out the likes of Hazard and we should do the same. Silva hasn't got the best record using squad rotation so far. If you look at Dowel, Lookman, Holgate, Kenny what kind of progression have they had this season, a bit of a wasted few months considering how long it took for some of them to go out on loan. We have only 3 games left and I'd like to see a other chance given to Tosun and Lookman in a side full of confidence.
By the way, how is the cloning coming along? Little Messi should be 2 by now and ready for the under 18s in 3 years.
James Marshall
183
Posted 23/04/2019 at 14:25:52
Of course we should rotate SOME players, but someone above talked about the entire team - that would be madness in my view.
Little Messi? Cloning? Have I missed a meeting?!
David Pearl
184
Posted 23/04/2019 at 15:01:50
Sorry James must of mistaken you. It was an idea another ToffeeWebber came up with... not bad though!
We have to get in it first if we continue this endeavor and not play in flip flops the away games we have.
Dave Abrahams
185
Posted 23/04/2019 at 15:08:01
Martin (178), I'm not sure what the changes will be in 2020-21, I was quoting from a post on here a couple of months ago,maybe if they see this they might come on and explain how the Europa Cup will operate then.
If it is staying as it is I apologise.
Fran Mitchell
186
Posted 23/04/2019 at 15:12:16
I pity ourselves when, at one moment we complain of how we are seen as a small and irrelevant club by the media, and then in the next paragraph say 'hope we don't qualify for Europe'.
The what we like to call 'so-called' top 6, the two teams we recently beat and consider as our realistic targets in the battle to take the top 6, Arsenal and Chelsea, are in the Semi finals and winning will give them CL football. Liverpool under Klopp got to the final, and Utd won the competition.
And yet our 'ambitious' fans are praying to not qualify.
I for one think Europa League football should be our target. Nights under the Goodson lights are what football is all about, and it is a chance of Silverware and CL qualification.
Also, what's the point of maybe one day qualifying for the CL if we have no experience in Europe. DCL, Davies, Vlasic (if he returns), Lookman (if he stays) and other youngsters will benefit greatly from European football, from the experience of playing twice a week.
Dave Abrahams
187
Posted 23/04/2019 at 15:31:36
Fran (186), fair enough Fran, you want Everton to play in the Europa League next season, that's fine. I don't want that, but it's certainly not a lack of ambition, I just think that will hold us back in the premier league, doubt we can compete in both competitions and do ourselves justice.
However for those who wouldn't even think of not entering I understand that as well, I will be at the home games if we do, just rather we concentrate on the premier league, each to his own.
Martin Nicholls
188
Posted 23/04/2019 at 15:34:53
Dave#185 - as I said, I looked up the rules but they are so complicated I gave up!
Fran#186 - couldn't agree more.
John Pierce
189
Posted 23/04/2019 at 15:58:19
The Europa argument has long been a well talked about issue both for the club and any other side who believes the twin ambitions are not compatible.
For me it simply a case we've not found a manager who can handle both. Spurs are the best example in recent times who have consistently managed both, it stood them in good stead to experience to make the step up to the CL.
Silva and Brands have always talked up the Europa league. Financial, reputational, and growth as a club are there if you plan and approach the opportunity well.
Its a no brainer for me and comes down from the top. The right attitude, good planning and Everton could get very far in a competition. For a club that has won nothing in a generation any opportunity should be welcomed.
Jamie Crowley
190
Posted 23/04/2019 at 16:13:16
Sport is a competition. Why anyone would not want to compete for a trophy who's sereal prize is a Champions League spot is beyond me.
The point is to compete. No matter what end-game you think is best, I'd argue you want to compete on as many fronts as possible.
Dave Ganley
191
Posted 23/04/2019 at 17:20:40
Jamie, John, Fran totally agree. Why wouldn't you want to be in a European competition? We have a big enough squad to cope. For me it's just an easy excuse to blame the EL if you don't do well in the league. Winning is a habit.
Alan J Thompson
192
Posted 23/04/2019 at 17:37:54
Aren't clubs given a European ranking according to both the club's and teams from the same country's performance in European competition so that they know which "pot" to draw you from and thus the standard of opposition in your Group or qualifier.
Brian Harrison
193
Posted 23/04/2019 at 17:53:50
My reason for not wanting Europa football is easy, as I said earlier show me a team outside the top 6 who have not had a worse season in the league due to Europa league involvement. Burnley this season in a relegation spot in the Premier league for all the time they were in the Europa league. Once they dropped out their form improved.
Apart from the Spanish, German,Italian and French teams the rest in the Europa league are poor teams. As you can see from some of the posters some want us to use it to blood youngsters others want us to play mainly the first team players. Mind if by doing that and we start to get injuries and possibly being at the wrong end of the league, they would then suggest we sack Silva no doubt. This in its present form is a poisoned chalice, and I will donate £50 to Cancer Research if the English clubs ( not including a top 6 side) that gets in the Europa league finish in the same position or better than they have this season. Should any of these clubs win it I will donate £200 to the same charity.
Eugene Ruane
194
Posted 23/04/2019 at 18:25:23
I'll be 60 later this year, I'm no plato but one does become slightly more philosophical after 50 than one might be at say, 18
I found it impossible to be philosophical at 18 as I spent every waking hour 'burping the worm' and fantasising about Madeline Smith, IN THE KNACK! (her, not me).
So to those poo-pooing the idea of Europa, let me say the following.
Life is basically just a series of events that become memories (or..not, the dull ones don't).
Some of my best memories are of Everton winning things, great holidays and trips abroad following Everton.
In (relatively) recent years, I managed Benfica, Lille, Nuremberg, Alkmaar, Liege, Fiorentina and Lyon and everyone of those trips was fucking great - seriously, fantastic.
The football?
Well it was better when we won (obvs) but even the battering we got from Benfica didn't spoil what was a great trip and a great memory (always went for at least 2 full days, sometimes 3 or 4).
Even the 'friendly' with Anderlecht was great (though strange after the game).
Anyway, if you ever get to play out the classic deathbed scene (98 yrs old, family round your bed, looking for a will) I'd argue that as your life flashes before your eyes, you'd be more satisfied/contented/entertained by memories of trips following Everton in Europe (beer/football/mates/travel etc) rather than when we didn't qualify and..well..nothing.
Just a thought.
Btw, there's never a bet that's a cert to 'pay off', but tomorrow night, SORT of comes close.
A bet on Utd to beat City is currently 13/2.
Yes it's against City but..13/2 on United, AT HOME!?
Well as someone greedy for odds, I couldn't resist (and I think City will bottle it)
Of course if I 'lose' and City win..
Up the Toffees!
Brian Wilkinson
195
Posted 23/04/2019 at 18:46:11
What happens if utd go a goal up and the utd fans storm the pitch to try and get the match abandoned Eugene.

Dave Abrahams
196
Posted 23/04/2019 at 18:51:40
Brian (195) Eugene will pick his winnings up, you get paid out on the score as it finishes. It's more likely the United fans will riot if City lose !!!
Jon Bentley
197
Posted 23/04/2019 at 19:19:40
Eugene (194) what if it's a draw?
That is a lose:lose scenario? (Sorry to piss on your bonfire like!)
Rob Halligan
198
Posted 23/04/2019 at 19:51:05
The only problem that I can see should we qualify for the Europa league, is the early start to the season. A whopping two weeks early!! Wow, big deal. The squad finish their season on 12th May, and then have a break, usually up until the first few days in july, so what, about seven weeks off? You'd think they would be bored shitless and itching to get back into action.
Negotiate the qualifying round (s) and then the group stages are exactly the same as the CL. Three home games and three away games. It's not every bloody week, and if we can't cope with that, then we can't cope with the CL either. And don't forget, our last two EL games last season, Atalanta at home and Limassol away were dead rubbers anyway, and we played weakened teams. So just imagine if we won the first four group matches, we would almost certainly qualify for the knock out stages and could play weakened teams in the final two matches. Then there is a gap of about 8 or 9 weeks before the knock out games start. These are professional athletes we are talking about here, they should be able to cope with an additional few extra games.
Hopefully, should we qualify for the EL, the squad will be strengthened in the summer to cope.
My own personal opinion is, I don't think we will qualify for the EL, but I hope we do. I've had some great trips all over Europe in the last few years. Adding to Eugenes list, I've been to Villarreal, Minsk, Athens, Bucharest, Berne, Bergen, Ukraine twice, Croatia, Slovakia, Czech Rep, Cyprus, Atalanta, Sporting Lisbon and Feyenoord three times, once for that unforgettable Cup winners final. There might be one of two others which I've missed off. And every single one, apart from one or two scary moments in Split, have been absolutely fantastic.
So bring it on!!
Neil Wood
199
Posted 23/04/2019 at 20:01:23
Ray - Derek I would happily meet up for a round
Mike Gaynes
200
Posted 23/04/2019 at 20:16:57
Rob, mate, you are the Phileas Fogg of TW. A record to envy.
Ray Roche
201
Posted 23/04/2019 at 20:20:49
Great Neil, we can sort something out in a few weeks,after holidays etc.
We can sort a venue out then.
David Pearl
202
Posted 23/04/2019 at 20:28:35
Eugene, not seen you on here for a while, nice to have yours musings back, always interesting.
I've got a feeling that Newcastle will do them horrid RS. I've gone the double at big odds.
Eugene Ruane
203
Posted 23/04/2019 at 20:39:03
Rob's travels (198) make me look like the stay-at-home type.
Like one of those brexity types sitting in a caravan in Rhyl, in the pissing rain, with a few cans of Ace saying "What have they got abroad that you can't get 'ere - go on what!?"
Jon (197) let me be clear - a 'lose situation' will be a Utd win.
(and if the game is abandoned because Utd fans riot, the bet will be void and I'll get my 50p back)
Neil Copeland
204
Posted 23/04/2019 at 21:00:31
Talking of the Utd - City game, most if not all of the Man U fans I know want City to win.
I am sure I speak for most on here when I say I cannot imagine EVER wanting us to lose against the RS.
Neil Copeland
205
Posted 23/04/2019 at 21:03:10
Referring to my last post; this begs the question of whether the RS would prefer us or Utd to win the league.
Rob Halligan
206
Posted 23/04/2019 at 21:07:47
Great point, Neil. I think if it came down to it the RS would probably prefer us to win it rather than man Utd as they hate United more than anyone. Hence the reason why United fans don't mind losing tomorrow, as they hate the RS more than anyone.
Rob Halligan
207
Posted 23/04/2019 at 21:11:00
Though having said that, I remember loads of RS wanting United to beat us in the 1985 FA Cup final.
Brian Williams
208
Posted 23/04/2019 at 21:19:51
We are the ONLY side that the RS would prefer to lose out on the league to Utd.
As much as they hate Utd they just couldn't live with us winning it.

Tony Abrahams
209
Posted 23/04/2019 at 21:24:26
Agree with that Brian, the difference between the both sets of fans is not that we are more bitter, but just a lot more honest with our hatred?
Neil Copeland
210
Posted 23/04/2019 at 21:26:09
Rob #207, I remember that also, they were shitting themselves at the thought of us completing a treble. Not sure if times have changed since though.
Jamie Crowley
211
Posted 23/04/2019 at 23:15:45
Eugene @ 194 -
I'll be turning 50 this late summer. And I find myself much, much more philosophical as I age.
You've hit a very weird, soft, odd spot in my heart with that post.
Not trying to be overly emotive, but it really is, at the end, about the journey and memories.
I agree with you wholeheartedly. And what's more, I agree with your approach and thought process entirely.
That post might not be a "Eugene classic", but it's one I won't forget.
Let's get into Europa and enjoy the ride. And for anyone thinking it's silly to not consider the footballing side of why or why not Europa? I have. I'm just addressing Eugene's larger point.
Amen.
Derek Thomas
212
Posted 24/04/2019 at 01:41:17
Jamie & Dave 190,191; True, we might have a big squad
but in the quality Vs quantity stakes?? Nah.
If as you say, winning is a habit, then sending out a team of The Stek, Jags, Baines, Schneiderlin, McCarthy, Walcott, Lookman, Sandro, Mirallas, et al. is not going to keep that habit going...its a long and winding road to Gdansk.
I agree in principle about competing, but next season we need to get our feet under the league table and by that I mean the top 6 table, we need to step up from beating 'some' of the top 6 at home, the ones in iffy form anyway, to beating the gooduns away.
I do realise a top 5 or 6 finish will still 'only' get you a Europa Place anyway, but is a better measure of improvement, direction and intent.

Mark Andersson
213
Posted 24/04/2019 at 02:26:21
We need to finish 7th to carry on this interesting debate..
I agree with those who are for Europe the positives out weigh the negitives...
I went to school with a Eugene I always wondered if it was you... but now that I know your celerbrating the big 60 this year it cant be you. Still I picture the Eugene I knew each time I read your posts...
Anyway city v united I think most of us have resinged ourselves that the red shite will win the title this year...
The blue mancs will take ut to the wire but the Gods have been hijacked by the devils spwan...
Another reason for us blues to make progress into Europe and like the 80s sneak up on the reds and outshine them once again...
Darryl Ritchie
214
Posted 24/04/2019 at 04:48:41
Off topic, but I'm watching the CONCACAF champions league final between Monterrey and Tigres, and the striker for Monterrey is one R Funes Mori... striker.
Maybe he wasn't a poor centre back. Maybe we just played him out of position... maybe not.
Brian Porter
215
Posted 24/04/2019 at 07:08:39
For a few minutes last night I thought Southampton had done us a favour and then Watford scored a last minute equaliser to jump above us by one point. That one point could be pivotal in our quest for 7th place and I really think it's slipping away from us, making that Fulham defeat, despite all the good football we've played against the top six clubs recently, even more galling. I know one game doesn't make a season but that one game could be the one that depth-charged any realistic chance we had of potential European qualification.
For those who don't want the Europa league, don't forget that it would make us a more attractive proposition to any potential signings. I for one would also find it rather embarrassing to finish below Watford, Silva's previous club.
Ronnie Pearce
216
Posted 24/04/2019 at 07:14:01
Darryl (214)
Twin brother Rogelio, I believe. Our Funes still plays in Spain
Mike Gaynes
217
Posted 24/04/2019 at 07:37:07
Correct, Ronnie. Identical twins, except Rogelio is right-footed and has always been a striker. They played together for a short time at River Plate, but Rogelio chose to pursue a career in Mexico and has thrived there. I think I read somewhere that in just four seasons he has become Monterrey's #3 all-time leading goalscorer.
Ramiro is a starter at CB for Villareal, which has had a miserable season -- always a top-6 finisher in La Liga, they are currently just two points above the relegation zone.
Tony Hogan
218
Posted 24/04/2019 at 08:59:33
Derek (165) apologies for the wrong link and thanks to Brett for the right one, now almost 100 lets keep it going
Add Your Comments
In order to post a comment, you need to be logged in as a registered user of the site.
Or Sign up as a ToffeeWeb Member — it's free, takes just a few minutes and will allow you to post your comments on articles and Talking Points submissions across the site.
© ToffeeWeb