Report
Blues fail to edge Spurs on final day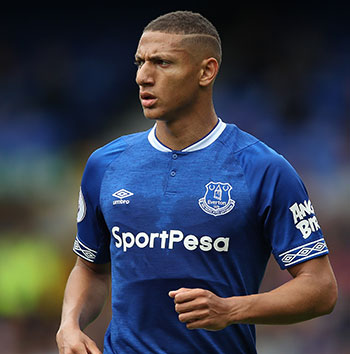 Along with Dominic Calvert-Lewin, Richarlison has been ruled out of the game at Spurs
Everton brought their frustrating 2018-19 season to a close with their first visit to Tottenham's new stadium, where they could not hold on to a brief 2-1 lead in the second half.
Everton started with three centre-backs in Zouma, Mina and Keane, Zouma playing right-back. Schneiderlin retained his place with Gomes only on the bench, returning from a 3-match ban. Coleman, Richarlison and Calvert-Lewin were out injured.
An early corner was not cleared and fell to Eric Dier who smashed it past a stunned Jordan Pickford. The return of zonal marking? Everton huffed and puffed but could not get out of their own half in the first 5 mins, perhaps a little awestruck facing the Champions League Finalists in a magnificent new stadium...
Finally, a free-kick that Keane got to and kindly headed straight into the arms of LLoris with the goal at his mercy. Spurs scampered upfield, despite being offside, but getting a potshot at Pickford, which he saved well from a close angle.
The slipshod Everton defence again allowed Spurs to run through, Alli firing just over the bar. Spurs kept attacking at will, with the Blues unable to get their game in gear, exemplified by Gueye firing the ball out of play behind Digne.
But after 18 minutes, the Blues constructed something approaching an attack, Bernard's ball in from the left reaching Tosun who prodded it at Lloris. The ball was cleared up the other end for a corner that was fired over.
Bernard shipped a lovely ball up for Tosun to chase but he naive shoulder charged Dier who collapsed for the slight pressure, drawing an easy foul from the generous Andre Marriner. Sigurdsson tried to release Tosun on the right but a poor touch saw the ball lost.
A better move saw the two combine but Tosun cut it back to the Icelander rather than shoot himself and the attempt was blocked. Walcott and Tosun made space for Sigurdsson who also choose to slot it back across goal rather than shoot.
A cross was cleared to Bernard who tried to sneak it inside the post but his shot was too weak and Lloris got down to it. Spurs pushed forward again but, after letting in the early goal, Everton's rejigged defence seemed to have a better handle on things, Alli firing wide.
Everton showed more intent toward the break, first Keane again getting his head on a free-kick and then Sigurdsson firing in a very difficult shot that Lloris did well to get his body behind. Bernard did well to roll a nice ball in for Walcott whose extra touch wasted any chance. A nice ball to Tosun hit his standing leg. At the other end, some more sloppiness was not punished.
Walcott was knocked over in a dangerous place, setting up a tasty free-kick that Digne smacked into the top of the wall, the Blues winning a corner in the second phase, that came to nothing
A bright restart for Spurs, Walker-Peters sending a deflected cross teasingly in front of Pickford and out for a corner. A buffoon then ran on the pitch.
Digne forced Sissoko to give up a corner that was worked around to Walcott who again wanted the extra touch so he could shoot at a defender. Sigurdsson floated a free-kick well beyond the far post and out. At the other end, Eriksen's cross-shot was deflected out for a corner that was eventually cleared.
Walker-Peters caught Tosun above the ankle but was not punished. Tosun seemed to have set up Bernard but he could only poke it wide on the stretch. Keane won a double duel with Eriksen to stop him striking. Pickford had to be alert to keep out Llorente's header before there was a double change: Gueye and Bernard off for Gomes and Lookman.
Spurs were now containing Everton at a canter, without seemingly trying all that hard to press for a second goal, as the Everton fans celebrated news of Man City's 3rd goal with the prospect of Spurs winning an upcoming European final in Madrid, much to their mutual delight.
Then, from nothing, Digne fed Lookman who did really well to feed Sigurdsson and it was Walcott who fired home low and hard, a great shot beyond Lloris and inside the far post.
A brilliant piece of work by Sigurdsson set up a great cross from Digne and, from the ensuing corner, there was a real scramble, Tosun getting the credit for forcing it over the line after Lookman's shot was blocked. Everton had turned the game around in 3 minutes.
Gomes fouled in a dangerous spot and Eriksen fired it beyond a hapless Pickford with consummate ease, 2-2, a fantastic strike. Spurs then made a double-sub.
Sigurdsson beat his man but the cutback did not sit up for anyone. Everton gave up another dangerous free-kick a little further out, the defensive header conceding a corner. At the other end, Digne placed a perfect cross to Tosun whose header was straight at Lloris.
Everton attacked with some zeal, Zouma winning a corner, played short and then easy for Lloris. Everton ran forward but could not find a way through, going into the last 5 minutes of the 2018-19 season, and it finished 2-2.
Everton finish 8th behind Wolves, who this season take the accolade of being the Best of the Rest.
Scorers: Dier (3'), Eriksen (75'); Walcott (69'), Tosun (72').
Tottenham Hotspur: Lloris, Davies, Walker-Peters, Alderweireld, Dier, Sissoko, Alli (46' Wanyama), Eriksen, Lamela, Moura, Llorente. Subs: Gazzaniga, Trippier, (77' Janssen) Aurier, Marsh, (77' Skipp).
Everton: Pickford, Mina, Keane, Zouma, Digne [Y:90'], Gueye (65' Gomes), Schneiderlin [Y:71'], Sigurdsson, Walcott, Bernard (65' Lookman), Tosun. Subs: Stekelenburg, Baines, Jagielka, Davies, Kenny.
Referee: Andre Marriner
Attendance: 60,124
---
Reader Comments (58)
Note: the following content is not moderated or vetted by the site owners at the time of submission. Comments are the responsibility of the poster. Disclaimer
Christopher Timmins
1
Posted 12/05/2019 at 14:10:20
Three at the back? Jonjoe Kenny unlucky not to get a start. For all his critics on this forum, he was our best player in the early part of the New Year.
Jay Wood
[BRZ]
2
Posted 12/05/2019 at 14:15:02
I don't like the look of that defensive line-up.
Not an encouraging sign for Jonjoe Kenny, you have to say.
David Pearl
4
Posted 12/05/2019 at 14:24:39
Looks more likely Zouma at right back. Coyb – opportunity knocks, for Walcott and Tosun.
Stephen Brown
5
Posted 12/05/2019 at 14:30:11
Agreed David, Zouma could be at right back there!
Their way looks unbalanced to me!
Christy Ring
6
Posted 12/05/2019 at 14:32:01
Three at the back hasn't worked; I would have started Kenny. Looking at the bench, I reckon it's the last we'll see of Jagielka and Baines, you wouldn't normally have four centre-backs and two full-backs in the squad.
Tony Everan
7
Posted 12/05/2019 at 14:40:03
I agree, it looks like Zouma at right-back and Schneiderlin keeps his place ahead of Gomes, justifiably so.
Christy Ring
8
Posted 12/05/2019 at 15:11:10
Can't understand playing Zouma at full back, has been outstanding in the middle, to rub salt in the wound, Mina's mistake for the goal.
Jay Wood
[BRZ]
9
Posted 12/05/2019 at 16:03:01
What a tepid half of football that was. We took 30 minutes to get into the game.
The injuries and their replacements highlight how shallow our squad depth is, but Silva has compounded matters and not helped himself or the team with his radical change of line up.
Instead of going with the tried and trusted flat back four that has delivered so much in recent weeks, the three centre backs has had a detrimental knock on effect throughout the whole team.
At the back we are too narrow and leaving Spurs with ample space to attack us down the flanks. Spurs are deliberately leaving players out wide to exploit this. Our right side is an open door without Coleman. The midfield is sitting too deep as a result. The forwards almost anonymous.
This is allowing Spurs to squeeze our space and there is no out ball or opportunity to play some of the short, sharp and quick interplays that we have seen in recent weeks.
The last 15 minutes was better, but even when we got into good positions, rather than take on the shot, the likes of Tosun and Sigurdson have laid it off and the chance was gone.
This was a chance to make a big statement at a top six ground to carry us into next season. At the moment, we are spurning it.
Will Silva be bold enough to revert to a flat back four, replacing (probably) Mina for Baines?
Bob Parrington
10
Posted 12/05/2019 at 16:57:23
Good to get a draw at least but that wall for Ericksen's free-kick was absolutely crap — Pickford at fault.
Martin Berry
11
Posted 12/05/2019 at 17:01:33
Can't knock our finish from mid-March onwards. Yes, there was a problem at Fulham but there will be a big shake-up and an exciting summer of business.
We have a strong nucleus, especially if Gomes and perhaps Zouma can be cajoled.
Danny Baily
12
Posted 12/05/2019 at 17:07:49
Let's all get behind Spurs now!
Jay Wood
[BRZ]
13
Posted 12/05/2019 at 17:08:24
Much improved second half, but having come back from a losing position to lead for the first time this season, we should have seen the game out.
But no. Within a couple of minutes, Gomes gives away a really soft free kick in a dangerous position. The lining up of the wall didn't look right to me and so it proved.
Even it improved second half, the back three still didn't look right all game. There was particularly slow transition out of defence down the right where Zouma was playing. Not blaming the lad, but more the manager for setting the team up that way.
Lookman did well for our opening goal. His shimmying run drawing Spurs players out of position, creating space for Siggy and Walcott for the goal. Good pressure by Keane and ultimately Tosun for our second.
But this was a game we should have taken three points from with a bit more intensity over the 90 minutes and better game management having taken the lead.
Big summer ahead, and not just for Everton.
Terence Leong
14
Posted 12/05/2019 at 17:08:39
Jay #9, Zouma was actually played at right back. Though it is true that without Coleman pushing down the flank, we were lop-sided, and we took so long to get into the game. So, actually, we stuck to a back four, only that it's not a proper back four.
We might have been better off if we really played 3 at the back, or had Jonjoe Kenny replaced Coleman, which would give the back four more balanced. However, I think Silva finds Kenny unable to handle the pace and trickery of Eriksen. The Eriksen free-kick could have been avoided, if the wall was better constructed.
Nevertheless, much as it was two points dropped, and a missed opportunity to get a psychological boost by winning away at one of the top teams, we did end the season undefeated, save for the Fulham debacle.
Colin Glassar
15
Posted 12/05/2019 at 17:14:13
Any signs of green sprouts? Have we turned the proverbial corner?
Tony Hill
16
Posted 12/05/2019 at 17:19:18
Even in this meaningless fixture we could well have beaten a top 4 side. We were only battered by Spurs out of the whole top 6 all season. That's good, no?
We're getting ready, we really are. Nice to see Gomes celebrating so unambiguously by the way. Be happy, Blues, be happy.
Jim Bennings
17
Posted 12/05/2019 at 17:30:41
All in all a fairly good result to end the season, sick of losing in London on the last day so it was nice to be able to take something from it today against a good Spurs side that looked far more interested in the game than many thought they would.
Anyway onwards to next season where we will need to drastically improve on five away wins, games at the likes of Southampton, Brighton, Palace, Bournemouth,Newcastle need to start yielding wins if we are to reclaim 7th spot and try and seriously progress furthermore.
Our home form has been very strong as per usual and defensively other than today when injuries dictated has been sound.
I think Silva is the man to get things working again but we surely can't start the season again with the same frailties and question marks about centre forward, and the signing of Zouma should be a must, also a decent experienced backup goalkeeper to push Pickford who many times this season didn't cover himself in too much glory it has to be said.
Derek Knox
18
Posted 12/05/2019 at 17:31:15
I was mystified and still am at Silva's team selection, I know we had a couple of injuries, but we keep hearing about allowing the young ones to step up, where were they today, apart from Lookman, who got his customary few minutes as Sub?
Still having said all that I felt we could have won that game today, which basically was a dead rubber, but we should be developing that winning mentality for the future so it comes as second nature.
Here's looking to a busy Transfer Market with plenty of outgoings and some really new talented young faces.
David Pearl
19
Posted 12/05/2019 at 17:38:43
Couple of ways to look at this result. He left out Kenny for a more solid defender and, although it shouldn't've taken so long for the players to realise they could win this, they finally kicked on in the second half. The squad players also need confidence and I'd like to think Silva can work on that, and not just the first 11. Perhaps once we went a goal down, the old Everton might've conceded another few.
So we end the season with optimism. And also, Walcott and Tosun both scored which tells you something. I really hope we concentrate on getting shut of the loanees that don't have a future and also add to what we have here. That's progression. We finish no better off than last season but the difference is that this time we shouldn't be looking to rip it up and start again.
Tony Hill
20
Posted 12/05/2019 at 17:46:35
The end of the season has been very pleasing. These two, Silva and Brands, will see us right. They're going to make us the most purely attractive side in the league over the next 4 years and they're going to win us stuff. I can feel it in my old bones.
Get behind it all my fellow Blues. This is going to be our time, let's relish it.
Jay Wood
[BRZ]
21
Posted 12/05/2019 at 17:52:42
Terence @ 14.
"Zouma was actually played at right back...So, actually, we stuck to a back four, only that it's not a proper back four."
Have to disagree Terence, based on what I saw on the pitch. For the vast bulk of the first half our three centre backs default positions were Zouma right, Keane centre and Mina left, occupying the space the width of our penalty area. There was no true right back to speak of. Digne's default position was more of a wing back, in advance of that back three.
The set up created all the problems I outlined in my half-time post @ 9.
Jay Wood
[BRZ]
22
Posted 12/05/2019 at 18:07:42
Something to take optimism from is the 'mini-league' table of the results of ONLY the top six, plus ourselves - 12 games in total for each team, with a maximum 36 points available.
Again, City are out on their own - 31 points - with the 'poo second on 23 points. City won 10 of their 12 games in these fixtures. T'other lot just 6.
The remaining five are really closely bunched and finished thus:
Arsenal - 15
Chelsea - 13
EVERTON - 12
Spurs - 11
United - 10
Of these group, Arsenal won 4 games, Chelsea, Everton and Spurs 3 games, United just 2. Like ourselves, Arsenal and Chelsea failed to win away in these fixtures.
This suggests to me (other than the woeful tanking home to Spurs) we can compete with and get results against 'the elite', as our late season results show. Add just 2-3 more wins against them and we can start making serious inroads into the points difference that currently exists between us.
Where we need to do better is consistently putting away the mid-table and lower teams, both home, but particularly, away.
Steve Ferns
23
Posted 12/05/2019 at 18:07:43
I would agree with Jay. 3 at the back. Zouma was not fullback.
Steve Ferns
24
Posted 12/05/2019 at 18:14:35
Jay, the points we need to add to our total to crack the top 6 are the "easier" points against sides lower than us. That's a real cause for optimism as in the past, when Moyes made us the ultimate flat track bullies, it was almost impossible to see where we could get those extra points from.
Lot of work to do this summer though. We need a better pre-season than last and we need to get the squad sorted as early as possible.
I definitely feel optimistic, and I'm confident Brands will deliver and so next year we will be higher than 8th.
Jay Wood
[BRZ]
25
Posted 12/05/2019 at 18:31:17
That's what Moyes did well at Everton, Steve @ 24. He milked the points - home and away - against the mid-table and lower league teams. That ensured, in general, a 'best-of-the-rest' finish for the Blues more seasons than not.
No need to remind you of his away record against 'the elite' as to why we never broke the glass ceiling.
My mini-league table highlights how 'middling' - other than the top two - the top six (plus ourselves) results are against each other. However, they are twatting away lesser sides more consistently then we do, thus the points difference.
A combination of upping our win ratio against mid-table and lower teams to the levels Moyes achieved, plus getting those elusive wins on the road to 'the elite', and a quantum leap is feasible.
You can stake your last dollar that all 'the elite' will be spending large this summer, but will they spend well? Other than the top two, there is some disarray, a greater vulnerability, in the ranks of Chelsea, Arsenal and United, possibly even Spurs if Ponch walks, than there has been for some time.
Let's hope Moshiri, Brands and Silva are working towards taking advantage of that.
Derek Knox
26
Posted 12/05/2019 at 18:37:45
Good points by Jay and Steve, and yet it irks when you look back at the season, and see the amount of points we should have had in many games, mainly against the lower teams.
We would have well qualified with ease for the Europa League, so let's hope we do actually build on what we have achieved, both in terms of points and personnel over the Summer.
Obviously a lot hinges on what happens with Gana, Zouma and Gomes, and whether they stay or go. I appreciate we have a large contingency to be found new pastures for, but I am hopeful again that Marcel Brands can weave his magic in the Transfer Market.
A lot criticised Mina, but I think he is a decent player, but not really on today's showing. Why Jonjoe wasn't used in place of Seamus, and our usual shape retained, is a mystery.
I would have also liked to have seen more of the younger ones on the bench, I know it was almost a 'dead rubber' but even a loss today would have still seen us finish 8th, but that is retrospective. Arithmetically, we could have been caught.
Fran Mitchell
27
Posted 12/05/2019 at 18:39:56
Well, a good end of the season. A draw at Spurs is a good result, and importantly should give something to build on to beat the shite in Madrid. We have ended the season on a positive note, finally playing with confidence and getting results against the 'big' teams.
On the whole, a very inconsistent season, with some dire moments that hopefully will not return, but ending with a positivity that should lead to a positive summer.
A lot of movement to happen, with deadwood moving on. Big questions of Tosun, and Walcott who, in my mind, need to be moved on. And Lookman... does he have a future? Schneiderlin has done a bit of a Teon Greyjoy and gone from Public Enemy No 1 to almost full redemption – the Schneiderlin who played the last 6 games or so is an asset.
Gomes hopefully can stay but, if he does get poached, I imagine we can find someone, or maybe give a chance to Davies, Bowler, or Adeniran.
Keeping Gana is imperative. A striker (or wide forward) also, as Bernard lacks goals; Calvert-Lewin has promise but also lacks goals.
6th next season is the target; with Man Utd looking decadent, there is an opening.

Tony Hill
28
Posted 12/05/2019 at 18:42:55
Digne excellent again. We should look forward to his next 10 years in our shirt.
Jerome Shields
30
Posted 12/05/2019 at 18:50:43
In my opinion, Silva took Coleman's injury to play Mina and also gave Zouma a game to keep him thinking of transferring to Everton.
Overall, Everton played well, though not at their best. At last, they looked to have the beating of Tottenham.
Joe McMahon
31
Posted 12/05/2019 at 18:51:04
Derek, it's ifs and buts... with a better keeper (eg Schmeichel) and a more potent striker, I honestly think we could have finished 5th. Zouma has been great, gotta get him now.
Kim Vivian
32
Posted 12/05/2019 at 19:00:01
Joe - he's made some blunders (but what keeper hasn't) behind, at times, an incredibly fragile defence, but I don't think you can knock Pickford in that way.
Christy Ring
33
Posted 12/05/2019 at 19:08:04
There will be plenty of outgoings, but Silva should insist on keeping Gueye. Why sell him to Man Utd or PSG? He's 29... at Man City, Fernandinho is 33, so why make a profit on a player who is probably irreplaceable?
Dave Evans
34
Posted 12/05/2019 at 19:13:07
I have really enjoyed the last quarter of the season or so. Well done, Silva and all the players, for turning things around. If we can maintain the form of the last ten games or so, some sort of European football is not beyond us.
Only the present and the future matters, the past is gone.
Sam Hoare
35
Posted 12/05/2019 at 19:28:13
Christy @34, if we sell Gueye, it will not be because we want to. Possibly a gentleman's agreement was made in January when PSG were turned down that, if he gave everything till the end of the season, he would be allowed his dream move. If so, then he's held up his end.
I agree that we should try very hard to keep him but, if he really wants to leave, then I think he's earned that opportunity and, at his age, he may not get too many more.
Steavey Buckley
36
Posted 12/05/2019 at 19:52:33
Everton will do better next season as Silva is the right manager to buy quality players. But Silva will have to raise more revenues from transfers while keeping hold of those players who did so well, such as Richarlison, Digne and Gomes. But it may mean parting with Tosun, Lookman, Kenny and Walcott besides others on the fringes of the first team who are presently out on loan, such as Besic and Bolasie.
Tony Hill
37
Posted 12/05/2019 at 21:29:39
Schneiderlin remains a bonus. Very good second half and a lovely tempo setter for us. If he can keep up his confidence, then we will be strengthened beyond any expectation.
David Connor
38
Posted 12/05/2019 at 21:52:40
A positive end to an otherwise crappy season. Get rid of the dross, of which there is a lot. Make 4 or 5 quality signings. And, as we always do, keep your fingers crossed for next season. A trophy would be nice, Blues. One is long long overdue... Enjoy the close season, fellow blues.
Andrew Clare
39
Posted 12/05/2019 at 22:15:24
As long as we keep our best players and add maybe another three of the same quality, we will be in for a good new season. Very optimistic after recent performances.
Martin Nicholls
40
Posted 12/05/2019 at 22:52:58
Just back from a good trip to a great stadium - if BMD comes even close to matching that I'll be well happy! Decent performance and game enhanced by results elsewhere!
Jamie Crowley
41
Posted 12/05/2019 at 23:16:34
Christy @ 33 -
That is a great point. I'm of the mind that Gueye will be off this summer.
But as you say, why?
If we're going to gate-crash the Top 6, we need to start to act like a Top 6 club with our dealings.
Stay or go, I've no doubt Marcel Brands will, in the end, make the right move regarding Gueye. But your point is well taken.
Andy Crooks
42
Posted 12/05/2019 at 23:33:19
Unfortunately, Jamie, so much is out of our hands. Gana, Gomes and Zouma could all be gone. It is hard to act like a top six club when you aren't one and can offer only potential. High wages and potential very high wages and Champion League. No contest.

Jamie Crowley
43
Posted 12/05/2019 at 23:37:00
True Andy, all of what you say.
But we hold the contract on Gana. Gomes and Zouma are more out of our hands.
But Gueye? He's ours. In the end it's our call. Gana has demonstrated, quite beautifully I might add, that he'll buckle down and do the business no matter what.
So in that regard, we do hold some cards in the poker game.
Jay Harris
44
Posted 12/05/2019 at 00:09:17
For me it is imperative we keep Gana and Zouma.
I am on the fence about Gomes. His error in tackling like a schoolboy on the edge of our box is symptomatic of his lack of pace and application in the Premier League and his inconsistency shows why Barca and their fans do not rate him.
Zouma makes an otherwise leaky defence look very solid and I have little faith in Mina who was at fault for their first goal and always seems to have a mistake in him.
Our weakness up front was ruthlessly exposed today when Tosun wasted chance after chance and Walcott wanted too much time. Bernard, for all his silky skills, was again wasteful in front of goal.
We desperately need a clinical goalscorer and more reinforcement up front.
Dick Fearon
45
Posted 13/05/2019 at 03:22:18
In a change from the usual, it was good to see our centre-forward dish out some biffo.

Bill Watson
46
Posted 13/05/2019 at 06:42:51
Jay # 44
I couldn't agree more. The lack of a top class striker has, once again, cost us dearly. But we have all known that for a few seasons. Hopefully, Brands already has someone lined up.
What a great stadium Spurs have! Easily the best I've ever been in and whets the appetite for what is possible at Bramley-Moore Dock. The away end and the Spurs part behind the goal is obviously designed for safe standing when that, inevitably, comes in, and the large banking at the home end certainly generates noise and must be intimidating for away teams.
Martin Mason
47
Posted 13/05/2019 at 07:58:18
I have a mate in Istanbul who is a Gala supporter and he really rates Henry Onyekuru who is only 21 and showing very good form
Annika Herbert
48
Posted 13/05/2019 at 09:08:07
Jay @44, whilst I agree with your comments regarding Tosun and Walcott, I am of a different opinion regarding both Gomes and Bernard.
I really hope we sign Gomes as I believe both him and Bernard will be vital for us going forward. I believe both will be far better next season with a full pre-season under their belts. Always assuming we get Gomes, of course.
Keeping Gana would be a major coup for us and Zouma is a must if a deal can be sorted out. An interesting summer lies ahead. . .
Robert Williams
49
Posted 13/05/2019 at 09:21:09
Just seen this -
By Wayne Veysey
Everton participation in this season's Premier League will earn them £125.7million of TV money, it can be revealed.
The north London club are to pocket the huge sum of broadcasting revenue as a result of their eighth-place finish and 18 of their matches being shown on Sky Sports and BT Sports.
This says all you need to know about Everton's profile with the media. Who the fuck is this Veysey fellow?
Robert Williams
50
Posted 13/05/2019 at 09:33:39
Just found this Veysey fellow on facebook and sent him a little message -
Hello, Are you the person that writes in Football Insider? If so, I suggest you get your facts right before spouting to the media. Check out on your satnav the location of Everton (that North London Club) which you have written about. Get your facts right mate, this is lazy or ignorant journalism.
Tony Abrahams
51
Posted 13/05/2019 at 09:43:22
I personally hope Schneiderlin is setting the pace for another team next season, and as much as Michael Keane has improved, he turns like the Royal Iris; I'm not sure he's ever going to have the pace to become a top-class centre-half.
This summer is going to have to be massive off the pitch if we are ever going to be able to really compete with the big boys on a more consistent basis on the pitch.

Robert Williams
52
Posted 13/05/2019 at 10:08:07
Are you happy with Pickford (England's No 1), Tony?

Derek Knox
53
Posted 13/05/2019 at 10:47:00
Robert, I think he could well be from Royston Veysey, although he is definitely not in that League of Gentlemen!
Tony Abrahams
54
Posted 13/05/2019 at 13:55:28
I've been happier with Pickford lately, Robert, because he seems a lot more relaxed since the Newcastle game, which might just have been a game changer for Everton.
Silva, may have owned up to the defeat in the changing room, which might then have allowed him to then be a lot more honest with some of his players, and Pickford, got destroyed in the media by absolutely everyone, so this was the biggest game in some respects.
I'm happy with about 9/10 players, some of whom might not be here next season, so I just think we've got a massive summer ahead of us, if we really want to push on.
Justin Doone
55
Posted 13/05/2019 at 14:02:28
If we can bring in better replacements then I'm happy for it to happen.
However I don't want to be selling our young promising players for an overpaid, lazy, no heart or desire to improve for a few seasons.
However, the seasoned pros who just can't cut it or improve the first team should be the first to go namely Bolasie, Tosun, Schneiderlin, Jagielka (great player in his day).
I believe in Calvert-Lewin, Davies, Lookman, Kenny. But I can only judge on what I have seen and the hope they will continue to improve.
For me Zouma is a must but I don't think Chelsea will sell. So we need a new centre-back. To many Qs over Mina.
Gana is probably the hardest player to replace. The talented, unselfish workaholics are not easy to find.
Michael Lynch
56
Posted 13/05/2019 at 14:10:52
You can shove your golden boot up your arse, cos Jodie Comer won best actress at the BAFTAs last night for being brilliant in Killing Eve. A true blue from Woolton, her dad works for the club. She's one of our own!
Frank Thomas
57
Posted 13/05/2019 at 15:35:09
Can anyone answer this question raised by my son. Lfc (2nd) or Spurs (4th) will win the CL and get automatic entry into next years CL. Also either Chelsea (3rd). or Arsenal (5th) will win a place in the CL. So does that mean a possible 5 or 6 English teams into the CL and a possible 8th place entry into the Europa league?
Brian Williams
58
Posted 13/05/2019 at 15:47:29
Frank. There CAN be UP TO five English teams in the CL next season but no place for eighth in the EL.
Jamie Crowley
59
Posted 13/05/2019 at 17:35:57
I missed the second half of the game yesterday for personal reasons.
The second goal we gave up was unforgivable. Gomes committed a really stupid foul in a dangerous position. You can't do that, especially at that position on the pitch, at that time of the game.
Poor foul leads to a goal.
You can't hand goals to a side like Spurs. Really poor by Gomes.
Frank Wade
60
Posted 13/05/2019 at 22:50:45
Terence #14 is correct is saying that Zouma was played at Right Back. He may have covered in tighter/narrower than Seamus normally would, but he was right back. There was a huge space between Seamus and Keane in the Spurs home game, which allowed Spurs wreak havoc in the old inside left position, so I expect this is why Silva chose Zouma at Right back, rather than Jon Joe, who would be a more like for like replacement. Defence was tighter as a result.
For those who say he was part of a 3 centre back system, please have a look at the link below on the official site. Click on Stats on the banner, scroll down to the team and click on Zouma to view all his touches.
http://www.evertonfc.com/fixtures/2010-to-2019/2018-2019/english-premier-league/spurs-vs-everton/match Link
Add Your Comments
In order to post a comment, you need to be logged in as a registered user of the site.
Or Sign up as a ToffeeWeb Member — it's free, takes just a few minutes and will allow you to post your comments on articles and Talking Points submissions across the site.
© ToffeeWeb