Mina ruled out with minor injury
Friday, 17 August, 2018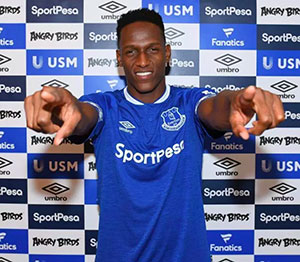 Yerry Mina's delay in starting training this week has been explained by what Marco Silva describes as a "small foot injury".
The Colombian international had been expected to join his new team-mates following his £38.5m move from Barcelona on transfer deadline day but that was put back by the niggle that means he won't be in line to make his debut this weekend.
Mina was originally one of the candidates to replace the suspended Phil Jagielka for the visit of Southampton but the captain's place will be filled by either Kurt Zouma, another deadline day acquisition, or Mason Holgate.
---
Reader Comments (30)
Note: the following content is not moderated or vetted by the site owners at the time of submission. Comments are the responsibility of the poster. Disclaimer
Michael Morgan
1
Posted 17/08/2018 at 17:14:41
Lyndon, don't you mean £27.23m move?
Brian Porter
2
Posted 17/08/2018 at 18:32:38
Meanwhile, Ramiro Funes Mori is back in the Argentine squad for their upcoming series of friendlies. Just saying.
Mike Gaynes
3
Posted 17/08/2018 at 18:50:16
Right where he belongs, Brian. 11,000 miles away from Goodison Park.
Michael Morgan
4
Posted 17/08/2018 at 19:08:22
Mike @3,
Totally agree, buddy, people keep mentioning Funes Mori as if we should've kept him, he's been absolutely garbage since his injury (tbh, was only an average player before injury). Him, Jagielka and Williams starting a game over the past season was like gifting the opposition a goal before a ball was even kicked.
I would've much preferred promoting a centre-half from the U23s and giving them valuable experience, than playing any of them 3 overpaid, wastes of space.
Liam Reilly
5
Posted 17/08/2018 at 19:14:32
He didn't cost £38M?
Hope it's not a wrist injury like when Omar arrived and they saw him in the flesh.
Brian Williams
6
Posted 17/08/2018 at 19:28:37
£28.5m.
A slip of the key methinks.
Bill Gienapp
7
Posted 17/08/2018 at 19:41:05
Agreed - the Funes Mori ship has sailed. If we'd bungled deadline day and failed to bring in a new centre-back, there'd be cause to gripe about his premature sale... but I'm far more excited to have Mina and Zouma in the squad this season.
As for him being selected for the Argentine squad... well we saw the current state of their defense at the World Cup, didn't we?
Dennis Stevens
8
Posted 17/08/2018 at 19:56:36
I'm shocked to read that Mina has a small foot — that cannot be advantageous for a central defender, surely?!
Joe Hurst
9
Posted 17/08/2018 at 20:07:57
Is the other one regular size? Wouldn't that make him run in circles?
Can just imagine how ridiculous he'd look, one foot in a ballet pump and the other looking like Krusty the clown's.
On a more serious note, I of course hope he's a new belter of a centre-half.
Brent Stephens
10
Posted 17/08/2018 at 20:41:10
Reminds me of the guy with one arm who tried to row the Atlantic. True story. I just imagined him going round in circles. Not surprisingly he had to be rescued just off the west of Cornwall. And no he hadn't started in America.
I started to type that as the guy who tried to row the Atlantic with one arm - but realised that would sound as if he used an arm not a paddle. That would take some guts.
Just imagined... ah forget it.
Mike Gaynes
11
Posted 17/08/2018 at 20:42:04
Dennis #8, that's not as bad as having small hands.
(A chuckle for my fellow Yanks.)
Brent Stephens
12
Posted 17/08/2018 at 20:43:51
Mike, I get the small hands ref. They're actually short rather than small?
Michael Morgan
13
Posted 17/08/2018 at 20:57:41
Mike @11,
A joke just sprung to mind, ever heard of Jeremy Beadle?
He had one small hand and one large hand.
The joke is:
Jeremy Beadle has got an extremely small penis, but on the other hand, it's rather large.
Boom boom lol.
David Ellis
14
Posted 17/08/2018 at 21:02:21
He also had a small brain...
Mike Gaynes
15
Posted 17/08/2018 at 21:36:53
Michael (#13), I'm not familiar with Mr Beadle, but I like the quip very much.
Phil Sammon
17
Posted 17/08/2018 at 23:47:53
Michael 13
I'm almost ashamed to say that Beadle gag is one of my all-time favourites from my childhood.
The other...
Two dyslexics in a room. One says, "Can you smell gas?"
The other replies, "Smell gas?! I can't even smell my own name!"
Lord Hughes
18
Posted 17/08/2018 at 23:54:03
Maybe it's another typo and he simply has a Mina foot injury?
Michael Morgan
19
Posted 18/08/2018 at 01:05:04
Phil @17,
Just woke me girlfriend up, giggling away like a little kid after reading that joke and I got a dig to the ribs from her.
So thanks for that, lol.
Phil Sammon
20
Posted 18/08/2018 at 01:56:27
Glad you liked it, Michael.
David Ellis 14
You're showing your ignorance there, I'm afraid, David. I'm not a huge fan of all of his work, but Beadle was actually an incredibly intelligent and creative bloke.
Geoff Lambert
21
Posted 18/08/2018 at 02:38:53
You are spot on Phil.
See here:
http://news.bbc.co.uk/1/hi/entertainment/7217342.stm
ps: I think he was also a Blue.
Victor Yu
22
Posted 18/08/2018 at 03:16:08
I do agree that we should have kept Funes Mori and dumped Jagielka instead. While Funes Mori has his flaws, he is a much better player than Jags at this stage.
Jags has done well through the years but his time is up.
Paul Olsen
23
Posted 18/08/2018 at 09:19:42
Sure we could have kept Mori over Jags, but honestly. Which of the two do you think is most likely to accept being a backup player this season? That's why Jags is still around. He is a good pro, and will contribute when needed without making a fuss
Sean Kelly
24
Posted 18/08/2018 at 12:41:47
What's a big lad like him doing with a small foot???
Peter Gorman
25
Posted 18/08/2018 at 21:08:53
Who else started their Everton career with a small foot injury? Seamus Coleman, that's who.
I predict he will be amazing.
Rob Newling
26
Posted 19/08/2018 at 10:33:46
Colombian geisha? As long as he brings his club foot on matchdays.
Amit Vithlani
27
Posted 19/08/2018 at 19:25:19
Is he balancing an invisible ruler in the photo?
Ray Roche
28
Posted 19/08/2018 at 19:27:41
Well, it's a foot long but he doesn't use it as a rule.
Len Hawkins
29
Posted 19/08/2018 at 19:53:42
Man goes into a chiropodist and drops his pants "that's not a foot" said the chiropodist, "I know but its a good 6 inches"
Same man goes into H Samuel and flops it on the counter, "This is a clock shop, not a cock shop" says the assistant. "Well, put two hands on this" says the man.
I'm here all week!
Victor Yu
30
Posted 20/08/2018 at 02:42:11
Lindelöf had a terrible game last night again.
We are lucky that we didn't try to get him this summer.
I hope Mina works out better.
Brian Harrison
31
Posted 22/08/2018 at 17:16:22
I see the Red Echo has said that Barca have a buy back clause on Mina for £54 million (€60M) but they can't buy him back before 2020.
This wonderful local paper then post a list of players Everton could sign because they're out of contract — enough to say the list includes Jack Rodwell.
But it doesn't stop there: they say, despite both Brands and Silva turning down offers for Lookman, they quote Goal magazine saying they believe Everton will sell Lookman for £26 million.
They also report that Niasse may be on his way to Galatasaray. Now I have no idea if any of this is true but forgive me for being cynical – I couldn't see them touting Liverpool players to be moved on.
Add Your Comments
In order to post a comment, you need to be logged in as a registered user of the site.
Or Sign up as a ToffeeWeb Member — it's free, takes just a few minutes and will allow you to post your comments on articles and Talking Points submissions across the site.