Liverpool vs Everton
Friday, 30 November, 2018
Match Preview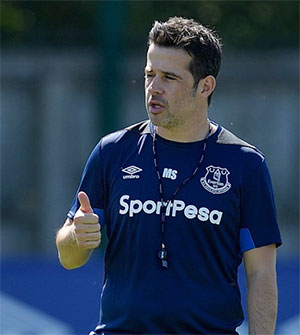 Marco SIlva: "Words like 'fear' do not come into our dressing room. We have to be strong in all the moments in the match to win it but that is all that's in our minds"
Like a dreaded bi-annual visit to the dentist, the Merseyside derby rolls around again this weekend and, once again, assessment of Everton's preparedness and ability to finally end a miserable winless sequence against the arch enemy from across the Park is, for those who aren't trying to ignore that it's happening, top of mind.
If we were talking about the fact that the Blues haven't beaten Liverpool in any game since 2010, that would be bad enough but, of course, the bigger, more painful statistic is the 18-game sequence since Kevin Campbell's solitary goal secured the last win for an Everton side at Anfield back in 1999. Ordinarily, the law of averages would dictate that the wait has got to end at some point but up against the best Liverpool side in a generation, we're not operating on as level a playing field as it was, say, a decade ago when the Blues were briefly but arguably the stronger team.
With the approach of each derby, especially since the painful 2012 FA Cup semi-final, Evertonians have pored over the psychological aspects of that miserable run of results against the reds, lamented the gulf in resources and the disparity in quality between the two sides, and steeled themselves for continued disappointment in this fixture.
Plenty of us will do so again but, unlike last season when Everton went into the game with the additional handicap to their self-esteem of having Sam Allardyce in their dugout, this time the Blues will go with a measure of optimism that we can give a good account of ourselves. Things have changed enormously over the past few months.
Almost a year ago, Everton arrived at Anfield with a back four containing Ashley Williams and Cuco Martina and a two-man attack featuring Oumar Niasse, they ceded a staggering 79% of the ball to their hosts, and yet somehow came away with a point. If you're looking for a platform from which the new Marco Silva edition Everton can go one better, they don't come much lower.
Allardyce may have fielded two strikers in last December's derby but the emphasis was clearly on suffocating Jürgen Klopp's much-vaunted attack and he largely succeeded, albeit at the expense of any attacking endeavour save for the penalty that Dominic Calvert-Lewin earned when he was felled by Dejan Lovren as he chased down Wayne Rooney's ball over the top. Rooney converted the penalty and, as they would do again in the reverse fixture in April, Everton avoided defeat without ever having looked likely to win the game.
Everton approach this year's Anfield derby in a very different mindset and there are reasons for cautious optimism thanks to the new manager, the summer recruitment he conducted with Marcel Brands, and the improving form that has seen the Toffees rise to sixth place in the table thanks to a run of just one defeat in the last seven Premier League games.
There will, no doubt, be a buzz around Finch Farm as Sunday draws near but, with Rooney gone, from Everton's perspective, this will be about as far removed from the typical local grudge match as it's ever been and that should work in their favour. This will almost certainly be the first derby not to feature a local-born player in Everton's line-up since 2015 and if neither Leighton Baines nor Tom Davies appear off the bench, I'm reliably informed by the club's own statistician, Gavin Buckland, that it will be the first time that no scouser represent the Blues against Liverpool since 1934.
Perhaps the best thing Silva and his men can do is treat this like any other game in the top six; to rise above the blood, thunder and potential red mist in a way that the former No.10 from Croxteth wasn't able to do even at the age of 32 and all that experience under his belt. Rooney was booked just seven minutes into the FA Cup tie between the two clubs in January, his rashness against Joe Gomez a diminishing vestige of how these local grudge matches would go.
Indeed, as Jordan Pickford said this week, the fresh blood in Everton's ranks could be a blessing, particularly in view of the mental block that has plagued the Blues against Liverpool over the past decade or so.
"Some new signings have come in," the goalkeeper said. "We're playing really well, they're flying all the new signings. They will go into the derby not knowing what to expect really. So that will be positive for us and we have the experienced lads to help as well."
Silva, meanwhile, has offered assurances that Everton won't be changing the way they go about Sunday's game just because it's a derby. He will know that a Toffees side hasn't won at Anfield in 19 years but the Portuguese wants to make sure that fear is not a factor for his players.
"Here we have one way — to think game-by-game, to prepare our team in the best way and for us, that next match is a derby," he said in his pre-match press conference today.
"I want the players to play to win. For sure it will be a really tough match but I want my players to have big motivation. It is a fantastic game to play and our fans will be there with us.
"The players have to play and enjoy the moment. What I don't want is a word like 'fear' in our dressing room. We respect all of our opponents but we don't change anything in terms of our ambition, our way.
"Words like 'fear' do not come into our dressing room. We have to be strong in all the moments in the match to win it but that is all that's in our minds.
"What I want is to see our team be ourselves. Nothing different from what we did in the big games we played already.
"I am sure that is what our fans want to see as well, us being ourselves and fighting to achieve a good result. It is a special game for our fans, but we want to be the same team — playing to win the match, being strong, enjoying the occasion and having big ambition behind us."
Far better, then, for the Blues to take a calm, measured and cultured approach epitomised by the likes of André Gomes and Michael Keane and leave the frenzied kick-everything-that-moves strategy that has been the default to the opening exchanges of derby clashes over the years.
That's not to say, it won't competitive. The atmosphere generated by the respective supporters will surely see to it that there is an edge to the contest but Everton need to play Silva's game and, again, utilise the injection of talent into the ranks that means they come to Anfield with a spring in their step and the knowledge that in the likes of Richarlison, Gomes, Gylfi Sigurdsson (a man who loves scoring at Anfield), Lucas Digne and Pickford, they have the talent to match their opponents in plenty of areas of the field.
Silva's line-up will make interesting viewing, whatever he decides. An unchanged team for the third match running would certainly make a statement about his faith in the players who have been consistently selected in recent weeks and back up his assertion that he won't be treating Liverpool differently than any other team. That would seem to preclude any surprise change in formation to, say, a five-man defence as that would arguably be a response to the firepower at Klopp's disposal rather than Everton's ability to continue their good run of form at the back.
Alterations to personnel, meanwhile, would, perhaps, be a reflection of the fact that a couple of players have not been at their most effective over the last few matches while others — well, one specifically: Ademola Lookman — have made a strong case for a start with their impact off the bench.
Lookman, in particular, has shown an energy and determination to prove he is deserving of a place the line-up from kick-off but Silva may err on the side of experience and continuity for this particular match and, perhaps, try resting one of Theo Walcott or Bernard in next week's game home against Newcastle.
Whatever team Silva goes with, the away games at Arsenal, Manchester United and Chelsea demonstrated that this Everton wide under their new boss is not afraid to take the game to superior opposition on their own turf. That should ensure that the Blues are competitive rather than submissive or merely combative, as has been the case in too many derbies over the years.
Whether it results in the end of this miserable winless run at Anfield remains to be seen but pride, spirit, enterprise, entertainment and at least a draw will hopefully be the minimum the travelling Evertonians can expect.
Kick-off: 4.15pm, Sunday 2 December, 2018
Referee: Chris Kavanagh
Last Time: Liverpool 1 - 1 Everton
Predicted Line-up: Pickford, Coleman, Keane, Mina, Digne, Gueye, Gomes, Sigurdsson, Bernard, Walcott, Richarlison
---
Reader Comments (184)
Note: the following content is not moderated or vetted by the site owners at the time of submission. Comments are the responsibility of the poster. Disclaimer
Jim Bailey
1
Posted 30/11/2018 at 18:15:16
Nice words, Marco. Let's hope they get through to the players. It's been way too long since we had bragging rights.
Jim Bennings
2
Posted 30/11/2018 at 18:20:43
Nice words indeed but we've heard it all before over the last 15 years before the derby.
It's high time we left Anfield with a bloody good feeling and celebrated like it was 1999 again.
Gerry Quinn
3
Posted 30/11/2018 at 18:36:43
If we can finish as we should finish moves, we will win...
Kim Vivian
4
Posted 30/11/2018 at 18:46:37
Good sound bites – but the 'f'-word should not even be getting mentioned in my opinion.
And damn right it will be a tough match... for the Shite
Wayne Maher
5
Posted 30/11/2018 at 18:49:31
Sick of all the talk — just go and beat the RS... and not just beat 'em — batter them!
Jay Wood
[BRZ]
6
Posted 30/11/2018 at 18:54:50
When I listened to this presser the first time, live, I thought: 'He hasn't refered to Liverpool [the football team] by name ONCE."
Thinking I might be mistaken, I played it back again - and confirmed my first impression. He uses the word 'Liverpool' once in the whole 10-minute interview, but only in reference to the city at the start.
He uses the impersonal 'they' and 'them', but turns around all questions about 'them' into what he wants and expects from his Everton – always! – not just in one-off big games.
He had a clear opportunity to 'name' them when referring to this season's games with Arsenal, Man Utd and Chelsea, but when he could have said 'Liverpool', he used 'our opponent' on Sunday.
Marco the man is cool and confident and NOT focussing on 'them'.
Let's hope what he exudes in the presser has been picked up by the squad this week.
It impressed me.
Fran Mitchell
7
Posted 30/11/2018 at 19:06:34
We can win. Gomes - Gueye - Gylfie, this trio will decide the pace and the flow of the game.
They will be under great pressure; after the PSG result, a bad one here could see their ambitions for the season go under. To win, we have to get at them, press their midfield hard, and keep their fullbacks occupied.
Silva impresses more and more.
I can't fucking wait for this game.
David Pearl
8
Posted 30/11/2018 at 19:10:36
I agree, Fran, if we win this game, it will be because our midfield trio is better than theirs. The RS are overhyped and reliant on their front 3, which we can nullify.
Also, if their full-backs go forward, we will have space out wide to take advantage. This game will suit us. We can do it.
Jay Wood
[BRZ]
9
Posted 30/11/2018 at 19:10:44
I've been calm all week, Fran, but today, that tingling feeling only the derby brings is definitely starting to kick in now...
Trevor Powell
10
Posted 30/11/2018 at 19:29:19
Actor Dolph Lundgren is reprising his famous role as the ruthless Russian boxer in his new film Creed II.
In Rocky IV, Drago famously told Apollo Creed "you will lose" before his first fight.
As Drago, Dolph went toe-to-toe in the ring with Sylvester Stallone – who later adopted Everton as his English team – and it turns out Lundgren is also a Toffees fan.
Lundgren, who was a goalkeeper as a boy, explained: "Everton were my team back in the day – this was a long time ago in the late 1970s when I lived in Sweden and before I moved to the United States aged 17.
James Doran
11
Posted 30/11/2018 at 19:32:05
Silva strikes me as being a great 'man-manager', who knows how to make everybody feel included. We sit adjacent to the Gwladys Street end, in the Family Enclosure, and all our substitutes seem happy when they warm up.
He is fully professional and focussed on what his team must do – playing down this Sunday's fixture as 'just another big match' will keep our players focussed on what they need to do to.
Derek Taylor
12
Posted 30/11/2018 at 19:34:03
'A tank to a gunfight' sort of approach, eh?
I love it!
Dermot Byrne
13
Posted 30/11/2018 at 19:47:54
Just reminded me to buy the Andrex.
Marcus Leigh
14
Posted 30/11/2018 at 19:51:33
'We respect all of our opponents but we don't change anything in terms of our ambition,
our way
.'
The more I hear from Marco Silva, the more I love the guy. He just seems to get it – and echoes of the 'School of Science' right there in that comment.
This is the first Anfield derby for years that I'm not dreading a proper drubbing. I even asked a RS supporter in our local pub this evening to give me beer-bet odds on the result. He wouldn't do it. But did conclude with 'Yeah, but you'll never win at Anfield'.
I really can't wait to remind him of that. In all honesty, it's an outside shot but, if we can boss midfield, I do think there's genuine hope for Sunday.
Geoff Lambert
15
Posted 30/11/2018 at 19:58:00
The reds are getting nervous. The Blue Liver Birds are winding them up. Let's just hope the Devil sits this one out for a change.
2-1 to the Blues.
Christy Ring
16
Posted 30/11/2018 at 20:06:56
Looking forward to Sunday with a lot more confidence, but if Wallcott starts, he has to give a lot more support to Coleman.
Bill Gienapp
17
Posted 30/11/2018 at 20:13:44
We may or may not win, but I fully expect us to go in there and give them a proper match, just as we did at the Emirates, Old Trafford and Stamford Bridge.
The only cause for concern is that we aren't exactly flying underneath the radar – Klopp spent much of his press conference gushing about how much better we are and how his team is in for a fight. Mind games.
Honestly, when you compare the two sides on paper, we're not *that* far off. Liverpool has more firepower, but we have a more complete midfield. I feel like the biggest difference is that Klopp has had a few seasons to mold the team and implement his philosophies... basically what Silva is in the process of doing.
Lev Vellene
18
Posted 30/11/2018 at 20:27:46
Christy #16,
The Walcott - Coleman combo keeps confusing me, with the problems they have! Is it that the two of them need to work out game play in more detail? I seem to remember Walcott and Kenny worked very well together, but that may have been Walcott focusing more on tracking back to cover Kenny since he was a rookie...
Dave Lynch
19
Posted 30/11/2018 at 20:33:38
I won't be watching it.
I've been here far too many times, at my age I try not to get angry and upset but this match brings the caveman out in me.
They will dive, whinge and cheat there way through the match. The ref will favour them as they always do and I will blow a fucking gasket, as I always do.
Best I go for a long walk with the dog, or go fishing until the bastards have cheated their way to another derby win.
Paul Birmingham
20
Posted 30/11/2018 at 20:53:37
Like many this season, so far has been a most welcome up turn of form, belief and tempo and style and manner of play on the pitch.
YOY it's incredible how we had to bear the stench for over a half season of Allardyce, but it's incredible the way M&M, have turned the club around.
I'm more wary of the RS, than Old Nick, such is their demeaned. So many times in the past, we've had better form, had an off day, not turned up and lost, we've battered them and still lost.
For me, this Sunday, we forget the past and play this game and do what we done at Chelsea, but we must stick the chances away. For me, Walcott is a 1:10 converter of chances, and in this game we must be ruthless.
I'm sure they'll be diving for everything and Van Dijk will be a danger at set-pieces but also be mauling Charlie and go, but I see Bernard as the man with the guile and key to unlock them, and another one to watch will be Milner.
Overall, if we can keep our heads, I see us doing the business and getting the win we want more than any other. Forget the media and the hype, MS will have them set and focused this weekend.
The RS have already gone muted since PSG, the other night. Let's make this the start of a new dawn for EFC.
Let's go to our old ground and beat them and illuminate Chrimbo with some class and quality. But just to win and yep take a draw but the win would be great.
It could be a very good weekend for Evertonians.
Jim Bennings
21
Posted 30/11/2018 at 21:18:43
As Evertonians, and most of us on here have sat through the last few decades of Merseyside derby letdowns, what we want most is to see that the players feel the same way about this huge game as the fans.
People who sit and say that this game is only worth three points — it isn't; it's worth far more than three points, always has and always will.
Too many times in the last 15 or more years we have seen Everton players simply not up for this game and not look hurt or humiliated enough to walk out of Anfield with a loss.
No Everton player should ever accept losing at Anfield and, on Sunday, every one of them should be wanting to make themselves a hero and put their own name in Merseyside derby folklore.
Peter Gorman
22
Posted 30/11/2018 at 21:33:33
I genuinely thought we were unlucky away to Arsenal, just couldn't finish our chances. Then I thought the loss to Man Utd was no reflection on an even game. Finally, the Chelsea result gave the players what they deserved, a creditable draw.
So far then, the players have faced these 'big' teams with anything but fear. Though we are utterly jinxed against the RS, I'd not expect as meek a surrender as before. God, we could do with a break.
Geoff Lambert
23
Posted 30/11/2018 at 21:56:46
A starting 11 with no scousers!!
Will it matter?
Jim Bennings
24
Posted 30/11/2018 at 22:04:08
Geoff,
Given our record since 2000, which has featured numerous teams with scousers, then I'd probably say it doesn't really matter.
It's one thing having locals in the side but, unless they are good enough, then it's not a massive factor.
Vinny Garstrokes
25
Posted 30/11/2018 at 22:14:32
Anybody seen the Lawro predictions on the BBC website?
Dolph Lundgren — you legend!
Max Murphy
26
Posted 30/11/2018 at 22:40:27
Progress is measured by results against the so-called 'top teams' – especially away from home.
We've managed 1 point from playing Arsenal, Man Utd and Chelsea away. To come: Liverpool, Man City and Spurs.
I would invite ToffeeWebers to estimate what they believe will be our total points tally against these 6 teams away from home? I predict, optimistically, a total of 2 out of a possible 18.
Please don't get carried away about a few home victories against some of the poorest teams in the Premier League. Reality check please!
Colin Glassar
27
Posted 30/11/2018 at 22:43:17
Geoff 23,
Probably for the best. Too many times our local lads have either lost their heads or just bottled it in this game. Anyway, once they pull on the shirt they are all honorary scousers!
2-2 draw.
Jamie Crowley
28
Posted 30/11/2018 at 22:43:21
Make no mistake about it, we're playing one hell of a good team.
Their front line is frightening. I think they're solid at the back to be sure.
Their weakness is midfield. As others have pointed out, Gilfy, Gueye, and Gomes have to play out of their skins.
My big ray of hope is that I truly believe our three midfielders are capable of just that – playing out of their skins. I hope Gueye isn't yellow-carded early. He's been much, much more disciplined under Silva.
For the first time in a very long time, I'm exceedingly excited about this game. I think "Captain Caps" is going into overdrive on the Live Forum, as I'll be sporting a heartbeat of about 180/120, and enough adrenaline pumping through me to kill a small animal.
We have a real chance to topple them. And I'd be so, so, so very happy for all of you. Especially the "local" posters on this site who so desperately deserve a win at Mordor.
Saddle up. Let's do this. Three points, Marco, you can do this m'man.
Jamie Crowley
29
Posted 30/11/2018 at 22:52:02
Mike Gaynes, it should be known publicly, has packed a full body black spandex leather body suit, a spiked dog neck-collar, and a whip for his extended stay in the Gimp basement.
I find that a bit odd, but who am I to tell Mike how to dress?
He's expecting a win. And he'll be kidnapped after the game and taken to the dark Gimp basement.
We don't lose when Mike is in the house.
Good luck, Mike! We're all counting on you!

Neil Copeland
30
Posted 30/11/2018 at 23:03:27
More good news is that I am not going (I have only ever seen Everton lose when I have been at Anfield – at least 12 occasions!).
Come on blues – believe; this our moment.
Christy Ring
32
Posted 30/11/2018 at 23:17:05
I see where Phil Concorde and the Soccer Saturday panel on sky picked there combined XI from all the derbies, and we didn't get even 1 player on the team.
Martin Berry
33
Posted 30/11/2018 at 23:19:11
We have a Manager who will actually set us up to try and win. He believes we can, and he is now in a position by having the tools to do it.
With two draws when in charge at Hull and Watford, he will think Christmas has come early in charge of our talented squad.
We are Everton and we're coming to get you!
Neil Copeland
34
Posted 30/11/2018 at 23:27:21
Martin, Hull beat the RS when Marco was in charge (Niasse scored) but drew (3-3 I think) when at Watford.
But you are right: he has much more talent available to him now although they have improved also.
Gerry Killen
35
Posted 30/11/2018 at 23:39:59
All sport is influenced by psychology and many games are won or lost before the ref blows the whistle.
I lived in New Zealand in the '70s when the All Blacks were invincible. England were their opponents, it was bitterly cold in Dunedin. They sent us out on the pitch 10 minutes before the start with the locals screaming in full voice, then they came out of a nice warm dressing-room, had a warm-up. National Anthems – then the Haka... needless to say, we were blown away and the game was lost.
This is a very similar situation we will face tomorrow at the pit. We will be standing in the tunnel having to listen to YNWA and the nerves jangling. We should play Z-Cars in the dressing room before we go into the tunnel so we are all fired up! COYB
Jack Convery
36
Posted 30/11/2018 at 23:40:02
Who is the ref?
Anthony Murphy
37
Posted 30/11/2018 at 23:52:18
Jack, some novice apparently... I just can't be arsed looking up.
I think it'll be a draw and we'll be unlucky.
Tony Ball
38
Posted 01/12/2018 at 00:31:52
Trepidation of course. Fear? no chance. It feels very different this time. I've watched Everton teams go there and be beat in the tunnel. Our manager doesn't do "survive in a derby" — which I'm massively happy about.
We will go there looking for a win and that is what's different this time. It's a football game so multiple things may happen that could go in our favour or against us. We won't know until the final whistle. I do know one thing, though: we won't feel like they haven't given them a proper match.
If we win, Mike Gaynes should be paid an annual salary by the club to attend every game for the rest of the season.
Anthony Burke
40
Posted 01/12/2018 at 00:55:40
This is the first time in years I've not been nervous playing them away. I'm normally a nervous wreck on the Monday before a derby but despite their quality they may have I think they will underestimate us and our own quality.
They will tire after 60 minutes after playing midweek which will play into our hands if we turn up like I think Marco will. Then I see nothing more than victory. 2-1.... 3-1 to The Blues. I think normally adrenaline makes me say this but it's a different feeling this time to me. COYB
Tony J Williams
41
Posted 01/12/2018 at 01:27:05
Yep, I'm the same as Dave at 19.
I won't be able to watch it, as I can't be seen swearing like a trooper in front of my 3-year-old.
Joe O'Brien
43
Posted 01/12/2018 at 01:50:34
I think we'll win. The match imo will be won in midfield... and we've got by far a better midfield than them.
I posted on another thread that the big difference will be that tactically Silva is by far also better than Klopp. If their Plan A (the front 3) doesn't work, he doesn't seem to have a Plan B.
Marko has Plans A, B and C. We're playing better away from home... if we can go to Chelsea and take a deserved point, we can go to their place and take 3...
I always hate facing them, especially away from home, but this time (even though the nerves are still there because it's a derby) it feels totally different. For me, it's a 2-1 win to us.
Derek Knox
44
Posted 01/12/2018 at 02:25:42
I am waiting in anticipation of Sunday's game with more confidence than normal. However, I am not getting carried away, I am expecting a lot more commitment than has been shown in the past, with, dare I say it, a better squad/team than in previous encounters.
I do think at long last, we have the personnel on the previous showings to buck the trend of past derbies at Anfield. Maybe a win is expecting too much, but I think anything less than a draw will be a disappointment.
Slightly digressing but I had the privilege of meeting several TWers, and above all Mike Gaynes, who has come over for the match from The States. What a lovely guy!
It was a good experience to meet the actual people behind the names we all take for granted as regular contributors.

Fran Mitchell
45
Posted 01/12/2018 at 04:05:19
The derby never fails to kill me.
I remember when I was a kid, the when Cadamateri was tugged so hard by the collar in the area, but nothing came of it.
I remember Don Hutchinson's disallowed goal on the final whistle.
I remember Gary McCallister taking a free kick 20 yards further afield and scoring in injury time.
I remember Lescott being rugby tackled by Carragher and once again, nothing coming.
The decisions always go in their favour, if there was no bias, it would not have been such a long time without a win, but now is the time to change history.
A win on Sunday really could be a catalyst to greater things, it could give us the confidence to go to other top-6 teams knowing we can win.
We player well at a very good Arsenal, and were unluckly. We should have won at Man Utd, but they fluked it. We matched Chelsea. Now to beat the media darlings.
Steve Brown
46
Posted 01/12/2018 at 04:08:30
The last time Liverpool won the league was three years after we won it. Apart from Istanbul, where Gerard won it by sheer determination, they have failed and choaked in just about every major final.
The only fans who regard Liverpool as a top club are their own deluded fans (the "it's our year" brigade)... and us! I have always gone into every derby expected to beat them as they are average, only to be disappointed by the latest loss of bottle.
As for the "bitter blues" bollocks, I reminded my cousin as he tried to blame Neymar, Ramos blah blah blah that the biggest bunch of whingers and excuse makers in Britain sit in Mordor. So let's get over this inferiority complex as they don't merit our lack of confidence. COYB!
John Pierce
47
Posted 01/12/2018 at 05:17:54
Fran, it's easy to look at those moments and feel aggrieved, but truthfully they've had a better side than us since the nineties. That's the real reason we lose there.
We have a punchers chance Sunday. I for one want to see Silva surprise them.
They are weakest, if that's the term, at right-back, I'd play Richarlison there and keep him away from Van Dijk, more likely to track back too. Despite his questionable performances of late, I'd play Walcott through the middle, his pace and stature could yield a direct chance on the counter.
Lookman on the right to complete the troika, he will get more out of Coleman than Walcott.
We should be confident and stay in the game. Beyond 60 minutes, their midweek sojourn will begin to tell.
Got some good vibes going this weekend. 2-0 the Ev.
Peter Thistle
48
Posted 01/12/2018 at 05:29:44
I haven't watched a derby since the semi-final at Wembley. That did my head in so much I can't stand watching them anymore. Kinda refuse to build up hope just to be gutted as usual.
If we do somehow win, I'll be missing out but just can't bear to watch just in case it's the same old result.
Those fans that go to Anfield to support us are legends or gluttons for punishment, dunno how they do it year-in & year-out. It's too depressing.
Good luck to the lads and all that but I doubt we'll get anything out of this game. Bollocks to derbies, I wish we could just scrap them and give each side a point without playing.
Thomas Lennon
49
Posted 01/12/2018 at 08:01:34
This squad is only 50% ready for top 4. Players are still getting to know each other, there are weak areas. If we get through Sunday with no obvious defensive weaknesses we will have progressed since the Man Utd game and that would be good enough at this stage.
If they try to intimidate we need to match them. And we need to show improvement at set pieces. We are very capable of nicking a goal or two.
Regardless of the result we need to see consistency and assertion. Winning is not everything at this stage but continuing on from Chelsea is.
John G Davies
50
Posted 01/12/2018 at 08:30:21
Quote in the Red Echo today from their right back:
"I think Everton are one of those teams who probably don't like coming here. I'm sure they will be a bit intimidated, but we still have to recognise that it will be a tough test and we need to focus on it."
Robert Leigh
51
Posted 01/12/2018 at 08:56:20
15/2 with Paddy Power, worth a tenner of my money.
Let's have a go and hope they are naive enough to let Gomes run the show – COYB!
Lenny Kingman
52
Posted 01/12/2018 at 09:32:18
Follow the Ramos route and get them red fookers rattled early on. Build momentum in midfield where the blues are superior and score a goal or two. "No fear," says Marco... "and hold your nerve" say l.
It can happen, and with the glorious blue light from the Royal Liver Building blinding the liver birds on their mucky red shirts, and turning them blue, hopefully it will.
Jimmy Salt
53
Posted 01/12/2018 at 09:34:58
A young Jimmy Salt was at that bloody game in 1999. And, as much as he enjoyed it (and he did, they kept us behind for 20 minutes, the stadium was empty bar us so we sung at the stewards), he's getting weary of the memory; it's become a reminder of our failure to move forward.
Win, lose, or draw – we will be proud of our team on Sunday; we are moving forward again.
Rob Dolby
54
Posted 01/12/2018 at 09:49:07
When we play the top sides away from home, the refs are biased towards them and tomorrow won't be any different.
I just hope that we are still in the game after 25 mins so that we can start playing our game. Man City went there and stifled them by keeping possession and slowing the game down from the start; we need to do the same.
I would rest Bernard for this one, bring Lookman in and play Richarlison on the left with Walcott down the centre – his pace will test their centre-backs.
Shame about the 'no Scouser' stat but I think that is a sign of how the Premier League has developed rather than a poor reflection on the club. The next one will be no English players in the teams.
We are a different proposition than last season with more of a threat but these are no mugs and have a serious chance of winning the Premier League title this season. Taking a couple of points off them would be a victory in my book.
Coyb
John Pickles
55
Posted 01/12/2018 at 10:00:50
'Dixie' Digne to get the winner!
Tony Everan
56
Posted 01/12/2018 at 10:20:30
Confidence and belief.
Our squad now is in the same ball park as Liverpool's squad. There are plenty of players we have that they would love to have in their team or on their books. We can match them and, with a bit of luck, win.
The home factor will come into play and the ability of the referees to handle the crowd's influence on their decisions will be a factor to watch.
If Silva can instil the confidence and belief into our lads that matches what Klopp will be preaching to his players, we will go toe to toe. For far too long, we have turned up to these matches already half-defeated. On Sunday, I will expect a different mindset, one in fitting with our new management set-up and fantastic squad of players.
COYB! We have the quality, we can do it!
James Marshall
57
Posted 01/12/2018 at 10:43:18
The ref has only had 25 Premier League games.
We never win there.
It will happen one day.
That day might be tomorrow.
It's the hope that kills you.
Dennis Stevens
58
Posted 01/12/2018 at 10:47:11
Thankfully, I'll be at work tomorrow!
Steve Dawson
59
Posted 01/12/2018 at 10:54:06
An Everton fan since 1968 but only my second post on TW... I'll be on a plane to the US when the derby is being played: I hope to land at JFK and read that Everton have ground out a win!
Derek Taylor
60
Posted 01/12/2018 at 10:55:16
Bloody hell, it's a record, some of our number are moaning about the ref days before the game. If you believe that the only gap between the teams in recent times has been the officials, you truly live in la-la land!
Tomorrow, we start to show some mettle and fuck the ref – whoever he is!
Brian Harrison
61
Posted 01/12/2018 at 10:56:59
While there has been a massive improvement in our team this season, and Marco Silva has us playing the game the right way, it is still early days in his tenure at Everton. Yes, we played well in large parts of the games against Arsenal and Man Utd and definitely deserved more out of those games than we got. But the reason we didn't is because we didn't take our chances; Liverpool's defence has not conceded many goals this season, so we have to be clinical when the chances come along to make sure we get something from this game.
While I think our midfield has more talent than theirs, I still think their back 4 and front 3 are better than ours. So we will have to be at our best to get anything from this game and there will have to be a marked improvement in both Walcott and Bernard if they both play, because their previous 3 games they have been virtually anonymous.
I would love to see Lookman start as I think the way he likes to come in from the wide position and runs at teams would worry Liverpool. But we know that Marco will send his team out to play on the front foot and will look to take the game to them; if we lose playing this way, then so be it. Because playing 10 men behind the ball when we have gone with this attitude it has won us nothing. So, yes, let's test ourselves against one of the best teams in the Premier League.
Joe O'Brien
62
Posted 01/12/2018 at 11:14:25
I see Merson has got his usual Everton dig in... saying that we're miles behind Liverpool and only one player from our team (Sigurdsson) would get into their team.
Predicting that we'll go there for a draw and we'll leave with nothing. He's some Muppet.
Gerry Ring
63
Posted 01/12/2018 at 11:18:26
I wouldn't mind seeing McCarthy on the bench and introduced in the last 20 minutes. He might soften them up a bit.
Stan Schofield
64
Posted 01/12/2018 at 11:23:03
Silva strikes me as truly professional, treating every opponent as beatable, with a cool detached style, helped of course by the fact that he and Brands have managed to produce a team of sufficient quality to indeed beat anyone.
It's about time that the Evertonian obsession with fearing and wanting to beat Liverpool was dispelled. It's just another game, let's just go out to win it, and win it in style.
Anthony Burke
65
Posted 01/12/2018 at 11:25:53
Joe #62, he pulls no punches, Merson. Why do they call them so-called experts? He hasn't got a clue.
I personally think we will go toe to toe with them. COYB!!!
Colin Malone
66
Posted 01/12/2018 at 11:27:29
Zouma gets the nod for me over Mina. Mina has not had enough playing time, for me, to play in a derby.
Be careful, Idrissa Gueye. One plus, the ref's a Manc.
COYBB.

Jimmy Hogan
67
Posted 01/12/2018 at 12:02:02
Joe #62, the eyes are open, the mouth moves, but Mr Brain is nowhere to be seen.
Paul Birmingham
68
Posted 01/12/2018 at 12:02:38
Let's stay positive and optimistic, and hopefully there's no last-minute soft tissue injuries which became BBS, trademark reason for a sudden omission of a key player from the squad.
Let's not invite Salah in, as has been done the last few seasons, aka Coutinho, stop the feed and keep safe distance off Mane and diving twat Firminio.
If we keep our heads, as we have done against the so-called top 5, this season, then we have an excellent chance of winning but we must take our chances, including any penalty.
It's on the day and if there's no local lads playing, it's not the end of the world, but it shows how the game's changed and will continue to change.
Tomorrow, let's go for it, and earn a long overdue victory at our old ground.
Dermot O'Brien
69
Posted 01/12/2018 at 12:09:48
"with the additional handicap to their self-esteem of having Sam Allardyce in their dugout " 😂😂😂
Jim Bennings
70
Posted 01/12/2018 at 12:24:05
Who cares what Merson says, the fella who spent his life in the alcohol aisle.

Jim Bennings
71
Posted 01/12/2018 at 12:25:48
Jim White pulls no punches.
"It's time that Everton flexed their muscles at Anfield, they should be embarrassed that they have not won there since 1999 and their fans have been let down".
It's time, boys... it's time to do it tomorrow.
Dave Abrahams
72
Posted 01/12/2018 at 12:46:56
Mike Gaynes has spoken, 2-1 to Everton, well worth a flutter, 20-1 in Hills 22-1 elsewhere. Enough said.
Gareth Clark
73
Posted 01/12/2018 at 13:00:02
One change — Lookman in for Bernard for me:
Pickford
Coleman(c) Keane Mina Digne
Gueye Gomes
Walcott Sigurdsson Lookman
Richarlison
Subs: Stekelenburg, Zouma, Baines, Davies, Bernard, Calvert-Lewin, Tosun
John Raftery
74
Posted 01/12/2018 at 13:06:13
Assuming Silva selects an unchanged team, the starting eleven tomorrow will contain only three players from the starting XI at Anfield 12 months ago; Pickford, Gueye and Sigurdsson. In the previous away game, our motley crew of players had lost 4-1 at Southampton. In the circumstances, Allardyce had little option but to set us up defensively to prevent yet another annihilation, such as we experienced in two of Roberto's trips across the park.
With a new attack, the extra touch of class which Gomes provides in midfield and greater organisation in defence, we look much better equipped to compete with the RS than we did last December. As always the players will have the backing of our 2,749 fans in the Anfield Road — plus Mike Gaynes willing them on from his seat among the home brethren. All that remains is for the players to step up and earn their place among the immortals.
As Derek (#44) says, it was a privilege to meet Mike last night as well as put names to the faces of ToffeeWebbers. May we all enjoy a truly memorable weekend!
Nicholas Ryan
75
Posted 01/12/2018 at 13:13:27
Strange, but true: On the BBC Sport webpage, there is an interview with Dolph Lundgren (Creed 2, Rocky 2) where he says he's been a life-long Evertonian, and predicts we'll win 3-0 on Sunday!
Jim Bennings
76
Posted 01/12/2018 at 13:15:47
Yes Nicholas his team were Everton from back in the '70s.
I'd have him in the dugout tomorrow!
Craig Walker
77
Posted 01/12/2018 at 13:21:03
More expert analysis from Sky pundits. Charlie Nicholas has just said this Everton team isn't as good as the ones under Moyes or the early days under Koeman. Does he actually know anything about Everton?
Craig Walker
78
Posted 01/12/2018 at 13:22:17
Rocky and Drago are Everytonians!
Harry Hockley
79
Posted 01/12/2018 at 13:26:03
Nicholas, I didn't know that about Dolph Lundgren that's nice to know, I'm sure Sly Stallone has a soft spot for us too, I remember him being on the pitch before a home match against Reading around 8-10 years ago holding the blue scarf above his head. I hope Dolph is right and we deliver the Red Shite a knockout blow they won't recover from... ever, lol!
Andy Johnson winner I think that day.
Fran Mitchell
81
Posted 01/12/2018 at 13:27:32
I would actually like to see a compilation of Merson predictions come the end of the season and made into a league table.
The Sky 6 would all have 90+ points and a goal difference of like + 100.
Wolves would be 7th.
Everton would have about 10 points.
Geoff Lambert
82
Posted 01/12/2018 at 13:30:34
Are we looking through blue tinted glasses maybe?
We are much better than last season but can we really challenge the top four.
Sometimes an outsiders view is not what we want to hear when they disagree with what we are thinking.
I think we still need a couple more players and they need to be as close to world class as we can get.
Same outcome as usual tomorrow I dread to say. Not going to watch it as I will end up smashing the TV (done that before). But we live in hope and one day this run will be over.
I will record Match of the Day just in case.
COYB.
Brent Stephens
83
Posted 01/12/2018 at 13:56:13
February 2017, and the "other lot" lost to Hull City. The manager – Marco Silva. The scorer – an Everton player.
Same again tomorrow, please.
Kieran Kinsella
85
Posted 01/12/2018 at 14:39:00
Jim 81,
In the dugout? I would have Drago up top, perfect target man. Sly is a good back up goalie as we saw in the game against the Nazis in Paris. But if Pickford is fit, it gives Sly more time to dig the tunnel out of Anfield.
It make sense Drago gravitated towards Everton in the 70s. Personality wise he is not unlike Gordon Leigh. But it is kind of funny though for those of us who grew up in the 80s that the Rocky franchise is now synonymous with Everton through Sly, Lundgren, Ricky Hatton, Creed etc. It's also a little bitter-sweet as we are talking about one of the best films of the '80s alongside the best team of the '80s. Hopefully we can have the same kind of resurgence Creed has had.
As far as Sunday goes, I am not feeling hopeless as in the past but I am wary of the fact that Klopp has had a pretty good team in place for three years. Some of our lads only have a few games under their belts. It may be a bit soon for us to get the better of them. But, even if we do lose, any kind of half-decent effort would be an improvement on the white flag treatment of recent years.
Mike Gaynes
86
Posted 01/12/2018 at 14:40:15
Jaime 29, dammit, just because I sent you a picture of me in that outfit doesn't mean you can tell everybody about it!!
Derek, John, Dave and Tony, it was a delight to meet you guys last night. And I was honored by the presence of John McFarlane senior, Brian Williams and the wide-ranging Andy Crooks. Thanks, fellas.
Kieran Kinsella
87
Posted 01/12/2018 at 14:44:51
Craig 77,
Charlie Nicholas? How do some of these jokers get the work? That said, I guess there is Pat Nevin, another frustrating wee Scot who never really fulfilled expectations (outside of Tranmere) who is one of the go-to "experts" on the BBC. Merson is like the new Jimmy Greaves, a cantankerous drunk.
I hate to say it but, the most incisive commentary I have heard in recent years was from an unlikely source: Tony Meola the former US goalie from the era pre-MLS. Not a great player by any means but he just seems as if he (a) has a brain and (b) has no obvious bias towards any team. But, I think Sky would rather wheel out notorious "pundits" that their viewers recognize from scandals in The Sun and Daily Star, as opposed to lesser knowns, who maybe just understand football?
Jay Wood
[BRZ]
88
Posted 01/12/2018 at 14:48:56
Simms header on the stroke of half-time for his 25th goal of the season - 2-0 The Blues. Totally dominant.
Gerry Ring
89
Posted 01/12/2018 at 15:02:16
Kieran #88. i wouldn't be too hard on Pat Nevin in fairness. Like Tommy Ring, he started with Clyde but, while he was no Tommy Ring, Nevin didn't do too bad at Everton.

Brian Williams
90
Posted 01/12/2018 at 15:16:21
Mike #87.
It was great to meet you, mate, and the others too. A short but great evening. Bring us luck on Sunday, Mike.
Oh and I put the £7 on a 2-1 win at 20-1 so fingers crossed. I figured, if the bet comes in, I could donate the winnings to EitC if everyone's happy with that. Or we could spend it on ale, lol!
Jamie Crowley
91
Posted 01/12/2018 at 15:16:33
Mike,
Love it.
Lucky man to have met some of the best TWers. Enjoy yourself!
ps: I'll burn the pic!
Kieran Kinsella
92
Posted 01/12/2018 at 15:18:18
Gerry,
Fair enough. I only saw Nevin play live in the flesh (as opposed to on TV) for Everton, and he did get a goal that day. It was 11 May 1991: QPR v Everton, Roy Wegerle scored for QPR (He was presented with top scorer award by Jim Rosenthal before kick off even though he only scored about 16 goals – enough to win in those days).
Iain Jenkins was at left back, Eddie Youds was on the bench, but my enduring memory is this obese, drunken QPR fan in front of me who spent the whole game yelling "Southall – you are a fat Pooh."
Derek Knox
93
Posted 01/12/2018 at 15:37:08
Jamie C, it was nice meeting Mike Gaynes in person, we did mention you in the conversation too, I made the assumption that you had met Mike before, but apparently not.
ps: You may burn the pics, but keep the negatives, just in case any future blackmail arises!
Paul Kelly
94
Posted 01/12/2018 at 15:44:06
Just FUCKING TWAT 'EM.
John G Davies
95
Posted 01/12/2018 at 15:57:30
The quote from Alexander-Arnold I put up at #50 should be pasted on the dressing room wall.
And we should target their right back as a few teams have successfully done this season.

Derek Knox
96
Posted 01/12/2018 at 16:13:11
Paul @95 — you are a tactical genius mate.
Rob Halligan
97
Posted 01/12/2018 at 16:18:00
Far more knowledgeable than Steve Ferns, don't you think, Derek?
Paul Tran
98
Posted 01/12/2018 at 16:20:47
Mike #87, sorry I couldn't make last night – have to be this side of the border till Tuesday. I'm sure you're having a great time!
As for tomorrow, we're in form, settled & dangerous with a stronger mentality. More of the last few weeks with some improvement in the final third and we'll create problems for them. Love Silva's attitude towards this game. We'll find out plenty about his team tomorrow.
And if we do win, could someone steal Mr Gaynes's passport?
Derek Knox
99
Posted 01/12/2018 at 16:34:58
Rob @98, I think Steve just edges ahead in that race, but it is close, almost a photo-finish!
It was great to meet you last night and the others too, as John McFarlane Snr suggested, we should do it more often, food for thought, anyway.
Here's hoping for the right result tomorrow.
Joe McMahon
100
Posted 01/12/2018 at 16:41:45
Silva and Brands are a very long overdue breath of fresh air. To think there were Evertonians out there who wanted our next manager to be David Unsworth, David Moyes or Dyche.
John Pickles
101
Posted 01/12/2018 at 17:04:27
Joe #101. I remember a lot of similar posts to yours a few months into Roberto's reign.
Jim Bennings
102
Posted 01/12/2018 at 17:43:58
I'm in agreement that it's okay hearing the sound bites as we always do before derbies but tomorrow is the time that we finally deliver.
Despite much more positive vibe at present about the Silva reign and the way the season has started, if we lose the derby tomorrow it means that Evertonians will have a negative Christmas buildup.
The derby needs to mean more than three points, it's pride, it's bragging rights, it's local hero folklore.

Dave Abrahams
104
Posted 01/12/2018 at 17:57:12
Mike (86), yes a good night meeting faces to go with the names. I think a special mention might be in order for Andy Crooks – not to see the derby tomorrow but to see you and give his support for someone who had overcame the biggest battle of his life.
Andy came from Belfast yesterday and is going back home today; well done, Andy, hope you have a safe journey home.
Andy Meighan
105
Posted 01/12/2018 at 18:12:36
John @95,
Alexander-Arnold is right. As much as it hurts me to say it, we are one of those teams who are intimidated going there – no two ways about it. I think the results since 1999 bear testament to that. It's embarrassing and I feel myself going red every time I think about it.
It won't change tomorrow either – no matter how much tub-thumping we do. We're beaten in the tunnel every time that idiotic song comes on. But, hey, not to worry... The liver birds are blue – that's all that matters.
David Greenwood
106
Posted 01/12/2018 at 18:14:08
Mike,
Glad you had a good day yesterday, hope you work you're magic and have an even better one tomorrow.
I'm going for a 3-2 win tomorrow, late winner from Sigurdsson.
Scenes.
John Keating
107
Posted 01/12/2018 at 18:42:58
A great deal depends on how the G-men play. G1 breaking things up and G2 and G3 creating things
I fully expect the RS to get at least 1 penalty and us at least 1 red card. They still have kudos with the devil.
Not as optimistic as some I'm afraid. 60-odd years of watching us meekly surrender, with the odd few years of actually believing we can beat them and doing so, have slowly eroded any thought I have harboured of really doing the devil's spawn.
Fingers crossed for a well-deserved point.
Jim Bennings
108
Posted 01/12/2018 at 18:57:52
Some crazy stats and they show just what we are up against tomorrow afternoon.
We haven't won a derby in which Liverpool have scored in since 1995.
We haven't come from behind to win a derby since 1992 (Beardsley).
We have not scored in both the first and second half at Anfield since April 1999.
We have scored one goal in open play at Anfield since January 2011 (Jags screamer)
We have won 3 of the last 37 Merseyside derbies home and away
So basically if Liverpool score tomorrow then it's highly unlikely we will win.
Good luck with breaking some of those records.
James Hughes
109
Posted 01/12/2018 at 19:01:14
John, forgive me but who the hell is G-3?

Fran Mitchell
110
Posted 01/12/2018 at 19:11:54
I guess he means Gylfi - Gomes - Gana.
John Keating
111
Posted 01/12/2018 at 19:16:47
Sorry, James. Yes, Fran's spot on our midfield 3.
John G Davies
112
Posted 01/12/2018 at 19:26:07
Great stuff, Andy.
I said a while ago you seemed a good lad. Dave's post confirms it.
Dermot Byrne
113
Posted 01/12/2018 at 19:39:53
Other half has Strictly "Musicals Special" on TV. Suddenly the anxiety about tomorrow has vanished.
Whatever happens tomorrow will be better than this!
Tony Abrahams
114
Posted 01/12/2018 at 19:53:11
I think there might be a stewards' enquiry on Mike saying he's never met Jamie, Derek! But it was a pleasure to meet everyone last night.
Enjoyed meeting all the faces, and hope they are all smiling tomorrow night, even if I'm a bit worried with Marine losing today... just in case Mike's Midas touch has worn off.
Neil Copeland
115
Posted 01/12/2018 at 19:58:38
One of the first derbies that I truly remember is the 3-2 defeat at Mordor in 1971. We were 2-0 up and cruising but conceded 3 in the last 15 minutes. I have, ever since then, wished that we can pay them back. Having said that, I am not sure if I can handle being 2 down with 15 to go.
Oh well, 1-0 to the blues will do just fine, thank you very much.
Gordon Crawford
116
Posted 01/12/2018 at 20:04:54
Just to let you know, guys. I'm being bombarded with wheel spins and spam when trying to use your site. It's really bad.
Ajay Timothy
117
Posted 01/12/2018 at 20:06:40
Neil, I remember that game also. Alan Whittle scored a great second. Let's hope his nephew, if he plays, can do something similar.
Tony Abrahams
118
Posted 01/12/2018 at 20:21:07
I've got the same problem, Gordon, and have had to use one of the kids' iPads because of it.
Kev Dooley
119
Posted 01/12/2018 at 20:30:20
Everton 15/2 on Paddy Power. Decent odds on a two-horse race.
How sweet would the Klopp interview after be? Up there with Stevie G's slip...
Surely we're well overdue some derby luck...
COYB

Peter Mills
120
Posted 01/12/2018 at 20:36:41
Wheel spins for an Aldi £200 voucher are doing my head in.
Paul Birmingham
121
Posted 01/12/2018 at 20:37:55
Tony@118, Same, here with roulette wheel bug, it's making the site unusable for the last couple of hours.
Bobby Thomas
122
Posted 01/12/2018 at 20:51:08
Delighted there's no Scousers or Blues in the line up and I'd like even less in the staff.
The club itself, and the players that come through the ranks of it, are mentally paralysed by the inferiority complex that is now in the club's DNA 're Liverpool FC.
For God's sake, they folded at Wembley against a bang average Liverpool side containing Jay fucking Spearing playing in midfield.
Look at the away wins in this fixture stretching back half a century.
Hopefully things are beginning to change. We need big characters, untainted by this Everton way of thinking. Pickford is a mad, cocky bastard. Mina is clearly off his tits and will relish it. Richarlison is a big player, mentally. He can handle it. Sigurdsson is a very, very cool customer. Likewise Gomes.
Not a – good pros that they were – Ossie or Jags in sight. Or a fucking Niasse.
I actually fancy us. And I gave up on that a decade ago after we folded there against 10 men – for the second time under Moyes – and realised the players were blocked playing at Anfield.
Brent Stephens
123
Posted 01/12/2018 at 20:52:41
Same problem for me. Wheel spins etc.
Brent Stephens
124
Posted 01/12/2018 at 20:57:52
Bobby #122,
"Not a – good pros that they were – Ossie or Jags in sight. Or a fucking Niasse".
At least they have all scored against the other lot!
Andy Crooks
125
Posted 01/12/2018 at 21:00:47
For the first time ever, I really get it. I was lucky enough to spend Friday evening with a group of really top men and honoured to meet the remarkable Mike Gaynes. Dave, Tony, the two Johns, Peter, Derek, Rob and Brian. I got home today and told my wife what a wonderful evening I had. This concerned her and she reminded me, once more, that when I am having a great time, the chances are no one else is.
The point of my post is this. I have never been to a derby game and yes, it is a big deal to me but, my God, after the years of suffering, I now know what it means to Blues in Liverpool. I want a win tomorrow for Mike, the lads from Friday, and indeed every blue, more than I have ever wanted a win. I would love to have been going to the game but meeting these magnificent, kind and generous Evertonians was even better.
Tomorrow, I will view the game the same way as Brian Williams. With my hands over my eyes and with a knot in my stomach. Good luck to you all.
Bobby Thomas
126
Posted 01/12/2018 at 21:01:08
David Greenwood
127
Posted 01/12/2018 at 21:22:15
Brian Williams
128
Posted 01/12/2018 at 21:23:55
Andy, #125.
Great to meet you too, mate, and glad you got home safe and sound. Hope you can somehow get a ticket for the home derby and we'll meet up again, mate.
Tell your wife her fears are totally unfounded, lol!!
John Malone
129
Posted 01/12/2018 at 22:23:17
We can't afford Walcott to be a shithouse tomorrow. For me, he is the key to hurting the RS breaking when Robertson is high up the pitch; he will ghost past Van Dijk or Lovren, one vs one.
I've got a feeling Lookman will have a part to play late on tomorrow as well he has looked very good when coming off the bench lately.
I will be saying a prayer tonight! COYB's! FTRS!
Rob Halligan
130
Posted 01/12/2018 at 22:40:58
I can only endorse what others have said above. A really good night was had by everyone who attended the Midland to meet Mike.
Praise in particular for Andy who flew over from Northern Ireland just for the meet up. Well done, Andy, and glad you enjoyed the evening and the good old Scouse hospitality.
I'll be making the annual pilgrimage over to Anfield tomorrow. I've lost count of how many times I've been there (though not as many as John Raftery), yet have only witnessed TWO wins, and one of them was a league cup game. As Marco Silva says, records are there to be broken so let's hope we can finally break this particular unwanted record and get the win tomorrow. I'll be looking up at the Centenary Stand when we score to see if there are two unruly gentleman being carted out after celebrating an Everton goal!!
So once again, it was a pleasure meeting some new faces last night and, as Brian says, hopefully another get together can be arranged soon.
Neil Copeland
131
Posted 01/12/2018 at 22:42:51
I was in Liverpool One today doing some Christmas shopping with my daughter. She is a Blue but not a massive fan (or so I thought); I was wondering what to get my brother who is a Red and I said perhaps we should get him something to do with that lot.
She replied saying but he's not a real fan as he never goes and hasn't done for at least 30 years and anyway there is no way we are going in there (at this point with a look of utter disgust on her face pointing at the RS souvenir shop). That's my girl and blue polo shirt it is then!
We also took time to see the Royal Liver Building – Wow, what a statement. Lots of visitors pointing up to the royal blue birds in complete awe, bring it on.
COYB
Gordon Crawford
132
Posted 01/12/2018 at 23:12:23
Yes, wheel spins for Aldi. Glad to hear I'm not alone in this. Using a Mac right now as I can't use my phone.
I'll take any type of a win tomorrow, as long as it's a win.
Neil Copeland
133
Posted 01/12/2018 at 23:15:40
I have won £3,000 in Aldi vouchers so far!
Seems to have stopped now though.
Chris Watts
134
Posted 01/12/2018 at 23:28:41
I think it's essential we get off to a quick start and match them for pace and aggression in the first 20 mins. Every time we play Liverpool, they seem to be at a higher intensity level.
With the pace we have in the side now, we can come at them and put them on the back foot. I'd love to see them worried. And they played on Wednesday night so there must be some fatigue...
Derek Knox
135
Posted 01/12/2018 at 00:13:01
Rob @130, I too was astounded when meeting Andy Crooks, what a nice and genuine person, and even furthermore, when after speaking to him to find out that he has was not, at great personal expense, over for the weekend.
He made that journey just to meet Mike and the others who turned up, he has my total respect for that, and at the same time, re-enforced my belief that genuine Evertonians are a bit special!
I can't end this post without a mention too for John McFarlane Snr, a true gentleman who is in his eighties now (only just) for his contributions to TW, but he at least made the effort, although not in the best of health, to turn up to see Mike Gaynes and the rest of us, total respect John!
Neil Wood
136
Posted 02/12/2018 at 00:29:50
So... it's 00:12 hrs when I start writing this. I'm unable to think straight, sleep or indeed communicate properly with loved ones.
See, I know to some it's just another game and I know to some it's not the be-all and end-all; however, to me, this game just offers so much more and so many memories of childhood and family banter.
I'm not a scouser, I'm from Brighouse near Huddersfield, but I was taken to the '84 FA Cup Final at a mere 6 years old... I was hooked. Those memories of that era are some of my finest and first memories where we would all watch the derby in front of the TV and cousins would come in their red kit and I would be sat praying in my blue kit whilst eating the fudgey shortcake my mum had made for us all.
I have a close friend who is a kopite who has literally been mocking season after season and has never failed to comment before, during and after derbies slating us etc, but strangely all appears quiet so far... something has changed and this shows me they are worried sick.
Not only would victory give bragging rights for Blues but it will give something far more important than that.
What I hope for is not a scrappy 1-0 win or a 2-1 win (although I will take it). I am greedy. I want us to go there and win 3-0, I want them to go home demoralised and realising that we are coming. We are soon to be gatecrashing that top table again and dining where we should .
The red shite, and the others are worried. Mark my words. This is the perfect opportunity to stick two fingers up to the likes of Carragher, Merson, Redknapp (not old Harry, he's busy eating leopards eyes or whatever) and all the other naysayers who clearly do not want the current Darlings disrupted.
The city of Liverpool is turning blue.
COYB
John McFarlane Snr
137
Posted 01/12/2018 at 00:30:46
Hi all, I've witnessed too many injustices in 'derby games' to be overly optimistic, but I would like to take this opportunity to pay tribute to all who attended the get-together to welcome Mike Gaynes to our city, in particular Derek Knox who travelled over from Belfast.
My big regret was that, due to circumstances beyond my control, I had to leave the gathering early, unfortunately I didn't buy a round of drinks, but I believe that those who attended my 80th birthday wouldn't class me as a freeloader, and if (as I hope) another occasion arises, I will attempt to put this discrepancy to rights. It was a pleasure to renew acquaintances and meet fellow "ToffeeWebbers," for the first time.
I have always maintained that I couldn't understand the hooligan element that invaded our sport, it's the love of football that draws us together, as witness Friday night's welcome to Mike Gaynes, and I am proud to have been a part of it. Best wishes, John.
John McFarlane Snr
138
Posted 02/12/2018 at 00:37:56
Hi again, apologies to Andy Crooks, and thanks to Derek Knox for his kind words, it seems that my "young Lady" may be right when she says, "You're losing the plot!"
Andy Crooks
139
Posted 02/12/2018 at 01:20:47
Neil, it's now after one and I can't sleep. Does anyone else do the every scenario thing? You think of every possible negative outcome. You think of your response, and, then, as you never get it right, there must be a positive outcome.
Then, unfortunately, your positive outcome has become predicted and must be wrong. God almighty this is what the derby does to me. Brian Williams, you know what I mean.
Brian Wilkinson
140
Posted 02/12/2018 at 01:57:22
Andy, we are moving forward, we still have one or two more to bring in but, whatever happens tomorrow, we are finally looking like a well run football team again, I cannot think of one negative at the moment with the squad we have at the moment.
When was the last time we went into the derby with our strongest 11 available, and strength on the bench as well? When was the last time we had a manager that shows no fear and is prepared to go toe to toe with the opposition? The closest in my view was the FA Cup semi-final, when we had it then threw it away with a shocking back pass, and a white handkerchief raised in the second half.
This is our best chance for a long time. Our neighbours are playing well; if we do not get a result, it will not be down to throwing the towel in.
This is the first time since that semi-final that I have felt this confident of Everton putting in a performance.
Neil Copeland
141
Posted 02/12/2018 at 05:21:36
5:20 am and I am awake, tossing and turning, not out of dread though more because I have a strange feeling. But been here before so trying not to get overly optimistic. Only 11 hours to go!
Jimmy Salt
143
Posted 02/12/2018 at 08:36:53
I see Jurgen Flopp is at it again saying they are preparing for a proper battle??? When was the last time we tried to kick them off the park. Sounds like hes prepping the ref.
Brian Williams
144
Posted 02/12/2018 at 08:49:37
And if you know yer history .......................a great read and basically a home game for us today ;-) .
https://www.liverpoolecho.co.uk/sport/football/football-news/full-story-split-saw-liverpool-15489099
Harvey Miller
145
Posted 01/12/2018 at 09:13:41
After 90's we somehow lost the grit, they just seemed to be better prepared, tougher and ready for these matches.
To get a result today we have to be alert and aggressive from the start. We have to win most of the one on ones and break their attacks in the midfield. The battle (and the match) will be won at midfield. If Gana and Gomes can keep it tight we have a chance. The biggest problems will be Walcott and Bernard, they have to contribute much more than they have done in the previous matches.

Neil Wood
146
Posted 02/12/2018 at 09:32:57
I finally managed some sleep. My youngest third birthday today and I have already been "warned" that it's his day... which it is of course .
But it's my early evening ;-) !!!
David Pearl
147
Posted 02/12/2018 at 09:34:20
Well because of the Fury fight I've had zero sleep. Here we are, the most anticipated derby in years, if you ask the blues. If you ask all the experts, baring the reindeer, we have no chance. Are we all deluded? Sky panel say our defence and midfield still not right. I think most of us would say it's the attack that needs tinkering with. What would we know. COYB
Jim Bennings
148
Posted 02/12/2018 at 09:43:24
David
I think we need to improve the team still, it's easy to get carried away with the positives we have witnessed this season but to be the best we can be then we should always look to improve our squad.
Alex Ferguson's era at United was all about winning trophies but constantly improving the team and making sure they were even stronger the following year.
We still look a bit weak up front outside Richarlison and if you lose the goals Sigurdsson has been getting this term then we need more from other players.
For me we need improvements on DCL, Tosun and Niasse because for a club with top 6 aspirations you can't hang your hat on those players.
We need more goals from Walcott and if he isn't doing it then Lookman needs to come in but likewise if he comes in then he needs to offer a goal threat and goals to his game it's no use just being in the team for the sake of keeping Walcott out.
Jim Bennings
149
Posted 02/12/2018 at 09:51:34
Harvey at 145
You make a good point that we seem to have lost that grit that we had in every derby in the 90's.
Even when Liverpool haven't had the best players in recent years they have always seemed to be physically fitter and stronger in derbies and more geared up for the occasion whilst we seem lethargic and unable to compete when it comes to a battle .
Who knows if that will change but it's been this way now for nigh on 18 years and the players no longer appear to relish a trip to Anfield.
It should be a game that they all aspire to score in and become a hero but on a yearly basis they all look terrified standing in the tunnel prior to kickoff.
Jim Potter
150
Posted 02/12/2018 at 09:59:41
Come on Santa, deliver the present early this year.
David Greenwood
151
Posted 02/12/2018 at 10:16:53
Walcott and Bernard are our key men today.
They need to stay awake and help out defensively as both their full backs bomb forward.
More importantly when they have our chances they have to take them. They have to keep their composure and score, not blast the ball straight at the keepers legs.
If we take or chances and the match officials are consistent, we will do very well.
Jim Bennings
153
Posted 02/12/2018 at 10:22:59
It's getting the chances though against their defence which is water tight.
If we do get two good chances we need them to fall to the right men.
Tosun and DCL had glorious chances in the last few minutes at Goodison in April and they spectacularly squandered them.
Peter Mills
154
Posted 02/12/2018 at 10:26:31
Just to add to the comments above, it was great to meet those who made it to The Midland on Friday. There was something Biblical going on, because there seemed to be a load of ale for not much money and there was still a pile of cash left when I departed!
John Wells
155
Posted 02/12/2018 at 10:37:08
Merson, the prick, with his predictable 2-0 prediction.
We will be ok in goal, defence and I think stronger in midfield, they have not met the new Gana, as David (151) mentions Bernard and Walcott need to track and work like 'Dogs of War' (someone had to say it!) and one of them must score. DCL to come on and score in the 82nd with a header over Virgil for a 2-1 Everton win. A lot of this team have no fear of that shit hole.
Paul Gallagher
156
Posted 02/12/2018 at 10:37:29
We usually lose this game psychologically, before KO, the team has been beaten since mostly Moyes tenure to the present. We haven't played well against the RS since the 3-3 draw that Martinez presided over. A game that we should have won, psychologically we let a 3-2 slip, RS survived and had taken a point. Since then we have been abysmal in the derby. If Silva can psychologically get the players in the right frame of mind, we can win this. I did like the way in his interview he refused to mention Liverpool by name. We need to treat this as a stepping stone to get 3 points for the push to 4th. Manure drawing yesterday we can't be any lower than 6th after the game. The acid test will be if we concede 1st, can we recover or will the heads drop. This is the most sending off in a derby in English football, we cannot afford any sending offs. We need to restore pride after the most embarrassing derby I have ever watched last April. Liverpool played a 2nd string, we went out on a whimper. The plus side most of these players haven't experience defeat against the RS, or Silva in a derby. The midfield is key today, Gueye and Gomez, and Walcott should he play needs to help Coleman out. Herr Klopp is playing mindgames, I believe he doesn't think that we will get anything today, as we never turn up. So hopefully he is in for a shock.
Neil Lawson
157
Posted 02/12/2018 at 10:50:46
Having ploughed my way through all the comments, the overwhelming feeling is one of renewed excitement and a suitably cautious level of optimism. After the misery of the last few years it is so encouraging and welcoming to see that return.
I will be as far away from tv/radio/phone as possible until the 90th minute. My heart is sound but why risk it ?
Frank Crewe
158
Posted 02/12/2018 at 11:27:56
I don't know if we will win or lose but what I do know is that for the first time in decades we have given them something to think about. To get a result they will have to prepare as if they were up against City, Chelsea, Arsenal, Manu, or Spurs. They can't just take us for granted. We have a serious, in form side. We're on a good run and we have a decent chance of getting a good result. No more sides made up from faded stars, journeyman, and youthful potential with the odd scouser thrown in. All our players are proven quality players. Every player is in their proper position and playing well. A well prepared, fully fit side with a proper plan. The days of just turning up and hoping we might scrag a draw are hopefully behind us. As I said I don't know if we'll win, lose or draw. But should the result not be in our favour at least it won't be because we didn't try.
Neil Copeland
159
Posted 02/12/2018 at 11:29:25
Just a thought, if someone could convince Klopp to treat it like a cup final I reckon we would be fine.
Raymond Fox
161
Posted 02/12/2018 at 11:45:43
We going there with the best chance of winning for a very long time because we have improved the quality of most of the team.
Will we win, my heads saying not likely though, they have a definite advantage upfront which we will find difficult to overcome.
Its 90 mins of football, and on the other hand we are worthy of coming away with something, lets hope so.

James Hughes
162
Posted 02/12/2018 at 12:13:08
I hope it's an omen for later, we are 1-0 up in the women's derby
Justin Doone
163
Posted 02/12/2018 at 12:13:35
We have improved but so have they. Their weaknesses have been addressed in the last 2 windows and have an exciting, fast, direct settled game style whilst we are only just beginning the Siva adventure.
I therefore don't think this is our best opportunity, certainly no better than it was 4 or 5 years ago when they were a pretty poor team but football is often about small margins and getting the little bit of luck needed to decide such close games.
Win, lose or draw I'm happy with our progress and that's what's most important for us this season. Continuing to play good attacking football and quickly bouncing back from any setbacks.
This could be 0-0 or 4-0 to either team. Both teams are in good form and I want our players to continue to improve and excite us and not to let themselves down with silly mistakes and missed opportunities. NSNO
Jon Bentley
164
Posted 02/12/2018 at 12:19:15
Well said, Justin.
As much as I want to be positive, we all know it's the hope that kills. Or if not kills, then bloody hurts!!!!
I'll be doing my usual derby day routine. Switching off ALL media, phone onto flight mode, ear phones in listening to something to take my mind off it.
Then about 6:10 pm, very tentatively and privately, switch my phone back on, raise the blood pressure and heart rate, and check BBC Sport or ToffeeWeb and pray. 🤞

Geoff Lambert
165
Posted 02/12/2018 at 12:47:45
I was going fishing, phone off miles from anywhere, Then my youngest son decides he is comming for dinner and to watch the match with me.
At least I should enjoy the dinner.
Dermot Byrne
166
Posted 02/12/2018 at 12:48:15
(insert here) OUT!
Just practicing!
Joe McMahon
167
Posted 02/12/2018 at 12:51:27
Jon @164 I can relate to that!
Tom Bowers
168
Posted 02/12/2018 at 12:53:08
I would be very happy if Everton score the first goal of the game in the 89th minute. Please God.
Jamie Crowley
169
Posted 02/12/2018 at 12:53:17
John Keating
170
Posted 02/12/2018 at 12:58:46
Try as I might, I just can't in any way shape or form be optimistic in anything we do. Over the years, we have been kicked in the teeth so many times when it appeared we could do something.
The biggest I can remember is going down to see us completely overwhelm West Brom. I don't think you could get any odds for them, it was just a case of us turning up and walking on the pitch.
I think since then, when it comes to Everton, me and optimism don't get on.
Richard Duff
171
Posted 02/12/2018 at 13:01:43
On some day in 1984, the Everton team found some form and confidence that they started to believe in themselves. Having not troubled the better teams, they eeked out a result or two and found patterns of play that worked for them.
Goals were scored, clean sheets were gained, battles were won. Belief became confidence became expectation became success became trophies became legend.
A team was reborn, a club was refreshed, a generation was enlightened. This Is Just Another Field, same as the rest of them. It will happen again. Today will be that day.
Derek Thomas
172
Posted 02/12/2018 at 13:09:19
Richard @171; you omitted a mention of St Crispin, other than that, a decent attempt
Tom Bowers
173
Posted 02/12/2018 at 13:10:46
Well said Justin, I agree.
Defeat again in the derby match would be very disappointing but not the end of the world given how well Everton have improved. Yes, it would be terrific to win today but, if not, their time will come and it won't be very far away.
Moneywise, RS have become a very big club but have still not delivered in the Premier League or Champions League as was expected.
Everton, on the other hand, are a work in process after several poor managers and a lack of investment but that is changing – albeit slowly.
David Hallwood
174
Posted 02/12/2018 at 13:15:34
Some bookies are offering 8/1 for us to win and 4/1 the draw. Must be worth a tenner on each. COYB
David Pearl
175
Posted 02/12/2018 at 13:27:22
David, I'd rather have 10 x £1 scorecasts. Win big!!
Brent Stephens
176
Posted 02/12/2018 at 13:29:15
Tom #168, "I would be very happy if Everton score the first goal of the game in the 89th minute".
Even better if they scored an own goal for us?!
#166 "Dermot out". And "in" at the same time.
David Pearl
177
Posted 02/12/2018 at 13:30:26
Mina and 1-3 is 700/1... (19 years.,, f)
Christy Ring
179
Posted 02/12/2018 at 13:36:16
Danny Murphy talking crap again, saying Man. Utd was always a bigger game for them, while a derby was always bigger for us. Looking at the stats, during hs time at Liverpool, Man Utd won 5 league titles, Champions League, and FA Cups, so playing Liverpool was never a big game for Man Utd then.
Dermot Byrne
180
Posted 02/12/2018 at 13:44:59
Brent... insert Klopp?
Dermot Byrne
181
Posted 02/12/2018 at 13:49:53
Another thing Brent. This may help pass time mate.
Jim Harrison
182
Posted 02/12/2018 at 13:50:56
Tom @173, what crap. I am all over the partisan stuff, but to claim they are under-achieving against money spent? I would say the money they have spent has been vindicated by their Champions League final place last year and being unbeaten in the Premier League this season only behind the stand-out team in recent seasons.
They are still in the Champions League this season, at present.
This team we come up against today is one of their best in recent memory. They have the potential to shred most teams. A win against them would be a fantastic achievement for a team that is 2 to 3 years behind in terms of development. Great credit to the management for make such great strides forwards, and we go it to this match with as good a chance as we have in 5 or so seasons. A win would be a major boost in confidence, but a draw would also be a decent result
Derek Knox
183
Posted 02/12/2018 at 13:57:08
Dermot @181, what a lot of balls that link was! 😂
James Marshall
184
Posted 02/12/2018 at 13:57:31
They've only conceded one goal at home in 6 games this season.
One.
Quite literally every stat you read goes against us, the upside being that if we do lose nobody will notice anything different.
As ever, this could easily be 4-0 or 0-0. As a more mature man these days, I will no longer be watching, pacing and screaming but laying down passively while screaming at the TV in occasional, short bursts so as to not die of heart failure. I can highly recommend watching football laying down as a way to not get as over-excited as we once used to as a younger man.

Derek Cowell
185
Posted 02/12/2018 at 13:57:49
Every year, I hear the same optimism before derbies. Everton to win at Anfield!! Don't you lads know by now that it is not allowed!
You all know that, if we were to somehow score in the 90th minute at 0-0 it would be disallowed by the ref! Come on, admit it, you all know deep down that I'm right! I havent watched a live derby since I was at Wembley for the '89 Cup Final coz I can't stand the tension and the inevitability of the result. Arsenal away is the same but without the tension. It's just the law!!
I'll be behind the settee until it's over and then I'll glance at ToffeeWeb to read about the usual injustices done to us, unless we get spanked of course! I still hope I am wrong but history teaches me otherwise. Sorry but there it is from a Bearden and worn down 50-odd-year blue!
Brent Stephens
186
Posted 02/12/2018 at 13:57:55
Dermot #181 - I think I'll have to read that on the train to the match! My heads in a spin already. But can't explain why.
Jim Bennings
187
Posted 02/12/2018 at 14:05:16
Derek
Some good points yes but you can't blame bad refereeing and bad luck for not winning at Anfield for 19 years nor can you blame luck for a record of 3 wins in 37 derbies.
Basically Everton rarely perform in Merseyside derbies, the last swashbuckling showing was the 3-3 in 2013 but since then we have grimly clung on for the odd low scoring draw.
In 19 years how many times have Everton actually taken the lead at Anfield?
The old adage of "form going out of the window In derbies" is also rubbish, it might have in the 1990s but since then the result has usually been predictable.
David King
188
Posted 02/12/2018 at 14:07:13
Everton Ladies just beat Liverpool 2-1 at Southport, totally outclassed them second half, good sign!
Dermot Byrne
189
Posted 02/12/2018 at 14:10:26
Very funny, Brent.
Jealous but you enjoy the game. We win, I expect a quantum analysis of how it happened.
I am getting excited and, though it is my nature, very optimistic.
COYB
James Marshall
190
Posted 02/12/2018 at 14:10:28
I can't even remember the last time we beat them anywhere. I had to go look it up. Apparently we beat them 2-0 at Goodison in 2010 yet I have zero memory of it, which tells it's own story...
Jim Bennings
191
Posted 02/12/2018 at 14:12:40
James
Well, the fact that the last time we beat them, Jermaine Beckford and Yakubu were both starring in Everton shirts tells you all you need to know of how long ago it was.
Brent Stephens
192
Posted 02/12/2018 at 14:16:34
Excited. I can see the winning goal for us. I'm reading all the posts on Live Forum on the train home.
Scared. They'll get that freak winner at the end. A dismal traipse down to Sandhills. I'll avoid catching up on the Live Forum and MotD.
God, it's our year. Here we go. Sun has just come out. Silva to get us organised and three points. Head held high on the way home.
Shit. It's only a game. It didn't matter anyway. Nothing to lose any sleep over.
David McMullen
193
Posted 02/12/2018 at 14:23:11
It's got to happen some time. Even Dolph Lundgren predicts a win for us! Saw highlights of the 84 win recently and think we have the qualities of that team. Room for improvement. Come on, blues, show them what we're made of.
Neil Copeland
194
Posted 02/12/2018 at 14:26:17
Brent, yep that sums it up very well.
Add Your Comments
In order to post a comment, you need to be logged in as a registered user of the site.
Or Sign up as a ToffeeWeb Member — it's free, takes just a few minutes and will allow you to post your comments on articles and Talking Points submissions across the site.