Everton vs Watford
Sunday, 9 December, 2018
Match Preview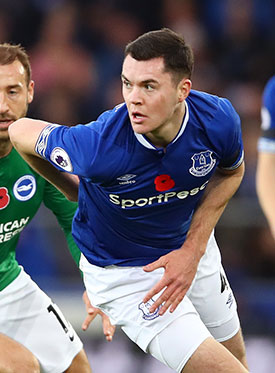 Will Michael Keane be recalled after being rested against Newcastle or did Kurt Zouma do enough to keep his place?
Everton look to bounce back from two hugely disappointing results and get back to winning ways tomorrow night when Watford come to town.
Marco Silva and Richarlison face their former club while Gerard Deulofeu could play his first game back at Goodison Park for the first time since he left 18 months ago in a game that could have an extra edge to it on that basis but which does not rise to the level of a modern rivalry as some have been trying to pitch it.
The two clubs are still locked in a legal dispute over Everton's courting of Silva just over a year ago when they were looking for Ronald Koeman's replacement and if there is any acrimony, much of it seems to be coming from the Watford faithful who have branded the Portuguese a snake for his role in the affair.
The Hornets' loss has been the Toffees' gain thus far, with the latter coming into the game looking to reclaim sixth spot on goal difference from Manchester United if they can win what would be their fifth at Goodison in six games, although Watford could draw level on points with Everton if they can grind out a win.
It would be their first victory in six attempts, though. Despite starting the season strongly, Javi Gracia's men have fallen away in recent weeks and they come to Merseyside on a three-game losing streak (although two of those were against the current top two teams in the Premier League).
Silva, meanwhile, will be trying to get more out of players than was the case in Wednesday's hiccup against Newcastle where, despite enjoying 74% of the possession, they only managed three shots on target and one goal. Watford promise to be more ambitious going forward than the Barcodes were, however, and that could work in the home side's favour, hopefully freeing up space for the likes of Gylfi Sigurdsson and Richarlison to work in in the final third.
Given that a couple of the Everton manager's changes on Wednesday didn't set the world alight, it will be interesting to see what starting XI he opts for this time around. Cenk Tosun largely failed to convince on his return to the central striker's role while Ademola Lookman put on a hot-and-cold display that suggested he might still be suited to the role of impact substitute for the time being.
Silva could, therefore, either revert to the formation that was working at home by moving Richarlison back up front and recalling Walcott and Bernard to the flanks. Or he could try Dominic Calvert-Lewin in the centre-forward position and only bring one of the afore-mentioned wide men back.
In central defence, the usual conundrum of which two to pick from three in-form defenders will be vexing Silva and he could plump for more rotation by recalling Michael Keane to partner Yerry Mina having fielded Kurt Zouma in midweek.
Hopefully, the extra couple of days off afforded by this Monday night kick-off will have provided some of Silva's jaded-looking stars time to recuperate and refocus ahead of this game and the gruelling festive season that lies beyond.
While the top five are pulling away from the chasing pack, there are plenty of points on offer over the next four weeks that could see Everton consolidate their position in the top six and capitalise on any continuing uncertainty at Old Trafford where Manchester United under Jose Mourinho still lack conviction and consistency.
A home win would get the feel-good factor back among the Blues and the Goodison faithful in time for next weekend's daunting trip to the Etihad.
Kick-off: 8pm, Monday 10 December 2018
Referee: Kevin Friend
Last Time: Everton 3 - 2 Watford
Predicted Line-up: Pickford, Coleman, Keane, Mina, Digne, Gueye, Gomes, Sigurdsson, Bernard, Walcott, Richarlison
---
Reader Comments (78)
Note: the following content is not moderated or vetted by the site owners at the time of submission. Comments are the responsibility of the poster. Disclaimer
Kunal Desai
1
Posted 09/12/2018 at 19:34:00
Absolutely crucial to get the 3 points here. With Man City and Spurs up next I can't see any points from those fixtures. 3 points tomorrow gives us a cushion from those in 8th down 13th.
John Keating
2
Posted 09/12/2018 at 19:47:46
I think there was an excuse prior to the Newcastle game about us possibly being tired after the effort put in against the RS. Crap... but was mentioned.
Mind you, we did actually play crap... so maybe it was true.
This time, there can be no excuses. We need this win as Man City will be well up for it after the Chelsea defeat.
I would go with Lyndon's team apart from playing Calvert-Lewin up front with Walcott and Richarlison either side.
Don Alexander
3
Posted 09/12/2018 at 20:01:25
It's a fine line between realism and "fan-ism" but is the redoubtable Mr Lloyd (for whom I have the highest respect) guilty of inadvertently perpetuating our "knives-to-a-gunfight" mentality when he alludes to our imminent trip to Citteh as "daunting".
Might we start considering such trips as merely "challenging" Lyndon, or is it too soon to be fully shedding our tatty Kenwright (snake) skin?
Andy Bonner
4
Posted 09/12/2018 at 20:02:48
Three points tomorrow will put us back to 6th. Further, if you look at the league tonight it looks good for us because we have played 7 of the top ten away from home and 4 of those games have been against the supposed top 6 clubs.
Stan Schofield
5
Posted 09/12/2018 at 20:23:56
For this current Everton side and Silva's set-up, I believe that playing Man City and Spurs is LESS daunting than playing Watford or Newcastle.
I said similar after the Cardiff match, that playing Liverpool could be easier than playing the likes of Cardiff, because playing any of the top sides arguably suits us better now in that they attack more, which leaves us able to open them up more, as opposed to playing poorer sides who park the bus.
In each of those games so far, Arsenal, Man Utd, Chelsea and Liverpool, we've played some of our best football, rattling them and opening them up from midfield, albeit not finishing them off in front of goal.
Tony Everan
6
Posted 09/12/2018 at 20:26:51
Lyndon has written the team sheet for Marco.
There's a bit of doom with a sprinkling of gloom after the tepid afterbirth that was the Newcastle game. It was a reminder that if standards slip 5% the Premier League makes good teams medicocre ones. We were firmly mediocre last Sunday.
The derby game should finally have been flushed out of the system now and we can resume our dynamic playing style. I would stick to the previously proven formula (for now) of Bernard / Richarlison / Walcott starting .
An early goal will settle us and we can win this game 2 or 3-0.
It wouldn't surprise me if Watford got a man sent off. I just hope none of our lads are injured by the wild play that they will certainly bring to the table.
Kim Vivian
7
Posted 09/12/2018 at 20:40:53
Sure, we could leapfrog Man Utd on goal difference, but what I don't like, looking at the table right now, is that we are 11 points adrift of Arsenal (2 places ahead of us in 5th) and just 3 points better off than Watford at 13th. It is mighty close amongst the pack snapping at our heels.
As people point out there is some consolation in that we have played most of our big away games, but I'd like to see a decent gap open up below us.
Important 3 points tomorrow please boys.
Paul Kelly
8
Posted 09/12/2018 at 20:41:07
I wouldn't be so quick for Walcott's reinstatement to the team. On Wednesday night, Lookman had more touches (60), completed more dribbles (3) and earned more fouls (3) than Walcott has managed in ANY match this season.
Give Lookman a run I say.
Brian Murray
9
Posted 09/12/2018 at 20:42:20
I think some of you would actually say "Well, Dr Crippin wasn't all bad and had a good bedside manner"!
We are an average side verging on being very good with at least 3 additions so no amount of juggling the team (eg, Calvert-Lewin in or out) will change the results or final league placings.
I admire positivity but it's a league that susses out mediocrity nearly every week. Hang in there until January and push on from there. That doesn't mean taking a point off Man City and have them sniggering bastards have one hand on the trophy. England's number one has already opened the door for them!!
David Pearl
10
Posted 09/12/2018 at 20:43:20
Spare ticket if anyone wants it Okds-live@outlook.com
Michael Kenrick
11
Posted 09/12/2018 at 21:18:46
The Echo are featuring
an 'exclusive' (complete with 13-minute podcast)
on why Gerard Deulofeu had to move on from Everton.
Spoiler alert: it was coz, astoundingly, Koeman stopped picking him!
"The 24-year-old claims he was never once given an explanation for being sidelined otherwise, he insists, he would have changed.
"For me, the change was that I was not playing," he told the ECHO. "I am happy if I am playing, it's normal. If I'm not playing, I am not happy and I think the team can be better (if I am playing)."
Asked if Koeman explained his decision, Deulofeu replied: "No, no, no. I don't understand, I don't understand. That was why I left because, if I understand why I am playing, because of that, that, that, then I try to change but I don't understand how a player like me can be out of the squad in Everton and, after, Milan want to sign me. I don't understand this.
"I went to Milan and I showed what I am."
He added: "I said to the coach, I wanted to leave and he said 'yes' because he didn't want me and preferred other players. But it was the chairman. The chairman was with me, he wanted me, I was his favourite player and I have to negotiate with him my transfer to Milan.
"I started the season (in the team) but after two or three games, it was really quick, I was out of the team."

Neil Copeland
12
Posted 09/12/2018 at 21:19:25
As a few have already said, tomorrow is crucial if we are to harbour realistic hopes of a top 6 finish. These are the games we must win, Wednesday was a huge disappointment but it's done now so we need to move on.
I feel that a good performance tomorrow would set us up nicely for Man City where we have generally done okay. We can get something at Eastlands but will have to be at the top of our game.
Spurs are a bit hit-and-miss and present another opportunity if we are on form. Really looking forward to all 3 games.
I can't see Silva taking the same selection risks as he did against Newcastle and I agree with Lyndon's team. Walcott looked lively when he came on so, although I thought Lookman did okay at times, I don't think he will start.
Harry Hockley
13
Posted 09/12/2018 at 21:28:55
I agree with ya Paul, Lookman deserves another run, the lad has bags of ability, if just given a decent go at it I think he'll be great for us.
I'd have Richy back upfront for now too with Bernard back on the left.
John Raftery
14
Posted 09/12/2018 at 21:30:56
As others have said, a win tomorrow is vital. We may have played good football against the big teams but we have taken one point from twelve, one less than we did last season against the same opposition. It is our form, mainly at home, against the teams below us which has taken us to 7th in the league.
After tomorrow night's match, six of our ten remaining home matches will be against the current top six. Last season, we took two points out of eighteen from those fixtures. The extent to which we can improve on that tally will go a long way to determining our progress this season.
Our away results have been poor for over two years, whatever the quality of the opposition. Since Seamus scored the late winner at Palace in January 2017 we have managed only four away wins, three of those under Allardyce. If our home form suffers in the second half of the season, it will be essential to compensate by winning games away to teams in the lower half of the table.
Jim Bennings
15
Posted 09/12/2018 at 21:43:08
When you struggle so badly to win away games (we have for three years or more) then home games against teams like Watford and Newcastle should be bread and butter.
We have already failed to beat Huddersfield, West Ham and Newcastle at Goodison, we have been knocked out of the League Cup at home to Southampton, so I suggest we need to start getting momentum up as of tomorrow.
The next five games, if we have aspirations of challenging 6th place, should read.
Watford - WIN
Man City - LOSE
Spurs - DRAW
Burnley - WIN
Brighton - WIN
If we have aspiration to finish 7th or 8th then expect this
Watford - WIN
Man City - LOSE
Spurs - LOSE
Burnley - DRAW
Brighton - DRAW
Taking 10 points instead of 5 points over this batch of festive fixtures could be huge in the context of the final finishing place.
Let's see if Everton can rise to the occasion though.
Mike Oates
16
Posted 09/12/2018 at 21:50:19
Totally agree with John #14, our away form is shocking, we need to win far more games away to give us any chance of Top 6. We needed to win the Wolves, Bournemouth, games, particularly from a winning position.
With all the Top 6 to come to Goodison we will do well to get points from any of them, so it's imperative we win at the likes of Fulham, Huddersfield, Crystal Palace, Newcastle, Southampton, Burnley etc. That's were our points will come from for the rest of the season.

Jim Bennings
17
Posted 09/12/2018 at 22:01:10
To finish 6th then you are probably looking at needing 19 wins and arguably only 12 if them will come at home so that means you need a happy medium with at least 7 away wins.
We finished 5th in 2013-14 under Roberto with a whopping 21 victories from 38 games (a record win total in the Premier League for us) so that tells you the level required.
We need a greater win conversion rate and start getting more mini winning runs, we need a spell of back to back wins.
Wins get you up the table, not draws.
Neil Copeland
18
Posted 09/12/2018 at 22:03:54
Jim, agree with your summary.
Given the number of chances that we have passed up in every game so far, we could have actually won every one of them. But the reality is we haven't and we simply need to get clinical in front of goal. Do that and I think we will comfortably make at least 6th place. However, if we don't we may well be lucky to make 8th.
Geoff Lambert
19
Posted 09/12/2018 at 22:24:19
We need a proven goalscorer in January or any aspirations of top 6 are out the window.
God forbid if we start getting a few injuries as I think we have been very lucky on the injury front so far this season.
Jim Bennings
20
Posted 09/12/2018 at 22:25:58
Geoff
I think Brands and Silva will be bang on to this in January.
An injury to Richarlison would quite simply kill us dead.
Geoff Lambert
21
Posted 09/12/2018 at 22:37:42
Or to our new star in midfield, Gomes.
Jim Bennings
22
Posted 09/12/2018 at 22:40:23
I agree, Geoff, though I think the one goals source we just can't afford to lose at the minute is Richarlison.
Geoff Lambert
23
Posted 09/12/2018 at 22:43:07
Yes Jim, we lost a few points when he was banned for the three games early in the season.

Rob Dolby
24
Posted 09/12/2018 at 22:52:52
I would play Lookman and drop Bernard. Start Walcott down the centre, he played a lot of games down the middle and scored a few goals.
We have to get goals from places other than Sigurdsson and Richarleson.
It should be a good games as they are an attacking team which will suit our game.
Coyb
Jim Bennings
25
Posted 09/12/2018 at 23:21:32
I'm not too sure on Lookman yet Rob.
I think he comes off the bench and his trickery and quick feet add a threat but he doesn't seem to have a real set position on the pitch for me, he's got quick feet but too little end product at the end of it apart from running into blind alleys a bit.
If I was Silva, I'd go right back to the team of November time and that's with Richarlison starting striker, Bernard left, Walcott right and if need be get Lookman on with 30 minutes left.
David Pearl
26
Posted 09/12/2018 at 23:39:09
Ticket has gone thanks.
Jim, we have to win tomorrow first. Tricky game but they will come to play so I'd expect opportunities.
Martin Berry
27
Posted 09/12/2018 at 23:42:35
We need a big mobile target man to upset big central defenders, when the ball goes in no one is able to challenge, so we are playing nice football around the box but the opposition does not mind that as there is no penetration.
I am certain Marco will be looking for a target man with size and pace in the future. I would put Calvert-Lewin as centre-forward as, sooner or later, he will be the man.
Derek Knox
28
Posted 09/12/2018 at 23:46:41
I would like him to try Walcott in the forward striking role, with Richarlison dropping back to his left-wing slot, where I believe he is both more comfortable and effective.
That would be either Bernard or Lookman on the right, the rest of the team more-or-less picks itself.
Like some posters have alluded, Watford have a tendency to blow hot and cold but, with the situation regarding Marco Silva, it could add some extra spice to the occasion.
Come on blues, blow the cobwebs off from the disappointing result from the last two matches, and sting the Hornets where it hurts.
Andy Crooks
29
Posted 09/12/2018 at 23:53:40
Jim, I see your point about finding a spot for Lookman. Does Silva trust him to track back? The way Watford may line up I would start Richarilson, Calvert-Lewin and Walcott.
In my view Lookman is a luxury player. Bernard is a luxury player. Can both play? Yes, if our coach is bold.
Unlike you, Jim, I think Tosun has a role to play but it would require a major rethink. No-one on this site has supported Seamus more than me, absolutely no one, but I feel tha,t if Calvert-Lewin or Tosun start, Kenny must start. The right of the team is weak.
Wayne Maher
30
Posted 10/12/2018 at 00:11:08
Deulofeu will most probably score as any ex-player does so put a bet on.
After the Man City and Spurs games we have a good run of games where there are points to be won. It won't be easy cos it's the Premier League and we're Everton – nothing is easy with us – but there are points.
Frank Fearns
31
Posted 10/12/2018 at 06:55:07
I don't normally comment on team selection but I do think playing the three big lads at the back ie Zouma, Keane and Mina and build from there with an attacking midfield and front players would make us very solid.
Frank Sheppard
32
Posted 10/12/2018 at 07:06:51
An early goal for us would make a nice change, and set up for 3 points and a performance that gives confidence, to make up from recent disappointments. I think Lookman deserves another start.
Mark Andersson
33
Posted 10/12/2018 at 07:11:21
What is clear is that, as usual, just when you feel we were making progress we regress.
The pressure and unrealistic expectations of the Goodison faithful play a part in any game... It can't be easy for players to feel confident when the supporters are so fickle...
The loss against the Red Shite was a kick in the gut but most fans seemed happy with the performance; shame the Newcastle game set us back... AGAIN.
Watford will come with no fear so I expect, unless we settle early with a goal, the crowd will become restless... same old same old.
Gordon Crawford
34
Posted 10/12/2018 at 07:32:56
Well, I hope it's a nice three points tonight. Though I think this is going to be a lot tougher than the Newcastle game and a lot more hostile. But I still believe we'll win this.
Oh and in other news: Richarlison is being linked with a summer move to Barcelona. We can't get five mins of peace, can we, before someone tries to derail our season.
My thoughts, and you heard it here first, they will want Richarlison in a swap deal for Gomes, probably.
Jim Bennings
35
Posted 10/12/2018 at 08:08:10
I think Richarlison is safe from Barcelona's reaches for now, maybe in another two years if he continues to produce.
I personally think Barcelona will try and get Salah from that lot, they have form of prising players from Liverpool and I think they'll be looking at a 30-goal forward once Messi eventually slows down.
Gordon Crawford
36
Posted 10/12/2018 at 08:21:25
I hope so, Jim, but with us wanting Gomes, I'm just not so sure.
Anyways, I hope we stuff Watford tonight. 3-0 I'm predicting.
Brian Murray
37
Posted 10/12/2018 at 09:09:34
By all means let Richarlison go in two years if we are still poncing around 6th place with no real improvement. I just hope by then he's made his mark big time in derby matches and won us a cup. Unlike the last superstar we had with the Once a Blue tee-shirt!!
Mark Andersson
38
Posted 10/12/2018 at 09:30:38
Richarlison to Bacra? haha... Some people believe in Santa too and that started off as a wind-up!
Liam Reilly
39
Posted 10/12/2018 at 09:53:41
I don't think its as far fetched as you may believe Mark. Richarlison is also playing well for Brazil and getting rave reviews; so that shows he's got something about him.
I do think he'll need to show consistency over a 2-3 year period though, but I wouldn't be surprised if Barca requested first dibs on him as part of the ongoing Gomes negotiations.
Clive Rogers
40
Posted 10/12/2018 at 10:21:28
I was disappointed with Lookman in the last game. He kept moving in from the wing, probably due to instruction, but kept taking up positions were he was never going to get the ball.
He seemed confused and there was zero link up with Seamus. I am not sure he is a winger at all. May be happier in the position that Sigurdsson is playing now. Siggy has had two poor games and could do with a rest.
Gareth Clark
41
Posted 10/12/2018 at 10:24:25
Bernard has been poor for a while – so I'd start Lookman and Richarlison.
Baines to give Digne a rest in this game.
Pickford
Coleman (c) Keane Mina Baines
Gueye Gomes
Lookman Sigurdsson Richarlison
Tosun
Subs: Stekelenburg, Zouma, Digne, Davies, Bernard, Walcott, Calvert-Lewin.
John Hammond
42
Posted 10/12/2018 at 10:30:34
Back to the tried and tested formation tonight with maybe Baines in for Digne who I think needs a rest and Lookman getting another run in place of Walcott. Don't see the point in starting him for one game then dumping him back on the bench when he had a half-decent game.
Mike Corcoran
43
Posted 10/12/2018 at 10:43:01
I'd bed in a 3-5-2, both wingers out, Richarlison and Walcott inside left and right to centre-forward, depending on passage of play.
Jim Bennings
44
Posted 10/12/2018 at 11:12:38
Whatever formation or players we start with tonight, let's hope we see a more clinical edge than the last four games has brought us.
Regardless what many say is better attacking play this season, I still don't feel that we work enough shots on goal and force enough saves from the opposing goalkeeper.
James Hughes
45
Posted 10/12/2018 at 11:19:36
Looking at past meetings and Watford are yet to record a win at the Old Lady, they have only managed one draw (2015).
So the result and performance will be a good indicator of where we are as a team. Scrape a win, or worse a draw, then it's a case of here we go again.
I would stick with Bernard as I think once he actually gets used to the pace of the Premier League, then he will be a little cracker. The guy has talent, look at Rudiger trying to get him sent off. You wouldn't bother if he was crap. We still need an end result from him though. we need to show some serious attacking intent.
Jay Wood
[BRZ]
46
Posted 10/12/2018 at 11:37:57
Those referencing the breaking 'news story' of Richarlison to Barcelona, did you check the source?
The Star.
Next!
Clive Rogers
47
Posted 10/12/2018 at 11:57:29
I think Zouma will play in a back three after his performance last time.
Simon Smith
48
Posted 10/12/2018 at 12:08:30
After dropping 2 points last time out, plus losing the derby, a win vs Watford is simply a must.
Imo, Lookman has to start; you can't expect the lad to earn and lose his place in one game. He's been banging on the door and Theo hasn't been good enough. Lookman now needs at least 5 or 6 starts to prove his worth.
Brian Harrison
49
Posted 10/12/2018 at 12:19:10
I know Lookman didn't sparkle as much as I thought he would against Newcastle, but it was his first start to a game. Both Walcott and Bernard have been given a good run of games so surely Lookman deserves to start a couple of games. I know the press were hinting yesterday that Silva may go with his 3 centre-backs against Watford.
With the exception of Richarlison and Sigurdsson our goal return from the rest of the team is very average, and Silva commented before the Newcastle game about needing his wide players to score more frequently than they are at present.
If there is a problem with this team, it is they are not clinical enough in and around our opponent's box. Either the final pass is poor or players looking to make an extra pass rather than shoot, and on occasions, the failure to hit the target with excellent chances have cost us points already this season.
Clive Rogers
50
Posted 10/12/2018 at 12:19:35
Simon, it should be in his best position, wherever that is. I'm not sure he is a winger.
James Marshall
51
Posted 10/12/2018 at 12:21:54
A lot of clamour for Lookman, as always, and a fair amount of bashing for Theo – personally I think Walcott brings more to the team than just his forward play (which is erratic). He does cover a fair bit of ground defensively too and is much better disciplined than Lookman in that respect.
Lookman has talent, and yeah, he needs a run of games, but is he really any good? None of us know, and in the Premier League you need to be on-it, up & running, ready to play, and not just be a 'maybe' player. There's not time to bed-in, no time to get good enough, you have to BE good enough.
The pressure is high, the stakes are high, the money-men are always looking over players & managers shoulders in football these days, and that boils right the way down to what individual players do during games. Lookman so far hasn't done anything, but then you go back to his game time, or lack of it, which as I say, isn't something a manager can gamble on.
With all of that in mind, Walcott is a safer bet to start, but you never know.
Jim Bennings
52
Posted 10/12/2018 at 12:41:34
James #51,
To be honest I agree with you.
I think Lookman has got talent and some skill but he hasn't exactly set the world alight in his time here.
I have no idea how many minutes he's played in total at Everton since he signed but I know he's only scored ONE league goal.
I think Walcott has lost form/confidence and the wonderful early season momentum he had has disappeared but I believe he had a personal bereavement at some stage so that might explain why the lad's mind has been elsewhere at times.
If I was a manager, I can understand why you'd probably trust Walcott more than Lookman starting matches. Lookman for me is still an impact sub for the last half hour and he's too erratic to start games at the moment.
We need to keep in mind too that at right-back Seamus Coleman is not having the best of times and is nowhere near the confident, free-running, swashbuckling fullback he was four or five years ago so that's having a knock-on effect on what's happening with our right winger also.
Simon Smith
53
Posted 10/12/2018 at 12:47:32
Will Del Boy get a good reception? Would you rather have him or Bernard on the wing?
Matt Traynor
54
Posted 10/12/2018 at 13:00:26
Simon, I can't think of a reason to give Deulofeu a poor reception – I saw quotes from an interview with him recently that was effusive in his praise of Everton's fans.
He looked great when we first got him, but then to me he seemed gassed by half-time if he was starting, or unable to change things if brought on. He's had some big clubs on his CV already, but there's a reason why he's not at one.
Jim Bennings
55
Posted 10/12/2018 at 13:01:01
Tough question, Simon.
Geri will definitely get a sound reception there's no doubt.
It's too early to really run judgment on Bernard in my opinion. There's obvious talent there but I think he needs to be a bit better when he's in the box and he won't win too many prizes for his shooting either.
Delboy frustrated the life out of me but at times he could be devastating and that cross for Funes Mori to score at Chelsea in 2016 is still one of the finest moments of sumptuous brilliance I've witnessed.
Hopefully Bernard will start to get himself involved a bit more and start finding a clinical end-product.
Derek Knox
56
Posted 10/12/2018 at 13:16:16
Simon, I can't see 'Delboy' – or 'Geri' as he was affectionately known to all Evertonians – getting anything other than a warm welcome.
I definitely think he should have stayed with us, remembering how young he was, and comparatively new to the Premier League, he did have a certain creativity about him.
Of course the big criticism about him, was that he seldom dropped back to help out the defence, but bearing in mind, the changes in Manager and coaching at the time coupled with his inexperience, he could 'retrospectively' have been a useful squad member. I think as he has matured he would realise dropping back to assist in defence is part of the requirements in the modern game.
He definitely had a goal or two in him, a propensity for scoring which I hope he doesn't repeat tonight! The only other aspect of his career, which has been shown at Watford, is he seems to be a bit injury prone.
Derek Knox
57
Posted 10/12/2018 at 13:36:39
I meant to add to my post before it went, that allegedly there will be 'inflatable snakes' at Goodison tonight, in allusion to Marco Silva having 'deserted them in their finest hour' such is the feeling of disillusioned Hornet fans.
I have also read elsewhere that their captain Troy Deeney will 'smash' Richarlison off the pitch when the teams meet later tonight, so hopefully a Red Card in the first few minutes for pre-meditated thuggery!
Fran Mitchell
58
Posted 10/12/2018 at 15:28:22
Just read the 'Ain't no Scouse' article where it mentions our team vs Chelsea 16 years ago: Simonsen, Pistone, Unsworth, Watson, Weir, Stubbs, Naysmith, Alexandersson, Gemmill, Gravensen, Radzinski.
My lord: 2 left-backs, 3 centre-backs, 1 right-back, 1 right-winger (with zero pace), 2 centre-midfielders, and 1 small striker.
We may complain about our lack of a 'goal-scorer', but thank the lord those dark days are behind us.
Expect us to win today in what should be a good game. Expect Watford to be more expansive than Newcastle were, which should work to our advantage. 3-1.
Jim Bennings
59
Posted 10/12/2018 at 15:50:16
Dark days of the Walter Smith era eh Fran?
2001 was an absolutely disastrous year for Everton.
Three home derby matches lost at home (including 3-0 to Tranmere) and, to make it worse, Liverpool won 3 trophies.
Brian Harrison
60
Posted 10/12/2018 at 15:53:53
I don't know why many are making it a choice between Walcott and Lookman, surely Lookman can play on either wing and definitely looks more of a goal-scoring threat than Bernard.
I think it will take all of this season for Bernard to get used to the Premier League. We have seen over the years talented players come into the Premier League and struggle at first then in their second season really show their talent.
I am hoping that's what we will see from Bernard but, for now, I would play Lookman on the left, Richarlison in the middle, and Walcott on the right.
Tom Bowers
61
Posted 10/12/2018 at 15:59:20
Del Boy is one of those ''almost'' players who, on occasion, may do something terrific but generally is quite ordinary. Hopefully he has one of those ordinary nights tonight.
Unless Silva can cajole this Everton team to jump out of the blocks early, we may be in for another frustrating night.
Part of a good manager's personality is getting his team to ''rebound''...
Jamie Crowley
62
Posted 10/12/2018 at 16:27:43
I think this game could get a bit touchy.
The kind of game I watch and wish they allowed fighting like hockey.
This is going to be a stern test in the end I fear.
I also fear Richarlison and Bernard will need to keep their heads.
Derek Knox
63
Posted 10/12/2018 at 16:38:31
Jamie C, it's a good job Marco Silva is pretty laid back too, as potentially there could be a scrap in the dugout with the Watford officials, with whom he is so 'fondly' remembered!
Alan Bodell
64
Posted 10/12/2018 at 17:00:00
Teams that sit back and let us attack them know they have a fair chance of getting a result, especially if they snatch the first goal, we have trouble breaking teams down like that and most of the so-called lower teams have done just that at Goodison for a while now.
Hopefully Watford will have a go at us, else it could be another frustrating 90 mins tonight.
John G Davies
65
Posted 10/12/2018 at 17:01:48
Jamie,
I think you could be right. A big strong side, Watford... who will trouble us from set pieces. If we match their aggression, we should be okay.
Eddie Dunn
66
Posted 10/12/2018 at 17:24:21
I also (as well as Frank and Clive) think Silva will start with a back 3 and then Digne and Coleman won't be so worried about losing possession on their forays up the wings.
This will be just as tough as Newcastle but we desperately need a cutting edge. We are too reliant on Sigurdsson and Richarlison... we need Walcott to deliver and we need to get Gomes further forward.
Steve Ferns
67
Posted 10/12/2018 at 17:55:32
Why play three at the back? It destroys the whole balance of the side. Sure it pushes Gomes further forward but one of Gueye or Sigurdsson have to drop to the bench and the other will have to play in a position that doesn't suit them (deeper for Sigurdsson and further forwards for Gueye).
It also means we don't have Gomes deep on the ball, we have a more limited player whose best qualities are in defence, not passing and this player will be the one who is on the ball the most. We don't have David Luiz.
Three at the back is shite. It only works if you have Beckenbauer. We don't. Save it for parking the bus.
Keep the balance and play 4-2-3-1. It's been working. And Digne doesn't need a rest. He just struggled on a very wet and slippery surface.
Those not at the game, it was that horrible drizzle rain last week, after raining all day long any people kept slipping all game long. It meant finesse players couldn't stroke the ball like they wanted and their delivery was off.
There was no fatigue to Digne's play. He got up and down better than Baines can. Digne could play a full 90 and still have more left in the tank than a fresh Baines. I loved Baines as much as anyone, but he's a spent force now. He's going to get a game or two over the coming weeks and the drop off in quality will be evidence for all to see.
Gotta stick with 4-2-3-1. I'd keep Lookman on for Walcott who had a knock and keep Walcott fresh for Spurs. I'd play Richarlison on the left with Bernard on the bench with a view to bringing him on to rest Sigurdsson if we get a comfortable lead.
Up top, I'd go with Calvert-Lewin who has the height and physicality to cause problems and create space for the two wider forwards to exploit.
Jay Harris
68
Posted 10/12/2018 at 17:59:38
I can see the logic of a back 3 against a physically very intimidating Watford but that would mean only one of Walcott, Lookman or Bernard would be included.
I would much sooner see the impact of our play further up the pitch and, although I criticise Bernard for his lack of composure in the penalty area, would like to see him and Lookman either side of Richarlison tonight.
I might also give Digne a rest after the battering he took against Newcastle.
Derek Knox
69
Posted 10/12/2018 at 18:06:12
Steve, good to see you back on TW. I am in Chester (not too far away) but it has been raining here pretty much for 2 days now. I am surprised to a degree that Liverpool hasn't suffered a similar deluge.
Just picking up on you saying about Digne not performing as we are used to seeing him due to a slippery wet surface.
Where were you last Friday for the Midland meeting with Mike Gaynes? I know you said you wouldn't be there till after 7 o'clock but we stayed till near 10 in the end!
Jamie Crowley
70
Posted 10/12/2018 at 18:09:18
Steve Ferns,
I didn't even read your post. I was just happy to see you post.
I thought you were sick or dead FFS.
Neil Wood
71
Posted 10/12/2018 at 18:17:02
I'm with Steve on the Digne element. He struggled with the conditions.
I am, however, in opposition to having Bernard on the bench... I just can't ever agree to a player with such a skill should ever not play barring injury I'd actually play Bernard as a 10 with Richarlison on the left and Walcott up top.
Eddie Dunn
72
Posted 10/12/2018 at 18:22:26
Steve,
I would simply drop Benard to the bench and have five across the back, leaving Gana, Gomes and Sigurdssonin midfield with Walcott and Richarlison up top.
Plenty of flexibility in there to bolster midfield and attack at the right moments; if we fail to find a way through, it still leaves us the option of taking off Zouma and introducing Bernard or Calvert-Lewin.
Dave Abrahams
73
Posted 10/12/2018 at 18:31:01
I wouldn't leave Zouma out of the side. Also, he might not be a Beckenbauer but he is pretty good on the ball and can go forward with it, beat a man, and create space for his midfielders Gomes and Sigurdsson who know how to use the ball. They should provide some chances.
Jimmy Hogan
74
Posted 10/12/2018 at 18:51:42
I agree with Steve Ferns and in any event, Silva is on record as saying he sets up 4-3-3. Full stop.
Jon Bentley
75
Posted 10/12/2018 at 19:02:41
Starting XI: Pickford, Coleman, Keane, Mina, Digne, Gueye, Gomes, Walcott, Sigurdsson, Bernard, Richarlison.
Jay Wood
[BRZ]
76
Posted 10/12/2018 at 19:15:03
I really don't understand the call by some to change to a back three.
Why?
Since 6-7 games in the defence has been excellent. Not just the back 4, but from back to front, as the team defends as a unit.
Changing to a back three changes that dynamic, to the detriment of the team elsewhere.
Is the call for a back three based on wishing to accommodate 3 centre-backs of similar ability? If so, it's misplaced logic for me. Yes, it's tough that one of them misses out on selection, but that's the nature of their chosen profession.
Based on performances this season, Keane would always play for me (except when being rested on rotation) and Zouma would be his prefered partner.
Mina has done okay and I expect him in time to cement his place in the team, but he hasn't hit the heights expected of him yet for me. Personally, I was astounded he was awarded MotM on his debut at Chelsea.
On Silva reverting back to his prefered XI in recent weeks, I think Bernard is lucky to get the nod over Lookman or Calvert-Lewin tonight.
One thing is for sure: however we get them, we need the 3 points tonight to maintain momentum.
Steve Ferns
77
Posted 10/12/2018 at 19:22:21
Thanks for noticing, I've just been very busy!
Steve Ferns
78
Posted 10/12/2018 at 19:37:18
Good atmosphere in the ground today. Better mood than the Newcastle game (derby hardluck hangover). I think we're up for this one. Let's hope the team are too and we can roar them back into 6th.
Add Your Comments
In order to post a comment, you need to be logged in as a registered user of the site.
Or Sign up as a ToffeeWeb Member — it's free, takes just a few minutes and will allow you to post your comments on articles and Talking Points submissions across the site.