Silva beaten on Vicarage Road return
Saturday, 9 February, 2019
Watford 1 - 0 Everton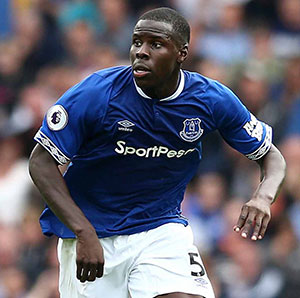 Kurt Zouma was sent off for dissent at the end of another miserable day for the Toffees
Marco Silva's return to Vicarage Road ended in further misery with Everton going down to their fifth defeat in their last six matches in all competitions thanks to Andre Gray's second-half strike.
The Blues had failed to build on a solid if largely toothless first-half display, ceding the initiative to their hosts and then conceding the game's only goal when Will Hughes crossed for Gray to convert from close range.
Gylfi Sigurdsson and Lucas Digne hit the woodwork and Dominic Calvert-Lewin missed a good chance late on to salvage a point but headed wide while Kurt Zouma's tirade at the referee at the final whistle earned him two yellow cards and ensures that he will miss the trip to Cardiff after Everton's 17-day break from action.
Silva rang more changes to this starting XI, restoring Sigurdsson, Cenk Tosun and Richarlison to the side and deploying just one wide player for the first time this season.
In the first period, at least, it appeared to have the desired effect of making the Blues more competitive in midfield and they dominated the ball without carving out many clear-cut chances.
Watford had almost scored in the 11th minute when Etienne Capoue latched onto Troy Deeney's chest forward in the box but the French midfielder's goal-bound shot was deflected over by Jordan Pickford.
But Everton would go closer to finding the net for the remainder of the half, with Zouma forcing a save from Ben Foster with a glancing header from Digne's cross in the 20h minute and Tosun seeing a powerful effort parried by the keeper a quarter of an hour later.
The second period was just five minutes old when Sigurdsson stabbed a looping ball into the the top of the crossbar but the Hornets soon established a grip on the game and their increasing pressure on the visitors' goal told in the 65th minute.
Pickford was adjudged by referee Lee Probert to have got his fingertips to Jose Holebas's shot across the face of goal but while the resulting corner was initially cleared, a rare moment of class in the game from Craig Cathcart sprung Everton's defence.
His lay-off to Hughes caught Digne cold, giving the midfielder space to advance towards the byline and send a tempting delivery into the six-yard box that put a goal on a plate for the substitute Gray.
Silva had already introduced Theo Walcott in place of André Gomes and he would throw Bernard on for the ineffective Richarlison and then Calvert-Lewin for Sigurdsson and it was the former Arsenal man who almost created an equaliser for Tosun. Walcott sprinted to the byline to cut the ball back to the centre but Tosun couldn't steer it on target.
Digne then clipped the bar with a free kick after Walcott but it was excellent work by Zouma in the opposition box that gave Everton their best chance to grab a point but his tempting cross was headed wide by Calvert-Lewin while the young striker would plant a final opportunity into Foster's arms from Bernard's centre.
Another bitter-tasting loss leaves Everton with a record of nine defeats and just three wins in their last 14 Premier League games, with only bottom club Huddersfield boasting a worse record over the past 10 matches.
---
Reader Comments (208)
Note: the following content is not moderated or vetted by the site owners at the time of submission. Comments are the responsibility of the poster. Disclaimer
Rob Marsh
1
Posted 09/02/2019 at 17:51:50
In the words of Roberto Duran:
No Mas!!!!!
Pat Kelly
3
Posted 09/02/2019 at 17:53:21
Has he gone yet ?
Scott McMurdy
4
Posted 09/02/2019 at 17:55:37
Got to go, has no idea never felt so depressed supporting this team
Fran Mitchell
5
Posted 09/02/2019 at 17:59:48
Got to go, surely.
Ken Kneale
6
Posted 09/02/2019 at 18:03:03
Go man go before you drive us all insane - this Club is a shambles and is heading to Aston Villa territory without doubt as long as we have charlatans around the Board and the coaching staff as we have. We have become a charity to the poor manager, sponging coaching teams and poor player. The fans have seen things that none of these so called professional can. As a consequence, we are all on TW expounding issues and agreeing or disagreeing with each other whilst a great footballing institution slowly but agonisingly slides down the pecking order. How depressing. They have sucked all the enjoyment out of supporting, discussing or attending any Everton game or matter.
Jim Bennings
7
Posted 09/02/2019 at 18:03:49
Absolutely abject horrible awful season that could be crowned off by you know who winning the league.
I don't see anything at all in this Everton team.
I see no desire, I see no pace, I see no leadership qualities, I see no direction and we are completely rudderless.
How can we have gone so long since selling Lukaku and not having a decent striker worth their salt?
Tosun is a million miles out of his depth at £27 million (cheers Sam for that) has been a disastrous signing.
We are relying on DCL who just isn't good enough regardless of what the apologists want to keep saying, he's had two years around the first team now and his all round game doesn't get him involved enough to hurt teams.
Our midfield consists of nobodies, Gomes has become a poor imposter of the man we seen in November and looks abject.
Sigurdsson has died of death.
Davies tries and tries to give him his due but he doesn't possess any great outstanding trait to make a difference in this league.
Walcott, Lookman, Bernard are all just flatter to deceive players with no end product.
Gana we should have just took the money, put McCarthy in there and then spent the money on a striker.
Absolute joke of a season, worse than any under Martinez.
At least under Martinez at times we played some dazzling attacking football.

Ian Linn
8
Posted 09/02/2019 at 18:05:11
I believe we have good players, Marco seems incapable of coaching or motivating them, I don't see anything to make me think Marco will change, his position is becoming untenable.
Tim Constable
9
Posted 09/02/2019 at 18:05:29
Before the Wolves game I had been considering posting a bit about patience and rolling out a load of examples of mangers who nearly got sacked but became a success etc .
Just can't do that now. However I do fear that he may survive longer in the job that he deserves following Moshiri's comments this week.
This for me is no worse than what we saw under Koeman or the end of Martinez but it's on par and they lost their jobs for good reason.
I hope it wont take relegation before those in charge see what's going on.
Kristian Boyce
10
Posted 09/02/2019 at 18:08:36
We have 17 days before our next game. Surely the perfect time to bring someone in to replace him. But knowing us, if we do get rid tomorrow, it will be 2 months like last time to find a replacement.
Andrew Yates
11
Posted 09/02/2019 at 18:11:01
Wasn't Koeman sacked for a similarly poor run of form? Or is Silva's worse?
It's all been said but the heart and soul of this club is being torn to pieces by poor management, sub-standard players and a clueless board.
The killer for me overall is that lack of leadership from the very top to very bottom, but having no one on that pitch who grabs the game and players by the scruff of the neck and says play just flippin' play, things will not improve.
But I'm off for a pizza and beer with the wife so bring on the next game .
Ivan Varghese
12
Posted 09/02/2019 at 18:11:21
A team stitched together by 3 managers. I don't see why expectation should be so high. Need more time, I see good players.
Kieran Kinsella
13
Posted 09/02/2019 at 18:11:46
Kristian
Two months minimum of us trying to unsettle and recruit the newly installed and unproven Huddersfield boss before we bring in Barry Fry on an 18 month deal.
Craig Walker
14
Posted 09/02/2019 at 18:12:04
There are no positives that I can see at the moment. It feels like the dark days of Mike Walker and HK III but with a much more expensive bunch of misfits. We urgently need a Joe Royle type appointment to bring back the dogs of war mentality before the derby. I feel angry, let down, disappointed and dejected. Fed up of this feeling now. To make it smart even more I heard the Soccer Saturday "experts" including Thompson insinuating that Everton threw Wednesday's game because of the starting line-up. Have they not seen how bad Richarlison and Sig have been? They should have been dropped weeks ago!
Jim Bennings
15
Posted 09/02/2019 at 18:13:21
Ivan
You can give time providing there are some positive signs or green shoots of recovery but this is becoming beyond repair at Everton now.
Les Graham
16
Posted 09/02/2019 at 18:17:52
I'd just like to say Fuck off Marco and...fuck off Everton. You consistently waste my time, you waste my love '''In short fuck off...until you believe in Everton as I do, you fucking embarrassments.!
Paul Swan
17
Posted 09/02/2019 at 18:19:05
Is anyone seriously surprised by this result today? We have an entire squad of shit players led by a manager and coaching staff who are equally shit. This has gone on long enough. Get this loser out together with the hangers on like Ferguson and get someone in who can at least organise a team. We are losing games left right and center against piss poor teams who outplay us home and away. This idiot mixes up the team week in week out but the results are the same because he is basically tactically incompetent. In my opinion much of the defensive mess is due to Pickford who cannot command the box but nonetheless is never under any threat of losing his place. His attitude and distribution is appalling and it's plain to see the defence have zero confidence in him to come for crosses. His has got to stop
Brian Patrick
18
Posted 09/02/2019 at 18:23:18
What do you expect if you sell your best players? Lukaku, Barkley...
As long as we remain in the Premier League, all is well for Moshiri's investment...
I think we will be relegated, I really do.
Jim Bennings
19
Posted 09/02/2019 at 18:26:22
The fella in goal needs someone taking him aside aswell and having a good word to see where his head is at.
Since the World Cup Pickford has been erratic at best and his lack of commanding in his area coupled with those big errors in December is starting to fuck me off.
Brian Patrick
20
Posted 09/02/2019 at 18:26:52
I believe Pickford has personal issues again. They should have an excellent replacement available and an excellent striker. This is madness and amateurish leadership from Moshiri.
Denis Richardson
21
Posted 09/02/2019 at 18:29:32
8 defeats out of the last 11 league games (not even counting the Millwall debacle). Managers have been sacked for less.
How anyone can possibly defend Silva is beyond me. His record in English football is simply appalling.
For those who bang on about his solitary Greek league win. My left gonad could win the Greek league with Olympiacos (who've won the thing 18 out of the last 20 seasons!).
He may try hard but he simply isn't a manger that is up to this level. I don't think he's even up to the Championship. Please Moshiri, eat humble pie and get rid of this imposter. We're not going to get relegated so spend the time to get someone who knows what he's doing.
Phil Smith
22
Posted 09/02/2019 at 18:31:20
More of the same shite. Just awful again and do not look like scoring.
Jim Bennings
23
Posted 09/02/2019 at 18:35:11
Moshiri is the man who wanted Silva so bad in the first place so perhaps our anger should be aimed more at him.
Clearly Moshiri can't make a good footballing decision and even Brands is starting to spin bullshit that patronises veteran match going Everton fans who know a load of bollocks when they see it.
Neil Wood
24
Posted 09/02/2019 at 18:36:01
Jim... I have said for weeks he needs dropping along with Siggy. Both expensive mistakes. Should of cashed in on Pickford after the World Cup and got 70 million for him.
I'm not usually a big fan of sacking managers willie nilly but he has to go.
Benitez for me please with substantial backing
Phil Smith
25
Posted 09/02/2019 at 18:36:01
I actually thought young Tom had a good game for us today. He gave the ball away quite a bit but he did some very positive things in the middle. Most of the others were bang average.
Scott McMurdy
26
Posted 09/02/2019 at 18:37:00
Just read via sky sports Zouma was sent off in the tunnel !!!
Mick Conalty
27
Posted 09/02/2019 at 18:42:48
Don't blame Silva, the ones who are culpable for signing him, Kenwright Moshiri are a total joke.
Jim Bennings
29
Posted 09/02/2019 at 18:48:22
Yes Scott and he misses the derby now too.
Not that makes any difference because this Everton team won't be laying a glove on the Shite.
Joe O'Brien
30
Posted 09/02/2019 at 18:49:53
Jim.. no he doesn't. Two yellow cards is one match suspension.
Annika Herbert
31
Posted 09/02/2019 at 18:50:54
Anyone but Benitez for me!!
Joe O'Brien
32
Posted 09/02/2019 at 18:55:55
And Jim.. as for you wanting to put McCarthy in.. after two matches you would start to slag him off like you do with every other player..because that's what you do best.
John Pickles
33
Posted 09/02/2019 at 18:56:13
What's the point of sacking the manager if Moshiri is just going to bring in yet another footballing nobody?
If you were running a business and you wanted to compete with the very best, you get in someone with experience running a top company. You don't get in someone who runs the local corner shop.
The club needs a shake up from top to bottom and to do that you need a highly respected manager who knows what it takes to achieve success because they have done it before.
These people are few and far between, will need a lot of convincing and a big war chest so Moshiri will no doubt end up with another wannabe, hence why bother sacking Silva.
Jim Bennings
34
Posted 09/02/2019 at 19:00:42
Get over it Joe.
I give stick and flack rightly so to our disgracefully underperforming millionaire players.
If any Everton fan thinks it's ok to tolerate this shite on a weekly basis every season then please send me those rose tinted specs.
Ivan Varghese
36
Posted 09/02/2019 at 19:11:28
Jim, I see good players, Its the lack of cohesion that is a problem. I think this team would be like Spurs and need to play the same formation. Also zonal marking from Roberto M's time was Everton's downfall. Tells me its their coaching staff Zonal works for many teams, but not for lumbering defense that is clumsy, flat footed and lacking the ability to make better decisions. Todays match they got desperate going 1 down and in prolong pressure.
Joe O'Brien
37
Posted 09/02/2019 at 19:15:50
I haven't got blue tinted glasses on.. but when I hear all the' sher palace and Newcastle have beaten city' rubbish as I did during the week.. without giving a single bit of credit to the team.. who did play well.

Has anyone had a look at how many teams have actually beaten city in the last two years? 4 this year 2 last year.. anyone who beats them is by pure luck.. Not because they had the talent to beat them.

Davies has been good the last two matches IMO. My gripe with Silva is the defence and the continued playing of Walcott.

The team are not doing great but they are not all completely useless as some on here suggest.
Richard Lyons
38
Posted 09/02/2019 at 19:24:51
I thought Davies at least showed some passion today; not much skill though. No one showed much skill, and no one else showed passion.
All in all, the quality on show amply demonstrated why there is a 12 point gap between the 6th & 7th placed teams in the Premiership...
Bobby Thomas
39
Posted 09/02/2019 at 19:29:42
I knew they'd get beat.
They'll get beat at Cardiff as well. Currently, they're better than us. They have more character and will out work us.
It seems that the gaggle of shithouses that have arrived at the club over the last 3 seasons are going to see off another manager. The away form over the last 3 seasons tells you everything you need to know about the dressing room. It will take some manager to come in and face this down.
As the mistakes stack up, instead of looking up I increasingly think we need to worry about looking down. If it was any other club you'd be looking at the potty transfers and the revolving door managerial appointments and thinking, "There's trouble brewing there."
We are getting it wrong. Badly wrong.
Jim Bennings
40
Posted 09/02/2019 at 19:30:12
Joe
4 wins in 15 games.
9 points from the relegation zone.
8 defeats in 10 games.
2 clean sheets since late November.
No win all season against a team in the top half of the league.
Knocked out of the FA Cup by Millwall.
Knocked out of the Carabao Cup at home to lowly Southampton.
I see absolutely nothing at all to take as a positive from this season so far and in my eyes the team and management ARE currently completely useless.
Ryan Holroyd
41
Posted 09/02/2019 at 19:31:32
Why does Silva keep playing that useless record signing of ours? Moshiri is a clown for agreeing to that deal. Another idiot Kenwright has brought to the club.
Christy Ring
42
Posted 09/02/2019 at 19:33:56
We're totally lacking confidence, I can't see where our next goal is coming from, let alone our next win. Silva has no plan B, he makes the same changes every week.
Ryan Holroyd
43
Posted 09/02/2019 at 19:36:16
Jim, you want Silva sacked. Fair enough But who would you get in?
Joe O'Brien
44
Posted 09/02/2019 at 19:37:19
Jim did you see any positives in the season prior to the match against that other lot back in December? I did for sure...
Pat Kelly
45
Posted 09/02/2019 at 19:39:29
That puts it in perspective Jim.
John Dean
46
Posted 09/02/2019 at 19:39:34
50% of all managers failing in the first two seasons should be sacked. But which 50% - Mike Walker, Ronald Koeman, Howard Kendal, Alex Ferguson.
Paul Birmingham
47
Posted 09/02/2019 at 19:46:36
Cest La Vie. It's terrible to say but it's become predictable, and the manner of play, basically means we are gonna lose most of the matches left this season.
I said 2 months ago Well struggle to 40 points and I don't see where the next win is coming from.
The demise and lack of belief this season, in my view is far worse than under Smith and on par with Walker. I'd love to know what happens pre match pep talk and at half time. Everton got the slumberland out again the second half.
I'm sick to the back teeth and Everton is sadly the Bain of life nowadays, and is the nap to most certainly dampen the spirit.
Maybe it can't get any worse and as it's gone so bad it can by some miracle get better..
The club in my view now is in disrepute and is in breech of trading standards. Seriously in a football note this club in view of the first team, the last 4 years and capped by this season, is in terminal decline and core rot is setting in.
To lose with hour and having tried your best is no shame but the team is playing like a bunch of strangers and misfits. It's a screwed up feature film, mega budget, where the cast don't talk, don't signal and don't bloody care.
In all my years, this feels like there is no sign of a revival. Who would come to Everton?
Sad days when EFC is on par with Huddersfield, and in fairness, they could have beaten us twice this season.
Have a good evening TWRs, the agony goes on in to 30 years, and the abyss of football mediocrity is in my view well set at GP.
I don't want to see the manager sacked, but it will take some miracles to see out the next month, RS and the rest.
Praying the worst doesn't happen in May, that is we don't get relegated as this form is cast iron relegation form and that the RS don't come first in the EPL.
At least TW is real entertainment, made by genuine Evertonians who care and care more than EFC, knows.
Sean Patton
48
Posted 09/02/2019 at 19:54:17
We have only two reliable attacking players in Richarlison and Sigurdsson who are both out of form and the team just doesn't look like scoring when they arent playing well. Silva looks increasingly clueless as to how to halt the slide this is now the 3rd month of truly awful results, how long can this go on for?
Ken Kneale
49
Posted 09/02/2019 at 19:56:43
Jim - spot on what damming evidence in addition to what is before the very eyes of supporters week in week out accompanied by the same drivel from manages, players and coaches over how they will fix it. Sack the lot - they are useless and as Paul 47 outlines, we are the very epitome of football mediocrity. How has it come to this week in week out.
Lee Paige
50
Posted 09/02/2019 at 19:58:18
Cardiff beat us in two weeks then we play them lot and we are going to uncomfortably close to the relegation zone.
Bobby Thomas
51
Posted 09/02/2019 at 20:05:48
Haven't expected us to win a game of football this year.
If this persists, and lets be honest with 2 always & the shite at home it most likely will, he's getting sacked after Newcastle away.
Jim Bennings
52
Posted 09/02/2019 at 20:11:31
I made a mistake.
It's actually 4 wins in 16 league matches.
Since beating Brighton on November 3rd we have beaten Cardiff, Burnley, Bournemouth and Huddersfield.
Patrick Eimsman
53
Posted 09/02/2019 at 20:38:10
What a fucking waste of time. Money can't buy you Love. Watching the six nations and cricket. Will check in next season on this shit show…
Joe O'Brien
54
Posted 09/02/2019 at 20:38:11
You didn't answer my question Jim.. did you see any positives prior to the match against the shite back in December?
I myself saw this as a transition period.. Silva (whether he'll be a success or not, who knows) took over a team as another poster pointed out has been stitched together by the results of three quick fire sacking and appointments of managers.. when we were flying up till Pickford's stupid error..I didn't get too high even tho I was enjoying it.. now when things aren't going too well.. I'm not going to get too down.. even though I'm not enjoying it.
Watford are a good side above us in the league and we were away. We probably should have got something from the match.. with hitting the woodwork twice.
Fair enough they've also got a new manager, but they've got a stable team that know each other well- we haven't that.
As for the talent of the team. Confidence is massive, two wins in a row alot can change. Look at United, alot of their supporters were saying the same about their team. They're not now that's for sure.
He's had two windows, 1st was a success I think, brought in quality. 2nd window he couldn't do anything because of the previous bad buys. Too much going on wages on too many players not even in the picture.. again not his fault.
Again my gripe with him is zonal marking, badly needs to get a good/ better defensive coach in to sort that out.. And my 2nd in him continuing to play Walcott, who is so poor and has been for ages..I did agree with you on that point.
I hope he can turn it around, only time will tell. Remember United were very very close to sacking Ferguson, and the supporters wanted him gone a good bit before that.
Paul Birmingham
55
Posted 09/02/2019 at 20:39:01
Jim, and all, they're stats that history proves, that you need to be very lucky to stay up.
The preseason results weren't great p, if we are honest all the home games we've won in the league, have been quite lucky.
Burnley away was a fluke, at a time Burnley were in the gutter, but they had the guts to fight their way out.
This malaise is killing the life out of Everton, and it's Silva, whose the manager now, but he's in an impossible situation, inheriting a cobbled up BBsKlog botch job.
I just don't see how Farhad despite his words of back up this week, for Silva, will be able to bank roll any spending, this summer.
As who will buy at any price most of our current first team squad? There's very good individuals but as a team and cohesive units goalkeeper, defence, midfield and attack, in my view the team plays now with no belief and game plan.
It's in my view worst than previous dark times in the last 30 years, and magnified by the money spent. A fortune spent and worse than we were, three years ago... The madness of playing a system these platpyers don't understand or can't cope with must stop. Playing to individual strengths is fine, but this must be harnessed as a team. It's frightening how far we lag behind, in terms of playing any match to a cohesive system.
As every Evertonian knows, shit happens, in life, but at Everton, the stench of failure and hopelessness, and sadly in terms of match play, predictability has made us a laughing stock.
We are all thick skinned and die yards, and bleed blue blood, but being rational and factual, and backed by the performance, stats, and level and style of play, this is dire and worse..
The truth hurts, but we face it and will cope. But we need a break this month.
Jim Bennings
56
Posted 09/02/2019 at 20:59:37
Joe
Did I see any positives in the early part of the season?
Let me talk you through my assessment early on.
I thought the first month of the season could best be described as frustrating bordering on mediocre.
The draws with Wolves and Bournemouth in August were slightly disappointing but I could at least see a promising attack.
September was a poor month for me with poor results against Huddersfield, West Ham and an average Arsenal side, the win against Fulham the only bright spot.
October was better despite starting with a falling Cup exit at home to a poor Southampton team under cobweb head Mark Hughes.
Wins against Leicester and Palace brought positivity but the defeat at Old Trafford when they were wanting Mourinho sacked and were in turmoil themselves was the reality check that we were still a long way off being a top six team.
November was the most positive month for me and had me going into the derby with some hope.
We all know what happened at the start of December and Jordan Pickfords season defining cock up has seen a quite humongous pin stuck in the balloon you could almost hear the gas just coming out.
We have had an appalling run of form ever since and lost to some bang ordinary teams, the season finally bottoming out in a horrible match at the Den in the FA Cup.
I can't honestly say I have ever been madly positive at any stage of this season because I knew from past experiences that we were always one damaging defeat away from a confidence crisis (knowing how mentally fragile we are) and it happened in the derby at Anfield of all places.
With regards to Silva?
When he got the job I was on the fence but willing to give him time, I thought at the very least he might bring about an exciting attacking team but I've been greatly disappointed on that front and defensively we have been every bit as poor as we were warned we would be under him.
Do I want him sacked?
I'm honestly not bothered to be honest, don't particularly want him sacked but at the same time I have no real affinity or faith in him to desperately want to keep him here.
The same lack of bonding and affinity with our players is there also though.
One time when we had Rooney the first time around or fan favourites like Cahill, Arteta, Bainesey of years ago, the thought of selling them would have given sleepless nights.
I couldn't care less who we sold or who we keep anymore and that's about the best way I can sum up my feelings on all things Everton right now.
Paul Birmingham
57
Posted 09/02/2019 at 21:01:40
And on a centre forward note, we know we have not had a proper striker, since the Big Head left us to go to Manure, fair play on paper, Everton got good money.
We never replaced him, and DCL and Tosun positional sense and anticipation of crosses, is on par with school boy football.
What's the point in delivering decent dead balls and genuinely making no plan to position and where to move and attack the ball ( in attacking positions, in the opponents box,) and what's killing us, this season from any dead ball, into our box, by our GK and the rest of the team ( especially the CBs)
JP, needs to take stock, and get back to basics and stick to it. Tactically we are giving away possession now, from his perceived free kicks. No one is perfect but it's become a trait of late, and more we loose the ball, it goes out, or we concede. But at least he has heart.
This is only a slide, on the mega slide of decline, that Everton is producing. It's time for the board to take proper note of what's happening to Everton, and take note now, as next season, praying that we've stayed up, is the biggest.
For me BMD, is also becoming pyrrhic vision.
Peter Howard
58
Posted 09/02/2019 at 21:06:31
" Who would you get in .".
No-one is the answer.You sack Silva and all his staff ( inc. Ferguson ) and you tell the players to get themselves out of the mess they have got themselves in.
Paul Birmingham
59
Posted 09/02/2019 at 21:06:51
Jim, I'm with you and that's the way it is now, and sadly has been for donkies years, at Everton.
I can't be a prisoner of Everton's past, and what it meant and will always mean, but this era, is for me, the worst.
God help us, in a few weeks, time.
Paul A Smith
60
Posted 09/02/2019 at 21:09:42
Brian 18. Its certainly possible mate.
Our business and ambition say we deserve it in my opinion.
Eric Paul
61
Posted 09/02/2019 at 21:19:16
Paul
And how's "big head" doing this season,for fucks sake William Ralph wouldn't score in this side.DCL's movement, work rate and anticipation when played is second to none but he is up front alone so what do you expect
Paul Birmingham
62
Posted 09/02/2019 at 21:20:16
Paul,@60, zackly, as no, team, is too good to go down, and this form, is nailed on for a struggle, and the players we have, don't have stomach, nous and guts for a real relegation fight, as that, is very close, and teams below us, have the odd game or two, in hand advantage, on us.
But hard work and belief, and spirit is needed more than ever.
You'd think Big Dunc, would use his life experiences, on and off the field to try and instill some fire and passion, into this squad.
Still, Bob Hope, and No Hope, but hope eternal for Evertonians.
Paul Birmingham
63
Posted 09/02/2019 at 21:29:00
Eric, I respect your views.
The fact is the club didn't replace him, and whilst DCL, has potential that all it is, in my opinion.
For me his positional play on dead balls etc is not what is expected. Unfair to compare to Dixie, and yes times are different, but on being clinical, when presented with a chance, I'd say he is ok, but not in my book a reliable proven finisher.
I hate saying it but look at Rashford, and how, he's come on and seems to have turned the corner, but he's in a team playing with confidence and making decent chances.
Final point, yes I agree the forwards, in this team
, are living of crumbs of chances on a good day. It's a right mess now with the Everton first team.
Pat Kelly
64
Posted 09/02/2019 at 21:31:26
Is there anyone on the board who knows how to sort this mess out ? Brands is the new boy on the board. Seems like it's down to him. The rest don't know anything about football. Unless Brands can apply some awareness of how to run a club we are rightly screwed.
Paul Birmingham
65
Posted 09/02/2019 at 21:34:13
Pat, @64, I agree, it's a another fine mess, but this one, is some mess, to fix.
Jeff Armstrong
66
Posted 09/02/2019 at 21:36:14
Jim Bennings,great post, I'm with you on most points there, point is,what next? main point is do we sack Silva ?
I think so,
just get Unsworth in to gain those extra 4 points we need to guarantee . well it's embarrassing to say it after the money we've spent, but to guarantee Premiership football next season.
Then get who in? Simeone would be my dream choice, but Arteta with Peps's arm around him might do.
Silva has completely fkd his 3 jobs in EPL, he is a very limited coach,he has proven that in the last 3 years .
He has probably only resided over about 40 games in total, but is bottom 3, and has conceded 40 odd goals from set pieces in those 40 odd games.
Andy Meighan
67
Posted 09/02/2019 at 21:47:33
It makes me laugh when people on here suggest "Get Unsy in. He'll sort this mess out!"
What a joke. That is exactly what is wrong with this joke of a club. Ex-players. Unsworth, Ferguson, Jeffers, Ebbrell etc... Shit players and proving themselves to be shit coaches; absolutely laughable. They stole a living out of our club.
And what's the biggest denominator in all this?? Big Billy Kenwright. He can't resist an ex-player or two, can he? Teary-eyed prick... no wonder we lurch from bad season to bad season.
John Pierce
68
Posted 09/02/2019 at 21:48:22
Let's face it. He's just minding the shop for someone else. Would you trust that fella with a raft of new signings in the summer?
Nah, Brands will be spinning through his virtual rollerdex and looking for contenders.
I speculate only a lack a suitable alternatives will see Silva stay beyond the summer.
As fanciful as it sounds I'm going to circle back to Simeone. Yes yes why would he come. Blah! Blah!
We need a proven winner, that's were the money needs to go. Spend as much on him as you would a top rate player.
He has kudos and the right sense of self and would fit well with the mentality of the fanbase. Basically he is a massive shithouse, no bad thing.
I think he'd be able to help persuade players to play for the club too.
Whilst it's fanciful, he's been at Atletico for ages, surely he wants a change? I think if a massive club wanted him he would have went by now.
But I'm so desperate I'll say anything to convince myself we'd have a shot of landing him.

Eric Paul
69
Posted 09/02/2019 at 21:51:40
Paul
Likewise I respect your views but it's ironic that you use Rashford as an example of youth when he is keeping "bighead" out of the side and is in a side creating chances, which was my point we aren't creating chances.
I wasn't comparing him with Dixie I was just stating Dixie would struggle to net with the chances we create
Phil Malone Jnr
70
Posted 09/02/2019 at 22:03:30
I know everyone is baying for blood right now out of frustration. Marco Silva needs time. We've incorporated a lot of good signings into the starting 11 as well as some of our usual quality players not living up to expectations.
The team needs time to gel and Silva needs time to make that happen. I'd rather be watching this than the type of football we were playing last season.
Ian Edwards
71
Posted 09/02/2019 at 22:09:27
Phil... you rather watch this????? Zonal disasters at the back.... Uncreative formation... like-for-like subs... hardly any shots on target... one up front getting no service. This is the worst football I've ever seen in over 40 years as a supporter.
Paul Birmingham
72
Posted 09/02/2019 at 22:11:03
Eric@69, cheers and like wise, 8 respect your views, and it shows we all hurt and are smarting like hell, and we care more than the board, about the current road to nowhere.
The club is in a right mess, and I don't know, if or who can fix it. If MB, is the person, then, this will be his biggest ever salvage job.
Talk about miracles, Everton needs a few the next few weeks.
Eric Paul
73
Posted 09/02/2019 at 22:18:41
Paul @72
Indeed, we all have our own ideas but who has the answers.
Goodnight, NSNO.
Paul Birmingham
74
Posted 09/02/2019 at 22:24:07
Eric@73, yep, agreed ma8. All The Best.
Jeff Armstrong
75
Posted 09/02/2019 at 22:30:12
Silva was Moshiri's choice, Cocu will be Brands choice, I do not think Cocu will be any better than Martinez, Silva or Frank fucking De Boer, or his brother Rene or whatever his name is!
Point being, Brands will have his favourites but will we be any better off with these wishy-washy knobs in charge? We need a Roy Keane type (lol) or a Diego Simeone type manager with a captain in his own image on the field, not some Northern European pot-smoking idealistic analyst!
Ian Edwards
76
Posted 09/02/2019 at 22:31:01
I can't help feel that our best defender and most creative midfielder are out on loan: Holgate and Dowell.
Jeff Armstrong
78
Posted 09/02/2019 at 22:36:51
Ian, # 76,
No... they're both shit as well. Wouldn't add a single thing to what we've currently got!
No use adding names randomly thinking they're any better than the crap we've already got. How are they doing at their current clubs anyway?
Joe O'Brien
79
Posted 09/02/2019 at 22:53:31
Roy Keane? No bloody way and he's from my home city. He's a rubbish manager.
No point in making any change now, whether Silva turns it around or not. I'm sure Brands is looking for options either way, he would be naive not to.
He doesn't come across to be naive to me. Brands will turn out to be our best recent signing.
Ken Kneale
80
Posted 09/02/2019 at 22:54:31
Joe. That is pure hope and desire blinding reality. Jim is right. This club is a mess. We are never going to witness what we want. I am sorry to be so negative about us but I feel identical to Jim's post at 56.
Joe O'Brien
81
Posted 09/02/2019 at 23:02:05
Maybe it is, Ken, mate. For now I just want to get to 40 points. It's a sad state of affairs.
Colin Glassar
82
Posted 09/02/2019 at 23:03:16
Sounds like "El Loco" Bielsa is being lined up as an emergency replacement for Silva. Another legal battle for another manager? Out of the frying pan, into the fire?
Jeff Armstrong
83
Posted 09/02/2019 at 23:06:44
Not advocating Roy Keane at all, just his type of mentality and will to win attitude. I'm not sure if there's many with that type of attitude about these days.
Ken Kneale
84
Posted 09/02/2019 at 23:10:26
I agree with that, Joe. We are all hurting badly here.
Jim Bennings
85
Posted 09/02/2019 at 23:17:53
Jeff
I agree.
I don't want Cocu or de Boer or any other pot shots from weaker leagues.
Cocu seems another very dull personality much like de Boer.
I want someone that can be clear and understandable, someone straight talking and not another spin doctor or snake oil salesmen.
Martin Nicholls
86
Posted 09/02/2019 at 23:24:06
As usual, fighting talk from management and players prior to a game in which they capitulated with little more than a whimper.
Joe O'Brien
87
Posted 09/02/2019 at 23:25:43
Who would be your pick Jim? I wasn't having a go at you earlier... we all want the same thing.
Simeone would be mine... but no chance I'd reckon. Unless he wanted a move and all the top jobs were taken. And if he wanted the Premier League to be his next port of call.
Wasn't there something that he came looking for us last year? Probably rubbish though.
Paul Hewitt
88
Posted 09/02/2019 at 23:32:49
I can't believe people are saying give Silva till the end of the season. The guy is totally out of his depth, and we ARE heading for a relegation battle if he stays. Lose to Cardiff, and we are in deep shit. With the home games we have left, I'm starting to really worry.
Paul Jeronovich
89
Posted 09/02/2019 at 23:33:06
Come home, Moysie lad. All is forgiven.
Paul Hewitt
90
Posted 09/02/2019 at 23:37:14
I can't believe people are saying give Silva till the end of the season. The guy is totally out of his depth, and we are heading for a relegation battle if he stays.
Lose to Cardiff, and we are in deep shit. With the home games we have left, I'm starting to really worry.
Jeff Armstrong
91
Posted 09/02/2019 at 23:37:43
Go on Jim, nail your colours to the mast, my dream choice would be Simeone.
Who's yours?
Danny Broderick
92
Posted 09/02/2019 at 23:42:54
Appoint who you want, but any new manager will be confronted with the same problems Silva has – namely overpaid players who are nowhere near the first team squad.
It's impossible to motivate these players. We need to treat the root cause before we replace the manager.
Andy Crooks
93
Posted 09/02/2019 at 23:45:29
Whether or not I agree with Jim Bennings... sometimes I do, more often not. I see strong similarities with the responses I got when I wanted Moyes out, back in the days of the MOB.
It is, in my view, utterly ludicrous to ask a critic of the coach to name a replacement. How on earth would I or Jim, or anyone outside the incestuous world of Premier League football know that?
I believe he should go because they are not playing for him. I do not mean they are not trying; I just think they have no faith in him and see him as on death row.
I think he is a decent coach but inherited too many players who are as about set in their ways as me. This needs to be ripped up and started again. I don't know who the good guys in this squad are, but I believe that there are malign influences in this team who are earning too much to be run out if town.
The coach carries the can, perhaps rightly so. However, I reckon there will be some very highly paid players who will be out tonight enjoying some expensive wine and having a laugh.
They should, if they have an ounce of integrity, be hanging their fucking heads in shame. How they perform affects the weekend of many of us. Not them, they do not hurt... they do not give a flying fuck.
Rob Dolby
94
Posted 09/02/2019 at 23:52:56
Does anyone have any idea on how Silva is setting teams up to win matches.
Early in the season the midfielders where all over the opposition like a rash. Creating chances and looking like we had some sort of plan.
Fast forward a couple of months and the midfield have stopped working as hard. We pass sideways and backwards in possession and don't play the ball through the middle. The goalie passes to Keane or Zouma then 30 seconds later rushes a clearance upfield, what type of tactic is that? it just doesn't work.
Not signing a striker in January even on loan could be his downfall. We didn't create much today but when we did Cenk was either offside or overpowered by the very average Marriapa.
I can't see where the next win is coming from. Brands surely must have a replacement lined up.
Jeff Armstrong
95
Posted 09/02/2019 at 23:58:15
"It is, in my view, utterly ludicrous to ask a critic of the coach to name a replacement."
I disagree, in this particular game. I think, if we are criticising the current coach, we need to offer a preferred replacement. I offer you Diego Simeone.
Rob Dolby
96
Posted 09/02/2019 at 00:01:15
Oh, and if I could pick someone to replace him, it would be Simeone... but that's like saying we should pick Pep. It's just not going to happen.
Short term, I think Wenger could be persuaded. I just can't see Silva making it through until the end of the season.
Tony Williams
97
Posted 09/02/2019 at 00:01:32
I am not a Silva lover but what do we do? We have just got rid of three managers, do we keep him and risk it or get rid? I think we are between a rock and a hard place.
Paul Hewitt
98
Posted 10/02/2019 at 00:07:09
It's not for supporters to pick managers. That's the job of the highly paid board members.
Andy Crooks
99
Posted 09/02/2019 at 00:10:17
Jeff, I agree, I should have included "realistic", in there. However, I think there is a debate to be had here. We pay top money and, much as I hate it, football is full of mercenary, greedy fuckers. We cannot afford to add many more... but one more should be Simone or someone of that calibre; that would be fine.
Consider this. I believe that, for the combined wages of Sandro and Schneiderlin, we could have a pretty decent coach.
What does that say about the corporate governance at our club? Sorry, by the way, for using that toxic phrase.
Jim Harrison
100
Posted 10/02/2019 at 00:41:54
Oohh Rob 96, that's an interesting idea! Wenger for a few months, giving time to get in the manager Brands wants. Perhaps Hiddink could do for us what he has done for Chelsea twice before?
I am not one for changing management after a few games, but this streak is too long, and it doesn't look like changing. All the positive work from early in the season looks to be undone and the players have lost their confidence.
I don't agree that we have a poor team. There is quality in there, despite current form. Sigurdsson, Richarlison, Gomes, Bernard, Pickford, Digne are all good players, and the young lads are good too, even if they are not world champions that some people expect them to be.
Silva has lost what momentum he had created, and doesn't seem like he has the skills to get back to where we were before Christmas. Fair play, he did try to change things, and it was exciting for a while. Perhaps given time he could turn it around, but managers don't get time at the top level.
Cut our losses, try again. Except this time at least we have a DOF trying to create a culture at the club. Next coach shouldn't be looking at shipping out the players the last one bought to bring in a different style of play.
Tony Williams
101
Posted 10/02/2019 at 00:59:27
As long as these primma donnas are picking up more in a week than some of us earn in 5 years I honestly don't think they care one iota, are we the fools spending our hard earned wages on going to matches when they are dishing up shambolic performances each week?
Kunal Desai
102
Posted 10/02/2019 at 01:01:41
Was it last season when Moshiri came out and said that gaining points against the top six sides was a bonus, but the expectancy was to take points from the other sides. Wonder what his thoughts are now and what he has to say?
Phillip Warrington
103
Posted 10/02/2019 at 03:51:18
If we get a points deduction penalty for poaching Marco Silva, we could very well come close to being relegated. I don't know... I still haven't seen anywhere where it is 100% over.
Jim Bennings
104
Posted 10/02/2019 at 06:36:33
Simeone would be a dream choice but I doubt he'd come to North West England and I doubt we'd try that high for a manager.
It's more like another Silva-esq move in the shape of Eddie Howe.
Moshiri might be a successful business but he spouts nearly as much shit as Bull Bill.
Derek Knox
105
Posted 10/02/2019 at 07:39:09
Tony Williams, well said my friend, at least Dick Turpin and many like him wore masks, and made no pretence that they were anything other than down and out robbers!
Colin Glassar
106
Posted 10/02/2019 at 07:47:25
Well if Klopp, Guardiola and Mourinho (I know) could come to the NW to ply their trade, Jim, I'm sure Simeone (for the right money) would be up for the challenge. The only problem is, when he meets luvvy duvvy and his Anglo/Iranian puppet, he'd probably run a mile!
Jim Bennings
107
Posted 10/02/2019 at 08:13:15
Colin
The point is though to many top foreign bosses there's only three clubs worth looking at in the North West of England these days and you have just mentioned the managers at those clubs.
It's hard to see Simeone buying into the idea of joining a mid to bottom ranked club, asking him to give up the Champions League and a cushy life in Madrid, the country of his mother tongue language, the weather etc to come and join Everton.
I just can't see that one every getting off the ground to be honest and it must have already been explored by us surely, maybe even before Koeman took the reigns.
Colin Glassar
108
Posted 10/02/2019 at 08:28:29
I don't think Simeone, or anyone of his stature, would touch us with a barge pole right now Jim but I also believe money talks louder than words.
Right now I don't see a way out at Everton. The board appear to be clueless. The manager looks lost and the players not bothered. It's a perfect storm we find ourselves in but, summer is coming! Time to recharge our batteries and to face some painful truths.
I honestly believe Silva will be given until about October to prove himself or he'll be out (hopefully with his successor lined up) on his arse.
Jim Bennings
109
Posted 10/02/2019 at 08:33:10
I agree Colin.
This summer promises to be seriously turbulent at Everton Football Club.
There's no way our board can sit on their hands once the season finishes and the one thing we don't want to hear in May is silence.
Major surgery and answers to the many questions are required.
Season ticket sales will be hit, maybe for the best as the board might start to think that fans aren't just willing to tolerate shite on a yearly basis anymore.
While us mugs keeps coming back why do the board need to worry?
Sam Hoare
110
Posted 10/02/2019 at 09:03:17
Simeone could probably get any managers job he wanted. Plus he is happy at Athletico. The idea he would come to a mid table club in the Premier League with a mediocre squad and fans who will bay for his blood any time they don't beat one of the other mid-table clubs seems fanciful at best. By all means sound him out... but I can't see it.
No such thing as a sure thing when it comes to managers, as evidenced by the lack of accord on here as to who the next man might be.
Dave Abrahams
111
Posted 10/02/2019 at 09:15:36
I haven't read a lot of the posts to be honest so maybe someone has already said it: We can blame all day the culprits who have got us into this very serious mess. From top to bottom many have to take the blame and it is their job to get us out of this mess.
All we can do and must do, is to get behind the team in the remaining games. Ahe away fans already do this, magnificent supporters to a man, the rest of us must follow their lead. We can bellyache all day long, it's not going to help in the long run. Getting behind them can help.
Let nobody be in any doubt, we are in a very bad way. Staying up is now the only priority that should concern us; the rest can be attended to and addressed if and when we do.
Sean Kelly
112
Posted 10/02/2019 at 09:35:27
Everton's performances, week-in & week-out, is like watching a train wreck on video loop. Crushing.
Paul Kennedy
113
Posted 10/02/2019 at 09:48:19
I see we are being linked with yet another proven manager as and when this idiot goes...
[I hope the sarcasm was evident.]
Kevin Dale
114
Posted 10/02/2019 at 09:50:50
Some very good post and points raised and most everything has been said. Should he stay or go is the big question?
For me, the signs on his coaching and management skills are not good. Let's take yesterdays game as an example: he make changes bringing back into the team Sigurdsson, Tosun and Richarlison why?
Everybody agreed that the match against Man City was much better (apart from the result) and the team looked balanced, so why did he bring back an out-of-form Sigurdsson, Tosun and Richarlison? Walcott another player who is badly out of form, so why bring him on when we needed to up the pressure? And his substitution taking off Gomes to bring on Walcott, baffling?
Much has been said about his systems of play so I won't go over them, but if you look back at previous games you can see many examples of some baffling decisions. For me, all the signs are of a manager who is out of his depth at this level and struggles with the clubs big signings!
'Give him time' some say, 'the players are not his' others say, but surely a good coach can see what the players are capable of doing, we do have some good players and surely he could at least stop us conceding in every game?
Something needs to happen sooner rather than later, and no I have no idea who I would bring in? I'm just looking at the facts of what's happening now and this currant coach/manager is not showing us anything to say given time things will improve! I just hope I am wrong!
Eddie Dunn
115
Posted 10/02/2019 at 11:32:51
Just had a look at the Watford fan's forum "Hornet's nest"... very astute:
"It looks like a team with little organization in attack and defence and one that is filled by players that lack confidence in themselves and the manager. It makes their summer spending over £80 million highly questionable and no doubt why the ownership refused the persona non grata (which he will likely become at Goodison before long as well) any more funds.
Of those three signings Digne has been the most consistent and will be a unwelcome return to their team for the match. Mina has hardly settled and the Snake's Son has been inconsistent not helped by the lack of quality service. He has however definitely improved as a striker with his movement and accuracy and will have a point to prove (as I hope Gerard will). It is also amazing how Walcott continually gets a game ahead of Lookman. Let's hope this is the case for Saturday.
Another defeat for persona non grata would surely hasten his departure from these shores. Like his mentor, Mourinho, he is inflexible. He has played the same style of football at every team he has managed. Unable to defend using the basics and with a paper-soft core in midfield. And unlike Moaninho unable to cover those deficiencies with huge spending. Yes, his teams do play neat passing football at times but often with little end product.
Fingers crossed Javi is man enough and wise enough to change formation and make sure we get an iron grip in midfield. Gomes, Davies and Sigurdsson especially the former two should scare no-one."
So they certainly seem to have Silva sussed.
David Connor
116
Posted 10/02/2019 at 12:53:40
We're a joke of a club from top to bottom. We are heading into a massive black hole rapidly and I fear we will never be a big club again. Silva the coaching staff and desperately poor footballers are crucifying our great club.
Please, Mr Moshiri, sack this clown Silva or he will destroy our club. The man is clueless. You only have to see him on the touchline to know that he knows he is out of his depth.
And please get a coach who can speak fucking English, for god's sake. This fella is a joke on every level. The players are taking the piss out of all the fans and taking the piss out of Silva and there's nothing he can do about it. How shit is that? Fuckers!!!
Jim Bennings
117
Posted 10/02/2019 at 13:17:12
Eddie
You can't argue with that Hornets Nest assessment of the manager and our players.
I go back again to what Jermaine Jenas said last weekend
"I don't know what Everton are anymore "
I just can't get those words out of my head because amongst all the pussyfooting around and media gobbledygook from our players past and present, those Jenas words are the truest spoken and have really hit home.
Karl Meighan
118
Posted 10/02/2019 at 13:20:44
Paul @17 – we had a manager who could organise a team, Allardyce.
Peter Gorman
119
Posted 10/02/2019 at 13:23:13
Haha, Karl, good one.
Eddie Dunn
120
Posted 10/02/2019 at 13:25:51
Yes Jim, despite the fanfare of Moshiri, the saviour, the harsh reality is, we are being ridiculed by twats in the media, and we are also being despised as being a flash club throwing money around and nicking managers of our rivals (Saints and Watford). It appears that we are becoming a club that many are choosing to hate.
It wouldn't bother me so much if we were successful, like Leeds in the '70s, but to be shit and hated is even worse.

Julian Exshaw
121
Posted 10/02/2019 at 13:29:42
I think most of us looked at our first games this season within the context of what we witnessed in season 2017-18, which in my opinion was an even worse season than this one. The opening game at Wolves and those that followed showed a degree of progress and as a fan I was up for it again.
I will never forget the apathy with which I watched us during Sam's time, in particular the last, or second last, home game against Southampton. I almost felt sorry for the relegation-threatened Saints when Davies's effort was deflected into the net. If memory serves me right, we barely created a chance in that match.
So, please do not let us ever mention having Sam or little Sam at our great club again. I never want to feel what I felt for the first time in 45 years last year. Total apathy!
Mike Kehoe
122
Posted 10/02/2019 at 13:31:54
Since Moyes left, the club has gone backwards, a brief episode when Martinez looked the part but, on reflection, his improvements were based on Moyes's defence. Barring a miracle, Silva is another abject and expensive failure through the glittering Goodison revolving door.
Moshiri turned to Allardyce to avoid relegation. He could do worse than appoint Moyes to restore stability and organisation into an abysmal defence. At least under Moyes the players attitude could not be faulted.
The current team are not bothered and that is disgraceful. Probably not a popular shout, especially for the dreamers demanding Simeone, but I'd rather Moyes than Benitez any day.
Karl Meighan
123
Posted 10/02/2019 at 13:35:14
Your other point regarding Pickford I would agree with, he just stays on his line whenever any cross comes into the box, are defenders don't cover themselves in glory, they don't attack the ball are poor in the air and struggle to stop the ball coming into the box.
i believe Gana should have been sold based on if he is such a fine defensive midfielder why do we concede chances for fun, he doesn't protect are defence in anyway and also adds nothing going forward. He does very basic work that shouldn't be above any midfielder imo. Him looking good says more about the poor standard of player we have.
Steavey Buckley
124
Posted 10/02/2019 at 13:36:40
Everton are in a very bad place as Everton are basically losing match after match, as Everton fans hold their breath with every free-kick and corner fired into the box.
Silva has to go before Everton are relegated. Sooner than later, because a losing streak means relegation for certain.
Karl Meighan
125
Posted 10/02/2019 at 13:45:41
Last season wasn't worse than this season, Julian, it's the same, imo – losing and being shite don't change, regardless of who is in charge.
I hate losing and maybe them imposters on the pitch and in charge should once in a while take a look at the Club badge and what it represents.
Derek Thomas
126
Posted 10/02/2019 at 13:47:31
Well said Eddie. The rs biased media need no excuse and we're giving them free hits every week on a plate. Villa are now saying, "We got relegated, but at least we're not Everton."
How does it feel to be a laughing stock, Mr Moshiri? I hope the stadium and the profit – if it happens – is worth it.
Derek Thomas
127
Posted 10/02/2019 at 14:00:18
Mike, it took Moyes 5 years to get that attitude. Do you really want him in charge for the derby?
John Davies
128
Posted 10/02/2019 at 14:19:02
Andy #67. Your post is spot on mate. Sick to death of the spongers and conmen who are our current coaching staff. Like our players, they are cheats, drawing salaries under false pretences. Fraudsters – all of them.
Eoin O'Doyle
129
Posted 10/02/2019 at 15:28:20
I don't think we have a hope in hell of getting someone like Simeone. Why would he be interested in us? We can't even get near the Europa nevermind the Champions League!
Hate to say it but I think Moyes is probably our best bet until the end of the season. He did a pretty good job at West Ham and was unluckly not to get the job full-time. At least he can organise a defense.
Failing that, we should go for proven Premier League experience in Rafa Benitez. He's hardly happy at Newcastle and is the calibre of manager we need (despite being an ex red). No time for sentiment now!
It's such a shame we didn't take a gamble on Arteta and took one on Silva instead. He's obviously highly rated by one of the best managers in the game, knows the club, and is obviously living in the northwest. Unfortunately now I don't think we can gamble again.
The next few years are going to be pretty bleak until this stadium is built I'm afraid. I doubt we'll manage it as well as Spurs have. So we either get a good young manager who'll be happy to work with limited resources or a manager that's used to getting fuck-all transfer budget (either Davey or Rafa).
It's a shame it's come to this. We need a big clear out of dead wood players, coaching staff (yes you too Dunc!) and Bill! If we could get rid of Bill this season at least it hasn't been all lost... 😂
Paul A Smith
130
Posted 10/02/2019 at 15:36:18
Paul @62.
There is a lot said about Big Dunc every time we hit a bad patch. It's a great note of how fickle we are.
Personally I don't think his role is important enough. He has the required badges all the other coaches have and the irony of people calling out for passion and 'Moyes' in some quarters while Big Dunc is there, simply does not add up.
Too many people are caught in frustration and there are so many contradictive messages it is unreal. Regardless of what you may think of Ferguson the player, or the troubles he had, he fought for the club often enough to know he loves the club.
There is one man that does know the meaning of the badge and knows the fans' feelings but, straight away, the same fans who want passion want him gone – and, by the way, these people are all clueless as to what he does.
He works for the manager plain and simple. How often do you see Silva look to his opinion? And who is Silva's assistant? Does he know the "Everton way"? Did Martinez's iPad assistant know what our fans wanted?
Look at the board's methods and start there because it's less painful when you realise how stupid it has been. Then stick with what can be done to make us a unit again or keep rolling along with expert opinions and guidance from people basically clueless about Everton.
Neil Cremin
131
Posted 10/02/2019 at 16:15:05
Looking at our fixtures:
Away to Cardiff, Newcastle, West Ham, Fulham, Crystal Palace and Spurs.
Home to top four and Burnley
Based on current performances, the best one could hope for is maybe some away draws and a home win against Burnley to be safe.
On Pickford, besides questioning his ability since the start of last season (and getting abused in TW), why is he the only person not to be dropped? Strange.
Also, why was Walcott brought on for Gomes when, for me, the obvious choice to maintain the shape would have been McCarthy??? Signs on the minute we changed shape we conceded a goal.
If Macca is fit enough for the bench, then surely he is worth a go. (Silva says he needs match practice, so how is he going to get it? We would also find out if he is capable of getting back to the form he had when he and Barry bossed midfield in Martinez's first season.)
Mike Kehoe
132
Posted 10/02/2019 at 16:28:16
Derek @127,
The thought of Moyes in charge for the derby doesn't inspire any great confidence as his record in them was not great. I do feel that this team with these tactics (?) will get absolutely twatted by rs and the result could be horrific.
If I could see anything like progress, I would be behind Silva; but I can't, and his inflexibility and inability to identify and address glaring massive problems suggests he is not the man.
When he is replaced the question is: Who? I know this will sound like heresy to those who wish for Simeone or Ancelotti but I feel the harsh reality of the clubs plight dictates a less fanciful approach. Eddie Howe has transformed a shit club into an established premier league outfit and I would support his appointment or Moyes as I don't think either is a risk. I favour Howe but he would be harder to get than Moyes at the moment.
Does anyone think Moyes would have spunked outrageous fortunes on the likes of Bolasie, Klaassen, Schneiderlin or Sigurdsson? He could spot talent and knew the qualities needed to gel players into a team. He did well with no money, often running on a deficit.
The expensive gobshites since could not run a bath let alone a football club. Forget Boys Pen Billy and teary reunions with swelling music, not a dry eye in the house. Since Joe Royle, he has been the only manager to put out committed organised effective teams.
Guido Blumberg
135
Posted 10/02/2019 at 19:20:59
I am one of those who never wanted Marco Silva in Everton. He has no merit to be in the biggest club in England. He was not even a good manager for tiny teams like Watford or Hull City, where he won 30% and 35% of the total points.
With this background, who happened to hire Marco Silva? Oh yeah, Farhad Moshiri and Brands. The failure of this management was expected. But I did not think that Marco Silva's era was going to end so soon.
Paul Jeronovich
136
Posted 10/02/2019 at 23:12:47
Davey Moyes, Davey Moyes, Davey, Davey Moyes.
He's got red hair but we don't care.
Davey, Davey Moyes COYBB!!!!
Frank Wolfe
137
Posted 11/02/2019 at 00:17:09
Yep, get in a new manager and get rid of the dead wood. That should fix. Simples.
John Sagar
138
Posted 11/02/2019 at 08:01:57
Marco Silva for me shows as much passion and warmth as damp wood under an old carpet.
Time, please, Ladies and Gentlemen!
Martin Nicholls
139
Posted 11/02/2019 at 09:02:59
Hope our players enjoy their extended rest this week and warm weather training camp to follow. Can anyone remember if we've ever won the game immediately following one of these jaunts?
Terry McLavey
140
Posted 11/02/2019 at 10:11:13
Do you think we should remove the Nil out of our motto? It seems to be having an influence!
Gary Willock
141
Posted 11/02/2019 at 10:32:47
Source: BBC 5-Live:
Only two teams in Premier League history have conceded more from set pieces than Marco Silva's Everton...
🥇 Marco Silva's Hull
🥈 Marco Silva's Watford
There is no argument left, this man is too stubborn to accept his faults and change them. It could be as simple as getting a high profile defensive coach in and making them assistant manager. Instead, he does nothing new and sends them on holiday.
Mo Guindi
142
Posted 11/02/2019 at 10:50:09
Guido - are we or were we a big club? What about Leeds, Villa, Wednesday, Forest or even Preston North End if you go back far enough?
For now, we are no better than previously non-league Bournemouth. The sooner we lose our obsession with the past, the better.
In fact, it might not be a bad idea to bring in Eddie Howe – an Evertonian and have him start again with our hungry young academy players.
Derek Taylor
143
Posted 11/02/2019 at 13:11:45
Whilst I'm not one to get excited by the achievements of Eddie Howe – he's just the latest in a long line of 'young hungry managers' whose candle burns brightly until the other Premier League bosses suss them out and send them back whence they came.
However, Mo has a point when he suggests that whoever is to succeed the present rather hopeless incumbent should start by playing a good sample of our young players instead of the endless swopping around of Silva's 'top 16'.
Having identified and signed a goodly sample of the 'big-time no-marks' so favoured by the manager, it is doubtful if our seemingly revered Director of Football would support this move (and if nominated to find the next man in charge we can be sure it will be one of Brands' mates ) so expect more of very much the same selection.
My feeling is that from a football perspective, Moshiri's prolificacy (even if some of it has been his own money?) has landed Everton deep in the brown stuff from which there is no escape. Others with wealthy backers have travelled this way before us and now find themselves playing at Championship or even lower level.
Aston Villa's Randy Lerner was fond of saying 'however much you throw at it, you are only ever one bad manager away from disaster` and he soon became aware as to why his predecessor was happy to glory in the title `Deadly Doug! and was delighted to hand over the hot potato at a knock-down price !
Peter Mills
144
Posted 11/02/2019 at 18:36:29
Derek #143,
Eddie Howe took over at Bournemouth 10 years ago when they were second from bottom of the 4th tier. He now has the club in the Premier League.
That is a far more impressive CV than most hungry young managers.
Steve Ferns
145
Posted 11/02/2019 at 18:45:50
Eddie Howe has never been under any pressure. The only time was at Burnley but they called that failure "homesickness".
How can you be sure those long runs of defeats that Howe goes on don't follow him to a big club?
What about Dyche? Loads wanted him, he's had a bad season and is dismissed as a candidate now; how do we know Howe is not about to have a really bad run and go down with Bournemouth? Also, have a look at how much Howe's spent... it's a lot more than you'd think.
Derek Taylor
146
Posted 11/02/2019 at 18:49:12
Fair do's, Peter. Howe has certainly got something many of his fellows don't possess. But as you will be well aware, whatever it is don't travel. Even the mighty Burnley was too much for him. 'Too cold up north,' according to his missus!
Peter Mills
147
Posted 11/02/2019 at 18:53:48
As I understand it, Howe left Burnley for family reasons following the death of his mother.
Brian Patrick
148
Posted 11/02/2019 at 18:56:14
I like Bielsa but he wouldn't have his type of players here so he would need a wedge to spend. His tactics are around high mobility, often players playing 'two' positions. They need to be fast, intelligent and have a Trojan work rate. Our players look goosed after the warm-up.
But Conte would be my preferred choice as he may stay around longer than Bielsa...
Steve Ferns
149
Posted 11/02/2019 at 18:56:37
It was "personal reasons", Peter, so you may be right, but there is no question that he left as a struggling manager under pressure having failed to achieve the promotion promised, or even come close to it.
Derek Taylor
150
Posted 11/02/2019 at 19:04:01
Word is that Silva will get until the end of the season unless this run of defeats continues and we fall into the drop zone. Then – and only then – Moyes will come in to save the day!
Steve Ferns
151
Posted 11/02/2019 at 19:06:25
Like he saved Sunderland, DT?
Paul Tran
152
Posted 11/02/2019 at 19:10:24
I wouldn't dismiss Dyche (pun unintended). Massively over-achieved with a bunch of distinctly average players who were never going to repeat their feats of last season. Unlike some, he isn't backed by a rich sugar daddy. Unlike some, he couldn't invest or reinvest in strengthening his squad.
Peter Mills
153
Posted 11/02/2019 at 19:12:06
Who can promise anything in football, Steve? There are no guarantees with any managerial appointment.
I'm just a supporter so have no in-depth knowledge of anyone who might be on a list of potential candidates, should a vacancy arise. But Eddie Howe always strikes me as impressive when I hear him speak, his track record is excellent, and he has experience in the Premier League. I would like to think he would be considered.
Paul Tran
154
Posted 11/02/2019 at 19:12:48
Steve #151, Chapeau, my friend!
Steve Ferns
155
Posted 11/02/2019 at 19:17:08
He loses too many games, Peter, he doesn't fill me with any confidence. That Bournemouth team is 100% his.
He comes here and the team isn't his. He also has the Goodison pressure cooker experience that he has never faced before. He could surprise us, but you have to have doubts.
Derek Taylor
156
Posted 11/02/2019 at 19:17:52
He wouldn't be my choice either, Steve, but I don't envisage a queue forming just to save a sinking ship. After his treatment of Allardyce, Moshiri will be 'a must to avoid' in those circumstances, I'm sure!
Steve Ferns
157
Posted 11/02/2019 at 19:19:31
Derek, if you get your wish and Silva is sacked, I would bet my house on Cocu. He's on a shortlist of 1. It's pointless discussing anyone else.
Paul Tran
158
Posted 11/02/2019 at 19:22:40
Howe is backed by a sugar daddy. He is under no pressure other than to stay in tbe league. A queue of average players tell us he's the best manager they've played under. They play 'lovely' football and lose a lot of games, badly.
He does come across very well when interviewed. He could step up at a club with better players and more potential.
He just doesn't convince me.
Jay Harris
159
Posted 11/02/2019 at 19:23:37
Why are we even talking about Eddie Howe or Sean Dyche?
It is patently obvious that Everton has become a basket case and needs rescuing by a strong, experienced manager to steady the ship and start the process of building on a solid footing. Enough of these chancers that can't hack it at the top of the Premier League.
The standard we should be aiming at, in no particular order: Ancelotti, Simeone, Conte, Jardim, Zidane, Mourhino, Wenger, Benitez etc — all of whom would be a significant improvement and one at least of whom I am sure we could persuade to come.
Brian Harrison
160
Posted 11/02/2019 at 19:25:15
We just never learn, do we? Rewind before we appointed Silva: who were the candidates nominated in the press and on TW? Yes, Eddie Howe and Sean Dyce and at the time Frank de Boer.
Common denominator? They have won nothing between them; oh, but throw in the old chestnut "If he had money, what could he do?"
Well, Moyes spent a lot less than Howe yet his teams were always around the top 6 /7, so tell me how, by appointing any of these people, are we moving the club forward???
Last time I looked, both these managers' teams were below Everton... but, of course, they would be in the top 4 if they had spent what Silva had spent.
Paul Tran
161
Posted 11/02/2019 at 19:29:56
I'm neither suggesting Howe nor Dyche, Brian. I think, hope and trust that Brands is scouring the 'more proven' managers for Silva's successor.
Never underestimate the ego of the football manager who believes he can/will be the one to turn Everton around. They will think Moshiri has made some poor decisions and are now right in appointing him.
Dermot Byrne
162
Posted 11/02/2019 at 19:32:04
Be another couple of losses for change methinks.
Brian Patrick
163
Posted 11/02/2019 at 19:33:04
Ancelotti?! No, it isn't his type of club; he has established stars drilled to a system of his. He would expect a big transfer wedge.
I hope it's not Cocu either, his football is zonal, it wouldn't work in the Premier League where you need to close down players quickly.
Conte is the best match for Everton; a great motivator, genuine passion, and an understanding of how modern midfields 'rotate and defend'. Defending is not merely the job of the back three or four.
James Newcombe
164
Posted 11/02/2019 at 19:46:10
Never thought I'd say it after his United Adventure, TM, but I'd have Moyes back tomorrow to be honest.
Steve Ferns
165
Posted 11/02/2019 at 19:48:05
Ancelotti – second in Serie A ain't coming here.
Simeone – what planet are you on?
Conte – trying to resolve his contract. If you forget he's unrealistic it's going to cost £30-40m just to pay off Conte and Chelsea to appoint him. He's Madrid-bound in the summer once the contract dispute is sorted.
Jardim – love him but remember Silva did what he couldn't at Sporting and was his successor. Also, he got sacked by Monaco after taking them from 2nd to bottom. You want to sack Silva for less! He's no way leaving Monaco having just gone back.
Zidane – is that even serious?
Mourhino – see Conte.
Wenger – Going to be DoF at PSG; he would never come here.
Benitez – could go down this season, yet that's good enough for you? He's down 7/8 places on last season. Just imagine if he came and lost three in a row, he'd be crucified. Imagine him in the derby. He'd be accused of throwing it.
The list starts with Cocu and ends with Cocu.
Peter Mills
166
Posted 11/02/2019 at 19:49:35
Well, should the search begin, I hope we will be looking at people who are genuinely hungry and ambitious. Our recent appointments have been very happy to waltz off into the sunset with big bags full of money.
Joe McMahon
167
Posted 11/02/2019 at 20:04:05
Sean Dyche... bloody hell. Then people get upset when others refer to Everton as a small club. Well, Everton are a small club (for the past few decades), but for god's sake, we need to aim higher.
I have seen quite a bit of Burnley (my wife's from there), they are awful to watch, it's like the days of Moyes playing for 1-0s all over again.
Gavin Johnson
168
Posted 11/02/2019 at 20:41:51
I never thought I'd say this and I've always been dismissive of other TW'ers who've put his name forward but I'd go for Rafa if we make a change this summer.
I don't give a shit about the RS connection if we can finally get a proven manager to move us forward. I've read reports that he'll be off this summer if Mike Ashley isn't bought out.
Mike Doyle
169
Posted 11/02/2019 at 20:55:21
One guy who has impressed last season and this is the Wolves manager. Won promotion and, in a short period, has put together a decent team with a relatively modest outlay (most expensive purchase is £18M).
In some respects, a younger Portuguese version of David Moyes – and, like Moyes, it appears he has never won a trophy as a coach.
I wonder if this is the sort of coach/manager we should be looking at?
Ian Bennett
170
Posted 11/02/2019 at 20:56:02
Benitez is the outstanding candidate, but I just don't think he'd be accepted, and I don't think it would work.
I am just amazed he's still at Newcastle given the backing he's had. It's bizarre.
Peter Laing
171
Posted 11/02/2019 at 21:08:21
To be honest, this season has felt like the death throes of Martinez's final season, culminating in annihilation by Liverpool, dumped out the Semi-Final by Man Utd, and 3-0 spanking by Sunderland. The team was playing zombie football and the players seemingly had downed their tools.
Silva has presided over a similar decline without having accrued a first season Premier League best points haul and 2 semi-finals in the domestic cup competitions.
Apathy is growing and, if Moshiri is to prevent the nightmare scenario of becoming embroiled in a relegation dog fight, then he needs to act fast. The shortlist needs to contain winners – Mourinho and Benitez should be on it.
Tony Twist
172
Posted 11/02/2019 at 21:09:30
Moyes and Arteta combo would be the safest bet. Experience and defensively minded meets Spanish flair. Know the club inside out and have something to prove.
Derek Taylor
173
Posted 11/02/2019 at 21:10:53
Cocu is Brands's Bessie mate, so you may well be right about that one. Why go through proper procedure when you've a friend in need?
Steve Ferns
174
Posted 11/02/2019 at 21:14:14
Newcastle lead against the run of play!
Tony Twist
175
Posted 11/02/2019 at 21:22:52
Cocu's last job didn't go too well in Turkey. Could be another manager who can only do it consistently in the Dutch league.
Tony Abrahams
176
Posted 11/02/2019 at 21:47:21
I think Martinez inherited a decent defence and, over a period of time it went backwards, along with his style of play.
I think Silva inherited a poor squad, thrown together over the previous 2 years, by a bad manager, and an even worse director of football.
I think Silva and Brands have signed some good players, but without strength in depth or a real centre-forward. Silva's team have suffered over the last two months.
They have lacked direction, with only two regular players having played more than two seasons for Everton, and it's really showing right now. We did show promise, but the team lacked a cutting edge and, because the zonal marking has been a shambles, then the confidence has evaporated both on and off the pitch.
Let's see what a 17-day break brings? Hopefully it can refresh everyone, the defence can tighten up, but even if it does, we will still lack quality at the top end of the pitch. I don't know why, but I still think Silva can turn this round and become a good Everton manager, but maybe I just don't want to see another Everton manager sacked.
Gavin Johnson
177
Posted 11/02/2019 at 21:53:45
Cocu would be the obvious candidate if Brands wants to reform the band
Rafa and Mourinho would be the two big names, but out of the two I've been really impressed with Benitez who has done an amazing job in the face of adversity managing Newcastle. I think Mourinho would have spat his dummy out and walked a long time ago working with Ashley and Co.
It's going to be interesting to see where Mourinho goes for his next job. After losing the dressing room at Chelsea and Man Utd, I'm not sure he'd be the man to galvanise ours.
Drew O'Neall
178
Posted 11/02/2019 at 22:05:49
Mourinho is toxic and should be allowed nowhere near our club.
Benitez wouldn't stand a chance and I for one wouldn't want him after his stupid 'small club' comments.
The outstanding candidates, as unsexy as it is, are Dyche and Howe.
I have been a fan of Bielsa in the past and he is the old master but, as Steve Ferns said, he's probably a bit long in the tooth. He also demands total control and I don't think that fits with our setup these days.
I personally would leave the thing up to Brands. If he thinks Silva can do the job after another window or two, then persevering with him is in the best interests of the club, both financially and from the point of view of stability.
Perhaps this depressing run of form will motivate a few of our 'stars' to move on to pastures new.
Sam Hoare
179
Posted 11/02/2019 at 22:20:33
Steve @165,
I agree, most of those coaches are out of reach. Having said that wasn't Koeman the 7th best paid manager at us in the world at the time. If we're paying big wages then I'd say we'd have shot at some pretty big names.
Certainly Brands will be tasked with drawing up a bigger shortlist than one. Cocu would be an especially risky choice given his limited experience and the plight of Dutch coaches in the Premier League lately.
If Silva does not rectify this run of form soon then he will have lost my confidence. It will be hard for Brands to stick by him if we are as awful at the end of the season as we are now. Perhaps Sarri might be looking for a new job...
Anthony Murphy
180
Posted 11/02/2019 at 22:43:28
I hope Silva turns it around, I really do. If his position becomes untenable and he is shown the door, I dread to think what will happen next season if we don't get the next appointment absolutely spot on.
There is a consensus that Cocu would be the obvious choice for Brands – I agree. However, the thought of us plummeting further down the table and bringing in Cocu to work with the players we currently have fills me with dread. I would much rather give Silva the summer to take stock and go again next season rather than take what would be a huge gamble with Cocu.
I get why we have doubts about Silva (I do too) but my concern is the next appointment given the rag bag of players put together by five different managers.
Dick Fearon
181
Posted 11/02/2019 at 22:50:54
As I forecast a few weeks ago, the shameful performance of the the playing staff will be rewarded with a week in the sun.
Gavin Johnson
182
Posted 11/02/2019 at 23:16:27
Drew #178,
I have long championed Dyche. He was my 1st choice before we brought in Big Sam. Now that we've brought in another a young manager in the shape of Silva, I really think we should aim as high as we can and bring in an established elite manager, if at all possible, if we finish in the bottom half this season.
For stabilities sake, I think Silva could still be given the summer and beginning of next season to improve things despite a bottom-half finish, but it would depend on how we have been losing games.
If we finish 11th or 12th, my big concern would be if he's drilled the team to defend better from set-pieces. If not, he's not going to improve the team for next season and he will have to go.
In which case, Sam #179, might be right in suggesting Sarri might be available. I don't think we could get Conte, so that would leave Rafa and Mourinho and out of the two it would be Benitez hands down for me.
I used to always bring up the 'little club' comment and say I wouldn't want him near our club but, after opting for Koeman, Big Sam and Silva instead of him, I would now give Rafa the job if he wanted it. He's a level above the aforementioned managers.
He got the Chelsea job despite making derogatory comments about them, but he still had the strength of character to win the Uefa Cup despite resistance from a section of their supporters. However, I do concede he would be under immediate pressure to get it right at Everton if Brands gave him the job.
Rick Barnes
183
Posted 12/02/2019 at 03:30:35
I'm not knocking anyone for their opinions, but I do wonder why the names Howe, Dyche and Benitez always bob up on threads such as these.
Bournemouth and Burnley have leaked 47 goals this season; only Huddersfield (48) and Fulham (58) have let more in. Conversely, Newcastle have scored 22; only Huddersfield (14) have scored fewer. Do we really think our disjointed, lackadaisical squad would do any better under their leadership? Is that the type of football we want?
Howe & Dyche seem to have built a reputation merely on keeping their average team's heads above water and Benitez on long-past glories. To me, they're no better qualified than wheeling out the horrific suggestions of Pulis, Pardew, Hughes, or (God help us) Moyes or Allardyce.

John G Davies
184
Posted 12/02/2019 at 05:18:19
Precisely put, Rick.

Alan J Thompson
185
Posted 12/02/2019 at 06:16:24
Rick (#183);
I couldn't agree more. Having read through most of the comments it seems the general consensus is that we cannot attract any top name successful managers. We could try some big-name has-beens like Mourinho or Benitez whose transfer requirements we couldn't meet but if not then we can fall back on midtable Premier League managers like Howe and Dyche.
It really is depressing that so many think trying for the best, like achieving anything better than 7th, is a waste of time. If we want to be "big" then we have to think big. Even if the answer is "no" at least ask the question. Or settle for another small-club manager who presently is doing no better than the failure we have!
Paul Smith
186
Posted 12/02/2019 at 07:18:39
Everton need a Pochettino. I guess that was the 'risk' Moshiri was talking about it. It's not turning out too well though.
I would take some stability right now (not Sam Allardyce — the worst football I've ever seen at Everton).
How about Rogers? He almost won the Premier League with them lot — and would have if it wasn't for Slippy G.
John Hall
187
Posted 12/02/2019 at 07:36:09
I believe Mr Blobby's available — he couldn't do any worse, surely?
Trevor Peers
188
Posted 12/02/2019 at 08:12:10
Who do you suggest, Rick? @183, it's easy to rail on about the mediocrity of past managers, without suggesting a good alternative.
Martin Nicholls
189
Posted 12/02/2019 at 08:20:45
Trevor – does it really matter whether or not Rick can suggest a good alternative to Silva? Fans can influence a Club board over whether or not to retain manager – they have no influence whatsoever over who might replace him.
Martin Nicholls
190
Posted 12/02/2019 at 08:24:36
Sorry, Trevor – I did not fully read Rick's post before responding to yours but you'll get my gist.
Brian Patrick
191
Posted 12/02/2019 at 12:04:43
The choice of manager depends on two things. The existing type of players we have and the 'fit' of the method of the manager.
People keep saying Cocu. He hasn't got the players to perform in his method which is zonal – it means players need to be super athletes and physical. We have 11 wimps. Any manager will need his own players and Brands has been very poor so far: his remit was to get rid of dross. We still have it.
Conte would be the manager to get the best of the present lot, his style is flexible, he plays 'game to game', his tactics change.
Having said that, the whole edifice needs changing especially at the top. As I've said Barrett-Baxendale shouldn't be anywhere near her present position – neither should the other hangers-on. A new manager won't change that. Everton fans should be protesting but they are far too subservient.
Rick Barnes
192
Posted 12/02/2019 at 13:41:53
Hi Trevor and Martin... I don't know who I would choose. Like everybody else on here - I'm just a fan. But since you asked who I would pick, I'll answer with my opinion as best I can. So this isn't what I think will (or should) happen, it's just hypothetically what I think I'd do given the chance...
If it was up to me, Option One – I'd see out the season with Silva and reevaluate a few games into next season. Despite our current horror show, his signings have overall been good, and earlier on our performances were better than anything under Koeman or Allardyce. We have a young squad that feels like it might improve with time. But my backing of Silva is contingent on him doing a few things...
He needs to sign a striker.
Improve us from set pieces (offensively & especially defensively)
He needs to accept that playing by Sigurdsson, Walcott & Tosun he's effectively sending us out with just eight men – they contribute soooo little for vast tracts of the game. A team can sometimes cope with one 'luxury player' strolling around the pitch – not three.
And for me, that's the thing – Silva hasn't been great, and his stubborn refusal to change may be his undoing. But I put more blame on our players who accept losses with merely a shrug. Only Digne and Pickford seem genuinely pissed off walking off the pitch. Richarlison seems to give up within ten minutes of kickoff if a decision or two goes against him and he never gets out of his strop. Sigurdsson and Walcott can be anonymous for 87 minutes, but act like playing well for a five minute period somewhere in between means they've done their part. Luxury players.
Pickford feels like Howard, great shot stopper but always has a mistake in him. Keane reminds me of Yobo, can be good for ages, but every game seems to have a calamitous 5-minute period where you just cross your fingers and hope it doesn't result in a goal.
But now, to answer your question (sorry if I got a little diverted...)
If I was to pick a manager – I wouldn't be picking from any of the dinosaurs from the old Pardew, Pulis, Hodgson, Moyes etc. roundabout. We have a whole world to choose from, plenty of leagues with managers playing successful football. We won't get managers like Guardiola or Simeone, but would a mid-table Serie A or Primeira Liga manager come to us? Conceicao? Inzaghi? Rangnick?
Anyway, sorry about the long post, I got carried away..!
(TL;DR - Conceicao! 😜)
Steve Ferns
193
Posted 12/02/2019 at 14:07:11
Look, the successor to Silva will be someone who is what Silva was supposed to be.
This is the whole reason for Brands. The manager changes: but the team philosophy doesn't. The manager will be brought in with the view that the squad that Brands has assembled is good enough for him to do what he wants. So forget the likes of Simeone, not that he would come for a £100M budgett. The team doesn't suit his style of play and would need to be ripped up and started again.
Brands will continue to sign players who fit his vision. The manager most likely is his mate Phillip Cocu. He would work perfectly with Brands and no doubt the players Brands has purchased would suit his style of football. This is the new way things will happen from now on.
If we do appoint an Ancelotti type, then Brands is not likely to last much longer, as Moshiri will not be valuing him or his role.
Derek Thomas
194
Posted 12/02/2019 at 14:29:19
Steve Ferns; if you out Shankly and Sartre together you get... "Football is a simple game made complicated by the other team."
This is a lot of our problem... those pesky other teams.
Steve Ferns
195
Posted 12/02/2019 at 14:37:57
You jest Derek, and whilst it is very amusing, there's a lot more to what you say.
People on here dismiss us still being in 9th as a sign as to how poor the Premier League is. Yet how many quality players the sides going down got?
Barcelona just signed Kevin Prince Boateng. He wasn't good enough for Portsmouth 10 years ago, and I bet Huddersfield would consider themselves to be better than that. Consider Newcastle and Palace and how they would stack up against their equivalents in other leagues.
Sam Hoare
196
Posted 12/02/2019 at 15:08:11
Steve@193, its a good point that I have raised before. Brands will ensure a continuity of philosophy. Though Silva's philosophy is hard to identify at the moment I guess that means attacking football with a high line and high press.
Which rules out the likes of Mourinho, Simeone and Conte. If they were ever real options.
Brands will need more options to present than just Cocu though. Perhaps the likes of Howe or Fonseca or Rodgers or even Farke (whose Norwich are highest scorers in the Championship) come to the top of the list.
Brian Harrison
197
Posted 12/02/2019 at 16:02:07
Well, I have never understood the role of DoF and I have yet to see where this has been successful in this Country. I know it has had some success in Europe but, for me, it just causes confusion as to who should be selecting the players to buy. Spurs had Commoli as DoF then sacked him; then he turns up in the same role at Liverpool and they sack him.
We have Marcel Brands now as DoF, I would be really interested to know what goes on between manager and DoF over potential purchases. Being on the outside, I think Brands had a big say in the purchases of Mina (not impressed), Bernard (not impressed), Digne (good player) and Gomes (nice on the ball but I'm not sure the pace of the Premier League suits his style).
Richarlison, the top scorer, and Zouma, the best defender, are probably Marco Silva buys.
Steve Ferns
198
Posted 12/02/2019 at 16:18:06
Brian, how about every club in the Premier League who has won any top level trophy since Alex Ferguson, other than Arsene Wenger? The question is, how far back do you have to go to find a successful club without either a DoF or a manager who was in charge for over 20 years?
Jimmy Hogan
199
Posted 12/02/2019 at 16:46:29
By the law of averages, surely Moshiri has to get some decisions right? Let's hope Brands is one of them.
Brian Harrison
200
Posted 12/02/2019 at 16:57:40
Steve,
Maybe they did have a DoF at these clubs but how much influence did they have or were they glorified Scouts just like Walsh was at Leicester and Chelsea. I could never imagine Ferguson having a DoF or Mourhino and not sure who the DoF was at Chelsea when Conte was there.
Top managers know the style of play they want and the players to play that way, so why would you have somebody at the club telling you what players they were bringing in? Also if it goes pear shaped the man sacked isn't the DoF its the manager.
All the great managers didn't need their hand holding to tell them what style or what players they should buy. I could well imagine what Clough, Stein, Shankly, Paisley, Nicholson would have said to a chairman who even suggested such a move.
Steve Ferns
201
Posted 12/02/2019 at 17:54:49
Brian, Mourinho has always had a DoF. The only time he didn't was at Man Utd. So what happened, Ed Woodward did everything the DoF does.
Brian, I think you just don't understand the role. Everton have 73 senior pros. How can Silva be in charge of all of them? Agents of each player ring most days to complain about why their player is not playing or is playing out of position or is not happy with this or with that. Agents ring trying to flog us players. Scouts are ringing to give updates and reports on players and teams. Analysts are ringing to discuss the last match. The under 23 coach wants to discuss moving a player up to the first team, or moving a player back down, and so on and so forth. I've not even started on the amount of work we need to do on transfers.
The manager does not have enough time to do what managers did back in the day. Clubs are ten times bigger, and there's more people, everywhere.
So the job split in two. You let the manager be more like a head coach. Just take the team for training, pick the side, prepare for the games and be focussed on that and that alone.
The Director of Football does all the recruitment stuff, handles the transfers and the scouts, coaching supervision for the age group teams, and handles all the players agents, contracts, finances, grievances etc.
A Director of Football is essential in the modern game. It's not an evil like it was viewed in the 90s. I don't subscribe to the theory that brands is Silva's boss. For me they are equals. Brands will certainly have a big say on performance evaluations of silva though, and a big say on who his successor should be. Those decisions are for Moshiri though.
I think people just don't realise how big things are now. And just because Man Utd don't have one, doesn't mean Mourinho was being an old fashioned manager. If he was, why was he moaning about not being bought the right players? Because Woodward did it all. Woodward handles all transfers. Nothing to do with Mourinho. He wanted it that way though. All the Portuguese do. Silva himself started off as a director of football at Estoril, before jumping in mid-season with the club in trouble (and turning it round so fast they won the league the same season, playing defensive football).
Jay Harris
202
Posted 12/02/2019 at 18:15:36
Brian,
That's very selective of you.
We already have Brands on record as saying players will not be bought unless they both agree.
In fairness the quality of player brought in has been better than what went before although it could hardly have been worse however the big deficiency is bringing in a decent striker.
None of that excuses Silva's inability to halt a crisis in form however.
Brian Harrison
203
Posted 12/02/2019 at 18:24:54
Steve
Maybe we got crossed wires somewhere I do understand that a manager cant handle all that goes on at a football club. I fully agree that someone has to look after the off field business at the club and have absolutely no issues with that.
But as far as him having an influence on style of play and player purchases is way beyond the capability of most DOF. Clubs used to have the club secretary deal with off field issues, I don't know if you are old enough to remember Jim Greenwood was our secretary who did all the financial side of the club. There were no player agents in those days.
And yes you need someone to make sure the scouts are doing their jobs, and the DOF will handle players agents and contract issues. So I am well aware of what goes on at clubs, I just think that some have elevated the role of what a DOF does.
Steve Ferns
204
Posted 12/02/2019 at 18:36:40
Brands doesn't dictate anything to do with the style of play of the first team Brian. That's up to Silva.
How he influences it in the long term is through the players that HE buys. He's the one who signs off on all of them. If he wants to play beautiful football, he refuses to sign Peter crouch as a striker or massive guys to play central midfield. He also ensures Moshiri hires a manager to fit the players they have.
If we get a silva replacement and he comes in and plays Allardyce football, then brands will pull him up and ask him what's going on. The manager is in control but the director of football reports back to the owner / board and gives his professional opinion as the one who understands football most.
Alan J Thompson
205
Posted 13/02/2019 at 04:15:35
BBC are reporting that Athletico Madrid are interested in Richarlison.
I don't suppose we could ask their manager if he'd want to manage him here? No, that's right we've shown we can't attract top managers.
Neil Cremin
206
Posted 13/02/2019 at 08:00:39
I've seen Cocu mentioned a lot in this thread. I admit I know very little about him but, checking Wiki, I found this:
Team From To Record Win %
PSV 12 March 2012. 30 June 2012 75.00
PSV 1 July 2013 30 June 2018 65.45
Fenerbahçe 1 July 2018 28 October 2018 25.00
These stats would leave me worried. Good in the Dutch league but not so hot in Turkey. Why would he be any better in Premier League?
Just asking, as they say. Remember Frank de Boer...

Gavin Johnson
207
Posted 13/02/2019 at 18:37:44
Hard to believe Silva won a title anywhere playing defensive football. His entire time in English football has shown that he is one of the least defensive minded coaches working.
He seems clueless when it comes to zonal marking. Just look at the Wolves game. Why was Richarlison marking the space next to the big Wolves striker who scored?
I've seen Distin make the comment that the defensive line is too far away from goal. Is this because Silva feels Pickford can't command his area like a taller goalkeeper?!
Whatever the case, I've given up Silva turning it around. At the same time, we can't keep changing managers so I'm now at the point of indifference. Something I've never been in my 30+ years supporting Everton.
Alan J Thompson
208
Posted 15/02/2019 at 03:37:43
It is now being reported that Simeone has signed a 2-year contract extension at Atletico. Pity we didn't ask rather than accept that nobody wants to come to a mid-table mediocre side.
Sam Hoare
209
Posted 15/02/2019 at 03:40:03
Alan, how do you know we didn't ask?
Alan J Thompson
210
Posted 15/02/2019 at 03:55:59
Well, let's just say we didn't offer enough, Sam, but I'll stick by my assumption that he wasn't approached. Are you that sure we did?
Sam Hoare
211
Posted 15/02/2019 at 10:51:14
Alan, no I'm not sure. Though I have heard many sources suggesting that we did, that he's one of Moshiri's favourite managers but was very happy at Atletico and very unlikely to move unless to a top tier club.
It's not always about just money and it seems an unfair stick to beat the club with as we cannot know what approaches have been made and what haven't.
We pay very large salaries to managers but, even so, we are a decidedly mid-table club with no Champions League.
Alan J Thompson
212
Posted 16/02/2019 at 14:11:17
No disrespect, Sam, but isn't that the reason you chase successful managers? If they only want clubs already at that level, then you probably don't need them. I tend to believe that the managers hired by Moshiri (Allardyce aside) are those who may have been mentioned as possible successors to Wenger at Arsenal.
Steve Ferns
213
Posted 16/02/2019 at 14:21:02
Alan, Everton offered him the job. His representatives said they were "very interested" in "the project". This was when we booted out Koeman. Maybe we did not offer him enough. Netherthless, he signed a new contract at Atletico and that was for more money than we offered Allardyce.
Now, please confirm the following:
Why do you want Simeone to come here?
What is it about his coaching that makes you confident that he can put Everton back on the path to success?
Why do you think he can replicate that here? How many players will he need to sign to be a success here?
How much money will that cost? Bearing in mind the £500-£750m that the Stadium is going to cost, how much money will the club have to spend on players?
With Marcel Brands in place with a brief to sign young players and develop the youth Squad, what success has Simeone had in developing young players?
Does he have a preference for developing young players?
What is it about Simeone's preferred playing style that you like? How would that be received by the Everton faithful?
Do we have the players to play that?
If there is to be another period of "transition" as we look to change styles, once more, then how is Simeone likely to hold things together?
Do you really believe that he is the best man for the job, would have adequate funding to enact his vision, and has the skills to implement it with the resources available?
Alan J Thompson
214
Posted 16/02/2019 at 15:13:36
Steve(#213); It's not so much his coaching ability which, to win three, is it, Europa Cups and seemingly always third to Barca and Real must have something but the man strikes me as a street fighter. From getting Beckham sent off at the World Cup to consistently putting competitive sides together, he does what it takes. Atletico seem to have been selling players for as far back as I can remember and few of them seem to reach the same heights after leaving although that seems to be only as far back as Torres who may or may not have played under Simeone.
I don't follow other clubs to the extent that I could write much about his coaching, juniors or how much they pay for players but he seems to find players who are constantly wanted by others, or so the papers say. However, like ourselves he has to put up with noisy neighbours so will appreciate what fans want. From what little I know of his sides he seems to put emphasis on defence with the ability to break or counter-attack but given the differing standards of teams in La Liga he most probably has several plans, I don't watch Spanish, or any European football, that much.
Your comments give me the impression that you now want to pull to pieces my own lack of comprehensive knowledge of the man but may be you might like to give us your opinion on why you do or do not want him at Everton, rather than the standard, "he wouldn't come". After all, as you say, his representatives have expressed his possible interest before and at some stage all managers seem to want to prove themselves at what they may see as the best league in the world and which, at the moment, seems to have attracted some of the best coaches.
Add Your Comments
In order to post a comment, you need to be logged in as a registered user of the site.
Or Sign up as a ToffeeWeb Member — it's free, takes just a few minutes and will allow you to post your comments on articles and Talking Points submissions across the site.