Report
Toothless loss not helped by Zouma's late madness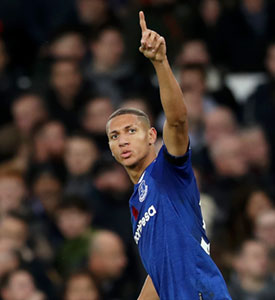 Richarlison returns to Vicarage Road for the first time since he and Marco Silva left last year, but did next to nothing of worth in this game

Everton are back on their travels this weekend as Marco Silva faces a reunion with Watford at Vicarage Road just over a year after he was relieved of his post as the Hertfordshire club's boss.

Marco Silva has made three changes to the Everton team for his return to Watford. Richarlison, Gylfi Sigurdsson and Cenk Tosun have been recalled after being dropped to the bench for the midweek game with Manchester City. Theo Walcott, Dominic Calvert-Lewin and Bernard are the ones to make way.

Jordan Pickford is in goal with Jonjoe Kenny, Michael Keane, Kurt Zouma and Lucas Digne making up the back four. Silva has kept faith with a midfield three of Tom Davies, who captains the side again, Andre Gomes and Idrissa Gueye.

Yerry Mina has not been passed fit for the game and so birthday boy Morgan Feeney is part of the travelling party but did not make the bench.

Everton started well, Digne swinging in a decent cross, and Davies getting fouled, but Digne put the set-piece into Foster's hands. Tosun overlapped well enough but served up the ball easily to Foster. But, after a couple of spicy challenges from Deeney and then Davies, Watford came into it a lot more and applied some firm pressure that Everton had to defend.

A tremendous chance was created by Deeney chesting down to Doucoure whose fierce goalbound shot was deflected over point-blank off the top of Pickford's head! A fantastic save. A good cross in from Richarlison was aimed at Tosun but intercepted.

Everton were playing the ball around well enough, Richarlison getting his ankle clipped down by the corner flag. Sigurdsson's header came off Mina then Keane, and softly to Foster. It was very lively stuff with sides playing open but competitive football. Digne picked out Zouma with a fine cross, whose glancing header unmarked lacked the power to beat Foster.

Sigurdsson tried to release Tosun down the middle but overhit his through-ball. Richarlison was playing wide right, and getting roundly booed, as Everton went around the houses dropping back into their annoying side to side until a Digne foul throw went behind.

The pace of the game was vibrant, as Davies tried to break through but Foster was out fast. Watford had a threatening spell, Deulofeu denied the chance to shoot.

Tosun and Cathcart clashed heads, while Capoue caught Richarlison sneakily off the ball with an elbow to the face. Then Holebas slapped him on the head when challenging for an aerial ball, and our big lad went down like a sack of spuds until he got treatment.

Tosun got a gift, spun and shot, forcing a good parry from Foster. Watford put on some decent attacks the first initially repelled, the next winning a corner, but no pressure on the Everton zonal nonsense.

Keane did well to win the ball in midfield but Davies's touch let him down. Richarlison beat three men on his own but ran into a wall of Hornets. Sigurdsson again played a good through-ball for Tosun who had strayed offside.

Richarlison did well to collect a long pass, turn and run goalward but the ball wasn't running for Tosun and Davies as they struggled to create a chance. Keane's high arm caught the ball, giving away a dangerous free-kick that Holebas curled in and zonal marking defended away.

Deulofeu, wide left, did his usual step-overs and Gana blocked his shot behind for a corner, zonal winning out again. Under pressure from Deeney, Kenny headed back to Pickford from close range. Then, Digne had to be brave to block what looked like a nailed-on chance for Deulofeu to open the scoring.

A couple more foul throws from Digne on the left led to nothing, and another free-kick central. Pickford came out a long way, leaping like a demented salmon and fumbling the aerial ball, luckily it was played backwards by Watford and their last chance of the half was gone. A good half of football but, as seems standard now, few chances created.

Hostilities resumed, Gana wasting a long crossfield pass well beyond Richarlison. Davies played a lovely ball out to Deulofeu.... unfortunately. A half chacne from Sigurdsson bounced off the top of the crossbar as Capoue made a back for Richarlison, who was [not!] badly injured in the fall!

Holebas got a sniff but lashed wide after Kenny had hooked the ball away. Keane gave away a corner, and the zoners lined up, headed behind by Keane. The reprise was swung in and five players crashed into Pickford at the far post, a lengthy conference ensuing. Free-kick Everton.

Davies's care of the ball was frankly shocking for a professional Premier League footballer, sloppy sloppy half-passes given away time and again. Another corner for Watford, Holebas's delivery again headed away by a Blue-shirted zonal defender. The second-half had seemingly been played entirely in Everton's half, as the time for subs approached.

Richarlison got behind the Watford line and seemed to have a chance but Holebas was back in a flash to very easily take the ball off his toe. Walcott came on for Gomes. Digne was called for a strange challenge, another dangerous free-kick, Pickford punched but it was picked up and worked around by Watford, winning another corner despite a massive and vociferous protest from Pickford that he never touched the ball driven across his goal and behind. Zouma in the zone again, heading away. But in the second phase, Hughes got to the line and it was an easy goal for substitute Gray at the far post, zonal not at fault this time. Richarlison exchanged for Bernard.

Everton were now in chaos, as Watford looked to hammer home their superiority since the break, Silva looking less than pleased on the sideline as the Watford fans revelled in their advantage. Zouma appeared to get clipped by Deeney, demanding a card that Probert eventually showed.

Kenny played a lovely ball forward for Walcott who stepped a foot offside. Silva went for it, with Calvert-Lewin on for Everton's supposedly most creative player Sigurdsson, who had done absolutely nothing in this game. Everton won a free kick and ventured forward but were immediately repulsed and the game was back in their half.

The quality of Davies was shown up yet again with a hoof forward straight into touch. Calvert-Lewin got wide of the Watford area but simply passed it to a defender. On the other side, Walcott set up Tosun, his bizarre half-poke going behind but not for a corner, much to the Turk's annoyance.

Davies again lazily fed a ball forward that Tosun could never ever reach. A far better ball for Walcott, Hoelbas pushing him over and getting a yellow card. From a difficult angle out wide, Digne clipped the bar with the free-kick, ust above the far post, it was very close and would have been a fantastic goal... but wasn't.

Kenny overlapped and put in a fantastic cross that Walcott tried but failed to head, and nothing came of the corner. At least Everton were pressing now, but too little too late. Zouma did really well to set it up for Calvert-Lewin, on a plate, perfect service, and Calvert-Lewin this time uses his neck muscles to power the header 8 feet wide of the goal. A simply astounding miss from the youngster.

Gana was fouled but Bernard's ball in from the free was so so poor. Janmat was called for a foul on Bernard wide left, Digne, another free header for Calvert-Lewin, this time straight at Foster.

Bermnard clipped a perfect ball for Tosun who headed horribly high and wide when it looked easier to bury the goal, but he had stepped a yard offside. Zouma went mad at the ref at the end, and was shown two yellow cards by the referee, getting himself ridiculously shown the red and thus missing the derby Cardiff game.

That pretty much summed up yet another game where Everton under Marco Silva, at the ground where he presumably somehow caught Farhad Moshiri's eye, failed to score and did not deserve.

Scorer: Gray (65')

Watford: Foster, Janmaat, Mariappa, Cathcart, Holebas [Y:83'], Doucoure, Capoue, Hughes (90' Chalobah), Sema (46' Gray), Deulofeu, Deeney [Y:70'].
Subs not Used: Gomes, (61' Cleverley) Masina, Penaranda, Kabasele.

Everton: Pickford, Kenny, Keane, Zouma [Y:90+5';YR:90+5'], Digne, Gueye, Davies, Gomes (62' Walcott), Sigurdsson (74' Calvert-Lewin), Tosun, Richarlison (66' Bernard).
Subs not Used: Stekelenburg, Coleman, McCarthy, Lookman.

Referee: Lee Probert

---
Reader Comments (363)
Note: the following content is not moderated or vetted by the site owners at the time of submission. Comments are the responsibility of the poster. Disclaimer
Dave Abrahams
1
Posted 09/02/2019 at 14:07:53
I think that team today makes us less of an attacking team than the other night, definitely hope I am wrong.
Ciarán McGlone
2
Posted 09/02/2019 at 14:14:44
Abysmal team selection... unbalanced... both Silva and the team.
Trying to crowbar an expensive tug boat into the formation that worked well in the first half the other night. Just when you see a glimmer of light with Silva, it's snuffed out.
I've had enough of this. I'm seriously considering watching the Rugby instead.
Rubicon crossed.
Steve Little
3
Posted 09/02/2019 at 14:19:16
Is Sigurdsson playing on the wing to avoid breaking up Wednesday's midfield three?
Or is one of Davies or Gomes out wide?
Or is it a completely different formation?
4-4-2?
Neil Lawson
4
Posted 09/02/2019 at 14:34:53
Mina not fit for the bench so Feeney travels. Presumably therefore, if Keane or Zouma get injured he will bring on Bernard to play centre-half. Not a lot of what is happening currently is making a lot of sense...
Clearly today it's about being even more boring and uncreative and hoping to sneak a deflected goal or free-kick and sneak a victory. Yeah, right!!
Clive Rogers
5
Posted 09/02/2019 at 14:35:56
Dave, it can't be much less of a threat than Wenesday night, we never had a shot or header.
Clive Rogers
6
Posted 09/02/2019 at 14:37:35
Think the new formation is...
4-1-1-1-1-1-1.
Jay Harris
7
Posted 09/02/2019 at 14:37:51
As always, we all have our own ideas on team selection but I don't see the logic in the forwards selected.
Tosun is no good at holding the ball up and is too slow to run on to things. Richarlison is an out-and-out left-sided player so who is playing right wing... Sigurdsson? If we're playing a 4-3-1-2, that makes us very narrow.
I just can't see it but hope I'm wrong. We really need the 3 points from this one.
Tony Everan
8
Posted 09/02/2019 at 14:42:35
Will be interesting to see where Sigurdsson slots into the formation — and even more interesting to see if it works!
Neil Lawson
9
Posted 09/02/2019 at 14:43:53
Thinking about it even more, the logic gets worse. Why, for heaven's sake, are both Lookman and Walcott on the bench??? It is impossible to conceive of any circumstances in which they would both come on ahead of one of them and Bernard... and even that isn't very likely. Calvert-Lewin also. And one defender!! Let's see what happens.
I'm clearing out my garage. Enough shit there without looking for more and the lucky Redshite on Radio 5. Deep joy.
Annika Herbert
11
Posted 09/02/2019 at 15:20:57
Not sure about that team selection but not pleased to see Sigurdsson back again. Despite several ToffeeWebbers informing me he is our only creative player, I am still waiting to see these killer balls he allegedly plays!!! Not to mention the dire free-kicks he produces. . .
Alan J Thompson
12
Posted 09/02/2019 at 15:23:52
When did Mina come on?
Neil Lawson
13
Posted 09/02/2019 at 15:34:36
Alan @12. It's Bernard. Surely you can tell the difference!!!
Alan J Thompson
14
Posted 09/02/2019 at 15:44:14
Neil (#13); not on this telecast
George Cumiskey
15
Posted 09/02/2019 at 15:54:41
Shite again — not one iota of a change of tactics. Davies getting stuck in but hasn't given one good pass yet.
Why didn't he play Sigurdsson? Oh, wait a minute... I've just seen him walking off the pitch.
Jay Wood
[BRZ]
16
Posted 09/02/2019 at 16:01:36
Competitive game this, if not fluent, and at least Everton are competing.
Some steel throughout the side and some nice football as well.
Kenny and Davies continue to impress. Keane and Zouma comfortably winning the aerial challenge. Digne OK. Good block on Deulofeu's shot. Gueye having another great game, not least of all some very slick passing. Even Richarlison looks better than he has in recent weeks, but he still needs to man up rather than roll over and play dead, even on the plays when the foul is called.
Gomes for me continues to be the weak link in midfield. Not strong in retaining possession when he gets on the ball. Doing very little with it when he does get a pass off.
Sigurdson similar, but still getting off better passes than Gomes. A mixed bag from Tosun. Good shot that forced Foster into a save, but it does annoy me when he gets called from coming back from an offside position, thus halting a promising attack.
Three points are there if you want them, Everton.
Tony Abrahams
17
Posted 09/02/2019 at 16:01:47
What's shite about that? Some will say everything, some will say we haven't got enough creativity, and some will say we haven't got a centre-forward, but the effort is there today, so surely it's way to early to criticise?
George Cumiskey
18
Posted 09/02/2019 at 16:09:25
No goalscorer, no creativity, no steel, no passing ability no strength in defence but my god the effort is there.
Andy Meighan
20
Posted 09/02/2019 at 16:23:14
Jay Wood,
Wish I shared your optimism but I'm watching a pile of shite. It doesn't look like we've got a goal in us and people saying we are crying out for a top class striker... Where would the service come from?
Ian Lloyd
21
Posted 09/02/2019 at 16:24:26
He has to go and he had to go tonight!!!!!!!!!
Ciarán McGlone
22
Posted 09/02/2019 at 16:24:51
Was coming that.
Thats it.. club hurling game is on. Sod this.
Annika Herbert
23
Posted 09/02/2019 at 16:26:49
To be replaced by whom exactly Ian@21?

Ciarán McGlone
24
Posted 09/02/2019 at 16:28:06
A hat stand.
Ian Lloyd
25
Posted 09/02/2019 at 16:28:46
A plastic cone
George Cumiskey
26
Posted 09/02/2019 at 16:29:47
Annika, anyone.
Gary Willock
27
Posted 09/02/2019 at 16:38:04
Silva simply has to go. His decisions are getting more and more bizarre. He's lost the fans, and it looks like the players too.
Siggurdsson has been shite for weeks. He tries to play like a Bergkamp / Sheringham, but he's just NOT in that class. He kills the shape of the team, and makes us one dimensional.
Walcott has also been shite for months too, yet he's clearly a favourite. Tosuns has two good games all year and offers nothing in a struggling team. Cant get Gomes fit to last an hour.
Other than the kids who where already in first team he hasn't tried or managed to bring in one.
Set pieces are like sunday league, but less organised.
Enough is enough, give Unsworth another go, or i'd even accept Moyes as a stop gap if we have to. We need passion and fight, and Silva is a damp squib.
Dave Ganley
28
Posted 09/02/2019 at 16:46:17
Crikey must be watching a different game to some, it's a terrible game between two decidedly rubbish teams
Ken Kneale
29
Posted 09/02/2019 at 16:47:36
Silva has to go whatever the result here. He is clueless and so are this team. What little quality or potential our players have are grossly underused with his tactics and set up. What a shamblolic club we have sadly turned into on and off the field. The only beneficiaries of the last 28 years has been several board members
Jim Harrison
30
Posted 09/02/2019 at 16:49:34
Jose???
George Cumiskey
31
Posted 09/02/2019 at 16:50:34
Will Hughes head and shoulders above anything we've got, and he was there for the taking at Derby .
Dave O\'Connell
32
Posted 09/02/2019 at 16:50:35
Silva should have been sacked at Christmas. He is clearly out of his depth; this man will get us relegated.
Frank Crewe
33
Posted 09/02/2019 at 16:54:00
Another nail in Silva's coffin.
Peter Gorman
34
Posted 09/02/2019 at 16:54:59
What's that George? A young, English player from the lower leagues with a hunger to prove himself?
Nah, you can't build a team around ambition. Best throw money at mercenary players and managers because they wouldn't cost money unless they were worth it I'm sure.
Tommy Coleman
35
Posted 09/02/2019 at 16:56:12
Give it to Dunc until the end of the season.
Christy Ring
36
Posted 09/02/2019 at 16:59:51
Another dismal performance, same crap, no drive or passion. The Cardiff game could decide Silva's future?
Alan J Thompson
37
Posted 09/02/2019 at 17:03:22
As somebody said, you can set your watch by him, come the hour, come the substitution.
Alan J Thompson
38
Posted 09/02/2019 at 17:03:42
As somebody said, you can set your watch by him, come the hour, come the substitution.
Peter Neilson
39
Posted 09/02/2019 at 17:06:38
Another inept performance with no perceptible style of play. The thought that Silva will be given a second season could be a huge mistake. He would start next season game by game with the sack meter running. Stability would be ideal but no point sticking with a coach who can't get anything out of the squad he has. Hopefully Brands has a credible candidate lined up now but good luck to him with that as it's going to take 3+ years to get rid of the bulk of this hugely overpaid and overhyped bunch. No chance of selling the vast majority of them. What a mess.
Paul Baxter
40
Posted 09/02/2019 at 17:07:28
Everyone keeps insisting we can't be relegated this season, if Cardiff win their next match they will be 5 points behind us. This form has got relegation written all over it unfortunately.
Kieran Kinsella
41
Posted 09/02/2019 at 17:07:32
25 years on "The Johnson Out" campaign has really come home to roost. ToffeeWeb was founded as a place of joy and hope. Now it is the last asylum of desperate people driven insane after years of pain and suffering. Lunatics cry out for the return of Moyes, Arteta or even Big Sam as their sheer misery has caused them to lose all sense of reality. Pitiful indeed but with regards the Kenwright takerover . I told you so.
Jim Bennings
42
Posted 09/02/2019 at 17:07:48
Absolutely dire!
When is the last time we lost three league games in 7 days?
Worst strike force I've seen at this club since the days of Bakayoko.
Midfield is made up of just nobodies with no real Premier League quality on show.
We can't keep a clean sheet, can't score goals.
If I was sticking my neck out right now I'd say we will struggle to win another game this season because I can't see any team out there other than Huddersfield currently worse than us.
Ian Lloyd
43
Posted 09/02/2019 at 17:08:30
Get rid and get Benitez in - unbelievable how shocking we are from top to bottom
Cannot believe anyone could defend this shambles now!
And to say who else do we get in? Anyone barring this joker
Jay Wood
[BRZ]
44
Posted 09/02/2019 at 17:09:37
Ho-hum...storming last 15 minutes from the Blues, but the delivery into the penalty area - especially from dead ball situations - was very poor.
Watford scored from the one class pass of the entire game. The excellent one touch lay-off by their centre back kept the cleared ball from a corner alive and opened the right flank of our defence for the cross and finish.
There were good individual performances. The back four was mostly solid with our two centre backs winning everything in the air. Neither Digne nor Kenny were stretched - Kenny was superb in defence and attack and had Deulofeu in his pocket all game.
Tom looks to have returned to the form he showed in his debut year. Gueye was immense, but Gomes, Sigurdson and Richarlison peripheral and all 3 understandably substituted.
Walcott did very well when he came on (possibly not a popular thing to say on TW) and it was an obvious tactic to use his pace to get in behind their defence which almost paid dividends.
Bernard flickered and DCL did OK, but he and Tosun had great scoring chances in the dying minutes. Even though Tosun was called offside for his chance, he doesn't know that and still has to bury that kind of opportunity.
Not pretty. Another loss. But there was more fight and spirit in the team than we've seen in most games since early December.
And despite the calls for his head, I doubt Moshiri is going to go back on what he said 5 days ago and sack Silva tonight. But today's defeat is one less game for him to save his job at the end of the season.
Gerry Ring
45
Posted 09/02/2019 at 17:10:41
When is this nonsense going to sto?? Silva is a complete fraud and the funny thing is that we are going the same way as all his previous teams! For those who suggest that we can't replace him, anyone can manage a team that loses as many games as Silva. The Echo has half time ratings averaging 7 against a shite team like Watford & we can't even avoid being beaten. I'm beginning to think Moshiri has a big bet on Everton to be relegated!!!
Darren Hind
46
Posted 09/02/2019 at 17:12:05
Its got to the point where it doesn't matter Annika. They are simply not playing for him. He has to go.
Rhino stretching out in readiness for stint three
Ian Lloyd
47
Posted 09/02/2019 at 17:12:38
Jay - genuine question
Do we wait until the end of the season to part company? - at the moment I cannot see where a next point is coming from??
I think drastic (but again costly ) measures are required now...
Jay Harris
48
Posted 09/02/2019 at 17:12:57
Decent effort by the players but totally confusing team selection and tactics as usual from the "not very special" one.
Peter Jansson
49
Posted 09/02/2019 at 17:12:58
Silva has to go. Thats it. We will get relegated with Silva so please sort this quick.
Andrew Keatley
50
Posted 09/02/2019 at 17:13:01
We need a clearout of staff. Silva, and all his backroom team, including Duncan Ferguson, all need to go.
We are going backwards, and we cannot afford to be cast further adrift. If Silva is still here come the summer, then he could still be here in October - and we could be in dire straits by then. We saw it with Martinez and Koeman. Get rid now, and get someone else in to spend the rest of the season trying to build some semblance of recovery; at least that way it gives us a chance of hitting the start of next season running.
There are some people who always cite the Howard Kendall turnaround in 1984. Other than that, and Sir Alex Ferguson at Man Utd in the 1989/90 season, I cannot think of managers who are on the verge of disaster and turn it round. It's very rare. What is common is continuing to be rubbish and eventually getting the sack. I'm for sacking him now.
Harry Hockley
51
Posted 09/02/2019 at 17:13:02
Silva must go I've ran out of patience.
Anyone will do compared to this one-dimensional clueless football.
Embarrassing times. Cardiff? I for one am not looking forward to that game.
Mike Connolly
53
Posted 09/02/2019 at 17:15:22
Why are people obsesses with giving Dunc the job. He has been with our last 5 managers. He's lucky to be still here. I just can't see were our next points are coming from. We are in deep shit
Paul Burns
54
Posted 09/02/2019 at 17:15:34
Full clear out needed, Moshiri, Kenwright, Silva, all the players, coaching staff, scouts and any other gobsh*tes I haven't mentioned.
you're all a fckn disgrace, enough's enough.
Jimmy Hogan
55
Posted 09/02/2019 at 17:16:41
Who is Annika? Been mentioned a couple of times in this thread.
Jay Wood
[BRZ]
56
Posted 09/02/2019 at 17:16:44
Paul @ 40 and the 'R' word.
Stop looking at Everton's results in insolation as if we are in a direct fight with Cardiff for relegation.
There are eight other teams between us and Cardiff. They ALL need to go on title winning form to overhaul us before we topple into the bottom 3.
It ain't gonna happen. Save yourself the angst every week.
But if we continue like this into next season, all bets are off!
Peter Jansson
57
Posted 09/02/2019 at 17:17:06
Duncan also needs to go.
It has to be Unsworth if we bring someone from you own lines.
Colin Wordsworth
58
Posted 09/02/2019 at 17:17:22
Bring back Moyes with unsworth as number 2!
Kim Vivian
59
Posted 09/02/2019 at 17:17:41
!2/1 on Rafa as our next manager? Looks a good shout to me.
Would any manager leave their current job to step up? Unlikely I think. It would have to be someone who's available, or give Silva the rest of the season which is what will happen.
Justin Doone
60
Posted 09/02/2019 at 17:19:04
Some good patches but just not good enough.
Starting 11 was all wrong based on form and fitness. Why was DCL not started?
We needed to be more compact and play counter attacking football. We needed the pace of DCL, Richarlison and Lookman or Walcott from the start.
Gana and Davies played well and we're combative closing them down but it's the next phase that we lack. We either go backwards or give the ball away.
I'd rather they mix it up and whack it forward 30 yards for our forwards to chase down the channels.
Now a much needed break to work on the tactics and back to basics defending and attacking. Everyone in 9an until 6pm 7 days a week training and getting some much needed discipline.
Michael Kenrick
61
Posted 09/02/2019 at 17:19:06
I can't find much to confirm this Zouma story at the end... That's what the live EFC comms reported. Seems he totally lost his head. Not much on it anywhere else...
Tony Hill
62
Posted 09/02/2019 at 17:20:06
So much for my theory that we'd turned a corner after City. It's increasingly difficult to make a case for Silva because we just look so lost most of the time. That said, we can't keep sacking the doctor when the disease runs so deep and the medicine is so weak.
I wish I had more confidence in those running the club but they are a major part of the problem. Moshiri: wealthy but clueless about football; Barrett-Baxendale: good with charities but clueless about football; Kenwright: good for fuck all.
Brands is our only hope. I worry about him too.
Oh God come to our aid, Oh Lord make haste to help us.
Jimmy Hogan
63
Posted 09/02/2019 at 17:20:21
Can we have no more talk of bringing Moyes back. FFS, his track record since leaving us has been quite simply abysmal.
Danny Baily
64
Posted 09/02/2019 at 17:21:01
Now's the time to sack him, Cardiff away is winnable for a caretaker manager who gets the dressing room on side. If we wait until we lose that game we'll be throwing the likes of Unsworth in at the deep end against Liverpool.
Trevor Powell
65
Posted 09/02/2019 at 17:21:04
Nearlyevery season there is one team in a comfortable position at Christmas. They are lifting trees or stinking the place out and then suddenly go into freefall and then they are in the second division. EFC now has exactly that trajectory with some very difficukt hom e games at non-fortress GP, tricky away games against so-called lower teams who will now fancy their chances against a team managed by a rabbit cuaght in the headlights and unwilling to see where changes are needed and an owner who is dazzled by him. Brands may not be the guru we were hoping for : he helped to appoint Silva!
Under Moyes, you always felt away from home if we were level at half time, then we would not be beaten and might get the result. Now, you almost feel if we are not ahead at HT then you know we are going to concede just like Brighton, Saints and others!
Neil Halliwell
66
Posted 09/02/2019 at 17:21:34
A corner (it does not matter whether it should have been awarded) is a set piece. Game over for Everton.
Roman Sidey
67
Posted 09/02/2019 at 17:21:44
Can anyone explain what good it is having an ex-player like Duncan Ferguson as 1st team coach for five years yet our strikers can't hit a target with header???
DCL and Tosun both had criminal misses there at the end of the match that any striker should be at least hitting the target with.
Other than that, same old shite from the whole club. Only ones who seem to be really giving it their all are Bernard and Zouma.
Peter Jansson
68
Posted 09/02/2019 at 17:21:45
#62 What kind of logic is that?
John Keating
69
Posted 09/02/2019 at 17:21:59
Lets be honest that didn't come as a hock really
I mentioned prior to the Southampton game we needed to win that and at Huddersfield as our home games were horrendous. I thought we would have a chance against Wolves and Burnley.
If we were to get any points I thought it would be away... now I just can't see anything anywhere!!
I may we'll have been waving the white flag but I bet there's a lot more flag wavers tonight
Just wish this transition would hurry up and finish. It's been going since 1987
Paul Ellam
70
Posted 09/02/2019 at 17:22:44
The only consolation I can take from this season's "offerings" is that Manchester United have shown it is possible to be an awful side one week and a brilliant side the next, using the same players, just with a different manager.
That could be us too!
Now bring Moyes back in and bring back Rooney while we're at it to lead the line.

Kieran Kinsella
71
Posted 09/02/2019 at 17:22:52
1.I would make Silva serve out the rest of the season just to humiliate him and ensure he never works again.
2.I would bring in Billy Kenny to talk to the team about how fragile a football career can be.
3.I would ban Kenwright for life from entering Goodison Park.
4.I would give life bans to anyone who says bring in Arteta as manager since he has zero experience and is a traitor
Joe McMahon
72
Posted 09/02/2019 at 17:23:12
As we don't win matches Relegation cannot be ignored. Don't forget we've played a game extra. The Derby will be an embarrassing nightmare that that lot will not let us forget.
Dermot Byrne
73
Posted 09/02/2019 at 17:23:34
Yawn. Dull game, dull players, dull club.
Dermot Byrne
74
Posted 09/02/2019 at 17:23:35
Yawn. Dull game, dull players, dull club.
Bill Watson
75
Posted 09/02/2019 at 17:23:40
Another shambolic second half display and when we did get chances we never looked like converting any.
No sign that Silva has any answers, at all.
Please; just sack him now.
Anthony A Hughes
76
Posted 09/02/2019 at 17:24:33
Spineless, hopeless,useless,goalless.Welcome to the modern Everton.
Trevor Peers
77
Posted 09/02/2019 at 17:24:40
If Moshiri is serious about holding his nerve with Silva, we will crash out of the Premier League for sure. We'll see if he was bluffing or not in the coming weeks.
Silva is possibly the worst manager we've ever had, the weakness in his character transfers through to the players on the pitch – we look as lost as he does. How was he ever considered for the job?
Frank Crewe
78
Posted 09/02/2019 at 17:24:44
The players are going to continue to play this way until Silva is sacked. Just like Man Utd's players did with Mourinho. Silva has lost them completely and they won't play for him now, no matter how much he exhorts them to. It's better for Silva and Everton if he goes as soon as possible. We simply can't go on like this.
George Cumiskey
79
Posted 09/02/2019 at 17:24:55
Peter @ 34, we should've signed Maddison as well.
Peter Jansson
80
Posted 09/02/2019 at 17:24:56
Duncan Ferguson is definitely not the answer.
There has not been much positive development since Ferguson came in as head coach. We are not even close to scoring and look completely toothless.
Alan J Thompson
81
Posted 09/02/2019 at 17:25:40
Kim (#59); You mean 12/1 against?
Frank Sheppard
82
Posted 09/02/2019 at 17:26:57
Can't see us getting any sort of result against Cardiff. They now have more cohesion, team spirit and better form than us!!!!!
George Cumiskey
83
Posted 09/02/2019 at 17:27:09
Jay Wood, what game were you watching ? .
Nicholas Ryan
84
Posted 09/02/2019 at 17:27:42
Moyes till the end of the season, then Arteta with Wenger as a (highly paid) consultant?
Ray Jacques
85
Posted 09/02/2019 at 17:28:34
After 50 years of support, I just now shrug my shoulders at another disappointment. Joke of a club from top to bottom.
Jenas was right on MotD, we are a nothing club now, no identity.
Dave Abrahams
86
Posted 09/02/2019 at 17:28:58
Never saw anything of the game or read Live Forum but finished up just the same as most weeks very, very depressed. The end of the season could be even more depressing.
I've got no answers to this decline (very steep decline) I hope someone at the club has.
Kieran Kinsella
87
Posted 09/02/2019 at 17:29:27
David Prentice confirmed in The Echo – Zouma sent off
Gerry Ring
88
Posted 09/02/2019 at 17:29:52
Don't forget that we have Zouma & Gomes on loan. They'll be gone as soon as the season is over. Our own contracted players are on the bench not getting a run. Doesn't auger well for the immediate future.
Christy Ring
89
Posted 09/02/2019 at 17:31:18
We're a total shambles, it's relegation form, and can anyone see where our next win is going to come from. Everyone was praising Tom Davies after the City game, he couldn't even pass the ball today.
Trevor Powell
90
Posted 09/02/2019 at 17:31:58
Says it all, Frank @82, we are running shit scared about games against teams like Huddersfield and Cardiff, two of the racing certainties for relegation at the start of the season!!!!!!!!!!!
Kim Vivian
91
Posted 09/02/2019 at 17:32:12
Make what you will of this...
"Kurt Zouma sent off in the tunnel after the match. Ugly scenes here on a terrible day for Everton. I'm hearing he bit referee Lee Probert. Absolutely no place for that in the sport. Can't wait to hear what Silva has to say about this..."
Rob Marsh
92
Posted 09/02/2019 at 17:33:31
Folks,
I cannot see where the the wins or draws are going to come from, can you?
Ross Edwards
93
Posted 09/02/2019 at 17:33:54
Surely the end for Silva. He's done. Just get rid of him because I've had enough of this shite week in week out. We have 2 weeks now until Cardiff. I'd seriously be spending that time sounding out who's available if I was Moshiri cos this isn't being turned round any time soon.
As soon as we concede the game's over. It's pathetic. Yes we had a couple of chances at the end with Tosun missing a sitter but every time we concede first not one ounce of me thinks we can get back into it.
I think it's 4 wins in 15 or 16 now. That's just unacceptable no matter who the manager is or how long they've been there. I know for a fact that if Sam was in charge and presided over a similar run we'd be hounding him out right now. 11 points picked up since the derby. Only Fulham and Huddersfield have picked up less. We're a mid-table side in relegation form being flattered in the top half by a poor league.
His tactics are shocking, his subs are ridiculous. Why is he still going with Walcott? He's nothing short of useless and has been for months. We may as well just go down to 10 men whenever he comes on. Waiting until Watford were basically comfortable before bringing Calvert-Lewin on. Taking Richarlison off seconds after conceding? What's that all about?
How much time does he need before we admit that he's an absolute charlatan and we get rid? Our form is indefensible, the performances are unacceptable, the season is over, we passed up probably the best chance we'll ever get of getting to Wembley this season with that Millwall shambles. We're a joke. Silva's a joke.
Moshiri is a joke as well. Footballing wise he's an embarrassment. Knows fuck all and his decision making has been disastrous. Don't think those players escape criticism either. I am sick to death of them. No leaders, no one takes responsibility or gives a shit unless they're basically encouraged to.
I can't believe we were prepared last November to pay £15m in compensation to get Silva after a few decent games. A relegation and a sacking after jacking it in essentially is a record that should see someone nowhere near our club yet people were making out that he was 'a world class coach' and the next Mourinho.
If you appoint shite you're going to get shite. Watford fell away just as badly as we are now and they got rid. Their fans warned us when we got him about how stubborn he was, how he couldn't set up a defence and that he can't turn around a poor run of form and look what's happened. They were spot on.
Kim Vivian
94
Posted 09/02/2019 at 17:34:08
Yes, Alan. 12/1 against, on Rafa.
Kieran Kinsella
95
Posted 09/02/2019 at 17:34:13
He "bit" the ref? Didn't Suarez get like a 7-game ban for that? What kind of weirdo bites someone?
Tony Hill
96
Posted 09/02/2019 at 17:34:13
@68 the point in't too tricky I hope. I am merely suggesting that the problems at our club run considerably deeper than the capabilities of the manager. It is a fool's game to imagine that we are a tactical change or new personality away from success – unless we happen to find the new Shankly or new Ferguson.
It is the besetting delusion on this site that we are a club just waiting to claim our birthright and not a club which has been on the slide now for a long, long time. But dream on by all means.
Or perhaps you were talking about my concluding prayer. In which case, there is no logic at all.
Darren Hind
97
Posted 09/02/2019 at 17:35:05
HE BIT HIM???????
Someone say it isn't so!
Kim Vivian
98
Posted 09/02/2019 at 17:36:02
Kieran - I'm hoping it's a typo but even if he 'hit' the ref it's a bit odd.
Michael Kenrick
99
Posted 09/02/2019 at 17:36:07
Yea, confirmed now in BBC Radio 5-Live's interview with Silva, which I could not listen to. The man is now officially driving me mad. He did talk about the sending off, bitching about referee mistakes always going against us.
Joe McMahon
100
Posted 09/02/2019 at 17:37:04
FFS, if Moyes comes back, life will be made hell by RDs everywhere in the country. A complete laughing stock of a little club.
Mark Tanton
101
Posted 09/02/2019 at 17:37:08
Biting him... a semi-racist and unfunny joke aimed at Zouma's rather idiosyncratic jawline.
Chris Gordon
102
Posted 09/02/2019 at 17:37:09
The team is devoid of leaders and character. The best thing we can hope for is to scratch out what we can to the end of the season, re-evaluate and go again next season.
Sacking Silva? Who the fuck of any pedigree would in their right mind come to manage Everton? We've had 5 managers in 4 years FFS! We're going to have to stick with Silva for at least another 2 years.
The club's transfer policy has been a thunderous disaster. Over £300m? Not one has been a raging success so far. Most have talent; however, talent is nothing without application, hard work and character. Things that the current team is lacking in abundance.
Yes, it's Silva's job to motivate and decide tactics; however, if a player doesn't have the character and application, then his job is akin to teaching a national winning racehorse to tap-dance.
I'm afraid we're going to have to suck it up and hope we can sign some players with winning mentality and character, and hope Silva can tactically get the team back together. Remember for the first 3 months of the season we played some good attacking attractive football. We can only hope that returns from next season.
Paul A Smith
103
Posted 09/02/2019 at 17:37:54
I blame Moshiri for all of this and his gung-ho attitude to running a football club with no football knowledge.
I couldn't care less what has been spent. Its a net spend of about £80 million in 4 years and people wonder why we are worse.
Sell one top striker and throw 4 big wages in there without replacing him. Absolute shocking.
Mick Roberts
104
Posted 09/02/2019 at 17:38:44
Even though we lost to Man City, we didn't play too bad... so Silva reverts to his side which constantly under-performs — just shows how clueless he is.
Ian Lloyd
105
Posted 09/02/2019 at 17:38:46
102 - Are you being serious?!??
Peter Jansson
106
Posted 09/02/2019 at 17:39:14
For you guys that say we cannot get relegated. I don't know what planet we live on. Playing like we do now we struggle to take more than 3-4 points for the rest of the season. This is what I think. There are many more or less definitive 0 point games here. If we continue as we do now I see us take between 3-7 points maximum. 7 is to be positive. 5 points give us 38 points and we can get relegated.
Cardiff - Everton 0p (maybe 1p)
Everton - Liverpool 0p
Newcastle - Everton 0p (maybe 1 p)
West Ham - Everton 0p
Everton - Arsenal 0p
Fulham - Everton 1p (this can go either way)
Everton - Man U 0p
Crystal P - Everton 0p (maybe 1p)
Everton - Burnley 3p (we can loose points here)
Spurs - Everton 0p

Jay Harris
107
Posted 09/02/2019 at 17:39:18
That puts the top hat on it, Kieran.
He will now be out of action until the derby.
Any sign of Mina around Finch Farm.
Jay Wood
[BRZ]
108
Posted 09/02/2019 at 17:40:04
Zouma BIT the referee????!!!!!
Please say it ain't so. Please!
Anthony A Hughes
109
Posted 09/02/2019 at 17:40:55
Fucking shambolic set up from top to bottom.

Jim Bennings
110
Posted 09/02/2019 at 17:41:02
I don't know why everyone is putting their full faith in Brands.
As soon as he came out with Calvert-Lewin and Lookman being the envy of every Premier League club, I stopped taking him seriously, another spin doctor.
I'm convinced we have been overtaken by with Kopites or a sect in the Illuminati that simply have a sole objective of destroying this club.
Peter Jansson
111
Posted 09/02/2019 at 17:41:53
If Silva don't get sacked now, I am logging of for the rest of the season.
Jeff Armstrong
112
Posted 09/02/2019 at 17:41:59
Is Jags fit?
Tony Twist
113
Posted 09/02/2019 at 17:42:29
Has Silva gone yet?! Losers the lot of them.
This team will not win again unless there is a major change as in the coach being sacked. It is madness sticking with this bloke, he has reverted to form and gone on a run which must be one of the worst in the league.
The players have no belief and even with this match and the pre-match banter can't even muster a result. This league is too hard for us presently.
Peter Jansson
114
Posted 09/02/2019 at 17:42:51
Bring in that 20-year-old that has been playing good... what's his name again?
Dave Ganley
115
Posted 09/02/2019 at 17:43:59
Zouma sent off for 2 displays of dissent, getting 2 yellow cards — not for biting the ref.
Anthony A Hughes
116
Posted 09/02/2019 at 17:44:45
Don't worry, Moshiri had spoken, put your faith in the kids? Except they ain't fucking kids anymore — they've got over 200 appearances between them. Utter, utter bullshit.
Christy Ring
117
Posted 09/02/2019 at 17:44:56
What was Zouma's problem?
Peter Jansson
118
Posted 09/02/2019 at 17:45:09
Morgan Feeney
Kieran Kinsella
119
Posted 09/02/2019 at 17:45:36
If Zouma wanted to bite someone, shouldn't it have been Calvert-Lewin for his miss, Silva for everything, or Pickford for the goal? I mean, in the scheme of things, Lee Probert is down the list of deserving bite victims...
If neither Jags nor Mina ever regain match fitness, logic suggests Feeney should play the next game. Therefore, with Silva in charge, I guess we will see Walcott at centre-half.
Derek Knox
120
Posted 09/02/2019 at 17:45:41
Dave @86, I managed to be able to watch most of the game, the first half for us was better than of late, but again the chances that came were few and far between, but when they did they were fluffed or saved.
That's about as good as it got, second half they came more and more into it, so it was only a matter of when they would score. I expected them to get more than one to be honest, but scant consolation if you could call it that, when it's another three points gone begging really.
I can't see us getting many more points with the games ahead, and we may as well be leaderless, with that clueless charlatan at the helm. I still hope he will resign, but his arrogance tells me he will hold on like those before him and get a Lottery win pay-off.
Paul Tran
121
Posted 09/02/2019 at 17:46:16
Paying off a manager is nothing compared to the cost of buying a few players to play under him.
If Moshiri thinks he's made a mistake, he should rectify it, but only when he and Brands think carefully about who they want to/can get next.
Other clubs have gone through a few managers before getting the right one, looks like we're no different.
Pat Kelly
122
Posted 09/02/2019 at 17:46:57
Total shambolic loss of control by manager and players. Moshiri must see this cannot be turned around by Silva. The Club's reputation is being shredded every week. Perhaps this means little to an absentee owner living in a tax haven.
Ian Edwards
123
Posted 09/02/2019 at 17:47:19
Sack Silva. Get a Manager with proven Premier League experience like Brendan Rogers. Get Holgate back from loan. Play 4-4-2.
Kieran Kinsella
124
Posted 09/02/2019 at 17:48:14
Ian Edwards @123...
Brendan Rogers? Really?
Jim Bennings
125
Posted 09/02/2019 at 17:48:30
Feeney can't be any worse than the two drunken Grafton girls Tosun and Calvert-Lewin.
We needed fresh impetus in January, we needed a short term Kevin Campbell or Brian McBride type signing, someone to score a few goals to get us to safety.
Yes safety, because we ARE definitely in danger now of getting sucked into that relegation mire, looking at the fixtures and our form.
The Cardiff game is simply astronomical and a game we dare not lose.
Tony Hill
126
Posted 09/02/2019 at 17:48:44
Well said, Chris Gordon @102, though I'm less certain that Silva will survive. Part of me very much agrees with Andrew @50 about the timing of any change but what is the rational alternative now?
I would love Unsworth to step up but I just don't think he has it in him and I don't think the players did last time around.
Simon Dalzell
127
Posted 09/02/2019 at 17:50:19
''Sacked in the morning.'' I hope we don't have to wait that long. Worn out and bored with the whole calamity. I did think Davies played quite well though, contrary to this report.
Simon Smith
128
Posted 09/02/2019 at 17:50:43
What now !
I can't get my head around Marco and his decisions.
Why does he start to play Tosun after he had already binned him ?
Why does he keep going back to Walcot over Lookman ?
Why does he often decide to take our only 2 goalscorers off when we are behind, even though there replacements have let him down time and time again ?
Why doesn't he ever change the game from the sidelines for the better ?
Why are we still zonal marking ?

Yes I am all for giving managers a chance, but Silva looks like he hasn't got the solutions and he's looking to me like a man who doesn't really want to find them.
I'm wondering does he actually want sacking ?
We are a poor outfit, the keeper is a typical English player who is over rated, City fans called him a shit Joe Hart, it's stuck with me all week, are they right ?
We can't find a solution to goal scoring, we done ok with Richalison up top and imo if he had Bernard, Lookman and Siggy behind we would get some goals were as were back to getting none.
No wonder he didn't sell Gana, we would be a lot worse without him.
I'm totally void of ideas how Marco Silva sorts out our many issues, his main plus point for me was his signings were working but even they aren't at it now.
Bernard is in and out every other week, Richalison has had a dip in form, Gomes isn't what he was at the start and Yerri Mina is almost like a myth, only Digne is working out.
Won't be long before he's booted if he doesn't sort out some of our many issues.
Peter Jansson
129
Posted 09/02/2019 at 17:52:50
Unsworth won his last game with 4-0 against West Ham.
Why would he not have it in him?
He is doing it good constantly with the youngsters. Give the man a proper chance. He is definitely a better manager than Silva!
I do not believe there is a difference of managing people, rich people, stars or loosers. I believe either you are good at motivating people or not. This I think is one of the strength Unsworth have.
Roman Sidey
130
Posted 09/02/2019 at 17:53:04
Kieran Kinsella, genuine question, but what makes Arteta a traitor?
Derek Knox
131
Posted 09/02/2019 at 17:53:40
Can't see this biting report having any teeth to it!
Surely not, after the Sewer Rat Suarez fiasco!
The referee wasn't that bad at the end of the day!
Kieran Kinsella
132
Posted 09/02/2019 at 17:54:56
Roman
The fact he threw a hissy fit and demanded a transfer to Arsenal on transfer deadline day so weak @$$ Bill bowed to his wishes and let him leave.
Christy Ring
133
Posted 09/02/2019 at 17:56:06
If Zouma bit the Ref, do you honestly think he would have got 2 yellows?
Mike Price
134
Posted 09/02/2019 at 17:57:08
We are in big trouble; not enough character or fight to win away and not enough quality to threaten our next 4 home games against the top teams.
Ultimate nightmare season so far!
Tony Hill
135
Posted 09/02/2019 at 17:58:24
Peter @129, I respect the views of those who support Unsworth, he is a top bloke. But he's not in my opinion anywhere near strong enough or capable enough to manage us. If he were to be given another go, though, for the rest of this season I would be right behind him, praying.
Dave Ganley
136
Posted 09/02/2019 at 17:59:56
I'm guessing Zouma was complaining about the corner the ref gave leading to the goal.
All in all a terrible game by two poor teams. We created virtually nothing of note although to be fair neither did they. I thought the starting eleven was unbalanced with no natural wide man to go along with the ineffective Richarlison. It showed in the play with us being quite narrow. It's hard to actually pick out players who were worthy of the shirt today. Tom did ok, not great but ok as did Digne and JJK. As to the rest, well far below what we should expect. Just very poor and I expect a serious mauling when we play the RS. I'm not sure where we go at this point. I can't see Silva being sacked before the end of the season but I also don't see how this dreadful run of 10 defeats in the last 16 is going to end. To those who say the effort is there, I'm not so sure. If maximum effort is there then you should be harassing the opposition to make mistakes at the very least but we very rarely do. We are second best to lost headers and picking up second balls, we create next to nothing and still give away stupid goals by switching off, today prime example when you've got a Watford player in the 6 yard area completely unmarked.
I've never known us to be so rudderless. It's a shambles. This is no better than the death throes of Martinez. I find myself saying the same things like no effort, no professionalism, rubbish football that sucks all the life and joy out of you. I'm not concerned about relegation, there are too many other rubbish teams in the division but if something is not done then next season will be a real problem.
Ken Williams
137
Posted 09/02/2019 at 18:00:48
The only thing saving Silva from the boot is the number of managers we have sacked in quick succession. Under normal circumstances he would be long gone, the man obviously has no idea, after the new manager momentum has died of his coaching and man management skills are proven to be poor.
Peter Jansson
138
Posted 09/02/2019 at 18:01:23
#135. It is better to sack Silva today and let Unsworth take over tomorrow than not doing it.
Then who is our best manager prospect I don't know. But it is better to let Unsworth take over now and think about it than it is to let Silva continue.
Derek Knox
139
Posted 09/02/2019 at 18:01:47
Tony Hill, he couldn't do any worse than this bellend we have at the moment, but having said that, I don't think he has enough experience to do the job full time.
Darren Hind
140
Posted 09/02/2019 at 18:02:28
You have to laugh at the hard of thinking who come on to single out DCL before during and after every game.
Its as if the 90% or so of the games utter dross (before he even came on) didnt happen and we should focus on the young substitute.
The center halves were once again crap. The goalie all over the shop, the midfield pedestrian, the "creative" Icelander contributing nothing, The dazzling Brazilian embarrassing, club, fans and team with his appalling attitude... but fuck all that, lets single out the 21 year old late sub again.
Genius
Andrew Laird
141
Posted 09/02/2019 at 18:03:06
same substitutions again! Walcott first to come on, confuse the players and go a goal down immediately.
Silva is done, the players have decided. his mind funk is all over this team, none of them really have an idea how far apart from each other they should be, who breaks lines and who sits. Every week it's the same confused game plan with nothing coming from the sidelines.
We haven't had a good 90 minutes since Silva has been in charge including cup games against dross, friendlies against dross and our league games.
Moshiri is ruthless but he will save face with this and use Brands to take a bullet and shift Marco. Moshiri, being an extremely successful businessman should now know that football decisions should be completely out of his and uncle Bills hands from now on. These 2 are equally to blame for our 3 years of underachieving.
Jamie Crowley
142
Posted 09/02/2019 at 18:04:17
Kieran -
He (Arteta) didn't throw a hissy fit. We desperately needed money when Arteta was sent down south. I remember that as a sad day, but one that was certainly more agreeable with Everton and Arteta than you're recalling.
I don't see Mikel Arteta as a "traitor" at all and Bill didn't bow to his wishes - Bill was selling Mikel no matter what because he needed the dosh.
Kunal Desai
144
Posted 09/02/2019 at 18:05:13
Shamble of a team and manager. Everton has been brought to it's knees as a nothing club! For all the money spent last two season it will in all likeliness be a bottom six finish.
We are spiralling out of control and close to becoming an Aston Villa.
Jay Harris
145
Posted 09/02/2019 at 18:05:13
Ancellotti,Simeone, Jardim, Leblanc, Wenger, Mourhino?, Conte,Sarri etc.
In fact anybody but this tosspot.
Brian Wilkinson
146
Posted 09/02/2019 at 18:05:55
Peter@129, if I remember right, 3 of the 4 games Unsworth came in, three were away, two of them dead rubber in the Europa league were he gave the kids a run out, have no doubt had a Unsworth come in after the Europa games,he would have done a better job.
Panicked and brought Sam in, instead of giving Unsworth a few more games to turn it round.
John Kavanagh
147
Posted 09/02/2019 at 18:06:32
Unsworth in now please. It's difficult to envisage a situation where anyone could do worse than Silva, apart maybe from Manuel out of Fawlty Towers. Walcott? Que?
Peter Jansson
148
Posted 09/02/2019 at 18:08:27
#146. Yes, I think they should have given Unsworth more time to get a proper chance to prove what he could do. It retrospect that would probably have been the smartest thing to do. Then we could have looked good now, instead of the useless, bonless crap we look like.
John Keating
149
Posted 09/02/2019 at 18:08:32
I get the impression one or two of you are not too happy with this new open exciting attacking well organised football we were expecting under Silva
A refreshing change from the last three years of dross plus the actual results speak for themselves
Remember all you unconvinced ones be careful what you wish for
Peter Jansson
150
Posted 09/02/2019 at 18:08:58
#146. Yes, I think they should have given Unsworth more time to get a proper chance to prove what he could do. It retrospect that would probably have been the smartest thing to do. Then we could have looked good now, instead of the useless, bonless crap we look like.
Kieran Kinsella
151
Posted 09/02/2019 at 18:09:18
The only positive this whole season is that Ashley Williams is out of contract in June. I cannot see Mosh spending any more money and the rest of the team are unsellable. So we are going to have to wait for their contracts to run down before we can rebuild. By that time it will be 2022 and we will be in League One with Kevin Mirallas as player manager and George Green upfront on a short-term pay-as-you play deal.
Kieran Kinsella
152
Posted 09/02/2019 at 18:09:52
The only positive this whole season is that Ashley Williams is out of contract in June. I cannot see Mosh spending any more money and the rest of the team are unsellable. So we are going to have to wait for their contracts to run down before we can rebuild. By that time it will be 2022 and we will be in League One with Kevin Mirallas as player manager and George Green upfront on a short-term pay-as-you play deal.
Ken Kneale
153
Posted 09/02/2019 at 18:10:07
Is anyone really seriously supporting Silva after this apart from seemingly as others have noted the clueless (for various reasons) of our owner (rich but no football clue), chairman (rich thanks to owner but no football clue) and Chief Executive (doubtful rich but nailed on no football clue).
Roman Sidey
154
Posted 09/02/2019 at 18:10:33
Odd, Kieran as I've rarely heard much malice toward Arteta for leaving for Arsenal. I mean, he did go on to captain the Gunners and, let's face it, he wasn't an Evertonian, he was an employee of the club and got offered more money and better football and took it.
People calling for Unsworth to be given the job til the end of the season really make me wonder. In his last stint as caretaker, he got wins against a dreadful Watford and totally abject West Ham. Add to that people keep talking up how great a job he's doing with the u/23s. To what end product? How many of those players are coming through? The jury is still very much hung on Davies, Kenny has had two good games, and the rest either get loaned out or don't make the grade.
Brian Wilkinson
155
Posted 09/02/2019 at 18:12:16
If we do get Unsworth, we need to make sure Moshi does not read Joey Bartons tweets again.
Peter Jansson
156
Posted 09/02/2019 at 18:13:54
#154. Coming through? How are anyone going to come through with Silva and company managing the club that is going backwards? With this management noone will ever come through. They are put in a team that does not work. How will they ever do good in that condition?
Grant Rorrison
157
Posted 09/02/2019 at 18:14:00
Unsworth? FFS.
Derek Knox
158
Posted 09/02/2019 at 18:14:13
John Kavanagh, totally disagree, Manuel would do a much better job than Silva.
Why? Because he's from Barcelona !! Que?
Anthony A Hughes
159
Posted 09/02/2019 at 18:14:35
Don't worry stadium update coming soon.

Jamie Crowley
160
Posted 09/02/2019 at 18:14:44
Ken Kneale -
I was just about to ask the same rhetorical question.
Does anybody on TW not think it's time to grab the pitchforks and torches?
Not will he go, as that probably won't happen until summer, but surely he should go?
Is there anyone out there who thinks Marco Silva should not be replaced?
Henry McDonald
161
Posted 09/02/2019 at 18:14:44
Imagine you are one-nil down against Watford and who do you throw on to save the day – Theo Walcott! That fact alone should convince any fools still left out there amongst our support that there is any validity for keeping Marco Silva as our manager.
After today's debacle how anyone defend his position now. The fans must be heard loud and clear that he is simply not good enough. Yes of course players are failing our club massively and this summer there has to be a serious purge of what I have consistently called the shirkers and the cowards.
Ask yourself this: would any of those so-called players be afraid of Silva in the dressing room? I cannot see our mis-manager instilling fear or respect among any of them.
He has to go and the sooner the better. If it means bringing in a sincere servant of Everton football club in the guise of David Unsworth, so be it. But if we are tied to Silva until this empty, painful season is over then at least let us all band together and see that he gets shown the exit door from Goodison the second the summer break begins.
And even if, miracles never cease, we were to get something against the Kopites in a couple of weeks time I still don't believe it would be enough to save Silva's job. Measured against the entire campaign his performance has been awful.
I never thought I was would say this but he has turned out to be an even worse manager for us than Martinez.
Kieran Kinsella
162
Posted 09/02/2019 at 18:14:54
Roman 154, Jamie 142,
From the Echo day after Arteta left:
"Having rejected a £10m bid earlier in the day from the Gunners, Everton were compelled to later accept the offer when Arteta expressed his desire to leave."
Traitor
Jamie Crowley
163
Posted 09/02/2019 at 18:16:03
Please Kieran, you're not that naive.
John Kavanagh
164
Posted 09/02/2019 at 18:16:27
Roman #146 - Beating a dreadful Watford? An abject West Ham? That's more than Silva has achieved. As for the younger players not being good enough, maybe - but at least they are trying, unlike our £150 million plus worth of wasters.
Kieran Kinsella
165
Posted 09/02/2019 at 18:17:19
Considering his resources Manuel actually did a pretty good job.
Christy Ring
166
Posted 09/02/2019 at 18:19:01
We are completely lacking confidence, creating nothing, no balance, toothless upfront. Silva makes the same changes every game. As I said earlier, I can't see where our next win is going to come from, there's no light at the end of the tunnel. Silva plays the same tactics in every game, it's not going to change, time to cut our loses, Silva has to go now.
Roman Sidey
167
Posted 09/02/2019 at 18:19:06
Yeah, you're reading too much into that, Kieran. Do you really think Bill would have turned down 10m for a player in 2011?
Henry McDonald, to be fair, Walcott came on at 0-0.
Kieran Kinsella
168
Posted 09/02/2019 at 18:19:17
Jamie
Maybe I would be more sympathetic to the traitor if he had ever shown up in a big game or allowed anyone else to take the corners that he wasted for six years. He thought he was too good for the club. he achieved nothing. He is a clown and I do not understand why anyone even mentions his name.
Peter Jansson
169
Posted 09/02/2019 at 18:19:35
John #164. West Ham was not bad that day. The result could have been a lot different. Cresswell hit the wood at 0-0.
Julian Exshaw
170
Posted 09/02/2019 at 18:19:56
When one is angry, one lashes out, is quick to blame, takes the 'it's always the other's fault' stance. Anger is often replaced by sadness, disinterest, and indifference. So much for my philosophy but the latter is how I was feeling this afternoon. I felt sorry for Silva; there may well be a good coach in there somewhere but not with these boys. I felt sorry for Davies, who battled hard, likewise Kenny and Zouma. I felt sorry for those magnificent fans who travel to see us all over the country and beyond. But I was looking at a team and a manager that looked as if it needed release from its misery, it was like watching an animal suffer. You want to help it, but there's nothing you can do. The camera focused on Senhor Silva a lot in the last moments. There was a look of resignation in him, a 'I can't do anymore' attitude.
I'd like to see him given until the end of the season despite today. I am not 100% convinced yet that he can't turn it around with a degree of luck and a different approach. Two weeks off now is a godsend for everyone. A time for reflection and focus.
Anthony A Hughes
171
Posted 09/02/2019 at 18:20:07
Can you blame any half decent player wanting to leave this mis-managed fuck up of a club of ours if they have the chance of winning trophies elsehwere? Rocking horse shit,trophies, Everton
Brian Wilkinson
172
Posted 09/02/2019 at 18:20:39
Roman,his first three games were away, two of them dead rubber in the Europa league, once he mixed it up trying different players and youth,he selected his strongest 11 against West Ham, why play a strong 11 in a competition you are already out of, that's the time to try something different, try different players.
Anyone who thought Unsworth could wave a magic wand in the limited time he had last season havemore belief than me.
But I certainly think Unsworth would do a better job until the end of the season, than Silva will.
Peter Jansson
173
Posted 09/02/2019 at 18:20:45
It is not Walcotts fault we lost today.
I actually think he was one of our best players today.
Dave Abrahams
174
Posted 09/02/2019 at 18:23:34
Clive (5)quite true, it's just the three substitutes on Wednesday did not improve the team at all but are starting today, doesn't make any sense at all to me Clive.
Jamie Crowley
175
Posted 09/02/2019 at 18:24:43
Julian fair enough on giving Silva until season's end. Not sure I agree with you, but fair enough.
As far as feeling sorry, let me cheer you up. ;0)
I just had a look at the form table. Over the last 6 games we are 15th, 2-0-4, with 6 points from 6 games. That's a point a game and 38 point pace for a season.
So the good news is all this talk of us being relegated is unadulterated nonsense! We're playing absolutely shit, but even playing absolutely shit like this would still most likely see us safe!
Because under Marco, that's going to be our new barometer for success - safety.
Peter Jansson
176
Posted 09/02/2019 at 18:25:26
#172. The win against West Ham 4-0 was a premier league game not a cup game. That is a result we can just dream about under Silva.
Rob Marsh
177
Posted 09/02/2019 at 18:25:40
How can Moshiri sack him a couple of days after saying he needs more time?
That's what you would think, but given the new look of the table and the way we're playing, 48 hours can be a long time in football !! (or is that politics?).
Roman Sidey
178
Posted 09/02/2019 at 18:25:42
John Kavanagh, I'm definitely not saying Silva should stay, but I don't want to see Rhino in the dugout either. Some fans seem to give ex-players far too much credit for not actually achieving anything. Unsworth, Ferguson, Arteta... the manager of a Premier League club should not ever be a manager with zero first team management experience other than a few matches as caretaker.
Anthony A Hughes
179
Posted 09/02/2019 at 18:29:14
When looked at the whole pursuit and appointment of Silva based on his CV and past record in The Premier League was fucking ridiculous.
Joe McMahon
180
Posted 09/02/2019 at 18:29:46
Conflicting info on this thread guys. Arresta did ask to leave. Can you blame him! Also I feel Both giving it to Fat Unsworth, (he's bigger than Sam) or Moyes to the end of the season stinks of little old club steeped in nostalgia.
Andrew Clare
181
Posted 09/02/2019 at 18:31:33
Forget our useless government they have got nothing on Everton. We have spent a fortune and gone backwards.
The signs were there early on. Signing players like Williams and Bolasie should have been a good indication that things were not going to go well and then appointing Alardyce as manager was the icing on the cake. For nigh on 20+ years we have been badly badly let down and then what happens we are bought by someone who is even worse than Kenwright with absolutely no idea about football. I haven't got a clue where we go from here. Everton are the epitome of a very badly run football club.
Ian Lloyd
182
Posted 09/02/2019 at 18:33:24
Has he been sacked yet?
Roman Sidey
183
Posted 09/02/2019 at 18:33:27
Joe, 180, agreed on both fronts. I remember Moyes saying he spoke to Arteta who said "I want this transfer". I believe that, but that doesn't mean he threw a hissy-fit as Kieran has claimed.
Anthony A Hughes
184
Posted 09/02/2019 at 18:35:23
Difficult for Moshiri to sack him a few days after backing. Should have kept his mouth shut
Kase Chow
185
Posted 09/02/2019 at 18:35:57
So clever that we didn't buy a striker in January
Well done Everton. Genius
Always knew Tosun and DCL were full of enough goals
Henry McDonald
186
Posted 09/02/2019 at 18:35:58
IMPORTANT CORRECTION - I called that wrong about Walcott. He came on at 0-0. However the decision to play him none the less underlines the poor managerial decisions made by Silva. In addition, why keep James McCarthy out even though he always gives 100% and can add a bit of steel to the midfield.
Rob Marsh
187
Posted 09/02/2019 at 18:37:12
Joe #180
It's not working with Silva, if we go back into the market now we'll only be asking for fat Sam again to save us and all his conditions attached (or someone like him).
If we go with Unsworth can he really do a worse job than Silva? I don't think this it is such a sentimental choice, it's also a good business one, he'll take the job with now strings attached.
If we don't stick and decide to twist, I'd go with Unsworth.
Ian Lloyd
188
Posted 09/02/2019 at 18:38:51
I see Marco silvas wife has gone quiet
Tony Everan
189
Posted 09/02/2019 at 18:40:05
Disappointed.
Not good enough, we will finish where we belong, about 15th .
I will bang on about it until we get a striker . We sold A 25 GOAL A SEASON STRIKER AND NOW WE HAVE NOTHING .
Sorry those caps came on by accident, but I'm leaving them . God did it.
Until we have a striker who can provide goals, some respite, put some fear into the opponent and provide a bit of extra motivation for the rest of the team we are going nowhere .
We are too soft, too easy to play against, no threat, our forward line was just bouncing off Watford players all the game .
We have to stick together and get the club over the line for this season. But if Mr Brands though he was getting somewhere in August he needs to press the reset button because this chronic play cannot go on much longer.
John Keating
190
Posted 09/02/2019 at 18:40:19
Like last season it would be totally unfair to ask Unsworth to step in.
Talk about being thrown in at the deep end!
Admittedly I think last season was at a more difficult time than now coming in as even though we are totally shit we are more likely to have three worse teams than us. Last season, we'll thankfully we will never really know 100%
I think Silva will stay until seasons end.
Unfortunately I think almost all, if not all, of after match threads until the end of the season will be similar to this
Next game we should play Virginia in goal, include Kenny and Feeny in defence, Davies and Lookman midfield and DCL up front. Let's get rid of all these overpaid overhyped so called senior pros who are shite
Jamie Crowley
191
Posted 09/02/2019 at 18:42:46
I'm with Rob Marsh.. Slate it all you want, Unsworth now for me. We need to make a change. Do it, and let Marcel find the next permanent manager over the coming months.
Kieran Kinsella
192
Posted 09/02/2019 at 18:44:41
Roman
Hissy fit / ask to leave potato potato. My point is that there is no basis for this drive to bring a one time player as boss who won nothing and has no experience. He is no Everton legend and is not a manager
Mark Wilson
193
Posted 09/02/2019 at 18:44:47
Jay, #56 I can see your point Jay but think you are way too calm and in cool dude mood obviously ! Just look at this
Cardiff, away, lucky draw, 1
Liverpool, home, humiliation, 0
Newcastlecaway, Benitez shows what we r missing, 0
Chelsea, home, they need top four, 0
West Ham away, they r crap, so r we, 1
Arsenal, home, "unlucky" 3-0 defeat, 0
Fulham, away, lucky against already down, 3
Man Utd, Lukaku hat trick, drubbing, 0
Palace, Way, bore draw, 1
Burnley, home, they fight for their lives, 0-1, 0
Spurs, away, slaughtered, obviously, 0
Six points from 11 games. That's genuinely all I can see based on Silva staying and our shite, over paid gutless joke of a squad combining to get us into a relegation fight. We are nine points ahead of Southampton and I get what you are saying about the nine teams between us and them but from Saints up who is playing worse than we are ? Who looks more disorganised than us ? Who looks to have less fight in them ? Who has the worse manager on this seasons form ?
Ok, we may scrape nine points but something big will have to change to see that happening.
Silva looks every inch as hapless at this point as Koeman, and Martinez. Allardyce, frankly, looked better than either of them and yes his football was grim and his gob worse, but really, how can any of the haters say he and Lee were worse than Silva or Koeman or Martinez ? The results are unimaginably bad. There is not an inch a bloody inch .of progress and really I see that most of the "we are going in the right direction" and "it's transition" club have withdrawn to their safe place.
The biggest problem isn't Silva, it's the owner who remains a very decent guy with loads of money and not a clue how to run the footballing side of a premier league club. He's moved Brands into the driving seat too late methinks. But regardless, the decision not to strengthen up front in January may have pleased all our "sensible" supporters but the evidence is crystal clear, it was the wrong call, and even if we do, as remains likely I suppose, escape relegation, the impact of that fight and freefall collapse will do terrible damage to our club in the summer transfer market.
The only progress is winning.

Rob Marsh
194
Posted 09/02/2019 at 18:45:18
John #190
If we lose to Cardiff which is by no means impossible and the result against the dark side I don't want to think about, we will well and truly be in the quick sand.
I hope someone at Fawlty Towers has a plan B?
Steavey Buckley
195
Posted 09/02/2019 at 18:45:58
Silva needs to abandon all formations that are leaving Everton with just one forward to play against 2 centre halves. 4-4-2 formation would make Everton stronger in midfield with plenty of cover for the defence and the attack. At present, Everton don't get enough players back in defence or forward in the attack. These are the main reasons why Everton are losing matches. There is enough quality at the club to beat teams around Everton in the league.
Raymond Fox
196
Posted 09/02/2019 at 18:48:51
Chris 102, your right again bud, its our over rated over paid heroes who are letting the club down. How many managers are we going to go through before its obvious that its our shortage of player talent that's the root cause of our lack of success.
Todays result is no surprise two ordinary sides level on points with similar stats, Watford had home advantage they were favs.
Is Silva a top manager, hardly I'd say probably average along with most aspects of the club at this time, being manager of Everton has become a poison chalice.
We need another owner with a lot more money and sense to come in and get rid of the old boys network that still hangs over the club. Get rid of three quarters of the playing staff and start again from scratch.
Tony Everan
197
Posted 09/02/2019 at 18:48:54
Rob #194
John Cleese for manager?

take ex-Barca Manuel on loan ?
Derek Knox
198
Posted 09/02/2019 at 18:48:54
Getting back to the Zouma situation, can a Yellow be issued after the final whistle has been blown?
There are conflicting reports at the moment, but from what I am gathering it was in the Tunnel after the game was effectively over.
So basically I am saying how can that happen, if that is the case?
Roman Sidey
199
Posted 09/02/2019 at 18:48:59
Kieran, your main point is where we do agree.

Trevor Peers
200
Posted 09/02/2019 at 18:51:17
I doubt if Moshiri would ever allow Unsworth to manage Everton again, Unsworth was Kenwright 's call and I don't think Moshiri will entrust him with the responsibility again.
Maybe Moshiri and Brands already have someone on standby, given Silva's record it would be foolish not to, but this is Everton and normal rules don't apply.
Jamie Crowley
201
Posted 09/02/2019 at 18:52:11
Last night the wife and I went to watch the local girls high school soccer game. A regional semi-final knock out game.
They played to 1-1 and in extra time scored to win in the end 2-1.
They were outplayed. The must have had to defend 20 corners, and they gave away so many silly fouls in dangerous positions it was laughable.
But they fought like warriors. Our high school is a bit of a power house in soccer, and losing is just not acceptable in its own way.
I watched these girls run and defend like their lives depended on it. They just wouldn't allow themselves to lose.
And I sat there thinking if Everton showed half the desire as these high school aged girls did, I'd be happy.
That's just sad.
Roman Sidey
202
Posted 09/02/2019 at 18:52:17
Derek, yes the ref can give cards after a match.

Rob Marsh
203
Posted 09/02/2019 at 18:53:06
Tony #197
Yes mate, spot on!
Have you noticed the other similarity with our beloved club?
I feel sure our manageress's could easily swap roles !
Ian Edwards
204
Posted 09/02/2019 at 18:55:38
Kieran 124. Yes. Proven Prem quality.
Derek Knox
205
Posted 09/02/2019 at 18:57:20
Thanks Roman, I wasn't sure about that at all.
Peter Jansson
206
Posted 09/02/2019 at 19:00:33
#200 Moshiri can continue with Silva and get relegated or switch managers to try to turn things around. Silva will not manage to turn this around. He does so many mistakes I don't know where to begin. There is no logic or redline in his management.
Brian Wilkinson
207
Posted 09/02/2019 at 19:08:14
Kieron, not sure about the won nothing, I remember Unsworth putting in a man of the match performance against Utd in the 95 cup final, not sure how many titles he has won with the under 23s, but a fa cup winners medal is on his cv.
Brian Wilkinson
208
Posted 09/02/2019 at 19:11:15
Apologies Keiron if you referring to Arteta and not Unsworth.
Pat Kelly
209
Posted 09/02/2019 at 19:17:46
We don't need an interim manager. We have one already.
John Hammond
210
Posted 09/02/2019 at 19:18:02
Bring Moyes back? Bring Rooney back? Honestly, have some people lost their minds?!
The Cardiff game is 17 days away. That's 17 days for Silva to come up with a new plan and sort out set the set piece issues. We're currently 9 points off the relegation zone and a lot of the teams below us play the weekend before the Cardiff game so we could potentially be even closer going into that game. A loss there and other results going against us could see us in a perilous position and then we go into the derby with everyone below us having already played that weekend so who knows where we'll be. All this is worst case scenario but it's not beyond the realms of possibility seeing as only the bottom 2 clubs are in worse form than us. Everyone below us is slowly catching up with us. The board and Silva will know this. I'm pretty sure he'll be called into Moshiri's office on Monday to explain how he's going to fix everything. I think he'll be given these 17 days to work on it all. Or just sacked.
Tim Keyes
211
Posted 09/02/2019 at 19:29:10
Is anyone watching WBA against Stoke and a certain Mason Holgate running, chasing, tackling, fighting to win a game? He's another "Marmite" player with our supporters that I really like because he actually cares. He's made mistakes previously yes but I'd much rather players like him that give a shit than the Walcott's of this world. Our issues lie with a one dimensional coach and his loyalty to players who don't give a shite.
Derek Knox
212
Posted 09/02/2019 at 19:29:13
We can argue and suggest all night long, what should happen with Silva, and who should take over, but in the cold light of day, neither Moshiri, nor Kenwright, will take one iota of notice of the expressions on TW.
At the end of the day we are only the loyal fans who have supported them through good times (for those of us with good memories) and bad, Board Members come and go, as with Managers and players alike, but we can dispute amongst ourselves until we're blue in the face, they will make the decisions as they see fit.
It is infuriating that the ones who care the most, are the ones putting money in and taking nothing out have no say whatsoever.
Jim Wilson
213
Posted 09/02/2019 at 19:29:20
This has Mike Walker written all over it.
With the sending off more changes at the back have to be made with the Derby looming. It's certain defeats in the next two games.
It's a nightmare and unforgivable for our chairman to put us through this again.
Silva has to go tonight.
Temporary managers: Wenger, Mourinho, Pullis, Unsworth. Anyone to give us a boost, get us organised and over the line.
We have yet another idiot in charge of our once great club and if something isn't done fast to remove him we are done!
Anthony Murphy
214
Posted 09/02/2019 at 19:31:57
What a shit sandwich. Why can't we even just steady the ship and see out a boring 0-0? I think we will crawl over the line but hate to think what it will like if we need to secure points in the last few games to avoid the drop. Highly unlikely but if this lot had to fight for survival we wouldn't stand a chance. We are actually lucky to have the points we have already as in all honesty we picked up a few points at times without playing well.
I don't know what to think anymore. I'm like most Evertonians - apathetic, trance like state with no answers left. What right now is Brands thinking? Tonight, is he telling those close to him that Silva has his backing and he believes he is the man? Or, is he telling those same people that Silva is a pile of shite who will be going as soon as he can line up a replacement? Who fuckin knows, and whose to say Brands has got a clue either? Let's be honest, if Brands turns out to be a dud, we are well and truly fucked.
Andy Meighan
215
Posted 09/02/2019 at 19:33:57
Kieran Kinsella, Arteta was no traitor. He was a brilliant servant to our club and one of the most majestic players we've had in our recent history. That shitehawk Kenwrong couldn't wait to cash in on one of our most talented players in recent times.

Moyes gets grief on here like you wouldn't believe but by God that man could spot a player a mile off and the likes of Koeman, Martinez and this clown now aren't fit enough to fill his shoes.

Worked on a shoestring and still had us fighting like our lives depended on it. Compare that to the money these clowns have squandered and I think you'll see where I'm coming from.

If i'ts true that Mikel is interested in becoming a gaffer I'd have no problem installing him with Cahill alongside. At least the players would know what it means to play for this great club. Go and get him now as far as I'm concerned.
Paul Burns
216
Posted 09/02/2019 at 19:39:58
This is the worst "team" we've ever had, an absolute fckn disgrace given the cost to put it together.
The buffoons at the top are dragging us through the mud on an almost daily basis.
Not one of them has a clue.
We hear nothing from them as the club staggers from one embarrassment to another.
Everton has been stolen from us by a faceless, gutless bunch of morons using us as a hobby led by the slimiest clown to ever claim to be an Evertonian.
Mike Price
217
Posted 09/02/2019 at 19:44:56
Funny thing is, if we hadn't sacked him and weren't still paying him there'd be a clamour for SA to save us! We'd be better off with Harry Redknapp than this clown though...how low can we sink!?
Leeds and Aston Villa and now us if we're not very careful.
Joe Parko
218
Posted 09/02/2019 at 19:47:27
This club is Dying before our Eyes, never have I felt so despondent and depressed supporting this Once GIANT of a club.
The Motto must have been changed and replaced with, Everton, a plucky little club, with mediocrity as our aim.
The club is run from top to bottom by LOSERS, and sad to say, some posters on here seem to accept, the mediocrity and settle for, " well we are making a better effort", and we broke sweat so must be improving blah blah blah..
Nobody is taking responsibility for this Shambles, all we hear is one lame excuse after another, we hired and bought shite, and some people wonder why we play shite . Amazing...
This Management team has to go, and GO now.
NSNO
Derek Knox
219
Posted 09/02/2019 at 19:47:35
Anthony @214, I think it is a bit too early to blame Brands for anything, it wasn't that long ago he was being praised, and in my humble opinion, quite rightly so, for adding quality to our squad.
Those players haven't suddenly become poor overnight, but are clearly lacking in confidence and leadership, where does that responsibility lie? With the manager of course!
To use an analogy a good Tradesman can still fashion something from a poor set of tools, a bad Tradesman can have the best tools available and still produce a monument of shit!
I suggest that the latter case is Silva to a T! Don't throw away the tools in a fit of pique, but some how replace the poor Tradesman, with someone who knows what they are doing.
John Raftery
220
Posted 09/02/2019 at 19:50:27
The Mike Walker analogy is spot on. We have a mixed bag of a team with some promising young players being dragged down by a lack of form and consistency by those around them. We have a manager who is clearly struggling to inspire his players to raise their game even to a one good game in three level. A team which creates few chances, scores even fewer and concedes so many easy goals can only head in one direction.
Those who thought after our cup exit we had nothing to play for this season may yet be proved right. Those who thought we should have kept Allardyce for this season have already been proved right. Defeats at Cardiff and in the derby will see the panic button come into view.
Vinny Garstrokes
221
Posted 09/02/2019 at 19:51:26
Stubbsy's your man until the end of the season. He could provide our own Blue Ole Gunnar bounce!! At least he knows what we are all about.
Jim Wilson
222
Posted 09/02/2019 at 19:51:34
Well said Paul Burns.
Kenwright is the worst thing to happen to us in our history.
A complete fool incapable of getting it right but with a knack of making the situation even worse
It's never been the players it's the managers he has picked
Look at Holgate now on loan. Playing well and head and shoulders above any of the central defenders we have.
Barkley far more effective than Sig.
Never mind Lukaku, every striker we have bought since selling Naismith are nowhere near as good as him
You could go on.
It's a joke
John Pierce
223
Posted 09/02/2019 at 19:52:36
I don't want the fella. But for those hanging their hats still on Marco .
He has 17 days to drill & prepare the squad before Cardiff.
If given this huge amount of time he cannot beat Cardiff, a team of cloggers, what point is there? This is an unprecedented amount of time to spend with the squad at this point on the season.
If not, what hope given 17days, can he be expected to turn a ream around 3/4 days later?
Anthony Murphy
224
Posted 09/02/2019 at 19:54:22
Derek, I'm not blaming Brands at all, merely pointing out that we have to hope he knows what he is doing as no one else seems to.
John Boswell
225
Posted 09/02/2019 at 19:58:02
I see that Burnley have won Away at Brighton tonight, where we were defeated a few days after thrashing Burnley 5-1 at Turf Moor. Since that win we have accumulated 6 points while Burnley, whose fans were calling for Dyche to be dismissed following a very poor run of results, have gained 15 points.
Hmmmmm!
I have ordered a hot towel to clean the egg from my face, after I had confidently predicted an improved points haul in the second half of this season, following the sad defeat to our neighbours in December.
I know nothing. However Everton will always be the only club for me, divorce is not an option. COYB.

Jim Wilson
226
Posted 09/02/2019 at 20:00:05
You are not wrong there Mike Price
A manager like Sam Allardyce far superior to Koeman and Silva sums up how ridiculous these a appointments have been
Peter Mills
227
Posted 09/02/2019 at 20:00:49
I have never been a fan of Mr Silva, and would be happy to see the back of him pronto.
I doubt we will be relegated, so why not appoint David Unsworth until the end of the season? Give him a few more games than last time, see how he performs, then take stock.
Ken Kneale
228
Posted 09/02/2019 at 20:01:11
Jim 218 - I agree - I have said for some time now in my comments, we are heading towards Aston Villa at an ever increasing rate with no one in the Club seemingly capable of changing course or trajectory of our fall. This is as dire as we have seen it - the issues of Wimbledon and Coventry final games are coming back good style in all our nightmares but I don't see this squad being capable of any sort of performance - I hope the Chairman reflects on his decades of abusing his role and position tonight - one thing for sure - we are all going to suffer his tenure for the rest of our lives as Jim at 22 points out
Les Graham
229
Posted 09/02/2019 at 20:10:20
Hey guys, fellow Evertonians. I often fancy coming on to ToffeeWeb..to debate with Fellow Evertonians..Theres no debate about my person currently i've reached passive acceptance stage i;e we are quite crap, expensive crap at that...Can't say anything else but i'm fucking furious with Everton football club fuck up constantly,,never a wise decision if Everton was you're wife you'd have binned her years ago
Oliver Molloy
230
Posted 09/02/2019 at 20:10:51
Brands a dud - no way, he's a fucking genius according to certain people on here !
Silva will not be sacked this season UNLESS we get a hammering from the red shite at our place.
Moshiri has spent too much money to have to start again, but if the above happens he may find he has no choice., and he does like a headline.
For all the doubts a lot of us have / had about Silva, the man is not responsible if players do not take very clear chances, Calvert Lewin should have scored and so should Touson ( doesn't matter if it was offside ) that should have been buried in the net.
You could argue it is all down to confidence for players missing chances like these two today so ultimately that is down to the manager and coaches, but for fuck sake, I would have scored the Touson chance.
Also, Deeney I thought got away with two bad fouls early on and given what he was raving about kicking the shit out of us, the referee was very weak to say the least - he should have been booked long before he was which is Zouma was losing his rag.
There is no belief in the team, the defenders clearly do not trust Pickford and this is part of the problem with set pieces.
Tony Everan
231
Posted 09/02/2019 at 20:11:39
the Wimbledon game was like a miracle unfolding in front of our eyes, I doubt we will see that happen again
Mike Hayes
232
Posted 09/02/2019 at 20:11:56
Peter Mills - Rhino with Ebbrell and Jeffers are after the Prem 2 title and lad 16 of the cup, WHY on earth would Rhino give that up the train wreck of Silvas 🤔
Eddie Dunn
233
Posted 09/02/2019 at 20:13:33
It is cear that we are still way off getting a win. Sure, we looked better at the back but as soon as Silva took off our midfield cover, we were like an open day at an up-skirting convention.
It's the same every time as Silva throws on his subs and the team resort to hoofball, but even then our buffoons up top can't get anything on target.
I watched Silva's interview in BBC online and he doesn't make any sense. He went straight down the tunnel and missed Zouma's rant at the ref and only has Zouma's word that he saw one yellow, but not the second. It's an utter shambles. If this is how the coach communicates then it is no wonder that the team look bewildered. He makes Martinez look like Stephen Fry.
I want to see him sacked tonight. Any muppet could do better. He seems unable to get them fired-up, his selections are patchy and he still persists on one up top when both incumbents need help.
I can tolerate mistakes but not the same mistakes every week.
Eddie Dunn
234
Posted 09/02/2019 at 20:15:24
Oh yes, and I heard on 5 live that a taxi driver had just dropped Andre Gomes off at Gatwick. 17 days to prepare for Cardiff? Not for Andre.
John Keating
235
Posted 09/02/2019 at 20:18:25
Vinny 221
Vinny good call regarding Stubbs. However I don't think as manager. I think Brands should just tell Silva he's bringing him in, or someone like him, to sort what he patently is incapable of, i.e. the defence
If Silva doesn't like it then he can walk away.
For whatever reason Silvas stubbornness is going to get him sacked. If or when it happens he can blame nobody but himself.
As the, to some, anti-Christ, Allardyce said we have to get some clean sheets and build from that. Right now Silva wants to play like Keegans Newcastle without scoring!
Chris Jenkins
236
Posted 09/02/2019 at 20:18:51
The criticism of Bill Kenwright is arguably totally unjustified as regards the current unacceptable situation. Many are quick to forget that he took on a terrible mess in 1999 after the Peter Johnson debacle which saw the club brought to its knees financially.
With relatively little in the way of personal financial resource, when compared to those running the majority of larger clubs, he managed to steady the ship and took on huge financial risk by remortgaging his house to raise funds to acquire Johnson's shareholding.
Despite the lack of any significant funds available to invest in the team, he was, with Sir Philip Carter and others, able to preserve Premier League football for the supporters with the appointment of David Moyes to succeed Walter Smith as manager. The club could quite easily have gone the way of Leeds, Sheffield Wednesday, Birmingham City, Sunderland etc without his stewardship.
The position the club finds itself in now cannot sensibly be attributed to Bill Kenwright. He brought in Farhad Moshiri, with his substantial financial clout, wanting only the best for the club. Recent management appointments and signings have proved ill-judged but we are where we are with the present situation.
In view of the poor performance of the present incumbent, it's imperative now that the search for a new manager is commenced, is extremely rigorous and if necessary lengthy. There are many suitable candidates for a caretaker role who are capable of achieving the points necessary to secure Premier League safety.
Time is of the essence and delay over concerns about compensation for contract termination may prove financially disastrous if, by any chance, however seemingly remote, we fall through the trap door into the Championship.
Rob Marsh
237
Posted 09/02/2019 at 20:25:55
JIm Wilson & Mike Price #226
This won't make me popular on here.
I do wonder what would have happened if the club had of come to another conclusion about Sam Allardyce.
Along the lines, he's kept us up, we're stable, it's unlikely he'll get us relegated, let's give him a season.
I thought all he really lacked was a forward, his tactics weren't the most adventurous but sound, I think he'd have done better than Silva, given the chance he might of opened up a bit and gone on to the offensive.
Everything I've said is nullified by the fact that these days clubs generally don't put huge bundles on the table to spend unless they think they have the right superstar potential manager. They would never have done this for Sam.
Although they've done it three times now with Bobby brown shoes, Ronnie K and Silva and got it wrong.
Robert Williams
238
Posted 09/02/2019 at 20:27:54
Ian Lloyd @188 — Yes, such a pity, she's been keeping a very low profile lately.
Derek Knox
239
Posted 09/02/2019 at 20:28:57
Eddie @ 234 — why the hell would Gomes want to spend 17 days at Gatwick? :-) :-)
Mike Hayes
240
Posted 09/02/2019 at 20:30:52
Kenwright – the man that lied about everything… even supposedly stepping down last August. They'd have to shut the Buffett down for that to happen.
Just know you're history before lauding it – a deep cancer at the club, clinging on like some titanic leech. Get rid of him and the rest of the crap, including Silva, and see if we can salvage something out of this train wreck.
Jim Wilson
241
Posted 09/02/2019 at 20:31:31
Rob Marsh – one thing for certain is that we wouldn't be in as bad a mess if we had stuck with Sam Allardyce.
It really is desperate isn't it?
Tony Hill
242
Posted 09/02/2019 at 20:32:50
The reason why Chris @102 is right is that we did indeed play some truly promising football for the first three months (and I haven't forgotten Huddersfield and West Ham at Goodison) and I repeat my view that we played the best football at Anfield that I have seen from an Everton side since the 60s.
What on earth has gone wrong? What has turned Richarlison into a pathetic shadow, Bernard (who was great in the derby) into an erratic duffer, Gomes into a shell of himself? And so on and so on.
Fear is the answer, we are stuffed with it, it's always there in this club waiting for us whenever we get too excited, like rising damp. Fear of the critical moment. How do you fix that? You need nasty, ruthless winners and we have none. Even with such players, we are a long way off, I know, but the fans would live with that if they saw hardness of mind and toughness of spirit.
I suppose you might say that the people at the top of the club are indeed ruthless winners given the money they have gained from their involvement or expect to gain – Kenwright most disgracefully; the greedy, useless, fraudulent bastard. Their bank accounts are full and our trophy cabinet stays empty.
As for the bulk of the players, they are are a continuing embarrassment; let us not hear from these shameless fuckwits about how much they care. They really, really don't care a jot. That is why I think the fans should back Silva: he shares their desire to win even if he's currently struggling to deliver. Can the same be said of the players or the idiot board who have failed to provide a walking, talking centre-forward for two years?
Fuck them all. The fans are, to borrow a phrase, lions led by donkeys.
Kim Vivian
243
Posted 09/02/2019 at 20:35:16
We have 17 days, Cardiff have 17 days.
Neil Warnock – love him or hate him – is a war torn savvy football vet and will know how to set about Everton. They are in a fight for survival whilst we seem to think we are safe. You can guess the rest of the script.
I am dreading 26 February… At least it's not on TV
Andrew Laird
244
Posted 09/02/2019 at 20:39:09
Chris, I sincerely hope you are a wum, Kenwright's publicist or somethin* akin to that. Who do you think championed Martinez? Unsworth and Steve Walsh?
The fella's occupancy has been done to death on here so I think you need to trawl through the various debates. This is my favourite video of him: lying through his teeth..
https://m.youtube.com/watch?v=G7HQFLkxr2g
John Raftery
245
Posted 09/02/2019 at 20:39:15
Rob (237),

I agree with you. Allardyce also had a decent backroom staff who knew what they were doing. I would have happily settled for mid-table mediocrity this season while the club began the task of unloading the many players surplus to requirements.

I still hope we can end up in a safe mid-table berth but our form over the past two months suggests otherwise. The conversation on the way home from Vicarage Road is about the teams below us and which ones we might beat to save our skins.
Jim Wilson
246
Posted 09/02/2019 at 20:41:42
Tony Hill - Its what Silva has done since the Derby that's put us in trouble, not fear. He has a good footballing outlook but doesn't know the basics and making unnecessary changes to the defence immediately after the Derby is what has caused the wheels to fall off. Making changes to a defence trying to learn a new system is football suicide. Now injuries and suspensions have kicked in making the situation even worse
Rob Marsh
247
Posted 09/02/2019 at 20:44:10
Jim #241
I'd have him back in a heartbeat over Silva. They'd atleast show some fighting spirit.
That team that beat us tonight is a championship team having a lucky run. And it's this that we now have to be to survive, we have to fight like a championship team.
Our dandies, Richarlison and Walcott etc aren't doing for us, it's now a straight fight.
Anthony A Hughes
248
Posted 09/02/2019 at 20:44:45
You're right Kim regarding Warnock. He'll sit back let our blunt"attack" go at them,defend it and win the ball,, send the long diagonal in, win the free kick, pop the ball into the box and hey presto. Our defenders defend space and their attackers attack the ball, easy peasy this football lark.
Rob Marsh
249
Posted 09/02/2019 at 20:48:33
John #245
We have to start worrying about what's below us and forget about what's happening above.
Lose two more and we're well and truly in it.
John Malone
250
Posted 09/02/2019 at 20:48:51
Isnt it amazing how for over ten year's under Moyes he built a proper football team on a shoe string budget consistently finishing at the top end of the table way above the spend on wages and transfer fee's would predict.
And now we after getting our dream of a billionaire owner to take us to new height's we are a total mess!
How has this happened??
Jim Wilson
251
Posted 09/02/2019 at 20:49:02
Rob - agreed
Didn't Walcott knock in 19 goals for Arsenal a couple of seasons ago playing as a forward?
He does nothing wide so up front?

Jim Wilson
252
Posted 09/02/2019 at 20:50:40
Kim Vivian - spot on

Rob Marsh
253
Posted 09/02/2019 at 20:54:52
Jim #251
Anything worth a try now.
I'm nervous about the table and our up coming fixtures, I just can't see where the points are coming from.
He can't be any worse than Richarlison.
Another option might be (try not to laugh too much!) Siggy, he's a big lad, he knows where the net is and might make a nuisance of himself?
Tom McEwan
254
Posted 09/02/2019 at 20:58:17
For some reason there seems to be some incredulity on here (in various threads) as to the position we find ourselves in at the moment. A lot of debate now as to whether or not we could be relegated.
Only a game or so ago, plenty of were posters stating, "at least we won't be relegated", "at least we are safe", etc. My own incredulity began before this guy was even appointed.
It was incredulous, given his record in the Premiership, that he was even considered for the job. It was even more incredulous that he actually got the job.
It was even more and more incredulous (given his relegation with his first club and relegation form with his second) that he was appointed with the possibility of a points deduction in the future.
And now a lot of us have forgotten that possible scenario. I may be wrong (maybe someone could fill us in?) but to date I have heard nothing official from the Premiership, stating that the possible points deduction aspect is closed and will not happen.
Or am I being too 'negative' again?
Jim Wilson
255
Posted 09/02/2019 at 20:58:39
Absolutely Rob - Sig doesn't do enough in his creative role at number 10 but has an eye for goal
It's worth trying definitely as there is nothing else.
Jim Wilson
256
Posted 09/02/2019 at 21:02:24
Yes Tom McEwan - the FA can do us over for sure with the points deduction. You can see it can't you. We should never have gone for Silva, never.
Keith Dempsey
257
Posted 09/02/2019 at 21:05:02
Arteta never turned up in big games, please Derby goal to go 2-0 up when we were under the cosh, his goal against Villarreal would have been pivotal if not for Collina.A special talent picked up for nothing,he owes us nothing.
Rob Marsh
258
Posted 09/02/2019 at 21:06:47
Tom #254
It was only two games ago I wanted to give him until the end of the season, He's hung onto Zonal marking and is basically playing the same tactics with minor changes.
I just thought (naively) that he would take a step back and think "I have to do something different here.", but he hasn't.
Tom, the players have to take some of the blame also.
George Cumiskey
259
Posted 09/02/2019 at 21:11:02
Rob @ 253 I'm trying to not to laugh so much but after reading what you said I can't help myself .
Tom Dodds
260
Posted 09/02/2019 at 21:11:06
Andy #244
Good link.
One day and that may well be soon the fanbase of this club might ALL finally wake up and realise we should of treated him like Tricky Dicky Nixon and hounded him the fuck out of OUR club.
Jeez whatever happened to the 'Blue union'
Oh I know they ran headlong into the thick brick wall of the apethetic.

Derek Knox
261
Posted 09/02/2019 at 21:11:32
Kim @243, I actually like Neil Warnock, why? Because he knows the game, and how to get the best out of mediocre players.
I would not be surprised in the least if Cardiff stayed up, they are starting to put a run together, and pulling off some hitherto unexpected wins.
I never liked Allardyce, and made my feelings known on that, but in retrospect, yes we would have been better sticking with him, as he is still effectively being paid until the end of the season, as opposed to this charlatan we have now. Never, ever thought I would say that!
It's easy to be wise in retrospect though isn't it? We have all done it in our lives in one way or another. The difference being that we have control of our own decisions, rightly or wrongly, but we are all united in supporting Everton, in which we have little or no say at all!
Tony Everan
262
Posted 09/02/2019 at 21:12:16
Since Lukaku we have bought about 10 no10s and wingers, all the money spunked on players we did not need.
We need a top class striker, why can't they see the obvious? . We finished 5th when we had one .
season 2013/14 Lukaku 16 goals
season 2014/15 Lukaku 20 goals
season 2015/16 Lukaku 25 goals
season 2016/17 Lukaku 26 goals

It is clear as daylight !, why cant the board see it ?, no more wingers or no 10s ! buy an inspirational striker .
Until that happens, expect more of the same.
Rob Marsh
263
Posted 09/02/2019 at 21:16:37
George #259
Desperate times!
I'd play Unsworth upfront if I thought his beer belly wouldn't get in the way too much!!
George Cumiskey
264
Posted 09/02/2019 at 21:21:32
Rob in my honest opinion Siggy is a complete waste of space and the worst value for money signing the history of the premiership.
In my opinion of course.
John Reynolds
265
Posted 09/02/2019 at 21:36:05
To borrow from a former Watford Chairman, "It's sad, it's sad, it's a sad, sad situation". All the early promise and optimism has evaporated, we're in the mire and fans are at each others' throats, some of them driven so mad by what they're seeing that they'd countenance the return of Big Sam Allerdici, forgetting already the collective rage we all felt less than a year ago at his disdain for the fans, the players, and the history of the club, as he sent out a team to play in the style of a relegation-threatened pub league side.
I find it hard to see much hope for Silva's long-term future as Everton manager, though even now, I hope I'm wrong. He seems to have several fatal flaws.
A stubborn blind spot - the set piece saga and his refusal to acknowledge or address it.
A degree of Starstruck-ness - Gylfi, Jordan, Theo, Richarlison, Seamie, Gomes have all held, or been given back their starting places when form hasn't merited it.
Tinkering - since the Derby he hasn't been able to settle on either a formation or a preferred XI for more than a game. (Even allowing for fixture congestion and rotation). Having employed a 4-3-3 against City on Wednesday that acquitted itself well against an outstanding side, I was amazed to see the formation tweaked again today and Dominic dropped.
But of most concern is the apparent inability to get the players playing for him with any consistency. A committed but futile display against City sandwiched between an abject performance against Wolves and a slightly better but insufficient effort today. In fairness, confidence is low and there's a fear of mistakes. It doesn't help either that a lad who has fought like a tiger over the last three games and added a bit of bite is slagged off for misplacing the odd pass. Tom Davies represented exactly what we need and yet gets abused by people who should know better (you know who you are).
Moshiri and Silva need to stew in their own juices until the end of the season. If we rally and Marco turns it around Howard-style, then Hurrah! If it stays like this, then it's over to Brands and here's hoping he casts the net wider than his mate Cocou and that he's a better judge of a manager than Moshiri is. Thankfully, only extreme Doom and Gloom merchants can truly see a path to relegation from 33 points when you look objectively not just at us but he teams below.
Finally, all the anti-Kenwright stuff is pretty much irrelevant and historic at this stage, he's not pulling any strings these days.

Darren Alexander
266
Posted 09/02/2019 at 21:37:10
Not long back from this. As soon as Gomes - who was mopping up an awful lot of stuff at the back - was taken off I could see what was about to happen, and within a couple minutes it did. Trying to cheer my son up after that was the order of the day - although he took it pretty well, to be fair. Despite making one or two chances, it always looked like one goal would be enough to send us out with a whimper. A pity a team without a game for 17 days couldn't play like men possessed for a full game (or even part of one).
Chris Watts
267
Posted 09/02/2019 at 21:37:36
We're going nowhere and it's causing some on here to stop thinking clearly. What on earth would appointing unsworth do for the rest of the season? It would just mean a new person comes in the summer and takes all summer to get to know the players. We're not going to get relegated
If we're going to sack Marco, and I've reluctantly come to the conclusion it's not working we need the new manager lined up so he can spend the rest of this worthless season working worth the players, preparing them for his way of playing next season and deciding who he wants to get rid of
By God we need to get the next appointment right though
Colin Malone
268
Posted 09/02/2019 at 21:38:08
How anyone can critise Dominic Calvert-Lewin is beyond me. The lad is 21 years of age, the same age as Graham Sharpe when he came to Everton.

Sharpy is one of my heroes, he wasn't then. Calvert-Lewin is in the team one week, then he's not. That does not help whatsoever. Guarantee him a run in the team, then you will see a derby winner.
Kim Vivian
269
Posted 09/02/2019 at 21:39:02
Derek - I agree with you about Allardyce. I was part of the baying mob from the day he was announced until the day he departed. However, he had to work with the tools he was given and to that end probably did the best he could with them although the journey was not particularly pretty.
I will be castigated on here for saying this, but I can't help wondering where we would be if he had seen out his contract this season. Sure, we would all, in every likelihood be baying at Moshiri's door, but possibly, just possibly, with a little less pressure and the support that Silva started out with he may have got a tune out of these misfits.
It was after all a final chance and a final big opportunity for him.
Mike Hayes
270
Posted 09/02/2019 at 21:39:03
Tom Dodds - a group of fans went to confront the shitbag and the sly bastard wheeled his frail old mother out to deflect the verbal onslaught THATS how much of a shit bag he really is
Ray Jacques
271
Posted 09/02/2019 at 21:45:38
Unsworth, Stubbs, Arteta, FFS. The ex-Evertonian bullshiit rears it's head again. Instead of wasting millions on shite players, spend some cash on a world class manager and build from there.

Unfortunately I think I think its too late as we have players that we cant offload some out on loan and moshiri wont commit further.

The whole club is a shambles and no longer represents what I have supported for 50 years. Lighting the liver birds blue when THEY are top of the league is pathetic and an embarrassment. Sort it out, Moshiri.
Mike Hayes
272
Posted 09/02/2019 at 21:47:04
Chris Watts - what makes you think we won't get relegated - we are too big - the players we have will realise they may get smaller pay packets - Silva will confess he's got it wrong and wave a magic Mourinho style (Chelsea) wand or those teams we've yet to play will roll over and let us win to save face - it's still a possibility with this dick in charge
Rob Marsh
274
Posted 09/02/2019 at 21:52:05
Kim #269

I was part of the mob that called for his dismissal also, I agree with you entirely.
I'm feeling a pang or two of regret about SA.
Ray Smith
275
Posted 09/02/2019 at 21:53:29
I have until the 4th April to renew my season ticket!
535 mile round journey to watch absolute crap.
Give Alan Stubbs the same deal as Oli at Man U, and I might change my mind.
At present admitting to bring an Evertonian is embarrassing.
After 55 years supporting the blues I've had enough, and reluctantly will watch from my armchair!!!

John Keating
276
Posted 09/02/2019 at 21:54:40
Many said when he was appointed that we would see a significant difference almost immediately.
We were then told that we haven't seen this significant difference because his players were injured / previously had an injury / hadn't played for months – take one or all excuses.
We were told when all his signings were fit we would see a difference. That hasn't happened, in fact it's probably worse
Then when we still hadn't seen any difference it was because we were in transition and/ or fatigued.
Now we are told it's the players and referees fault.
Maybe all or some of the above is correct but then maybe Silva is just a shit manager.
Whatever it is we fore sure know he is stubborn, he is not for changing anything and he appears to accept no responsibility whatsoever.
The myth that we were playing this great football before the derby is just a myth. Some of the games were appaling. The few we won we couldn't play a full 90 minutes and the one we won convincingly at Burnley could have stretched our delicate nature if the open goal they missed which would have made it 2-3 had it gone in.
A strange appointment making stranger managerial decisions. Rubbish.
Rob Marsh
277
Posted 09/02/2019 at 22:00:48
Ray #275,
You've done your bit for the club and earned your armchair, you shouldn't feel guilt or anguish.
The whole thing has turned into an ironic sick joke.
Tony Abrahams
278
Posted 09/02/2019 at 22:01:31
Tony @242, your post is in the minority, but it's one I have to agree with.
Will Hughes from Derby? I'm sure he was signed for Watford, by Marco Silva?
I'd sooner we got rid of most of the players, than the manager, because the only players worth their salt at Everton are a few of the kids and the ones who joined us last summer.
Paul Birmingham
279
Posted 09/02/2019 at 22:04:17
This evening, based on this thread and others tonight on TW, could break records.
It shows we care; now for the club to face reality, and get a grip, before this season ends in total failure.
Peter Jansson
280
Posted 09/02/2019 at 22:05:46
#278 :-). We should sack the players and not the manager? I think it seems pretty obvious that we have a manager that cannot pick the right players to fit good together.
This mess will not improve until we change the manager.
Don Alexander
281
Posted 09/02/2019 at 22:08:59
Chris (#236), you defend Kenwright as some sort of hero since he took over at the end of the last century as the major shareholder. You by inference defend the activities of that bastard Phillip Green and other "Mozart of Money" (that's Kenwright's description of Green by the way) mates who under Kenwright's tenure made money out of us whilst we always had to go shopping at the corner shop, us being the only EPL founder club to have descended to anything close to such depths.
Do you applaud him for announcing to anyone who asked in his 20 years in control (sort of - BVI aside of course) that all he ever wanted to do was find someone with the wealth and heart to cherish Everton as he swears he does.
Did you applaud when one after another potential buyers left scorch marks on the club tarmac a day or so after they began a week's due diligence into the club books?
Did you applaud when he refused to hold AGMs at all, or explain the bizarre accounts he had presented when deigned to have one? Some might say he had a lot to hide.
And then he met Moshiri, a billionaire with so-called football savvy courtesy of always having been outside Arsenal's boardroom whilst those in there took all the decisions. I think we all now have to realise that Moshiri knows as much about football as I do about top-end accountancy. Zilch, if you're wondering, but to Kenwright he was everything he'd dreamt about for the whole of his tenure. Manna from heaven, for Bill and all his ex-player cronies "coaching" at Finch Farm.
Moving on, perhaps naively given the way Moshiri went about trying to sign Silva, I assumed he'd been in close liaison with Brands, even though he was at PSV at the time, on just who would be the DoF's choice of manager as he plotted the next three years of his wholly unsuccessful first three years?
It now seems from what's suggested on here that Moshiri once again took the lead without reference to the guy he was going to make responsible for every aspect of the football in the club. If so, Moshiri is bizarre, and scarily so.
Derek Thomas
282
Posted 09/02/2019 at 22:09:13
Ross @ 94; One Charlatan sells out for big money to another, who then hires 3 more plus Walsh. Get rid of the Charlatan? You need to narrow that down...or in our case, more like make a bigger list. Plus a list of players that qualify, which is most of them.
Is there a bigger laughing stock Club in the League?
Jerome Shields
283
Posted 09/02/2019 at 22:10:04
Where did Silva think the goals were going to come from with his depleted and mismatched forward selection?
This undid his attempt to counteract the overrunning of midfield that has blighted numerous Everton performances since Xmas. To top it all, he undid his midfield with the substitution, Walcott the touchless.
John Malone
284
Posted 09/02/2019 at 22:17:35
We need some power in the team every side we play against we look physically weaker than.
There is only Zouma, Keane, Digne, Kenny and Davies who can compete in a battle. Everyone else is either physically or mentally weak even Gueye who never stops is too small and slight to be the be the lynchpin.
The most important player for us to sign this summer is Zouma he is a beast and twice the defender Mina is.
Then it has to be Doucoure or a strong centre mid of his ilk and then obviously a physically strong centre forward who can hold the ball up and lead the line aswel as take a chance.
Get the spine and shape right and we might have half a chance.
Tom McEwan
285
Posted 09/02/2019 at 22:29:20
Jim @256, unfortunately, yes I can.
Rob @258, yes of course the players are to blame as well. But, I have read some posters on here stating that 'the game has changed' since the great 'man-managers', Clough, Shankly, Ferguson, Kendall et al. Words like, 'How do you motivate a bunch of pampered superstars?'
I would argue that in this day and age, simply because money and material needs are more than taken care of, that there is more need for a man-manager like Cloughie etc, as opposed to a great 'tactician'.
In my opinion, 'tacticians' are greatly overrated. Football is a simple game. There is too much emphasis on 'philosophies' and 'tactics'. A great man-manager will override the lot.
For example, Bielsa is hailed by some as the Messiah who others have followed. So, where is he now and what has he won compared to Kendall et al? Today, some people want to reinvent the wheel in every aspect of society and the simple game of football is no exception.
Getting back to the subject of players though. Once again, a lot of people on here have invested a lot of faith in Brands and his ability to find players for us and seem certain that he is a massive improvement on Steve Walsh and therefore will not spunk ridiculous money as Walsh (is reputed) to have done on the likes of Sigurdsson.
The first signing under Brands was Richarlison for a similar fee to Sigurdsson. To my mind, that was just as ridiculous as the Sigurdsson fiasco.
I also hear and see people espousing that we have 'good players', 'someone should be able to get a tune out of them' etc. Of course, any appraisement of a player is subjective but I don't agree that in the main, we do have good players.
Of course, some would argue that 'on paper' our squad is good but, as some wise person once said, 'We don't play on paper, we play on grass'.
Make of it what you will, but to me, the ingredients of shite manager, shite boardroom, shite player recruitment, shite players (in the main) and a fanbase that 'appears' to be getting used to mediocrity (or has never known nothing else), is a sure recipe for disaster.
Incidentally, where are the people who used to 'call me out' on such 'negativity'? Your silence, speaks volumes!

Jim Wilson
286
Posted 09/02/2019 at 22:33:07
In view of the games we have left, we need to sack Silva immediately and install someone who can get the basics right and get the 3 wins we need.
There is no time to waste, Kenwright!
Jay Harris
287
Posted 09/02/2019 at 22:34:09
Chris Jenkins, for you to come on here spouting bullshit about Kenwright on a day like today is offensive to me and I would think most Evertonians.
We were not in a financial mess when Kenwright took over and He did not remortgage his house.
He inherited a net asset position which within two years he turned into a net liability of £30 million.
Unexplained operating costs jumped from £1 million a year to over £20 million a year. We had to sell Rooney to stabe off the banks who had no confidence in him.
So much for sorting our finances out eh!!!
Even Paul Gregg – who was prepared to underwrite Kings Dock and had been a close friend – asked him to stand down as chairman but he then came up with bullshit to discredit Paul Gregg and convince people he had investors and their cheque would be in the bank in the morning. We are still waiting....
If you're not Bill Kenwright in disguise, please don't discredit yourself by assuming these total lies have some basis. They don't.
Jim Wilson
288
Posted 09/02/2019 at 22:37:55
Jay Harris – spot on!
Biggest disaster to hit Everton is Kenwright.
Incompetent and incapable of doing the right thing.
Tom McEwan
289
Posted 09/02/2019 at 22:48:15
Don @281, boss post!
Ken Kneale
290
Posted 09/02/2019 at 23:01:53
Chris. If indeed you are Bill, I suggest you get a board meeting together tomorrow and sack the manager given your love for the club. We are being embarrassed and dragged surely down river.
Mark Wilson
291
Posted 09/02/2019 at 23:04:22
Those of you going on about this poor form starting after the derby... we were rubbish before then but a half-decent run results wise had moved us up a poor league. Mostly prior to the derby we drew loads of games we should have won and almost never had two good halves together.
We have made zero progress, gone backwards in fact, and incredibly are getting worse. We always think we are too big to go down. We aren't. It's not stupid to suggest there's a chance we won't win another game. I can only see us winning one, maybe two. Hope I'm wrong but I think we will be desperately fighting for draws.
Time for Dogs of War? Not in Silva's nature is it? I'd drop and not play three or four players right now. I'd take a daft chance with involving Fraser Hornby. I'd lob McCarthy in alongside Gana.
As I enter the text above, I think, this is just what Allardyce would do. Win the ball, defend with two in front of a five. Long balls. Dull? Maybe but I cannot see how this is worse than what we have now. Sigh.
John Raftery
292
Posted 09/02/2019 at 23:20:24
Actually, we were in a financial mess before Kenwright took over. In what he himself described as one last effort Johnson splurged a load of money, £20m to be precise, on big signings in 1998-99: Dacourt, Materazzi, Collins and Bakayoko.
To quote Michael Dunford a while later, the club spent money which the club did not have, thus placing the club in debt. That was why Duncan Ferguson was sold to Newcastle for £8m behind the manager's back while we were playing them at Goodison Park. The money was used to pay off some of the debt incurred at the start of the season. Two days later, Johnson resigned.
At the end of that season, we were forced to sell Dacourt and Materazzi for just short of £10m. We were also unable to meet the contract demands of a number of players such as Jeffers, Barmby and Ball.
Jim Wilson
293
Posted 09/02/2019 at 23:24:38
Excellent post, Mark Wilson.
When you see what games we have left, we cannot afford to mess around anymore. A new manager needs bringing in now to grind out two wins and some draws.
And we need battlers on the pitch, not hiders.

Chris Jenkins
294
Posted 09/02/2019 at 23:31:14
Ken [290] I can assure you that I am not Bill Kenwright, you have my word on that.
I am, however, someone who believes totally in the British sense of fairness and being able to put forward a defence of someone who I believe is arguably being subjected to unfair criticism.
I used the word "arguably" in my initial post @236 and again in this post, a word which is used to qualify my statement of opinion, ie, that I fully appreciate that there may be other contributors who disagree with my views and, of course, I understand that they are able to express a contrary opinion .
In my post, I think it is perfectly clear that I believe the current manager is not up to the job and that there should be a rigorous selection process for a new manager, with the objective of appointing someone who can take the club forward.
Ken Kneale
295
Posted 09/02/2019 at 23:37:20
Glad to hear you are, Chris. I think you support of the Mr Kenwright is flawed. He has contributed to all our current problems with is tinkering and melodrama.
John 292. Michael Ball was sold by Walter Smith for not toeing the line. Kenwright got the club second time around because he lost out first time to Peter Johnson. The Moores family would not sell to Kenwright in 1994. I often wonder why?
Mark Wilson
296
Posted 09/02/2019 at 23:37:53
Zouma, first yellow? MotD said they cleared it up, how? Zouma goes to ref being bobby, gets yellow, turns and walks away, then, and only then, ref brandishes red?
Mark Dunford
297
Posted 09/02/2019 at 23:38:28
This has all been bloody miserable since the start of last season. Doesn't show much sign of change.
Conn Prosser
298
Posted 09/02/2019 at 23:52:14
Andre Gray on a ten game goal-less run. I thought that theory was a myth, but we are truly that generous. At least he didn't head the ball out of the goalie's hands like his near-namesake.
Keeping Silva at the helm whilst we descend the league is going to require serious brinkmanship. We could go down.
It's popular to bag the players, but for me, this is all on the manager. We don't need a mass clear out, we just need someone who knows what they're doing. Can we get Solskjaer in?
Neil Wood
299
Posted 09/02/2019 at 23:56:41
What we need is not "Silva Out" banners but "Usmanov In"!
A big show of almost begging banners!
Ian Horan
300
Posted 09/02/2019 at 00:04:40
Is 33 points enough to stay up??? Having supported the Silva appointment, sadly I am now concerned about our status in the Premier League.
Most teams below us have a game in hand. We are 9 points from 3rd from bottom, I can't see another win this season.
I am afraid Blues... very afraid!
Soren Moyer
301
Posted 10/02/2019 at 01:20:22
Come April, we will be fighting relegation!!
Ed Prytherch
302
Posted 10/02/2019 at 01:32:29
Darren #266, I agree. Gomes was doing a lot of good defensive work, then shuffling of assignments and chaos at the back.
My missus asked me what do they do at half-time. I said today they had a cup of Horlicks, Marco read them a bedtime story and they took a nap. That was plan B. Plan A is to meditate and do yoga.
Mark Wilson
303
Posted 10/02/2019 at 01:33:39
Not often I post three times, even in a big thread but, just reading the initial reports of the fighting outside the ground after the final whistle. Needs clarity of course but early reporting doesn't read well for our club.
The brilliant Alan Myers is calling this right on Twitter. The owner and or Mr Brands really need to get an urgent grip of what's going on. They need to speak to the fans direct and not thru Jim bloody White on Sky. They need to show that they see the seriousness of our situation and the danger of freefall into a relegation fight.
Behind the scenes you have to pray that Brands is stepping in to council Silva if he's not sacking him. Someone, somewhere, has to persuade the manager to drop his disastrous zonal defending, and take out at least three or four from that squad and take a couple of measured risks with promoting Hornby and playing Lookman and giving it a go, with Jagielka making a return to try and steady that back line?

Jim Johnson
304
Posted 10/02/2019 at 02:05:38
I read TW each week & take 'some' notice of the highly emotionally charged blather that purports to be 'genuine' 'considered' & 'concerned' analysis.
Judging by the lack of appreciation of the English Language in regard to syntax, grammar, spelling et cetera, I have a mental picture (nee, a vision) of all the Blues fans who are first in with the boot. They will be struggling to grab their iPhones and stab the keyboard as fast as possible in a manner, metaphorically, a knife & fork in hand ready for the cannibalism that ensues. Some with a dessert spoon as well.
Quite a while ago (I think it was in the Kooeman era) I read a recommendation in a TW comment on a game. The author recommended the following comedy starring Michael Palin:--
https://www.youtube.com/watch?v=8O1pH-NEa6I
"Ripping Yarns Series 2 Episode 2 Golden Gordon"
I pass on this same information in the hope that, certainly all you 'early ' contributors every week, will take it in the manner it is meant.
ps: Please leave your cutlery at home.
pps: Many thanks to those rational TW contributors, normally further down the comments list, who have given some consideration to what they write.
Soren Moyer
305
Posted 10/02/2019 at 02:06:23
What a mess! Even if he is sacked today, there would be no other contender for the job other than Unsworth or Fat Sam! Déjà vu!!
Rob Marsh
306
Posted 10/02/2019 at 03:02:42
Tom McEwan #285
The way the game is going now, in 20 years time the coach will have a degree in sports psychology and the tactics will come from the players.
Basically (the coach) a stunningly beautiful bird will whisper nice things into their ears with sensual voice to pep up their egos.
The players, then pumped up, will decide who plays and how to play, because they're so powerful and now have all the authority of the old type coach.
We'll either have 11 players running around with hard-ons trying to win the game or they'll have a bad hair day and need consoling by their psychologist. Also a quick look at their bank accounts online should cheer them up and get them ready for the big Saturday night out.
Marvellous!
Alan J Thompson
307
Posted 10/02/2019 at 05:35:29
I'm amazed at some of the opinions on who should be brought in at short notice until season's end. There are only two possible choices; continue with Silva, which I wouldn't, or put Unsworth in charge. We should not be considering Stubbs, who failed at Rotherham and Hibernian is it, or Arteta who has no solo management experience and would be a fool to leave Man City now and coaches from German U-23 sides don't seem to work either.
As for a successful, experienced manager, nobody of that ilk would consider taking the job at this stage of the season. Could you imagine say Bielsa leaving Leeds when he has done most of the groundwork and looks to be promoted anyway or even my choice, Simeone, walking out on Athletico Madrid now? Ringing agents to sound out if their clients may be interested in next season is something that should be done.
Whoever, we will get the same sort of comments that he needs time, 27 transfer windows to assemble "his" team, where's the striker we need, and look at the rubbish he's been left by his half-dozen predecessors. Also, any new manager/coach seems to want £300 or £400 million for transfers and somehow I don't think we are likely to raise that amount from transfers.
So, where do we go. How about forming an unruly queue down at the Liver Buildings?
Jay Harris
308
Posted 10/02/2019 at 06:22:01
John Raftery — You are totally wrong. The club was not in a financial mess at all. Check the accounts out. They show a net asset position when Kenwright took over.
Peter Johnson had underwritten the clubs overdraft facility and was no longer willing to do it because he wanted out following threats from so-called supporters.
All he wanted was his £20M back and so the deal was done with Kenwright, who did not have any money in the first place and quickly turned the club into a net liability position, resulting in Rooney's sale while putting the story out that the club was in a financial mess and he had to rescue by remortgaging his London flat — which was only worth £1 million then and was never remortgaged.
He does not get the name of "Billy Liar" for nothing.
Charles McCann
309
Posted 10/02/2019 at 06:32:53
Alan 307, do you not remember what happened the last time Unsworth took over? It wasn't that very long ago that he took over from Koeman and made a complete mess of it in a very short space of time.
Can't be definite that Arteta would leave Man City at this time but it's definitely worth a try. He always came across as being intelligent and articulate when interviewed and I'm sure he has learned a lot from working under Pep.
Like the last time when we brought in Allardyce, going back to Unsworth would be another mistake. One thing's for sure, Silva being so clueless needs replacing as soon as possible.
Alan J Thompson
310
Posted 10/02/2019 at 06:43:51
Charles (#309); I think he took us from near the bottom to the middle of the League and I think some posters above have said that it is not that bad an effort if you take out the "meaningless" dead rubber Europa games. 4-0 win over West ham his last game in charge?
However, the question remains, would any successful "name" manager/coach step up at this time of the season or wait until it ends?
John Keating
311
Posted 10/02/2019 at 06:50:54
Alan Thompson,
I would not advocate Stubbs as manager but for sure he'd be a good shout to help out as defensive coach.
As regards to failing at Hibernian, we'll you couldn't be further than the truth.
Gerry Ring
312
Posted 10/02/2019 at 08:32:39
Silva has failed miserably. I'd suggest Stubbs and Carsley until the end of the season. Silva is a complete dud with a miserable Plan A and no Plan B. We could go down and chances are we'd follow the Sunderland route. Time for change is now!
Derek Knox
313
Posted 10/02/2019 at 08:47:10
It is almost unbelievable that the amount of money, in compensations, ridiculous transfer fees for players, who were not even in an auction, has been totally and utterly wasted, and that's not even counting immoral wages, that has been 'spent' (blown) at Everton.
How have we ever sank so low? No doubt another shed load will go on getting rid of this total fraud and appointing someone else, whether it be permanent or temporary.
We are a joke in Football!
Mads Kamp
314
Posted 10/02/2019 at 09:29:18
I for one think that Silva is starting to get afraid of losing, he changes formation too often. He ought to be more courageous and offensive, we are too thin up front and he has a splendid attacking force at his hands, plus the best tackling defensive (Gana) in the Premier League.
Pickford
Coleman, Zouma, Keane, Digne
Gana
Lookman, Sigurdsson, Bernard, Richarlison
Tosun
Get the first and second goal, then start playing tactical...
Andy Meighan
315
Posted 10/02/2019 at 09:32:21
Rob Marsh @305...
Brilliant!
Kim Vivian
316
Posted 10/02/2019 at 09:59:32
Mads - I would play Calvert-Lewin before Tosun every day of the week, and I'd see Gomes before Gylfi who does fuck-all these days.
Not sure about a "splendid attack force" though.
Ian Lloyd
318
Posted 10/02/2019 at 10:17:32
Rob Marsh @306 – how very true!
I always say it – they can perform absolutely diabolically and still go home and pick up their £90k a week pay cheque! Scandalous!
On the same matter – how can anyone on this earth (ie Sanchez) earn in one week what an average guy earns in 10 years? There are no words for it.
Ian Lloyd
319
Posted 10/02/2019 at 10:20:20
ps: Is he still here?!? Got to go, not next week... now!
Paul Smith
320
Posted 10/02/2019 at 10:22:01
Teams change managers all the time these days – it's cutthroat. Moshiri hasn't a scooby but, looking at some of the shouts on here, he's in good company.
We're looking to Brands... isn't he another Moshiri man?
Ian Lloyd
321
Posted 10/02/2019 at 10:25:50
Bielsa is a good shout. Pep said he was an excellent coach (before he took the Leeds job).
Thing is – why would he leave Leeds to come here?!? (Apart from money...)
Andy Meighan
322
Posted 10/02/2019 at 11:17:54
Jay Wood,
"Gueye was immense"???
Oh my God! What game was you watching??? He was okay – nothing more... In fact, it was a complete shit show from a team and manager that's sucking the life out of me. Gueye might be okay at breaking up play etc, but his passing is atrocious and he (and he's not alone here) offers nothing offensively.
"Immense"?? — no, sorry; get real.
Colin Malone
323
Posted 10/02/2019 at 11:52:19
Silva's persona reminds me of Koeman. I see the top coaches in press conferences, eg, Guardiola, as he was told one of his players, Mendy, was in China, when he was supposed to be in Paris; Pep laughed his head off. Silva would have the same tense look on his face.
I'm no sports psychologist but it looks like he has detached himself from the players. If so, there's only one outcome.
Mick Conalty
324
Posted 10/02/2019 at 12:31:55
Allardyce. Tosun. Brown Envelope. Agent.
You do the maths!!!
Darren Alexander
325
Posted 10/02/2019 at 12:59:46
Ian #321: he might come to us, as he does seem to be completely off his rocker.
Roman Sidey
326
Posted 10/02/2019 at 13:52:13
I thought the calls for Rhino, Arteta and Moyes were bad enough, now we have people calling for Stubbs to be placed in the hot seat?
Have any of you actually seen his managerial record? Couldn't get Hibs out of Scottish Champo – fair enough: won the cup – and then been sacked by Rotherham.
Yeah, he should be given a Premier League job. Far out.
Colin Malone
327
Posted 10/02/2019 at 14:02:42
Hey folks. Might sound daft, but I do believe it's a factor...
John Kavanagh
328
Posted 10/02/2019 at 14:05:01
Gerry #312. Netflix have already started plans on their next big sporting venture: 'Everton 'Till I Die'. The world will be watching and laughing next season as the cameras follow our leading man being given more time to sort things out.
Jay Harris
329
Posted 10/02/2019 at 14:07:13
Time for a ToffeeWeb poll, I think.
John Kavanagh
330
Posted 10/02/2019 at 14:10:28
#329 I'm with you Jay. We want a people's vote. Now.
Stan Schofield
331
Posted 10/02/2019 at 15:20:56
John @330: No thanks. I recall a ToffeeWeb poll asking if we should sell Stones to City for £45M. 80% voted yes. Similar result for Lukaku. And then Allardyce, should he be appointed Everton manager, 80% said no, then it rapidly changed to 50% after a few successive bad results.
We need real expertise at Everton, not people's votes.
Gerry Ring
332
Posted 10/02/2019 at 16:18:07
Roman #326,
Mike Bassett couldn't do any worse than clueless Silva. It just proves how desperate we are. He has no more to offer!
Gerry Ring
333
Posted 10/02/2019 at 16:45:43
Looks like Sarri could be available tomorrow. Do we have his number?😉😉
Kim Vivian
334
Posted 10/02/2019 at 17:00:59
I think Steve Ferns might, Gerry
Len Hawkins
335
Posted 10/02/2019 at 17:11:45
There is a hell of a lot of talk about Depression and Mental Illness, I think being an Evertonian must be one of the most depressing past times known to man. For overseeing the dross of the last 20+ years, the NHS should be taking Kenwright to Court for his part in clogging up the Services for the Mentally Ill.
I don't know about Everton having offices in the Liver Building surely the only place Everton should have premises is in Hope Street.
Stan Schofield
336
Posted 10/02/2019 at 17:34:37
Len, spot on, they've done my head in for years. It's bad when year in, year out, you have to tell yourself to get a grip, that it's only a game of football. But it never works. Rodney Street has a few psychiatrists.
Chris Jenkins
337
Posted 10/02/2019 at 19:35:57
Len [335] and Stan [336] both of you have a terrific sense of humour which has brightened up an otherwise depressing Sunday for me after yesterday's debacle.
Joe Parko
338
Posted 10/02/2019 at 20:04:38
24 Hours on... Still Shite.
Over 330 posts on this thread, yet one man still Conspicuous by his absence.
You know who you are...
We are waiting to hear what utter drivel you have to say with regard to Silva's defence...
Mike Oates
339
Posted 10/02/2019 at 21:38:38
As I stated in my "How to Reach 4th Place" article, there is only 1 way forward – keep Silva and build a team, 3 years at least.
Moshiri has spent enough, £300m on players £300m on takeover, debt and equity and with another £100m to come on the ground. There is no way at all he's going to waste another £20m on redundancies and another £150m to get a new manager a new set of toys to play with. He'd rather sell than put up with another failed manager.
We go the Spurs way, Brands to find the "gems" for peanuts and the gems to be happy with a meagre £50k a week instead of £100k+ a week to Walcott, Schneiderlin, Ramirez, Tosun et al.
You either buy success, as Chelsea and Man City have done with mega mega billionaires: £1500M each input and hired top top class done-it-all coaches; or take a Silva, Pochettino and let them develop a team.
Pochettino's luck was that he inherited a few better players and had a certain Mr Kane coming through. We don't !! Step in, Brands.
Ray Smith
340
Posted 10/02/2019 at 22:57:26
Roman @326,
Please explain your comparison with Stubbs and Solskjaer, because Solskjaer did very little before his current revolution at Man Utd.
Cardiff sacked him but that didn't stop United hiring him on a temporary basis.
So why not give Stubbs the reigns on a temporary basis!!!
Hollow comparison.
Gerry Ring
341
Posted 10/02/2019 at 23:54:19
Mike #339,
I completely get your point about the financial predicament facing Moshiri but there is one major flaw with your suggestion: Silva. He has proven beyond all doubt that he isn't capable of managing at this level.
To leave him in place would be the final nail in the coffin of a historic & proud club. Who in their right mind would give Silva the reins for the next 3 years to "build" a team? I wouldn't trust him to build with LEGO!!
John Malone
342
Posted 11/02/2019 at 00:40:43
Mike 339#, the other problem is Pochettino quite clearly improves players and gets the best out of them when our lot have visibly got worse!
In Gomes I've never seen a player look so good then look so off the pace in the space of a few games.
Granted it's hard for any manager to win games without a proven goalscorer, we started the season with probably the worse striker's in the league and we are still no better off.
But it's the woeful set-piece record and the persistent use of the 4-2-3-1 formation when it's not working and the total lack of attacking cohesion throughout the team which is the most worrying.
How can you play together for nearly eight months and not develop a better understanding with each other?
I'd bet you my whole life savings that, if we had a genuine top coach such as Pochettino, he would get a lot more out of this squad than Silva is doing.
Paul Cherrington
343
Posted 11/02/2019 at 09:40:30
It just goes to show what happens when too much emphasis is placed on the 'philosophy' a manager may have rather than his ability to actually win games.
We will be very lucky to struggle to 40 points this season – just let that sink in for a minute, struggling to get to 40 points?!! That is the worst it has been for a very long time and in any another season would probably see us relegated.
We cannot risk this happening next season when we might not be so lucky to get away with such a low points haul. Get rid of Silva now and get in someone who puts winning games and amassing points ahead of a pre-defined 'philosophy'.

Paul Burns
344
Posted 11/02/2019 at 10:02:28
Chelsea have come out and apologised for their recent away performances.
If Kenwright does not come out with a players' representative and condemns one of the worst, if not the worst, runs of results and performances in the entire history of the club then it must mean he condones them and we can expect it to continue and confirms that this parasite must be driven from our club before he can inflict even more damage.
Immediately.
It's his job and his responsibility. The silence is still deafening.
Jeff Spiers
345
Posted 11/02/2019 at 12:41:00
Paul@344. Good shout mate. But I think the silence will be deafening for a long time yet. The illness at our club is deeply rooted. It will take a very brave person to cure it. Sad times...
Dave Abrahams
346
Posted 11/02/2019 at 12:47:30
Paul (344), if you know Kenwright, then you'll realise that he is never seen or heard of when we are in a bad run. When we have have good spells you'll see him by the players' entrance on Goodison Road, laughing and talking to anyone who'll listen: Absolute fraud.
Roman Sidey
347
Posted 11/02/2019 at 13:11:08
Ray, I never mentioned Solskjaer in any of my posts. Him and Man Utd are a totally different kettle of fish to what is going on at Everton, and just because it is appearing to work right now for them, does that mean it will work for Everton and Stubbs?
However, you asked for a comparison, so here it is. Solskjaer was a winner as a player. Stubbs wasn't. Not always a factor in becoming a manager, but doesn't hurt. It also helps that Solskjaer has a vastly superior set of players at his disposal at Man Utd, and they've really had a fairly gentle run of fixtures in his tenure thus far.
Like I've repeated, I am not defending Silva as I don't think he is right for the job, but some of these names being thrown around are exactly what we don't need. If you think someone like Stubbs is fit to manage a club like Everton out of this mess, by all means, keep thinking that. For me, it is that exact mindset that has gotten the club to where it is right now.
Raymond Fox
348
Posted 11/02/2019 at 14:01:09
We can't score goals, how are we going to win games if we don't score. It's not like Silva has any great options to change the team, who else is he going to pick? I suppose McCarthy in midfield is one, but he very rarely scores.
The truth is we have a team that can't produce enough chances and if there are any no one in form to put them away.
On top of that we have defenders who seem reluctant to get off the ground and head the ball, so who's to blame there, the players or the manager.
The situation we find ourselves in is not something new, excluding Allardyce, the last two managers experienced the same problems, after a decent start the players could not produce the standard of football that would get us up into a challenging position in the Premier League.

Paul Burns
349
Posted 11/02/2019 at 17:47:01
Where are our ex-players to come out and criticise the parlous way the club is run, as happens at other clubs?
What is this mysterious machine that renders all dissenters into silence and keeps any criticism from fans out of the media?
Even local papers and radio carry on as if this is normal, unlike in the past.
And I thought Men in Black was fiction. Where's me shades?
Ray Smith
350
Posted 11/02/2019 at 22:40:16
Roman 347
My point was their comparison as managers, not players.
Ivan Varghese
351
Posted 11/02/2019 at 23:13:29
Give the management some more time. Soccer today is a lot more scientific, teams are using big data to predict weakness and mix up play. Moshiri is doing well to give Silva space to piece this together. But what remains obvious, they need a striker, Calvert-Lewin or perhaps Giroud that can make intelligent runs. Walcott needs to be released earlier with well placed balls.
Everton's set up is the diagonal ball to wings or wing-backs, deep crosses and a knock-downs, that's the way they play. Calvert-Lewin would chest it down and pivot left... it's predictable. That's what he does and he is effective.
Sigurdsson, Bernard and Richarlison are the ones to pick up and do creative stuff but the opponents know that and force them out of position. They need to play together but we need somebody like Giroud to come in a cameo role and mess up data analytics free up the creative players. Calvert-Lewin may be able to do that soon.

Roman Sidey
352
Posted 12/02/2019 at 01:01:49
Ray, I don't know how similar or different they are as managers. I probably wouldn't have suggested Solksjaer as a manager for Everton either, based on his record. It's still yet to be seen if he is the real deal though as, like I said, Utd's fixture list since he took over hasn't been overly difficult (Spurs aside) and he has genuine world class players at his disposal.
Whomever takes over Everton should Silva be sacked has a decent 10 (there's a quality player in there somewhere), fairly good left-back, and a crafty Brazilian who may just be a bit too small for this league. The rest of the squad is either too ripe, too old, or just plain ordinary.
My main point is, Stubbs hasn't really done anything to suggest he's Premier League material, and in our position, we really can't risk another donkey.
Ray Smith
354
Posted 12/02/2019 at 09:15:07
Roman @352,
I have a sneaky feeling that neither of us will know, and Silva will survive the sword of Damaclese!
We can only wait and see. Again!!
😬
Eddie Dunn
356
Posted 12/02/2019 at 11:16:43
Paul Cherrington, #343.
Indeed, this whole crap about so-called football philosophy is similar to the School of Science stuff.
It's a simple game and I would think that haf of the contributors on here would have got this group to do at least as well as Silva. These are talented players, many are internationals. They just need to work as a team to a plan that they understand.
The rest is about creating a happy but hardworking environment in which they can express themselves. We are lacking the happiness, the understanding and any plan is wrong.
So Silva has consistently made a dog's dinner of his task. And to those deluded enough to think he shouldn't be judged because many of these players aren't his. Imagine if this clown brought in more of his picks! It could be even worse.
Jim Wilson
357
Posted 12/02/2019 at 12:44:05
Eddie Dunn – you have summed up my feelings perfectly.
There is absolutely no excuse for how bad we are. It is inexcusable for our manager to be so inept.
We do have plenty of good players at the club and he had to shape them into a decent hard-working team that maybe couldn't get into the top 5 or 6 but certainly not flirt with another relegation worry. It's beyond belief how he doesn't know how to get the basics right.
Steve Ferns
358
Posted 12/02/2019 at 13:22:24
Eddie, it is not a simple game. Football was a simple game, but that was 40 years ago.
It was Bill Shankly who said that Football was a simple game, complicated by idiots. He said that in the 60s or the 70s. Not now.
Think about the game. It's a much more complicated sport than most out there. The reason for this is what you are allowed to do. It's got few passing restrictions, unlike rugby, it's got few movement restrictions unlike basketball, it's fast paced unlike the gridiron game of the same name.
The complications come because unlike most sports, there is so many different ways to manipulate the ball. Then the opponent can organise their defence in so many more different ways.
In the 70s, when everyone played 4-4-2 on these shores, it was straight forward. Times have changed... and then some. Managers like Guardiola can change formation 5 or 6 times during the course of just one game. The finest tactical performance I've seen by an Everton manager was Koeman when we beat Man City 4-0. Guardiola held his hand up in a very enlightening press conference as he talked about how his old room-mate was one step ahead in the tactical battle as they both kept changing formations.
Guardiola came to Goodison recently, and I was enthralled at his tactics. He was frequently loading up 3 players on each flank at the same time. The wide forward, the full back and a central midfielder. There was no one in the middle. The guy sat next to me was doing his nut in. For him it was simple, Kenny in particular needed to get wider and "mark his man". City were doing what they were doing to pull our shape apart.
Teams mark up against City in a narrow and compact shape, like we did, with the defence a width of a penalty area apart. If you hold shape, then City cannot get through you. If they then overload the flanks like they do, then they have no one in the middle and are trying to get the ball into congested areas.
In football, there is always space. The modern game is all about Space. You read the latest coaching manuals and you just see page after page about space. The modern buzz word is the "half-space". I prefer the old term, "the channel". Coaches are all about trying to put space between the full back and the centre back to get their wide forwards into this channel or "half-space". Guardiola wrote the book on it.
I really could go on and on and on about this. Football is a very, very complicated game due to tactics and formations and how coaches try to find space, and their opponents try to shut down space and plug gaps.
The biggest failing of Marco Silva, after zonal marking, is that his football is far too expansive, and he is allowing his players to leave massive gaps. That said, I think against Chelsea, Liverpool and Man City, we plugged those gaps and stopped the opponents finding space in dangerous areas.
Football is not a simple game in 2019.
John Wells
359
Posted 12/02/2019 at 13:39:00
Steve 358,
Firstly I really enjoy reading your posts, I'm not a soccer player never was but have always enjoyed and have always followed Everton even though my family here in Ireland are all RS. My sons are definitely leaning to the RS.
I have played a lot of sports, mainly Gaelic Football, rugby and basketball and I can safely say that in any of those sports a coach would be expected to sort this mess out. I was really excited about Silva coming and a lot of that due to reading your fantastic posts about him and I was firmly believing we would be challenging for 6th after the first few months of the season. We don't have the best players but, to me, he should have been able to get this defense and shape sorted by now.
Not all on Silva though, the players are soft, very soft. When I was playing on any of the teams I played on Troy Deeney would have been gone off injured by the 20 minute mark. If it was in a Gaelic match I would have timed it when he caught a ball and landed with it I would've just obliterated him after the comments he made, our lot were afraid of their lives of him. Soft, we badly need an enforcer.
Tom Bowers
360
Posted 12/02/2019 at 13:43:05
Generally watching football today is boring but so much of other ''entertainment'' has gone that way too.
The present younger generation has been bred on a lot of this ''keep ball'' sideways and backwards passing scenario and of course avoiding defeat with the ''park the bus'' attitude.
It's what's brainwashed into the players nowadays and the are frightened to run with the ball from deep or even pass the ball forward unless it is less than 3 yards.
I saw so many times in many games I watched over the weekend players who received the ball running in a forward position and an opportunity to pressure the opposing defence but inexplicably check, go back or pass back and the ball ends up with their own defender in their own box or they turn it over.
Negativity is the order no matter what, but heaven forbid trying to create more scoring opportunities.
Way back we used to criticize the Italian teams who introduced this type of play but was successful for a few of them.
Today only teams with outstanding offensive players such as Man City and Liverpool can have the much success against this type of formation.
Everton, of course, are way behind in that aspect.
Steve Ferns
361
Posted 12/02/2019 at 13:54:52
I agree John. Whilst we still sit 9th, everyone has a game in hand so that might as well be 12th. It's really not where anyone expected us to be.
Silva needs a shift in his mentality. For me, he's been too reckless at times. He is too attacking, he's trying to win every game. He's always pushing for the next goal.
That's great when things are going well, but they aren't. If Moyes was in charge, and this run happened to him, he would go to Cardiff and bank a 0-0 draw. Silva will do what he did against Watford and go all out for the win. If we don't get the goal early, the players get desperate and bigger and bigger gaps appear. Such tactics will play into Warnock's hands.
Silva knows how to play a defensive game. He did it well against Chelsea, and was so close against Liverpool, and it was working against Man City only for that ridiculous free-kick leading to yet another set piece goal.
Silva needs to adopt the mentality that his players are not better than the opposition. They are inferior. They are also not clever enough to carry out his tactics. Silva usually has 3 or 4 formations he switches between (4-3-3, 4-2-3-1, 4-1-3-2 and 3-4-3), yet he said that he could only get the 4-2-3-1 bedded in during pre-season. Presumably due to the abject failings of the side in pre-season, long since forgotten, but some might say the writing was on the wall then.
If Silva adopted the mentality that he needs to be like he was for Estoril and play counter-attacking football, I think things would turn around fast. I have no idea why that hasn't happened.
He has 2½ weeks until the next game, plenty of time to get a change of formation into play. He could also sort out a change to man-marking at set pieces.
There is something very wrong in the dressing room, and a trip away, with the players locked together for two weeks would be perfect. There might be scraps, fallings out, or whatever. But people can say what needs to be said. They can get all the problems out in the open and then they can address it.
Finally, I still think Silva can crack the top six. He needs at least two players to do so. I'm not going to go all "Football Manager" and give you those names, but he needs a Fernandinho type to plug the midfield and provide a defensive shield (that does not move) as well as setting the tempo for the attacks by shifting the ball quickly in transition.
Secondly we need a striker. We need a mobile striker who can score goals. So a Karim Benzema type. Of course, we could never sign those players in a month of Sundays, but Brands's job is to spot players with those qualities and bring them in.
If they can do so, it's a different side for me, and with better luck, and a resolution to our set piece woes, then the "project" is not dead. Which is why Moshiri is trying to secure Silva's position and Brands is no doubt putting transfers into play, as he is used to concluding them before the window actually opens.
Steve Ferns
362
Posted 12/02/2019 at 13:57:05
Tom, the football you describe is the cowardly football of a player afraid to take responsibility and certainly lacking confidence. It's nothing to do with tactics or coaching, the players are just too scared.
Steve Croston
363
Posted 12/02/2019 at 15:05:02
Steve Ferns @361,
"Silva's always pushing for the next goal"... hahahaha hahahaha...
That's a good one. We've scored 3 in our last 5 league games! Rose-tinted glasses evaluation if ever I heard one.
Made my Day that, I'll still be laughing 2 weeks today when we draw another blank against Cardiff.
Paul Cherrington
364
Posted 12/02/2019 at 15:08:30
Eddie at #356,
Yes, I think far too much is made of what style of play a manager likes or what his philosophy is in terms of setting a team up. That is why we ended up with the current manager -–so many fans and the board were seduced by his 'attacking' football philosophy, despite clear evidence from his previous clubs that it didn't really work that well.
As you say, just give us a team that plays together and fights for each other to a plan that works. Who cares about possession stats and how many metres someone ran in the 1st half???
I cannot believe people are saying this season should be a free pass for Silva or to give him more time. The evidence is there for all to see – he is not good enough and we will continue to lose with him in charge. This has been the case for the majority of the season, it is not simply a two-week blip!!
Tony Everan
365
Posted 12/02/2019 at 16:42:02
Steve @361,
This necessity to adopt a more compact combative and defensive set-up has been evident for some time. Silva is following a far too reckless approach to matches.
A far too expansive set up that leaves us unable to get a grip on a game or win battles. Not many, me included, want Moyes back. But he certainly knew how to set his team up away from home.
He knew how to take the sting out the opposition so the initial confidence in the team turns to fear as the game wears on. He knew Cahill or one of the others could pop up and score a goal from nothing and we could take home 3 points.
As you say, we have not got the players to play the same game as De Brunye & Sane or Mane & Salah. But Marco Silva is still playing the same way with the same players and getting the same result. We are not a class apart from any of our bottom 14 opponents, yet we set up like we are Man City. It is delusional.
He needs to rethink his tactics quick; the Chelsea and Liverpool games are excellent reference. Put in that type of performance against any team and we have one or two players who can grab a goal.
It really is the only way forward for Marco.

Joe Parkinson
366
Posted 12/02/2019 at 21:07:46
Steve Croston #363.
I agree completely with your comments, unless making comments is very different now and way to complex for us mere mortal supporters to digest...
Maybe it's just me and about 95% of posters on here, that see football for what it is, 11 v 11 kicking a ball about with the intention of kicking it into a thing called a net
Since when has Nuclear Physics been introduced into tactics.
For those of you who see Silva and his Nuclear Physics as the way forward, may I suggest a visit to Specsavers, Followed by a very large portion of Humble Pie...
But, then again, like the manager, some posters just cannot accept when they are wrong, and are unwilling to change tack...
Silva has to go and go now!
Jay Harris
367
Posted 12/02/2019 at 21:15:24
Steve, I really hope I am made to swallow my words but the only top 6 that Silva will crack is the Championship top 6... and I'm not even that sure about that.
Ivan Varghese
368
Posted 13/02/2019 at 01:44:22
Although the results are spotty, but I am seeing good movements in the team. Sometimes, the decision to play the next pass may be suspect but, believe me, that would change.
Losing Zouma is going to hurt. They need to play together and the war room need to make tactical changes to play to their strengths.
John G Davies
369
Posted 13/02/2019 at 01:55:43
Steve Ferns,
I haven't yet lost faith in Silva. I can see some of the points you make as valid. A good turnaround of players in the summer, in and out, and I think we will see a big improvement.
We need to keep calm and let the project develop. If it's still not working by the January window, we will then need to address it.
Ivan Varghese
370
Posted 13/02/2019 at 03:25:45
Steve 363,
Remember Brazil in those 'Golden days were "the best defense is a good attack", I think Carlos Riviera said that.
Everton has a world-class midfield, we have players that can introduce the creative spark, the midfield is possibly like Ball, Harvey and Kendall days.
They break up play, the hold the ball. They play the short passes drawing in the defense but they are not releasing Walcott or Lookman like Salah (roving). I really think more time playing together would bring creativity.
Ivan Varghese
371
Posted 13/02/2019 at 03:51:10
ps: I would love to see James McCarthy for Keane. James is quick but reads the game well. Remember the Rondon tackle, he was the sweeper and always predicts and run into danger.
I think Theo should be his outlet... just like Liverpool, and forget about starting from the back. Develop channels and build these channels. Right now, the only channels are the wing-backs... you cannot win like that in modern soccer. The pace would slice you up.
Link-up play should be Davies, Gana, Gomes and McCarthy. James and Lookman fall back into dangerous gaps in zonal and pick-up
Add Your Comments
In order to post a comment, you need to be logged in as a registered user of the site.
Or Sign up as a ToffeeWeb Member — it's free, takes just a few minutes and will allow you to post your comments on articles and Talking Points submissions across the site.
© ToffeeWeb