Tottenham Hotspur vs Everton
Friday, 10 May, 2019
Match Preview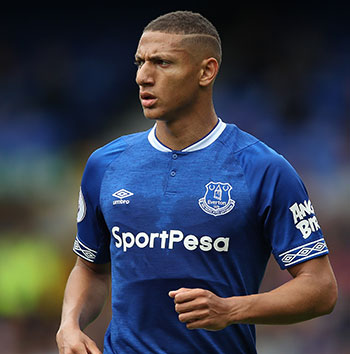 Along with Dominic Calvert-Lewin, Richarlison has been ruled out of the game at Spurs
Everton bring their mercurial 2018-19 season to a close this Sunday when they make their first visit to Tottenham's new stadium.
The Blues are hoping to end their Premier League campaign on a high by beating Spurs on their own patch for the first time in 11 years and thereby secure eighth spot ahead of Leicester City.
Marco Silva's side come into the final day of the season two points better off than the Foxes so would only need to equal their result against Chelsea while Watford would need a huge swing in goal difference to leapfrog both clubs.
Everton will be without Richarlison and Dominic Calvert-Lewin for their game at Tottenham Hotspur Stadium after Silva revealed that both players have been ruled out through injury, while Seamus Coleman is rated as doubtful with a knock of his own.
Richarlison has been struggling with the rib injury that necessitated his withdrawal against Manchester United and Burnley while Calvert-Lewin picked up an injury in training.
"Let's see if Coleman can play or not," Silva said in his pre-match press conference. "He will be a doubt. Let's see tomorrow. It's nothing special, a small problem in his groin.
"Richarlison came out of the last game with a problem with his rib. He will be out of the next game, definitely."
Silva is able to call upon André Gomes for the first time in three matches now that he has served his suspension for a late tackle on Aleksandar Mitrovic in the defeat at Fulham last month but that would mean a difficult decision for the manager. Morgan Schneiderlin has performed impressively in the Portuguese's stead in recent matches but Gomes has been first choice when fit and available.
Should he be selected, there is a chance that it would be Gomes's last appearance for the Toffees as speculation continues to swirl that Tottenham are close to agreeing a deal with Barcelona for the midfielder. Gomes has offered a number of hints on social media that he was prepared to sign for Everton this summer and Silva said that he was unaware of any decision having been made by the player.
"The only feedback I have had until now is from André and what he said to me because our relationship is really honest. He and his agent also said that he hasn't decided anything about his future."
Coleman's potential absence offers another chance for Jonjoe Kenny to impress on what would be his first start since the defeat at Watford in February while Ademola Lookman and Theo Walcott will be vying for Richarlison's spot wide on the right. Up front, meanwhile there's an opportunity for Cenk Tosun to lead the line.
With Spurs still coming down from the euphoria of their dramatic win over Ajax in the Champions League semi-final, effectively guaranteed a top-four finish, and with their minds perhaps wandering to their big game in Madrid on 1st June, this could be a good moment for Everton to play them.
The Blues are well overdue for a win on the ground of a top-six side and based on their recent form they are fully capable of registering one to see out the season on a positive note.
Kick-off: 3pm, Sunday 12 May, 2019
Referee: Andre Marriner
Last time: Tottenham Hotspur 4 - 0 Everton
Predicted Line-up: Pickford, Kenny, Keane, Zouma, Digne, Gueye, Gomes, Sigurdsson, Walcott, Bernard, Tosun
Full details: ToffeeWeb match page
---
Reader Comments (61)
Note: the following content is not moderated or vetted by the site owners at the time of submission. Comments are the responsibility of the poster. Disclaimer
Mike Gaynes
1
Posted 10/05/2019 at 22:40:56
I will be keenly disappointed if Silva names Tosun and Walcott to the starting lineup in place of DCL and Rich. Last game, zero at stake, give the young guys a shot.
Re Gomes, all the reports about a deal with Spurs quote one article in Diario Sport (Barcelona):
https://www.sport-english.com/en/news/barca/andre-gomes-close-to-tottenham-move-for-30m-euros-7447845
Derek Knox
2
Posted 10/05/2019 at 23:19:08
Agree Mike G, should be Lookman for Richie, but up front could be a problem, not sure if any of the youngsters are eligible to play.
Failing that I would throw Walcott up front as many have called for before, as he is ineffective on the right wing slot.
You say there is nothing to play for, we should still be aiming for a win, it means a few million quid between 8th and 10th, and it would surely be a good yardstick if we could get another 'top 6 scalp to add to our recent run of good results.
Jay Harris
3
Posted 10/05/2019 at 23:33:22
Spurs are a very physical side so I would give Lookman a miss.
Jonjo can slot in for Seamus, leave Schneiderlin in and play Gomes in MF with Siggy Bernard and Walcott up front.
That should be enough to worry a Spurs side without Kane, Son,Vertonghen, Davison and Danny Rose.
Frank Wade
4
Posted 10/05/2019 at 23:49:30
Agree Derek and Mike, would love to see Lookman get a start to give him a bit of experience, the lad need games to develop, the talent is there.
Derek, players who were under 21 on January 1st are eligible to play every game, but I doubt that Silva would play Hornby, Gordon or Sambou ahead of Tosun in this fixture.
Just hope we don't go causing any more unwanted injuries to Tottenham's squad.
David Pearl
5
Posted 11/05/2019 at 00:48:55
I'm sure if lookman was showing enough in training he'd of played more. Who is really that convinced? Yes he needs games and I hope he becomes what we think he could be.
However tomorrow should be an opportunity for the players and manager to say 'this is us now'
He should look to next season, to continue this form and not play players with an uncertain future at the club.
Personally, and this won't happen, I'd play Walcott up front for the simple reason that he's got more chance of being here next year. I also would say that Tosun hasn't had enough time but he retains some value and we could definitely use that towards someone better.
On the right I'd differ again and play Davies. I remember seeing him play as a right back in pre season under Koeman and I thought that it would be his future role. He can tackle, he can run, he can pass and a great engine. Of course he is young and will develop.
Being Silva though ld expect no surprises... that means Tosun up top with Walcott on the right. Pretty much what Lyndon predicts. That's the thing with Silva we know what to expect. I'm hopeful we will get a result on Sunday and that next season we will be stronger as I think the players are with the manager. Maybe he will learn how to change tactics mid game if something isn't working.
It will be interesting to see Spurs line up. There are a few weeks till the biggest game in their history. Do they need to rest players now? Anyway... coys!!
Mark Andersson
6
Posted 11/05/2019 at 02:05:39
Its a nothing game and I feel the players of both clubs will do enough to entertain but with no real passion...
Hope Spurs win the European cup...
Dick Fearon
7
Posted 11/05/2019 at 02:30:01
Was it sheer good luck that helped Origi to score the goals that wrecked our aspirations and destroyed Barca. Or, was it a genuine strikers instinct that placed him in the right place at the right time with the technique needed to finish.
With lots of practice DCL who I believe is a few years older than Origi can improve his technique but instinct is impossible to learn or teach.
My observations over 50 years of coaching amateurs of all ages have shown this to be the case.
Derek Thomas
8
Posted 11/05/2019 at 04:10:46
Dick @ 7; You're half right, he has the instinct or plain jaminess to be in the right place. But I think DCL will go on to be a decent player, tbf, he's not too bad now. You can't teach instinct, but you can coach a player to always look for the percentage ball...which, in a strikers case is nearly always the one inside the box.
Everybody want the top class striker and they start at £100M, even if we had that kind of cash to splurge, others can and will trump our bid.
Unless Brands can unearth a hidden gem, or the Academy delivers, were going to be chasing that dream.
Stephen Bird
9
Posted 11/05/2019 at 07:55:03
Origi is 2 years older than DCL and has largely been successful as an impact player, his place in the team against Barca was one of only a few actual starts.
DCL has led the line physically for most of the season, a perfect apprenticeship but next season he has served his time and must produce an end product.
He will make a fine living as a professional footballer and has many admirable qualities, but without goals he will never reach the heights his other qualities deserve.
Robert Leigh
11
Posted 11/05/2019 at 08:45:52
Lookman for Richie, Theo for DCL.
As close to like for like as we have, hopefully see Simms or someone on the bench to give us a glimpse at the future?
Paul Birmingham
12
Posted 11/05/2019 at 09:22:23
We need some mobility so I'd go like for like with Walcott and Mola. Only hope they are both up for it, as they should be.
A chance for these two players to fade, and fade fast, or shine and rekindle the spark and passion we need to play for EFC.
Dick, @7, I agree and it's now or never for DCL, next season. It needs to happen if he improves his positional take up and anticipation, and shooting he'll have a chance.
Tony Everan
13
Posted 11/05/2019 at 09:49:19
Has the season not finished yet?
I think Walcott, Tosun, Schneiderlin will start for shop window reasons. Lookman will get his usual 15 mins of fame.
I fear it maybe a flip-flop day on Sunday. A pre-season type game with most of the players just going through the motions.
Eddie Dunn
14
Posted 11/05/2019 at 09:59:00
Theo against his old enemy is sure to get the nod over Lookman, who will once more find his bum on the bench. Tosun will surely start in place of Calvert-Lewin, but (Mike Gaynes) let's hope that a couple of our youngsters make it onto the bench.
I imagine that despite the euphoria of reaching the Champions League Final, the trip will have drained the Spurs team both physically and emotionally. The question for Everton is... will the players be "on the beach" or looking for another Big Six scalp?
James Hughes
15
Posted 11/05/2019 at 11:16:28
There is an article on BBC from Poch, saying he would be mad to stay at Spurs without a plan. Not too happy they haven't signed anyone for 18 months.In other word Mr Levy get your wallet out or I am off.
We need a good performance tomorrow to show the past few weeks have been what we can expect next season. Our record there is not good, so hoping Wednesday took a lot out of them.
My heart is saying 2-0 to us, my head hasn't got a clue !!
Jim Bennings
16
Posted 11/05/2019 at 11:22:03
It would be nice to finally register a win against Spurs for the first time since the Jelavic hysteria of 2012 when we pinched it with two goals in injury time.
I don't think we've had so much as a point against Spurs since Koeman's very first match in charge back in August 2016 that's how bad our record is against them.
Whoever plays we should be professional, Tottenham are bound to be emotionally knackered after what happened in Amsterdam on Wednesday so let's hope we can finally take advantage and use it in our favour.
We need to start improving on our shoddy away form which seems to have gone on for years.
Christopher Timmins
17
Posted 11/05/2019 at 12:21:18
Looking forward to a continuation to of our improved form since March. There is no reason why we can't end the season with a positive result.
Tony Everan
18
Posted 11/05/2019 at 12:27:03
For anyone interested in following his progress, Mason Holgate playing, 12-30 sky, for West Brom in the play-offs.
John Raftery
19
Posted 11/05/2019 at 13:36:19
One minor correction to Lyndon's preview. Jonjoe Kenny's last start was actually at Newcastle on 9th March. He was a very late replacement for Seamus who succumbed to illness shortly before kick-off. If he plays tomorrow I hope Jonjoe has a better game than at St James's.
Dave Abrahams
20
Posted 11/05/2019 at 14:07:01
John (19), Idoubt If Jonjoe Kenny has been near the bench since that Newcastle game in which he had 10 minutes notice he was playing. I hope the whole team play better than they did in the last 30 minutes of that game which included many more experienced players than Kenny. Jonjoe should be getting helped along by these seasoned players; he never has been since he made his debut. He certainly comes in for plenty of stick off people on here... as a young upcoming player, he needs a bit of leeway.
John Raftery
21
Posted 11/05/2019 at 14:20:14
Dave (20) You are absolutely right of course. Some of our experienced and very expensive players resembled lamp posts in that second half. The manager did not help matters by bringing on Mina when he really needed to bolster the midfield.
Jim Bennings
22
Posted 11/05/2019 at 15:05:13
How about this for a crazy stat.
Since the formation of the Premier League in 1992
Everton have won just 8 of 51 meetings home and away against Tottenham Hotspur.
Wow that's utter shit lol
John Boon
24
Posted 11/05/2019 at 15:09:03
As much as I want us to win, as I always do, does it really matter? Yes, I know we can come 8th instead of 9th. I really just don't care who plays because I am far more interested in who starts in Game One next season. By then, I hope we have some new faces who can make us the team we would all like to follow.
Jim Bennings
25
Posted 11/05/2019 at 15:21:51
John
Every game matters and every game should be one that we want to win. You can never gain perfection if you don't strive to be the best you can be in every game that you walk out to play in.
I'm not really interested in next season yet because, as far as I'm concerned, we know what we need for next season. We know we need new faces, we can't pretend we have the answer already in our squad to certain areas, we need new faces that's a fact and a quality striker for sure and to bust a gut to sign Zouma.
I'll let Brands and Silva take care of that but right now I want to see them go out tomorrow and win another game to end the season on a real positive not, I'm sick to death of losing in London on the last day of the season.
Ajay Gopal
26
Posted 11/05/2019 at 15:46:32
Pickford
Kenny Keane Zouma Digne
Davies Gueye
Lookman Sigurdsson Bernard
Tosun
Subs: Virginia, Jagielka, Baines, Gomes, McCarthy, Walcott, Simms

Derek Knox
27
Posted 11/05/2019 at 16:16:31
Ajay, is that your choice, or prediction? Or have you heard something?
Ajay Gopal
28
Posted 11/05/2019 at 16:22:49
Sorry, I meant to add that that lineup is my preferred one for the game.
Jim Bennings
29
Posted 11/05/2019 at 16:24:16
Schneiderlin deserves to stay in the side if he's fit as he's miles more defensively disciplined than Davies.
I think Schneiderlin has found some sort of new lease of life since returning to the side and looks like the player the fans initially fell in love with, plus he's been bringing the best out in Gueye lately too!
Schneiderlin to start and depending on how the game develops I'd expect Gomes thrown on in the last 25-30 minutes if a varied approach is required.
Kenny is a weak link and looks out of his depth, Coleman will be a miss because he's another player who returned to better form lately after a pretty average start to the season.
Craig Walker
31
Posted 11/05/2019 at 17:27:58
Watch us get thumped but injure their best players for the Champions League final. That would be typical Everton.
I would love us to get Gomes signed but I think Zouma is more important. It's been an encouraging end to the season. I just hope them lot win nowt, then I can enjoy the summer.
John Hall
32
Posted 11/05/2019 at 18:45:23
Our record in this stadium is good - рlayed none, lost none. Let's keeр the 'lost none' record going :)
Fran Mitchell
33
Posted 11/05/2019 at 18:56:52
Spurs, while aware Arsenal could still nip 4th, it is unlikely and the biggest game in their entire history awaits. Will any of their players risk injury, not a chance.
This is a chance to set us up for a positive summer, ending the season breaking our woeful away form at the top 6.
We can start the new season having ended this one beating 4 or the top 6, and drawing with another (and taking the title out of their hands in the process).
2-0 Everton. COYB
Rob Halligan
34
Posted 11/05/2019 at 19:27:40
Exactly my thoughts Fran. Spurs are 99.9% guaranteed CL football next season. It needs a defeat for them and a win for Arsenal, with an 8-goal swing, to deny Spurs a top four place. We can go there and win as, like you say, they will not want to risk any further injuries. Kane and Vertonghen are already missing tomorrow through injury, so they won't want any further injuries.
David Greenwood
35
Posted 11/05/2019 at 19:34:44
There's no way Spurs will be all out tomorrow.
Even if they play, Son, Alli etc will be making sure they don't get injured.
1-0 win tomorrow, Digne.
Kim Vivian
36
Posted 11/05/2019 at 19:51:16
Rob - If the Arse win the Europa, the RS win the CL (God forbid), Chelsea win tomorrow and THFC end up 4th, does that not mean that Arsenal take the 4th CL slot and THFC slip into next years Europa. I may be wrong. Do we get 5 CL teams assuming the above? - there are numerous permutations and it's all pretty confusing I think.
If Chelsea slip up tomorrow, and THFC beat us they will finish 3rd so guaranteed CL next year. The point I am trying to make is that potentially (I think) tomorrow's game is not the dead rubber for them that some are assuming. In any event the points about them protecting players are salient and I think we will come away with a draw. Love it to happen but can't see us winning tbh.
Tony McNulty
37
Posted 11/05/2019 at 19:58:22
I remember years ago reading that John Hurst told an opposition player in the game before they were due to play in a cup final something along the lines of: "Better keep away from me today if you want to play in the final."
I wonder if players still do this sort of thing in order to get an edge. Tommy Smith and the hospital menu got mentioned recently in his obituary in one of the papers.
Brian Williams
38
Posted 11/05/2019 at 20:03:43
Kim #36.
There's five places for English teams in the Champions League next season.

Rob Halligan
39
Posted 11/05/2019 at 20:04:01
No Kim. If Arsenal win the Europa League then England will have five teams in next season's Champions League. Spurs are, as I say 99.9% guaranteed a place. The only way they will not qualify is if both us an Arsenal win tomorrow with an 8 goal swing. So theoretically, I suppose it's not quite a dead rubber but it's as good as.
Jamie Crowley
40
Posted 11/05/2019 at 20:38:21
If we lose tomorrow, we are bang average for the season.
15-8-15. . 500
We're better than that. Let's in and go out on a high, with a winning season for Marco's first in charge.
Tom Bowers
41
Posted 11/05/2019 at 20:59:35
Tough call tomorrow (then isn't every Everton game)?
Without Richarlison and DCL it could be really tough but as people are saying, Spurs may have absentees in view of the big one agains't RS. They certainly can't afford any more injuries but they do need at least one point to make sure of fourth place so I am thinking of a boring 0-0 draw given that Spurs haven't had a draw so far.
Would be a fitting end to a yawn of a season.
Some Everton players may also be thinking of other things and the likelihood is that both Gueye and Zouma will be gone along with certain others who do not sit favourably with Silva.
Hopefully, Silva has some possible answers to these problems already swirling in his mind for the close season.
I suppose tomorrow will see Tosun and Walcott up front which doesn't give me much confidence about a winning end to the season but you never know in this game.
Kim Vivian
42
Posted 11/05/2019 at 21:00:26
Ah right — 5 Champions League places. That clears that up then. I think on that basis they will be protecting players (rather than resting them) so could be good for us. I badly want us to win. Surrounded by Spurs fans down here.
Rob Halligan
43
Posted 11/05/2019 at 21:02:42
Get in their good books Kim, and tell them every single Evertonian wants Spurs to win the champions league.
Andy Meighan
46
Posted 11/05/2019 at 21:41:57
David @35,
Son is suspended. He got sent off at Bournemouth last week.
Dick Fearon
47
Posted 11/05/2019 at 21:49:02
Tony Mc @37
That reminds me of the huge furure in the London papers about Sandy Brown's warning to Chelsea darling Peter Osgood that went along the lines of, 'Nutmeg me again and I will hurt you.'

Tony McNulty
48
Posted 11/05/2019 at 22:01:44
Dick (52) I hadn't heard that one. I was, however, as a very very young chap, in the Goodison Road stand the day Sandy nodded famously into his own net at the Park End
Mike Gaynes
49
Posted 11/05/2019 at 22:08:04
Tony #18, thanks for the head's up. WBA lost to Villa on two late goals. With WBA playing three at the back, Holgate played the full 90 at right mid. Second leg of the tie next week.
Kevin Prytherch
50
Posted 11/05/2019 at 22:16:08
Kim 36
The only way that 4th doesn't get in the champions league is if the champions league winners and the europa league winners both finish outside the top 4.
Then the top 3, plus both European winners will get in the champions league.
Since Liverpool are top 4, Spurs are pretty much guaranteed it unless the unlikely results mentioned above happened.
Andrew Grey
51
Posted 11/05/2019 at 00:02:33
I fancy a reverse of the home fixture, 2-6 :)
Alastair Kelly
53
Posted 12/05/2019 at 08:15:57
Be good to see Kenny get a run out today, I think he is an able deputy for Coleman but needs games to continue improving. Alexander-Arnold has been exposed this season but when that happens the players around him help him out. To his credit Klopp has continued to play him and it has worked out well. I think today we need someone in Richardson's spit that will get back and offer some back up for Kenny. Could switch Bernard to right and put Lookman in on left side or even have Davies in on right side with Walcott saved as an impact sub. Hope we can keep building today and get at least a draw. If we want our young players to improve we have to persevere and play them. I do agree though that we need a couple of additions to strengthen.
Jim Bennings
54
Posted 12/05/2019 at 09:09:15
Alastair
I'm not sure you can resemble Kenny with Alexander-Arnold to be honest.
One is a semi decent backup right back at the age of 22, the other is a super fit technically gifted roving fullback.
From what I've seen of Jonjo Kenny he looks a stopgap capable of being a decent tackler but nothing exceptional.
Davies on the right would be purely insane, he possesses no pace, no trickery and his passing his at times very astray, that would be a right hand side that simply focuses on negating Tottenham and would offer zilch going forward.
People might right slag Walcott off but hey, this is a player, a winger that has scored the same amount of league goals as our main striker this season.
Stephen Brown
55
Posted 12/05/2019 at 09:27:11
What a day this should be! Sat down to read the papers and put the radio on - talksport headline was Liverpool one win from title! No mention of Man City ?!
Back 3 pages of Mirror has Richarlison going to Athletico Madrid, Gomes to Spurs and now Digne to Spurs too!!
Followed by gushing praise of Klopp which I skip over, a special column from Fowler which I skip over. I glance through Arsenal and Chelsea and Spurs all looking forward to the upcoming finals! I'm jealous I have to admit !!
Then I turn over to a two page special on Leon Osman which is nice but it hits me that the article is nearly all about how Everton in the Community helps people with mental health problems! I'm very proud and impressed they do but it really hit me this morning, all our former contemporaries have huge end of season pivotal games to play for including today's opponents ( who we were equals with 5 years ago) and we are in the paper for no playing headlines! Oh and all our best players are leaving too !!
A huge summer ahead we must keep these players and aim to join and beat our former contemporaries! Starting today !!!
Derek Knox
56
Posted 12/05/2019 at 10:13:28
Stephen, spot on there mate and I'm sure like me you just ignore these inane headlines, but at the same time it does irk, when only one team exists in Liverpool, and Manchester, in the eyes of the media.
Apparently Wolves are non-entities too, Liverpool just have to turn up today apparently, and it's down to City at Brighton, who are unbeaten in their last two games, Wow, not an easy task by any means for a team that has bought success!
Tony Abrahams
57
Posted 12/05/2019 at 10:35:22
Was talking to someone connected to Everton yesterday, and he told me a funny story connected to EITC.
Can't really say too much because people connected to the club probably read TW, but someone was put right in there place, especially because they had threatened this person with the sack, but then backed down, because this person was 100% right, and only stating the obvious.
Football clubs, should be viewed by how well there team is doing out on the pitch, and this is why I hope Everton, are gearing up for a very big summer, and hopefully getting ready to really compete with the big boys once again?
Annika Herbert
58
Posted 12/05/2019 at 12:51:39
Jim@54, Walcott is a player?Where has that player been all season then?He offer nothing defensively, looks uninterested at times and is very hit and miss.
He was a poor signing as far as I am concerned and nothing he has shown has made me have a change of heart about him. For me he is a player we need to move on at the seasons end
Brian Williams
59
Posted 12/05/2019 at 13:09:51
On the subject of Walcott he comes pretty high up in the annually published "young" richlist with an estimated worth of £29m.
Tony Everan
60
Posted 12/05/2019 at 13:22:50
Mike #49
I didnt watch the whole game but Mason seemed to play ok. The WBA team was set up to stifle the home side with 5 defenders and play for a bore draw. It was too conservative an approach from their manager. WBA will adopt a more offensive approach midweek in the second leg, maybe a 433, Mason will be tested and should be a good match.
Dennis Stevens
61
Posted 12/05/2019 at 13:48:37
Regarding Holgate's loan at WBA, I only noticed yesterday that somebody there must have a sense of humour as he's wearing the squad number 68!
Si Cooper
62
Posted 12/05/2019 at 13:55:21
I hope the Spurs players think they are 99.9 % guaranteed 4th spot. If so I can see a couple of early goals against them really putting the wind up them. We scored 4 against Utd; is it really that unlikely that we could match that total today? After the games we've had this week would Aubameyang and Lacazette running wild at Burnley be that surprising.
Unfortunately I doubt Spuds will be thinking they are 99.9% home and hosed. I can still see us getting that narrow away win though ; new stadium, new records.

Brian Williams
63
Posted 12/05/2019 at 13:58:11
Si. We'd have to beat Spurs 4-0, and Arsenal win their game 5-0 for Spurs to miss out on fourth.
Be worth a long shot bet for the gamblers among us.
Tom Bowers
64
Posted 12/05/2019 at 14:00:20
Today could be a nice end to the season with good results for Everton and City despite RS, being so good and Everton as usual very average if that.
We, long suffering Evertonians can but hope once again that the next season will be the breakout one that elevates them to a bona fide top six (or top four) outfit.
Much depends on Silva and Moshiri and what they do in the close season taking into account which players will not be part of the equation and I suppose we will know soon enough after today.
C.O.Y.B.
Kevin Prytherch
65
Posted 12/05/2019 at 14:03:08
No Kenny, Zouma at Right Back? Strikes me of square pegs in round holes. Also Walcott plays instead of Lookman. Brands talks up the youngsters, Silva doesn't seem to want to play them.
Chris Leyland
66
Posted 12/05/2019 at 14:16:24
Stephen 55- this morning's headline on the BBC sport website was: Liverpool look to make history.
They've now updated it to: Liverpool look to make history and overhaul Man City.
A slight improvement but still very much focused on the shite rather than City.
Justin Doone
67
Posted 12/05/2019 at 16:02:54
Round off applause for Silva. Sarcastically..
Why play Zouma right back. He or Keane should partner Mina who is still very much unproven but is a perm signing.
Kenny should definitely be right back and Schnides axed for Gomes. Alternatively change formation and play 3 centre backs.
This is why so many fans can't understand managers and in our case believe in Silva. Also why not start Lookman?
Let's sat we loose 4-0 I'd rather watch what Mina and Lookman could bring to the team for next season rather than Walcott and out of position players.
It's like a 4 year old saying let's play Pickford as striker. He's got a big kick on him. You just wouldn't.
Add Your Comments
In order to post a comment, you need to be logged in as a registered user of the site.
Or Sign up as a ToffeeWeb Member — it's free, takes just a few minutes and will allow you to post your comments on articles and Talking Points submissions across the site.