Cahill: Blues need to add quality to keep the likes of Gueye
Thursday, 9 May, 2019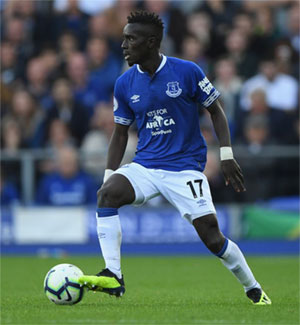 Idrissa Gueye's form in recent months is likely to put him in high demand this summer
Former Everton favourite Tim Cahill says that it is up to Everton to surround Idrissa Gueye with top-class additions if they are to keep him this summer.
The Senegalese midfielder was the subject of a concerted effort by Paris St Germain to tempt him to League 1 in January but the Blues rebuffed their interest and retained Gueye for the remainder of the season.
Since then, the 29-year-old has been in arguably the best form of his time at Goodison Park and that has led not only to speculation that PSG will return with a fresh bid this summer but there are now reports that Manchester United could come in for him.
The Red Devils could offer him big wages and the prestige of playing for one of the biggest clubs in the world but they won't be in the Champions League next season and if Gueye is looking to make that step, it would preclude a move to Old Trafford.
"He is a big part of Everton's success," Cahill said on SkySports a few days ago. "He is a brilliant player and every team needs someone like him. It's just the way he goes about the park.
"Of course he is going to be in demand but Everton have to attract big players to keep him at the club. He is going to hopefully be a big sign of what's to come at Everton in the future."
---
Reader Comments (22)
Note: the following content is not moderated or vetted by the site owners at the time of submission. Comments are the responsibility of the poster. Disclaimer
Les Moorcroft
1
Posted 11/05/2019 at 20:47:37
Spot on Tim.
Pete Gunby
2
Posted 11/05/2019 at 23:26:53
Hope I'm wrong but I think he's gone. He must know his clock is ticking and this is probably his last chance for a big move.
Kase Chow
3
Posted 12/05/2019 at 00:28:58
Yeah, hate to say it but, objectively, PSG or Everton (with no European football)?
Shame because he's brilliant and I disagree with comments in January that he can be easily replaced.
Gordon Crawford
4
Posted 12/05/2019 at 00:41:10
We need to keep our best players and sign the ones that we have been loaned, if not then we are back to square one.
There are also strong rumours that Spurs have agreed a fee for Gomes, and that PSG want Richarlison. Going to be a fun transfer window. 😒
Eric Myles
5
Posted 12/05/2019 at 01:17:10
Kase #3, even with European football it's a choice of living in Paris or Liverpool!!!
Liam Reilly
6
Posted 12/05/2019 at 01:43:18
The lad deserves and is good enough for CL football, so why wouldn't he want to go.
We're Bramley Moore away from the CL, which could be never.
Alan J Thompson
7
Posted 12/05/2019 at 06:02:16
Wouldn't want to be Mr Brands, never mind Mr Silva, if Gana, Gomes, Zouma and Richarlison all need replacing and knowing our luck Mina will get 3 weeks out for having an afternoon in a Betting Shop.
Close the doors they're going out the window!
Alan McGuffog
8
Posted 12/05/2019 at 08:47:54
I'm hoping that whoever is in charge at EFC has a sit down with David Dein and takes some notes about how to run a transfer system. For too long we seem to be a " buy dear sell cheap" outfit.
If any of these players move on, and today's gossip has Richarlison, Digne, and Gueye packing their bags then stick out for top dollar for heaven's sake.
Gueye is 29 and has years in him. Not a penny under £50 million. Richie £80- £90 million. Cash.
Would be sad to see them go but not heartbroken. Remember these are the guys who helped us finish in a vertigo inducing 8th place !
The replacements are out there but, for the love of God no more signings who then ply their trade in Istanbul.
I hate the way the BBC and other outlets dictate the moves and fees...for example Man U are considering buying Gueye. Just like that ! It should read EFC would consider selling Gueye, with cash offers in excess of £50 million being invited.
Here's hoping our leaders grow a pair

Derek Knox
9
Posted 12/05/2019 at 11:31:24
While I agree with what Tim has said, there is the obvious underlying problem of clearing the decks.
I do have faith in Marcel Brands, and if the last Summer Transfer Window is anything to go by, I am hopeful we will see more of those departures coupled with a few gems coming the other way.
I would like to see Tammy Abrahams in, although the Chelsea connection might hamper that, but a decent consistent striker is a must, Lo Celso, Trossard and Ziyech or Neres, Zouma to become a permanent fixture and we should be good to go.
Terry Underwood
10
Posted 12/05/2019 at 11:39:54
'ere we go... nothing to do for a couple of months so I hereby declare silly season well and truly open. Press, TV and fan sites all spouting rubbish with little or no grounding in fact.
Lee Brownlie
11
Posted 12/05/2019 at 13:55:34
Just been reading that Spurs want Digne, and we might be interested in a deal that includes Danny Rose, plus some cash.
No thanks, I say.
Again, letting (any of) our best players leave is just going backwards!!!
Tony Everan
12
Posted 12/05/2019 at 14:46:13
Alan #8
Fully agree with that, Gana has another 4 years left at the top, we paid big money for sigg at 28/29 years old, so we should expect top dollar for Gana. 50m+ is market value, PSG are not short of money.
Digne and Richie are going nowhere, Silva will have none of it.
Tony Rice
13
Posted 13/05/2019 at 05:08:33
I'm 50/50 about him staying or us getting a great price for him... but, either way, full credit to the lad for putting his head down and playing some great football since January. A lot of players would have sulked and been a negative influence. Happy for him to stay but if not we need to get top dollar!
Drew O'Neall
14
Posted 13/05/2019 at 06:48:46
Simple for Brands. He's in contract so we're not selling him. If he wants to extend we'll make him our highest paid player and within three years, with the plans we're executing, he'll be in Champions League.
Why is it inevitable that he goes if we don't want him to? We're not scared shitless Everton anymore.
Who wants the money? Not me. He's irreplaceable.
Peter Roberts
15
Posted 13/05/2019 at 19:48:00
Let's be honest - if he does go that's a £40m minimum player sold 3 years after acquiring him for £7m, represents good business as long as we have a ready replacement lined up either from within or from another club.
Tielemans is likely to return having impressed with Leicester, why not test Monaco's resolve (who've struggled this season since the breakup of the side from 2 years ago)
Anton Walsh
16
Posted 13/05/2019 at 22:10:41
Peter #15
We might use the money to go buy a £40 million player whos only worth £7 million
Simon Smith
17
Posted 13/05/2019 at 22:45:30
Gana stays as far as I'm concerned, he has a contract, he should honour it.
Brian Williams
18
Posted 13/05/2019 at 22:58:26
Doesn't work like that in the real world Simon.
Simon Smith
19
Posted 13/05/2019 at 23:55:08
It happened in January in the real world Brian, simple fact is if we want it to happen it will.
The only down fall is the loss of transfer fee, but we signed Gana for £7m, we waste that type of money on wages every season for out and out dogs.
Gana has shown he will play on, and even if he changes up and downs tools we can make a huge statement to the likes of Richalison and our other valuable young assets that we wont be bullied.
Agents and clubs will get our message, if you want to take our first team players and we don't want to sell, you either back off or pay the massive premium that the likes of Spurs and the red shite demand.
We made fools of ourselves time and time again in the past, Lukaku being the most recent, he also had a contract, yet we sold him to the first bidder, if we would have waited a few weeks then the world went mad, Neymar went for crazy money, Dembele followed, then all the fees went nuts, we would have got £150m a few weeks later.
Gary Edwards
20
Posted 14/05/2019 at 12:38:42
As much as I would love Gueye to stay as we really need him, I expect he will leave. He is the kind of midfield machine most of the top teams (domestic and Europe) need. He must be ambitious to win trophies and I don't think he has the time to wait for Everton to evolve.
I believe that he will be playing for City next season, particularly as Fernandinho doesn't appear to have a full season in him anymore / lost Pep's trust.
Bob Parrington
21
Posted 16/05/2019 at 10:11:54
It has been stated a few times on TW that we can (easily) replace Gana. Personally, I think this is a difficult task. Players of his ilk are difficult to come by. Pds50million would be no good for him as we would likely have to pay 70 mil or more to attract a player who does what he does.
Problem is that likely he wants to move on. So ask Pds100m. If they want him badly enough they will pay it IMO
Paul Burns
22
Posted 18/05/2019 at 17:02:33
Eric Myles (5) Its Liverpool then, Paris is an overrated, expensive dump with crap nightlife.
And its full of french.
Add Your Comments
In order to post a comment, you need to be logged in as a registered user of the site.
Or Sign up as a ToffeeWeb Member — it's free, takes just a few minutes and will allow you to post your comments on articles and Talking Points submissions across the site.