Opinion
Greatest Everton squad of the Premier League era
Boyhood Blues, FA Cup winners, Premier League record-breakers and five Scousers. This is the ultimate Everton squad of the Premier League era.
Elliott Bretland

15/08/2019
117

comments | Jump to last
Boyhood Blues, FA Cup winners, Premier League record-breakers and five Scousers.
This is the ultimate Everton squad of the Premier League era.
I took to social media to ask Blues their favourite players and best buys of the last 27 years to compile the greatest Toffees team since 1992.
From Neville Southall, Dave Watson and Duncan Ferguson to Tim Cahill, Mikel Arteta and Romelu Lukaku, this side is stacked with quality Everton stars, Dogs of War and School of Science disciples.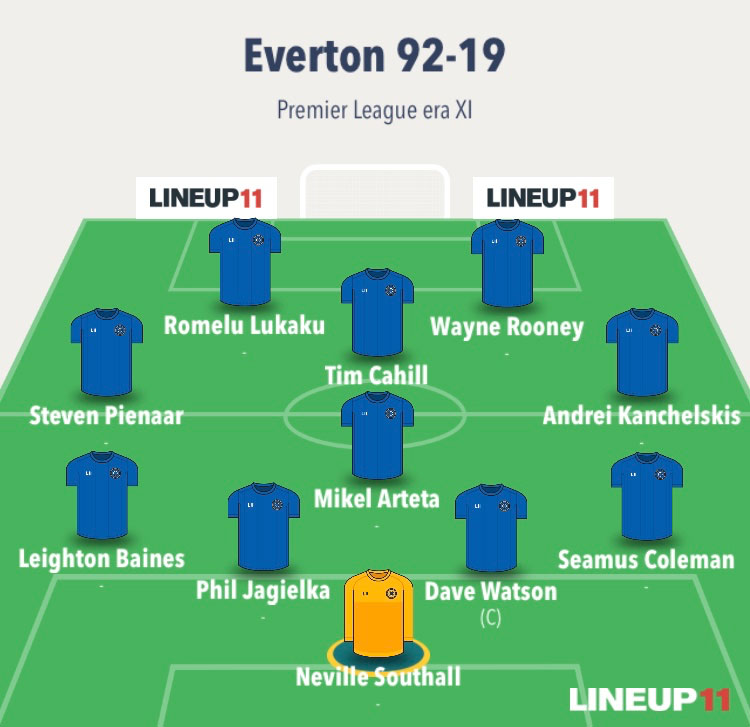 Manager: David Moyes (2002-13)
The Scot did a monumental job in taking a tired, ageing, relegation-threatened squad and revamping it to become a tightly-knit, solid unit which could compete with any team on its day and play good football in the process.
With a focus on character and attitude, Moyes made some excellent signings and hauled the club out of the bottom half of the table to annually compete for a place in Europe.
An FA Cup final and a top-four finish (against all the odds, Everton were one of the relegation favourites in August 2004!) were the main highlights and more could, and should, have been achieved during his eleven-year tenure; such was the quality and industry of the sides he put together.
Assistant: Joe Royle (1966-74, 1994-97)
The last Blues boss to lift silverware, Joe Royle is an absolute legend at Goodison but has to settle for the job as No. 2 in this Premier League era team.
An Everton Giant, he netted more than 100 goals for the club as a player having made his debut at 17 and returned in November 1994 to take charge of a Blues side left in tatters by Mike Walker.
Not only did he fix the mess, he led the Toffees to FA Cup glory in 1995.
Royle's influence was such that Everton were, at one stage of his stewardship, seen as Premier League title dark horses. It's all a case of what could have been, however, as the trophy-winning gaffer resigned in 1997 over the Everton board's failure to permit important signings.
Under 23s manager: David Unsworth (1992-97, 1998-2004, 2014- )
Bit weird including a youth team manager spot in one of these rundowns but David Unsworth missed the cut in defence and needs including for the mere fact he's Everton. He's very, very Everton.
Starting XI
Goalkeeper — 1 Neville Southall (1981-98)
One of Everton's all-time greats and our best ever between the sticks, Southall takes the No 1 shirt.
Big Nev made 750 appearances for the Toffees, 207 of which came in the Premier League, and conceded just one goal on the way to helping Everton lift the FA Cup in 1995.
Making unbelievable saves time and time again, Southall defied the laws of physics by pulling off incredible stops.
A true winner, Southall is loved by all Blues and was considered by fans all over as the best goalkeeper in the world during Everton's 80s heyday.
Right-Back — 23 Seamus Coleman (2009- )
Signed for just £60,000, the Killybegs full-back is one of the best bargains in Premier League history. Full of heart and determination, Coleman is hugely committed and never stops as he marauds up and down the wing for Everton.
The new captain, Coleman is not the most technical but his grit and power sees him beat players with ease. He was a shoo-in at right-back as he celebrates a decade playing for the Blues.
Left-Back — 3 Leighton Baines (2007- )
One of the coolest men to ever play in Royal Blue, Baines' contribution to the Everton cause this century has been massive and he is the Penalty King.
Boasting a wand of a left foot, ingenuity and class, there's no stopping him from twelve yards out while, in his pomp, he always topped the assist charts, mixing it with the most creative midfielders in the world from full-back.
Capable of screamers from range, Bainesey even scored two free-kicks in the same game, whipping the ball into one top corner and then another. Too easy.
A serious case can be made for this Toffees legend to feature in an all-time Everton XI, he's been that good.
Centre-Back — 5 Dave Watson (C) (1986-2001)
Everton's triumphant FA Cup winning captain, Watson was an indomitable force at the back, the ultimate leader and is the skipper of this team.
Brave in the air and strong in the tackle, he put in a heroic display as the Dogs of War beat the might of Manchester United at Wembley.
It was his courageous decision to come flying out of defence to dispossess a careless Paul Ince and whack a loose ball into the path of Anders Limpar which led to Everton hitting Sir Alex Ferguson's men on the counter to score one of the most memorable goals in the club's illustrious history.
'Waggy' would bark, shout and organise the team through the entirety of his 528 appearances and wore the armband with immense pride.
Centre-Back — 6 Phil Jagielka (2007-19)
Jags was a real consistent performer during his 12 years at Everton and hugely respected in the dressing room.
Still scoring Premier League winners against Arsenal at the age of 36, he was one of football's good guys, leading by example by putting his body on the line and running the hard yards rather than bawling at his team-mates and referees.
Dependable and solid, he was a master in the tackle and fans could rely on him, especially when he was stood 30 years out at The Kop end...'A bolt from the Everton Blue!'
One of the greatest strikes in Merseyside derby history, the name of Jagielka - mispronounced by everyone for more than a decade (it's Yagelka!) - will sit nicely alongside Graeme Sharp in that particular Anfield showreel.
Right Midfield — 17 Andrei Kanchelskis (1995-97)
A massive favourite among so many Blues, he was a bright spark during a difficult decade and achieved cult-hero status in just 18 months.
Goals against Liverpool helped, but the Russian dynamo was electrifying down the right and his seriously quick feet were mesmerising.
His turn of pace, movement and directness got fans on their feet, as did his 1996 hat-trick at Hillsborough in a 5-2 win over Sheffield Wednesday.
Kanchelskis would skip over challenges with ease and gave defenders nightmares with with flair and grace. The fact he looked so cool in that Danka kit just adds to the nostalgia of what a wonderful player we had on our hands.
Left Midfield — 20 Steven Pienaar (2007-11, 2012-16)
The diminutive playmaker is one half of Everton's greatest double act of the Premier League era.
Pienaar struck up a telepathic relationship with Baines down the left and does so again in this XI.
Integral, with craft in abundance, the South African was a joy to watch as he jinked in from the touchline to tee up another attack. Pienaar was so clever, quick of mind, that he's one of the smartest players to star for the Blues.
The fact he got emotional on his Goodison return ahead of his second spell secures his name on the list of players where the 'Once Everton Has Touched You' adage really rings true.
Central Midfield — 6 Mikel Arteta (2005-11)
Mikel Arteta was a magician in the middle of the park. He was the master at keeping the ball and moving the ball with an in-step here and a flick out to the right there.
A sumptuous touch, Arteta had the creative drive and football brain we had so lacked for years. He read the game beautifully and was a class above.
Majestic in possession and so, so good on the eye, he was a joy to watch.
Silky smooth skills and killer passes which saw the Gwladys rise in unison, 'It's on! We're in!', Arteta was a grafter too; a real battler who could rough it up with the best of them before floating away with the ball.
It was his strike, lashed home against Fiorentina past a sprawling, helpless Sebastien Frey which shook Goodison Park to its very core on an incredible night under the lights.
'Cos there's nobody better than Mikel Arteta, he's the best little Spaniard we knnooooowwwww'
Attacking Midfield — 17 Tim Cahill (2004-12)
The Wizard of Oz.
Tim Cahill, the embodiment of what we are about and what Evertonians hold so dear.
Grit, passion, always up for a battle, we always had a chance when he was on the pitch, always.
He was an inspiration, a leader in all he did and capable of moments which produced moments of pure, unadulterated ecstasy. It always felt better, more compounding for the opposition and adrenalin-inducing for us sat behind the goal when a Cahill header whacked the back of the net.
Leaping high above wary defences, he was the best at hammering home crosses, the ultimate weapon from a dead ball.
Cahill scrapped for lost causes, attacked everything head on and fought for the badge, knowing exactly what it meant.
Away days were the best, us versus them, knowing full well you had the ultimate warrior in your corner, ready to punch it after another goal.
Striker — 18 Wayne Rooney (2002-04, 2017-18)
A once-in-a-lifetime footballer who worshipped Everton Football Club and lived a ten-minute drive from Goodison Park. He idolised Duncan Ferguson, he stood proudly as mascot before the Merseyside derby and best of all, he could do anything and everything with a football.
'Remember the name, Wayne Rooney!'
How could we ever forget, as this young lad from Croxteth with royal blue Everton pennants sat on his bedroom window, took down a looping ball with an exquisite touch, turned with purpose and ferociously curled the ball high and in off the underside of the bar with all the precision of a football great in his prime; the despairing David Seaman and Arsenal's unbeaten record, beaten, all by a 16-year-old Toffee.
It was a privilege to watch Rooney burst onto the scene, his goal so mental the television footage trembles into focus as it bounces along a rapturous Goodison.
This was a boy already a man - his frame, strength, his ability to compete. He was a fighter, fighting on the pitch and sparring with his hero Duncan who had taken him under his wing; Wayne was ready and wowed us all. He was ours and one of us, Everton to the core.
He broke our hearts but this supreme talent is one of the finest to play the game.
Winning the lot as his genius deserved, he returned home and at least bagged his goal at Anfield, living a small part of all our dreams; Wayne Rooney's dreams.
Once a Blue, Always a Blue.
Striker — 10 Romelu Lukaku (2013-17)
The best scorer many of us have seen at Goodison Park and Everton's top goal-getter in Premier League history.
The ball at his feet, he could be explosive when running from deep and would bulldoze and bamboozle all those who dared stand in his way.
Strike after strike after strike, Lukaku knew where the net was and was an absolute goal monster, ravenous to get his name on the scoresheet.
He had his flaws - his touch improved massively after a summer of dedication, determined to be the best - but goals are goals and we watched him grow into a brilliant attacker; a brilliant Everton attacker. What a player.
It is a shame then, that he isn't as revered as he should be. Respected and liked as the player who put the ball in the net more than anyone? Definitely.
Adored, admired and remembered as a true Toffees great? Not as much.
I do worry that he may talk of his desire to join Anderlecht's all-time team next time he is in the company of the Belgian press...
However: Top Everton scorer. Premier League history. Blues record-breaker.
Subs
Goalkeeper — 25 Nigel Martyn (2003-06)
Nigel Martyn would have certainly claimed the starting-spot in this team had it not been for Southall's successes. As far as Premier League goalkeepers go, he was one of the very best.
Dependable, assured and so steady, the stopper arrived at Goodison in the twilight of his career and had a calming influence on the team which bore perfect results.
So tight and solid at the back, Evertonians could rest easy, safe in the knowledge he would not let them down in keeping the ball out of the net.
Martyn should have been an Everton player long before his arrival in 2003, the club dropping the ball in the nineties and literally directing him to Leeds United.
A really good goalkeeper and a really good bloke, he was a key man in Everton's unexpected top four finish and is fully deserving of his place in the squad.
Left-Back — 12 Lucas Digne (2018- )
The perfect long-term replacement for Baines, it says it all of his contribution so far that the Frenchman makes the bench of this team after just a year with the club.
Free-kick goals and churning out assists, if every position in the current Everton team was filled with a player of Digne's calibre, Marco Silva's side would likely be winning silverware every season.
Centre-Back — 16 Joleon Lescott (2006-09)
Scoring goals at one end and keeping them out at the other, Lescott was a quality centre-back.
Finding the net ten times in one campaign, the giant defender was always a threat and he could play, too, able to keep it on the deck and mix things up.
Formed a formidable partnership with Jagielka and it was galling to see that broken up.
Central Midfield — 10 Gary Speed (1996-98)
Another boyhood Evertonian, Gary Speed could sit and spread play before going on lung-busting runs to fire the ball in the net.
"This was my club," he said on joining the Blues. "My dream was to play for the club and it's never really faded".
Always eyeing his next pass, Speed was always one step ahead of the game and possessed an incredible football mind. Flitting and flying between the lines, he pushed Everton forward and was always a threat, chipping in with 18 goals in 65 appearances.
Also, one of few players in our history to be right up there with Andre Gomes in the 'Everton Handsome' stakes. Gary Speed was a dreamboat of footballer.
Right Midfield — 7 Richarlison (2018- )
'He's Brazilian, he only cost £50million and we think he's fucking brilliant, Richarrlllliiiisssson'
Thirteen goals in his debut season, there's more to come from our explosive frontman.
Not only does he find back of the net but his work-rate is amazing and he must be a dream for the men playing behind him.
Striker — 9 Duncan Ferguson (1994-98, 2000-06)
Big Dunc. Big Duncan Ferguson. The ultimate Everton No 9 for an entire generation of Blues.
Towering headers, the deftest first touch and a heap of defenders left on the floor, Duncan's most endearing quality is his love of Everton.
He's one of us, an adopted Scouser in the blue half of Merseyside, who loved to score against that lot, fought for the badge (sometimes too literally) and even has the badge tattooed on his arm.
'I would say it's my family and my life,' he told me in 2015 when I was lucky enough to interview and asked what Everton meant to him. 'It's all our lives. We've got a family and then we've got Everton and that's what it means to us. That's what it is and that's hopefully what it will always be.'
Yes, there were the needless suspensions and yes, we completely bypassed the midfield when Duncan was on the pitch but, back to goal, bullying and harassing the opposition, he was a shining light at a dark time as he hammered in goals to help keep us up. A real Everton hero.
Note: If I was picking this Everton team, there would be eleven Duncan Fergusons, he'd be captain, manager...
Striker — 9 Kevin Campbell (1999-2005)
He scored in a scramble, he knows where the fucking net is!
Super Kev Campbell was our saviour, the Messiah we so desperately needed as we stared down relegation in 1999.
After rescuing him from his Trabzonspor nightmare, the loanee netted nine goals in five games to save us. Not all heroes wear capes.
We fell in love and so did he. Campbell is Everton's fourth-highest goalscorer in Premier League history.
Reserves
Goalkeeper — 1 Jordan Pickford (2017- ) The current Everton No. 1 beat Tim Howard to take the third-choice goalkeeper spot in this side.
Sometimes careless and sometimes erratic, there's no denying his quality. A great shot-stopper, he can win matches single-handedly and can absolutely ping it too.
Right-Back — 2 Tony Hibbert (1998-2016) Caused a Goodison riot and pitch invasion by lashing the ball home in his testimonial having never scored a competitive goal.
Probably shouldn't have been anywhere near the FA Cup final, just as he got nowhere near Florent Malouda, but absolutely a part of the Moyes furniture at Goodison Park and boy could he tackle.
Centre-Back — 15 Sylvain Distin (2009-15) The perfect replacement for Lescott. Distin was a don of a defender who could cover plenty of ground. Distin really looked after himself and was a top professional.
For six years, Evertonians needn't worry when they read his name on the teamsheet, and he's another who formed a brilliant defensive pairing with Jagielka.
Centre-Back — 26 John Stones (2013-16) A Rolls Royce of a footballer. Could tackle too. Once told Goodison to calm it.
Money can't buy you Stones (unless you bid £50m, then he's yours).
Central Midfield — 17 Idrissa Gana Gueye (2016-19) Idrissa Gana Gueye tackled everything that moved with huge success.
Central Midfield — 26 Lee Carsley (2002-08) One of few Evertonians with a Merseyside derby named after him, Carsley, a Walter Smith signing, enjoyed a renaissance under David Moyes to become a key cog in the side which battled to finish in the top four.
In the age of the 'Makelele' role, 'Cars' was an expert in protecting the back four, with his tough tackling and excellent patrolling and positioning vital to the team's ability to grind out clean sheet after clean sheet.
Central Midfield — 16 Thomas Gravesen (2000-05/2007-08)
Tommy Gravesen was mad. From launching fireworks at Bellefield to taking paintball guns to training, he was quite the character.
The Great Dane would traipse across the pitch, following the ball wherever it went, eagerly hunting it down as he crept like a menace.
Despite his image as a tough tackler, he was anything but a football yard dog, possessing excellent technique, control and skill. A really classy player and a huge part of Everton's climb up the table in 2004 before his shock, but deserved, move to Real Madrid.
Central Midfield — 25 Marouane Fellaini (2008-13) The ball was a magnet to his chest as he plucked it from the sky and palmed off defenders.
A key player at both ends of the midfield, Felli scored some vital headers. Iconic hair.
Central Midfield — 18 Gareth Barry (2013-17) 'Gaz' Barry was a super savvy player, not too dissimilar to Gary Speed - minus the goals – in terms of stature and nous on a football field. Just imagine those two in five-a-side - you'd have never ever ever got the ball off them.
From signing, to being an important cog of the Martinez machine which achieved 72 points, Barry perhaps changed the entire opinion of the fanbase more than any other player, in record-breaking time.
On his arrival, many were underwhelmed. After one game, we never wanted him to leave.
He would glide across the pitch, letting the ball smoothly roll across his path before stepping in to beat his man and play. Pure class.
Winger — 11 Anders Limpar (1994-97) Think back to Anders Limpar and I can guarantee you envisage him galloping graciously with the ball, head up, eyes alert, ready, ready and waiting for that perfect moment to pick the perfect pass (or you picture both penalties against Wimbledon)
Vision, pace and an excellent dribbler, Limpar was an enigma, admittedly inconsistent at times, who drove forward at every opportunity but did so with the lightest of feet.
It's no surprise he still has an army of fans who can't forget sitting in glee as he caressed the football and made things happen with scintillating runs and skill.
Born in Solna, Sweden, here is another boyhood Blue.
Attacking Midfield — 8 Peter Beardsley (1991-93) Thirty-two goals in two seasons for the Blues, Beardsley had the brains to unlock defences and find the tiniest corners of the net. So smart on the ball, he had ability in abundance and played some glorious football - running the Everton show on his todd.
Striker — 8 Louis Saha (2008-12) A class act. His touch was stunning, his movement expert. Lethal from range, his left foot could cut through the ball like a knife through butter. Just lovely to watch him play football. But for injury, he'd have enjoyed even more plaudits at the very top of the game.
Striker — 15 Paul Rideout (1992-97) A match-winner in an FA Cup final for Everton Football Club. Yep, you youngsters (right up to you 24-year-olds reading too), they do exist.
Striker — 22 Yakubu (2007-11) Feed the Yak and he will score. We put things on a plate and he gobbled the goals up. One of the most natural finishers we've had and a tad under-rated. Right place, right time.
Deadline Day signing
Central Midfield — 18 Joe Parkinson (1993-99) Joe Parkinson was on standby even as I was putting these last few player profiles together.
However, such was the outcry for Joe's original omission that he just has to be included in the main squad.
'How is Joe Parkinson being outscored by Idrissa Gana Gueye and Lee Carsley?' was asked passionately by every Evertonian over the age of 30, perplexed that such a player could be so disregarded.
A combative midfielder signed by the disastrous Mike Walker to little fanfare, he was one of the Dogs of War unleashed by Royle, tasked with diligently patrolling every blade of turf and tackling and unsteadying the opposition. He was brilliant at it and a great player to boot, though it was Parkinson doing the kicking.
Sadly, he was forced to retire at just 28, a knee injury ending his career.
Evertonian Jonathan Gray on Twitter summed it up best and made the best argument for his inclusion: 'You only have to look at Parkinson's influence to see how good he was. Title dark horses with, relegation-threatened without'.
On Standby
Tim Howard, Steve Watson, Gary Ablett, Andy Hinchcliffe, Richard Gough, David Weir, Johnny Heitinga, Don Hutchison, Leon Osman, Graham Stuart, Andre Gomes, Landon Donovan, Bernard, Gylfi Sigurdsson, Nikica Jelavic, Steven Naismith, Samuel Eto'o, Tony Cottee, Daniel Amokachi

Follow @EllBretland
Share article:
Reader Comments (117)
Note: the following content is not moderated or vetted by the site owners at the time of submission. Comments are the responsibility of the poster. Disclaimer
Peter Warren
1
Posted 15/08/2019 at 07:19:04
Enjoyed that and difficult to argue with the starting eleven. On his day, Ferguson I believe would easily displace Lukaku and Anders was simply genius when on form and would replace Pienaar.
Drew O'Neall
2
Posted 15/08/2019 at 07:32:19
Yakubu, Campbell and even Beardsley did more to deserve to be in that team up front ahead of Rooney.
Mike Gaynes
3
Posted 15/08/2019 at 07:33:15
Nice, Elliott... from the downside to the up!
And your picks are amazingly similar to mine, with only a few small objections. Much as I loved watching Peanuts, an attacking mid who scored only a goal every ten games does not belong ahead of a creative genius like Beardsley or a skyrocket like Limpar.
On the subs bench, I think Howard shades Martyn (of course) and there must be a place for Gana.
And as a matter of personal preference, I can stomach only one Ferguson, and never, ever as a captain. (Sorry, Peter #1, but for all his intimidation he wasn't half of Lukaku.)
Otherwise, very well done sir!
Jim Bennings
4
Posted 15/08/2019 at 07:33:49
Ok here's my bunch
(GK) Big Neville
(RB) Seamus Coleman
(CB) Dave Watson
(CB) Sylvain Distin
(LB) Leighton Baines
(CM) Tim Cahill
(CM) Mikel Arteta
(LW) Steven Pienaar
(RW) Andrei Kanchelskis
(FW) Romelu Lukaku
(FW) Duncan Ferguson
(Subs and special mentions)
Nigel Martyn
Matt Jackson
Davie Weir
Alan Stubbs
Gary Ablett
Andy Hinchcliffe
Don Hutchison
Kevin Campbell
Lee Carsley
Tommy Gravesen
Gary Speed
Gareth Barry
Graham Stuart
Anders Limpar
Paul Rideout
Yakubu
Tomasz Radzinski
Wayne Rooney
Peter Beardsley
Marouane Fellaini
Leon Osman
Louis Saha
There were some tough decisions and exclusions, personally I don't think Rooney was here long enough when at his peak to warrant a place in the first eleven.
Players like Beardsley could have become legendary had he also been here an extra two years or so.
I excluded Tony Cottee because I feel his best years were prior to 1992.
Midfield was tough, we've had some cracking players over the years but the mainstay of Arteta and Cahill deserves the place.
I don't include Tim Howard quite simply because Nigel Martyn played for us and he was in a league of his own in those first two season's.
Unlucky to miss out would be the likes of Craig Short, Joe Parkinson, Paul Rideout, maybe even forgotten gems like Gary Naysmith who to be fair always used to put in a good shift.
I included Tomasz Radzinski because I felt in Moyes first two seasons with better players around him and better luck with injuries that lad could have been amazing, he was harshly playing second fiddle to the Rooney bandwagon in 2002, but arguably outplayed Wayne that season.
Joe McMahon
5
Posted 15/08/2019 at 07:45:37
Jim, that's an amazingly rather large sub bench. Gary Speed and Peter Beardsley were Rolls-Royce players, Duncan Ferguson wasn't.
Glad Craig Short was mentioned. Wayne Rooney was great only for another club down the East Lancs.
Robert Leigh
6
Posted 15/08/2019 at 08:48:32
Southall
Coleman - Watson - Jagielka - Baines
Cahill - Gana - Arteta
Kanchelskis - Lukaku - Pienaar
Howard, Distin, Hinchcliffe, Carsley, Limpar, Rooney, Ferguson
Howard has to be on the bench given the number of appearances he made. Gana is the only 'green' addition as I think it's too early to put the like of Digne in there... Rooney gets in for the excitement he created when he was both a Youth Cup player and when he was breaking into the first team.
Great memories of all though that's for sure!
Mike Galley
7
Posted 15/08/2019 at 08:50:19
Great read that. Thank you, Elliot. It's easy to forget that we've had some genuine quality in what has been the leanest of times for our club. Unfortunately, never all at the same time!!!
I like that first eleven, but I'll probably get shouted down for this. I've always thought Phil Neville has been the best defensive right back we've had during this time. I know he never always played and he gave very little going forward but he's one change I might consider to the team above.
Another would be the possible inclusion of Lescott ahead of Jagielka. I love Jags (and Seamus for that matter) but I always thought he just edged Jags. (Dons tin hat!!!)
Also, as has been previously mentioned, I'd think about swapping Limpar for Pienaar. Just feel he would have been more likely to create a bit of danger for the opposition. I still dream of his slalom run at Anfield as he set up Andrei's second!
I think I'd also find a place for Yakubu at least on the bench. I'm probably nitpicking now though!!
Mike Allison
8
Posted 15/08/2019 at 09:13:33
Solid selection but I can't agree with Rooney. Also, whenever people pick these select XIs they do away with the most important position on the pitch, the holding midfielder. This gives a choice between Barry and Gueye to replace Rooney.
I've just scanned up and I think that makes my team the same as Robert's although I'm not sure I can leave Barry out. Distin was immense but Jagielka and Watson were essentially one-club men so if that counts for anything they stay in.
Stan Schofield
9
Posted 15/08/2019 at 09:38:22
Although Rooney wasn't here very long, he is such a unique genius, clearly the best British footballer of his generation and one of the best in the world, that he must be in that team. So in this case, quantity of time was limited, but that factor is trumped by sheer quality of time.
Dave Williams
10
Posted 15/08/2019 at 09:54:11
Craig Short??!!
I'd love to have seen the postings from you Jim back in those days after his performances! A steady player but never a great for me and I always felt he had a mistake in him.
That said, I wouldn't argue with any of your team apart from Duncan – I saw enough of Rooney in his first spell to select him. A home game against Bolton sticks in the memory where he didn't score but ran riot against their ex-Real Madrid player with the long black hair( can't recall his name) and was totally unplayable.
Saha at his best would come very close. Duncan on his day was unplayable but there were not enough of those days for me.

Martin Nicholls
11
Posted 15/08/2019 at 09:58:44
Stan - I'm with you about Rooney. I've never forgiven him (as I suspect Mike hasn't) for his eagerness to jump ship but, based on ability alone, he's the best EFC player I've seen for many years and quite possibly the best we've actually produced in the near six decades I've been going to Goodison. Indeed, have we ever produced a better player during our entire history?
Mike Galley
12
Posted 15/08/2019 at 09:59:47
Dave #10. Wasn't it Campo?
Martin Nicholls
13
Posted 15/08/2019 at 10:00:40
Dave #10 – Ivan Campo? I remember that game too – was it 0-0?
Martin Nicholls
14
Posted 15/08/2019 at 10:01:16
You beat me to it, Mike!
Tony Hill
15
Posted 15/08/2019 at 10:22:18
No we haven't, Martin @11. It is a sort of heresy to say so but he is the best for pure talent that I have ever seen in an Everton shirt. I still hark back to his performance in a 0-0 v Bolton at Goodison. Staggering it was.
Ray Roche
16
Posted 15/08/2019 at 10:26:20
Another good article, Elliot, and it certainly brings back memories.
However, and this will upset a few, was Neville still at the peak of his abilities in the Premier League era? I don't think that he was the player who stood head and shoulders above the World's best keepers like he did when he was in his pomp in the 1980's*. And the longer he stayed the more timber he added and the more static he became.
Just a thought, which brings me onto this:- If Neville is picked because of the player he WAS, then who else would get into the squad? Think of some of the players who WERE great but whose star had begun to fade, or disappeared altogether by the time we signed them. Gascoigne, Ginola, Sansom, Gough, Beardsley, or players who left like Lineker and Keown.
True, Beardsley has been mentioned but was he as good as when he played for the RS? If so, why did they let him go? And Gough was brilliant for the short time we had him but if he'd signed when he was 21? What heights would he have risen to in our eyes?
* Just for the record, Neville is the best British keeper I've seen and the best despite Schmeichel's later dominance. But was he as athletic and commanding as he was in, say, 1985?
This is all in the name of debate.
Peter Mills
17
Posted 15/08/2019 at 10:37:49
Good article, Elliott. If we could have had Gascoigne, Ginola and Eto'o in their pomp, they would have provided a bit of competition too.
Stephen Brown
18
Posted 15/08/2019 at 10:38:53
We never saw the best of Rooney plus a lot of others.
A team including these players at their peak would have been awesome:
Rooney, Martyn, Beardsley, Sansom, Gough, Ginola, Gazza, Blomqvist, Hughes.
Stephen Brown
19
Posted 15/08/2019 at 10:40:10
Sorry, Ray, just seen your post!! Great minds think alike!!
Ray Roche
20
Posted 15/08/2019 at 10:42:06
Great minds, eh? Maybe yours, not mine!!
Steve Ferns
21
Posted 15/08/2019 at 10:42:11
It's always difficult to do these things, so much so that in doing mine I left out my favourite player, Anders Limpar!
For me, the best season Everton had (in the Premier League era) was finishing top 4. That season's star man was Thomas Gravesen. We got 40-odd points with him, and half that without him. Therefore, he should be the first name in that side, not a reserve.
The other great season was Martinez's 72 point season. That team had our only had one great Premier League striker of note in Lukaku. Rooney was a fleeting player, here for two full seasons, one as a boy and one as a has-been. He doesn't make the cut, or even close to it. I loved Big Nev and Dave Watson, but we're talking Premier League not the '80s and by 1993 they were both old, even if they won the cup two years later. So they get pipped for players who played for longer in the era.
Lukaku
Pienaar Gravesen Cahill Kanchelskis
Carsley
Baines Distin Jagielka Coleman
Howard

Tommy Carter
22
Posted 15/08/2019 at 10:54:43
Lescott > Waggy but otherwise spot on.
David Ellis
23
Posted 15/08/2019 at 10:59:09
Ferguson would be nowhere near for me.
I like Steve Fern's line up but would probably:
1. Shoehorn in Arteta over Carsley. Not really his role but a far superior player.
2. Martyn over Howard. Southall was past his best by the time the Premier League started.
3. Watson (captain) over Distin
4. Funny – I would keep Lukaku but in the all-time side but wouldn't have him in the current squad (he just doesn't fit). Agree that Rooney wasn't around long enough to merit selection.
5. Richarlison over Pienaar
Dave Harvey
24
Posted 15/08/2019 at 11:29:36
Must be a shout for Richard Gough and the Yak. At least a special mention.
Tommy Carter
25
Posted 15/08/2019 at 11:43:23
David @23
It's a difficult one with Rooney. As he is easily one of the best players I have seen in an Everton shirt in the flesh. Circa 2002-03.
One home game vs Blackburn in the 2002-03 season was just breathtaking. I was pinching myself and this was a 17-year-old lad.
We certainly didn't see the best of him. And we didn't see that much of him, but what I did see warrants his inclusion in my opinion.
Materazzi and Dacourt were also vastly talented but they played less games than Rooney. Made less impact in big moments and ultimately did not prevents a very poor season.
Jim Bennings
26
Posted 15/08/2019 at 12:15:46
Dave 10
I think back then I was younger and easier to please haha!
Let's not forget when we signed Craig Short in 1995, we had just won the FA Cup and Charity Shield (bigger back then than now) and it was only 8 years since we had last lifted the League in 87'.
I think we all had a bit more patience back then, 25 years on however we are all a lot more worn out watching Everton.
Tim Drake
27
Posted 15/08/2019 at 13:01:27
So where would this team finish then? Could they topple Man City?
Depressingly, I'm not convinced...
Andrew Keatley
28
Posted 15/08/2019 at 13:33:24
Steve (21) - Rooney has three seasons with the first team, not two. 2002-03, 2003-04, and 2017-18. A glaring oversight from someone with your recall.
As for whether or not he deserves a place in the all-time Premier League Everton XI, I think I'd be playing the 2004 Wayne Rooney over pretty much anyone else. He was an extraordinary talent.
Raymond Fox
29
Posted 15/08/2019 at 13:39:44
Just spent ages typing out a detailed reply and blooming lost it somehow. Pressed the wrong button I guess.
Anyhow great summing up of your best Everton players, the only trouble Elliott is its very hard to disagree with your picks and reserves, you've nailed it in one.
Rooney has to be in, okay he wasn't here long but for sheer brilliance he's a standout.
Coleman shades it just over Hibbert.
Jagielka is the weakest pick I think, Stones will become a better player but he wasn't when he was here.
Pienaar just makes it because of his link with
Baines and Baines because of the length of time he's been quality. Digne is one hell of a player and he could overtake Baines if we can keep him at Everton. We must if we want to progress.
As I say, Elliott, I'm going have to be boring and agree with the team you have chosen.

Dennis Stevens
30
Posted 15/08/2019 at 13:40:30
I can't believe Rooney gets in ahead of Carsley!
Jim Harrison
31
Posted 15/08/2019 at 13:44:16
I have to agree with other posters, but Southall wouldn't be in my Best Premier League era team. He would be the best ever, but he was in the tail end of his career. The 1995 FA Cup Final was amazing, but that was the cup, not the league!!
And I put Howard above Martyn. I know he should have been moved on earlier, but he was the first choice for many seasons, whilst Nige had two.
Ian Bennett
32
Posted 15/08/2019 at 13:52:41
A team that could challenge for a title:-
Southall
Coleman
Baines
Keown
Stones
Gana
Arteta
Cahill
Beardsley
Lukuka
Rooney
Subs
Speed
Saha
Lescott
Watson
Martyn
Kanchelskis
Richarlison

Jim Wilson
33
Posted 15/08/2019 at 13:57:21
I would replace the over rated and worst football character of all time, Lukaku, with either the under rated but very effective great character Kevin Campbell or the brilliant Duncan Ferguson, who both would have been a great foil for Rooney. Lukaku definitely wouldn't have been.
Otherwise okay.
Dermot Byrne
34
Posted 15/08/2019 at 14:10:20
Duncan McKenzie.
One of the players that most made me laugh with his skill and cheek.
Any place?
Jamie Crowley
35
Posted 15/08/2019 at 14:12:35
A couple of these guys are "before my time", but I've read enough to know they warrant inclusion, despite not seeing them with my own eyes.
Southall
Coleman Stones Watson Baines
Pienaar Arteta Kanchelskis
Felliani
Rooney Lukaku
Bench / Subs / Have to be included: Yakubu, Cahill, Barry, Carsley, Gana, Howard
I include two defensive midfielders on the bench only out of respect for both, not a fantasy game situation. Barry and Carsley were great players. Have to be included. So I'm taking a bench / honorable mention of 6 players.
Felliani is the one that's more heart over head. Cahill is probably better. But I just loved the 'fro. And in that advanced position if you have to play long ball, the Fella had the best chest control I've ever seen. I love Cahill too. But such is my affinity for the Big Fella, he just has to make it in for me.
Remember how good Arteta was on a ball? My God what a player.
Manager - Martinez. Yup, I said that. Best points haul and best season of my 12 years. So despite fucking it all up because he couldn't understand the concept of defending, I'll name him manager and watch him take the above players, and reach the Champions League, knowing full well it'll all fall apart! But it'd be a magic season and ride.
Besides, Moyes was boring AF in an honest moment.
Favorite player in the Premier League era? Has to be Seamus Coleman. Never looked for a transfer / loyal, never bitched, always put in 100%, got him for almost zero money, determination after a horrific leg break, Irish (ya, that's a thing), by all counts a top human being. Legend. They should sing his name just after Andy Gray, before they get to Neville Southall.
James Flynn
36
Posted 15/08/2019 at 14:21:21
Fellaini is in any Everton Premier League Era First 11.
Jay Harris
37
Posted 15/08/2019 at 14:23:12
Great post, Elliott.
I would just like an honourable mention for Manny Fernandes. He was only on loan (Thanks to Kenwright) but what a player.
Mike Gaynes
38
Posted 15/08/2019 at 14:36:36
Mike #7, no tin hat necessary, but for pure defense Hibbert was superior to Neville in every way -- faster, better tackler, better positionally. I suspect your memory of Pip is enhanced by that one magnificent tackle, but there were entire seasons when you never saw Hibbo beaten once off the dribble.
Jamie and James, to me Cahill's extraordinary ability to score the clutch goal -- the soaring header in the 88th minute -- and his inspirational quality make him a lock for me. I was a huge Fellaini fan, but Cahill has to just shade him. (Remember when Moyes ran out of healthy forwards and played them up front together?)
Dermot Byrne
39
Posted 15/08/2019 at 14:38:38
Whoops. Just realised it is PL era.
No Dunan Mac
Dave Abrahams
40
Posted 15/08/2019 at 14:57:08
Carsley and Fellaini as central midfield players? I couldn't stand either of them. Carsley, master of the 3-yard pass then standing there like a policeman on traffic duty, pointing his hands all over the place.
I remember him vividly in a game versus Aston Villa, Cahill had his man blocked then Cahill slid in from nowhere to help him out, he missed the ball but caught Tim who was then carried off, and was out of selection for the next six weeks. A few minutes after that tackle, he caught Alan Stubbs in the same sort of situation, luckily he never hurt him too much. Stubbs looked at Carsley as if to say "We're on the same fuckin' team!" Carsley, a hard man on and off the field, was a schoolyard footballer, just followed the ball, rarely knew how to use it when he got it.
Fellaini, there is a case for him as an auxiliary striker but never as a central midfielder, too slow and very easy put off his game by strong tacklers.
Steve Ferns
41
Posted 15/08/2019 at 15:30:26
Andrew, I said two full seasons. He was a bit part player in his first season, starting only 14 games. The next season when he was an "extraordinary talent" he was so good that he took us to 17th. So no, not good enough for my best Everton XI of the Premier League Era. I'd rather go with a striker who scored the goals to take us to 72 points or the AMC who created the goals that took us to 4th.
Mike, Hibbo is often a figure of fun. I've said this before, but defensively he was brilliant and so, as England often came up against a superior side in the World Cup and lost, why didn't they have him in the squad for those games when they were under the cosh and someone like Glen Johnson was being asked to play on his heels and defending, which for me, is a bit like asking Walcott to play right back.
Mike, I think many of us scratch our heads at terms like "clutch player" which I now fully understand after watching the British Open and being subjected to a load of Americanisms.
Dave, I really rated Carsley. I think Gravesen was the main man responsible for winning the points that got us to 4th, but a lot of it came down to not losing games or goals, and a lot of that was down to Carsley. I think he was a great player and easily the best Defensive Midfielder of the Premier League era in the royal blue.
James Flynn
42
Posted 15/08/2019 at 15:34:34
Mike, no quarrel with Cahill. But Fellaini plays, too.
And when Jela first game in and Moyes pushed Fella forward and we were practically scoring for fun.
And a great defensive Mid.
Besides, Elliot asked for the best Squad, so plenty of room for others. Let Moyes have full squad of talent, no, "making up the numbers". Would have been a damn fine Team.
Steve Ferns
43
Posted 15/08/2019 at 15:38:55
James, I always thought that Fellaini was suspect as a defensive midfielder. He did have a good game there against Norwich for Martinez, just before Lukaku and co arrived as the window closed. But all in all, he lacked positional discipline and was clumsy in the tackle. His passing was inconsistent and took his entire Everton career to mature. I have not seen any figures, but I would bet that the Norwich game was his best for passing stats.
Alex Parr
44
Posted 15/08/2019 at 16:04:17
Hmmm... tough one... like people say, difficult to judge Big Nev and Waggy as they were beginning to lose their immense talents due to age when the Premier League started.
Martyn
Coleman
Watson
Distin
Baines
Barry
Arteta
Kanchelskis
Limpar
Cahill
Lukaku
Southall - Lescott - Speed - Gana Gueye - Pienaar - Dunc - Rooney
I'll probably change my mind in ten minutes!
Rob Dolby
45
Posted 15/08/2019 at 16:25:13
Here goes
Manager - Joe Royal. Massive Evertonian. I am convinced that if he had stayed we would have won trophies. No apologies about knifes to gun fights with Joe.
Big Nev – Arguably the best in the world at his peak
Jags – For years he was the glue at the heart of the defence. Deceptive pace and bravery. For 10 years he covered the errors of the players around him and probably helped us earn the money from Lescott and Stones sales.
Watson – Waggy would run through walls for the blues
Unsworth – Loved the club and didn't want to leave which probably cost him more England caps. He is obviously on all of the pens.
Coleman – The best attitude I have seen any player have in the shirt. The best example to any young player, his resilience is 2nd to none. I was at his debut in the mini Derby at Widnes. He was barking orders and bollocking people all over the park.
Baines – His attitude and quality just beat Hinchcliffe out of the team. For a couple of seasons in his prime he was the best left back in the league.
Cahill – Another never say die character. Reputations counted for nothing with Tim. The drive and desire to score goals set him apart. Pound for pound the best header of the ball in the team.
Arteta – A joy to watch. He had magic in his boots and would glide past players. Had fantastic quality on the ball. His injury prevented him from playing on the wing though that didn't prevent Arsenal playing him as a holding midfielder for years winning trophies. We should have done the same only fans wanted to see the old Micky.
Beardsley – When he arrived his passing and movement were 2 steps ahead of anyone on the pitch. I love watching players who do things naturally that others wouldn't even attempt. A creator supreme pity Mojo or Cottee never gelled the same with him as Andy Cole did.
Rooney – Just shy of 100 games for the Blues. One of the Worlds best players over the last 20 years it was just a shame the club was in a mess when he broke through. Truth be told his transfer fee saved us from going under.
Kanchelskis – A season of pure magic. He could do no wrong. Under the Kosh, pass it to Kanchelskis and score a goal pretty much summed up how deadly he was in that season.
Ferguson – Tough choice between the natural talent of Lukaku against the drive and desire from big Dunc. When fit Dunc wins. His big game mentality gives him the edge. Derby goals, Pulling the all-conquering United defence to pieces nearly every time he played against them. On his day he was unplayable. His devilment is exactly what Lukaku needs to step up a level.
Subs
Neville – One of the best captains during the prem era. He brought a level of order to us on and off the pitch. He gave 100% every time he stepped on the pitch for us with no airs or graces that he had taken a step down from utd to play.
Howard – 10 years as our number one in the prem era doesn't happen by accident. A great shot stopper he soon settled with the blues a consummate professional.
Osman – The most underrated player in the squad. Too Small, No Pace. Had a fantastic attitude and would never give up. Had a technique other players could only dream about. The year after Cahill left us Osman was my player of the season and controlled games for us in the centre of the park. A Guardiola type player.

Billy Kenny – The biggest waste of natural talent ever seen at Goodison Park. The lad could have been a legend at the club. We needed to have protected him from an early age but instead after football he was left with his empty headed mates who ruined him. Such a shame.

Dave Abrahams
46
Posted 15/08/2019 at 16:32:19
Steve (41), yes we all see players differently and I'm sure I'd be in the minority who didn't rate Carsley but I never thought he had the talent to be a premier league player and I certainly wouldn't say he was a great player Steve, but each to their own.
Gravesen was better, especially on his day, but Tommy was a nutcase and he could drive you to distraction, the day we played Shrewsbury in the Cup was one of them, surprised he was ever chosen again after that match, he just wasn't interested and it showed.
Jack Convery
47
Posted 15/08/2019 at 16:33:15
Thank you for mentioning Joe Parkinson. A player so very underated. If memory serves he was on the verge of an England call up but for that knee injury. I would have Richard Gough before Lescott as Gough was brilliant in an EFC shirt, despite his age. Nigel Martyn before Big Nev. Nev is my favourite EFC player). However he was past his as the EPL was formed. Kanchelkis and Rooney were the only World Class players to play for EFC in the Prem Era.
John Pierce
48
Posted 15/08/2019 at 16:35:06
That XI is pretty good, and I think reflects the team's fortunes throughout the premier league era. The standouts from the cup winning side, the absence of anything from the decade that followed and the bulk of the Moyes years.
I'm picking based on impact the individual had on team which makes a players standout for me.
Royle - last winning coach, debate ended.
Southall - attitude, longevity sheer ability.

Neville (c) - best captain in the PL, whilst not the best players impacted our 'soft touch' as a team.

Baines - only Hinchcliffe gets in the same zip code, would have won plenty at an elite side

Lescott - his goals and left foot edged him out over Jagielka.

Watson - influence and longevity, winning mentality.

Beardsley - I think many forget without this genius, who held the side together we would imo been relegated he was that important.

Kanchelskis - biggest signing we ever made in the PL era and delivered, he scared the shit out of opposition.

Gravesen - the key to our 4th place finish

Lukaku - sheer weight of goals made teams respect us, shame about the rest.

Cahill - attitude and impact against Liverpool and many many important goals.

Limpar - the creative hub of the '95 side added the elan to a midfield devoid of a forward pass!
Best mentions
Martyn - best since Nev.
Weir - very durable in a dour period for us.
Carsley - could Gravesen done his bit without him?
Campbell - simply saved us.
There you have it lads, pick the bones out of that!!! Great
Robert Leigh
49
Posted 15/08/2019 at 16:39:02
Rob Dolby - 45
Great, well-thought out post and I think your 12 man team has the rest of ours beat!
John Pierce
50
Posted 15/08/2019 at 16:54:18
Rob Dolby, great post, imo well interpreted. The inspiration for my effort. Much to sagely nod my brow to there.
I'd contest Ferguson and Arteta until I'm blue in the face! Duncan splits the fanbase on his impact to the club. He scored some important goals but his natural inclination to take the day off unless riled by something drove me crazy, a very undisciplined player who often let his team mates down. Hard pass!
Arteta well he could have been the best player we ever had in this era but the injury ruined him. From a player who could beat someone over 5-10 yards, the injury reduced him to a massively less dynamic player just prompting and ensuring continuity. Not his fault but others made more impact for me.
James Flynn
51
Posted 15/08/2019 at 16:56:00
Steve - "James, I always thought that Fellaini was suspect as a defensive midfielder."
Your wrong.
With Gana gone, though, happy to provide you with another opportunity to say, "he lacked positional discipline" with another defensive Mid. And one signed, managed, and coached over many years by Moyes. Pretty funny.
Here's a reason I've said several times that the Barry/Lukaku signings were what made our Team Roberto's first season. Now, Lukaku was going to get goals. It's what he did and does, and will keep doing at Inter.
But Barry was the key. Because without signing him, we would have had Fellaini out, only James McCarthy in. THAT Team doesn't get to 72 points.
Anyways, as I mentioned to Mike, Elliot asked for a best Everton squad. Fella's in my squad and he plays.
David Chait
52
Posted 15/08/2019 at 17:03:35
Fun read and glad to see the likes of Lukaku in there as he has been under appreciated cos of his likability...
Odd not to see Lescott anywhere unless I'm missing it... he was brilliant with Jags and they were best when with each other. Distin wasn't close to him in my opinion as he was far more one dimensional. Lescott was brilliant at reading play and intercepting high up the pitch. Awesome player.
Rob Dolby
53
Posted 15/08/2019 at 17:11:44
Robert 49.
Well spotted.
Sorry Unsy it's the bench for you.
Baines back on the pens.
Tommy Carter
54
Posted 15/08/2019 at 17:17:18
@45 Rob
Unsworth was fortunate to get one England cap. Cannot question his commitment and professionalism.
But he was an incredibly limited football player. He did have a powerful left foot on him though and his penalty record was exemplary.
When I say limited, I mean for seasons on end limited to receiving it in the left back position and pinging it diagonally to nobody to the far right hand side.
But Unsworth was never capable of becoming a serious consideration for England squads.
Terry White
55
Posted 15/08/2019 at 17:24:57
David (#52), Lescott - original article and posts #7 and 32.
Shane Corcoran
56
Posted 15/08/2019 at 17:45:43
The task needs clarifying; is it the best players based on their full Everton career they played in the PL era or the best performers for Everton in the PL era?
Steve Ferns
57
Posted 15/08/2019 at 17:51:25
James. I'm not wrong. You disagree you mean. I'd argue about Fellaini until the cows came home. I rated him as a player but he was no defensive midfielder. Moyes would agree with me on that. He played him higher up the pitch most often. The main reason is Fellaini could not hold position. He went walkabout. He had no idea how to shield a back four.
As for Barry and McCarthy they were a great combination in the double pivot position.
Martin Nicholls
58
Posted 15/08/2019 at 18:11:25
Steve F - why exclude Rooney as a "fleeting presence" during his first spell with us yet select Kanchelskis who played a lot less games (52) than Rooney did during that early spell (67)?
Tommy Carter
59
Posted 15/08/2019 at 18:13:45
@57 Steve
I have to disagree with you Steve. Fellaini settles really well into a defensive midfield spot in his second season with us.
He was outstanding. A performance versus Man City at home when he pirouetted around Craig Bellamy typified this.
A combination of Cahill losing his goal scoring touch in 2011/2012 and a complete lack of investment in the squad saw Moyes adjust his tactics completely and play to the strengths of Fellaini in a more advanced role. It worked well and when someone like him is capable of getting double figures, and probably he only player in the squad who can then he's not likely to be moved back into defensive midfield and he wasn't.
He was taken to Manure I believe to fulfill the defensive midfield role. But in a side not absorbing pressure like us but instead taking the initiative with him as the only foil, he was found wanting as he didn't have the manoeuvrability to do so. Don't get me wrong, he covered unbelievable amounts of ground for us and them but he simply couldn't transition quickly enough.
Christy Ring
60
Posted 15/08/2019 at 18:19:55
Some great selections,
Martyn- Nev past his best, but superb in '95 final
Coleman - class act
Jagielka - blue blood
Watson - stalwart
Baines - great attacking threat
Parkinson - injury robbed him of England cap
Arteta - Magical touch
Cahill - Desire, drive, goals
Kanchelskis - a winner Moyes biggest signing
Ferguson - on his day unplayable
Limpar- little genius
Big Nev, Lescott, Speed, Rooney, Saha.



Andrew Keatley
61
Posted 15/08/2019 at 18:22:49
Steve (41) - Come on. In the 2002-03 season Wayne Rooney played 1586 minutes for the first team in the Premier League, playing in 33 of the 38 matches. He may have only started 14 games but he was involved in 87% of our games. He was 16 years old when the season began, so he was hardly going to be starting every single game. I'd say he was a very active member of the squad, and classifying that as not a full season is pretty disingenuous.
John Pierce
63
Posted 15/08/2019 at 18:38:42
Rooney, well, did he impact Everton in the time he was here? A few headline grabbing goals and precocious performances but he didn't set the world alight, maybe because of how he was handled? A different conversation that.
Plenty others get in before Wayne for me.
Fellaini, whilst he could play in DM, his best position was behind Cahill. Way down any list of PL players for this XI.
I'm off for a lie down I've agreed with 'Ferns twice in one day. 🤔
Stephen Brown
64
Posted 15/08/2019 at 18:47:02
Christy - I think Joe Royle signed Kanchelskis!
Joe McMahon
65
Posted 15/08/2019 at 18:51:28
Christy, not sure who you are claiming was Moyes biggest signing but both Ferguson or Kanchelskis were years before Moyes joined. Possibly both Royle signings.
Tony Hill
66
Posted 15/08/2019 at 18:54:43
Memory may fail me but I think Rooney got some important goals in 2003-4. 17th is better than 18th.
Tommy Carter
67
Posted 15/08/2019 at 18:54:52
@65
Kanchelskis joined in 1995, Royle as manager. He chose us ahead of Middlesbrough who'd also had a bid accepted.
Ferguson joined on loan in 1994, under the stewardship of Mike Walker. Ferguson remained on loan and then was signed permanently by Royle once big Joe became manager.
He left us for Newcastle Utd in 1998, returning in 2000 under Walter Smith.
Andy Crooks
68
Posted 15/08/2019 at 18:56:40
The way Lescott moved left a bitter taste, for me though, he was our best central defender of the premier era by miles. Arteta was in my opinion our best outfield player of that era. Nev, one of the greatest of any era.
Mike Gaynes
69
Posted 15/08/2019 at 18:58:56
Steve #41, "clutch player" and "in the clutch" are American baseball terms 100 years old. No idea of the derivation.
Steve/Tommy/James, regarding Fellaini, I think we're talking terminology here. He was not a "defensive" midfielder in the Gana mold -- he could not mark or intercept passes in that position because he was too ponderous -- but like Gana he was probably the best ballwinning tackler among world midfielders in his time. You simply couldn't keep the ball from him. And that's a defensive skill. So phrase it as you wish, but he was brilliant at it. He was also somewhat underrated in attack -- for all his awkwardness he rang up 33 goals in 177 games for us, or a goal every 450 minutes, and added 26 assists (mostly on layoffs). That's not bad.
Mike Gaynes
70
Posted 15/08/2019 at 19:18:17
Tony #66, my memory was fuzzy too, so I looked it up, and Rooney wasn't really much help saving us from the drop. In our dismal final six games that season (two draws, four losses), Wayne scored only one goal.
Ryan Holroyd
71
Posted 15/08/2019 at 19:30:17
Martyn
Coleman
Jags
Lescott
Baines
Kanchelskis
Gana
Cahill
Arteta
Rooney
Lukaku
Tommy Carter
72
Posted 15/08/2019 at 19:35:30
@68 Andy
Thank you for being honest and also accurate. Lescott was fantastic at Everton. He easily makes our all time Premier League XI
Tony Hill
73
Posted 15/08/2019 at 19:41:17
Mike,@70, maybe have a look at the earlier games. I remember him scoring a few certainly. Perhaps they weren't significant ones. My memory is hopeless these days.
Kevin Prytherch
74
Posted 15/08/2019 at 19:45:59
Have to disagree with Fellaini as a defensive midfielder. He offered no protection to the back 4 and wasn't a patch on Carsley or Parkinson defensively.
Also, when Lescott left and the City boss said they were signing the best centre back in the country, Howard Kendall summed it up perfectly saying "Best centre back in the country? He isn't even the best Centre back at Everton" that accolade went to Jagielka.
Would definitely have Ferguson ahead of Lukaku, I can't imagine what Ferguson would have been like in a decent team.
Southall
Coleman, Watson, Jagielka, Baines
Kanchelskis, Parkinson, Arteta, Pienaar
Cahill
Ferguson
Joe Royle.
Subs
Martyn, Unsworth, Limpar, Barry Horne, Rooney, Campbell, Fellaini
Brian Hennessy
75
Posted 15/08/2019 at 19:48:36
It says everything about Ferguson that his name is mostly preceded by the phrase "on his day."
He is among a group of players who have played the game that were capable of great things "on their day" but more often than not were just plain average.
Did he give us some memorable moments? absolutely
Was he talented? absolutely
Would I bet my house on him giving 100% most of the time he went out on the pitch? Not on your life.
Mike Gaynes
76
Posted 15/08/2019 at 19:58:05
Well said, Brian #75.
Tommy #72, Lescott was an excellent player and I was a big fan, but Jags is a cut above.
Tony #73, Rooney scored nine goals that season, four of them in a 4-game stretch in late winter (including one gamewinner). He scored only once after March 20. So just from the record it does not appear he was among the most crucial figures in our survival.
Kevin Prytherch
77
Posted 15/08/2019 at 20:02:21
Brian 75 - if you read his autobiography he says the same. There's a quote in there when we were playing a pre-season friendly in Scotland and he was crap in the first half. The manager (can't remember who) asked him why and he responded saying that their centre half wrote to him in Prison so he couldn't very well go full pelt at him!! (Something along those lines).
Still, we've had very few players who could genuinely frighten top opposition. Rio Ferdinand once named him as his most difficult opponent and Alan Shearer pretty much told Newcastle to buy him so he could play alongside him.
Ciarán McGlone
78
Posted 15/08/2019 at 20:05:14
No room for Weir or Gough in any of these defensive line ups?
Tony Hill
79
Posted 15/08/2019 at 20:13:16
Thanks Mike, @76.
Tommy Carter
80
Posted 15/08/2019 at 20:13:42
@74 & 76
I have to disagree. Lescott had 3 excellent seasons with Everton and when he was finally played in the Centre Back role he was tremendous.
Jags was an outstanding player for us. In time he has shown to have played at a higher level for much longer than Lescott. But for those 3 seasons that a Lescott was with us, I've not seen a more consistent and brilliant defender at the club. And I include Leighton Baines in that.
Gordon White
81
Posted 15/08/2019 at 20:22:37
Firstly I don't think it's fair to include current squad members, many of whom may go on to be legends.
But most have only been here 5 minutes!
Secondly, the biggest impact Wayne Rooney had was his transfer fee when he went to Utd. And Lukaku was so disrespectful to the club and its fans, over a sustained period. How he could be in anyone's greatest team defeats me. Unless you're just a mercenary. His inclusion in such a squad would sully the reputation of so many other fantastic, loyal players over the years. Like my heroes on the team poster, that's been on my wall ever since 1985. Please don't.
I wouldn't argue with the rest of the selection. There's always an element of subjectivity in it.
John Pierce
82
Posted 15/08/2019 at 20:31:55
Tommy, I think you've framed the Lescott debate nicely.
For me his time at Everton he was better than Jags, and if that wasn't the case why didn't City pick Jags over Lescott? His left foot helped balance a side which was woefully short of them and his goals added the extra icing to pip Jags in an era were defenders needed to have more to their game.
Andy Crooks
83
Posted 15/08/2019 at 20:36:07
I agree, Tommy @ 80. We had Baines in the squad and Moyes chose to play Lescott at left back. Many ToffeeWebers at the time thought this to be ludicrous. Of course he did shoehorn Jags into midfield when only he could that there was any sense in this madness.
Tommy Carter
84
Posted 15/08/2019 at 20:48:27
@83 Andy. I'm glad you share my thoughts on this. And that others did at the time. I was on Bluekipper at that point and missed it all!
We nearly sold Baines in the summer of 2008. It was ludicrous. I am a big Moyes fan but he did often stumble his way to the correct decisions. It simply took too long for Baines to become a starting player and then for Jags and Lescott to become the starting centre back pairing. We never looked back after that.
The delay in signing Arteta was also mystifying as Moyes was pursuing Scott Parker. I also think that Moyes waited a year too long to go with Seamus at Right Back.
Tommy Carter
85
Posted 15/08/2019 at 20:53:17
@82 John
Thanks. I think it's the best way to interpret the question. Otherwise Gazza and Ginola are being picked at one end of the spectrum and at the other you have Hibbert and Barry Horne.
I like your overview of what Lescott offered. I honestly never saw him have a bad game for us, I saw him have many excellent ones.
He had all the ingredients, was strong in the air, deceptively quick and really powerful. He read the game well and was rarely beaten in any one on one situation. He could play too
Dave Abrahams
86
Posted 15/08/2019 at 21:01:52
Andy/Tommy, Moyes never initially played Leighton because he thought he had made a mistake in signing him, was ready to sell him before Baines made him realise what a good player he was.
Tommy you are spot on in saying he was chasing Scott Parker, in fact Parker was a guest of Everton when they played Arsenal in the last game of the season, Everton lost very heavily 6-0 or maybe 7-0 and Parker had seen enough to give Everton a wide berth.
Paul Hesketh
87
Posted 15/08/2019 at 21:02:21
Even if Spider-Man had been between the sticks at some point Big Nev would get the nod.

Have to disagree about Wayne being in the first eleven because for me Kev Campbell was the only reason we stayed in the Premier League
Steve Carter
88
Posted 15/08/2019 at 21:09:03
Tim Howard was a reasonable shot stopper, but not particularly reliable or commanding keeper - recall, for instance, his habit of indecisively flapping around at crosses. He may have been our first choice for 10 years, but he was nowhere near as good as Nigel Martyn.
Tommy Carter
89
Posted 15/08/2019 at 21:10:34
Didn't know that Dave. He went to Newcastle. I'd argue for the money as we had qualified for the Champions League.
It was interesting that Moyes felt it was one or the other. Both very good players but very different players.

Tony Cawson
90
Posted 15/08/2019 at 21:13:45
John Stones, head and shoulders above anyone else. Stones and Watson.
What about the evil little red gnome Nick Barmby?
If, for anything else, the token boo boy that no team will ever be without!
Andy Crooks
91
Posted 15/08/2019 at 21:48:57
Dave, it was 6-0, so bad that Tony Adams was allowed to stroll through and score as if he was George Best.
Tommy, I saw Seamus play for Sligo Rovers and I championed on this site to the extent that people said I was related to him. In my view, he could have been in the side long before he was. This is not to criticize David Moyes. The hand he was dealt afforded him little leeway to give youth a chance but... he was conservative, no doubt.
Incidentally, and, yes I know I've done it to death, but I watched Shane Duffy before he came to Everton and he looked really, really special. He has made a decent career for himself but I believe that the life-threatening injury he suffered at a key stage of his development robbed us of a future great captain.
Rob Dolby
92
Posted 15/08/2019 at 22:00:08
Tommy @ Various,
Lescott was indeed a fantastic player for us. I do feel that his final appearance for us severely dented his reputation. Moyes should never have played him.
From memory, didn't we get smashed at home to Arsenal and Lescott barely broke sweat.
Christy Ring
93
Posted 15/08/2019 at 22:10:25
Silly mistake on Kanchelskis, I remember Joe Royle buying him for £5m, superb first season, and never forget him scoring twice at Anfield.
Andy Crooks
94
Posted 15/08/2019 at 22:14:09
Sorry, Dave, I think I may have got the wrong game here. Can anyone confirm?
Jim Jennings
95
Posted 15/08/2019 at 22:25:36
Hi Andy (94)
The Tony Adams goal was on the second last weekend of the 98 season when Arsenal won 4-0 to wrap up the league. The 7-0 game was (I think) after we had wrapped up 4th in the 04-05 season and our players were on the beach.
I'm one of Seamie's biggest fans too but, in hindsight, I think Moyes managed him well. In fact, the loan spell at Blackpool did him the world of good. Probably the best player to come out of the League of Ireland since Paul McGrath, in my view.
I personally don't think Duffy ever had the potential that you think he had. Lower to mid-table Premier League was and probably is his peak, he's simply not mobile enough but is very good at the things he does well and a huge presence at set-pieces in both boxes.
Andrew Keatley
96
Posted 15/08/2019 at 22:36:05
Andy (94) - You've conflated two horrible Highbury trips. The Adams goal was the last in a 4-0 defeat on the final day of the 1997-98 season. In fairness to Adams, it was a decent left-foot finish. The 7-0 defeat was the penultimate game of the 2004-05 season.
I think we'd already secured 4th by then, so in many ways it was a dead rubber.
Kevin Prytherch
97
Posted 15/08/2019 at 23:02:12
Rob 92 - 6-1 home defeat. Lescott was awful
Steve Ferns
98
Posted 15/08/2019 at 23:11:13
Kevin, was that the 2009 season? God, I used to hate playing Arsenal back then.
Andrew, we played like we'd been on the lash the night before, rumours abound that this was indeed the truth.
Jamie Crowley
99
Posted 15/08/2019 at 23:27:29
That 6-1 may have been my worst day as a Blue.
Took the family out to an Irish Pub for the opening day. Some rich, arrogant Chelsea fan wouldn't shut the hell up, talking shit to me while we got absolutely battered, and Lescott played for his move to City.
"You're a smart American. Why don't you follow a Club worth following?"
Should have punched him in the face. Problem is, assault and battery have a way of sticking with you like luggage.
I was genuinely excited for that year, and the thrashing we took on opening day deflated my soul.
For that reason, Joleon Lescott will never, ever get anywhere near my Everton top XI.
And regarding Duffy, again no where near the Everton Top XI, but I loved the kid. I could never understand why he wasn't given more of a chance? Thought he was a very talented player. If not talented, he could have minimally been serviceable and valuable in his own way? Would anyone swap Duffy and Alcaraz? One went, one came in. Just sayin'. And we actually could use Shane now as cover possibly! Never thought we should have shipped him out.
Denis Richardson
100
Posted 15/08/2019 at 23:28:18
Interesting thread that takes you down memory lane.
Didn't play many times and unfortunately injury cut his career short but simply for the memories I'd have Amokachi at least on the subs bench. I'll never forget those two goals against Spurs and the sheer joy of getting to the final back in '95. Fact he subbed himself on that game adds to the legend.
Tough call but Limpar would be in my first XI instead of Pienaar and I'd have Lescott ahead of Jagielka. Most importantly though I'd have Kevin Campbell well ahead of either Rooney or Lukaku as without him we'd have got relegated and may still be in the Championship to this day.
Also special mention for Gary Speed.
James Flynn
101
Posted 15/08/2019 at 23:40:45
Steve, no I meant you're wrong.
Fellaini was, and remains, a midfielder and his defensive presence and pressure was outstanding. Opponents with the ball couldn't get rid of it fast enough when they saw Fellaini bearing down on them. If they didn't he took it from them. He did this routinely.
And Moyes didn't play him mostly forward until we were desperate for more attacking options, then continued with him pushed forward with Jelavic.
He's not in your or other Evertonians' side, fair enough. We're all just playing Football Manager.
He's in my side for sure.
Steve Ferns
102
Posted 15/08/2019 at 23:47:11
James, I couldn't disagree more. But there's no point going round in circles. I'll just leave you with the fact that Everton got more points per game with Fellaini at AMC than DM.
Don Alexander
103
Posted 16/08/2019 at 00:33:50
Discussion of Fellaini as even a possible member of our best ever Premier League eleven merely goes to show, from the boardroom, how bog-standard we've been since it began.
Fellaini? Jeez! The guy is a tall, angular Neanderthal with a propensity to get sent off, score a few for any team bereft of any other goal threat (he didn't score much at Man Utd though, did he?) and coast on the backs of true triers in any of his teams.
Frankly, in terms of attitude, I'd place Pembo above him because I have no time at all for pseuds, regardless of their physique or occasional "wow" displays, if for the rest of their time they fail to make the effort selection and us paying customers rightly demand. On these issues Fellaini failed.
Atop of that odious Everton podium in Premier League terms is "the legend" that never was, Ferguson, then Bilic, and then Nyarko (the only one of them all to be quite possibly mentally ill rather than a charlatan).
Frankly, you'd need dozens of podiums to accommodate the plethora of shite we've signed under the "guidance" of our self-proclaimed transfer "guru" whenever he could prise himself away from the West End or the darker recesses of the mysteriously "green" British Virgin Islands.
Jamie Crowley
104
Posted 16/08/2019 at 00:47:49
Don -
Who'd you like? Genuinely curious to see the other side of your coin.
Alex Fox
105
Posted 16/08/2019 at 00:50:54
Seen a few comments regarding Rooney's contribution to the 2003-04 season – particularly the suggestion that he failed to perform in the crucial run-in…
A couple of points:
Everton were never really in much danger of relegation that year, despite finishing 17th. We actually spent most the campaign lurking in lower mid-table. We had a disastrous end to the season, winning one of the last ten, but still finished six points clear of the drop.
So it's not like Rooney failed to perform in a high-stakes relegation fight. Also worth noting that he picked up the first of the sprained ankle issues that would plague him his entire career that March.
Rooney absolutely did perform throughout the majority of the season however. He scored hugely important goals throughout. He didn't really do consolation goals or late strikes to put the gloss on big wins. His goals won us an additional 12 points that year - a vastly more significant direct impact than any other player in the squad.
And so you could argue that the reason we were never really ever in any great relegation danger that year was largely down to a barely 18-year-old Rooney.
Personally I think it would be crazy not to have him in an Everton All Time Premier League XI. It's easy to forget just how good he was back then. I've never seen anything like it - not just in England, but anywhere. For two years, we had arguably the most exciting player in world football playing at Goodison.
Dave Bowen
106
Posted 16/08/2019 at 01:16:59
Romelu Lukaku should be revered on TW for the amount of goals he scored for us. Yet, every time the money-grabbing mercenary went away on international duty, he bad-mouthed the club. So I'm picking Yakubu, a player who always seemed pleased to play for us & scored a shed load. Honourable mention to Super Kev for saving us from relegation.
Big Dunc had everything except for the injuries, suspensions & occasionally the half-arsed attitude. Nigel Martyn is head & shoulders our best keeper in the Premier League era. Big Nev's (my favourite EFC player of all time) best days were pre-Premier League. Tim Howard.... meh, extremely average, always had a clanger in him.
Lescott simply has to be picked. Sheer class. That 6-1 defeat to Arsenal was down to Moyes. He should never have picked Lescott. That one game shouldn't detract from the fantastic player he was for us.
Andrew Keatley
107
Posted 16/08/2019 at 01:38:38
Alex Fox (105) - "For two years, we had arguably the most exciting player in world football playing at Goodison."
I'd probably say "most exciting young talent in world football" - but I agree with your sentiment; having him at our club and out on the pitch made me more excited for the future of Everton FC than I've ever been. We all know how that turned out...
For me, if we had every player who ever played for us in the Premier League - at the peak of their powers from when they were with us, all crammed into Finch Farm waiting for the team-sheet to go up* - then the Wayne Rooney of the 2003-04 season is at the very least worth on the bench. I'd probably start him though.
* I do know that's not how teams are announced. It's poetic licence.
Don Alexander
108
Posted 16/08/2019 at 01:53:39
Jamie, I'm 64 and have therefore seen generations of, and generally adored, Everton sides. With great regret I used to despair, as a young man, as to why we so often fell so hugely short of our unlovely, globally successful neighbours. It did/does my head in aged 64.
I mean no disrespect at all to the author of this piece but who beyond ourselves gives a fuck as to who our "greatest" Premier League team was? The best of them (assuming we've even had two such teams) were patently inadequate in achieving success. In "world" terms, we're massively below Leicester City and have been for the decades that Kenwright has infected the boardroom in pursuit of personal wealth only.
In short, we've never had a squad to make any top team blink twice before playing us.
I regret to say this... hence my enduring anger towards charlatan Kenwright.
Chris Davies
109
Posted 16/08/2019 at 03:10:34
Jack, 47,
Rooney and Kanchelskis, the only world class players.
I'd go Martyn, Lescott, Saha, Dacourt, Arteta, Gravesen were worldie players.
Martyn
Coleman
Lescott
Gough
Baines
Barry
Dacourt
Arteta
Kanchelskis
Rooney
Saha
John Pierce
110
Posted 16/08/2019 at 04:47:08
Chris, you cannot casually slot Olivier Dacourt in and not explain yourself. 😜
Darren Hind
111
Posted 16/08/2019 at 05:33:52
Lescott was a better defender than Baines, but for me Baines was the better footballer. A very tight call between two of our better Premier league players. Just Baines for me and although I get the calls for Beardsley (how could you not ?) I feel it Baines plays, Pienarr must also play. Those two produced the best football I can remember seeing since Sky invented the game.
I was always quite a critic of Moyes. I hated his glass ceiling mentality, but seeing the players he brought in listed down like this makes me realise he'd have made the greatest ever contestant on Bargain Hunt.
Man united broke Moyes. Before he made the foolish mistake of trying to follow Sirralex, he was a decent manager. You only have to look at what has happened to us since to realise that.
I look at some of these players he persuaded to come and I cant help thinking; With a little more devilment. He could have been a proper, proper manager.
Allan Hounsgaard
112
Posted 16/08/2019 at 18:40:56
This line-up would win Champions League most years if each player was playing in the same Everton team at the height of their career.
GK Southall
RB Coleman CB Gough CB Materazzi LB Baines
RM Kanchelskis CM Gascoigne CM Arteta LM Ginola
Attack Eto'o and Mark Hughes
Subs: Nigel Martyn, Slaven Bilic, Gareth Barry, Anders Limpar, Wayne Rooney, Louis Saha
This team could go toe to toe with almost any team in history, I honestly think.
Jim Harrison
113
Posted 17/08/2019 at 07:01:14
How can you play Hughes ahead of Rooney, Allan? At his peak, Rooney was one of the best in the world, capable of goals from anywhere, a great passer and game-changer.
Mark Murphy
114
Posted 17/08/2019 at 07:23:41
In keeping with my usual hopeless optimism, here's my greatest Everton Premier League team:
Pickford
Coleman
Keane
Mina
Digne
Gbamin
Delph
Gomes
Richarlison
Bernard
Kean
Premier League champions 2019-20
As I said – hopeless optimism...

John Boswell
115
Posted 17/08/2019 at 08:40:12
Mark at 114, I get you and feel the same way. You brought a big big smile to my face this wet morning.
Thank you, COYB.
Allan Hounsgaard
116
Posted 17/08/2019 at 11:55:57
You're most likely right Jim. Maybe I've got a soft spot for the era of the late '80s and early '90s. As I remember it Hughes was absolutely world class on his best days, but yes Rooney was better at his peak. Rooney or Hughes that would still be one hell of a side.
Seb Niemand
117
Posted 17/08/2019 at 13:49:00
The 'Makelele' role? No such thing. There's the Carsley role and that's that. To add to it, all of a now and then, he'd get a rush of blood to the head and go all Gerd Muller on us. Occasionally the perfect footballer, but always the perfect anti-footballer.
Franny Porter
118
Posted 19/08/2019 at 11:10:30
I know this is all subjective, but Heitinga and Eto'o should not be getting any mention here whatsover.
Heitinga had one good season then spent the rest of his time talking about who else he was going to sign for.
Eto'o was past his best and I can only remember one goal against Burnley away.
---
Add Your Comments
In order to post a comment, you need to be logged in as a registered user of the site.
Or Sign up as a ToffeeWeb Member — it's free, takes just a few minutes and will allow you to post your comments on articles and Talking Points submissions across the site.
---
---
© ToffeeWeb