Everton History
Blue Dragon – The Biography of Roy Vernon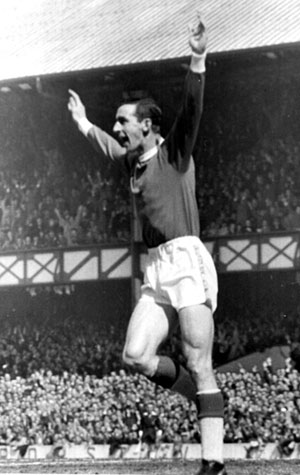 October 1962: Roy Vernon stands inside a deserted Goodison Park, attired in his Everton kit and pristine Puma boots. With the Gwladys Street stand as his back-drop, the Everton captain repeatedly volleys the orange Slazenger Zig-Zag ball for the benefit of a photographer. The resultant iconic image, which appeared on the cover of World Sports magazine, captured the mercurial Welshman at the height of his powers.
Sixth months later, on a glorious, sunny afternoon in Liverpool 4, the stage was set for 'Taffy', as he was known to his teammates, to give the most memorable display of his life.  At the final whistle, he was the hat-trick hero. Fulham had been swept away 4-1 and Everton's first post-war League title had been secured. A lap of honour and a champagne toast from the Directors Box followed. This would be the zenith of the Flintshire-born inside-forward's 15-year career with Blackburn Rovers, Everton, Stoke City and Wales.
As a teenager, Roy had slipped through Everton's grasp but blossomed at Ewood Park under the tutelage of Johnny Carey. On the international stage, he helped Wales to reach the 1958 World Cup Finals, staged in Sweden. He'd follow Carey to Merseyside in 1960 – one of the first big-money purchases made with the financial backing of John Moores. His comment upon joining the Toffees was typical of his sardonic humour:
"Some folk say the Goodison crowd are bad lads.
Some have said I'm a bad lad.
We should get on well together."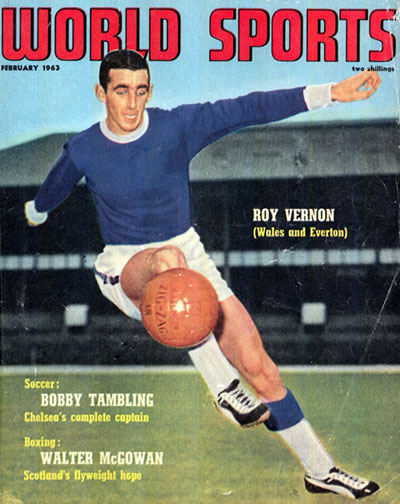 With a strike rate of better than a goal every other game, the sinewy Number 10 went on to become the Toffees' leading scorer in each of his four full seasons at the club.  With a devastating burst of speed from a standing start, a keen sense of anticipation, and rapier shooting, he dovetailed beautifully with the graceful Alex Young. Those that saw the pair in tandem insist that no more intuitive forward partnership has graced Goodison Park.
A chain-smoker, a joker, ultra-confident, and no respecter of authority, Roy would test the mettle of his club managers. Yet the uncompromising Harry Catterick was able to channel his energies positively, for a period at least.  Awarded the captaincy, his match-winning goals and infectious personality drove the team to Championship glory.  By 1965, he was out of favour at Everton and a parting of the ways suited both parties - if not the Goodison faithful.
At Stoke City, he thrived in the laissez-fare atmosphere engendered by Tony Waddington until injury and disciplinary issues saw him become a peripheral figure at the Victoria Ground. In 1972, he walked away from football, never to return – his love for the game dissipated. A lifetime of puffing on Senior Service cigarettes took its toll and, in 1993, he succumbed to lung cancer, aged just 56.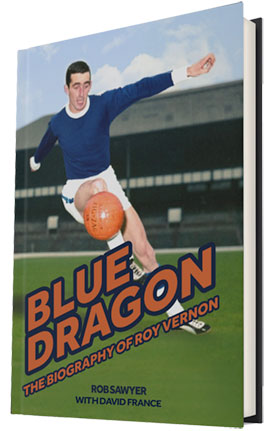 Although one the Blues' most important players in a golden area, Roy has been over-shadowed by Alex Young and other stars in our consciousness and affections. Had he still been alive to be lauded at the Gwladys Street Hall of Fame dinners, maybe things would have been different...
Now, David France and I have teamed up to bring Roy's colourful story to a wider audience and give him the credit he so richly merits. Drawing on first-hand recollections from teammates and supporters, archive material, and Roy's own unpublished memoir notes, we have been proud to chronicle the life of a unique talent and a true Everton great.
With deCoubertin Books, we have recently launched a Kickstarter initiative in anticipation of publication this autumn. Click this link to see a video about the book project and to learn how you can become involved and also enjoy exclusive benefits:
If you remember Roy, it's not too late to contribute your memories via royvernonproject@gmail.com
Reader Comments (22)
Note: the following content is not moderated or vetted by the site owners at the time of submission. Comments are the responsibility of the poster. Disclaimer
Jack Convery
1
Posted 01/07/2019 at 17:49:36
Good luck with this – me arl fella loved him!
Laurie Hartley
2
Posted 01/07/2019 at 19:15:18
He was a great great player, Jack – like greased lightning, great striker of the ball and could handle himself.

Jay Harris
3
Posted 01/07/2019 at 20:07:59
My abiding memory of "The Welsh Wizard" was the way he would weave around the opposition and then the goalkeeper and plant it in the net. He was also a great penalty taker.
I revered him more than "The Golden Vision" (sacrilege, I know) but he was such an amazing player.
It wasn't just the smoking that was an issue for him. I remember one away game where he was stranded on the beach at Formby / Crosby from the night before and missed the team coach. I think that was the beginning of the end as far as Catterick was concerned.
David Pearl
4
Posted 01/07/2019 at 22:25:26
Thank you. There's one of me dad's Xmas presents sorted.
Mike Keating
5
Posted 02/07/2019 at 00:14:24
I don't know what it was about this guy (I only saw him play a couple of times and hardly any video footage remains) but he is still my favourite player.
Coming out at half-time still puffing on a ciggie and then stomping it into the centre spot is such a part of legend — I'm not sure I ever saw it happen but I'd like to think I did.
Derek Thomas
6
Posted 02/07/2019 at 01:49:06
As a striker he was of the Rush - Lineker mold, using his speed of brain and foot to get in behind defenders. But he was also much more, he could hit them from distance too, I'm not talking 25 yards, but he was more than a tap in merchant and when he hit them they stayed hit... his penalties were the stuff of legend... don't remember too many headers mind.
But when required, he could be a true inside forward / No.10 and could sit deeper work, tackle and pick passes all day long.
The trouble was... from a managers point of view, he knew his own mind, as they say and spoke it too. He also liked a night out on the pop, which didn't help matters.
If I recall correctly, while at Blackburn promises were made to him and not kept and I got the impression while he didn't actually go on strike, rather..as was the fashion then...'withdrew goodwill' and sort of 'worked to rule'. This was a British 1950s 'I'm Alright Jack' workers' solidarity thing... (You had to be there.)
And again, Carey came in and talked him round, don't quote me on the actual chronology.
While Catterick might turn a blind eye when Roy was firing on all cylinders, once his form dropped, Harry didn't need any extra excuse to get rid... he was just one in a long list of players who got on Catterick's wrong side and paid the price.
As history shows, It all came good, but whos to say that Vernon would not have come good again, maybe in a deeper role.

Albert Perkins
7
Posted 02/07/2019 at 05:04:32
I can't remember him not scoring when it was him and the keeper. Also some sneaky low headers from corners. A penalty was a goal. So fast to the ball and always thinking to get advantage.
I remember one warm-up when he deliberately kicked the ball into the crowd near me and as he reached for the ball he took a ciggie from a supporter's mouth, took a drag and placed it back. A great little footballer and a great character.
Martin Nicholls
8
Posted 02/07/2019 at 10:01:55
Anyone remember his penalty in 1963 Charity Shield at Goodison Park against Man UUtd? Seem to remember him stepping over the ball at least twice (and being bollocked by the ref!) causing the goalkeeper to dive for "phantom" shots!
John Boon
9
Posted 02/07/2019 at 11:37:58
Along with Young and Bobby Collins, he was one of the great players we had in that era. Tremendous going forward and a lethal shot. He was a pleasure to watch. Provided skill and excitement for all Evertonians.
Dave Abrahams
10
Posted 02/07/2019 at 12:16:51
A great player with a little bit of devil him that made him better.
Jay (3) don't apologise for rating him better than " The Golden Vision" many Everton fans did, both exceptional footballers but Thomas Royston Vernon's consistency put him ahead of Alex, in my opinion.
I remember him from lots of games but, in the first Derby game for 11 years after Liverpool's lovely long spell in the Second Division, Everton were awarded a penalty. In the true classless style of Liverpool they fucked and farted apart, delaying the penalty, Roy was completely unmoved, stood there patiently with the ball in his hands until it was time to take the kick. Cool, calm and collected, he dispatched the ball into the net.
George Stuart
11
Posted 02/07/2019 at 12:31:55
Me arl fella reckoned he was the best Everton midfielder he ever saw. "Better than Alan Ball?" I wondered, "Yup," he said.
Unfortunately I cant remember the rest of the conversation. Sad.
Still, popping in a captain's hat-trick to win the Championship is going to make an impression.
Rick Tarleton
12
Posted 02/07/2019 at 19:53:55
He was a more effective player than Young, the best striker and finisher I've seen in over sixty-five years of Everton supporting. He lacked Young's glamour and charisma, but a true great, alongside Harvey, Wilson and Collins as the best player I've ever seen in an Everton shirt.
Young remains my favourite Everton player for the ineffable magic that only he and, just behind him, Duncan McKenzie, generated in an Everton shirt.
David Hamilton
13
Posted 02/07/2019 at 22:49:21
Martin #8. I was there. Don't remember the stepovers, but I do remember him sending Gaskell the wrong way to score the goal. And we won 4-0!
John Keating
14
Posted 03/07/2019 at 12:00:03
Young was my hero but, my God, Roy was a bloody close second! What a player – and I remember that 4-1 Fulham clincher like it was yesterday!
The '63 team will always be my favourite. Can you imagine what Young, Vernon, Kay, Labone – even Denis Stevens – would go for today!!!!
John McFarlane Snr
15
Posted 06/07/2019 at 21:31:38
Hi Martin [8] the penalty you have referred to was at the Park End, the spec my mates and I occupied because it was the nearest entrance from our local the Willow Bank, on the corner of Priory Road and Townsend Lane.
Vernon did mess about a bit, running over the ball. I said to my mates, "He's going to miss this" which he did, fortunately the penalty had to be retaken because of encroachment, by Bill Foulkes, if memory serves me right.
Gareth Williams
16
Posted 07/07/2019 at 09:36:03
I was only young but I remember seeing him play a few times. He had a lot of pace with a powerful shot. Died young.
Brian Denton
17
Posted 12/07/2019 at 11:07:07
John Keating
Can you imagine what Young, Vernon, Kay, Labone – even Denis Stevens – would go for today!!!!
Unfortunately in today's football set-up the only one who would have played for Everton would have been Labone, and then only till he was about 23.
Ray Roche
18
Posted 12/07/2019 at 11:21:48
Brian@17
"Unfortunately in today's football set-up the only one who would have played for Everton would have been Labone, and then only till he was about 23."
Explain yourself!
John McFarlane Snr
19
Posted 12/07/2019 at 11:37:49
Hi Ray, [18] my interpretation of Brian's comment, is that loyalty takes second place to £££££'s. Hoping to see you on August 17th.
Ray Roche
20
Posted 12/07/2019 at 12:08:19
John@19
I thought it meant that (a), they weren't good enough or (b) they'd leave for a top 6 club. Well, with those guys in the team we'd be a top 2 club! So they'd be going nowhere!
Yes John, hope to see you then.
Brian Denton
21
Posted 12/07/2019 at 15:28:01
Ray, the point I was making was that under the current financial set up:
(a) a really good player will not come to Everton;
(b) if we get lucky and a player turns out to be good, freedom of contract and Bosman means we couldn't hold on to them;
(c) A good local schoolboy we can keep until they become top-notch.
I hate the way football is now, but facts are facts. Can you imagine Everton legends such as Ball, Young, Tony Kay etc ever joining Everton if they were magicked in their prime to the modern day?
Ray Roche
22
Posted 12/07/2019 at 19:40:26
It was a little bit tongue in cheek Brian and I do get your point but with players like that, well, how high could we go?
Add Your Comments
In order to post a comment, you need to be logged in as a registered user of the site.
Or Sign up as a ToffeeWeb Member — it's free, takes just a few minutes and will allow you to post your comments on articles and Talking Points submissions across the site.
---
© ToffeeWeb