Everton reveal new stadium images ahead of planning application
Monday, 23 December, 2019
Everton have revealed some of the final images to be submitted as part of the planning application for the proposed stadium at Bramley-Moore Dock today.
The club will be submitting the detailed planning application to Liverpool City Council, the latest and most significant step today in the process of delivering on the promise to relocate to a purpose-built new ground on the banks of the Mersey.
As described by Colin Chong on evertonfc.com, the final design of the stadium has evolved, with the planned car-park moving and the giant "Everton" lettering being removed from the glass facade behind the south stand:
"The multi-storey car park has been relocated from its previous waterfront location and integrated within the stadium to create one impressive standalone structure, while additional environmental measures, including wind baffles, have been incorporated in the final proposals.
"The plans also include extensive public spaces for use on both matchdays and non-matchdays featuring a Fan Plaza to the east of the stadium which will provide a focus for pre- and post-match entertainment and activity.
"Bramley-Moore Dock's location within Liverpool's World Heritage Site and its status as a conservation area have been fundamental to how the project has been designed and planned. Working closely with Liverpool City Council and heritage bodies, the stadium has been designed to respect and preserve the heritage of the area, while bringing a derelict dockland site back into productive use.
"A water channel would be maintained to the west of the stadium to ensure the visual continuity of the dock system — a key feature of the Outstanding Universal Value of the World Heritage Site — with the historic dock wall on the western side of the channel exposed. The site's Grade II Listed Hydraulic Tower would be restored to create a unique visitor attraction, attracting tourists on non-matchdays, and a range of Bramley-Moore Dock's historic features, including capstones, mooring posts and old railway tracks, will be restored.
An outline planning application for a community-led legacy project at Everton's current home at Goodison Park will be submitted separately but with the intention of the Council assessing both proposals at the same time. It is anticipated that this review process will take some time given the complexity of both projects after which LCC will undertake a formal consultation of their own.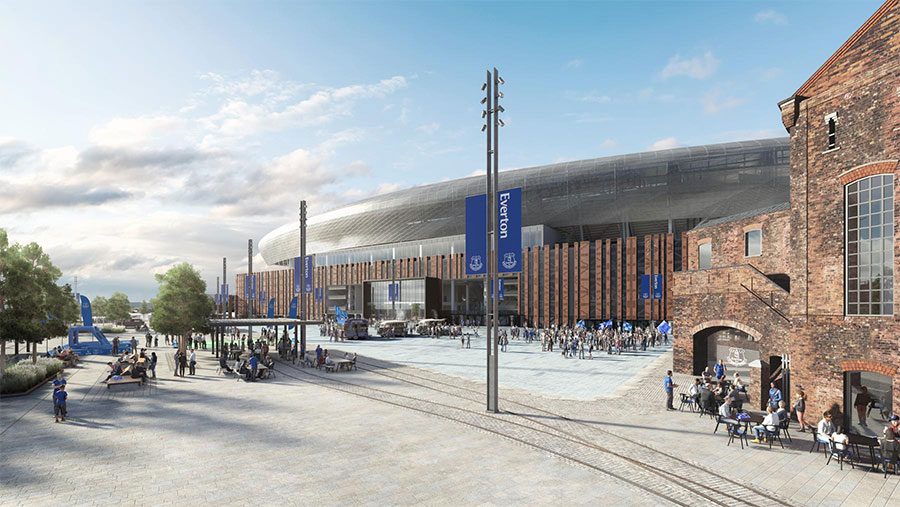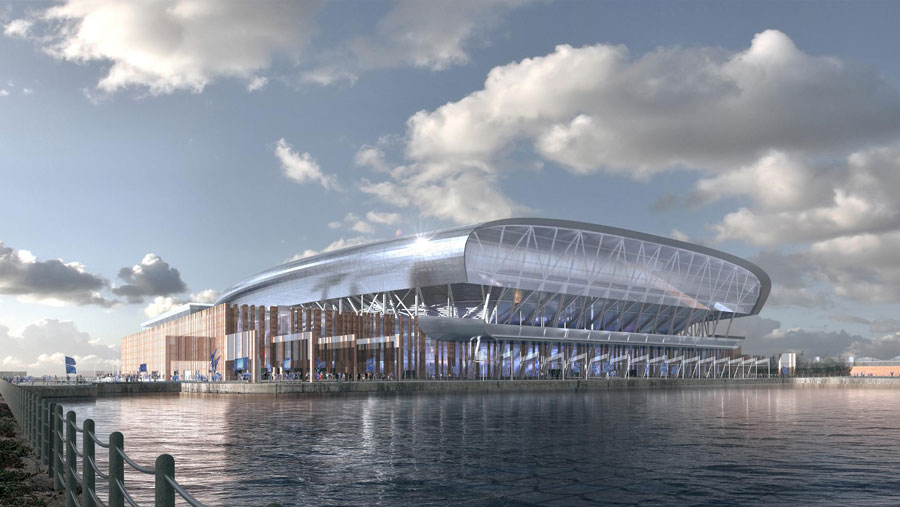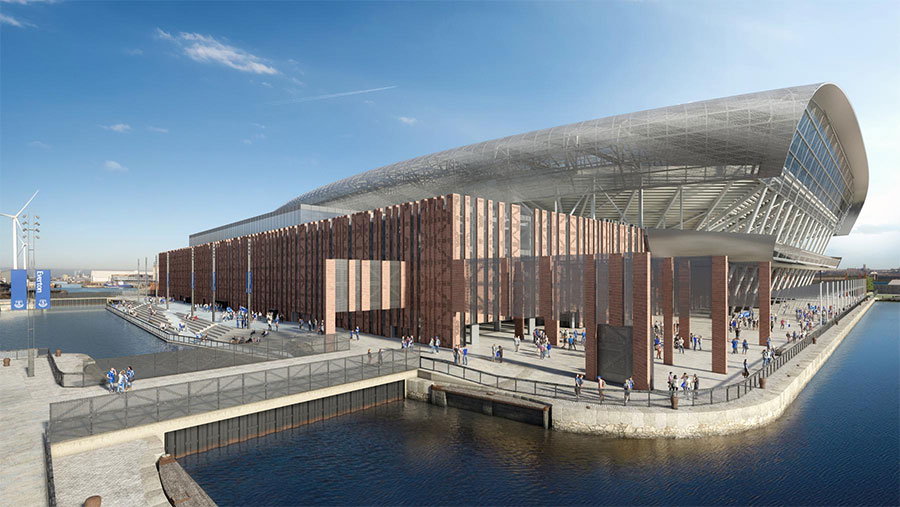 Everton's CEO, Professor Denise Barrett-Baxendale, said: "This is a huge milestone in the Club's history but also a profound statement of intent for our future. It marks the culmination of many years of work that has combined the passion of our fans with world class design and a commitment to creating something truly special on Liverpool's waterfront.
"The stadium at Bramley-Moore Dock will deliver the best possible matchday experience for our fans, new facilities for cultural events and a building that will be a stunning new addition to Liverpool's built environment."
To be kept up to date with activity on the project, please visit the campaign website or follow The People's Project social media channels.
Watch the updated fly-through video:
---
Reader Comments (136)
Note: the following content is not moderated or vetted by the site owners at the time of submission. Comments are the responsibility of the poster. Disclaimer
Jamie Crowley
1
Posted 23/12/2019 at 06:41:57
I just got this email from the Club about an hour and a half ago.
Check the link. Link
I think they may have actually published this video before? Either way, it's really impressive. This stadium is going to be fantastic.
Between Carlo and the stadium seeming to be progressing to the point of credibility, I just am flabbergasted.
Two and half weeks ago I was in abject fear of our direction. Now, I'm thinking of a top four finish in a year or two.
What the hell man? Rollercoaster ride for sure.
Les Moorcroft
2
Posted 23/12/2019 at 07:07:59
Roller coaster? Its all part of being a blue.. build it and they will come
Colin Glassar
3
Posted 23/12/2019 at 07:13:46
Looks quite nice to me.
Derek Knox
4
Posted 23/12/2019 at 07:20:13
Jamie C, I think it is similar but they have revamped it in some way, because I remember seeing the original one, and this one looks to have a few minor changes. Couldn't precisely say what they are but it is slightly different.
Very impressive either way, and with Carlo joining us on Saturday, maybe, just maybe our luck is eventually changing and good times await ahead.
The (virtual) players look a bit different too, don't remember the (what appears to be) near 7 foot tall player with a number two on his back! :-)
Peter Morris
5
Posted 23/12/2019 at 07:33:18
The most obvious visual change on the outside is that they have incorporated the multi-storey car park into the main stadium footprint. It was previously a detached block between stadium and river. Although this compromises the clean lines of the stadium to a degree, it is nonetheless a wise move. IMO a rectangular car park standing proud on the river frontage would have been the first thing the planners and the heritage lobby would have objected to.
Kevin Prytherch
6
Posted 23/12/2019 at 08:06:34
I'm pretty sure we had it on 100% good authority that this stadium would never happen.
These press - they have no idea they're spinning a false story do they!!
Andrew Heffernan
7
Posted 23/12/2019 at 08:14:54
Impressed with update - will be an asset to the city and a huge leap forward for the club. Despite some wrong steps in player management you can't fault the Board's appointment and the vision of Dan Meis.
Agree with relocation of car park and comments above... please ensure good quality sprinklers fitted to the car park!!!
Mark Tanton
8
Posted 23/12/2019 at 08:18:11
Wow.
Steven Jones
9
Posted 23/12/2019 at 08:30:37
Love it ! Better than the first designs! With car park gone perhaps room for a ferry stop?
Dan Nulty
10
Posted 23/12/2019 at 08:30:45
Looks really impressive, I hope it actually happens.
Bit disappointed they have taken the EVERTON letters away from behind the glass.
Andrew Heffernan
11
Posted 23/12/2019 at 08:34:17
I think they can project anything on to the glass with the tech we have now if they wanted to Dan, better if it can be adapted for multi purpose - I think there will be no mistake whose home it is 😉
Tony Abrahams
12
Posted 23/12/2019 at 08:37:11
I love Goodison with all my heart, but the old lady was left to rot for way too long, and the side of the main Stand looks like a monstrotasy when you approach the ground from City road, so I can't wait for this stadium to be built.
Everton are getting ready for the bigger stage hopefully, the city of Liverpool, is getting ready to be transformed especially the dock areas, and surely better times are ahead for the both of us!
Derek Knox
13
Posted 23/12/2019 at 08:41:13
Andrew, @ 11, good point there regarding hosting other events, imagine in the summer Pop Concerts, Classical Northwest Proms, etc. All bringing in Revenue!
Phil Martin
14
Posted 23/12/2019 at 08:55:34
Still only 52,000 capacity?
Dave Abrahams
15
Posted 23/12/2019 at 08:58:49
Kevin (6), don't encourage them mate !!!
Alan Rodgers
16
Posted 23/12/2019 at 09:00:18
Peter @5 what is the building on the riverside if it isn't a car park ?
Steve Ferns
17
Posted 23/12/2019 at 09:10:06
I cannot wait for Carlo Ancelotti to parade his players around this new stadium, with the Champions' League trophy in hand. A stadium that matches our dreams. Thank you Dan Meis. Now get it built.
Daniel A Johnson
18
Posted 23/12/2019 at 09:10:10
Trying not to read anything on the stadium...…..don't want to get my hopes up.
Steve Ferns
19
Posted 23/12/2019 at 09:17:07
Alan #16 I agreed but …
The official site says:
"Following analysis of the feedback received through the Club's record-breaking public consultation, and a range of detailed technical assessments, the stadium designs have evolved. The multi-storey car park has been relocated from its previous waterfront location and integrated within the stadium to create one impressive standalone structure, while additional environmental measures, including wind baffles, have been incorporated in the final proposals."
Now I am off to pick my jaw off the floor, what a stadium we will have.
Bobby Mallon
20
Posted 23/12/2019 at 09:26:44
What a stadium I love it and it's capacity, I don't care about the red shite or any other teams capacity, that is one very cool looking ground.
Pat Kelly
21
Posted 23/12/2019 at 09:35:23
Let's get BMD done !
Steve Ferns
22
Posted 23/12/2019 at 09:37:31
So, never heard of a "wind baffle" before. As expected it's a structure to prevent the effects of high winds, as coming straight off the Mersey. For those that have never been, even on breezy day, it feels like a hurricane is coming from the Mersey. So smart idea.
It'll look like this: Link And so this is what the structure closest to the Mersey is.
Anthony Murphy
23
Posted 23/12/2019 at 09:39:53
I'm going to be unpopular here, but I don't like the car park being part of the stadium. I preferred the original west stand design with a separate car park, but just my opinion
Brent Stephens
24
Posted 23/12/2019 at 09:44:12
"It'll never happen, trust me" gets quieter and quieter.
Excited. Sounds as if it will take a wee while for planning permission to be completed, and the 𧺬m cited is a bit eye-watering but it's not my money, not the most expensive stadium around, and the finance is apparently secured.
ANCELOTTI. BRAMLEY MOORE DOCK. XMAS.
Derek Knox
25
Posted 23/12/2019 at 09:50:28
Brent @ 24, more importantly, what brand will the Ale be, and how much will it cost? Let's get our priorities right! :-)
Graeme Beresford
26
Posted 23/12/2019 at 09:51:25
Why would we remove lettering that says Everton! Surly this is the stadium that Everton have waited for for years and years and years, Everton should be plastered everywhere. As well as Nil satis nisi optimum!
I love the designs, images and video but removing Everton from the stadium seems weird to me.
Drew O'Neall
27
Posted 23/12/2019 at 09:53:00
And there are idiots on these pages calling Moshiri 'Tweedle-Dum'.
Nil Satis Nisi Optinum is back.
Alan Rodgers
28
Posted 23/12/2019 at 09:53:13
Steve @19 thanks, it's a good idea to integrate the car parking, not that us mere mortals will get to use it !
Steve Ferns
29
Posted 23/12/2019 at 09:56:35
Alan, I'm still at a loss as to how you access it? I can't see any tunnel to gain access underneath the stadium, like Ajax. So I assume it's down the sides, and so it's for the Everton Elite who will arrive before the crowds.
Ken Kneale
30
Posted 23/12/2019 at 09:56:57
Steve 17 - I love that positivity - let us support to the hilt and hope.
Brent Stephens
31
Posted 23/12/2019 at 09:56:58
Derek #25 - Chang or Higsons. Take your pick!
Higsons - you'll get no Chang from me.
Prices have already been published. 1s 10d a pint - 2s 0d if you want a Manns brown mixed.
Jimmy Hogan
32
Posted 23/12/2019 at 10:16:34
Bring it on. I know that when I head up the stairs and get a glimpse of the hallowed turf, I will be 9 again and those first Goodison memories will come flooding back.
Tony Abrahams
33
Posted 23/12/2019 at 10:20:22
Everton, will most probably be replaced by £SPONSORSHIP£ and who really cares as long as the stadium finally gets built?
Stan Schofield
34
Posted 23/12/2019 at 10:20:43
It just looks fantastic. Great video.
Derek Knox
35
Posted 23/12/2019 at 10:22:38
Brent @ 31, What no Threlfalls or Burtonwood? How times have changed. The exchange rate will be 1s= £6.00, just like Blistshill Village in Telford.
Some day they'll put a Man on The Moon! :-)
Tony Abrahams
36
Posted 23/12/2019 at 10:36:04
I've honestly never thought about it that way Jimmy H. I've drove to New Brighton, walked to Seacombe and got the ferry, just to visualise it properly, and my kids still won't go on another bike ride, because I killed them last summer, when I decided I needed to get a proper idea of where our new home is actually going to be!
Like everyone I love Goodison, but it's definitely past its sell by date, and although nothing ever looks better than the brochure, this stadium looks unbelievable. It looks like it's built to keep the noise and the heat inside, and keep the wind out, so I will obviously have to look for another excuse when my eyes start watering if I'm lucky enough to be there when it finally opens.
Jimmy Hogan
37
Posted 23/12/2019 at 10:44:33
But will it have heated seats for the winter like Spurs stadium does?
Anthony Newell
38
Posted 23/12/2019 at 10:51:48
Amazing, It would be absurd for the City of Liverpool not to embrace this and the benefits it would bring
The removal of the overt lettering gives it a more understated appearance. and these images ooze class
I hope that if and when we get there we have a team on the pitch worthy of the resplendent surroundings. I'm now watching the transfer gossip avidly
In other news, Ibra's had his nose cut off:
https://www.bbc.co.uk/sport/football/50892046
Brian Wilkinson
39
Posted 23/12/2019 at 10:54:03
Looking really good and the fine details outside and in.
Would have been nice to have the holy trinity and Dixie statues blended in.
Martin Nicholls
40
Posted 23/12/2019 at 10:57:35
Derek, Brent - if ale prices are anything like at Spurs new stadium I'll be pleasantly surprised! Went there last game of last season expecting to be ripped off at about £8 a pint - actual prices were £4 and £4.50 a pint for Amstel and Heineken. Their own beers were £5 and £5.50 a pint for Neck Oil and Gamma Ray respectively. Unbelievable, especially for London! Would love EFC to have its own range of real ales!
Billy Roberts
41
Posted 23/12/2019 at 10:59:41
I think the fly through of the drinking and eating concourse area has been added, it looks everything you would imagine a modern stadium could offer ( refreshments)
The outside shots seem to be more detailed but it all goes a bit too quick for me to understand the change and location of the carpark. I'm glad the Everton letters have been removed as they were unnecessary, like other posters have said there will be lighting and video imaging. I understand what Tony@36 means by the brochure effect but I think if this is completed it will be the opposite.
I think the scale of this building and its unique design will be genuinely stunning, look at the scale of the supporter images and then look at the size of the stadium, alongside the setting it has so much to get excited about. If like myself and Tony( I'm sure there are others) you can get down to Bramley moor dock try and do so as you can put it more into perspective, there is a bike lane added now so you have less chance of going down a pothole or getting flattened by a lorry!!
Steve Ferns
42
Posted 23/12/2019 at 11:00:42
Jimmy H, you can shove your heated winter seats! We're not southern softies! And we don't need a cheese room either!
(PS I know you're messing)
Tony Abrahams
43
Posted 23/12/2019 at 11:03:33
I hope so Jimmy, even if they do say that it's tough up north mate! its easy staying warm at Goodison, constantly moving our bodies to see around the post in front, but with such perfect views from the sidelines, that's definitely another thing for Dan Miels to think about, unless Ancellotti can make us a team that gets us sitting on the edge of our seats!
Francis van Lierop
44
Posted 23/12/2019 at 11:10:58
I've taken three different people to Goodison to see Everton. The time I took my cousin Frank, we took the ferry ride on the Mersey. I could show him the approximate spot where our new stadium would be built. We agreed to both go to watch a match there.
It's his birthday today, besides going, I'll send him this, to show that things are progressing.
Impressed!
Eugene Kearney
45
Posted 23/12/2019 at 11:11:40
I think it looks brilliant, bold, Blue and beautiful.
I finally made it to Goodison for the first time for the Watford match. Thankfully, we won that one!
I hope I'll get back to GP a few times before this new one is up and running
I hope that the BMD opening coincides with EFC winning the league!
NSNO.
Brian Wilkinson
46
Posted 23/12/2019 at 11:14:30
From what I am hearing, it can take up to 16 weeks before Everton receive the news if accepted, probably be before that but at the most we should hear by the very latest in April.
Denis Richardson
47
Posted 23/12/2019 at 11:32:26
Looks amazing.
Wonder if we'll be playing Champions League footy when it opens in 2024?
Craig Walker
48
Posted 23/12/2019 at 11:38:56
They've got rid of that cheap Everton typeface on the glass facade which is THE one thing I didn't like about the original designs.
Ernie Baywood
49
Posted 23/12/2019 at 11:40:32
This is all a bit scary.
Stadium, elite manager, transfer spending.
Pretty soon we're going to be out of excuses.
Roger Helm
50
Posted 23/12/2019 at 11:52:28
What also is nice is all the kopites trolling on the other websites. They are really unhappy!
Brian Wilkinson
51
Posted 23/12/2019 at 11:55:03
They have even covered the wind factor, Ernie.
Now where's the chippy? :-)
Paul Columb
52
Posted 23/12/2019 at 11:55:10
Craig (48); I think it was a placeholder for sponsorship and so might yet be emblazoned with Viagra or the like.
I think Meis might be a little disappointed with the incorporation of the carpark into the main structure as, architecture wise, it's not as clean or easy on the eye. On the App, there's still a single layer covered car park where the multi story sat but the new iteration is well ugly and looks like an afterthought.
I'd imaging from a cost perspective, placing the parking in the main structure makes sense and as it's not for the cheap seats, there should be no trail of leaked oil leading from Regent Road to the entrance.
I really hope there's a museum housing the Everton Collection somewhere in there.
Roll on approval and revealing how the hell it'll be paid for.
Martin Berry
53
Posted 23/12/2019 at 12:11:28
I don't understand why the lettering of "Everton" has been removed, it's important to let visitors/tourists know what the building is, also they lettering should have been blue, not white, so it stood out at distance.
That said, a magnificent stadium in prospect and there is no way on earth this is not going to be built, so celebrate.
The club want it, the fans want it, the people of Liverpool have voted for it, and the Council needs it as part of their regeneration — so that's it.

Iain Johnston
54
Posted 23/12/2019 at 12:13:12
I feel like a kid looking under the tree on Christmas Eve!
Safe standing should be passed in 2021 giving us 60k and a Blue Wall too.
As a wind baffle how about a grassed man made hill, somewhere fitting for the Dixie & Trinity statues, the Goodison Park, Howards Hill with screens for a Fan Zone?
I think I need a lie down!
Richard Reeves
55
Posted 23/12/2019 at 12:18:32
It hasn't got the wow factor for me and is at least 8,000 seats to small. I also think it will look outdated sooner than we would like. I preferred the look of the King's Dock Stadium and that was 20 years ago.
Michael Lynch
56
Posted 23/12/2019 at 12:35:48
So, the wind baffles have replaced the car park on the little island thing between the stadium and the Mersey, yeah? Or am I getting confused? It looks like a very similar structure, so why not just put the baffles on top of the car park? And where is the car park in the main structure? What has it replaced? Not the toilets I hope, as at my age and with the cold wind off the Mersey (baffle or no baffle), I'll be needing the gents.
Joe McMahon
57
Posted 23/12/2019 at 12:43:17
Brilliant stuff, but I still think it's an opportunity missed not to have a few more thousand capacity. People will want to go to this stadium!
Paul McCoy
58
Posted 23/12/2019 at 12:44:30
Steve(22) - I hope the wind baffles at Bramley-Moore Dock are more effective than the ones in the link you posted. That's Bridgewater Place in Leeds and believe me, they've done sweet FA for the wind problems around there! The council had to put them up after the wind lifted a truck on to a pedestrian!
Stadium looks awesome. A Gooner mate of mine was involved in this project from day 1 and assured me 100% that it would be happening. He had a meeting with Farhad Moshiri and Dan Meis and came away impressed with their commitment to getting this thing built.
Ryan Holroyd
59
Posted 23/12/2019 at 12:44:37
I'm so pleased theyve removed 'Everton' from the side of the stadium. Just looks so tacky
Eugene Kearney
60
Posted 23/12/2019 at 12:47:36
Any chance of renaming it GOODISON TWO ?
Raymond Fox
61
Posted 23/12/2019 at 12:49:11
Wow, pity it's not going up next week, looks fantastic.
All that is missing now is some elite players, our pull has been strengthened considerably by Ancelotti and this project though.

Jimmy Hogan
62
Posted 23/12/2019 at 13:11:16
Raymond #61, If we're going to sign those elite and expensive players, I suspect the stadium will be called USM Something.
Michael Burke
63
Posted 23/12/2019 at 13:14:14
I am pinching myself at the moment:
5 points in the last 3 games against teams we wouldn't expect to do well against given our current form.
A truly world class manager signed up.
A stunning flyby of the new stadium.
I'm worried I'll wake up and find we're off to Kirby and David Moyes has been given a 4½-year contract!
Brian Wilkinson
64
Posted 23/12/2019 at 13:57:18
Could do with some of those wind baffles at Goodison on Boxing Day, a full house at Goodison of sprouts and bitter is not worth thinking about.
Brian Cleveland
65
Posted 23/12/2019 at 13:59:26
Eugene #60
Or even GOODISON TOO?
😁
Mike Gaynes
66
Posted 23/12/2019 at 14:07:14
If they do as good a job on the stadium as they did on the fly-thru, it's going to be absolutely spectacular.
Brent Stephens
67
Posted 23/12/2019 at 14:25:55
Joe #57 "Brilliant stuff, but I still think it's an opportunity missed not to have a few more thousand capacity. People will want to go to this stadium!"
We can add on later, can't we? Using the Premier League Championship money.
Jay Wood
[BRZ]
68
Posted 23/12/2019 at 14:32:11
Sensible move to not place the car park riverside for the aesthetics. IMO it makes for a more pleasing view whether looking at the stadium from the river, or vice-versa.
That said, like others have already mentioned, in the fly-thru vid it's not clear to me just how and where the car park has been incorporated into the main stadium build.
No qualms one way or the other about the presence or absence of the big EVERTON lettering at each end of the stadium as in the original fly-thru video. With technology, lighting and lazers these days you can project pretty much any colour, image or message you want on the edifice of a building.
The interior concourse with its glassed views to the pitch looks amazing. And in this vid it appears to be a consistent two-tier stand structure, whereas in the original it was a mix of 2 and 3 tier.
Impressive. Now get it built and let the good times roll!
Julian Wait
69
Posted 23/12/2019 at 14:45:41
It almost seems like Christmas …
Filipe Torres
70
Posted 23/12/2019 at 15:05:31
I don't like the light brown of the bricks as it doesn't match the white and silver colours of the roof and structure.
I would like it painted in blue and the name Everton aded in the building.
The name of alan ball, howard kendall, dixie dean, joe royle, neville southall, alex young, brian labone and bob latchford should be engraved on the bricks with their pictures in blue shirt.
I also don't like those brick structures; they seem useless, and what's the point having them?
Alan Rodgers
71
Posted 23/12/2019 at 15:22:50
Filipe @70 if you mean the old brick structures, they are listed buildings and have to be kept or we won't get planning permission. If you mean the new brick structures, they look as if they are to help deflect the wind.
Filipe Torres
72
Posted 23/12/2019 at 15:29:12
Alan, after reading it again, I got it, it was because of the wind coming from the Mersey. But the colour of the bricks just doesn't match.
I believe 99 out 100 Evertonians would agree after the dust of glamour settled.
Liam Heffernan
73
Posted 23/12/2019 at 15:45:01
I like what's going on at Everton at the moment, off the field. Hopefully Carlo A can get things right on the field and I am hopeful, only then can the stadium be a truly grand affair. I see light at the end of the tunnel, but history has me conditioned to except it to be a long bumpy tunnel. But here's to hope, a happy Christmas and a new beginning, finally !!!
Phil Greenough
74
Posted 23/12/2019 at 16:11:30
Those asking for an increase in capacity, they will install barrier standing in the not too distant future to increase it.
I love the fact Everton are to make it a tourist attraction, similar to the Albert Dock. Maintaining our maritime history and cashing in on it as well. It will have pubs and eateries on non match days to make sure, our investment pays for itself.
In the 80s, who would have thought the Albert Dock would be in the top 10 tourist attractions? It was a decrepit run down area, but someone had the vision to rejuvenate the area.
Brent Stephens
75
Posted 23/12/2019 at 16:28:26
Phil #74 "Those asking for an increase in capacity, they will install barrier standing in the not too distant future to increase it".
I wonder if there'll then be a demand for further capacity because other clubs will also increase their capacity through barrier standing.
I suspect there has been demand for increased capacity not for reasons of demand but because we'd be smaller than some other prem clubs.
Let all this capacity stuff be driven by demand and not by a form of penis envy.
Kevin Latham
76
Posted 23/12/2019 at 16:31:41
Looks like a classy place, but have they given a reason why the Everton lettering was taken off? Apologies if that's been answered earlier in the thread, I didn't notice it. When the standard Liverpool waterfront pictures come out next year it would be great to see our name on one of the buildings on the Royal Blue Mersey - maybe it should be spoken of informally as The Fourth Grace? But I would like to see our name in big feckin letters on the ground to tell the world who plays there.
Phil Greenough
77
Posted 23/12/2019 at 16:47:27
Regardless of penis envy, Brent, it sends out a statement to the rest of the premier league, that Everton haven't got a fanbase which requires a capacity bigger than 52000.
Our loveable neighbours want to increase theirs from 54k to 61k. Their ambitions are only limited by logistics, ours by choice. However, I prefer to be realistic and recognise that beyond the Derby and Euro/cup games, an increase of 25% capacity is adequate. I'd rather be in a rammed 52k ground than loads of empty seats.
As I've said the FA are leaning to standing, returning to football grounds, this will cover the upturn in attendance if necessary.
Dan Parker
78
Posted 23/12/2019 at 17:02:10
Kevin, there was quite a bit of feedback from fans during the consultation that they didn't like the lettering so they must have dropped it. I agree with you, personally I thought it was awesome.
Bobby Mallon
79
Posted 23/12/2019 at 17:12:28
Richard Reeves they can't please everyone EH
Will Mitchell
80
Posted 23/12/2019 at 17:44:14
I much prefer it without the 'Everton' lettering. Harks back to the famous Catterick quote. Everybody already knows who play there. Do we need to spell it out?
Bill Watson
81
Posted 23/12/2019 at 17:49:07
Welcome to the Megafon Everton Stadium!
The car park roof would make a great eating/drinking area, weather permitting.
Mike Gaynes
82
Posted 23/12/2019 at 18:01:38
Felipe #72, guess I'm the one in 100 then. I've always considered red brick (it's not brown) to be classy, and I think it adds something special. I would never paint it blue... painted brick looks cheesy to me.
Paul Jeronovich
83
Posted 23/12/2019 at 18:09:13
This day just keeps getting better, I hate it when I feel good about Everton as it usually ends in tears. Is this the start of something good for real this time?
Andrew Heffernan
84
Posted 23/12/2019 at 18:14:34
I've never understood the connection between increased capacity and barrier seating - I'm sure I saw a media piece on Celtic who introduced it and it had no impact as 'one seat' = 'one standing place'; I may be wrong but this might be under existing UK regs, and not in line with European stadiums re barrier seating/standing.
Billy Roberts
85
Posted 23/12/2019 at 18:15:33
Filipe Torres, don't give up the day job mate, I would bet my house on Dan Meiss's vision being more popular than your abomination.
The red brick reflects the nearby tobacco warehouses, if you cant see the attraction of a red brick building that's your loss, this is a red brick city, from houses to schools, pubs, libraries, swimming baths, it is a beautiful material and should never be painted over !! Even in blue.
Richard Nelson
86
Posted 23/12/2019 at 18:58:07
...after a few years the Peel Group will put the rent up...and they'll want it...!
David McMullen
87
Posted 23/12/2019 at 19:27:30
Andrew (84) yep that's correct. 1:1.
But even if it was more it would be the same for every club, wouldn't it?
If we disagree with something then we're just moaners. Sure I will be happy with an incrimental increase as an alternative to the big jump. But no one should ever underestimate the demand.
Billy Roberts
88
Posted 23/12/2019 at 19:45:14
David @87
I don't think you are correct, I remember seeing a ratio of 1:1.3 or even 1:1.5
That would see a definite increase i.e. 10,000, becomes 13,000 or 15,000. Your 52000 becomes 57,000, I'm sure fans could live with that.
I'm not sure what Celtic have and whatever it is its already dated.
Tony Everan
89
Posted 23/12/2019 at 19:54:13
It is a fabulous design and I am thrilled to bits. Not many buildings make the hairs on the back of my neck stand up and give me the tinglies.
Credit to Dan Meis and his team for listening and producing the goods. It far exceeds the best that I expected. It is more than a stadium, it is an iconic building for Everton and for the city, perfectly marrying the past, present and future.
Brian Williams
90
Posted 23/12/2019 at 19:56:34
Billy, you're right it's 1:1.5 or an extra place for every two existing spaces.
David McMullen
91
Posted 23/12/2019 at 20:02:30
I think current legislation is 1:1 but of course this is not permitted in the top 2 divisions. Regardless I want 62000 not 52000!
I think the club are following the City/Liverpool method rather than the Tottenham/Arsenal method. Not forgetting Man Utd built and built. I hope so because I don't want us to be restricted to development Goodison style when they realise 52,000 isn't enough.

Filipe Torres
92
Posted 23/12/2019 at 20:21:51
If the brick is red? orange or brown is anyones guess; if you think that colour matches? Then I'll guess we will see it in a few years.
Painted brick isn't an abomination, in can look very modern and classy, specially with engraved pictures in the stone.
Krasnodar stadium has a panel all around the stands with video-footage and it looks amazing when it flashes GOAL!! All over it, the same with atlanta's stadium in the US.
That kind of multi-media interaction is the future and we have nothing of that sort, so this is a stadium that has no futuristic features, and will be looked as an old school stadium 10 years from now.
I think it is an ok stadium! But I think it could be better.
Ill be there to see it and enjoy it though.
Paul Newton
93
Posted 23/12/2019 at 21:10:39
This question has probably already been answered but it is bugging me every time I see something about the new stadium. We are living in a time when flooding is in the news more and more. The stadium looks very close to the water to me. Does anyone know what precautions have been taken to prevent our shiny new stadium from becoming a flood disaster? Now that would be seriously embarrassing!
Anthony Murphy
94
Posted 23/12/2019 at 22:28:06
I've watched the fly through several times now but still can't work out how cars get in and out of the car park. Anyone worked it out?
Laurie Hartley
95
Posted 23/12/2019 at 22:38:28
Filipe the point is Dan Meis has to submit a design that will win planning approval and also if possible World Heritage approval.
Like it or not red brick is part of the fabric of the City of Liverpool and I think our architect has been very astute with this design. Here is a view of the red brick Albert Dock from the river (brings back many happy memories for me). Link
Have a look at the facade facing the Liver Buildings. It it very futuristic as is the roof which to me looks vaguely like the Hull of a ship.
Richard # 86 - I have a feeling that our new stadium won't be owned by anyone who is not connected with the club in some way. When the planning approval is given expect another big announcement on the finance.
Justin Doone
96
Posted 24/12/2019 at 08:17:28
Classy stadium. Its had to have been designed to fit into it's surroundings which it has done well whilst having a modern upper glass and steel section.
It's not some futuristic alien space ship, it's a proper stadium that fits in and is classy so will age well.
So many modern stadiums look like cheap, grey, concrete car parks. This is blooming brilliant considering the rules around location etc.
The car park is now attached, it's the square block on the left / western side. Opposite side to the current accompanying picture at the top of this thread.
I have slight concerns about the weather i.e. strong winds, heavy rain, flooding but I'm sure (?) it will all be good.
There's is a general lack of signs and obvious doorways but again nothing to be concerned about.
I'm more interested in where the Everton shop, is, a potential museum etc.
Finally, I'm against standing zones at football stadiums. I think those days are gone and for good reason. Until they can stamp out all the other negative and unwelcome behaviour threat goes on e.g. racism, throwing of objects and general scumism I wouldn't trust the people in charge to get it right or take appropriate action should something terrible happen.
Mike Benjamin
97
Posted 24/12/2019 at 10:25:41
Justin, we need safe standing zones at all grounds, urgently. Many supporters already stand even though there are seats, which is bloody dangerous. In addition, some fans have views obstructed by those standing.
Suggest you look at the way it has been done in Germany. Safe... and good for fans who want to stand.
Eric Paul
98
Posted 24/12/2019 at 13:19:42
Richard @86,
I thought we bought the land off the Peel Group for ٣m?
Brian Williams
99
Posted 24/12/2019 at 13:35:28
Eric #98,
We signed a contract with Peel to lease the land for a peppercorn rent on a 200-year lease.
The contract only becomes "live" once the planning application has been given the okay and the money to build the stadium is in place.
Eric Paul
100
Posted 24/12/2019 at 15:58:44
Thanks, Brian.
Steve Ferns
101
Posted 24/12/2019 at 16:07:36
Paul #93,
The stadium is more on the seafront than the river per se. The River Mersey never floods in Merseyside. And if you worries about rising tides, take a trip to Southport and take your binoculars to see the sea.
You have no need to worry.
Brian Williams
102
Posted 24/12/2019 at 16:13:22
Eric, you're welcome mate.
Paul Newton
103
Posted 24/12/2019 at 17:21:21
Thanks Steve. I am reassured!
Shane Corcoran
104
Posted 24/12/2019 at 19:27:24
Excuse my ignorance as I'm not from Merseyside but I spoke to someone today who is, and they told me that the docks are not part of Liverpool, but part of Merseyside.
Is this true, and if so, why no protests about keeping the club in the city?
John G Davies
105
Posted 24/12/2019 at 19:34:33
Shane,
The Liverpool Docks are very much a part of the city. Tens of thousands of dockers through the years will tell you that.
The "someone" you spoke to wasn't a kopite by any chance?
Kris Boner
106
Posted 24/12/2019 at 19:39:32
Shane. I would be in disbelief if that was true, given their proximity to the city centre. Bramley-Moore Dock is closer to the city centre than Goodison is.
I'm not from Merseyside either, and more knowledgable men will inform you, but just a cursory glance at the map has believing your source may have ulterior motives or be a pedant of the highest order.
Edit: I've also googled the city boundaries and Bramley-Moore Dock falls within the district.
Billy Bradshaw
107
Posted 24/12/2019 at 19:42:21
Shane @104,
When Bramley-Moore Dock was built, there was no Merseyside.
The new ground is probably closer to Liverpool City Centre than Goodison Park is.
Tony Abrahams
108
Posted 24/12/2019 at 19:43:47
The club is staying in the City Shane, it's just moving a couple of miles from Goodison, but still under a Liverpool postcard (I'm sure) and is going to be part of a massive regeneration scheme that's going to benefit our city incredibly.
When Everton proposed Kirkby, us proper scousers! have down the years sarcastically came up with the phrase "Kirkby, near Wigan" and although it was only a piss-take, it might explain why a lot of people were dead against moving Everton, out of the City, into what I would call "no-man's land"
Think Bolton Wanderers, and look at the problems they have encountered since they moved way too far away from both their spiritual home, and their city, and this I'm sure is one of the reasons the people of KEIOC, fought so hard for their club.
Anthony Murphy
109
Posted 24/12/2019 at 19:55:06
Some docks are Sefton, part of Merseyside, some are in Liverpool, part of Merseyside too. Bramley-Moore Dock is in Liverpool.
Brian Wilkinson
110
Posted 24/12/2019 at 19:58:44
I was reading about the legacy of Goodison, when we move to our new ground.
I was very suprised to read that the Dixie and holy trinity statues, are remaining at the Goodison Park site and will not be moving to Bramley-Moore Dock.
Anyone else heard this and thoughts about this?
I would prefer the statues be at our new ground.
Brent Stephens
111
Posted 24/12/2019 at 20:02:06
If fans move into their new seats at Bramley-Moore Dock and some time later safe standing is introduced, that means all fans in that area will stand. So, when fans first subscribe to their Bramley-Moore Dock seat, presumably they will be told beforehand of the possibility of conversion to safe standing? Short arses beware!
Joe McMahon
112
Posted 24/12/2019 at 20:05:47
I suppose Goodison is where they played, so fitting the statues remain.
Brian Williams
113
Posted 24/12/2019 at 20:06:03
Shane #104.
Sounds like you were talking to an rs arsehole mate!
Peter Neilson
114
Posted 24/12/2019 at 20:10:45
Bramley-Moore Dock is in Liverpool which in turn is part of the Metropolitan County of Merseyside. Oslo is in Norway and in neither Liverpool nor Merseyside.
Brian Williams
115
Posted 24/12/2019 at 20:19:48
Steve #101.
Seafront? Hardly mate. It's almost two miles from the mouth of the river and looks out at almost two miles of the Wirral peninsula.
Tony Abrahams
116
Posted 24/12/2019 at 20:21:10
I agree with that, Joe, especially because I'm sure they are both going to play a big part in the legacy that Everton are leaving behind.
Richard Nelson
117
Posted 24/12/2019 at 20:59:33
Eric @ 98
Eric, was just making the point that they'll be "choked" at our shiny new stadium... on the waterfront... jealousy is such a wasted emotion...!
Paul Birmingham
118
Posted 24/12/2019 at 22:38:09
The physcological issue with club matters EFC and the RS, hopefully will start turning in Everton's favour, in all matters.
The anti is upped now, and I'm sure with time, and patience, Carlo can turn the tide and start creating good history for EFC.
They are bolting on to their meccano pigeon loft scheme, Everton is starting fresh, at BMD.
New dawn, new era, and fresh hope, like we've not had ever in any era, in terms of money, and manager calibration.
Yes history as we know very well, but I see Carlo, is no mug, and will take no prisoners, in the quest for success.
To Burnley and victory on Boxing Day.
Shane Corcoran
119
Posted 25/12/2019 at 09:54:26
Thanks lads. The man I spoke to is a Blue, though he doesn't care too much these days. Born and bred scouser who married my aunt in the early seventies. Any error in his part is without malice.
Pretty sure he thought that beyond the walk at the docks is Merseyside. Wouldn't have a clue myself.
Jamie Crowley
120
Posted 23/12/2019 at 14:33:34
Phil -
The concept of making it a tourist attraction might rankle some, but I think, too, it's a very savvy move.
I can tell you I'd personally pay for a tour, and I'd eat there and have a beer (or four) in a pub on a non-match day and make an afternoon out of it.
They need to just pimp it out, in a classy way, and maximize revenue.
Tony Abrahams
121
Posted 25/12/2019 at 14:53:23
Jamie, you only have to look at some of the links that Laurie H, has posted in the past, (about Melbourne) to see how much of an affect this is going to have on the whole of our city mate.
It's Christmas today, but that's what it's going to feel like for this part of the city everyday, once this regeneration gets kick-started by the mighty blues!
Just read a clip with Alan Stubbs, saying how great it would be if Everton are playing Champions League football when the stadium opens, and this is the type of bandwagon we should all be jumping on right now!
In fact, get over here when it happens Jamie, and those first four bevies will be on me, along with Lyndon and Michael, Mike G, Andy Crooks, and Laurie Hartley, I'm going to start saving now!!
Don Alexander
122
Posted 25/12/2019 at 14:57:51
Shane (#104), Hitler bombed the hell outta the Liverpool docks stretching way beyond Bramley-Moore Dock towards the sea. Me Ma was born, and lived, on Brasenose Road within half a mile of the docks and survived the blitz. She is (at 96) and always has been a proud scouser.
Paul Jones
123
Posted 25/12/2019 at 15:26:03
Going all the way back to Post 9, a ferry stop would be a great addition. There is a well-known song that could be directly linked to the club as cross-river transport link and to the Pier Head by one of the owner's other assets. We could even paint the liver birds blue to fit with the regeneration of an Everton waterfront?
Gavin Johnson
124
Posted 25/12/2019 at 20:19:22
I think the stadium looks absolutely amazing and we're going to have a lot of bang for our buck. In comparison to the new Spurs stadium, ours is relatively cheap but it doesn't look generic, or like we've cut any corners. The red bricks' contrast with the futuristic roof is actually the thing I like the most and could be something that makes our stadium look timeless and iconic. It's uniqueness will mean that it won't ever become dated like some of the bowls, or the cheap looking stadium we would have already had, had we moved to Kirkby.
Kieran Kinsella
125
Posted 25/12/2019 at 22:02:19
I'd prefer something like The Shay at Halifax FC. corrugated metal roof, splintered wooden dugouts that blow over in the wind, crumbling concrete terraces. We've totally missed the mark here.
Tony Everan
126
Posted 26/12/2019 at 07:53:59
Kieran, I went to watch an Everton reserve match there in the 80's when I was working nearby. It was dark, cold, raining and as you say the ground looks like it has been cobbled together from a disused allotment.
Why have I got fond memories of that visit? I think it was the connection of the raw passion between the coaches, the players and the fans who were grouped around the dugouts. It captured an essence of football, both mud and boots real and dreamily ethereal at the same time. I think I caught a cold too.
Alan McGuffog
127
Posted 26/12/2019 at 08:03:45
And didn't the Beatles play an open air gig there in the mid sixties ?
Tony Everan
128
Posted 26/12/2019 at 10:04:45
They did Alan. think it was one of those half time slots for up and coming bands.
Billy Roberts
129
Posted 26/12/2019 at 10:42:14
Alan @127
Of course the famous gig at Halifax's (Shea) stadium was recreated in the brilliant Beatles pastiche..The Rutles.
I don't know why they didn't go to Halifax to recreate the gig but they chose Goodison instead ?
I'd send confused readers a link but I don't know how you do them.
Happy Xmas and Hanukkah TWers.
Kevin Jones
130
Posted 26/12/2019 at 11:55:39
Pastiche is a big word Billy, is that what posh people buy from Greg's ? "Two steak and onion pastiches please don't you know"
Brent Stephens
131
Posted 26/12/2019 at 12:16:33
It's what pissed people buy, Kevin.
Alan McGuffog
132
Posted 26/12/2019 at 13:16:45
Seemingly Digne was somewhat non plussed when he ordered a pastis in the Winslow after signing on
Billy Roberts
133
Posted 26/12/2019 at 14:43:30
Close lads !! Its actually a straight translation for " piss take " in French !!
Alan Rodgers
134
Posted 27/12/2019 at 08:46:26
Kieran @125, The Shay was fine but I preferred Thrum Hall a most intimidating RL ground, hemmed in by terraced houses. Sadly gone now.
Mark Murphy
135
Posted 27/12/2019 at 09:17:35
I sent the clip to a koppite mate of mine and he replied "and it will have manure on it every other Saturday"
I told him to fuck off we're not sharing!
They can keep our old ground!
Fuck them!
Dennis Stevens
136
Posted 03/01/2020 at 13:17:04
Fame at last! 2019 SAFE STANDING QUIZ : http://www.intouchcrm.co.uk/app/track.aspx?u=5664583&e=147410&a=1752&l=5063397
---
Add Your Comments
In order to post a comment, you need to be logged in as a registered user of the site.
Or Sign up as a ToffeeWeb Member — it's free, takes just a few minutes and will allow you to post your comments on articles and Talking Points submissions across the site.