Report
Calvert-Lewin hat-trick beats a brace of red cards!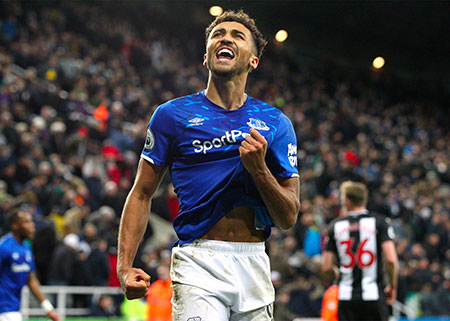 Dominic Calvert-Lewin will be on the hunt for more goals after ending the barren run with which he finished last season
Everton 5 - 2 West Bromwich Albion
Everton eventually built on their impressive start to the new season when newly-promoted West Bromwich Albion were well beaten at Goodison Park in Saturday's lunchtime kick-off.
Of course, the game was played behind closed doors due to continuing fears over spreading Covid-19. TV coverage in the UK was available to BT Sport subscribers, Live on BT Sport 1 from 11:30 am.
Everton were unchanged from last week at Spurs. Iwobi came onto the bench for Walcott, who was dropped from the squad. Holgate, Branthwaite, Delph and Gbamin are out injured.
Everton kicked off in brilliant sunshine but Pickford almost immediately creating a cloud with a ridiculous non-clearance that could have easily led to a goal but he fortunately saved the ensuing shot.
But a very neat piece of play won an early corner at the other end, and an absolutely brilliant delivery from Rodriguez that Calvert-Lewin should have totally buried but he completely missed the target. So much for being "more clinical"!
Coleman did well to get back and cover but the nonsense playing out from the back from the goal-kick caused all sorts of panic until Pickford finally put his boot through the ball. An Everton attack looked like it should have created more but Calvert-Lewin could not get much purchase on the header.
James swung a free-kick in way too deep, with Mina going down but off the ball. Dianganna got free and scampered through, firing well to open the scoring, with absolutely dreadful defending from Everton.
Everton should have done better from a free-kick that seemed to drop for Richarlison but he drove it wide, off a defender, so he claimed, but no corner given. Everton's play lacked confidence and fluidity, with West Brom making things difficult for the Blues, who kept playing it backwards.
Some close-quarter play saw Calvert-Lewin win a corner that was cleared out, Doucouré slipping and fouling Dianganna for a very early yellow card. Allan hit a crisp shot from a long way out, straight at Johnstone.
Robinson got forward and tested Pickford, who had to punch clear as Everton refused to settle, while Slaven Bilic's upstarts from the Championship looked very comfortable striding forward against an increasingly nervy Everton side.
Another Everton corner was defended away and WBA put together a lovely move that had Everton chasing shadows, Livermore getting in to shoot and hit the post off Pickford. Wake up, Everton!
Richarlison got a glimpse but was staggering as he hit the ball well wide. Digne, with acres of space ahead of him, stops and passes backwards. But they did finally build an attack and win another corner, this time stolen off Richarlison's head.
A long throw-in was flicked goalwards and then behind leading to a series of corners, the last one getting headed over the bar by Keane. From another good forward move, the ball was backheeled in by Calvert-Lewin from 6 inches after he had gone too far forward and was flagged offside, but Richarlison hadn't actually headed the ball forward to him — it had come off a defender, so it should be a goal. A loooong VAR check finally reached the right decision.
Calvert-Lewin lazily gives the ball up allowing WBA to spring another attack that waltzed through all the way to Pickford, who did well enough to stop it. Still, despite getting the goal back, Everton looked simply awful, farting about with the ball so much around the centre-line. Finally, Rodriguez dug out a chance but his ball in was too close to the goalkeeper.
Everton won another soft corner that was again delivered well by Rodriguez but punched away by Johnstone. Smart thought by Gomes set up Richarlison to win another corner, but Digne's effort was cleared, although the workaround won another corner, Digne driving it too deep this time.
Finally, a moment of sheer quality that we had been led to expect from James Rodriguez, after great desire from Richarlison to feed the Colombian, who's simple touch and left-foot strike inside the post was a goal all the way.
Soon after the restart, Gibbs was then shown red for reacting to Rodriguez, smacking him in the face for getting gently barged after the ball had gone. Bilic was livid and it left a serious bad taste in the mouth, but West Brom would have to play the second half with 10 men and now a goal down — and then a manager down as Bilic continued to berate the referee at half-time until he too was shown a red card! What an astounding turnaround of fortunes...
West Brom came out of the blocks determined to make amends, winning a free-kick that was brilliantly delivered by Pereira from an awful long way out, Pickford day-dreaming, not even getting his arm out to stop it.
But Everton responded quickly: a free-kick wide left was put to good use by Digne, who picked out Richarlison for a powerful header that Johnstone could only parry and Keane was first to the ball to drive home Everton's third.
West Brom, amazingly, still looked full of confidence, and caused Everton problems at both ends, defending resolutely and attacking with simplistic clarity in a manner that continued to confound the leaden-legged Blues, denied so much space on their own home turf.
But another exquisite moment from Rodriguez, a gorgeous clip over everyone, perfectly weighted for Richarlison to shoot past the keeper, was going wide with Calvert-Lewin sliding in at the far post to score from 3 inches out. That made it 4-2.
Rodriguez was fouled just outside the dee. Sigurdsson came on for Doucouré, with Digne clipping a wonderful strike off the bar. Form the corner, Calvert-Lewin crouched and twisted, the ball flying in off the back of his neck! What a hat-trick for 5-2!!!
That finally blew the mojo out of poor old West Brom, who knew the game was up. Richarlison got past his man to convert a fantastic cross with a brilliant volley but he had ventured a foot offside and Everton's sixth goal was called back.
As Everton played out the last 20 minutes, knocking the ball around casually, a brilliant set-up for Kean was lashed woefully wide of goal. Another great play deserved a goal, Sigurdsson's wide crossfield ball to Digne volleyed first-time at Richarlison's head but he did not make the clean contact required that would have brought goal number six.
The whistle finally brought to an end a crazy game that Everton had looked lost in for 40 minutes, but some absolutely brilliant interventions from James Rodriguez were key in turning things around and making his favourite manager very happy.
Scorers: Calvert-Lewin (31', 62', 66'), Rodríguez (45'), Keane (53'); Diangana (10'), Pereira (48')
Everton (4-1-4-1): Pickford, Coleman, Keane, Mina, Digne, Allan, Doucouré [Y:16'] (65' Sigurdsson), Gomes, Rodriguez (78' Kean), Richarlison, Calvert-Lewin (71' Iwobi).
Subs not Used: Virginia, Kenny, Davies, Bernard.
West Bromwich Albion (3-4-2-1): Johnstone; Ajayi, Bartley, O'Shea; Furlong, Livermore, Sawyers (75' Field), Gibbs [R:45']; Pereira (70' Phillips), Diangana (71' Edwards); Robinson.
Subs not Used: Button, Kipre, Harper, Robson-Kanu.
Referee: Mike Dean
VAR: Simon Hooper
---
Reader Comments (517)
Note: the following content is not moderated or vetted by the site owners at the time of submission. Comments are the responsibility of the poster. Disclaimer
Kevin Prytherch
1
Posted 19/09/2020 at 11:31:17
Same first XI as last week!
Michael Kenrick
2
Posted 19/09/2020 at 11:40:45
That formation, 4-1-4-1, is from The Guardian, with Allan as the defensive midfielder. I assume it's accurate?
Dave Williams
3
Posted 19/09/2020 at 11:44:55
Surprised at no Gordon but otherwise probably what 90% of us would go for?
Fran Mitchell
4
Posted 19/09/2020 at 11:45:55
As expected, but no Gordon in squad. Unfair I'd say.
Can only assume is a way to try and maintain some value for the likes of Bernard and Iwobi who are surely up for sale.
Other than that: COYB
3-0 please
Brian Murray
5
Posted 19/09/2020 at 11:47:16
Sign of a good team is the bench and not one of them would get near a top 4 side. Big two weeks ahead with outgoings.
Vijay Nair
6
Posted 19/09/2020 at 12:03:58
Looks more like 4-3-3 to me Michael. Defence is self-explanatory, In the middle Allan (DM), Doucoure (Box to Box) and Gomes (AM), with a front three of Richarlison on the left, James right and Calvert-Lewin through the middle.
That's how I see it anyway...
Ernie Baywood
7
Posted 19/09/2020 at 12:19:24
I thought both Doucouré and Allan both started deeper last week and then adjusted based on the game.
We'll see. I'd hope we would see Doucouré start pushing on a bit more this week.
James Fletcher
8
Posted 19/09/2020 at 12:56:19
Yerry Mina is terrible.
Simon Dalzell
9
Posted 19/09/2020 at 12:59:44
He's not alone.
Tony Hill
10
Posted 19/09/2020 at 13:27:03
Wonderful to see both great talent and street-fighting nous from James. We ve missed the latter as much as the former.
He's turned the game upside down in a couple of minutes.
Tony Heron
11
Posted 19/09/2020 at 13:35:20
Completely agree about Mina, how he ever played for Barcelona is beyond me. I would even consider an approach for Stones, even though I never rated him defensively, I think he would be a step up from Mina. Nothing to be said about Pickford other than goodbye!
James Fletcher
12
Posted 19/09/2020 at 13:42:42
Mina at fault for both goals, offers nothing in attack it would seem, is a bit of a donkey, somehow worth millions.
James Fletcher
13
Posted 19/09/2020 at 13:45:11
I would also take Stones back, loan with buy option ideally.

Jim Harrison
14
Posted 19/09/2020 at 14:07:41
Yes, James is great, but today Coleman deserved to be on the same pitch as him. Rolling back the years.
Christy Ring
15
Posted 19/09/2020 at 14:14:15
We're really strong down the right side, we do need another centre-back. I agree with previous posts, Mina very poor. By the way, we're top of the table on our own!
Paul Richardson
16
Posted 19/09/2020 at 14:23:03
There is a pandemic, Boris. End the season now!
Steven Carmichael
17
Posted 19/09/2020 at 14:26:36
We are Top of the League... Say, we are Top of the League 💪
Kase Chow
18
Posted 19/09/2020 at 14:31:33
Boom!!!!
Great to win despite not playing well.
Steve Oshaugh
20
Posted 19/09/2020 at 14:35:10
Well, that was fun to watch. Two good goals from the Baggies but, other than that, we didn't look in any real trouble. Midfield looks really solid now and some real attacking threat to enjoy.
Mina does look slow and is the weak link in the back line. Hopefully Holgate comes back sooner rather than later. Pickford makes me nervous all the time. All-in-all, a good watch. :)

Ernie Baywood
21
Posted 19/09/2020 at 14:36:22
Mina and Keane still bother me in possession. We looked a bit rushed early and most of the 'creativity' was coming from defence.
Finally we seemed to figure out that if you give the ball to James... he just makes things happen. What a class act.
We've got a young striker. It's a miracle how Richarlison hasn't scored but he was good again. Full backs both really good.
But we're just fun to watch. Massive smiles in my household.
And James. Wow. Do fans of the mega money teams just get used to watching that kind of quality? Because I'm mesmerised by every touch he takes.
Jim Harrison
22
Posted 19/09/2020 at 14:37:07
How is Mina very poor, Christy?
Paul Johnson
23
Posted 19/09/2020 at 14:40:38
Great result and we are top of the league. Some strong performances. Allan is a monster. However, we need a new keeper. COYB
Will Mabon
24
Posted 19/09/2020 at 14:40:49
Had a similar experience to RS against a newly promoted side, came through with a more comprehensive win.
Paul Jones
25
Posted 19/09/2020 at 14:42:45
Agreed Will. But we had 45 minutes against 10 men. We still look vulnerable at the back...
Phil (Kelsall) Roberts
26
Posted 19/09/2020 at 14:45:30
Michael - did you nip out for a brew when Keane scored? :-)
Will Mabon
27
Posted 19/09/2020 at 14:46:08
Paul, I deliberately left those facts out!
Simon Dalzell
28
Posted 19/09/2020 at 14:46:29
Young Calvert-Lewin really is making the improvements that he needed to make. He is learning to sniff goals out instead of standing like a lamppost. We looked wide open at times, even against 10.
Great start but we need to tighten up somewhat or the better teams will punish us. I'm not the biggest Holgate fan, but I think we would have been a better team with him today.
Ernie Baywood
29
Posted 19/09/2020 at 14:46:31
Don't know that I'd blame Pickford for either goal. First came from being sloppy in attack while overcommitted (plus Mina backing too far) and second was a worldie.
We've just absolutely dominated that game. 5-2 doesn't really do it credit!
Darren Hind
30
Posted 19/09/2020 at 14:46:32
Mina lost his concentration a couple of times. That's all. Nothing a few games won't iron out.
West Brom showed a quality which took us (fans included) by surprise. Nobody panicked. We stayed calm, got back into the game and went on to play with purpose, passion and at times sublime skill.
And we won. That is all you can ask of your team.
Bill Gienapp
31
Posted 19/09/2020 at 14:46:46
Well, that match was a bit off the rails, but in the end a comfortable win that showed our quality. It's a sign of our shift in mentality that after both West Brom goals, I was simply irritated, rather than panicking.
James - pure class. Kept mostly quiet in the first half, then conjured up a superb goal. And some of those passes he was pinging around in the second half were ridiculous. That one he somehow threaded to Digne in the box was almost too perfect, in that Digne clearly wasn't expecting it to reach him.
Agree that Mina had a poor game, and Gomes flattered to deceive a bit as well. Richarlison's put a hell of a lot of graft in over these first two matches and it seems quite unlucky that Calvert-Lewin already has four goals and he has none.
Now back to bed, since I had to get up at 4:30 AM West Coast time to watch this on Peacock. Top of the table should bring some sweet dreams!
Tony Everan
32
Posted 19/09/2020 at 14:47:01
Big congratulations to Dominic, he's scoring for fun, delighted he is scoring from the scraps in the box, exactly what we need him to do.
It's tough to get wins in the Premier League. A lot of the time you have to get wins when you are not playing well. You have to find a way.
I thought we were, as Michael says, a bit lost for 40 minutes and even when James scored West Brom we're still in the match. We were often a bit sloppy and leaving ourselves out of position open to counter-attacks. Gibbs's moment of madness then ended the game as a contest.
The stats say we have come from behind once in the last 42 matches to win. So that says it all, we found a way to win, and we can play much better than that.
Jerome Shields
33
Posted 19/09/2020 at 14:48:22
Pickford – weak on distribution has to limit his long balls and did in this match. Mina not prepared to commit to the tackle, back off too much -ducked the freekick header. Gomes gets caught in possession when he is deep, which causes problems.
Jamie Crowley
34
Posted 19/09/2020 at 14:48:47
Everton 5, Mina 2.
Mina had a stinker. Really poor. I do think he's a good player however. People have bad days.
Everything else I have nothing but positives.
I'm getting seriously excited. We look like a very competent, dangerous team. It's wonderful.
Karl Graham
35
Posted 19/09/2020 at 14:48:51
This game proves we need another centre-back in. Both Mina and Keane are fine with Holgate but awful together with Branthwaite injured and Gibson going out on loan these are the only 2 centre-back we have available.
An experienced left-footed centre-back would be just the treat. We look dangerous going forward just need to make sure we don't waste so many chances. Situation of today's game helped us greatly.
Mike Allison
36
Posted 19/09/2020 at 14:53:36
I liked Carlo's comments after the game, realistic, not getting carried away at all and very clear that there some really important areas for improvement. The best time to hear that sort of thing is after winning and scoring five.
Hugh Jenkins
37
Posted 19/09/2020 at 14:56:06
Carlo is building a team. We (and he) knew where the major weakness was and that has now been addressed.
It is tragic that Holgate got injured as he did – followed by Branthwaite. It strikes me that Mina cannot play well for two games, consistently he is the proverbial "hot and cold" player.
I had hoped that having addressed the midfield area, we could manage for this season – or at least until January, without having to rush into the market to get another centre-back. Alas. the injuries to Holgate and Branthwaite and the inconsistency of Mina means it looks as though we will have to get in another centre-back in this window.
Danny Broderick
38
Posted 19/09/2020 at 15:00:05
It's been years since we've looked this dangerous in attack. Richarlison hasn't even started scoring yet. I can see plenty of goals with this front 3. If Kean can somehow find his feet, he will be an excellent option off the bench also, a bit like Origi for Liverpool.
Let's enjoy it while it lasts! Top of the league!!
Bill Gienapp
39
Posted 19/09/2020 at 15:01:05
Ernie (29) - agree, heaping blame on Pickford feels a bit harsh. Seems more a reflection on his lack of credit in the bank with the majority of the fanbase.
Why am I still up?
Tony Everan
40
Posted 19/09/2020 at 15:02:43
Bill G 31
Agree with your take, Mina looked rusty, Gomes sometimes looks like he has anti gravity boots on.
Richarlison hasn't scored but he has been fabulous these last two games. Working for the team while always looking threatening. Looks stronger and tougher this season too.
Like DCL he is a top player now and is still getting better. Exciting we have got them two and now being given top quality service from James Rodriguez and Digne.
John Pierce
41
Posted 19/09/2020 at 15:04:05
Carlo has introduced balance to the side. That makes were there is disharmony obvious. Ideally a left footed quick centre half redresses that. It would comfortably change the dynamic, allowing the ball to move quickly right to left and the dominant centre half to step up, especially in the air.
It's at must, I'm deffo gonna die on this particular tactical hill.
I hope Moshiri takes one more gamble because I see it as pivotal to our progress.
David Pearl
42
Posted 19/09/2020 at 15:04:08
We could actually look a better team away from home this season due to being more compact. The difference this game was Doucoure sitting a bit deeper in between Coleman and Allan to cover because wba were strong down that side. Early days, 2 games in so a lot still to improve on. And thats a good thing. But what a difference. Coyb
Derek Thomas
43
Posted 19/09/2020 at 15:05:32
Mina didn't come out of this with much credit and Gomes showed yet again that he is a total liability anywhere near his own box.
Previously we might've lost or at best drew - even Vs 10 men, so full credit to all concerned...even Mina and Gomes.
The media will give us minimum credit though - no change on that score
Justin Doone
44
Posted 19/09/2020 at 15:08:05
Another good win with some good luck, good goals and until James went off lots of forward controlled attacking play.
Without being critical of individuals a lot of players first touch and decision making was disappointing. There is certainly room for improvement which boads well.
Help us when James isn't on the field because he is quality and with better players we would have had more goal scoring opportunities.
I'd love a top quality, fast, skilful winger. We missed out on a few good frees but hopefully we can bring someone in who's top drawer.
Kevin Molloy
45
Posted 19/09/2020 at 15:08:46
I think it's worth highlighting just what Richarlison brings to this team. I think he is an outstanding player. Full backs must be watching us and thinking 'christ when do we play these'.
Tony Everan
46
Posted 19/09/2020 at 15:09:31
John 41, Hopefully they're re are on top of it. If there's one bit of business we need to focus on it is getting that left sided, quick mobile centre half. We will suffer for it if we don't.
Bill Gall
47
Posted 19/09/2020 at 15:14:49
Funny game West Brom looked a lot better than most people expected, still played well down to 10 men, and found their passes to each other a lot better than Everton did until they were down a man. The score line flattered Everton but it was nice for DCL to get 3 goals.
This game proved what James is capable of his goal was well taken but some of his passing is unbelievable. 6pts from 2 games is a nice start but there is still a lot of work to be done to get a top6 place.
Kieran Kinsella
48
Posted 19/09/2020 at 15:18:08
Different mentality was obvious today when we went behind and when WBA equalized. In the past heads would have dropped, someone would have lost their head and got sent off. This time you could see the determination to turn it around. The determination part is only half the battle though. You also need quality and we also saw lots of evidence of that
Pat Kelly
49
Posted 19/09/2020 at 15:21:53
Now we only have to worry about those teams behind us.
Christy Ring
50
Posted 19/09/2020 at 15:22:35
Jim#22 I thought Mina was poor today, I know he's a right sided centreback, like Keane, so it's not easy to adjust, but he was our weak link today.
David Pearl
51
Posted 19/09/2020 at 15:24:48
A Calvert-Lewin hat-trick... who'd have thought that a couple of years ago?
Barry Rathbone
52
Posted 19/09/2020 at 15:24:52
Just when I thought there was nothing to moan about 2 goals fly past Pickford from outside the box without a glove touching them.
He is simply not up to the job.
If we need to score 2 maybe 3 most games to compensate his inadequacy any ambition will vanish without trace.
Peter Mills
53
Posted 19/09/2020 at 15:26:53
I was happy before the game for us to play fairly well and win, and that's just about what we did.
There are still some weaknesses in the team, our defending was very naive at times, and we need a pacy winger/midfielder. But it's excellent to be watching a player like James in our shirt (just imagine the ovation he would have received from a packed Goodison), and DCL is scoring the scratchy goals we have needed him to score.
Terence Leong
54
Posted 19/09/2020 at 15:33:59
The few minutes involving James' goal and Gibbs' sending off, tilted the balance abit; while us conceding the goal from the free kick early in the 2nd half, showed again our frailties.
Glad to see the positives, Jame's influence and how he is adapting to the more physical league, DCL's hat-trick, Seamus handling things at both ends, Richie's industry and sharpness, and Digne's getting back to form.
I'm sure we'll take the 3 points, and allow the team to consolidate.
It's good that we were able to give the 3 subs abit more time to stretch their legs and get match fit, much as the contributions of Kean and Iwobi are muted.
That can only help us get players up and running when they need to play.
Paul Tran
55
Posted 19/09/2020 at 15:34:02
Anyone talking about 'over-reacting' would do well to watch Carlo's after-match interview. I like managers who aren't happy after a 5-2 win.
Its a while since EFC have got me out of my dining room chair. Did it twice today.
Jay Harris
56
Posted 19/09/2020 at 15:34:37
Barry you couldn't fault Pickford for either of those goals they were both down to Mina who didn't close the attacker down at all for the first and was the only B member of the wall that didn't jump for the second.
Apart from that Pickford has nothing to do.
I thought we started off slowly in each half instead V of going straight on the front foot but quality got there in the end.
I thought we needed a winger today instead of Gomes but what Do I know.
Well done blues.
David Nicholls
57
Posted 19/09/2020 at 15:35:14
Michael Keane looks the part now. A presence in both boxes and crisp passing. For me it's a case of who is going to win the spot alongside him
Jerome Shields
58
Posted 19/09/2020 at 15:35:28
West Brom where quite successful at the start nullifying James, Dourane, Allan and Richarlison. They where able to launch good counter attacks. It took them to tire and Calvert Lewins goal for Everton to get into the game. Other Everton players did not step up.
John Keating
59
Posted 19/09/2020 at 15:36:48
Some of the Ancelotti haters said his football was stone age
They also said they wanted to see more open attacking entertaining football
Well I think 2 games in they're getting that, however I have no doubt they're just waiting on the first defeat to pounce!
Considering it's still very early doors especially for the new players I think we are coming along quite nicely and am sure Ancelotti sees the areas we have to improve on far better than us
Though no expert like the manager the sooner we get a half decent goalie the better. Pickford and his antics are a liability and will cost us as we move on
Same midweek team as before except Gibson alongside Keane
Same team against Palace as today
Dave Abrahams
60
Posted 19/09/2020 at 15:37:47
Never saw the game, just read and had some fun on the live forum, so I'm happy with the result and I'm hopeful we will get two or three players in the next couple of weeks to really make us challenge the top clubs, it's obvious to most fans that we need these additions now, or we will continue to make the numbers up, while looking very good at times.
I think we all want more than that!!
Michael Williams
61
Posted 19/09/2020 at 15:40:17
"I bet Moyes could get more out of these players." HaHaHaHaHaHaHa.
Colin Glassar
62
Posted 19/09/2020 at 15:41:12
Great post match interview with Carlo on the BBC. He knows we weren't great throughout the game but we were very good in patches.
Mina is a concern for me as he could've done better with both of their goals. And Gomes has to improve his defensive game as several times he lost the ball too easily.
Carlo saying DCL needs to learn from watching tapes of Inzaghi I thought was brilliant. Learn from the best and inzaghi was one of the best!
John Pickles
63
Posted 19/09/2020 at 15:43:49
James goal, pure class.
Especially pleased by DCL's second goal, a real poacher's effort. Being in the right place at the right time is vital to be a prolific goal-scorer and I wasn't sure he had that instinct. He misses a lot but it's better to be in the right place six times scoring three than only being in right place once and scoring it.
Denis Richardson
64
Posted 19/09/2020 at 15:45:12
3 points and first home win plus 5 goals in the bag - not a bad first home game of the season!
The front 3 are really gelling well and I'll happily eat humble pie re DCL. I didn't rate him 18 months ago but he's sticking the ball in the net and you can't ask more than that. One of the strangest hat tricks I've seen of late but its 4 goals in 2 so great start for him. Hope he stays fit and keeps it up. With Richarlison and James, he'll get a lot of chances.
The midfield three will also only get better and it's been a good piece of luck for us to have a relatively easy set of opening fixtures to get some points on the board, build confidence and also allow the new boys to settle. Palace away next followed by BHA at home. 10 points from the first 4 games would set us up nicely before the international break.
Downside, as mentioned above, is CB and goalie. I don't think Keane, Mina nor Pickford would get into any of the top sides in the division so this is obviously an area we need to improve on. However, the main issue for the last few years has been midfield and it would seem Ancelotti has sorted this out in one stroke. Would be happy to get another decent CB in and let the team settle for now. New GK and another CB can be for next season imo.
Would also be nice to shift one or more of Walcott, Siggy, Bernard, Delph or Iwobi. None of them bring much and are really just bench warmers providing some squad depth but they're all on over 𧴜k/week! 5 non-first team midfielders costing the club over 𧺬k/week!
Onwards and upwards..
Tony Hill
65
Posted 19/09/2020 at 15:48:15
That pass from James to Richarlison for the 4th goal was beautiful to see. And, as Bill G says above, the pass to Digne through the eye of a needle was a thing of wonder. That is what Everton should be about.
When he comes off the field, JR looks like he should slip into a tux and glide into a martini. Not a bead of sweat, not a hair out of place.
Agree with all the praise for Seamus and Richie. And Allan, of course, who is crucial.
Steve Ferns
66
Posted 19/09/2020 at 15:50:36
Please help me. I am suffering from an overdose of euphoria and think it might be our year. I don't think I can handle the inevitable crushing disappointment.
Stephen Vincent
67
Posted 19/09/2020 at 15:51:17
Jay, no top notch keeper should get beaten from 22 and 30 yards when he has has an age to set himself to cope with a 70 yard run and a long distance free kick wide to his left. His feet didn't leave the ground for the first.
He is definitely not the finished article or as good as he thinks he is. Ideally need someone to put pressure on his place and improve his concentration.
Paul Tran
68
Posted 19/09/2020 at 15:55:01
Just enjoy it, Steve. When there's disappointment, just bounce back. The main thing is that, at the very least, we've got a team with a puncher's chance against anybody.
Will Mabon
69
Posted 19/09/2020 at 15:55:25
We're all aware of Pickford's failings and patchy form but he shoulders little blame today. You'll see shots like those passing top keepers every week in football. Pickford gets to more than most.
If Carlo and the team can get Pickford back to his earlier form here, we'll still have one of the league's better keepers. It's his instability and nervousness that are the problem; aspects we didn't see when he first signed.
It's still in there, it just needs bringing back out. Absent some catastrophic permanent change in his psyche, it's too early to think we should get shut, in my opinion.
Michael Williams
70
Posted 19/09/2020 at 15:57:36
Thanks for this Denis (63): "I'll happily eat humble pie re DCL. I didn't rate him 18 months ago but he's sticking the ball in the net and you can't ask more than that."
I hope folks here will give Moise Kean more time instead of rating the Italian national team player as not good enough so soon.
Will Mabon
71
Posted 19/09/2020 at 15:57:49
Colin, was that the same interview in which he mentioned the number of goals scored by first touch?
Tony Hill
72
Posted 19/09/2020 at 16:00:04
A word for West Brom. I thought they were excellent and their attitude was equally so. Diangana looks top notch. They'll be fine if they carry on like that.
Tony Abrahams
73
Posted 19/09/2020 at 16:00:09
Happy with Everton, stayed calm and composed, which is what happens when you bring genuine quality into the team. West Brom contributed to a very good first half, but I was impressed the way we kept trying to move the ball around, at a much better pace than we've been used to seeing.
Their free-kick was a great strike, but it never ceases to amaze me how goalkeepers line up their wall. It was very poor from Pickford imo, who I'm sure couldn't see the ball until it came over the wall?
Surely with free kicks further out, a keeper should stand in the middle of his goal, just like he does for a penalty kick, and this is easy done if they put a little gap in the wall? It won't be long until the opposition put one of their own players in the wall, I'm sure, but if he was standing centrally, I'm sure Pickford would have just moved his feet quickly to the left and caught the ball?
Rodríguez, has got to play inside, well he hasn't really, but I just think by playing centrally he will always be closer to the ball, which is his obvious strength, the way he can talk to the football. Sure we will miss his effortless switch of play, but he can still go and play there when he wants to, especially if we can sign another skilful wideman, who can also attack at pace through the middle?
Then onto Allan, it's been a long time coming but finally we have a genuine captain, and a little fetch and carry footballer, with industry that the flair players need to do their jobs properly. Well played Everton👏
Michael Williams
74
Posted 19/09/2020 at 16:02:41
Now that I think about it, I think today is the first time I've ever seen goals scored from outside the box without a goal keeper touching it. History was made today folks, history was made.
Will Mabon
75
Posted 19/09/2020 at 16:04:15
Tony, agreed. West Brom very good. Faster and fitter than ever, a totally evolved team, had my attention early on.
Minor point, but that has to be one of the worst kits I've seen in a long time.
John Pierce
76
Posted 19/09/2020 at 16:06:42
I'm deffo no fan of Pickford but to level criticism today for the goals is stuff of fantasy.
The first goal a giveaway buy us on the edge of their box, riced in transition, compounded by a centre-back scared of pace and wouldn't step out.
The second a needless foul, part of a collective failure to start the second half with intensity.
No way was Jordan at fault.
Conor McCourt
77
Posted 19/09/2020 at 16:07:17
Delighted with the win and nice to have a bit of Lady Luck on our side for a change. Six points is a great return from these two games.
I did however see the game totally different to all judging by the comments. I thought we were very poor in midfield and I don't think we have addressed the balance there at all.
Allan is not a holding midfielder and continually went hunting and got played around and was at fault for the first goal. Doucoure played the best I had ever seen him last week but was cumbersome and leggy today while Gomes had a shocker offering nothing going forward or in defence. I think this is still a problem area as West Brom played through us time and again in that first half.
We all know by now that Keane and Mina can't play together unless we camp on our box but they got very little cover today and both were exposed especially Mina.
At the top end it was a totally different story for me and I couldn't believe some were criticising Richarlison's performance last week as I thought our front three were mesmeric once again. We now don't need to perform well to win games of football with the quality there. Let's hope we can keep all three fit as they are a joy to watch on this form.
A few nice fixtures to follow so let's make hay while the sun shines.
John Keating
78
Posted 19/09/2020 at 16:16:13
Steve just enjoy it for as long as it lasts. As long as week by week goes by and Ancelotti addresses each little problem area our confidence will grow, and that's half the battle.
Tony
When the free-kick is so far out, do we really need that much of a, or any, wall? Really, I know it was a good free-kick but should England's number one be beaten so easily from there?
Regarding the early mis-kicks and abject attempt at the first goal, not much to say. The top clubs get the top available keepers. We are still well short
Graham Mockford
79
Posted 19/09/2020 at 16:18:49
We would have lost that game last season. Tbf to West Brom they started very well and deserved to take the lead but at about 25 my minutes our midfield took control of the game, Allan and Doucoure especially.
Even conceding a worldie at the start of the second half didn't throw us of our stride and once we regained the lead it was one way traffic.
Thought our full backs were excellent, DCL got his goals, Richarlison put a real shift in and trying to not get too carried away at how good James looks.
Tony Hill
80
Posted 19/09/2020 at 16:20:03
I think you are right, Conor, to the extent that there was a lack of balance in midfield today and there were alarming gaps at times. But some of that was down to the opposition who were quick on to us and, frankly, Bilic outmanouevred us until James decided to intervene. Also, things are still bedding in.
George Cumiskey
81
Posted 19/09/2020 at 16:20:32
I still think we were a bit slow in the build up playing from the back, and we didn't press high enough letting them get to our penalty area a bit too easily.
Just a a few minor quibbles.
Will Mabon
82
Posted 19/09/2020 at 16:21:30
Conor, I think there was a little chasing around out of position early on. The midfield were perhaps as surprised as us by the crispness of WBA. Doucouré and Allan were not as sure of their position as last week, and we weren't tested that way by Spurs.
Gomes was the sluggish one today and left us light a few times, even by his defensive standards. Only two games in. It will tighten up.
Bill Gall
83
Posted 19/09/2020 at 16:22:27
Dominic Calvert-Lewin is starting to get into the 6-yard area of the goal and as he said this is what Ancelotti has been teaching him in training.
Interesting comment from Leon Osman who said most people relate to a #9 when they score spectacular goals from outside the area, but the one you want is one who can get those ones around the 6-yard box as well.
For us old-timers it goes back to the likes of Jimmy Greaves whose majority of goals were in and around the 6-yard area, and was considered as one of the premier goalscorers of his day.
Doesn't matter how you score them, what matters is you are in the position to score them.
Steve Ferns
84
Posted 19/09/2020 at 16:24:30
I was buzzing after the game. But good old ToffeeWeb brings me back down to earth. Only this site can we score five and people still have knives out!
Okay, sure, Mina should have done better for the first goal. But what about Keane? He should have communicated for Mina to engage. I watched the replay several times and he had his mouth firmly shut. Digne too. They both should have communicated. Mina should have been told he was covered and could engage. His eyes were firmly on the man with the ball. Keane and Mina has a man between them. Digne should pick the runner up, push Keane to cover Mina and then Mina should engage.
Same old problem of no leaders at the back.
But we scored five. Enjoy it. When did that last happen.
Will Mabon
85
Posted 19/09/2020 at 16:26:22
Leeds going at it, trying to steal our thunder.
Pat Kelly
86
Posted 19/09/2020 at 16:27:21
Come on, Fulham!
George Cumiskey
87
Posted 19/09/2020 at 16:28:12
Bill Gall @ 83 Gary Lineker, Gerd Muller and even today Aguero are in that bracket.
Kieran Kinsella
88
Posted 19/09/2020 at 16:32:29
Steve
I was wondering if Mina struggles with communication as Silva mentioned his lack of English last year.
But, regardless I can't remember the last time an opposing side essentially gave up with 30 minutes left allowing us to sub out our best players. Not suggesting that made it easy, opposite in fact I think we deserve credit for mentally breaking WBA so damage limitation was their best option having already conceded five.
Martin Mason
89
Posted 19/09/2020 at 16:34:03
Mina's problem is being out of position often too far forward and the attacking midfielders run through him. He can't press without them running past him. He doesn't have the pace to recover neither. If he'd jumped 2" at the free-kick he'd have prevented the goal.
Come back soon Mason, he has none of those faults, almost the complete defender. Great game though wasn't it and James is like a dream. Everything is good, even Sigurdsson looked almost like a $40M player in the attacking position he took up when he came on.
John Pierce
90
Posted 19/09/2020 at 16:35:22
Conor, look at this way, because I largely agree with what you say. Last week we played deeper and the midfield were closer to the defenders as it was Spurs away. Both Keane and Mina looked decent. That gap was much bigger today for the reasons you highlighted. It definitely affects the midfield as they have to come and get the call and often the spaces are too big, hence WBA played through us at times.
A high line and quick centre back will squeeze that space, it gives the opposition fewer options. One of the centre-backs will be in the team most weeks and they have to learn to step up and play that way.
Ironically, when we went 4-2 up and scored the fifth, both centre-backs buoyed by the score line felt secure enough to squeeze up and step into the opposing half with the ball. It was our best spell in the game, not a coincidence for me.
Martin Mason
91
Posted 19/09/2020 at 16:37:08
My big worry is Richarlison, that man is outrageously good. How can we keep him without, as a club, matching his obvious potential as a player? He'll break the transfer record one day.
John Pierce
92
Posted 19/09/2020 at 16:38:09
Steve, bang on. I thought both centre backs were at fault. If Mina engages, encouraged by Keane, he can mop it up as the attacker has to 'make a move. It definitely hints at Keane's one-dimensional play and how well he reads the game.
Tony Heron
93
Posted 19/09/2020 at 16:40:28
Bill @ 83. Spot on with Greavsie. They used to say he passed the ball into the net! Pure class.

Danny O'Neill
94
Posted 19/09/2020 at 16:42:13
Like some today, I too didn't see the match today as I was in Berlin. Life pretty normal here incidentally, but that's another topic.
So I relied on comments here and those of people who were updating me as I politely nodded at admiring the tourist sights & attractions between 1230 - 1430 BST!! So, my thoughts:
1. We now have players who won't panic just because we go a goal down after 10 minutes. There are 80 more to play. Likewise, it's not the end of the world if we concede an equaliser straight after half time. There are still 43 minutes to go and win the game. I hope this isn't just because there isn't an anxious crowd scarred by years of watching mentally fragile teams who can't cope with that situation. When we go back, have faith in them.
2. We can score goals but still have an average-ish defence. This is going to take some getting used to as we (rightly) prioritised fixing the midfield over defence. That can come next window or next summer. We might just have to become used to the fact that we are going to concede, but at least we now know we have the ability to bounce back and out-score the opposition. It won't sit easy on the Moyes generation, but conceding doesn't always equate to inevitable defeat.
3. I confess to saying Calvert-Lewin didn't look like a top-level striker 2 years ago. Forgive me for my frustration as much as others get frustrated. Just as I say the defence will benefit from having a proper midfield in front, taking the pressure off them, similarly, the forwards will benefit from having a proper midfield supporting and creating for them.
4. Whatever happens, we are in for a much more entertaining and exciting season. We all watch football and Everton to be entertained right?
5. Calvert-Lewin with justifiably get the plaudits but Rodriguez, I believe is the difference as we have gone shopping in Waitrose rather than Tescos. We have Carlo to thank for being able to attract this type of player given our brand post last season.
6. We have signed the Brazilian Peter Reid. Games are won and lost in midfield.
Enjoy fellow blues. It is great to be enjoying and looking forward to watching Everton again regardless of result.
Tony Hill
95
Posted 19/09/2020 at 16:47:48
Martin @89, I agree. Sigurdsson is looking sharp. What a bonus that would be if he came back into form. I loathed everything about him last season but, at his best, he is a truly elegant and subtle player. Perhaps we can now afford the luxury of him.
Steve Shave
96
Posted 19/09/2020 at 16:48:04
David Pearl @51,
"A Calvert-Lewin hat-trick, who'd have thought that a couple of years ago?"
I hate to say it but I would. I think he has it all, we need to get behind him, he will miss a few but I think he will build on last season and score 20+ this season.
He is selfless, hungry, powerful, fast and good in the air. They will get him working on the finishing and finding spaces to get those snarky goals. He is a great find.

Darren Hind
97
Posted 19/09/2020 at 16:50:13
Mina is erratic, but he has never had the luxury of a long stretch of games.
I read with interest when James told us that Big Yerry had pleaded with him for the entire week to come and join us. Saying very nice things about the club.
He also said Mina was on the lookout throughout the entire Spurs game, shouting "Are you okay, Jay?" every time he got tackled.
Perhaps the big fella will settle down when he feels more confident in his mates' fitness and resilience and starts to concentrate on his own game.
Holgate is not a short term absentee. We have got to hope the two we have got in there start to forge a better understanding
Steve Shave
98
Posted 19/09/2020 at 16:53:25
Michael @70,
"I hope folks here will give Moise Kean more time instead of rating the Italian national team player as not good enough so soon." For all of my Calvert-Lewin promoting and backing, I'm afraid to say I have seen nothing to back up the hype surrounding Kean. In fact, I would go as far as to say we should get rid if we can get our money back.
I am generally a positive blue but I just don't see what the fuss is about. I hope and pray he proves me wrong but, if we can get an offer of 㿅M plus, we should take it and go for Edouard.
I can see us selling Kenny, buying Arias and getting Tomori on loan.

Andrew Keatley
99
Posted 19/09/2020 at 16:55:46
Steve (84) - The fact you can watch that first goal several times and find a way to blame Michael Keane (or Lucas Digne) is staggering.
Mina is terrified of a foot-race so he just backs off and backs off, as it is a two on two. Digne sprints back incredibly well to turn it into a two v three, and Mina should have engaged at that point, with Keane ready to cover. Whether the communication is there or not, Mina should be stalling the striker waiting for support – when the support arrives he has to engage.
But before all that, with James in possession on the edge of the WBA box, Gomes inexplicably loses focus so when the ball is passed to him he is looking away and cannot collect it. Allan and Doucouré are committed to the attack, so for me this is unforgivable from Gomes. When your midfield screens are ahead of the ball, and your mistake lets the opposition straight to go two on two against your centre-halves – that deserves at least the hairdryer at half-time, and possibly the hook.
I've lost faith and patience in Gomes now. He's too slow, too ponderous, never seems to win a meaningful tackle, gives away too many free-kicks, very rarely makes a pass that hurts the opposition, and is too easy to dispossess. All-in-all, I think we should be looking for a better option there, as when we play against better teams his mistakes will cost us results.
John Keating
100
Posted 19/09/2020 at 16:56:39
I think today's game and last week at Spurs will mirror image all season. Away, we will be just that more defensive and look more solid; at home, same team, a bit more attack-minded and therefore we will allow teams to counter-attack us at pace.
We are doing okay but when we play the likes of Man City and Liverpool, where they can come at you from every position, we will have to be more smart and play more a Spurs style than a West Brom.
Barry Rathbone
101
Posted 19/09/2020 at 16:59:52
The point of a goalie is to help bail out the defence. Pickford didn't come close and not for the first time.
He's a liability.
Paul Smith
102
Posted 19/09/2020 at 17:02:16
West Brom were good first half – matching, if not playing better than us as a team. Our individual quality told and Gomes pissed me off with his foul for their equaliser, he is a liability with his erratic tackles by our box.
The midfield was wide open at times and I put that down to WBA playing some good stuff and right up for it. Carlo is not happy with the defence so expect another in before the clocks go back.
Well done Calvert-Lewin, he's buzzing tonight!!
Neil Bowman
103
Posted 19/09/2020 at 17:02:46
Great result if a little shaky at the back at times.
Interesting comments from Calvert-Lewin on BBC Radio 5Live interview. Seems we will be playing a much conventional set up in which he is more of a typical fox-in-the-box type striker.
Harks back to the 80s when the team structure was based on strikers striking, wingers winging and midfielders running the show. For the first time in a long time, we seem to have the right players in the right positions.
I for one can't wait to see how it plays out.
Frank Crewe
104
Posted 19/09/2020 at 17:03:06
@Steve 84
"I was buzzing after the game. But good old ToffeeWeb brings me back down to earth. Only this site can we score five and people still have knives out!"
I quite agree. This is becoming a site for moaners. Dom gets his first hat-trick. James was world class again. Everyone played well... yet, just because they gave us one or two problems, it's nothing but complaints.
We're a much better side than we were last season but it doesn't mean opposing sides won't give us a game. As it should be. This is the Premier League after all. Every side we play should give us problems.
Personally, I don't think playing into the sun in the first half did us any favours but, once we got on top, we just brushed them aside. I've seen James do that lob over the defence when he was playing for Bayern in one of his YouTube videos. You can see what Carlo thinks of him. He's like the son he never had. Brilliant player.
Steve Shave
105
Posted 19/09/2020 at 17:03:15
I haven't studied the highlights yet, was Pickford completely to blame for the first or are we just being Everton fans and looking for scapegoats?
I didn't see the game and the highlights of the first goal didn't immediately jump out to me as being a huge goalkeeping error? The second was a great free-kick.
I like the look of that winger the have, what a steal for them, no wonder Hammers fans are spewing about it!!

Phil Greenough
106
Posted 19/09/2020 at 17:06:39
Would you credit it? That twat on Sky Sports said they're not showing the Premier League table, as they've only played one game. I wonder if it would be the same story if one of their darlings had been top of the league, after playing two games?
Brian Williams
107
Posted 19/09/2020 at 17:11:28
Steve #105.
IMO not Pickford's fault. The mistakes started just outside their box when Allan got sucked in and was then bypassed on the counter-attack. Mina erred next when he backed off and allowed the shooting chance.
If you see the replay, it shows Pickford quickly checking his position and then the lad shoots well and scores.
Some will blame him. I don't on this occasion.
Tony Williams
108
Posted 19/09/2020 at 17:11:44
We aren't used to this. Superb classy performance against Spurs. Scoring goals, 5 today, going forward, playing attractive football. Classy new recruits. Nothing to moan about, bring back big Sam.
Kevin Prytherch
109
Posted 19/09/2020 at 17:12:22
Regarding Sigurdsson – as someone alluded to on another thread – he's a fine player when he has time, he isn't when he doesn't have time. He shone against Salford when they started tiring and today against 10 players. I bet, if he had started, he would have been largely anonymous as West Brom mainly just defended.
Used like today, Sigurdsson could be a very useful weapon off the bench to kill a game off. I just hope we don't fall into the trap of believing he can do it under different circumstance off the back of a couple of performances like this.
Tony Everan
110
Posted 19/09/2020 at 17:15:48
Andrew 99, I have the same thoughts about Gomes but, to me, he needs a run of games. He is like a lazy thoroughbred racehorse that is difficult train. I want to see Gomes much fitter and much sharper, I still think he is holding back 10% and the challenge is for the trainers to get it out of him. As Kevin above says, we can't fall into the trap thinking Sigurdsson is the answer in this role, he isn't.
Swap the sharp and mobile Bruno Fernandes in that Gomes role and we go up a notch further, top 4 challengers becomes a reality (along with the expected speedy left-sided centre-back).
For the moment we have to hope they can get more out of Gomes to find something approaching that.
Darren Hind
111
Posted 19/09/2020 at 17:17:55
I think predicting the way we will play is foolish.
I remember one expert predicting we would lose every game for the rest of the season When Silva was in charge.
He disliked him so much, he came back every week to make the same prediction. It got really amusing because, the more he wanted us to lose, the better we played.
Brent Stephens
112
Posted 19/09/2020 at 17:17:57
Well done, Calvert-Lewin, for the hat-trick. Love the touches from James. But I absolutely love Allan – a tiger, in the thick of it, indefatigable. The space in front of our back line now looks so much more secure. And due in no small part to Doucouré as well.
Tom Bowers
113
Posted 19/09/2020 at 17:19:42
After the euphoria of the result at Spurs, I wasn't surprised we started crap today but the class told eventually.
I would like to get Tomori in as Mina and Keane are too much alike. Good in the air but a little slow on the ground.
Just watched Leeds v Fulham. They both have porous defences and one of them will go back down.
Tony Hill
114
Posted 19/09/2020 at 17:23:41
This season is likely to be great fun but erratic. That's part of the transition for us. It's pleasing to hear neutrals say that we're good to watch.
But the main point is this: for the first time in a long while you can see us making a genuinely significant jump forward. This is a different gear.
Brent Stephens
115
Posted 19/09/2020 at 17:24:57
And a win at Highbury for 4 wins in 4.
Karl Meighan
116
Posted 19/09/2020 at 17:28:48
When was the last time we came away from a game thinking, lots to improve on having scored five times. They may well have had ten men for the whole second half however the early signs are showing there is far more to come from this team as they gel and grow in confidence.
It's difficult to be critical of the mistakes made when the team responds the way it has today. With the points in the bag, we move on to the next game with bigger tests to come.
Steve Shave
117
Posted 19/09/2020 at 17:29:51
Someone has already posted a montage of James's contributions today, watch, enjoy, love. pure silk:
Jay Harris
118
Posted 19/09/2020 at 17:31:52
Phil,
Plenty of time for the table next week when we'll have 9 points on the board.
Im with Steve Ferns on not being able to understand all the moaning.
Apart from 2 Yerry Mina mistakes Pickford wasnt troubled at all.
On the first one you shouldnt need to be told to close a player down and not keep backing up allowing the player so mucg space.
On the second one Pickford organized the wall and it was only Mina who didnt jump. If he had jumped like he should have no way was that going to be a goal.
I cant remember the last game we scored five and really it could have been six or seven such was our domination.
Yes some players could have done better but that is the case for every team in every game. All 11 players cant be outstanding in every game so I am still buzzing from our first two performances and results (3 if you count Salford).
I feel there is now a professionalism in our ranks which wasnt the case under Martinez, Koeman or Silva.
Philip Yensen
119
Posted 19/09/2020 at 17:33:38
Mina, no. Pickford, no. Gomes, no (unless he wakes up). We gave too much time in midfield to an average side. The better we get the tougher it will become, are theses players up for the battle ahead ?
Martin Reppion
120
Posted 19/09/2020 at 17:34:36
I can't believe the crap still being aimed at Pickford on here. He was sent a hospital pass early on which made him look sloppy. He was sold down the river for the first goal. For the rest of the game he was decisive and cut out everything (albeit little) that was thrown at him. Get off his back.
I am worried about Mina, who lacks commitment to the ball. I would take John Stones back in a heartbeat but, if there is an old fashioned blood-and-guts number 5 out there to play alongside Keane or Holgate, it would be a better mix. The Mountfield or Watson type next to a thinker.
Anyone we can sign in this window looks like it will need to be a loan or dependant on players leaving. Probably why Iwobi got some shop window time today.
But come on guys. we came from behind and cruised to a 5-2 win. I can't be alone in hitting the beers tonight in a happy mood, can I?
Dan Nulty
121
Posted 19/09/2020 at 17:38:11
Agree Martin, I've been on here often enough saying we need a new keeper but Pickford did nothing wrong in my book today. Mina, who I've usually been a fan of, was an absolute fart in a trance today. What he did for that free-kick was an absolute disgrace and I expect Big Dunc to give him a stare at training on Monday when they go through the game.
Joe McMahon
122
Posted 19/09/2020 at 17:39:11
Just got home from the local beer garden, match was on outside but struggled to seen in the sun. A bit tipsy and what an afternoon. Pleased for Calvert-Lewin and Carlo, people were questioning him, why I don't know. He has got us 3 signings that make a difference.
Saturdays in the sun, Everton winning, beer, love it!
Ray Roche
123
Posted 19/09/2020 at 17:40:36
And United losing 🤣🤣
John Keating
124
Posted 19/09/2020 at 17:40:39
Brent 112, Spot on!
And when you think Ancelotti, the spent force dinosaur who couldn't attract these players to us, gets applause, well it's great.
The longer we can play like this, the longer the haters will keep the amazing low profile they're taking so far.
Paul Birmingham
125
Posted 19/09/2020 at 17:44:18
A good start to this weekend, and another solid performance to recover, and show good confidence and belief. Long may it last, and it's a good boat for a tricky away game at Palace.
Hopefully we can keep up the form and keep up this for,
A very good start to this season, and onto the next game.
Brent Stephens
126
Posted 19/09/2020 at 17:44:37
Ray, United were SO lax at the back for that goal. Unbelievable.
John #124 Ole Gunnar or Carlo? Difficult choice!
Dan Nulty
127
Posted 19/09/2020 at 17:49:08
But can I also add how exciting it is to see top quality players in a blue shirt.
We've had some good players in blue shirts in the middle who I liked a lot like Arteta, Graveson but not since Dacourt really have I thought we've got a genuinely class midfielder like we have in Allan. And we've certainly not had a genuinely world class player since the 80s like James. Different gravy.
Steve Ferns
128
Posted 19/09/2020 at 18:00:10
Come on fellas. We're 6 from 6. This could last a little longer. Let's enjoy every second of it. There's plenty of time when the run comes to it's inevitable end to moan about our deficiencies. Meantime, the window is still open and we're a very attractive proposition and if the magician Brands can find a few more halfpennies to convince a great player to join us, then things could get even better.
We're top of the league. Enjoy it as this doesn't happen often.
Brian Williams
129
Posted 19/09/2020 at 18:06:24
You're wasting your time, Steve, I fear. Never ceases to amaze me how negative some can be in here. Some want to moan no matter what.
But be careful. Don't be bombastic in your opposition to them. Like you, I wanna enjoy it while it's there, rather like the beer when Dave Abrahams buys them for me.
Tony Abrahams
130
Posted 19/09/2020 at 18:12:19
Mina has done great work in helping get Rodríguez to Everton, but now James is here, the spotlight will be on every Everton game, back in his native Columbia. Big Yerry, has got to step up now, otherwise he's going to get even more stick back home, than he gets off Evertonians!
John K, that's my point, I honestly think goalkeepers really contribute to a lot of great free kicks, especially with those walls, that stop them seeing the ball until it's already in the air, and nearly over that wall
Martin Mason
131
Posted 19/09/2020 at 18:13:22
Martin @120, you understand the Pickford reality. His detractors unfortunately don't.
John Keating
132
Posted 19/09/2020 at 18:15:32
Steve 128
Spot on Steve
Some people just can't handle us having an improvement and giving Ancoletti and the players the credit they deserve.
It may not last and for sure you will see them coming out the woodwork with the I told you so's
Right now, as you say, let's enjoy it and Keep the I'm never wrong lot off the threads ruining it for us.
David Pearl
133
Posted 19/09/2020 at 18:21:32
Just seen Palace defend a free kick and non of them jumped. Perhaps Mina and co were told about jumping so the low shot isn't an option. You could pick holes in a few players today if you really wanted to. However, its a sign to maybe not be at our best but still score 5 goals. Aided by the perfect hattrick. One flick, one scuffed and one off his back.
Brian Williams
134
Posted 19/09/2020 at 18:21:36
I just cant wait for MOTD though I may not be able to see straight by then!
Andrew Ellams
135
Posted 19/09/2020 at 18:24:27
What today highlighted is where we have improved and also where we need to improve.
We need more pace at the back sooner rather than later.
John Pierce
136
Posted 19/09/2020 at 18:24:56
David, some coaches believe in hybrid walls, I think you are alluding to it, alternate players jump, others stay grounded. It's an interesting element, rather than having a tool lying on the floor, prone and taken out of play.
Jay Wood
[BRZ]
137
Posted 19/09/2020 at 18:25:47
Oh come on yourself Steve Ferns!
Look back at your own post @ 84 which opens by complaining about TW expressing negativity about the game and the start of the season...and then immediately contrive a way to call out a player you constantly scorn, Michael Kean, as being part culpable in their opening goal.
Others with justification call out Mina on both goals. Carlo, arms spread wide, clearly not impressed by such a soft giveaway.
3 games. 3 wins. The last two by 3 clear goals. Average age of the mid-week starting XI 23. Nailed on starters from last season now only making the bench if they're lucky. DCL 4 in 2. James reminding Blues what a genuinely class footballer is. Carlo knowing and stating what needs to improve.
Can't wait to enjoy the next game, regardless of the opposition, home or away.
Will Mabon
138
Posted 19/09/2020 at 18:26:44
Steve, 117:
the commentary for James' goal on the link you posted; archetypal South American commentary, love it!
James calmly and effortlessly made a huge contribution today.
Jay Harris
139
Posted 19/09/2020 at 18:29:24
Peacock waxing lyrical about all the world stars coming to the prem like Bale and Thiago. No mention of James.
Its a definite conspiracy!!!
Dan Nulty
140
Posted 19/09/2020 at 18:31:18
For those slating Gomes, watch the build up to James goal again and again until you see what he does in the build up. Great gamesmanship.
John Keating
141
Posted 19/09/2020 at 18:35:07
Jay
I think Steve is equally happy at our results and play so far
His posts have been as optimistic as most have
There's only a couple of posters waiting for the slip up and for sure Steve is not one of them
Let's enjoy it and hope Palace aren't as good next week as they are in the first half at Old Trafford!!
James Marshall
142
Posted 19/09/2020 at 18:35:42
Sometimes you just have to hold your hands up, and the free kick was a very good one - keepers sometimes get beaten, it doesn't mean they're useless.
Same for the first goal - when Doucoure and Allan are both caught ahead of the ball, we're vulnerable to runs from deep and leave the defence exposed. That will change in time when they fully work out each others game and rotate the shielding in front of the back four.
Some heavily critical posts on here, which feel a little premature, not least since we won handsomely, and we're top of the league!
I thought we were excellent today, James is world class, and oozes calmness, skill, and vision. He really is a joyful footballer to watch and I can't wait to see him play live in the flesh. Football at Everton in recent years has been turgid at times, and a lot of us lost that joy, but it's back at least for now. Allan is also a high quality footballers in my view, absolutely crucial to the way we play and really someone I'm certain Evertonians are going to universally fall in love with.
We have squad depth, options all over the pitch, creativity & goals, and we have defensive players to come back. With Holgate & Keane alongside our quality full backs I think our first 11 is good enough to beat anyone in the division on current evidence.
I also fully expect the bubble to burst obviously - I wouldn't be an Evertonian if I didn't think so!
Lee Courtliff
143
Posted 19/09/2020 at 18:36:48
James is on a completely different level to anything I've seen in a Blue shirt since the days of Andrei Kanchelskis.
Much to improve on but a very positive start to what could be a good season.
Brian Williams
144
Posted 19/09/2020 at 18:37:52
John#141.
Yeh but you have to remember Palace are only playing Man Utd. 🤣🙃🤣
Martin Mason
145
Posted 19/09/2020 at 18:38:43
If Mina got James to us then I forgive him as long as he doesn't play too.
Kunal Desai
146
Posted 19/09/2020 at 18:41:27
I sense something special is about to begin at this club under sir Ancelotti. We've had to be very patient (three decades almost) but the good times are around the corner.
Kieran Kinsella
147
Posted 19/09/2020 at 18:42:13
The only real positives are that we are top of the league, we are scoring goals, dominating possession, on a three game win streak, we've the luxury of resting Walcott and Gordon from the match day squad, other than that it's a complete disaster. Everton Out
Brian Williams
148
Posted 19/09/2020 at 18:45:25
Kieran you're SO negative!
Kieran Kinsella
149
Posted 19/09/2020 at 18:48:01
I know Brian I am just upset that some of the players shirts looked a little wrinkled and a stadium long shot showed some cigarette butts littering the street outside the Gwladys st end but I guess we can gloss over those important issues and focus on trivial matters like being in first place
Graham Mockford
150
Posted 19/09/2020 at 18:49:01
I think Sigurdsson still has a place in this squad. He was excellent today when he came on. He was decent in midweek admittedly against poor opposition but he's always had something. In Silva's first season he was one of our best players, I suspect because he was playing alongside Gueye
He had a terrible season last year, truly woeful but I think he still has something to offer and I think he could flourish in a midfield where we now have some genuinely athletic and competitive midfielders in Allan and Doucoure.
The same can't be said about Iwobi or Walcott
Brian Williams
151
Posted 19/09/2020 at 18:49:26
If you must
Will Mabon
152
Posted 19/09/2020 at 18:50:43
Must what, Brian?
Brian Williams
153
Posted 19/09/2020 at 18:52:27
Kieran. Talking of outside Goodison did anyone see the "tweet"? on Twitter of Carlo orchestrating the "Carlo Fantastico" song from his Royal Blue motor after the game?
David Hallwood
154
Posted 19/09/2020 at 18:52:39
There's a few short memories on display here. Cast your mind back to this time last season and Mina was our best, most consistent player.
OK he was dodgy today, but ffs it's the 2nd game of the season.
John Pendleton
155
Posted 19/09/2020 at 18:53:09
So far we have:
won away with a clean sheet at a top club,
come from behind to win,
enjoyed a comfortable cup win,
averaged 3 goals a game,
bedded in a brand new midfield,
seen our superstar signing score on his home debut,
beat a newly promoted club,
a striker scoring a hat trick,
had a favourable VAR decision,
displayed quality rather than promise,
pushed for further goals despite commanding lead,
reached the top of the league,
entertained and excited fans from start to finish.
Despite the above, the nerve-jangling antics of the usual suspects understandably draws out the lingering negativity of parts of our beleaguered fan base.
Could this season be different? Can our lapses prove non-fatal given the changes in attitude and personnel?
At 1-0 down today I felt the slightest hint of something that I haven't truly felt since the 80s. Confidence. You scored, well done. We'll just have to score more.
Not getting carried away after 2 games but it's nice to think we have the ammo to get out of sticky situations. If this is another false dawn, it's an enjoyable one so far!

Brian Williams
156
Posted 19/09/2020 at 18:53:14
That was for Kieran Will lol. As in but I guess we can gloss over those important issues and focus on trivial matters like being in first place If you must.
Phil Greenough
157
Posted 19/09/2020 at 18:57:26
Which begs the question, John Pendleton, have we signed a pact with Old Nick, like our neighbours?
Trevor Peers
158
Posted 19/09/2020 at 18:59:37
Great entertainment for a change, James is a joy to behold, how thankful must DCL be to have a class provider like that behind him, he seems to be relishing each game and has found his scoring touch early on and is obviously enjoying himself. Richarlison was unlucky, I'm sure the goals will come soon.
Allan had another solid game as did Doucoure. We seem to have a habit of giving the ball away in bad areas of the pitch at times and then getting punished, we need to work on that. Unfortunately Gomes seems a bit lost at times giving up possession easily and not moving the ball forward early enough, Mina also gets caught out by pace and looks vulnerable. I'm sure Carlo will Iron out these problems, if he can we can look forward to a great season.
Kieran Kinsella
159
Posted 19/09/2020 at 19:03:27
Wow VAR pen against Utd at OT. The world has changed
Alex Kociuba
160
Posted 19/09/2020 at 19:03:37
3 DCL goals and 2 red cards but no full house
Nicholas Ryan
161
Posted 19/09/2020 at 19:03:56
Isn't it just typical of footy fans' luck. Finally, a season of 5-2s and 4-3s everywhere, the league littered with top class players .... and no bugger there to see any of it!!
Kieran Kinsella
162
Posted 19/09/2020 at 19:04:50
Omg now a retaken pen at Utd. This season is great
Brian Williams
163
Posted 19/09/2020 at 19:05:04
Jesus a retake at OT.
Never a penalty anyway and surely a retake should have to be taken by the player who took the first one if it's to be fair?
Brent Stephens
164
Posted 19/09/2020 at 19:05:37
Shocking penalty decision against United
Kieran Kinsella
165
Posted 19/09/2020 at 19:06:33
Settle for two Palace so we stay top on goal difference
Jamie Evans
166
Posted 19/09/2020 at 19:07:18
Palace going be a tough game, they are looking good v United, lots of pace up top
Alan McGuffog
167
Posted 19/09/2020 at 19:08:37
We needed plucky little Man U to take a point off our rivals
Brian Williams
168
Posted 19/09/2020 at 19:09:22
I feel sorry for Palace as they'll be cock a hoop tonight only to come down to earth with a bang next week! 😁
Darren Hind
169
Posted 19/09/2020 at 19:10:43
This is a funny thread. Very funny.
I see a couple of people critiquing a couple of individual performances but the thread is one of celebration and an overwhelmingly positive reaction to the game... The only real negativity is from those calling for a halt to the... err, negativity.
The players and the manager were rightly slaughtered last season. So far this season, they are doing exactly what the critics were saying they wanted. If they continue to do that, then everybody is contented and the praise will duly given. Isn't that how it should work?
This is one of the most positive, happy after-match threads I have ever read on ToffeeWeb. I don't understand why some people can't be happy with that.
Brian Williams
170
Posted 19/09/2020 at 19:13:43
.
..The only real negativity is from those calling for a halt to the... err, the negativity.
There's two 'negativities' there, Daz, so there can't be an "only" real negativity. 🤣

Bill Gall
171
Posted 19/09/2020 at 19:15:02
About time Man Utd were put on the wrong decision on a penalty, they were given enough last year. Man Utd get 1 back with 10 mins to go. Looks like giving Zaha the captaincy has done him good. Be another hard game next week, but then there are no easy games in the Premier League.
Kieran Kinsella
172
Posted 19/09/2020 at 19:15:41
I think the Palace game will be a lot like the Spurs game. Similar tactics but Palace players aren't as good as Spurs. So I think it will suit us. Brighton will be interesting though because they play a possession game also.
Kieran Kinsella
173
Posted 19/09/2020 at 19:16:47
Oops I spoke too soon
Brian Williams
174
Posted 19/09/2020 at 19:17:09
Ffs Zaha!
Dan Nulty
175
Posted 19/09/2020 at 19:17:19
Zaha playing his way out of our price range, captain too. He is going nowhere.
Brent Stephens
176
Posted 19/09/2020 at 19:17:46
Three for Palace!
John Boon
177
Posted 19/09/2020 at 19:20:06
With a start like we have had and that little bit of luck which we never seem to get, things are looking positive. However, the season is long and consistency is so important.
Centre-back really does need to be solved because neither Keane and particularly Mina are just not tough enough. We need a hard-tackling fast-moving back. Branthwaite could be just that but he still needs time. For such a big guy, Mina seems to be nervous about heading a ball. That was shown by the free-kick which he could (not should) have got.
However, all-in-all, we should all be very pleased with how we are playing. Must stay positive.
Geoff Lambert
178
Posted 19/09/2020 at 19:21:09
Zaha tearing M Utd a new one
Simon Dalzell
179
Posted 19/09/2020 at 19:21:56
Zaha is making Everton's dithering painfully hard to take. He should be signed as a matter of urgency. Probably too late now.
Kieran Kinsella
180
Posted 19/09/2020 at 19:22:11
Hopefully Moyes can do a number on Arteta.
Will Mabon
181
Posted 19/09/2020 at 19:22:53
What a pleasant day this is turning out to be.
John Pendleton
182
Posted 19/09/2020 at 19:25:13
Phil 157 - we've got a couple of weeks in the window. If we tried to sign 'That' pact with the devil no doubt it will rumble on for ages before Spurs try and gazump us last minute.
Geoff Lambert
183
Posted 19/09/2020 at 19:25:50
Gone from 350-1 to 90-1 with the bookies to win the whole thing.
Brent Stephens
184
Posted 19/09/2020 at 19:28:43
John #182 Spurs last gazumping of us might not have been very clever.
Will Mabon
185
Posted 19/09/2020 at 19:28:45
Geoff, they plug their arses fast enough. 90 is still a good punt though.
Christy Ring
186
Posted 19/09/2020 at 19:30:47
Steve #84, I know you don't rate Keane, you constantly ridicule him on this thread. He's scored two goals in two games, but instead of a little begrudgingly praise, you somehow attribute blame on him, when Mina is clearly at fault. Talk about negativity?
Geoff Lambert
187
Posted 19/09/2020 at 19:31:00
I've got a tenner on at 350 last week.
John Pendleton
188
Posted 19/09/2020 at 19:31:29
Just need Moyes to keep Everton on top of the league. Not often those words have been used in the same sentence.
John Raftery
189
Posted 19/09/2020 at 19:32:06
As Manchester United have just learned there are no easy games in the Premier League.
Less than two months ago we lost 3-1 against a team about to be relegated. Today we have beaten a newly promoted team 5-2. For me that is evidence of significant progress in a very short time. It wasn't perfect but two consecutive wins in the league are not to be sniffed at.
We have started well and momentum counts for a lot in this league. Providing the players don't start thinking they have cracked it we can be optimistic of a decent season ahead.
Dan Nulty
190
Posted 19/09/2020 at 19:32:52
Having watched the Man Utd game they were poor. Really poor. Hopefully no Bale bounce at Spurs and we should finish top 6 comfortably.
Just hope beyond hope we can have a season getting lucky with no or few injuries.
Will Mabon
191
Posted 19/09/2020 at 19:33:32
That would be nice, Geoff...
Brian Williams
192
Posted 19/09/2020 at 19:34:11
Everton dithering, lol.
Good one.
Steve Ferns
193
Posted 19/09/2020 at 19:34:41
Jay, and others, I think Keane is playing very well. Far above the level I expect of him. I just pointed out that more could have been done. I would still say Keane played well and Mina, whilst worse, still did okay.
We won by three goals and I'm very happy thank you very much. I'd also be happy not to sign a centre-back right now, as Keane is playing so well. I hope he can continue to prove me wrong.
Will Mabon
194
Posted 19/09/2020 at 19:35:01
No Bale for several weeks – knee injury.
Geoff Lambert
195
Posted 19/09/2020 at 19:36:07
Top of the League, Top goal scorer, and girlfriend's kids just gone to their dad's for the night.
Yes!! I get to watch MotD.
Will Mabon
196
Posted 19/09/2020 at 19:37:01
Ha!
Bill Gall
197
Posted 19/09/2020 at 19:37:26
Wonder how Zaha would perform in Gomes's place if Everton signed him or is his best position out wide.
Suppose all the comments will be how poor Man Utd were and not how good Palace played. The same as us last week as far as the pundits said it was how poor Spurs were and not how good Everton were.
Ajay Gopal
198
Posted 19/09/2020 at 19:38:47
The turning point, imo, was when were 0-1 and then Livermore (I think) hit the post. If that had gone in, it would have been tough to come back from 0-2.
The 2nd turning point obviously was the red card on Gibbs. We have ridden our luck so far this season, and the refereeing in both the games was quite decent.
I thought Doucouré and Allan had a relatively quiet game. James, Calvert-Lewin and Richarlison were brilliant. I was surprised that Kean being preferred by Carlo over Gordon, because, in my eyes, clearly Gordon is the in-form player.
Iwobi ran around a bit when he came in, but the guy just doesn't put in any tackles. Anyway, the past 7 days have been absolutely fantastic to be an Everton fan and long may it continue.
Kieran Kinsella
199
Posted 19/09/2020 at 19:41:25
I don't expect a Bale bounce. He is like Hulk Hogan when he showed up for Wrestlemania but didn't wrestle the other 51 weeks of the year. Playing the occasional Wales game isn't the same as week-in & week-out football.
He's effectively been semi-retired for two years. I can see him having the odd moment but I'm much happier with and more optimistic about James.
Will Mabon
200
Posted 19/09/2020 at 19:43:39
May be saving Gordon for a start against Fleetwood.
Bill Gall
201
Posted 19/09/2020 at 19:44:01
I think the problem with Keane and Mina is they both prefer the right-hand side of the defense, and whoever has to cover the left-hand side finds it difficult, and that is why Everton are looking for a left-sided central defender as both Holgate and Branthwaite prefer the left side and are injured.
Will Mabon
202
Posted 19/09/2020 at 19:44:51
Kieran, me too, by a mile.
Brent Stephens
203
Posted 19/09/2020 at 19:45:17
Geoff "Girlfriend's kids just gone to their dad's for the night. Yes!! get to watch MotD."
With the kids away and presumably just you and the girlfriend in, will you be watching MotD at the same time as engaging in some other activity?
Brian Williams
204
Posted 19/09/2020 at 19:48:49
Come on, Brent, that's bang out of order. Which Evertonian in their right mind wouldn't concentrate 100% on MotD tonight?
Andrew Keatley
205
Posted 19/09/2020 at 19:50:13
Looking forward to next week's top-of-the-table clash with Palace. Whodathunkit?
Geoff Williams
206
Posted 19/09/2020 at 19:58:58
And how many here would swap Michael Keane for the very expensive Harry Maguire?

Geoff Lambert
207
Posted 19/09/2020 at 20:01:19
Brent, It's going to be a long night. XXX
John Pendleton
208
Posted 19/09/2020 at 20:03:11
"Come on, Brent, that's bang out of order. Which Evertonian in their right mind wouldn't concentrate 100% on MotD tonight?"
Depends who comes first.
Grant Rorrison
209
Posted 19/09/2020 at 20:04:15
5-2 good stuff. How did we concede 2 goals to West Brom? Suppose i'll have to watch the highlights later and find out.
Nice to see Calvert-Lewin banging in hat-trick though. Our positive start continues.
Kieran Kinsella
210
Posted 19/09/2020 at 20:05:20
Last time I went to Selhurst Park, we won and Slaven Bilic scored – lol, that was a while back.
Brent Stephens
211
Posted 19/09/2020 at 20:05:22
Brian, he probably told her it will only take 10 minutes. To which she probably said, "I should be so lucky"!
Fran Mitchell
212
Posted 19/09/2020 at 20:05:50
I couldn't concentrate 100% on the game as I was working. That showed the best and also our potential worst. The defending in the first 30 mins was poor and we seemed way over confident and a better team than West Brom would have punished us.
But we responded well to going down, and again when they equalised. Everton teams of previous regimes would have wilted in such circumstances and we'd have lost/drew.
And James Rodriguez I feel this is gonna be a common statement on here but what a player. I have never seen such quality in a blue shirt (born mid-80s). When the ball is at his feet, it's just magic. And if he does stay fit, we've got one of Europe's best players on our hands.
Richarlison was excellent again I felt, and unfortunately his excellent finish was just offside. He wants a goal, and once he gets it he'll be off.
Allan again showed his quality.
And Calvert-Lewin. Well done. Great striker's performance. Last match he won it with a stellar header, this time a hat-trick of, tap ins and a scuffed header. Signs of a goalscorer.
Ancelotti's mentioned Inzaghi in his post-match interview. He mentioned how he talked to Calvert-Lewin about the importance of scoring with one touch. And it seems to be rubbing off on him.
If he gets half the goals Filippo 'he was born offside' Inzaghi got then he'll be a club legend.
The feel-good factor continues. And next week at Palace is an intriguing match.
Tony Everan
213
Posted 19/09/2020 at 20:11:34
Geoff I'd rather have Keane than Maguire, it is looking like a good move getting him to sign an extended contract. We just need that back up left sided CB now.
Allowing Gibson to go to Reading, there must be a CB coming in next week. Tomori signed in time to play The Cod Army ?
Ray Said
214
Posted 19/09/2020 at 20:12:09
Brent (203) if Salma Hayek was sitting to my left and Beyonce was sitting to my right, I would still tell them to 'Be quiet – the blues are on MOTD.'
Steve Shave
215
Posted 19/09/2020 at 20:17:22
Another good win, I am feeling really positive this season. I only caught the last 30 mins but was mesmerised by what I saw of James, wow. I think that even really sharp managers will struggle with the tactics against him because he drifts in, plays cross-field (space will get closed around him, opening up in other areas of the pitch to exploit).
My only fear is that we will at times be vulnerable on the right-hand side which is why I think we will be in for a pacey, hardworking right-back. We must shift some deadwood, too many players to chose from now. Am I the only one who thought Calvert-Lewin's header was class? I thought he bent his neck round it and steered it brilliantly in?
Tony Abrahams
216
Posted 19/09/2020 at 20:20:01
Man Utd didn't half play a high line considering how slow McGuire is, but Palace were very good on the counter-attack, and Zaha, who I now think is tailor-made for Everton, was outstanding.
Conor McCourt
217
Posted 19/09/2020 at 20:20:51
Just seen Carlo's interview on BBC. Firstly the fucker complained about the game not being easy, then can you believe he had the cheek to complain about our balance, then he said they were better than us in the first half and then he moaned that we only took control when they had a man sent off. He gave feint praise how we reacted to the goal but then he criticised us for how we started the second half.
Thank God that miserable, unappreciative git doesn't come on ToffeeWeb and post!!!! Really some people just make my blood boil, I can see he is just waiting for us to fail. Carlo do you not know we just won 5-2?
Btw my match report.
Pickford 10 wonderful
Coleman 10 wonderful
Mina 10 wonderful
Keane 10 wonderful
Digne 10 wonderful
Allan 10 wonderful
Dacoure 10 wonderful
Gomes 10 wonderful
Ricky 10 wonderful
Calvert Lewin 10 wonderful
Rodriguez 10 wonderful
Match analysis; a wonderful performance and a wonderful result produced on a wonderful thread.
Brian Williams
218
Posted 19/09/2020 at 20:25:33
Tony #216.
Who would make way for Zaha, Tony?
Darren Hind
219
Posted 19/09/2020 at 20:26:33
Wonderful post, Conor.
Geoff Lambert
220
Posted 19/09/2020 at 20:27:12
Conor, you missed Gordon 11 out of sight.
Mark Boullé
221
Posted 19/09/2020 at 20:27:15
Isn't it just typical that, the first time the Blues score 5 at home in a league game in forever, no fans get to be there to see it...
Couldn't watch as I was playing golf, but can't wait for MotD! We've not been able to say that much in recent years!
Dan Nulty
222
Posted 19/09/2020 at 20:29:01
Love your enthusiasm, Conor.
On another note, I think we could do with getting 2 centre-halves in time for Wednesday. At the moment, both Keane and Mina will have to play, so nervous about injuries.
Got to get Tomori done Monday and find another stop gap from somewhere. Stones on loan as well?
Geoff Lambert
223
Posted 19/09/2020 at 20:31:46
Looks like Arsenal will be top tonight, going to score a few more here.
Brent Stephens
224
Posted 19/09/2020 at 20:33:43
Conor #217 - cracker!
Jeff Armstrong
225
Posted 19/09/2020 at 20:35:22
Bill # 201, no way Holgate prefers the left side, he is totally uncomfortable there, he has no left foot and constantly moves the ball to his right, turns, and passes the ball backwards or sideways.
Branthwaite, however, is left-footed and is a natural there, I have always preferred a left, right-footed centre-back combo, ever since Howard did with Rats and Degsy.
Tony Ball
226
Posted 19/09/2020 at 20:44:03
A day of dreaming a little bit before kick-off.
20 minutes of oh no typical Everton when 1-0 down.
70ish minutes of being agog at James – this guy makes the game look so easy. Pace not required.
Calvert-Lewin now a proper force as a forward – good things come to those who wait.
Richarlison superb today and not even got going with goals yet.
Let's keep dreaming and enjoy the ride this season.
David Hallwood
227
Posted 19/09/2020 at 20:51:27
Just think next week's game v Palace is a top of the table clash who wudda thunk it
Lev Vellene
229
Posted 19/09/2020 at 21:11:13
Umm, I'm looking for the usual thread to say bad things about the Everton players' horrible performance. Can any of you steer me to the right article?
Hush Toto, I don't think we're in Kansas anymore...
Jay Wood
[BRZ]
230
Posted 19/09/2020 at 21:11:46
Something beyond the actual football that is very noticeable since James Rodriguez joined us is a huge uptick for the club on social media. There is quite a buzz in Latin America for the club thanks to the James-Richarlison connection.
Colombian Spanish-speakers appear in the majority when commentating on any post now. For the signings of Allan and James, the club put up Portuguese and Spanish language pages which was a great innovation.
I hope they take that further and have full Portuguese and Spanish versions of the entire club site, as well as adding translations to manager/player interviews as many Colombian posters are requesting.
It would also be nice if commercially Everton exploited the James Rodriguez (and other players) link better than we have in the past.
Derek Knox
231
Posted 19/09/2020 at 21:15:36
As much as I enjoyed the score-line, I didn't get totally in awe of the play at times today, until the goal James was almost invisible, Calvert-Lewin got MotM, but for me Allan deserved the plaudits.
I am over the moon as we all should be, but let's not carried away, it's only 2 games in, but from what I have seen, from watching all our potential suitors, I do actually believe that this could be our year!
Having said that, Caution has to be the bye-word, if we can capitalise on our games before the derby, there is no reason why we shouldn't be able to build up a decent unassailable position. That's what THEY did last year, and with a lot of luck, help from refs and VAR (bent) so why can't we do that this year?
Remember this, there are a lot of teams this year that appear capable of taking points off our rivals (including us btw) which will only do us a favour if we can do our part!
Tony Abrahams
232
Posted 19/09/2020 at 21:20:09
Brian @218, it's a squad game now so it would be different players at different times. I'd like to play Rodriguez centrally, just ahead of Allan & Doucouré, and interchanging at different times with Richarlison and Zaha (haha) so André Gomes would stand down, but definitely not every week, we've got a long season ahead!
Jay Wood
[BRZ]
233
Posted 19/09/2020 at 21:29:26
Derek, I haven't seen much discussion on TW on the subject of the consequences of the delayed conclusion of last season, and the almost immediate commencement of this season.
Four English clubs went deep into August in European competition on top of completing the English domestic season.
No one has had a proper pre-season to speak of giving new players at all clubs no time to integrate fully. We have been fortunate in that all four of our signings (I'm including Nkounkou as well as the tres amigos) have hit the ground running immediately.
Given the late start, the very condensed season (still got to fit in the Euros and the Olympics next summer) and the fact that there will also be another adjusted season next year in preparation for the 2022 World Cup, I fancy it could produce some unexpected results and impact more drastically on some higher ranked teams than would be the norm.
If that happens, some other team(s) will benefit.
Here's hoping Everton is one of them. We're showing early signs we could well be.
Gary Willock
234
Posted 19/09/2020 at 21:35:07
We got hit on the counter today. Woy's Crystal Palace just smashed Manchester United that way, and got 3 points last week exactly the same way. It will be a *very big* test next week. Two central midfielders (Including our Jimmy Mc) will be very tough to play through.
Losing Holgate's pace also means we play with a deep back line, which can also help an opposing team to counter. If they back off against Palace, like they did for West Brom's first today, we'll have the same outcome. Hopefully a new centre-back (with pace!) comes in, but that's wishful thinking before next week.
If Mina plays, he needs to be braver going and winning a ball nearer to the half-way line when someone comes flying at him. Disciplined full-backs can provide the cover, and they'll need to be disciplined next week with Zaha and Co about.
Allan and Doucouré will need to hold the middle, and I think we'll need clever play around the box, with width options too. I'd play James more in a traditional Number 10 next week, perhaps in a 4-2-3-1. He's got the vision to pick through that organised palace 4-4-2 defence in tight space.
If we do that though, we lose something on the right. Carlo looks like he's had enough of Walcott's headless chicken act, and clearly doesn't fancy Bolasie. For me, if we are going to get anyone else after a centre-back (new goalkeeper is just too wishful I think) then another right-wing option is also on my wish list.
In the meantime, I'd give Richarlison a go there and give Gordon a go on the left side. Both will work hard, and slot back in to make our own 4-4-2 defensively. Gomes doesn't deserve to lose his place, but it's a squad and we can switch back to the 4-1-4-1 the week after at home to Brighton.
My team for Palace then:
Pickford (Doh)
Coleman Keane Mina Digne
Allan Doucouré
Richarlison James Gordon
Calvert-Lewin

Nigel Munford
235
Posted 19/09/2020 at 21:37:41
We're still top... Arsenal only drawing.
Brian Williams
236
Posted 19/09/2020 at 21:38:55
Tony #232.
That's the way I see it if we did sign Zaha, which I don't think we will. It could only be Gomes as it wouldn't be any of the three new lads in midfield.
Dave Southword
237
Posted 19/09/2020 at 21:43:52
Intriguing top-of-the-table clash against Palace next week. I fancy we'll be defending a little deep, playing to nullify the pace of Palace's attack and hit them on the break. It'll be a game to play to our centre-backs' strengths instead of having them turn and chase balls over the top.
If only we had a world-class midfielder to protect the centre-backs from players running at them... oh wait!
Fran Mitchell
238
Posted 19/09/2020 at 21:49:57
In regards to James. They way he has entered and played in his first 2 games is just sublime. Has any player made such an impression, for any club, in their first 2 games?
The way the media are responding too shows that it isn't just my blue-tinted man-crush glasses showing. They are sitting back and saying "James was fantastic, again".
I really think that, come the end of the season, there will be many a club across the Premier League and beyond thinking "Why the heck didn't we sign him?"
Just watching him pass a ball 5 yards is glorious. Never seen such talent in our shirt.
Jerome Shields
239
Posted 19/09/2020 at 21:53:24
Everton were the better team, but my concern before the match was that James, Doucouré and Allan would be given special attention. Not only where West Brom able to subdue these players at the beginning of the game, they were able to subdue Richarlison as well.
This enabled them to launch counter-attacks which, in Everton's case, were poorly defended individually and collectively. Against other more competent sides than West Brom, this in reality could prove costly.
Everton's backline, in the case of Keane and Mina like play in front of them, they don't like being run at or having to defend on the turn. When a team can successfully nullify key players and gain advantage, it is imperative that the other players step up. Losing possession and not being available for a pass is not good enough.
Fortunately, Everton did finally get a goal from their numerous corners. Also, James got on the ball from great final-third interplay from Richarlison. The best he has ever done. Everton were slow to get control of the game after the reduction of West Brom to 10 men and only did so when West Brom got tired.
I was really pleased with the result, but I know that the above areas will come under increased scrutiny as other teams in preparation for games against Everton formulate their tactics. Ancelotti will also be working on improvements.
Whilst it seemed to be acceptable before for our blue-tinted star players to slip up, if Everton are to progress, something will have to be done to minimise these slip-ups and accompanying poor technical play.
Tom Bowers
240
Posted 19/09/2020 at 21:56:29
Could it be that finally some of the RS fairy tales are finally happening to Everton.
Kieran Kinsella
243
Posted 19/09/2020 at 22:02:00
Lev Vellene,
Talk for yourself, I am still in Kansas.
Paul Birmingham
244
Posted 19/09/2020 at 22:02:55
We've are still top tonight on goals scored. Great weekend, let's hope we can get a result at Palace next Saturday.
May be this weekend can get better tomorrow, we shall see.. Let's hope so..
Derek Knox
245
Posted 19/09/2020 at 22:27:16
Paul @241, 242 & 244, I have never known you to have a speech impediment before now! :-)
Soren Moyer
246
Posted 19/09/2020 at 23:19:32
A new keeper needed urgently! Pickford is just not good enough. He sucks out all the confidence from our defense. And a new centre-back is a must. Of course, I wouldn't say no to another quality midfield either.
Andy Crooks
247
Posted 19/09/2020 at 23:46:17
We have a 㿞M striker. Humble pie is actually quite tasty, I have sampled and enjoyed it, not over this player, though. Anyone who called him "Championship at best" should come on here and try some, and by fuck there were plenty.
Brian Wilkinson
248
Posted 20/09/2020 at 00:18:08
Iwobi and cash for Zaha, let Moise Kean sulk back to Italy, and we have one frightening midfield and attack.
Pat Finegan
249
Posted 19/09/2020 at 00:22:18
James is absolutely world class. He looked a bit isolated toward the beginning of the game, but he got more involved as he began to drop deeper, giving him more space to receive the ball. He might only need a half yard to get it under control, but our players don't seem to have the confidence to get it to him in the tight spaces he finds himself in further up the pitch. That'll sort itself out as the team gels in the coming weeks.
Carlo has done a hell of a job getting Sigurdsson back in to some semblance of form. He'll never live up to his price tag or salary, but that's not his fault. He looks like a competent player again, which is a positive.
I'd be surprised to see Zaha coming in as a replacement if Walcott isn't sold. An improvement on the wing would be a nice luxury, but I kind of doubt we're gonna spend that much for a non-necessity. Competition for Pickford is necessary and a short term solution at centre-back is necessary.
I've been following Everton since 2008, so this is the first time I've ever seen us sitting in first place for any amount of time at all. I know it doesn't really mean anything at this point in the year, but even as a novelty, it's a nice sight. Long may it continue.
Nicholas Ryan
250
Posted 20/09/2020 at 00:24:30
One certain way to stop Zaha being a threat on Saturday, would be to buy him on Friday!!
Andy Crooks
251
Posted 20/09/2020 at 00:37:46
Pat, it really looks good. Yeah, I know it's only two games but seeing the league table on MotD made me feel happy, really, really happy.
Kieran Kinsella
252
Posted 20/09/2020 at 00:40:24
Legit negative thought just crossed my mind. Remember when Di Maria and Ozil first came to the Premier League and they were awesome? Then, a house robbery and presidential date later, they turned to shit?
Can we get Dunc to protect James's house and actually double up as a bodyguard if the president of Colombia tries to show up at Goodson.
Bill Watson
253
Posted 20/09/2020 at 00:59:07
I've been watching Everton for almost 62 years and have been fortunate to see some brilliant midfield players.
On the evidence of just two games, James is far and away the best passer of a ball I've seen in a blue shirt. His ability to switch the play, or play others through, is sublime and he does it not just once or twice in a game but time and again.
We have a world class player on our hands. Let's just hope he stays fit.

Jay Woods
254
Posted 20/09/2020 at 01:18:40
Calvert-Lewin was indeed Championship standard until fairly recently, so no need to be too hard on us who said so, but he's definitely improving and long and far may it continue – in a blue shirt.
Kieran Kinsella
255
Posted 20/09/2020 at 01:21:59
Jay,
Calvert-Lewin is definitely Championship at best this season as are all the team, to be honest, because the next step up is Champions League and we are not eligible to enter it this year. The EPL Championship will have to suffice.
Ernie Baywood
256
Posted 20/09/2020 at 01:25:18
West Brom stayed close and did a job on James early.
Then we seemed to realise that the guy doesn't need to be in space to receive the ball. Give it to him under pressure, with a player up his backside, and he'll still do wonderful things. It feels like every time he gets the ball he does something more than you thought was available to him.
I just pray he stays fit, because he's undoubtedly the classiest player I've seen in a blue shirt.
I'm a grown man in absolute awe of an Everton player for the first time since I was a teenager. Feels good!
Don Alexander
257
Posted 20/09/2020 at 01:25:30
Haven't read all the posts cos I'm delighted by a five goal win, they being for us as rare as hen's teeth since the Premier League began.
The three new signings again impressed in their various roles. Truly, James Rodriguez is going to collect the accolades on account of his sublime control when receiving the ball and passing/shooting with such purpose, and rightly so.
Allan is thus far the keystone in the midfield arch, whilst Doucouré supplies most of the remaining stones to keep the arch stable. So far so good.
On the other hand, on the Beeb tonight, we having for once opened the show, Calvert-Lewin, aged 23 and an international young striker, said that Carlo had emphasized to him the need to try to score with one touch in the box, not two, or three.
What!?
How can this bog-standard advice be necessary to a 23-year-old professional years after he signed on to learn from whatever Kenwright's boys have delivered at Finch Farm?
And don't give me his adulation of Ferguson. Having now "arrived" he's cute enough to know that homage to his elders is key to other elders signing him or improving his contact.
Nobody in football has ever openly spoken subjectively whilst employed. That's what makes autobiographies slightly interesting once the buggers have retired, rich on the back of fuck-all achievement.
To me his comments beggar belief, not only re Calvert-Lewin, but also to whomever else with genuine talent has withered in the Finch Farm "complex" of recent years, where attempting to score with one touch in the area was seemingly ignored as a key skill.
Wow!
John Mckay
258
Posted 20/09/2020 at 01:26:42
Bit harsh on Pickford, guys. First goal come out of nowhere and their player looked at the pass, shaped his body for the pass, but drilled it in without looking at the goal: good goal.
Second from the free-kick, no keeper was saving that. Also, he made a few good saves also, early on when he made a hash of the pass back but the ball back was a bit awkward maybe, then another when he rushed out to take it before it became a problem.
Mina was a bit shaky but, other than that, an all-round good performance. 5-2, 6 points, top of the league, and Richarlison hasn't even got off the mark yet! So can we stop moaning!
Also, West Brom looked decent going forward and surprised me. Never in doubt, even when we went a goal behind, I always knew we'd grab a few today.
Happy Blue, let it continue. :)
John Boon
259
Posted 20/09/2020 at 01:27:04
While there will always be negative responses to satisfactory results, sometimes we need to look at other teams to realise that every aspect of every game will not be perfect. In the West Brom game, we were very average for most of the first half and dynamic for 44 minutes of the second half.
However, having watched Man Utd, Liverpool, Spurs, Arsenal and Chelsea (members of the so-called ridiculous big six) over the past week, I can honestly say that they have all been inconsistent for parts of games and some of them (Man Utd, Arsenal and Spurs) really poor for all of the game. Everton have played better football than any of them.
However, football starts from the back and, unless we get a tough no-nonsense centre-back who can tackle, move forward and distribute accurately, I just don't think we will have the complete team. West Brom's goals were a joke, particularly the first one, when we allowed a player run 80 yards without ever being tackled once.
I am so much a blue-blooded Evertonian for 70 years and I would just love to have one more special spell, like Everton of the '60s and the '80s. We do now have the basis of a really good team along with a great manager. Please, Moshiri, just fork out some more cash for a tough, fast centre-back and while you are out shopping a dynamic right-winger would also help.
Laurie Hartley
260
Posted 19/09/2020 at 01:32:31
Dan Nulty # 140 - great shout about Gomes contribution to The Princes's goal. It reminded me of what Ancelloti said last week "in football you have to be able to play with and without the ball." Gomes will come good again in this team.
Allan, Allan! - I love a player who wants the ball.
Derek Thomas
262
Posted 20/09/2020 at 01:39:20
Don't worry about Gordon, Iwobi, Kean, Bernard – and maybe even Sigurdsson – they are only on the bench for the transfer window to be in the shop window.
Simon Smith
263
Posted 20/09/2020 at 02:00:05
Has anyone else noticed how our media profile has sky-rocketed since the 3 new signings? Obviously James being the headliner. But wow, what a difference it has made. We are being talked about so much more now.
Funniest thing I heard today though was Alvin Martin completely glossing over the positives from today's game and going straight for the defensive weaknesses. I think for once that lot from across the park might have to take us seriously.
A couple of weeks ago I was very "meh" thinking about the new season. But now I'm well and truly engaged with it.
Geoff Lambert
264
Posted 20/09/2020 at 02:23:37
They have even made coke cans in blue with Everton on in Columbia this week.
Kieran Kinsella
265
Posted 20/09/2020 at 02:27:27
Simon,
Alvin Martin? That muppet. I remember when he got a red card for "falling over" and tripping a player with a clear run on goal. For a few days him and Harry Redknapp were whining it was unfair, he slipped, he's not that kind of player.
Then someone dusted off a copy of SHOOT! Annual 1975 and it had an article in it by Alvin Martin about how to do a professional foul while making it seem as if you slipped over. Never had much respect for him anyway but had even less after that. Now you tell me he's slagging off the best team (looking at the table) in the Premier League. Total ass clown.
Simon Smith
266
Posted 20/09/2020 at 02:53:32
He is a clown. He was a co-commentator on the Arsenal v West Ham game this evening.
Not sure who the main commentator was but he gave Everton a great build-up, passed over to Alvin for his response and his first intention was to shoot us down. He never even mentioned James's performance or Calvert-Lewin's hat-trick.
He's as bad as Mickey Quinn. Completely biased.
Mike Gaynes
267
Posted 20/09/2020 at 03:17:28
Fran #238...
"Just watching him pass a ball 5 yards is glorious."
It is, isn't it?
We knew, didn't we?
Steve Brown
268
Posted 20/09/2020 at 03:57:49
Sure it wasn't perfect at all, but hugely entertaining. James was a pleasure to watch in a blue shirt, but for me I am more thankful we have signed Allan. He will be effective every game, going about his business quietly.
When we went a goal down, we reverted to lateral passes and back passes, but that changed when James began to drop deep and move centrally to link play. WBA played really well and their pressing games was working well, but they were never going to be able to keep up that level of intensity for 90 minutes.
Last season, watching Everton was a form of masochism but this is a lot better.
Ernie Baywood
269
Posted 20/09/2020 at 04:11:42
Just saw someone tweet that Calvert-Lewin is the first Everton right-back to score a hat trick since Steve Watson.
Laurie Hartley
270
Posted 20/09/2020 at 04:22:08
Mike # 267 - I didn't but I do now and you definitely did.
Kieran Kinsella
271
Posted 20/09/2020 at 04:26:16
Simon,
Mick Quinn? Another blast from the past ass clown who I thought of weirdly today with respect to the fact Calvert-Lewin has finally started getting the simple goals Mick Quinn thrived on.
Kieran Kinsella
272
Posted 20/09/2020 at 04:27:42
Mike Gaynes,
Glad to see you post. I was worried. Unusual radio silence from the Gaynes residence today despite another glorious win.
Steve Brown
273
Posted 20/09/2020 at 04:47:40
Ernie @ 269, think that's a wind up on Koeman playing him at right wing back against Stoke in the season opener when Rooney returned. Dutch tactical genius at its best.
Michael Forster
274
Posted 20/09/2020 at 05:08:30
I was a bit disappointed that we closed the game down in the last ten minutes, tip-tapping the ball around our half instead of going for the jugular and widening our goal difference.
Could be important at the end of the season. Would hate to lose out on Europe for the sake of one or two goals. Let's get six against Palace.
Christine Foster
275
Posted 20/09/2020 at 05:08:57
I really should close the living room curtains... after midnight in Nelson, it's rather quiet, so a little madwoman punching the air and shouting at the top of her voice when James's goal went in was sure not to go unnoticed.
Sure enough, getting into the car this morning, my next-door neighbour asked me if everything was okay as she heard a lot of shouting and saw me running past the window at nearly 1 am...
I had to apologise for the noise, explained I got carried away and told her it was a long time since I did that. I told her I was an Evertonian. She looked at me puzzled when I said, "Football." Still a blank look... "Soccer," I said...
"Ahh" she said, "I thought you would support Liverpool since you come from there," was her response. I think I just looked at her in disgust, shook my head and asked her not to insult me and drove off.
A win is a win is a win... but a win with some style is the cream on the cake. Today is not the time for slicing and dicing individuals' performances and pointing fingers of blame or negativity either... just enjoy it for the first time in a long while. Could it improve? Yes. Will it? Yes!
Tactically, when we attacked in the first half, the gap between midfield and defence was immense with no one sitting in the gap.. but I am sure that will be fixed Enjoy... dance a little jig, hopefully the first of many!

Martin Mason
276
Posted 20/09/2020 at 05:47:03
For the WBA first goal, the defence was 100% at fault allowing the scorer to run through them unchallenged and picking his spot. No keeper was saving that.
The second goal was unstoppable too, perfectly placed over the wall and if anything the fault of Mina for not jumping with the rest.
It is possible for all shots to be stopped but they were at the very top end of the scale. Otherwise Pickford had a good game. For me it is a massive benefit for the team to have him.
Mike Gaynes
277
Posted 20/09/2020 at 06:00:18
I missed the game, Kieran... driving 500 miles for no very good reason. Saw the result on my phone and watched the replay 12 hours later online.
Martin Mason
278
Posted 20/09/2020 at 06:21:30
The amazing thing now seems to be how good some of the lower teams are now as they have developed fast counter-attacking games to compete with the top teams and their big-money signings. Look at Leeds last week, Palace yesterday and, at times, WBA against us.
Could it possibly be the absence of the home side fan pressure? Are some sides better without the pressure of their fans?
Kim Vivian
279
Posted 20/09/2020 at 07:22:04
Not that we needed it but I was thinking about that great volleyed cross from Digne which Richy just didn't quite get to – Peter Osgood would have buried that with a swallow like diving header. (Anyone remember THAT goal?)
Well done you Blues – I had a shit stream, missed all the first half but really starting to actually properly enjoy being a toffee again. Still seems a bit surreal if I'm honest...
Chris Jones [NZ]
280
Posted 20/09/2020 at 08:15:19
P2; L 0; D 0
Top of the league!
New players still bedding-in. We will get better.
Just enjoy it.
Tony Everan
281
Posted 20/09/2020 at 08:18:08
278 Martin
That is becoming more and more prevalent. Even Norwich and Bournemouth last year were latching on to it. They have really, athletic fast and mobile attackers ready to counter attack. Players who are like a coiled spring, primed for it.
They know the bigger teams will have 70% possession and their set up is to counter that. West Brom were set up very well to execute it, and were 2 inches away from going 2-0 up because of it. Crystal Palace exposed Maguire and Lindelof yesterday. We will see more of it.
We need that fast, left-sided CB to help counter this, in some games he will be essential. He will prevent a good few counter-attack goals (5-10?) throughout the season.
This signing could mean the difference of a couple of places in the league.
Stephen Brown
282
Posted 20/09/2020 at 08:20:27
The biggest compliment I can give to James Rodríguez is that he is a present day Kevin Sheedy!
The left foot is a wand!
I'm worried that I'm so optimistic!
Dan Nulty
283
Posted 20/09/2020 at 08:50:21
Martin I said this last week, I think not having fans actually suits us, especially as we are used to being so negative and I often think the nervousness of the crowd translates itself onto our players.
With a second spike happening I can't see there being thousands of fans allowed on 1st October and am not surprised to see the Premier league trying to put money before health and safety by trying to insist fans should still be allowed back in grounds.
Ryan Holroyd
284
Posted 20/09/2020 at 08:59:43
Rubbish that calvert-lewin. Championship player at best
Jerome Shields
285
Posted 20/09/2020 at 09:00:28
Ancelotti has encouraged Calvert-Lewin to score with one touch and get himself into positions where he can do this.
Pickford fortunately got his one match mistake over early and avoided damage. It was noticeable that he was always looking for the safe throw out and pass. He rarely kicked out, which he had done in previous games, giving the opposition back possession in a lot of occasions.
No use having great possession then giving it to the goalkeeper to give away. I am sure Ancelotti had said something to Pickford along those lines.
Mal van Schaick
286
Posted 20/09/2020 at 09:00:41
Great result and well done, Calvert-Lewin. Now the fans can see what a quality midfield can create, and there is still time to clear some deadwood out and recruit more quality. Ancelotti knows what he wants and Moshiri will support him.
Chad Schofield
287
Posted 20/09/2020 at 09:07:53
Erratic first part of the first half... bit like the report that skips their goal and for me what felt like key points. Mina should not have let him run that far, and read when he shaped to shoot.
The red cards happened before and on the break of half time... and were key.
Pickford drops his left arm inexplicably on the WBA freekick.
Richarlison wriggling out to gain space teed up James's beautiful goal.
Richarlison looked miffed that DCL slid in his shot, but it was going wide.
DCL subbed off for Sigurdsson, with Richarlison moving to striker role, but looked a bit leggy by that point. It seemed a bit rough on Kean, but he came on later.
Iwobi on for Rodriguez, and the nice moment where Ancelotti looked like a proud father.
Phil Lewis
288
Posted 20/09/2020 at 09:10:48
Wonderful victory. Great possession play and build up. Excellent finishing.
Sorry to piss on everyone's chips, but the harsh reality is that for all the recent good work, I still maintain we will win nothing with Pickford in goal. I was the first to applaud his performance against Spurs. Then from the first whistle yesterday it was back to square one. Shaky distribution, dreadful positioning and reactions for both of their goals. I was screaming at the telly exactly where it was going for the second, as their player took the free-kick.
Pickford is a liability, he will cost us more goals than the occasional spectacular save which keeps us in games. My heart is in my mouth with him at every corner or dead ball situation. Is it any wonder the back four looks ragged at times, when there is no confidence in the keeper? Thank God that the outfield players got it together yesterday. Last season we would have been dead and buried after the first goal!
I have to say that another player who has regularly had the wrath of my tongue, namely Sigurdsson, has in fact impressed me in both of his cameo performances so far. Perhaps playing with better players will finally bring the best out of him.
As for Moise Kean and Iwobi? Totally brainless. Useless, both of them. A return to Italy for Kean? A swap deal with Iwobi for Zaha. Are Juventus and Palace really that stupid? I doubt it.

Kevin Molloy
289
Posted 20/09/2020 at 09:11:46
I think one thing you could see yesterday was the different mentalities in the side. Why is it that English are by far the weakest mentally? Calvert-Lewin emerging from his 10-game no-goal fiesta is now all smiles and giggling at the camera. Michael Keane, another emerging from various traumas and currently playing well.
But just compare them to the S Americans. Richarlison and Rodriguez sulked and whinged and pinched their way to a thumping victory. But there was no basking in the glory with them, they just wanted to annihilate the opposition. Rodriguez seconds after a sensational goal had already forgotten it and was twisting the knife into his oppo.
Daft arse Degsy was comparing our front four with the 84-85 team, but the mentality that team had is only with the South Americans at the moment. Let's hope for more snide in the weeks ahead from the homegrown lads,
Jerome Shields
290
Posted 20/09/2020 at 09:13:57
I don't think Pickford was a fault for the free kick goal. Mina did not jump up with the other players in the wall and the ball went straight over his head. He seemed afraid of that type of shot by his reactions, before the free kick was taken.
Jay Evans
291
Posted 20/09/2020 at 09:18:19
Comfortable - eventually.
Still lots to do as we all know but who can argue with 6 points from 6 and progression in the league cup.
Truth be told we were probably better last week against Spurs but our class told in the end, as did our numerical advantage.
We will probably need more than our B team to beat Barton's bullys on Wednesday, so here's hoping we treat that game (and that competition) with the respect it deserves.
By the way, those videos doing the rounds of Carlo and James at the lights on Spellow Lane are priceless.
Once Everton has touched you 💙

Tony Everan
292
Posted 20/09/2020 at 09:37:46
With regards the West Bromide second goal sometimes it's difficult to find too much fault. At that distance Mina should have jumped for it. He will be told about it and learn from that.
I'm not sure many keepers would have got a finger to that though . It was just a sublime free kick ; great power and shape, over the wall and right into the top corner. Perfection and well done to the WBA lad.
Andrew Clare
293
Posted 20/09/2020 at 09:43:20
Great start, great win.
The hard facts are that we need a strong and powerful presence in the centre of our defence as well as a new goalkeeper. I like Yeri and Keane has played well but they still make me nervous.
The new signings are brilliant and James is truly world class- one of only a few players in the world that can be classified as such.
This team can only get better as they build up an understanding.
I am not sure if we will bring any more players in but if we do we will be one helluva team.

Phil Lewis
294
Posted 20/09/2020 at 09:48:58
Chad #287
Well observed, Pickford did inexplicably drop his left hand at the last fraction of a second for the free-kick. I found it a very odd thing to do. Perhaps his brain was sending a signal to his arm to disguise the fact that his reflexes weren't working!!
I honestly hope that the lad proves me wrong and makes me eat my words. I just can't see it happening though. I think he will be found out this season.
Christy Ring
295
Posted 20/09/2020 at 09:52:04
The linkup play between James and Richarlison in our first two games is superb. Richarlison's work rate on the left wing is staggering. He set up James, and what a finish, Keane got a tap in from his headed save, and Calvert-Lewin another tap in. Playing out left, is his best position.
Rob Halligan
296
Posted 20/09/2020 at 09:53:21
As great as that free kick was, I think it looked a half hearted attempt by Pickford to try and save it. Once he "dives" his body is not fully stretched out and his left arm appears to be bent, again instead of fully being stretched out. Now I'm not saying he would have saved it, but in my opinion, it was not as great a free kick as it looked. Pickfords attempt made it look good, and it wasn't even at a great height.
Graham Lloyd
297
Posted 20/09/2020 at 09:54:34
Another excellent display once we rode that rocky start. Mina should either challenged and/or fouled the WBA player much earlier rather than back off. But apart from that, a pretty solid defensive performace.
Did anyone see Bilic's press conference after. He basically said his player made a mistake by not going down when James touched him. I've just watched the incident again and the contact between the two players was minimal at best. Was there another incident before that as I can't remotely understand his point of view.
I thought Richie had a fantastic game today btw. It was rightly ruled offisde. But that finish at the end from Siggy's cross was an absolute fire-cracker!
Onwards to Fleetwood!
Derek Knox
298
Posted 20/09/2020 at 10:06:22
I hope they had Fleetwood watched yesterday before Wednesday, I know they lost narrowly away to Peterborough, but they will be relishing Wednesday to get them back to winning ways, and the whiff of a potential giant-killing.
Think they will be a different proposition to Salford, and Joey Barton will have them fired up.
Agree with those picking out Mina yesterday for their first goal he made no attempt to tackle or challenge until they were in shooting range. Pickfords positioning should have been better too, imho!
Andrew Ellams
299
Posted 20/09/2020 at 10:14:05
Graham I saw that. He literally said his player wasn't clever enough.
Billy Roberts
300
Posted 20/09/2020 at 10:21:54
How anyone can blame Pickford for the 1st goal is beyond me. Mina has to block him at some point but basically escorts him to the perfect shooting position (most probably obstructing Pickford's sight of the WBA player at the same time). The shot is unstoppable into the furthest part of the goal.
The free-kick I've only seen once but again was an absolute screamer into the corner. Maybe a few more viewings are required?
I think some critics could do well to remember how large a goal actually is, if anyone is out walking across their local pitches today they might want to stand in the middle of one to get some perspective, preferably after the Sunday league match is over!!
I am so happy that not only have we found some silk it appears we have found some mental steel resolve to go with it. We have at the moment it appears 80% of our first team playing at the top of their game and so far it appears enough to get us the 3 points which is all that matters.
I thought Rodriguez's goal was superbly taken and Calvert-Lewin header was also, it was wrongly described as bouncing off his back? The speed it flew in could tell you it had hit his head.
Rob Hooton
301
Posted 20/09/2020 at 10:24:38
There was a good Tweet on the BBC yesterday that made me chuckle.
Calvert-Lewin scored the perfect back-trick; back-heel, back post and back!
Great win and enjoying being time for however long it lasts! Me and my dad wanted more goals in the last half hour but can see why they took their foot off the gas a bit with the schedule we have. COYB!!
Fran Mitchell
302
Posted 20/09/2020 at 10:28:47
That second Calvert-Lewin goal has to be one of my favourite goals of recent times.
The pass by James is sublime. The kind of pass that I haven't seen in an Everton shirt. Such perfect technique, the vision, the weight of the pass, a perfect lob.
Richarlison is loving playing with James, and his movement and running in the first 2 games has been exceptional. His finishing isn't quite there, yet, but his performances have been fantastic.
Then Calvert-Lewin with the perfect striker's goal – right place, right time...great movement, reading and anticipating rather than waiting.
This front 3 has real potential to be amongst the best in the league. There is an excellent combination of pace, strength, skill, ariel ability and technique with a genuine world-class player involved too.
If Kean isn't licking his lips in anticipation for his chance, if he isn't busting a gut in training to be part of this, then we will need another backup striker.
Gordon offers solid back up for the wide berth, and could have an exciting season (I feel Ancelotti has tasked him "Go prove yourself in the League Cup".
Maxi Lopez could be a decent forward option as competition for Calvert-Lewin. Or Benrahma from Brentford.
Olalekan Taofik
303
Posted 20/09/2020 at 10:35:14
It gladdens my heart that the boys could put five goals behind the nets of WBA.
Initially I predicted 4 nill but 5-2 isn't bad. We need to be taken all our chances(if possible).
Momentarily, we are on because of superior goals,so goals matters a lot.
We need to do more in all our departments especially the defence line.
Let's show our class, Class is permanent، form is temporary.
Rodregrious was sublime yesterday and our cosmopolitan side is taking shape.
I was surprised to see Iwobi on the field,maybe he did something different in training to earn his call-up.
We need to do more and stop living in the past glory because he who had seen the dance of a snake is never contend with the dance of a millipede.
Good day everyone.
Geoff Lambert
304
Posted 20/09/2020 at 10:38:11
can you imagine James curling a free kick in to the top corner at modor passed Alice,
And all the goalkeeping experts on here would be saying for sure "shit keeper that" "should have jumped higher for that piss poor free kick" NOT...
John Pierce
305
Posted 20/09/2020 at 10:46:14
People should watch the the James goal and look at the build up. As the ball comes inside Gomes creates a vital 'block' on the back tracking player to prevent him getting to James. That gave him the time and space. It was subtle but oh so crucial, a touch of the dark arts there from Andre!
Derek Knox
306
Posted 20/09/2020 at 10:47:52
Hi Olalekan, great to see you on here again, especially after a good win and to be looking down on the rest of the Premier League, albeit very early days, only 36 games to go. :-)
I also note and quote you " because he who had seen the dance of a snake is never contend with the dance of a millipede ". So you have RS supporters over there too! :-)
Phil Lewis
307
Posted 20/09/2020 at 10:58:52
My criticism of Pickford is not just based on yesterday. It is his overall performances for us thus far and the deficiencies in his game, which have been glaringly apparent to me ever since he pulled on an Everton Jersey.
Ancelloti is no fool. He assessed our problem areas last term and he has drafted in first-class recruits to compensate. He will no doubt be aware of Pickford's weaknesses.
Goalkeeper is the most important position in the team. Without a world-class keeper, success is virtually impossible. The new players, particularly Rodriguez, have given us a glimpse of what world-class really means. If we are to achieve that level, it is vitally important that our goalkeeper inspires confidence. If Pickford did that, there would be no need for speculation or differences of opinion concerning his ability on TW or anywhere else.

Christy Ring
308
Posted 20/09/2020 at 11:06:04
Watching Match of the Day last night, Jenas praising Macca's display for Palace. We gave him away for a pittance, and brought in Delph.
Frank Crewe
309
Posted 20/09/2020 at 11:06:46
Pickford had no chance with either goal.
The first goal was down to Allan losing the ball high up the pitch and Mina backing off instead of trying to close down their player. I would also add if you watch the replay you will see Mina also pulls himself in to allow the shot to go past him. He made no effort to block it at all. Maybe he thought he would have deflected it into the net. But isn't it part of a defenders job to get some part of their body in front of a shot even at the risk of a deflection?
As for the free-kick. It was right in the top corner. Pickford would have had to have been seven foot tall to stop it and even then it would have been a stretch. It was a perfectly placed free-kick. If one of our players had took it we wouldn't be saying their goalie should have saved it we would have been too busy heaping praise on the taker instead.
I have criticised Pickford in the past as much as anyone but so far this season he appears to have knuckled down, cut out the gurning and done his job as best he can. He has made some crucial saves to stop goals, especially against Spurs last week. But he's not a superman. He can't stop every shot so, unless he made some glaring error, I don't see any reason to criticise him for the two goals conceded against the Baggies. Those goals were the result of poor defensive play, not poor goalkeeping.
Jim Harrison
310
Posted 20/09/2020 at 11:15:32
Pickford has looked better these last two games. He was beaten by two well taken goals.
I will be up there in line to bash him when he makes a mistake again but this time I think you have to say hats off to West Brom. Mina should have done better on the first but it's still an excellent finish.
Great free kick. It's the walls job to stop that. Most keepers don't get a hand on it.
I think West Brom shocked them. It took a while for the players to adapt. Allan must of been thinking how easy it was going to be after spurs. Took him some time but ended the game well
DCL. Hats off to the lad. Speaks well, sickeningly attractive, 4 in 2.
Phil Lewis
311
Posted 20/09/2020 at 11:20:14
There were a lot of positives to take from Pickford's performance against Spurs. He looked shaky from the start yesterday. He was fortunate not to be punished early on before they scored with bad distribution.
I think he had a poor game but I'm prepared to overlook it, provided he learns from his errors and continues to work on his game. Especially as we eventually won so emphatically. I want the lad to find consistency and prove me wrong. I take no pleasure in criticising him.
Unfortunately I've seen enough of him to draw the conclusion that this is as good as he gets. In my opinion, that is not good enough.
Tony Hill
312
Posted 20/09/2020 at 11:36:34
Olalekan @303, your snake/millipede proverb is striking, and spot on for what we need to achieve and the attitude we need to have.
Good day to you too.
Christy Ring
313
Posted 20/09/2020 at 11:53:06
In the first two games, I think Pickford's performance doesn't deserve all the criticism. Because he's the last line of defence, he stands out more, maybe he was a little slow diving for the first goal, but not one tackle, running 70 yards with the ball. The free kick, no keeper would have saved it. Against Spurs, he made a great save from Docherty, one on one, credit where it's due.
Martin Mason
314
Posted 20/09/2020 at 11:59:01
Phil@311, Good as he gets and not good enough? That is as the number 1 choice English goalie? First choice every game for Ancelotti?
Barry Rathbone
315
Posted 20/09/2020 at 12:02:47
WBA first goal wasn't even in the top corner and you could see the lad shaping for the shot from well outside the box.
Pickford wasn't even unsighted and the trajectory was a nice height and plenty close enough I cannot fathom the excuses people are making for him.
He will cost us points again this season and wobbles will set in defensively whenever the pressure is on. He is a liability.
Mike Corcoran
316
Posted 20/09/2020 at 12:09:34
Would love to see Moshiri now go full on and buy Maxi Gomez, loan Peresic and a decent left CB. Yeah FFP I know but one can dream
Mike Corcoran
317
Posted 20/09/2020 at 12:11:52
Mina was the liability yesterday not Pickford. He's a flincher not a fighter.
Brian Harrison
318
Posted 20/09/2020 at 12:18:21
Not sure what to make of yesterday's game, although my internet connection went down after they made it 2-2, so had to rely on MotD highlights to try and judge the 2nd half.
Some of our old faults are still there at times, and it highlighted yesterday how important Allan is to our game. Yesterday Allan pushed up and we lost possession but neither Gomes or Doucouré was covering for him and their player ran 35 yards unchallenged before scoring. Same thing happened at Spurs when Allan did venture forward and we lost the ball it seemed this allowed Spurs to run at our back 4.
The positives were we came from behind to win and we don't do that very often, James looks the quality player that Ancelotti knew he was, and he seems to have already established a great understanding with Richarlison. I also think Ancelotti has had a really good tactical influence on Calvert-Lewin, no chasing all over the park wasting energy; now he stays in and around the 18-yard box, which is paying dividends. I remember Alan Shearer saying that Bobby Robson did the same thing with him, that he wanted him in and around the 18-yard box. I think 12 months ago I would happily have seen Keane sold but he is another who seems to have flourished under Ancelotti.
2 wins is a decent start, but we know there will be tougher tests to come, but I think this team is far better equipped than last season's and although there will be bumps in the road, I think we can expect a far better season than last season.
But injuries are always crucial and an injury to James and Allan would set us back so let's hope we can keep both of these boys fit for the next couple of months.
Phil Lewis
319
Posted 20/09/2020 at 12:23:58
Martin #314,
With respect, I believe that there are better current English keepers, notably Pope of Burnley. But we don't have any world-class English keepers at present, so Pickford's competition is limited. Similarly at Everton, neither Virginia or Losl are considered top-class keepers, so at present Ancelotti's choices are limited.
If I were to give Pickford the benefit of the doubt and retain him in the hope that his game improves, then it would make sense to sign a proven experienced top class keeper, who is perhaps reaching the end of his career. It wouldn't dent our finances and the competition for a first-team place would take Pickford out of the spotlight and give him an opportunity to improve his game.
We need stability in goal and we need it now.
Keith Dempsey
320
Posted 20/09/2020 at 12:28:34
Can anybody confirm whether Calvert-Lewin's hat-trick was a perfect hat-trick? It's hard to tell if his first is left or right.
Martin Mason
321
Posted 20/09/2020 at 12:40:26
Spurs are in trouble now. Not sure that the chosen one has much time left. Superb goal by Ings.
George McKane
322
Posted 20/09/2020 at 12:50:59
Sheer decadence. Watched MotD this morning from my hospital bed, cereal and coffee and orange brought to me on a tray. Everton on first – wondrous.
"Ain't No Stoppin Us Now!
We're on the move!
Ain't No Stoppin Us Now!
We've got the groove!
There's been so many things that's held us down
But now it looks like things are finally comin' around
I know we've got, a long long way to go
And where we'll end up, I don't know
But we won't let nothin' hold us back
We're putting our selves together
We're polishing up our act!
If you felt we've been held down before
I know you'll refuse to be held down anymore!
Don't you let nothing, nothing
Stand in your way!
I want ya'll to listen, listen
To every word I say, every word I say!
Ain't No Stoppin Us Now!
We're on the move!
Ain't No Stoppin Us Now!
We've got the groove!
Ain't No Stoppin Us Now!
We're on the move!
Ain't No Stoppin Us Now!"
Enjoy yourselves Blues and take it all in.
Blue cosmic grooves all the way - George.
Derek Knox
323
Posted 20/09/2020 at 13:01:27
Hey George, glad to see you back, hope the Blues had some part in your recuperation, it certainly made me feel like James Cagney, " Top of the World Ma ".
Which Hospital are you in Arrowe Park or the Royal/Broadgreen, or The Cuckoo's Nest ? We just need to carry on from this, easier said than done I know, only 36 games to go win them all and no-one can touch us. :-)
Still think we need a couple more reinforcements though, so here's hoping, get well soon George!
Rob Halligan
324
Posted 20/09/2020 at 13:07:20
Martin # 321. Spoke too soon mate!!
Jay Evans
325
Posted 20/09/2020 at 13:08:22
Get well soon George. I bet yesterday was quite the tonic mate.
Fran Mitchell
326
Posted 20/09/2020 at 13:09:52
Christy. On Macca. Sometimes a player just needs a change.
He was floundering here, like many, and his injuries meant we simply could not rely on him. He'd have been a drastic improvement o what we had last season, but now we have Allan. So again, Macca would probably be again on the bench.
But I'm made up that he's found his form again, he was fantastic for 18 months with us. Palace got themselves a bargain.
George McKane
327
Posted 20/09/2020 at 13:09:55
Thank you Derek - and TW'rs - for your good wishes - well as the n the mend after a bit of a fright - no worries - Everton Ancelotti and new signing have all given me " heart" for the future.
Cosmic Blue Waves.
Brent Stephens
328
Posted 20/09/2020 at 13:12:42
Cosmic grooves, George! If the docs prescribed you an Everton win, make sure you get a repeat prescription!
Brent Stephens
329
Posted 20/09/2020 at 13:15:38
Brian #318 "[James] seems to have already established a great understanding with Richarlison."
And with Digne! Those cross-field passes are sublime.
Tony Abrahams
330
Posted 20/09/2020 at 13:30:33
Hopefully it's a "ain't no stoppin you now George - you're on the mend"
Andrew Ellams
331
Posted 20/09/2020 at 13:33:32
Keith, the first two goals were with the right foot.
It still makes him the youngest Englishman to score a hattrick for Everton.
Tony Everan
332
Posted 20/09/2020 at 13:42:14
Watching Saints v Spurs , Southampton committing defensive suicide here . Painful for their fans to watch this, embarrassing defending.
Brian Wilkinson
333
Posted 20/09/2020 at 13:48:21
How about letting Mina go out on loan, and putting Gibson in at centre half alongside Keane.
All looking very good at the moment, midfield looking so much better, however I do think we could do a few more tweaks in this window, Iwobi and cash for Zaha, simply to drive the price down and get Iwobi out of the door.
I would also look to offload Moise Kean, no matter what talent he may have in the future, it is clear the guy wants away, those saying same posters said the same about Calvert-Lewin, the difference being he always played for the shirt, grafted and was proud to be part of Everton, Kean is totally different, let the guy go and bring in either Gomez or another striker.
I would honestly hand on heart have a fully fit Tosun, who at least gives his all as an option, than a player who sulks and trying to get back to Italy.
A goalkeeper is a must, either this or the next window, then I think we will have strength, in all departments.
Brian Wilkinson
334
Posted 20/09/2020 at 13:51:16
Martin@321, wins the comes back to bite you on your backside post of the Day :-)
Sorry Martin could not resist, there again you May get the last laugh, if Spurs do a Devon Loch.
Brian Wilkinson
335
Posted 20/09/2020 at 13:53:28
I wonder if Southampton are interested in any of our fringe players, for Danny Ings.
Joe McMahon
336
Posted 20/09/2020 at 13:59:52
Brian @335, I think we both know the answer to that.
Rob Halligan
337
Posted 20/09/2020 at 14:09:30
Brighton 2-0 up at Newcastle after 8 minutes
Jay Wood
[BRZ]
338
Posted 20/09/2020 at 14:09:58
Phil Lewi @ various.
Correct me if I'm wrong Phil, but I get the impression, reading between the lines of your posts, that you don't rate Jordan Pickford very highly?
Would that be right..?
Lenny Jameson
339
Posted 20/09/2020 at 14:21:44
Phil Lewis
Lewey my old mate. How are you doing?
My dad's got dementia. He's ok but he keeps saying the same thing every 10 minutes.
Have you thought of getting tested?
Stay safe mate. Hope to see you soon.
Ernie Baywood
340
Posted 20/09/2020 at 14:26:21
With all the positivity, it's a bit surprising to see people refuse to let go of past opinions and apply them to this game.
For that first goal it was James and Gomes who gave up the ball after we'd won it back. It was Doucoure and Allan who had overcommitted and left the midfield wide open. Seamus was caught up the pitch, though he'd just won the ball so I'll excuse him.
You can definitely level blame at Mina. Though he was let down by those ahead of him and if he'd been beaten by the player he'd no doubt be criticised for that instead of backing away.
But Pickford? How do you pass over the contribution of the other 6 players mentioned and arrive at the conclusion that Pickford was at fault?
Out of interest, do the same people blaming Pickford rate any of the goals we scored? Why aren't they goalkeeping errors too?
Jay Wood
[BRZ]
341
Posted 20/09/2020 at 14:28:50
The Spurs result today makes our performance at their shack last week look even better.
Spurs actually had a very good end to the season after the restart, so I was surprised how poor they looked against us. Maybe we should give ourselves even more credit.
I read somewhat surprisingly that based on results since Mourinho was appointed they would have finished fourth in the league.
A bit premature, then, in writing off either Mourinho or the club as being in sharp decline.
I both smiled and raised an eyebrow at Bale returning to Spurs when compared to our signing of James Rodrigues.
Even some of our own supporters questioned signing the 29-year-old, injury-prone, 'lost-it' Rodriguez, whilst the signing of the 31-year-old, injury-prone, 'disinterested' Bale is seen as a major coup.
By many accounts we have got Rodriguez on a free transfer and £76k a week. He is OUR player for the minimum of two years, with an option to extend. The Spurs' Bale deal is a single season loan for which the Londoner's will pay 40% of his £600,000 A WEEK(!) salary - £240,000.
I wonder how that all sits with the very soft Bank of England loan they arranged, the staff they have laid off and their capacity to pay such eye-watering numbers playing in an empty stadium?
Rodriguez v Bale numbers will make interesting reading come the end of the season.
Rob Halligan
342
Posted 20/09/2020 at 14:32:27
Jay, considering Bale is out for a few weeks anyway, it gives Rodriguez a real chance to get ahead of Bale in terms of goals scored and assists. Exciting times for us blues.
Jamie Crowley
343
Posted 20/09/2020 at 14:38:44
When we play Brighton we'd better watch out for that RM they have. Lamptey? Dude is lightning fast.
Still can't get over how good I thought we were. A lot of valid nit-picking on TW, but valid nit-picking is still nit-picking. We were fantastic and after the first 20 I thought we completely controlled the game.
We look marvelous. I still can't believe it. It's a pinch me moment.
Jay Wood
[BRZ]
344
Posted 20/09/2020 at 14:44:23
Seriously, Rob? I wasn't even aware of that detail that Bale is currently injured.
Ehrm...'Spurs that'. (Doesn't quite have the same ring to it as 'Everton that' for some reason!).
John Pierce
345
Posted 20/09/2020 at 14:51:16
Ernie,
I wager some opinions are entrenched and refuse to bend even in light of the evidence to the contrary. I'm not a Pickford fan but he wasn't to blame yesterday. Does he need to become a calmer more disciplined player? Absolutely. That's an agenda for me not an opinion. Tony A mentioned the other day, be dismissive but at least back it up, I agree wholeheartedly.
I think other dissenting opinion, comes from a good place. In two games we've seen such an uplift in performance and possibilities that some including myself are in a rush to see the problems resolved because we can see something special. I'm hoping most are the latter.
George Cumiskey
346
Posted 20/09/2020 at 14:52:50
We definitely should be inquiring about Lamptey at Brighton before someone else gets him the best right back around.
Tony Abrahams
347
Posted 20/09/2020 at 14:53:00
Tony@332, I watched a bit of football yesterday, and what you say about Southampton, is exactly what I thought about Man Utd last night. Maybe it's easier playing away without the crowd, because the fast counter-attack, seems to be working for a lot of the away teams at the minute?
Rob Halligan
348
Posted 20/09/2020 at 14:54:54
Jay, Bale is out injured until at least the middle of October.
https://talksport.com/football/760832/gareth-bale-tottenham-loan-injury-wait/
Brian Murray
349
Posted 20/09/2020 at 15:01:47
So the home crowd is the real reason we've been woeful for years away from home? Okay, that's all right then.
Ernie Baywood
350
Posted 20/09/2020 at 15:01:49
John 345 Agreed. If you feel Pickford's not the right keeper for us then absolutely fair enough. Personally I question whether we actually could do any better (and whether we have more pressing priorities) but that's all just opinions.
It doesn't shape my view of individual games though.
We're pretty much at the point we have been in past seasons where every loss is Gylfi/Pickford/Davies/etc fault regardless of what actually happens.
Makes this place far less interesting to visit when people could offer those types of opinions without even watching the game. And I suspect on plenty of occasions in the past, that's been the case.
John Pierce
351
Posted 20/09/2020 at 15:06:53
I'm still mesmerized by the the goal from Rodríguez. Only Kanchelskis and Beardsley have stood out so starkly against the other players as James does, not even in the 80's did one player stand above the others.
I've found it hard to dissect his performances. I often have looked for him and he seems to be doing little, but that aura causes opposing players to do funny things. I think the primary recipient will be Richarlison.
I've no idea how he floated from the right to inside left for his goal. Whether he just drifted there or it was vestige of a set play. He didn't even seem to hit it hard, just timed it and it was laser guided! I thought Seamus was much more involved yesterday as we were the dominant side but I look at Digne's delivery and Coleman's and sigh. It's night and day. I think yesterday made my mind up if we are playing a side like WBA then we must find a better crosser. I even wonder in my more prosaic moments if a winger could play there.
Mike Gwyer
352
Posted 20/09/2020 at 15:09:01
Ernie.
Yeah, good post. Pickford had no chance for the first.
Without doubt Pickford made a couple of game winning saves at Spurs and its obvious his form has definitely picked up. I'm sure Carlo and his coaching team will review both of West Brom goals and we will see how our CB's perform against quick breaks in future games, for me Allen being totally out of position for the 1st goal did not help and its obvious that Mina and Keane are heavily reliant on a solid holding midfielder playing in front of them.
Dave Abrahams
353
Posted 20/09/2020 at 15:10:40
George (346), seems a good shout George, I watched him the other night v Chelsea and thought he was one of the best full backs on the field.
Just checked him out, Brighton signed him from Chelsea on a permanent three and a half year deal during this close season, didn't say how much he cost, he's having another good attacking game at Newcastle today, a real live wire of a player.Chelsea must be very well stocked with defenders to let this lad go, he'd only played three times for Chelsea, twenty years of age this month.
Dave Abrahams
354
Posted 20/09/2020 at 15:13:30
Above post (353), should have read " One of the best players on the field" not full backs. Sorry.
Kevin Molloy
355
Posted 20/09/2020 at 15:18:35
John
yes I agree there was something unusual about James goal. The ball was hit so cleanly, with not much backlift. The South Americans seem to have a lower sense of gravity, I noticed the same thing with Suarez god bless him. they don't seem to swing their leg as much as over here, but when they hit the ball it stays hit, I don't know whether it is stronger calf muscles or what it is but it seems peculiar to SA
Dave Abrahams
356
Posted 20/09/2020 at 15:27:19
George (322), lovely to hear from you again George,nice, bright and happy, well done, I bet those nurses are queuing up to look after you George, nurses always need a laugh,in the job they do, they'll get plenty with you George, glad you're on the mend.
Max Murphy
357
Posted 20/09/2020 at 15:32:23
Frank (@309)
I agree with everything you say about Allan & Mina for their contribution towards WBA's first goal, but disagree with your views on Pickford. He starts the game off with an atrocious clearance, that almost costs us a goal – trademark Pickford. Yes, their free-kick was excellent, but why does he pull his arm away at the last second?
He is a liability, and every game we just await his next stupid mistake. Of course he made a few blocks against Spurs, but any half-decent goalkeeper would be expected to do the same. He doesn't boss his area, he's afraid of big centre forwards, and lacks confidence claiming high balls, especially when attackers are near. He cowers on his own line, hoping defenders will clear the danger. Maybe his lack of height has something to do with it.
You can guarantee he'll cost us at least 9 or 10 points a season directly from his errors.
I am keen to get another look at Virginia on Wednesday. Not really seen much of him, apart from the game against Salford, but I do like the way he catches the ball cleanly, instead of padding it to the ground first, like most goalkeepers do.
I think Pickford can destroy any momentum, and motivation in our defence from his obvious weaknesses. We must get rid asap,
Danny O'Neill
358
Posted 20/09/2020 at 15:37:15
Slightly off topic but in tune with us being able to have fans inside the stadium to generate the atmosphere that these type of games and performances warrant.
Dortmund v Monchengladbach was played in front of 10,000 spectators yesterday with 8,400 to be allowed to watch the Leipzig fixture today.
Hopefully we're not too far behind.
Steve Ferns
359
Posted 20/09/2020 at 15:38:59
George, May your recovery be swift and full.
We're looking good at the moment and still sit top and should be at least 3rd by the end of the second round of fixtures. I'm just going to enjoy it.
Could we strengthen the best XI? Absolutely. Are we able to do so without breaching FFP? I've no idea. I don't think we need to improve the whole XI in one window. We can maximise our financial muscle by doing so slowly. So, whilst Pickford has obvious flaws, if you wait until next summer, we can see exactly where he's at in terms of possible improvements, and also Joao Virginia who seems to have been bumped up to backup. He did alright against Salford and he's likely to play against fleetwood and he's very highly rated. He might be the answer, and 12 months to see where he's at could be worthwhile.
The management seem to have recruitment sorted right now. So, let's enjoy our start and wait and see if any more transfers are made before the window shuts on 5th October.
This being Everton, I'm sure there will be crushing disappointment soon enough and then we can get back to slagging off our players.
Tony Hill
360
Posted 20/09/2020 at 15:39:08
John @351, they are very different players but the graceful way James moves and the sense that he is proceeding in his own space and time remind me of Alex Young.
I don't want to overstate the comparison but he has that "floating" way about him. It comes from pure giftedness, in the end, I suppose.
Brian Williams
361
Posted 20/09/2020 at 15:43:36
I hope the opposite Danny. The result of the easing of restrictions is plain to see with a second wave already upon us and set to worsen.
I can see supporters in stadiums being less, rather than more, likely and quite rightly so IMHO.

Brent Stephens
362
Posted 20/09/2020 at 15:55:01
Brighton beat Newcastle 3-0! How sad.
Danny O'Neill
363
Posted 20/09/2020 at 15:57:05
Don't want to turn this into a Covid thread Brian. I guess it depends on your view to the "2nd wave". Pandemics happen. Humans don't fight or stop Mother Nature, they learn how to live with her. Those Hurricanes we know are coming and predict guess what happened. Sad but true.
Kieran Kinsella
364
Posted 20/09/2020 at 16:02:16
Thiago on bench for Chelsea. Glad Carlo dropped our new boys right in. What's the point of slowly working in a 35 year old. By the time he's ready he will retire
Tony Abrahams
365
Posted 20/09/2020 at 16:03:20
Two away wins so far today Brent, with 8 goals scored in the process, now wouldn't it be nice if the home team started scoring, and Chelsea, knock the toffees, right off the top of the league.
Kieran Kinsella
366
Posted 20/09/2020 at 16:03:35
Thiago on bench for Chelsea. Glad Carlo dropped our new boys right in. What's the point of slowly working in a 35 year old. By the time he's ready he will retire
Kieran Kinsella
367
Posted 20/09/2020 at 16:08:40
Brian/Danny
I live in Kansas City we haven't peaked yet for Covid as it rises everyday. School on zoom, curfews on bars, no kid sports, no gatherings of large groups. And yet they let 20,000 fans in to the Kansas City chiefs match but asked them to wear masks when they weren't drinking. Fans here get pissed up at every game. They then had to revise state rules to require quarantine if you're in large groups to exempt Chiefs games. It's ludicrous. Quarantine or don't. Don't ban everything except the highest risk event with the highest risk people (eg overweight, high blood pressure drunken Trump supporters)
Danny O'Neill
368
Posted 20/09/2020 at 16:22:26
Literally off the plane back from Berlin this afternoon. Life pretty normal there. Same type of mask wearing precautions as the UK with a slightly different twist, but Berlin much busier than London in terms of tourism & general "going about-ness".
Back on thread. Whatever happens, it looks like it's going to be great to watch Everton again. Regardless of result, all a football fan wants (in my opinion) is first and foremost to be entertained and see their team compete. Success is hopefully a by-product of that.
My only concern is that scratch the surface and we're back to last season's lacklustre midfield. Here's hoping we have a Liverpool style freak of luck with injuries, because let's face it, they too don't have strength in depth.
Brent Stephens
369
Posted 20/09/2020 at 16:22:50
Tony #365 I think I could settle for that!
Come On You Other Blues!
Tony Hill
370
Posted 20/09/2020 at 16:23:54
Brent @362, yes, the second most irritating gobshites, the barcodes.
George Cumiskey
371
Posted 20/09/2020 at 16:27:18
Dave @ 353 Brighton bought him for 3 million a complete steal.
Phil Lewis
372
Posted 20/09/2020 at 16:29:33
Lenny#339
Hello Len, good to hear from you old friend. I know mate, I'll have to get a grip, must be losing it! Ould age creeping up on us Len, I'm starting to sound like Albert Tatlock. Deffo need to get out more! If we arrange an old boys reunion we'll have to go grouse shooting cos we can invite more than six then!
Take care mate, hope to see you soon.
Darren Hind
373
Posted 20/09/2020 at 17:02:23
Shite V Chavs

zzzzzzzzzzzzzzzzzzzzzzzzzzzzzzzzzzz
Brian Williams
374
Posted 20/09/2020 at 17:18:16
Premier league message to referee. "Hey Liverpool are struggling to go ahead here, do something."
Tony Hill
375
Posted 20/09/2020 at 17:18:43
The RS's long ball game pays off again.
Rob Halligan
376
Posted 20/09/2020 at 17:18:43
Chelsea down to ten. Do well to get a draw out of this.
Ray Roche
377
Posted 20/09/2020 at 17:22:55
Brian@375
That was a red card all daylong. Referee couldn't do anything BUT send him off.
No chance of Tomori coming here on loan now, Chelsea will need him.
Dave Abrahams
378
Posted 20/09/2020 at 17:23:10
George (371, £3M, great buy by Brighton, he looks a terrific little player.
Mike Gaynes
379
Posted 20/09/2020 at 17:23:17
Pretty obvious that from Christensen.
Brian #333, I've seen no sign of Kean "sulking", and I don't think Carlo would play him if he was. I see nothing but effort from him.
Kevin #355, not sure it's geographic. The most extraordinary player I ever saw with that ability was Anthony Yeboah. He could hit absolute missiles with virtually no visible backlift. Of course it helped that he had thighs like bridge girders.
Dave Abrahams
380
Posted 20/09/2020 at 17:24:53
Mike (379), I thought Chelsea had got away with it, there was no other decision but a sending off, sorry to say!!
Brian Williams
381
Posted 20/09/2020 at 17:31:23
Ray, don't be so bloody..............fair!
It's the redshite! 🤣
John Pierce
382
Posted 20/09/2020 at 17:36:32
You have ask why Tierney needed the review? It was textbook scenario if there was one.
Liverpool so vulnerable over the top. Can we exploit it when we play them?
Mike Gaynes
383
Posted 20/09/2020 at 17:40:22
John P, this game is filled with weird refereeing. ARs keeping their flags down even on clear and obvious offsides. It's like the refs are almost afraid to make their own calls.
Pretty good header by Mane.
John Pierce
384
Posted 20/09/2020 at 17:45:12
Yeah Mike, the directive was 'anything marginal' but all weekend flags have stayed down for players yards offside. It's needs time to settle down.
Brent Stephens
385
Posted 20/09/2020 at 17:45:52
Mane 2 goals now and there'll be more yet.
Jay Wood
[BRZ]
386
Posted 20/09/2020 at 17:46:43
Pickford or Kepa?
Discuss.
Ray Roche
387
Posted 20/09/2020 at 17:53:27
Brian@381
Sorry mate, I wasn't thinking.
I've not been well
Christy Ring
388
Posted 20/09/2020 at 17:59:30
As was already mentioned, we haven't a hope of getting Tomori now, especially when he came on today.
Charles Brewer
389
Posted 20/09/2020 at 18:02:16
I can't find a Chav-RS working feed, but my son tells me it's a terrible match between two awful teams.
On the other hand, it looks as though we dodged a 15inch battleship shell with Zouma, and Tomori doesn't sound any better.
And it also sounds as though any criticism of Pickford is very much wide of the mark given standards elsewhere in the Premiership.
Danny O'Neill
390
Posted 20/09/2020 at 18:06:55
Too easy for Liverpool Charles. Mane is some player. His desire and attitude above all else.
Charles Brewer
391
Posted 20/09/2020 at 18:11:40
I think even I could put the ball into the net if the goalkeeper passed it to me. I'll be interested to see who looks best in a few weeks, Mane, Richarlison or Rodriguez
David Pearl
392
Posted 20/09/2020 at 18:13:57
I expected better from chelsea. Hope they stay this crap. Didnt think much of Arsenal either. If we keep our confidence and shape... we shall see.
I would deffo get shut of Kean. On loan at least and replace him with more experience. Wouldn't mind Stones on loan out of those suggested, l think he'd fit our style or play
Hugh Jenkins
393
Posted 20/09/2020 at 18:15:03
Jorghino has missed his first ever penalty for Chelsea ( taken 8 scored 8 up to today). It could only happen against the RS.
So - no 10 man comeback on the cards today - I'm afraid.
Charles Brewer
394
Posted 20/09/2020 at 18:16:20
David, it's usually not a good idea to get players back, but Stones might be an exception. I think he'd fit in very well with Ancelotti's style.
On the RS game, why did Fat Frank start without Abraham and Barkley? Abraham was easily Chelsea's best player last year and I suspect Ross still has lingering "feelings" about the Redshite.
Danny O'Neill
395
Posted 20/09/2020 at 18:16:30
In fairness Charles, if he doesn't close down with the desire he did, that's an easy clearance for the keeper. Credit to the forward; and he was also making amends for giving the ball away.
Tony Heron
396
Posted 20/09/2020 at 18:16:59
Chelsea "tactics" completely baffling. Have seen rugby matches with less back passes.
Charles Brewer
397
Posted 20/09/2020 at 18:20:30
Danny, no goalkeeper should ever give a forward the chance to cut out a crossfield pass. Sticking it in Row Z oin the halfway line is invariably a better option unless there is absolutely no change of being caught out.
Mike Gaynes
398
Posted 20/09/2020 at 18:20:40
Charles #389, agree and agree.
When people here slate Pickford, I generally ask them who we should get instead. Haven't seen a solid suggestion yet.
Charles Brewer
400
Posted 20/09/2020 at 18:24:37
Looks like the RS have got the lowest winning score in the Prem today (and it should have been 2-1 at most).
Tony Hill
401
Posted 20/09/2020 at 18:26:37
Lampard's fault, cowering against Klopp. So much for his hard man act on the touchline. We're still top, thank you very much.
Mike Gaynes
402
Posted 20/09/2020 at 18:26:54
Wolves just got a lot tougher. Semedo is a great signing.
Danny O'Neill
403
Posted 20/09/2020 at 18:27:55
I don't think a keeper is a priority for us Mike / Charles.
In time if we're going to take a stepping stone approach to get to the top it becomes more so, but right now, I'm pleased we're focussing on what's in front of the defence.
Like our neighbours, the defence is often the last piece of the puzzle. Yesterday showed that. We just might have to get used to accepting we'll concede, but at least now, we know we can come back with goals!!
It will be emotional, but exciting & entertaining!!
Danny O'Neill
404
Posted 20/09/2020 at 18:32:03
Do you think it's a British Manager thing Tony? Bottling it against the so called big guns?
Jay Wood
[BRZ]
405
Posted 20/09/2020 at 18:32:32
What an incredibly passive performance by Chelsea, even when they had a full contingent on the pitch.
I know most of their new signings weren't playing, but I thought they had done some good business making up for lost time following their transfer ban.
But this was a very un-Chelsea-like performance from Lampard, be it as player or manager.
The second half proved nothing more than a light workout for the 'bours.
And still, Everton top of the league.
Tom Bowers
406
Posted 20/09/2020 at 18:34:00
Funny how there is always something that helps RS get the points in many games even if they do deserve them.
Some of the decisions over the weekend were downright ridiculous in the Premier League.
Charles Brewer
407
Posted 20/09/2020 at 18:37:11
Danny, I think Carlo has transformed the Everton team and we've gone from (by far) the worst midfield in the table to one of the best. When Richarlison gets his aim in I can see plenty of goals, he could quite easily have had a bout 6 already. I can see the forwards clicking together beautifully.
The problem now is the defence, which is weird given that a couple of weeks ago we had Keane, Holgate, Branthwaite and Mina who, in the right combination are a formidable group to choose from.
Mike, I agree about Wolves. A club with an outstanding manager who play very solid football. I would be quite happy to see a final table of 1st Everton (of course) 2nd Wolves, 3rd City, 4th Sheff U, 5th Arse, 6th Leeds (who have been a bit of a revelation too).
Tony Hill
408
Posted 20/09/2020 at 18:40:12
I don't know, Danny @404, but if I was a Chelsea fan I'd be absolutely horrified by that pitiful effort. What's so refreshing for us is that our team is, at long last, unafraid and we're on the front foot (despite defensive issues).
Tell you what, nothing to be afraid of from Man United, Chelsea or Tottenham. Yes, it's two games in but we can beat those teams, and any other team.
We're 3/4 players away from being spot on, but we have enough this year - injuries permitting- to give it a real go, and who knows?
If we fail, it's still going to be entertaining and thank God for that; no more plodding tedium.
We have our team back.
Tony Everan
409
Posted 20/09/2020 at 18:42:14
Tony A 347
I hope it works for us away next week. Crystal Palace have started very well and have one or two really, dangerous players. Ok, just one. I thought we should have won there last season though and I think it will be nicely set up for us this time round now that we have a real midfield. Richarlison and Calvert-Lewin have been outstanding and I fancy our chances of getting behind their defence and doing some damage.
Charles Brewer
410
Posted 20/09/2020 at 18:42:33
Tom, I disagree about the refs this weekend. The VAR decisions were often weirdly slow, but I don't think I've seen one where they didn't get it right in the end. A big contrast ot last year when virtually every VAR decision emerging from Stockley Park was terrible (and usually favoured the RS or ManU).
Jay Harris
411
Posted 20/09/2020 at 18:43:18
I don't know whats wrong with Lampard.
A blind man can see the way to beat the RS is balls in behind their back four but Chelsea insisted on trying to play through them and getting hit on the counter.
Paul Birmingham
412
Posted 20/09/2020 at 18:44:00
Well good to be top, and let's hope there's no injuries this week, and we can take the form to Palace.
I expect a fast start by Palace but if we can avoid conceding early on, we should be able to pick them off.
Chelsea gave their match on a plate to the RS, the RS, are beatable and if we can play to our potential we can expose them in the box.
Interesting times and Everton, are top of the League, fantastico.
Here's to good week, for All, TWrs and their families, and let's pray the COVID19, resurgence, doesn't cause any bad health to us and our families.
All stay well, and safe, and onwards Evertonians, to our next victory.,

John McFarlane Snr
413
Posted 20/09/2020 at 18:44:29
Hi Christine [275] hopefully your neighbour will become accustomed to your screams of delight, as they could [with a bit of luck] become a regular feature. I suppose you're well settled in New Zealand, and I wish you all the best for the future.
Hi George [322] I would like to add my best wishes to those you have already received, if Everton had a portion of your spirit they'd be a much better team.
Tony Hill
414
Posted 20/09/2020 at 19:02:22
Terribly sad news about Gylfi's 11-year-old brother-in-law having accidentally shot himself dead. May he rest in peace.
Martin Mason
415
Posted 20/09/2020 at 19:03:44
Jay @386: Pickford or Kepa – discuss?
For me, it doesn't warrant a lot of discussion, Jay. Pickford is a league better and is an Everton player already. Pickford is, in the real world, as good as any keeper on the planet within the range of often irrational opinion. I'd say one-on-one he is the best shot-stopper in the game and is worth several points a season for us, net.
Kepa is proven weak in many aspects of his game, Pickford is only weak in the minds of a few Evertonians and then only in a hand waving sort of way. Given the positive things that are happening at the club, discussing Pickford's merits is the ultimate waste of good breath.
We aren't looking for a goalie, it is absolutely last on the list of priorities far below a new tea lady. He is part of these positive things, very much a solution not a problem. There are Evertonians who would find a down on some players even if we were to win 3 European Cups in succession, it is a cross that other supporters have to bear that's all.
Sam Hoare
416
Posted 20/09/2020 at 19:20:17
Martin I don't understand your unwavering support for Pickford. Are you related?
"One of the best shot stoppers in the game"?! What on earth is this based on. The stats show this one very clearly and he stopped one of the lowest percentage of shots in the league last year, beaten only by Kepa.
He was good against Spurs and maybe he'll be good again. But for the last two seasons I don't see how on earth people can see him as a good shot stopper at club level.
He needs to improve this year or else new goalkeeper will be near the top of the priority list next summer.
The trouble is we won't be able to sell him unless he plays better. And if he plays better then we won't to sell him! For that reason I think it's very possible he'll stay for a while yet but he's got work to do in my eyes.
Tony Everan
417
Posted 20/09/2020 at 19:26:07
Pickford's got flaws but he has made some outstanding saves too without which we would not be top. Most of the other Premier League keepers all have their share of flaws .
All the talk is about the centre-back cover coming in and rightly so but I have been thinking who covers Allan?
The team in front of him has been getting all the headlines, but Allan is the lynchpin. Who covers for him when he needs a break or has a niggle or injury? Delph?
We have players to make do, but do we need a young and up-and-coming Allan or Gana to press for that spot? and be an attempt of a like for like back up. I'm thinking in the way that Nkounkou has been brought in to shadow Digne.
Delph is really not mobile enough (or reliable); Tom is not really that type of midfielder, neither is Sigurdsson.
I want us to have strength in depth where it matters, I think over the 38 games this is going to be the key to the door of the top 4.
It's a lofty ambition to say it, but why not. Outside of the RS and Man City, who are almost in a league of their own in recent years, 3rd and 4th places are well up for grabs. I don't see why we should fear any team this season, and I see a good few reasons they should fear us.
Colin Metcalfe
418
Posted 20/09/2020 at 19:38:37
No question we need a top keeper if we are going to challenge for honors. Pickford must've costs us at least 10 points last season and probably more the season before.
I am watching Leicester v Burnley at the moment and I would happily take either keeper over Pickford.

Martin Mason
419
Posted 20/09/2020 at 19:42:57
Sam, you're an intelligent person so why do you say something as stupid as that?
I recognise Pickford as his status clearly shows him to be which is an absolutely top class keeper by any standard. Remember that it is on you to prove your assertion that Pickford is a poor keeper not just to wave your hands and state it as some kind of fact. As the number one keeper of his national team and the top club in his national league (like that?) you may struggle to do that.
Give the lad some support instead of the usual Everton fan minority, baseless, hatchet job. He plays for Everton, he has the support of EFC and its expert staff and the English football hierarchy; what qualification to you have to say that they and the vast majority of Everton fans and anybody of any position in the game is wrong about Jordan? Do you you not feel just one little bit that it could be you that has it wrong?
Danny Baily
420
Posted 20/09/2020 at 19:43:00
I keep hearing the phrase 'good shot stopper' and Pickford in the same sentence. He's nothing of the sort.
What he is good at is coming out and saving with his feet. The rest of his game is poor.
I would make replacing him a top priority.
Bill Gienapp
421
Posted 20/09/2020 at 19:47:42
Anyone slating Pickford just needs to remember that Kepa cost 㿲 million. Man alive!
Martin Mason
422
Posted 20/09/2020 at 19:47:59
Danny, then you don't support the club position. Replacing the goalie is not even on the cards and that is from people who understand the game. We have the UK's top goalie, who do you suggest we waste our money on?
Ray Roche
423
Posted 20/09/2020 at 19:50:06
Bill, and De Gea is on £350k a week and he wouldn't be on my short list either.
Sam Hoare
424
Posted 20/09/2020 at 19:55:58
Martin, which part was stupid? If you meant the relation part I was only jesting!
I have supplied evidence. Statistically he saved a lower percentage of shots in the league last year than any other keeper bar the disaster at Chelsea. Ergo he's not one of the best shotstoppers.
As you'll know keepers are rotated far less than most other players. So Pickford has had no competition at Everton. As for England I will be interested to see if he's still number one by the Euros. If he repeats his level of the last two years (and Henderson and Pope do likewise) then I suspect he won't be. Obviously the club are not going to come out and slate him with only Lossl in reserve but don't be surprised if we take an offer for him next summer in the unlikely event someone pays what we did for him. If he was really that good why has he been linked so little with a move to the top 4?
Will Mabon
425
Posted 20/09/2020 at 20:04:51
Tony. 414 - yes, a horrible accident.
Jerome Shields
426
Posted 20/09/2020 at 20:06:49
Georg#322
A speedy recovery and good luck. At least Everton are helping for a change.
Mike Gaynes
427
Posted 20/09/2020 at 20:08:33
Danny #420, Top priority? Replacing him with who? Your suggestion?
Bill G. and Ray, spot on. People who say Pickford isn't good enough... I say fine, who would you rather have that would be available in this window at a rational price?
The key word being "available"... not the starting keepers for Prem clubs that finished above us last season (sorry Colin #418).
Sam #424, c'mon, you know better than that. You keep citing that percentage but you know it doesn't account for the kind of shots the defense gives up. Teams with better defenses give up more long-range shots that are easier to stop. Pickford gave up a boatload of goals early last season on point-blank set piece headers based on Silva's complete inability to defend free kicks and corners. Are you saying that all the keepers with better save percentages are better shot-stoppers than Pickford? Nah.
I think the ongoing debate is ridiculous. Carlo will replace Pickford when A) he decides he's not good enough, or B) a bigger club comes in and buys him. Until then, it ain't happening.

Danny Baily
428
Posted 20/09/2020 at 20:08:46
Martin, to paraphrase John Lennon, Pickford's not even the best keeper at Everton!
We'll have to make do though as I doubt he's going anywhere this season. It's a shame, as a solid keeper can make all the difference to a season.
Jamie Crowley
429
Posted 20/09/2020 at 20:14:44
Tony Everan back at 409-
Palace's new striker looks really good to me. He's a dangerous player. If we're a susceptible to the counter against Palace as we were against WBA, that kid and Saha could be big trouble.
Dave Abraham's and George C. back regarding that Lamptey kid. I actually thought he was a RM! He was bombing forward so much, and admittedly I wasn't watching closely, I thought he was in midfield. Learning from you two that kid is a RB? Kid looks a player for sure.
Derek Knox
430
Posted 20/09/2020 at 20:20:11
Having watched all the teams thus far and I know it's maybe premature, and we haven't seen City yet, but I don't fear anyone apart from the Devil, who is definitely in league with them.
We are in control of our own Destiny for once in a long, long time, so let's make it count. Like many have already mentioned I was gobsmacked to witness such a poor performance from Chelsea, and they were at home!
Let's carry on under the radar if that is at all possible, but once you get a win or two, or show promise the Media Hawks are circling above to pounce, highlight any mistakes, and try to put pressure on, so their darlings can enjoy a resistance free run!
Geoff Lambert
431
Posted 20/09/2020 at 20:23:35
Danny #428 You know as much about goalkeeping as John Lennon.
Rob Halligan
432
Posted 20/09/2020 at 20:24:54
Ah well, it was good while it lasted. Leicester winning 3-1 and top as it stands.
Geoff Lambert
433
Posted 20/09/2020 at 20:25:11
It was good at the top while it lasted.
Andrew Hight
434
Posted 20/09/2020 at 20:25:13
Been a critic of Pickford in the past but he wasn't at fault for either goal Saturday. Good to know who the whipping boys have made public enemy number one whilst Everton sit 2 wins out of 2. We might come unstuck for sure but Everton are back, forget the "top 4 BS" and enjoy the positivity. The 85 team are the benchmark.
Rob Halligan
435
Posted 20/09/2020 at 20:30:12
Everton, Top of the league!! 👍👍👍
Geoff Lambert
436
Posted 20/09/2020 at 20:30:27
Top again haha
Rob Halligan
437
Posted 20/09/2020 at 20:31:03
On alpha order, Geoff.
Jamie Crowley
438
Posted 20/09/2020 at 20:31:48
Burnley! Burnley! Burnley!
Derek Knox
439
Posted 20/09/2020 at 20:34:56
Rob@432, what do the say about the performance, and it not being over till the corpulent lady bursts into song?
Come on, and now you better believe us!
Dave Evans
440
Posted 20/09/2020 at 20:35:46
The best way to understand the Pickford "get rid" posts above is to replace the word Pickford with Lukaku.
Some people just need a bogey-man in the stocks.
Rob Halligan
441
Posted 20/09/2020 at 20:35:58
Leicester back on top.
Danny Baily
442
Posted 20/09/2020 at 20:36:19
Mike 427, Sergio Romero was linked a few weeks back.
Jamie Crowley
443
Posted 20/09/2020 at 20:36:25
Sean Dyche is woke, and he's livid.
Dave Evans
444
Posted 20/09/2020 at 20:45:38
Shit, we will have to forget the title and settle for a Champions League spot.
Mike Gaynes
445
Posted 20/09/2020 at 20:47:01
My point exactly, Danny #442. Romero was linked as a backup. Or do you really think it would make us better to swap out Pickford for a 33-year-old ManUtd reject who has played about ten games a year for the past six years?
I'm not saying Pickford is the guy to take us into the Champions League, but the only alternatives I usually see suggested here are for other clubs' retreads. Like Romero.
Jamie Crowley
446
Posted 20/09/2020 at 20:47:39
Freaking post.
Bill Gienapp
447
Posted 20/09/2020 at 20:50:38
Still hasn't been a single draw this season, which is... kind of interesting. I guess.
Derek Knox
448
Posted 20/09/2020 at 20:50:42
If the score stays the same, okay Leicester will be top on GD, but these teams may do us favours by beating others in the days to come, it will all work out in the end, but we have to keep winning ourselves.
Mike Gaynes
449
Posted 20/09/2020 at 20:56:20
We're spiraling down the table. Carlo out.
Will Mabon
450
Posted 20/09/2020 at 20:59:18
3-1 win coming at Palace so no worries.
Billy Roberts
451
Posted 20/09/2020 at 21:01:22
Pope let in 4 tonight, he must be garbage.
Steven Astley
452
Posted 20/09/2020 at 21:02:14
Bill (421) I slate Pickford and couldn't give a shit how much Kepa Arizabalaga cost!
Fact of the matter is, we will never be a top team with Pickford in goal.

Bobby Mallon
453
Posted 20/09/2020 at 21:05:53
Does anybody know when we last won our 1st 3 matches
Hugh Jenkins
454
Posted 20/09/2020 at 21:06:20
All, our reign at the top of the table didn't last long - LOl. Lets hope we can keep the momentum going at Selhurst Park next week.
Mike Gaynes
455
Posted 20/09/2020 at 21:10:52
Dunno, Bobby, but it's the first time in 8 years we've won our first two league games.
Dave Evans
456
Posted 20/09/2020 at 21:10:57
It wouldn't last. The party's over, the bottle's empty.
And Leicester are top. Where's the Prozac.
Billy Roberts
457
Posted 20/09/2020 at 21:12:36
Danny@428
Who is the best keeper at Everton then?
You may want to let Carlo know.
I think you were paraphrasing Jasper Carrot
and not John Lennon there, close enough I suppose.
Sam Hoare
458
Posted 20/09/2020 at 21:18:25
Mike @427; yes of course there is some allowance for the type of chances given up but I do not think there is as much discrepancy as that to account for his low save percentage. Plus he's been in the bottom third for three seasons!
If you want to use a stat that better accounts for the quality of chance then Pickford also does poorly when considering his Xgsaves (ie, he let's more goals in than xG would predict).
Isn't it possible, given that all the stats I've seen suggest it, that's he's not that great a shot-stopper compared to the other keepers in the league?
Karl Masters
459
Posted 20/09/2020 at 21:18:39
Bobby - it was 1993. We actually won 5 of the first 8, which is just as well as we only escaped being relegated by beating Wimbledon 3-2 in that epic final match the following May!
Mike Gaynes
460
Posted 20/09/2020 at 21:50:17
Sam, I never heard of xG saves. Where the heck do you find this stuff?
Sure, it's possible, but I would also point out that over those same three seasons we've ranked at the very bottom of the league for the set-piece goals-against I mentioned.
My belief is that on point-blank shots inside the six-yard box, Pickford's reflexes make him one of the best in the world. Otherwise he strikes me as about average for the Prem. And you already know where I think we should shop for an upgrade.
Bobby Mallon
461
Posted 20/09/2020 at 22:00:46
Mike Gaines 398/399,
The Palace keeper is better than Pickford.
Joe McMahon
462
Posted 20/09/2020 at 22:01:47
Karl, one of the 5 was beating Liverpool. I think Cadamatari scored on a 2 0 win.
Joe McMahon
463
Posted 20/09/2020 at 22:07:26
Leicester already had 2 pens this season, Liverpool get 30 odd a season. If we are gonna mount a charge for he league we are gonna have to do it he hard way! 😃
Stephen Vincent
464
Posted 20/09/2020 at 22:08:37
Look on the bright side just another 34 points to safety.
Ernie Baywood
465
Posted 20/09/2020 at 23:29:33
Sam 458. If we're going off stats can we agree he's doing ok this season?
At the moment he's ahead of Alisson (presumably we accept he's a good keeper?) in every single category including save percentage - 78% compared with 50%.
Paul Birmingham
466
Posted 20/09/2020 at 23:39:10
Leicester, on top, for a week, and by next week, after we beat Palace, as we will, we will be up there.
Great start and Very early days, but the aura around Everton, has lifted, this last week.
In my time over time, it's the best in genuine optimism, in terms of a new beginning,since HK, 1983, last half of the season.
We won, some great games and lost a few, but that turned the team, and the clubs, mentality.
The mentality also of the Government and Degsys local government, at the time.
Stapleton's, goal, in 1983, though, we lost, in the FA cup 1/4 Final,, was born an era, and another generation, of, Evertonians, and we took the positives and the era, was as it was.

The best club in the world, by miles. Great memories, and a more, to be made.
"What's Our Name?" Everton!
.
Steve Ferns
467
Posted 21/09/2020 at 00:50:03
I've just seen that Gylfi's wife's brother accidentally shot and killed himself, at the age of 11. Apparently it happened over a week ago and it's only just seeping out. It must be a tough time for Gylfi and his family. Good to see that despite this, he is working hard and trying to force his way back into the side. Respect and thoughts to the Icelander.
Mike Gaynes
468
Posted 21/09/2020 at 01:44:11
Bobby #461, let's see next week.
Derek Thomas
469
Posted 21/09/2020 at 02:14:02
Sam & Mike (predictive txt wants to put in Dave) @453 & 427. I have to agree with Mike, until the next really top class keeper becomes available, its Pickford faults and all.
Sam as to stats, well I prefer to view the whole thing, be it game or season.
An average keeper behind an excellent defence and midfield, will get you higher than a great keeper behind an average defence and midfield.
Tommy Lawrence had clean sheets galore, League Titles and an FA Cup winners medal...and was an ok bloke too
Gordon Banks had regular hammerings playing for Leicester and Stoke...yet managed to scrape a World Cup Winners medal behind a decent defence.
David Lawson was a stand out keeper for a really tight, disciplined and well managed by Ian Greaves, underated Huddersfield team that got promoted and did well for 1 season. Until 3 or 4 of of their players got cherry-picked (no pun intended) like Trevor Cherry, Roy (predictive txt wants to put Jack) Ellam and Frank Worthington.
Now we could've bought any of them and got good value and Frank Worthington would've been Excellent value. But we (well Catterick in his declining years) bought an average keeper from behind an well organised defence and stuck him behind a poorly organised defence and midfield and - when your other choice did not inspire confidence either - the rest as they say, is history.
It's Pickford until further notice, I'm afraid.
Paul Jones
470
Posted 21/09/2020 at 03:02:39
I recollect that Billy Bingham declined on signing Peter Shilton because he thought did not need a good goalkeeper to win the league. Pickford does seem more Dave Lawton rather than Neville Southall. First game v Spurs was big improvement, second game quite erratic. Kicking can be costly and he was lucky not to concede early against West Brom. Too late to look elsewhere now but, unless he is more consistent, he needs to be replaced in the future.
Mick Davies
471
Posted 21/09/2020 at 03:38:20
Watching Spurs destroy Southampton's defence, makes me realise how hard our skipper worked to keep Son relatively quiet; he was devastating, and took his 4 goals superbly. Only Liverpool, of those who have played, have me worried up to now: I really think we can get a Champions League place this season.
Ernie Baywood
472
Posted 21/09/2020 at 04:26:52
Our next opponents haven't looked too bad either, Mick.
A lot of pressure on this team now.
Spurs was a real test of whether we were at that level. WBA a test of whether we could dispose of an organised, hardworking but limited side, as we've failed to do so often. Now we go to a team with pace in attack who just destroyed an effective but immobile centre half pairing. Then face an underdog side trying to prove the doubters wrong.
The 'real test' for us is whether we are up to this many 'real tests'!.
Hugh Jenkins
473
Posted 21/09/2020 at 07:54:13
Billy (457) - Jasper Carrott may well have said something along those lines - but Lennon definitely did. H was asked, apparently, "Is Ringo Star the best drummer in the world?" to which he replied, "he's not even the best drummer in the Beatles".
David Cash
474
Posted 21/09/2020 at 08:11:28
I've read everyone of these posts. Fantastic to see so many happy blues, although it was disappointing to see one poster repeated talk about "haters". I guess there is always one who cant enjoy the moment
Look forward to more threads like this as the project gathers momentum.
My feet are still on the ground. Just
Martin Mason
475
Posted 21/09/2020 at 08:13:52
We've walked our first three games without a goalmouth panic caused by Pickford. He has saved our asses on time without number with his massive shot saving capability. He is the best or close to the best keeper in the EPL and he would likely walk into any EPL team and most in Europe and still some whinge about him? It really is beyond belief, all evidence free and baseless opinion. It would be hilarious if it weren't so serious coming from our own fans. Criticise him when he makes mistakes (real not imagined), criticise him when he affects our results (which he doesn't) otherwise get off his back and give him support like fans do.
Brian Williams
476
Posted 21/09/2020 at 08:38:19
Lennon didn't actually say anything about Ringo not being the best drummer in the Beatles.
It's an urban myth as is the fact that Jasper Carrot first said it.
It was actually said in a comedy radio show in 1981 I believe.
As time has passed the "story", as these things do, seems to have grown arms and legs and changed considerably.
Dave Abrahams
477
Posted 21/09/2020 at 09:05:07
Martin (475), I'm glad your post is all evidence free and not based on just opinions.
Phil (Kelsall) Roberts
478
Posted 21/09/2020 at 09:32:22
Lennon did say that about Ringo. But it was Aaron Lennon who said it.
(Sorry Aaron, you didn't but needed for comedic effect)
Thomas Lennon
479
Posted 21/09/2020 at 10:18:13
Some happy thoughts
There is a lot more to come from this team - amazingly, however, I was wondering how we will cope as teams start to adjust to our new threat. James will be targeted so we will need another creative player - mind you, it is pretty clear he is used to winding up the opposition too. No mug our James.
Are we all happy that we are getting a bit of 'nous' - sneaky shoves, diving will be next? All are routine in the top 4.
Our attacking three were described as 'superb' on MOTD, I don't think that has ever happened before.
Is it me or has home advantage disappeared along with the crowds?
Derek Knox
480
Posted 21/09/2020 at 10:19:35
Phil, well it definitely wasn't Vladimir Ilyich Ulyanov Lenin, cos he was, well kind of dead then! :-)
Tony Abrahams
481
Posted 21/09/2020 at 10:52:33
Good question that Thomas, asking if home advantage has gone without the crowd.
The games I have watched, it seems that the fast counter-attack is being used often, with a lot of the home teams pushing up, just a little bit to far and being punished?
Some of the officiating has also been very poor, (at least this is consistent imo) but maybe it's just the new rules?
Penalties are being given for nothing imo, and I'm not sure Atkinson, would have given that penalty on Saturday if Old Trafford was full, or his VAR assistant would have flagged up De'Gae, for having one foot off the line when he made the save, but who knows?
The game is changing rapidly, but how can a team play on the front foot, when they don't have enough pace to recover? Liverpool got away with a few which might not always be the case, but Manchester United, certainly didn't, and this is something Everton have got to pay a lot of attention to, next week.
Peter Day
482
Posted 21/09/2020 at 11:04:27
Did you all see Seamus responding to Gibbs gobbing off after his red card!
https://twitter.com/irish_pics/status/1307780810607652864?s=09
Matthew Williams
483
Posted 21/09/2020 at 11:28:13
Although we had a couple of iffy moments,our class and hard graft as a team rightfully won us the points.
Very pleased for young Dom and Keane is showing real leadership at the back...bring on Fleetwood!
COYB
Will Mabon
484
Posted 21/09/2020 at 11:38:27
I think we're now seeing more of the Leicester effect, Tony, a few seasons on. As pace and athleticism is becoming an increasing part of the game, the type of goals scored is changing.
Thing is, most bigger guys don't have the same all round pace (or endurance over 90 minutes) as the lighter ones, in general. Van Dijk is unusual - as was Rats, way back. Nonetheless as you say, Liverpool have got away with a few - but they've certainly scored more than a few that way.
It's a pity but I think more and more teams will start to play in a similar way; athleticism and fitness is more widely available and trainable than exceptional skill. It can be something of a leveller.
With the pace and movement of many forwards now, the hulking great centre half spends a lot of his time in a very precarious situation. Drop back, and the forwards are coming at you with speed, hold high and they can run in behind. Always been so, but it's now a much more extreme version.
If we allow Palace to play as they did at Old Trafford, we're in for a tough afternoon. We need to really occupy them at the other end.
Sam Hoare
485
Posted 21/09/2020 at 11:40:45
Martin, 475. Best keeper in the league? I'll have some of what you're smoking please. Although maybe I don't need it as you say he's made no mistakes leading to scrambles so clearly I must have imagined the huge slice he made in the first 5 minutes giving it straight to their player which led to a chance that was thankfully right at him.
Also you asked for evidence. I provided it. You totally ignored it. Here you go again:
https://fbref.com/en/comps/9/3232/keepers/2019-2020-Premier-League-Stats
And for Mike Gaynes here is one that takes into account the likelihood of those chance normally going in:
https://www.statsperform.com/resource/stats-perform-goalkeeper-rankings-dec-18/
Fell free to ignore these too!
He's been better in our two games this season. Long may it continue. But for the last year or two he's not been in the top 6 keepers in the league. Not even close.
Steve Shave
486
Posted 21/09/2020 at 11:43:38
Steve 467 yes I saw that, how tragic. My thoughts go out to Sigi and his family.
Geoff Lambert
487
Posted 21/09/2020 at 12:04:51
Sam "But for the last year or two he's not been in the top 6 keepers in the league. Not even close"
Think that goes for the whole team not just the keeper.
Fran Mitchell
488
Posted 21/09/2020 at 12:17:33
Pickford has been very much under-par since the World Cup, for sure. His susceptibility to long range shots for me is his biggest weakness and where he needs to work on most. He has a tendancy aswell to scuff passes and over-hit the ball in his long range passes.
I feel the latter is a problem that can be easily coached, the former however seems more a innate issue - a combination of positioning and concentration.
But he is excellent at making reflext saves from close distance, and the reality is, more often than not, it is these types of goals that win games than long rangers. He's good on one-on-ones, and he does have good passing ability (even though its been wayward).
I feel he was never as good as he had been perceived, and he is not as bad as he is now being considered. He's decent, and can become good.
To get a better keeper will cost a huge sum of money, and would not be a guarantee either. Sheff Utd spent 18 million on Ramsdale, Villa spent 20 million on Arsenal's reserve - neither are better than Pickford.
I feel our best hope is that, along with the general increase in stantards across the club, Pickford can raise his game. There is a place in the Euros added to his challange of being good enough for Ancelotti, so he shold be fully motivated to do so.
Max Murphy
489
Posted 21/09/2020 at 12:47:29
Martin (@419) in reference to Sam's post (@416) you state:

"I recognise Pickford as his status clearly shows him to be which is an absolutely top class keeper by any standard. Remember that it is on you to prove your assertion that Pickford is a poor keeper not just to wave your hands and state it as some kind of fact."

Sam's "some kind of fact" is indeed a fact. But your assertion that you recognise Pickford as a top class keeper, supersedes a clear fact that Pickord had one of the lowest figures in the league for stopping shots? I also read somewhere that Pickford was high on the list of goalkeepers costing Everton numerous points because of his mistakes. So who are we to believe? I'm going with Sam and the facts.

There is not a minority that slate Pickford, on this forum, I would say it's a majority. There is a lot of discussion about Pickford on ToffeeWeb, and the reason is because he is an awful keeper. Yes he plays for England, but that doesn't mean anything - there have been many donkeys playing for England over the years.
Just looked up the nine of the worst mistakes made by English goalkeepers, and good ol' Jordan stands at number 2!

Remember Martin, to quote the bible, "There is none so blind as those who will not season."
Sam Hoare
490
Posted 21/09/2020 at 12:48:03
Geoff@487, it mostly does! I think only Digne and Richarlison (as a left winger) can lay claim to being near the best in their positions in the league.
Brian Williams
491
Posted 21/09/2020 at 13:09:04
You may be surprised but of the goals we conceded last season only 14% were scored from outside the box.
8 goals in total.
I'd argue that those statistics don't show a particular weakness of Pickford with long range shots.
Tom Bowers
492
Posted 21/09/2020 at 13:09:23
Quite honestly It's hard to find a keeper who doesn't have faults much like outfield players it's just that a keeper fault is more likely to be scrutinized when a goal is conceded.
They all have little periods when their form isn't top notch much like a striker whose goals have dried up.
He has two central defenders in front of him who haven't yet gelled and Seamus who is getting caught out upfield more often these days as his recovery speed isn't what it once was.
Everton are not yet the finished article so let's be more patient with the guys as the work in progress continues.
Max Murphy
493
Posted 21/09/2020 at 13:13:57
Martin (@475) Has your memory gone????!!!!
The first couple minutes against WBA, he makes a horrendous clearance, almost costing us a goal.
You should have gone into politics mate – acknowledge the facts presented by Sam.
Sam Hoare
494
Posted 21/09/2020 at 13:19:24
Fran@488 I agree with most of that. Though it remains to be seen whether Martinez or Ramsdale does better than Pickford this season.
Pickford is not beyond saving. His work at Sunderland and in his first season with us was very good. But it's gone a bit downhill since then. Especially last season.
Goalkeeper is a crucial position of course and if we want to stay near the top of the table we need one who is better than decent. Hopefully he can return to his previous levels. But another season of mediocrity from him and I think Goalkeeper may need to be near the top of the priority list next summer.
Paul Tran
495
Posted 21/09/2020 at 14:13:10
Amidst all the Everton keepers I've seen, from West to Pickford, I've seen plenty of mediocrity with the odd good/great one.
Big question I've always got is 'Do I feel confident with him in goal? Do I trust him?' With Pickford, the answer is no. He was very good at Spurs, more of that and I'll happily change my mind. He was OK on Saturday after a shaky start.
As Fran rightly mentions, our best hope is that as the rest of the team improves its consistency, he follows suit.
For now, like so many of our signings in the last few years, I'll label him as talented and sporadocally effective. Is it him or our managers? We'll find out this season.
Mike Gaynes
496
Posted 21/09/2020 at 15:04:34
Sam #485, thanks for that statistical rundown. I've never seen that stat before and don't know its value, but it seems to be a snapshot in time. It does rank the undisputed best keepers in the Prem up at the top, but I'm also noting that the other keepers down there in similar "negative" numbers with Pickford include Patricio, Dean Henderson and Lloris, while those above in positive territory include Ryan, Dubravka and Fumbles Fabianski. Are the latter three better shot-stoppers than the first three? The chart says so.
The similar stat chart just below, ranking the Bundesliga keepers, would indicate that Yann Sommer is a much better shot-stopper than Manuel Neuer. I think every footy fan's eyes would say different.
Not saying this statistic doesn't have value, I'm just not sure what it is.
Phil Sammon
497
Posted 21/09/2020 at 15:09:10
Paul 495
That is a great point and one not raised often enough when judging a goalkeeper. Trust and predictability are hugely important when assessing a keeper and how they fit into a defensive unit.
A spectacular save is quite literally a last resort. Pickford is excellent in one on ones and regularly makes outstanding saves, but I think that's only half the story. It's the one area of the pitch where a 'maverick' is not really tolerated.
Maybe Chilavert.
Derek Moore
498
Posted 21/09/2020 at 15:09:27
Lot's of sensible posts here. Fran makes a geat point that I agree with - with the Euros coming up this is the best version of Pickford we're likely to get. And perhaps Pickford really will develop consistency along with many others in the present playing group.
I've seen enough of Pickford to have made my mind up. I don't feel he'll ever develop the concentration to be considered among the top echelon of keepers, and his distribution has regressed mightily since he arrived here as well. At the highest level, it's your weakest link that will be usually found out. To my mind, and on this team, that means Pickford.
I've got nothing against the lad, and at his best he's good enough. But I've seen enough concentration lapses, poor decision making and a panic mentality to see the obvious. We can and should aim to do better.
Mike Gaynes
499
Posted 21/09/2020 at 15:17:39
Brian #491, I think that number has to be judged in comparison with other teams and keepers. 14% might be low... or quite high, relatively speaking.
Fran #488, good post.
Sam Hoare
500
Posted 21/09/2020 at 15:55:17
Mike @496. It's interesting when stats seems to be contrary to what our eyes suggest.
Neuer and Pickford for example are two quite high profile goalkeepers who we've seen making stops in international tournaments and in the PL or Bundesliga/Champions league.
They are also two quite loud and exuberant characters. Quite showy. Yann Sommer has always struck me as an excellent keeper but he's a bit quieter and plays for unglamourous BMG and Switzerland. Could that affect our perception?
Of course the stat only really measures shot-stopping and not a keepers ability to claim crosses, sweep up at the back or organise his defense (all qualities that Neuer excels at). It's just that people keep saying that Pickford is a great shot stopper. He clearly isn't!
Jay Harris
501
Posted 21/09/2020 at 16:28:30
Ive played and watched a lot of footy over the years and while statistics are useful I would only use them to back up what my eyes are telling me.
To me Pickford has good reflexes and "normally" good distribution.
My criticism is that he seems to be a nervous wreck and does not organize his defenders creating uncertainty as to who should go for the ball. I also hate this palming away and punching lark but it seems all keepers are being told to do that these days.
It does seem that Carlo has done some work on him over the close season and at this point I would say hold rather than twist because I don't see many keepers substantially better that are available.
Lets see how he does in Carlo's first full season and continue to monitor the situation.
CB and a wide player are much more pressing issues for me.
John Pierce
502
Posted 21/09/2020 at 16:30:04
Chilavert was only partially tolerated but fundamentally he was a great keeper. Sadly his antics never got him a move to big club.
One of my all time favorite keepers.
Nev
Dasayev
Chilavert
Pfaff
His perfect versus France in 98 was up there with Nev's v Holland.
Don Alexander
503
Posted 21/09/2020 at 16:50:10
Thus far in his career Jordan has had to play every single season behind a very unreliable team, to say the least. Maybe this season that won't be the case and as the team improves, so will he.
Frank Crewe
504
Posted 21/09/2020 at 17:01:53
Pickford still getting stick. Maybe we should spare a thought for Chelski's keeper Arrizabalaga. Chelski paid an eye watering £71,000,000 quid for him and put him on a seven year contract at a no doubt obscene salary. Now all of a sudden he's no good and they are looking for a better keeper. Both he and Pickford are the same age.
This is the problem. In any other position on the park you can get away with a young player because if they make a mistake it's usually recoverable. But not keepers. If they make a mistake it usually leads to a goal being conceded so they get flack.
Young goalies will always be a liability. The best goalies don't reach their best years until around 30 years old. You need a goalie that commands his box. A bruiser that will flatten anyone who gets between him and the ball. Young goalies just don't have an aggressive enough attitude. The best keepers aren't kids they are grown men who take no prisoners.
We signed Doucoure and especially Allan because Carlo thought we needed more leadership and grit in midfield so why do we think we don't need those qualities in one of the most important positions on the pitch?
My guess is Carlo will stick with Pickford. He's played ok so far and we have more pressing needs for cover at CB and right back.
Darren Hind
505
Posted 21/09/2020 at 17:04:10
Goalkeepers generally don't reach their peak until mid/late twenties. Improvement likely and Pickford definitely needs to improve.
14%from outside the box ? That seems really quite high. Although its harsh to blame him for the two excellent strikes which beat him this week. Sometimes you just have to hold your hands up and credit your opponent
Mike Gaynes
506
Posted 21/09/2020 at 17:18:13
John P and Phil S, I loved Chilavert. Absolutely loved him. One of the most exciting and watchable players I have ever seen.
And for all his adventurism, he was really, really good. European clubs almost never signed South American keepers back then, but he was up there with the best in the world in my book.
And legend has it that after Chilavert's fistfight with Asprilla of Colombia in a World Cup qualifier, Asprilla had to talk a Colombian drug kingpin out of dispatching a hit man to shoot Chilavert in the head.
I believe Chilavert once threw a punch at Maradona as well.
Tony Everan
507
Posted 21/09/2020 at 18:15:52
I think Pickford has been working on his game. The basics like punching and techniques to help him focus.
He seems to have improved a bit these two games from last season, I hope he continues to work hard in training on the basics, it will pay dividends.
I thought two saves that he made against Tottenham were both match winners. (Alli , Doughty?) His failings seemed to get slated much more than his brilliant saves get lauded.
If we can see he is putting in the graft to improve and it is showing dividends, he deserves our support to do that.
Sam Hoare
508
Posted 21/09/2020 at 19:04:47
Tony, as someone who has slated him I've also said that he was very good at Tottenham. But all top level keepers make brilliant saves that fill out their YouTube reel. Its about consistency. Being dependable and trustworthy.
As others said above, I never quite feel that Pickford is solid in the way I did with Martyn or even Howard in his prime.
If he plays like he did at Tottenham every game, then there will certainly be no more complaints from me.
Billy Roberts
509
Posted 21/09/2020 at 19:06:23
Brian @476 thanks for sort of clearing that up!
Well, if it was said in 1981 originally, Jasper had more chance of nicking the legendary quip than poor John.
Phil was just obviously trying to start another apocryphal tale at 478 before, with brilliant comic timing, Thomas Lennon posted at 479!
Billy Roberts
510
Posted 21/09/2020 at 19:17:24
Sam @508,
You know your stuff, so I wont question your judgement here but... Martyn, Howard were a few years older when they got into that zone. I really rated Martyn, I think he was the near-perfect goalie at for a couple of seasons.
I suppose Neville, the best until Schmeichel was about 27 but let's not split hairs.
I post this without having a friggin clue of Pickford's age, is he about 25? Can we afford to let him mature as our Number 1?
He made a howler at the beginning of yesterday's game? It didn't cost us... didn't Allison make a howler for Liverpool last week?
Let's give him a break, let's support him.
Roger Helm
511
Posted 21/09/2020 at 19:25:29
Perhaps Pickford looks and feels nervous because of his CBs. I know they make me feel nervous.
Sam Hoare
512
Posted 21/09/2020 at 20:21:42
Billy@510, Pickford is 26. Should be that his best years are ahead of him. But some players never deliver on their youthful promise. I worry that Pickford will go the way of Joe Hart.
I will always support any player who steps out in blue but alot of what we do on here (or what I do on here at least) is debate which of our players are good enough or who may need replacing or upgrading. For me, Pickford will need replacing if he continues like he did last season. He's no kid anymore and is going backwards rather than forwards.
Hopefully, in a better team, he can remedy that but I can't agree with anyone who thinks he was good for us last season let alone one of the 'best in the league'.
Tony Everan
513
Posted 21/09/2020 at 20:31:24
Roger; I think that's been part of he problem along with our previous midfield weakness.
Sam; Consistency I am hoping will get better for him with hard graft in training and a much better defensive midfield in Allan and Doucouré shielding the centre backs. But total consistency won't happen any time soon, the best we can hope for is improved consistency through hard work. Another season like last and he will be out, he has no option but to step it up.
Roger; Another factor could be that plenty of Premier League teams now have very dangerous players, the money is drawing the best talent in Europe and South America here. I think 'keepers are getting tested with more quality than ever before... there's no hiding place.
Steve Ferns
514
Posted 21/09/2020 at 20:58:25
Very interesting article by David Ornstein in The Athletic today:
Brands' intervention key to Calvert-Lewin's success
Dominic Calvert-Lewin has enjoyed a spectacular start to the season with four goals in Everton's opening two games, including a hat-trick against West Bromwich Albion on Saturday. But had things worked out slightly differently, it is unlikely that the 23-year-old would be leading the line at Goodison Park.
At the beginning of last season, then-manager Marco Silva was keen to upgrade Everton's striking options with Cenk Tosun struggling for goals. The club's interest in Juventus forward Mario Mandzukic was well documented, as the Croatian's time in Turin looked to be coming to an end following the appointment of Maurizio Sarri.
Silva wanted to bring Mandzukic to Everton and the club's owner Farhad Moshiri is likely to have backed him. The move would have been expensive — more in terms of the 33-year-old's hefty salary than a transfer fee — but the greater cost might have been to Calvert-Lewin's development.
Director of football Marcel Brands is thought to have faced a fierce battle to convince Silva not to pursue Mandzukic and instead give Calvert-Lewin the platform to develop into the player he is today. Moshiri was spending heavily at the time — with Alex Iwobi, Moise Kean, Andre Gomes, Jean-Phillipe Gbamin and Fabian Delph costing more than 𧴜 million combined last summer — and wanted to see his investment translate into success.
Brands fought hard for faith to be placed in Calvert-Lewin and some at the club believe the England Under-21 international would now be elsewhere, on loan or permanently, had the Mandzukic transfer proceeded.
Ray Roche
515
Posted 21/09/2020 at 21:23:34
Brian @476
You're correct Brian, the gag came from a programme called 'Radio Active ' which went out on 6th October 1981.
You can hear it on the Radio X website.
Billy Roberts
516
Posted 21/09/2020 at 21:34:22
Sam @512,
Totally agree if we are judging him on last years standard, it was well below top class.
I'm a person who believes in judging players on this season, let us let last season go for now, players can change, players can have that transition where they leave all their baggage behind and step on significantly – think of Vardy, think of Cantona, Thiery Henry, Ian Wright? People are praising goalkeepers like Pope, still trying to promote goalkeepers like Forster? (Okay, not recently...)
Time will tell, of course, and I know giving Pickford a bit of stick on ToffeeWeb doesn't mean you aren't a good supporter but to criticise when he clearly wasn't responsible means that Evertonians like me have a duty to support him.
Ernie Baywood
517
Posted 21/09/2020 at 23:08:50
If it's fair game to post after a match based on stats from previous years shall we just start the Palace matchday thread now and get them out of the way?
Albert Perkins
518
Posted 22/09/2020 at 00:44:50
Steve 514.
I also read about Silva wanting Mandzukic and wondered if he had got his way he might not have been sacked when he was. Mandzukic might have scored enough to keep him in his job a bit longer. Silva might have paid for Calvert-Lewin's development with his job. Of course there were other factors at play, but an interesting thought non the less.
Steve Ferns
519
Posted 23/09/2020 at 01:28:19
Sorry Albert, I have only just seen your response. I agree. This is where the Director of Football model works better. With control over transfers Silva would have gone for short term options that would have kept him in a job:
Centre-forward: Mandzukic
Centre-back: Marcus Rojo
Defensive midfielder: Doucouré
Mandzukic would have probably done well for us last season, but would probably have got an overly long and overly well-paid deal.
Rojo barely played for Man Utd and then disappointed in a loan move back home, he's back in the cold at United and awaiting another loan move.
Doucouré was someone Silva was desperate to sign, and we can all see why, but if Marco was in charge of his own recruitment, he would not have been signed so cheaply and on just a 3-year deal. So, here the Director of Football looked after the long-term interests of the club.
Albert Perkins
520
Posted 24/09/2020 at 21:39:03
Steve 519. Thanks for those insights.
Makes you think if Silva had had a little more luck in the transfer market and a little more luck on the field of play he might still be here. Like The Don he had some pulling power with reasonably talented players, to say nothing of his great gift of Richarlison.
Mike Gaynes
521
Posted 24/09/2020 at 22:24:17
Albert Perkins
522
Posted 25/09/2020 at 04:24:37
Thanks Mike. Nice article. There are some thoughtful writers out there.
Mike Gaynes
523
Posted 25/09/2020 at 04:33:59
Albert, I was worried about you a couple of weeks ago, mate. When we drove through Eugene on the 9th, it looked like hell on earth. You come through Okay? Didn't have to evacuate?
---
Add Your Comments
In order to post a comment, you need to be logged in as a registered user of the site.
Or Sign up as a ToffeeWeb Member — it's free, takes just a few minutes and will allow you to post your comments on articles and Talking Points submissions across the site.
---
© ToffeeWeb