Report
Dazzling Richarlison sets the required tone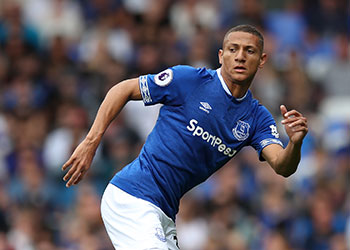 Richarlison showed supreme skills to score twice in a first half dominated by Everton
Everton saw another slew of goals in their latest Carabao Cup venture to Fleetwood Town on a wet Wednesday evening, two brilliant ones from Richarlison in a scintillating first half.
Keane and Digne were partnered at the back again, Richarlison and Calvert-Lewin leading the line and there was a Fabian Delph sighting in midfield. Gordon and Kean were only on the bench for this one but it was another great chance for Nkounkou to shine.
The home side kicked off but the all-Blues took early control of the ball, Nkounkou again looking good down the left. After total midfield domination, a great cross was finally delivered but cleared. A blatant handball by a Fleetwood defender was completely ignored by the referee./p>
Another brilliant cross fro Nkounkou was inches away from being converted by Calvert-Lewin. At the other end, Delph had to be clinical with a fine tackle in is box, giving away the first corner.
Iwobi should have put in Kenny for across but his passing was poor. On the other side, Nkonkou put one right n a plate, but Calvert-Lewin again seemed incapable of directing it goalward. Kenny dug out a cross but straight to the keeper.
Richarlison got past Burns but then overhit his cross. Bernard gave the ball away as Blues' plays started to look a little too sloppy, intricate passing just not coming off.
Calvert-Lewin was fouled in a promising position but Digne lamely whacked the ball into the wall. Nkounkou crossed low but this time no Blue shirt receiving. For all the Blues dominance, nothing really until Iwob's shot was deflected up onto the bar.
A long clearance from Pickford was aimed at Calvert-Lewin but headed clear to Iwobi who fed Bernard. A lovely chip from Bernard was buried by Richarlison, a firm header to finally break the deadlock on the quarter-point of the game.
Digne launched a corner very deep that a back-peddling Calvert-Lewin could only head to a defender. Everton continued to circulate the ball around midfield and the margins of the Fleetwood area without really threatening, another super Nkounkou cross in avoiding everyone and Iwobi dragging a shot wide.
Bernard created great space for himself to shoot... wide. But then some absolutely fantastic individual brilliance from Richarlison on the left brought a wonderful toe-poke strike from him, thanks to a brilliant backheeled one-two off Iwobi, what an excellent goal!
Sigurdsson tried to get himself on the scorecard but his shot was blocked too easily at source. His corner, and then cross were no better. Nkounkou overlaped Richarlison and flashed another brilliant cross... no dice. Blue shirts simply not interested! Kenny drove in from the right and seemed to have a good chance but just wellied it sky high. Awful shot.
Iwobi tried again but his attempt was blocked. Kenny was trying but struggling to make the link-up with Iwobi work on the right. A lovely delivery right on the money to Calvert-Lewin but no first touch from him as he had to take it on his chest; however, he surely should have been far more clinical after controlling the ball well. But no, his shot was never going to beat the keeper. Everton's passing stats must be amazing for a very one-sided first half.
A ridiculous moment from Pickford at the start of the second half threatened to spoil the night as he gifted a goal to Duffy. But Everton went up the other end and Gordon, on at the break for the very poor Calvert-Lewin, fed Iwobi with a great cross that Richarlison, let's say he dummied it, before the ex-Arsenal man buried his shot.
Great set-up play by Richarlison was inch-perfect for Iwobi who drilled his shot agonizingly wide. At the other end, a very nicely worked and finished goal with an acrobatic shot by Camps that Pickford parried but could not keep out.
Pickford then had to keep out a lively snapshot from Morris as Fleetwood saw some real chinks open up invitingly in Everton's defence. Ancelotti made his second change, Davies on for Delph.
Richarlison tried to create more magic with a sharp turn but he was being closely attended. After a stale spell, Gordon tried to tee up Bernard but the Brazilan saw his effort go behind for a corner which was defended clear far too easily.
Everton were labouring to get close enough for clear chances, Nkounkou getting blocked for a corner taken by Sigurdsson that came to nothing. But the ball bounced up nicely for Bernard to volley in the fourth goal on another feed, this time from the right, from Gordon that again evaded Richarlison on it's way to the goalscorer.
Gordon scampered forward on the left this time but, lacking support, he could only strike at the goalkeeper. Jonjoe Kenny then set up Gordon with a beautiful chance to volley in the fifth but he drove it disappointingly wide of the target.
At the death, a fine goal for Kean, created by more excellent work by Nkounkou to round things off in fine style with another 5-2 win for the Blues!
Scorers: Richarlison (22', 34'), Iwobi (49'), Bernard (73'minutes), Kean (90+4')
Fleetwood Town: Cairns, Burns, Stubbs (46' Duffy), Hill, Andrew, Coutts (75' Matete), Whelan, Josh Morris, Camps, Boyes, Evans (75' Saunders).Subs not Used:Leutwiler, Garner, Holgate, Shayden Morris.
Everton: Pickford, Kenny, Keane, Digne, Nkounkou, Delph (62' Davies), Sigurdsson, Iwobi, Bernard, Richarlison (76' Kean), Calvert-Lewin (46' Gordon).
Subs not Used: Lössl, Coleman, Doucouré, Walcott.
---
Reader Comments (232)
Note: the following content is not moderated or vetted by the site owners at the time of submission. Comments are the responsibility of the poster. Disclaimer
Stephen Brown
1
Posted 23/09/2020 at 18:47:58
Very surprised at that line-up!! Richarlison and Calvert-Lewin start!!! Digne at centre-back!!!
Stephen Brown
2
Posted 23/09/2020 at 18:49:05
Very surprised at that line up!! Richarlison and Calvert-Lewin start !!! Digne at Centre-back!!!
Gordon and Kean can't be pleased...

Jerome Shields
3
Posted 23/09/2020 at 18:51:40
Good luck, Everton.
Dan Nulty
4
Posted 23/09/2020 at 18:52:39
Really strange one. Maybe they have asked to play? Richarlison is probably desperate to get on the score sheet. Calvert-Lewin to get as many goals as possible. I like it if so.
Charles Towers
5
Posted 23/09/2020 at 19:00:00
It looks like Carlo has read the TWebbers' comments, particularly those who wanted a mix of "don't blow it with a second string eleven" and "use the best players to progress and eventually win a cup" by dividing it by areas, Carlo addressed both, with half a first-team in defence, B team in midfield and first team strikers.

Genius!
Craig Walker
6
Posted 23/09/2020 at 19:00:26
Decent starting line-up. Would be good to get a good lead and rest Calvert-Lewin and Richarlison. Bit surprised Kean isn't being given a chance. COYB
Bill Gienapp
7
Posted 23/09/2020 at 19:00:39
Interesting. Well, people who were lobbying for a strong side got their wish. I still would have had Gordon in there, and probably paired Kean with either Calvert-Lewin or Richarlison.
Also interesting that Virginia went from starting the last cup game, to not even being on the bench.
Neil Lawson
8
Posted 23/09/2020 at 19:02:22
Perplexing. Yes. Richarlison and Calvert-Lewin to get the job done, but why Iwobi when he was so dreadful in his time on the pitch on Saturday, and Gordon was so threatening and incisive last week?
Why the complete change of 'keepers? We have to have faith in Carlo and we have to progress. but this is unexpected.
Very happy to be shown by 9:30 to be wrong, to be a doubter.
Derek Knox
9
Posted 23/09/2020 at 19:03:54
I think, with all due respect to Salford, Carlo sees this as being more of a game with stronger opposition, and has adjusted the personnel accordingly without risking too many key figures.
Clive Rogers
10
Posted 23/09/2020 at 19:04:51
Amazed Gordon is not starting.
Jay Wood
[BRZ]
11
Posted 23/09/2020 at 19:06:06
Good! No excuses for manager or players alike with that line-up against a third-tier team.
I wonder if I'm reading too much into the subs' bench that some of them are not in the starting XI as they were last week because loans or permanent transfers could be in the offing..?
Tony Everan
12
Posted 23/09/2020 at 19:08:16
Carlo has put a strong team out to kill the game off.
The game plan has to be 2 or 3 nil up hopefully by half-time or after an hour then take Richarlison and Calvert-Lewin off for Gordon and Kean.
Stephen Brown
13
Posted 23/09/2020 at 19:09:47
Different eve notice Pickford and Lössl on the bench!
Surprised but hey ho! Come on, boys.
Fran Mitchell
14
Posted 23/09/2020 at 19:11:21
No Gordon is what is strange. I felt Ancelotti had tasked Gordon with using the League Cup to really make a statement. Shame. Iwobi and Bernard, other than match fitness, I see no benefit in them playing.
Delph needs the game time. Maybe a final attempt to put this trio in the shopping window, while hoping to guarantee victory with Calvert-Lewin and Richarlison.
Also, Calvert-Lewin probably wants goals and wants any chance to score them – when a striker is in the mood, he's in the mood. And maybe Richarlison wants to break his duck for the season.
Robert Tressell
15
Posted 23/09/2020 at 19:13:41
Ancelotti is taking this very seriously. We huffed and puffed for a while against Salford. Maybe looking to make a mark early and then sub off the stars.
Also surprised Gordon isn't starting though. I liked the partnership between him and Nkounkou.
Michael Lynch
16
Posted 23/09/2020 at 19:19:16
Like everyone else, I'm surprised no Gordon. Also surprised he's playing both Richarlison and Clavert-Lewin when we have a top-of-the-table six-pointer on Saturday... ;-)
Bill Gienapp
17
Posted 23/09/2020 at 19:23:35
As little use as I have for Delph, he should be able to exert some control over the midfield in a match like this. But I'm sure he'll limp off after 15 minutes and be replaced by Davies.
Bill Gall
18
Posted 23/09/2020 at 19:25:01
Agree with Jay, there may be some players in the shop window, including the starting 11.
Christy Ring
19
Posted 23/09/2020 at 19:36:46
Hopefully Delph will put himself in the shop window tonight, if he can last an hour. I'm surprised Richarlison and Calvert-Lewin starting, with Gordon and Kean on the bench.
Also, we only have two fit centre-backs, why let Gibson go, and play Keane, with the Palace game on Saturday?
Daniel A Johnson
20
Posted 23/09/2020 at 19:36:50
Might be thinking to give them 45 mins and the rest of the week off?
Brian Wilkinson
21
Posted 23/09/2020 at 19:36:51
Good line-up that, no excuses and pretty sure Gordon will get at least 30 mins game time.
Get the job done early doors, then make the changes when out of sight, that's what I am hoping for.
Kase Chow
22
Posted 23/09/2020 at 20:34:37
Michael, how can you show any negativity or disappointment at that first half? We've completely and utterly dominated
We've played fast, direct, possession football and had chances + scored 2. In fact, fair enough, we potentially could have had more but they've defended so deep.
I can't believe this is largely the same team as last season!
Jim Bennings
23
Posted 23/09/2020 at 20:35:56
I could get quite used to this winning lark.
Richard Cusworth
24
Posted 23/09/2020 at 20:36:47
Not sure I've uttered these words for 35 years but that was an outstanding half from us. You can only play what's in front of you but, barring a couple of more precise finishes, it doesn't get much better than that. Probably jinxed the second half now but a joy to really enjoy the way we played that half.
Tommy Carter
25
Posted 23/09/2020 at 20:38:39
Hits the ground too much, Richarlison, doesn't he?
Idiots!
Jay Wood
[BRZ]
26
Posted 23/09/2020 at 20:41:11
Okay, it's only against 3rd tier opposition but, as we have started the season, the pace, passing and movement throughout the entire team is on a different level from last season.
Teams really don't know from which angle or direction we will come at them. Gone is the snail-like crossfield passing along the backline taking 5 minutes to get from one flank to the other.
There is greater confidence on the ball to give and receive short wall passes in tight areas, pulling the opposition out of position and opening up space for our mobile runners.
Iwobi started poorly. Two positions when he could and should have easily rolled in Kenny on the overlap, but he has grown into the game. Got into good shooting positions and was pivotal in Richarlison's 2nd goal. Bernard also playing well.
Nkounkou continues to impress. The most anonymous player in Blue has been Sigurdsson for me.
Nicely set up to sub out players and save them for the weekend. Highly unlikely that Fleetwood are about to break Carlo's incredible record mentioned in commentary of never losing to a lower league team in cup competition in two decades.
A smashing watch this.
Fran Mitchell
27
Posted 23/09/2020 at 20:41:36
Far too simple and functional. What's the catch?
Fran Mitchell
28
Posted 23/09/2020 at 20:44:12
Indeed, Jay. We are actually good to watch. Mental.
Previous regimes we'd probably stumble to a 1-0 or 2-1 win, maybe even get 3 after they tire at the end. But we'd always be laboured and generally average. We'd always be like 'miserable game this, but result is all that matters'. This is actually good to watch... and with the same players as last season.
Again, what's the catch?
Phil Sammon
29
Posted 23/09/2020 at 20:44:47
Tommy Carter @25,
Interesting comment. In his first year, Richarlison was definitely play-acting and diving around too much. Silva even publicly stated it.
That is no longer part of his game. He's improved in every area. Massive credit to him... but I'm afraid the criticism was warranted.
Tommy Carter
30
Posted 23/09/2020 at 20:48:43
@ 29 Phil
No. It wasn't. Post the Silva quotes please. I need to review them.
I was at Goodison when we played Southampton at home not long after he'd joined. Mark Hughes was in charge of Southampton and they singled Richarlison out for some heavy treatment. He stood up to it brilliantly.
He's got a lot of heart, this lad, and it really infuriated me the stick Evertonians gave him. Much of it in his second season, I might add
Jay Wood
[BRZ]
31
Posted 23/09/2020 at 20:50:04
Oh... dear.
Pickford.
Incoming.
Geoffrey Hall
32
Posted 23/09/2020 at 20:51:09
Pickford has to go, buy Foster.
Phil Sammon
33
Posted 23/09/2020 at 20:58:20
Tommy @30,
He is entitled to go down when he's getting fouled. It was beyond that though. He was diving and milking or feigning injuries. It's more prevalent in South America and it's something we don't like as much in England.
Richarlison told to stop diving by Everton coach Silva
I'll just state that I absolutely love the guy, by the way. Best Everton player in a long time in my opinion.
Tony Shelby
34
Posted 23/09/2020 at 21:00:32
Pickford can fuck off!!!
Steve Ferns
35
Posted 23/09/2020 at 21:00:34
Pickford, you're making it impossible for anyone to defend you now.
Max Murphy
36
Posted 23/09/2020 at 21:00:41
Well, where's Martin Mason tonight?
Any comments on his star player Jordan Pickford? Giving Fleetwood 2 goals!
What an absolute basket case!
But in Martin's eyes, the idiot can do no wrong.
Danny Baily
37
Posted 23/09/2020 at 21:03:10
Vintage Pickford.
Fran Mitchell
38
Posted 23/09/2020 at 21:05:30
Ahhh, there is the catch (or lack there of).
Michael Fox
39
Posted 23/09/2020 at 21:07:54
Pickford needs to be dropped to bring him back to reality.
Tony Shelby
40
Posted 23/09/2020 at 21:14:09
Should be 4-0.
Pickford is an embarrassment.
Richard Grey
41
Posted 23/09/2020 at 21:26:23
Iwobi and Bernard have deserved their goals tonight. I know it's only Fleetwood, but they've both upped their performances tonight, which they'll need to repeat if they're to get near the first team.
Virginia should've started (unless he's injured?) and we'd be 4-0 up by now. Pickford's clearly learned nothing from last season!
Kevin Prytherch
42
Posted 23/09/2020 at 21:26:43
Why was Pickford jumping around like a little kid??? Just stand there and you catch it.
That's the difference between keepers like Pickford and Martyn. Pickford jumps about and makes supposedly world-class saves – often because he just isn't positioned correctly to begin with.
Martyn didn't have to make as many world-class saves because he was in the right place. Martyn would have simply stood there and caught that shot, no need for an extravagant dive.
Peter Warren
43
Posted 23/09/2020 at 21:36:29
What a find that left-back is by Brands!
Michael Lynch
44
Posted 23/09/2020 at 21:39:18
I'd like to see whether Nkounkou can defend, because going forward he is absolutely fucking incredible. So much confidence, almost arrogance. Every time he goes forward, you'd back him to beat his man and put in a cross. Astonishing for such a young lad in a new country.
Martin Berry
45
Posted 23/09/2020 at 21:39:57
Pleased for Richarlison and Iwobi getting on the scoresheet but Kean is still not smiling.
Special credit should go to our young full-backs – did either of them waste a pass? Well done, Kenny and Nkounkou. (What a find that lad is!)
Peter Warren
46
Posted 23/09/2020 at 21:40:38
He's an absolute beast of a player.
Joe McMahon
47
Posted 23/09/2020 at 21:44:25
Yep should have been 4 - 0. I hope Palace aren't plotting long shots and crosses.
Sam Hoare
48
Posted 23/09/2020 at 21:47:20
Is Martin Mason about? Still think Pickford is the best keeper in the league? Ha!
He's not that bad. But he's just not very good. I said earlier this week that, unless he improves this season, we will need to replace him to seriously target top 4 or 5. He's mediocre at best currently.
Excited to see more of Nkounkou and Gordon though. Even the much-maligned Iwobi did well. I wonder if him or Bernard will soon replace Gomes in the first-choice midfield 3?
Sam Barrett
49
Posted 23/09/2020 at 21:47:27
I think Pickford has just hammered a couple of nails into his coffin.
I'd be very surprised if Carlo does not sign a keeper after that performance!
Thank god it was against Fleetwood! Imagine playing Premier League teams off the park and then Pickford letting them back in?
Fran Mitchell
50
Posted 23/09/2020 at 21:48:11
Nkounkou really does look like a player. He's come here and really thrived and looks ready to push for it.
Gordon looked good when he came on, although a little greedy/eager, and made the wrong choice on occasion. But he looks dangerous.
Well done, Bernard. He really showed up and put in a performance. If he can play like that in the Premier League, in a central position, he's got much to offer.
Also, well done, Iwobi, a decent performance. He's more effective centrally; when he's out wide, he doesn't have the pace nor the skill. But he did well today.
In general, it was a decent, enjoyable, relatively comfortable win – as it should have been. We finally played like a Premier League team against lower league opposition, rather than like in the past when it was difficult to decipher (at least for the first 70 minutes) which team was top division.
But Pickford. Boy oh boy... We know that all the plusses will be forgotten, and the post-match debate will centre around him. A day to forget, but he's on thin ground if he doesn't sort himself out; he'll neither be No 1 for his club nor country come the end of the season.
If we could get top quality competition for him, I'm sure we would but it isn't easy. I guess Carlo will task Brands with finding him one for next season.
Steve Ferns
51
Posted 23/09/2020 at 21:48:46
Also feeling a lot of love for Nkounkou. Imagine if he was right footed!
Jay Wood
[BRZ]
52
Posted 23/09/2020 at 21:48:49
I could get used to these 5-2 scorelines.
Third consecutive game won by a 3-goal margin.
Bit more nervy in the second half than was necessary due to one man.
Jordan Pickford.
He deserves all the criticism that will come his way on the two goals.
Solely responsible for coughing up the first goal. What was he thinking, on his own goal line, trying to dummy and dribble around two closing forwards?
And the second was equally poor. He seemed to think that flapping it away to the side was the best option, when palming the ball over the bar was the best thing to do in that situation.
Still, plenty of positives to dwell on rather than only the negative.
Just two words: Niels Nkounkou. He's 19, for fuck's sake! Just how good can this boy be?
Lots of nice goals tonight, but the fifth, with the clever carry through by Digne before his excellent pass to Nkounkou and then the full-back's sublimely disguised back-heeled pass into Moise Kean to finish, was really sweet.
Moise Kean doesn't look a happy bunny to me. For someone needing to impress, he didn't exactly bust a gut in his time on the pitch, did he?
Now to keep the momentum up away to Palace at the weekend.
I hope the West Ham Covid-19 outbreak doesn't lead to postponment of next week's cup tie...
Cristobal Aguirre
53
Posted 23/09/2020 at 21:49:03
What a player Nkounkou is. He was again the best on the ground. Pickford was awful, but the rest played a good match.
The main goal now is to sign a centre-back as soon as possible (Demiral? Todibo?) and I would love a new experienced striker, like Llorente or Mandsukic. Let's see what happen's. COYB
Mike Powell
54
Posted 23/09/2020 at 21:49:04
Another win another good performance, it should of been 5 nil, Pickford enough said on him, keep it going blues victories builds up confidence.Lets hope we can keep it up at Palace COYB
Brent Stephens
55
Posted 23/09/2020 at 21:49:50
I'm seeing so much more fluidity and movement in our games now. Wonderful.
Robert Tressell
56
Posted 23/09/2020 at 21:49:56
We're good at football again.
Brent Stephens
57
Posted 23/09/2020 at 21:52:01
I won't be happy until we double that score line.
10-4 — over and out.
Pete Williams
58
Posted 23/09/2020 at 21:52:59
After watching keepers like West, Southall and Martyn, I really must question why Pickford gets to play for Everton?
I always hoped he'd mature and settle down, but there's no sign of that happening. If I was a defender in front of him I'd be on edge for every shot or cross. Hopefully grandpa Ancelotti can get his head straight.
Fran Mitchell
59
Posted 23/09/2020 at 21:53:04
I think Kean will be gone – just a matter of us getting another player in. I imagine Carlo wants someone tried and tested. But if we could get the lad from Celtic and sell Kean for equal or near values, that'd be a good deal.
Barry Jones
60
Posted 23/09/2020 at 21:53:54
Pickford 2 Everton 5
The second mistake was diabolical. He could have stood still and caught it easily but as usual he tried to make a simple save look spectacular and was made to look ridiculous.
Sigurdsson and Davies both look too slow and lacking in confidence, even against Fleetwood. Iwobi was impressive. He moves better and moves the ball quicker than the others under scrutiny.
Nkounkou!! What can I say. Jay Matete looked impressive when he came on for Fleetwood. Only 19. Sign him up.
John Keating
61
Posted 23/09/2020 at 21:55:29
Pickford 2 Everton 5
Trying to defend Pickford after that has to be impossible.
So good from so many players tonight. Nkounkou was again excellent and I was impressed with Delph in the first half when it seemed everything went through him.
Made up for Richarlison getting on the scoresheet and hopefully that's the start of many goals.
Another potential slip up neatly sidestepped, bring on West Ham.
Cristobal Aguirre
62
Posted 23/09/2020 at 21:56:15
If Pickford played today, that means Virginia will play on Saturday?
Craig Walker
63
Posted 23/09/2020 at 21:59:17
Pickford was lucky in the opening few minutes against West Brom. We need a reliable, calm goalkeeper. Pickford gives me palpitations every time it is played back to him. Sick of him flapping and palming balls back across the box. He can make good saves but likes being the centre of attention too much for my liking.
We've only had two class goalkeepers in my 40-odd years of supporting the Blues. I think Pickford is the weak link in this team.
Nkounkou was the highlight for me from a good performance tonight.
Also thought Carlo picked the right team to start and made substitutions wisely.
Gerry Ring
64
Posted 23/09/2020 at 22:00:13
Overall, we played superb with outstanding performances from Bernard, Iwobi, Nkounkou and a number of others.
I note that normal service has resumed for Sigurdsson and Pickford. Both were really poor against League One opposition.
Derek Knox
65
Posted 23/09/2020 at 22:00:13
John K @61, spot on there, mate, even taking into account it was a League One side, I thought everyone to a man played well as outfield players. Only Pickford let the side down... not once, but twice!
Darren Hind
66
Posted 23/09/2020 at 22:01:20
If you need to get a couple of howlers out of the way, it's best doing it when you score five.
Hopefully Pickford can shrug this off and keep himself a clean sheet at the weekend. His form is worrying though. We won't get away with howlers like that in the Premier League.
Barry Rathbone
67
Posted 23/09/2020 at 22:02:03
Pickford at it again – anyone thinking he is worth persevering with is mentally ill.
Andrew Hight
68
Posted 23/09/2020 at 22:03:40
The life of an Evertonian. Pick out the negatives first and then look at the positives...
Impressive display. The left-back is exceptional. What a signing he is.
Joe McMahon
69
Posted 23/09/2020 at 22:04:15
I agree, Darren – particularly when facing an in-form Zaha.
Sam Bowen
70
Posted 23/09/2020 at 22:06:05
Such a good side to watch at the moment with goals and quality everywhere. The squad suddenly looks very strong with the fringe players doing exactly what they should and really fighting for places in the squad. Nkounkou is a joy to watch, Bernard looking sharp in the middle, and Iwobi showing promise.
Lots of positives but the most consistent negative is Pickford. He really isn't very good. I admire those that still have faith but I'm sorry, he's a massive pile of pants. Brain-dead, terrible anticipation and awareness of the game. Yes, he can make fantastic reflex saves but that really does cloud people's views on him. He consistently gets beaten easily.
Tony Everan
71
Posted 23/09/2020 at 22:09:49
Nkounkou... Wow! — what a player.
Gordon done very well when he came on, really forcing the issue and making things happen. We've got two top class young players there.
Bernard and Iwobi both shone and showed that they give us strength in depth.
Richarlison showed his class and deserved his goals.
Digne is a very classy player and did well taken out of his left-back position (not easy).
Also, I thought Tom Davies did well when he replaced the knackered Delph, he helped us get a grip back on the game.
A good performance overall, but we will need to cut out the mistakes if we are to progress against West Ham because goals will be harder to come by.
Tony Abrahams
72
Posted 23/09/2020 at 22:10:24
Enjoyable game of football again, although I was getting a little bit worried until Tom Davies came on, who without even doing that much, he really tightened us up.
Great interview at the end with Don Carlo, who spun the question about signing more players, by saying he had a squad of 31 players, which means I definitely expect a couple more in now!
Gary Willock
73
Posted 23/09/2020 at 22:11:00
Player Ratings:
Pickford (2) – he'll save us 9 points over the season, but cost us 15. It's a real shame, but time to look for a replacement and not just competition.
Nkounkou (10) – what can you say? If this lad keeps on like this, he could become a genuine world-class superstar. This kid is a monster so far.
Digne (7) – not a centre-half, but did a good job as stand-in. Oozes class on the ball and at set-pieces.
Keane (7) – not his recent commanding self, but looking settled and confident.
Kenny (6) – unfortunately failed to stake a claim. Huffed and puffed, but some strange decisions to go running into the box, leaving the winger exposed. When compared to Nkounkou, you can see he's unfortunately not the future.
Delph (8) – Playing for the future, and he has one playing like that. Can he get fit and stay fit?
Iwobi (9) – Slow start, but "Wow, who was that??" Play him in the right positions and he may not be the joke we all started to think he was.
Sigurdsson (7) – had no choice but to step it up, and he has. All the attributes, questionable past attitude. Keeps doing what he is and he has a roll.
Bernard (9) – another playing for his future, and again it showed. A magician, and as much skill as most players I've seen in a blue shirt.
Richarlison (9) – Neymar, watch out, this boy keeps growing. Hungry, skill full, a menace.
Calvert-Lewin (6) – should have wrapped it up, but a unique physical threat upfront. Can become the modern-day Sharpie.
Subs:
Gordon (8) – If we didn't have such quality all over the pitch, we'd be drooling over this kid. Hope he keeps getting chances.
Davies (8) – We were flapping and under the cosh, he changed it back in our favour. 22 years old and massively underrated by most of the fans.
Kean (8) – 3 in 3. Young lad, great prospect, great skill, an arrogance strikers need. We'd be mad to let him leave.
Final thoughts:
Every midfielder on fire. Why? Because they know there is no space for anything else. We need defenders (central and right back) to feel the same. and most of all the goalkeeper. He's not worth writing off, but he needs to win back the place because he's done enough to lose it.
James Head
74
Posted 23/09/2020 at 22:11:46
Got to be a place on the bench for Nkounkou for Saturday's game – he gives us an option to push Digne to centre-back again in an emergency and I think he could probably do a job in the midfield – put Sigurdsson's effort (or lack of) to shame.
Carl Manning
75
Posted 23/09/2020 at 22:12:12
Could Nkounkou do a Bale and move further forward? What a cross and engine he has! He always has his head up and, nine times out of ten, makes the right decision.
Well done to Brands. What a find! Rodriguez for free and Nkounkou for 𧶲k?
Jay Harris
76
Posted 23/09/2020 at 22:12:26
Apart from Pickford, it is difficult to find much to criticise after a really solid win.
Carlo has instilled an air of confidence in the players that is clearly working.
Special mentions for Nkounkou, who played like a wingback and a winger – two for the price of one. I can see Carlo keeping him and Digne in for some games.
Ian Bennett
77
Posted 23/09/2020 at 22:14:14
Scouting system gets knocked but Branthwaite and Nkoukou are looking like gems.
Derek Knox
78
Posted 23/09/2020 at 22:15:58
Tony E & Tony A, I think Nkounkou has surpassed Seamus already – albeit on the opposite side – for being the bargain of the Century. Seamus: 㿨,000; Nkounkou: Free!
Like many have said, he already has it going forward and shows a maturity beyond his years. He just needs to get his defensive duties honed to be one hell of a player.
Carl Manning
79
Posted 23/09/2020 at 22:16:34
Also, Neymar has nothing to worry about when it comes to Richarlison.
John Boon
80
Posted 23/09/2020 at 22:17:13
No point making any comments about Pickford because all other posters have accurately assessed his inane mistakes. 5-2 was not a fair picture of the game. We earned all five goals while also deciding to make the score more respectable for Fleetwood by donating them two goals, ably assisted by our goalie.
Nkounkou is a real find and should be seriously considered for a place in the first team. However, I agree with an earlier suggestion that we don't really get a chance to see his defensive abilities in such games against weaker opposition.
Everyone played well in the first half and we showed great team play. Not as good in the second half but, except for two ridiculous goals by Fleetwood, we still bossed the game.
Jerome Shields
81
Posted 23/09/2020 at 22:22:32
Gary #73,
Agree with your ratings, except Kenny, who I would have given an 8 for involvement and effort. Pickford at 2 is okay, but if you had have gave him a 1, few would have objected. He was really poor.
Sigurdsson was a 7, but he did fade as usual and still will not take responsibility.
Andrew Keatley
82
Posted 23/09/2020 at 22:23:37
Barry Jones (60) - I was also impressed by Matete when he came on. Great balance.
Christy Ring
83
Posted 23/09/2020 at 22:31:10
Nkounkou a breath of fresh air, Iwobi was a big improvement tonight, Gordon stood out, when he came on, and Bernard deserved Man of the Match, a different player in the middle.
Davies did well, when he came on, Sigurdsson no effort whatsoever, and as for Pickford, two more absolute howlers. Carlo needs to bring in an experienced 'keeper, because it's a big ask to start Virginia.
Steve Ferns
84
Posted 23/09/2020 at 22:36:44
Carlo on Sky Sports:
Q. Is this cup winnable?
A. "We have to try to do our best. It's an important competition. A short competition. Three games to the final."
Yes, Carlo!
Kieran Kinsella
85
Posted 23/09/2020 at 22:37:05
Premier League teams seem to be taking it seriously this year. Likely only Brentford and Stoke in the 16 outside the Premier League and they're good sides. Going to be tough for everyone going forward to win it...
Robert Tressell
86
Posted 23/09/2020 at 22:39:00
Iwobi – instrumental in 3 goals. He will play his part this season.
Kean – very relaxed finish. First time I've really seen him take a shot looking relaxed. Goals will come.
Nkounkou and Gordon – both excellent.
Pickford – given a hospital pass for their first and they targeted him with the press. Other better teams will do likewise. Defence cannot put him under that pressure.
Derek Knox
87
Posted 23/09/2020 at 22:41:55
Steve F, when is the next round against West Ham?
Gary Willock
88
Posted 23/09/2020 at 22:44:59
Thank you, Jerome @81.
Maybe I'm marking Kenny down simply because Nkounkou was that good on the other flank. If he was right-footed, he would walk in ahead of both Kenny and Seamus. Maybe a bit greedy to hope for an equivalent, but certainly an area that could get better.
Mike Corcoran
89
Posted 23/09/2020 at 22:45:33
It was only Mel Gibson's fishy feckers tonight but it has given us pause for thought. One problem is Pickford goes from a 㿊M asset to worth feck-all if you don't let him recover from a gaffe period. Joe Hart springs to mind.
Delph was smart tonight, pity he's as durable as smart price bog paper.
Bernard is justified to have a whiff of Gomes position.
Gordon is a gem and could do a great job on the right allowing James to roam wherever the feck he likes. Rich is better off away from the traditional centre-forward position, it nullifies his ghosting talents.
Nkounkou is on some trajectory and is a pleasure to watch. I think it would be premature to bin Tom Davies when he now has some quality to learn from.
The blueprint of our new players has had an instant effect on how the existing players play their game. It'll be interesting to see if Carlo has anyone on speed dial if he offloads on Deadline day.
I would love Maxi Gomez from Valencia and Arias for right back too. I think he will wait on his two centre-backs coming back fit. To be honest, I'd prefer Digne or Nkounkou than Mina on current form.
Paul Birmingham
90
Posted 23/09/2020 at 22:46:56
Very pleasing result, and good for the confidence. Hopefully there's some chances and goals to be scored at Palace. West Ham next week, looks a good game so let's see.
4 out of 4, and a very good start to this season, no an incredible start. Hopefully there's no injuries and get ready for Palace.
nb: In fairness to Jordan Pickford, he was played a suicide pass, and he's not solely to blame for that goal.
Will Mabon
91
Posted 23/09/2020 at 22:47:35
Robert, not ideal circumstances to receive the ball but Pickford must maintain his calm and not be afraid to wallop it when required. It can be a problem potentially for most keepers now as they're under increasing pressure to make maximum use of possession.
Christy Ring
92
Posted 23/09/2020 at 22:49:28
Robert #86,
Don't blame the back-pass, he could have cleared it straight away, but decided to take a first touch, should have came for the 2nd, changed his mind, and made a hash of the overhead kick.
Try not to defend the indefensible.
Rob Halligan
93
Posted 23/09/2020 at 22:51:36
A decent enough performance from 13 out of 14 players.
What the fuck goes through Pickford's mind? Everyone could see he was going to be closed down from Keane's backpass, so why does he need to take two touches, just boot it away. The second goal, he should have gone for the cross to either catch or punch the ball away, but stopped. And how he tried to save it, God knows?
Anyway, Bernard was MotM for me. Thought he was outstanding, closely followed by Nkounkou. What a great run and back heel for Kean's goal.
Next week we should put out the strongest team possible because West Ham certainly won't. Play Rodriguez, Allan and Doucouré, get through to the quarter-finals which aren't played until December, then we can concentrate on the league for about 9 or 10 games.
Jerome Shields
94
Posted 23/09/2020 at 22:52:49
Robert #86
I thought Pickford played himself into trouble playing across the front of the goal, on the first goal. The second he was in panic on the first cross before the ball came back for the shot. He actually helped the ball into the net instead of saving it which would have been easier.
His performance had an effect on the whole team.
Steve Ferns
95
Posted 23/09/2020 at 22:54:11
In a week, Derek.
David Connor
96
Posted 23/09/2020 at 22:58:12
Good win, albeit against lower-league opposition. What amazes me is, as soon as certain players feel their careers at Everton could be coming to an end, they start pulling their tripe out. Too little, too late for me I'm afraid. Most of them have had enough chances, especially the clown of a keeper we have. He needs to be sold ASAP.

Teams don't win many trophies with shit goalkeepers. Never have. Let someone else have the problem. He just won't learn or maybe he thinks he doesn't need to learn. But there's no doubt Pickford is a very weak link. One thing's for certain, Carlo looked very pissed off with him and rightly so.
Jonathan Tasker
97
Posted 23/09/2020 at 22:58:54
Fantastic start to the season. Incredible transfer activity.
However, any reason why we didn't try to get Emiliano Martinez?
Jay Wood
[BRZ]
98
Posted 23/09/2020 at 23:00:49
Robert @ 86.
I don't have a down on Pickford as many do on here, but your comment 'Pickford – given a hospital pass for their first and they targeted him with the press' I cannot agree with.
The pass from Keane was perfectly normal. It didn't have Pickford scrambling to recover it. He had ample time to clear it. He tried to be way, way too cute and as a result invited pressure on himself from not one, but two forwards. And he stuffed it up.
His own reaction to conceding showed he knew that he had stuffed up. No one else.
Carlo warned him publicly last season that he needed to do better. Jordan can expect a raised eyebrow and a quiet word from the gaffa before the weekend, I'm sure.
Peter Mills
99
Posted 23/09/2020 at 23:02:57
It was an entertaining game, we played some fabulous stuff at times. Having done so to get into a commanding position, it was criminal for our goalkeeper to let the side down in the way he did. Unforgivable? - I suspect Carlo might think so.
In the second half, we showed good resilience. Iwobi, who has previously not impressed me with his heart, battled well. And Tom Davies, whom I like but fear is not top class, held the midfield together.
4 wins, 14 goals. A start I could not have dreamed of.

Neil Lawson
100
Posted 23/09/2020 at 23:10:19
You look back at Nev, Nigel Martyn, at others. Solid, dependable, reliable. Yes, the occasional error. Tim Howard always had an error in him. However, the players in front of them, had confidence in their keeper.
I struggle to remember any game with Pickford between the sticks, where I didn't have that ever lingering worry that a mistake could come at any time. Perhaps it is now time for a change. At the very least, to give him a serious kick up the arse.
Kase Chow
101
Posted 23/09/2020 at 23:12:27
Great win and great performance!
Allan Board
102
Posted 23/09/2020 at 23:18:11
Not seen attacking play like this from an Everton side in many, many years. Forget the opposition, it's been consistently awful for years against all standards.
As for Pickford, it's his fault for both goals no doubt. Just clear the back pass and stay on your feet for the 2nd goal and you catch it. He is young and will learn the hard way because when he does this in an important game, Ancelloti will drop him and he won't come back to the team. Is he related to Joe Hart or just trying to emulate him? An enigma indeed!!
Probably win us the game v Palace at the weekend though!
Derek Knox
103
Posted 23/09/2020 at 23:27:02
Peter @99, not only are we entertaining like the great side of the '80s but another similarity is that goals are coming from all departments. Let's hope it continues.
John Raftery
104
Posted 23/09/2020 at 23:32:48
We have a 'keeper who cannot be trusted.
When you have a 'keeper who cannot be trusted, you don't play passes back to him in his own 6-yard box. It is asking for trouble.
Phil Lewis
105
Posted 23/09/2020 at 23:49:25
How much more evidence do you need, Carlo?
We can compete with the best this season, provided one simple thing is done. That is to drop Jordon Pickford. I'm not saying I told you so, I just want him gone.
It's not a witch hunt and I'm not jumping on the bandwagon. I've said it from the first time I saw him play. Nothing has changed my view. He is and will continue to be a liability. Any experienced, calm, safe pair of hands, who is comfortable dealing with crosses will do.
The confidence in the team is sky-high right now in every department bar one. Ancelotti needs to address this problem immediately or face the consequences.
Brian Wilkinson
106
Posted 23/09/2020 at 00:03:34
Carlo has come out and part-defended Pickford for the first goal, blaming other players as well.
Much as I like Carlo, I am baffled how he cannot put the full blame on Pickford for their first goal.
We are making giant strides in the rebuilding, but a new goalkeeper is a must.
If anyone on here says who do we replace him with, I would even try Bernard in goal before this clown. It is not just the odd mistake, it's week after week.
John Keating
107
Posted 24/09/2020 at 00:09:39
Brian,
I think if it were a normal season Ancelotti may well have replaced Pickford. Without doubt, and as we all knew, midfield was our priority area to strengthen.
With the limited funds available the manager has transformed our midfield. Unfortunately, I suspect we will have to put up with Pickford for a while longer
Paul Jones
108
Posted 23/09/2020 at 00:12:21
I agree with David @96 – Ancelotti did look furious despite the win. Poor decision making by his most experienced centre-half and goalkeeper put the whole team under needless pressure.
Bill Gall
109
Posted 23/09/2020 at 00:16:01
Pickford should have done better for the first goal but this passing back to the keeper has to be better as other clubs are waiting for it and put pressure on him right away.
The second goal he stopped when he realized he couldn't get to it and was back in the goal when the Fleetwood player with an Everton player either side of him tried an overhead kick that can go anywhere, but he corrected it with a shot on goal Pickford got 1 hand on it but couldn't stop it, he was on his feet.
Supporters are saying the RS went out and got a new keeper but don't mention that when he was signed it was a world record fee for a keeper and I have seen him make the odd mistake also he is now 33 years of age so has a lot more experience than most keepers.
It is difficult to be a keeper at Everton as you always have the memories of Southall to compete against. Names are being mentioned to replace Pickford, but can anyone mention a keeper we could sign that hasn't made mistakes? Forwards, midfielders and defenders make mistakes but being a keeper his mistakes are not forgiven.
Brian Wilkinson
110
Posted 24/09/2020 at 00:27:46
Around 74-75 season we were close to winning the league, we had a very good side and talk was of Peter Shilton signing; instead we signed Dave Lawson.
Fast forward a couple of seasons, a great side under Gordon Lee, again an average goalkeeper and from going on an unbeaten run until Boxing Day, we again finished short.
Now I know we expect a lot with the likes of Gordon West and Neville Southall picking up winners medals, but you have to have a quality goalkeeper.
If we are to learn from our past mistakes, then we need to relieve Pickford in goal and try somehow to bring in a quality keeper, even more so than a centre-half or right-back.
Jay Wood
[BRZ]
111
Posted 24/09/2020 at 00:28:43
Liverpool keeper 33 years old, Bill?
He turns 28 next week. He's just 18 months older than Jordan.
Graham Lloyd
112
Posted 24/09/2020 at 00:53:55
Blimey, that Nkounkou looks exciting. He put some real quality balls into the box in that game.
I'm pleased for Bernard as well. He has flattered to deceive along with many others in the past but worked his socks off last night.
Mosie Kean 0 hows about just a hint of a smile when you score a good goal! It gives us fans hope you might actually want to be at the club!
Jamie Crowley
113
Posted 24/09/2020 at 01:02:42
I just got done watching the highlight on YouTube, highlights from I'd guess Eastern Europe? I hadn't some of the second half due to work.
But my goodness, how well did Bernard play? He was fantastic. it's wonderful to see a guy with magic feet in the middle.
If Bernard keeps playing the way he is, Gomes had better watch his back and keep raising his game.
Nkounkou is just amazing. Simply incredible. This kid has to be in the lineup soon. He's just silk, with a powerful frame. I can not believe that kid is 19! John Pierce has been crying out for pacy center-backs. Can this kid possibly play there? He has the size and his speed is really good. Maybe?
Either way, that boy looks to be our single best "young buy" in years. Great player.
We look fantastic. The excitement is palpable. We're looking at, health of the players intact, a special, special season if this continues.
John Pierce
114
Posted 24/09/2020 at 01:05:43
So some decent stuff tonight. Much improved from the Salford game. Many of the players taking less touches and more accurate. It hints at confidence and the standards the new guys have modeled?
Have several of our deadwood finally found some professional pride? Iwobi and Bernard benefited the most. I would have started Kean and perhaps he expected to start hence his 'enfant terrible'.
Starting Richarlison was good, he got his goals his performances had merited. Smart by the manager.
Pickford needs a short sharp shock. I'd play Lössl and bench him this weekend, if Lössl plays well keep him for the cup game. Then go from there, he has to fear for his spot, otherwise he will not change.
Tonight, as with the games to date emphasize the need for a ball playing centre-back and a right-back. Whilst Digne would be unlikely to cut it a centree-back in the premier league (maybe in a three), the virtue of his distribution was clear to see. Kenny's limitations were shown up by a lad on the other side who has played two games for the club.
Vital we change this dynamic. The keeper comes later. Fun watching us though.
Si Cooper
115
Posted 24/09/2020 at 01:15:48
Carlo did indeed spread the blame for their first so he must at least believe it was unnecessary for Keane to put Pickford into a position where a poor first touch would pile the pressure on. Shared responsibility, shared blame.
For the second he was obviously still rattled, which is his major weakness. I don't think he could have got to the cross comfortably so his decision to abort was correct. However, all he needed to do was block the goalbound shot rather than panicking and trying to push it away.
I still don't see these perfect alternatives though, so I expect he will be persevered with.
Iwobi started weakly but came on a storm and could be especially useful playing opposition who play a high line against us, or against tiring defences.
I thought Tom Davies did okay but I don't think he controlled things when he came on as some have said. Likewise, Delph was neat and tidy but not imperious.
Our season is already heating up. Victories over Palace and West Ham would give us massive early momentum.
Bill Gall
116
Posted 24/09/2020 at 01:27:47
Apologies, Jay , I don't now where I read that from, but still the most expensive keeper in the world when he was bought. Lot more than Everton will pay for a keeper.
Watched the 5 goals over again and, although Pickford was at fault for the first goal, Fleetwood players were waiting for that backpass to close him down – and so will other teams.
Bill Gall
117
Posted 24/09/2020 at 01:40:14
Jay: just to show I checked, Born 2nd October 1992, Noro Hamburgo, Rio Grand du Sul, Brazil.
On 6 October 2020, I will be 80; have to put it down as a senior moment. Became an Everton supporter after playing on Goodison Park in 1953.
Mike Gaynes
118
Posted 24/09/2020 at 01:47:15
Amazing. We won a fun, entertaining game and scored five goals.
And look how many of the posts are about Pickford.
TW that.
Danny O'Neill
119
Posted 24/09/2020 at 01:51:13
Brian (@110) and others on here.
I agree with you. If you want to go on to win things then you need a quality keeper in place.
All I would say is what you suggest is winning the title. Yes, we had West and then Southall, which gave us that edge. Jordan is not that standard and won't be.
But where we are right now, a keeper wasn't / isn't the priority. He's good (not great) and we can still win something, it just might be a cup. A stepping stone, not the league, but then we're nowhere near that as a team or squad right now.
I repeat myself from other posts; our cousins across the park viewed keeper as the last piece in the puzzle along with the centre-back. It wasn't a priority until they'd sorted out what was in front and they could score goals and be competitive.
So, I hear you, but I just feel we're going to have to go through that rollercoaster ride of conceding stupid goals on a regular basis, having the odd frustrating result but at least now we counter that by scoring more and winning more if what we are seeing now continues.
I'm sure by next summer we will be looking to sort out the keeper and centre-back but right now midfield was the obvious priority.
Derek Thomas
120
Posted 24/09/2020 at 01:56:05
If Pickford is that much better than the other two challengers... clangers included, where does it leave them? Or us?
All too often, passing to the keeper - who then hoofs it... Jagielka and Moyes used to get stick for that same thing...HOoooof...it's just laziness. Play a one - two, pass and move triangle around a forward by all means.
It's a wonder that only Joey Barton has so far deliberately targeted not only Pickford, but keepers in general.
I know that the game has changed but there was never a time, anywhere or any when, that fannying around in your own box was considered good form... and that's all it is - Fannying About.
Kristian Boyce
121
Posted 24/09/2020 at 01:57:52
I'd be very surprized if we bring in a 'keeper during this window. From what we've spent already and the amount of players we still need to offload. I think Brands & Carlo have other more pressing targets like a CB first.
I do imagine that it's an area which will be revisited in Jan (or whenever they have another window). I also reckon that two lists have been drawn up too. One with names of good quality back-ups that will push Pickford, and a second list of quality players who will replace him.
Problem is, would we keep him as a back up or try to sell? Obviously the latter will be much harder to achieve as not many teams will be able to afford him and many have good 'keepers already.
Unfortunately for Pickford, the area that he needs to work on the most, you can't really coach. He's a very good shot-stopper, and has/had good distribution. He just can't focus fully on the game and continually lets mistakes ruin his game.
I see Pickford's position as a near carbon copy of Joe Hart's career. England's No 1, who basically didn't fit into a World Class manager's plan, and pretty much found out that he's not as good as he and especially the British media thought he was.
Don Alexander
122
Posted 24/09/2020 at 02:11:20
Jordan is going through a difficult time admittedly, this season and last. That said, he's maintained his status as an excellent shot-stopper throughout.
To me he comes across as a bit thick (admittedly not unusual in a goalie) but, for his and our sake, he needs to correct the obvious silly flaws in a career that might still flower to emulate such undemonstrative greats as Jennings and Banks.
Otherwise he'll be the 21st-Century version of Gary Sprake.
Over to you Jordan.
John Pierce
123
Posted 24/09/2020 at 02:13:49
Here's a good reason to drop Pickford. Highlight what the standard is, serves him and others that Carlo means business.
Mix in that our next opponent with clearly see this is a potential weakness. Pick Lössl and that goes out the window.
Danny O'Neill
124
Posted 24/09/2020 at 02:14:32
That's the intent Derek. "Fanny around" to draw the opposition in. If they all press, it creates space behind. Their players are committed forward to press the keeper / defence and leave acres of space behind.
But you have to have a good keeper who can also play football. It's why it was Pep's priority when he inherited a City side that had already won the league.
Get it right and it creates space that you can then exploit.
Danny O'Neill
125
Posted 24/09/2020 at 02:31:00
Kristian; finishing comment is bang on. A common trait of the British media is to over-hype players only for them to then be shot down in flames. Sad thing is they were / are probably decent players, just not what they were hyped up to be. We have a history of it in this country.
Derek Thomas
126
Posted 24/09/2020 at 02:32:55
Danny @ 124;
'Drawing them in' only works if they fall for it. Your opposition forwards can space themselves to be able to cut out any short balls
Or... They 'fall for it' too quickly for the keeper to cope, like yesterday and force a goal.
I stick by my original statement...
"All too often, passing to the keeper – who then hoofs it...Jagielka and Moyes used to get stick for that same thing... HOoooof... it's just laziness."
And I did also say...
"Play a one - two, pass and move triangle around a forward by all means."
But we're in the next round and I'm sure Carlo will have words in various ears in the privacy of Finch Farm before Palace.
Danny O'Neill
127
Posted 24/09/2020 at 02:42:47
I actually agree with you, Derek. If you're going to play it out from the back, then you need a keeper to be able to do it. And that includes (in yesterday's scenario) knowing when it has to go. Sometimes it has to, right?
I wouldn't always call it lazy, it's just decision making; Jordan made the wrong one, which is a trait of his game. Good shot stopper (despite the second one tonight, so let's say on average), but decision making is poor. Way too subject to a rush of blood to the head.
Phil Sammon
128
Posted 24/09/2020 at 03:54:05
I can only assume Ancelotti is trying to protect Pickford with his comments after the game. Keane's backpass was absolutely fine. A slow, rolling ball on the ground that could easily have been cleared first-time by Pickford.
It's the 'keeper's mistake, plain and simple. I'm sure there isn't a goalkeeper in the league that hasn't made a similar gaffe...it's just the frequency at which they happen to Pickford that is the worry.
I don't know about this idea that we need to sign someone to put pressure on him. Pickford's issues are all in his head. Decision-making isn't something that gets better overnight and he isn't showing any signs of improvement. I don't know that more 'pressure' is what he needs. I think he needs to see a psychologist if he isn't already.
Mick Davies
129
Posted 24/09/2020 at 04:00:16
And to think, Joel Robles got hammered on here; yet he wasn't even first choice...
Kieran Kinsella
130
Posted 24/09/2020 at 04:09:09
Not absolving Pickford but Lössl conceded about 400 goals in one season for Huddersfield. Why did we sign him? Bloody good question as he's not very good.
Virginia? Not exactly filling me with confidence either. But I don't see how it benefits the team to drop a goalie who is prone to the odd error and replace him with someone who is demonstrably crap.
Reuvy Havin
131
Posted 24/09/2020 at 04:10:50
When Sigurdsson's made captain and has a second-string central midfield he's not going to shine, being more worried about not having mistakes happen, not that he can do that much to stop it anyway. I feel like he has mixed messages in his head.
Useless playing him in this game in my opinion unless he is clearly told 'Gylfi, forget what happens behind you. Forget the central midfield. If the ball gets coughed up, it's the 6 and the 8's fault. You just work hard in the 10 role purely and try to create.'
But the thing is, does Ancelotti want to tell him that? Or does he, knowing it's a second-string midfield, want Gylfi as a 'calm head in the middle' – which I suspect happens? If he does, then it's a mistake.
He cannot take 'responsibility' in the way people think because he doesn't have the pace or engine to maraud. He's just a 10 – that's it. Far, far less useful otherwise.
Kieran Kinsella
132
Posted 24/09/2020 at 04:13:38
Mike Gaynes 118
You know what a certain loudmouth who by rights should be eating crow kebabs three meals a day would say to that? "Very funny thread, lots of criticism of negative comments but the negative ones are people talking of others being negative."
Which translates as "Yes, you are right, Mike, but I'm too proud to admit I'm eating crow on toast every day for breakfast."
John Pierce
133
Posted 24/09/2020 at 04:33:52
Kieran, you're not wrong. Our options other than Pickford are next to nothing. But isn't the point Pickford knows that?
What's the worst Lössl can do? We are playing well, keeping the ball so you'd think playing a counter-attacking side in Palace he won't be overly exposed.
The solution is not to sell him but loan a decent back up in the short term. Ancelloti has to have the option to pull him out to help Pickford.
Mick Davies
134
Posted 24/09/2020 at 04:48:01
Pickford shines for England as he's got other top-class 'keepers breathing down his neck; he knows he has no competition at club level, so gets complacent.
Michael O'Malley
135
Posted 24/09/2020 at 05:20:34
It's great watching us scoring plenty of goals but we definitely have a problem at the other end of pitch, We have got o replace our dreadful goalkeeper. How anyone can defend him, I find unbelievable, he is nowhere near good enough.
In my 40 years watching Everton, Pickford is one of the worst I've seen between the sticks, very unreliable.
Jay Harris
136
Posted 24/09/2020 at 05:30:46
There is no doubt Pickford makes howlers at the most inappropriate times and almost brought Fleetwood back into a game they were never in but has anyone really seen Lössl or Virginia. I will take that as a no so let's let Carlo deal with that one.
On the other hand, top players that want to wear the shirt should stand out in a game against the likes of Fleetwood and I believe Nkoukou and Bernard were influencing the game all night as was Richy.
Averagely good were Sigurdsson, Iwobi and Digne followed by Keane, Kenny, Gordon, Calvert-Lewin, Tom Davies and Delph in that order.
Kean scored a good goal but is still sulking about not getting his move back to Juventus, so certainly should not be considered for the first team.
The good news is we have won the first 4 games and scored a hatful of goals and silenced Carlo's biggest critics who were insisting he was past it, played boring football and was only here for one last payday.
Let's hope we can all get behind the manager and the players now and get a return to normality soon.
Mike Gaynes
137
Posted 24/09/2020 at 06:14:04
Kieran #130 and #132, you drew grins from me on both.
John P #133: "What's the worst Lössl can do?" Well, since you asked: https://www.youtube.com/watch?v=rHFR0dDZfLA
Martin Mason
138
Posted 24/09/2020 at 07:37:45
Exceptional performance and great to see how the feel-good factor has made what were previously seen as disaster purchases into decent players. Delph and Iwobi both had very good games and Tom Davies played well when he came on.
These are the positives from this game and I see no negatives in the big picture other than the normal lessons to be learned and minor mistakes. For their first goal, Pickford was put into an impossible situation, their second goal was brilliant but perhaps saveable (I was surprised that he didn't save it) but, for both goals, Pickford was let down by the defence that gave him no protection.
I leave his selection to the manager.
David Cash
140
Posted 24/09/2020 at 08:10:33
Last season, we'd have panicked after the howlers allowed them back into the game.
Not so this season. We simply kept doing the right things. I loved how we snuffed out the fires instantly denying the opposition any sort of encouragement.
Steven Astley
141
Posted 24/09/2020 at 08:32:56
Martin Mason #138 – Your opinion on Pickford's performance last night is somewhat worrying.
"Pickford was put into an impossible situation for their first goal" – It wasn't even a bad pass back from Michael Keane. A goalkeeper needs to know when to just clear their lines. He didn't. A mental or concentration issue.
"Their second goal was "brilliant" and perhaps saveable?" – What? It looked like an overhead kick by a Sunday league pub team player. It was perhaps saveable? Yes, probably, by any other player with a pair of gloves on and dare I say Lössl who was sat on the bench or even Virginia who was for some reason dropped for after doing everything right in the last Carabao Cup game.
And all this other nonsense from other posters about he maybe doesn't perform for us because he doesn't have any other competition!!!
He doesn't perform for us because he is shit at the one job he has to do. Make saves.
He has now conceded 25 goals from outside of the box since the start of the 2017-18 season. More than any other Premier League goalkeeper.
And people say he is a good "shot-stopper"?!

Sam Hoare
142
Posted 24/09/2020 at 08:43:21
Martin @138,
I was curious to see if you would still defend Pickford after last night's latest errors. Almost have to commend your persistence. I really hope he turns out to be as good as you believe him to be. Wish I had your faith.
Phil Sammon
143
Posted 24/09/2020 at 08:46:24
Martin Mason @138,
'For their first goal Pickford was put into an impossible situation'
Kicking the ball with his right foot should not be an 'impossible situation' for a Premier League goalkeeper. Absolutely incredible take on the incident.
Phil Lewis
144
Posted 24/09/2020 at 08:50:56
England's Number 1? Don't make me laugh! On the evidence of last night, he wouldn't even be Fleetwood's Number 1.
Danny Baily
145
Posted 24/09/2020 at 08:56:58
I don't think Pickford's problem is a lack of competition for places at Everton, as some posters have suggested.
His problem is that he's not good enough. Nowhere near.
Tony Everan
146
Posted 24/09/2020 at 09:04:30
Pickford should have cleared it out of play, then bollocked Keane. He needs to sharpen his decision-making, any daft antics on Saturday will cost us the win.
He needs to try and find a way to focus for 90 minutes. Get a top sports psychologist in to work with him one day a week for the rest of this season.
David Ellis
147
Posted 24/09/2020 at 09:14:55
Mike,
Great link, but Lössl had one poor attempt at a save, and one great save – against Man Utd. Half the errors of Pickford vs Fleetwood
Phil Lewis
148
Posted 24/09/2020 at 10:18:23
Give Valencia what they are asking and buy Jasper Cillessen. Sell Pickford. Problem solved.
Derek Knox
149
Posted 24/09/2020 at 10:20:50
Tony E@146, "Get a top sports psychologist in to work with him one day a week for the rest of this season."
A lobotomist would only need one session, and he'd be cured! Meantime, try to instill into all the players about the dangers of unnecessary back-passing, with fines being applied for doing so!
That should do the trick. Simples! :-)
Marko Chuaffaut
150
Posted 24/09/2020 at 10:23:12
Everton have not entertained like that in ages! I lost count of how many times I got excited. Scintillating stuff.
I can't wait to see Bernard or Iwobi replacing Gomes, who's just not as mobile and tricky as them in unlocking defences. This is not to troll Davies, who's still a developing young player - but where does he fit in to Carlo's regular first eleven? Nkounkou needs to be unleashed on Premier League defences, and we saw tonight glimpses of a potential line-up which can accommodate both our left-backs.
How about 3-5-2: Digne, Keane and Mina as the centre-halves; Nkounkou, Gomes, Doucouré, Allan and Rodriguez in midfield; Richarlison and Calvert-Lewin in attack.
Michael Coffey
151
Posted 24/09/2020 at 10:30:35
Brian Wilkinson 110;
I'd agree in principle, and recall that, when Brian Clough raised eyebrows to bring Shilton to Nottm Forest in 1977, he told the press that a quality keeper was worth 10 points a season (that's 15 in today's currency).
However, David Lawson was the most expensive keeper in Britain when we bought him (㿼k!), so the intent was there
Funnily enough, Lawson and Lössl both came from Huddersfield Town.
George Wood, average?
Dave Evans
152
Posted 24/09/2020 at 10:36:35
The improving and confident Iwobi had an excellent game.
The crows on the apex had better scarper, another breakfast will be served soon.
Graham Lloyd
153
Posted 24/09/2020 at 10:49:49
Yes Pickford had a mare. But there is no way he is being replaced anytime soon. There are too many other priorities to move out first.
Let's not lose sight of the fact this is the best start we've had in a very very long time. Optimism is through the roof so let's just accept that we are going to ship a few goals down to a few 'keeper errors.
But, if we keep scoring and creating the volume of chances like we currently are, then I would take that as a huge step forward this season.
In Carlo's comments at the end of the game, he mentioned we have 31 first-team squad members. We need to drop that by quite a lot before the end of this window. A keeper can be the focus for next off-season instead of a new midfield if Jordan doesn't raise his game!
On a side note, I was chatting to a friend during that week of speculation before our new 3 midfielders officially arrived. I was genuinely concerned that we might go down this season given the way we finished last season and the unknown output we would get from a brand new midfield.
What a difference 4 games makes! Up the blues and bring on Palace!
Brian Wilkinson
154
Posted 24/09/2020 at 10:59:27
Anyway, on a different note, I am not sure which was more hilarious, our comical goals we conceded, or the Captain Pugwash music they played when they scored the goals.
David Hallwood
155
Posted 24/09/2020 at 11:33:17
With you on that one, Graham (153). I don't expect Pickford out of the door anytime soon. I picked that up in Carlo's post-match comments about a squad of 31.
So, apart from a centre-back, I see more outs than ins and, because he's changed formation to accommodate James, it means we're no longer desperate for a right-winger.
Things are looking good
Kevin Molloy
159
Posted 24/09/2020 at 11:53:55
I think Pickford is reaping the rewards of that wonderful last-minute goal at Anfield. It will take a long time for the fanbase to give him the benefit of the doubt after that. Cos I've looked at the goals last night in the cold light of day this morning, and I think he was bloody unlucky.
The first is a hospital pass, insofar as, if he leathers it, there is a real danger it hits the opponent and rebounds into the goal. No way he should be given the ball on or near the 6-yard box with attackers flooding towards him.
And the second is a volley from point-blank range that literally could have gone anywhere. The fact it went straight at him doesn't mean he made a mistake, it's like a penalty that sometimes goes down the middle, just getting a glove on the ball from that close in is surprising.
Phil Lewis
160
Posted 24/09/2020 at 12:02:41
Kevin #159,
Please tell me this is a wind-up?
In my best Victor Meldrew voice: "You can not be serious!!"
Andrew Hight
161
Posted 24/09/2020 at 12:05:36
Kevin, sensible analysis. Keane's back-pass was very poor and the defending for the second goal wasn't good enough. I think he probably should have dealt better with both situations but hey-ho.
His contribution at Spurs was a large factor in the 3 points.
Kevin Molloy
162
Posted 24/09/2020 at 12:07:28
I take it back, Phil. He wasn't on the 6-yard box – he was nearly on the goal line. It was crazy to give him the ball under those circumstances.
The second, he is clearly expecting a much harder shot, and the rather tame effort wrong-footed him a bit. Again, it's an unconventional situation and I think he was unlucky.
Kevin Molloy
163
Posted 24/09/2020 at 12:19:24
Andrew, yes. I'm sure he is feeling very sorry for himself at the moment. Thing is, we need this lad's confidence to be high, cos in a lot of respects, he is a good keeper.
There are not a lot of good candidates out there at the moment, as Chelsea and Man Utd and even Man City know, so let's try and give him the benefit of the doubt. Cos just as he does make the occasional howler, he is just as capable of producing world-class stops.
Max Murphy
164
Posted 24/09/2020 at 12:19:44
Martin Mason (@138) You're unbelievable! Pickford is a joke. As I've said before, he'll cost us a dozen points in a season. But more worryingly, is his effect on the rest of team, especially the defence.
Players will now have to decide whether it's safe to pass back to him or not. A hesitant defence is disastrous in the Premier League.
Everton are beginning to build a solid back four, but all this will be undermined by the "clownery" (thanks, Lyndon) of Pickford. A back four needs a reliable goalkeeper behind them, and unfortunately, Pickford is anything but.
Carlo has to act quickly, and get rid. If anybody asks who can we replace him with, my answer is, any other goalkeeper. I would even take Alex Cairns, the Fleetwood goalie!
Brian Williams
165
Posted 24/09/2020 at 12:39:08
I've watched the so-called howler for the first goal over and over again, even in slo-mo over and over again (sad, I know) and I still think that Keane has given Pickford a very poor pass to deal with.
What makes the situation worse is that Pickford has a player coming towards him from his right-hand side so hitting it first time (when he's already backpedalling) is to hit it towards a player directly in front of the goal. This would have been covered in Goalkeeping 101 and keepers would be trained never to do that.
So Pickford tries to work it onto his left but the ball is moving too slowly and, by the time he's in a position to hit it with his left, two players are on him.
Keane received the pass already facing towards his own goal despite the fact that Lucas Digne had his hands up for the pass (out on the right) and Keane just wanted rid as easily as possible, and IMHO played a ball that made it difficult for the keeper to clear first time with his right.
I'm not saying Pickford doesn't make mistakes; I'm not saying he doesn't need to improve. What I am saying, and David James alluded to it on TalkSport earlier, is that people jump very quickly to decisions about players' (especially goalies') errors because of "labels" and Pickford has been labelled "error-strewn" – so every little thing he doesn't do to perfection is highlighted.
With regard to the second goal, saving a shot at such close range is a lot down to luck, why?
The fastest human reaction time is around 0.15 to 0.2 seconds, that's when at rest and fully concentrating with no distractions. Now a well-taken penalty (obviously much further out than the second goal) should hit the net in under 0.5 seconds. The distance that shot came from, I'd estimate less than half that time 0.2 seconds. It was hit from the 6-yard box line.
So saving such a shot, even hit close to a keeper, is down to moving in the right direction in less than 0.15 to 0.2 seconds and, even then, moving into a position where the difference of an inch can mean a goal is conceded.
It's really easy to jump on people's backs when they've made mistakes in the past. It's really easy to follow the mob and decry and belittle someone simply because everyone else is doing it. It's not just a ToffeeWeb thing, though it is rife on here; it's an everyday life thing.
"Hardly" anybody, for instance, mentioned that Nkounkou totally lost his man in the build-up to the second goal and allowed a free header to find the scorer, who was being marshalled by Digne and Keane who failed to stop him shaping up for an overhead kick.
"Hardly" anyone has mentioned how Pickford's saves basically won us the three points at Spurs in the first game, two great saves that had he not made (he couldn't be blamed for the goals) but make them he did.
Again, I'll admit the lad's got faults in him and needs to improve. He also needs to be looked at fairly in every instance. What he doesn't really need is his own supporters stating that he has ADD or ADHD. That's just IMHO.
Brian Wilkinson
166
Posted 24/09/2020 at 12:41:24
The only difference with the occasional howler, Kevin, is they are getting more and more frequent. You can expect and take the odd howler but, each season, he is getting more and more erratic.
If you think him grinning is fine, especially in the Burnley game last season, is acceptable, then fine... but his awareness at times is like he is away with the fairies.
He should be thankful fans are not in the stadium, because opposing fans would target him to get a reaction, just like he goaded the Newcastle fans when leading 2-0, to then allow three goals past him, and we ended up losing 3-2.
Brian Williams
167
Posted 24/09/2020 at 12:43:44
Brian. We drew 2-2.
I rest my case!
Brian Williams
168
Posted 24/09/2020 at 12:44:22
But don't let the facts get in the way of a Pickford bashing opportunity, mate.
Ian Horan
169
Posted 24/09/2020 at 12:48:22
Brian @166 – if that was last season's game, we drew 2-2. Yes we were 2-0 up but the whole team was shite at game management that day.
They got it to 2-1 in the second minute of stoppage time; we kick off and attack. Maybe we should have just knocked it about and kept possession for the final 60 to 90 seconds.
I am as frustrated as anybody with Pickford but let's not place all the blame at his door!!!!
There are 10 outfield players to get past before they get through to the keeper... it's a team game, for fuck's sake!
Martin Mason
171
Posted 24/09/2020 at 12:59:20
Gents, I'd just like to remind you to guard against irrational confirmation bias and cognitive dissonance. Some fans have it at overdose levels; football managers can't have it and I trust the values of the two managers that matter.
When Pickford consistently becomes a bad keeper, then they'll drop him; I'll almost certainly accept their good judgement. In-between time, I will just continue to enjoy the superb performances that the club are producing and not even worry a bit about Pickford's perceived form.
Remember that Calvert-Lewin and Davies are Championship players at best, Iwobi worse than that, and even Keane has been the subject of the boo boys.
Steve Brown
172
Posted 24/09/2020 at 12:59:24
Pickford had made 13 individual errors that led directly to goals in his Everton career before last night. Their first goal will be added to that total by the analysts, in my estimation. The back-pass gave him time to put his boot through it first time, but he was indecisive and panicked.
The second was more understandable. He rightly backed off chasing the cross and then the overhead kick was smashed at him.
Overall, he is an average to good keeper, a good, instinctive shop-stopper. His footwork and positioning for shots from distance and set-pieces is weak, his concentration is variable and he makes errors. But we need a left-footed centre-back more than we need to replace him right now.
Ray Roche
173
Posted 24/09/2020 at 13:05:35
Brian Williams, Mr Wilkinson is correct. We were 2-0 up at Newcastle when soft bollocks Pickford engaged with the Toon fans and consequently let three goals in. March 2019 I think.
Darren Hind
174
Posted 24/09/2020 at 13:12:11
We did lose 3-2 when the Newcastle fans were taunting Pickford.
The 2-2 game was at Goodison.
Sam Hoare
175
Posted 24/09/2020 at 13:23:13
Martin @171, the problem is: I doubt Pickford will be dropped because the competition that he has at club level is so poor.
Goalkeeper is an unusual spot in this way and I can't remember many clubs that have had two keepers of similar ability since Chelsea bought Cech when they already had Cudicini.
Lössl is not a great keeper and Virginia is a kid whose one loan was a disaster. If we were to bring in someone like Romero, I could quickly see Jordan put on the bench but currently the options are very thin.
He will almost certainly retain the gloves till January... when either he will have improved or, if not then, perhaps Brands and Ancelotti will be forced to act. For now, there seems little choice but to back him and hope he rediscovers the form of his first season with us.
Stef Busby
177
Posted 24/09/2020 at 13:31:32
I thought the stand out performer was Sigurdsson. If ever you needed tips on how to walk through a game not giving a damn, then watch his individual display.
Stuart Sharp
178
Posted 24/09/2020 at 13:34:24
Willing to eat a small portion of humble pie regarding Iwobi. But only a small bit because it was against Fleetwood. One swallow and all that.
As for Pickford and the first goal... yes, there was a risk of a rebound if booting it out, but that doesn't justify taking an even bigger risk. He dithered and I think he makes people nervous. Other teams will target him in the same way.
Brian Williams
179
Posted 24/09/2020 at 13:39:53
It was the Goodison game where he reacted to the fans taunting him, wasn't it?
If not, then my apologies to Brian if he meant the other game.
Mind you, I think the Geordies taunt him everywhere.
Stuart Sharp
180
Posted 24/09/2020 at 13:41:54
He reacted at both, but it was the away game where this seemed to affect the result. The 2-2 capitulation at Goodison wasn't his fault.
Jay Wood
[BRZ]
181
Posted 24/09/2020 at 13:44:46
Kevin Molloy, you are the second poster after Robert Tressell in this thread to describe Michael Keane's back pass to Jordan as 'a hospital pass'. I evidently have a very different definition to you both as to what constitutes 'a hospital pass'.
Brian Williams, I also watched back the play numerous times and come to a completely different conclusion from your own... Opinions, eh?
Mike Gaynes, you have questioned over a couple of threads why ToffeeWebbers are talking so much about Pickford given the overall game and results to date.
You are or have been a sports journalist. You know how the game works. As well as reporting on the overall game and the result, if you can generate extra copy on an incident in the game, the sports desk will love you for it.
Legitimately, ToffeeWebbers are doing exactly that about our goalkeeper's performance last night. It's an ongoing issue. And I write as someone who defends Jordan and I don't consider replacing him at this time as a high priority.
Brian Williams
182
Posted 24/09/2020 at 13:44:49
Was the loss of the other game all his fault, Stuart?
I have to admit, my memory's not what it used to be... I think.
Brian Williams
183
Posted 24/09/2020 at 13:46:36
Aye, Jay... opinions, just like arseholes: everybody has one and nobody else seems to like the other's. Lol.
Stuart Sharp
184
Posted 24/09/2020 at 13:51:04
No, not all his fault. Of course not. It rarely works like that.
I was there, and it just seemed like he let the crowd get to him. He became erratic and a bit unprofessional. I think this affected the defenders too.
Mind you, their 3rd goal was offside.
Darren Hind
185
Posted 24/09/2020 at 13:51:33
Don't worry, Brian @182
I have only logged back on because I've been into town and had to come home because I forgot what I went for...
Brian Wilkinson
186
Posted 24/09/2020 at 14:08:06
No apology needed, Brian, but yes, it was the game at Newcastle where he was goading the Geordies when we were 2-0 up. I cannot put all the blame on the guy but, at the same time, it got their fans in full voice from being dead and buried.
They then banged three goals in towards the end of the match; the defence was to blame for one of the goals faffing about on our left flank close to our corner flag.
The one when he stayed on his line against Burnley, instead of coming out to kick the ball clear, is the one that winds me up: it was something like 80-20 in Pickford's favour. Coleman blasted him, even though their player fluffed his lines with the finish, it was that grin on Pickford's face, the same grin when he fluffs it in games, but they failed to score.
Joe McMahon
187
Posted 24/09/2020 at 14:22:44
Newcastle away did it for me, plus last-minute massive errors at Anfield. TBH, many, many games.
It's harsh to say there's very little about him I like; his attitude towards mistakes etc. He has no calmness or authority for defenders. Oh how we could do with a younger Nigel Martyn.
I like both Tom Heaton and Pope, but there's no money for either.
Dave Abrahams
188
Posted 24/09/2020 at 14:24:39
Brian (182), there's nothing wrong with your memory, mate, it's spot on.
Thanks for your email confirming I owe you two Desperados, but you've gone too far in saying forget them anyway. A debt is a debt, Brian. You'll get them, mate, even if I have to swim across the Mersey with them.
You are definitely blessed with that memory of yours.
Kevin Molloy
189
Posted 24/09/2020 at 14:30:50
Jay,
Probably yes the wrong choice of word. A horrible pass, I meant. Putting him in a real dilemma. If you watch it, you can easlly see how he came unstuck.
If I was Carl,o I would be looking at the centre-back for that one, and even then there was an element of bad luck...
Derek Knox
190
Posted 24/09/2020 at 14:34:52
Darren @185,
Tut, tut! It was for a jar of Cousin's Memory Powder! Dup. :-)
Joe McMahon
191
Posted 24/09/2020 at 14:40:33
Kevin Molloy @158.
Interesting take on it all. I don't like referring to the past but I'm sure Southall, both Schmeichels, Seaman, Martyn and my all-time favourite, Jennings, would have made all the saves. Nowt we can do about it though as we are stuck with him.
We will never know but he could be the difference in not gaining a top 4 spot.
Kieran Kinsella
192
Posted 24/09/2020 at 14:45:00
The second goal was Grobelaaresque. Or, being generous, it was reminiscent of Pat Bonner vs The Netherlands.
Someone on the matchday thread suggested Pickford is on the take, like Bruce. I don't believe he is. That's an extreme suggestion. But you could argue, and Liverpool players have, that Bruce's good moments offset his match-fixing escapades.
My worry with Pickford is he is going the way of Joe Hart but, at the same time, I think there's an expectancy he is headed that way and it's driving negative focus on him.
There are keepers who've had rough periods and rebounded. Chris Woods was one. Immense at Rangers then widely ridiculed as error-prone for years before he had a renaissance at Sheffield Wednesday.
Hugo Lloris was also cited as world class in the matchday thread. But Tottenham fans have been talking about him in much the way Everton fans have slated Pickford the last 2 years. Ditto De Gea... ditto Kepa.
Philip Bunting
193
Posted 24/09/2020 at 14:48:33
Personally I don't think the second was a changer as such: point-blank save with too much power. I doubt many would have saved it. The first, well, he should have laced it rather than think he was Messi.
Robert Tressell
194
Posted 24/09/2020 at 15:00:37
By the way, I know I've provided some perspective on the Pickford situation but I don't think he's faultless. I expect Ancelotti and Brands will reserve judgement until the end of this season and then recruit a replacement for next season if they think we can bring in a material improvement.
Just on the second goal: He gets caught a bit in no-mans land. But the overhead kick is so close in that he's braced for something that comes at him like a rocket. It's a bit like in cricket where a fast bowler loops a slower ball down to take the batsman unawares.
He loses the flight of the ball because he's expecting a rocket at point-blank range. Possibly could have committed and punched but possibly just unlucky with the save.
Brent Stephens
195
Posted 24/09/2020 at 15:02:23
With some other keepers, you could make a back-pass like the one Keane did to Pickford last night. But, knowing Pickford, it was an unwise back-pass. So, both at fault for me.
Jay Harris
196
Posted 24/09/2020 at 15:38:40
I can't accept that Pickford had a seriously bad backpass to deal with.
Other keepers get balls fizzed back to them when the defender is in trouble and they just boot it straight up the pitch, which is what bighead should have done but he tried to dribble it out and got caught out.
The second one, he fumbled into the net.
However, I don't think Lössl or Virginia are better keepers, so we will just have to accept the occasional howlers until Carlo and Marcel can get us a keeper that matches our ambition.
Brian Wilkinson
197
Posted 24/09/2020 at 15:58:57
Phil @193,
He went from Messi to Messy in the blink of an eye.
Brian Wilkinson
198
Posted 24/09/2020 at 16:04:17
What is annoying for the second goal is he started to go for the ball then stopped and went back on his goal line, yet against Spurs he was coming off his line, punching the ball clear and commanded his area.
Had he continued to go to the ball instead of stopping, he would have been able to palm the incoming cross clear.
Rob Halligan
199
Posted 24/09/2020 at 16:05:04
I'm in no way defending Pickford for the second goal, after all I said this morning that I think he should have attacked the cross and either caught or punched it away.
When the attacker headed the ball back across the 6-yard box, he headed the ball on the corner of the 6- yard box, and I've always believed the 6-yard box belongs to the goalkeeper and he should totally command it. It's what I was told to do when I was playing in goal anyway.
As I said at the start, I'm in no way defending Pickford for the second goal, but the finish reminded me of a certain Mr Cahill away at Chelsea, and I'm sure we all thought that was a brilliant finish!!
Derek Knox
200
Posted 24/09/2020 at 16:07:24
Brian @193, exactly, he has had a few wrong spells! :-)
Tony Abrahams
201
Posted 24/09/2020 at 16:43:38
When a goalkeeper starts coming for things this usually puts confidence into his defenders, and this is one of Pickford's biggest problems because I don't think he puts much confidence into the players around him.
On Saturday, West Brom, had a free-kick near the halfway line, and Everton defended deep waiting for a ball into the box. The players were that deep they were on the 6-yard box line, and this illustrates what I'm alluding to.
A strong goalkeeper would have them defending the penalty spot minimum, so who allowed the team to defend that deep?
A keeper with no confidence, or a defence with no confidence in the keeper? Anyway West Brom took it short, because the whole Everton team was too deep, so it was definitely a collective problem, but this should come from the keeper imo.
Jay Wood
[BRZ]
202
Posted 24/09/2020 at 16:47:52
Rob @ 199, I was wondering about your take on Jordan as a member of the goalkeepers union.
I don't have a down on Jordan as some have, but I don't ignore what I see as primarily his mistakes. For example, I don't attribute any blame to him for the two conceded at home to WBA as some did, but I see him primarily responsible for the two coughed up to Fleetwood last night.
On the first, nothing will convince me that Michael Keane's back pass was a poor one that a long-established international and Premier League goalkeeper would struggle to deal with. JP created the subsequent problems himself.
As for the second, I have no issue with him for making the split-second decision NOT to go all the way to claim the original cross, chosing to retreat to the centre of his goal.
My issue is how he subsequently attempted to defend the scissor kick (which, I have to say Rob, had none of the ferocious power of Cahill's memorable goal at Chelsea).
He didn't try to catch it. He didn't try to palm it over the bar with both hands as he was well-positioned to do so. He tried a single-handed, flat palmed sideways swat akin to a tennis volley without the racquet. A very strange form of defence.
I just wonder, Rob, as an ex-keeper yourself, what you thought of his save selection on that play.
I acknowledge, as another poster eloquently wrote, like a batsman in cricket being deceived by a slower ball by a pace bowler, Jordan may have been deceived by the slow pace of the scissor kick and so 'through his save' (to paraphrase cricket parlance) too early.
Again, I appreciate keepers have nanoseconds to respond in some situations, but Jordan's choices appeared poor to me yesterday.
Brian Williams
203
Posted 24/09/2020 at 16:51:56
Dave Abrahams. I have it in print from your Tony that you owe me 20, not 2 but 20. I know because I wrote it down right next to where I've written my reminder.
"Don't forget your trousers."
This goes back to an unfortunate incident in which the "victim" seemed very unreasonable to me and thankfully to the jury too. I'm still banned from Holland mind.
John Pierce
204
Posted 24/09/2020 at 16:53:28
Rob & Tony. Mooted this kind of post yesterday. Talked a touch about Grobbelaar. He came for everything, he missed many but his defenders knew and adapted accordingly.
Whilst is not quite as binary in today's game as a defensive unit you should know what the plan is. As you allude to, our guys don't. Maybe it can be improved but it boils down to not having a keeper or centre-half who is in charge of that unit.
The position of the 'keeper is more psychological than physical. Controlling your defenders stops you having to make a save, elite keepers do this, they have great judgement too. They don't have to react the way Jordan frequently does. We applaud his reactions but, if he got the first part right, it would go a long way to improving the situation.
Rob Halligan
205
Posted 24/09/2020 at 17:34:42
Jay # 202. You are right on the Cahill overhead kick against Chelsea. He caught it sweetly giving Cech, I think it was, no chance. Even though Cech raised his hands the ball flew past him before he knew it.
Pickford raised his left arm and somehow managed to push the ball across his body towards the right-hand corner of the net. A strange attempt at trying to save, I must admit.
Julian Exshaw
206
Posted 24/09/2020 at 17:38:07
I find some of the criticism aimed at Pickford to be slightly OTT to be honest and I think a lot of it stems from the fact that some fans just don't seem to like his personality. Yes he makes mistakes but which top class 'keeper doesn't?
I get the feeling that as soon as he commits one error the abuse rains down on him. Were he to have a more 'likeable' persona, he may well get away with more. I remember many English fans lauding his attitude in the last World Cup, his verbal attack on Mario Mandzukic springs to mind.
I don't see Carlo dropping or selling him any time soon. Get Nigel Martin, who himself was calmness personified, to come in to work on the psychological side of things! Jordan is still young and I think he'll still save us more than cost us this season.
Martin Mason
207
Posted 24/09/2020 at 18:17:27
It is a tragedy that, after such a wonderful series of performances, the match thread inevitably descends into a totally irrelevant and irrational criticism of one of our better players. You really couldn't make it up.
Can you people not find something positive to say about what have been incredible performances? The massive good feeling that is being seen through the team is countered by poison in a section of our fan base. Julian, you are spot on.
Christy Ring
208
Posted 24/09/2020 at 18:48:12
Reading stats from last night's game, Sigurdsson made 1 successful pass, no shots on target, never won possession, and lost possession 18 times? He got the least ratings, after Pickford. It was on one of our own websites.
Kris Boner
209
Posted 24/09/2020 at 18:49:45
Christy, one successful pass? I find that hard to believe, are you sure/pulling my leg?
Martin Mason
210
Posted 24/09/2020 at 19:19:43
Southall urges fans to support Pickford.
Bill Gall
211
Posted 24/09/2020 at 19:20:46
Unfortunately, any goalkeeper at Everton is compared to Southall. We may never have another keeper of his standard and you can go to other clubs who have had outstanding keepers and haven't managed to have one as good. So if Southall has faith in Pickford, I will go with him rather than the comments of people who have most probably never played for an extended time in goal.
A #9 can miss 2 sitters and then score the winning goal and nothing is said. Like it or not we don't have an alternative and to buy one, once clubs realize we need one the price will go up.
Pickford is not perfect but I believe we have won more games because of him than lost.
Barry Jones
212
Posted 24/09/2020 at 19:22:23
Derek #149.
Lobotomies and hefty fines! You are a tough man, Derek. Is this part of your standard operating procedure for managers? :-)

John Pierce
213
Posted 24/09/2020 at 19:23:21
Julian, do you think the criticism you've read is over last night? Pickford has a body of work of his own individual errors leading to goals, I believe it totals 13 or 14 to date. That's before you factor in any incident were he indirectly contributed or his 'collywobbles' affect the team dynamic.
This is not a dislike of his personality, well because we don't know his personality, just what we see on the pitch.
If you can conversely put together a body of work that highlights him consistently winning games for us as befits an international keeper, then I for one would reconsider.
As little as two weeks ago, his performance was worthy of credit, his last two absolutely not. Goalkeepers need to inspire trust in their defensive unit. I'm not seeing that with Pickford, are you?
Steven Astley
214
Posted 24/09/2020 at 19:26:16
Jay Wood #202 is spot on.
It really was a strange attempt to save Fleetwood goal #2 and one that screams alarm bells.
Most Premier League keepers, including the ones that warm the bench would have dealt with that comfortably.
I actually think the attempt on goal was that close that, for a split second, he shit out of standing strong between his posts and dealing with the ball.
Kind of like a spasm reaction. It happens all too frequently.
Judging by the players' reactions last night, I think they are getting fed up of the clangers too.
Put him up for sale and get someone else in. Any French or Brazilian keepers?! I'm sure there are plenty of replacements in Europe and potentially the Championship. Start with Strakosha at Lazio and work down.
Derek Knox
215
Posted 24/09/2020 at 19:34:12
Barry @212,
Only the tip of my Managerial Iceberg, Barry! :-)
Barry Jones
216
Posted 24/09/2020 at 19:36:21
The very nature of being a goalkeeper means that it is fundamental to avoid lapses of concentration. It really doesn't matter about the magnitude of the game, whether it is Carabao Cup against Fleetwood or a Champions League Final, as exhibiting these lapses in any game shows frailty as a goalkeeper.
Klopp acted quickly with Loris Karius for two similar errors.
Ray Robinson
217
Posted 24/09/2020 at 20:08:00
I have defended Pickford in the past believing him to be flawed but the best we can probably get at the moment, there being other priorities. But after last night it is getting harder to defend him.
Strangely enough, having played in goal myself, I can see some reason for the second cock-up. Pickford assumed a better connection from the guy doing the overhead kick and tensed up expecting a blaster. It was a case of anticipation getting the better of him and he wasn't able to re-adjust. Nevertheless, it was a cock-up.
To me, however, the first goal was the worse mistake. Even if it was a hospital ball from Keane, which it wasn't, he had ample time to clear it with his right foot. Anywhere would have done. He really does have good ball control for a goalkeeper but moving the fall onto his left foot was a stupid decision. It's those split-second decisions that define a keeper.
The problem is that, even if he does improve his decision-making, I doubt whether he has the natural attributes such as height and robust presence ever to be a really top-class keeper.
One thing is certain, Lössl is not the answer. He is bang average and I've no idea why we signed him even as backup.
Mike Gaynes
219
Posted 24/09/2020 at 20:15:14
Christy #208, source or link please?
Will Mabon
220
Posted 24/09/2020 at 20:22:25
Hmm - "Woke" as a slight.
Poor Nev - he will forever be lambasted for stepping out of The Hive. Not that I agree with much that he says but to belittle him for trying to think outside most people's box is becoming a bit passé.
Mike Gaynes
221
Posted 24/09/2020 at 20:36:55
Well said, Will.
Jay Wood
[BRZ]
222
Posted 24/09/2020 at 21:03:08
Is this opposite of being 'woke' just being 'dozy'..?
Will Mabon
223
Posted 24/09/2020 at 21:32:31
Jay, I guess the actual opposite is "Asleep".
But we both know what is meant.
Paul Johnson
224
Posted 24/09/2020 at 21:58:10
I posted on the stream after the game on Saturday about how pleased I was about the game but stated that Pickford was a potential issue.
I have played in goal and I don't want to go over last night as it doesn't need my comments to explain his performance. However, on Saturday what made me make the comment was that one the first goal his reaction time from the ball leaving the strikers boot to it hitting the back of the net and how far it was from Pickford's reach imho makes him culpable for the first goal (Yerry does not cover himself in glory).
The second for me was he didn't cover his angles. And dropped his left arm in anticipation that the ball was going wide (Yerry does not cover himself in glory). But a goalkeepers role is to anticipate all scenarios and the ball was 27 yards out so no matter what the walls stature he should have both sides of the goal covered.
Romero for me and, if Jordan wants to stay, then 2023 he could be challenging but only if he sorts his temperament out.
Albert Perkins
225
Posted 24/09/2020 at 22:26:10
My first Everton Goalie was West in 1961 but my favorite is Big Nev. I can't think of another footballer who has taken up social issues like Nev after retiring from the game. He cares about ordinary people and tries to make a difference. I believe he does. Proud of him as great goalkeeper and human being.
Bill Gall
226
Posted 24/09/2020 at 22:31:55
Paul,
I don't understand your comment on 27 yards unless you mean when the ball was first kicked in towards the back post. There were 4 Everton defenders between the goal and the goalscorer when the ball was kicked in, and the scorer was inside the 6-yard box when he scored.
Another point that can be mentioned is, if VAR was used, the score could have been ruled offside as the scorer looked as if he was ahead of the 4 Everton players before it came back into the middle. Pickford had both hands up when the ball came at him.
Supporters who want to watch this, go to YouTube: Everton v Fleetwood 5 goals, and just slow it down during the goal, frame by frame. I am not saying Pickford wasn't at fault but I think it was coming off his line for the first ball in that was the problem.
Phil Lewis
227
Posted 24/09/2020 at 22:41:46
Martin #171,
As baffled as I am about your continuing support for Jordan Pickford, your derogatory comment regarding Calvert-Lewin as no better than a Championship player, takes the biscuit.
Having watched both regularly at Goodison these last seasons, Pickford's form has fluctuated from bad to worse, excepting for the occasional spectacular save. The opposite is true of Calvert-Lewin, whose work rate, endurance and natural athleticism, coupled with a willingness to learn, has endeared him to the fans and especially as he is finding the net, had pundits calling for him to be promoted to the full England team this season.
Assuming Calvert-Lewin continues his current magnificent trajectory, I fully expect that in years to come, he will be as revered by the Goodison Faithfull as the great Graeme Sharp.
Frankly, Martin, you are deluding yourself to think otherwise, in my opinion.
Christy Ring
228
Posted 24/09/2020 at 22:41:53
Mike #219,
Royal Blue Mersey gave the stats.
Paul Johnson
229
Posted 24/09/2020 at 23:02:37
Bill, as I mentioned, as a keeper, he has to anticipate all options and the curl over the wall was one of those. Again, if you look at the free-kick, his left arm is nowhere near the ball.
Steve Ferns
230
Posted 24/09/2020 at 23:32:51
If Southall thinks Pickford will come good, then that's good enough for me.
As for Jay Woods disagreeing with his non-football comments and using them as a means to disregard the only truly world class player I've ever seen play for Everton, well, each to their own.
Bill Gall
231
Posted 24/09/2020 at 23:33:06
Paul #229
My apologies – you are talking about the goals West Brom scored. I thought you were talking the same as other people about the goals at the Fleetwood game.
Talking about the West Brom free-kick, the commentator's view was Pickford knew he could get nowhere near it.
Chris Hockenhull
232
Posted 24/09/2020 at 23:40:46
Good God... there's a whole host of ex-goalkeepers on this site offering their experience and wisdom. To add to it, may I too state I too played in goal...
I was shite. That's why you also have never heard of me too!!!!
Martin Mason
233
Posted 25/09/2020 at 07:35:19
Phil @227,
Perhaps you're not seeing that I was taking the Mick should take the biscuit? I was just repeating often quoted opinions on here to show perhaps how seriously I need to take those about Pickford. Sorry it wasn't clear, I really like all of those players.
Sam Hoare
234
Posted 25/09/2020 at 07:44:17
I've got enormous respect for Nev both on and especially off the pitch. But I can't quite back his thoughts on Pickford.
If we were talking about a downturn of a few months then fine. Every player had bad patches.
But to my eyes (and stats) he has been below par for a couple of years now. I hope the Romero rumours are true.
Joe McMahon
235
Posted 25/09/2020 at 07:51:22
Sam, absolutely. Performances against Newcastle, at Anfield, and the first Fleetwood goal surely says enough. That goal this week was incredible. He instills no confidence in defenders and fans and will continue to cost us.
Phil Lewis
236
Posted 25/09/2020 at 09:26:01
Martin #233,
I apologise... Forgive me for taking you literally. I see the point you were making now. It was rather cryptic in the context of your overall post.
Brent Stephens
237
Posted 25/09/2020 at 09:40:31
Chris #232
"I too played in goal... I was shite. That's why you also have never heard of me too!!!!"
Oh believe me, Chris, we have! Your reputation goes before you!
You're just describing your good games!

Martin Mason
238
Posted 25/09/2020 at 14:10:36
My apologies Phil.
Jerome Shields
239
Posted 26/09/2020 at 20:52:17
Pickford played well in goal today. There is no way he was at fault for the goal from the corner.
The attacker got between Keane and Richarlison meeting a good cross. Kean should have headed it away and Richarlison got himself sucked in. As for Pickford he has been reasonably solid for England no matter what his stats say and there is the possibility that under Ancelotti he could improve. I don't think Neville will look beyond this. Ancelotti may bring back up, but he will support and coach Pickford in the meantime.
During the match I was about to post how will Kean was playing with his passing and distribution. I held back to see how he was defending when challenged. Having said that he met the next corner with the perfect clearance header.
It was obvious that Dourane and Rodrigeuz where being marked and harried. Dourane succumbed a bit, but Rodrigeuz was well fit for the attention. He did get his first introduction to high intensity Premier League Football, particularly in the second half. I did think that Everton did get too much involved in Crystals Palaces tempo. It did take the introduction of Sigurdsson to take the heat out of the situation.
Gomes for me was superb. He seem to have time and space on the ball and able to get into positions to do so. His pass to the ring wing set up the first goal. He rarely succumbed to pressure and actually fulfilled the Dourane role of box to box midfielder, with great distribution. Our forwards where threating all the time and both Colman and Digne where outstanding. Allan was the anchor he always was.
The Penalty was the right decision. Digne headed pass to a onside Richarlison was deflected by a hand. The penalty was taken legally, because Richarlison after he stopped put down his standing foot and kick the ball with the other. If he had of stopped on his standing foot and then kicked with the other it would have been illegal. The commenter on Amazon read out the rule.
Moise Kean and Richarlison worked it all out on the training ground. Not such a silly run up after all.

---
Add Your Comments
In order to post a comment, you need to be logged in as a registered user of the site.
Or Sign up as a ToffeeWeb Member — it's free, takes just a few minutes and will allow you to post your comments on articles and Talking Points submissions across the site.
---
© ToffeeWeb