Report
Defensive gameplan surrenders two vital points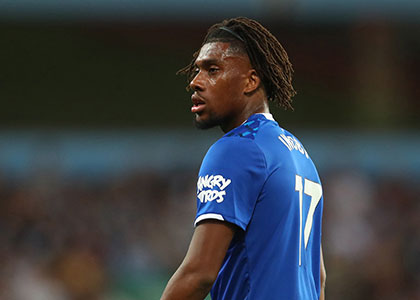 Alex Iwobi has missed both FA Cup ties so far through slight injury but is back in the squad to face Leicester
Everton 1 - 1 Leicester City
A game plan that required Everton to hold onto an early lead from the brilliant Rodriguez was destined never to work against a strong Leicester side that was without Jamie Vardy.

Lucas Digne returns to Everton's team as captain, as manager Carlo Ancelotti makes four changes from Sunday's FA Cup victory over Sheffield Wednesday: Michael Keane is restored to the middle of defence, while there are recalls for midfielder Tom Davies and Jordan Pickford.

Dominic Calvert-Lewin continues up front supported by Richarlison and James Rodriguez, beginning his fourth successive match.

Digne played on the left of midfield where he excelled in Everton's victory at Wolverhampton Wanderers a fortnight ago. The central midfield spots were occupied by Tom Davies and Andre Gomes. Keane partnered Yerry Mina in the middle of defence and Mason Holgate and Ben Godfrey started as full-backs. Pickford was back in goal.

Gylfi Sigurdsson, Alex Iwobi, Bernard and Anthony Gordon provide attacking options from the bench. Two goalkeeper, Olsen and Lössl, were also included among Everton's substitutes, along with Seamus Coleman, Jonjoe Kenny and 17-year-old Tyler Onyango, fresh from his senior debut three days ago.

The visitors were straight into the high press trying to limit Everton's play and successfully getting possession. Barnes had a good shot after the whistle. Richarlison had to defend and gave up a free-kick, which he headed away brilliantly.

Everton allowed the Foxes to dominate play, Albrighton seeing his shot deflected behind. In the next attack bonds forced to Mina to foul him in a dangerous spot. The free-kick was driven Into the wall by Madison.

With 10 minutes gone, Everton finally got their foot on the ball, but to no avail. Gomes then gave the ball up easily as The Blues lived very dangerously. Madison took a fantastic shot from way out that fizzed less than a foot over Pickford's bar. Everton tried to play out from the back And finally got Godfrey moving down the left, with Digne crossing in, Winning a corner. From that, Davies shot wildly off target.

Everton were gifted a corner that Digne took, But it was cleared. Gómes was fouled, Digne delivering it deep. Everton were at least playing in Leicester's half without really threatening. Davies won a free-kick, taken by Rodriguez but Keane was called for shirt tugging.

Gomes then tried to find Richarlison but the marking was tight. But Everton were more effectively throttling the foxes attack and keeping them away from Pigford school. Then, almost out of nothing, Rodriguez scored a brilliant goal, after a pass came back to him. Sidestepping to his right and then, with the one simple stroke curling a beautiful shot in off the post. The Columbian is sheer brilliance personified.

Davies released Richarlison with a nice forward pass, and he was caught in a four-way sandwich. But Everton were effectively prevented from getting a decent view of goal from the free-kick. With the last kick of the half, Albrighton conjured Leicester's first shot on target that was easy meat for Pickford.

An early free-kick for the visitors in the second half was delivered in well by Maddison and headed behind by Calvert-Lewin. Maddison tried and failed to win a penalty of Godfrey. Digne won a free-kick but over hit it. Davies had to give up a corner, Pickford had to save well but parried it straight out to Justin who fired wide.

The Foxes continued to press determinedly, Barnes getting off a good shot that Mina blocked well. More pressure almost paid off but Keane defended and Pickford saved. A fearsome cross in from Tielemans was very well anticipated by Pickford, advancing and punching well.

All the play was in Everton's half, Richarlison having to produce one of his classic defensive headers against a well played corner. Perez was fouled near the D by Richarlison, setting up a very threatening chance. Madison fired it into the wall, almost knocking out Richarlison.

The game plan seemed to be "Soak it up and stick with the one-goal lead." Leicester won another corner but could find no way through. Castagna overlapped but Davis Intercepted his cross. Rodriguez saw yellow for a foul, Maddison's set-piece stopped by Davies.

The visitors were invited to attack again down the right and put in a difficult cross that Pickford again handled well. A great through ball from Maddison saw him sandwich by three defenders as Lester tried to vary their play and it finally worked when Tielemans drilled one through the crowd and Pickford flapped at it. Foolhardy game plan in tatters?

Everton had to reset into an attacking mode but Leicester were not gonna let them do that very easily, and kept winning the ball back. Everton tried to release Calvert-Lewin but it just wasn't working.

Labored play finally saw Holgate loop in a cross for Calvert-Lewin but he could get not get any power on the ball and the play returned to the other end where Leicester City got another corner. Iwobi replaced Holgate on 80 mins.

Everton finally won a corner but it was defended well although eventually Rodriguez got off a shot that was wide. Everton tried to build an attack but it came to nothing. Rodriguez was then withdrawn for Sigurdson and a good break saw Richarlison tangling with Castagna, winning a corner that he then headed over.

Another Leicester attack threatened but Everton broke again, Iwobi running a long way only to cross to Schmeichel. In the 89th minute, Digne finally delivered a decent cross for Calvert-Lewin who headed agonizingly wide.

A huge chance for Maddison saw Keane block brilliantly, but the visitors were still keen to claim the win. Coleman, on for Rodriguez, won a late corner that fell to Gomes who had no idea how to finish a glorious chance to win it at the death.

Kick-off: 8:15 pm, Wednesday 27 January 2021 on BT Sport 2
Referee: Mike Dean
VAR: Simon Hooper

Everton: Pickford, Godfrey, Keane, Mina, Digne (c), Holgate, Davies, Gomes, James [Y:63'] (85' Sigurdsson), Richarlison, Calvert-Lewin (89' Coleman).
Subs: Olsen, Lossl, Kenny, Iwobi, Bernard, Gordon, Onyango.

Leicester City: Schmeichel, Castagne, Fofana, Evans (77' Söyüncü), Justin [Y:45']; Ndidi (42' Mendy), Tielemans; Albrighton (68' Ünder), Maddison, Barnes; Pérez.
Subs: Ward, Iheanacho, Amartey, Choudhury, Pereira, Thomas.
---
Reader Comments (595)
Note: the following content is not moderated or vetted by the site owners at the time of submission. Comments are the responsibility of the poster. Disclaimer
Tony Hill
1
Posted 27/01/2021 at 19:21:38
Central midfield is the obvious worry. I fear we will miss Iwobi's input and we look soft down the right but here's hoping. Looking forward to it.
Kieran Kinsella
2
Posted 27/01/2021 at 19:23:55
Is Tosun injured?
Christy Ring
3
Posted 27/01/2021 at 19:29:35
I'm hoping Holgate is in midfield, the team I hoped for in my comment last night!
Jay Wood
[BRZ]
4
Posted 27/01/2021 at 19:33:17
That looks similar to how we set up v Wolves which led some to believe before KO it was a back 5.
I reckon it will be the flat back 4 of centre backs that has served us so well in recent weeks with Digne again playing in front of Godfrey down the left.
With Richarlison fit from the start (which he wasn't for the Wolves game) Iwobi loses out. Davies plays as Carlo declared yesterday. James and DCL if fit were always going to start, so it was down to a toss of the coin for the remaining berth, Siggy or Gomes.
That's solid enough to get a result for me.
Good back up on the bench. Nice to see Onyango there again, even though he got a brief cameo appearance Sunday for the 1st XI then played for the U-23s Monday v Leicester.
Joe McMahon
5
Posted 27/01/2021 at 19:33:35
Tony, I agree, central midfield (such an important area) is the concern. Leicester are no mugs, and play with pace.
James Flynn
6
Posted 27/01/2021 at 19:34:12
Looking at our line-up, I think we'll win because we're fielding a better 11 than Leicester.
Pat Kelly
7
Posted 27/01/2021 at 19:35:26
Davies! Really?
Darren Hind
8
Posted 27/01/2021 at 19:40:15
And yet he starts in the most important game Carlo has had since he got here.
funny watching people fall over themselves to make that into something else.
Anyone got a calculator ?
John Davies
9
Posted 27/01/2021 at 19:41:06
Just hope we can keep Davies and Gomez as far away from our penalty area as possible. We might be OK if we do. COYB!
Brent Stephens
10
Posted 27/01/2021 at 19:41:49
What other defensive mids are available tonight?
Thomas Richards
11
Posted 27/01/2021 at 19:44:25
Pat,
Tom has a lot of responsibility in what is a big game. Can't see how it is the most important game of Carlos reign, but big game it is. Let's give Tom a chance to see if he can handle the responsibility mate.
Ancelotti had no choice but to play Tom tonight. Would he have started if Allan and Doucouré were available?
Kieran Kinsella
12
Posted 27/01/2021 at 19:45:01
How's this game more important than any other league game? Don't they all come with a maximum of three points?
Tony Everan
13
Posted 27/01/2021 at 19:45:30
I've got confidence in that team, it is a selection that will give us the best chance at keeping Leicester at bay whilst still having some decent threat. I still think we will sneak it from a set piece goal.
Kieran2. Tosun on his way to Moscow in the ToffeeWeb funded Moskovitch. Bolaise and Besic earning their money this week by doing the driving . Rumours they've just broke down in Gdańsk and are having a hot dog and a cup of tea to keep warm.
Brent Stephens
14
Posted 27/01/2021 at 19:46:58
Funny trying to make this into the most important game since Carlo arrived. Bizarre beyond belief.
Rob Hooton
15
Posted 27/01/2021 at 19:49:05
I quite like this line up and when Duke and Allan are back in the middle it has plenty of promise, being solid defensively and with a decent looking attack to boot.
Wonder if Richy will play on the right with James roaming?
Brian Hennessy
16
Posted 27/01/2021 at 19:52:50
Very happy with the team selection, presuming it will be Godfrey at left-back behind Digne.
Andrew McLawrence
17
Posted 27/01/2021 at 19:54:25
Bit worried that the midfield will be given the run around by the more mobile Leicester mid. Saying that if we go at them with intent we can Win this. COYB
James Flynn
18
Posted 27/01/2021 at 19:54:34
Davies has played with confidence right from the time Roberto gave him his first sip of tea with the first team. Tom's had that right from the start along with his other positive qualities. It's his lack of athleticism that's caused improvement to lag behind DCL's and Holgate's, both of whom are much better athletes.
If Carlo is all for Tom today, so am I.
Fran Mitchell
19
Posted 27/01/2021 at 19:54:41
No reason to class this as a 'must -win' or 'most important' - 3 points is 3 points, no matter the game. we will win, lose and draw further games this season, and no club (except maybe Man City) look like they'll be consistent. If we lose today it doesn't call curtains on our season, and if we win it doen't guarantee anything. Games wil come thick and fast.
In terms of the team, a logical selection. It keeps our in form, solid backline in tact against a team dangerous on the attack. We have our 2 most creative assets in the team.
Expect a mix of 4-4-2 and 4-5-1. Rodriguez will sit on the right but float where he wants. Richarlison will play centrally, but float to the right.
Tough game for Davies and Gomes - NDidi and Tielmans is a quality midfield. And Maddison will look for space between them and the defence.
It will be a tight game, we won't be playing flowing attacking football, but can see another 2-0.
Michael Kenrick
20
Posted 27/01/2021 at 19:58:46
"The most important game Carlo has had since he got here."
The most utter tosh posted by Darren since Carlo arrived.
Andy Walker
21
Posted 27/01/2021 at 19:58:48
Gomes and Davies in the centre seems a huge liability to me, but we haven't a lot of options with our two first choice CMs out. I can only see Davies slowing the game down and playing backwards more often than not if he's the main outlet for our defence. Depends whether Ancelotti asks Davies of a Gomes to be the main receiver from the CBs. If it's Gomes we may show more urgency and greater quality.
Christy Ring
22
Posted 27/01/2021 at 20:02:57
James# Agree completely about Tom, in my opinion he's totally underrated.
Thomas Richards
23
Posted 27/01/2021 at 20:03:46
Darren Hind
24
Posted 27/01/2021 at 20:07:31
Pity there isn't time for a TW poll asking which is the most important game thus far in Carlo's Everton career.
This one would piss it.
The man himself said it was a very important game...The last time he said that with any conviction. He was managing abroad.
Jay Harris
25
Posted 27/01/2021 at 20:08:16
This might not be the most important game of the season, that would be the FA cup final or the derby but it is quite important in that if we get 3 points we also deny Them 3 points and go back into the top 4 above them. Lose and we are out of the pack again.
Ciarán McGlone
26
Posted 27/01/2021 at 20:08:16
If the line up is Richarlison and Digne as wide players and Rodrigues as number 10 then I think that's a great selection. Gomes certainly earns his place and Davies hasnt been too bad either..
Could be a very open and entertaining game.
Let's go.
Brent Stephens
27
Posted 27/01/2021 at 20:08:39
A v important game doesn't mean the most important! Ffs
Thomas Richards
28
Posted 27/01/2021 at 20:09:39
When the hole deepens throw the spade away.
Brent Stephens
29
Posted 27/01/2021 at 20:10:18
He's almost out of sight.
Darren Hind
30
Posted 27/01/2021 at 20:11:05
Oh I get it...we're doing expectation management...
Fuck that. this is how we got here in the first place
Thomas Richards
31
Posted 27/01/2021 at 20:11:55
Illogical at best
Si Cooper
32
Posted 27/01/2021 at 20:15:19
Christy, the main problem people have with Tom Davies is his level of athleticism which is something James appears to agree with. How is his comment any different to most of those who comment on him?
I don't think many are totally against Tom, but I think many are worried that he (and Gomes) can be undone by quick athletic opponents. Personally, I think that risk has been somewhat mitigated by the presence of Holgate and Godfrey.
Vardy being out for them is a big hit for them I think, although Harvey Barnes is a great threat with his speed. Tielemans, Ndidi and Maddison are all more than decent and Albrighton is a pretty consistent performer.
This should be very tight and we need everyone to be on song tonight.
Mike Kehoe
33
Posted 27/01/2021 at 20:19:41
Looking at a team that includes the absolute world class quality of Rodriguez, with a manager of the calibre of Carlo only fills me with confidence when we consider the dog shit we have endured for far to long.
COYB
Don Alexander
34
Posted 27/01/2021 at 20:21:06
Michael, Darren's probably been hacked by some sort of happy-clappy fan-boy, that's all. The real one'll doubtless return if/when we play less than excellently.
Hope we play the four big lads in a back four and I think Ndidi and Tielemans will have plenty to worry about with James.
Alex Gray
35
Posted 27/01/2021 at 20:31:30
Christ you can tell Doucoure isn't playing. 15 mins and I'm not sure we've had the ball for one of them yet.
James Fletcher
36
Posted 27/01/2021 at 20:45:29
Genuinely wtf has happened to Charlie? He seems totally incapable.
James Fletcher
37
Posted 27/01/2021 at 20:46:48
wow
Mike Kehoe
38
Posted 27/01/2021 at 20:47:38
Quality wow
Jerome Shields
39
Posted 27/01/2021 at 20:47:55
Glad James read and took note of my comments on ToffeeWeb. Great Goal.

Christy Ring
40
Posted 27/01/2021 at 20:48:43
Si#32 Agree, but for me Tom offers alot more with Gomes than Siggy.
Dean Cooper
41
Posted 27/01/2021 at 21:12:18
What a half that was! Clearly under pressure for the first 15, despite not conceding a shot on target, but battled our way back into it and now lead against one of the most in-form sides in the competition. Who realised James had a right foot hey?!
For all the negative comments on Gomes and Davies at the start - they have both been brilliant. Gomes' long balls have been able to release counter attacks and Davies has done a brilliant job, playing with confidence in front of what has to be the best defensive back four in the league. There is just no getting around Ben Godfrey!
Who would've thought four centre backs would be doing so well?! A lot of raised eyebrows at the start of the season with the late purchase of BG, and although it wasn't the intention to use him as a left back, we would not be in our current position without his contribution across the line.
Phil Smith
42
Posted 27/01/2021 at 21:14:25
Look much better side without Sigurdsson. Surely he has to leave in the summer. Gomes is much more effective at going forward than when he has to defend. So clumsy and gives away silly freekicks.
Jay Wood
[BRZ]
43
Posted 27/01/2021 at 21:15:01
My stream is from BT which unfortunately means Robbie Savage as the in-game co-commentator.
I'd forgotten just how awful he is.
The pick was saying 'you don't want James picking up the ball on the edge of his own penalty area'.
30 seconds later the ball was in the Leicester net from the wee magician. What a finish. Clean gathering of the poor clearance. A little shuffle of the hips, a drop of the shoulders, an oh-so-delicate shifting of the ball, then WHACK! On his right foot.
Class. Class. Class.
Leicester looked 'pretty' for 10-15 minutes up to our penalty area. The only sniffs they've had are from the free kicks we've given them.
We not playing scintalating football. But we are playing cute football.
Tom Davies again playing very well in midfield. Gomes less so. But Richarlison? Deary me! He has not retained the ball or got past his man ONCE the whole game. Just won a couple of free kicks in the middle of the park.
Iwobi would offer us more and I can see that switch early in the 2nd half.
Kevin Prytherch
44
Posted 27/01/2021 at 21:17:26
What a piss take Tom Davies is. He's literally just sat there all half. A couple of tackles here and there does not excuse the constant safe 10 yard passes. A couple of interceptions does not excuse the constant looking for fouls. How many 25-30 yard shots have they had? It's only a matter of time before one goes in. Their midfield is so comfortable on the ball 40- 40yards out it's unbelievable and the lack of pressure he puts on their centre halves is a joke.
Jim Jennings
45
Posted 27/01/2021 at 21:18:09
This is definitely the most important game Carlo has had since he got here. He said himself that it's important. Anyone who thinks otherwise is just a daft arsed, fanboy website reading, philistine, happy clapper.
While we are getting that calculator, can someone add up how many minutes decent football we've played since Carlo arrived with his empty suitcases, waiting for daft arsed Farhad to load with cash?
Anthony Murphy
46
Posted 27/01/2021 at 21:20:18
half time - should be made up but can't shake off my disgust at the truly appalling, bias commentary witnessed so far
James Fletcher
47
Posted 27/01/2021 at 21:43:43
well that was a long time coming
James Fletcher
48
Posted 27/01/2021 at 21:44:23
Why does it take a goal for us to get playing?!?!?
Alex Gray
49
Posted 27/01/2021 at 21:45:30
Been coming. Too many missing in midfield. Nobody breaking up play whatsoever and nobody turning defence into attack.
Dave Bowen
50
Posted 27/01/2021 at 21:52:42
I might be being harsh, but I'm pretty sure Olsen would have saved that.
James Fletcher
51
Posted 27/01/2021 at 21:59:09
It's a fairly weak one to concede
Bill Fairfield
52
Posted 27/01/2021 at 22:01:50
Pickford garbage again
Adam McCulloch
53
Posted 27/01/2021 at 22:02:01
We were asking for that...but doesn't hide the fact that it's another flap from a man who, well, flaps. Frustrating because I feel we are giving a pretty average albeit well-drilled, pacy side way too much respect. But the problem is that without Doucouré in the middle, we lack legs.
As the great clearout continues we are crying out for more pace in the side.
James Fletcher
54
Posted 27/01/2021 at 22:05:24
we deserve to lose this. Why is Carlo taking DCL off now? We actually started to create a couple of chances!
Thomas Richards
55
Posted 27/01/2021 at 22:12:03
Good point for the Blues there.
We lose that game ten times out of ten before Ancelotti.
Overun in central midfield.
Jeff Armstrong
56
Posted 27/01/2021 at 22:12:05
Pretty negative from the manager, taking DCL off typical of, keep what we have rather than try to win, Pickford at fault on 3 occasions for their goal, pathetic..
Tony Hill
57
Posted 27/01/2021 at 22:12:49
I'm afraid I found that deeply disappointing. We will hear that we were shorn of players and that we're still in a great position. All of that is true but we sat back and maintained a defensive, Championship style approach in the second-half.
When we eventually gave it a go we had chances but we made two defensive substitutions to cringe our way to a draw. That is not how I want to see us play under any circumstances.
Simon Dalzell
58
Posted 27/01/2021 at 22:13:14
Well said James. Hard to comprehend. Master tactition ? It was obvious they were going to score. Some sort of change had to be made a lot earlier. Such a poor approach.Very disappointing. Pickford should never have come back in.
Tony Hill
59
Posted 27/01/2021 at 22:14:07
Pickford must obviously be dropped.
Martin Berry
60
Posted 27/01/2021 at 22:15:31
I actually feel sorry for Leicester as if we had played like them in the second I would have been shaking my head wondering how we didnt get three points.
Did Everton put half a dozen passes together in the second half, so many misplaced.
Pickford needs shipping out Carlo will not put up with him much longer Olson is far more reliable.
As for Richarlison, I have no idea what is matter with the lad but he should have been subbed after 60 mins.
I was also disappointed with Carlo, the two subs should have come much earlier as it was obvious we were riding our luck and created nothing.
Surely we have to get better ? We certainly had luck as we were outplayed.
Lee Courtliff
61
Posted 27/01/2021 at 22:15:48
Did anyone else notice how only seconds after he bottled the chance to win the game, suddenly Gomes had a great touch in he middle of the park?
Fuckin typical, when it matters he can't control a ball. When it's a nothing situation, he's perfectly fine.
I can't believe how disappointing that second half was. We simply sat back until they scored. He even moved Digne back so it was a back 5!!
Ciarán McGlone
62
Posted 27/01/2021 at 22:17:17
Good point against a frighteningly fast team.
John Burns
63
Posted 27/01/2021 at 22:17:28
This must be he game when Carlo decides a new keeper is a priority.
Johan Elmgren
64
Posted 27/01/2021 at 22:18:02
Well, that could/should have been three points, and that one's on Ancelotti. Converting to back-five after we had taken the lead invited some real pressure, and Leicester didn't hesitate to take advantage. Thought Ancelotti would have learned that we can't play 5 at the back by now. We don't have the midfielders for that... Well, were still in the mix, but Carlo, you need to stop dithering with the formation. Four at the back, please!
Danny Broderick
65
Posted 27/01/2021 at 22:18:03
Disappointed we couldn't get all 3 points, mainly because they didn't have Vardy. On reflection, their midfield was much stronger then ours and it told. I thought Tom Davies did really well holding again. But paired with Gomes, with Rodriguez in front of them, we didn't have enough legs to win the midfield battle.
Still, we looked strong defensively, and but for another howler from Pickford, we'd be celebrating a win now. A good point in the circumstances. Shame we didn't have Doucoure and Iwobi from the start, we really missed their legs...
Craig Walker
66
Posted 27/01/2021 at 22:18:14
Not too gutted with a draw given how we played. Lost possession far too easily. Richarlison and DCL had scraps. Gomes and Davies did well. Still think we miss Allan. Would love us to get more striking options in. Keane was my man of the match. Leicester are a good team but we could and maybe should have snatched it. Hope we stuff Newcastle.
Sean O'Hanlon
67
Posted 27/01/2021 at 22:18:29
Utter garbage. A very, very lucky point.
I hope Ancelotti realises now he cannot continue with Gomes. He's too slow, and now resorts to fouling continually Davies? Sorry – just not in the same class as some of the Leicester midfield. I like the lad, and he's a trier – end of story.
We were completely overrun first 20 minutes, and most of second half. But I reserve my harshest criticism for that clown Pickford. He needs to be shipped out immediately.
Joe McMahon
68
Posted 27/01/2021 at 22:18:51
Bad tactics from Carlo second half, but central midfield just too weak for quality like Leicester. We desperately need another striker and ideally some mug club will pay us back some of the 㿊 million we got ripped off for buying a relegation keeper. Pickford is awful.
Richard Mason
69
Posted 27/01/2021 at 22:18:52
Seriously, when you think about it. If Pickford had of saved that tame shot, we would have won. Although they had possession they were not getting passed the backline.
Disappointed we sat back but genuinely felt they wouldn't score, And they shouldn't have.
Just a stronger hand was needed.
Jay Wood
[BRZ]
70
Posted 27/01/2021 at 22:19:24
Oof! That was awful fayre in the 2nd half.
Bizarrely, we could have won it but for a dreadful gaffe by Pickford. Any goalkeeper, at any level, would be disappointed in not stopping that.
For all their possession and attempts, they really didn't threaten our goal much. By contrast, we had 3 great opportunities in the final 5 minutes to win it.
Richy's header from the corner. Head it down, it's a goal.
Dom's header the wrong side of the post from Digne's cross.
Gomes' woeful attempt at the far post to do what, exactly, I have no idea.
A win would have really hurt them and boosted us. Not an awful result, but the performance was.
Onwards to the barcodes at the weekend.
Stephen Brown
71
Posted 27/01/2021 at 22:19:59
Time to be ruthless with Pickford!
No more passengers!
Davies did ok but hugely missed Doucoure there to transition defence and attack.
Have to beat Newcastle!
John Keating
72
Posted 27/01/2021 at 22:21:27
Like him or hate him Ancelotti pucks a team and tactics to play a game
No way can he legislate for players going crazy
Since Pickford joined he had divided the fanbase
Yes he has made some fantastic saves. Yes he is Englands number one but is he really?
We were outplayed tonight. Leicester were by better the best team
Would we have lost if we had Big Nev there?
Pickford had a serious problem. We have all seen it at various games. His lack of concentration. His need to be involved.
Ancelotti had seen all this and he had to bring someone in. Olden may well be the answer, maybe not.
Leicester were well the better team but for one fucked up moment by Pickford we would have had an undeserved 3 points tonight
Paul Birmingham
73
Posted 27/01/2021 at 22:22:08
This was the test but with the midfield we had out I'm happy with the point.
Disappointed with the goal conceded but as almost as always in the big match, small margins and all, we don't get there.
But we didn't loose, but what a superb goal, for me the best goal of Everton's season, by a long way. But tonight he barely had the ball. No complaints from me, but I do now think that Olsen deserves a start, as the defence in my view looks calmer. Jordan Pickford made some good saves, but their goal, was a concentration - reaction save, which should have been saved.
Fine margins, but year on year, Everton are better by a long way.
But no more basic GK mistakes, but we'll have a midfield back soon, and hopefully, Everton can take the piss in winning the Leeds, Manure and at our old ground.
Gomes, in my view can make a decent 30-40 yard pass but for me plays like players whose come out of retirement.
No timing unless there's no opposition player within 10 yards. Every one looks good.
Still a point is a point, but very frustrating.
Now to wack, the Toon.Everton need a home boost win, and start Iwobi, to be more offensive, and get some goals in, for the GA.
Jamielia Crowley
74
Posted 27/01/2021 at 22:22:23
Our defenders are the strength of our team. More expansive footy will follow in time.
We grabbed a point without Allan and Big D against a top 3 team.
Win one of our two games in-hand and we're Top 4.
See the big picture.
Love to all.
Tony Twist
75
Posted 27/01/2021 at 22:22:35
Unfortunately we will have to get use to this. Changes with this club happen extremely slowly if at all. Be prepared for mediocrity to set in as soon as the transfer window closes and we ain't freshen things up. Moyes is doing a better job than Ancelotti, now and for the future.
Joe McMahon
76
Posted 27/01/2021 at 22:24:33
1 point from last 2 home games. We need more goals, and take chances. Top 4 will have to wait til next season me thinks.
Tony Everan
78
Posted 27/01/2021 at 22:25:39
We don't look like a top 4 side without Doucoure or Allan, but throughout the season there are games that we need to battle for a point and get through suspensions and injuries.
Leicester's midfield were too good for ours, we never had any control of the game. In the circumstances I thought it was a good point.
This puts the Newcastle match firmly in the spotlight. We have to play and attack a lot better, Doucoure's back and we will look like a decent side again. 3 points from that match will keep us in the mix.
Bill Gienapp
79
Posted 27/01/2021 at 22:25:59
A decent point under the circumstances, the circumstances being that we were awfully lackluster. That being said, the result is still a bit galling, given that Pickford coughed up a soft equalizer and we actually had several promising chances at the very end.
Still, four points from six against a quality side like Leicester City is a good return. Now we just have to make sure we get all three points against Newcastle this weekend - no excuses there, given their form.
Drew O'Neall
80
Posted 27/01/2021 at 22:26:36
How frustrating, after defending so proudly, for Pickford to let in a soft one like that.
He was lucky to get his place back but he can think about that on the sidelines for a few weeks now as far as I'm concerned.
Graham Mockford
81
Posted 27/01/2021 at 22:27:25
As ever, massive over reactions on here tonight. We are not a top 4 side yet but we are much closer to being one than for a long time. Leicester however are one and taking 5 points off them is a result. We need another good season of recruitment both in midfield and up front to get us in that position.
On the plus side we are defensively better than we have been for ages. Six defenders who will all make the grade and there's still Nkounkou, Branthwaite and Kenny to add to that equation. And the biggest plus of the season (DCL aside) is Michael Keane who is playing consistently well, some of the best performances I've seen since Rats was in his pomp. He will captain this side in the near future.
James Byrne
82
Posted 27/01/2021 at 22:27:29
That has to be the last straw for pickford as our No.1 Goalkeeper. Poor for him to not know his positioning to push the ball out for a corner that led to the goal.
As for the goal itself, I'm not accepting that he couldn't deal with that shot!
Other goalkeepers in this league are pulling off MotM performances on a weekly basis, and he is supposed to be Englands No.1.
The lack of fans in the ground are keeping this clown at the club.

Will Mabon
83
Posted 27/01/2021 at 22:28:29
The absolute perfect title, Michael.
Graham Mockford
84
Posted 27/01/2021 at 22:28:52
And I agree, that's one too many mistake for Pickford. I'd be surprised if he starts on Saturday
Cristobal Aguirre
85
Posted 27/01/2021 at 22:29:27
As far as I am concerned the masterplan was the correct one. Our midfielders today were not good enough to control the game and Leicester is very dangerous counterattacking. So the only problem, as almost always, was Pickford performance. His mistake today destroyed all the efforts his teammates made to win the game. Is absolutely urgent to start with Olsen. Olsen had proved he is very reliable goalkeeper and, seriously speaking, he is for a mile a better gollie than Pickford. Is time to change, we cannot afford loosing points if we want to reach Europe next year. Good efforts for the lads today. COYB.
Alex Gray
86
Posted 27/01/2021 at 22:30:13
Take Doucoure and Allan out of the side and we have a midfield that cant attack, run or defend. Same issues tonight as the entire of last season sadly. No mobility and are constantly on the back foot.
A pacy winger ie Barnes like is also needed.
Our fully fit first eleven is a match for most but just one absence from it and we have no back up for them. Our bench players ie Davies Gordon Bernard Gomes Sigurdson Kenny don't make any top 6 squad.
Brent Stephens
87
Posted 27/01/2021 at 22:30:32
Solid defence, midfield always chasing it, so little outlet for DCL. Pickford, I weep for you.
Frank McGregor
88
Posted 27/01/2021 at 22:30:38
Very poor display by a very tired looking team that makes one wonder how they are training.
I would not build my hopes up on beating Newcastle.
If Newcastle challenge for every ball they will win.

Thomas Richards
89
Posted 27/01/2021 at 22:32:11
Harvey Barnes.
23 yrs of age.
James Maddison
24 years of age
Tom Davies
22 years of age
Tom has played more top flight games than the pair of them.
Not in the same class as Barnes or Maddison.
Can we stop bulling Tom Davies up as a top class midfielder.
All that does is put him under pressure.
Its only one or two stubborn posters doing it. It is one or two too many.
He is not that player yet.
Tony Hill
90
Posted 27/01/2021 at 22:33:05
It's worth reminding ourselves that Leicester lost Ndidi and had no Vardy. Maddison had a poor game. Barnes did well in streaks. What was so magnificent about them?
We just gave them the ball in the second half for reasons unknown.
Paul Birmingham
91
Posted 27/01/2021 at 22:33:35
There's a long haul ahead in games, let's beat The Toon.
If and if only.. but we need to win our home games but with the team out tonight, this in my view is a good point, against a far superior team.
Iwobi should have started, and for me what Gomes contributes in ant game isn't worth a carrot. Framing every pass made, it doesn't cut.
What's been said before about Gomes stands, if he was a dynamic player, great but he never will be, and he's high risk, has a killing pass, but can't tackle and is trying but isn't the answer.
Well done Tom Davies and, at least United lost.
I'm starting Nirvana's for the Spurs 5th round match tonight! Lol and all stay safe.
Stephen Brown
92
Posted 27/01/2021 at 22:35:32
Rachel Brown on BT sport just gave food analysis on Pickford! He lost concentration from giving away the corner and never recovered!
He really is a liability I'm afraid.
As many have said, take a point... but 3 points now a must on Saturday.
Ray Roche
93
Posted 27/01/2021 at 22:36:22
Tony@90
They had no Vardy? You'd never know from the commentary.
Jason Wilkinson
94
Posted 27/01/2021 at 22:36:22
Maybe a more constructed approach is needed before posting how shit we are. Leicester had only dropped points at Anfield (a 3-0 loss) and Palace (a 1-1 draw) before tonight. That's 23 points from a possible 30 on the road. We had our two most efficient midfielders missing. An under performing Richy. Digne slowly getting back from a serious injury. A draw was a good result.
If we had taken them on I fancy they could have given us a bit of a hiding tonight. They have bags of pace and a very good attacking midfield.
Of course I wanted to see a better performance from us but I will take a point against the best team away from home in the division. We need to have a real go at Newcastle. Bag a few goals and keep trying to find a way of mixing solid defending with a bit more bite up front.
Dave Abrahams
95
Posted 27/01/2021 at 22:37:02
We got a point, daylight robbery, Gomes was slightly better than Richarlison, showed how bad he was, Pickford was Pickford, no one should be surprised when he cocks up, it comes naturally to him. Olsen will be losing his self esteem playing second fiddle to him.
Then Carlo goes all Italian with his ultra defensive tactics in the second half then starts attacking in the last 10 minutes and we create three good chances. Why didn't he let them play like this instead of camping out in our own half once the second half began?
Another black mark, Carlo, with those last 45 minutes. Lucky to get a point, very, very lucky, even if we were handicapped with that midfield. I felt sorry for Davies playing alongside Gomes, but Tom will cop for loads of stick off some fans.
Stuart Sharp
96
Posted 27/01/2021 at 22:38:45
Carlo still has my full backing, but that was poo. Some good defending and a wonderful goal, but their midfield outclassed ours throughout. What has happened to Richie? Why sub DCL? As for Pickford, whether you think he should've saved it or not, a proper keeper doesn't give that corner away. The ball was going comfortably wide.
Robert Tressell
97
Posted 27/01/2021 at 22:40:08
Played poorly, should have won - but drew. Pickford's mistake (another) but the team and Ancelotti take some of the blame. Still suffering from patchy squad. Midfield is weak without Allan and Doucoure. The more troubling new development is that it's a while now since Richarlison had a good game. Still, we're right in amongst it but we do need to beat Newcastle to maintain momentum.
Kenny Smith
98
Posted 27/01/2021 at 22:40:43
Totally outplayed tonight by a really good side. I'm more than happy with a point though. The back 4 were excellent again.
Davies and Gomes were exposed beyond belief. We still need some bite in there and Holgate should of been pushed forward to replace either of them.
Again there was no outlet and no one who could carry the ball. Richarlison looks out of sorts and if doesn't do it then we're constantly under the cosh.
As for Pickfird. Just when you think he's going in the right direction he makes 2 mistakes in 30 seconds and we've spunked points again.

Brendan McLaughlin
99
Posted 27/01/2021 at 22:40:51
Hi Jamielia #74
Unlike Pickford I wouldn't have let you slip through my hands tonight!
Will Mabon
100
Posted 27/01/2021 at 22:41:30
Tony H,
true - our lack of endeavour handed the initiative to them before we even put a passage of play together. Whilst it's been necessary to sort out our defence (and a good job done there), the rest of it is frequently looking classic Italian, reminds me of 70s AC Milan.
I fear we are seeing a "Style" of play being consolidated here that has attack and speed of forward movement as a secondary aspect, whatever the players and the injuries status.
Our next signing should maybe be a bank-breaker for the world's best 'keeper.
Alex Gray
101
Posted 27/01/2021 at 22:42:26
Also a bit of a thought but on current form should Iwobi be starting over Richarlison? He looks bang out of form lately.
Jay Harris
102
Posted 27/01/2021 at 22:42:35
Very disappointed not so much in only getting a point we hardly deserved but the manner in which we played until Leicester scored.
After that we were a match for them despite our weakened MF.
We havent got the mentality to go at teams like Leicester and we should have.
I thought Gomes was way off the pace but does have quality and Richy wasnt in the game until he was switched to the left.
Enough has already been said about Pickford.
I know DCL was feeding off scraps but he wasnt up to his usual standards either.
Jack Ledwidge
103
Posted 27/01/2021 at 22:43:53
Leon Osman on BT summed Pickford up perfectly. 3 mistakes by Pickford for their goal. Pickford is hyper and once the 1st mistake comes he over tries and makes another mistake. His concentration then is elsewhere and the ball slips through his fingers. He clearly has issues in his head despite being a good shot stopper. He needs time on the bench to find himself.
James Head
104
Posted 27/01/2021 at 22:44:17
Richarlison and Pickford hopefully dropped for the weekend game, shocking second half but we could've stolen all three points with the two chances at the end, there should be no more chances for Jordan "son of Davey Lawson" Pickford.
Graham Hammond
105
Posted 27/01/2021 at 22:44:40
The result was ok but another predictably poor performance in a big game from Everton. Hopefully, Pickford's latest mistake will finally help hasten his departure, as I said yesterday or the day before, I would have selected Olsen, just a pity that Carlo sees Jordan as the better keeper, right now I do not. Thought Tom Davies did ok in very difficult circumstances, kept working hard. Very disappointed in DCL, his work rate is poor, ambling about upfront and failing to bother closing down players very near to him throughout the game, failing to run into space and areas to show for the ball when clearly opportunities were few and far between, failing to drive into the box and use his pace and ever gamble when given the chance, just didn't look at all arsed throughout, bollocks to all that 'had to feed on scraps' shit, the game is what it is and you need to put a shift in and give it everything in games like this and leave it all out there, sadly DCL didn't. Disappointed Carlo left Iwobi out, in my opinion, we needed him in that midfield tonight a lot earlier if not from the very start, disappointed that Carlo left James on as long as he did, the guy looked like (late on) he was moving on two dead legs! Carlo needed to make changes earlier tonight than he did but he didn't do it so pretty disappointed. A nod again to Michael Keane, excellent again.
Oliver Molloy
106
Posted 27/01/2021 at 22:45:04
Firstly, given we are missing our two most powerful midfielders, Ancelotti picked a side to try and contain and play on the break, but we couldn't get it together enough.
If we just had been a little more positive we would have won this I think.
However, once again it was Calamity Pickford with his usual "at least one mistake per game" - that cost us three points.
The only thing that our manager can do about this, is drop him.
That will be him out for the next match and rightly so - fucking idiot.
Thank fuck we have Rodriquez !

Mike Connolly
107
Posted 27/01/2021 at 22:45:34
Carlo will be happy with this. I think he set out not to get beat. He knows Leicester are far more superior to us. Their players were quicker than ours and thank god Vardy was missing. The only positive I took from the game was our defence and I don't count Pickford in that. Leicester have showed us we are light years away from top 6. Dave 95 felt sorry for Davies playing along side Gomes. I felt sorry for the team having them two in it.
Will Mabon
108
Posted 27/01/2021 at 22:46:19
"
We havent got the mentality to go at teams like Leicester and we should have.
"
Exactly. One of the main problems, I believe. Negative mentality and tactics/preparation. Add this to the yet-again overt lesser fitness than almost all opponents we play.
John Atkins
109
Posted 27/01/2021 at 22:46:40
Well the interview Carlo just gave indicated to me he's certainly not happy with Pickford !!!!! Good now replace him for Saturday and hopefully the rest of the season
Geoff Hind
110
Posted 27/01/2021 at 22:46:49
Missing the two midfielders bought because there were issues so no surprise how we played. Not the end of the world, top 4 shortly.
Nice to see Isoniazid coming on for Holgate, last time he was treating tuberculosis in the 1980's.
Bobby Mallon
111
Posted 27/01/2021 at 22:47:01
Tony Hill, I agree
Paul A Smith
112
Posted 27/01/2021 at 22:48:11
Those tactics are hard to perfect without a top Keeper.
Ancelotti is fuming with him and rightly so. He's been a clown far too long here now.
Calvert-Lewin, as good as he holds the ball up and steps away from defenders, needs to do far more with his feet.
We still need top players. We want big games like tonight and Spurs in the cup so we need big quality to make the difference.
George Cumiskey
113
Posted 27/01/2021 at 22:51:37
Terrible tactics trying to hold out for over an hour after nicking a goal, fat Sam would of been proud of us !
Bobby Mallon
114
Posted 27/01/2021 at 22:52:03
I think Richy needs time up front or on the bench.
Mark Wilson
115
Posted 27/01/2021 at 22:52:40
I guess it's all about where you think we have reached as a squad right now ? Me, I think our squad that started out tonight was good enough tho beat a Leicester side missing there best player and one who loves to score against us. But strangely our mgt team who I am made up to see at the club disagreed. They really didn't think we could win and set out to hope all those decent centre backs could hold the deepest line ever, well almost, and we'd nick a goal.
In the event we got a beauty of a goal from a player on his way back to form who is going to be very dangerous in the second half of the season, but then started the second half in a crazy way that screamed out fir a change. What did we do ? Go even deeper, concede so much ground and yes it took a terrible, terrible, bit of goal keeping but when you stop playing beyond your 18 yard line you are going to concede one way or another or be absurdly lucky not too.
We should have stolen it at the end but it was typical of this game that we didn't. I just can't fathom why we have to use that team in that way ? Iwobi was sound when he arrived but too late. Ritchie worked so hard defensively but not too clever going forward and DCL looked so pissed off at the lack of service that I wasn't surprised to see him mis place that late chance.
Grateful for a point. Disappointed that we think we couldn't set up to try for the win. Leicester good but hardly Barca for pity's sake. Three points such a difference. Sigh.
Pekka Harvilahti
116
Posted 27/01/2021 at 22:55:14
This was a good result for us. Leicester were the better team but didn't have enough firepower. It was good for us that Ndidi was taken off, with him they would have dominated even more.
Defensively we were solid as Holgate-Kean-Mina-Godfrey is the safest in the league even if they can't build up much.
Funny that I anticipated the line up exactly before the game in the morning. Only difference was that Richie was playing right and James somewhere in the middle so our formation was between 4-5-1 and 4-4-1-1.
I don't know what we could have done differently, Foxes were dominant from the start of 2nd half as our CMF (Gomes, Davies) gould not counter.
So we ended up defending too deep and that increased the pressure until they scored.
Quite odd that they did not went for win but retreated and that let us of the hook. Maybe they were satisfied also.
At the end DCL had a great chance, you have to score from open chances or at least hit the target.
Richie is not really functioning, he should get a rest but there's no replace.
All in all, well done with these resources, hopefully there will be some new faces in the summer.
Jim Bennings
117
Posted 27/01/2021 at 22:55:27
The point will look better if we beat Newcastle and Leeds, we will look back and say that was a point well gained.
However it does annoy me a little that our game plan involves soaking up the pressure more often than not.
Don't get me wrong I think Ancelotti is immense, I love him and I want him here for the whole of his contract but little things like not making a sub when we might benefit, be proactive instead of reactive, just little things that's all.
I'd give Olsen the Newcastle game, infact I'd just give the fella a prolonged run in the side now if we are talking about signing him full time then let's do it, Pickford has had too many chances at the club, Liverpool didn't waste time bombing Mignolet did they?
Let's face Newcastle and be brave in that one, don't sit back and allow a shit team to get a foothold in the match.
David Hallwood
118
Posted 27/01/2021 at 22:55:53
Thomas Richards(#89) You do realise that those players call Tom Davies the general, still it wouldn't be an Everton game without someone slagging Tom, who I thought had a fine defensive performance.
Lester Yip
119
Posted 27/01/2021 at 22:58:26
A draw is not a bad result given Leceister is in form at the moment and we had Allan and Doucoure out. We have some very good chances to win the game too. e.g. DCL's header before being subbed.
We are not there yet to play a fast expansive game. Still a couple of players to be replaced. For now, defending well is key. Work a few more variants on attacking set-pieces and keep winning ugly. Then I'll see you all in Europe.next year.
Bobby Mallon
120
Posted 27/01/2021 at 22:58:34
we have also got 16 points from 21 not bad considering who we have played
Justin Doone
121
Posted 27/01/2021 at 22:59:37
Have to be happy with a point if not the performance.
We may have to do likewise against City but other than that we should be a little more aggressive and adventurous against the rest of the teams.
Ric has almost completed his conversion into a fullback. Does that mean we get a new winger?
If so, I think it will be the summer before we get any new players, which is a shame. But look forward to a couple of world class players.
Thomas Roberts
122
Posted 27/01/2021 at 23:02:06
Pre-match there were plenty of people complaining about our lack of credit given by the UK and USA media. Maybe that performance has answered those questions? We played like an underdog in the FA Cup would play against a side three or four divisions above them. This was Leicester City for christ's sake. A decent side but no world beaters and without their star striker. I cannot fathom our game plan at all although I've seen it at home against Man Utd and West Ham already this season. What happened to the free flowing football from last Sunday? Does Doucoure really make that much of a difference to our ambition as a team going forward? We had an opportunity to go 4th and gain ground on most of our rivals with other results going our way and only looked to attack from the 85th minute onwards. I shouldn't be surprised as I've seen Everton bottle games like this for over 50 years now.
One final word for our resident butterfingers in goal. I really don't want to see him in an Everton shirt again. Robin Olsen for the rest of the season for me.
Now Saturday really is a must win game.
Paul Birmingham
123
Posted 27/01/2021 at 23:02:20
Reflecting, as we do, but I think there's half, the season to contend, and Everton, need as much luck in terms of injuries as we can get, but I'm seeing that we can still grind out a slot in the European places, but there's the killer pass, and goal attempts ratios, that needs improving.
Saturday, Everton must get the win, at home, which has become elusive in the EPL, and get some goals to boost the goal average.
There's some tough games, but they are winnable.. if Sheff Utd can do, it so can Everton, but every game now is massive.
Ruthless and clinical and consistently be professional, is hard to achieve in football, but the Achilles heel, and every team has them, Everton, patch up pretty, well in outfield positions, but I do believe after tonight on merit, Olsen, deserves to start, against the Toon.
Andy Crooks
124
Posted 27/01/2021 at 23:03:52
Why is Pickford praised as being a "good shot stopper". Of course he is. Is there any goalkeeper who couldn't be described as such? It is surely the bare minimum requirement for earning a living as a goalkeeper.
In my view he is a morale sapping, confidence destroying,flapping, second rater who always has a game changing howler up his sleeve. Defending a one goal lead is tough enough without him in goal.
Goalkeepers have a certain amount of howlers that they can come back from. Hart and James used up their limit and became fun figures. Jordan has got there sooner than they did.
Tony Marsh
125
Posted 27/01/2021 at 23:04:10
I said on here 4 seasons ago Jordan Pickford wasn't good enough for tbis club/League. Too small. too eratic Pickford is a disaster waiting to happen. I was slammed on here for suggesting such a thing. How about now, guys? You still think Jordan is the answer?
I don't like the way Carlo operates; never wanted him at the club. About 2 years ago I was calling for us to go and get Brendan Rodgers when he was at Celtic. I got slaughtered on here because Rodgers is a Kopite. Didn't worry fans when we bought Sheedy, Ablett, Hutchinson, Beardsley did it?

This season due to no fans in stadiums the Top 4 is wide open. We will never get a better chance than right now to claim a spot at the top. Every time there is a chance to push on we blow it. Ancelloti's tactics and substitutions are a joke. Never mind leaving it too late to bring on the subs but the baffling decisions Carlo makes. Coleman on when we needed a winner WTF??

If we keep throwing points away at home it nullifies the away wins and we just keep treading water. Please Carlo FFS drop Jordan "Dai Davies" Pickford and maybe your Italian approach might work. Keep Pickford in goal we might as well pack in now.

Tony Williams
126
Posted 27/01/2021 at 23:05:11
Don't like the way we played tonight, ot must be the Italian in Ancelotti.
It's not doing anything for our goal difference.
Brian Wilkinson
127
Posted 27/01/2021 at 23:05:35
Wherever you are Laurie, you and I called it in regards to wanting Olsen given an extended run, before kick off tonight.
If we are to get anywhere, we cannot continue with Pickford walking straight back into the team, after a cup match.
Show some balls Carlo, bring a top class keeper in, or give Olsen more game time.
I agree we had a patched up midfield, I agree that we allowed Leicester to come at us, I will not accept Pickford deserves the number one spot.
Anyone think I am making Pickford a scapegoat will know I have been calling for Pickford to be taken out of the team for a while, too hyper and a mistake just around the corner at any given time.
A few games out of the team, might give Pickford a kick up the backside, but he certainly does not deserve to be our number one, too many mistakes in the guy.
Kieran Kinsella
128
Posted 27/01/2021 at 23:09:35
Problem for Carlo now is balance. The four CB offer defensive solidity but nothing going forward. Coleman and Digne supply ammo to DCL but with one of them playing behind James our defense is too pourous. If Allan and Docuore are fit we can get away easier with the more attacking approach.
Up top we've turned DCL into a fox in the box. That means he's no longer laying off balls and running into channels all of which helped Rich. Now Rich either needs to drastically improve his shooting or be less selfish in the final third and look for DCL instead of shooting all the time.
Kevin Dyer
129
Posted 27/01/2021 at 23:11:50
#44 Kevin not sure why you are picking on Davies at h/t. We were overrun early on and from what I was watching it was Gomes who was not pressing at all and marking empty space. He also lost the ball 3 times in the first 2 minutes. As the game slowed he improved. Davies was playing a role and in my view carried it out well.
Peter Mills
130
Posted 27/01/2021 at 23:12:08
It wasn't the most exciting game-plan, but it was nearly effective. It required every player to do their job very competently, they generally did so apart from the goalie. I very much doubt Carlo will want him as first choice keeper next season, although who will buy him for the fee we would expect, and the salary he is on, is open to question.
We had 3 great chances to steal it in the last few minutes, again, a more ruthless streak is needed. Gomes had a great opportunity.
Not the worst result ever. My wish before tonight was for 6 points from this game and Newcastle, my realistic hope was for 4, so we are on our way.
Steve Guy
131
Posted 27/01/2021 at 23:12:12
Tom Davies was excellent tonight and I find it it gobsmacking that he gets pilloried. He did his job and has been doing so for a number of games now. Get off his back people ! If you gamble like Ancellotti did tonight on a low LOW block you are relying on not making ANY mistakes. That's virtually impossible and Pickford could have done better BUT I think he was unlucky with the spin his punch created. Let's instead celebrate 4 points off one of the media darlings and another piece of sublime skill from a truly world class player I just wish I was able to watch him inside Goodison !
Kunal Desai
132
Posted 27/01/2021 at 23:13:56
The time has now come to give Olsen an extended run in the side. Give him half the season and let that fool rot on the bench and if he wants to act like a cry baby regarding his international career then he better look for a new club in the summer.
This fella is done at Everton, it's beyond a joke the number of gaffs he's made over the last few seasons. Time to get ruthless with this plonker.
Paul Birmingham
133
Posted 27/01/2021 at 23:14:08
Fine margins in every match, but for me the GK error, cost us the game as many over the last 3 seasons.
Maturity, mentality, and I look back on great keepers, Nev, Jennings, Clements,Shilton, and they got the basics right in most games, whereby Everton's team, at the moment,, it feels like are walking on broken eggs, in terms of Jordan's, tempo. Do they know what's going to happen next, in terms of his distribution?
His kicking in the first half was a liability as well.
How's the time to rest him, in my view and Southgate, will also make his own mind up, regards England.

Beat the Toon.
Rob Hooton
134
Posted 27/01/2021 at 23:14:47
A strange one; we weren't very good but were very good at it. We didn't deserve 3 points but should have won the game were it not for the Pickford double mistake (first needlessly conceding the corner, then...).
A point is pretty positive as Leicester were the better team by far, but I'm also pissed off we didn't get the 3 points that the defensive performance warranted
Bill Gall
135
Posted 27/01/2021 at 23:15:49
If Ancelotti is fuming at Pickford we will see what happens over the next couple of games.
Leicester had a far better midfield than we had and that is how they got on top. With injuries and suspensions Ancelotti has been forced to use players in different positions that they are not used too, but in saying that they performed well. The problems caused by using players in different positions is ahead of them, example was Digne who was wasted out on the wing, and James leaves the right sided defender on his own.
It was hard to see if Richarlison is the answer on the right hand side as he was poor today and it seemed we had no attack on the right.
We need Alan and Doucoure back to get a balance back into the team, and even as well as Godfrey is playing Digne is a better support to the attackers.
We are only about 6 points behind the 3rd placed team with 2 games in hand so we are on course for a top 6 and unless we can bring in more quality for the squad a top 4 may beyond us.
Jim Bennings
136
Posted 27/01/2021 at 23:16:16
Brian 127
Don't worry mate, I don't think anyone can criticise you for "scapegoating" Pickford, he's had too many high profile fuck ups over the last few years, I'm just going to be blunt, he's a poor goalkeeper end of.
At his age he should be improving month by month and year by year, but he's regressed since 2017 and he just doesn't get make me feel confident with him in goal, never truly has and never truly will.
If Olsen isn't up to number One then we have to move for a top class keeper in summer that finally does replace his gaff ridden fella Pickford now is.
Tony Hill
137
Posted 27/01/2021 at 23:18:09
I agree with those praising Davies. I think he's improving before our eyes.
John Raftery
138
Posted 27/01/2021 at 23:18:11
Andy (124) Correct. Pickford's form over the last three years should rule him out of a top seven Premier League team. Our defenders were very good and they would only be human if they feel badly let down by the man behind them.
In the circumstances I am happy with the draw. We badly missed Doucouré in midfield even though Davies and Gomes stuck to their tasks.
John Davies
139
Posted 27/01/2021 at 23:21:14
Andy Crooks #124. Harsh words that some would consider over the top. Not me, I'm 100% in agreement with you.
Enough is enough. Get him gone.
Danny O'Neill
140
Posted 27/01/2021 at 23:24:45
Well, I purposely won't read above to give my view.
My take, we rode a bit of a storm in the first 15 and then got involved in a very intriguing game of football between 2 very evenly matched sides. James showed a moment of quality; he really is something we haven't seen in a blue shirt for some time.
Second half was very disappointing. Credit to a very good Leicester team but we got overrun in midfield. My previous concerns of a Davies & Gomes partnership sitting too deep on top of the defence and too detached from the forward line came to fruition.
It wasn't about individual players (Davies, Gomes), more the tactics. I accept that many will focus on Pickford and yes it was a mistake, but lets be honest, we were inviting that goal long before we actually conceded. It was inevitable.
I think that in the context of the game, that was a good point against a very good team.
Jim Bennings
141
Posted 27/01/2021 at 23:25:08
We do need Allan back but I'm worried fitness wise he's morphing into Fabian Delph.
How many games has Allan played since he went off injured against West Ham in late September in that league cup match?
We never seem to have a fully fit squad that's just us, it's just something that by December we as fans fantasise about but it rarely happens.
Tony Twist
142
Posted 27/01/2021 at 23:26:35
If the second half plan was to just hold on for a 1-0 win or steal a second Ancelotti would have been better off bringing on Iwobi for Gomes and Olsen on for Pickford at half time. Pickford always has a mistake in him, not so significant if we were winning by more than one goal but Ancelotti surrendered that win.
Stan Schofield
143
Posted 27/01/2021 at 23:27:14
Very disappointing result against what is basically a workmanlike midtable team. Two points thrown away.
For those on here who habitually laud Leicester as a 'top team', this is based purely on their league title win in 15/16. Over the 6 seasons prior to the present one where they've been in the PL, their average finishing position is 8th, and average points 55. This compares with our averages over the same period of 10th and 51.
Given that the general consensus amongst Evertonians is that our average performance over that time has been mediocre/shite, then how anyone can laud Leicester is a mystery, unless they actually come from Leicester.
Under Ancelotti, we're better than Leicester, and have taken 4 points playing them this season. It should, and easily could, have been 6 points.
Rob Dolby
144
Posted 27/01/2021 at 23:27:55
A draw is a good result given how poor the starting midfield was. Surely Ancelotti / Brands must want to add quality to that midfield asap.
We just didn't use the ball well once we got possession. Rodriguez goal was fantastic, his quality is on a different level. We could have snatched it at the end with 3 great chances but didn't test the keeper.
Gomes was very poor, the game is just too quick got him. I don't think Doucouré will worry too much about starting on Saturday.
As 56 said above. Pickford made 3 mistakes that led to the goal. Olsen deserves a run in the team.
Newcastle game looks pretty important, if we want to stay in contention for a top 6 spot.
Jim Bennings
145
Posted 27/01/2021 at 23:38:35
As someone recently pointed out to me, you have Robin Olsen, a physical size Swedish international sitting on the bench, if he can't oust Pickford for a sustained run in the side then something must be wrong here right?
You've got the opportunity now Carlo to blood in a potentially new number one and save some pennies in summer, either way it's going to need rectifying before next season.
Trevor Peers
146
Posted 27/01/2021 at 23:38:52
Lucky to get a point, Carlo's defensive master plan backfired tonight and we we're glad to take a draw. We are seriously lacking in some areas of the pitch, never more so than up the front.
We've been crying out for extra strikers since Koeman was in charge and have never signed enough players worthy of even10 goals a season. Richarlison being the exception, but his form has crashed into the floor this season.
Having only two strikers available is going to cost us dear again DCL and Richarlison both look knackered at times and like they need a rest, but won't they be getting one, they're both automatically chosen for every game when fit.
With no other decent strikers at the club it's embarrassing, we need four good strikers to choose from and it needs sorting out now, or our dreams of finishing in top six are totally screwed.
Jerome Shields
147
Posted 27/01/2021 at 23:39:07
I thought the gameplan was the right ibe against Leicester and it would have worked if Pickford had have saved, that savable goal.
Everton will finish in the top six. They do not have the goalkeeper to finish in the top four
Southgate was at the gane. He will be glad that he is coming to the end of watching Pickfords Clangers.
Really got a sickner with Pickford. All the pundits without fail thought Pickford cost Everton the game.
Jerome Shields
148
Posted 27/01/2021 at 23:39:07
I thought the gameplan was the right ibe against Leicester and it would have worked if Pickford had have saved, that savable goal.
Everton will finish in the top six. They do not have the goalkeeper to finish in the top four
Southgate was at the gane. He will be glad that he is coming to the end of watching Pickfords Clangers.
Really got a sickner with Pickford. All the pundits without fail thought Pickford cost Everton the game.
Jerome Shields
149
Posted 27/01/2021 at 23:39:07
I thought the gameplan was the right ibe against Leicester and it would have worked if Pickford had have saved, that savable goal.
Everton will finish in the top six. They do not have the goalkeeper to finish in the top four
Southgate was at the gane. He will be glad that he is coming to the end of watching Pickfords Clangers.
Really got a sickner with Pickford. All the pundits without fail thought Pickford cost Everton the game.
Jerome Shields
150
Posted 27/01/2021 at 23:39:07
I thought the gameplan was the right ibe against Leicester and it would have worked if Pickford had have saved, that savable goal.
Everton will finish in the top six. They do not have the goalkeeper to finish in the top four
Southgate was at the gane. He will be glad that he is coming to the end of watching Pickfords Clangers.
Really got a sickner with Pickford. All the pundits without fail thought Pickford cost Everton the game.
Jerome Shields
151
Posted 27/01/2021 at 23:39:07
I thought the gameplan was the right ibe against Leicester and it would have worked if Pickford had have saved, that savable goal.
Everton will finish in the top six. They do not have the goalkeeper to finish in the top four
Southgate was at the gane. He will be glad that he is coming to the end of watching Pickfords Clangers.
Really got a sickner with Pickford. All the pundits without fail thought Pickford cost Everton the game.
Jerome Shields
152
Posted 27/01/2021 at 23:39:14
I thought the gameplan was the right ibe against Leicester and it would have worked if Pickford had have saved, that savable goal.
Everton will finish in the top six. They do not have the goalkeeper to finish in the top four
Southgate was at the gane. He will be glad that he is coming to the end of watching Pickfords Clangers.
Really got a sickner with Pickford. All the pundits without fail thought Pickford cost Everton the game.
Paul Birmingham
153
Posted 27/01/2021 at 23:40:03
Let's hope that there's some serious review and assessment for the ream in view of the Toon game.
Tonight was a massive 6 pointer, which Everton blew, but the Toon, is a must win..
No excuses and to become reliable and sold, bring in Olsen, for a Saturday.
There's no more room for weakness and spewing good opportunities. Fekkn goal of Everton's season, ruined by Jordan Pickfords, lack of composure and concentration.
This is the start of the restructure of the first team squad, if all considered Everton, want to compete, at the top, consistently?
Darren Hind
154
Posted 27/01/2021 at 23:41:39
I think we are witnessing a new level of sycophancy.
Tom Davies was among our better players tonight. His selection was one of the few things the manager got right.
Yet rather than call out the cowardly tactics we all witnessed tonight. we get moronic posts singling one of our youngest players as if HE cost us the game.
NOBODY has ever said Tom Davies is "top class". If he gets support its because he is far better than championship level so many poor judges say he is. Five manages have selected him to play premier league football.
Ancelotti is a frankie Howard. Pure and simple. Time and time again we have seen him try to spoil the game against inferior players.
He may win his personal duel with TGT (although thats far from certain) but that about all he will win.
We had a chance to put ourselves in the mix today. For me it was far and away our biggest game of the season.
Leicester without their talisman lost their brilliant midfielder early in the game. They were there for the taking.
Yet despite a sublime moment of brilliance which put us in the driving seat. Carlo, once again, showed no ambition to go forward. Hi team barely ventured into Leicester half.
I feel sick tonight, not just because we threw away two points, but because every Evertonian could see if we continued to try to soak up Leicester pressure we were going to concede. It was so blatantly obvious to all but Carlo..
1-1 at home against a team who are chasing the same prize as us. they step up and we replace a striker with a full back.
Apologise away for the managers cowardice, .but don't show your ignorance by posting shite about the academy boy in a desperate attempt to deflect from it
Stuart Sharp
155
Posted 27/01/2021 at 23:42:23
Can't quite believe I'm saying this, but I'd pick Iwobi over Richie just now. I think...
Danny Broderick
156
Posted 27/01/2021 at 23:46:01
I thought we could win tonight before the game. Having said that, when I saw the lineups, I realised how much stronger they would be in midfield than us. And that was it - the game was controlled by the team with the better midfield. If we had gone toe to toe with them, we'd have lost.
Special mention to Tom Davies who is doing a cracking job filling in for Allan. He is doing everything Allan does. Gomes is no Doucoure though. It's not his game, he simply hasn't got the legs for English football. How on earth Brands saw fit to spend £30 million on a player that slow is beyond me. He doesn't have the attributes for English football. With no Iwobi and Doucoure, we were never going to have the legs to have a good go at Leicester, our options other than those who started were Bernard, Sigi etc
Leicester played well because they had Ndidi/Mendy, Tielemans and Maddison pulling the strings, while Barnes and Albrighton were full of endeavour out wide. Barnes was a threat all night, and so was Maddison. Thankfully they had nothing up front without Vardy.
If we'd had Doucoure and maybe Allan fit, I'd have been disappointed if we hadn't won. In the circumstances, it's not a bad point. We simply cannot replace Doucoure's legs in midfield when he's not there...
Tony Hill
157
Posted 27/01/2021 at 23:49:31
Stuart, the non-selection of Iwobi, or at the very least his much earlier substitute appearance, was evidence of our defensive mindset. He did well again for the few minutes he was on. Richarlison is appalling at the moment and continues to roll about on the floor.
Mike Price
158
Posted 27/01/2021 at 23:51:48
Pickford is being picked to maintain some sort of sell on value but I think that was the final straw and I'd be surprised if that didn't cost his England place too. I've rarely disliked an Everton player more.
Rob Dolby
159
Posted 27/01/2021 at 23:53:29
This isn't meant as a criticism of Davies. He is a local lad of 22 years of age with 100 apearances for the blues but can anyone honestly say the he would get into any of the teams that are above us in the league?
If we are to improve Ancelotti and Brands need to bring in more quality to put pressure on the likes of Davis, Gomes, Sigurdsson and Iwobi.
January is looking like another wasted opportunity to improve the squad.
Danny O'Neill
160
Posted 27/01/2021 at 23:57:10
I haven't read above my own post Darren.
Are people slagging Tom? I think he played really well for the type of cover player we need for where we want to be and with the midfielders we have out. I personally would rather have had Doucoure and Allan in tonight than Davies and Gomes, but considering, they both done well. It just meant we sat deeper.
To your point, that may not necessarily have been the players, but I think players make a difference. But agree, the sitting back and trying to defend a 1 - 0 was dreadful. People can slag the midfield, defence and goalkeeper all they want, but if you sit back like that, you are inviting the inevitable.
But, we are still in a very good league position. League ends in May and we're still on target for were we hoped we could be.
Danny O'Neill
161
Posted 27/01/2021 at 00:01:12
Lets not take anything away from Leicester by the way. That is disrespectful. Forget the name and recent Premier League success, they are a good team right now. We have taken 4 points from them this season and they could have gone level with Man City on points at the top tonight with a win.
Jim Harrison
162
Posted 27/01/2021 at 00:01:14
Not seen the game yet as was in middle of the night here in Hong Kong. But read the reports.
By most accounts Pickford error cost 2 points. He has improved recently but remains a liability
A draw is a reasonable result against a form Leicester team. I don't see that it suddenly makes Carlo a terrible manager to not win. I think the body of his work this season counts more than one result. Still in the mix up the top and have games in hand.
Paul Birmingham
163
Posted 27/01/2021 at 00:01:31
Clearly we don't have standby midfields, but this point and as I said earlier, great guts and stuck in performance by Tom Davies,today, whom never shirks or ducks a challenge.
Hope eternal, but year on year, Everton are in a stronger position, but there's a long way to go, to getting fluid good attacking football, as a standard, and winning back to back EPL games, over 2 months( as a starting point)
Let's hope the last days of this transfer window can enhance Everton's funds, for improving this squad.
John Dooley
164
Posted 28/01/2021 at 00:20:31
I've gotta be honest if James never scored in that first half I would have switched off at half time because we was getting outplayed all over the park ! Holgate is simply not good enough and need to get rid of him, Gomes is exactly the same ! We looked proper scared tonight maybe it was the pressure maybe it was just the fact we have not the class midfield we thought we had. In my opinion and always has been is that DCL isn't good enough ( even though he never had the chances tonight ) the chances he gets he needs to bury, but like Girou ( Chelsea ) it seems they miss too big of chances. Pickford get him outta there he's lost his edge also ! Ritchie drop him he's not doing anything for us at all whatsoever! I'm absolutely lost for words why we was soo negative tonight, they was there for the taking especially when Iwobi came on running at them !
Ernie Baywood
165
Posted 28/01/2021 at 00:22:09
Personally I thought the biggest error of the night was leaving Gomes on when he was clearly done. Leicester's midfield had control, but as soon as Gomes stopped you knew we were in trouble.
Pickford's goal goes down as an error. Yes he would have only seen it late and it was in an awkward position on a wet night, but he should have saved it. He was also a big part of keeping us in the game early. He's still better than the vast majority of keepers in the league with his feet and he was important in the first half.
Thought Tom did a decent job. Not top class but he keeps on showing, tries to get us moving forward, puts everything in.
Richarlison and DCL are very off colour, but I think there are reasonable excuses there. On TV, we don't always see the work they are being asked to do in this system. Is it a big surprise if they don't have that burst of pace when needed?
All up, I couldn't be too critical of anyone. Our style of play was very clear and they played to that style. It nearly worked (again) against a good team.
Paul Birmingham
166
Posted 28/01/2021 at 00:26:31
Resources, in terms of players, and unlike City, Everton, don't have squad depth like they do, but tonight we didn't loose v Leicester.
Goal ratios, from the team lines, and the lack of, makes the next month, tough, but get in City's face, stop the space, and wack, them, then, all teams, have a chance.
Hearts and Minds.

Don Alexander
167
Posted 28/01/2021 at 00:26:48
Rob (#159), you make a great point, and it's not just about Davies. I think any team aspiring to reach Europe needs top quality players in every part of the field. Defensively I think we're there or thereabouts but in midfield and attack we're lacking.
Before CA arrived we squandered mega-bucks on players who've fallen well short of European qualification in midfield and attack. Having scored this many OG's we're still paying out for inadequate performance in these crucial areas, the players being on mega-contracts that other clubs surely ridicule.
Our dead-pool extends way beyond the likes of Bolasie, Besic, Tosun, Walcott and Delph if Europe is to be achieved.
We have a pragmatic/winner manager. We have a pragmatic/winner DoF. We've never had a pragmatic/winner owner/boardroom.
I wonder where the problem is?
Peter Warren
168
Posted 28/01/2021 at 00:28:04
First off, I'm not a fan of Tom Davies. However, I thought he had a very good game particularly second half. Gomes in front of him and as it happens Rodriguez (who I love) were both absolutely useless second half. Gomes was pretty dire in first half.
It was literally only Tom Davies in the middle having to defend and try and get on the ball. The only bad play I saw from him was that dreadful shot in the first half but overall a very good game by him.
The teams' performance was dire. However, effort and desire was there and I just think Ancelotti scared stiff that we will concede goals against the better footballing sides unless he sets us up that way with these players. I suspect he's right actually as much as I hate watching performances like tonight.
Phil Lewis
169
Posted 28/01/2021 at 00:28:27
I don't need to add to the Pickford debate, his performances speak for themselves.
Carlo's tactics were typically Italian. They almost worked. So although hardly adventurous, I would have applauded had they succeeded. Most of us have tired of entertaining football which ends in defeat.
I've always thought of Gomes as a class act, but but since his injury, flashes of his undoubted brilliance are clouded by prolonged periods of anonymity and serial offences of lost possession. Far too often he appears sluggish.
Surprisingly, we actually looked most threatening late on when the substitutions were made. Perhaps, had we been more adventurous a little earlier, the outcome may have been victorious.
Gbamin could be anything or nothing. Doucoure undoubtedly has an engine, whether he has the brain to match remains to be seen. So I believe another central midfielder as well as the obvious need for another quality striker, to be immediate priorities.
I nearly refrained from mentioning Pickford again, but sorry, I've nearly bitten through my lip! Stop this nonsensical rotation system Carlo and make Olsen our keeper. Full stop. (if you'll pardon the pun.)
Kase Chow
170
Posted 28/01/2021 at 00:29:29
How long do we have to suffer Pickford for?
He continuously undermines the efforts of everyone at the club
So tired of this clown
Paul Birmingham
171
Posted 28/01/2021 at 00:31:05
Well in Don, and Evertonians, and all views respected, will decide to cross the Rubicon, in terms of Everton and progression.
Kieran Kinsella
172
Posted 28/01/2021 at 00:45:54
If it's cowardly to back off, let your opponent take his pot shots because once you've sucked him in you can nail him, then I guess Mohamed Alli was a coward. However nerve jangling it might have been, bar a mistake from Pickford we'd have won
Paul Jones
173
Posted 28/01/2021 at 00:57:58
If the plan was to be disciplined, sit back, make no mistakes and play for a positive result then surely this was not the game for Pickford. If you are going to rotate goalkeepers then you do not need great hindsight to know that Olsen would probably be the best option.
Pickford is the option when you decide you want to move the ball forward quickly and have good distribution. Like Man United we had a bad/off night the consolation being we did not get beat.
Alan J Thompson
174
Posted 28/01/2021 at 01:30:40
Pickford could have done better for the goal but if you spend twenty minutes at the start of a half without trying to get out of your own penalty box then you get what you deserve, the inevitable.
Having said that when it forced us into coming out both Calvert-Lewin and Gomes had chances that really should have been put away.
A few weeks ago somebody asked how good James would be if he also used his right foot as opposed to those trying to overlap but found themselves on the wrong foot, well that was it.

Dano Holcomb
175
Posted 28/01/2021 at 01:38:07
That was difficult to watch. I wonder why we waited so long to bring Iwobi on. Very surprised we didn't start or switch to a 4-4-2. DCL was miles away. Richarlison seemed lost and should have come off - maybe even at halftime. This was a chance missed and we are lucky to have gotten a point out of it.
Gavin Johnson
176
Posted 28/01/2021 at 01:38:40
I'd have taken the point beforehand cos I thought they'd outrun us in midfield with Doucoure and Allan missing and while they did that, we largely nullified them and they didn't look like scoring. The Italian mindset of getting a goal and sitting back and defending looked like it would work so Pickford's howler makes this feel a little like a defeat now.
Olsen has to play on Saturday. He's made no mistakes and he'd be my number 1 until the summer. Offload Pickford and make Olsen's deal permanent and get Rui Silva on a free who's been one of the top keepers in La Liga over the last couple of seasons
Ian Jones
177
Posted 28/01/2021 at 02:00:38
Hi Alan J.
You mention that 'a few weeks ago somebody asked how good James would be if he also used his right foot etc'
No idea who that was. Was it me? 😀
Today's strike was a good one. No argument
I still maintain he could use it more. I do also apply this lack of two footedness to loads of other players and it frustrates me...I was brought up to use both feet. However, neither were good enough to play at anything more than school and pub football so maybe making sure one of them is perfect and as I think you said before, just use the other one to stand on is the way forward. 😀
Alan J Thompson
178
Posted 28/01/2021 at 02:07:51
No, Ian, it wasn't you and it hardly matters but top line players do have a way to amaze and usually when you think you have seen it all.
Nicholas Ryan
179
Posted 28/01/2021 at 02:42:16
People are saying we had the wrong tactics, yet without the moment of madness from Sponge Bob Square Hands, those tactics would have got us 3 points!
I've worked out why Tom Davies makes me angry and frustrated; it's not that he's hopeless, it's that he's ALMOST very good, but somehow just manages to spoil all the good work with a couple of mistakes.
Would we have taken a 1-1 before kick-off? I think if we are honest with ourselves, most of us would have to say: Yes. And remember, Man U lost; Villa lost and Chelsea drew... it could have been a lot worse.
It's halfway through the season and we're a lot nearer the top than the bottom... that'll do for me!
Laurie Hartley
180
Posted 28/01/2021 at 02:54:19
Alex # 86 -
Take Doucoure and Allan out of the side and we have a midfield that cant attack, run or defend
. That leaves Carlo with the same options in midfield as last season and exactly why he bought them.
That will be the end of Pickford - if it's not he will end up costing us more than we paid for him.
On Richarlison - I think the lad is a top player and he never stops trying. I also think that it is a terrible shame that he is not played in his best position which is on the left of DCL. Don't agree with Carlo on that one.
In truth Leicester were miles better than us but we are very solid at the back with one notable exception and we are very dangerous when we do get in the oppositions box. In the end we could have stolen it had, Richarlison, DCL, or Gomes taken one of those three chances.
Still plenty to look forward to - we would have crumbled and lost that game in the past - there is more character in the team these days.

Si Cooper
181
Posted 28/01/2021 at 02:58:05
Stephen Brown (92), totally agree with that assessment and it's been obvious on many previous occasions. Goalies need to be able to shrug off a poor decision in an instant to be totally focussed on the now, and unfortunately JP obviously can't improve himself in that regard.
He has great reactions and agility (which I'd guess is what a great shot stopper needs most of all) but that is greatly undermined if your positioning or decisiveness is severely compromised because you are mentally still chewing on what went wrong 10 seconds before. A few yards further forwards and more on his toes, then his reactions allow him to get to the ball and the deflection pushes it round the post instead of inside it.
Do those criticising the compacted set up really think Leicester couldn't have profited from our defensive midfielders becoming isolated in a more gung ho approach?
Gerry Morrison
182
Posted 28/01/2021 at 03:04:45
A decent draw against one of the country's top teams, with the bonus of a sublime goal from James Rodriguez. (When was the last time we saw someone like him in an Everton shirt?) Take the hard-earned point and get back to winning ways at the weekend.

Dick Fearon
183
Posted 28/01/2021 at 03:36:59
Before laying into particular players I would like to see statistics that show. who got the most tackles in, most goal attempts etc.
On the other hand Carlo's input was a totally negative. He reacted no differently to all the negative managers we have suffered under.
For most of the game we played with 10 defenders. Those headlines that said Leicester rescued a point are way off mark. They were the better team in every department.

Annika Herbert
185
Posted 28/01/2021 at 04:12:13
I have to agree with many of the comments in this thread, we are in need of a new goalkeeper. Pickford just makes far too many errors that cost us crucial points. But I don't believe Olsen is the answer either. A third choice keeper in Italy doesn't fill me with any confidence.
I also thought Davies had a good, solid game, ridiculous comment by Kevin @ 44.
Overall I was quite pleased with the draw if not too happy with the performance. But Leicester certainly weren't better in every department. At least not in defence, we were very solid at the back, as usual
Darren Hind
186
Posted 28/01/2021 at 05:19:01
I've heard it all now.
So we used Mohamed Ali Tactics and stood toe to toe with Leicester. Inviting them to their best shots ??? You really do have to wonder what people are actually watching.
Ali was a warrior. what I saw tonight was total cowardly spoiling tactics. A team taking an eternity to take free kicks and throw ins in order to break up play. A team who took up the fetal position in order to avoid a beating, A team which simply refused to come out and fight
Mohamed Ali ?????.
Try Joe Bugner
Laurie Hartley
187
Posted 28/01/2021 at 06:45:17
Derek Knox
188
Posted 28/01/2021 at 07:04:39
Having had time to reflect and watch the 'highlights' again I feel better equipped to make an assessment as I saw things. Pickford should change his name to Pitman, yet again, it was shorthand that let us down. He is somewhat enigmatic in that he pulls off a Worldie save from a ball that is going wide anyway, but fails when it comes to a 'bread and butter' save, that most keepers would be expected to save almost blindfolded.
The defence I thought in the main were again doing all that was asked from them, and my admiration for Ben Godfrey continues to grow every match. I feel the 'engine room' was definitely our Achilles Heel with Goldilocks and the Portuguese Powderpuff left to orchestrate play in the middle, although Gomes did improve a tad in the second half.
Not sure what has happened to Richie he is certainly not the player we are used to seeing, and his frustration with himself is clear to see. Any chain is only as good as it's component parts, and one weak link is bad enough, but two? Digne was a bit disappointing considering he was relieved of the defensive part of his normal role. DCL was pretty much starved of any service so can't be criticised too much.
Hopefully next match, which looks on the Barcodes' form to be a formality but nevertheless no match should be taken as a given. Look at Sheffield United at Manure last night. The midfield needs to be bolstered and hopefully the 'Duke' will be straight back in. The expectancy of a Gbamin return looks tantamount to Horatio Nelson's eye turning up.
I hope we have some sort of a mini foray into the Transfer Market as regards incomings, as although we have numbers, or quantity, we are desperately short on quality, as has been exemplified with a couple of enforced absences last night. It is expected that a few will go, in addition to those who have already been loaned out. Even if it is just one in, it should freshen things up, which on last night's showing is definitely needed.
Brian Murray
189
Posted 28/01/2021 at 07:22:45
When Carlo goes for his walk on Crosby beach and sees them iron figures ( another place ) I hope he thinks of Pickford and stops being mr nice guy and realises he is still too static even after seeing his sports shrink. Time to let go mate.
Paul Swan
190
Posted 28/01/2021 at 07:27:58
Cowardly tactics but probably should have worked if it wasn't for the missing link in goal. Pickford is the worst keeper in the league by a country mile. Another Joe Hart minus the 'Head and Shoulders' advert but he probably didn't get that gig as he couldn't reach the top of his own head to get a lather up.
Brian Murray
191
Posted 28/01/2021 at 07:33:22
Paul. Don't feel like smiling for the rest of the week but good one 😃
Danny O'Neill
193
Posted 28/01/2021 at 07:50:06
It's Everton Derek. Nothing is a formality!!
Yes, forgot to mention Richie. Guilty of a lot of silly fouls stuck out for me last night. His sulking can usually being explained as giving a shit, some players are like that. Recently it is starting to look as cutting a frustrated figure.
Terence Leong
194
Posted 28/01/2021 at 07:52:33
Only managed to catch the 2 mins highlight. Yea, Pickford could have done better to stop the equalizer. This could be the final straw before Ancelotti settles on Olsen (if the loan is turned into a full transfer, that can be the definitive signal).
Brilliant and sublime goal by James Rodriguez.
We gotta enjoy him while it lasts, as we really don't know how long he will stay with the team; it won't be an 'age' thing, because from the way he plays, age is not going slow him down (how much slower can he really play, haha) or take away anything else from his game.
Hopefully, we can build around him and win something real soon.
It's a pity that we couldn't capitalize on the slip-up by Man Utd. But we're still in it. 4 points for this week, would be decent, all things considered.
Nicholas Howard
195
Posted 28/01/2021 at 07:53:34
Some comments here simply ignoring how good form Leicester is in at the moment. We are without midfield anchor Allan & Doucorou, Davies had done what he was asked to do by his manager. Yes, Pickford should have saved the goal...same goes to DCL, Richie and Gomes on the few goal scoring chances we got late in the game.
Look, we are at least 10 pts better than last season, with almost same squad except james,(Duke & Allan...who didnt play.) We are less than 2 transfer windows(I don't consider overpriced January desperado window)...Give this team more time...we have good solid young defensive lads coming up...few more recruitments to midfield and attacks...we might get back to our glorious 80s. yeah...I would like to dream on that. COYB
David Cash
196
Posted 28/01/2021 at 07:55:15
Darren
Why not just post "we lacked adventure" it would cover just about everything you have said after every game we haven't won

We get it and contrary to your belief, most agree with you. We are not all delighted with the cautious approach. However, unlike you, most of us are prepared to be patient and give Carlo time to instill a bit of structure, before progressing to a more expansive game.
Carlo has years of poor management to unravel. The patient was very sick and the medicine isn't very pleasant.

You're just going to have to Pinch your nose and swallow.
Danny Baily
197
Posted 28/01/2021 at 07:57:55
Not too disappointed with the result, given how many chances Leicester had.
We really should set up to at least carry a threat on the counter when we're defending deep though. Listening to it last night we barely laid a glove on them in the second half before the equaliser.
Here's hoping for a nice routine win at the weekend.
Frank Sheppard
198
Posted 28/01/2021 at 07:58:59
Leicester are indeed a very good team, but why did we make it SO easy for them in the second half? We offered nothing until after they scored their equaliser. They didn't have to play very well, as we had nil attacking intent. DCL wasn't even getting scraps, and with 5 defenders on the pitch, all of Richy's meaningful contributions were as a defender, or falling over.The game was there to win, but our players wasted the opportunity. Disappointing.
Robert Tressell
199
Posted 28/01/2021 at 07:59:55
Well put David @196. Unfortunately fortune doesn't always favour the brave.
Hugh Jenkins
200
Posted 28/01/2021 at 08:01:36
Darren (186) We would all like to see fast, flowing, one-touch, football and given the squad and playing personnel capable of performing like that, I am sure we will eventually see it.
What we don't need at the moment, with the squad we do have, is, General Custer in charge of the tactics.
Duncan McDine
201
Posted 28/01/2021 at 08:15:26
Some people haven't been paying attention this season have they? We were a much more attacking setup (that scored and leaked goals for fun) until Carlo stumbled upon the back 4 currently used which has largely been a very solid and successful base. This would have be another ugly 3 points had it not been for Crusty the Clown in goal. That's the only criticism I have about Carlo and his decision making - Olsen should be first choice. The football will get less ugly when we have the right set of players, but for now I want points.
Thomas Richards
202
Posted 28/01/2021 at 08:24:56
Not good to watch at times, but as mentioned above points are more important for now.
The style and flair can follow on when the squad evolves into Carlos own.
Until then I am happy with the progress.
Mark Murphy
203
Posted 28/01/2021 at 08:26:47
Still disappointed we didn't hang on but Leicester were good and are due some respect.
Several things puzzle me in the aftermath.
1. For someone who doesn't chase back or do the defensive stuff, James does get knackered after 65 mins. Is he ill? Does he have underlying health issues like Asthma or something?
2. WTF has happened to Richy?? Walcott could have played half as bad last night and made more difference. He was shocking.
3. Given the above why isn't Richy being called out like Gomes and a Davies are? (I thought both had decent games btw - not great by any stretch but certainly not deserving the stick they were given on the live forum.
4. Wtf do we persist with playing it out from the back when 90% of the time it just ends up being rolled back to the keeper (hopefully Olsen in future btw)
We could've won - we didn't and I'm disappointed and as many on here thought we went too negative - but in the end that's the way it goes sometimes on the night. The league leaders lost at home to the bottom club last night - its football.
But I remain optimistic. Allan back will be a massive boost and I personally think he would've made the difference last night between a draw and a win.
Ernie Baywood
204
Posted 28/01/2021 at 08:47:18
I wouldn't change Pickford, personally. We continue to be more effective when we sit deep and allow teams to have possession, and and exploit the space in their half.
That's Jordan's game. Cycle the ball quickly and be an extra pair of ball playing feet in defence. I've seen nothing to indicate Olsen can do that - in fact I've seen plenty to indicate that he can't.
In the first half Pickford did it extremely well. In the second half we went genuinely defensive - and it's nowhere near as good.
He made a mistake. Came through a crowd, saw it late, wet pitch... all reasonable excuses but he'll be more disappointed than anyone and knows he should have saved it.
We just faced one of the in form teams in the league. They had plenty of the ball. And most on here are arguing that we should have won. Does that not suggest that the tactics and selection were actually pretty good?
Or shall we sit here blaming Pickford's error, DCL's miss, or that time we didn't like that thing that Davies did... like they were their only contributions to a decent team performance.
Derek Thomas
205
Posted 28/01/2021 at 08:52:18
Darren @ 186; Ali Vs Foreman was 'rope a dope'. This is not 'standing toe to toe'
It's about letting the opposition use up their stamina, trying to land massive blow after massive blow on ' The Roper' who leans back on the ropes...which may or may not have slackened a bit...to allow the supposed 'None Dope / Roper' to lean on the ropes and sway back out of the way of 'The Rope-ees' blows.
This is only effective if you apply the K.O. punch at the end to actually Win.
We applied ours...rather fortuitously, if brilliantly - too early.
What we did was sit back like Dopes...by accident or design.
This 'design' bit being the key question
Was it?
A) An ingrained Italian defensive mindset.
B) Poor on field performances, plus a 1 man Rodriguez Mid Field.
C) Lack of decent options on the bench
D) Rotation for up coming games.
E) Lack of another forward to cover Richarlson or DCL
D) All the above in some percentage or other.
Net result - 2 pts lost and, even allowing for an Arkwright-esque musing along the lines of..."Lord, its been a fer-funny old league, I mean look at Sher-Sheffield united" as he carries our top 4 aspirations back into the shop...probably for the rest of the season.
Ger-Granville, fetch yer cloth!
Scott Robinson
206
Posted 28/01/2021 at 08:53:43
One of the BT commentators noted that would that display be acceptable in front of a packed Goodison park? I hope not.
For a team of so much alleged talent, it felt that we were a bottom 3 team who had parked the bus struggling to hold on to the precious 1 goal lead.
As a fan, it was infuriating to watch. But I guess football is a results business now... As Jose says on his gambling ads.
Gerry Ring
207
Posted 28/01/2021 at 08:54:44
I can understand the criticism of Richarlison,however, it's pretty clear that his instructions were to defend & cover the right back position. He made a significant number of clearances & interceptions in that department. While he is very energetic, this game plan has to take its toll. Thought Davies did well but we needed more urgency in the midfield area. As for Pickford, very basic goalkeeper error. The bench calleth!
Eddie Dunn
208
Posted 28/01/2021 at 09:01:51
The goal apart it was a truly dreadful performance in which we were overrun in midfield. The defence stoutly rebuffed so many attacks but we ceded territory and became prisoners in our own half.
Ancelotti seems to take a very pragmatic approach. He thinks he is playing in Italy back in the 90's. This team cannot shut the game down without a combative midfield. We could quite easily have lost by 3 or 4 goals.
The deep lying line at set pieces (that the commentators couldn't get their heads round) eventually led to our undoing..Pickford seeing it so late.
Leicester are a good side and will probably get top four. They are brilliant at sitting deep and hitting on the break and we showed we can do the same when we won at the King Power. However, they can play without Vardy, and control a game. Their midfield is light years better than ours and if Doucoure had played, it wouldn't have made much difference.
Richarlison is under- performing and should be sat on the bench. At present Digne can play left wing and Iwobi right.
As for Pickford, as galling as the error was, he had made plenty of good stops to keep us in it and he saw the shot late through a crowd of legs and let's not forget the conditions, with driving rain and a slippery ball.

Ian Edwards
209
Posted 28/01/2021 at 09:03:06
They were without Vardy. We won at Leicester so why were we so scared of them. Moyes got stick for those tactics away at big clubs. To do it at home to Leicester is completely unacceptable.
If we have reached the position of being frightened of Leicester then we may as well shut the club down. It's over.
Tony Abrahams
210
Posted 28/01/2021 at 09:08:11
Under a lot of pressure we needed legs, and the changes came to late. A great point though, the defenders defended for their lives, but these players are not there to attack, and with Richarlison struggling, and Digne, just having to dig in, there really was no outlet, and I'd also argue that Everton only got back in the game because Ancellotti made a couple of subs and switched a couple of positions, in a game where Everton probably had the better chances to win?
More conundrums, stick with that back four and he's going to need more direct pace out wide, or change his fullbacks, and begin to expose Keane and Mina, who both played very well last night, and showed the desire that's needed, by putting their bodies on the line, to protect the calamitous Pickford.
Thomas Richards
211
Posted 28/01/2021 at 09:08:28
"I've seen George Foreman shadow boxing and the shadow won."
Christine Foster
212
Posted 28/01/2021 at 09:14:32
Watched it this morning, read all the posts above and then went back and watched it again.. pretty painful experience but a number of points which I feel need making.
1. I think James was brilliant last night and his work rate excellent, he did more chasing and tackling in that match than he has all season. His goal was just sheer brilliance.
2. Richarlison cannot go past a donkey at the moment, his work rate again defensively was good( but still gave away fouls in bad areas) but going forward he is struggling
3. DCL was poor. The chance he had at the last was to die for and he should have buried it. He didn't and we settled for one point instead of three.
4. I actually thought Gomes had a pretty strong game, but still lacks sharp feet and for me is giving too many fouls away. He is not making enough of an impact going forward not a stopper..
5. Tom Davies, for me he is a headless chuck. When compared to the Leicester midfield, they had the complete run of it in the middle of the park, so I cannot see why anyone says that Davies / Gomes combination played well. Simply put, they didn't. We were out classed in the middle.
6. Tactics. I can understand the defensive gameplan, but we didn't have the guile to suck them in and hit them on the break, too often slow and way too deep with no threat. On one hand I can understand that effectively we had a pre Ancelotti team out there and they where crap then and they still are but you have to attack to win games and we are not doing enough of that, probably Ancelotti is pragmatic to understand he is not interested in playing expansive football with key players out, knowing full well how poor we can be. But the balance is badly askew, with absences and key players out of form. I think this one is Ancelottis error, we dropped off, let them have the field and chickened out..
7. Siggy... I just cannot see a future for him at the club. He is a good footballer but his fit for this team is questionable, I understand we are limited on the bench but despite the occasional flare of quality his impact on a game is too often marginal.
8. Digne, I think he has been sacrificed on the altar of too many center halves on the pitch, his contribution is very good going forward and we need him getting that ball into DCL, but Coleman is struggling on the other side and I think Ancelotti knows this, so an unbalanced team shoehorning a fullback into an attacking position.
Lastly, Pickford.. in fairness he did see it late, got a hand to it and tried to turn it around the post, but it wasn't a great strike of power and he should have dealt with it. We would have won ugly had it not gone in, but in life you eventually have no place to hide if mistakes and unfortunate occurrences keep happening.. He is not a bad keeper, but his consistency has been his downfall and I think he is heading for the door.. not sure Olsen is good enough either but for the sake of the team its time for a change.
I look forward to seeing a stronger pairing in midfield, playing the way we did at the start of the season. Ancelotti has to change things around and put mmore emphasis on control of the middle of the park and building forward play. Too often we are playing balls back or sideways...someone has to take responsibility.
Bill Fairfield
213
Posted 28/01/2021 at 09:15:27
Carlo doesn't seem too concerned about the goalkeeper position judging by his comments about Pickford,so on we go.
Andrew Clare
214
Posted 28/01/2021 at 09:26:23
Carlo knows that with the personnel available he will have to set the team up to grind out results on occasion, it's not what I want to see but hopefully it will get us in a position to sign better players.
This game was always going to be tough with two players of the calibre of Allan and Doucoure missing but I think apart from the goalkeeper the defence were superb and Yerry Mina in particular is looking like a great signing.
Joe McMahon
215
Posted 28/01/2021 at 09:29:27
Christine, Leicester are a very good side with a good manager and play like we would love to. I'm not a happy clapper, but 4 additions in he summer would improve us. For example I'm not singling Tom Davies out, but he wouldn't make the Leicester team, nor would Pickford, Gomes or Sigurdsson.
Martin Mason
216
Posted 28/01/2021 at 09:33:43
A very good point against an exceptional Leicester team and without two of our best midfield players? I'll take that anytime and that is how success will be achieved. I thought the all out defensive tactics in the 2nd half were dodgy but I trust the coaching staff. I thought both Davies and Gomes played well and that their goal wasn't a howler from Pickford, far too simplistic. It came quite hard and low through a crowd of players and he did the hard work seeing it and getting down, having done that though he could have done better in keeping it out. Not a howler in any way as Carlo correctly states but disappointing as it cost us the win. There doesn't have to be blame when the opposition scores.
Trevor Peers
217
Posted 28/01/2021 at 09:34:01
Having a good selection of forwards can cover up a multitude of sins, just look across the park for confirmation.
Lots of people are noticing that Richarlison and DCL are looking jaded but we just don't have anyone good enough to challenge them for Thier places. We need to sign at least one striker in this window or we will continue to struggle in these big games.
Ian Edwards
218
Posted 28/01/2021 at 09:40:15
Seems very clear from the comments above that our fans expectations have fallen through the floor. Plucky little Everton can't compete at home with Leicester. Shameful. Utterly shameful.
No wonder we never win a derby.
Mark Murphy
219
Posted 28/01/2021 at 09:55:43
Off topic but as I'm watching motd from last night.
How good is that Jack Grealish???
Barry Rathbone
220
Posted 28/01/2021 at 09:55:50
Riding our luck with this style of play just a matter of time before it runs out and we start getting tonked.
Also extremely concerned Carlo has a blind spot regarding Pickford picking him when every man and his dog can see he is (and always will be) an accident waiting to happen.
He must be terrific fun in the changing room and at Finch Farm or he sends flowers and chocs to Carlo's wife. It certainly isn't because he's a top keeper
Bobby Mallon
221
Posted 28/01/2021 at 09:57:51
Dan 175 NOO they where gifted a goal by Pickford and its been mentioned they didn't trouble us until he messed up. Our problem is Richarlson he seems out of sorts and cannot drive forward with skill and take people on. Harvey Barnes showed him all night how it's done and he's a full back
Dave Abrahams
222
Posted 28/01/2021 at 10:01:22
Although the defenders played well, mostly, that wasn't organised defending, just packing the defence with a dodgy goalkeeper and nine men packing a very large bus, leaving DCL fighting a losing battle up front, hardly any attempt to try and go forward, we all know Carlo has been left a very poor squad and an even poorer midfield was weakened by the loss of Allan and Doucoure.but those tactics didn't nothing to enhance or support the notion that Ancelotti has been a great manager, it was pathetic to watch, I want a much better performance than that even though some performed manfully others struggled and started the way they finished, even though they should have well been substituted to take them out of their misery and to save us from having to witness such ineptness.
Winning 5 or 6 nil on Saturday won't erase that sorry performance.
Mark Murphy
223
Posted 28/01/2021 at 10:03:12
Leicester would have gone joint top last night with a win.
They're unbeaten in six.
He last team to beat them were Everton.
They are a decent team and couldn't beat us last night despite having the midfield to themselves.
It's not the end of the world.
We will win at Anfield.
Bobby Mallon
224
Posted 28/01/2021 at 10:07:17
Ian Edwards 218. I have never seen anyone on here slag the manager off and team the way you do. I get you have seen titles being won so have I and most on here will have also, but the last was over 30 yrs ago and the game has changed from then. I will ask you once again who would you have as manager and how would you have set up last night to beat Leicester. You are constantly moaning about Ancelotti none stop in fact not a single good word. so who would you have. If it's Brendan Rogers what would your reaction be to his tactics last night seeing as his team could not beat ( your words plucky little Everton)
Robert Tressell
225
Posted 28/01/2021 at 10:17:16
Mark @219. Jack Grealish has matured into a magnificent player. If we can find someone of that ilk for our midfield then we'll really be going places.
Geoff Lambert
226
Posted 28/01/2021 at 10:21:14
Bobby! Banging your head against a brick wall mate.
George McKane
227
Posted 28/01/2021 at 10:23:19
Ian - - I personally accept your right to call anyone names - - moan and complain as much as you wish - - I fully agree that you can say and do what you like especially regarding "football comments" - - which are not going to have any effect on The Manager/Players or The Club - - but your continued whelping and negativity of the Live Forum is in my opinion pretty woeful ( you do have a few similar and regular compatriots) - - it is I much easier to be critical than to be creative - - and my goodness your constant moaning - - I have never read anything positive from you - - a few weeks ago Ancelotti got his tactics right against Wolves and he was mentioned for a Knighthood - - last night he (possibly) got his tactics wrong and some want him sacked - - I personally would not waste my energy, time or spirit on something that I didn't like - - it just creates a negative Karma in your physche - - take it easy man - - keep cool - - and take a bit of time for meditation and float on some cosmic grooves. All the best to you.
Danny Broderick
228
Posted 28/01/2021 at 10:27:09
You can't make an omelette without eggs. We simply didn't have the legs in midfield to go toe to toe with them last night. The manager identified this in the summer, that's why he brought in Allan and Doucoure. But both were missing last night, so it was back to last season's midfield options. Tom Davies is playing well, doing a good, solid job in front of the back 4. But who could have played with him? Whatever the options (Sigi, Gomes, Bernard), they are all too lightweight. We also missed Iwobi's industry on the right.
With Allan and Doucoure back, and with Iwobi playing well on the right, Rodriguez number 10 and Richarlison on the left, we can match most teams. With 3 of those 5 missing last night, we obviously couldn't.
Dave O\'Connell
229
Posted 28/01/2021 at 10:32:25
Sick of Pickford how many points has he cost us now give Olsen proper run in team also we need another striker why not go for Diego Costa
Ian Edwards
230
Posted 28/01/2021 at 10:34:41
Bobby Mallon 224.
One of the reasons that fans were turned off Moyes was his negative tactics. "Knife to a gunfight". Most fans didn't want him back. I was one of them. I wanted Moyes out after about 5 years before he actually left.
I expect Everton to attack and try to win every game we play in. That is a red line for me. I will never accept parking the bus tactics particularly at home. I will call it out every time it happens and make no apologies for doing so.
Leicester were without Vardy. Take Maddison and Barnes out and they are nothing special. We have players that could have attacked them and caused them problems.
Taking off our lone forward with 5 mins to play and replacing him with a full back was an outrage. Totally unacceptable.
People say it's the Italian way. It's not the Everton way. These are the worst tactics I've seen at Goodison and I go back to the mid 70s.
When the fans are allowed back the Club will be charging circa £45 to watch that. If it was played in my back garden I'd draw the curtains.
As for who I would prefer as Manager... I don't know. Someone that plays attacking attractive football. Not an old Italian dinosaur who has a huge yellow stripe down his back and has been sacked from his last 3 jobs.
Dick Fearon
231
Posted 28/01/2021 at 10:36:41
It was one way traffic toward our goal with last minute blocks by defenders and brilliant shot stops by Pickford keeping us from a hiding. Excuse after excuse have been and still are made in defence of over paid managers and still it goes on.
It would not happen across the park in their success based environment where already I can hear anti Klopp banners being being unfurled.
Brian Harrison
232
Posted 28/01/2021 at 10:45:32
Carlo obviously decided that without Doucoure or Allan in midfield then our only option was to sit tight and hit them on the break. And it almost worked apart from yet another mistake by Pickford, and again keeping his record as the keeper beaten most from outside of the box. But I question whether we needed to be so defensive, and I am sure that had we been allowed inside the ground last night many fans would have let both Carlo and the players know that this type of performance is not acceptable.
But I do think that as well as Pickford we have other problems to solve and our front 2 have been pretty poor for weeks, and were again woeful last night. For whatever reason Richarlisons form has dropped off dramatically over the last 7/8 weeks. I don't know if its just a blip thats lasting a bit to long or is there some other reason? Then we have DCL who has improved massively over the last 12 months, and while he is very effective on crosses into the box, yet outside the box he has little impact on the game. I know he is still young and still learning, but I have never seen him turn a defender or very rarely does he beat a man, so he is very reliant on others to create his goals. I don't think as yet he has scored from outside the box.
So therein lies a massive problem for Carlo, as at present the front 2 aren't good enough to get us into a Champions league spot.
I also question whether we can continue to use Holgate as a right back, last night Barnes went past him with ease and when he got on the ball he either passed it back to Mina or Pickford. Surely the long term plan would be better suited to Godfrey being converted to right back as Seamus cant go on forever. The good thing is our back 4 bye and large has been our strength this year with both Mina and Keane being as good a pairing as there is in the Premier league, I didnt think I would write that 18 months ago.
So Doucoure will be back for the Newcastle game and I would imagine Iwobi will start, and obviously we cant adopt those tactics we used last night. We need to be aggresive from the start and play on the front foot.
The big plus from last night was obviously James, who not only scored a wonderful goal, but he ran and tackled more than any game he has previously. I think the fitter he gets the more he gets used to the Premier league the better he will get. He reminds me a little of David Silva although small never gets hustled off the ball by bigger opponents, very rarely loses possession and you know when he passes a ball 99% of the time it will reach a team mate, something the rest of our squad should learn from.
Mark Murphy
233
Posted 28/01/2021 at 10:50:00
Regarding the subs last night it's not as black and white as "he took off our lone striker for a full back.
He brought on Seamus so Iwobi could play further up the pitch. By then Richarlison was our striker so it's not as if we didn't have anyone and we WERE under the cosh.Iwobi for Holgate is hardly a defensive swap but meant we needed to rejig the defence.br>Siggy on for James who was knackered is a "straight swap" (except in quality) but Siggy is still an attacking option, not defensive as some are making out with our "10 defenders on the pitch claims.
We got a point at home in a very difficult match against a team that the pundits constantly mention before us as possible challengers and whilst I AM disappointed (Ian) I DO accept it as another point gained in the road to improvement. Ancellotis Everton is far from the finished article and until it is I think we should give him the respect to set up what he has available to get the results - attacking, defensive or lucky as that may be.
I cannot think of another manager who could rebuild us to be an attacking fluid force in 13 months, which is what many on here seem to think we should be already.
Peter Dodds
234
Posted 28/01/2021 at 10:54:27
Much as we all love Godfrey, I think the time has come to drop Digne back to LB and get Richy back to his favoured left wing position. Moving to the right last night clearly didn't work and hasn't on the occasions it's been tried earlier in the season. Digne will still get up and down and create the opportunities for DCL; he doesn't need to be in midfield to do that.
The difference in how we're set up to play now compared to the start of the season is heart-breaking. Remember the joy of those first five games and the attacking intent we showed? Almost entirely gone now. Sure, the defence needed tightening up but why the balance has shifted quite so much is a mystery to me. It's all very well saying we have a good defence now and just need to beef up the midfield and strike force in the summer. That's half a season away! No, its gone too far, this is not how Everton should be playing.
Andy Walker
235
Posted 28/01/2021 at 10:57:38
Draw at home to Leicester is a decent result when we have our two key midfielders out injured. It could have been a win if it wasn't for a minute of mistakes from Jordan.
If we had won, you can imagine all the comments about a brilliant Italian style manager win, (not KITAP1 of course).
That reminds me, Moysey's doing a great job isn't he? Relevance? Well we could all recognise our past opinions may not always have been based on considered evidence, but rather emotive prejudice in some instances.
Thomas Richards
236
Posted 28/01/2021 at 10:58:46
"Not an old Italian dinosaur who has a huge yellow stripe down his back and has been sacked from his last 3 jobs. "
The emotional posts are reminiscent of the washouse.
Frankie Howard this, shitbag that.
Roger Helm
237
Posted 28/01/2021 at 11:15:50
We'd all love champagne football, but it's a results business. Four points out of six against one of the best sides in the country will do me. We were missing the heart of our midfield so it was always going to be difficult.
When you consider what Carlo has done after only one window, and compare this season with last year, it baffles me that people are complaining.
Steve Brown
238
Posted 28/01/2021 at 11:18:47
Ian @ 230, you never post on the match report thread when we win. Why is that?
John Boswell
239
Posted 28/01/2021 at 11:22:57
Always a feeling of disappointment when we surrender a winning position but I have woken with renewed positivity this morning.
At the start of the season, with 3 new midfielders, I predicted that we would gain more points from the second half of the season than we accumulated in the first half of the season. Expecting a win against Newcastle we will have 36 points, making my forecast for the season 73 + not bad on reflection. Lets see where that leaves our beloved team. COYB.
Steve Brown
240
Posted 28/01/2021 at 11:24:24
Since the start of December, we have won 5, drawn 2 and lost 1 in the league. We all agree the defensive tactical set up was too cautious for a home again against Leicester, but the emotional meltdown and mass depression when a result doesn't go our way is getting excessive.
Martin Reppion
241
Posted 28/01/2021 at 11:25:44
I stayed off the forums last night till I'd seen the highlights again.
I knew Pickford would get a bashing. He is the current whipping boy. But he made countless good saes and the goal came through a crowd of 8 bodies that meant he saw it late.
The balanced views I've read on here point out that we were missing our midfield enforcers so had few options. before the game I said I would have played Godfrey(or Holgate) along side Davies and I still think in the circs that would have been a better option.
But I still wonder why all the spleen venting?
Look at the table. Yes we are only 7th. But ffs we ARE seventh and have games in hand on all the teams around us.
I still want us to sign a striker this week. But I am still more confident than I've been about Everton for years.
And finally, in the last 5 minutes we had 3 gilt edged chances to win it. If any of those had gone in would we be whingeing on here?
Rob Halligan
242
Posted 28/01/2021 at 11:29:37
Ian # 230. You say Leicester were without Vardy. Take Maddison and Barnes out and they are nothing special. Trouble is they weren't without Maddison or Barnes, whereas We were missing Doucoure and Allan. Leicester, with Maddison and Barnes took Chelsea apart with ease, winning 2-0. Leicester, with Maddison, Barnes and Vardy took man city apart with ease at the Etihad, winning 5-1 or 5-2, I can't remember the exact score. Leicester with those three won at spurs 2-0. They smashed Leeds at Elland road 4-1, they won at Arsenal, do you want me to carry on? They have the best away record in the premier league this season, so what makes anyone think we had a divine right to win last night?
Leicester put us under a tremendous amount of pressure, too much for my liking, and I agree, we could have been a bit more adventurous, but we defended very well, and probably had the best three, yes three, chances to win the game, with headers from Richarlison, DCL, and the fluffed chance by Gomes. Whereas, can anyone recall a chance for Leicester where you could say "yeah he should have scored there"?.
The likes of you, Ian, Jonathan Tasker, and I hate to say it, but Darren Hind, you can criticise Ancelotti as much as you like, that's your opinion and I accept that, but believe me, he's here for the duration, and under him we stand the best chance in a long time of finally winning something.
Dave Abrahams
243
Posted 28/01/2021 at 11:30:17
Thomas (236), Ah Thomas " The Washouse" lots of fanciful gossip and people's dark secrets rinsed out along with plentiful common sense and quite a few truths, or so I believe!!!
John Dooley
244
Posted 28/01/2021 at 11:30:49
Leicester " one of the best sides in the country since when?! Haha
We was shit last night lack lustre, everyone looked tired, no ideas going forward. Before the match. of course I would of taken a draw but the display was a shitbags display park the bus at home v Leicester ?! My previous comment I stick by Holgate Gómes not at all good enough, Richie dropped to the bench, DCL very good championship striker not good enough to lead a line by himself. Frustrating to fuck why we aren't going for a striker cos we need one if we are to finish even in Europe this year. Pickford. wow !
Take me back to the first 5 games of the season too, I loved that attacking flair we had, hopefully we get that back soon as possible.
Craig Walker
245
Posted 28/01/2021 at 11:32:27
It's fine margins. The Wolves away win was deemed a tactical masterclass against a team who most people regard as a good side, managed by an astute manager. Last night, Carlo was too defensive and we're disappointed with a draw against a very good Leicester team.
Richarlison or DCL head in one of their chances and Pickford manages to keep his concentration for an entire game (asking a lot, I know) and we're celebrating the tactical acumen of Carlo this morning.
We defended well last night. We still give far too many free-kicks away in dangerous areas but we never seem to learn our lessons on that one, whoever the manager is. We rode our luck a few times with Maddison hitting our defensive wall at least twice. We also gave the ball away far too cheaply and just invited pressure.
I don't like negative tactics, either. I want to see the football we saw in the opening few weeks. However, we weren't happy when we were losing 2-3 to Leicester at home under Martinez when we were trying to be an all guns-blazing out-and-out attacking side. I guess we need to find the right balance but it's worth remembering that out of yesterday's team, James and Godfrey are the only players who weren't part of an under-performing Marco Silva side that would have probably lost yesterday and would be sitting in mid-table currently.
We need Allan and Doucoure back and we need more options up front. I'll judge Ancelotti when he's cleared out the players that aren't good enough.
I expect us to beat Newcastle and keep us up the top end of the table. I'm not optimistic with the games in hand given they're against Man City and Villa away. I'd settle for where we are though given how poor we were against Newcastle and Southampton and it all looked like collapsing.
Ian Edwards
246
Posted 28/01/2021 at 11:34:28
Roger Helm 237. We are presently in Ancelotti's third transfer window:
1. January 2020
2. Summer 2020
3. January 2021.
Bobby Mallon
247
Posted 28/01/2021 at 11:47:30
Ian we had the discussion about his sackings and why they happened so that's not a discussion anymore you just like to spout he was sacked to make it sound like his teams where playing shite.
And yes they where turned off Moyes but that was after 10 yrs of being manager with not a pot to piss in. This fella has had 1 window to buy players and in that window we got a superstar on a free A top midfield general for peanuts and Doucourér who has been brilliant. I don't believe Ancelotti told them that from the whistle in the second half that they had to concede the game to Leicester ( just my opinion) he most probably told them guys more of the same as the first half and we will win 2.0. From my point of view Richarlson went into his shell and didn't press further up same as Rodriguez and DCL that then gave Leicester the impetus to keep the ball more in our half. I'm not going to slate any of our midfield because they and their defensive partners did ok keeping them out. They just did not have anyone to start an attack with. Now I know you think that's down to Ancellotti but do you seriously think he said ok guys we all ten outfield players sit back and let them batter us get real.
The superstars of this team, DCL Richy and James gave them nothing to pass to. I remember Digne ( Rob Halligan😂 ) make a run and no one in the box that's not Ancellotti fault that's players desire.
The negative shite on here is pathetic, once again what would you have done differently to motivate the team

Brent Stephens
248
Posted 28/01/2021 at 11:50:07
Ian #246 - do you count the two winter transfer windows as meaningful chances to make good buys (and goodbyes)? Received wisdom says you normally can't pick up much in winter (apart from the flu).
Fran Mitchell
249
Posted 28/01/2021 at 11:52:06
Without doubt it was disappointing. We were too deep, and Leicester's midfield controlled the game. We were outnumbered and lackluster.
Digne is a full back, and not a winger. He needs to link with a winger, use the overlap. When he's the sole winger, he is too isolated. He's not a winger that will dribble with the ball, and as thus our left side was ineffective at providing an outlet to counter attack effectively.
With Holgate on the right, there no no attacking full back, and Richarlison was also isolated and off form. So both our right side and left we're ineffective as attacking weapons.
This limited us greatly to playing centrally, without a real ball winner. Gomes and Davies did alright, but Tielmans and Ndidi bettered them and not surprisingly so.
The defence was solid, but gave away too many free kicks, but managed to generally hold Leicester off and they have few clear cut chances.
Pickford royally effed up. Yes, there were many players blocking his vision giving him less time to judge the movement of the ball - us being so deep and so many behind the ball contributed to this. However, this is not an isolated case. Pickford clearly has trouble with judging relatively simple long range grass cutters.
So disappointing and almost a good win despite a poor performance. Good enough? No, of course not. Reason to sack Ancelotti or condemn him? No. If we could swap our full backs (from.yesterday) for Leicester's, we would. If we could swap our central midfielders.for theirs, we would. If we could swap our wingers for theirs, we probably would. So we were playing a superior team, a team that has solid recruitment for 5+ years. Ancelotti has had one summer window. And in the league we've gotten 4 points from Leicester, so not a bad result.
Now, if we fail to beat a woeful Newcastle, then it is something to be angry about.
We're still on track for a top-6 finish, with a chance for something more, so lots to play for.
Jay Wood
[BRZ]
250
Posted 28/01/2021 at 11:56:34
George @ 227.
Wise words. As a 'lifer' match-goer you know full well one of the highlights of the week is the anticipation then the actual attendance of a live game at Goodison.
Denied that at the moment, many gather on the Live Forum on match day. I don't begrudge anyone for doing so. Many also have fun and are very playful on there, enjoying the bonhomie.
But in the main, it drips with the negativity you list. Imagine being surrounded by that constant negativity in the stadium whilst trying to follow the game. It would do yer 'ead in.
For this reason I don't go anywhere near it whilst the game is on. I've said before, IMO you simply cannot fully concentrate and follow the game closely if simultaneously reading, posting and engaging with others on the Live Forum. You miss a lot of the actual football by doing so.
Avoid the stress George. Take your own counsel and don't go anywhere near the Live Forum during a game. You'll be happier for it.
Thomas Richards
251
Posted 28/01/2021 at 11:57:31
I only used to go as a kid to wizz the prams to make a steerie Dave.
Brent Stephens
252
Posted 28/01/2021 at 11:57:49
Rob #242 that's a great post in my view. Leicester sit clear 3rd and you set out well the teams they've beaten away this season. Doucoure and Allan are big misses in midfield. Richie was poor last night and Pickford sold us down the river. Some of our defending might have been frantic, as Dave A. says, but overall it was nevertheless effective - save for Pickford's, well, lack of a save.
Sean Callaghan
253
Posted 28/01/2021 at 11:59:02
John (244 and previous). Really? The DCL 'championship at best' crap again? It's been more than proved to be wrong the first time, then became a slightly tiresome repost for a few months, but now just looks silly.
Flog of Holgate on the basis he's not Roberto Carlos? FFS he's a relatively young guy who's rarely given a consistent run in one position, but when he was last season we had Carlo having to publicly state that he's an Everton player and the transfer speculation about him going to City for 40million could go to hell.
Sorry, but that's just a poor imitation of the two other provocateurs (Mr Hind and Mr Marsh)
Dave Abrahams
254
Posted 28/01/2021 at 12:10:14
Thomas (251), I wish I could have done that Thomas, but as a Catholic we are not allowed to wizz things !!!
Nicholas Howard
255
Posted 28/01/2021 at 12:16:12
Ian (246)
I would not even bother about the crazy January window
All overhyped pricy players if available
With Everton financial situation, you should know it is not easy to do any transfer in January...So seriously Carlo only had one full window and he got 3 in that window. Why can't have a bit more of patience on Carlo from you is beyond me
Ian Horan
256
Posted 28/01/2021 at 12:31:46
Leicester are unbeaten since we won their, they have the second best away record in the division including wins at City 2-5, Spurs 0-2. Leeds 1-4 they beat Chelsea 2-0 beat Arsenal 0-1.
In the scheme of things 1-1 is a good point. Finally this Carlo has had 3 transfer windows is totL bollix, window 1 he was here a couple of weeks. Window 2 James, Allan, Duke,Godfrey, Olzen.window 3 no one is spending big and EFC are on the cusp of breaching FFP. also look at our last winter window 50 mill on 2 duds. Critism were necessary but be realistic ffs
Thomas Richards
257
Posted 28/01/2021 at 12:32:13
Dave,
I paid £15 to go into the Sistine Chapel. And £4 to use the lift to the viewing tower above the Vatican.
Thought that was wizzing at its finest. 😁

Chris Leyland
258
Posted 28/01/2021 at 12:33:15
A game we don't win and the usual moribund moaners can't wait to come on here to spout their extensive nonsense about Ancelloti being a coward, dinosaur, a disgrace or whatever. How we sat too deep and didn't do this or that to Leicester.
The thing is, we were shorn of our first choice centre midfield pairing and that's where the game was ceded last night. We didn't get a hold of the midfield because we didn't have the players available who were capable of doing so.
Despite Ancelloti being a "clueless coward" or the "Italian Allardyce" or whatever other catchphrase the merchants of doom want to throw at him, he knew that he didn't have the players available to him to take the game to Leicester or the pace to cope with their midfield so he had a game plan to eek out a win and, but for a minute of madness from the goalkeeper, it nearly worked.
Leicester, for all their possession, created very little in the way of clear cut chances. Indeed, but for some poor finishing of our own, we could have scored the winner late on.
I'll take Ancelloti's pragmatism and ability to eek out results over the FIFA Fanboys who want us to go gung-ho and stand toe to toe against technically better and quicker teams. Those who don't appreciate what he's doing sound a bit like Klopp when he bemoans opposition
teams for not playing open and expansive football against them.
Jay Wood
[BRZ]
259
Posted 28/01/2021 at 12:41:49
A couple of 'cheer you up' videos I'd missed.
A 17 and a 16-year-old. Wide-eyes teenagers totally made up on making their debuts.
Lovely, uplifting videos.
Ian Bennett
260
Posted 28/01/2021 at 12:58:05
4 points against a rival, we'd take that all day if it can be repeated against the other top 6 - with two of our first choice central midfielders missing.
Pickford appears at fault. I'll be honest I haven't seen an angle to show how much traffic was in his line of sight.
Big picture we are moving forward.
Ian Edwards
261
Posted 28/01/2021 at 13:00:37
Chris Leyland
Leicester aren't a better team. It was embarrassing watching last night. It was clear that the Commentator Ian Darke was astonished at out tactics.
Ancelotti stated after the game on TV that the tactics were deliberate.
Unacceptable way to play football particularly at home. Against Leicester. Not Real Madrid. Not Barca or Man City. Leicester. Shameful.
Andrew Ellams
262
Posted 28/01/2021 at 13:04:35
Last night proved that our issue is strength in depth. A couple of injuries and we left with players who are not up to where we aspire to be.
Plus how does a team with top 6 or even top 4 aspiration go through a whole season without a regular option at right back? There are two in the squad and neither are up to the job for different reasons.
John Dooley
263
Posted 28/01/2021 at 13:05:32
Sean 253 : yes Sean very good championship striker, do you really think he's world class ? Really?
As for holgate. yes very poor ok he's young and has a lot to learn, still shit though and got had off quite a few times down that side, personally I would have played Coleman for his experience or Godfrey for his sheer pace to control Barnes on that side.
So yes with DCL he's not gunna be an Aguero is he ? He doesn't run at defenders nor tries anything else but to get in the box to header it ( therefore go n get dzeko who will be better at it ) my personal opinion of course Sean which we are all entitled to mate. DCL would be better in a 442 formation with a strike partner along side him ( maybe a Ings type of striker ) but like I said by himself obviously not happening.
Barry Williams
264
Posted 28/01/2021 at 13:06:49
Interesting array of comments on here today and from the previous night.
Well, I will try to be as objective as possible, and probably fail miserably!
It was not an entertaining game from an Everton point of view. Too many players seemed a little off it last night, and I think injuries and suspensions have had an impact. Calvert-Lewin I believe has just come back from a hamstring injury, and it showed. He was not his usual industrious self. Iwobi has just come back from injury too, so might not have been fit to play 90 minutes. We had our 2 central midfielders out, and it showed. Davies did a good job, as I thought he was a little exposed in the fact that he was the only 'tackling' midfielder, although, before he tired, James seemed to put himself about a lot last night. Gomes can be really effective with lots of legs around him, which he didn't have last night, but showed both his plus points (some great passes) and negatives too. So, as many predicted, we were overrun in midfield.
Digne looks like he is still finding his feet after what was a very quick recovery from injury. As a left winger/midfielder, he probably doesn't have to make as many long surging runs as he would from left back, and it might be part of getting him back up to speed by playing him in a less intensive role, with the very solidly defensively sound Godfrey behind him.
Now, in defence of Ancelotti, and I am an Everton fan, not an Ancelotti fan - though I like his dignity when compared to other premier league managers.
The team last night was made up of - 3 Koeman signings, 4 Silva signings, 1 Martinez signing, 2 Ancelotti signings, 1 homegrown player, 3 subs - 1 Moyes/1 Koeman/1 Silva signing.
So, 14 players, 2 signed by Ancelotti, the 2 signed by Ancelotti played very well, one scoring a worldly.
Now, he took over a team that was in real decline, and he has been hindered by ffp and the previous managers' spendthrift approach, thus limiting both the amount of players he can sign and the quality that he can sign. Everton have to shift a lot of unwanted players, who nobody wants, so when saying he has had 3 windows, or 1, you also have to take into account whether he has actually got any money to spend before other players are moved on.
He is relatively new to the job, joined mid-season, has had one truncated pre-season with the team, during a pandemic!
Yes, last night was really unentertaining, but it shows how expectations have grown. Leicester have the best away record in the league, we played rubbish for a lot of the game, though I thought the defence and Davies were excellent at defending, and still managed a 1-1 draw, which bar a goal keeping error and a number of missed chances at the end of the game, could have easily been a victory.
Did I think Leicester were worthy of 3 points on that display - yes. Did they get them - no! That had something to do with a much improved defence, a defence that has improved immeasurably under Ancelotti's watch.
Tony Everan
265
Posted 28/01/2021 at 13:17:00
Jay Wood, I know you like the subtitle cockups, I am deaf so I rely on them. I thought you would enjoy last night's cracker.
''Schools will not return until the march of the apes. ''
[March 8th]
Alan J Thompson
266
Posted 28/01/2021 at 14:08:06
I still think Mr Ancelotti is the right man for the job and we can put up all the excuses going, our main midfielders missing, keeper mistake even if he did look wrong footed at the time, strikers out of form but my disappointment was that once we conceded the equalizer we came out and created two or three very good chances to score. If we had done this earlier would Leicester have had so many players forward or did they look better because in the second half we conceded all territory (and possession) except our own penalty area.
Rob Dolby
267
Posted 28/01/2021 at 14:47:35
Picking up on some of the comments regarding Richarleson's form.
I do think that he is playing far too deep in helping out the fullbacks. It's not realistic to ask him to chase back then race down the other end and score. The lad puts in an unbelievable shift every game. He is sacrificing his own game for the good of the team. Ideally he would be playing higher up the pitch letting the midfielders do the chasing.
If we had a bit more strength in depth we could rest DCL and Richarleson more often. The fact is both don't look as sharp as they did at the start of the season and nobody is pushing them for their shirt.
Newcastle won't be easy on the eye on Saturday. They will come for a draw or a smash and grab like they did last time.
I wouldnt be surprised to see Digne at left back and Godfrey moved to right back.
Christy Ring
268
Posted 28/01/2021 at 14:54:24
Disappointing performance last night but we still got a draw. I can't understand the Davies bashing, he played well last night. I thought Carlo got his team selection wrong, Holgate is not a full back, he should have played Godfrey or Seamus right back, Digne left back and played Holgate in midfield with Docoure missing. Pickford badly at fault for the goal, and he gave away the corner, when the ball was going wide.
Si Cooper
269
Posted 28/01/2021 at 14:57:57
Ian Edwards, your comments about Leicester are absolutely ridiculous. I can only assume you are one of those spectators that can only appreciate good players if they are in their team.
Leicester are now a very well financially backed club and pretty much all of their first eleven would be pushing for a starting role if you transferred them into the current Everton squad tomorrow. The fact that their midfield would be on top last night was obvious to many of us.
Bobby Mallon (221), are you sure Harvey Barnes is a fullback? I thought he was a highly rated winger.
Jamielia Crowley
270
Posted 28/01/2021 at 15:02:51
I really don't understand some people's frustrations. And forgive me, I got to approximately comment 180 and then skim-read my way down.
There's a lot of people angry with Carlo's tactics.
I understand the desire to want to see "pretty football." Hell, I've said before on these pages one of my favorite teams to watch in recent times was Ian Holloway's Blackpool! They just played beautiful stuff no matter their level of talent.
And they were relegated.
If we'd have played any other way than the way we did yesterday, we'd have lost 5-1. The Crowley-Holloway approach to the game [as I like to call it], while preferable in every way, can't be implemented without the right players, else you lose!
Again, the strength of this team is in its defenders. If Carlo recognizes we're playing a team who will literally overrun us if we attempt open, expansive football, and he set up defensively and looks to take our chances when they present themselves, is that not the most pragmatic way presently?
Of course it is.
The play will improve under Carlo over time. Right now he's logically and intelligently playing to his strengths. And the results show that.
And to say the play is dire is absolute horseshit. Go back and watch a "Silva always down the sides of the pitch" game, or worse yet a one shot Fat Sam game. To say our play is boring and crap is shortsighted in the extreme.
Want for more and want for improvement, but here's an idea:
Applaud Carlo for understanding his team, intelligently playing to its strengths, and where he has us in the table.
My glass is half full. In fact, it's 3/4 full. Try drinking a little sunshine before you moan.
Bill Gall
271
Posted 28/01/2021 at 15:08:30
Personally I thought that Ancelotti's tactics last night were ok with the players he had available to him. Some supporters are getting upset with his tactics because of a basic error by the keeper who if he had have saved that shot and we had won would have praised him for the win.
The goalkeeper is on his own, a forward, midfielder or a defender make a mistake someone else covers for him no problem, keeper makes a mistake a goal is scored major problem.
Ancelotti now has a major problem with his keeper, a brilliant difficult shop stopper who's making basic goalkeeping errors that is loosing points..
As supporters we have seen Olsen in a handful of games and he seems to be ok, what we don't see is him everyday in training and how he performs and if he ever makes any mistakes. Ancelotti watches the players and relies on his coaches reports daily, and picks the team with the players he believes are the best suited for the upcoming game.
I f he continues to play Pickford there must be something about Olsen he does not trust, if he picks Olsen then I believe he has shown Pickford that he is not willing to use him in the future and he should be put up for sale.
There is no sentiment in football and Ancelotti has stated what he is aiming for this season, and I don't think he the type of sentimental person to play a player he likes if he is performing poorly.
The only thing that Pickford brings that Olsen does not use, is the defending from the back and his distribution. Olsen has not been given enough time or games yet to prove he is error free but we definitely need better than we have, even if it means someone else in the transfer window.
We cant keep using an unreliable keeper, but if he is dropped we cant criticize his replacement if he makes mistakes as he is all we have.
Will Mabon
272
Posted 28/01/2021 at 15:12:15
Tony,
Touch wood, ears OK but I've been turning on subtitles for years for all sorts of things - some of the best comedy you can see, beyond what anyone could deliberately invent. There are even geographic cock-up "Styles" from different areas of the globe. Wish I could remember them all.
Maybe I should have done it last night...
Kevin Molloy
273
Posted 28/01/2021 at 15:13:41
if Carlo hadnt been left a weak goalkeeper we'd have won yesterday. We are lucky enough to have an outstanding manager for once, let's just enjoy it.
Fran Mitchell
274
Posted 28/01/2021 at 15:31:35
If you could swap Schmeichel for Pickford, you probably would.
If you could swap Castagne for Holgate (as a right back), you would.
If you could swap Justin for Godfrey (as a left back), you probably would.
If you could swap Ndidi for Davies, you would.
If you could swap Tielmans for Gomes, you would.
If you could swap Barnes for Digne (as a left winger), you would.
So of the Leicester team, only Maddison for James, Perez for DCL and Albrighton for Richarlison and the 2 centre backs would you stick with the Everton players - and even then there is debate: Fofana is excellent, Albrighton as a right winger is very good and arguably better than Richarlison who is better from the left.
Leicester's subs in Under, Mendy, and Soyancu are all players who would compete for a place in our first team.
Sometimes we have to accept the opposition team can be good even of they aren't Man City, Real Madrid, or Barcelona.
Stan Schofield
275
Posted 28/01/2021 at 15:33:56
There was nothing wrong with Ancelotti's tactics yesterday. We deliberately held back, allowing Leicester possession, and ultimately frustrating them because despite their possession they had few clear chances, and their goal was partly down to a keeper error. We had more clear chances, and could easily have won but for small margins that prevented the ball going into their net. Given the absence of Allan and Doucoure, arguably our best midfielders currently, the tactics were spot on. And given those tactics, it's difficult to imagine that Vardy would have made any difference to Leicester.
Dave Abrahams
276
Posted 28/01/2021 at 15:36:26
Bill (271), yes Bill you are probably right in that if Pickford hadn't made that error we could have won the game, surely though Bill you would have put your hands up and admitted we didn't deserve that victory, I know we didn't deserve the draw.
Fans on here are saying there is too much moaning about last nights performance, I think, speaking for myself, we are not moaning about defending, because most of us realise that we would be doing o lot of that due to the weakness of the midfield available, it was the ultra defensive tactics that were used, camping out in our own half for most of the game, I didn't see it as organised defending but parking the bus with hardly any thought to attacking, until the last few minutes when we had three chances to snatch, what would have been a very undeserved win, why wait that long to make changes, and that is not the first time Carlo has done this.
I could add that the praise showered on the team and the performance over a very poor Sheffield Wed. team was over the top in my opinion, so why take umbrage when some of us have a go at what we thought was a bad performance last night.
Stan Schofield
277
Posted 28/01/2021 at 15:40:47
Dave, if we'd won, in my opinion it would have been fully deserved, because if one of those chances at the end had gone in it would have been a result of the tactics we used. It would not have been due to constant sparkling football, but it would nevertheless have been very appropriate and deserved.
Ian Horan
278
Posted 28/01/2021 at 15:41:25
We have had a number of Italian defensive master classes over the past few months gaining a lot of points and positive results. Early season we played open expansive football. We are now more solid defensively, also one of the most productive from our own set pieces.
Previous managers got critised for no plan B, Martinez, Koeman, Allardyce and Silva played in one particular style with no alternative approach. Even Klipperty has no second plan when gengepress fails, so I am grateful that Carlo has multiple ways of playing with what ever resources he has available 😀
Tony Hill
279
Posted 28/01/2021 at 15:44:39
We beat them 2-0 at their place when they had Vardy, Maddison, Barnes, Ndidi. We lost Allan after 40 minutes and had no Rodriguez.
Why did we feel so frightened of this footballing superpower yesterday on our own ground?
Eddie Dunn
280
Posted 28/01/2021 at 15:46:24
Kevin, Pickford made a slight misjudgement but it was a slippy ball shot through a crowd that was set too close to our goal. Pickford had already saved us about 5 times. If Olsen had played, then who knows if he would have saved the same shots?
I would have given Olsen the start but any goalie is entitled to a mistake.
If we want to be critical, then start at the coach. We has grabbed the lead and it was clear that if we could get James on the ball then he could hurt them. Instead we failed to find him, Digne disappeared second half and Richie stank the place out offensively(i know he is good in our box). Iwobi should have been brought on once they equalised. We ceded territory and although the defence has been superb, our midfield is not good enough to hold out against that pressure and therefore if we had not gone gung-ho, but simply gaine more possession, then we might have got the points. Away at Leicester, we actually controlled more of the game and won 2-0. The performance last night makes me think we will run out of ideas against Newcastle as our main problem has been creativity. How busy was their keeper? A little flurry at the end was all we could muster.
All these people on here lauding a defensive masterclass might reconsider if we fail to open up a poor Geordie team.
The effort at Wolves with no striker was a defensive masterclass because in that game we competed all over the park and the opposition failed to turn possession into chances.
Last night the opposition had possession and made countless chances. If it wasn't for a couple of lucky deflections and Pickford's agility, we might be looking at a 1-4 reverse.
We were second best by a country mile and Carlo thought a point was fair. If we reverse positions and imagine we were Leicester, I would be gutted that we didn't get the win.
It seems clear to many on here that Carlo doesn't rate any of his midfield apart from Allan and Doucoure. Surely Siggy, Davies and Gomes must realise that he doesn't think they are good enough to control a midfield.
With them being overrun constantly I wonder why Iwobi and Coleman weren't brought on earlier?
Dave Abrahams
281
Posted 28/01/2021 at 16:09:19
Stan (277), well each to his own Stan and I know that the result is the most important matter to most fans and I would have been grateful and welcomed the three points but I would have to acknowledge that Leicester were the far better team on the night and totally deserved to win and had two points stolen off them.
Thomas (257), yes Thomas as you say " wizzing at it's finest, as it is in most religious places, but everything is relative so why didn't you jib in, as you said recently " Evertonians are the best jibbers in the world" and Jesus would have understood, didn't he have a go at the money changers in the temple!!!
Fran Mitchell
282
Posted 28/01/2021 at 16:22:07
Defending is as big of a part of the game as attacking.
So to say: Leicester deserved the win I think is wrong.
How many chances did Leicester actually create? How many clear cut chances? How often did they split our defence open? I can't remember.
They got a flukey equaliser. They dominated possession. But our defence was superior to their attack. And when brought into the game, our attack caused more damage to their defence.
So Leicester were not robbed. Not in the slightest
Thomas Richards
283
Posted 28/01/2021 at 16:38:09
Dave,
I did.
The fee paid was for the missus. She refused to bunk in.

They've got more money than me :-)
Rob Halligan
284
Posted 28/01/2021 at 16:40:55
Prepares to don tin hat as I write this post, but for the Leicester goal I'm going to defend Pickford, not for the actual goal itself because there was no excuse for that, but for the corner which he conceded.
Before I start, let's think back twenty four hours to the West Brom v man city game, and in particular city's second goal, when despite an offside flag being raised, the goal was allowed to stand because there was no offside, yet the West Brom players stopped expecting the whistle to blow. The golden rule being Always play on until you hear a whistle!!
This brings me to my point about Pickford. During my playing days as a goalie, I was always told not to take any chances with shots that you think might be on target or going wide, in other words if in doubt then safety first and push the ball behind for a corner. That's assuming of course, that you cannot hold on to the ball in the first place. It's very easy as a goalie to "lose your bearings" when faced with such a situation as Pickford was, and also once committed to the dive he had commit to the save. Pickford may have thought the ball "could have been on target" and therefore took no chances. Something else which I noticed on MOTD last night, but not in the actual game itself, nor can I find on the highlights on the official club website, is that there seemed to be a player coming in at the back post, it may have been Maddison, who may have had a simple tap in if Pickford hadn't touched the ball behind for the corner. So, basically Pickford was taking no chances, and pushed the ball behind for the corner.
Which brings me to the goal itself, and as I said, was totally unacceptable by Pickford! He may have been unsighted, but it was a feeble attempt to push the ball behind for another corner, if indeed, that's what he was trying to do?
Mike Oates
285
Posted 28/01/2021 at 16:51:04
Clearly Ancelotti has decided the strength of the squad is in defence with 6 defenders all capable of walking into most Top 6 teams. Again up top there is real hope that when we can field James, Richarlison (on form) and DCL we can score goals. His problem is as we know the midfield, where without the legs of Doucoure, the ball winning and distribution of Allan and a fit and on form Gomes the step ins just aren't good enough to compete against the Top 6.
Don't get me wrong Davies can step in, Delph, Bernard, Sigurdsson can step in and do a job against a majority of the PL teams, but not aaginst City, Utd, LIverpool, Leicester, Spurs, Arsenal. Our lads haven't got the pace, the physicality, the ball retention, positioning skills to compete.
Ancelotti knows this and when he loses 2 or 3 of his key midfield lads and James he knows he can only set up defensively and play for a break away, a set piece. He's still a couple short in midfield and another good forward before he can go head to head against the Top 6 teams, goal for goal.
Its not necessary pretty to watch, but is very effective when you can defend as well as we do at the moment, keeper apart. We are not going to attract the neutrals to watch (in fact I live in the South of England and by the end of the game most of my non Everton mates had What's App'ed me to say they switched off after 60 minutes, or had turne dover to watch Utd lose).
I think we've got another 1/2 season of this, with the hope European football of some type is won and we can go ahead and recruit with players wanting to join us. Fail in European ambitions and we could lose a few lads and have to start again. Its imperative for Ancelotti to obtain European football for next season.
Brian Wilkinson
286
Posted 28/01/2021 at 17:09:12
Eddie@380, it was three mistakes Pickford made in the space of a minute, he misjudged a ball going out for a goal kick, and gave them the corner, they he failed to reach the resulting corner that went over him, then when the ball was played back, he let a goal in that for me was stoppable.
He is like a cat on a hot tin roof, hopping around, let us be honest, he has saved us in a couple of games, Spurs away one of them, but he has made a lot of mistakes, that he has got away with, due to Everton scoring again and winning the matches.
Me personally it seems to be more of in his head, than ability, he just seems to lose that focus, that for me is what needs working on.
That is why I would give Olsen a run of games, at the moment, he has his Manager telling him he will deffo start the next game, take the guy out of a few games, get someone in to try and work with Pickford.
At the moment, he knows he can make mistake after mistake and still be selected.
Thomas Richards
287
Posted 28/01/2021 at 17:35:14
Rob H,
As an ex-keeper I would be interested in your overall take on Pickford.
Mine, for what it is worth, is he can be a 9/10 one week and a 6/10 the next. I would prefer a keeper who is 8/10 every week.

Bill Gall
288
Posted 28/01/2021 at 17:38:02
Dave # 276
I never criticized anyone's opinion on the game I just gave my own thoughts, that I believed that some supporters were getting upset because of Pickfords error in their goal not the overall display.
No I don't agree with an overall out-rite defensive display, what I agreed with was Ancelotti's tactics with the players he had at his disposal. With Alan and Doucoure missing against a proven best away form team in the league he was forced into a more defensive play, and I think he was let down more by his attackers than his defense.
I don't disagree with your opinion, but the one thing I agree with, is this is a result proven league and you have to use the best players at your disposal to get a result. Ancelotti is not everyone's favorite but he is doing what he is paid for and that is getting results.
No 2 teams are the same, and tactics, styles and quality of players differ, and its the managers job to play against these teams accordingly.
As you have read my report I was extremely critical of the keepers error.

Darren Hind
289
Posted 28/01/2021 at 17:53:40
There are quite a few myths being peddled on here by people struggling to excuse the spoiling tactics we have been served up for the best part of a year.
I want to throw my PC when I hear people whine that Carlo has no option but to repeatedly set out to spoil the games... It's drivel. There is ALWAYS an option.
He could have kept Kean. He could have given Simms a shot. He could have used young Gordon more often. Bernard, Iwobi ,Sigurdsson and Gordon do not have to be left out...
It's a choice to set out to ruin a game... A conscious decision. No manager has to play two defensjj inve midfielders in any game – let alone all of them. No manager ever has to have so many men scampering to get behind the ball. No manager ever has ever HAD to leave a solitary forward in miserable isolation for long periods... THEY CHOOSE TO DO IT!!!
I could accept the argument that these players are not good enough to compete with the top five... But have you seen the cut of the rest of the teams in the Premier League?... And here's the best bit... You don't have to leave these pages to see that many of those who play defensive rolls are hammered for not being good enough either... they're Championship players.
Argue all you want about people like Tom Davies being a "Championship player"...But don't dare tell me there were no other options – there was about 100m quids worth of options.
The simple fact is; Carlo Fantastico has consistently and deliberately chosen players who he believes can spoil a game, over players who may affect it in a more positive way. Players who will get behind the ball, over players who may get ahead of it. He'd rather have a substandard player spoiling the game than an inconsistent forward who doesn't know how to defend.
Casho
Jam tomorrow? You're having a laugh lad. This leopard is in his sixties and he wont be changing his spots because you tapped your heels three times and wished it so. What you see is what you will continue to get.
There is a very clear difference between defending well and defending in numbers. Carlo must think he has won the lottery coming to a club with so many fans who don't know what it is.

Rob Halligan
290
Posted 28/01/2021 at 18:00:14
Thomas, overall I think Pickford is a decent shot stopper, his overall distribution is still generally very good (which keeper hasn't kicked a ball straight out of play, straight to an opponent, or thrown a ball to an opponent?), and he's even good at facing penalties.
But, for some reason, he seems to lack concentration, seems weak at crosses which I don't understand because, with a leap and arms stretched, his hands are well above any attacker and should be able to catch a ball comfortably.
I was told to jump for a ball with one knee bent, as a protection from an incoming attacker, but I can't recall Pickford doing this, but I may be wrong.
The last 2 years, he's lacked competition so feels his position is pretty safe. I would give him a break for half-a-dozen games or so, and let him work on any deficiencies he has. It could and probably would, do him the world of good.
It's amazing though, how so many managers keep on picking Pickford, particularly Gareth Southgate, so he must have something about him.
Si Cooper
291
Posted 28/01/2021 at 18:07:21
Darren, do you really characterise either or both Gomes and Davies as defensive midfielders?
Thomas Richards
292
Posted 28/01/2021 at 18:13:56
Thanks Rob.
On the knee advice mate. Ray Clemence was the first I remember doing that. He did it with his studs though. Players challenging for the crosses with him soon learned.
Danny O'Neill
293
Posted 28/01/2021 at 18:19:46
I don't have a problem playing 2 defensive midfielders in the right system. On other debates, I've said and believe that, with the right players, 4-2-3-1 is the most complete system in modern football.
Theoretically, you always have 6 players available to defend and theoretically there are always 4 forward with the 2 midfielders supporting so it is a perfect blend. Now I say defensive, they still have to be the link with the forwards. Germany's 2010 team revolutionised it and used it to great effect which eventually led them to World Cup success.
But as I've repeatedly said, you pick a formation based on the players you have, not make players fit the formation you want to play. Last night we played with what we had and most done alright. Against a very good Leicester side. Lets not be disrespectful to them.
Before last night I predicted Gomes and Davies. My fear was not how much effort those players would put in or how well they would play. It was that there would be too much of a gap between them and the forwards. From my seat, that's what I saw.
Thomas Richards
294
Posted 28/01/2021 at 18:23:38
There you have it.
Problem deciphered.
So many of us don't know the difference in defensive tactics.
We can only strive to learn from those posters on TW who do understand the difference.
Danny O'Neill
295
Posted 28/01/2021 at 18:35:23
Ian Edwards @209. Nothing plucky little Everton about it. You're looking at history and the name not the current team. They are a very good side that could have gone joint top last night.
You're thinking Leicester 1985, not 2021.
It's not like we took a knife to a gunfight against Manchester City circa 2011. Manchester City, who are those upstarts. If we're scared of them we might as well end it now.
Dave Abrahams
296
Posted 28/01/2021 at 18:35:27
Bill (288), I think we are near enough to agreeing with each on last nights game and the way Ancelotti has to manage the players at his disposal except I thought he defended far too much last night, and I think we might have won if he had changed the subs a lot earlier.
Fran (282) see my answer to Bill above:: but on the match overall only one team was trying to win and it wasn't Everton, I still think Leicester were robbed and would have been worthy winners, but you say either and I'll say either a different way!.,
Thomas (283) your missus will go to Heaven, you'll go to Purgatory, see you there!!
Thomas Richards
297
Posted 28/01/2021 at 18:36:51
Dave,
She deserves to.
I don't. I will keep you a speck
Brent Stephens
298
Posted 28/01/2021 at 18:37:40
Strewth. Now suggesting playing Simms. One, the reason he's gone out on lone is he isn't yet good enough (I watch a lot of the U23s and think he might make it but not just yet). Two, if you need to suggest Simms as an answer, then you've conceded how short of options Carlo is. Talk about shooting yourself in the foot!
Sean Callaghan
299
Posted 28/01/2021 at 18:38:35
Clearly DCL's got some going to catch up Aguero John, but - and without checking the relevant stats - I suspect Aguero had some catching up to do at the same stage in his career. Touching 30 prem goals in the last season and a half tells me he's a lot better than 'very good championship' though.
And I know it's all about opinions, and of course we all see players differently, but many on here were of the opinion that Holgate could have done a good job in midfield in the absence of our first choices. Now, this doesn't make him the best midfielder in the world, I know, and I'm definitely not saying that he's the best right back in the world, or even a great right back, but for a centre half in his early 20s who can displace the club captain or be offered up as a decent alternative in central midfield ahead of some experienced and established internationals doesn't make him a shit footballer who needs selling off.
Fran Mitchell
300
Posted 28/01/2021 at 18:41:11
Yes Darren, it is a choice.
We could have set up with Gordon or Bernard on the left, Digne behind him.
With Coleman on the right and a just back to fitness Iwobi in front of him.
We could have attacked with freedom and focussed on flair.
That probably would have resulted in us getting ripped to.shreds however.
Duncan McDine
301
Posted 28/01/2021 at 18:41:35
Anyone else hear on Talkshite about Pickford getting help from a sport psychologist? He's admitted that he gets too pumped up and needs to calm down during matches... no shit!!
Graham Mockford
302
Posted 28/01/2021 at 18:55:02
Over the past four years Jordan Pickford has been the subject of a lot of ridiculous criticism on here. Nearly every goal he concedes some poster will pop up and claim he was at fault. There was a similar phenomenon with Tim Howard.
However you cannot ignore two things. The statistics and the evidence of your own eyes. He simply makes too many unforced errors to be a top goalkeeper. He may make plenty of decent saves, he undoubtedly at times has good reflexes but a goalkeeper should inspire confidence. If you can honestly say you are not always worried there is a howler possible at any time then I may have a bridge to sell to you.
He needs replacing and that should start on Saturday.

Danny Broderick
303
Posted 28/01/2021 at 18:59:56
To the dissenters, what team would you have picked last night? Can you be brave enough to name a team you would have picked last night that would have beaten Leicester, beating in mind we had 3 of our first choice midfield missing in Allan, Doucoure and Iwobi (unfit to start). Or do you prefer to throw stones instead of offering solutions?
I will nail my colours to the mast. With what was available, I was 100% happy with the team the manager picked last night. And because of the lack of legs in midfield, I have no problem with the manager playing a defensive midfield to contain Leicester's superior midfield.
I will further state that Ancelotti himself was a top class midfielder. If there's one area of the pitch he knows, it's midfield, and his first moves this summer were to bring in 2 top class centre mids. I suspect that's once he has shifted some of the deadwood he inherited (Bernard, Gomes, Sigurdsson, Bolasie, Besic etc), further reinforcements will be brought in to provide back up in midfield that is not lightweight. Tom Davies aside, we have no backup of note to Allan and Doucoure.
Tony Abrahams
304
Posted 28/01/2021 at 19:08:05
People say its easy to manage the clubs Carlo Ancellotti has managed, so I'd argue that the leopard changed his spots, when he agreed to manage Everton.
It must have obviously been for the money, because it definitely wouldn't have been for the squad he was inheriting, although having a go at restoring Everton to former glories must have been tempting, especially because of how long it's been since they last won a trophy.
I thought Ancellotti should have freshened us up before Leicester scored, but more importantly, I think our squad needs freshening up offensively before the window shuts next week.
This is the third transfer window he's had now for goodness sake, surely he should have signed a few more players by now!
Stan Schofield
305
Posted 28/01/2021 at 19:12:11
Darren@289: You write some absolutely fantastic pieces on this site, inspiring to say the least. However, in the case of your ongoing assessments of Ancelotti, your posts have essentially morphed into repetitive ranting against him, and ranting against others on this site who express support for him.
Yes, we all know that the team setup is always his choice, because he's the manager and so he makes the choices. But he appears to be making choices aimed at maximising the chances of at best winning games and at worst drawing them, i.e. not losing. That will probably necessitate playing dour football, but it also involves playing excellent entertaining football. That's the evidence before our eyes this season: a spectrum from dour to scintillating. Now I think that's called having options, a flexible approach depending on injuries and the opposition. The approach appears to be working in that we have become harder to beat whilst demonstrating an ability to play scintillating football.
Danny Broderick
306
Posted 28/01/2021 at 19:12:17
Darren (289),
You are deluded if you think the manager should be playing the perennial underperformers every week. Instead of last night's team, should he be picking Sigurdsson in key games? Or Bernard? Or Gordon? Or you like to mention Kean?
Face facts - they have all produced jack shit for Everton. I'll spare Gordon, he's only a kid and should go out on loan somewhere. He's simply not ready. Most of the creative players Carlo inherited were and are shit. You cannot criticise him for preferring workhorses when the creative players he inherited are so poor.
John Boon
307
Posted 28/01/2021 at 19:14:19
Most posts point out the faults of various players, and who should play and when. The manager is always up for criticism, particularly after a disappointing result.
I am a supporter of Ancelotti in general, but yesterday he got things wrong, not necessarilly on who should play but tactics were at fault, I think his defensive strategy was played incorrecctly to the point of forcing Everton to play in their own end for most of the game.Unfortunately we do this FAR too often against stronger teams.
I watched the whole game twice, a glutton for punishment. I am a big supporter of Calvert Lewin but,at times, he also has to take on a different role along with whoever else is considered as a forward player. When the opposing goalie throws the ball out to a back or central defender we back off them and allow them to get to at least the half way line before even challenging them. It is so obvious that we then spend most of the game in our own end.
Having played all full back positions it is always most difficult when tiger like forwards approach the full backs as CLOSELY and AGGRESSIVELY as possible. CL and others just jog around giving whoever has the ball plenty of space and time. On the other hand our fullbacks were hastled and chased all around and often forced to boot the ball up the field. Yes far far too often
I agree that good players help any system but yesterday apart from a bit of genius we played right into the hands of very caable opponents. We did not need to do so.We just let them come over the half way line so easily. RIDICULOUS !!! We should not do this against any team. It is not defensive play it is "STUPID" play
Kieran Kinsella
308
Posted 28/01/2021 at 19:21:18
Danny 303
The "logic" of the dissenters is just to mention any random name, preferably some completely unproven youngster and imply that there would have been a better outcome -- based on that poster's supposed special insights. So for example something like this:
"So-called, sycophant, woollyback- looking charlatans on here, don't have a clue what goes on at Finch Farm whereas I have a secret tunnel from my garden shed that leads directly to the academy from where I use my audio enabled periscope to track every word of genius that drips off David Unsworth's tongue. Having seen what I and only I have through my peeping device, we would have won last night by 100-0 if young Broadhead had played and I can't believe the muppets at the club let young homegrown baby boy Charsley walk away at only 26 years old. Why do we continue to waste money on golden boot winners when we have a secret army of young guns who if we're not careful will go onto to become Div 2 or non-league legends., making us look like mugs. Anyone who says different than me is deluded."
Graham Mockford
309
Posted 28/01/2021 at 19:22:16
Maybe some posters might just consider the possibility that Ancelotti didn't tell his team to sit back and play defensively but that the opposition played really well during portions of the game.
And in fact because we got overrun in midfield we simply couldn't get a grip of the game. But then I guess that might require you to admit Gomes and Davies are not top 4 calibre.
Joe McMahon
310
Posted 28/01/2021 at 19:27:39
Graham@309, you could be onto something, Leicester play with pace and cut through our centre midfield like a hot knife through Butter. They are a very good team, and yes better than Everton. I can't see a Carlo team doing the same next season after the summer transfer window, when more quality arrives. We missed Allan and Duke last night for sure.
Danny O'Neill
311
Posted 28/01/2021 at 19:31:32
Games are won and lost in midfield Graham. That's always been my key principle in football. It was our glaring gap the past few years. We went some way to addressing it in the last transfer window but have been hit by injury and suspension. In fairness, we've coped reasonably well and kept ourselves in the mix so credit to those who have stepped up.
But, when our improved first choices are not available, we are back to last season. Having improved the first 11, the next stage is to improve the depth. That was our problem last night and second half in particular, Leicester simply dominated midfield.
Tony Abrahams
312
Posted 28/01/2021 at 19:31:47
Rob@284, the goalkeepers union, always stick together! My issue with Pickford is that he never seems relaxed, and he rarely anticipates, which is what lead to him giving away that corner in the first place, imo.
I don't know if Olsen is the answer, but Pickford is like a cat on a hot tin roof, and it's why I agree with you when you said he should be stood down for the next few games at least.
If Olsen plays Saturday and makes a mistake I'm sure loads would slaughter him, and also have a go at the manager for not sticking with Pickford, but something is wrong with our keeper, and I'm not sure it can be fixed until he learns to relax, which should help his concentration levels massively, and is something every good keeper needs?

Jay Wood
[BRZ]
313
Posted 28/01/2021 at 19:32:02
Darren Hind
314
Posted 28/01/2021 at 19:37:30
We've had a forward and a midfield player playing wing back in the same game.
We have two centerbacks who don't get forward playing full back, We have two defensive midfield players who don't have a defensive bone in their collective bodies playing as a defensive pair because they can spoil better than the 100m quids worth of attacking alternatives. We have a full back playing left mid.
We have a center forward who hasnt seen a team mate for an hour running himself to a stand still..before being replaced by a full back...His team mate is running around with a face like a smacked arse because he is expected to track back instead of forming a partnership......And we "don't make the players fit the formation" ??????.it would be funny if it wasnt true.
We've got two goalies on the fucking bench FFS. Whats it going to take ?
Offer 100m quids worth of alternatives, or offer different tactics as another alternative and you get somebody trying to deflect from the point by making the ridiculous claim that you offered the weakest alternative as the "answer"
Honestly.I often wonder whether those making these feeble excuses for the anti football we endure are representing the case for the prosecution, or the defence.
Claims that we would be ripped to shreads if we played a more expansive game are worthless. These claims are made by people who know that there is no chance of that theory being put to the test while carlo is in charge.
How can anybody say with any confidence that we would not have fared better if we had not aggressively attacked a depleted Leicester team last night ? That total unwillingness to come out and try is simply not what I expect from an Everton team.
Keep telling yourselves that we cant win playing aggressive attacking football, so shouldnt try.
Enjoy the fact that we may be playing Big Sam style, but Carlo is better at it and he will get more points.
Enjoy the 4-5 place improvement in the table from Silva's time. You may as well, because you will never get to enjoy football the way it was invented to be played Not while this fellas in charge
Danny O'Neill
315
Posted 28/01/2021 at 19:37:35
He dives too early too often Tony. He is reactive not proactive.
I've just said on Lydon's report, we are obsessed with shot stoppers and the spectacular.
We have lost sight of the fact the keeper is the 5th defender. Off the line early to cut out danger, command the area and defence.
The save is the last resort just as the tackle is for the defender.
Danny Broderick
316
Posted 28/01/2021 at 19:39:16
Kieran (308),
Spot on. It seems much easier to throw stones and use various players as a stick to beat the manager with, than offering what team they would have picked last night. I guess it's much easier to demolish than construct!
Ciarán McGlone
317
Posted 28/01/2021 at 19:40:06
Leicester are the best team we've played this season.. we've capitulated to some average teams this year - last night was not of those occasions.
Danny Broderick
318
Posted 28/01/2021 at 19:40:46
What team would you have picked last night Darren?
Dave Abrahams
319
Posted 28/01/2021 at 19:41:58
Danny (303), you are correct the players Carlo selected were the only ones available, with Sigurdsson on the bench and Allan, Delph injured and Doucoure suspended, I'm not arguing about the selection, surely you couldn't have been happy with the way we conceded one half of the pitch to Leicester in the second half, and if Ancoletti didn't want them to play that way he did nothing to rectify the changes until very late in the game and we showed we could play in a more attacking way with the three good chances we created.
I'm not anti Carlo, think we've got a good manager, but like all managers he makes mistakes, and he's made a few in certain games, in my opinion last night was one of them, and we were lucky to come out of the game with a point.
Thomas Richards
320
Posted 28/01/2021 at 19:44:30
MARY.
Have you got a cup of soap powder I can borrer gerl
Si Cooper
321
Posted 28/01/2021 at 19:45:17
John Boon (307), that's great because in your idyllic vision of the 'game that could have been' all that pressing works brilliantly and we permanently keep Leicester on the back foot.
The only problem is I have a competing vision in my head where the Leicester players simply exploit the wide open spaces that James, Gomes and Davies are powerless to get around sufficiently quickly and they end up scoring a hatful when our defenders are then exposed to superior numbers and pulled out of position.
They are both imagination I suppose but one still seems more realistic to me.
Brent Stephens
322
Posted 28/01/2021 at 19:45:19
Simms? Really?
Kieran Kinsella
323
Posted 28/01/2021 at 19:48:28
"You may as well, because you will never get to enjoy football the way it was invented to be played Not while this fellas in charge."
I for one am glad to hear that. Depending on your interpretation of "invented" date. I was never a fan of chasing a decapitated head as part of a mob through an ancient citadel, nor did I like the era when you were allowed to pick up the ball like those jokes from Rugby loved to do.
Danny O'Neill
324
Posted 28/01/2021 at 19:49:36
Well, given Silva's only complete season saw an 8th place finish, I'd take a 4 or 5 place improvement as that puts us 4th or 3rd. Not bad for a first full season. And then we can build on that.
Bobby Mallon
325
Posted 28/01/2021 at 19:52:05
So Cooper 269 I don't know but he showed Richy what a winger should be doing
Danny Broderick
326
Posted 28/01/2021 at 19:55:26
Dave (319),
I completely agree about subs. I was crying out for subs from about 60 minutes, Gomes was spent and Richarlison was having one of his frustrating nights. The midfield was being overrun. I wanted Iwobi on, but honestly, aside from Iwobi, who could have come on? Bernard? Sigurdsson? Gordon? None of them would have wrestled control of the midfield from Leicester.
I believe Ancelotti was happy to defend deep yesterday and counter attack. With the midfield we had, it would have been suicide to have opened us up. I'm not delighted with the way we played last night, but I'm pragmatic about it. I haven't heard any other viable alternative yet...
John Dooley
327
Posted 28/01/2021 at 19:58:38
Sean : totally agree, but if we want to be a "top 4" team then we can't be waiting around for years until these players are in their primes, if we did that the James would be a grandad haha we would be going around in circles as we have done for how many years? This season in particular is every reason why we should be pushing hard now having the best players out on that pitch, obviously I'm not a holgate fan at all at the minute through his constant side passing and playing the ball back at every given opportunity. That may as you say come in time. The better option was Seamus or Godfrey and pushed Digne back into his usual role. Like I said mate difference of opinion on DCL but looking forward to him proving me wrong ( hopefully ) 👍🏻
Bobby Mallon
328
Posted 28/01/2021 at 19:58:58
Darren Hind 314. You have tied your colours to the mast and said you would have had Brenda as our manager. So please give us all your thoughts on how he couldn't beat Shit rubbish tactically boring Everton last night. Why was it he could not galvanise his team to win.
Andy Crooks
329
Posted 28/01/2021 at 19:59:08
Can anyone give an explanation as to why we often have two goalkeepers on the bench? I would genuinely like to hear a decent explanation. It truly baffles me.
Robert Tressell
330
Posted 28/01/2021 at 20:00:55
Andy, it's been a precaution ever since Richard Wright tripped over the keep off the grass sign. Once bitten...
Bobby Mallon
331
Posted 28/01/2021 at 20:01:28
Andy I think it's in case we have a goalie sent off and if we get an injury
Kieran Kinsella
332
Posted 28/01/2021 at 20:05:30
Andy 329
I agree with Bobby. realistically we don't need all those subs as we can only use three anyway. So if you've a couple of defenders, couple of mids, couple of attackers. So why not not use one of the unneeded spots to have an extra goalie in the event of a crisis?
Dave Abrahams
333
Posted 28/01/2021 at 20:07:17
Danny (326),
I'm not a fan of Sigurdsson or Iwobi (although he has improved in certain games) but, when Carlo made the subs, we did attack more, created chances, and we were in no more danger of conceding than we were before.
Didn't he think we could improve or didn't he think of making the changes before he did? Or maybe, just maybe, Duncan whispered some advice in his ear!!!
Danny Broderick
334
Posted 28/01/2021 at 20:16:12
Dave,
I honestly don't think there was any big tactical shift last night. We were set up to defend deep and counter attack. We managed a few more counter attacks second half as Leicester pushed forward...
The subs made were to shuffle the pack really. Maybe we had better balance with Digne at left back and Godfrey at right back? They certainly gave us a bit more attacking threat. But for me, the subs were for fresh legs, nothing more. We didn't have any reliable options on the bench to change our attacking formation...
Tony Abrahams
335
Posted 28/01/2021 at 20:16:35
Like most people, I class myself as a football purist, but I'm also happy to see Everton defending for their lives. Maybe just another contradiction, or maybe a great base from which to begin?
A dinosaur football manager, making Everton play dinosaur football, or maybe a man trying his best to win, with the players at his disposal?
Maybe it is cowardly football? But I'd disagree because I saw a lot of fight last night, and I saw our defenders relishing putting their bodies on the line.
Maybe a much better description would be unimaginative football but, for the first time in years, at least we've got players who are working really hard for their team.

Rob Halligan
336
Posted 28/01/2021 at 20:18:10
Tony # 312. I agree Pickford sometimes doesn't seem relaxed, but to "anticipate" if a shot / cross is going in or going wide, I wouldn't expect any goalkeeper to assume or expect a shot / cross was going wide and just leave it, if indeed that's what you meant? Look at Joe Hart against Marine, when that shot hit the bar. He thought it was going miles over and just left it. He'd have looked a right tomcat if it had gone in. As I said, safety first, if there's any doubt then push the ball behind.
By the way, you don't often see any goalies these days raking their studs from the centre of the goal from the goal line down to the six yard line. This was usually done to give them an indication of where the centre of the goal is, and therefore help them in such scenarios that Pickford had last night. Mind you, goal areas are never bare these days so I doubt you could rake a line in the grass.
Si Cooper
337
Posted 28/01/2021 at 20:18:14
Dave, you can't automatically assume that those same substitutions would have worked the same way if they had been made earlier. That would largely depend on whether the opposition flagged at a particular point in the game or not.
Danny O'Neill
338
Posted 28/01/2021 at 20:18:23
Probably have to ask Carlo that one, Andy Crooks, but I guess it is a combination of 1: Thin squad. 2: Can still only make 3 changes regardless of how many you name... so, outside of the ones the manager knows he will realistically introduce, the rest don't matter.
Roger Helm
339
Posted 28/01/2021 at 20:22:36
You could just see their goal coming, it was maddening when it happened. It's all very well defending around your penalty area for long periods but one unlucky deflection or error or bad referee decision and you are a goal down.
Darren Hind
340
Posted 28/01/2021 at 20:29:50
Danny,
Sorry, but you are deluding yourself. We are not playing Champions League football next season. You need to venture into the opposition half far more often than we do to achieve that.
It could be argued (not by me) that if you can get Champions League football by ruining games, that the end would justify the means. But you are an Evertonian and, as such, you know better than most what you are left with when you play negative football and achieve nothing.
Booby Mallon,
I spoke about the Leicester manager?? Nice try.
Keiran Kinsella,
Side splitting; I haven't laughed so much since you told us you had a long established soft spot for Sheffield Wednesday... because a West Ham player caught the ball when our goalkeeper was down.
Kieran Kinsella
341
Posted 28/01/2021 at 20:30:43
Roger 340,
I agree that I also sensed it was coming. But imagine if he had subbed a few on right before Pickford's gaffe. People would be saying "We should have left it as it was."
Danny Broderick
342
Posted 28/01/2021 at 20:33:14
Darren,
What team would you have picked last night? What would you have done differently?
John Keating
343
Posted 28/01/2021 at 20:33:20
Tony,
I have to laugh at the usual contributors calling this dinosaur football, not the Everton way and on and on and on. Let's be honest, apart from a season or so in the early '60s and '70s, 4 or so years in the '80s, what is this Everton Way? People talk as if we've had some sort of different way to everyone else. Fantasy land I'm afraid.
The haters will hate regardless. One or two are more crafty and cover both bases so they'll never be wrong. We could win the league and they'd still moan. We never won it the Everton Way.
Danny O'Neill
344
Posted 28/01/2021 at 20:36:59
If you sit back like that Roger for as long as we did, you are inviting the goal. But to counter that, you are being pressed by a very good team seeking an equaliser.
The defence were great but we may have seen the limitations of playing 4 centre backs. No outlet from the fullbacks. Our midfield 2 didn't play badly and both put a shift in, but were overwhelmed. It would have been different with Doucoure and Allan in the team.
A good point in my book. If people want to play down and disrespect this current Leicester team that is their view, but we have taken 4 points from them this season and are very much in touch with them and the top 6 / top 4.
John Boon
345
Posted 28/01/2021 at 20:40:33
Si Cooper(321) I agree with you, without self correcting myself. I was probably somewhat long winded in stating what I see as a flaw that IS often evident. AS good as CL is I don't think he hastles and upsets defenders coming out from the back. What I suggested is by no means a "Defensive System". I just think that CL does not do enough to upset opponents. Neither do other forwards.He is still a top striker who could be even better
We were exploited by Leicester, mainly because they had better faster players in midfield. However we also played right into their hands far more than we needed to. I was satisfied with one point, but only because we didn't even deserve the one.
Danny O'Neill
346
Posted 28/01/2021 at 20:41:27
Which Danny is that at Darren? Always gets confusing when me and Danny are active on the same thread!!
Sean O'Hanlon
347
Posted 28/01/2021 at 20:43:54
As we approach mid-season with our game at home to Newcastle on Saturday, I was entertaining the horrible thought of us being beaten.
How would ToffeeWebbers view such a scenario, considering Newcastle have lost 6 on the bounce(including a cup game) ?
For me, I would regard Ancelotti's appointment as a failure, and the second half of the season as a dead rubber. I would find it very difficult to check Everton's results, never mind watching them.

Danny O'Neill
348
Posted 28/01/2021 at 20:50:03
On the basis of one game Sean? I find that very alarmist. As you say, there is still half a season to go an we are in reach of the top 6 regardless of Saturdays result. Bumps on the road there will be but in the main this has been a decent season. Listening to some you'd have thought that we'd been battered 4 - 0 by a team that could have gone joint top last night. As it was, we got our 4th point off them this season and stopped them doing that as well as staying very much in touch with them.
Bobby Mallon
349
Posted 28/01/2021 at 20:51:09
Sean 348 get a grip on reality. If your a proper supporter you watch Everton in the Vauxhall conference ffs. It's fuckibg Everton our Toffeweb team
Danny O'Neill
350
Posted 28/01/2021 at 20:53:05
Bobby goes more direct than me but same sentiment!!
Danny Broderick
351
Posted 28/01/2021 at 20:57:06
Sean (347)
One word; fickle.
Dave Abrahams
352
Posted 28/01/2021 at 21:03:31
Si (337), no of course I couldn't assume that the subs. would have worked as good if they had been used earlier, nor could I assume that they might have worked better!! Si they did create chances though didn't they when they were made.
Sean O'Hanlon
353
Posted 28/01/2021 at 21:04:26
Danny & Bobby. I agree with you - but now, the disappointments sadly far outweigh the enjoyment of watching Everton - and after 65 years, I just can't take it any more. Sorry.
Brendan McLaughlin
354
Posted 28/01/2021 at 21:11:40
Sean O #347
And waste the opportunity of moaning for half a season no chance!

Danny O'Neill
355
Posted 28/01/2021 at 21:13:12
Well Sean, massive respect as you've been watching Everton far longer than my 44 (ish) that I recall (I'm 49).
In my time, and you have more experience than me, we know that one match doesn't make a season. That's cup football and knock out competition mentality.
The league is about where you are at the end of it. How many teams have ever won the league, qualified for Europe or just done well by winning every single game? Most teams throughout history, even champions, have lost and drawn a few along the way and not been at their best all the time.
Listening to some on here you would honestly think we had been well beaten last night.
Rob Halligan
356
Posted 28/01/2021 at 21:14:39
Poor goalkeeping by Lloris for the RS second goal. Was the shot going wide, maybe not, but he pushed the ball back into the path of Trent Arnold instead of pushing it away from goal. Still, he plays for one of the sky darlings, and is also a world cup winner, so I guess it's ok!
Kieran Kinsella
357
Posted 28/01/2021 at 21:15:33
Danny 343
He'd definitely include the attacking duo of Tom Davies and Anthony Gordon who've combined for one assist in their last 77 appearances combined. And no doubt Big Dunc as the manager because remember he was a better choice for the job as he picked up four points in Dec 2019 against Arsenal and Chelsea whereas Carlo, same time, same place one year later only picked up SIX from the same two games. Dunc also being of that Everton vintage of old where we played champagne football with dazzlers like Joe Parkinson and Barry Horne doing their Harlem Globetrotters routine under the purely attack minded Joe Royle. As someone points out, you can't get into the CL if you don't go in the other teams half as much as we do as you'll never score enough goals. Which is why right now we are on course to score 61/62 goals this season which is. . . more than City scored and qualified in the recent past, the same as Utd qualified with, one less than Chelsea needed two years ago but disregard those statistics behind the curtain.
Graham Mockford
358
Posted 28/01/2021 at 21:15:54
I've just realised who our esteemed TW poster reminds me of. He's Piers fucking Morgan
Tony Abrahams
359
Posted 28/01/2021 at 21:17:25
Anticipating usually means thinking about where the ball or your opponent is going to go Rob, and I don't think Pickford's anticipates very well.
I suppose it's about the most important position for any footballer Rob, and I think it's Pickford's "starting position" which tends to have him flapping at to many crosses?
That ball that Barnes put in was brilliant, but if Jordan was a bit more relaxed/aware, he would have known that cross had beaten everyone and was going out for a goal kick imo, but I suppose football has always been easy from the sidelines!
Brent Stephens
360
Posted 28/01/2021 at 21:25:33
Brendan " And waste the opportunity of moaning for half a season no chance!"
Brendan, some can moan for a whole bloody season! Even from before the season starts.
Interesting game at WHL.
Mike Oates
361
Posted 28/01/2021 at 21:26:49
Watching Spurs vs Liverpool - we are a few years away in terms of movement, pace.
Rob Halligan
362
Posted 28/01/2021 at 21:27:19
Spurs are piss poor, Brent, and nothing to fear in the cup. Their defending is atrocious.
Brendan McLaughlin
363
Posted 28/01/2021 at 21:28:55
Brent #360
Watching on BT Sports how biased are the commentators for the Shite? Shit...3 for the Shite!
Graham Mockford
364
Posted 28/01/2021 at 21:29:08
Tony #359
Any incident can be analysed and you can take a view one way or another. For me it's just the number of times we are having the conversation. He makes too many 'mistakes' to be considered a top keeper.
The stats bear it out and I'm still to meet a supporter willing to say they feel confident with him between the sticks
Thomas Richards
365
Posted 28/01/2021 at 21:30:22
Front two for Spurs Rob.
And Hojberg.
The rest are nothing to be over concerned about.
Danny O'Neill
366
Posted 28/01/2021 at 21:30:25
Exactly Tony. Anticipate what is going to happen rather than reacting to what has just happened. Football is as much in the brain as it is in the feet. That is what differentiates the great from the good.
James' goal last night. I enjoyed that. He anticipated, picked up the lose ball, made space for the shot and then demonstrated quality with his right foot (not his natural or strongest mind).
Rob Halligan
367
Posted 28/01/2021 at 21:38:37
Thomas, it could be a front one and Hojbjerg. Kane went off at half time with ankle damage, possible ligaments, so he could be missing for the cup game.
Thomas Richards
368
Posted 28/01/2021 at 21:39:46
Rob Halligan
369
Posted 28/01/2021 at 21:43:07
Tony, it's all very well an outfield player anticipating what's going to happen with the ball, but it's certainly not something I'd want a goalkeeper to do. I've often yelled at our players to anticipate a knockdown from a header instead of just standing still watching and hoping for a knockdown or flick on, but I'd certainly not want our goalkeeper to do it.
Darren Hind
370
Posted 28/01/2021 at 21:43:51
Sean
You owe nobody an apology Mate. Not with your record
There are hypocrites on here who have slaughtered previous managers now acting with moral indignation at the slightest hint of criticism of this one, Dont be fooled by their amnesia or by their unquestioning support of this manager. They will turn on him at the drop of a hat.
Stand your ground fella. Dont apologise. and dont be shouted down by them.
After 65 years, You've earned your right to voice your concerns and disillusionment.

Tony Abrahams
371
Posted 28/01/2021 at 21:45:22
John @343,
I've seen Everton win honours in the years 1984, 1985, 1987 & 1995, and the first thing that comes to mind is that all those teams could scrap.
The Everton Way is to fight and to believe, it was in the years I've just mentioned anyway.
Maybe that's not being kind to Kendall's great team of the eighties, although I'm sure it's the first thing those players would tell us, along with "we could also play as well".

Danny Broderick
372
Posted 28/01/2021 at 21:46:53
Kieran (357)
Don't let facts get in the way of a good argument 🤣🤣
63 points now from 38 league games for Ancelotti. But yes, he's a dinosaur. Has been. Only here for the money. Etc etc
Thomas Richards
373
Posted 28/01/2021 at 21:52:03
Tony,
Your dad will have told you a thousand times as you grew up. But once more, ask him about the whackers we have had over the years.
Kieran Kinsella
374
Posted 28/01/2021 at 21:53:30
Rob
"Spurs are piss poor, Brent, and nothing to fear in the cup. Their defending is atrocious."
Isn't that what we were saying about Man Utd before the cup game? Also, don't forget we play United just 48 hours before Spurs. They have a bigger squad than us and more options. I hope we do them over Amokachi style but I'm anxious about it.
Tony Abrahams
375
Posted 28/01/2021 at 22:00:26
It's the name of the game imo Rob, especially for players that take up good starting positions, which enables them to get where the ball is going much quicker?
I think it applies to goalkeeping as much as any other position Rob, (possibly more?) although I've only played in goal in 5-asides or training though, mate. I look at a good goalkeeper, and also judge him by the saves he doesn't have to make, and Pickford falls really short in this department for me, because he rarely goes and takes command?

Rob Halligan
376
Posted 28/01/2021 at 22:01:22
Kieran, has it been confirmed the game at Man Utd is still on the Monday? Surely that game should be brought forward to the Saturday or Sunday. I know United also have a cup game that midweek, but on what day? I know Spurs are scheduled to play West Brom on the Saturday 6 February. We need to be complaining if these dates remain for us.
Bill Gall
377
Posted 28/01/2021 at 22:03:09
I watched some of the Spurs game but wasn't too impressed. I see Kane went off... I wonder how long he will be out?
Question: Has it ever stopped raining in England this month? I'm surprised at how well the pitches look.
Joe McMahon
378
Posted 28/01/2021 at 22:03:42
Kieran, don't take anything for granted, Wigan QF for example. Besides Everton have won Bo Didley for 26 years, Spurs will want a trophy also.
Rob Halligan
379
Posted 28/01/2021 at 22:09:55
Tony, I'm not disputing the majority of what you say about Pickford. I just think that on this one occasion, i.e pushing the ball behind for a corner, was, in my opinion, not the wrong thing to do.
You mention that he doesn't command which is correct, as he is rarely seen commanding his penalty area and just about puts himself about in his 6-yard box. As I said, a few games out will do him the world of good.
Tony Abrahams
380
Posted 28/01/2021 at 22:15:13
I know it doesn't sound like it Rob, but I honestly don't like slagging footballers. I agree with you that Pickford needs to be rested, but I'd also argue that he could become a top goalkeeper, but first he's got to find a way to relax, think and compose himself a bit more. That's my opinion anyway.
Jerome Shields
381
Posted 28/01/2021 at 22:16:37
Pickford is not a top 4 goalkeeper, so the best Everton can hope for is a Top Six finish.
I thought Ancelotti got the tactics right imo, against Leicester.

Tony Abrahams
382
Posted 28/01/2021 at 22:24:27
Win the early kick off on Saturday and we will be 5th, a point off a top 4 spot with a game in hand, but we are only at the halfway stage, and besides Pickford, do we really have a real top four attack?
Brian Murray
383
Posted 28/01/2021 at 22:29:09
Tony post 380. let him rest in Sunderland. He has already cost us a league and cup derby plus numerous points. Same as excuses for Gomes after leg break.
Before and after injury, he's nowhere near what we need. Time to be ruthless with these one-game-in-four losers. They epitomise Everton and I hate it.
Graham Mockford
384
Posted 28/01/2021 at 22:34:54
Jerome #381 Tony #382
You ask the right question. Is the player good enough to be in a top 4 squad?
My take we currently have Coleman, Digne, Keane, Mina, Holgate, Godfrey, Doucoure, Allan, Richarlison, Calvert-Lewin, James
I might be convinced about Olsen, Gordon, Nkounkou and Iwobi.
We are still 6 players from a truly competitive squad...
Tony Hill
385
Posted 28/01/2021 at 22:35:27
Tony @382, I very much hope I'm wrong but I expect us to finish 8th or 9th. The current top 4 and then Spurs, Chelsea and Arsenal, over the course of the season, will finish ahead of us. West Ham may also outdo us.
The reason why some of us are so annoyed about last night is that we bottled it again when it had real meaning for our season. We do it time after time, shivering in dread when any big moment arrives, forever seeking out excuses for why now is not our time.
Like Sean O'Hanlon, I've very nearly seen enough of it. No bravery, no heart, no enduring style. It's been that way for far, far too long and I see precious few signs that we are going to change. I think cowardice is the right word, I'm afraid. We flinch whenever it counts.
Tony Abrahams
386
Posted 28/01/2021 at 22:35:54
If it was just as easy as being ruthless, I think it would be easy, Brian, but Ancelotti's predecessors have wasted absolute fortunes, and this is something that will make his job longer and slower.
Dick Fearon
387
Posted 28/01/2021 at 22:57:23
The RS took the lead on the stroke of half time. They did not go into a defensive shell. They continued to attack with all guns firing.
Think about it.
Danny O'Neill
388
Posted 28/01/2021 at 22:59:17
No one should apologise for their views on here.
The only time you apologise is if you personally abuse someone or step over a line.
I have apologised in recent weeks to certain vocal fellow posters who I don't always agree with because I acknowledged that I was probably out of order.
I doubt they would acknowledge it conversely but that matters not as I respect their view. Humility is a two-way thing.
Back to football. I accept views, but struggle to see why some seem to zoom in on the negatives. We are right in the mix for European qualification, Isn't that where we wanted to be?
Some people simply want Ancelotti to fail. And before I get an emotional outcry of "How dare you accuse me of wanting Everton to lose / that's unacceptable", you've nailed your flag to the mast and don't want Ancelotti as manager. That's clear.
That opinion doesn't want Everton to lose or fail but it definitely wants Ancelotti to. So we can have Duncan as boss man with Unsy and the kids storming to glory.
That's an entitled view but so is the counter.
Christy Ring
389
Posted 28/01/2021 at 23:06:20
Darren #314,
You hit the nail on the head, he played Davies and Gomes as two defensive midfielders, which they're not, because he had no-one else, with Allan and Doucouré missing, and Delph who's always missing, what else could Carlo do?
You suggested playing attacking midfielders? Imagine starting Iwobi and Sigurdsson instead... we'd have been hammered.
Danny O'Neill
390
Posted 28/01/2021 at 23:13:37
In the context Christy it was actually a good result. I was cringing during that second half. The analysis of Pickford for me is a separate issue, we were asking for that equaliser.
But to my scratched record point. We have taken 4 points from a very strong Leicester side who dominated the midfield last night, where games are won and lost.
We are in the mix for where we wanted to be at the business end of the season with key players to come back.
Paul Birmingham
391
Posted 28/01/2021 at 23:34:28
Danny, agreed, and now to beat The Toon, and beat them well, as it's a must win.
Big stakes and every game is massive, and let's see which Goalie, starts on Saturday.
Hopefully Allan will be getting close to come back, and some games at our old ground, United, and Leeds to contend.
Defining phase for getting into the good place for the final furlongs of this season.
Ian Horan
392
Posted 28/01/2021 at 23:37:18
Agent provocateur Darren Hind does it again!!!!
His view is the only view that matters!!! He will never respond to a question merely supply bluster and discredit someone else's opinion. I disagreed with him weeks ago and in his defence his cavalry came riding over the hill. Casho saying Darren was right even though Darren never provided an alternative to counter my opinion, merely sabre-rattling the 'Carlo is shite' brigade.
We currently have a once in a generation world class manager who has the ability to garner points inspite of a collection of 4 dysfunctional managers footballing philosophies.
I prefer to review any manager's performance in the round over the course of a full season. Come the end of the season, I will critise or acclaim based on our league position.
Finally, harking back to how football should be played, Darren H, Pep, Morinho and Klipperty have very different styles yet all have been successful. In the land of the blind, the one-eyed man is king!!! I will let you all decide who aspires to be king of ToffeeWeb.
Kieran Kinsella
393
Posted 29/01/2021 at 00:16:57
Dick Fearon
I'm thinking about it and that's how Liverpool play every game, like when they just lost to Burnley. So what's your point?
Dick Fearon
394
Posted 29/01/2021 at 04:54:53
Kieran @393,
With an attacking mindset, there is more chance of winning a trophy. Win or lose, an attacking mindset leads to more exciting play. We could even beat the other lot.
Darren Hind
395
Posted 29/01/2021 at 05:40:30
Danny O'Neill,
The difference between me and you is very stark. I am honest with myself about my opinion. I make no bones about the fact that I don't want Ancelotti as our manager, never did... and him playing pug ugly football trying to get top six doesn't do anything to change that. Your relentless excuses won't change it either.
You make out you are balanced, but you are relentless in your pursuit of criticism of Ancelotti and you are relentless with your excuses for his spoiling tactics.
I criticsed Moyes for playing ugly football. I criticised Koeman for it. I criticised big Sam and Silva for it too... and whether you like it or not, I will criticise this fella for it as well.
Outside my family, I hold two things very dear. I want to see my team try to win and I want to see them playing bold adventurous football. Not really much to ask for. We didn't do either against Leicester. We played a coward's game. That makes me fucking angry and I point the finger firmly in the direction of the guy who repeatedly refuses to come out and play. You don't like that? Tough.
You will not (as you claim) get any emotional outcry from me. I don't care enough about your foolish accusations
I'm not just anti-Ancelotti. I'm anti-shithouse football... no matter who is responsible. That's my view point and I won't be changing it.
You need to peddle your appolgies, excuses and your accusations some place else. I ain't buying.
Roman Sidey
396
Posted 29/01/2021 at 06:38:16
Stan Schofield, 143, I think people lauding Leicester as a top team are doing it more out of the fact that this season they look like being a top 2-3 side rather than something pretty much a different XI achieved five years ago. To think they're anything other than title challengers this season is ignorant.
And to the argument of Tom Davies on this thread and every other thread, I'll preface this by saying he certainly didn't play poorly in this match, but what does he actually do? He's a central midfielder who doesn't score, doesn't create, doesn't tackle, doesn't dominate his opposition and rarely passes the ball forwards. What, I ask again, does he do?
Paul A Smith
397
Posted 29/01/2021 at 07:08:06
4 games in 12 days we have in Febuary. How on earth do we play Spurs 2 nights after a Monday game?
When has that ever happened?
That is an absolute joke and we shouldn't put up with this shit.
Annika Herbert
398
Posted 29/01/2021 at 07:14:33
Roman @ 396. What exactly does Sigurdsson do as a midfielder, bearing in mind he is meant to be our creative player?
At least Davies tries and doesn't simply stand around waving his arms in a poor windmill imitation.
Given the choices in midfield, who would you have played in place of Davies?
Danny O'Neill
399
Posted 29/01/2021 at 07:20:09
I didn't say I didn't like anything, Darren, and you don't have to buy anything from me.
I do agree though, the difference between you and I is very stark. But I'm good with that. I value different opinion. I often agree with you on occasion as I do about last night's performance, particularly the second half.
Steve Shave
400
Posted 29/01/2021 at 07:26:17
Annika,
I think you are the only person on this site even more invested than I am in your wish to see the back of Sigurdsson. I wouldn't want to be in a pub with us two the night he signs a new contract! :)
Danny O'Neill
401
Posted 29/01/2021 at 07:32:23
Family, Everton winning and doing it in style. That's where we have much in common, Darren.
Annika Herbert
402
Posted 29/01/2021 at 07:43:20
Steve @ 400, well that put a smile on my face! I am just about to start work and everyone will wonder why I am starting the day smiling for a change.
Tony Abrahams
403
Posted 29/01/2021 at 08:08:16
Surely Everton must complain about the ridiculous amount of time between fixtures Paul A, especially because the United game has already been switched back by two days for television.
Another thing I noticed about the midweek fixtures was the amount of away wins, with only one team, Burnley, winning at home.
Derek Thomas
404
Posted 29/01/2021 at 08:10:18
Tony @ 371; 20yrs ago, a rs of all people...he does however remember the 2nd div days...explained it to me thus (like I didn't known it already)
'First you have to win the fightball then you get to play your football '
Roman Sidey
405
Posted 29/01/2021 at 08:19:53
Annika, I certainly didn't say I wouldn't select him in that match with the players available. However, my question was what does he do, not why was he selected. Simply asking the same question about another player who didn't start and I didn't mention adds nothing to the conversation.
If all you can tell me is that Davies tries, then thanks for nothing, I think you and my mother would get along really well.
For the record, I'm not very fond of Sigurddson either, but at least with the shot from outside the box that Davies had in the first half the Icelandic may have hit the target.
Thomas Richards
406
Posted 29/01/2021 at 08:58:16
Dave Abrahams
407
Posted 29/01/2021 at 09:27:01
Attack is the best form of defence, don't like them or want to talk about them really, they lost on Sunday although they were the better team and they won last night, although the three goals they scored came from Spurs defensive errors, but they are coming together again with their passing crisp and the relentless pressing getting to teams, worse of all, to me, we play them soon and I think they are over their very bad spell, now is the time Carlo to weave your magic, although I'm afraid you won't do it with the present squad, if you are not helped in the next few days of the transfer window, we can all forget completely the top four and the top six will fade and diminish as the season limps to an end.
Yes, absolutely defeatist attitude at the moment, but that attitude will change with each new player that comes in by Monday, come on Everton give Carlo some ammunition he's running out of bullets with each passing day.
Tony Abrahams
408
Posted 29/01/2021 at 09:33:38
Maybe Ancellotti's happy Dave, maybe he likes playing this defensive minded football, or maybe he doesn't like losing, and is doing what he thinks best with his limited (especially in numbers and real quality) squad.
Alan J Thompson
409
Posted 29/01/2021 at 09:42:16
Rob(#336); I think markings by goalkeepers on the pitch was "outlawed" some years ago (30-40?) but you can mark from the goal line into the net to mark the centre of the goal. Indeed, I think some groundsmen marked the centre of the goal line.
Tony Abrahams
410
Posted 29/01/2021 at 09:51:05
Derek@404, if it's coming from a kopite, (who have won a lot of trophies on penalties) I'd also add that sometimes you've just got to stay in the game!
Will versus skill? I've said I'm a purist, but something I'd never underestimate, is an opponent's will.
Gerry Ring
411
Posted 29/01/2021 at 09:52:52
Fran #249.
I think you've hit the nail on the head. Playing Godfrey & Holgate at full back provides little or no attacking play from the wings. This is a throwback to the '90s, when full backs just defended. I'm sure Godfrey has the talent to get forward, however Digne just does it & usually completes his runs with a superb cross. We need more attack minded full backs which would give the opposition something to think about. Definitely a weakness at present.
Tony Abrahams
412
Posted 29/01/2021 at 10:03:44
That's why I've been advocating Wilfred Zaha, Gerry, or someone similar to play on our wing!
Danny O'Neill
413
Posted 29/01/2021 at 10:04:10
I don't think that's defeatist Dave, I'd say that's a pretty fair and realistic assessment of where we are. I still think we can do top 6, but it will be a dip for the line with this limited squad.
I also agree, we sometimes forget that the opponent is out to win too. Some very focussed on Leicester's unfashionable name. Very good team as their current and recent league standing suggests.
Stan Schofield
414
Posted 29/01/2021 at 10:21:33
Roman@396: They're a good side, but it is premature to call them a top side. Yes, they do look like title challengers this season, but so do half-a-dozen sides including Everton. We're getting better results this season, but it would be premature not to still regard us as midtable. Leicester are the same. It's their title win that has caused people to keep seeing them as a top side rather than midtable, perhaps influenced by the media, who's influence can be greater than you might realise.
When we played them at King Power, we looked a class higher, but we don't extrapolate from that. Similarly, try not to extrapolate from your perception based on their winning the league a few years ago.
Dave Abrahams
415
Posted 29/01/2021 at 10:30:47
Tony (408), your comments beg the question: Are you happy for Carlo to be happy playing the way he does at the moment, if so we'll all stand still until he becomes unhappy. So,put that in your pipe and smoke it!!!
Stan Schofield
416
Posted 29/01/2021 at 10:45:23
Dave, I honestly think that the main point is that we have options: We can and do play great interpassing attacking football, but we can and do play dour defensive football. It's as the need arises according to the judgement of Ancelotti. There is no evidence to suggest that we will play dour football in every or most games. On the contrary, as evidenced by the games where we've entertained.
We have a Plan A, and a Plan B, and a Plan C, etc., depending on injuries and the opposition. Some of those Plans will be shite to watch, but if that is the cost of not losing, for the ultimate purpose of gaining points, moving forward, and consolidating improvements on the basis of which the more entertaining Plans will become more frequent, that's fine by me.
Dave Abrahams
417
Posted 29/01/2021 at 10:51:57
Stan (416), Stan the plans for B and C will become fragmented the more injuries and suspensions we get and the lesser quality players in the squad are used more frequently, I saw enough on Wednesday night, you seem to be happy with that, fair enough, each to their own, I beg to differ with yours.
Brian Harrison
418
Posted 29/01/2021 at 11:02:23
Dave 415
I don't think that Ancelotti wants to play this way, but maybe he thinks without both Allan and Doucoure if we play a more open game we will leave ourselves to open against the better teams. Most teams that Ancelotti has managed have played good attacking football so unlike Allardyce I don't think this is Ancelottis preferred style of play, but until he can improve the squad still further we may not be as attractive as he and we want us to be.
I agree with Tony in post 412 that Zaha would be a great addition, but sadly I think that ship has sailed.
I think its also worth mentioning that the times we have won the league in the last 60 years we were backed by John Moores, who I would argue gave Catterick a bigger spend advantage over our rivals than Abramovich gave Chelsea or Kaldoun has given City. And Kendall also benefitted from the back of John Moores. But know we cant financially compete with the ones who are normally at the top of the league. Also because Koeman was allowed to throw money away we are now constrained by the FFP rules.
So as much as I am sure Ancelotti would love to bring in players this window and in the summer, I think at best we may bring in a loan squad player at best. So Ancelotti has shown his sound judgement and unlike koeman and others all of his buys look good from Olsen, Godfrey, Doucoure, Allan and the wondefully gifted James. So I think that gives us confidence that Ancelotti knows what he is doing but it might take a bit longer than he and us would like.
Tony Abrahams
419
Posted 29/01/2021 at 11:03:10
Maybe Ancellotti is here for the long haul Dave, with the first rule being, he's gonna try and stay in the game until he's got his own squad of players in
Paul A Smith
420
Posted 29/01/2021 at 11:11:00
Anyone who wants these players to entertain week in week out hasn't got a clue about levels of football.
Its no suprise Michael Keane and Yerry Mina have hit their best form since they came here because they are sitting deep.
Ask them to play the high line Silva and and all these entertainment managers like to play and they'll look like mugs.
Ask Calvert Lewin to link play with his feet and dribble past his man, he'll look a mug too.
Why do you think the manager told him to stay up front.
2 of the slowest passers of the ball (even on top form) we had in midfield against Leicester and they hardly got near Maddison.
Neither player was poor but they were far from excellent as one put it and nowhere near the level of Ndidi nevermind Maddison.
2 weeks back the manager made a comment about doing what is necessary to win games and without saying theres not a great deal of skill in the side, its quite obvious unless you are blind.
Maybe 5 or 6 Everton players are guaranteed to play for a top side in my opinion and I can't believe any of you will find many more?
Without kidding yourself, ask yourself who would get in the United side? They hardly entertain and they have double the talent we have.
Brian Murray
421
Posted 29/01/2021 at 11:13:11
Great news. Siggy with his one assist every three years says he's happy at Everton. Great work if you can get it. When these under achievers are in their rocking chairs with an ex wag wife feeding them grapes on the porch of their five bedroomed I'm sure they will raise a glass to the gift that keeps on giving. Cheers mate it's been a pleasure. Not.
Derek Wadeson
422
Posted 29/01/2021 at 11:19:11
38 Premier League games under Carlo Ancelotti
P38 W18 D9 L11 F53 A49 Points 63
Top 6 form.
Dave Abrahams
423
Posted 29/01/2021 at 11:39:11
All I'm saying is if we don't get players in by Monday it will save all the expectation of top four and top six, and I know most fans realise that the squad is not up to standard so if no players come in then get used to more displays like Wednesday.
I'm not blaming Carlo, Brands or anyone else if no players come in, I'm just stating the bleedin' obvious in case on or two don't realise that stick or twist can make a difference, a big difference for the present, again I understand we are quite patient waiting for the future.
Roman Sidey
424
Posted 29/01/2021 at 11:52:02
Stan, my perception of Leicester as a top side at the moment isn't based on what they did in 2016. They were a mid-table side almost immediately after for several reasons. My perception of them as a top side is based on them being third in the league and 2 wins off top spot at the halfway point of the season.
Whether we beat them in December or not, or whether the top of the league is more congested than usual doesn't take away from the fact that they are one of the better teams in the league right now.

Martin Mason
425
Posted 29/01/2021 at 12:01:56
I'll be controversial here as usual and say that not only did Gomes play well against Leicester but that he was Everton's best midfield player and this is backed up by the stats that I've just read. I also though Tom Davies played very well too. Where we were weakened, if indeed we were weakened, was by playing a left back in midfield. The reality of the Leicester game was that Leicester are a very good side and the advantage in the no fan nowadays is very much in favour of the away side. A very good point for the Blues and good performances from many players. Poor tactics, yes, mistake from Pickford, possibly but still a very good performance.
Martin Mason
426
Posted 29/01/2021 at 12:07:42
Sorry
https://www.footballfancast.com/everton-fc-news/andre-gomes-shone-leicester-ancelotti-doucoure-pickford-rodriguez-review
Christopher Timmins
427
Posted 29/01/2021 at 12:08:37
In a word our manager is being "pragmatic" at this point in time until he can put together a team and back that are of his making.
A lot done, more to do.
Stan Schofield
428
Posted 29/01/2021 at 12:14:39
Roman@424: OK, I take your point, on the basis of which you presumably conclude that Everton are, because of our current position, also a top side and one of the best in the league. The reason I ask this is because it does come across on here that some believe Leicester better than us, a top side already whilst we're supposedly a work in progress. I think this is important in terms of belief that we can win trophies NOW. That is, if a team like Leicester have a good chance of winning the league this season, then so do we.
Tony Abrahams
429
Posted 29/01/2021 at 12:36:50
That cup tie has been confirmed with no mention of the United game being moved
Fran Mitchell
430
Posted 29/01/2021 at 12:39:33
A good manager plays to his team's strengths.
I think it's quite clear that this season our strength (apart from those first 4 games where the entire league seemed to score 5 goals a game) has been in playing tight, defensive football and using the attacking prowess of a few players to score on the break.
We haven't won games with scrappy goals, most have been very well worked goals, highly entertaining and with great levels of skill.
But we don't have the players to continually dominate possession and continually press teams.
Ancelotti has played to our strengths, especially considering our small.squad and high level of injuries.
He's done so effectively.
You can see that the players are playing to a plan that has been coached. The goals demonstrate that. And the defence does too.
Ray Robinson
431
Posted 29/01/2021 at 12:52:12
My thoughts exactly Fran. There are some out there who would have us playing more expansively but losing every other week. I saw enough of that under Martinez.
I await a couple of dynamic midfielders and forward with pace before expecting the more free flowing football. It sometimes isn't pretty right now but making the most of available resources is a sign of a good manager. A Maddison and Harvey Barnes would transform our side.
Martin Nicholls
432
Posted 29/01/2021 at 12:55:50
"Defensive game plan surrenders two points"? Not so, that game plan had the points in the bag if individual players had done their jobs.
Despite their much deeper squad, anyone think manure would have done any better against Leicester on Wednesday had they too gone into the game shorn of their two midfield kingpins, Pogba and Fernandes?
Thomas Richards
433
Posted 29/01/2021 at 12:58:38
Paul A #420
Careful.
I posted the same about the low line defending.
I was told I was giving stick unnecessarily.
I wasn't.
Keane and Mina sit deep, its the only way the manager can use them. They are doing well.
If they push up high they get done for pace.
The low defensive line in turn means the gap between the back four and midfield is to big. Knock on affect is the isolation DCL finds himself in.
When Godfrey and another quick centre half yet to arrive start we can push higher and tighten the space in between the lines.
Until that happens we have no choice but to play as we are.
Its going ok.
Ian Edwards
434
Posted 29/01/2021 at 13:07:54
BREAKING: Ancelotti is making late transfer window bids to sign Arriva and Stagecoach.
Bobby Mallon
435
Posted 29/01/2021 at 13:12:53
Ian Edwards wind up merchant, I've sussed it now
John Raftery
436
Posted 29/01/2021 at 13:14:10
Tony (429) The Club site now says the United match will be played at the weekend 6/7th February.
Tony Abrahams
437
Posted 29/01/2021 at 13:16:50
Thanks John
Thomas Richards
438
Posted 29/01/2021 at 13:19:59
Ian E.
Any chance you can jump on the first one to arrive
The following teams all opened up and attacked Leicester in numbers in thier home games this season
City - twatted 2-5
Arsenal- 0-1
Leeds - 1-4
Spurs 0-2
Hasnt got a fucking clue Ancelotti.
He should have went all guns blazing
Bobby Mallon
439
Posted 29/01/2021 at 13:26:30
I see Zirkzee is going to palma on loan with 15 million clause to buy.
Derek Wadeson
440
Posted 29/01/2021 at 13:27:30
Fran 430 & Ray 431. My thoughts exactly.
Carlo is playing the hand he has been dealt.
Ian Edwards
442
Posted 29/01/2021 at 13:52:42
Thomas 438
What about West Ham at home? Second half at Fulham? ( Yes I know we won... but due to comedy missed pen).
I wonder how long the fans will put up with this dreadful football. They must be happy with 7th.

Graham Mockford
443
Posted 29/01/2021 at 13:56:13
Ian #442
I suspect whilst CL remains an option they'll fucking lap it up.
Ian Edwards
444
Posted 29/01/2021 at 13:57:32
Derek 440.
He was dealt Kean who is scoring for fun and let him go. He was dealt Tosun who scores when played for longer than 5 mins as a sub. He was dealt Bolasie who is the only midfielder who can run at people with the ball ( not the best but better than Bernard).
He didn't have to play Davies at RWB nor Iwobi at LWB in one game.
He plays the hand he wants to play. His mindset is Defence and try to nick something. Even at home. Moyes got chased for doing it away.
Ian Edwards
445
Posted 29/01/2021 at 13:59:12
Graham 442. No chance. We'll finish below the present top 6 plus Chelsea, Arsenal and Villa.
Thomas Richards
446
Posted 29/01/2021 at 14:03:48
https://youtu.be/c8iGZE5Y_Bw
Fill yer boots Ian.
Graham Mockford
447
Posted 29/01/2021 at 14:09:48
Ian
You see there is a chance and although you may ultimately be proved right, stating with certainty that there isn't is clearly ludicrous.
But then again no more ludicrous than bigging up a front 3 of Kean, Tosun, and Bolasie who have managed the grand total of 13 goals in 109 appearances between them.
Ian Edwards
448
Posted 29/01/2021 at 14:21:14
Graham 447. Most of those appearances will be late Subs chasing lost csuses.
Fran Mitchell
449
Posted 29/01/2021 at 14:25:04
The fact that Ian has chosen Tosun, Bolasie, and Kean as the options that Ancelotti ignores, as the solution to change from a defensive/counter attack gameplan to totsl-footbsll esque attacking masterclass kind of proves why Ancelotti is choosing the former.
Brian Murray
450
Posted 29/01/2021 at 14:27:40
Ian. post 442. ( that's quite apt for a start ) the silence from our Dutch master is deafening.I'm still waiting to hear the unveiling of our pacy winger, ( Bailey) plus a striker worthy of the name.
Graham Mockford
451
Posted 29/01/2021 at 14:28:09
Ian
If you can honestly point to any occasion in these three Everton players careers where the did anything to suggest they should get a starting berth. I suspect I'll be waiting some time.
Ancelotti inherited something decent players and some chaff. The three you are discussing fall into the latter category.
Bill Gall
452
Posted 29/01/2021 at 14:35:19
One of the major talking points at the moment is the transfer window and who should we bring in. If we have all our players fit who would you want to be replaced ?. Take for example DCL. we want a back up for him.
So who do you buy, and how much do you spend, who when you are negotiating for him you tell him he is just a backup to DCL.
It is hard and expensive to bring in quality players in, if they are just a squad player used for injuries. The only position I believe we need and is worth spending the money on is at right back. There may be quality players out there for transfer, but are they better than we have, or is it worth spending the money for a squad player ? Or will it be better to wait until the summer transfer window to bring in players and continue in this transfer window to try to get players not required out.?
Graham Mockford
453
Posted 29/01/2021 at 14:45:48
Bill
I'm not sure right back is a priority currently. We have Coleman, Kenny and both Holgate and Gordon can play there.
I think we need another central midfield player. I'd go for Neves or Ward Prowse but I'm sure there are other non PL options
We definitely need options who can play in a front three. I'd still be keen on Zaha, he's strong quick and has an eye for goal.
I don't think however we are going to see much incoming until the summer unless Tosun goes and a back up will be needed
Fran Mitchell
454
Posted 29/01/2021 at 14:46:52
I for one am pleased we are not 'panic buying'. I hope that both Ancelotti and Brands have a list of targets that they look to bring to the club, and will only go for a player if they are confident that the player will improve the team.
Getting drawn into 'we need a striker' transfer desperation is what led to Everton spending nigh on 50million on Walcott and Tosun just 3 years ago.
January is a window that sees clubs generally buy unwanted players, or whoever an agent is touting. The fees are generally inflated, and it takes away from the summer budget where the money can be focussed on principal targets.
Those shouting 'we need a striker' - who exactly? Cause anyone we get will probably need settling in time anyway. So unless it's a loan of someone in the ilk of Dzeko, an experienced pro who'll settle quickly, I don't really see the point.
Rob Halligan
455
Posted 29/01/2021 at 14:53:48
Tony 429, and John 436, it's likely to be Saturday 6th Feb, the original date, as I can't see man Utd agreeing to play on the Sunday against us, then the Tuesday against West in the cup.
Graham Hammond
456
Posted 29/01/2021 at 15:07:01
I guess we all have a game plan and a team selection in our heads before the game. I felt beforehand that we would be overrun in midfield and would struggle for pace and needed bite and fight in there and thought that we would be best served with Holgate or Godfrey alongside Davies if we were indeed going to go with a 4-2-3-1 formation. I thought that 4-1-4-1 was the best way to go beforehand with either Godfrey or Holgate as the '1' and Davies and James as the '2' further upfield. I did not think that having both Gomes and James through the central spine of the team would give us enough bite and mobility and so it proved. I can obviously see why Carlo went with Gomes as he has done well in his substitute roles of late. Davies, in my opinion, completely justified his selection but let's face it, he was 'hung out to dry' rather by Carlo having to play alongside both Gomes and James centrally. My disappointment and irritation does not stem from the fact that we were inviting pressure constantly from Leicester early in the second half but that Carlo could not see that we were getting battered in open play and yet still chose to do nothing to change things. James should have been hooked much earlier for fresher and speedier legs ie Iwobi. Richarlison was so clearly struggling on the right so why take so long to move him over to the left where he has played much of his best football. Whilst not a fan of his, Gylfi for Gomes a little earlier would have helped. When things are not working changes need to be made early and certainly quicker than Carlo did the other night.
Dave Abrahams
457
Posted 29/01/2021 at 15:22:45
Fran (454), I would imagine if there is no intention to bring back Kean to the club then they have had since August to identify another striker to bring in to replace him, The same applies to central midfield, unless they are confident, at least, that Gbamin will play a good part in Everton's future then they have had time to assess another midfield player who will do the job, I don't think they will be panic buying going by the players they brought in last summer and the prices paid for them, they seemed to be hand picked, maybe a doubt about the fitness levels of a couple, which is important, but not the quality.
I have gone on about getting players in now, January, I'll be very surprised if two good signings don't come in by then.
Martin Mason
458
Posted 29/01/2021 at 15:40:59
Edwards@434, I'm not sure why the moderators allow you to come on to this very good board posting your poison. I thought it was because you were just stupid at first but but no, you're far worse.
Kieran Kinsella
459
Posted 29/01/2021 at 16:02:45
Earlier this season people were slating Carlo for being too cavalier when we were winning but conceding an average of two per game. It was pointed out at the time his Chelsea team were loose defensively as they chased goals and tended to win 4-2, 3-1 as opposed to 1-0. Now he is being pigeon holed as some kind of 1950s ultra defensive miser. Clearly, he is just managing his resources as best he can and the attack/defense balance shifts as needed.
Thomas Richards
460
Posted 29/01/2021 at 16:09:13
Kieran, #459
As clear as daylight mate.
He can only work with what he has and utilise that into gaining points.
Thats working ok to date.
The screaming and wailing is way over the top.
The unbridled emotion in one post this morning had me thinking of posting a link to Marjorie Proops to help them.
Dave Abrahams
461
Posted 29/01/2021 at 16:20:13
Kieran (459) And what two or three of us are saying is that he didn't get the balance right in the game v Leicester, we think he was too conservative with his use of the substitutions and left them to late, a trait he has been accused in a few games. He listened to the people who said he was too cavalier early in the season and changed the team's defensive tactics so Keane and Mina can play deep, the only way they can play effectively. Maybe he can listen again.
Paul A Smith
462
Posted 29/01/2021 at 16:20:15
Thomas 433. Football has never been easier to understand mate.
For instance we all know what happens when we have a Lukaku or Stones.
We all know who wants those players that shine. We all know they take your best if you are a threat and sneaking from beneath them.
We have all seen our board sell asset after asset over the last 20 years while we bought cast offs from Arsenal and Man U.
These same people talking utter shite now are the ones who thought Man U sold us a Gem in Schniederlin.
When you embarrassingly have to explain that sort of thing doesn't happen, they still don't learn then have the cheek to use the dinosaur phrase.
Unreal patheticness. Could have give Simms a go is the funniest thing I have ever read on here.
Why not just support the reserves if you want half of them in the team?
Danny O'Neill
463
Posted 29/01/2021 at 16:24:39
Good point Kieran,
Apart from the very top teams (and we are nowhere near), if you play expansive and attack, you open yourself up at the back. When you have the players available to to do, it works, but as you say, the results are more likely to be in the 4-2 category or certainly win but concede.
When you go more solid and defensive, you won't score as many.
Stating the blindingly obvious but the manager is managing his resources as he has been all season. We may not always like what is served up, but the league position is proving positive.
Martin Mason
464
Posted 29/01/2021 at 16:27:39
Another problem is that in a game where you need overlapping full backs to create chances for your strikers, we are playing 4 centre backs to try to stop goals against at the expense of chances. Carlo obviously doesn't believe that Davies and Gomes are good enough as DM's to keep the defence protected and we will be playing this negative system until at the earliest Doucoure is back and at the latest Allan is back from injury. It is very good management playing to our strengths and it's worked very well but not easy on the eye. And yet, no Leicester equaliser and he would be hailed as a tactical genius. We could have won.
Brian Harrison
465
Posted 29/01/2021 at 17:03:27
I think it was obvious from an article that Brands wrote 3 or 4 weeks back, what the game plan was regarding transfers. He said that Jan isn't a good window to buy players and the fact that the only player we have bought in Jan since Brands was in charge was a promising Centre back in Branthwaite.
He also said that he and Ancelotti discussed in Jan and Feb who they wanted to bring in the following summer. He went on to say that they started talking to possible targets back in Feb, so come the opening of the summer window they could move quickly to get the players they wanted. So I guess thats what they will do again, and if they do bring anyone in then it will only be a loan player. Even if they offload Bernard and Tosun, seeing they have had little playing time of late its not as if we will miss them. Neither are good enough to start a game, so if they go use the money in the summer when you will get more choice and better value for money.
As I have said in a previous post that if you look at all the teams Ancelotti has managed they have bye and large played attacking attractive football, but maybe without Allan and Doucoure his options are limited so has played more defensive. I am sure after the summer window we will see a much improved squad with a lot more attacking intent. Thats provided the FFP doesnt limit his choices, all his buys so far I have been impressed with, and I think given the money he will bring in the right quality we need to chalenge for a Champions league place.
Danny O'Neill
466
Posted 29/01/2021 at 17:47:03
In the summer, the priority was to address the midfield. I think we done that and last season's midfield is now our back up. That is progress.
I think we got a bonus in getting Godfrey in, which I personally though was unexpected. That sees us fine for where we are in terms or centre backs.
I think we need a right back to replace Seamus (Kenny sadly isn't good enough). I think we need a right sided midfielder and then obviously back up / compliment to the forward line.
Gradual progress. That is the path we are on as this manager builds his own squad. In the interim he is making do with what he inherited, although as I said, he quickly addressed the priority of midfield last summer.
Brian Murray
467
Posted 29/01/2021 at 18:05:18
Martin post 458. You say Ian Edwards is stupid mainly because he's sick of good old Everton and wants us to challenge now and not hide behind a transfer window. All I hear is January is no time to even bothe with. Well hello we employ a director of football I assume to be creative and inspiring otherwise why have one. We all want our club to at least challenge now not some vague maybe date next year.
Andy Crooks
468
Posted 29/01/2021 at 18:08:34
Martin, looks like you are brandishing an imaginary red card to Ian Edwards.
Thomas Richards
469
Posted 29/01/2021 at 18:16:45
Brian 467
Looking at the amount of transfers I don't think any dof's are busy
Danny O'Neill
470
Posted 29/01/2021 at 18:20:01
I would never brandish anyone on here stupid. We all come here to share views, agree, disagree, rant and even argue. That's fine with me.
Ian thinks that Chelsea, Arsenal & Villa will finish above us. I personally don't know who will or won't. I just think we have a chance of top 6 and we are still very much in touch with that.
Brian Murray
471
Posted 29/01/2021 at 18:37:38
Thomas. Well il sleep a lot better knowing we are not the only one sitting on our hands. We will take comfort in that in may when we are all saying another if only.
Mark Murphy
472
Posted 29/01/2021 at 18:45:37
Ian you keep talking about fans "must be happy with 7th"
Where do you realistically (leaving aside your dislike of the manager) expect Everton to finish in 20/21?
Darren Hind
473
Posted 29/01/2021 at 18:45:38
"Earlier this season Carlo was slated for being too cavalier"
HaHaHaHaHaHaHa
Thomas Richards
474
Posted 29/01/2021 at 18:46:06
Who would you sign Brian.?
Thomas Richards
475
Posted 29/01/2021 at 18:47:32
NURSE!!
Graham Mockford
476
Posted 29/01/2021 at 18:58:01
We would of course be a much better team if only we'd have given Unsworth the job. Just think we could have Anthony Gordon laying them on for Ellis Sims under the captaincy of Tom (who's not only young but local apparently)
And if you think that's horseshit you have no vision, are happy for Everton to finish 7th. Cowards the lot of you *
*may contain exaggeration for ironic effect
Darren Hind
477
Posted 29/01/2021 at 19:06:06
Tony Abrahams
478
Posted 29/01/2021 at 19:13:52
Brian@467, if this is what Ian is saying, then I think a lot more people would agree with him. It sounds like he's seen Everton dominate for years, and doesn't like to see them suddenly defending for their lives, or it sounds to me like someone on the wind-up, because Everton have finally got a manager, who has won everything, and isn't sulking about his squad, but he's being as pragmatic as possible, winning ugly, which is fantastic to see considering the mans pedigree, even if he's been sacked from his last three jobs!
Dennis Stevens
479
Posted 29/01/2021 at 19:15:40
Graham #476 I wouldn't for a moment suggest that I'd rather have Unsworth as manager than Ancelotti, but I'd much rather have retained him as manager than to have appointed Allardyce, who performed no better in the League than Unsworth had, despite benefitting from more favourable circumstances.
Ancelotti is, imo, the best manager we've appointed since Joe Royle, & arguably the best since Kendall Mk I. Mind you, the bar's been set quite low for the last couple of decades! I fully expect him to deliver silverware & European competition.
Ian Edwards
480
Posted 29/01/2021 at 19:16:58
Mark 472.
If the Manager is happy with one goal and then parks the bus to defend it surrending possession and shots at our keeper ( or indeed when it's nil nil) then we won't win sufficient games to qualify for Europe.
If we have attacking possession and creating chances throughout the game then we will win games.
How many other Prem Managers park the Bus at home to Leicester and West Ham??. Ian Darke and Rodgers were surprised at how we played. After the game Rodgers said that Everton showed them tremendous respect with the way the team was set up.
There's not much difference between the two teams. DCL/Rodriguez and Barnes/Maddison.
I know I'm in a minority now but the blind irrational support for a Manager playing terrible football will gradually disappear as the honeymoon period ends and the fans realise the Emperor is naked.
Ian Edwards
481
Posted 29/01/2021 at 19:21:04
Martin Mason 458.
Thanks for your "polite" post. Mine was an attempt at humour having regard to the Manager's park the bus tactics. It seems you would be happy with the site being an Ancelotti love in. I wonder how many posts you did criticising Allardyce or Silva?? Please let us know.
Tony Abrahams
482
Posted 29/01/2021 at 19:21:40
No disrespect to either Kendall or Royle, but Ancellotti, is absolutely streets ahead when you look at the clubs he's managed and the success he's had in the game.
Graham Mockford
483
Posted 29/01/2021 at 19:29:42
Ian
Unlike Martin I have no problems with you having a viewpoint, in this case that Ancelotti is a clueless, tactically naive unadventurous charlatan who is leading us down the road to ruin.
It's absolutely your right to hold such an opinion and enthusiastically make your case. I say power to your elbow and ignore these fans that consider your musings those of a lunatic.
Darren Hind
484
Posted 29/01/2021 at 19:30:37
Tony
If ever he takes over a struggling team and turns them into the best team Europe like Howard did you may have a case,
Sorry mate, but Howard built his team from top to bottom. Carlo has never done anything like that in his life
Ian Edwards
485
Posted 29/01/2021 at 19:32:03
Graham 483.
Thanks for that... however I'm sure your tongue was firmly in your cheek!!
Mark Murphy
486
Posted 29/01/2021 at 19:36:20
Ian, either in his own or in yours... one of the two!
😬
Graham Mockford
487
Posted 29/01/2021 at 19:36:22
Conor McCourt
488
Posted 29/01/2021 at 19:36:49
I have no problem with the tactics employed in this game, indeed I welcomed them given the strengths of the opposition, how they have won previous away games with their pace on the counter and the fact we were missing Doucoure our most important midfielder given his unique skill set at the club.
I had also no problem with Carlo adopting similar tactics with Arsenal Chelsea and the corresponding fixture and I would argue that in getting ten points from those four games he is well and truly vindicated. The bullshit from Ian Edwards, Darren Hind or myself is irrelevant and how all three like the game to be played is totally mute. However adapting similar tactics against West Ham, Rotherham and Sheffield United is really not excusable nor tactically defendable.
On this occasion I am in agreement with Dave A that this game plan needed a counter attacking threat. In answer to Danny B Carlo could have played the same eleven but had Digne at left full and moved either Holgate or Godfrey to a holding midfield role. Then you get Ricky alongside Dominic with James in behind and you defend with seven.
The really frustrating aspect for me is that those who are so desperate to applaud these totally ultra conservative tactics are the very same posters who are absolutely hammering Dominic and Ricky on this thread. Do they not see that our Brazilian is not only not being employed as a forward, he is not even a winger but a right midfielder who is doubling up as a wing back. He is offering nothing going forward because he is working to the coaches instructions, game after game, and is understandably being frustrated and struggling for forward momentum.
Likewise Dominic is being slated for not being Thierry Henry. Fucking unbelievable. These guys are losing confidence because they aren't getting the service they did earlier in the season because of the tactics continually being deployed. Then we have some saying that fucking Mark Albrighton is better than our samba star and that Digne wouldn't get a game at Leicester.
I have now come to the conclusion that we should all chip in to get a statue erected for Marco Silva. Carlo can only work with Doucoure Godfrey Allan James and that every player in our squad now and the three who have left since are all absolutely fucking useless so him getting eighth with all this rubbish must be the achievement of the century and must even eclipse our opponents achievement in winning the league.
Graham Mockford
489
Posted 29/01/2021 at 19:45:40
Although I suspect if ToffeeWeb had been a thing in 1983, it would have been an interesting thread after the Coventry game!!!
Mark Murphy
490
Posted 29/01/2021 at 19:46:31
Ian I know that you dislike the Parked Bus, that's clear, and I cannot at all disagree with your wish for more attractive football, but that's not what I'm trying to ask you. Where did/do you realistically expect Everton to finish in this seasons league table? Whether Carlo is the manager or not?
Personally, just like you and all blues, I WANT us to win the league playing glorious football. Realistically I expect us to finish top 6. The style for the short term ONLY isn't so important to me - there, I've said it.
Martin Mason
491
Posted 29/01/2021 at 19:46:42
Bryan@467, no I didn't say he was stupid only that this was my original impression. He is beyond stupid, a dolt and a troll of the worst kind.
Darren Hind
492
Posted 29/01/2021 at 19:55:18
Ian Edwards and Conor McCourt.
What the fuck is it with you two ?
To listen to you two, anyone would think football as a game to be enjoyed, A battle of skill and guile. . an unrehearsed live entertainment
Your wrong. Its a game to be endured, a game to spoil...and when the life is completely sucked out of it, All the positive people clap
Graham Mockford
493
Posted 29/01/2021 at 20:01:56
Darren
That's a straw man if I've ever seen one and I should know 😉
Thomas Richards
494
Posted 29/01/2021 at 20:02:47
Tony #482.
Good post, i'm having that.

Tony Abrahams
495
Posted 29/01/2021 at 20:03:20
I thought he done that with Milan, Darren, maybe I'm wrong, but his record speaks for itself, and I doubt many people would put Howard Kendall above Carlo Ancellotti, even if I enjoyed those first few years under Kendall, as much as anyone.
Ian Edwards
496
Posted 29/01/2021 at 20:08:34
Martin Mason 491. You are rude, abusive and only interested in your own opinion. I won't engage with you any further.
Graham Mockford
497
Posted 29/01/2021 at 20:10:10
Tony Ancelotti succeeded Saachis immortals and Capellos invincibles. They were hardly down on their heels
Thomas Richards
498
Posted 29/01/2021 at 20:16:06
6th the season before Carlo took the reins at Milan Tony
26 points behind the champions.
For a team of this stature 6th I and 26 points behind the league winners is rock bottom.
Kieran Kinsella
499
Posted 29/01/2021 at 20:16:41
Darren is just cranky because of the restrictive diet of crow he's been eating for months. Maybe tomorrow he can mix it up and try some magpie
Tony Abrahams
500
Posted 29/01/2021 at 20:23:00
The internet is great Graham, I've just read that although he managed after those two, Milan had been trophy-less for a couple of years, and when Ancellotti, got Milan into the champions lge, his chairman criticised him for his defensive style, which he then rectified when he got a few more of his own players in!
Keep criticising by all means, but I prefer to look at it differently and think it's been the best way to play in a lot of our games, because it suits our present central defenders who are both much improved because they are not getting exposed in behind.
I'd criticise the manager for not bringing on fresh legs earlier the other night, and as much as Pickford was at fault, I still think Leicester would have scored at some stage because of the pressure they were putting us under, and because we were getting completely overrun, when it was obvious we needed more pace and energy to get us back a foothold into the game.
Darren Hind
501
Posted 29/01/2021 at 20:27:27
Tony
While you are on the internet, look at the players he inherited
"Too Cavalier" hahahahah
David Greenwood
502
Posted 29/01/2021 at 20:30:17
You've had a right result their Martin.
If only Lyndon or Michael would fix it so the rest of us didn't have to engage with him...
Jay Wood
[BRZ]
503
Posted 29/01/2021 at 20:31:23
Curious. I have a memory of some fellah on TW sharing with us his winning bets for the games v Chelsea, Arsenal and Leicester away.
He also said the tactics were far from being based on 'backs-to-the-wall', but rather choked the opposition whilst picking them off on the counter.
Hey-ho. On we go.
Time for more Randy Rainbow.
Thomas Richards
504
Posted 29/01/2021 at 20:35:06
Tony, he inherited a poor team.
"Tony Ancelotti succeeded Saachis immortals and Capellos invincibles. They were hardly down on their heels"
No. He didnt.
Saachi left 4 years before Carlo took over.
Capello left 2 and a half years before Carlo took over.
There were two managers in between Cappello and Carlo.
Graham Mockford
505
Posted 29/01/2021 at 20:42:34
Tony
I think you may have me confused with other posters. I'm more than happy with the progress under Carlo. While I think top 4 is a possibility this year I'm suspecting not but with the right recruitment in the summer I'm confident it's a realistic prospect next year.
I was just pointing out Carlo hardly took over a busted flush at Milan, true he improved them from the previous few years and his achievements should be lauded.
Howard took a team without a trophy for a decade and created a side so good it ended a prolonged period of RS domination.
I'd still say Ancelotti wins out because he has been successful on multiple occasions with different sides. But as an Evertonian he has a lot to do to be considered in the same orbit as Howard
Graham Mockford
506
Posted 29/01/2021 at 20:43:36
Thomas see 505
Bobby Mallon
507
Posted 29/01/2021 at 20:43:41
Rob Halligan. Is there any reason why goal keepers don't go rushing out and dive at forwards feet anymore?
Tony Abrahams
508
Posted 29/01/2021 at 20:48:22
I think that hahaha, is what most people would say, if you said Kendall was a better manager than Ancellotti, to anyone not connected to Everton, Darren.
I'd say Kendall wasn't going anywhere without Colin Harvey, and other than his success at Everton, did he win another trophy elsewhere?
I loved his first spell as Everton's manager, but I still haven't forgiven him for dragging Gary Stevens off after his mistake against Liverpool at Wembley!
Most football managers win zilch, so it's a very rewarding job for being a failure. I think it's dead easy to criticise and not give credit, just because a man is lucky enough to be managing one of the so called elite clubs, because this alone doesn't guarantee success. Success is something that has to be earned.

Thomas Richards
509
Posted 29/01/2021 at 20:50:36
Tony,
When you look at the players he inherited also look at the finishing position the same players achieved the season before.
A full 26 points behind the winners.
He improved them that much they turned the 26 point deficit into win ing the league two years later.
He DID NOT inherit a team of Invincibles or immortals.
He inherited a poor side.
Thomas Richards
510
Posted 29/01/2021 at 20:51:45
Jim Jennings
511
Posted 29/01/2021 at 20:52:12
Anyone who thinks Carlo Ancelotti is here to entertain them is a daft arse. He is employed to ensure Everton finish as high up the table as possible.
Ciaràn McGlone and Paul A Smith both hit the nail on the head. As indeed does Jay Wood.
Tony Abrahams
512
Posted 29/01/2021 at 20:57:59
That last paragraph of post505, is bang on the money Graham, and I just wish it was only Liverpool, we had to unseat again, because I can't see them bastards winning anything this season! 🤞
Graham Mockford
513
Posted 29/01/2021 at 21:01:59
Ok Thomas I'll bite let's see the team he inherited.
Off the top of my head
Maldini
Costacurta
Serghinio
Roque Jr
Gattuso
Albertino
Pirlo
Rui Costa
Schevcheko
Inzaghi
Moreno
Fuck me they were on the bones of their arse. Don't get me wrong someone has to get such stellar players to perform and Carlo undoubtedly did but don't rewrite history mate
Darren Hind
514
Posted 29/01/2021 at 21:04:07
Funny funny thread this one.
Brent Stephens
515
Posted 29/01/2021 at 21:04:27
Jay #503 - Randy Rainbow - brilliant!
Darren Hind
516
Posted 29/01/2021 at 21:06:13
haha well done jay after repeated attempts you finally got one of the brady bunch to pretend it was funny.
Mike and Bernie winters
Graham Mockford
517
Posted 29/01/2021 at 21:07:23
Darren
I seem to be arguing with both sides of the argument. A position I'm always comfortable with
Brent Stephens
518
Posted 29/01/2021 at 21:08:57
"All the positive people clap".
And what do the negative people do?
Thomas Richards
519
Posted 29/01/2021 at 21:10:21
Off the top of my head 😁😁

I didnt rewrite history. You did.
"Tony Ancelotti succeeded Saachis immortals and Capellos invincibles."
Repeat.
Saachi left four years before Ancelottis first day in the job.
Capello left 2 and a half years before Ancelottis first day.
Milan had two full time managers and two caretaker managers in between Capello and Ancelotti.
Your post at 497
Factually, a mile out.
Graham Mockford
520
Posted 29/01/2021 at 21:10:25
Brent
They vent their spleen in these hallowed halls
Tony Abrahams
521
Posted 29/01/2021 at 21:15:20
That was a classic and the first thing I noticed to Thomas! (He's not off his head, it's off the top of his head!)
Brent Stephens
522
Posted 29/01/2021 at 21:15:52
"They vent their spleen in these hallowed halls".
And never has a spleen been so vented. And vented. And vented.
Graham Mockford
523
Posted 29/01/2021 at 21:15:54
Oh Thomas you've been handed your arse, have some dignity.
I was making the point that Milan were not a failing team,, they had of course had a few bad years hence the management turnover.
You claimed he 'inherited a poor side'. I've just shown you 11 world class players he inherited. He did a good job turning those players into a great side bit let's not kid ourselves he turned swine into pearls
Rob Halligan
524
Posted 29/01/2021 at 21:16:21
Football is a game where only the result at the final whistle matters. Have we won, drawn or lost? There's only one result that matters for all clubs, have we won, or at least drawn? Ok, that's two but you get my drift.
As long as we don't lose I don't give a Fuck as to how we win, and if we can't win them make sure we don't lose. I'm sorry Ian Edwards, and Darren, but Ancelotti is a serial winner, he knows how to set up teams to win, and if things start going tits up, he knows how not to lose. The teams he's won trophies with down the years have been the top teams in their own country, Real Madrid, PSG, Bayern Munich and AC Milan. He even walked into the job at Chelsea when they were ruling the roost in the premier league. All of a sudden he gets the Everton job, a club with great history and tradition, but unfortunately won Fuck all for a few years now. Basically he has to re-build the squad from top to bottom, and at the moment I'd say he's doing a great job of it. Darren, you keep on harping on that Ancelotti is a coward, and one of two agree with you, but believe me, he's nowhere being a coward. You don't win the amount of trophies he's won by being a coward. All the clubs I mentioned earlier on had great squads, all he had to do was get them playing the way he wanted them to play, with a little tweak here and there to his playing squad. He comes to Everton, and it's not a little tweak required, but a full blown overhaul of the playing squad.
Forget last winter's transfer window that Ian Edwards keeps harping on about, he barely had his foot in the door. Potential transfers are looked at months in advance, not the ten days he had before it opened, or the four weeks to consider anyone before it ended. The summer window was an excellent one as far as I'm concerned. This window has probably been the quietest on record, but we shall wait and see.
Sadly, football is no longer a sport, but a business. The first objective of the majority of clubs is to still be in the premier league at the end of the season. I'm not saying we fall into that category of clubs, I would hope our expectations are a little higher than that, but down the last few years it feels like it. We finally get a manager who has been a serial winner everywhere he goes, so I expect, nay demand, that he is given the time to 're-build this squad the way he wants it to be until it is capable of challenging for the top honour, that of being premier league champions. And if that means being defensive in certain games but still grinding out results, then so be it. I'd rather see us win 1-0 and spend a lot of the game defending, albeit your nerves are shredded to bits after it, then see us go gung-ho and lose 5-4 but be praised for being involved in an entertaining game.
No doubt there will be plenty of flaws picked out in this post, but honestly, I couldn't give a fuck. I go to the match, or for the last ten months, watch it on TV, to watch and hope my team win, and I don't give a rats arse how they do it!!
Thomas Richards
525
Posted 29/01/2021 at 21:19:23
Little surprise you got fucked off as a CEO (twice) Graham.
You want onions with that guvnor.
😂😂😂😂
Conor McCourt
526
Posted 29/01/2021 at 21:20:37
Jim you are 100% correct. If Carlo can finish top six it will have been an excellent season no matter the style of play.
The issue is that to do so we will have to mirror the first half results. Already we have lost two points to Leicester. Would you be confident of winning at Stamford Bridge or the Emirates now?
When we have to do so much work without the ball and the goals and assists dry up from our talismen it isn't easy to flick the switch. That chance that fell to Dominic would have been gobbled up early on. The cream typically rises in the second half of the season and while no one is upset with our position now some of us feel that the smash and grab is unsustainable in the long run. Chelsea and Arsenal were naive to our threat, they arrogantly thought they were superior and those marginal games went our way. West Ham and now Leicester were better prepared for our aerial threat and others will have taken note.
Ian Edwards
527
Posted 29/01/2021 at 21:22:02
Rob 524. The negative tactics aren't winning games. West Ham and Leicester at home. A defeat and a draw. Man United in the cup-lost.
As for Leeds at home. I defy anyone to explain the team selection, formation and tactics. Ancelotti seriously dropped the ball in that game.
Tony Abrahams
528
Posted 29/01/2021 at 21:22:21
Fuckinhell Rob, how come you've waited until there's over 500 posts, before you posted that beauty mate! But just the kind of post Ian E, has been waiting for!
Graham Mockford
529
Posted 29/01/2021 at 21:24:40
Thomas
Quality retort. You do realise 'getting fucked off' as a CEO is a very lucrative business 😂
Any views on the quality of the 01 Milan squad. Any of those 11 players you wouldn't want in our current squad? That Maldini could be a bit dodgy and I never rated Schevchenko
Laurie Hartley
530
Posted 29/01/2021 at 21:27:32
Jay Wood # 503 - I don't think Randy Rainbow and his ilk is going to bring peace to America.
Jason Wilkinson
531
Posted 29/01/2021 at 21:27:48
Hilarious that some of you want Ancelotti gone. We are where we wanted to be before the season started. We are in the 5th round of the F.A. cup. He has brought the most exciting player to the club for years. We have beaten Arsenal, Chelsea, Spurs, Wolves & Leicester. Everyone moaned about the midfield from last season. With only those players available we should have outplayed the foxes??? It might not be pretty but the results he is getting from a squad that still needs major surgery are impressive. Marcel Brands is sticking to his plan. Bolasie gone. Tosun will likely move on. Nkounkou looks a good find. Godfrey has been superb. I don't want to watch us defend for 60/70 minutes at home either. It's a lot better than getting pumped 2-5 like Man City did. Kane is out for a few weeks. Let's hope he's unavailable for the cup tie. The future is looking bright with the Don in charge.
Rob Halligan
532
Posted 29/01/2021 at 21:28:58
Bobby # 507. They still do as far as I'm aware.
Darren Hind
533
Posted 29/01/2021 at 21:30:18
At last me and Tony agree on this thread. Rob.
I don't give a fuck whether your right or wrong. That. My old china plate, was passion... I really felt like I was sitting in the alehouse with you.
Glad I'm not like. I've heard youre a built like a brick shit house
Thomas Richards
534
Posted 29/01/2021 at 21:32:04
Its not lucrative if you get the bullet for fabrication of mistruths or continuous change of stance as you have shown in the last hour or so Graham.
(i know this because I got caught selling stale hot dog buns and lost my CEOSHIP as a result)
Ian Edwards
535
Posted 29/01/2021 at 21:32:16
I think on reflection I was very harsh on Ancelotti for not appraising his squad and signing someone in his first transfer window. I appreciate it takes a while to settle in and see what is needed. After all, he was at the club for 12 months before the media had to tell him he had a Defender called Luke Garbutt.
Tony Abrahams
536
Posted 29/01/2021 at 21:36:35
It's mad football because the longer "we all" go on, the more we contradict ourselves. Conor, the chance that Dominic, would have gobbled up earlier in the season, would have won us the game, and Richarlison's free-header a few minutes before probably would have done likewise, and yet Leicester were better prepared for our aerial threat?
Graham Mockford
537
Posted 29/01/2021 at 21:38:25
Sorry Thomas
I only ever got sacked once, and it was amazingly lucrative but I had worked for them for 20 years, not sure it was for fabrications or mistruths but on reflection I did play the corporate game for a long time and there's lots of stuff I did in my younger years that I wouldn't do now.
But let's stop waffling, having seen the payers Carlo inherited would you consider that a poor side?
Dave Abrahams
538
Posted 29/01/2021 at 21:38:32
Thomas (525) " You want onions with that Guvnor " Yes please Boss, I like the way you conduct your business, very efficient,I think you'll go far, if you don't mind me saying so, pleasure to dine here"
Ian Horan
539
Posted 29/01/2021 at 21:41:03
Ian@535 Luke Garbutt!!! Really FFs man now I you your a wind up merchant the same Garbutt that all the managers after Martinez fuck off out on loan to league 1 and 2 clubs, the same Garbutt that had 6 months left on a contract when Carlo arrived... OMFG, there is stretching it and then there is total idiocracy.. And yes why would Carlo know about a player not even training with the first team, u 21s, that pearler is like telling CA you have Besic for you mf engine room
Thomas Richards
540
Posted 29/01/2021 at 21:41:36
Graham,
Off the top of my head 🙃
Good players.
Why do you reckon they finished 26 points behind the champs the season before he took over?
Barry Thompson
541
Posted 29/01/2021 at 21:42:23
Sounds like you know your onions there Dave A
Tony Abrahams
542
Posted 29/01/2021 at 21:43:09
We very rarely agree over Everton's managers Darren, and the day you're proved wrong can't come soon enough for me for obvious reasons, and also the many thousands of other Evertonians, who just want to see some silverware.
Thomas Richards
543
Posted 29/01/2021 at 21:43:37
Thanks Dave, much appreciated.
Half bat burgers for you on your next visit.
Please bring your own napkin
Rob Halligan
544
Posted 29/01/2021 at 21:45:25
Ian # 527, every team in the league this season has endured losses, or draws at home. Leicester have lost to us, West ham, villa and Fulham. City annihilated by Leicester and drawn with West Brom. The RS beaten by Burnley and drawn with West Brom. Man Utd beaten by all sorts, including Sheff Utd. Spurs, see man Utd (bar Sheff utd).
So why should we be any different, or is your bar set so high that you demand we should be beating everyone out of sight?
Robert Tressell
545
Posted 29/01/2021 at 21:46:07
To be fair to Ian @ 535, I heard Ancelotti didn't know Phil Jevons was once top scorer for Yeovil Town. How the man won so many trophies is beyond me. Rank amateur.
Graham Mockford
546
Posted 29/01/2021 at 21:48:39
Thomas
Poor management I'm guesiing. I'm not denying Carlo can motivate and improve a team. But let's not kid ourselves he inherited poor players, he quite patently didnt
Compare it to the side Howard had versus Birmingham in 1981. I was there we beat them 3-1, I was there in the Paddock, Different gravy my man
Brent Stephens
547
Posted 29/01/2021 at 21:49:41
Amen to that, Tony #542!!!
I have to say, the more I read through this thread the more excited I actually get about our boys. And you can feel that excitement oozing through the thread. There really is something going on this season and I'm going into each game with more eager anticipation than I have for many a season. God how I miss being at the games this season, home and away.
Tony Hill
548
Posted 29/01/2021 at 21:53:04
Ian Edwards @527 is right. I admire Ancelotti, he's a man of style and coolness. That's why I don't want his and our team to turn out like dustbins because we think Leicester will twat us otherwise.
You can't turn these things on and off to order. If we crawl against Leicester on our own turf (because we have injuries etc), we'll crawl against the next opponent who presents a significant risk. Courage and daring need to be bred in the bone.
Thomas Richards
549
Posted 29/01/2021 at 21:54:25
Graham #546
Regarding the gravy.
You couldnt send your mans contact details could you?
I'm branching out
Kieran Kinsella
550
Posted 29/01/2021 at 21:54:38
Graham/Thomas/Tony
Impossible to compare Howard and Carlo; totally different eras. Kendall worked in a time when you could recruit a dustman and turn him into a world class goalie. He didn't have to deal with wall-to-wall TV coverage, mega million stars, and all that. But what he did at Everton was remarkable.
As for Carlo, there are plenty of people who've had top jobs but the mugs quickly get found out: Andre Villa Boas, Clarence Seedorf, David Moyes, etc Big clubs aren't like WBA and Palace recycling the usual suspects Pulis, Hughes, Sam. So the fact Carlo keeps getting big jobs, is reflective of his unusual level of success.
Darren Hind
551
Posted 29/01/2021 at 21:59:15
Especially the Welsh world cup games
Graham Mockford
552
Posted 29/01/2021 at 21:59:58
Thomas
Nice try but did Carlo inherit a world class squad or not?
I mean that's what we were discussing
Thomas Richards
553
Posted 29/01/2021 at 22:01:55
Kieran,
Agree with your general point.
I think the term " if you wasnt an Evertonian" influenced mine, and I think, Tonys opinion.
Howard Kendall give me my best days as a Blue mate.
And for that I thank him
Thomas Richards
554
Posted 29/01/2021 at 22:03:59
Graham,
Its not the initial discussion.
I will leave it there if you don't mind.
Becoming a touch effete.
Conor McCourt
555
Posted 29/01/2021 at 22:05:50
Tony we are aerially superior to most teams and we had a huge advantage once Ndidi went off as even their centre halves aren't the biggest. We will though not against our opponents tomorrow so we will have to find different ways.
Against Arsenal and Chelsea we looked dangerous with every ball that went into their box. You could see that Leicester worked on set pieces as we didn't pose a threat til late on. If that wasn't apparent to you we will agree to differ. Against West Ham the same.
Thomas Richards
556
Posted 29/01/2021 at 22:06:50
In saying that.
I will still be your mucker if you forward the gravy mans contact sil vous plait
Rob Halligan
557
Posted 29/01/2021 at 22:08:02
Darren # 533. I've always enjoyed reading your posts, and generally agree with most of them. It's just that on this occasion I disagree with your opinion about Ancelotti, although I respect your opinion. We all want what's best for our club, and I think we now have it.
As to being in the alehouse, maybe one day we can meet up. I seem to remember us playing Chelsea away one midweek, and you told me you would be in some working men's club near Stamford bridge. When me and my mate got there, we couldn't find you, not that I knew what you looked like!!! As it turned out, you later told me you didn't go to the club!!
Graham Mockford
558
Posted 29/01/2021 at 22:09:19
Oh Thomas
I can do effete. However you can't deny the squad Carlo inherited.
Come on man you said he inherited a poor side and I've shown you 11 world class players he inherited.
Do you have an actual position on that or do you want to continue diverting ?
I'm fine either way
Dave Abrahams
559
Posted 29/01/2021 at 22:10:01
Thomas (543), thanks very much Thomas, will my missus get half bat as well, I'm taking her out for a slap up meal when this lockdown is over?
Brent Stephens
560
Posted 29/01/2021 at 22:19:49
Graham and Thomas, kiss and make up. I think you both agree on Carlo as is today?
Danny O'Neill
561
Posted 29/01/2021 at 22:37:27
Royle. One of my father's favourites that I only heard about as a player. The last Everton manager to win a trophy. Massive respect all around.
But the perils of nostalgia and sentiment. I was away in the Army at that time and was home and went to watch us play Sheffield Wednesday at home with my best mate Dave (RIP). Despite us doing okay that season, he warned me that we were not great to watch. We were not great to watch under Royle. Some may love the dogs of war, I did not personally.
Ian Edwards
562
Posted 29/01/2021 at 22:43:30
Graham 558.
Ancelotti has left us with one forward. He has let Kean go without getting a replacement. I bow to no one in saying Bolasie can run at Defenders and is far, far better player than Bernard who is absolutely dreadful. Who would have been a better sub to try and win the game with 10 to go v Leicester. Bolasie or Coleman.
Then again Ancelotti was more interested in getting one point rather than trying for three.
Tony Hill
563
Posted 29/01/2021 at 22:45:33
Danny @561, you're spot on. Here's some more heresy for you: the mid 80s side wasn't very pleasing on the eye either, save for a few memorable occasions. They won a lot but weren't a patch on the 60s sides for aesthetic appeal.
Rodriguez you could float back into the 61-63 and 68-70 sides; he's like a ghost.
Roman Sidey
564
Posted 29/01/2021 at 22:48:34
Stan, absolutely I think Everton at the moment are one of the better sides in the league.
As is customary, I prefer not to utter too loudly what I think the side is capable of because we've a long history of hoping for a lot and receiving very little. I think the table is pretty accurate though. Points per game, we're a top 4 side at the moment and, mathematically speaking, not far off top spot.
I do think Liverpool's class will bring them home with a wet sail and the top 2 will be Man City and Leicester. I think we're a better side than Tottenham and West Ham's position won't last. I think we should really see anything less than 4th as a missed opportunity and anything less than 5th as a total cock-up.
Ian Edwards
565
Posted 29/01/2021 at 22:48:39
Come on Tony... the 85 team played fantastic football. 5-0 v United. The Sunderland game. Sheedy was sublime.
Danny O'Neill
566
Posted 29/01/2021 at 22:55:34
Graham @489. I've said that before.
The "Kendall must go" leaflet distributors.
I bet now they are in denial and preach about Howard is the best manager we ever had. He is to date.
Kieran Kinsella
567
Posted 29/01/2021 at 22:56:04
If you rewatch old videos the Harvey side were more aesthetically pleasing than the more hustle and bustle of 85, but the outcomes were different
Kieran Kinsella
568
Posted 29/01/2021 at 22:59:04
Danny 561
I loved the dogs of war initially because Limpar apart they lacked talent but made up for it with heart. The problem was when we added more quality, Royle always seemed to revert to type and go direct even after footballing masterclasses like Speed, Barmby and Kanch over Soton.
Danny O'Neill
569
Posted 29/01/2021 at 22:59:44
Tony, my son is aged 25 and told me that Rodriguez is the most gifted player he has seen in an Everton shirt.
The poor lad has grown up watching some dross, so I am finally pleased he had something to be proud of. Manager and players. If that makes me an apologist, then I am an apologist and excuser.

Danny O'Neill
570
Posted 29/01/2021 at 23:06:48
You're right Kieran. I would never dismiss heart and commitment.
Any decent team needs a blend of ability, commitment, fitness and desire. You are not successful without having a blend of all of those attributes.
I think we are in a good place. For the first time in years, when we do play not so good, we still dig out results and earn points.
We have a lot to improve on but we are getting points from games that in recent seasons we woudn't have done. I'd like to praise the manager for that but that would be paramount to being an apologist.
Danny O'Neill
571
Posted 29/01/2021 at 23:10:22
Interesting take on the 80s side Tony and would be equally interesting to get others' take.
I always thought we were very direct and played a classic 4-4-2, which worked at the time. All about getting it to the flanks and crosses into the box.
Not necessarily joined up football. Just get it forward quickly and use the flanks to effect.
Tony Hill
572
Posted 29/01/2021 at 23:12:09
Ian, as I said - apart from some memorable occasions. Those two you cite. Any others? I recall a Norwich game at Goodison with Sheedy's lobbed pass for Heath in a 4-0 win; and a 3-1 at City which was lovely IN 86-87.
They were mighty effective but attractive? I don't think so. That's why I was so pissed off with Silva whose performance against the shite at Anfield brought back beautiful memories.
Danny - Rodriguez is the purest Everton talent I've seen since Young and has the same ethereal quality. Rooney is the best Everton player I have ever seen but Rodriguez may be/become the most sublime.
Brian Murray
573
Posted 29/01/2021 at 23:18:59
The stance of Ian edwards and Martin mason are obviously chalk and cheese Usually the truth of what they say is somewhere in the middle meaning Ian wants us to exhaust and strain every sinew on and off the pitch. Ie getting the balance and timing of subs right ( if there is any worth it ) plus showing no fear no matter who we play. Doesn't sound too much to ask but history tells us that's totally beyond Everton. Martin a bit more dismissive if you don't agree and defensive of Carlo. Me personally I see players and managers come and go and don't really care if siggy says he's happy and Carlo loves it in Crosby. I just want the club to be ruthless and professional but there's still a big problem with that ie nellys still in the room. Il say no more don't want to get barred again 😂
Danny O'Neill
574
Posted 29/01/2021 at 23:21:07
I love watching a player like Rodriguez in an Everton shirt Tony.
I also love watching Allan.
I think that is an indication of the quality of player we have introduced to the team and the club.
Prior to that I spoke about Sheedy and Reid!!

Brian Murray
575
Posted 29/01/2021 at 23:26:10
Re 85. Before Heath got injured that's the best football I have seen by any side The understanding was unreal. The ball was like a pin ball and even in the warm ups at many away games they would crowd together maybe five or six and even to watch that was a joy one touch football. It's said Everton don't do dynasties but we had it all there to do just that.
Tony Hill
576
Posted 29/01/2021 at 23:33:35
There were other big wins in the 80s, games against West Ham and Southampton come to mind but I think I would describe HK's sides as supremely functional.
I'm contradicting myself as usual because I've called for us to be like Atletico Madrid and was one of the tiny fraction who wanted to retain Allardyce, but what I (and all of us, I believe) want to see, in the end, is an Everton of artists.
It might be an Everton which exists only in the mind but I pray that it's just sleeping and will awaken.
Rob Halligan
577
Posted 29/01/2021 at 23:41:22
Seeing as this thread is still in full flow, I might as well post what I'm going to say on here.
I see that Harry Kane is going to be out for several weeks due to injuries on both ankles sustained in the game against the RS last night. The first injury resulting in a terrible challenge by that dirty RS player Alcantara. Is there now going to be a witch hunt against him the same way there was against Richarlison following his challenge on Alcantara in the derby, Waaaaaaayyyyy back in October which some media outlets still rage on about. I've scoured every media outlet today, but cannot see any witch hunt against the dirty RS bastard.
Ah well, maybe tomorrow!!
Stan Schofield
578
Posted 29/01/2021 at 23:41:49
Rob@524: Brilliant post.
Rob Halligan
579
Posted 29/01/2021 at 23:47:17
Bloody hell Stan, I thought you were going to commend my latest post just then!! 😁😁😁
Tony Hill
580
Posted 29/01/2021 at 23:49:56
Yes, Rob; the only fouls that have ever been committed were ours on The Blessed Virgil and on St Thiago of Breck Road de Madrid. It's biblical truth.
And it's all so unfair.
Fucking gruesome gobshite hypocrites.
Steve Carse
581
Posted 29/01/2021 at 23:51:16
Our mid-80s sides brought a different type of football into the league. It had two particular features. Firstly there was no passing just for the sake of it. Secondly there was the invention of what Goofy across the park refers to as the gangenpresse or something. Kendall was the inventor. The players worked to it. These two features meant that the side was not the silky Everton of earlier successes. But it was the first Everton side to achieve a prolonged period of success. For that reason alone it has to be considered as our best.
Neil Copeland
582
Posted 30/01/2021 at 00:22:06
The mid 80s team were fantastic when in full flow, there are so many games that stand out from that era. But the ones that I remember most were a 4-0 demolition of Newcastle away when were we absolutely irresistible and 10-0 wouldn't have flattered us. 4-1 at home to Sunderland when Trevor Steven scored the best goal I think I have ever seen. The other one is the 5-0 vs Man U which was possibly the most complete Everton performance I have ever seen.
Derek Thomas
583
Posted 29/01/2021 at 00:47:43
One bad win might leave, if not a bad taste in your mouth, it may just leave you down a bit, with the bonus of 3 pts to cheer you up again.
But its all about perceptions and these change over time.
When you string 28 of them...bad wins...together, nobody sees them as bad wins, all they perceive at the end of the season...and that only briefly in passing...is 6 or so loses.
And all you really perceive is a team lauded and described by and adjective that ends in ibles or...ables.
Ancelotti is doing, mostly doing, the '1 bad win' bit.
He's spent the whole of the wages and transfer fees budget on 3 mid fielders...some statto can tell me just how many times they've played together and just how many games they've won.
If Brands can add Tosun, Bernard, plus others to the departed Bolasie, then we might get somebody else in.
Then there's more 'IF's about Injuries, inconsistant form...both ours and others, suspensions, VAR, etc.
I would say, on the TW Swing-o-Meter, 7th, 8th, might (rightly or wrongly) be classed as poor...6th; Neutral. 5th; close, good effort, but no cigar. 4th; will be like a F1 podium. 3rd? - give over.
Mark Murphy
584
Posted 30/01/2021 at 08:37:45
Derek I would also point out that our perceptions over time also change. That 80's team played some great football it's sure and everyone remembers the 5-0 Utd, the Sunderland game, Sheedys twice taken free kick etc but there WERE games in which we struggled and defended. Someone earlier pointed out the UCD game in the ECWC when we were getting going. 1-0 over 2 legs against a bunch of students. The team was in its youth and still to blossom but only rose tinted highlight specs think every game was an exhibition.
I totally respect Ian's perspective and opinions and I'm enjoying this thread. What I hate is the live forum with the negativity and the snide even before kick off. One particular poster, who strangely hasn't commented on here, is particularly irritating and predictive and has been the same with every manager I can remember. Please give the match some time to get going before you write the team and the manager off. Look for the positives, not just a chance to show what a better manager and tactician than Carlo you think you are!
UTFT
Bobby Mallon
585
Posted 30/01/2021 at 08:50:40
Look. At the beginning of the season before a ball was kicked, every Everton fan would have been made up with us finishing top 8. Especially with us all bemoaning how bad all the players where. Yes all the players. People saying DCL championship player, sigi awful Iwobi overpriced Keane ( Micheal ) should be sold and on and on about all the other players. Well look what a good man manager has done. Finishing in the top 8 with this squad would be a good season ( imo)
Danny O'Neill
586
Posted 30/01/2021 at 09:19:27
Like the opening 2 games of the season Kendall first won the league Mark.
Yes, the match isn't over before it has begun just as the season doesn't end until May.
Many either pre-judge or knee jerk because of a bad spell. I get natural frustration, we all get that, but come on, see the bigger picture.
Thomas Richards
587
Posted 30/01/2021 at 09:28:52
Dave, 559
Of course mate, your family will all enjoy 50% discount.
A warning though.
In the present climate we have had to introduce a corkage fee.
You bring your own wine, we charge a nicker to borrow the corkscrew.
Stan Schofield
588
Posted 30/01/2021 at 09:29:42
Rob@579: Brilliant post at 577!! 😁 Yes, they are such outrageously hypocritical dirty cynical twats.
Dave Abrahams
589
Posted 30/01/2021 at 09:52:44
Thomas (587), that's fine Thomas, as I said it will be a pleasure to dine in such a lovely gaff ( establishment) where the pavement is always spotlessly clean, you could even eat your divine meals off it, and your waiters, such elegant manners, one of them had the decency to nick his ciggy before he served me last time I was there, I was really moved by that, tipped him well, which of course he immediately put into the " Poor Box" you have on display. Marvellous, wait 'til my wife sees your gaff, she will be well impressed.
Thomas Richards
590
Posted 30/01/2021 at 10:00:39
We prefer to call it Al Fresco dining Dave.
I will have a word with Guiseppe about the smoking.
We nicked him from a pizza cart in Rome (doubled his wages and a flat in town).
He was allowed to smoke there.
The poor box is a step up from the blind sock we deployed for years. Let you know how it goes.
*any chance you could leave a review on Tripadvisor
Dave Abrahams
591
Posted 30/01/2021 at 10:10:31
Thomas (590), please don't get vexed (love that word) with Giuseppe, or Gyp as I fondly call him, he put that cigarette out in the manner of Noel Coward, lovely to watch. I'll get my secretary on to the review on Tripadvisor right away, she'll pretend she's been, a little white lie never hurt anyone did it.
Thomas Richards
592
Posted 30/01/2021 at 10:20:41
Much appreciated Dave.
Gyp will be relieved.
He trained in the finest culinary spots of Rome railway station.
He would be devastated to be accused of lowering his standards.
If it helps
We have a special on this week.
Curried hamburgers.
Your secretary is welcome, as a small gesture of gratitude, to dine buckshee if she would like to partake.
Dave Abrahams
593
Posted 30/01/2021 at 10:38:43
Thomas (592), the experience of dining in your Al Fresco spot would be lost on my secretary, she's from a very poor family in Wales, not used to such grandeur, but if you don't mind me and the wife, kids, partners and grandkids will be down this afternoon, about fifteen of us, to taste those deliciously sounding hamburgers, I hope you don't think I am taking advantage of your very generous buckshee offer, we will provide our own entertainment and of course your other customers can enjoy that, no charge.
Thomas Richards
594
Posted 30/01/2021 at 11:06:26
Its a done deal Dave.
Post match tables are reserved for you all.
Shall we say 3 for 3.30 pm
Gyp is on his way home for his accordion.
Dave Abrahams
595
Posted 30/01/2021 at 11:15:03
Thomas (594), I'm left speechless, except to repeat what Claude Rains said to Humphrey Bogart in Casablanca " This could be the start of a beautiful friendship"
Martin Mason
596
Posted 30/01/2021 at 12:18:07
My apologies for seeming to be rude to other fans here but as you may have noticed, I find the concept of irrational negativity in football fans as just totally bizarre. You'll see the most quoted definition of football supporter as one who offers encouragement to a particular club or, in the urban dictionary, a special large sized jock strap for the ultra-manly. Worse than just irrational and totally unjustified negativity, is seeing the same old rubbish posted again and again ad-nauseum as if it were a badge of honour or, as is appropriate in the worst cases that it sends a message of superiority to those supporters who find a lot of positives to discuss at a time of massive change at the club where positivity is rife from top to bottom. The biggest laugh from the temple of doomsters though is that fans who don't constantly whinge accept mediocrity. They fight it of course by whingeing like a bunch of old women, that is they accept whatever the club gives them and do nothing about it. Negative fan is an oxymoron, negativity is a serious character flaw but being a negative soccer fan is pointless and guarantees you the very sad life that these people must have. Here's to a good game today and a win however badly we look achieving it.
Paul A Smith
597
Posted 30/01/2021 at 12:22:00
I think Rob Halligan nailed everybodys thoughts in post 577.
Its spot on and exactly what the reaction should be in balance.
Thomas Richards
598
Posted 30/01/2021 at 12:25:29
Dave,
You have beaten the deadline for reservations by 10 minutes.
I was about to let yours go.
Big demand at the moment.
I didn't serve a 5 year apprenticeship as Stan Waters fried egg man to be messed about by customers.

How could anyone not be mates with you Dave😁
Enjoy the game mate

David Cash
599
Posted 31/01/2021 at 10:55:27
Ian Horan # 192
If you had the ability to read and digest. You will know my views on our manager are diametrically opposed to your "Agent Provocateur"
I didnt believe he was right but I knew for a fact YOU were wrong.
There are few things more abhorant than racism. False accusation is one of them. You implied that IE÷ DH's criticism could be construed as racist
It was a nasty nasty insinuation which had no place in the debate. I Responded to you because I am aware of both the absurdity and the irony of your insinuation.
I know you backtracked by claiming you were not making an accusation, but merely stating thst it "could be construed" as racism but I saw that as you wanting to introduce the notion without having the courage to follow it through. Otherwise why raise it ? Nobody else ever has
I understand debate and the desire to score a point. I felt your post failed to do that. It simply left a nasty taste in the mouth.
You may want to consider the possibility that this was the reason your questions were ignored.

---
Add Your Comments
In order to post a comment, you need to be logged in as a registered user of the site.
Or Sign up as a ToffeeWeb Member — it's free, takes just a few minutes and will allow you to post your comments on articles and Talking Points submissions across the site.
---
© ToffeeWeb