Report
Insipid Blues never really got going against belligerent Barcodes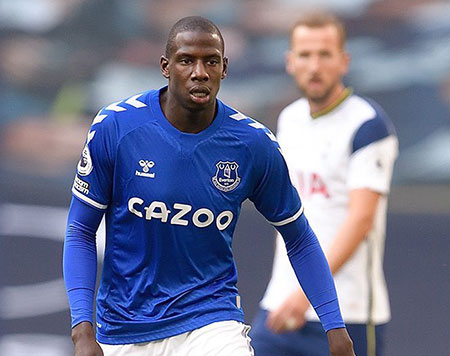 Abdoulaye Doucouré returns to midfield following a one-game suspension
Everton are back at Goodison Park to face Newcastle United in today's lunchtime game as they look to get back to winning ways by atoning for what was one of the season's most disappointing results in the reverse fixture in early November.
Despite Pickford's gaffe on Wednesday, he retains his place, with Coleman, Iwobi Sigurdsson and Doucouré back in the starting line-up. Holgate, Godfrey, Gomes and Davies are back on the bench where Ancelotti names only 8 subs but, of course, two of them are goalkeepers.
The visitors kicked off, wearing all yellow, playing toward the empty Gwladys Street, where they won an early corner off Sigurdsson. From it, Rodriguez looked to release Iwobi down the left but the ex-Arsenal man was not interested in making a counter and reversed the play instead. When the ball was played up, Calvert-Lewin was called for running into Darlow.
Richarlison was caught cynically by Lascelles, for what should have been a straight red but was only a yellow 4 minutes into the game. From the free-kick, a tremendous ball in from James and Mina challenged Darlow for it, just heading wide.
James then combined with Digne but Calvert-Lewin was not deep enough to challenge for the excellent cross in. Digne then crossed very well under pressure, forcing Darlow to concede the corner, delivered a little better by Sigurdsson but still cleared away.
Shelvey was allowed a really cynical neck grab on James, but no card. A few other Newcastle players have perfected the hand-to-face to push off the pressing player, nice training from Steve Bruce. His side won a free-kick wide right that Shelvey delivered and Mina cleared.
Iwobi won a similar free-kick on the opposite side, fired in by James, that Mina could not direct properly. When Everton tried to play out of the back, Newcastle were pressing high but James was providing some great out-balls. The game was open and even, both sides getting up the field and Everton having to block a few long-range shots.
Shelvey was finally booked after treading on James's foot. Iwobi got past his man nicely but then crossed poorly. Richarlison stepped up and fired a meaty shot that forced a save from Darlow.
Newcastle mounted a very strong attack and Shelvey came very close to scoring, his shot deflected just wide. Mina was next to go down under a forearm smash to the face, needing some treatment. But the tempo of the game was very much in their favour, with Everton not implementing their counter-attack successfully.
A bullet header from Wilson off a Newcastle corner almost brought their opener, Pickford pulling off a fine fingertip save to turn it onto and over the bar. But the signs were becoming increasingly ominous for Everton, who were being thwarted effectively, by fair means or foul (or Iwobi's incompetence) when they tried to venture forward.
Wilson spun Sigurdsson who caught him Gomes style, giving Shelvey a chance from the set-piece but he lashed it well over. They did get forward with a nice back-heel from Calvert-Lewin playing in James for the shot. Doucouré set up Richarlison who sliced it wide when it should have ended up top corner.
Newcastle attacked again with confidence but Pickford handled the high cross well. James was again cynically taken out but referee Atwell ignored it until he halted the play for an Everton foul. When Sigurdsson and Lascelles kicked each other, he favoured the Newcastle player with the free-kick. The physicality of the game was starting to tell.
Sigurdsson had a chance to play in a set-piece but it was poor, straight to Darlow. Richarlison then went for glory when more patience was required, with Everton's attack not really asking enough questions in a first half that was far too even.
Everton tried to build with more care at the start of the second half, with some good passing that was worth a goal but for James straying offside and Calvert-Lewin being unable to convert when played on.
Everton suddenly found a lot more space down the left but lost the ball in a turnover and the visitors then created a fabulous chance for Wilson who screwed it wide.
Calvert-Lewin's shot was parried by Darlow for a corner that was superbly curled in by James but Darlow collected it. At the other end, another niggly foul called, and more bodies strewn in the aftermath.
A couple of Newcastle corners threatened but Pickford was alert to the high ball, although the parry did not relieve the pressure. Everton's early dominance since the break had faded and Newcastle were threatening again. Gomes came on for Iwobi and Everton suddenly set up a decent attack but the corner produced nothing.
Saint-Maximin came on for Fraser, and Newcastle pressed a lot harder, winning a corner that Calvert-Lewin cleared. Everton were still not getting forward in anything like the manner needed, with Newcastle stifling them and threatening to steal a goal. And a corner from Shelvey, and an unstoppable header from Calum Wilson, did just that.
Calvert-Lewin won a corner from the restart, successfully defended, leading to a Saint-Maximin inspired counter that came to nothing. Gomes again passed the ball out of play.
Coleman looked to overlap down the right but crossed in behind Doucouré. He gets another chance but his low cross is booted out for a throw-in. Almiron was too strong for James, easily taking the ball off him. James was getting tired and frustrated but he remained virtually the only hope for an equalizer.
From a corner, Digne summed things up with an awful shot that was miles off target. Newcastle were invited to reprise the goal on another corner but Everton defended it this time.
A shocking giveaway by Coleman led to Shelvey creating a golden chance for Wilson to double Everton's misery, as he rounded Pickford but could only strike the post with his shot.
Richarlison was caught a little clumsily by Hendrick for the 7th yellow card of the game as 5 minutes of added time and Shelvey powered another free-kick just over the angle.
Everton won a corner but somehow Newcastle broke with Everton all over the place and Calum Wilson had no trouble lashing it past Pickford to underline a dreadful day for Everton at Goodison Park.
Kick-off: 12:30pm, Saturday 30 January 2021 on BT Sport 1
Referee: Stuart Atwell
VAR: Kevin Friend
Everton: Pickford, Coleman, Mina, Keane [Y:61'], Digne, Sigurdsson [Y:35'], Doucoure, Iwobi (63' Gomes), Richarlison, Rodriguez [Y:79'], Calvert-Lewin.
Subs: Olsen, Virginia, Kenny, Holgate, Godfrey, Davies, Gordon.
Newcastle United: Darlow [Y:84'], Hayden, Lascelles [Y:4'] (54' Clark), Schar, Lewis, Manquillo, Shelvey [Y:21'], Hendrick [Y:88'], Almiron, Fraser (67' Saint-Maximin), Wilson.
Subs: Dubravka, Longstaff, Carroll, Joelinton, Gayle, Krafth, Anderson.
---
Reader Comments (631)
Note: the following content is not moderated or vetted by the site owners at the time of submission. Comments are the responsibility of the poster. Disclaimer
Thomas Richards
1
Posted 30/01/2021 at 11:33:22
Thats about the most attacking line up Carlo can put out, given the injuries.
Tony Hill
2
Posted 30/01/2021 at 11:36:01
Pickford in. Have to trust the manager on that. Tough for Godfrey but I'm happy with that side.
Chris Williams
3
Posted 30/01/2021 at 11:36:45
Only 8 subs including 2 keepers
Fran Mitchell
4
Posted 30/01/2021 at 11:40:09
No Bernard or Tosun confirms their likely exits.
Good line-up.
Got a small hope that we'll romp home and Bruce will see his P45
Brent Stephens
5
Posted 30/01/2021 at 11:41:21
Midfield looking stronger. Feel sorry for Godfrey after all his excellent performances. But quite a strong bench.
Derek Knox
6
Posted 30/01/2021 at 11:42:34
I can only assume that Carlo doesn't assess much of a threat from Newcastle, hence the line up, which does with those available appear to be more attack minded. However I am surprised to see Pickford retaining the Jersey in goal, and my conclusion to that is almost a 'last chance saloon' scenario to prove he can play a game, brainfart and error free. If he fails, I expect to see him and the bench being regular companions.
Christine Foster
7
Posted 30/01/2021 at 11:44:07
Emphasis on the attack today, no Holgate or Godfrey, should be a good one if the blues turn up..fancy DCL and James to have a good day..
Paul Baxter
8
Posted 30/01/2021 at 11:44:17
Good man-management to keep Pickford in, it could have blown his confidence if dropped.
Rest of the line-up looks good.
Colin Glassar
9
Posted 30/01/2021 at 11:44:21
Gutted for Holgate. I'd have preferred him to Mina in defence.
Tony Everan
10
Posted 30/01/2021 at 11:46:20
It's a more attack minded selection and Coleman, Doucoure, Sigurdsson, and Iwobi will be fresh. After getting used to the more tighter and mean team selections this one leaves me with some trepidation, mainly because I am concerned that Doucoure will have not enough support in the engine room and our midfield may not be able to get a grip.
If Coleman and Digne can get some good supply in to DCL and Richie lurking that will be the key. Should be an exciting game.
Craig James
11
Posted 30/01/2021 at 11:50:30
Could poss b 433 which with the players selected could be a very attack minded planned from Carlo.
Feel confident that we have the players to see this through but need to ensure we don't get caught on the counter attack as both Coleman and digne will be further up the pitch leaving Keane and mina open to Newcastles pace.
Fingers crossed 3 points !
Neil Lawson
12
Posted 30/01/2021 at 11:50:34
I don't believe too many predicted that line up. I did say that we could rely on Carlo to spring a surprise or two. Fingers firmly crossed.
Jeff Armstrong
13
Posted 30/01/2021 at 11:53:46
Godfrey unlucky not to get the RB position, not great early on there but after recent performances and being more confident I think he would excel now at right back, with it being his more natural side.
Richarlison needs to step up in his favoured position too.
Ciarán McGlone
14
Posted 30/01/2021 at 11:55:01
Harsh on Davies. Would much prefer him alongside Doucoure than Sigurdsson.
Not sure how poor Richarlison has to be before he sees the bench (probably score a hat trick now)... but a clear lack of options given the absence of Bernard.
Let's go.
Brian Hennessy
15
Posted 30/01/2021 at 12:00:28
Agree with Derek #6 about Pickford. He had a run of error free games before Wednesday. One more mistake today and I think Carlo will drop him.
Have to admit I am a bit worried about not having Godfrey in the team today. His pace and aggression has helped us greatly.
George McKane
16
Posted 30/01/2021 at 12:04:31
"O friends, not these notes,
but let's
tune into more pleasant ones And more joyful
joy (joy)
joy (joy)
Joy, beautiful spark of gods
Daughter from Elysium
We enter heavenly ones, drunk with fire
, your sanctuary
Your magic bind again
What fashion strictly divides
All people become brothers
Where your gentle wing dwells"
My thoughts on a "normal" match day at this time would be am I getting driven to The Dark House by the wondrous Gosia or do I get the "underwater" Jacques Cousteau Merseybus under the River - - but for today my biggest decision is whether, after having a late and lazy breakfast, to change from my Everton Dressing gown (yes I am nearly 72 - - God Bless Us All), and get dressed properly - - Mmmm - - decisions.
Instead of that Gilgameshan Journey under The River and along those "Memory Lane Cakes" Streets of my childhood and youth - - I have my top floor to walk between my writing room and the TV room - - so somehow I have to close my eyes and allow myself the liberty to just float for a few minutes between the Three Windows - - to my right The Great Duomo of St.Peter and Paul - - is it Firenzi or New Brighton - - Let Your Soul and Spirit Float Into Into Into The Mystic - - just listening to Marvin Gaye - - obviously an Evertonian:
"Honey, you do me wrong but still I'm crazy about you
Stay away too long and I can't do without you
Every chance you get you seem to hurt me more and more
But each hurt makes my love stronger than before
I know flowers go through rain
But how can love go through pain?
Ain't that peculiar?
A peculiar-arity
Ain't that peculiar, baby?
Peculiar as can be"

A quick walk across the landing and a left glance out of the window - - The River and further those very streets I wish I was walking and further still the roof of Goodison - - Oh how I wish I was there with friends and comrades - - my thoughts quickly jump for no reason to Cardinal Godfrey and old TW friends many of whom I have never seen are but visions in my soul - - I just thought of Darren's post this morning and these words from Shakespeare came into my head:
"When to the sessions of sweet silent thought
I summon up remembrance of things past,
I sigh the lack of many a thing I sought,
And with old woes new wail my dear time's waste"

Into the front room - - my seat booked in front of what now passes as my Match Day Seat - - Oh how I wish to be out in the cold and the rain and the wind - - fighting the elements but in my element with friends and Blues - - everywhere is grey and misty and wet - - I have to search my soul and spirit to find Blue Skies and conjure up in my minds eye the faces of friends many not seen for nearly 12 months now - - no sorrowful thoughts here only dreams of the day when we can all meet again.
"Remember me when I am gone away,
Gone far away into the silent land;
When you can no more hold me by the hand,
Nor I half turn to go yet turning stay"
Now I have to go and get to my seat - - close my eyes and imagine I am in queue at The Park End - - stopping to say "hello" to friends and comrades and - - shaking hands and hugs (remember them) - -Hey Dan - - jokes with the gang around - -my daughter and grandson sitting next to me - -the goal within touching distance to my right - - the grass like the fields of Elysia:
"And you look out on the water
And the big ships, and the big boats
Came on sailing by, by, by, by
And you felt so good, and I felt so good
I felt I want to blow my harmonica
Take me back, there, take me way back there
Take me back, take me back, take me back
Take me way, way, way back, way back
To when, when I understood
When I understood the light, when I understood the light
In the golden afternoon, in the golden afternoon
In the golden afternoon, in the golden afternoon
In the golden afternoon when we sat and listened to Sonny Boy blow
In the golden afternoon when
We sat and let Sonny Boy, blow, blow his harp
Take me back, take me back, take me back
Take me way, way, way, way, way, way, way
Back when I, when I understood, when I understood, yeah
Oh, ah, take me way back, when, when, when, when, when, when
When, when, when, when, when, when, when
I was walking down the
Walking down the street and
It didn't matter
Cause everything felt, everything felt, everything felt
Everything felt, everything felt, everything felt, everything felt
Everything felt, everything felt, everything felt so right, ha
And so good"
I promise you all that I am now blowing my harmonica - - just for you - - there you go - -Notes in the air - - On The Astral - - Reach up and grab Them - -Put them into your heart and your mind and your very soul - - they are sent from me to you - - as in a dream.
My thoughts, good wishes, posso waves, cosmic grooves, firm and warm handshakes are for you my dear friends - - Up The Blues - - your friend - - George

Tony Twist
17
Posted 30/01/2021 at 12:08:01
Pickford shouldn't be anywhere near this team. Some managers don't learn.
Stephen Brown
18
Posted 30/01/2021 at 12:08:52
There's a lack of attacking options off the bench as the season progresses. Bernard and Tosun look to have gone. We have to sign at least 2 attacking players surely.
Brent Stephens
19
Posted 30/01/2021 at 12:13:57
George " Oh how I wish to be out in the cold and the rain and the wind - - fighting the elements but in my element with friends and Blues - "
Amen to that, George.
Peter McEvoy
20
Posted 30/01/2021 at 12:14:18
Lets hope we are on the front foot today tactics were awful on Wednesday think I would have started with Olsen he is very steady. Great to see Doucouré back he has been brilliant for us Davies is limited light weight in tackle and rarely passes ball forward. Godfrey unlucky to be left out I like him
Good luck today COYB Rodriguez is brilliant
James MacGlashan
21
Posted 30/01/2021 at 12:15:00
Pickford should not be playing 1. for the error against Leicester City and also 2. I don't think he should play v Newcastle Utd (crowds or no crowds) until he sorts out his Sunderland head.
Raymond Fox
22
Posted 30/01/2021 at 12:15:29
Pickford is lucky to keep his place, he does seem too unreliable to have confidence in. He must be good in training!
Apart from him I more or less agree with Carlo's team. In some positions there is nothing much to choose between the bench and who is picked, maybe I'd go with Holgate instead of Mina.
We should win, but theres more pressure to win on the players in these type of matches than against top opponents and that can affect performances.
Ernie Baywood
23
Posted 30/01/2021 at 12:17:02
Will be interesting to see when Godfrey starts pushing for a centre back role. He was never a fullback - as well as he has done defensively.
Reasonably happy with this team, but I think we'll know inside about 10 minutes whether it's too lacking in midfield. Shelvey shouldn't be causing us too many problems in terms of engine, but you don't want to give him time and space. I half expected to see Davies for that reason.
Thomas Richards
24
Posted 30/01/2021 at 12:18:37
George.
Brilliant.

Nicolas Piñon
25
Posted 30/01/2021 at 12:18:57
Godfrey out leaves no pace at the back
But great lineup overall!
COYB!!
Kevin Prytherch
26
Posted 30/01/2021 at 12:19:05
I think that was pretty much Lyndons team except for Sigurdsson.
I hope he doesn't fade into his anonymous self that he normally does playing in midfield or we could be overrun there. Thankfully Richarlison and Iwobi should provide cover, but I worry about counter attacks if Doucoure ventures forward. Sigurdsson won't, or can't sit in front of the defence and break down counters like Davies can (and Allan usually does).
Kevin Molloy
27
Posted 30/01/2021 at 12:19:24
alot rests on Doucoure, nobody else will be winning the ball back anyway. And with the return of our midget fullbacks, we are a bit light. But should be a lot better attacking. if Shelvey starts and is playing well this could be tricky
Kevin Prytherch
28
Posted 30/01/2021 at 12:23:19
Any ideas why we can only name 8 subs - and 2 of them are keepers?
Christy Ring
29
Posted 30/01/2021 at 12:31:47
Would have preferred Davies for Siggy, looking at the bench, Gordon is the only forward, it shows how limited we are upfront, need a striker by Monday.
Graham Hammond
30
Posted 30/01/2021 at 12:31:49
Drops Godfrey? This is bullshit. Pickford plays too? Bullshit again.
Kevin Dyer
31
Posted 30/01/2021 at 13:13:09
Some shithouse fouls on Rodriguez so far.
Alex Gray
32
Posted 30/01/2021 at 13:15:25
Ref hasnt got control of this game. We'll end up with injuries. Not going to plan so far and no bench options to change the game.
Ciarán McGlone
33
Posted 30/01/2021 at 13:16:05
Borefest.
Sigurdsson virtually useless in that deeper role.
Ernie Baywood
34
Posted 30/01/2021 at 13:20:13
You been waiting to hit 'submit' on that since the team selections, Ciaran? I just don't see what you see.
James Fletcher
35
Posted 30/01/2021 at 13:21:07
Siggy just looks scared to tackle, far too often he's just stood nearby with his arms up in defence.
Really need Charlie to step it up a gear as he (Along with a lot of others) just looks painfully slow
Alex Gray
36
Posted 30/01/2021 at 13:21:27
Dont think sigi is the problem today. Nobody being anywhere near Calvert Lewin is. James is playing number 10 and is dropping too deep.
Ernie Baywood
37
Posted 30/01/2021 at 13:23:55
Two counter attacking teams, neither of which wants to camp in the opposition's half.
It's going to be a strange game until someone breaks the deadlock. Things haven't come off yet, but I still think we look more likely.
Dave Abrahams
38
Posted 30/01/2021 at 13:26:28
The referee should really start doing his job, not much between the teams,but they are targeting James and the ref. is letting them get away with it. Comical passing out from the goal by Everton, why do they do it. Could be a long hard afternoon for us fans.
Kevin Dyer
39
Posted 30/01/2021 at 13:27:02
Their active press is definitely giving us problems playing it out from the back. Our fullbacks have been unable to get forward regularly, especially Coleman. Think we need to move the ball a bit quicker, pull them around more. They are impotent offensively but Wilson is a willing runner and they are "putting a shift in", to quote Shearer. They've been briefed to rough up James, no doubt and a weak ref is allowing them to get away with it. Relieved he hasn't been injured.
Pickford has done well so far and his distribution has been decent. Coleman is offering nothing on the right, would prefer Godfrey to come in at some point. Iwobi off the pace so far, doesn't look match sharp; hopefully he gets it together second half. Richy looking more like it, better touch, control and passing and taking shooting opportunities. Couple of miscommunications with Digne. Sigurdsson neat in possession. James by far the most likely to create something. DCL cutting a frustrated figure. Need some more quick passing sequences in the final third.
Think we can (and should) win this.
Jay Wood
[BRZ]
40
Posted 30/01/2021 at 13:27:06
Decent enough game. Newcastle have come to play, which is a credit to them given their position.
We need to start taking greater advantage of the space that Richy and Digne are being afforded down the left and deliver better quality into the box. Iwobi some nice moments on the opposite flank.
Siggy having a fine game, apart from his poor free kick near half-time. Very tidy in all he does and feeding Richy and Digne time and time again.
James providing the magic moments as always. The recipient of an accumulating number of sly fouls.
Nobody having a bad game. One goal changes the whole dynamic of the game. Let's hope it's us that get it.
Kevin Dyer
41
Posted 30/01/2021 at 13:28:49
Contrary to the goon on BT Sports, Newcastle have not been the better team.
Alan J Thompson
42
Posted 30/01/2021 at 13:28:53
Everton look like they've been to the pub across the road and four blokes who brought their boots with them have got a game but the two who are any good are showing up the overpaid full time players.
Is Calvert-Lewin actually going to do anything? At the moment only James and Iwobi look like they want to do something, most of the rest look like they are waiting until we defend the lead we haven't yet got.
Thomas Richards
43
Posted 30/01/2021 at 13:30:03
The pub over the road is closed
James Fletcher
44
Posted 30/01/2021 at 13:33:23
Agreed Kevin (41), they had the one good chance to our 3 (?) which I count as the balance of the game
Craig James
45
Posted 30/01/2021 at 13:33:29
IMHO we are too slow and ponderous in transition and sitting too deep.
When we have gone up a gear we have played out best stuff.
If we do not change something Newcastle will nick this one and God help us when Allan Saint max comes on as he will rip our cm and def apart.
Time to see some of carlos genius tactics.
For what is worth siggy nit having a poor game nor his he having a gd game but we will not turn into a regular top 4 team with him in the side, excellent work rate but everything else 2nd rate.
Let's hope for a better 2nd half
Alan J Thompson
46
Posted 30/01/2021 at 13:34:34
Of course it's closed, they're getting a game across the road!
Tony Twist
47
Posted 30/01/2021 at 13:38:03
Pathetic and predictable first half. It looks like another season where we just go backwards. Lazy and clueless. A one speed team unable to convince that they are worthy of their inflated wages. No players in will just bring on mediocrity.
James Fletcher
48
Posted 30/01/2021 at 13:39:08
Coleman looks like his legs might have totally gone. Seems to have no willingness to get forward at all anymore.
Ciarán McGlone
49
Posted 30/01/2021 at 13:46:22
Ernie..lol
His attempts to tackle are laughable.. almost invariably gets beaten for pace and tries to drag the opposing player back..
Lot of misplaced passes too. It gives me no pleasure to witness this. Davies should have played that position.
Thomas Richards
50
Posted 30/01/2021 at 13:47:28
52 minutes.
Look at Keane and Minas lack of pace. Wilson should score.
Thats why we cant push higher.
James Fletcher
51
Posted 30/01/2021 at 13:51:49
So we now take off one of the only attacking outlets
Alex Gray
52
Posted 30/01/2021 at 13:52:21
Wouldnt have taken iwobi off to be honest
James Fletcher
53
Posted 30/01/2021 at 14:01:53
Great header that...be nice if we could fashion a chance
James Fletcher
54
Posted 30/01/2021 at 14:02:52
Interesting to see if Carlo reverts to type and tries to defend our way into losing 0-1...
Danny Baily
55
Posted 30/01/2021 at 14:05:10
Pickford's picked up a knock. Silver lining.
Thomas Roberts
56
Posted 30/01/2021 at 14:05:39
Absolutely awful for the second time in a week. Why do we bother? No urgency, no pace, all of our strikers out on loan scoring goals for other sides. A bench full of goalkeepers, defenders and midfielders. Shocking mismanagement of the squad by all involved.
Joe McMahon
57
Posted 30/01/2021 at 14:06:52
Christ, it looks like the Everton tradition of never playing in the Champions League is carrying on with another highly paid manager. Joke of a club, expect a BMD update in the next week.
Sean O'Hanlon
58
Posted 30/01/2021 at 14:10:02
1 point at home in last 3 games.
Garbage.
Ancelotti - what a fucking joke
Mid-table beckons
James Fletcher
59
Posted 30/01/2021 at 14:14:26
So many players look like they've been on the pies. Just an incredible lack of pace anywhere in the team. The players that did offer some running get taken off and the ones that might be able to provide it are left on the bench
James Byrne
60
Posted 30/01/2021 at 14:16:59
For the first time I'm now putting this out there.
We have to question the position of Ancelotti!
Who is picking and motivating this fucking team. Utter garbage. No physical presence at all. No ideas. Too many Everton players to list today who are useless.
Craig Walker
61
Posted 30/01/2021 at 14:18:59
It's no good for my health following Everton. It's the hope that kills you. This Newcastle team are so poor but have made us look awful. Lethargic, slow, devoid of anything. No movemen, no aggression. Leeds and West Ham all over again. Awful.
Warren Bede
62
Posted 30/01/2021 at 14:19:09
From Leicester to this very strange...without a winning attitude we will not win much
James Fletcher
63
Posted 30/01/2021 at 14:19:40
For all that Carlo is called a geniuis, for the past 3 games I've only seen incompetence. How the fuck he has put together a team that can't even fill the bench despite featuring 2 keepers is beyond me.
Roman Sidey
64
Posted 30/01/2021 at 14:21:03
Coleman's gotta go.
Thomas Richards
65
Posted 30/01/2021 at 14:21:28
James and DCL apart I cant put up any excuse for that performance.
No positives at all.
James Fletcher
66
Posted 30/01/2021 at 14:22:39
Coleman looks past it, the central midfield seems to struggle with some very basic passes, we lack pace and width and we've allowed to go out on loan quite a number of players who could be an option from the bench.
It's shocking all round
Alex Gray
67
Posted 30/01/2021 at 14:23:41
Utterly pathetic. Once again no options to change the game. The amount of money we've spent and we had anthony gordon on the bench.
If we let Tosun and Bernard go and bring in nobody i'll be livid.
That performance was disgraceful.
Phil Wood
68
Posted 30/01/2021 at 14:23:52
Pathetic!
Totally ignored Newcastle's 2nd half display midweek were they showed great improvement.
Set up like we were expecting a stroll.
Cannot play Siggy and James in the same game when you need to win a battle.
Wilson ran rings all day. Left alone for the corner.
How much did he cost?????
We have bugger all if DCL is injured.
Very luck not to be stuffed by Leicester but came home to roost today.
Bloody disgrace!
Fran Mitchell
69
Posted 30/01/2021 at 14:24:32
Woeful. Worst performance of the season. Just awful. Didn't make their keeper work at all. Richarlison, Doucoure, Iwobi, Coleman, Digne all way off their game. No excuses. A dark day for Ancelotti and he must get a response from the players on Wednesday.
Terrible. Just terrible.
Nicolas Piñon
70
Posted 30/01/2021 at 14:24:40
The best thing we had (our defense) Ancelotti changes it
All by understimated Newcastle.
Without that defense nor Allan, we look no better than any mid team table.
On top of that no back up at all for our aspirations. totally absurd. I believe Ancelotti thinks something like James Rodriguez is Messi or something like that. And because of his great manager career the board backs him in everything. Too many questions and little time to answer.
Before the game I said good team overall but thought "going back to that defense was probably a gamble but a chance Ancelotti could take because of our opponent". If he is intelligent enough Holgate and Godfrey should be back next game. That was the biggest asset of our last wins and he changes it. Amazing truth.
Tony Hill
71
Posted 30/01/2021 at 14:24:57
I think some very serious questions need to be asked. You can't play as negatively as we did on Wednesday and then expect to switch it back on again a couple of days later.
Utterly dreadful, no courage again and outfought.
Mads Kamp
72
Posted 30/01/2021 at 14:26:15
It's simple: we lack commitment and passion.
John Keating
74
Posted 30/01/2021 at 14:26:51
Totally, totally bottled it
A fantastic chance to have 6 points in the bag and up to 4th
No excuses the whole lot of them a weeks wages to Alder Hey and a flogging
Tony Twist
75
Posted 30/01/2021 at 14:26:55
Ancelotti the dinosaur and please no calls to get Dunc in, he is to blame also as a coach. The running of this club has been amateurish. Things haven't changed since Moyes left.
Tony Hill
76
Posted 30/01/2021 at 14:26:58
Why take off Iwobi and leave Sigurdsson on? Gomes was woeful.
Phil Wood
77
Posted 30/01/2021 at 14:27:31
Leeds in the week and we are made for them.
Craig James
78
Posted 30/01/2021 at 14:27:41
You reap what you sow, gutless clueless and what happens when you set up the way did.
Enough said top 8 at best and a clear message to the board that our squad is well well short of quality.
Be an interesting few days to see who we bring in as we need a few fresh faces willing to roll their sleeves up.
Jim Harrison
79
Posted 30/01/2021 at 14:27:41
Out fought.
And need a back up plan up top. DCL put in a shift, but there is no alternative to him in the squad.
I fucking hate Wilson. He is a right shit to play against.
James Fletcher
80
Posted 30/01/2021 at 14:27:49
The substitutions are what gets me, not many options on the bench but you have to at least use them.
If Iwobi or Charlie are coming off then the only replacement he should consider is Gordon.
Sigurdsson playing ok but on a yellow? Sub him for Gomes.
I really think we need to consider either Holgate or Godfrey as the back up to Allan, no one else seems to have a chance of filling that role.
Neil Lawson
81
Posted 30/01/2021 at 14:28:05
Complete bloody disgrace. Abject. Woeful. Pathetic.
Total shite.
Not a single shot 2nd half.
Awful. Terrible. Abysmal.
Worse than total shite ( although I am not sure if that actually is possible, but if it is then it was.)
Just a tad disappointed!!!
Paul Birmingham
82
Posted 30/01/2021 at 14:28:58
Worst stink out home performance for years v the worst form team in the league. Typical Everton forget their lines again.
The Toon played like the home team. No desire to work hard, no guile and no real threat.
It should have been 4-0. Like Leicester but better, and Newcastle got what they deserved.
Another letdown in a lifetime of let downs by Everton, and another weekend sullied by a tripe performance.
Back to the basics, and for me Godfrey with his heart and desire should start all games. Siggy and Gomes, not enough belief. Siggy is knackered as is Gomes, who can't make simple short passes.
Enough said. This is the pits, but it's gonna take some character to fight back from this as the mental side of Everton is miles off the best teams.
Absolute tripe, and Worse.
Fran Mitchell
83
Posted 30/01/2021 at 14:29:02
That game typified why we need to play a defensive game. we just can't control games - Siggy, Gomes, Coleman need to go. And Richarlison needs to be dropped, way off the pace. Can't remember a single chance in that second half.
Kevin Molloy
84
Posted 30/01/2021 at 14:29:13
that was really very disappointing. We've turned a corner, and not in a good way
John Boon
85
Posted 30/01/2021 at 14:30:00
All negative posts are fully understandable. But in a nutshell.
WE ARE JUST NOT A GOD TEAM
Ernie Baywood
86
Posted 30/01/2021 at 14:30:38
Ciaran #49, for a guy who's very clear he doesn't rate Sigurdsson you have high standards for him. You're expecting pace and ball winning in that paragraph. He's neither of those things. And as for pulling players back and misplacing passes... you didn't see that in the first half. You could direct criticism at any of his teammates - for example Doucoure alongside him (literally right alongside him).
Fact is, we're setup as a counter attacking team. And not a very adventurous one. Our central midfielders play right in front of the defence. If that wasn't the plan then it would be changed. We're geared up around inviting teams onto us and exploiting space. There was plenty of space but we didn't exploit it well enough in the first half. And in the second we did nothing.
As has been the case for a while now... if we concede the first goal, we're done.
At the moment I reckon we're as likely to beat a top team as a poor team.
I'd rather watch the attacking stuff from early in the season. We conceded plenty, but we looked good.
Justin Harris
87
Posted 30/01/2021 at 14:31:08
That was as bad as anything last season,no pace no guile and no desire.
There is never any speed to our play we are so slow through the stages of the pitch and so predictable give it to Digne and cross it in!!
Thats West ham,Leeds and Newcastle at home we have failed to score against and when you look at our bench today it shows how lacking we are in options.

Jay Wood
[BRZ]
88
Posted 30/01/2021 at 14:32:11
No complaints from me. The best team won.
Defended better. More tenancious all over the park. More incisive when attacking.
We looked to have woken up the way we started the 2nd half, but we kept up a long Everton tradition of ensuring a team on a woeful run turned it around.
A poor missed opportunity to keep in the mix with 1 point from consecutive home games.
Siggy was the pick of our players for me. James gradually got lost in the mire of the game. Doucoure played his part. Richy a little improved on recent weeks, but he and Digne's quality given the room they had was ultimately lacking. Gomes showing again how limited he is.
Too slow in transition. No guile in the final third. We HAVE to win games like this against this sort of opposition to seriously challenge for those European places.
Credit to Newcastle. They fully deserved their win.
John Hall
89
Posted 30/01/2021 at 14:32:36
Carlo master tactician my arse.
Run ragged by Steve Bruce twice this season.
Top six is not even remote.
Richy, Siggy and don't mention Iwobi all passengers.
Two goals for Richie all season. Definitely a world beater
Bloody disgrace to their shirts.
Lester Yip
90
Posted 30/01/2021 at 14:32:51
If we lost to Leceister City, I can accept that. But to the Toons again in such scrappy manner!? WTF! It really hurts.
This one is on Carlo. When Rich is clearly not in form and make no changes.
Lester Yip
91
Posted 30/01/2021 at 14:32:57
If we lost to Leceister City, I can accept that. But to the Toons again in such scrappy manner!? WTF! It really hurts.
This one is on Carlo. When Rich is clearly not in form and make no changes.
Joe McMahon
92
Posted 30/01/2021 at 14:32:59
Craig @78, I think 8th may be out of reach. Looks like we have one striker at the club, and if there is no service he can't score out of the 6 yard box. This is seriously worrying times. Is it any wonder neutrals want Everton relegated, they bring nothing to the PL (ever)
David Hallwood
93
Posted 30/01/2021 at 14:33:31
The worrying aspect is, apart from Allen that was our 1st 11 out there.
Kieran Kinsella
94
Posted 30/01/2021 at 14:34:12
Unlucky
Warren Bede
95
Posted 30/01/2021 at 14:35:25
Does anyone know the 100m time trial times for this team
Andy Mead
96
Posted 30/01/2021 at 14:35:45
Dosnt matter who the manager is, doesn't matter who's playing, it's been the same for 30 years. When it matters, when it really matters, we bottle it. Been the same for 40 years. Top 4. Your having a laugh! Well never get into the champions league. Ever. If I was Moshori I would take money and run. Walk away from this shambles of a club.
Tony Twist
97
Posted 30/01/2021 at 14:35:54
Everton are just a laughing stock. 50 plus years of this and now the most expensive assembled Everton team of my lifetime but truth be told years and years of failure.
Phil Wood
98
Posted 30/01/2021 at 14:35:57
Thank God the transfer window is closing as we cannot sign anymore expensive rubbish.
Tony Twist
99
Posted 30/01/2021 at 14:36:05
Everton are just a laughing stock. 50 plus years of this and now the most expensive assembled Everton team of my lifetime but truth be told years and years of failure.
Jamie Crowley
100
Posted 30/01/2021 at 14:37:12
Every time we get close, we shit the bed.
It's like a never-ending cycle of shit.
This was an awful performance. Just terrible.
Phil Smith
101
Posted 30/01/2021 at 14:38:33
That performance today was an absolute disgrace to the shirt! Each and every one of those players needs to have a look in the mirror but I 100% blame the coach again. He picks the sides. It's his jib to motivate them. Disgraceful today. Keane and Pickford did OK but there are too many players out of form or not fit and it's a clear as day. He only picks on reputation but I feel that if Davies, Kenny and Gordon are in that side they'd at least give eveything to the shirt if nothing else. Seething!!!
Tony Hill
102
Posted 30/01/2021 at 14:39:17
I don't know where we go from here.
Tony Hill
103
Posted 30/01/2021 at 14:39:36
I don't know where we go from here.
George Cumiskey
104
Posted 30/01/2021 at 14:40:02
Disgraceful performance from the manager and the team, tactics terrible no fight no pace no brains !
Ciarán McGlone
105
Posted 30/01/2021 at 14:41:33
Ernie.. I suppose my main issue is with him being played in that defensive role. It's not Sigurdssons fault hes not equipped for it..
Anyway.. he was only one of a number of problems today.
Not enjoyable at all to watch today
Dan Coultas
106
Posted 30/01/2021 at 14:41:43
If we can cash in Richarlison I'd get rid in the summer, absolutely nowhere near the form he showed for Watford and hasn't been for a long time, perhaps the most overrated member of an extremely average, expensively assembled squad.
Teddy Draper
107
Posted 30/01/2021 at 14:42:19
You guys can say whatever you want but as a true blue for 74 years I know this,DCL is just a flash in the pan like many strikers before him, no class at all. Siggy should never ever be considered for first choice on the team sheet again. What the manager sees in him is totally beyond me. You get a bit of quality in the squad but also dross. That dross cannot be allowed to penetrate and infiltrate this club of ours or we will find ourselves in the same old situation that we have been in for many years. I feel sick to my gut for all the younger supporters who haven't seen the good times when we get a result like this, and indeed this weeks fiasco, 1 point from 6 at home, what the F#@ks going on at this club?
John Pickles
108
Posted 30/01/2021 at 14:42:32
Here's a prediction, it doesn't matter who the manager is, who the owner is, who the training staff are or who the players are, this club will still be a Premiership nothing club, like it is now, in ten years time.
We have had billions pumped in, tried no end of formations, staff or tactics, even with or without supporters, and we are in exactly the same position we were in 30 years ago.
We are cursed to be mediocre.
Colin Glassar
109
Posted 30/01/2021 at 14:42:56
The entire MF needs rebuilding. I'd keep Allen, Doucoure and James. The rest, siggurdson, Gomes, Davies, Delph, Iwobi (please god), Bernard etc are all substandard and need to be moved on.
I'd also seriously consider selling Richarlison as his contribution is on a steep decline as the season goes on.
Colin Glassar
110
Posted 30/01/2021 at 14:43:06
The entire MF needs rebuilding. I'd keep Allen, Doucoure and James. The rest, siggurdson, Gomes, Davies, Delph, Iwobi (please god), Bernard etc are all substandard and need to be moved on.
I'd also seriously consider selling Richarlison as his contribution is on a steep decline as the season goes on.
Alex Winstanley
111
Posted 30/01/2021 at 14:43:37
I am fuming after that. I love Carlo but he has take the blame for that. Too many changes. Holgate and Godfrey should not have been dropped, that would have allowed Digne and Iwobi to stay forward. Siggy was non existent in the middle, why was he allowed to play 90 mins? Richarlison totally off the pace. I don't think I have ever been so angry after an Everton game as I am right now! I am sure I probably have been but I'm struggling to remember when. Top 4 team... Really?
Barry Jones
112
Posted 30/01/2021 at 14:45:34
People who think Siggy played well are watching a different game to me. The issue is his movement, or should I say, lack of it. He DOESN'T want the ball, especially in tight situations. This is one of the main reasons that we cannot play out from the back effectively. The movement of the entire team was shocking today.
Newcastle played a diamond midfield leaving us lots of space wide, which we DIDN'T exploit. Taking Iwobi off was non-sensical. We had lost the battle in the middle to their diamond so our best chance of hitting the forwards was through the width of the pitch.
A shocking performance and shocking decisions, even before we kicked off.
Frank McGregor
113
Posted 30/01/2021 at 14:45:51
I posted after the Leicester game that if Everton play the same way against Newcastle they will get beat.
Jamie Crowley
114
Posted 30/01/2021 at 14:46:57
Normally when we are THAT bad, I get angry for the fans.
They go to the game, spend their hard-earned, especially when traveling, and get served up dog shit.
Today I'm angry for Mike Gaynes and all the Left-Coast American Blues and Ex-Pats.
They woke up at 4 a.m. FFS to get served up that utter shit.
Fucking criminal display. Pisses me off to no end.
Alan J Thompson
115
Posted 30/01/2021 at 14:47:22
Only James and Iwobi looked any good and then Iwobi taken off!
We need a striker as Calvert-Lewin looks like he thinks he's done his bit for the season and Richarlison either doesn't like how he's been asked to play or he wants away. Digne looked as though he didn't know why he was putting crosses in and, sorry, can't think of a single good thing anybody else did for the entire game. Total rubbish front to back!
Alan J Thompson
116
Posted 30/01/2021 at 14:47:25
Only James and Iwobi looked any good and then Iwobi taken off!
We need a striker as Calvert-Lewin looks like he thinks he's done his bit for the season and Richarlison either doesn't like how he's been asked to play or he wants away. Digne looked as though he didn't know why he was putting crosses in and, sorry, can't think of a single good thing anybody else did for the entire game. Total rubbish front to back!
Brian Harrison
117
Posted 30/01/2021 at 14:48:25
No matter how bad his team are playing Steve Bruces eyes must light up when he sees his next opponent is Everton, so Newcastle have done the double over us and they deserved both wins. I think what has been glaringly obvious for many weeks is our main strikers are not good enough. There is no inter play between them its just one out football. When you look at the strikers at the top 4 clubs they are full of goals, also the movement of our front 3 is poor. No wonder when our midfield get the ball they pas sideways so often as our forwards don't give them any options.
Iwobi has 1 good game in 6or 7, Richarlison hasnt been good since he came back from his last international with Brazil, and despite a good start DCL has been poor. DCL is good in the 6 yard box but anywhere else on the pitch he doesnt do a lot. I think after the first half hour I think the Newcastle players must have thought there is nothing to fear here we are as good as them. Their confidence grew and they looked like the top 6 side and we looked like the team struggling.
I really couldnt understand right from the first whistle we had Doucoure playing between Mina and Keane, surely he should have been 10 yards in front of them to drive us forward. So with the transfer window closing tomorrow unless we get the likes of Dzeko in we are going to struggle until we have better alternatives up front. Obviously looks like Tosun is sorting out a move but he isn't the answer nor would be bringing Bernard on we have seen them fail on so many occassions, they aint an option even if they had been on the bench.
Danny O'Neill
118
Posted 30/01/2021 at 14:48:46
Well, I normally like to give myself 24 hours to reflect, but I don't need to today.
That was poor. I was talking online throughout the match with a friend and former military colleague who has been a Newcastle season ticket holder for many years. He was convinced they would capitulate and is currently in pleasant shock.
Always nervous when I hear lines as I did this morning such as "Newcastle without a win in 11". Those runs come to an end and we are particularly good at assisting teams out of those type of runs of bad form in recent years. Very accommodating in that respect Everton.
No excuses, no defence. That was poor. At half time I thought it was an interesting end to end match and I always try to look beyond the result. But, we had no answer for their pressing, kept trying to play a patient game when a bit more urgency was needed and never really looked threatening going forward.
In typical recent Everton fashion, when something is there for the taking (top 5), we choke and will have to do it the hard way. Maybe we are better when the expectation is lifted.
Leeds, Fulham and Liverpool in February. That will define our season as we move into March and the business end. Surely our barren Derby run can come to an end just as Newcastle's winless run did today. Ever(ton) the optimist.
Stuart Sharp
119
Posted 30/01/2021 at 14:49:36
I'm not convinced a different choice of players would make an enormous difference. We are set up as a counter attacking team, sitting very deep and being 'patient' against a team who have struggled to score for months. That's what is so baffling to me. A team low on confidence should be put under pressure. The mentality is all wrong. The only player who may have made a difference would have been Godfrey, in my opinion. He has pace and commitment.
Stuart Sharp
120
Posted 30/01/2021 at 14:49:37
I'm not convinced a different choice of players would make an enormous difference. We are set up as a counter attacking team, sitting very deep and being 'patient' against a team who have struggled to score for months. That's what is so baffling to me. A team low on confidence should be put under pressure. The mentality is all wrong. The only player who may have made a difference would have been Godfrey, in my opinion. He has pace and commitment.
Damien Coleman
121
Posted 30/01/2021 at 14:49:53
Well that was depressing. Shows that our 'First Choice XI' (except Allan, who we miss badly) is not necessarily our 'best team'. We've been picking up impressive wins recently with an improvised back four and frontline. First time in months we've had almost a full strength team, and a woefully out of form Newcastle barely break sweat in beating us.
Also, not having a single recognised striker on the bench is criminal for a team supposedly challenging for a top four place. Bringing on Gomes is hardly going to force the opposition to panic.
Richarlison is becoming unbearable, rolling around in apparent agony nine or ten times a game. Imagine being an opposition defender seeing that, and knowing there is no alternative on the bench to replace him. Easiest 90 minutes you'll have all season.
John Davies
122
Posted 30/01/2021 at 14:50:33
Pitiful. Gutless bunch of overpaid conmen. Out fought. Out thought. Out played.
Wilson just rinsed us. Ancellotti knew he would be playing yet put the slowest back four available to him on the park so Wilson could have a field day. That back four with Wilson, Almiron and Saint- Maxin on the park? Holgate and Godfrey on the bench for fuck's sake!? Who did Carlo think would get anywhere near those guys?
Coleman, Mina, Keane, Sigurdsson, Gomez and Davies (I know he didn't play today) have no pace whatsoever which is why there is no tempo to anything we do on the pitch. You have to have genuine pace to be a counter attacking team.
Lots of new signings required.
I have defended Ancellotti throughout but sooner or later he has to read the riot act to this bunch of under achievers and he certainly needs to put his hands up for his terrible back four selection today.
Bloody hell am I pissed off or what? AGAIN.
Jay Woods
123
Posted 30/01/2021 at 14:51:45
I missed the whole thing, somehow thinking it was going to be on later.. and then I visit ToffeeWeb and see the result was THIS?
Same old spineless fare from our millionaires out on the pitch, yes?
Andy Mead
124
Posted 30/01/2021 at 14:52:26
Dosnt matter who the manager is, doesn't matter who's playing, it's been the same for 30 years. When it matters, when it really matters, we bottle it. Been the same for 40 years. Top 4. Your having a laugh! Well never get into the champions league. Ever. If I was Moshori I would take money and run. Walk away from this shambles of a club.
Phil Rodgers
125
Posted 30/01/2021 at 14:53:36
Everything good about this season has been undone today. Doesn't matter what team we pick or who the manager is. Just got a fucking losers mentality and it's been this way for decades.
Jamie Crowley
126
Posted 30/01/2021 at 14:53:36
Damien @ 121 -
Today begs the question - what the fuck is our best team?
Surely it starts with Holgate-Mina-Keane-Godfrey?
I know Digne is a damn good footballer, but solidity at the back is paramount with our below-par midfield!
And you rightly mention the rolling around on the ground. Here's an idea:
When you are playing an anti-football, slow it down team, don't play into their hands by slowing down the fucking game rolling around on the ground like a fucking Nancy! Grow a fucking pair, please!
Mike Doyle
127
Posted 30/01/2021 at 14:55:06
Nicholas #70] Agree with most of your points. Changing the defence was supposed to bring a more attacking thrust but it just didn't happen. Digne's crossing was poor and looked rusty while Coleman's marauding runs are a thing of the past. DCL continues to live off scraps. Expect to return to the previous defence against Leeds in mid-week.
We were out-fought in midfield and lacked physics strength. Also our build up play was slow and ponderous.
Allen may have made a difference, but the continued concern is the lack of alternatives up front. Carlo must know this, but all we are hearing about is more outgoings before Monday's deadline. I wonder what is going on behind the scenes?
Paul Birmingham
128
Posted 30/01/2021 at 14:55:14
Reflecting the only positive is surely this shows that Siggy, Gomes are passengers whom don't earn a place in the squad, but tinkering with a balanced team, though with not enough punch and threat, to put in weaker players, today for me lost the initiative, from the start. Olsen must also wonder what he must do to earn a start.
Newcastle worked hard and this is a pivotal week, and Everton, have spewed it again.
Stick to the players whom will put a shift in, and start at Leeds with Godfrey and Tom Davies starting, and Siggy and Gomes left out.
This team won't win any games playing like this, and this has got to be a warning shot to the Everton hierarchy, of what could happen, to this season.
Leeds, West Ham, today, United or were pathetic performances, and traits that there's no heart and lack of belief today, but no captain on the pitch.
I've total respect for Seamus over the years, but Everton, need to consider in my view a new captain, perhaps Keane, Diane and... Godfrey.
Godfrey is an enhanced Mick Lyons, but a very good footballer with the heart of Mike Lyons.
Plenty to discuss the next few days.
Joe McMahon
129
Posted 30/01/2021 at 14:57:14
Stuart @120, this is the worrying part, as counter teams have pace in abundance, and plenty of forwards/strikers to do the damage. We have one striker (and tries as he does) can't shoot from outside the box.
John Boon
130
Posted 30/01/2021 at 14:57:51
Teddy Draper (107) Ditto...However I am even more frustrated than I was ten minutes ago. I had indicated that we are not a GOOD TEAM. In fact we are just plain BAD and we have been in many of the games that we actually won.Fortunately this season there are three teams that are unlikely to reach 30 points. Safe for one more disasterous season.
James Byrne
131
Posted 30/01/2021 at 14:57:52
What a shocker.
The game was ruined from the off with that tw*t of a referee. Why wasn't Shelvey booked from the off. It took 3 tackles before he was booked, yet Siggy is booked after one challenge!
How many tackles against James went unpunished. I don't know how these officials get away with such poor performances!
Geoff Williams
132
Posted 30/01/2021 at 14:57:55
What I find surprising is that performances like this are NOT surprising. At no time during the game did I think we'd win. Our players lack athleticism, they are slow and ponderous in possession. For me Ancellotti gets things wrong more often than he gets them right. For all the hype he isn't a great tactician.
Steavey Buckley
133
Posted 30/01/2021 at 14:58:41
What is most reliable about Everton is the back four of Holgate, Mina, Keane and Godfrey. If you don't believe me, ask opposing teams, they will say the same thing.
So why does Ancelotti keep altering it? Every time he changed the back 4 Everton have been beaten twice at home of all places. So no doubt, the manager will change it again, because certain people can't learn from their same mistakes.
When Everton were successful in the 1980's because they had a back four of Stevens, Mountfield, Ratcliffe and Pat Van Den Hauwe that Kendal was reluctant to change.
Jim Bennings
134
Posted 30/01/2021 at 14:59:06
Is anyone even bothered?
We've seen the same shit year in year out no matter how much money we spunk off on lavish managers, players ect ect
Same boring shit nothing changes
Barry Jones
135
Posted 30/01/2021 at 14:59:12
DCL needs some competition for his spot. He's believing his own press and is starting to think that all he needs to do is pull his shirt on. He is very weak in holding up the ball and invariably loses it by poor control or gets knocked off it.
James is a delight at times but very lightweight and easily intimidated. Richarlison is making me want to puke, writhing in agony over absolutely nothing, a dozen times each game.
I would like Godfrey in there somewhere. He would have been a better choice alongside Doucoure today. At least he wants to get on the ball and move it forward
I am still not convinced about Pickford, way too theatrical, a schoolyard keeper and finally Siggy stinks up the park.
Chris Williams
136
Posted 30/01/2021 at 15:01:16
Newcastle were the better team and deserved to win. End of!
Michael Lynch
137
Posted 30/01/2021 at 15:02:10
How is it that we can't even name a full bench of subs? And the subs we do name include just one attacking midfielder and no strikers?
We don't even have any injured attacking midfielders or forwards waiting to come back from injury, so someone has fucked up somewhere.
Bottom half finish for this shower of shite.
Raymond Fox
138
Posted 30/01/2021 at 15:02:24
Nobody should be suprised, we more often as not lose these sort of games.
Being a spectators a mugs game anyway, does it make any sense at all to become upset about results that you have no input whats so ever. Its not your fault when they lose, no credit to you when they win.
I think thats me finished, I've become ever more p----d off with game and the antics of over paid softies.
Kevin Dyer
139
Posted 30/01/2021 at 15:03:30
Well, forget about top 4, not happening when you are capable of losing twice to a shite team like Newcastle. Have serious doubts about top 6 after watching that.
They disrupted our attempts to play out first half with a high press then reverted to a defensive setup in the second, scoring from a set-piece and on the break. Good gameplan.
Carlo said thus week that Mina and Keane are top box defenders but lack the pace to defend higher and he's right. Our low defensive line kills our attempts to play on the front foot. DCL is up top and isolated and there's big gaps in midfield that could only be covered by energetic, athletic midfielders. It was easy for them to play through us and to click our passing lanes. We lack the speed and athleticism to play deep and with the ball.
James had to drop very deep to pick up the ball but then had few passes available. DCL dropped deep too later on, which says it all.
What's the solution? I'm uncertain but for games when we expect to control possession Godfrey, with his recovery speed should come in, probably for Mina, which would enable us to push higher.
Coleman should have been replaced this summer, he's done as an offensive threat. We are laughably short of attacking options. We had every available attacking player out there initially (except Bernard, who's apparently leaving), so had nothing at all to change the game with. Only a viable strategy if you can take the lead every game.
.
So frustrating watching another blown opportunity.
Steve Barnes
140
Posted 30/01/2021 at 15:03:41
Very depressing. Gomez is way too slow and constantly seems to pass the ball to the opposition. No urgency anywhere and precious little ability or desire.
We will get shredded by Leeds if we play that badly against them.
Come on Mr Brands, get some of the dross out and bring in one or two class acts this window. Mr Ancelotti, you have a lot of work to do before Wednesday
Phil Wood
141
Posted 30/01/2021 at 15:03:56
We showed our lack of quality on Wednesday against Leicester.
At least we fought hard for a point in the face of total domination.

Today we set up to collect the points from Newcastle but they turned up. You have to win the battles before you can win the war and we were not set up for battle in the first place
Poor showing on and off the pitch.
Total insult to the fans ( or message to the Board) that this Great Club cannot assign 9 players for the bench ( 2 Goalkeepers!).
How small a Club are we becoming! It is something you expect from lower division Clubs NOT a Club with our wage outgoings and standing.
Trevor Peers
142
Posted 30/01/2021 at 15:05:42
Disgusting performance, have Everton forgotten how to attack or even bother to try to entertain ?
We sell or loan out 5 forwards and bring zero in, bad management doesn't even begin to cover such incompetence.
Either we buy some forwards or keep losing in a very embarrassing way.
Get lost Everton your cheating our fans big time!!!!
Rob Dolby
143
Posted 30/01/2021 at 15:07:26
Right kick in the bollocks.
Win your personal battles to win the right to play. No matter how good our players are, without the will to win it means nothing.
It's easy to say after the game but dropping Godfrey, Holdgate and Davies was a mistake. Not on ability but on will to win.
It's not the size of the man in the fight but the size of the fight in the man.
Hendrick, Lewis, Hayden, Almiron all pretty average technically but all won their battles and deserved the win.
No team has the right to win a game on paper. Put the effort in and get the rewards.
I just hope this forces us into the market to go and improve the team.
David Hallwood
144
Posted 30/01/2021 at 15:08:26
It's probably out of desperation, but I would've taken Richie and Siggy off and put Godfrey and Holgate in MF, push Doucouré further up with Iwobi on the left.
At least we would've had a bit of nastiness, but once again we're undone by a pressing team.
Barry Jones
145
Posted 30/01/2021 at 15:08:40
Why cant we find forward players who contribute ON and OFF the ball for 90 minutes? I look at Podence for Wolves. A wonderful creative and hard working player. Where are the Podences?
Danny Broderick
146
Posted 30/01/2021 at 15:08:54
What a load of shite. No excuses. Rubbish performance. We just don't have enough quality. Richarlison is in woeful form - still, we'll never need the pitch rolling while he is playing. Sigurdsson was Sigurdsson aka invisible man. The full backs didn't give us any quality going forward either. We should have been much better than we were.
John Davies
147
Posted 30/01/2021 at 15:10:27
Steve#140. I don't disagree with your comments but we won't get rid of the dross because no-one else will take them from us or pay their extortionate wages. I'm afraid we are well and truly stuck with this bunch of losers.
Barry Jones
148
Posted 30/01/2021 at 15:11:06
David #144. I prefer your strategy to Ancelotti's.
Colin Glassar
149
Posted 30/01/2021 at 15:14:12
Newcastle wanted to win, tried to win and, won! So many times over the years Everton players stroll onto the pitch thinking they don't have to put the effort in. It's been the same under every manager since Howard I, and part of the Moyes era.
We don't have a MF which will scrap and fight for every ball. We don't have that ball carrying player who can relieve the pressure. Bar Allen, Doucoure and James we don't even have intelligent, quick witted players. Ours are slow in mind and body, and some are even weak minded cowards.
Our forward line is now nonexistent as there's no supply, no crossing from the wings, no killer passes through the middle etc...
7th max, if we're lucky.
Gavin Johnson
150
Posted 30/01/2021 at 15:14:36
WTF! What just happened?!
Barry Jones
151
Posted 30/01/2021 at 15:15:51
Colin #149. An accurate, and somewhat depressing summary.
Danny O'Neill
152
Posted 30/01/2021 at 15:17:55
I picked up on that James Byrne. Shelvey should have been booked straight off for the clothes liner round the neck he gave James. And then take any one from the next two before he finally got carded, which should have been his second yellow. Ironically, it was Shelvy who delivered the corner for the first goal.
I was worried when I saw Atwell named as ref. He pretty much allowed them to kick lumps out of James (an obvious tactic) for much of the first half.
But, back to my earlier point. No excuses. That just was not a very good performance from Everton and let's give some credit to Newcastle.
Stephen Brown
153
Posted 30/01/2021 at 15:18:08
Sorry to not be vey constructive but...Terrible performance from an insignificant team. Another weekend ruined ! That'll be my last thought on it hopefully!
When was the last time we won a game with something really in it ? Biggest chokers around !
Apologies
Will Mabon
154
Posted 30/01/2021 at 15:18:42
Colin, I agree too.
Michael Boardman
155
Posted 30/01/2021 at 15:19:05
Why's everything going Fred Elliott and being repeated (I mean the comments, but suppose the performance too). That was poor, and seemed way too much laughing from certain players while being beaten by the most out of form team in the league, I say I say, That was poor, and seemed way to much.... their starting places are not at risk, as we have 8 subs (out of an allowed 9), including 2 keepers, and anyone that could get near them are being shipped off on loan, so can't see why there is no motivation to perform. No worries, we'll probably sneak a 1-0 at Leeds, then we'll be looking at top 4 again (then Fernandes commits 86 fouls, gets a warning, and scores a dubious penalty winner, followed by a a last minute winner that will ironically be scored by a RS centre back deemed to be replacing VV Dick - much to the delight of all the unbiased panel sat warming marshmallows by the fire in the cosy SKY studio). 8th place and another season to look forward to no doubt.
Paul Hewitt
156
Posted 30/01/2021 at 15:19:07
Utter utter utter shite.
Will Mabon
157
Posted 30/01/2021 at 15:20:13
Michael, you're knocking it out the ball park with these titles lately, Lad.

Hope you get a go at some more positive ones soon.
Nicholas Ryan
158
Posted 30/01/2021 at 15:21:10
I quit!
Derek Taylor
159
Posted 30/01/2021 at 15:24:55
Many more weeks like this one and that modest seventh place finish will be beyond us. It begins to look like 'just another' aimless season. But at least there will be a lot less bullshit about us having the best coach in the world. He might have been ten years ago but no longer able to instil any real ambition in the players he commands.
Barry Jones
160
Posted 30/01/2021 at 15:26:55
It surprises me that Ancelotti finds it perfectly OK to use centre backs as full backs (Holgate and Godfrey), a position where you need pace, ability on the ball and vision, but refrains from using them as holding midfield players, where they would appear to be equally, or more suited.
Colin Glassar
161
Posted 30/01/2021 at 15:28:43
He's not the Wizard of Oz, Derek. If you don't have heart, or a brain, then no manager in the world will give you the courage and desire to win games.
Steve Brown
162
Posted 30/01/2021 at 15:29:48
A truly diabolical performance - our attitude and application stunk.
Scott Robinson
163
Posted 30/01/2021 at 15:30:51
Coleman said it all in his post-match interview. They "WANTED" it more. Would this happen under KLOPP?
Damien Coleman
164
Posted 30/01/2021 at 15:31:03
Jamie @126 - Yep, totally agree. Carlo was forced into the Holgate-Mina-Keane-Godfrey back four, but it worked brilliantly. Even in the two disappointing games in recent weeks (West Ham & Leicester) we still looked rock solid for the most part. Today seemed to be a case of Carlo just throwing Coleman and Digne back in, with very little thought or planning for the opposition. Wilson was clearly loving it all afternoon.
I'm still more worried about us going forward, though. Like you said, we totally played into their hands today and allowed it to become a stop-start first half against a team bereft of confidence. The longer that went on, the more we could see Newcastle thinking 'Hang on, this lot aren't actually very good are they?'.
Kim Vivian
165
Posted 30/01/2021 at 15:31:12
I must have gone for a piss or glanced away from the tv whenever it happened, because for the life of me I can't think I saw Siggy do anything today. As per...
Fuming - no-one above a 5 today incl James by his standards. Keane was ok probably.
Dave Abrahams
166
Posted 30/01/2021 at 15:31:22
We were a mixture of good and bad in the first half, then mostly bad in the second, who can explain why they never lift their game, because there are no leaders on or off the field, and we've known this for years but it still stays the same way, what happened to the subs.? I think most of us are suffering from shell shock after watching the inertia on and off the field. Somebody do something, anything, it's like the club died, the only feeling I've got at the moment for Everton is sadness, and it's running very deep.
Robert Williams
167
Posted 30/01/2021 at 15:33:11
First things we need are pairs of proper "Football" boots.!! Leather, with fucking big studs, steel toecaps and shin pads. Then we can go into battle against these sly bastards that keep stamping on our ballet dancers's toes. No wonder our little darlings are rolling about on the pitch after some big nasty hairy fuckers have stepped on their tootsies.
Thomas Richards
168
Posted 30/01/2021 at 15:34:49
100% correct. Dave.
A "leader" would not have allowed the targeted kicking of James.
We need to start winning the battles before we can consider winning the war
Paul Birmingham
169
Posted 30/01/2021 at 15:36:04
Nicholas, it drives you up the wall for sure. I'll be having a few later and a few more.
Everton, consistently fail to deliver, when it counts.
Some tough games the next 4 weeks, and on the showing of the last month, it's hard to see even with return of Allan, if a drastic change of form can happen.
I hope The management team give them a good rollicking, and get them all in tomorrow at FF.
There's no excuse for such crap display today.
West Ham, have picked a couple of players up, but t I don't sense Everton topping up this window. Hopefully there will be some players leaving to get some money in, but who will come will be interesting.
Don Alexander
170
Posted 30/01/2021 at 15:37:26
Newcastle's first game with a new coach (ex-Everton Graeme Jones - under Martinez) and they're transformed into an aggressive, hi-press, organised team. Hmm!
I believe everyone in football knows what a flaccid attitude permeates USMFF so why am I not surprised by today and, if Jones can improve a team so much in a week, just what the hell do the current permanent USMFF incumbents do week-after-week, month-after-month, season-after-season, manager-after-manager?
You'd think someone in he owner's chair would take notice and do summat about it wouldn't you? Starting in the boardroom.
Clive Rogers
171
Posted 30/01/2021 at 15:37:37
It was a mistake to rest Godfrey, Digne should have been in front of him and Siggy is just going through the motions and rarely plays the ball forwards.
Colin Glassar
172
Posted 30/01/2021 at 15:39:30
Great piece in today's Echo from Adam Jones. Absolutely rips to shreds this bunch of spineless wankers!
Jamie Crowley
173
Posted 30/01/2021 at 15:41:42
Where's the leadership? Where's the on-field motivator?
Why didn't someone tell Rich, "You didn't get your leg hacked off by a dull dwarven axe, get up you're slowing down the game!"
Where's the retaliatory tackle for JonJoe Shelvey hacking at James?
Why is every ball lazily passed BEHIND the onrushing forward? (Except James...)
It was just a listless, lackadaisical, half-assed effort.
Not one single player should ever abide that.
They went through the motions today.
David Graves
174
Posted 30/01/2021 at 15:42:10
I honestly thought that after a few years of playing, coaching and watching football I had at least a general understanding of the game. Ancellotti has forgotten more than I know but I cannot find any reason at all to justify why he picked Sigurdsson to play in the middle of the park and then kept him on for the full 90 minutes.
Perhaps we shouldn't be looking to scapegoat individual playes but it is so hard not to when they don't appear to give a toss.
I laughed when I was told 6 months ago that it's in his contract that he has to play if fit. I'm not laughing now.


Shaun Lyon
175
Posted 30/01/2021 at 15:42:18
I don't know about everyone else but in these pandemic times, with very little else in the way of distraction, I had very stupidly allowed myself to get a little bit excited about where we might finish this season.
Moronic, because I'm not a kid and barring a few golden years, have had fifty years of this crap, where every time we start to look like we might do something, reality bites and we are shown our true status.
Last month it was West Ham, then a couple of results to draw you back in and start to build up your hopes again and now this.
For what it's worth (not much) Newcastle's game plan - kick James out of the game - worked a treat and that was the worst refereeing performance I've seen in a long time.
But that doesn't excuse the clueless, slow, meandering efforts of our lot.
The only positive I can think of right now is that Allan will be back soon.
Danny O'Neill
176
Posted 30/01/2021 at 15:45:22
Just been talking to my brother Jamie, who incidentally is also called Jamie!
I think the missing leader is Allan. The captain without the armband. We are really missing his presence and continuous "fly in the ear" bickering and pointing.
He also may have sorted out and stood up to some of the Newcastly bully boy tactics.
Kim Vivian
177
Posted 30/01/2021 at 15:45:37
Carlo saying the play was poor, no spirit - we have the quality but with that spirit we do not win games etc etc. Not a happy bunny. Hope he let them have both barrels in the chaggers.
Frank Fearns
178
Posted 30/01/2021 at 15:46:41
Same old same old. Can pick out players for their weaknesses etc but looking at the management and the team overall just not up to modern style of play. Pace and closing down opposition is integral to all teams throughout the Premier except Everton. Leon Osman was making a case that when Everton stand back they're in control. Absolutely not. With that approach we allow teams to manoeuvre and reinforce as shown today and against Leicester, West Ham etc. We still remain 7th however but could be higher up with a couple of pacy players and ditching the obvious slow and ploddy ones.
I was interested to see big Dunc trying to suggest some change to Carlo but he shrugged his shoulders raised an eyebrow and Dunc sat back in his seat. Hey ho such as life supporting Everton.

Ajay Gopal
179
Posted 30/01/2021 at 15:47:12
Sorry, I am writing this without reading the match report or reading any of the comments. I also saw the match by myself, so nobody to influence me with their opinions.
IMO, probably the worst performance by Everton this season or many seasons. Why, oh why, do well fold so badly against mighty Newcastle - without a win in 11 matches? Trust Everton to break a bad run of form.
I doubt Everton would have scored a goal if they had played another 180 minutes, never mind another 15 minutes. Did Everton have a genuine chance the whole game? I did not see it! Whereas, Newcastle had at least 2 more clear cut chances to score goals (including the clear chance that Wilson had when he rounded our keeper). Horrible, horrible watch. I look forward the whole week to an Everton game at a great TV time here in India and this is what I get served up? Shameful!
Players:
Pickford: Really not to blame for both goals.
Coleman: Sadly, his time is up. If Brands cannot get a new right back, I would play Holgate or Kenny for the rest of the season. You have been fantastic, Seamus, but sorry to say, your time is up.
Mina and Keane -not much to blame, but wasted so many corners.
Digne: Bad game - gave away too many corners, I knew that one of them would result in a goal, and it did (although not from his mistake). After the 1st 15 minutes, his crossing was poor for the rest of the game. Really poor game.
Doucoure, Siggy, Iwobi - as a midfield, they were the worst I have seen this season. Siggy for all his experience wastes possession so much, it is really frustrating. Iwobi had a terrible game. Doucoure's bad pass resulted in their 2nd goal.
James - got increasingly frustrated as the game went on, and he let his frustration get the better of him. Newcastle had a plan to target him, and the referee did nothing to protect him.
Richarlison and DCL: Really worrying how bad they have become in the last few games.
Gomes did nothing worthwhile during his time on the pitch, I don't blame him too much, because the rest of the team around him were so poor.
Mr. Ancellotti, your team selection and substitutions were really bad. Only 1 substitute for a game in which we were losing? You think Gordon is not good enough to come on the pitch in the last part of the match? I mean, really? The bench was really worrying - no recognised striker to come on and try to change the game. Brands better have something up his sleeve, otherwise, I suspect we would be lucky to end up in the top half of the table.
I have never been so angry after an Everton game. On that performance, Carlo is deluded if he thinks that Everton will be in the mix for European places.
Neville Wellings
180
Posted 30/01/2021 at 15:47:50
If you're in a crisis come to Goodison and get your season going. What a shambles. Firstly, surely it is self evident now that playing both Iwobi and Coleman doesn't work. Neither of them play well together because they don't play well together. I don't expect an understanding like Tommy Wright and Alan Ball or on the left like Pienaar and Baines but they could at least look at each other now an again. If Iwobi plays, Godfrey or Holgate should be with him.
Flinging balls into the box from the touchline is not too difficult to defend. Can we not try to play football toward the box does Ancellotti mind or is he even bothered. We know we can't play football out of our own box. Perhaps Ancellotti favours the Pickford big boot so we lose possession in their half rather than the edge of our own box. Does Ancellotti mind or is he even bothered.
Not just in this game as its been going on for years that the dithering on the ball would happen a lot less if others were running off the ball to find space in which to receive it. We lack movement and pace, does Ancelotti see this, surely he could at least improve our movement off the ball, or is he even bothered.
I don't really like singling out a player when our whole team have played utter shite but Sigturdsson has the ability to give the ball away with his right foot his left foot and his head which happened in the space of a few minutes in the second half as well as regularly throughout the match. He has nil pace and can't tackle does Ancellotti see this or is he even bothered.
Carlo needs to get his act together. "The Emperor has no clothes" More like The Emperor has no clue!!
Pekka Harvilahti
181
Posted 30/01/2021 at 15:49:04
It's like going into the games with only your defense and the other 6 guys are toddling there with no purpose. What the fuck is going on? Newcastle were the worst of the league but the honor has truly been passed to us.
We have a good solid defense and two good front men even if they are not really firing right now. What we don't have is a midfield and there you usually win or lose the game.
Thomas Richards
182
Posted 30/01/2021 at 15:49:29
Danny O,
Missed badly over the last few weeks, mate. And your right, he is one who would fight back. Disappointed that one or two didn't step in and take the yellow.

Sean O'Hanlon
183
Posted 30/01/2021 at 15:49:39
As I said on Wednesday, lose the Newcastle game and the season is a dead rubber. Mid-table and we'll make our usual limp exit out of the FA Cup.
Ancelotti cannot survive on his reputation alone – and I'm afraid that reputation is fast turning into a crock of shit. He has to get rid of Sigurdsson, Gomes, Davies, Coleman and Pickford, to name but five. He could then start trying out our youngsters – we have nothing to lose.
Why does he persist with that Icelandic ironing-board? Adds nothing. Dead-ball specialist... my arse.
Gomes is too slow – a liability with his fouls. Davies is s a tryer, but a lightweight. Guaranteed to lose every 50-50 ball.
Coleman, sadly is past his sell-by date. Pickford? Enough said.
Give me big Dunc every time – at least with him, the team played with fire in their bellies.

Eddie Dunn
184
Posted 30/01/2021 at 15:51:47
Dave and Thomas- apart from Stuart Atwell being a terrible ref, our skipper should have gone up to him and told him we wanted a stop to the stamping. Imagine how Klopp would have reacted if one of his dandies had been targetted!
A slack, lazy, even gormless performance from a team in a comfort zone. if your boss tells all-and-sundry that he is happy with our position etc, etc, then you wander around thinking you have already made it.
The players will go home to eat with their posh cutlery with the smell of freshly laundered towels in their nostrils... a pretty wag, dressed in haute couture, will emerge from an anteroom and offer her beautiful body as a means of distraction.
It's a fucking hard life.
Colin Glassar
185
Posted 30/01/2021 at 15:52:51
Oh for a Mick Lyons or Kevin Ratcliffe, Jamie 173. They'd have laid into some of these gutless slackers bigly.
Who's our leaders? Nice-as-pie Seamus? Boy-next-door Keane? Deaf-mute Sigurdsson? Serial whinger Richarlison? Rabbit-in-headlights Iwobi? Spinning-top Davies? Who?
Maybe Allan if he ever returns but for years we've had loads of spineless, gutless players and it's now part and parcel of Everton Football Club.
Derek Moore
186
Posted 30/01/2021 at 15:53:19
It's nearly 5:00 am here. This is the crazy part: at some stage, I was actually looking forward to watching that.
Obviously we are a diverse bunch in everything but our futile support of a once-great football club. I need to ask the other ToffeeWebbers:– Does anything in your life fail to meet expectations as often and as deeply as Everton?
As I nearly had an aneurysm watching an absolutely inspid performance, it seemed quite incredible that I had actually commenced watching the match for pleasure.
I might come back and post about the actual game tomorrow or I might just try and wipe it from my memory as quickly as possible. We made a team at its lowest ebb look like Champions elect. Just dreadful.
David Graves
187
Posted 30/01/2021 at 15:53:57
Sean why get rid of Davies?
Do you not think that he would have been a massive improvement on Sigurdsson and Gomes today?

Mark Murphy
188
Posted 30/01/2021 at 15:54:12
Shaun @175 – word for word how I feel. I was well up for today's game and had the beers ready for full time celebrating. They're still in the crate and my weekend's absolutely shot. They suck us in...
Lot's saying they were all shite except Keane. That's way over the top – Mina was also decent..
I'm done with Sigurdsson and Gomes and patience is wearing thin for Richarlison. I too am eagerly looking forward to Allan coming back but it will take more than that. I still believe in Carlo but I'll feel better towards him if he absolutely hammers those shit houses who didn't put in a shift today.
If Sigurdsson or Gomes start the next game, I'll close my laptop and read a book instead. It will be the first game I've not watched all season so we'll probably play like Brazil but the disappointment tonight is weighing me down. It's the hope that kills you.
UTFT
Mike Price
189
Posted 30/01/2021 at 15:58:39
Talk of European football is laughable. We are a poor team and hardly ever play well; even when we win, it's poor football and usually scraped.
Without our home crowd, the spineless losers that infect this club are exposed to the world. I'll be relieved when we get over 40 points and I can relax and not have to watch us for the rest of the season.
Ancelotti is living on past glories, dire players on stupid contracts... will the bleeding ever stop?!
Christy Ring
190
Posted 30/01/2021 at 15:58:56
Was Iwobi worse than Sigurdsson today? We had no physical presence in midfield, they were taking lumps out of Rodriguez, we had Siggy who doesn't even tackle. Why didn't Carlo play Holgate or Godfrey in midfield. Also I don't know if it's Carlo or Brands, but getting rid of Wallcott, Kean and maybe Tosun and Bernard before Monday, loads of savings on wages, but not replacing any of them is a disgrace. Our attacking threat on the bench today was zero, the only attacker was an 18 year old, we have have no one else. Is there another team in the Premiership with just one striker? Imagine if Calvert-Lewin gets injured, are we really interested in fighting for a top four place.
Just after the game, Sigurdsson stayed on the pitch having a great chat with Shelvey, so much for passion and disappointment!

Craig Walker
191
Posted 30/01/2021 at 15:59:52
Jay. Sig was the pick of our players? Seriously? I'm amazed he wasn't subbed. The guy offers nothing.
As Colin said, keep Allan, James and Doucoure and get rid of all our other midfielders. Davies is okay for backup. Gomes, Bernard, Delph, Sig and Iwobi offer nothing.
James was the only one who showed anything and he was awful after 70 mins.
Thomas Richards
192
Posted 30/01/2021 at 16:00:15
He has done Mark.
"We have the quality but you won't win games with that attitude."
I have backed Sigurdsson on many occasions on here.
Not today.
David Graves
193
Posted 30/01/2021 at 16:01:37
Mark I share your pain and agree 100% with you regards Siggy and Gomes. Not sure about Mina having a good game though. His first job is to defend but Wilson's tucked him up again today. That's twice in two games he's had the better of Mina! Perhaps if he concentrated more on defending and less on the childlike histrionics he could have been more effective against a pretty second rate striker.

Derek Moore
194
Posted 30/01/2021 at 16:01:40
Mark (#188), I've not a drop of beer left and absolutely no regrets about it. How you had the restraint to not reach for the bottle opener watching that, I'll never know. When we play like that alcohol is about the only thing that keeps me from going berserk.
You are a better man than I, and I tip my hat.
Andy Walker
195
Posted 30/01/2021 at 16:02:17
We only have 3 half decent midfielders at the club, one of which is injured. Dropping Godfrey who's been superb was a bad call. Digne, Coleman and Iwobi were outstandingly bad.
Can't see James wanting to stay next season and play with so many rank average/poor teammates.
Justin Doone
196
Posted 30/01/2021 at 16:02:41
Getting outplayed by Leicester was almost expected. We had a decent game plan and defended well. A shame we didn't hold on.
Getting outplayed by Newcastle is embarrassing. For 10 minutes in the 2nd half we appeared to have a game plan to stay patient and keep the ball. Looking for good openings, James playing deep dictating play.
Then we stopped. I don't know why but then a strange sub followed. Gomes for Iwobi. We lose control of the game and an attacking option out wide.
It's easy to criticise when we lose. I don't know what the thinking was but it didn't work out.
Our slow defenders started to play a high line. As has been said many times they can't! Our true full backs offered no protection defensively. Wilson bullied them all.
We lost to a brilliant headed goal. That can happen. But we stopped playing and doing what we had done well before that goal.
We have no game changers on the bench. No pace in defence and the continued lack of movement and pace going forward will only change with a few quality incoming players.
For me Godfrey is a must starter in any defensive position. He's a good defender with outstanding pace. Wilson would have seen a lot less ball and space.
Siggy isn't a midfielder. He wasn't the problem but he's certainly not the answer.
The rest of the season is going to be a slog. I don't think we will recruit new players until the summer.
I'd still bring in King. I hope we bring in some attacking reinforcements but sadly I don't think we will.
Shaun Lyon
197
Posted 30/01/2021 at 16:03:28
Mark at 188, yep, spot on. I used to laugh at the old joke about booking the Everton team as pall-bearers for your own funeral so they could let you down for one final time but it's worn very thin. Roll on, beer o-clock!
Andy Walker
198
Posted 30/01/2021 at 16:05:23
What disappoints me the most was I could see where the main problem defensively was in the first half, Digne giving Wilson way too much space time after time. Godfrey should have been brought on for Iwobi and Digne should have gone into midfield. Then Gomes for Sigurdsson.
Bill Fairfield
199
Posted 30/01/2021 at 16:07:37
Is Richarlison going to turn up this season or what? Talk about overrated...
Shameful display by all of them.
Barry Thompson
200
Posted 30/01/2021 at 16:08:13
I think what surprises me more than anything is the fact that fans are surprised by today's result. When anything remotely smelling of achieving something comes about they bottle it and choke.
Apart from the odd rare occasions, now decades ago, they always do. It's almost as if they are scared of success as they don't want the benchmark raising too far above the level of mediocrity as this just might create an expectation of success instead of the never-ending cycle of dashed hopes and false dawns and the "plucky little Everton" jibes that we are continuously having to endure.
After nearly 55 years of watching and supporting this club, I have long since stopped expecting anything other than what we get... which is, in the main, a mix of some good but mostly meh. Fuck me, I was a young(ish) man the last time we won at Anfield and I'm now into my 60s.
Where this club is concerned it really truly is the hope that kills you. The RS (apart from the plastics) don't even take the piss anymore, it's that long since we have been relevant and it's getting harder each season to be even bothered anymore by results like today... never mind surprised. I could have almost expected it with this lot.
Soren Moyer
201
Posted 30/01/2021 at 16:08:55
When we think Richarlison, Sigurdsson, Iwobi, Davies, Gomes and a few others are great players then we totally deserve these kind of results!
Also, Carlo is clueless. He ain't a squad builder. Just a glamour coach!!!!
Jeff Armstrong
202
Posted 30/01/2021 at 16:09:37
David 193,
I don't agree about Wilson being second rate, he's always been decent and anything but second rate against us, I think he would have been a great signing for us and would complement DCL as well as getting his fair share of goals, and he cost less than we paid for Tosun,3 years ago...
Rob Halligan
203
Posted 30/01/2021 at 16:11:33
Takes me days to get over a defeat when we have played Well, but it takes longer when we lose and play dreadful. Agree with most that Godfrey should have retained his place, as he's probably been one of the stand out players so far this season, and no doubt he will be straight back in at Leeds. Yesterday, I tried to defend Pickford for the corner he conceded in the build up to the Leicester goal, if in doubt then safety first, but today I thought Lucas Digne took it to the extreme, he seemed to put a hell of a lot of balls out for a throw in or corner.
It was clear from the start Newcastle's objective was first to stop James. How many times did he have his feet stamped on, and they weren't accidental, they were deliberate. And what is it with this new goal kick routine we've started using, whereby Keane or Mina touch the ball for Pickford to clear? FFS just let Pickford take it.
Overall, a really disappointing performance but fair play to Newcastle who deserved the win.
Mark Murphy
204
Posted 30/01/2021 at 16:15:04
Shaun I've opened a bottle of Daws IPA from Hepworths brewery near ours and it's cheering me up - an eye opener!
The Blues always break my heart but I'll love them long after these current not good enoughs have gone and the next not good enoughs put on the shirt I would crawl on broken glass to wear.
Blimey, this ales quite strong!
UTFT!!
Rick Tarleton
205
Posted 30/01/2021 at 16:15:49
This was simply too depressing to dwell upon. One small observation. You have available two giant, but ponderous central defenders and two mobile but smaller central defenders. So isn't it logical to pick Keane and Holgate, rather than Keane and Mina?
John Raftery
206
Posted 30/01/2021 at 16:16:19
To judge by some of the comments above Davies must have had a very poor game today.
Andrew Ellams
207
Posted 30/01/2021 at 16:18:45
When you go into a Premier League game with no forwards on the bench and none out injured and not even able to put out a full compliment of subs you are in a real mess.
We were told Brands was the best at what he does, well he's not. He's just another wage thief taking the piss out of the most gullible club in football.
From the owner to the CEO to the Chairman, the Director of Football, the manager and his coaching staff the club is rotten to the core.
Gavin Johnson
208
Posted 30/01/2021 at 16:18:46
One observation is if Bernard and Tosun go on Monday, we have to bring someone in. We were shite today and never looked like scoring and if they both go we'll have no attacking options from the bench.
Joe McMahon
209
Posted 30/01/2021 at 16:19:37
Andy @195, correct. James will want CL football again next season. He's not used to losing at home to WHU and Newcastle and being targeted so much by the opposition.
The old ship Everton is still light years away from dining at the top table again. Probably never will. Acceptance of mediocrity and tales of the Everton family, Grand Old Team, Dixie, Ball, Howard's way, Unsworths starlets and EITC can only run for so many decades.
I'm done with this shit, no more money from me until I see genuine shake up from top to bottom and in a new stadium (gonna be a good few years then)
Jay Wood
[BRZ]
210
Posted 30/01/2021 at 16:19:44
Craig @ 191.
'Sig was the pick of our players? Seriously?'
Yep! That's what I saw as I watched the game through my eyes, not yours, or anybody else's. I judge performances of the team and individual players on the present game alone, not some preconceived prejudice I may hold.
Time and again Siggy was the out ball for the defence. Time and again he played neat short interchanges with Doucoure and James which kept possession and kept the ball moving. Time and again he fed both Richarlison and Digne in acres of room on the room. More occasionally he switched play accurately to either Coleman or Iwobi on the right.
He wasn't in the team to tackle. His role is not to play the midfield enforcer. He wasn't out of position. He wasn't played around. He gave away one unfortunate free kick on the edge of our own penalty area which anyone could have conceded in a similar situation. He put in one bad free kick on the stroke of half-time.
Other than those two blemishes, he was consistently the most accurate of our players today in his passing and in retaining possession.
Other opinions allowed. I'm happy with mine.
Barry Rathbone
211
Posted 30/01/2021 at 16:20:37
The big problem with this club is we haven't had a "team" since big joe in the 90s just a variety of jobbing contractors (including some managers) each doing just enough for their wages and no more.
A few decent players amidst a collection of average footballers (which is what we have now) can go a long way if caring, sharing and working is part of their make up. Joe Royle's mish mash pf a team were "a team". They nailed the shite and defined "esprit de corps" by rampaging through Spurs in that never to be forgotten semi then won the trophy
The players here aren't dreadful they just go through the motions at 75%. A coach who could get 95% out of them wouldn't put up with this shrinking violets act whenever someone stands up to us.
Unfortunately after a seasons worth of togger under the charming Italian I can see that is not in his gift. He is a square peg in a round hole here
Mick Conalty
212
Posted 30/01/2021 at 16:21:44
Ancelotti on 7 mil per anum
You are avin a laugh.
Right,😁😁😁
Looks like Moshiri has been
fucked over yet again.
Andy Crooks
213
Posted 30/01/2021 at 16:21:58
I guess many of us have had our weekend ruined. How about those responsible today starting with the coach and his team?
I imagine it will be a relaxing evening for them glass of wine, nice meal, chill.
How many will feel physically sick? None I'd say. Not as sick as we will. How appalling that vastly paid, incredibly fortunate, hired hands can do this. We deserve better than the disinterested crap served up today.
No heart, no passion, no hurt, no guile,no fight no shame.
I hate feeling this gutted; gutted for every single blue who has had their emotional investment shit upon by these sorry specimens.
Sean McCarthy
214
Posted 30/01/2021 at 16:22:16
WTF was that? Absolutely pitiful, spineless performance.
Richarlison got a kick after 3mins and instantly disappeared for the rest of the afternoon contributing only his usual 3 or 4 roll arounds seemingly injured only to then get back up on his feet in a Lazarus like recovery. He's done nothing all season and deserves to warm the bench for a few games. If this doesn't give him the kick up the arse he deserves then get rid in the summer and use the money to find somebody who doesn't play in a sulk every week
Mina oh please!! 6ft 5ins tall and goes down like he's been shot face after a non challenge from Wilson who then goes on to run him ragged all afternoon.
Digne way off the pace and his crossing not up to its usual standard. Meanwhile on the other side Iwobi couldn't cross the road to go the chippy let alone find a blue shirt with the ball. Some on here have been singing his praises lately. Have standards fallen that low that people question it when he's not in the side?
Coleman, great club servant but no longer should be considered as a starting player. Offered nothing going forward and has always been fairly average defensively. JJK clearly isn't rated by Ancelloti so a new RB is a must.
Gomes was never the quickest but I'd fancy my chances in a sprint with him and I'm in my 50s! Same with Sigurdsson. As a result the midfield gets over run and players with pace running at our central defenders is only going to end one way
DCL gets zero service and ends up looking the version who was in and out of the side under Silva. He's not going to score if nobody creates chances for him as hes not the type of player who will create something from nothing
This performance surely puts to bed the delusional talk from some regarding Champions League qualification. Absolutely light years away
Mike Allen
215
Posted 30/01/2021 at 16:22:22
Terrible but perhaps we expect to much from this
less than average squad however can anyone explain the goal kick set up is it asolute fucking nonsense or is it just me

Dave Ganley
216
Posted 30/01/2021 at 16:24:45
I'm tempted to say that's typical Everton that.
We can sit here and slate individual players but can anyone say any player that came off with head held high because I cant. Seems to be a more preparation and lack of professionalism problem to me. Look at the games we have lost this seasons. The barcodes twice. West ham, Leeds, Southampton and united aside from the mancs we should have been coasting in those games. We looked like we coukd coast through those games and got rightly beat. When we play the so called top teams we seemed to be switched on, against teh so called lesser teams not much. Whether its arrogance, lack of preparation or just a lack of professionalism, or all three, it needs to end now. Sick and tired of losing these games through lack of application. We have players who are better than that, they've shown it against the better teams. But they are consistently letting the club and fans down by just not turning up to these games. All bear a collectively responsibility.
Its games like this that completely deflates me. I wish we had someone like Peter Reid to go and play merry hell in that dressing room, but alas there is no one who will do that role now. Who tells them how much it hurts because it appears nobody tells them at the moment.
They're really lucky they can go out and do what they allegedly love doing and thays playing football while the rest of us are in lockdown and they can't even be arsed to put in the effort.
Beer o clock has started early today
Alan McGuffog
217
Posted 30/01/2021 at 16:24:57
Somebody posted, earlier, that Seamus in his interview, stated that Newcastle " wanted it more ".
Did the interviewer consider asking our respected club captain " why ?"
Clive Rogers
218
Posted 30/01/2021 at 16:27:09
Rick, 205, if anyone should have partnered Keane it must be Godfrey. He is the fastest of the back four, in form and getting better every game. Holgate has not yet recaptured his form of last season and his passing has been poor.
Mark Murphy
219
Posted 30/01/2021 at 16:27:55
Thing is - I feel worse than if we'd just lost the Derby. At least that lot are a good team! (Wash my mouth out with soap)
My weekend is absolutely destroyed. I wish it didn't matter, but it does.
George McKane
220
Posted 30/01/2021 at 16:27:58
"Marley was dead, to begin with. There is no doubt whatever about that. The register of his burial was signed by the clergyman, the clerk, the undertaker, and the chief mourner. Scrooge signed it".
There is obviously something deeply wrong at Everton. It is not new nor is it seemingly something a New Owner/Manager/Player can change or address.
I am unable, like most of us I guess, to actually put my finger on what it is that is wrong at this Once Great Club - - but the fact that there is something seriously wrong is there for all to see.
We wanted a new Owner with lots of cash - - we got one - - has he put serious money in - - yes - - is it working - - no - - why - - don't know - - how many "mistakes of judgement" has Mr. Moshiri made - - will another New Owner answer this Golden question "whatever is wrong at Everton - - I'll fix it". For me the answer is no - - I do not think we need to look for a new Owner.
The Manger - - he's a "dinosaur" some say - - can only do it with "big name players" - - well we had "bright young managers" - - didn't we - - Silva and Koeman - - isn't that what they were - - Ancelotti's "past it" - - it's only a "payoff/pension" job - - do we believe that - - if so - who is the next "bright young thing" - - I always knew under Kendal that I didn't want anyone else - - he was the best and was right for Everton - - Ancelotti's record is phenomenal - - I was/am hoping he hasn't put his feet up but will find his own way here - - more praying than hoping - - but he is making some howlers and no matter what his reputation is he has to take criticism on the chin and positively move forward - -that is why he is the Manager to make big decisions - - and correct ones most of the time - -do we get rid - - and replace with who - - do we persevere and stay a mediocre run of the mill just stay in The Premier team - - if we could see that he is putting all his eggs in the trophy winning basket - - League/FA Cup - - is that what he is doing - - I don't see it - - we were dreadful against United and yet wonderful against Sheffield (as we should be) - -then we would all be made up - - if we win the Cup I guess all would be forgiven/Acceptable/OK - - of course - -we are in desperate need of a "trophy" - - is Ancelotti surrounded by "yes" men - - don't know - - is he making mistakes - -yes - - know who you are working with - - stick with it and get the best out of them - - surely a man of his experience knows that - - so should we change the Manager - - the answer for me is again no - - but I do wonder who speaks to him and questions his decisions and discusses them and his vision with him.
The Players - - well I do not like just slagging individuals off - - and to be honest after today I would not like to swop any NUFC Players for ours - - but what is happening - - I said on The Forum - - no leadership/characters/personality/passion/drive/ambition from most - - so what is happening - -it seems to me that there is a complacency around Goodison - - you cannot win in a competitive occupation/sport with complacency - - and the problem is that it is contagious - - there are many situations with players that I simply cannot understand a man of Ancelotti's' standing/experience allowing - -you need to be tough to make decisions - - not unpleasant or arrogant or nasty - - just tough and fair - -then everyone can see it and accept it - - it creates unity and belonging - - Pickford - - he is always likely to make bad match losing decisions - - it's on his CV - - Olsen looks solid - - what we need now - - but what do we do - -well "nothing" is the answer - - Coleman needs to be thanked for his tremendous contribution and told he is now a squad player - - Kenny - - not good enough - - Iwobi - - flatters to deceive - - beat a man wonderfully today and then put an unchallenged cross into no-one - - does it time and time again - - Richarlson - - needs to be asked "what is wrong with you Son" - - DCL is not a Sole front man - - either needs someone alongside him or needs a rest - - Bernard/Tosun/Kenny/ are all going aren't they - - get the workers in to let James play a free beautiful role - - get a goal scorer - - get some pace - - don't drop the pacey Godfrey for slow laboured players - - stop wasting the final ball - - be decisive in your passing - - we have some of the best players we have had for years' - - now - - at our Club.
So again the question is what is wrong - - we seem to have The Owner - - The Manager -- and in most cases The Players - - but it's not working - - or doesn't seem to be - - What Is Wrong At Goodison.
The problem is time/patience/empathy/support/belief/ is running out.
"It was the best of times, it was the worst of times, it was the age of wisdom, it was the age of foolishness, it was the epoch of belief, it was the epoch of incredulity, it was the season of Light, it was the season of Darkness, it was the spring of hope, it was the winter of despair, we had everything before us, we had nothing before us, we were all going direct to Heaven, we were all going direct the other way – in short, the period was so far like the present period, that some of its noisiest authorities insisted on its being received, for good or for evil, in the superlative degree of comparison only."

Scott Robinson
221
Posted 30/01/2021 at 16:28:16
@Allan 217, that was me. I thought the same too. I mean, you are going for CL qualification, you know how much the game meant to the fans but still no. I think an empty home stadium does not help. Our away form is much better.
Thomas Richards
222
Posted 30/01/2021 at 16:28:59
Alan 217
That is probably the most damning statement a captain can make against his own players.
Whether the statement has any affect on some of our players is a different story
John Hughes
223
Posted 30/01/2021 at 16:29:30
What I fail to understand is how Ancelotti seems to put up with such a ponderous approach in midfield? In my opinion there are too many pedestrians in there; Doucouré and Sigurdsson just don't seem to have the ability to see the play at that critical point just before they receive the ball. James obviously has talent but he's an "icing on the cake" player who needs time to stand and admire his last pass. As I say, why is the manager putting up with it, he must see it as it's clear as daylight. The most critical phase in a football game is switching defence to attack quickly, no matter if you're playing through the middle or down the channels. We'll never do it with this bunch.
Tony Hill
224
Posted 30/01/2021 at 16:31:49
Dave@166, superbly put.
Jeff Armstrong
225
Posted 30/01/2021 at 16:32:55
Mike 215, not just the moronic goal kicks, what about the wasteful quick free kicks we keep persisting with, puts pressure on the player receiving the ball instead of launching it into the oppos box( not an Allardyce long ball tactic ,but an opportunity of scoring in their area), and the other one that has riled me forever with Carlo is everyone back for corners, even 3'11" Bernard and supreme defenders like Walcott etc, even when 2 or 3 up, mind bogglingy bad tactics by a
" legendary coach ".
Dave Lynch
226
Posted 30/01/2021 at 16:34:28
The most reliable thing about Everton is their unreliability.
That was fucking woefull today.
Terry Farrell
227
Posted 30/01/2021 at 16:34:45
as soon as I saw siggi and doucoure in the middle I felt we were in trouble. davies and doucoure would have bossed it and doucoure would have been able to get forward. we were so flat it needed 3 changes and we made 1!
Gordon Crawford
228
Posted 30/01/2021 at 16:34:56
Jay Siggi was one of our better players agreed but that's not saying much. Like the rest of those around him he rarely takes risks. We have an inn effective midfield without Allan. We need players.
Phil Wood
229
Posted 30/01/2021 at 16:35:56
If and quite feasibly when we drift into mid table obscurity, I would really like the younger players to be given a run in the side.
Nkounkou and Gordon should be given the opportunity to show their potential and also help them feel they can have a future at the Club.
I would hate to see them move on to other Clubs because they feel they will not be given a proper chance. That is the impression I get. It must be disheartening watching highly paid senior players showing no passion or commitment when you are chomping at the bit for a run in the side.
Over to you Carlo.
David Graves
230
Posted 30/01/2021 at 16:39:05
Jeff 202. He's averaged 8 goals a season for the last 5 years. I'd say that was a pretty average return for a pretty average player. You're right though he's certainly filled his boots against us this year. His average would certainly increase if he could play against Mina every week!
Mark Wilson
231
Posted 30/01/2021 at 16:40:16
Another "club" defeat from the club that does it so well. It matters not who the manager is, where we are in the league. Nope, it's guaranteed that we get a number of these spineless, lacklustre disorganised displays to remind us that in our DNA is the kind of interview the Captain gave afterwards. "They wanted it more than we did" and with a shrug of the shoulders he was off, a really nice guy and a good player at his best for our club, but nowadays regularly to be found fronting up the post match interviews when really all he'd like to say is "the squad is poor abd lots don't give a shite abd even the good ones are not arsed half the time.
In the world of coupon busters we are serial offenders. Anyway it's all ok because apparently when it comes to seeking a boost for a squad left pathetically short up front and wide right. "we will look but we are not desperate " of course we are not desperate, after all here we were with another great opportunity to move up the table, build momentum, and all those other things successful teams do only to blow it with a performance that insults every last one of us. Honestly, it's the very definition of pathetic.
Kevin Prytherch
232
Posted 30/01/2021 at 16:40:26
A few things
Regardless of how Sigurdsson played today, he is not a central midfielder and has consistently shown himself to be poor against weaker teams for over 3 years. How has this not been seen yet?
Playing a version of 4-2-3-1 has not worked against weaker teams since Martinez's first season. How has this not been seen yet?
We will always struggle to press weaker teams with a centre back pairing that is slow. We need at least one fast centre back so we can keep pressing high up the pitch.
If we play with attacking full backs and intend to use them as such, we need a midfielder who is happy to cover for this.
Calvert-Lewin can't score without service.
This season, rather than being a season to sing Ancelotti's praises, should be looked at as a massive missed opportunity. We should be about 6 points clear at the top of the table. I have no doubt Ancelotti has improved the team, but he has also made countless silly tactical mistakes that have cost us points.
Alan McGuffog
233
Posted 30/01/2021 at 16:40:31
A lot of posts about how James being kicked and picked on by those nasty rough boys.
I remember if anyone took liberties with Temple or Scott or Young, someone like Gabriel or Kay would " have a little word ". Wind forward and if Steven or Inchy were being given a tough time then Reid or Psycho would suggest that the offender " desist ".
I think its called team spirit or sticking up for your mates. Much as I admire our Corinthian philosophy sometimes raking the back of some bastards leg with the studs is an effective tactic. Let the other lot whinge for a change
Mark Murphy
234
Posted 30/01/2021 at 16:41:29
George you are a man of words and I agree with every single one of those but to summarise you had it in one.
Complacency.
They don't have our beating blue hearts - they don't care.
And whilst I love "Everton" I hate THEM. Everton is a word, an idea, a dream. The players come and go, the stadium will soon be gone, we play in Royal Blue, electric blue, pink, amber, green, salmon. The managers are mixed ability but not blues. The only constant is us - the Blues and our memories. And they drive our expectations and hopes. But sadly, the inhabitants of the corridors, the boardroom the changing room, the training pitch, are no longer playing or working for us. Everton Fc has become like the rest Everton plc - driven by budgets and driven by cautious safety and maintaining the status quo. They don't give a monkeys about us anymore George - the Corinthian spirit that that great man and wonderful human being once spoke about has died.
Evertonians for ever - someone please give us our club back!!
Tony Everan
235
Posted 30/01/2021 at 16:42:03
This defeat is the most disappointing for a long time. Just when you think the club has turn the corner and and we are making progress everything is thrown into doubt.
I thought the team selection was too weak. The midfield included Iwobi James and Sigurdsson, too many players in there who cannot tackle or win the battles. It leads to a disjointed performance with no control or shape. Coleman's inclusion offered little offensively, I think Holgate at right back gives Iwobi or James a bit more license.
Godfrey brings some much needed energy, drive and determination to the team. He has to be the first name on the team sheet. I think the time has come to give him his natural role as CB. Bring his qualities to the heart of the team.
I think the game could have been won with a bit more shape and bite in the midfield today. Davies starting alongside Doucoure instead of shoehorning Sigurdsson into the central midfield where he fails time after time.
I'm totally pissed off today, annoyed and miserable. A win at Leeds will give us some respite.
Danny O'Neill
236
Posted 30/01/2021 at 16:43:21
Could sit here all night analysing and dissecting that.
It was a poor performance. A bad day at the office. It happens to us all.
Best thing is to put that one behind us an move on.
Ian Edwards
237
Posted 30/01/2021 at 16:43:57
When we were crap under Allardyce he was blamed. When we are crap under Ancelotti the players are blamed.
The defence was too deep. DCL was isolated. Richarlison was isolated wide left. Iwobi isolated wide right. No support from midfield.
Combined with that we have a Dinosaur in charge who has got rid of every forward not guaranteed a start and filled the bench with Defenders and Keepers. His sole tactic is too nick a goal and then defend it with reinforcements from the bench.
Sacked from his last 3 jobs. Terribly negative football.
We have been lumbered with Brontosaurus Carlo topping up his pension.
Outcoached by Steve Bruce. What an indictment.
Rob Halligan
238
Posted 30/01/2021 at 16:45:35
Jeff # 225. For years now, all clubs seem to bring back every player for a corner. What bugs me though, is why the hell don't we put players on the posts, because had we a player on the post then that first goal doesn't go in. FFS, it's not like the opposition are going to flood the penalty area with all ten outfield players when they get a corner, unless they are chasing an equaliser in the dying seconds when the goalie even goes up. Which is something else I don't understand, what's a goalie going to do at a corner that an outfield player can't?
Pat Kelly
239
Posted 30/01/2021 at 16:45:56
It is many years since anyone expected Everton to win anything. Survival in the Premiership is the height of ambition. Newcastle wanted it more, Coleman admitted. The Everton players don't want anything. They have their contracts and nothing is expected of them except to put on the shirt. There's no pride in wearing that shirt. Newcastle had more to fight for. What's there to fight for when you've no pride and mid table will be accepted as success.
George McKane
240
Posted 30/01/2021 at 16:48:02
Thank you Mark - words I hoped not write - but I am dreadfully lost and confused with Everton after committing myself to them for around 64 years.
Tony Hill
241
Posted 30/01/2021 at 16:50:17
You're not alone, George @240.
Dave O\'Connell
242
Posted 30/01/2021 at 16:51:22
Let's get this we were playing probably the worst team in current form and made them look good absolute shambles of a performance players should be ashamed what looked liked a good season not looking great now top 10 if lucky
Peter Mills
243
Posted 30/01/2021 at 16:52:10
I was nervous when I saw our line-up. The defence, with it's supposed "4 centre halves", has been superb. I could see no reason to change it, unless it was to give Holgate and Godfrey a rest prior to the forthcoming games. Neither player looks the type who would relish putting their feet up. I hope they are reinstated pronto.
There were very few positives to be taken from our performance, other than it provided confirmation of the inadequacies of several players. If they are at the club next season (I'm thinking Sigurdsson, Iwobi Gomes and Pickford in particular) I shall be disappointed.
Paul A Smith
244
Posted 30/01/2021 at 16:53:34
Our 2 real full backs, Sigurdsson, Iwobi (who everyone has suddenly raved about) James, Calvert Lewin, Richarlison, Gomes on the pitch and 7 of them stunk.
I saw a team wanting James and Digne to produce something everytime they touched the ball and forgetting their own responsibilities.
This is where levels show like the sky. Richarlison, perfect example.
One of our most influential players and one most would certainly expect to start games. All he shows me lately is that he can't jump to the top level.
The mentality of our games is different now. Expectation is there before Kick Off and there is not much room for error.
Did anyone see the expectation affect James game? Keane Mina? These 3 all looked up for the challenge of pushing the side forward again. Not losing concentration and managing the ball well.
Doucouré also to an extent.
Someone tell me where Iwobi, Calvert Lewin, Richarlison, Sigurdsson, Gomes, Pickford, Coleman are playing high level football or playing like they have a winning mentality?
Richarlisons composure stinks. Gomes passes and moves slower than every opponent he faces. Sigurdsson the same. The heart is there but the speed of play at the top level evades these players.
Funnily enough Richarlisons best passage of play was winning the ball back, getting his head up and following his pass. Where is his head at when he runs with the ball?
Iwobi too, what a boring player to watch. Where was the heart to make a run like the Wolves run he made?
I don't think we could have had a more attacking line up than today and once again we showed timid, sluggish, flat football going through the motions and admiring James.
Brian Murray
245
Posted 30/01/2021 at 16:54:04
If at the end of this window we are left with 14 players 3 goalies on the bench no new strikers wingers or full back then il gladly wave Marcel goodbye as he's sacked for a dereliction of duty at the least. Let him be Man Utd's problem or whoever No big loss.
Mark Tanton
246
Posted 30/01/2021 at 16:54:49
We could all see it coming. We don't have the bottle to push ourselves until the top four sadly. What a spineless performance.
Danny O'Neill
247
Posted 30/01/2021 at 16:55:34
Nothing like a here and now view to make it fit your narrative Ian.
Danny O'Neill
248
Posted 30/01/2021 at 16:55:35
Nothing like a here and now view to make it fit your narrative Ian.
Rob Halligan
249
Posted 30/01/2021 at 16:59:10
Danny, I don't know why you bother, mate.
Stephen Brown
250
Posted 30/01/2021 at 17:01:20
Whenever there's something on it, going top, going 4th ( 4th FFS), getting to a final, getting to a semi. We always choke!
Wigan in the cup, RS in the semi, Aston Villa to go top last season, Man U in the cup!! Every time we choke!
I'm trying to keep a sense of perspective here!! It's one game in reality but let's face it we really are an irrelevant team. We never win anything, rarely qualify for Europe and when we do we choke and we are never in the relegation fight! A pointless team ( hard to say )!
I don't know how it changes really ? We thrown a lot of money at it! Have a classy manager ( I'm still 100% behind him despite errors) and yet we're still nothing !! In a fight for 7th with Southampton, West Ham and Aston Villa!! Once we go out of the cup v Spurs next week then once again we can focus on the this fight for 7th!
Truly depressing and can't stop thinking about it!
A big signing out of the blue might help me recover a bit ?!!
Ian Edwards
251
Posted 30/01/2021 at 17:01:53
Danny 248. My narrative? Did you not watch that shambles. Carlo is great. Carlo the wonderful. Open your eyes.
Tony Twist
252
Posted 30/01/2021 at 17:02:35
I love the way it is so acceptable for such a performance. The needless losses this season are adding up and a lot of them have been because of the tinkerman. considering he has won lots of things in the past, let me stress, the past, a lot of people give him a free ride. He is lazy, bringing Ancelotti on board was a lazy choice. Whoever buys the players have been lazy also. Ancelotti thinks that bringing in a couple of his old players will make all the difference, that is just laziness. His team today was predictable, he would say it is me managing the squad, utter rubbish, play your strongest players, don't change the team until it is broke with fatigue and don't underestimate the opposition. strongest team, if you get lucky and get a couple of goals up then pull some players off for a rest. Ancelotti is overrated, he certainly hasn't changed the traits of this team. Not enough time is not an excuse.
Danny O'Neill
253
Posted 30/01/2021 at 17:03:14
I'm with you on the post thing Rob. That's the traditionalist in me. If a player is on the post, with hand on the post, they step in to block anything that comes in near post or can make that step away to clear off the line.
Martin Mason
254
Posted 30/01/2021 at 17:03:17
The reason that we were woeful today as I've explained in a couple of previous posts is that we had to transition from an ultra defensive 4 x CB's in the back 4 (which served us well when we were short of DMS) to a non-defensive set up using overlapping full backs and we couldn't cope with the transition. Siggy and Iwobi was like having no midfield and Newcastle swarmed all over us. Not only all over but straight through to the magnificent Calum Wilson. Midfield was a major problem but even Digne and Coleman couldn't seem to fit in. Very disappointing but we will learn (and yet we kept Siggy on for 90 minutes?) Did we learn that Sig's only position is that higher up the pitch one? No, we moved him back to MF where he is worse than poor. We aren't this bad although I will say that we were up against a very, very good Newcastle side. A new coach and they are a new side.
Jeff Armstrong
255
Posted 30/01/2021 at 17:03:34
Rob 238, I think Bruce kept Wilson up front for corners today, hard to tell on TV but I believe he did, the last manager that I saw do it for us believe it or not Allardyce!
Agree about having players on both posts btw.

Lynn Maher
256
Posted 30/01/2021 at 17:03:50
Please don't despair. One headline on Everton official website.
EVERTON IN THE COMMUNITY TURNS 33!
I feel so much better.
Tony Hill
257
Posted 30/01/2021 at 17:04:49
I've just looked at the table. Incredible that if we won our game in hand we'd be 5th and one behind the shite. We're 3 ahead of Chelsea and Arsenal with a game in hand. And, another happy thing, we're not Wolves.
But for God's sake we have to wake up and be bold; and we need to get a striker in. All is not lost, not yet.
Sean O'Hanlon
258
Posted 30/01/2021 at 17:04:57
David #187. Agree, I would have started with Davies ahead of Sigurdsson and Gomes. He gives his heart and soul, but as I said, he's lightweight, and sadly does not have pace. This is why he's knocked off the ball so easily. I would love him to be up there making a serious challenge for a regular midfield spot, but I can't see it happening.
Barry Jones
259
Posted 30/01/2021 at 17:05:07
Jay 210#
Time and again Siggy was the out ball for the defence.
Only when he was stood 5 metres from the central defender and then passed the ball straight back. That is NOT an outball.
Time and again he played neat short interchanges with Doucoure and James which kept possession and kept the ball moving.
Neat short interchanges that kept the ball moving? We couldn't string two passes together today. You must be getting a different feed in Brazil. And where did these neat interchanges take us? And as for Sigurdsson moving, well that does not happen.
Time and again he fed both Richarlison and Digne in acres of room on the room.
If Digne and Richy were in acres of room, which they were, then anyone could find them, especially when playing deep and given time on the ball.
You are obviously willing Siggy to be the superstar that he definitely is not, not in this game, or any other.
You are entitled to your own opinion. But you are not entitled to your own facts.
Tony Hill
260
Posted 30/01/2021 at 17:06:18
And we're on the same points as Tottenham who've just lost Kane.
Danny O'Neill
261
Posted 30/01/2021 at 17:06:54
I did watch Ian. And if you bother to read above, I too criticise a very poor performance.
My eyes are very open as they have been for the 49 years I've been following Everton.
That allows me to both praise and criticise based on what I see, not just make an argument fit my dislike or disapproval of the manager.
Kendall must go leaflets.
Andrew Ellams
262
Posted 30/01/2021 at 17:08:57
It seems like every bad result has Ancelotti blaming lazy players with no spirit.
If only the club employed a man who's job it was to do something about that.
Ian Riley
263
Posted 30/01/2021 at 17:10:20
Why do we need more players? If we don't sort out the lack of motivation, desire, and work rate then bringing new players will only follow suit into that culture. Today I think the manager finally realised what the problem is, desire to win. This has to be the most talented squad we have had in the past twenty years without the hunger to win games. We are soft and those teams who have taken 3 points from us knew that.
If the management team can't motivate this group then bye bye. It was miserable and predictable today. No complaints about the result. Might be a blessing in the long term going forward. Let's hope so.

Paul A Smith
264
Posted 30/01/2021 at 17:12:21
Loads of posts read like there is no acknowledgment of the fact we had 11 players trying to stop us winning.
Its clear within the thread we have poor midfielders though and not a great deal of difference was sat on the bench.
I don't believe for a minute more than 2% of Evertonians looked at our line up and never thought - this side should beat their lot?
I don't believe Ancelotti never thought that we couldn't win. Or maybe he thought - i'll start our most direct players and restrict them all because I don't fancy winning.
Gavin Johnson
265
Posted 30/01/2021 at 17:12:49
SACK THE MANAGER, SACK THE BOARD! ;)
Barry Thompson
266
Posted 30/01/2021 at 17:13:33
Newcastle, shite all season but have now apparently become a very, very good side. Shouldn't be too long then before we're looking up the arse of those fuckers as well.
Ian Edwards
267
Posted 30/01/2021 at 17:13:37
Danny. If Allardyce served up recent performances fans would want his head on a platter. Because it's " Don Carlo" the excuses come out and the players are blamed. Who got rid of all forwards that could have been on the bench? Who decides the tactics?
If Ancelotti pissed in the centre circle most would say it was raining.
Craig Walker
268
Posted 30/01/2021 at 17:13:40
Sig plays neat and tidy passes backwards or sideways. He isn't quick enough to shift the ball out of his feet. He invites the opponent onto him and then slows the whole passage of play down. We never zip it around because he needs too many touches. I saw two or three times he had the ball and played it out wide but didn't put enough on the ball so the full back was waiting for it to arrive, inviting the opposition to close the man down. The player receiving it had no option but to play backwards as he was already being closed down.
I'm not bothered if he can't tackle. He is supposed to be a creative midfield player and has this reputation as being a player who can spray passes and land the ball on a sixpence. It's a complete myth. Gylfi was in the media this week saying he's never been happier at Everton. No bloody wonder. Trot around a bit. Do some pointing and have fans thinking he's done okay. Nice work if you can get it.
Martin Mason
269
Posted 30/01/2021 at 17:15:12
Sean@258, I also believe that not playing Davies was the big mistake. He is playing the deep midfield role well and it was a deep midfield hole today.
Danny @261, no criticism meant here but we have to realise that what we see isn't necessarily real only our interpretation. What we comment isn't fact only opinion. We were pretty shit today though.
Ken Williams
270
Posted 30/01/2021 at 17:15:24
I keep saying there is something rotten at the core of the club, whatever anyone says we have brought in quality managers but even they have failed, until we have an empty out of all the dead wood ( players and coaching staff) it will continue to be groundhog day.
Andrew Clare
271
Posted 30/01/2021 at 17:18:20
It's not the end of the world. Just a bump in the road. I just hope it's a one off and not the start of a bad run.
Danny O'Neill
272
Posted 30/01/2021 at 17:19:30
Not me Ian. I just judge on what I see. Today was poor.
I feel we have improved if you look bigger picture.
Today was a shit performance and we deservedly lost. In the course of a season you win games, you draw games and you lose games. Even champions do.
But in the more strategic outlook, I think we are moving forward. That's how I see it. You maybe don't and I think (please correct me if I'm wrong), you would rather not have Carlo Ancelotti as manager and will therefore use every defeat or poor performance to force that view home.
Simple fact is, a poor performance is poor regardless of who the manager is / was. Today was poor.
Jay Wood
[BRZ]
273
Posted 30/01/2021 at 17:19:40
George McKane and Dave Abrahams.
Don't be so down, fellahs. Between you, you are closer to 150 years of supporting Everton, than a century. You've seen a LOT worse times than a home loss to the PL's most out-of-form team.
The manager in his post-match comments identified the issue today. At different times, for prolonged periods, we have shown we have both the quality and the spirit to compete at the sharp end of the table. Today the spirit was sadly lacking in too many. And without the spirit, the quality also suffers.
As Carlo said, the mentality has to be switched on from the start, all game. If not, you will get results and performances like today.
Opportunity missed? Absolutely.
Terminal and indicative that we will never return to past glories? Exaggerated.
In the last 9 PL games it's W 5 D 2 L 2. Add two cup wins into that run.
It's not all bad, is it?
Steve Carse
274
Posted 30/01/2021 at 17:22:44
Andrew, 'a one off' -- where have you been for large parts of this season? Some of the drab, spineless, energyless shite we've been served up this season and the end of last are amongst the worst of anything that came with Silva, Allardyce etc.
Jay Wood
[BRZ]
275
Posted 30/01/2021 at 17:23:05
Barry Jones @ 259.
'Jay, you are entitled to your own opinion. But you are not entitled to your own facts.'
But evidently you are, Barry, claiming your view of the game as the only factual and valid one.
Convenient.
Carry on.
Kieran Kinsella
276
Posted 30/01/2021 at 17:25:13
Barry
As Martin Mason said, Newcastle were good — today. They haven't been shite all season, they started well then turned shite. Like most teams they've a lot of average players and a few good ones. Today their average players upped their game, ours didn't. Their good players showed their quality, our good ones were dreadful. As we saw with Sheff Utd v Man U, the difference between the top and bottom isn't that great and if you're below par you can lose to anyone.
Thomas Richards
277
Posted 30/01/2021 at 17:25:41
How many of our players would get in the starting 11 of City, Utd, Totenham, Chelsea.or them.?
I reckon two at best.
Frank Crewe
279
Posted 30/01/2021 at 17:27:34
If we sell Tosun we will have one recognised forward. We need more and preferably one that doesn't require a constant stream of crosses to score a goal. If the opposition block our wide players like Newcastle did today we have no way to score. We need to be able to go through the middle sometimes. Either go 442 with Richarlison up front with DCL or get another forward with more movement to give is other options.
David Currie
280
Posted 30/01/2021 at 17:28:19
Well done Steve Bruce today he deserves a lot of credit and his team were solid and created the best chances. Wilson could have had 4 goals, surprised that Godfrey was dropped and it was a mistake as he has been doing very well and has great pace.
The big worry for Carlo is that our performances at Goodison have been awful and he needs to take responsibility and do something different to change it.
Kunal Desai
281
Posted 30/01/2021 at 17:28:56
27 points from the second half of the season. Not inconceivable if we can get our act together and get to that 60 point mark which should still be enough to finish 7th, that would have been the remit at the start of the season.
Five of the so called 'big six' still to play away from from home.
We need to improve that home form very quickly if we are not to undo the work in gathering the points from the first half of the season. Can't afford to have too many of games like today. We need to move quickly on to leeds and get 3 points.
Tony Hill
282
Posted 30/01/2021 at 17:29:11
I'm one of the most miserable bastards on here but we must hold our nerve after that awful effort. We were dire, of course, but Martin Mason is right that Newcastle played very well.
If we stay calm and the manager and team change their approach then this can still be a truly excellent season. We all feel desperate now but things can turn again. We must fight and we must take risks.
And get those two hard cases Holgate and Godfrey back in.
Kieran Kinsella
283
Posted 30/01/2021 at 17:30:48
Thomas 277
I'd say James would. Him apart Godfrey has a shot
Bobby Mallon
284
Posted 30/01/2021 at 17:31:53
Ken Williams I have to agree that something is not quite right with our club. Especially the academy. Since we had Silva I can't remember anyone other than Holgate, Davies and DCL staking a claim to the first team, especially exciting attacking midfielders, players who take people on and dribble past players.
Mike Doyle
285
Posted 30/01/2021 at 17:33:49
Dropping Godfrey & Holgate proved a big mistake. Holgate is our narkiest defender and Godfrey is strong, fast and doesn't like losing personal personal duels (in some respects reminds me of Pat Van Den Hauwe. Godfrey would have relished the battle with Callum Wilson - Mina & Keane clearly don't.
Both need to be back for the Leeds game.
As our right side options seem to be delivering zero service to DCL, it would make sense to play Digne as left midfield- at least a few crosses may come in.

Martin Berry
286
Posted 30/01/2021 at 17:34:46
West Ham, Leicester and now Newcastle, our last three home games in the Prem have been dreadful, its not something of a one off its ongoing and the Manager has to sort it out.
To me we should have played Gomes from the start instead of Sigurdsson you cant play him and James in the same team unless you want to get outfought in midfield.
I actually felt sorry for Iwobi being hooked as he did far more than Richarlison who seems to spend more time on his backside than on his feet, also DCL must wonder whats happened to the supply line.
It pains me to say but when you see the Dark Side play they have energy, players close giving the man in possession options and they pass it well, Everton do not do any of those things.
The sooner we get Allan back in the centre with Doucoure and Gomes, then hopefully we can compete. Ben Godfrey in midfield would also have been a better proposition than that lot today truly woeful.
As for European football, on this performance its pure fantasy !
Bill Watson
287
Posted 30/01/2021 at 17:35:03
An absolutely shocking performance lacking pace and determination in midfield and that must go down to team selection and the failure to try to change things around in the second half.
When we did get into good positions the final pass was usually dreadful and we failed to work their goalkeeper, at all.
I don't usually criticise individuals but I fail to see what Iwobi brings to the side, He always looks busy but there is never any end product. Coleman has been a great servant but I think his days as a first choice have come to a end. Richarlison looks only half the player he was last season.
Let's hope we can dig something out at Leeds because they will punish a similar performance to today's.
Thomas Richards
288
Posted 30/01/2021 at 17:35:12
Kieran,
Next year for Godfrey.
Imo he will be a top class CB.
I agree on James.
Andy Walker
289
Posted 30/01/2021 at 17:36:24
Frank, if we don't sell Tosun we'll still only have one recognised forward.
Derek Moore
290
Posted 30/01/2021 at 17:38:18
The geordies came to Goodison with their feet to the proverbial fire, the backs against the wall. They were told we'd lost 3 of our last 6 at home and we have a soft underbelly. They were always going to come out hard, prepared to do whatever necessary to get a result today.
It was all so obvious, all so predictable. Yet we did nothing to counter it. They kicked lumps off us early and to be honest most of the team seemed to want no part of it.
Wilson should have had four. Five even. We weren't able to deal with his movement, and Richi lost two headers from corners one of which ended up in the net the other one brilliantly saved. An adjustment not made really.
Richarlison himself dropped into the midfield to pick up the ball and try and drive it at them, to varying degrees of success. He at least was trying to make something happen. The Barcodes did the take turns to foul James thing, the officials either didn't notice or didn't care. I thought James body language spoke volumes. So here I am getting kicked, niggled, stamped and trodden on around an empty Goodison Park
The lack of any real options on the bench is telling. I feel for Moshiri - there's no fucking way I'd handle the casual destruction of tens of millions of my wealth by chancers, spivs and plain crooks the way he has. I'm not sure if it's financial fair play or just Moshiri imposing a spending limit on himself but if there was a January where there was a case to break the budget and bring in someone this was surely it. Instead he, like us, has watched a 1-0 lead against the Foxes turn into one point from six and yet another tremendous opportunity thrown away.
This is where the opportunity - and financial! - cost of the Walsh years really comes back to hurt us. Not that the Brands tenure has achieved anywhere near what was hoped for when he arrived. The failure of Phillip Cocu in Turkey and Derby after leaving PSV is interesting in it's own way as well. It's very very difficult to successfully import and imprint a new football culture. Something our own manager is presently struggling with.
What sort of response from the players can we expect against Leeds? You honestly can't guess with this bunch. The occasional passionate performance gives the illusion of belief. But the safe bet is always for this group to roll over and wait for their belly to be tickled.
That's the nub of the problem probably. Fuck January, glad it's nearly over.

Paul A Smith
291
Posted 30/01/2021 at 17:38:29
Thomas 277. Exactly. Wolves fans could argue they have better players in most positions. A Spurs fan might want more Wolves players than ours but he wouldn't want any over most United players.
Football is dead simple now. You are either in that mix of darling clubs where most of your 11 is quality, the squad is made of 2 teams and you can get away with mistakes, or.
You are one of the other hundreds across Europe that can't make mistakes, rely on perfection, minimal injuries and genuine officials.
Kieran Kinsella
292
Posted 30/01/2021 at 17:38:52
I remember when Kevin Mirallas was being linked with Barcelona when we beat Juve preseason. My worry is in a few years we will be laughing about how Richarlison was once also linked. His cry baby antics are a big distraction and he has a permanent scowl on his face that makes Moise Kean look like a happy clapper. He's in need of an old school John Beck Ice shower and some Sandhills
Colin Glassar
293
Posted 30/01/2021 at 17:40:02
Graham Jones knows us. He knows how we think. He knows our heart, our soul etc as his namesake, Corporal Jones would often say, "They don't like it up 'em sir, they don't like it up 'em".
I'm sure he told Steve Bruce the exact same thing.
Thomas Richards
294
Posted 30/01/2021 at 17:41:32
Agree Kieran
I posted same at the start of the season.
Sulks like a big tart.
Good on his day, but they are few and far between lately
Kieran Kinsella
295
Posted 30/01/2021 at 17:46:39
Colin Glaesar
Building on your Dads Army theme, an empty Goodison looks a lot like an auld empty barn. Hopefully the warden will instruct us to get those ruddy lights off on Wednesday so floodlight failure saves us from Leeds.
Derek Knox
296
Posted 30/01/2021 at 17:47:38
I did something today that I have never done before, I turned the match off half way through, I'd seen enough, of the lack of passion, ideas, and pathetic football against a side who, let's face it, were not very good. I'd had enough, I normally have a glass of wine, after we have scored, there was no chance of that today, and my sobriety continued after switch off. I even had to lie down, I felt gutted, upset, nauseous as if I had experienced a major tragedy. I wouldn't mind betting that no player would have felt the same as I did.
Did Carlo, take the squad on a field trip to a Fish Processing plant during the week, or recently? Why, because they had no backbone, were gutless and stunk the place out. I will however give a reprieve to James Rodriguez, who seemed to be the only one committed into trying to play.
George @ 220 such a poignant analogy of not only today's debacle, but one that has been lingering and threatening to manifest itself for a while now. Mark @234, & Tony@235 and many others expressing what we all as a (Everton Blue) family feel about our beloved side, it is gut-wrenching and I know nearly all of us feel the same way. Trouble is, I don't know what the answer is, I believe it goes a lot deeper and further 'than a bad day at the office' and one unfortunately you know is going to be repeated until the root cause is eradicated.
Tony Abrahams
297
Posted 30/01/2021 at 17:47:40
The frustration is plain to see. Not enough creativity, nobody wanting to protect the only really creative player we have. Not enough forward thinking players, for our only creative passer to aim for, and the minute we stop protecting our central defenders, then simple balls down the Chanel's really put them on the back foot.
Finding a way to keep us solid, whilst adding creativity is the next step for Ancellotti, and I doubt he can do it without signing more players.
I'm not moaning because we deserved to lose today, but if I honestly can't remember the last time I saw a good ref, then this fella lowers the levels of officiating to an incredibly poor standard.
Dave Williams
298
Posted 30/01/2021 at 17:47:52
Very poor. Why bench our two most competitive players when they have been playing well and are too young to be tired?
Coleman and Iwobi did virtually nothing, Digne was wasteful and backed out of challenges. Siggy plays too slowly for this league and we had no game changers on the bench though why he didn't bring on Godfrey and Holgate to check the very mobile Wilson puzzles me.
James and DCL were the only two who looked bothered. Leeds next will be interesting as they play a similar game to Newcastle but are a lot better at it. We need to field players who will put in hard graft so Holgate and Godfrey, James,DCL and Tom must all start plus Doucoure. We need reinforcements up front and a creator in midfield- any chance Marcel??
Colin Glassar
299
Posted 30/01/2021 at 17:51:05
Kieran, I think the verger could've put in a better performance than siggurdson, Iwobi and Gomes combined, today.
Ian Edwards
300
Posted 30/01/2021 at 17:52:40
How can a Manager have no forwards on the bench. It's negligence.
Bill Gall
301
Posted 30/01/2021 at 17:53:36
We never deserved anything from that game and I sure Ancelotti never told them to go out and play with such a lack of effort. The team that was used today was strong enough to get 3 pts the players weren't.
No player likes to get relegated as it lowers their value so they put the extra effort in their game as Newcastle did, Evertons players never did and performed as if they expected to win. There are no easy games in the premier league as Sheffield Utd showed against City, the difference in this game, is City fought for the win. Everton's players didn't.
The problem we have is we do not have that good a squad that we can drop under performing players, but there should be a couple dropped and explained why. It is no use blaming individuals as there was to many but listening to Ancelotti's comments I doubt if in private with the players he held back.
There is another problem and that is the standard of refereeing. Newcastle laid out there tactics in the first 10 min with the tackles on a couple of players 1 was a yellow and the rest ignored. I don't blame Newcastle for their tactics as if you can get away with it why stop. The problem now is other teams have seen it and can see how to slow Everton down. I
just hope that Ancelotti has a go at the referee's and Everton's players start surrounding and complaining to the referee like the other teams do.
We have blown away the 2 game advantage we had and I hope this is rammed down the players throats, as poor displays like this lower their value as players, both financially and as a person.
Thomas Richards
302
Posted 30/01/2021 at 17:55:08
What forwards would you have put on the bench Ian 300?
Mike Price
303
Posted 30/01/2021 at 17:56:12
What's really irritating is that Martinez would probably have won that match by 3 clear goals and we'd have saved 50 million in payoffs.
Kieran Kinsella
304
Posted 30/01/2021 at 17:59:33
Derek 296
If you've never turned off a game before then either your remote has been out of batteries or you've a much stronger constitution than me.
Thomas 300
Who indeed? Nathan Broadhead? Maybe Baningane as a fill in? The options from the mythical academy are endless
Danny O'Neill
305
Posted 30/01/2021 at 18:01:44
That is the next step for the manager and this squad. How to keep things solid at the back but afford more creativity and open teams up going forward.
I don't actually hate using them as an example, but Liverpool under Klopp done it the other way around. Go hell for leather going forward, then in year 3 put the final pieces in the jigsaw at the back.
I reiterate. Poor performance all around today, bad result. But 12 months on I think we're in a better place and have more to look forward to than not. It's a bad performance and result but in the context of what may turn out yet to be a good season, it's just a result.
Joe McMahon
306
Posted 30/01/2021 at 18:03:09
Colin @219, I would have done, and I haven't played even 5 a side since 2007, and 51 and yes overweight.
Ian Edwards
307
Posted 30/01/2021 at 18:06:11
How have we reached the position that our only forwards at the club are DCL and a badly out of form Richarlison??. I just find this astonishing.
Jeff Armstrong
308
Posted 30/01/2021 at 18:07:47
Thomas 302, how about Moise Kean, Josh King or even Callum Wilson!
Negligence is the correct phrase for our forward options.
Thomas Richards
309
Posted 30/01/2021 at 18:07:58
Ian,
To be fair.
That is your take on most things Everton
Ian Edwards
310
Posted 30/01/2021 at 18:08:55
Thomas 302. That is my point. We have none. Ancelotti has got rid of them all and not replaced them. Criminal mismanagement. I'm sure our fans will say it's the fault of Allardyce though.

Andrew Ellams
311
Posted 30/01/2021 at 18:13:18
Anthony @ 302 I think thats Ian's point.
What we had on the bench today was a disgrace.
Kieran Kinsella
312
Posted 30/01/2021 at 18:13:43
Ian/Jeff
Do you honestly believe that Carlo is so happy with his squad that's he's decided to further weaken it just to what? Show off his turd polishing skills? The players leaving have gone for a few reasons a) they're crap b) Raiola unsettled one c) because the club has massive debts, an unsustainable wage Bill and greatly reduced income due to Covid.
Barry Rathbone
313
Posted 30/01/2021 at 18:15:13
Mike 303
You dare not say such things the claim "Martinez benefited from "Davey's defence" will raise it's doddering head despite the fact Martinez' Wigan (among many others) shoved 3 up that pillar of organisation and defiance.
If Mosh had any idea about the game he would have rescued Bobby and saved himself a shedload of cash, unfortunately he is absolutely clueless about the game.
Jeff Armstrong
314
Posted 30/01/2021 at 18:17:18
But Kieran, it's about squad balance, loads of midfielders, defenders even keepers to pick from, but no forwards, even keeping Simms was an option, or are we so skint we can't afford a grand a week!
Robert Workman
315
Posted 30/01/2021 at 18:17:33
What concerned me most before kick off was our substitutes. As the game progressed it concerned me more. I could only see Gomes coming on, unless we had an injury. As it turned out we badly needed something off the bench, which Gomes was not able to provide.
Ironically the bench would have looked stronger with Bernard and Tosun included. I assume that their absence means that they are leaving the club.
Tony Abrahams
316
Posted 30/01/2021 at 18:18:08
I'd blame Koeman and Walsh, a lot more than Allardyce, Ian, but maybe it's Ancellotti's fault, because if financial fair play is hampering us, maybe he should have kept the same midfield players we had last season, and just signed some strikers instead.
Thomas Richards
317
Posted 30/01/2021 at 18:18:22
Jeff, 303
None of them play for Everton
Barry Thompson
318
Posted 30/01/2021 at 18:19:19
Hi Kieran, I do agree that Newcastle got tactics spot on today against a piss poor Everton display and fully deserved the win and as such we're very good on the day, however this loss was against a side that that has won 6 times this season with 2 of those wins against the benevolent blues. Had Everton managed to win those 2 games then Newcastle would be sat in the bottom 3 tonight having played 1 game more than the nearest sides above. Steve Bruce must wish he could play us every week. I accept by the way that no team has a divine right to win (apart from the RS that is) but for me today had more to do with how poor Everton were than how good Newcastle are. Then again, maybe we aren't actually as good as we think we are.
Ian Edwards
319
Posted 30/01/2021 at 18:20:15
Kieran. I don't know what goes through Ancelotti's tiny mind. Presumably he just sets up to nick a goal and then defend it and that's why the bench is full of Defenders. A Manager who knows what he is doing doesn't allow all his forwards to leave without getting replacements.
Derek Knox
320
Posted 30/01/2021 at 18:20:32
Kieran, at least you've cheered me up a bit " Show off his turd polishing skills? " I must admit that tickled me for some perverse reason.
Peter Dodds
321
Posted 30/01/2021 at 18:22:05
When I saw the team-sheet I thought "great, almost our first XI there", with Digne and Coleman normally so much better at making overlapping runs and getting the crosses into DCL. As good as Godfrey and Holgate have been, they are better when we expect to see less of the ball and we need more defensive solidity. I still back the team selection, I just think Coleman and Digne had stinkers on the day.
As for Seamus saying "they wanted it more" - that should never EVER be said about the opposition. Shameful - what more motivation do players need than zeroing in on the Top 4? Which manager is it who looks first for character beyond anything else in his new signings? That's what we need now with all new signings.
And if Tosun and Bernard go within days then we can say goodbye to anything above 7th or 8th. We'll have a ridiculously thin squad but at least we'll have made inroads on the wage bill and cleared out some lockers for new boys in the summer.
Thomas Richards
322
Posted 30/01/2021 at 18:22:51
"Kieran. I don't know what goes through Ancelotti's tiny mind"

😂😂😂😂
Ian Edwards
323
Posted 30/01/2021 at 18:22:55
Financial Fair play has been suspended due to covid. Tosun and Bolasie aren't great but they are better than nothing and certainly better coming off the bench when we need goals than bringing on defenders.
Kieran Kinsella
324
Posted 30/01/2021 at 18:25:36
Jeff
I agree but I suspect at this point Carlo trusts Sig or James as an auxiliary striker more than Simms. The balance of th squad is wrong and has been for a long time but that's more on Brands than Carlo surely?
Jeff Armstrong
325
Posted 30/01/2021 at 18:26:50
Thomas 317,
your not daft, you get the point.
Mike Gwyer
326
Posted 30/01/2021 at 18:30:11
Well if anyone needed a slap it was Shelvey and I was begging Carlo to stick Godfrey on the pitch with specific orders: "just tackle Shelvey, that's all and preferably very fucking late". For me the referee summed up our performance, absolute total shite, in minute 3 when Richy got kicked I knew where this game was going.
Steve fuckwit Bruce loves a tight game and if the referee is willing, stick in a few late tackles, then keep repeating till the referee stops it. Well, as we saw, the referee was barcode blind. You know what, sometimes you have to let teams know who is who on that pitch and Bruce did just that. Now I don't give a fuck if Digne can cross the ball like a Jesuit priest on acid, for me he does not hold his position or the boy attacking him if your not good enough to hold your position, at least put a tackle in.
Now Godrey and Holgate both love a tackle and we had them on the bench, whilst Shelvey was roaming around Goodison slapping James and Richy at will. Fucking twat.
Carlo, just so you know. Just so you are fully aware, we haven't had good football at Goodison for almost 3 decades. Yes that's absolutely right, three. whole. fucking. decades. Don't be fooled by "Nil satis nisi optimum" because it's not at Goodison anymore, it's been fucked right off.
Please. Bring it back.
John Skelly
327
Posted 30/01/2021 at 18:30:42
I didn't watch the game but reading the comments every player except Keane and Mina were poor, so surely it's there responsibility to play up to their potential.
The manager whoever he is has no magic wand to make them.
It should be enough for the players like any school football team to look at at the opposition and think we are better than these let's beat them.
Thomas Richards
328
Posted 30/01/2021 at 18:34:05
Jeff,
I do, but its no good speculating on players not at the club.
I think we will see new player (s) over the next day or so
Ian Horan
329
Posted 30/01/2021 at 18:37:02
Today, I hold my hands up Carlo got it so wrong... Seamus is gone as an attacking full back so Holgate should retain the shirt, Digne is not fit enough since he has come back to soon, Godfrey should stay LB with Digne wide left until his fitness returns, Davies should get the nod for the CDM role. I am not Davies biggest fan but he applies himself far more than Siggy, Richi needs a spell on the bench to focus his mind, to me Richi is sulking coz Kean is playing with Neymar and Mbabia and not him.
Feel so let down by Carlo and the team today
Tommy Coleman
330
Posted 30/01/2021 at 18:37:12
Another team that looks fitter, sharper and more determined than us.
Sigurdsson looks like another Schneiderlin in that roll. Useless defensively, useless going forward.
Brian Swift
331
Posted 30/01/2021 at 18:37:13
Instead of leaving Godfrey out of the team, with his enthusiasm. tackling ability, speed, hes got to play center midfield and make him captain. Brian Swift
Jeff Armstrong
332
Posted 30/01/2021 at 18:40:24
I think it is good to speculate who is not at the club, especially if it gives the manager options off the bench when there are absolutely no options available, Kean, Tosun and Simms would be 3 for instance, and if they get shipped out ( which they mostly have) replacements should be available,
negligence.
Robert Tressell
333
Posted 30/01/2021 at 18:40:26
The simple fact is we have a first 11 that gives the rich 6 a run for their money when on song. However the only position where we have any strength in depth is centre half. Midfield we have numbers at least. In forward and wide positions we don't even have numbers.
Over the course of a season it's going to count against us. So dislodging a side from the rich 6 is going to be a big ask. Obviously Leicester are a very good side / squad too.
There's a chance - because I do think Ancelotti is a clever manager. But without reinforcements at this stage it's going to be very hard work and we might well fall short.
Important to remember we're never as bad (or good) as we think. So there's no reason to be all doom and gloom about the Leeds game. But this is not going to be the season we crack top 4 (and never was).
The players aren't good enough.
Ian Edwards
334
Posted 30/01/2021 at 18:40:36
Fast forward to 2025. Formation is 6-4-0. Ancelotti has had 15 transfer windows. "He's been given a terrible squad by Silva and Allardyce".
Gary Willock
335
Posted 30/01/2021 at 18:43:19
Some really strange decisions today by Carlo.
- playing Gylfi in a CM role, after it was a disaster last year, and proved to be one today too.
It must be a real kick in the teeth for Tom / Andre to see themselves behind such a square peg in their round hole.
- Not giving Gordon a go from the bench.
Maybe he's just another in a long list of talent that never really was, but when chasing the game surely his 'defensive deficiencies' (according to Carlo advice) are worth the risk.
- Not using the full 9 spaces on the bench and wasting one of the 8 on having a 3rd goal keeper.
Surely keeping Small and Onyango in and around the team, and their hope high. is sensible. Especially if we are as skint as Kieran believes.
Overall, I'm also just really worried where the squad is at. It's right that we've stripped it down, and I think Allan in for Siggy today would have changed the result, but we've left ourselves unbelievably lightweight in attacking third.
Really hoping we get a surprise in next day or so, because what a wasted opportunity this season will be.
Team for next game for me (442)
Olsen
Holgate Mina Keane Godfrey
James Doucoure Gomes Digne
DCL Richie
Bill Gall
336
Posted 30/01/2021 at 18:44:27
Jeff
Have you read the wages these players are demanding and as far as Kean goes (a) he is our player (b) he never really got your heart racing when he was given games for us. Why does every one go on about Ancelotti and Brands not going for anyone. how do we now their not trying ? is it because they are not mentioned on every Football show or in the newspapers or other media outlets. They kept it quiet until they signed Godfrey. James and Doucoure.
The team out today was nearly the same that started off like a house on fire at the beginning of the season. We have a poor squad to overcome injuries and suspensions (yes) but do we have to buy in every transfer window when we are still trying to sell off the deadwood, and loose a couple of games (no)..
We are not the only team in the premier league who need new players and they may be after the same players we are. We may have a billionaire owner, but reading about the richest premier league clubs, there are 14 clubs richer than us and some of them may be after the same players.
It is easy sitting at a keyboard saying we should go out and buy new players, its harder when you have to do it in a midterm window when clubs want to keep their best players and sell their deadwood. That is why we cant sell ours.
Tony Hill
337
Posted 30/01/2021 at 18:47:03
Brian@331, exactly the same thought passed through my mind. I would have either him or Holgate as captain. Probably Godfrey. Midfield? I don't think he has the game for that.
Roger Helm
338
Posted 30/01/2021 at 18:50:17
At least I didn't have to drive 150 miles and sit in the freezing cold to watch the damn game.
Just read Tim Cahill's autobiography. Seamus' comment could never have been made in Moyes's day.
Soren Moyer
339
Posted 30/01/2021 at 18:51:39
This was NOT a bad day at the office!!!! Its been mostly like this since the start of the season. Just been lucky with results. Thats all! By the end of the next month we'll be closer to the bottom than top 6.
Colin Malone
340
Posted 30/01/2021 at 18:52:04
Why when Allan is out, Doucoure, our only ball winning midfielder was allowed to go box to box, while Sigurdsson, who is not ball winner stayed as the defensive midfielder?

Why when Richarlison and DCL where anonymous, why didn't they swap positions?

Seems to me Carlo isn't here for the long haul, hence why Big Dunc got the assistant coach job.
Trevor Peers
341
Posted 30/01/2021 at 18:52:32
Robert #333
Your on the money with your 'Midfield we have numbers at least. In forward and wide positions we don't even have numbers' comments.
Maybe it's a season where Carlo has been told to cut down on the wage bill for 12 months, to keep Moshiri's bank manager happy, after the exhaustive spending of recent seasons.
If that's the case we're in for another very mediocre season, Spurs in the cup will be our next and only meaningful fixture.
Bill Gall
342
Posted 30/01/2021 at 18:56:25
I don't agree with the 2 keepers but I don't believe it is as big an issue as people make out. At the moment you can only use 3 subs, keeper gets injured you only have 2 left to use. Be nice to have enough players on the bench that could change a game but we don't, we only have players on the bench to replace an injury
Jeff Armstrong
343
Posted 30/01/2021 at 18:57:28
Bill 336,
I'm not particularly saying we should go out and buy AB&C, but keeping the forwards you already HAVE would at least give the coach options, ok he has probably sanctioned the outgoings, but to then leave himself with NOTHING is rank bad management by all.
Barry Williams
344
Posted 30/01/2021 at 18:58:43
Well, I have to say, that was unbelievably uninspiring, but not surprising either. After all, it is Everton.
Now, big picture before I rant a bit! Everton are on course for 66 points, that would have gotten you 3rd last season. We are definitely better off than a year ago, no question.
However, today that showed the limit of the squad, the bench was unbelievably shallow. Two keepers, and not all the sub slot allocations taken!!?? Man, we have really really spuffed a lot of money away, it is untrue!
Richarlison embarrassed me today as an Evertonian. The rolling around, the going to ground and sulking - he's a big strong lad from Brazil - dish it back out fella! I am a little peeved that the drama queen mentality that has stopped me watching anything other than Everton games, has no crept into Everton. It makes me frustrated and a little angry to watch grown athletic men play acting like a little girl who has lost her dolly. It is just pathetic.
Right, not one Everton player stood up to the bullyboy tactics of Newcastle today, not one defended James, a small chap, or went to his aid, not one. Carsley, Fellaini, Cahill, Distin etc. what has happened? Everton used to at least have a pair!
I can handle poor performances, I can handle wrong selections; that today was insipid - no communication on the basics (not even a 'man on' Zingari league like warnings today). Where are the leaders? They do not look that bothered, they really don't seem to care or want to achieve. That is totally unacceptable, even for one game.
Mike Doyle
345
Posted 30/01/2021 at 19:02:52
Trevor I think you might be right. I can understand why most of those leaving - on loan or permanently - are going.
However not bringing in at least one forward - even on loan - seems odd.
Paul The Esk has been sounding warnings about our 'housekeeping' for some time.
Current activity reminds me of Bill Kenwright's 'balance the books' sales. which reminds me. did we ever locate the Arteta transfer fee?
Christy Ring
346
Posted 30/01/2021 at 19:05:27
Newcastle rolled there sleeves up and got stuck in, that's something Sigurdsson and Iwobi know nothing about, can't understand why Holgate and Davies were not brought on as our midfield were totally overrun. Ian Edwards does Brands get no blame for moving the players on.
Tony Abrahams
347
Posted 30/01/2021 at 19:06:06
Ian E, at least it looks like your getting some satisfaction. Tosun and Bolasie, aren't great, that's the most understated comment I've ever read from you Ian!
Sean O'Hanlon
348
Posted 30/01/2021 at 19:12:51
Barry (#344). "On course for 66 points..."
You're delusional.
Was it you or someone else that were saying after the Leicester game, "with 36 points in the bag, half way through the season. " making the assumption we'd beat Newcastle.
As you say, we're talking about Everton - and the only thing you can guarantee with Everton is they will always let you down.
Where do you think we're going to get another 33 points from? Away to United, City, Chelsea, Arsenal, Liverpool, West Ham etc? And our home form is worse than our away form.
total 55 points at best - and that's being generous.
Andy Crooks
349
Posted 30/01/2021 at 19:14:58
Martin @ 254" we were up against a very, very good Newcastle side", As you know very well, because you aren't daft, that is complete and utter bollocks. We were up against a side that their own coach described as shite.
Having eight subs including two goalkeepers and not giving a young player match day experience stinks of arrogance and really not giving one flying fuck about the structure of the club.
I didn't see the match but I am horrified that an insightful blue like Derek Knox could take no more.
I looked at the live forum to get an update about what was happening and ended up with another reason to be gutted at the performance:
The fact that it gives credence to some really vile views. Banter? Fuck me, how can some on there attach their name to the utter brain dead poison they post.
Robert Tressell
350
Posted 30/01/2021 at 19:18:25
Unfortunately, Moshiri is not a fan. He's got different priorities. I don't think there's a firesale / money raising thing going on. I think it's just a question of trimming the wage bill when the opportunity arises. Hopefully there's some reinvestment too in Jan but maybe not. Thing is, I can't see that Moshiri gives that much of a shit whether we finish 6th or 10th this season.
We will, I am confident, have a better squad for the 21/22 season. Always next year though isn't it?
Tony Abrahams
351
Posted 30/01/2021 at 19:25:13
I thought the same thing happened to Marco Silva, (negligence) Jeff, because he finished the season with 8 clean sheets out the last eleven games, and when he lost Zouma, we never got another quick centre back in to replace him. Silva sulked and then never recovered imo, because we had definitely finished the season before, looking like we had something to build on.
Koeman, and Walsh wasted a lot of money, Allardyce only spent a fraction, although both players were high earners, who we have had to loan out, just to get them off the wage bill, but I've just heard financial FairPlay has been cancelled, so if Ancellotti doesn't sign anyone now it's obvious he's being negligent, especially if he's getting another two top earners out of the club.
Danny O'Neill
352
Posted 30/01/2021 at 19:25:57
I personally don't think Ancelotti will be at Everton in 2025 Ian, so you will be pleased by that.
And even if he is by then we will be judging him on his own squad.
Barry Williams
353
Posted 30/01/2021 at 19:25:59
Sean O'Hanlon - 348
Thanks for letting me know that I am delusional Sean! That'll explain why the rich super-models keep knocking me back!
Other teams have Europe, we don't - though with Everton who knows?
Half way through a season, double the points, not really delusional me think! It's possible we'll get 'em from the same source as the previous 19 games, just a thought. And, we may not!
And no, it wasn't me who mentioned 36 points mate! Some other deluded head!
Bill Fairfield
354
Posted 30/01/2021 at 19:27:18
Today's performance was totally unprofessional and unacceptable,just thought they had to turn up to win,who do they think they are?This will happen again and again with this squad,a lot of the performances have been pathetic this season
Martin Mason
355
Posted 30/01/2021 at 19:31:10
Great Bill@354, what do you think they should do?
Jeff Armstrong
356
Posted 30/01/2021 at 19:33:20
Tony, just because the likes of Bolasie has left does not mean we have got a high wage out of the club, Boro' will be paying about 㾶,000 tops of his 㿲,000 salary, Tosun&Bernard ? we will still be paying at least 50% of both their salaries, that's if they actually go, so I don't believe there's a lot of wriggle room for any incoming striker, all the more reason for keeping what we had if nobody comes in.
Your correct about Silva/Zouma too, but I think Kurt fancied his chance at Chelsea with Fat Frank, and was proved right for 18 months at least.
George Cumiskey
357
Posted 30/01/2021 at 19:34:44
Not that old chestnut Carlo will be great when he's had another six transfer windows, a team full of internationals and he can't do anything with them.
Barry Thompson
358
Posted 30/01/2021 at 19:40:50
"Thanks for letting me know that I am delusional Sean! That'll explain why the rich super-models keep knocking me back"
Or Barry it might be because you're one ugly fucker. Just another option to throw into the mix. No offence like.
Ian Edwards
359
Posted 30/01/2021 at 19:42:31
Danny 352. This is his squad. This is his third transfer window. He has got rid of all spare forwards. I'm judging him on it and finding him wanting.
Barry Williams
360
Posted 30/01/2021 at 19:42:52
Barry Thompson -358
Haa haa, what a lovely chap you are !
Barry Thompson
361
Posted 30/01/2021 at 19:44:56
Barry that's what those supermodels keep telling me an all
Mal van Schaick
362
Posted 30/01/2021 at 19:45:30
Disappointing. The players should know what was expected of them. Therefore, this project is not complete and this group of players obviously don't mix. We are still a work in progress.
Phillip Warrington
364
Posted 30/01/2021 at 19:49:29
Typical Everton. Wvery time we have a chance to move into the top four or progress in cups we blow it. Seems to be in our DNA and it doesn't matter who's in charge and who we have playing for us. Don't know what's more depressing, the pandemic or supporting Everton knowing you're never going to be successful.
John Boon
365
Posted 30/01/2021 at 19:49:38
Newcastle have NEVER been good this season until they played us because we allowed them to look good. It is always easy to play against pylons. As regards "transfer windows" we would need barn doors to have any serious affect.
Other than the youngsters that we have loaned out all the others have been expensive flops. WE easily have the worst record in the Prem for buying players.
Hugh Jenkins
366
Posted 30/01/2021 at 19:51:48
Based on performances and league positions in recent YEARS - I am amazed at the vitriol that erupts on this site whenever we have a minor setback, or two.
We are an infinitely different team today to the one that finished last season.
We ARE in the process of rebuilding and it will take more time.
We WILL get setbacks, like today.
But OVERALL, surely, anyone can see a general improvement in comparison to the YEARS mentioned above.
This first half of this season has been a quantum leap forward for us and if anything of the same magnitude happens in the second half of the season we will end on 66 points (or hopefully a few more) which should guarantee a top 6 finish and, with a bit of luck, we might get to the top 4 (although I doubt this squad is capable of competing at that level in Champs League - yet).
But, Come on guys and gals, give Carlos a chance to at least get his feet under the table!
He's been here two half seasons and I for one can look at the EPL table today and say - yes, I can see the effect he and those he has signed so far, have had to date.
He will need a couple more windows at least to truly put his stamp on the side, but if after those windows the players he brings in have the same incremental effect as those he has brought in already, then I can see us being serious challengers in 12 months time.
Meanwhile, we will still suffer the occasional HICCUP.
Danny O'Neill
367
Posted 30/01/2021 at 19:52:06
His squad? How many of these player did he buy?
3rd transfer window? I make it 2 until Monday.
And in a pandemic. Shit I'm making excuses and being an apologist. Or a realist. Depends on your view.
His signings to date as I see it are Allan, Doucoure, James and Godfrey as well as Olsen. Personally I feel that has improved the squad.
Brent Stephens
368
Posted 30/01/2021 at 19:54:41
Ian #359 "This is his squad. This is his third transfer window".
You've posted that before, about three transfer windows, and backtracked when somebody pointed out he'd only just arrived for the first one, and that was also a notorious winter-nothing-much-available-window. So why post it again when you backtracked before?
And the third one is also such a window!
Barry Williams
369
Posted 30/01/2021 at 19:59:49
Hugh Jenkins - 366 /Danny O'Neill - 367
I have mentioned a lot of what you have covered in your post today. The last few games were really hard to watch, but it is the bigger picture that needs looking at. Now, if we haven't improved on last year by the end of the season, then yes, we can be more critical.
These times are utterly unprecedented.

Bobby Mallon
370
Posted 30/01/2021 at 20:00:52
Brent he posted it cause he's a wind up merchant end of ignore him
Kieran Kinsella
371
Posted 30/01/2021 at 20:04:09
Lots of alternative history revision on here today. "Never would have happened under Moyes." Really? Not even in the season when Moyes failed to hit the 40 point mark. "We'd have won 3-0 under Martinez." Martinez's last game we lost 3-0 to Sunderland! We also lost at home to Stoke — who scored four!
Derek Knox
372
Posted 30/01/2021 at 20:06:09
Having settled down a tad, and not suggesting total conspiracy theories, but can anyone explain to me why there is such a diversity in refereeing standards? I am not just talking about Everton here, but generalising across the Premiership. (mostly) We see players booked for the most innocuous of fouls, which very often are, when viewed in slow motion, purely an accidental coming together, quite often exacerbated by the histrionics and dramatic reactions by the perceived recipient.
Taking it a stage further, it seems though not always, that certain teams seem to be dealt with more leniently than others. I'm neither suggesting that any brown envelopes are involved, I don't think there needs to be, because the average referee is on an absolute fortune plus expenses, but is arguably the most influential character on the pitch.
I do appreciate that decisions have to be made on the spot, not always supported by VAR, or the benefit of a slo-mo replay, and there are some good actors out there, amongst the alleged victims of foul play, but surely this has to be addressed sooner rather than later otherwise the game we all love is going to be irreparably ruined beyond belief.
Ian Edwards
373
Posted 30/01/2021 at 20:06:49
Brent. I never backtracked. This IS his third transfer window.
Look at the players Villa have put together ( since Ancelotti arrived here) Watkins, Cash, Barkley, Traore.
Bobby Mallon. I want better for my club. I'm calling out the bullshit we are seeing. It's a pity you accept it
Brent Stephens
374
Posted 30/01/2021 at 20:07:57
Ian, you conceded nothing much happens in the winter windows.
Brent Stephens
375
Posted 30/01/2021 at 20:10:43
Bobby #370 I know. He's funny though!
Andy Crooks
376
Posted 30/01/2021 at 20:13:47
Hugh, just gotta admire that. It is like first world war pacifist stretcher bearer ignoring the madness and going to pick up the casualties.
Carlo, the hapless commander reaching for his revolver in the drawer.
Gomes, missing in action
DCL, captured behind enemy lines
Pickford, shell shock suffered in the battle of Leicester
Godfrey, faking his age trying to get to the front line.
Richarlison, impersonating an officer
Sigi and Digne, still playing in the Christmas day friendly
Coleman, copped a Blighty one some time ago but won't desert his comrades.
ToffeeWebers, stuck on the home front, powerless, angry and resentful of the Kaiser across the lines.
Bill Kenwright, court martialled, convicted. Sentence to be decided by Don Alexander.
Ian Edwards
377
Posted 30/01/2021 at 20:14:44
Brent. I don't think I did.
Ricky Oak
378
Posted 30/01/2021 at 20:14:49
More corruption in villa game,, how do these officials not have to be accountable its fucked up, we got smashed again today at least two red cards for opposite team, somehow we end up beat and more cards fouls etc.
Fuck football it's more corrupt, than a corrupt kiddie, at a corruption convention.
Ian Riley
379
Posted 30/01/2021 at 20:17:12
Let's cut out the ifs and buts! The team today was good enough to win the game. What was missing was desire and spirit. If we can get that right a top six place is still on.
Time for carlo to get angry. Expectations and reality are our problem. This is a top ten squad. Further additions are required. The players going. Really, have they made a difference at Everton? No! That's why its called rebuilding. Carlo knows what we need but it will take time. However desire to win is a must at any level of football.
Rob Halligan
380
Posted 30/01/2021 at 20:17:44
Ricky, if you're referring to the penalty that should have awarded to Southampton, then god knows why it wasn't given, as it was a clear cut penalty as you're likely to see.
By the way, it was a penalty that should have been awarded following a clear handball by that well known villa player, Cash. Sorry don't know his first name!!
Kieran Kinsella
381
Posted 30/01/2021 at 20:20:10
Derek
I believe some of these star struck refs like hob knobbing with the stars. Think Clattenburg taking advice on red cards from Gerard after going on tour with them. You get big personalities like Pep and Klopp acting all smiles while patronizing their mistakes and I think these muppets want to keep them happy. In the old days it was the bullies who influenced the ref eg Fergie time. Bullying gets you nowhere any more as Mourinho has learned but flattery and the chance to join "the cool kids" seems to affect refs. Beyond that, the EPL refuse to enforce their own rules on diving so why would a ref? Lastly, a lot of refs are fat, short sighted and or incompetent
Brent Stephens
382
Posted 30/01/2021 at 20:25:41
Andy #376 brilliant. And later a shell-shocked Sigi thinking he was really Siegfried Sassoon, now writing poetry in Craiglockhart.
Derek Knox
383
Posted 30/01/2021 at 20:26:20
Andy @376, Good post !
Danny O'Neill
384
Posted 30/01/2021 at 20:28:00
We are still in touch Ian. Today hugely disappointing and a poor showing. I think all sides of the ToffeeWeb divide are in agreement on that.
But, we still have everything to play for. I hope the manager is given a striker at the very least to help this improved squad finish in the top 6 as we approach the business end of the season.
Mick Conalty
385
Posted 30/01/2021 at 20:28:30
Andy Crooks #376
Brilliant analysis so true.
Ian Linn
386
Posted 30/01/2021 at 20:29:05
Horrible Horrible Horrible Horrible Horrible Horrible Horrible fucking Horrible.
This slow, ponderous, pointless passing out from the back is shit to watch and a shit way to try and get a result.
Ian Linn
387
Posted 30/01/2021 at 20:31:16
Andy Crooks : "He's a cheery old soul" said Harry to Jack as they wandered up Arras with rifle and pack, but he did for them all with his plan of attack.

We have no plan of attack.
Ricky Oak
390
Posted 30/01/2021 at 20:36:04
Imagine, you're getting twated, possibly career ending fouls, also seeing your pals eating the same, yet every time you try giving it back, you get punished!
That's why our team look so lacklustre, they're skull fucked with how it's allowed to happen. Then we turn on our own, rinse and repeat, wonder why we've been so lame for so long.!
John McFarlane Snr
391
Posted 30/01/2021 at 20:39:32
I have posted on another thread that I have succumbed to watching football in empty stadiums with imaginary fans, whereas I previously relied on radio commentary and judged the games through someone else's eyes. Today I am able to relate how I saw the game.
I saw Everton make a decent start to the game, with some slick passes and decent movement. Sadly they allowed Newcastle to gain a grip on the game and they were worth their success by virtue of their workrate overall.
I understand the frustration of everyone because I experienced the same frustration, but whether you agree with Carlo Ancelotti's team selection or tactics, I think it's unfair to blame him for the lack of spirit shown by the players. It's long been my opinion that, once the players cross the white line, the manager has little or no control over their performances; personal pride should be motivation enough.
I fully appreciate the feelings of the fans, we all react in different ways but my reaction was one of great disappointment. It's also my view that most of us know that that the players we have, whilst good individually, are not what we require collectively.
Ricky Oak
392
Posted 30/01/2021 at 20:42:10
BTW, am on about Everton, not poopy Southampton, just highlighted the level of corruption, we are bottom of the pile, Southampton get to smash us, villa get to smash us, barcodes,, everyone, its like open season on our lads, and not a murmur from anyone at our club!, dislike klipp but at least he don't let it happen, nor hasenhuttle nor anyone else's management, just them sweet little Everton boys,, sickening really really puke inducing, our players are more than good enough, just watch the ones that leave and get some sort of protection.!
Conor Skelly
393
Posted 30/01/2021 at 20:43:35
Bruce did Carlo here. Carlo throws on Gomes for Iwobi, switches JRod to the right and leaves the woeful Sigurdsson in the middle. Straight away Alan St Maxamillian is brought on to exploit our gaping right hand side. Carlo made a balls of it.
Paul Birmingham
394
Posted 30/01/2021 at 20:44:02
Time to get a Captain on the pitch and to make a point of getting the team to act and play like a team. On and off the ball, engage the shit and store tricks, a# is needed, and get some proper backbone and belief.
Let's pray that on Wednesday the mess of today is washed out the system andEverton, turn up.
I hope there's no more feedback from Seamus or the other players, they owe the Everton. Supporters, a proper performance v Leeds.
The next game that is important, the players must turn up, and as Jay @273,, has stated earlier, with perspective, Everton's form over the last 9 games, results based, is not the worst.
As we all know it's the hope, that fekkn destroys you, but today hopefully, is a lesson to this squad and management, of not preparing mentally for every game with the right mindset.
Well, let's see what happens at Leeds.

Bobby Mallon
395
Posted 30/01/2021 at 20:44:27
John 391 well said
Brent Stephens
396
Posted 30/01/2021 at 20:44:43
Sir John #392 I think you're absolutely right in that we started today's game so well for the first 15 minutes or so - I was really loving it and just waiting for the goal. Which all suggests to me that the team selection and tactics were very possibly ok but that the players just didn't maintain it. They could (as they initially showed) but they didn't.
Paul Hewitt
397
Posted 30/01/2021 at 20:44:52
Ricky@392. If our players had any guts, they would fight back. But they don't, that's the problem.
David Cooper
398
Posted 30/01/2021 at 20:45:09
That shit Shelvey followed James all over the place early on and was sly enough to tread on him at every opportunity. If James did get away from him they took it in turns to tackle him and then leave their foot in to catch his boot.
It was definitely a team plan to injure him or at least make him get rid of the ball quicker than he usually does. Unfortunately it worked and if other evil bastards catch on this will happen more often. I wonder who suggested that this was the way to neutralize him? Could not be the tactics of centre back manager?
It takes a better ref than Atwell to spot this or know what is going on. I can never understand why refs don't know more about the dark arts and give quality players more protection.
Today, we were without the two players – Godfrey and Holgate (and Allan) who are prepared to give as good as they get while most of today's team didn't have desire to do anything about it.
I hope Carlo has learned today's lesson that we have to play a back 4 of centre backs and use Digne in front of Godfrey. I for one would much rather see a more defensive set up and try to nick a goal than be opened up like today.
Just to rub salt in the wounds, Barkley has just scored for Villa. If we don't get anyone in before the window closes, our only hope will be waiting for Allan to return, which will give us some bite in midfield.
Thomas Richards
399
Posted 30/01/2021 at 20:50:43
Have to agree with the point, Conor. As it happens, we got away with the overload against Coleman after James played wide. Newcastle did not try to exploit the situation thankfully.
I was surprised Carlo didn't bring Ben on to cover the pace of the lad who came on. And James should not play wide... In any formation.
Mick Conalty
400
Posted 30/01/2021 at 20:52:16
Hugh Jenkins @366,
If it looks like shit and smells like shit, I can assure you it is shit.
Dave Abrahams
402
Posted 30/01/2021 at 21:04:00
Andy (376), lovely post, brightened my night, you should be leading the Fraud Squad, got them well spotted.
Trevor Peers
403
Posted 30/01/2021 at 21:04:58
Expect a better performance at Leeds, let's face it we're total shite at Goodison. We seem to play better away.
For the owner to write the rest of the season off to balance the books is a pretty understandable, but he could've at least given the heads up.
With no new forwards coming in, it's just the same two stale worn-out zombies we already have up front, that's the reality of watching the Blues.
As for a new ground, don't make me laugh, just sort Goodison out. Perfect timing during a pandemic, I would have thought; stop treating the fans like total idiots.
Tony Hill
404
Posted 30/01/2021 at 21:07:21
Thomas/Conor. Indeed. I'm not sure why Iwobi continues to attract such loathing on here.
He did ok today after his injury/withdrawal earlier in the week and was better than a lot of others. He made errors certainly but he usually tries to move us forward.
He put in a couple of balls to the penalty area which were well directed, he defended generally well including one crucial covering run and his removal was a mystery as far as I am concerned at that stage of the game.
Some have decided to dislike him.
Bill Fairfield
405
Posted 30/01/2021 at 21:07:25
Carlo said, after the Leicester and Newcastle games, we'll know where we're at.
Well, there's your answer, mate.
Oliver Molloy
406
Posted 30/01/2021 at 21:12:54
I said on another thread I had a bad feeling about this match so don't know why I'm so disappointed, but once again I am!
Ancelotti knows more about football than I ever will, and I still have faith he will make us a force. However, I do think his decision to stick with calamity Pickford was a bad one, even showing a sign of weakness perhaps. Calamity deserved to be dropped after the fuck-up the other night.
Why the fuck did he chase Olsen and bring him in if he's not going to give him a run, from what I have seen he has done very well when picked.
Today's result should be no surprise to me, as an Evertonian I have come to accept that when opportunities are there Everton will probably fuck it up nine times out of ten.
Leeds next, Let's hope they are off their game!
Mike Oates
407
Posted 30/01/2021 at 21:15:11
We were only one player (Allan) from the team that started the season well, scored lots but let lots in as well. The problem as Ancelotti said is that we needed to be far tighter to do well in the league and to be fair to him he developed the team into one which defends well but very deep and its main route to goals via set pieces or a break away. We defend deep because neither Mina nor Keane are good with lots of space behind them.
Today he dumped his defensive plans and went full steam ahead, but we just couldn't pick the pace up to attack quickly. Whether it was due to months of slow play or just Coleman and Digne didn't perform as attacking full-backs at all, I don't know. What was obvious is that Newcastle had sussed us by attacking our full-backs and Wilson gave not only Digne a bad time but also Keane with his pace, movement and physicality. Digne hung back, James's trademark long ball left-wing switch wasn't on at all after the first 10 mins and we floundered.
The midfield we have, even with Allan isn't one of pace. movement, it's static and relies purely on James creating any moves we make. We will get taken to the cleaners again on Wednesday at Leeds as they will press us, outpace us, and frankly I fear another significant loss.
He just has to get Godfrey on somewhere in that back 4, preferably as a centre-back who with his phenomenal pace will allow us to push right up and cut the gaps out and our midfield can push up and support our front two – who also want a right kicking up the backsides, as both are developing into right little moany schoolboys.
Last point – I know James gets targeted, but the amount of downtime he and Richarlison cause us with their theatrics is ludicrous.
Darren Hind
408
Posted 30/01/2021 at 21:18:45
What a Doris. We've had better.
A sweet smell of great sorrow lies over the land
George's poetry lamenting our plight (This world was never meant for one as beautiful as George)
Dave A's street wisdom ( heartbreaking to witness his pain)
Even Derek Knox is having his Godfather moment (just when he thought he was out. They pulllled him back in)
I don't think many of us saw this defeat coming.., I suspect most posters were expecting another bun fight about the manner of our "victory" tonight. Not so.
Many thought a new dawn was about to break. The rest of us, secretly hoped they were right.
Today hurt. Really hurt. You can reach out and touch the pain.
This thread reads like a Greek tragedy. Theyre all out tonight. The philosophers. The thinkers. The poets. The artists. The street wise. The cynical. The Ravens. The pipers. The painters. The purist...and lets not ever forget the excuse makers,,,,We're all united by the terrible realisaton that our seemingly endless wait goes on.
We could examine the facts, Analyse why every time we think we are climbing back up the mountain. it always goes so terribly Pete Tong. We could be philosophical. poetic. cultured and dignified in our misery.... FUCK THAT. We're Evertonians.
"WE GET KNOCKED DOWN, BUT WE GET UP AGAIN. YOU'RE NEVER GONNA KEEP US DOWN"
"WE GET KNOCKED DOWN, BUT WE GET UP AGAIN. YOU'RE NEVER GONNA TO KEEP US DOWN"
"WE GET KNOCKED DOWN, BUT WE GET UP AGAIN, YOU'RE NEVER GONNA TO KEEP US DOWN"
"WE GET KNOCKED DOWN, BUT WE GET UP AGAIN, YOU'RE NEVER GONNA TO KEEP US DOWN"
Sorry to be so self indulgent. but right now, I'm feeling no pain.
Get on Bushmlls Irish, if you havent tried it before. Its not in the same league as the single pots, but its cheap and cheerful and it's so much better than paracetamol. The best 20 quid I've spent this weekend.
"PISSING THE NIGHT AWAY...PISSING THE NIGHT AWAY"
Bill Gall
409
Posted 30/01/2021 at 21:19:19
When supporters say we need another striker, I am wondering who has a better striker for sale than Calvert-Lewin? We have Richarlison who has played a few times as a striker for Brazil, so he can be used as an emergency.
The problem today seemed to be after Newcastle starting handing out crunching tackles, a number that should have been punished but were not, the Everton players did not want to become involved in this type of game, nor protect our more skillful players.
I agree with John #391 and mentioned it in a previous comment. I don't believe that after coaching through the week, Ancelotti tells his players to go out and play like that as it seemed with no effort. This may be one of the reasons we can't sell our deadwood as they give the impression that Everton players have no fight in them.
It's terrible today that when we read the team sheet we had the team to win the game; the problem was the players did not believe it.
Thomas Richards
410
Posted 30/01/2021 at 21:23:16
Tony,
Iwobi has improved, I was thinking more of the balance today.
Ian Edwards
411
Posted 30/01/2021 at 21:25:17
Great post, Darren. 👍
Thomas Richards
412
Posted 30/01/2021 at 21:37:28
"WE GET KNOCKED DOWN, BUT WE GET UP AGAIN. YOU'RE NEVER GONNA TO KEEP US DOWN"
That'll do me.
Ciarán McGlone
413
Posted 30/01/2021 at 21:37:47
Darren...
Cheap and cheerful?
How dare you, sir... (Try the 16 or the 21 single malt.)
James Head
414
Posted 30/01/2021 at 21:44:38
Sigurdsson should never start in the same team as James, in fact, the only time he should start is if James is injured and he can play in the Number 10 role as he is a total liability in the midfield.
I'm not a Tom Davies fan at all but I would have him in the midfield ahead of Sigurdsson every time. I'd even rather see Holgate sitting in front of the back four which would at least free up Doucouré to drive forward more.
The mobility and stamina of this squad is worrying as is the ability to pass and move. We have very few players who can actually run with a ball at their feet; Iwobi can but has no end product and Richarlison looks like he just can't be bothered – I'd bench him and give Gordon another try.
Whoever starts out wide, Richarlison or Gordon and Iwobi say, they need to play narrower so they're closer to James and Calvert-Lewin which will allow us more link-up play while allowing space for the full-backs to overlap.
Finally, the lack of pace throughout the squad needs to be addressed at the end of this season, we must be the most pedestrian team in the Premier League.
Mike Doyle
415
Posted 30/01/2021 at 21:51:55
Watching our defenders being bullied all afternoon by Callum Wilson, it's clear that places must be found for Holgate & Godfrey – the only 2 players up for a fight.
Glad it wasn't the old Wimbledon we were facing. Hate to think what 'Fash the Bash' would have done to them.
Graham Hammond
416
Posted 30/01/2021 at 21:56:17
Devastating defeat, not least because the Premier League campaign (or at least the hope) ended today; we are now just making up the numbers (again) and playing to stay in the league.
Seeing both Sigurdsson and Coleman in the starting XI today and Godfrey, Holgate and Davies not in it left me feeling we would get a draw today at best. I put my bets on accordingly and normal service was resumed; betting on us to lose lined my pockets once more.
Perhaps one of the worst aspects of that game was the fact that the Everton substitutes must be thinking to themselves, "Why the fuck I am here? We are shite and I am unable to get in this fucking side!"
Godfrey is entitled to feel royally fucked off, Holgate and even Davies too. And Carlo, if you are gonna defend so deep, you need players with pace or players who are prepared to run at opposing defenders, you had Moise Kean and Theo Walcott, you and Brands let them go (without replacements) and Calvert-Lewin chooses rarely to run at defenders despite (allegedly) being the very fastest sprinter at the club.
That 'performance' today was shameful, inept and embarrassing and the players out there today mirrored your own passive stance on the sidelines.
Tony Hill
417
Posted 30/01/2021 at 22:02:30
Thomas @412, yep but Iwobi gave better protection to Coleman which is your point anyway, I know.
We all need to follow Darren's line now. Circle the wagons and take our drink.
Mike Oates
418
Posted 30/01/2021 at 22:07:11
I'm virtually sure but Ancelotti's record is now Played 38 (a season), points 60 = to 6th place in 2019-20
That's where are. Ancelotti will get us up there but needs another year to clear the deadwood from the last 4 years and replace them with decent players.
Danny O'Neill
419
Posted 30/01/2021 at 22:08:46
Darren. I am pissing the night away with you too.
Licking my wounds and accepting defeat as much as I hate it. That was a bad performance and bad result. Happy clappers, apologists, excusers and those who don't like our manager alike, sometimes we can all be in agreement with what we see. I think most of us are today.
Poor from Everton. Let's move on to the next one. No point dissecting this one.
Danny O'Neill
420
Posted 30/01/2021 at 22:16:58
Graham, do you not think that's a bit hysterical? I get being in the emotion of the moment, but we are still 7th and well placed.
I've preached all season about patience and see where we are. February is a key month. Leeds, Fulham and Liverpool. Then we go into the business end of the season.
Brian Wilkinson
421
Posted 30/01/2021 at 22:17:12
John Snr @391, it has been the same since Moyes left; Martinez got them playing the first season, then downhill after that.
The same players that have got shut of our previous Managers, have done the same yet again. They start off playing then, after a while, down tools and stroll across the pitch far too slow and struggle to play the simplest of passes to a teammate.
You can look at Allan, Doucouré, Godfrey, Digne, Holgate, Calvert-Lewin and Richarlison (when he can be bothered) as the team we need to build around; you can also argue Keane.
So that leaves us needing a right-back (I love Coleman but sadly age caught up with him), another power house midfielder, and certainly another centre-forward. The rest I would move on when possible.
In regards to the goalkeeper, do we stick or twist?
It's looking like Bernard, Tosun are leaving, Bolasie Gone, Kenny... that still leaves Delph, Davies possibly Gomes who I would look to bring better in, in the summer.
Gbamin could be the one who could come into midfield, as long as he does not turn out to be another sick note.
So not that far off when we have a fully fit starting 11. But the backup is very poor, and that is where we need to act, bring in some quality, and once we have those fringe players out of Goodison, we can then start to bring hopefully better quality of players in; too many are just happy enough to stroll around the pitch.
Thomas Richards
422
Posted 30/01/2021 at 22:18:40
Tony 417
He did. Anyone you play there would give more protection than James.
That is not slagging James in any way. I have said many times on here, build a team around James having a free role. I don't want him tracking back.
My wagons are well circled, mate.
Brendan McLaughlin
423
Posted 30/01/2021 at 22:23:38
Devasting defeat for me. I mean, it's not the worst ever... Christ, I wish it was, but we have seen worse. I still think Carlo will get it right but I'd like to see a bit more evidence from the man I'm putting my faith in.
Danny O'Neill
424
Posted 30/01/2021 at 22:23:47
Allan would have made a difference today. Firstly he'd have twatted that gobshite Shelvey early doors before it took 3 blatant yellow cards to get his first caution. Secondly, he'd have been shouting and coordinating.
We were too nice out there today. Stroking the ball around like we were in a training match.
Thomas Richards
425
Posted 30/01/2021 at 22:26:42
Graham #416
He defends so deep because the centre halfs havnt got pace (Godfrey has)
Imo it should be Ben first on the sheet and AN other alongside him.
Robert Tressell
426
Posted 30/01/2021 at 22:28:32
We've responded poorly against every team that just sets out to kick the shit out of us. Would like to see Davies, Holgate and Godfrey against Leeds. Former two in midfield with Doucoure. The latter at centre half with Keane.
Mark Murphy
427
Posted 30/01/2021 at 22:28:41
Hahaha Darren I chose that song for my age groups awards night when I managed the Horsham tigers u11s to league victory in 2012. It boomed out as the kids came up for their medals and I never, until this week, clearly heard the words. I now understand why the parents were looking at me strangely as I waved my manager of the year award and fell off the stage...
Mark Murphy
428
Posted 30/01/2021 at 22:30:06
Btw I'm on my 5th bottle of Hepsworths bitter after a family quiz night and feeling slightly better about life...
UTFT!
Danny O'Neill
429
Posted 30/01/2021 at 22:31:12
Really want to see Godfrey in his natural position Thomas. I think we have something special here.
Tony Hill
430
Posted 30/01/2021 at 22:31:41
Rodriguez is a joy even when he plays below his standards; although he doesn't have standards, he just plays.
Some of his passing and touch today was again wonderful. Some was less wonderful, but Pure Everton, pure football, he is; and he was betrayed by the dim traffic warden, Atwell.
Graham Hammond
431
Posted 30/01/2021 at 22:36:58
Danny #420. I would say I am depressed right now and still in shock, not hysterical. We are well placed in the FA Cup but little else and we all know what happens when we are seemingly well placed, we f**k it up, today being the latest instalment. We are most certainly not well placed with a manager in charge who loads the middle of the park time and time again with players devoid of pace, aggression, fight and will to win, one luxury player can be allowed but no more. I appreciate the good players that Carlo has brought in which have improved things but ability can often mean relatively little in the Premier League without a desire to match. Today we showed very little desire and if your team can look so inferior to the current Newcastle side then it is right to worry. Going forward, strong players will be in no hurry to join us in the Summer if we put in many more performances like that one today.
Thomas Richards
432
Posted 30/01/2021 at 22:36:59
Danny, we have mate.
He reminds me of Martin Keown but a lot faster.
Tony,
Genius mate.
Was thinking before, who was the last player we had with his qualities
Bill Fairfield
433
Posted 30/01/2021 at 22:37:28
At the end of the day this squad of players are still not good enough,it's going to take time,but it's so frustrating when they play with such lethargy for ninety minutes
Tony Hill
434
Posted 30/01/2021 at 22:44:32
Thomas I've said on another thread that he reminds me sometimes of Alex Young but he's on his own I think. Rooney is the best I've seen but Rodriquez expresses and embodies everything we all want Everton to be about.
Andy Crooks
435
Posted 30/01/2021 at 22:44:56
Brendan, I know what you mean. A sign, a wee bit of hope, something that makes you think" by fuck I know what he's doing, he knows what he's doing, all will be well. I can see the green shoots"
You see them, and then.. frost. Then, you sulk, rant, accept your fate, miss MOTD, once more, and have another drink.
Danny O'Neill
436
Posted 30/01/2021 at 22:45:12
I get it Graham. And I get your sentiment. I am angry with Everton today. And they are my safe zone that I escape the pressures of life from!
I still think we are well placed in the league.
Poor show today. But I'm confident we are moving in the right direction.

Thomas Richards
437
Posted 30/01/2021 at 22:48:01
Tony,
High praise mate.

"Rodriquez expresses and embodies everything we all want Everton to be about."
Amen brother

Ernie Baywood
438
Posted 30/01/2021 at 22:48:25
I find myself in the strange position of coming across like a big Sigurdsson fan. In reality, I'd replace him tomorrow.
When he's put in that deep lying midfielder role I'm assuming his job is to provide a hard working, defensive screen and receive the ball from defenders and find a way out. He did that consistently. I wouldn't expect any more of him in that position. Did he light up the game? No. But he wasn't as culpable as many others.
I'm not sure how Doucoure continues to get a free pass. He stands alongside Sigurdsson. His passing can either be slow and ineffectual or quick and suicidal. He's not 'enforcing' in midfield. Did he make a tackle yesterday? He's not picking moments to break from midfield. What is his job in a setup like yesterday? He's capable of doing the things Sigurdsson is being criticised for not being capable of doing.
James has great moments. He also has plenty of the game where he drops in between the miniscule amount of space that exists between Sigurdsson and Doucoure. Who is the ball going forward to if 8 of the players are in defence?
Our striker and wingers are capable of more but the above leaves them pretty isolated. Can't even really judge them.
Carlo found a tactic out of necessity. Our attackers were injured or suspended and we were still shipping goals without the corresponding goal threat. So he took a pragmatic approach ahead of a set of tough fixtures. We went defensive, and hoped to nick one at the other end. We had a great run against good teams. That run had plenty of luck too.
But the attackers are back now. There's no need to be relying on luck against teams like Newcastle. Remember that period before the Derby when we were top of the league playing beautiful football? When every neutral wanted to watch our games? Save Allan, those players are all available.
Bobby Mallon
439
Posted 30/01/2021 at 22:49:02
Rob Halligan
Newcastle 3rd goal is exactly what I meant by Goal keepers not coming out and diving at feet or booting it away. Wilson gave him a chance to reach that ball with his poor first touch but stopped
Bobby Mallon
440
Posted 30/01/2021 at 22:52:56
I just watched us on MOTD and we had 3 on target chances in the first half but not one shithouse foul on Rodriguez was shown ffs. As a club we are to passive and font ever complain
Graham Hammond
441
Posted 30/01/2021 at 22:55:56
Thomas #425. Obviously, I realise we have been defending deep to gloss over the speed limitations of both Mina and Keane but in fairness to those two guys they have been doing really well before today. Before both the Leicester game and before today I was advocating putting in either Godfrey or Holgate in a '1' just in front of the two CB's, one way or another there needs to be more pace and bite and aggression in the middle particularly in the absence of Allan and from my point of view, Carlo has either failed to address that or chose to see that which is very disappointing. Ben Godfrey is not a great footballer as such but he is exactly what you need in the Premier League and exactly the type of player we should be signing and exactly what we need and have needed for a long time at Everton. It begs the question (as I said on TW just before Kick-Off) why the hell was he left out? I loved Martin Keown as a player at Everton for what it's worth, another terrible commentator and pundit though!
Jeff Armstrong
442
Posted 30/01/2021 at 23:02:17
Danny# 424, exactly when did Allan become Peter Reid? Oh yeh when he wasn't actually playing, not the Allan I saw for the first 14 games.
Paul Birmingham
443
Posted 30/01/2021 at 23:02:25
Good on you Darren, knocking the ales back, and looking forward, to the next Match.
I was gonna go dry January, but the lockdown and the age old recurring ulcer, which is EFC, saw to that, being honest always does.
Redemption in Leeds!
All stay safe and well.
Peter Laing
444
Posted 30/01/2021 at 23:04:32
The difference between the sides today was a shite stain in the form of Shelvey -he's prepared to get stuck in despite his lack of ability and Wilson - works hard and scores goals - pity we didn't sign him. Until Ancelotti dispenses with Pickford we are essentially likely to continue to see erratic performances, particularly at home without the supporters behind us. I'm not sure Olsen is the answer either but we need a long term solution. Also, for those questioning Ancelotti - he needs time and more money. He's clearing up the shit of mismanagement over the past 5 years or more and his acquisitions to date have been generally better than what was there before. Patience is a virtue, unfortunately at Everton due to one long false dawn it's in short supply.
Brendan McLaughlin
445
Posted 30/01/2021 at 23:07:18
Andy #435
We'll get there someday and peace love & understantding will break out on TW just hope you & I are there to see it.
Thomas Richards
446
Posted 30/01/2021 at 23:19:10
Brendan, Andy.
Slainte.
Up the fuckin toffees
Danny O'Neill
447
Posted 30/01/2021 at 23:22:30
I think Allan is great, Jeff, and I think we are really missing his presence.
Mark Murphy
448
Posted 30/01/2021 at 23:22:54
We lost badly today, and it made me angry and sad.
We didn't deserve a point on Wednesday, and that made me angry and sad. But I believe we will get better, and that makes me happy.
I'm optimistic... More than I have been for years.
I'm also pissed. Goodnight, Blues. Up the Fucking Toffees!
A happy clapper.
Danny O'Neill
449
Posted 30/01/2021 at 23:30:14
Equally pissed off with you Mark.
Equally happy clapping.
Everton is my escape. As I am sure it is everyone's.
Phil Lewis
450
Posted 30/01/2021 at 23:38:00
So many players off the pace today, totally lacking desire. Passengers drifting through the game devoid of guile and passion. No direction, no idea. Allan can't return soon enough. Rodriguez must be scratching his head in disbelief. When Doucoure's engine stutters his brain unfortunately doesn't compensate. Seamus played into the hands of his detractors questioning his longevity. Sigurrdson is a waste of space. Gomes is not the same player pre (Son) injury. Will he ever truly regain full form? Olsen must be given a prolonged run. Digne had a poor game. Why was a back four playing so tightly altered? Tom Davies plays well then gets dropped, similarly Ben Godfrey. Holgate in a holding midfield role would have been a better proposition than what we had to offer today. Richarlison and Iwobi were dreadful. Their respective game is supposed to be about running at defences, going passed defenders and supplying DCL with ammunition. Neither performed. Consequently poor Dominic looked toothless once again.
You preach to us that football is a simple game Carlo. Then why complicate matters with poor team selection and tactics which clearly don't suit against opposition motivated for combat. As for Big Dunc? Did your inspirational motivational ability get lost in translation? I can only assume our foreign contingent are unable to fathom Glaswegion!

Brendan McLaughlin
451
Posted 30/01/2021 at 23:49:57
Naw Danny O #449
Escape...seriously it has to be more than that? Fuck next to my family, friends, community etc etc etc sometime I'll get to the Boys in Blue but they are much more than just an escape. Fecking 45 years later and I haven't escaped...must be something more than that Danny O?
Jeff Armstrong
452
Posted 30/01/2021 at 23:53:34
Danny 447,
1, no, he is not great, he's just not played recently,
and 2, yes, he is missable when we've had to make do with Sigurdsson, Gomes and Davies, ... and that's about it on Allan.
Sean O'Hanlon
453
Posted 31/01/2021 at 00:13:21
Barry #353. With all due respect, I think I explained indirectly why we would not get another 33 points, when I pointed out some of the teams we have yet to play. I would love us to get 57 points from our remaining 19 games - but we're talking about Everton here, and a manager that has clearly lost the plot.

Christine Foster
454
Posted 31/01/2021 at 00:54:20
Passion.. a total lack of, if you don't have it, don't get out of bed. Not enough cared. Disgraceful attitude and a total lack of on-field leadership. At halftime, Ancelotti should have taken three players off to make the point that he meant business, but that's just my opinion.
Bottle, no one had the bottle to harass the referee for allowing the Newcastle players to leave the foot in, sly over the top stamps, it was clearly a tactic that was engineered to happen with Richardson, James in particular, one after another Newcastle players took turns in dishing it out with the only objective being to injure.
No Peter Rieds in our team anymore.. we can't take it and we can't dish it out.
There are several players that need to be gone and frankly the sooner the better.. there are players who didn't want to know today, there are others who are just out of form.. and it goes a long way to say we have no replacements up our sleeves...
So lets get down to the nitty gritty..
Pickford.. can't fault him today but his inconsistancy is a problem
Coleman and Digne.. dreadful day for both.. contributed nothing. Stopped nothing.. did nothing. and one is the captain..
great servant but time to say thank you and goodnight for Coleman.
Siggy.. said before, he needs to go.. just not what we want or need anymore (if we ever did, should never have been bought)
should never play alongside James..
Gomes. I like him but he no longer has outstanding qualities, a shadow of his former self, needs to go too
Richalison, completely lost his confidence and needs to dropped but little if anything to replace. Gordon?
DCL, did anyone notice how often he was playing deeper and deeper to start attacks?? Alarm bells anyone? Remember Ancelloti telling him to stay in the box? I realize why he is dropping but its an indictment of the middlefield and not his play, he can see it as we all can.
We need a few hard-nosed leaders as well as skilled players for they are the ones that allow the skillful ones the room to play. We are only half a team and too many are failing to turn up.
Final word, dreadful referee. professional fouls on key players continually left unchecked. Steve Bruce? deliberately targeted and coached those fouls. He brought the game into disrepute.
Fed up.

Jason Wilkinson
455
Posted 31/01/2021 at 01:48:25
Terrible performance.
It's no good continually blaming the management. The players on the pitch have to show they want to win. Coleman, for all his qualities, just doesn't have the legs anymore. We bought Sigurdsson to be the playmaker behind a front two. It should be a choice of him or Rodriguez in that role. Not both and certainly not as the ball winner in midfield.
I think Ancelotti was sending the board a message today. "Get your cheque book out!" If I was interviewing him, I would first ask why two keepers on the bench? Gomes and Davies got the run around against Leicester. They might have had more of an impact today.
Richarlison looks like he wants away. He spends so much time sulking, he has forgotten why he's on the pitch.
The difference between Premier League teams is small. It's a game of chess. You need eleven committed players trying to exploit the opposition until you find a weakness.
Digne doesn't look fit. Maybe his confidence has been shot with his injury.
On to face Leeds. We have to give a performance. Never mind the result. The players need to come off the pitch thinking they couldn't have done any more. All the talent in the world is no substitute for hard work.
I do wonder what will be said at Finch Farm. We can/t win any games with eight or nine giving it a go while two or three are not at it 100%. I hope Ancelotti lets Dunc give it to the whole squad. I just don't see Carlo as the teacup-throwing type.
For all the weird decisions by Ancelotti: three keepers, Sigurdsson in centre-midfield, not dropping Richarlison, and the formation changes – it is the players that need to give more.

Derek Thomas
456
Posted 31/01/2021 at 02:02:07
Andrew Ellen's @ 207; talking of 'wage thieves' here's the opposite.
Somebody at Newcastle had a brainwave...they signed Wilson and Fraser, who weren't doing much, the whole team wasn't doing much for the last dozen games.
So they sign their previous coach (on relative buttons, no doubt at Bournemouth).
Newcastle, eventually get it together in the 2nd half Vs Leeds by all accounts, then they come and do a job on us. Whatever they paid Clark was the opposite of wage thievery, it was Money well spent.
Ancelotti - Damned if he does...play the 4 of a kind and KITAP1 against side that will come and defend.
Damned if he doesn't.
He wasn't helped by the Reff and many players, even for them, playing collectively pooly I typed in 'poorly' but 'pooly' came up and it fits the bill so I left it in.
Ancelotti fluked into this 4 of a kind back 4 when Delph injured himself by moving faster than walking pace Vs Burnley.
He got some good results with it, but seemed to zig when he should zag, when it comes to which teams to play it against.
We would all be up in arms if he went...as best he could given player limitations...the full Italian - 0-0 is a result and 1 point in the bag thanks and I'll take it all day long - Job...
I wonder how many points we would have?
It couldn't be any worse to watch.
I saw Ferguson try to tell him something...I can't lip read glaswegian... Ancelotti raised the eyebrow, shrugged, Dunc left him to it and sat back in his seat.
As the season ends early - yet again - not with a bang but a whimper...
What? Spurs in the cup? give over, they only bottle Vs the rs, not us.
'It's not in his nature' Son will run rings round Kegger and Mina
Is it too much to ask for a road map, a menu of even small achievable dreams??
The footballing arm of EitC doing charitable works for winless team, and none scoring forwards since...if not forever - Too fucking long anyway.
Laurie Hartley
457
Posted 31/01/2021 at 06:28:08
Carlo mixed it up for this one as I tipped he would. We were both wrong: he should have stuck with the one thing that was working – the back four of Holgate, Keane, Mina, & Godfrey.
Seeing Shelvey kicking lumps out of Rodriguez, I ask myself who we have on the pitch who can sort someone like him out? The only candidates were sitting on the bench – Godfrey, Holgate and Davies.
And another thing: Who is the boss cockey in this group? There isn't one... but, the sooner we get Allan back, the better.
I would swap you Gomes, Sigurdsson and Delph for Almiron.
They ALWAYS do it to us. Fed up, I am.
Could be a long hard February.
Roger Helm
458
Posted 31/01/2021 at 08:33:45
Agreed, Christine @454, it is a horrible tactic, taking turns to foul the opposition key playmaker. Like all problems, such as the terrible abuse refs get, it could be sorted out immediately by FIFA, if they had the will.
In Rugby League, after too many fouls, the ref puts the whole team on a warning, and the next foul, even if it is the player's first, gets a yellow card.
Danny O'Neill
459
Posted 31/01/2021 at 08:40:15
Football has always been my escape, Brendan, always will be.
As a player, when I crossed the line, I was in a different world and didn't think of anything else (work, life pressures etc) for 90 minutes. Watching Everton has always been the same for me. Highs like winning a title, lows like yesterday or being part of a thumping and knowing I could have done better. It takes me to a different place. Sadly, yesterday was one of those places I'd probably have taken life pressures over!
I think Allan is probably the only player who would have done something about Shelvey yesterday. I was about to call him a shithouse but, let's be honest, he was just carrying out instructions. I still think, with better officiating, he's not on the pitch to deliver that corner for the first goal, but come on Danny, that's clutching at straws. No hiding from that performance.
Looking above, absolutely agree on the recent back 4 but, at some point, we have to break out of that posture. Personally, if fit, I definitely have Digne in. He is such a good supply chain for Calvert-Lewin and, amongst the dross we saw yesterday, there were occasional glimpses of that, particularly in the first half. Maybe as someone says above, we have brought him back too quickly from injury.
Mark Murphy
460
Posted 31/01/2021 at 08:49:09
Derek I saw that Dunc & Carlo moment too and it rang an alarm bell!
I hope Dunc doesn't get disheartened by this spell. That was NOT a Big Dunc performance.
Tony Abrahams
461
Posted 31/01/2021 at 09:32:20
Brilliant, that post, Darren – the biggest compliment I can pay you is, it could have been written by our own "Great George!"
The Godfrey boys, or should I say 'poets', have got me cursing that I never paid enough attention during lessons, but stick with that Irish Bushmills, because you'd never find an argument with that post, mate!
(ps: I also never felt any pain, and it's definitely not because I'm immune to it!)
Tony Cheek
462
Posted 31/01/2021 at 09:45:13
I got slagged off yesterday on the forum for comments about how awful Digne is. What is it that fans like about him?
He is slow (I bet Godfrey would beat him by 10 yards in a 100-yard sprint), weak, and a really poor crosser of a ball. Yes, he does hit the target now and then, but so do full-backs in pub-football.
I have played the game at quite a high level, and have never played with a full-back who couldn't put at least one good cross in a game.
Overrated, overpaid... and should be over there!
Martin Mason
463
Posted 31/01/2021 at 10:07:14
We played badly yesterday and Newcastle played very well. Over the many years that I've been watching Everton I've seen some exceptional Everton sides play badly over one or even several games and as in all games now it seems that the away sides are the ones with the advantage rather than the home side. What matters now is how we react to it and the worst possible way is the Phil Spectre sound wall of suicidal ramblings that any defeat seems to switch on here. Surely it's far more constructive to think why? and how do we resolve it given our obvious current weakness in Central midfield and full back. We showed yesterday that we are easily snuffed out by a high pressing side as we give the ball away and that is suicide now. Are giant centre backs like Mina/Keane better than a fast skilful combination of Mason and Godfrey. Can Sigurdsson ever have a place in the team? is Doucoure as good as we think when he really does get turned easily. I believe that we are nowhere near as good as we've falsely shown this year and much hard work is needed. Much hard work from the club and much support from us fans rather than this nonsensical negativity.

Danny O'Neill
464
Posted 31/01/2021 at 10:15:30
Good call Martin. No point dwelling, we need to react to that.
Personally I'd like to see Mina & Godfrey, but it's harsh on any of the centre backs to be fair as all have improved this season.
Doucoure I think is good but not on his own. Also, I don't think you can have Sigurdsson and James in the same starting line up. One or the other, preferably James, but not both.
Geoff Lambert
465
Posted 31/01/2021 at 10:21:45
I think its Citys league by a mile this term, but all the other pretenders are doing their best to not give them a run for their money. Its not just us that are frustrating the shit out of their fans take a look at the others in our boat all within a couple of wins from us above and below. RS, Utd, Chelsea, Arsenal, Spurs. I bet their versions of ToffeeWeb are having exactly the same depressing suicidal alcoholic anonymous creating candidates as our own blue family are. I hate the fact that I am used to being let down when it matters but 60 years of supporting my beloved blues has made me like that. I wonder if in my lifetime I will ever see us win anything again? I hope so. I really feel for the younger blues who have never seen us lift a trophy. Its the hope that kills you.
Tony Hill
466
Posted 31/01/2021 at 10:42:45
We still have much to play for. Geoff is right about the other sides. Martin is right that we shouldn't panic.
We should think, though, that we can do well this season and not at some undefined future point. So much of sport is in the mind.
Clive Rogers
467
Posted 31/01/2021 at 10:44:08
The lesson from the game was that f we play Siggy in midfield, we struggle to get forward. All his passes are sideways or backwards and he simply can't tackle. He is 31 and his best days are behind him.
Paul A Smith
468
Posted 31/01/2021 at 10:51:57
The return of Allan can't come quick enough. Not because he is some amazing player but because he has leadership qualities.
After one game out and some saying we don't miss him, we had players fighting for his position. That has rode its cause now and the likes of Sigurdsson and Gomes need to go back to bit parts.
They cannot handle the demands of the 90 minute game and they seem to do better coming on against tired legs.
We need some steel in the team and a driving force. Allan is about the best of the lot in this respect.
David Pearl
469
Posted 31/01/2021 at 10:55:39
Danny, they have beem in the same line up before and we have won and played well.
Any time Carlo has 1 chance to change the team or formation slighty it all goes to pot and it will take him 4 shit games before he finally gets it right. In Lukaku we had a streaky striker. in Ancelotti we have a streaky manager, who must get it right from kick off or else thats it we are stuck till the next game because he cant change tactics mid game.
Of course it doesn't help when lwobi and Richarlison go awol.
And ffs we have 1 striker. The bench is good covering the back positions but Allan is such a huge miss, we have a hole when he is injured.
Another season wasted? Yes if we don't strike now and get a couple players in. The alternative with injuries to dcl and Richy will be Siggy up top again. We cant keep asking the players to try to win sitting so deep.
Godfrey was a huge miss yesterday for his pace, fight and spirit. Maybe the answer will be a switch to a back 3. Whatever it is, it cant take a month for him to get it right.
Rob Halligan
470
Posted 31/01/2021 at 10:57:35
Stuart Attwell is a piss poor referee and should not be allowed anywhere near a premier league ground. He could have followed gobshite Shelvey all over the pitch yesterday, and still not seen those stamps on James' feet. This is a referee who if you remember, awarded a goal for Reading in a game at Watford, despite the ball going miles wide. There were complaints from Watford, but to no avail, so it would seem pretty pointless in our players complaining to him yesterday about Shelvey. Complaints would have been better directed towards the fourth official or Steve Bruce himself. Would love to have seen his reaction to that!!
https://m.youtube.com/watch?v=O0YiuSbBdaQ
Phil Bickerstaff
471
Posted 31/01/2021 at 11:02:56
What forward player was making runs for Jimmy to supply the passes
Not fucking one

Paul A Smith
472
Posted 31/01/2021 at 11:10:18
Jason Wilkinson I thought the same about Digne. He seemed fit enough to run a bit but in terms of contact, he seemed to keep his distance?
I thought he looked reluctant to commit into challenges yesterday but I also think our players were way over confident and expected an easy win.
Looking back now at the laid back passing, Richarlison thinking he could dribble through five players when he struggles with one, we thought it was a walk in the park.
Tony Abrahams
473
Posted 31/01/2021 at 11:13:08
David P, I think 3 at the back, might be next, and if we had someone in the right who could do the job, then it's a formation we might already have been using?
My own view is that although it hasn't been pretty, at least we have been playing with a method, but the minute we move away from playing to our current strengths, then even second rate teams can cause us problems.
Thomas Richards
474
Posted 31/01/2021 at 11:19:06
Rob H
You have just got back in after an important game (sunday league)
The skipper is telling everyone "they wanted it more than us"
What is your reaction?
Danny O'Neill
475
Posted 31/01/2021 at 11:20:33
I can live with 3 at the back. But, please not 3-4-3. That makes me very uncomfortable. If 3 at the back, then 3-5-2 for me.
Either way and to Tony's point, play to the strengths of the players available and that includes formation.
Dale Rose
476
Posted 31/01/2021 at 11:22:20
I think the whole team had a howler yesterday. Even James was delivering poor passes. Be good to get Allan back. I don't think this performance is indicative of the team as a whole. We have ground out some good results.
Brian Harrison
477
Posted 31/01/2021 at 11:22:47
I thought 24 hours later it might not seem as bad as it was yesterday, but its still eating away at me. You would think after going to Goodison since the 50s I would be used to these sort of results as they have happened to often to be a rarity. Yet another weekend bemoaning supporting this club, whenever there is a glimmer of hope we have become expert at distinguishing very quickly any hope that may arise amongst the supporters.
I don't think even if I used Darren Hinds use of the Bushmills would it make much difference, even though it might for a short while. My wife has become more concerned about my blood pressure in watching our games of late, and is even suggesting she might ban me from watching us live. She said just watch it on MOTD were you will know the result and wont get so irate. I think last night was the first time in decades that I didn't watch MOTD when we have played. I have seen a lot worse performances than yesterdays including some really embarrassing defeats by our neighbours but for some weird reason I just didn't want to watch that again.
I think both manager and players are equally to blame, but probably the players more so as they can actually have an impact on what is happening. One defeat shouldnt define a season but I have this nagging feeling that yesterdays defeat might just have done that, despite all the optomism I have to accept that my loveable Blues just make up the numbers now and trophies are consigned to our past. I hope with all my heart this isn't the case, and I have a lot of faith in Ancelotti but it seems that it is becoming almost impossible to reach the heights we once occupied.
Tony Abrahams
478
Posted 31/01/2021 at 11:39:41
I managed a couple of Sunday league teams Thomas, and I don't think I ever once had to say that the other team wanted it more than us. It was difficult, players turning up to play football for nothing but love, made it hard sometimes, and although I wasn't a good manager, I often used to think I could have been if the lads were getting paid!
If the other team want it more, then plainly and simple you've got problems. Either not enough competition or players who think they're better than they actually are, will always amount to the same thing, because football is like any sport, and once you get to big for your boots or lose your desire, (I'd say we have got to many players with nowhere near enough desire) then you will always struggle.
Dave Abrahams
479
Posted 31/01/2021 at 11:44:42
Christine (454), do you see what I meant now,when I said a couple of weeks ago, that you should be in the boardroom instead of Denise, them players and coaching staff wouldn't know what hit them, going into the dressing before the game and letting them know they are being watched by somebody who knows the game and expects them to know and play like proper footballers, starting with heart and fight, telling the other team " If you want to play football we'll match you, if you want to fight you can have that as well, punch for punch and a bit more from us as a bonus.
You get it Christine and so do most of us, most of this squad and the coaching staff, seemingly, are on the outside looking in.
Christine, I hope you are settled now in NZ and enjoying life there, except for days like yesterday, but girl you are wasted there, Everton desperately need someone in the boardroom like you. Think about it!!
Danny O'Neill
480
Posted 31/01/2021 at 11:48:43
On Allan, I want to be clear. From what I've seen in his half a season with us, I'm a fan. But, that doesn't mean I think he is the most brilliant Everton player I have seen and he will single handedly fix what we witnessed yesterday. That was a collective poor performance top to bottom. I just believe he is that presence and leader on the pitch we missed yesterday. I've seen him this season be a flea in his own players ears as much as getting at the opposition and officials.
I'll put one out there and either get nods of agreement or laughed out of ToffeeWeb. Phil Neville for David Moyes. Not the greatest player, not the most aggressive (but that tackle), however when he didn't play you could see that squad missed his leadership and presence.
Dave Abrahams
481
Posted 31/01/2021 at 11:50:08
Tony (478), that team you managed loved fighting, if the other team didn't fight they'd fight with each other, even before the game!!
Richard Mason
482
Posted 31/01/2021 at 11:50:31
Still absolutely fuming over yesterday, I don't know why but felt worse yesterday than any other loss we have had this season.
These players, surely want to take it to the next step and get into Europe. Sure to God that is motivation enough, because it seems their massive wages don't motivate them.
I generally don't come and slate the team, maybe lockdown makes it hurt more now when we lose
Ian Edwards
483
Posted 31/01/2021 at 11:53:53
Morning Blues
It seems to me that the formation doesn't get the best out of the team. Back four are too deep. Midfield slow and ponderous. DCL isolated in the middle and Richarlison isolated out wide. There is no link play.
The answer to this in my view is playing the best formation which if course is 4-4-2.
This would give us two banks of four when defending and the wide men joining the front two when attacking. It would also mean Richarlison and DCL would play closer together and link together:
My team for Leeds:
Olsen
Godfrey Keane Mina Digne
Iwobi Allan Doucoure Gordon
DCL Richarlison.
The wide men aren't the best it's what we have and I don't see any attacking width anywhere else in the squad.
We need to prioritise buying attacking pace asap.
And.. I didn't even mention the "A" word.
Mark Murphy
484
Posted 31/01/2021 at 11:57:56
Who are you and what have you done with the real Ian??
Danny O'Neill
485
Posted 31/01/2021 at 12:01:10
Morning Ian (just),
Not a lot wrong with that. Arguably should have been the defence for yesterday.
Is Allan fit?
I'd probably tweak that slightly. James for Gordon playing No 10 and make it a 4-2-3-1. But I'm just not a fan of 4-4-2.
Jeff Armstrong
486
Posted 31/01/2021 at 12:03:22
Ian, is Allan available for the Leeds game?
Thomas Richards
487
Posted 31/01/2021 at 12:04:12
Thanks Tony,
I was going to ask you a follow up question, the same scenario but from a professional point of view.
Nobody in any saturday/sunday teams I was involved with would last more than one game if he was accussed of that.
In Sunday league terms.
"you spewed it there" resulted in fisticuffs
The worse insult you can aim at a player imo
Mark Murphy
488
Posted 31/01/2021 at 12:04:37
...and we nearly agree on the team.
Here's my team as posted on TPF this morning IF all are fit AND motivated...
Olsen
Godfrey. Mina. Keane. Digne.
Iwobi Allan. Doucoure.
James.
DCL & Richy
But would also consider Richy in left mid. I just think DCL could do with someone playing off him and until end of play tomorrow we don't, criminally so as you point out) have anyone else.

Mark Murphy
489
Posted 31/01/2021 at 12:07:13
Thomas - 474
I'd chin him!
X
Danny O'Neill
490
Posted 31/01/2021 at 12:27:23
That was my take Mark, just set up as 4-2-3-1.
Tony Abrahams
491
Posted 31/01/2021 at 12:52:30
Like yourself, Ive seen loads of fellas spewing up Thomas, but nobody ever really throwing the towel in.
Only one of the teams liked fighting Dave, and usually with each other. This was very hard to comprehend, because they were all best mates in the boozer, and although I think I started getting through to them in the end, I was always brought up on the opposite.
Help your mate on the pitch, but try and destroy him in the boozer, nothing better for team spirit imo, just as long as you don't go to far!
George Cumiskey
492
Posted 31/01/2021 at 13:06:59
Why we're in the mix for Lingard ? He's exactly what we need a goalscoring midfielder and on loan. I truly feel if we don't sign at least a couple of players in this window we'll struggle to finish in the top half.
Don't forget that was supposedly only Allen short of our best team.
Mark Murphy
493
Posted 31/01/2021 at 13:13:07
On the referee - it's reds like him that cause the exaggerated diving and rolling around (a la Richie) at the merest touch. If they didn't such refs would give fuck all!
Our players should have reacted like for like sure, but that ref was a coward - especially towards that gobshite Shelvey. And whilst I agree Mina made a show of it, Wilson weighed him up and swung his arm and connected and should have had a straight red.
When he didn't Mina should have kicked Wilson from one end of the park to the other, but then that ref would have probably have found his bollocks and sent Yeri off.
Nicholas Ryan
494
Posted 31/01/2021 at 13:17:26
What a totally weird and baffling season this is. We are playing like a Pub Team 2nd XI, yet we are level with Spurs, and above Chelsea and Arsenal!
The loss to Newcastle, made it all the more important that we beat Leicester, which we would have done, but for Psycho Billy.
I have 2 questions: What's happened to the previously wonderful Andre Gomes?; and Who has stolen the real Ducoure and replaced him with an automaton that goes missing for 70 minutes?!
Oliver Molloy
495
Posted 31/01/2021 at 13:18:02
I don't understand why some on here are going on about Newcastle bullyboy tactics and the likes.
Short memories I would say.
Newcastle, and other teams fighting for their lives will do whatever they can to put the likes of Rodriquez and Richarlison off their game.
The latter in particular would need to fucking wise up, dropping to the ground at the slightest touch isn't doing him any favours with the ref's, now marked as a play actor I would think.
Ancelotti told it like it is, we had no desire on the pitch yesterday, and of course he is right but I have a problem with him saying this also, as for me he has to show HIS desire with actions not words.
Although he is not on the pitch, he can clearly lead by example when picking the team.
Selecting Calamity, a player who has just you lost three points with really poor goal keeping ( again ) was a big mistake and really sends out the wrong message as far as I am concerned.

I'm sure Ancelotti knows fine well we are fairly weak when it comes to getting stuck in, there is no doubt that's why Allan was brought it, a good player who will also be up for the contest and will fire a few rockets up your arse.
The only other player I have seen having a rant at his team mates including Rodriquez has been Godfrey, that's what we need - more like him.
This young man wants to win, you can see it in his game.
Roy Keane ( love him or loathe him ) said " as long as you did your job and gave your all for the team I would never have a problem with you, if you didn't then I would let you know - being popular in the dressing room was of no interest to me - winning football matches and trophies were".
Isn't that's what this club had when we were last winning stuff - the "all for one" mentality, just the right mixture of skillful and tough players.
Any team can go out and have a good match day, it's the teams that go out to do this every match day that win trophies
If he stays, I believe Ancelotti will make us better, but it's going to take a right few windows I reckon.
The mentality of the team is not good and has been perhaps overlooked for far too long.
We need players who take it badly when are losing, and want to do something about it - we don't need players who sulk.
I believe the thinking behind agreeing Keane loan to PSG was to show clearly "if you don't want to be with us" then you can go and of course hope he does the business while over there.
So the right reason in my opinion, but then we need to replace don't we, and we didn't !
And now if the rumours are true about Tuson and Bernard, we are doing it again !
I think fans being allowed back into stadiums can not come soon enough. players need to hear what it means to us all again !
Thomas Richards
496
Posted 31/01/2021 at 13:29:36
6 months ago "What a let down Moise Kean has been. Whoever bought him wants sacking"
Now
"what the fuck were they thinking selling Keane"
Fucked if you do.
Fucked if you don't
Danny O'Neill
497
Posted 31/01/2021 at 13:30:25
I'm desperately trying to stay positive Brian. I didn't use Bushmills but a healthy prescription of Vino helped.
I don't think yesterday's result defines the season. But I do think that by the end of February we start to get a clearer picture of whether we are still in the mix, or making up the numbers again as you say.
Ever the optimist, but the next 3 games are pivotal and one of them is you know who.
Paul A Smith
498
Posted 31/01/2021 at 13:30:31
Ian, the defence has been deep for a reason. Its the best way to stop us leaking goals and has given the defence a base to work on.
Silva tried the high line and we got done time after time because both of our centre halfs turn like truck.
Its not pretty we know but theres no Stones or Ramos we can call upon. Our defenders are what they are and until either Godfrey becomes classy with his feet or we sign a 70 million Centre Half we need to sit deeper.
Godfreys pace if he becomes a reliable centre half might allow us to play a higher line but he can't pass a ball so I doubt he'll play much higher.
Most of the top sides have got a sub centre back as good as ours or better in some cases, we are doing what is required to get the best out of our defenders so we have a better chance against the top sides.
None of them have hammered us yet and thats a big difference from most of the last 20 seasons supporting Everton.
By the way Ian your last post wipes the floor with all your previous in my honest opinion. Far more constructive and much more of a problem solver than the defeatist posts you previously made.
Frustration is horrible mate thats why i never hold grudges over a football argument.
Danny O'Neill
499
Posted 31/01/2021 at 13:39:52
We are still struggling with a weak mentality at the core of this squad Oliver and it will take a couple of windows to phase it out.
I don't think anyone is bemoaning Newcastle's tactics. As I said earlier, Shelvey was just following instructions.
It's more our inability to stand up to it and I think just about everyone here is in agreement with that.
George Cumiskey
500
Posted 31/01/2021 at 13:51:32
I see people are still banging on about Carlo needing a few more transfer windows... well, we've got one now — why aren't we doing something with it??? And don't forget Carlo has a team full of internationals now and can't seem to do anything with them!!!
Danny O'Neill
501
Posted 31/01/2021 at 13:57:04
Banging on or just acknowledging reality George? Depends on your view I appreciate.
Undoing the scattergun collection of recent years' transfer "strategy" was never going to be a quick fix.
What we are seeing now is the impact of having a good team but scratch the surface and we are back to last season's squad.
Not done much with them? I'd say we are better placed in the league now than we were just over 12 months ago.
Thomas Richards
502
Posted 31/01/2021 at 14:01:13
Danny,
Agree, and put less politely.
Some of them have no heart, no stomach for a fight.
I reckon, after we get over the disappointment of yesterday, the game we saw will be of massive importance in our development.
Ancelotti has publicly accused them of having no fight, no desire.
An unusual statement from any manager, even more so from a manager who is well known for backing his players.
The performance and attitude against Leeds will be interesting.
Cast iron guarantee Godfrey and Davies will start.
Ian Edwards
503
Posted 31/01/2021 at 14:02:06
Please note that I do not post under the name George Cumiskey. 😂
George Cumiskey
504
Posted 31/01/2021 at 14:06:31
You can use my alias anytime you want Ian. Lol 🤣😆
Barry Williams
505
Posted 31/01/2021 at 14:07:31
Sean O'Hanlon - 453
You might be right and I might be wrong.
Some of the teams you've mentioned have Europe to contend with, this has been a very unusual season, and we do not know what other factors might impinge on the season.
Not here to try and convince anyone of anything. We just have to wait and see!
Bill Gall
506
Posted 31/01/2021 at 14:13:35
Dave # 479 When has it been someone on the board of directors job to go in a dressing room and tell the players what they should do, my memory may be short but I believe we have a coach who collected red cards when he played and spent time in jail for assault surely he would be better than someone on the board of directors.
Apart from that it is the manager and his coaches that should be laying into these players, and I am sure if we had a decent squad being able to rotate the players more they would do it.
Talking about Sunday Football, it was years ago when I run a team in the Liverpool & District Sunday Football League and was also on the league management committee, it was a tough league but fighting was dealt with by a disciplinary committee once a month a we usually only had 4/5 players appearing. I always found the majority of teams, and at that time there was 8 divisions with usually about 8/10 teams in each division played hard but never seen any fighting between team mates.
Reading the comments today and after watching the game again I agree with most of the comments of lack of effort, poor refereeing, and poor tactics on the managers part. All of the comments are definitely not except able, and the people responsible are all to blame. The problem now is what they do about it.
Enough complaining I will carry on watching the darts.
Rob Halligan
507
Posted 31/01/2021 at 14:13:52
Thomas # 474. Sorry mate, just seen your post as been out walking the dog. In reply to your question, I honestly don't know, because as Tony says (I saw his reply), we played for the love of the game, not mega bucks. Without blowing me own trumpet though, the teams I played for, Saturday and Sunday, were pretty decent teams, and usually it would take a better team to beat us. Not that we were invincible, far from it. I think though, if any manager I played for said "they wanted it more than us" most lads would probably have shrugged their shoulders and fooked off to the pub.
Danny O'Neill
508
Posted 31/01/2021 at 14:19:42
I'm now confused. Is it Ian Cumiskey or George Edwards?
Danny O'Neill
509
Posted 31/01/2021 at 14:25:29
Apologies all, I think I'm finding solace on here today.
Talking to our own experiences as players and coaches at our own levels, I think we all agree. Ability is one thing. But it has to be matched with desire and commitment.
I can begrudgingly walk off the field of play having been beaten by an opponent who played better on the day but knowing I had given everything I could.
Mistakes and being outplayed can be tolerated and accepted. A lack of desire cannot.
Oliver Molloy
510
Posted 31/01/2021 at 14:25:32
I am watching the game again and need help.
For those of you who may still have the game to view, can anyone explain to me ( @ 46 mins ) why this was given as a foul throw by Rodriquez, I cant see anything wrong at all.
Mike Doyle
511
Posted 31/01/2021 at 14:25:51
Oliver #495] spot on with your comments. For anyone who hasn't seen the 'Howard's Way' film yet, there is an interesting section where they discuss the Bayern Munich semi-final and how physical it was (I was there and don't recall it being that rough). In addition to Andy Gray admitting to putting himself about at every opportunity and Kevin Ratcliffe wondering how he wasn't booked for some of the challenges, Trevor Steven talks about how Peter Reid had been getting on at him about his performance (before he scored the 3rd goal of course).
From what we've seen this year only Allen does this - but Holgate and Gordon are both no-nonsense characters who won't be bullied either. The sooner we have all 3 back in the side the better.
Rob Halligan
512
Posted 31/01/2021 at 14:27:05
Nick # 494, I thought you said yesterday that "you were done". That didn't last long!!
Don't worry folks, I know him!!
Peter Dodds
513
Posted 31/01/2021 at 14:28:17
Listening to the excellent Analysing Everton podcasts, it's clear Everton's position in the league flatters us. When you look at the xG stats etc., we've been a little lucky in a) scoring more and b) conceding fewer than we "should" on average. And as they say in the pods, these things tend to average out in the long run. Not that any of the above explains yesterday's result, that was well deserved by Newcastle.
Thomas Richards
514
Posted 31/01/2021 at 14:29:44
Thanks Rob,
As I remember it.
We all gave 100%,anything less and its yourself you are letting down.
I probably posted from a personal point of view.
The highest insult to anyone on a pitch.
"you took seconds"
Rob Halligan
515
Posted 31/01/2021 at 14:33:23
Amateur football, Saturday or Sunday, would make for a good thread. You can start it off Thomas!!
Dick Fearon
516
Posted 31/01/2021 at 14:34:15
Oliver @510, I also would like to know.
Thomas Richards
517
Posted 31/01/2021 at 14:35:06
Ive still got the bruises Rob. 😁
Danny O'Neill
518
Posted 31/01/2021 at 14:42:13
It wasn't Oliver. I have to be careful as I don't want to make excuses, but soon as I saw Atwell as Ref yesterday I had a bad feeling.
Brendan McLaughlin
519
Posted 31/01/2021 at 14:42:35
Never a truer word Oliver #510
"I am watching the game again and need help"
Rob Halligan
520
Posted 31/01/2021 at 14:43:29
Tony #491.I've mentioned this before and pretty sure you replied. My Sunday league team were playing a County FA Cup game against the Netley, the pub on county road. It was a game we eventually won 4-2, but during the game, the Netley, out of the 14 players, including the three subs, had four players sent off and all, bar one, were booked. I'm sure you said you knew the Netley team. They were expelled from the Liverpool Sunday league, but you said they reformed under a different name.
Bill Gall
521
Posted 31/01/2021 at 14:45:33
Oliver 510 he had a blue shirt on
Rob Halligan
522
Posted 31/01/2021 at 14:49:07
Oliver and Danny, and anybody else, if you see my post at 470, you will see why I think Attwell is an incompetent referee and should never be allowed anywhere near a premier league ground.
Barry Williams
523
Posted 31/01/2021 at 14:57:13
Oliver Molloy - 510
Interestingly, maybe 10/15 mins before the James throw-in, in real time, I called Newcastle out for a blatant unpunished foul throw.
As a lot of posters have stated here, there was a lack of fight and aggression in that team yesterday, and as I mentioned in a previous post, nobody stood up to Shelvey, and no one helped out James. Richarlison needs to stop embarrassing himself, and put himself about a lot more - he is a big strong lad from Brazil! Maybe he needs to watch the Gracie brothers in action!
Whilst Allan is out, I feel we need to get Davies, Holgate and Godfrey in the team to add the grit that was missing from the Newcastle game. Even a midfield 3 of Allan, Doucoure and Davies in some games too. Thus allowing the full backs to overlap, and getting any one of those 3 forward more.
Just a thought. It might not be pretty, but it could work for now.
Danny O'Neill
524
Posted 31/01/2021 at 14:58:52
I did read that Rob.
I had a poor opinion of him anyway and that was before being aware of the Watford-Reading "goal". Shocking.
Oliver Molloy
525
Posted 31/01/2021 at 15:04:47
Thanks Rob, just watched that, the ball was definitely over the line, wrong one !!... very crazy to say the least.
I'm sure him and the linesman had "enjoy watching yourselves being utterly incompetent on telly later " from Watford players and management - probably not as nice as that..lol
I will be keeping an eye on this ref from now on!
Thomas Richards
526
Posted 31/01/2021 at 15:06:26
Bill, 506
Were you based around Lower Breck mate

John Parr
527
Posted 31/01/2021 at 15:10:35
We should change our motto from Nil Satis Nisi Optimum to "Nec mirari semperque confundar" which, according to Google, translates as 'never surprised, always disappointed.' (Apologies to any Latin scholars here).
Barry Williams
528
Posted 31/01/2021 at 15:12:18
Just to add to my previous post - The Gracie Brothers of Brazilian ju-jitsu fame, not the Grace Brothers from 'Are You Being Served', although given what we were served up with against Steve Bruce's finest, I am not so sure to be fair!
Rob Halligan
529
Posted 31/01/2021 at 15:17:43
Danny and oliver, is it just us, who get these shit referees week in week out, or are we just paranoid about it? I never really hear about other clubs fans moaning about how poor the referee was for their team in any given match, but I'm sure it happens.
I just want to refer back to the incident with Pickford and Saint Virgil. Michael Oliver has recently come out and said he probably should have sent Pickford off that day. So I suppose that's incompetency in itself, but think about it for a minute, if he had done his job properly in the first ten minutes of that game, he could very well have given Van Dick two yellow cards for the cynical challenges on James and DCL. Again, incompetent refereeing, but at least we wouldn't be putting up with all this shite from the gobshites regarding their beloved Virgil.
Danny O'Neill
530
Posted 31/01/2021 at 15:32:25
It's easy to cricise officials, but they don't do themselves any favours.
I had high hopes that video technology would help them much in the way it does in Rugby where officials are actually respected.
But they seem to be in conflict with it and feel threatened by it.
I find football officials too much in tune with their own ego and authority. They feel like they have to demonstrate authority and control, even when they know they've got a decision wrong.
For too long they have gotten away without having to explain. Managers and players have to come out and face questions after a match. Why shouldn't officials?
Ian Edwards
531
Posted 31/01/2021 at 15:44:29
Leeds go to Leicester and win 3-1. We play Leicester at home and our Manager was frightened of them.
Tony Hill
532
Posted 31/01/2021 at 15:48:15
As I've said above Ian, we're ahead of them with a game in hand. I agree with you about Leeds' approach, though, and I love Bielsa. Let's see what happens on Wednesday.
Bill Gall
533
Posted 31/01/2021 at 15:49:13
Thomas # 526 we never had a club base I run Norgreen A.F.C. from my home. We tried a few local clubs and pubs to run it but no one offered.
We stopped going after I moved up to Kirkby but I still remained as the league registration secretary. This was in the mid 60s early 70s we won 6 league titles and at that time the presentations were in the Grafton. H.Catterick presented the trophies on 2 occasions and I got to talk to him on these occasions and he was not like what the newspapers made him out to be, as sour and abrupt.
Tony Hill
534
Posted 31/01/2021 at 15:49:56
Also, of course, we won 2-0 at Leicester. More's the pity that we folded against them at home.
Oliver Molloy
535
Posted 31/01/2021 at 15:52:57
Rob,
Yeah, well it's all about opinions isn't it, and we have had our fair share of shit decisions over the years.
The one I always remember was Gerard on Gary Naysmith, one of the worst tackles you are ever likely to see and didn't even get booked on the night. If you find that picture ( sorry I don't know how to load the link ) he should have been banned for the fucking season, the intent and venom s there for all to see.
Some of the stuff that prick got away with against us is unbelievable.
Back to VVD, no doubt he was laying down a marker early on and he really did his best to give Rodriguez a "dead leg" so fuck him as far as that is concerned.
He got ( quite by accident ) what was coming to him I think most neutrals would agree.
If you watch the best centre halves in the world, they all have one thing in common, they all let the opponent know as soon as possible what they are up against, all have that dirty side of the game in them..
In stead of Mina getting stuck into Wilson yesterday, he decided to play the big kid and look what happened.
We had the chance to buy VVD when he was at Celtic, but let Southampton buy him and that's another story !
I really hope for a better performance against Leeds, tey will allow us to play football if we can sort that out !
Thomas Richards
536
Posted 31/01/2021 at 15:54:39
Thanks Bill.
I thought you may have a connection to an old mate of mine, sadly no longer with us.
Les Gall.
What a man. What a Blue
Danny O'Neill
537
Posted 31/01/2021 at 15:55:07
We went to Leicester and won 2-0 Ian. Same margin but kept a clean sheet.
Will Mabon
538
Posted 31/01/2021 at 15:59:20
Oliver,
Creasehead in action.
EDIT: Sorry - link function not working.
Danny O'Neill
540
Posted 31/01/2021 at 16:00:51
So far these results are actually going well for us. Minimising the impact of yesterday. But as ever, we have to take control of our own destiny.
John Boon
541
Posted 31/01/2021 at 16:01:40
There are so many ways to view Everton's last two games. I hate to make comparisons but I have just watched Leicester v Leeds and there is one major difference. WE JUST AREN'T as tough as either of them. We don't have drive or intensity. Even with very skillful players desire and toughness are essential
One of the few tough players we have is Godfrey and he wasn't even on the field against Newcastle. On a more positive note Leicester also only got one point from two games. The Premier is a tough league and we just DON'T have tough, hard working players, particularly if we try to play defensively. No bite no fight !!!!!
Simon Dalzell
542
Posted 31/01/2021 at 16:05:34
Many accurate posts. In particular Christine 454 Spot on. The managers reluctance to change things when nothing is happening is staggering. At least Mr Ancelotti has given an explanation. We had no ' Spirit, Concentration, Motivation or Ambition'. Minor issues then. Too many Gutless wasters, unfit to wear the glorious shirt.
Bill Gall
543
Posted 31/01/2021 at 16:07:46
Thomas #536 Gall is an unusual name and lots of people think it is derived from the European spelling of Gaulle. I have got some ancestral background that shows that a William Gall bread maker was born in Peterhead Scotland in 1791 and died in Liverpool in 1855, so your friend may have had some Scotish heritage in him.
Paul A Smith
544
Posted 31/01/2021 at 16:09:41
Back go the bizarre there Ian. We went to Leicester and won too.
What does your point prove there? Leicester who are not scared of us, are scared of Leeds?
Or Everton and Leicester fear sides when they are at home?
It was hard to work out if there was a genuine fact?

Rob Halligan
545
Posted 31/01/2021 at 16:13:41
Paranoia deffo setting in with me!! End of the Chelsea game, BT sport presenter quotes "Chelsea now up to seventh, equal on points with Spurs, although Spurs have two games in hand". Sky sports presenter quotes "Leeds now only four points behind top six".
No mention of the fact that we are also equal on points with Spurs, and also have two games in hand, or the fact that we are eighth, but equal on points with sixth place, so it should be "Leeds only four points behind top eight".
BT sport or sky sports don't like to mention us, do they. 😠😠😠
Danny O'Neill
546
Posted 31/01/2021 at 16:14:43
**kept a clean sheet with Vardy in the Leicester team.
Danny O'Neill
547
Posted 31/01/2021 at 16:17:43
Actually seeing a good league position here Rob. With the games in hand, if we seize the initiative. But we have to take control of the situation.
To the next game; I feel unclean saying it but a Liverpool win favours us more? Based on realistically who we are challenging and where we can finish?
Tin helmet at the ready. Soap ready to wash mouth out.
Rob Halligan
548
Posted 31/01/2021 at 16:19:14
Leicester stuffed Leeds 4-1 at Elland road. Leeds beat Leicester at the king power 3-1. Leeds beat us at Goodison, so it's only logical that we win at Elland road!!
Is that how it works???
Bill Gall
549
Posted 31/01/2021 at 16:21:09
When ever the top six and below are mentioned Everton are usually never mentioned in the conversation. I think these pundits are under contract to only praise the normal top 6 so not to offend them. When you get a team like Everton having the nerve to try to displace any of them they consider it disrespectful and this is why they don't mention Everton.
Danny O'Neill
550
Posted 31/01/2021 at 16:21:35
That's why those comparisons are never great Rob. We beat so and so, yet so and so beat us. Then so and so goes and beat so and so who we beat previously yet lose to so and so.
Ian Edwards
551
Posted 31/01/2021 at 16:22:45
It is an unarguable fact that at home to Leicester we gave them far too much respect. Even Rodgers post match seemed surprised at how we set up and sat back. He said it was a huge compliment the respect we gave them. It was like The Alamo on our goal for the second half. Anyone disagreeing should get a job with Pravda.
Tony Hill
552
Posted 31/01/2021 at 16:23:35
A draw, I think, Danny @546 but we always want them to lose, don't we?
Danny O'Neill
553
Posted 31/01/2021 at 16:23:47
Bill, it feels like we (the fans) are licking our wounds and starting to thing to the next game. We come out fighting. I hope the players are feeling the same.
Rob Halligan
554
Posted 31/01/2021 at 16:24:26
FFS Danny, I hate so and so. Hope they get relegated!!
Thomas Richards
555
Posted 31/01/2021 at 16:26:29
Ian 551
I bought a coat off them for my niece
Fuckin arm and a leg it cost me.
I'd take a job off them just for the discount
Danny O'Neill
556
Posted 31/01/2021 at 16:28:14
A draw would be good too Tony as it keeps us in touch with them with games in hand and we are going to break our Anfield duck later this month.
Ian, get that, but it is also unarguable that we beat Leicester by 2 clear goals on their own patch this season.
Joe McMahon
557
Posted 31/01/2021 at 16:37:21
Rob, yes its annoying, but we have to remember since Sky, BT etc and the era of the premier league, Everton haven't won anything for 26 years. We may not like it but Chelsea have won a lot, they were winning things before Anbromvich also. Spurs also have won fiddle all, but have the shiny stadium and have competed in the CL.
SKY viewers aren't interested in lowly unfashionable Everton. The only ones that are are Everton fans. The only way this attitude to Everton will change is by regularly qualifying for the CL. Even an FA cup won't make any difference.
Clive Rogers
558
Posted 31/01/2021 at 16:46:52
I understand people hoping for Allan's return and the sooner the better. Let us not forget though that he is 30 and in my opinion has found the PL a bit of a struggle for pace and physicality. Although still a decent player, he looks past his best and is picking up over exertion injuries. There has been no news recently about his return.
Marc Hints
559
Posted 31/01/2021 at 16:50:58
All over twitter that Richarlison and James had words after the game, apparently Mina stepped in on James side
Derek Knox
560
Posted 31/01/2021 at 16:56:41
Just got sent this one which I thought I'd share. " When I die I want the Everton Squad to lower my coffin, so they can let me down one last time " By the way, I am being cremated, but they are all invited to join me!
Danny O'Neill
561
Posted 31/01/2021 at 16:57:27
That's why I made my point earlier about his presence and leadership more than anything Clive. Agree with everyone else about Godfrey. He may be young and new to the club but he seems to have a presence too.
Good point Joe. Beware of living in your history. History and traditions are a good thing but they should be the benchmark to remind you of what you stand for, not nostalgia. Being an exile in London, I recall healthy debate amongst Chelsea and Liverpool fans when Chelsea were in there ascendency and Liverpool as average as I have seen them in my lifetime. The Liverpool fans pointed to history and titles won past. Chelsea pointed to making history not living in the past.
Keith Monaghan
562
Posted 31/01/2021 at 17:01:31
I spite of what some us like to think, Ch.League was never on for us with our squad after end of the last transfer window. It's a credit to Carlo that he got us to where we are, particular given crucial injuries e.g Allan & Digne.
When he was appointed he took on a big job, a squad with loads of overpaid poor players, which is being proven by how difficult it is to offload many of them.
Every time we come up against a team that shows lots of energy & pace, we're found out e.g. H v.Leeds & Newcastle. The worst problem is midfield (e.g. Gomes & Sigurdsson both) which is far too slow) & doesn't contribute enough goals, and defence, which is also slow (e.g. Mina & Keane) & not good enough on the ball (e.g. Mina & Coleman). A consequence of both is that forwards get poor service & are out-numbered by opponents.
Hopefully, Godfrey replacing Mina, which must be in Carlo's plan, will improve matters and enable the back line to move a few yards up the pitch. Also, as good as he may have been 2+ years ago, Coleman should have been replaced at least 2 years ago.
Another concern is our very poor record at producing quality players for the first team - I've thought for ages the back-room of hangers on like Unsworth, Ebbrell & Jeffers need to be shipped out and get people with the right skills - being ex-EFC like the BK culture is NOT a qualification. Hopefully, Carlo recognises this as well?

Martin Mason
563
Posted 31/01/2021 at 17:06:08
What we really need to worry about is lack of options at right back and up front. We seem to have bought quite well and yet the squad is weak in key positions.
Brent Stephens
564
Posted 31/01/2021 at 17:11:48
Derek #560 talking about cremation, you were bloody on fire on the Live Forum y'day!
Mark Murphy
565
Posted 31/01/2021 at 17:14:41
Ian the only unarguable fact from the Leicester game was that it was a 1-1 draw.
From what I saw Leicester were simply better than us and had us on the back foot.
Your opinion is that we gave them too much respect. My opinion is that they were better than us.
Yesterday's result, in hindsight, was probably what we needed. Rather than viewing the 1-1 as a good result we can see that we were lucky then and simply not good enough still.
Btw - not a trick question Ian - Bielsa - would you take him over Carlo?
Dave Abrahams
566
Posted 31/01/2021 at 17:20:57
Bill (506), sorry just come in, been for a walk around Anfield cemetery to cheer myself up, that's true, any in answer to your question " Why is it that somebody from the board of directors job to go into the dressing room and tell the players what to do" Well Bill going back a bit John Moore's did exactly that in a round about way, he saw that Johnnie Carey wasn't tough enough with the players, too lax in training, not tough enough with them, so he changed him and got someone who was tough enough with them and brought tougher players in which enabled Everton to start winning trophies.
Actually I was suggesting that a specific Everton fan had the ability to shake the club up at Board level, there doesn't seem to be any there at the moment who is concerned enough or has the football knowledge to go in and question the manager, coaches and players about the way they are all operating at the moment, it will never happen the lady in question is happy where she is, but I would love someone with her football knowledge and absolutely loves Everton football club to be in the position to shake the club up, it definitely needs somebody to start getting things changed, unless it doesn't need changing and we are all happy to carry on dreaming about winning trophies instead of actually winning them.
Derek Knox
567
Posted 31/01/2021 at 17:40:09
Brent, I was in a great mood before the game and after it started, my 'fire' was well and truly extinguished shortly after, like I said yesterday as soon as I saw the way the game was going, or rather wasn't going, and they scored. That was enough for me, I switched off every electrical appliance, even the kettle, in case I self harmed, through sheer frustration and desperation.
I have NEVER done that before, always believing (stupidly), even when under the cosh, we would somehow turn things around. It was evident early on yesterday that apart from James, we lacked creativity, and the rest (possibly Keane and Mina excepted) didn't even share a backbone or any responsibility.
For fear of repetition I have always maintained that I can reluctantly accept defeat if it had been by a better side, even bad reffing or Lady (bad) Luck, as long as they gave their all in the process. Sadly there wasn't even a vestige of that yesterday, and no sign of anyone willing to make a change, incite or galvanise any team spirit. (?)
Brent Stephens
568
Posted 31/01/2021 at 18:18:41
What frustrated me, Derek, was that we actually started quite well, first 15 minutes or so - we were showing what we could do in the build-up. Converting that to goals - well, just not there. Some of the passes from James were sublime, though - the round-the-corner stuff.
Tony Hill
569
Posted 31/01/2021 at 18:22:10
Brent, above all we need a tempo-setter. Our inability to manage the rhythm of games, to control threat from the opposition and to exert our own is chronic.
I don't think that player is Allan.
Mark Murphy
570
Posted 31/01/2021 at 18:30:15
This whole weekend has been driven by Everton's failings and even now I can't escape it! As my missus is cooking the chicken dinner and I'm having a bottle of Hepworths Sussex Bitter, Heart 80's have decided to play Elton Johns "I guess that why they call them the Blues" and I remember that banner like it was yesterday...
And sob into my beer
UTFT
Bill Gall
571
Posted 31/01/2021 at 18:31:02
Dave that is a little different J.Moores was not a director he was the owner and chairman. I don't now the lady you are talking about but have read many excellent articles she has written and respect her knowledge. But there are a number of people on here who have knowledge and I believe being respectable by saying they have been going to the games a lot longer than her.
There is a lot more to do on a board than to walk into a dressing room and tell the players what you think of them, we have enough problems without starting a mutiny
The board of directors run the club that involves a lot more than the first team, the team are as they say, the icing on the cake, The board provide the rest of the ingredients that make the cake and most of that has nothing to do with the team but what is required to run an organization as large as Everton F.C.


.
George Cumiskey
572
Posted 31/01/2021 at 18:32:32
Thomas Richards@ 536 I was in Amsterdam with Les Gall good guy good evertonian
Tom Bowers
573
Posted 31/01/2021 at 18:33:57
Hard to put your finger on it but we may have to admit that the current personnel are not up to snuff.
Sure we have won games but even some of those were far from impressive and those two cup-ties summed up the current malaise. The draw against Leicester was not a bad result but yesterday was a disaster against Bruce's mob.
One thought after three quarters of the game that Everton had enough quality on defence to get at least a draw but then it went pear-shaped.
The Leeds game coming up is vital if they want to stay in the top half but another defeat may take them to mid-table and this squad are playing like a mid-table side currently.
It's hard to imagine that given some of the mediocre performances since the RS game that they haven't made a signing or two in January especially a midfielder and a forward.
Richarlison is under a cloud and there is no punch to help from midfield where they easily concede too much of the ball.
With some of the top teams coming around soon who knows where we will end up if Carlo doesn't get a grip.
Thomas Richards
574
Posted 31/01/2021 at 18:40:38
George #572
He was mate. A nicer lad you could not meet, a gentleman.
Home and away.
Everton and Bob Dylan fanatic.
Sadly missed
Ian Edwards
575
Posted 31/01/2021 at 19:07:56
Mark 565. Yes I would prefer Bielsa. As a minimum I want us to attack and I can take losing if we have had a go. I hate watching us at present. Sit deep and try and counter attack. That's not football I like.
Sean O'Hanlon
576
Posted 31/01/2021 at 19:13:05
The much heralded return of Doucouré, in which we anticipated a huge improvement in our form from the Leicester game, failed to materialise. But then you have to question the manager for where he played him.
Likewise, when Richarlison was out for 3 games, we all thought our fortunes would change, after 3 abysmal defeats, when he returned. It was not to be.
Now, we're saying that getting Allan back will be the answer. Again we will be disappointed.
Ancellotti is failing to find our best midfield combination. He appeared to have solved our defensive frailties, with 4 at the back, then he changes it. Dropping Godfrey & Holgate, when Godrey has arguably been one of our best players.
Each game we play, the opposition always have a busy, dynamic midfield - fighting for every ball, winning tackles, playing like terriers with great spirit and commitment. Look at the possession the opposition had against us in the last 2 games, and also winning twice as many corners.
What do we have? Siggie completely anonymous and ineffective. Gomes too slow, and a now a liability. His killer pass has gone too. James good, but needs a couple of terriers by his side. I always wished Davies could have been one of those terriers, but sadly not up to it - the heart in the right place - but lightweight and no pace. Are Doucouré and Allan the terriers? - not yet convinced. Ancellotti is the cause of our demise. His reputation is in the past. What has got for us in the future?
Paul Hewitt
577
Posted 31/01/2021 at 19:54:40
PSG have agreed for Gana to go to Newcastle for the remainder of the season, but he's reluctant to go.
Come on, Brands, go and get him. Gana, Allan and Doucouré would be a great midfield.
Dave Abrahams
578
Posted 31/01/2021 at 20:04:24
Bill (571) Re your last paragraph, if you, me or any Everton fan are waiting for this board to provide the ingredients for the cake to make Everton great again, forget the icing on the cake, we'll be eating gruel for the future but won't be asking for more.
By the way, Kenwright was the owner and chairman for a lot longer than John Moores... A massive difference in football knowledge and how to make it work, and I know Moores had plenty of money. If Kenwright had had the same amount of money, he'd still be a pauper football-wise.
Mick Conalty
579
Posted 31/01/2021 at 20:06:26
Carlo Ancelotti has had an incredible carear as a player and as a manager.
I hope I am wrong but, from where I am standing, he looks like he has morphed into another wanker on Everton's books.
Martin Mason
580
Posted 31/01/2021 at 20:16:02
Sean, too many changes and too fast? And then 3 subs to change it again. Total chaos really. Maybe the answer would have been to keep Mason at RB or Godfrey at LB for a transition period? My opinion is that Godfrey was simply just too good to drop. Why are we selling JJK when all we have is Seamus?
John McFarlane Snr
581
Posted 31/01/2021 at 20:21:56
Hi all, I believe that there are three types of fans who when it comes to assessing the abilities of a football manager: [A] Those who demand a sacking for what they perceive as failings. [B] Those who are prepared to give him what they perceive as a fair chance to prove his worth. [C] Those who are undecided. I place myself in category [B] I've always been quite prepared to give every manager, in my years of watching Everton, time to prove their worth. I know that this won't be acceptable in some quarters but it's an opinion I'm entitled to air.
Hi Thomas [536], I knew a Billy and Harry Gall, who lived in one of the streets that led from Townsend Lane to Breck Park, I believe they had an uncle [Leslie Gall] but I can't recall them following either Everton or Liverpool.
Tony Abrahams
582
Posted 31/01/2021 at 20:27:04
Rob@520, just saw your post now mate, and the team The Netley amalgamated with was called The Sandon. Sandon Dock, to be more precise and this meant we had the main pitch on the dockers club.
The dockers club was a brilliant place to spend a Sunday, it was full of rogues, comedians, and comradeship, along with loads of great amateur footballers, playing for many a different team.
Dave Abrahams
583
Posted 31/01/2021 at 20:33:59
John (581), how long did it take you to suss Mike Walker out? And how long did it take you to want him out!
Robert Williams
584
Posted 31/01/2021 at 21:14:21
If only.
The story of Everton Football Club.
Danny O'Neill
585
Posted 31/01/2021 at 21:16:11
Mike Walker, Dave? Near instant.
I know you weren't asking me but I was alarmed when we appointed him as much as I was when we appointed Martinez and then Silva after that (acknowledging Koeman in-between who I had high hopes for). I accepted humble pie after that first Martinez season but concerns came home to roost.
Well, it turns out most results have gone our way this weekend. With games in hand, we remain in a good position. Over to you Mr Ancelotti and Everton. Your / our fate is in your / our hands; no-one else's. The 3 league games in February are massive and season-defining.
We have everything to play for. Take yesterday as a huge kick up the backside.
Concern is the already thin squad is getting thinner. I hear Kenny is off to Celtic on loan? I hope tomorrow brings a couple in the other way.
Thomas Richards
586
Posted 31/01/2021 at 21:34:25
Tony,
What was the centre-forward's name? Half-decent player but would cause mayhem in an empty house.
Peter Mills
587
Posted 31/01/2021 at 21:37:34
Dave #583,
I know you weren't asking me, but I always thought John Deehan was the brains behind Mike Walker's short-term success at Norwich.
He was a canny footballer too.
Peter Mills
588
Posted 31/01/2021 at 21:46:00
Dave#583, again, apologies for butting in, but our display at Blackburn in September 1994 was the day when it became totally obvious that Walker was a chancer.
Sean O'Hanlon
589
Posted 31/01/2021 at 21:50:05
Martin, #580. Totally agree. No reason to drop Godfrey - I'd play him anywhere just to get him on the pitch.
Tony Abrahams
590
Posted 31/01/2021 at 21:53:14
If its Kevin Walsh, Thomas, I've got a lot to thank him for, because he's the one who first took me to play for them, during the arl summer tournament they used to have in Scotty every year.
Still remember my first game, I went past a player and rolled it wide for one of our players to square it to Kevin for a tap-in. Our player miscontrolled it and it went out for a goal kick. I hadn't even turned to get back in, and Kevin's running at me like a fuckin lunatic. "What the fuck are you doin passin to him" he said, "pass it to me cos he's fuckin shite - don't be stupid lad, just give the ball to fuckin me!"
Brilliant, it the start of a very funny period in my life!

Bill Gall
591
Posted 31/01/2021 at 21:53:32
John # 581,
My name was William but I was always called Bill my dad's name was Harry I don't now if it us you are referring to as we lived in Scarisbrick Road. My dad had a brother George who lived on Kingsland Crescent over near the Crown.
I know he had a daughter, Sylvia, who now lives in Spain bit I can't recollect if he had a son. Gall is an unusual name, will have to phone my sister and see if she knows anything about a Leslie.
Bill Gall
592
Posted 31/01/2021 at 22:15:16
Dave I guess Everton have the main ingredient and that is finance through a billionaire and a shadow Russian so it seems its getting wasted at the icing stage
Thomas Richards
593
Posted 31/01/2021 at 22:24:50
That sounds like the kid Tony.
Dick Fearon
594
Posted 31/01/2021 at 22:28:52
Our current mob of chancers would quickly be sussed out on the the cities pitches in the fifties.
ie: It was a breakaway, I had a clear run toward goal, I heard a call, I think from the opposition coach.
'Take his legs"
After being dragged off an adjoining pitch where I was a surprise player. I was carrying a badly fractured arm, minus a few teeth and my legs weren't too good either.
Helped by a few mates I caught a bus to the Royal Southern hospital. The only sympathy I got was from the bus conductor who allowed me free travel. I already was chosen as an Everton supporter and my biggest worry was being able to watch the Blues later that same day.
Thomas Richards
595
Posted 31/01/2021 at 22:38:44
John #581
Apologies, I have only just seen your post.
Leslie was my mates dad.
I met him in far and wide places following our beloved Blues.
As I said a great, great man
Bill Gall
596
Posted 31/01/2021 at 23:12:16
Dick I remember playing on a ground near speke airport when I dislocated my knee when I looked down there was a hollow where my knee was and a lump sticking out the side of my leg. they got an ambulance and was taken to the hospital, I still had my boots and kit on, and the comment I got from the doctor was another bloody stupid Sunday footballer, told me to hold the bars at the back of the bed and twisted my knee back into place,, that was the only time I felt pain..
Went to an Liverpool game in the kop the following week and when I went to the hospital the following Monday to have the aluminum splint removed they wanted to now what I had been doing as it was all cracked and dinged
Christy Ring
597
Posted 31/01/2021 at 23:42:31
Kenny going to Celtic, Tosun gone back to Turkey, if we don't get in a striker tomorrow, something seriously wrong, have we enough senior player's for the bench on Wednesday, baffling??
Phil Lewis
598
Posted 31/01/2021 at 00:08:07
Results elsewhere fell kindly for us today, giving us another bite of the European cherry come Wednesday at Leeds. Carlo has to learn from Saturday and be prepared to make some brave changes. We've lacked strength and commitment recently from certain players, the time has come for Ancellotti to wield a ruthless axe.
Assuming the players in the news are sent out on loan and no one arrives before Wednesday, this is my team to face Leeds, in a 4-2-3-1 formation:
Olsen
Coleman, Keane, Mina, Godfrey
Holgate, Doucoure
Davies, Rodriguez, Digne
Calvert-Lewin
I believe that Richarlison, Sigurdsson, Iwobi and Gomes deserve to be relegated to the bench. My team selection will hopefully give these players some competition at least. Drastic measures, wholly justified, in my opinion.
Martin Mason
599
Posted 01/02/2021 at 08:57:46
Team selection and how we play at Leeds will tell us a lot this week. It may not be what we want to find out but it could hopefully show that Newcastle was just a blip. I trust the coaching staff to turn it around but they need to start to be consistent in selection and tactics.
Christopher Timmins
600
Posted 01/02/2021 at 09:07:49
Must go down as the worst performance of the season. Thankfully, there is the possibility of immediate redemption on Wednesday against Leeds, who look as if they will be down a few after yesterday, and whose style of play will be more suited to our defensive / hit them on the break tactics. When we have to force the game we come up short but when we can sit in as was the case with Chelsea at home and Wolves and Leicester away we perform much better.
European football is still there for us as it for about six other clubs. The two Manchester clubs and the club across the park will probably occupy the top three spots at the end of the season but after that it's a lottery.
Dave Abrahams
601
Posted 01/02/2021 at 10:11:04
Bill (592),
Yes, Everton have the billionaire and his mate, they both know how to make money. They need help to make a successful football club; they haven't had much help up to now. I'll leave it at that.
Christine Foster
602
Posted 01/02/2021 at 10:34:04
Dave @479,
Apologies, I had a bout of depression after watching the game the other morning, woke up with a sore and miserable head at midday, and swore I wouldn't catch up on ToffeeWeb until I found some Zantac!
Dave, I am flattered by your comments but alas they are unfounded. Perhaps 20 years ago, I would have given an arm and a leg to do it, but it has only been the last 20-odd years that I had the opportunity to actually be a senior executive and learn the trade, so to speak. So timing in life is everything; perhaps in another time and place, the dice would have rolled that way and god I would have loved it! To be honest, I am not sure I could have sat in the same room as Bill Kenwright during the Kirkby fiasco... we will never know!
But Bill is right: there are those younger, better qualified to be of value to the club and my time is done! I have watched the Blues since the early 60s and proud to have done so, travelled the world but never forgot where I came from: Portland Gardens, Virgil Street and Scotland Road. I know every foot of the walk between Mile End and Goodison Park. I am proud to be an Evertonian. But what is STILL brilliant is the people, the blue blood on here, it flows the world over.
Yesterday, I drove an hour, about 30 miles out of Nelson, to a field in Tasman where they were having a village festival, a family day, music acts and sitting in the sunshine with local people in the Upper Moutere Valley. Sat on a hay bale listening to the music, drinking a glass of wine and thinking how lucky I was to be able to do so.
I had my pink Everton Ladies shirt on... within 10 minutes of sitting down, I had a woman tap me on the shoulder, and ask me where I got my shirt? "In Liverpool One," I replied. She was from County Road, her husband and kids, all Evertonians, knew of my family... shared a laugh for a couple of hours. Then one of their teenage kids said, "Don't you write on ToffeeWeb?"
14,000 miles, Dave... Evertonians are everywhere and I am proud of that. I am proud to be one. I get it.
Dave Abrahams
603
Posted 01/02/2021 at 10:58:47
Christine (602),
We all felt Saturday's fiasco, but we get over it, we are well used to such days, had plenty, especially in the last three decades.
Anyway, made up you had a great day yesterday and meeting fellow Scousers and Blues too, bet you talked the legs off each other!! That's the spirit, we get put down but always jump back up and get on with it.
Happened long ago to me and my mate, 12 and 10 years old, got on a bus full of Toffees outside Maine Road, just lost to Bolton 4-3 in the semi-final of the FA Cup. Quiet at first, then an old fella shouts out, "Are we down-hearted" - pause, then, "No!" In seconds, the bus kicked off with "Give us an E then V right through to N then EVERTON repeatedly. The bus became alive with Everton songs, bucked me and my mate up.
It's been the same ever since, that spirit will never die with Everton supporters, but by God we need one of us in that Everton boardroom, not some pseudo Evertonian who acts like one, if you know what I mean.
Carry on enjoying life, Christine, where you now live. On match days, your spirit will always be back in Liverpool cheering on the Blues.
John Hall
604
Posted 01/02/2021 at 12:31:11
Christine 602. How I envy the smashing day that you enjoyed yesterday. I have been lucky enough to have visited New Zealand on many occasions, I am now retired but still act as Technical and Business Consultant to a company in Hawkes Bay having been visiting for the past 6 years.
Sat outside the Crown Hotel in Hawkes Bay one evening before Covid, having a cold beer, and two gents sat down on the table next to me. Started chatting and it turned out that one of them was from Breck Road and had emigrated to New Zealand many years before.
I was brought up in Woodville Terrace as it was then and he was from Richmond Terrace which was the next street to mine. Small world. Staunch Everton supporter and we had a good old chat about past glories.
Unfortunately not much to talk about since then and we spent 15 minutes berating Bill Kenwright. How he ever got to boardroom level is mind-boggling but they say that opportunists have an eye for money and he certainly did have a good eye and a gift of the gab, as we say in Liverpool.
I'd been at board level for many years before my retirement in positions both in Singapore and China and would love to be able to question some of the comical, idiotic and crap decisions made over his Everton tenure. Never mind... we are born Blues and he can never take that away from us hard as he has tried.
Keep enjoying the great wines there and, mad as we get, we will never forget who we support. COYB
Bill Gall
605
Posted 01/02/2021 at 14:58:23
Nice to here you are enjoying the sunshine Christine unfortunately I am in Canada waiting for a snow storm..Covid 19 put off our normal winter visit to Florida. Kissimmee area great place to meet fellow Evertonians.
I. was born in Norris green and when I started supporting Everton in the mid 50s I walked to the ground through Walton Hall Park. My wife was from near your neck of the woods she is from Queen Anne Place the 4 Squares before moving to Croxteth
The Kings Dock fiasco finished me with B.K. but I believe Moshiri has now got a more a professional board to look after his interests and keep Bungling Bill in check.
We are in one of the safer areas of the Covid 19 but it just takes a couple of idiots to change that, good health and take care of yourself.
Danny O'Neill
606
Posted 01/02/2021 at 17:11:50
I only went to New Zealand once Christine and it was only for 5 days (yes, brutal turn around!). We were at the military barracks in Burnham, just south of Christchurch, which was still in a bad way as it was 2013, so not long after the Earthquakes that shattered it. My most memorable part of that trip was that as we decided to drive down from Wellington, I experienced the ferry from North Island to South Island and the Cook Straights. Apparently notorious, so I'm glad I went in blind, oblivious and ignorant! We think the North Sea is rough?!! Got a good night out in Auckland on the way back though - I liked Auckland.
Bill, I have a property in Davenport to the south east of Orlando. Well, town address is Davenport, but it's on Highway 27 in the Four Corners area. Not been able to get out this year.
Having spent a lot of time serving abroad and in different parts of the country, now living in London, I love bumping into fellow blues. What I also like is the intrigue that foreigners and other parts of the country get when they realise you are from Liverpool and support Everton. They get very interested and inquisitive.
I think we all had a bad day yesterday. Still in the mix, so let's move on. It's all we can and ever do!!
Tony Abrahams
607
Posted 01/02/2021 at 17:58:39
I flew from the north to South Island in a single engine plane Danny, and coming into the mountain ranges around Nelson, was without doubt the scariest experience of my life.
I was playing football and said to our manager, " no way am I getting back on that aeroplane to go home, have a good game and I'll swap places with you he said, but don't think that ferry is plane-sailing, if you don't"
I went to take a corner and someone was flying a kite behind the goal for some reason. My stomach turned, it was honestly like the flight I'd just been on, and luckily for me our manager kept his word, which was lucky for me because I've never been fond of sailing!
A beautiful place NZ, it was sadly wasted on a stupid city kid like myself, but at least the people are living properly again, which gives me hope for Wembley in may!!
Christine Foster
608
Posted 01/02/2021 at 18:11:41
Danny, I first crossed the Cook strait by the Interislander ferry about 9 months ago and have done so several times since as I have a daughter and family on the Kapiti coast. The first trip was flat as a pancake, no problem, the return was 7/8 metre swells and gale force winds.. I am no sailor and spent the entire trip face down, eyes closed on the floor with hands gripping the bolted down table so I didn't slide anywhere! It is about a 4 hour crossing but that day it was over 6.. since then I have done the trip twice, bumpy but ok, you are right though, did lots of ferry trips to Dieppe in France and I never once was the trip as scary!
The North and South Islands are quite different, personally I prefer the North Island, more happening, I always remember a tv ad done by Spike Milligan in the 80s, in which he opened with the statement, "So, this is New Zealand, is there anybody there?"
A beautiful country but so far away that any further you would be on your way back!
To me it's still like the UK was in the 50 s in some respects, it's not without its faults either but a much simpler life. In these times I consider myself lucky that so many years ago we called this place home.
It's funny how small decisions made in your early life have momentous impacts later, if we only had foresight!

Danny O'Neill
609
Posted 01/02/2021 at 18:18:27
It is beautiful Tony and once we got over the open straights into the Norwegian Fjord like scenery of South Island on the approach to Picton, it was stunning. As someone who, serving in Germany, experienced many a rough Rotterdam to Hull ferry crossing, I've never experienced anything like that!!
It is great to hear a positive story on normal life resuming. I too second your Wembley May call. I just hope we get the Green Man end, not that dreadful industrial estate on the other side with that awful place; forget the name of it.
Dave Abrahams
610
Posted 01/02/2021 at 18:22:16
Bill (605), Queen Anne Place, in the four squares, what marvellous memories I've got from there, my schooldays playground, two concrete football pitches in that square with an air raid shelter in the middle, a goal for both pitches, great people and characters from those squares, and Burkett Street made a fifth square, hold on to your wife she must be a good 'un to come from there, good chance she went to the same school as me " The Friary". She will have some good stories to tell growing up there, a very lively happy place.
Tony Abrahams
611
Posted 01/02/2021 at 18:25:49
I just hope we win Danny!
Bill Gall
612
Posted 01/02/2021 at 18:40:35
Dave #610 My wife's maiden name was Brennan they lived in 5a Queen Anne Place and she also went to the Friary.
Darren Hind
613
Posted 01/02/2021 at 18:42:53
I think the place the other side of Wembley from the Green Man is called Silverspoons
John Boon
614
Posted 01/02/2021 at 18:45:39
Bill Gall (605)
I am another scouser, born and bred Evertonian, who has lived in Canada since 1963. We live about twenty minutes from Niagara Falls. We have a few things in common.
I was born in 1939 and lived all my Liverpool life in Clubmoor, right next to Norris Green. I went to Norris Green baths on a very regular basis. When we were not swimming, we chased whoever was the enemy (could be the RS) with rolled towels. I also frequented The Regal (the rag house) when I was not at 'The Clubmoor Cinema'', a little bit posher.
I also walked right through The Cemetary to watch Everton. When I was 10 to 14 I used to push a handicapped man to the match. Ulterior motive. I got in free.I also played football at Clubmoor Rec most Sundays.
Keeping things relevant. I am more nervous now watching Everton than I ever was 60 plus years ago.Totally pissed off by the Newcastle game. However this whole league is inconsistent and I ALWAYS try to stay positive. Win the next game and I will be reborn. My Scottish wife thinks I am insane when watching Everton. Actually she is only partially right because I am like that most of the time.
I have great memories but thats all they are Memories. I prefer to live in the present. I still get as much pleasure watching the present Everton as I ever did. I really don't care what Liverpool do. I find that is the best way. Canada is far enough away to not receive to much taunting.
I have been back quite often to Liverpool to see family and 'of course' Everton games. In fact I and my sons were one day away from the Derby game when Covid 19 struck and we had to cancel the trip. We are still paid for whenever this thing ends
I have mentioned this before but I have two adult sons who had no choice to be EVERTONIANS. They are named John Everton and Andrew Goodison. My wife would not let me call our daughter Gladwys. I don't know why.
Christine Foster
615
Posted 01/02/2021 at 18:50:06
Bill, my first year in life I was brought home to Beversbrook drive in Norris Green, where mum and dad lived with my nan who then got an exchange back to the "new" flats in Virgil street off Scotland road. She lived originally in Wilbraham house during the war and went to Norrisgreen for peace and quiet.
Rest of the family all centred on Portland gardens, playing at the simmy and watching the arl fellas playing bowls before having a pint in the Green Man, of The Black Stuff fame..
Danny O'Neill
616
Posted 01/02/2021 at 18:58:22
That's the one Darren. Car park one side, industrial estate the other. I think it is actually silver / metallic in colour as well to add to the effect, although I was pretty much under the influence and well on the way last time I was there (2009). Green Man a better day out.
I got that impression Christine. I do love nature and the outdoors, but I'm a city boy at heart so always like to return to my home comforts. New Zealand I think is larger than the UK land masse wise but has a population of 4 million, so it gave a feeling of isolation. Whereas we have 67 million with the majority of that crammed into an area south and south east of the M62!!
I'm fortunate to have lived abroad but do love the UK. I think we beat ourselves up a lot. For me, the ideal retirement scenario is splitting my time between the UK, the States and Germany.
For the Canadian cohort, love Kingston in Ontario. Spent time there when in the Army too. Great place.
Tony Abrahams
617
Posted 01/02/2021 at 19:04:19
John B, I've been much more nervous watching Everton this season on tv, then I've ever been in my life mate.
Maybe it's watching on the telly? But it's mad because I relaxed around the sixty minute mark on Saturday, probably because I felt we never had the craft, and I started resigning myself to a defeat.
I will be nervous again on Wednesday, and if we win, then I will be even worse on the Saturday for the United game. That's nothing to how I will be next week though, because my nerves will be absolutely shattered for the Tottenham game.
Maybe it's because we've been defending for our lives, or maybe it's because we lack a bit of adventure, but watching on television is becoming a horrible experience, (I don't know how you fellas do it) and I just can't wait to get back in the crowd.
Danny O'Neill
618
Posted 01/02/2021 at 19:14:44
Due to circumstance Tony, That's been my lot for 20 odd years!
It is definitely more nerve wracking watching on the box. It is probably made worse by that time coinciding with mainly watching very average and often defensive Everton sides, but for some odd reason, you feel like you have more control over the game when you are in the stadium.
Even though clearly you don't! I know what you mean though. I've watched Everton in some very odd locations and settings, but much prefer when I can be in the stadium.
Tony Abrahams
619
Posted 01/02/2021 at 19:21:32
I think it goes back to that old Jam song Danny, if you've ever heard it mate.
"When I'm in the crowd" might have changed with the introduction of all seater stadiums, and although it's great putting the kettle on at half time, nothing beats the noise, the emotion, and the whole picture, which can never be replicated watching on TV.
Mark Murphy
620
Posted 01/02/2021 at 19:26:39
My boss asked me this morning if I had a nice weekend and I said no.
He asked me why not, so I told him.
He thinks I'm mad!
He's a Chelsea fan - I told him he wouldn't understand.
He said of course he does but actually he wasn't sure how they got on as he's not seen the score yet.
I said, there you are then!
Bill Gall
621
Posted 01/02/2021 at 20:09:12
Hi John # 614 I believe we have exchanged conversations on here before. I have a Gran daughter who works at a marina in the Gravenhurst area and was supposed to visit her this last summer or fall. I may go this year sometime and if I do I will try to get in touch. ( depending on Covid 19)
I am the same as you, try to get back as often as I can, and ever since I have been in Canada my vacation has been at the end of October and the beginning of September (after checking the fixture list) if I am going back to England.
I don't know about you but I have been in Canada since 1976, have a Canadian Citizenship and passport but still call Liverpool home.
John Boon
622
Posted 01/02/2021 at 23:57:19
Right Bill 621, We have exchanged posts before.I left Liverpool in 1963 but Liverpool never left me. Regarding Everton my Scottish wife said to me that I think about Everton more than I do her. I was shocked but told her she was in a close tie and that was really quite an achievement. The Everton shirt I bought her for Christmas should prove that.
She impressed me most of all when we met in 1964 and she told me that her cousin was best friends with Alex Young. That lead to marriage mainly based on the fact that I would almost be Alex Young's second cousin. He was and is my all time "Favourite Blue"
Mind you it wasn't all peaches and cream. She told me last weekthat she was related to Kenny Dalgleish. After 56 years of marriage divorce proceedings could be in the works. No, not a chance, she is a really great cook although she has never come up with a decent scouse . other than ME.
Bill Gall
623
Posted 02/02/2021 at 00:32:20
Hi John Sounds like you have a great wife, funny mentioning divorce, my wife said if men realized that they would have to cook for themselves there would not be as many divorces.
The closest we got to an Everton player was Rooney. My niece, her dad was my wife's brother, was a school friend of Rooney and his wife and they were often around at their house, I met him a couple of times before he went to UTD.
They are still friends and she went to their wedding in Italy,but my niece would never say anything bad about them.
You can tell your wife that I have Scottish ancestry. In our family tree there is a, William Gall ( bread maker) born 1791 Peterhead Scotland died 1855 liverpool.
Hope you are all keeping well.. we just celebrated our 60th anniversary, but with all the restrictions going on we couldn't even go for a family meal. Don't now when we will get our vaccinations but the wife's younger sister her husband and their daughter have already had theirs in Liverpool.
Dave Abrahams
624
Posted 02/02/2021 at 09:55:23
Bill (612), I knew a Brennan family in the four squares but don't think they are your wife's relations, two brothers John and Frank were part of the family and went to The Friary school, football related, they lived in the same square as Tommy McMahon the dad of Stevie, who played for the Blues. I lived in Everton Brow, right facing The Friary infants and girls school and just two minutes away from Soho Street and the four squares, happy days from long ago.
Thomas Richards
625
Posted 02/02/2021 at 10:41:41
Dave,
Was Christy thier relation?
Bill Gall
626
Posted 02/02/2021 at 15:35:05
Dave # 624 My wife would have been going to the Friary around 1948 and had an older sister Doris she also had a younger brother named Eric who was killed in an accident when I guy on a bicycle hit him and he hit his head on the curb. they moved to Croxteth in the late 50 or early 60s..
Dave Abrahams
627
Posted 02/02/2021 at 20:05:35
Thomas (625) Not sure, doubt it, Christy was from The Holy Cross area, you mean Pops brother I presume.
Dave Abrahams
628
Posted 02/02/2021 at 20:19:10
Bill (626), yes I remember that very sad accident, I think it happened in Soho Street, Eric was very young, tragic. I started in the Friary in 1945 so me and your wife would have been in the infants together although in different classes, see if she remembers the teachers, Miss Bishop, Miss Simmons, Miss Clifford, Miss Ashton, she would I think remember a marvellous little nun who taught there Sister Francis, she was so gentle and kind to all us kids, different to the nun who taught your wife when she went upstairs to ":The Big Girls School" Sister Margaret, she was a terror, especially in church on a Sunday, keeping us in check before mass begun, still get head aches thinking about her and from the smacks around the head!!
Bill Gall
629
Posted 02/02/2021 at 20:46:50
Dave # 628
Yes she remembers all of them, she always talks about when she was sent from class onto the roof,and while she was up there it started to rain and as she puts it, I was soaked rite through even to my knickers. She thinks they forgot about her up there. When she got home she told her mum and she said well you must have done something wrong.. Her uncle Tommy Owens was there and he went back to the school and went up one side and down the other to who left her there.
Dave Abrahams
630
Posted 02/02/2021 at 21:39:17
Bill (629'), her mother was right!! But I bet it was that Sister Margaret who sent her onto the roof, the roof was the playground. Final question Bill, ask your wife who her headmistress was, Miss McGrath, if she gets it right she can have an extra bottle of milk at break time!!
Bill Gall
631
Posted 02/02/2021 at 21:52:39
Dave #629
She said yes, she was an old battleaxe and skinny as a rip, she said she could be a rite cow so I expect she gets her milk.
Dave Abrahams
632
Posted 02/02/2021 at 22:18:38
Bill (631) yes she had that reputation, my cousins were taught by her and would vouch for that, they lived in the little terrace alongside the school, so were never late!!
Dave Abrahams
633
Posted 02/02/2021 at 22:24:23
Bill (631), apologies to your wife, I forgot to add, yes she gets the milk and give her some biscuits for being a good girl!! I'll pay you when you come over.
Thomas Richards
634
Posted 02/02/2021 at 22:31:38
Dave A.
Sorry.
Memory playing tricks again mate.
Was Christy Harolds mate?
Bill Gall
635
Posted 02/02/2021 at 23:30:35
Dave #633
Dave we would love to come back over, but who knows when we can do it with this covid19 crap..we have had our trips cancelled for different things the last few years. the last time we were there was in 2010, unfortunately it was for a funeral, and I was only there for 1 day and ended up in hospital. signed myself out for the funeral but had to go back after it..
Needed all kind of notes for my insurance company,and a doctors note for permission to fly home, got home whisked into hospital had an operation.Back on my feet.
Dave Abrahams
636
Posted 03/02/2021 at 10:30:58
Thomas (634), yes, Teddy Boys together, both sadly gone.
Dave Abrahams
637
Posted 03/02/2021 at 10:36:16
Bill (635),
Yes, strange and really desperate times, there seems to be a small light at the end of the tunnel with these vaccines, let's hope the light grows and wipes out the darkness that has gripped most people these last 12 months and you can finally complete your plans to come over again.
Best wishes that you do. In the meantime, keep tight hold of that Friary girl!!!
Christine Foster
638
Posted 04/02/2021 at 05:37:49
John Hall @604,
Sorry, I somehow missed your post and thinking of Hawkes Bay reminded me of my pre-Christmas visit to Napier and what a joy it was, I was very impressed! Indeed I sat outside the Napier club with a glass (or two) and a great meal in lovely sunshine.
The place is the Art Deco capital of the world I think, it is like you woke up in a Chicago gangster movie of the 1920s! The place is amazing, difficult to get to in that it's miles from anywhere but worth the drive.
It's the 90th anniversary of the Napier earthquake this week, the devastation was immense. I have been in the middle of the bad one in 1986 here, but not the one in Christchurch that did so much damage and loss of life.
I wouldn't mind settling in Hawkes Bay but prices in New Zealand have gone through the roof. I should have worked for longer!! Stay safe and enjoy Hawkes Bay the next time you are over!
---
Add Your Comments
In order to post a comment, you need to be logged in as a registered user of the site.
Or Sign up as a ToffeeWeb Member — it's free, takes just a few minutes and will allow you to post your comments on articles and Talking Points submissions across the site.
---
© ToffeeWeb