Report
City's unrelenting quality and workrate win out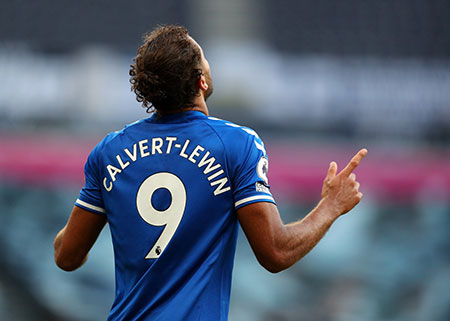 Everton are without Dominic Calvert-Lewin again as the striker recovers from a hamstring strain

Everton started without Allan and Dominic Calvert-Lewin and played reasonably well but were no match for the quality and workrate of the Champions elect, who

Carlo Ancelotti makes a few changes from the side that started against Fulham on Sunday. The centre-back pairing of Keane and Mina is restored, Pickford and Iwobi are recalled.

Allan, however, might have had a set-back in his recovery as he is missing entirely from the squad. James Rodriguez is on the bench, along with Josh King, who is denied a start yet again despite Calvert-Lewin's absence.

Manchestter City kicked off and were content to play keep-ball with some admirable short-back-and-sides passing for the first 1½ minutes when an Everton player first touched the ball but it was immediately returned and Bernado Silva was invited to shoot, forcing a very good save out of Pickford, and an early corner that was defended away.

Everton got some forward possession but Holgate's cross was poor, and Godfrey had to concede another corner as City surged forward. City dominated until Everton suddenly played some exquisite football in a flowing move from Doucouré, trhough Sigurdsson and crossed by Digne that needed so much better from Doucouré at the end of it.

A third and then a fourth, then a fifth corner conceded at the home end inside 10 minutes but each defended well. Everton got some more chances to play near the City area but did not make much of them.

Everton had held their own without laying so much as a mitten on City, but the chances for them to score past Pickford had been limited. Richarlison had been seeing a lot more of the ball but Sigurdsson was not really influencing the game at all. Doucouré took out Jesus a little too strongly and earned himself a yellow card.

The goal for Man City finally came for Phil Foden just after the half-hour on a wild deflection of Coleman that gave Pickford no chance.

Doucouré stole the ball nicely to set up a cross from Iwobi that was... well, classic Iwobi. Totally wasted. D stole the ball again and this almost found Richarlison. It was then recycled and Digne's shot hit the post, came back to hit Ricjharlison's thigh and over the line 6 inches in front of him, to put the Blues back in the game.

More good play saw Sig play in Richarlison but his first touch was all wrong and a chance to shoot evaporated instantly. Richarlison should have had a dangerous free-kick when he tangled with ??? but the referee didn't see his leg get caught. Doucoure was alert to scoop the ball away from Foden at the other end.

With Richarlison still arguing ad then kicking the ball away, he got himself booked just before half-time. But honours even at the break and everything to play for.

The game resumed in similar fashion, with City dominating the play but not creating clear-cut chances, and Everton playing some football when got the ball. Bernado Silva tried to smash one past Pickford, who watched it and got down well to stop it.

Some great movement off a launched ball from Pickford was very well managed by Richarlison to play in Iwobi, but Sigurdsson's difficult shot was blocked. City sliced through the Blues to get Jesus a chance that he blazed over.

Everton were coming more and more into the contest and one move should have produced a lot more but Digne skied his cross. But yet another corner conceded saw Rodrigo with a clean header that he put wide.

More relentless patient build-up play from City ended in a fantastic shot from Marhrez that curled in, and smacked off the inside of the far post, into the Everton net. Completely unstoppable.

Ancelotti finally decided to bring on Josh King and James Rodriguez in an attempt to 'go for it', Davie and Iwobi replaced on 69 minutes. But it took a long while for them to see anything of the ball with time ticking away. James got to put in a deep free-kick but it was cleared; King failed in his exchange pass with James.

Coleman was at fault for hoofing the ball forward instead of finding James, and immediately following that, Bernardo SIlva found space for the shot and all Pickford could do was palm it into the side netting. Game, set and match. Sterling gave way to De Bruyne.

King got less than half a chance, chasing a bouncing ball in. The ball then fell awkwardly for Doucouré as Everton briefly threatened. But City resumed their intricate smooth passing and switching, working away to chisel out another chance while denying Everton time on the ball, unless it's to concede a corner.

Scorers: Richarlison (37'); Foden (32'), Mahrez (63')

Everton: Pickford, Mina, Keane, Holgate, Godfrey, Davies(69' Rodriguez), Doucoure [Y:28'], Digne, Sigurdsson, Iwobi (69' King), Richarlison [Y:43'].
Subs:Olsen, (18' Coleman), Nkounkou, Delph, Gomes, Bernard, Onyango.

Manchester City: Ederson, Walker, Dias, Laporte, Cancelo, Rodrigo, Mahrez, Bernardo, Foden, Sterling [Y:67'], Jesus.
Subs: Steffen, Stones, Aguero, Zinchenko, De Bruyne, Torres, Mendy, Fernandinho, Garcia

Referee: Andre Marriner
VAR: Simon Hooper
---
Reader Comments (433)
Note: the following content is not moderated or vetted by the site owners at the time of submission. Comments are the responsibility of the poster. Disclaimer
Simon Dalzell
1
Posted 17/02/2021 at 19:31:41
King is the obvious replacement for Calvert-Lewin. I just don't understand this one.
Tony Twist
2
Posted 17/02/2021 at 19:31:58
Sigurdsson, Ancelotti's favourite. King should be playing instead of this slow coach, wimp of a player. We need speed, power and never say die attitude, attributes that Sigurdsson just does not have. Prove me wrong, Ancelotti.
Phil Smith
3
Posted 17/02/2021 at 19:33:47
Allan must have picked up something in training (great) or was rushed back too soon.
Criminal (yet again) he isn't starting with King with Calvert-Lewin out. Looked decent when he came on and was unlucky not to get a debut goal. Only one result coming today and it won't be a good one for us.
Neil Lawson
4
Posted 17/02/2021 at 19:35:22
Married at First Sight Australia or Everton vs Man City? Which will be less painful?
Mike Kehoe
5
Posted 17/02/2021 at 19:37:04
Neil, root canal without anaesthetic or Everton?
Tony Everan
6
Posted 17/02/2021 at 19:37:42
King's fitness levels maybe not up to scratch yet?
Sigurdsson a false 9 here? Enlighten me?
Kevin Prytherch
7
Posted 17/02/2021 at 19:43:58
Games like this suit Sigurdsson more than games like Fulham.
Kieran Kinsella
8
Posted 17/02/2021 at 19:44:53
Jesus shouldn't be involved much, he is supposed to be wandering in the wilderness for 40 days with today being Ash Wednesday. He can sample the life of an Everton lone striker.
Ciarán McGlone
9
Posted 17/02/2021 at 19:44:53
This season we are quite capable of beating anyone on our day... and equally capable of losing to the worst teams in the league.
Team choice looks better but set up will be key... set up like we did the other night and it could be a cricket score.
Heres hopeful we see the Dr Jekyll...
Jason Wilkinson
10
Posted 17/02/2021 at 19:45:02
Iwobi??? Big chance to prove us wrong but, on all previous evidence, he doesn't inspire me. Maybe Carlo is thinking he can run around and make a nuisance of himself. Put King on for the last 20 mins.
Phil Bickerstaff
11
Posted 17/02/2021 at 19:45:14
Great, we have flapper in goal and no Allan. Iwobi and Holgate, who can't cross a road.
It's going to be a very long night. At very, very, very most a hard-fought draw.

Clive Rogers
12
Posted 17/02/2021 at 19:46:46
It's beginning to look like Allan has been bought too late in his career, he is struggling with the pace and physicality of the Premier League.
What was the point in signing King if he doesn't play when Calvert-Lewin is out?
Jay Wood
[BRZ]
13
Posted 17/02/2021 at 19:49:57
Gone back to tried and trusted.
Looks like the Wolves set up when many mistakenly thought it would be a back three with two wing backs. More likely a flat back four with Digne pushed up to left mid as he was – very effectively – in that game.
I hope Doucouré has got some puff back, because he looked well off the pace all game v Fulham. Be nice to see Iwobi repeat his performance from that Wolves game, otherwise with just him and Richarlison not a great deal of pace in midfield or forward.
Big responsibility on Sigurdsson tonight.
A big ask. City conceded just 14 Premier League goals all season, five of those in a single game to Leicester. Just 7 conceded in total on the road. City on a 16 consecutive game-winning streak. 11 clean sheets across those games.
But as Carlo said yesterday, it's time for them to lose.
I love game day, me. No matter Everton's form or that of the opposition, I always believe we can win.
Ernie Baywood
14
Posted 17/02/2021 at 19:49:58
I'm assuming it's Richarlison up front. Iwobi and Digne wide. Unless we've gone back 5 with Digne and Iwobi as wingbacks.
Andrew Brookfield
15
Posted 17/02/2021 at 19:51:30
Richarlison plays Number 9 for Brazil, but he's not good enough to play central for Everton?
Not sure why anyone would want Josh King up top over Richarlison, unless you are basing it on the current form of our Brazilian. One was wanted by Barcelona the other by Fulham.
Thomas Richards
16
Posted 17/02/2021 at 19:51:44
BREAKING NEWS!!
Eddie Howe is at Goodison
Oliver Molloy
17
Posted 17/02/2021 at 19:52:25
Egg and chips, strangely optimistic.
Clive Rogers
18
Posted 17/02/2021 at 19:53:28
Ernie, that would be a back 6 with our 4 centre halves. It's Digne and a Iwobi wide.
Gavin Johnson
19
Posted 17/02/2021 at 19:53:33
Worried about the absence of Allan. Thought he'd be on the bench. I really hope he hasn't had a setback.
I'm happy with the team. The back 4 picked itself for this one, but you can't drop Digne so he has to play further forward, I'd have maybe moved Richarlison to the right side in Iwobi's place and started with King upfront, but he'll be on in the 2nd half, I'm sure. Hopefully we won't be trailing by too many at that point...
Sean O'Hanlon
20
Posted 17/02/2021 at 19:54:21
What a bollocks team selection. And to top it all, he brings in that clown in goal.
Decided not to watch this one or Saturday's game – I can only take so much ritual humiliation in one week.
Good luck to Everton FC, and let's hope the next 2 embarrassing defeats add more pressure on that excuse for a manager.
Dave Williams
21
Posted 17/02/2021 at 19:55:06
Allan has had one injury, Clive – give him a chance. That said, I'd prefer he was only 25!
Stephen Vincent
22
Posted 17/02/2021 at 19:58:18
Josh King now realising why Moise Kean can't wait to get back to Goodison!!!!!
Andrew Brookfield
23
Posted 17/02/2021 at 19:58:56
Sean @19... putting the 'support' in 'supporter' there!
[Rolls eyes at ToffeeWebbers]
Ernie Baywood
24
Posted 17/02/2021 at 20:01:25
I wouldn't put it past Carlo, Clive!
Looks a reasonable team to me. Not a huge fan of Richarlison up top. Usually wastes him and he struggles to get involved.
Was King actually playing at Bournemouth? Seems strange to loan him and then do anything to avoid playing him.
Thomas Richards
25
Posted 17/02/2021 at 20:03:05
I've decided not to watch this one. I have put a paper bag over my head. I may put a pirate's eyepatch on if it's going okay and take a chance on one eye...
Simon Dalzell
26
Posted 17/02/2021 at 20:11:45
King looked sharp the other day and was unlucky with the offside goal. Plus the fact Sigurdsson is dreadful up front.
Danny Baily
27
Posted 17/02/2021 at 20:16:32
I like the preamble on amazon. There's zero pressure or expectation on us tonight. A real free shot.
Christy Ring
28
Posted 17/02/2021 at 20:23:47
Allan missing, don't understand he wasn't rushed back, he hasn't played a game? King is still on he bench, but we have Carlo's messiah, false no.9 playing ?.
Phil Smith
29
Posted 17/02/2021 at 20:30:42
Painfully clear that Richarlison can't play up top in his own!
Kevin Dyer
30
Posted 17/02/2021 at 20:31:06
Very good start by us. Mina's been excellent so this could hurt us badly. Holgate HAS to step up here, as does Coleman.
Ciarán McGlone
31
Posted 17/02/2021 at 20:33:25
Holgate to centre half is not the change I would make.. Godfrey to centre, move digne back and bring King on.. Richarlison out wide
Danny Baily
32
Posted 17/02/2021 at 20:42:41
Mina out for the derby is a disaster.
Ernie Baywood
33
Posted 17/02/2021 at 20:48:21
Not even sure why I'm bothering to watch a team that's been setup to wait for defeat.
Kevin Dyer
34
Posted 17/02/2021 at 20:51:47
Ernie #33 how would you set up to play City then?
We're behind to a deflected shot, they created nothing in 30m of keep ball.
James Fletcher
35
Posted 17/02/2021 at 20:52:45
FUCKING YES!!!
Kevin Dyer
36
Posted 17/02/2021 at 20:53:52
Get in! Been a final pass away from breaking on then several times, this time it worked out. Game on eh Ernie?!
Ernie Baywood
37
Posted 17/02/2021 at 20:54:09
And sure enough we go a goal down... have to actually have a go and we score within 5 minutes. FFS, have a go!
Andy Crooks
38
Posted 17/02/2021 at 20:54:30
I agree with you, Ernie. It brings to mind Brazil v Northern Ireland at the World Cup many years ago. An inferiority complex that is embarassing. So utterly and depressingly negative. Keep it tight and pray.
Ernie Baywood
39
Posted 17/02/2021 at 20:58:30
Kevin, don't tell me that was part of some masterplan. For 35 minutes we've camped out in our half and hoped beyond hope that City didn't score.
At 1-0 down we committed some bodies forward. We had 5 in the box for that goal - it's not a fluke that it drops to a blue shirt.
If we were brave in the last 10 minutes of the half, then it stands to reason that we were cowardly in the first 35. And have been in many games.
Andy Crooks
40
Posted 17/02/2021 at 21:05:18
My God, we can play when roused!! Everton that.
Ciarán McGlone
41
Posted 17/02/2021 at 21:06:39
Odd game.
At times weve moved the ball about well but mostly looks like a training game for city.
Doucoure much improved and Tom playing very well.
Our number 10 non existent.
They will come at us ferociously second half and Aguero and De Bruyne to come on doesnt bode well.. James on for Sigurdsson.. this is a game for him.
Enjoyable game though
Stephen Brown
42
Posted 17/02/2021 at 21:07:52
The way they are talking about City on Amazon is a joke !!
Yes they're a good side but this is a game Everton can win! The way they are talking as if we shouldn't be on the same pitch
Jay Wood
[BRZ]
43
Posted 17/02/2021 at 21:10:40
Ridiculous, isn't it?
We played more football with greater intensity in the opening five minutes tonight than we did all game v Fulham.
Of course City are the better team.
Of course they are dominating possession.
But they haven't really tested Pickford much and it was a huge deflection off Coleman to give them the lead.
Everton's football for our goal was excellent. Patient build up. Good pick out by Iwobi of Coleman. Great cross to Digne. Good first time shot and plenty of bodies in there to make sure the ball goes in the net.
All this with losing Mina in the first 15 minutes.
Enjoying this.
Henrik Lyngsie
45
Posted 17/02/2021 at 21:13:17
Am I the only one frustrated by watching Iwobis defensive 'work'? No positional sense, takes no responsibility, does not anticipate anything. He is just standing 10 meters in front of Coleman. As soon as they make a move on the left side he gets lost. Hope that Pep is not exploiting that in the second half.
I almost trust James more defensively than Iwobi.
If Iwobi then was a highly productive offensive asset I would understand his selection. Admittedly he is decent is possession and small combinations in the middle. But very poor end product. Poor crossing and hardly any assists.
I really think he is a weak link.
Oliver Molloy
46
Posted 17/02/2021 at 21:15:43
Stephen,
"city are being properly challenged tonight at goodison" the commentator said there at half time - imagine that !
Disrupt their play as much as we can, niggles here niggles there and take the chance when it comes and who knows..
COYB
Stephen Brown
47
Posted 17/02/2021 at 21:16:07
Jay
Spot on!
The praise they are heaping on city is astonishing! Yes we know they are good but 1 deflected shot they've had ! Owen has just said it was a brilliant hit by Foden ??!!
I'm going to do a keegan and say I'd love it if we beat these !!!!!!
Kevin Dyer
48
Posted 17/02/2021 at 21:17:05
Ernie / Andy - tell me how you'd want us to play? On the front foot trying to dictate play? The game would be all over by h/t, it's Keegan-like optimism to imagine anything else.
How we're playing is on the counter. When a counter opportunity presents the players are looking for the quick progressive pass and getting bodies forward in support. This is not parking the bus or whatever you think you're watching. Against a team like them you have to pick your moments.
So yes Ernie, this is the plan it's not accidental.
Again, they created very little even with 70% possession. Their goal was something of a fluke, though in fairness, you don't shoot you don't score. Our goal was superior. Assuming we don't abandon the plan we have a genuine chance here. Of course, City have game-changers on the bench.
Tony Abrahams
49
Posted 17/02/2021 at 21:17:24
Turn the sound down Stephen mate! I think Doucoure has been brilliant Ciaran, a couple of sloppy passes but his short game isn't the best, but what drive he's got, and Davies has also started developing into a good midfield player recently.
Everton are very disciplined, it's obvious we need more going forward, but this City are relentless with the football, but if we was this disciplined on Sunday night, I'm sure we'd already be on 40 points. Keep concentrating Everton!!
Gavin Johnson
50
Posted 17/02/2021 at 21:17:24
Stephen #42 Yes, the fawning over City is ridiculous. Better them fawning over them than the RS though. The RS are big headed enough already.
Great effort to get 1 back. We largely nullified them 1st half but I never thought we'd get a goal back. I pulled a muscle from the cheering. Lets hope we keep the same intensity in the 2nd half
James Fletcher
51
Posted 17/02/2021 at 21:21:19
I think everyone is playing pretty well but still quite a few needless ball control/passing errors.
COME ON LADS!
Andy Crooks
52
Posted 17/02/2021 at 21:21:35
Jay,if you needed a video to accompany your recent article the first half would do nicely.
We are like the quiet intense kid who finally hits the bully back and realises that the world doesn't end. We are good enough to beat them but for half an hour deferred to them as though we were not entitled to be on the same pitch.
What is it?
Anyway, bring it on.
Ernie Baywood
53
Posted 17/02/2021 at 21:22:26
Kevin, tell me you're not so white van that the only alternative sitting in your own half is going gung ho?
I'm suggesting a balanced approach. Be brave on the ball. Carry the ball from midfield. Make runs from deep when you get the chance. In fact, all the things that happened for our goal.
And I would absolutely call that first half hour 'parking the bus'. Richarlison with his back to goal. Sigurdsson 30 metres behind him and two wingers on our full backs' toes isn't counter attacking football. If it quacks, it's a duck.
Andy Crooks
54
Posted 17/02/2021 at 21:25:28
Yes, Ernie, exactly. Kevin, we are good enough to take them on and believe me I am no Keegan-like optimist.
James Fletcher
55
Posted 17/02/2021 at 21:26:10
Charlie has found his spirit, starting to look like his old self
James Fletcher
56
Posted 17/02/2021 at 21:50:57
Well, not a great result but much better from the players. Still time to maybe get something
Kevin Prytherch
57
Posted 17/02/2021 at 21:55:23
Once again baffling substitutions.
The second we take Davies off and put Sigurdsson in central midfield we lose all sense of competitiveness in the middle. Sigurdsson can only play in one position and against a certain style of play. He is not, and can not play as, a central midfielder.
What's the point of having a centre forward in King to only put him on the wing?
James now just looks like he can't be arsed.
Neil Lawson
58
Posted 17/02/2021 at 21:58:45
Gulf in class is frightening. Will be washing my hair for cup tie. Perhaps they will agree to let us play with 14 men to give us a sniff.
Ciarán McGlone
59
Posted 17/02/2021 at 21:59:43
Sigurdsson dropped back and Tom taken off again.
Bizarre stuff.
James Fletcher
60
Posted 17/02/2021 at 22:00:35
Sigurdsson is so frustrating to watch: good brain but so slow and a complete shithouse when trying to challenge for the ball.
Alex Gray
61
Posted 17/02/2021 at 22:03:10
City are excellent but we didn't create a single chance and scored off a lucky rebound. Defended Carlo due to the poor players we have but no idea what the tactics were tonight.
Some good defensive tackles but chased shadows all evening.
Phil Smith
62
Posted 17/02/2021 at 22:04:14
Richarlison (apart from that lucky goal) has been a total waste of space up top. Ball doesn't stick, lost a bit of pace, and just not getting into the right positions.
We could gave gotten something from this game if King had started up top, I feel. My patience is wearing thin with Ancelotti's selections and substitutions...
Neil Lawson
63
Posted 17/02/2021 at 22:07:40
As a distraction to another trouncing, I have been totting up the players who haven't had a smart lockdown hairdo. Still on one hand!
Michael Williams
64
Posted 17/02/2021 at 22:09:28
City have not trailed in a match since November 21. Have out-scored teams since then 46-6.
Brent Stephens
65
Posted 17/02/2021 at 22:13:11
No disgrace in that result.
Tony Twist
66
Posted 17/02/2021 at 22:13:46
Everton, the most predictable team in football. Embarassing.
Kase Chow
67
Posted 17/02/2021 at 22:13:48
How is this better than Fat Sam?
We sit off every team and make them look like world beaters. It's crap and boring and no fun.
Chris Williams
68
Posted 17/02/2021 at 22:13:52
Yes Michael,
That's 17 wins on the spin for them. Too many good players for them with more on the bench.
The result was unsurprising but at least we scrapped against a better team...
Lost to a team we can only aspire to emulate at this stage in development.
Jerome Shields
69
Posted 17/02/2021 at 22:14:19
Man City technicialy better. Too many Everton players' first touch and passing is poor. James, the key to Ancelotti's change of tactics, was not good enough. Davies was actually better than him. Coleman wasn't up to his moving forward role after the substitutions. Goes to show you have to beat the likes of Fulham.
Mike Connolly
70
Posted 17/02/2021 at 22:14:23
Never seen us get outclassed that much since... Oh, Sunday against Fulham We'll get hammered on Saturday. Should be used to this by now. The crowd has been missed at home, no way we would put up with the shit they are serving up of late.
Thomas Richards
71
Posted 17/02/2021 at 22:14:35
Brent 65.
None whatsoever.
Dave Williams
72
Posted 17/02/2021 at 22:16:00
Well, I thought Richarlison did alright up front and Tom had a very decent game. I can't understand why he gets hooked after 70 minutes every game.
We fought hard and lost to the best side in the country if not Europe. James failed to make an impact and doesn't put in much of a shift.
Roll on Saturday.
Kevin Molloy
73
Posted 17/02/2021 at 22:16:17
I thought we were okay tonight. That awful third goal. Keane with lead in his boots, and soft hands from soft lad. Again.
George Cumiskey
74
Posted 17/02/2021 at 22:17:00
What's the betting Siggy will be first on the team sheet against Liverpool and King will be on the bench again? Tactical genius?
Simon Dalzell
75
Posted 17/02/2021 at 22:18:39
I take very little solace in the fact it was ' no disgrace'. Just pretty, pretty, pretty, pretty' pretty poor.
George Cumiskey
76
Posted 17/02/2021 at 22:18:56
Thank god Brands is signing a new contract ! Lol 🤣😆
Thomas Richards
77
Posted 17/02/2021 at 22:19:15
Playing against a side who have won their lazt 17 games.
10 points clear at top.
Champions League winners imo.
We had a go,we tried but class always tells in the end.
Tom Harvey
78
Posted 17/02/2021 at 22:19:51
Jerome Shields @ 69
I agree with there, for most Tom's improvement is going unnoticed.
Oliver Molloy
79
Posted 17/02/2021 at 22:19:59
Ah now,
This is to just give city and our next opponents a false sense of security.
Saturday's match much more important and we will beat City in the cup next time round.
COYB.
We can not deny City are some team and are the closest in football terms I have ever seen to the brilliant Barcelona side of some years back.
It's just pass and move, pass and move and they just keep probing wearing teams down, I think they could win the CL this year.
Neil Copeland
80
Posted 17/02/2021 at 22:20:20
Brent #65 and Thomas #71, agreed. It took a worldy from Mahrez to break us. No shame whatsoever.
Jay Wood
[BRZ]
81
Posted 17/02/2021 at 22:20:45
Far too much class in the end.
City are by several country miles the best team we've played all season. How Pep has adjusted their style is very interesting.
Unlike Klopp who has attempted to continue his high intensity press all over the pitch with his asthmatics for a 3rd consecutive season, Pep isn't playing the close proximity tiki-taka football of his previous teams.
The ball still does most of the work, but they conserve more energy with quick interchanging and movement of every player. ALL can pop up anywhere on the pitch and be comfortable in almost any and every situation. It is a delight to behold.
That's not by accident. That's schooled and achieved by recruiting the right players able to perform it.
We are several grades below that level. The league is their's.
We were game enough. Far better than Sunday's poor fayre. Just not good enough.
Now to pick ourselves up, dust ourselves down and go again on Saturday.
Kieran Kinsella
82
Posted 17/02/2021 at 22:21:56
Thomas 77
Most will acknowledge that they were a simply better team but that abcess like pit of misery on here will be gleefully blaming Carlo for it all and mouthing off like he's got a backbone even though he'd be the first to give Kenwright the five-knuckle shuffle if he me him face to face.
Stephen Brown
83
Posted 17/02/2021 at 22:22:03
I thought we played ok tonight against a superior team!
Deflection, worldy and another Pickford error!
Plenty of fight and effort but clear gulf in class. Despite the ridiculous fawning of pundits!
Allan and DCL to come in and stick with same team for rest of the season!
John Keating
84
Posted 17/02/2021 at 22:22:09
Slightly less embarrassing than Fulham
City are on a level, planet, miles above us.
Most people accept that City are going to have the ball most of the time, however, we were so poor when we had it. Really poor.
Our movement and passing in possession is horrendous.
If DCL doesn't play next game not worth thinking about because Richie is a waste of space centrally
Kevin Dyer
85
Posted 17/02/2021 at 22:22:41
Well, they were too good in the end. Have to play 100% concentration all game to have a chance, unless your squad is as good as theirs. A momentary slip and they are in on goal.
Ernie - we broke (or tried to) when we could, including those first 30m. It has to be on before we send men bombing upfield or we'll get killed in transition, if a ball is forced and possession lost. They rarely gave the ball away those first 30 so chances were limited.
Anyways, Davies may have been tiring but taking him off (again) was a bad idea as Sigurdsson cannot play central midfield. He can't receive the ball on the half-turn, has no defensive positional sense and his tackling is weak whereas Davies is good at all these skills. He lost Mahrez for their second goal. Funny thing is, he actually played well behind Richarlison, very energetic active pressing and good linkup play; he does none of this when playing deeper and Ancelotti needs to see this and stop trusting him to play CM.
King showed little when he came on, unfortunately. He's going to need to really improve or I'd pass on him, even for £5m. Iwobi did OK but his final ball let him down once more.
Doucoure was back to his usual self, harassed them relentlessly. Got in good positions a couple times but it didn't fall quite right for him. Davies played well again. The backline were solid and coped well with the loss of Mina. Coleman handled Sterling efficiently. Godfrey likewise with Mahrez, but lost him as he cleverly drifted infield for the goal.
Richy had a good game up top, don't know why he is getting any criticism tbh.
Tom Harvey
86
Posted 17/02/2021 at 22:23:13
Fulham was the lost hope/switch off point for me, I felt numb watching that tonight and I'm hoping the Derby drags some emotion out of me.
I've had 35 F****** years of this.
John Davies
88
Posted 17/02/2021 at 22:26:10
60 years I have been a Blue Nose and there is not a snowball's chance in hell I will ever see my team win another major trophy. The gulf in class between us and this City side is just ridiculous. We never even gave it a go tonight.
I am sick to death of watching players who are simply nowhere near good enough and who actually don't give a shit because they will still line their pockets with the obscene salaries they earn.
Have you ever thought that it takes the average man in the UK 14 years to earn what the fraud Gylffi Sigurdsson gets paid in one month! (He's not the only one by the way. We have several).
I truly detest this current set of players, coaching staff and the modern game in general. It's really quite obscene. Someone please turn out the lights and lock up after me. I'm done.
Kevin Dyer
89
Posted 17/02/2021 at 22:27:20
Tony #66 change the record will you. Don't you get tired posting the same nonsense every match?
Tony Abrahams
90
Posted 17/02/2021 at 22:28:43
I don't knock Sigurdson as much as others but I was very surprised that he stayed on the pitch until the end tonight, because he looked like a very tired footballer from the off.
Maybe he's brought Davies off to keep him a little bit fresher for Saturday, but he battled away gamely, and although you could see he was going to get totally exposed for the goal, if Glyfi would have came back to help, then maybe Bernard wouldn't have found himself two on one?
Not a night to criticise imo though, and just hope Allen was sick, and DCL, can also make it for the derby, with a final word on Manchester City, because even though they are the only team to ever do the domestic treble, they actually look like they've evolved.
Craig Walker
91
Posted 17/02/2021 at 22:29:55
I didn't expect anything else tonight. I'm still not over the disappointed of the Fulham result which has cost us.
I've not been Tom Davies' biggest fan down the years but he's been playing well and I thought he was our best players again tonight. Why take him off? Don't understand why King didn't start.
City are different class and there's no disgrace in losing to them but we surrender possession so easily and are so slow in moving the ball. We never see our midfielders shoot.
I still think Sigurdsson is a luxury player who has one good game in 8. He played well in the Spurs game but he's not good enough most weeks. Similarly with Iwobi.
On the plus side, I think Richarlison showed some effort tonight and did his best in trying to get us playing in their half. Pickford still worries me.

Neil Lawson
92
Posted 17/02/2021 at 22:31:04
Tom (86). I have had nearly 60. Fortunately I can still remember Ball Harvey Kendall and Howard's stars of the eighties. Between times I have raised 2 sons who now as a result of poor parenting, have to suffer with absolutely no prospect of it ever ending.
John Boon
93
Posted 17/02/2021 at 22:31:28
I just cannot get too disturbed about the game and I don't see any point in being overly negative. City are just a far better team than us and they have far more skillful players than we do. I don't think it would really matter whatever eleven we put out,or whatever subs we may have made, we just are not in the same class.BUT neither is any team in the league as our despised neighbours found out recently.
To go out on a limb I have to say I would have been delighted to even get a point but reallistically did not expect one. However I do think we can get something from our next game with energy, effort and a genuine desire to win. WE need at least fifteen windows to get anywhere near ManC. We just don't have the players or the money to challenge.
I will still remain an Evertonian for ever. I have been one for far too long to have any other option, and there are still no better options whatever happens win,lose or draw...C.O.Y.B.
Stuart Sharp
94
Posted 17/02/2021 at 22:31:51
Yes, City are a class apart. Yes, we did quite well in spells. But I still find our mediocrity hard to accept. When we did have the ball, we usually stuffed it up. That's not because of City's class. Iwobi's crosses, long hopeful balls to the one player we have anywhere near their half, a lack of urgency when 2-1 down... these things are about us, not them. 'No shame in the result'? Maybe on paper. Whoever does finally end City's run will probably not do so by rarely having a shot on target.
Frank Sheppard
95
Posted 17/02/2021 at 22:31:57
Fair enough score, can't win if u can't get the ball. On the odd occasions we got the ball, we couldn't keep it.
Tony Everan
96
Posted 17/02/2021 at 22:32:39
You've summed it up in two words Michael. Quality and workrate. We just couldn't match it either by quite a distance.
Barry Rathbone
97
Posted 17/02/2021 at 22:34:55
The only positives are City look solid enough to win the title at a canter to thwart the monkey island crew and we no longer have to get worked up about the cup.
When the cup exit is confirmed Carlo should start planning for next season by blooding youngsters and identifying wholesale squad changes for the summer (something that should have been done in the last window)
As if 😎
Rob Halligan
98
Posted 17/02/2021 at 22:34:55
John Davies # 88. See ya, and don't bother coming back. You won't be missed.
Colin Glassar
99
Posted 17/02/2021 at 22:34:59
City showed us how far off the top we are. We huffed and puffed, showed a bit more desire but you can't substitute class for effort.
Without major reinforcements in the summer (MF essentially) then we will continue to struggle.
Jack Ledwidge
100
Posted 17/02/2021 at 22:35:42
We were well beaten tonight for all to see. No matter what the shape, no matter what the tactics this squad is a mid table side. There is simply too many passengers. Apart from Allan and Doucoure in midfield the rest of the midfield squad and I include James in this are simply not good enough for top 6 let alone higher. In the summer we need to recruit 4 quality players. Pickford aside our defence isn't the worst. The focus must be in the middle. I don't like being linked with the likes of Isco or Rabiot. That's lazy buying. We need players on an upward trajectory. They are out there. It's a big summer for Brands
Danny O'Neill
101
Posted 17/02/2021 at 22:36:43
Probably best to let a lot of people let steam off on this one.
Couple of points though; lots of teams must sit off City and make them look like world beaters. It must only be because everyone sits off them that they are good.
Lucky rebound? Alternative take, great strike by Digne, unlucky not to score himself. Richarlison in a great position but it just evaded him. But, being in the right space at the right time bought him that "luck" when it came back off the post. Don't we want strikers to be in the right place in case a chance drops?
Beaten by a better team who are better than everyone else in the league.
David Hallwood
102
Posted 17/02/2021 at 22:37:16
I feel your pain John(#88) but remember 1983 watching us getting totally outclassed at Mordor going down 3-0. So things can turn around.
Remember CA been here a year, so there's lot's of work to do. My concern with Everton is fitness levels and workrate; all teams look fitter than us.
We're miles away from Citteh but then again so is every other team.
Paul A Smith
103
Posted 17/02/2021 at 22:37:52
I stopped watching not long after their 2nd. We just cannot live with sides like that.
We need 11 Doucoures, big, strong and athletic to even compete with them. Their skill level is miles above what we have and we have now become too reliant on DCL.
Football is a closed shop and tonight is part of the bigger picture I am always banging on about.
Commentry alone tells us which way they want football to go. There were times in the first half we passed around and commentry was silent.
City managed to sneak into the elite club just in time and even a lovely new stadium won't bring us into that category for a long time.
That was 11 world class internationals all very capable v 11 triers, chasing like kids and not enough ability to do something special.
Thomas Richards
104
Posted 17/02/2021 at 22:38:14
Won last 17 games.
Opposition players have scored twice in the 17 games.
Bit of perspective please.
Jerome Shields
105
Posted 17/02/2021 at 22:38:34
With a better Everton midfield City could have been taken on. Ancelotti had the right idea with his subs, but James wasn't up to it. Davies would have done more. Man City are not so hot against a sweeping attacking move.
The Third goal was Keane not concentrating or quick enough and Pickford fluffing the save, having got a full hand on the ball.
That Man City side will not win the Champions League.
Tom Harvey
106
Posted 17/02/2021 at 22:39:34
Tony Everan @ 96
Quality yes, but work rate we always have to atleast match, this we didn't.
John Raftery
107
Posted 17/02/2021 at 22:40:19
The gulf in quality was obvious. I disagree about the work rate. Our players were constantly tracking the opposition who had over 70% of the possession. That is very difficult to maintain for ninety minutes. By the time we reached the last half hour our team was understandably knackered.
George Cumiskey
108
Posted 17/02/2021 at 22:40:27
People on this thread saying can't get too disappointed about tonight's game, I wonder if they were saying the same about the Fulham game and then the next game then the game after that, unbelievable !
Neil Copeland
109
Posted 17/02/2021 at 22:40:45
David #102, apart from Spurs that is
Danny O'Neill
111
Posted 17/02/2021 at 22:41:13
If I just focus on the last 20 minutes of the first half where we were able to come out and have a go at them Paul A Smith, Doucoure was the driving force behind a lot of that.
And Sigurdsson effective during that period in the higher position. We all know that.
Allen, Doucoure and one of Davies (preferred at this point) or Gomes in the pocket behind them for the next match for me. The first two go and hunt / harry, the other make play.
Justin Doone
112
Posted 17/02/2021 at 22:42:35
Disappointing result, pretty poor performance but City have 6 player's on the pitch that are full of energy, movement, attacking intent and quality.
On top of that they all rotate positions and have a number of player's that can score.
It would be a hard game with our strongest team never mind suffering another injury and having to shuffle players.
The real disappointing results and performances are against the Fulhams and Newcastles, not City.
We just have to keep going and improve.
Tony Abrahams
113
Posted 17/02/2021 at 22:43:03
Lockdown is driving most of us crackers now, Everton are driving all of us crackers at the minute, but I remember as a child being the only one who fancied Everton to knock a very good Ipswich side out of the cup, just a couple of weeks after they'd dismantled us 4-0 at Goodson Pk.
I'm not saying we will beat City, a lot depends on who we've got available, but I'm sure we are going back to one game a week after Saturday, and this is something that needs to happen for a very small squad.
Ancellotti has made it smaller because he doesn't seem to trust certain players, but I'm not criticising anything tonight!
Tony Twist
114
Posted 17/02/2021 at 22:43:46
Kevin #66, I am honoured that you took the time to read it. Was the result predictable? Are you not embarrassed by Everton's application? As has already been said, the gulf in class between the sides is huge but that gulf is mainly due to Everton's failings.
Brent Stephens
115
Posted 17/02/2021 at 22:44:08
#88 - best news all night.
Rob Halligan
116
Posted 17/02/2021 at 22:44:22
No shame in defeat tonight. City are by far the best team in Europe, and probably the world. They have won 16 consecutive league games, so what makes anyone think it would be any different tonight? Yes, I'm as disappointed as anyone we didn't get anything from the game, but come on, they are probably the nearest to a machine that we will likely ever come across.
I can honestly see them winning every league game until the end of the season, and also winning the champions league, as well as the carabao cup. We've just got to hope they have an off day for the FA cup game, and if not, then I hope they win that as well.
Kieran Kinsella
117
Posted 17/02/2021 at 22:44:22
George 108
"People on this thread saying can't get too disappointed about tonight's game, I wonder if they were saying the same about the Fulham"
No, after Fulham they were saying what Justin Doone said in 112
Tom Harvey
118
Posted 17/02/2021 at 22:44:30
Neil Lawson @ 92
I was in the Gwladys for all 80's glories and now we have a lad who's in a classroom full of reds, just him and one other lad are blue.
It's cruel world!
Kevin Dyer
119
Posted 17/02/2021 at 22:44:34
Thomas #104 - Some folks don't really do perspective, they just vent and fume.
Dave Abrahams
120
Posted 17/02/2021 at 22:45:54
We played much better than on Sunday, which of course wasn't hard to do, nevertheless we kept our shape for long periods of the game without really threatening them but you could see the relief on the City bench each time they scored, especially the third and clinching goal.
The passing and movement is still not there which means we create more problems for ourselves than the opposition do, but not tonight, City are a special team getting better and better and Everton are still lingering behind, tonight I wasn't too disappointed, still hate losing, but the attitude and application was much better than Sunday, although still no consolation for that terrible performance, take quite a while to erase that from my memory.
Kieran Kinsella
121
Posted 17/02/2021 at 22:47:08
Tom 86
"I've had 35 F****** years of this."
Think yourself lucky if it's just the 35. Your shift is just getting started mate
Phil Bellis
122
Posted 17/02/2021 at 22:47:10
Obscene gulf in class, granted, but we couldn't even find a blue shirt for more than 3 consecutive passes (if that) or get a tackle in
Could you imagine a team with the likes of Reid, Gray or Cahill laughing and joking wth the enemy after being beaten? The only players I saw looking gutted were Seamus and Godfrey...says it all, really

Tommy Coleman
123
Posted 17/02/2021 at 22:48:49
City are a World class team, how many of our players would get in their team/squad? Maybe Richardson? My biggest criticism of the performance is that we should have been far braver on the ball. Plus, why o why is Sigurdsson so highly regarded by every manager we have? Plant a tree in the centre circle instead.
Anthony Murphy
124
Posted 17/02/2021 at 22:49:31
Didn't expect a result tonight, but did against Fulham, Newcastle, Leeds, WH and that's the real problem. Worked hard, but lacked a clue when we had the ball...watched us turn back whenever we got in there half all night - ok, they're a great side but we still should be using the ball better. Hope Mina is ok for the Derby and DCL is available
Danny O'Neill
125
Posted 17/02/2021 at 22:50:34
Go and read the post Fulham thread George. Everyone was unanimous in the anger, despair and disappointment after Fulham, even when some of us tried to have a cooling down period.
This was different. No comparisons or parallels. We have just been well beaten by the Champions elect, but in perspective of who we played in both matches, this does not compare whatsoever to Sunday.
Paul Birmingham
126
Posted 17/02/2021 at 22:51:10
Fair dues to City and generally Everton we're out classed and could barely get the ball in the 2nd half. If we'd have had DCL supporting tonight Everton, could have nicked at least a couple in the first half, but it's what ifs.
City have this season in the bag, already.
An improvement on Sunday, which was the minimum, but at least we didn't get totally whacked like our neighbours did.
Leipzig, gifted the RS, the game last night.
Show no fear and get in to them on Saturday.
Pivotal phase of this season, and interesting to see genuinely when the injured players, allegedly due back, will be available.
Everton FC, it's the hope, that does kill you.
So downhill slalom for this week, to beat the RS.
Ian Edwards
127
Posted 17/02/2021 at 22:51:45
Phil 122. The Manager doesn't care either. Look at his reaction when we scored extra time Cup winner. Sipped his Coffee and didn't bat an eyelid.
Eddie Dunn
128
Posted 17/02/2021 at 22:51:52
The usual outcome. They were far too good for us. We matched them for workrate, if not quality for an hour but then our lack of quality and lower fitness levels became clear to see.
No disgrace. This is a formidable team.
Hopefully DCL will be fit for Liverpool, but don't count on it, Carlo(rightly) keeps his cards close to his chest and we may see King handed his first start up top.
Kevin Dyer
129
Posted 17/02/2021 at 22:53:01
Tony #114 no problem. City are a super-team packed with super players. Their second 11 would likely qualify for Europe. Nobody's laid a glove on them for months. The same people who routinely appear on here after every defeat (hell, even poor performance) to slate the players, manager etc. somehow think we can just go out there and out-football them? And rant when we lose, it's fucking beyond childish.
We played a good strategic game and were in with a chance for 75m against an elite outfit. The second goal was a wonder-strike by a former player-of-the-year that is not even a guaranteed starter for them. We lost him momentarily, but fair play to Mahrez and not every goal is a defensive error. After that our changes didn't have the required impact and I think Carlo dropped the ball dropping Gylfi into midfield, where he's been repeatedly ineffective. The third goal killed us off. JP could do better, he gets enough on it though it was a powerful shot.
Kieran Kinsella
130
Posted 17/02/2021 at 22:53:45
Ian 127,
You need to keep your posts in check so they at least appear (to some) to be anything other than your humorous attempts at trolling. You can't wind people up if you're so transparent about posting ridiculous comments.
Kevin Dyer
131
Posted 17/02/2021 at 22:54:10
Ian #127 give it up will you. The anti-Carlo shtick is ridiculous.
Tony Abrahams
132
Posted 17/02/2021 at 22:54:54
Ian@127, if what you say is true, do you think the dyed in the wool Duncan Ferguson, would just go to work everyday and accept working for the man that doesn't care?
Eddie Dunn
133
Posted 17/02/2021 at 22:55:16
Tony- I was at that Cup game v Ipswich and we were unfancied. Anything can happen if you really go for it.
Colin Malone
134
Posted 17/02/2021 at 22:55:23
Olsen, Coleman, Allan, Hamas, in for the derby, in place of Pickford, Holgate, Davies, Sigurdsson. Maybe I'm harsh on Davies but Hamas, Richarlison or Iwobi are more a threat than a slow ageing Sigurdsson.
Rob Halligan
135
Posted 17/02/2021 at 22:55:29
Ian, how do you know the manager doesn't care, has he actually told you so?
Brent Stephens
136
Posted 17/02/2021 at 22:57:42
Ian, you're making a real embarrassment of yourself. It's far too obvious.
Ian Edwards
137
Posted 17/02/2021 at 22:57:47
Kieran/Kevin. I was merely pointing out that Ancelotti has done the same as what the poster pointed out. If Allardyce went from mid Dec without a home win you'd be spitting blood. The free ride you're giving him is embarrassing. Have a look at yourselves.
Eddie Dunn
138
Posted 17/02/2021 at 22:57:47
ian - the coffee sipping has been read in other places as "cool" and we won that game, so get a grip.
Frank McGregor
139
Posted 17/02/2021 at 22:57:55
Looking at tonight's game, it is clear that Everton are still in a development stage compared to the top 6 teams currently in place.
If you are really motivated to go to Wembley for a Final, one could go there with Tranmere Rovers – they reached the final by beating Oxford United 2-0.
The Final is in March this year and will play the winners of Sunderland and Lincoln City for the Pappa John's Trophy.
Dale Self
140
Posted 17/02/2021 at 22:58:01
Fuck Ian, how many times are you going to recycle that debunked claim? Cut the retard stuff and address his response to DCLs goal in the same game. That surely is also a measure of his commitment.
Oh and before you get to it again, Kean was not mismanaged. Get some new material mate.
Thomas Richards
141
Posted 17/02/2021 at 22:58:49
Dale Self
142
Posted 17/02/2021 at 22:59:22
Ian ->spotlight. Dance Ian Dance.
Anthony A Hughes
143
Posted 17/02/2021 at 22:59:45
Well going forward (sorry I hate that phrase as well) we should hope that Ancelotti and Brands know now exactly what is required to move this team forward
City are playing a completely different game to the rest of us at the moment but some serious squad surgery in the summer is required to enable a top 4 challenge next season.
Tony Twist
145
Posted 17/02/2021 at 23:01:13
Kevin, you are dead right, city are an excellent side but after watching football for 50 plus years, I feel a lot of teams nowadays, concede before the game has begun. it is just very frustrating to see Everton still not getting the wrongs in their game right.
Rob Halligan
146
Posted 17/02/2021 at 23:01:58
Actually lads, Ian is over the moon with the news that Carlo will be our manager for the next ten years!
Rob Hooton
147
Posted 17/02/2021 at 23:02:01
City are the champions elect and are steamrolling the league currently. We tried hard and did well in spells, fingers crossed we have the majority of our first eleven fit and firing for Sunday
Andrew Keatley
148
Posted 17/02/2021 at 23:02:13
The defeats against Newcastle and Fulham were difficult to stomach on the basis of their being no real discernible game-plan or design, with the players seeming to lack effort, intensity, imagination and bravery. I felt there was a marked improvement tonight, and that for 75 minutes we were in the game. Yes, City are far better than us, and we were run fairly ragged at times, but we stayed in the game and had chances to threaten the City goal. While other players are struggling for form I think Davies and Doucouré are better than ever right now.
Ian Edwards
149
Posted 17/02/2021 at 23:02:19
Did we ever lose 4 successive home league games under Martinez, Silva, Koeman or Allardyce??
No is the answer.
Goodnight.
Rob Dolby
150
Posted 17/02/2021 at 23:02:57
A damp squib of a game. Most of our players looked beaten before we kicked off.
I thought we kept our shape well in the first half with a couple of counter attacks to frighten them.
Their 2nd goal was pass and move at its best though Digne could have gone with the run of Mahrez, nevertheless it was a top class finish. The 3rd goal a free shot from range, Pickford will be disappointed not to turn around the post.
I can accept a defeat against a superior team though how many of our players can say that they left everything out on the pitch?
City are masters at killing a game. Why no urgency once we went behind. Doucouré was my motm and broke the lines a few times running with the ball, a few others put a shift in. I would just like us to show more desire and physicality to win a game of football.
For the Derby, Davies needs to play and if Rodriguez plays he has to stay in the opposition half. He is becoming a liability in our own half.
Brent Stephens
151
Posted 17/02/2021 at 23:04:12
Goodnight. Thank fuck for that.
Anthony A Hughes
152
Posted 17/02/2021 at 23:04:30
Has anyone ever seen Ian and Big Sam in the same room?
Dale Self
153
Posted 17/02/2021 at 23:04:43
Ta ta Ian
Paul A Smith
154
Posted 17/02/2021 at 23:05:42
Ian 137 there is without doubt some substance in that claim but as far as sipping coffee goes, you are pushing on the pre-concieved ideas or opinions you accuse others of.
Graham Hammond
155
Posted 17/02/2021 at 23:06:43
A predictable result but I thought that we were better than we were against Fulham which, of course, would not be too difficult to achieve. I thought the substitutions made us weaker and killed the game as a contest, removing the pace of Iwobi and the work rate of Davies was not smart in my opinion, Sigurdsson was looking very tired just prior to the second City goal going in and was the one who should have been hooked. Do not really like to say it but I thought we looked better for Gomes not being in the starting eleven and seeing both James and Sigurdsson both on the field together is madness in my opinion.
Tony Abrahams
156
Posted 17/02/2021 at 23:07:11
Obviously the crowd plays a big part Eddie D, that's our sixth league defeat at home now, and I was reading Fowler actually saying the other day that he genuinely believed that having no crowd in the ground was suiting Everton, because it stops the crowd getting on the teams back, but Liverpool with two defeats where definitely missing the crowd.
Fowler must obviously read ToffeeWeb, every time Everton get beat, and I just hope the media are all spouting this mis-informed bollocks on Saturday night, especially because Everton have only won three league games at home, and two of them actually had a small crowd.
Don't lose belief, unless you've had none to begin with, after all our opponents dropped into the old third division, at a time when their neighbours were winning everything, and look at City now👏👏
Jerome Shields
157
Posted 17/02/2021 at 23:08:16
Man City are not World Class. If Everton players had been technically better, which they should be, in controlling the ball and pass completion there would have been alot more Everton attacks. Colmans pass completion was poor and Pickfords distribution was poor. . Mina before he went off gave he ball away as usual. . , I was glad when he went off. Ancelotti substitutions where right to take them on, because they looked vunerable in defence, but James was poor and Pickford fluffed a save as usual. Holgate was better, as was Richarlison and King given more chances will score. I will say it again Davies was better than James at the end of the day.
Rob Halligan
158
Posted 17/02/2021 at 23:10:40
FFS, just hearing or reading the name Allardyce makes me want to puke. He couldn't hold a candle to what Ancelotti has achieved, yet some treat him like a fucking god.
Rob Halligan
159
Posted 17/02/2021 at 23:13:38
Jerome, City aren't world class. Please tell me you are joking. Name another team anywhere better than them?
Kevin Dyer
160
Posted 17/02/2021 at 23:15:20
Ian #137,
I have and I'm okay thanks. You're the one-trick pony here, mate. Why keep bringing up Alkadyce? The fella is a footnote as far as managers go. The fact you keep referencing him "Sam would get slated for this" to compare with Ancelotti is beyond stupid.
Niall McIlhone
161
Posted 17/02/2021 at 23:15:39
There will be more disappointments to come this season, of that there is no doubt; the real question is, are Everton on a path to improvement as defined by what happens on the pitch?
The problem seems to me to be that we cannot really tell; recent results suggest we are mediocre at best, but we have also seen spirited and exciting performances and very good results from this group of players.
The level that Man City have arrived at has put them in the frame for great success; that result was no disgrace, but is also a reminder of just how far we are from being anywhere near mixing it with Europe's best with this group of players.
Tom Harvey
162
Posted 17/02/2021 at 23:17:55
Jerome Shields @ 157
Yep, we gave the ball back to them far too often with poor first touches and passes that were never on.
That City side was certainly not Barca at their best, Kyle Walker can be gotten at defensively and, in general, City rely on possession of the ball to keep their defense out of trouble.
And if like our performance tonight, if you give it back to them for free, they'll punish you.
Kevin Dyer
163
Posted 17/02/2021 at 23:19:02
Tony #145,
I'd love us to go out there and play as much as you but we do that against Man City, with the huge imbalance in player spend, and we get blown away within 30 minutes. Simeone, with a far better team than Ancelotti has, never did this against Real, Barca etc.
Brent Stephens
164
Posted 17/02/2021 at 23:21:02
Tom, "Yep, we gave the ball back to them far too often with poor first touches and passes that were never on."
I think you demonstrate the point with that – we too often do, they seldom do. Ergo they are a much better side.
Andy Crooks
165
Posted 17/02/2021 at 23:22:35
This is the most baffled I have ever been by an Everton team. We can play, there was effort, but I can't for the life of me explain just why things are the way they are. It's like some time soon a penny will drop, it will all fall into place and it will happen at Anfield.
Also, I can understand analysis of Carlo's tactics, his subs, his selections but, for fuck's sake, his coffee sipping? Anyone recall the famous picture of the England bench erupting in 1966 while Alf sat, apparently, unmoved. I enjoyed Carlo's reaction. Who wants a prancing fuckwit like Klopp. Heart on sleeve my bollocks.
I have had plenty to say about Pickford but I think it is harsh to blame him tonight. Not all shit is sombody's fault.
Colin Glassar
166
Posted 17/02/2021 at 23:23:56
Hear, hear, Rob 158. I thought the Moyes widowers were bad enough.. but Big Sam? Give me a break!
Brian Wilkinson
167
Posted 17/02/2021 at 23:25:51
Not a lot to say, both this game and Fulham, I thought Davies and Coleman gave good accounts of themselves, so was baffled both Coleman and Davies were subbed off against Fulham. Then tonight, Coleman on the bench and Davies hooked off again; two games running where we have taken the better player off.
Oliver Molloy
168
Posted 17/02/2021 at 23:26:01
Actually, in fairness to Ian, I would have loved to see Ancelotti fuck that cup of whatever in the air and do the Mourinho down the sideline – would have been one of football's great moments and gave us all a good laugh.
The man is 61 years old, probably isn't as nimble as he once was, blood pressure easily effected etc,
Also, Ancelotti has already said, the celebration side of scoring goals now is very different to what it used to be. Now we are all waiting on VAR a lot of the time. Personally I hate it.
Sean O'Hanlon
169
Posted 17/02/2021 at 23:26:16
How many points do we need to avoid relegation?
Stephen Vincent
170
Posted 17/02/2021 at 23:26:24
Tom, unfortunately Man City are very good at keeping possession of the ball, oh that our lads could pass to a blue shirt as often.
Can't remember who said it but 'the hardest thing in football is to get the ball' or words to that effect. I find it hugely frustrating that we just give it away with such monotonous regularity.
Kieran Kinsella
171
Posted 17/02/2021 at 23:26:34
Never would've happened on Mike Walker's watch.
Jerome Shields
172
Posted 17/02/2021 at 23:27:54
Rob #159,
Any team can take advantage of a vulnerable defence. Everton had the three chances at goal, scoring one. Other teams will take those other chances. The high line on free-kicks is a gift to a fast enterprising attacker. A good goalkeeper would have saved Man City's third goal.
The substitutions to take advantage of the vulnerable defence in the second half would consist of players to take advantage. James, the key player in this tactic, was a waste of space. Gave the ball away.
What Man City show is how bad other teams in the Premier League are.
Jay Harris
174
Posted 17/02/2021 at 23:28:01
No problem with the team selection or shape tonight.
On another day we might have got something out of that game but, with the half-hearted effort of the subs and those who stayed on the pitch running out of steam, there was only ever going to be one winner in that game.
Compliments to Davies and Doucouré for 120% workrate and thanks to James for gracing us with his presence on the pitch for 30 minutes but I would have much preferred to see that effort against Fulham and get 3 points.
Onwards to the most unpredictable derby ever.
I just hope Calvert-Lewin and Allan are fit.
Tom Harvey
175
Posted 17/02/2021 at 23:29:24
Brent Stephens @164
"Ergo they are a much better side."
You have delightful insight and an exquisite ability to state obvious.

Brent Stephens
177
Posted 17/02/2021 at 23:30:51
Thank you, Tom! So we seem to agree.
Jason Wilkinson
178
Posted 17/02/2021 at 23:33:29
What has been very evident is we have no good forward play without Calvert-Lewin. We rely so much on his ability to hold the ball up. Tonight was never going to be easy. Richarlison just isn't strong enough to do what Calvert-Lewin does.
Man City looked different class to us. They look technically better as a team. They look stronger, fitter and create so much space for one another.
Pickford, Keane, Davies, Doucouré & Coleman all played well. Richarlison, Iwobi, Digne & Sigurdsson didnt do so well. Holgate & Godfrey were a little anonymous. Mina is very fragile. I saw nothing to suggest he was injured during play. I can only assume it is a long term weakness. Rodriguez & King had little effect on the game.
The balance in the squad still isn't quite right. A few more out and a few more in this coming summer.
Players who could be sold (if they want to go) Sigurdsson, Mina, Richarlison, Digne, Bernard, Gomes, Rodriguez & Holgate.
Players we need. Another Doucouré type, two wingers (wing backs) a Madison/ Grealish type, a centre-forward & a second striker to play in a 4-4-2.
Ancelotti has commented about transition. He knows how he wants us to play. We don't have the quality to play the style he wants. Brands has his work cut out to bridge the chasm between us and City.
We started the season a bit carefree. As soon as we played a team with more intensity & hard work we collapsed. A much more pragmatic approach has been adopted since... bringing a mixed bag of performance. Moshiri will have to tap his mate Alisher for more funds for us to get the quality required.
Mick Conalty
179
Posted 17/02/2021 at 23:34:03
Don't pick on Ian. Pick on Carlo the Siggy lover
i
Dale Self
180
Posted 17/02/2021 at 23:36:43
Sorry Mick, won't be taking you up on that.
Ian Riley
181
Posted 17/02/2021 at 23:37:44
City are not world class but they are England's best at present. They have their work rate back and with quality players on and off the pitch should be champions.
Everton, well work in progress or call it what you like. Until we get both of the above mid table is all we can be. Simply we are not good enough for top honours. Carlo is a very good manager but he must make us hard to beat. We are not going to spend another hundred million unless we sell big. Midfield needs more bite and pace on the wings. We don't stretch teams enough.
I'm not qualified to tell Carlo what to do but whatever the plan is it ain't working!
Keep safe all and take care.
Steavey Buckley
182
Posted 17/02/2021 at 23:37:52
I do believe Ancelotti lives in a parallel universe compared to most Everton fans who see their team failing most of the time, while Ancelotti picks teams and makes substitutions that fail to deliver.
The reason why Man City are a better team than Everton is not just about money because Everton managers since 2016 have spent 𧸯 million in 4½ years. It's just Everton managers buying players whose first touch is not good enough, who then struggle to pass the ball decisively, quickly and accurately to another player.
All Man City managers do once they have those right players is for them to play in a game plan.
Brent Stephens
183
Posted 17/02/2021 at 23:38:08
Nobody's picking on Ian. You comment, you invite a response.
Paul Jones
184
Posted 17/02/2021 at 23:39:17
The only fault I could pick with this performance, like the summarisers on Prime, is that Pickford could have done better on the 3rd goal. Then, in a game where the "pips are squeaking" from the first minute, would allow him the same lapse in fatigue and concentration as the rest of the team.
I noticed Ancellotti's criticism of the team post-match was the drop in performance against Fulham rather than this game. For me that is a good sign for the future.
Tom Harvey
185
Posted 17/02/2021 at 23:46:15
Brent Stephens @ 177
How can I not agree tonight?
We lost that game tonight not because Man City were way beyond us in all aspects of the game, but because we have a formation that sits back and invites pressure; add to this they are psychologically fragile, just standard decision making and completing passes becomes problematic, they're choking to a lesser or greater degree.
Fulham: bottom of the table and a must win, we can't handle the pressure. Fulham are no Man City and we collapsed without a fight to them are Fulham better than us also?
We didn't really try in either game, it's pathetic. That City side was beatable, but you have to be prepared to try.
Brian Wilkinson
186
Posted 17/02/2021 at 23:46:17
I am not a Pickford fan, but I thought he did everything right tonight, came out when he had to got some good punches on the ball, may have done better for the third goal... but overall, I thought Pickford was more relaxed and put in a decent performance.
Trevor Peers
187
Posted 17/02/2021 at 23:49:18
It was always going to be an impossible task to beat Man City, barring a huge slice of good fortune, so no surprise we lost tonight. What does give huge cause for concern is the tactics employed by Uncle Carlo.
Ancelotti favours sitting back and hitting teams on the break at home; this might be because we don't have the players who are equipped to do any better or a conscious tactic of his, that he follows religiously. Whichever it is, it doesn't work.
Clearing out several forwards who weren't good enough this season was fair enough but not replacing them was a bit stupid. Of course we have King on a temporary basis, too early to judge if he's useful or not, but why no wide men with real pace and a few goals to add to a pretty feeble forward line?
Quite where we go from here is anybody's guess; this season is already done, bar a miracle in the FA Cup.
Brent Stephens
188
Posted 17/02/2021 at 23:50:58
Tom, I thought we sat when we had to (City a damn difficult side to get the ball off; a side that can punish you in the blink of an eye – (look at the last couple of months for them); and we pushed forward when we could.
What I was pleased about was the numbers who broke forward, even into the City penalty area. They're just too good a side for us.
Phil Rodgers
189
Posted 17/02/2021 at 23:56:13
No point being pissed off about tonight. Season ended against Fulham. Got absolutely no chance in the cup and our home form is fucking embarrassing. Disappointing after the start we had but essentially it's another write-off.
Kieran Kinsella
190
Posted 17/02/2021 at 23:57:39
When Don Alexander flew his "Kenwright, time to go" over Goodison, the self-righteous mob came on here to protest Don. When Bill Kenwright went out to hug Sammy Lee and Fat Sam, they were whooping and hollering in ecstasy.
When David Moyes flipped us the bird after 11 years of failure, there were banks of grown men weeping in the stands like infants. Now, the same crew come on here calling one of the world's best a busted flush. Slating a team that won a humdinger against Spurs just a week ago, a bunch of losers.
I think the promise of brighter things upset some. They want to wallow in self-pity so when there are green shoots of positivity they stamp them out and hanker after the good old days of knife fights, ring-fenced stadium money etc.
Don Alexander
191
Posted 17/02/2021 at 00:02:06
Man City since the Sheiks have spunked 𧴜s of millions on crap signings, but way more on good signings (their bench always proves it). We've also spunked a couple of hundred million on crap signings but nowhere near that much on good un's (our bench always proves it). Hence we're unable to field a team with the ability to pass, move and receive the ball in one touch, as they did all night, in stark contrast to us.
That's the enduring problem Moshiri has created for himself and us by placing such faith in his own, and those whose role he enhances in the boardroom, when it comes to football judgement.
Mr Brands needs permission to sign a bloody big axe for himself this summer to rid Finch Farm of the deadwood infesting the place, and Mr Moshiri needs to wear a titanium jockstrap to survive the financial kick in the balls such action will necessarily incur.
I rest my case.
Bill Gienapp
192
Posted 18/02/2021 at 00:04:29
No point dwelling on this one. There's no shame in losing to a superior side... as long as you're taking care of business against the likes of Fulham and Newcastle.
Phil Lewis
193
Posted 17/02/2021 at 00:06:52
We played the game with a much more determined attitude than that shown against lesser teams. There is no disgrace in losing to Man City and, for a long period, we looked as though we might force a draw. I was pleased to see that even after their second goal, we didn't fall apart. We continued to battle until the final whistle. The team deserve applause for that.
City gave us a lesson in how to play without the ball. How to create space and how not to lose possession. However, we absorbed their pressure exceptionally well and it required a flash of individual unstoppable brilliance from Mahrez to break our resolve.
I thought Digne looked sluggish. Perhaps it's time to rest him. Although without Calvert-Lewin as a recognised target man for him to aim for, his build up play evaporated. The Sigurdsson Richarlison combination seemed totally ineffective. It was almost impossible to visualise where our goals might come from.
James remains an enigma. Undoubtedly supremely talented, his game has seemingly gone off the boil. His vision evident in fits and starts, but certainly not enough for him to impose himself on the opposition. At this stage of our development, his flashes of brilliance seem a luxury that we can ill afford.
We can gain confidence even in defeat tonight. If we show the same resilience against Liverpool, then there is no reason why we can't get a result. Especially if big Dunc has them fired up! And at least we know after tonight's experience exactly what we are up against in the quarter-final. Yes, both games a huge ask, but neither an impossible task.

Mark Boullé
194
Posted 18/02/2021 at 00:08:16
Ian #149
Did we ever have four home League games under any of those managers without fans in the ground to roar / boost / boo / do whatever it takes to spur the team on through vocal support, vocal criticism or both?
Answer - no.
All teams are suffering at home this season, but it feels like Everton more than most because the atmosphere at Goodison Park on a good day or night is so primal. I'd venture to suggest we give City much more of a game tonight under the lights in front of 40,000 baying Blues...
Dale Self
195
Posted 18/02/2021 at 00:10:00
That's dark, Keiran. Being new here, I did not want to get into the mindset that produces such tripe but it does seem to say something about the messenger. I suppose they might offer a mirror criticism with "happy clappers" being deluded optimists.
I would sincerely like to get past this episode of animosity within Everton's supporters but, every time I see a non-sequitur or just plain dumb-assed statement, I cannot help but launch a riposte.
Danny O'Neill
196
Posted 17/02/2021 at 00:14:04
3 points of 6th, 5 points of 5th and 4th with a game in hand.
I don't think the season ended on Sunday. Last time I looked, it ends in May.
Much to play for compared to this stage last season.
Mike Gaynes
197
Posted 18/02/2021 at 00:16:33
"That City side was beatable, but you have to be prepared to try."
Riiiight.
"That City side" have given up six goals in three months. They haven't been behind for a single minute in any game since November. They're the best team on the planet right now and it ain't even close.
But all we had to do to beat them was try a little harder.
Sounds right.
(eye roll)
Derek Thomas
198
Posted 17/02/2021 at 00:19:37
Workrate and skill. We had some of the first and fell short of the second by a long chalk. This City team is very, very, good. We can only aspire to be them.
The nearest thing to the Everton 69-70 team you're likely to see. They make you look ordinary, they drag you out of position, they run you ragged and when they've nearly reduced you to a late in his US career Rooney-esque bent over, hands on knees, blowing for tugs, they keep going and score.
Anyway, onwards and upwards, who's up next? ... oh right.
How to blow 3 games in hand in 7 days – you never know though, we might dumbfound everybody... including, I think, ourselves, and win... and then again.
Ancelotti could have shuffled the pack and dealt any 11 he liked, it wouldn't have changed the end result – we weren't good enough... and didn't look likely to score without Richarlison's in-off fluke.
Rob Halligan
199
Posted 18/02/2021 at 00:21:03
Couldn't have put it better myself, Mike, and according to some, they're not even world class. Would love to know who really are world class?
Bill Gall
200
Posted 17/02/2021 at 00:24:22
The name of the game is goals, and trying to defend the goalscorers. City had Foden, Silva, Mahrez, Sterling and Jesus playing, sitting on the bench Aguero and De Bruyne, and injured Gundogan. We have Calvert-Lewin injured and Richarlison with sometimes Sigurdson
We tried to compete bu,t just as the 16 teams before us found out, they are just to strong. The best example was their third goal when with Coleman having the ball he passed it forward and it ended up at their keeper's feet, 12 passes later, Silva shot and scored.
This is what Everton are up against trying to compete to get into Europe,
and even this season it is going to be very difficult. There is no disgrace in losing to City. There is no problem losing, the problem this season is how you lose and who you lose to.

Danny O'Neill
201
Posted 18/02/2021 at 00:29:02
Mike, same City side that – due to a 5-2 stuffing by Leicester and defeat by Tottenham as well as a couple of draws earlier in the season – were "too far behind".
The season isn't won or lost on one game. It is decided over 38. If you're in the game, you still have a chance. We still do.
Tom Harvey
202
Posted 18/02/2021 at 00:29:30
Mike Gaynes @ 197
zWhat a defeatist attitude you have!
All of those derbies we've lost, none of the them were winnable either?
If you go into a game like that against City with the attitude "We can't win this," you won't win it!
Eyes rolling and head in hands.
Michael Long
203
Posted 18/02/2021 at 00:42:20
Before I begin on us. What a team Man City are. World class and there is no reason why they cannot win the quadruple. 4 players on their bench tonight would get us into a title fight. Let alone the starting eleven.
As for us, we knew we were getting a defeat tonight. If anything, I'm still more frustrated at the defeat at the weekend rather than tonight. How the fuck have we gone from a team not giving up at Old Trafford and fighting back against Spurs. To back to the bang average bottlers. I'm currently at the level I just want the game on Saturday to be over and done with it. I gave up with any optimism after seeing us cave in to their C team in the cup last season. We're clearly frightened of them.
We badly need a goalkeeper in the summer because I am sick to death of seeing the same mistakes over and over again. He is meant to be England's Number One for fuck sake. Get rid in the summer that 3rd goal, as well as City play it. So much could have been done. Pray to God, Allan and Calvert-Lewin are back.
Don't know what Carlo see in giving Sigurdsson captain let alone put him in the starting eleven. I don't think I have ever hated an Everton player more in mt life than him. Fabian Delph a close second. Attitude stinks, the irony of him pointing fingers of where to go when the cunt himself makes no attempt and calling him average is a compliment. Robbing us blind the pair of them.
Would not surprise me if we announce Digne's new deal before the Derby to appease the fans before a hell hole. Then after another gutless performance at the shithole. Monday morning Brands contract plus a stadium update. Before we move into any stadium. Let's sort the mess we still have remaining at the club rather than become a West Ham.
The old Coleman or Keane rally calls after the game, "We learn from this defeat and be better for the next one" waiting for it.
How about actually relishing the big games and the opportunity of climbing further up the table. Rather than shitting shorts before we even entered the stadium.
Nothing but the best rather than "entering a gunfight with a knife" attitude.
Kevin Prytherch
204
Posted 18/02/2021 at 00:56:24
In all fairness to Carlo – I think he got his initial team selection spot on, and again when Mina was forced off. We contained City, albeit in our own half, and restricted them to few opportunities. Indeed we could have been in front with a couple of our own.
Unfortunately, their second was magic. The run from Mahrez took Digne out of the picture and the finish was spectacular.
That's when the plaudits for Carlo stop. I agreed with the subs entering the field, but why does he still persist with taking Davies off and dropping Sigurdsson back into midfield? Their 3rd went straight through where Davies would have been and where Sigurdsson was ambling about in no-man's land.
If he'd have swapped Sigurdsson for James, and put King up front with Richarlison on the left, I reckon we would have seen a completely different last 25 minutes. As it was, we petered into nothing with a midfield that would struggle to tackle a kids team.
Phil Smith
205
Posted 18/02/2021 at 01:28:57
James not fit, Sigurdsson looks shot... and the less said about Richarlison playing as a lone striker, the better.
Ancelotti will predictably keep to his favourites for the derby and we'll look shite again, lacking pace, creativity and desire.
Stop taking off Tom and whatever outlets of pace we have. Seriously not looking forward to the weekend.
Steavey Buckley
206
Posted 18/02/2021 at 01:39:34
James losing interest now... he knows that Everton lack quality in important parts of the team. He did not experience with his previous teams.
Barry Williams
207
Posted 18/02/2021 at 01:56:45
Man City are indeed a fantastic team in a great run of form too. They contemplate and close down so quickly. They are closing a player down before a ball has been released to that player; so not just good on the ball, but good off it. I was very impressed with them and besides the usual playacting – trying to get players sent off for none existent errant elbows (something that has stopped me watching the games of other teams bar
Everton) – they are very entertaining.
Now onto Everton: Davies showed for the ball, tackled, covered loads of ground. Coleman, tried his best to get the team going forward, Sigurdsson covered a huge amount of ground tonight, and then was put in a position in which he is largely ineffective. The result didn't surprise me, slightly disappointed, but wasn't expecting much.
Now, what really pissed me off (sorry to swear, folks) was the lack of pressing and chasing. When we did it, they got off their game plan, made mistakes and couldn't knock the ball around well enough. But we did it in spurts! You may keep your shape when not pressing so much, but then I watched the shape get pushed further and further back, and then condensed, thus proving ineffectual and open to speed and skill.
There was not enough energetic pressing, or energy over the 90 minutes. The crowning turd in the pipe for me (sorry about the language again good chaps and chapesses) was the subs lack of closing down, King. I was happy to see him come here. However, he strolled around too much, when manic closing down and harrying might have been much more beneficial. Is he wanting a contract at Everton? Way to relaxed and laid back.
James, brilliantly skilful, but is he under the impression though that he can be carried and doesn't have to close down either? I watched him play a lovely ball forward, then, as the players ran forward, he strolled maybe 20 yards behind the play; and he is an attacking midfielder.
Too many lack heart, desire and a pair of balls at this level. They look like absolute tigers one or two games, then seem to then play like timid kittens. Too many going through the motions, and not enough of them with their heart and soul in the club.
I think we'll do okay this season, but, we should be doing better than okay with more effort and a bit of grit.
Watching Richarlison looking like he was swapping hair tips with Man City players and smiling for the first time all night from what I could tell, Delph laughing his head off after the team who pays his massive wages has just gotten beaten by his old team, and the number of nonchalant, not-so-disappointed faces walking off the pitch, really was not great. Now, what would they be like if there was a crowd there.
Well, still hoping; roll on the derby!
But effort and commitment are the minimum requirements and we've failed for far too long in those departments.
Ernie Baywood
208
Posted 18/02/2021 at 02:06:47
City were always going to be a tough ask. There's no shame in losing to them, but I think there's some in going out there not trying to land a glove on them. We're like a good sparring partner – we'll make you put in the necessary effort but we don't have any real designs on winning. That's not what we're there for. Eventually we get hit. Just a matter of time.
I stand by my assessment of the first 35 minutes. We parked the bus. Yes, it took a deflection to open the scoring, but the law of averages says that if you have enough shots, corners and possession in the last third, then eventually something goes your way. And it did.
We were restricted to needing a moment of incredibly sublime quality. Something like Richarlison beating 4 from the halfway line. Because, if you don't get numbers in the opposition's half, then you don't score. Think about that for a second – we're playing the most talented team in the country and it's us that needs to provide an exceptional moment. Doesn't make sense, does it.
The goal roused us a bit. Doucoure drove forward with the ball. Richarlison dropped deeper, ran at City and attacked a cross from deep. Our full back gambled on getting up the pitch. We took possession and attempted to create rather than just one-touch pushing the ball forward. None of these things took exceptional ability – it was just a bit braver than what had gone before.
In the second half I thought we gave it a bit more of a go. But Davies going off left us more open and we went down to some moments of quality. I still don't understand why, when we go more attacking, we keep sacrificing our midfield terrier. That's when you need him more than ever.
All very disappointing, and I'm not feeling good about this derby. Liverpool are as fragile defensively as they have been in 40 years. In attack, they're still strong. What are the chances that we grow a pair and target their weakness rather than simply trying to avoid their strength?
Alan J Thompson
209
Posted 18/02/2021 at 03:13:56
Beaten by a far better team. Their players seemed, particularly in the 1st half, to have no qualms about moving forward with the ball, taking on an opponent or shooting at any and every opportunity albeit it was mostly in our half.
We may have been unfortunate in losing Mina so early on and, while Tom Davies may have been subbed as he had run himself into the ground, I thought that either Digne or Sigurdsson would have come off rather than Iwobi.
Everton's best, I wouldn't want to say MotM, would be between Keane, Godfrey and Coleman. Will we win the FA Cup and/or qualify for European competition...?? Errr... not this year.
Darren Hind
210
Posted 18/02/2021 at 04:22:49
Ian Edwards
You could easily transform this into a 500+ post thread. All you have to do is post a few fair and reasonable criticisms and they will be out in their numbers posting time and again.
Keep posting after every game. You clearly understand the difference between being right and being negative. Don't let these positive people grind you down with their negativity.
And don't accept this "can't win, don't try" argument either. That's just Mr Blue Sky. He`s creeping over, now his hand is on your shoulder.
Never mind... You'll remember him this way.

Steve Brown
211
Posted 18/02/2021 at 04:24:58
Predictable result regardless of what team we fielded. We should have prioritised the Fulham game on terms of tactical preparation and squad rotation.
We could have then rested our top players last night and had them fresher for the derby.
Christine Foster
212
Posted 18/02/2021 at 05:35:15
We lost to a top quality side. In fact, a world class side. That's not to say they cannot be beaten, but to do so needed our best players to be out on the pitch and probably two or three improvements into the mix. Consider too that City have spent ٟ.5 billion on transfers... money buys quality – if spent wisely.
John Boon
213
Posted 18/02/2021 at 05:35:28
Glad to see a strong preponderance of common sense in accepting that City are just a far better team – as they have proved for the last 20 games. Those who are critical of Ancelotti for his team choice and subs are deluding themselves.
If it makes you feel better by suggesting that we may have even won, if, if, if, if, and more ifs... fine, but over 90 minutes, it wouldn't have mattered.
I am as Blue an Evertonian as you could ever meet and I wanted to win so badly. I even had the temerity prior to the game to suggest that we might win with the previously mentioned "ifs".
Some felt that Davies should never have been subbed. I actually agree but it really would not have made one iota of a difference. In fact, if we took off any one player and put three on in his place, we still would not have won. Yes, City are that good.
I don't usually bring up age and length of time supporting, because it can be boring to readers and even irrelevant: but I can honestly say that, since my first season watching Everton in the late 1940s Manchester City are the best team I have ever seen in the top level of English football. A personal thought and I am sure many will not agree. Their football is a treat to watch, even against Everton. However, I also think that loads of money, wisely spent, is a major factor.
Paul Hewitt
214
Posted 18/02/2021 at 05:47:17
Not really bothered about losing last night. City are just far superior. It's the games against Leeds, West Ham, Newcastle and Fulham that's pissed me off.
Terry Farrell
215
Posted 18/02/2021 at 06:35:29
I was pleased with the starting 11 and the performance. Taking Tom Davies off and expecting Sigurdsson to do what he does is unrealistic and left a large hole.
I particularly liked watching Godfrey stifle all attacks and crosses from his side and this changed when he went to centre-back. The kid is a brilliant defender.
Yet to see King do anything positive. More of the same against Liverpool with James in for Sigurdsson.
Paul A Smith
216
Posted 18/02/2021 at 06:54:03
We struggle to beat Man Utd at home nevermind Man City. Look how dynamic any one of their creators is compared to ours (Sigurdsson).
Silva for instance, his speed of movement, ability on the half-turn, his ball control in possession, body shape. Everything about him is miles ahead of anyone we have.
Then there is Sterling, Mahrez, Cancelo (what a player), Jesus. Them 4 alone must be quicker than our whole side and far more skillful.
When Brands is buying to compete with City, I'll be full of optimism but, until that day, we have to hope against sides like that and hope we don't get embarrassed.
Football is set up in such a way that, even if we do end up pushing the elite clubs, it'll take some really aggressive stubbornness from our hierarchy to stop the big guns taking anyone that is a threat from our squad.
Arsenal will be lucky to win a title again, nevermind us, and Financial Fair Play keeps us in line forever anyway.
Mike Kehoe
217
Posted 18/02/2021 at 07:16:26
I think football can be a lot like whiskey insofar as it brings out the very worst in people. It hurts us to endure defeats, especially the Fulham, Newcastle and West Ham varieties, while most of those responsible for our pain continue without a care in the world on utterly obscene wages.
If Everton was a restaurant, Carlo has been tasked with competing with Michelin star establishments with a larder full of dog shit. He is getting rid of liabilities like Schneiderlin that piss in the soup and spit in the tea but there is much still to do. He must be looking at his ingredients and thinking "What the fuck? How am I to compete with Pep's magical confectionery or Jurgen's manic 'Did somebody say just bleat'?". While they have highly motivated skilled and driven staff, we have Gylfi, who can do wonders with foie gras but is unsuited to the chip butties required by previous managers.
I have said a few times that the scale of mismanagement is such that it will take years to make the changes needed to break into the top bracket. Results like City are disappointing while Fulham and the rest are painful. I hope we can be brave on Saturday and impose our game on them, but expect to defend deep and counter.
I'm not ready for the pitchforks just yet and recommend a reality check to some.
Ricky Oak
218
Posted 18/02/2021 at 07:31:32
Come on, Everton, if it's all you do this season, beat the neighbours please. Show some cunning plan all along!
It really would just about make up for the last three defeats. Although points-wise, it would be same as three draws and a loss, it would go a long way in shutting the biased commentators up also.
I really, really want to believe that we're going to win the darby, have a nagging feeling the officials will finally get to strut their stuff though, and all the world can rejoice!!
I can definitely see that we are improving, just seems a bit two steps forwards, three back imho. COUBBB. 1-2 🙏💜
Barry Thompson
219
Posted 18/02/2021 at 07:38:59
Wetherspoon FC it is then.
Martin Berry
220
Posted 18/02/2021 at 08:30:26
A dose of reality is that we lost against the best club side on the planet at the moment. For 60 minutes, we were not embarrassed, they won with two wonderful goals, good enough to win any match.
We missed Allan and Calvert-Lewin and it's so much more important to us and we need our best eleven to try and get closer.
All will be forgotten when we beat the Dark Side on Saturday.
Roman Sidey
221
Posted 18/02/2021 at 08:31:18
Jerome Shields at 69 has nailed it by saying that's why you have to beat teams like Fulham. Had they played like that (first half, as I didn't see the second) against the 18th best side in the league, they probably would have won.
It just sucks that that was a rescheduled match from a time when Everton were in decent form and City were yet to really hit their straps and were obviously missing some players.
Martin Mason
222
Posted 18/02/2021 at 08:42:19
Our problems are obvious and the simplistic idea that they are the fault of the manager and that the solution is simply to fire the manager just crazy. The squad is still weak as a result of dreadful buys by previous regimes and the inability to offload the deadwood and replace them with players of the required quality. The squad weakness has been amplified by injuries to key players and the home game vulnerability one that is shared by nearly all teams in Covid times. Where the management team could be blamed is in leaving the RB and forward positions uncovered and not solving the conundrum of Sigurdsson. Also a little odd are Nkounku and King. Following the crazy solution of firing the manager leaves all of these problems in place still and in general the crazy solution fails at every turn as it always has for us. We have a good management and coaching structure in place at the club, the problems are obvious and known and they know vastly more about solving them than anybody posting on here. Give them the chance to do it.
Christy Ring
223
Posted 18/02/2021 at 08:43:36
Why take off Davies in the last 2 games, he was playing well last night, and bringing Sigurdsson back into midfield in his place was senseless. He never tracked Silva for the 3rd goal, which to be honest is typical Siggy. What does Carlo see in him? What does he offer, bad enough starting him, but giving him the Captain's armband, maybe it's just me, but a captain is your leader,and he definitely a passenger.
Andrew Ellams
224
Posted 18/02/2021 at 08:49:06
Yes we were beaten by the team that's going to walk the league but some of the posts on here make it sound like we should have been tugging the forelocks just for being allowed to share game time with them.
In the past few days ToffeeWeb has shown exactly why this club will be mid table forever more. Too many people happy to just exist and like a bunch of excited schoolchildren because the great Carlo Ancelotti has graced us with his almighty presence. Well 15 points from 13 home games this season doesn't sound all that great to me.
Tony Abrahams
225
Posted 18/02/2021 at 08:56:23
Darren, if Ian posted a few fair and genuine criticisms, we might just actually learn something, and maybe even have a sensible debate? I'm not criticizing, just stating what I see on the telly! But if Michael Keane, has been our most improved player, it can only be down to one reason and that is because the team defend deep.
I repeatedly watched Ancellotti, telling his team to push up just a little, but every time they did, Jesus, just came off Keane, pulled him into areas he doesn't want to go into, and then danced round him like he wasn't even there.
Not Michael's fault, good players always play on an opponents weaknesses, just like some people will say anything, once they've decided they don't like someone. Singing that old Bob Dylan classic Ian, "One more cup of coffee - before I go - to the valley below"
Paul Hewitt
226
Posted 18/02/2021 at 08:57:52
Andrew @224.Sadly we have become a nothing club. No one gives a shit about us,
Martin Mason
227
Posted 18/02/2021 at 08:59:32
So Andrew, you obviously don't accept the situation. What exactly are you doing about it? That others "accept" it is absolute nonsense, exactly like you the others can do nothing about it. Don't accept it? Then don't watch it.
Andrew Ellams
228
Posted 18/02/2021 at 09:00:35
Paul, outside the club maybe. But the number of fans and players who seem happy to go with that is depressing.
Every time we get any sort of result against the top sides we act like a lower league team that's caused a cup shock and not like a club that wants to be in with the top sides.
Thomas Richards
229
Posted 18/02/2021 at 09:03:57
FREE THE EDWARDS ONE
✊✊
Scott Robinson
230
Posted 18/02/2021 at 09:16:34
People say that Everton is still in a 'development phase'. I beg to differ. Who remembers the famous victory of Everton over City (4 -1) in Koeman's first year in charge. There we had Lukaku, Barkley, Deulofeu & Stones.
I remember the splitting pass that Davies put in for Lukaku to score... City were a good side then.
Now? A few years on, where are we? All those players are gone (one to City), we play side ways or backwards more often than forwards and we lose consistently to the bottom half of the table.
What next for Everton?
Hugh Jenkins
231
Posted 18/02/2021 at 09:16:44
I look at comments that say things like "never mind, come Saturday, Ancelotti will keep picking his favourites", then I look at our current squad and think - well, what options has he got?
Trevor Peers
232
Posted 18/02/2021 at 09:20:40
While this season is on the verge of extinction, FA cup miracle excluded, there's always hope. Let's see who Carlo brings in this summer and hope the style of play can be more expansive next season.
Any new signings will have to be in the 24 years old range as we badly need more athleticism in the squad, those new signings will be vital to any real overall improvement in entertainment and the tactics we are able to employ in our home games, which at present obviously aren't good enough. We need to clear out a few more of our 30 year olds.
There's no way Carlo will be leaving, but another season like this one at home in the league and the pressure will build. We can't afford to remain the way we are that's for sure. Spurs are in a similar position to us only it looks Jose's time there is done.
Ian Bennett
233
Posted 18/02/2021 at 09:27:14
Reading fan posts it's like a fan base of schizophrenics. Marmite fans who love Carlo and hate Carlo in equal measure.
We are an average team. With a first choice 11 he's got us competitive against most teams when we are on it. Anything near top 6 is success for this season. We aren't better than that after one year.
He's had one transfer window to bring order to an accumulation of shit from Martinez, Koeman, Silva, Alladyce and any other manager I might have missed in the proceeding 5-year shit show.
The club has some money, but has been dealing with shifting unwanted players on big wages before we can push forward.
I am pleased we've got him. Give him another two summers and I think we will have moved a hell of a lot more forward than any other managerial alternative.
Jerome Shields
235
Posted 18/02/2021 at 09:40:56
Many have talked of Man City's workrate. Everton where individually beaten by City's workrate in training and preparation. Pass completion, positioning, running, working as a team and motivation to win.
Everton is mostly a team of players who are not prepared to put the work in and take every opportunity to slack off. The problem is, if you have enough players like that, they affect the whole team and, against a team who continually works hard, even playing at their best, a deficit will occur in performance.
It was very noticeable the effort that City players off the ball would make to get into a ball receiving position and tracking back. Everton players stand about watching the play. I noticed Sigurdsson give up on tracking players, just looking on, on a number of occasions.
Pickford got a full hand on the ball for the third City goal and therefore should have saved it. Olsen would have saved it.
Rob Halligan
236
Posted 18/02/2021 at 09:42:34
Ok, I'll admit defeat. Let's sack Ancelotti and bring in the wonderful Chris Wilder, Sean Dyche or Steve Cooper! Great managers, great tacticians, been there, seen it, done it, got the tee-shirt and won a hatful of trophies! Haven't got one between them, but hey, that doesn't matter as they're all boss managers!
Ancelotti wants to stay at the club for the next 10 years, although in order to do that, we have to win something and be in Europe, year-in & year-out. Over the last few years, we've repeatedly seen posters on TW, saying the last three or four managers we've had (I don't include Allardyce) all needed time and a few transfer windows to build their own team, and get rid of the deadwood they inherited. No different with Ancelotti.
I said when he was appointed, it's the first time he's gone to a club that requires major rebuilding. Everywhere he's been has been full of top-quality international players, all it needed was a tweak here and there. It's not a little tweak with us, it's a full major overhaul!
Since the turn of the year, results haven't been great, although looking back, away wins at Wolves and Leeds, battling draws at Man Utd and at home to Leicester are not to be sniffed at. It's these home losses against West Ham, Newcastle and Fulham that's getting everyone's knickers in a twist, and rightly so. They are teams we should be beating if we want to get to the top, but we can't just keep on sacking manager after manager because the whole process keeps repeating itself:
Sack manager and coaching staff. New manager comes in with new coaching staff. New manager needs to get rid of deadwood. New manager needs few transfer windows to build his own team. New manager goes through a bad period so everyone wants him out... Wash, rinse and repeat.
I firmly believe Ancelotti is the man to take this club back to the top. It's what he wants to do but he needs time. He wants to emulate what Man City have achieved over the last few years and leave his own legacy at the club. But believe me, should he go and we bring in the wonderful Chris Wilder, Sean Dyche or Steve Cooper, then it will be mid-table mediocrity for ever!
Annika Herbert
237
Posted 18/02/2021 at 09:43:31
I watched the game last night and, in particular, closely followed Sigurdsson in the hope of seeing something I have missed, given the fact that others seem to think he plays well.
He is garbage! Yes, he runs around a lot, studiously avoiding achieving anything worthwhile. He doesn't track any runners, he finds space between opposition players but doesn't get tight to any of them. . . and tackling must be against his religion.
"He finds channels" someone said on a previous thread. I think the only channel he has ever seen is the English Channel on TV.
Admittedly we were beaten by a much stronger team but it's made even more difficult when we are carrying passengers. The boss must see something in him because not only does he pick him, he makes him captain! Obviously Sigurdsson must win the daily arm-waving competition on a regular basis.
I still have hope Ancelotti is the right man for the job of transforming our fortunes. But we need to add some dynamism and creativity to our midfield. Sigurdsson is not that man. He was even worse when he dropped back to cover for Davies. Hard to do when you have been anonymous most of the game – but he managed it easily.
Chas Mansour
238
Posted 18/02/2021 at 09:59:20
Business opportunity - Goodson branch of the Man City Supporters club?
Andrew Ellams
239
Posted 18/02/2021 at 10:01:19
Rob, the problem is he needs to move quickly.
Man City will walk the league this year and I think they'll spend big in the summer too. Others like Arsenal and Spurs will push to play catch up too.
One problem I think all English clubs will have is a smaller pool of players to choose from with a combination of the COVID issues and the changes to immigration laws post Brexit making it tougher for some players from the EU to come over. Under the proposed changes, somebody like Doucoure will struggle to get a work permit because of his lack of international appearances.
Bobby Mallon
240
Posted 18/02/2021 at 10:10:59
I just feel all the early season work has been undone by the defeat to Fulham.
Ian Edwards
241
Posted 18/02/2021 at 10:12:46
When has Ancelotti ever taken over a midtable club and improved them significantly? He hasn't.
The home results, negative style of football, tactics, substitutions are unacceptable. But I'm made out to be the bogeyman for saying so.
Look at the performances at home to West Ham, Newcastle and Fulham. They were desperate. I don't recall worse.
I will never never never accept that we sit back and defend and attack on the break at home. Never. It's Stone Age football. It's cowardly to make out that we can't compete with our opponents... (Fulham? Really?)
Mick Conalty
242
Posted 18/02/2021 at 10:15:37
Why don't we open a tea room at Finch Farm? We could sit and talk about where it all went wrong, over a pot of tea, Chelsea buns and cream horns. It would be more entertaining than the football. And Carlo could join us with his cup of coffee and reminisce over his glory years.
Lester Yip
243
Posted 18/02/2021 at 10:16:25
I am surprised by the negativity here. It was a much better performance than the Fulham game. If we had similar attitudes we would have beaten Fulham.
I think we had kept an excellent defensive display last night. Shape is well maintained before James was introduced. And we didn't lost any goal due to counter-attack by a team with so much pace.
Pickford looked comfortable dealing with a couple of high balls that he managed to punch away far away. He made a few good saves too.
The first goal was an unlucky deflection. The second goal was a worldy that hit the inner post which no keeper can save. The third goal was a powerful shot in the centre just inside the box. I would think a lot of keepers wouldn't even be quick enough to get down and get a touch on the ball. So overall, I think it's a solid display. So I feel more positive by the display in this game than last.
Sigurdsson had intercepted the ball a few times and put pressure on the ball and tracking back. I think he contributed a lot even though without scoring or some spectacular tackling.
I think James's fitness needs to pick up. The defensive shape cannot be maintained while he plays. And he's a touch too slow when receiving the ball. He always got crowded out and lost possession.
Let's win the next game. It would be massive.
Steve Brown
244
Posted 18/02/2021 at 10:17:18
Rob @ 236, shame on you for forgetting the footballing messiah Eddie Howe!
Let'a sack Ancelotti, appoint Dyche, Howe, Wilder or Cooper. Then we can sit back, breathe out and enjoy the spectacle of the rest of football laughing its ass off at us.
Appointing a manager who has won multiple trophies is evidently causing mental stress and unease to some of our fans. Far better to settle the nerves with a manager who has won nothing with the added bonus of having got their teams relegated.
Robert Tressell
245
Posted 18/02/2021 at 10:18:09
Last night's game just reinforced what we already know:
- we have a few gutsy players
- we have a few mobile, dynamic players
- we have a few very talented players who are good on the ball
But we don't have anyone except maybe Godfrey, Digne and Richarlison last night who fit in all 3 categories. City are very amply stocked with such players - hence we struggled to get a foothold in the game.
You can criticise the tactics and some individual performances but ultimately it comes down to a gulf in quality. Sigurdsson and others will all have better days, and we're still on course to finish 6th to 9th. With another summer of recruitment we should be more competitive in going for 4th to 7th.
Ian Horan
246
Posted 18/02/2021 at 10:18:51
Results have been disappointing, we all agree; however, to compare and compete with Man City, we need to understand where both clubs are at the moment.
Mansour purchased Man City in 2008, some 12½ years ago, they have been on a journey churning their squad ever since Shay Given, Pantillimon, Adam Johnson, there are getting on for circa 100 players signed for big fees then moved on as deemed not good enough.
My point being is we have a long road to travel before we are on a level playing field. Even Pep's City were shite in his first season, bearing in mind they had won the league the season before.
We are all frustrated and draw parallels to them but reality needs to be applied here. The league generally is far more competitive now; we need stability to make progress. Knee-jerk reaction of change will not get us to the top any quicker.
Historically, Liverpool have out-spent us and it took them 30 years to win the league... think of the quality players they have had over the last 30 years and then ask yourself how the fuck did it take them 30 years???
Mark Murphy
247
Posted 18/02/2021 at 10:20:23
I agree with Ian (Bennett that is... not Edwards).
Some people are just polarising the views of others. I neither love nor hate Carlo Ancelotti – he is our manager and I personally think the best one we could have for the job in hand.
I'm not happy with some results and performances this season and I include last night's. In fact, I am feeling particularly morose this morning because I realised that I actually accepted last night as inevitable. I haven't felt any game was beyond us in recent times, no matter the opposition, so my acceptance of it hurts.
Ian (Bennett) is also right that we are an average team. I don't feel any longer that even our first eleven is top six and changes are needed. That performance last night was much improved on the Fulham game and was probably the best we could've played. Even then, we never looked like we had an attacking plan nor did we look like we could come back again.
I thought 3 or 4 signings and we'd be up there. It's going to take more than that. If we take off our blue-tinted specs and look honestly at our players, there are actually very few that are as good as we think they are... but they're all we've got!
I'd love to think Richarlison is the best striker in the Premier League but he's probably not even top 10. The only players I have genuine positive belief in are Godfrey, Calvert-Lewin and Allan, with a dwindling admiration for James. Michael Keane is winning me over slowly but the rest are not top table players.
Personally, I still feel that Carlo is the man to change us into serious challengers but, Ian (Edwards not Bennett), I actually do see the comparison with Allardyce that you're making. Allardyce set out his team using what he had available and played to their (limited) strengths. Carlo is doing exactly the same – using what tools he's got to get a result.
The difference is I don't think Allardyce would've changed his style and was never going to be long-term. And he's a cunt. I think Carlo has been given time to change us around and will do so.
Brian Harrison
248
Posted 18/02/2021 at 10:22:17
Rob @236
You are absolutely spot on, you will always get posters who think anything less than being in the top 4 and winning trophies is unacceptable for Everton. Well, they couldn't have been watching the same Everton I have been watching for the last 65 years; unless my memory is playing tricks, only 2 managers have won the league in that time and, apart from Joe Royle's team winning the Cup, those 2 managers have been responsible for all the trophies this club has won in my 65 years of watching.
So to expect Ancelotti to come in and put everything right in 1 year, they obviously have little or no concept of what this job entails. He has taken over a club that, for the last 5 years, has been around mid-table or lower, we have had 4 managers all with a different style of play and all allowed to spend money.
So now he is with a lot lower budget having to get players in that will improve the club, while still having to select players bought by different regimes. I would say to those critics "Come back in 2 years, if we are still between 7th and 10th and no trophy won, then yes, that will be the time to talk about sacking Ancelotti."
As for last night's game, Man City are in a different league to the rest of the Premier League this season; let's not forget, they beat last season's Champions a couple of weeks back 1- 4 and missed a penalty in the process.
I think they are a real class act and a joy to watch, the first touch of all their players is brilliant, but even more impressive is when they do lose the ball their intensity to win it back, they must be the hardest of teams to play against.
I doubt many of us expected anything other than a loss but, unlike the Fulham and Newcastle games in particular you couldn't accuse the players of not putting a shift in. For those wanting us to go toe-to-toe with them would probably have led to an even bigger scoreline; our neighbours tried that and got mullered.
Rob Halligan
249
Posted 18/02/2021 at 10:31:18
Ian # 241.
I guess your post is in reply to mine. So you're pretty much saying what I said (with a few little add ons) except for you saying "I don't recall worse". Well believe me, I've seen far worse, home, away and in Europe.
But, as I say, let's get the wonderful Chris Wilder, Sean Dyche or Steve Cooper in, oh and Eddie Howe, and quietly slip away. God forbid, we could even try and get Allardyce back once he's taken West Brom down and watch his wonderful defend, defend, defend tactics!
Ian Edwards
250
Posted 18/02/2021 at 10:48:20
Rob 249. I respect your opinion. There is always the odd game over the years where the wheel has fallen off but I can't see any light at the end of the tunnel. It's the same tactics, formation, same personnel particularly in midfield where it needs some pace.
There are Managers out there who would do a better job with the players. Rodgers for one and also Benitez.
The football is ugly but he can get away with it when he is winning. When he is losing, he can only survive for so long.
Next three homes are Southampton, Palace and Burnley. If he doesn't change his tactics, those games will be a disaster.
Bobby Mallon
251
Posted 18/02/2021 at 10:48:44
Ian @241.
You always comment on the negatives... always. What about West Brom 5-2? West Ham (cup) 4-1? Brighton 4-2? Liverpool, with a full squad and coming from behind twice, 2-2? Chelsea 1-0? Arsenal 2-1? Leicester 1-1? and Spurs 5-4?
Like I've said, you are always, always negative.
Declan Campbell
252
Posted 18/02/2021 at 10:49:13
Scott Robinson. Stones was playing for Man City in that game. Deulofeu wasn't playing, he left for AC Milan a week after.
Marc Hints
253
Posted 18/02/2021 at 10:54:09
You look at Wikipedia now and Man City are close to having more honours than us with league titles, FA Cups etc..
Rob Halligan
254
Posted 18/02/2021 at 11:00:10
Ian, fair comment and I respect you for it. I've mentioned a few times that Ancelotti wants to remain with us for the next 10 years, and this is as good as coming straight from the horse's mouth.
I was speaking to his son-in-law last Thursday, and he did say you never can tell in football, in other words, Ancelotti needs to succeed or the sack is inevitable, but he wants to succeed with us. He's got to be given time, and I don't mean 10 years, I mean at least 2 or 3 years to get the squad he wants.
We're an impatient lot, us blues, and we wanted success the day he was appointed, but for god's sake, give him the time, because I'm getting really fed up of the "Wash, rinse and repeat" scenarios.
Barry Rathbone
255
Posted 18/02/2021 at 11:05:03
Is there a league table using the number of back passes to the goalie per game?
Reckon we'd top that.
Colin Glassar
256
Posted 18/02/2021 at 11:08:52
Barry, our lovely neighbours perfected that tactic back in the '70s. They were actually very good at it. We aren't.
Martin Mason
257
Posted 18/02/2021 at 11:11:08
250, do better than him? That is opinion based as fact.
Ian Edwards
258
Posted 18/02/2021 at 11:13:21
Bobby @251.
I could comment on some of those games: The derby match we benefitted from strange officiating (for once). The Chelsea and Arsenal games were bus parking for the last 30 mins and we hung on desperately. I think both teams were below us in the league.
Leicester was utterly terrible. We gave them far too much respect and even Rodgers was surprised by it in his post-match interview. It was the worst of Ancelotti. It's embarrassing that you're trying to make out that a home draw with Leicester is something to celebrate. Instead of letting them worry about Calvert-Lewin and Richarlison, we decided to be shit scared of Maddison and Barnes.
Martin Mason
259
Posted 18/02/2021 at 11:13:53
Ian, can you tell us what you actually do to not accept things?
Paul A Smith
260
Posted 18/02/2021 at 11:17:17
I was surprised to hear the Man City fans on site today telling me we gave them a game. Praised Richarlison too.
If that was giving them a game it is scary to think how bad teams under us are and shows the Premisr League in its true light.
To think they could just take Calvert-Lewin in the summer if they wanted too. Everton are just a number – like a Labourer is to an agency.
Jay Wood
[BRZ]
261
Posted 18/02/2021 at 11:29:40
Ah! The selective (and poor) memory and match picking.
When we beat Chelsea they were on a 17-game unbeaten run and swapping places with Spurs for first and second place.
Arsenal have been below us in the league all season.
We beat Leicester and the superior Rogers 2-0 in their own backyard when they couldn't lay a glove on us. Only one of two defeats they have suffered since early December in 18 games.
Nobody is excusing the bad losses to the likes of Newcastle and Fulham.
Only one poster in particular consistently tries to re-write history and denigrate, or completely ignore, the merited victories.
Ian Edwards
262
Posted 18/02/2021 at 11:35:22
Jay. You are trying to rewrite facts. I was asked to comment on particular matches and that included the draw with Leicester. I wasn't asked to comment on the win at Leicester as the debate was about home form. Don't let facts get in the way of you moving the goalposts.
Hugh Jenkins
263
Posted 18/02/2021 at 11:37:00
Not sure if it has been mentioned earlier, but apparently, our goal is the first Man City have conceded from open play since 3 January.
Jay Wood
[BRZ]
264
Posted 18/02/2021 at 11:51:47
So Ian, Chelsea WERE below us in the league as you 'think' and not in the top two and on a 17-game unbeaten run?
Got it!
Do you not take any pleasure in any victory by Everton, against any opposition, no matter how it comes?
Oh! And I referenced the dominant win at Leicester as this very morning you claimed Rogers would be doing better than Carlo. We've taken four points off them. Go figure.
Phil Lewis
265
Posted 18/02/2021 at 11:54:39
It was undoubtedly a gallant collective effort. But the second half was rather like helplessly watching an old friend being slowly crushed to death by a boa constrictor.
Ian Edwards
266
Posted 18/02/2021 at 11:56:40
Jay. Leicester are 9 points better off and heading for the Champions League. Go figure.
Brian Wilkinson
267
Posted 18/02/2021 at 11:59:42
I thought it was a much better performance than the Fulham game.
We were holding and frustrating City and took something special to take the lead again.
If we had a poll on here, most would say Calvert-Lewin has been our player of the season, followed by Godfrey and Doucouré.
One was missing last night, Godgrey was played out of position until Mina went off, Doucouré without Allan has had to cover most of the pitch, with only Tom Davies in the last few games, helping out with the work load.
Overall I thought with the changes we did the best we could, with the players we had available.
Mick O'Malley
268
Posted 18/02/2021 at 12:03:56
We can criticise Carlo, he is paid an obscene wage cos of his past glories but, in the here and now, I'm very disappointed with the boring monotonous shite we are being served up.
Some of his decisions, like Sigurdsson as a false 9, have been laughable and his default when we're losing is to withdraw Tom Davies when he has been playing really well this last month or so.
Changing the defence from game to game isn't helping them settle, as well as rotating the keepers; we concede a lot of goals. It's a good job our away form is great cos it's nearly 3 months since we won a Premier League game at Goodison Park.
Ian Edwards
269
Posted 18/02/2021 at 12:06:33
Jay.. to answer your other point. Yes. I'm pleased when we win. But it's been a long time since I've thought "We played some fantastic free-flowing attacking football in that match".
Most wins this season (not all) have left me feeling at the end of the game "Thank God for the final whistle as that last half-an -hour was like the Alamo".
Jay Wood
[BRZ]
270
Posted 18/02/2021 at 12:07:12
Yessss! And in head-to-head with them we have 4 points off them and they, like Everton, are good on the road and have lost 5 games at home.
Those home losses?
WHU 3-0
Villa 1-0
Fulham 2-1
Everton 2-0
Leeds 3-1
Oh! And Arsenal 2-0 in the League Cup
You might recognize some of the teams in that list.
REAL facts, eh?
Terribly inconvenient.
Forza, Brendan!
Ian Edwards
271
Posted 18/02/2021 at 12:10:12
Brian @267,
Why was Godfrey played out of position? Digne could have played left-back. Richarlison could have played on the left. King could have played up front.
King is a forward. I'm old enough to remember when we played two recognised strikers.
Bobby Mallon
272
Posted 18/02/2021 at 12:14:39
Ian, how did I know you would come out with a negative when we have won games? We twatted Brighton, West Brom, and West Ham in the cup. We drew with the champions, who had their full team out. We drew with Leicester who had the best away record in the Premier League.
You will always be negative because you don't like Carlo. There are loads of people who don't like our tactics in some games, Fulham a case in point. Even I didn't like the tactics or subs... but we move on.
Oliver Molloy
273
Posted 18/02/2021 at 12:21:01
Rob 236,
Can you really see Ancelotti staying 10 years?

Nick Page
274
Posted 18/02/2021 at 12:29:00
Bag of nails that. Glad I was washing my feet. We're light years away from City and I'm not just talking on the pitch – you reap what you sow, as they say, and we've been sowing Uncle Cyril's handlebars for the past 20 years. Expect more of the depressing same on Saturday against Satan's spawny mob of misfits.
All I want is a well-run football club, with an identity on and off the pitch, that isn't afraid to stand up for itself and be counted. But it seems like never-never land.
Thomas Richards
275
Posted 18/02/2021 at 12:34:10
"Ahhhh... he was a good manager but he's old now."
Can anyone explain what the fuck that means please.
John Boon
276
Posted 18/02/2021 at 12:35:59
It was never a disaster. We were just beaten by the best football team in English football at the present time. There is nothing wrong in giving another team sincere applause for a tremendous "display" of football at its best. Yes, they are that good.
However, that does not mean that Everton, my team for ever and ever, are merely also-rans. Obviously it is really quite a challenge to maintain patience and have high expectations when we see such an abject performance against Fulham and a few other lesser teams. This is understandable, particularly for younger fans.
Remember, there are many supporters who have had it much harder then Evertonians. The yo-yo teams like Norwich, Palace and such. Then there are Sunderland, Bolton and Bury who just vanished from serious football. Okay, we are not them... but we have spent all but four seasons since 1878 at the highest level. No team can top that!
The past has been relatively good to us. The present not as pleasant as we would like. But we always have to be optimistic about the future... or just give up watching Everton. Personally, I could never do that. It may be like a disease but, for me, one I have been blessed with!
David Pearl
277
Posted 18/02/2021 at 12:39:58
The form and shape from our first few games of the season are a distant memory.
The balance keeps shifting as Ancelotti keeps changing his formation. We win a few then get a forced change and it falls apart for a month before he figures out a new masterplan. I can't remember any time we start slow then our manager changes something mid-game for us to click. If it starts badly, that's the way it ends.
Looking at the players, lwobi is a waste of a shirt. 㿊M? I'd sell him along with Holgate and use the money for Aarons and Bailey. We need players that can skip past the man.
Looking at City, l go through their team and individually only a few excite me. Their biggest threat is that all of the forward players can beat a man and they collectively hunt the ball back in packs.
And where has James gone? The games are beginning to pass him by. It's like playing with 10 without the ball. I thought he and Coleman looked good down the right but we don't ever see it. We also have quite a good player in Bernard on the left that works well with Digne.
Play on the front foot Carlo!! Give the players the confidence to go out and perform.
The derby in a few days and, if Allan and Calvert-Lewin are fit again, we will have the same opportunity to start with the shape and 11 we had at the start of the season (but with Godfrey in for Mina).
Fat chance... looks like we are hopeful of a European place instead of trusting the squad and setting them out to win.
Ian Edwards
278
Posted 18/02/2021 at 13:09:13
Bobby. Apologies for wanting to win and play well.
Thomas Richards
279
Posted 18/02/2021 at 13:12:41
Keep going Ian.
222 posts to go
David Latham
280
Posted 18/02/2021 at 13:14:18
US fan here. Having only started following Everton (or the Premier League in general) a month or two ago, I admittedly do not have much insight to add, but the question I keep asking myself as I watch these games is "What is the identity of this team?"
At times it feels like the team's identity is one of true grit, a team that is willing to fight tooth and nail against more talented opponents until the final whistle (eg, Man Utd game). Then, in other games, it appears this team has no grit whatsoever, and loses focus or interest against "inferior" opponents (eg, Newcastle and Fulham). Wasted opportunities like those are what really hurts the heart of a fan when looking back on what could've been.
A legendary coach of American football once said "You are what your record says you are". I think that's true, but we still have more games to play, and more opportunities for this team to grow and improve. I am not a sunshine pumper (what we call blindly optimistic fans over here), but I remain hopeful that we can get our key players healthy, learn to consistently play with the right psychological disposition, and perhaps maybe even make a run to land in the top 4. Until then, I look forward to watching Everton and reading y'all's comments so I can learn more about the game.
Tony Abrahams
281
Posted 18/02/2021 at 13:15:40
James needs runners, and Everton only play with one striker, and the only other player who tries to get into advanced positions is Richarlison, so it sort of negates playing Rodriguez, right now.
We need a dominant centre half to play with Godfrey, a fullback, two wide players and another striker, if we want to become a really competitive squad, which means we have still quite a bit to go imo.
Ancellotti's never managed a mid-table club and made it great, but not many have... and even the ones that did do it have never done it overnight. So, if Everton are to become great again, then anyone who thinks it's going to happen quickly is definitely not going to see any light.
Onto Anfield next, let's unite even if it's just for one game, and also pray everyone is fit, and Ancellotti decides to be brave!
King, and Richarlison, can play either side of the three midfielders, which will hopefully be Allan, Davies and Doucouré, but suddenly the back four doesn't look strong enough, so I'll leave it to the defensive minded Carlo, to hopefully get this right!
Anthony A Hughes
282
Posted 18/02/2021 at 13:26:05
The issue of where to put James into the team where he could do most (least) damage would possibly be to play him as one half of a double pivot in front of the back four.
From here, he would be central and would have the pitch in front of him to take the ball off the defenders and dictate play and long-range passing to three pacey forwards, Richarlison, King and Calvert-Lewin.
With a defensive dog alongside him to cover the back four, you could then have Doucouré as your up-and-down midfielder to help gel the team.

John Keating
283
Posted 18/02/2021 at 13:39:42
On any given day in any given game, any team can win. That's football.
There are and can be no excuse for the recent disgraceful results against West Ham, Newcastle and Fulham. From poor tactics to poor selection to poor players, take any one or two or three reasons, we were awful.
However, in my opinion, to expect us to try and play open attacking football against Man City with the run that they are presently on is delusional. Look at their results since Christmas when they've out-fought, out-thought nearly every team including our neighbours.
Slag Ancelotti or the players off when they deserve it but the continual non-stop, regardless of the result, out-pouring of condemnation is becoming boring and totally ridiculous.
If you hate Ancelotti so much, fair enough... but a little slack now and again when or if deserved might stop this personality clash.

Bill Rodgers
284
Posted 18/02/2021 at 13:43:21
We can all understand a difference in quality between Everton and Man City - but that's not the main difference we see. What we see is a lack of intensity: workrate, intensity, motivation and commitment are all lacking. Why should that be?
Why do we have players who look delighted to come off with a knock?
Why do we have players who trot around midfield like lost ponies?
What is it about Everton's structure and culture that tolerates this?
Len Hawkins
285
Posted 18/02/2021 at 13:43:49
I'm sorry but I am lost as to what Davies brings to the team other than being a "local" lad; his skill is minimal he may run round a lot but I could run round a lot at his age.
He may have been promising in his early years but he isn't in the same class as the likes of Foden, Maddison, Grealish, Mount or even Barkley. I see him as another Darracott – runs around a lot but with very little result.
As I have posted on another thread, the rest of the team make him look like he is performing. I cringe when he gets the ball outside his own area as, 9 times out of 10, he either loses possession or gives it away or a desperate pass back into the danger area.
Soren Moyer
286
Posted 18/02/2021 at 13:48:11
We are shite and we know it! The game was there for taking and we didn't even try!
I have had enough of all these "This team is far superior, that team is fighting for its existence in the Premier League, etc" comments. This club is regressing rapidly year after year!!!
After this coming round, we could be 10th or 11th!! If that's good enough for you, then I have nothing to say to you!!!
Oh and forget the FA Cup because we'll be beaten by Man City again!!! I just don't get Ancelotti's ultra-defensive anti-football tactics at all! Can anyone else see any progress compared to when we had Silva or Keoman in charge!!!??? I can't.
Brent Stephens
287
Posted 18/02/2021 at 13:50:26
Soren:
"The game was there for taking."
Doesn't need a response, does it?
Brian Murray
288
Posted 18/02/2021 at 13:53:20
Ken @285,
At least Davies has never hid and tries the forward pass, unlike gobshites like Schneiderlin, Gomes and Sgurdsson who are made for life with their once-a-month cameos. Disgusting the way this club is used... also on the coaching and the board. No wonder ex-players adore us.
Rob Halligan
289
Posted 18/02/2021 at 14:03:49
Brent # 287, you know what's coming don't you ..................."Seriously, why do we bother?
Soren Moyer
290
Posted 18/02/2021 at 14:09:20
Brent, THAT'S what I call "losing mentality"! As long as we set the bar that low we don't deserve any better!!!
Kieran Kinsella
291
Posted 18/02/2021 at 14:10:49
Len Hawkins
No one says Tom is like Grealish they don't even play the same role. He's not great but at the minute doing his best and is performing better than others. So that is a good reflection on him and a poor reflection on his multi million pound team mates.
Mark Murphy
292
Posted 18/02/2021 at 14:18:36
"The shape and form of the opening games is a distant memory"
of course it is - IF - and thats amassive IF - Carlo had been able to play the 11 that beat Spurs in each and every game since we quite likely would be in the top four with a settled team.
But its impossible to do that. Players get injured and banned as has happened with us.
Another big IF. IF Carlo had a depth of squad that allowed him to bring in like for like players with the quality, or near as damn, to that first 11 we still might be up there.
But we haven't got that squad and we haven't got like for like players and we have had injures and we have had banned players.
When Carlo has HIS squad we will see where we are.
IF Carlo has HIS squad and were still losing to Fulham and accepting were miles off City, then I'll accept that its his failings and not Sigurdsson, Gomes, Iwobi etc lacking mobility, desire, Skill and nous.
Robert Tressell
293
Posted 18/02/2021 at 14:23:26
Soren, we have been deteriorating since Moyes left. Things got so bad Silva might have got us relegated last season. As it was we rallied, might have sneaked a Europa League place but ran out of steam and ended up 12th. This is obviously not good enough.
Having a go at Man City is a v high risk strategy. As it happens they can look shaky if you have a go at them, but if you lose the ball having committed men forward then you're in big trouble.
So with a patched up team we went defensive, had none of the ball but actually restricted City to v few chances. Unlucky deflection for the first goal and a good, effective counter for our equaliser. With a bit of luck we'd have seen the game out but got done but a brilliant goal. The third goal was a series of errors but arose because Davies had been removed from the engine room. However, the game was probably already lost by that stage.
Personally I don't blame Ancelloti for being defensive. After all he has vastly inferior players to work with.
The problem I have is why we have vastly inferior players. The issue is circa 10 years of mismanagement rather than Ancelotti's tactics etc (which are by no means perfect as various crap results will attest).
Against the RS I expect us to be much more competitive. I also expect us to be more competitive against City in the cup too, especially if we have our better players available.
Thomas Richards
294
Posted 18/02/2021 at 14:23:39
"We are shite and we know it! The game was there for taking and we didn't even try!"
Dont know what game you watched Soren tbh.
Jerome Shields
295
Posted 18/02/2021 at 14:25:41
Ancelotti is doing ok with a group of largely inconsistent players, many of whom are not prepared to put the work into their performance. It is noticiable in his unguarded comments after games that Ancelotti is commenting on the mentality of the players.
Big Sam when he took over as Manager questioned the mentality of the players, even suggesting the need to appoint a Sport Phycologist. I for one attacked Big Sams analysis at the time, but now I think he was right. Ancelotti has stated it takes more than quality , it takes spirit. Quality wise Everton where a match for Man City. Spirit wise they where a poor imitation. But good Spirit doesn't take place on match day, it is built up in preparation and training over weeks and months in the training camp with clear uncompromising objectives.
Everton are unusual in that this lack of spirit is the result that the players believing they belong to a Big Club, with Superior facilities, and they are quality players. Many don't believe they have to work and even when playing against lower table sides the game is won before it starts and all they have to do is turn up.
Unfortunately to get a Champions League place a team has to beat lower placed sides consistently ( Ref Jay ( BRA) article, and not have a mid table pattern of two results and a loss. A Professional footballer should know this if they want to play in the Champions League or win a Competition medal. Most of the Players at Everton don't appear to know this or are prepared to make the necessary effort when it counts. Whats more from Moyes to Ancelotti Managers have failed to get this across. In the case of some Managers when pressure has mounted the team has hastened their departure with helping hand performances.
So what is the source of this drag on progress. If a team is to be successful the whole Club from Top to Bottom have to buy in to working for the successful outcome. There are still people at Everton that think all you have to do is buy at high cost individuals, keep Big Club stars of yesteryear, build a new Stadium, have a attitude that Everton are a big Club and , have a Billionaire owner.
Ancelotti knows what is required, but he must often will feel he is banging his head off a brick wall.

Bobby Mallon
296
Posted 18/02/2021 at 14:26:56
Scott Robinson 230. I cant really argue with what your saying about that game it was a joy to watch. What I can say is is Lukaku and Barkley never wanted to stay. Neither did Lookman I think only Del Boy ( who I loved ) wanted to stay but he was a one game in 4 player.
Brian Wilkinson
297
Posted 18/02/2021 at 14:29:10
Ian@271, I just had a word with Dunc, while I was feeding his pigeons and brought the matter up about the formation and he said, tell Ian when I was in my prime, I played as a lone striker.
He then continued to add, we mixed it up a bit to confuse a watching Klopp, who was multi tasking watching the game on prime, while reading up in the live forum for any inside information.
Dunc said not to worry, Godfrey will be back at centre half for the Derby, Calvert-Lewin and Allan will also start and promises you that when we get the winner, he will personally run on the pitch, run up to Allison and tickle him under his chin, before exiting the pitch by Klopp, finishing off with a cartwheel.
You heard it here first.
Chris Williams
298
Posted 18/02/2021 at 14:30:43
Thomas,
Shame on you for having a defeatist attitude, and setting the bar too low!
I'm going to send an email to Farhad, Carlo and Marcel, as follows-
Dear Carlo and co. I'm not prepared to accept the zombie football and the awful results at home one day more. Please get it sorted immediately, or I'll scream and scream until I'm sick.
I'm sure that will make them buck their ideas up!
Will you do the same please to ensure those running the club understand we have high standards?
Thomas Richards
299
Posted 18/02/2021 at 14:32:20
Its in the post Chris
Rob Halligan
300
Posted 18/02/2021 at 14:34:37
Chris # 298, correct me if I'm wrong, but do you think that's Thomas saying those words? He was only replying to Soren @ # 286.
Chris Williams
301
Posted 18/02/2021 at 14:34:54
Good man Thomas.
All of us should do this. We can't have them thinking we accept this stuff, unless we come across as happy clappers and apologists.
Chris Williams
302
Posted 18/02/2021 at 14:37:28
Rob,
I'm pretty sure he wasn't saying anything of the sort
Barry Jones
303
Posted 18/02/2021 at 14:38:46
Annika #237. Your observations on Sigurdsson are very accurate and well stated. His so called hard work isn't effective as it achieves nothing. The main reason he doesn't put in a tackle is that when he does, it is usually a foul, and that is down to lack of pace.
Creatively, two assists to date puts him way down the charts. I was listening to some pundits, ex players recently and they said that a top midfielder can take the game by the scruff of the neck and control it, something which I totally cocncur with. Siggy is close to anonymous. Other than sending your post directly to Ancelotti, I don't know how this will be resolved.
Thomas Richards
304
Posted 18/02/2021 at 14:41:11
Are you sure your sure Chris
Rob Halligan
305
Posted 18/02/2021 at 14:41:57
Sorry Chris. Clearly I misunderstood your post.
Chris Williams
306
Posted 18/02/2021 at 14:48:13
Surely I'm sure I'm sure. For sure!
Barry Jones
307
Posted 18/02/2021 at 14:48:14
Tony #281. Good point. James needs to have mobile players around him to be effective, also ball winners so that we can have possession. That being the case, he is the only player that we can afford some leeway in terms of workrate, but only if the balance is right in the rest of the team. I would play him as a 10. Cantona functioned in a similar fashion. The ability to see things early AND deliver is a highly sought commodity, but we need to be able to get him on the ball in the right areas, with plenty of mobile and willing options for him to hit.
Rob Halligan
308
Posted 18/02/2021 at 14:49:12
FFS, I've just noticed the name of the poster @ # 238. You're not related to the Sheikh, are you?
Chris Williams
309
Posted 18/02/2021 at 14:49:19
That's ok Rob, on here it's hard to be sure
Kieran Kinsella
310
Posted 18/02/2021 at 14:50:20
Soren/Ian
I am going to set up a special Finch Farm re-education camp for your guys. You will watch a loop of videos including the Atlanta game, Unsie's game at Soton, the Marco Silva Ars and RS games, all of HK season 3, Moyes greatest negative press conferences, Bill K's greatest lies, and it should give you some perspective about where we are coming from and where we are headed
Graham Hammond
311
Posted 18/02/2021 at 14:50:25
Barry #303. Whilst I agree with your criticisms of Sigurdsson I would add that broadly speaking he has done a little bit better of late with a little bit more productivity contributed also. To my mind, Gylfi is a Number 10 and a Number 10 only and can do some good work in that role, when he drops deeper he is usually pitiful. Carlo has played him repeatedly in the deep-lying midfield role again and again both this season and last and his performances have consistently been woeful there, the criticism should, therefore, really be levelled at Ancelloti for repeatedly playing him there in the first place or moving him there during games, it doesn't work, never has and never will. Glyfi is not a Defensive Midfielder and should not be played in that position, the vast majority can see that apart from seemingly the Manager.
Thomas Richards
312
Posted 18/02/2021 at 14:51:21
Sign him up sharpish Rob.
What was your take on the third goal from a keepers perspective mate
Kieran. 310
Just the two of them?
Rob Halligan
313
Posted 18/02/2021 at 14:55:47
Kieran, can I also add to that list, the European away game at Steaua Bucharest and the mighty Sam Allardyce game away to Arsenal, when we set up defensively, were one down after about four minutes, 4-0 down at half time, but somehow managed a respectable 1-1 draw in the second half. There are plenty more!
Rob Halligan
314
Posted 18/02/2021 at 14:59:45
Thomas, I don't think he had much of a chance to be honest. There was plenty of power in the shot and was well placed by Silva. He got a hand to it but couldn't keep it. No doubt there are some saying he should have saved it?
Thomas Richards
315
Posted 18/02/2021 at 15:01:47
This could develop into a learning curve.
Can I be so bold as to ask the first question in this enlightenment.
"A lot of you on here are forever informing ing us the current players are.. . . .
Shite
Slow
Bottle less
No ambition
Greedy
Etc
You then (same people) post Ancelotti is finished because he hasnt got us challenging for top 4.
Discuss
Justin Doone
316
Posted 18/02/2021 at 15:04:26
I've already commented on the disappointing result and performance but on the evidence of last night's match against City I think most agree on a few points that we already knew.
Ric can't play as a lone striker as effectively as Dom but is he better than King in that role?
I haven't seen enough of King to assess which is a mystery in itself. I would think his pace and power would at least be better as striker (or second striker) than Siggy.
We all know Siggy can be effective as a forward but he's not a midfielder, never mind a defensive one. Why do successive manager's try and fail playing him deep?
I think Godfrey defended very well against Mahrez, he shows Digne to be pretty poor defending one on one's. As for Keane as soon as some one runs at him any change of direction and he's done.
I think this highlights how poor against better players our defence is. Some comment on Keane having a good season, but in truth he's a very average defender.
One of our better defenders is Ric and when he's played as striker we really miss his defensive qualities.
Finally the goal keeping debate. I'm not blaming the loss on Pickford but he should have done better with the last goal.
However my main issues with him vs Olsen are:
1 decision making. Why look for and then play a quick ball when we have no players in space or look like they are far enough upfield to take advantage of a quick counter attack?
2 distribution. On at least 5 occasions Pickford miss-kicked the ball out of play or straight to a City player. This is far more often than Olsen when under no real pressure.
The evidence doesn't agree with Pickford being an accurate or better distributor of the ball than Olsen.
I would like Olsen to be given more game time as I believe he is the better keeper.
Colin Glassar
317
Posted 18/02/2021 at 15:04:34
Kieran, don't forget the time when we were either 1-0 or 2-1 down (can't remember who we were playing) with about 12 minutes to go and the Moyesiah took off an attacker and brought on Hibbo who joined a 5 man defence.
Rob, have you had anymore chats with Carlos's son in law? If so, what are the plans for the derby? Is it true James wants to return to Spain with his bird?
Andrew Clare
318
Posted 18/02/2021 at 15:10:52
We have to remember that Ancelotti has only been here for a year.
Man City are the finished article and have spent huge sums to get where they are. More than any other club. Chelsea, Man Utd and our neighbours have done almost the same.
Let Ancelotti build his team and then judge him.
Thomas Richards
319
Posted 18/02/2021 at 15:12:18
If I'm honest Rob I thought he could have done better but will bow to the keepers knowledge.
He got a good hand to it but it still went in.
Does that suggest any lack of strength in the wrists?
Rob Halligan
320
Posted 18/02/2021 at 15:12:24
Colin, I haven't seen him since last Thursday, although I've been to the park where I've seen him. Will go tomorrow and see if he's there?
John McFarlane Snr
321
Posted 18/02/2021 at 15:14:57
Hi Brent [287] and Rob [289] I haven't read all the posts but the ones I have read appear to range from the realistic to the ridiculous. I listened to the game, therefore I can't claim to have any insight into the overall performance, but what I would like to point out is the fact that ten of the fourteen players used last night, were on the books last season and received the height of abuse in some quarters. The four newcomers were Godfrey, Rodriguez, Doucoure. and King.
Kieran Kinsella
322
Posted 18/02/2021 at 15:19:23
Rob Halligan
I was in Bucharest during that match (not attending, just in the city by happenstance). The worst part was the reaction of my Romanian friends. They were bewildered and seemed embarrased for me. They asked questions like "so you really watch this team every week?" with pity in their eyes. It was truly humbling.
Colin,
The dreaded Hibbert "close up shop" substitution. . . brings back horrible memories
Rob Halligan
323
Posted 18/02/2021 at 15:25:38
Kieran. It was a great trip. We spent two nights in Bucharest, and the only bar I can remember going too was The Dubliner.
Kieran Kinsella
324
Posted 18/02/2021 at 15:28:30
Robert 293
"we have been deteriorating since Moyes left" and we weren't exactly flying high when he left. That year we finished 6th (one place above where we are now) and lost 0-3 to Wigan in the FA cup after being knocked out of the league cup in round 3 by lower division Leeds. In truth we've been in decline since 1987, Colin's first year finish of fourth in 1988 has only been matched once in 33 years since. Royle's cup win brilliant as it was came alongside a tough relegation battle. And that is the extent of the "achievements" of the 30 years before Carlo came along
Martin Mason
325
Posted 18/02/2021 at 15:30:03
Ian@278. All Evertonians want to win AND play well. the difference is that some irrationally expect it can and should be delivered immediately as some kind of right. Some understand why that may not be possible but how it can be achieved.
Robert Tressell
326
Posted 18/02/2021 at 15:38:13
Quite true Keiran. The Moyes years + Royle Cup win + first Martinez season have been the highlights for me. I can't remember the mid-eighties.
But I like Thomas' observation at 315. We have a group of supporters who think the players are shit, yet expect the manager to get them into the Champions League.
Managers can only do so much. You get consistent results through having the best players. That's why Man Utd are starting to do well again despite having a mediocre manager. We, on the other hand, have a very good manager but mediocre players. Hence we're 7th.
Stan Schofield
327
Posted 18/02/2021 at 15:50:54
Last Thursday, most posts were positive because we'd beaten a good Spurs side with good football and endeavour. This Thursday. the Universe is about to undergo its final demise because we were beaten by a very very fine Man City side. From hope to despair in a week.
I have five red mates (old school mates, class of '72, Ellergreen in Norris Green), and do a Zoom session with them every Monday. The last few weeks has been painful, listening to them moaning and imagining their worst case scenario of Klopp's regime crashing to an end this season. They've started criticising Klopp, after winning the CL and PL.
I don't feel sorry for managers like Klopp and Ancelotti, because they get paid millions. But at the same time, I'm conscious that sometimes their critics need to just get a grip on reality.
Sean O'Hanlon
328
Posted 18/02/2021 at 16:12:46
Ancellotti in one of his post-match interviews lavished praise on City, expecting them to win the Premiership outright. In my view, this is a massive cover-up for his own failings, and totally disrespectful to Everton supporters. We do not need him to tell us how great City are - we already know that. What excuses did he use for allowing Newcastle to do the double on us? Or Fulham to play us off the Park? Not forgetting the surrenders to West Ham & Southampton. We will see these excuses creeping in on a regular basis as the season falls apart. He has put out on loan Anthony Gordon to Preston and Jarrad Branthwaite to Blackburn, instead of blooding them into the first team, and letting them have some regular match time. How many chances will he give to Sigurdsson, Gomes, Iwobi, etc. before the penny drops.? The season is over - oh, am I forgetting the cup?
Christy Ring
329
Posted 18/02/2021 at 16:16:34
Annika#237 I have the very same opinion as you. Siggy is a luxury player, who I define as a player who doesn't know what the word WORK means, give him the ball, if he loses it tough shit, he won't get it himself, won't tackle, won't mark anyone. James is a luxury player, but has more skill than Siggy, and we can only afford to have one luxury player in our team, and for me it's James every day of the week.
As for Carlo I criticise some of his decisions, but for me he's the best man for the job. He's manager a little over 13 mths, he's only signed Allan, James, Docoure and Godfrey on long term contracts. Four players who definitely improve the first 11, so those who are totally against Carlo, can you give him time to bring in more players, because the calibre of player he has signed, show's the squad is going to get better and better.
Danny O'Neill
330
Posted 18/02/2021 at 16:16:51
Rob (314), I had that debate with my brother last night (the one who believes all goals are preventable). Firstly the movement leading up to that goal was something to be admired or envious of if you are more begrudging.
But the pace, not just the pace on the shot, but the speed at which the player took the shot was always going to trouble even the best of keepers.
I was a defender, not a keeper, but would say Pickford done well to even get a hand to that. I may buck the trend here but I'd say he was unlucky, no matter how central that was.
Martin Mason
331
Posted 18/02/2021 at 16:27:01
I'm so glad that many see the logical fallacy of "the team are shit because Carlo is shit". Unless Moshiri stops financing us we are going places. Plugging the weaknesses in the squad isn't going to happen overnight and a couple of years and transfer windows is needed unless we have a little more luck or braveness with academy players.
Dave Abrahams
332
Posted 18/02/2021 at 16:34:14
Christy (329)Re your second paragraph, of those four players you mentioned, I think Doucoure and Godfrey are very good signings, Allan looks very good as well, I'm just a bit suspicious of his injury record, if he stays fit I'd say he was going to join the other two as part of a future good squad.
James is a different kettle of fish, has he signed a long term contract or is it for one year with the club or James having an option to sign for one more year? That's the first part my question, the second part is: Will he play a consistent part of the team, giving that the premier league looks a bit too fast for James and maybe a bit too tough.
Sean O'Hanlon
333
Posted 18/02/2021 at 16:40:29
Martin (#331) Carlo just adds manure to the shit.
"unless we have a little more luck or braveness with academy players."
Remember Jarrad Brandthwaite? Anthony Gordon?
"a couple of years and transfer windows is needed. "
I think the record needs changing
Kieran Kinsella
334
Posted 18/02/2021 at 16:47:52
Sean O'Hanlon 328
So you'd prefer a presser like this:
"Truth be told, I am a blusted flush. Any mug can see that. I've just ridden my luck for 20 years and been found out. Biggest mistake I made was sending the two lads on loan. The Blackburn game showed us just how ready he is. Did you see how he kept the phenomenal Chad Evans out of the game despite the three goals they conceded. And Anthony Gordon? A diamond. I was a fool thinking he wasn't ready based on his first team performances. I've since been told by Unsie that he is actually a diamond. To make matters worse, turns out Beningame was another first team ready player according to Dave. Fool that I am, I cost us this game by sending those three out on loan.
As for the defensive tactics, nothing to do with City's quality, it was all about my own cowardice. I have been known all my life as someone afraid of a challenge back to my cushy childhood as a son of a pig farmer. Let's be honest, without even having had a full season here it's obvious I am just here for an easy life and fat paycheck. All the so-called fans who can't see me for what I am are mugs. Dunc would would win the league this very year if anyone had the sense to sack me."
Joe McMahon
335
Posted 18/02/2021 at 16:48:13
RE- Mr Moyes. Yes 11 years he had with us and I won't even mention the record v Liverpool. For those 11 years I was working in Manchester (more non match going Liverpool fans than City fans). And the abuse (not banter) shit and stick I got was relentless off some vile people. Why on earth would I look back at the many Moyes years with "Kenwright misty eyes"
Remember when we did finish 4th (-1 goal difference) and 5th, 6th etc, the PL was easier then, less competition. Leicester didn't get promoted to the PL unitil 2014 after years in the Championship (incredible winning the PL 2 years later). During those 11 years we were on the wrong end of many hammerings, but the final straw for me was the 2012 semi v Liverpool and trying to defend a 1 goal lead against them. They were there for the taking and he bottled it.
Yes WHU are doing very well, but ask any Sunderland fan what they think (my brother in law is one) they cant forgive him for signing crocks on massive wages. For the record the much maligned Sam Allardyce kept them up, by changing the way they play to suit Defoe. It was more inspirational than Moyes injury prone (not so much) bargains of Victor Anichebe and Darren Gibson.
Martin Mason
336
Posted 18/02/2021 at 16:51:23
So Sean, what is your solution to MEGA?
What Everton did with Branthwaite was absolutely correct, we have a lot of good CB's and he is one for the future. Gordon has been tried and obviously found to be not good enough so again loan was the correct solution.
You irrationally believe that immediate action can magically restore us to the status that people like you demand as a right. What is that action?
Mike Gaynes
337
Posted 18/02/2021 at 16:52:32
Christy #329 -- Funny, Siggy wasn't a "luxury" player against Spurs, was he? We're still in the Cup because of Siggy more than anybody. His problem is limited physical talent, not limited effort. Of course he's not James, and hopefully we'll be signing a couple of much better midfielders this summer that will make Siggy superfluous. But the one thing he always has is his work rate.
As for Carlo, amen. Got a big laugh this morning when Fat Sam told Sky that if he had Carlo's budget, he'd have us in the top 4. That clown couldn't do Carlo's laundry.
Martin Mason
338
Posted 18/02/2021 at 16:57:08
Mike
Played in one position Siggi can be very effective.
Mike Gaynes
339
Posted 18/02/2021 at 17:00:18
Kieran #334, bravo. I think perhaps a ritual act of self-flagellation should be added to the scenario, just so Sean would be completely satisfied.
Yep, keeping those two teenagers would certainly have turned the season around. No telling how badly we'd have beaten City with Gordon on our wing instead of on Preston's bench. Whew.
George Cumiskey
340
Posted 18/02/2021 at 17:01:57
Dave Abrahams @ 332 you could be right about the prem being too fast and tough for James, hasn't that been the problem with Siggy for a few seasons now ?
Chris Williams
341
Posted 18/02/2021 at 17:02:47
Sigurdsson looked a different player at number 10 with Gana doing all his running for him. The position he was bought to fill.
Now he's rarely played at 10, and has to do his own running. When it works, he looks pretty good.
When asked to play deeper, he is less effective. I think he's on record as saying that he's had several discussions about this with Carlo.
Martin Mason
342
Posted 18/02/2021 at 17:05:56
We don't need to replace our manager and some players, far better if we could just replace some of our fans.
Thomas Richards
343
Posted 18/02/2021 at 17:07:39
Lights blue touchpaper and stands back.. . .
Mike Connolly
344
Posted 18/02/2021 at 17:09:43
The fans that said they were happy the whey we played against city are right. Me I thought we were shite. The fans that were happy, were not sucker in to thinking that we were a top team, like I was. Now realising that we are a midtable team going nowhere 2-0 defeat by Liverpool and city will not be the end of the world as long as we play ok. However, realistically both games are going to be more than two goals.
Mike Connolly
345
Posted 18/02/2021 at 17:12:35
Martin 342
Replace some of the fans. your having a laugh. Look at our home record without fans. we need the fans more than ever.
Brendan McLaughlin
346
Posted 18/02/2021 at 17:15:45
Mike #344
You were suckered into thinking we were a top team. You should have taken a read at ToffeeWeb first...that would have put you straight!
Kieran Kinsella
347
Posted 18/02/2021 at 17:18:36
Martin
"We don't need to replace our manager and some players, far better if we could just replace some of our fans."
We may have to cash in on Speedo Mick. That would raise the funds for a good number of happy clappers.
Brent Stephens
348
Posted 18/02/2021 at 17:19:30
Soren #290 "Brent, THAT'S what I call "losing mentality"! As long as we set the bar that low we don't deserve any better!!!"
You said City were there for the taking, Soren. City! With their current record. I find that just a glib, unrealistic comment. Most of us were saying there was always a chance. Nobody at all I heard saying City were so easy they were there for the taking. Unless you mean something else by that.
Setting the bar that low? What bar is higher than City at the moment?
Martin Mason
349
Posted 18/02/2021 at 17:24:56
Mike@345 Not in the stadium, they are real fans, I mean the plonkers on here.
Brian Wilkinson
350
Posted 18/02/2021 at 17:29:49
Martin@342, that is not a bad idea. Some on here are passionate and from time to time we all let a bit of Red mist rise.
However the worse kind are the odd stranger you bump into, who happens to be a fellow Blue, but does not have an ounce of Everton history or knowledge, and talks utter shite to a Red shite, bringing you into the conversation and making you cringe at the same time.
One thing social distancing has brought is you no longer have to try and make your seat smaller, as the village idiot boards the bus, hearing the giggles as he chooses to sit next to you, then he starts talking, I say talking, more like shouting, in between sniffing his snot back and forth.
Anyone else suffered the same fate, or just me.
Brent Stephens
351
Posted 18/02/2021 at 17:32:23
Sir John #321 (sounds like a game show - see what I did with my fingers!) - yes, seriously, that's a very telling observation, John.
Rob Halligan
352
Posted 18/02/2021 at 17:34:43
Mike # 337, did Allardyce seriously say that..........
As for Carlo, amen. Got a big laugh this morning when Fat Sam told Sky that if he had Carlo's budget, he'd have us in the top 4. That clown couldn't do Carlo's laundry.
FFS I've nearly PMSL. That poor excuse for a manager couldn't hold a swan vesta to Ancelotti, never mind a candle!
Brian Murray
353
Posted 18/02/2021 at 17:37:42
Our fans compared to some not far away are whiter than white cliff Richard standards. So what they shout too much about things you don't to hear. An opinion is just that. An opinion. The day we shrug our shoulders and say Everton that as the norm we might as well give up. Shame the club is not as impatient.
Kieran Kinsella
354
Posted 18/02/2021 at 17:40:32
Rob
Of course he could, Carlo has spent 80 million compared with Sam's paltry 50 million. So for the cost of Godfrey, that Sam side could have been in the CL. The Man's a genius. Remember he has 100% record with England also.
Colin Glassar
355
Posted 18/02/2021 at 17:41:31
Rob 320, I hope you are careful, you don't want to get done for stalking!
Martin Mason, I rarely agree with you but you've been spot on in this thread. We need time and investment (in real, proper players) to stem 30 plus years of mismanagement and decline. Rome wasn't built in a day.
Christy Ring
356
Posted 18/02/2021 at 17:41:46
Mike @337 We can agree to disagree about Siggy, I stand by him being a luxury player, no.10 is his only position, totally agree, but in my opinion we can only play Rodriguez OR Siggy, and for me James every time
Against Spurs he was involved in all the goals, including the two for Sanchez.
I
Brendan McLaughlin
357
Posted 18/02/2021 at 17:42:13
Feck you Brian #350
I'll just let you sit on your own in future!
Soren Moyer
358
Posted 18/02/2021 at 17:45:08
Don't get me wrong. Carlo is a top manager but only if you give him a team full of superstars. He AIN'T a team-builder!
Kieran Kinsella
359
Posted 18/02/2021 at 17:48:03
Brian 353,
Speaking for myself, I didn't "expect" to lose to City, in fact I held out hope we might sneak a hard fought win. But neither did I "expect" to get that win. I just thought it would be very hard but I was hopeful we could do it. After the game, I thought "well the obviously better team won." I wasn't "happy" or "content" but I was just facing facts. It appears to me that is a similar viewpoint to most people on here. The contrary view (mostly) seems to be that if you resign yourself to circumstances, albeit after a game, that you're some kind of "world is ending" white flag waving pessimist. The irony is, that I see those criticizing what I would call "pragmatists" as being exactly the kind of white flag waving pessimists that they seem to abhor. They appear to have given up on the manager, again. It happens about once every 12 months. Many have given up on players again, some of whom haven't even been here a year. That mentality reminds me a lot of what we saw at Sunderland for a decade, with one owner, manager, squad of players quickly hounded out after another until the whole club fell into oblivion. No one is "happy" with where we are, but we are trying to look big picture and see that things take time.
Rob Halligan
360
Posted 18/02/2021 at 17:48:28
Colin # 355. I even know where Seamus lives. Maybe I could give him a knock and ask his advice about Saturday? Could maybe get Carlo's son in law to get Carlo round as well, after Carlo has been to Costa coffee of course!!
Jay Harris
361
Posted 18/02/2021 at 17:51:04
I would like to point out that Siggy is very hardworking and is one a few players we have got who can score goals. His downfall is he is limited to what position he can play and has lost what little pace he had. Until we get a suitable replacement he is a god squad player.
City have got to where they are over a long period of heavy spend on players and numerous managers. Ring any bells?
They are now unquestionably the gold standard for other teams to emulate.
We are way back in that queue due to chronic under investment in the Kenwright years and poor management during and since.
Any Blue who has a magic formula for instant success please post it in the meantime we should be grateful for Ancelotti moving us forward albeit 3 steps forward and two backward.
Christy Ring
362
Posted 18/02/2021 at 17:52:14
Martin#342 So any fans on here who have a different opinion than you are plonkers. A lot of the fans on here including myself do go to Goodison Park, unfortunately not at this time.
Colin Glassar
363
Posted 18/02/2021 at 17:56:10
Sounds great Rob. Could you ask Seamus what Iwobi is like in training? Can he actually pass a ball to a teammate? Does he have real feet in his boots or are they full of feathers?
I'd also like to know if Richarlison is as miserable off the pitch as he looks on it. Spill the beans, Rob.

Thomas Richards
364
Posted 18/02/2021 at 17:57:38
He will welcome you if you knock Rob.
A lovely man.
Watch the cow doesnt bite you on the way in
Rob Halligan
365
Posted 18/02/2021 at 18:02:26
Thomas, I bumped into Seamus in the local park, prior to fans being allowed back for the Chelsea game, and had a quick chat with him. He was indeed a very friendly and lovely man.
Christine Foster
366
Posted 18/02/2021 at 18:04:54
ToffeeWeb can be intensely depressing reading with the odd pearl of wisdom thrown in. Dad used to say "to find gold you have to dig through the dirt first"
Jerome 295* got it spot on, I couldn't agree more.
We can look backwards for the reason we are where we are, but right now you have to move forward and replace as we go. We can point to injuries but it is squad depth, lack of quality and inconsistany that results in an unsettled team, fragmented form and individual complacency borne out of arrogance that some think they are not under pressure to deliver because the lack of depth of squad means no competition.
These are all things that need to change, it will take time and money but will need a manager who knows what they are doing. Personally I think Ancelotti is our best shot at doing this but time and money are the enemy. To me Ancelotti is trying to get the best out of what he has got until he can replace but it results in an unsettled squad, frustrated fans and erratic performance. It may take 3 years to rebuild this team but it has to be done.
Dale Self
367
Posted 18/02/2021 at 18:05:09
Well um Soren, that's not a top manager is it? All top managers are team builders. You see this is the sort of tripe that simply does not pass as football analysis or debate. That is simply crap.
Darren Hind
368
Posted 18/02/2021 at 18:14:26
I've seen this film soooo many times before. The early season bravado evaporated. Reality is kicking in. it`s now time to get around the fire and resurrect ghost of Christmas past. The best way of getting over a goodly twatting is to talk about irrelevant twattings from days gone by.
Its also the part where we big up opponents to the point where they become unbeatable.
The next team to have those extremely positive chaps diving behind the settee will be The Shite. it will be a gradual build up. First they will moan about how much they have spent. Then they will talk about "the Jinx"...Then the pact with Satan, Then there will be complaints about the media. The bent officials. The slope on the pitch. Before you know it you will be able to smell the fear. The excuses will lined up before we even set off across Stanley Park. By the time we get there they will be shaking despite the fact that the shite have been . . .err Shite.
If we get a result. the Bravado will return. Carlo will be fantastico again. it will be all his own work.
If we lose, the people who have been trembling all week will have the temerity to whinge like fuck about how the players inferiority complex let down Don Carlo..
Mark my words. By the time we get to Mordor "Mr Blues sky" will already have talked what should be a win into mission impossible.
Expectation Management. TGT has an awful lot to answer for.
Danny O'Neill
369
Posted 18/02/2021 at 18:14:47
It was said above and has been on many occasions; players like James and to a degree Sigurdsson (when playing number 10), in fact whoever, need runners. They can be as good and skilful as they like, but if no-one is running between the lines or beyond the defence, they they will look ineffective. Forget James, we know what he can do, but the Tottenham game showed what Sigurdsson can do when there are runners. Otherwise, they look up and see statues or players with as much movement as one of my broken subbuteo pieces that for some reason I still have.
Someone above mentioned or apologised even (and apologies from me as I can't find it to reference the individual) about thinking Everton are a top team. We are not. We are an improved team that remains in progress and still has a lot to play for.
We are a top club and a big club, but not a top team right now.
Dale Self
370
Posted 18/02/2021 at 18:23:05
Stop conflating the past with Carlo's time here Darren. That you see a pattern and it reminds you of some sordid past is all that states. Plenty of constructive criticism has been offered for what would probably end up an intemperate discussion but there are points you could engage. Your post demonstrates that you are more interested in denigrating those who disagree with you.
Dave Abrahams
371
Posted 18/02/2021 at 18:23:36
George (340), most probably George, but just one player at a time, what do you think of James?
Thomas Richards
372
Posted 18/02/2021 at 18:26:09
Who is that running around with his underkecks over his jeans?
Is it a bird?
Is it a plane?
NO.
its.. . . . .
Will Mabon
373
Posted 18/02/2021 at 18:27:04
"
...and Barkley never wanted to stay
".
No relevance to last night but I have to disagree with that, Bobby (@ 296). There was no sign whatsoever of Barkley wanting to leave until after the protracted Koeman treatment of public humiliation and mind games, including saying Barkley's contract was "Not a priority" and "Could wait", as the time drew nearer and other contracts were addressed. Plus displaying a po-faced reluctance to acknowledge any goals/good performances when raised in post-match interviews.
It was then rumoured (without actual proof) that Barkley was offered an unflattering contract. Somehow in the time/negotiations that passed after this, it morphed into "He wants to leave", which several on here that did not like Barkley, continually maintained, despite it never being quoted by him or his management that he wished to go. There was in fact, silence from them.
Darren Hind
374
Posted 18/02/2021 at 18:27:59
Dale
There have been numerous attempts to denigrate other posts on this thread.
I didnt hear a peep out of you then
Steve Carse
375
Posted 18/02/2021 at 18:31:57
Hugh (263), when's the video coming out?
Kieran Kinsella
376
Posted 18/02/2021 at 18:32:18
No excuse if we lose to Liverpool. Reigning champions, Manager has been there five years, world class players, etc all just hogwash. Naturally we should expect to win and anything less is on the manager entirely. Who knew the fountain of knowledge took the form of Bushmills dribbled down a fluffy beer gut?
Graham Mockford
377
Posted 18/02/2021 at 18:33:22
Dave 332
I suspect you may have a point on James. He obviously started really strongly in those first four games but since then he's been pretty patchy.
He definitely causes us problems defensively when he plays in a wide position. Sides seem to be physically targeting him because like both of us they suspect he doesn't really like it.
Someone on here described him as the best Everton player since Kanchelskis which is one of the most ridiculous pieces of hyperbole ever on a forum noted for it.
Even more concerning is that against Fulham where he appeared to get himself substituted and last night his heart didn't seem in the fight.
Undoubtedly a player with some special abilities but like you I wonder if he's built for the rough and tumble of the PL.
Kieran Kinsella
378
Posted 18/02/2021 at 18:34:31
Will 373
It seemed to me like we were hedging our bets with Barkley. He was struggling for form under Koeman so I think the club tried to play a bit of Russian roulette making him sweat it out to earn a deal on les than stellar terms. He chose not to take the bait and took his chances elsewhere. The whole gangster/girlfriend issue may or nor have strengthened his opinion on leaving.
David Pearl
380
Posted 18/02/2021 at 18:41:48
We have 4 central defenders, all pretty good. A decent left back, a decent right back that needs competition next season as a priority. As its 2 years too late.
In midfield Davies is improving, Doucoure has been good when not having to sit to cover full back position. Allan has got the niggles, as has James, Delph and Gomes. In fact Siggy has been the most reliable consistent and hardworking of the lot of them. Bernard should be given more opportunity and if he is fit l cant get my head around it.
Up front Richy and DCL need help. We gave away Walcott and Kean for nothing. We have also got lwobi on the books that cost £30m smakerooneys. Its no use rebuilding a squad and getting wages off the bill if we keep going out and splashing cash on players that have 6 good games a year. We have to get shut of him, Delph too. We have Branthwaite coming through and cover in midfield. Just need some pacey quality up front that can drop his shoulder and beat a man. Someone that can pass a ball from wide would be nice, so we don't have to rely on Digne. Another season wasted. I canne take much more captain
Thomas Richards
381
Posted 18/02/2021 at 18:43:03
They set them up to knock them down.
An old but true saying.
The twisted logic of some would not mind a defeat just to prove a point.
Nose. Spite. Face
Dale Self
382
Posted 18/02/2021 at 18:43:28
I Just got here again Darren. I'm on the west coast, your retarded American football friend. If you read above I did contribute some thoughts on how I would like to see the temperature come down but have my own achilles heel on that. I'll get out here since I was expecting you to light me up. Thanks for not doing that.
Darren Hind
383
Posted 18/02/2021 at 18:45:26
We will NOT lose to the shite.
Colin Glassar
384
Posted 18/02/2021 at 18:49:58
The Darren and Dale Show? I could write the script!
Thomas Richards
385
Posted 18/02/2021 at 18:51:48
Thats a bit more realistic after the "what should be a win"
Taking the draw now?
Kieran Kinsella
386
Posted 18/02/2021 at 18:53:43
Thomas
The draw is the scoundrel's last exile. You can be smug without doing so after a defeat, but at the same time you can say we should have had more. Sort of best of both worlds for a negative Nelly
Brian Wilkinson
387
Posted 18/02/2021 at 19:00:42
Just think folks, this time next Tuesday, we could be given the thumbs up, for our new stadium, let's make it a double with a Derby win.
Just a damn pity Richarlison did not save that goal for the 93rd min on Saturday.
Yes would love another Jagielka or sharp screamer, but the sadistic in me wants it to be the last kick of the game, going in off one of our players backsides.
Sean O'Hanlon
388
Posted 18/02/2021 at 19:01:47
Kieran (#334) Yeh, that'll do. The same presser could have been used for the games against Fulham, Newcastle(2), Southampton, West Ham etc.
Or maybe "all the players were tired"?
The season is over. Get to 45 points then start throwing in all the young players. It would be better than watching the garbage on display at the moment.
Dale Self
389
Posted 18/02/2021 at 19:02:07
I'll get my coat
Mark Murphy
390
Posted 18/02/2021 at 19:11:27
Ahh Darren, there you are!
Innocent question (s)
What time did you rise today?
And how was your head???

Sean O'Hanlon
391
Posted 18/02/2021 at 19:21:39
Mike(# 339) So you imply, the season does need turning around. I agree, but I don't believe Carlo and the team can do it. I believe the season is over with respect to qualifying for the Europa League and I don't think we'll progress in the FA Cup.
My point about the younger players is to give them first team experience in games that don't mean anything. It may improve last season's finishing league position from 12th to 11th say. But at least it would show if the youngsters are up to it.

Thomas Richards
392
Posted 18/02/2021 at 19:23:28
A narky fucker at times.
Argumentative.
Lets not go down that route please.
Lad goes to work and enjoys a drink.
Tens of thousands same in this city
A laugh is a laugh but its not, or shouldnt ever be, personal
John McFarlane Snr
393
Posted 18/02/2021 at 19:24:01
Hi Brent [351] I don't quite know how to take your post, I can't decide whether it's complimentary or sarcastic, my stating an [obvious fact] that the players who were considered by some, to be not good enough last season, would somehow be good enough to beat Manchester City this season.
Rob Dolby
394
Posted 18/02/2021 at 19:25:09
388 Sean. What youngsters do you want to see thrown in for the last dozen games?
I have watched a couple of the u23 games and they haven't impressed me enough to play any of them regularly in the first team.
Will Mabon
395
Posted 18/02/2021 at 19:25:42
Kieran,
I agree with that. Koeman did shift Barkley around a little, and move the goalposts on him, playing-wise, and all publicly. Guy was not on his best form for sure, but was given a rather poison environment in which to try and correct it. Koeman chose him as the whipping boy; he picks at least one everywhere he goes.
Was just moved to respond to the "He wants/wanted to leave" mantra from the Barkley boo boys of the time, which kinda pissed me off.
Kieran Kinsella
396
Posted 18/02/2021 at 19:26:56
Sean
"Get to 45 points then start throwing in all the young players."
To what end? Unsie did that when Koeman was fired. Beningame played in 6 of his 8 games, most of which we lost. Kenny was playing also, Dowell, pennington, Tom and Lookman. I wouldn't blame them for the defeat but clearly "blooding youngsters" for the sake of doing so is not a winning formula as the results then show, as does the fact that none of the aforesaid went on to become top quality players. The only one hanging in there now is Tom. Same story on other occasions when we have nothing to play for and Kendall, RM, Moyes and Sam gave game time to the likes of Iain Jenkins, Ledson, Nathan Craig, Charsley, Broadhead etc. If a kid is good enough he will play. We don't magically turn iron into gold by making aged based selections just to make a point to senior pros.

Brent Stephens
397
Posted 18/02/2021 at 19:29:24
Sir John #393 - certainly not sarcastic, John. I'm totally in agreement with you on that view. Sorry if my post was vague.
All the best, John.
Ray Robinson
398
Posted 18/02/2021 at 19:32:40
I can't believe that some people want Ancelotto out already. Sure his tactics, substitutions and team selections, particularly against Fulham have been poor, nor do I believe this "Carlo Fantastico" rubbish. He's still got it all to prove at Everton as far as I'm concerned BUT I have seen signs of progress and Rome wasn't built in a day. Yes, (even more) patience is required. Even City didn't get to where they are in one iteration. They started off with Wright Phillips, Lescott, Santa Cruz, Bridges etc and progressed over several seasons and transfer windows to de Bruyne, Aguero, Silva, Gundogan, Mahrez, Sterling etc.
Ancelotti still has to cope with and rectify a lot of inheredited baggage. Expecting any more than incremental improvement is not accepting mediocrity, it's just being realistic.

Steve Hogan
399
Posted 18/02/2021 at 19:33:23
Darren (379)
Just read a couple of your post's and subsequent response's.
Serious question, do you ever query why you seem to get right up people's noses on a regular basis? I find the tone of your posts a little sinister at times to be honest.
You seem to revel in being personal with anyone who questions or disagrees with your viewpoint. 'I can switch you on and off like a light switch' being a good example.
It's as if you have a need to control the dialogue ALL the time. Scary.
Will Mabon
400
Posted 18/02/2021 at 19:34:04
Maybe manager successes and mistakes could be discussed without them being seen as automatically conferring either god-like or total loser status, without the in between.
Ancelloti has had great success at big clubs at the top level, and he has made some howlers here. Same bloke.
Brent Stephens
401
Posted 18/02/2021 at 19:34:37
Sean, of all the recent U23s with the best chance of making it in the first team, Gordon was (and maybe will be in the future) the one to do it. I've seen nothing better than him in the U23s in the last few seasons and I watch as much of the U23s as I can. If he hasn't been able to make it yet, who can?
Danny O'Neill
402
Posted 18/02/2021 at 19:34:59
I'll repeat myself. The season is over when we are 3 points off 6th and 5 of 4th with a game in hand?
Then again, it was declared a dead rubber after Newcastle.
What if we get to 45 points (potentially within the next 3 - 4 games) and we are still in touch with Europe?
Soren Moyer
403
Posted 18/02/2021 at 19:36:40
Brent #348. Yes City was there for taking. Look what happened we went on offensive once in the whole game! Didn't it end up with us scoring!? Its the cowardly team setups that killing us. Not the fans nor the so called "negative" comments here on TW!!!!
So what you're saying is because it was City then we were right to capitulate straight from the kick off!?
Kieran Kinsella
404
Posted 18/02/2021 at 19:37:02
Will 400
You've cracked the code lol.
Brent Stephens
405
Posted 18/02/2021 at 19:40:38
Soren, you think we went on the offensive only once in that game against City? I saw things differently. A several occasions I was applauding the numbers we were getting forward - on the offensive.
Will Mabon
406
Posted 18/02/2021 at 19:42:43
Brent, could be quite an unfavourable indictment of our whole system. Makes you wonder, where on earth do all the current top level Prem. players start from, if we can barely produce one?
If you subtract all foreign sourced players, there should still average a good few from every top English team's structure.

Brent Stephens
407
Posted 18/02/2021 at 19:44:17
And Soren "So what you're saying is because it was City then we were right to capitulate straight from the kick off!?"
The "So" implies there's a logical conclusion. I haven't said nor implied anything about capitulation. OK, at least you put a question mark at the end - so the answer is "no".
Brent Stephens
408
Posted 18/02/2021 at 19:47:45
Yes, Will, not many have come all the way up through the ranks to make our first team as a more or less permanent fixture. I pray for just one or two gems.
John McFarlane Snr
409
Posted 18/02/2021 at 19:49:09
Hi Brent [397] I'm so glad to hear that, I know that it's asking a lot to expect everyone to agree with one's opinions, but it does appear to me that some people for whatever reason, take pleasure in vilifying managers and players. They tell us that the team is 'crap' or words to that effect, and then they complain when the team lives up to expectations. Thank you for your good wishes.
Brent Stephens
410
Posted 18/02/2021 at 19:54:16
And thank you, John. Again, agree with that.
Soren Moyer
411
Posted 18/02/2021 at 20:39:34
Just a quick note that I respect the opinion of each and every fellow blues on here and never is / was my intention to offend anyone. So come on guys/ gals, love you all 🙂! COYB.
Brent Stephens
412
Posted 18/02/2021 at 20:57:24
Soren, you haven't offended me in our wee debate, rest assured on that.
Mike Gaynes
413
Posted 18/02/2021 at 20:58:45
Sean #391, no, in fact I think it's been a pretty decent season, even a bit better than I expected, despite a few truly miserable performances. I was not as optimistic as some here. Never expected us to reach Europe this year. Not enough goals in the side, not enough depth.
And no, I don't believe for a second that we should bench the regulars at 45 points and throw the youngsters in just to see if they're "up to it." Frankly, I think that's Looney Tunes. I think a manager like Carlo and top professional coaches can determine whether a youngster is ready without starting him in the Derby. And I certainly take the word of regular U23 watchers like Brent that we don't have any budding superstars there.
You want to declare the season over? Be my guest. Wave the white flag and ride off into the sunset. Me, I'll continue to enjoy the ups, bemoan the downs and watch this team surprise me... both ways.
Thomas Richards
414
Posted 18/02/2021 at 21:00:41
Soren,
All the best mate.
Up the toffees 👍
Jamie Crowley
415
Posted 18/02/2021 at 21:27:11
Beating a dead horse
If we beat Liverpool on the weekend, we're level with them on points.
We'll be either 5 or 3 points back of 4th (most likely) with a [Villa] game in hand.
West Ham have: Spurs, City, Leeds, Man U, Arsenal, Wolves and Leicester in their next six games.
I don't see Villa continuing their form, and we'll knock 3 points out of them when we play our game in hand.
Everyone else is below us. In other words, they've had a worse season and aren't as good as Everton, if the table doesn't lie.
I see no reason to give up the dream until after the derby. I really don't.
If your eyes tell you differently, fair enough. My eyes see a wild league, with top teams consistently dropping points to lower placed clubs all season long.
I'll wait for Saturday's game to give up hope. Chelsea are human, and frankly no better than us when we're on our game.
Fulham was disgusting. City are frankly the best team in Europe presently. I'm scared of no one else in the league.
Oh, and there's still 15 games left to play.
Christy Ring
416
Posted 18/02/2021 at 21:41:34
Will#373 I was going to respond to Bobby#296, but I'd only be repeating what you said, completely agree, I made a comment here a while ago that Ross was Koeman's scapegoat in every game, and even when the crowd were on his back he'd still go looking for the ball from the back every time. He definitely was the reason he left, and in my opinion even now he'd make a huge difference to our midfield.
David Pearl#380 " Siggy has been the most reliable, consisting and hard working midfielder of the lot of them' You and I must be looking at a completely different player.
John Skelly
417
Posted 18/02/2021 at 21:41:35
I agree Jamie the season promised much earlier but we are back to earth realistically,city are a level above us, Liverpool game goes to normal we will probably be beaten hoping not 😉
Mike Gaynes
418
Posted 18/02/2021 at 21:48:43
That horse doesn't seem dead to me at all, Jamie.
Neil Copeland
419
Posted 18/02/2021 at 21:56:46
Jamie nor me. It just refuses to trot now again that's all. Hopefully it will be at a canter against the RS!
Jamie Crowley
422
Posted 18/02/2021 at 22:08:29
Oh, and I can't count. It's seven of the next games West Ham has.
They're going to drop like a rock I'd bet.
Hold to hope. Why not? What the hell else ya gonna do?
If you can dare to dream, and yes, I know it's just disappointment after letdown after stabbed heart, and we beat the shite, it's game on.
The Club will be on a high it's not experienced in a long, long time. And Carlo can really get the players to believe.
I honestly, hand on heart, think we can beat them and start looking up. They're just not any better than us in my opinion.
Yes, our midfield needs improving. Of that there is not question. But we have weapons, I like our defenders, and I just don't see Liverpool as unbeatable at all this season.
Anyway, as I said at the beginning of the week, we're going to know a hell of a lot about this particular squad after Saturday's game. A lot.
Brent Stephens
423
Posted 18/02/2021 at 22:11:47
Jamie, "Oh, and I can't count. It's seven of the next games West Ham has."
How many boys do you have, Jamie? Do you need to do a recount?
Steavey Buckley
424
Posted 18/02/2021 at 22:15:31
Who ever does the scouting for Everton probably does not understand the basics of football. In all games where a ball is used the mastering of the ball is vital to succeed. At Everton it is a secondary to master the ball, but to run around for 90+ minutes is desired but not vital.
Justin Doone
425
Posted 18/02/2021 at 22:18:15
Should the derby be renamed the sacking or the sentencing?
Surely one more defeat for either team and it's game over. I mean what would be the point of carrying on?
Managers, players and fans shouldn't be expected to suffer such humiliation of getting beat playing a game, off with their heads!
Jamie Crowley
426
Posted 18/02/2021 at 22:21:23
Brent -
If calling them by name out loud, and going through the litany of names until I actually get it correct for the kid in question, is any guide?
I can't count.
"JC! Donovan! Rendon! Colin! Quintin! Whatever your name is! Come here!"
If I had a nickel for every time that happened, I'd be on a yacht in the Keys.
Recounts are always welcome. Unless you're Donald Trump searching for votes in Georgia, unable to graciously admit defeat. But that's another topic all together.
Oliver Molloy
427
Posted 18/02/2021 at 22:31:02
Can we beat them ?, well yes we can, will we is another story, but we are way over due a win at our old ground.
It would be one hell of a feeling for Everton to win, followed by the announcement on Tuesday 23rd that all red shite supporters just don't want to hear.
COYB
Andrew Grey
428
Posted 18/02/2021 at 22:36:48
James not happy? wouldn't surprise me. Would be a shame if he left soon. This from the BBC gossip page.
https://www.defensacentral.com/real_madrid/1613407319-exclusiva-james-empieza-a-cansarse-de-la-premier-y-no-descarta-fichar-por-el-atletico
Danny O'Neill
429
Posted 18/02/2021 at 22:41:08
Funny how we all see players different. Some we can be swayed on, others we can't, which is fine and down to opinion.
I was as defensive about Ross as some are about Tom. I have been critical of Tom and wasn't convinced, but have been pleasantly proven wrong in recent weeks. Hopefully he can turn that recent good form into consistency, because like Ross, that is what will determine whether he is what we all hope he can be.
I have always seen the quality in Sigurdsson, especially when played in his obvious natural position. His brain and feet do the work there but that doesn't mean he also isn't working hard physically. Late last season, I lost faith in him but then I did with most of the squad at that time. But his recent form and performances have been vastly improved. Instrumental in most of our goals against Tottenham.
I thought we'd bought the latest over-hyped and over-priced English dud in Michael Keane. He is having a great season but I fear that as soon as we have to come out and play the defence higher up the pitch (expansive & successful teams in the main do), his previous flaws will again be exposed because they are not to do with defensive or footballing ability they are concentration, anticipation and reading the game ahead. To truly challenge, we need better in that department.
This is not a criticism of any of those players or others' view on them. It just shows how we all see it different and how those differing views come out on forums likes this, mainly constructively and in healthy debate.
Bobby Mallon
430
Posted 18/02/2021 at 22:46:30
Brent Stephens 401. Brent surely Nkounkou, if given 5/6 games would end up being a permanent fixture or is he still short. Also the you young lad Onyango, sometimes these players need 1st team football
Brent Stephens
431
Posted 18/02/2021 at 22:52:20
Bobby, ah yes Nkounkou. Slipped my shoddy memory! Yes, he might well make it - based on what we've already seen him do. Onyango I hope so but still to prove he can make that step up.
Danny O'Neill
432
Posted 18/02/2021 at 22:53:35
No expert on the U23s and don't follow it enough as do people like Brent, but from the few matches I have watched, I've not been too impressed.
I'm not going to go into individual players, just that I think it is a failed concept. I can see why clubs take the option to send players out on loan to get competitive football.
It seems to be that you are more in the clubs thoughts now if they send you on loan. If players don't get that or are not instantly promoted to first team duties, they are making up the numbers or still on the watch list. That should actually be the function of the U23s but there is a layer of competitive football missing between the academy and the first team squad.
Bobby Mallon
433
Posted 18/02/2021 at 23:17:06
So we need pace in midfield I agree. The problem is this who do we put there. This is an honest question. Who has pace, can take players on who plays in midfield. Gomez has no pace Tom is powerful but not pacey. Sigurdson NO pace, fact, Bernard No pace. Who do we have with pace?
Don Alexander
434
Posted 18/02/2021 at 00:00:12
Bobby, pace is a bit like a 10" knob; very desirable by most perhaps, but very difficult to develop from a standing start. You've either got it or you ain't.
As Lyndon has stated on his own thread though, it's ball control that can be improved by practice, often reducing the need for pace. City aren't noted for pace all over the pitch by any means, but they are noted for exemplary ball control.
Ball control can be improved in training but, to me at least, our Finch Farm remains as productive in that regard as the Norfolk Mountain Rescue Team is to Himalayan rescue.
Brian Wilkinson
435
Posted 19/02/2021 at 00:42:38
Would not worry about pace Booby, Stuart Barlow had the speed of a whippet, sadly he had the finishing of Devon Loch.
Bill Gienapp
436
Posted 19/02/2021 at 04:40:42
If you want to wallow in misery and stubbornly insist the season is over, well... you do you. But posting such sentiments when we're literally sitting IN A EUROPEAN POSITION at the moment, with a game still in hand, feels more than a little foolish, methinks.
Darren Hind
437
Posted 19/02/2021 at 05:08:32
Steve Hogan
No. I don't wonder why my posts gets up the noses of a certain group of posters. I already know the answer and I can give it to you in two words. Expectation management.
I don't go looking for this group. I don't have to. Every time I post I have a very good Idea who will respond and I have a very good idea of what they will say. Do I take it personally ? Hell no. There's only two people who post on this site who have ever met me..and one of them has stopped posting.
I said I wont refer to this group in derogatory terms again and I wont. I said I would not get into argument with them again and I wont. I've come to the conclusion that we have entirely different expectations of this club and no amount of argument is going to change that.
A newcomer to this site could very easily believe these exchanges are about Carlo Ancelotti. Theyre not really. The same arguments raged with all the previous managers.
I personally never hated a manager, but I have hated the the approach of our last few managers...Being a lover of the beautiful game and an Evertonian has been a difficult balancing act. We've played ugly football for fucking years.
Ian Edwards isn't asking for much, Read his posts. He simply wants a football team he can be proud of but look at the responses. I mean look at the attempts to isolate him "Free the Edwards one" look at the vindictiveness is those responses. He says he is logging off and you think that would be it...Na. "Thank fuck for that" will follow him out of the room. No surprises there.
The way I see it; These people have allowed their expectations to be managed for years and they in turn are very clearly trying to manager Ian's..Fair play to him for not allowing them to succeed.
I say I have never hated a manager, but I have to concede I truly despise the "glass ceiling" mentality which was to become Davey Moyes's legacy. Many will jump on the band wagon and say how much they loath him, but they are fooling themselves. They are true disciples. His influence has been totally absorbed into their Psyche.
People will talk about world class managers signing world class players, but if you ask them where they expect to finish in a very ordinary EPL they will tell you 5-6th. WTF is all that about ?...Apparently we have no right to question managers who trades entertainment for spoiling tactics either.
I sometimes wonder how two totally different mindsets can exist between two clubs from the same city. In many cases we are even from the same families...But while they consider themselves title contenders every year (no matter how crap they may be)...We dream of qualifying for the Thursday cup.. While they call on their club to "make us dream" We bleat about the world being against us...our Motto could easily be "Well what do you expect ?"..."Poor old Carlo has only inherited 300m quids worth of players and you expect him to go out and attack ?"
It pains me to say, but my team has produced some of the dullest performances I have ever witnessed under Ancelotti...However, I watched the shite play last week for he first time in years. They were fucking Garbarge They looked in total disarray.
We've already seen people fawning all over them on this thread and no doubt we will see a lot more before we play them. Not from me. I fully expect our boys to go to Anfield and win and I have given my reason
I seen how "positive" people get when they have allowed their expectations to be managed. So If you don't mind. I'll manage me own
Thomas Richards
438
Posted 19/02/2021 at 07:20:30
"I mean look at the attempts to isolate him "Free the Edwards one"
That was more a little laugh at your campaign on Ians behalf than a dig at Ian to be honest.
I told Ian to carry on posting if you noticed.
Lighten up, have a little laugh now and again. It will do you good.
Far too serious on a football forum.

Will Mabon
439
Posted 19/02/2021 at 07:49:35
Bobby, pace is a bit like a 10" knob; very desirable by most perhaps, but very difficult to develop from a standing start. You've either got it or you ain't.

Don - are you Swiss Tony?
Martin Mason
440
Posted 19/02/2021 at 10:30:08
Darren@437, at last you are understanding that your irrational expectation needs management. Expectation isn't a right.
Mark Murphy
441
Posted 19/02/2021 at 11:10:18
Not a dig - just a question. (Or maybe 2)
"Carlo inherited 300 million quids worth of players.
Do you think Carlo would've paid 300 million for those players?
And do you think we'd get 300 million for the same players if we sold them?

John McFarlane Snr
442
Posted 19/02/2021 at 13:18:35
HI Darren [437] I'm quite sure that we all want to see skilful exciting football, but to be truthful I don't think we possess enough talented players to achieve that. I'll repeat my feelings for yourself, I admire your enthusiasm and enjoy some of your posts, especially the ones that are based on facts and not opinions. My feeble brain which grows more feeble by the day can only come up with the following points to illustrate the Carlo Ancelotti situation. If I wanted a new house to be built I would seek the services of a reputable builder, and it would be his responsibility to lay firm foundations, the next step would be to obtain the services of top class tradesmen bricklayers, roofers etc. It's stating the obvious that you don't start with the roof, and that the foundations are the most important things in the whole project. Apologies for the bizarre example I find it easier to talk than to write, and I'm looking forward to the opportunity of sharing a bottle of Guinness with you.
Thomas Richards
443
Posted 19/02/2021 at 13:31:22
Very good analogy John.
I enjoyed reading that.
Given your recollection of all things Everton I would say your brain is far from feeble John.
Sharp as a tack on the games from yesteryear.
---
Add Your Comments
In order to post a comment, you need to be logged in as a registered user of the site.
Or Sign up as a ToffeeWeb Member — it's free, takes just a few minutes and will allow you to post your comments on articles and Talking Points submissions across the site.
---
© ToffeeWeb