Report
Blues grind out another low-key away win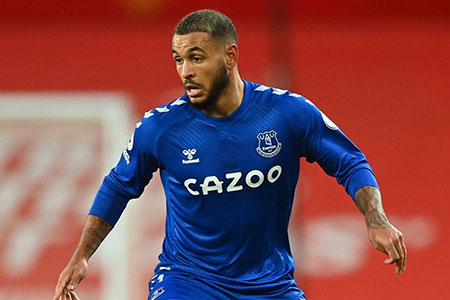 Josh King is still waiting for his first start since joining Everton from Bournemouth on transfer deadline day
West Bromwich Albion 0 - 1 Everton
Everton ground out another low-key away win at West Brom thanks to a great header by Richarlison for his 4th goal in 4 games after Sigurdsson came on.

without long-term absentee Jean-Philippe Gbamin as well as Fabian Delph and Yerry Mina. James Rodriguez, Tom Davies, Seamus Coleman and Robin Olsen were assessed during training today. None of them play any part in this game, with Iwobi and Bernard given a run-out.

Ancelotti chose not to rotate in the forward area, where Josh King is still waiting to make his first start and has to bide his time on the substitute's bench once again, where we have gone back to the madness of naming two goalkeepers and are a man short.

Bernard kicked things off with the now customary hoof going up for Calvert-Lewin to contest. But Everton were very nearly caught out in West Brom's first real attack when a close-in header from Diagne was definitely goalbound and Pickford had to really stretch to touch the ball around the post.

Everton got some good movement going but Richarlison was offside. At the other end, Godfrey had to clear well with his head after Townsend rather easily stole the ball off Iwobi. But all the early pressure was from The Baggies. When Everton did play forward, Richarlison was offside again.

Phillips was invited to take a potshot on goal from distance, Pickford covering well enough. Bernard looked to release Digne but his ball was atrociously sloppy, out of play. On the other side, another sloppy Everton pass was picked up by the home side and led directly to another West Brom cross onto the Everton area.

When Everton did get close to an attack, Iwobi's cross was essentially hopeless and the Blues were reduced to passing it around the back while ostensibly looking for some sort of an opening but it was dreadful stuff that almost led to West Brom scoring.

Finally getting across the halfway line, Calvert-Lewin played his pass for Richarlison too far forward and he responded by passing it to the nearest Baggie player. Richarlison finally got a shot off of sorts but it had no power whatsoever.

Another Everton attack looked more fluid until Iwobi crossed to the feet of the nearest defender. Godfrey went on a super run and won a corner when his shot was deflected behind. Digne put in a dreadful low ball as Holgate committed a foul.

Iwobi danced around with the ball again and looked great except that he again passed it straight to a defender. Everton were on the back foot again from a long throw-in that ended up winning a West Brom corner that Everon cleared. Holgate was booked for a foul on Diagne.

Finally, some much better-attacking football from Everton provided Richarlison with a chance to shoot that was blocked up and over the goal for a corner, which came to nothing.

AA lucky deflection laid the ball perfectly into the path of Calvert-Lewin with only the goalkeeper to beat but Everton's star forward could only punt it straight at Johnstone with the whole goal to choose on either side. His body language was all wrong, totally lacking in conviction.

A first half completely unimpressive from Everton, a desperate lack of quality.

After a lively spell from the home side, continuing to press, Everton had another decent-looking attack that didn't really threaten, Digne's simple cross too easily repelled. At the other end, Pereira tried his luck from outside the area. Another long throw by West Brom was headed just over.

Everton tried to build and attack but ended up doing what Iwobi does. The home side gallops into attack and Gallagher fired a glorious ball across the face of the Everton goal... no takers! Ancelotti was sufficiently perturbed to mobilize Allan.

Gomes tried a low shot from distance, on target but easily stopped. Allan finally came on after waiting 5 minutes on the line for the utterly abysmal Iwobi. Everton suddenly looked better as Allan reorganised things, Bernard almost setting up Calvert-Lewin.

O'Shea fouled Richarlison and saw yellow, setting up a nice free-kick opportunity that West Brom defended well. Maitland-Niles flew into Digne but Calvert-Lewin had already fouled.

A deep cross from Allan led to a corner and Sigurdsson replaced Doucouré, took the corner, and then crossed back in for Richarlison to power home with a very strong header. Great goal!

As Everton attacked again, Digne bamboozled Furlong and was hacked down for his troubles. A dangerous free-kick just outside the area was spooned in hopefully by Sigurdsson trying to repeat the successful corner play but it did not fool Johnstone this time.

Calvert-Lewin came close to setting up Gomes with a nice pass from wide right that almost came off. A West Brom corner needed plenty of strong defending. Richarlison tried a clever play inside for Calvert-Lewin to run onto but the defender was alert to it.

A nice Everton move saw Digne cut the ball back beautifully for Calvert-Lewin and the Everton striker, in the right stance this time and with time to compose himself, indolently scoops the ball high over the goal instead of driving it powerfully into the top corner.

Everton came under some pressure, Richarlison having to head a decent West Brom cross behind for the corner that Calvert-Lewin headed away strongly. More resolute Everton defending was required as West Brom weren't rolling over without a fight.

King came on for the last 5 minutes or so and had no real idea what to do when he found himself attacking down the right with the ball at his feet. Holgate needed treatment but it was probably just to disrupt The tempo of the home side as the minutes ticked away yet again on another slender Everton lead.

It got pretty lively with Everton holding firm as 5 minutes of added time were signaled. And West Brom looked to have equalized through Diagne, flagged offside immediately and confirmed eventually by VAR... but oh so close to Everton losing 2 vital points.

After that heart-stopping moment, Everton looked to play out the game at the other end of the pitch but had to resist another Furlong long throw before the whistle blew on a vital if uninspiring Everton win.

Scorer: Richarlison

West Bromwich Albion: Johnstone; Furlong [Y:68'], O'Shea [Y:60'], Bartley, Townsend; Yokuslu [Y:82'], Phillips, Gallagher (78'Robson-Kanu), Maitland-Niles; Phillips (78' Snodgrass), Diagne, Pereira.
Subs not Used: Button, Peltier, Ajayi, Livermore, Sawyers, Robinson, Grant

Everton: Pickford, Holgate [Y:37'], Keane, Godfrey, Digne, Iwobi (59' Allan), Doucoure (64' Sigurdsson), Gomes, Bernard (84' King), Richarlison, Calvert-Lewin.
Subs not Used: Virginia, Tyrer, Nkounkou, Broadhead, Onyango.

Referee: Darren England
VAR: Michael Oliver
---
Reader Comments (295)
Note: the following content is not moderated or vetted by the site owners at the time of submission. Comments are the responsibility of the poster. Disclaimer
David Pearl
1
Posted 04/03/2021 at 17:03:11
Ooh 442 perhaps and finally Bernard gets his chance to work with Digne and supply the front 2. Weak looking bench but come on blues lets score some goals
Craig Walker
2
Posted 04/03/2021 at 17:09:49
Disappointed that James isn't available again. Gomes and Bernard together worries me a bit. Would love 3 points tonight. West Brom are the type of opponents we've struggled against this season but hoping we can continue our excellent away form of late.
COYB!
Martin Mason
3
Posted 04/03/2021 at 17:10:28
Where's Tom D?
Steve Shave
4
Posted 04/03/2021 at 17:11:14
Yup 442, interesting! I imagine Allan will get some more minutes to help with his recovery. We've got to win this, simple as that, nothing but 3 points will suffice. This is the sort of game we usually choke in so let's hope this annoying habit is behind us. It won't be an easy game.
Tom Harvey
5
Posted 04/03/2021 at 17:11:26
Sam Allardyce will set his team up for a brawl tonight, that being said I'll take any kind of winning performance tonight, no matter how ugly, the result is all that matters!!!
Jay Wood
[BRZ]
6
Posted 04/03/2021 at 17:11:33
That line up and the bench pretty much confirms to me that Tom Davies most definitely does have an injury. Seamus too.
Solid back line. A lot resting on Iwobi and Bernard to provide the bullets for Richy and DCL it appears to me.
Just win. That is the priority tonight.
Fran Mitchell
7
Posted 04/03/2021 at 17:13:26
A few expected changes, but still no James, Davies, or Coleman which I can only hope is a precaution.
Allan rested was expected, so Gomes and Doucoure in the middle. Not ideal, but I hope West Brom are likely to play 'long' and not play like Fulham through the middle anyway.
4-4-2 - not my favourite, very limiting set up, but maybe can do a job for one game. If needed, Bernard can play more forward with Iwobi moving more central.
Guessing Siggy has been rested with an eye on Chelsea. Will DCL play a full/near full 90 again? Hopefully he'll be able to get some rest. Same for Doucoure.
Bench doesn't leave many options. Are Onyango and Broadhead and Knounkou here just for the day out, or can they really be trusted to be called upon?
I expect we'll win this, 2-0 or 2-1, but I don't expect it to be pretty.
Nicolas Piñon
8
Posted 04/03/2021 at 17:14:28
I believe we lack fight in the middle but relieved Allan doesn't start at least.
Players as Bernard and iwobi will work their socks off To prove a point so that should be good. Gomes makes me worry a bit, he'll get tired quickly I suspect.
COYB!!
Dave Williams
9
Posted 04/03/2021 at 17:16:13
Little Bernard up against the big lads of WBA- interesting!
Glad Iwobi plays as he looked well up for it and very sharp in his cameo last game. One of those selections which looks unlikely to work but you never know!
I think this will be a very tough game.
Christopher Timmins
10
Posted 04/03/2021 at 17:20:30
On paper we have a better team so if we match their work ethic we should come away with the points. Hoping Iwobi can provide some width and that Bernard can supply the killer passes for the front two!
Tom Harvey
11
Posted 04/03/2021 at 17:21:45
Nicolas Piñon @ 8
Hello Nicolas,
That thing we lack in midfield is a ball carrying player who can hang on to the ball or win free kicks and throwins (I'm dreaming here: Iniesta?).
We have bite with Davies and Alan, but I agree another of that type would also help. For me though, the player described above is vital for next season.
Neil Lawson
12
Posted 04/03/2021 at 17:22:12
Beginning to get a bit thin on the ground. Maybe time to actually give the youngsters some playing time if required and not to shoehorn someone in to a false position.
This could go well. I really really hope so. Bernard should be able to go unnoticed and skip between the baggy legs 😁
Jay Harris
13
Posted 04/03/2021 at 17:30:42
Martin I did report on Monday that a guy I know who works at Bellefireld said Tom had done a Hammy in training and even though mild would be out for a couple of weeks.
I got the usual disbelief and "My Grandmother knows your Uncle Fred" types of response but I always say it exactly how it is and I know a lot of posters come on here pretending to be in the know but this was straight from the horses mouth.
Jay Harris
14
Posted 04/03/2021 at 17:33:16
Like some others very worried about our ability to retain the ball under pressure especially with Bernard and Gomes.
Lets hope that quality and technique prevail.
Nicolas Piñon
15
Posted 04/03/2021 at 17:33:41
Tom @11
well thats true. But I repeat we also lack fight. But thats what weve got today. Thing is, I believe we should first depart Delph to bring someone to fill the hole you say.
Im annoyed at Ancelotti always saying the absent players have "light problems". They simply don't play because of those "light problems", so what would "big problems" be then?
Stephen Vincent
16
Posted 04/03/2021 at 17:36:22
No bite in midfield against a competitive and aggressive WBA. Fear we may be over run.
Tony Everan
17
Posted 04/03/2021 at 17:37:49
I like the defence, great attack, our midfield concerns me. I think we will struggle again to get control of the game. We desperately need Gomes, Iwobi and Bernard to be on top form, IF so this team will have too much for West Brom.
Martin Mason
18
Posted 04/03/2021 at 17:38:58
Sorry Jay, I missed it but you were obviously correct. Also sorry if I come across as a serial unbeliever, I appreciate that there are people such as your good self who wouldn't post without being correct.
Kevin Molloy
19
Posted 04/03/2021 at 17:42:58
that team's a whole heap of nothin, but we've got to rotate as our game relies on freshness throughout the side. I think our front two should have enough to get us over the line.
Oliver Molloy
20
Posted 04/03/2021 at 17:43:50
Huge opportunity for the team, we just to win this game anyway we can and we are in the hat for CL place.
Looks like we are going to the game to them.
COYB
Jay Harris
21
Posted 04/03/2021 at 17:46:39
No need for apologies Martin I was just getting it off my chest and I do understand that there are a large number of false claims made. Lets just hope Tom makes a quicker recovery than anticipated.
Jay Harris
22
Posted 04/03/2021 at 17:46:39
No need for apologies Martin I was just getting it off my chest and I do understand that there are a large number of false claims made. Lets just hope Tom makes a quicker recovery than anticipated.
Martin Mason
23
Posted 04/03/2021 at 17:56:22
I hope so Jay. Much more difficult game tonight without him or Allan though
Nicholas Ryan
24
Posted 04/03/2021 at 17:57:27
Somehow, I have a bad feeling about this one. This is one we NEED to win, so it will be a good test . talking of which, I may be a little jaded, as I spent the morning watching the TEST match.
Batting that would have got you dropped from a club 3rd team in my day!!
Fran Mitchell
25
Posted 04/03/2021 at 18:00:36
No bite in midfield? Really? Last I saw, Doucoure is our most aggressive and energetic of all midfielders.
I think Doucoure did excellently when asked to play deeper in previous games this season, and he'll be fine. He has the energy to ein it back, and he can give to Gomes for better passing.
I don't think it's our best midfield partnership, but it's certainly decent and better than West Brom's
Ernie Baywood
26
Posted 04/03/2021 at 18:00:48
I don't know why we bother posting our likely starting XI anymore! We'll never get anywhere close!
COYB
Ernie Baywood
27
Posted 04/03/2021 at 18:21:36
This had better improve quickly. Because this is just about the worst 20 minutes we've played this season.
Geoffrey Hall
28
Posted 04/03/2021 at 18:24:22
Iwobi is so lazy.
John Dingle
29
Posted 04/03/2021 at 18:29:23
I'm afraid Bernard and Iwobi are hopeless. The rest aren't much better ex Godfrey
Christy Ring
30
Posted 04/03/2021 at 18:32:48
Jay not doubting you but I do think Carlo would have said it if it was hamstring like he did with Calvert Lewin because in his press conference he said the three boys would be assessed in training on Wednesday afternoon
John Dingle
31
Posted 04/03/2021 at 18:34:29
Got to get King on for Bernard or Iwobi
Chris Williams
32
Posted 04/03/2021 at 18:35:02
Awful right from the off, which is usually a bad sign
Kevin Dyer
33
Posted 04/03/2021 at 18:38:36
Look clueless in possession. Need a 180 change at h/t.
Christy Ring
34
Posted 04/03/2021 at 18:39:34
Iwobi and Bernard too light weight and very poor crosses
Kevin Dyer
35
Posted 04/03/2021 at 18:42:41
DCL has to score.
David Peate
36
Posted 04/03/2021 at 18:47:06
One shot on target in forty minutes?
Nicolas Piñon
37
Posted 04/03/2021 at 18:49:35
Sigy and Allan in
Kevin Dyer
38
Posted 04/03/2021 at 18:53:04
On that first-half performance, Carlo deserves a statue building if he gets that outfit into the Champions League.
Against an organized team of bang-average players we look devoid of ideas as to how to open them up. So sluggish and sloppy in possession, second to every loose ball, just an awful 35m. Showed some signs of life the last 10m or so but my word, a decent team would've had the game won by the time we woke from our slumber. Thankfully, we are playing West Brom, so amazingly we still have a chance to grab 3 points here.
Fran Mitchell
39
Posted 04/03/2021 at 18:53:05
We started poor, and gave WBA too much time. Our passing has also been poor, too many attempts at cute, cross field passes not coming off. I think the shape is a bit off, and players seem to be wandering.
But as the half went on, we started making chances and Pickford has largely been a spectator beyond one spectacular save in the first minute.
DCL should have scored. Richi could have. We attacked in flutters, but each time we did, we got into their box. I'm sure as the game goes on, we'll create more.
Bernard has been largely anonymous and I'd bring on Siggy for him and stick to a 3-5-2 set up.
Tony Heron
40
Posted 04/03/2021 at 18:53:12
Jay @ 13. How would someone at Bellefield know about an injury to Davies? Everton train at Finch Farm!
Derek Knox
41
Posted 04/03/2021 at 18:53:15
Gomes is hopeless... never mind the others.
Brian Williams
42
Posted 04/03/2021 at 18:53:50
We appear to have a plan of playing risk free football.
When we have the ball in the middle third of the pitch it inevitably goes backwards as nobody seems prepared to risk carrying it and trying to find a forward pass.
And once again a team languishing near the bottom are actually playing better football than us most of the time. They appear to be able to pass the ball around confidently in midfield and get it to the edge of our box with ease.

Mike Kehoe
43
Posted 04/03/2021 at 18:53:51
Too passive need to be braver
Neil Lawson
44
Posted 04/03/2021 at 18:54:44
Desperately short of a player in midfield. If Allan fit enough for bench then fit enough for 45 mins. Straight on for Iwobi or Bernard and then we won't have quite so many palpitations every time Gomes turns with the ball. Let him do it further up the field. This is a game we seem to be intent on giving away.
Fran Mitchell
45
Posted 04/03/2021 at 18:56:30
Neil, I think it is more about not over working Allan, as we play again on Monday and he has not played in 10 weeks. So 3 games in 7 days is asking for trouble.
Sean O'Hanlon
46
Posted 04/03/2021 at 18:59:12
Agreed Brian (#42).
Every time we go sideways or backwards, it's a wasted opportunity to mount an attack. You can guarantee we won't be doing that if the score remains the same, or we're getting beat with 10 minutes to go. So why are we doing now, it early in the game?
As Mike (#43) says, need to be braver.
Fran Mitchell
47
Posted 04/03/2021 at 18:59:28
We are clearly not pressing with the same level as West Brom. This must be a tiredness issue.
Look at Man Utd yesterday, that game was played at a snail's pace. And many other games recently, especially among the top 6 challengers.
A lot of energy conservation going on.
Jay Wood
[BRZ]
48
Posted 04/03/2021 at 19:01:41
The problem for me is in midfield. There isn't one of them on the pitch that you can trust to retain the ball or pass it consistently well as you might with Davies or Allan.
Diagne is a handful. That 'adjustment' save by Jordan on the slow looping header was excellent.
The problem for me is when the defenders get the ball and time to play too often there is not a midfielder in view to take the ball from them to make the transition further forward.
Bernard is the pick of them. At least there has been a modicum of creativity from him. Gomes has hit a nice couple of passes, but in the main he is the chief culprit in coughing up the ball cheaply. Doucouré not much better.
In fact, it's hard to determine exactly what role Doucouré is playing as he seems to be in no-man's land between wherever Gomes is and Calvert-Lewin and Richarlison. Iwobi having one of those games. And it's not one of his good ones.
Offered a gilt-edged chance to take the lead before half-time. Love yer Dom, but you have to finish those.
Interesting to see how the shape is a clear 3 at the back when restarting with the ball in our own half, with Digne pushing up beyond Bernard on the left.
West Brom themselves playing well, but with just a bit more compactness between midfield and defence, together with being tidier on and with the ball, we could be creating a lot more pressure and opportunities in and around their box.
Please Everton. Just get the job – and 3 points – done.
Phil Smith
49
Posted 04/03/2021 at 19:05:47
Awful so far and Calvert-Lewin proving he's not clinical enough to be a top striker. In the 6 yard box he's dangerous. Anywhere else...
Alex Gray
50
Posted 04/03/2021 at 19:09:44
Need a defensive midfielder on the pitch. No presence centrally and Doucouré is having to cover for a poor Gomes and Bernard today. Sigurdsson and Allan need to come on soon!
Jay Wood
[BRZ]
51
Posted 04/03/2021 at 19:54:57
Doncha just love VAR?
Ernie Baywood
52
Posted 04/03/2021 at 19:55:48
Well I guess we'll take it. But surely at some point we have to put in a decent performance?
Fran Mitchell
53
Posted 04/03/2021 at 19:56:24
This week: Villa lost to Sheff Utd. Man U drew with Crystal Palace. Leicester drew at Burnley.
I'll take an ugly bastard 1-0 win at West Brom.
* And key point, is wasn't VAR. The linesman called it.
Andy Crooks
54
Posted 04/03/2021 at 19:58:22
Turgid stuff. Same again Monday with same outcome and turgid is the way to go. Are we incredibly lucky or is a master plan being revealed before our eyes?
Fran Mitchell
55
Posted 04/03/2021 at 19:58:38
We're now at the 'business end' of the season. Only thing that counts is results.
4 starters out injured, another on the bench coming back to fitness.
Next on the list: Chelsea away. That's been our bread and butter this season. COY fuckin Blues
Brian Williams
56
Posted 04/03/2021 at 19:59:04
Yeh that VAR is a game changer. 🤣
We simply have to improve on our quality of play if we're going to stand a chance against better sides.
I should feel so happy we've reached the top four but tonight's performance, and the one against Southampton, just leave nagging doubts... can't help it.

Tony Heron
57
Posted 04/03/2021 at 20:00:29
Godfrey, what a player. Buy of the season.
Neil Lawson
58
Posted 04/03/2021 at 20:01:20
3 points. Brill.
Performance. Not so brill and had their goal been allowed, it would have served us right for being casual and not putting it to bed.
Fat Sam. Arrogant, conceited, ignorant gobshite heading in the correct direction. Bye Sam.
Jerome Shields
59
Posted 04/03/2021 at 20:01:30
Just a great win. I could get used to these point-advancing wins after years of disappointment. Carlo telling Digne that Sigurdsson has to take the corner was a masterstroke. What a header!
Fran Mitchell
60
Posted 04/03/2021 at 20:02:15
If we can grind out a bunch of ugly wins like this, then we finish 4th. 4th with Ancelotti means we can attract better players cause yes: Iwobi, Gomes, Holgate, King and a few others just are not the level we crave.
Kevin Molloy
61
Posted 04/03/2021 at 20:04:36
The moment I will still be laughing about in 10 years is the Gomes handball, and then his 'Sorry, mate' nod to the ref who doesn't book him for an utterly cynical handball. Fatty was furious though, he knew...
Andy Walker
62
Posted 04/03/2021 at 20:05:40
4th! Excellent.
We are having all the luck though this season. Can't remember when we last played really well and dominated a team since early season.
Dale Self
63
Posted 04/03/2021 at 20:07:15
Similar to a game from yesteryear when Dave Watson takes someone out at the D and chats the ref up and ultimately gets a handshake, no card.
Neil Lawson
64
Posted 04/03/2021 at 20:07:15
I like Holgate. Hoping one day he may play a forward pass and then we truly will know that Coronavirus has disappeared forever and the pubs are open 24 hours.
Barry Rathbone
65
Posted 04/03/2021 at 20:07:48
Such a mad season with only City doing the biz but really not arsed spawny wins are a welcome reversal of fortune for this club. Long may it continue
Kevin Dyer
66
Posted 04/03/2021 at 20:08:04
Bullet dodged.
Desperately poor first 35 minutes, improved a bit after that but only established control with the introduction of Allan for the ineffective Iwobi and a change to 4-2-3-1. A little bit of extra technical quality by Sigurdsson and a cracking header by Richy decides the game. After that we never really looked likely to lose the 3 points but a 1-goal lead is mightily slender and we almost blew it at the death. A whisker offside but the right call.
We struggle to create chances from open-play. Obviously, WBA are a bang average team, but they are fighting hard and we needed to show up. Unfortunately we played much of the first half as if the win was in the bag. I have no idea why, as we've stunk a number of times this season against "weak" opposition.
Individual performances? Iwobi, after a decent run of form prior to his latest absence from the team was back to his enigmatic worst. Just awful. Gomes was really poor first half but improved a lot after Allan came on. Doucoure kept giving the ball away, Ancelotti right to sub him. Bernard had a couple nice touches but forced off the ball too easily. Digne and Holgate played well. Godfrey was OK but looked a little tired. Keane was calm and is the best passer we have at centre-half, by a mile. Richarlison continued his excellent form, vital as DCL was off it all night.
So, somehow we are 4th (I'm predicting a draw tonight between Chelsea and Liverpool). We are not playing good football, at all but are winning games. No doubt we'll raise our game again on Monday, for a "big" team in an away game.
Fumed like a nutter throughout most of the first half. I imagine Carlo is equally exasperated. How this season is going to end up I honestly have no clue.
Simon Dalzell
67
Posted 04/03/2021 at 20:08:05
That'll do nicely. Especially considering the enforced changes to a small squad. Down to the nitty gritty now. 3 valuable away points. Ugly is the new beautiful. Young Godfrey is a gem.
Colin Glassar
68
Posted 04/03/2021 at 20:09:00
Carlos's version of catenaccio is going to kill me. My heart is still humping.
John Graham
69
Posted 04/03/2021 at 20:09:07
Anything goes to keep us in the mix.
Would love us to play good football, but at the moment it's just important to win.
Well organised, good use of squad and substitutes, Carlo is getting the job done his way and seems to have all of the players on his wavelength.
Fourth for at least an hour and a half.
COYB
Joe McMahon
70
Posted 04/03/2021 at 20:11:08
I just wish we could go for the secong goal. My heart isn't getting younger, and goal difference could well be th difference at the end of the season.
Don't want to be picky but DCL needs to up his game, he's not Ronaldo. But Godfrey fills me with confidence as Tony @57 states buy of the season.
Craig Walker
71
Posted 04/03/2021 at 20:12:02
Got lucky at the end but probably deserved it. We'd have lost that game a year ago. I don't like criticising players but I thought Gomes was awful tonight. Still, another clean sheet and 3 points. We've not played well lately apart from the derby but we seem to be tougher to beat. Long may it continue. I'd have settled for being 4th in March and above that lot if you offered it me at the season's start.
Alex Winstanley
72
Posted 04/03/2021 at 20:12:46
Love a filthy 1-0 away win. Under previous managers we wouldn't get wins like that. No criticism from me, I'll take that result week in week out!
Kevin Prytherch
73
Posted 04/03/2021 at 20:13:25
Jay 48 nails it. We had a midfield today that included Bernard, Iwobi and Gomes. £55million and around £300k a week between 3 of them and I wouldn't bet on them to shine against a league 2 team.
We have a very good first XI (assuming the midfield 3 are Davies, Doucoure and Allan) We have a couple of decent reserves in defence and Sigurdsson can do a job off the bench. After that we don't have enough.
Tonight, Iwobi once again demonstrated that he is potentially the worst ever Everton signing. Gomes, if it wasn't for a few decent games at the start of his Everton career, would be running him close. Bernard looks good in fits, but disappears for most of the game.
George McKane
74
Posted 04/03/2021 at 20:13:37
Now then - that'll do.
Graham Coldron
75
Posted 04/03/2021 at 20:13:56
Yeah, we have been lucky recently.But take a step back and think just how unlucky we have been for years and years.
The 71 and 77 semi finals. Big Nev's injury playing for Wales Linekers miss against Oxford Whiteside's cross that went in need I go on ? No, I thought not.
Colin Glassar
76
Posted 04/03/2021 at 20:14:46
Don Carlo must be some sort of medieval alchemist to squeeze out results with some of the players. Bar Iwobi, who's simply atrocious, he's getting the rest to manage games and get us over the finish line.
Graham Mockford
77
Posted 04/03/2021 at 20:18:05
Graham 75
Whiteside's cross? You are joking right?
Tony Hill
78
Posted 04/03/2021 at 20:18:40
A crucial win. Richarlison has come alive at just the right time. I've never liked us going to the Hawthorns. We lost there in our title years 69-70 and 84-85.
What is it that is different this season? Despite our last minute wobbles tonight and last Monday, it's the defence isn't it? There's steel in it.
There's no possible disappointment when we've just moved into 4th.
Mike Price
79
Posted 04/03/2021 at 20:18:46
I knew Iwobi was bad but didn't truly realise just how bad. Gomes has to go to a slower league and I lost count of the amount of times he gets caught on the "wrong side".
We're getting away with it at the moment.
Bill Watson
80
Posted 04/03/2021 at 20:18:50
Stress levels through the roof again! I had the radio on with the TV (some foreign channel) and heard the flag was up when WBA were still celebrating on the TV.
Much more of this and I won't even last to see a shovel of sand in the dock!
Paul Johnson
81
Posted 04/03/2021 at 20:21:13
Great result, 4th in the table. Am going to sleep well tonight.
Jeff Armstrong
82
Posted 04/03/2021 at 20:21:48
RS v Chelski draw would be nice, then we beat Chelski on Monday, simples.
Ray Said
83
Posted 04/03/2021 at 20:21:58
I believe grinding out ugly wins when required is a key marker on the road to creating a successful team. Happy to nab the points and hope for better performances in the future-when we have the luxury of being able to do so.
Paul Birmingham
84
Posted 04/03/2021 at 20:22:37
Good ground out result and the squad is showing guts and belief.
Heart to mouth at times, but you make your luck.
Regardless of the RS result, later, if Everton, can beat Chelsea next up, then, that can set Everton, up for a good finish from a decent position.
A few more goals is needed, but a decent cross and guile, and that took Everton, over the line.
Tony Hill
85
Posted 04/03/2021 at 20:22:52
I've been a supporter of Iwobi but he was indeed awful tonight. He's baffling because he has talent despite some views on here.
He can't play like that, though, and expect to be taken seriously.
Richard Nelson
86
Posted 04/03/2021 at 20:23:26
..anyone remember when Everton lost 4-0 at the Hawthorns..a lad called Mickey Fudge scored a hattrick...soft as toffee...!
Martin Berry
87
Posted 04/03/2021 at 20:23:55
Gave the ball away far to often then made the wrong decisions when we had it..
I think Bernard and possibly Iwobi will be gone in the summer, they have ability but where do you play them ?
Godfrey immense, I wish we had his twin in midfield to drive through as its far too slow.
Nevertheless a great result and nice to see Sam having a moan, it means we are doing something right !
Joe McMahon
88
Posted 04/03/2021 at 20:25:51
Colin @ 76, I take it you didn't know Carlos full Name was Carlo Emrys Merlin Ancelotti?
Graham @ 75 - Whiteside's cross? Frustrating I know but it was a superb goal.
Ray Robinson
89
Posted 04/03/2021 at 20:27:48
Another fine margin win. How long can we keep grinding these out? But if we can do this with Bernard and Iwobi in the starting team, what will be able to achieve with (hopefully) better players next season?
Iwobi is decent meandering across the field with the ball at his feet but seems to lose it mentally as soon as he has a decision to make in the penalty box. Bernard is too lightweight for the PL. I'll bet he's a great 5 a-side player though.
DCL worked hard again but emphasises that he is not a clinical striker. He'll do for me but we desperately need more goals from midfield.
What a player Godfrey is turning out to be!
Colin #68, is your heart really still humping?
Onwards and upwards
Paul Birmingham
90
Posted 04/03/2021 at 20:29:25
Joe, good point.
He said since, he used Neville's towel, as his target, a lesson for keepers, all in all it was one game too many that week, for Everton, but they were good times.
Rob Halligan
91
Posted 04/03/2021 at 20:31:41
Great result. Don't give a fuck about the performance. At the end of the day it's results that matter. Records don't say Team X 1 - 0 Everton, but Everton were brilliant!!
Anthony A Hughes
92
Posted 04/03/2021 at 20:33:37
Iwobi does have athletic football skills but unfortunately has rocking horseshit for brains when it comes to football intelligence.
Mick O'Malley
93
Posted 04/03/2021 at 20:34:12
Tony let's just hope Iwobi was rusty cos he hasn't had many minutes, he definitely has talent, I like him but he does let himself down with his final ball.
Jay Harris
94
Posted 04/03/2021 at 20:35:38
I wasn't concerned at any stage until the last 10 minutes when we retreated to our "They shall not pass mode". Rescued by the very marginal offside which was no more than we deserved. Despite the constant knocking by the media we are up there on merit.
Outstanding performance from Godfrey and Richy.
Concerning performance from Holgate and Gomes. Siggy proving yet again his value in getting goals but we need a speedier version.
Jamie Crowley
95
Posted 04/03/2021 at 20:36:51
I just sat there, totally calm, watching, blowing on my coffee.
4th.
Robert Tressell
96
Posted 04/03/2021 at 20:37:26
Magnificent. Past another banana skin. I hated Allardyce for us, but have a genuine admiration for what he does with shit teams. I have been working so missed entire game. But don't really care how we played because it's often so hard to look good against an Allardyce team. And because we won. And because we're 4th.
Ron Sear
97
Posted 04/03/2021 at 20:37:54
Colin - Being a little slow off the mark I had to copy and paste 'catenaccio'into Google and you are right apart from the fact you also need to be able to accurately pass a ball out to your own side rapidly which seems to be a serious problem for Everton.
Dave Abrahams
98
Posted 04/03/2021 at 20:39:14
Well we are getting through and it is obvious that the fourteen who played tonight are the only players who are fit at the moment, and some of them are struggling with their fitness, not Iwobi or Gomes of course they are fit, just not fit for purpose, another very poor first half performance, got better in the second half and got the all important goal before their late goal went to VAR, wasn't worried about that when I saw Allardyce say to the fourth official " Offside" maybe trying to get in with him after giving him a sentence earlier on,with about a dozen " f's " in it.
We are struggling at the moment with injuries and I don't think it will be any better on Monday on that front.
Peter Mills
99
Posted 04/03/2021 at 20:41:47
That was so not "Everton that".
Jamie Crowley
100
Posted 04/03/2021 at 20:42:09
Who was MOTM?
For me Allan. When he came on, everything changed. He was all over the place breaking up play. Godfrey and Keane were also great. Siggy did really well in my opinion.
Genuinely curious who people thought was MOTM?
Dale Self
101
Posted 04/03/2021 at 20:42:43
Apparently the football IQ is just not there for Iwobi or at least he can't work out what others will do. Just looking at Gomes you could tell he did not have the confidence tonight. And I don't think I remember Bernard being mentioned in any other context than "where is he"?
That we get the result with that midfield baggage is by design, we didn't get lucky and they at least held their defensive duties so we stayed in it. We were always looking for that goal after WBA had run them selves out a bit and got it. Somewhat fortunate but that was what the setup was targeting. The assignments at the back are staying in form and building some confidence even when we can't clear our half for extended periods.
Overall, this looked to be a close outcome but Carlo insisted on showing some faith in some that are still struggling for form. That we got the goal without a lot of huffing and puffing will disappoint those looking for the Rolls-Royce version but we're still rolling with the VW bus.
Roger Helm
102
Posted 04/03/2021 at 20:43:12
Good comment from the pundit that, if we are serious about staying top four, the players have to work harder – 0-0 at 60 minutes and players walking and jogging rather than pressing and sprinting won't really cut it at that level.
John Jones
103
Posted 04/03/2021 at 20:43:28
Iwobi – keeps trying to get the ball onto his best foot... unfortunately, he hasn't got one!!!
John Keating
104
Posted 04/03/2021 at 20:44:43
MK,
I agree with your summation: "vital if uninspiring". Winning the next 12 games 1-0 would be brilliant but I think we'd be hospitalised before the last game!
I thought that we were absolutely dire, yet again, we get the 3 points. The way we start seems to be how we continue the game. I cannot believe how poor we are passing to each other not just under pressure but with no pressure. If our defence wasn't so good this season, I'm sure we would be well punished.
Today I think it shows how critical it is to play either Allan or Davies in front of the defence to protect and to receive the ball. Hopefully Coleman, Davies and James are available for Chelsea – we'll need them!
Derek Knox
105
Posted 04/03/2021 at 20:47:50
Jamie C, I'll tell who MotM wasn't, either Holgate or Eeyore Gomes !
Brent Stephens
106
Posted 04/03/2021 at 20:48:50
I've programmed my Fn1 key to paste - "Godfrey excellent again".

Jeff Armstrong
107
Posted 04/03/2021 at 20:48:51
Richie for me, Godfrey a close second
Thomas Richards
108
Posted 04/03/2021 at 20:51:45
Poor performance.
Three points.
Next.
A few more of these performances to come this season.
Four or five starters tonight who will not start first game of next season.
Plenty of room for the improvement that will undoubtedly come

Ernie Baywood
109
Posted 04/03/2021 at 20:53:26
Still don't quite know how to take this season. In golf we'd call this league position a 'sister-in-law'. We're up there, but we know we probably shouldn't be.
Are we great because we grind out wins, and when we eventually kick into gear we'll appreciate that we made it work while we were struggling for form?
Or are we in a false position and the table will revert to the norm at some point?
Either way, I'm just going to enjoy the league position.
As for the game, there's not much to say. For 30 minutes we were absolutely dreadful. The rest of the time we were just poor, which was enough to beat WBA.
Bryan Houghton
110
Posted 04/03/2021 at 20:54:56
MotM - who knows. Who even cares. The best player on that pitch tonight though was Godfrey. By some considerable margin. He does not make a mistake. He is immaculate, strong, seriously committed, very fast, and a proper nark.
I'd like to think I can spot a decent footballer out, and I'd like to think I've seen a few over the years as well, I really think that this lad can be truly something special.
The best centre-half prospect I've seen since Rio. (and I'm no Man Utd fan - far from it).
Graham Mockford
111
Posted 04/03/2021 at 20:55:29
Gomes was clearly poor but I have some sympathy in that he was being asked to play in a position that he's not equipped to play.
He hasn't got the mobility to play in a central two. You get the best out of him in a three or a diamond with either Allan or Davies holding.
Don't get me wrong we need much more adaptable midfield players than that but I thought it was a poor formation Carlo went with to start but injuries probably forced his hand.
Peter Dodds
112
Posted 04/03/2021 at 20:57:02
My wife had to leave the room, I was shouting so much at the telly. Christ on a bike, that was painful. Zero creativity – Sigurdsson absolutely must start on Monday (not words you'd normally expect to hear). And what do we do at Finch Farm to go from a virtually fully-fit squad to losing James, Coleman and Davies during training?
But hey, Carlo the magician has somehow pulled a rabbit out of his hat and a string of flags from the arm of his suit, and who am I to complain? Carry on like this and we'll all be entitled to wear clown feet and spinning bow ties on last day of the season as we somehow trick our way into the Champs League.
Stephen Vincent
113
Posted 04/03/2021 at 20:57:37
Jamie, agree about Allan, he does his work quietly and calmly. But for me DCL was MotM. He might have missed a sitter but his aggression and hold-up play was fantastic, he always provides an out and it means the ball doesn't come straight back.
Roger Helm
114
Posted 04/03/2021 at 20:58:30
Dominic was my MotM, very mobile, good target man, good link-up play and got some great touches. Just a shame about his miss. Narrowly beating Keane who was a rock in defence, very calm, some good blocks and good passing.
Mal van Schaick
115
Posted 04/03/2021 at 20:59:39
We've found a way to win ugly. So be it.
It wasn't the best team selection, I would have had Allan starting, but hey ho, we won.
Ernie Baywood
116
Posted 04/03/2021 at 21:00:25
On Andre Gomes - I don't think I've ever seen a guy's brain so obviously working through a scenario before his side-on challenge tonight. It was like looking into his head for a split second and seeing him think "I have to go in, maybe I won't, I've waited a split second so I might be late, but I can't chicken out, if I go now he'll beat me to it, screw it I'll challenge".
We got a little insight there into the mind of someone returning from a bad injury. I'm sure it affects him.
Mike Oates
117
Posted 04/03/2021 at 21:00:37
3 reasons why we are 4th
1. Carlo Ancelotti as manager
2. The best back 4 in the league
3. Two great forwards
Forget the rest, they are accessories.
Will Mabon
118
Posted 04/03/2021 at 21:06:06
I think we're gonna be under the cosh from the richest teams chasing Godfrey, and it won't be so long 'til it happens.
Ernie Baywood
119
Posted 04/03/2021 at 21:06:40
Mike, throwing it out there... what about the guy who created the 2 game-winning goals for Richarlison in the last two games? And scored the sealer at Anfield.
There are lots of things he's not, but he is having an impact doing the things he's good at.
Tony Hill
120
Posted 04/03/2021 at 21:06:59
I thought Godfrey was caught out a couple of times tonight but he's a marvellous young defender.
Kase Chow
121
Posted 04/03/2021 at 21:08:15
Can't believe we actually have a decent team here. The man Carlo is working wonders:
Pickford looking better (albeit coming off his like at the end nearly cost us)
Keane is reborn - now looking like a snip at 㿊M rather than an expensive flop
Godfrey - overall excellent but still a bit raw
Sigurdsson - he's actually getting a tune out of him!!! Some assists nice!
Bernard - his best game for us in a while. Actually looked a player
Calvert-Lewin - a man transformed from average premiership striker to an excellent forward
I don't know how Carlo is fashioning a team from our squad but by gosh he is. And I'm enjoying the ride!!
Ron Sear
122
Posted 04/03/2021 at 21:10:19
The back four may be great at defending but I so wish they could move the ball out rapidly to anybody with the skill to pass accurately to somebody running into space. The Side, Side, Back, Back,Side movement may be great for a 1940's dance step but it has no place in football.

Thomas Richards
123
Posted 04/03/2021 at 21:10:24
Hes a cracking lad Rob.
Never changed his character since he was a young lad.
Always been a gentleman.
His uncle John was a ref and a boxing trainer, another good man.
Colin Glassar
124
Posted 04/03/2021 at 21:15:33
Ron 97, we are far off the great masters of catenaccio like the Inter Milan of Facchetti and Co. It was horrible to watch but those buggers could defend a 1-0 lead for 89 mins without breaking into a sweat.
They would pass you to death and stick a shiv in your back with a smile.
Stephen Vincent
125
Posted 04/03/2021 at 21:15:42
Kase, have to take issue with you over Bernard: the only reason he looked okay was that he didn't touch the ball often enough to do anything bad with it.
Rob Hooton
126
Posted 04/03/2021 at 21:16:43
I'm happy winning ugly at this stage of the season, if we were losing ugly I'd be a miserable sod.
Graham Coldron
127
Posted 04/03/2021 at 21:18:47
Okay, I admit Whiteside's goal was a good one. I had the pleasure of meeting him at a Sportsman's Dinner when he explained (using salt and pepper pots) how he scored. Seemed a top bloke and had time for everyone that night.
Mike Gwyer
128
Posted 04/03/2021 at 21:19:41
We haven't been in this boat for decades so I'm not moaning. It was fucking brillo if I'm being honest...
Now we move on to the next game, only this time we won't be getting the train to Euston and the dreaded tube to Fulham shitty Broadway. We will be watching on Sky and swigging Stella, shouting at the dog, begging the wife or kids to find the TV controller and texting anyone who wants to know that Everton are the greatest.
I love it.
David Pearl
129
Posted 04/03/2021 at 21:21:54
A 4-4-2 should be able to cross for the front 2. Just a bit lethargic. No pace out wide, and both of them had one move to come inside. Just given up on Iwobi.
Let's hope Davies, James and Coleman come back soon, and that they are fresh and properly fit when they do. Doucoure looked done in when he came off.
If we are starting with Iwobi, l can't understand why we don't play 3 at the back so Holgate is in his best position; we can push up the wing-backs and keep the 2 up front.
Anyway, 3 hard points. If we can get a draw against Chelsea l can start to believe... ish
Phil Smith
130
Posted 04/03/2021 at 21:23:44
Iwobi's strength is taking people on. He has great feet and is the best player we have in the side for that. His biggest weakness is his final ball/balls into the box. Shouldn't play right wing or he needs to really work on thst, the way Keane has worked on his passing. He's better a wingback or playing top of a diamond, like Bernard. They're similar players, actually. Would like to see King, Richarlison and Calvert-Lewin playing as a front three instead of Bernard and Iwobi playing out of their best positions.
Will Mabon
131
Posted 04/03/2021 at 21:27:19
Thing is Phil, Iwobi didn't even do that tonight, mostly stopping and turning back to lay the ball off behind, took on no-one. Pity, he was starting to look a lot better until his break from the team. Seems a fragile player mentally.
Tony Everan
132
Posted 04/03/2021 at 21:29:13
A win, 3 points, that's it.
Like headless chickens in midfield until Allan came on for the impotent and totally ineffective Iwobi. He calmed things down and wrestled a bit of controlled play back. Other players around him looked happy he was there to pass to.
We won't be able to get away with Iwobi, Bernard and Gomes together in the midfield.
Iwobi was totally ineffective, I've supported him in the past but enough is enough. No more.
Bernard too lightweight for this league, a really gifted player but needs to move to a less physical league to really shine and to enjoy his football.
Gomes out the three is the one I think is the best player to keep for the squad.
The only way into the top four is to have a stable midfield with Doucoure Allan and Tom Davies manning the engine room.
Nothing has changed my mind that we need a Fernandes ,Pusilic or Buendia type in the summer as no1 priority, to add dynamism, tenacity and goals from our midfield.
Tony Abrahams
133
Posted 04/03/2021 at 21:31:19
Was the pundit who said that Ashley Cole, Roger@102? I don't normally listen to the men in the studio, but that was something that resonated with me, even if I'd have gave a few of them the benefit of the doubt, because of the amount of games they've played recently, and you can actually see a difference in the desire in a lot of our players now.
A tired performance, Godfrey's speed of recovery is very important, and so is getting Coleman, Davies, Mina and Rodriguez fit. I can't wait to get the Chelsea game out of the way now, although at least we have got four days to recover, as we approach "The Canal Turn".
Paul Birmingham
134
Posted 04/03/2021 at 21:33:43
Spot on Ron, I'd like to see the analysis on the playing side and back in each game, but it seems this could be the tactical false, for next season when, the midfield will get some snap fast zip and speed to attack.
But it's getting the tune out of this squad and so I'll take the temperance and the results as part of the long term plan.
But Everton are becoming tough to beat, and Monday is a six pointer, and I still believe Everton can beat Chelsea, but the midfield selection is key.
I don't see how Gomes can be considered for this game, as he's alertness and speed of thought unless he's got no opposition player within 10 yards, makes him high risk.
Tom Davies, hopefully will be fit to get stuck in and transition to attack quickly as he's been doing. The neat turn touch and pass is key and speed of though, is what DCL, and Richarlison need.
But I wish Everton would shoot more from outside the box. Godfrey is growing in statur every game, and tonight his first half run shows what he can do.
He scored a decent shot from outside the box for Norwich, he has the potential to be an Everton great..
A long way to go but it's there, in abundance.
Now to see what happens tonight at our old ground, but all stay safe, and have a Ball, this weekend.
Laurie Hartley
135
Posted 04/03/2021 at 21:33:49
Brian Houghton # 111 - during a quiz when asked who his favourite footballer is he answered without hesitation "Rio Ferdinand".
Mark Murphy
136
Posted 04/03/2021 at 21:34:07
Tony I agree. I thought Gomes was actually ok tonight but even so he's still not the level we need. Allan, on the other hand is my big hope. He's a proper footballer. More like him and we'll compete with the best! UTFT
Neil Copeland
137
Posted 04/03/2021 at 21:34:26
John #138, ha ha, took the words right out of my mouth!
Phil Smith
138
Posted 04/03/2021 at 21:36:02
That's coz, Will, if he took people on the right wing there was always someone else on the cover so he kept coming inside, where he's better. Think there's a real lack of movement upfront. King is more mobile and I think would give more options than Iwobi there. Iwobi is not a winger. He can't cross to save his life. He looks much better as a wing back when he has options in front of him. Seems lost when he has to play the final ball.
Kieran Kinsella
139
Posted 04/03/2021 at 21:36:05
BBC crappy website. . . I was trying to see our upcoming fixtures so after the WBA result from today I clicked "March fixtures" and it brought up March 8, Chelsea 4-0 Everton. last year's fixture
Jamie Crowley
140
Posted 04/03/2021 at 21:40:15
Bryan Houghton at 111 -
MotM - who knows. Who even cares.
Solid point.
I do concur with you, Brent Stephens (Fn1), and all the pro-Godfrey posts. The kid really is something else.
It's funny you say the best since Rio. I just said that to one of my boys the other day. Rio was just a super CB. I see Godfrey being just as good as he was. In fact, due to Ben's speed, which is just ridiculous, he can recover from mistakes easier. I see every sign that he can honestly be one of the best.
Jamie Crowley
141
Posted 04/03/2021 at 21:42:13
Laurie @ 140 -
I didn't know that. Very telling. Love that he chose Ferdinand as his favorite. Yes, he played for another, but man was he fantastic.
Ben does well to idolize and look up to that level of defender.
This kid's gonna be something else.
Tom Harvey
142
Posted 04/03/2021 at 21:43:37
Rob @ 130,
At this stage of the season, it's win by all and any means.
There nothing wrong with ugly if it feels good!
Phil (Kelsall) Roberts
143
Posted 04/03/2021 at 21:47:17
A midfield with no James or Davies or for the most part Allan
and even Sigurdsson and yet we still win.
So all have had a bit of rest - no game for 7 days. Chance for niggles to clear up. Carlo Magnifico.
Tom Harvey
144
Posted 04/03/2021 at 21:49:48
Kieran Kinsella
145
Posted 04/03/2021 at 21:52:22
Tom,
I think he means the absentees will have had 7 days rest come Monday.
Will Mabon
146
Posted 04/03/2021 at 21:52:30
I agree, Phil, 143,
Iwobi is in a bit of a no-man's land. We are too static up front, and in fact the team is playing at a slow pace even when not necessary. At Arsenal, Iwobi had more options and a changing picture but he nonetheless did used to run at and beat players, which is what I hoped for when he arrived here. He was doing it til recently but looked lost tonight.
Tom Harvey
147
Posted 04/03/2021 at 21:53:49
Ok, understood.
Paul A Smith
148
Posted 04/03/2021 at 22:03:56
I love these games where we can see what we lack or require and we still win. Get in there. Credit to Carlo for his astute timing of the substitutes and digging out a win.
He took Digne off the corner and it worked for us straight away. Is he a lucky manager? I certainly hope so.
Godfrey was almost flawless tonight and I sort of agreed with Ashley Cole saying we need to show more intense attitude to achieve a dream.
It was something I focused on a lot (who wanted that top four place in our side etc).
Godfrey showed it well, he was starving throughout, Holgate to a point too.
Gomes and Iwobi were dreadful I am afraid to say. They stunk and they should both be lucky to come off our bench next season.
Lets keep this going blues. A positive result Monday is vital and could put us in a mindset that goes to that next level.
Up The Fucking Toffees.
Jamie Crowley
149
Posted 04/03/2021 at 22:07:35
Regarding sitting in 4th, and to quote my wife:
Well, that was good while it lasted.
Neil Copeland
150
Posted 04/03/2021 at 22:09:51
Jamie #154, no problem as we will be back in 4th come Monday night
Kieran Kinsella
151
Posted 04/03/2021 at 22:11:49
Jamie
Carlo said he wanted us to "taste" fourth place, not gobble it up. We are saving our appetite for second place.
Winston Williamson
152
Posted 04/03/2021 at 22:14:17
I thought we never looked like being troubled, apart from their disallowed goal. Yet, we looked a bit blunt too. Sloppy and slow of mind in midfield.
The change in shape and Allan and Sigi coming on changed this. Allan does the simple stuff really well. His passes usually go to the space in front of our player, causing the receiver to create more movement.
Gomes on the other hand passes to feet. It slows play down, when our player actually receives the ball.
Richarlison took his goal well too and is anyone else feeling more confident in Pickford?
Paul Birmingham
153
Posted 04/03/2021 at 22:14:52
Well in Paul, and Jamie, and a good week.
Now to beat Chelsea, and it can be done by Everton.
Danny O'Neill
154
Posted 04/03/2021 at 22:15:40
Purposely not read any previous posts to give my own perspective. I will take the time later.
Well, I have to ashamedly admit, I finished work late and then got my timings all wrong. Switched on just before 6:30pm for kick of only to see with were 24 minutes in!
From what I did see, I enjoyed that more than the Southampton game. To West Brom's credit, I felt more nervous and not just because of what you would expect; they actually played some decent stuff at times. I didn't think it was a particularly bad game, not the second half anyway.
From our perspective, mostly never in danger and I felt much more comfortable when Allan came on. He seemed to settle us, control things and "captain" us. And as much as I bemoaned it and don't like it, that coincided with adopting the diamond and it worked to good effect.
I used to defend Sigurdsson to the hilt, often as a lone voice. I had given up and joined the crowd. Tonight he showed what he can do. Sometimes you have that type of player on the pitch just for that one moment that changes a game. He done that with his second touch.
Mention for Pickford; his distribution was good tonight and he looks much more confident. Coaching and competition taking effect?
Richarlison again showing what he can be. The lad can have it all. Speed, aggression, skill, strength and good in the air.
Just watched the end of the Liverpool-Chelsea fixture. Win Monday and we are in a very strong position with a game in hand.
The manager is managing the players at his disposal. He is managing individual games and managing the season.
Kevin Prytherch
155
Posted 04/03/2021 at 22:16:38
Top 4 at the moment
Man City, Man Utd - virtually guaranteed
Chelsea - on one hell of a run and would be difficult to look past them
Leicester - just waiting for their usual fall from grace
Liverpool - in free fall
Spurs - hot and cold
Arsenal - too far back
4th place is there for the taking. We just need luck with injuries...
Can't help feeling that it's still an opportunity lost though.

Paul Birmingham
156
Posted 04/03/2021 at 22:21:23
"Whats Our Name?"
David Pearl
157
Posted 04/03/2021 at 22:21:46
Laurie, did you catch the podcast with Rio interviewing Holgate and Godrey after the derby? All part of the same management company with Rio as a mentor for them.
https://m.youtube.com/watch?v=ChdBubd6s2o&t=3671s
I must confess to watching the shite to equalise. Please forgive me. A point is needed. I wont mind Carlo going all italian for this one
Paul Birmingham
158
Posted 04/03/2021 at 22:25:37
Only Everton counts. UTFT!
There's a long way to go this season, so let's savour every win and the progress the team is making.
Tony Abrahams
159
Posted 04/03/2021 at 22:26:50
Always thought Chelsea and United had the best squad of players, along with the real machine that is Man City, Jamie. They looked a lot fresher than Everton looked tonight, but that extra days rest really helps, so hopefully we'll be more fluent on Monday night, and I wouldn't write us off until I've seen what team Ancelotti chooses!
Peter Gorman
160
Posted 04/03/2021 at 22:31:59
Jamie @145 - I apologise for what I am about to say (may Godfrey forgive me) but I see a bit of St Virgil VD in him - in the sense that he will become a real defensive talisman for us, with a healthy side helping of nark.
VVD is a snidey fecker but you can't deny his importance to the orcs next door. Godfrey is obviously our lad so him repeatedly telling Man U to 'go forth and multiply' after DCL's late equaliser was a breath of fresh air.
Bizarre to think that in a transfer window where we signed a completely new midfield including Allan and Colombian superstar James that this kid from Norwich would be the one to get most excited about.
Rob Halligan
161
Posted 04/03/2021 at 22:32:22
Good point. Brent. England!! The first Scouser on was a blue!!
Jamie Crowley
162
Posted 04/03/2021 at 22:32:48
Tony -
Man U don't scare me, and I don't think they're all that.
Chelsea do scare me. They're "prettier" than we are. But we are very solid at the back. Pretty counts for nothing. Ask Bobby Brown Shoes and the artist formerly known as Jamie Crowley.
I think the game will come down to can we hold them? And can we manufacture one of those James / Richarlison / DCL moments to snatch the points?
Of course we can.
Dale Self
163
Posted 04/03/2021 at 22:36:38
James will have those black boots ready and shining. Allan coming into form and DCL burning about fluffing a chance, we will get forward on those London pretty boys and then shut them down.
Paul A Smith
164
Posted 04/03/2021 at 22:37:07
Paul Birmingham it definately can mate. Another barrier was broken today.
How often have we had the chance to go somewhere better and topple the enemy only to bottle it or forget to manage the game.
Tonight wasn't classy or pacey but the game was won because of our overall game management which is a great education for players that lack the elite qualities.
Fantastic for us and I am not having this Zombie football, turgid football bollocks anymore. There is a bigger picture, would you swap seasons with Brighton?
Work what you have to its potential and the odds are better for us. Look what we had tonight. Dead legs, comebacks, kids on the bench, Iwobi.
And we won again.
Tom Bowers
165
Posted 04/03/2021 at 22:37:29
Things will usually work out if you have sound defense and a striker in form.
The midfield as usual was not up to par and allowed too much room for even average players that Albion have. That put's the onus on the back four and Pickford to be on their toes which they were for the most part thank God.
Carlo changed things around which was inevitable. He made a big mistake starting Bernard and Iwobi and I think it's about time he realized neither is good enough to be in the starting eleven.
With the help of a good VAR decision we gt away with all 3 points which didn't look on the cards in that first half.
It's a good run of results that surely should have them up for the Chelski game.
Neil Copeland
166
Posted 04/03/2021 at 22:37:57
Jamie #178, that's the spirit - spot on
Mike Connolly
167
Posted 04/03/2021 at 22:39:27
Ashley Cole summed us up perfectly. We need a bit more fight and desire. Okay, we won again but we need to be better than grinding out results if we want top four. Watching Chelsea rip Liverpool apart, we'll have to improve on our last few games just to keep the score low.
Danny O'Neill
168
Posted 04/03/2021 at 22:40:11
We have gotten Liverpool and Man Utd out of the way. Psychologically teams we normally roll over and have our bellies tickled by, we at least took 5 points from.
We play Man City on the last day of the season, at which point most, or at least their, business will be done.
Chelsea, Tottenham and Arsenal. All unpredictable so winnable or at least something we can take points from. That aside, we have a favourable run in.
Scratched record / boring Danny as I've been saying it since October. Stay in touch with the pack, stay in touch with your target and be ready for the final straight.
That's what we've done.
Christy Ring
169
Posted 04/03/2021 at 22:44:50
We grafted out a win in the last two games, will take it gratefully, but hope James, Coleman and Davies are available on Monday. Our back four immense, and our front two, need a solid midfield Allan, Doucouré, Davies and Rodriguez in a front three, but I have to say Sigurdsson is doing the business in an offensive formation.
Jamie Crowley
170
Posted 04/03/2021 at 22:49:14
Peter @ 175 -
There's nothing to apologize as far as I'm concerned. VVD is a ridiculously talented footballer. Whether he plays for them of not is irrelevant. He's amazing in my opinion.
If Godfrey ended up as good as VVD has been for them the last 2-3 years or so? I'm totally fine with that. And in an honest moment, can anyone argue that statement?
Also, in regards to the "F-O Godfrey moment" I was thinking just the other day - was that the moment of the season?
Sometimes these weird, non-footballing moments of raw energy and aggression change a team's approach and mentality. I honestly think Ben's "FUCK OFF" got a ton of play - outside and inside the locker room.
Here's a guy barking at a "gigantic" club, who arrogantly believe they have some right deigned by the Almighty to beat clubs like Everton, to flat out fuck off. I loved it, and I wonder if the players saw that, started sticking their chests out a bit, and were like, "Damn right, fuck off!" Attitude changing moment, possibly bigger in many ways than people consider.
I know this is a really shitty parallel on TW. But in July 2004, Jason Varitek of the Red Sox stood up from his catchers position and smacked that fuck ARod straight in the gob. The benches emptied, a lovely brawl ensued, and the rest is history. Varitek stood up to the main guy on the Yankees - a team who made the Red Sox their whipping boys for 86 years.
It changed the entire season and the mentality of the team. They went on to win the World Series for the first time in 86 years, breaking the curse of the Bambino.
American sports story I'm sure very few will remember or even care about. But when Ben Godfrey looked at those Man U players and told them - with verve and a degree of vitriol - to fuck off, I immediately said that was our Jason Varitek moment.
Sometimes it takes one brave, brazen motherfucker to stand up to a bully. Usually good things ensue.
Mike Gaynes
171
Posted 04/03/2021 at 22:49:57
Peter #175, re your last paragraph, spot on... you just never know, do ya?
And who knows, in two years it might be Nkounkou or Branthwaite. Or Thierry Small. Or that new kid we're gonna sign in the summer 2021 window. The one we've never heard of... but Marcel has.
Mike Gaynes
172
Posted 04/03/2021 at 22:55:14
Quick clarification of Jamie's baseball reference... for those of you on the far side of the pond, ARod is Alex Rodriguez, retired wealthy Yankees star, mate of Jennifer Lopez, and considered the world's biggest sissy (socially acceptable version) by all Red Sox fans. Like Jamie.
Paul Birmingham
173
Posted 04/03/2021 at 23:04:39
Paul, A Smith, let's hope this is the start of the road to a better place for Everton FC.

Every game is a Cup Final, until the end of the season, and massive games in the league and FA Cup, but there's a growing steel, tensile strength, nark, and belief in this squad.
"What's Our Name?"
Rob Dolby
174
Posted 04/03/2021 at 23:10:24
Roger 102. Ashley Cole spot on with his assessment. There isn't any hunger in our midfield which we know is our weakness.
Ancelotti is getting the most out of this squad at the moment. If we can avoid a defeat against Chelsea we will have done well.
Giving Chelsea players the same time and space as we did West Brom will result in a defeat.
Tonight's game wasn't pretty as I expected West Brom to do what Big Sam is best at and only for VAR they would have got something out of the game.
Keane again very good, Holdgate and Godfrey need to distribute the ball better.
Iwobi total spectator, Gomes isn't an old school centre-midfielder. Bernard at least linked up with Digne and Doucouré runs all day but lacks quality.
Quality came from Sigurdsson's cross and Richarlison's finish.
Motm Richarlison, our best player by a mile.
Never felt more like Signing the Blues!!

Jamie Crowley
175
Posted 04/03/2021 at 23:12:45
Mike Gaynes - ARod.
If you ever feel like getting punched, slip on your ARod Yankee jersey and prance around Southie.
As sure as death and taxes, you'll get cold-clocked in the back of the head.
And whomever does it wouldn't dream of showing you the decency of a fair fight. They'll hit, hit hard, and be off in the darkness never to be seen again. And you'd be out cold.
That's what New England thinks of Alex Rodriguez.
If Ben Godfrey met Alex Rodriguez, he'd just clock him. He'd not be able to explain why, other than that face needed hitting. 😂
Phil Parker
176
Posted 04/03/2021 at 23:14:50
Our best footballing side, 1969-70: ten 1-0 wins. 18 wins in total by the odd goal. Find a way to win. It's top-flight ruthless football. Bobby and Marco never understood. Sir Carlo does. Always has.
Justin Doone
177
Posted 04/03/2021 at 23:16:32
Another great 3 points from a below-par performance. It's been a good few weeks so enjoy it while it lasts.
Our general lack of forward passing and movement is poor and our wins don't gloss over the poor play but it will certainly do for now.
I don't wan't to be negative so well done Richarlison, been waiting for a few goals from him. Godfrey defending really well. He gives me confidence at the back, no matter where he plays.
John Raftery
178
Posted 04/03/2021 at 23:20:41
Let's hope we have plenty more low-key wins in the rest of the season. One of Carlo's greatest achievements has been to make his team hard to beat away from home. The squad lacks the depth and quality to win games comfortably with free-flowing football. It will take time to build a top squad but in the meantime we can be very happy to be keeping more clean sheets and grinding out one goal wins.
Richarlison was Man of the Match, again.
Rob Dolby
179
Posted 04/03/2021 at 23:34:18
Phil 194. I agree totally, Nothing wrong with 1-0 wins. Fine margins at the top.
I would love a bit more passion and endeavour from the likes of Iwobi and Bernard.
The Rolls-Royce that was Gomes when we had him on loan compared to the player he is now is stark. I don't think I have ever seen a player drop in performance so much. Maybe Terry Curren in the '80s.
Brian Murray
180
Posted 04/03/2021 at 23:38:40
Can we finally out this tired comatose idea that Gomes just needs this or that? Before and after the leg break, he's been nowhere near the level of consistency we will need going forward, Compare to all-energy Davies or Allan... No contest. Just try and recoup in the summer.
Paul Birmingham
181
Posted 04/03/2021 at 23:45:31
Brian, I, 100% agree, and every game he plays, it's a risk.
I find it incredible he starts any game as he has no energy, no aggression,, and can't tackle, though he has a decent pass with no opposing players, close by, 10 yards.
I think this Everton squad has a good tempo, long may it last and grow!
"Whats Our Name?"
John Boon
182
Posted 05/03/2021 at 00:29:27
The Headline really says it all. "Grind out a win". As much as most fans want goals, the Premier League, with the exception of Man City, is very much a "dog eat dog" league. In the Tuesday and Wednesday games, there were six games and only six goals. Defensive football seems to be the way to win and we have become very good at it.
I am always delighted when we win. I thought we fully deserved to win a game of far too little style, but lots of fight. I still miss the time when goals were plentiful. We recently had such a game in the 5-4 win over Spurs. Today teams try not to lose, and I guess the old saying, ÃŒf you can't beat them then join them.
Considering the size of our squad, and even the relatively limited football skills of some of our present team, then Ancelotti is really doing a great job. As a team, we have to work hard to maintain our position in the league. COYB – keep grinding if it works.
Danny O'Neill
183
Posted 05/03/2021 at 00:33:03
That's why I haven't liked some of our own using the lack of fans as a contributing factor. The lack of fans is a level playing field; it impacts everyone therefore cancels itself out.
I don't think VAR is shit at all. Used correctly it will get more decisions correct that wrong. I have long called for video technology to be used in football as it has been successfully utilised in sports such as Rugby for decades. Football shouldn't fear it, it should embrace it.
Will it be 100%? No. Whatever is?
Will it be closer to that than the poor decisions from poor officials over the years? Absolutely. You need look no further than the catalogue of derby decision fiascos that have gone against us over the years in my opinion.
Don't blame VAR, blame the current laws of the game. VAR is just affirming what the current rules are.
Ed Prytherch
184
Posted 05/03/2021 at 00:34:32
Three games in 8 days, players with knocks, and Carlo is putting out teams that are just good enough to win. I expect that is going to enable us to beat Chelsea.
Colin Chapman, talking about engineers, said that anyone can build a bridge that will not fall down but it takes a good engineer to build a bridge that just won't fall down. Carlo is the analog of the good engineer.
Danny O'Neill
185
Posted 05/03/2021 at 00:41:35
As per earlier, I was late tonight because of work.
Once I realised the side, it made me smile. We may as well give up with our team predictions, even Lyndon. You simply won't predict this manager. 'Poker-face Carlo' as a high-profile neighbour recently labelled him.
And this is with a thin squad. Wait until he adds in the summer. Best get used to it, Blues!
Derek Thomas
186
Posted 05/03/2021 at 01:22:12
4am KO for me and after one of those toss and turn, 4hrs sleep nights, I've over slept, feel crap and I have a lot of stuff to catch up on now.
If we needed another candidate for the 'Worst Performance, but Best Result' game after the last one - that was it.
Then I see the other result(s) and...
*Fades in Louis Armstrong "I think to myself, what a wonderful world...oh yeah."
Michael Stancis
187
Posted 05/03/2021 at 01:50:39
Cannot really say much about the first half because I was working. But what I was hearing we were absolutely dire. Especially Gomes and Iwobi. But I saw the second half and the subs made the difference.
Allan was excellent. More organised and full authority. André Gomes can't play in a midfield two. Iwobi's work rate has improved but needs to work on his final ball. And Sigurdsson, I give him a lot of shit and I do, but the last few games I cannot argue with hiis goal contributions. Delicious ball for the goal. Richarlison is back to the dangerous player we know.
Massive win tonight. But, as much as I would take 3 points regardless, it would be nice if we finished teams off more often and killed the game. It's clear we have to score first in games. We need to start being more positive and efficient in the final third and have a lot of killer instincts. But three wins on the bounce, we can't complain.
We're in a strong position right now. Hopefully we have players fit and ready for Monday night against a very good Chelsea side who were dangerous at Anfield. I'd take a draw now, I'm not gonna lie. But hopefully it's another duck we can break. But another vital three points tonight.
Derek Thomas
188
Posted 05/03/2021 at 02:07:59
(Credit to 'Spocks a Blue' in GOT)... when we have a poor performance and poor result we say... Everton That.
When we have a what looks like (but it isn't actually, except for the neutral and less said about them the better) a poor performance, do we have to ask ourselves, were the last two – on the face of it – very poor performances? Actually not, but more of a hard job well done. (And who wouldn't take more vs Chelsea on Monday??)
'Everton That' is thus transformed by the wonders of 'Ancelotti Vision' to...
Everton This!
Kieran Kinsella
189
Posted 05/03/2021 at 02:11:05
If we hang in there for the next five games it may get easier as the "Big 6" may decide victory in Europe is easier than top 4. It happened when Mourinho was at Man Utd. I could see Spurs, Liverpool, and Arsenal prioritize that route, leaving us, Moyes, Brenda and Ole to battle it out.
Alan J Thompson
190
Posted 05/03/2021 at 03:38:38
It was difficult to tell which team was in a relegation battle and which vying for "Top 4".
I was disappointed that having a man wide on each side (Iwobi & Bernard) that when we attacked down one side the player on the other didn't attempt to get into the penalty area but my biggest disappointment was that every third pass, at least, went backwards.
Is it me or is a ground out 1-0 win becoming customary and is there no benefit in naming a youngster on the bench just for the experience?
Danny Broderick
191
Posted 05/03/2021 at 04:56:40
That was dire. Poor performance but an okay result. How we are 5th in the Premier League is beyond me. We will never be good enough while we are playing last season's midfield. Yet somehow we are getting results.
What I will say is that our defence is looking strong, as is Pickford. Holgate doesn't offer much going forward but, if we get in front, not much gets past him. He did well towards the end when West were launching it up front.
The whole midfield and attack were very poor today. Don't be fooled by Sigurdsson's resurgence either. A good delivery from a corner (at the second attempt) is not enough to convince me. Yes, he can take a good set-piece – so could a 36-year-old David Beckham when Sven persisted in picking him for England! He has had several good moments recently, but I still don't see him taking responsibility on the ball like Rodriguez does. He needs to do far more in open play if he wants to be a part of a top 6 side next season.
Steve Brown
192
Posted 05/03/2021 at 05:31:24
Team rotation to refresh a thin squad, strong defensive set up and opportunism from a set-piece or a counter-attack – job done. We are managing away matches very well presently, in a manner that eluded Silva, Koeman and Martinez.
I honestly care more about the result than the performance now as we approach the final third of the season. Beat Chelsea and it is game on for the Champions League spots.
Danny O'Neill
193
Posted 05/03/2021 at 06:50:35
I think gradually he won't be part of the starting 11 Danny. Not many of these or future players will be as it's not the manager's way to have a set starting 11. He and they aren't now as there isn't an 11. Carlo has a 14 (ish).
I totally get everyone's previous criticisms of Sigurdsson just as those who slated Tom Davies (Guilty m'Lord). But he's improved and playing better in a better performing group of players who are getting results.
Will we improve on them? I hope so, but whilst they are in the squad they can and are contributing.
I think Tom may save us a bob or two by the way if he can hit consistency, which in recent games he has. That's all I and anyone else wants from him. Consistency is the hallmark of differentiating between a good and an okay player. Between a good and an okay team.
Someone recently said that all Sigurdsson done in a match was take a corner and score a tap in. That failed to appreciate the off the ball work that went in to making sure that was an easy tap in. And his delivery is better than most.
Derek Knox
194
Posted 05/03/2021 at 06:53:01
Great getting into 4th albeit for two hours, it was a feeling I hope we carry on with, aspiring to stay a bit longer next time, like permanently, and it is still mathematically possible. However last night was precarious against a team fighting tooth and nail to stay in the Prem.
Now looks like they are doomed barring a miracle, feel for the players and supporters and fans of WBA but not for their Manager. I have never liked 1-0 games even when it is us in the driving seat, and last night proved how easily 3 points could have vanished in the last couple of minutes in injury, but for VAR rescuing us.
I didn't like the midfield set-up from the start yesterday, but injuries obviously dictated and limited the possibilities. I know the game is about opinions but I felt Gomes was a disaster waiting to happen out there. Considering he is supposed to be a key midfielder he gave possession away too often, received a pass only to return it, as if he was allergic to it, or play it back to no-man's land.
I sincerely hope that we have a better selection on Monday against Chelsea or we will be mincemeat. Although our defence is looking more solid each game. Again Godfrey and Keane look a solid pairing, and Digne is as usual Mr Dependable. Pickford seems to have overcome his brain-farting and again saved a certain goal 2 minutes in.
Holgate was very erratic too so it emphasises again without Seamus, how thin on the ground we are at Right Back. Surely the first point of address in the Summer, plus a couple of dynamic midfielders to compliment Allan, Doucoure and Davies.
Be interesting to see the team selection and how we fare against Chelsea in their own yard. Even a draw would be welcomed, but I hope we go there with a win in mind.
Terry Farrell
195
Posted 05/03/2021 at 07:05:30
Well done, boys. Not pretty but a win is a win. Gofrey and Keane superb again. Pickford 3 good games on the trot. We desperately need Davies back to join Allan and Doucouré in midfield vs Chelsea.
Gomes frightens the life out of me when he has possession on the edge of our box. Iwobi had a stinker but thankfully it didn't prevent the win.
Stan Schofield
196
Posted 05/03/2021 at 09:00:15
Derek, We weren't rescued by VAR, which simply confirmed the decision already taken by the on-field officials. It was offside, simple as that.
Sean Callaghan
197
Posted 05/03/2021 at 09:09:51
A couple of points related to yesterday's game(s). I'm quite happy to drop back to fifth at this stage because some back of a fag packet maths says we will finish fourth if we accumulate the same points per game ratio in the run in as we have done up to now, as Chelsea do likewise. It's in our hands.
Second, according to BBC Breakfast this morning, our win over the Baggies never happened and the only Everton related comments in their sports bulletin was that little prick Mike Bushell harking on about St Virgil getting maimed.
Jason Wilkinson
198
Posted 05/03/2021 at 09:15:54
The game was pretty turgid. Not many chances created by either side. We started slowly (again). The passing was poor. Some performances were poor or non existent. It took the bench to bring some dynamism to our play. Another 3pts on the board with a tough away fixture next Monday. Play as bad as we did last night we lose 100%. As we know it will be a different performance from another different line up. Iwobi & Bernard did very little to suggest they deserve to be in the squad never mind on the pitch. Doucouré & Gomes gave possession up to easily with some sloppy play. On the plus side we have got one hell of a player in Richarlison. He ran his socks off last night. He was the one shining light amongst the rather jaded performers. The problem we have is there is little or no movement when we are in possession. This results in passing backwards or losing the ball. I hope Davies & Rodriguez are fit to play v Chelsea.

Michael Kenrick
199
Posted 05/03/2021 at 09:21:54
Rob Halligan... you're driving me mad,
For fuck's sake... if you really MUST MUST MIUST post about fucking Liverpool and their fucking fans – as if we didn't hear enough about them – please do not do it on an Everton thread.
We created the Premier League thread so you could talk about other teams and their games. You seem obsessed with them to the point of utter madness (in my humble opinion)...
Please stop contaminating Everton threads with this Red Shite!
Jason Wilkinson
200
Posted 05/03/2021 at 09:28:15
Stan #228,
Spot on. The linesman flagged. The one thing VAR has been consistent with is offside. The pundits make a big deal out of it but I see it like Hawkeye in tennis. You're onside or off. No grey area.
Rob Halligan
201
Posted 05/03/2021 at 09:49:14
Michael # 231. Sorry, I kind of got carried away, but I did say sorry on my last one. Besides, it was funny listening to the crying bastards on the talksport phone in! 😂😂😂😂
Dave O\'Connell
202
Posted 05/03/2021 at 10:04:31
Just listened to that horrible bastard allyadyce interview he couldn't resist a dig at us sour grapes ? Hope he takes wba down and. Never gets a tip job again
Gio Mero
203
Posted 05/03/2021 at 10:07:29
So many on here are very critical of Gomes. He can pass, he can put pressure on the opponents, he's got personality and he's always in my starting XI if James can't play.
He sometimes gives away possession? Who doesn't.
Great 3 points yesterday considering how weak our right flank was. Great back line and Richarlison is something else
Colin Glassar
204
Posted 05/03/2021 at 10:20:16
If you landed on earth from another planet today and read the back pages you wouldn't know Everton played yesterday.
Trevor Powell
205
Posted 05/03/2021 at 10:25:16
I can't eat my breakfast because of the distress we have caused to Big Samuel. What penalty, nobody but Sam apparently saw it. Remember this man took bungs and claimed the win over West Ham as his work. Disgraceful man!
Dave O\'Connell
206
Posted 05/03/2021 at 10:35:34
Massive game next Monday Beat Chelsea and we have massive chance of top 4 finish
Lester Yip
207
Posted 05/03/2021 at 10:52:01
Lucky to get a win. Like last game, we need to find the second goal to create that buffer.
Pickford is my MOTM. Absolutely stunning save for that header. Ball is slow but when you're already flying in the air, he shows his quality of what he can do.
Gomes is disappointing. He shields the ball well. But at times lose the ball in key area which is fatal. Also he doesn't seem to have long shot in him. With his lack of defensive qualities and mobility, I'll move him on in the summer if there's a buyer.
Iwobi on the other hand shows he has skills to dribble and creates space. But he has no final ball. Move him on and keep Gordon.
Big game next against Chelsea. It's the kind of game that I am not worried about at the moment. Players will be motivated. Defence will be tight. It's a matter whether we can nick one in and see it out.
Laurie Hartley
208
Posted 05/03/2021 at 11:02:26
David # 163 - your link didn't work but I found the interview which I have started watching:
I will finish it off over the weekend.
Jamie Crowley # 183 - I think you have a scouse gene in your DNA
Tony Abrahams - keep singing the song.
After the derby game my mindset changed - I started believing we could beat anyone. Two potential banana skins later I am even more convinced.
Quite irrational I know but that is how it is with me.
Andrew Ellams
209
Posted 05/03/2021 at 11:03:19
Gio, so many attacking moves came to nothing last night because Gomes and Iwobi gave the ball away to easily and he's a red card waiting to happen.
Brent Stephens
210
Posted 05/03/2021 at 11:03:22
Ed #212 "Colin Chapman, talking about engineers, said that anyone can build a bridge that will not fall down but it takes a good engineer to build a bridge that just won't fall down. Carlo is the analog of the good engineer."
I think that's a good analogy, Ed. Because we have a relatively thin squad, with some players just back from injury, Carlo has to gauge how strong a team to put out against the likes of WBA (a somewhat improving side of late?) when there's a stiffer task coming up fast against Chelsea. He started with a team selection which was as 'minimalist' as possible, as strong as necessary; realised it wasn't quite as strong as necessary and so tweaked it.
Astute.
Martin Nicholls
211
Posted 05/03/2021 at 11:06:34
A number of posters on here have claimed "VAR saved us" - quite simply, it didn't. The linesman correctly flagged offside which the referee agreed with - all VAR did* was to confirm the correctness of those decisions. There had been an infringement, spotted by the onfield officials which resulted in "no goal" being called.
*to be fair, it also raised the blood pressure of me and thousands of others who feared a perfectly good onfield decision would be wrongly overturned as has happened many times - thankfully on this occasion, it didn't.
Rob Halligan
212
Posted 05/03/2021 at 11:10:33
Martin, totally agree. If VAR didn't exist then that goal would still have been disallowed due to the linesman flagging.
Oliver Molloy
213
Posted 05/03/2021 at 11:22:01
Very disappointing display, but got the 3 points, luck was with us at the end there. Only when Allan came on did we look more solid in midfield, Doucouré looked a little leggy last night, the Duracell finally running out of power!
Calvert-Lewin once again shows he needs to work on his finishing.
Calamity Pickford made a huge error at the end of the game when he didn't come and clear everything in front of him, we wouldn't have been sweating on VAR if he had made the right call.
We are in the mix, but need to play better, Chelsea will be tough.
Colin Glassar
214
Posted 05/03/2021 at 11:36:12
Excellent post Brent, Carlos has nerves of steel combined with a football brain par excellence.
Who else thinks Allan should now be captain? He's a natural leader who leads by example.
Danny O'Neill
215
Posted 05/03/2021 at 11:40:13
Rob, if you need any help with your addiction, I have attended Michael's corrective training and have seen the light. I am now fully rehabilitated so can assist in your recovery!!
On a serious note, the Premier League Thread Michael refers to generates good healthy debate about other teams and fixtures on match days and keeps the Everton ones largely on topic.
Danny O'Neill
216
Posted 05/03/2021 at 11:43:51
Been saying that most of this season Colin. Allan instinctively leads and has done so since coming back as though he was never away.
Some players don't need an armband, they lead regardless. Allan is one of them.
To coin a phrase from a classic western comedy "we don't need your steeenkin' badges".
Colin Glassar
217
Posted 05/03/2021 at 11:48:25
Rob, you got slapped down big time by Michael last night. If it's any comfort, he suspended me years ago for being a dick. I learnt my lesson and have tried to stay out of trouble since. It was still funny though.
I had Bernard as my motm last night. Despite his tiny frame he ran his cotton socks off and used the ball well. I cannot say the same for Doucoure (knackered), Gomes (slow of mind and feet) and Iwobi (just fucking useless and one of the worst Everton players of all time!!). To quote an old king, "who will rid me of this useless fucker"?
Jason Li
218
Posted 05/03/2021 at 11:50:09
Siggy and Richie, well done - our match winners who can decide a game.
Also Carlo for man- management of match winners with other runners and bringing on Allan to shut up shop around them.
Champions League music still on.
Finally... You'll Never Win At-home!
Oliver Molloy
219
Posted 05/03/2021 at 11:57:29
Colin,
I have heard Allan never shuts up on the training pitch, barking and bitching at everyone!
Len Hawkins
220
Posted 05/03/2021 at 11:57:44
After his abysmal attempts at being a footballer last season, Iwobi seemed to have realised what the aim of football was and he was a different player but last night he reverted to type.
On my browser home page, MSN News there was an item by that icon of British Football, Darren Bent, about Iwobi. I can't remember his words 100% but he said something like:
"Iwobi is a puzzling player, he tries his hardest, he can beat people with his skill, he tracks back and never gives up... but what is the result? — Nothing! He gives the ball away, he overhits or underhits crosses into the box, he is inclined to try and pass instead of taking an opportunity to take a shot. He actually gives next to nothing to the team."
And after last night, I quite honestly agree with him,
Colin Glassar
221
Posted 05/03/2021 at 12:08:46
Len, last post (today) on this guy. He shows, sometimes, minute flashes of ability but his weakness in tackling (non-existent), his fear of any physical contact (haphephobia?), his inability to cross a ball, his utter uselessness in passing to a teammate etc I don't see any redeeming (football) qualities in this guy.
I've also noticed as games progress his teammates stop giving him the ball as they know it's a waste of time and nine times out of ten he will lose it. My only hope is Carlo sees this as well and shuffles him out of the door as soon as the transfer window opens!

Michael Kenrick
222
Posted 05/03/2021 at 12:10:24
Len,
I thought I was being my usual over-critical self in slamming Iwobi last night but that quote from Darren Bent is sadly right on the money. Thanks for posting it.
Colin,
Your summary is more succinct and at least as accurate... although there are a multitude of names in the hat for that "Worst Everton player of all time" award.
Tony Everan
223
Posted 05/03/2021 at 12:12:22
Michael it was impossible to be overcritical last night.
My 11 yr old daughter was having a Zoom ballet class in the next room and I came very, very close to swearing loudly like a madman watching Iwobi last night. I got reprimanded .
Darren Bent has it in a nutshell there. Carlo must be tearing his hair out with the player.
Colin Malone
224
Posted 05/03/2021 at 12:13:32
Funny how we see a different game. I thought Gomes did well considering we were hitting long balls up to Calvert-Lewin, who never won one, not without trying, instead of playing short passes, which will bring the best out of Gomes and Bernard.
Gomes was receiving the ball, looking for the runners but had to pass it back, because we where playing the long ball, in which he got caught out a few times.
Sigurdsson or Gomes. Gomes all day long.
Danny O'Neill
225
Posted 05/03/2021 at 12:19:33
In fairness to Sigurdsson Jason, it wasn't just his and Allan's introduction that helped us control the game last night.
Sigurdsson, whether some like it or not, has been influencing games throughout our recent run.
Assist last night - quality delivery. Assist against Southampton. Four assists against Tottenham, instrumental in crafting and then finishing a well worked goal against Leeds as well as another brilliant delivery for Godfrey to provide the flick on for Calvert-Lewin's goal.
We can knock him all we want (self included), but he, like others, is responding to having better players around him and the manager's ways.
None of this squad, the keepers included know if they are in the next starting line up. That appears to be keeping them on their toes and mainly ensuring they put in a performance when they are afforded time on the pitch. Afforded, not guaranteed.
Fran Mitchell
226
Posted 05/03/2021 at 12:42:04
Danny, Sigurdsson deserves massive praise.
For a player who has possibly been the most universally criticised by all the fanbase, mainly because of the inflated fee, he has managed to come through it and keep at it.
He's a no10, no doubt and not a deep lying midfielder like he's been asked many times to not great result. I don't see us playing with both him and James, but to have both as options is wonderful. As the season drags, teams are tiring and space opens up, and having 2 options of players who can expose that space is a great boost.
I saw an interview of Godfrey and Holgate with Rio Ferdinand, and they were asked 'who is the hardest worker' and they both went 'Gylfi, no doubt'. They talked how he is always doing extra work, before and after training, they then commented on how he is far and wide the best finisher at the club. Which considering how he has been lambasted, is a credit to the guy.
Having an inform Siggy, be it from the bench or from the start, can really push us into the top4.
6 goals and 9 assists this season. (32 games)
Added that to James 5 goals and 8 assists (21 games)
and we are a team that finally has a creative edge, even when playing defensively.
Craig Walker
227
Posted 05/03/2021 at 13:04:00
It's funny how different people see the game. I thought Gomes was dreadful last night. He lost the ball at one point about 10 yards from our own box and we were very fortunate to get away with it. My heart is in my mouth every time he goes to challenge in and around our box. I want to like the guy, and he definitely has ability but he has always only shown glimpses of the player I thought he would be for us after he first burst on the scene. The injury has really affected him, I think.
Andrew Ellams
228
Posted 05/03/2021 at 13:29:40
Gomes was cut out to play for a Valencia or somebody like that. English football is just too quick for him.
Brian Murray
229
Posted 05/03/2021 at 13:31:50
Craig. Maybe it's a local thing but I'm amazed at the stick Davies got for at least trying to be brave and attempt the forward pass game after game. With Gomes there's a section including yourself that harps back to the injury every time he is woeful. News flash. He was mostly anonymous before his injury. He's not the answer by any stretch no matter how nice a fella he is.
Dave Lynch
230
Posted 05/03/2021 at 13:54:58
Some on here should have a word with themselves.
Liverpool secured a title grinding out wins, none of their fans moaned about poor displays, they lapped it up.
I couldn't give a flying fuck about performance or pretty football.
I'll take 3 points anywhere, anyhow and anyway we can get them.

Kieran Kinsella
231
Posted 05/03/2021 at 13:56:19
Brian Murray 229
I actually think Gomez has been better since his injury but that's not saying much. He's just too slow and cumbersome for the EPL
Kieran Kinsella
232
Posted 05/03/2021 at 13:58:15
Fran 226
I wonder if the arrival of James has inspired Siggi to up his game?
Kieran Kinsella
233
Posted 05/03/2021 at 14:05:10
Colin
My little nephew is convinced the Spurs goal will be the turning point for Bernard. That being said he's biased because last year he met big Dunc who said he looked like a "wee Bernard." To me, Bernards one of those quiet blokes who randomly shows up for informal five-a-sides dazzles everyone with his skills. No one knows who he is or why he gate crashed your mates kick about but is he made for the Prem? No
Rob Halligan
234
Posted 05/03/2021 at 14:24:12
Colin # 217. Thick skinned me, mate. 😁😁
Robert Tressell
235
Posted 05/03/2021 at 14:34:02
The thing that has impressed me as the season rolls on is that different people have stepped up and dug us out. That even includes Iwobi and Gomes at times despite their very mixed form. It means we keep rolling on, finding a way to win without our best first 11 and without even playing well.
Lots of trophies were won off the back of multiple dreary wins and the odd very special performance.
Ancelotti (and quite possibly Ferguson) seems to have got the team spirit and attitude right for the first time since Moyes. Fitness too, possibly.
It means we have a chance in every game we play - including Chelsea and City in the cup.

Brian Murray
236
Posted 05/03/2021 at 14:38:32
Ok maybe a bit unfair on Gomes but I'm impatient for us to Challenge seriously again. More for for my kids because I've seen and done that. Half a team of Peter Reid Godfrey type attitudes and we won't go far wrong. The sensitive type won't cut it in this fierce league sorry Andre mate.
Jamie Crowley
237
Posted 05/03/2021 at 14:39:33
I went to the EPL website last night after the last game of the day. Their headline was something like this:
Chelsea Move Into 4th Place With Impressive Win Over the Reds
Fuck off.
There's been a few comments about how Everton is getting very little press, and it's accurate.
I want this more than anything because the powers that be (whomever the fuck those people are) quite obviously don't want Everton amongst the chosen.
Any time you can make someone in power who views the world hierarchically squirm, that's a sweet thing. C'mon Everton, bust this glass ceiling and storm the EPL castle please. Force them to print headlines about Everton through gritted teeth.
Tony Hill
238
Posted 05/03/2021 at 15:04:48
Iwobi was comfortably our best player against Wolves and has played well in other games (his brilliant run for our second goal away at Fulham comes to mind). He actually went on a good run last night though held on to it a fraction too long before playing in Digne.
In fact, he has a good eye for a pass when he's playing well and he can dribble. His crossing is terrible.
His main problem, as with so many players, is in his head. He can't apply himself consistently or work to improve himself it seems. He is though still young.
I understand why some want him gone after last night and other recent efforts, but I would stick with him. He was forced out of the team when he was doing well. We have been patient with other players to their and our benefit.

Chris Locke
239
Posted 05/03/2021 at 15:11:26
Personally I think Gomes will come good and end up being a fine player for the club. He's getting stronger by the game and will definitely have a part to play of we are to achieve this season. His ball retention and tackling have improved IMO and he is slowly banishing the memories of his horrific injury.
As for Iwobi I just don't know what to think. At the end of last season I would have had no qualms with the club canceling his contract as he stunk.
However he has improved this season (admittedly he had set the bar very low) and there are few if any in the squad more capable of beating a defender with pace, skill or both.
I reckon there is a player in there somewhere and I guess it just depends on whether Carlo can be bothered trying to find it.
Chris Locke
240
Posted 05/03/2021 at 15:11:26
Personally I think Gomes will come good and end up being a fine player for the club. He's getting stronger by the game and will definitely have a part to play of we are to achieve this season. His ball retention and tackling have improved IMO and he is slowly banishing the memories of his horrific injury.
As for Iwobi I just don't know what to think. At the end of last season I would have had no qualms with the club canceling his contract as he stunk.
However he has improved this season (admittedly he had set the bar very low) and there are few if any in the squad more capable of beating a defender with pace, skill or both.
I reckon there is a player in there somewhere and I guess it just depends on whether Carlo can be bothered trying to find it.
Ian Jones
241
Posted 05/03/2021 at 15:29:51
I am not sure what to think of Iwobi...feel sure there is a player in there. His running style when he has the ball looks awkward, doesn't look comfortable, to me it looks like he is panicking. I don't remember him doing that at Arsenal.
Brian Wilkinson
242
Posted 05/03/2021 at 15:34:59
What I am loving at the moment is there is no pressure on us.
Neutrals, pundits, all the media reckon we are no threat to the big four, in the meantime we go quietly about our buisness, getting results, too right none of them want Everton gatecrashing the top 4.
From blaming Everton for inflating the transfer window, when we signed Richarlison, by witch hunting Pickford since October, to even ridiculing Richarlison for going down after a tackle, there is never a match goes by, without former players and pundits, having a pop at Everton.
If we win, then it is a case of not playing well and on that form will not get top 4, while others are praised on being a very good side if they can win, without playing well.
Make no mistake, Everton gatecrashing the top 4 is their worst nightmare.
We as fans need to reunite and get behind this squad of players, get us over the finishing line, Pickford, Richarlison, Davies, Siggy have upped their game and sticking two fingers up to those who doubted them, Calvert-Lewin has been transformed into an almost unplayable striker, hard to challange him, or win the ball against him, while at the same time his heading and finishing has improved no end, this season.
Let us leave all the name calling and slagging players and the team off to none Evertonians.
Let us stick two fingers back up to those out there, who do not see Everton as a threat.
Let us all stick together, and do whatever we can, to get Everton over the finishing line, then all be sat with smug faces, for those out there who dared to blame and write this great football club off.
Denis Hignett
243
Posted 05/03/2021 at 15:38:22
Holgate is not a right back; offers nothing going forward.
Gomes is too slow for the Prem.
We are lost without Fabian Delph!

Danny O'Neill
244
Posted 05/03/2021 at 15:39:20
Fran, good analysis. He does deserve praise, as do a couple of others this season. Davies and Keane spring to mind. Mina has been much improved too.
Kieran, the management of the players and the team has helped, but yes, so has having competition for places. And not just that there is competition, but these players are training with each other on a daily basis. Only now, they are training with better players. We still need to replicate that cover and competition in other areas of the pitch, but incremental steps; Rome wasn't built in a day as they say.
I'm not going over the top, we only really added 4 main first team / squad players plus a keeper who we thought was back up. But it's the quality we've added that is important. Allan, Doucoure, James, Godfrey. Intelligent squad investment that improved us, not just scattergun buying for the sake of the Sky Sports deadline day headline. Do that again in the summer and we make progress again. Only this time the starting point is higher up the ladder.
I have said until I have no breath that we have never been fashionable with the media. Not in my lifetime and even in the 80s. I kind of like it that way. I hope they do keep ignoring us only to wake up in May and realise that we actually have spoiled their party and gatecrashed the so called club.
Andrew Keatley
245
Posted 05/03/2021 at 15:46:32
I'd definitely persevere with Gomes. I like the way he regularly concedes easy possession with under-hit passes. I admire the way he dwells on the ball in bad areas and is easily dispossessed - often more than twice in a game. I have a lot of time for the way he takes four or five touches, especially when he could move the ball quickly first time and give it to someone who might positively influence the game. I love how he looks ahead of him for movement from his team-mates, but never makes any sort of run when it is one of his team-mates on the ball. And most of all I am in awe of how he almost does a good job positionally but then manages to leave the gate open for the opposition to nip inside him. Then there's the inspired fouling in and around our box, especially when a spot of discipline was all that was necessary. Also, he very rarely scores or assists, so he's clearly very humble and generous to allow his team-mates to have all the glory...
Brian Wilkinson
246
Posted 05/03/2021 at 15:51:09
On that basis Andrew, what odds Gomes having a blinder against Chelsea, he certainly has it in him.
Too many times this season, we have written off the likes of Pickford, Kean, Mina, Davies, Siggy, all have brought their a game in the last few games.
We know Gomes has it in him, I would not be too hasty writing Gomes off just yet.
Brent Stephens
247
Posted 05/03/2021 at 16:08:42
Andrew #245 " [Gomes] very rarely scores or assists, so he's clearly very humble and generous to allow his team-mates to have all the glory...".
We don't want too many players with such a generous nature!
Ajay Gopal
248
Posted 05/03/2021 at 16:28:46
Doucoure needs to be rested, he looked tired and gave away the ball cheaply many times especially in the first half. If Davies is fit, Allan and Davies for me, with Coleman playing instead of Holgate.
A word about West Brom - I think Sam has them playing good football. Their forward Diagne that troubled our CBs all game and almost got them a point in the end. If WBA do get relegated, I hope Brands is sniffing around this guy. I also like Pereira and their Turkish holding midfielder Yokuslu. In fact, they have more than a few decent players - Sam Johnstone is a pretty solid keeper, Gallagher and Maitland-Niles are very shrewd loan signings. I have a sneaky feeling that Sam will manage to keep them up.
Martin Nicholls
249
Posted 05/03/2021 at 16:45:20
Brian Wilkinson#242 - well said. Had I relied on opinions on this thread rather than watching the match myself, I'd be led to believe that up to four of our players were that bad, we effectively beat a fired up WBA with just seven players!
Dale Self
250
Posted 05/03/2021 at 16:46:58
I would guess Gomes is good for this. Siggy setting up goals, Tom in fantastic form, surely he knows the TW forum target is on his back.
Jay Harris
251
Posted 05/03/2021 at 17:00:15
Brian,
The problem with all the players you mention is consistency. Some can look outstanding in one game and diabolical in another and that may be explained by how the opposition set up and who they target as the weakest link.
Gomes can hit a Hollywood pass all day long and has good quality but unfortunately he is too slow paced and thinking for the Prem. He does not score goals, gets dispossessed easily and makes poor judgement on tackling regularly giving dangerous free kicks away.
Iwobi has pace and can beat a player but then cant cross or penetrate the penalty area.
Siggy has goal threat and creativity in him and covers an enormous amount of ground every game but is too slow these days.
Tom Davies of late is a revelation and is also lacking the bags under his eyes which were evident when he wasnt playing well (form your own conclusions on that one).
The problem is we need goals from MF. CArlo has mainly resolved the lack of aggression in MF but we are still short of a Fernandes, Scholes, De Bruyne, Mount, Maddison, Grealish type of player.
Danny O'Neill
252
Posted 05/03/2021 at 17:22:01
We do need that creative spark in midfield still Jay; valid point.
Sigurdsson's game has never been about pace. I love James but his game is not about pace either, more speed of mind and decision making.
Sigurdsson has been directly or indirectly involved in a high percentage of our goals recently. He didn't need pace to do that. As pointed out above, Iwobi has pace, however without quality, ability and decision making on the end of it, you end up with a player who runs around a lot not achieving much.
Rob Dolby
253
Posted 05/03/2021 at 17:43:29
Iwobi doesn't have pace, desire, quality or aggression and cost us 30m as a poor man's Zaha.
He left the pitch last night and didn't need a shower. I really want him to challenge for a starting position but every time he gets a game he doesn't take his chance. He also doesn't look arsed when subbed off.
I can only see occasional guest appearances from the bench as a squad player and instagram contributions until his contract runs out.
Stan Schofield
254
Posted 05/03/2021 at 17:57:44
The way we played last night is a further example of getting a result with a style that is not in line with the turgid constant high pressing game that became fashionable over the last few years. Instead of an entire outfield running round like long distance runners, and increasing the risk of fatigue and injury in the process, we've got the ball doing more of the work. Most of our goals are very well worked from clever technical passing, with the style of players like James and Gylfi being able to change a game in an instant. We break less sweat whilst winning games.
Roger Helm
255
Posted 05/03/2021 at 18:03:03
It is true that there are problems with some players and also how we play at times, but Rome wasn't built in a day. Surely if we were offered our present league position at the start of the season we would have taken it?
It's worthwhile pausing to reflect on what Carlo has achieved in a year:
Players already at the club have improved enormously, especially Tom Davies, Dominic, Keane and Holgate. Siggy, Mina and Pickford are a lot more effective recently.
Recruitment so far has been excellent, with the creativity of James, the athleticism of Godfrey, the energy of Doucoure and the grittiness of Allan, all at a reasonable cost.
The atmosphere in the dressing room, as far as I know, is a lot better, with more strong characters who seem to get on with each other.
We may not be the most skilful side in the league but we are a lot harder to beat and we can take on almost everyone with a reasonable hope of a result.
I agree we have players like Iwobi, Gomez and Bernard who do not seem to be cut out for the EPL, but I reckon Carlo will either sort them out or get rid. I think the summer window will be interesting. I know football fans and TWers especially like to moan, but I have friends who watch the likes of Rotherham and Doncaster, so let's count our blessings!
Brian Wilkinson
256
Posted 05/03/2021 at 18:05:02
That is true Alan, we all knew it would be a tough season with what we had, we have so far out performed anything we dared dream of.
Some players have raised their game and yes some look like world beaters one game, and terrible the next, but overall, with what Carlo was left with, he has done well to get a tune out of the squad.
I myself realistically think we need another season or so to rebuild, whatever we achieve this season, is a bonus.
Will get battered from pillar to post on this one, but with the mess Barca are in, one player I think who could speed up our midfield is Coutinho at the right price, might not be for everyone and some might look at age of 28, but I think he could link up well with the forwards, with Doucoure and Allan being the two behind him.
John Skelly
257
Posted 05/03/2021 at 18:06:12
I think iwobi would be perfect against Chelsea, don't ask just a feeling
On another side hoping of a last match result against city to claim second brings me back to are last game against the champions arsenal they stuffed us 😉
Graham Hammond
258
Posted 05/03/2021 at 19:07:46
Ajay #248. Good shout on the Albion players going forward, if West Brom do go down as now seems likely then I think we could do a lot worse than take a serious look at Diagne, Pereira, Yokuslu and Maitland-Niles (Arsenal), all good players and all four would improve our squad a lot in my opinion.
I have defended Iwobi quite a bit as I like the player and see the qualities that he has, but last night he looked very short on confidence and belief (possibly down to very little recent game time) and played poorly. He clearly likes to move the ball quickly and often favours one-touch football which I think is great but whilst our off the ball movement generally remains as poor as it is, then he is going to struggle to fit in at Everton. We are getting results, which is great, but we are not yet an Arsene Wenger Arsenal!
Sukhdev Sohal
259
Posted 05/03/2021 at 19:26:47
Iwobi is a horrific player, and just be reminded Brands gets paid millions of pounds a year to waste £30 million of Moshiri's money on him. I was 17 when we signed him and I didn't need to get paid that much to recognise he is pure garbage. Anyway, we are on the up in terms of results. Chelsea is a big game.
Bobby Mallon
260
Posted 05/03/2021 at 19:36:31
Andrew 245 you could be talking about all the players on the pitch ffs
Jason Li
261
Posted 05/03/2021 at 19:57:48
Danny, Fran and Stan
Really good points in this TW thread analysing Siggy.
It looks to me that Carlo has been working out who can bring that magic quality in the Premier League to create or score goals. After that, attacking wise you want very good solid players surrounding, as they are also integral to the system, a bit like cogs in a watch.
For example, Gomes cannot score goals like Siggy - remember Siggy against Leicester when he turned Maddison and curled in the top corner. As the ball came he knew it was the moment if he got past his man and had a second to position the ball for a shot, which flew into the top left corner. A beauty only he can score at that time for us.
Looking at us now, those who can consistenly produce moments or quality or goals are: Richie, Siggy, Digne, DCL, James, Keane; and then Doucoure, and Coleman when 100% fit.
I think the reason we can hit top 3 or 4 in the league because our players who can decide games are spread around the team and in different match situations, eg. set-pieces we have Keane or DCL or Richie who can nod them in. Compared to Marco Silva's chance at the helm, his teams didn't have that variety of threat. I guess that's Carlo's superior knowledge in assessing players and then coaching them when to take advantage in matches in the right positions to win us games (for example DCL in the 6 yard box).
I also wonder if Iwobi is told not to go beyond the foward on runs too often, because he can't cross as well as Digne, and cannot finish well. So offers a wide-right midfield role to be an outlet for the ball and balance to stretch teams. If the opposing players come across to tackle him, then we can spring the other team if the ball gets across to Digne quick enough - noticably always higher up than Iwobi. Again, Iwobi plays an important part but his inability to produce consistent moments of quality means he has to pass the ball on and watch from the right as better players in the team are better at the business end of the pitch. If Digne doesn't get the ball to cross, then it's easier to manage defensively if Iwobi has the right side of the pitch covered already, so we only have to manage 1/4 of the pitch until Digne returns back into a defensive unit. My main credit to Iwobi is that he can hold the ball when a player closes him down, and this does create the space in the middle when he passes it back or sideways, so it works that way too.
Defensively, the praise goes to all the team as they put in the shifts, body, head and sprints in when it's near out box.
Andrew Keatley
262
Posted 05/03/2021 at 20:20:54
Bobby (260) - Is that supposed to be a defence of Gomes? While all of our players have flaws in their game - and I have been critical of most at different times - Gomes is out there on his own (for me) in terms of players who regularly seem to create an advantage for the opposition when they play. I see no significant signs that he has it within himself to change the way he plays, and for that reason I hope we can move him on, whatever the financial loss, ideally to a team/league where his laconic style and inability to sprint is not a problem.
Tony Hill
263
Posted 05/03/2021 at 20:32:25
It seems that Godfrey made more blocks in the penalty area last night than any other Everton player for the last 3 seasons. A fairly random stat but it says something.
He's a remarkable man and carries himself accordingly. I would make him captain next season, he has the self-possession and the self-belief. Pure Blue steel, everything we've lacked for so long.
And yes, I know, he still has much to learn. Imagine what he's going to be like.
Dale Self
264
Posted 05/03/2021 at 20:33:29
Andrew, Gomes is Siggy mark II or he wouldn't be getting a look from Carlo. His ability to hold the ball and look forward is superior to the rest bar Siggy (and James of course). We need that capability even though it comes at a cost with his tendency to turn the ball over. He is not fleet but he is a good thinker on the ball. If you'll go back and watch Gomes gave it up trying to possess in the middle third or on a forward pass. It was Iwobi that was the source or most of our senseless turnovers. I'm seeing more turnovers resulting from positive play than the types of turnovers he was committing when first coming back from injury.
Tony Hill
265
Posted 05/03/2021 at 20:36:01
Plus, it's worth noting again: what a massive coup Godfrey is for our scouting department and Brands deserves huge credit. Apparently, Tottenham have held an internal inquiry as to how they let Ben get away.
Don Alexander
266
Posted 05/03/2021 at 20:50:39
I can't remember where I recently read it but our Andre quite fully conceded that this season has been difficult for him following his horrible injury. He alluded to be missing, still, his full game input.
Now I know "he would say that wouldn't he?" would be a response from some of us (and me too when we've just lost) but maybe he's right. That said, I'm of the belief he gives more than some give him credit for but I would like him to regain the form he showed when we started playing him. Then, he was capable of dominant performance in every part of midfield as far as I was concerned, in a comparatively poor side.
Andrew Keatley
267
Posted 05/03/2021 at 21:21:41
Dale (264) - If Gomes is someone you actively want in and around this football club, based on his performances this season, then you and I see this club and the game of football in very different ways.
I also think that the argument that a player is performing to a decent level or they "wouldn't be getting a look from Carlo" is bogus. We have struggled in midfield all season, with form and injury, to the extent that Carlo has often been limited in terms of options, including having only 16 senior players in our squad for the WBA game. Who else was Carlo going to play, especially considering Allan is just back from 2 months out and played 90 mins a few days previously? Sometimes managers have no real choice but to persevere with players, no doubt in the hope that they will suddenly rediscover some real form and effect. I think if we were able to make the requisite improvements to our squad this summer then Gomes will either be gone or be spending much more time off the pitch.
Dale Self
268
Posted 05/03/2021 at 21:26:39
Yep, we's different Andrew. I would simply advise you to watch again now that you know we won, see if that gives you a different perspective. I'll give it another look given what you've said but I just watched the first half and I'm good with my take. Carlo isn't resorting to him, he is looking to him for certain responsibilities on the ball. And by the way, Bernard's performance was not as characterized on the live forum. He certainly could've placed a couple of crosses into the box better but in no way was calamitous or absent the way some were saying.
Dave Abrahams
269
Posted 05/03/2021 at 21:31:30
Don (266), yes he was great, a marvellous performance in the Derby at Anfield when Pickford made that clanger, which will never be erased, Andre was the best player in the field that day, and that memory will stay with me as well.
Unfortunately that was the only very good game I have seen from him, although he did score a cracker versus Woves at Goodison in. 1-3 home loss, the only goal he has scored for the Blues, he had decent games every so often before getting that bad injury, but I see little difference in his form pre injury and post injury.
It's very easy to see why the Barcelona fans never took to him, so maybe the Spanish league was a bit too tough for him,he'll have a little spell in certain games that will impress fans enough to convince them he is a talent, or he is on the way back, back from where?
Doubt he will have many clubs interested in buying him when his contract is up, his contract at Everton is the last big one he will get and he should thank his lucky stars he got that, he gets game time now because the midfield is short of players, I think he gives many fans palpitations every time he comes near our penalty area, defending, well trying to defend, I go sick when Insee his name on the team sheet, mind you he is due to score a goal, it's only two years since his last one, so play him in the last ten minutes at Chelsea, he might come up with the winner.
Tony Hill
270
Posted 05/03/2021 at 21:44:01
He's another weird player, Gomes. Capable of languid excellence even now and his shielding and speed of thought (and occasionally of foot over short distance) can be high quality, but he looks terrified in action most of the time.
I remain hopeful that Zen Ancelotti might prevail with him. The player has the skills; release his mind. It's my biggest hope with Ancelotti generally: he can banish demons and, like Gomes at his very best, he operates in his own time zone.
No panic.
Mike Gaynes
271
Posted 05/03/2021 at 21:51:24
Dave #269, word for word, that covers it for me.
He really did have a hell of a game at Anfield, didn't he?
But other than that, I too was completely disappointed in him long before the injury.
My only disagreement with your post is that I think we will have no trouble selling him to a mid-table Spanish or Portuguese team when the time comes. Such an elegant player will always have an appeal to a certain level of club (Getafe, anyone)?
Peter Mills
272
Posted 05/03/2021 at 22:00:35
Gomes is a strange one. Some of his passing has been magnificent in the past few games, and he has often been in the right place to receive the ball.
But he is slow when he does get it, is quite often dispossessed, and when he goes looking to retrieve the ball he usually manhandles the opponent to give away cheap free kicks in dangerous positions.
I suspect he is not good enough for the Premier League long term, but Carlo is getting what he can from him for now. He will have a role to play for the rest of the season. He would also be very useful in the early stages of European competition.
Dave Abrahams
273
Posted 05/03/2021 at 22:03:20
Mike (271), you could be right, other clubs in Spain and Portugal might want to sign him, the problem could be Gomes's contract has another three seasons after this one, he most certainly will not be offered the wages he is on here, reputed to be £80,000 per week, don't think he will leave here in a hurry if those wages are correct.
Andrew Keatley
274
Posted 05/03/2021 at 22:07:29
Dale (268) - I'm very happy for you to see what you see, and for me to see what I see. We really don't have to agree. But we're 2 and a half seasons in and Andre Gomes is a long long way short of what I hoped he would be when he first arrived.
Tony Hill
275
Posted 05/03/2021 at 23:06:49
Sometimes, the wheel just turns and God is with you. No reason, no rhyme. No matter what you do, however badly, you win because it is your moment.
Hints that might be us, this time round.
John Keating
276
Posted 05/03/2021 at 23:16:14
From day one I always thought, and said, that Gomes was the latin equivalent of Ray Wilkens.
After the one and only decent game he played for us we played midweek- think it might have been Newcastle- at home
We continually gave our midfield maestro the ball and almost every pass he made was sideways about 3 yards.
Think Mike's right he'd fit well in at a mid table Portuguese/Spanish club
Derek Thomas
277
Posted 05/03/2021 at 00:15:18
Like many before, looked good on loan, had a blinder in The Derby. My rs Brother i.L. said, if you don't sign him - we should.
Signed the contract, form dropped off... there's a surprise, got injured, struggled, recently showed the odd glimpse of loan-esque form...occasionally
Will basically do a Schneiderlin, Besic, Sandro, etc, etc a sit on his 㿼,000 for the next 3 yrs or whatever and kid many of his fanboys and girls by turning in the occasional bang average performance that, in its rarity, looks very good...until you take a hard look and really compare it to his previous 6,8,10, games of shite.
Oh and he's an absolute danger in the tackle anywhere near, or in his own box
Dale Self
278
Posted 06/03/2021 at 00:23:14
fanboys? you mean like the kid with cancer he visited and drove to an appointment?
Andrew Keatley
279
Posted 06/03/2021 at 01:40:15
Dale (278) - That's not a particularly constructive comment. Nobody is denigrating the character or compassion of Andre Gomes - he seems like a lovely bloke - but his performances on the pitch are what we are talking about, and it is there where he falls short.
Kieran Kinsella
280
Posted 06/03/2021 at 03:53:06
Dale Self
You've got to separate the man from the player. I'm a big fan of Stephen Naismith. He has a big heart, did a lot for the community, gave 110 percent every game and had some great moments for Everton. But as his move to Norwich showed, he wasn't good enough to be a top prem striker. I'll always view him as a great Evertonian and respect him as a good man but in terms of ability, skill set, impact he's in the mix with the Mike Newell's and Tomasz Radsinski's. Likewise Gomez, good guy, I've no doubt he gives his all, but he's not at the level we need
Danny O'Neill
281
Posted 06/03/2021 at 04:26:35
Tony @265, repeating myself somewhat, a Tottenham supporting work colleague bemoaned the fact we had singed Godfrey in the summer. I personally hunt paid much attention to him but my colleague is East Anglia based and was very envious we had snatched Ben.
Steve Brown
282
Posted 06/03/2021 at 04:52:24
Andrew @ 279, so Dale's post wasn't 'particularly constructive' but the post from Derek that prompted it was? Strange logic in operation there.
Gomes form fundamentally dipped when his leg got snapped in two places by Son. Physically, he has not been the same player since his return. But, to compare him to Schneiderlin, Besic and Sandro as players who stole a wage from the club is a pathetic comment.
Danny O'Neill
283
Posted 06/03/2021 at 08:04:47
**I personally hadn't paid much attention.
Apologies for the typos - up at 4 with the puppy!
Geoff Trenner
284
Posted 06/03/2021 at 08:08:34
Danny @ 281. Did Carlo have the hairdryer on 'very hot'?
Stan Schofield
285
Posted 06/03/2021 at 09:41:04
The debate about Gomes is an interesting one. On the one hand he can be an absolutely brilliant player, effective and extremely elegant on the ball. On the other hand, he can appear a liability, especially defensively. But there are ongoing similar debates about other players, such as Davies and Sigurrdson, and there have been similar debates about DCL, and it goes on.
But, it's very difficult to gauge individual talented players without looking at the overall team gelling, performance and results. To try to assess them in isolation seems a futile exercise. A player can look shite when the team is shite overall, and they can look brilliant when the team performs well.
The team is more than the sum of eleven individuals, and that's why managers are so important. It's why we've got Ancelotti.
In this respect, Gomes fits into Ancelotti's current tactical set-ups, and arguably so do the other players now that Ancelotti knows them better. That's why he chooses the ones he chooses, game by game.
Whether Gomes will fit in this way as time goes on and we recruit other players, nobody knows. But he fits at the moment, and that's all that matters. Ancelotti is working with what players he has now, to get results now. It's results today, not jam tomorrow, that is the important thing. And we seem to be progressing.
Alan J Thompson
286
Posted 06/03/2021 at 10:25:03
Sometimes, I think that we get stuck in to a player just for the need to.
Has anyone considered that Iwobi, stuck out on a wing as in so many games, might just be doing what he has been told to do? I don't recall that when we signed him that we were getting a right winger and I don't recall him playing as such for Arsenal albeit that is with minimal sighting of him at that club.
Similarly, would any of our midfield improve if there were more options both alongside and in front of them?
Let's be kind and think of it all as a work in progress.
Andrew Keatley
287
Posted 06/03/2021 at 10:45:58
Steve (282) - My point was that Dale's post was not adding to the discussion about Gomes as a footballer. Whether you agree with Derek at 277 or not, at least he was keeping to the subject of the in-game, on-pitch contributions of Andre Gomes. Does that explain my "strange logic" in more black and white terms? I hope so.
Paul A Smith
288
Posted 06/03/2021 at 10:47:31
I think Tony Hill touches on a point we can't prove but also feels close to correct.
I feel there is something there for us and we have rode some luck for a change, to be fair to the players they have stuck with it.
All I can say is we have to Cease the Moment Tony and hopefully keep making our own luck.
There is great incentive to try harder now.
Jeff Armstrong
289
Posted 06/03/2021 at 11:52:12
Wow just 288 comments after a win, Darren must be banned, the words spite, nose and face spring to mind.

Jason Li
290
Posted 06/03/2021 at 12:01:29
I agree with a lot of posters above on Gomes having no pass on.
In the summer when the (unfortunately technically very good but) weak and slow Bernard goes etc., and we get in someone who can stretch and cross down the right, and even the left like the fantastic left foot and engine of Dwight McNeil from Burnley, I think we'll see Gomes hopefully in the Paul Scholes role as the sprayer of passes like a quarter back. Right now, he's got nothing on left and right in terms of hitting a space where players run into.
Paul A Smith
291
Posted 06/03/2021 at 13:49:50
Gomes has been the same for ages. I could count on one hand the times I have been delighted with a 90 mins from him since the day he signed.
He might be an angel off the pitch and seems a nice fella but we are here to judge his football. It has been dreadful in comparison to what people rate him as.
God knows how hes got support here and its took certain players 3 years to gain support having given us more product in those 3 years.
The injury was horrible of course and I feel for his development in that respect but he's had long enough to be consistant now.
Iwobi too. I'm not having what position they start in. Both players have seen the ball often enough to have a tiny effect but even that hasn't come.
Iwobi's so called resurgence 3 months ago was inevitable as he couldn't really have been much worse.
These 2 are places we can improve and that is all I care about. While they play I want them to do well and there has been little choice but to start them recently.
Dale Self
292
Posted 06/03/2021 at 14:22:04
Andrew, my football point is that he does deserve a place in the squad. Your original point was that he should be nowhere near the club. I don't see you defending that here.
On my non-football remark, when one goes with fanboy or happy clapper you get a likewise response. Asking what the hell was meant by fanboy is fair game. I adequately made a football defense of Gomes's deserved place in this squad in other posts above as you know.
Let's keep it cool and not get weird, we've got different perspectives and a nice place here to exchange views.
Andrew Keatley
293
Posted 06/03/2021 at 19:07:11
Dale (#292),
I don't have any issue with any of your comments about Gomes as a footballer - and (as I said back at #274) I'm not looking to change your mind about things. I hope you can understand the distinction I was making between your analysis of Gomes the footballer (which I find constructive to the discussion) and your reference to his EitC work (which did not feel constructive).
You ask me why I am not defending my initial point about wanting Gomes out of the club, but I did not think that I had to bang that drum on every subsequent post. I don't see Gomes – or his performances – as being good enough. Yes, other players are also flattering to deceive, but I cannot see a world in which André Gomes is making consistent positive contributions to a successful Everton side. I hope I am wrong though.
John Skelly
294
Posted 06/03/2021 at 20:46:48
I planted a good few plants out on my balcony a while back but the only two in the same bucket that have started to bloom
They are blue and white is this a sign or maybe I am just drinking too much 😜 I know it's not football related but I will think of anything that will take my mind off the Chelsea game.
Paul Birmingham
295
Posted 06/03/2021 at 21:25:18
Good omens John, and whilst I am no Gardner's, with my limited knowledge, the bulk of plants I have planted or grown from seed, are hopefully, gonna go blue, white, yellow...
It hasn't always panned out, but that's gardening.
But Everton, is in context a driving force and as I've said a 100 times, its the hope that kills you, but some good signs and plenty of hope on the horizon, for
Evertonians.
On Monday it will need in view of this season, our finest 95 minutes so far, but the squad and spirit, looks galvanised and there's fight and guts.
All needed but I can see an ambush at The Bridge, ( on the pitch) on Monday, and I hope Everton, can stop the feeds to Chelsea's front l8ne, and get the basics right, stop the crosses, no standing off and put them on their bad side.
Carlo and his team will have a plan and I think, and I could be miles off the line, it will be a sting raid, in context of getting the killer moves and finish in when it's made.
Loads to be positive about and our forward line overall can do more with little than all the rest of the so called EPL top 6.
Now to see, who starts on Monday.
Looking forward and all stay safe, well and have a good weekend.

---
Add Your Comments
In order to post a comment, you need to be logged in as a registered user of the site.
Or Sign up as a ToffeeWeb Member — it's free, takes just a few minutes and will allow you to post your comments on articles and Talking Points submissions across the site.
---
© ToffeeWeb