Design revisions part of Bramley-Moore Dock update
Wednesday, 26 August, 2020
Everton will submit a revised planning application next month that will include architectural and design changes to the proposed Bramley-Moore Dock stadium.
The club's original planning documents were conveyed to Liverpool City Council last December, with a decision expected some time this year. Although the application was submitted just before the outbreak of the Covid-19 pandemic, Everton insist that their plans, which are very much in line with the Government's "build, build, build" mantra aimed at stimulating an ecomomic recovery, have been moving on apace.
The changes to the plans for Bramley-Moore Dock will trigger an additional review of the planning application which the Council are expected to complete by December this year which will likely involve a delay a start of construction of the project until April 2021.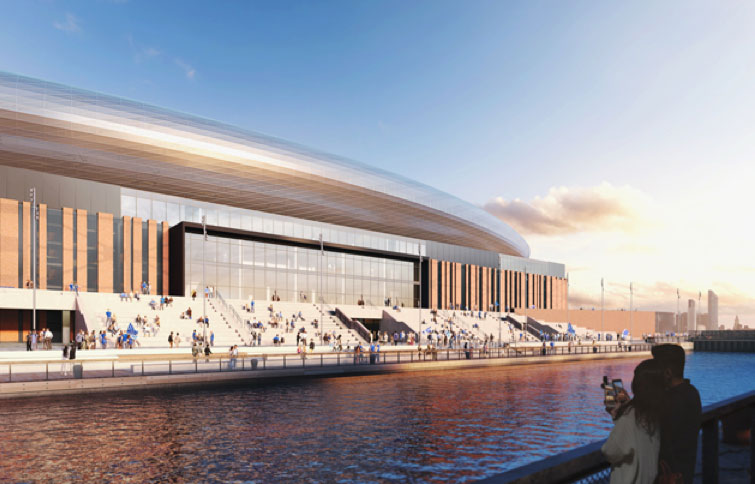 The proposed multi-storey car park has been removed from the plans and a stepped, river-facing plaza has been proposed instead
Everton have also confirmed the team that would be taking the project forwards, as previously revealed when original architect, Dan Meis, was dropped earlier in the summer.
Laing O'Rourke have been chosen as the contractors for the proposed build, and they have selected Pattern to be the technical architects in the process. Buro Happold and Planit-IE have been retained as engineering consultants and landscape architects respectively.
Related Audio
Matt Jones, Dave Downey and Sarah Halpin discussed the new ground on The Blue Room Weekly today
Colin Chong, Stadium Development Director for Everton Football Club, details the changes and the new path forward in a lengthy blogpost at the club's website.
However, objections to the club's proposed new stadium are being made to Liverpool City Council by Historic England and the International Council on Monuments and Sites (ICOMOS), a heritage body acting on behalf of UNESCO.
Historic England, together with ICOMOS, believe the proposals should be reviewed by the Government due to their concerns over the impact of Everton's plans to infill the dock could have on what is a UNESCO World Heritage Site and Conservation Area. Similar concerns have also been raised by the Victorian Society.
It remains to be seen how these tricky heritage issues will be resolved but some changes have been proposed, the most notable of which is the inclusion of a river-facing plaza on the west side of the ground and the removal of the multi-storey car park.
The West Quay will now become the car park with spaces for disabled supporters, with the solar panels originally planned for that location now moving to the stadium roof.
The brick façade has been simplified to make Archibald Leitch lattice work patterns more obvious in the brickwork and there will be a slight reduction in the stadium roof to meet LCC's guidance on World Heritage Site requirements.
The club stress that they do not anticipate that the changes will create any additional expense to the project which has been estimated to cost around £500m, with construction being financed by private investment.
---
Reader Comments (264)
Note: the following content is not moderated or vetted by the site owners at the time of submission. Comments are the responsibility of the poster. Disclaimer
Anthony Murphy
1
Posted 26/08/2020 at 15:52:25
Significant revisions to Bramley-Moore Dock stadium project — who would have thought it, eh?
Tony Abrahams
2
Posted 26/08/2020 at 16:01:28
Maybe we can find a bit of positivity in these new Bramley-Moore Dock stadium developments?
Michael Lynch
3
Posted 26/08/2020 at 16:43:20
I wouldn't want to be sitting at the top of the stepped plaza with the wind whipping in off the Mersey. Surely there's a better use for that space?

Barry Rathbone
4
Posted 26/08/2020 at 16:45:04
Needs a complete overhaul. The spaceship/air-con exhaust look will age terribly in a few years so good news if it results in a classier design.
The Meis effort was a typical "emperor's new clothes" story. No-one seemed to have the balls to say "Fuck me, that is absolute cack!"
Frank McGregor
5
Posted 26/08/2020 at 16:47:07
Looks like this is turning into another Everton saga for building a new stadium.
I suggest that we cancel the Bramley-Moore Dock deal and let the dock sink into the Mersey and leave the rest of the area in decay. Then the Heritage and other pseudo intellectual societies will be happy.
Nick White
6
Posted 26/08/2020 at 16:54:37
I think it looks great, get it built Everton!
Michael and Barry, maybe we could fill in some more of the dock and add some terraced houses and while we are at it just transport the existing Goodison Park design to Bramley-Moore Dock?
Lee Mandaracas
7
Posted 26/08/2020 at 16:54:42
When filling in the dock with Christ knows how much concrete, why would they not entertain an underground car park? Also, not convinced this new squat version of the design keeps the heritage of the dockyard buildings as the original did.
Either way, to reduce the height means a reduction in internal space so what has been lost inside to make this work better than it's taller predecessor?
John Chambers
8
Posted 26/08/2020 at 16:56:00
So it seems that Historic England and ICOMOS feel retaining a derelict space, that will probably start falling down of it's own accord through disrepair, is more important than investment to build a new (hopefully) vibrant sight to be used by thousands. It will also prevent the re-generation of Goodison to provide another area for housing etc. I'm sure there will be enough challenges anyway without these short-sighted fools.

Michael Kenrick
9
Posted 26/08/2020 at 16:57:59
Lee, they have the scope with the dock infill to accommodate the hight restriction by lowering the entire internal bowl without losing anything. I don't know if this is what has been done.
Peter Mills
10
Posted 26/08/2020 at 17:00:05
I think it's a stunning design, although how it will look in a few years time will depend much upon the quality of the materials used. Cost savings now will create problems rapidly in such an exposed location.
It seems unbelievable that the planning process could be moved away from the local authority to central government on the grounds of a disused dock being infilled. Whilst the site is clearly of historic interest, history is dynamic, new life for a disused piece of land is surely the best way to maintain its integrity.
Lee Mandaracas
11
Posted 26/08/2020 at 17:01:30
Thanks Michael, fair point.
Michael Lynch
12
Posted 26/08/2020 at 17:03:11
Nick @6 Actually, a few houses and flats around the stadium looking out onto the river would be boss. Put me down for a penthouse please.
Craig Walker
13
Posted 26/08/2020 at 17:04:22
I think it looks great and did when I first saw it. It's the only positive I've got as far as Everton is concerned. Mess this up and we might as well wave goodbye to ever regaining our place amongst the elite.
Nick White
14
Posted 26/08/2020 at 17:08:50
Michael, brill! Think there are already some going up further towards the city and the old Tobacco warehouse refurb is well underway. 👍 Hopefully a few decent pubs will also go up!
Joe McMahon
15
Posted 26/08/2020 at 17:15:41
When I was in my mid-30s, I thought I'd be sat in a new shiny seat by the time I was 40. When I was in my mid-40s I thought I'd be sat in it when I'm 50. Well, I'm 51 in a few weeks and now resigned to not being able to sit in that bloody seat until I'm 60.
Do we really need Archibald Leitch lattice work patterns? He was architect for many – not just Everton. I'm on my own here, I know.
Nick Page
16
Posted 26/08/2020 at 17:24:23
Historic England and ICOMOS must be absolutely riddled with red shite. If they're based anywhere south of the Watford gap it's an absolute certainty.
Keith Taylor
17
Posted 26/08/2020 at 17:42:22
It seems that things are still moving in the right direction. It is inevitable that some vested interests will try and intervene and cause delays during a planning process for something as big as this project, but why would anyone want to object to such a transformative project just because a disused dock is being filled in?
I think the communication from Colin Chong is clear and continues to make a good case for the project.
Answer the questions, get behind the project, and get it built.
Barry Rathbone
18
Posted 26/08/2020 at 17:49:44
There used to be a castle in Liverpool and this design missed an opportunity to commemorate city history with a gargantuan castellated edifice built on the banks of the Mersey.
Unesco would have loved it and a Rupert's tower at each corner with a blue liver bird overlooking the river it would been pure Everton glamour.
Add a couple of canon pointed at Anfield from the inland facing towers and you have perfection.
Cheap build as well being essentially a rectangular box.
Jimmy Hogan
19
Posted 26/08/2020 at 17:51:55
Can't we just scrap it and go for mock tudor?
Justin Doone
20
Posted 26/08/2020 at 17:52:58
Good news. It's still moving forward.
I understand the need for conservation but have they seen the crap that has already been allowed to be built around it?
It's currently an unused piece of prime retail space that is being left to rot under a pile of bird sewage.
I hope the government do get involved and provide some funding for it whilst telling the other organisations to stop wasting important funding in needless meetings and legal chit chat.
Keith Gleave
21
Posted 26/08/2020 at 18:18:35
Get the fourth grace built.
Stephen Vincent
22
Posted 26/08/2020 at 18:22:03
You're not Joe #15. I can't understand why the new stadium has to have the Archibald Leitch lattice work – surely that nod to history should be part of the Goodison Park project. But it's not a deal breaker. Is it?
I had dealings with English Heritage a few years back and they were absolute pedantic pricks.
Didn't Barca have similar issues with the Camp Nou, which is why 20% is below ground level?
Jerome Shields
23
Posted 26/08/2020 at 18:31:21
Historic England and ICOMOS could be awkward enough.
Bobby Mallon
24
Posted 26/08/2020 at 18:33:25
God when will people stop moaning, it's a classy looking brand new stadium much better than Goodison. Just be happy
Ray Said
25
Posted 26/08/2020 at 18:38:39
I had dealings with English Heritage a few years back.... I still have bad dreams about it. We need to stick a thatched roof on and have steam-powered engines to transport fans to meet their approval.
Tony Everan
26
Posted 26/08/2020 at 18:43:00
Peter 10, excellent point about the quality of materials. It could be more economical long term to pay the premium for quality that weathers better and gives the stadium a bespoke, quality look to it. The detail can make all the difference.
John Chambers
27
Posted 26/08/2020 at 18:59:52
Here's what the Historic England site says.
https://historicengland.org.uk/whats-new/statements/everton-fc-new-stadium/
The last paragraph makes it appear they have already made their mind up and want it to be "called in" by the Secretary of State. I suspect if that happens the best we can hope for is a long delay.

Patrick McFarlane
28
Posted 26/08/2020 at 19:22:58
John #27,
I agree it does seem certain to be called-in, whether, this Tory government is of a mind to scupper the scheme in the current climate is open to debate as they can be contrary in these matters, particularly for Northern schemes and Merseyside in particular.
Bottom line is that we will have to wait even longer to begin the project and we could be looking as far as 2024-25 before we have a chance to sit in the stadium. It would seem another renewal of season tickets will have taken place before we will know whether the ground will get the go ahead or not. My concern is if it does get rejected, what will the club do then?
However, we consider that the proposal to infill the dock would result in substantial harm to the significance of the Grade II listed Bramley-Moore Dock and cause harm to the World Heritage Site.
Due to the impact of the proposals on a World Heritage Site, which has the highest level of heritage protection and is internationally significant, we think that this application should be determined by the Secretary of State and will ask for it to be called in for his determination. We have also advised that the application should be refused, unless the decision-maker concludes that the public benefits would outweigh the substantial harm to Bramley-Moore dock and the harm to the World Heritage Site which the proposals would cause.
Don Alexander
29
Posted 26/08/2020 at 19:43:45
Thanks for the link John (#27). Having read it, I'm bemused by what Historic England might find acceptable on what they call this exceptionally important site.
If they tear their eyes away from the 19th Century and look at the past forty years they'll have seen desertion of the site, consequent and increasing delapidation as a direct result, and absolutely no statement project to anchor the development of more infrastructure by way of leisure, retail and housing development.
The whole redevelopment of the North Riverside will need an axle around which every other business can revolve, otherwise it'll likely end up as an endless smear of precincts, never to one day become historically significant in its own right.
A quality stadium may have the Historic England of 2120 going ape when someone in that future time suggests Everton's Riverside stadium is no longer fit for purpose.
Christine Foster
30
Posted 26/08/2020 at 19:50:56
It's an unused hole in the ground next to a waste treatment plant in a run down part of the city in dire need of regeneration. I know it only too well as my family and I come from the area.
Whilst this is an advisory body of the UK government, the arbitrary statement to oppose the (any) development is outrageous and is disingenuous to the people of the area, the development of derelict site now or in the future. It's a derelict hole in the ground filled with water, unused and unsafe.
If English heritage (now Historic England) had been so concerned, why did they not block the offensive sewage plant next door to it?
Their statement indicates that nothing the club does will satisfy them and lead to more delay with cancellation a distinct possibility. Their ultimate aim. So we await revised planning permission and for it to be called in for a decision by the government, hardly bodes well.
Brent Stephens
31
Posted 26/08/2020 at 19:58:20
Ray #25 "We need to stick a thatched roof on".
Ray, sounds like a craven decision to build a cottage. All we'd need is an appropriate name for it.
Dave Abrahams
32
Posted 26/08/2020 at 20:05:03
Christine (30), good post and good description of the area all around there. In fact, if Hitler's planes had dropped a couple of bombs on the site, they would have improved the look of it, as long as no-one was killed.
Bobby Mallon
33
Posted 26/08/2020 at 20:10:08
Well, let's start a petition to get it built and the area regenerated. How do I go about it?
Paul Smith
34
Posted 26/08/2020 at 20:14:00
Christine, the offensive sewage plant is definitely in the public's interest.
David Pearl
35
Posted 26/08/2020 at 20:14:02
Does anyone know if Wirral based fans will be able to take a ferry across?
Alan Rodgers
36
Posted 26/08/2020 at 20:16:19
Well said Christine @30. Yet another bump in the road for EFC to negotiate.
The only thing that cheered me up today is the news that Pinnochio has been dropped by Sky. Too much to hope he will be replaced by an ex-Blue?
Jay Wood
[BRZ]
37
Posted 26/08/2020 at 20:17:42
John @ 27 and Patrick @ 28.
Thanks for the link and comments.
The very first sentence of the Historic England article relating to Everton's new stadium read as unnecessarily saccharine to me:
'Liverpool's docks were the heart of this incredible city and the principal source of its spectacular wealth.'
No mention of the fact that Liverpool has not been a full-blown working maritime port for 50 years.
At least they go on to acknowledge the importance of football to the city and that HE have had:
* 'extensive and productive discussions with the Club' * 'that Everton want to ensure a new stadium 'is sensitive to its surroundings and of a standard of design respectful of its context'
* 'that the club made positive enhancements to the stadium design over the summer'
Yet still they conclude as they do, as reported by Patrick.
The issue for them is the infill of BMD, harmful as they consider it to be to the sites Grade II listing and the docks World Heritage Site listing.
They are very explicit, advising that '...the application should be refused, unless the decision-maker concludes that the public benefits would outweigh the substantial harm to Bramley-Moore dock and the harm to the World Heritage Site which the proposals would cause.'
My challenge to the above is this:
What are the current 'public benefits' to the good citizens of Liverpool (and further afield) given the present state and restricted access to large swathes of the docks as they have slowly decayed, unworked, unseen, unknown, unappreciated and inacessible?
I'm sure I'm not alone in remembering in the 70s and 80s the Royal Albert Dock at the heart of the city being boarded up and abandoned. The dock itself silting up with stagnant water.
But look at it today. A vibrant day and night life. A cultural and culinary centre.
Transformed by tasteful development around a dock that was never going to return to supporting the purpose as to why it was originally built.
Everton FC with its very extensive research and canvassing before submitting the planning application is very much part of the fabric of the city. As such, it is clearly doing its utmost to embrace the heritage of the listed docks, not eradicate it.
Being called in to be reviewed by the Secretary of State is one more hurdle we don't need in further delaying this project.
Hopefully, this government, desperate as it must be post-Brexit, still-in-Covid-19, to kick-start and stimulate the economy will see the benefits of our BMD stadium far outweigh the negative the likes of Historical England attempt to portray.
Mike Benjamin
38
Posted 26/08/2020 at 20:39:46
Joe Anderson indicated very early on in this process that a threat to World Heritage Site status would not prevent the project. With the economy on its knees, it is unlikely the government would block a project of this size. Even this bunch of useless wankers wouldn't be daft enough to do that!
Len Hawkins
39
Posted 26/08/2020 at 20:43:00
On the side of the Mersey could a row of gallows be erected in honour of the fans favourite line "We'll hang the Kopites one by one on the banks of the Royal Blue Mersey"
Colin Glassar
40
Posted 26/08/2020 at 20:46:58
I think it looks alright but is anyone really surprised that some nerdy sod has stuck his nose in it? Kings Dock part II?
Jonathan Tasker
41
Posted 26/08/2020 at 21:38:15
On this subject, I have said all along that the supposed new ground will conveniently fail on planning or finance or both. Whilst Kenwright is still involved, it will fail.
Nothing in this statement from the club conveys any positivity whatsoever.
What's the club's motivation for doing this? They want to keep stringing you along and spending money.
But don't worry. There's a brand new third kit.
Martin Berry
42
Posted 26/08/2020 at 21:42:51
A great design and I love the look, it will be truly iconic; however, I have one question that perhaps someone can answer.
Originally, we had our club name in big letters at the south end of the stadium but that has since been removed. Can someone tell me why we have no sign telling anyone this is Everton FC, surely we will be promoting ourselves as tourists will visit and not know the obvious etc.
John Raftery
43
Posted 26/08/2020 at 22:10:38
One surprise here is that it has taken forty one comments for someone to blame Bill Kenwright.
The default position of non-departmental government bodies like Historic England is to say 'no' and pass the matter up the line to ministers. Who can blame them especially in the present political environment in which we have a shambolic government only too happy to pin blame on public servants for their own incompetence?
Bill Watson
44
Posted 26/08/2020 at 22:29:01
One thing that jarred with the original design was the multi-storey car park right on the river front. Good to see that's now gone.
Historic England and ICOMOS need a serious head wobble if they think a virtually unused, semi-derelict dock, with no public access, is preferable to what is planned.
Tony Everan
45
Posted 26/08/2020 at 22:33:22
Well said, Christine 30, I know it well too.
As young teenagers, we used to roam the docks on our bikes many days, and sometimes (secretly) overnight, fishing off the dock walls. It was in a terrible and derelict state then, 40 years ago... my enduring memory is of empty old warehouses and seagull crap everywhere, decay. Any sound and sympathetic investment needs to be grabbed and celebrated.
I just can't fathom this point of issue they are raising, it seems like they are stopping it on a technicality. What's motivating that? I would hope the bigger picture can be looked at as soon as possible and this puerile pedantry is put to bed.
Jack Convery
46
Posted 26/08/2020 at 22:50:12
A Tory Secretary of State over viewing a football stadium planning application in a Labour stronghold... hmmm.
Anthony Murphy
47
Posted 26/08/2020 at 23:02:04
Genuinely I would like to know – what alternative plans would Historic England prefer? Have they ever outlined their preferences for the docks and surrounding area?
Also, if the council/government choose to ignore their grievances for all the positive reasons outlined here and elsewhere, can't we just build without their restrictions? For example, why lower the height of the stadium? Just crack on and do what is right for the city and it's people – if this means falling out with UNESCO et al, so what?
John Raftery
48
Posted 26/08/2020 at 23:06:53
Jack (46),
I share your concern. We can only hope the Secretary of State for Digital, Culture, Media and Sport sees the matter as neutral from a political standpoint, ie, there are no votes to be won or lost whichever decision is made.
Raj Parbat
49
Posted 26/08/2020 at 23:25:54
Not sure if it would help but, from some great posts and valid points, if anyone is interested in contacting historic England and putting their views known and what we think, then perhaps email here;
customers@HistoricEngland.org.uk.
On the subject of the stadium design itself, I do like it but, from looking at it on the People's Project app, I just feel inside the stadium it's a little bit of a let-down.
I feel there's too many entry/exit points on the lower east stand and the ones behind the goals look far too close to the pitch, and both spoil the look for me. Maybe it's just me, hope not!
Brian Wilkinson
50
Posted 26/08/2020 at 23:34:13
I hope we get the safe standing sorted with the build, one thing is for certain, we will not be adding height for any future build extensions.

Will Mabon
51
Posted 26/08/2020 at 00:03:25
Jack, and in
Liverpool
too. It's a long time ago, let's hope the echoes of the 80s have faded out of significance in this activity.
This is simply the various bodies of government, advisors and others doing their thing with a little muscle flexing, as is often the case, and putting on the show. Politics. The Machine. The decision and outcome is 90% likely already known; this is just the dance.
When the "Historic" word enters the game, the same thing happens whether it's a cottage rebuild or a site across many acres. Assets are wilfully abandoned essentially, for decades, dissolving into eyesores, wastelands, danger zones. No-one gives a damn. And there's "No money".
Someone comes along willing to make a huge investment into an undeniable improvement by all reasonable measures. Suddenly, they all come out of the woodwork, wanting to monitor the colours and the door handles to be used.
Anyway, it could certainly be worse than so far. See that estimate, £500M? Here we go...
£625-675M when complete... that's my guess.
Will Mabon
52
Posted 27/08/2020 at 00:05:58
"Genuinely would like to know - what alternative plans would Historic England prefer? Have they ever outlined their preferences for the docks and surrounding area?"
Anthony, I haven't checked but I doubt it. They usually don't come out of their coffins until someone else decides to take action.
Justin Doone
53
Posted 26/08/2020 at 00:07:48
The plans mention the future ability to reverse engineer the whole project to reuse the World Heritage Site as an unused dock whilst remaining a dangerous eyesore for future generations to ignore. I would hope at some future point we should be able to expand the structure should it all go ahead.
I did hear Bill was sorting out a few panto tickets to Jack and the Beanstalk but historic England have declared they are concerned that an unauthorised use of magical beans to grow a giant unsightly beanstalk must be called in. It is unknown as to whether the millions of beans, jobs and revenue it will produce are in the public interest.
I hope the government cut their funding for wasting everyone's time whilst being of no use as to how else they could restore and or reuse the dicks... (sorry, government typo) docks.
Bob Conway
54
Posted 27/08/2020 at 00:08:24
I reckon it looks great. Not so long back we could have been lumbered with the Tesco Clubcard stadium, built out of Lego at Kirkby.
Bring it on!
Geoff Cadman
55
Posted 26/08/2020 at 00:16:02
Christine #30 the World Heritage site ends at Bramley-Moore Dock; the Water treatment plant is outside so not an issue.
Does anybody know how the if-needed expansion to 62,000 was future-proofed. Was the roof higher than needed to allow an extra ring of seating? Lowering the bowl into the dock was not an option due to the risk of water ingress and flooding.
Gary Willock
56
Posted 27/08/2020 at 00:20:09
There are always those who like twig fires, pig shit pillows and darned socks to feature prominently in the vision of our cities future.
Unfortunately for the hippies, most of us locals already know that we are already light-years behind the Mancs, Brummies and London towners.
Time for city-wide change. With Everton at the forefront of our renaissance. Keep moving forward, Blues, the Tesco own stadium is a distant bad dream. Coyb!
Will Mabon
57
Posted 27/08/2020 at 00:25:33
Justin, I think expansion would be all but impossible, looking at the latest impressions of the design, permissions unconsidered. At least apart from vertically, which in light of recent events would be unlikely.
I haven't fully decided what I think of it all yet, but there seems very little spare clear approach and circulating space around three sides of the stadium, however the finishing details are laid out. Water's edge after all...
Will Mabon
58
Posted 27/08/2020 at 00:27:07
Gary - great first paragraph!
Derek Cowell
59
Posted 27/08/2020 at 00:57:30
It's going to be the best stadium in the Championship unless we sort the team out!
Incidentally weren't the so-called Three Graces built on infilled docks which eventually became the World Heritage waterfront! Without those infilled building projects, we would have no World Heritage status!
Will Mabon
61
Posted 27/08/2020 at 01:05:37
"
Incidentally weren't the so-called Three Graces built on infilled docks which eventually became the World Heritage waterfront! Without those infilled building projects, we would have no World Heritage status!
"

Derek, please stick to and work within, only the officially sanctioned & cited PR elements.
Christine Foster
62
Posted 27/08/2020 at 01:18:01
Geoff #55,
Yes, quite right, it is on the very outer edge of the World Heritage Site; however, the water treatment plant is within the buffer zone which, from their (ICOMOS) articles:
104. For the purposes of effective protection of the nominated property, a buffer zone is an area surrounding the nominated property which has complementary legal and/or customary restrictions placed on its use and development to give an added layer of protection to the property. This should include the immediate setting of the nominated property, important views and other areas or attributes that are functionally important as a support to the property and its protection.
So, given that little gem, in what context can the treatment plant ever be thought of as complementary or offering protection to the site? In which case, why would it even be in the buffer zone makes a mockery of the site in the first place!
Given their stance, I fail to see any regeneration activity that would be acceptable to this lot. Whilst we should keep our heritage intact for future generations, at what point do we sacrifice everything else as it becomes an eyesore, dangerous, and a blot on the landscape? No developer or council will touch it with a barge pole and the decline will only get worse.
Integrate history into the future with taste and vision, that's what Everton have done... importantly the consequences for the city as a World Heritage Site is not dependent on Bramley-Moore Dock alone but on the whole Liverpool waterfront developments from Bramley-Moore Dock to the Pier Head.
I would say that EFC have put together an excellent plan, design and opportunity for the future in keeping with the World Heritage Site. If this is rejected, then the whole of the Liverpool Waterfront development will be dammed. That's what's at stake for the developers and the council. I know whose side I am on, just peeled the English Heritage sticker off my car.

Derek Thomas
63
Posted 27/08/2020 at 01:38:24
Is it;
A) Dan the man's fancy architectural flourishes binned for more practical construction methods.
Or
B) This carpark thing and the other stuff is going to cost How Much?
With these things its almost always...unless the Govt. is spending your money for something they want...You never get all three from;
Quality, Time or Cost.
The best you can hope for is some permutation or ratio of those three things.
As in...
You can have quality - but it won't be cheap.
You can have it less expensive - but it mightn't be top top quality.
You can have it built quickly - but it'll cost you...and we might have to cut a few corners.
Anybody who has built so much as a patio or a car engine will know, it always takes longer, it always cost more and there is always a snag or two that causes you amend you original plan and put in a cheaper part
Its not unexpected, well by me anyway, its always a compromise game.
With the added bonus of pushing it forward in to maybe more settled times.

Edit; As for World Heritage, they can take a flying leap off BMD.
They don't put in 1 Brass wazoo. The just say other people should.
As Christine said, what do they want? Just let it rot.
Will Mabon
64
Posted 27/08/2020 at 02:08:45
Christine, the land nominated as the buffer zone is the functioning item, not the treatment works. They just happen to be within the buffer zone.
Jay Harris
65
Posted 27/08/2020 at 02:12:08
For all the excellent counters by ToffeeWebbers to the suggestion of a call in. I am sure the club, builders and Colin Chong have an expert to make all these points and I'm sure a lot of the Tory contributors (Peel Holdings?) will exert some influence moreso than a bunch of old farts who meet once a month and rejoice in the era before cars, computers and progress.
Will Mabon
66
Posted 27/08/2020 at 02:18:19
That about sums it up, Jay. If Peel Group as it now is, is on board, it will happen.
Bit more dancing, then off we go.
Bob Parrington
67
Posted 27/08/2020 at 03:28:02
Please don't have these Heritage fuckwits put on a boat to Australia. We have enough of them here already.
OMG, I made a point of walking around the area when I was over in UK last September. It is ridiculous to make such a messed up, disused dock area a heritage listed site. From which monkey do these people (trying to be polite) get their brains?
Alan J Thompson
68
Posted 27/08/2020 at 05:50:02
Did the sewerage plant next door, the Container Terminal, Albert Dock and the London docks/Canary Wharf redevelopment have these so-called heritage problems?
Given the statues that are being pulled down as they might be reminders of past wrong doings, could the same logic be applied here? To the barricades, lads & lasses, before the gunboat arrives!

Bob Parrington
69
Posted 27/08/2020 at 06:59:48
Good point about Canary Wharf, Alan. I was there too last September. The development along the Thames is massive.
Michael Lynch
70
Posted 27/08/2020 at 09:28:04
There's no way the current government would turn this down if it's called in. In fact, politically, we couldn't be in a better position – they have made it clear that the UK should be building as much as possible, and that current planning rules are far too restrictive.
This scheme will create huge amounts of jobs (and tax income), it's in the north, and it's worth hundreds of millions of pounds in contracts. The government will absolutely love this scheme, and throw their weight behind it.
Historic England and the rest are just going through the motions in objecting. As they themselves say, the benefits (everything) will have to outweigh the negatives (filling in a hole in the ground on a site that's been derelict for decades), which they clearly will do.
Eddie Dunn
71
Posted 27/08/2020 at 09:47:08
Hope they remember the huge pump they will need underneath to keep the Mersey out. This is ignoring the elephant in the room, ie, the predicted rise in sea levels over the coming decades will leave that area of coast underwater.
Goodsion is about 200 ft higher - the heart of the club that will soon become something very different. I don't trust Moshiri and his goons to make the right decisions on anything. His choices have so far been embarrassing.
The stadium is going to be too small, freezing cold, and the pitch will have a swirling wind vortexing the ball and all of the food wrappings up into the Liverpool sky. The surroundings will be knee-deep in river water in 20 years.

Tony Waring
72
Posted 27/08/2020 at 09:57:17
One of the most exciting aspects of the "artistic impression" is the fact that the dock road appears to be totally free of potholes and cobbles! I assume they have been removed by Historic England for preservation. Future generations of scousers will be delighted!
Barry Rathbone
73
Posted 27/08/2020 at 10:32:58
Eddie Dunn, don't worry about massive sea-level rise – it's another terror myth from the "dangerous" (Obama) man made climate change loons.
Bill Watson
74
Posted 27/08/2020 at 10:51:52
Eddie #71
Rising sea levels have been factored into the design.
Barry #73
The loons are the ones who believe climate change is not man-made and spread the extreme right-wing fake news rubbish, as per your link.
Barry McCafferty
75
Posted 27/08/2020 at 10:58:12
Barry #73
Sounds like one of King Donald's conspiracy theories that!
Ian Horan
76
Posted 27/08/2020 at 11:38:40
Interezting view by Eddie D, building in derelict unused dockland as per Middlesborough, Sunderland and Southampton, I wonder if they had similar planning and historical issues? Probably not as their stadiums and clubs aren't an irritant to our RS neighbours.
Now Eddie, the global warming impact on rising sea levels, yes they do exist and it will effect a huge sway of the world I think football and stadiums in particular will be the last thing to worry about, also the land is on a lease from Peel Holdings.
Vortex and waste paper blowing all around the City, come on surely there is more important issues to complain about, notably the latest change to a stadium that has been through a fantastically managed consultation process, that's my concern. Why would we even consider a variation at this stage? Get the original application through then, once on site, apply for a variation to the design.
My concern also includes why create a potential delay opportunity. Should we just scrap it and insist the Council give us the same planning permission for Stanley Park? Now that's a debate for another time.

Alasdair Jones
77
Posted 27/08/2020 at 11:47:29
I am not surprised by the threat of call in by Historic England. If they are successful in their ambitions, then the Secretary of State will proceed to make his own determination of the application based on the existing submissions and any others sent to him in response to the Call-In Notice.
In the alternative, he could decide to appoint an Inspector to hear the arguments in open debate at a Public Inquiry. Either way it would seem that delay is becoming more likely and will be in the order of 12-18 months. The longer time attaches to holding the Inquiry and waiting for the Inspector to report to SoS with his recommendation. Final decision will be with SoS.
As so many rightly observe we are edging towards the political dance that always surrounds controversial schemes. It is to be hoped the City have every intention to approve the application. That being the case, they should start (maybe they have already) engaging the government about the pressing need for the approval of the scheme because to do otherwise would set back the Council's regeneration ambitions for this part of the City resulting in continuing decay and economic decline.
This would be contrary to the Governments own policies about the northern Powerhouse and their much-vaunted rebalancing of the economy. In other words, both the Club and the City have an opportunity to box them into a very awkward corner. At that point, the dance should end in our favour. However, don't be surprised if the dance includes the call-in of the application.
Barry Rathbone
78
Posted 27/08/2020 at 11:57:04
Bill Watson, If you have empirical evidence to demonstrate the claim "climate change is man-made and dangerous" (Obama) please share with the class. The fact the Maldives have NOT sunk beneath the waves as per one of the lunatic claims should give you pause for thought.
If you cannot it will confirm you are another "reason via headline" merchant.
Will Mabon
79
Posted 27/08/2020 at 12:18:17
Agree, Barry @ 73.
Until someone can show me how an element comprising 0.038% of the atmosphere (1 part per 2,500) can have any meaningful thermal/insulating effect amongst the other 99.962%, I'll worry about tangible things.
Eric Myles
80
Posted 27/08/2020 at 13:37:57
Haven't they changed the orientation also? I thought the front aligned with the incoming supporters and the back overlooked the river? This picture shows the supporters entering at the side of the stadium.
Eric Myles
81
Posted 27/08/2020 at 14:03:27
Jay #65, the Club also had an expert advising on Desperation Kirkby, and look how that turned out.
Eric Myles
82
Posted 27/08/2020 at 14:05:36
Lee #7, they won't fill in the dock with concrete, that would be too expensive, they'll use dredged sand from the river.
Barry Rathbone
83
Posted 27/08/2020 at 14:21:00
Will Mabon, it's even more ludicrous when you consider the man made portion of your figure (ie CO2) is not definitively known but thought to be a wholly irrelevant 3-5% of the number.
Politicos, media and vested interest researchers are coining it leading the gullible into a battle against fuck all as a percentage of fuck all.
Whenever anyone asks for empirical evidence of man made climate doom, the rush back to the echo chamber is akin to the start of the Grand National.
Dreadful people thieving public funds that should be going to genuine problems like cancer research.
Got no time for the crooks.
Eric Myles
84
Posted 27/08/2020 at 14:30:16
It's ironic that the 'historic' part of the dock is underwater and can't be seen or used and won't be missed.
And I doubt most people realise it even exists.
Nick White
85
Posted 27/08/2020 at 14:52:59
Michael #70. 100% agree! The government are desperate for development and the benefits of this are far too great to decline.
Michael Kenrick
86
Posted 27/08/2020 at 14:53:04
Barry,
It looks like there might be more up-to-date (2020) and widely accepted scientific studies that indicate slow but accelerating rates of sea-level rise, consistent with various model predictions and measurements. For example:
Sea levels rose faster in the past century than in previous time periods
I would imagine the site has a life expectancy of 75 to 200 years before it really becomes unmanageable, if at all. At worst, it means rare flooding at spring or surge tides, becoming more frequent as the decades pass. But the tide still goes out and the range is something like 30 feet.
Jay Harris
87
Posted 27/08/2020 at 15:08:41
Fair point Eric but that wasn't called "Desperation Kirkby" for nothing.
Kenwright and his cronies pushed it like hell through greed rather than reason.
I would hope that Bramley is much more professionally managed and supported by the local council which DK wasn't.
The only possible fly in the ointment for me is a Tory government vs a labour council.
I would hope that Colin Chong is far more professional than the guy who produces the occasional show.
John Pierce
88
Posted 27/08/2020 at 15:17:35
Eric, 82. How apt our new stadium should be built on sand.
Will Mabon
89
Posted 27/08/2020 at 15:27:07
Barry, #82, it's a huge subject in itself for another stage but suffice it to say, we appear to be on the same page. Welcome to the realities of Globalism – more to follow.
Will Mabon
90
Posted 27/08/2020 at 15:31:10
Eric, @84 - I think I might be one of those people. Tell me more!
Stephen Vincent
91
Posted 27/08/2020 at 15:49:47
The following is from the Liverpool University Press / Historic England web site. Given that their objection materially affects the people of Liverpool's ability to enjoy the historic waterfront (without this development Bramley-Moore Dock remains a derelict site), from the original plans large parts of the historic dock have been preserved and in some cases incorporated into the new stadium site. Aren't their objections at best contrary to their mission statement and at worst completely hypocritical?
Historic England is the public body that helps people care for, enjoy and celebrate England's spectacular historic environment, from beaches and battlefields to parks and pie shops. They protect, champion and save the places that define who we are and where we've come from as a nation. Working with communities and specialists they share their passion, knowledge and skills to inspire interest, care and conservation, so everyone can keep enjoying and looking after the history that surrounds us.
John Hudson, Head of Publishing for Historic England, said: "We're delighted to have entered into this partnership with Liverpool University Press which we know will be a good home for our list and for our fine authors of books already published and those to come. LUP has a proud 120-year history yet is renowned for its innovative approach to commerce within the not for profit sector, and will prove to be a great cultural fit for Historic England.
"LUP was our clear choice from a number of serious applications to partner with Historic England, which speaks volumes for the reputation and quality of the list."
Anthony Cond, Managing Director of Liverpool University Press added: "Historic England Publishing is amongst the most well-known and highly-regarded imprints in heritage publishing. Building on the outstanding efforts of John Hudson and his team, LUP will further grow the readership for the list in print and digital formats, and expand and enhance the editorial focus working in harmony with Historic England."

Eric Myles
92
Posted 27/08/2020 at 16:36:25
Will #90, it's the dock basin retaining walls that are listed.
Bill Watson
93
Posted 27/08/2020 at 16:52:11
Barry; the classic response of conspiracy theorists is "show me the evidence". They then provide a link that 'proves' they are right and everyone else is wrong and a sheep. In your case, your 'proof' against global warming is the ludicrous assertion that the Maldives hasn't sunk.
The Maldives hasn't sunk and isn't actually sinking. What is irrefutable is that the water level is rising and they are experiencing unprecedented floods. Eventually it will be under water but, at the current rate, that will take many decades. Also irrefutable is that most of the earth's pollution is man-made.
Conspiracy theories on global warming are propagated by über right neoliberals to convince the gullible that global warming is a natural phenomena and not the result of them plundering and polluting the planet.
All logic is reversed so that many conspiracy theorists see Trump as the only one who will speak up for the little man/woman.
Mick Davies
94
Posted 27/08/2020 at 17:07:36
Did UNESCO or any of the other flat earth weirdo's complain about the Echo (or whatever it is now) Arena being built, a lot nearer to the 3 graces than Bramley Dock? Or that concrete monstrosity, FFS???
Tony Waring
95
Posted 27/08/2020 at 17:14:48
Michael (86) it's a relief to know that the whole scheme has a life expectancy of 75-200 years. That just about gives us enough time to win the Premier League!
Alan Rodgers
96
Posted 27/08/2020 at 17:18:43
Eric @ 80 you're probably right.
The Devonshire Dock Hall at Barrow was built on land that was created by infilling part of Devonshire Dock with 2.4 million tonnes of sand pumped from nearby Roosecote Sands.
The building is roughly the size of a football stadium and I would say its considerably heavier when 2 or 3 submarines are inside. It's been standing for nearly 40 years so no worries for us.

Alan Rodgers
97
Posted 27/08/2020 at 17:58:05
Should say no worries for us!
Barry Rathbone
98
Posted 27/08/2020 at 19:06:13
Michael,
The piece you cite is not a new study it is the usual blog tantrum by those upset at scientists exposing the "accelerated sea level rise" fantasy.
Referencing a computer modelled reconstruction from 2006 it simply fits the climate doom rationale of thinking models are fact. Climate models can't even hind-cast known trends.
But even if someone "believes" their conclusion is hardly going to impact our proposed riverside abode
"there has been a statistically significant acceleration since 1880 and 1900 of 0.009 ± 0.003 mm year−2 and 0.009 ± 0.004 mm year−2, respectively."
Political patsy, ex Pres Obama, must have read this and thought "wtf??" and bought his mansion on the coast. The climate doom religion is empirical evidence bereft bunkum.
Will Mabon
99
Posted 27/08/2020 at 20:54:38
Eric @ 90 - thanks.
Geoff Cadman
100
Posted 27/08/2020 at 21:11:21
Christine, thanks for the info regarding the buffer zone.
I did some checking and the basin walls at Wellington Dock are also Grade 2 listed and protected by English Heritage.
The treatment plant upgrade is supported on pylons sunk on average 50 feet into the base of the dock. The dock was filled with sand to protect the walls after removing 30,000 m³ of silt. I don't think there is any weight on the walls themselves.
As the extension to the plant was a necessary upgrade to keep up with new EU standards, that is probably why it was passed. I doubt a football stadium will be given the same leeway as protecting the environment.
Maybe access to view the walls can be included in the stadium design, like the dock at Liverpool 1. I hope this can be resolved quickly before escalating costs kill the project.
Regarding the World Heritage Site in general apart from bragging rites.

Will Mabon
101
Posted 27/08/2020 at 21:12:13
Bill @ 93:
I've never spoken or listened to an über right neo-liberal in my life. Sounds like an unpopular beast. I've spoken with many scientists though.
I could coin a political label for the people that are driving the charade, as is the wont of most when trying to oppose anybody, but then that just diverts the argument.
Most people in my experience actually don't give a second thought to the politics when they're studying the facts.
Michael Kenrick
102
Posted 27/08/2020 at 21:12:48
Barry,
You don't seem to have much respect for the work of specialists and experts in the field who, I feel sure, know far more about the subject than you or I.
How are getting on with the flat earth business? I hear that's gaining in popularity too amongst the smart set. After all, it looks flat, doesn't it?

Will Mabon
103
Posted 27/08/2020 at 21:16:52
"
Maybe access to view the walls can be included in the Stadium Design Like the dock at Liverpool 1
".
That would be nice. It might not be feasible but why not suggest it?
Will Mabon
104
Posted 27/08/2020 at 21:30:29
Rather snarky, Michael.
Sometimes it's wise to be a little informed before blithely giving respect. And to have an idea of the machinations that illicit these movements.
The connection you cited to "Flat earth" shows exactly how the simplistic put-down works. Easier to mock than learn. Hmm... I wonder how that flat earth thing got attached to the concept of questioning global warm... er, I mean "Climate change". (Damn that recalcitrant warming, just where is it)
Mike Gaynes
105
Posted 27/08/2020 at 21:42:44
Barry, you might want to stick to your own shores with your BS.
Obama's mansion is on a knoll about 40 feet above sea level and perhaps 100 yards from the water. He's in no danger from ocean rise.
And as for him being a political patsy, love seeing your expertise on our politics, but a lot of people who thought so are still wearing tire tracks. Obama won two landslides, and if he was running again this year he'd win a third.
Andrew Hight
106
Posted 27/08/2020 at 21:53:58
Barry, right wing BS politics doesn't fly in Liverpool, you wouldn't last 5 minutes in any pub/stand at an Everton game without being ridiculed to high heaven. Either stick to football or jog on.
Patrick McFarlane
107
Posted 27/08/2020 at 22:45:02
CEO of Downtown in Business Frank McKenna is furious heritage concerns are holding up Everton's new £500m stadium and says World Heritage Status is more trouble than it's worth. Tony McDonough reports

Liverpool business leader Frank McKenna has renewed his call for the city to hand back its World Heritage Status following news it was holding up Everton's new £500m stadium.

On Wednesday, Everton FC told fans there would be a further 28-day public consultation on the project at Bramley Moore Dock after objections from the heritage lobby forced changes to the design.

Although the stadium will be built in Liverpool Waters, which is outside of the WHS zone, it would be in a so-called buffer zone. Among the changes made to the design are a lowering of the overall height of the structure.

Mr McKenna is repeating his calls for the WHS badge to be handed back. He said:" "Even a pandemic and the huge economic impact it will have on Liverpool does not register with these people who want to put Liverpool in aspic. They are still content to delay or even stop a major, job creating, regeneration scheme.

"I can't be the only one who is fed up with the city having to constantly go cap in hand to this faceless, unaccountable body, amending plans, stymying regeneration and pausing progress in order to retain a title that is worth little or nothing in economic, tourism or cultural terms.

"Can the ordinary Liverpudlian understand how an abandoned, derelict part of the city can be considered a 'heritage site' that needs to be protected?
Anthony Murphy
108
Posted 27/08/2020 at 23:03:34
Almost all of the focus re the design of the new stadium centres around external elements - we very rarely discuss the internal design aspects.
Whenever I think of Goodison and the memories I have, it's the interior I love and will remember most fondly when it's gone. It seems a bit of a missed opportunity therefore that the interior of Bramley Moore is quite bland – it could really do with something that gives it a bit of personality.
Love the exterior, but wish we were celebrating the interior just as much.
Will Mabon
109
Posted 27/08/2020 at 23:12:51
Patrick,
Thanks for posting. I think that's what's called saying it like it is, and contains some truths. The system that runs this ball we live on is inexorably getting growing levels of control and influence across the spectrum, by means direct and less so.
I'd rather the word of words that may ensue comes after we get the go-ahead though!
Will Mabon
110
Posted 27/08/2020 at 23:15:45
Anthony, good point about the interior being where all the memories are made. I agree about the blandness. Maybe details things will be evolved a little yet.
Eric Myles
111
Posted 28/08/2020 at 00:24:08
Bill #93, flooding in Maldives is caused by heavy rains and higher than normal wave patterns, not by rising sea levels.
Eric Myles
112
Posted 28/08/2020 at 00:28:45
John #88 & Alan #96, don't worry, the main structure will have piling to support the foundations.
Eric Myles
113
Posted 28/08/2020 at 00:39:36
Will #110, the blandness of the interior is likely due to the Design and Build nature of the contract. It will be up to Laing O'Rourke to do the detailed interior design based on the specifications and outline provided by the Club.
Dan Sanderson
114
Posted 28/08/2020 at 01:12:33
@15 Joe McMahon
I agree the lattice could be in danger of looking shite, those carved brickwork effects always do, if it's some clever brick patterning like they could have done 200 years ago then I'm sure it will be great but using some naff machine to hack into them would be terrible.
Looking at the images they may be bringing the lattice into it by turning the bricks in the pattern to 45 degrees, that might be okay, they should be very careful though proper brickwork is an ancient art and should be respected.
Christine Foster
115
Posted 28/08/2020 at 01:31:47
I agree the interior does look rather bland, perhaps a blue and white lattice halfway up the stands all around the pitch (a Goodison icon?) might add to the aesthetics? Either that or a few posts strategically placed in the stands to obscure the view? Just for the memory!
Eric Myles
116
Posted 28/08/2020 at 01:34:03
Dan #114, and the age of the bricks will be important also.
Modern bricks look awful, if they can source some old pattinad bricks for at least the 'lattice' effect it could look much better.
Bill Watson
117
Posted 28/08/2020 at 01:54:08
Eric #111
Isn't the heavy rain and higher than normal sea levels caused by melting ice caps which is caused by global warming...which is mainly the effect of man made pollution?
Tony Everan
118
Posted 28/08/2020 at 07:47:39
Eric 116, Brickwork.
Maybe there are real top quality bricks that are available that can look good for a hundred years and withstand all that the weather can throw at them.
Using any old cheap modern brick would be a foolish shortcut and damaging to the long aesthetic quality.
The brickwork is the main feature of the design and must be the absolute best quality; meeting strict, uncompromising specifications.
If they pay the extra money for the best bricks they can get, it will be worth every penny.
Alan McGuffog
119
Posted 28/08/2020 at 07:57:20
Fully agree with Frank McKenna, not just because he is a blue nose. He uses the term "preserve in aspic". Brilliant. Others have used the word "Disneyfication". I recommend "Waterfront Blues" by Brian Towers for an insightful history of our docklands.
Now this is my interpretation not his but membership of the EEC (as was) did the Liverpool economy no favours. (Before the arrows fly, I am a Remainer, btw.)
Trade moved to the southern and eastern ports, as the UK looked to Europe rather than the traditional transatlantic arena and the docks and the big players that supported them, T&L, Bibby's, BAT etc moved on.
To compensate, the city received millions in Objective One and Two cash which has been used to develop, rather nicely, the immediate South end of the city, providing scores of minimum-wage jobs in the service sector.
Perhaps this is how Unesco and English Heritage wants to see us. Think of those waiters etc dressed up in costume at "Jacobean Banquet Evenings".
And another thing: if we end up in Gillmoss, the Alt could rise and drown us all.
Derek Thomas
120
Posted 28/08/2020 at 08:03:51
Eric 116; Old Pattinated bricks? I can lay my hands on a million of them, trouble is they're under some naff cladding in Walton.
Edit; Does nobody make those Navy Blue engineering bricks anymore.
Eric Myles
121
Posted 28/08/2020 at 08:38:21
Bill #117, the Maldivians are so unworried by rising sea levels that all the new islands they create are still only 1 metre above sea level.
Steven Jones
122
Posted 28/08/2020 at 08:56:10
Love the new design changes. Looks like a properly designed stadium to be proud of.
If it does get referred expect a quick memo saying Build, Build, Build and an additional grant for regeneration.
Or a TV PR visit to Bramley-Moore Dock from Boris and a timely speech taking some credit for clearing the way. The Prime Minister has a few faults but he will see this as an open goal.
Jerome Shields
123
Posted 28/08/2020 at 09:00:24
I must say prior to seeing any plans I envisaged a Seafarering theme. Johnny Scott and all that. I now think it was wise to change the architectural control and at least the steps acknowledging the sea, with a dry dock type theme.
I don't envisage any planning problem filling the dock, since a nearby project has already filled in the dock, but think it would have been wise to at least tip the hat to heritage in the Stadium design, to at least try to counter objections. The Stadium has no relevant theme.
Rob Halligan
124
Posted 28/08/2020 at 09:06:06
Eric, I thought the highest point in The Maldives was about 6 feet above sea level?. There are over 1,200 islands in the Maldives, of which only about 200 are inhabited. Apparently islands disappear all the time as new ones appear.
I can well understand how the smaller uninhabited islands can disappear. The second time we went, we got a boat to and from the airport to our island. On the return to Mali airport, we were caught up in a tropical storm in the middle of the Indian ocean and it really was very scary. We had to turn back to the island for a bigger boat.
Put it this way, the islands are definitely not somewhere where you can build a football stadium, although the capital, Mali, does have an 11,000 capacity stadium.
Jerome Shields
125
Posted 28/08/2020 at 09:10:46
I might add that the changes presented are a big improvement and definitely heading in the right direction.
Barry Rathbone
126
Posted 28/08/2020 at 09:11:09
@Michael Kenrick
"You don't seem to have much respect for the work of specialists and experts in the field who, I feel sure, know far more about the subject than you or I."
Don't be silly I put up the work of a world renowned scientist who obliterates the nonsense with empirical data. And do at least try and debate in an adult fashion flat earth jibes simply confirms you have no argument beyond infantile "call to authority".
Michael Gaynes you are a petulant so and so and rather ignorant. Any sea-level rise of the magnitude imagined would breach the surrounding natural defences and flood the place at the first major storm
Andrew Hight this is science not politics if you don't understand perhaps you should jog on out of your ludicrous echo chamber.
Philip Bunting
127
Posted 28/08/2020 at 09:28:11
I do like the changes made however when the car park was moved to the west stand they also added wind baffles as I believe a statement added at the time hinted these where to reduce the affect coming along the north South stands. It looks like these have also gone has the wind suddenly gone as well?
Michael Kenrick
128
Posted 28/08/2020 at 09:52:48
It's a serious point, Barry. People who promote climate change denial and people who promote the ridiculous idea of a flat earth are equally beyond hope.

Andrew Hight
129
Posted 28/08/2020 at 09:58:44
I'm a scientist pal and this is not science. Plus this is a forum for the "school of science" so consider yourself jogged on. I won't be back to debate anything further with you as it will be a waste of time. As the Roses put it 'stop the world I'm getting off'. That's a lyric, btw, not their scientific opinion.
Mick Conalty
130
Posted 28/08/2020 at 10:33:36
Peel Holdings make the Mafia look like EitC.
John Armstrong
131
Posted 28/08/2020 at 11:18:35
Michael K - you are right, it is a serious point. Can I appeal to you to not let this interesting thread be hijacked by the ignorant views of the climate change deniers? Engaging in the 'debate' lends such views an appearance of credibility that they do not deserve. Thanks.
Anthony Murphy
132
Posted 28/08/2020 at 12:30:27
Picking up what Derek mentions, could some of the bricks from Goodison be used? That would be amazing if possible. It's those little touches that makes all the difference.
Lenny Kingman
133
Posted 28/08/2020 at 12:39:58
Just to lighten the atmosphere for a moment. I have not seen the Mersey look so blue as it is in the article lead photo, with matching tropical sky. Looks more like Barbados or the south of France than the big muddy.
Touch of photo shopping perhaps? ... to help sell the product to the pompous asses and pedants who will be making judgement on the future Blues.
Phil Parker
134
Posted 28/08/2020 at 13:54:37
Really think the club has done a great job on the planning of the stadium and retention of as many features as could be reasonably possible given the difficulties of putting a stadium into an old dock, including actually keeping the dock in question intact if we move again in the distant future.
Which is more than can be said for two other docks which are closer to the city centre, the Victoria Dock, one of the last docks built for sailing ships, which was filled in in 1972 for a ferry terminus, and the Trafalgar Dock which was filled in in the 1990s. Apparently Peel have plans for that land so we are building at Bramley Moore Dock.
Barry Rathbone
135
Posted 28/08/2020 at 15:01:01
Michael, can you not see advocating the term "climate change denial" infers there are people who actually deny that climate changes??
It is strawman #101 among the uninformed
Andrew Hight, your emotive little missive explains exactly why you are a disciple of man made climate doom. But know this, if you ever uncover empirical evidence for man made climate doom credo I will welcome you back like a prodigal son for truth and robust science is all that matters
Don't hold your breath though
Ernie Baywood
136
Posted 28/08/2020 at 15:54:48
I completely get the need for Heritage groups to be involved. Of course we have to maintain some standards but, at the end of the day, it's a football stadium or leave the area as a wasteland.
It's not like there's a compromise where we just build a museum instead.
Eddie Dunn
137
Posted 28/08/2020 at 16:12:42
As I have regularly mentioned the worry of the sea level in the siting of the ground, may I jump to the defence of Barry, who is entitled to his opinion. Although I personally think that climate change is occurring, I do also know that entirely natural changes have always happened and unfortunately it won't be until it is too late for us to wait another 100 years just to check that it wasn't our fault.
The problem we have is that we are told to trust the scientists on all things whether it is about the virus or climate change. In my youth we were told by our most eminent scientists that the planet was cooling and another Ice Age was on its way.
Similarly if the sea-level rise was happening, why do people on the coast of Wales (and virtually every other place) still pay top dollar for property?
Of course the majority of scientists now think mankind is responsible for the increase in global warming, but of course much depends on who is funding the science. One major volcanic eruption could send the planet into a massive famine, putting the current worries into perspective.
Wouldn't it be sad if several generations of Earthlings tried very hard to be less wasteful and more eco-friendly only for a Krakatowa to pop, putting the population into a catastrophic winter lasting years?
Anyway, has anyone got the time to get the data of projected sea-level rises in the Liverpool Docks over the next 30 years? If so please share.

Hugh Jenkins
138
Posted 28/08/2020 at 16:22:21
I am not at all uncertain that mankind and our activities is having an influence on our climate and the natural world.
What I am not certain about is how influential it is and how much difference it will, or will not make, to the natural changes that occur every 10,000 years, or so (Ice Ages).
Ever since being a primary school pupil (more years ago than I care to remember), we were being taught that science said we were between two Ice Ages and that the all-encompassing ice sheets would come again at some time in the future.
From that I take comfort that mankind's impact will be effectively minimal in the overall cycle and that, despite all else, " the iceman cometh" – but hopefully not for another few thousand years.
Eric Myles
139
Posted 28/08/2020 at 16:28:16
Rob #124, the main problem on the Madivian seas is that the resort boats are fibreglass, they're faster but don't hold up well even in medium sea swells. It's a bumpy, white knuckle ride in smooth seas.
Building a football stadium in Maldives is nothing compared to building an airport there, which holds much more people per day, every single day.
ps: The highest point of 2 metres must be the artificial hill on Hulumalé Island?
Eric Myles
140
Posted 28/08/2020 at 16:40:37
Michael #128, while I'd agree that the flat earth paranoia is no longer founded in science, I wouldn't agree that the climate change paranoia is.
It might take a long time to definitively prove it one way or the other.
In the meantime I remember the words of Sir Patrick Moore, to the effect of, the climate changes in 10 year cycles, always has, always will.
Jay Harris
141
Posted 28/08/2020 at 16:57:26
Hugh,
Very well put. No-one can deny there are climate changes (well some do). It changes every season and on a planet that has been around for millions if not billions of years.
100 or 200 years from now is just a blip in the cycle and humans have survived because they innovate and change to thwart the adverse effects of the world changing.
Football as we know it is more likely to be gone by them than Bramley-Moore Dock.
In the 1880s, an eminent scientist predicted that the world would starve by 1930. They couldn't foresee the advance of mass produced food or canning of produce.
So by all means listen to the science but not the doom-mongering.
Will Mabon
142
Posted 28/08/2020 at 17:20:00
As I said, earlier, this might not be the stage for a climate debate; emotive subject!
What I would say is, and this applies to anything coming from the broad and increasingly amorphous thing I'll call "Government" today - woe betide he that passively takes things at face value. Research, and research some more.

Derek @ 120:
Those bricks are available. When I last used some, not so many years back, they were available in blue, blue/grey, red and dark grey. They're structurally strong, in class A or B, and expensive.
Personally I'd go for brick that matched/reflected the original dock buildings, highlight with the varying existing colours seen locally. If they're available/reproduced, suitable and the right price, that is.
Brent Stephens
143
Posted 28/08/2020 at 17:35:22
Will #42 " Research, and research some more."
And keep amassing all the research there is; be discriminating in the robustness of each piece of research; and see what the general conclusion is.
John Pierce
144
Posted 28/08/2020 at 17:50:20
Don't worry lads, as long as we install up-and-coming manager K Kanute, we'll be fine.
Eric Myles
145
Posted 28/08/2020 at 17:54:33
Jay#141, wasn't it Napoleon who invented the canning of food a century earlier?
Jay Harris
146
Posted 28/08/2020 at 18:09:52
Not too far off, Eric,
It was Nicolas Apert in 1809 who developed the process of prolonging food life by putting it in sealed containers, usually glass or canvas.
It was later in the 1800s when commercial tin canning started and mass production did not start until the early 1900s.
I guess like me the 1880 scientist did not think about canning that was already about.
Barry Rathbone
147
Posted 28/08/2020 at 18:29:11
Eddie Dunn
I found sea level trends for Liverpool Georges and Princes Piers between 1860 and 1980 and the rise is circa 1cm.
Meaning in a 1000 years we're in 1 metre territory.
We need to bomb New Brighton right now and turn it into a massive flood plain no alternative exists.
Well. there is we could just build a retaining wall but I just wanted to indulge the madness.
https://www.ntslf.org/products/sea-level-trend-charts?name=Liverpool+Georges+and+Princes+Piers&freq=monthly
Mike Gaynes
148
Posted 28/08/2020 at 18:34:15
Barry #126, no, the ignorance is all yours. I have been to the area of Martha's Vineyard where Obama's home is located. You haven't. I have lived on the water in New England through major storms. You haven't. I have seen photos of Obama's new home. You, obviously, haven't.
But by all means please continue your idiotic observations on the island's "natural defenses" for storms, which carry just as much credibility as your idiotic observations about American politics. Just take your thumb out of your mouth before your next post. It may help you type better and use proper punctuation.
Best regards from the "petulant so and so".
Barry Rathbone
149
Posted 28/08/2020 at 18:52:03
Mike, unless you have a time machine to take you into the future and see the effects of storms in the area amidst the monstrous sea level rise you people are convinced of, your experience is of no relevance.
You really need to calm down your petulant child antics and what you "believe" are of no concern. The world is full of genuine problems like finding a cure for cancer, addressing 3rd world poverty, improving health care and education, eradication of homelessness, combatting substance abuse, racism etc etc – all real issues public monies would be better spent on.
By all means indulge your climate doom religion but do it out of your own coffers. Now go and have a lie down.
Eddie Dunn
150
Posted 28/08/2020 at 18:52:19
Barry, thanks for looking that up. Of course the problem is that, from 1980 until now, things have got a whole lot worse, with China's massive coal-fuelled industrial revolution and the burning of carbon fuels worldwide.
I also read somewhere that the release of water from the ice caps could be a rather unpredictable and sudden sequence rather than a steady drip-drip!
Perhaps the design should be changed to include an opening roof, like the Cardiff one.
Barry Rathbone
152
Posted 28/08/2020 at 19:14:57
Eddie,
One of the problems with CO2 drives climate via warming idea is the temp "hiatus" (IPCC AR5).
As CO2 continued to rise temps flatlined much to the annoyance of the high priests who had 2 options
1. Admit the idea was bust
2. Change the data
No prizes for guessing what they did.
The other little wrinkle is 800k years of ice core studies show CO2 rise is a product of warming, not a causative agent. Empirical science is out there for any enquiring mind.
Billy Roberts
153
Posted 28/08/2020 at 19:18:07
My God, what on earth (not flat) has this post turned into? I was going to say degenerate, but on reflection it's what ToffeeWeb stands for really. We have gone from Obama's front garden to Maldive sailing boats to Napoleon???
Can I ask a question related to the stadium "redesign", besides the loss of the admittedly not too pretty car park? What else exactly has changed? I hear they have lowered the overall height? Why? How much?
I personally wanted our stadium to rise above everything, I didn't realise we were denying the surrounding shithole empty warehouses some view?
Barry Rathbone excepted, this design still looks fantastic.

Brian Williams
154
Posted 28/08/2020 at 19:20:35
Some loooooonely people on here.
Mike Gaynes
155
Posted 28/08/2020 at 19:32:55
Barry, I didn't say a word about climate change... just your assertions regarding US/Obama real estate, storm danger and politics, subjects you clearly know nothing about. I enjoyed pointing that out.
I also enjoyed your portrayal of my beliefs regarding climate change -- beliefs of which you are also (to use your own chosen word) ignorant.

Anthony Murphy
156
Posted 28/08/2020 at 19:40:53
Billyy, I'm with you on the height – if it's been lowered to appease UNESCO (and therefore limiting capacity, comfort or facilities etc), can't we just tell them where to go? What in that specific area will the stadium obstruct? It's a mile from the Three Graces and has absolutely nothing of significance anywhere near it (Tobacco Warehouse the exception perhaps).
I might be naive in these matters but I genuinely don't get that at all. What difference would it make if it was a few meters taller? What a wasted opportunity if it's compromised leaving little room for expansion and reducing the space inside. We've had to put up with cramped conditions at Goodison for years - we need to get this right as, once it's built, we may not get another shot.
Steve Clay
158
Posted 28/08/2020 at 19:54:37
The only reason we got permission for a new ground is because certain parties thought the Commonwealth Games would be awarded to Liverpool and certain parties thought a free ground would be available at the end of the games. The team who would inherit this ground would not begin with 'E'.
Billy Roberts
159
Posted 28/08/2020 at 20:14:59
No problems, Anthony @157.
Yes my sentiments completely, what or who are we obstructing?
This English Heritage obstruction is frankly appalling at best. To deny a regeneration of a completely decrepit area not available to the public at the expense of our proposal is in my eyes perverse.
They would rather see an old dock stay derelict than see a massive sympathetically designed regeneration site develop to the benefit of Liverpool people.
I would go further than disagree with these peoples objections, I would call into question their validity and their supposed impartiality.

Barry Rathbone
160
Posted 28/08/2020 at 20:50:42
Mike, no problem just let me know when your time machine is complete so we can check if your bizarre little tantrum was justified.
We can check empirically if your views hold water
(Dyageddit? Water... catastrophic sea-level rise... empirical evidence, all there. Fabulous.)
Tony Abrahams
161
Posted 28/08/2020 at 21:22:51
Agree with that last sentence, Billy R, and just wish these people could have got involved before the deforestation of the Amazon started!
John Armstrong
162
Posted 28/08/2020 at 21:38:47
Barry R, you do realise that a consensus has been reached among climate scientists, that about 97% endorse the view that modern climate change is anthropogenic? Are you a scientist? Do you know how science is conducted, how such consensuses are arrived at?
There are always mavericks and outliers, not least in science. Challenging the consensus is a good thing, and is part of the reason science works so well, and is to be encouraged in fact. Scientists actually enjoy being proven wrong as it means that some new knowledge has been gained, to the betterment of humanity and our understanding of how our world and the wider universe works.
If you want to take on the consensus view, then incredibly strong and robust evidence is required to overturn it. Of course it is possible that all of these thousands of highly educated climatologists are wrong, and that you Barry are right, but I would say that is quite unlikely. If you haven't been exposed to scientific training, including how to think critically and evaluate the evidence, then that's not your fault, but I would urge you to at least try it before posting with such apparent authority. Sometimes that means taking things at face value, from people who are far more expert in a particular field than ourselves.
Being ignorant, in the sense of not knowing something, is no crime. After all, we are all born that way. Being willfully ignorant, in the face of all evidence, is more pernicious, and unfortunately in this 'post-truth' world, seems to be (temporarily I hope) on the increase.

Joe McMahon
163
Posted 28/08/2020 at 21:43:38
Not to mention the polar ice caps are melting six times faster than in the 1990s (according to the most complete analysis to date, March 2020).
Barry Rathbone
164
Posted 28/08/2020 at 22:38:35
John Armstrong
Here is a simple test for your assertion - if you know what 97% of climate scientists think then you must know how many climate scientists exist in total.
Tell me how many climate scientists there are on this planet.
Then ruminate on this quote correcting your idea about how science really works:
"Consensus is the business of politics. Science, on the contrary, requires only one investigator who happens to be right, which means that he or she has results that are verifiable by reference to the real world. In science, consensus is irrelevant."
Brent Stephens
165
Posted 28/08/2020 at 23:20:00
Barry "Science, on the contrary, requires only one investigator who happens to be right, which means that he or she has results that are verifiable by reference to the real world. In science consensus is irrelevant."
But that one investigator has yet to be shown to be right.
John Armstrong
166
Posted 28/08/2020 at 23:37:48
Barry,
I'm happy to answer your questions. I notice you didn't answer mine - perhaps you thought they were rhetorical?
As I'm sure you are aware, knowing the percentage of something gives no indication of the entire total number in question. For example, 97% of 100 people is 97 people. 97% of 1,000 people is 970 people etc. I don't know how many climate scientists there are on the planet, but I would imagine they number in their thousands at least. The figure, which I have come across independently many times, was drawn from this peer-reviewed paper, which is freely-available here:
https://iopscience.iop.org/article/10.1088/1748-9326/8/2/024024
This is the first paper I came across, I could provide much more evidence if required. In the interests of fairness, the paper assesses the number of abstracts in the relevant literature, not the number of individual scientists per se. The number of abstracts examined was 11,944, of which about 35% expressed an opinion either way on anthropogenic climate change, with 97% of those concluding that humans were causal agents.
I'm not sure where your quote originates, but maybe you can tell us? In any case, I don't fully agree with it. Maybe you could ruminate on what it means to be 'right', and how much evidence is required to claim to be so, especially if everyone else around you arrives at the opposite conclusion?
Finally Barry, I am a scientist, so I have a good idea of how science really works. I'll ask again, are you a scientist?
Apologies if this thread really has degenerated - I hope we can all enjoy the new stadium when it is eventually built.
Will Mabon
167
Posted 29/08/2020 at 00:29:57
"
Finally Barry, I am a scientist, so I have a good idea of how science really works. I'll ask again, are you a scientist?
"

I don't know your field, but having a scientific mind, maybe you'd take a shot at the one-part-per-2,500 thing. How one molecule has a meaningful thermal impact in a gas system, amongst the other 2,499. Chemically or physically. No-one seems to be able to explain it.
Eric Myles
168
Posted 29/08/2020 at 00:35:05
Billy #153, it's what makes ToffeeWeb so informative and interesting!!!
Will Mabon
169
Posted 29/08/2020 at 00:39:26
Joe @ 163,
It's not what's happening that many are questioning. It's what's causing it.
John Armstrong
170
Posted 29/08/2020 at 00:46:11
Will, I'm a biologist, so not really qualified to answer. I would hazard a guess that even at small ratios such as 1 in 2500, any imbalance is enough to perturb a finely balanced system. But an atmospheric chemist could give a more appropriate answer. And one part per 2500 isn't that small or insignificant really I don't think.
It is more a general frustration on my part of non scientists wading in on things they know nothing about, and refusing to accept consensus views. It doesn't happen in any other fields to my knowledge, and I think it is vastly detrimental to societal progress. So excuse my frustration.
Let's hope for progress on the pitch next season.
Derek Thomas
171
Posted 29/08/2020 at 02:00:05
English Heritage, UNESCO, WHS. etc... no, sorry we won't give you a penny to improve it and it must stay exactly as it is and rust, or we'll take our plaque back... Can all go and do one.
Climate Change arguers can all go somewhere else to argue and then collectively do one.
The real questions are; short term - Will we have a new (any?) Midfield for the Spurs game.
Medium term; Will the Stadium get built before the real long-term problem, me being too old to go in it, happens.
Steve Brown
172
Posted 29/08/2020 at 04:37:20
Barry Rathbone on fire here! I enjoy the efforts of posters to rationally argue with Barry on his bonkers climate change denial views. Think Barry hopes global warming will help him top up his tan.
Takes me back to the laborious debates patient TWers had with those saying the response to the Covid-19 pandemic was unnecessary and that its effects were not worse than the common cold. 835,000 deaths later it has all gone quiet.
Steve Brown
173
Posted 29/08/2020 at 04:41:15
John @ 170, you are a very patient man.
Eric Myles
174
Posted 29/08/2020 at 05:09:34
Steve #172, you're exaggerating! The argument was that Covid has killed no more people in UK than a 'flu pandemic 2 years ago. And it still hasn't 3 months later.
As for global warming, I'm all for it. When I can grow palm trees in my back garden in Liverpool, I'll move back there.
Mike Gaynes
175
Posted 29/08/2020 at 05:15:39
Barry #160, I'd love to rebut your post, but even after several readings I haven't the slightest idea what you said.
Capt. Kirk: "Mr Spock, tie in the Universal Translator."
Mr Spock: "I did, Captain, but it makes no sense in any language in the known universe."
Capt Kirk: "Well, then, screw it, Spock. No time for gibberish. Mr Sulu, lay in a course to our next conversation, warp factor 2."
Steve Brown
176
Posted 29/08/2020 at 06:30:40
Yes Eric, you were indeed making those claims! Good to know it has all been an exaggeration though.
Bob Parrington
177
Posted 29/08/2020 at 06:33:29
Maybe the only way we can really sort out the spiff about water levels is to place a meter or meters on the BMD dock wall and measure the average over each ebb and flow of the river. Then we might, just for once, have some scientific data by which we can make some unambiguous statements (phew, thanks for auto spell for once).
My own personal view is based on
1. My belief that there is truly climate change
2. My belief that this happens from time to time
3. My belief that the planet is over-populated
4. My lack of being convinced that this change is due to carbon emissions, due to insufficient believable and unattested statistics
5. My belief that the rise in sea levels is being massively over-exaggerated for some reason, possibly political
6. It is clear that, generally speaking, the ocean water temperatures are rising at present.
I would add a beware! That is beware that this can be, according to some, a precursor to at least a mini-Ice Age.
Derek Thomas
178
Posted 29/08/2020 at 07:33:23
High Tide; Sun 18th Oct 0027hrs, 10.56m - 34ft. 7and 3/4inches... that's about as big as it gets, there's not many higher tides... nods to Bay of Fundy.
Get yourself down there and see just how high the water gets and how much of the dock wall is left uncovered.
Sorry to be a tidal bore, but Barry wants empirical evidence so take a tape measure.
I'm sure they'll take this all into consideration...
Eddie Dunn
179
Posted 29/08/2020 at 08:05:23
John Armstrong, one of the problems we laymen have is that the data and subsequently the statistics gleaned from it are often held up as irrefutable evidence of this or that.
I have a friend who has a PhD which involves an element of coastal studies and climate change conjecture. She could be described as a "scientist". Unfortunately, I would not describe her as one of my more intelligent friends, nor one of the better informed on these issues.
Her degree and PhD were relatively easy to get, in fact, Wales was giving full grants for students to fill the PhD courses. They even gave her an extra year to complete her thesis. She has, some 4 years since becoming a Doctor, been unable to gain employment in a scientific capacity.
Therefore there are a whole load of people out there who can legitimately call themselves "scientists". They are not all of a great calibre.
The other worry is that research is funded by parties with interests in the results. I once worked as an Archaeologist in a former Soviet, Muslim country. The interpretation of everything was strongly influenced by whether it is was of cultural significance to the regime. Christian burials were of no interest, evidence of Christian settlements was ignored. Excavations were used (funded by a 3rd party) to extract as much money from the 3rd party. The data is still being interpreted by various scientists in the Institute in the capital city.
There was so much conjecture and guesswork even amongst the Western Archaeologists that the conclusions would be built on the most tenuous of theories.
The problem was that, once these "theories" had been decided, the whole machine would defend them, and everyone in their Institute would have to go along with them or find themselves out of a job.
I have seen this in many other places. The hierarchy does not usually encourage alternative views as it undermines the cozy status-quo.
One only has to recall the assurances given by experts when the Fukushima plant exploded. I heard leading scientists telling us that there would be very little danger to the public etc etc.
I'd rather not hear that 97% of climate scientists believe this or that but would prefer clear explanation with evidence that is clearly explained.
Personally, I do think that mankind has helped to increase climate change but I am also open to theories including shifts in the polarity of the planet, sun spot impact, and the causes of the fluctuation in the position of the jet stream and the El Nino effect.

John Keating
180
Posted 29/08/2020 at 08:06:37
Derek,
You're correct everything is taken into account. When building everything is based on HAT - Highest Astronomical Tide- they will also factor in storm surge based usually on 100 years storms.
Off the top of my head, I think HAT for Liverpool is about 11m and storm surge is about 2m.
I might be wrong but I can't recall anything coming close to the dock height around Bramley-Moore Dock and Canada Dock areas.

Tony Abrahams
181
Posted 29/08/2020 at 08:16:35
Only last week I was driving along the boulevard, (no palm trees yet though!) behind the new ferry terminal right next to the Mersey, and the water was ridiculously high.
I'd read something on the weather pages about there going to be high seas, (not sure if it was because of storm Ellen) and honestly couldn't believe how close the water was to the top of the sea wall.
Get the Dutch over – they know how to sort these things out, but let's just get the stadium built first!
Bobby Thomas
182
Posted 29/08/2020 at 08:59:31
With the prospect of rising sea levels, I personally think its an absolutely ridiculous place to build a stadium for the next 100 years. The whole thing is ace, apart from that one problem. Oh, and that in winter the steps that have replaced the multi storey car park will be like the north face of Everest.
Brian Williams
183
Posted 29/08/2020 at 09:15:09
Have to wonder where this mythical weather that some have created for the Bramley-Moore Dock area since the first mention of the new stadium comes from.
We've had tales of winds that could feature in those disaster B movies, storm surges that'll need the players to wear life vests while playing, just in case, and now conditions to rival Mt Everest.
I think some are mistaking the area for Murmansk!
Ooh look, here's a pic of BMD in July:
https://www.backpackadventures.org/things-to-do-in-murmansk/
Bobby Thomas
184
Posted 29/08/2020 at 09:49:33
It wasn't a wholly serious comparison, Brian. You're probably aware that the football season traditionally runs from August to May. Despite the UK's generally improved summers, the weather in this country is still shit.
Paul Smith
185
Posted 29/08/2020 at 09:50:39
Brian - fantastic! We really do go overboard don't we (in the life rafts attached to the Archibald Leitch facade newly incorporated to deal with the colossal tidal surges).
Tony Abrahams
186
Posted 29/08/2020 at 09:55:45
Big coats, thermal socks and face masks, it's fffffuckin ffffreezin down there in the winter. I personally think we should be looking to put a roof on the new stadium – it's that fuckin cold, but then again there won't be any escape from the water if we do this. Just another Catch-22!

Dave Abrahams
187
Posted 29/08/2020 at 09:59:46
Bobby (184), thousands of dockers worked eight hours a day, well one or two did!!, from January to December in hail, rain, ice and snow... no problems.
Going to the game will be a piece of cake, in fact, the hard part will be watching> By the time we get there, Carlo will have made that a lot easier, in fact, it will be wonderful.
Barry Rathbone
188
Posted 29/08/2020 at 10:01:03
John Armstrong
So we have established no such study exists asking ALL climate scientists anything let alone what you claim and the notorious paper you cite is actually from blogging ex cartoonist and nazi uniform wearer, John Cook. It has been taken apart in many places I have provided an example below.
In the abstract of the paper your claim is also eviscerated
We find that 66.4% of abstracts expressed no position on AGW, 32.6% endorsed AGW, 0.7% rejected AGW and 0.3% were uncertain about the cause of global warming.
The reference for the quote you asked for is here and take note of the additional Max Planck quote at the end
https://scienceisneversettled.com/consensus-is-not-science/#:~:text=Consensus%20is%20the%20business%20of%20politics.%20Science%2C%20on,consensus%20science.%20If%20it%E2%80%99s%20consensus%2C%20it%20isn%E2%80%99t%20science.
I am not a scientist nor am I a cartoonist.
Barry Rathbone
189
Posted 29/08/2020 at 10:05:23
John Armstong the citation is here https://notalotofpeopleknowthat.wordpress.com/2015/10/29/cooks-97-scam-debunked/
For some reason it won't show in my previous post
Barry Rathbone
190
Posted 29/08/2020 at 10:19:36
Mike Gaynes
Perhaps you will understand this - your assertion that Obama's coast line property is 40ft above sea level is ill informed nonsense. Quotes from people checking out the level
"If you go to the Realtor.com listing you can see there's little elevation between the beach and the house. https://www.realtor.com/realestateandhomes-detail/79-Turkeyland-Cove-Rd_Edgartown_MA_02539_M46762-74498#photo4"
"Four different elevation calculators that I used gave an elevation of 3-3.3 feet, right where the main house stands. Skeeter must really believe that He can lower sea levels."
Ray Roche
191
Posted 29/08/2020 at 10:58:00
I quite clearly recall being at the Pier Head sometime in the fifties when it was flooded as the Mersey, presumably at the Spring high tide, broke it's banks. My Dad would always take us down to witness the Spring High Tides.
It was too high for the Ferries to run and the Pier Head, in those days it was a bus terminal for the Corpy and Crosville buses, was under water. I also remember the Mersey being so rough that passengers needed the help of the Ferry seamen to get on and off the ships, timing the rise and fall of the river to jump onto the Landing Stage on both sides of the river. High tides are nothing new here.
Just enter 'Pier Head Flooded Liverpool' on Google and you can see photos of the flooding from different years there. It's worth looking at some older photos of Liverpool.
Eddie Dunn
192
Posted 29/08/2020 at 11:09:31
Ray, I can remember getting the ferry from Woodside and the boat moving so much that people had to be dragged aboard by the seamen.
The docks down in the Dingle were reclaimed from marshland and our shoreline has altered over the years by man's intervention as well as nature's.
Over on the Wirral, Hoylake is built on sand. Look under the floorboards in many houses and that is what you see.
Of course the Dutch know all about how to survive in a low-lying area and I once worked with giant Dutchmen who travelled the world putting in steel piles for river crossings and other engineering projects.
It would be a wonderful thing if we could get to the new ground by boat. A marina full of bobbing boats and Farhad's massive Yacht in the middle with Blue Bill's little tug blowing hot air into the blue sky.
The players arriving at the ground in speedboats and the fans on huge barges bedecked in flags and scarves.
John Armstrong
193
Posted 29/08/2020 at 11:24:59
Barry, I did state in my previous post that 35% of the abstracts expressed an opinion either way, but of those, 97% agreed with the consensus. I thought that was clear. I'm not familiar with John Cook, but just found a paper that I thought may be representative of the point I was making. Looking him up, I see he is currently an assistant professor. He still draws cartoons, to explain the science, and I'm not sure what the relevance of him being a 'nazi uniform wearer' is. Whether the figure is exactly 97% or not is not really the issue either.
Thanks for the quote - it's by Michael Crichton, who was of course a medical doctor before becoming an author and getting involved in film and TV. The other quote by Planck, in no way invalidates the idea of a consensus, as it relates to the initial generation of an idea - which of course often comes from an individual.
I won't post again - this has reminded me why I don't post on internet forums! And it's not really the place for such a debate I don't think, so I don't want to contribute to a derailment of the main topic. I'll go back to just reading TW daily without commenting, like I have been doing for the last twenty years or so!
Here's hoping that the team can give us improved performances to enjoy this season, and that we can all appreciate and experience our brand new stadium in a few years time.
Eric Myles
194
Posted 29/08/2020 at 12:19:40
Steve #176, it was YOU that was exaggerating, not me. My initial point is still valid, and I expect will remain so for quite some time.
Tony Abrahams
195
Posted 29/08/2020 at 12:27:49
Don't stop posting John, the science might be over my head, but your civil manner isn't mate.
John Armstrong
196
Posted 29/08/2020 at 12:44:22
Thanks Tony, that's kind of you to say. I've enjoyed reading this site a lot over the years. Whatever happened to the likes of Eugene Ruane, Ciaran McGlone, and dare I say it, Tony Marsh?
Brian Williams
197
Posted 29/08/2020 at 13:20:18
I remember the tide being so high at Woodside, once, that the ferryboat was able to drop me off just outside my door and I lived four miles from the river!
Unfortunately the tide dropped as quickly as it had risen and the ferry got stuck halfway down our road.
Within three days all that was left of it was a cracked toilet. Guess none of the locals had any use for that!
Brent Stephens
198
Posted 29/08/2020 at 13:22:12
John Armstrong - as Tony says.
Ray Roche
199
Posted 29/08/2020 at 13:27:44
Brian, I may be wrong, but I think that you're exaggerating a bit.
Dan Nulty
200
Posted 29/08/2020 at 13:32:06
Came here to read about the stadium and left with my mind boggled about climate change and tidal levels.
Brian Williams
201
Posted 29/08/2020 at 13:36:35
Ray#199.
Weeeeell I didn't start it.
And there may have been a few more bits left then!
Alan J Thompson
202
Posted 29/08/2020 at 14:14:46
Oh, for heavens sake! All those who don't believe in rising water levels due to global warming can have their season ticket seats on the river end and those that do can sit at the other end. If you are undecided then stay home and watch it on the telly!
Brian Hennessy
203
Posted 29/08/2020 at 14:23:35
As long as they make room beside the stadium for my boat and get it built before I pop my clogs I'll be happy.
Derek Thomas
204
Posted 29/08/2020 at 15:31:05
Ray 191; I do too, but the water only came over at the Pier Head, it didn't come over the various dock walls which must be higher...how much higher is the key point. Therefore the new ground must have a safety margin and be built higher than the dock wall.
All this seems obvious, but it's amazing how often the obvious get overlooked...until after the event when somebody will say...with hindsight it was obvious.
Brian Williams
205
Posted 29/08/2020 at 15:40:26
If people REALLY believe the club haven't taken into account rising sea levels, well I don't actually know what to say!

Eddie Dunn
206
Posted 29/08/2020 at 15:41:40
John Armstrong- I'm with the "please carry-on" brigade. Great to hear your views, keep 'em coming!
Ray Roche
207
Posted 29/08/2020 at 16:05:19
Derek @204.
I don't know about the Bramley-Moore Dock area regarding the flooding, but Mann Island was certainly flooded to about 8-10 inches. The photos on Google clearly show that. The river also came over the sea wall in the nineties, again, the photos show that. Some very interesting photos when you start looking. It can be a bit addictive though!
Mike Gaynes
208
Posted 29/08/2020 at 16:41:43
Brian, was the name of that boat the "Irish Rover"?
Michael Kenrick
209
Posted 29/08/2020 at 17:01:29
From Bramley-Moore Dock Planning Application Package, Appendix 11.3 Flood Risk Assessment:
3.1.7 Climate change allowance
Allowances for the predicted effects of climate change should be taken into account when preparing site-specific flood risk assessments. In addition to the data provided in Table 3-2, the EA also provided predicted flood levels for 2065 and 2115, accounting for sea level rise (SLR), as shown in Table 3-4. It has been agreed with the EA that the Design Flood Event (DFE) for the site is the 2115 1 in 200 year flood event.
Table 3-4 – Design Flood Levels based on the present water levels with latest climate change calculations
| Data | Design Life | 0.5% AEP (1 in 200yr) | 0.1% AEP (1 in 1000yr) |
| --- | --- | --- | --- |
| Water Level – 2016 (mAOD) | - | 6.26 | 6.48 |
| Flood Level – 2065 (mAOD) | 55 year | 6.58 | N/A |
| Design Flood Level – 2115 (mAOD) | 95 year | 6.97 | N/A |
With existing site levels generally above 6.58m AOD, large areas of the application site will be free from flooding during the 1 in 200 year event (Flood Zone 3) up to 2065. The vast majority of the site would move into Flood Zone 3 by 2115 (i.e. high risk of flooding), assuming no benefit from existing or proposed defences.
Regent Road existing levels range between 7.0 – 7.2m AOD; access in and out of the site would therefore remain free from flooding in 2115.
Michael Kenrick
210
Posted 29/08/2020 at 17:12:32
So that's 0.71 m in 95 years.
Slightly more sensible than Barry's 1 m in 1000 years nonsense. Not exactly doom-mongering.
Everything will be built above 7.3m AOD, which includes an additional 300 mm freeboard above the projected 2115 Design Flood Level that takes account of climate change per EA's Mersey Estuary 2018 Study.
John Armstrong
211
Posted 29/08/2020 at 17:37:08
Eddie Dunn, cheers - I did enjoy reading your response to me. I bet being an archeaologist was pretty interesting. I agree with a lot of what you say - undoubtedly there are vested interests, funding body issues, biases, cherry picking and sometimes blatant fraud in science. I would hope that climate scientists around the world have looked at the data and managed to come their own independent conclusions, and that they all tally sufficiently to give confidence in the statements that they have made.
We're all laypeople with respect to a lot of things, and sometimes you just have to take things at face value, and trust that people are doing their jobs properly and not trying to mislead. There are loads of things I'm completely ignorant about, so I accept what an expert in that area is saying. Something I don't quite understand is the suspicion and mistrust of science and scientists in society, more so than for other professions. It's as if they are all part of some secretive mission to hoodwink the entire population. It's a bit bizarre really, notwithstanding the issues mentioned above.
Regarding the stadium design - I think it looks fantastic, especially with the new revisions. There is a before and after picture on the Grand Old Team forum. I just hope there won't be much cost-cutting done when it comes to materials - the brick facade looks slightly different (slightly worse) to me compared to the original version. I don't live in the city anymore, but would be very tempted to get a season ticket again for BMD. I guess there will also be lots of non-regulars, including myself, who are hoping to get to Goodison a few more times before the turnstiles close for good.
Cheers for the comments.
Barry Rathbone
212
Posted 29/08/2020 at 18:14:57
Michael,
"Design Flood Levels based on the present water levels with latest climate change calculations"
I don't know whether to laugh or cry at your touching faith in failed "climate change calculations". Stick with empirical evidence of observations even the IPCC concede climate cannot be predicted.
" The climate system is a coupled non-linear chaotic system, and therefore the long-term prediction of future climate states is not possible" IPCC
Please stop digging it's clear you have no idea about the topic
Eddie Dunn
213
Posted 29/08/2020 at 18:55:52
When I started my business in 1988, I went on the Enterprise Allowance scheme. I attended a class in which we were all told to produce a cashflow forecast before we could approach our respective banks for backing. I went to the bank with our Cashflow forecast and the very nice bank manager just laughed and said, "don't worry about that, we don't take any notice of them".
Still ticking over some 32 years later. Over the years I have has visits from various business advisers giving it the bollocks about forecasts, etc.
It's meaningless just like these one on 200 year flood averages. When the weather changes, it doesn't give a fig about what some twit in the council thinks is aone in 10, 20 100 or 200 year event.
I've been flooded twice, so I know.
So Michael might have found the data that the builders/developers have to use to okay the funds, insurance etc, but in reality if there is an unpredictable climate event, they will be useless.
I still think we should stay at Goodison, invest in the area around the ground, improve the lives of local people and find ways to improve the ground like Liverpool have.
Despite the fact that I hate them, Anfield, the area is now reknowned but Everton will only be a footnote in our history.
Goodsion park is 131 feet above sea level.
Jay Wood
[BRZ]
214
Posted 29/08/2020 at 19:19:16
I've enjoyed reading the exchanges between Barry and John, and those of others.
I understand the position Barry is projecting and the (possible) scaremongering he questions in relation to rising sea levels.
Given that 70% of the earth's surface is covered with water and that at it's deepest point you could throw Mount Everest into the ocean and and its peak would still sit 6-7,000 feet below sea level, that's a lot of volume to top up.
There is also a great deal of science that acknowledges the planet, nature itself, does go through cycles of ice ages to more temperate ages.
The climatic changes we are experiencing then could be simply part of the earth itself shrugging and going through a natural cycle, as Barry suggests.
Where I digress from Barry is the implication in his position that the activities of the human race is only impacting on the environment in neglible ways.
Again, there is a lot of science and research that demonstrates that before the onset of the Industrial Revolution and, in its wake, the advances of better nutrition and modern medicine which allows us to live longer, the planet supported an extremely modest human population that lived in harmony with their environment.
In the 1800s when the world population was still less than 1 billion, working primarily locally, by hand, as an agragarian society, the advent of the machine changed totally the face of society.
It took more than 2,000 years to reach 1 billion inhabitants. Another 100 years to double that to 2 billion (1928). 30 years to top 3 billion (1960). 15 years to 4 billion (1975). And then, like metronome, every 12 years since then we have added another billion - 5 billion in 1987, 6 billion in 1999, 7 billion in 2011. We're well on course to hit 8 billion before 2023.
Technological advances has given homosapien total dominion over the natural world unmatched by any other species that has swam, crawled, walked or flown over this planet in its entire history.
Together with political philosohpy, industrialation, capitalism, consumerism and globalisation, we are hunting, fishing, harvesting and extracting all other species, plant life and natural resources, all of which are finite in number, to extinction.
In doing so, as a by-product of our activities, we are polluting our support system, the very land, water and air on which all living matter is dependent.
There is an interdependency between all living creatures and plants that even now remains beyond our knowledge. Yet we ourselves, our consumerism, continue to be unmindful, uncaring, of the repurcussions of our acts in the now.
Such is the rate of the depletion of our unique support system, whereas in the recent past I wondered what kind of world my grandchildren will inherit, now it wouldn't surprise me at all if - even at 65 - I could encounter an environmental Armageddon in my life time.
And living as I do in Brazil, I can call on a lot of statistical data and empirical evidence - the latter I've witnessed with my own eyes - that is in no way reassuring of where we are heading.
Barry Rathbone
215
Posted 29/08/2020 at 19:43:18
Jay
"Where I digress from Barry is the implication in his position that the activities of the human race is only impacting on the environment in neglible ways."
Just to clear that up I don't think that.
Man made environmental issues are clear and evidenced empirically - plastic in the seas etc - but people conflate man made co2 effect with environmental issues. Nothing could be further from the truth. The rise in co2 has paralleled a greening of the planet. Based on observations an argument for more co2 to be pumped into the atmosphere exists.
Jay Wood
[BRZ]
216
Posted 29/08/2020 at 20:09:51
Barry, 'people conflate man made co2 effect with environmental issues'.
That's where I thought people were mis-reading you Barry. I thought you very clearly questioned the likelihood of drastically rising sea levels and some respondents broadened that out to environmental issues.
That said, there is a touch of cynicism and slight of hand in referencing and associating as you do - in isolation - Barrack Obama with the rising sea level issue when his own environmental policies were much broader than being focussed on a that alone.
Now you clearly acknowledge that man does and is impacting on the environment, will you also acknowledge that a possible consequence of that is an accelerated melting of the ice caps over and beyond that of a 'natural cycle', which in turn can impact on seasonal tidal patterns and the weather it brings with it, and who knows what besides?
As you fairly argue, this is all based on possibly fancy theoretical speculation and modelling, but it is one possible scenario of many, don't you think?
The challenge is which model to put your trust in and to make disaster-preventing and policy making decisions on going forward. This is all the more difficult when the political and corporate will and position resists it.
Will Mabon
217
Posted 29/08/2020 at 20:24:17
Eddie, in your post 179:
Not to put a label on you within the debate, but you've obviously seen first hand which way the wind blows, and thanks for what you wrote. Much of it parallels the history of how we got to where we are in the whole climate change arena. From scientists to "Carbon Al" Gore.
John (Armstrong), you keep citing scientists. You come from a standpoint of defending scientists, and their integrity. They aint behind all this. Scientists did not initiate this. Scientists did not present it, scientists do not form the major policy. Scientists are not the people working towards controlling just about all future global consumption of energy in all aspects via access, distribution and regulation in terms of financial carbon "Markets".
This is what people are challenging. Not simply scientists as individuals. I might add however, many scientists are indeed doing this; questioning the scientists whose advice is often cited by those at the helm. They don't get invited to IPCC dinners, and it never gets mention in the media. Everything has been passed through the agenda tunnel on its way to public announcement, and eventual engineering into life.
I agree with a lot of what you say - undoubtedly there are vested interests, funding body issues, biases, cherry picking and sometimes blatant fraud in science. I would hope that climate scientists around the world have looked at the data and managed to come their own independent conclusions, and that they all tally sufficiently to give confidence in the statements that they have made.
Your words, to Eddie. I struggle to reconcile this with "sometimes you just have to take things at face value, and trust that people are doing their jobs properly and not trying to mislead". Laypeople are not precluded from researching and educating themselves simply because it is not their profession. Down that path lies ignorance and vulnerability - and modern politics, more than ever, is primarily not there to protect and inform.
Like you, I too would hope that the whole issue was in the hands of scientists. Real, independent scientists, all of them, without conclusion-dependent funding, risk of career suicide and more. This way we would stand the best chance of getting to the real, unadulterated truth of the situation. Then the politics could start.
The reality and history is essentially the polar opposite of how we arrived at the current position. This is not the place to go through it all, and would require more words than are already typed in this (off topic) thread. The information, for now, is out there, for any that care to learn. Some time spent researching the history, the government bodies, the NGOs, the global think tanks, the speeches, the UN, the vested interests, the control of the narrative and more, may prove eye opening.
Of course most have no time for this, and fair enough. It's the same whenever the subject is raised. Those who have spent not five minutes to even consider the reality of the overview they heard some years ago on the telly, have only the interest and energy to respond to people like Barry with playground retorts. At least the man has spent some time trying to learn.
So here we have the largest, most dynamic, most complex and ever-changing system on the earth, of the earth; the climate. If ever there was a place for the ongoing and unfettered application of independent science in the vein of which you've described earlier, then this is it.
The go-to soundbite from Gore and his ilk in this regard? "The science is settled".
John Armstrong
218
Posted 29/08/2020 at 20:32:02
Yes, the planet does go through natural cycles of ice ages and subsequent warming. There is a nice chart of atmospheric CO2 values depicting this on the NASA website relating to climate change.
There have been seven ice ages in the last 650,000 years. If you look at the chart you can clearly see the peaks and troughs in CO2 levels, which correspond to each ice age coming and going. But at no point in the last 800,000 years has CO2 been above 300 ppm, instead cycling between 300 ppm and 180 ppm.
Then there is a sudden spike, correlated with recent history since the industrial revolution, where CO2 levels rise dramatically above 300 pm, to the current value of about 410 ppm. It is not only the change (rise), but the rate of change which is unprecedented.
So yes, as you say Jay, this appears 'over and beyond' any natural cycle that has occurred so far. I'm not sure how far this recent dramatic rise over the last couple of centuries parallels any greening of the planet.
John Armstrong
220
Posted 29/08/2020 at 20:47:50
Will, I appreciate your response. I guess I reconcile it by thinking that the all of the negatives (of conducting science) are vastly outweighed by the positives - and that it is possible to arrive independently at some kind of objective, unfiltered truth. Perhaps that's naive in the case of climate change when there are indeed so many vested interests and competing narratives, I don't know. You're right, we've probably gone a little too far off tangent though - and I will tone down my responses.
In other news, it appears Allan has been spotted at the airport.
Will Mabon
221
Posted 29/08/2020 at 20:51:50
Latest I've got, the deal appears done, at 25 big ones, if the BBC sport website has it right.
Barry Rathbone
222
Posted 29/08/2020 at 20:56:13
Jay,
How do you see man-made environmental issues causing polar ice to melt beyond the norm?
"There are 32 families of computer models that are used by the United Nations, each government-sponsored, and all of them are predicting far, far too much warming. one model works. And you know what it is? It's the Russian model."
Dr Patrick J Michaels.
Patrick McFarlane
224
Posted 29/08/2020 at 21:03:12
I'm a layperson when it comes to scientific matters, but I, similar to many others do have concerns for the future of the planet, but also similar to others I can only play a very small part in how I affect that future. Given that statement, I can only hope that Everton FC put a trophy in the cabinet before 'hell freezes over' and that the new stadium doesn't take a month of Sunday's to be completed - oh! and I hope to be around long enough to see both things happen.
Will Mabon
225
Posted 29/08/2020 at 21:04:57
Patrick - a sustainable trophy?
Paul Burns
226
Posted 29/08/2020 at 21:05:54
Heritage?
It's next door to a sewage plant and surrounded by derelict warehouses. Heritage kills good design and modernity faster than a bullet. You would think it was Venice the way heritage cranks carry on.
Let the downsizing, cheapness and nastiness begin. End up like the Arena, too small and pokey to host the world's top bands so they go elsewhere while we get tribute bands.
Patrick McFarlane
227
Posted 29/08/2020 at 21:08:58
As long as it isn't a 'plastic' one Will :)

Jay Wood
[BRZ]
228
Posted 29/08/2020 at 21:37:03
Barry, I was very careful in structuring my words. A small adjective makes all the difference:
'...a possible consequence of that is an accelerated melting of the ice caps over and beyond that of a 'natural cycle'.
If you want to argue from one position only - that manmade co2 emissions are neglible and not impacting negatively on the planet in any meaningful way (but rather, benefitting the planet, as per your NASA linked claim) - that is your right.
I'll take a more balanced view, acknowledging some of what you say, questioning on others.
The minute-long NASA video demonstrating that increased co2 levels has led to a greening of the planet includes the detail that the retreating ice cap due to the resulting raised temperatures has exposed more land in the Artic Circle which in turn is being greened.
Do you see the irony here?
Meanwhile, the higher co2 levels which are leading to the exposure and greening of land within the Artiic is, in part, being fueled by the slashing and burning of primary tropical rain forests around the club, from Africa to Asia to South America.
You don't easily grow back primary rain forest once it's gone. Nor do you easily replace the fauna and flora dependent upon it.
I somehow doubt it's a quid pro quo, that it's OK to lose tropical rain forest ' cos the greening of polar tundras makes up for it.
Barry Rathbone
229
Posted 29/08/2020 at 22:07:44
Jay
You seem irked for some reason I understood your position I just asked a perfectly reasonable question as to how man made environmental issues could cause polar ice to melt - I can't think of a single reason why.
There is no irony in the NASA commentary they can say whatever they like. Choosing causation bereft of empirical evidence is one of the reasons ex NASA scientists complained about the damage their view is causing to the reputation of the agency.
You say
"Meanwhile, the higher co2 levels which are leading to the exposure and greening of land within the Artiic"
It is misleading. The idea co2 exposes the land via melting the ice has no scientific evidence whatsoever. Moreover the majority greening of the planet is a global entity. You have jumped the shark with these remarks about "exposure" of land obviously making your idea of imagined co2 effect from "slashing and burning" null and void. 
Environmentally the rain forest is an issue but has nothing to do with co2 and global warming.
Have you any realistic ideas of how man made environmental issues can cause the ice to melt? Genuine question
Joe McMahon
230
Posted 29/08/2020 at 22:13:15
Paul @226, to be fair yes it's not as big as the arena in Manchester but Iron Maiden played there in 2018, and they are massive globally.
Jay Wood
[BRZ]
231
Posted 29/08/2020 at 22:58:52
Oh Barry. Try and goad Mike Gaynes if you like. The same tactic won't work with me.
In none of my posts have I sounded 'irked'. I thought I was having a polite exchange with you, acknowledging where I agreed with you. Siding with you that people mistakenly collated your position on rising sea levels to broader environmental issues. Offering my own thoughts and opinions. I believe that's allowed. Nothing confrontational.
Like on this point:
'Environmentally the rain forest is an issue but has nothing to do with co2 and global warming.'
Sure about that?
Rain forests are pretty useful in absorbing the harmful greenhouse gases that have increased since the onset of the Industrial Revolution.
The burning of rain forests releases ever more harmful gases into the atmosphere and removes the very mechanism that could absorb such gases.
The denuded land that remains potentially helps increase global land temperature with no tree cover.
A further knock on effect of deforestation, taking the Amazon rain forest as an example, is the diminishing of 'sky rivers'. A single large tree in the Amazon can release 1,000 litres of water into the atmosphere every day. Collectively, the Amazon rain forest releases 20 TRILLION litres of water into the air every day.
This creates the world's (unseen) largest river - a sky river that fans out across all of Latin America. This sky river has particular importance in a symbiotic relationship with the Pantanal to the south, the world's largest wet lands, on which the Amazon sky river falls and feeds.
Last year and this year increased (man-made, not natural) forest fires in the Amazon has impacted on the weather cycles across all of Latin America and the wet lands are drying up. The tinder box that results means there have been constant fires - 1,000+ a day - for the last two months. An area six times the size of London has been lost in the Pantanal as a result. And we haven't entered the peak months for 'natural' bush fires.
As in the devastating Australian bush fires earlier this year when it is estimated 1 billion animals died, the Pantanal is facing similar stark numbers in a very fragile ecosystem.
The smoke from such forest fires carry 100s of kms to distant urban cities, smogging out the sun for days on end and causing all manner of respiratory problems.
This is but one example of the connectivity between different ecosystems and how messing with one can have consequences for another.
It took Covid-19 in nationwide isolation for some cities to - very rapidly - see for example clear waters in the canals of Venice, the Himalayan mountain range from Indian cities for the first time in 30 years, to hear birdsong and nature calling in cities usually drowned out by the constant hum of traffic and machines.
How so? Because traffic and factories fell silent and co2 levels fell. Nature's recovery was rapid and dramatic.
To paraphrase Isaac Newton, every action has a reaction.
Man-made co2 emissions is not the sole reason for the fluctuation in global temperatures, I've already agreed with you Barry. But it is certainly IMO a contributing one.
Barry Rathbone
232
Posted 29/08/2020 at 23:30:20
Jay
Mike Gaynes was upset because he was wrong about Obama's house, childish I know but that's his problem not mine.
As far as I can see I have just reiterated the fact no empirical evidence exists showing co2 warms the planet.
Admittedly that destroys your previous assertions but I'm slightly surprised you got in such a tizzy about it. First impressions suggested you were quite open minded and not prone to tantrums when presented with irrefutable fact.
Ah well.
Jay Wood
[BRZ]
233
Posted 29/08/2020 at 00:14:38
And there you go again Barry.
Resorting to ad hominem attacks without justification.
Or is any reply addressed to you unjustified and 'tetchy' just because it doesn't conform to your own world view?
Hey-ho. Getting back to the debate...
Sorry to burst your bubble, but you have not offered irrefutable 'fact' that 'no empirical evidence exists showing co2 warms the planet.'
To flip that claim on its head, I wouldn't be so rash as to say that 'no empirical evidence exists showing co2 DOESN'T warm the planet.'
Superficially, empirical evidence is what you want it to be. It is gathered from the senses, that which is observed.
That's why TW is as diverse as it is on match day. The same game and the same players can be viewed by thousands. Some enjoy the game, others are critical. A player gets nominated as MoTM by some. Others describe him as a waste of space. The manager is seen as a tactical genius, or a dated dinosaur.
But back to the point under discussion. You first observe a phenomenon (empirical evidence) and then seek out evidence as to why it occurs (demonstrable statistical evidence compiled by applying strict scientific method).
To use the example we are discussing, the polar ice caps are melting. Global temperatures are rising. Historical ice core samples show that current temperatures are higher than anything recorded in the last 2,000 years. This effect has accelerated since the onset of the Industrial Revolution. Man-made co2 emissions is a possible contributing factor in this.
Now you, Barry, seem to be hanging your hat primarily on empirical evidence. Fine. But there is also a considerable body of statistical evidence that challenges your basic premise which you are sceptical about. Again, fine.
Like yourself it appears, I have read claims and counter-claims on both sides of the divide. You sit in one camp. I sit in another.
Choices. Such is life, eh?
Mike Gaynes
234
Posted 30/08/2020 at 00:42:11
On this thread alone, Barry's highbrow intellectual method of debate consists of describing other people as "ignorant", "wrong", "childish", "petulant" (that's a special favorite), "silly", "ludicrous", "emotive", having a "tantrum" (another repeater) and in a "tizzy".
This from someone whose knowledge base has emerged from his extensive scholarly study of... blog posts.
No ordinary troll, this fellow. He's a veritable Trump.
Don Alexander
235
Posted 30/08/2020 at 01:15:56
Anyone taking issue with the causes of global warming, a threat to humanity, and the planet, like no other, and the part significantly played by significant increase in CO2 levels needs to give their head a wobble.
Such few people probably absolve Kenwright of any responsibility for our thirty year demise under his influence.
It takes all sorts I suppose.
Eric Myles
236
Posted 30/08/2020 at 01:22:01
"Historical ice core samples show that current temperatures are higher than anything recorded in the last 2,000 years."
They've been measuring polar ice cap temperatures for 2,000 years??
Jay Wood
[BRZ]
237
Posted 30/08/2020 at 02:17:20
Eric, a word to the wise.
Learn what ice cores are, how they are extracted and studied and what they can inform us about historical global conditions before making such fascil statements.
It might save you from looking a bit silly.
George Stuart
238
Posted 30/08/2020 at 02:35:59
I saw the words Liverpool City and thought "plan fuckers" because the RS can't stand competition.
I then thought, heritage hole. We must protect the heritage hole.
Normally I'm all for preservation of the built environment but FCS how many repurposed giant socks do you need ?
Eric Myles
239
Posted 30/08/2020 at 07:02:04
Seems Barry's right, Jay's 'tetchy'.
Alan J Thompson
240
Posted 30/08/2020 at 07:44:42
Jay (#214);
You state; "Homosapien dominion over the natural world unmatched by any other species that has swam, crawled or flown over."
You haven't mentioned those aliens from outer space and I'm totally shocked, if not staggered, that Barry hasn't picked you up on this point.
Has anyone mentioned Einstein's theory on the true value of a good defensive midfielder to turn away the flooding of defensive lines by a speedy opposition? And I thought reaching my three score and ten would be depressing.
Billy Roberts
241
Posted 30/08/2020 at 08:32:19
Lyndon +Michael
Is it possible to change the image of Bramley Moore dock and our proposed new stadium with a montage of biblical floods, Amazon rainforests, polar ice caps and Barack Obama's flooded or bone dry front garden please?
This can act as a sort of warning to anyone like myself who keeps straying on to it expecting a discussion about the changes to the ground, English heritage etc. It's like stumbling into a posh tuxedo style party in your Jeans on account of me not being a Proffessor of climate change or Sherlock Holmes smarter brother.
Thanks.
Barry Rathbone
244
Posted 30/08/2020 at 09:20:58
Jay,
There are ice core records not agreeing with your assertion but I am concerned at referencing them given your sensitivity to opposing fact.
If you have empirical evidence of CO2 warming the planet please supply ditto the ad hominem I allegedly threw at you.
Don't morph into Mike Gaynes for heavens sake.
Jay Wood
[BRZ]
245
Posted 30/08/2020 at 13:44:48
Eddie @ 243.
You'll get no argument from me that the dinosaurs ruled the earth for much longer than mankind.
But I didn't refer to 'occupancy' in time of a dominant species, did I? I spoke of a species dominion over its environment. And no species other than homosapien has come close to transforming the planet at such a rate that nature cannot keep pace and evolve to the changed conditions as it did under any other dominant regime.
You are probably familiar with the model that if the history of the planet was condensed into a 24 hour clock and as it was still forming from compressed gases 4.6 billion years ago, that would represent second one in said clock.
Around 6am in the morning very, VERY basic life form appears. ALL life form exists in water for the next 16 hours - that is, until 10pm at night.
Plants and land animals next appear before dinosaurs finally emerge around 10.45pm. Dinosaurs stick around for an hour before an apocalyptic event does for them, having been the dominant species for 175 million years.
Taking the here and now as midnight at the end of our imaginary 24 hour clock, humankind appeared just two minutes ago. That's just 200,000 years ago out of 4.6 billion years. 'Civilization' as we know it is just 6,000 years old.
As an archeologist you will know full well in the past 6,000 years empires have risen and collapsed on themselves due to politicial, economic, cultural and environmental issues.
What's your prediction Eddie for the planet and the human race based on the known evidence and the continued degradation of the environment and its finite resources and the depletion of bio-diversity at the alarming rates we are seeing?
I repeat, it is only in the last 200 years since the onset of the Industrial Revolution that humankind has had the capacity to depelete and transform the planet as is self-evident (for those willing to see).
An apocalyptic event from outer space did for (chronologically) the planets most enduring dominant species, the dinosaurs.
We are crafting our own apocalyptic event right here on earth, armed with the knowledge of what we are doing and with the technology and means to arrest it.
Sadly, the political, corporate and social will just doesn't exist in a large enough or sufficiently influential lobby to change the destructive path we are on.
Jay Wood
[BRZ]
246
Posted 30/08/2020 at 13:54:31
Barry, I'm beginning to suspect that you don't fully comprehend what empirical evidence entails. I won't belabour the point, having carefully explained it alongside the need for statistical data based on a robust scientific model.
As for your ad hom claims, see Mike's list @ 234.
It's not just me you name-call rather than debate with. In doing so you are flippantly dismissive of another's position whilst elevating your own to being superior and inrefutable without actually engaging in the debate.
Eric Myles seemingly marches to the same tune.
Each to their own.
Eric Myles
247
Posted 30/08/2020 at 13:59:54
Jay, it's you that started the name calling in response to my post.
Pot, kettle, black.
Tony Abrahams
248
Posted 30/08/2020 at 14:07:05
All over my head but there is an article in The Guardian about the destruction of rain forests and how this might start to produce a lot more pandemics in the future.
They must absorb so much, but they are getting decimated, something I don't think I will ever be able to understand.
I might be getting in the way, but there are some very educated people on this forum, and I've always been intrigued why people would want to destroy a part of nature that seems to do so much to help preserve our planet?
Will Mabon
249
Posted 30/08/2020 at 14:30:09
"
and how this might start to produce a lot more pandemics in the future.
"
In the current climate of ridiculously over-hyped fear, we'll be tripping over these sort of articles on coincidentally topical themes for a good while.
I agree with some concerns for many activities that are not good for the world, but the sudden link with trees and pandemics is a rather, er... unsurprising bogey man.
Don't take my word for it Tony, but I wouldn't worry unduly.
Bill Watson
250
Posted 30/08/2020 at 15:23:57
Tony #248
One word;
Profit
The gullible are then used as foot soldiers to convince the rest of us deforestation doesn't contribute to climate change. Step forward Barry and Eric et al.
Eddie Dunn
251
Posted 30/08/2020 at 15:53:01
Jay, wonderful stuff, I was transported through space and time for a moment there!
My prediction is that it is most likely that a simple volcanic eruption (or series of them) will be sufficient to reduce life on Earth to a much-reduced variety of organisms and, if some humans make it through the episode, it will take thousands of years before we are in such a mess again. Indeed there is evidence of previous sophisticated civilisations with technology that we still can't fathom.
Mainstream archaeology doesn't yet accept some of the breakthrough discoveries that are being made but before the last Ice Age there seems to have been a cataclysmic event (about 12,000 years ago) and it wiped out both the civilisations and any records they kept.
Incidentally I wouldn't call myself an archaeologist, I was merely dragged into a big project and blagged it for 18 months. I was managing many sites on an oil pipeline overseas. It ain't rocket science.
Eric Myles
252
Posted 30/08/2020 at 15:54:48
Bill #150, can you show me a post where I've claimed any such thing?
Thought not.
Jay Wood
[BRZ]
253
Posted 30/08/2020 at 16:05:46
No Eric. I did no such thing.
I offered you advice to learn about ice cores before pronouncing on them in the supercilious manner you did.
'They' haven't been 'measuring the polar ice cap temperatures for 2,000 years' as you glibly questioned.
An ice core is a sample gathered and preserved from deep bore holes, usually from permanent ice caps. Ice cores show the strata of successive annual compacted ice/snow falls down the eons.
'They' have been extracting ice cores for decades now and then interpreted what they show as an indicator of possible historical world temperatures and climates. A bit like cutting down a tree and looking at the annual growth rings in the trunk which is also an indicator of climatic conditions in each year; a growth spurt, or a stunted one.
Let me be even more 'tetchy'. The deepest ever ice core recovered was more than 3.6km. And the 2,000 year old samples I mentioned in my earlier post is barely a suckling babe compared to the oldest ice core recovered from the Antarctica which comes in at an astonishing 800,000 years old. That should offer you even more to scoff at.
Hope that helps.
Barry Rathbone
254
Posted 30/08/2020 at 16:08:40
Jay
If you think describing irritable responses as a tizzy equates to ad hom you need to research the term.
As for my responses to others I give as I receive. Michael Gaynes, Michael Kenrick, Andrew Hight and others took a swing for no reason other than they could not argue the facts. I did not insult them.
Accused of BS, membership of the flat earth society and told to jog on would have invoked fury amongst the more sensitive but I find it amusing that calmly pointing out hard scientific fact causes angst. And if you read back the contents of our little "chat" that's all I have done to you.
You (and perturbed others) should look at it this way - the continued failure to supply requisite empirical evidence should not be a source of annoyance but enlightenment.
Furnished with the knowledge that this basic tenet of science has not been met puts you in a better position to gauge how much science and how much BS is being thrown your way.
But I understand for a certain group man made climate doom is a religion not science so logic and reason don't apply.
Eric Myles
255
Posted 30/08/2020 at 16:36:41
Jay #253, it's you that's being supercillious in your post #273.
Again, pot, kettle black.
Jay Wood
[BRZ]
256
Posted 30/08/2020 at 16:40:31
Eddie, I do enjoy history and the intrigue of how and why dominant civilizations rise and fall.
There is a presumption that modern 21st century humankind is the pinnacle of our species, standing on the shoulders of the accumulative knowledge of all those that went before.
I personally don't believe that. Beyond question, today we do have unprecedented dominion over the entire face of the planet, but not necessarily to its or our own long-term benefit.
I very much side with you that there were earlier sophisticated and possibly more harmonious civilisations with technology, political and social structures which were far more equitable than the models we live under today.
Working on an archeological dig 'Back in the USSR' must have been a gas!
I'd love the opportunity to work on the same, be it to reveal the remnants of a lost civilization, or unveiling a human-high femur from dinosaur fossil remains. What a buzz!
Eric Myles
257
Posted 30/08/2020 at 16:50:57
Barry #254, it seems that labelling posters as facile and silly is more acceptable than actually providing information!!
And then complaining when they're called on it!!
Jay Wood
[BRZ]
258
Posted 30/08/2020 at 16:58:58
You keep sniping from behind your sofa as is your inclination, Eric.
I'll look forward to you actually contributing something of substance and relevance to the debate beyond the one-line sneering you've offered so far.
I fancy it could be some wait.
Michael Kenrick
259
Posted 30/08/2020 at 17:10:08
So, if I understand where you are coming from on this, Barry, there's one geologist – up against thousands of physicists and other career specialists – who has reinvented the laws of thermodynamics, electromagnetic radiation, and heat-transfer to 'explain' how the contribution of greenhouse gases to global warming is 'a physical impossibility'?
Strangely, the same guy credits the agreement on CFCs as eliminating the hole in the ozone layer, which he says was responsible for global warming, and that the other factor was some small subglacial eruption of basaltic lava in Iceland 5 years ago that is responsible for the recent uptick in temperatures?
There's no doubt that the mechanisms involved are highly complex and the interdependencies involved require a wide knowledge of physics to understand. But to make the claim that it is all a complete hoax on such a poor foundation really does put it right up there with flat earthism in its conspiracy-theory wackiness.
You should put up more links to that Geraint Hughes fella, he's a real charmer.

Eric Myles
260
Posted 30/08/2020 at 17:16:04
Jay #258, all I'm saying is that YOU are the one making insults, yet complain you are the victim.
Reminds me of our neighbours.
And the deflection also.
So glad to see that you haven't changed your tetchy mode in your last post either.
Barry Rathbone
261
Posted 30/08/2020 at 17:24:53
Eric
Asking for empirical evidence is a prerequisite of robust science but in matters climate it is the kryptonite question. Believers dissolve in front of your eyes wailing in agony I've seen it a thousand times.
Ludicrous given the only robust evidence over a long period (800k years of ice core samples) irrefutably demonstrate CO2 lags behind, not causes, warming.
But as I said earlier those devoted to the credo are indulging faith not science. Not that I mind my beef is the use of public funds to support religions when so many real issues exist. Let them indulge their faith with their own cash
Barry Rathbone
262
Posted 30/08/2020 at 17:28:43
Michael
"So, if I understand where you are coming from on this, Barry, there's one geologist – up against thousands of physicists and other career specialists – who has reinvented the laws of thermodynamics, electromagnetic radiation, and heat-transfer to 'explain' how the contribution of greenhouse gases to global warming is 'a physical impossibility'?"
No. He hasn't said that at all quite staggering that you should invent such a statement.
Michael Kenrick
263
Posted 30/08/2020 at 17:45:59
Barry, one of the many ridiculous websites you linked to says exactly that.
Of course, I would expect nothing less than for you to deny it absolutely. Well done.
Barry Rathbone
264
Posted 30/08/2020 at 17:52:21
Michael,
When you said "if I understand where you are coming from" I naturally assumed you were referencing the paper I originally stated in this dialogue.
You needed to say something along the lines of "I've researched this chap and he said.... blah, blah"
If you want me to respond to your findings paste your source and I will take a peek. Try not to get upset
Derek Moore
265
Posted 30/08/2020 at 18:03:49
Threads are like this are why I avoid this place during the offseason.
A shoutout to Mr Armstrong, who manages to do the virtually impossible and come across as a likeable, mature and intelligent fellow from this thread. In answer to his query, the great posters leave when the febrile posters run riot. Something about cause and effect springs to mind.
If arguing the toss with randoms on the internet is your thing (particularly when arguing over topics that you have little to no actual knowledge) may I make a suggestion? Please head to a site called Reddit where threads like this happen all day, every day. Reddit is a true nirvana for the time rich, quarrelsome and frankly ignorant types who love nothing more than to have a good rant about something they know so very little. Many names on this thread would enjoy time spent over there I'll wager.
I actually came here to post about the stadium, but I wouldn't want to take the thread off-topic. As you were gentlemen. If climate science as a topic has been exhausted perhaps we can learn why MI5 killed Diana or how the moon landing was faked from one of the experts here? Or even just explain to us laypeople how QAnon is genuine and not made up craziness at all?

Barry Rathbone
266
Posted 30/08/2020 at 19:07:14
Derek
I do agree I will refrain from posting anymore about alleged man made climate doom
Derek Moore
267
Posted 30/08/2020 at 19:20:44
Thanks Barry. The logic of using a football fan site to try and convert internet strangers to your views on the polarizing issue of climate change did baffle me, I must confess.
It sounds as if normal service may now resume. Once again, thanks.
Tony Abrahams
268
Posted 30/08/2020 at 19:38:13
I'd have to go along with Bill, Will, it must be down to money. It's an interesting article though, it doesn't strike fear, just explains how much this pandemic has cost, and for a small percentage of this money, how it could help keep an eye on this very important issue over the next so many years.
Natural habitats are getting destroyed, workers don't just take food, they kill and then eat on the job. The article makes a lot of sense to me, but then again I've never saw any sense in getting rid of a natural rainforest.
Billy Roberts
269
Posted 30/08/2020 at 20:20:44
Toffeweb peace prize awarded to Derek Moore please@265 for achieving the near impossible.
Barry Rathbone
270
Posted 30/08/2020 at 20:31:56
Derek
Well said, thank you
Patrick McFarlane
271
Posted 01/09/2020 at 19:59:01
It's nice to see that the BBC are keeping upto date with all things Everton related:
TW broke this story last Wednesday.
---
Add Your Comments
In order to post a comment, you need to be logged in as a registered user of the site.
Or Sign up as a ToffeeWeb Member — it's free, takes just a few minutes and will allow you to post your comments on articles and Talking Points submissions across the site.