Everton vs West Ham United
Tuesday, 29 September, 2020
Carabao Cup Preview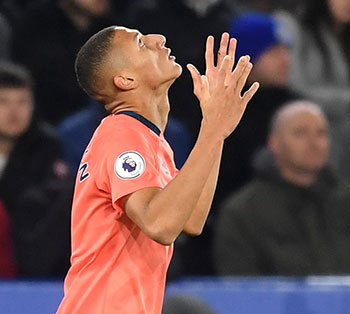 Richarlison could be included again if, as expected, Carlo Ancelotti goes for a number of his first-team regulars against Premier League opposition
Everton's Carabao Cup journey continues with their most difficult assignment in the competition thus far in 2020-21 as West Ham United come to Goodison Park.
Having faced Salford City and Fleetwood Town in the previous two rounds, it's the first time that the Toffees will meet Premier League opposition and while their early-season form suggested that the Hammers would travel with low morale, a surprising 4-0 win over Wolves on Sunday has changed the outlook of this tie.
Ex-Everton boss David Moyes deployed a fairly strong line-up in West Ham's third-round tie against Hull City last week and was rewarded with a comprehensive 5-1 victory and he is likely to go with a number of first-teamers again, with the likes of Felipe Anderson, Manuel Lanzini, Andriy Yarmolenko and Sebastian Haller (who came on with two minutes to go against Wolves) all rested at the weekend.
Carlo Ancelotti opted for a mix of experience and second-string players against Fleetwood but the Hammers' form over the past two matches might see him err towards a strong side this time around, even though the next Premier League game against Brighton will follow swiftly on Saturday afternoon.
The boss has hinted that Niels Nkounkou, one of the clear stand-outs from the first two rounds, will be in the starting XI again, perhaps with Lucas Digne playing centre-half again alongside Michael Keane, and the likes of Bernard and Alex Iwobi will be hoping that they did enough last Wednesday to earn another start.
The need for cutting edge up top will likely see Dominic Calvert-Lewin and Richarlison partner each other up front again and if Abdoulaye Doucouré and Allan aren't in the side, they will almost certainly be on the substitutes' bench again ready to come on if needed to bolster the midfield.
It remains to be seen if Anthony Gordon or Theo Walcott are included in the side or if they will have to be content with places on the bench alongside Moise Kean who scored against Fleetwood but still doesn't appear to have the full confidence in himself that his manager will be looking for.
Though this will be Everton's sixth game in 17 days, they will know that the fixture list eases after Saturday and a two-week break ensues to accommodate the international break. That might factor into the manager's thinking as he assesses which players might be showing fatigue.
But, by the same token, the importance of progressing in the competition and ensuring that Everton are already in the quarter-finals of a major domestic cup competition won't be lost on him either. A sixth successive win would do just that and set things up nicely for further progress in the League.
Kick-off: 7:45pm, Wednesday 30 September 2020
Last Time (cup): Everton 1 - 1 West Ham United (FA Cup, January 2015)
Predicted Line-up: Pickford, Kenny, Keane, Digne, Nkounkou, Delph, Sigurdsson, Bernard, Iwobi, Richarlison, Calvert-Lewin
---
Reader Comments (239)
Note: the following content is not moderated or vetted by the site owners at the time of submission. Comments are the responsibility of the poster. Disclaimer
Paul Kernot
1
Posted 29/09/2020 at 04:12:35
This is a big one. They were impressive v Wolves at the weekend & like Palace, they're dangerous in the air from corners. Tough decision for Carlo at centre-back next to Keane. Digne has pace but not height plus a ready-made stand-in at left-back.
Mina has height but makes us all nervous as hell with his decision making and lack of pace. Someone on here called him Yerry across the Mersey last week. From what I've seen so far this season, Yerry and his pacemaker would be more apt.
Bill Gienapp
2
Posted 29/09/2020 at 04:16:48
Could see James on the bench for this one, strictly in a "in event of emergency - break glass" capacity.
Derek Knox
3
Posted 29/09/2020 at 05:11:18
There's no doubting that the stakes have been increased for this game, but whoever is in the starting line-up, spirits should be fairly high. Home advantage if you can call it that these days, must also count for something, so not predicting a score but I would settle for a narrow 1-0 right now.
Alan J Thompson
4
Posted 29/09/2020 at 05:14:35
I know he played U23s last night but why not give Pennington a run as he does at least have some 1st team experience or, if we are going to start to take this Cup seriously, will it be Keane and Mina? Whichever way, it seems that whoever plays has just finished one game or will have another in three days time.
Jack Convery
5
Posted 29/09/2020 at 05:28:09
I hope we go strong and put this game to bed early doors but it will be difficult if they play to the standard they showed versus Wolves.
It's this game that illustrates the limitations we have as a squad right now. Risking 5 or 6 changes will definitely be a risky thing to do. 2 or 3 maybe. Mina cannot be trusted obviously to play more then one game in a short period of time, meaning we continue to play the impressive Keane in every game and move Digne to centre-half due to a lack of options in that area due to injuries and a shortage in depth in that position.
On the positive side is this means we get to see Nkounkou again and get the chance to assess him against much better opposition. I think he will relish it and show once again that Brands has unearthed an absolute gem of a player. I would play Gordon in front of him - he is desperate to play and prove himself worthy of at least a place on the bench come Saturday against Brighton.
My team.
Pickford
Coleman
Keane
Digne
Nkounkou
Bernard
Allan
Doucoure
Gordon
Calvert-Lewin
Richarlison.
We may not have a squad capable of winning the Premier League yet but we definitely have a real opportunity in this cup competition of going all the way and winning it. COYBs.
I hope the rumours of Zouma are true and he comes back. He knows us and we seem to get along really well together.
Lester Yip
6
Posted 29/09/2020 at 05:37:35
With Moyes you'll expect an organised unit that is hard to break down. Might need extra spark to break it down. Also, Antonio is fast and strong. Mina is the right match.
Save James as "secret" weapon. Use Bernard. Keep Allan in. Use Davies and rest Doucouré. Calvert-Lewin and Richarlison has to start. I'll give Gordon the nod over Iwobi. Start Kenny and rest Coleman.
Pickford
Kenny
Keane
Mina
Digne
Nkounkou or Gordon
Bernard
Allan
Davies
Calvert-Lewin
Richarlson
Nicolas Piñon
7
Posted 29/09/2020 at 05:54:58
I would definitely put Allan and Doucoure in the starting team. More than ever after seeing that they rested important players against Wolves. Gordon in. Carlo won't afford getting out of the cup so soon so he'll put the best team possible with just a couple of subs I guess. Hope he does it. Maybe Delph in. James on the bench at least I guess. COYB!!
Nicolas Piñon
8
Posted 29/09/2020 at 06:00:44
Carlo knows Brighton play Man Utd as well on Wednesday so they won't be full throttle on Saturday (I guess) neither. But this is a must win game in his head I think so that's another reason for him to play our heavy armoury.
Darryl Ritchie
9
Posted 29/09/2020 at 06:46:57
The talk is that Ancelotti can possibly take us into the Champions League spots. On the other hand, the scuttlebutt is that Moyes has the experience and coaching expertise to keep West Ham up.
On paper, we should win fairly easily; but then again football isn't played on paper. If we field a decent starting 11, with enough quality on the bench to pull it out in the end if needs be, I see the score being 3-1 Blues.
Fran Mitchell
10
Posted 29/09/2020 at 07:26:12
Every game here on in will be met with the trepidation of "is today when it'll come crumbling down?"
West Ham have been clouded in chaos, and the media love making David Moyes appear totally inept.
But Moyes has actually done a decent job at West Ham considering. And some of his signings have been very good - Bowen, Souceck. In Antonio they have an excellent player, and a couple of wild cards in the form of Haller and Yarmalenko. Rice is also a good midfielder.
But we should be too good for them. What team Ancelotti goes for will be interesting. Will he risk the 3 signings? This is possibly our most viable option for silverware, and just imagine the ecstasy and relief that an early piece of silverware would provide for the rest of the season.
I expect maybe Allan and Doucouré will both play, and James will be on the bench. Bernard may play after his excellent performance last time.
Chad Schofield
11
Posted 29/09/2020 at 07:37:11
Like others think we'll play a stronger team rather than rest players... don't think we can afford to.
Tony Abrahams
12
Posted 29/09/2020 at 08:04:11
Agree with your first sentence Fran@10, especially with everyone waiting to knock us down, over the way our fans have carried on by having a little laugh. Let's keep them waiting, no fear, it's about time we really became Everton again, and we will only do that by WINNING!
Liam Reilly
13
Posted 29/09/2020 at 08:14:39
For a place in the Quarters against an in form PL side. Full strength for me and treat it like a PL fixture.
Martin Berry
14
Posted 29/09/2020 at 08:23:43
They play five at the back and will be difficult to breakdown, Antonio is a strong lad upfront who will need attention.
This is no Sunday league opposition so I expect Carlo to beef up the team in midfield and have is preferred strike force upfront.
Danny Broderick
15
Posted 29/09/2020 at 08:31:42
I think we'll go full strength. We've got 2 weeks off after the Brighton game. He might bring in is Nkounkou, who has been impressive. He could also play Delph instead of Gomes to give him game time. But I don't envisage too many changes. For me, Bernard is too weak and more suited to cameos than starting important games. Personally, I would play our first choice 11.
Hugh Jenkins
16
Posted 29/09/2020 at 08:31:57
Fran (10). We all feel it! We have seen so many "false dawns", in the last 40 years, that we live in constant trepidation that our current form can't last and that soon we will be out of all cups, 17th in the league and fighting relegation.
But, at last, I do believe that the stars are aligned for us. We have an ambitious billionaire owner (backed by an even more ambitious multi-billionaire in the background), who have appointed a stellar manager who has won absolutely everything at least twice and he is building a team that will be capable of consistently producing winning results, home or away against any opposition.
We just need to continue to believe and be patient (I hope).
Paul McCoy
17
Posted 29/09/2020 at 09:23:43
Impossible to predict the line up really. On the one hand Carlo is clearly taking the competition seriously and has said in the past that he likes it when his teams are playing every few days. On the other hand, he'll surely want to be giving game time to Nkounkou/Gordon/Bernard.
The main problem we have is that by bringing in James/Allan/Doucoure we've changed to a system that doesn't favour some of our other players at all. We have no one who can really do the same job as James or Allan so we'd need to change the system to fit others in.
I'm just going to trust Carlo's judgement on this one and enjoy the game!
Terry Murray
18
Posted 29/09/2020 at 09:42:54
How can I watch this game?
Don Alexander
19
Posted 29/09/2020 at 09:46:23
Through the fingers of both hands Terry, if previous years are anything to go by.
Dan Nulty
20
Posted 29/09/2020 at 09:59:00
Very good Don! True as well!
Derek Thomas
21
Posted 29/09/2020 at 10:03:11
Full strength for W Ham, full strength for Brighton. Sick notes all round for the International Break, 2 weeks R&R, then batter the rs = sorted
Max Murphy
22
Posted 29/09/2020 at 10:06:27
Terry (@18) use www.hesgoal.com on your PC.
If you have a laptop, hook it up to your TV with a HDMI cable. Have watched all the Everton games on this site
Brian Harrison
23
Posted 29/09/2020 at 10:08:09
Well this is the last midweek game for sometime, and one of the last chances for some of the fringe players to impress Carlo or clubs who may be looking to take one of these players on loan or permanently. I would hope both Gordon and Nkounkou start, with probably Kenny and Digne in the back 4, I would also think Sigurdsson,Delph and Bernard will also start. I think it will be interesting to see if he plays Virginia in goal, and seeing as he started DCL and Richarlison against Fleetwood will he start both against West Ham.
I wonder what side West Ham will field, will they also blood some fringe players or go pretty much full strength. After the games this weekend we go into an International break, so it would be great to go into the break with maximum points in the league and also progress in the Caraboa cup.
Ken Kneale
24
Posted 29/09/2020 at 10:35:28
Derek - I like your style. That string of events would have us all on cloud 9 and really daring to think a corner was turned.
Kevin Molloy
25
Posted 29/09/2020 at 10:38:10
if there's one thing we've learnt about the Moyesiah, it's that he doesnt give a rats arse about the Milk Cup. His players will still be recovering from Sunday night, he's got Leicester away at the weekend, it'll be kids and Alan Irvine on the wing. As such, I don't think the South Americans should be in the squad, maybe play DCL, otherwise the B team for me.
Lee Courtliff
26
Posted 29/09/2020 at 10:42:23
Terry, it's available on the Carabao website. It costs a tenner to watch the game.
Ernie Baywood
27
Posted 29/09/2020 at 10:44:27
If you're not going to start Moise Kean in the Carabao, is it even worth having him in the squad?
Sam Hoare
28
Posted 29/09/2020 at 10:59:14
Interesting. Lots of people asking for full strength team.
If you had to choose between winning against West Ham or Brighton which would you pick? I think i'd maybe go Brighton. To win 4 out of 4 in the league before the break would set us up so well for the rest of the season I feel.
But then a cup win is also long overdue! Hopefully we can win both.
I think it probably comes down to individual choices. For example both Rodrguez and Gomes have had a fair amount of injury problems over the last two years. Asking them both to play 3 game within a week may not be ideal. But the likes of Doucore and Allan are maybe a bit more robust. Calvert-Lewin had a slight strain last week so i'd not risk him.
Also I think the Carabao is an important opportunity to offer game time to fringe players who need to keep their eye in so they can be useful when we inevitably need them.
Pickford
Kenny Keane Digne Nkoukou
Doucore Allan Sigurddson
Richarlison Kean Gordon
Dan Nulty
29
Posted 29/09/2020 at 11:24:21
I think West ham will go strongest side. I'd love to keep winning and hope we do so. I think will see similar to last week but kean in for DCL.
Tony Everan
30
Posted 29/09/2020 at 11:26:09
West Ham are looking in good shape. They remind me a bit of Crystal Palace, a really tough physical team to beat and some very dangerous players. Antonio will be fancying his chances from set pieces. Rice and Bowen are playing well in midfield where it will be a physical battle and their defence looks more solid with some good strong acquisitions.
We have to be really up for it to get through, Pickford and our defenders have to be on red alert from set pieces. Moyes will see each one as an opportunity.
All this means a slightly stronger team is needed to overcome West Ham. We need to win the midfield battles and get some control on the game. I think playing Delph on the left of the midfield three can give some cover for Nkounkou's dangerous sorties down that side.
Really looking forward to watching Gordon and Nkounkou against this much tougher opposition.
Pickford
Kenny Keane Mina Nkounkou
Doucoure Allan Delph
Richarlison DC-L Gordon
Graham Mockford
31
Posted 29/09/2020 at 11:32:58
Given that the fixture list gets a lot less congested. The next round is not until December, we have four games in October and three games in November.
I would be tempted to play a strong side. I'd rest Rodríguez for Bernard who looked knackered by the end on Saturday, I'd give Nkounkou and Kenny a game with Digne playing CB. Other than that as it's been.
Ajay Gopal
32
Posted 29/09/2020 at 11:34:00
I would start Bernard, Delph, Gordon, Kenny, Nkounkou for James, Allan, Gomes, Digne, Mina
Pickford
Kenny Coleman Keane Nkounkou
Delph Doucoure Gordon
Bernard DCL Richarlison
SUBS: Virginia, Mina, Digne, Davies, Siggy, Iwobi, Kean
Rennie Smith
33
Posted 29/09/2020 at 11:50:26
Most seem to be approaching this one looking at the West Ham first team, but Moyesy will have the same perspective as Carlo and will not risk too many key players. I can't see the likes of Antonio, Bowen and Rice playing, Bowen was the only one that made the squad v Hull and didn't get off the bench.
Ajay@32 has probably got it about right.
Robert Tressell
34
Posted 29/09/2020 at 11:54:53
I like your team Tony Everan. We need to win this game. I want to win this cup. We will, I'm sure get a centre half in for cover. So we field a strong side.
Only variation might be Davies for Doucoure and maybe Kean for Richarlison. I'd like to see him alongside DCL.
Jack Plant
35
Posted 29/09/2020 at 12:26:01
I think I'd make 4 changes from the weekend, bring in Kenny, Nkounkou, Bernard and Gordon for Coleman, Digne, Gomes and James. Keep the spine strong while playing those who have performed well on recent mid-weeks.
Tom Bowers
36
Posted 29/09/2020 at 12:28:11
We are all on a high at the moment and rightly so.
Things are looking up so why not field the strongest side.
Moyes would love to put one over on us and the Hammers seem to be playing better.
I still don't have much regard for this competition but when you get the winning feeling you just want it to continue no matter what.
The goal Everton conceded at Palace was like so many in the past and I wouldn't like to see Digne fill in the central defence especially as they have some tall guys who are good in the air.
This game may come down to penalties yet again so it becomes a lottery at that point.
Mal van Schaick
37
Posted 29/09/2020 at 12:40:45
Whatever the team selection, the players should make a fist of this game, because players are playing for places. Don't perform don't get your first team place.
Bob Parrington
38
Posted 29/09/2020 at 12:45:40
I go more with Sam@28. Although I would sooner we win both, which we should, if it came to one over the other, choose the Brighton game.
No reason to be doubtful though. Admittedly, West Ham played an excellent game vs Wolves but, there again, Wolves allowed them an incredible amount of space all over the pitch (surprisingly). We might do so in some areas but not "the lot". On our right, we need to have Seamus. On our left I'd be happy with either Digne or Nkounko (pls excuse the spelling). Centrally, with Allan breaking things up I would likely choose Gordon and Sigurdsson. I'd tend to go with Keane and Mina as CDs, the latter because of height to cope with WH's aerial strength in set plays.
Up front, DCL supported by Bernard, Iwobi and a strong bench to include Richy, Kean and James. I'd have Pickford in goal for this one, too!
Matthew Williams
39
Posted 29/09/2020 at 12:55:24
Just four games to go Blues, the fastest way into Europe too.
Just win it... finally... and make me cry!
What can I say but am a sensitive Cancerian.
Kieran Kinsella
40
Posted 29/09/2020 at 13:15:45
West Ham didn't rest players at the weekend Felipe, Yarmolenko etc have been subs since project restart. Regardless, it shows WHU have strength in depth despite Wilsheres whining so we will face a good team.
Stan Schofield
41
Posted 29/09/2020 at 13:18:48
There's no way we should be fielding our strongest side for this one. Enough players looked leggy on Saturday to make it immediately obvious that rotation is needed. We do have the squad for that, certainly of sufficient quality to see off the likes of West Ham, which is not being complacent about the opposition, just practical. They'll probably score, but we'll score more.
Jerome Shields
42
Posted 29/09/2020 at 13:23:19
This will be a interesting game. I expect a similar line up to the Fleetwood game with a few changes. I expect Moise Keen to start and Bolaise instead of Walcott. Walcott didn't perform against Fleetwood. Gordon could start instead of Richarlison to give him a break. Bernard, Delph and Iowbi in midfield. The bench will be strong to help out if needed. Rodriguez won't be on it.
I agree with Sam regarding the Brighton game preparation. Pickford in goal.
Jay Wood
[BRZ]
43
Posted 29/09/2020 at 13:26:25
Sorry Bob (and Sam) but I don't subscribe to Sam's hypothetical of 'if' and making an 'either/or' choice about choosing a preferred victory out of the two upcoming games.
It is 'and/and' for me all day. Let's win v WHU AND win against BHA.
I have no doubts that is Carlo's approach as well.
He is taking the Carabao Cup very seriously. He surprised us with just how strong a team he selected last week v Fleetwood. After that game he said we are 3 games away from the final. This constitutes a serious declaration of intent IMO.
As others have already pointed out, with the international break after the Brighton game we have a full two weeks off. In October and November we revert to weekend only games, no mid-week fixtures.
This all points to Carlo naming a very strong starting XI v WHU. They, by contrast, have more of a selection conundrum IMO.
They played the last fixture of the weekend Sunday evening. Moyes would be risking a lot with the transfer window closing next Monday to ask fatigued bodies to play again so soon. Part of him will want to put one over us. His more pragmatic side may lean to protecting der Hammers PL status more than progress in the League Cup.
I haven't watched a single second of WHU this season, but reading reports they were unlucky at Arsenal and tore Wolves a new one as well as thumped five v Hull in the cup. They offer yet another different challenge to those we have already overcome.
But such is the buoyancy and quality of football from Everton this season, whatever the line ups, I fancy us strongly to progress. AND to beat Brighton on Saturday.
Stephen Vincent
44
Posted 29/09/2020 at 13:34:35
It's a shame we don't know what team Moise intends to put out, is he just concerned about survival or does he want a trophy. I think Carlo wants a trophy but will be happy to put out the least competitive team to get the job done. So I expect something similar to Fleetwood with a very strong bench.
I would be tempted to give Pennington a shot rather than risk Luca out of position against Prem opposition.
Bolasie is on his way to Olympiacos.
Mike Corcoran
45
Posted 29/09/2020 at 13:36:56
We'll be fine as long as they don't bring on Frank Lampard Snr near the end.
Kevin Prytherch
46
Posted 29/09/2020 at 14:04:55
Stephen 44 - it makes sense now why Moise Kean was on the bench in our last game, if he has picked up the responsibility of picking the opposition team as well. It must be difficult enough trying to keep an eye on how West Ham are doing from the bench, never mind if he was on the pitch.
To all those questioning why Moise isn't looking overjoyed when he is scoring, he obviously has a lot on his mind trying to juggle being a squad player for us and picking the team for the Hammers.
Brian Murphy
47
Posted 29/09/2020 at 14:21:44
Its funny that to me Ancelloti will continue playing the second string as all he really cares about is the league. Thats the yard stick he is measured by and everthing else (Unless we were in Europe) comes second. Its a great mentality to have and even though we may not fully like it as fans (we just want to win something after all) that mentality is sure to be rubbing off on the players.
The slight worry at the moment has to be the number of games some of the players have been involved in already. Keane, Digne have played every match and even though theres an international window coming up most of these guys will be away with country duties. Colombia don't seem to have a game so I wouldn't be surprised if Mina started with Keane getting a break. Also Richi might get a break and be on the bench.
We really need another Centre half though. Hopefully we can get one wrapped up in the next few days and that gives him a few weeks to get him intergated before the RS game.
Anyway heres hoping for another win. COYB.
Brian Wilkinson
48
Posted 29/09/2020 at 14:28:13
Jay@43, I agree,let us win both, we have gone so long without a trophy for the very same reason of making changes in the cup games, why can't we win both games.
After Saturday, we get a weeks break before the Derby, let us keep the momentum going and field a strong side.
I would give Nkoundou and possibly Kenny and Gordon a run out, other than that, I would start with a strong midfield and forward line.
Danny Baily
49
Posted 29/09/2020 at 14:32:24
Strongest side for this one. Why would we field anything less?
John Keating
50
Posted 29/09/2020 at 14:53:40
Pickford
Kenny Keane Pennington Nkounkou
Doucoure Allan Sigi
Richie DCL Gordon
Stan Schofield
51
Posted 29/09/2020 at 15:24:49
Danny@49: It isn't feasible to field the strongest side in every game, and rotation from the squad is the reality. The approach will be to field a side of strength sufficient to win this cup game, which is unlikely to be the strongest possible side.
Steve Ferns
52
Posted 29/09/2020 at 15:27:45
Virginia
Kenny Keane Digne Nkounkou
Davies Sigurdsson Delph
Iwobi Kean Gordon
Sorry, but we have to rotate. We're in a title race!
Tom Bowers
53
Posted 29/09/2020 at 15:48:11
Like all Prem. sides in this competition the starting elevens will be a mixed bag until the semis, when it gets really serious for them.
Until then it becomes a competition for giving fringe players a chance to really shine although I suspect for many an experienced player their futures will remain the same- iffy !
Jerome Shields
54
Posted 29/09/2020 at 15:48:13
The way that a team keeps winning is to have the depth of players to put a fully fit team out, rotating where necessary and to have alternative skills to vary tactics to the to suit the opposition Everton are playing.
I think Ancelotti will mix it a bit. Moyes will set up house expecting a similar Everton to play against, as we all know. . Ancelotti will make changes during the game and vary tactics, something that scares the life out of Dave.
The beginning of the third quarter I hope we get a look at Moyes face.
Steve #52
Steve I think he will play Pickford , he needs games. I hadn't thought about Kenny , but you are right. Sigurdsson maybe.
Tony Abrahams
55
Posted 29/09/2020 at 16:01:43
I've heard Moyes can't attend the game because of Covid, Jerome. Irvine will be looking for a hat-trick of straight wins, so I expect a really difficult fixture.
Who does Dacoure, represent at International level? just because Everton are not in action, it doesn't mean the likes of Richarlison & Rodríguez, wont be traveling back to South America to play in World Cup qualifiers next week.
Hugh Jenkins
56
Posted 29/09/2020 at 16:03:53
Out of choice we would all play our "strongest side" on every occasion.
This goes back to the days when there was a "First XI".
In those times league games were played weekly and cup games were allowed for in the schedule and slotted in at weekends throughout the season.
There was no European competitions, Internationals were primarily amongst the four home countries - played in the "close season" that generally lasted from late April to Late August.
The League cup was introduced in the 1960-61 season.
The European Cup was introduced in 1955 but was very different to today's tournament.
The cup winners cup was introduced in 1960 replacing the intercity fairs cup which ran for three years from 1955 to 1958.
So it is fairly easy to see that the need for a "squad" rather than a "first XI" has been growing since the early 1960's following the introduction of more European competitions and the EFL cup.
Add to this that the early days of the EFL cup the EFL did not allow any teams to "opt out" and also fined teams for playing perceived "under strength" sides early in the competition and the need fo recognised "squads" grew apace.
So, we arrive at today and as we often bemoan, only the very wealthy or most "attractive" clubs can gather and maintain a squad where the perceived "second string" is as good as the first, or in some cases better than the "first string" of other teams.
However, it is the system we are stuck with and with the number of competitions entered (even without European Football) and the intensity of the modern game, I believe it is impossible to play our "first XI" in every match without courting disaster.
Changes have to be made and managed, but I think Carlo is canny enough to make the right changes and have the right players on the bench, to meet most contingencies - at least I hope so.
Kieran Kinsella
57
Posted 29/09/2020 at 16:05:20
Tony
He is French but has never played for them above under 21, though apparently he has just been called up for the first time now to represent Mali next week. Bad timing for us
Declan Campbell
58
Posted 29/09/2020 at 16:06:34
Jerome Shields. Walcott didn't play against Fleetwood.
Kieran Kinsella
59
Posted 29/09/2020 at 16:10:56
The fixture congestion this year is worse than usual and could be to our advantage IF we ca handle the load. Spurs have four games scheduled in a week. That's just ludicrous. City are down to 13 fit and barely beat Bournemouth so those two are both at risk of an early exit. Obviously One of RS and Arsenal will be out too. So it potentially opens things up for someone other than the usual suspects to win.
Jay Harris
60
Posted 29/09/2020 at 16:42:45
West Ham are physically strong and fast on the break but can be got at defensively despite their recent successes.
Moyes despite his convalescence will have them fired up for this one but at full strength we have the firepower to worry them.
I am torn between Digne or MIna. Digne reads the game well and is quicker but is not so strong in the air.
And if DCL is fit he gives better defensive cover than Kean from free kicks and corners.
I also feel it is important not to revert back to the "poor" MF we had last year and play Allan and Doucoure that make such a terrific difference to our robustness.
Gordon seems desperate to score so I would give Richy a rest and play Gordon there with Delph on the left flank and Siggy just behind Gordon and DCL.
I also worry about Jonjoe as they play with pace and power down that flank but feel we have to give him a chance but keep Seamus in reserve just in case.
We have to win this cup sometime so lets make it this year and most of the players can take a 2 week break after the Brighton game.

Robert Tressell
61
Posted 29/09/2020 at 16:48:53
The really good thing is that, apart from centre half and GK, we've suddenly got lots of options.
I expect this to be a really difficult game unless we can score first.
Mike Gaynes
62
Posted 29/09/2020 at 17:46:21
The problem is that Moyes has so far proven to be a Sir Alex-caliber manager when telecommuting from isolation. I know "phoning it in" is supposed to be a bad thing, but either he's got it down pat or Alan Irvine is unable to understand him over the phone and is making the decisions himself. If Moyesie is back on the touchline I will feel much more confident.
In all seriousness, we do need to put out a strong lineup, and I believe Hammers will do the same for the same reason -- best chance for silverware this year. (Steve, I like your tongue-in-cheek quip, but no, we're not.) I do agree on Kenny, but if Mina's not playing, I think we have to go with Digne again in the middle. Stephen, no chance it'll be Pennington -- I just don't think Carlo has the slightest faith in him after his disastrous summer at Hull.
I really, really want to see Gordon start this game. And I'm with Robert, I'd like to see Kean up front with DCL and give Rich just a bit of a break. He was a tackling fiend last weekend.
John Pierce
63
Posted 29/09/2020 at 17:59:42
Carlo will ramp it up again just a touch.
Pickford.
Kenny, Keane, Digne, Nkounkou
Doucoure, Delph
Richarlison Sigurdsson Bernard
Calvert-Lewin
West ham have very nasty run of games, they will rest more in my opinion.
We might strike lucky on our South American contingent. Asia and Concaf qualifiers look to have been postponed, I think there's a doubt the Comebol games will go ahead?
Nick Page
64
Posted 29/09/2020 at 18:06:16
For some reason I always remember getting knocked out the FA Cup quarter final by these in 91. Don't think we've beaten them in the FA Cup since the 50's. League Cup record is a bit better, thankfully but this could go either way unless we score early. But with all the "hype" and hijinks this week I fear we'll do an Everton and crash out with egg all over our faces much to the delight of Baphomets mob over the park.
Mark Taylor
65
Posted 29/09/2020 at 18:10:15
I would go with rotation. Better to play with fresh, eager to impress players than trying to squeeze out 3 games in 7 days from our first team. If WH do the same then it's second string v second string. If they don't, then they might look stronger on paper, but I bet their legs go as the game goes on.
Exception has to be made for Keane and Digne, because of our shortages there and I certainly wouldn't risk Mina in a game like this. He gets injured even when he isn't fatigued. Luckily we have a few back ups that I don't think will greatly weaken the team. Nkounkou may arguably strengthen it, certainly offensively. Gordon also looks to be champing at the bit. We can surely fashion a competitive midfield out of what we have, albeit we will miss the box to box talents of Doucoure and Allan's defensive terrier role. I might be tempted to play one of those, whichever of them says they are least tired. I'd try and fit Bernard in there, I think he's the best of that bunch of last year's misfits. Then have the likes of DCL, Richie on the bench in case we need the cavalry.
Danny Baily
66
Posted 29/09/2020 at 18:17:11
Hugh 56, wasn't the UEFA Cup the replacement for the intercities fairs cup (and not the CWC)?
Brent Stephens
67
Posted 29/09/2020 at 18:23:25
Looks as if the handball rule is going to change immediately in its application - more lenient interpretation.
Brent Stephens
68
Posted 29/09/2020 at 18:52:20
"Under the new interpretation, any ball that hits an arm which is above someone's head in the area would still result in a penalty."
"However, a ball being deflected onto a player's arm when it is in a 'natural' position would now be looked at differently."
This from the OneFootball site.
Craig Walker
69
Posted 29/09/2020 at 18:56:19
Play a strong line-up and get through to the next round. Winning brings confidence and it would be a real boost to get onto the next round.
Nick @61 that was gutting. I though our name was on it that year. We'd just knocked the RS out after the 4-4 and another replay win at Goodison. I think West Ham then went out to Forest. Also remember us losing to them on penalties in the FA cup 3rd round under Martinez having nicked a late equaliser at home. Their keeper hit the winning penalty. Wasn't McGeady sent off?
Terry Farrell
70
Posted 29/09/2020 at 19:09:22
Mike hasnt Moyes got covid? I thought he looked a bit paler than normal! Paul I agree the only one who can do what James can is JC. He turned James Mccarthy about 3 times simultaneously (big word) on saturday and Mccarthy ran back towards his own half and regrouped. never seen that before ever at any level!
John Otway
71
Posted 29/09/2020 at 19:21:15
Terry #70 So has Thiago Alcantara apparently!!
Tony Everan
72
Posted 29/09/2020 at 19:22:42
John 63
I like that team it looks strong, shame to leave Gordon out, but maybe give him the last 30 mins for Bernard.
John McFarlane Snr
73
Posted 29/09/2020 at 19:41:40
Hi Brent [67/68/] I have just looked up the penalty law [Law14] in 'Association Football Volume One', published in1960, and it reads, "For the nine offences committed intentionally by a defender when within his own penalty area, the punishment is a penalty kick" The key word is intentionally, hence our reference to 'Ball To Hand', the game was much fairer in those far off days, when the referee was in sole charge, mistakes were made but we just got on with things.
Andy Finigan
74
Posted 29/09/2020 at 19:51:15
Tery, 70. He reminded me of Duncan Mckenzie twisting and turning and no one could get near him.
Brent Stephens
75
Posted 29/09/2020 at 19:52:05
John #73 thanks for that. I actually posted yesterday, I think, that the simplest would be to revert to the ref making a judgement about intentionality in relation to handball.
Terry Farrell
76
Posted 29/09/2020 at 19:52:23
John I believe so but no comment is probably the best policy. you might be too young but Really Free was great!
Neil Cremin
77
Posted 29/09/2020 at 20:05:40
My mood for the forthcoming week is determined by how well we do but I have to input a dose of reality into the posts about how well we will do this season. Title or top 4 and Carabao Cup aspirations.
We had a good win against Spurs but I think Spurs were awful and there is trouble in camp with Mourhino's methods (Deli Ali)
We beat 10 man West Brom eventually in 2nd half.
We beat Crystal Palace with a dodgy penalty which if it was awarded against us we would be fuming.
We beat two lower division teams in the Carabao Cup.
When we last had a good run, the players response was that nothing can be judged until the first 10 league games. The same applies this season. If we are still competitive after that we can really believe and hope. Until then it is a work in progress.
Lets hope so but for the moment, we all need to focus only Winning on Wednesday which will be a tough test.
Hugh Jenkins
78
Posted 29/09/2020 at 20:11:38
Both Zouma and Tomori in Chelsea's EFL Cup side tonight - so can't see either of them coming on loan to us this season
Robert Tressell
79
Posted 29/09/2020 at 20:14:18
Neil @ 77. Enjoy it while it lasts. We won't win every game this season but it's a marked improvement.
Stephen Vincent
80
Posted 29/09/2020 at 20:19:12
Kevin #46, its the similarity of their hair cuts and David Moyes Italian accent that confused me. Easy mistake.
Neil Cremin
81
Posted 29/09/2020 at 20:31:30
Agree Robert and it is a huge improvement on the frustration of the past few years but this PL is a long haul.
Paul Birmingham
82
Posted 29/09/2020 at 20:34:51
I'd go with the strongest starting line up available, the next game is the most important and success breeds confidence and belief, but Carlo will know better than any one.
A solid squad tomorrow with enough options on the bench. If need be.
Unlike previous efforts in this Cup, Carlo is taking it serious.
Let's hope tomorrow is a night of success for EFC.
Tony Everan
83
Posted 29/09/2020 at 20:45:28
Hugh 78
I can't see Zouma or Tomori coming either , but I wouldn't put it past Chelsea to string us along and leaving us high and dry with no time left.
Any business with them has to have a realistic deadline to give us time, or avoid them like the plague.
Jerome Shields
84
Posted 29/09/2020 at 20:49:55
Declan#58
Thought he was his usual anonymous self, that explains it. Against Salford he was anonymous but I remember seeing him.
Steven Astley
85
Posted 29/09/2020 at 21:36:59
Hope we don't end up going back for this Tomori after tonight's showing. Him and Zouma look like Tweedle dee and Tweedle dum!
Mike Gaynes
86
Posted 29/09/2020 at 21:38:09
John P #63, no such luck. Both Colombia and Brazil have CONMEBOL qualifiers scheduled Friday evening. And FIFA plan to order all clubs to release players for those games:
https://www.nytimes.com/2020/09/29/sports/soccer/fifa-conmebol-world-cup-qualifying.html
So if James and Rich get the call, they're gone. Allan has not been in Brazil's side recently.
Terry #70, Moyes is indeed isolated with COVID, which is why he's been phoning it in to Irvine the past couple of games. I have seen no news on whether he'll be on their touchline tomorrow.
Jerome Shields
87
Posted 29/09/2020 at 21:41:30
Lampard has a thing about sending players to Everton. He is having difficulty organising his defence and has spent huge amounts of money. I wouldn't be dependent on him, Brands has already been bitten once.
Steven Astley
88
Posted 29/09/2020 at 21:46:13
I'd be taking a chance on Todibo. Keep the Barca connection going.
Mike Gaynes
89
Posted 29/09/2020 at 21:48:29
Mount missed and Chelsea's out on pens.
Dave Abrahams
90
Posted 29/09/2020 at 21:50:28
Mike (86), has Rodriguez been a regular for Colombia the last couple of seasons? I'm not up to date on International teams, I know, through ToffeeWeb,he is adored by Colombian fans but don't know if he has been selected lately, hope he hasn't and gets more rest after Saturday.
Ian Horan
91
Posted 29/09/2020 at 21:51:24
Kurt Zouma doing his best to piss Chelsea off, missed the header that allowed Spurs equaliser. Then laughing and Joking with Spurs players on the way off the pitch.. WTF..
Stan Schofield
92
Posted 29/09/2020 at 22:00:35
Ian, maybe he wants out. He should return to us, he fitted in nicely here.
Rob Halligan
93
Posted 29/09/2020 at 22:01:41
Mike # 86. Moyes is still self-isolating, as is Diop and Josh Cullen, so all three to remain at home. Ryan Fredericks also out with a hamstring. I noticed during the West Ham v Wolves game that Stuart Pearce was in the stands and on the phone a lot and was probably in communication with Moyes as Alan Irvine was on the touchline.
Andrew Merrick
94
Posted 29/09/2020 at 22:05:27
Terry 76, I've still got that single...
Ian Horan
95
Posted 29/09/2020 at 22:14:24
Stan@92 I hope he comes back, fitted superbly and would allow us to defend higher up the pitch.
Mike Gaynes
96
Posted 29/09/2020 at 22:16:14
Dave #90, yes, when healthy James has been a regular starter for Colombia. He played in all their Copa America games last summer and almost all the pre-Copa friendlies as well. So for a WC qualifier he is a lock to be called in. Sorry, we'll just have to hold our breaths.
I forgot to mention Mina, who is a fixture in their backline. He will certainly be called in as well.
Jerome Shields
97
Posted 29/09/2020 at 22:16:53
Tony#55
Some people think West Ham play better when he is not there. Hope he makes a good recovery.
Neill#77
Good points. Ancelotti needs a cup run to keep developing p!ayers, so that he has depth and alternatives available. . As you say Everton are going to have to keep up to a steep learning curve, if they are going to be up there after ten games. I thought Doucoure got a surprise how much attention he was getting on Sat and how important it was he stay deep. Rodriguez also got a idea of the pace of Premier League teams against Crystal Palace. he looked a little puffed. It took Sigurdsson to steady things. I thought Everton where slow get control. of the game against 10 men West Brom.
Will Mabon
98
Posted 29/09/2020 at 22:18:05
Neil, 77:
Your briefest of analyses of the games so far is technically correct, albeit that you selected just a negative fact per match.
All true - but leaves out the glaring positive of every game so far: a massive upturn in our attitude, team ethic, spirit and subsequent standard of play. Another world so far.
It also happens that when these positives are present, those negatives don't have so much impact and things tend to run in the teams's favour.
Yes it's a work in progress, but already, a work of progress. There may be opportunity for some real negativity later on - but it looks for all the world like the direction will continue to be generally positive, whatever the fits and starts.
I do tend to use the 10 game mark myself though.
Mike Gaynes
99
Posted 29/09/2020 at 22:21:01
Ian and Stan, there are denizens of certain religions awaiting the second coming of their saviors with less eagerness than some of the denizens of TW hoping for the return of Zouma.
And I hate to be the apostate here, but neither is going to happen.
Carl Manning
100
Posted 29/09/2020 at 22:24:13
West ham are in good shape? What games have people been watching? The ones against lower league opposition? They've been appalling in the prem.
No chance. We should comfortably put them Away tomorrow. They are functional at best and for a Moyes team, they are shocking defensively. I don't see what anybody sees in Declan rice. Even last year our below average midfield played through him like he wasn't there.
Andrew Ellams
101
Posted 29/09/2020 at 22:45:00
Carl, they beat Wolves 4-0 at the weekend. That's not too bad.
Mike Gaynes
102
Posted 29/09/2020 at 22:58:50
Carl #100,
"What games have people been watching?"
Wolves on Sunday. If that was Hammers being "appalling" I'd hate to see 'em when they're good.
No, I'm not worried about Rice. Bowen, however.....
Kieran Kinsella
103
Posted 29/09/2020 at 23:02:01
Mike
I'm in rush for the second coming of Jesus now that Everton are doing well but that's a fluid situation.
Carl
Wolves thrashing apart WHU were really unlucky versus Arsenal and one of the form teams prior to the summer. Plus they've history against us in this cup
Kieran Kinsella
104
Posted 29/09/2020 at 23:02:39
No rush rather
Tom Bowers
105
Posted 29/09/2020 at 23:03:22
I don't think any teams will be too disappointed with going out at this stage because of a congestion of fixtures and international games.
Yes, I will be pissed a little if an under strength Everton side go out tomorrow but pretty soon afterwards I will be looking forward to the real deal against Brightonon Saturday and hoping there are no injuries.
The next game after that is you know what and I would want the squad to be chomping at the bit for that one. God knows we are due a victory against RS.
Jay Harris
106
Posted 29/09/2020 at 23:06:57
Thought Lampard played a blinder throwing Tomori and Zouma into the Spurs game trying to convince then they have a future at Chelsea and then watching them fall apart as Spurs ramped up the pressure. Was not impressd by Reguillon either so I think we got the best deal with Nkoukou.
Now for tomorrow and blowing West Ham away.
Justin Doone
107
Posted 29/09/2020 at 23:08:54
Carry on playing half a team.
Mina isn't able to play games back to back so rest him. If no Branthwaite, Doucoure to play CB, pace and height?
James too important for the league, rest him.
Full backs should continue to be rotated.
I'd play Bolasie on the right and Gordon left. Pace and supply for DCL and Ric upfront.
Good test for midfielders. Davies and Bernard or Allan and Davies.
Gomes on to control game in 2nd half along with Walcott for Ric and use his pace centrally.
Win or loose, I want to see good football from our fringe players. Its about continued progression. Energy, slick passing, fast, forward movement.
Mike Gaynes
108
Posted 29/09/2020 at 23:12:54
Yeah, Kieran, I feel the same way. If our Jewish Messiah showed up right now I'd tell him to wait until Hanukkah at least. See where we are in the table. Maybe occupy himself with the election for the moment... we've got a bleached blond phony god that requires banishment to the underworld, or at least to ten years in state prison.
Kieran Kinsella
109
Posted 29/09/2020 at 23:17:19
Lol Mike. Unless of course the messiah fancies a stint at center half
Mike Jones
110
Posted 29/09/2020 at 23:26:06
Only read the first 10 comments or so I'm going to go back and carry on reading the rest but some sense of trepidation due to a decent West Ham performance against wolves is apparent in those posts but to me, this is a different Everton... one I'm starting to remember from my mid 80s teenage years. We will win. Convincingly.
Ian McAvoy
111
Posted 29/09/2020 at 23:32:52
Slightly off topic but it appears John Stones will be surplus at City. Always dodgy bringing a player back but maybe Worth a punt on loan for the season if he is allowed to leave city? His style fits in with the Ancelotti way I believe?.
Paul Kernot
112
Posted 29/09/2020 at 23:36:10
Mike #108. Are you talking UK or US in your last sentence there? Hard to tell the difference.
Mike Gaynes
113
Posted 29/09/2020 at 23:52:23
Haha, Paul... I don't think the UK has an election coming up... and yours is a natural blond, not bleached.
Brian Williams
114
Posted 29/09/2020 at 23:52:28
There's a good reason that Stones is surplus at City, he can't defend!
Wide berth required.
Jack Convery
115
Posted 30/09/2020 at 00:09:16
4 songs in Itunes top10. Lets make it 5 with For ever Everton written by 10cc member Graham Gouldman and recorded with 10cc members on instruments at Strawberry Studios. COYBs
John Pierce
116
Posted 30/09/2020 at 00:39:33
I cannot understand any indifference towards this game or any other for that matter.
This season will be an anomaly, it's chaos already, teams with European games, and crazy fixtures will be vulnerable. We cannot rest up and look at this as some form of development on a journey. Ancelotti knows this and here to go for it.
We need to win this game, QF's not until December, we can play our strongest XI in the langue and make serious headway whilst others have to rotate. I thought the window was closed, the ladder pulled up. We have the briefest of chances to catch up as bigger clubs are stretched thinner than ever.
I really hope we grasp the nettle and go for it.
Don Alexander
117
Posted 30/09/2020 at 00:49:17
For whatever reason Stones has cabbaged his career, which might have been stellar anywhere but central defence. As a central defender he's been rightly sussed as a wimp. Good user of the ball once someone else delivers it to him deep in his own half, but almost always unable to win it himself when it really matters.
Saying this saddens me. When he first emerged I had high hopes of him but he seems to have unfortunately disappeared up his own arse when it comes to self-perception.
Mason Holgate seems to be more grounded, as an extremely young man.
Jerome Shields
118
Posted 30/09/2020 at 04:24:51
Don#117
I tend to think of Stones when Man City was mentioned. He looked ok at Everton, but he was operating in a sieve defence at that then. He had some great attributes good on the ball, good distribution, and good at positionally in defence, though prone to the odd mistake, put down to youthfulness. I find myself tempted too say in a defence that was deep with a covering player in front of it, that was weak. . So a lot of play was in front of him. He looked ok at Man City, but seemed to fail to rise above being a squad p!ayer.
When I think of Colman I can't help thinking of a established defender who hopefully will get the Silverware his career deserves. Stones may have won Silverware, but he will never achieve the status of Colman as a defender in the game. This is not a blue tinted comment.
If Stones was a Everton player now he would find competition for his position, such is the level Everton are now at.
Mike #108
It occurred to me after reading New York Times reports that Trump throughout his career has been a Parasite living of a Host. His Presidency is nothing more than that. It's like a ' Alien' sequel. He is not a Billionaire Billionaire , he is a Paracite Billionaire.
David Ellis
119
Posted 30/09/2020 at 04:56:07
Hugh Jenkins #56 ----but we are not playing more games than we played in the 1970s...given that were are not in Europe this season. There are 4 less league games now and there are no replays for drawn cup games. So we are playing less games.
Mike Gaynes
120
Posted 30/09/2020 at 05:33:25
Jerome #118, you have defined him brilliantly.
And, unfortunately, parasites often leave disease behind. America will be many years recovering from the malignancy of this particular pestilence, and I doubt the recovery will ever be complete.
Tony Abrahams
121
Posted 30/09/2020 at 07:25:11
I watched City's first game and thought Stones was good so was surprised he never played against Leicester. I'd have him back, especially when you listen to Ancelotti, say playing out from the back, is an area we need to improve.
Steve Little
122
Posted 30/09/2020 at 07:50:49
Interesting to see how much nervousness there is from regular ToffeeWebbers about playing a David Moyes side, considering how much contempt has been aimed at him here in recent years.
Surely Dithering Dave will be no match for Carlo Magnifico?
Gareth Clark
123
Posted 30/09/2020 at 08:30:18
I'd love to start Doucoure - but this is the team I'd go for - Delph, Bernard & Iwobi played well last time out - Mina in for Digne:
Lössl
Kenny Mina Keane Nkounkou
Bernard Delph Sigurdsson
Iwobi Kean Richarlison
Subs: Virginia, Digne, Davies, Doucoure, Gordon, Walcott, DC
Digne on for Mina early in the second half 👍🏼
Hugh Jenkins
124
Posted 30/09/2020 at 08:33:15
David (119). Perhaps not, but it had started to change to a squad system when substitutes were first introduced in 1965.
Paul Tran
125
Posted 30/09/2020 at 08:33:50
I'm not nervous at all, Steve, I'm excited. Better manager better players, better current form - this is a game I'm expecting us to win. I'm expecting a strong team for a challenging cup-tie.
We've got good reason to be confident and have raised expectations right now. We just need to be mindful of knee-jerk reactions to our first setback, whenever it happens.
Paul Tran
126
Posted 30/09/2020 at 08:35:40
I meant to add, the only thing that's scared me about Moyes in the last few years were the strong rumours that he was coming back to be our next manager. Now that really scared me!
Robert Tressell
127
Posted 30/09/2020 at 08:49:29
We cannot afford any slip ups. So (after changing my mind repeatedly) I'd start with:
Pickford
Kenny
Nkounkou
Keane
Mina
Allan
Delph
Sigurdsson
Gordon
Bernard
DCL
If Walcott wasn't looking like a pariah I'd have gone for him ahead of Bernard since he's quicker, gives us more width and is more of a goal threat. But Bernard might be better at opening up a blanket defence as our poor man's Rodriguez.
Without Richarlison we will have less penetration so need goals from midfield (Sigurdsson) and wide (Gordon) otherwise it's too comfortable to defend against.
Andrew Clare
128
Posted 30/09/2020 at 08:50:14
Stones is a typical England player-poor mentality and poor decision making. They all show promise when they are young but never fulfil that promise. They are the players that are always not quite the 'finished article'.
They are the 'nearly' men.
Steer well clear of them.
Derek Thomas
129
Posted 30/09/2020 at 08:53:47
Steve @ 122: Re Moyes; He was too comfortable in the gallant under dog skin and many times, too many times, he was frightened of his own shadow, but as we know he and the team sometimes got it right on the day...hopefully his one day was 4-0 Vs Wolves - but sometimes he can do it and if we fail to put out a strong enough team, Cup games are notorious for upsets
And hand on heart we are all still waiting for the other shoe to drop and for the whole thing to revert like a coach / pumpkin in Cinderella and for Moyes to do his ugly sister / pantomime villain and spoil the party.
We don't have a fairy godmother, but we do have an Italian Godfather, so we'll all live happily ever after.
Bobby Mallon
130
Posted 30/09/2020 at 08:59:50
Neil Cremin 77 it was not a lucky penalty it was a penalty fact. If that ball had not hit his hand richy would have got an attempt on goal. People need to stop saying it was lucky. If that was outside the box it's a bloody free kick all day long, so it's a bloody penalty.
Craig Walker
131
Posted 30/09/2020 at 09:04:47
I remember the Stones game at Anfield under Martinez when he was taken off "feeling unwell". The lad had promise and got too big for his boots. The calming down gesture to the Park End against Tottenham after his Cruyff turn in his own box infuriated me. He looks good with the ball at his feet but he isn't a good enough defender, in my opinion.
Hugh Jenkins
132
Posted 30/09/2020 at 09:10:25
Danny (66). According to the history books, the UEFA cup came into being in 1971 to replace the Intercity Fairs Cup. in 1999-2000, it also absorbed the Cup Winners Cup competition. In 2009 it changed its format to become the Europa League Cup. So yes, initially, it replaced the ICF cup, but later also absorbed /replaced the CWC.
Tony Abrahams
133
Posted 30/09/2020 at 09:24:41
I got a text off Derek Knox, last night, and it wasn't very good news. He's in hospital with very high blood pressure and a thrombosis in his leg, so best wishes mate, he told me his doctor has been prescribing him the wrong blood pressure tablets for nearly a year now, which is shocking, I just hope "The Toffees" can cheer him up later on tonight.
Robert Tressell
134
Posted 30/09/2020 at 09:26:26
Bobby @130. I agree. And importantly winning sides feel a sense of entitlement about these things. It's about time we behaved like a club that expects the rub of the green a kicks off big time when it doesn't happen.
Andrew Clare
135
Posted 30/09/2020 at 09:30:14
Bobby # 130,
I agree it was a penalty no question. If it had occurred in Italy or Spain there would have been no fuss at all. All of the defenders in Europe have their hands behind their backs when confronting an attacking player in or around the penalty area because they know that if the ball hits their hand it will be a penalty.
The media here need to get a grip!
Paul Tran
136
Posted 30/09/2020 at 09:37:36
Thanks for passing that on, Tony.
Derek, if you're reading this, all the best and get well soon, mate!
Phil Lewis
137
Posted 30/09/2020 at 09:43:56
This match is an ideal opportunity for either Virginia or Lossl to show their capabilities. We have a big squad with enough fringe players eager to prove their point, so it makes sense to leave out players crucial to the Premiership campaign. It is something that all of the Top Four teams appear to do, particularly in the early stages of Cup competitions. We are aspiring to become a Top Four team, so I have no qualms whatsoever if Ancelotti takes the same measures.
Andrew Ellams
138
Posted 30/09/2020 at 09:46:36
Robert @ 127, I think we'll see Doucoure ahead of Allan tonight with Delph playing the Allan role.
Alan Moss
139
Posted 30/09/2020 at 09:46:45
Bobby @130, I'm sorry but if that penalty was given against us I'd be furious. The majority of people agree that it shouldn't have been a spot kick but given the handballs that have been awarded so far this season we weren't lucky to be given it. Richarlison was about a foot offside so wouldn't have had any opportunity to score
Dave Abrahams
140
Posted 30/09/2020 at 09:52:43
Just adding my best wishes to Derek, hope you are up and well soon and contributing to ToffeeWeb with your football knowledge and gentle humour. Those who attended ToffeeWeb meetings will recall Derek, he actually arranged the meetings at the Excelsior in Dale Street and at the meetings he was first to arrive and amongst the last to leave, I think he missed his last train home along with Neil Copeland after one of those meetings.
Thinking about you Derek and looking forward to the next meeting, which at the moment doesn't look very imminent, very best wishes.
Derek Thomas
141
Posted 30/09/2020 at 09:59:02
Derek K get well soon mate...come on Carlo, sort it for Degsy with a win
Brian Williams
142
Posted 30/09/2020 at 10:05:20
Had comms with Derek this morning. He seems in good spirits and he's in the right place to get back to good health.
A win tonight will di him the world of good.
Oh and if anybody knows of links so he can watch the game put them up on here and I'll make sure he gets them if he can't get to ToffeeWeb.
Brent Stephens
143
Posted 30/09/2020 at 10:15:48
Derek, best wishes, mate. You bring a quirky humour to the site. Disturbing about the wrong meds being prescribed for so long.
Danny Baily
144
Posted 30/09/2020 at 10:20:15
Can't believe people are suggesting a weakened side for tonight (Virginia, Kenny, Bernard, Iwobi etc). Each round we progress in this is our biggest game of the season. Full strength side for me.
John McFarlane Snr
145
Posted 30/09/2020 at 10:21:22
I would like to add my best wishes to Derek, hoping for a speedy recovery.
Derek Knox
146
Posted 30/09/2020 at 10:21:45
Thanks to all on TW who have wished me well, just had another CT Scan so awaiting the outcome of that procedure. More tests this afternoon from what I can gather.
Luckily I brought my charger Tablet and phone with me, I didn't expect that I would be kept in, so virtually came ill-prepared. Breakfast was a hoot, porridge which just about passable followed by toast, an hour later and stone cold. Apparently they lost the recipe !
The cooks CV had Rentokil as the last position held so immediately became first choice. Would get a job at McDonald's any day, or Car Park attendant on the Titanic.
Hoping both for a win and any links that may work for tonight. Best wishes to all and George McKane who I believe is still also hospitalised.
COYB
Brian Williams
147
Posted 30/09/2020 at 10:25:17
Fancy cocking up porridge for a Jock ffs. I'm surprised you didn't "gi' I'm the heed" Derek.
Do you still keep some at home in a draw mate?
Brian Harrison
148
Posted 30/09/2020 at 10:26:17
Derek, best wishes and I hope you get back home very soon.
Kim Vivian
149
Posted 30/09/2020 at 10:28:33
Derek - get well mate - you're prob in the best place now so see you soon on here (or the forum). All the best.
Up the toffees - I predict a reasonably comfortable win tonight, 2-0? Carlo won't be fucking about with his team selection whoever he selects. 2 week break coming up for r&r so best from available I think we'll see today and the weekend.
Bobby Mallon
150
Posted 30/09/2020 at 10:29:27
Derek Knox, get well soon.
Tony Everan
151
Posted 30/09/2020 at 10:31:20
Derek, wishing you all the best and to get well soon.
I think West Ham will field a very strong team tonight , Moyes will want to keep his momentum going , he will think he has a chance in this competition .We need to fully expect that and field a team that can match West Ham physically so that our quality can win the day.
As has been said there is a break coming up and the QFs are not until December so I don't think there is a particular need to rest too many players before the home game against Brighton . We have a great chance of winning this cup and we should take full advantage of that.
Brian Harrison
152
Posted 30/09/2020 at 10:37:46
I see Ross Barkley has gone on loan to Aston Villa.
Christopher Timmins
153
Posted 30/09/2020 at 10:54:59
This will be a tough game, West Ham actually have a strong if under performing second string on paper. With the International break after the weekend I would go with rotating Goalkeeper and full backs, Keane and Digne in the centre, Siggy, Bernard, Iwobi and Davis in midfield and Charlie and DCL up top.
Robert Tressell
154
Posted 30/09/2020 at 11:00:32
Brian @ 152. Pleased for Barkley. He's daft but he's also a lovely player on his day. Not consistent / disciplined enough for Chelsea (plus they're overloaded in his position).
Craig Walker
155
Posted 30/09/2020 at 11:03:03
Get well soon, Derek and hope tonight's result is better than the food.
George McKane
156
Posted 30/09/2020 at 11:08:39
Derek - - best wishes and take care - - what hospital are you in - -I am home now since Friday afternoon - - Arrowe Park and all the Staff in Cardiac were fantastic to me - - so hope you are treated as well as I was - - get well soon mate.
Fran Mitchell
157
Posted 30/09/2020 at 11:08:40
Good move for him. Moving to Chelsea was always a stupid move, He's got talent, just isn't consistent enough to be amongst the best. But he could be a start for Villa, him and Barkley with Douglas Luiz and McGinn makes for a pretty decent midfield there. If Ollie Watkins can score Villa will be safely in midtable and maybe even top half.
John McFarlane Snr
158
Posted 30/09/2020 at 11:12:15
Hi Danny [144] I'm with you and other like minded fans100%, field your strongest team available in every game, there's no guarantee that resting players for one game ensures victory in the ensuing fixture. To me a cup competition is to be respected. It was the Liverpool supporters who christened the League Cup the 'Mickey Mouse Cup' when we reached the final in 1977, it miraculously became a trophy worth winning the following season when Liverpool reached the final.
Rennie Smith
159
Posted 30/09/2020 at 11:35:02
Agree Fran@157, Chelsea was never going to be a good place for him and playing regularly for Villa should give him an ego boost. I know he gets plenty of stick when he comes up against us but I don't think it was all down to him. He's probably not the sharpest tool in the box and I think he was badly advised.
Neil Copeland
160
Posted 30/09/2020 at 11:37:33
Derek, hope you are well soon,
Ben Howard
161
Posted 30/09/2020 at 11:43:43
Get well soon Derek.
Here's a question... would you rather have Barkley or Sigurdsson coming off the bench at 70 mins?
Eddie Dunn
162
Posted 30/09/2020 at 11:53:16
Derek- get well soon mate and good that you have your tablets with you! George, - glad that you are home now wishing you continued improvement.
I hope Ross Barkley does well at Villa, it will be interesting seeing how he gels with Grealish (or could Ross be his replacement?)
Brian Williams
163
Posted 30/09/2020 at 12:00:52
I'd rather have Sigurdsson because he plays for Everton. ;-)
I wonder whether Barkley's loan to Villa will resurrect the old arguments as to how Everton didn't know what they were doing with regard to him etc etc. Just as they didn't know what they were doing with young Lookman who's absolutely ripping up the Bundesliga.
Oh no wait, he's not, there's talk of him going on loan to the mighty Fulham.
On a different note I see Bolasie has taken to referring to himself in the third person lol...."Bolasie has been firing in training" he tweets. Lad doesn't give up that's for sure but I think he'd be much better advised to look for a new club so he can play football.
Derek Knox
164
Posted 30/09/2020 at 12:07:06
Thanks George, I am in the Countess of Chester, Acute Medical Unit. It's like an assessment unit after A&E, it sounds more severe than it actually is, though yesterday when I first came in, it resembled a scene from one of our favourite movies. One Flew Over The Cuckoo's Nest.
I immediately thought of you mate, and I don't mean that in a derogitary sense, but rather those wonderful stories you have related to us at the TW Get together of your meeting with Ken Kesey at the Adelphi.
I have had another Ultrasound now and I think they haven't found anything sinister up to now. I think beds are at a premium so the walking wounded, of which I am hopefully one, may be despatched quicker than normal.
So there could be a vestige of hope that I may not need any links and can watch at home as per normalish. What ever happens Everton and T W keep me going and proud to be a blue. 👍💙

Brian Williams
165
Posted 30/09/2020 at 12:13:28
Derek, if you're let out mate do you have transport?
Derek Knox
166
Posted 30/09/2020 at 12:15:48
Yes Brian, I have my trusty Bus Pass ! Never let me down yet, thanks mate, the offer means a lot to me and reassures me that we have the best supporters in the World.
Brian Williams
167
Posted 30/09/2020 at 12:16:32
No I was just gonna give you the number of a taxi firm mate. LMAO.
Matt Rigby
168
Posted 30/09/2020 at 12:18:35
Keeping it straight to the point, I'd pick a strong team... this game is just as important as the weekend's league game...
Pickford
Kenny
Keane
Mina
Nkounkou
Delph
Doucouré
Sigurdsson
Richarlison
Calvert-Lewin
Walcott
Bench:
Lössl
Digne
Allan
Iwobi
Bernard
Kean
Give Coleman, Gomes and James a rest.
Brian Harrison
169
Posted 30/09/2020 at 12:19:55
I am sure we can trust Carlo to pick the right team to get the job done tonight. I think a bigger problem for many Premier League clubs is seeing that except for those in Europe, there are no midweek games to try out fringe players between now and Xmas.
The Under-23 league is just players playing against teams of their own age group. So other than injuries there are no chances for fringe players to play in the first team. Carlo has already said our first team squad of 31 is too big and ideally he would prefer a group of 25, so loaning out some youngsters that arent part of the first team squad hardly changes anything.
Because most of our fringe players with the exception of Nkounkou and Gordon will be on excellent salaries, that trying to move them on is very difficult. We have tried loaning some of these players out, but we still end up having to pay a big percentage of their salary, so it does very little to reduce our overall expenditure. And most are sent back to us once their loan deal expires, so it seems there aren't any clubs here or Europe want to take these players on a permanent basis. I would imagine that having to carry a first team squad of 31 with their inflated salaries will start to have an impact on the club financially, that will have an impact on our future transfers.
I am sure Brands has been working very hard to try and move on some of our fringe players that are considered surplus to requirements, but with the fantastic salaries these players are on they will be in no hurry to jump off the gravy train.
Brian Williams
170
Posted 30/09/2020 at 12:20:43
Not really mate.
Tommy Carter
171
Posted 30/09/2020 at 12:20:56
@153 Steve
Agreed. In fact I don't think Moyes has landed on his strongest team test as they have so many players in their squad. I expect them to field a changed team but like you say. I don't think it will be any weaker. Felipe Anderson for example is a really top player in my opinion. Haller was obviously big money and dangerous, Lanzini has given us problems before and of course Yarmolkeno destroyed us, albeit some years ago now.
I've seen Cavani being linked with Man Utd. This is a player I'd like us to be in for. Throw the money at him for a 1-year deal and option of a second depending on performance. What a rotation option with Calvert-Lewin he would be. And what an example from which Calvert-Lewin to learn.
Derek Knox
172
Posted 30/09/2020 at 12:39:52
Brian@167, Right That's a Case of Desperadoes !😂😜
Richard Duff
173
Posted 30/09/2020 at 13:02:24
Brian #167 - Order Derek a Bluber?
Nicholas Ryan
174
Posted 30/09/2020 at 13:03:15
Derek [146] ' they lost the recipe...' What, for toast?! Get well soon.
Ray Roche
175
Posted 30/09/2020 at 13:04:59
Del, if the nurses are like the ones off Benny Hill show they'll need dynamite to get you out.! Text me when you're out mate. I'm still self isolating myself for another week, as you know Del, but as soon as we're able to we'll have another knock.👍🏻
Good to hear that you're back home George! 👏👏
Jay Wood
[BRZ]
176
Posted 30/09/2020 at 13:07:00
Sorry to hear you've been hospitalised Derek, although with your comparison to 'One Flew Over the Cuckoo's Nest', are you sure about the kind of hospital you are in Derek and the medical staff aren't letting on?!
Get well soon. We need your dreadful play on words on TW to counter the one-line groaners of that Brent Stephens fellah!
Good to hear also that George is now back home from his own hospital stay.
If you don't get home today Derek, here is my own preferred streaming link. You have to go through the usual shenanigans of clicking several times, closing annoying windows that pop up, but once you do, the picture is HD quality, rarely breaks up and ad free.
Great for all sports.
Good health lad!
Derek Knox
177
Posted 30/09/2020 at 13:25:31
Thanks Jay, didn't think my plays on words were that dreadful but hey ho, thanks for the link mate and the well wishes.
Jay Wood
[BRZ]
178
Posted 30/09/2020 at 13:33:23
Like Brent's beauts Derek, your posts have me laughing, groaning and wincing simultaneously at their comic awfulness!
Don't ever change!
Kieran Kinsella
179
Posted 30/09/2020 at 13:40:35
Derek
I thought porridge was a staple in Dundee as my Mum from there certainly gave us that impression serving it up EVERY DAY for about the first 10 years of my life. Hope you enjoy the game and can sample finer fare soon.
Neil Cremin
180
Posted 30/09/2020 at 13:42:50
Will @ 98,
See my comments in 81.
I am delighted with the results and in most cases the performances to date. All I am doing is highlighting that we need to be more cautious about our expectations.
I really hope that our current results will continue, but our real tests are still to come, not only against stronger teams but in the endurance of the team and depth in the squad when the fixtures condense over Christmas.
At the moment, it is a big improvement and a work in progress; for our dreams and hopes to be realised, we will have to wait a little longer.
Derek Knox
181
Posted 30/09/2020 at 13:45:50
Kieran, it is and I quite like the normally flavourless stuff, however the serving this morning bore little resemblance to the stuff that stuck to your ribs from across the border, which can also be used as wallpaper paste in an emergency, especially wood chip where the lumps are part of it's dubious appeal.
Kieran Kinsella
182
Posted 30/09/2020 at 13:57:54
Lol Derek yeah English folk haven't mastered the dark arts of porridge that is for sure
Simon Dalzell
183
Posted 30/09/2020 at 14:16:37
Jay # 176. Thanks for the link. I haven't had to use one of theses sites for some time, and couldn't find the game on the usual places. I did find just one with our game listed. crichd.ac. Whether it actually works is another matter.
Brent Stephens
184
Posted 30/09/2020 at 14:47:14
Jay Wood (BRZ) - I heard that!
Alan Rodgers
185
Posted 30/09/2020 at 14:52:16
Keiran @182, my Ma was a Scot and I was force fed porridge as a child. I still like it though and even have it with salt instead of sugar.
Kieran Kinsella
186
Posted 30/09/2020 at 14:59:02
Alan
I never tried the salt just a whole bag of Tate and Lyle each time
Mick Davies
187
Posted 30/09/2020 at 14:59:36
I see Barkley's gone to Villa on loan, and Lookman to Fulham! The grass isn't always greener. Strong line up tonight I hope as Moyes is ill and I always thought Irvine was the clever one behind the ego. When he left, we faltered; he'll have them up for this, but we should be capable of progressing COYB
Mike Gaynes
188
Posted 30/09/2020 at 15:06:42
Derek, just out of bed and I was about to email you again, so thanks for posting your update. Glad you're feeling a bit better and the scans showed nothing frightening. Just in case, did you check on whether you can watch the game on the BeIN phone app? Or maybe Jay's link? Here's hoping you'll be home on the sofa by then with a hot drink and your bunny slippers. And chicken soup instead of porridge.
George, great to hear you're home -- may your recovery be swift and complete.
Brian, you haven't told me the Kesey story. I want that one.
Busy day today. My other boys in blue, the Chicago Cubs, open their series in the National League playoffs at the same time as the Everton game. I'm going to be using both computer screens and my TV all at the same time. My wife thinks it's hilarious.
Jay Wood
[BRZ]
189
Posted 30/09/2020 at 15:09:20
Brent...who, moi?
[Looking skyward, whistling a tune, hands behind back, shuffling feet...].
David Pearl
190
Posted 30/09/2020 at 15:10:12
I'm not having these Derek in hospital rumours. We were due to play golf today and it was his round... coincidence?
John McFarlane Snr
191
Posted 30/09/2020 at 15:10:24
Hi Neil [81/180] and Will [98] I know it's a well used cliche, but I take each game as it comes. I don't select teams and I don't predict results, I find it's less painful that way, no egg on face if the team I pick plays woefully, and the result forecast is way off the mark. Age and experience has taught me that 'what will be, will be'.
I'm trusting that Radio Merseyside will be broadcasting this evenings game, listening to the games has become the norm for me, and although it causes a degree of anxiety at times, it's self imposed, no one to blame but myself.
Stan Schofield
192
Posted 30/09/2020 at 15:12:52
Derek@181: Hope you're feeling better after being in hospital, take care!
Re porridge, my dad always used water and salt, with sugar when it was ready. I always make it with milk, no salt. I'm from Liverpool, but live in Stonehaven near Aberdeen. Couple of years ago I had a heated argument with one of the locals on how to make porridge, which kicked off when I said I used milk. He said I was a typical Englishman, no idea about porridge! I replied that I'm not an Englishman, I'm a Scouser!! He didn't argue with that point, just nodded his head and said "Aye"!
Kieran Kinsella
193
Posted 30/09/2020 at 15:16:02
Mick
Exactly, we finished 5th then Irvine left, his replacement Round on arriving said "We are aiming for 6th." Muppet.
Irvine didn't work out at Sheffield Wed but who would honestly? That clubs a mess.
Russ Quinlan
194
Posted 30/09/2020 at 15:17:56
Stan, gotta be pinhead though and soaked over night.
:-)
Tony Shelby
195
Posted 30/09/2020 at 15:23:50
Lookman to Fulham!
What a prize plum he is.
Hope he does as well as Tomasz Radzinski.
Mike Gaynes
196
Posted 30/09/2020 at 15:23:58
David #190, I've heard about your golf games with Derek. No surprise that he's having blood pressure issues!
Mick #187, it'll be interesting to see how Barkley fits in between Grealish and Luiz in Villa's midfield. They sure have gone for it this summer clearly wanting to mount a genuine challenge, not just survive again.
Will Mabon
197
Posted 30/09/2020 at 15:28:49
John @ 191;
I don't mind the egg on the face, but truth is, prediction is a fraught game at the best of times; hence bookies. It's all fun.
Are you still boycotting by not watching games? I have my own opinions of this whole current fiasco but to miss out The Blues in this period? There are ways without the monetary input.
Go on, you know you want to...
Will Mabon
198
Posted 30/09/2020 at 15:30:04
...and to Derek K - best of luck. Hope you get to see or hear tonight's win.
Derek Knox
199
Posted 30/09/2020 at 15:43:59
Thanks again to all well wishers, looks like I am to kept in, so Jay's Link will hopefully come to the rescue, the NHS Wi-Fi I'm not so sure about though. Whether it will stay on is like when the monkey defecated on the carpet that remains to be seen.
Mike Gaynes
200
Posted 30/09/2020 at 15:48:06
Those nurses just can't get enough of your charm, DK. Hard to blame 'em.
Hang in there.
Derek Knox
201
Posted 30/09/2020 at 15:53:09
Just been asked for a urine sample now!
I'm convinced someone is taking the piss! 😂😜
Kieran Kinsella
202
Posted 30/09/2020 at 15:55:42
Barkley might do alright but Lookman has had about 5 good games in the last four years.
Mike Gaynes
203
Posted 30/09/2020 at 16:02:10
DK, just remember that when they ask for a specimen, they're complimenting you as a fine one!
Geoff Lambert
204
Posted 30/09/2020 at 16:03:37
Will the real Everton please step forward.
Tonight will show us if we are serious about winning this thing.
So used to being let down in games like this, its time to shape up and make a statement. Everton are back. COYB.
Derek Knox
205
Posted 30/09/2020 at 16:07:02
Cheers Mike G, you're a good 'un yourself mate. :-)
Danny O'Neill
206
Posted 30/09/2020 at 16:14:40
One of my earliest Everton memories was losing the 2nd replay of the 1977 Cup Final to Aston Villa. I was at the 1984 Cup final at Wembley to see us draw in the first all Merseyside final. The occasion was immense. Anyone who calls it Mickey Mouse may have a modern day footballing argument, however for us mortals who just want to sniff success, it's a trophy, a date with Wembley and a potential platform to further success.
This competition has become personal with me. Villa, Liverpool, going out to Grimsby in the early rounds when we were English champions, many more subsequent embarrassments and the Chelsea semi-final when 4ft-6in Wright-Phillips out-jumped 6ft-2in Lescott at the back post after McFadden should have squared for a tap in rather than go for goal. It's just always eluded us and I'm fed up!!
Now to allow my negative side into the discussion. I would not be surprised to see us dealt the hand of fate tonight despite our great start.
How ironic will it be to have the manager who took us so far from where we were when he took over but couldn't take us far enough, and never delivered a trophy, deny us the chance of a trophy once again?!
Before I get jumped on, I'm neither anti-Moyes or wear Moyes-tinted-glasses. The guy done a great job in difficult circumstances to lift us out of the doldrums but didn't have what it took to take us to another level. He's not a winner and later in his Everton tenure, he became a master in playing down our expectation as he has done since he left.
Kieran Kinsella
207
Posted 30/09/2020 at 16:17:51
Interesting tid bit. The first time we ever met West Ham in the League Cup was in 1983. Alan Irvine (Moyes's Number 2) was in the Everton side. Tony Cottee (age 18), and Frank Lampard Senior were in the West Ham side. We won over two legs.
The last time we met was in 2007, we also won against a West Ham team featuring Everton alumni Luis Boa Morte and Richard Wright.
Moral of the story is, we always beat them and they always have some kind of Everton connection in their squad.
Kieran Kinsella
208
Posted 30/09/2020 at 16:19:02
Lucas Neill another one time Blue was also in the losing WHU side of 2007
Tom Bowers
209
Posted 30/09/2020 at 16:55:50
Fulham getting desperate after only 3 games. Hard to believe Lookman hasn't progressed from the promise he showed a couple of years back but so many young players go the same way.
With Fulham he may stand out a little but whatever is holding him back will probably happen again if Fulham keep losing.
Brian Williams
210
Posted 30/09/2020 at 17:00:07
Geoff#204.
Geoff is it you that normally says "I've got a bad feeling about this one?"
Apologies if it's not.
Paul Jones
211
Posted 30/09/2020 at 17:12:50
This was a mickey mouse cup until Liverpool used it as their first stage post to get into Europe should they not enter by virtue of their league position. Other teams then treated it more seriously. Unfortunately for us they never had to rely upon this back up plan.
I hope tonight Moyes adopts his former Everton tactics of fielding a weak team and then having to use his first choice players as substitutes to chase the game. I would pick a relatively strong team this early in the season , kill the gave off then rest players.
Jay Evans
212
Posted 30/09/2020 at 17:26:57
Full support blues.
Let's go for it, full strength and have this put to bed by 60 minutes. Can you imagine, played 6, won 6 ?
We couldn't could we ?
Onward Evertonians 💙

Rob Halligan
213
Posted 30/09/2020 at 17:29:41
Pick the strongest team possible as West ham will certainly make plenty of changes from last weekend. "Their weakened" team will then be doing an "Eric Dier" when they see how strong our team is!
Ron Morgan
214
Posted 30/09/2020 at 17:37:05
I think Carlo will field a pretty strong side tonight because he will want to win some silverware this season:
Pickford
Coleman Keane Digne Nkounkou
Dacoure Delph Allan Gordon
Richarlison DCL
COYB!!!
Michael Coffey
215
Posted 30/09/2020 at 17:39:26
Kieran, to add to your titbit
I was at the first game in 1983 at Upton Park: a game etched in my memory. Firstly because Colin Harvey did the warm up with the players for the first time, much to the surprise of all in the away end. I think he'd just been promoted by Howard from the youth team that week.
Secondly, and against all expectations after a dismal season to that point, because we blew them away in a 2-2 draw they salvaged with a last minute equaliser. From memory, The first line of the Guardian report was "West Ham were fortunate to survive a breathtaking display of attacking football from Everton last night ". It was that Good, that unexpected.
To my mind the great revival of 83/4 dates from that match and Harvey's promotion rather than the Oxford game in the next (QF) round.
Sorry to go on a bit but I'll never forget what I witnessed that Night.
Si Cooper
216
Posted 30/09/2020 at 17:40:06
Looking at the highlights from their game against Wolves, we need to avoid Antonio engineering loads of one on ones with defenders. Fortunately, with Allan and Abdoulaye I think we have that ability to keep him in check more than Wolves could.
If we keep it solid at the back I trust our attackers will be able to get a couple of goals advantage and see us through.
Best wishes to Derek, and COYB!
Brian Murray
217
Posted 30/09/2020 at 17:42:07
Moyes is apparently targeting Pickford as a weak link. If a loser like him can identify this how come Carlo seems stubborn to face this problem?
Danny O'Neill
218
Posted 30/09/2020 at 17:42:36
Absolutely Martin. Harvey's introduction as first team coach was a defining moment.
The Oxford game is always renowned for the back pass. But if you look closely, Peter Reid forces it by pressing the player. The importance of an energetic and pressing midfield when we don't have the ball.
Ray Roche
219
Posted 30/09/2020 at 17:45:59
We ( Brands?) certainly had Leipzig's kecks down over Lookman. What was it £22m?
I almost feel sorry for them but they bombed me Mam and Dad's house.
(Some rather unnecessary racial stereotyping there)
Joe McMahon
220
Posted 30/09/2020 at 17:50:50
Si, it was Antonio that kept them up last year.
Mick Davies
221
Posted 30/09/2020 at 17:52:26
Kieran @ 193 That name 'Steve Round' had been erased from my memory; scary to hear it again. Same with Graeme Jones, who was Roberto's Round. So happy to know we have Carlo/Dunc these days
Danny O'Neill
222
Posted 30/09/2020 at 17:53:52
In fairness Ray, Leipzig (and Dresden) took a fair pounding at the hands of the UK & US bombing raids.
Allan Board
223
Posted 30/09/2020 at 18:10:29
Good luck Blues!
Ray Roche
224
Posted 30/09/2020 at 18:12:27
Indeed they did Danny, although, to be honest, I doubt that that knowledge would have elicited much sympathy in the Roche household with my Mam and a toddler and a baby hiding under the stairs as the house collapsed around them.
My post was intended to be faintly humorous.
Joe McMahon
225
Posted 30/09/2020 at 18:14:34
Kieran and Mick, Steve F,king Round. Its horrible he has a (jolly up) job!
Rob Hooton
226
Posted 30/09/2020 at 18:17:37
I certainly wouldn't play Digne at centre back, too risky against higher quality (and bigger and stronger) opposition.
I don't get this resting players crap, we have done that for years and achieved absolutely bugger all - with rested players then getting injured. Perhaps because they are not fit enough and sharp enough?
The top players love playing twice a week in Europe and the league, make sure our lads are used to it for next season 😀 The more you play, the fitter you get, or is it all bullshit that these are top level athletes?
They are not playing that much over the next couple of months so plenty of time to recharge. It's been 27 years since we won anything so no more excuses.
COYB!!
Craig Walker
227
Posted 30/09/2020 at 18:19:16
Bid £26m for Godfrey according to SSN
Danny O'Neill
228
Posted 30/09/2020 at 18:21:59
I know Ray. Excuse my bland response - wasn't meant as a counter and don't want to take this thread away from the important business of burying my league cup demons!
Kieran Kinsella
229
Posted 30/09/2020 at 18:25:23
Michael 215,
Nice recollection. Funny in hindsight how quickly things turned around for the club over the next year.
Kieran Kinsella
230
Posted 30/09/2020 at 18:26:37
Craig Walker 227
The only Godfrey I know is private Godfrey from Dad's army and he is an even bigger sicknote than Alessandro Pistone.
Craig Walker
231
Posted 30/09/2020 at 18:30:01
Kieran. Ha ha. Pistone. He was no Marc Hottiger was he?
Ray Roche
232
Posted 30/09/2020 at 18:33:10
It's ok Danny, I think we're suffering from pre match nerves.😁
I've finished with biting my nails and started on the cats.
It won't end well.
Danny O'Neill
233
Posted 30/09/2020 at 18:40:48
Kieran, Craig, I take your Pistone and raise you and Earl Barrett.
Rob Hooton
234
Posted 30/09/2020 at 18:43:01
Silly me, obviously only 25 years since we won a trophy 🤦‍♂️
Tom Bowers
235
Posted 30/09/2020 at 18:44:16
It will always be the Mickey Mouse cup as long as teams keep fielding weakened starting elevens from the getgo.
Rob Halligan
236
Posted 30/09/2020 at 18:48:03
Pickford, Kenny, Keane, Digne, Nkounkou, Allan, Delph, Sigurdsson (c), James, Richarlison, Calvert-Lewin. Subs: Lossl, Mina, Coleman, Doucoure, Davies, Bernard, Iwobi.
Brian Williams
237
Posted 30/09/2020 at 18:51:58
Rob, is that THE team, or your team?
Danny Baily
238
Posted 30/09/2020 at 19:08:02
Good strong side! Great call by Carlo.
John McFarlane Snr
239
Posted 30/09/2020 at 19:08:41
Hi Will [197] sorry to have kept you waiting, I have just finished washing the dishes following our evening meal, the answer to your question is, yes I am boycotting all live TV games. I haven't seen a minute of the football games staged in empty stadiums, with draped banners and fake crowd noise, as soon as they 'take the knee' I take to the stair lift.
My 'Young Lady' has hardly missed a game. including the Derby Game, the FA Cup Final, and any game that didn't clash with Coronation Street. I suppose that I'm made of sterner stuff and stronger principles, I have vowed not to return to Goodison until it's safe for everyone, and by the looks of things it may turn out that at the age of 82 I've witnessed my last game, Manchester United 1-1 draw in March.
---
Add Your Comments
In order to post a comment, you need to be logged in as a registered user of the site.
Or Sign up as a ToffeeWeb Member — it's free, takes just a few minutes and will allow you to post your comments on articles and Talking Points submissions across the site.