Everton vs Brighton & Hove Albion
Friday, 2 October, 2020
Match Preview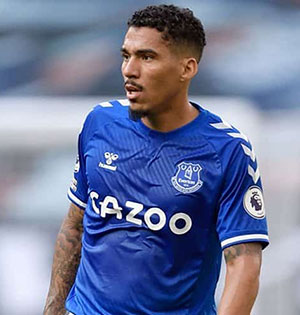 One of Everton's four impressive new signings, Allan, is ruled out after hobbling off in Wednesday's win over West Ham
Updated Everton are bidding to extend their 100% start to the season as they play Brighton & Hove Albion at Goodison Park in their final game of a busy three-week period prior to the first international break.
Following the last of the Carabao Cup Round 4 matches on Thursday, the Toffees are the last remaining unbeaten side in all competitions in England's top four divisions and, having thumped West Ham 4-1, they go into the weekend looking for their seventh straight win.
They face tricky opposition in the form of the Seagulls, however — a team that likes to get forward, can score goals and boasts a decent array of attacking talent. Leandro Trossard was a thorn in Everton's side when the two clubs met on the south coast a year ago, Neal Maupay has three goals already this season and exciting young full-back, Tariq Lamptey, has stolen headlines for his early-season form and even attracted reported interest from Bayern Munich.
Though well beaten by Chelsea on their own patch in their opening fixture, Brighton beat Newcastle comprehensively at St James's Park the Sunday before last before losing to Manchester United in controversial circumstances in the Premier League last weekend.
Maupay was penalised for handball in stoppage time, with the Video Assistant Referee's review and subsequent decision to award United a penalty coming after the final whistle had been blown. Bruno Fernandes scored the winner from the spot but Graham Potter's side were extremely unlucky not to have won the game by that point as they hit the woodwork five times over the 90-odd minutes.
So the returning Yerry Mina — the Colombian sat out the cup victory over the Hammers — Michael Keane and the rest of the back line will need to be on their toes for this one, as will whomever is deployed in front of them. Allan hobbled out of Wednesday's game with a groin problem, putting his involvement in doubt, but Fabian Delph was in impressive form and, working in concert with Abdoulaye Doucouré, the veteran could do a job holding things together in the Brazilian's absence.
André Gomes is also expected to return having played no part in midweek but, further forward, Richarlison is another doubt after he too had to limp out of the action against West Ham, appearing to at the least sprain his ankle in a challenge on Ben Johnson.
Carlo Ancelotti was optimistic that none of the injuries sustained (Jonjoe Kenny went off in the first half with an ankle issue of his own) were all that serious but it remains to be seen who is passed fit and who plays.
For their part, Brighton will be without Jose Izquierdo, Davy Propper and long-term absentee Florin Andone while the in-form Alireza Jahanbakhsh will undergo a late fitness test on a thigh complaint.
Though it promises to perhaps be a more open game than was the case in this fixture back in January, when a solitary Richarlison goal was the difference, Everton's performances over the first several games, as varied as they have been, suggest that they should have enough quality to get the win.
James Rodriguez was called upon to play the full 90 minutes on Wednesday, which will help his match fitness; the freshness of the players being rotated back in should keep the momentum going.
Update:
Andre Gomes, Allan, Moise Kean and Jonjoe Kenny have been ruled out of this game while Richarlison will have a fitness test in the morning.
Kick-off: 3pm, Saturday, 3 October 2020
Referee: Simon Hooper
VAR: Kevin Friend
Last Time: Everton 1 - 0 Brighton & Hove Albion
Predicted Line-up*: Pickford, Coleman, Keane, Mina, Digne, Delph, Doucouré, Gomes, Rodriguez, Richarlison, Calvert-Lewin
* Made before Ancelotti's press conference
---
Reader Comments (189)
Note: the following content is not moderated or vetted by the site owners at the time of submission. Comments are the responsibility of the poster. Disclaimer
Robert Leigh
1
Posted 02/10/2020 at 05:57:00
Hopefully Richarlison and Allan are fit - if not Delph can step in as per your lineup Lyndon. I'm sure he'll do a solid job.
If Richy is out he is hard to replace. I'm sure it'll be Iwobi or Bernard in, but I'd like to see Gordon unleashed if our Brazilian can't play.
Nkounkou should be on the bench at least, if we're level going into the final fifteen his pace could cause all kinds of problems.
Looks like Kean is on the move too - a shame but I guess he keeps his value at the very least.
Mike Allison
2
Posted 02/10/2020 at 07:16:20
This is the first big real test of the 'squad standards effect' (hopefully someone will think of a better name - it's still early); the idea that the same players (Delph, maybe Iwobi) who looked really poor three months ago can suddenly look different because of the signings that we made and the subsequent rise in standards.
They've looked decent in the Carabao, now they need to repeat it in the League.
Derek Knox
3
Posted 02/10/2020 at 07:35:20
Mike @2, I have always said recently that I believed when Carlo first took charge, that although we do have a lot of deadwood, which he inherited, I still believed we had the nucleus of a good squad.
It's amazing under the tutelage of someone who is not only Globally famous but hugely successful, how most have been transformed. Many fringe players like Delph and Iwobi who hitherto seemed ill conceived buys have suddenly started to show signs of why we bought them in the first place.
Hopefully that improvement continues and we have so many options to confuse the opposition, and cover ourselves should injuries etc, kick in.
John Pierce
4
Posted 02/10/2020 at 07:42:18
If unfit it's likely Carlo will go with the obvious and play Delph & Iwobi. Both deputies did well on Wednesday and as a result deserve the chance to take the shirt.
My gut is Richarlison makes it, because he's made of rubber. Allan doesn't and should give himself the full two weeks to get ready for the Derby.
Graham Lloyd
5
Posted 02/10/2020 at 07:57:03
I thought Delph had a decent game mid-week so I would bring him in for Allan. If he still needs more mach fitness swap for Davies around the hour mark. Hopefully they have seen enough of what Allan does over the last few weeks to enable them to (at least try and) replicate the role he plays. If Richie is not fit, I would go with Bernard rather than Iwobi on the left.
I think we are going to see lots of goals as BHA looked very good against Utd. I'm going with another 5-2 home win taking us nicely into the break.
Paul Birmingham
6
Posted 02/10/2020 at 08:11:57
It's another huge game and a real stern test. Brighton have a good manager and can play.
I don't know the full extent of Allan and JJKs injuries but I doubt either will be available for selection this weekend bearing the manner they limped of the pitch.
Allan does a huge role, the heart beat of the team, so hopefully Delp can step up playing alongside Dacoure.
It will be interesting to see also if Delph hasn't got a Friday injury, so he too can't play tomorrow. I say this as he rarely puts 2 or 3 games together in his time at EFC.
Richarlison is everywhere and his presence everywhere, the sparkle he brings to the team his immense.
This will test the squad but Anthony Gordon I'd like to think will be in the squad, Siggy, Bernard, Tom Davies, Iwobi, and maybe even Walcott.
These players are playing for their futures, and have massive challenges to stay within the squad.
Tomorrow I expect a tough game and each player must be fully focused and I'm sure Carlo will lay down the must, and I expect a few goals but EFC, to win 3-1.
Neil Cremin
7
Posted 02/10/2020 at 08:16:30
If both Allan and Richie are out, I agree that Delph should be able cover for him, however I don't think that Iwobi or. Bernard can replace Richie because of his work rate, aggression and drive. Can't think of anybody who could. One crazy option would be to play NKounkou at full back and play Digne further forward.
Steve Hopkins
8
Posted 02/10/2020 at 08:17:08
I feel if we're going (almost) like for like in Richarlison's absence then it needs to be Gordon or Bernard, sadly it looks like Iwobi is next in line in Carlo's mind and for me, despite his recent improvement, he's still an incredibly frustrating player although not quite at Walcott's level
Jerome Shields
9
Posted 02/10/2020 at 08:37:45
Brighton appear to put out a weaker side in the Carabao Cup concentrating on the Premiership. This is a test of the depth of the Everton squad. Fortunately most players have had match time and appear glued into what Ancelotti wants from them performance wise.
I think Allan is a very different player than Delph. It is more likely that Doucoure will replace Allah's role and Delph or Gomes will do the box to box role Doucoure had. Gomes is a better playmaker than Delph going by his last performance.
John Keating
10
Posted 02/10/2020 at 08:42:05
It's going to be a much awaited press conference to hear about the injury status of Bootsie and Richie.
As others have suggested if Allen is out then Delph to start
If Richie is out then Gordon if fit, if not Iwobi
The international break may have come at the right time and fingers crossed all the guys selected for their national teams get absolute no or minimal playing time!!
Justin Doone
11
Posted 02/10/2020 at 08:53:45
I've been really impressed with Brighton as an attacking team. They love to get the ball out wide to pacey full backs and put crosses in.
Their front 3 work tirelessly, chasing and closing opposition players down and midfielders all appear good on the ball with good energy.
Easily could have and maybe should have put 5 past man utd but for the woodwork and unlucky rebounds.
It should be a good entertaining game with plenty of goals. This is a mental test as much as anything. Players not rested in the midweek Cup, several injuries and our lack of pace at the back could be exposed.
Full focus, commitment and energy every game. I don't want another 'easy 3 points' chat or slack performance. But hopefully a thoroughly entertaining winnable game.
Ray Roche
12
Posted 02/10/2020 at 09:02:31
Neil@7
I've had the same thoughts as you, but with Nkounkou playing further forward. His crossing is very good and he enjoys taking a player on. It wouldn't disrupt the back four either.
Neil Cremin
13
Posted 02/10/2020 at 09:06:42
Good point Ray. My concern with both Iwobi and Bernard is they are not aggressive enough and don't cover the pitch like Richie. Richie puts the opposition under pressure in their own back line and if he is not available then we need somebody to do the same otherwise the pressure is felt in our back line.
Sam Hoare
14
Posted 02/10/2020 at 09:07:12
Another tough game. Are there any easy ones? Maybe Fulham at the moment.
I wonder if if we will swap Doucore to the left of the midfield 3 to deal with Lamptey who's a real threat (what a bargain at £3m, where were you on that one Brands?!).
Allan will be big miss and not sure Delph will be able to play another 90 mins after having been out for so long.
Derek Knox
15
Posted 02/10/2020 at 09:08:24
John @10, ' Bootsie ' ? What about Snudge?
Great to have decent options rather than fingers crossed, hope so and so, can contribute as we have nought else.
Justin @11, Yes I too have been a bit surprised with what I've seen of them this season, he already had some good players Maupay, Trossard, and Connolly and now Lamptey is earning, and deservedly so, rave reviews. Not to be taken lightly, they will try and hit us on the break down the channels, but I think we will have, despite being under-strength too much for them, plus home advantage (?).
Neil Cremin
16
Posted 02/10/2020 at 09:14:41
Just another comment. I remember in the bad old days of Koemann, Big Sam et al, I suggested Graham Potter who at that time had brought a Swedish 3rd division club into the top tier in three seasons.
Naturally I got ridiculed with comments of Did I believe in magic, and why not Harry.
This guy is a very good manager and we Should not take Brighton for granted. A win, any win will do, but it will be tough. These guys are playing with swagger, self belief and no end of confidence.
Ray Roche
17
Posted 02/10/2020 at 09:18:26
Neil, you're right about Potter, he's got them playing good attractive football, no wonder they gave him a six year contract.
Jim Bennings
18
Posted 02/10/2020 at 09:21:50
Not a game we can afford to take lightly, Brighton under Graham Potter are a really vibrant footballing side.
I will happily take a narrow scrappy one goal win, go into the rather stupidly timed international break with a 100% record and hopefully no injuries.
Derek Knox
19
Posted 02/10/2020 at 09:26:34
Brighton will undoubtedly do us a few favours this season by taking points of our realistic rivals, let's make sure this isn't reversed tomorrow.
Ajay Gopal
20
Posted 02/10/2020 at 09:54:52
If I have read Carlo correctly, he will probably play Delph for Allan and Siggy for Richarlison with probably Davies, Iwobi and Gordon to come on for Delph, Gomes and James.
Predicted starting XI:
Pickford
Coleman Keane Mina Digne
Doucoure Delph
James Gomes Siggy
DCL
Bench:
Lossl, Nkounkou, Davies, Iwobi, Bernard, Gordon, Kean
Derek Moore
21
Posted 02/10/2020 at 10:09:55
This is a good early marker for where we really are. We've seen patches like this before - albeit not recently! - but under Martinez and Moyes and even Silva at one stage we had purple patches of form and performance.
If we are missing Allan and Richi then grabbing three points and keeping this fabulous run going will not be easy. Particularly if Kean has one foot out the door as has been reported.
Looking forward to seeing how Ancelotti shuffles his deck and what approach he takes against a generally enterprising Brighton team. I'm thinking we'll see Sigurdsson from the start but hopefully in a more advanced role.
On an unrelated note, kudos to former Everton player Landon Donovans actions. Donovan, now a manager, led his team off in protest leading 3-1 after one of his players was the subject of homophobic slurs. Donovan initially demanded the substitution of the offender, when that was not forthcoming he led his side off and ultimately forfeitted the game.
Football is a game, the greatest game, but a game no more and no less. This sort of thing is entirely unnecessary and needs to be addressed. There is no place in any sport for that sort of vile abuse and I support Landons actions entirely.
Jamal Paktongko
22
Posted 02/10/2020 at 10:26:52
For my money, rest Richarlison and Allan.
Use Gordon and keep Fabian.
Play Matt Peninggton too in place of Mina.
Craig Walker
23
Posted 02/10/2020 at 10:42:53
I'd like to see Delph come in for Allan. I think Delph is still a useful member of our squad and could be a decent player with good players around him. I rate him more highly that Davies.
Does anyone know what the situation is with Gbamin? Is he likely to be back fit this side of Christmas?
This game is another potential banana skin. As Derek says, we've had good runs, mainly at Goodison, in the past and tripped up when it's started to look promising. If we could get a win and have 7 wins from 7 games before the international break then it almost takes some of the pressure off the derby game. Even if we were to lose to that lot, it would still have been a great start to the season given that many of us thought we'd lose our opener at Spurs.
Bobby Mallon
24
Posted 02/10/2020 at 11:16:41
I would like to ask people's opinions on who we can call upon if Coleman gets injured. Who can stand in as a make shift right back any idea?
Bobby Mallon
25
Posted 02/10/2020 at 11:19:34
As I have looked through the posts, most peoples subs are all attack minded or midfield. Can Davies or Delph play a traditional right back NOT a wing back
Dan Nulty
26
Posted 02/10/2020 at 11:20:28
Looking at the previous squads I think Delph would move to right back if required and a midfielder come on.
Bobby Mallon
27
Posted 02/10/2020 at 11:44:12
Cher Dan
Tony Everan
28
Posted 02/10/2020 at 12:01:25
Like West Bromwich, Brighton will be looking for rapid counter attacks. Potter will have looked very closely at how WBA caused us problems in that first half.
We will have to pass accurately and be switched on from the start ( and the start of the second half!)

As Lyndon has said they have a couple elf very decent players. Maupay is on form and will be a thorn all afternoon, Allan would have kept him in check. Delph will have to keep him out of the game.
Pickford has been a bit better the last two games, keeping it more simple. He needs to keep improving though to convince he is up to the job.

I agree with the sentiment that we have more quality than Brighton and if we match them for fight and stay focused we will win. James is in a different dimension from anyone in the Brighton team and would bet on DCL or Richie (if fit) not scoring?
In short, there's too much quality throughout the team for Brighton to cope with.
Everton 3 Brighton 1
Eddie Dunn
29
Posted 02/10/2020 at 12:06:19
Ray- I agree that Nkounkou would be a good fit ahead of Digne, especially as the two of them have operated so well together already. I would love to see this French combination especially as this young fellow is a very exciting prospect.
Allan will surely be out for a couple of weeks with that groin/thigh problem. No point filling him full of painkillers, he needs to rest it.
Delph and Doucoure both aquitted themselves well midweek and the midfield should be okay without the influential Brazillian.
Will Mabon
30
Posted 02/10/2020 at 12:24:57
Sooner or later, Brighton are going to ratchet a notch to the next level, a solid top half team. Another player or two and having Potter should see to that.
Right now, they have three points. Our adjusted team should be capable of taking the win, provided there is no slip-up in attitude with the changes.
They should be worrying more about James than we are about them.
Martin Berry
31
Posted 02/10/2020 at 12:39:48
No chances will be taken with Allan so that with rest and recuperation he will be ready for the derby, we have Gomes and Doucoure in the middle so we will not be lacking. Maybe Richarlison maybe on the bench if not able to train fully prior to the match.
Will Mabon
32
Posted 02/10/2020 at 12:49:58
Martin, may be the bench for Richie. I'd rather he didn't play if we can get by, maximum healing time.
Mal van Schaick
33
Posted 02/10/2020 at 12:50:43
If it's possible, don't change a winning team. Sorry, but Delph doesn't do it for me. I would move him on.
Bob Parrington
34
Posted 02/10/2020 at 12:59:19
I think we shouldn't just ignore Derek Moore's comments @ 21 in regard to Landon Donovan. Well done Landon for having the character to do what you did.
Most of my life I've been homophobic until I became involved in an international ice hockey administration role 14 years ago that introduced me to and woke me up to realise that the majority of gay men and women are decent people. If we're going to go on the knee about racism then we shouldn't ignore the homophobia either.
However, it is the strength of character in Landon that I admire. It is this strength of character that has been missing from our team over recent years and I think, with Moshiri, Ancelloti, Brands, James, Allen, Doucore and others, who are now on the board, we are starting to build a strong culture back in to the club that is being and will be further reflected in our performances on the pitch. Build a solid base and then grow from there. Wasn't there a saying some years ago "don't build a house on sand" or something like that?
COYB
Bob Parrington
35
Posted 02/10/2020 at 13:04:17
I was deflected from what I intended to write. Much seems to have been written about Brighton and the way they attack, spread the ball wide etc etc. But shouldn't our strategy be to to not allow them to play their game and we play ours, we set the running etc etc.
Watching the recent performances, we're not the polished article yet but we certainly have a strength that has been missing in recent seasons. Up to Carlo to decide the strategy fro this game but I doubt we will go defensive. Wide in attack and narrow in defence I expect. Simples (if only?)
Alan McGuffog
36
Posted 02/10/2020 at 13:07:38
Just looked at Sky Transfer Page.
One headline states " Barkley: A big get for Villa"
A trifle unnecessary surely. I mean I'm not a big admirer but even so.
Robert Tressell
37
Posted 02/10/2020 at 13:10:35
Good man, Bob. 👍
Brent Stephens
38
Posted 02/10/2020 at 13:13:35
Cracker, Alan #36! Side splitting.
James Head
39
Posted 02/10/2020 at 13:34:05
The introduction of world class players in James and Allen has had an immense effect on the players around them, Allan with his ability to tackle and break up our oponents attacks will be a big miss in the middle, the pressure he has taken off the defence has been invaluable.
Delph played well on Wednesday using the ball positively so should come into the starting line-up but now with Allan out wont have as much time on the ball so Doucoure staying fit is a must or we will be back to any three crabs from four of Sigurdsson, Gomez, Davies and Delph and back to the one paced sideways and backwards passing of last season which could have a detrimental effect on Michael Keanes growing confidence.
I'm not being pessimistic just looking at the possible knock on effect of a few potential injuries. Another thing that worries me is that if Allan and Richie are both out then we will be lacking that aggression we have demonstrated lately and relapse back to the pushovers we've been in the past few seasons, whoever comes in lets hope we can get through this game with three points and no more injuries.
John Keating
40
Posted 02/10/2020 at 13:42:33
Allan and Gomes out. Richie fitness test tomorrow
To me that puts Sigi and Delph in,
Will Mabon
41
Posted 02/10/2020 at 13:49:05
John, then we have to hope Delph doesn't pull anything while putting his socks on in the morning.
Hope Richie doesn't have to play whilst on the margins of fitness, we can't afford a longer absence.
John Hammond
42
Posted 02/10/2020 at 13:56:59
Not too concerned about the midfield injuries at the moment... Sounds like Gomes and Allan will be back after the internationals. If Richie passed fit I'd start him on the bench and put Gordon in. As long as we have James pulling the strings and DCL knocking them in we'll be ok. Doucoure looked very sloppy against the Hammers hopefully he gets that out of his system for Saturday.
Peter Roberts
43
Posted 02/10/2020 at 14:08:26
Derek Moore #21
Even more impressive is that by forfeiting they knew they were eliminating themselves from playoff contention, and still did so on principle.
John Reynolds
44
Posted 02/10/2020 at 14:11:01
Having successfully negotiated two tough games, spirits and confidence will be high. Despite the casualties, I'd expect the winning streak to continue. It'll be interesting to see how a likely midfield three of Delph, Doucouré and Sigurdsson performs. Assuming he's recovered from his illness I'd be inclined to swap Gordon for Richarlison if he fails his fitness test. Brighton are no mugs but our momentum and home advantage should help us collect another 3 points.
Ryan Holroyd
45
Posted 02/10/2020 at 14:24:07
'Doucoure looked very sloppy against the Hammers hopefully he gets that out of his system for Saturday'
Yeah, I mean he only made 34 passes with a 94.4% pass completion rate.
John Crook
46
Posted 02/10/2020 at 14:26:32
Great news that Allan and Gomes will be ok for after the internationals. Looked like a groin for Allan the other night and they can quite easily take 3 months to sort out. If Delph can perform like he did Wednesday we will be just fine. My preference to replace Gomes on this occasion is actually Bernard. I think his best performance for us was away at Fleetwood. Yes they are league 1 but Hey looked so much more comfortable playing centre mid in a 4 3 3. Bernard is not a winger. I think he deserves a start tomorrow. I would go with GK Pickford RB Coleman LB Digne CD Keane CD Mina CM Dacoure CM Delph CM Bernard RW JAMES CF Calvert Lewin LW Richarlison (if fit). SUBS Lossl Sigurdsson Walccott Iwobi Nkounkou Gordon and Davis.
Derek Knox
47
Posted 02/10/2020 at 14:26:36
Ryan @45, now that is sloppy, I hope he gets that out of his system and improves. :-)
Bob Parrington
48
Posted 02/10/2020 at 14:32:54
John@46 Looks a good team pick to me. We should win this game. I'll go for 4 - 2 home win.
Sam Hoare
49
Posted 02/10/2020 at 14:34:11
Great news that Gomes and especially Allan will be fit after the international break. Allan will be much needed for the derby.
Delph will presumably play for Allan and Sigurdsson (or possibly Iwobi?) For Gomes.
Hope Richarlison passes the late test as I'd say (with many worthy contenders) that he's been our best player so far this season and his goals/threat from the left wing can not be replicated by anyone else we have currently.
Christopher Timmins
50
Posted 02/10/2020 at 14:43:31
A tricky game tomorrow, Brighton are better than their results suggest. If Charlie is fit, and it's Delph for Allan, and Siggy for Gomes, then we should still come through with the 100% record intact.
With regards to the latest addition to the squad it looks to me as if he will be a starter in the near future as he adds pace at the back and Mina has proved to be one of our weak links.
Jay Wood
[BRZ]
51
Posted 02/10/2020 at 14:43:41
Carlo in good form in today's presser (fast forward to just shy of the 6 minutes mark):
Not dire news on the injuries. The worst is JJK, minimum 4 weeks out. Allan out but will be 100% fit after the two week break. Richy touch and go. Will have a fitness test before tomorrow's game. Gomes just misses out. Could have been fit for a Sunday/Monday game.
The only player of that quartet we can't adequately cover is Richy. What he brings to the team is unique.
As for Brighton, Carlo expects an open game and the winner will be who has the best defence. Yes, we have to be focussed or the bubble may burst. He has made the players aware of that.
There seems to be some inflated concerns on TW of the 'threat' Brighton carry. Yes, they played well (in the league) against United, but the truth of the matter is they have conceded 3 goals in all 3 home games they have played this season, once to Chelsea, twice to United. Their only league points have come away to Newcastle.
I would argue that currently we are comfortably better than all 3 of those teams. Nothing less than a record-breaking 7th consecutive win for me tomorrow.
Frank Wade
52
Posted 02/10/2020 at 15:04:03
Alan #36, Was laughing at that but assumed that was just an Irish expression. Apparently 'A Get' is an animal's offspring. Very harsh, as you rightly say. The learning continues.
David Ellis
53
Posted 02/10/2020 at 15:07:29
Saying Allan will be back after the international break is like saying we will have a world beating testing system in a matter of weeks. or that we will sign up to 40 trade agreements before Brexit. These are non-committal statements that actually don't indicated actual time frames/numbers. So let's not assume Allan will be back for the Derby.
With Gomes also injured I would like to see Bernard start in his position as he has the necessary skill and guile - but I am sure it will be Sigurdsen. Delph should replace Allan. Iwobi will replace Richarlison. Gordon, Bernard and Davies on the bench. It's a decent team still.
Kieran Kinsella
54
Posted 02/10/2020 at 15:15:22
I'm trying to figure out if Brighton are a Leeds or an Ian Holloway Blackpool. Loads of goals either way but one worked out the other didn't. 15 shots v Utd though is a lot. Chance for Pickford to show his quality.
Brian Williams
55
Posted 02/10/2020 at 15:17:13
Another point from the presser was Carlo very clearly pissing over Bolasie's chips!
Looks like Bolasie's Twitter campaign's all been for nowt.
Brian Wilkinson
56
Posted 02/10/2020 at 15:59:51
Neil@ 7 I said the same the other night as a crazy thought, but I would play it n reverse with Digne being the left back and Nkoundou further forward on the left.
Michael Barrett
57
Posted 02/10/2020 at 16:02:34
I soiled me pants when carlo said Rodriguez is flying to for a international 3 days before the Derby
Brian Wilkinson
58
Posted 02/10/2020 at 16:05:59
I would not risk Richarlison, I would have him on the bench if we get desperate and need to as a last resort.
With doing this and the weeks break, we will then have them all back for the Derby apart from Kenny, but sure Coleman would have started anyway.
Been a very long time since we went into a Derby, with a full strength squad.
I think we have enough cover to see Brighton out, well as they may be playing, I fancy Everton to keep their momentum going.
These coming in are now realising they are not going to get an easy ride and picked, they now have to fight for their places.
Ajay Gopal
59
Posted 02/10/2020 at 16:08:06
Oops, no Gomes either. I have to change my predicted team from (20) above. I suspect that Richarlison will play, at least for 60 mins, with Gordon coming on to relieve him.
Pickford
Coleman Keane Mina Digne
Doucoure Delph
James Siggy Richarlison
DCL
If Richarlison is also unavailable (God forbid), then I think Iwobi will be his replacement, although I would prefer Bernard myself.
SUBS: Lossl, Nkounkou, Davies, Iwobi, Gordon, Bernard, Simms
Jim Harrison
60
Posted 02/10/2020 at 16:08:59
What a position to be in.
New, quality signing out, decent options on the bench. This is why Delph was Signed last season, to be in and around the first team but not a iron clad starter. Allan out? Delph in for a game or two.
Having Siggy as a sub option? That's where we should be. He is a capable operator when playing in his preferred role but we now have real quality in the first 11.
If Kean goes there will be someone else inbound.
Brian Wilkinson
61
Posted 02/10/2020 at 16:12:46
Btw the Derby next week has been switched to a 12.30pm kick off for bt sport on the Saturday
Tom Bowers
62
Posted 02/10/2020 at 16:21:22
A fully fit Delph will do okay as Alan's replacement but they should hold back Richarlison until the RS game if he can be fully fit by then.
Not sure what they can do for the Brighton game apart from playing Kean with DCL and hopefully it will work out well unless they play Gylfi behind DCL in a 4-4-1-1 formation so that Gylfi can possibly add some firepower following up from knockdowns.
As always every game is tough in the Prem. so they need to get the upper hand early before Brighton can settle in to a comfort zone.
Jay Harris
63
Posted 02/10/2020 at 16:34:41
I see Brighton as I saw West Ham.
They are dangerous and can play good football but, as long as Calvert-Lewin, Richarlison and Sigurdsson are playing, we have more firepower.
Delph and Doucouré can cover for Allan and my only concern is Yerry Mina who has not been in good form so far. I would even consider playing Digne there again as this Brighton team is no longer a 'punt the ball up to a big lump' style of football and are quite quick on the break which is not Mina's forte.
If Richarlison is out, I would not play the headless chicken and Gordon seems to be out of favour at the moment so it looks like Bernard for me.
Frank Crewe
64
Posted 02/10/2020 at 16:40:13
Since it appears that both Allan and Gomez are out it seems to me we should go like for like as much as possible. This being the case my line up would be:
Pickford
Coleman, Keane, Mina, Digne
Delph, Sigurdsson or Bernard, Doucoure
James, Calvert-Lewin, Richarlison.
Bench: Lossl. Nkounkou, Gordon, Davies, Iwobi, Kean, Bernard or Sigurdsson (depending on who is in the first 11).
This side should still be strong enough to defeat Brighton.
Tony Everan
65
Posted 02/10/2020 at 16:47:11
Carlo sounds cautiously optimistic about Richarlison playing. It's good news; he has been terrific, and his inclusion means opposition defences can't just concentrate on keeping James or Calvert-Lewin quiet. We are coming at them from all angles.
Pickford
Coleman Keane Mina Digne
Doucouré Sigurdsson Delph
James Calvert-Lewin Richarlison
Nkounkou a cert on the bench so, if Mina takes a knock, Digne can step in at centre-back.
Bernard, Gordon and Iwobi are a bit unlucky to be on the bench (if that team is right ) but it's up to them to force their way in.

Kev Jones
66
Posted 02/10/2020 at 16:57:11
Well said Derek#21 and well played Landon Donovan for taking a stand against homophobia in football.
Mike Gaynes
67
Posted 02/10/2020 at 17:18:47
Jay #63, Mina
"has not been in good form so far"
???
We must be watching different Minas. The one I've been seeing has been very, very good except for one half of one game.
Nobody has mentioned Gordon, but if Richarlison is out I'd like to see the kid get a start on the left flank. He shares Rich's attack-off-the-dribble philosophy and works equally hard tracking back.
Kev #66, good shout but it wasn't just Landon, it was the entire San Diego club. They forfeited a game they were leading 3-1 in order to protect an openly gay teammate. The most bizarre part was when Landon was arguing with the opposing coach, the guy asked him "How long have you been playing soccer?"
Christy Ring
68
Posted 02/10/2020 at 17:23:31
We're going to miss Allan tomorrow. Hopefully Richarlison will make it, his work rate, has been outstanding, and himself and James have a great understanding. Brighton will be no pushover tomorrow, I hope Delph can do the business, big difference playing instead of Allan, and playing beside him.
Alan McGuffog
69
Posted 02/10/2020 at 17:26:50
Frank @52,
One of great things about our fair City are our links with Ireland, and so there are so many Irish expressions in use. "gobshite" is one such.
My other favourite is the word "banjaxed", which was one of our son's first words, learnt from his Mayo grandad.
Denis Richardson
70
Posted 02/10/2020 at 17:43:17
Confident Delph can fill in for Allan tomorrow. However, I really hope Richy doesn't start, even though he'll be a big miss.
It's going to be a long season this and we just can't take chances on him. If he's not 100% then max a place on the bench to at least show the oppo he may come on but let the kid recover properly. You can not recover from strained ligaments or tendons in 3 days, just not possible.
Sigurdsson or Iwobi need to step up. I still don't know why we signed Iwobi but he's got to show up at some point. We know what Sigurdsson can do but he has no pace. Him and James in the front 3 would give few options
Problem for Carlo, it's why he's paid £1m/month.
Won't be easy but think we can grind something out. James is class and will again be crucial to the outcome.
If anything, at least the injuries came at a good time. Players can recover and not join the international squads.
Jay Harris
71
Posted 02/10/2020 at 18:07:57
Mike G,
If Mina plays tomorrow I will put a different pair of glasses on to see if I see him differently but to me so far this season he has looked unsure of himself and uncomfortable.
You also need to change your glasses because I mentioned Gordon in the very post you picked up on.
I rate Gordon and he seems desperate to get on the score sheet but has been ignored by Carlo recently and I don't think he's injured.
Jack Ledwidge
72
Posted 02/10/2020 at 18:22:02
This is a very tricky game. Brighton have been hugely impressive so far this season despite only having 3 from 9 points. Their passing and creative play against Utd was a joy to watch. They won't lump the ball forward so Mina and Keane are in for different type of afternoon.
Seamus and Digne really need to be on their toes as Connolly and Maupay will run the channels cleverly. Breath too heavily on Connolly and he'll go to ground. I've watched him come through the Irish underage system and he's intelligent beyond his years. Reference last season when he put his foot under Keane's foot and the ref pointed to the spot.
Any sort of win tomorrow will do. In off somebody's arse in added time or a cruel deflected goal; yes, we'll sympathise with them... but 3 points and it's then a happy fortnight
Andrew Ellams
73
Posted 02/10/2020 at 18:30:55
I would like to see Bernard or Gordon fill in for Gomes tomorrow but I suspect we will see Sigurdsson.
Mark Taylor
74
Posted 02/10/2020 at 18:31:31
I'd put Delph, Bernard and Gordon in for Allan, Gomes and Richie. But Carlo will I suspect put in Sigurdsson and Iwobi instead of the latter two as the safer option. Presumably Iwobi will be tasked with doubling up on their threatening right back, something Gordon (or James if he swapped flanks) are less likely to do.
I wouldn't risk Richarlison, not least because if Dom gets injured, who else plays up top? It should be Kean, but they are saying he is 'ill' and that is often code for being unsettled or in a funk. Hope I'm wrong.
Richard Mason
75
Posted 02/10/2020 at 18:36:36
I know it's one game at a time, and Brighton will be spritely tomorrow, they rested a lot of players during the week.
I am concerned, however, that Rodriguez might not make the derby due to having an international match 3 days before and travelling back to the UK.
It will be our luck he doesn't start against them.
Steve Hopkins
76
Posted 02/10/2020 at 18:36:53
Those of you who have Amazon Prime should check out All Or Nothing, it's a documentary series about Brazil's Copa America campaign and our Richarlison features heavily in it; he's clearly highly thought of in the Brazilian setup.
He's also the team clown and one of the best scenes features him sledging the beast that is Ederson, during keeper training, who then boots a ball full on at his head before chasing him down the tunnel.
Niall McIlhone
77
Posted 02/10/2020 at 18:38:15
Alan:
"Gobshite" a vulgar noun Irish /English to describe a stupid or incompetent person.
Ergo, "All Kopites are Gobshites".
Mike Gaynes
78
Posted 02/10/2020 at 19:26:30
Jay #71, I read you as predicting Bernard ahead of Gordon. Don't think that would be bad either, I'd just rather see Gordon. Not sure if he's out of favor -- he was sick last game or two.
Bit of good news, Derek Knox just emailed me that he's out of hospital and back home, albeit with more scans ahead.
Brian Harrison
79
Posted 02/10/2020 at 19:28:11
I see Carlo has said that Gomes and Allan will miss tomorrow's game and Kenny is out for about a month, but Richarlison is having a late fitness test tomorrow. I hope Richarlison passes the fitness test, as he will be a big miss. I see a fan posted a picture of himself and Allan in Aldi, he said he looked okay and was helping his wife with the shopping.
With back-to-back losses, I am sure Brighton will try and put that right tomorrow, they went to Newcastle and scored 3 in about 15 minutes a couple of weeks back, so they do carry a goal threat.
I guess Doucouré will start and maybe Delph in midfield. I know after the international break we have a tough run of games, so it will be nice to pick up a win tomorrow to keep the confidence sky high.
Per Stumo
80
Posted 02/10/2020 at 19:30:17
Mark @74: Gordon was left out of the cup match due to illness, and so was apparently Kean. Sounds like it might be an actual illness.
I'd expect Delph to slot in for Allan and Sigurdsson for Gomes. Sigurdsson was very good against West Ham so I'm not worried about Gomes being out.
Jay Harris
81
Posted 02/10/2020 at 19:46:58
Mike,
I agree with you regarding Gordon and I love his pace and directness but I just have a feeling that Carlo is trying to dampen his expectations, likewise with Kean who he said had been ill and didn't train all week which seems a bit of a porky to me.
Either Kean is off or he is being told to knuckle down and behave himself and not get his agent, who was so keen to bring him here, to try and engineer a loan move back to Juventus.
Carlo specifically said in his presser that Kean was a big investment and his "future" was at Everton. We shall see on Monday night. He also said there would be some surprises?
Pete Gunby
82
Posted 02/10/2020 at 20:02:19
Alan,
"Banjaxed" has been one of my all-time favourite words since I met my wife's Waterford family 35 years ago. James Joyce would have been proud of it.
Jay Evans
83
Posted 02/10/2020 at 20:21:48
Who does the Allan job in his absence?
Delph? I don't think so, particularly after playing a full game on Wednesday.
7 from 7? I wish. Maybe if Richarlison is passed fit. If not, I fancy a score draw and the end of our winning run. I hope I'm wrong.
Full support. Onward Evertonians! 💙
Tony Abrahams
84
Posted 02/10/2020 at 20:41:24
I think Liverpool FC BT, have seen that Everton will have their two main players in South America, until the Wednesday night, so have moved to get us the early kick off for the Goodison derby.
It's not just the telly though, surely the league should have changed the venue, considering the last Merseyside Derby, was also played at Goodison behind closed doors.
Brighton first though, no easy games in this league, so hopefully the blues can get another three points tomorrow, even with these injuries in our squad. It's another big test, because it's impossible to achieve anything without a big squad nowadays, so let's hope the players are up to the task.
Brian Hennessy
85
Posted 02/10/2020 at 20:42:38
Hey Pete #82, what a coincidence. I look up ToffeeWeb for the first time today and see someone mention Waterford where I have lived all my life.
What is your wife's family name and what part of Waterford?
Tony Hill
86
Posted 02/10/2020 at 21:10:19
Tony @84, it doesn't matter. None of that stuff, conspiracies and the devil's scripts and so on. A happy player will play well regardless and James is happy. If you built an Everton player to represent our style and soul it would be him; him and Alex. And, whisper it, the young Rooney.
But I truly think this man has our essence; everything about him. Grace, that's the word.
As for the season: keep on, beautifully; game after game after game after game; next up Brighton.
Shut the RS, and everyone else, right out; until it is their turn. Stay calm and within ourselves. Just like James.
Jay Wood
[BRZ]
87
Posted 02/10/2020 at 21:14:06
Can we stop with the conspiracy theories for the Mersey Derby KO time?
Yes (if fit to travel) Mina and James will play in Colombia on Saturday v Venezuela at the same time Richy plays at home v Bolivia. They both then play away on Tuesday at the same time. Colombia at low level Chile. Brazil in high altitude Peru.
Lest we forget, Liverpool also has 3 players likely to feature for Brazil - Alisson, Fabinho and Firmino.
Arguably, their players face a more daunting pair of fixtures than our Colombian pair.
Shane Corcoran
88
Posted 02/10/2020 at 21:29:42
Brian #85, spent two years in college down there in the late 90s. Hadn't been back until earlier this year.
Geoff Lambert
89
Posted 02/10/2020 at 21:43:18
Another Irish word used a lot by my Nan was manky.
Tony Hill
90
Posted 02/10/2020 at 21:51:23
Suggestions that Kean will stay. Excellent. I wobbled a bit after recent non-efforts, but this fella will succeed with us, if only he relaxes.
Jerome Shields
91
Posted 02/10/2020 at 22:16:43
So it will be Doucoure in Allans role, Delph box to box and Sigurdsson, , shadowing Rodrigues, and through the centre.
Allan Board
92
Posted 02/10/2020 at 22:17:48
Too much negativity on here! Brightons defending is like West Broms - rubbish.
Will beat these easy!
Mick Davies
93
Posted 02/10/2020 at 22:20:02
The red mandarins are trying their best to scupper our derby chances, but it looks like it's just backfired: first Thiago, and now Mane have tested positive for covid, so that evens it up a bit
Cristobal Aguirre
94
Posted 02/10/2020 at 22:28:20
Pickford
Coleman, Keane, Mina, Digne
Doucoure, Delph
James, Siggy, Richi
DCL
Subs: Lossl, Nkounkou, Davies, Bernard, Iwobi, Kean or Simms and Gordon.
John Keating
95
Posted 02/10/2020 at 22:30:01
Geoff 89
I did a job in West Africa and used mankey to describe the state of a storeroom. A local customs guy got me arrested. Took a bit of explaining and a lot of money to get me out. Never used it since
Richard Mason
96
Posted 02/10/2020 at 22:38:21
Pete Gunby #82, I'm from Waterford myself. Common word there alright
Richard Mason
97
Posted 02/10/2020 at 22:39:29
Brian #85 what part of the deise are you from??
Pete Gunby
98
Posted 02/10/2020 at 22:45:21
Hi Brian. My wife is Sandra Cooke. Her family lived in Marion Park near the football ground. Her mother wa an O'gorman and her sister Avril now lives in Tramore. Waterford is a great place to be- I love coming back there. Cheers
Craig James
99
Posted 02/10/2020 at 22:47:14
My other half is from Waterford and one of the things she says ' you cannot beat a nice fresh blaa with red lead'.
Nice part of the world, up the deise and up the toffees!!
Fran Mitchell
100
Posted 02/10/2020 at 22:49:04
Another game where the build up is "is this the game it all goes tits up?".
It's inevitable that we feel this way.
But this is Brighton - a good team who don't know how to win. Trossard and Lamptey are teh two players we need to watch out for.
But we've got the leagues in-form striker, we've got a world class creator, we've got a beast of a box-to-boxer.
We'll win. 2-0 the blues. DCL and Doucoure. Then Ross Barkley will score a late equaliser against the shite and we'll go 2 points ahead of them.

Richard Mason
101
Posted 02/10/2020 at 22:49:55
Munster championship back soon Craig, plenty of shouting for the deise then.
Didn't realise such a big Waterford connection here on ToffeeWeb
Craig James
102
Posted 02/10/2020 at 23:00:37
Can't wait Richard should be a good championsip and will follow from afar in sunny Wales lol
The Mrs converted me into a deise and munster fan and she is now a proud toffee lady.
Coyb
Tomorrow will be a tough game and another 3 pts will be a massive statement of intent just before the international break.
Brian Hennessy
103
Posted 02/10/2020 at 23:06:14
Hi Richard. I was born in the West Waterford gaeltacht village of Ring near Dungarvan and we moved to Gracedieu Road in Waterford City when I was around 8.
Lived there until I met my wife and we have lived in Tramore Co Waterford for the last 20 years or so. Where in Waterford are you from yourself Richard?
Last time I visited Goodison was with another big Toffee's fan Tom Beglin, brother of Jim Beglin who of course played for the dark side and was born across the road from us in Gracedieu Road.
Andrew Keatley
104
Posted 02/10/2020 at 23:13:59
Brighton were unlucky to lose against Chelsea and completely outplayed Manchester United for large portions of their recent league defeat. I think they could be the surprise package in the league this year. Bissouma and Alzate are a very promising central midfield pair, both very comfortable in possession and happy to energetically get through all manner of selfless work for the team. Going to be an interesting game - but one I expect us to win.
Richard Mason
105
Posted 02/10/2020 at 23:24:11
Brian, I'm from cheekpoint, although passage east is where I spent most of my time.
Living in Dublin now. Get down every couple of months for a few pints.
Brian Hennessy
106
Posted 02/10/2020 at 23:24:23
Hi Pete. Give my best regards to your wife. Marion Park is only a few hundred yards from where I grew up in Gracedieu Road. It backs on to the hurling field of Mount Sion whom I played with in the 80's before deciding football was for me.
Craig @102. Few things nicer in life than a red lead blaa in the morning with a mug of tea.
Ernie Baywood
107
Posted 02/10/2020 at 23:39:14
Brighton look a good team, though I wouldn't put too much into outplaying Man Utd. United were dreadful.
I'm ok with Sigurdsson for Gomes. I reckon both will rotate quite a bit through that 3rd midfielder role this season.
Allan missing concerns me, not just because of how good he is, but because Brighton are really good where he operates. Trossard moves cleverly into that space. He's a player I like a lot - he could have scored 4 against United, and probably should have scored at least two. He won't always hit the woodwork.
If we select Delph then that shows just how finely balanced our improvement is. He did really well in the Carabao cup, but we all know he's not the player we want in the Premier League. If he's the Allan replacement then our lack of depth makes us an upper mid table team.
Honestly, I'd ask Davies to play with Doucoure. We're not going to get a good replacement - might as well have some energy and bite. And can Davies look better in a better side? It's untested so far, and I think he has earned the chance to prove how he can look with better players around him.
Personally I'd go with (Richi's fitness permitting):
Pickford
Coleman Keane Mina Digne
Doucoure Davies
Gylfi
James DCL Richarlison
If Richarlison is out then maybe Kean out wide. I don't rate the kid at all but he's a willing runner - and James spraying the ball out wide ahead of Richarlison on the move from wide left has been a huge part of our game. I don't see Iwobi or Bernard giving us that. Kean can keep Lamptey honest in his wing back role. Lamptey has been good, but he overcommits and will leave space.
Suddenly feels like we need to be back in the transfer market.
Peter Roberts
108
Posted 02/10/2020 at 23:39:59
Only on ToffeeWeb could people be pessimistic about our chances at home to Brighton after 6 wins in all competitions.
Were this at the AMEX, I'd be a bit more wary, but with the game being at home, I fancy our chances more, even with the injuries.
Another comfortable win, and a DVD entitled The Magnificent 7 😉
Ernie Baywood
109
Posted 02/10/2020 at 23:41:38
Mick 93 - what odds they announce on Monday that they're sending the squad into isolation for the international break so their players can't get injured on duty?
Come to think of it, wouldn't mind a bit if that for Everton.
Andy Crooks
110
Posted 02/10/2020 at 00:05:22
Tony @, absolutely spot on. Kean needs to relax. He gets a brief chance to impress and, understandably, throws the kitchen sink at it, like James Vaughan. He needs a run of games, but how on earth can he get it?
Brian Wilkinson
111
Posted 03/10/2020 at 01:07:08
Mick@93, if you do the maths, they both isolate for 14 Days so if they isolated on the 2nd October, they will both be back for the 16th, a Day before the Derby, had bt not chosen this game, I recken they would have moved it to a Sunday game.
Drew O'Neall
112
Posted 03/10/2020 at 03:36:21
Presumably Kean is on his way out to balance the FFP books on the basis he is 'unavailable' according to Ancelotti.
Nicolas Piñon
113
Posted 03/10/2020 at 03:49:15
Ernie I agree with the whole you said!
COYB! Tough game but we have hungry players and talent enough to get through tomorrow
Apart from a great manager!
Come on Blues!!!
Karl Meighan
114
Posted 03/10/2020 at 07:06:10
Delph hasn't impressed and has had lots of niggles since he's been with us.
Delph played in a fine City side at fullback and performed well. I would take his extra bite in midfield before Davies, we have seen Delph perform with better players around him the same can not be said of Davies although the whole squad should now be more confident and hungry if a chance to play comes there way.
Be nice to go into the International break with another win. The injured players would hopefully be fully recovered but the Premier League is tough and the it will have to be earned.
Tony Abrahams
115
Posted 03/10/2020 at 07:36:25
Jay@87, stop reading into things so much! I think my second point is valid, because once the fixtures came out the computer, then it would have been easy and fair to swap our two fixtures around, considering the grounds are 1KM apart, but I wouldn't expect any favours off anyone connected to the EPL, until Carlo Ancelotti has been here for at least two seasons?
The other one is just a wind-up, because I find it hard to watch BT SPORT, without getting the impression that it definitely favours our neighbours.
Fuck Liverpool though, the only match that's important to Everton right now, is the one this afternoon. I just wish I could go inside a packed Goodison Pk, to witness it.
Frank Thomas
116
Posted 03/10/2020 at 08:39:17
At the end of last season, after we failed to qualify for Europe, when Mr Ancelotti was strangely moving people into positions and partnerships they have never formed, I thought we had, heaven forbid, another Koeman. What I failed to realise was the man was looking for people to stand out and say to the manager, "What, 3 attackers against me, they have no chance of scoring!" Ditto for the mindset of the attack players: "Only three defenders, I am definitely going to score."
Our manager has said that quality players make football look easy and consequently have far more time and vision. Bolasie failed to score an open goal and showed none of the above qualities. Contrast that with Iwobi hitting the post twice in consecutive cup games and providing an assist.
Once again in the Cup games he tried Digne in the centre-back position and that worked really well. Now he hopefully has bought Ben Godfrey, who has played in many positions, one of which is a defensive midfielder. His aim was to have him in place before this game so he could slot into Allan's role. He can also play right-back.
I would be amazed if Richarlison was available for today's game and Kean is ruled out. So who can move around the oppositions half drawing players and creating space for Calvert-Lewin, Sigurdsson and themselves? It has to be either Gordon or Iwobi.
I think Ajay Gopal (59) has the correct subs list. I would not be surprised if we saw 15 mins of Ellis Sims. I think I am correct in saying Ellis has scored more goals than the number of games he has played in which is quite a feat. The only players close to that statistic are Ronaldo and Messi.
A lot of debate about defeating Liverpool has taken place. Beating them is important; our team visibly deflated when we lost to Pickford's and Origi's goal. When we beat them, it will say to the rest of the Premier League, "If you want to match us, then you need to beat them as well."
In today's game Calvert-Lewin may have as many as two or three players on him thus creating space for shots and slot ins from other players.
Gone are the days when we closed for football after scoring a goal. Now the thought is: "Why not go for 5?"
Derek Knox
117
Posted 03/10/2020 at 08:42:05
Tony @115, some good and very valid points you make there, our boys are on fire at the moment, long may that continue.
Just imagine a packed Goodison and the effect and uplift that would give to the likes of James and Richy.
I am sure it would boost their flair even further, to know they are loved and appreciated by the faithful and success starved hordes of Evertonians.
Brian Williams
118
Posted 03/10/2020 at 09:18:13
Tony. Do you mean swap our derby fixtures with the rs meaning that we'd have a chance of having supporters in the ground for the second derby if they were swapped?
If that is the point I don't think we have a worry because I can't see supporters in any stadiums for the whole season myself.
Apologies if that's not the point and I'm being slow on the uptake.
Robert Tressell
119
Posted 03/10/2020 at 09:30:29
Frank, lot of good points. I'd be delighted if Simms got some minutes. And I think we have to treat games like this as an opportunity for the likes of Iwobi or whoever steps in. Just frustrating that Kean is ill (which I'm trying not to read as code for 'signing for PSG'). This would be a great chance to go two up front against a 5 man defence, and help nullify their full backs.
Dave Abrahams
120
Posted 03/10/2020 at 09:36:43
I think all the rain overnight and this morning, with more predicted for most of Saturday afternoon, and you can bet they will still be watering the pitch for a couple of hours before the game!!, will have a bearing on the team selection, will they risk Richarlison and James on such a heavy pitch?
John Atkins
121
Posted 03/10/2020 at 09:46:34
On a separate note how on earth can you go and watch the match in the VUE cinema today but you can't watch live outdoors ! Absolutely fucking ridiculous
Dave Abrahams
122
Posted 03/10/2020 at 09:54:17
Brian (118), slow on the uptake!!well I,ve heard it all now, you've been fiddling the books for the last eighteen months upping the bottles of Desperado I owe you, kidding a poor honest Scouse pensioner, slow on the uptake, you've took my breath away.
John Pickles
123
Posted 03/10/2020 at 10:02:11
Eh, the ToffeeWeb Poll, 'Who will finish top scorer for Everton this season?'. Is it meant to be a predictor or a rhetorical question? If I knew it was going to run and run I may as well have voted on the last day of the season.
And yes, I did vote for Richarlison.
Andrew Ellams
124
Posted 03/10/2020 at 10:04:58
How many teams are going to start seeing players testing positive for the virus like our nearest and dearest before the season is brought to a halt.
Players fly off to all corners of the planet this week mixing with different groups of people, surely a recipe for disaster.
Will Mabon
125
Posted 03/10/2020 at 10:15:40
John, 121 - all part of the farce.
Stu Gore
126
Posted 03/10/2020 at 10:18:23
Hate the game before the international break. We seem to save a truly awful performance for these so we have two weeks of proper misery before the next game. I will really start to believe if we make short work of Brighton.
I though these were very good against Utd last week and the result was pure theft (daft Var decisions and post-game penalties aside). Hope Delph can cover for Allan. I'd try Nkounkou left mid if Richy is crocked. Or Gordon. Or whatever Carlo wants to do. 4-0 Blue.
Richard Cusworth
127
Posted 03/10/2020 at 10:48:47
Had we not won 6 in a row I'd be confident about today but just have this very nervous feeling - as crazy as that sounds. Just have this nagging realisation that this 100% record is going to end somewhere. Part of me thinks get it out the way today before we play the other lot. Brighton are decent this season and haven't lost away in 8 Prem games. Hopefully the injuries won't ruin the rhythm I do hope we don't risk anyone who is not 100% fit and risk longer time out - this game doesn't make or break our season. The understudies should be chomping at the bit and in the current climate where people may become unavailable quite regularly for a couple of matches, let's hope the squad step up to the plate and grab the opportunity with both hands. If Richy is out I'd like to see Gordon come in and maybe try Iwobi inside as the advanced player in the midfield 3 where he maybe able to interchange with James quite effectively. Siggy will get the nod there but just think getting goals today maybe more challenging and require a different solution . COYB
Eric Myles
128
Posted 03/10/2020 at 10:56:14
Johnn #121, they can better enforce Social Distancing?
Otherwise I agree with Will #125, it's all become a farce.
Tony Abrahams
129
Posted 03/10/2020 at 10:56:45
I hope you're wrong about no fans throughout the whole season Brian, but the point I was trying to make was that this wasn't the case (no fans all season) when the fixtures were first made.
Is there any news on Richarlison? I think we're going to really need his forward running today.
Sam Hoare
130
Posted 03/10/2020 at 11:01:10
My main worry is that Brighton have been unfortunate and are due a big slice of luck. Traditionally we are the team that others get their slice of luck against.
Really hope that Richarlison is fit as though they are good players none of Bernard, Iwobi or Gordon can come close to what he does for the team and the goal threat that he offers.
The first test of our squad depth. I think the raised the bar of the first team should hopefully bring the best out of the likes of Delph, Sigurdsson and Iwobi if they feature. But Allan will be missed.
Hoping for another happy blue weekend.
Geoff Lambert
131
Posted 03/10/2020 at 11:02:51
Carlo saying in his presser "the bubble has got to burst" I just hope there is enough air in it to continue the run for at least 2 more games.
Its nice to be worrying when are next defeat is going to come rather than our next win though. 4-1 to the mighty blues DCL hatrick.
Brian Harrison
132
Posted 03/10/2020 at 11:11:47
I wonder is it most football fans or just us Evertonians who get more nervous about a winning run coming to an end? I think over the last few decades we have had that many false dawns that we are now conditioned to expect a crash following some positive results. I think games behind closed doors have made a lot of games more open than usual, even teams that have been well beaten still seemed to create quite a few chances.
Brighton look like a side that are more comfortable attacking than defending, and with many of their regular first team rested for their Caraboa cup in midweek will come here fresh. There is no doubt the new players seem to have energised the whole squad, with a more positive outlook, that Ancelotti was calling for. I do think if Richarlison misses the game he will be a big miss, but with the confidence of winning 6 on the bounce I think we will have enough quality and just as important the desire to want to keep this run going. No game in the Premier league is easy and being home behind closed doors isn't the same as having 40,000 Evertonians cheering you on. But a win before an international break would be ideal.
Derek Moore
133
Posted 03/10/2020 at 11:19:21
I wonder is it most football fans or just us Evertonians who get more nervous about a winning run coming to an end?
From my view it's most football fans Brian (#132). My mum and younger brother are (sadly) RS and they were sweating the end of the long unbeaten run they enjoyed. When Watford finally rolled them I think it was almost a relief, even though they were desperate to beat the Arsenal record.
Mike Kehoe
134
Posted 03/10/2020 at 11:27:53
I watched the shite play arsenal the other day and I don't remember the affable funster Jamie Carragher mentioning Everton once. Usually he can't complete a sentence without referencing an Everton based issue, but he's so clever that his disgraceful bias is so well concealed and goes unchecked; so the conversation might be about Czechoslovakian political reform in the 1950s and he will helpfully interject with his recollections of dreadful Everton defending at Anfield.
Barry Rathbone
135
Posted 03/10/2020 at 11:30:35
All fans fear the bubble bursting but I think we fear it more because our bubble is not really a bubble - it is the place we believe we should be
Danny Baily
136
Posted 03/10/2020 at 11:44:55
I'll start believing if we win this comfortably. Great chance to make it 7 wins from 7.
It's a big squad so we shouldn't be too worried about Allan and Richy missing out.
Enjoy the moment blues!
Tom Bowers
137
Posted 03/10/2020 at 11:51:18
Every game is difficult even when you get a lead and sometimes things go wrong when you least expect it. Everton are still building and still need that depth in the squad to be top four material. Who knows when Gbamin and Holgate will be fit again and along with Richarlison and Alan doubtful we have to see who can step in to do a good job.
We will stutter along the way somewhat but the improvement already is amazing and let's hope there are no more injuries or Covid problems like RS have annonuced today.
Len Hawkins
138
Posted 03/10/2020 at 12:08:58
Barry #135
I remember our bubble bursting big time at home to United in the 70's I think we were 28 games unbeaten and they came to GP and thrashed us IIRR 6-2 I seem to remember Macari scoring 4 I think it was. George Wood's back was never the same after that bending to pick the ball out of the net.
So a 7 game run would not make you as completely deflated as that but I don't want it to end all the same.
Derek Knox
139
Posted 03/10/2020 at 12:39:58
Len @138, a painful reminder if one was needed, I was at that game, wasn't it on a Boxing Day, or very close to it? I remember being in the Main Stand for that one, and six months later got my Season Ticket seat in Upper Bullens.
John Pierce
140
Posted 03/10/2020 at 12:46:02
Maybe two more wins and Phil Walling will return. Then we'll know for sure it's all real!
Nicholas Ryan
141
Posted 03/10/2020 at 13:12:21
Niall [77] I thought the term 'Gobshite' meant 'Naturally, I couldn't agree more'. I said to my Liverpool-supporting stepson, 'The Blues will finish above the Reds this season and he responded with one word: 'Gobshite'!

As to Waterford, I went there once, to visit the Waterford Crystal factory it was shut!!
Tom Bowers
142
Posted 03/10/2020 at 13:20:03
Every game is difficult even when you get a lead and sometimes things go wrong when you least expect it. Everton are still building and still need that depth in the squad to be top four material. Who knows when Gbamin and Holgate will be fit again and along with Richarlison and Alan doubtful we have to see who can step in to do a good job.
We will stutter along the way somewhat but the improvement already is amazing and let's hope there are no more injuries or Covid problems like RS have annonuced today.
Nick White
143
Posted 03/10/2020 at 13:26:23
Injuries or not, we will win today and continue the winning streak👍
Derek Knox
144
Posted 03/10/2020 at 13:32:14
John P @140, Ah the erstwhile ubiquitous Mr Walling, the last I heard he was on a Greek Island. Not sure if it was a long holiday or he was working there.
Or, maybe he is supporting Wigan now! :-)
Colin Battison
145
Posted 03/10/2020 at 13:33:23
Does anyone know if Richarlison passed his late fitness test, we need him today
Brent Stephens
146
Posted 03/10/2020 at 13:42:36
Mr Knox - you've been let out? All well?
Brian Williams
147
Posted 03/10/2020 at 13:44:06
Ah Tony now I follow mate.

Derek Knox
148
Posted 03/10/2020 at 13:53:43
Hi Brent, yes I have escaped but had to, long story, but still not feeling right at all, hopefully be able to pick up over the next few days.
I have to go back in, probably as an Out-Patient for Heart and Lung Tests, nurses were brilliant but some of the Doctors didn't seem to be reading from the same hymn sheet, and not in liaison with each other either.
Thanks for asking, and all TW'ers who wished me well.
Danny O'Neill
149
Posted 03/10/2020 at 13:55:22
Live forum blocked or am I barred??
Brent Stephens
150
Posted 03/10/2020 at 13:57:01
Good man, Derek. I hope they found the cause of your poor jokes. I'm still being treated for mine.
Richard Lyons
151
Posted 03/10/2020 at 13:57:35
Live forum is currently closed, it seems
John Pierce
152
Posted 03/10/2020 at 13:57:45
Ha! We are so eager, we are battering down Lyndon's virtual door to get the forum open. C'mon!
Dave Abrahams
153
Posted 03/10/2020 at 13:58:35
Danny (149), it's closed for dinner!!, try about 2-30pm, you'll be fine.
Rob Halligan
154
Posted 03/10/2020 at 14:00:45
Richarlison playing!!
George McKane
155
Posted 03/10/2020 at 14:01:02
I am sitting at home in New Brighton waiting for the game at 3.00. Normally at this time I would be in The Dark House But alas and alack.
I Posted this on TDH FB Page this morning - - https://www.facebook.com/The-Dark-House-Blues-105117249592273/videos/344348733676103
Says it all.
"Oh my dear, oh my dear sweet love
Oh my dear, oh my dear sweet love
When I'm away from you, when I'm away from you
Well I feel, yeah, well I feel so sad and blue
Well I feel, well I feel so sad and blue
Oh my dear, oh my dear, oh my dear sweet love
When I'm away from you, I just have to sing, my hymns
Hymns to the silence, hymns to the silence"
Before we move towards 3.00 clock let's try and keep the "posso" waves going. We have as Evertonians endured years' on poor results, false promises - - let them go - - enjoy this moment - -soak it all in - - shout it out - - sing and dance - -I am not reading a single post that has "bubble bursting" or the likes in it - - I am floating on The Big Blue Astral and enjoying every single moment of it.
"And in the quietness we sank into restful slumber in silence
And carried on dreaming in God.
And it's always being now, and it's always being now
It's always now
Can you feel the silence?"
I absolutely love the Songs/Videos - - even the crazy ones - - it's about time - - It's Our Time - - Now - - Love It.
When I was in hospital I manged to ensure I saw all the games - - I had all the staff asking about Everton - - even The Consultant on her rounds would say "Everton doing well " Come On Everybody - - let's enjoy it.
I ask the Live Forum to maintain "posso" waves:
Oddball: Don't hit me with them negative waves so early in the morning. Think the bridge will be there and it will be there. It's a mother, beautiful bridge, and it's gonna be there. Ok? Have a little faith. Why don't you knock it off with them negative waves? Why don't you dig how beautiful it is out here? Why don't you say something righteous and hopeful for a change?"
I am sitting inside my room - - the weather is dreadful - - wet and windy - - but who cares - - we are all under a wonderful Blue Sky"
"The weather is frightening
The thunder and lightning
Seem to be having their way
But as far as I'm concerned
It's a lovely day
Let the rain pitter-patter
But it really doesn't matter
If the skies are gray
Long as I can be A BLUE
It's a lovely day"
Let's wallow - - roll about - - drink - - eat - - sing - - jump - - laugh - - in our Blue Blue Heaven:
"Hurry to my blue heaven
Turn to the right, there's a little white light
Will lead you to my blue heaven".
I am going to check the team news now - - and whatever team Mr. Ancelotti picks - - I am with him and fully behind them.
I am sending Blue Posso Cosmic Waves right out of the window, into the air, above the grey clouds, into The Blue and on to The Astral to all Fellow Blues - - with a firm handshake - - your friend - - George - - sending good wishes to you all - get well Derek - - glad you are Home.

Brent Stephens
156
Posted 03/10/2020 at 14:01:08
Davies starts. And Richie
Dave Abrahams
157
Posted 03/10/2020 at 14:01:47
Brent (150), they'll never get to the bottom of your case, sorry to say, but there must be something seriously wrong with me, because I always find you funny!!
Brent Stephens
158
Posted 03/10/2020 at 14:02:17
Pickford, Coleman, Keane, Mina, Digne, Doucoure, Davies, Siggy, James, DCL, Richie.
Jason Li
159
Posted 03/10/2020 at 14:02:39
The thing I love these days, is class players like James can play in different areas of the pitch, so opposition set-ups are useless.
Plus, the rest of our squad have a lot of different type of players, so it's hard for the opposition teams to prepare any plan.
For example, if you see Gordon on the sheet, in the past he's played left centre, left midfield and forward, so his name on the team sheet gives nothing away at all. Plus the shape can change at any moment and top players will still play exceptional there, like James or Doucoure or Digne.
John Atkins
160
Posted 03/10/2020 at 14:02:42
Richarlison starts but Delph on the bench and Tom starts, I'd much prefer Delph to start !!!
Brent Stephens
161
Posted 03/10/2020 at 14:03:07
Subs: Gordon, Iwobi, Delph, Lossl, Nkounkou, Walcott.
Danny O'Neill
162
Posted 03/10/2020 at 14:04:45
I'm in Dave! Paranoia cured!!
Matt Butlin
163
Posted 03/10/2020 at 14:04:53
I'd much prefer Delph to start too!
Peter Gorman
164
Posted 03/10/2020 at 14:04:54
"I'd much prefer Delph to start !!!"
Blimey, I know Davies splits opinions on TW but...
Rob Halligan
165
Posted 03/10/2020 at 14:05:26
And Bernard, Brent.
Dave Abrahams
166
Posted 03/10/2020 at 14:06:14
Four wingers on the bench, but if we're chasing the game I'd put the young French kid on before any of them n that wide position.
Neil Copeland
167
Posted 03/10/2020 at 14:06:24
Derek #139, yes it was Boxing Day, I was there also. Everything Utd hit ended up in the back of the net, they scored some cracking goals. I actually thought we were a little unlucky, just one of those days.
Brent Stephens
168
Posted 03/10/2020 at 14:06:39
Thanks Rob! I didnt scroll down!
Brent Stephens
169
Posted 03/10/2020 at 14:07:55
Dave #166 - totally agree.
Brent Stephens
170
Posted 03/10/2020 at 14:08:30
Palace 2 down and just conceded a penalty.
Jeff Armstrong
171
Posted 03/10/2020 at 14:09:47
Neil 167, I'm sure an Everton fan ran on the pitch after United had scored another and Macari give him a right belt.
John Pierce
172
Posted 03/10/2020 at 14:12:13
I think it's pretty easy to want Delph to start but physically I'm not sure that's the right move. He's completed one 90mins in god knows how long. Davies will stay the course and comes on to a very confident side. We will have the ball, so it's less of a worry.
I'm hoping unlike the WBA game we start with intensity and blow these guys away.
John Pierce
173
Posted 03/10/2020 at 14:13:05
Palace subsiding here. Peno.
Neil Copeland
174
Posted 03/10/2020 at 14:13:11
Jeff #171, yes he did, I had forgotten that. Imagine if happened now (when fans are back that is), there would be a meltdown!
Brent Stephens
175
Posted 03/10/2020 at 14:13:43
Palace 4 down.
John Pierce
176
Posted 03/10/2020 at 14:14:27
Tammy Abraham acting like an absolute brat there, trying to take the penalty from Jorginho, then sulking when he scores.
Rob Halligan
177
Posted 03/10/2020 at 14:14:48
Great captaincy by Azpilicueta. Tammy Abraham wanted to take the penalty but Azpilicueta took the ball off him and gave it to their regular pen taker, Jorginho.
Neil Copeland
178
Posted 03/10/2020 at 14:15:26
I see Everton ladies are having a good day 6-0 up away at Villa. Hope it rubs off.
Brent Stephens
179
Posted 03/10/2020 at 14:15:49
That's what Baines as captain should have done the other season.
Jack Convery
180
Posted 03/10/2020 at 14:15:53
Chelski dressing room not a happy place eh - all good for us - long may it continue.
Dave Abrahams
181
Posted 03/10/2020 at 14:18:08
Len (13), I remember us getting battered and Latchford scoring and making it 1-4 or 1-5 and running to get the acclaim off the crowd, silly so and so.
George (155), glad to see you back on form, George, you're right " It's a lovely day today" and I hope it stays that way never mind the weather.
Take your recovery nice and slow George, don't get too excited when that fourth goal goes in and your bet comes up!!
Nick White
182
Posted 03/10/2020 at 14:18:13
Live forum closed? Or have I been banned?🤪
Rob Halligan
183
Posted 03/10/2020 at 14:19:26
Jack and Neil, thanks for your contributions. Much appreciated.
Brent Stephens
184
Posted 03/10/2020 at 14:19:58
Nick, the landlord is just disinfecting the bar stools. Bar steward?
Jamie Evans
185
Posted 03/10/2020 at 14:20:58
Don't think Delph can play twice so soon in to his comeback, always struggles with fitness and injuries as it is
Robert Tressell
186
Posted 03/10/2020 at 14:21:46
Very strong side and a good subs bench. Hope we don't ask too much of Richarlison. Brighton are very tidy too. Scoring first is the key.
Jack Convery
187
Posted 03/10/2020 at 14:21:50
Rob you are most welcome. Well done for bringing it to our attention = Lyndon too.
Neil Copeland
188
Posted 03/10/2020 at 14:24:13
Jack #187, yes agreed 100%
Si Cooper
189
Posted 03/10/2020 at 14:27:55
Surprised at Richy starting. I'd benched him in my fantasy team. I guess Tom is no slower than Delph so he should be holding his own. More surprised Bernard didn't get a start.
Mind you, I've very little idea of where Brighton are strong apart from worrying about Trossard and the pace of Lamptey.
A win today just so important for having that buzz going into the Derby. Would be 60 wins out of 100 Prem games for Carlo.
Tuning in to George... posso waves. posso waves. posso waves
---
Add Your Comments
In order to post a comment, you need to be logged in as a registered user of the site.
Or Sign up as a ToffeeWeb Member — it's free, takes just a few minutes and will allow you to post your comments on articles and Talking Points submissions across the site.