Ancelotti looking at the New Year for Gbamin return
Tuesday, 15 December, 2020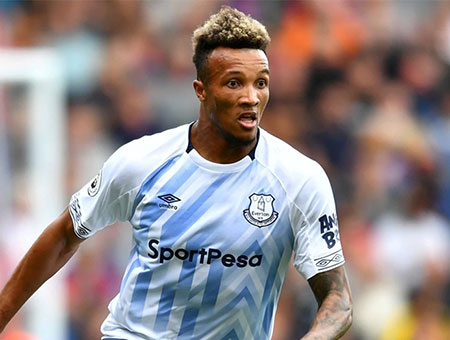 Carlo Ancelotti doesn't believe that Jean-Philippe Gbamin will be ready to return to action until next year as the midfielder continues his patient recovery from successive injuries.
Gbamin, a £23m signing from Mainz last year, suffered a serious quad injury early in the 2019-20 season and was set to make his comeback during Project Restart earlier this year when he ruptured an Achilles tendon, sending him back to surgery.
The Ivorian has been building up his strength with an individualised rehabilitation programme in recent weeks with the hope of rejoining his team-mates in full training at Finch Farm.
That hasn't happened yet but Ancelotti has explained he could be ready to rejoin the group before the end of the year with the hope that he can make his full return in the New Year.
"I'm waiting and the player is desperate to come [back]," the Italian said today when asked about Gbamin during his press conference ahead of tomorrow's trip to Leicester. "I think today we have a talk with him and the doctor and I think we can start to look for him for the next year.
"We hope that it can be a different year because the guy has had a lot of problems; he has suffered a lot and we hope that 2021 will be fantastic for him.
"I don't think [we will see him before the end of this year] but the important thing will be for him to start to train with the team."
---
Reader Comments (19)
Note: the following content is not moderated or vetted by the site owners at the time of submission. Comments are the responsibility of the poster. Disclaimer
Karl Masters
1
Posted 15/12/2020 at 19:08:27
Really will be like a new signing!
Si Cooper
2
Posted 15/12/2020 at 19:18:13
Every week for the last 3 months I've been on the lookout for updates about JP. It would be amazing on so many levels if he can end up having a positive Everton career that it could even alleviate (for me at least) some of the negativity the last 9 months has delivered.
Barry Rathbone
3
Posted 15/12/2020 at 19:39:02
Hope he does alright but, knowing any player absent from the side is the answer according to cognoscenti wisdom, I'm slightly wary...
Brian Ronson
4
Posted 15/12/2020 at 19:44:19
Surely a loan from January to the end of the season would be best for player and club. Chances of him being able to hit the ground running in January must surely be slim.
James Flynn
5
Posted 15/12/2020 at 20:51:38
Brian, given the terrible injuries he's suffered, I'd imagine the Club will want to keep him at Finch Farm so to keep close tabs on his progress.
Pat Kelly
7
Posted 15/12/2020 at 21:02:28
He deserves every bit of luck after all he's been through.
Roger Helm
8
Posted 15/12/2020 at 22:03:47
With our thin squad, I think it would be best to not take any risks with him and save him for the run-in when we will need him.
Mike Oates
9
Posted 15/12/2020 at 22:19:25
I think he was originally due back to training at beginning of November after his few months with a personal trainer in Paris. That didn't happen; it was put back by 3 weeks, and that disappeared 2 weeks ago and now it seems that there us a chance to return before year-end. I'm afraid none of that looks promising.
I wish all the very best to the lad getting back to at least getting to a position where he's deemed okay to play in the Premier League. Then he basically is back to where he was in August 2019 – can he raise his game to the level the Premier League demands. Normally for most overseas players that can take 2-3 months.
If he can get fully fit, and if he can get into the team then I don't think we should expect this lad to suddenly reach the heights that propel us to the next level.
I truly wish he can overcome the physical and mental battle he'll face in the next 3 months.
Christy Ring
10
Posted 16/12/2020 at 09:46:53
No point in rushing him now, he's been training individually on a rehabilitation programme with doctor, coach and physio, so he's on a schedule. Hopefully he'll comeback stronger, and being out for over a year, the original injury, should be completely healed. Listening to Carlo he should be back training fully with the squad this month, and be ready for the new year, and he'll bring an extra physical presence in midfield.
Ajay Gopal
11
Posted 16/12/2020 at 09:51:37
Yes, no point in rushing him. I would play him in U-23s to build up some match fitness, and then slowly ease him in by bringing him on as a substitute in a few games. I would be quite happy if he were to start in a couple of games towards the end of the season.
Sam Hoare
12
Posted 16/12/2020 at 10:02:57
Was excited when we signed him from Mainz. Not sure we'll ever see the best of him now. In the Bundesliga he was strong and very fast; think he had a shot at being a professional athlete before turning to football and he certainly covers (or covered0 the ground very quickly and effectively. He seemed a good replacement for Gueye but also had very good long distribution. A touch of Gueye and a touch of Gomes possibly; though talking about touch his was never his strong suit.
A few games for the U23's and then possibly a few introductions from the bench to see how he fares.
He's surely due some better luck and we could really use a good CDM who might let Allan and Doucore off the leash a bit more. Not sure it would be fair to expect that from Gbamin now but best of luck to him.
Dave Williams
13
Posted 16/12/2020 at 10:05:09
Caution is key. I'd forget about him for this season and as Ajay says just ease him back with a few sub appearances at a point in the game when it is already decided. There is absolutely no point in trying to rush this- get him fit and ready for pre season to give him the best possible chance of coming back.
Fran Mitchell
14
Posted 16/12/2020 at 10:12:37
U23s and sub appearances from Jan until end of season. Maybe come May he can start one or two games.
Go slowly, but also not too slowly. Because he needs to play to get to fitness, and to psychologically prepare himself too.
Martin Reppion
15
Posted 16/12/2020 at 11:26:21
Looking forward to seeing the lad play. Is he the new Gueye or the new Danny Williamson? Whatever happens between now and the end of the season, I hope he has finished with long term injuries and can enjoy his career.
If he can recreate what he had before, then we have a man of real potential to improve the squad. But we have seen how long it has taken fit players like Iwobi and even Sigurdsson to start to show why we paid the big bucks for them. It isn't going to happen overnight for him. So we as fans have to be patient and not expect miracles.
Martin Berry
16
Posted 16/12/2020 at 12:21:43
Obviously the player wants to play and asap, who can blame him after his torrid time with injuries.
However this has to be tempered with caution as any re-occurrence would be a disaster for the player.
Hopefully the medical staff will be careful in their assessments, and a little more time to be certain will not make much difference.
Steve Hogan
17
Posted 16/12/2020 at 17:54:25
This guy's had terrible luck since day one at the club, and I wish him well. But given the TWO career threatening injuries he has had in the recent past, there has to be a big question mark about his long term future at the club.
The Premiership can be an unforgiving place in terms of the intensity required to survive and prosper. I hope things work out for him.
Jerome Shields
18
Posted 16/12/2020 at 22:37:06
I did think that Gbamin was a great buy at the time, only to discover his injury record. Hopefully he has got his injury problems sorted and his rehabilitation is successful. If so he will be a valuable and effective addition to the squad.
Justin Doone
19
Posted 16/12/2020 at 23:37:28
Sensible. No need to rush him back even if Allan is out for 4 weeks.
He's still very much an unknown quantity and post injury will have a lot of question marks over his ability and fitness.
Iwobi is learning that he has to stay switched on and defend even as a winger. The fullback / wingback role may have helped him learn what playing for the team means.
Others have to step up too. I'm sure Bernard and Davies will be given game time. They have to show the same fight and smarts for the good of the team.
Si Cooper
20
Posted 17/12/2020 at 17:05:03
I'm confused by the "don't rush him back" / "loan to the end of the season" posts.
Surely the point is that he hasn't been rushed back. At some stage in any rehabilitation (if it's successful), you become ready to resume full training. That doesn't mean you've done bugger all before that. 'Back in full training' has surely got to mean in good enough shape that, after a few weeks, he will be ready for some bench duty, perhaps, building up to full match fitness over the next few months.
My concern is that the lad either will have lost significant capability or that he will breakdown once again when going full throttle, but if he's deemed ready for full training any time soon then we've already gone through the easing him back-in phase.
---
Add Your Comments
In order to post a comment, you need to be logged in as a registered user of the site.
Or Sign up as a ToffeeWeb Member — it's free, takes just a few minutes and will allow you to post your comments on articles and Talking Points submissions across the site.