Digne suffered ankle fracture in training-ground incident
Tuesday, 5 January, 2021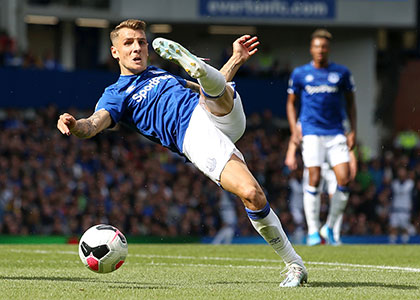 Lucas Digne has revealed that in addition to torn ligaments, his ankle was broken by the tackle he sustained in training at Finch Farm last month.
In a video posted to social media, the Frenchman described the incident and his recovery as he closes in on a return to action in the coming weeks.
Digne has been undergoing an intensive individual rehabilitation programme but is due to rejoin his team-mates in full training ahead of possible availability by the middle of the month.
"I got tackled from behind [and], unfortunately, my ankle didn't hold out," he explained. "The ligaments [tore and] the ankle broke in two spots.
"Then, to recover, I've got two physio sessions a day with my personal physio.
"It's all part of the life of a football player. It's less than nice being on the pitch but it's good to work hard and be back stronger.
"Thanks, all, for your support. See you soon!"
---
Reader Comments (33)
Note: the following content is not moderated or vetted by the site owners at the time of submission. Comments are the responsibility of the poster. Disclaimer
Dennis Stevens
1
Posted 05/01/2021 at 19:01:43
I hope that the culprit was docked 2 weeks pay!
Will Mabon
2
Posted 05/01/2021 at 19:10:19
Jeez - brutal stuff.
Odd that we didn't get to hear the full extent of the injuries at the time.
Christy Ring
3
Posted 05/01/2021 at 19:22:04
I know it was an unfortunate accident, but Digne tore his ligaments, and his ankle broke in two spots by a tackle from behind... in training!
A tackle from behind in a match, is a red card, because it endangers an opponent. Totally brainless idiot.
Tony Everan
4
Posted 05/01/2021 at 19:27:06
Will, they may have been trying to protect the lad who tackled him from abuse.
Mark Tanton
5
Posted 05/01/2021 at 19:29:26
No 50-50s!
Sam Hoare
6
Posted 05/01/2021 at 19:36:25
Ben Godfrey knew what he was doing in that training session!
Dennis Stevens
7
Posted 05/01/2021 at 19:36:47
Aye, Tony, quite right - I still hope they fined him though!

David Pearl
8
Posted 05/01/2021 at 19:45:07
I hope he can hit the ground running, we've missed his left foot. And so has Calvert-Lewin.
Eddie Dunn
9
Posted 05/01/2021 at 19:49:32
I know this is naughty of me, but whoever did it is likely to now be a bit off his game! Mmm. Perhaps a forward?
Will Mabon
10
Posted 05/01/2021 at 19:51:35
Tony, was it known who had made the tackle? I didn't hear anything.
Maybe you're right - can sound more accidental if soft tissue only.
Peter Gorman
11
Posted 05/01/2021 at 20:26:23
Off his game, Eddie?! The whole team must have been queuing up to stomp on the ankle.
Dave Abrahams
12
Posted 05/01/2021 at 20:33:24
Eddie (9), I was thinking the same player as you, he's made quite a few tackles like that in league games, and it's not Gomes I'm thinking of.
Phil (Kelsall) Roberts
13
Posted 05/01/2021 at 21:20:04
Hope this doesn't get out in Wiltshire and Norway. They will instantly claim it was Pickford and it was all part of his normal training.
Mike Gaynes
14
Posted 05/01/2021 at 22:43:12
I'm never, ever one for unfounded and slanderous speculation... but if I were, my candidates for the perpetrator would be:
1. Besic
2. Besic
3. Besic
Brent Stephens
15
Posted 05/01/2021 at 22:46:12
Mike, you might have added:
1. with a candlestick
2. with a wrench
3. with a dagger
Tom Bowers
16
Posted 05/01/2021 at 22:49:23
Is this for real? If so, I cannot see him back before the end of the season.
His forward play has been missed and I would have hoped Nkounkou would have been the one to step up but obviously Godfrey is preferred as he can be used across the back four and has done well defensively.
Nkounkou will probably play against Rotherham.
Justin Doone
17
Posted 05/01/2021 at 23:10:56
Can someone just confirm who it was..
Likely a right-sided player so I'm guessing James who also missed a few more games than expected or perhaps Gordon who was dropped from the squad and looked a little sheepish against Sheffield Utd.

Will Mabon
18
Posted 05/01/2021 at 23:34:26
I tell you what, Justin, if we let this forum loose to speculate guilt by apparent visible sheepishness, all hell will break loose. There'd be innocent bodies all over Finch Farm, whilst the guilty party would invariably slope off unsuspected.
Albert Perkins
19
Posted 06/01/2021 at 00:32:00
How well you compete in training counts towards your chances of getting into the first team. Makes these kind of accidents a possibility. We really could have done with him the last few games.
Eddie Dunn
20
Posted 06/01/2021 at 09:23:33
Okay, let's have a look at the guys in the line-up:
Delph – motive... left-back berth;
Richarlison – motive... none, but prone to silly challenges and has been "off it" since;
Gordon – motive... a place on the team sheet (the more injuries, the better);
Gomes – Motive... Portuguese have a rivalry with their South American cousins and grumpy;
Davies – wouldn't get near Digne (innocent);
Holgate – motive... likes a tackle and wants to be top dog;
Mina – gormless enough to lean out a giant peg and trip him;
Keane – miss-timed it! Been on the naughty step last game;
Godfrey... mmm, likes to play left-back;
Sigurdsson – like Davies, too slow;
Doucouré – No, he's a fellow Froggy;
Iwobi – certainly quick enough but shits-out of any tackle;
Calvert-Lewin – capable but too busy waiting for a cross;
Coleman – on his day, could catch him but, with his own injury experience, too sensible in training;
James – could explain his weird "injuries" and loving presser to the fans;
Allan – injured... or was he?
Olsen – "Who, me?"
Pickford – has previous.
Take your pick... maybe Michael will do a poll? ;.)
Rennie Smith
21
Posted 06/01/2021 at 11:52:59
I'm surprised someone on this site hasn't blamed Blue Bill for this 😉
Thomas Richards
22
Posted 06/01/2021 at 12:09:30
Rennie,
Bill may have dropped his wallet on Digne's ankle...
Steavey Buckley
23
Posted 06/01/2021 at 15:34:08
I have always believed foolish players tackle from behind to give away unnecessary free kicks, injure players, enter into refs note books and get sent off.
Mat Smith
24
Posted 06/01/2021 at 15:40:44
Thomas (22) - Maybe Bill dropped the Arteta money on his ankle? ;)
Bobby Mallon
25
Posted 06/01/2021 at 17:17:42
Jesus, lads, who cares... He may have stopped suddenly and someone ran into him.
Christy Ring
26
Posted 06/01/2021 at 17:20:12
We can definitely rule out Sigurdsson and Iwobi, they don't touch players, my only worry was Digne anywhere near Pickford's penalty box!
Tony Everan
27
Posted 06/01/2021 at 17:52:26
Eddie 20. It's like the Grand National !
In some respects it's a good thing the lid has been kept on it, shows the squad are listening and respect Ancelotti's command.
John Pickles
28
Posted 06/01/2021 at 17:59:11
No one would dare tackle the Everton left back like that in the mid to late eighties.
Eddie Dunn
29
Posted 06/01/2021 at 18:04:49
Yes Tony- what a tight ship. Mind you the virus protocols must keep out prying eyes.
Sami Fam
30
Posted 06/01/2021 at 22:44:27
I blame Osman or Hibbert.
Gaute Lie
31
Posted 06/01/2021 at 23:20:55
Most likely it was Joey Barton, who was sneaking around the training field trying to get some tips from Carlo Ancelotti. I'm sure Barton is involved. Somehow. That man is a menace.
But seriously this was much worse than what we heard before, and I'm impressed he is progressing so fast with that kind of damage done. Hope he doesn't lose speed.

Jerome Shields
32
Posted 07/01/2021 at 09:08:07
Unfortunate. He will be missed in the meantime. Wishing Digne well and a speedy recovery.
Martin Mason
33
Posted 08/01/2021 at 16:46:10
Just read that he is fit and in consideration for tomorrow. From Ancelotti
---
Add Your Comments
In order to post a comment, you need to be logged in as a registered user of the site.
Or Sign up as a ToffeeWeb Member — it's free, takes just a few minutes and will allow you to post your comments on articles and Talking Points submissions across the site.