Everton vs Rotherham United
Saturday, 9 January, 2021
Match Preview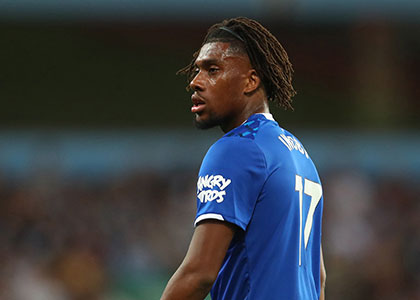 Alex Iwobi could return after missing the New Year's Day defeat to West Ham
Everton's FA Cup campaign begins this weekend with a home tie against Championship side Rotherham United at Goodison Park which will once again be empty of fans as the country remains under lockdown.
Having had their Carabao Cup hopes dashed at the quarter-final stage by defeat to Manchester United 2½ weeks ago, the Blues will be hoping to get closer to Wembley this time, with the prospect of getting key players back fit for future rounds if they can negotiate the Millers.
Carlo Ancelotti restated his target for European qualification this week in an interview with Gazetta dello Sport but also pledged to "honour … the oldest football tournament in the world … in the best way possible," and that suggests that he will be putting out a strong side for this third-round fixture.
The teams he fielded in the League Cup featured varying degrees of deviations from his first-choice line-up depending on the strength of the opposition and while wholesale changes aren't expected, Ancelotti could hand fresh chances to impress to the likes of Niels Nkounkou and Anthony Gordon.
The young duo were stand-out performers in the early rounds of the League Cup, forging an exciting partnership down Everton's left flank that hasn't been seen since the Fifth Round win over West Ham, but with Lucas Digne still out, it wouldn't be a surprise to see them reunited against Rotherham.
Up front, Dominic Calvert-Lewin is in need of a break but with so few alternatives to lead the line and the fact that he is experiencing something of a goal drought, he might be selected to lead the line again or Richarlison could be handed the centre-forward's role.
In midfield, Alex Iwobi could return after missing the defeat to West Ham while the likes of André Gomes and Bernard will be angling for starts.
At the back, Robin Olsen could benefit from Ancelotti's rotation of his goalkeepers and Michael Keane should return after getting a rest on New Year's Day, perhaps alongside Mason Holgate or Ben Godfrey in the centre of defence.
Rotherham, who have had a few more days' rest than expected after their games against Middlesbrough and Cardiff City were postponed either side of their defeat to Barnsley, come into the match sitting second from bottom in the Championship.
Paul Warne's team have won just once in nine games and, as such, should make for routine opponents for an Everton team that won four Premier League games on the bounce prior to last Friday.
This being the FA Cup, of course, nothing can be taken for granted and it will require that the Toffees are fully up for it to ensure that they are in the hat for the draws for the next two rounds.
Update
Ancelotti has announced that none of Calvert-Lewin, Richarlison or Jordan Pickford will start against Rotherham but Cenk Tosun will lead the line and Lucas Digne is back fit and available to play.
Kick-off: 12pm, Saturday, 9 January 2021 on BT Sport Extra 2
Last Time: Everton 3 - 1 Rotherham (League Cup, August 2018)
Predicted Line-up*: Olsen, Coleman, Keane, Holgate, Nkounkou, Davies, Doucouré, Gomes, Richarlison, Iwobi, Calvert-Lewin
*Made prior to updates from Carlo Ancelotti
---
Reader Comments (93)
Note: the following content is not moderated or vetted by the site owners at the time of submission. Comments are the responsibility of the poster. Disclaimer
Derek Knox
1
Posted 08/01/2021 at 06:58:22
I quite like that projected team, Lyndon, seems ages since we last played a decent game of football. There is always a bit of excitement with the FA Cup, and that goes for both teams. The so-called underdogs will be up for a possible giant-killing.
Come on – let's rother 'em!
Tony Everan
2
Posted 08/01/2021 at 07:02:17
I am expecting a run out for Nkounkou too at left-back. I am going for a 4-3-3 with a view to putting a good few goals past Rotherham. I don't think we need the cagey approach here at all.
Olsen
Coleman Keane Holgate Nkounkou
Davies Doucouré Gomes
Iwobi Calvert-Lewin Richarlison
Go 3-0 up then Gordon and Tosun replacing Richarlison and Calvert-Lewin after 60 mins so they are fresh for the important match against Wolves. (Inner voice is telling me 'get real, this is Everton you know'...)
Prediction: Everton 4 Rotherham 1
John Keating
3
Posted 08/01/2021 at 07:15:35
I think needing a rest is no excuse whatsoever, they've had more than enough of a break. The only changes I'd make from Lyndon's team is to play a front 3 of Iwobi, Richarlison and Gordon. Then again, Tosun needs a full run out.
Jason Wilkinson
4
Posted 08/01/2021 at 07:43:19
I hope Ancelotti plays a strong 11 from the start. Get in front by 2 or more goals then sub players who will be needed for Wolves. It would be good to see a few youngsters on the bench. If Tosun is to be leaving, then I think he shouldn't be in the squad. Likewise any other player we are looking to offload.
Bob Parrington
5
Posted 08/01/2021 at 09:00:50
Jason - Spot on mate!
Martin Mason
6
Posted 08/01/2021 at 09:06:29
I think that this could be a lot harder than people think.
Hugh Jenkins
7
Posted 08/01/2021 at 09:27:52
Martin (6). Isn't it always?
However, I believe Rotherham have had a problem recently with Covid cases in their playing staff, so the game may not go ahead at all, at the moment.
Robert Tressell
8
Posted 08/01/2021 at 09:53:26
So important to win a cup – given our trophy drought. Hopefully it's a strong line-up. You've probably called it right, Tony, although maybe see Kenny and Simms at some point.
We might be holding back Branthwaite, Bernard and Tosun to protect them while there's a chance they might be moving on (the former only on loan). I agree with Martin that it won't be easy – with weather and lack of crowd being a bit of a leveller.
Brian Harrison
9
Posted 08/01/2021 at 10:00:27
I know the FA Cup is run by the FA but why is there such a divergence from the Premier League when assessing the impact of a Covid outbreak on teams?
Looks like that Aston Villa are to make up a team of Under-23s and academy players for their Cup game tonight, yet Man City, with 5 players with Covid, in conjunction with the Premier League, called off the game against us.
I think with so many lower league sides still involved in the Cup, and the outbreak of Covid high in the lower leagues, I really can't see how the FA Cup can possibly carry on in the normal way. Leyton Orient had to forfeit their League Cup tie with Spurs because of Covid, but Shrewsbury have been allowed to postpone their FA Cup game with Southampton because they have an outbreak of Covid in the team.
We all know that the FA Cup is a lifeline for many clubs, and it would hit the lower leagues hard if those that have qualified for the 3rd round had to forfeit their games because of Covid. Well maybe one solution would be for the FA to guarantee those lower league clubs a set amount of money should their game be called off because of an outbreak of Covid in their team.
Tony Shelby
10
Posted 08/01/2021 at 10:00:34
Let's twat these wannabe upstarts into the weeds.
COYFB!!!
Thomas Richards
11
Posted 08/01/2021 at 10:04:23
Tim Cahill installed as bookies favourite for the Fleetwood job.
Hopefully the first step to a successful career. What a man and what a blue. Loved him in our shirt.
Ajay Gopal
13
Posted 08/01/2021 at 10:11:18
If you don't try out your squad players in the early rounds of the FA & Leagues Cups, when do you play them? My team:
Olsen
Kenny Branthwaite Godfrey Nkounkou
Davies Holgate Gomes
Iwobi Tosun Gordon
Subs: Pickford, Keane, Coleman, Doucouré, Baningime, Simms, Bernard
If we can't beat Rotherham with this team, then we don't deserve to be in the FA Cup anyway!
Eddie Dunn
14
Posted 08/01/2021 at 10:29:03
A win is a must. Momentum is what is needed after the West Ham game and we should play a strong line-up resting players once the game is put to bed. None of this starting with a weak team and having to throw the "stars" on to get back into it.
I can see Football being locked-down like the rest of society unless they let them have the vaccine.
Clive Rogers
15
Posted 08/01/2021 at 10:29:23
I think it will be close to Lyndon's team but with Godfrey as one of the central defenders.
Sam Hoare
16
Posted 08/01/2021 at 11:00:33
Doucore and Calvert-lewin have played the most minutes I believe this season. Both put in alot of running and could maybe benefit from a rest and being fresh for Wolves. But both are very hard to replace without a massive dropoff in quality.
What about:
Olsen
Coleman Godfrey Keane Nkoukou
Davies Holgate
Iwobi Gomes Gordon
Tosun
Not the strongest XI but still a team full of internationals and highly paid players that should be more than capable of seeing off Rotherham at home.
The season requires a squad that is ready to help and few games will be as 'easy' on paper as this one. It should be the best opportunity since the Carabao to give the likes of Gordon, Tosun and Nkoukou a start.
Michael Kenrick
Editorial Team
17
Posted 08/01/2021 at 11:23:10
Come on, Sam, you are so hot on all these players, you really should be able to spell their names by now...
It's Doucouré, not 'Dacoure' or 'Doucure'.
And it's Nkounkou, not 'Nkoukou'. That one is easier than it looks – if you get the first four-letters right, then just repeat.
Sorry to call you out but it's starting to bug me... a lot.
ps: That's another one of your faves: not 'alot' – no such word. Sorry.

Harry Wallace
18
Posted 08/01/2021 at 11:27:32
Calvin-Lewin should be rested with Richi. They play every game FFS
Sam Hoare
19
Posted 08/01/2021 at 11:35:12
Sorry, Michael! Though I'm pretty sure I've never spelled it Dacoure. Or Doucure for that matter.
I don't tend to think of TW as somewhere I have to check my spellings rigorously, which is something I spend enough time doing in my day job.
Dennis Stevens
20
Posted 08/01/2021 at 11:43:27
I'd like to see key players rested & only used from the bench if necessary to ensure the win, i.e. the likes of Coleman, Keane, Doucoure, James, Richarlison & DCL.
Brent Stephens
21
Posted 08/01/2021 at 11:43:28
Michael #17 "faves"??
Is there such a word?
Brian Hennessy
22
Posted 08/01/2021 at 11:43:28
My team for tomorrow would be:
Oldsen, Colemen, Kean, Holegate, Nkoncou, Davis, Dacouré, Gomez, Ricarlison, Ewobi, Tuson.
Sorry Michael, I couldn't resist.
Dave White
23
Posted 08/01/2021 at 11:58:00
Brian love it! Thank flip Diniyar Rinatovich Bilyaletdinov is no longer on the books!
Most difficult to spell Everton XI anyone?! : )
Michael Kenrick
24
Posted 08/01/2021 at 11:58:40
Nice one, Brian! That'll learn me to try and edumacte you lot.
I cheat now and have the free version of Grammarly running in Chrome. But it's not much help with those pesky foreign names!
Martin Reppion
25
Posted 08/01/2021 at 12:01:04
We should sign more players with double-barrelled names so we can just write DCL or the equivalent and not have to worry about spelling!
Meanwhile, I'm never in favour of starting with a weak team. I'd rather send players out with the message that if they put it to bed by half time 3 of them can have a rest. But having said that, at the back we have options to rotate without really weakening the side. Equally in the midfield.
So I have no worries about playing any combination of square pegs in square holes along the back 4 (and stop thinking of Holgate and Godfrey as makeshift full-backs. They are both versatile players who can each play centre back, full back or (probably) midfield.
Also with James, Siggy (I can't spell Sigurdsson) and Iwobi all able to play the number 10 role we can rotate here.
But up front we have no adequate replacements for DCL or Richarlison so they have to be in until the game is sown up.
Brian Murray
26
Posted 08/01/2021 at 12:02:56
Brian post 22. The only way the reason you have included Tosun in team is you know we really want to push for the title or at least top four and don't want a pesky thing like a trophy getting in the way. 😂😀Tongue may be slightly in cheek.
David Pearl
27
Posted 08/01/2021 at 12:06:17
I would rest Godfrey for Nkounkou, and Coleman for Kenny. Very much doubt Holgate is being considered for a midfield role. It's probably going to be Davies and Gomes in midfield with Doucoure rested.
Further forward it gets tricky to call. Surely Calvert-Lewin needs a rest? There has been no mention of James who could start, with Iwobi or Bernard on the left and Tosun up front. Hard to call.
Funny player Bernard, he has the talent to play left or in the middle but likes to give the ball away. Bernard is the only player of his kind in the squad, if only he could have two good games in a row.
Tony Everan
28
Posted 08/01/2021 at 12:07:23
Digne has recovered and is asking to be considered for the Wolves match. Unbelievable recovery, Carlo saying he has never seen such a speedy recovery from a bad injury.
Digne says he was on the training pitch and about to fire a cross in when he got tackled from behind and his ankle couldn't take it.
Amazing news, but surely he can't start that match, bench at best?
Andrew Keatley
29
Posted 08/01/2021 at 12:39:32
Sam (16) - While I agree with you that rotation and rest is a good idea, the potential drop-off in your suggested starting XI is enough to make me quite nervous. With replays scrapped in favour of extra-time and penalties, a home tie to a Championship team (however lowly) could be quite tricky, especially if we don't score early.
Considering the fact that our game against Man City was postponed, we have only had to play three games in the last three weeks. I'd rather see much closer to a first-choice XI (maybe rest Coleman, Doucouré and James – and play with a front 3 of Richarlison, Calvert-Lewin and Gordon) in the hope of having a comfortable lead come 70 minutes.
Not being able to break Rotherham down over 120 minutes would be poor preparation for Wolves on Tuesday night, and not being in the hat for the 4th Round would be a big downer.
Robert Leigh
30
Posted 08/01/2021 at 13:03:21
Just to change it up...
Olsen
Coleman - Keane - Godfrey
Kenny - Holgate - Davies - Nkounkou
Gordon - Tosun - Richarlison
Mobile, a blend of youth and experience, and gives a few a chance to regain form (Richarlison, Coleman, Davies) or show their skills for potential buyers (Kenny, Tosun)
Ian Edwards
31
Posted 08/01/2021 at 13:39:14
Another Cup game at Goodison. Will our "brave" Manager park the bus and play for pens like last time?
Or will he just replicate the 3rd Round last season and become infamous in the history of the club for another embarrassing Cup defeat?
Brian Murray
32
Posted 08/01/2021 at 14:07:27
What is it with play players because we are trying to sell them (shop window). Every club around the globe knows the pros and cons of Kenny, Tosun, Sigurdsson etc. Waste of a team shirt involving them.
Patrick McFarlane
33
Posted 08/01/2021 at 14:16:08
Ancelotti says Richarlison, Kenny, DCL, Allan, Delph, Gbamin and Pickford out but Digne is available.
Tosun to carry the forward-line?
As for next weekend's fixture at Villa, it may be in doubt due to the quarantining of so many Villa players.
Michael Kenrick
34
Posted 08/01/2021 at 14:19:50
Jay Harris
35
Posted 08/01/2021 at 14:46:37
I think wholesale changes will disrupt the synergy and rhythm of the team too much.
Having said that this should give a chance to some of the fringe players who if they don't show up against Rotherham will have no chance in the Prem.
I am thinking mainly of Nkounkou (Hope that spellchecker works) and Gordon with maybe Ellis Simms given some time on the pitch.
Other than that I would treat this as a practice match for the Wolves game which will be tough.
Jay Harris
36
Posted 08/01/2021 at 14:50:41
Just read that DCL and Richy will not be available for this game. Dont know where the goals are gonna come from then.
Maybe Keane and Mina if they play and a Siggy penalty if were lucky.
Paul Rimmer
37
Posted 08/01/2021 at 15:01:57
Based on that presser, the following sounds reasonable:
Olsen
Coleman, Keane, Godfrey, Nkounkou
Gomes, Davies
Iwobi, James, Gordon
The Cenkmeister.
Save the others for Wolves.
Darren Hind
38
Posted 08/01/2021 at 15:11:52
I think we should theoretically be able to put out any team to beat this crew, However history tells us it doesnt always work out that way.
The theory behind bringing in the big guns late, is that the lower league team will have ran itself out and class would then prevail.
If you start with your best team with a view to taking a few off early to rest them. They will be on for the part when defiance is at its peak.
If Jay is right about Richy and DCL this could be the ideal moment to give younger strikers a chance. I think Cenk's chance may have gone. If so, I would rather play junior forwards than push senior players into a position they don't normally play...
Steavey Buckley
39
Posted 08/01/2021 at 15:12:00
FA cup should be considered a distraction and opportunity to give chances to players on the Everton 1st team fringes, games under their belts, as the majority of Everton first team should be used to focus on champions football for next season - Everton fans have been promised champions league football since 2013.
Martin Reppion
40
Posted 08/01/2021 at 15:13:01
I was going to have a cheeky punt on Cenk to score first tomorrow.
Paddy Power are offering an unbelievably tight wadded 3/1 on him.
Given they give 7/2 on Richarlison who isn't even playing that is not going to attract too much money!
I didn't look but they've probably got 9/4 on Tony Hibbert
Darren Hind
41
Posted 08/01/2021 at 15:27:04
Always skinny odds Martin.
Get yourself onto Betfair. There will be plenty of people who'll be happy to give you better odds than that.
Stay away from sharks like Paul Tran though.
Tony Everan
42
Posted 08/01/2021 at 15:51:08
I've been scouring the betting market. The Brillo Pad is 9/2 with Betfred to score first and is around 28/1 for a hat trick. 9/2 seems like a decent bet.
Thomas Richards
43
Posted 08/01/2021 at 16:05:22
Martin #40
Not much value around for this game.
Im going with Everton win and both teams to score.
2/1 generally available.
Martin Reppion
44
Posted 08/01/2021 at 16:14:55
Thanks for the advice guys.
I've had a dabble on a couple of trebles.
Hope I do better than my last one which included Sheffield United to break their duck!
I think Lord Lucan as first scorer was less of a risk.
Joe McMahon
45
Posted 08/01/2021 at 16:25:48
Am I the only one who thinks these matches should not be happening? Over 1000 again died today and Villa are having to play the u23's V Liverpool, Derby under 23's v Chorley, It doesn't seem right.
Tony Abrahams
46
Posted 08/01/2021 at 16:27:03
With such little firepower I'm concerned that this could end up being a banana skin, hopefully I'm wrong.
Brian Wilkinson
47
Posted 08/01/2021 at 16:34:37
I can see Bernard drawing a penalty or free kick so Siggy at 8/1 might have a bit of value in it.
David Pearl
49
Posted 08/01/2021 at 17:17:53
I'd go with either Siggy to score first or one of the centre backs off his or a Digne cross. Wait for the team to come out first. Good luck to Tosun, hope he gets some service
Lee Courtliff
50
Posted 08/01/2021 at 17:31:27
I thought this would be the perfect game for DCL to get some goals and, possibly, confidence back.
Especially with the City cancellation meaning he's only played once in the last two weeks.
Granted, he has been 'run into the ground' this season.
Cenk is 25/1 to get a hat trick tomorrow with Sky Bet.
Alex Gray
51
Posted 08/01/2021 at 17:33:01
I think the motive is to put some players like Tosun in the shop window.
John Keating
52
Posted 08/01/2021 at 17:35:19
Joe 45
Joe I have to agree with you
The numbers we are seeing are horrendous
Teams having to play their reserve teams due to covid has automatically devalued the competition
Tony Heron
53
Posted 08/01/2021 at 17:38:09
I'm with you Joe @ 45. Football should be stopped. Things are worse now than in the 1st wave thanks to the buffoon in No 10.
David Pearl
54
Posted 08/01/2021 at 18:02:21
And the Buffoons on the street Tony
Terry Farrell
55
Posted 08/01/2021 at 18:07:48
if Gordon is going to push through and I believe he can he has to start games like these to make his mark.
Brent Stephens
56
Posted 08/01/2021 at 18:16:49
Michael #34 - thanks. You're now my "fave" editor - along with Lyndon!
Andrew Keatley
57
Posted 08/01/2021 at 18:18:51
I am surprised to hear that Pickford, Calvert-Lewin and Richarlison are unavailable for this game. Is this Ancelotti giving them an enforced rest or are they actually carrying an injury?
Derek Knox
58
Posted 08/01/2021 at 18:43:12
Tony @ 42, The Brillo Pad can certainly put a shine amidst this 'Pan'demic, let's hope he hasn't gone rusty!
Paul Birmingham
59
Posted 08/01/2021 at 18:44:12
I agree, this wave of COVID 19, and the new strains of the virus are bringing the country to its knees, and also tonight the FAC, see's Villa playing their reserves and Shrewsbury most likely waiving their 3rd round tie, away at Soton, as they can't muster a team..
Welfare and health is the priority for the UK governments and across the globe, but in English football terms, it seems to me the EPL, and the FA, are bringing the game into disrepute, as they have no longer got standard rules to confirm the playing compliance requirements, for all foot ball clubs in the top professional tiers of the game.
Throw in the VAR farce, those hamshankers on 5Live and TalkSport...
Let's hope that Everton, this season can deliver and kick on for a consistent and winning 2nd half of the season.
Belief, guts and hard work can do it and this season, any team that fancies a good battle to the end of the season has a chance of success.
Let's beat Rotherham for me this should be comfortable, but the FAC, and giant killing is legendary but not tomorrow at GP.
Let's do them and then to focus on Wolves and go there, to play like the players lives depend on the result at Wolves.
A couple of big games and Everton, are in the mix.
All stay safe and well.
Danny O'Neill
60
Posted 08/01/2021 at 19:06:22
I think I've mastered Doucoure, albeit without the accent; always have to look up the young left back's name to spell it right, let alone pronounce it, hence me not trying it right now!
I'm concerned we're without DCL tomorrow as he's one player who I don't think needs resting and wouldn't be phased with this type of opposition. They might try and rough the Premier League "prima donna" up, but within 5 minutes would realise they are dealing with Dom from Sheffield who has a fitness level and engine on him they will be praying for after 60 minutes.
With these games, I'm in the traditional camp. Go out strong and win it, then bring players off. Certain teams have the depth, but if we go out weak, we go out on a banana skin and then risk chasing the game against a team that would likely dig in and we're not great at coming back against that.
Not being negative and we should beat them, I would just rather go strong, get them beaten and then rest, not vice versa.
Barry Hall
61
Posted 08/01/2021 at 19:09:26
Just in case someone not aware, the game is on ESPN+ tomorrow for the US viewers.
John Raftery
62
Posted 08/01/2021 at 19:19:36
We beat Rotherham 3-1 in the League Cup in August 2018 with Niasse and Sandro in the team. Tosun is better than either of those two. I expect us to win by a similar scoreline tomorrow.
Jeff Armstrong
63
Posted 08/01/2021 at 19:32:42
John#63
so Rotherham fielding the same 11 then are they ? Don't understand your logic.
Danny O'Neill
64
Posted 08/01/2021 at 19:49:11
I was the same Jeff. That was 2 and a half seasons ago.
I suppose what John might be trying to say is that we are better now than when we played in 2018. So theoretically should cruise this. Theoretically.
Thing is, I don't know if they are improved, worse or similar to then.
And throw into the mix it's a cup fixture in an already unpredictable season, then who knows!!
Tony Everan
65
Posted 08/01/2021 at 20:00:01
Andrew 57, It's too coincidental for them all to have a niggle, they are being rested and kept fresh for Tuesday night.
Justin Doone
66
Posted 08/01/2021 at 20:11:58
The FA cup is a serious cup comp. I've never been excited by the league cup but wining the FA cup would be wonderful.
Just get through to the next round. So take it serious, play a strong team. Happy with a couple of changes.
Keep the defensive unit strong. Allow Holgate and Godfrey the chance to have a little more freedom to play as more attacking full backs and see what they have to offer.
Happy for Cenk to play, it may be his last game for us and see what magic the FA cup can do for us in the next round.
As for football carrying on.. stupid is as stupid does. Elite sports should take a break.
Jon Harding
67
Posted 08/01/2021 at 20:46:38
I like the look of that team Paul Rimmer @ 37 once I heard Dom is out - which I think is madness, btw.
I can't see James starting against a team in the Championship relegation zone though. Maybe Bernard at 10? Save the magician for Portugal... sorry, Wolves on Tuesday.
Will listen to the game on talkSport. Wonder which ex-Liverpool player they'll have as "expert summariser"?
Andrew Keatley
68
Posted 08/01/2021 at 20:47:22
Tony (66) – I suspect the same as you do, but was curious if anyone actually knew that their absences were by choice. If Calvert-Lewin and Richarlison are fit, then I would have expected them to at least be on the bench – especially considering how light we are in terms of strikers.
Justin (67) – If it is attacking full-backs you are after, then I wouldn't look towards Godfrey or Holgate. They are both very good young centre-halves but neither possesses any significant attacking talent or intent.
Jack Convery
69
Posted 08/01/2021 at 20:49:01
Olsen, Kenny, Holgate, Keane, Digne, Gordon, Davies, Gomes, Bernard, Sigurdsson and Tosun.
Stephen Brown
70
Posted 08/01/2021 at 20:57:39
Personally, I wouldn't risk Digne and I'd also give Doucoure a rest!
Olsen
Coleman Keane Godfrey Nkounkou
Davies Gomes
Iwobi James Gordon
Tosun
I just watched Howard's Way again with my 6-year-old son as he loves it!! We are surely due our day in the sun!! Some luck please and let's win the Cup!!! All the young Evertonians out there deserve it and need it!
John Keating
71
Posted 08/01/2021 at 21:47:56
I see 5 of the girls' team have tested positive causing their game against United to be called off.
With them training at Finch Farm seems it's only a matter of time the lads will become an issue.
Tony Hill
72
Posted 08/01/2021 at 21:50:23
Interesting that Wolves and Palace respected each other and the tournament by playing proper sides. Conduct yourself in the right way and it becomes a habit.
Tony Hill
73
Posted 08/01/2021 at 21:55:27
The jitteriness about us beating Rotherham. Rotherham. No wonder we bottle it.
Patrick McFarlane
74
Posted 08/01/2021 at 22:15:05
Ancelotti said that "Allan is injured, Delph is injured – the others I want to give them a rest." He also said that Godfrey will play at centre-back tomorrow.
Tony #73
It's a cup-tie, Rotherham will be rested due to having no match last week, they will also be highly motivated, and given Everton's inability to create and score chances in recent weeks, it will not be an easy match for us. We should have enough to beat them, but they could easily achieve a draw and take us to the lottery of penalties.
John Raftery
75
Posted 08/01/2021 at 22:22:55
Jeff (63) Rotherham currently lie second from bottom of the Championship having won only one of their last nine games. When that league cup tie was played they were 15th in the same league. They have played only one game, a defeat, in the last three weeks. Their form suggests they are heading back to League One, thus maintaining their yo-yo habit of the last four seasons. In effect they are a strong League One team which struggles in the Championship.
I believe we have improved since August 2018. Of course shocks can happen but providing our players, whoever they are, turn up they should have little difficulty in winning this one.
Peter Thistle
76
Posted 08/01/2021 at 22:35:38
Our squad has covid, game postponed :(
Patrick McFarlane
77
Posted 08/01/2021 at 22:41:05
Peter #76
I know you are joking, but if that was the case, we'd either fulfill the fixture with the youth players, etc or we'd forfeit the match and our place in the FA Cup.
According to a tweet from Alan MyersThe Premier League has told all its clubs to crack down hard on players who breach Coronavirus rules, or face punishment by the governing body. The approach is a response to a number of transgressions, particularly over Christmas, where players were seen to be flouting the rules
Robert Tressell
78
Posted 08/01/2021 at 22:46:35
Rotherham's an interesting place. As a town it isn't twinned with anywhere, but is does have a suicide pact with Chernobyl.
Can't remember who said that.
John Keating
79
Posted 08/01/2021 at 23:07:42
Nice one Robert!
Mike Gaynes
80
Posted 09/01/2021 at 07:29:04
Argh, I'm just getting to bed and there's no way I'm gonna get up at 3:45am to watch this one. You guys go ahead and win it without me. I'll watch the replay for breakfast.
Annika Herbert
81
Posted 09/01/2021 at 07:58:35
I can't remember either Robert @78 and Rotherham is my home town!
Eddie Dunn
83
Posted 09/01/2021 at 08:14:53
We could send out the tea lady and the kitchen staff and beat Rotherham. I refuse to worry about banana skins, these pro footballers should just go out and earn their corn. 3-0.
Rob Hooton
84
Posted 09/01/2021 at 09:06:13
Patrick, I think the football authorities have been way too soft – any player breaking the rules should be banned for 6 months without pay!
We should win this, I'm expecting a drab affair with few goals as we have been dire to watch for some time now. I am not even sure if I want to watch it, given the crap we were served a week ago – I should have washed the car or something instead of wasting that 2 hours of my life.
Paul Setter
85
Posted 09/01/2021 at 09:06:38
I would love a run in this. Last time was Martinez last season with that diabolical semi against Man Utd. 3 of last 4 seasons lost to Leicester and the vermin twice in the 3rd Round. The other year, we lost to a 4th round match against the backward inbreds at Millwall in was probably my worse ever Everton game.
It would be really nice to be still in this after January. I actually think it's a hard game the pressure is on Everton to get through and the home form with no fans is poor at best.
Everton should win but they should also have beaten West Ham and Leeds at home so I will take nothing for granted.
Brian Murray
86
Posted 09/01/2021 at 09:36:10
Eddie Dunn, post 83. Obviously you are not quite up to speed with the modern Everton! Say 30 years.
Jonathan Tasker
87
Posted 09/01/2021 at 09:39:48
When Tosun receives his salary, do you think he is at least a tiny bit embarrassed?
In the entire history of the club since 1878 he has to be close to the very top of worst value for money.
Eddie Dunn
88
Posted 09/01/2021 at 09:58:55
Jonathan, in these times of inflated prices, it's fair to say that we paid too much for him. However, look how Calvert-Lewin has struggled for goals without those Digne crosses and Richarlison off colour. Tosun or Calvert-Lewin need bullets for their guns. No bullets, no shots.
Thomas Richards
89
Posted 09/01/2021 at 10:04:10
In fairness to Tosun, and all players in general, the club offered him £xxx to sign a contract.
What do you expect? The player to say "That's a bit too much, lower the amount"?
Mike Keating
90
Posted 09/01/2021 at 10:22:50
Jonathan @87,
Think Sandro must top that list – he's spent almost his entire career playing for other teams at our expense. At least Tosun is in the squad.
UTFT
Michael Kenrick
91
Posted 09/01/2021 at 10:40:43
I just assumed
BT Sport Extra 2
is part of my BT Sport package on the Sky Q box... but I'm not seeing it.
How do watch BT Sport Extra 2?
Rob Halligan
92
Posted 09/01/2021 at 10:41:44
Michael, while on BT sport 2, press red button on your remote, and it should be behind that.
Jason Wilkinson
93
Posted 09/01/2021 at 10:52:53
Tosun has 49 appearances and has scored 9 goals. 1 in 5 approximately. Why does he get such a bad rap from our fans? How many has Richarlison scored? Duncan Ferguson Mk2 was around 1 in 6 and he's spoken of as a legend!
Rob Halligan
94
Posted 09/01/2021 at 11:02:21
Here's how Everton line up today: Olsen, Coleman (c), Keane, Godfrey, Digne, Davies, Gomes, Iwobi, James, Gordon, Tosun.
Subs: Lossl, Holgate, Branthwaite, Mina, Nkounkou, Doucoure, Sigurdsson, Bernard, Simms.
Michael Kenrick
95
Posted 09/01/2021 at 11:08:54
Ah okay, thanks, Jason.
Justin Doone
96
Posted 09/01/2021 at 15:01:20
Mission achieved. In the next round.
Anyone who doesn't think we need better forward players with pace, (a winger and forward / striker), are kidding themselves or supporting another team.
We now have players that can pass and create but there's no one to pass to.

---
Add Your Comments
In order to post a comment, you need to be logged in as a registered user of the site.
Or Sign up as a ToffeeWeb Member — it's free, takes just a few minutes and will allow you to post your comments on articles and Talking Points submissions across the site.