Everton vs Sheffield Wednesday
Friday, 22 January, 2021
Match Preview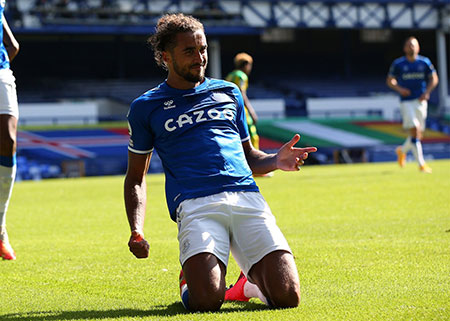 Dominic Calvert-Lewin is available again after missing two games with a hamstring problem
Everton's season resumes this weekend against Sheffield Wednesday in the FA Cup Fourth Round with a home tie against either Wycombe Wanderers or Tottenham Hotspur the reward for the victors.
The Toffees will have Dominic Calvert-Lewin available again but Lucas Digne and Alex Iwobi miss out with minor injury complaints. Calvert-Lewin missed the Third Round tie against Rotherham United and the win at Wolves that followed due to a hamstring injury but he has used the time in between to shake off the complaint.
Digne returned from his own injury lay-off against Rotherham, a match that Iwobi missed, and featured at Molineux but both players have picked up an unspecified knock in the interim. However, Carlo Ancelotti expects both the Frenchman and the Nigerian to be fit to face Leicester City in midweek as the Toffees prepare for three matches in less than six days.
"We used this time to put in a better condition those players who had problems before," the manager said in his pre-match press conference in reference to the 12-day break in the fixture calendar. "We have Calvert-Lewin back but, unfortunately, we have some players out like Gbamin, Allan, Delph. Digne, Iwobi and Nkounkou.
"The others are in good condition and are ready to play this game; ready to compete in this competition because the FA Cup is very important to us."
Niels Nkounkou made his first senior appearance when he came on against Rotherham on the 9th of January and has since played for the Under-23s in the "mini derby" against Liverpool.
Ancelotti didn't indicate when the young French full-back might return and he is not yet willing to put a timetable on Gbamin's recovery either. The Ivorian midfielder was preparing to make his come-back from a serious thigh injury a year ago but ruptured an Achilles tendon at Finch Farm and had to undergo surgery.
"I think we have to take it day by day," the manager said of Gbamin. "He is following his individual programme like Allan and like Delph and so I think soon he can be able to train with us. But I don't want to put pressure on him because he was out for a long time and when he comes back, he has to be ready."
Richarlison's availability means that Ancelotti would have a simple enough task of replacing Iwobi by deploying the Brazilian in his usual role on the left flank and moving James Rodriguez out to the right. However, Everton's hectic schedule over the next week may give the manager pause to consider whether the Colombian can start so many games in such a short space of time and with Anthony Gordon emblazoned on the front cover of the matchday programme, it's possible the young winger might get a rare start if Ancelotti keeps James on the bench. Bernard, meanwhile, will be angling for a place in the starting line-up himself.
With Allan still a week to 10 days away from full fitness, the same midfield options are at Ancelotti's disposal, although the one-game ban that comes into effect for Abdoulaye Doucoure against Leicester means that the Frenchman is a good bet to start this game, perhaps alongside Tom Davies and Gylfi Sigurdsson.
At the back, Ben Godfrey should get the nod at left-back, with Seamus Coleman and Mason Holgate vying for the right-back slot and Robin Olsen will probably rotate back in between the posts.
Like Rotherham, the Blues' opponents in the Fourth Round come into the game sitting in the relegation zone in the Championship but are in much better form than the Millers were. The Owls, who were beaten by the have won three of their last four games in all competitions and they will be hoping to find Everton as disjointed and unadventurous as they were in the previous round.
As was the case a fortnight ago — and, indeed, in the League Cup last season when Calvert-Lewin bagged a brace at Hillsborough, this should be routine for Everton given the talent in their ranks and it just remains to be seen whether they can make that quality tell once more and book passage to the Fifth Round.
Kick-off: 8pm, Sunday 24 January 2021 on BT Sport 1
Last Time: Everton 1 - 1 Sheffield Wednesday (FA Cup 3rd Rnd, 2nd Replay, 25 Jan 1988)
Predicted Line-up: Olsen, Coleman, Keane, Holgate, Godfrey, Davies, Doucoure, Sigurdsson, Gordon, Richarlison, Calvert-Lewin
---
Reader Comments (182)
Note: the following content is not moderated or vetted by the site owners at the time of submission. Comments are the responsibility of the poster. Disclaimer
David Pearl
1
Posted 22/01/2021 at 22:31:53
Great news DCL is back... fingers crossed we have someone fit enough to supply him chances.
If James starts, can he handle 3 games in a week? Are we sure Baines or Sheedy can't play?
Tony Everan
2
Posted 22/01/2021 at 22:38:01
Calvert-Lewin back and fully fit is a massive boost. The break for a couple of weeks may have done him a bit of good too to recharge. The lad doesn't get too much downtime.
More good news is that Allan is back in training in 7-10 days, expected to be fit for the Man Utd match.
Both players will be central to our top 4 and FA cup aspirations.
Michael Kenrick
3
Posted 22/01/2021 at 22:51:20
Pity about Nkounkou being on that injury list, which is longer than I expected. Was his unimpressive performance against Liverpool U23s already evidence of the problem?
With Digne also out, this goes down as an opportunity missed for the lad, who is not getting much of a chance to show his blistering pace and those sizzling crosses – assuming he's still allowed to do them!
Danny O'Neill
4
Posted 22/01/2021 at 22:54:34
Contradicting myself somewhat from my previous view of get the game won then rest.
Bench please and break glass if it turns out to be an FA cup "classic".
We can beat these without Dominic.
Mal van Schaick
5
Posted 22/01/2021 at 23:10:00
Harking back to the 1966 cup final, we had a great team then. West, Wright, Wilson, Gabriel, Labone(c), Harris, Scott, Trebilcock, Young, Harvey, Temple.
Let's hope we beat them on Sunday and get to the final.
Dale Self
6
Posted 22/01/2021 at 23:21:41
Just saw that clip on Youtube. I like the way our players were looking out for the chap that had a runout on the pitch.
Fran Mitchell
8
Posted 23/01/2021 at 00:23:28
A couple of goals against his boyhood rivals in 60 minutes then a rest for the big game mid week.
That'll do.
Ajay Gopal
9
Posted 23/01/2021 at 03:09:30
David (1), Carlo was asked the question about James and he clearly said that James is fully fit and he expects him to play both games. But I am sure he will be managed carefully – if we are winning, James may be substituted early, I expect.
My team for Sunday:
Pickford
Coleman Holgate Keane Godfrey
Davies Doucouré
James
Richarlison Calvert-Lewin Sigurdsson
Subs: Olsen, Mina, Bernard, Gomes, Gordon, Tosun, Kenny
Jack Convery
10
Posted 23/01/2021 at 04:40:16
Good news about Calvert-Lewin. If Bernard is not in the team / squad on Sunday, then he's on his way and someone must, must be coming in – Zirkzee?
Mike Kennedy
11
Posted 23/01/2021 at 05:05:17
I am certain Calvert-Lewin will play, as will most of the first team, to get match sharpness for the Leicester game amongst other things after such a lengthy break. We will need to be at our best to beat Sheffield Wednesday as they will up their game.
Neil Lawson
12
Posted 23/01/2021 at 08:35:06
But for new unexpected injuries, team selection following the Wolves performance may have been something of a conundrum. Simply replacing Sigurdsson with Calvert-Lewin may have been an attractive proposition (or Richarlison).
Our indifferent/appalling performances more recently have been with the more traditional and uninspiring team selections. We are all learning not to try and first-guess Carlo. Let's just wait and see and hope for a decent showing whoever is in the starting line-up.
Mark Murphy
13
Posted 23/01/2021 at 09:17:31
Sunday 8pm kick off??
WTF???
Steve Pugh
14
Posted 23/01/2021 at 09:23:27
Mark #13, What's the betting, when all this is over and fans are allowed back into stadiums, the TV channels refuse to give up these ridiculous start times?

Paul Birmingham
15
Posted 23/01/2021 at 09:44:14
Hopefully Everton will get the job done tomorrow night, but I expect they will take heart from Rotherham, when they played us, but also Everton will have learnt some lessons too.
Let's get in the draw for the next round.
Dale Rose
16
Posted 23/01/2021 at 09:45:52
Do people realise that there have been two US Presidents since the red shite last scored.
Tony Abrahams
17
Posted 23/01/2021 at 09:50:11
Only if we let them, Steve. I think they've done a great job televising football, but I'd say that most people are getting bored of this soulless game now, because professional football is just not the same without the crowd.
The tele has took the piss for years, 12 o'clock at Wembley, for a Merseyside semifinal being just one example, so it's up to us fans now, in a sport that's ready to make big changes imo.
Pat Kelly
18
Posted 23/01/2021 at 10:07:01
Seems like Digne and Iwobi are being rested. Not sure Ancelotti is too bothered about Cups.
Geoff Lambert
19
Posted 23/01/2021 at 10:16:36
Pat, they have just had nearly two weeks rest. Play like you mean to win it.
Jerome Shields
20
Posted 23/01/2021 at 10:32:06
I think Lyndon is right with his predicted line up, with James as a Sub. The traditional back four is what Ancelotti normally plays against teams outside the Premier League.
Still think Ancelotti will want an extended Cup run so as to keep the whole squad getting playing time. It's the most cost-effective way to get squad depth.
Mike Connolly
21
Posted 23/01/2021 at 10:45:59
One player will deffo be playing — that's Doucouré. He has a one-match ban looming against Leicester City.
Christy Ring
22
Posted 23/01/2021 at 10:47:44
Great to have Calvert-Lewin back and fresh after his layoff. I'd play Gordon on the right and Rodriguez at 10.
Mick Conalty
23
Posted 23/01/2021 at 10:50:03
Is Gbamin still Jammin? ... all over the world (Bob Marley). Beats working for a living!!!
Derek Knox
24
Posted 23/01/2021 at 11:05:08
Mick @ 23, he was claiming he shot the sheriff, but not the deputy, so the case could take a little longer, so assuming he's acquitted, he'll soon be back to Roots, Rock and Reggae, yah man! :-)
Kevin Molloy
25
Posted 23/01/2021 at 11:05:30
How nice to see that owl again, I'd almost forgotten.
Don't ever get relegated, Everton.
Tony Everan
26
Posted 23/01/2021 at 11:23:01
Michael 3. I think Nkounkou would have been involved tomorrow so it is a shame. I'm looking forward to seeing many more of those fizzing crosses in from the left. He's going to get better too, an exciting player for us to have ready to burst onto the scene. They didn't specify what his injury was so I'm hoping it wasn't too serious.
Carlo said Digne and Iwobi will be back for Wednesday. It will be good to have them two back fresh and rearing to go.
John Pickles
27
Posted 23/01/2021 at 11:23:44
I wonder if Marcel Brands is impacted much with the Dutch closure of the border with the UK? I think he has a place on the Wirral as I've seen him and his wife(?) in our local supermarket, but I've also twice seen him on a regular flight to the Netherlands.
It may also cause problems with any potential transfers or loans between the two countries as it is going to potentially be weeks before it changes.
Justin Doone
28
Posted 23/01/2021 at 11:53:25
If it's crosses we need to supply, then get Kenny in on the right.
I don't want to see Sigurdsson playing deep. His talents are shooting and making space.
I'd sit James out, he's played a few games since returning from his own injury.
Gordon to be given another chance with maybe Bernard on either wing.
At the end of the day (Sunday), it's all about being through to the next round.
Martin Reppion
29
Posted 23/01/2021 at 11:57:38
These funky kick off times are starting to drain the spirit. I still want footy at 3:00 pm on Saturday but I know I'm not going to get that. I gave up my season ticket early this century when we went from September to Xmas without a match at that time.
As for Monday night, I don't mind a midweek game being brought forward. But we have been away to Southampton on a Monday at 8:00 pm (pre-lockdown) which is 2 days off work. Weekend games should be played at weekends.
One thing I would like to see proposed in the next negotiation is a 'fans' weekend once or twice a season. All games kick off at 3:00 pm on Saturday and no live TV.
Yes, I know. Dream on...
Matt Traynor
30
Posted 23/01/2021 at 12:37:25
"Last Time: Everton 1 - 1 Sheffield Wednesday (FA Cup 3rd Rnd, 2nd Replay, 25 Jan 1988)"
That brought back memories. A 4 game 3rd round, followed by a 3 game 4th round v Middlesbrough, before losing at home in the 5th round to the RS. Basically played more games than it took to win it normally.
I went to all 4 ties vs Sheffield Wednesday. 3 1-1 draws, tight affairs, and we edged the 3rd replay at Hillsborough 5-0. I'd had to bunk off school in the afternoon to make the trip.
Joe McMahon
31
Posted 23/01/2021 at 12:38:59
Dale @16,
There has been many since our last win at Anfield, and even more since our last trophy. That's why I never joke about that team across the park.
I think I will be dead by the time Gbamin is ready for his next game.
Mark Murphy
32
Posted 23/01/2021 at 12:42:07
I remember our first ever Sunday game at home v West Brom. Our Dad was a proper catholic and wouldn't let me go. I think it was 0-0 with 56,000 agnostics in attendance?
And I've missed that Owl too Kevin.
Joe McMahon
33
Posted 23/01/2021 at 12:45:47
Martin @29 fully agree, but like you say never gonna happen. The soul has been ripped out of football, along with players driving Lamborghinis and having private chefs etc.
Thomas Richards
34
Posted 23/01/2021 at 12:51:04
Matt,
I recall sitting in the 5-0 game (were we 5 up at half time?) and hundreds of our fans got there after the game was won. Some of them didnt get in the ground until 2nd half started.
Brian Murray
35
Posted 23/01/2021 at 13:00:46
Yeah I was one of them after half time and still waiting patiently for agreed reimbursement off county road Barnes travel HA ha. Was just glad we got through and enjoyed journey back anyway.
Sean O'Hanlon
36
Posted 23/01/2021 at 13:01:29
Wow! BBC Football Focus have just shown the highlights of the 1966 FA Cup Final. 2 down, won 3-2. Best ever final!
Sadly I missed that final, but got a ticket 2 years later when we lost 1-0 to West Brom.
Darren Hind
37
Posted 23/01/2021 at 13:04:30
Just been watching that.
I don't think I will ever tire of seeing Eddie Kavanagh's unbridled joy, what an Iconic Evertonian moment
Not forgetting our three goals and the memorable comeback of course, but whenever 1966 is mentioned my thoughts always go to Eddie shrugging off that first bizzie and not giving a fuck when he eventually gets hauled down.
I can still see him now, " YYYYYEEEEEESSSSSSS"
Brian Murray
38
Posted 23/01/2021 at 13:07:24
Mark post 34. I remember there was a handful of West Brom fans in the corner of Gwladys Street. Not sure they got out alive when they started singing. Did we lose replay one-nil I think. Bomber T Brown scored.
Brian Murray
39
Posted 23/01/2021 at 13:10:17
Re Eddie. His 1984 Train trip interview on grandstand is hilarious talking and showing the 66 clip. Can't get it on YouTube which is a shame.
Geoff Cadman
40
Posted 23/01/2021 at 13:39:40
The clip of Eddie Kavanagh's celebration was used in a film about Norwegian Man Utd fans. I have no idea how it fitted the plot.
Fran Mitchell
41
Posted 23/01/2021 at 13:48:04
The FA Cup should be high on our list of priorities. I'd personally take FA Cup and top 6 ahead of top 4 finish. The lack of silverware is depressing and has contributed to the general acceptance of failure.
While winning the FA Cup is.
no guarantees greater things (our own 95' win is a clear example of that, and Arsenal's last season can also point to it not signalling the turning of a corner), for us I feel it would be huge.
Ideally a top 4 finish and a cup win, clearly.
Anyway, on to the game. I'd like to see Gordon. He clearly needs to develop, and games like this are key for this development. Probably expect to see Olsen in goal. James and Calver-Lewis playing for an hour.
Wonder if we could experiment in the middle. Against Leicester we won't have Doucouré, which is a big miss, especially with Allan still not fit. Wonder if Holgate could step up and play alongside Davies, with Sigurdsson or Gomes ahead of them.
Or a change in system again, 3-5-2/3-4-3.
Jim Bennings
42
Posted 23/01/2021 at 13:51:01
Big week coming up for us.
Due to the Villa postponement, we should be fresh and ready to take this game by the bollox, and hopefully, after our near miss against Rotherham, I we won't be so accommodating to Sheffield Wednesday tomorrow night.
Leicester and Newcastle are equally big games however and we have the chance to really mount some pressure on those teams above us, I believe one of which that's managed by a particularly mouthy German is not in too good form.
Thomas Richards
43
Posted 23/01/2021 at 13:54:26
https://youtu.be/pqyh5hqEgs8
Got this last night. Had to put it up for the benefit of our younger fans. Us older ones already know.
Derek Wadeson
44
Posted 23/01/2021 at 14:01:01
Can anybody help me with this one? I know this dreadful worldwide pandemic comes first and everything else comes after it in importance to removing it from our lives.
But, have Everton been dealt a poor hand? Our game against Manchester City postponed because of a Covid outbreak in their squad, Aston Villa postponed because of a Covid outbreak in the Villa squad. Sheffield Wednesday FA Cup game put back because of a Covid outbreak in the Owls squad.
And yet this week Manchester City played Aston Villa and we didn't get to play one of these two teams instead to even up the fixture list.
Another Everton conspiracy? Answers on a postcard please or better still on a ToffeeWeb forum. Stay safe everybody.

Si Cooper
45
Posted 23/01/2021 at 14:01:23
I just have a feeling we'll cruise this one. No particular reason.
Paul (15) – pretty sure fifth round draw has already taken place. Winners of our game play winners of Wycombe v Spurs I think (can't be bothered to Google it just now).
Justin (28) – why specifically crosses and (if so) why specifically Jonjoe Kenny?
8 pm on a Sunday would be raving mad if crowds were allowed but can't people see it's a good thing to allow neutrals to watch as many different games as they fancy during the current absence of crowds?
Can we have a ToffeeWeb poll on whether not necessarily having the large majority of games at 3pm on a Saturday equates to 'ripping the soul out of football?'
Is JP Gbamin actually training at Finch Farm? I'd feel a lot better about his prospects if I knew he was putting in a good 3 or 4 hours, Monday to Friday.
Jerome Shields
46
Posted 23/01/2021 at 14:06:13
As anyone thought Ancelotti might rest Calvert-Lewin and play Tosun up front? That would mean a good supply player is needed in midfield.
Sheffield Wednesday are likely to defend deep, especially at Goodison and will need to be broken down. Leicester and Newcastle are two difficult and important games coming up soon.
Ancelotti is not that predictable, it depends on the analysis of the opposition.

Matt Traynor
47
Posted 23/01/2021 at 14:12:35
Thomas #34, Brian #35,
We missed the 1st goal as there was a traffic snarl in Manchester. We got in just in time to see Snodin set Heath away for 2-0. Brian - we travelled with Barnes, but Basic Barnes - I thought it was the Posh buses (Amberline) that got in at half time? I recall a fella turning up on the terrace next to me at half time - scoreboard was scrolling adverts, and when asked I told him what the score was. Incredulous, he checked with a few others around thinking I was winding him up.
Of course the 2nd half was an exhibition game, but at least it saw Paul Bracewell's return to action.
Derek Knox
48
Posted 23/01/2021 at 14:13:39
Fran @41, agree we are long overdue some use of metal in the Trophy Cupboard, but it is not without the bounds of capability that we could capture the FA Cup and still get top 4. I know that sounds greedy, but the way results (Prem) and the FA Cup Draw/results are going it is not exactly Fantasy Island either. Plus we would be a more attractive proposition for any future quality recruitment.
Thomas @43, not sure what happened there with that link, tried several times, and got Bob Latchford article, all in Polish. So not sure if that was the intended link or something different.
Jay Wood
[BRZ]
49
Posted 23/01/2021 at 14:29:36
Can somebody help me here.
I've seen a number of posts saying Doucouré is available for the cup game, but not for the mid-week Premier League game v Leicester.
Has there been a change in the rules on serving suspensions? I thought the long standing rule that suspended players in England will miss the next game(s), be they cup or league.
If that is still the case, Doucouré can't play tomorrow but will be available v Leicester.
Or are English suspensions now competition specific?
Thomas Richards
50
Posted 23/01/2021 at 14:32:38
Just checked, Derek, it's in English.
Did you buy your laptop in Warsaw?
Bill Griffiths
51
Posted 23/01/2021 at 14:34:04
Competition-specific, Jay.
Derek Knox
52
Posted 23/01/2021 at 14:34:26
Hi Jay, I am no expert but I believe the ruling now is that any accumulated Yellows, which is effectively a Red, applies to the Competition where they were awarded. So, in Doucouré's case, all awarded in the Premier League, so one-match ban is applied there, and eligible to play in FA Cup.
Thomas Richards
53
Posted 23/01/2021 at 14:35:49
Jay,
Doucouré is in the predicted line up on the top of the page.
The eds probably looked into your question.
Hopefully he misses tomorrow and plays v Leicester.
Derek Knox
54
Posted 23/01/2021 at 14:37:51
Thomas, not a laptop bought in Warsaw, Cracow or any other dodgy sources, but a PC Win 10. Mind you it does run off steam power, so maybe that's it. :-)
Derek Wadeson
55
Posted 23/01/2021 at 14:44:39
See those Royal Blue jerseys as graceful as can be
Singing our song for Wembley and
We Shall Not Be Moved
Circa Wembley May 1966
Thomas Richards
56
Posted 23/01/2021 at 14:51:54
Derek #54
Jammy bastard.
Mine is wind up
Ian Bennett
57
Posted 23/01/2021 at 14:58:53
Yep, league suspensions don't now impact cup. Typical Everton luck.
Rob Halligan
58
Posted 23/01/2021 at 15:03:16
From the official club website.
Suspensions
Player Suspension Details Eligible For Return
Abdoulaye Doucoure One-match Premier League ban - (v Leicester, 27 Jan) v Newcastle (30 Jan)
Brian Murray
59
Posted 23/01/2021 at 15:22:24
Matt post 47, yeah you may well be right over amber loon as we called it lol. Barnes had it for years that spot on County Road. Was also excited to see Bracewell come on as sub. Alas never the same level as after that caveman idiot Whitehurst done him.
Paul Birmingham
60
Posted 23/01/2021 at 15:24:41
Si, @45, your right, yep they done two rounds, in one go, so hopefully, we get Wycombe!
Phil (Kelsall) Roberts
61
Posted 23/01/2021 at 16:12:15
Arriving late: Matt #47 and others.
Sitting in Goodison Road stand. Easter Saturday 1970. 3rd place Chelsea came to visit. Guy walks in at 5 past 3 and says any score yet. We say 2-0. "ha ha". Sits down. Everton score. Gwladys Street start up with "We want 4" and he looks and says "You wern't lying then".
Bobby Mallon
62
Posted 23/01/2021 at 16:24:13
Derek 44 I agree wholeheartedly. We should have played Aston Villa not Man City. Being inactive may come back to haunt us, I put a piece together for Talking Points but never got aired. I would rather have points than games in hand.
John Raftery
63
Posted 23/01/2021 at 16:40:58
Brian # 35 and 62, Matt 47, I arrived at half-time with Barnes Travel. After I asked for a refund they gave me a £2 voucher which I used a few weeks later for a game at Watford which we won 2-1. That was the last time I travelled with Barnes.
Danny O'Neill
64
Posted 23/01/2021 at 18:51:28
I posted after the draw, but recall the marathon we had with Sheffield Wednesday in 1988. Took 4 games (??) to finally get past them and when we did we battered them.
And that was on the back of playing them in the league on New Year's Day. I remember that as it was a very early start to meet the coach at the pick up point in Speke.
We then moved onto another mini-marathon against Middlesborough.
I think we played 8 or 9 games in reaching the 5th round only to go out to you know who.
Tony Hill
65
Posted 23/01/2021 at 19:04:22
We must have had 30 odd coaches, at least, going to that game. I was on posh Amberline and arrived when it was 3-0, I think, and our end was far from full. It was great going back home after that result. I remember the initial draw and Reid's equaliser - it was very tight with fans in the Leppings Lane then (not in the final game) but no-one was paying attention.
I have a great soft spot for both Sheffield clubs who, along with West Ham, seem to me to be serious, non-posing, working class outfits regardless of owners.
We always do well in the Cup when we play Wednesday. Fran @41, why not the double?
Eddie Kavanagh is still running and will never be caught.
Jay Wood
[BRZ]
66
Posted 23/01/2021 at 19:05:46
Thanks for the clarification on Doucouré's suspension.
Pity.
It would have been convenient for him to miss tomorrow and be available v Leicester.
Danny O'Neill
68
Posted 23/01/2021 at 19:15:24
Amberline; that was it Tony. I was trying to scramble the ageing brain. Amberwood; Amber-something!
Had a yard on the road between Speke and Hunts Cross.
Tony Hill
71
Posted 23/01/2021 at 21:29:27
Great observation from a contributor to the Evertonarentwe twitter that our fans from abroad and elsewhere in the UK - in other words those not born to it - are deserving of particular tribute.
Why? Because they chose us not for glory but in full recognition of likely misery; in other words they did not dive in for success. I would add to that: because they chose us for our authenticity, for our "grain".
There's a danger of being sentimental or ingratiating in this, but I believe that our fan base globally is genuine at its core.
We have won fuck all in the living memory of many but still the connoisseurs come to us.

Mike Gaynes
72
Posted 23/01/2021 at 21:46:18
Tony, speaking for myself I'm a connoi-sewer.
But thanks for the compliments. It's a nice compensation for the many times I've been stared at by US ManU or RS or Arse supporters and asked -- condescendingly -- "Why Everton?"
They just wouldn't understand.
Tony Hill
73
Posted 23/01/2021 at 21:55:22
Who is Tony Kay supporting tomorrow? We know. He knows.
Tony Hill
74
Posted 23/01/2021 at 22:13:51
Mike @84, I'll run the risk of being patronising and flattering again by saying that there is no non-scouse contributor on here (and on other sites) who doesn't know - in fine and studious detail - what they are talking about when they talk about football and about Everton. I don't think that could be readily said of other fan bases.
I don't think this is a trivial point. It says a great deal about being an Evertonian.
Andrew Ellams
75
Posted 23/01/2021 at 22:22:36
Tony I think the problem is the Sky favourites attract a lot of people who aren't really football fans but need a bandwagon to jump on.
I work in London with a load of RS plastics who can't get their heads around how a couple of colleagues support non PL clubs.
Thomas Richards
76
Posted 23/01/2021 at 22:32:03
Mike #84
"Why Everton?" – They just wouldn't understand
You have posted many a fine post.
That couple of lines are your best to date. Brought a tear to my eye.
Andy Crooks
77
Posted 23/01/2021 at 22:42:38
Top post, Tony, @83. Also, sometimes sentimentality is underrated. One bottle of wine makes a cynic. Two bottles and it's time to watch the closing titles of "One flew over the cuckoo's nest".
Never open the third bottle. If you do you will end up convulsed over Jon Voigt in "The Champ".
Derek Knox
78
Posted 23/01/2021 at 22:46:26
Tony, Mike G, and others, very well constructed comments, yes, it is so easy, and many have done, jumped on the bandwagon of the team that was currently doing well. Ask most of those 'supporters' about the history of the Club they allegedly support, and very few would have answers. Fact they probably wouldn't even be familiar with the current squad of whoever.
The other side of the coin too, and this rarely applies to anyone outside the UK, unless for some bizarre connection, people that support the less fashionable Clubs. The Herefords, etc, I have nothing but admiration for them, they travel the country supporting ' their team ' extremely unlikely to be on TV (unless involved in a FA/League Cup Game) or indeed (being brutally honest) any realistic chance of reaching the dizzy heights of Championship or Premiership. Yet they turn up every week!
Having said that, it is possible, look at Swansea, not so long ago, actually went from 4th to 1st, admittedly it was hard to stay there, but they did it! So proved that dreams can be achieved. I fear too that this Covid curse has been the 'death knell' of the type of Clubs mentioned, and unfortunately at the lower end of the Football Pyramid may not survive.
Danny O'Neill
79
Posted 23/01/2021 at 22:48:40
Tony, you hit the nail on the head.
Howard Kendall described us as the most knowledgeable fans in football. That still holds to this day hence the fierce, often differing but knowledgeable debate on this site.
My son has Liverpool (the city) roots, but has grown up in a military setting and lived in London since 2004 as have I.
But he is an Evertonian despite living amongst the Manchester United and Liverpool bandwagon jumpers as well as the London club supporters who are often fascinated when they meet an Evertonian. And genuine fascination I have to say, not always patronising.
Andrew, living and working in London, it's not just the ill-educated plastic Liverpool and Manchester United fans. I find them amusing; they are like the 6-year-old conversations you used to have as a kid. Everything about their team is great, everything else is shit.
What I dislike are the London supporters of London clubs. Always a sinister element to it. More interested in goading the other fans than watching their own team. Don't tend to watch the football, just gloat if they win and get aggressive if they don't but have little clue about the actual game itself.
Mike Gaynes
80
Posted 23/01/2021 at 23:33:16
Danny #79, I don't think it's just London. I played many years of footy here with a former Birmingham hooligan -- if you asked him nicely he would raise his shirt and show the stab wounds he got in a brawl with some opposing fans at a Cup match back in the '70s.
As luck would have it, a former Villa academy player joined us for one season. The two of them never spoke or passed the ball to each other. Always looked like they were about one word away from a fight.
Paul Birmingham
81
Posted 23/01/2021 at 23:43:07
Tony Kay, would have been the best, but he got no luck, like the footballers of the last 5 decades get in terms of legal and agent support.
Incredible in the modern world, and the standards of the day, then and now.
The most unlucky footballer in my view, in terms of potential unfulfilled at that the time.
But he is never forgotten, at Everton.
Now for Everton to win tomorrow, and Spurs lose.
But that's the FA Cup.
Mike Keating
82
Posted 24/01/2021 at 00:23:04
Tony Kay should have won two Wembley medals in 1966 but ended up with a lifetime ban for 'throwing' a game in which he had been voted MotM - see this link:
https://taleoftwohalves.uk/columnist/lifetime-ban-stopped-legend-tracks-tony-kay
Nicholas Howard
83
Posted 24/01/2021 at 02:06:45
Martin (29)
Yeap... the freaking time... I am in time zone GMT+8... that's bloody 4am in the early morning... sigh!
Kieran Kinsella
84
Posted 24/01/2021 at 02:15:42
Always had a fondness for Wednesday. Their stadium is exactly the same as Goodison. They wear blue and white versus their local rivals in red. They had Glynn while we had Ian Snodin.
Di Canio spared Paul Gerrard's blushes by catching the ball when he could have scored versus us. They were among the first to employ modern attacking fullbacks (Sterland, Harkes, Nillson, Petrescu).
They had players I thought we should sign (then changed my mind once we did): Alexandersson, Pembridge. Along with us they were the last team to keep the tradition going of having a fat bloke goalie (Southall/Pressman). They never get any luck, they never get any respect, etc etc.
Mike Gaynes
85
Posted 24/01/2021 at 02:29:56
Nicholas, happens to me all the time on the USA West Coast. A noon kickoff GMT is 4am here. Just pre-set your coffee and gut it out. No excuses.
Kieran, yes, the Di Canio move was memorable, and we Yanks have a bit of a soft spot for Wednesday too because Captain John Harkes played there. And did THIS to Peter Shilton:
https://www.youtube.com/watch?v=C_is9XU2yeA
Goal of the Year.
Darryl Ritchie
86
Posted 24/01/2021 at 02:49:03
Wednesday! Sunday! Winday! Bring on Tottenham.
Too soon?
Darren Hind
87
Posted 24/01/2021 at 05:10:12
Hate to spoil the Sheffield Wednesday stories, but Di Cannio was not playing for Sheffield Wednesday when he caught the ball when our goalie went down. He was playing for West Ham. Harry Redknapp went berserk.
Darren Hind
88
Posted 24/01/2021 at 05:33:08
Nicholas,
Spare a thought for those thousands of fans who down the years have risen in the early hours of the morning to share a car or a van which only had a 50/50 chance of making it to an away game. There is many a tale of people not even making it to the game.
Mind you, Most of them were creating memories, laughs and experiences that they will take to their graves with them. You show similar dedication but, unfortunately for you, the best you can do is go back to bed and get a couple more hours after the game.
This thread has made me think of putting together a brief article when I get a little time. Inviting people to share their away day experiences following the mighty blues. I know, if I do it right, it would draw some cracking responses.
Paul Morrison
89
Posted 24/01/2021 at 05:53:15
I served in HMS Sheffield and our football team was sponsored by Sheffield Wednesday in the early '80s. We used to play in the Wednesday kit all over the world and, to this day, it is the only shirt other than ours I have worn. We were sunk in the Falklands but received massive support from that city and still do. 2-0 to the blues though!
Bobby Mallon
90
Posted 24/01/2021 at 06:16:51
Darren Hind, that is a great idea. I would love to read and imagine people's experiences. Do it.
Danny O'Neill
91
Posted 24/01/2021 at 07:28:45
I think you would, Darren. I enjoyed the road trips more than home games on many occasions.
I'll save them but going over the Snake Pass to Sheffield at some ungodly hour, standing next to the floodlight in the corner of the uncovered terrace at Nottingham Forest, Villa Park full of Evertonians, St James' Park with only one actual stand and being stood below a temporary structure behind the goal; the type you see on Golf courses and Norwich when we clinched the title to name a few.
Fantastic memories, great days out.
Frank Fearns
92
Posted 24/01/2021 at 07:56:12
Couple of things. Eddie Kavanagh hailed from Huyton and as he was on Everton books he said he would get the players to sign my autograph book --- still waiting!!
Went to Wembley in 1966 but never got a ticket. Ended up at the front of a television shop watching on a 12" black and white tele along with a hoarde of blues. We won of course and bloke went round with his cap collected a load of cash and plonked it on the managers counter to thank him – the poor manager was very relieved as he feared the worst for his window.
Just in case the younger element wondered, there were no teles in pubs in those days.
Bobby Mallon
93
Posted 24/01/2021 at 07:59:01
Stuck on the side of the motorway in November after watching us get beat by Bolton, cause your whole exhaust has fallen off. 😂
Chris Williams
94
Posted 24/01/2021 at 08:32:57
Frank,
Even if there were televisions in pubs, the pubs would have been shut in 1966. Even more astounding to younger people!
We had to make our own entertainment in those days!
Dave Abrahams
95
Posted 24/01/2021 at 08:54:52
Darren (87), spot on there, it was West Ham. And to spoil the story a bit further, Di Cannio did well and was very sporting but it wasn't an open goal, there was at least three Everton defenders between him and the goal with one not far away ready to tackle him. A chance, yes, but nowhere near as easy as suggested, give him 10 out of 10 for his action though.
Derek Moore
96
Posted 24/01/2021 at 09:29:07
I'm intrigued by Darren Hinds away day thread suggestion. Does anyone remember going to Maine Road? Although the most fear I've ever experienced as a football fan anywhere was in Leeds outside Elland Road... ironically there's an enormous bizzy station a stone's throw from the ground!
I'm hoping, whatever line-up the gaffer picks against Wednesday, they play with a bit more urgency than the 3rd Round. Tosun was unlucky but we may well have tumbled out if we'd been any less resolute. I do feel there was a bit of complacency there.
There's no doubt we have the quality to go a long way in the competition if we want to. Here's hoping both the manager and players have the desire we the fans so obviously have.
Robert Tressell
97
Posted 24/01/2021 at 09:36:18
Sheffield Wednesday represent something along the lines of our alternate future. We really do need the new stadium.
Brian Murray
98
Posted 24/01/2021 at 10:03:57
Derek. mains road probably more scarier than most because the ground was part of back streets alleyways etc easy for the kipppax crew to ambush away fans not knowing the lay out. 1976 league cup quarter final at old Trafford for me as a kid the worst. Battered them on the pitch but how my older brother got me through to our coach alive il never know. Not a window hardly left on the coach. Bolton away semis then them replays after Wembley ( all 7 of us in dads black hackney me riding shotgun). I thought we was back but then Daracott and Clive Thomas got involved.
Dave Ganley
99
Posted 24/01/2021 at 10:05:04
Bobby #93 can totally empathise with that. Stuck on the m1 coming back from Wembley after my cam belt snapped. And we had lost too!
Darren, great idea about away days, something about away days that makes them so much better than home games. Getting there, avoiding the lunatic home fans although not so much of an issue these days and a great feeling of camaraderie.
Derek #96 Maine Road was always a dangerous place to go, never felt safe there in the 80s. One time in the 90s I went with a mate who was a city fan so sat in with their supporters. Went to a local pub first and he's chatting away to all the city fans and I'm just keeping my gob shut! Listening to all the mancs telling him what they're going to do to the scousers when they see them. scary days. We got beat 4 0 too!! Just glad to get out alive
Hoping for 3 0 tonight ever the optimist
Derek Thomas
100
Posted 24/01/2021 at 10:09:57
Derek M, back in 1967, I was at my Grans on Sat morning supposedly doing a bit of gardening or something, but mostly eating bacon and eggs and drinking tea...she asked me was I off to the footy after. Yep we're going to Man City...watch yourself there, they're a gang of gobshites, she wasn't wrong.
Rob Halligan
101
Posted 24/01/2021 at 10:10:21
Darren, it will make fascinating reading about your away day adventures, I might even contribute myself. My five favourite away games in the league, my five favourite away European games, and my five scariest away games. Will take some thinking about though!!
Michael Barrett
102
Posted 24/01/2021 at 10:17:07
Anyone remember going on a double decker hired by barnes travel across to Sheffield for them replays, I have a vision of it being really foggy? Or is it my memory that's foggy.
Jonathan Tasker
103
Posted 24/01/2021 at 10:21:08
Most scary away ground ?
Chelsea
Although probably not a good idea to be the only Evertonian in the main stand
Danny O'Neill
104
Posted 24/01/2021 at 10:26:40
Barnsley in the FA Cup Jonathan, 1989 (I think). That was scary. Both the hostility from the natives throwing rocks over and the near crush that forced the police to open the gates to let fans spill onto the pitch behind the goal. I had to pass my brother over as he was almost passing out.
Dave Abrahams
105
Posted 24/01/2021 at 10:37:30
I went to Charlton in 1957. I think, fa cup match, we drew 2-2, no fighting at the game, everything went okay until we were coming home and it went dead foggy, the driver got lost and we finished up on a narrow road, an old fella, on the bus, had a torch, don't know why he had a torch going to a football match in London, but anyway he volunteers to get out and try and guide us to a main road, he finds a signpost and tells the driver which way to go, the old fella stays at the front of the bus and the driver drives the bus towards the main road with the old fella giving directions, after twenty minutes or so the old fella signals the driver to stop, he had noticed another signpost ahead, it was the same fuckin' signpost he had started us off from, the poor auld fella took some stick all the way home, I think we had a collection on the bus to buy him a guide dog!!
Martin Reppion
106
Posted 24/01/2021 at 10:55:26
Danny #104. That Barnsley game has two memories for me. My mate had his ribs broken by being squashed into the crush barrier.
But it was the following week when we were away to Forest I remember most. Stopping at the services on the M1 the lad serving me saw the scarf and told me he had been in the Barnsley end when Nev made a stunning save from Paul Futcher. He told me that although they lost 1-0 when he saw it again on Match of the Day he still jumped up thinking it was going in.
Allen Rodgers
107
Posted 24/01/2021 at 11:03:25
Going to be a bit parky by 8pm tonight.

Martin Nicholls
108
Posted 24/01/2021 at 11:06:50
Darren#82 - one away day experience I'll never forget is a trip to WBA in early 1973. My old Moggy Minor broke down in snow - cavalry in the form of a gang of lads from the Walsall Hell's Angels Chapter turned up. One of them was a mechanic and reckoned problem was a dodgy condenser - off they went and later returned with a new one which the guy fitted for us and solved our problem. Great act of kindness from a good bunch of lads who refused to take a penny for their trouble. Anyway, on we travelled to the Hawthornes only to find game had been postponed - no car radio or mobile phones to forewarn us in those days! Nightmare trip home in the ever thickening snow! Happy days!!
Brian Harrison
109
Posted 24/01/2021 at 11:28:39
Well no shocks yet in this round, so lets hope we don't slip up tonight. Watched Cheltenham v City I think its really positive that so many lower league sides are pushing the Premier league sides, surely that's what makes the FA Cup what it is. Just a special mention for Phil Foden you can see the impact that training everyday with David Silva has had on him. He just plays exactly the way Silva did, he is so comfortable on the ball his passing is excellent and he also scores goals. I know we have quite a few very good young midfield players playing in the Premier league, but for me Foden is the best of the lot. Yes Grealish and Maddison and Mount are all very good, but how lucky is Gareth Southgate to be able to pick any of them.
Mark Murphy
110
Posted 24/01/2021 at 11:42:30
Danny I was at that Barnsley game - that crush was very scary.
Best thing about that day though was the local bitter - think it was Sam Smiths? I can still taste it!
Scariest for me was Old Trafford when we beat them 3-0 in the league cup and again when we played Altrincham.
Edit - Theakstons??
Mark Murphy
111
Posted 24/01/2021 at 11:46:48
Another away day memory was after a sheff weds away game walking away from the game with a crowd of blues singing "Bill Shankley is an Evertonian" whilst the man himself, in the middle of us all, was laughing and shaking his head and everyone's hand. He came across as a really nice bloke and took some ribbing very graciously but to be fair our fans were very gentle and friendly with him.
Mark Murphy
112
Posted 24/01/2021 at 11:53:23
Dave Ganley that might have been me, tho to be honest I think it was before the 90's?
We got met at Victoria by City fans and pretended we were City too? We walked to the ground before one of them fronted me and called me a scouser (which to be fair, I wasn't nor am) and I legged it thinking you were with me. We met after the game and you said (if it was you) that you'd watched the game with them in the kippax and they were sound.
If it wasn't you it's a massive co-incidence - my mates name was Dave as well.
But it wasn't the 90,s
Rob Halligan
113
Posted 24/01/2021 at 11:56:21
Middlesbrough away could get quite scary, particularly when they played at Ayresome park. The FA Cup game in 1978 stands out. We had three specials travel up and after the game on the walk back to the station, all hell broke out. If I remember rightly, a few blues were stabbed, although not life threatening, but stabbed in the leg or even the arse. The trouble seemed to go on forever, and we were mightily relieved to get back to the station. One of the more scary aways!!
Derek Knox
114
Posted 24/01/2021 at 12:04:29
Rob, remember Ayresome Park, wasn't there a considerable hump in the pitch? So depending on where you were watching the game, it was like looking over a hill and only seeing bits of play which seemed a mile away. No wonder they built the Riverside Stadium, what a dump.
Joe McMahon
115
Posted 24/01/2021 at 12:18:09
Derek@114, my wife's sisters Husband is a Smoggy, and he told me this also. But remember they moved well over 20 years ago and we still have restricted views at our home in 2021. I'm not even going to mention the toilets.
Tom Bowers
116
Posted 24/01/2021 at 12:20:23
It's a pity about the injuries and the suspension of Doucoure.
After today the next few games are so important as to test if Everton belonging the top echelon and they could make a big statement by beating Leicester who are playing well but will be without Vardy.
However a number of teams are missing players but some may argue those teams have better strength in depth than Everton but we will see.
Today will be another test like the Rotherham game as cup-ties often are and Wednesday won't have the Goodison crowd to worry them.
Everton just need to be focused early and get control.
Tony Hill
117
Posted 24/01/2021 at 12:22:46
West Ham away, of course, was dodgy and I remember going for the first time to Millwall in the league, after the infamous Goodison scrap. It was a military event with the police.
Agree with others about the Kippax and the Maine Road experience. I've never taken to Man City fans, a strange group.
Thomas Richards
118
Posted 24/01/2021 at 12:26:34
Rob H
West Ham 1984
Feyenoord 1995
Two very eventful games
Rob Halligan
119
Posted 24/01/2021 at 12:41:35
Thomas, I didn't do West ham back then, but I clearly remember Feyenoord in 1995. For some reason I ended up driving over to Holland. There were four of us, and we arrived in Rotterdam early in the morning on the day of the game. After parking the car up for the day by the station, we headed into the centre for something to eat then hitting the ale. Does anyone remember a bar called the Big Ben? We walked past it in the afternoon and it seemed like the entire bar emptied out to confront the four of us!! Within seconds we were surrounded by police, horses, cars and vans!! They marched us away to relative safety. Then after we got to the stadium, we were walking around the stadium and were stopped by plain clothes policemen, though how they knew we were Everton fans I don't know, as by now we had hidden our colours. Anyway, they said we were on the wrong side of the stadium and escorted us round to our section.
After the game we jumped a train to Amsterdam for some window shopping and a few beers!! We arrived back into Rotterdam early the following morning to set off home. God knows how I managed to drive, but hey-ho, we arrived back in Liverpool safely.
Andrew McLawrence
120
Posted 24/01/2021 at 12:43:11
Much snow there lads?
Rob Halligan
121
Posted 24/01/2021 at 12:45:05
Coming down quite heavy, Andrew. I'm about six miles from Goodison so imagine it's pretty much the same.
Tony Hill
122
Posted 24/01/2021 at 12:48:39
There shouldn't be any problem for the game.
Michael Williams
123
Posted 24/01/2021 at 12:48:40
NBC showing a condensed replay of 2010 Everton v ManU at Goodison. Howard made one of the best saves I've ever seen off a deflection from a free kick just outside the penalty box. Top top quality save. Everton up 1-0 at the half from a goal by Pienaar. Fun to see Cahill, Arteta, Hibbert etc.
Jonathan Tasker
124
Posted 24/01/2021 at 12:51:03
Burnden Park
January 1st 1980
One of only four matches played that day due to snow
Abandoned at half time with the score 1-1 due to snow
Peter Reid played for Bolton
Sitting behind the goal the pitch was almost above us
Not an experience you forget in a hurry
Michael Williams
125
Posted 24/01/2021 at 12:52:50
Sorry 1-1 at half. Mistook commercial break for end of half.
Thomas Richards
126
Posted 24/01/2021 at 12:55:43
Rob H
I remember that from Feyenoord.
If you recall the rail station was at the side of the ground. The vision that met us as we got off the train on the way to the game after a day on the ale will stick with me :-)
Rob Halligan
127
Posted 24/01/2021 at 13:12:16
Yes Thomas, I didn't make myself very clear earlier on. For anyone who's not been to Feyenoord, there is a train station in the city centre, and we had to jump a train to the stadium, about 15-20 minutes away if I'm correct. The station at the stadium is only a couple of minutes walk away.
Thomas Richards
128
Posted 24/01/2021 at 13:22:13
Sorry Rob, it was me who wasnt clear.
The main station in Rotterdam (Centraal)?
I was working in Holland and went to a Feyenoord v Ajax game in the 80s.
We met at a pub near the main station when the Ajax fans streamed out, the Feyenoord lads were there to greet them.
I have never seen anything like it in all my games watching the Blues.
We didnt hang around for a bevvy after the game.
Rob Halligan
129
Posted 24/01/2021 at 13:30:05
No love lost between those two, Thomas!
Peter Mills
130
Posted 24/01/2021 at 13:35:41
Best away day? It's got to be getting up at 5.00am to get the coach down to London, watch us beat Sheffield Wednesday 3-2, arriving home at 6.00am the following day.
It made a big impression on a 10 year old boy.
Robert Tressell
131
Posted 24/01/2021 at 13:38:24
Brian @ 109. Foden really is something else. You could see him lifting a trophy as England captain. Branthwaite and Godfrey could be the CBs.
Tony Hill
132
Posted 24/01/2021 at 13:42:17
I very much agree, Robert @131. Grealish is in there somewhere too, of course.
I know many Blues don't care about the national side but I alway have done and I think we have the best chance for a very long time of winning something.
This feels different to the Golden Generation.
Tony Abrahams
133
Posted 24/01/2021 at 13:43:02
That's exactly what our younger supporters need Peter, some great impressions and even better memories. 🤞
Danny O'Neill
134
Posted 24/01/2021 at 14:18:16
Not so much one for having to get up early doors to catch the coach, but the trips to Maine Road used to be interesting and get a bit tasty in that coach park outside the Kippax. Standing in the uncovered corner or on those weird school gym like bench things behind the goal I seem to remember.
And the customary 1980s non PC welcome and treatment by Greater Manchester Police who did not always hold back on their views on the citizens of Merseyside!
Hey, this is all great, but are we not in danger of dancing on Darren's chips? Let's wait for the write up.
I wager a 1000+ response count. No pressure Darren!!
Brent Stephens
135
Posted 24/01/2021 at 14:38:14
I think I've told both of these before. Both in the 60s. The first one was the QF game at Forest - 66/67 or 67/68 season I think. Went to Notts but couldn't get a ticket outside the ground. 3.00 comes, walking back along the side of the ground that in those days was just waste land, and from the inside of the ground somebody threw a bundle of tickets for the river end, in pristine condition. Mad scramble to get ones "entitlement" and got into the ground, unquestioned, a few minutes later. Stuff Storey-Moore.
One of the hairiest away games for me wasn't actually at the game, or immediately before or after it. Again, I think I might have told this story but my Hillman Imp broke down (notorious for gearbox problems - aluminium cast as I remember it) on the way to a game at Stoke, 67/68 season I think. Had it towed to a local garage just off the M6 and left it there; a mate drove me there the next day to tow it back to Liverpool. He had a big Austin Princess and towed me at what must have been over 60 mph on the M6 (not legal!). Didn't tell me he was going to go at that speed and once we were off, there was nothing I could do about it. Overtaking other cars who I don't think were impressed. We flashed past the other cars - and my life flashed before me.
Roger Helm
136
Posted 24/01/2021 at 14:52:29
Those were the days. We were travelling to Hillsborough for one of the finals v Villa and the Morris Minor's brakes locked on going over the Pennines. Stopped on the M62 and freed up the wheel with a hammer, I think, then going down a steep hill into Sheffield the brakes failed completely - a little car with four big lads in it.
Somehow got the car stopped with handbrake, gears and a kerb, legged it to the match, which we lost, then got home with the recovery lorry at 4.30am. Happy days.
Ian Pilkington
137
Posted 24/01/2021 at 15:02:46
Peter@130
The 1966 Cup Final was my best away day as well. I went on one of number of football specials from Lime Street which conveniently set down at Wembley Central.
Most of the trains returned from Euston late in the evening and you were supposed to return on the train you went out on. All trains had been fully booked but mine had very few on it when it left at around 2330, and neither did other specials on the adjacent platforms. I often wondered how the missing passengers got home after evidently carrying on the celebrations in London well into the night!
Mike Powell
138
Posted 24/01/2021 at 15:18:55
Don't care who plays today as long as we win, this won't be easy, just hope we want it more than them COYB
Derek Knox
139
Posted 24/01/2021 at 15:25:14
Brent @ 135, look on the bright side the amount you saved on fuel for the return journey, must be a record for a Hillman Imp! I remember them quite well though never owned, or even wanted to own one, they had a terrible reputation for catching fire (rear engined).
As with most old British Cars they are worth(?)/cost a small fortune, these days and there are Clubs virtually for each Model with Rallies at various venues too. Loved the Moggy Minor myself, and had a few (wish I still had them now) they were so brilliantly simple a design (Alec Issigonis) that there was very little that could or ever did go wrong with them. Although I do believe someone (Martin@108) once had a capacitor problem with the distributor. :-)
Brian Wilkinson
140
Posted 24/01/2021 at 15:31:40
Jonathon@124, that was the very game that Peter Reid picked up his knee injury, after colliding with our goalie, pretty sure it was George Wood, but I could be wrong.
Brent Stephens
141
Posted 24/01/2021 at 15:33:10
Derek, with that rear engine in the Imp you could flip the rear from side to side (dangerously if you weren't careful). Those Morris Minors were a great car. Doesn't Roy Cropper in Corrie own one? I can just see you, Derek, getting out of your Morris Minor wearing your old raincoat and carrying your shopping bag, dispensing a few words of philosophical wisdom. Is that your secret second career - acting?!
Rob Halligan
142
Posted 24/01/2021 at 15:33:35
I passed my driving test in a Hillman Imp. My uncle was a driving instructor and that's the car he had!!
Bill Gall
143
Posted 24/01/2021 at 15:35:47
I remember driving down to Wembley around 2 am on the Saturday morning for the 1966 final there were 5 of us when we drove down only 4 when we came back on the Sunday, never did find out where our friend went missing, I remember in the early hours of Sunday morning stopping at a station on the underground and he suddenly got off.
The thing that amazed me was the amount of fans hitch hiking along the East Lancs Road, don't no what time they started off, but the was a lot were you turn off onto the M6. Cant remember what time we got to London but we parked at Swiss Cottage and slept in the car that night or early hrs of the morning.
Used to drink in the Broadway and had talked to M.Trebilkock before the final as he used to come in I believe it was with the person he was lodging with. He came into the Broadway on the Tuesday after the final and got a rousing cheer.
Brent Stephens
144
Posted 24/01/2021 at 15:37:56
So you're two other sad bastards, Halligan - you and your uncle driving a Hillman Imp. What I do remember though was they had what I think was called a vernier screw on the outside of the distributor - so you could fine tune the timing without opening up the distributor and using feelers.
Brian Murray
145
Posted 24/01/2021 at 15:39:30
Brian post 140, yeah at our open end wood nutted reidy in the knee in a one v one. Finished one each I think and they won the night match rearranged quite easily. Even great away support there and second to none throughout the grim 70 s and 80 s.
Steve Shave
146
Posted 24/01/2021 at 15:40:24
Robert 131 it definitely isn't unfeasible to see our two bright young CB's (Branthwaite and Godfrey) shoring up the England backline for many years to come. I think Branthwaite is going to the very top! Last season it looked like Holgate might, let's hope he rediscovers that form, we do have some players on our hands huh?
Derek Knox
147
Posted 24/01/2021 at 15:46:39
Brent, no never done any acting since my schooldays, but always aspired to a Roy's Rolls, or was it a Rolls Royce? Never worn a Roy (flasher style) Coat either, and the only shopping bag, was a Bag for Life (no, not the wife, got divorced) from a popular Supermarket Chain. I always believed though that Roy would come a Cropper one day! :-)
Thomas Richards
148
Posted 24/01/2021 at 15:48:19
Memories flooding back here with some good posts.
Great days on the away trips, if dodgy at some grounds in the 70s,80s,90s.
Does anyone remember the Crown coaches?
They set off for London games at 11pm on Friday night, arriving around 6am.
Chelsea away, standing on the open end, cinders on the floor was one of my earliest memories of away days.
Brent Stephens
149
Posted 24/01/2021 at 15:48:34
Bag for Life! For a split second I thought I might use that on my wife but discretion is the better part of valour.
Phil Smith
150
Posted 24/01/2021 at 15:53:32
Tosun should start with Dom coming on for the last 15/20. Need him fresh for midweek.
Mike Gaynes
151
Posted 24/01/2021 at 16:01:15
Darren #88, to heck with an article. You and Rob should link up and write a book about your traveling adventures. There aren't many Blues who have been to more away games than you two. And you could pull in dozens of stories from folks like Thomas and Pete and Dave (whose memories go back to 1957!!). I'll bet you could recruit a pro like James Corbett to help you edit the thing.
I'm serious. Go for it. Bestseller. Guaranteed.
Robert Williams
152
Posted 24/01/2021 at 16:02:01
Brent. I had a Hillman Imp Van in the 60's - rear engine. Used to put two x 1 cwt bags of potatoes in the front 'boot' just to get some traction when the roads were icy. Otherwise it was just like aqua-planing - Happy days.
Thomas Richards
153
Posted 24/01/2021 at 16:08:41
I had some great times with a Hillman Imp as a young boy.
Used to make my day.
(im talking about rhyming slang here :-)
Rob Halligan
154
Posted 24/01/2021 at 16:29:36
You have a pet chimp then, Thomas? 😁😁😁
Thomas Richards
155
Posted 24/01/2021 at 16:34:17
😁😁😁
You enjoyed it as well Rob?
Always a bonus mate
Dale Self
156
Posted 24/01/2021 at 17:20:38
Nice move Mike. Hell yeah I'd read that
John Skelly
157
Posted 24/01/2021 at 17:28:22
Yes defo if it's a book I would buy it but if not I would read any article about it, as I've said before Stoke was a shite place to go not the supporters the local police and there dogs.
Bill Gall
158
Posted 24/01/2021 at 17:40:03
Darren I know you and Rob go to many away games I wonder if you have met John Blain at these games I believe he goes to most away games including the European ones. He is my nephew, his mother was my wife's sister.
Phil Parker
159
Posted 24/01/2021 at 17:59:46
Rotterdam 1995, pre game all the news was we were signing David Hirst, from Sheffield Wednesday funny enough. Then inside the stadium Alan Jackson came over the tannoy to welcome us. Now that was strange.
Stuart Sharp
160
Posted 24/01/2021 at 18:04:02
This must be the best thread on here in yonks. Only been to Chelsea once, but it was the cup game when we knocked them out on pens. The highlight was Heitinga assaulting Ashley Cole as he approached the spot. What a nightmare after though. No boozer for miles would let us in, despite our best west end accents. Probably because we weren't dressed like royalty.
Brian Wilkinson
161
Posted 24/01/2021 at 18:06:44
Thomas@148, do not remember the crown coaches you mentioned, but I always remember another coach that no matter how early you got to an away Day, you never beat the Sunnyway coaches.
I also remember a few trips to Boro, Stoke and forest and there was a double decker bus parked up, that must have been hired for the Away Days.
The City ground was my unluckiest ground, still to see Everton win there, when I started going towards the late seventies, onwards, a little shitty corner of the ground at the time, with a floodlight pylon for company.
Suprised no one has mentioned Carlisle Utd, that was one scary place.
Lynn Maher
162
Posted 24/01/2021 at 18:14:16
My away day memory was quite recent. We were going to Wembley for semi-final against Man United, 2016.
As we waited for our coach, and waited and waited. We started to get worried. All our friends had gone. We asked some of the Everton stewards what was going on. ( we had booked through the official Everton travel.)
After some frantic calls, it turned out our coach was waiting outside Anfield! You couldn't make it up.
When he eventually arrived, he didn't know the way to Wembley, so had to radio ahead to one of the other coaches.
Needless to say the day went downhill from there.
Danny O'Neill
163
Posted 24/01/2021 at 18:14:18
I mentioned above that I'll save for a separate thread as this warrants one on it's own (go Darren!!). BUT; Norwich away in 1987 was the best of all for me. A very long day spent mostly on a coach. Pat Van Den Hauwe scored early and that is all I remember about the match. Stuck in the corner of Carrow Road singing hand it over Liverpool. I always remember big hanging nets or mesh separating us from the home fans. Probably to stop the sharpened 50p coins that were favourable projectiles in those days.
The trip home. That is what I remember the most. Champions, my dad letting me drink and giving me the day off school to get over my hangover!! I will reveal how we stocked the coach when we have a thread to discuss!
The Wembley trips were great and I've had some great days out watching Everton, but that tops them all.
Danny O'Neill
164
Posted 24/01/2021 at 18:16:38
Back on thread (this thread). Still no major surprises. Must mean it's going to be Wycombe against Tottenham tomorrow right?
And just noticed. When did Sheffield Wednesday let a Hogwarts pupil redesign their club crest?
Jerome Shields
165
Posted 24/01/2021 at 18:19:02
Enjoying all these Away supporter stories.
Ian Edwards
166
Posted 24/01/2021 at 18:21:53
Hoping for an attacking team selection tonight but fully expecting Carlo Allardyce to pick two holding mids at home to a Championship team.
Chris Langton
167
Posted 24/01/2021 at 18:22:29
Hope we play Bernard and Tosun to keep them in the shop window
Bobby Mallon
168
Posted 24/01/2021 at 18:22:47
Fulham was my unluckiest ground I've been a few times and never seen us win. Also never seen us win if I saw a pigeon inside any ground bloody weird
Mike Gaynes
169
Posted 24/01/2021 at 18:28:07
Hey, am I a bad person if I'm watching the RS/MU tie and all I'm hoping for is lots of injuries?
Brent Stephens
170
Posted 24/01/2021 at 18:28:55
You're a very naughty boy, Mike.
Danny O'Neill
171
Posted 24/01/2021 at 18:30:29
Never noticed the pigeon thing Bobby. Mine is more seeing too many Magpies on a match day morning when I'm out walking the dog. But I know what you mean about Fulham.
Remember that period under Moyes (not a Moyes dig by the way), that we seemingly used to turn up for our annual good day out but get our standard 1 - 0 defeat issued to us at the Cottage?
Although now living in London and by then that was more like a home day out for me, it was great to be amongst the travelling Evertonians. Home from home as they say.
Martin Nicholls
172
Posted 24/01/2021 at 18:30:37
Brian #145 - my recollection is that game (which should never have started) was abandoned at half time with us leading by a Trevor Ross goal? Lost rearranged game 3-0?
Only good thing was that as a consequence of that injury, we eventually signed Reidy for £60k rather than the £600k we had been quoted originally!

John Skelly
173
Posted 24/01/2021 at 18:30:38
Well come on now Bobby that's a very serious pigeon conspiracy theory going on there.
Thomas Richards
174
Posted 24/01/2021 at 18:30:58
You are Mike.
You should be hoping for loads not lots.
Bobby Mallon
175
Posted 24/01/2021 at 18:32:11
My favourite away day was Wembley 86 v the shite. I know we got beat but the whole day was just amazing. Seeing Sam Fox, loads of scousers singing get your tits out for the boys. Playing 100 aside football match outside good memories
Danny O'Neill
176
Posted 24/01/2021 at 18:41:38
Couldn't get a ticket or travel for the 86 one but was at the Milk (League) Cup Final in 84 and the Charity Shield in 86 (1-1). Both great days out for similar reasons Bobby, just no Sam Fox.
Andrew Ellams
177
Posted 24/01/2021 at 18:50:09
It looks like Thierry Small may be on the bench tonight. Would be the club's youngest ever player if he comes on.
Dale Self
178
Posted 24/01/2021 at 18:54:36
Shite out, Manure advances
Mike Gaynes
179
Posted 24/01/2021 at 18:55:55
And Rashford off injured, so a perfect outcome.
Brent Stephens
180
Posted 24/01/2021 at 18:56:02
Good win - toothsome!
Brian Wilkinson
181
Posted 24/01/2021 at 19:00:41
The shite getting beat and us yet to play is like going meeting the in-laws for the first time and having sprouts.
Normally you would let a right ripper go, but you know it is best to wait until it is safe to do so, so you can let it all out.
Mike Gaynes
182
Posted 24/01/2021 at 19:03:33
That's a beauty, Brian.
Danny O'Neill
183
Posted 24/01/2021 at 19:03:54
Brian, I have just nearly spat my wine out. Quality!
George McKane
184
Posted 24/01/2021 at 19:05:22
Sunday evening - - around 6.30pm - - top floor of The House in New Brighton - - surrounded by a dark cobalt Blue sky - - looking across to The City - - the Blue of The River dark and moody - - the shape of The City only defined by the lights of its buildings and structures - - mainly white lights inside buildings along with dots of cadmium red - - Blues and Ambers and Yellow dotted along the waterfront all the way up past Aigburth Prom (The Cast Iron Shore) and along to Space City out in Runcorn Widnes - - a ship (if I would have said "boat" my dad - -a Merchant Navy Wartime sailor would have got out of his grave and said "boats are on Stanley Park Lake - - son - - ships sailed the seas" )is moving slowly down The River - -The Belfast 10.00oclock Ferry I guess - - having looked at this version of Vincent's Stary Night I walk back into my writing room and stop at the side window at the top of the stairs - - over The George Seurat Pointillism image above the other colours the whites of Goodison's Floodlights on the top of Bullen's Road shine brightly.
I am now getting ready of tonight's game.
Sheffield Wednesday - - automatically brings memories to all Evertonians - - especially those of my generation - - 1966 - - Tony Kay - - Peter Reid and Marwood - - Kanchelskis (what an away day that was) - - and recently of DCL.
It's strange how we hold on to the pieces of our past while we wait for our futures.
I cannot accept the decision by EPL and it "biggies" to demote and play down the FA Cup - - how can we - - those of us who would try our best on a Monday lunchtime to get out of school - - to try and find out who we had in the next round - - I have climbed through the metal work window of Cardinal Godfry and asked people on the street - - or those - - like me and you - - who sagged school to queue up all day - - all weathers to make sure you got a "cup ticket" - - I have still got my 68 FA Cup Final ticket 7/6d - - that's less than 40p in todays money - -The FA Cup is big - -important – wonderful - - historic - -no Administrators/TV Men/Money Merchants are going to take that away from me - - The Glamour of the Cup - - still with me.
John Keats - -who lived in a little Apartment right next to The Spanish Steps and Trevy Fountain in Rome - - a great Evertonian - -
"A thing of beauty is a joy for ever:
Its lovliness increases; it will never
Pass into nothingness; but still will keep
A bower quiet for us, and a sleep"
Incidentally - - watched Indiana Jones last night - - well - - so what - - John Hurt - - another great Evertonian.
Just realised the time - - going to watch the game - - team news and take everything in - - take care Blues all around the world - - sending Blue cosmic Grooves to you all - - - take care of yourselves and each other.
Your friend - - with a firm handshake - - George

Graham Mockford
185
Posted 24/01/2021 at 19:11:38
Favourite away days in reverse order
UCD literally played in a field, ferry got turned back to Dublin and I got spotted on Granada Reports having thrown a sickie
Notts County, never got so wet at a football game and Andy Gray scored the winner with a diving header off the ground
Liverpool Sharpies bullet, watched it on the Kop. When we started to believe
Stoke 3rd round of the cup. When famously Howard opened the dressing room windows at half time to let the noise of the 12000 Evertonians in
Rotterdam of course
Darren Hind
186
Posted 24/01/2021 at 19:29:10
Bill @158
I cant say the name rings a bell, but that doesnt mean we would not have bumped into each other or drank in the same pubs. There are so many Johns.
To be honest, away games are a bit of a young mans game now. I found I was struggling to keep up with my lads and their mates on the "social side of things". I havent completely knocked it on the head, but the game at OT when Big Dunc was in charge is the only one I have been to in the last couple of seasons.
The away day experience is slightly different now. The boys in blue don't give the away supporter anywhere near as much slack as their older collegues gave us. Often they would be as bad as the supporters when it came to having a good time. Alas that can no longer be.
Rob still goes everywhere. He goes to extraordinary lengths to get to follow his team. I always looked forward to his reports when he has been to some obscure destination. He is a top top blue. Mind you I think even he would have been impressed by Dave A's journey to Charlton... in 1957 - I think when he spoke about their coach, he was talking about a horse drawn one.
The Bolton game in the snow seems to have drawn a lot of comments. I do hope Casho will log on, step into the confessional and tell us all about how he made a complete cheshire cat of himself that day
---
Add Your Comments
In order to post a comment, you need to be logged in as a registered user of the site.
Or Sign up as a ToffeeWeb Member — it's free, takes just a few minutes and will allow you to post your comments on articles and Talking Points submissions across the site.