Calvert-Lewin credits spirit and tactical tweak for Old Trafford draw
Saturday, 6 February, 2021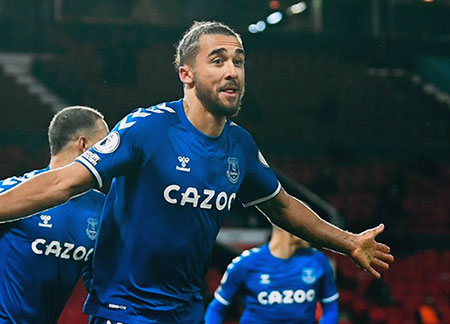 Dominic Calvert-Lewin credited a change in tactics by Carlo Ancelotti early in the second half for the comeback that eventually enabled Everton to grab a last-gasp draw against Manchester United.
The Toffees extended their unbeaten run away from home by salvaging what looked to be an unlikely point when Calvert-Lewin steered home a dramatic equaliser to make it 3-3 deep into stoppage time.
It was a reward for Everton's spirit and never-say-die attitude, one that saw them come back from 2-0 down through goals by Abdoulaye Doucouré and James Rodriguez to level it at 2-2, only to then fall behind again with 20 minutes to go.
"It was frustrating when we get back level from two goals down and to then let them get the lead again with a set piece but we just hung in there," Calvert-Lewin beamed afterwards. "It was a difficult evening, especially when they had the ball for large parts [of the game] and we had to stay disciplined.
"But you smell a goal there at the end and you have to be ready to put it in.
"I was just waiting for a little knick. I knew I wasn't going to get the first contact so it was just about being ready for the second one when it's about to drop. I think once it's hit my stomach I knew I could get there before the keeper.
"I thought if I could beat the keeper [to the ball], it's a goal."
Asked what was changed at half-time when the Blues were down two goals and facing a mountain to climb against the team placed second in the Premier League, Calvert-Lewin alluded to a tactical shift by Carlo Ancelotti.
"We had a little change of system a few minutes into the second half and that allowed us to get back into the game and push a few bodies forward. And you can for the first goal where I've put it back across to 'Doucs' and it's just getting bodies forward.
"I think [in the first half] we let them have to much of the ball and we didn't really lay a glove [on them] and it was about showing more spirit and picking the tempo up a bit. I think that's where we're at our best — when we play high tempo and we get after people.
"It's frustrating when go two goals down because, I think for me, we're capable of so much more and I feel like every team we come up against we can compete and we can beat them. So when we don't lay a glove early on and we let teams get away from us, it's frustrating.
"But I think the spirit we showed at the confidence to get back in the game, that's what we're about and that's what we need to show more of."
---
Reader Comments (118)
Note: the following content is not moderated or vetted by the site owners at the time of submission. Comments are the responsibility of the poster. Disclaimer
Michael Low
1
Posted 07/02/2021 at 04:31:03
Great come back! Well done!
Darren Hind
2
Posted 07/02/2021 at 10:16:27
After surrendering possession and initiative in a woeful first half where United threatened to run away with it, I was so relieved to see the manager introduce some rocket science to the game.
"We are losing 2-0 despite my caution and, if we don't try to retrieve it by getting more bodies forward, we will definitely lose this one"... Pure Genius!
Totally misjudged this guy. I don't think there is another manager on earth who would have come up with that change.
Kase Chow
3
Posted 07/02/2021 at 10:34:41
Team spirit is certainly on the up.
We're winning games away. We aren't phased by going behind and our players are putting in a shift for each other.
Obviously results help but it's like that old adage: the harder I work the luckier I get.
Carlo may be building something here...
Martin Mason
4
Posted 07/02/2021 at 10:46:06
Darren, sarcasm is the lowest form of wit. Not big and not clever.
Trevor Peers
5
Posted 07/02/2021 at 10:50:01
Great point after staring into the jaws of defeat. But Darren @2 is right in saying it was a woeful first-half performance, mainly because we didn't try to attack them and get forward. It doesn't take a genius to work out that we needed to get forward and attack, we did in the second half and got our rewards.
Overall, a great result but let's not kid ourselves, we didn't play well for long periods, giving the ball away far too often. Gary Neville was screaming that Richarlison was not receiving the ball in good positions on the flank, instead we passed back to the goalie, which was pretty lame, to say the least.
Bill Fairfield
6
Posted 07/02/2021 at 10:52:04
Good comeback after an abysmal first half; we couldn't or wouldn't pass the ball forward. Better belief second half, a game that mirrored our inconsistency this season. Got to be pleased with a point.
Eddie Dunn
7
Posted 07/02/2021 at 11:07:19
Martin, I have always resented that quote as sometimes I have found sarcasm hillarious. Also, the full quote is "Sarcasm is the lowest form of wit, but the highest form of intelligence." Coming from Wilde, I imagine it wasn't too serious in any case!
It was a strangely detatched first-half performance with Calvert-Lewin's late chance our only moment of penetration. I think that most of our team were in awe of our hosts apart from 3 minutes during the second half and a few minutes at the end.
Manchester United have some real attacking flair but remain vulnerable (much like ourselves) when they have to take the game to their opponents. Like ourselves and Leicester, they are better away from home, playing on the counter.
Tony Abrahams
8
Posted 07/02/2021 at 11:13:46
I was critical of Ancelotti because I thought Calvert-Lewin was ready to destroy Maguire but felt he needed a second forward up there with him, so he could go and isolate him and then take him into areas that he didn't fancy because I thought Dominic had too much for him last night.
I was happy with our start but frustrated with our midfielders, who were always looking for what I'd describe as nothing passes, when they had space to run forward and commit the opposition. This type of poor play is exactly what started the move for Man Utd's first goal.
Ancelotti described it as being shy. I always describe it as being brave, and that's exactly what Tom Davies was when he started the move for our first goal.
Get on the ball and be brave, Rodriguez never got into the game last night, but I'd pay to watch his first touch, especially the one just before he scored! (Arguably as good as the Fernandes goal imo.)
Mike Kehoe
9
Posted 07/02/2021 at 14:05:33
To be fair, Darren, both Martinez and Koeman said a few times they would not win games if we don't score more goals than the opposition.
That may well have been the sum total of their collective football knowledge but credit where it is due.
Carlo sneezed last week and the tissue is now blessed with more tactical acumen than Allardyce.
Danny Broderick
10
Posted 07/02/2021 at 14:08:42
Apart from City and Liverpool, there's not a team in the league who could go to Old Trafford and go toe to toe with them. They are dangerous on the counter and in attack with their pace and movement. And Fernandes pops up in any little pockets of space that appear.
The plan was clearly to keep it tight. We gave them a poor first goal – Keane losing Cavani – and then Fernandes scored a worldie. We obviously had to tweak it and the manager got it right. We then gave them a poor third goal, but the players kept going until the death. I loved it when that goal went in, I was jumping around the living room!
Players and manager got it right again last night. After a crap performance against Newcastle, we've had a good week. 4 points from Leeds Utd and Man Utd away is a good return. No need to go overboard, but I can feel us building something. Strange to say it after a game where we conceded 3, but I think generally we defend well. And we've got a lad up front who can score a goal. If we can get the midfield right, get Richarlison scoring again, we are heading the right way.
Rodriguez simply has to play for us. We don't have another player in the squad who would have scored the chance he did.
Jim Bennings
11
Posted 07/02/2021 at 14:36:49
Fantastic result, feels like a win and we have gone there last night and made teams see that we have a mental strength that was once not there.
I know we moan and criticise Carlo but I do think certain results we've had this season would only have happened because he's at the club, the mental toughness is apparent now.
The signing of the Godfather "Ben Godfrey" inspired and immense, arguably no better signing has been made last summer.
Doucouré has brought an energy we've lacked since Gana left us whilst James is an absolute luxury to have here and when fit, for me he's Number 10 every time he walks on the pitch.
Onwards to Wednesday anyway and here's to another huge night.
Thomas Richards
12
Posted 07/02/2021 at 14:44:27
Can't really understand the statements on how poor we were first half.
I thought we were the better side for the first 15-20 minutes.
Graham Mockford
13
Posted 07/02/2021 at 15:06:23
It appears we have a lot of posters who appear to view any game through the lens of their preconceived viewpoints and then proceed to make comments to support that purview.
Now that's inevitable to a degree, everyone has some level of confirmation bias but Jesus H – some could take the odd week off.
Andy Crooks
14
Posted 07/02/2021 at 15:10:57
Spot on, Graham. I just posted on another thread that I did exactly that with Pickford and Olsen.
Graham Hammond
15
Posted 07/02/2021 at 15:15:05
Truth be told, I felt Man Utd were there for the taking right from the start. They were not great at the back, we should have been more positive, more forward-thinking and passing and direct.
Richarlison was finding space on the left and was not being used or found, having made the effort to leave his markers. Calvert-Lewin should have been pinning himself back on their last defender a lot more than he opted to.
There was not enough forward passes and brave running from the Everton lads, not enough belief basically, too much about containment. We have a good squad (which we all want to improve further) and good players; they need to believe in themselves a little bit more and show more drive and desire to get forward and take the game to the opposition.
I think we can all accept defeat a little bit easier if we see the lads have left it all out there. In this league, there are no easy games, you have to make it happen; if you don't, then you get a Newcastle!
Steve Brown
16
Posted 07/02/2021 at 15:25:11
Agree Graham @ 13, it is really quite boring to read. So it must be even more boring to write.
Fran Mitchell
17
Posted 07/02/2021 at 15:26:19
Agreed Thomas: the first 20 minutes were very positive, we held and moved the ball well, we tried to attack (although created few chances). James was quiet and struggled to make an impact.
Then Utd started to gain more control (as can be expected), and they got a goal due to poor defending. The goal spurred them on, and we receeded into our shell a little. Then Utd went 2-0 up with a worldie, although we made it easy for him.
At that point, we mostly expected our confidence to crumble and another hammering at Old Trafford beckoned.
But we came out positive, with intent, and a belief we could get back in the game: and we did.
It was partly due to the tactical shift, and moving further forward, but also Utd were taken by surprise. They expected a defeated team to come out, but it was something different altogether.
2 quickfire goals and the complexion changed.
Utd managed to regroup and get control again after that, but rarely threatened.
A lucky goal seemed to steal the game for them. But we never gave up and had more of the ball than we're being credited with.
Thoroughly deserved the equaliser.
Was an excellent performance and result that previous Everton's wouldn't have got, it is a result that we can give us confidence for the next games and out ability to really achieve something this season.
Graham Mockford
18
Posted 07/02/2021 at 15:27:02
Andy,
It's as though, if you've criticised Pickford, which I did after the Leicester game and said he needs replacing, then you can't say Olsen was at fault for the third goal – which he quite clearly was.
I mean I actually read that, because he slipped, he was blameless and it was some unfortunate accident – as though being able to remain on your own two feet is not a requirement for a Premier League goalkeeper.
Darren Hind
19
Posted 07/02/2021 at 15:43:00
Some funny comments in here once again.
The manager had to make adjustments when he realised he had gotten it wrong in the first place. Yesterday, Ancelotti set his team up paying far too much respect to Man Utd... It really is as simple as that.
All managers change things when their plan isn't working... If you don't admit to yourself you have gotten it wrong, you won't feel the need to change things and you will get twatted. Keep doing the same things and you will get the same results... It would appear as if it is rocket science after all.
If people want to whine and bleat that opinion other than their own is boring, they may want to consider the effect their relentless happy clapping has on people who call it as they see it.
The object of their sycophancy gets credit from all when we play well and win That's called fair-minded balance.
Graham Mockford
20
Posted 07/02/2021 at 15:51:50
People who disagree with me are happy clappers.
Fair-minded balance...
Er.. right oh.
Thomas Richards
21
Posted 07/02/2021 at 16:03:49
Fran,17
Agree with all of that.
We started out the better side. It was Solskjaer who changed his tactics as a result of our start. Credit to him, it got him his two goals
Carlo, as a result of Man Utd's switch, changed his tactics. Credit to him, it got him his two goals.
And your right. Previous Evertons would have lost the game. Not this Everton. He has given them a fighting spirit we haven't had for many years.
Kieran Kinsella
22
Posted 07/02/2021 at 16:15:09
Trevor,
Darren's so-called great point isn't supported by yours and Neville's at all. Yes, Richarlison was in space crying out for service. Do you not think he was in that position as a result of our tactics?
The issue was not the manager – it was the failure of the players to execute the plan. As he stated, the players were "shy" about playing the ball forward to the likes of Richarlison as instructed.
Nonetheless, we were the better team for 20 minutes and Calvert-Lewin should have scored right before half-time. Due to the failings of the players, we fell behind and Carlo adapted tactics to address their failings. We then got the point the manager deserved, Tom and Gomes deserved... some others maybe didn't.
Ian Bennett
23
Posted 07/02/2021 at 16:15:20
The first goal was awful. No pressure on the cross, stay at home goal keeper when Cavani heads in from 2 yards, and Keane & Holgate not tight enough to Cavani. At any level, that was dreadful.
2nd goal is great technique. Davies got sold on a dummy cross, and Fernandes quick thinking puts in a shot. A top class keeper doesn't get beaten from that angle.
Third, I ain't a goal keeper coach, but I am guessing there will be a criticism of his footwork that promotes the slip. A poor goal, could be footwear, bad luck or poor technique.
That said De Gea was no better. Doucoure's goal is a howler, and the third isn't much better.
What did we learn? Shit keeping.
Jay Wood
[BRZ]
24
Posted 07/02/2021 at 16:16:43
In the numerous post-match interviews both Carlo and Dom were called on to give, they repeated the same message:
Carlo was happy with how the team played in the first half, but that the team were 'too shy' and played backwards, rather than forwards. NOT what he wanted from them.
('Shy' in Latin languages is translated to 'timid'. THAT is what Carlo meant. That our play was too timid, rather than courageous).
One of the biggest culprits in that was our wizard Colombian.
Carlo asked the team to trust more in the qualities he believes they have. They did just that in the 2nd half and very quickly got level as a result.
Dom confirmed in his own interviews Carlo's words. That he had asked them to trust in their qualities and play forwards more.
The quality that United have meant they also came back at us. But the spirit that Carlo has also asked the team to harness to the qualities he believes his team have (more than some of the players, perhaps) shone through again and we deservedly picked up a point from one of our main rivals.
No need for 'fair minded balance'. Just to be attentive (and honest) in how the game played out and what the manager and his player said about tactics and the performance.
Darren Hind
25
Posted 07/02/2021 at 16:17:05
No Mockers. People who refuse to accept this manager got something wrong are the happy clappers.
Carlo accepts he got it wrong. That's why he changed it. You don't understand that???
Carlo has hardly been murdered here. the criticism is of the mildest variety, because he rectified his error.
You and others are doing what you always do. Patrolling threads, looking for the slightest sign that somebody may want to question the manager. That is what makes you a happy clapper.
It's not the manager's fault, in fact, I think this relentless pursuit of any form of criticsm would have him squirming in his seat.
People attacking other posters for crticising any voicing their honest opinion forfeit the right to bleat when it comes back over the net.
Wanna see an end to the term "happy clappers"? Then stop attacking.
No attack = No retaliation.
Jay Wood
[BRZ]
26
Posted 07/02/2021 at 16:22:07
'Wanna see an end to the term "happy clappers"? Then stop attacking.
No attack = No retaliation.'
Got it.
Passively accept Darren's view on all things Everton as the definitive one, rather than 'think for yourself' and offer a contrary opinion.
Convenient.
Thomas Richards
27
Posted 07/02/2021 at 16:29:23
Reckon the headline at the top of the article gives you everything you need.
Dale Self
28
Posted 07/02/2021 at 16:36:06
For the record, Darren, I respect your views and don't want you to feel attacked by one of my responses. It may come off as pissy sometimes but I do try to focus on the statements. Too many times I've found myself joyous in agreement with one that I got weird about on another topic.
Graham Mockford
29
Posted 07/02/2021 at 16:36:48
Oh Darren
A classic post. It has all the elements that has become your hallmark on here.
1.We start with the passive aggressive nickname. You know the one you have created. No one bar you has ever called me Mockers. Mocky, Scouser, Fucknuts all work. I'm struggling to remember that other feller who likes to give anyone he's debating a nickname. Never mind it will come to me.
2.Then we move onto the straw man.
Carlo accepts he got it wrong. That why he changed it. You don't understand that ????
Of course I've not proffered an opinion on the subject, whether Carlo got it wrong or not. I didn't even think it was a particularly important part of last nights discussion. I made a point of some people viewing every game and incident through the lens of their own confirmation bias.
3. We then move onto the egotism. You assume the post was aimed at you. Well it wasn't in particular but as they say if the cap fits
4. And as often we finish with the machissmo. Attack and retaliation. Really ?
Other than that I really enjoyed your post

Brent Stephens
31
Posted 07/02/2021 at 16:38:30
So we're all agreed? No attacking - no retaliation. Rules of engagement. It would also help to address the substantive argument and not denigrate the poster - ToffeeWeb Conditions of Use are explicit about ad hominem.
Darren Hind
32
Posted 07/02/2021 at 16:38:35
Oh dear
There are dozens of threads on this site, but the Baying hadfuil all gravitate to this one again...Wonder why ?
I guess Carlo is getting a free ride on the other thread, Anyone offering a counter argument will be too afraid to post it, for fear of the baying handfull But I guess thats the whole purpose of this packing hunting. Isnt it.
"Free thinkers" Lol. Dont try to put yourself in with the intelligent posters which make this site worth coming to. You are about as free thinking as the Stepford wives.
Read what the guy says...He talks about standing off to much. He talks about allowing them to have to much of the ball. He talks about not getting after them. He talks about pushing more bodies forward in the second half.
Perhaps he's lying. Perhaps he doesnt really belief we are good enough to compete with anybody. Or maybe has just had a good look at United's defence and goalkeeper...And wondered what might have been had we gone for them from the off
Brent Stephens
33
Posted 07/02/2021 at 16:44:37
Oh well, I tried.
Graham Mockford
35
Posted 07/02/2021 at 16:54:12
Dale & Brent,
I hate to be the one to tell you, but Darren loves a row. And now the pubs are shut he's got to get it out of his system somehow.
And he's not the only one, of course.
Trevor Peers
37
Posted 07/02/2021 at 17:44:34
Kieran#22
Don't really know what your point is. My only concern is about wanting the blues to play attacking football when they have the opportunity, which they did at OT. We were very poor in the first half, I think everybody but a blind man could see that.
It's not the first time this season we have took an age to get going and it won't be the last. Your other concerns though seem to lay somewhere else, which are of no interest to me.
Michael Kenrick
38
Posted 07/02/2021 at 17:53:52
As Thomas said, we played reasonably well for the first 23 minutes, in a pretty even opening to the game. This idea suggested by someone that "Carlo got it wrong" is total nonsense.
Doucouré got it wrong.
He gave away the ball in midfield, in our own half, just a soft sloppy giveaway and, before you know it, that cross is swinging in onto Cavani's head. And it's Cavani's head that is in the one location in space it needs to be to convert. Keane could not be there, he's a yard or two in front and not tall enough for the unique trajectory of the ball. Holgate was also not in a position to deny Cavani without taking him out and conceding a penalty.
It's that moment which completely changed the game. Everton shrank into their shell, became timid and did nothing with the ball. Fernandes pulled off a brilliant finish and the rest of the half was simply horrible — especially another wasteful miss by Calvert-Lewin at the end.
Somehow, Carlo got them playing differently just a few minutes into the second half, as explained by Dom. Two goals quickly achieved. But why not go on and get three or four? Well, they simply couldn't. But it seemed Carlo's guidance had got them back in the game from a virtually lost position at the end of the first half.
But let's get it straight: only the 50% of that first half was poor. The first 50% looked like building a decent foundation for the rest of the game... until our hero Doucouré fucked it up for us, and the rest of it turned to shit.

Bill Gienapp
39
Posted 07/02/2021 at 18:10:31
"All managers change things when their plan isn't working..."
To be fair, I'd argue this is exactly why Marco Silva lost his job (Roberto too, to an extent)... a fundamental inability to recognize what wasn't working, or to change it.
Tony Abrahams
40
Posted 07/02/2021 at 19:24:30
I disagree Michael, because although we had been neat and tidy, before United's first goal, I think that translation what Jay provided, definitely summed it up. Well it did for me anyway.
Our Passing was crisp, and our movement playing in little triangles was also very good, but football is also about working the opposition, by going forward when you get the chance. I thought the first time one of our midfielders really played with purpose, by fetching and carrying the ball forward, it helped create our first goal, and if we'd done this earlier I'm not sure we would have fell behind?
Graham Mockford
41
Posted 07/02/2021 at 19:28:25
Michael #38
Yep Doucoure made a bad pass, it was a mistake that led to a goal.
Of course he then scores one and assists another to get us level. 'Our hero, Doucoure' I'm not sure anyone has ever used that phrase but for the record, he's been a pretty decent signing.
And then we come onto your current obsession Calvert-Lewin. He missed a good chance for sure, regardless of whether it would have been chalked off through VAR. He did of course win us a point with a last gasp finish. Another goal... is that 16 or 17 I can't quite keep up.
Confirmation bias anyone?
Ian Riley
42
Posted 07/02/2021 at 19:56:31
I actually think we looked scared to attack in the first half. The passing and movement was good but more of a training exercise. Allowing time to cross balls in was my biggest concern. This has to be looked at.
The positives is the belief to keep going and when we did attack we caused problems. The first time under Carlo we showed real desire and urgency to get a result in the second half. We must start better though!
Overall a pleasing weekend. Take care all!!!
Michael Kenrick
49
Posted 07/02/2021 at 22:38:23
Yes, Graham, 'Our hero Doucouré' because he recovered from that error (may have been his only one all game – I wasn't counting) to not only score our first goal but set up our second with that excellent cut back to Rodriguez.
Now there's a player who knows how to hit a ball properly. Yes, confirmation bias. I've always thought he could – and that's what he did on Saturday.
Bobby Mallon
50
Posted 07/02/2021 at 22:57:38
Darren Hind @19 – you talk bollocks. He set them up in the first half the same as the second. The players just did not do what they were told. You could see quite clearly Carlo having a go at Rodriguez and Doucouré and Davies when Richqrlison made his runs and he didn't get the ball. Just watch the game and listen to Neville say exactly what I'm writing.
Graham @18, he slipped, you can say he messed up for ever and a day but he slipped. If he did not slip, he saves it.
Darren Hind
51
Posted 07/02/2021 at 00:06:02
Oh dear... They're arguing among themselves now. The only thing they agree on is the manager is blameless and we went behind because the players didn't carry out his instructions... But isn't that always the case? It's never his fault... No wonder he loves it here.
You guys do understand the object of this footy lark? You are meant to get the ball in between the sticks at the end of the pitch, preferably the opposition's... And although there are very rare exceptions, you generally have to go into enemy territory to do that. You have to be brave and venture forward... generally in numbers. You have to come out and play. Neat little triangles in front of the opposition have never once won a game... not once,
In this so-called slick first 20 minutes, we (as Calvert-Lewin tries to explain to you) "never laid a fucking glove on them".
I saw Man Utd spar with us in the first 20 minutes then step up a gear. They took the lead and spent the next 25 minutes enjoying almost total possession. Not until around the 45th minute did we even threaten.
Most supporters would have seen how poor their defenders and goalie were and thought "I wonder what would have happened if we had shown a tad more ambition?" Not ours; they prefer to rejoice in the fact that we didn't concede until the 20-25 minute in a 45 minutes which was played largely in our half.
He changed it alright. You heard that much straight from the horse's mouth. Not for the first timr, he went with a cautious approach and, not for the first time, did we see our team come out and play because they had been forced to chase a game. If you didn't see that, I can't help you.
The guy who gave the interview told us we had to "Get back into the game and push a few more bodies forward"... why the fuck are you arguing against that? You saw it!
"I think we let them have too much of the ball and we didn't really lay a glove."
So, once again, it was the players' fault that they couldn't make the manager's initial cautious approach work, but the manager takes all the credit for letting a few off the leash to chase the game? Honestly, I sometimes have to read this apologetic pap twice just to be sure I read it properly.
Mind you I'm glad I made that innocuous first post. Without it, the usual suspects would not have gotten themselves so bent out of shape – again – and where else would I have found out that "Shy" in Latin languages translates to "timid"?
Fran Mitchell
52
Posted 08/02/2021 at 01:08:11
Christ. Every thread the same boring 'debate' takes over. Really tiresome.
Would love a more nuanced debate about things. But no, it all comes down to this simplifying debate of 'manager shit vs manager not shit' ad eternum with a few insults thrown in between.
I don't even get involved, but it's bloody boring to read and it's every effing thread.
Shame.
Don Alexander
53
Posted 08/02/2021 at 01:25:27
Dazza is at it again folks. As usual his conceit and churlishness come to the fore in denigrating Carlo despite the statement of Calvert-Lewin, a player Dazza otherwise rightly lauds ad nauseam, who points out what any objective viewer could see.
Had Dazza been commenting on the 1966 Cup Final, I suggest he'd have lambasted Catterick for a first-half performance against a near-relegated team who horribly went in one-nil up, then gone overboard on the impact "one-of-our-own" hitherto ignored but "surely-soon-to-be-legendary" home-grown players had had "if only Catterick trusted him" (Trebilcock), before Catterick's reputation was "just about salvaged by a lucky cock-up" by one of Wednesday's defenders, allowing Temple to do the business.
I reckon the legendary Eddie Kavanagh would've wondered who Dazza is, being of a different breed.
Derek Thomas
54
Posted 08/02/2021 at 01:35:51
I don't think Ancelotti is doing a bad job, just he could maybe do a better job.
A tad more adventurous job. But I also know it's a fine line in the Keegan / Newcastle / throw out the KITAP1 baby with the attacking bath water manner too.
He's the one who gets the sack, not me, if he gets it wrong in a bad way...I just get seriously pissed off.
Fine Margins etc. and there may even be a case to be made for thinking we've just come full circle back to a better class of Italian Moyes and all he needs / ever needed to do, was take the handbrake off a little.
Mike Gaynes
55
Posted 08/02/2021 at 02:55:34
Kieran #22, spot on.
Graham #29, I had the same reaction.
Darren, just because the original plan isn't working doesn't automatically mean the manager got the plan wrong in the first place.
It might be.
But it might also be because the players aren't executing the plan properly.
Or it might be that the opponent is doing something different.
Whatever the case, it's obviously the manager's job to change the plan at that point. Which Carlo did. To superb effect.
But you've no time to discuss the actual merits of the question, because you're too busy describing folks who disagree with you as whining, and bleating, and happy clapping, and sycophantic, and baying, and apologetic, and... and... and As if insults and derision and dismissal will bring them around to your point of view.
But then, that isn't really the point, is it?

Ian Jones
56
Posted 08/02/2021 at 05:08:06
So far this season, out of 8 games against the so-called top 6 plus Leicester, we have won 4, drawn 3 and lost 1 playing a variety of styles and tactics. I appreciate we have lost against some of the lesser teams but I think we are heading in the right direction.
I just hope we turn up at Liverpool later this month. I feel a win there would set us up for the run-in.
Danny Broderick
57
Posted 08/02/2021 at 05:33:31
Darren,
I don't think you understand football. There's only Man City and maybe Liverpool (?!) who could take Man Utd on at their own game at Old Trafford. To put it bluntly, if we'd been more adventurous, we'd have left more space for their pacy forwards and Fernandes. It would have been suicide.
Of course our plan was to keep it tight first half. This was the same plan George Graham used when Arsenal won the league at Liverpool in '89. They played cagey first half despite needing to win by 2 goals. They duly delivered second half and the rest is history.
They scored, the plan has to evolve. Does that mean Carlo got it wrong? Of course it doesn't. They score a worldie to make it 2-0, does that mean he got it doubly wrong? Again, no. But now we need to get after them cos now we are not in the game.
Thankfully things went our way, but you don't do yourself any favours by being so fickle; giving faint praise when we win, and throwing your dummy out of the pram when we lose. You're up and down like a whore's knickers mate. You just make yourself look silly.
Mark Murphy
58
Posted 08/02/2021 at 07:29:41
"Darren,
I don't think you understand football. "
Ooooooo
Pours drink, lights cigar and gets comfortable.
Steve Brown
59
Posted 08/02/2021 at 08:04:20
Let's get back to the tactical set-up, so we can get to a more interesting discussion.
What I saw was: a) James sat behind the two forwards; b) Gomes and Doucouré pushed up wide on the full-backs to try to pin them back; c) Man Utd then began to channel the ball inside and committing men to over-load us through the middle; d) James had to drop in and chase back more than we'd like.
Early in the second half, Ancelotti made a tactical adjustment to build upon his half-time comments to play more progressive forward passes.
Did he get it wrong? I don't think so. Solskjaer adjusted his tactics after 20 minutes of the first half to counter-act our tactical set-up and Ancelotti responded shortly after half time.
As Bill @ 39 comments, it was a fatal weakness shared by Silva and Martinez that they dogmatically stuck to their tactical philosophy and team set-up when it was evident in many games that it was failing. The crowd could see and their refusal to adapt drained their credibility with supporters.
We have a pragmatist in charge now, and thank god for that!
Steve Shave
60
Posted 08/02/2021 at 08:05:18
I agree with Fran, the debate is tedious and much more about personal grudges than efforts to form constructive discourse about all things EFC.
Eddie Dunn
61
Posted 08/02/2021 at 08:06:22
Ian, that is true but over the years I have been flummoxed by us raising our game for one of the "so-called" big boys, only to watch a half-arsed performance in the following game against "so-called" minnows.
Wonder if we will give Fulham a pasting or produce another performance like the Newcastle one?
Thomas Richards
62
Posted 08/02/2021 at 08:35:12
Just to put the argument to bed.
"I said to the players [at half-time] in the first half I think we started well. We were in good control but we lost the opportunity to cause more problems up front because we started to pass the ball backwards.
"And I said to the players, play with more courage, with more intensity, with more belief and that's what they did in the second half."
Trevor Peers
63
Posted 08/02/2021 at 08:36:50
I agree, Steve #59.
Let's get back to the tactical set-up. We all hope, when we play Spurs on Wednesday, that whichever team is picked, they are going to be at it right from the first minute and not pass the ball backwards for 30 minutes, giving the opposition the initiative.
Quite how Carlo gets the message over, I've no idea but that's been our modus operandi in most home games this season and Spurs with Kane and Son in harness will destroy us if we don't press them hard from the outset.
Bobby Mallon
64
Posted 08/02/2021 at 08:47:03
Man Utd have lost 4 times at Old Trafford. Arsenal, Spurs, Palace, Sheffield Utd. They drew with Man City, Chelsea, and beat Liverpool in the FA Cup.
I'm very happy with our 3-3 draw and a point.
Brent Stephens
65
Posted 08/02/2021 at 08:58:16
Steve #59 "Did he get it wrong? I don't think so. Solskjaer adjusted his tactics after 20 minutes of the first half to counter-act our tactical set-up and Ancelotti responded shortly after half time."
Steve, that's a really good point. I think you've added something to the debate. It was a game of cat-and-mouse from the start.
Bobby Mallon
66
Posted 08/02/2021 at 08:58:20
I think Carlo will make 3 changes Wednesday. Pickford (if fit) Coleman for holgate, king for Richy and sigi for Rodriguez.
Bobby Mallon
67
Posted 08/02/2021 at 08:59:45
Make that 4 😂😂
Graham Mockford
68
Posted 08/02/2021 at 09:07:54
Bobby
I'd be surprised if Mina doesn't play
Derek Thomas
69
Posted 08/02/2021 at 09:25:42
Trevor@64; not that I condone it at all, perish the though, etc. But I have 2 words going round my head...Ankles, Kane and if anybody wants to stick robustly to Son every now and again, that wouldn't be the end of the world either.
Thomas Richards
70
Posted 08/02/2021 at 09:34:03
Derek,
I had exactly the same thoughts, but added one more word.
Godfrey
Graham Mockford
71
Posted 08/02/2021 at 09:44:09
I'm not sure Kane will play. Jose said he would play only one of their two games this week. Us and Man City. Seeing as he played yesterday if I was a betting man I think he'll save him for the weekend.
Trevor Peers
72
Posted 08/02/2021 at 09:53:50
Bobby #66
King is cup tied unfortunately, otherwise it would of been good to give Richarlison a much needed rest.
John Tierney
73
Posted 08/02/2021 at 10:05:48
Darren, I agree with your assertion about how we are playing for large parts of many games, negative, defensive, trying to keep it tight and seemingly inviting pressure. I disagree however that it's a deliberate tactic all of the time from Ancelotti.
So if I may, without being accused of 'Piling in', offer my own view on that game in particular?
I saw us set up and start the game quite positively, admittedly, without looking all that dangerous but we were playing some neat and tidy stuff and like a team ready to take the game to an in-form and dangerous united team.
I saw us pass and move more than we have when we turned over possession, the man winning the ball, moving forward after playing the first pass instead of what we infuriatingly often do - staying static for another sideways pass back across or back to the 'keeper, in 'triangles' as mentioned and scoffed at above.
I saw us playing a 433 with Ritchie wide left and DCL much more to the right than we are used to, playing 'split strikers' I think he (DCL) called it post match and Neville called it a midfield diamond in-game. It was obvious to me that it did create the intended space especially for Ritchie but the team was 'too shy' (Carlos words) in getting it forward to him for whatever reason - maybe they weren't confident he could do anything with it given his recent form (as an aside, I think he is showing small signs of getting his mojo back in the last two games)
United, being a side full of quality adapted and exploited the fact we weren't finding our out balls, pinned us back and scored from a superb delivery finished by a world class forward - We could debate if more could have been done or not all day. Their second in my opinion was a worldie, compared by commentators to one of Cantona's famous goals but 'hit more ferociously'. Again we could debate who and what could have been done better but that's for another essay.
The point I'm getting to here is that we are not always deliberately inviting pressure and daring teams to score against us, I think much of the time we just don't know how to get out. Having the option and 'courage' (Carlos word) to find that out ball is key. I think too that we could be a lot 'cuter' when we are under that type of pressure, instead of just launching it forward in the hope DCL can make it stick all on his own, or often to no one, we could be trying to win the foul or playing it out off one of theirs for a throw in so the whole team can move forward ten yards.
We are still a team composed of several managers' acquisitions and I'm sure you'll agree on this point, Ancelotti is getting a better tune out of many of them than they did.
I believe he is sowing the seeds of recovery from the rot that set in when Martinez and his philosophy were forced upon us, compounded by the hapless but likeable Silva, odeius Koeman, the stain of Allardyce and all of frivolous spending that went along with that manager merry-go-round.
Its obvious you have one or two posters who agree with you and many that do not - I don't know how much history there is on here regarding this or any other debate, but it's looks like it's turned into a personal battle for you. Certainly for me, your opening post wasn't innocuous as you suggest.
I've wondered if you are just on the wind-up and I wasn't going to comment, as it does seem you are looking for the row, I won't give you that. What I have given is just my own personal view of where we are.
I know your position on the matter and I've stated mine. I hope you don't class me as 'part of the pack, a Carlo apologist or a happy clapper' and as such, I'd be interested if you have any thoughts directly related to my comments that don't involve hyper-aggressive defences of your view?
Sorry for the massive post peeps!
UTFT
Conor McCourt
74
Posted 08/02/2021 at 10:13:09
Personally I thought the Pogba injury was the turning point. He was totally running the game. Tom and Andre were really good first in terms of discipline, competing and keeping possession but Doucoure looked a little out of his depth as his lack of quality showed. The Frenchman continually forced us on to the back foot with his quality and continually fed Fernandes and Rashford.
Second half Tom in particular was able to drive into the midfield while Doucoure began to show his power and athleticism. As great as athletes and industry as McTominay and Fred have they weren't able to control the game as Utd did first half. We won the midfield battle second half as Gomes was the classiest player in there controlling the tempo while the outstanding player on the night Tom Davies was the bravest midfielder on the park, driving us forward, key to our goals and played with great football intelligence.
I doubt we would have proved capable had Pogba been stayed on.
Brian Harrison
75
Posted 08/02/2021 at 10:42:52
I think its worth bearing in mind that Richarlison for some reason has been off the pace for months, DCL has come back to form in the last couple of weeks and Iwobi plays a good game 1 in 5/6. So to not have your main forwards firing and still be in the mix is no mean achievement. Now the positive way to look at it is if Richarlison gets back to the player he was a couple of months back and DCL puts chances away, then we could actually do something this year.
Regarding the Man Utd game Carlo said he didnt change his tactics at half time, but suggested he encouraged the players not to be so shy in the 2nd half. He was probably being very kind I think he wanted them to be more positive when in possession, which they did in the 2nd half.
Dave Abrahams
76
Posted 08/02/2021 at 11:04:30
There is a mush mash of opinions on this thread, ToffeeWeb at it's best and knowledgable as usual, because there are bits of truth in most of them and and all the the different points of view make for great reading and the observations make you agree, disagree or you see something you never noticed while watching the game and you learn from that.
My own opinion was we started well without looking dangerous in the first twenty minutes, Pogba going off made a difference, he was playing very well and switching the play from side to side, working his teammates well, Everton's midfield wasn't bad, but they never ran with the ball, drawing players out and then using their passes, too shy, not brave enough? They did it a bit more in the second half but we never had control of the game, even when we surprised and upset United with our comeback, just retreated or were forced back by United recovering their momentum and being on top until we finally started having a go, with Ancelotti's attacking changes making United retreat more and we grabbed that brilliant equaliser.
Anyway a satisfactory result for all of us on the day, the team and squad are evolving and we will improve as the squad gets stronger and hopefully better, I hope we are all back in the ground when that happens, don't think ToffeeWeb can get any better, I think it provides something for everyone, I enjoy it, every day, some days more than others, never miss reading it.
Tony Abrahams
77
Posted 08/02/2021 at 17:28:30
So what have we learned? Is it fortune favours the brave, or is it that belief is key? Two subs, both played wide, one lost it quite often, but got us a free kick that lead to our equalizer, by at least trying to have a go, whilst the other never tried to get into the game, and looked to lack a bit of confidence, which is probably the real key to success? The name of the game is confidence, and hopefully clawing ourselves back into Saturday's game, gives some of our players more belief!
Darren Hind
78
Posted 08/02/2021 at 17:49:09
Danny Broderick
I'm so grateful you decided to educate me on matters football by informing me that only The Shite and City are capable of going to Old Trafford and competing at Uniteds level.
Only I'm a bit confused by the sheer depth of your knowledge. There is something my brain cant take in. Maybe you could help me out and educate me again.
Maybe, you can explain why teams like Palace, PSG, Spurs, Arsenal and Sheffield United were all able to go there and twat them.. . If OT is really such a fortress, why did these teams all win there Scoring a combined total of 15 goals in the process ?
I'll make a trade off with you Danny. You explain to me why run of the mill teams can win at this fortress... And I'll have a really good stab at explaining the difference between football knowledge and expectation management. No promises mind.
Mike
Really ??? I face personal accusations on an almost Daily basis from the same group of people on this site. Do I think they are real accusations ? That people actually belief them when the level them ? Na do I fuck. I see them as ever increasing attempts to shout me down - doesnt wash.

You complain when I push back against this abuse with my own sweeping if-the-cap-fits responses ? What do you expect ? Do you think I should be giving this group free swings ? An open invitation for them to attack. simply because I don't agree with this endless expectation management ?
You claim I don't discuss the subject, Are you sure about that ?
The thread is about DCL's comments and as far as can see I'm the only one who hasnt avoided directly quoted him.
There is one inescapable fact here. Carlo waited util half time when we were 2-0 down before asking his players to be more positive...Why not just do it from the off ? This United team was/is/has been demonstrably there for the taking...but only if you have the guts to go and do it
Jamie Crowley
79
Posted 08/02/2021 at 18:02:02
I think the game can be summed up in five parts.
Good.
Lacked bravery and initiative.
Fantastic.
Too much respect to opponent.
Guts and never say die.
Games always ebb and flow. This one was no different. I know that is simplistic, but for me it's really just that elementary.
Those ebbs and flows will become exaggerated when playing a quality side, and Man U is no slouch.
The key moving forward will be to limited the in-game downswings and adjust accordingly. Especially seeing some of the games coming up in February.
I'm certain Carlo recognizes this and will be pleading with the players to work tirelessly for 90 minutes. He will also, hopefully, be very proactive when he sees us losing a foothold on the game and losing momentum.
Thomas Richards
80
Posted 08/02/2021 at 18:14:40
Jamie,
If the lads had listened and followed Carlo's instructions from the first whistle we may have got the three points.

Jamie Crowley
81
Posted 08/02/2021 at 18:27:10
Thomas I agree 100%. However, my reaction at the end of the first half was, "We weren't THAT bad, we just stopped having a go."
Second half we came out and simply took the opportunities to go at them, instead of stopping, thinking, "that may not come off, better pass it back and keep possession."
And that's one of the lessons of this game, for me. Possession is an important statistic, when you're playing a certain way. But if you concede possession and look to catch the opponent too forward / out of shape, it can be a deadly tactic. Leicester won a title doing exactly that.
There's nothing earth-shattering stating the above. It's general football knowledge. But, for me, there are certain games that illustrate different tactical aspects. Saturday's game was one of those games.
And finally, in what can only be defined as a rambling post, Carlo is doing exactly what he needs to do. He's surveyed his team and the talent they have, and he sets us up accordingly to the game at hand. He doesn't try to "out-think the room." And he will adjust his approach for every opponent and every game.
That is SUCH a breath of fresh air for me. Every single manager in my Blue life has had a system. Moyes, Martinez, Koeman (just a dumb-ass), Big Sam, Silva. None of them looked at their squads and adjusted to their strengths the way Carlo does. Every one of them had a "system" and charged the players to play said system. Carlo adjusts his players, system, formation, all of it, to the opposition with what he thinks gives Everton the best chance to win the game.
And that is why, for me, he is far and away the best Everton manger in my time.
Thomas Richards
82
Posted 08/02/2021 at 18:34:32
Great post Jamie.
I agree.
Best since Howard Kendall
Jamie Crowley
83
Posted 08/02/2021 at 18:35:53
I'm eating lunch presently, cracking through TW, so one last thing regarding the Darren vs. the world dynamic.
Much, MUCH, of what Darren says has a hell of a lot of merit. Some, SOME, of it can be taken to task.
One thing I appreciate is Micheal and Lyndon not jumping in and editing, letting the conversation go back and forth and flow, despite some of the "downward trending" comments / insults. [Insults is a strong word, insert synonym if you prefer]
Both Darren's comments and rebuttals make me look at two sides of the coin. That can only be defined as a good thing. Appreciate contrarian posts, they make you think.
I wonder how Darren's comments would be viewed if DCL didn't score that last-kick-of-the-game, roof-just-came-off-the-house celebratory goal?
That's my take on it anyhow. While I'm plenty optimistic and happy, there's a massive critical argument hanging in the void that needs to be discussed. And it is. Good. Thank you, Darren.
Back to work.
Jamie Crowley
84
Posted 08/02/2021 at 18:38:52
Oh, and, if you disagree wholeheartedly, "pull a Godfrey".
FUCK OFF!
😂
David Hayes
85
Posted 08/02/2021 at 19:33:29
To knowingly and purposely attract negative reaction, then sit back and wait for it, claiming to be the victim of a baying pack, and then getting away the subject and into a slanging match dispensing derogatory shit stirring platitudes, whilst claiming being shouted down at every turn on every thread, then back tracking just enough to evoke some sympathy and appear wounded but steadfast. Every time on every thread. Now there's some real tactical nouse, what the point of it is, but it works over and over again. Look it even got me drawn in and I don't care.
Tony Abrahams
86
Posted 08/02/2021 at 19:45:47
Very big point that Jamie, about what the reaction would have been like if Lewin, hadn't scored at the end.
That goal most definitely changed a lot of people's views, although listening to Ancellotti, describe his players as shy/timid, made a lot of sense to me.
Good players attack space, look at the difference when Davies done this to start the move for our first goal? And if Everton are to evolve I'd say this has got to become a feature of our play, because good teams always attack and exploit space?
Agree Carlo, is a man, who sometimes looks at his players, before he concentrates on the system, but sounding like a scratched record, I wish he'd concentrated on United's weaknesses, and gave Lewin a partner to go and destroy McGuire on Saturday night, but would this have given our midfielders the confidence to stop being shy!
Tony Abrahams
87
Posted 08/02/2021 at 20:02:39
Carrying on, it's clear that Carlo Ancellotti's biggest job is to change the mindset of the whole team. Last week he questioned the spirit, the next week he's questioning the belief. Last week I read it as the manager saying, you're not as good as you think you are, (unless you work hard) and this week I read it as, you're better than you actually realise, (but won't ever prove this, unless you believe in yourselves more?)
Maybe Jamie's right, maybe I should do what Godfrey said and fuck off, just as long as Ancellotti doesn't, because if he does get through, we might just find we've got a proper team🤞
Thomas Richards
88
Posted 08/02/2021 at 20:07:18
Tony,
Decades of accepting second best has seen us indoctrinated with a "plucky little club" mentality. Best of the rest champions. Takes time go get out of it, I'm sure we will with this lad in charge
Tony Abrahams
89
Posted 08/02/2021 at 20:10:07
I hope so, Thomas, seeing is believing but, where Everton's concerned, I've never ever lost my belief!
Ian Bennett
90
Posted 08/02/2021 at 20:19:20
I'd love to know if it's the coaches or players that drive the strategy of going back to the keeper, rather than progressing forward or even playing a channel ball.
It's been going on for years.
Dave Abrahams
91
Posted 08/02/2021 at 20:34:21
Jamie (83), I think you would make a very good fair referee.
David (85), I doubt very much Darren would evoke or entertain any sort of sympathy.
Martin Mason
93
Posted 08/02/2021 at 20:40:57
Absolutely correct Jamie@85. Any one sentence of what you say exceeds the total understanding of EPL football of some of the negative posters on here.
Mike Gaynes
94
Posted 08/02/2021 at 20:52:20
Tony, Jamie, Conor, John and Steve B all make interesting points regarding the back-and-forth of the tactics in the game. I'd like to add one more point -- to me, our sharpness early on was down to quick passing, most specifically keyed between James and Gomes. It was ping-ping-release, ping-ping-release, and it looked great.
And about 20 minutes in, Ole responded by having McTominay step up and play between them. Fernandes helped with pressure as well. And when James and Gomes couldn't readily find each other anymore, we stopped moving the ball so well out of the back and the first half turned dismal.
Carlo's change shortly after the break opened things up for us again -- first and foremost for Davies, especially for the attacking pass that Tony mentions at #86, but also for Doucouré's pass to start the next attack.
Dave #91, I think Jamie as a ref would favor the right side of the pitch.
Darren #78, "I see them as ever increasing attempts to shout me down." Yes, I know you do. And you don't see your insults as an effort to do the same. I understand. I disagree.
Dave Abrahams
95
Posted 08/02/2021 at 21:19:38
Mike (94), I know what you mean but no, Jamie would look at all sides of a football pitch, and see good and bad.
Laurie Hartley
96
Posted 08/02/2021 at 23:34:15
I have spent decades watching the Klingons win and draw games in the dying minutes and seconds of games and it has driven me to distraction because quite often it was against us.
After clawing our way back into the game (smiles to self thinking about the way Rodrigues drilled that chance between De Gae and the goal post) I was gutted when Olsen failed to reach that header for their 3rd, and just as disappointed McTominay had 4 men round him when he got to it. The thing is though I never wrote us off even going into extra time. That is an unusual experience for me because over the years I tend to go into the "Ah well we had a go" mindset.
No, even up to the point where we got the ball forward to King, I still had belief we could get the equaliser and, what do you know, we scored with the last kick of the game.
Solkjaer was gutted, United's players were gutted, Jim Beglin was gutted, Scholes was gutted in the studio. I know as Carlo said "It was only a point" but it all left me with a warm fuzzy feeling that hasn't worn off yet.
As a matter of fact Scholes said "I think Everton are lucky that they have a manager like Carlo Ancelotti". I am not going to say I agree with him – I think we have the manager we deserve after years and years of pain.
I am starting to believe once more what my wonderful father told me (God rest his soul) "We will be great again".
Up the Blues!!!
Danny Broderick
97
Posted 08/02/2021 at 23:55:43
Darren,
To answer your question:
PSG just about beat Man Utd. Stats were fairly even, Man Utd had a man sent off and PSG won 3-1 with the third goal in the 91st minute.
Man Utd got beat 3-1 by Crystal Palace. Man Utd had 76% possession and more shots, but Palace no doubt had a game plan to keep it tight at the back and managed to score 3 goals.
Spurs annihilated Man Utd 6-1. Mad result, Man Utd had a man sent off after 20 minutes but Spurs were absolutely brilliant on the counter mainly.
Man Utd 0-1 Arsenal. Very even game. Arsenal had a game plan to keep it tight and just about edged it.
Man Utd 1-2 Sheff Utd. Man Utd absolutely battered them. 76% possession, 16 shots to 5. Sheff Utd stuck to their game plan, managed to keep it tight at the back and scored a couple of goals.
From all those games, there's only Spurs who twatted Man Utd, to use your term, and even then United played 70 minutes with 10 men. PSG only just edged it against Man Utd, who again had a man sent off. All of the other victories were achieved by adopting a similar game plan to Carlo's. I really don't see what is so difficult to grasp, or any other realistic game plan we could have adopted.
Results are results. We might have only drew, but that doesn't mean the game plan was wrong. Football is not an exact science. On another day, we might have defended better and nicked a victory ourselves, like the teams above. Similarly, we could have been crap and got beat 3-0 on another day.
It's a bit churlish to automatically criticise the manager every time we drop points, throw the dummy out of the pram and rage against everything and everyone. There really is no need to be so fickle.
Darren Hind
98
Posted 08/02/2021 at 01:18:21
David Hayes
I'm glad you posted, because you raise somewhat of a challenge. You've somehow put your finger on the real issue here: Toleration of alternative views.
Before I go any further here, I would like to reject your claims. I have never sought sympathy, nor do I see myself as a victim. It was you who claimed to have been forced against your will to be "drawn into this debate" – you weren't. You made a conscious effort to dive into it.
Now that my defence is out of the way. I have to say your post really interested me. However, I would give your claims a lot more credence if this "pack hunting" only happened to me, but It doesn't. I'm just the one who fires back. I could name 2-3 others who are not over enamored by Carlo's tactics who have simply been drowned out by the angry responses to their criticism.
Anyway. I'm going to give you the opportunity to be proved right. I won't get all hypocritical and try to deny my part in this "battle"; I confess I have never left an "accidental" foot in. So, from today. I'll refrain from the retaliations. I will withdraw the sweeping put-downs. I will stop responding to attempts at character assassination by people who have never met me. I won't be drawn on the sort of lies another poster so ruthlessly exposed over the weekend. I'll simply talk football. I'll simply post my opinion. Not somebody else's – just mine.
Let's see if this is about tolerance of opinion or not. Let's see if the minority is trying to shout down the majority as claimed here.
Let's see if people like Marshy, Jonathon and Tony can post on the Live Forum without being rabidly attacked by the likes of Mike, simply because they expect more than he does and are not happy with constant spoiling tactics of this manager...
Let's see if those who practice seemingly eternal expectation management can allow and tolerate criticism of the guy who some appear to believe is bigger than our club.
I think you have thrown down the gauntlet here and I am picking it up. So, if by concentrating on football, people like Ian Edwards can post without being attacked for being boring by people who rather ironically, say the same thing every day.
Let's us see if we can tempt the likes of Conor back on to give his insightful views – without fear of upsetting the usual suspects.
Let's see if the people who regularly post 30, 40, 50 times on the matchday thread in a frenzied attempt to deny any criticism of the manager continue to do so.
I have very definite views as to who the real aggressors are on this site... but I'm more than happy for this group to prove me wrong.
Let's all agree to play nice.
If there really is an intolerance of other people's views. The culprits won't take long to reveal themselves.
Don Alexander
99
Posted 09/02/2021 at 01:52:17
Dazza, this latest offer of yours to temper your input is a near repeat of recent statements you've made to refrain from any further input at all. In other words your words are totally contrary to what you actually do. In other words you destroy your own credibility.
Dazza, your views on Everton are genuinely interesting. Your views of other Toffee fans you deem not to share your usually churlish opinion are moronically derogatory though. Plenty have spelt this out to you, for years, but to no avail.
Well done on your latest promise though. It'll make a nice change if it becomes reality.
All the best!
Darren Hind
100
Posted 09/02/2021 at 02:03:39
I kinda knew it wouldn't last long... and I kinda knew who would be the first to seek to destroy it.
Peter Warren
101
Posted 09/02/2021 at 02:05:38
The second half and particular final minute was exhilarating. Calvert-Lewin frustrating finishing at times but he seemed to scare the shit out of Maguire all game. I do think Calvert-Lewin is improving his all-round game all the time; hopefully his shooting will get better. You've got to admire his commitment to the cause and he appears a consummate professional. Like Davies, he never hides.
I also think Calvert-Lewin not getting enough credit for his goal. This is probably due to De Gea not coming quickly enough off his line. However, Dom's control and finish were both exceptional, particularly being in the final minute of an exhausting game for him. Credit where credit's due.
Andrew Keatley
102
Posted 09/02/2021 at 02:16:05
Darren Hind (98)
Posted 08/02/2021 at 01:18:21
"So from today. I'll refrain from the retaliations. I will withdraw the sweeping put-downs. I will stop responding to attempts at character assassination by people who have never met me. I won't be drawn on the sort of lies another poster so ruthlessly exposed over the weekend. I'll simply talk football. I'll simply post my opinion. Not somebody else's just mine."
Darren Hind (100)
Posted 09/02/2021 at 02:03:39
"I kinda knew it wouldn't last long..and I kinda knew who would be the first to attempt to destroy it."
Unbelievable scenes, Jeff.
Darren Hind
103
Posted 09/02/2021 at 02:27:49
Ah well... I think it's clear the way this is going.
Two people who regularly come on here to post only about me without mentioning footy, Dive in straight away.
Quite sad really. You'd have thought... Na I'll just blank the pair of them. Just as I always do.
I guess that's that then.
Andrew Keatley
104
Posted 09/02/2021 at 02:41:48
103 - Excellent example of 'blanking'.
Christine Foster
105
Posted 09/02/2021 at 04:32:52
When we watch a game, we all see the same things, mostly... we all deduce what's happening and where to apportion blame or praise if need be... but then we all come to different conclusions or variations on a theme. It's our view of the world and – unless it's really out there – 95% have some valid comments or opinions on what, where and how..
It's the interpretation (opinion) that either strikes a cord with the reader or gives them a kick in the nuts, almost a personal afront. As someone who has had their fair share over the years of positive and negative responses to my opinions, I concur with Dave Abraham who rightly congratulates ToffeeWeb for being the font of all knowledge to all contributors. We may not agree with everything that is said but it's bloody brilliant that it can be said, thought about, and discussed no matter what the outcome!
I have learnt so much (about myself too) from every response to a post (well, I tell myself that). There are lines of engagement too: "play the ball, not the man" being one!
I might not agree with everything Darren writes but I am glad he does because it questions my own assumptions and I find myself asking the question: Is he right?
Answer? Haha – I have no idea! But can we have a hidden look into the dressing rooms at half-time? There would be a few answers I guess!
ps: Actually, that's not a bad idea, I know Rugby matches have a camera inside the dressing room before and at half-time... might make for different observations!
Tony Hill
106
Posted 09/02/2021 at 07:05:18
I agree Peter @ 101. Calvert-Lewin's miss at the end of the first-half was obviously very poor but he cared not a jot. His anticipation for the equaliser and his work for our first goal were excellent.
He must be an absolute pain for central defenders.
Dick Fearon
107
Posted 09/02/2021 at 07:06:44
Christine @105, I too would like to be a fly on the dressing room wall at half-time but I'm afraid it will never happen.
All the way back to our own Harry Catterick, who had no time for the media, we have seen managers become almost paranoid about secrecy.
Players talking to each other behind their hands, substitutes carrying secret possibly coded written messages et al. Do they really believe the opposition has trained lip readers? It's all daft to me.
Thomas Richards
108
Posted 09/02/2021 at 07:51:56
Morning, Dick.
I didn't watch them but there were a couple of behind-the-scenes documentaries involving Man City and the neighbours. Think they were called All Or Nothing. Not sure they involved dressing room access.
Bobby Mallon
109
Posted 09/02/2021 at 08:47:05
Dick Fearon, those pieces of paper just say "Fish and chips or Nando's after the match? Carlo's paying."
Bobby Mallon
110
Posted 09/02/2021 at 09:02:03
Just a quick one but is Steve Ferns okay? I haven't seen him post for a while...
Danny Broderick
111
Posted 09/02/2021 at 09:22:29
Good on you for vowing to simply talk about football, Darren. I think it's the suspicion that you have an agenda against the manager that winds people up.
Comment on what you see, mate – but it doesn't always have to include a dig at the manager. I look forward to exchanging with you in future, mate.
Dave Ganley
112
Posted 09/02/2021 at 09:42:03
Thing about Darren is that, when he criticises, he puts forward reasoned arguments as to why he thinks he's right. There is absolutely nothing wrong with that. Isn't this the purpose of TW, healthy debate?
Not everyone sees things the same so a forum like this gives us the opportunity to talk about how we see things, good and bad. You may not agree but there is reason behind it.
Lots come on and say so and so is shite blah blah and give no reason for the assertion and no solution to how it can get better. Darren gives his views of both and then is prepared to debate. I've disagreed with Darren many times on here over the years and it has never turned into the cat-calling we have at the moment. We discuss merits of each argument and agree to disagree, or agree as the case may be. It's all subjective and we don't have to get arsey everytime someone doesn't have the same viewpoint.
I haven't posted regularly for a while as there is just too much point-scoring going on and not enough debate. Darren provokes debate and we should embrace other opinions and not rubbish them because you don't agree.
I'm well aware Darren doesn't need defending but it is like a baying pack at times because he has an alternative view. It's not like he hasn't nailed his colours to the mast so construct a proper argument as to why he's wrong as opposed to how low it's stooping at the minute. Its the same argument on every thread!
Brent Stephens
113
Posted 09/02/2021 at 09:51:47
Dave #112 "we should embrace other opinions and not rubbish them because you don't agree."
Fine principles - both of them - for all of us.
Michael Kenrick
Editorial Team
114
Posted 09/02/2021 at 09:57:49
I think what I find most tiresome, Darren, are your repeated and now utterly boring attacks on other posters. I don't mind reading your opinion about football matters. I don't care a jot if you have no faith or belief in Carlo Ancelotti as Everton manager. I don't mind if you think Tom Davies is miles better than he really is. But I do care about you creating a battlefield on here through your relentless attacks on other posters.
Now you're very clever, because you rarely name anyone, so it's a real challenge for someone like me – who doesn't think your victimizing back-and forth is worthy of additional analysis or effort – to spend my time tracking back and trying to figure out who it is you are attacking anonymously, for whatever crime you perceive them to have committed against you, and whether there is anything there from a moderation perspective that I can finger as a breach of our Conditions of Use.
So this latest promise to pack all that nonsense in and just concentrate on the football is very welcome... if only I could believe it.
Bobby Mallon
115
Posted 09/02/2021 at 10:04:21
I would just like to ask Darren: When did you stop liking Carlo's tactics?
You haven't always been anti-Carlo or his tactics, so when did it go the other way?
Dave Abrahams
116
Posted 09/02/2021 at 10:10:25
Michael (114), it works both ways – read Dave Ganley's view on it @112., Some posters make a point of arguing with Darren, simply because it was Darren making the point. Might not make your job easy but it does happen.
Just believe, Michael, have faith in human nature: mind you, that might be going too far!!
Duncan McDine
117
Posted 09/02/2021 at 10:17:45
Bring back Marsh vs Dodd. Actually no, forget that idea. ToffeeWeb has always had a fair bit of in-fighting and to a degree makes things entertaining. But it gets to a point where a lot of threads become tedious.
Michael – what was the reason for scrapping the 3 comment rule you tried a while ago? I thought it was a good idea.
Martin Mason
118
Posted 09/02/2021 at 10:19:02
Christine @105,
I did a lot of reading once on this concept (in relation to car/bike crashes) that we all see basically the same thing when we look at an incident but apparently it isn't true. What we see via our eyes is a small amount of what happens and the brain fills in a lot of detail based on what we expect to happen.
In this respect, we all suffer from confirmation bias which clouds how our brain, fills in the missing details, and helps form opinions of what we think we saw. If a person has formed the view that Tom Davies is hopeless and gives the ball away, then he may never "see" Davies do anything decent because his brain won't accept it, only seeing things which reinforce his already held prejudices.
I genuinely believe that rational people can re-watch the given incident and come to a different conclusion than first arrived at but many can't. Another serious difficulty is, having watched an incident or game and formed an opinion of it, that opinion becomes fact in his mind and no amount of argument will change that. Not only fact but the only "reasonable" explanation.

Brian Harrison
119
Posted 09/02/2021 at 10:39:40
All the time I have watched football fans make up their minds very quickly about players and managers, sometimes over a period of time fans sometimes change their minds over players. But some make snap judgements on players and managers and refuse to change their view even when sometimes facts prove otherwise. I remember Denis Stevens taking over from Bobby Collins and it took me the best part of 12 months before I would admit Stevens was a decent signing.
So when posters post their views on players or managers on T/W even when facts prove them wrong, they won't change as they sometimes see it as a weakness. I haven't always been convinced that Calvert-Lewin is good enough but you can't argue with his goalsoring record. Yes, there are things he needs to improve on but if he continues to improve the way he has over the last 12 months, then we may have another special Number 9.
Karl Masters
120
Posted 09/02/2021 at 10:55:07
I used to love ToffeeWeb and read it for ages every day. I particularly liked the comments and posts as they were often entertaining and insightful.
Nowadays though I have a quick browse and to be honest what I keep seeing is people arguing. Arguing seemingly just for the sake of it. One-up-man ship - personal attacks and my view is better than yours all over the place.
Maybe it's a symptom of Lockdown, some sort of cry for help in an ever decreasing circle of boredom and helplessness, and if it is I apologise to those involved.
For me though it's just depressing. I want to read about football, put a smile on my face and, of course, some of this relates to football, but it's that continual under current of negativity towards other people that pisses me off and rarely ever do I smile reading these posts.
Ray Robinson
127
Posted 09/02/2021 at 12:09:37
Michael #114, couldn't agree more. I, like others, find myself looking at this site every day but contributing less and less as I am grow tired of the same old petty arguments on every thread of any significance. Despite lockdown and being retired, I do not wish to commit the time and energy to futile point scoring and pointless "debate". Neither do I wish to join in the perceived "ganging up to stifle "debate" (surely incited anyway?)
So why not offer Mr Hind his very own column? Call it perhaps "Golden Hind" - where Darren can be as "free-thinking", radical and controversial as he likes and those willing to engage can go to agree / counter-argue as they see fit, leaving the rest of us to read posts that are more to do about football matters and less about personal egos?
Just a thought.
Hugh Jenkins
131
Posted 09/02/2021 at 13:30:47
Darren (19) - "All managers change things".
Surely not?
That has been one of the major criticisms of several of our past managers - "No plan B".
It is also a criticism that has been levelled at a number of managers of other clubs, from what I have seen.
So, if we now have a manager that does have a "Plan B", or even "Plan C" and who is able to tweak the team's playing style as the match progresses, shouldn't we be grateful that our prayers for such a manager have, at last, been answered?
Jamie Crowley
133
Posted 09/02/2021 at 14:54:37
Bobby Mallon back @110 -
I often wondered as well where is Steve Ferns?
"Sir" John Pierce also has gone missing, miss him on these pages terribly.
TW needs some running thread where we can check in with the missing.
Dave Ganley
135
Posted 09/02/2021 at 16:07:38
Thomas #122, Karl #125 hahq very good made me chuckle
Kieran Kinsella
136
Posted 09/02/2021 at 16:52:50
Bobby/Jamie
I honestly don't remember Steve Ferns prior to Silva coming on board. His knowledge and admiration for the Portuguese is what made him famous on these pages. I wonder if he's returned to his role as casual browser now that the Silva era is over.
Darren Hind
146
Posted 09/02/2021 at 21:47:18
Bobby Mallon @115
I've never liked ancelotti's tactics, not from day one.
Before he even signed I was against him coming. I even wrote an article stating that his appointment, was rather pointless. I upset a few by stating he had no earthly chance of winning anything with the players that were here.
Not only did he fail. He failed playing the most awful brand of brain numbing football I've ever seen...And I've seen some shite.
The summer came and there was a renewed hope. Many believed Carlo was going to attract the very best. I said then that he would never attract a player who was wanted by the big boys. I wont get into the "pulling power argument" because its been done to death. but I wont deny the statement either because it is still up there...and that belief remains as strong as ever, He wont. Too many clubs with so much more to offer.
I have found Carlo Ancelotti to be a charming man. That, for me has given him a massive edge over Allardyce, Koeman and Silva..but my goodness the football his teams have served up has depressed me. The most depressing thing for me is, Although we have change the manager time and again. The zombie football remains. It never really goes away. The longer it goes on the more acceptable it seems to become. I get sick of people saying telling me it will all change, Jam tomorrow. because I know it wont.
This club has been in the grip of a morbid expectation management since Moyes invented the glass ceiling.
I don't expect this club to win the league in the next...Well I cant see it happening ever at the moment...And I can understand teams being ultra cautious in pursuit of glory, but we never come close. There is no trade off for us...For years we have stifled games for no apparent reason a couple of million for finishing a few places higher ? Were Everton ffs, We are not Burnley.
As Evertonians we are all proud of our club...but when is it going to be our turn to be proud of our team ? When are we going to strut round like Peacocks because our team have dazzled ?
I would love to be wrong about Carlo. I would love him to give us the team everyone admired..but I know it wont happen. I know it in my heart and soul. We may be treated to 5-10 minutes of open attacking play here and there. we may also be treated to 5-10 minutes of James wizardry. but these treats will be few and far between
A guy who knows how to stifle the opposition will always win if he has brilliant world class players to illuminate the games for him, Take away those world class players and your left with a guy who knows how to stifle the opposition.
It may get us up to 6th or even 5th, But its not football...Not really

Jamie Sweet
147
Posted 09/02/2021 at 22:23:05
Thank you Darren Hind for reminding me why I don't usually waste my time reading the TW comment sections anymore. People like you just make it so fucking unbearable!
An entire thread dominated by Darren picking fights with anybody and everybody is not what this website was meant for.
One bad apple etc etc.
Laurie Hartley
148
Posted 09/02/2021 at 22:57:08
Darren, for many of us and for some strange reason, football has a huge impact on our mood. It doesn't make sense but, talking from my own experience it is certainly true. If we had lost that game against United I would still be down in the dumps and writing off players like Gomes as I did after the Newcastle game.
Two terrific performances later I know I should have known better.
Similarly, although I thought Davies would only ever be a "fill in player" it was that lad who was instrumental in turning the tide for us with his movement and pass for the first goal. I watched his interview from the link Jay Wood provided and I was very impressed with his attitude and what he had to say. I will look at him in a different light from now on.
I have very definite views about some issues in life but when it comes to football I can be fickle.
James Rodrigues - you are right we may get 5 or 10 minutes of wizardry in any given game but those minutes always makes me happy. Didn't it light you up the way he controlled that ball and struck that shot - it did me.
I still haven't forgotten Samuel Eto'o's headed goal agains Burnley. I felt sad when he left because I was proud to see a footballer like him in our shirt.
For me following Everton is all about hope. It is a choice really. Risky also because you have to be prepared to take the disappointment when it inevitably comes. But I wouldn't have it any other way.
Tonight we have a massive game and we all know in our hearts that it could go either way but I am hoping we win. If we do you might get a trip to Wembley.
Have as many fights as you like on here but never give up on hope for our team.
---
Add Your Comments
In order to post a comment, you need to be logged in as a registered user of the site.
Or Sign up as a ToffeeWeb Member — it's free, takes just a few minutes and will allow you to post your comments on articles and Talking Points submissions across the site.