Column
The Hard Work Starts Now
A look at the factors behind this transfer window and the preceding 5 years. A clear call for what must come next to resolve the position we are in
Paul The Esk

01/09/2021
190

comments | Jump to last
For as long as I've been writing about football finances, I've tried to show that funds for players can only come from limited sources. Simply, if you want to buy and pay a player, the funds have to be generated by the business (gate receipts, commercial income and broadcast income) or be funded by other sources, namely: (i) existing cash sitting in the club's bank account; (ii) asset sales (selling existing players); (iii) funds from the shareholder; or (iv) borrowings from a bank or other financial institution.
Without the ability to use one or more of these sources, you can't keep buying players. In addition, with football being a regulated business, there are restrictions placed on what you can do in certain circumstances.
Let's deal with the restrictions first. Uefa's Financial Fair Play (as was) and the Premier league's Profitability and Sustainability rules are only an issue if your club is losing more money than is permitted by either set of regulations. If you are not in European football, then it is the Premier League regulations that you must be concerned with. Stay inside the permitted losses and, as long as a club has access to sufficient resources from the sources mentioned above, there is no restriction to what a club can do. It really is that simple.
Everton's first problem is that (as I explain here) we are likely to have breached those regulations. I will return to this later in the article.
Article continues below video content
Financial sources for transfers
As a business (even after stripping out the impact of Covid-19) Everton have spent considerably more than they have earned:
| | |
| --- | --- |
| Season | Loss in £ millions |
| 2017-18 | -13 |
| 2018-19 | -111 |
| 2019-20 | -140 |
| 2020-21 | -86 * |
| | |
| Attributable to Covid * | 78.6 |
* Forecast
Clearly from the above, the business itself cannot support further acquisitions and higher wage costs. Thus we have to turn to additional resources:
(i) Existing cash
There are few cash-rich football clubs, especially in the post-pandemic environment. Even the most successful clubs have had to resort to short-term borrowings to assist their cash-flow issues of (until recently) zero matchday income, reduced merchandising, and reduced broadcasting revenues, whilst having a largely fixed cost base.
Everton, due to sustained losses in earlier years, went into the pandemic in a poor cash position and, as I explained here, had no recourse to cash reserves to assist in the transfer market this summer.
(ii) Asset (player) sales
Traditionally the easiest method of creating resources to fund incoming transfers. In the cash-rich years of recent times, liquidity has been such that selling players has been a relatively easy option. Selling players produces cash, reduces costs (in terms of wages and amortisation) and can generate trading profits to offset against losses elsewhere in the business.
The ability to sell players depends upon: (i) their attractiveness to the market; (ii) the availability of purchasers at a fair price; and (iii) the willingness of the player to move without financial loss or career regression.
It is arguable that all three factors worked against each of the players Everton were willing to dispose of. Lack of form, lack of career progression since arriving at Everton, and injury (for some), reduced the players' attractiveness. Additionally, as discussed, market conditions were in favour of the buyers, not the sellers, and for many of Everton's players offered moves elsewhere, a move would be to their financial detriment given the contractual terms enjoyed at Everton.
In the light of all the other factors, our inability to sell or loan players (especially those most expensive) is a key contributor to our inability to bring players in. Additionally, that has the effect of the club having to carry costs of potentially unproductive players for at least another year.
(iii) Shareholder funds
With capital injections totalling £450 million since arriving in February 2016, Farhad Moshiri has certainly been extremely committed financially. However, his ability (and perhaps willingness) to continue to fund transfers this window were significantly reduced due to several factors, not least our Profitability and Sustainability position – it was just not possible to keep adding to the costs of the business given our existing costs far outweigh our income.
An additional factor is the funding of the stadium. The purchase of the Bramley-Moore Dock lease cost the club a reported £22 million. In addition, the club has sought significant lending facilities (around £300-350 million) to finance the build. Originally, it was anticipated that this facility would be available at the beginning of the build with naming rights and Moshiri effectively underwriting the difference between the borrowings and the final costs. However, in order to have any hope of meeting the self-imposed deadline of opening the stadium in time for the 2024-25 season, work had commenced before the lending is in place. That work, the initial ground preparation and dock infill, is estimated to cost £100 million. This work is currently funded by Moshiri.
Incidentally, one of the factors delaying the stadium financing has been the continued losses at the club and the "structural" issue of having relatively fixed costs greater than fixed income. The only solution to this would be the disposal of players but, as described, other than those we would not want to lose, the marketability of our players is extremely limited.
Thus, the prospect of Moshiri funding both transfers and a stadium build simultaneously, plus the regulatory issues identified above, meant that there was no prospect of shareholder-funded acquisitions this window.
(iv) Additional borrowings
In the good times, clubs have used lending facilities to fund player acquisitions or to meet higher wage bills as a result of earlier acquisitions. Everton have been no exception to this. However, at this particular time, our credit facilities have been used to meet the significant negative cash-flow arising from operations during the Covid period.
As a result, and certainly with the added issue of arranging stadium financing, adding to existing credit lines to acquire players was just not possible.
How have we arrived at this point?
It is beyond any doubt that the club has been severely restricted in player acquisitions and player disposals this transfer window. To be fair, Covid-19 has been a contributor to dampening market conditions. Despite that, other clubs have traded players. It has not just been the "Big Six" although both Grealish and Lukaku have had an impact in inflating final figures: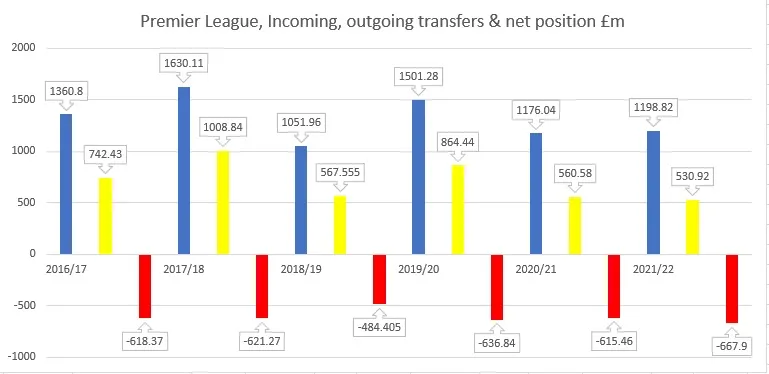 Everton, for the Moshiri years at least, one of the bigger participants in the market, accounted for 0.5% of all Premier League transfer activity by value (including loan fees). In 2017-18, our transfer activity accounted for 11.2% of all activity.
The factors are numerous and sadly reflect on the current condition of the club plus the legacy of numerous poor recruitment decisions, inadequate financial monitoring, poor governance and leadership, plus the indiscipline of our major shareholder.
To make one individual accountable for all the above, to say it must be the Director of Football, for example, would fail to take into account the sheer disfunction of the last six summers and periods between.
To get to this position is a result of serious mismanagement across the board.
Firstly, our financial performance. We have done a wholly inadequate job of growing the football club commercially in the most bullish of market conditions. We have failed to put in place financial controls that stopped the club from becoming so imbalanced re costs and income.
Governance: The board has failed to stop the excesses and irrational recruitment decisions (including managers and players) of the owner until such a time as it was no longer possible for him to do so.
Operationally regarding transfers: Matters have improved since 2017-18 when, literally, the club had three or four senior executives negotiating independently and without knowledge of each others' actions regarding transfers. But we still do not have a defined structure and chain of command. Brands's role is not clearly defined or communicated. With Benitez as manager, our most recent player acquisitions are clearly his work.
The fact that we failed to improve our position beyond two or three shrewd acquisitions is further evidence of organisational failure or perhaps the wrong individuals in charge. Despite the explanations above, we failed our key objectives: (i) acquire cover for key positions (right-back and now left-back following Nkounkou being loaned out); (ii) sell marketable assets such as Kean; (iii) move on players (permanently or on loan) identified by the manager publicly as not part of his future plans; and (iv) significantly reduce costs.
Executive leadership
Where has been the leadership that recognises the failure of past structures, that says the difficult things in board rooms or in talks with the owner? That holds individuals accountable including themselves? Where has been the strategic thinking, the modelling that recognised what might happen, and put mitigating and improvement strategies in place?
The evidence that such is in place is scarce. Our performance this window is not evidence of some strategic re-calculation, in my opinion. It has been forced upon us by necessity, lack of funds, market response to our proposals, potential regulatory steer, and the will of future lenders for the stadium.
This is the position we are in. We may get by this season on the back of an experienced coach, well versed in the make-do school of management. But that's not what was expected 5 years ago when the project suggested the potential of Champions League in 3 years. That's not what was expected when Moshiri, the Board, and Dan Meis planned and plotted a half-a-billion-pound stadium on the banks of the Mersey.
The fact is that there is not a single member of the board and executive that can look at what we've become and claim progress, let alone adherence to the lofty ambitions of 2016. That's led to this complete pig's ear of a transfer window, a transfer window that reflects the management and ownership of the club.
Moshiri has to recognise this and make the management changes necessary at board and executive level. Without radical change at the top of the business, we cannot realistically expect success on the pitch. Not only is that soul-destroying for the fanbase, but potentially club-destroying for the institution we, the fans, invest so much into. If he cannot make these changes, then we ought to seek new ownership.

Follow @theesk
Share article:
Reader Comments (190)
Note: the following content is not moderated or vetted by the site owners at the time of submission. Comments are the responsibility of the poster. Disclaimer
Ken Kneale
1
Posted 01/09/2021 at 18:42:41
Paul As ever, hugely informative and light years ahead of the dross the board must rely on. Our status as a football club has plummeted under Kenwright and continued to plummet with Moshiri thanks to his reliance on Kenwright and Kenwright sycophants, making as you outline, a miserable follow for the fan base.
Without substantial change, I don't see it shifting back the other way - these leopards either cannot or do not want to change their spots, and once one tumbles, the whole stack will fall as it is clear none of them has the necessary acumen and competence to fulfil their roles.

Barry Hesketh
2
Posted 01/09/2021 at 18:46:21
I totally accept your arguments Paul, but seeking new ownership at this point in time may prove extremely difficult notwithstanding what the actual owner wants to do with the club in the near or long term.
Robert Tressell
3
Posted 01/09/2021 at 18:59:36
Thanks for another extremely informative article.
With a healthy dose of confirmation bias, I read yet more evidence of the need to focus on the resale value of players recruited - and of switching to the development of younger recruits with lower wage demands.
The words 'pig's ear' also struck a chord.
If there's another club out there that's managed to go backwards through the injection of half a billion pounds I'd be surprised.
Ray Said
4
Posted 01/09/2021 at 18:59:40
The usual diligent work Paul.
The last section states 'If he cannot make these changes then we ought seek new ownership' which flies in the face of the situation you outline in the previous passage.
A) who would buy in light of the financial situation?
B) how do ' we' (assuming you mean fans and minor shareholders ) seek new ownership -only Moshiri can do that.
To me Moshiri is committed to a long term plan and we will only know the outcome when the plan is completed.
Brian Harrison
5
Posted 01/09/2021 at 19:39:37
Paul
As always well researched and put in a way that is easily understandable, but what this highlights is the complete failure by the owner. This man is an accountant by profession looking after multi billion companies, now despite it being obvious from day 1 him clearly knowing nothing about running a football club, you would have thought if anybody would understand balance sheets and profit and loss accounts it was Moshiri. But he has allowed this club under his ownership to be so badly run that we have now fell foul of the FFP regulations. Now these rules have been in play for quite a few years so he must have understood the rules and what you can and cant spend to stay within the regulations.
Now I hate the FFP regulations but we signed up to these regulations and have failed miserably to stay within our constraints. People can blame successive managers and DOFs but Moshiri had the final say and either took his eye off the ball or thought his friend Usmanov could come up with a cunning plan to offset the spending. And while Usmanov has been creative with his sponsorship we have still fell foul of FFP.
I think its quite clear why Ancelotti jumped ship so suddenly, he would not have known that the FFP rules would stop any meaningful transfers and so bailed out. Its also not surprising why we didnt approach Conte as his first question would have been what is my transfer budget.
Now although we have spent only £1.75 million I am still not sure how much leeway we will have to be able to spend come the Jan window, and again depending on where we finish in the league how much we can spend come next summer.
My own belief is that both Moshiri and Usmanov embarked on this journey with the hope that they would have a successful team playing in a new stadium that they could sell on for much gold. Still work to be done for them to achieve this goal, but lets hope they are successful in their quest.
Mark Taylor
6
Posted 01/09/2021 at 19:56:17
The big question here is surely, who is the owner? If it's Moshiri, then what I understand about his financial situation is that he is not an extremely rich man. Maybe worth £1-2 billion. If that sounds like a lot, you can also lose most of that on a football club if it goes wrong. If I were him, I would be very anxious about the % of my total wealth exposed to Everton.
If it is Usmanov, then we merely need to find a way of accessing his vast cash, 10 times or more what Moshiri is worth. I know this already happens to a degree but a Man City or PSG style accountant would surely facilitate this.
Normally, when there is a pig's ear of an outcome, the CEO takes the hit. But is Barrett-Baxendale really a CEO? Is Brands really a Director of Football? He got promoted to the Board but that just looks like a classic Everton compromise for it perhaps dawning on him he has no real power, so here's a consolation prize, join the powerless board.
Paul has been hammering this line for years and this transfer window demonstrates the accuracy of his past analysis. It all reminds me of Teary Bill trying to find the Arteta money from the back of the sofa. The miracle is, we seem to have found a gem in Gray and maybe to a lesser degree, Townsend. Maybe if you have to work on the cheap, you just have to be more creative and not blow tens of millions on Swansea midfielders, Tosun, Walcott, Delph and the rest of the vast cast list of hanger on-ers
Graham Mockford
7
Posted 01/09/2021 at 20:12:43
I think most have been impressed by Rafa's start but of course it is early days.
But does anyone find it weird that he has his own website where you can peruse all things Rafa?
Billy Bradshaw
8
Posted 01/09/2021 at 21:03:04
Paul, seek new ownership? That sounds easy enough, when do we get the names of them?
Phil Gardner
9
Posted 01/09/2021 at 23:42:22
I hope to God that this dysfunctional board haven't made any unfulfillable promises to Benitez. Because, if there is ever a manager who will not tolerate it… it's him!
Jerome Shields
10
Posted 01/09/2021 at 23:58:50
Paul,
The club has been mismanaged and those responsible are largely in their roles. What's more, they think they are doing great work, because of the absence of targets and accountability. Bill has made a fortune.
The appointment of Benitez was a case in point where Moshiri and Usmanov wanted him and the rest fell in behind those in the management that didn't want him. Even Southall give his tuppence worth against Benitez's appointment.
Benitez has been quick to get in loyal players, who are also leaders, so as to control the dressing room and establish his own man as head of training for the first team, giving some control at Finch Farm. This had to be done. Successive managers have had tools laid down on them.
All the changes that you suggest are correct and needed if Everton are to progress. Benitez will get so far with the team but, if those changes are not implemented, he will hit a brick wall.
IMO, the real barrier to necessary change is a reluctance of Moshiri to get involved in the running of the club. Moshiri and Usmanov are contented to be arm's length, apparently thinking that the team manager will change everything.
Directors on the Board of Everton are mostly Directors in name only. Only Bill weilds any power through a grace-and-favour regime, which can work against anyone who tries to change it.
So I can't see these necessary changes being implemented. As you say, austerity was forced on them and the only way the necessary changes you mentioned will happen is again through forced circumstances.
I am also concerned about the stadium development. As funds become available, incompetent managers can make a hash of finances, Especially if financial controls are not in place. This has already happened at Everton before, when Moshiri initially made funds available.
Brendan McLaughlin
11
Posted 02/09/2021 at 00:26:24
Jeez, Jerome... you still keep doing it:
"The appointment of Benitez was a case in point where Moshiri and Usmanov wanted him and the rest fell in behind those in the management that didn't want him. Even Southall give his tuppence worth against Benitez's appointment."
But who is the Everton manager? Moshiri despite his "reluctance" to "get involved" and the "opposition" (particularly from the fans) appointed his own man... Rafa Benitez.
"Only Bill welds any power through a grace and favour regime, which can work against anyone who tries to change it."
If Blue Bill had any real pull, then Rafa Benitez would not be manager of Everton... David Moyes would have come back years ago.
Neil Armstrong
12
Posted 02/09/2021 at 00:28:06
Well said. Now all we need is for one of our Board to fill in from the word Forecast showing plans, and target dates, like the January transfer window etc.
How a group of top business people could steer us into this mess is disgraceful. It will soon be 31 years without any silverware. Maybe the year after Bill retires... Hurry up, Bill. Please.
Luckily we have the top guy in Rafa to steer us out of it (when they show him the plan). He did a great job at Newcastle where he had another dysfunctional owner. All you doubters should embrace Rafa and be thankful he took us on.
So show us the plan. In writing.

Derek Thomas
13
Posted 02/09/2021 at 00:37:14
Moshiri's problems, and thus ALL of ours, are mostly of his own making. He who rides the Tiger is afraid to dismount...
If he gets out of this with any profit, if he can actually sell it on, then he and we will be doing well.
This could all go Sunderland til I die / points deduction-tastic very easily. It would be the ultimate bit of virtue signalling by the Premier League... they would love it.
I suspect though we're not the only club teetering on the edge [looks over the park, more in hope than expectation...] because we all know they'll manage to slide out from under in some Indiana Jones retrieving his hat manner.
Jay Harris
14
Posted 02/09/2021 at 00:37:56
Paul,
Another excellent piece which lays out in layman's terms how badly the club has been run despite a wealthy new owner.
My only question revolves around Bramley-Moore Dock as I always understood that any funding of the new stadium could be capitalized and therefore not in the P&L account.
Bill Gienapp
15
Posted 02/09/2021 at 00:55:56
That's the rub, isn't it? I'm okay with a transitional season with little room to maneuver... if – and it's a big, fat '
if
' – the right lessons have been learned.
I don't go after Kenwright on here too much, but when he commented a few months ago "One very famous football club said to me two or three days ago 'whenever we have a problem we say "What would the Everton board do because they always get it right?'" it was one of the most embarrassing and delusional things I'd ever heard. No wonder Martinez made him swoon.
Jim Robinson
16
Posted 02/09/2021 at 01:47:54
Kieran Kinsella
17
Posted 02/09/2021 at 02:13:01
Paul
When you talk about the board and directors, isn't it just Barrett-Baxendale, Kenwright and Brands now? None of whom seemingly wield any power?
Don Alexander
18
Posted 02/09/2021 at 03:18:12
I have always applauded Paul's opinion, and opinion's all it is with full respect, but as many if not all TW readers know, I have pointed the finger of blame, for decades, at Kenwright.
Moshiri, clearly a puppet dancing to Usmanov's tune ever since he met him in their allegedly legit business, has shown himself to be a football-owner buffoon since he bought into us.
And yet he still employs Kenwright as Chairman in, in Moshiri's most recent words, "an enhanced role". Why?
Kenwright has led our decline for 30 years. We, Everton, were one of the six major clubs that were the necessary catalyst for the creation of the Premier League nearly 30 years ago. Of those six major clubs, we've done massively worse than the others, all with Kenwright in charge.
Some of us are bollocked up hill and down dale by TW'ers devoted to Kenwright. More fool them.
Kenwright via Moshiri has become fabulously more wealthy than before Moshiri, whilst we as a club continually decline… and yet people still ponder where the problem is re our success.
Jeez!
Terry White
19
Posted 02/09/2021 at 03:35:20
Jerome (#10), "Bill has made a fortune". Prove it, please, with real evidence.
Brian Murray
20
Posted 02/09/2021 at 03:41:48
Terry. You picked on one quote. Has Kenwright earned a fortune with little input? Maybe you should be asking yourself: Has Kenwright massively contributed to our decline in 3 decades and counting?
Dress it up any way you want but he should be nowhere near the club. Especially him clinging on to the grand opening of the new stadium at Bramley-Moore Dock, so he can still have his big ego boost. Which in itself is the reason he won't walk away, no matter how much he keeps embarrassing himself and us. Not just with his last daft comment.
Kieran Kinsella
21
Posted 02/09/2021 at 03:44:05
Terry White,
Given that you only seem to post in response to criticisms of Kenwright, I'm wondering if you're the artist formerly known as Richard Dodd, who left these pages after being accused of actually being Kenwright himself? Why don't you prove you haven't made a fortune?
Terry White
22
Posted 02/09/2021 at 03:45:06
Mr Alexander (18), you are one bitter man.
As I have requested from Jerome (#10), please provide evidence in provable numbers of all the wild statements you make of our Chairman's "fabulous wealth".
Can you do it? If not, to quote you: "more fool you".
Brian Murray
23
Posted 02/09/2021 at 03:59:27
Terry. Just curious but have you a scrapbook of Davie Hickson by any chance?
Kieran Kinsella
24
Posted 02/09/2021 at 04:10:15
22 Bill Kenwright
Prove otherwise yourself
Jay Harris
25
Posted 02/09/2021 at 04:24:46
Terry,
I believe I am correct in saying that Kenwright, through True Blue Holdings, bought the majority shareholding in the club for £20M from Peter Johnson and the money reputedly came from the club not from Kenwright – very similar to what the Glazers did at Man Utd.
That valued the club at around £30M, I believe, and – despite never putting a penny of his own into the club and selling or mortgaging every asset we had – he has seen this shareholding return around £30M to him and got himself a Chairman position as part of the sale.
That is just the sour side but the main reason he is so despised by so many Blues is his penchant for lies and deceit. It would take too long to list them and they have been put out on the net so many times that you should be aware of what they were but he has certainly not done the club or supporters any favours over his tenure.
Tommy Carter
26
Posted 02/09/2021 at 07:44:28
Jay @25,
The days of a chairman funding their ownership from their own pocket and doing it for the love of the club are long gone.
Bill Kenwright was simply the face, spokesperson, interested party and Evertonian as part of a group of investors.
Investment is very multi-faceted and even the hugely wealthy chairpersons out there do not sign players by completing a bank transfer from their current account.
Even many of the old school chairmen and owners who appeared to have sole control of their respective football clubs were simply in many cases borrowing from banks against their own personal value as the guarantee.
Get it right, build success, sell players for profit, then you can repay your borrowing, bring the club into the black, and a penny needn't have left your pocket.
Result: you now have a club that is of increased value, some dividends in the meantime.
Colin Glassar
27
Posted 02/09/2021 at 07:45:09
Kenwright Out!!
Eddie Dunn
28
Posted 02/09/2021 at 07:46:58
Great article again Paul, putting things in a nutshell.
One thing I would say about the leadership of the club is that Kenwright has tried his best to do what he thinks is good for the club. He has made some millions on the way but why does anyone think that Moshiri or Usmanov would be better than Bill?
Moshiri has proved to be ignorant on football matters and he has blown a fortune listening to /appointing various managers. It is not fair to lay this at Kenwright's door.
As usual we have no idea what goes on in the boardroom and are not privvy to conversations between the owner and the Chairman.
Football clubs used to be owned by local businessmen and now it's owned by international businessmen /companies/franchises etc. As in the past, some will succeed and others will not.
Moshiri's number one aim will be to protect his investment. This means staying in the Premier League. Anything else is a bonus. The new stadium will increase the value of the club and help to increase revenue as well as enhancing the status of the club. We will be capable of hosting major championships, semi-finals etc.
Moshiri was hailed by many on here as a savvy operator, good at running successful businesses. Well perhaps he isn't that good or perhaps he knows considerably more about other things that are not football.
As for Kenwright, he surely has little influence nowadays and is merely a figurehead. He is though an Evertonian and I, perhaps naively think he does want to be remembered as the man who got us the rich owner and helped to initiate the new stadium. He wants Everton to succeed.
Mr Usmanov and Moshiri were on the Arsenal board before and we are simply their new trainset. If this trainset breaks they can count their losses and go back to the toy shop to buy another one. All the owners want is to play Fifa for real and walk away with a profit.
Bill, for all his imperfections, wants Everton to be great again and has made a profit already.

Robert Tressell
29
Posted 02/09/2021 at 07:50:41
Paul, after a bit of reflection on your article, what I'm not sure of is (a) what a realistic set of objectives now are, and (b) over what timescale.
In the next season or two, it seems as though it's about regaining our Best of the Rest crown on a shoestring. Even if we sell Calvert-Lewin or Richarlison it seems unlikely we'd be able to reinvest all the proceeds in the playing squad. That effectively rules out a tilt at the top 4 certainly unless we stumble upon some magic new players for next to nothing.
Once the stadium is complete perhaps we will see the purse strings loosen again and greater investment (because our income will go up).
There was also talk of playing to the commercial side of things in the US. If that comes off, then again maybe the extra revenue gives us more scope to invest.
If any of this is correct, it sounds like more patience is required in the relative short-term – but we could, if we do this right, be in much better shape for the Bramley-Moore Dock era.
But a tilt at the Top 4 requires Top 4 standard players – who need to be either developed or bought or probably both. Whilst I like the idea of development I do recognise we will need to spend big too, given the financial clout of our rivals. When might this happen again? What, post stadium, might enable it? Will the stadium revenue itself be an enabler?
The other thing that bothers me is how Arsenal and Spurs have fared post stadium. On the footballing side they have stagnated or declined – although neither seems short of money right now. Are there any lessons learned?
Andrew Ellams
30
Posted 02/09/2021 at 07:51:04
People still blaming Kenwright 5 years into the Moshiri shambles is ridiculous but, for those asking how he has made a fortune out of Moshiri: simple – he sold most of his shares to him.
Paul Hewitt
31
Posted 02/09/2021 at 08:06:00
We had a real chance of breaking into the Top 4 when Moshiri took over. But, 5 years on and around £500 million spent, it hasn't worked. Quite simply, we have messed it up spectacularly.
Maybe a few years of belt-tightening will do us some good; instead of just chucking money at everything, people will have to work a bit harder.
Ian Bennett
32
Posted 02/09/2021 at 08:13:04
A good article, Paul, it is grim reading and people might hate it, but it is the reality.
His chase for Hollywood Top 4 has been a complete disaster. Moshiri went all in, rather than a patient build-up the league, buying up-and-coming players, stalking teams above them each season. To spend £500M and be further behind where you started is some going.
The next 24 months is again a big period. A number of players are out of contract covering James, Mina, Davies, Coleman, Kenny, Delph, Tosun, Digne, Sigurdsson, Allan. That's a big number of players with relatively little sell-on value.
How are they going to be replaced and maintain league position (or, God forbid, improve?). The team seemingly will have to sell Richarlison and Calvert-Lewin to fund a complete reboot of the mistakes over the last 5 years.
Jim Lloyd
33
Posted 02/09/2021 at 08:52:11
To quote, "Mr Alexander, you are one bitter man."
I think Don Alexander might welll "be bitter" as the poster has said. If so, I think he has some reason to be so.
What Paul's article is showing, is that, despite all the funding being put into the club by Mr Moshiri, we are up the financial Shit Creek, without much of a paddle.
Historically, there has been a part owner of the club since "was it True Blue Holdings" who bought the club off Peter Johnson. I seem to remember that it was Paul Gregg, and his wife who helped Kenwright with funds to buy Johnson's shares.
Forgive the hazy memory, but I do seem to remember Kenwright having his hands on the tiller when, the King's Dock fiasco hit Everton Football Club... and us! I seem to remember that if we produced a contribution of £20 million, then the rest of the cost of building a state of the art stadium in a world famous waterfront, would be met by public funding. When was that, around 2000 AD.
Then the infusion of doubt regarding our ability to fund the £20M started to appear, and someone affirming that the club's contribution was "ring-fenced."
(This confirmation of funding being available, was to reappear at a later date from an "Evertonian" in Asia, when Paul Gregg was making his bid to take over the reins at EFC." That same source appears in an Al Jazeera documentary called "The Men who sell Football". This documentary is on YouTube and well worth a visit, as this "Evertonian" is the central character of the investigation.)
Anyway, I seem to remember reading in the Echo, that Mr Kenwright was quoted as saying the £20M for EFC's contribution for the King's Dock stadium was "ring-fenced." Evidently, the fence broke and the £20M disappeared in a cloud of dust!
I also seem to remember reading that Paul Gregg was willing to loan the club the £20M but Kenwright and the other members of the Board refused the offer... can't think why! Maybe Gregg felt he would make a better Chairman than Kenwright, I couldn't say.
Anyway, the net result is we lost the chance of having a world class stadium in a world class site. (Courtesy, of course, of those shits in the UN Heritage club!)
Then there was Gregg's bid to buy Everton because (I think I remember reading) he felt the current Chairman was making a total balls-up of running the club (my assessment, not a quote from Mr Gregg). I do remember, however, that during the takeover bid, Mr Kenwright apparently had a bid in from the "Evertonian" from Asia to buy the club and the cheque was "In the post" (or the bank) can't remember which now. Anyway, that money disappeared as well!
Mr Gregg appeared to have thought he had the backing of a senior shareholder, but that subsequently was denied by the shareholder.
Then there was Kirkby!!! Our brand new "State of the Art" free, stadium was to be built in Kirkby. When voices were raised against the idea we were told that, our "Beloved Old Lady" was in danger of losing her public safety license!! Many, many thanks to "Keep Everton in Our City" for taking on, and beating, the proposed development outside of the city of Liverpool.
How many bids, I wonder, were made to buy Everton from oil-rich states, or any other rich source? Poor old Everton, Chelsea, Man City and the lord knows how many other clubs, were approached except poor old Everton, who were the football equivalent to dear old "Mr Micawber", until Mr Moshiri came along. Didn't he subsequently buy more shares to make him the majority shareholder? Evidently Mr Kenwright's shares made around £20M, less tax of course.
For me, Mr Moshiri isn't a stooge for Mr Usmanov, though he might be a stooge. He's ploughed hundreds of millions of his own money into the club. I don't think he's doing this for the eventual profit of selling the club when the stadium is built. I think there is a theme running through this club and has been for decades. Can't think why.
I don't think we would get a new owner (except maybe Mr Usmanov would buy us if we asked him nicely) while we're in such a mess.
I'm just glad we've got Rafa Benitez as our manager, as I think he's got the bollocks to take on the block to us returning to a successful club. It will probably take several years, but I think he will do it, given our backing, and Moshiri's of course.
PS, Robert Tressel, good post.
Martin Mason
34
Posted 02/09/2021 at 08:54:14
Doesn't take much to get all of the usual Kenwright myths trotted out, does it? Always as opinion but somehow stated as fact.
Excellent article Paul.
Danny O'Neill
35
Posted 02/09/2021 at 08:58:54
A sobering but excellent article and read Paul, as always.
So much to dissect and I could only do it justice in what would amount to another article!
The 2 stark points I draw out are the scattergun & incoherent transfer strategy that we are literally now paying for. In simplistic terms, 4 people all going to different shops, bringing different things back without asking if this is what's needed and seeing what happens. I think that was the "strategy". An Irish Stew of a strategy, just throw what you have into the pot.
The other is the need for Moshiri to take control. Not just financially; take control. Leadership & governance. It's what I called for in the summer once Ancelotti walked. Restructure and re-appoint at executive level, not just managerial. In some ways, the shock of Ancelotti going (for the board), could have presented an opportunity. They missed it in my opinion.
I zoomed in on the matchday revenue aspect. I long argued over the covid pandemic that football proved it can survive without fans. Not long-term, obviously, but TV revenue is clearly the biggest show in town now. But, I had a quick scan and from the resource I read, it's quite telling in terms of matchday revenue. Here's a quick snapshot of match day versus total revenue generation:
Arsenal: 39% of their total £245M from match day income. £95M
Aston Villa: 25% of their total £80M from match day income. £20M
Chelsea: 30% of their total £261M from match day income. £78M
Everton: 21% of their total £81M from match day income. £17M
Liverpool: 25% of their total £169M from match day income. £42M
Man City: 9.5% of their total £231M from match day income. £22M
Man Utd: 31% of their total £320M from match income. £99M
Incidentally, Everton's commercial side only accounts for 14% of our total revenue. We know that's a side the club has performed badly on for years.
Surprised at the Man City matchday % of income. Where is the rest coming from? Benefactors, owners, commercial and likely European football, which many Evertonians see as a distraction.
We have indeed spent the last 5 years missing the opportunity that Moshiri seemingly presented when he arrived. I can only think that the strategic outlook and Bramley-Moore Dock is where the thinking is. Because get that right and we will generate revenue streams outside of the TV money. But he needs to make change at the top.
Until then, the fear is we are just going to tread water. I guess us fans do what we've been doing for decades. Buckle down for the rollercoaster ride and hope we do something short-term on the pitch. That will hopefully project the brand. And when we do, hope the club grasps the opportunity.
And take me to Wembley and Europe!!
Danny O'Neill
36
Posted 02/09/2021 at 09:32:04
Jim @33,
Valid points and account of the historical turn of events that saw us make a total pigs ear of building a new stadium.
This may put me into conflict with people who I usually agree with on many things, but one thing that never sat comfortably with me on the Kirkby proposal was the "in the City" thought process.
You'd have thought we were suggesting a Wimbledon / MK Dons total re-location to another town 100 miles away. It was Kirkby. Personally I'd have gone with Speke, but that's just me, but Kirkby? As Scouse and Liverpool as they come, regardless of an invisible council boundary.
Don't get me wrong, a disaster of a proposal and poor design, but I saw the logic. Out of town, close to the motorway network, and plenty of available real estate. Not dissimilar to what many clubs have done.
And I always don't get the strictness on the City of Liverpool boundaries. Are you telling me Kirkby isn't part of the greater Liverpool region and they aren't scousers? When I lived in Speke and later Woolton, are people from Halewood (where our training ground is now) not scousers because they live the wrong side of Ford's (now Jaguar) or have different coloured wheely bins as they live the other side of Mackett's Lane? John Conteh, Peter Reid, Steven Gerrard, Tony Hibbert, Jamie Carragher and Steve McMahon not scousers?
Not having a go mate, it just always dumfounds me that we can't embrace the Liverpool region area in a way that Manchester has. That's partly why they've grown into being the UK's defacto second city. And other than a bit of ribbing from Man City fans, it's never bothered Manchester United that their stadium isn't in the City of Manchester. But it's firmly in Greater Manchester.
Anyway, in hindsight, I'm made up things have turned out the way they have. It's just taken 30 years longer than it should have. To your point: we could have been at the Kings Dock by now, but Bramley-Moore Dock it is and will be.
Colin Glassar
37
Posted 02/09/2021 at 09:33:31
Our main problem was an incompetent buffoon was replaced by an equally incompetent clown. 30 plus years of incompetence and buffoonery have come home to roost.
Tony Abrahams
38
Posted 02/09/2021 at 09:46:52
I agree that Benitez would not be Everton's manager if Kenwright had any real pull in the boardroom, Brendan, but I think what Jerome writes is very intriguing because he's suggesting that Benitez is aware of an Everton Old Boys regime at Finch Farm (The Billy Boys).
That's why his first move has been to bring a couple of experienced and loyal players into the club, although you could also argue that the manager might not have done this if his hands hadn't been tied by FFP.
Jim Lloyd
39
Posted 02/09/2021 at 09:57:49
That's a good post, Danny. Paul's article lays it bare of the state we're in financially, due to the restrictions mentioned, and you've focussed on the "four people going to the shops and bringing different things back."
It seems that we have too many people getting involved in the transfer process as well. I remember Farhad Moshiri saying that there was Kenwright, Brands and himself, at his home watching the World Cup and we were looking at, I think, Mina.
It doesn't matter really who they were watching, but I'd have thought the only people who mattered would have been the manager and the Director of Football (at the most!)
One change at the top was made when the Financial Director, Mr Ryazantzev left "to pursue another project." Not that I'm pushing for the club to raise its admission price, but it seems to me that is one way of increasing our revenue which can be used towards that sustainability limit.
When was the last rise in admission prices? And what is our admission cost compared to the rest of the Premier League? There's only Aston Villa that I can see who make around the same profit as us on Matchday and I wonder what their admission charge is?
Apart from the major factor of buying players who have not cut the mustard and become financial millstones, the performance of our commercial side has improved, but from a very low base.
As a side issue re costs and revenue, we have a potential goldmine (maybe with not too many nuggets in it) if we can find a way of introducing James Rodriguez into the limelight again, only in a more positive light.
Whether, that is, if Rafa can see him being part of the squad, and if he himself can be arsed to get fit and challenge for a place. We're stuck with a very expensive player who can't be sold or loaned out, and is just a dead weight at present, He's got the skill; can he be bothered to apply it?
Tony Abrahams
40
Posted 02/09/2021 at 09:57:58
Anyway, a very informative article, Paul, and it does explain a lot about why we haven't spent any money this summer, even though a new manager, normally gets a few quid to spend.
My only thought's now are was Benitez hoodwinked, or did he know that he wouldn't be able to spend any money this summer?
I'd say with not a murmur coming from our manager's mouth, then he must have known the situation, and if this is the case, I'm just hoping he was told to bare-with-us?
Jim Lloyd
41
Posted 02/09/2021 at 10:21:26
Danny (33),
No problems with your post and the part about staying in the city or not. It's over with now, though it's a very emotional aspect of where the club sites itself for the future.
My view is and will always be that we would have regretted leaving the city to the RS. They already have the name and I remember I was in Italy a couple of years after we'd played Inter Milan. They remembered the RS but didn't remember us.
My view is the siting of the proposal was awful, almost as bad as Cronton Colliery! So, I'm of the view that we should be proud to be the senior club of this city and that it doesn't just belong to our bastard offspring.
When we get down to the Dock, I'll be proud as punch. I'd never have felt that with Kirkby, not because it was Kirkby itself. Kirkby is a new town developed after the war and full of Liverpool people. It surrounded the little village of Kirkby around the station. I love the place but not for our club.
Now, back to the Dock! I agree with you that it's likely that, for the next two or three years, we'll just have to make do and mend, I think.
I think Rafa Benitez was totally aware of our situation. from all accounts he spent may a long hour talking with Mr Moshiri and Mr Usmanov about the job. I think he knows full well that we won't have the open cheque book and I think he's told them straight, that if he takes the job he'll need to manage the players we have, who we don't need and who we get in. That's why I think there was opposition to him on the board.
Anyway, I good, emotional discussion about our proposed move and a great result as far I'm concerned; but I accept an equally valid argument was felt by those who didn't mind Kirkby at all.
As it is, I hope we have a procession of thousands, down the Dock Road on the opening match at Bramley-Moore Dock!
Barry Hesketh
42
Posted 02/09/2021 at 10:22:06
As Evertonians, we have to be careful with the narrative that the current manager is doing the club a favour by occupying the hot seat.
So far, I've been impressed by the way he has set the team up and how he has encouraged the team to be mostly on the front foot in most of the handful of games Everton have played under his stewardship, however, the real work begins now. The transfer window is now closed until January, therefore the players can breathe a sigh of relief that they remain at Everton and haven't been sold.
From this point on, we'll see if the players continue to respond positively to the manager and we'll see how the manager operates if they don't. Another factor is how both the manager and the team responds to a bad result or performance; will they be able to bounce back rapidly or will the recent confidence dissipate as quickly as it arrived?
I'm not being pessimistic for the sake of it, but so many seasons in the past have produced sub-par performances, not through lack of basic ability but because a number of the team have switched off at certain points in games, and the manager at the time seemed to allow those who underperformed a free pass and then continued to pick them for a run of games, when arguably they should have been dropped for a period of games.
If the manager and the team are still producing good performances and achieving many positive results up to the next window opening, they will be doing very well.
I'm hopeful that the team now have a leader that will demand 100% of them for 100% of the time, that's the minimum we should expect from the manager and the team, if we see that regularly, the results should follow and we'll all be happy. But, nobody who represents Everton on the pitch or on the sidelines is doing anybody a favour – they are all professionals and are paid by the club to do their jobs to the best of their ability.
Mike Jones
43
Posted 02/09/2021 at 10:22:36
Good article, that (of course) provokes the usual bun fight in the responses.
Everyone pointing fingers and blaming each other. The fact is we're an amateur club in a cut-throat, professional industry. Successful clubs are led in the main by ruthless businessmen and women.
We have been in steady decline for 30 years. What's undeniable is that our downward spiral has been under Kenwright's chairmanship. We bucked the trend ever so slightly with Moyes before starting a slow slide once again. (Let's not forget: Kenwright wanted Megson, it was the recently departed Walter Smith who convinced him Moyes was the right choice.)
Back to the present, Moshiri is clearly a very intelligent man. He paid good money when buying his initial stake in the club, and has since increased his grip on the club. Why on earth he hasn't swept everything associated with past failures out the door and into the Mersey is a complete mystery.
The best business owners employ the very best people they can and let them get on with it with minimal interference. Any dead weight is ejected sharpish.
We have a DoF who clearly doesn't have the authority his title suggests. If that's through lack of trust, get rid; if it's through not wanting to get rid of a few former players involved at a desperately underperforming academy, then we have our priorities all wrong.
I would gladly forgo any chance of success for the next 5 years if I knew we would have professionals at board level, a DoF with full authority, and the only Evertonians employed are employed because they are the very best we can attract in their particular field.
FC Cosy of Walton has to go.
Jim Lloyd
44
Posted 02/09/2021 at 10:26:27
Mike! Well said Lad!
Dave Williams
45
Posted 02/09/2021 at 10:32:40
In rugby parlance, I think we have kicked for touch this window with the acceptance that Richarlison will be on his way next year and his sale will generate very high profits which will stabilise us from the Profit and Sustainability problems. Whether that would then provide us with spare cash for transfers is of course another matter.
Our way forward now has to be the development of young players into regular first-teamers (Onyango, Simms, Branthwaite, Nkounkou) and Rafa may well improve the likes of Iwobi, Holgate, Davies to a point where they can either be sold to generate decent funds or become first-team regulars themselves.
I suspect that the financials relating to the stadium will be handled much better than the buying of players; lenders would surely not lend without a highly detailed business plan and schedule of works... and maybe the recent board appointments have been made in recognition of the position we are in.
A very interesting article, Paul, which I hope is completely wrong and wide of the mark!!
Brian Harrison
46
Posted 02/09/2021 at 10:35:51
Whenever a topic relating to the clubs finances come up we always end up going back to the same argument which is always about Kenwright. Seems like a favourite past time of always looking backwards instead of concentrating on what's happening now and likely to happen in the future.
We have had a new owner for 5 years and he is totally responsible for what has happened, and just to put in context, if he has allowed Kenwright to make the decisions, as some on here would have us believe, then that just underlines his total incompetence.
After he had been here just over 12 months, he said he was only expecting to spend 5% of his time involved in running the club. That said how little he knew or cared for this club. He bought Everton from selling his shares in Arsenal which his boss Usmanov gifted him, as Usmanov gifted him these shares so he could hopefully unseat Kronke at Arsenal. But, when that didn't happen, he told his lackie to sell his shares and use the money to buy Everton, which he duly did.
Just a mention of Paul Gregg, seeing someone brought him up, Gregg did offer to help purchase the Kings Dock site for the new ground but that was on the proviso that he could put pop concerts on the ground and other events but the money from these events would go directly to Greggs company and not to Everton, so in my opinion, Kenwright was right not to agree to that deal.
So, looking forward, we have Moshiri & Usmanov who see this as a business venture nothing more nothing less, they have invested heavily to protect their asset from dropping out of the Premier League, as that would massively impact on the profit when they sell after the new stadium is built.
I don't see this pair being here for the long term, just long enough to make their profit and run. I don't think this pair have the same love and effection that the great Sir John Moores had for this club.
Danny O'Neill
47
Posted 02/09/2021 at 10:42:12
Jim, your second paragraph had me chuckling out loud, which always makes the other half suspicious that I'm on ToffeeWeb with my other screen. After 29 years, she knows me too well!!
It was an awful proposal, my only counter has always been a wider one as I've always been frustrated in the way our city and outlying areas never embraced the Greater London or Greater Manchester concept. But that's another debate and I guess broader than just Everton.
I think Benitez knew what he was walking into. He's far too astute and too much of a control freak to think otherwise in my opinion. Maybe they've given him assurances for the next window or beyond?
On 25 September, after the Norwich match, I will proudly look over the site of our new stadium.
Tony Abrahams
48
Posted 02/09/2021 at 11:04:23
I remember speaking to Rick Parry when he was working at Liverpool, and I mentioned something along those lines to him, Brian H. He asked me: What do Everton get out of Goodison now, besides their matchday revenue?
Interesting though that Bill chose to cut off his nose to spite his face... If the new stadium at Bramley-Moore Dock does get a license to house great concerts, I'd bet my mortgage right now that all the proceeds won't end up going to Everton FC.
Brendan McLaughlin
49
Posted 02/09/2021 at 11:10:08
Tony #38,
Rafa only did what almost every new manager does and that is bring in players he felt would improve the team immediately. I don't really think "loyalty" had anything to do with it. And as you say, the players brought in may have been different if we had not been hamstrung by FFP.
You describe Jerome's theory as "intriguing"... I've a less kind description but don't want Jerome to fall out with me so I'll leave it there.
Tony Abrahams
50
Posted 02/09/2021 at 11:38:12
I said Jerome sometimes intrigues me, Brendan, not you!
Jerome Shields
51
Posted 02/09/2021 at 11:43:21
Brendan #49,
I don't want to fall out with you either. Whilst being loyal, they would be better described as strong characters and /or will support Benitez. Bill did make a fortune, as Jay #25 described. Thank you, Jay. Good Luck to Bill.
My bone of contention is the need for the changes that Paul the Esk describes. Those who are underperforming are still in place, either because they can refuse to be shifted or Moshiri does not want them shifted. These are both barriers to necessary progress. The Board is presently dysfunctional.
Hopefully we never see Benitez with that helpless look on the sidelines that we saw in Koeman's, Silva's and Ancelotti's faces. Funny Big Sam did not have that look, they really must have thought their Premier League status was in jeopardy and knuckled down.
The one good thing about Benitez is he was left with no illusions on his appointment about being wanted and will be watching his back from the start. I wonder what he really thought of Big Dunc and Unsie being wheeled out to meet him at Finch Farm, representing the face of Everton?
Jim Lloyd
52
Posted 02/09/2021 at 11:57:25
Rafa Benitez has brought in players that have had an immediate improvement. The difference is, he's brought in players who have had that combined effect for the cost of Iwobi's toenail (well, maybe foot)
Would Benitez have bought more expensive players if he had the funds to do so? Impossible to say... but the position we are in, it was a brilliant bit of business. I don't think Brands (no blame to him) would have known them from Adam.
Like any other manager, Benitez will get some right and get some wrong; but I'd rather him for our manager than any of the others paraded.
Danny, I hope to see the work going on at the Dock on that day too. It'll be the first time I've gone down there for a proper look.
Rick Tarleton
53
Posted 02/09/2021 at 15:28:45
Paul,
Not only do your pieces provide financial and managerial insights beyond the norm, but they are written in language that we can all follow. Thank you for that.
It is obvious that Benitez is working under massive constraints (does he long for the transparency of Mike Ashley?) but it is also apparent that, with the building of the new stadium, these constraints will probably remain for quite some time.
I wish Benitez well and hope that his technical savvy will enable him to make some kind of purse out of the pig's ear. He has his work cut out, especially as the Rodriguez situation is adding to his complex managerial and coaching dilemmas.
Bill Hawker
54
Posted 02/09/2021 at 15:38:09
I'm still waiting for Fortress Sports Fund to show up...
Bueller, anyone? Bueller?
Ian Burns
55
Posted 02/09/2021 at 16:14:32
Once again, an exceptionally well researched and written article, Paul, and we at TW all appreciate the knowledge you bring to the financial affairs of our club and the time you spend doing so.
On the other side of the coin, I could get quite depressed, Paul, but it is essential reading.
If we sold Richarlison for £100M and replaced him with young Dobbin – does that resolve our problem? (I know it creates another problem but my question was with regards to finance.)
Eddie Dunn 28 – a fair post.
Jack Convery
56
Posted 02/09/2021 at 17:02:47
Thanks for this look into the abyss that is Everton finances... dark though it maybe.
I remember when Moshiri bought into Everton FC, he said he did not want us to be a museum. What he didn't realise was that it already was an Old Boys refuge, for former Everton players looking for a job with decent wages and no real pressure to produce positive results.
Just look at the amount of players coming through the ranks into the first team. Since Rooney, who was a natural anyway (even Everton couldn't ruin his ability), just how many players have actually come through? Very few.
Tom Davies has been in the first-team squad for several years and, after a great start, has just stagnated. Unsworth should now be moved on in my opinion but it won't happen any time soon.
The most damning thing I've heard in recent years is from Ellis Simms, who said whilst on loan at Blackpool, that he had learnt things he would never learn at Finch Farm – and that from their manager a former Liverpool Reserves boss.
I've said it before but this hanging on to our so-called history by employing far too many ex-players is like a toppled mast hanging over the side of the ship and preventing it moving forward at the speed to keep up with the fleet.
As of 1995, we have little history to look back on, yet an awful lot of players from that period are employed by EFC. I know Unsworth was in that FA Cup Final and had a great game but that does not mean he should be forever and a day our U23 coach. Bring in someone with a proven track record of developing youth into decent footballers. We can't even sell most of our U23s but resort to loaning them out and giving them away for free.
As for this transfer window, to not get a right-back in (we've had 3 seasons) and loan out our only other left-back (Bertrand was available on a free), is a dereliction of duty and smacks of the farce we had with no centre-half cover bought when Silva was manager. Is it deliberate to undermine the manager?
I've not even mentioned buying No 10s galore under Walsh – again, was that deliberate? If it is, then a power struggle within the club can only do Everton great damage and maybe this window has proven that.
Jerome Shields
57
Posted 02/09/2021 at 17:06:35
Jim #33,
Excellent post and it reminded me of Shenanigans that were going on (in my opinion), starting in the Johnson era. Joe Royle and the contract debacle and Bill the Saviour, when in fact he was very much a second to Johnson on the Board, prior to the latter's departure.
From memory, Johnson got Everton for £8 million and his lieutenant left him with a huge profit on leaving, Bill taking over a warm driving seat. I remember getting Everton's accounts that time, before I knew of ToffeeWeb, and was amazed what was going on when I compared it with newspaper reports, which got no better over the subsequent years.
Everton where a shambles even then on the Commercial Management side. That was the time of the satellite Everton Clubs, rehashed lately. The first being Home Farm Everton in Dublin. They are now linked to Newcastle. Really, it never changed much since then and, after 20 years, a lot of us won't believe a new dawn till Silverware is achieved.
It is noticeable when no money is available, Benitez is alone regarding transfers, Bill is nowhere to be seen, and Brands is walking a big black dog round Liverpool on transfer Deadline Day, evidently having not heard the Liverpool saying 'As much use as a Big Dog. '
Yet again, we start a season with hope. I do hope Benitez is a gangster in dealing with Everton internally, because that is what he is going to need to be. He does seem to know what he is doing and is aware of what lies in wait for him and, more importantly, trying to do something about it.
Great article and thread, Paul the Esk.
Martin Mason
58
Posted 02/09/2021 at 17:10:03
Mike @43, we have been in decline for 50 years.
With respect to Bill Kenwright, he had absolutely zero to do with our decline, other than not having money to invest to halt it. He actually did an amazing job of keeping the club not only in the Premier League but in existence, full stop.
He guaranteed that money was ringfenced for Kings Dock? He certainly didn't.
Destination Kirkby was a disaster for everybody? Absolute rubbish, it was actually a very good idea.
Blue Union stopped it happening? Too hilarious for words.
Could we have done better with somebody at the helm other than Kenwright? Absolutely possible but Kenwright owned the club, so it's irrelevant.
Kenwright made money in the end for all of his work? Well whistle my dog, good on the bloke.
Gary Smith
59
Posted 02/09/2021 at 17:20:53
Martin,
Bill Kenwright chose to keep his trainset instead of selling out to the Greggs and allowing us to build the Kings Dock stadium. If he had our interest ahead of his own, we may now be sat where Man City are.
I'm sure that this was an exception and for most of his time he's had his heart in right place, but that alone was a disaster. To think the Tesco stadium in Kirkby was a good idea is about as daft a comment as I've seen anywhere.
Martin Mason
60
Posted 02/09/2021 at 17:34:12
Gary, incorrect. He didn't accept Greggs money because of the inverse mortgage structure and he was correct. Kings Dock was simply never going to happen.
Destination Kirkby was a superb idea which gave us a new ground for very little investment, can you please explain the daftness in that?
Gerry Morrison
61
Posted 02/09/2021 at 17:48:21
It was going to be built in a shopping centre in Kirkby. Sounded daft to me at the time.
Gary Smith
62
Posted 02/09/2021 at 18:13:09
Martin, he *failed* to raise just £30m (equivalent to just £50m today – less than 1/10th of the cost our new dock stadium will cost), and after he *failed miserably* at that, and bullshitted the council for so long, he only had *one* option left… the "inverse" (ie, reverse) mortgage deal offered by Gregg.
The issue still wasn't the fact we'd be renting our world-class stadium, it was that, by accepting it, he would have lost control of the club. Had we moved there, the chances are an investor would have come in, bought Gregg and Kenwright out, and taken us back where we belong on and off the pitch.
To say "Kings Dock wouldn't have happened" is as nearly as naive as the Value range stadium… go take a walk round the site and look at the stadium they built without us. Trying to paint it as a mirage is idiotic. All we had to do was find the money and take a gamble on the TV revenue going up. Risk averse is a classic trait of a poor entrepreneur… Kenwright to a Tee.
With respect to the "little investment" comment on Destination Kirkby, what utter oxymoron. Tesco where using Everton to get an impossible scheme approved (that was never going to happen – go take a look there too!). Had it been approved, we'd have gotten a cheap plastic, no frills stadium on an out-of-town shopping estate. Wow.
Everton would have ended up finding a majority, and it would have led to us being "another Bolton Wanderers" with no possible outside investment. Most likely it would already be crumbling apart from the cost cutting used to build it.
I think I'm actually getting a picture of why you support Kenwright. You lack vision in the same way he does. Thinking paying £500m for a dock stadium is better than £50m, and thinking an out-of-town shopping centre beats the modern docks is just daft.
One thing's sure: on the Internet, you can't educate daft. Enjoy your evening, and Kenwright mediocrity. That's my last post.
Barry Hesketh
63
Posted 02/09/2021 at 18:26:04
Irrespective of what occurred 10, 20 or even, 40 years ago, my question will remain why and how did Bill Kenwright stand by and allow his 'friend' to spend so much money in such a short period of time?
Whether Bill played a leading role or was merely a passionate observer on proceedings, what sort of friend allows his pal to continually spend ridiculous money on poor managerial selections and players??? – Oh, I know the reason: it wasn't Bill's money, was it!
Just reading that Everton may post a loss of £100M for the year 2020-21, according to finance guru Kieran Maguire.
"I think the challenge for Everton comes when you take a look at their losses. In 2018 it was £13m, in 2019 it was £112m, and in 2020 it was £140m.
"We are now in the three-year period of 2019-2020-2021. Yes, there will be some Covid allowances, but they still have relatively little wiggle room here.
"Even if you take a look at what they could do in the transfer market next summer, they still have those £140m losses to contend with.
"We also know that the losses are probably going to be in the region of £100m-plus for 2021.
"They have also got an issue in terms of their wages-to-income ratio. It was 85 per cent in 2019, 89 per cent in 2020.
David Pearl
64
Posted 02/09/2021 at 18:48:19
Martin @60,
I don't know how you can waste your time. Certain people will hate on Bill Kenwright no matter what.
You can look back to the European Ban in the late '80s for the start of our decline and obviously how bad our recruitment was back then also. Like watching a crash in slow motion. Then of course the creation of the Premier League and Champions League created a gulf in incomes, which put us back again.
Farhad Moshiri, in his very first major decision, put us back 5 years!! Replacing Martinez with Koeman plus installing Walsh??
A completely different style of play. Look at those signings made. Most of them end up leaving for nothing. Brilliant, just brilliant.
Koeman then came out with the plan of replacing Lukaku's goals with multiple scorers all over the pitch and not any like-for-like striker. So we waited for Calvert-Lewin to grow up instead.
A few of us on here noted when Koeman was sacked that this would take us 5 years to fix, and we were right. 3 number 10s. A defence of Ashley Williams, Jonjoe Kenny, Cuco Martina. Gana Gueye... l will give him that one (Walsh).
And please don't call Brands a DoF. What is he? The managers have called the shots regarding signings, which was the main reason behind the imbalance in the squad. Not Brands. His main fecking job has been to shift out the Koeman & Walsh signings and he's done it with loans while paying half their wages before letting them leave for free (Walcott, Ramirez, Bolasie, Besic). We actually paid portions of their wages while they played for other clubs and all whilst paying our own. We had a chance to get money for Kenny but we all know he will leave for nothing too because Burnley didn't offer enough last year. So we settle again for nothing.
Non of the mistakes of the last 4 or 5 years are on Bill Kenwright. They are all on Moshiri and the first on-pitch decision he made.
* If l am incoherent, l am sorry. l'm on some painkillers that are messing my head.
Hair peace V!

Terry White
65
Posted 02/09/2021 at 18:53:35
Mr Smith (#62), that's good news for all of us. Now if only Mr Alexander, Mr Glassar, Mr Shields, Mr Murray, Mr Kinsella, et al, would do the same.
Kieran Kinsella
66
Posted 02/09/2021 at 18:57:36
Kenwright 65,
"Mr. Smith (#62), that's good news for all of us. Now if only Mr Alexander, Mr Glassar, Mr Shields, Mr Murray, Mr Kinsella, et al, would do the same."
You've never received criticism well since that Blue Union meeting, have you?
Tony Abrahams
67
Posted 02/09/2021 at 19:03:01
I hated Koeman, David, but sometimes I think he might have done a lot better if he'd brought Sammy Lee with him!
Kevin Prytherch
68
Posted 02/09/2021 at 19:04:04
Bill Kenwright promised us a world class stadium and he is delivering it.
Bill Kenwright promised us a wealthy owner and he has delivered it.
What more can the guy do? He has delivered on his main 2 promises.
Bill Kenwright – Everton Legend
Danny O'Neill
69
Posted 02/09/2021 at 19:10:37
The plans for the stadium are in place.
To the title; the hard work starts now.
Let's get it right on the pitch between now and then.
Alex Ferguson didn't seem to worry about the regeneration of Old Trafford. He focussed on getting it right on the pitch and the rest followed.
I know football is a business more than ever these days. But it's still football and if you don't deliver on the pitch, it matters not how shiny your stadium is.
Build from the base up. But without wanting to sound naive, at least we are thinking strategiclally too. However, it means nothing if we don't get it right on the pitch.
Gary Smith
70
Posted 02/09/2021 at 19:18:54
Terry [Ken] White,
Keep putting your fingers in the ear and singing "I love Bill, he loves me" in the tune of one of his happy little Broadway numbers, little fella… the man has held us down for years. We needed an entrepreneur in the time of the SkyTV boom; instead, we got a showbiz luvvy with a big heart and no brain…
Stephen Vincent
71
Posted 02/09/2021 at 19:24:37
Kevin 68, sarcasm is the lowest form of wit - at least I hope it is.
Robert Tressell
72
Posted 02/09/2021 at 19:41:10
Barry #63,
That seems to suggest we will have to sell Calvert-Lewin or Richarlison in Summer 2022 but we probably still won't be able to spend.
Bill Gall
73
Posted 02/09/2021 at 20:08:38
Gary #70,
For a man with no brain, he seems to be awful rich and successful. That must be why some of us normal's with a brain just wonder what we done wrong to not be rich and successful...
Brian Murray
74
Posted 02/09/2021 at 20:19:56
Maybe we are culpable and guilty as a fanbase for letting this happen. If we were as fierce and determined as them shysters over the park when the two yanks were out to destroy them (god bless me).
A lot of our fans wouldn't support the Blue Union and even derided them as headaches. Remember their chant? "Stand down if you love the Blues." Pertinent now as ever.
As I say, them Spirit of Shankly made sure they got their club back. Our motto should be removed because no-one at the club believes it or even tries to uphold it.
Barry Rathbone
75
Posted 02/09/2021 at 20:21:20
Not sure what people expect for a spend of £500M over 5 years... our "ground zero" starting point was (and still is) miles below that of the monied 6. Playing catch-up demands more than a par spend which averaging £100M per annum is essentially what we've done (and badly). Hence the mid-table noddy existence continues
The monied crew pay £30 to £40 million for players that make up the numbers but we seem to expect game-changers for the same dough – it is a monumental delusion.
When we enter the marketplace of Pogba, Grealish, Van Dijk, Lukaku etc, then complain; till then, someone please write an essay apologising to Moshiri for delusional expectations.
Steve Hogan
76
Posted 02/09/2021 at 20:57:24
Brands as DOF has come in for some heavy criticism, some justified, and an awful lot not. What is apparent though, he is operating almost in a recruitment 'collective' of manager, chairman, and a distant Monaco based owner, who all believe they can identify 'a player'.
No way he would have recruited Rodriguez on the salary and length of contract he is reported to be receiving. Injury prone, past his best, and with little or no sell on value, exactly the type of player Brands has been trying to avoid since he arrived at Goodison.
No this was the work of Ancelotti, a 'Hollywood' signing trying to demonstrate he still had some pulling power as a manager of repute.
Once again, Everton are left to carry the can. My question is this, if Brands is operating under these circumstances, why hasn't he shown some balls and either give the club an ultimatum, or simply walked away.
Nick Page
77
Posted 02/09/2021 at 21:08:41
Tony Abrahams
78
Posted 02/09/2021 at 21:11:47
Because in the words of David Unsworth, he's an Evertonian, Steve H, he's one of us, and once Everton have touched you, then there is no other place to be!
Don Alexander
79
Posted 02/09/2021 at 22:22:22
Nick (#77), I would suggest every Kenwright fan reads the article you cited on;
https://www.ToffeeWeb.com/season/10-11/comment/fan/16215.html
In the thread, posted in 2009, Everton's parlous years-long financial history, and Kenwright's fiddling whilst our club declined under him, is exposed ad nauseam, and then one fan, Tony I'Anson by name, posed the interesting question;
"Where will Everton be in 5 or 10 years time?"
Well Tony, we'll be in a financially parlous state, with Kenwright as our chairman, and an (alleged) owner with evidently no clue as to how to successfully run a football club.
Sound familiar?

Paul Birmingham
80
Posted 02/09/2021 at 23:11:44
Great report, as is standard, Paul, and a dose of the smelling salts is now increasingly the monthly prescription now, to keep the Everton sacrament in perspective.
As it stands, it's not close to Shit Creek in the slimy deep shit but, as Evertonians, we are long used and averse to living in adversity, and challenging times, and default systemic failings at Everton board level.
I see light on the horizon and thank God we've got a manager with honour and experience but who is not living in a prima donna world of innuendos and bull, like our last manager, who proved the legend of the 4 reverse gears like no other Everton manager in history.
This is a very tough time, but Everton has been in far worse predicaments, but now the parting of the Red Sea is doable and can be and will be done. Then the real battle starts.
What will impact is the sponsorship and football street crediability with actual, contracted backers and the potential such backers?
Let's hope they find a stashed a Viking Hoard in the Bramley-Moore Dock silt (joking) as a surety.
"As long as we have done our best, and no-one can do more." Let's hope it is the case in every Everton match this season.
The experience and realistic me, tells me that we have been savvy, and bought very well in this market, and pound for pound - early days. In boxing terms, Everton, have bought some steady fighters, we'll see what happens after four rounds (tough games and then Man Utd away on the 2 October 2021). It would be great to turn that day into an Everton party.
But hope eternal, and let's enjoy the break and, Everton come back, very strong.
"Whats Our Name?"
UTFT!
Paul [The Esk]
81
Posted 02/09/2021 at 23:31:42
Some fantastic contributions to the thread. Thanks all!
Paul Birmingham
82
Posted 02/09/2021 at 23:37:49
Mike McClean, hope all's good mate, and get in touch soon.
Litherlands finest, Top Man, those were the Days!
Jerome Shields
83
Posted 02/09/2021 at 23:40:02
Nick#77
Thank you for the link.
Nick and Don. #79
I suggest Colin and Tony's updated comments would be 'ditto'.
Ian Pilkington
84
Posted 02/09/2021 at 23:41:52
Martin Mason @60
"Destination Kirkby was a superb idea.."
Surely one of the daftest statements ever made on this site.
Andy Crooks
85
Posted 02/09/2021 at 23:50:46
Paul @82, I don't know you, or Mike, but for some reason that post made me feel good. Nick @ 77, well done.
Andy Crooks
86
Posted 02/09/2021 at 23:54:00
Ian P,
Martin posts some good stuff now and again but 60 was one of the mad curveballs he likes to chuck in.
Hope to see you at the Bramley-Moore get-together, Martin.
Dennis Stevens
87
Posted 03/09/2021 at 00:10:47
Martin #60 "Destination Kirkby was a superb idea which gave us a new ground for very little investment, can you please explain the daftness in that?"
I'm hoping that this comment was meant as a wind up - surely no Evertonian can still be so ignorant of even the most basic facts regarding this false promise.
Derek Thomas
88
Posted 03/09/2021 at 00:45:36
Martin @ 60;
Excellent wumming* there mate, truely excellent...and nearly true too - apart from the fact that in your two sentences you have the ground names in the wrong order.
*wumming - the act of being a 'Wind Up Merchant' (WUM)... making deliberate outlandish and/or totally wrong misleading statements to encourage and provoke continued ire, and thus response in the reader.
To Wum - verb; Wummer - Noun, 'your pronoun here' who wums.
(For conjugation purposes treat it like act, actor, he acts, he is acting etc.)
Mike Gaynes
89
Posted 03/09/2021 at 01:28:21
Derek #88, that's one of many new words I have learned on TW over the years... but I've never used that one after finding out it means something entirely different in urban slang.
Soren Moyer
90
Posted 03/09/2021 at 01:59:28
Sack the board. Get rid of the chairman. Install people who know how to run a successful business.
Laurie Hartley
91
Posted 03/09/2021 at 05:04:10
Paul #31 - I have only got down as far as your post but I had to jump in after reading your comment:-

"Maybe a few years of belt-tightening will do us some good; instead of just chucking money at everything, people will have to work a bit harder."
Words of wisdom that I agree with entirely. It wasn't my money but the people who squandered away that fortune have never been skint. It's a disgrace and something that I feel quite angry about.
I will be back after I have finished the thread.
Martin # 34 - I only got down three posts. This is not a myth - in the last 5 years of his chairmanship, the business has squandered somewhere between 400 and 500 million quid.
Laurie Hartley
92
Posted 03/09/2021 at 05:49:33
Thanks for the article Paul - we needed the cards on the table and you are spot on about making changes at board and executive level.
If I was Moshiri I would appoint Colin Chong as the CEO of Everton. They are hard nosed those builders - I know from experience. The domino effect would set in immediately.
Brian Murray
93
Posted 03/09/2021 at 07:07:45
Got a feeling the walls are closing in on the teary one and his under-qualified sidekicks. Moshiri has seen the light – albeit 500 million big ones later.
Tony Abrahams, that bet is in the balance and can go either way. Coyb – see you at the Bramley-Moore Dock shindig, hopefully.
Danny O'Neill
94
Posted 03/09/2021 at 07:44:43
Total conspiracy theorist speculation on my part, Brian Murray, but that made me think.
Kenwright didn't want Benitez, if we believe the gossip.
Benitez is a control freak who likes to engage at boardroom level.
Benitez, despite many of ours' discomfort, knows Merseyside and will know the underlying sentiment of many towards Kenwright.
He may be conveying his advice to Moshiri on his thoughts based on his previous experience of the Merseyside football scene.
We might now have a manager who can influence based on hard, cold lack of emotion rather than getting caught up in tales of old and emotion.
Tony Abrahams
95
Posted 03/09/2021 at 08:22:36
Total conspiracy theory made me think of Roger Waters, singing HOME, so a lovely start to the day for me Danny, especially because I've finished my self isolation, and I can now get out of this F G House again!
Eddie Dunn
96
Posted 03/09/2021 at 08:56:19
Reading all of the posts, it is clear that we fall into differing camps regarding responsibility for the current malaise we find ourselves in.
I would suggest that hindsight is a wonderful thing and it can be argued that Everton under Kenwright was a private club run by a Theatre luvvie who was an amateur in terms of football and it's layers of complexity, on and off the pitch. However, in the midst of the decisions made in those times, Kenwright and his cronies could not see into the future. They couldn't tell if the Mansors were going to pump in millions of pounds over a long period.
There were probably poor choices made and mistakes aplenty. The trouble was we had no money and needed investment and nobody could see the future of global TV sales going through the roof.
Ironically, when Moshiri got involved, many of the Kenwright-knockers told us that here was a successful businessman, at last we had a hard-headed owner who would sort it all out.
How wrong we were. Kenwright was an amateur, one of the old owners indulging in his trainset. Moshiri is one of the new owners, but unfortunately his longed-for business accumen that so many admire, seems to have deserted him as he interfered in managerial appointments and player targets (so rumour has it). The result is a mess.
It is an illustration of the state of football in general. The owners have been ousted by financial institutions, hedge funds, oligarchs and sheiks. Television money makes up most of the revenue and wages take away most of this. We struggle to finance the new ground because transfers are too expensive, wages too high, and middlemen are driving the whole gravy train to extremes.
The business model has been distorted by the investment in Man City and Chelsea over many years. Financial Fair Play is meant to prevent such distortion. As we all know, this is shutting the stable door after the horse has bolted.
Covid had an impact but football was allowed to continue and TV kept its grip. It was clear that this game is now divorced from the old fanbase. The fans were missed for the atmosphere, the backdrop for TV. The whole of football is one great big feeding frenzy where they all spend our money (TV revenue).
Lots of very rich people, earning a massive wage but bankrupting the clubs along the way. The debt we have accrued over the last 3 years would see most businesses go to the wall. We have stumbled from bungling Blue Bill, robbing Peter to pay Paul, to the Monaco Muppet.
The one ray of light is Benitez. Perhaps those core values of hard work, organisation and teamwork will lead us to our promised land. Until, of course, Moshiri then sells us at a large profit to another saviour.

Martin Mason
97
Posted 03/09/2021 at 09:58:27
Laurie @91,
Can you show me in the official accounts or anywhere else where we squandered that amount of money in 5 years but please start by defining "squandered".
Jerome Shields
98
Posted 03/09/2021 at 09:58:40
Eddie #96,
Kenwright & Co think they can manage well and anyone who disagrees is gone. They have managed Everton every season and are not accountable for performance. They dictate the whole Everton culture that Benitez is having to work with mismanaged players, a sense of entitlement in many cases at Finch Farm, and financial mismanagement long before he started.
He may turn the team around. If successful, he adds to the demand for change. To expect him to turn around the whole club is beyond his remit.
Danny O'Neill
99
Posted 03/09/2021 at 10:02:09
Tony, you'll have me hitting YouTube again to look these songs up that you keep throwing at me!
Eddie. Stop it with your dose of realism. I know it's Friday, but I can't have a drink to calm myself just yet.
The irony of Benitez being described as a ray of light. But not far off the mark.
Darren Hind
100
Posted 03/09/2021 at 10:35:08
Superb article, Paul the Esk,
As usual very informative.
Tony,
Apt and profound.
When they overun the defences, a minor invasion put down to expenses, will you go down to the airport lounge?
Will you accept your second-class status, a nation of waiters and waitresses? Will you fix their Martini's? Will you stand still for it?
When the Cowboys (Man Utd + Red Shite) and Arabs (Man City) draw down on each other at noon, in the cool dusty air of a city board room, will you stand by a passive spectator, of market dictators?
Brian Hill
101
Posted 03/09/2021 at 11:07:42
Love the Roger Waters references. He's a Gooner so won't be overjoyed right now. He seems to have a lyric for almost any situation. Picture a leader with no fucking brains.
Derek Thomas
102
Posted 03/09/2021 at 11:45:24
Mike @ 89; Honi soit qui mal y pense, mate, Honi soit qui mal y pense.
Jim Lloyd
103
Posted 03/09/2021 at 12:05:00
Nick (@77),
I've just read Colin's article; and if anyone still believes Kenwright was just a good old, starry eyed, naive Boy's Pen regular, who gave all his money away to save our club from a fate worse than death... Bollocks! Read it!
Anyway, we are where we are now, and from now on, as Paul says "The Hard Work Starts here".
Danny (@94),
I don't think you're that far away at all! I think Benitez has had the full situation of our finances given to him. He knows what he's got to do and I think he's the man to do it. If the backroom staff and in particular the Under-23 management and scouting isn't overlooked by our DoF, if he's overlooking it, then is the talent we have in the Academy good enough... and if not, why not?
Although we couldn't get a right-back, we've got Ben Godfrey who can play there if needed, there's Jonjoe Kenny and even Mason Holgate, so we can make do. Left-back might be a problem but Ben Godfrey did alright in that position as well. Hopefully Nkounkou will come back from his on loan a much more experienced full-back. Even Fabian Delph looks to have improved, well at least we know what he looks like now! Branthwaite can cover either centre-half positions, and Godfrey may well take over one of those (he's going to be a busy lad!)
Midfield is looking better with Allan and Doucouré fitting in well together. I think Gomes, Gbamin, Davies will all improve under Benitez,
We look good up in attack with Townsend and Gray both fast and playing well. I think Rondon is a good sub centre-forward and I seem to remember him giving our defence a torrid time when I last saw him with Newcastle at Goodison. We've got Richarlison and Calvert-Lewin first choice with maybe the two young strikers, Simms and Dobbin, playing parts this season.
Then there's the enigma... James! Rafa Benitez has sad in last night's Echo that he will come into the reckoning. I'd just love to see him play but I think he needs to sort himself out. I'd expect Benitez to play him if he is willing to pull his tripes out like every other member of the squad and if he can play within a team pattern.
I don't think he did himself any favours with the rest of the first team when he jetted off after being on the sick list and then declaring himself fit for Columbia.
I don't think we'll do too bad this season and I hope Mr Moshiri will sort out any issues he thinks are needed in the Boardroom... starting with the Chairman!
Martin Mason
104
Posted 03/09/2021 at 12:28:40
Jim @103,
I don't believe anybody has ever thought that about Bill Kenwright. It'd be as much myth as most of the other views expressed on him?
Laurie Hartley
105
Posted 03/09/2021 at 12:55:52
Martin # 97 - definition of squandered:-
At the end of the 2015-16 season, we finished 11th
At the end of the 2020-21 season. we finished 10th
Gross spend in transfers during that period: £536m!!!
Net spend for the period: £275m
Then have a perusal through the players salaries per week!! And figure out if there is any more money currently going down the gurgler.
Jim Lloyd
106
Posted 03/09/2021 at 13:01:47
Martin, don't be silly. There is myth, and there is fact. I think you've got things back to front.
Barry Hesketh
107
Posted 03/09/2021 at 13:16:25
Laurie @105,
I don't dispute the overall picture you paint regarding the money spent and received from player transactions. I would take the figures from Transfer League with a pinch of salt as, since the Covid Lockdown began, the author doesn't seem to have kept his figures up to date and in his total of £147m spent by Everton in 2020, he includes Moise Kean's transfer value twice.
As for the wages presented by Sportac, I really fail to understand how Dominic Calvert-Lewin signed an extension to his contract but somehow remains on the same salary (£20k per week) that he was on previously.
Christine Foster
108
Posted 03/09/2021 at 13:40:55
We have had the Kenwright conversations for well over a decade, it will only go away when the boardroom door hits him on the way out.
Facts, probability, myth are all watered down by some to just opinion, but still the same voices repeat the same garbage in defending the indefensible. The man who continually stated he was looking for a buyer 24/7 for so many years, when it was eventually disclosed at the tribunal under oath by the CEO that no director would sell any of their shares to any investor nor dilute them. How does that gem sit?
The man who praised his long-time friend and ally, the totally discredited BHS pension raider, Philip Green, as "He's a total genius when it comes to money, he's like Mozart is to music."
Time heals most things but, in order to do so, there has to be clear water.
So, my opinion for current perspectives on our state of play?
Moshiri put faith in others running the club, to the point he is not a director and only wanted to be involved with the running of the club for a small percentage of his time. (His words, not mine.)
The "enhanced" role he gave to our Bill was done most likely with this in mind. However, you would seriously have to question that logic when he was placing so much trust in a man who has overseen so much failure at the club – commercially and performance-wise.
Frankly it is no surprise that he said enough was enough when he appointed Allardyce to protect his investment. He has made mistakes but I doubt he will again.
Tony Abrahams
109
Posted 03/09/2021 at 13:44:50
Picture a leader with no fuckn brains,
I've been doing it for years and it's sent me insane,
As the saviour gets by,
On the words of a lie,
And a plan that says divide & conquer!

(Same tune, obviously, Brian H!)
Mike Corcoran
110
Posted 03/09/2021 at 14:28:07
Re the salary figures, there is no way that Nkounkou is on £2,800,000, – definitely a zero coming off that!
Barry Hesketh
111
Posted 03/09/2021 at 14:41:06
Jonathan Liew, in his piece last Monday in the Guardian, makes some salient points, in relation to the thirst for change and the appetites of fans to see new arrivals at their club. Obviously, Everton isn't currently in a position to sate the appetite of Evertonians who wish to see expensive new signings arrive at Goodison, but the appetite remains nevertheless.
On TalkSport a couple of weeks ago, the former Crystal Palace owner Simon Jordan offered a telling insight. "I think some of these United fans are a little bit whiny," he said. "They don't want the Glazers there. Well, too bad. They spent £110m this year. It would appear to me they're backing the football club."
This, perhaps, is the fullest expression of how football's ownership class sees its customers: a powerless irritant, an infantile racket. They're betting that fans' thirst for new signings and new content, for silverware and tribal conflict, will outstrip its thirst for change. Will anyone – can anyone – prove them wrong?
Clive Rogers
112
Posted 03/09/2021 at 15:22:13
There is no doubt that Kenwright became a rich man out of selling his shares to Moshiri at top dollar. Compare that with Sir Jack Hayward, an owner of Wolves who, after spending in excess of £70 million on redeveloping the stadium, sold the club to Steve Morgan for £10 with the proviso that he invested £30 million into the club. That is a chairman with the club's best interests at heart.
Jay Harris
113
Posted 03/09/2021 at 16:10:23
I guess the Kenwright debate will go on as long as he is here, which won't be for very long I hope.
Christine is spot-on, there has been so much written about this man that it's about time it ended.
Move onwards and upwards, we hope, and leave the self-serving egotist to rot in his squired wealth from EFC.
Clive Rogers
114
Posted 03/09/2021 at 16:38:51
Jay, it does beg the question, though: What does he want from it all?
Whatever it is, I imagine he is not going to get it. He has become a hate figure for many and has presided over an unprecedented period of decline and lack of success and that is what he will be remembered for without a doubt.
Jim Lloyd
115
Posted 03/09/2021 at 16:49:15
I don't think the debate will end until he's gone.
I think the football side of things which "The hard work begins now" refers to, means we make do with what we have until we're able to buy players for massive fees and wages again. Maybe not even for low fees and comparatively low wages!
I've just been reading the article on coaching by Tim Cahill. It didn't half show how Moyesie picked up players for very little and moulded them into a bunch of fighters, as well as a decent team. He managed under circumstances where he had almost to sell a top player each year, to fund the team.
Well, we're maybe not in such tight financial constraints as that, and we do have some really good players.
As each and every game in the Premier League is a hard game and has to be won, I think we have a manager who will demand the players put everything into every match they play. It looks like we're stuck with some underperforming, big-wage players and Benitez will demand every ounce of effort off them if they play.
I also think he'll get the best out of all the players as he'll be getting them to play knowing what they have to do.
If I see the attitude displayed in the first three games, carrying on throughout the season, then the hard work will be working.
John Cartwright
116
Posted 03/09/2021 at 18:24:34
Thanks for the link, Laurie (105),
Seems all the hand-wringing about Rodriguez's wages seems a bit over the top, compared to both Gomes and You Know Who – they are apparently on higher salary and scarcely get a mention.
Ian Bennett
117
Posted 03/09/2021 at 19:04:23
Spot on, John. Couldn't agree more.
We pay top dollar to some and get nothing on the pitch in terms of goals or assists. Iwobi has bucked up his ideas, but the salaries of him, Gomes and Bernard must have yielded under 5 goals - but cost £300k per week in wages, or £15M per year. Unbelievable Jeff.
Martin Mason
118
Posted 03/09/2021 at 19:10:26
Jim @106,
Perhaps you could give examples of people who have that view about Kenwright or a shred of evidence for the nonsense that many raise about Kings Dock, Destination Kirkby and Bill Kenwright's financial dealings. Perhaps when things are evidence-based rather than myth-based, then we can decide who has it the right way round.
An example? Bill Kenwright said the money for Kings Dock was ring-fenced? Absolute myth.
My view is that Kenwright is well past his sell-by date and he needs to go before the club recovers its full health – that is total opinion, btw. I just challenge the absolute factless nonsense spouted about him by some.
Tony Abrahams
119
Posted 03/09/2021 at 19:19:46
After reading a post from over ten years ago just now which has left me feeling depressed, what a surprise to see my old mate, Martin, still talking about so many myths.
Barry Hesketh
120
Posted 03/09/2021 at 19:31:21
Martin @various,
Perhaps you should read the link below. Unfortunately, the link - provided within the article - to the Telegraph website is now behind a paywall but I'm sure somebody will be able to remember/relate its contents.
Christine Foster
121
Posted 03/09/2021 at 20:11:24
Martin, so your defence of Kenwright is that it's all lies? All the documented reported quotes from AGMs, press releases, media interviews never happened? Still you peddle the myth. So please, let's do this another way, why don't you prove that none of it is true?
Or is it a myth you are trying to create to justify your stance? So come on, Martin, if you're going to refute the "myth", then do so with your own facts. Refute the detractors' points, one by one. Just one point will do to give credibility to your stance. Will it be another 10 years in the making?
Martin Mason
122
Posted 03/09/2021 at 21:30:04
Christine, there is no obligation on me to prove that the Kenwright myths aren't true. It is absolutely on those people making accusations to prove that they are true.
My defence isn't that the accusations are lies; only that there isn't a shred of evidence to show that they are true. They are "lies" until they are proven to be fact.
Kenwright is innocent on every charge until he is proven guilty. Myth isn't proof.
Michael Kenrick
123
Posted 03/09/2021 at 21:42:15
That has always been your posture, Martin. And people have always provided you with evidence. And you have always denied it vehemently.
What is clear and unambiguous for most of us is rejected by you out of hand because it doesn't meet your own very special standard of evidence.
How about a statement appearing in a national newspaper, that directly refutes what you say is a myth?
When the club were pursuing a stadium move to the Kings Dock on the banks of the River Mersey, Kenwright assured everyone for over two years that Everton's contribution of just £30m was "ringfenced".
That quote doesn't come from ToffeeWeb or any other fan site. And it directly refutes your claim.
But go ahead anyway...
Martin Mason
124
Posted 03/09/2021 at 21:43:28
Sorry, I've spent maybe 10 years asking for evidence that the accusations made against Kenwright were fact and I have never seen a credible or sensible answer. Surely, if he is the anti Christ that some make him out to be it is easily proven that he is?
Martin Mason
125
Posted 03/09/2021 at 21:46:10
Michael @123,
I have never seen a shred of evidence of the accusations against Bill Kenwright, perhaps you can provide it please.
Michael Kenrick
126
Posted 03/09/2021 at 21:52:22
Martin,
I just did.
Read what you say in Post #118.
Read what it says in Post #123.
It is direct, clear and obvious evidence that proves what you call a myth was in fact perfectly true.
Tony Abrahams
127
Posted 03/09/2021 at 21:55:25
The Duke starts to try and grind us down once again!
Jerome Shields
128
Posted 03/09/2021 at 21:59:54
Terry #65,
I am proud to be in the same sentence as those names you have mentioned. The problem you have is all these names will point out the reality of what is really going on at Everton.
We all wish Everton had a good Board, with the person who owns the Club on it, a Finch Farm which does not erode the mentality of the players, and better financial controls. But in his article, Paul the Esk points to the reality of what is needed and what is going on. . . which is the reality at Everton.
What we all wish for Everton is not the reality and such posters will always try to find the truth as best they can, and post their opinion on ToffeeWeb.

Ray Roche
129
Posted 03/09/2021 at 22:43:48
Andy Crooks
130
Posted 03/09/2021 at 22:53:43
Barry @120.
I have read and have access to The Telegraph article you refer to. Bill Kenwright says quite categorically that Kings Dock is an opportunity that is the envy of other clubs and will not be missed. I tried to copy the article on to this thread but am using a Kindle which is difficult (any tips anyone?) If necessary I will copy it out.
Incidentally, the article ends with another bit of Everton news. Everton declined an offer from Middlesborough of Paul Ince plus cash for Michael Ball.
David Pearl
131
Posted 03/09/2021 at 23:17:51
God. Kenwright has eventually provided the billionairre required to bring forth our new home. Him and Moyes, on a budget, achieved much better on field than Moshiri and his hollywood managers. All the other bullshit... l could not care less.
Jay Harris
132
Posted 03/09/2021 at 23:24:53
Clive, he has skin as thick as an alligator.
All he ever wanted is to be in control of the club, even writing that in to the sale agreement according to Keith Harris.
That is why I guess Moshiri has to put up with him.
Laurie Hartley
133
Posted 03/09/2021 at 23:29:29
Barry # 107,
Agreed some of those numbers are wrong and perhaps I would have been wiser to provide the definition of "squandered" from the Cambridge dictionary. I have underlined the section that best explains my feeling about what has happened at Everton over the last 5 years:-
"to waste money or supplies, or to waste opportunities by not using them to your advantage"
I don't have access to detailed accounts of Everton's financial transaction over the last 5 years but I think I would struggle to find anyone who does who would disagree with me that £400 - £500m has been spent by Everton in the last five years.
Add to that the £250m in losses over 2 seasons (2018-20) that Paul has posted above and you get what looks to me a financial horror show.
Martin, if you looked back on my ToffeeWeb posts over the last 15 or so years, I have been by and large ambivalent about Bill Kenwright's Chairmanship. It is only after the last couple of years that I have started questioning his leadership and I feel, based on what I have posted above, justifiably.
People in high places are handsomely rewarded but with that reward comes responsibility and an obligation to produce results.
In my opinion, Bill Kenwright has failed miserably as a chairman over the past five years. Given the financial commitment of Farhad Moshiri, I am convinced that we should be in a far better position on the pitch and, I suspect, on the balance sheet than we are.
If you think I am wrong, Martin, please elaborate. I have had the corners knocked off me with the passage of time and have learnt that, when I am wrong, I am better off holding my hands up and admitting it. Actually it is quite liberating after the initial discomfort subsides.
Kunal Desai
134
Posted 03/09/2021 at 23:42:31
The Kenwright debate is becoming tedious. The sooner he leaves this club, the better. The man leaves no legacy behind.
Going back to Moshiri. Here is what intrigues me – and maybe I'm totally wrong here, but is it possible that Moshiri duped Ancelotti into taking the job nearly 2 years back, knowing full-well the financial predicament we'd find ourselves in and the impact of FFP?
I'm assuming Ancelotti would have only taken the job on the premise of being given significant funds every summer and, if this situation was coming to a head, why weren't the club transparent from the outset to Ancelotti? Hence him walking, perhaps?
Derek Thomas
135
Posted 04/09/2021 at 00:48:17
Boy watching older brother marching in the big parade... 'Mum, why is everybody marching out of step except our Martin?'
Back on topic; The hard (on-field) work does start now, over the last 3 games it has indeed started. It needs to carry on and we need to take the games as they come – one game at a time.
The Three Rs: Ronaldo, Rooney, Rodriguez – only one works his bollocks off. All the skill in the world is no use without application.
If Benitez does one thing – gets them to consistently up the effort, I'll shake his fat RS hand and say "Well done".
Don Alexander
136
Posted 04/09/2021 at 01:20:18
I'm getting the feeling that "Martin Mason" is the current nom-de-plume of the long since silent "Richard Dodds", who in turn was suspected of being Kenwright himself, so outlandish were "Mr Dodds's" demands for, in his mind, a quality of evidence that'd exceed a Crown Court case before he'd ignore the evidence of the actualite of our club's visible welfare ever since Kenwright inveigled his way into the boardroom in 1989.
As an Everton fan, I've now spent nigh on half of my 66 years of life enduring Kenwright. In politics, there's only one such comparison to be made as far as I'm concerned.
Robert Mugabe seized power assuring the population of Zimbabwe that "white man power" was at an end, and that, as he said he really "got" Zimbabwe, prosperity across the board under him would accrue to all.
Tragically his outrageous antics increasingly showed him to be a 100% wholly self-centred acquisitive shit-house, but this was in the days before social media and Mugabe was never tested, as Kenwright was, regularly but unsuccessfully, to make a case for himself at AGMs.
Too many Everton fans still sustain Kenwright. He depends on it. He and they are poison to our progress.
Kieran Kinsella
137
Posted 04/09/2021 at 03:36:34
Martin Mason,
I've got two acquaintances who know Kenwright.
One is a fairly famous actor who fucking hates him and it all boils down to shenanigans with promises and money.
The other is a football person (not an Everton fan) who's told me all manner of gossip and innuendo about the club's directors, managers, players – all unprofessionally leaked from the horse's mouth.
He's a total knob. End of.
Eric Myles
138
Posted 04/09/2021 at 03:59:26
Kieran #137,
I also know people who have worked for Kenwright in his luvvie day job.
None has a good word to say about him.
Brian Murray
139
Posted 04/09/2021 at 05:00:23
The roll call of ineptness and shame is there for all to see, from merchandise deals, to Sky millions squandered, to manager choice, to bumbling interference, to 3 ground moves... and so on.
I've said before and will carry on saying we need to start a strong vocal campaign... or more subtle... but I doubt that will work. Them other shower showed us how it's done.
None of this "It's not the Toffees' way" bullshit, by the way. If we want another generation to see sod-all, let's just carry on saying fuck-all for the next 5 years.
Jay Harris
140
Posted 04/09/2021 at 05:07:54
Don,
I think you'll find that Martin was around at the same time as Doddy but is more of a wind-up merchant, whereas Doddy was just a buffoon.
Having said that, when I look back, I have fond memories of posts from Gavin Ramjekis, Tom Hughes and Colin Fitzpatrick – none of whom we hear from these days. It would be nice to hear they are all doing okay.
Kieran Kinsella
141
Posted 04/09/2021 at 05:17:05
Jay
I disagree. I honestly think Doddy was Kenwright. Whereas I think Mason is trying to maneuver himself into role of pantomime villain now that Carlo has gone, so last year's occupant is out of work.
Darren Hind
142
Posted 04/09/2021 at 06:22:15
Talk about pantomimes.
I don't know what is funniest; Martin Mason's fingers-in-the-ears denial, or Kinsella and Alexander, TW's two most brilliant minds, desperately "trying" to prove he's wrong.
I think the introduction of Robert Mugabe and Kinsella's two newly created friends (one a famous actor, mind) offering irrefutable evidence, has kinda sealed the fate of Mason. He's clearly guilty of being a cross between Richard Dodd and Widow Twanky.
I think we all know about uncle Bill's deception. We don't really need to call out forensics because somebody is denying it got dark last night.

Tony Abrahams
143
Posted 04/09/2021 at 08:55:34
It's been dark since Bill Kenwright took us over, Darren, except for the people who seem more than happy with lies and mediocrity!
David Pearl
144
Posted 04/09/2021 at 09:20:12
Tony, are you blaming Bill Kenwright for not being rich enough? Maybe he should have sold to Venkys. Not sure there was a queue to buy him out anyway. He kept us going. Mistakes... he made a few. But diiid itt hiiiiiis waaay....
Moshiri and Usmanov are rich enough but Chelsea and Man City got quite the head start. What will be intetesting is if Levy uses all that extra revinue on players for Spurs. And how much extra Everton can make after the new stadium at Bramley-Moore Dock opens.
Martin Nicholls
145
Posted 04/09/2021 at 09:56:35
Kieran #141,
If Doddy was indeed Kenwright, maybe Martin Mason is the oft-quoted and very supportive Uncle Cyril?
Peter Neilson
146
Posted 04/09/2021 at 10:04:30
David, it will be interesting to see how Spurs operate over the next few years. Their debt is reported at over £837M with some estimates at higher than that of Barcelona.
Their latest loans, to pay off government loans, stipulate that they can't be used to fund players. This could mean they have to sell players to buy new, similar to ourselves, and increased income used to get the debt down.
Their net spend this summer is around £30M, roughly a third of the previous season. Plenty of plate-spinning going on...
Eric Myles
147
Posted 04/09/2021 at 10:34:04
Don #136, I always remember Daft Doddy being a defender of Moyes rather than one of Billies Boys.
Eric Myles
148
Posted 04/09/2021 at 10:38:21
The first 2 links on this page
Do not work
Michael Kenrick
Editorial Team
149
Posted 04/09/2021 at 16:26:43
Thanks, Eric. I've fixed them now. They were just internal links to the first sections of the page itself, rather than to other webpages, and had gotten edited out over time with inconsistent updating.
Thanks for bringing this to my attention. I'll look over the rest of that page... seems there's a bit of a gap in the historical timeline between 2009 and 2014 but I think I have the data in a spreadsheet somewhere...
Then again, anything it says about Kenwright is all a pack of lies... I'll just ask Martin Mason for 'the truth'!
Jay Harris
150
Posted 04/09/2021 at 16:29:48
Thanks to Eric and Michael for factual and valuable information showing the Machiavellian nature of the Everton boardroom.
Eric Myles
151
Posted 05/09/2021 at 06:52:01
Terry #19, look at this link
Share Ownership
You will see that when Kenwright bought his shares (using someone else's money, not the mythical "mortgaged his house to save the Club" money) his shares were valued at £857 each with total value at £7,501,974.
When Moshiri bought half of Kenwright's shares at £4,850 per share, he paid £21,218,750.
Moshiri bought a further approx. 50% of Kenwright's shares, thus paying £12,731,250.
So Kenwright has received approx £33,000,000 and still owns approx £8,500,00 worth of shares.
Making the total value of his original shareholding recouping £41,500,000.
Deduct the original £7,500,000 value of his shareholding and is that enough evidence for you that "Bill has made a fortune"? Or are you going to stick your fingers in your ears and shout "Na an an an an an an an an an na" like Martin Mason does whenever presented with evidence?
Danny O'Neill
152
Posted 05/09/2021 at 07:05:38
I've always maintained a bit of a passive stance on Kenwright as I don't claim to understand the ins and outs.
Often accused of being too much of a romantic luvvie blue. Equally accused of making money for little input.
Personally, like his preferred manager, Moyes, I do feel he has outstayed his welcome and should have walked away not too long after finally bringing in Moshiri.
But on the shares thing. I have shares as part of my work contract. I have put nothing into my company but, come the day they are sold and go public, I benefit. That's business. I and we can criticise him for his running of a football club, our football club. But for being astute with his own contract? Not sure why that is a problem when players rinse most Premier League clubs on a weekly basis and hardly contribute.
I'll admit to having a simplistic view on this and haven't studied the Kenwright detail as some appear to have done. So please caveat my view with that in mind.
Jim Lloyd
153
Posted 05/09/2021 at 08:02:18
Well, Martin (106), you'll just have to believe what you believe and it is not up to me, or anyone else, to "prove" to you anything at all.
I wouldn't expect you to accept the facts (or "myths" as you say) so it's pointless to try as there are enough "myths" out there to convince me that the man is a charlatan, and has done this club we support a disservice as Chairman. The latest little problem we have is being about £150 million over the limit of the Profitability and Sustainability limitation that Paul The Esk has laid out plainly for all of us to see.
Now I'm not a businessman so I can't say I know what the Chairman's role in a company is, and maybe someone could tell us what the role entails. I'd have thought, though, that the Chairman would have required a report from whoever the Finance bods are (or where!), just what our standing was regarding the above limitations, at all times, especially whenever we entered the transfer market. But maybe that's not the case, and his role is to stick pictures around the walls of the ground, telling us of our glorious history; I couldn't possibly say...
However, it's Moshiri's club and he can take action if he thinks it's necessary or beneficial.
I've just read the article in the Telegraph and if I knew how to cut and paste, or whatever it's called, I'd plonk it in here. Very interesting article about the King's Dock episode.
As to The Hard Work Starts Here... well, it does! And I think we've got just the man, as manager, to get us through the hard times.

Eric Myles
154
Posted 05/09/2021 at 08:28:26
Danny #152, the point of my post on the shares was to answer Terry White's apparent ignorance that Kenwright has made no money out of Everton.
That's just one of the many myths about Kenwright, along with another I mentioned that Kenwright mortgaged his house to save the club.
Amazingly, there are supporters out there that believe this coprolite and regularly espouse it on this website.
Thanks for mentioning Kenwright's lack of input into the club, I'd meant to add it but was in a rush to get out to buy beer before the shops shut. You're right: Kenwright has not put a penny of his own money into the club, not even to buy his shares, unlike the much-maligned Peter Johnson.
Danny O'Neill
155
Posted 05/09/2021 at 09:03:45
Morning Eric,
I think many find Kenwright the easy target. But then again, I've never really read into the politics in detail, so I'm not the best qualified to comment other than to give a simple view and mainly stay out of the debate. I try to stick to the football.
Interesting closing comment on Johnson because, at the time, I despised his association with Everton and was relieved when Kenwright relieved him of his services.
For me, the rot set in way before Johnson and Kenwright in honesty. We failed to capitalise on the success of the 80s. I get we were unfairly punished with the aftermath of Heysel. But so were others. But others saw opportunity and reinvented themselves, Manchester United being the best example.
Linked to that, we were also hit with the unexpected walk-out of our manager, which was a bit of a shock to the club and the fans. Sound familiar? Only then, our manager, an apparent Evertonian, walked out on the English Champions.
Now that could be worrying as our start point then was better. But I have a strange, although uncomfortable feeling that the replacement we have installed this time is the correct one.
Clive Rogers
156
Posted 05/09/2021 at 10:00:27
It's been well documented that Kenwright made about £45 million from his shares. Lyndon corrected me once on this when I thought it was double that.
Tony Abrahams
157
Posted 05/09/2021 at 10:21:02
David @144,
No I'm not blaming Bill Kenwright for not being rich enough. I just think he's a fraud who's told many lies, split the fan base, and his only real interest was about staying in charge, rather than really trying to move Everton forward.
Steve Brown
158
Posted 05/09/2021 at 10:25:17
Kenwright earned over £40 million, despite not investing one penny of his own money in the club. The only person he is a saviour to is his bank manager.
The biggest mistake Moshiri made was not exiting Kenwright when he took over. He only wanted to spend 5-10% of his time on the club, therefore placed his trust and reliance in Kenwright as Chairman. Huge error, as it perpetuated the amateurish way the club had been run since Kenwright took over.
Danny O'Neill
159
Posted 05/09/2021 at 11:02:11
I'd say that is a fair accusation, Tony. He wanted to stay in charge. "Have his cake and eat it", as they say. Although that phrase has always confused me, because why would you buy a cake if you didn't want to eat it?
Anyway, I digress... and that's another English language debate and not relevant to Everton or football!!
He should have gone long ago. He should have gone once he secured Moshiri. But then Moshiri should have taken control. But then maybe that's why they came together and in agreement. "I'll buy and own this thing. You run it."
But (lots of buts here), maybe, just maybe, the reality is hitting home to Moshiri.
Kunal Desai
160
Posted 05/09/2021 at 12:12:10
# 140 Jay. I speak to Gavin Ramejkis frequently and catch up with him after games at Goodison when I make the trip up.
He passes on this message: Tom Hughes is still around on Facebook and Colin Fitzpatrick is very quiet these days but he can be seen drinking in the dark horse. Doddy was a Kenwright fanboy claiming to be from Formby that got bladdered for misuse of his internet at work.
He goes on to say Colm Kavanagh is still alive and well and anyone travelling to Arklow should pop in his shop for a warm hello.
Jim Lloyd
161
Posted 05/09/2021 at 12:14:21
Kunai, about Colin Fitz, did you mean the Dark House?
Tony Abrahams
162
Posted 05/09/2021 at 13:22:45
After the 2009 FA Cup Final against Chelsea (the era when Colin Fitzpatrick wrote that very believable article), I remember walking down Wembley Way after the game with my then youngest son, Danny. Sky TV were there with their microphones, and I said to them, "What do you want to ask me?"
They asked me a question about how Everton could break through that glass ceiling, considering the gap that existed and had just been exposed before our very eyes? I started talking, whilst continuing to eat my portion of chips.
I'm sure I looked like a right scally but, once I started talking, I could see their faces changing, and this big security guard who was facing me, began to mouth, "Get rid of the chips."
I've never seen that interview, but a couple of mates who couldn't attend the game because of her majesty's holidays, both told me they watched it, and the fact that it made the telly, with a scallywag eating chips, then it had held a lot of truth. Although the only thing I remember is that I was alluding that, for Everton to progress, then Bill Kenwright had to relinquish his hold on the club.
My own view of Bill Kenwright is that he's a closet Liverpudlian, and even if that's outlandish to most people, I've always been more interested in actions rather than words. So I therefore must think his actions have been very bad, because I'm definitely aware that he's also a lying bastard!
Kunal Desai
163
Posted 05/09/2021 at 13:41:50
Jim, yes Dark House, not Dark horse.
Danny O'Neill
164
Posted 05/09/2021 at 13:46:41
I can't call myself a Liverpudlian, Tony. I've never been able to!! If you do that, then you are. Evertonian, citizen of the city of Liverpool and scouser. That's me.
The wife told me off yesterday for telling a lad in the theatre in London to sit down because he stood up in front of me. Apparently my "aye mate" was a bit too scally. She's a West Midlands girl so always pulls me up on that stuff. She told me that, 2 weeks off my 50th and being an ex-Army officer, I'm still a scally and always will be!!
After that 2009 Cup Final, I nearly got myself into trouble with a bunch of Chelsea fans who were goading us on the way to Wembley Park Station rather than just celebrating their win. Once again, Mrs Danny berated me and called me a child because I responded!!
Dave Abrahams
165
Posted 05/09/2021 at 14:27:13
Christine (121),
Martin is not interested in the truth, he just likes to argue.
My advice to you, Christine, although you don't need it, is don't waste your considerable intelligence on people like Martin, and others. As the old saying goes: "There are none so blind who will not see".
Hopefully we'll have that drink some day, and though you will resist and protest, I'll make sure your purse stays in your pocket, God bless and very best wishes.
Jim Lloyd
166
Posted 05/09/2021 at 14:51:47
Thanks Kunal.
James Flynn
167
Posted 05/09/2021 at 18:25:41
Just curiosity on Kenwright's share sale. Not the value. Just something I always wondered about regarding the shares in his name. Did he actually get to keep any of the money when Moshiri bought up the shares?
Since the money for his shares was fronted by someone else, it seems odd to me that he wound up with a gift of free 10s of millions to pocket all these years later. In fact, I don't believe it. I certainly don't want to.
I know we're not certain exactly what Phillip Green controlled of the Club's finance. Kenwright sure loved him. Just the same, Green and Robert Earl don't strike me as the type of financial sharks to just give away millions to anybody out of the goodness of their hearts.
Moshiri bought all the debt on the Club and turned it into an interest-free loan; including the two BVI loans. Okay. I'm guessing, but wouldn't that debt include the money paid out originally for Kenwright's shares? Which would render Moshiri's "purchase" of those shares as a paper name change, not Kenwright pocketing free millions?
And Eric (154) - "coprolite". Had to look it up. Read the first sentence of the definition and laughed. Good one.
Brian Williams
168
Posted 05/09/2021 at 18:52:45
James #167,
Kenwright borrowed the money to buy the shares, then some time later, paid it back.
He then later still, sold the shares, which had since increased in price, to Moshiri, thus making a healthy profit.
Quite straight forward, believe it.

James Flynn
169
Posted 05/09/2021 at 19:05:42
Brian - Borrowed it from whom?
Brian Williams
170
Posted 05/09/2021 at 19:13:27
James #169.
Paul Gregg's wife.
Do a little bit of basic research, or have a look through the threads on here and you'll find a link that explains it all in very clear detail.
Barry Rathbone
171
Posted 05/09/2021 at 19:31:43
Trouble is, it's hard to think of many chairmen or boards who match fan expectations – the notable exceptions being Mansoor and Abramovich. Generally, the running of footy clubs is an invitation for social media abuse.
Impresario William has had 3 major cock-ups: King's Dock; surrendering the city to LFC; and missing the Mansoor opportunity (allegedly)... but, beyond that, he's done about as much as any chairman at any club – hence the applause of his visage when shown on the big screens at Goodison Park.
I think sometimes we analyse too much and raise the bar to mad levels whereas an acceptance of our position as worthless serfs buying merch from the shop would prevent a lot of angst.
Michael Kenrick
173
Posted 05/09/2021 at 22:24:22
Seems that story about Anita Gregg lending Kenwright as much as £7M was from an article in The Telegraph by Mihir Bose back in 2004.
James Flynn
174
Posted 05/09/2021 at 22:24:53
Brian (170) - Looked before I posted Brian. How do you know who Bill borrowed the money from? Could you lead me any link that shows the loan was borrowed from and paid back to Anita Gregg?
I read the threads, always have and do. Far as I can tell, you're the first in here seems to know specific, intimate, financial insider information.
How do you even know that?
Brian Williams
175
Posted 05/09/2021 at 22:37:51
James #174.
Well, if you can't find the info on here, you're not looking very hard. Read the thread, there's links a-plenty.
It's fairly common knowledge. I'm not doing your leg work for you because I'm not that interested, to be honest. Find your own links. I'm far from the first to know the info as I read it on here among other places.
You seem to want to make something of it, find someone else to do that with, if you can be arsed.
Or just refer to Michaels post above for starters, should be easy enough for you.
James Flynn
176
Posted 05/09/2021 at 23:43:04
Brian - I read your and Michael's posts.
You said, "Kenwright borrowed the money to buy the shares, then some time later, paid it back." I'm accepting now you just read it somewhere (or didn't) and gave it to me as fact.
It's not my money. If Bill made a major score, he did.
As I said in my original post, I was just curious about how that came about, since he had no control over the Club's finances, didn't put up the money for his shares, and there's no indication that he (if at all) paid it back.
Since you've acknowledged you simply made up, "He paid it back" not sure why you responded.
Let's do this. Don't respond to this post. I'll wait to see if Michael or anyone else does.
Christine Foster
177
Posted 05/09/2021 at 00:01:43
Dave 165#,
It's my intention to come home once this bloody pandemic has run its course and, God forbid, I am lucky enough to come out the other side! So a drink (several in fact) in The Bramley Moore would be something I would take you up on. Laughter, reminisce and debate... makes it all worthwhile.
As for Martin, he joins a club of people who believe the pandemic is a con-trick, that Bill Gates is implanting us all with chips (make mine crinkle-cut will you, I hate the wedges) and of course, Bill Kenwright never made a cent out of his shares, Kirkby never happened, he never met Philip Green, and Sylvester Stallone is a True Blue...
Life is too short for it to be wasted on trying to open a door they have nailed shut. Time it seems does not heal but removes the will to try to explain reality. So be it. We all know where we stand over Kenwright. Mine is carved in the sandstone on Rock Ferry shore, opposite (almost) where King's Dock is.
Eric Myles
178
Posted 06/09/2021 at 04:31:52
James #176, did you pay back the miney you borrowed for your mortgage?
If so, why?
Jay Harris
179
Posted 06/09/2021 at 05:34:13
Some still believe Billy liar remortgaged his house to pay the £20M to Peter Johnson.
Another myth exposed when it was revealed that Kenwright's house was only worth £1M and it was not remortgaged.
It was suggested by a forensic accountant at the time that the £20M came from the club's account and not from Kenwright.
As with everything else under his regime, it's all smoke and mirrors.
The only thing we can be certain of is that Kenwright has never put a penny of his own money into the club.
Christine Foster
180
Posted 06/09/2021 at 06:01:53
To return to the excellent post by Paul, l believe (that's opinion, by the way) that Moshiri has had to take back the decision-making on managers since the appointment of Allardyce, a direct result of the disastrous appointment of Koeman and the transfers where nobody appeared to have responsibility.
Allardyce was a 'protect my investment' appointment with one objective: to keep Everton in the Premier League. He had to back him within purchases. But we didn't go down; job done.
Ancelotti was a brilliant PR coup, and I think Moshiri had thought, Thank God... but Ancelotti let him, the club and all of us in the lurch.
Moshiri then says, "Stuff this for a game of soldiers" and appoints Benitez with a damming brief: "Cut the playing staff costs, no money for transfers, yet... fashion what you have into a working team, plug the holes."
Benitez is working on a promise: "Get this lot singing and I will back you."
Where does that leave the others? Brands, a 'go get man' with Benitez telling him what he needs... Kenwright? A desk by the window until he "steps down"... l think that he wants to be around for the opening of Bramley-Moore Dock to claim legacy rights but l doubt he will be there by then.
More additions to the Board? As I said before, a clearing of the decks... that will only take place after Kewright's departure.
Danny O'Neill
181
Posted 06/09/2021 at 06:19:07
That's a pretty good assessment, Christine @180, and one I'd probably go along with.
The point about Ancelotti leaving us in the lurch and departing in the manner he did has really made me think. I mentioned it earlier and didn't really think like it at the time. Also, I appreciate the circumstances around English football were different at the time.
But Howard Kendall in the summer of 1987? And although there have been many a critical word said on these pages, the nauseating send-off we gave Moyes for leaving us. We are such an appeasing bunch when people shaft us!!
Kendall stands by his achievements, that we will forever be grateful for, but the events of this summer did make me draw some (not all) comparisons.
I tend to agree with you, albeit without knowing. I suspect the brief to Benitez is not far off what you describe. Show me you can sort this out and I'll back you. Having worked for Mike Ashley, I can't see him taking the job if he didn't have some sort of incentive.
Brian Williams
182
Posted 06/09/2021 at 09:55:33
Eric #178. Save your breath, mate, there's always one!
Christine Foster
183
Posted 06/09/2021 at 11:12:15
Thanks Lyndon/Michael for the slight restructuring of my poor grammer with this darn phone, my brain was working faster than my fingers, it makes better sense now, thank you!
Steve Brown
184
Posted 06/09/2021 at 11:16:30
James @ 176, read this link as it will help you understand how Kenwright pulled it off.
Anthony Jones
185
Posted 06/09/2021 at 12:20:14
These articles are fantastic. The economics explain how the club is being run.
What would happen if Everton broke the rules though? Can an expensive sponsorship be fabricated? Can the club be reverse financed? How is it that PSG have all the money in the world?
I wonder how our situation compares to that of the other big spenders of the last 5 years.
Martin Nicholls
186
Posted 06/09/2021 at 13:01:31
Steve Brown#185 - that's an excellent and informative link. It's a shame that those on here who can see no wrong in Kenwright are unlikely to take the trouble to read it.
Graham Lloyd
187
Posted 06/09/2021 at 13:35:16
Paul, thank you, what a fantastic read! This somewhat helps me try (but still fail) to reconcile how exactly the Cities, United's and PSG's of this world can spend massive amounts this Summer on transfers and wages. Yet us and other clubs, despite have willing donors (assuming that is true), can not.
Seems like the ladder has well and truly been pulled up.
Still, it's never dull being a Blue! UTFT!
Kevin Prytherch
188
Posted 06/09/2021 at 13:45:37
Despite people's beliefs on Kenwright, I doubt he put no money into the buying of his shares.
If it is to be assumed he borrowed £7M, then it is equally likely to be assumed that he paid this money back.
If Phillip Green lent him money, it is also safe to assume that he paid it back. Phillip Green is not the type of person to give something away for free, I know that through 1st hand experience of knowing someone who worked as a director to Phillip Green.
It would seem very unlikely that he would lend money without paying it back or that shares were bought as a gift.
Has he made money? – Yes, a lot, even taking inflation into account.
Did he invest nothing? – highly unlikely.

Eric Myles
189
Posted 06/09/2021 at 16:44:17
Kevin #188, I've no doubt he paid it back, when he received £21 million from Moshiri.
As for what he invested himself, probably the difference between the total value of his shareholding and the £7 million he borrowed.
Brian Williams
190
Posted 06/09/2021 at 19:51:27
Kevin#188
Did he invest nothing? – highly unlikely.
Kevin, I was never really anti-Kenwright. Dave and Tony Abrahams will tell you that. But after extensive reading and research, it would appear that they were right about him all along and I was wrong to give him the benefit of the doubt.
He didn't have any money to invest so, although you believe it's highly unlikely, it does appear (from all the reading and research) that he hasn't put any of his own money into the club. Nobody suggested that he would borrow money and not pay it back.
He borrowed the £7M to buy the shares from Anita Gregg. He repaid the £7M before Moshiri was here (I believe). He then sold his shares at a healthy profit – something I'm not personally averse to if taken in isolation, as I've bought many shares myself with the intention of making money on them.
The bone of contention (well one of them anyway) is that he didn't use his own money to buy the shares, he never put any of his own money into the club, and then went on to make many millions from the sale of his shares.
There's sufficient "evidence" to support these hypotheses but admittedly it's not the forensic 100% cast-iron "stand up in a court of law" evidence that some awkward persons expect on a fansite. Most of it has come from that many varied sources that it certainly holds credence.
My last word on it here, as I put in a prior post, I'm actually not that interested, and in truth, I'm not. I'd rather concern myself with whether Calvert-Lewin and Coleman will be fit for Burnley, and what flavour vape James uses, and can we look forward to another 3 points?
Derek Moore
191
Posted 12/09/2021 at 10:36:11
I apologize for the lateness of my reply Esk - a reflection of my dwindling interest in Everton rather than a veiled dig at the quality of your article, I hasten to add.
I'm not the worlds least articulate person, but I'm very grateful to the likes of Messrs Esk, Daly and others when they write articles such as these. Esk managed to say far more in two or three thousand words than I perhaps might have been able to with twice as many, and I agree with virtually everything written.
For me, the most important part of this piece was the conclusion. The same jokers who got us into this mess are the same ones in place to get us back out of it - fact. We have a club with zero accountability, evidenced by the disaster of the last five years not even leading to a change in personnel. (Or strategy!)
And that's why my interest has dwindled. The fools at Everton have taken us to the doors of disaster. And some fans are expecting the very same group of out of touch spods to somehow fix the enormous mess they've caused?
Based on what exactly?
If you believe the management at Everton to be any better than incompetent, then that is certainly your right. But it isn't backed by any evidence whatsoever, on or off the pitch.
It's blind faith required by the fans yet again. And good for those Evertonians able to emotionally invest and re-invest. But my blind faith supply ran out quite some time ago. Give me a shout when we have the red shite loser out of the dugout and competent people running the club again. Until then this will continue for as long as Evertonians allow it.
Thanks again Paul.
---
Add Your Comments
In order to post a comment, you need to be logged in as a registered user of the site.
Or Sign up as a ToffeeWeb Member — it's free, takes just a few minutes and will allow you to post your comments on articles and Talking Points submissions across the site.
---
---
© ToffeeWeb