Column
Our Motto is Our Standard. Everton's Leadership is Falling Well Short
Farhad Moshiri talks of crisis and glory but Evertonians have had to put up with too much of the former without any of the latter. Once, the Champions League was the aim but we are swirling closer to the Championship 6 years into Moshiri's disastrous reign.
Ell Bretland

02/12/2021
39

comments | Jump to last
"Football is about crisis one day and glory the following day," Everton owner Farhad Moshiri messaged Jim White following Wednesday's horrendous derby defeat by Liverpool.
Just where do you start? It's a question I've asked myself a thousand times throughout the Iranian billionaire's tenure because, Farhad, we've seen plenty of crisis but what is this word 'glory' you talk of?
Glory is defined as high renown or honour won by notable achievements.
That's not earning comeback victories at home to Southampton and Burnley, it's not holding Manchester United and Tottenham to draws and it's not grabbing a consolation against our city rivals.
Article continues below video content
When Moshiri arrived at Everton in February 2016, it was all about the money. Having been skint and hamstrung in the transfer market for decades, an open chequebook meant we would finally compete. However, while the cash was a hugely welcome boost, my main hope was that this new owner would change the entire mentality and outlook at the club.
I imagined he would be ruthless in his pursuit for success, hate to lose, and boldly lead with authority. He would be switched on, boosted by the finest industry brains his fortune could afford to embolden and aid his pursuit for silverware.
That was not the case. Far from it.
My first doubts came when Roberto Martinez was afforded the opportunity to lead the team out at Wembley against Manchester United in the FA Cup despite the season unravelling, leading to a humiliating and truly inept display at Anfield. Had the Spaniard been relieved of his duties by a shrewd and determined owner, that semi-final could have been a different story.
Then, the real alarm bells rang.
In the early stages of the 2017-18 campaign, Ronald Koeman's Everton suffered four consecutive defeats against Chelsea, Tottenham, Atalanta and Manchester United, scoring no goals and conceding twelve.
In October came a humbling 1-0 reverse at home to Burnley which Moshiri described as the 'only unexpected loss' of the season so far.
Wow. That is not the outlook of a winner.
Sure, it's unlikely the Toffees would claim four victories against those top clubs, but to seemingly write them off? It's one thing to think it but to broadcast it? Incredible.
Under the stewardship of Bill Kenwright, Everton manager David Moyes claimed a trip to Manchester City was 'like taking a knife to a gunfight'. Moshiri's arrival offered a chance to alter such a defeatist outlook but it has not changed whatsoever and the former chairman still sits on the board.
There was no clean sweep and the mediocrity remains deep-rooted, Moshiri only making it stronger it seems.
From the outside looking in, a mere observer who pays his money on matchday, it doesn't feel like Moshiri and this board have standards they adhere to. How can they when they chalk off games as expected losses?
Can you imagine them taking the manager and players to task over poor performances? The regularity at which we are served up with clueless displays lacking fight and courage would suggest not.
It seems they fumble and muddle their way through one season to another and there is no real desire to be better on or off the pitch. They would like to be, I'm sure, but where is the will?
The board seem accepting, happy to reason with excuses while the players can barely muster the drive to appeal for penalties or the energy to cajole their team-mates to keep going.
A goal goes in and they look dazed, lost and hopeless. It is embarrassing for a Premier League club to have such a collection of players – a collection of players who clearly lack belief.
Many appear bewildered and worn down by the lack of direction from high up, merged with the high expectations in the stands. Rabbits in headlights.
In the week supporters made their feelings heard loud and clear, young midfielder Anthony Gordon seemed to look on with real concern as fervent frustration rained down on the players from the away end after Sunday's 1-0 loss at Brentford.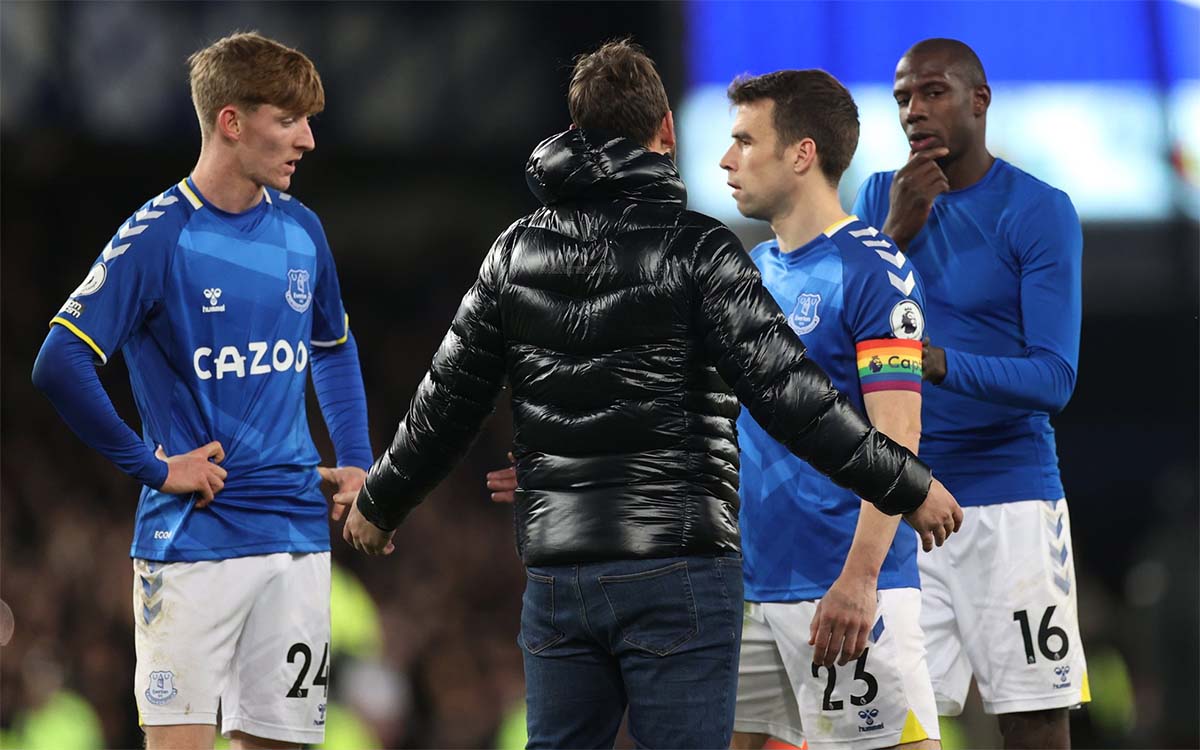 Then at Goodison, the young Everton player looked willing to engage a fan who had made his way onto the pitch in the aftermath of Wednesday's derby defeat. Taking steps towards the disgruntled Blue, Gordon acknowledged and listened to the supporter before eventually, belatedly, captain Seamus Coleman strolled over.
The Blues skipper appears to be playing with an anger, an aggression, but not in a positive way, with criticism coming his way for the side's poor displays.
The defender should have been helped by a deputy many seasons ago and gradually replaced. However, the club have wasted years in trying and failing to find a solution to the right-back issue which continues to harm the functionality of the team.
At 33 and with his performances waning, Coleman shouldn't be tasked with such a weekly burden when he can no longer lead by example.
The fact nobody can be held accountable for the negligent way in which Everton conduct their transfer business just adds to the conjecture formed by a lack of communication between the club and fanbase.
Is it Director of Football, Marcel Brands's problem to fix? Is he failing or are his hands tied? Is it the manager's call to head into another new season with gaps in the squad? The owner having too much of a say on recruitment? Who knows, but the confusion just leads to the assumption the club is rudderless in every department.
The away end on Wednesday, singing the name of 'their manager' who now sits in our dugout, was a brutal experience. It was just like so many Blues predicted when Rafa Benitez was appointed – not that Moshiri had such awareness when he brazenly made the call.
Again, on Thursday, the owner showed his lack of nous when he bypassed his own media department at Everton and instead sent a text to a radio host after being asked for an update on the manager situation.
Such poor communication, for so long, amid such a testing time, has led to a mix of anger and apathy in the stands.
That's a recipe for relegation, make no mistake. When you are in a rut and the connection with the supporters loosens, teams can freefall. It's a worrying time for the future of Everton Football Club.
Matchday is miserable.
The collective exhales of breath you hear down on the Gwladys Street concourse after another abject half of football would be enough to bring Tutankhamun back to life.
Listening to The Smiths in the pouring rain in the depths of winter is a less melancholy way to spend an afternoon than watching this football club lately. It is arduous but it is hard to really feel anything. There is nothing there when it comes to Everton right now, nothing tangible to hold on to.
Once, the Champions League was the aim but we are swirling closer to the Championship 6years into Moshiri's disastrous reign. If we were a sleeping giant before, they are now comatose, falling into an even greater slumber. The snoring is deafening and this club will not wake up and burst into life anytime soon.
Nothing has changed but for the transfer fees and wages, which have skyrocketed, leading to the mess being magnified.
"Football is about crisis one day and glory the following day."
Not at Everton so far under Farhad Moshiri.
Sadly, amid all of the issues, he is the only person who can change things.
For so many years, we dreamed of an owner with money to spend. Now, it seems what we really needed was an owner with money, who had a plan and, most importantly, sky-high standards.

Follow @EllBretland
Share article:
Reader Comments (39)
Note: the following content is not moderated or vetted by the site owners at the time of submission. Comments are the responsibility of the poster. Disclaimer
Jack Convery
1
Posted 02/12/2021 at 22:34:49
I cannot see any real progress in the near future, either under his stewardship. He comes across as someone who actually thinks he understands football but actually hasn't got a single clue. I am convinced he was behind the Iwobi purchase because, if it was Brands, he would have sacked him by now.
His lack of foresight in choosing Rafa Benitez to come in and manage a thin squad that failed last season, with a purse of less than £2M to spend, is abject. What did he expect Benitez to do? Did he think Benitez could use a Philosophers Stone and turn a turd into a glittering prize capable of staying in the Premier League until the new stadium is built?
Why doesn't he use the club's official website to release statements? Does Jim White have embarrassing piccies of him? It makes you wonder and leaves you totally baffled. Sir John must be spinning!
Danny O'Neill
2
Posted 02/12/2021 at 22:59:29
A thoughtful and understandably emotional article, Ell.
One thing that sticks out is your comment about Moshiri's statement being hardly that of a winner.
I come from many generations of Evertonians. My Grandfather's was the late 30s on, my father's was the 60s, mine the 80s. I watched us win the league twice, the FA Cup and our only European trophy. We should have won more were it not for bad luck and fate.
My poor younger brother (Moyes era) and even younger son have had the expectation beaten out of them.
I am a romanticist. An eternal optimist. A fool, some would say, and I'll take that. But my expectations are what I grew up with being told and what I experienced. They are my expectations.
There is a generation that can only go off what they have been told by the likes of me, not what they have seen or continue to witness. I listened to my father's tales of glory, even in the dark days of the early '80s. But I then witnessed it myself. The younger generation will increasingly come to the conclusion it will never happen again. But credit to them for their loyalty and belief that it will.
It will. But there's the fool in me again!!!
People may ridicule me, but I will never ever lower my expectation of Everton. No-one should.
I just wish the club would follow suit of the supporters. The supporters who will be there on Monday. The supporters who will travel to London next Sunday.
Desire, commitment, passion and belief.
I'm talking about the supporters. Unfortunately.
Brian Murray
3
Posted 02/12/2021 at 23:18:24
Alright, Danny. I'm always in awe of your positive attitude and hope for the future.
For a long time, like the article alludes to, I don't believe the club want or at least can handle any pressure that comes with success. The CEO was paralysed verbally when Ancelotti walked out – unlike let's say the Villa hierarchy when Grealish was sold, they were quick to explain their reasons and goals.
The biggest fear is the owner even now doesn't realise there is a problem with the people he employs or has next to him. If only it was as simple as a manager's poor use of subs, formation and youth.
He no doubt will press the trapdoor around Xmas if his project to build the new stadium at Bramley-Moore Dock comes under threat as relegation will see it as a fancy car park.
Danny O'Neill
4
Posted 02/12/2021 at 23:26:25
I'm a self-declared fool when it comes to Everton, Brian!
But you talk sense. Moshiri needs to wake up and see what is around him. A game of managerial roulette has not changed anything so he must see what we see. The problem is closer to the level he sits at and those he employs that report directly to him.
Dale Self
5
Posted 02/12/2021 at 23:29:54
Good to see you write something up, Ell. And to all those making the effort to express themselves on behalf of the club and its followers, much gratitude. It's Everton as fuck and we all know it.
We've been somewhat mislead or taken advantage of but are always held hostage by trying to hold the club in the best possible image. That is what makes Everton a club worth following, the character of its followers.
That is not a marketable or monetizable concept and therefore goes unrecognized by some who should have known better. "It is always darkest before the dawn" is all I can offer.
Barry Hesketh
6
Posted 02/12/2021 at 23:31:05
I think there is no real leadership at the club and hasn't been for many years. I now question whether I am supporting Everton FC or Moshiri FC.
Despite the ups and downs following Everton FC, I mostly enjoyed the experience. Following Moshiri FC has been a nightmare and has provided little in the way of happiness.
Even a devastating derby defeat such as last night, didn't have the same impact on me as previous defeats have… in fact, I mostly expect Moshiri FC not to win in all of their fixtures and I am pleasantly surprised when they actually do win.
Terence Connell
7
Posted 02/12/2021 at 23:31:46
I've never been convinced by Mr Moshiri and his odd behaviour. What kind of takeover is it where you allow the person selling you the club to remain as chairman? It seemed a rum do to me…
Maybe he thought that he would need Kenwright to remain so that he could gradually learn the ropes and "get" Everton. If so, that hasn't worked out.
I've never been convinced by Moshiri's status. Is he really a billionaire in his own right? Then there's all this business about Usmanov in the background. You can be unlucky with owners, of course; other clubs have been… but there are so many red flags with Moshiri.
I think we will be in the doldrums for quite some more years yet. Maybe a more fortunate change of ownership when the new stadium is built will occur but I think Kenwright's funny dealing put off a lot of potential buyers in the past.
Kenwright has to bear a lot of responsibility for not turning the club over to an effective new owner. But then what do they say – "Each man kills the thing he loves." Oscar Wilde
Don Alexander
8
Posted 02/12/2021 at 23:49:45
Just for the record, "Ell Bretland" is not my new nom-de-plume but, except for the reference to "The Smiths" (whatever they are), every word of this piece resonates to the core with me, and a growing number of others.
There's still a few, sadly, who profess to still "get" the Everton created and hands-on perpetuated by Kenwright for nigh on 30 years. I can only assume he slips them a £50 to post their, erm, verbiage.
Since Moshiri came, he can easily afford it, after all.
Derek Thomas
9
Posted 02/12/2021 at 23:50:21
Well put, Ell, your point about maybe 'thinking' about Expected Losses but not saying it, is valid.
Trouble is, we're not getting the Expected Wins or Draws though.
At the moment they are all Expected Losses – the only unknown is the actual number of goals against!
Derek Moore
10
Posted 02/12/2021 at 23:55:46
I'm really intrigued by Don's age now. I'm 41 soon, so too young for The Smiths. And indeed, Ell, the author of the reference, is several years younger than me again. But obviously not so young to be unaware who The Smiths are altogether.
So the obvious question for me is how young – or old – do you have to be to not know Morrissey and his dreary eighties chums?
(I know it's not a regional thing BTW as Don referenced Sterling in his post.)
Danny O'Neill
11
Posted 03/12/2021 at 00:13:01
Don, you're not another of those who goes under aliases are you? I'm getting paranoid about who I'm actually talking to. Or not as the case may be!!
Dale Self
12
Posted 03/12/2021 at 00:23:02
From what I've seen lately, claiming to not know who Morrissey is won't set you back too much.
Don Alexander
13
Posted 03/12/2021 at 00:43:24
Folks, I am 66 years old, taken from Bootle to the one-eyed city for my birth (the NHS was fooked at the time, I'm told, and Liverpool was bursting with new-borns that day – St Patrick's Day, mind you) and spent most of my life before adulthood immersed in Liverpool and my other family, who are Scottish.
Nearly all of my Protestant family, on both sides, support Liverpool and Rangers. My Dad, a cussed sod, saw beyond the dread curse of religion and, as a lad, chose to support Celtic. At the time in Glasgow, where he lived, that was like signing your own death warrant to both sides.
Having survived, he moved to Liverpool, met my "Red" Ma, but decided he was entranced by the Everton of Hickson, Ring, Collins and inadvertently imbued me too.
I have been "chosen" by The Blues. I'll die "chosen". That's my choice, and I'm proud of it.
The Blues I aspire to existed decades ago though. The miasma created under you-know-who (his surname begins with "C", sorry, "K", should anyone be reading me for the first time) has tested me to the very limit, as I hope it's now beginning to test Muggins Moshiri.
And "Blues", dear Toffees, is my choice of music, predominantly "black" (if that term is acceptable this week) together with a great deal of other America-generated music – "rap" and other such shite excepted of course.
Musically, The Smiths to me are like Kenwright is to accountability and football success, and way lower than "rap".
Derek Knox
14
Posted 03/12/2021 at 06:23:15
Good and well-written article, Ell, with equally good responses from those whom I would imagine are of a similar age (well maybe I am flattering myself at 71) and definitely sharing the same concern for what has happened to our once brilliant club.
When Moshiri came on board, most of us probably thought, "At long last, manna from Blue Heaven" – never for one minute ever imagining it could have panned out as almost a curse. We were better under Moyes and Martinez, with no (or very little) money, in terms of results and playing personnel.
Just think about that, the 'club' (I almost said 'we' then) have blown nigh on £500-600M and we are basically worse off. The sad thing is we, as loyal fans, have had no say whatsoever in it. I thought it was The People's Club! How could we possibly get that name when the people (us fans) are a secondary or tertiary consideration?
The one common denominator in all this is (gritting my teeth as I type his name…) Kenwright! How has he managed to do all this, and only now the proper questions are being asked? It almost beggars belief, and resembles a work of fiction, but very sadly is fact.
Have we gone too far down the spiral to recover, or is there a vestige of hope and salvation on the horizon?
Danny Broderick
15
Posted 03/12/2021 at 07:02:52
I'm 42 and I have to say the club motto is hollow to me. I just caught the 80s as a kid, and we've basically been shite ever since, give or take a couple of half-decent seasons.
The rot started before Kenwright in the '80s when we basically plodded along like we always do when we actually had a good team. Kenwright then kept it going with countless failings, and now Moshiri has overseen what must be one of the worst recruitments in football history.
Our motto is like the musicians on the Titanic, keeping playing while the ship sinks. It's well meaning, but it bears no relation to the club I have watched all my life. It probably hasn't been relevant since John Moores was the chairman.
Getting the rot to stop is going to be an enormous job. I hope to see us as the best again at some point in my lifetime, but it seems our destiny to always be shite somehow. We make up the numbers. Other clubs don't mind us because we are no threat to them. How exactly do we get from our current position to the best again?
We are so far behind our competitors, it's untrue. We are only now looking at building our new stadium – most of our rivals already play in theirs. Our squad is one big disaster, a mishmash of a disastrous spell of bad recruitment and sacking managers willy-nilly. We don't appear to have any youth talent of note about to burst into the team – Gordon is a trier but no more.
It feels like we have never been further away from our club motto.

Brian Murray
16
Posted 03/12/2021 at 07:36:02
The Express is saying the owner is demanding a meeting with Benitez before the Arsenal game. Only meeting he needs is just a phone call to Bill thanking him for his services – and take L'il Ms Semtex with you. It's not hard, mate.
Colin Glassar
17
Posted 03/12/2021 at 07:59:15
Everton are like that fat binnie who won the lottery and then blew it all on quad bikes, booze and smack.
Kenwright was like a kid in a sweet shop (Moshiri left him to his own devices while he sunned himself on his yacht) throwing money away like confetti.
I blame Moshiri for his hands-off approach and Kenwright for taking the gormless twat (and the club) to the cleaners!
Mick O'Malley
18
Posted 03/12/2021 at 08:11:01
I'm a long-time Smiths fan but I'd have to admit they can be a bit depressing; goes hand in hand with being an Everton fan
Bobby Mallon
19
Posted 03/12/2021 at 09:10:44
We as fans need to realise that we will never be a Top 4 team ever again… never. The club just does not have the worldwide fanbase that the likes of Man Utd, Liverpool, Chelsea, Man City and Arsenal have. We don't generate any money through merchandise because we don't sell our kits in the likes of JD Sports, Sport Direct, or any of those outlets.
Our season-on-season mission has been to get to 40 points and then take the TV money for the next season. We have bought many players, especially since Moshiri arrived, but they were never given a chance, IMO.
Vlasic was and is a good player but didn't get a chance. Lookman the same. Bolasie was a good player but he got a serious injury and was never the same again.
We also buy injury-prone players that never play from one season to the next: Gbamin, Delph.
Our problem is fans want success now and moan about managers who are then sacked by the nervy owner. I have always wanted us to have a young team coached like Leeds but it won't happen because us fans want Top 4 or Top 6 now.
But the main reason we shave struggled is because our owners won't let the coach coach the players. The DoF should be scouting because the owners think Iwobi is a good idea or Rooney is a good idea. Either go with the DoF model or the manager model and stop interfering.
I'm ranting again I know what I'm saying, I hope you lot do.
Derek Moore
20
Posted 03/12/2021 at 11:08:54
Heaven knows... I'm miserable now.
Clive Rogers
21
Posted 03/12/2021 at 11:54:38
Brands dropped a clear hint that all is not well in the background when he said "just the players?". The downward spiral will continue as long as Kenwright is chairman.
Kevin Prytherch
22
Posted 03/12/2021 at 12:48:21
Bobby - I agree with one of the problems being that fans want success now.
I wonder though, after these 5 years, if the club made a statement saying it was shifting its focus to youth development and buying up and coming players, whether we would now be more tolerant and look for improvements rather than demanding instant success.
We can't be tolerant when we have 28-33 year olds in the team who are not good enough and won't improve, but maybe we would be tolerant if we had 20-25 year olds in the team all on an upward trajectory. We might get beat, but we'd be better for it.
Matt Hunter
23
Posted 03/12/2021 at 13:15:48
I take issue with the attack on Martinez in the semi-final. The guy had to play Besic at right back and Gibson who could barely walk in midfield. Everton were actually the better team and Rom and Stones cost us the game. In the game in question Martinez actually got his tactics spot on.
The humiliation at Liverpool days earlier wasn't just because Funes Mori got sent off but was also due to things like Oveido having to play right back.
The lack of funding in playing squad was as usual catching up with us and that falls on Kenwright.
Charles Brewer
24
Posted 03/12/2021 at 13:24:02
Entirely off topic! (But then I think I've written enough on topic over the years and have been a T'webber since it was a text based list match commentary and rant site. I am greatly heartened by the traditional unhinged rant tradition which is kept going by the Live Forum every time Everton plays).
The Smiths are a typical Manc band who epitomise their grim, wet, grimy city with its parochial, miserable attitude to life. The only decent Manc band ever are a Beatles tribute band (admittedly they did write some of the best Beatles songs even though Lennon, McCartney and Harrison didn't write them).
There. Now I can get censored and banned!
Danny O'Neill
25
Posted 03/12/2021 at 13:24:58
Every day is like Sunday.
I will keep the belief. Chelsea as they flip flopped between the top flight and second tier and City when they hit the depths of the 3rd tier never had a global following.
But they sorted themselves out and had a vision back up by a long-term strategy.
There lies the problem.
Bill Hawker
26
Posted 03/12/2021 at 16:23:27
Another article that precisely hits the point(s). I couldn't add to this as Ell has stated the problems succinctly.

Alan McMillan
27
Posted 03/12/2021 at 16:51:48
What a well-written piece, I enjoyed every minute of it. It articulates the anger, sadness and frustration that built up in most of us over the years.
The detachment between fans and the club has never been greater. I love this club, but not in this guise; this version, I cannot stand.
The players do not get this club. We are not all in this together. Their "must do better" clichés are patronising. You just know that the first sign of interest from another club and they will be off in a heartbeat.
I too thought a "self made" billionaire would have what it takes to introduce a shrewdness, a ruthless streak into the club which would obliterate the old boys club and lay the foundations for a well run, single minded and successful club. The money we have spunked on mediocre players is brought into more focus when you see the lack of quality coming through from the academy.
No matter which manager we appoint, we are left with false hope, disappointment and embarrassment. This time though, it feels different. I'm tired of it and I don't think I care.
Shame on the Board, drunk at the wheel while we career off the cliff into oblivion. Shame on them all for taking away our release from the chores of life, for robbing us of our joy.
Steve Brown
28
Posted 03/12/2021 at 17:00:46
Bobby, Chelsea, Arsenal and Man City don't have worldwide fans bases. I live in Asia and the teams with mass followings are Liverpool and Man Utd.
So, it is possible to break into the Top 4, provided the club has proper governance, clear roles and accountabilities, a long-term footballing strategy, excellent recruitment, commercial expertise and strong operations. The main thing holding us back is that none of those are currently in place.
Chris Leyland
29
Posted 03/12/2021 at 17:20:39
Just look at the club from top to bottom and ask yourself: Where is the leadership and commitment going to come from get us out of the mess that we find ourselves in?

Form the owner? Not a chance. He had proved himself not to be the hard-headed businessman many of us hoped he would be, as instead he seems to have fallen victim to the self-proclaimed world's greatest Evertonian.
From the boardroom? No, not with Kenwright and Barrett-Baxendale in top roles, content to win awards for the best toilet facilities in the league or most ex-players rehabilitated by being given coaching roles at a club, rather than actual winning on the pitch where it actually matters.
From Brands? No, not when he's seemingly content to take his money and keep his head down and go along with (or actually find) some of the dross we've signed.
From the players? Not a hope. There isn't a single leader amongst them. They are all cowards. They talk the talk with the shite they put out through the club… but, on the pitch, they hide. No one wants to step up so they step back. Content to apologise to the fans at the end of matches rather than actually trying to win the actual games.
From the coaching staff and from home grown talent coming through? Duncan, the supposedly top coach who is content to fade into the background under manager after manager and just seemingly put the cones out for his £0.5 million a year but never go and prove or test himself by managing elsewhere. Unsworth, resting in his cushy and comfortable role of not actually having to provide anyone for the first team and not being questioned by his bosses as to what's the actual point of his set-up? Jeffers and Baxter? The less said about them the better.
From the manager? I thought that he might actually want to change the culture at the club but instead, he seems to have become mired in the mediocrity that infests Goodison. Rather than being the solution, he has instead become part of the problem. His tactical rigidity, his insistence on playing the likes of Rondon, week-in & week-out, and his substitutions (or lack thereof) don't scream out as someone who is going to turn things around.
The worst home defeat to Liverpool for 39 years. The worst run in the league for 22 years. Losing 5-2 at home to Watford… yes, bloody Watford. All of these things show the trouble we are in but none of the above seem to have any answers.

Dale Self
30
Posted 03/12/2021 at 17:27:00
The fans will apparently provide the leadership. Get your shinpads on and stay with the club. We all need each other in an obvious way right now.
Barry Rathbone
31
Posted 03/12/2021 at 18:03:48
Fans have been expecting the impossible from Moshiri, not aided by his cluelessness in matters footy, of course. He is a lower-tier billionaire with a rich pal who occasionally dabbles, a doppelganger of the hapless Randy Lerner.
In a fair wind, this setup gets fingertips on the rung occupied by more able bluffers, Man Utd and Arsenal, then 5 mins later, gets kicked off as top rung kids - Man City, Chelsea and Liverpool – snaffle any decent talent from the group.
Remember lunatics crowing "we're minted"? – cringeworthy. Half our problem is fan delusion.
Paul Birmingham
32
Posted 03/12/2021 at 20:09:21
I've said many times, I'm no longer a prisoner of the past, in terms of Everton FC.
The malaise of EFC seems, from piss poor player recruitment, abject failure and mediocrity on the pitch, etc, not much better off the pitch with marketing etc, everything connected with the football operation of the club.
The club will need a business improvement plan for every aspect of its daily operation. But it strikes me: Is there really a proper operational running of EFC?
Hand on heart, Wednesday night was no surprise and even if Mr Ed had played his youth team, they'd have won the game.
55 years ago, the RS, couldn't touch Everton FC. The dynamic of Everton FC, over time has consumed the respective management and boards and there was no recovery plan for the club in 1985, 1987, 1990, European re entry for English clubs, and effectively acceptance of failure and mediocrity at Board level of the club, has sunk the club.
Everton is in the DNA but, for the life of me, I don't see any easy way forward right now... But from the ashes of defeat this week, surely the club must at last wake up and take stock.
Moshiri away in Monte Carlo most of the time, Kenwright down the Smoke, so on average who, or which people are effectively managing Everton FC?
Technology permits and virtualisation allows mankind to achieve tasks never possible years ago.
But with Everton FC, what really happens? And does the layers of management gel and work together for the Everton FC cause?
But on scale, even when Peter Johnson, Wyness etc were at the club, significantly there's not much difference to now!
Now is personified by financial mismanagement as to make the club struggling to compete, the hope of a new stadium but with a rank poor squad of footballers.
Hope eternal but Everton is for life, but for a long while now, it's the pits.
I didn't get to church on Wednesday, too busy at work, but I'll carry that one, but I think more than prayers are needed at Everton.
Now to beat Arsenal; hopefully Ellis will get to start ahead of Tosun.
Jerome Shields
33
Posted 03/12/2021 at 20:14:51
Is Duncan Ferguson on £500, 000 a year??? Gosh what is the double-jobbing Unsworth on?
Ell, I used to think the same regarding Seamus Coleman and the right-back position. I now think that Coleman is determned to play both for the Everton first team and Ireland International team as long as he can.
Prior to the Man City game (21 November) he played two Internationals on the 11 and 14 November, in four days, and it showed against Man City.
My question is: What do you think Coleman's attitude would be to an understudy or replacement, and how would he view attempts to get a replacement? I don't think he would welcome any of the three, much less help.
He is on an extended 1-year contract. Where do you think he is going next?
Tony Dunn
34
Posted 03/12/2021 at 20:42:46
Mick O'Malley, this one is different because it's ours...

David Currie
35
Posted 04/12/2021 at 06:18:10
Charles @24,
Joy Division – the best band out of Manchester. Fantastic music.
Phil Lewis
36
Posted 05/12/2021 at 14:54:22
It's like they all cover each others arses. (Sometimes by all accounts literally).
Brands has been elected to the board, which virtually renders him Kenwright like unsackable. Baxendale is Kenwright's 'Little Miss Dynamite' (whatever that means). So this ambitious woman with no football knowledge whatsoever, it would seem is bombproof. Unsworth's 'special relationship' with Baxendale is Goodison's worst kept secret, so his useless role seems safe. And so it goes right down the line. Not to mention faceless board members and countless jobs for the boys scattered throughout the club.
Until this cancer is eradicated, our club is going in one direction only...Down!
We are supposed to have European ambition, yet the club is run with all the parochial nepotism of a rural social club.
Chris Leyland
37
Posted 05/12/2021 at 15:11:27
Brands gone
Paul Smith
38
Posted 05/12/2021 at 15:13:23
Brands takes the fall. It won't be enough. What now ?
Phil Lewis
39
Posted 05/12/2021 at 15:35:34
Just heard the Brands news. One down, several to go!!
---
Add Your Comments
In order to post a comment, you need to be logged in as a registered user of the site.
Or Sign up as a ToffeeWeb Member — it's free, takes just a few minutes and will allow you to post your comments on articles and Talking Points submissions across the site.
---
---
© ToffeeWeb