Column
Is Ellis Simms ready?
Ellis Simms scored for fun at U18 level and has done well out on loan over the last two seasons. But is he ready to succeed as a Premier League striker?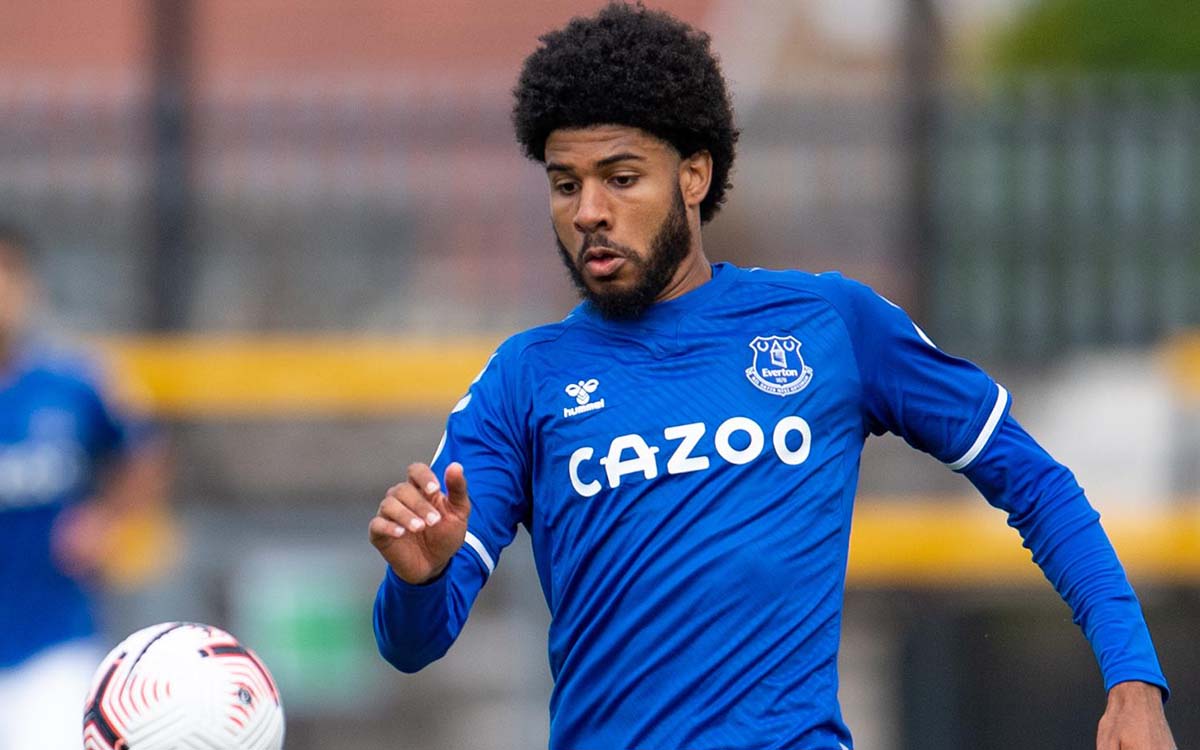 It's hard to know what our striking and forward options might look like when the transfer window closes after this summer. So I thought it might be interesting to see if we already have a nice new option in the squad already.
I first became aware of Ellis Simms when he scored 36 in 38 games for the U18s and drew admiring glances (apparently) from Bayern Munich as a result. The 6-ft 3-in striker we picked up as a very raw youngster from Manchester City's academy certainly had a knack for goals.
When I saw him for the U23s, it was apparent that he was an excellent finisher but not a polished footballer. With hard work, both from him and the coaching team, he developed. He stepped up to the U23s and began to score goals with relative ease in that company too.
We all know he then went out on loan, first to Blackpool and then to Hearts, and has scored goals there including some belters. Many consequently consider him to be ready or even overdue a shot for the Everton first team. So… is Simms really ready?
Article continues below video content
Age and Development
Ellis Simms is young but not that young. He's now 21½ years old but with only 1 first-team appearance for us and no youth international honours other than a non-playing call-up to the England U18 squad some years ago. By comparison, Erling Haaland is also 21. For those who haven't come across him, he's quite good.
In the Premier League last season, a comparable player might be 21-year-old Adam Idah, the guy who managed to score against us and no-one else in 17 appearances for Norwich City.
Simms is actually older than Armando Broja (Chelsea), Fabio Silva (Wolves), Joao Pedro (Watford) and Joe Gelhardt (Leeds). All of these guys are further along in their development.
Broja for example is very definitely first-team ready and would be an excellent replacement for Dominic Calvert-Lewin if he does leave. Having seen Lukaku plod around like a 35-year-old in the FA Cup Final, I wonder if Broja might even lead the line for Chelsea next season.
In Europe, aged 21 or younger are Burkhardt (Mainz), Adeyimi (leaving Salzburg for Dortmund), Kalimuendo (PSG), Ekitike (Reims), Wahi (Montpellier), and Zirkzee (Anderlecht). They are all gifted footballers, all hit double figures in good leagues, and all look set to have fine careers – possibly in the Premier League, with Leeds looking at Kalimuendo and everyone looking at Ekitike because his style of play is so reminiscent of Thierry Henry.
How does Simms compare? Let's look at his last few seasons.
Season 2019-20: U23s (age 19):
His stats for this season were:
● 8 in 15 league games
● 9 in 19 league and cup games
It was a good return but not exceptional.
For context, Antony Gordon got 6 in 9 games for the U23s that season, age 18, and the top-scoring striker was Folarin Balogun, the Arsenal player who got 10 in 15, age 18. He's just hit 3 in 18 for Middlesborough in the Championship this season (and 13 in 11 for Arsenal in Premier League 2).
To keep the comparison going, Balogun continues to play for the England youth set-up – being one of two regular strikers for the U21s along with Cameron Archer, the 20-year-old Aston Villa striker who got 13 in 24 league and cup games on loan at Preston last season.
Season 2020-21: Blackpool (age 20)
His stats for this season were:
● 8 in 21 league games
● 10 in 24 league and cup games
For context, this compares with 31 in 43 for Keane Lewis-Potter (then age 20) and 10 in 40 for Brennan Johnson (then age 19) who we've been linked with. These are a couple of notable names in amongst a group of players who are very firmly lower league players.
However, also worth mentioning he got 2 in 2 in the playoffs and was instrumental in Blackpool getting promoted. And, having tried to keep up with his progress as best I could, what I noticed was that he had very much improved his back-to-goal work and passing around the box.
The loan worked. He very definitely developed as a player beyond his U23s experience with Everton (on that note, he also scored 8 in 12 U23 games for us that season).
Season 2021-22: Hearts (age 21)
His stats for this season were:
● 3 in 12 league games
● 7 in 21 league and cup games
For context, when you browse the scorers list in the Scottish Premiership, what you soon notice is that this is a really low-quality league. The players are not good – and many would struggle in the Championship. So there's nothing in these stats alone to suggest that Simms is English Premier League quality.
However, as ever, the stats don't quite tell the whole story because some of his performances and the quality of the goals too have been very good. There's an absolute screamer against Hibs in the Scottish Cup semi-final for example.
Again, this was a good loan for him from a development point of view and in terms of playing top-flight football and some prestigious occasions.
Is he ready now? Or does he need more time?
This is essentially the same question asked about Calvert-Lewin when, fresh from his exploits in the U20 World Cup, he was thrust into the spotlight as our new number 9 due to utter criminal incompetence in the transfer market.
Personally, I don't think Calvert-Lewin was really ready at the time – but worked extremely hard, had good physical attributes, and did okay. Nevertheless, for two seasons at least, he was labelled "Championship at best".
While Simms has developed well, he's behind in his development compared to Calvert-Lewin at the same age. Does that matter? How long do strikers take to mature?
A lot of people on ToffeeWeb still seem hopeful that Nathan Broadhead might make it with us, having already turned 24. Personally, I think this is now absolutely out of the question. I hope he does make it to the Premier League (as I do with all of our alumni) but it will be through promotion with Sunderland or similar rather than with us.
It is true that some decent strikers have worked their way up, such as Watkins, Wilson, Toney, Adams, Bamford, Vardy and going back Deeney, Lambert, Phillips etc. But really the vast majority do not do this – and there are tonnes of well-regarded young strikers (with England youth recognition too) who drift down the leagues.
It means it doesn't matter per se that Simms hasn't yet made it. Of course, he does still have time. However, if he does get an opportunity for a run of games or some substitute appearances, it will get very hard for him if he doesn't score.
The general consensus was that he did okay in his cameo against Chelsea this season. But he didn't score. How many games would the fans (and management) tolerate where his only contribution is to close down defenders?
Given that he is not a natural talent and often only acclimatises slowly to a new step up in quality, it is unlikely to work if he is just given 10 minutes substitute appearances here and there. He might need a run of 10 Premier League games to get used to the pace and quality before we can see what he can do. However, we can't afford to have a non-scoring rookie in the side for a run of 10 games.
What's next for Ellis Simms?
Weighing it all up, I think we should loan Simms out again next season to a Championship side. There's talk of the lumbering Wout Weghorst leaving Burnley this summer and you could imagine Simms doing quite well as his replacement at Turf Moor.
If, say, Simms managed a 15(+) goal haul at Championship level, then I think he would have earned a shot at competing for a starting berth with us. He would also be worth about £15M and could be sold. That's a really good position for both us and the player.
However, if Simms just spends next season on our bench and finishes 2022-23 like Adam Idah with a 1 in 17 appearances (many of which as a substitute), then it would be a waste of time. I don't think that's the right thing to do. But what alternatives do we have?
"Rondon is shit!" I hear you cry. Yes, he is, but hopefully he won't play next season. I don't think it's worth hindering Simms's development longer-term just as a precautionary measure to ensure we never see Rondon play again. The transfer market will offer up better options.
Summing up, then, I am optimistic that if we are patient for just one more season, we might find that we have a Premier League quality striker in Simms. If that happens, it will be testament to the hard work and good attitude of a player who has needed to work really hard on his game – beyond the finishing which seems to come naturally.
Reader Comments (75)
Note: the following content is not moderated or vetted by the site owners at the time of submission. Comments are the responsibility of the poster. Disclaimer
Trevor Peers
1
Posted 19/06/2022 at 09:38:37
No is the simple answer. He's not good enough and never will be. He's not a Premier League striker, he's neither quick enough nor possesses the quality to score goals at that level. He has found his level in an average Scottish team, let him stay there.
If we sell Richarlison, we will need an adequate replacement or we will find ourselves unable to score enough goals to stay in the Premier League. Simms as an alternative is laughable.
Alex Gray
2
Posted 19/06/2022 at 10:11:27
I don't think he'll make it for us, sadly. This is another example of a lad who should've been loaned out to the Championship years ago to develop. Did well in Scotland last year though.
Tony Everan
3
Posted 19/06/2022 at 10:13:34
As a back-up to Calvert-Lewin, I'd prefer Ellis Simms before Rondon. He did quite well against Chelsea away last season, put himself about, won some time for the team.
As Trevor very subtly says, he is up against it to be the Top 6 striker we need to aspire to. However, I don't like writing players off because they can improve their game and progress, and Simms is still young enough. He's overcome a few injuries and resumed an upward trajectory.
He did well at Blackpool, now at Hearts too. He's stepped up to the plate and made a difference at those clubs. Not every loanee can claim that. It's all good experience and will give him a foundation to push on.
It should be an interesting pre-season to see whether the likes of Simms, Dobbin, Gbamin, Davies and others can make a case for themselves. I think Frank Lampard is pretty open-minded and will give players who deserve it a chance.
Si Pulford
4
Posted 19/06/2022 at 10:18:49
He's played one game, Chelsea away. And he's written off as definitely not good enough – no questions asked.
If I started a career as a roofer and was written off for not being amazing on my first day, at 21, I'd feel like I was being judged too early. I'm not saying Simms will be amazing but he's 21 and has played one game at this level.
Gordon was dreadful on loan in the Championship, as was Branthwaite. Based on this logic, we should have binned them both off.
Derek Knox
5
Posted 19/06/2022 at 10:21:18
Thanks Robert for an in depth article, and research into a player I like.
Contrary to Trevor @1, with all due respect, we all have different opinions on players, and I believe that, given the chance of a good run, Ellis would still find the net, as I believe that the goals are the same size, irrespective of Division or League.
Having said that, maybe another loan at Championship level would answer any doubts about his ability that some may have.
One thing I do agree with Trevor, that he isn't the quickest admittedly, but he is no slouch either. Having the knack to be in the right position, and knowing where the goal is can negate the need for being a speed merchant.
I don't think we are in a position (financially, sadly) to be too gung-ho in paying over the odds (as most are) for a striker (Moise Kean springs to mind), where the goals return doesn't match the outlay.
Again we have the uncertainty over Richarlison and Calvert-Lewin, and whether either will still be with us next season. Hopefully, between Frank and Kevin Thelwell, they have a few targets lined up that will both improve us and stay within the bounds of FFP.
I wouldn't mind a punt on that lad from the States (Castellanos), similar to Ellis in many ways, prolific scorer at a lower level, if either Richarlison or Calvert-Lewin move on. He wouldn't break the bank and could turn out to be a bargain.
Stephen Vincent
6
Posted 19/06/2022 at 10:23:01
The answer is we don't know yet. A season with a top-half Championship side should tell us. Don't forget that there were plenty of posters on this site who told us that Anthony Gordon would never make it and that he was 'Championship at best' following an average loan spell at Preston.
I watched him 3 times for Hearts last season, he did hold the ball up really well and unlike Calvert-Lewin, he is not afraid of a shot from outside the box.
But he is not good with the ball over the top, and he does lack pace. But I wouldn't give up on him just yet. Personally, I think there is a player there and at worst we could get £10M to £12M for him.
Derek Thomas
7
Posted 19/06/2022 at 10:33:08
I think both him and us will find out this season – or not.
Pat Kelly
8
Posted 19/06/2022 at 10:45:21
If we have to question if a striker is ready, then we're in "wait and see" territory.
We need someone who is proven. Simms would be a gamble. Lampard can't gamble and wait. He'll be sacked if we don't have a regular goal scoring striker.
Attracting and affording such a player is the issue. Selling Richarlison and/or Calvert-Lewin and acquiring new owners might be the reset we need too. Otherwise, it's more of the same.
Gary Jones
9
Posted 19/06/2022 at 10:49:00
We're not exactly swimming in depth. Rondon is shit and, whether we like it or not, he's currently the only backup we've got. So, until or unless we get in some others, why not ignore the muppet at #1 and give the boy a chance?
The Premier League (and our own history) is full of good players who didn't break through until 22 to 24-ish. Our history is also full of limited players with massive hearts who did okay.
For me, it's all about attitude. If he wants it, he could have it. No matter how much the haters want to write the kid off.
Dave Abrahams
10
Posted 19/06/2022 at 11:09:31
A very good article, Robert.
You have given us a complete history of Ellis from when he joined the club up to now and I go along with your suggestion of putting him out on loan next season with a Championship club and seeing how he does there.
How long has he got with Everton? He's not on big wages at the moment so we have nothing to lose by seeing how he does if he goes on loan.
On that game at Chelsea, no player should be judged on one game. He was subbed at half-time, but had been used as a lone striker up front. Some of the best struggle when used like that – never mind a young lad making his debut.
Ray Said
11
Posted 19/06/2022 at 11:12:05
I would much prefer a young and improving player off the bench than the likes of Rondon.
In boxing, styles makes fights and his stature and style may be effective against some centre-backs and not others. I could see his style being unsettling to the John Stones type centre-back. Worth a chance in my opinion.
Mick O'Malley
12
Posted 19/06/2022 at 11:15:04
I wouldn't mind Lukaku "plodding" around for us…
Joe McMahon
13
Posted 19/06/2022 at 11:20:22
I'm with Si. Too many are written off too early and too many are kept way too long (Davies). Lookman was written off early and not given a chance. Gordon gets a lot of plaudits, but his end product is very lacking (at the moment).
Yes, I think Ellis deserves a run in the team; we score a painfully low amount of goals most seasons and, since Lukaku's last haul of 20 odd, it's been dreadful. Even Moyes's much-heralded 4th place was with a negative goal difference.
John Keating
14
Posted 19/06/2022 at 11:26:21
Right now, he is not ready for us and the Premier League.
He has scored a few goals the past 2 seasons on loan but his overall contribution to the team is not up to scratch.
He is a big lad but doesn't – or hasn't – used his size to advantage. Centre-halves have invariably kept him in check and most of his good work happens outside the box.
Hearts are doing everything and are desperate to get him back this season; however, for both him and us, if we could loan him out to a good Championship club, it would certainly determine if we should we keep or sell.
Barry Rathbone
15
Posted 19/06/2022 at 11:30:38
If a forward hasn't cracked the top level by 20 years old, it's very likely that's his lot. I doubt it concerns him – he's probably quite happy doddling along knowing he'll make a good living – just not at the very top.
And if he wants to earn more, he can invest in my latest venture embracing the caper that is sustainable living and interesting none other than Prince Charles: "Edible sombreros for donkeys" – could be a real winner given dangerous man-made climate change affects the equine community as well.😂😂😂
Peter Carpenter
16
Posted 19/06/2022 at 11:34:42
There's only one way to find out.
I think some players reflect what's around them and can make the step up even if they didn't rip it up when on loan in a lower division – Gordon and Branthwaite are good examples, as Si (4) pointed out.
And going back further, Ross Barkley too. Unless memory is playing tricks, he wasn't great on loan either.
Danny O'Neill
17
Posted 19/06/2022 at 11:42:08
I don't know as I've not seen him enough, so will have to rely on others' opinions.
I know there's instinct and opinion involved and we all see it different, but I'm cautious of judging potential too early. And there's a difference between looking at potential and individual performances in games.
Players develop at different stages. Rarely do you get a freak like Rooney who is ready made at 16 years old.
Others come good young, but most are into their 20s until they're ready.
So over to those who've seen more of this lad than me for judgement and view.
Brian Williams
18
Posted 19/06/2022 at 11:59:04
I'd say he's ready "for consideration".
Having watched the goals he's scored, it's obvious he has confidence, good spatial awareness, and knows where he should be in and around that 6-yard box. He also scores from outside the box.
There's only one way to see if his skills can transcend his present level and that's to give him a try at a higher level. But I'm sure there'll be several more qualified within the club, than those of us on here, that will have a better idea than us.
Danny O'Neill
19
Posted 19/06/2022 at 12:10:42
I think the important thing is to introduce him gradually, Brian, rather than put the weight of expectation and being the next great thing on his shoulders. We do that too often with young players.
That's when it tends to go wrong. Rodwell and Barkley spring to mind. They weren't managed or coached correctly, in my opinion.
A good example is how Guardiola managed Foden. Now I am not for one minute comparing individual talent but, when the media were scrambling for Foden to play every minute every week a few years ago, Pep just ignored them and managed his transition into the senior game as and when he saw fit.
Stu Darlington
20
Posted 19/06/2022 at 12:30:02
I don't think he's the answer to our problems at the moment. He's a big unit, but lacks the pace or quickness of thought to trouble Premier League centre-backs.
Maybe a spell in the Championship would help but I won't hold my breath.
Robert Tressell
21
Posted 19/06/2022 at 12:42:13
Edible Sombreros for Donkeys is a cause very close to my heart, Barry. Thank you for drawing attention to it.
Dave Abrahams
22
Posted 19/06/2022 at 12:44:44
Brian (18),
Re your last paragraph, well, Lampard and his coaches should be more qualified than the rest of us but how many of us saw the line-up versus Crystal Palace with Gomes in the team and thought or said "What the fuck is he doing?"
Luckily, he saw the massive risk he had made and substituted him with Dele for the second half.
Tom Bowers
23
Posted 19/06/2022 at 12:45:13
Strikers that tall will score a lot of goals at a lower level but, if they don't have some pace, they find it a lot harder in the Premier League.
In recent seasons, the likes of Crouch and Djzeko didn't fare too badly but we have had a few underachievers, like Niasse and Tosun.
Simms may do well if given a run in the team and under the guidance of Lampard but young players get impatient and he may not hang around.
Tony Abrahams
24
Posted 19/06/2022 at 13:22:26
Good article, Robert.
The one thing that's surprised me reading the comments, is that Simms lacks pace. Whenever I have watched little bits of him playing for the Under-23s, it has never looked like he wasn't quick enough imo.
I'd keep him till Christmas, and try and slowly introduce him as an impact sub; if this isn't working, then maybe send him out on loan again.
If we did this, it might be a lot easier to decide if he will ever become a Premier League striker, and would help determine if the club would want to extend his contract before sending him out on loan again?
(Just reading that last paragraph shows how much power the players have now got. If he does well, there's a chance he might not want to re-sign, because free agents can make an absolute fortune these days.)
Christy Ring
25
Posted 19/06/2022 at 14:05:14
Good thorough analysis, Robert. Let's give him a chance in pre-season, Dobbin and Gbamin as well, before we write them off.
Frank and his staff won't be long finding out if they have a future at the club. Simms has skill, at 6'-3", not bad for a striker. I don't know if he has pace, he scored a few nice goals for Hearts, scored against Celtic, but the Scottish league is poor, and the calibre of players around him wouldn't be quality either.
We saw a few glimpses of Dobbin last season; in my opinion, he looked promising and definitely good enough for our bench.
Derek Knox
26
Posted 19/06/2022 at 14:05:32
"Edible Sombreros for Donkeys?"
Well, I'll eat my hat! Ee-aw! :-)
Colin Malone
27
Posted 19/06/2022 at 14:27:06
No. The lost years under David Unsworth.
Simms or Broadhead? Keep Broadhead definitely.
Mark Rankin
28
Posted 19/06/2022 at 14:42:40
If I was Frank, I would be upfront and say to Ellis:
"Here's an opportunity – show me what you can do pre-season. If it goes well, I'll give you 6 months as back-up striker and you are going to be used – playing off the bench and starting in the League Cup. If you take that opportunity, great; if it shows that you're not ready yet, then it's out on loan in January."
Sam Hoare
29
Posted 19/06/2022 at 16:00:19
How good do you have to be to be a backup striker at a mid-table Premier League club?
Realistically, the candidates for such a position are likely to be either youngsters who are pretty raw or stalwarts who are pretty useless.
Ideally Simms would go to the Championship on loan and bag 15-20 goals. Which would either show he's ready for more time for us or make him a £15M asset. But perhaps he's able to offer more than Rondon?
I'm not that convinced he is. Whenever I've watched him, he tends to drift out of games for long periods before coming alive with the occasional chance. He can definitely score a few goals but his all-round game is so-so, though it has improved at Hearts.
I think I'd maybe send both him and Dobbin to the Championship next season and whoever does best can come back in January to start bedding in and getting minutes.
Tony Twist
30
Posted 19/06/2022 at 16:02:36
Of course he is ready, it's sink or swim. The only way we will know if he is good enough is to start using him.
Look how Gordon got on, it was only when he experienced first-team football did he actually mature and flourish.
I think, however, Lampard ain't the manager that will use him in matches for decent lengths of time… so we probably will never know, and we will sell him on.
Brian Wilkinson
31
Posted 19/06/2022 at 16:03:21
At 21, I was unsure about Calvert-Lewin, it took a while for him to look the player he is now. So, on that basis, I would say it's far too early to give a definite answer about Simms.
Out of both Simms and Dobbin, I always thought Dobbin had that something more about him but, like I say, Simms could kick on and Dobbin could stall – we just do not know; far too early to write Simms off yet.
What they should have is a 6-month loan option, instead of a full season.
After the World Cup break, teams might need to recall some players back, in the January window, for the tougher second half of the season, with FA Cup ties to deal with as well. Yhat would allow us to loan Simms out and, if needed, recall him for the second half of the season.
Jay Harris
32
Posted 19/06/2022 at 16:11:26
Simms did extremely well at U18 level and was scoring for fun but, as someone pointed out, he was a big lad and could bully other kids. To be fair, as he has progressed, he has continued to score goals fairly regularly and seems to have a striker's instinct.
We have just lost Rondon and Tosun so we need cover from either Broadhead, Simms or Dobbin or all three unless we can find another striker… but, IMO, better the devil you know.
Paul Kossoff
33
Posted 19/06/2022 at 16:29:05
Does anyone think that Everton will actually rely on this lad to score enough goals to bring success or help avoid another disastrous season?
Highly unlikely. They will bring in another overpaid bum to wait out his 3-year contract then leave for nothing, achieving only a huge wad in his bank account!
Keith Gleave
34
Posted 19/06/2022 at 17:01:18
The stats quoted don't show somebody who is going to hit the ground running and score freely in the Premier League.
We were struggling throughout the team last season, particularly up front. This would have been the opportunity to give him a run and see what he is made of.
The decision was taken for a further loan, not dissimilar to Moise Kean. These players need a run of games to build confidence and gel into the team; one game here and there isn't going to be successful.
Steavey Buckley
35
Posted 19/06/2022 at 17:01:58
Scoring has become more difficult in Premier League games. So, it is best having as many potential goalscorers as possible.
Simms may fit the description of a potential goalscorer if he has a good preseason that impresses Frank Lampard and his coaching staff.
Mike Gaynes
36
Posted 19/06/2022 at 17:15:18
Great discussion. I've barely glimpsed the kid, but I'm fascinated to see the sharply diverging opinions among people who have seen him play. Interesting comparison as well to the situation surrounding Gordon, who was written off by some here when his loan spell failed.
Jay #32, we haven't lost Rondon. He's under contract for one more year.
DK #5, Castellanos is the best striker in MLS at 23, but $15 million he is way more than a punt. Reportedly Leeds and Burnley both looked at his price tag and backed off. Our new DOF helped develop Castellanos at NYCFC, and I've read nothing to indicate he's planning a move to bring him here.
Joe #13, Lookman wasn't cutting it for us, and much as I liked him, I can't criticize our giving up on him. Don't forget he subsequently failed at Leipzig and Fulham as well. Three years later he finally matured and may have found a permanent home at Leicester, but it was a long time coming.
Tony Hill
37
Posted 19/06/2022 at 17:44:26
I watched quite a bit of him at Blackpool and Hearts - on screen, of course - and I think he is potentially interesting. He is quicker than you might think once he gets into his stride, he has a strong shot on him (v Hibs in the semi-final of the Scottish Cup and on a few other occasions) and he does have an instinct for being in the right place.
Worth a go.
Gerry Quinn
38
Posted 19/06/2022 at 18:33:27
As usual the BBC show how much they are useless at anything outwith the redshite have you "picked" the England team yet - have a look at DCL - it is NOT even him!!!!!!!
Robert Tressell
39
Posted 19/06/2022 at 18:41:46
Mike # 36, I haven't seen Castellanos but I have seen lots of Zirkzee, Kalimuendo, Burkhardt and Wahi. These are good players. Young though and would need half a season to acclimatise but all have the potential to be very good strikers over a long period.
It would be good to see us invest in one of these plus, say, Cyle Larin on a free (we've talked about him before) with Dobbin on the bench and Simms given a chance to develop on loan.
This seems to leave us in a good position - although the fact I've just drunk a bottle of Tempranillo means there may be problems with my logic.
Dennis Stevens
40
Posted 19/06/2022 at 18:47:28
Gerry, perhaps the beeb think all non-rs players look alike!
Michael Williams
41
Posted 19/06/2022 at 18:58:58
He is not ready for the Premier League.
One goal every 224 minutes in the Scottish Premiership is nowhere good enough. Also, just one assist in 1,121 minutes.
Send him on loan to the best team that will start him. He has too much to learn.
Brian Wilkinson
42
Posted 19/06/2022 at 19:54:29
After my previous comment, just recalled you can use up to 5 subs, so could be worth a birth on the bench, if he can get ahead of our 2 goalkeepers on the bench.
Mark Ryan
43
Posted 19/06/2022 at 20:06:11
I'd say I hope so because it seems we don't have a pot to piss in. I'm watching teams sign the likes of Erling Haaland, Bissouma etc and we haven't the prospect of doing any real business. I hope Ellis is ready…
Don Alexander
44
Posted 19/06/2022 at 20:24:31
I'm sorry to say that our lad Simms is still a gawky lad IMO, and it may be there's nothing can now be done to improve this aspect of his physiology.
I just don't see a Premier League player in him - he's nowhere close to the athleticism of the likes of DCL and athleticism is a minimum requirement in our current league.
Soren Moyer
45
Posted 19/06/2022 at 20:32:41
Sorry but as others have pointed out, he is a championship standard at best.
Andrew Keatley
46
Posted 19/06/2022 at 20:49:23
Gerry (38) - What are you talking about? It is DCL. Get the egg off your face and out of your eyes.
Peter Carpenter
47
Posted 19/06/2022 at 21:12:45
Yes, it is him, pre-lockdown, short hair, before his rebirth as a fashion icon.
Kevin Prytherch
48
Posted 19/06/2022 at 22:56:54
Simms has scored at every level he's played at and has adapted to the rigours of every increase in level. He's still young and still improving; he can score from inside and outside the area – and we would rather stick with Rondon as a backup to Calvert-Lewin?
Jamie Sweet
49
Posted 19/06/2022 at 23:04:46
I saw moments for Hearts when you'd think there is a very decent player there. He scored a couple of absolute screamers, and I thought that his movement up front looked pretty intelligent.
Probably still too raw to be expected to hit the ground running at Premier League level. A slightly more high profile loan move to one of the bigger Championship teams would be ideal.
Some of the comments above though – I remember seeing similar regarding a certain England International called Dominic.
David Currie
50
Posted 19/06/2022 at 23:23:43
Mick 12,
My mate who is a season ticket holder at Chelsea said he was a hopeless lump and a toxic member of the squad. Think we have seen the last of him in the Premier League and without doubt his best years in England were with us.
Derek Knox
51
Posted 20/06/2022 at 00:26:24
David @ 50, that kind of sums up my feeling about the ' Modern Game ' these players pick up immoral amounts of money that are not always, or should I say rarely commensurate, with the end product. Surely the desire is diminished when they know they are ' made for life ' barring doing anything stupid !
Yet we all love the game, but should we question our own sanity, by advocating it, by virtue of going to games ?
Mike Gaynes
52
Posted 20/06/2022 at 01:35:13
Robert #39, I would say Tempranillo would be the best possible logic aid. I had some at a wedding a couple of weeks ago and I was profoundly logical for the entire evening. Ask anybody who was there.
Haven't seen any of the strikers you mentioned, but of course you know how I'd feel about Larin on a free. I read yesterday that Forest is in for him. I'd be delighted to see us pip that guy.
Dupont Koo
53
Posted 20/06/2022 at 02:43:44
Brilliant piece, Robert.
I can't agreed more with what you said for Simms for the upcoming season (regardless of the situation with DCL &/or Richalison), i.e. spending a full season as a frequent starter with a Championship Team.
(Blackpool again perhaps? I am still happy with how they helped made Seamus' bones a decade ago, but not sure if Simms is the cup of tea of Michael Appleton, their new Head Coach).
Best case scenario, IMHO, is to find a Relegation-Fighting/Mid Table Championship Team who can afford to start Simms 20+ to 30+ games over the course of the season.
Not only would he be thrown into the trenches fighting first-hand daily for a place in the team (no free lunches, young lad!) against veterans (on the training ground &/or in games) who are working for their next contracts (& professional lives), but also he would get an increasing-level of competitions at the Championship that approaches Premier League level (you said it right that English Championship has overtaken Scottish Premiership as the next best league in the UK after Premier League).
If Simms take on all those things that would be thrown at him with strides, it would bring huge dividends to him, on his developments both from a skills, physical and intangibles perspective (mentally & professionalism). Not to mention the increase in his valuations at the market that you have addressed, should he be sold next summer.
(Quick Tangent: if only we could have done the same with Broadhead when he was 19 or 20. We would have known better and earlier whether he is good enough for us once and for all, with better opportunities to drive his valuations up for better sales proceeds)
Fingers crossed that Thelwell and his team can find Simms such a home.
Danny O'Neill
54
Posted 20/06/2022 at 07:30:29
I like that assessment, Tony Hill @37.
Pace comes in a number of forms.
Some have instant and rapid acceleration, but they tend to be one-trick ponies. Think Lineker and Owen. Ball in behind and win the race. Good finishers but not particularly good at much else. And once the hamstrings go, that's pretty much them done.
There are those who have a quick change of pace and beat a player by buying those 5 or 10 yards. Not especially rapid, but the change beats a player. Anthony Gordon is good at that.
Then as you describe, those who don't necessarily have the acceleration but have the pace once into their stride. More a defender thing, but they make for good recovery players. Or for forwards and midfielders, good pressing players.
All opinion obviously, but I liked your assessment of Ellis Simms, Tony. It gives me more of a picture of the type of player he is as I haven't seen a lot of him. Having a strong shot is a good thing. Something Calvert-Lewin doesn't particularly have. Maybe they could compliment each other in an Andy Gray-Graeme Sharp kind of way??
Now I'm getting nostalgic. It must be too much sun!
Either that or Everton withdrawal symptoms. Come on August, where are you?
Danny Baily
55
Posted 20/06/2022 at 07:55:20
I don't think he's ready. I could see him having an occasional role if the rest of our squad was better and we were creating chances. But, if we go into the season relying on the likes of Simms, we will most likely be relegated.
Eddie Dunn
56
Posted 20/06/2022 at 08:03:06
It's a very impressive article, Robert. My take on the lad is that he is still very young and players develop at differring rates, at differring ages.
Pace is not essential, Kane is a prime example. (Incidentally another feller who was sent out on loan a few times.)
If we can't play him more than a few times, then I would leave him at Hearts for another season and watch his progression – they will be playing Europa League next season. There is plenty of time for him.
As for Rondon, he got himself fit and I think he is fine as an impact sub. When we need the ball to stick, he can do a job.
As others have said, much depends on whether we lose our crown jewels and our financial situation. Coupled with the possible take-over (and FFP), our budget will dictate just what we can do.
It is clear though that we lack goals. Gordon, Gray, Gomes, Doucoure, Allan, and Coleman have failed to contribute very much in that respect. We have relied upon Richarlison's miss-hits and waited far too long for Calvert-Lewinsky to hit form. Townsend got some early-on. (thank God) and our centre-halves chipped-in. Mykolenko proved that he can score.
Without goals from the other areas, we will struggle again. I would like to see Dobbin, who gives us something different but he has hardly had a look-in since Benitez left.
Gerry Quinn
57
Posted 20/06/2022 at 08:12:08
Sorry, guys – shoulda had my glasses on for that Calvert-Lewin photo – eventually managed to zoom in and... Oooops! I still hate the Beeb though...
Danny O'Neill
58
Posted 20/06/2022 at 08:23:46
That's important Eddie.
With young players, you have to accept they all develop at different stages and mature as footballers at different ages. Those who have coached young players will understand that.
Rarely do you get a ready made Rooney at 16. They are once in a generation types of players. We need to blend experience with youth and be patient with the vast majority of young players.
The goal contribution thing is also very valid for where we are. Sorry to harp on about the 80s, but I point to the 87 title winning side. I haven't googled so I'm putting myself out there to be corrected. Our leading scorer that season was Trevor Steven with 14 goals right? I went to every home game and many away ones that season, so I should know, but I've never been a statto and the memory fades. But the contribution from the rest of the team won us the title in my recollection.
It's a valid point because that team was decimated by injuries to Howard Kendall's first choice team and, in my opinion (again), wasn't a patch on the 84-85 champions. But arguably a higher yet less glorified achievement by Kendall to win us the league.
Justin Doone
59
Posted 20/06/2022 at 11:38:45
Is he capable or scoring goals, yes.
Does he deserve a chance, yes.
Is he better than the other forward players we currently have, no.
Does he fit Franks preferred pressing game, no.
Should he be used ahead of Rondon as a backup option, yes.
Could he help change our team from Premier league stragglers to a stable mid-table team, possibly.
Strikers need service. Like Dom, he's not going to create goals from nothing but he can get on the end of crosses and be involved in the build up.
I always find the question, "is he good enough for the Premier league" almost impossible to answer until they are given a chance and find a team who's style of play fits.
Both Rondon and Tosun are good enough for the Premier league. But team's that play a certain style which doesn't translate as 'top 6' calibre.
Justin Doone
60
Posted 20/06/2022 at 11:43:57
Harry Kane is a world class striker who's link up play, creativity and running ability is often over looked.
Kane is not a sprinter but when he runs at pace with or without the ball not many player's would catch him.
Justin Doone
61
Posted 20/06/2022 at 11:48:38
Everton have no player's that can compare to Harry Kane.
Agreed, if Simms isn't going to play 15 games for us he's better off out on loan playing regular competitive football.
Hearts would be a great place, if he's going to continue to play regularly.
Len Hawkins
62
Posted 20/06/2022 at 12:26:26
Si #4
It amazes me why Everton pay good money employing recruitment/scouting/ D.O.F people when a quick glance on here could save them £millions.
If the TW experts decide whether a player is going to make it or not then why bother.
Looking at some of the ex non league / lower league players currently making a decent fist of the Premier League it makes you wonder.
I remember late 60's early 70's Man City signed a player from Bath he was almost pension age but had a good career in the then first division his name (no not JR Hartley)
was Tony Book if there was a glue factory using old footballers he'd have been gone years before.
Until he is given a chance we will never know.
Bob Parrington
63
Posted 20/06/2022 at 12:48:19
I reckon Derek@7 has got it spot on. Give the guy a chance with a few games. One is not enough. If we don't give these guys a chance to prove themselves at EPL level we will regularly waste opportunity.
Matthew Williams
64
Posted 20/06/2022 at 13:01:01
...there's only one way to find out. play him from the start,give him both pre-season games in the States,to begin with.
Phill Thompson
65
Posted 20/06/2022 at 13:40:27
I first saw Simms as a 16-year-old in the CeeCup pre-season, he was big, clumsy, and was as likely to hit the corner flag or burst the net. Gordon won Player of the tournament and I've always said Simms has been at least a year behind Gordon in his development.
He's definitely a slow burner, but last season you could see further developments in his movement and hold-up play, and at last he's realised he's allowed to put his head on the ball.
I think he'll continue his slow improvement in the coming season. He may not ever be our No 1 striker, but he could be a very capable squad player.
When I think about the money and wages we've paid for the likes of Niasse, Tosun and Rondon, then Simms can hardly do much worse and may save us a fortune.
Gary Jones
66
Posted 20/06/2022 at 13:55:50
Nketiah Signs Up for Arsenal…..wonder how many of their fans are saying he's shit cos he hasn't smashed it by 23?
Ajay Gopal
67
Posted 20/06/2022 at 14:59:18
Interesting that most posters here seem to think that Ellis Simms is slow. But, his team mate - Beni Baningime - who has played with him over several seasons including at Hearts for half a season has this to say about his attributes:
"He has pace, he's lightning. You can give him a bad ball and he'll make it into a good ball. That's an attribute not many people have and when he gets into those positions, he can put the ball away."
Given the position we are in, I would like him to be given opportunities next season by Lampard. I have a feeling that he will surprise quite a few of us here.
Joe McMahon
68
Posted 20/06/2022 at 15:35:54
He can shoot and score from outside the box, and a pitiful amount of Everton players do that. And with Richie on his way, yes lets keep Ellis. He needs a run of games.
James Flynn
69
Posted 20/06/2022 at 17:27:23
Simms is not slow. Anyone saying that is wrong.
He's a goal scorer; every kind of goal: running away from defenders, finding spaces, tight spaces, defenders hanging on him, left foot, right foot, headers. And always showing for the ball.
The most impressive thing about Ellis is how quickly he gets the ball under control to smack it. He does this so often, so routinely, it looks simple.
He never appears nervous with the ball at his feet.
But I'm in the group rather see him getting heavy minutes on loan next season, if the alternative is a few minutes here or there off our bench.
Fran Mitchell
70
Posted 20/06/2022 at 17:51:33
Simms is clearly a raw player, but he's got the look of someone who jut has a knack of scoring goals.
Whatever the level he has been, the pattern has been similar, a first he takes a little while to adapt, shows flashes but looks a little behind the pace. Then after 5-10 games he's generally firmly settled and scoring regularly.
I'm not a fan of the 'at the same age, so and so are doing this', because quite simply isn't as simple as that. Some players develop at different rates, under different coaches, different leagues.
Last year similar things were said of Gordon ('At his age he should be in the squad, not on the bench for Preston').
And the numerous late developers in the league, especially as forwards, is further indication that such comparisons are not valid. (Toney, Wilson, and Vardy are just 3 top PL goalscorers who at 20/21 didn't look like PL goalscorers. There are probably more if I thought about it some more).
Will Simms make it? Don't know tbh. He has good attributes and I think we could do worse than have him as back up instead of buying someone like we did with Rondon last year. But if he stays and isonly afforded 5 minutes every 7/8 games, then he'll benefit more going back to Hearts on loan.
Maybe Broadhead could be the backup while Simms gets more first team experience.
Robert Tressell
71
Posted 20/06/2022 at 19:47:30
Gary # 66. I expect a lot of Arsenal fans are questioning Nketiah because he's a mediocre Premier League striker. For their immediate ambitions they need better - although he has had a good season (5 in 21). I guess many will content themselves that he'll probably play second fiddle to someone like Calvert-Lewin or Isak or AN Other.
And Nketiah is not a good comparison with Simms because he's been playing a standard way above Simms for many years now with England recognition and extremely good international goalscoring at U18, U19, U20 and U21 levels (35 goals in 38 games). Also loans at Leeds.
For all that some players are late developers, the vast majority aren't. It's clear with almost all youth players whether they'll make it by about 18 or 19.
This is why Simms has it all to do still and needs Championship or similar standard games to do it.
If he does make it with us (probably as a reserve striker like Nketiah) – and I hope he does – he will have bucked a trend.
Ashley Roberts
72
Posted 20/06/2022 at 20:59:52
I think Lampard should look at him closely in the run-up to the start of the Premier League season. If Frank believes he needs more time to improve, then send him out on loan.
I have a sneaking suspicion that Ellis Simms might surprise a few people. Not sure I am in the camp of writing him off just yet. At least give the lad a chance.
This reminds me of the days when many posters on ToffeeWeb never saw Dominic Calvert-Lewin making it. He not only made it – he ended up playing for England.
Barry Jones
73
Posted 23/06/2022 at 14:39:40
With regards to Ademola Lookman, he only made 7 full appearances for Everton and 29 as a sub, so I don't feel it's fair to say he failed. I always felt he had something good to offer.
He went to Fulham on loan and definitely did not fail there. His impressive displays at Fulham is what tempted Leicester to sign him.
Mike Gaynes
74
Posted 23/06/2022 at 15:10:53
Barry #73, Leicester has not signed Lookman. He still belongs to Leipzig through June 2024. For one more week he's on loan to Leicester with an option to buy, which Leicester has not exercised despite his fine play there. The Nigerian media are now reporting they will likely let him go.
Lookman was not a success at Fulham any more than he was at Leipzig. He got off to a hot start, but then tailed off with only one goal and one assist in his last 19 games there as Fulham was relegated. At the end of the loan, Leipzig offered him to Fulham for £15 million. Fulham declined.
I think he'll eventually have a fine career, but I'm glad we didn't wait for him. Selling him to Leipzig for £22.5 million was an exceptional piece of business the likes of which we rarely pull off. We could buy him back tomorrow for a lot less..
Tom Bowers
75
Posted 23/06/2022 at 15:12:26
There are many players especially young hopefuls who come and go for many reasons.
It could be that some just don't step up or do not fit in to the manager's plans, strategy or shape of the team they are trying to get.
Unfortunately many just fall foul of the constant managerial swinging doors at many clubs and this can be applied to what has been going on at Everton for some years now.
Some, of course, have impatience and sometimes attitude problems which doesn't help their careers but those with determination and dedication usually do well if given a fair run in the team which is difficult if the team is struggling to get results and the manager is always chopping and changing.
Young Gordon did well under difficult circumstances and if he had been playing for Liverpool or Man City would probably have been picked for England already.
We may tout the abilities of Simms, Dobbin and a few others but sadly like Ross Barkley they may just also become benchwarmers for the most part at least in the Premier League.
---
Add Your Comments
In order to post a comment, you need to be logged in as a registered user of the site.
Or Sign up as a ToffeeWeb Member — it's free, takes just a few minutes and will allow you to post your comments on articles and Talking Points submissions across the site.
---
---
© ToffeeWeb